Every Man Needs Famous Quotes & Sayings
List of top 62 famous quotes and sayings about every man needs to read and share with friends on your Facebook, Twitter, blogs.
Top 62 Every Man Needs Quotes
#1. I am quite an admirer of Fidel [Castro]. For me, Fidel is the first and the best man in solidarity with the peoples of the world. Fidel shares not just what he does not need, but every little thing he has. That is called solidarity. - Author: Evo Morales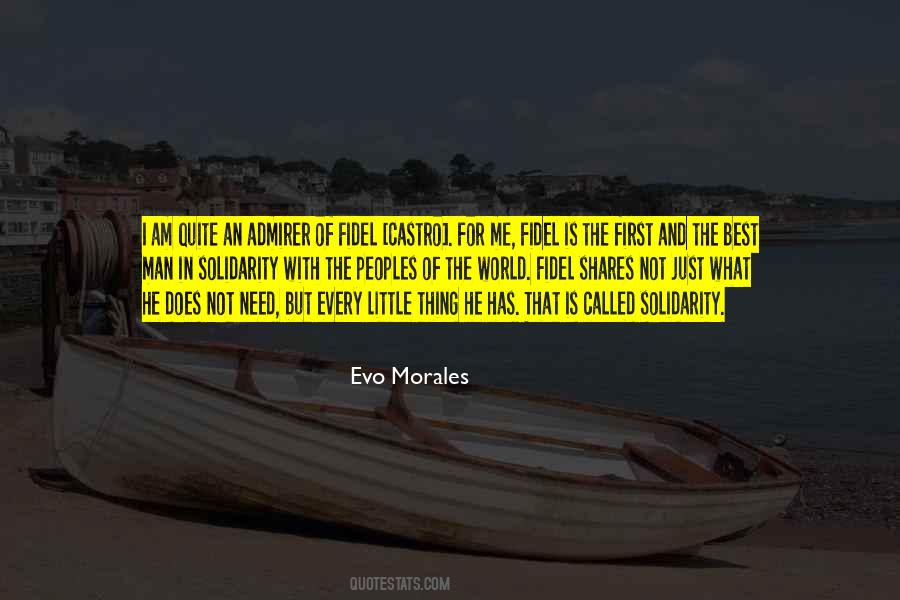 #2. Every man needs an obsessio in order to enjoy life, and it was so much the better if that obsession was constructive. - Author: Louis De Bernieres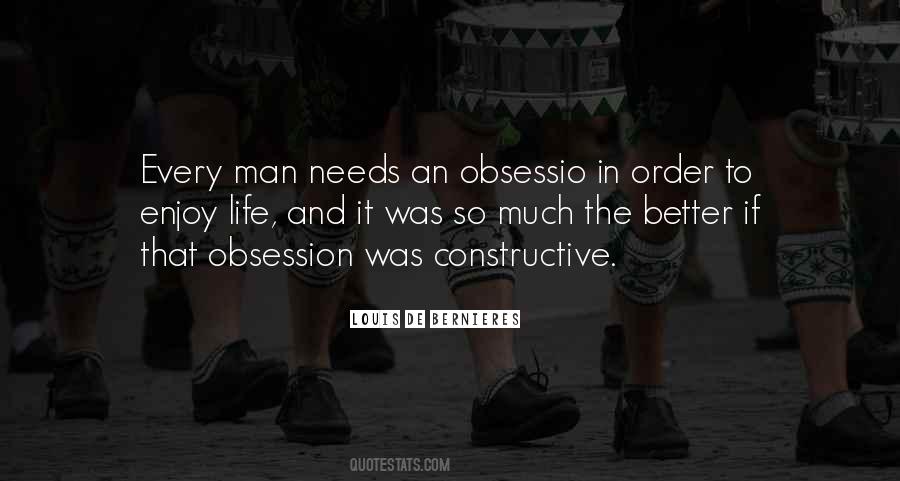 #3. A man awakes every morning
and instead of reading the newspaper
reads Act V of Othello.
He sips his coffee and is content
that this is the news he needs
as his wife looks on helplessly. - Author: B.J. Ward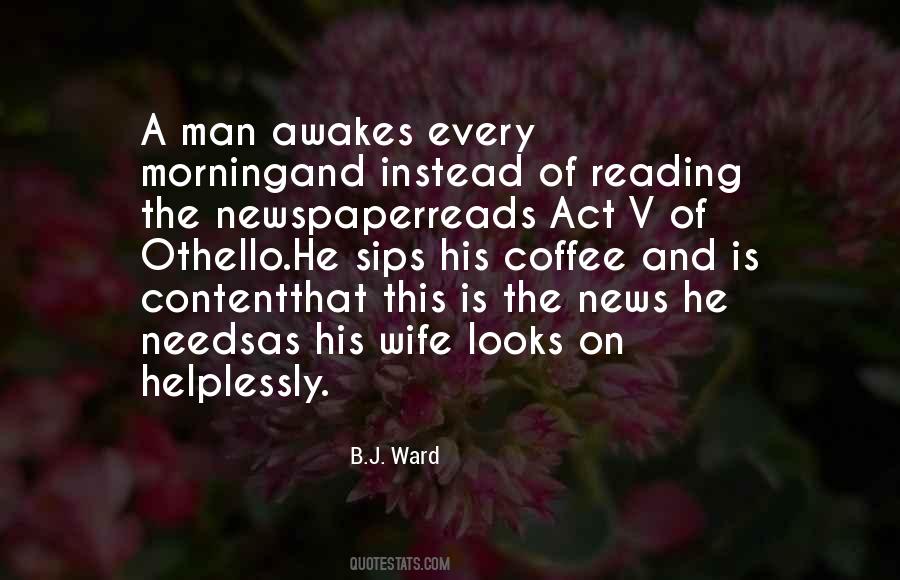 #4. Every man needs a place to be open and vulnerable with brothers leaning together upon the Lord. - Author: James MacDonald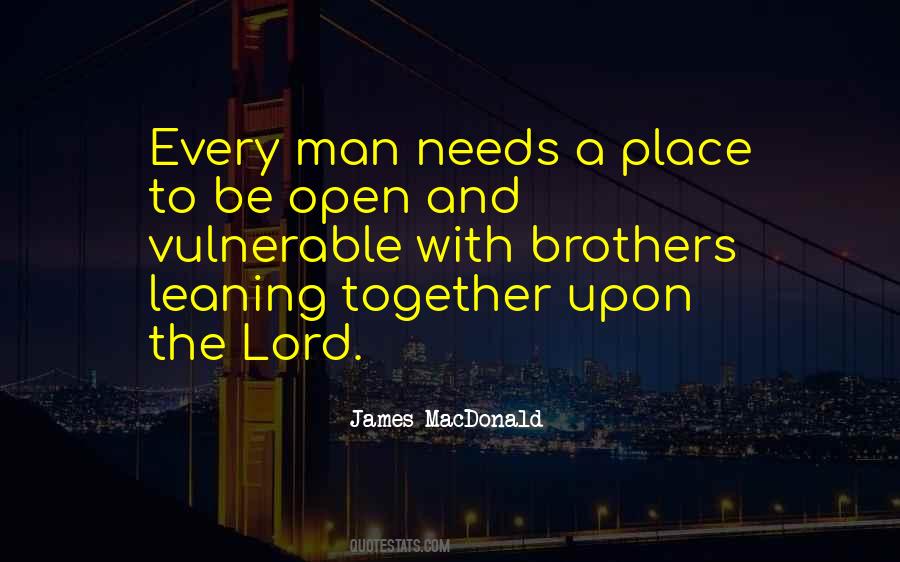 #5. A woman can plan. A woman thinks she needs a man for nothing in this world but soon realizes she is wrong. The same way every black- owned business has to acquire goods from a white distributor, women have to do business with men, be it professional or personal, to achieve too many of our goals. - Author: Eric Jerome Dickey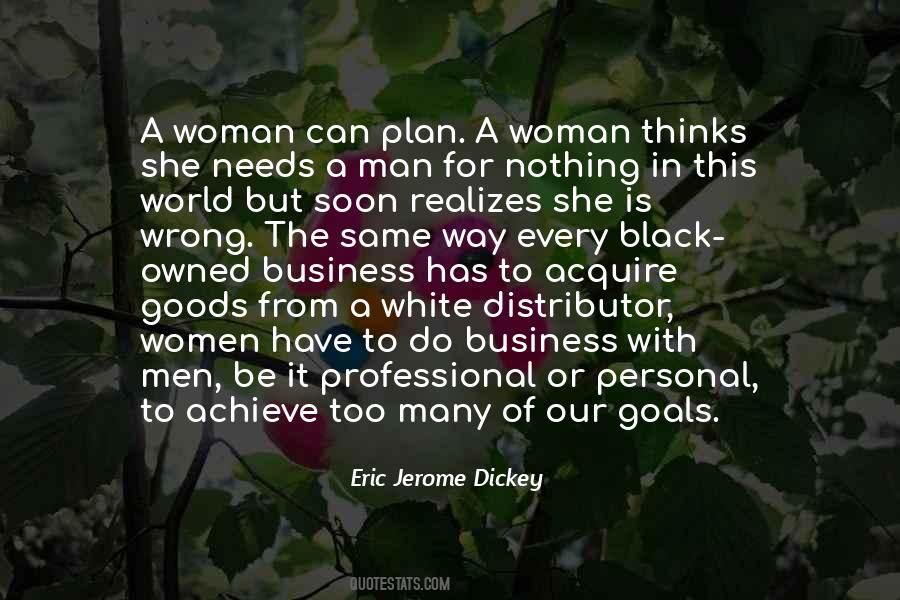 #6. The man who spends all his time on his own needs, who organizes every day as though it were his last, neither longs for nor fears the next day. - Author: Seneca.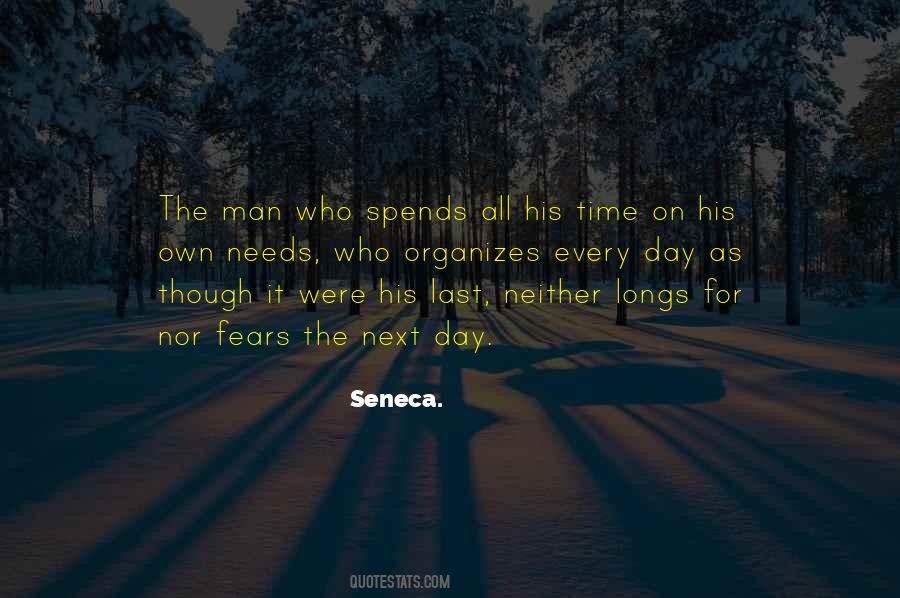 #7. Every man needs to find a peak, a mountain top or a remote island of his own choosing that he reaches under his own power alone in his own good time. - Author: Alain Gerbault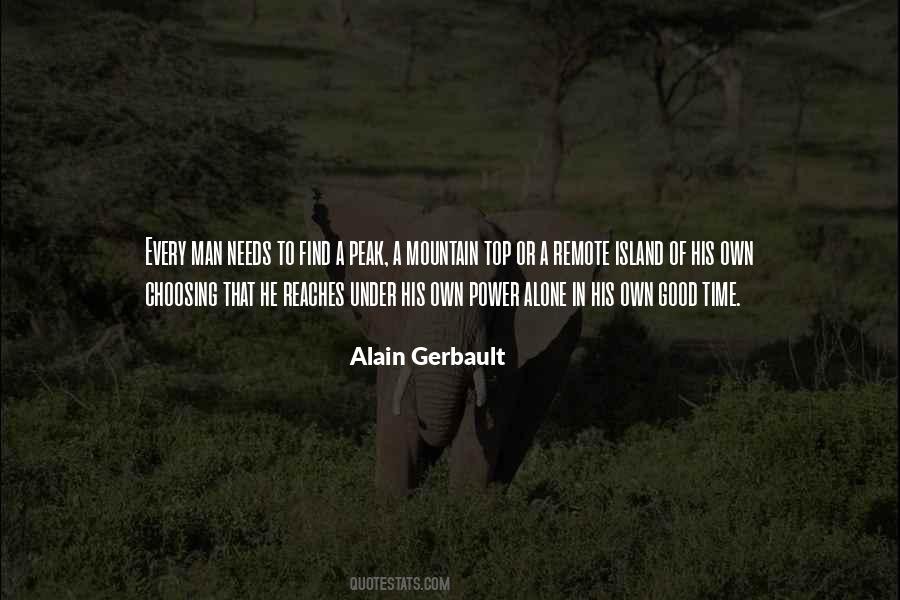 #8. At one time or another, almost every politician needs an honest man so badly that, like a ravenous wolf, he breaks into a sheep-fold: not to devour the ram he has stolen, however, but rather to conceal himself behind its wooly back. - Author: Friedrich Nietzsche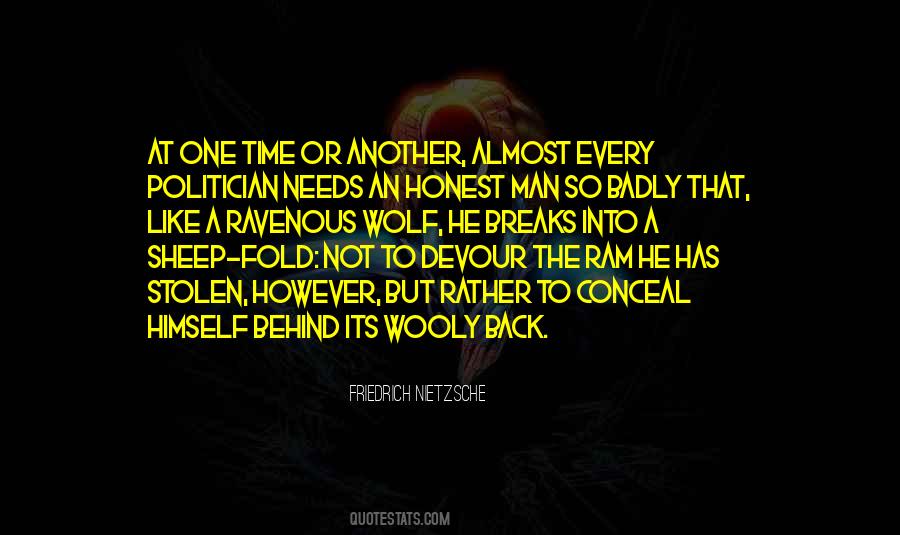 #9. In almost every task involving form, there are dozens, often hundreds of contradictory elements, which need to be forced to work in harmony by man's will. This harmony can be acheived only through art. - Author: Alvar Aalto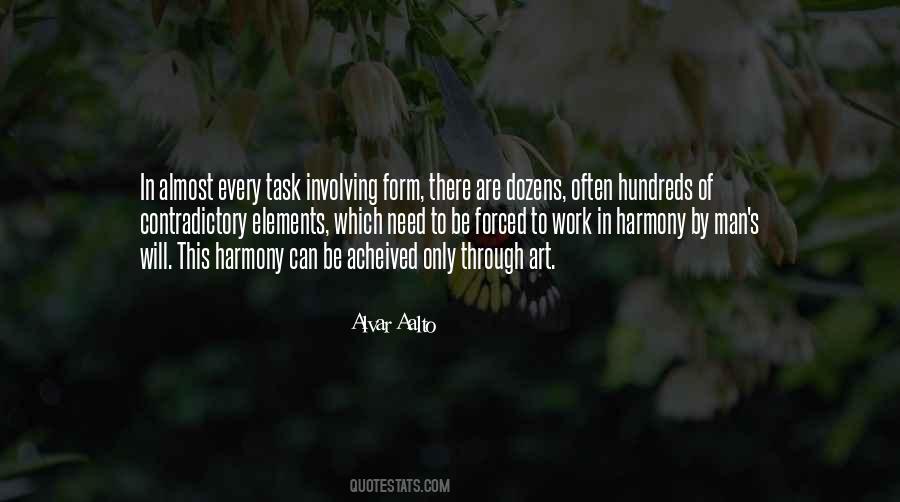 #10. He was no longer an individual, functioning solely to satisfy his personal needs. Something now bound him to every other man and woman in this hangar. All - Author: George Lucas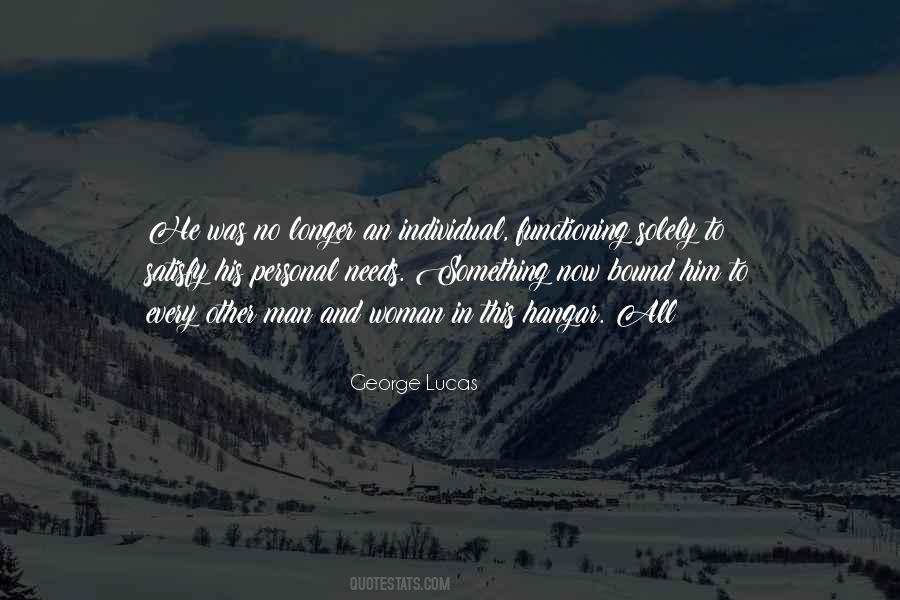 #11. They say every man needs protection, they say every man must fall.
yet I swear I see my reflection,some place high above this wall ... and someday I shall be released. - Author: Bob Dylan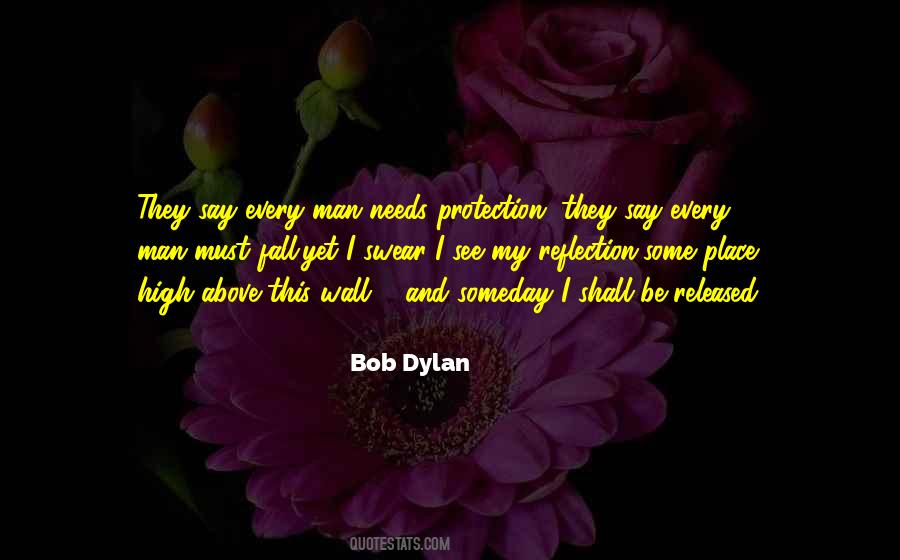 #12. Work is the divine provision God has given to every man through which we can all provide for our needs, for the needs of our families and others. - Author: Sunday Adelaja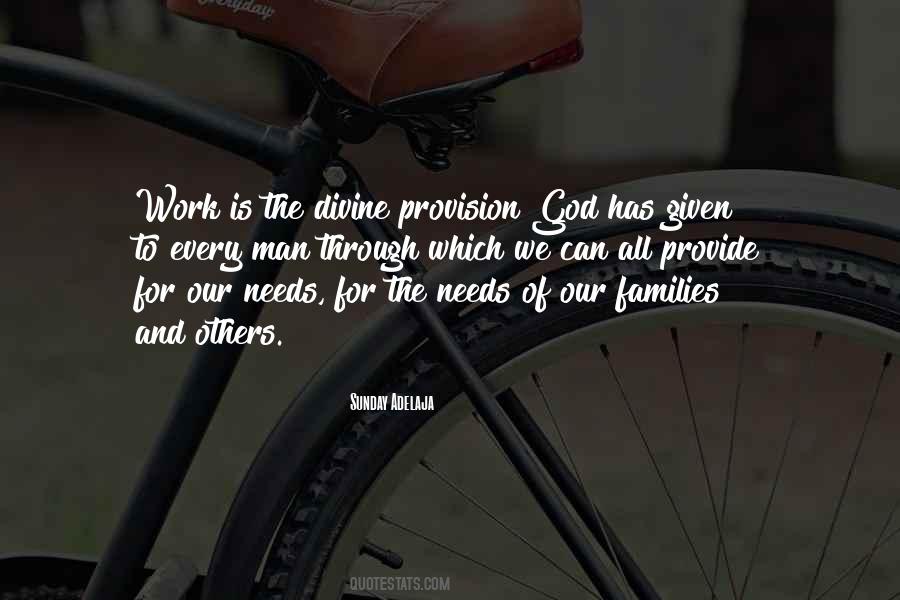 #13. The goal of my work is to help assure that we can create a world of abundance in which we meet the basic needs of every man, woman and child. - Author: Peter Diamandis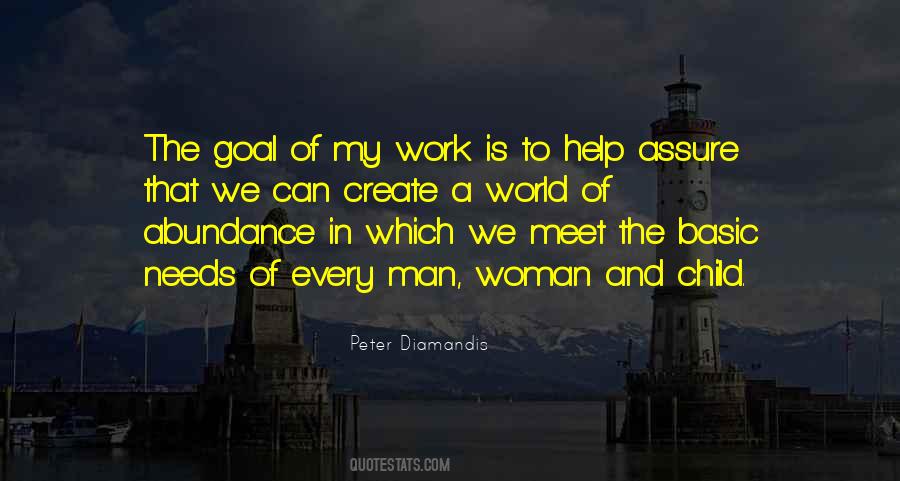 #14. Women are my hobby ... every man needs something to keep his hands busy, and I don't have a guitar like Eddie and Michael, or some drums to bash like Alex, so I have to find some friends. - Author: Diamond D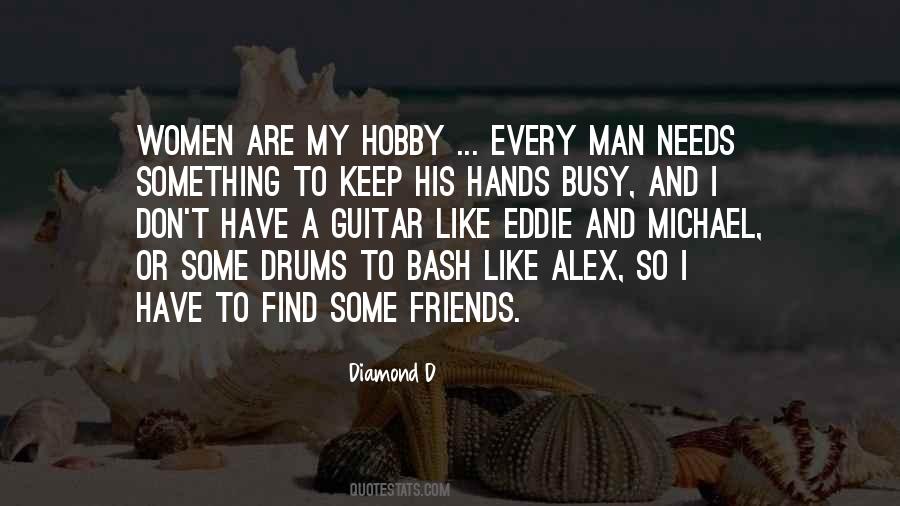 #15. Every man needs his Siren
To check his courage and strength
When he hears her song
In his travels through the unknown. - Author: Dejan Stojanovic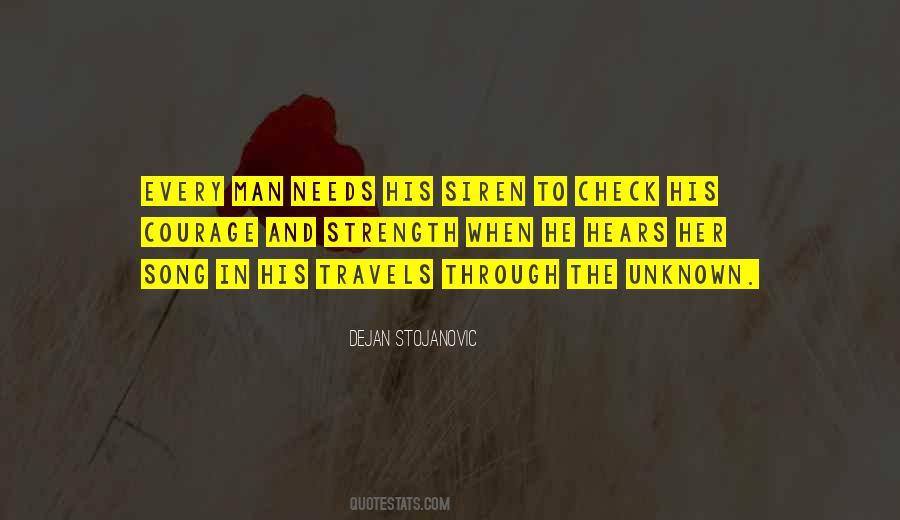 #16. Every man in his lifetime needs to thank his faults. - Author: Ralph Waldo Emerson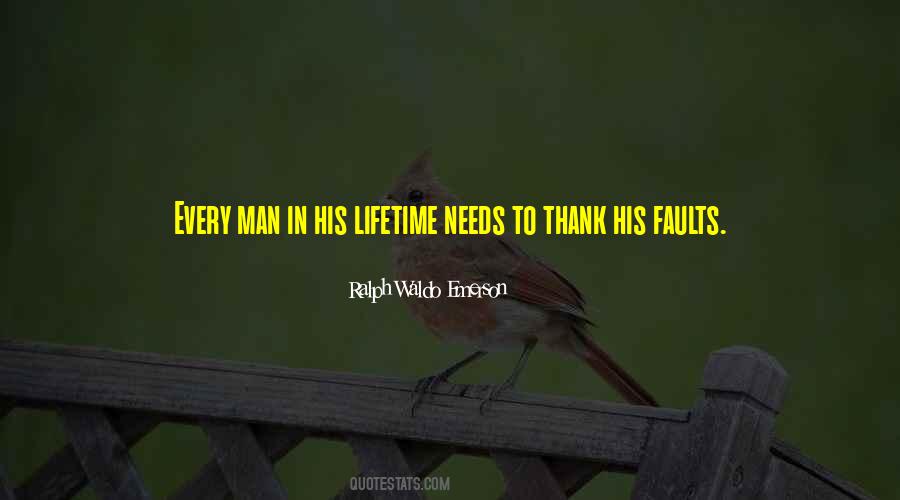 #17. Every sitcom needs their straight man or straight woman. - Author: Aarti Mann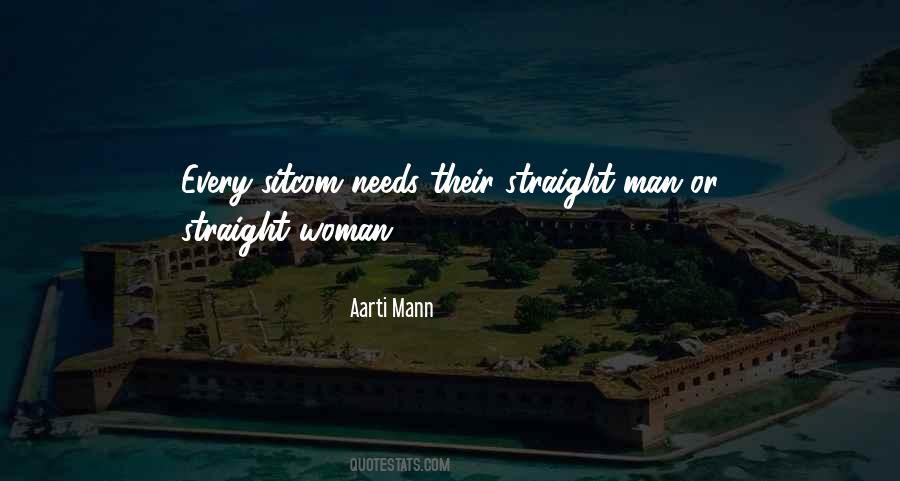 #18. Every man needs a good, solid watch. My favorite watch is the Presidential Rolex. I own many watches, but this one is usually the one on my wrist. I buy mine in the Diamond District in New York City. Classic. - Author: French Montana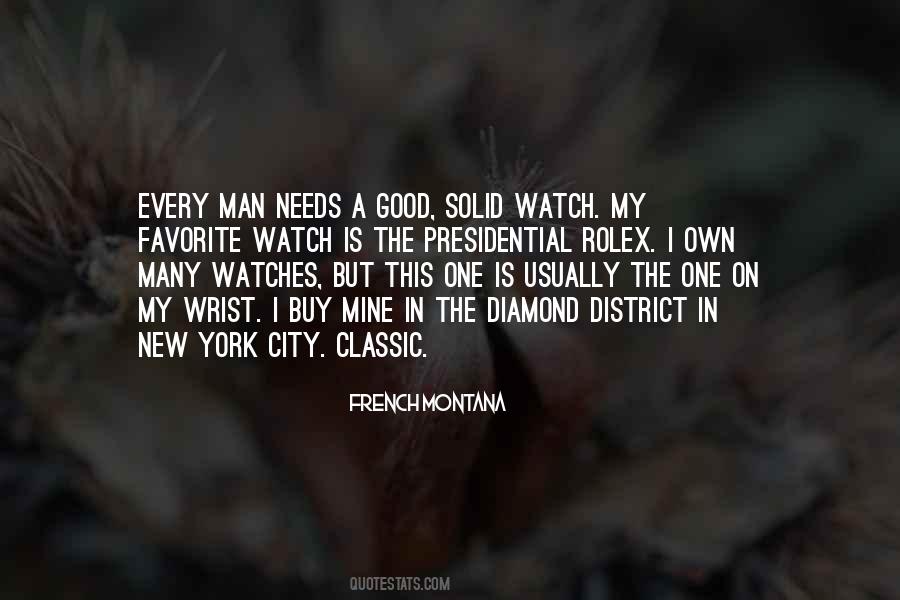 #19. The very foundation of the living of life lies in the desire of every man to give service to fulfill the needs of his neighbor. - Author: Walter Russell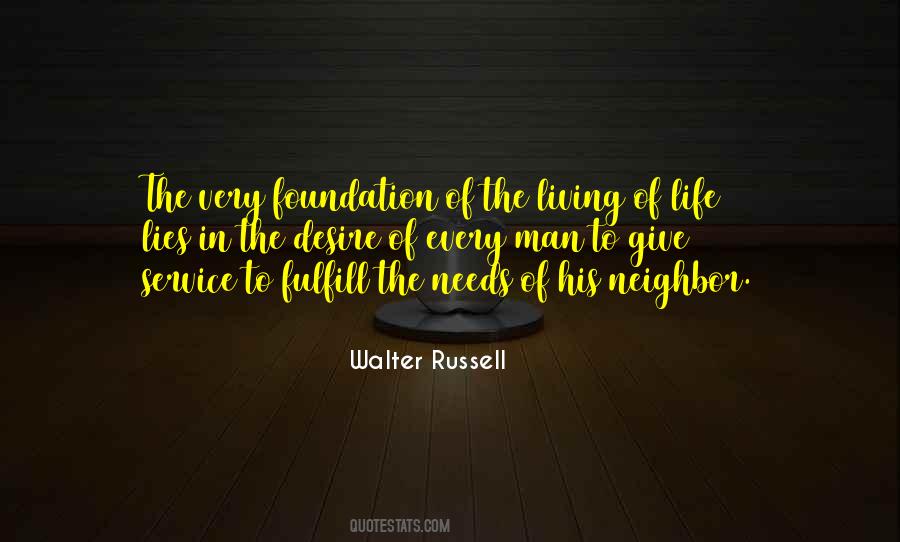 #20. When you get that person out of that dude, that's the real person, you know. And I don't think its dead, but it needs to be more examples, of what a true gentleman and what a true man in every sense of the word is, and that's what I try to be. - Author: Ginuwine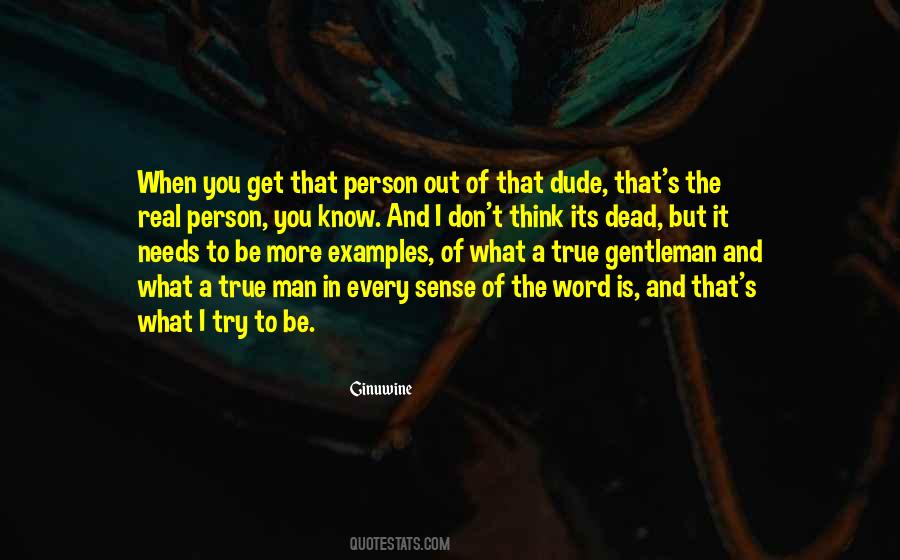 #21. There is no need to fear the strong. All one needs is to know the method of overcoming them. There is a special jujitsu for every strong man. - Author: Yevgeny Yevtushenko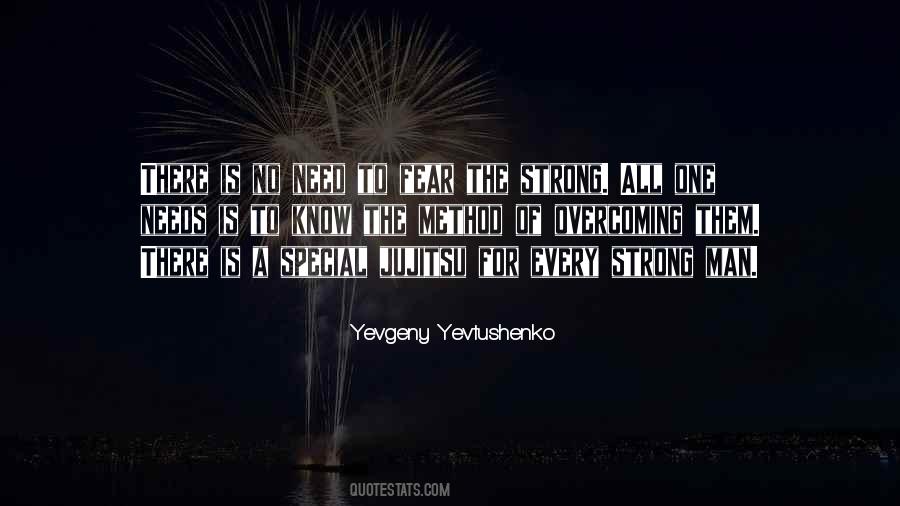 #22. Every man needs a blind eye and a deaf ear, so when people applaud, you'll only hear half of it, and when people salute, you'll only see part of it. Believe only half the praise and half the criticism. - Author: Charles Spurgeon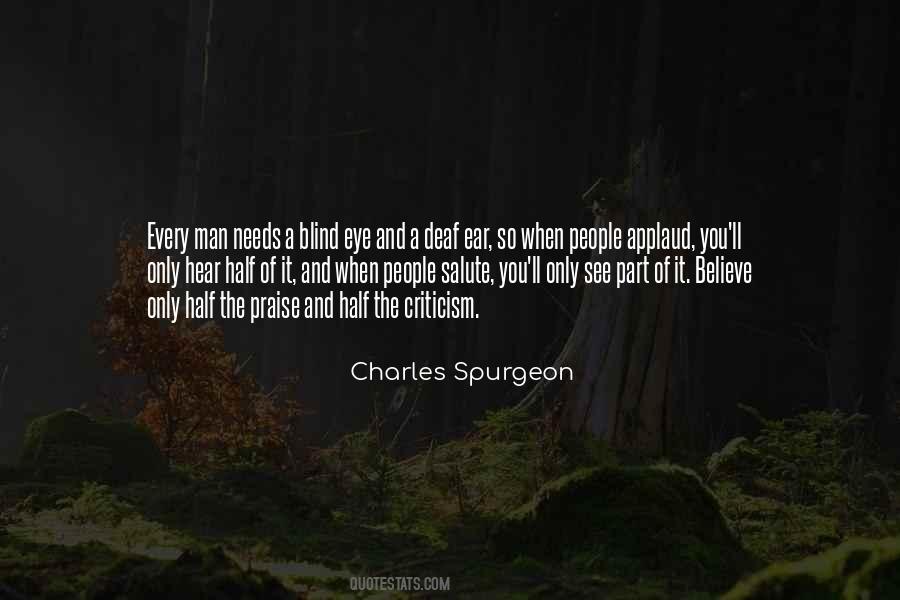 #23. So, were every man on earth to become atheist, it could not affect God in any way. He is what He is in Himself without regard to any other. To believe in Him adds nothing to His perfections; to doubt Him takes nothing away. Almighty God, just because He is almighty, needs no support. - Author: A.W. Tozer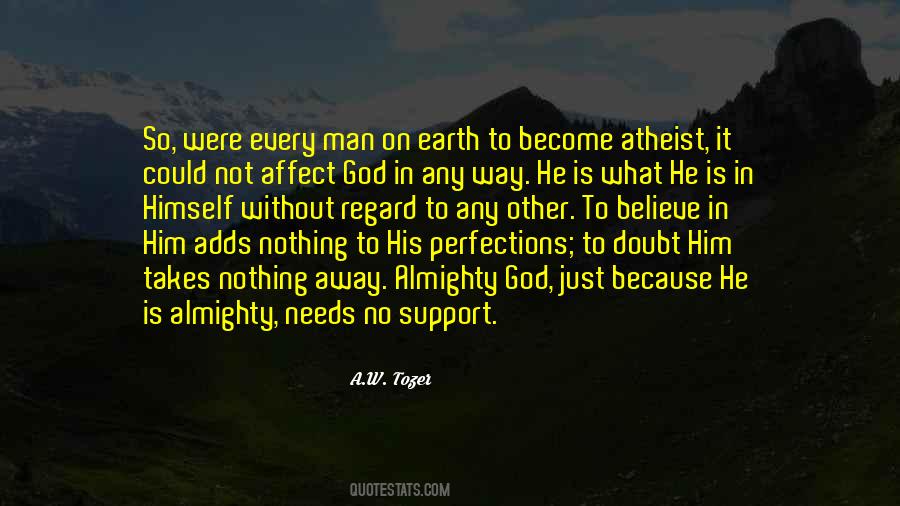 #24. For me, what takes up most of the space in my closet are suits. I wear a lot of suits and jackets. But I think every man needs a black suit at home. You can never go wrong in a black suit. But in terms of style, I think it's about being comfortable in what you wear. - Author: Henrik Lundqvist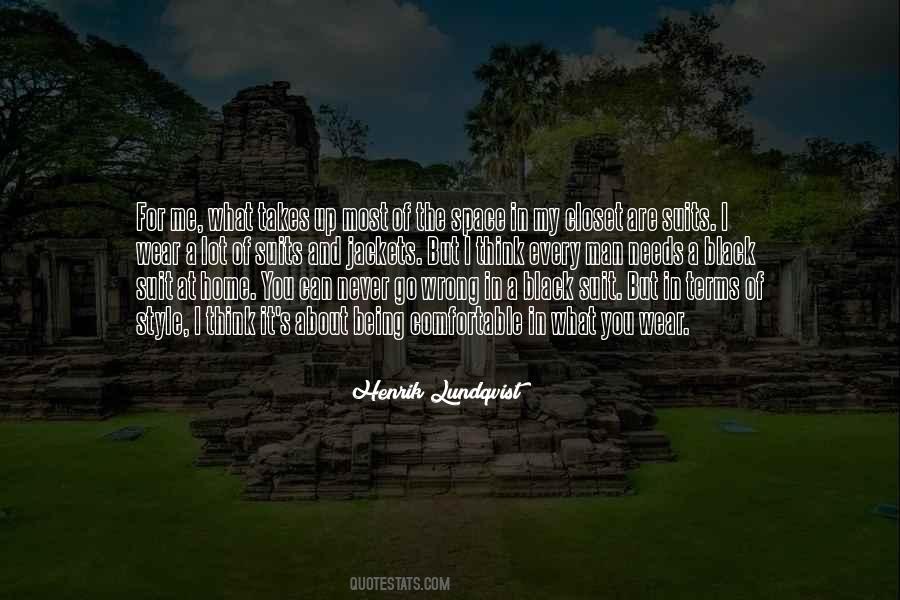 #25. Every man needs a place to go to. - Author: Fyodor Dostoevsky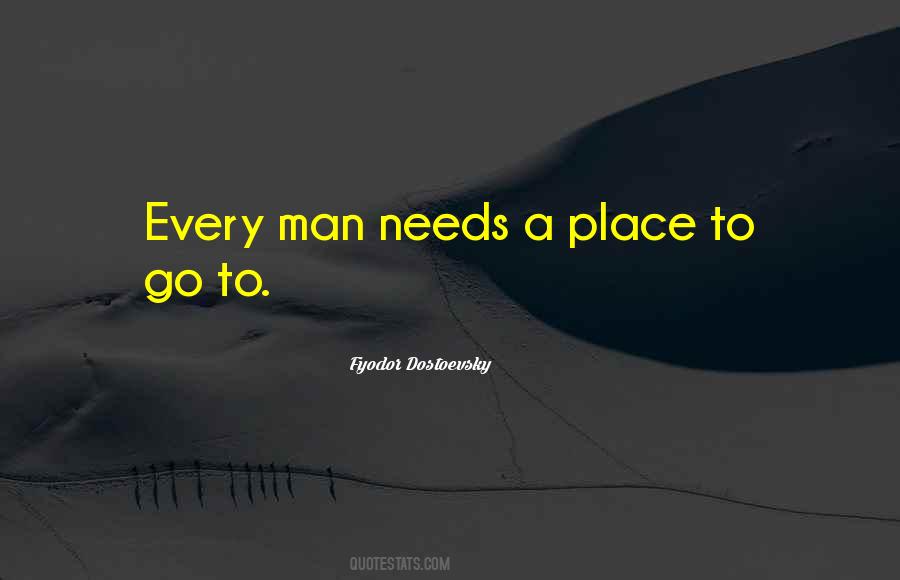 #26. Every woman needs a man. - Author: Missy Lyons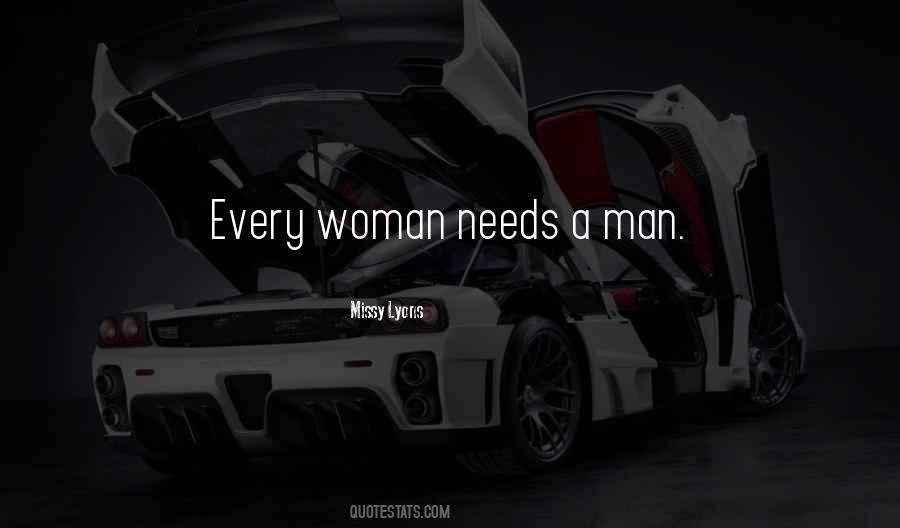 #27. Every man needs a women, when his life in a trouble. just like a game of chess, queen protect the king - Author: Anuj Kr. Thakur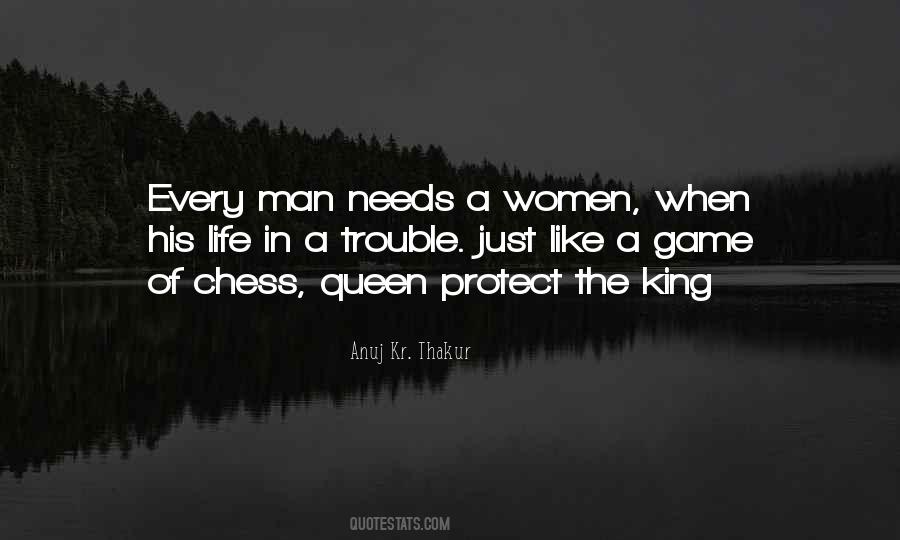 #28. Every man has his destiny. But who needs to go to a fortune-teller to find it? Do I go to a chef to find out if I'm hungry? - Author: Arthur Golden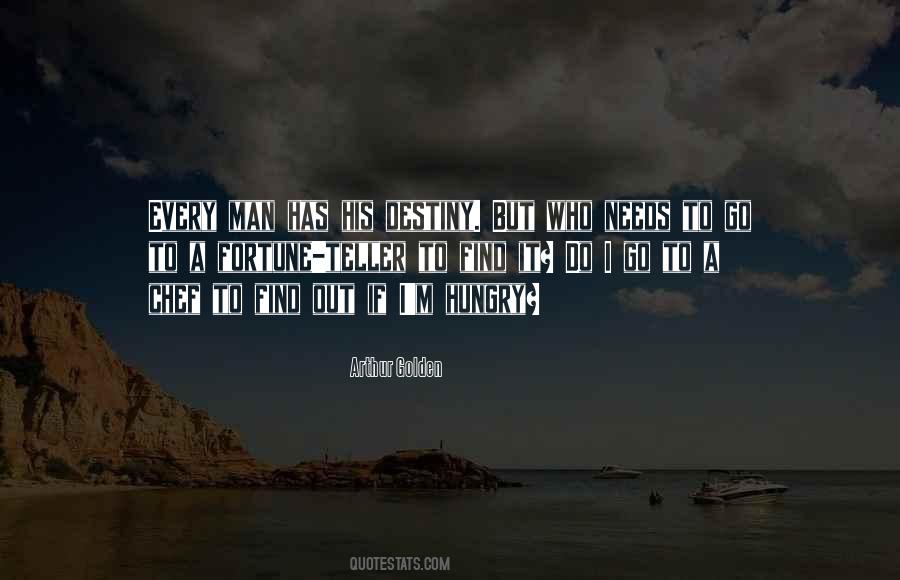 #29. Here's a question every angry man and woman needs to consider: How long are you going to allow people you don't even like - people who are no longer in your life, maybe even people who aren't even alive anymore - to control your life? How long? - Author: Andy Stanley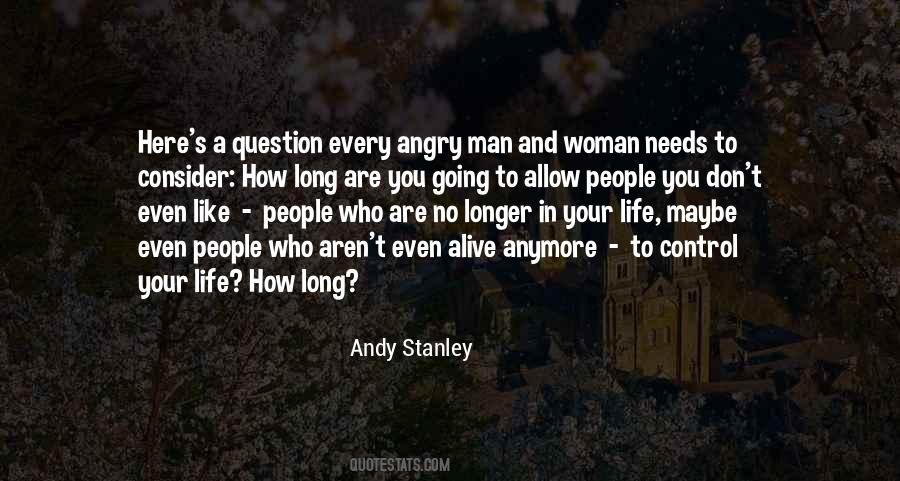 #30. Man cannot live by bread alone. Every once in awhile he needs a salad. - Author: Woody Allen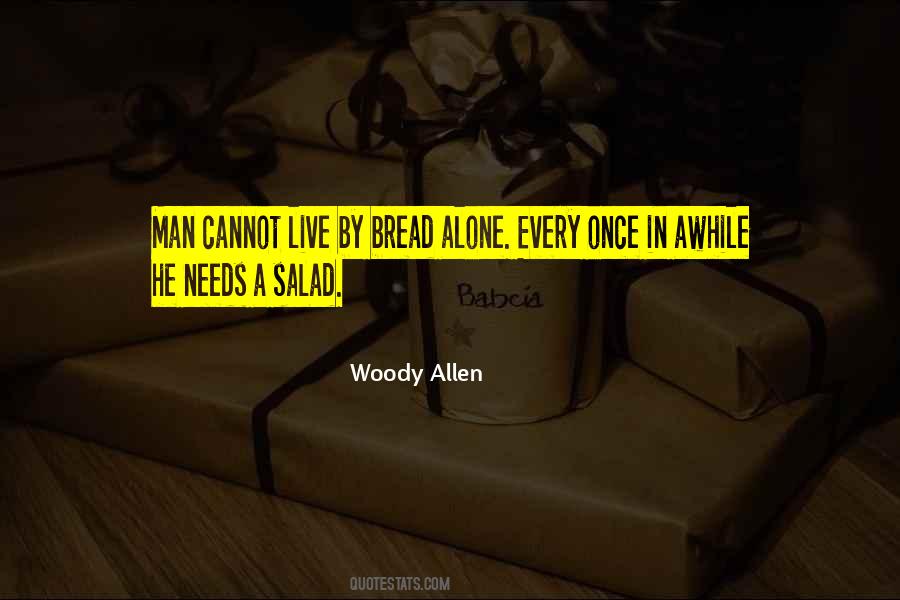 #31. Every man needs two women: a quiet home-maker, and a thrilling nymph. - Author: Iris Murdoch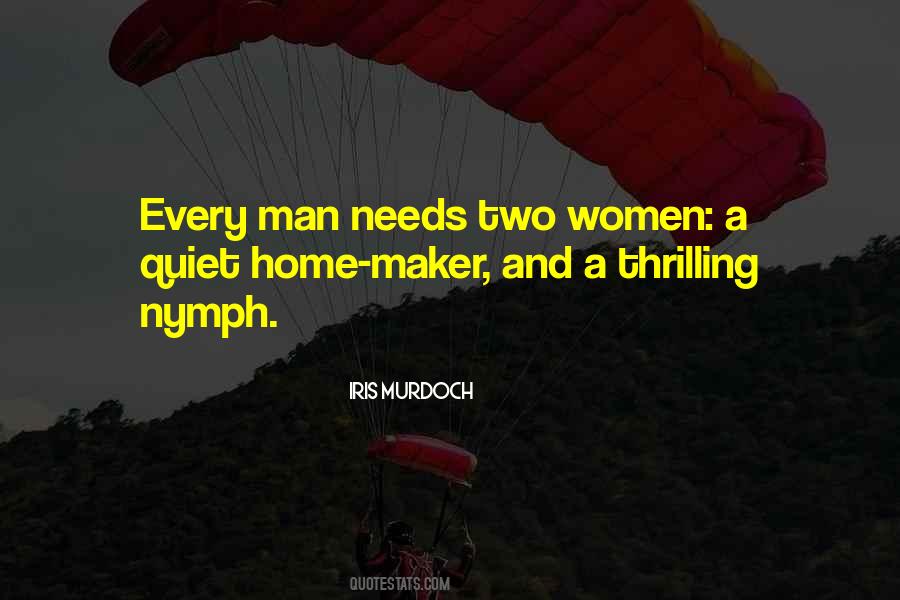 #32. The woman who needs to be liberated most is the woman in every man, and the man who needs to be liberated most is the man in every woman - Author: Magnus Hirschfeld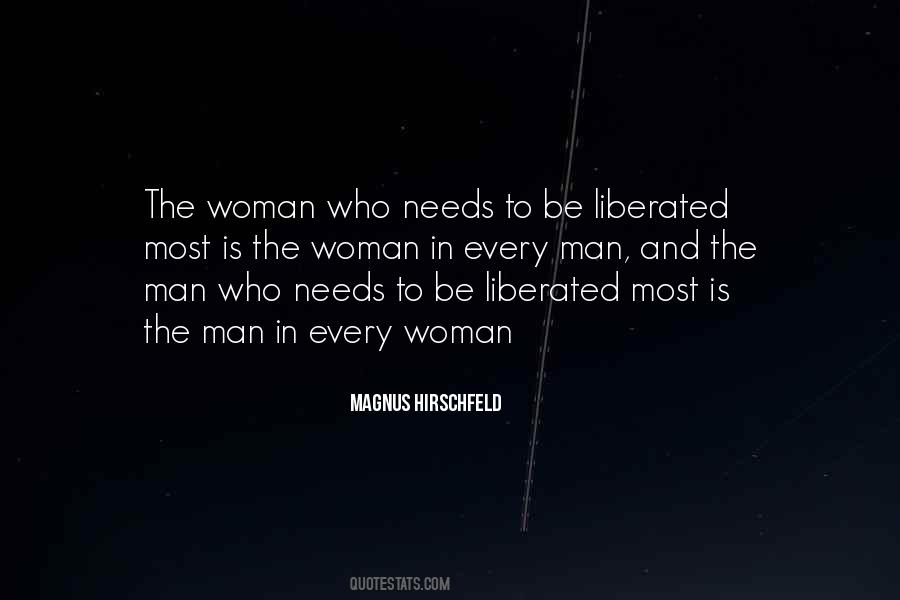 #33. Every man, even the most blessed, needs a little more than average luck to survive this world. - Author: Vance Bourjaily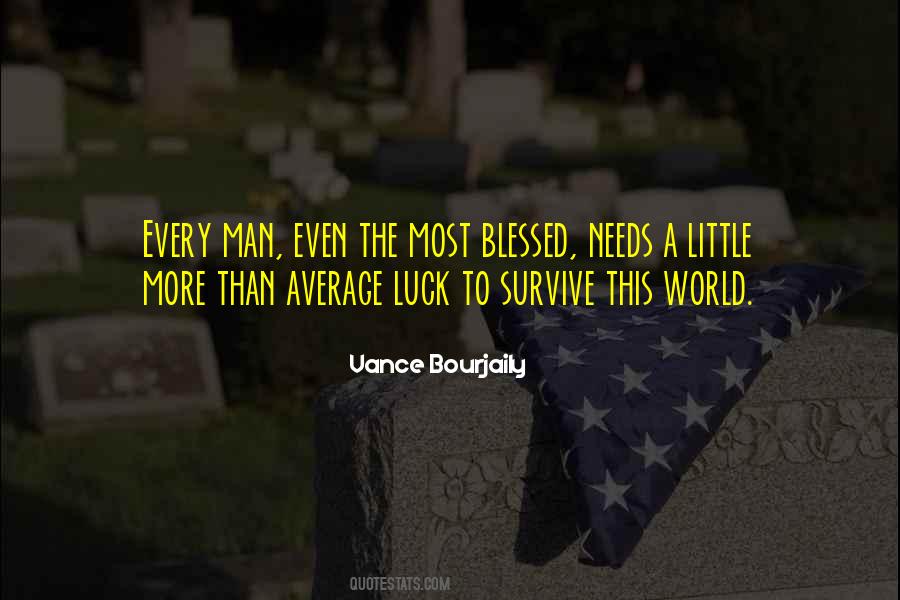 #34. Every woman needs one man in her life who is strong and responsible. Given this security, she can proceed to do what she really wants to do-fall in love with men who are weak and irresponsible. - Author: Richard J. Needham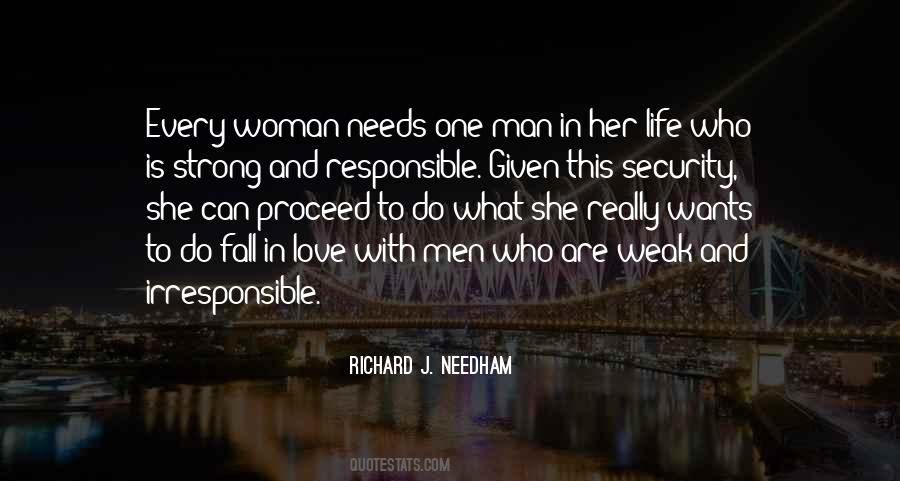 #35. Every tribe needs a good front man to sell the program. Who better to convince the Middle East to give up the oil, than a brown man with a Muslim name? - Author: Lenny Bruce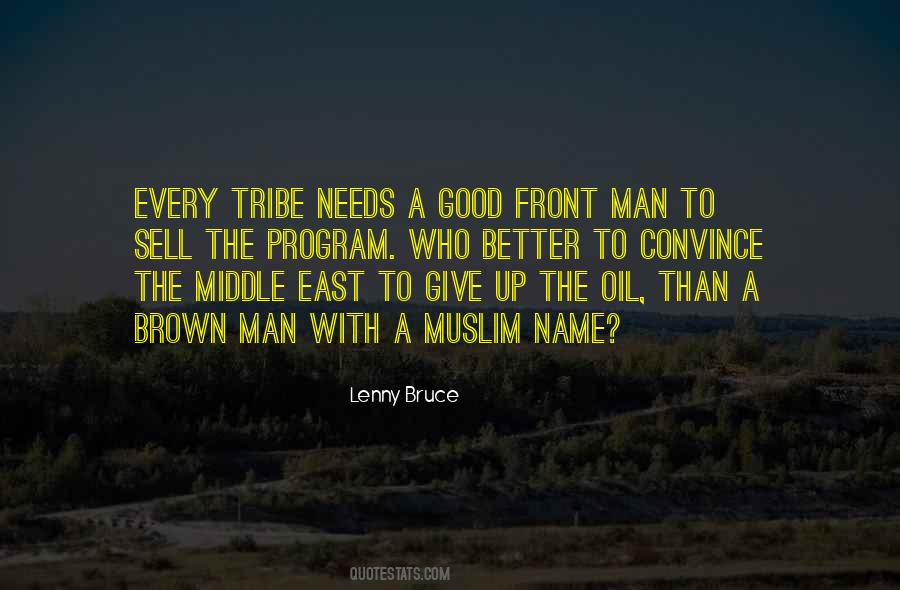 #36. A captain should know the details of every position in his ship's company by working them with his own hands, stem to stern. It's the only way to be sure you know what each man needs from his captain in order to be able to perform his duty. - Author: Jim Butcher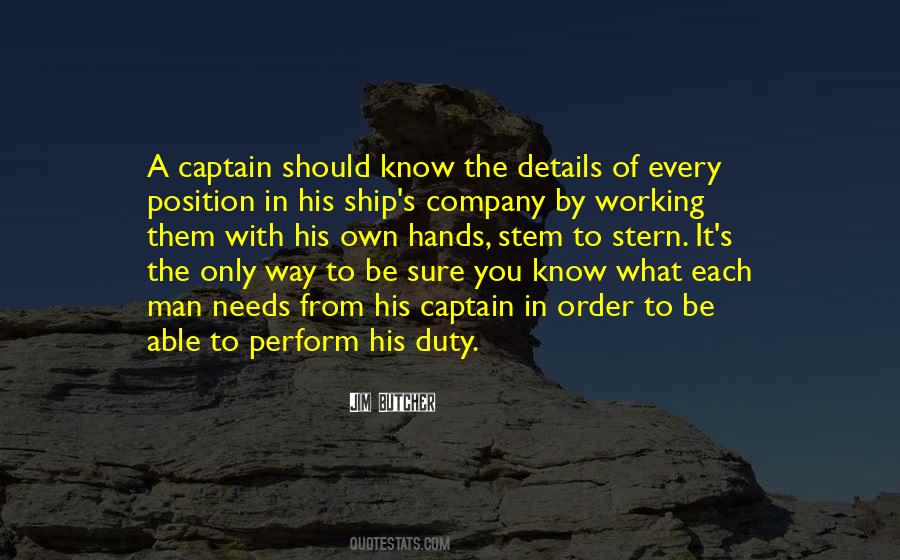 #37. Son, my dad said, every man needs a bitter, resentful woman in his life. Because there's nothing more touching to a mother's heart than to know that her son thinks of her constantly. - Author: David C. Holley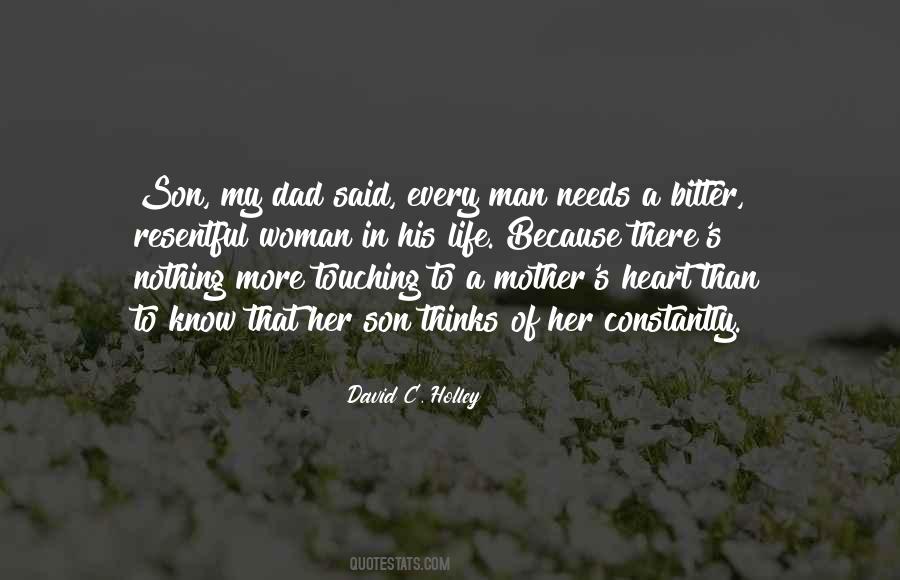 #38. Everyone rushes his life on, and suffers from a yearning for the future and a boredom with the present. But that man who devotes every hour to his own needs, who plans every day as if it were his last, neither longs for nor fears tomorrow. - Author: Seneca The Younger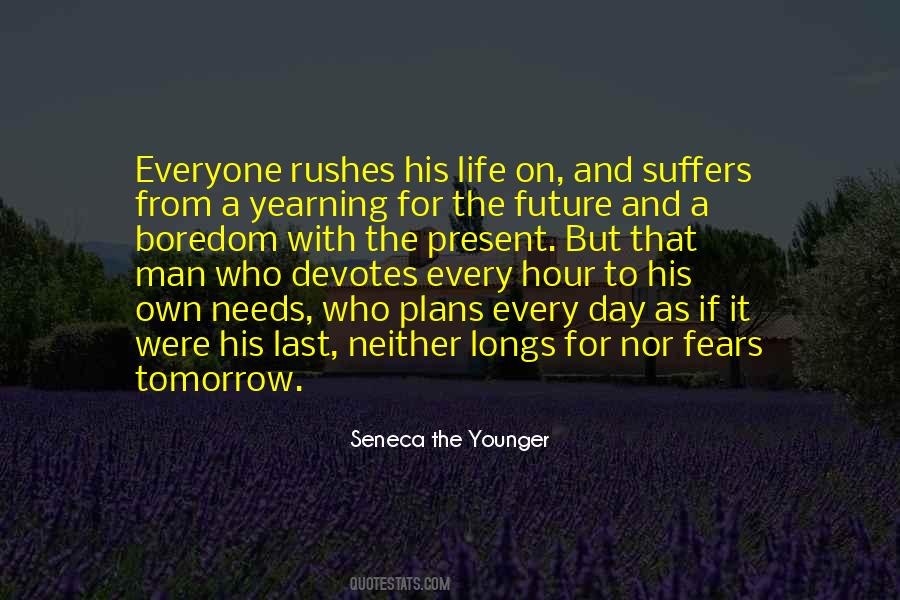 #39. Every man needs slaves like he needs clean air. To rule is to breathe, is it not? And even the most disenfranchised get to breathe. The lowest on the social scale have their spouses or their children. - Author: Albert Camus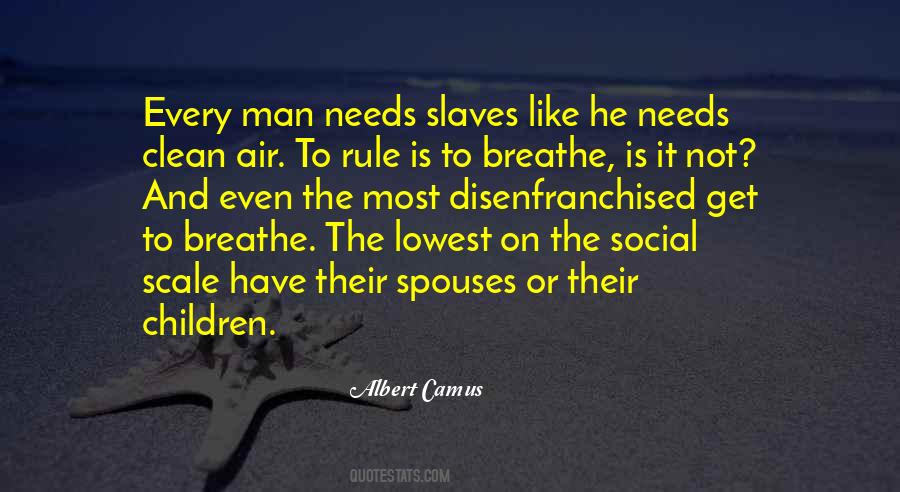 #40. Christianity is more than history; it is also a system of truths. Every event which its history records, either is a truth, or suggests a truth, or expresses a truth which man needs to assent to or to put into practice. - Author: Noah Porter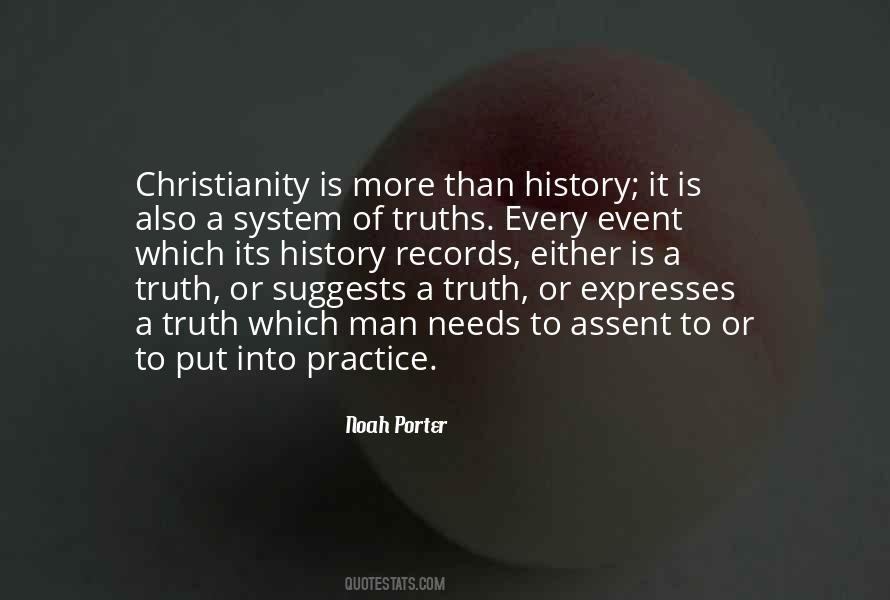 #41. Every accountable child of God needs to set goals, short- and long-range goals. A man who is pressing forward to accomplish worthy goals can soon put despondency under his feet, and once a goal is accomplished, others can be set up. - Author: Ezra Taft Benson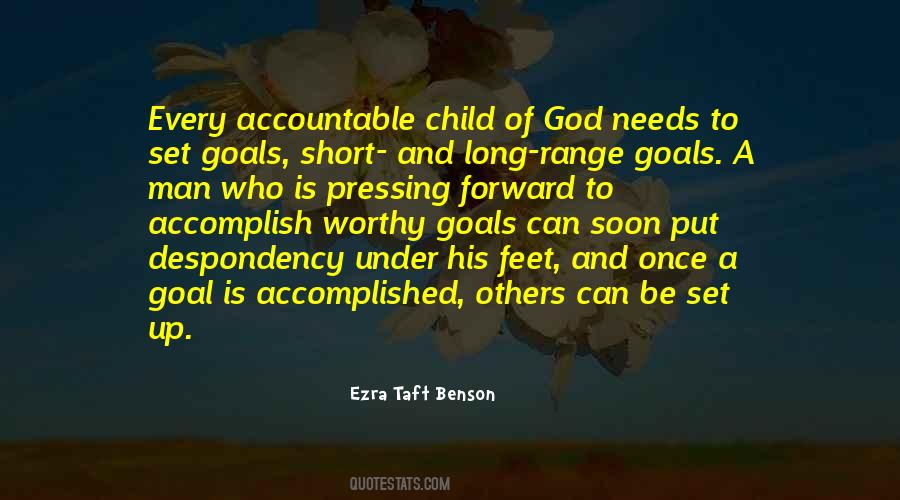 #42. If only every man would make proper use of his strength and do his utmost, he need never regret his limited ability. - Author: Marcus Tullius Cicero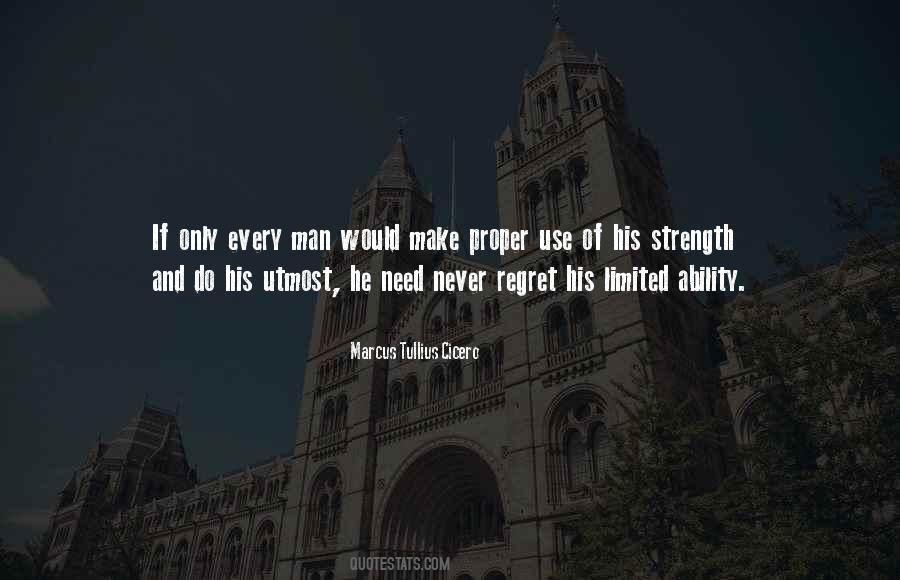 #43. Every man deems that he has precisely the trials and temptations which are the hardest of all others for him to bear; but they are so, simply because they are the very ones he most needs. - Author: Lydia M. Child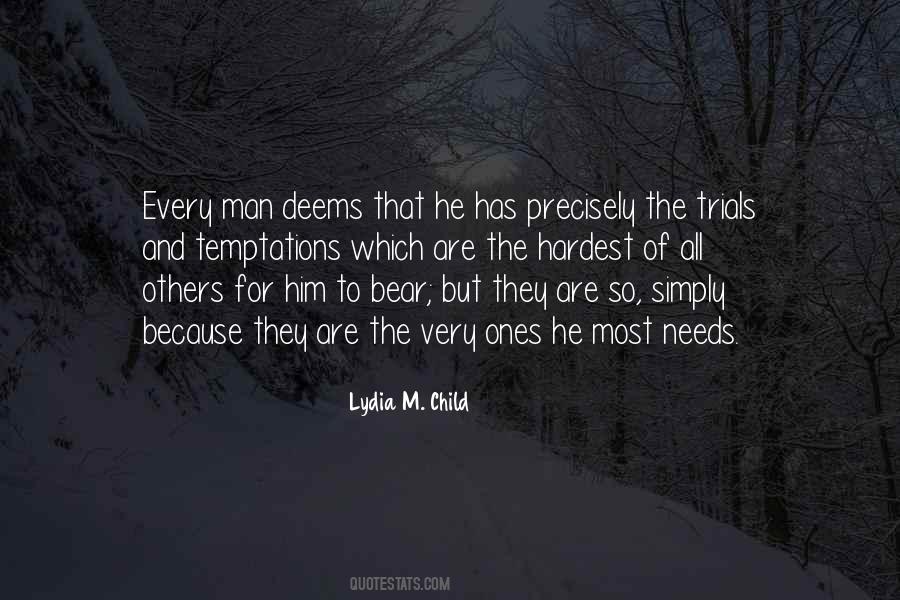 #44. If every man took only what was sufficient for his needs, leaving the rest to those in want, there would be no rich and no poor. - Author: Saint Basil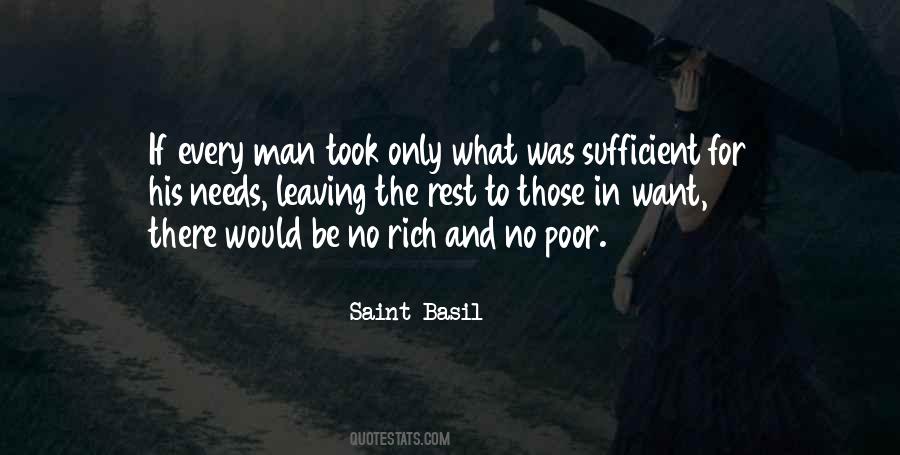 #45. The stage is yours, my dear Aaronic Priesthood boys. Are you ready and willing to play your part? The Lord needs every able young man to prepare and recommit, starting tonight, to be worthy of a call from the prophet of God to serve a mission. - Author: Ronald A. Rasband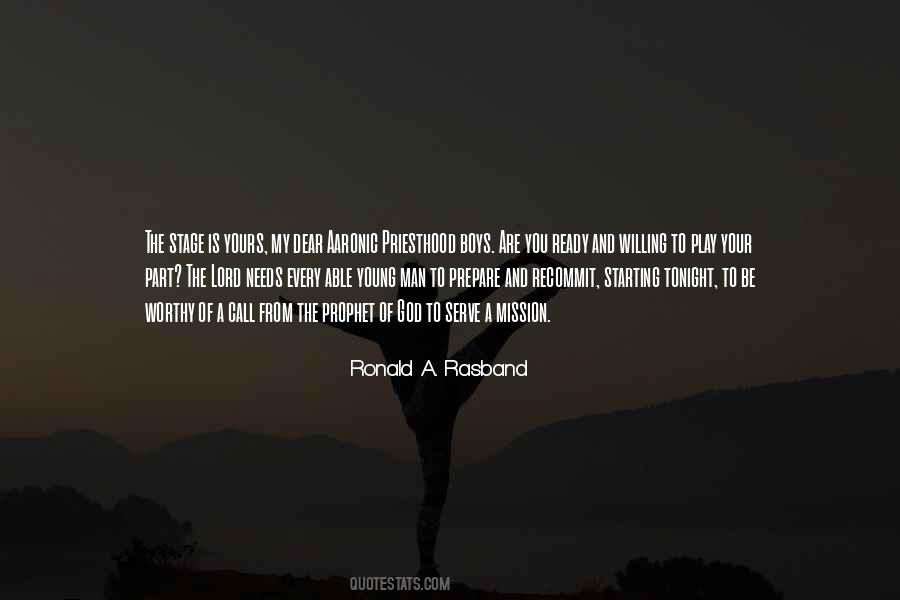 #46. He is the only man she has ever loved, and he has dumped her like ballast. She needs to find an explanation that does not make her a fool and him an animal, but every thought of him is a knife turning in the wound love made. - Author: Mark Haddon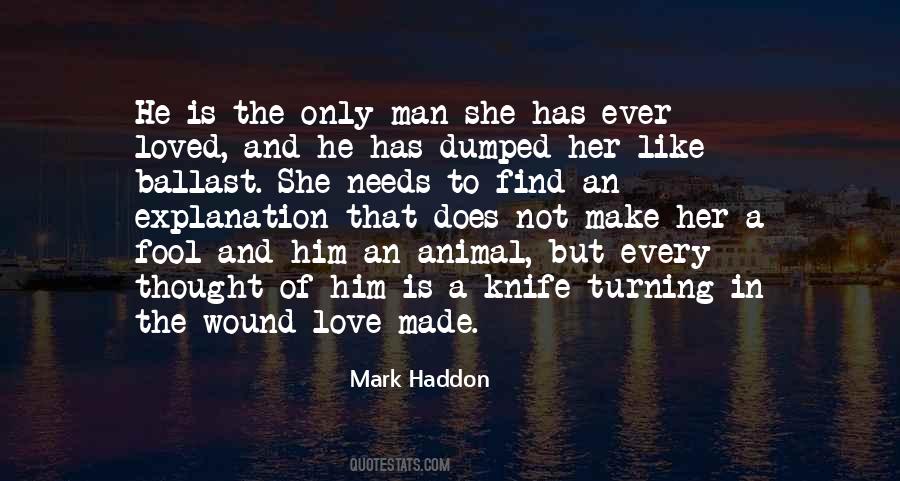 #47. The existence of strict moral principles has invariably
signified that the biological, and specifically the sexual
needs of man were not being satisfied. Every moral regulation is in itself sex-negating, and all compulsory morality is life-negating. - Author: Wilhelm Reich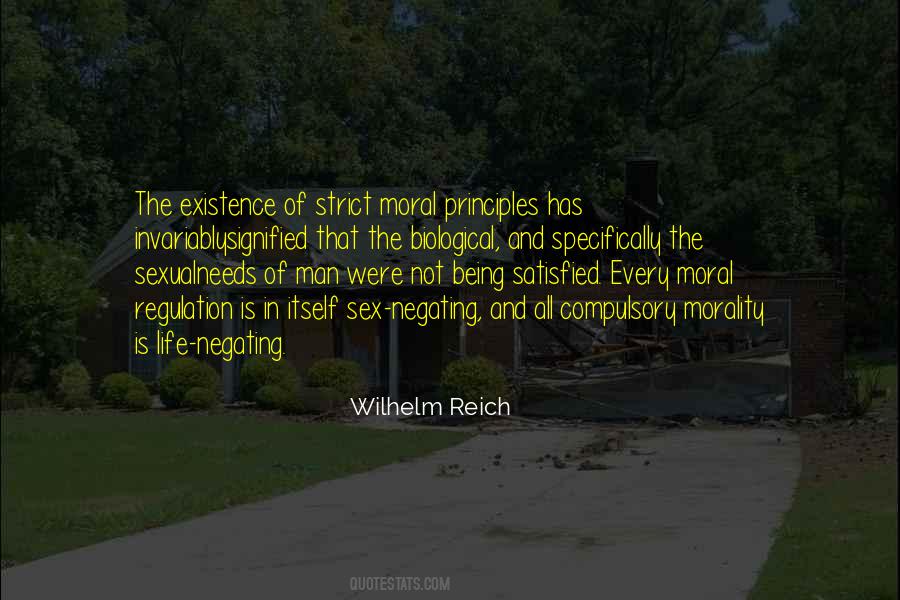 #48. Every man at some point in his life needs to be tested so he can find out if he's a righteous man or an indifferent one. - Author: Dannika Dark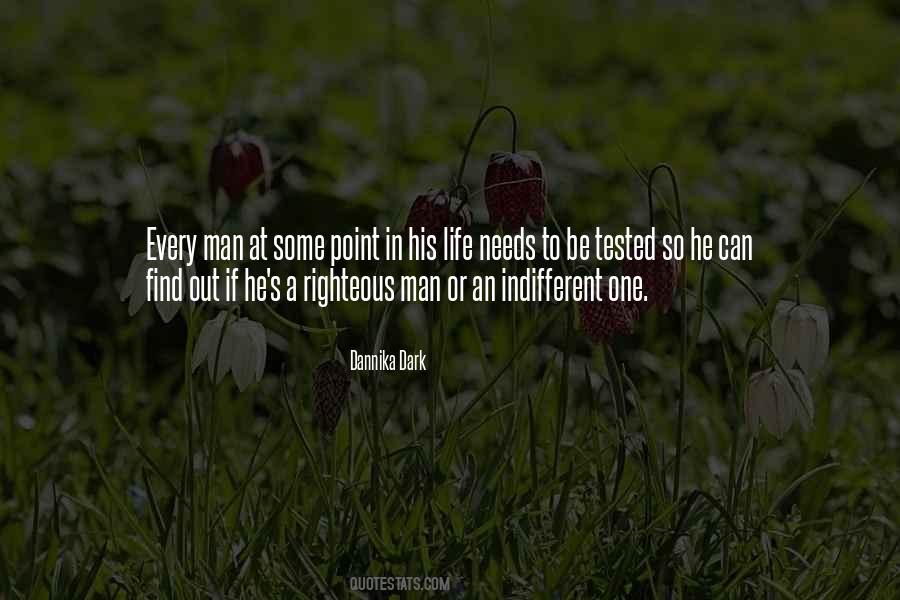 #49. Consequently there is a need for spiritual vitality. What protection is there against the danger of organisation? Man is once more faced with the problem of himself. He can cope with every danger except the danger of human nature itself. In the last resort it all turns upon man. - Author: Dietrich Bonhoeffer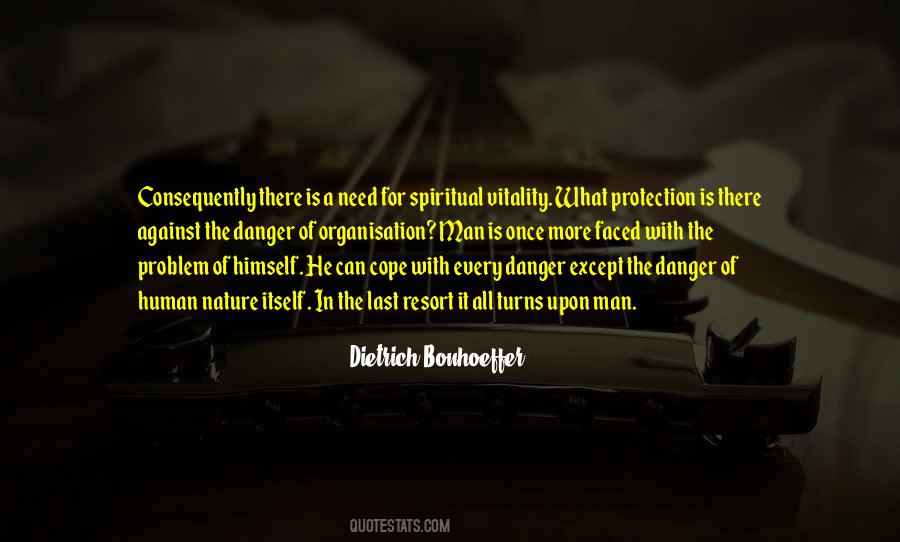 #50. Most people carry an ideal man and woman in their head, and when the practical relations of the men and women of every day are discussed with reference only to these impossible ideals, we need not marvel at any ridiculous conclusions. - Author: Mary C. Ames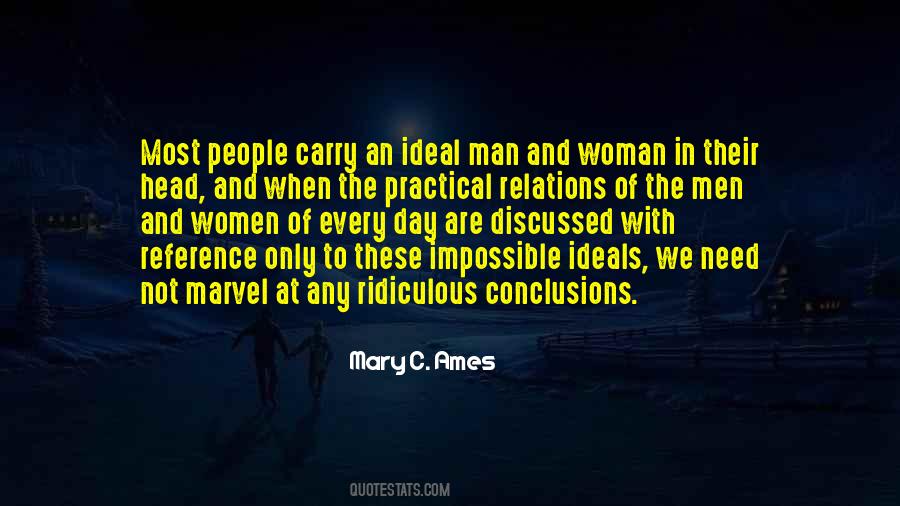 #51. I am well aware that one can't get along without domineering or being served. Every man needs slaves as he needs fresh air. Commanding is breathing - you agree with me? And even the most destitute manage to breathe. - Author: Albert Camus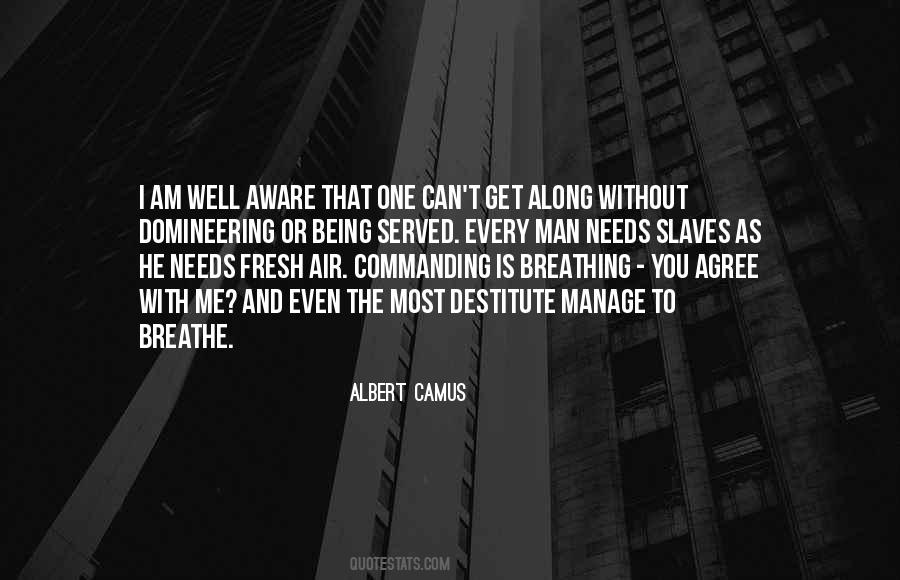 #52. Every whore needs a man that could turn her into a beautiful swan ... - Author: Cleopatramoneysex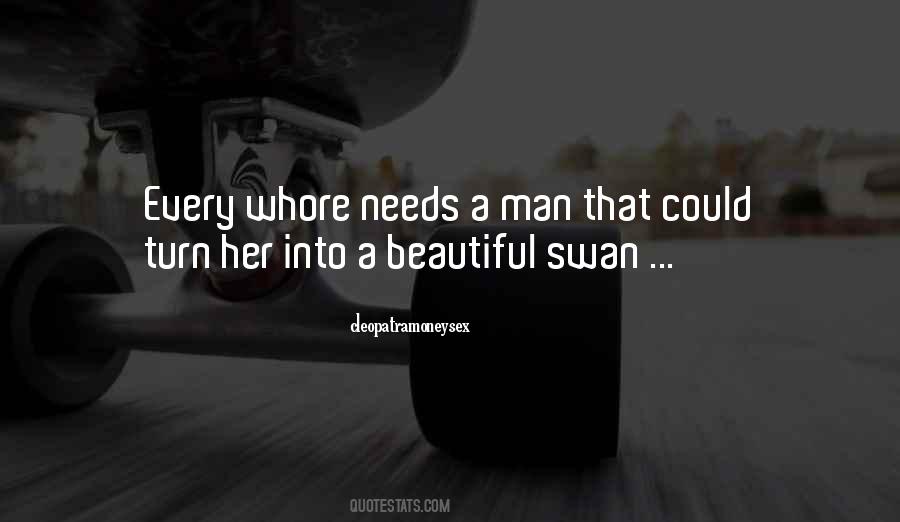 #53. Earth provides enough to satisfy every man's needs, but not every man's greed. - Author: Mahatma Gandhi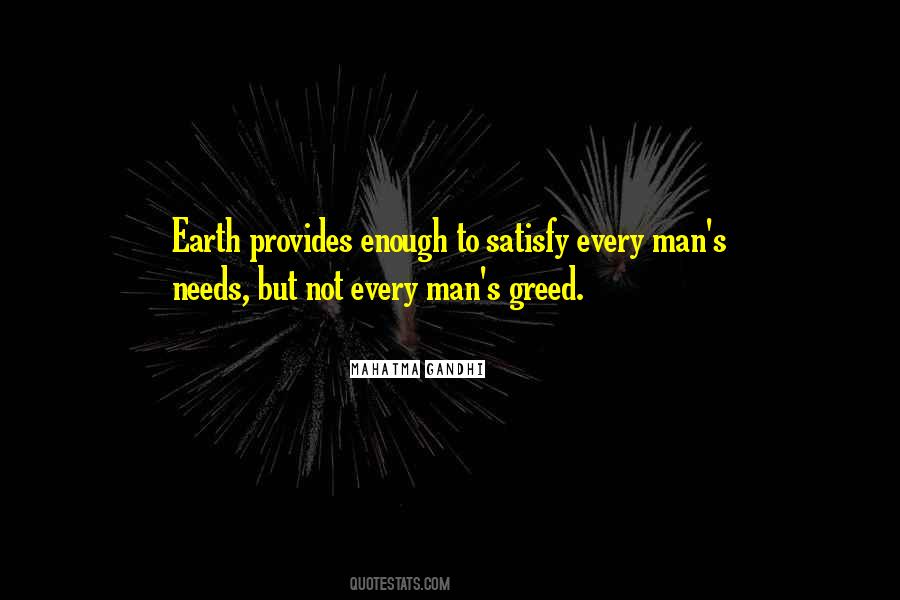 #54. Every man is a consumer, and ought to be a producer. He is by constitution expensive, and needs to be rich. - Author: Ralph Waldo Emerson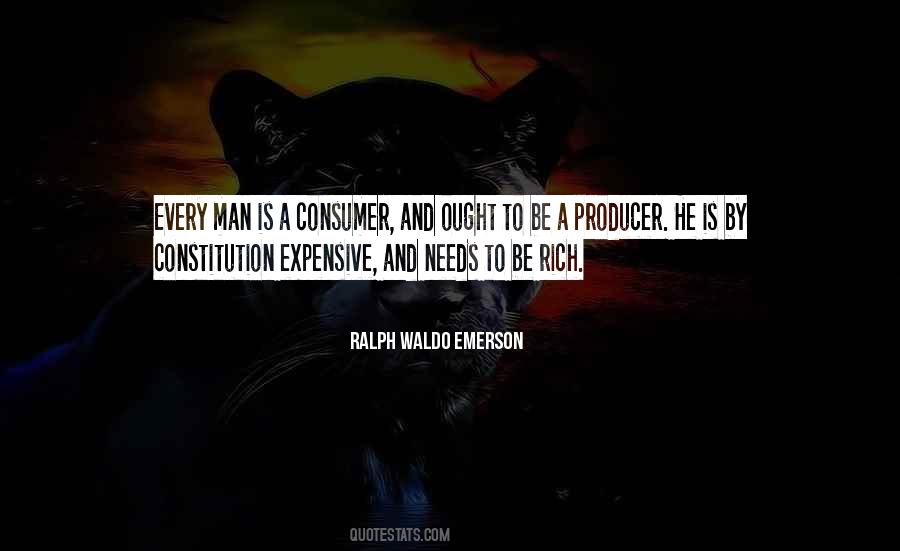 #55. Providing for your family's immediate needs while simultaneously moving toward your goals forces you to work hard and trust God - two vital components of every good man. If - Author: David Benham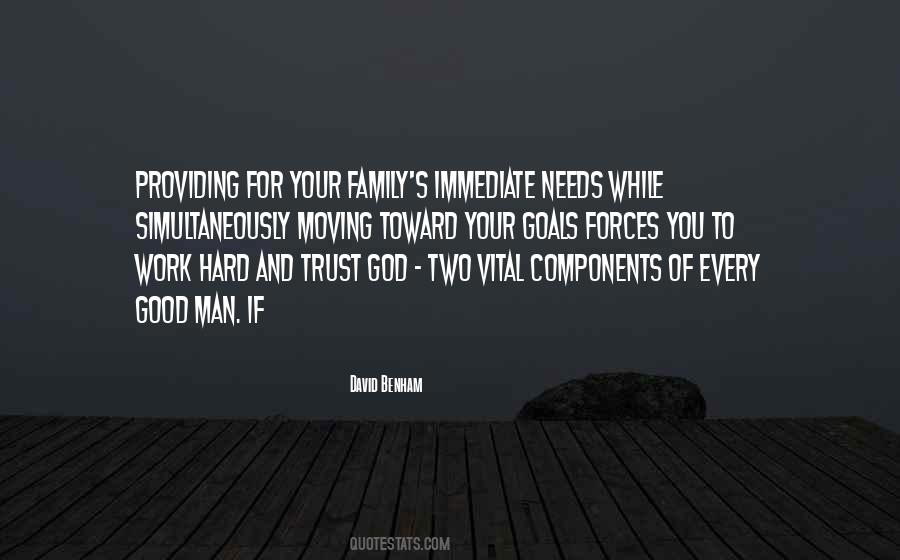 #56. Every ship sailing the sea of life needs to have the divine Pilot on board; but when storms arise, when tempests threaten, many persons push their Pilot overboard, and commit their bark into the hand of finite man, or try to steer it themselves. - Author: Ellen G. White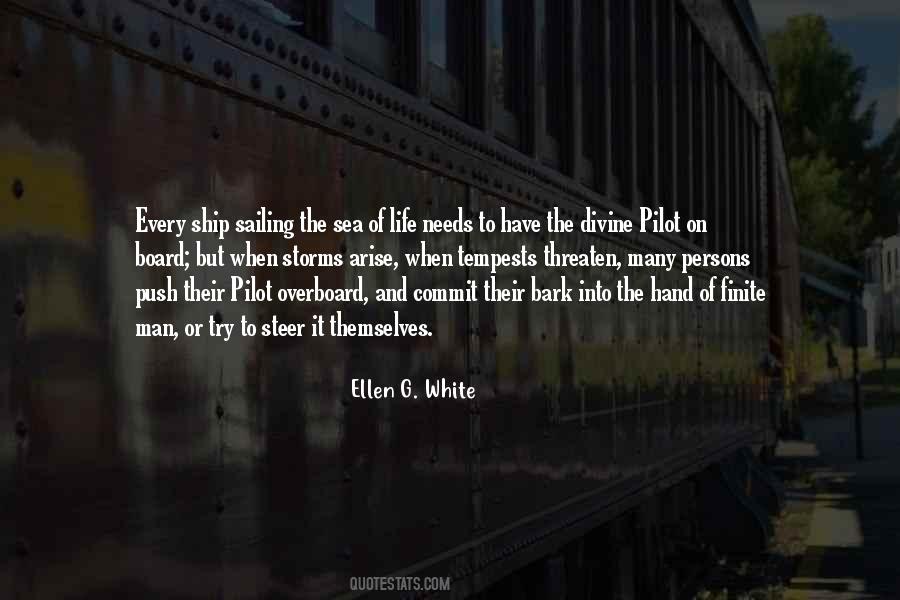 #57. In every ascetic morality man worships a part of himself as God and for that he needs to diabolize the other part. - Author: Friedrich Nietzsche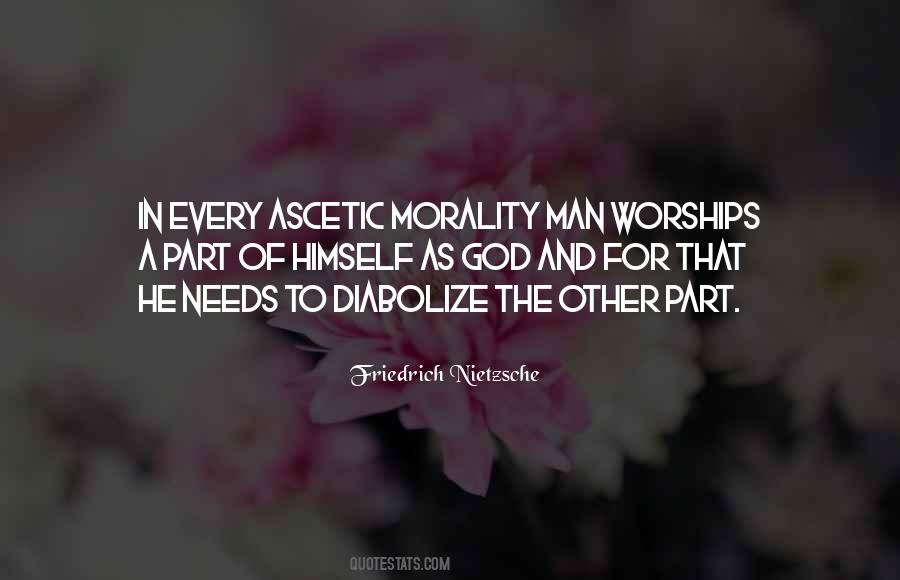 #58. I want a man that will do what he needs to do to take care of his family. I will give that man every ounce of love and support I have to give. I will never measure him against another man. I will never want what other people have. I will simply enjoy every minute we have together. - Author: Destin Bays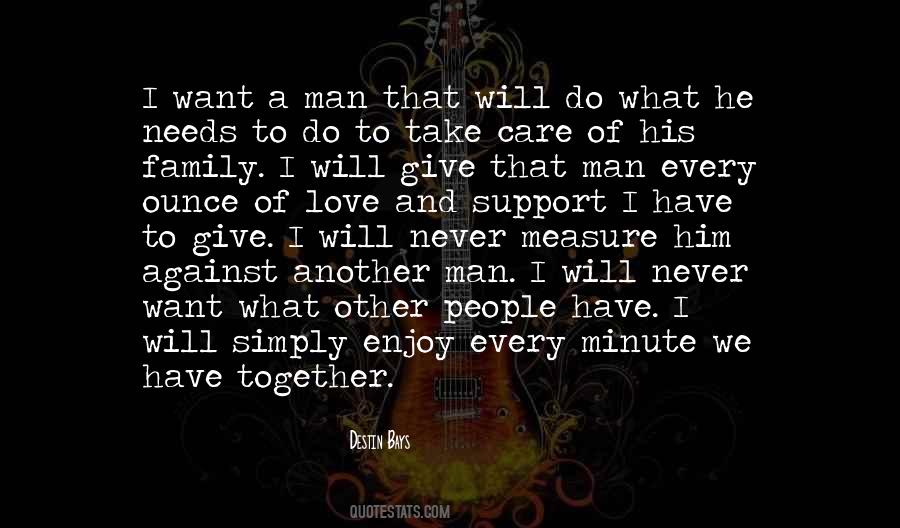 #59. Every man, however wise, needs the advice of some sagacious friend in the affairs of life. - Author: Plautus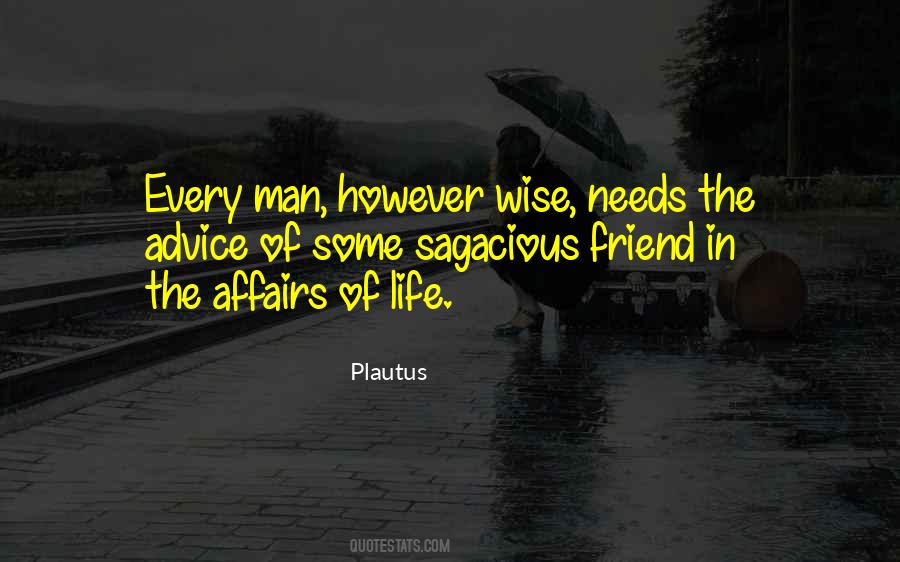 #60. The primary contention is that man consists of body, soul and spirit and that each of these needs to be acknowledged and satisfied in the experience of architecture as in every other way. - Author: Kenneth Bayes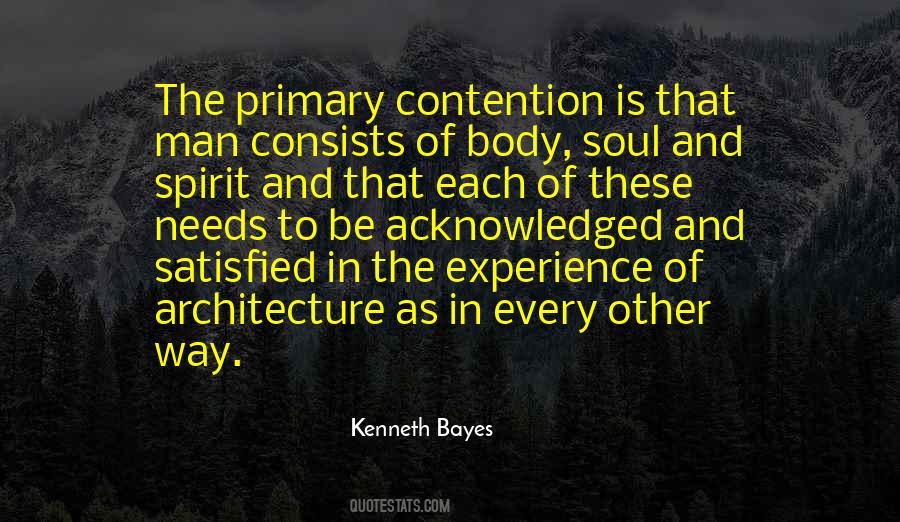 #61. The first thing any charlatan needs is nomenclature. A special language. Trappings. That's the true genesis of psychobabble terms such as 'disclosure' and 'in denial.' Every good con man needs plausibility ... - Author: Andrew Vachss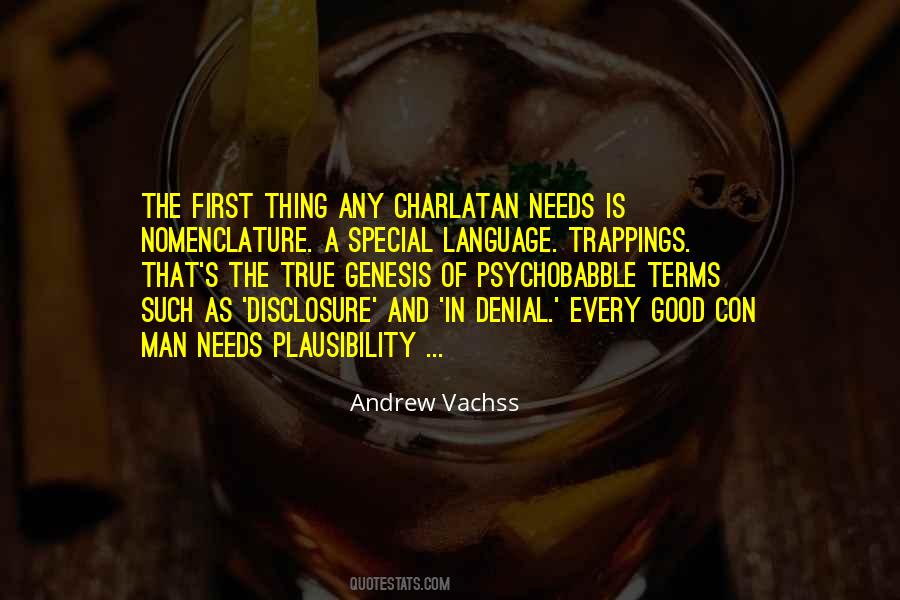 #62. Every man needs a shadow to reveal his light, to always be that close, ever present, bonded forever in astral allegiance. - Author: Poppet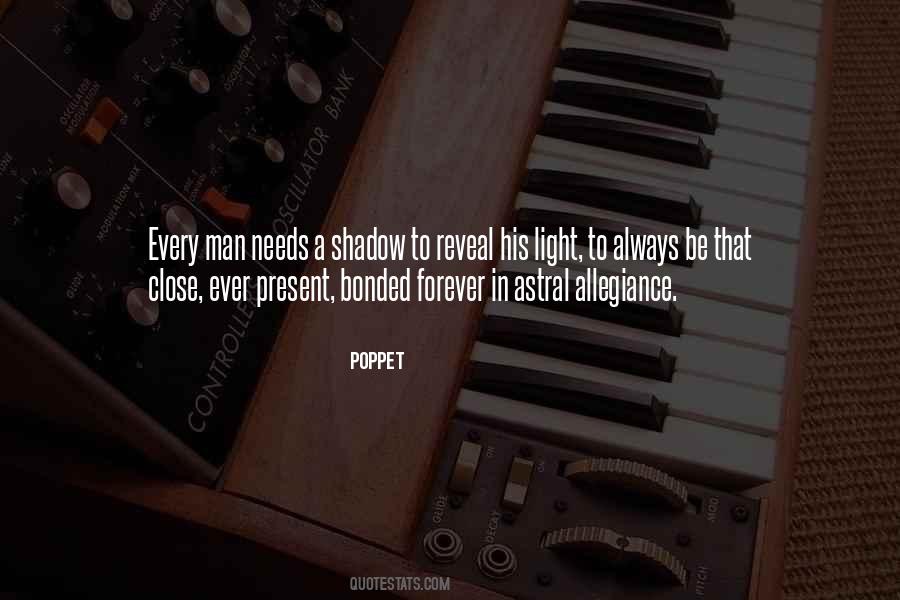 Famous Authors
Popular Topics