End Is Inevitable Famous Quotes & Sayings
List of top 53 famous quotes and sayings about end is inevitable to read and share with friends on your Facebook, Twitter, blogs.
Top 53 End Is Inevitable Quotes
#1. I was the sort of kid who spent a Sunday afternoon prying little trees out of the foundation of his parents' house. I should have given in to the inevitable truth that this was the sort of person I would become, in the end, but I kept fighting it. - Author: Louise Erdrich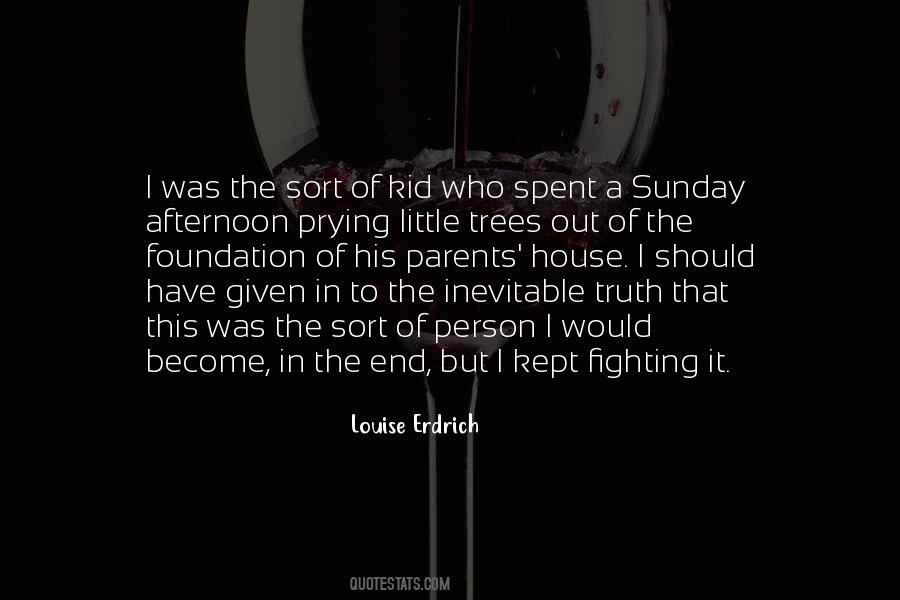 #2. Becoming hard at heart isn't an intersection in your brain where you have a choice to turn left or right. It's coming to a dead end, and you just keep going, over the cliff, unable to stop the inevitable, because the truth is you just don't want to. - Author: Penelope Douglas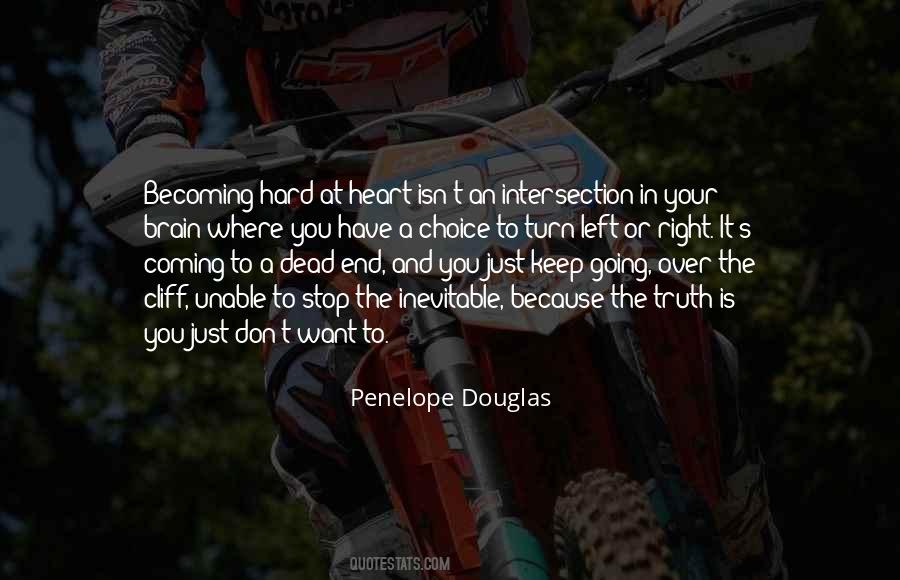 #3. While the pressures of life are inevitable, if at the end of the day you are unable to completely let go of the day and return to a calm, centered inner state, you are overstressed. - Author: Deepak Chopra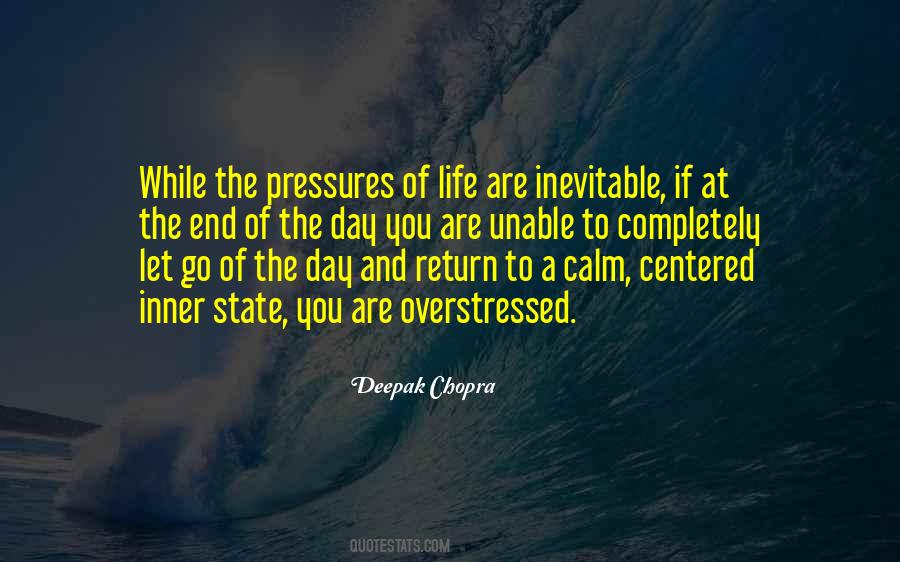 #4. Was it all inevitable, John?" Reeve was pushing his fingers across the floor of the cell, seated on his haunches. I was lying on the mattress.
Yes," I said. "I think it was. Certainly, it's written that way. The end of the book is there before the beginning's hardly started. - Author: Ian Rankin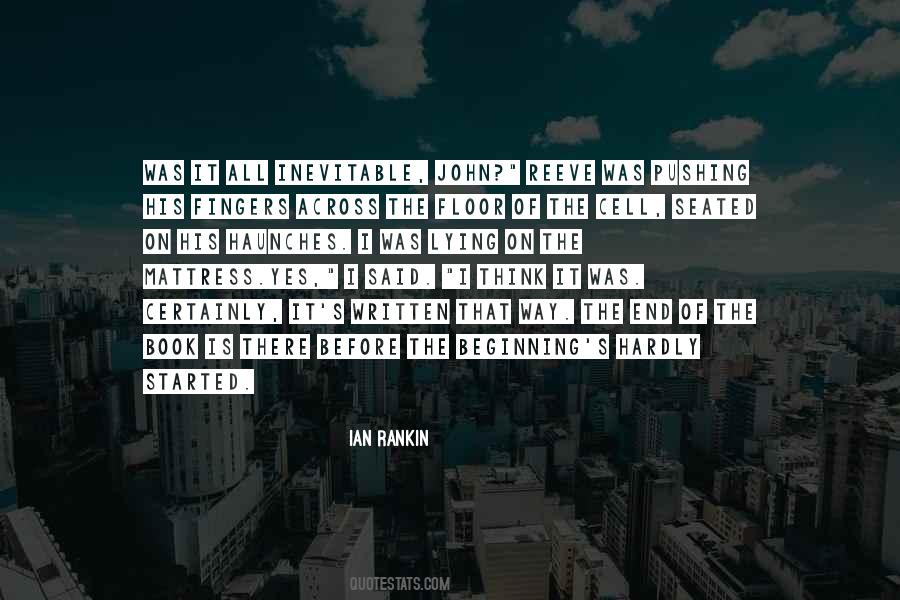 #5. There comes a time when a race of beings makes a decision. When they chose to reject enlightenment, it's the end of their world because the karma is inevitable. They have to destroy themselves. - Author: Frederick Lenz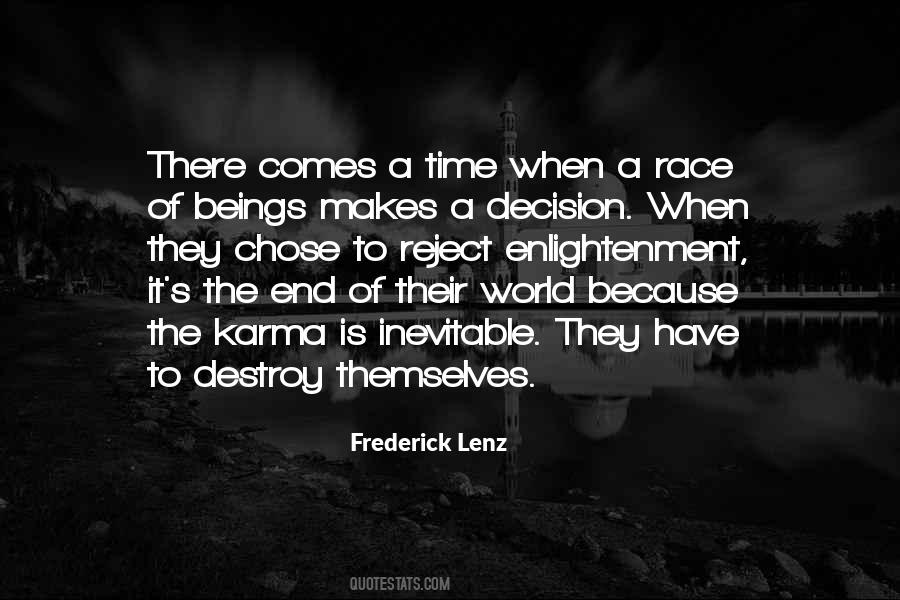 #6. ... the trouble with oaths of the form, death before dishonor, is that eventually, given enough time and abrasion, they separate the world into two sorts of people: the dead, and the forsworn. - Author: Lois McMaster Bujold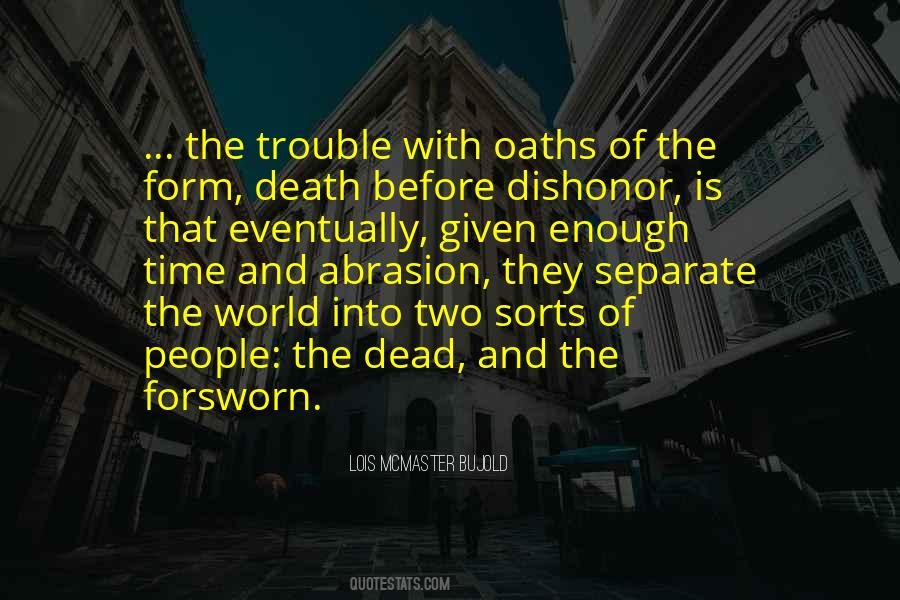 #7. Jules and I smiled a lot. So much, that I found my cheeks actually hurt when I finally rested my head at the end of the day. I would rub the muscles in them, readying them for their inevitable workout the next day. - Author: Fisher Amelie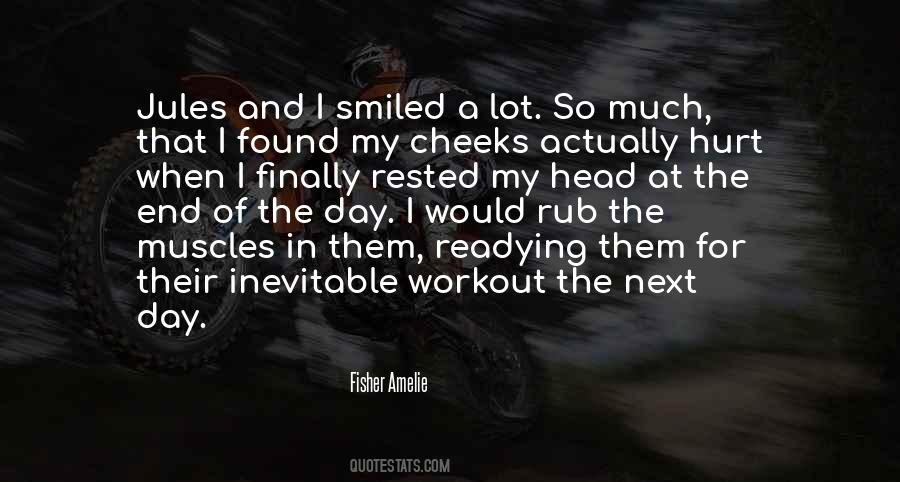 #8. If you once believed that everything always turns out well in the end, you can be persuaded that nothing turns out well in the end. If you once did nothing because you thought progress is inevitable, then you can continue to do nothing because you think time moves in repeating cycles. - Author: Timothy Snyder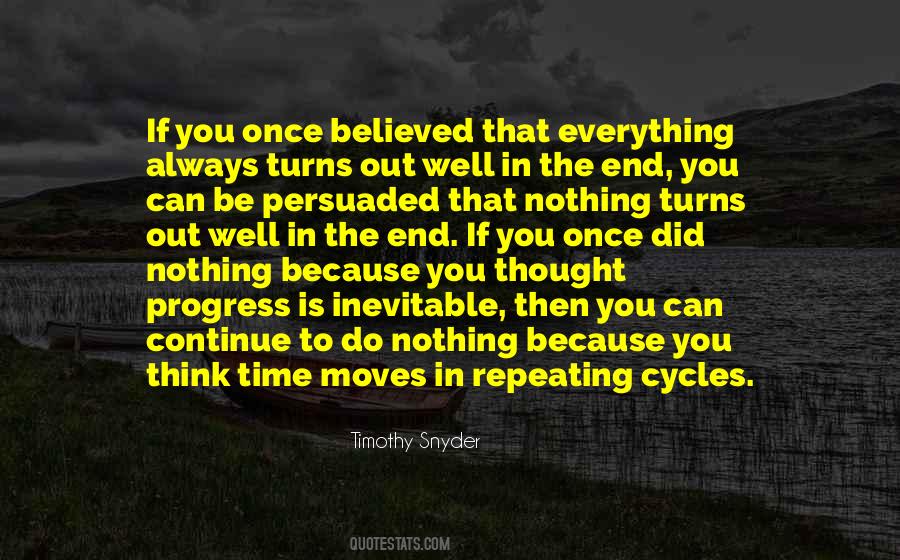 #9. She never confronted the death of anything, be it a habit, a phase, or a marriage, even when the end stood right in front of her, plain and inevitable. - Author: Elif Shafak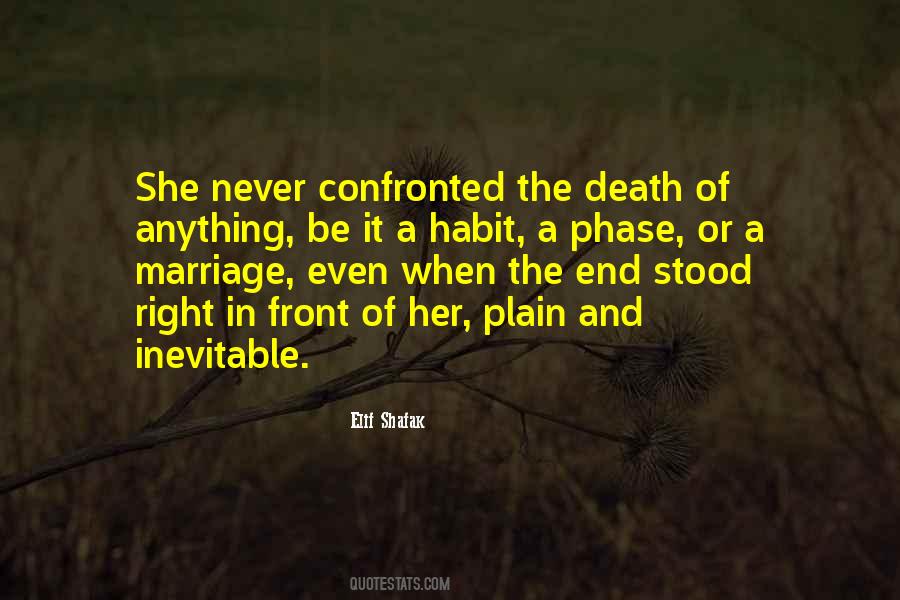 #10. It's always very important to me to try to create a story that feels unpredictable. You can't jump ahead and see what's coming, but at the end, when you've watched the whole thing, it all feels inevitable. - Author: Noah Hawley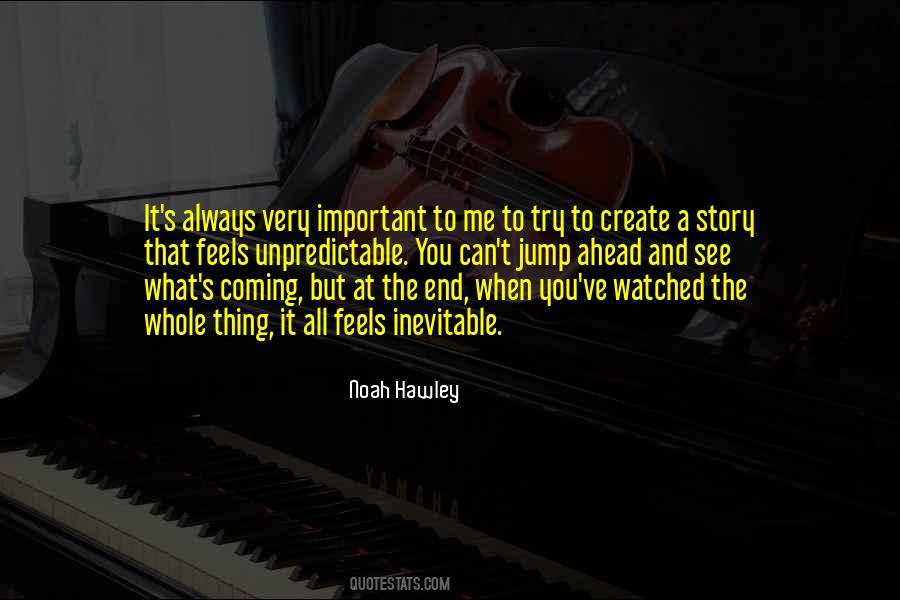 #11. Everything has a beginning and an end. Life is just a cycle of starts and stops. There are ends we don't desire, but they're inevitable, we have to face them. It's what being human is all about. - Author: Jet Black
#12. Only remember: I am not the ease, but the end.
I am not to blind you, but to find you.
What you think is the sirens singing to lure you to your doom is only the voice of the inevitable, welcoming you after so long a wait. I was made only for you. - Author: Elizabeth Smart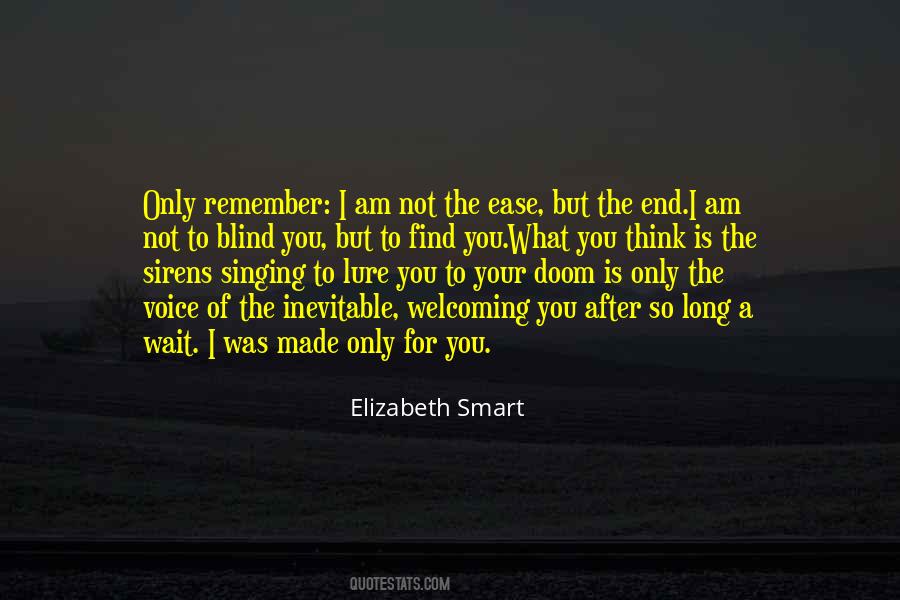 #13. But life wasn't a film. Problems didn't disappear and "The End" wasn't emblazoned across a lingering embrace the moment people succumbed to the inevitable and found the right moment to verbalise it. He - Author: Lucy Parker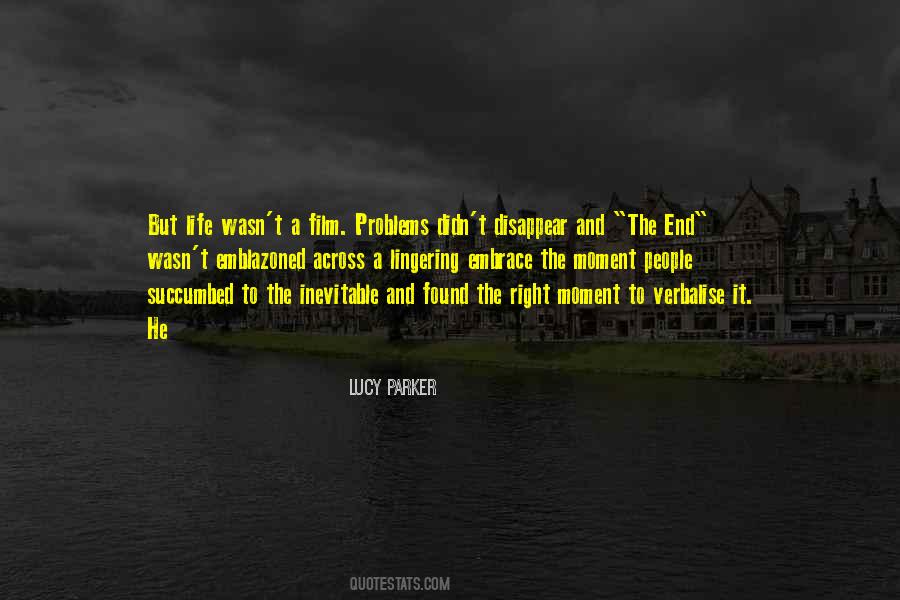 #14. I am dying. Every day, with every breath I draw, I am closer to the end of my life. For we are born with a finite number of breaths, and each one I take edges the sunlight that is my life toward the inevitable dusk. - Author: R.A. Salvatore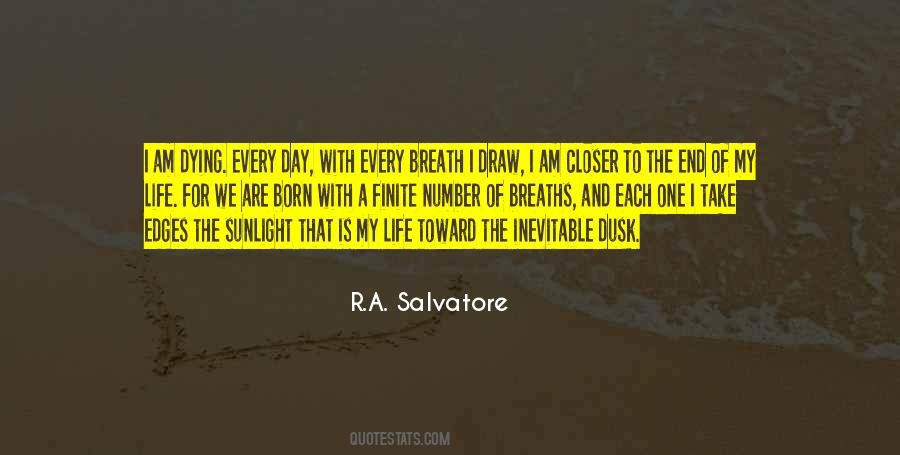 #15. Each beginning is the end of a waiting. We are each given exactly one chance to
be. Each of us is both impossible and inevitable. Every replete tree was first a seed that
waited. - Author: Hope Jahren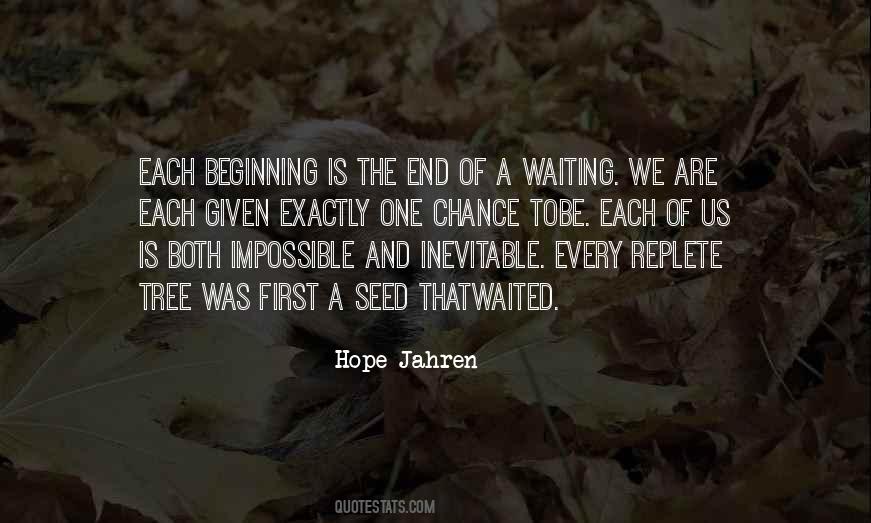 #16. I would have found Eva eventually. And I would've wanted her, given up everything to have her. I would have left you to be with her. The end was inevitable. - Author: Sylvia Day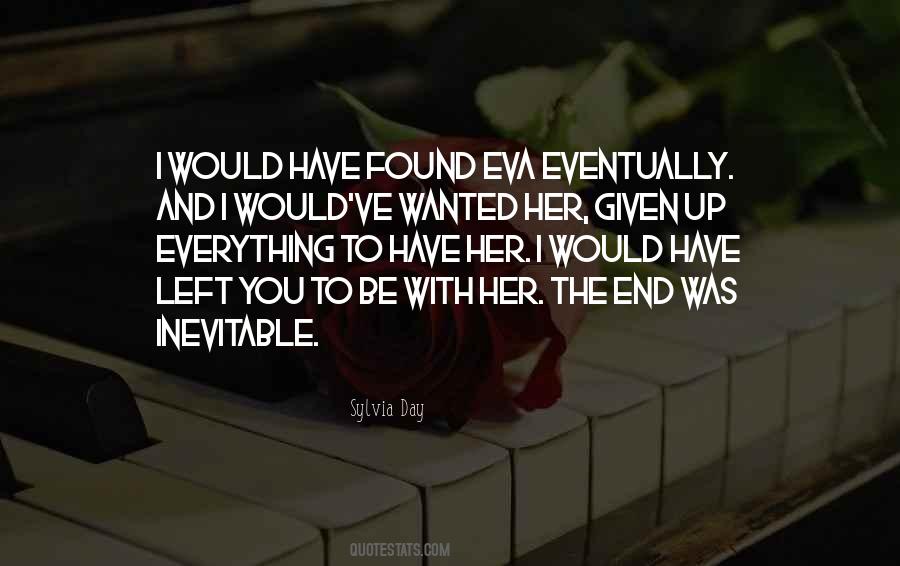 #17. Death, the inevitable end of everything, confronted him for the first time with irresistible force. - Author: Leo Tolstoy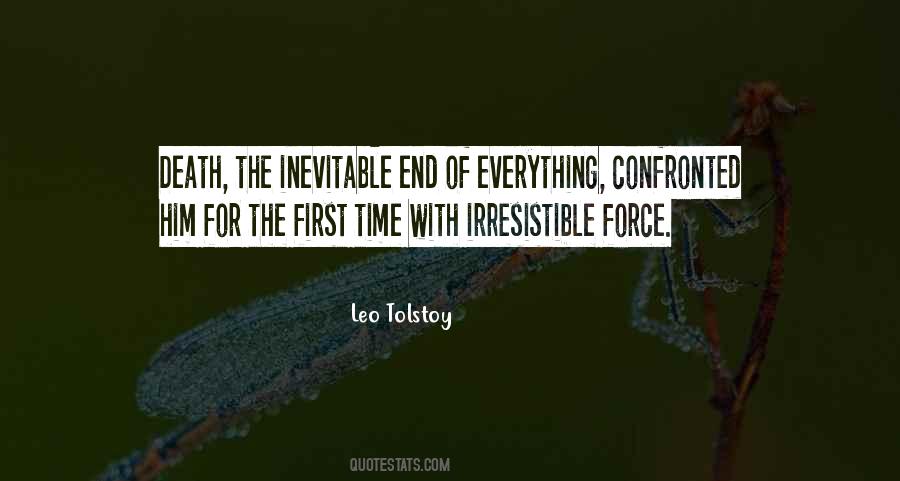 #18. Over the next 20 to 30 years, we are going to end up with world government. It's inevitable ... There's going to be conflict, coercion and consensus. That's part of what will be required as we give birth to the first global civilization. - Author: Jim Garrison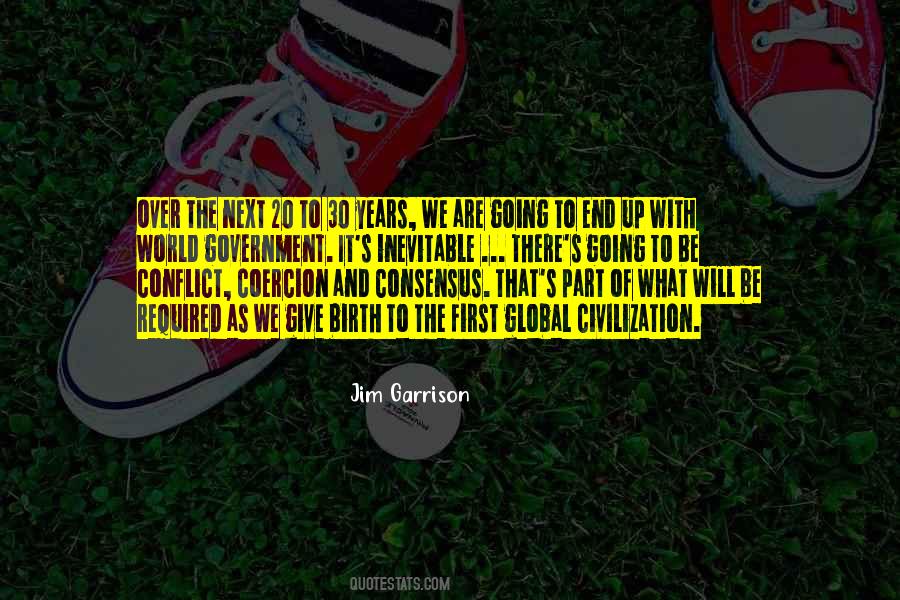 #19. Strictly speaking, no person who believes that wars between classes and nations are inevitable is fit to be in charge of the destiny of children. To believe in the unity of the human race and get children to believe it in early youth would mean the creation of that unity and the end of war. - Author: Dora Russell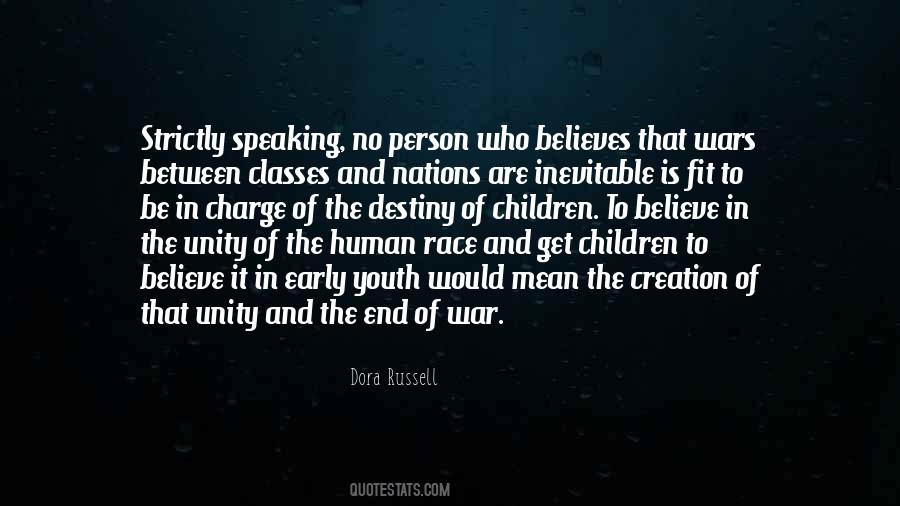 #20. I valued that half-dream state of being lost in a book so much that I limited the number of pages I let myself read each day in order to put off the inevitable end, my banishment from that world - Author: Allison Hoover Bartlett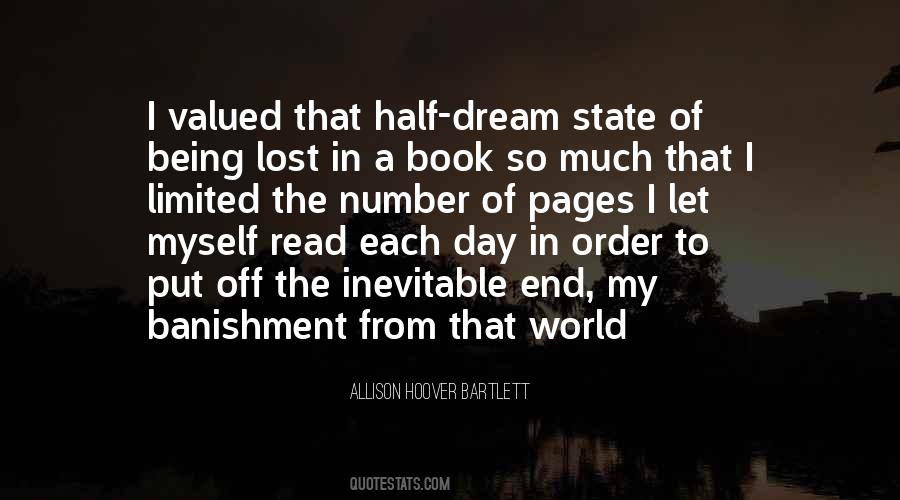 #21. No one actively wishes to change a circumstances which is pleasant, comfortable, and rewarding, my dear; but in the end, change is inevitable. It will come. - Author: Syrie James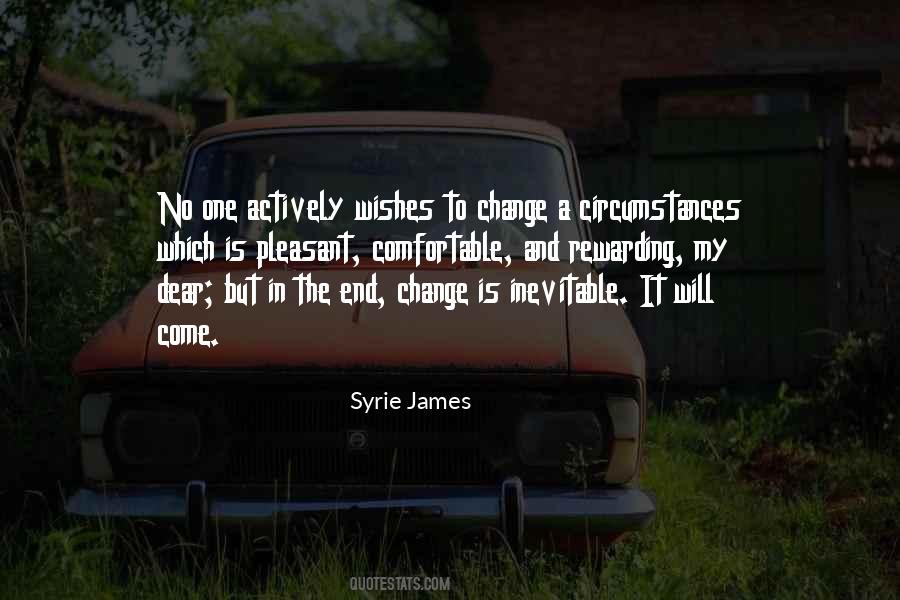 #22. Given my history with my sister, it was inevitable, really, that we would end up wrestling in the mud, beating each other senseless with pieces of foam rubber. - Author: Molly Harper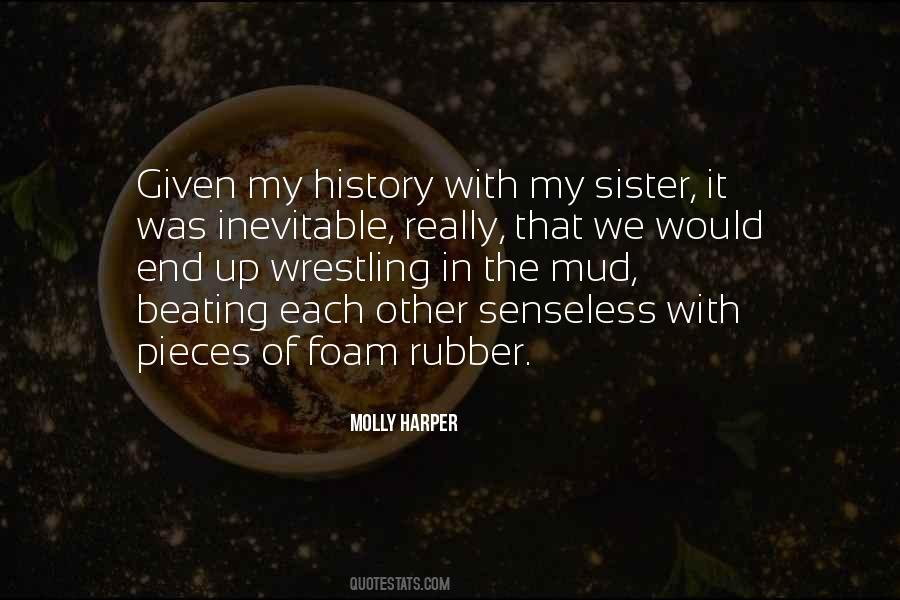 #23. If you followed logic all the way back to its origin, did you inevitable end up at a point of illogic, an article of faith? Even an indisputable fact must be chosen as the place to start reasoning, given weight by a mind that believed in its worth. - Author: Rachel Hartman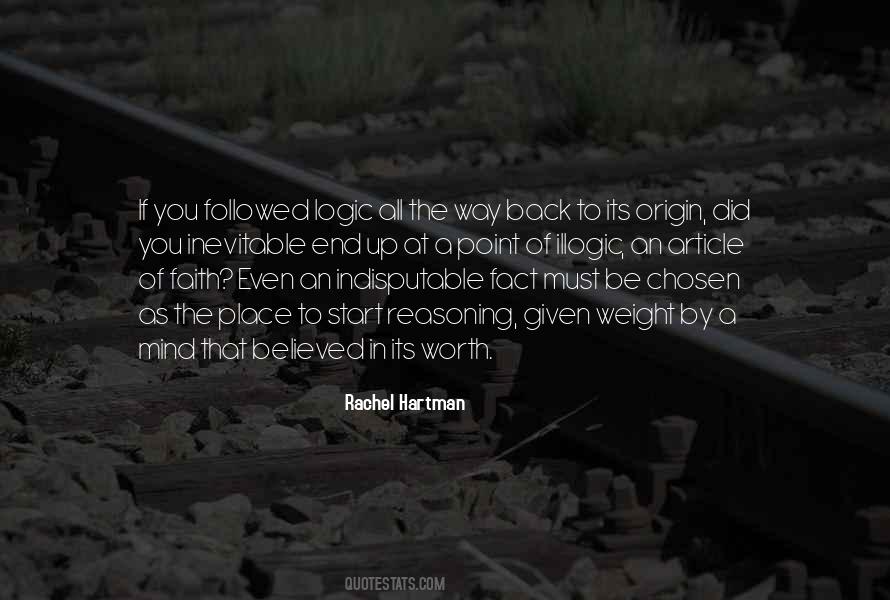 #24. I see old age not as something to hide from or dread (though there is much to oppose in the usual treatment of the old) but rather as something to embrace as the natural and inevitable end. - Author: Alix Kates Shulman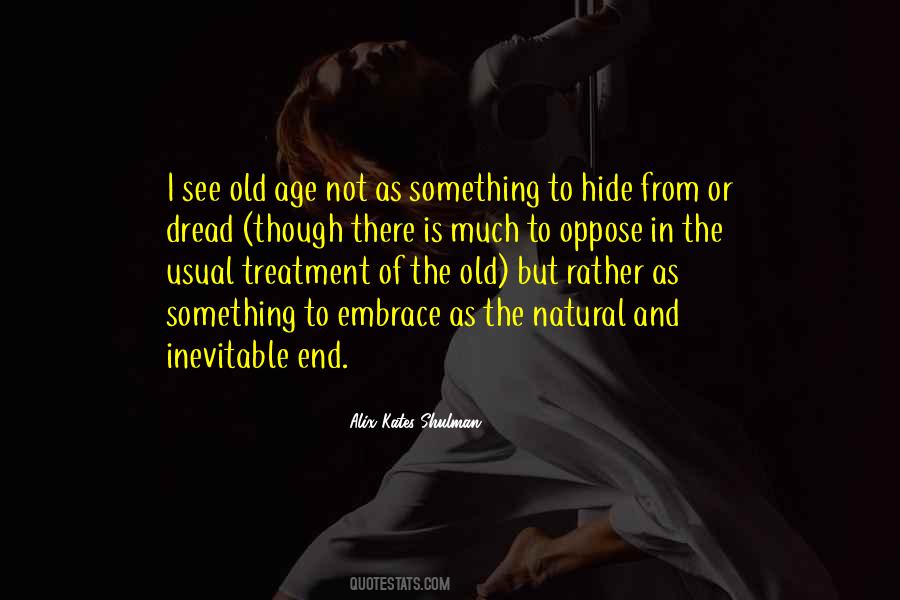 #25. Retiring from writing is to avoid the inevitable bitterness which a writing career is bound to deliver as its end product in almost every case. - Author: Jim Crace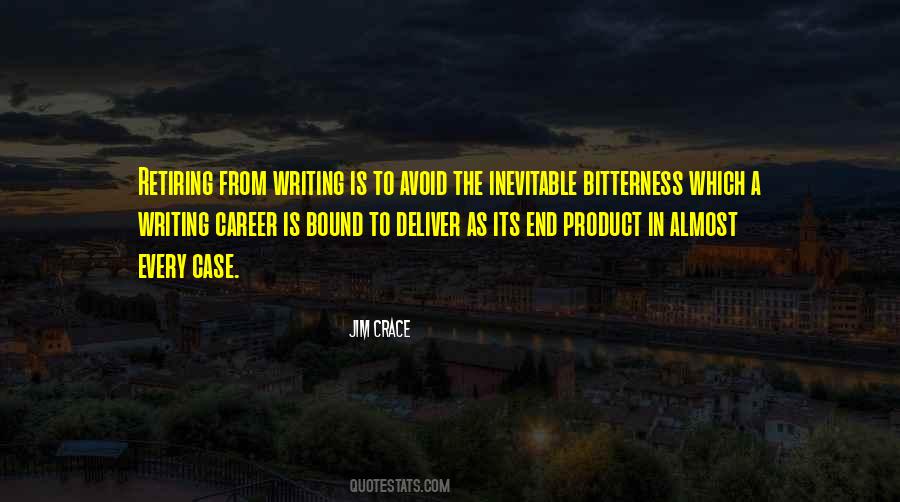 #26. He wondered often how he would ever recognize the first chill, flush, twinge, ache, belch, sneeze, stain, lethargy, vocal slip, loss of balance or lapse of memory that would signal the inevitable beginning of the inevitable end. - Author: Joseph Heller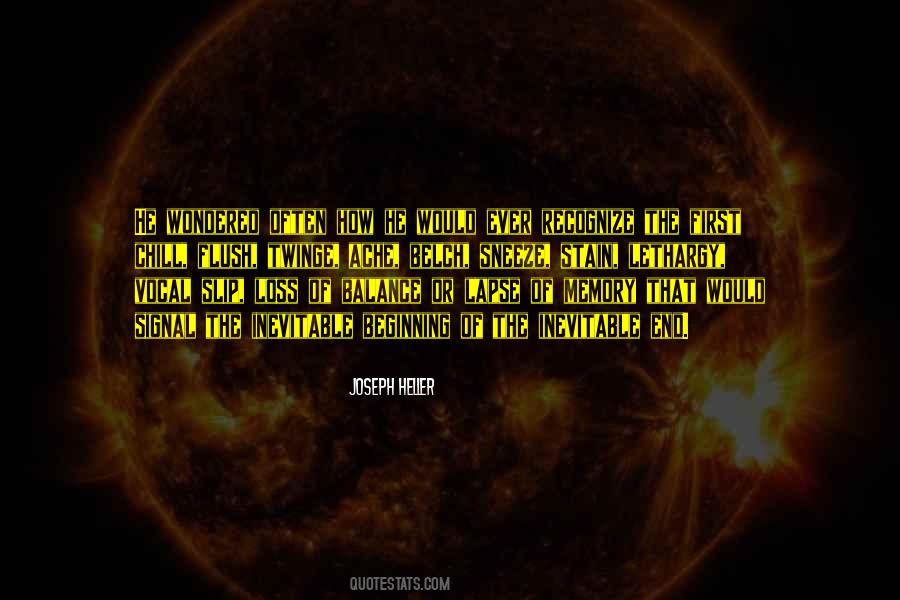 #27. A murderer is nothing but an enzyme. In the end he does nothing but catalyze an inevitable process. As a good precursor, in fact, he anticipates it. - Author: William C. Brown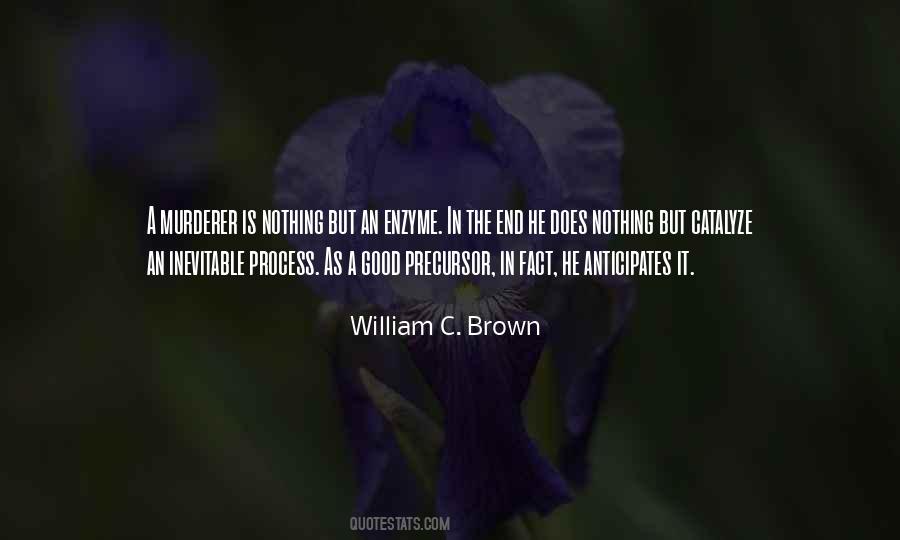 #28. The inevitable end of multiple chiefs is that they fade and disappear for lack of unity. - Author: Napoleon Bonaparte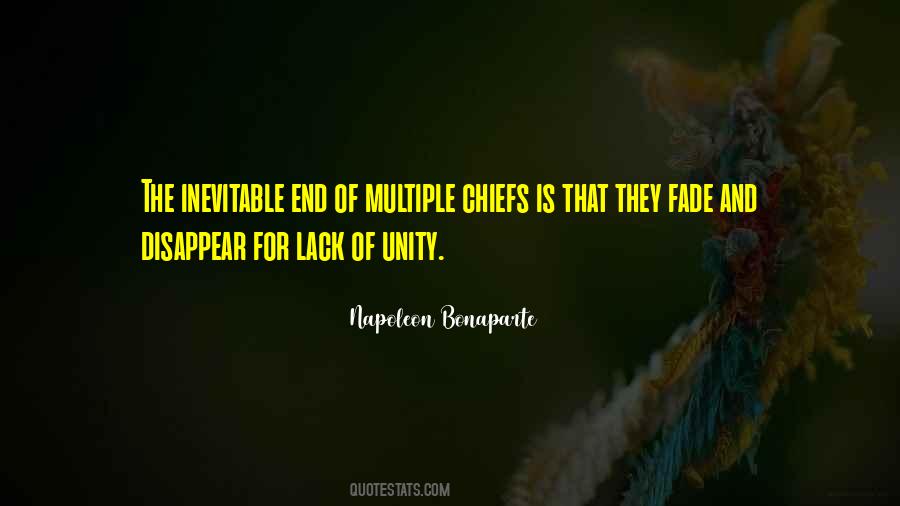 #29. Surrealism is merely the reflection of the death process. It is one of the manifestations of a life becoming extinct, a virus which quickens the inevitable end. - Author: Henry Miller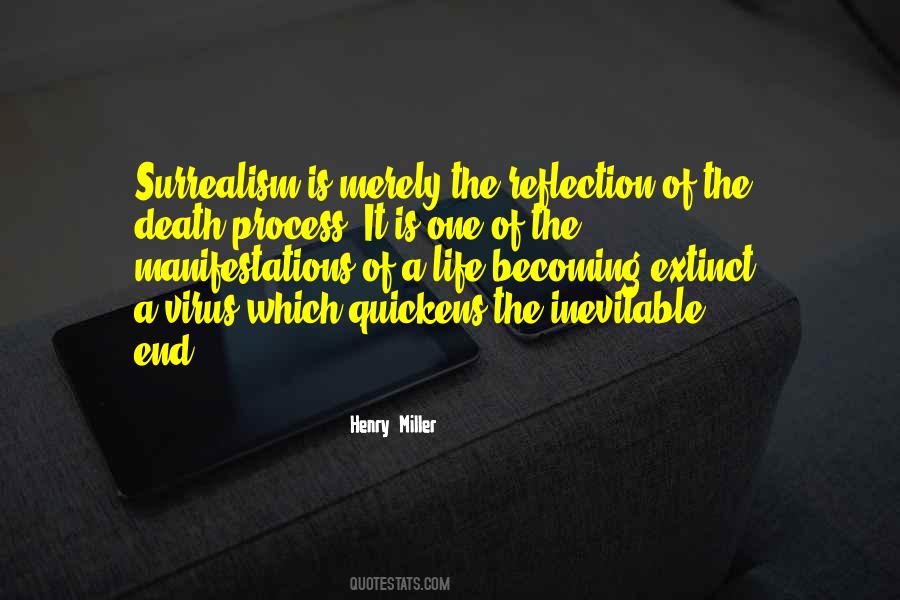 #30. Like the muscles knew from the beginning that it would end with this, this inevitable falling apart ... It's sad, but a relief as well to know that two things so closely bound together can separate with so little violence, leaving smooth surfaces instead of bloody shreds. - Author: Julie Powell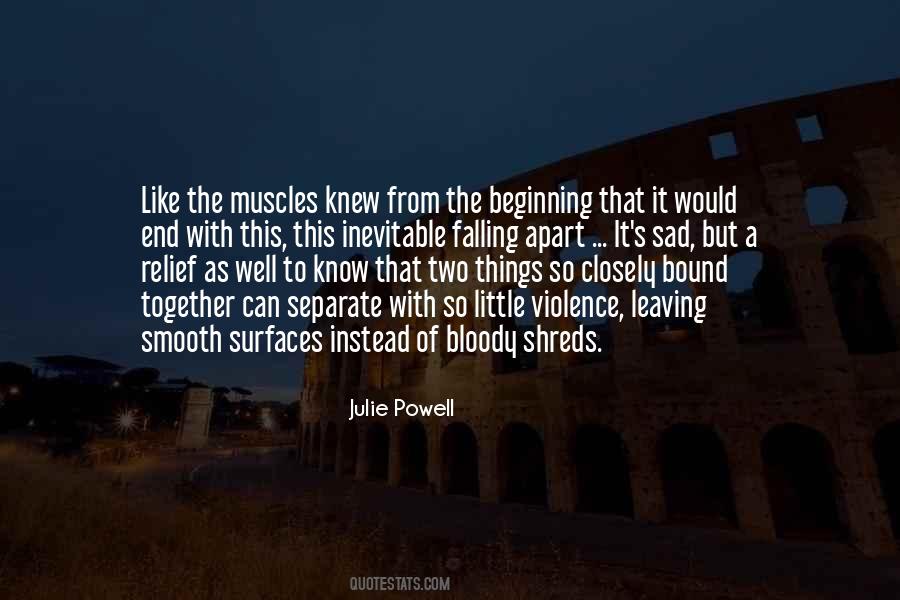 #31. In the end we are all sacked and it's always awful. It is as inevitable as death following life. If you are elevated there comes a day when you are demoted. Even Prime Ministers. - Author: Alan Clark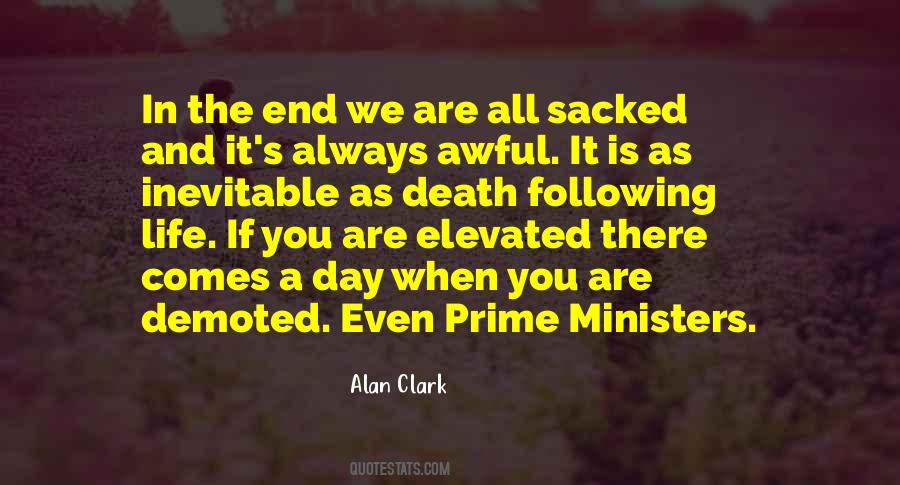 #32. It was inevitable that in doing this I should arrive at new results, and it is perhaps understandable that in the end I have felt impelled to present these results not only in the dry form of a catalogue, but also in a more connected and personal one. - Author: Alfred Einstein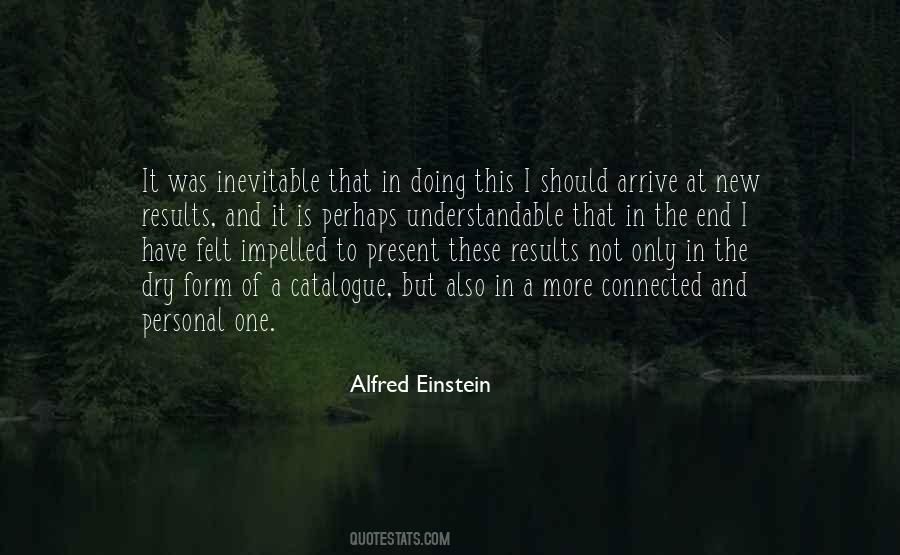 #33. Death. It was something I had to think about once. Weird, right? Strange that death was ever an inevitable end, but it wasn't anymore. Not really. I eluded it. Tricked it. It was an odd concept - the world aged, moved forward, yet I ... didn't. - Author: Laura Kreitzer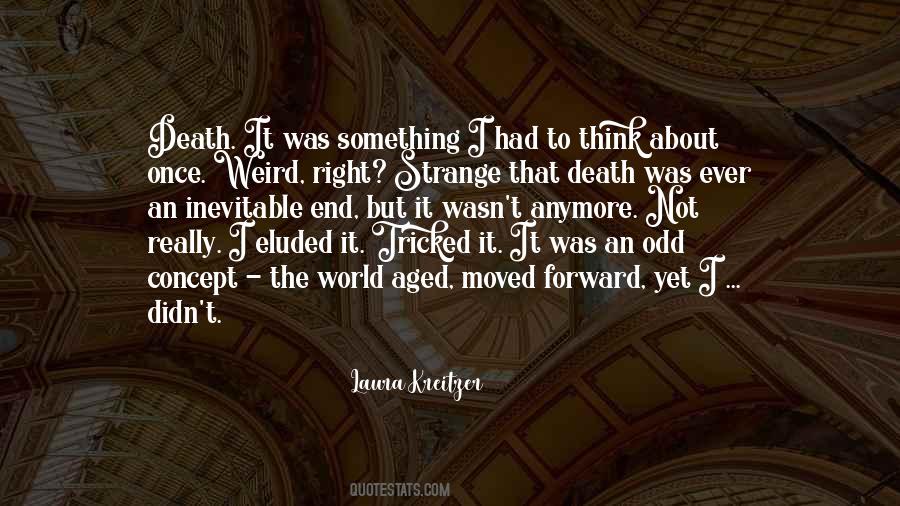 #34. Long ago she'd learned that facing reality was inevitable. She could skulk about, trying to avoid it or pretending it wasn't there. But in the end, reality always found her. And its finding her seemed a
harsher blow than if she'd faced the situation straight on from the very start. - Author: Tamera Alexander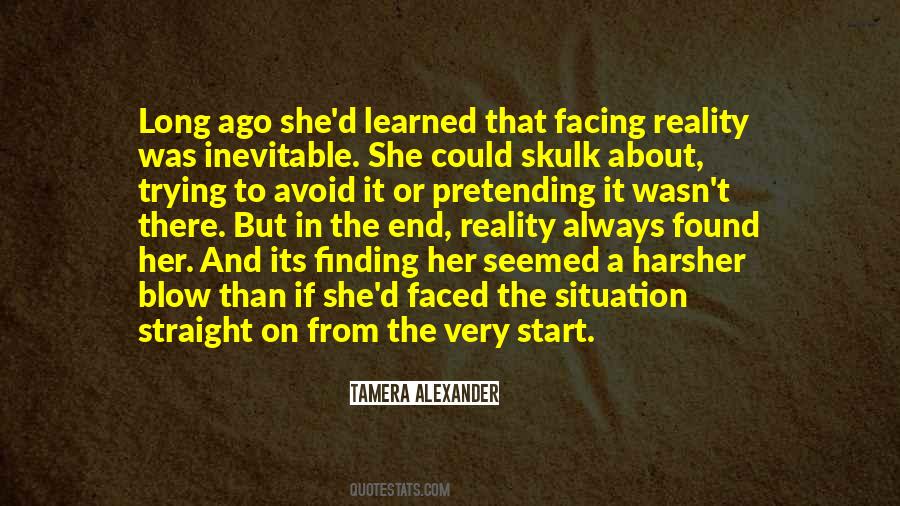 #35. When it comes down to it, though, the real decision is inevitable: If one of us has to be destroyed, let's make damn sure we're the ones alive at the end. - Author: Orson Scott Card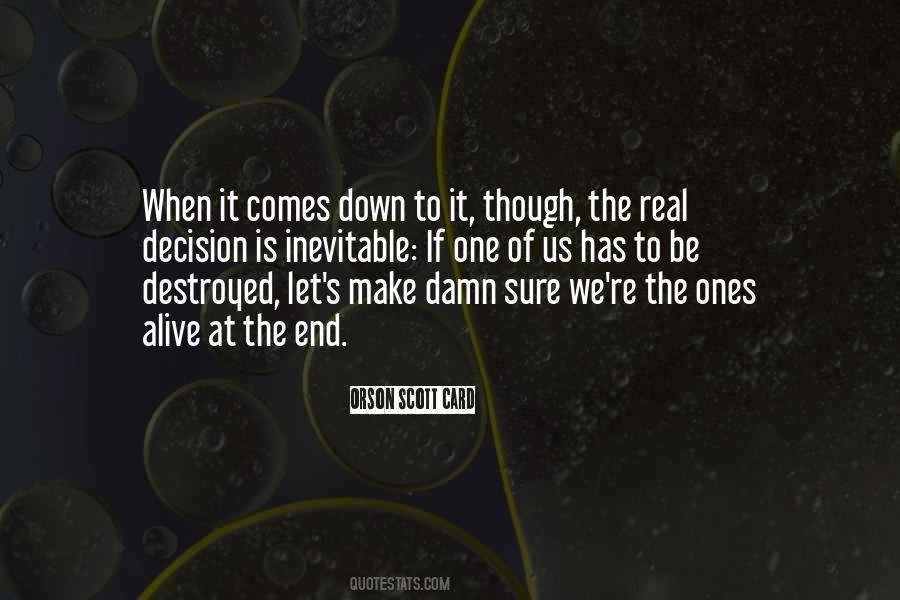 #36. If one drops dead in the street, friends and loved ones are shocked, stricken, but a long lingering death loses all nobility and drama, while relatives and friends await the inevitable end in a succession of weary anti-climaxes. - Author: Alanna Knight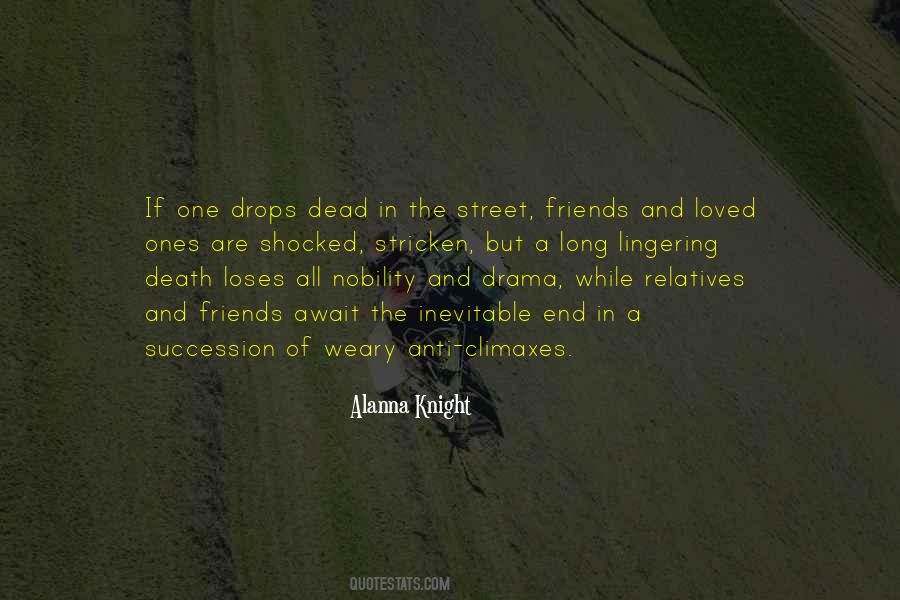 #37. This universe and all it is connected with will come to an end. Entropy carries us towards the inevitable omega point, that is why entropy exists. - Author: Peter F. Hamilton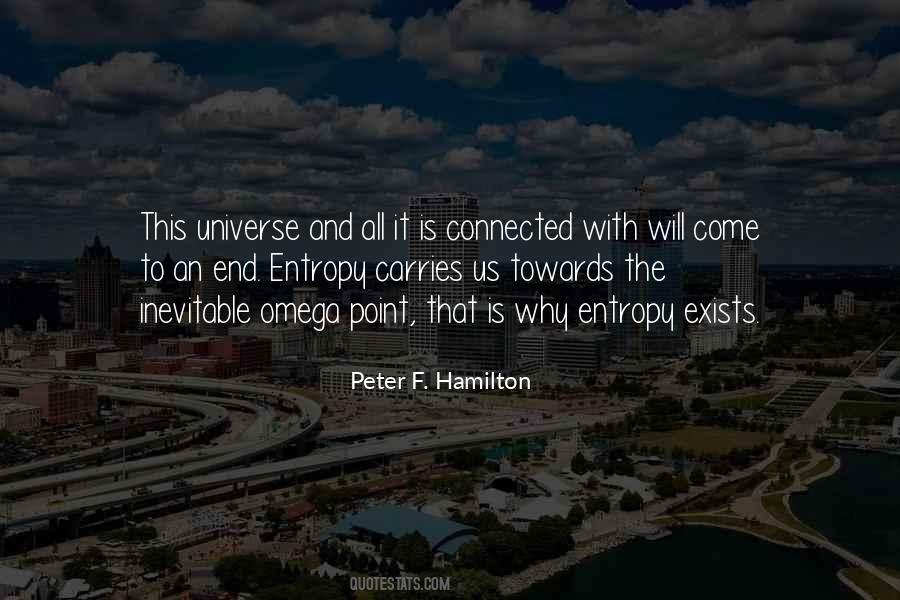 #38. By the end of this decade we will live under the first One World Government that has ever existed in the society of nations ... a government with absolute authority to decide the basic issues of human survival. One world government is inevitable. - Author: Pope John Paul II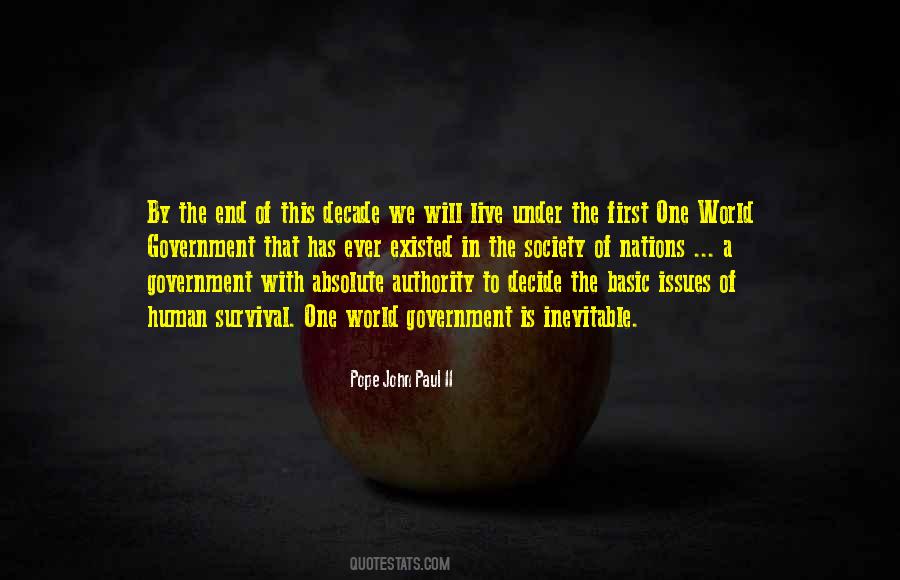 #39. Perhaps that is where our choice lies -- in determining how we will meet the inevitable end of things, and how we will greet each new beginning. - Author: Elana K. Arnold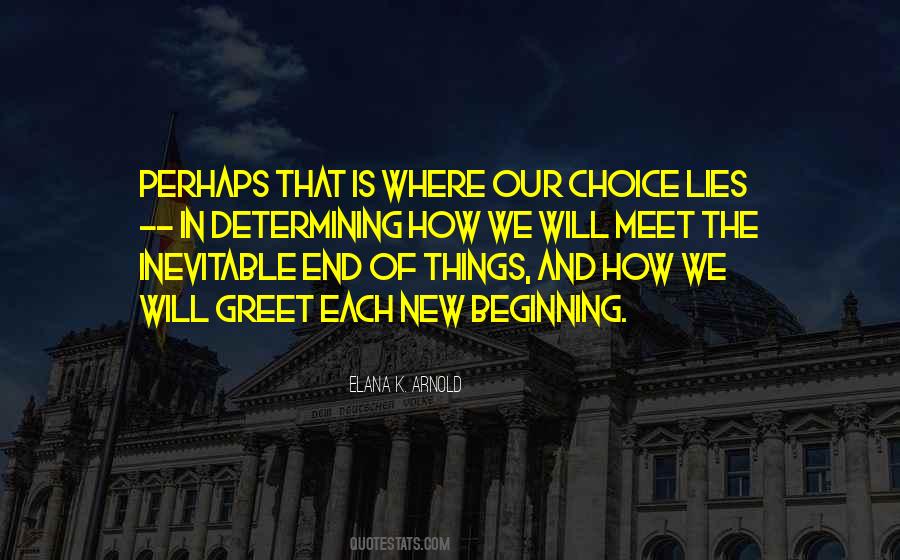 #40. Each year, I say I'm going to go to school next year. It's inevitable that I'll end up getting my education. - Author: Eliza Dushku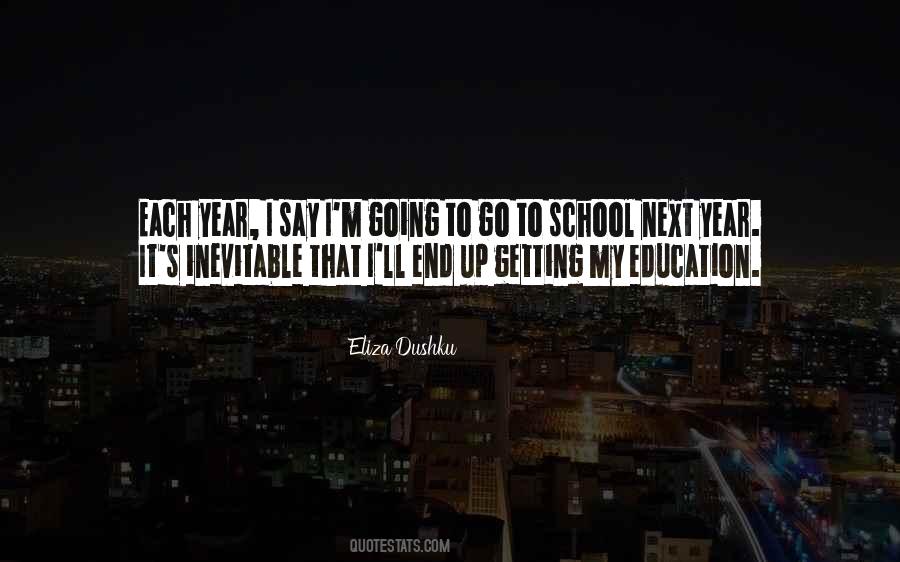 #41. How long will this last?' This feeling has caused kings to bewail their power, and they were not so much delighted by the greatness of their fortune as terrified by the thought of its inevitable end. - Author: Seneca.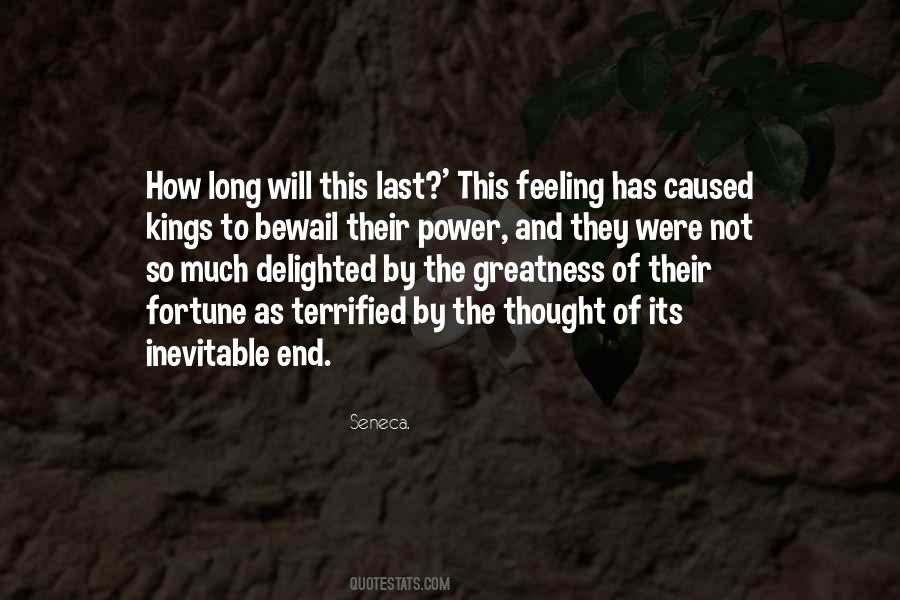 #42. At the end of 'Illusions,' readers should see the inevitable coming. - Author: Aprilynne Pike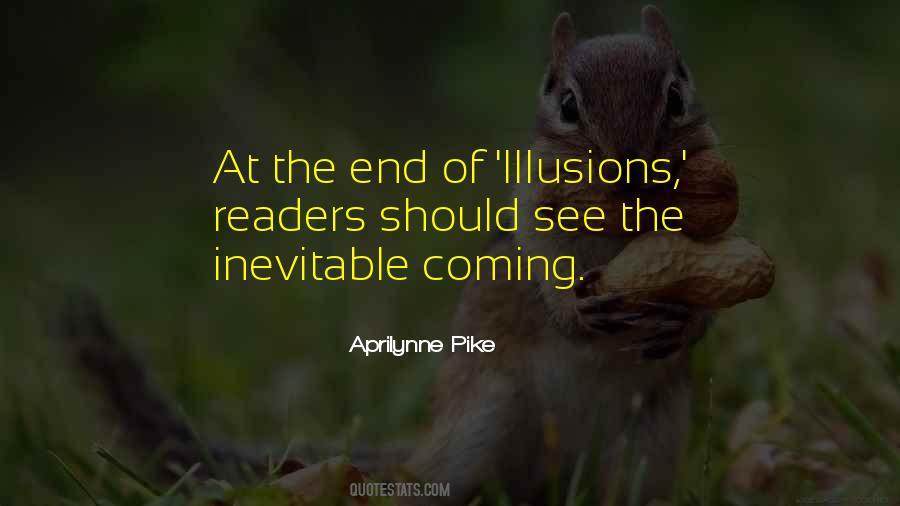 #43. book and happened to strike a wonderful passage I would close the book then and there and go for a walk. I hated the thought of coming to the end of a good book. I would tease it along, delay the inevitable as long as possible. - Author: Rosalyn D'Mello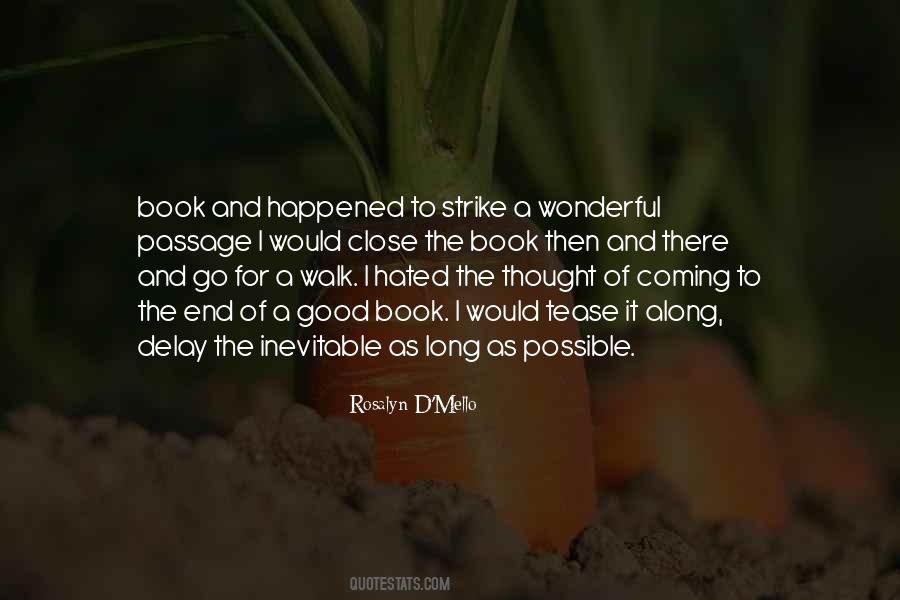 #44. Now he knew that it was only love when you knew there could be no end to it. When it was as inevitable as gravity. Falling in love, a helpless descent in which the only way to avoid being hurt was to keep going. Keep falling. - Author: Lisa Kleypas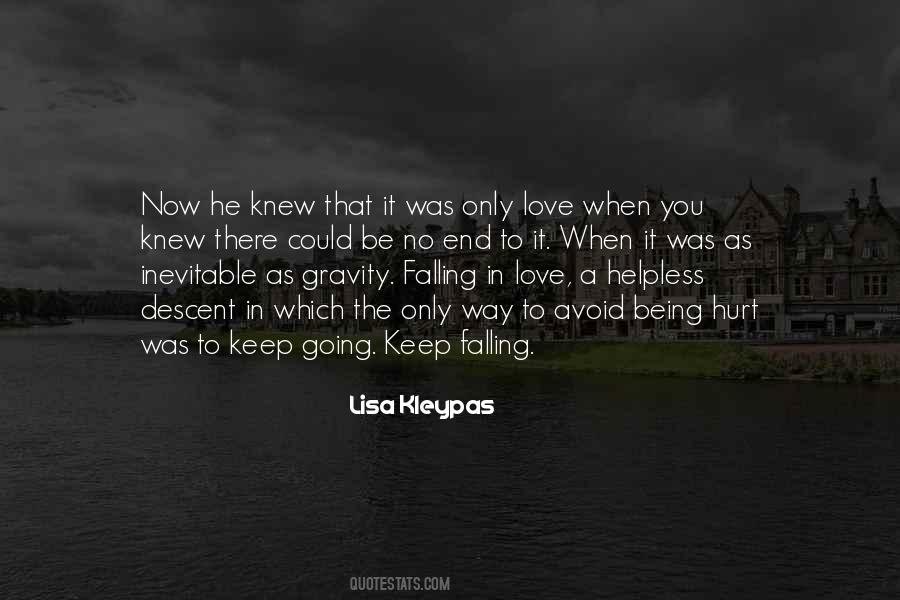 #45. There is no end. There is no cure. It gets worse with time. Cure. How can you cure an institution, we are bricks crumbling in the walls of despair. Death is inevitable for us all. But the insanity is here to stay. - Author: Stephen Richards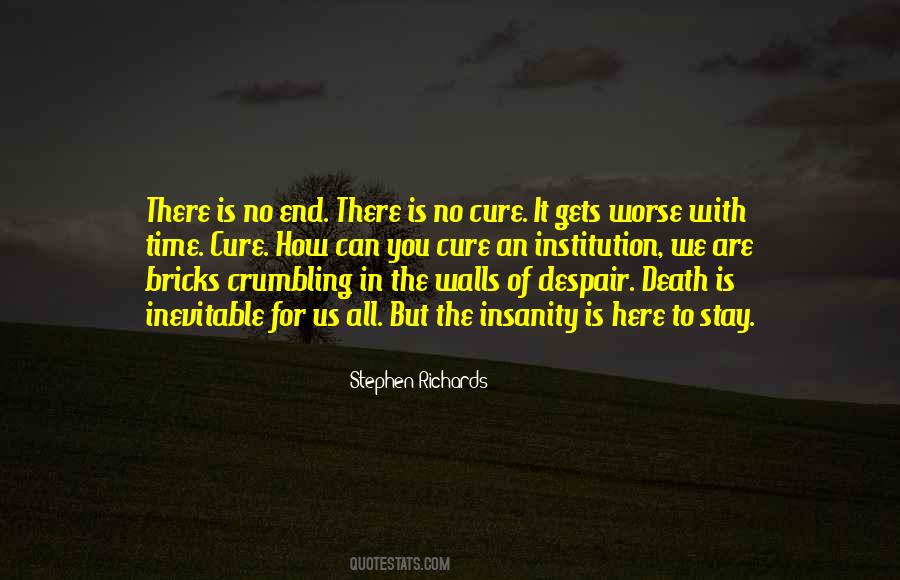 #46. On a wrong road, inconsistency is inevitable; if it were not so, mankind would be sacrificed. A false principle never has been, and never will be, carried out to the end. - Author: Frederic Bastiat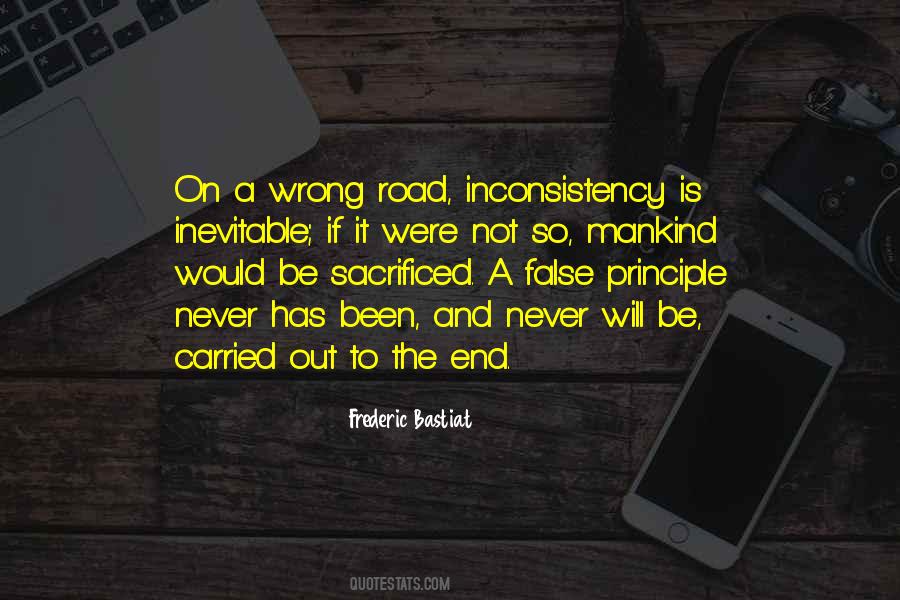 #47. Hospitals were to her a memento mori in bricks and mortar; an awful reminder of the inevitable end that was coming to all of us but which she felt was best ignored while one got on with the business of life. - Author: Alexander McCall Smith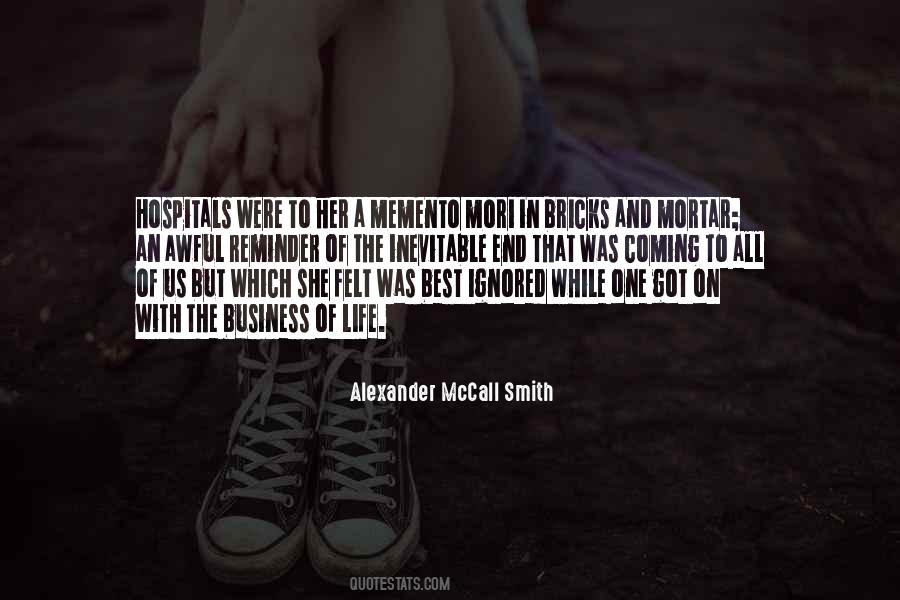 #48. I'm just trying to say that it should reassure us that the inevitable traumas of being human do end up producing some good. Otherwise, the human condition is overwhelmingly depressing. - Author: Malcolm Gladwell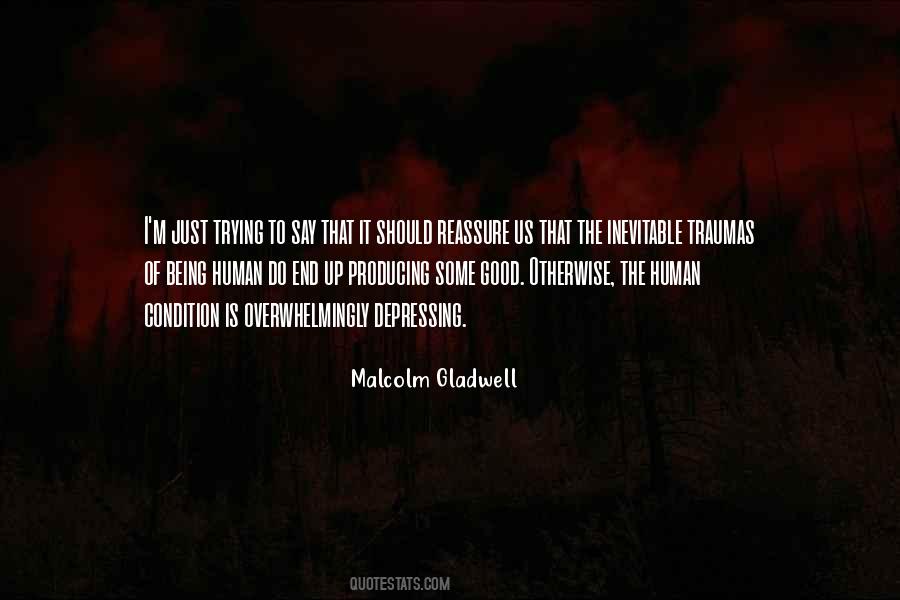 #49. Story involves action. Action towards an end not to be foreseen (by the reader) but also towards an end which, having been reached, must be seen to have been from the start inevitable. - Author: Elizabeth Bowen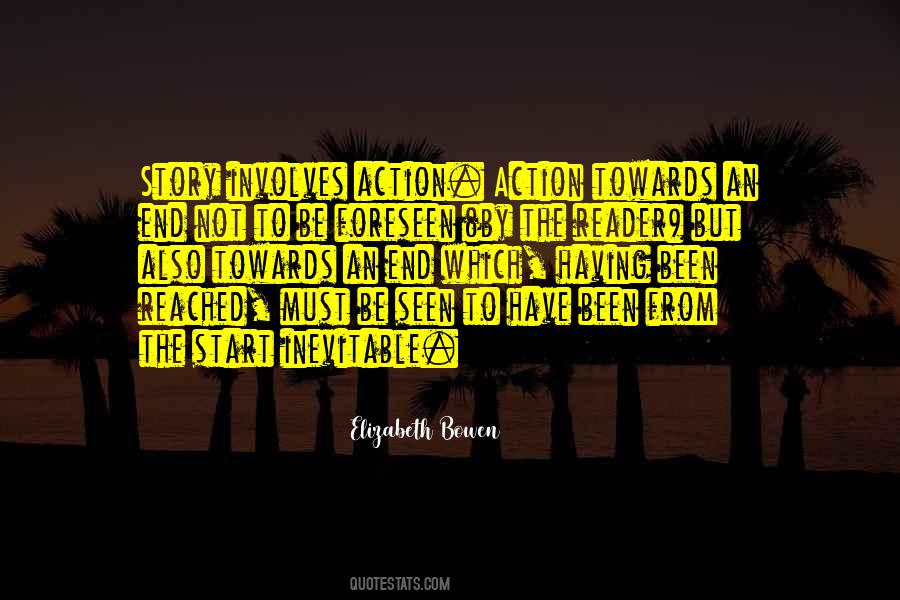 #50. If you believe, as the Greeks did, that man is at the mercy of the gods, then you write tragedy. The end is inevitable from the beginning. But if you believe that man can solve his own problems and is at nobody's mercy, then you will probably write melodrama. - Author: Lillian Hellman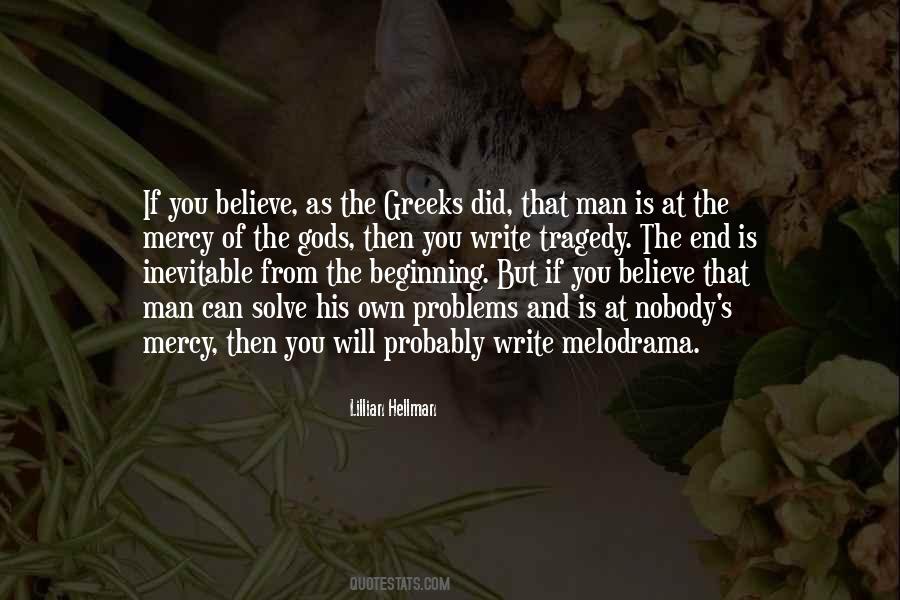 #51. Again minute followed minute and hour followed hour. Everything remained the same and there was no cessation. And the inevitable end of it all became more and more terrible. "Yes, - Author: Leo Tolstoy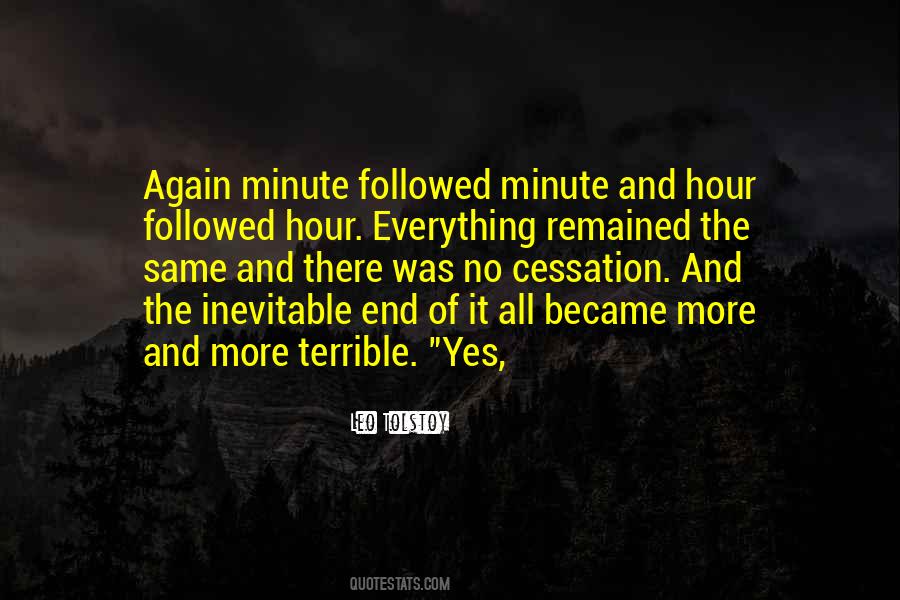 #52. I can see being kind to people, but I don't think giving them money solves the problem. I think it makes the problem worse and it prolongs the ultimate, inevitable end anyway. - Author: Robert Kiyosaki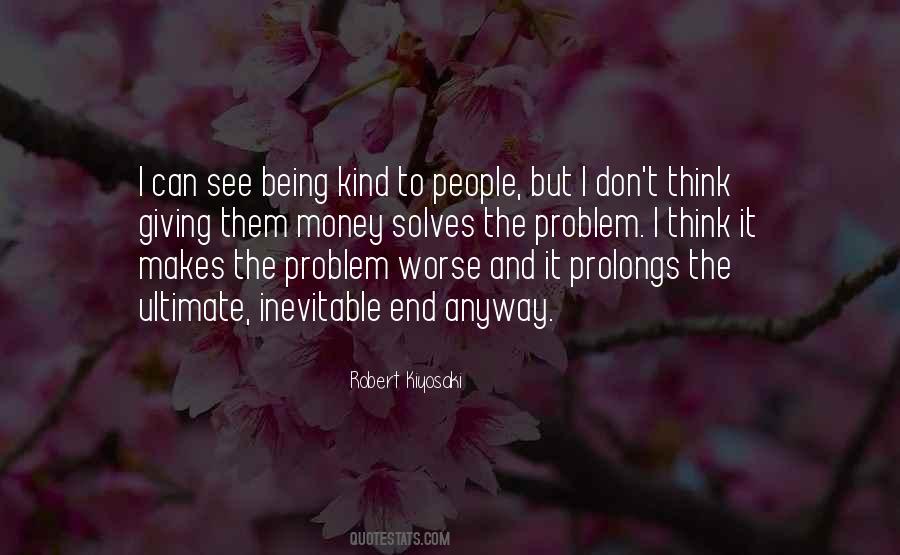 #53. Satan will thrash about in one last burst of evil,
hoping to capture as many souls as possible before his inevitable end. - Author: Billy Graham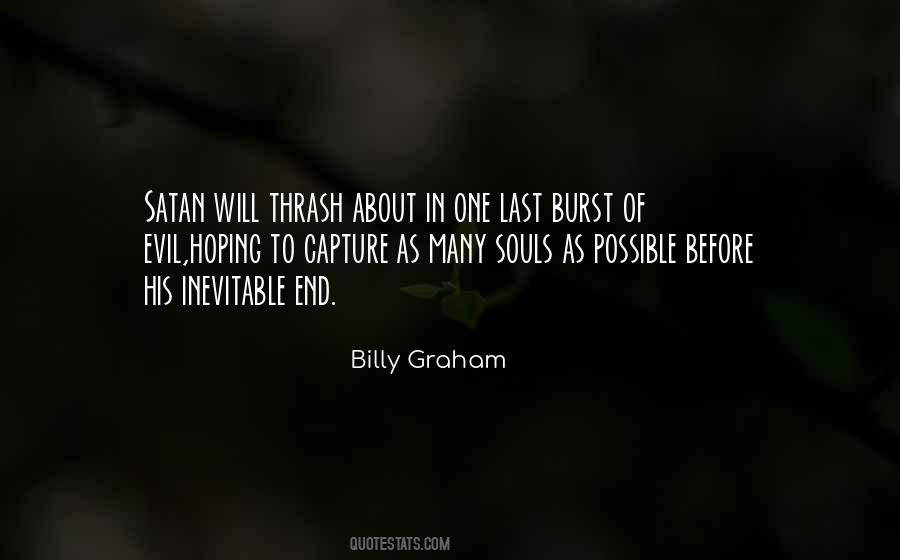 Famous Authors
Popular Topics