Eat Your Vegetables Famous Quotes & Sayings
List of top 76 famous quotes and sayings about eat your vegetables to read and share with friends on your Facebook, Twitter, blogs.
Top 76 Eat Your Vegetables Sayings
#1. Yeah, I should probably eat more vegetables, too," I said, "but let's face it. That isn't going to happen. So what's up? - Author: Jim Butcher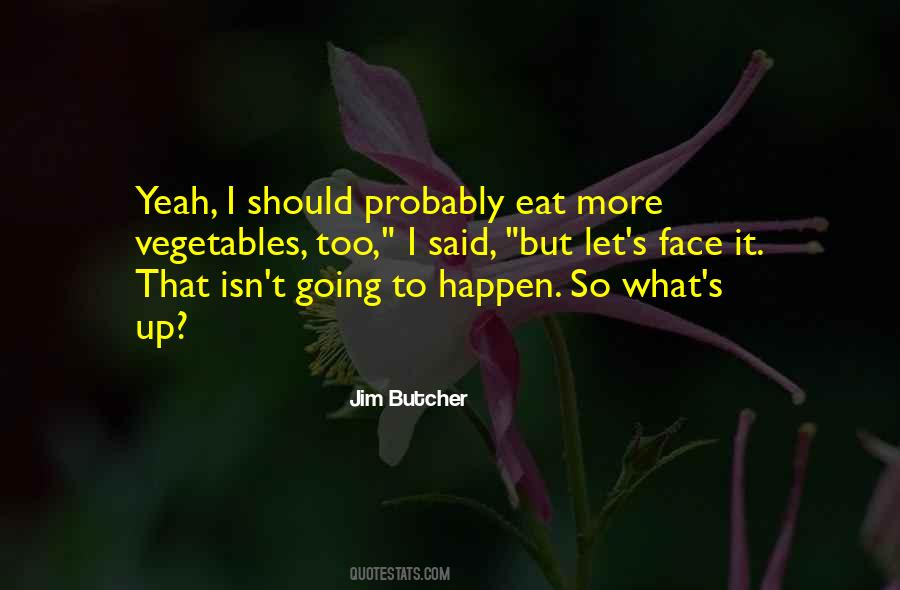 #2. When I leave the country, I'm very, very cautious about what I eat and drink. No vegetables, no fruit. - Author: Paula Creamer
#3. My eyes are green, Cause I eat a lot of vegetables,
It don't have nothing to do with your new friend - Author: Erykah Badu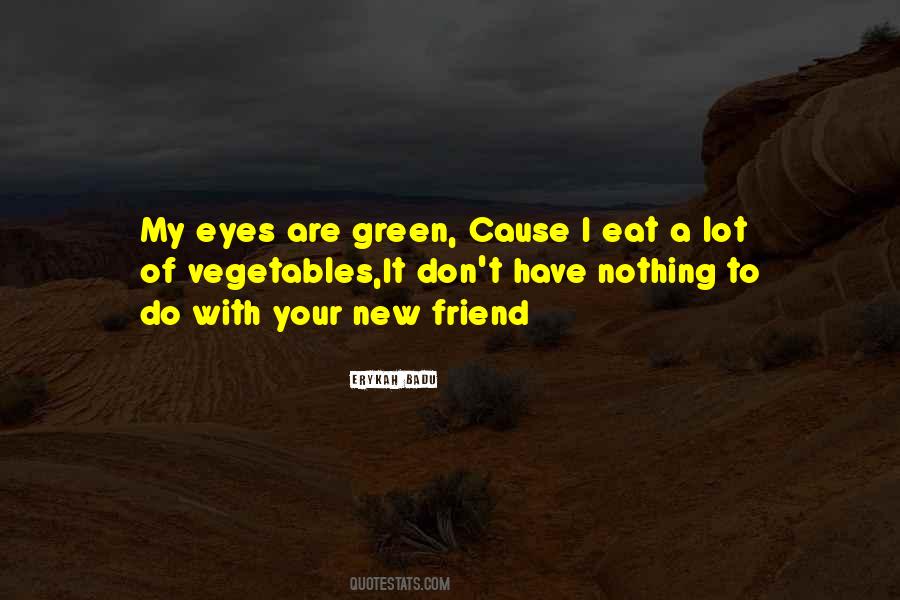 #4. I wasn't eating the right kinds of calories. I didn't know about healthy carbs such as brown rice and lentils. Now I eat small meals throughout the day: oatmeal with cinnamon to start, fruit and yogurt as a snack, and vegetables or with chicken or tuna, and a healthy carb, like a yam, for lunch. - Author: Alison Sweeney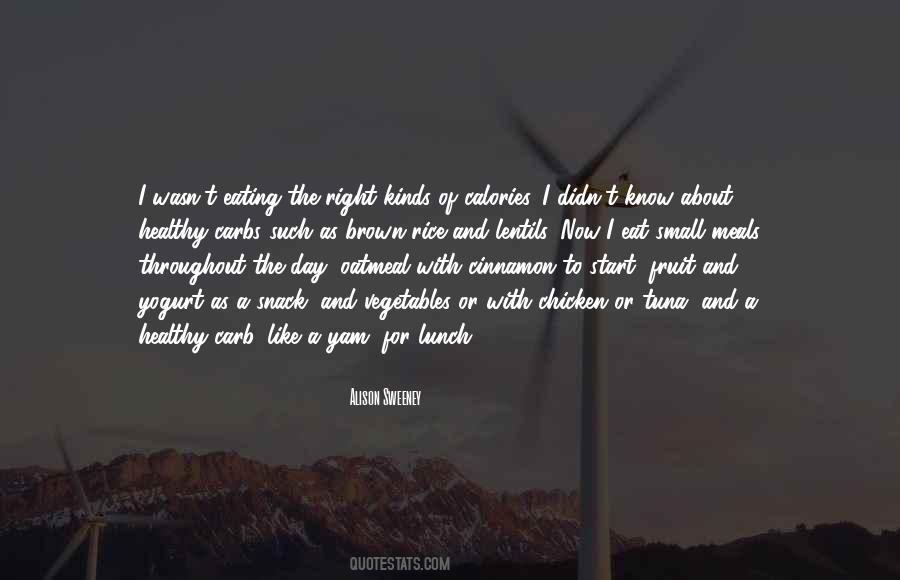 #5. I try to get to the gym whenever I can, eat healthy, mostly protein and vegetables, avoid processed sugar and minimize carbs, but I don't feel like I need to go crazy if I want pasta now and then. - Author: Nathan Parsons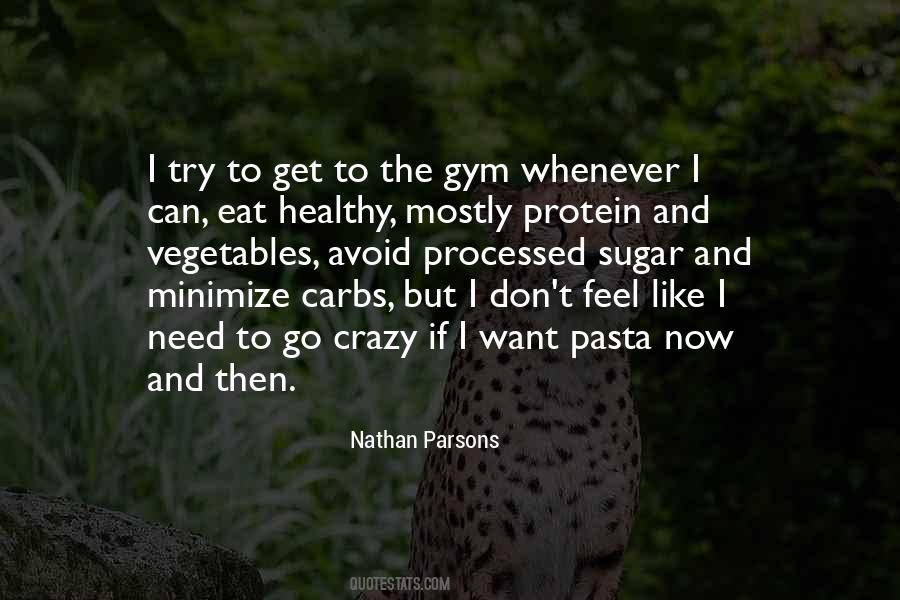 #6. Eat less, move more, eat lots of fruits and vegetables, go easy on junk foods. - Author: Marion Nestle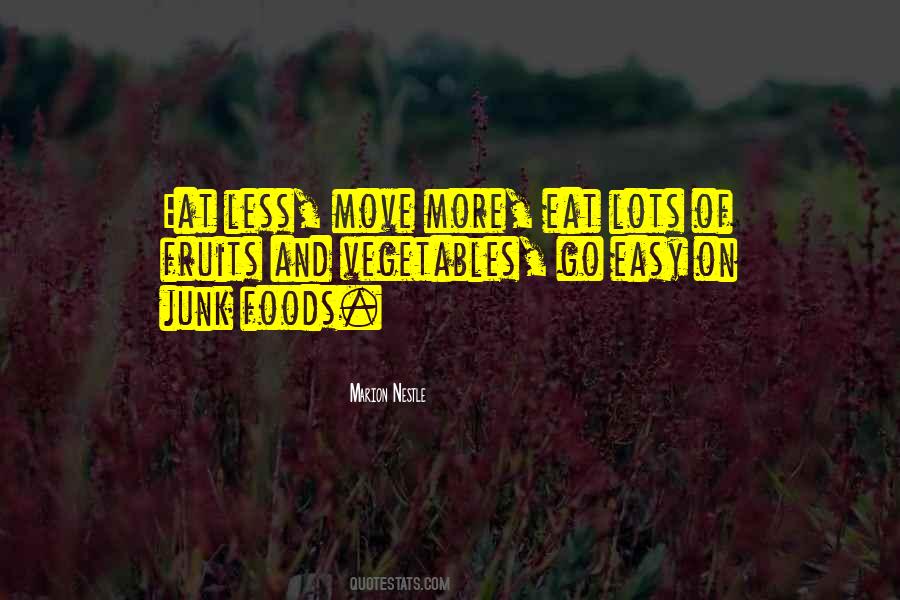 #7. A lot of parents ask me how to get kids to eat more vegetables. The first thing I say is that it starts from the top. - Author: Emeril Lagasse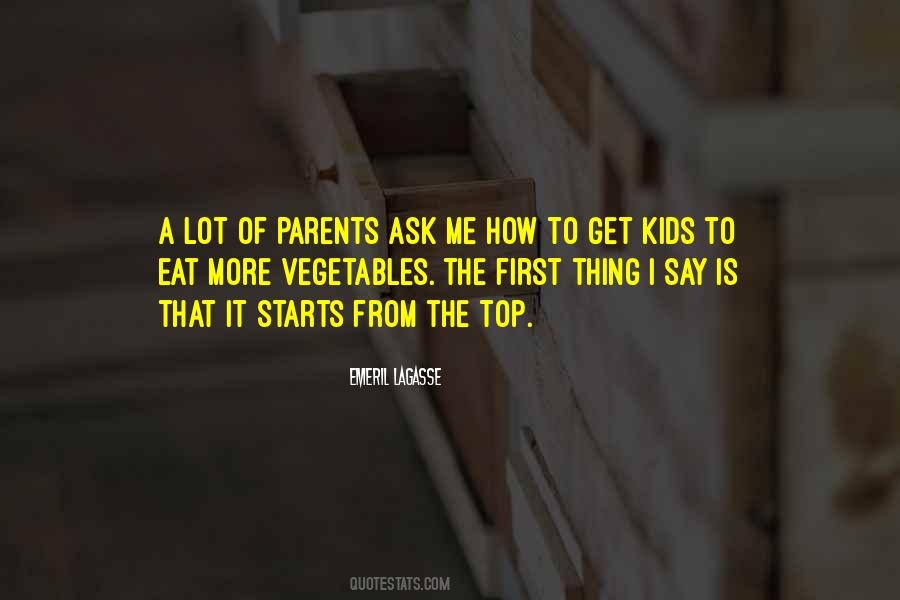 #8. Burgers and fries are an American staple. On the same token, my kids eat vegetables, and they always have eaten vegetables. They didn't have a choice but to eat vegetables. - Author: Don Thompson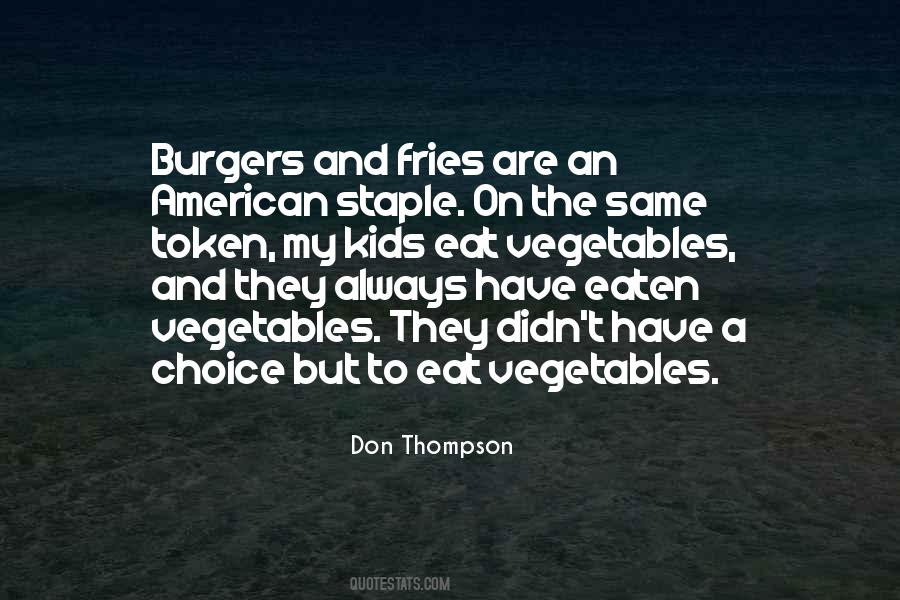 #9. You can't patent a recommendation to eat lots of fruits, vegetables, nuts, seeds, and whole grains. So there's no incentive for industry to invest in such research and no incentive for researchers to study and validate such claims. - Author: T. Colin Campbell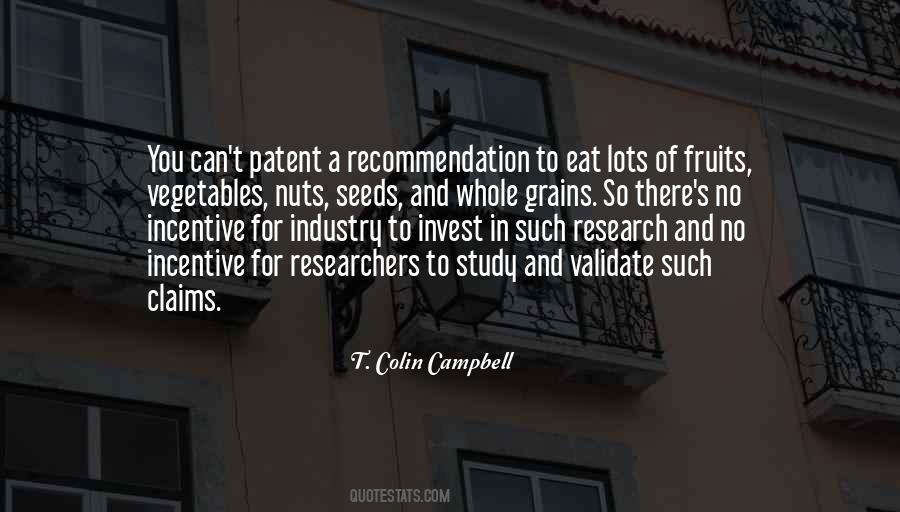 #10. Pretty much I love all types of fish; I pretty much stick with that. I love vegetables. I don't eat too much carbs, but I love salads, though. I'll usually have a salad, except for breakfast. - Author: Larry Fitzgerald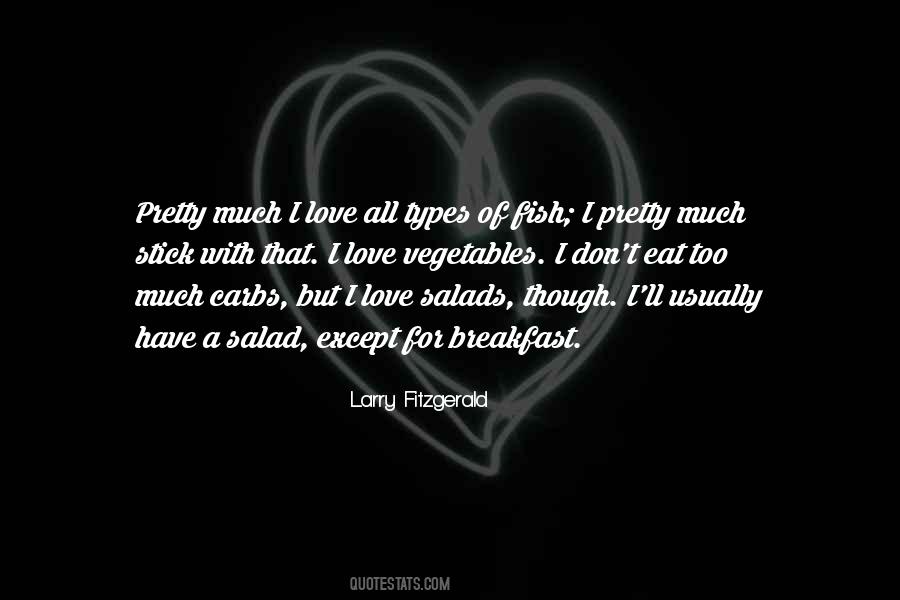 #11. I follow the Dr. Peter D'Adamo Blood Type Diet as best I can. It's an eating and living guideline that understands you as a biochemical individual ... and I find it really works for me. I eat vegetables, ocean caught fish, and small amounts of organic free range chicken. - Author: Miranda Kerr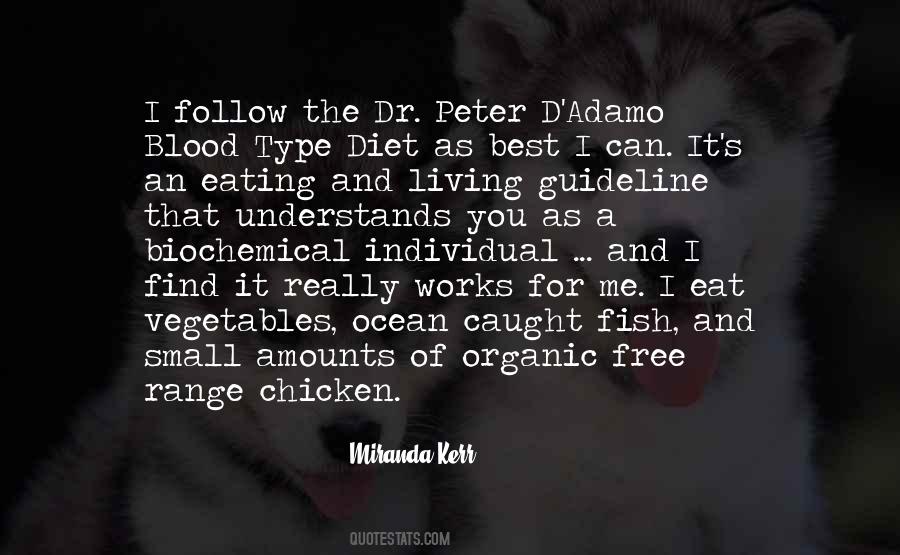 #12. They say that vegetable food is not sufficiently nutritious. But chemistry proves the contrary. So does physiology. So does experience ... And again: the largest and strongest animals in the world are those which eat no flesh-food of any kind - the elephant and the rhinoceros. - Author: R. Trall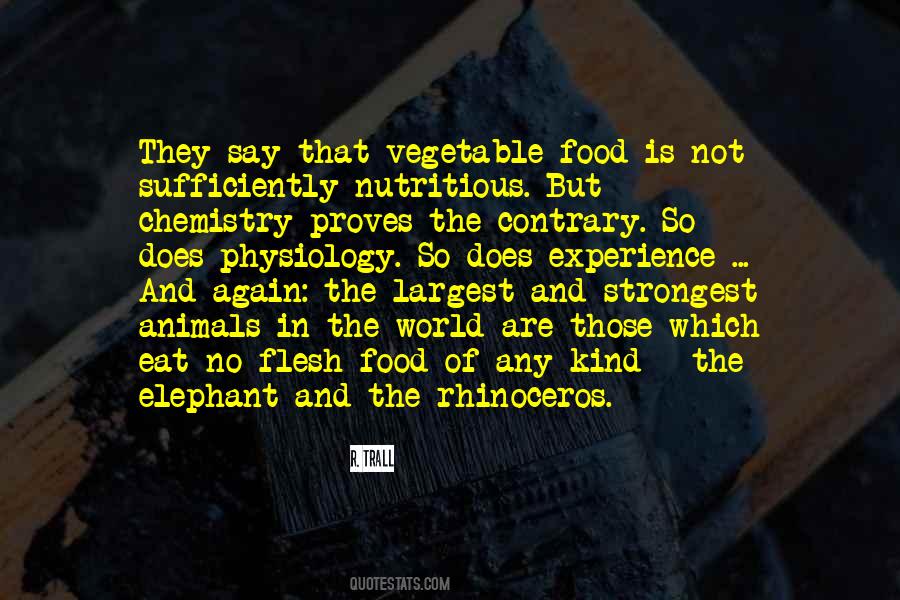 #13. Breakfast is Special K cereal. If I'm having a big meal, it's lunch instead of dinner. Some kind of wrap, like chicken for protein. For dinner, mainly vegetables. I mix it up if I go out to eat. - Author: Jillian Rose Reed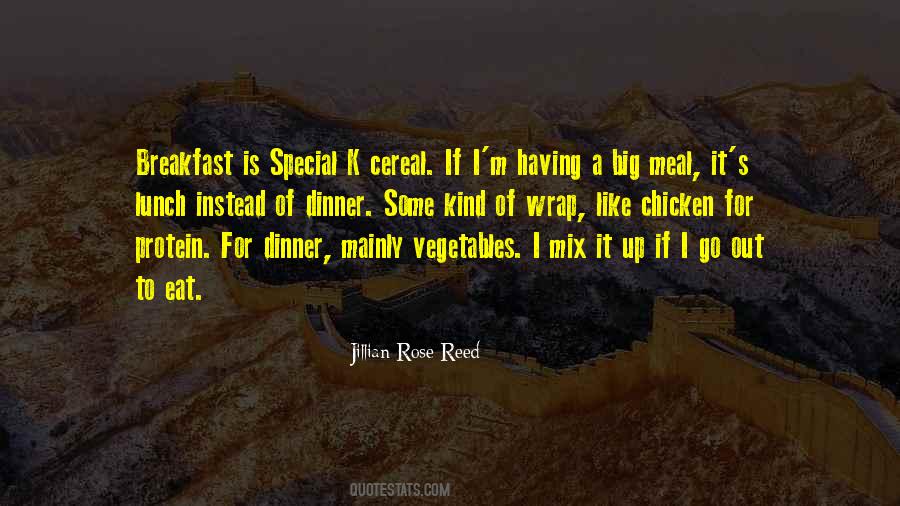 #14. I still have a Gypsy sense of adventure. I don't think I have slept in the same bed for more than three or four months my whole life. I am always planting vegetables that I never get to eat and flowers that I never see flower. I have always moved around the world. - Author: Helen Mirren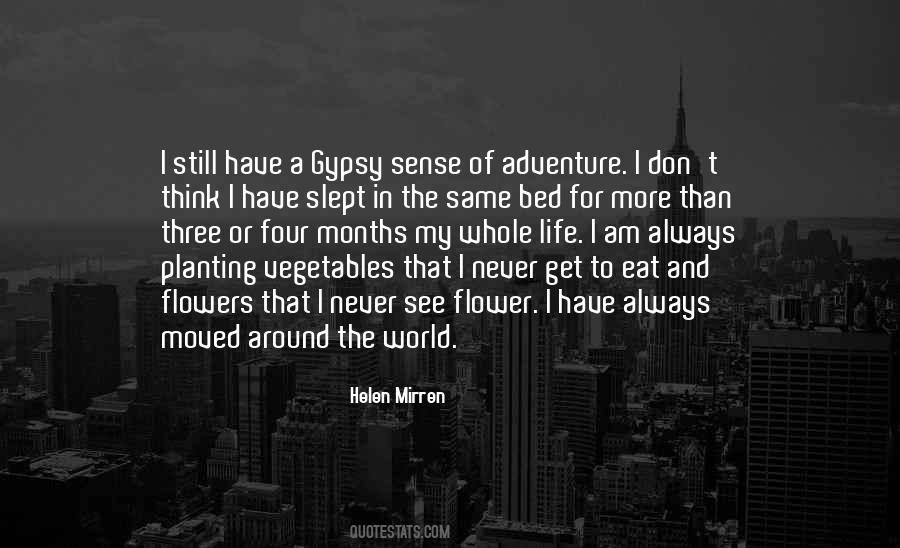 #15. I'm not here to say I don't eat vegetables - I do, a lot of them - but, from a soil perspective, they're actually more costly than a cow grazing on grass. - Author: Dan Barber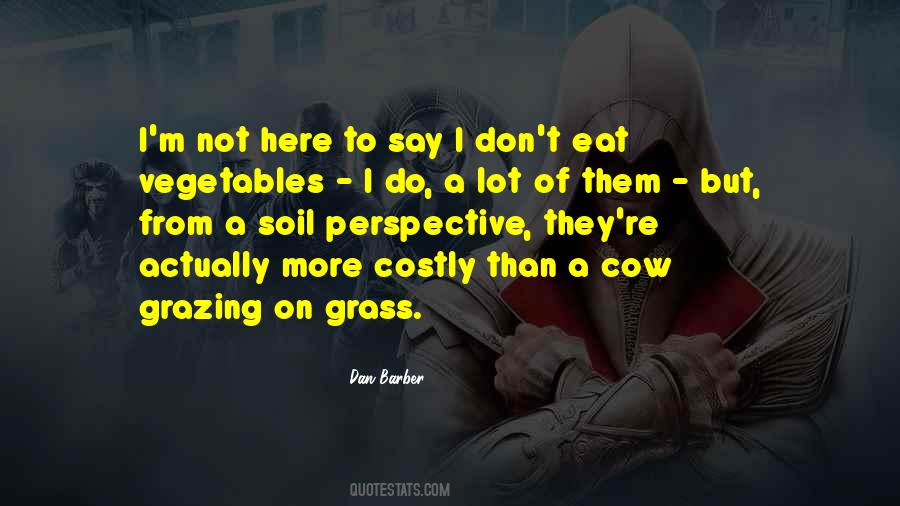 #16. I find that vegetables like butternut squash, which I feel unexcited about as a side dish, I'm thrilled to eat in a soup. - Author: Cynthia Nixon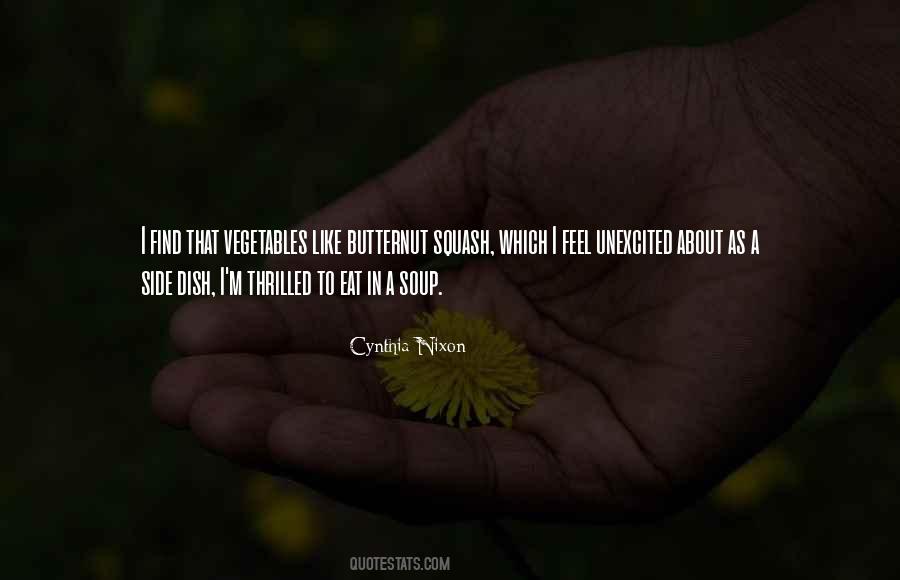 #17. Anything you do sustainably feels so good that you're a full-on addict as soon as you try it. If you eat only vegetables and fruits that you grow yourself from your garden, or organic food, it tastes so much better and is so much better for you, you can't really go back. - Author: Daryl Hannah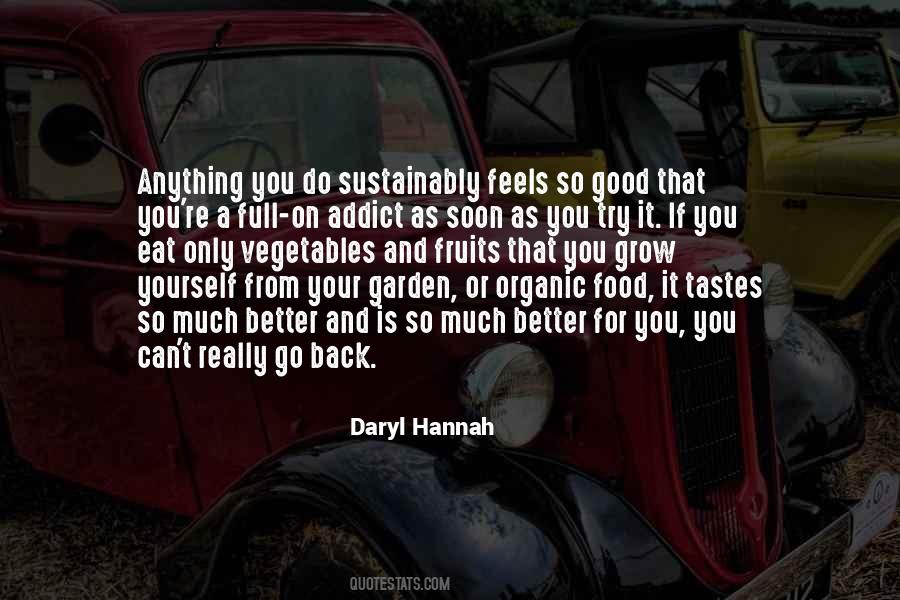 #18. When I was a kid, everybody loved Hulk Hogan, right? 'Eat your vitamins. Eat your vegetables.' Everybody over 25 hated him because he was corny, right? - Author: Freddie Prinze Jr.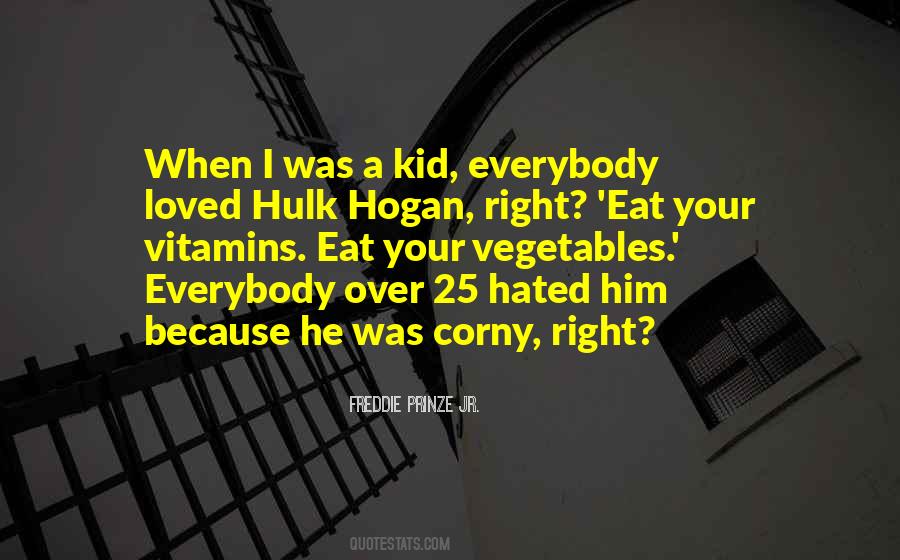 #19. You can eat a lot more vegetables than you can cotton candy. Bring on the veggies. Stay away from the fluffy carbs. - Author: Stephen Furst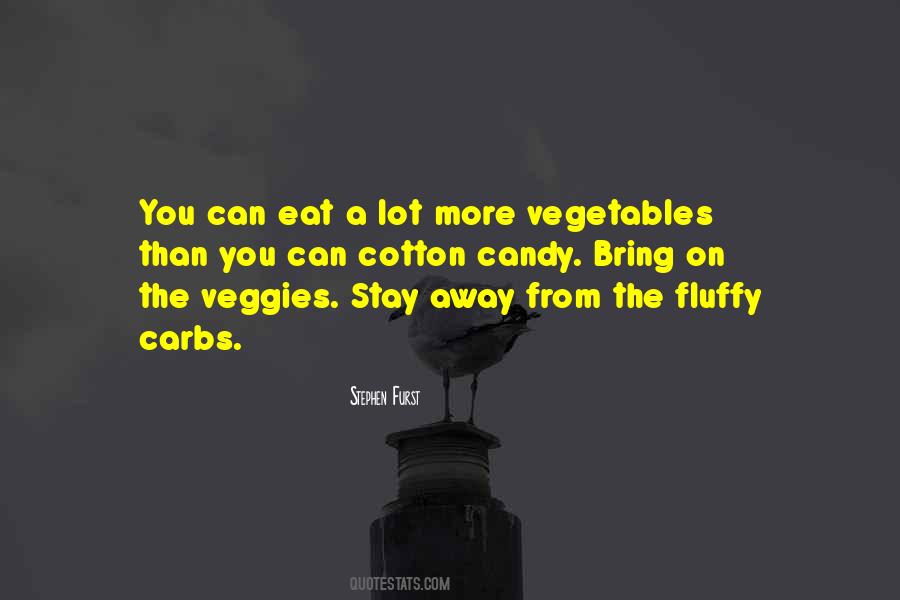 #20. Eat your vegetables, have a positive outlook, be kind to people, and smile - Kamada Nakasato, 102-y/o-female fr. Okinawa - Author: Dan Buettner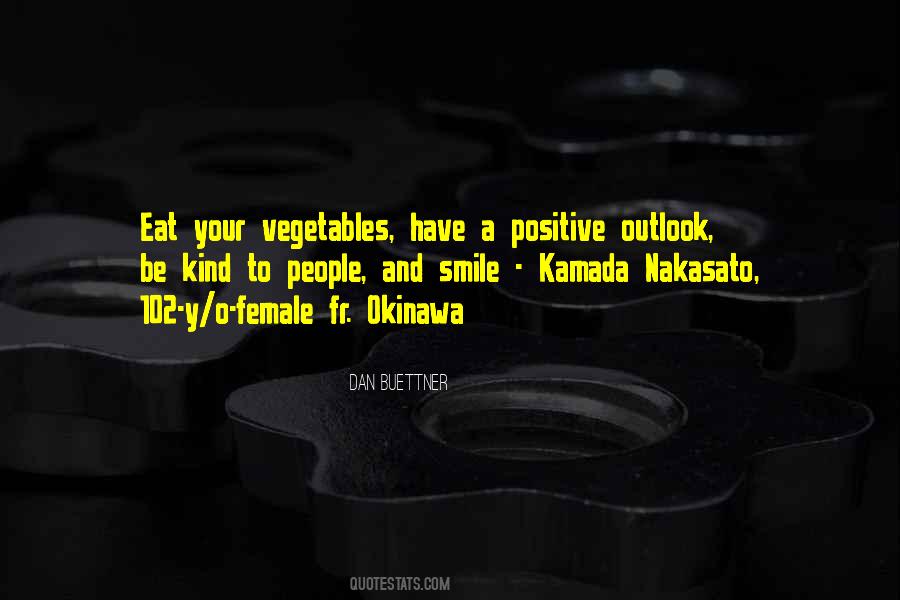 #21. You eat as many vegetables as you can, and try to cut your carbs and your sugar. That's going to make the job of being a diabetic so much easier. - Author: Jay Cutler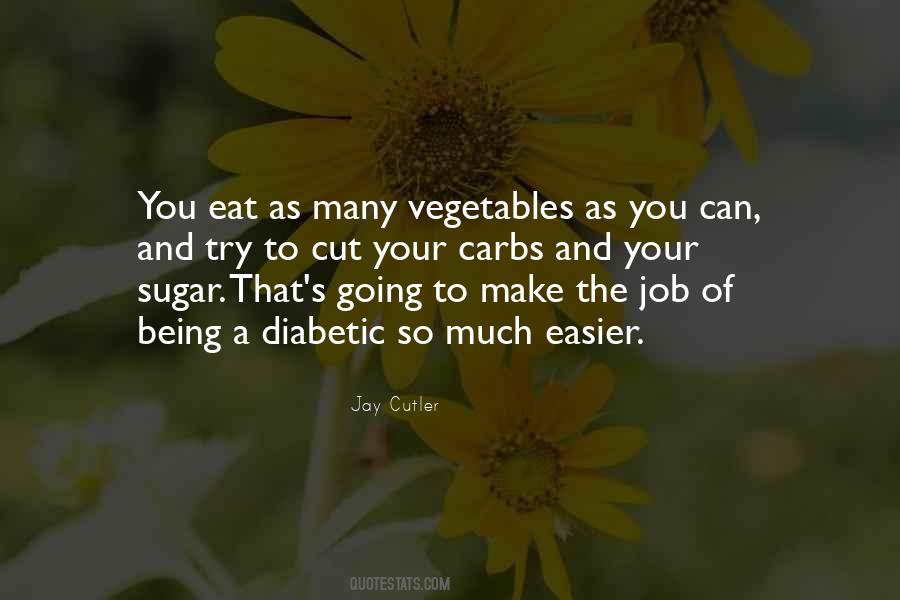 #22. The language of Christianity is the language of substitution. It is not primarily the language of morals. God is not presented as a mother saying "eat all your vegetables". Instead, Christianity is about a one-sided rescue, that we didn't want and certainly didn't deserve, and he did it anyway. - Author: Rod Rosenbladt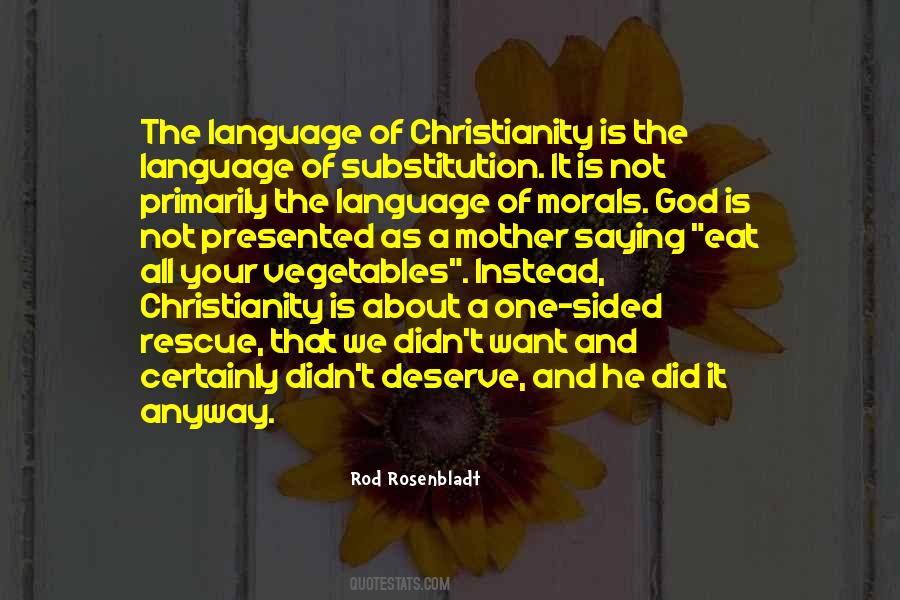 #23. The whole point of growing up is to get big enough to hold the world you want inside you. But it takes a long time, and you really must eat your vegetables, and most often you have to make the world you want out of yourself. - Author: Catherynne M Valente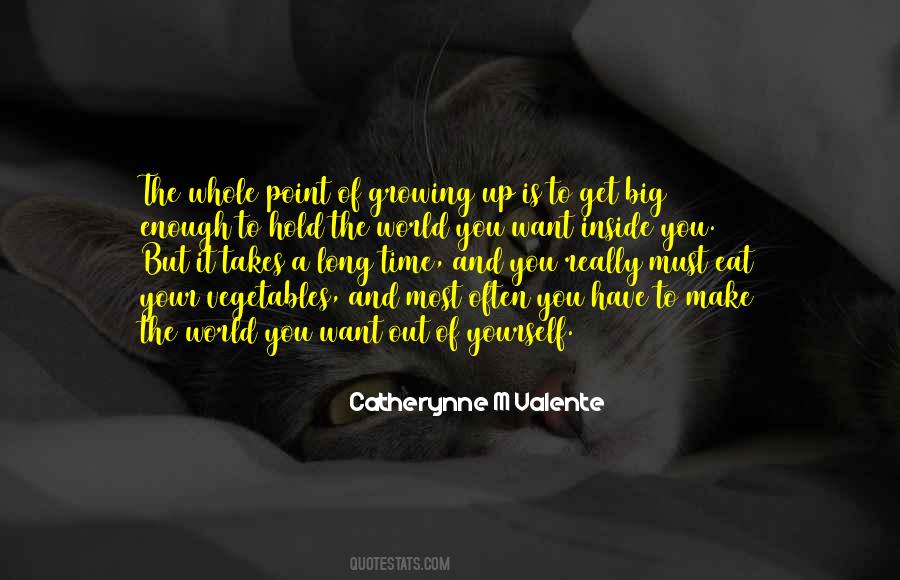 #24. Fatherhood is telling your daughter that Michael Jackson loves all his fans, but has special feelings for the ones who eat broccoli. - Author: Bill Cosby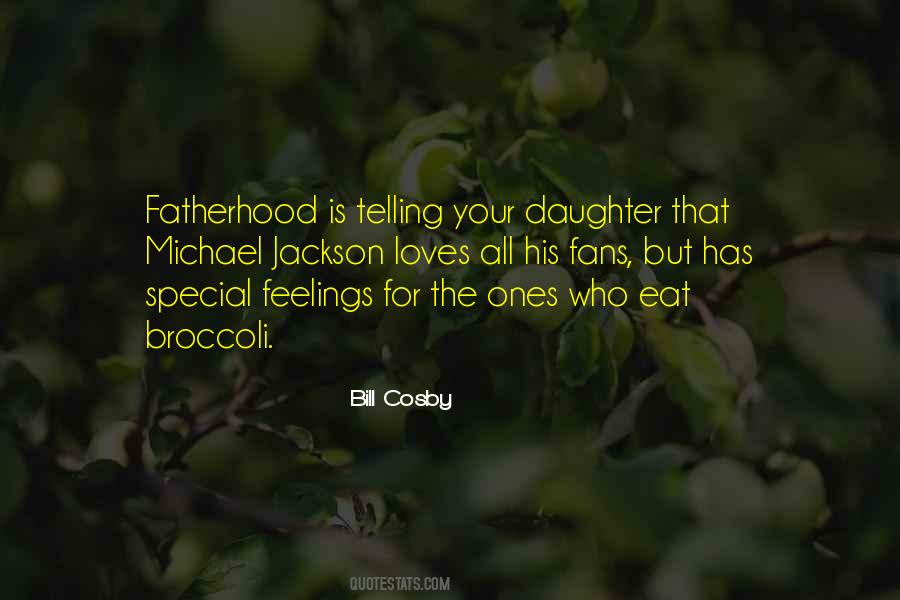 #25. My eyes swept down to his soft black t-shirt that read: "don't do school, eat your drugs, stay in vegetables". - Author: R.S. Grey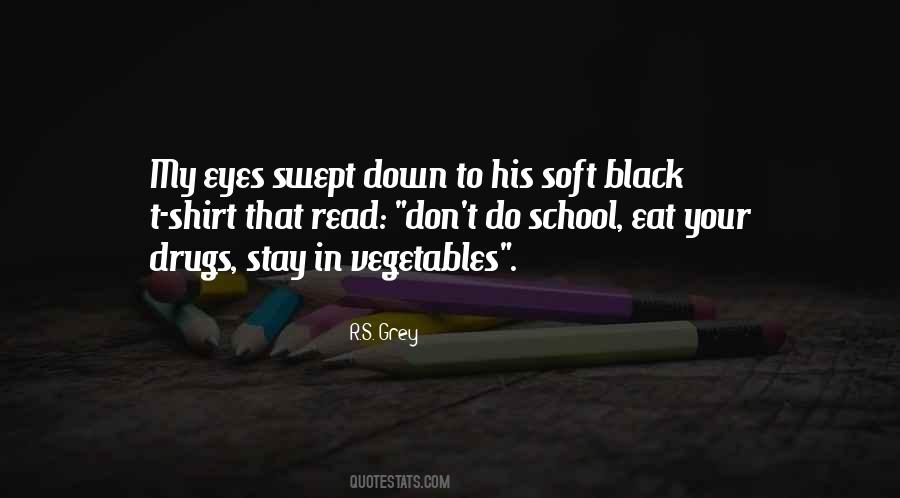 #26. Eat lots of fruit and vegetables, and live your whole life in every way as well as you can: exercise regularly as part of your daily routine, avoid obesity, don't drink too much, don't smoke, and don't get distracted from the real, basic, simple causes of ill health. - Author: Ben Goldacre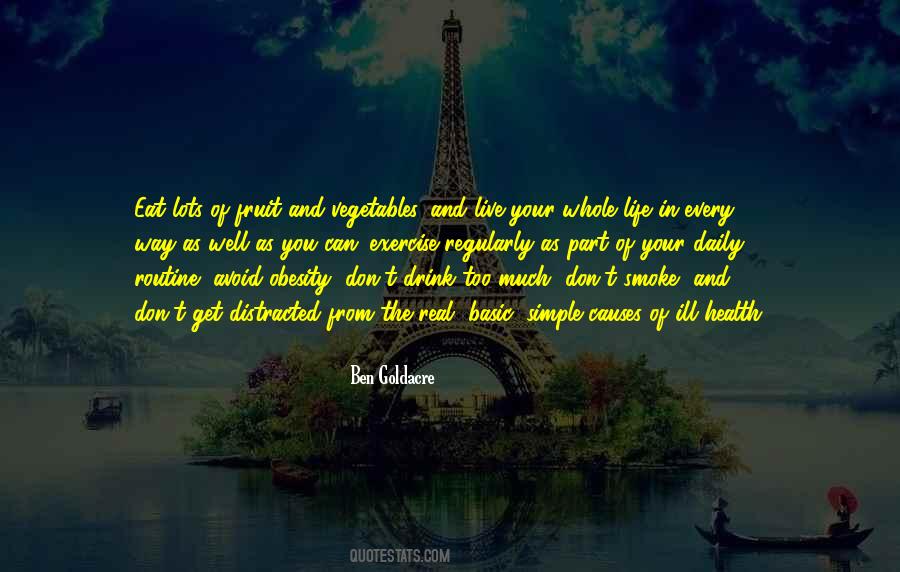 #27. Perhaps there is after all nothing mysterious in Zen. Everything is open to your full view. If you eat your food and keep yourself cleanly dressed and work on the farm to raise your rice or vegetables, you are doing all that is required of you on this earth, and the infinite is realized in you. - Author: D.T. Suzuki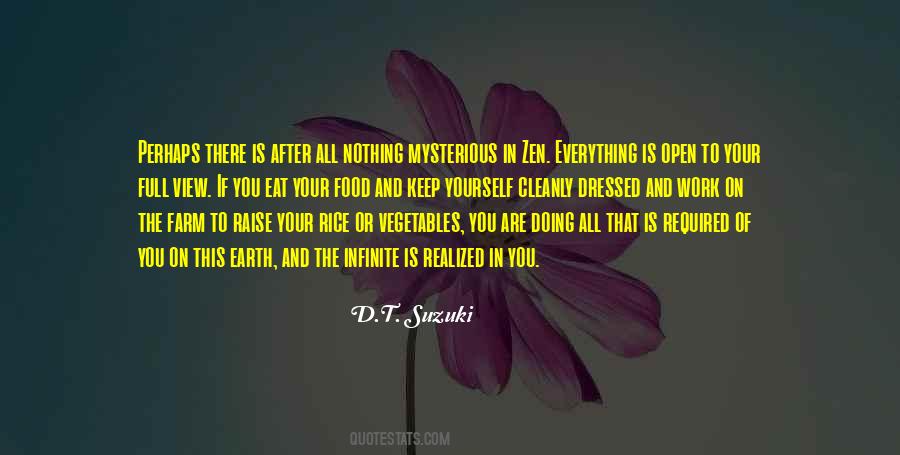 #28. It's more important that you eat vegetables, even if they are conventional
I'm talking about for your health
then it is until you wait until you can afford organic, or you can find organic. - Author: Michael Pollan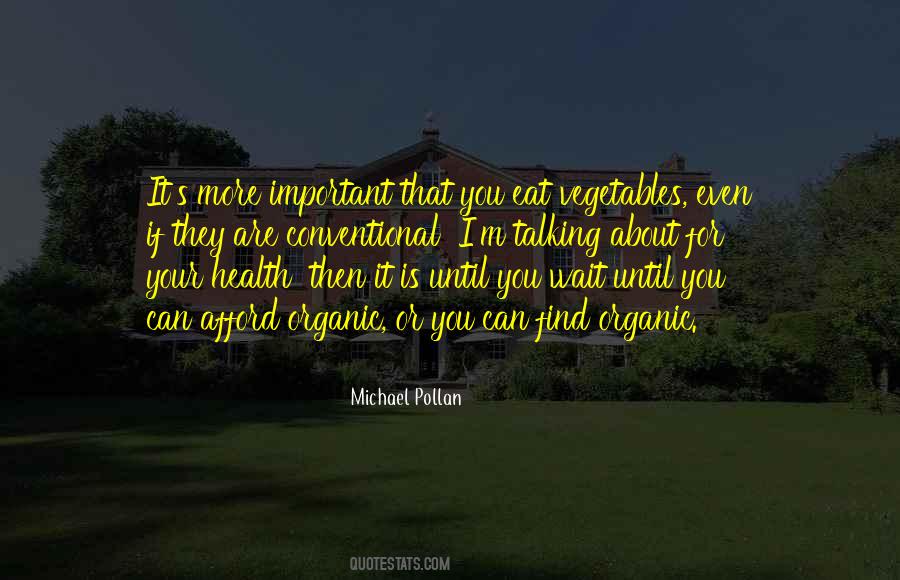 #29. You have to eat right. I eat a lot of vegetables. Keep a very, very healthy diet. It translates to how your body feels. The better your body feels, the better endurance and stamina you're going to have. - Author: Jozy Altidore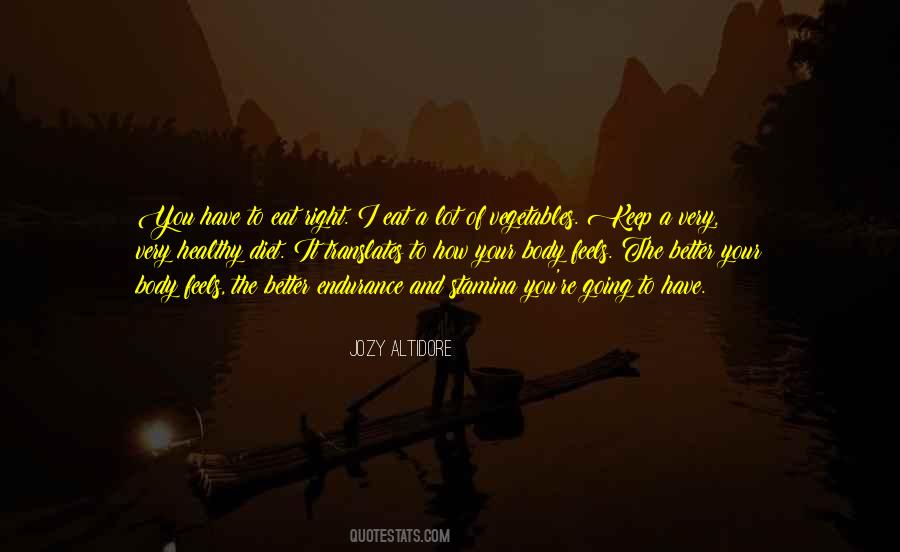 #30. When I was a child we were sufficiently well off for me to be a picky eater and I still cannot eat vegetables cooked in the traditional British manner. - Author: Vince Cable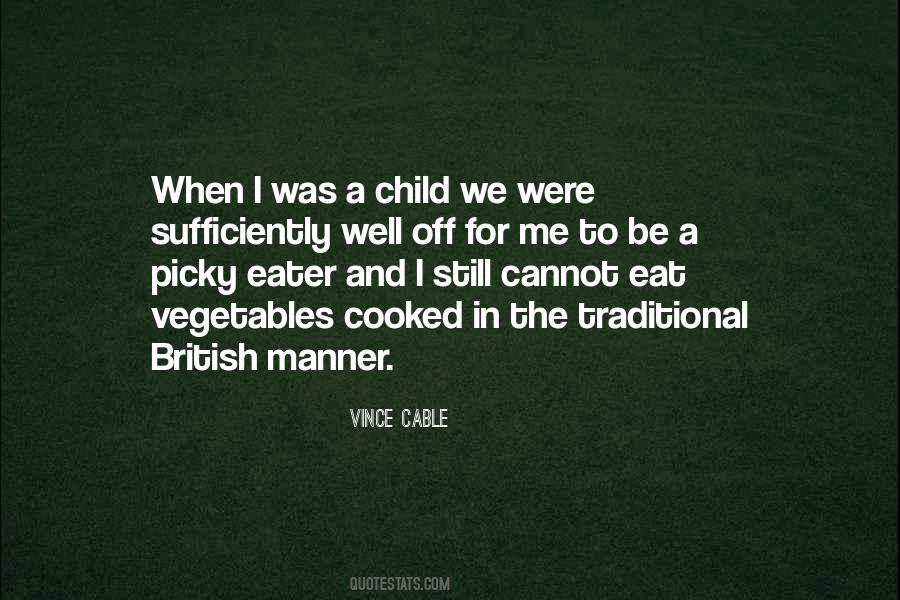 #31. Make sure you eat healthy food. You can have the occasional treat, but you also need to balance your diet with foods such as meat and vegetables. It will prevent you from getting colds and enable you to train and to do whatever you want in every day life. - Author: Jenny Meadows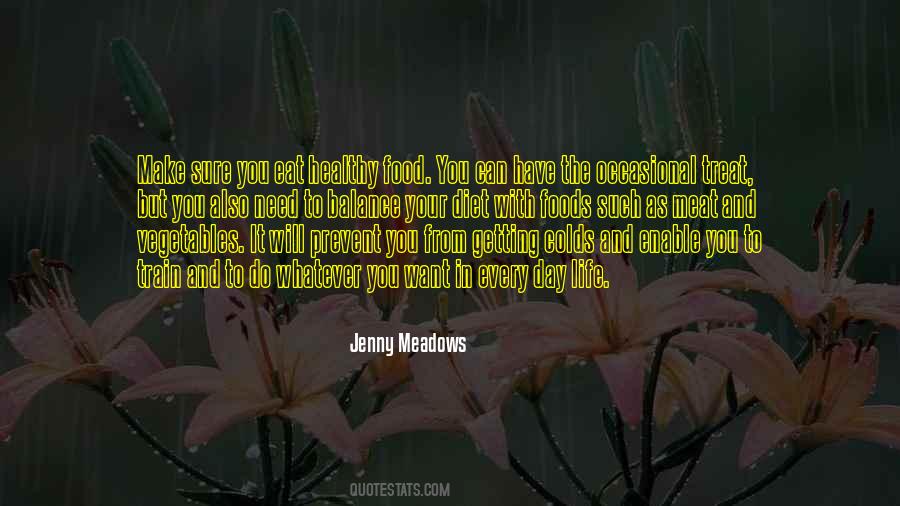 #32. The only obvious advantage to being an adult is that you can eat your dessert without haying sampled the vegetables. - Author: Lisa Alther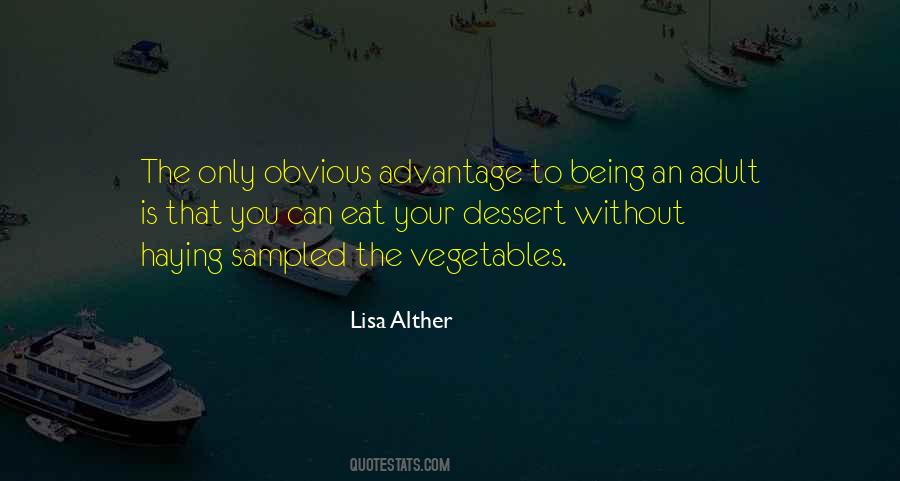 #33. Eat your vegetables. Brush your teeth. Sweat once in a while. Get plenty of rest. Don't smoke. Laugh more. There are certain tenets to health that are pretty commonsensical and that we all know we should practice routinely. - Author: David Perlmutter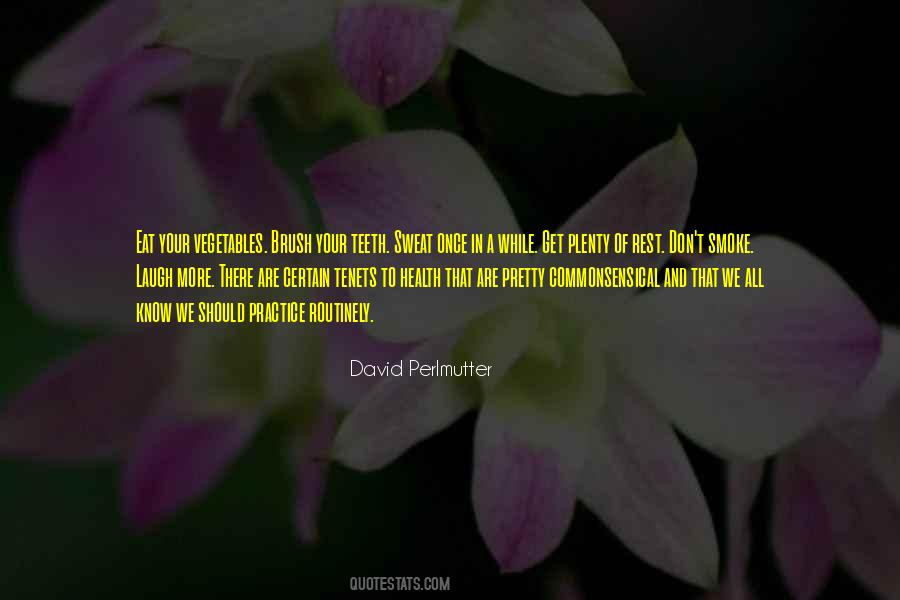 #34. The gaunt, unhealthy vegan is the muffin vegan. Bread and fries and processed veggie dogs. It's like, 'Hello? Did you eat your vegetables?' - Author: Kris Carr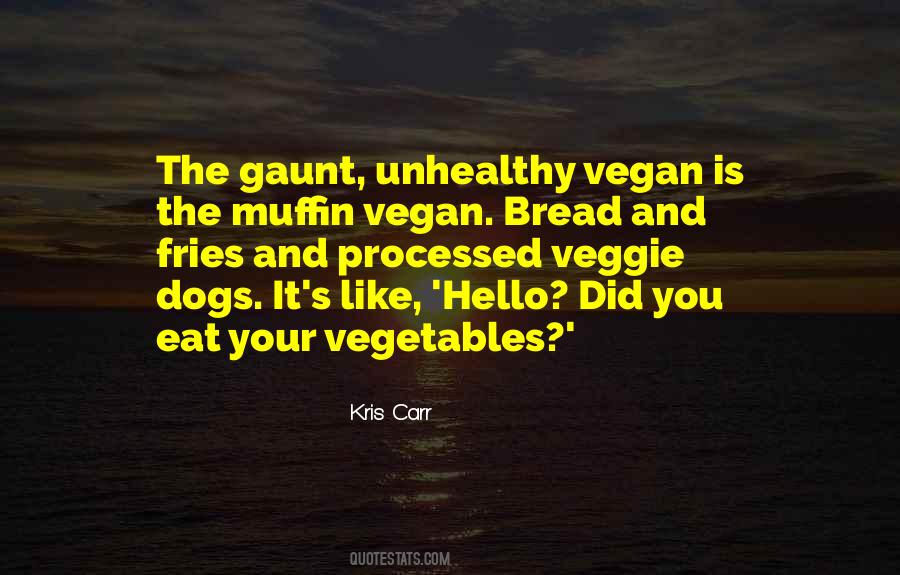 #35. I consider the 70s to be the youth of old age. So all you women out there who are afraid of getting older, just keep your orgasms in place, eat a lot of vegetables, take exercise, and you'll be fine. - Author: Betty Dodson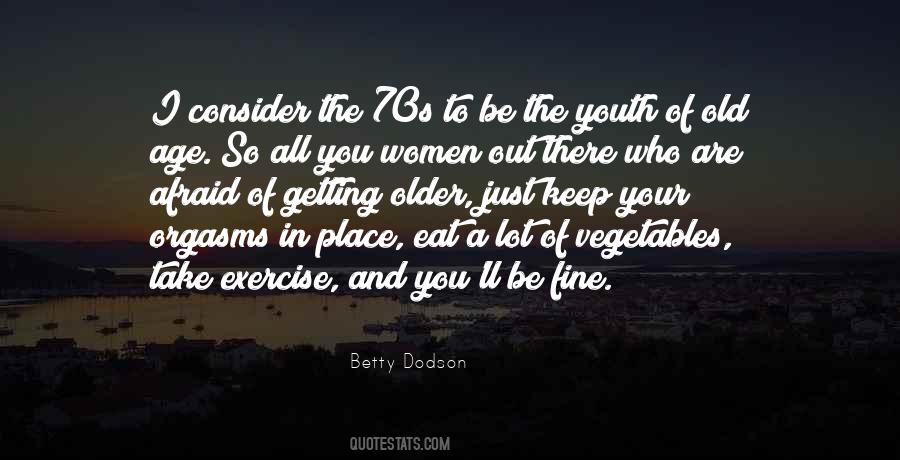 #36. Do your squats eat, your vegetables, wear red lipstick, [and] don't let boys be mean to you. - Author: Kendall Jenner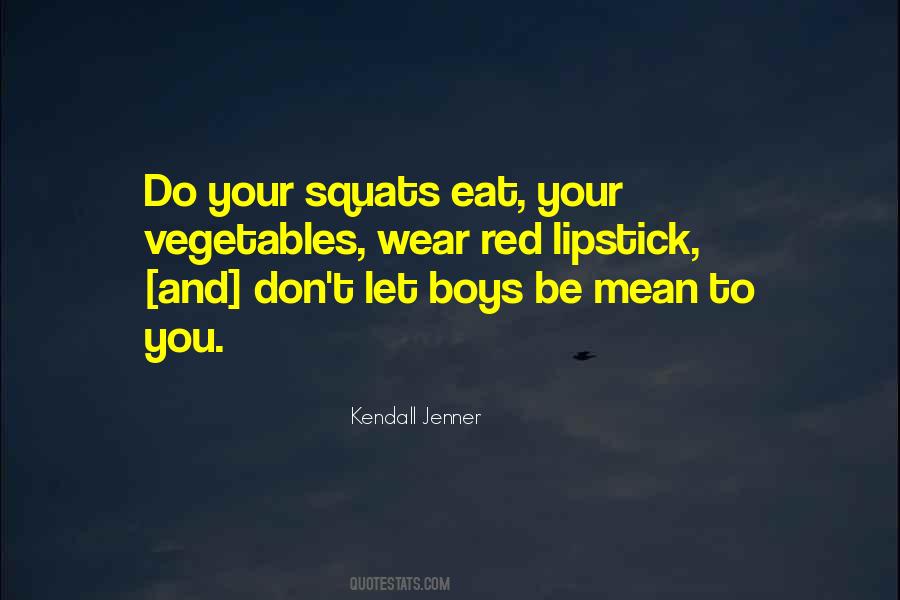 #37. People are not fat and sick because they choose to eat conventionally produced produce over organic. It's because they are not eating fruits and vegetables. - Author: Abbie Jaye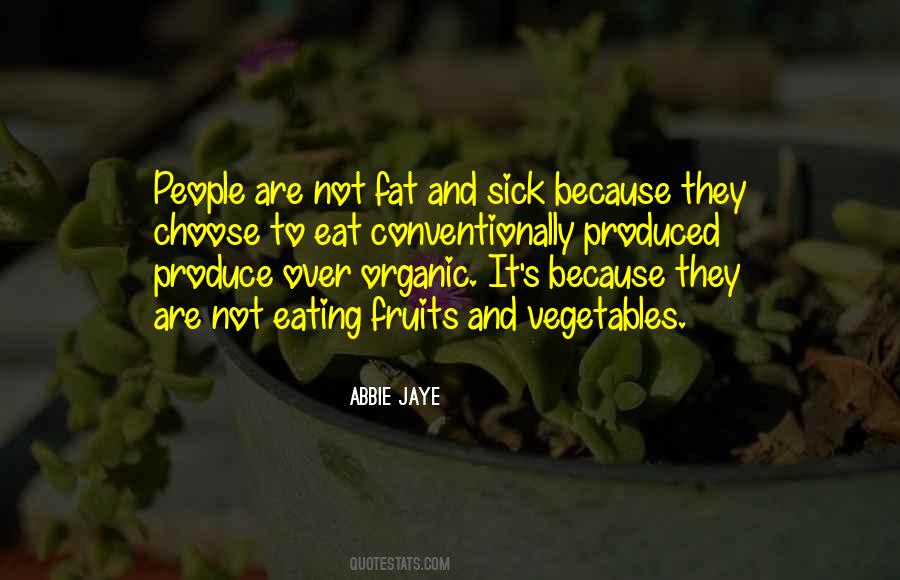 #38. A boxer's diet should be low in fat and high in proteins and sugar. Therefore you should eat plenty of lean meat, milk, leafy vegetables, and fresh fruit and ice cream for sugar. - Author: Gene Tunney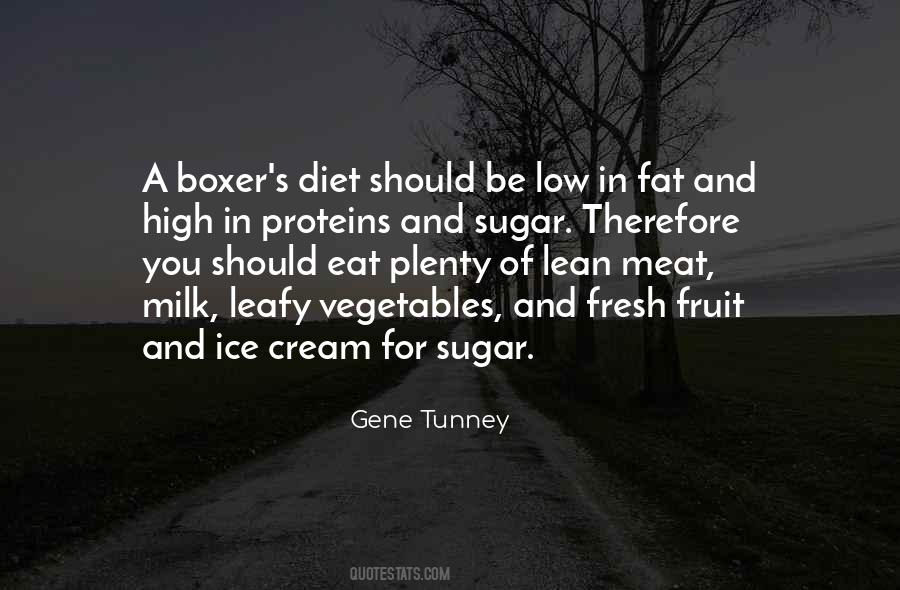 #39. In Cleveland, I'm so fortunate that we're surrounded by farms with an endless variety of beautiful vegetables. For me, I always eat very tightly with the season, even if the season is only six weeks. - Author: Michael Symon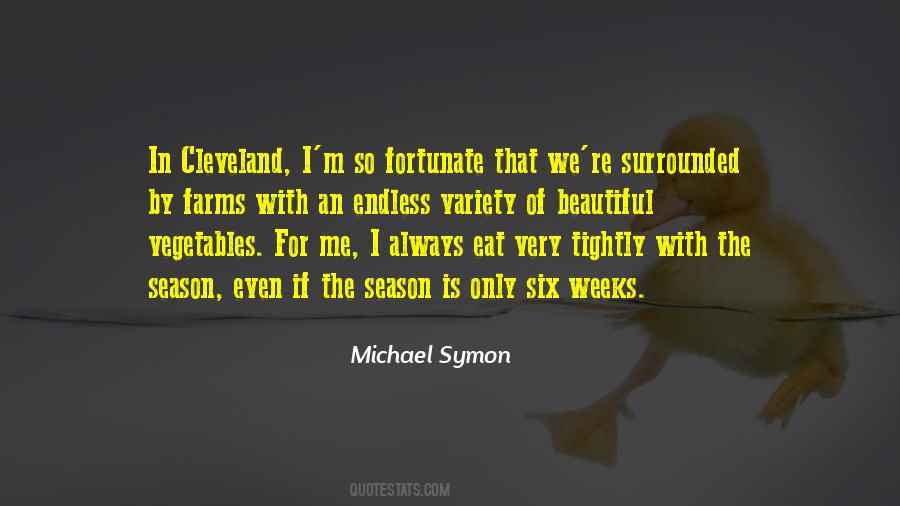 #40. If this was adulthood, the only improvement she could detect in her situation was that now she could eat dessert without eating her vegetables. - Author: Lisa Alther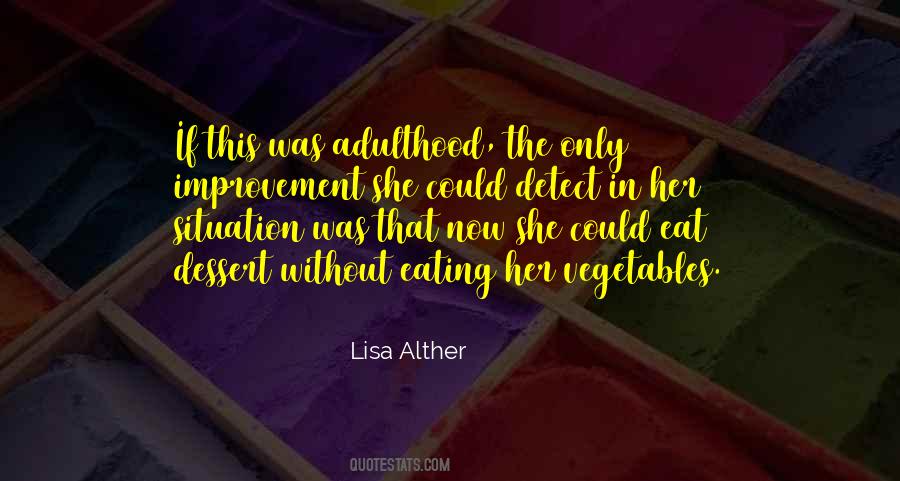 #41. California produces 40% of America's fresh fruits, vegetables and nuts - the kind you eat. We have had a bumper crop of the other variety, too. - Author: Ronald Reagan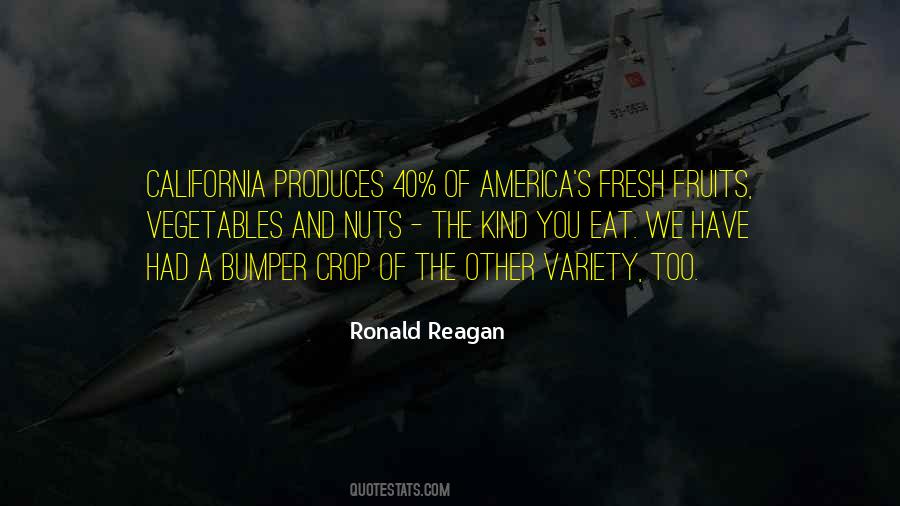 #42. I know when you think about the South, you think about fried foods, but we eat a tremendous amount of vegetables. I have my own garden, so vegetables have always been a big part of my life. I love broccoli. I love fresh beets. It's not all about the fried chicken and the biscuits. - Author: Paula Deen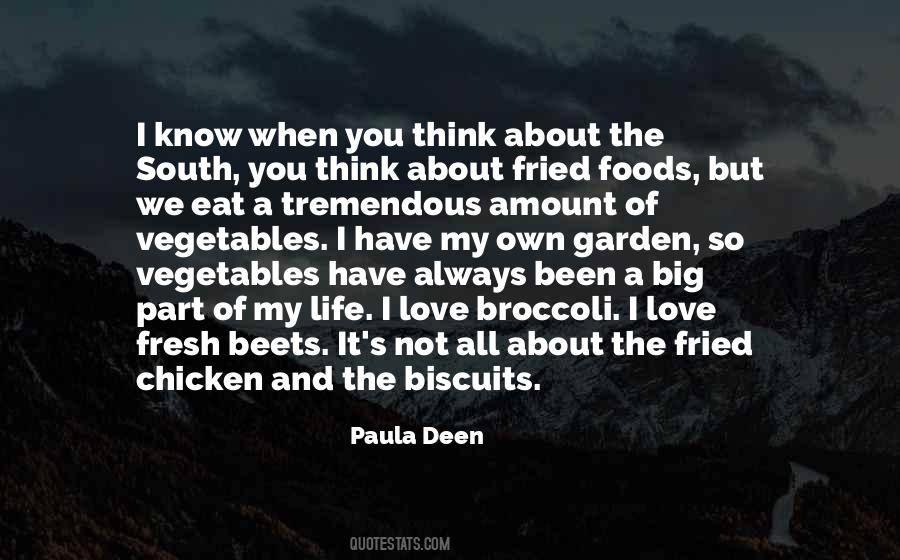 #43. I always have breakfast, say, scrambled egg whites, a vegetable smoothie, or whole-grain cereal with low-fat milk. For lunch and dinner, I eat a lot of fish and vegetables. And throughout the day, I try to stay hydrated. - Author: Beyonce Knowles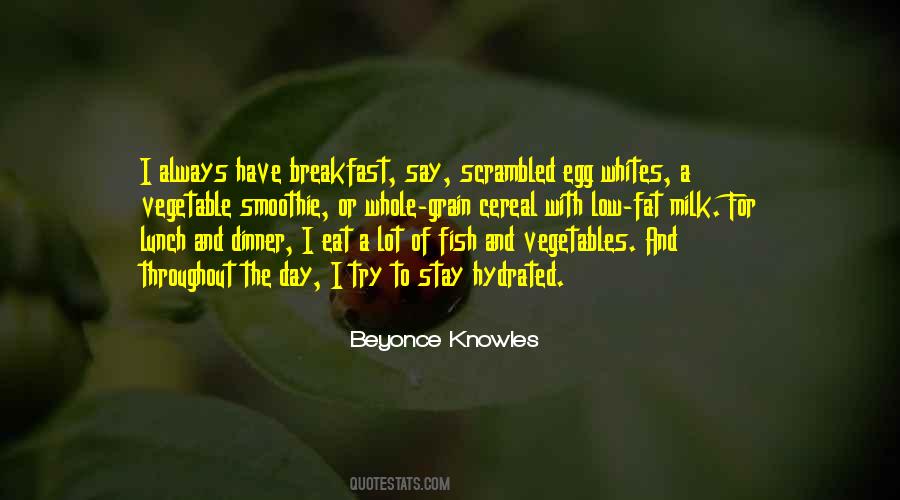 #44. I drink a lot of juice and eat a lot of vegetables. - Author: Jean-Georges Vongerichten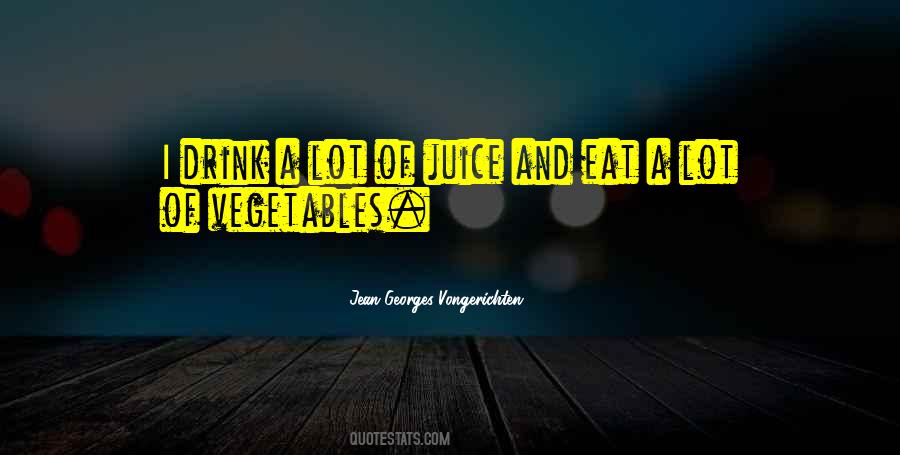 #45. For most teenage runners, the right foods means a varied diet, decreasing the amount of fat found in the typical American diet and replacing those calories with carbohydrates. Avoid saturated fats, such as those found in fried foods, and eat plenty of fresh fruits and vegetables. - Author: Don Kardong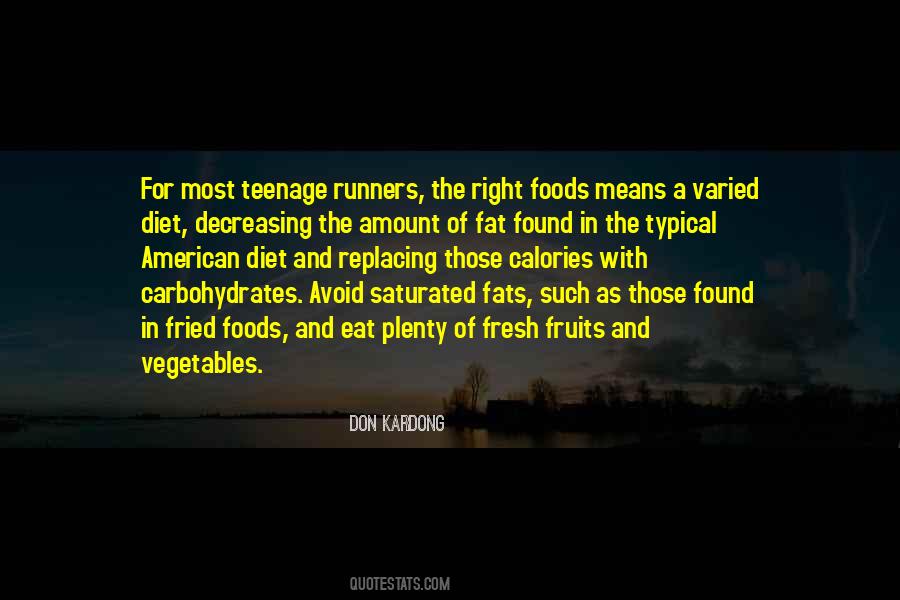 #46. More health tips: Eat lots of fruits and vegetables. Get plenty of rest. And learn to duck. - Author: Charles M. Schulz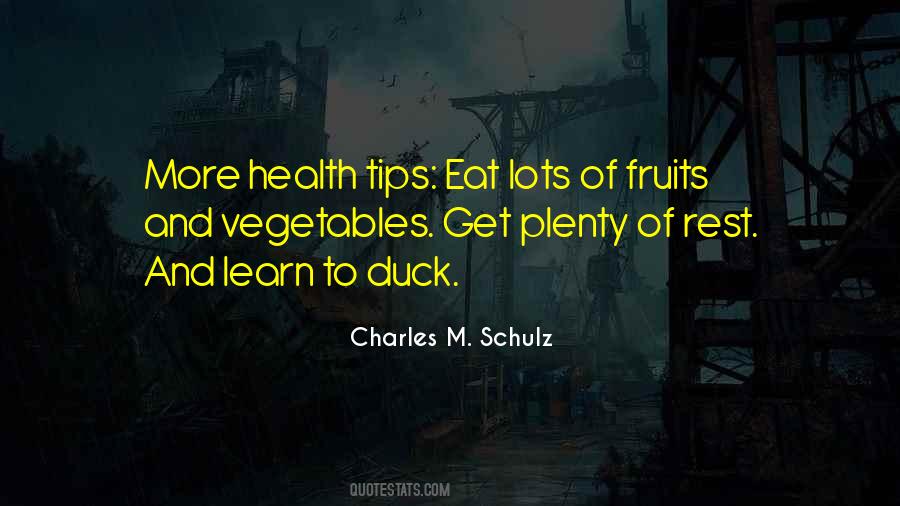 #47. If you eat raw meat, it takes between seventy to seventy-two hours to pass through your system; cooked meat takes fifty to fifty-two hours; cooked vegetables twenty-four to thirty hours; uncooked vegetables twelve to fifteen hours; fruits one and a half to three hours. - Author: Sadhguru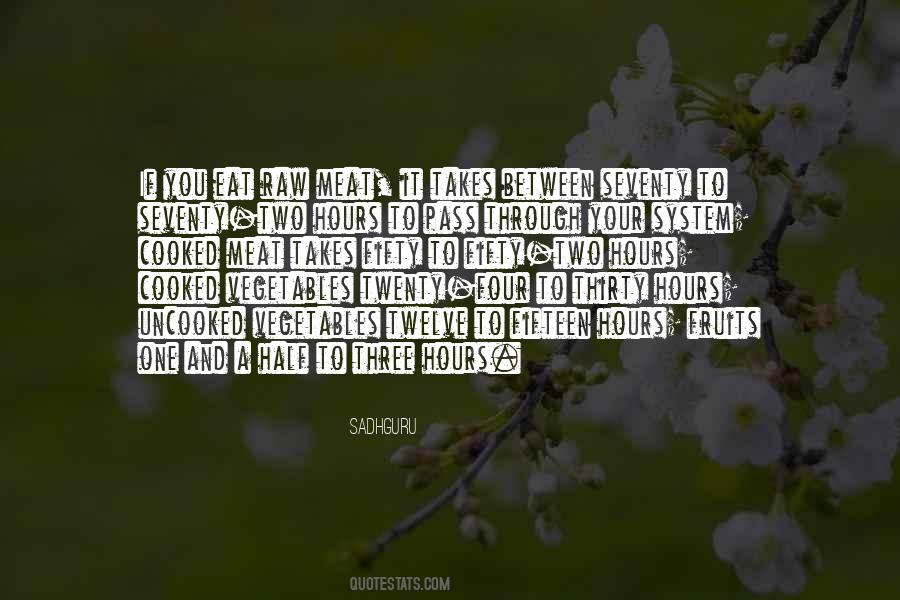 #48. When I'm home, I cook and try to eat really clean. I try to eat vegetables at every meal. I stay away from pasta and bread and have brown rice and potatoes instead. - Author: Marisa Miller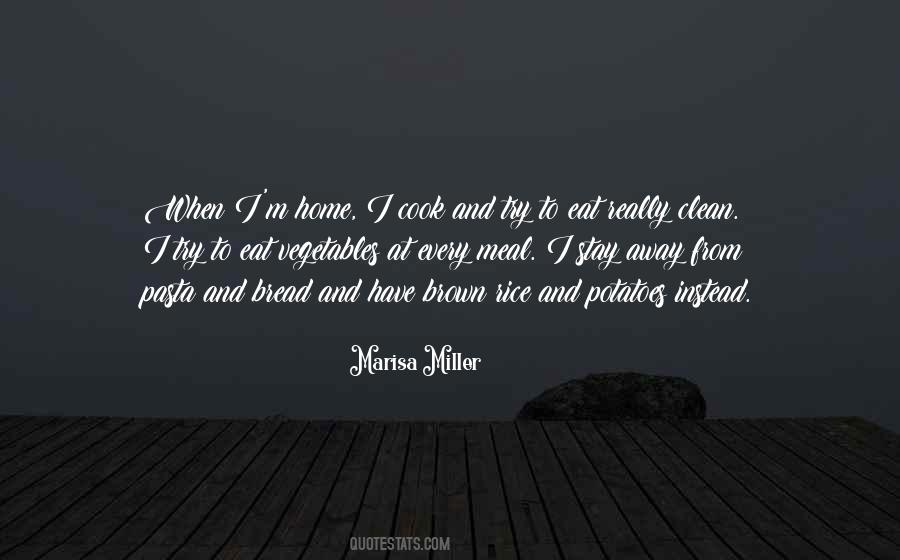 #49. In terms of nutrition and well being there is a lot going on right now. Some say fruits are bad, others say dairy is bad, while others say that consuming too many vegetables is bad. If you would have to listen to all that is said, you would not be able to eat anything. - Author: Cristian Vlad Zot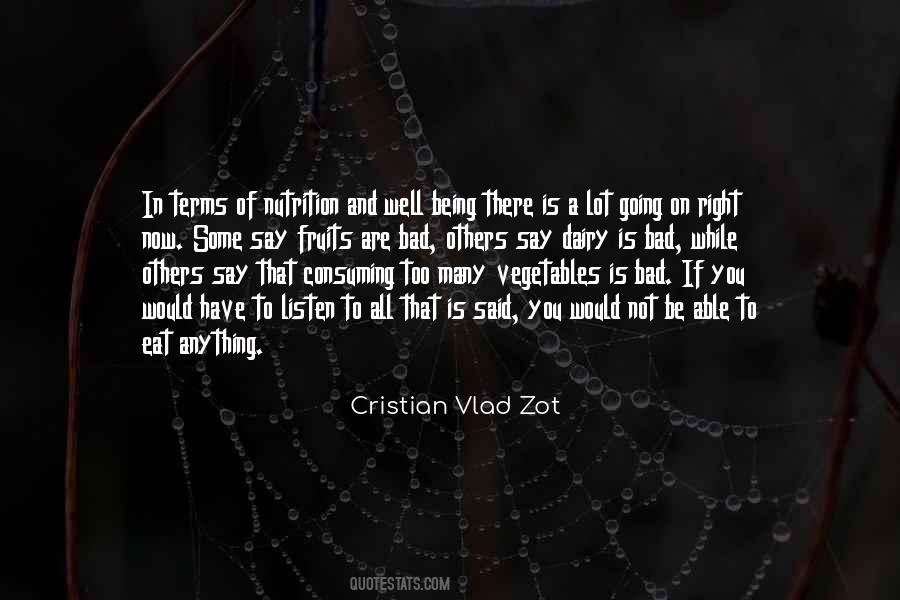 #50. People tend to eat poorly because it's convenient; it's what's around them. But you can make the switch. I think the way to do that is to just make fruits and vegetables as convenient as possible to eat. - Author: Michael Greger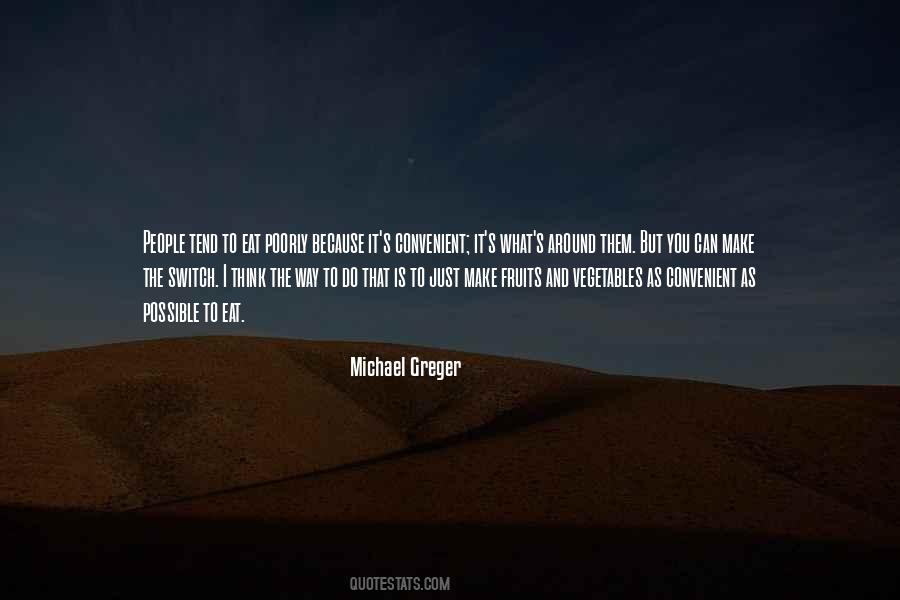 #51. I grew up around hunters. I love guns, bows, arrows, compasses and binoculars. I don't do any of that stuff, I just like the stuff. I shot one animal, in my life, and I didn't like it. If I had to skin an animal to eat it, I'd probably eat vegetables. - Author: Tim Allen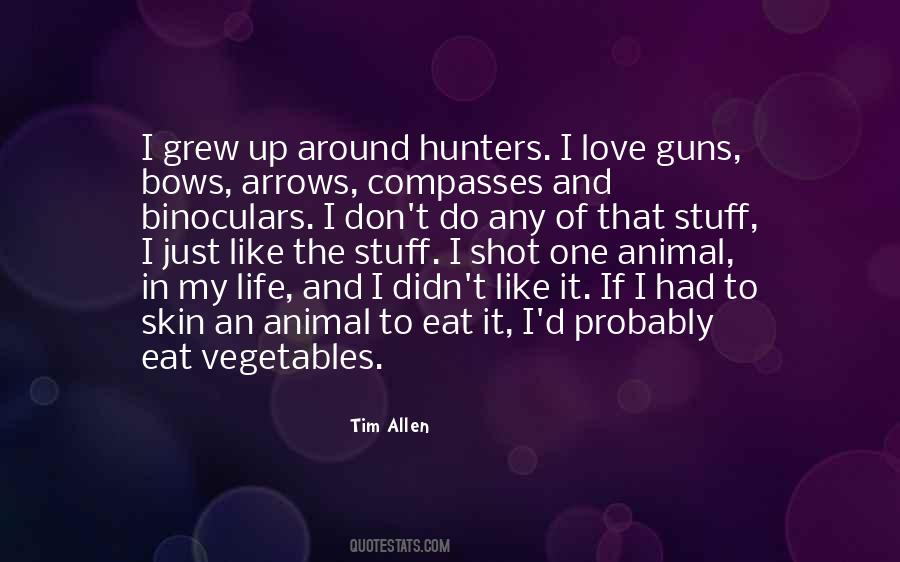 #52. Many of the delicious soups you eat in French homes and little restaurants are made just this way, with a leek-and-potato base to which leftover vegetables or sauces and a few fresh items are added. - Author: Julia Child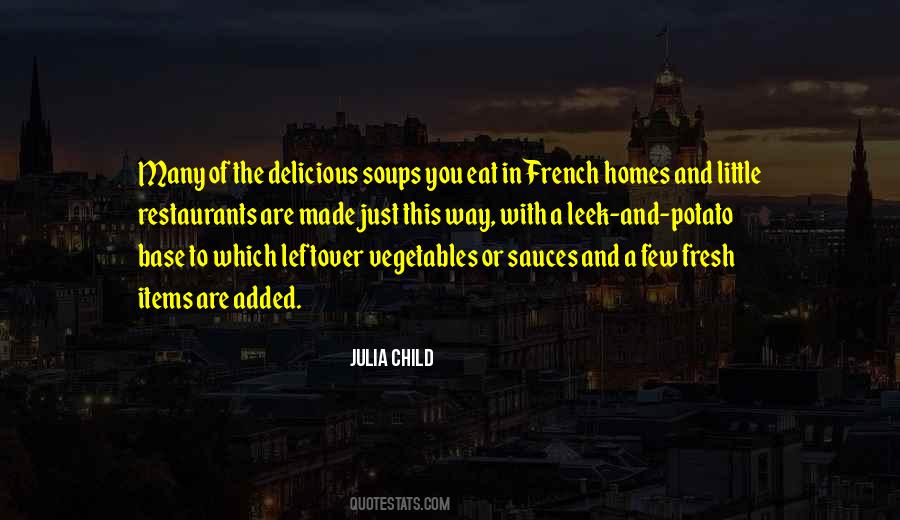 #53. I am not a vegetarian. I subscribe to my own mantra: eat less, move more, eat plenty of fruits and vegetables, don't eat too much junk food, and enjoy what you eat. Or, to summarise: eat less, eat better, move more, and get political. - Author: Marion Nestle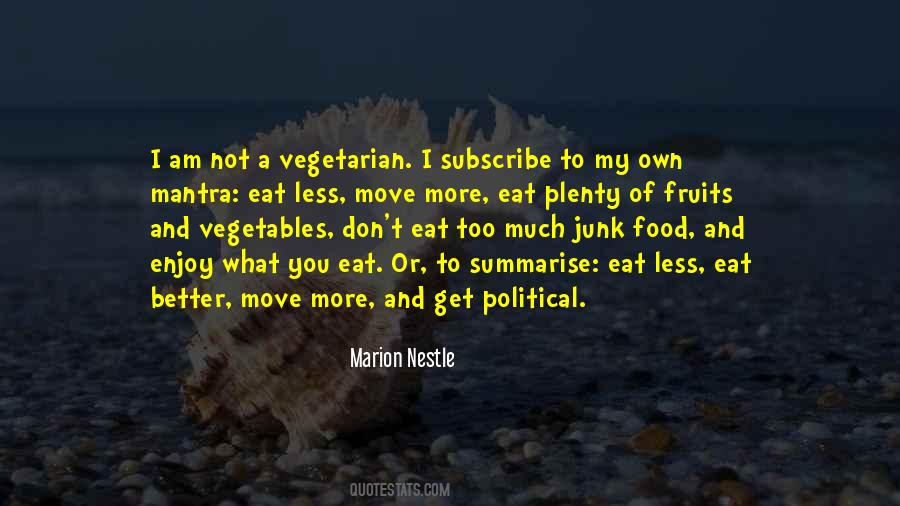 #54. I'm on the diet where you eat vegetables and drink wine. That's a good diet. I lost 10 pounds and my driver's license. - Author: Larry The Cable Guy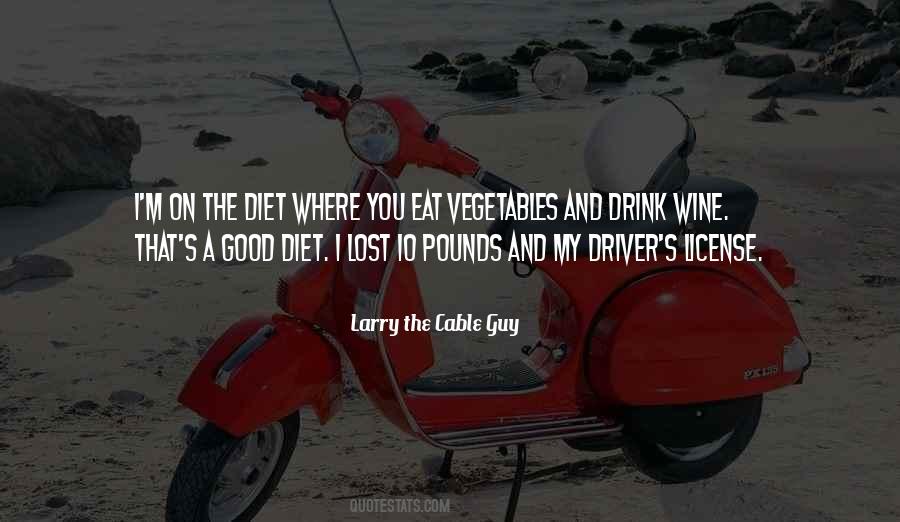 #55. Don't drink at all, don't smoke, you must exercise and eat vegetables and fruit. - Author: Robert Mugabe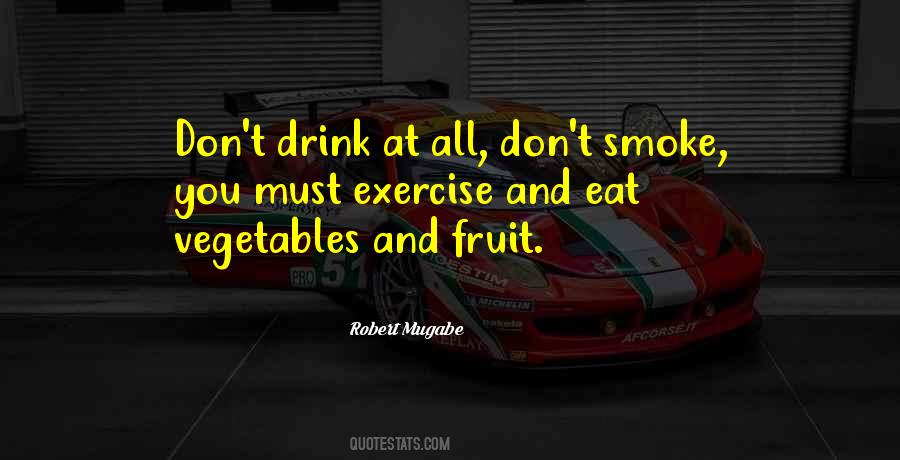 #56. Would you pour sand into the gas tank of your car? Of course not, your car was meant to run on good gasoline. Well, your body works the same way. Your body was meant to run on good food: fruits, vegetables, lean protein, and lots of water. Eat good food! - Author: Tom Giaquinto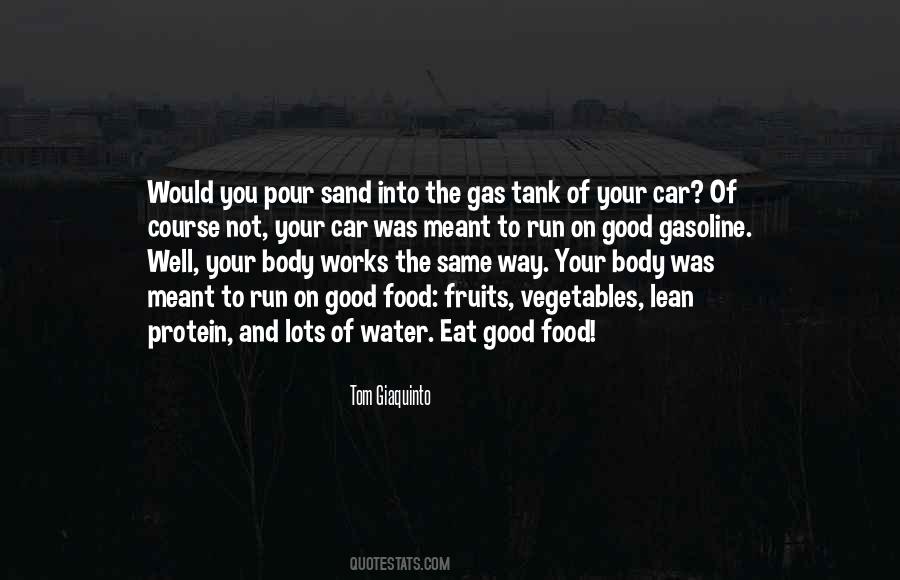 #57. In theory, I stick to how I could eat if I lived a thousand years ago. I take processed foods off the menu, and stick to things I could hunt or gather, with more fruits, vegetables, and nuts - and less meat. - Author: Parker Young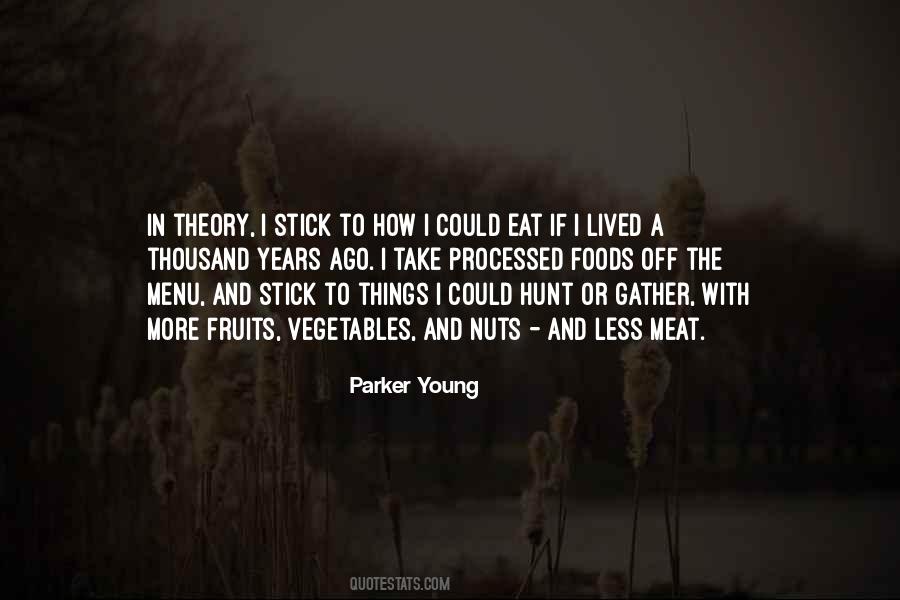 #58. The people who say: 'You are what you eat' have always seemed addled to me. In my opinion, you are what you think, and if you don't think, you can eat all the meat in Kansas City and still be nothing but a vegetable. - Author: Russell Baker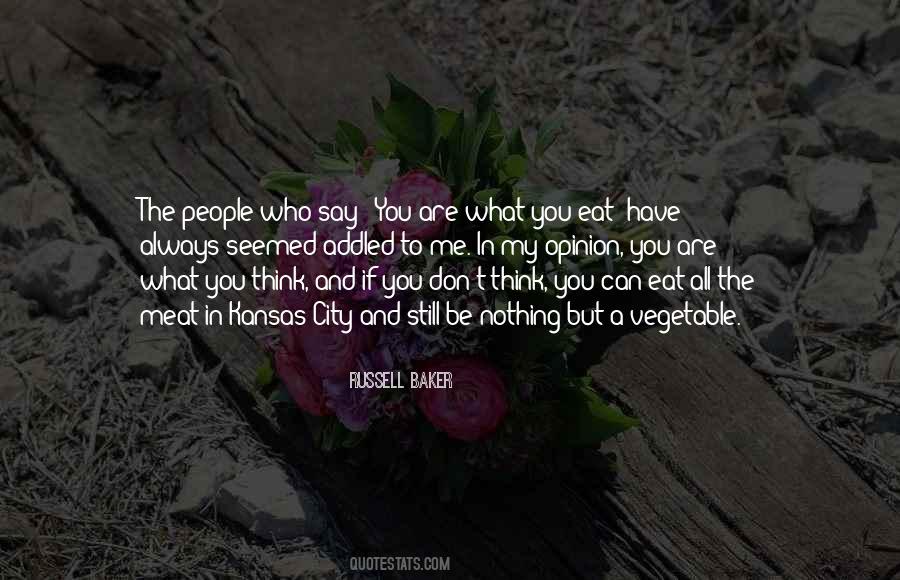 #59. I eat mostly vegetables and fish. - Author: Andrew Tan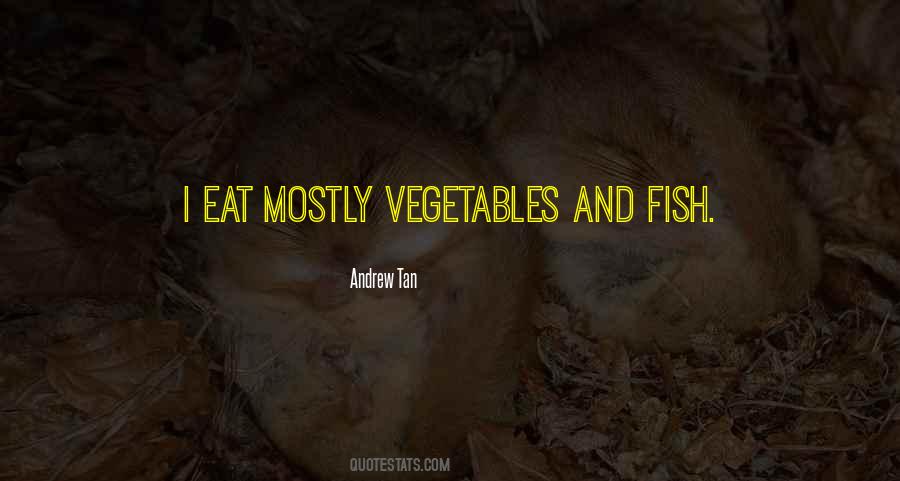 #60. In fact, drinking milk and eating dairy products can rob your body of calcium and contribute to osteoporosis. If you eat dark green leafy vegetables like kale, collards, and mustard greens, you can get enough calcium from a vegan diet. - Author: Sharon Gannon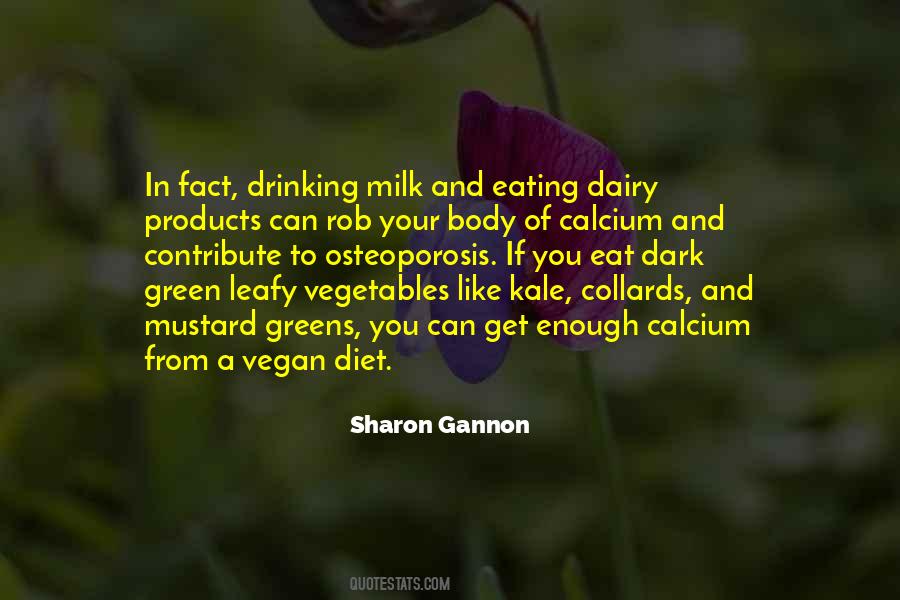 #61. The easiest diet is, you know, eat vegetables, eat fresh food. Just a really sensible healthy diet like you read about all the time. - Author: Drew Carey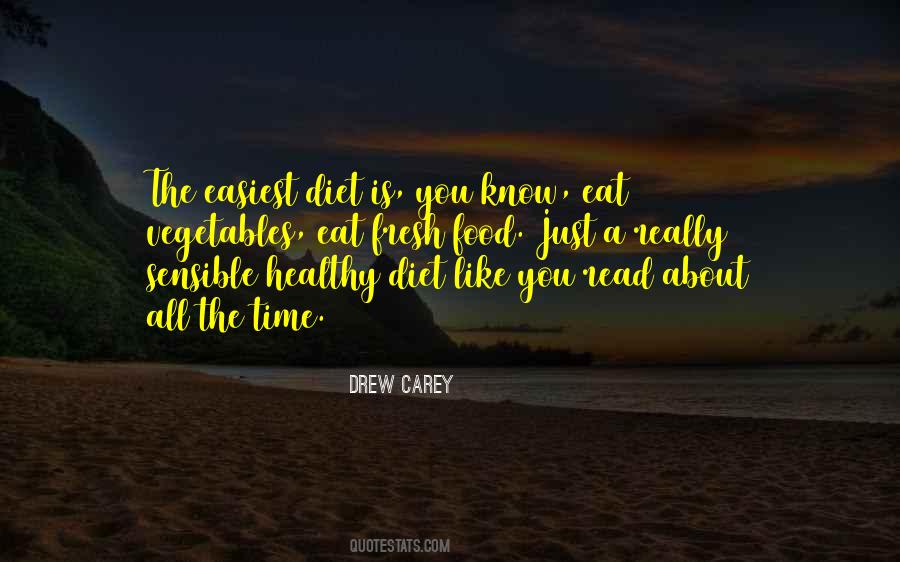 #62. I usually eat six times a day, small meals. For breakfast, an egg and a corn tortilla, salsa and cilantro, and some ham. For snacks, I'll have an apple, some string cheese, a yogurt. For lunch I'll have salad with protein in it and for dinner usually steamed vegetables and chicken or fish. - Author: Sprague Grayden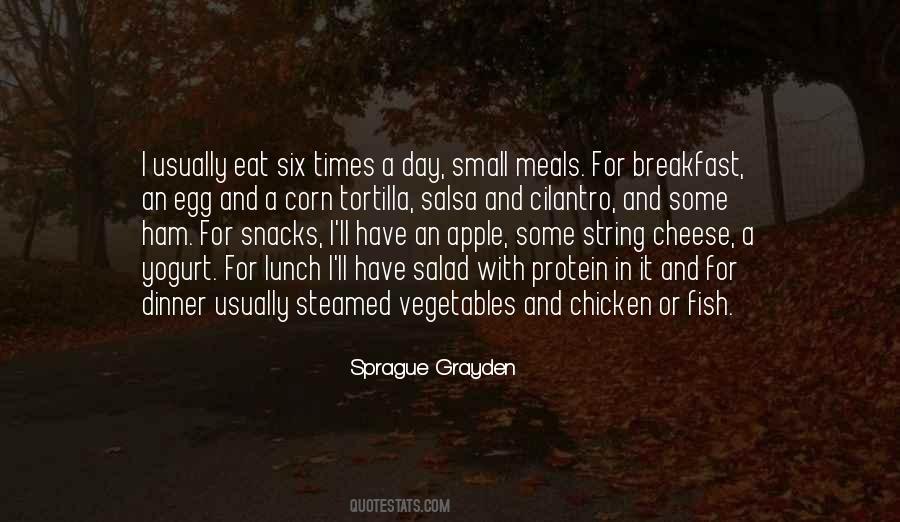 #63. As for her charmspeak, she'd gotten so powerful it made Leo nervous. If she told him to eat his vegetables, he might actually do it. - Author: Rick Riordan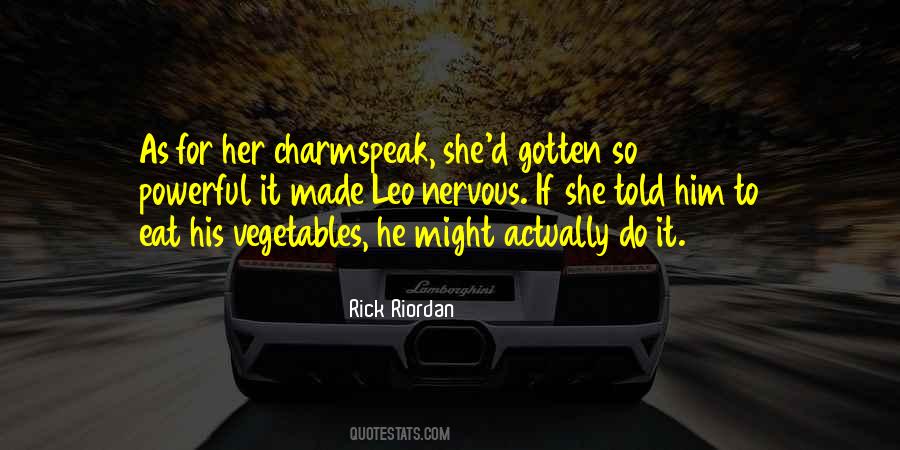 #64. On the show, we are not trying to get people to eat their vegetables; we are not trying to get people to become Democrats. We are basically trying to encourage people to get involved with public life so that politics isn't left to the wealthy and privileged. - Author: Martin Sheen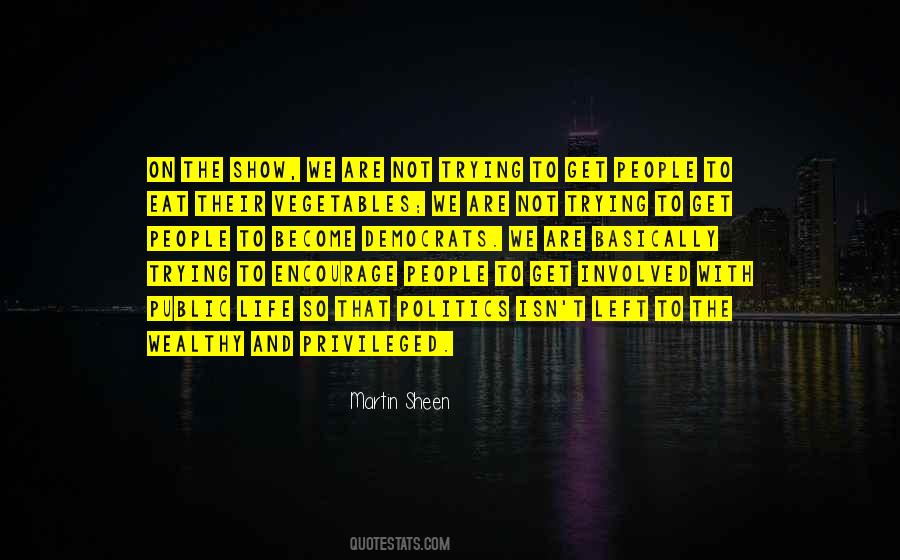 #65. Everything we eat begins with a plant turning solar energy into carbohydrates. Everything. Whether we're eating meat or eating vegetables, it all begins there. So I'm always interested in taking things back to the beginning. - Author: Michael Pollan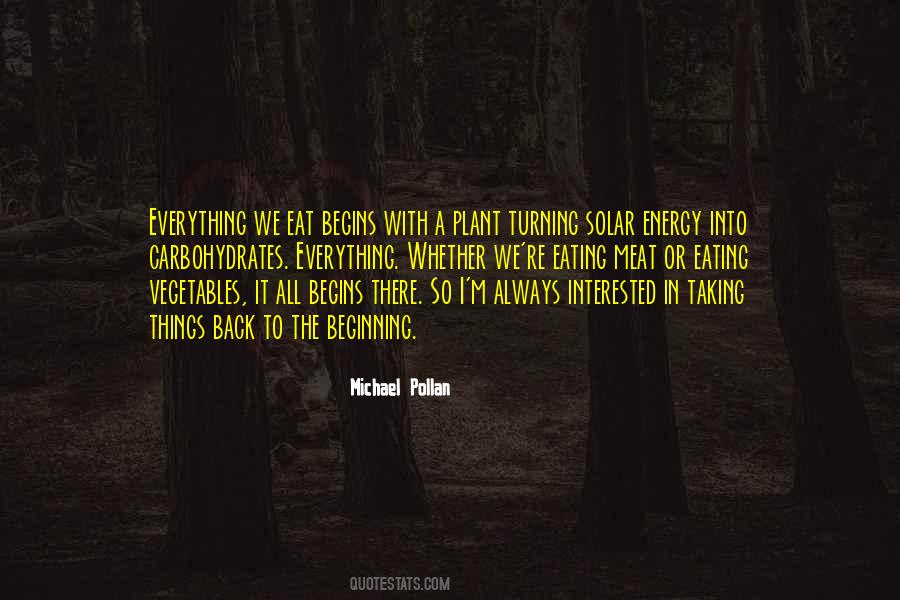 #66. I've never dieted in my life; I like food too much. I'm just thoughtful about what I eat, and I'm lucky that I love the taste of vegetables. I'm certainly not 'actress skinny,' and I never will be. I'm strong, and my body works great for me. - Author: Sarah McLachlan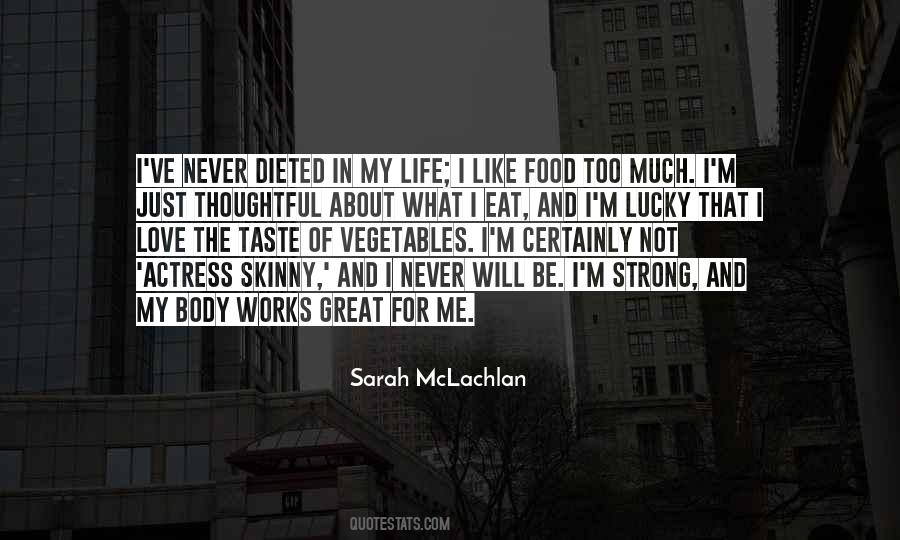 #67. Botany, n. The science of vegetables - those that are not good to eat, as well as those that are. It deals largely with their flowers, which are commonly badly designed, inartistic in color, and ill-smelling. - Author: Ambrose Bierce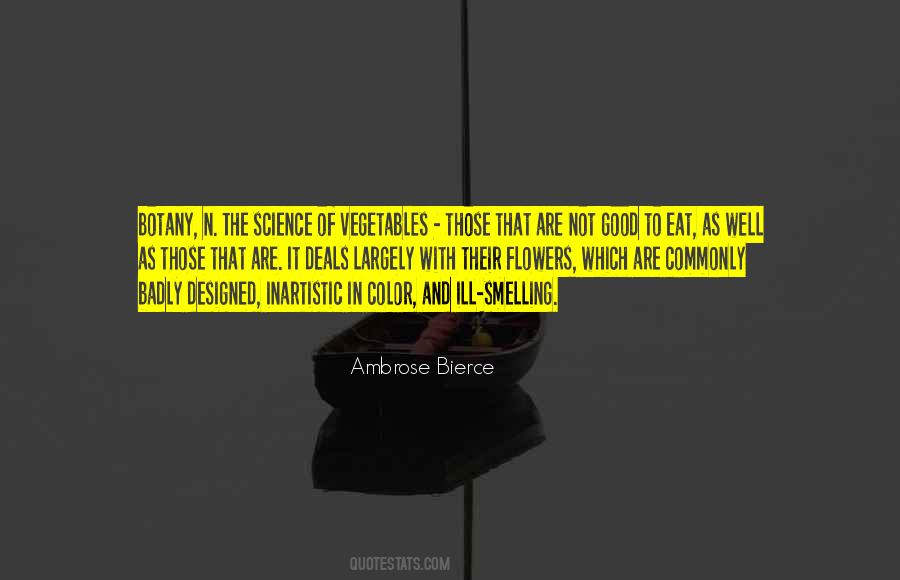 #68. I follow my own advice: eat less, move more, eat lots of fruits, vegetables, and grains, and don't eat too much junk food. It leaves plenty of flexibility for eating an occasional junk food. - Author: Marion Nestle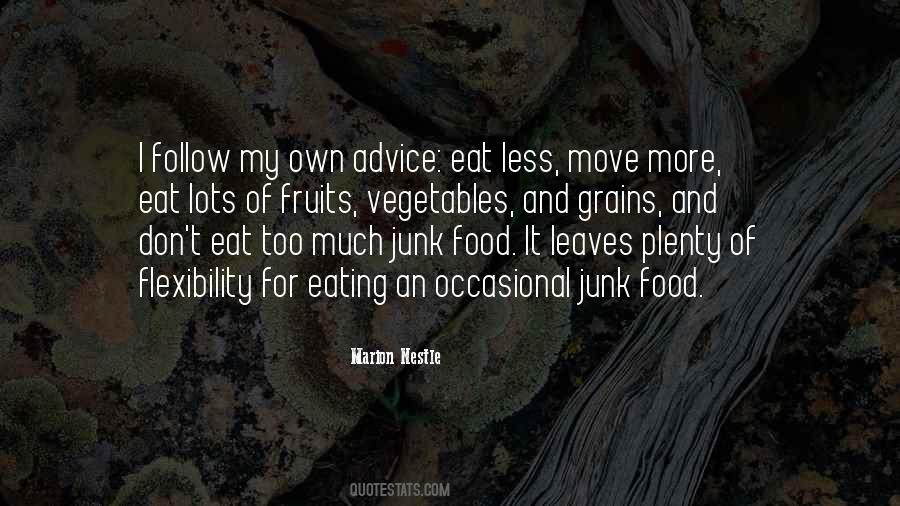 #69. I'm going to include a self-help item here that is completely unrelated to this topic. I want you to eat some vegetables. - Author: Phil Ebiner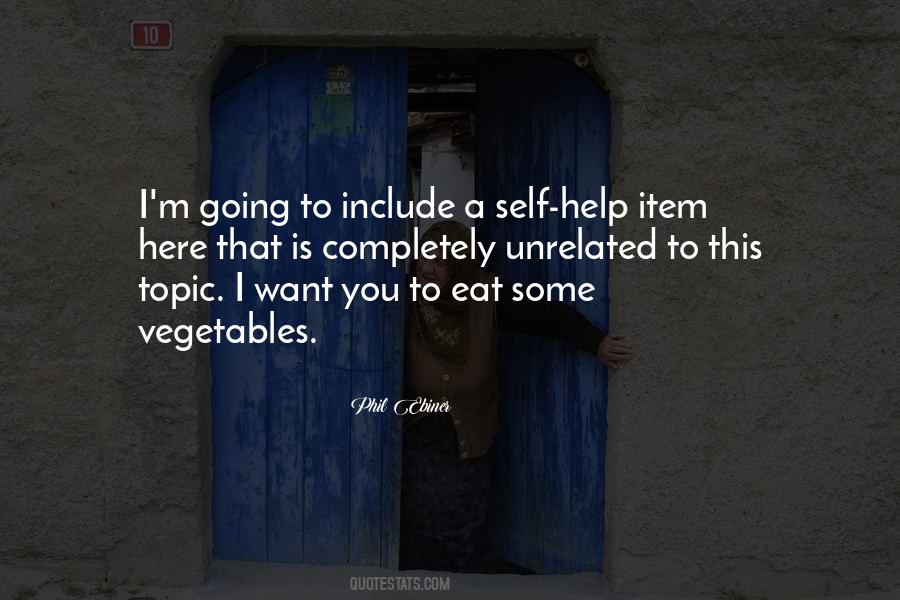 #70. I work out every morning. Only half an hour. I get on the treadmill. That's it. Every morning, I don't care what time. It gets your blood flowing. It gets your adrenaline flowing. I believe in eating well. It's not fanatical. Eat good food. Make sure you've got good vegetables. - Author: Kamala Harris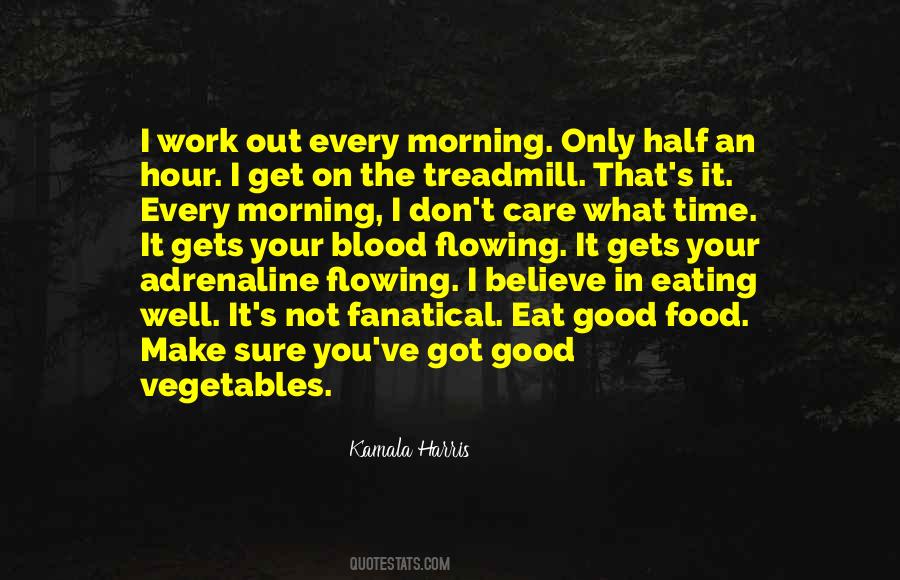 #71. I eat only vegetables and fruit, and to me it's the most aspirational diet because it's so easy. It's quite simple, the cooking I do. - Author: Vivienne Westwood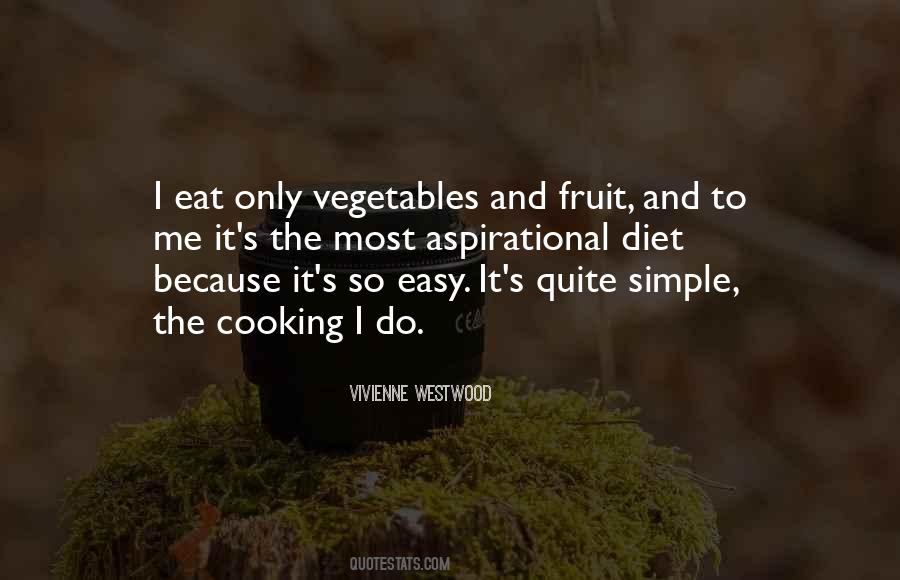 #72. I eat foods such as fish, chicken, fruit and vegetables while avoiding red meat, dairy and wheat. - Author: Martine McCutcheon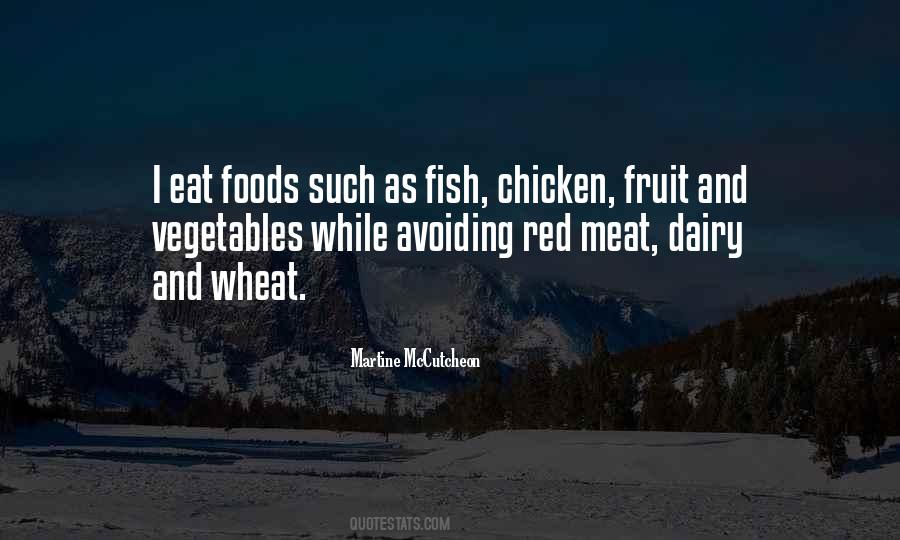 #73. A simple rule of thumb is to shop the periphery of the grocery store - that's where you'll find meat, fish, dairy, and vegetables. Choose high-quality protein such as healthy, grass-fed beef and lamb and organic chicken and pork, and eat them in moderation. - Author: Suzanne Somers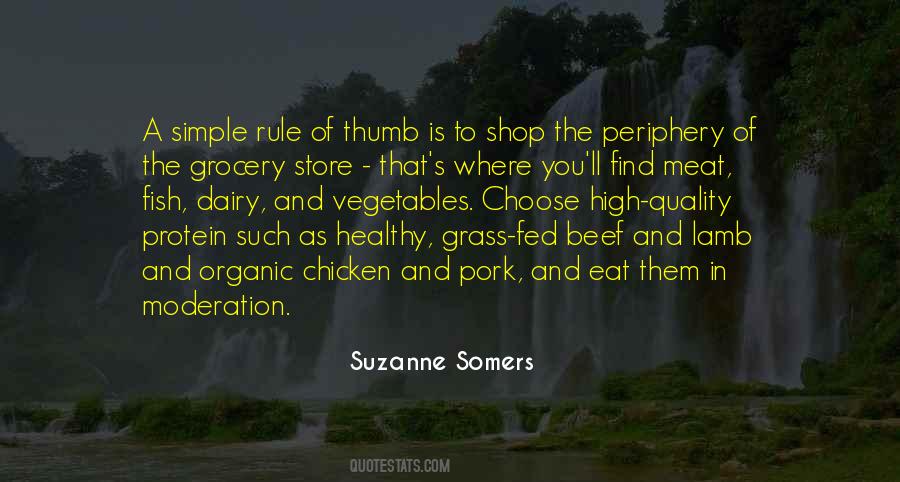 #74. I always take working out seriously, but before a shoot I do extra sit ups and squats. I also eat more vegetables and drink a ton of water, because it really helps my skin glow. - Author: Lily Aldridge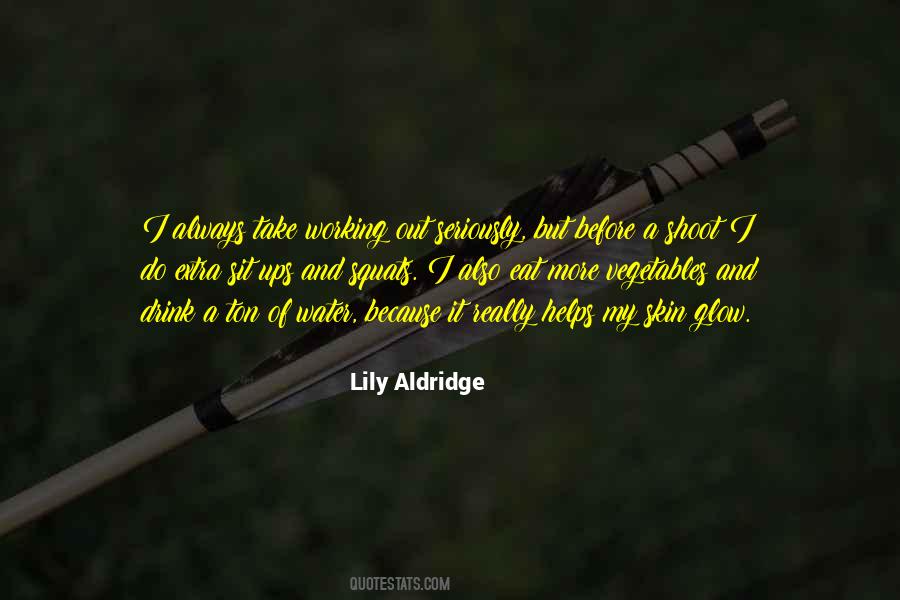 #75. We eat a lot of lean meat and fresh vegetables. - Author: Jayne Mansfield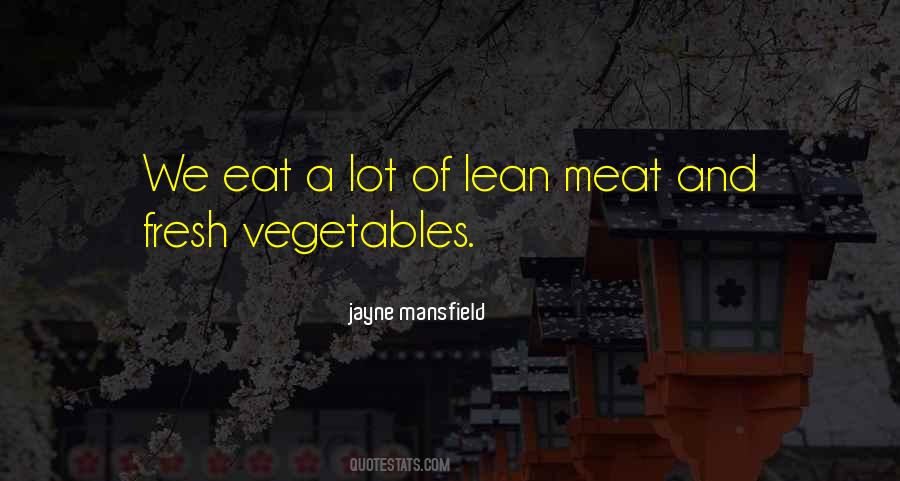 #76. Sally and Chava eat only raw vegetables for lunch because they are trying to lose weight. Then they split a pack of Entenmann's doughnuts for dessert. - Author: Leila Sales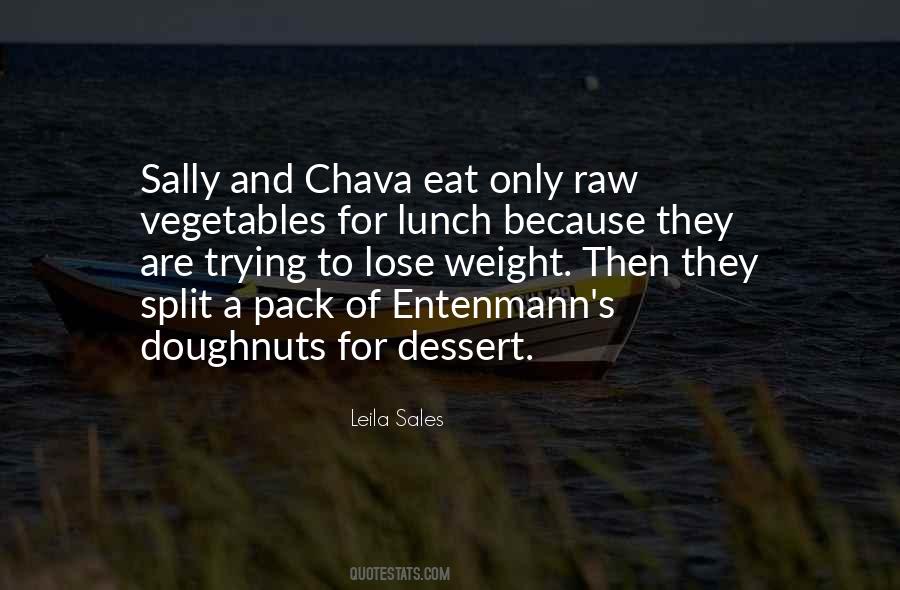 Famous Authors
Popular Topics