Do The Best I Can Famous Quotes & Sayings
List of top 100 famous quotes and sayings about do the best i can to read and share with friends on your Facebook, Twitter, blogs.
Top 100 Do The Best I Can Quotes
#1. I just try to live the right way the best I can. I make plenty of mistakes but I just try to do the best I can and be a great example for my kids. - Author: John Salmons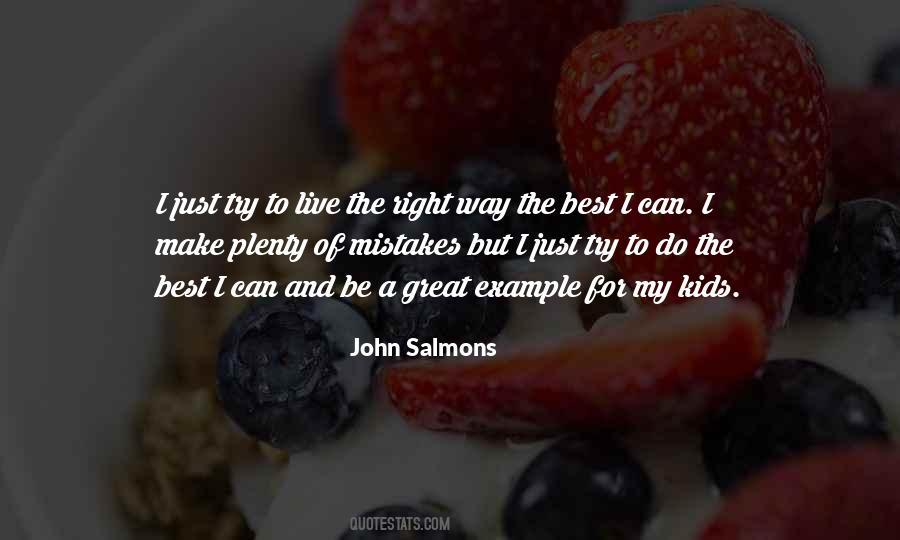 #2. I like to help women help themselves, as that is, in my opinion, the best way to settle the woman question. Whatever we can do and do well we have a right to, and I don't think any one will deny us. - Author: Louisa May Alcott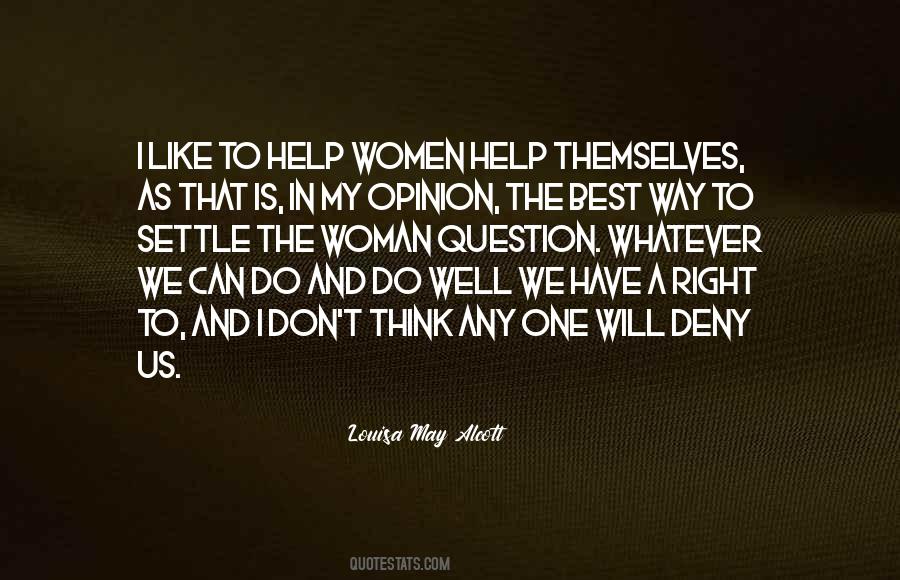 #3. My philosophy in life ... is to prove myself to myself and not to others. I tried to teach my children that, that I have to respect myself, to prove to myself that I can do the best I can. - Author: Columba Bush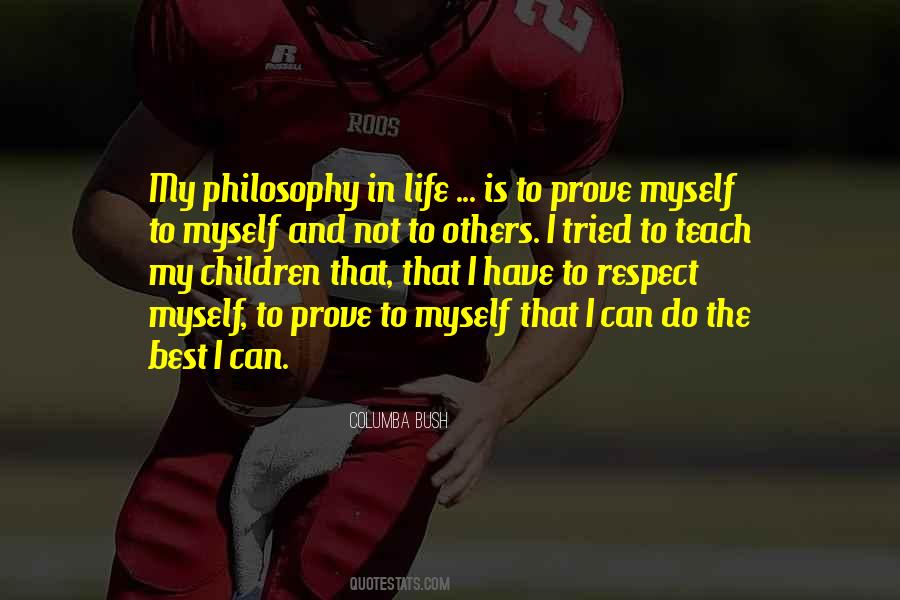 #4. The problem was, I was labeled as trouble - so I was like, 'Trouble? I'll show you trouble. You want trouble, well here it is!' No matter what label they give you, the best thing you can do is prove them wrong. - Author: Pink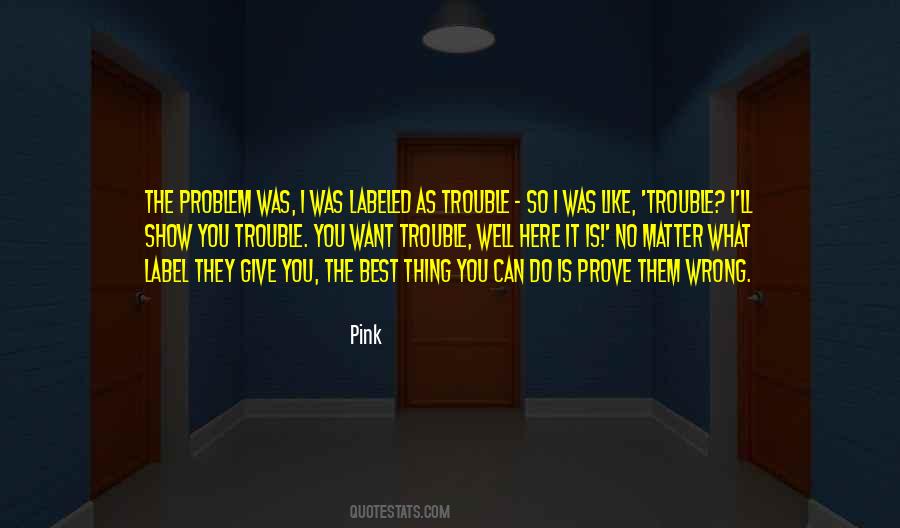 #5. You fight, you try your best, but if you lose, you don't have to break five racquets and smash up the locker room. You can do those things, but when you've finished, nothing's changed. You've still lost. If something positive came from that, I probably would do it. But I see only negativity. - Author: Rafael Nadal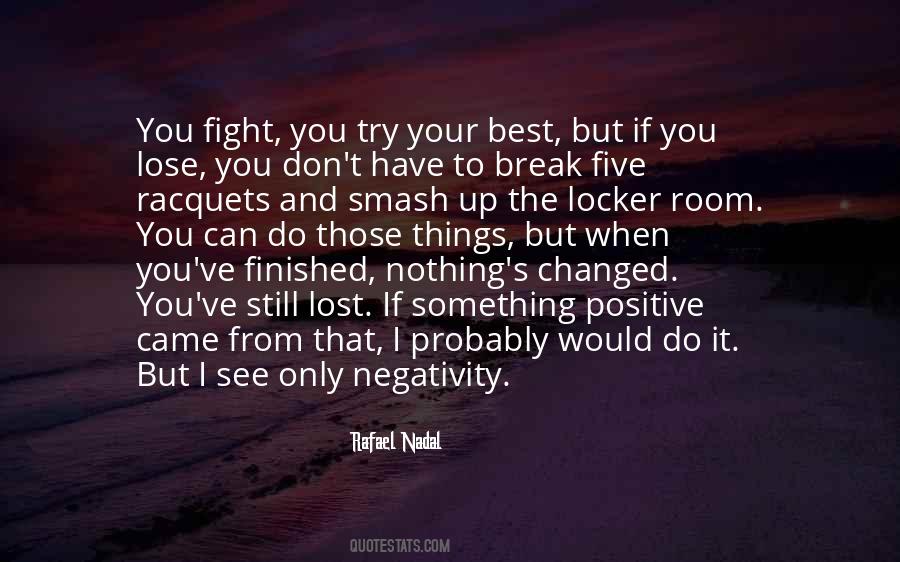 #6. Well to be perfectly frank with you I never created art or have done demonstrations for anyone before myself artistically. I always do it to try to push my own envelope to be the best I can be. - Author: Criss Angel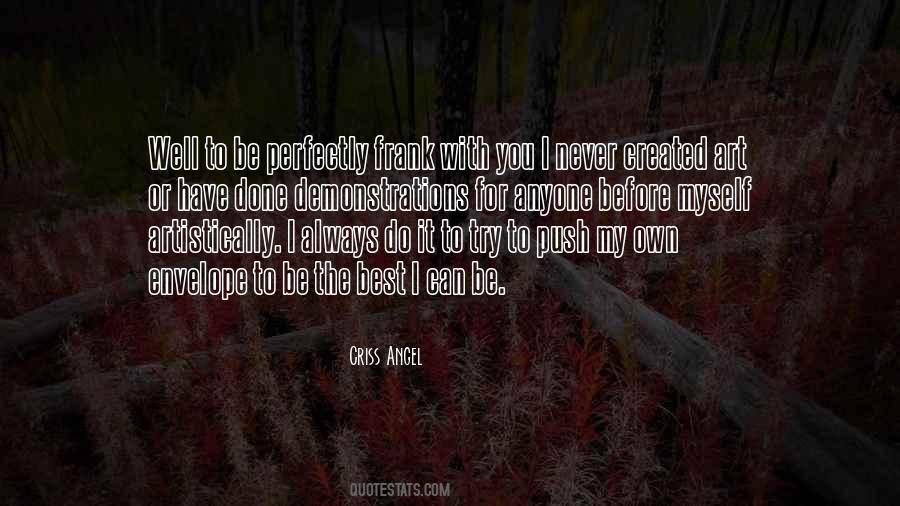 #7. Of course you want to be good and you want to do the best you can, but I am inspired by great writing. If there's something about the script, that's what I go for, although I know that that doesn't always translate because sometimes it's about the vision of the director. - Author: Sally Hawkins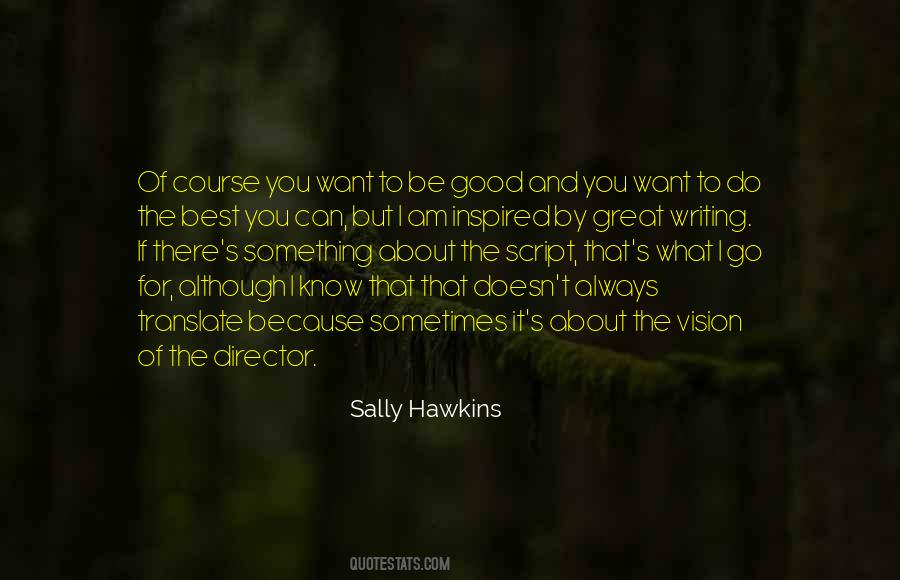 #8. I mean, the notion that we must love everything in this country or get out and go someplace else is ridiculous. I mean, if you
the best thing a patriotic American can do is to look and be critical and find out what's wrong and try to make it better. That's what a patriotic American does. - Author: Andy Rooney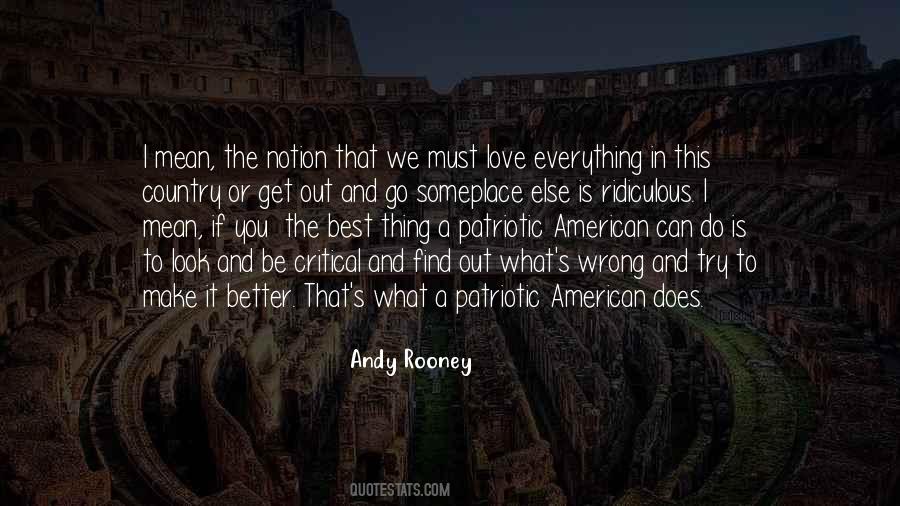 #9. I'd like to think, eight years ago, I was pretty humble and modest. But I think, with each year, you get more modest, more humble, more appreciative. The off the field tragedies put things in better perspective, but life happens to everybody, and I think we all just try to do the best we can. - Author: Brett Favre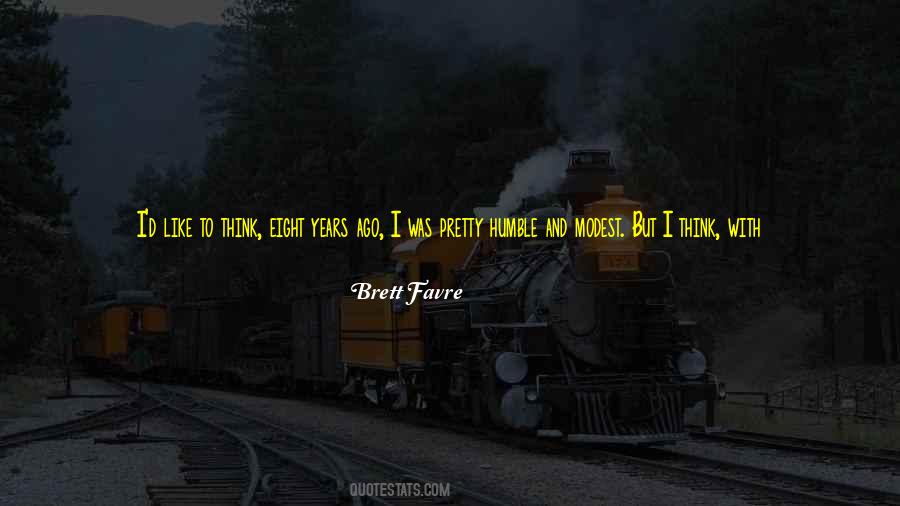 #10. If I can't do what I want to do, then my job is to not do what I want to do. It's not the same thing, but it's the best thing I can do. - Author: Nikki Giovanni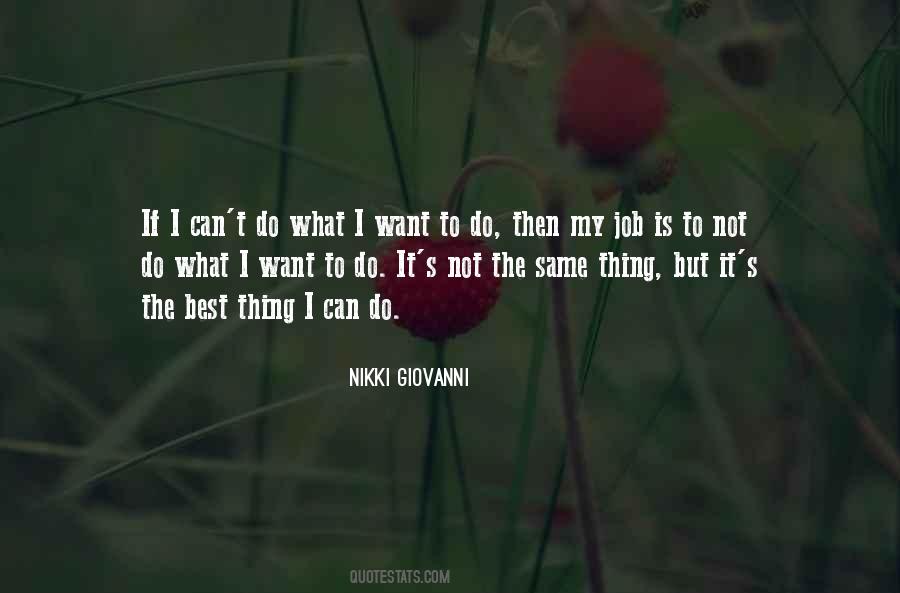 #11. I shall love my kind of love anyway, doggedly, for I must certainly do the best I can with my own nature and if my nature is to love too well or from afar or to be grateful for crumbs ... well, so be it. - Author: Carol Emshwiller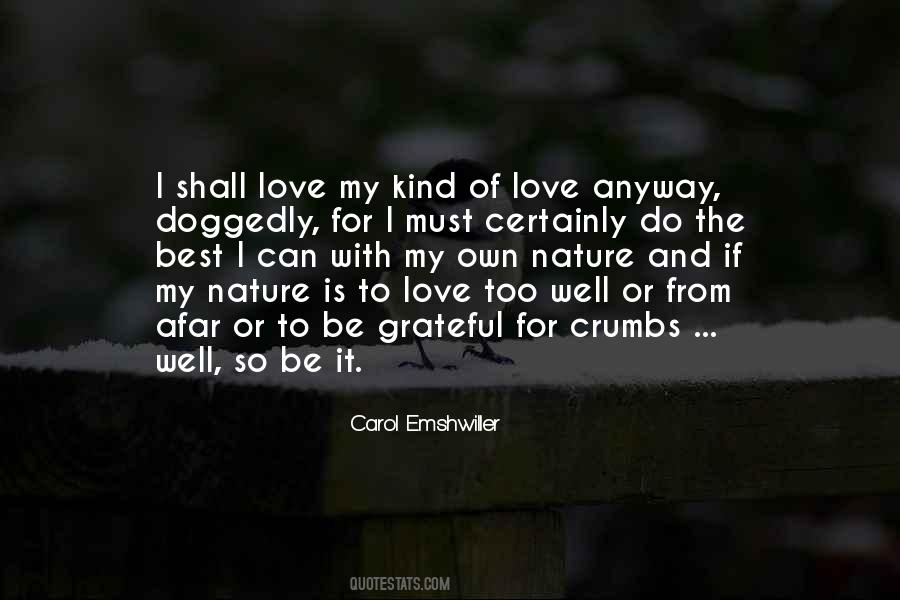 #12. I tend to write about towns because that's what I remember best. You can put a boundary on the number of characters you insert into a small town. I tend to create a lot of characters, so this is a sort of restraint on the character building I do for a novel. - Author: Tom Drury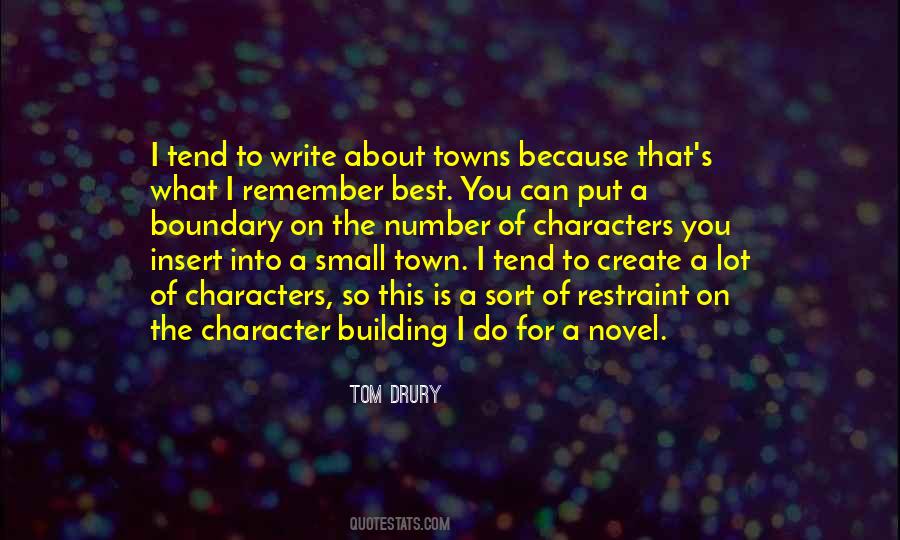 #13. I don't really care what's going on I just care about getting my job done the best that I can possibly do and deal with the other things in my life that take a lot of time and a lot of thought. - Author: Brett Favre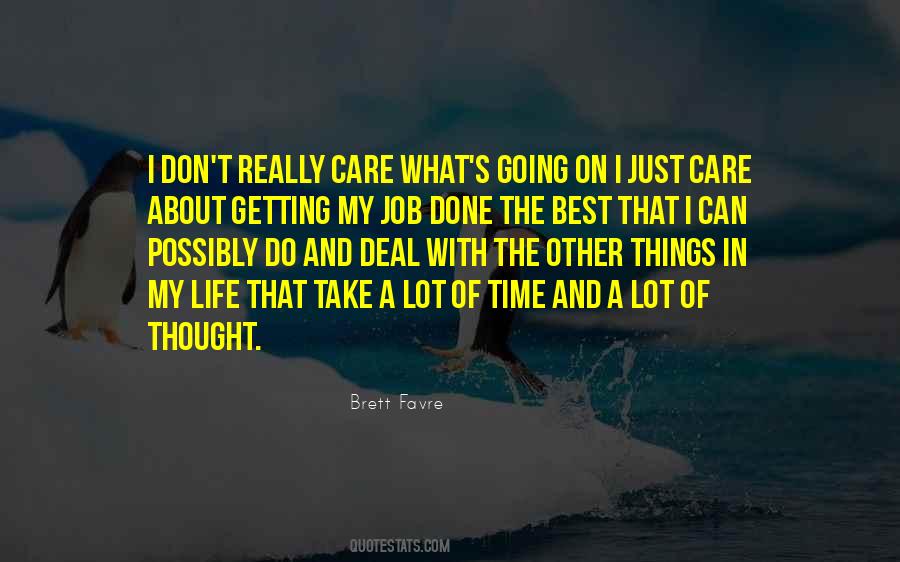 #14. I always try to get at least eight hours of sleep each night. It's the best thing I can do for my body. - Author: Candace Cameron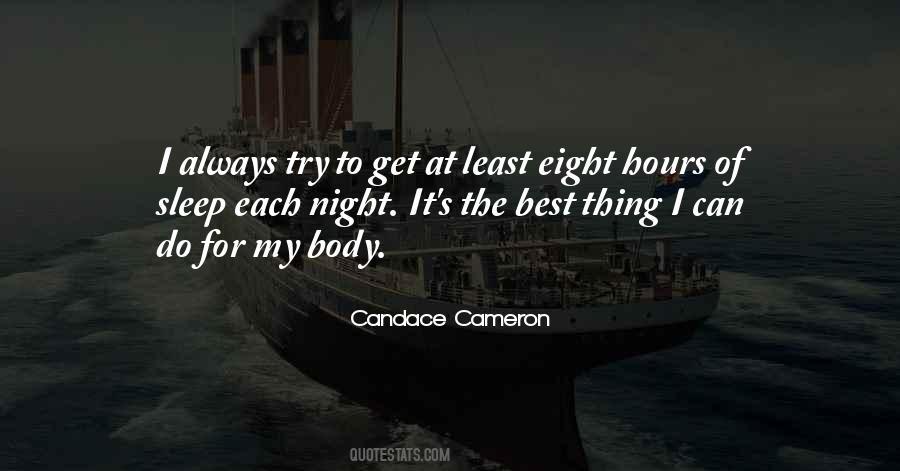 #15. I think that the best things that governments can do for productivity is not whack on new taxes and, if we can get institutions like schools and hospitals functioning better, well that's obviously good for the overall productiveness of our society. - Author: Tony Abbott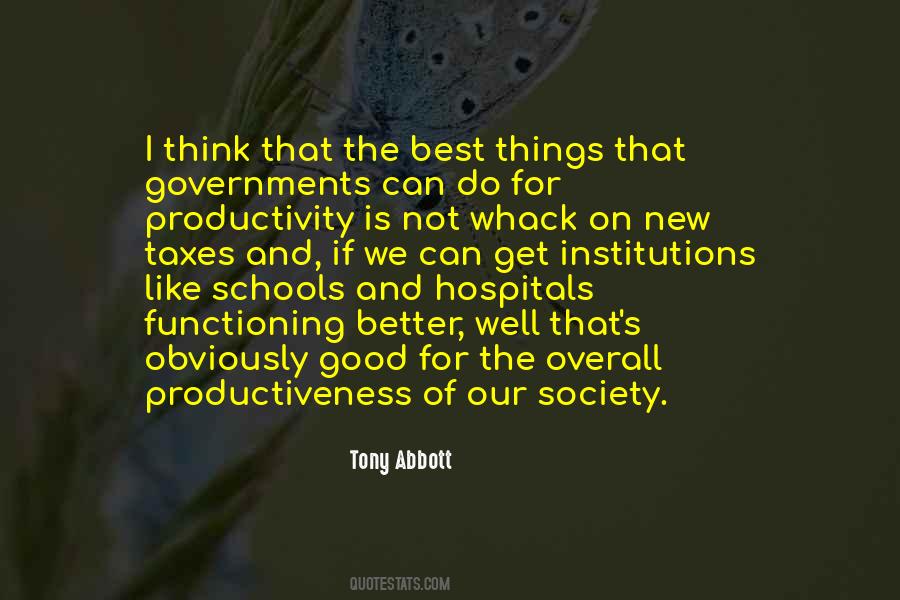 #16. It seems the best work I do is when I am really allowing the unconscious to rule the page and then later I can go back and hack around and make sense of things ... - Author: Aimee Bender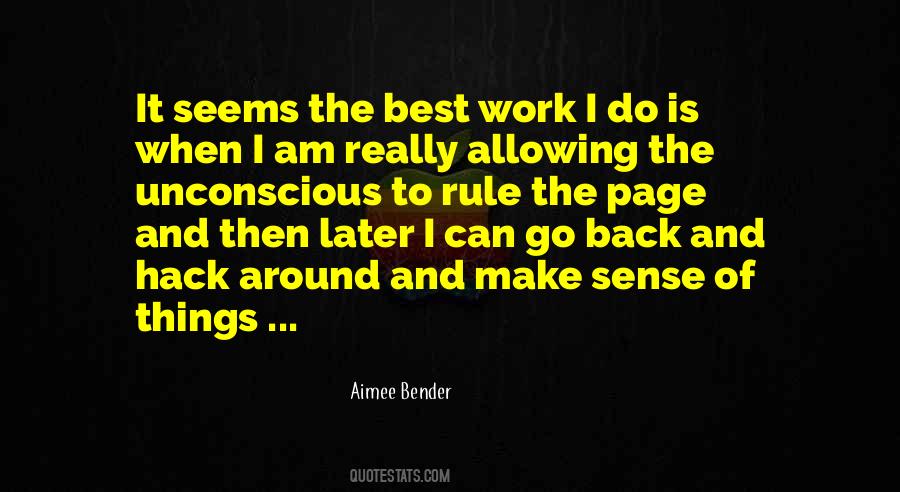 #17. The main thing I do is to carry myself as best as I can on my pro level. - Author: John Wall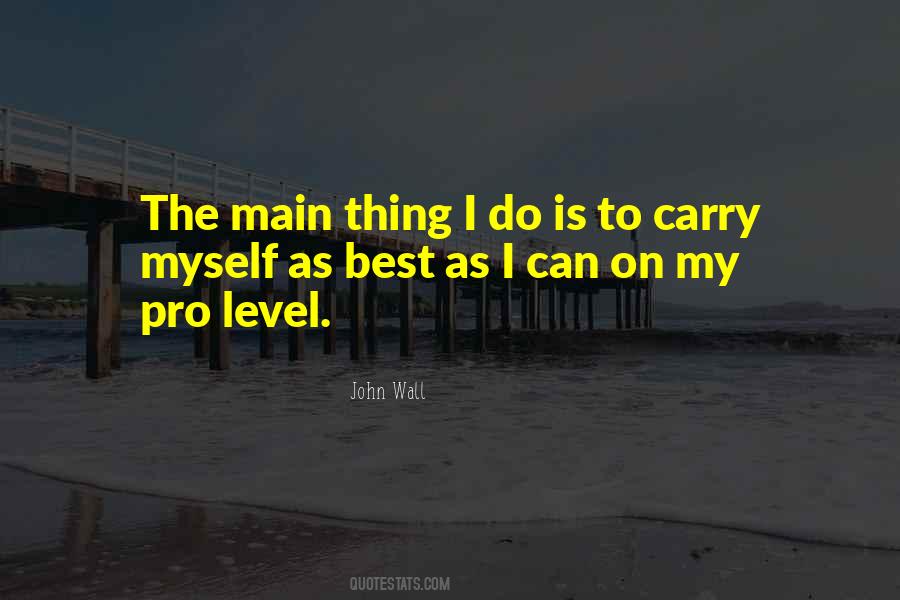 #18. I think my one of my strengths in standup is my ability to adlib. I do all my best writing on stage. I can sit down and write jokes, but I'd rather go on stage with a premise or an idea and let the jokes come that way. My creative juices are never flowing any better than when I'm onstage. - Author: Henry Cho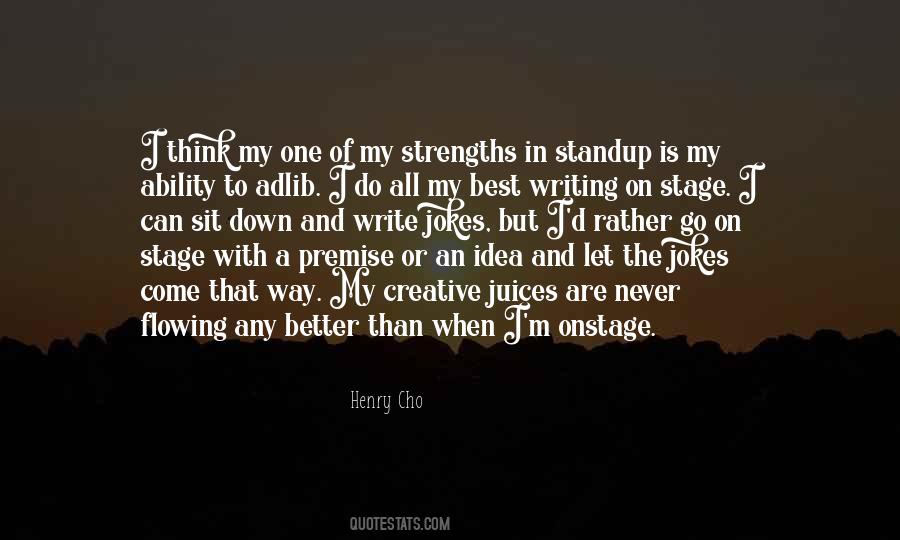 #19. I say we go down fighting." ... "We do the best we can. - Author: Leigh Bardugo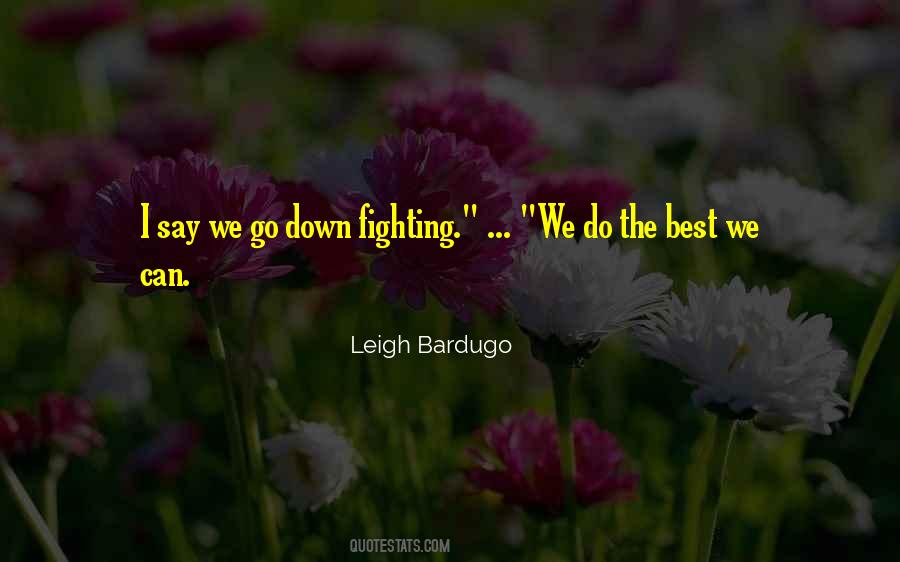 #20. I think the only person a writer has an obligation to is himself. If what I write doesn't fulfill something in me, if I don't honestly feel it's the best I can do, then I'm miserable. - Author: Truman Capote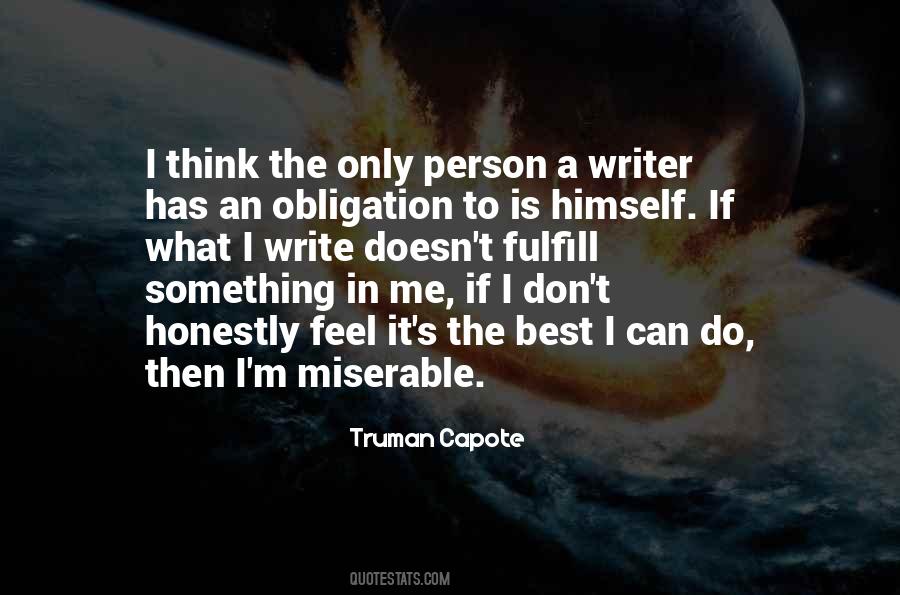 #21. I'm not afraid to delay the schedule to make sure that this is the film that I want, that this is the best that I can do at that point. - Author: Wong Kar-Wai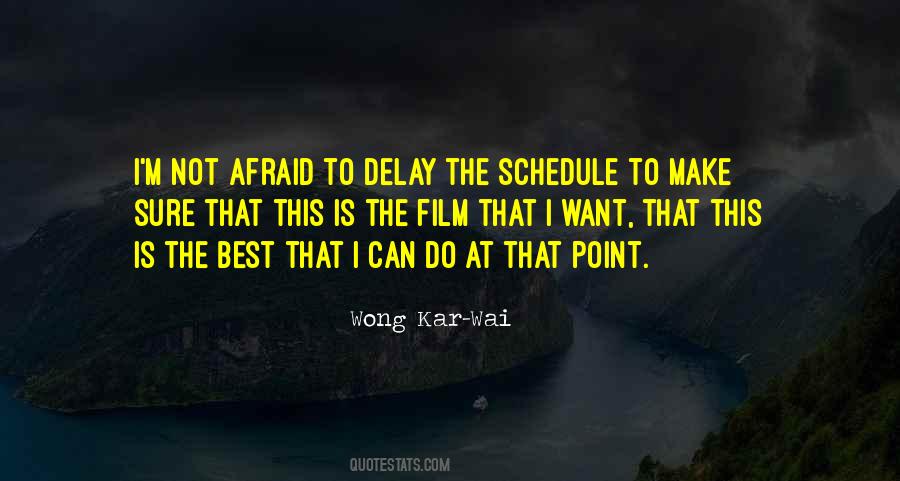 #22. I support GMOs. And we should label them. We should label them because that is the very best thing we can do for public acceptance of agricultural biotech. And we should label them because there's absolutely nothing to hide. - Author: Ramez Naam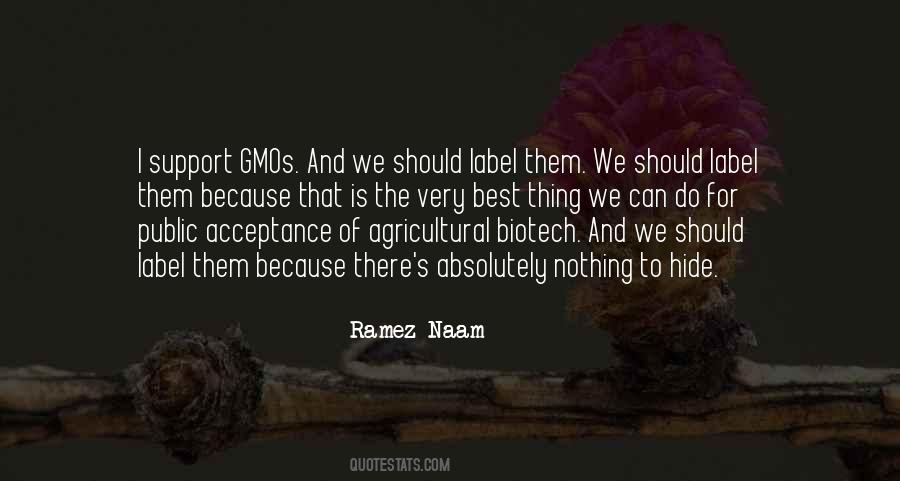 #23. I feel that we have a responsibility to try to do everything we can to protect species, and the best way to do that is to uphold international conservation law. - Author: Paul Watson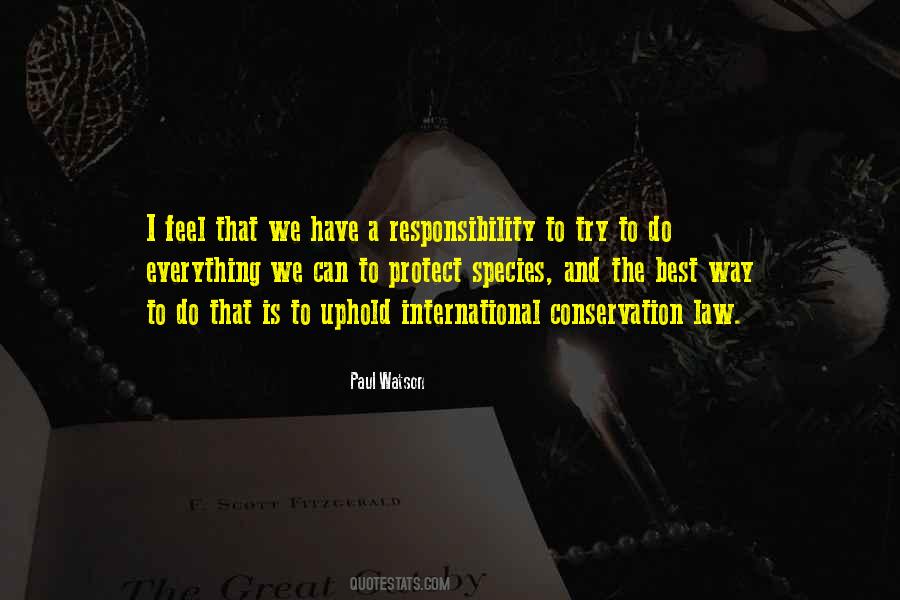 #24. Everything that I do in my life is geared towards my kids and their survival and giving them the best education that I can possibly give them and the best home that I can possibly give them. - Author: Dwight Henry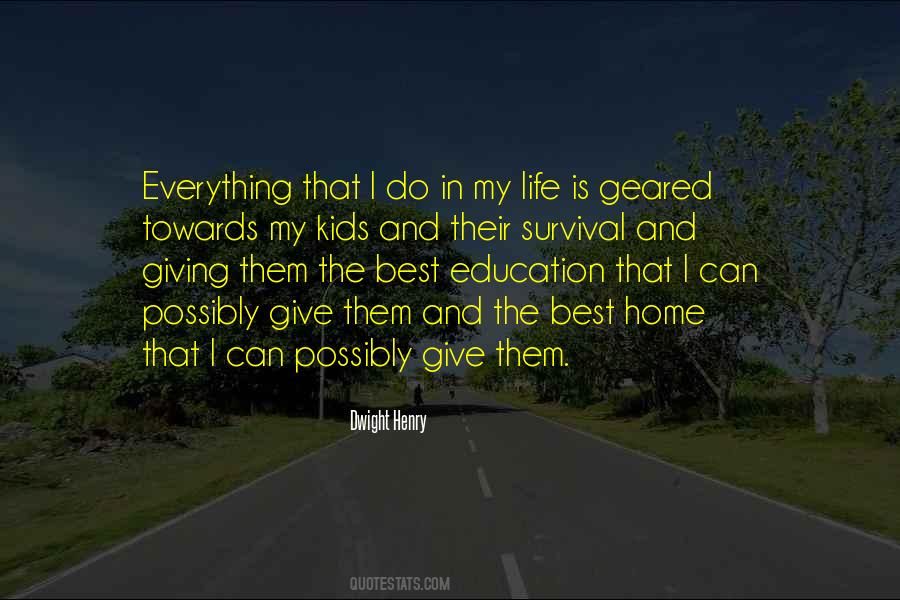 #25. Knights don't cry."
"They certainly do," said the Comandante, taking the boy's hand, "but only when they are clean and dressed, and wearing shoes. Do you think you can wait that long?"
"I'll do my best. - Author: Anne Fortier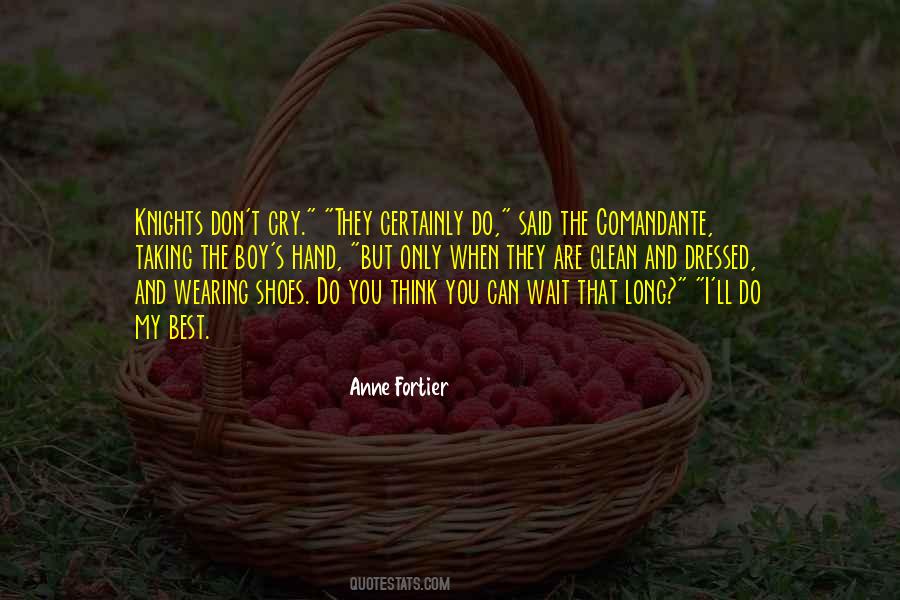 #26. I Can ... The best two words anyone can say ever - Author: Mohammed Sekouty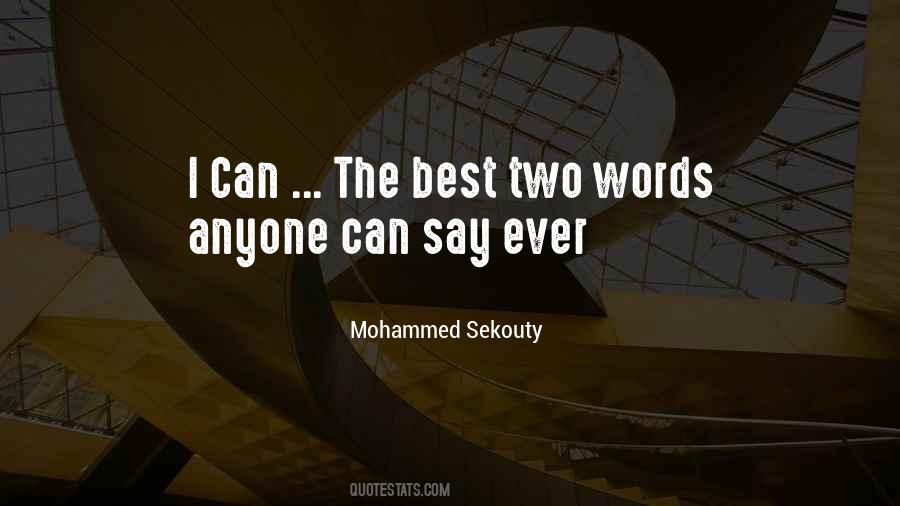 #27. I've always felt that some of my best lyrics are less than three minutes long, and it's great when you can do that - be succinct and get the message across in a simple, clear idea. - Author: Ian Anderson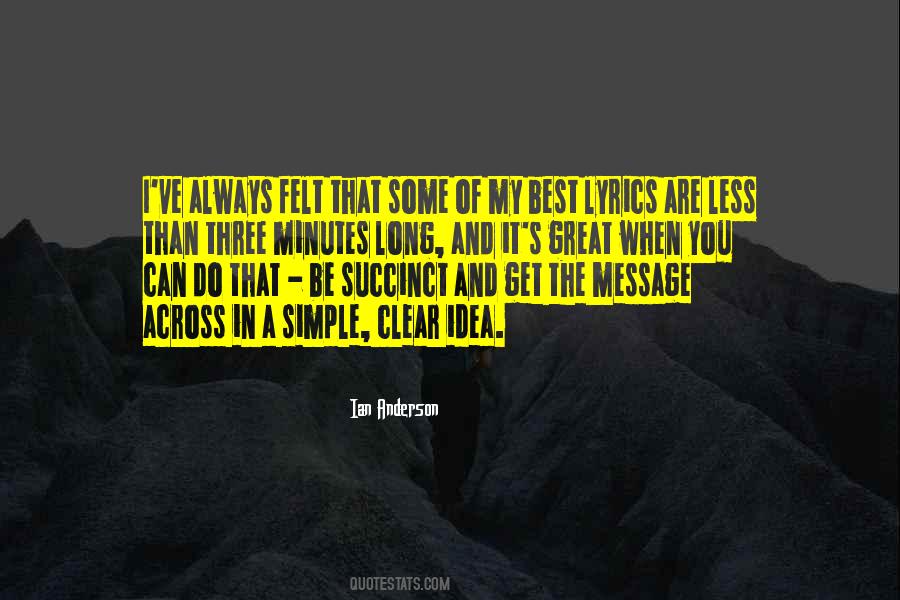 #28. I think references, where they fit organically, are great. It's great to do a show that's real and relatable, and so much of what is real, is using real things and instances that are specific. Specificity is the best tool you can have, as a writer. - Author: Mindy Kaling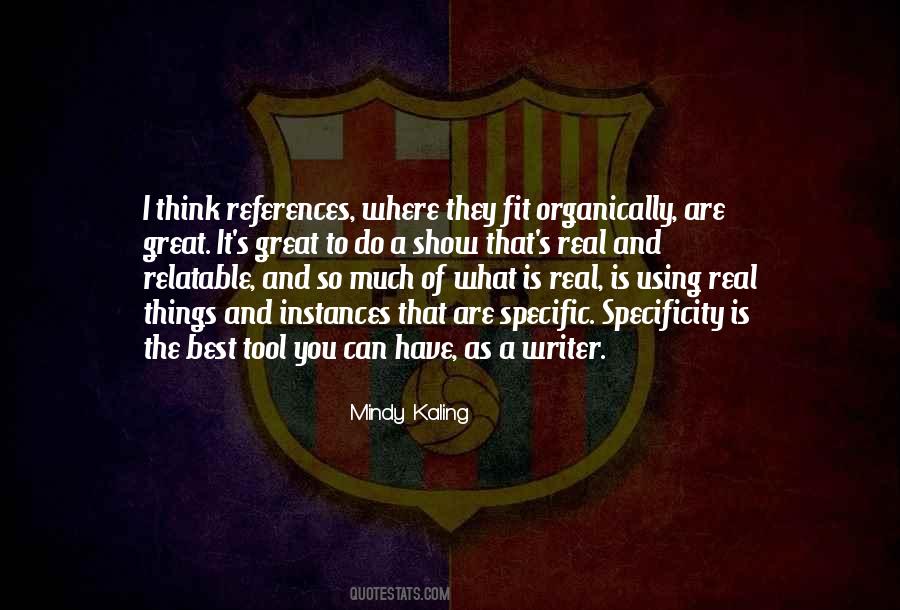 #29. People should take every opportunity they can to save money because it really adds up, and the best way I know to do that is to make your savings automatic. - Author: David Bach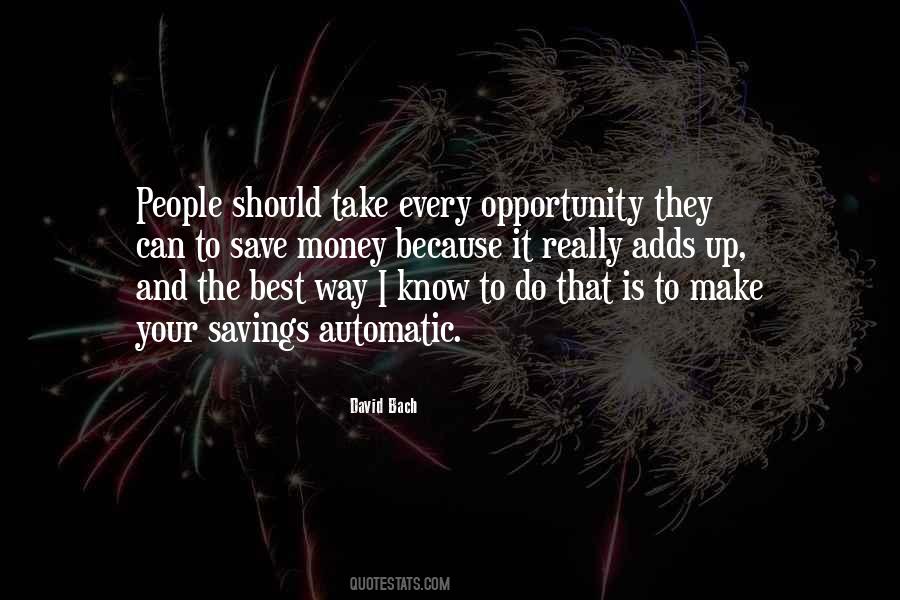 #30. Though adversity is the fertile soil in which the human spirit best grows, we loathe it still. I do not see how it can be otherwise, for no rational being seeks out pain and misfortune. Still, I cannot help but wonder if it is not somehow wrong to enjoy the fruit but curse the tree. - Author: Richard Paul Evans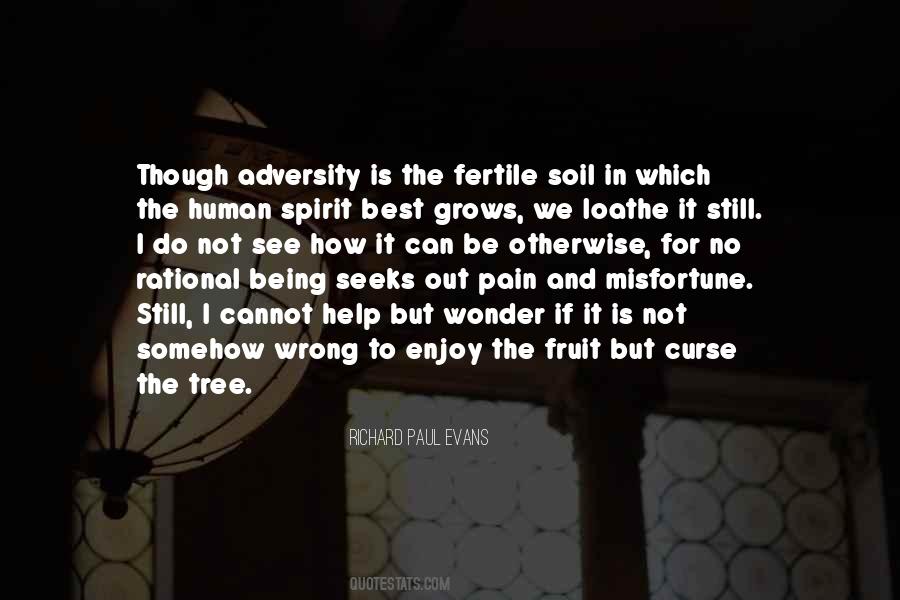 #31. You can do better than this." The best slogan I can think of to leave with the kids of the U.S.A. would be "We can ... and we've got to ... do better than this. - Author: Dr. Seuss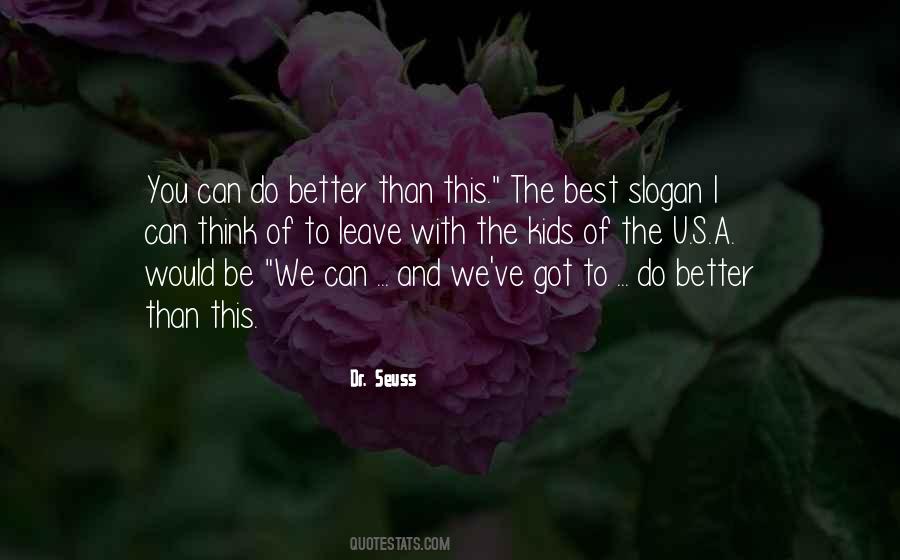 #32. I do the best I can with any instrument I get attracted to. But they're just tools in order for you to express yourself and that's really the upshot of it. - Author: John Mayall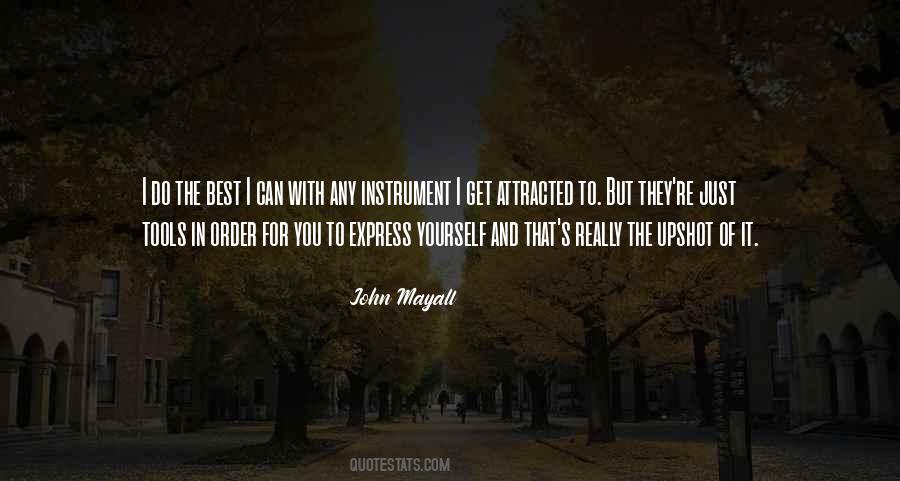 #33. In my mind that's the best thing I can do for my girl, is to love my body and the way I look. That's what I sort of decided when she was young. And so it's sort of about faking it until you can make it. - Author: Lauren Bowles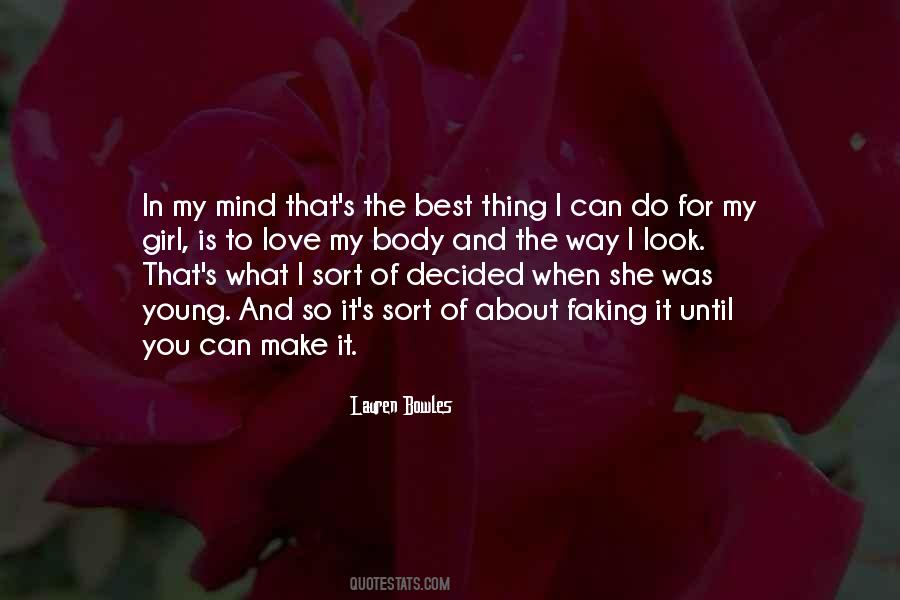 #34. I'm just following my own art, and I just think that the only thing I can do to be a great artist is do the best job I can in whatever movie I do. - Author: Justin Chon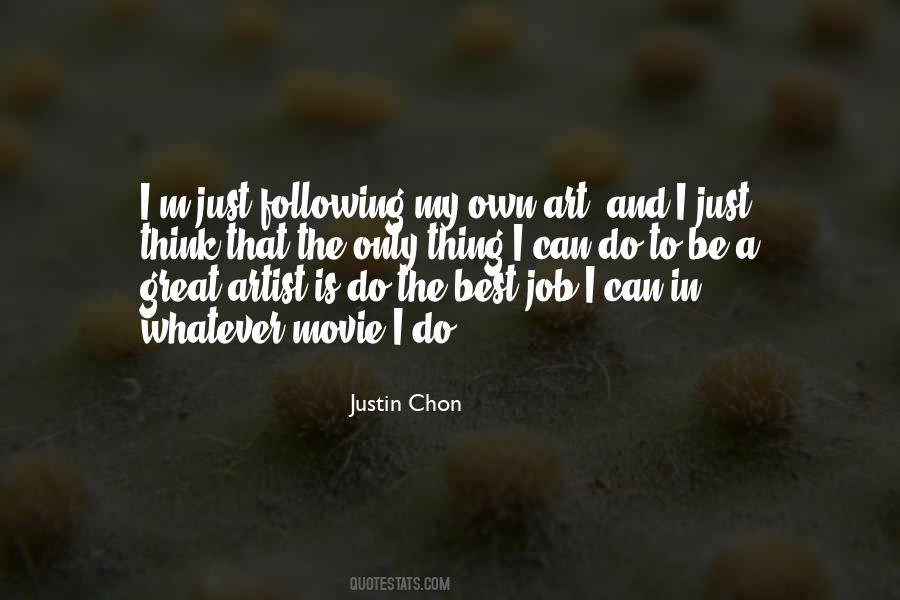 #35. We're not God. All we can do is our best. But when I look at you ... I get the feeling that the limit of "your best" is up to you. - Author: Sakura Tsukuba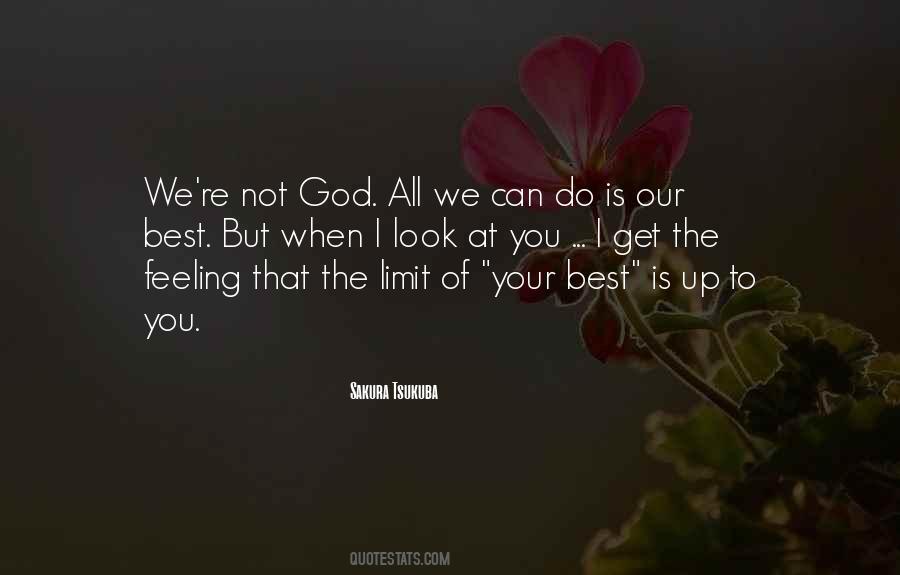 #36. I think every girl needs to love herself, regardless of anything. Like if you're having a bad day, if you don't like your hair, if you don't have the best family situation, whatever, you have to love yourself and you can't do anything until you love yourself first. - Author: Julianne Hough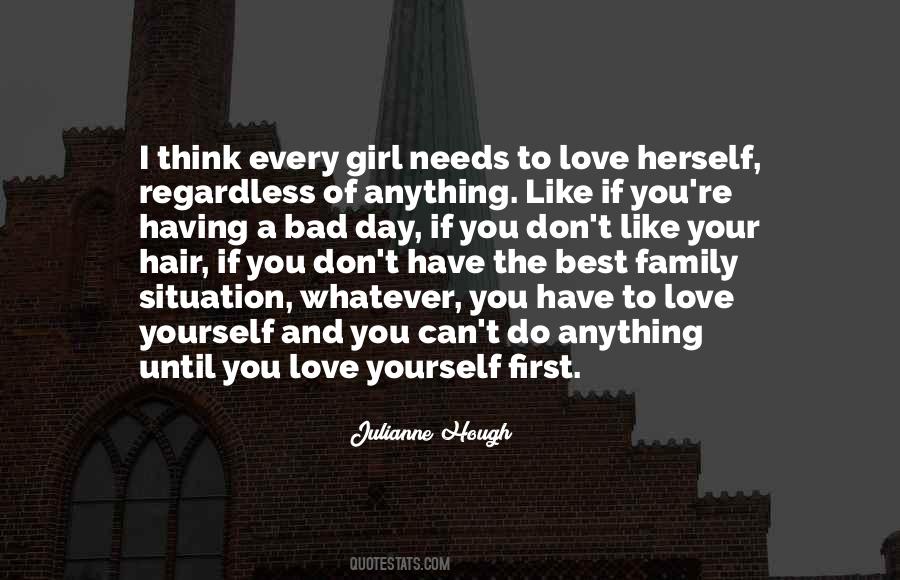 #37. If something can be proven to work, we should try it ... Making sure that our young folk get the best education is the only thing that matters to me, and if something can be shown to work in doing that or if something's worth trying to do that, then I'll certainly be in the market for it. - Author: Nicola Sturgeon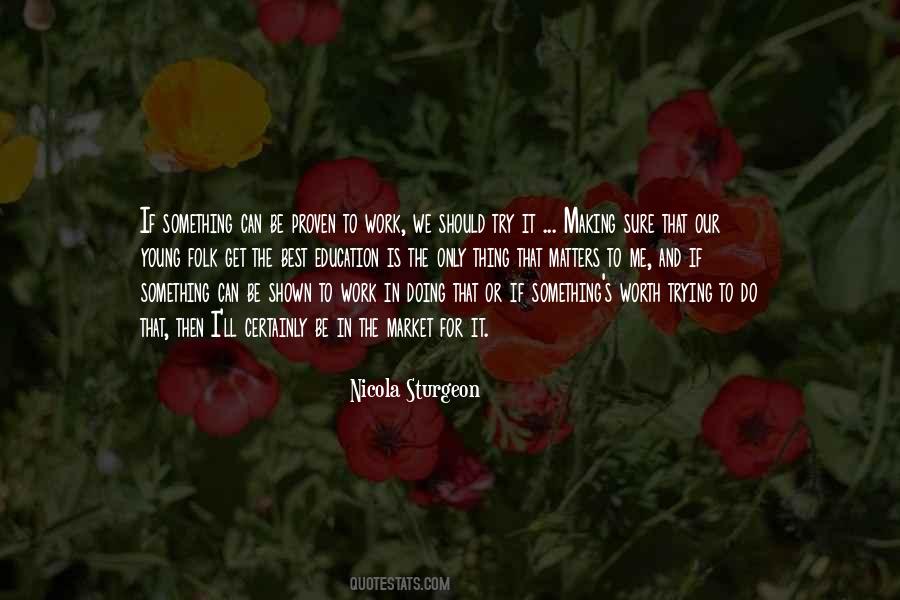 #38. A song is no song unless the circumstance is free and fine. If a singer sing from a sense of duty or from seeing no way to escape,I had rather have none. Those only can sleep who do not care to sleep; and those only write or speak best who do not too much respect the writing or the speaking. - Author: Ralph Waldo Emerson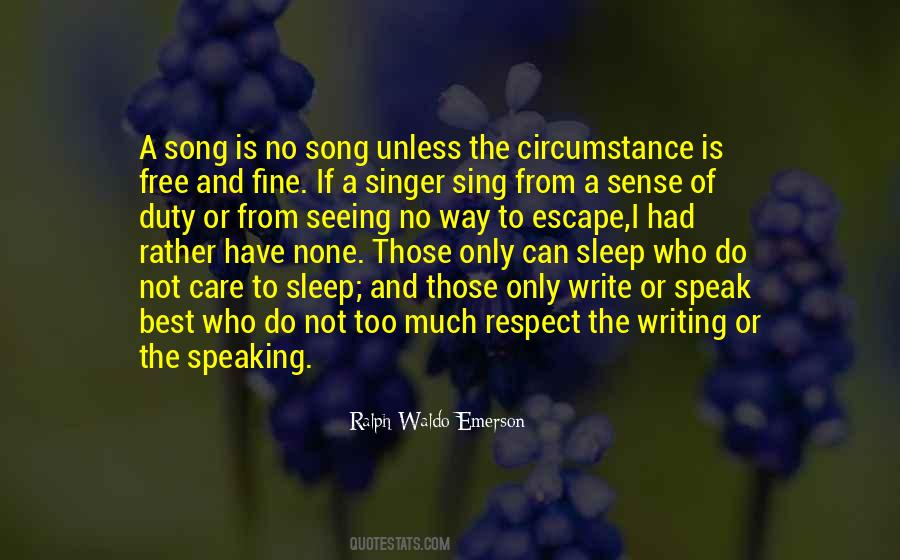 #39. I have learned in life that the best thing you can do to create a great future for yourself is don't forget what's in front of you. And so I'm trying to do a great job at HUD. - Author: Julian Castro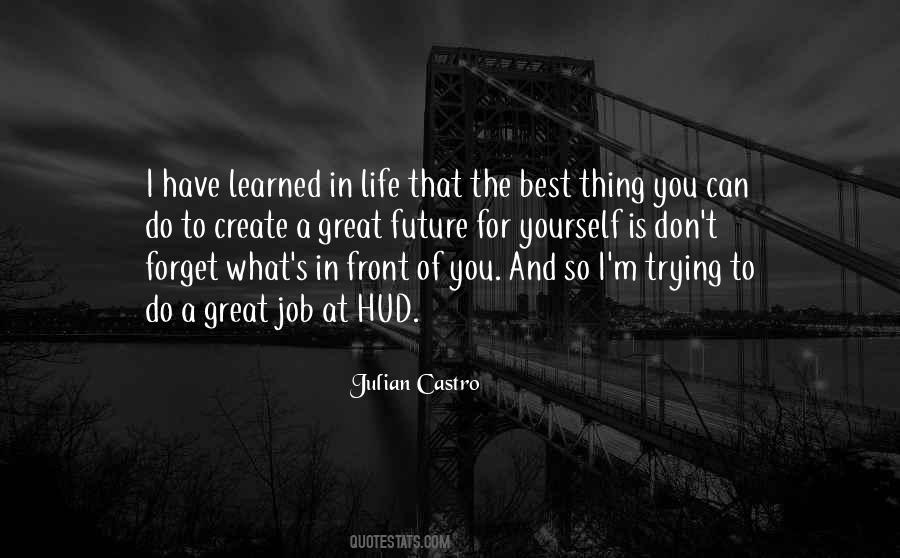 #40. Lord, I believe; help my unbelief' is the best any of us can do really, but thank God it is enough. - Author: Frederick Buechner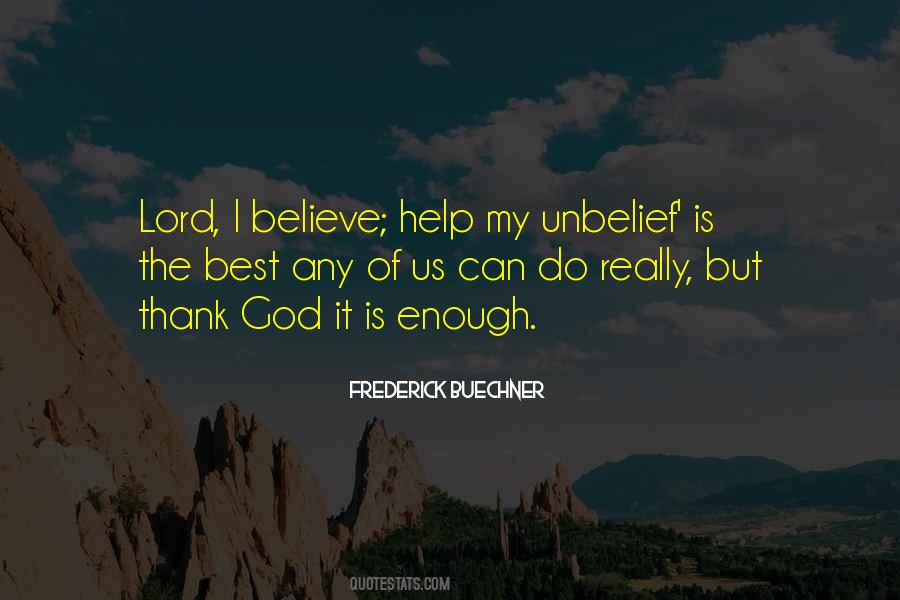 #41. I still believe in the old-school show thing no frills, no fancy equipment just a guitar and some amps and some drums, and throw it out there and do it the best you can in a live sense, because it's easy to make records. But the live show is where you really show if you've got the balls to do it. - Author: Shelby Lynne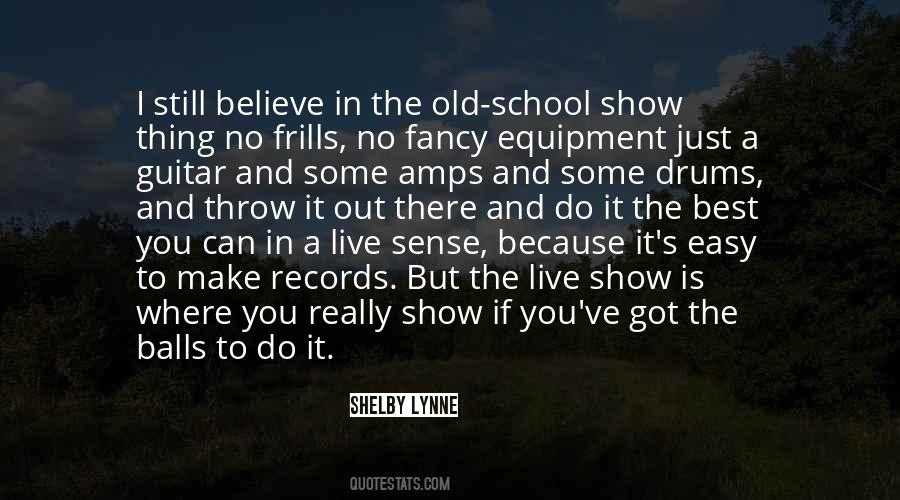 #42. But do we know how to make love stay?'
I can't even think about it. The best I can do is play it day by day. - Author: Tom Robbins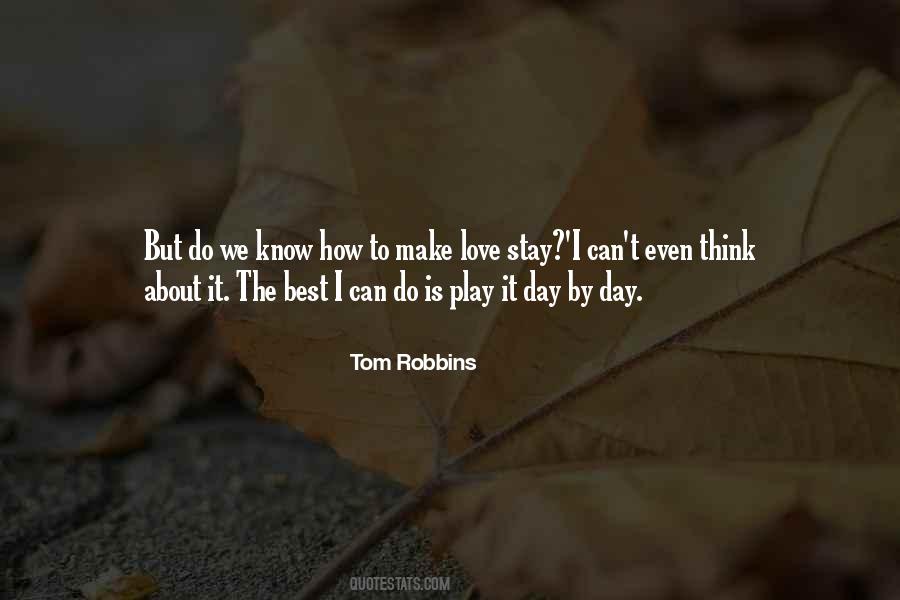 #43. I'm an entertainer. If people are paying good money for tickets they deserve the best show they can see. I don't get into lighting stuff on fire, but I do believe in going the extra mile. - Author: Bryan White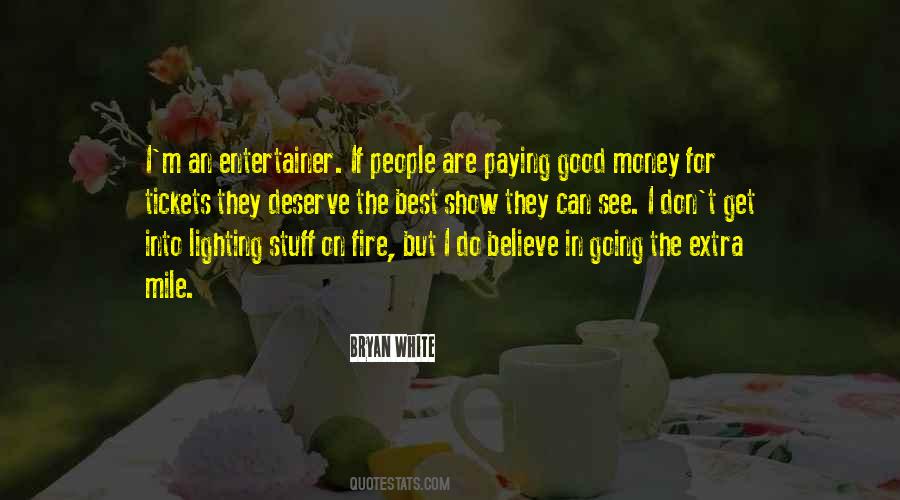 #44. I think this industry can be tough on everyone. You have to surround yourself with supportive people and know when to put your foot down and do what's best for you and your family. The first few years in the music industry can be a steep learning curve, and I've definitely developed a thicker skin! - Author: Rebecca Ferguson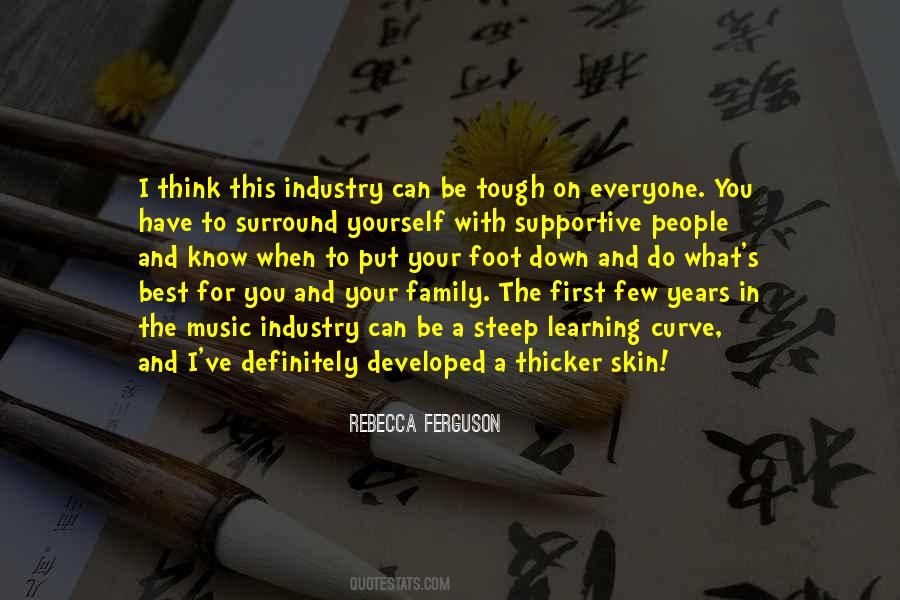 #45. To exercise at or near capacity is the best way I know of reaching a true introspective state. If you do it right, it can open all kinds of inner doors. - Author: Al Oerter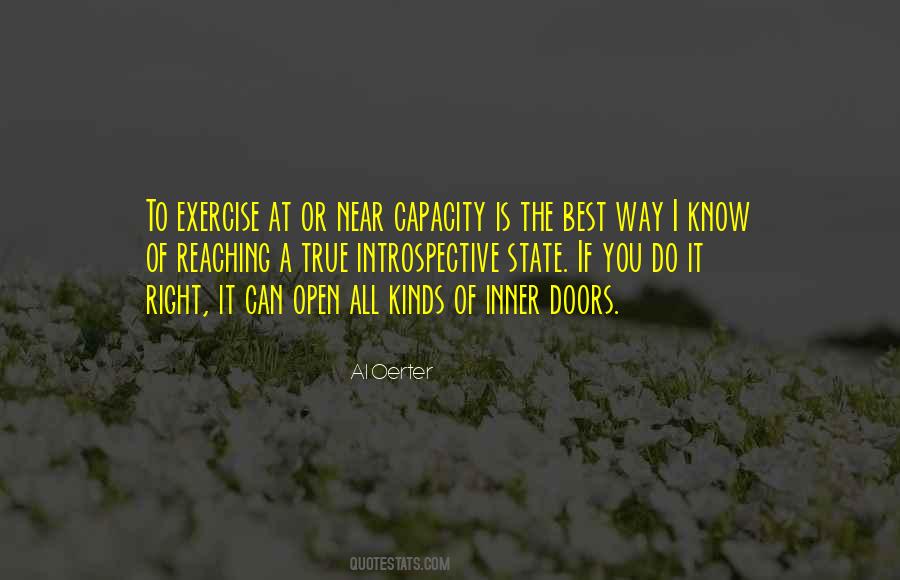 #46. That being said, I am not one to feel sorry for myself. I believe it is healthy to honor one's feelings and do the best we can to learn and grow from them moving forward. - Author: Amanda Schull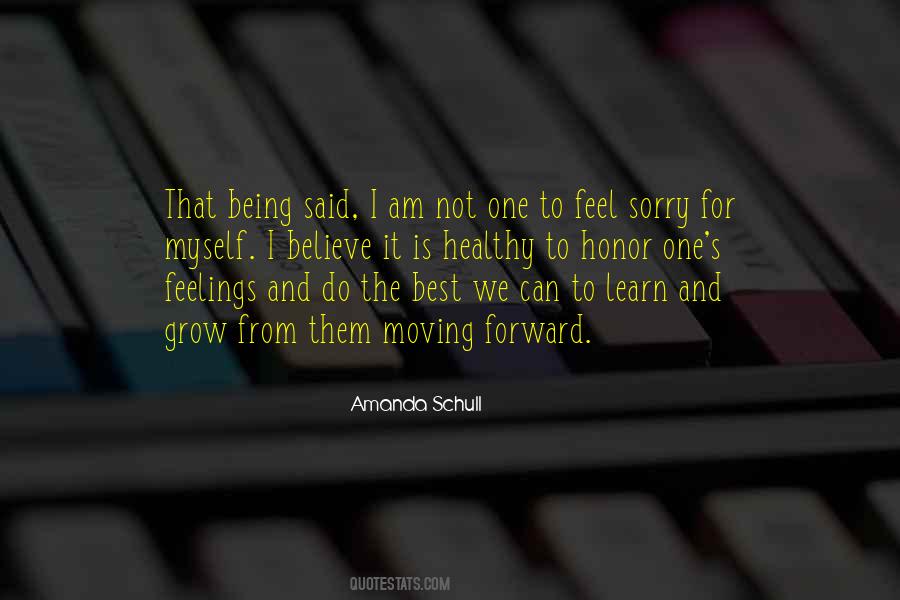 #47. I think one of the best things you can do is write really sad songs that touch some semblance of ... I guess 'hope' is the right word? - Author: Eric Bachmann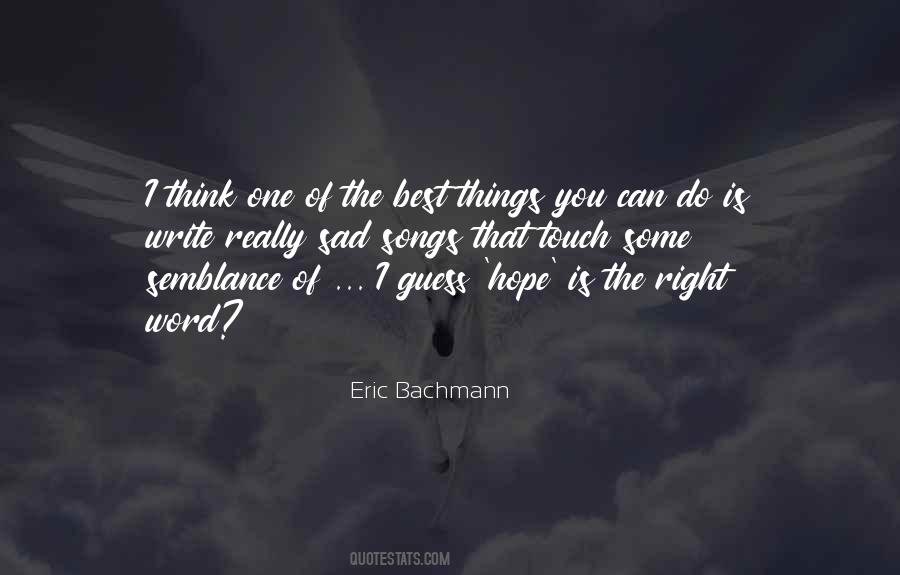 #48. I have the right to interpretation as a dramatist. I research. It's my responsibility to find the research. It's my responsibility to digest it and do the best that I can with it. But at a certain point that responsibility will become an interpretation. - Author: Oliver Stone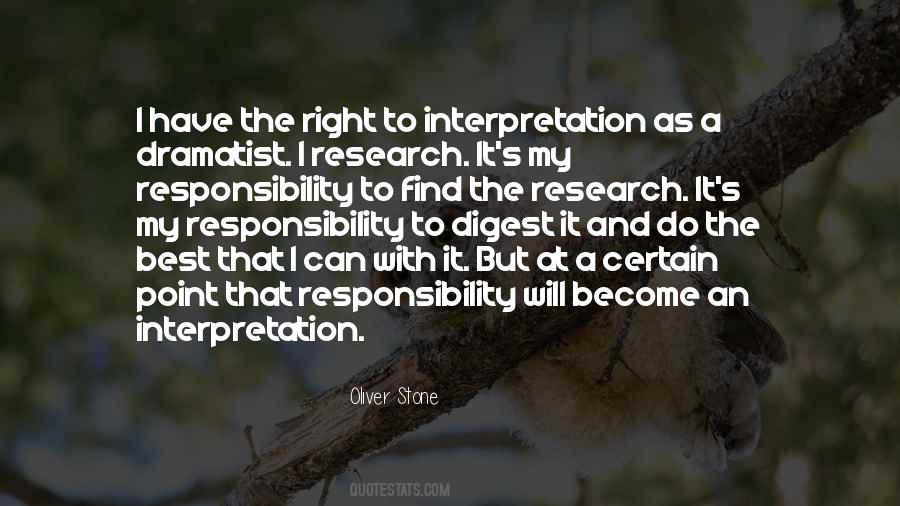 #49. I'm not a real good musician, but I can write [a song] pretty well. I experiment once in a while to see what I can do. I find out the best I can do is stay with ballads. - Author: Marty Robbins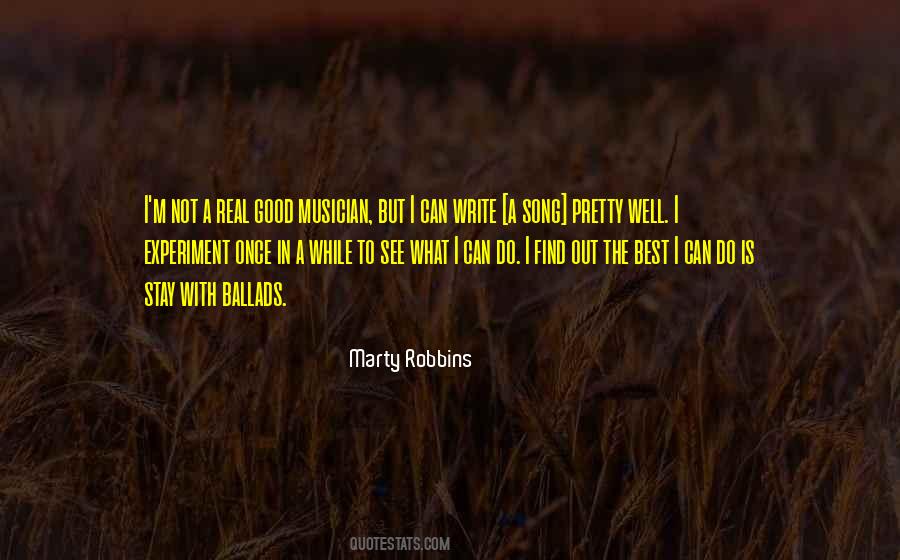 #50. As soon as someone tells me: 'You're rather sexy,' I wish I could disappear. If somebody says: 'You were voted the world's sexiest man,' I have no idea what that means. How do I respond? 'Thank you' is the best you can do. George Clooney is the world's sexiest man, anyway. - Author: Daniel Craig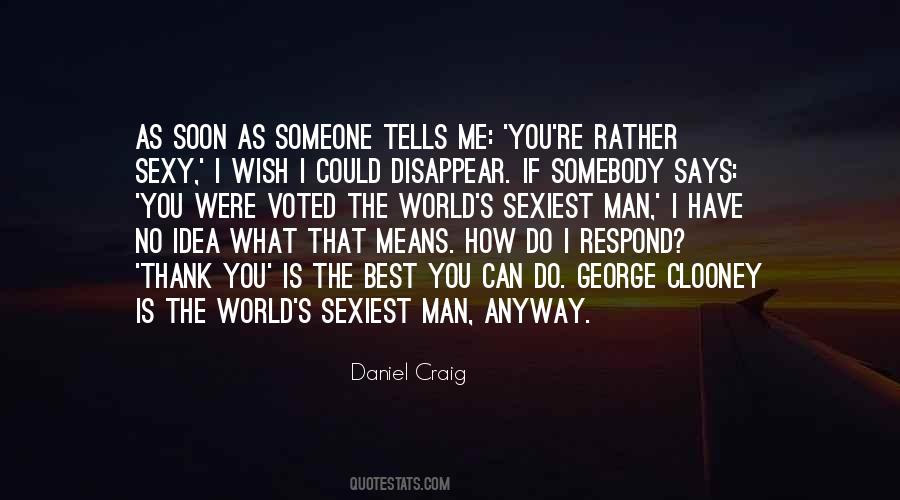 #51. Ask yourself- what's the best thing that can happen- then go do it - Author: Akosua Dardaine Edwards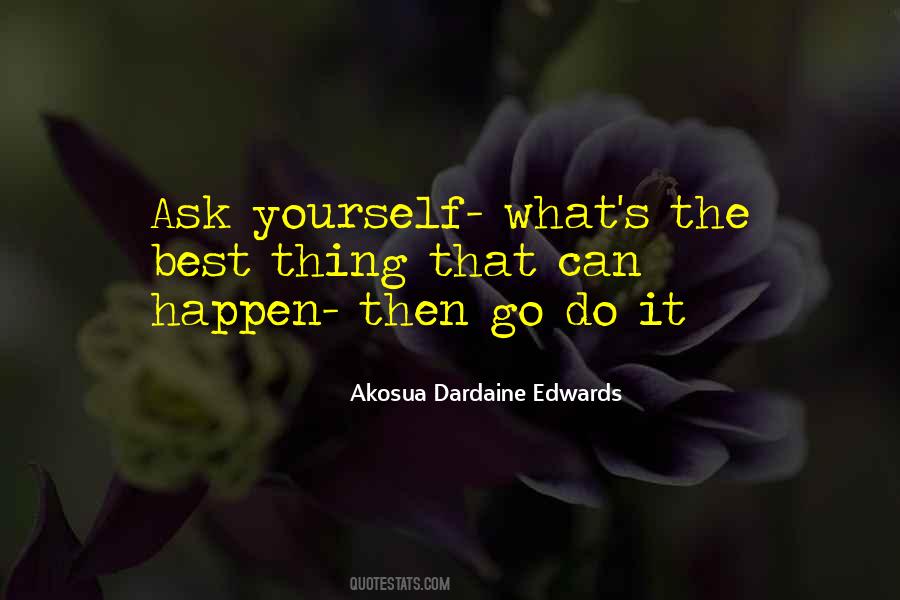 #52. I'm aware the fans in the U.S. can be less forgiving ... I'll just have to do my best to please them. - Author: Hideki Matsui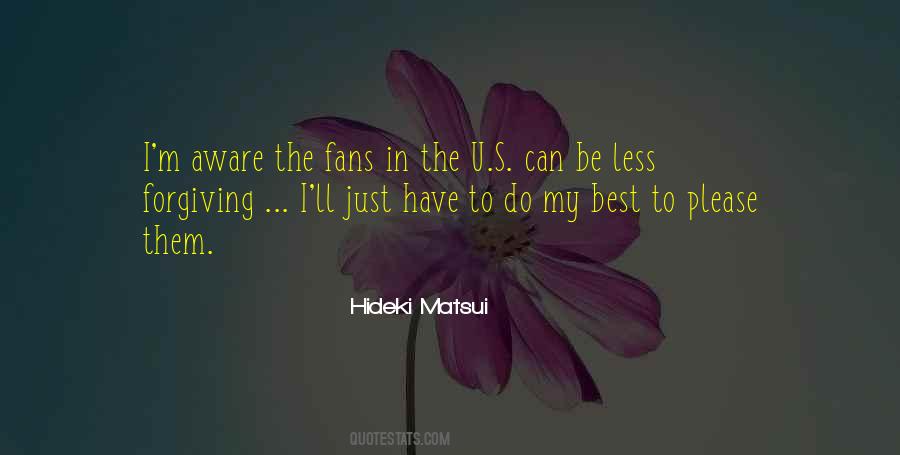 #53. I don't know the first real thing about the dating game. I don't know how to talk to a specific person and connect. I just think you have to go to person by person and do the best you can with people in general. - Author: Jason Schwartzman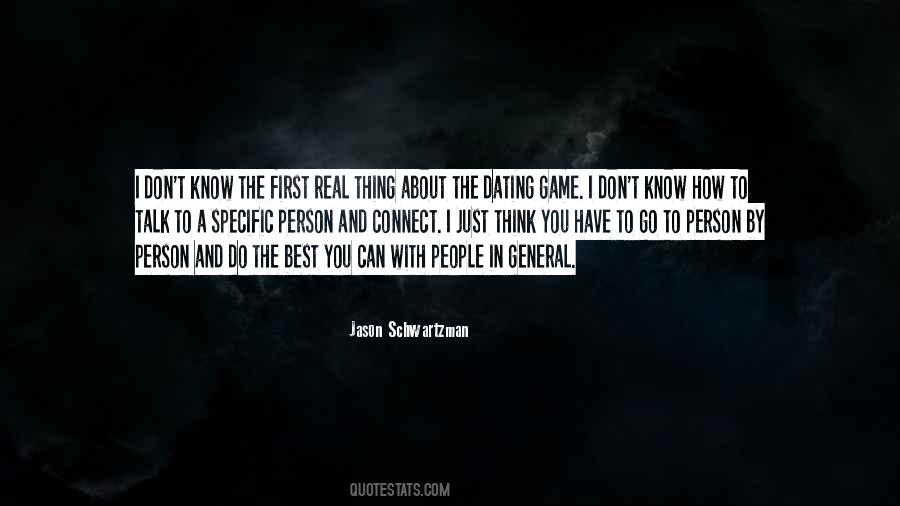 #54. The basic thing is that I want to do the best work possible, and I can only do that if I'm relaxed and have a lot of energy. And that can only come from taking time off. - Author: Jason Scott Lee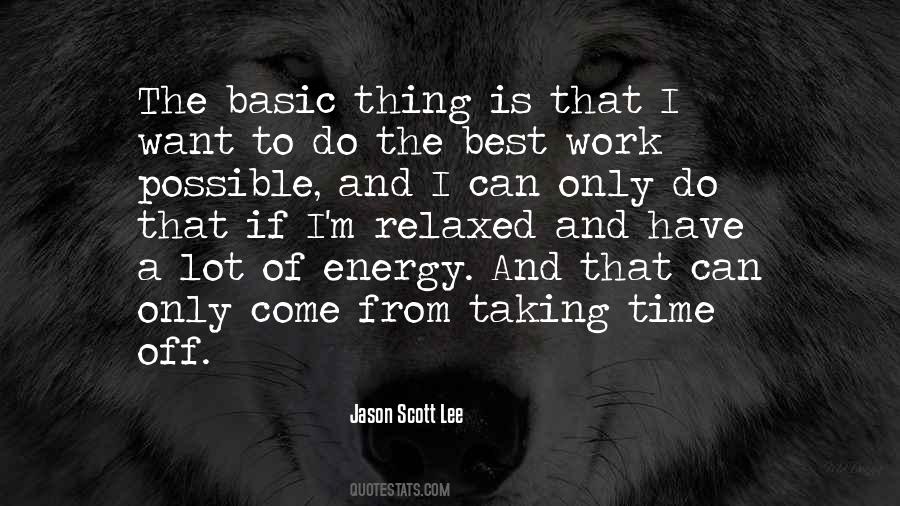 #55. The question is not ... if art is enough to fulfill my life, but if I am true to the path I have set for myself, if I am the best I can be in the things I do. Am I living up to the reasons I became a singer in the first place? - Author: Kathleen Battle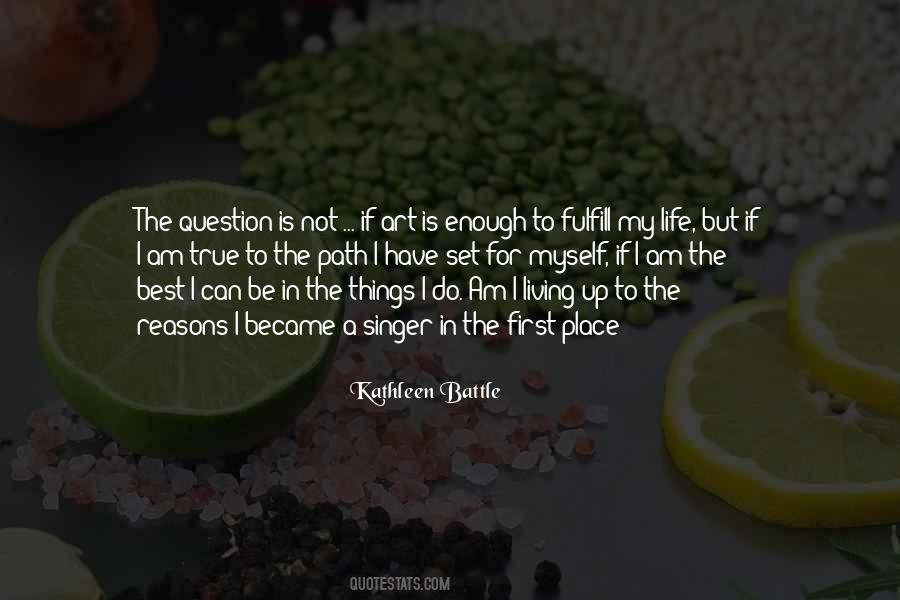 #56. Being married, I've got so many things to do that I am the last to do things for myself. Taking care of my body has been difficult, but I am doing the best that I can. - Author: Ian Ziering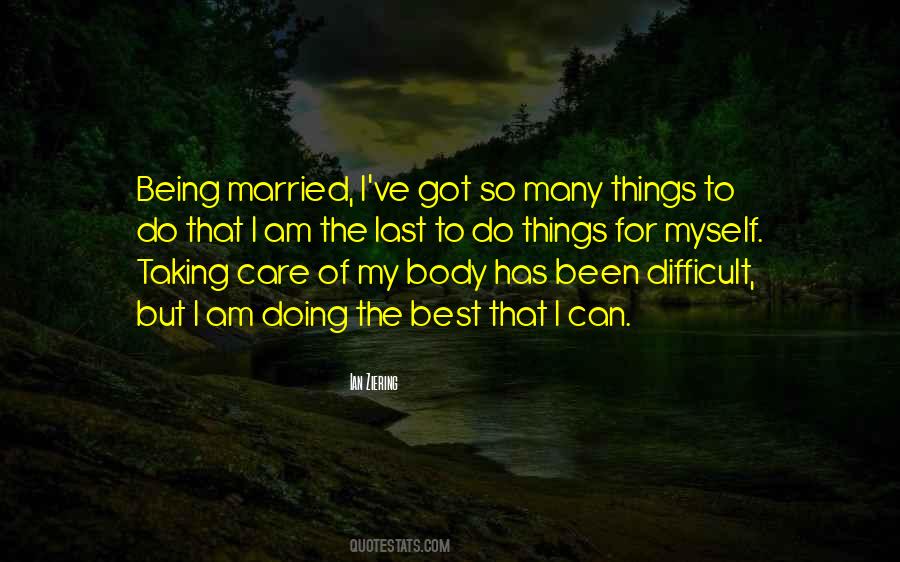 #57. Babe, I can't promise you that I'll always be perfect, but I'll do my straight best to try, and I'll make it my life's goal to always make sure you're happy. All you've got to do is marry me, and I'll do the rest. - Author: Elle Casey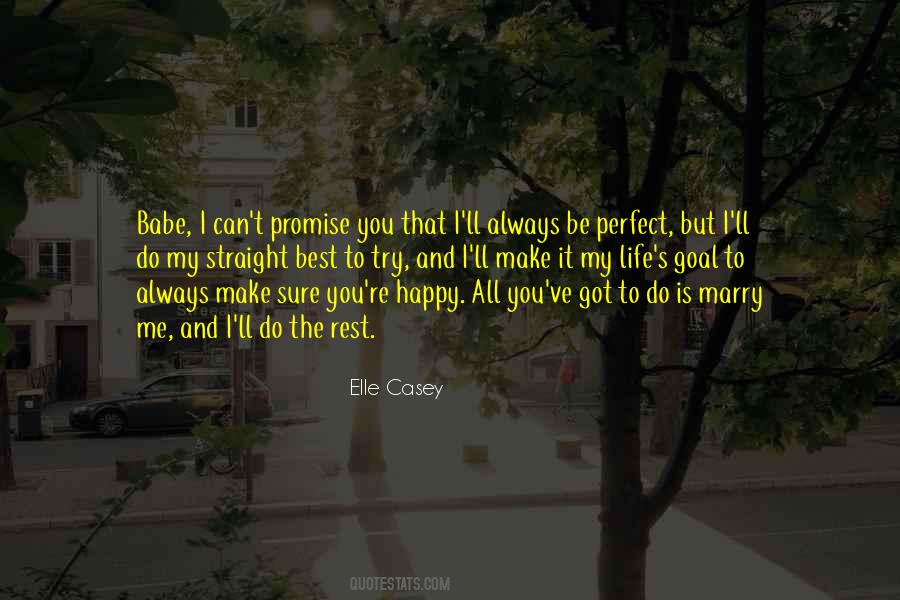 #58. People have got to make their best calls in what they think about a case when they're covering it. But I do think the lesson there, and I guess stating the obvious, that oral argument can as often send a false signal as an accurate signal about where the thing is going. - Author: Donald Verrilli Jr.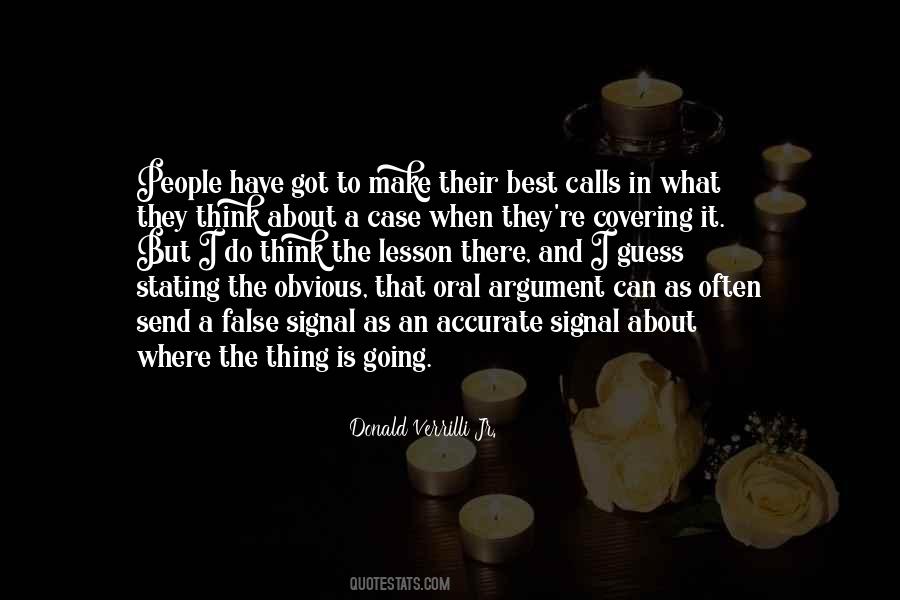 #59. The best thing about being President is that it gets you out of American life. I don't know what the theory is behind this, but it is a fact. The first thing we do with a President is shunt him off to a siding where nothing American can ever happen to him. - Author: Russell Baker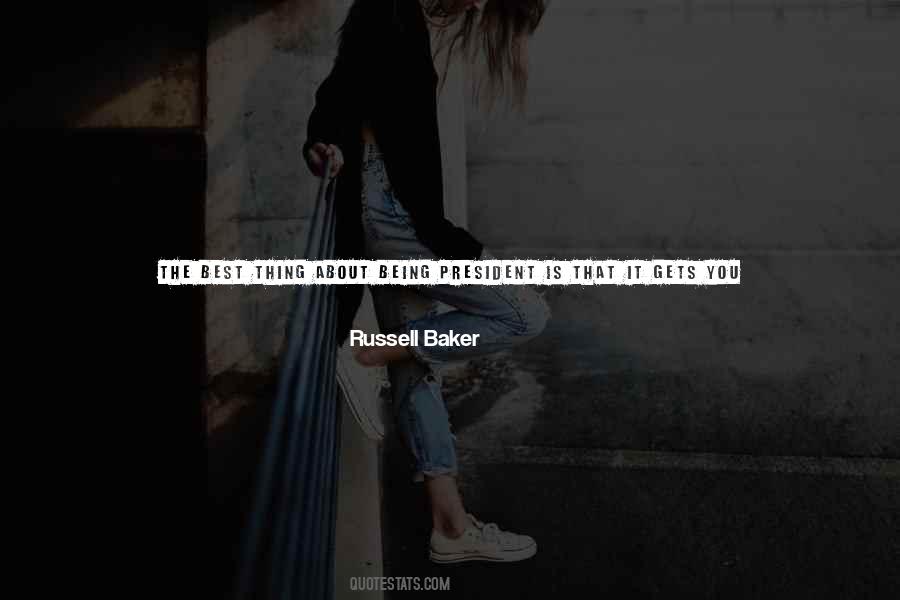 #60. What I do is about living. It's about living the best life you can and enjoying the fullness of the life around you- from what you wear, to the way you live, to the way you love. - Author: Ralph Lauren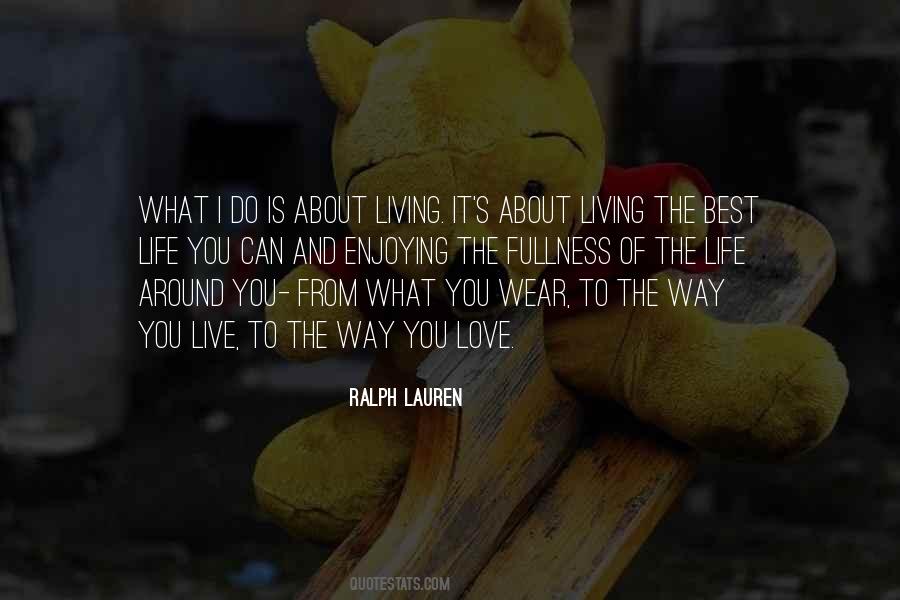 #61. All I can do is try to create the best show possible, and I feel we've truly done that. - Author: Nathan Lane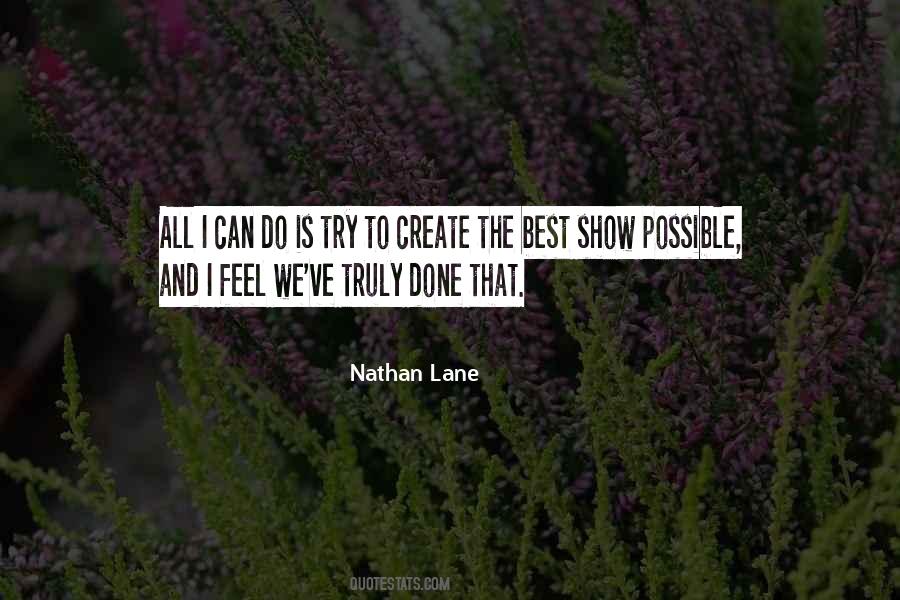 #62. The goal is always just to write the best song that you can write. I mean, the process for writing a song is the process for writing a song. It's not something I look at it as something I need to do something different. - Author: Chris Stapleton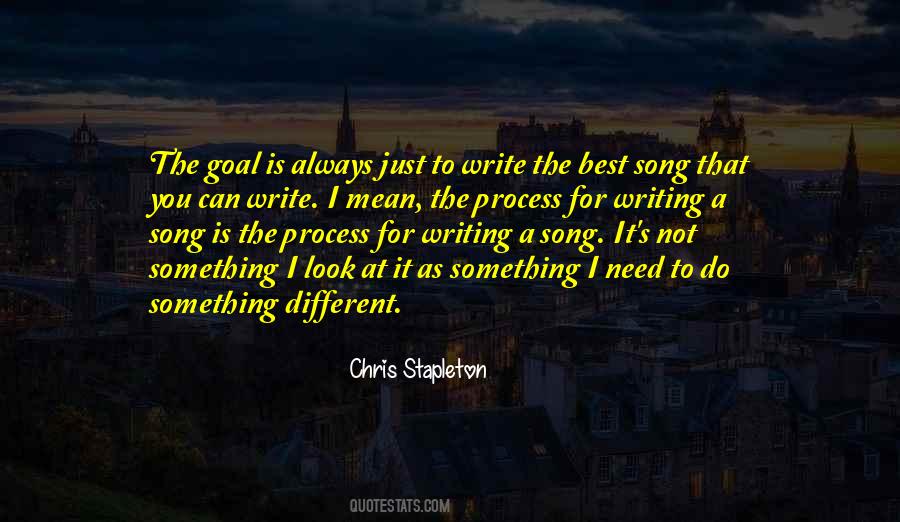 #63. I do the very best I can to look upon life with optimism and hope and looking forward to a better day. - Author: Rosa Parks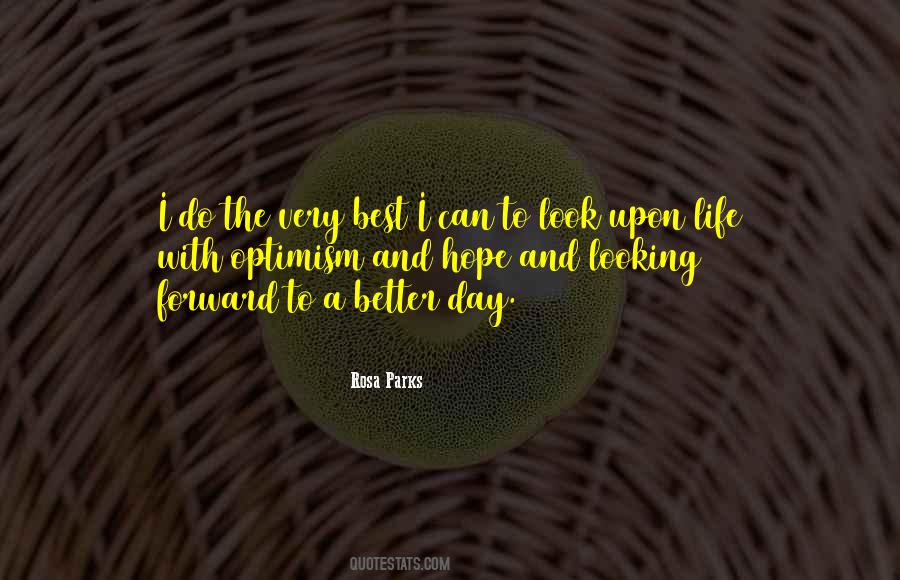 #64. I come to the office each morning and stay for long hours doing what has to be done to the best of my ability. And when you've done the best you can, you can't do any better. - Author: Harry Truman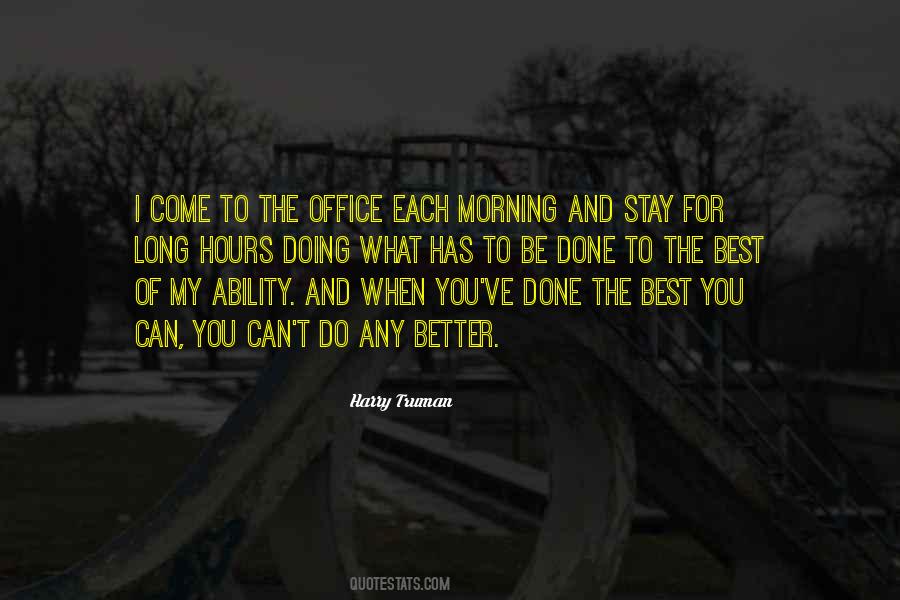 #65. The best advice I can give anybody is to try to understand who you are and what you want to do, and don't be afraid to go down that road and do whatever it takes and work as hard as you have to work to achieve that. - Author: Sally Ride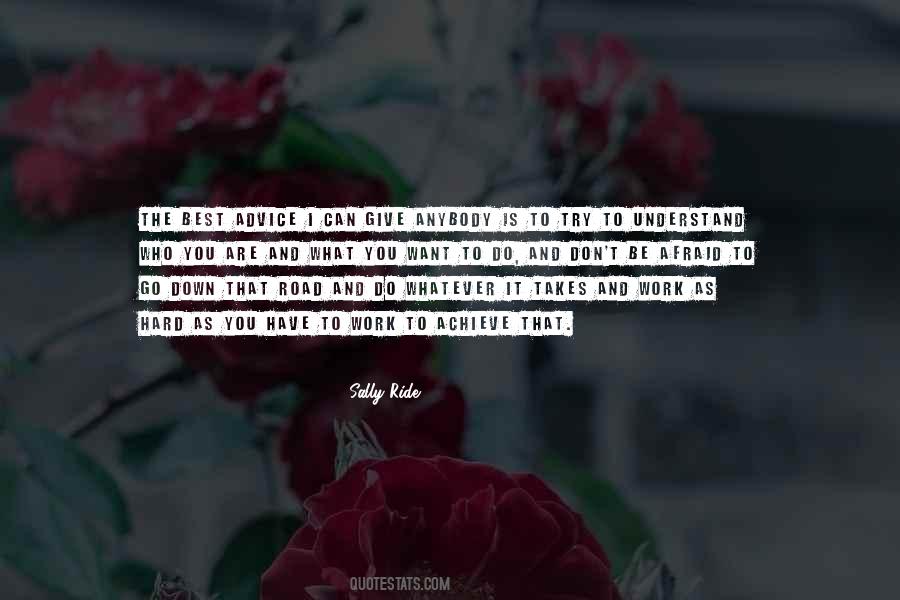 #66. Writing, for me, is the best occupation I can think of, and there is nothing in the world I would rather do. - Author: Phyllis Reynolds Naylor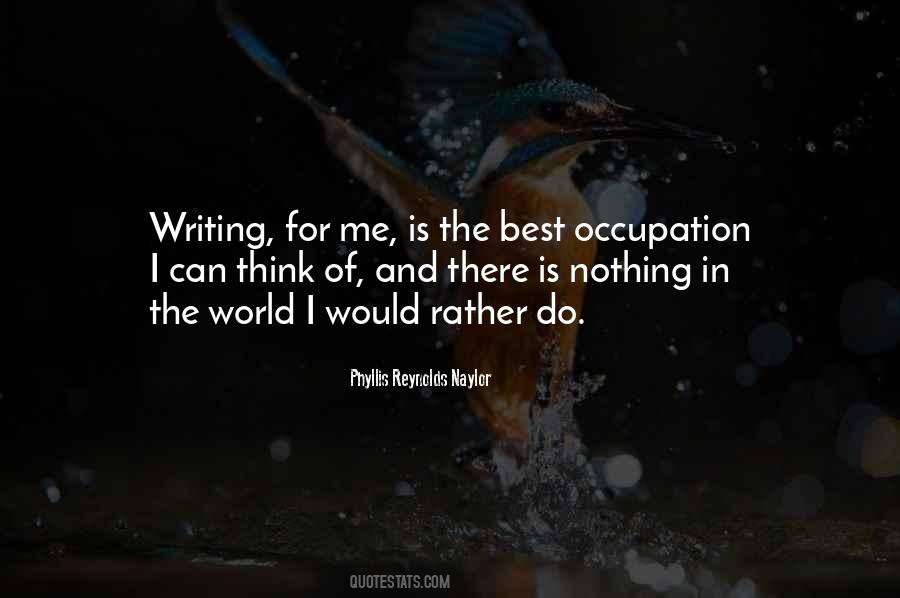 #67. What I always do is just look at the players, look at the best 11 they can put on the pitch. - Author: Alan Hansen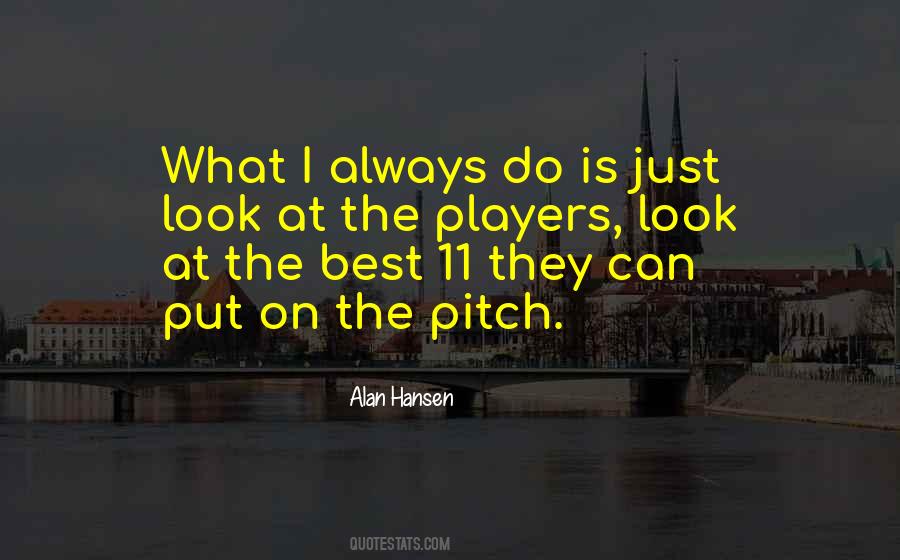 #68. The humor and emotion of the 'Do You Want to Build a Snowman' theme makes me cry every time I watch it, and that deep emotion is something we'd love to do on the show. If we can make you cry, we always try to. And 'Once,' when it's at its best, is emotional and fun. - Author: Edward Kitsis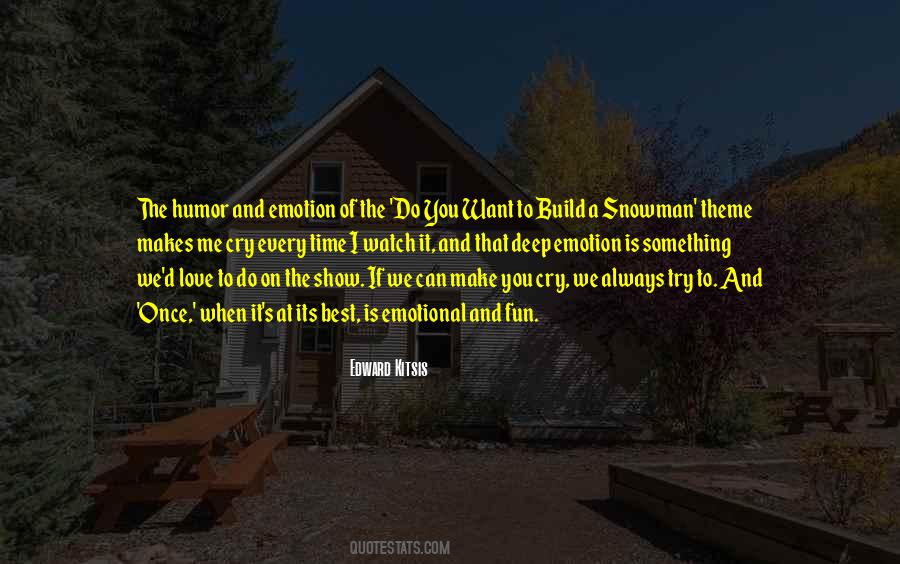 #69. I try not to think about that [getting Oscar] ahead of time. You just try to do the best work you can, and then you get the movie out there, and we've been hearing good things. But you never know, you don't want to get too high, and you don't want to get too low. - Author: Denzel Washington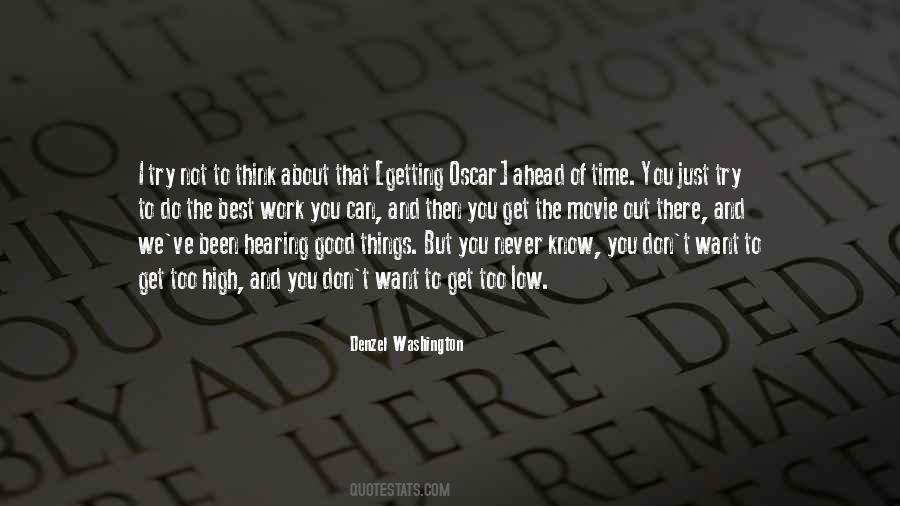 #70. The Remain campaign ... I've never seen a more miserable offering. All they are saying is stay in and we'll do our best to make sure that Britain's Parliamentary independence isn't eroded faster than we can possibly imagine. - Author: Boris Johnson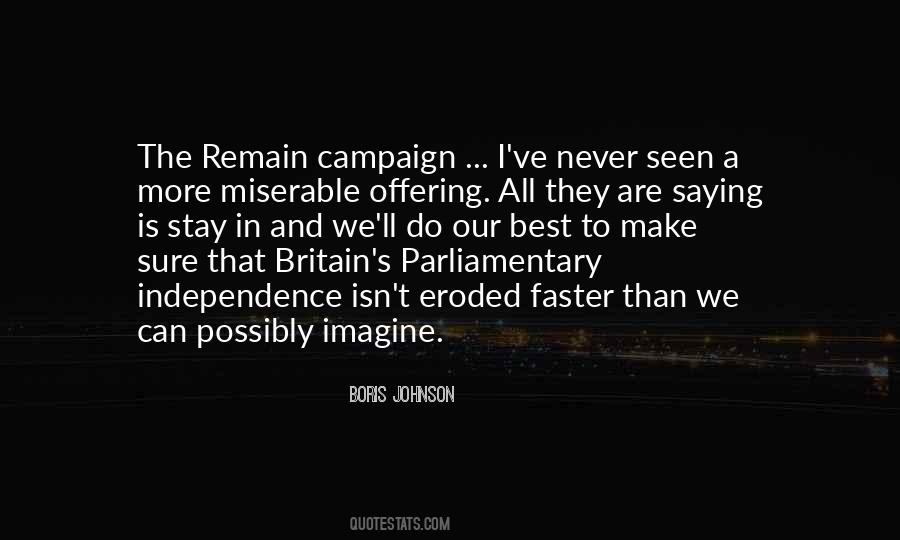 #71. I must do whatever I can to find the best partners possible."
"Did you kick their butts?"
He frowned. "The buttocks are among the least sensitive places to hit someone."
I laughed. "It's a figure of speech."
"To kick butts. Interesting. - Author: Allison Van Diepen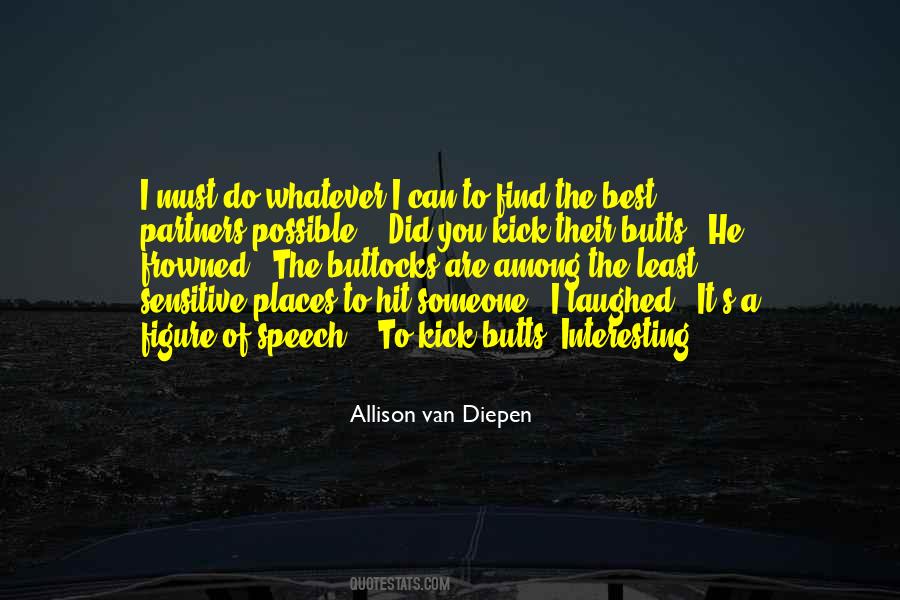 #72. Do the best you can. But I want to emphasize that it be the very best. We are too prone to be satisfied with mediocre performance. We are capable of doing so much better. - Author: Gordon B. Hinckley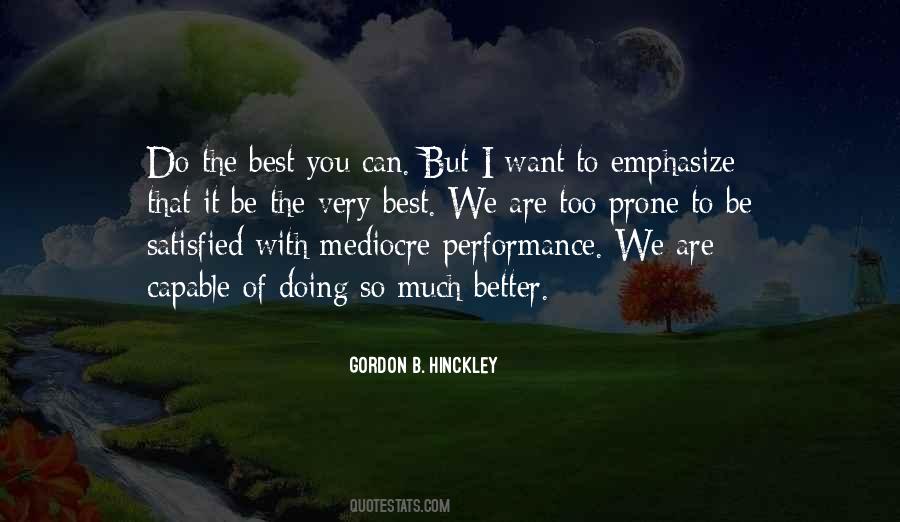 #73. I ain't no perfect man I'm tryna do the best that I can with what it is I have. - Author: Mos Def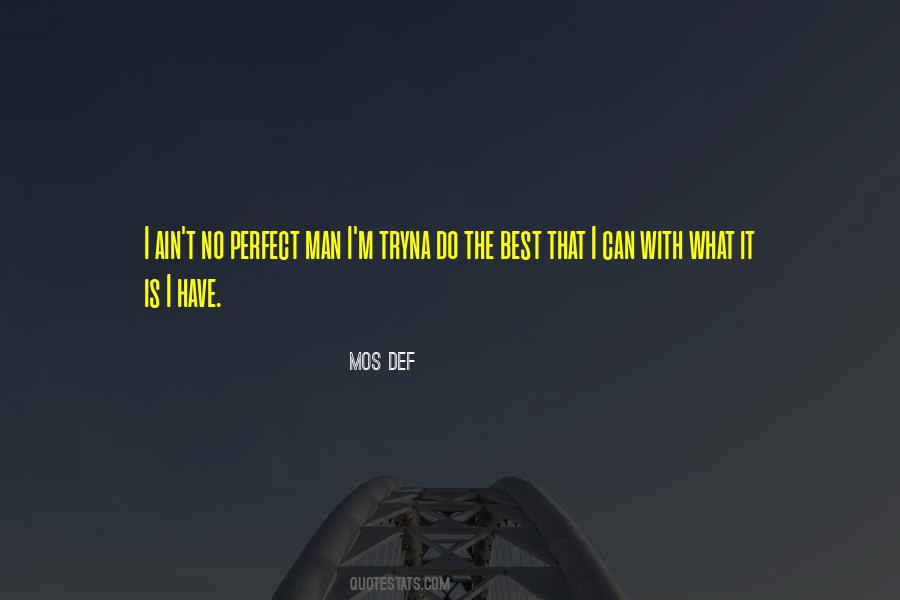 #74. I'm not sure what kind of love you mean, baby, but if you mean do I want you to be with me forever, that I can't bear the thought of being without you as my lover, my best friend, my whole world....one day my wife, and my baby mama, then yes, I Love you, Love you! - Author: S.E. Hall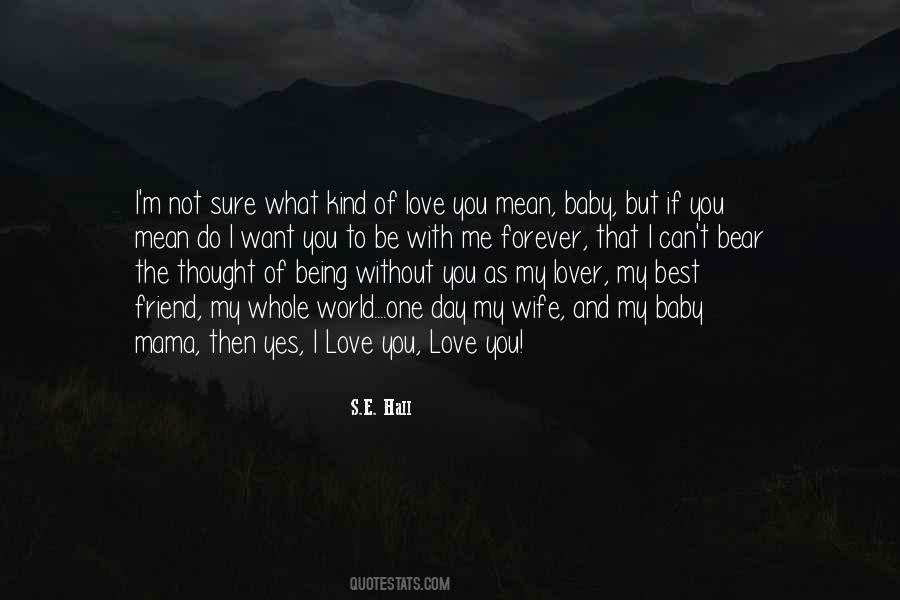 #75. I do everything I can to be the best actor I can be, the best musician I can be. I try to take risks; I try not to let fear run my life. - Author: Robert David Hall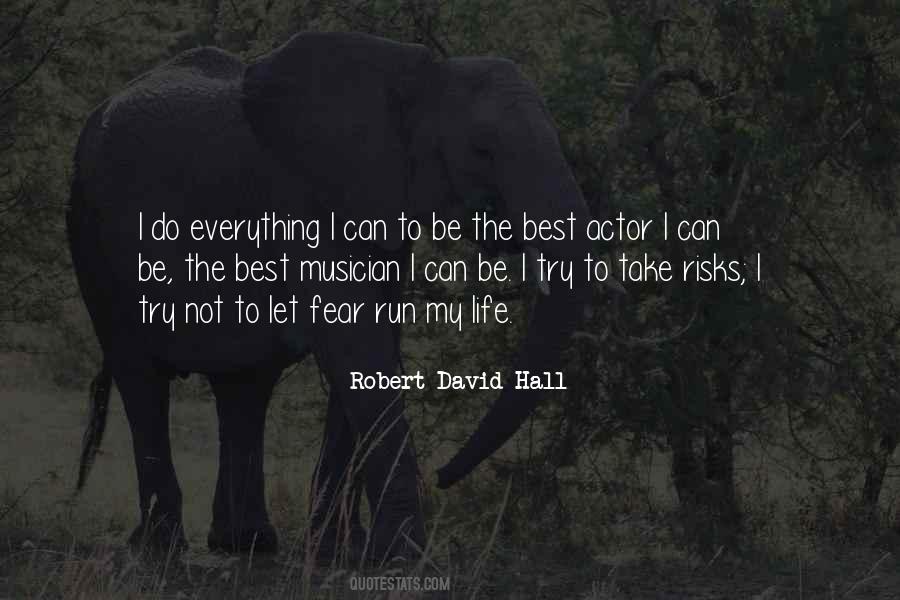 #76. The key is to design great golf courses all around the world. But my plan is only to do a select few. I devote so much of my time to these. I'm kind of a hands-on kind of person. I always want to do the best that I can in all of my life and this is no different. - Author: Tiger Woods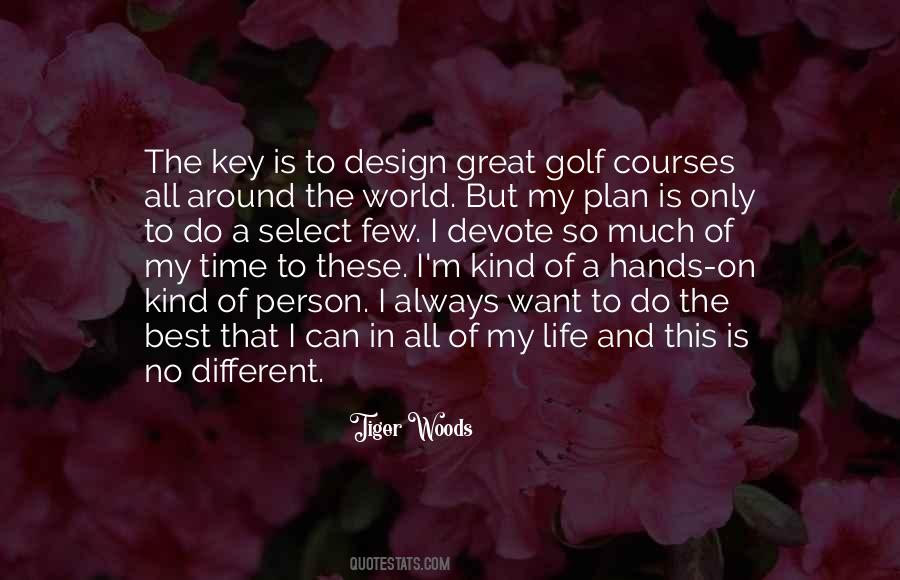 #77. You could have all the money in the world, but you have to be smart enough knowing how to spend it. I really try to be on that smart money side. Once you make a serious mistake you can suffer five or six years, and I do my best to avoid serious mistakes. - Author: Mikhail Prokhorov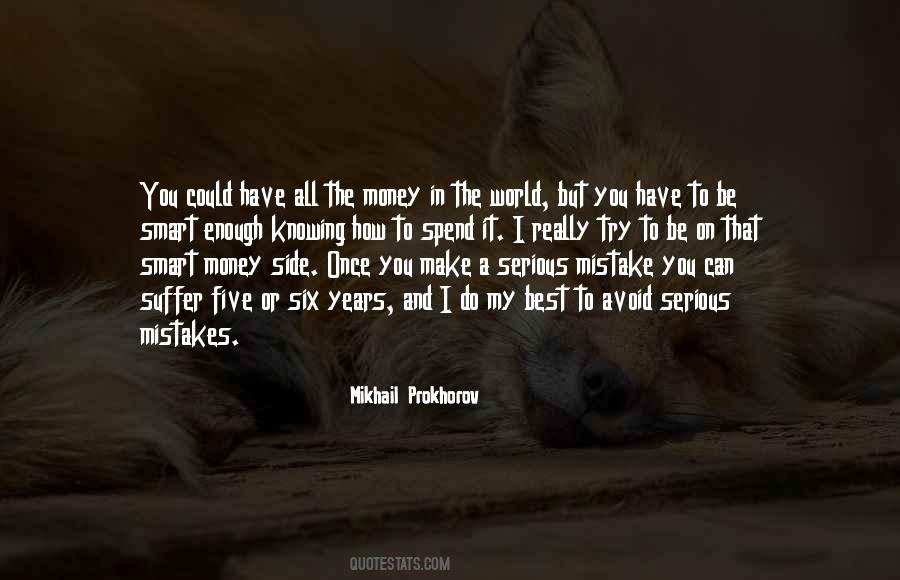 #78. Every time I get in front of an audience, I do the best I can. I really don't look at it like, you know, 'This is gonna be this crowd, or that crowd.' If anything, I think about the demographics only because of what songs will entertain more than others. - Author: Joe Perry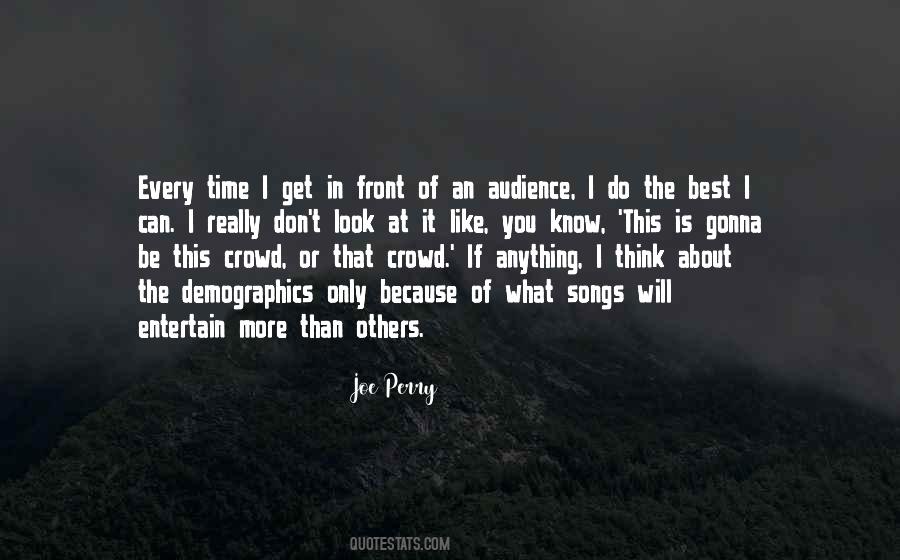 #79. You know what? I'm not going to beat myself up. I did the best I can do, and so I'm going to believe that - I'm going to believe good things about myself. - Author: Joel Osteen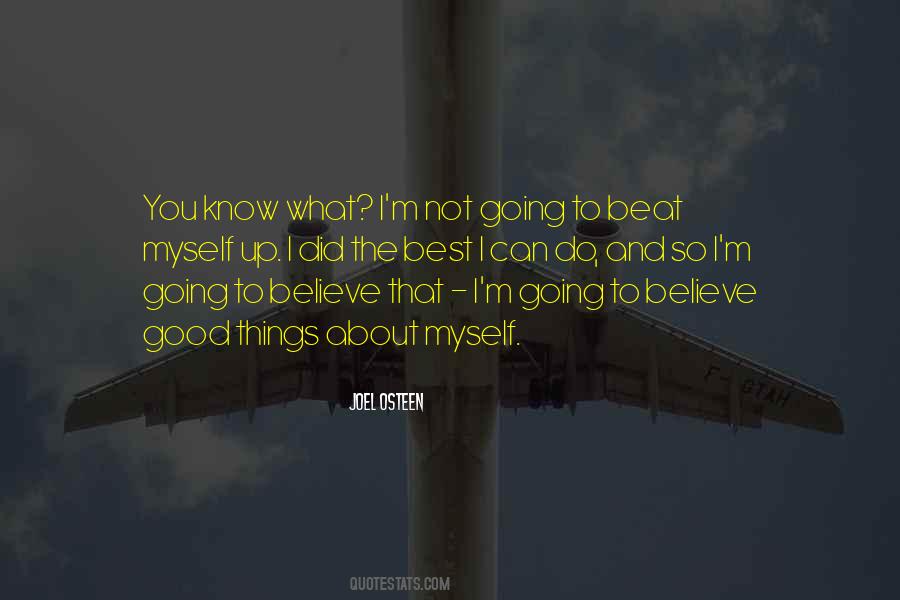 #80. I enjoyed my 15 years at the top, and now I enjoy watching the current crop. What I did, maybe they can't do, and what they do, perhaps I couldn't do. It's like that. I wanted to simply be the best. On a professional level, I wanted to be No. 1, and I worked hard to be that. - Author: Jahangir Khan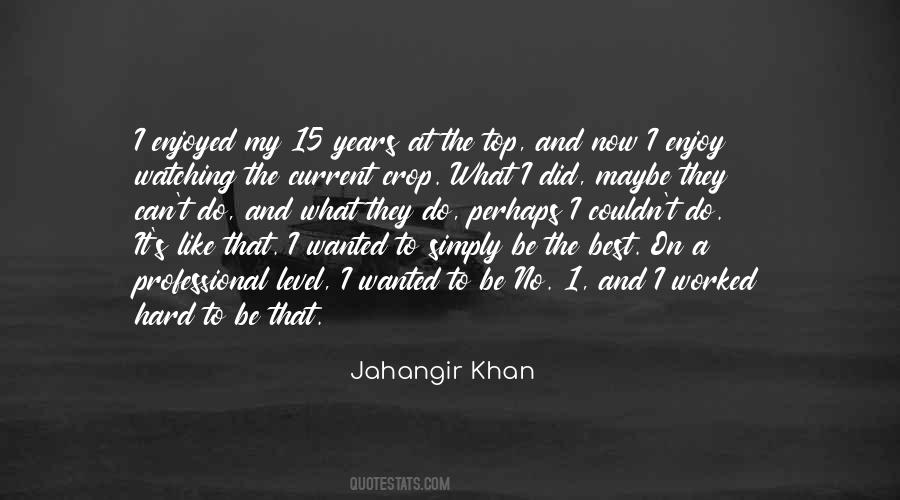 #81. Actually, I think you're more stymied playing the good guy than you are the bad guy. As the bad guy, you have no inhibitions. Nothing stops you from doing what it is you feel you have to do. You do it because it's what's required. I have to protect my goddess, as best as I can. - Author: Dennis Haysbert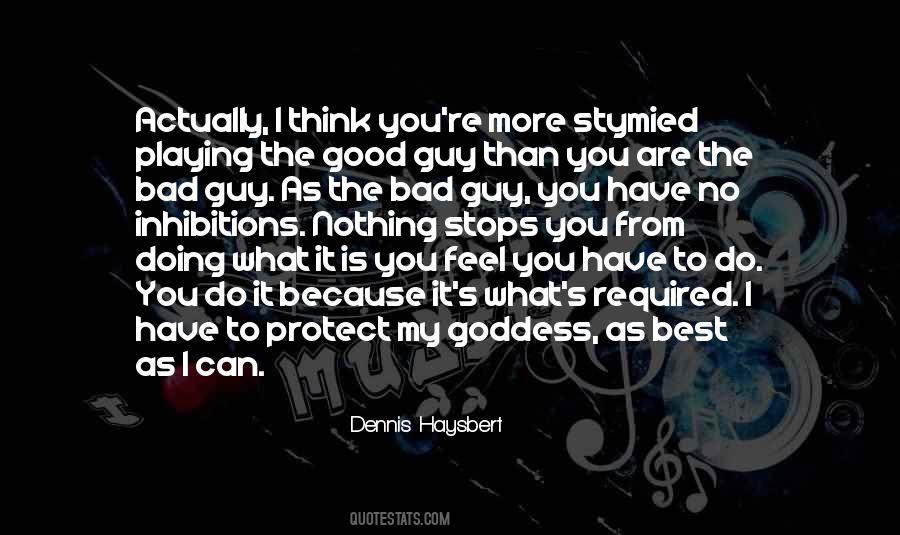 #82. I can make a damn pork chop. My best dish is actually lasagna, which I do a couple times a year. My wife wishes I cooked a little bit more often, but I can put a frozen pizza in the oven and I make a good salad. - Author: Ed Harris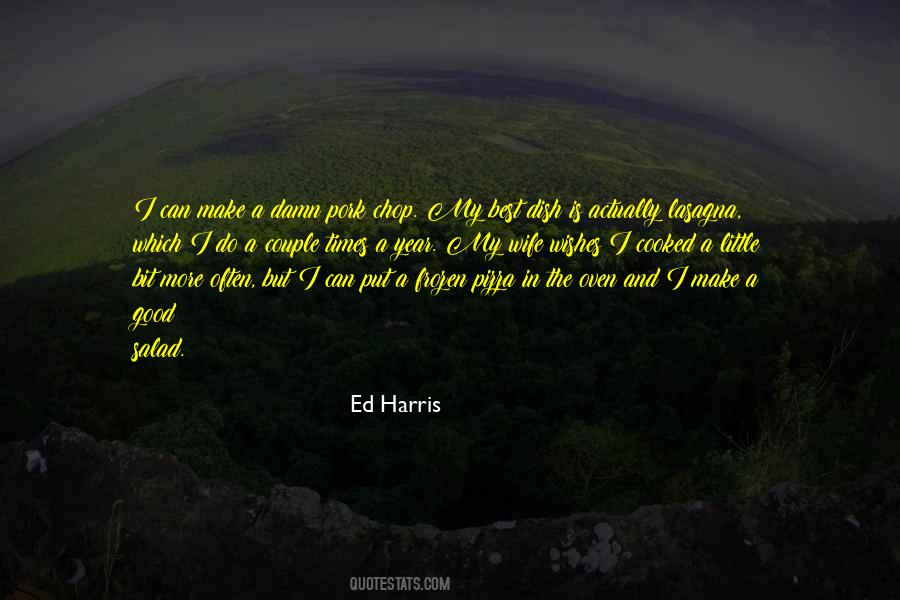 #83. I've never had a plan - it was just to try and get with the people you like to play with, and try to do the best you can. - Author: Mick Ralphs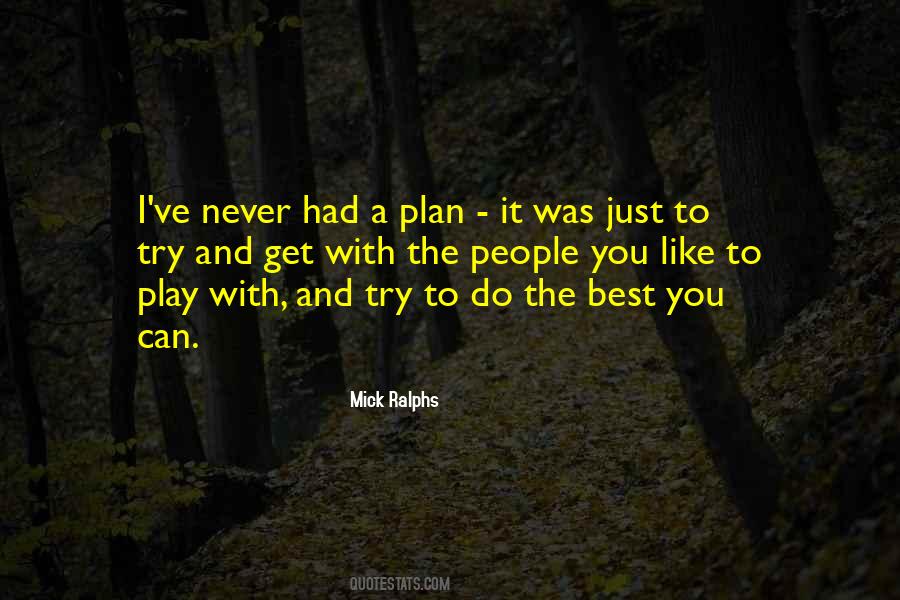 #84. I know you don't like me," Kes said to her. "And, frankly, I don't like you. But please do me the service of shutting the fuck up. I'm doing the best I can. - Author: Heather Demetrios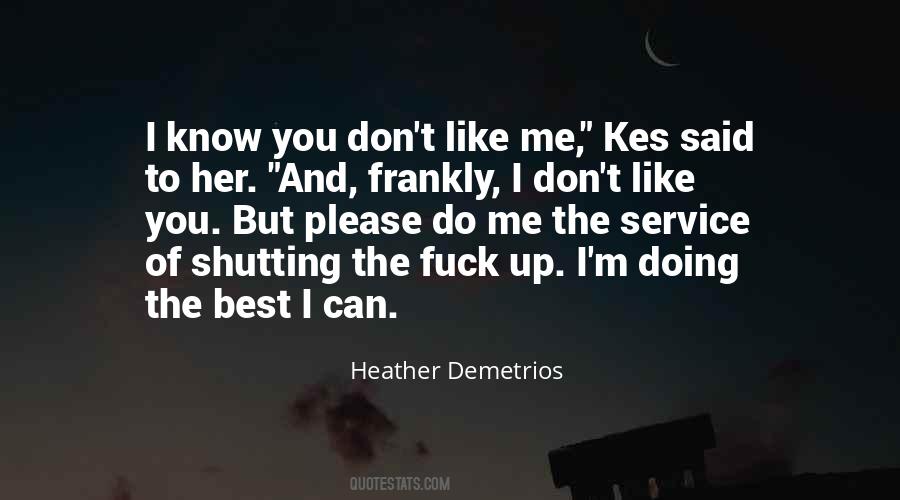 #85. I surround myself with people who really understand and love me. I think that's the best thing I can do. - Author: Ryan Lochte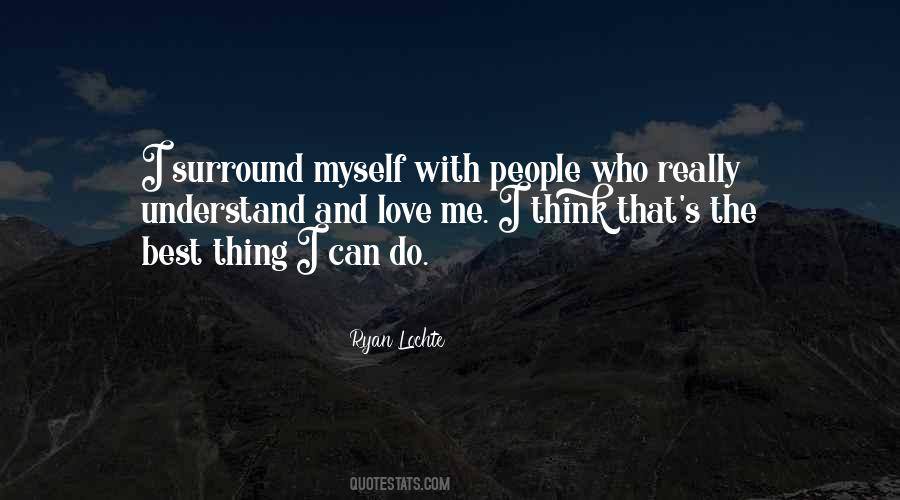 #86. What are you doing?"
"I'm darning a sock," he said, holding it up to show me.
"What's that lump inside?"
"A sock egg."
"A sock egg? I didn't know socks hatched from eggs."
"Only the best ones do. I can't wear the cheap kind, the ones that grow on trees. They give me blisters. - Author: Polly Shulman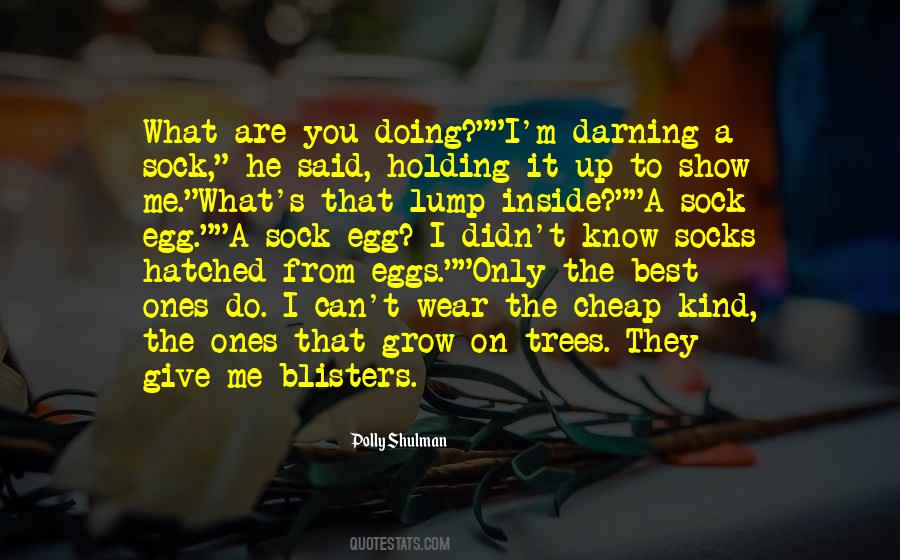 #87. I know what you're saying, but I already told you all the truth and I, I don't what, I don't know what else to do. I just do the best I can and tell you the only thing I can, and that's what I already told you many times. - Author: Wen Ho Lee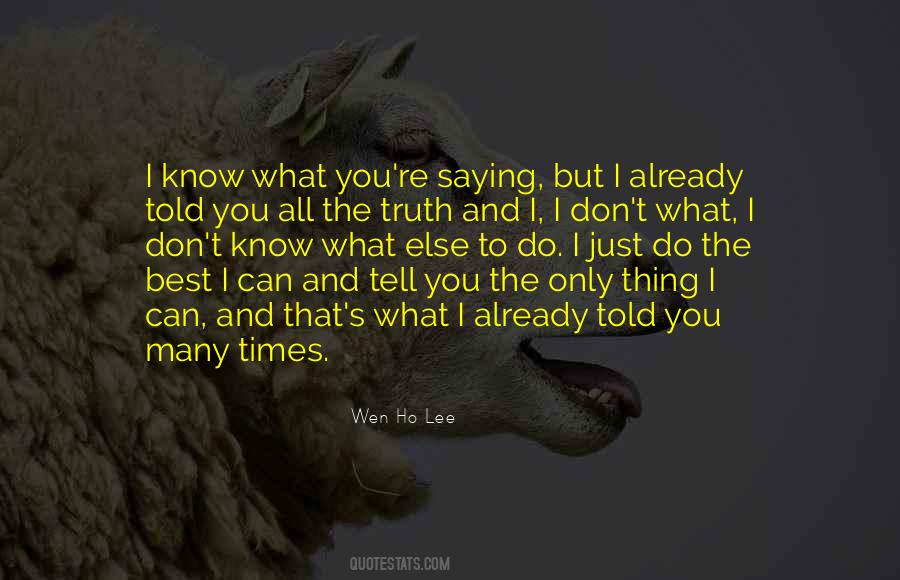 #88. One reason I love the Kindle, more so than the iPad, is that on the Kindle you can't do anything else but read. It's the best, because it does the least. It doesn't even show a clock. - Author: Marco Arment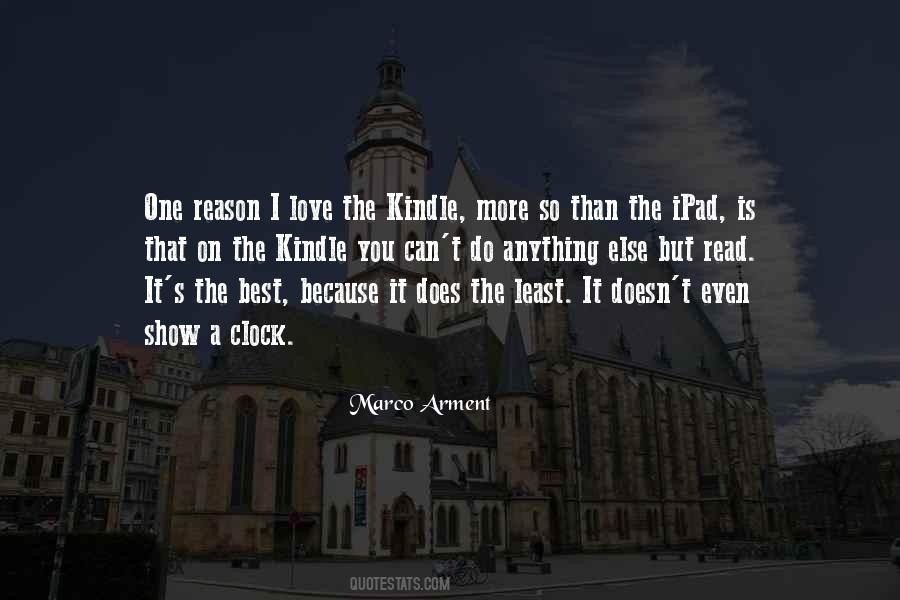 #89. I feel like I have to do the best job I can to basically say, "OK, I understand - you have every right to be angry, but anger is not a plan. Here's what I want to do, and that's why I hope you will support me, because I think it will actually improve the lives of Americans." - Author: Hillary Clinton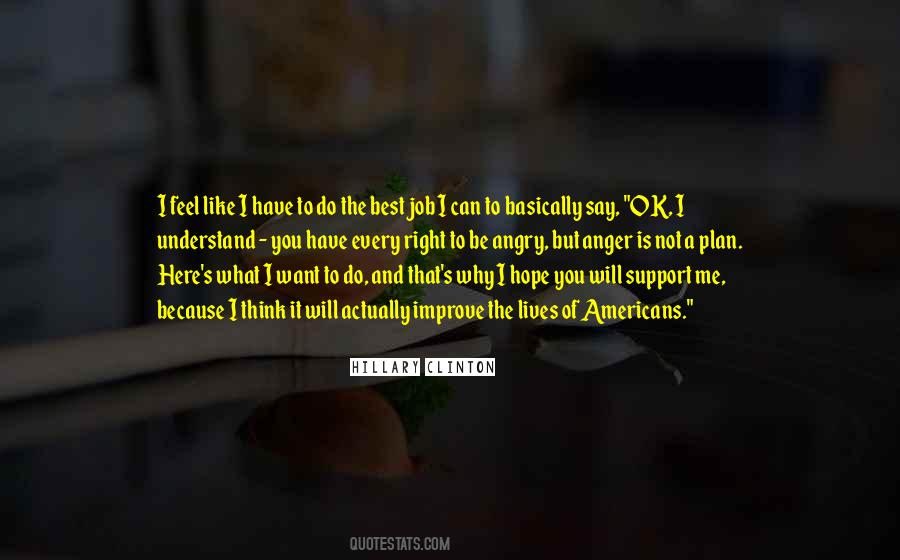 #90. I never had come up with a really profound and strong gesture - nothing like Julia Butterfly's. So I figured the best thing I could do was live by my beliefs. That's probably the most profound thing that anybody can do. - Author: Daryl Hannah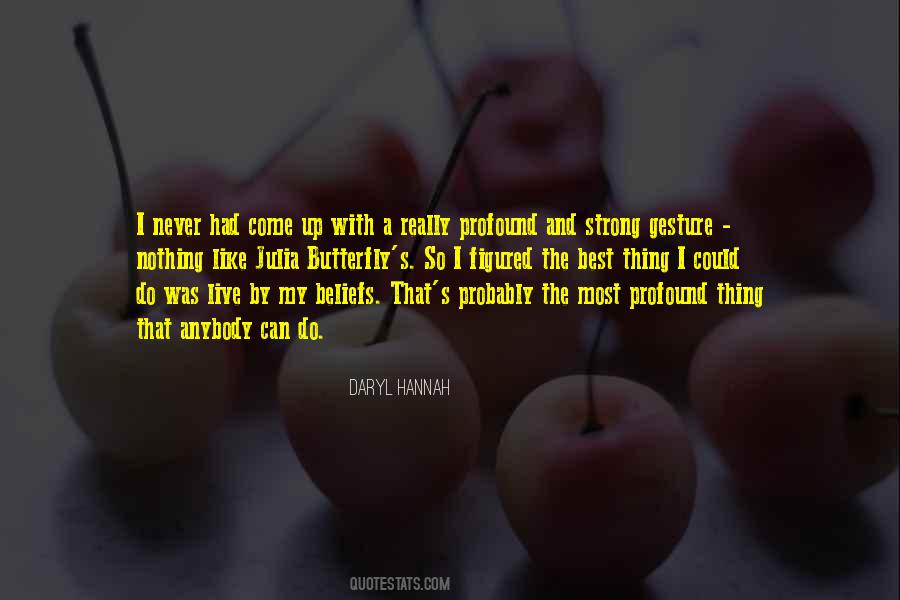 #91. You just try to get the best jobs that you can get. Sometimes I produce my own movies, so that's your own sort of vision. That helps things. I don't know what it is. Probably just circumstance. I've definitely been aware of the fact that I want to do different things. - Author: John Cusack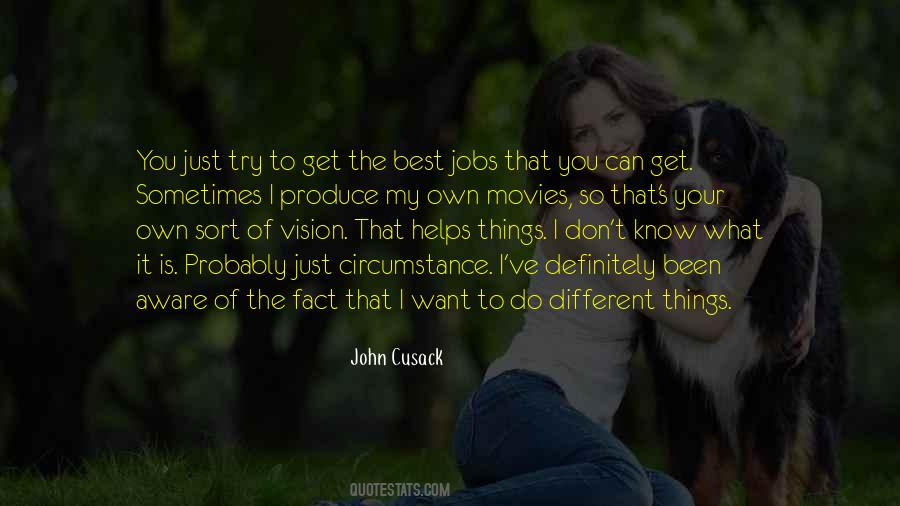 #92. I do the best I can to approve and disapprove only of my own behavior. I don't always succeed, but I try. I'm trying now and I'm going to keep at it. - Author: Robert B. Parker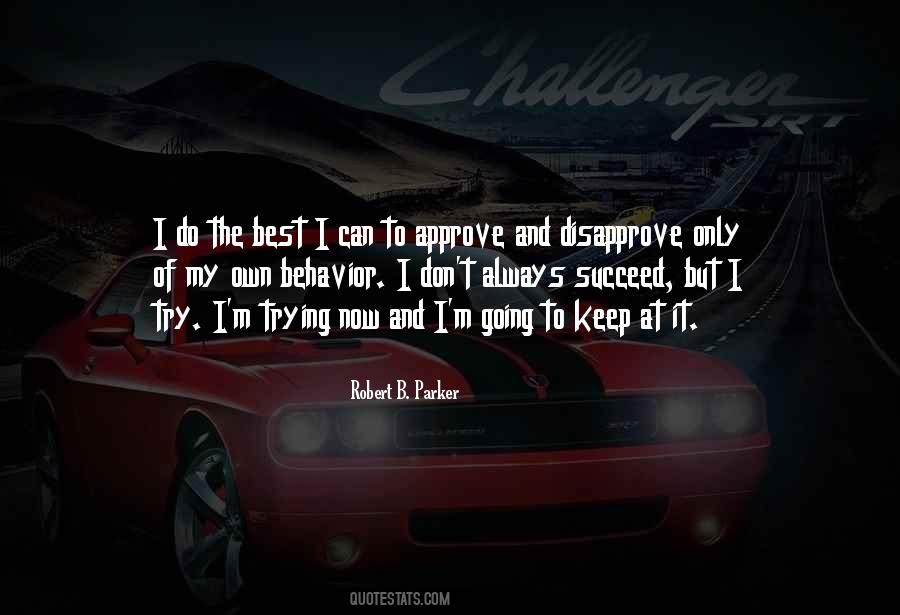 #93. As an actor for hire, my job is to do some pre-production work for myself. Then my job is to show up and give the best performance I can. - Author: Matthew McConaughey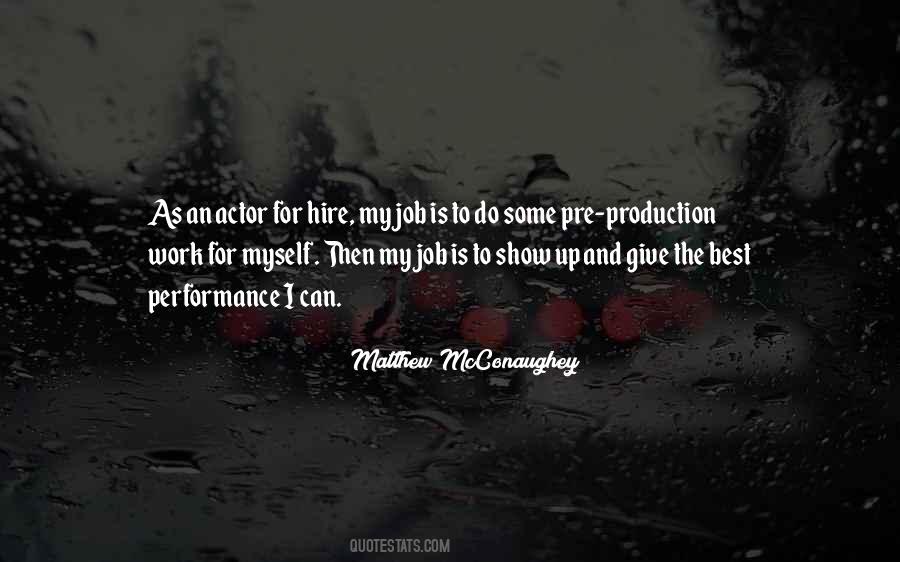 #94. I try to stay in the best physical shape that I can because I do most of my own stunts. It looks amazing if you can do it, but I don't advocate it because you always get injured. - Author: Raymond Cruz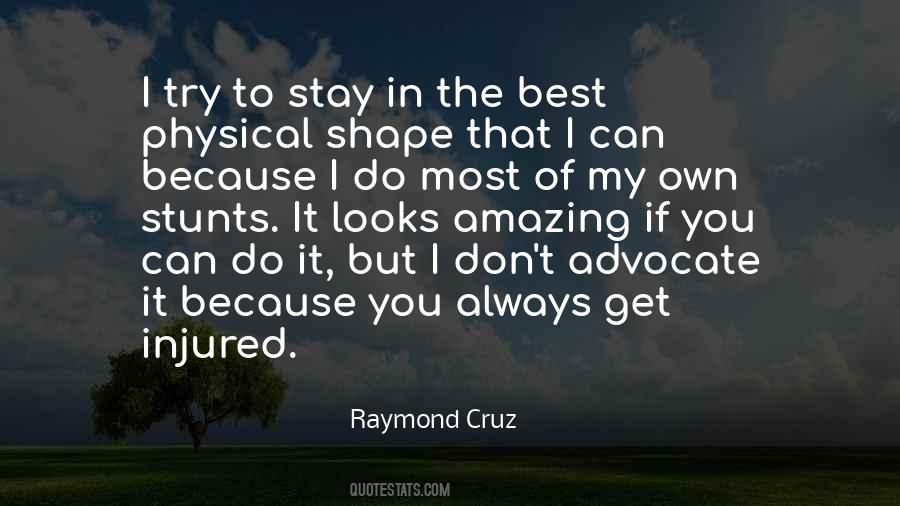 #95. When I teach and meet a class for the first time, you realize that there are people there that have exceptional abilities or have the potential to do exceptional things and you never know who those people are. My job is to provide the best information I can. - Author: John Sexton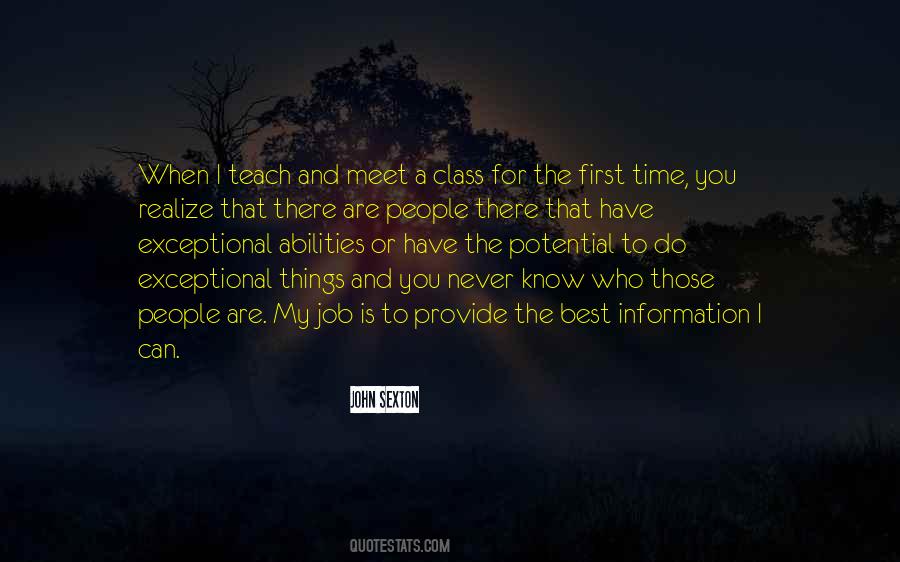 #96. Conscious of my own weakness, I can only seek fervently the guidance of the Ruler of the Universe, and, relying on His all-powerful aid, do my best to restore Union and peace to a suffering people, and to establish and guard their liberties and rights. - Author: George B. McClellan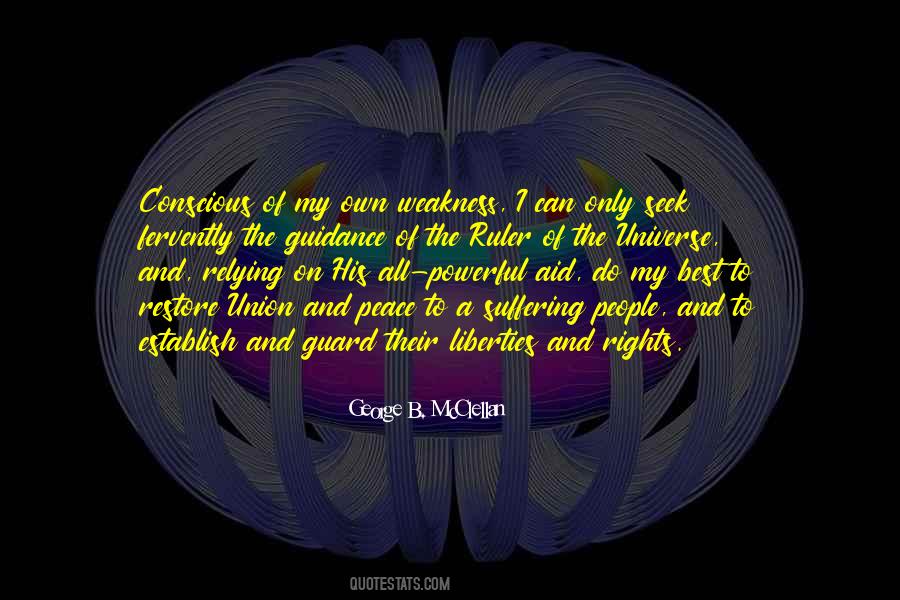 #97. If I add a negative element to the piece, you are not a villain necessarily but you bring a stronger, more negative aspect to the film, and if you don't do that, the film goes off balance where you can't worry about likability, you have to come in and play the part the best way that you can. - Author: Alec Baldwin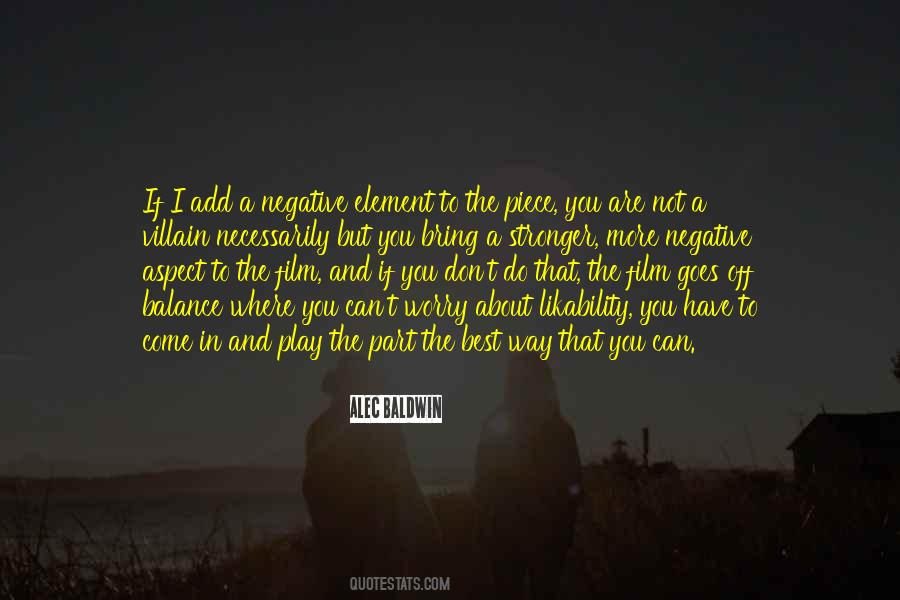 #98. When I woke up and the dark wasn't gone yet, and the dark seemed so big, then she sang soft and made the dark small again.
That is the best of all things we can do for one another: Make the dark small. - Author: Dean Koontz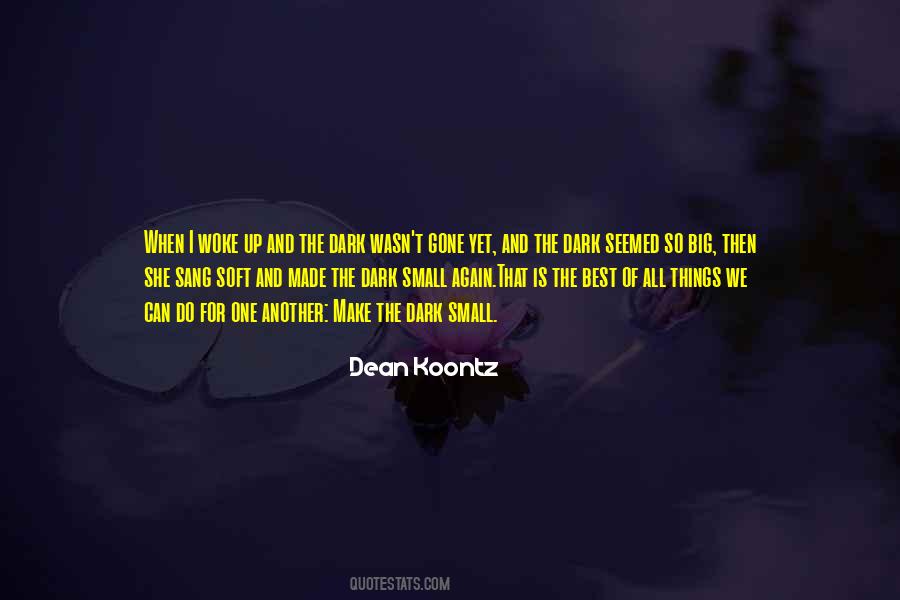 #99. I don't think my films are going to get rid of racism or prejudice. I think the best thing my films can do is provoke discussion. - Author: Spike Lee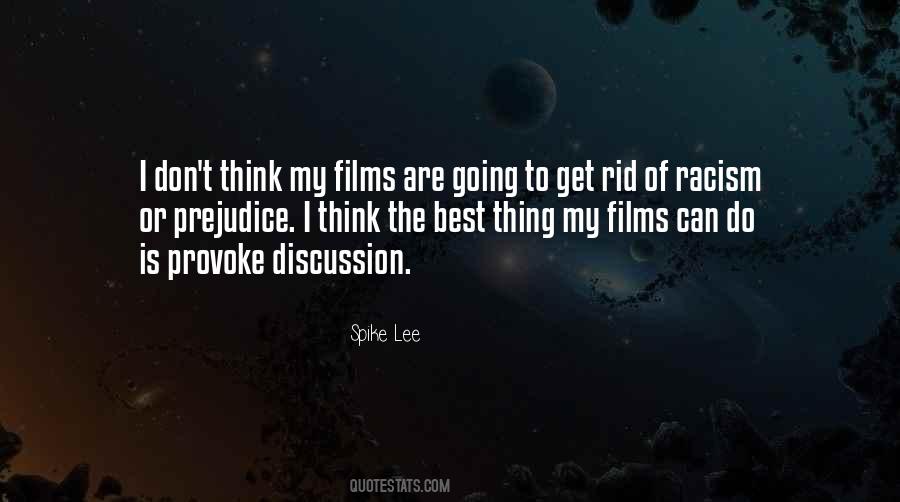 #100. I think the best thing you can do is be aware that as a first time founder you are likely to be a very bad manager. - Author: Sam Altman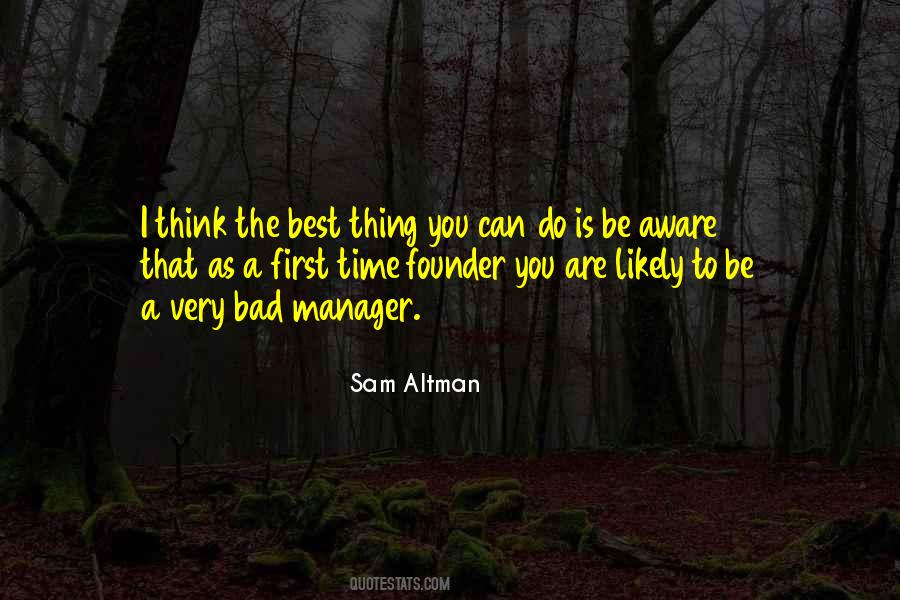 Famous Authors
Popular Topics