List of top 39 famous quotes and sayings about distracted easily to read and share with friends on your Facebook, Twitter, blogs.
Top 39 Distracted Easily Quotes
#1. I was rather a poor student, too easily distracted - did a lot of gazing out of windows, fine for training to be a writer, but not a great way to achieve in the classroom. The truth is that I was happy to bumble along and do enough to avoid detention, but not much more.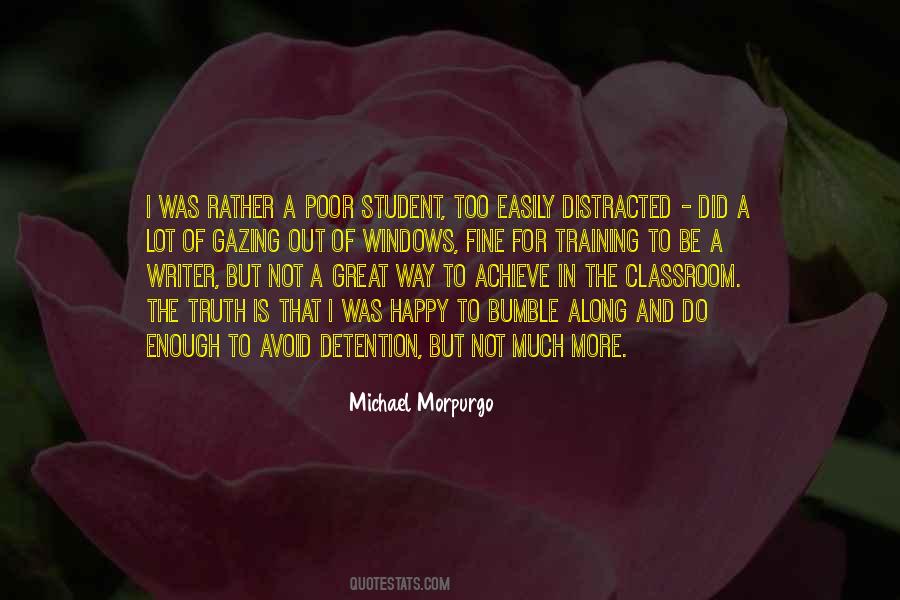 #2. I always work in a room where there's no Internet to keep from being distracted so easily.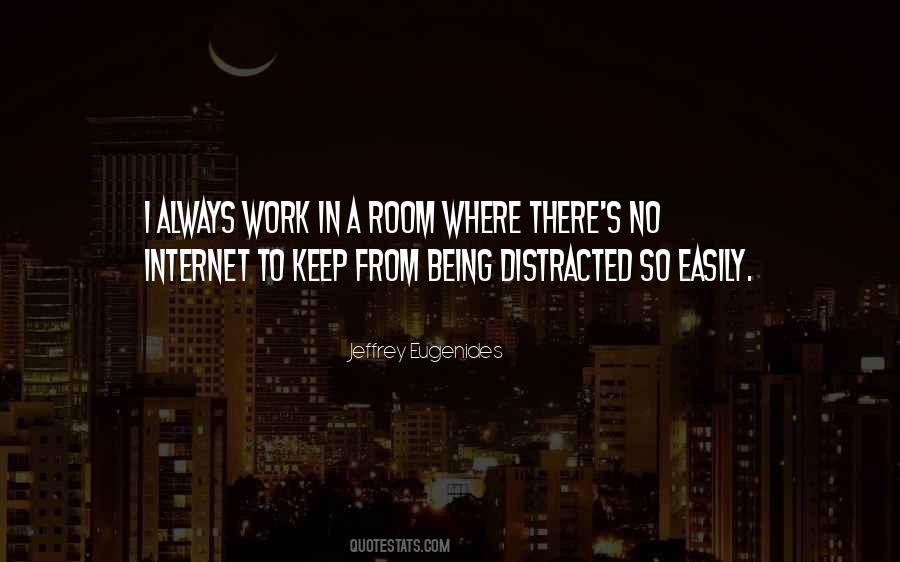 #3. I started in dance classes when I was, like, seven years old. And the arts in general, it kept me not only off the street, I grew up in South Central Los Angeles, so it kept my mind focused. It kept me passionate about something. So I wasn't easily distracted.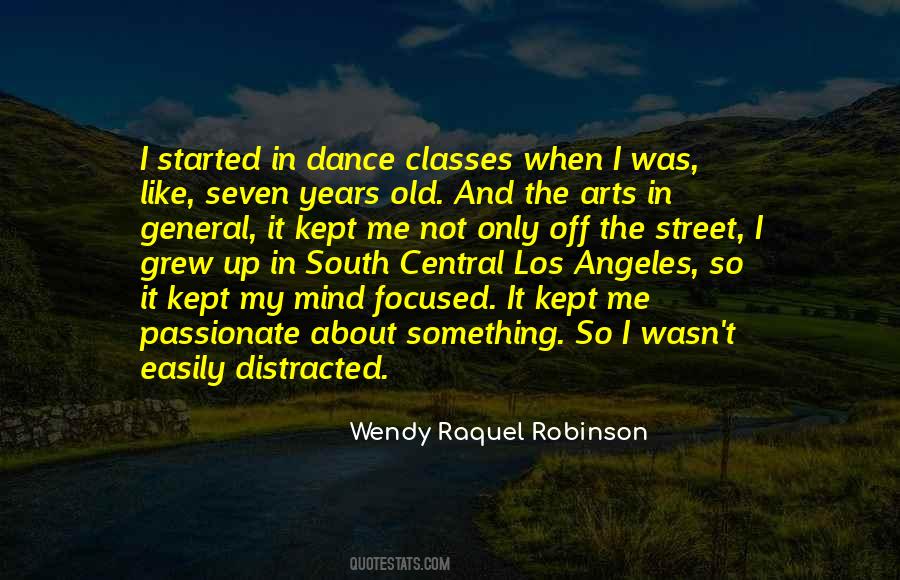 #4. I'm a person of whim, and easily distracted. I don't like multitasking. When I'm doing one thing, I like to do just that thing.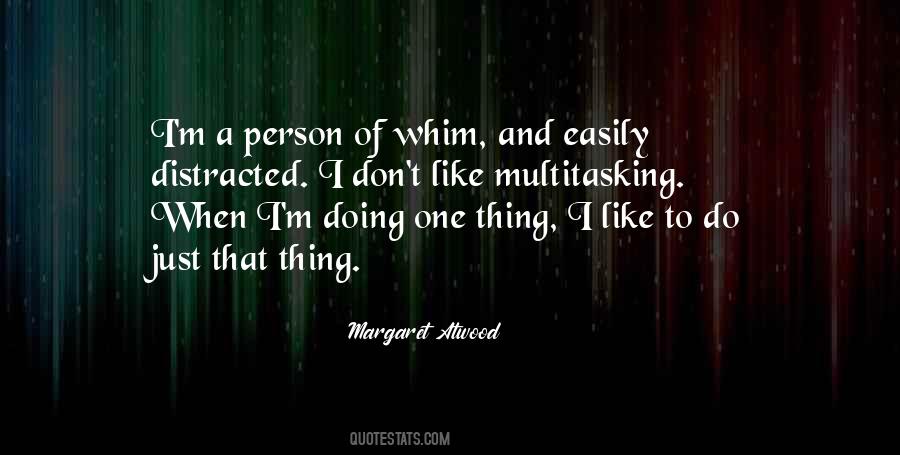 #5. You're easily distracted, aren't you?" Ty deadpanned.
"Not really," Zane said smoothly, dragging one hand down Ty's
chest. "I'm still focused on you.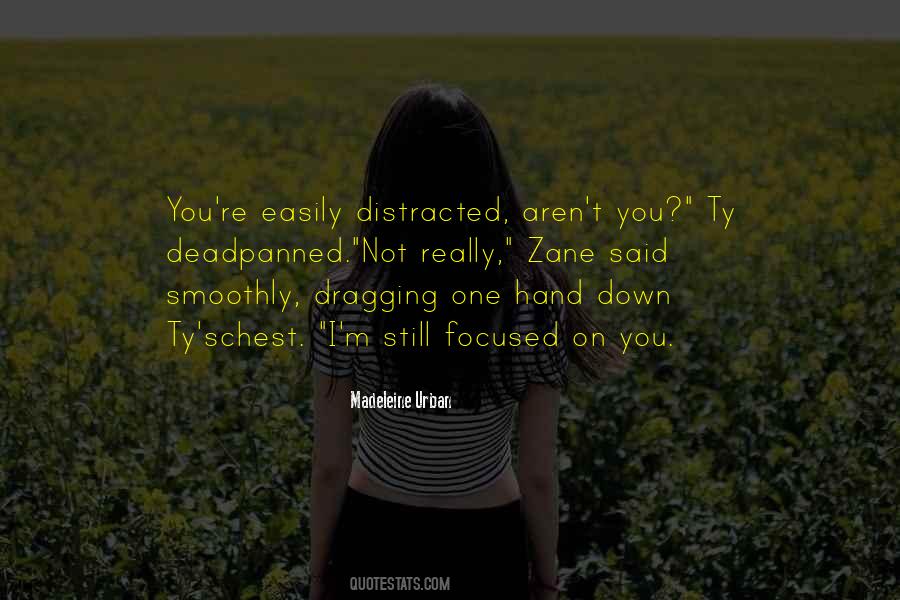 #6. I'm more of a visual person, but I think that reading's extremely important. But I'm very easily distracted. It takes certain books to really grab you in.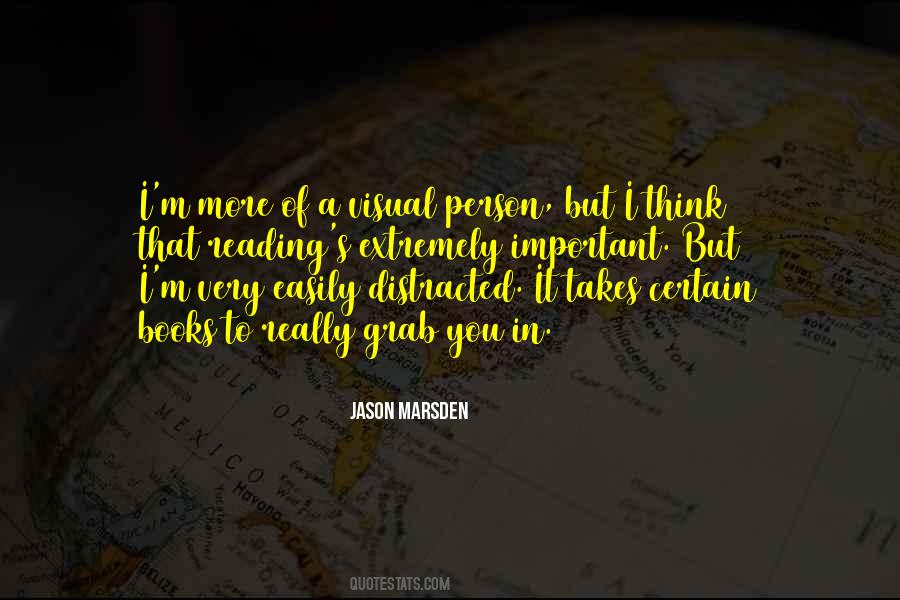 #7. I'm very easily distracted unless I have music on. Listening to music while I brainstorm makes me think of scenes that would fit the mood of the music I'm playing.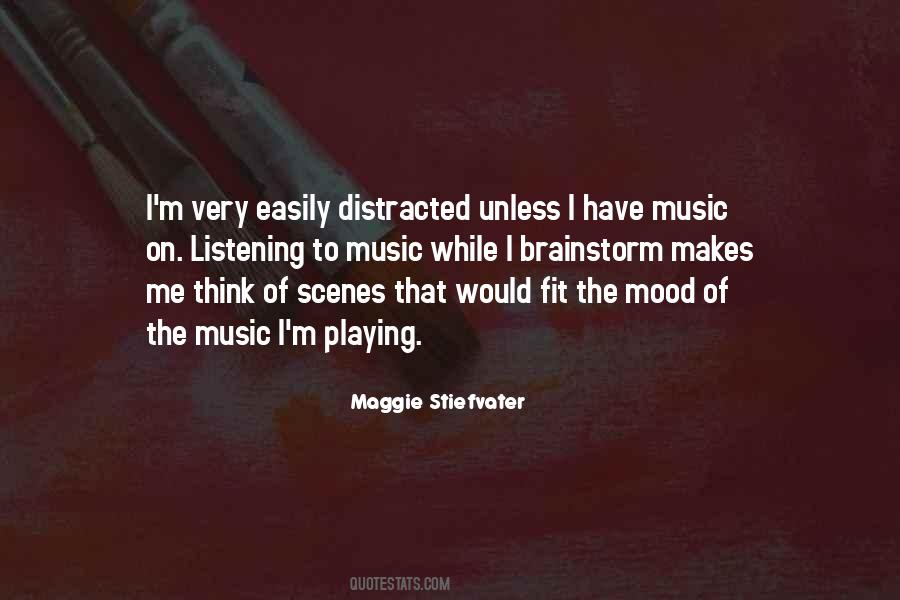 #8. I'm easily distracted by other things in the world around me.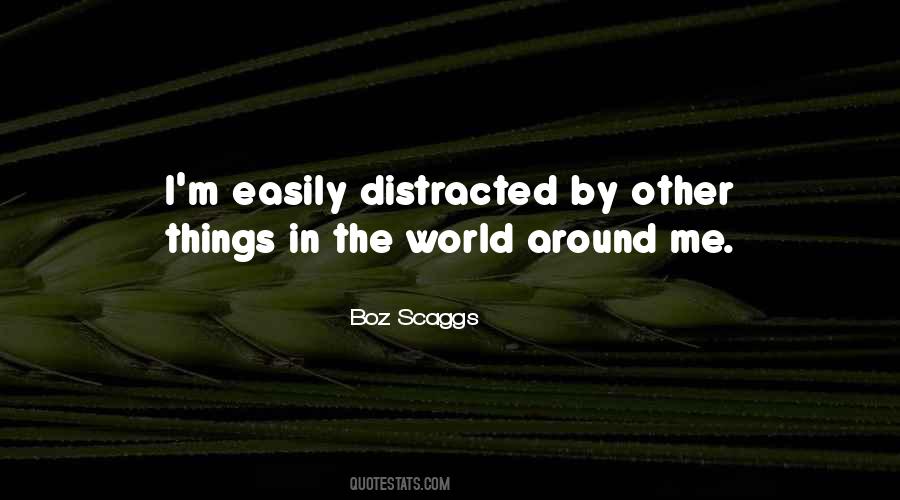 #9. That is very true," replied Elizabeth, "and I could easily forgive his pride, if he had not mortified mine. I dare say I would've cut his throat had not the unmentionables distracted me from doing so.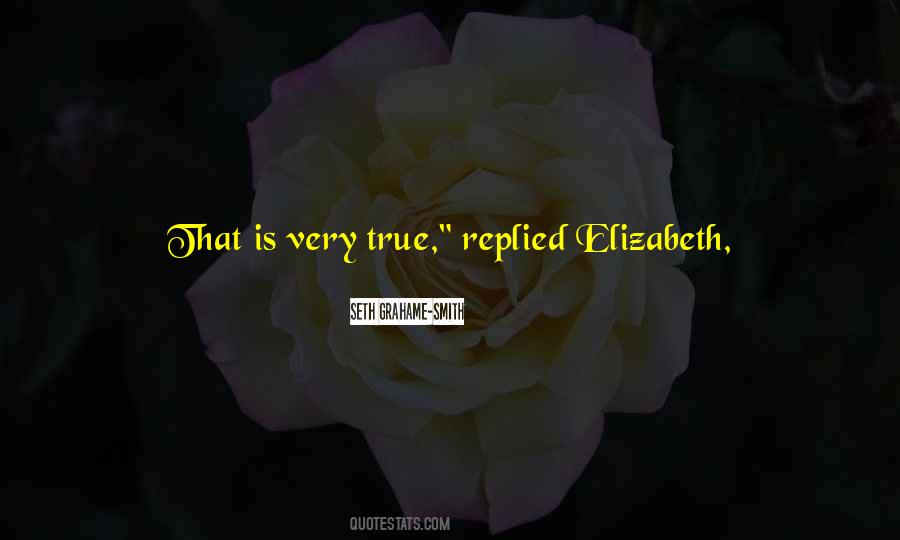 #10. I don't know if I'm attention deficit, but I certainly am easily distracted by other things.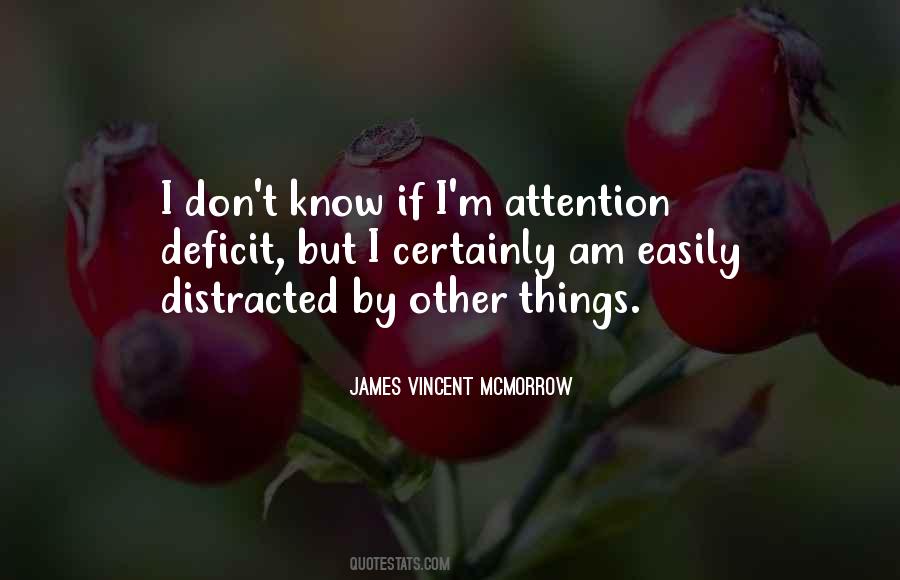 #11. I sometimes got distracted easily and allowed my mind to wander when I needed to be focused. It's quite subtle, really, and just being aware of it helps.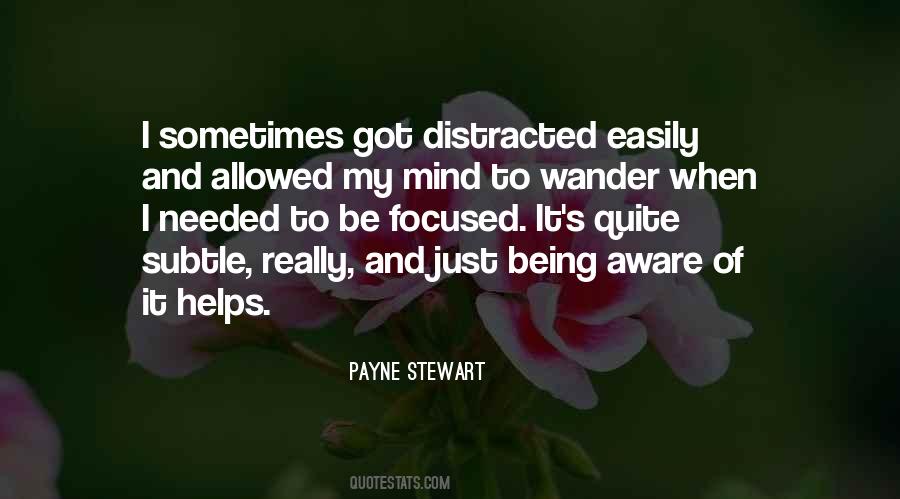 #12. We say that children are bad at paying attention, but we really mean that they're bad at not paying attention - they easily get distracted by anything interesting.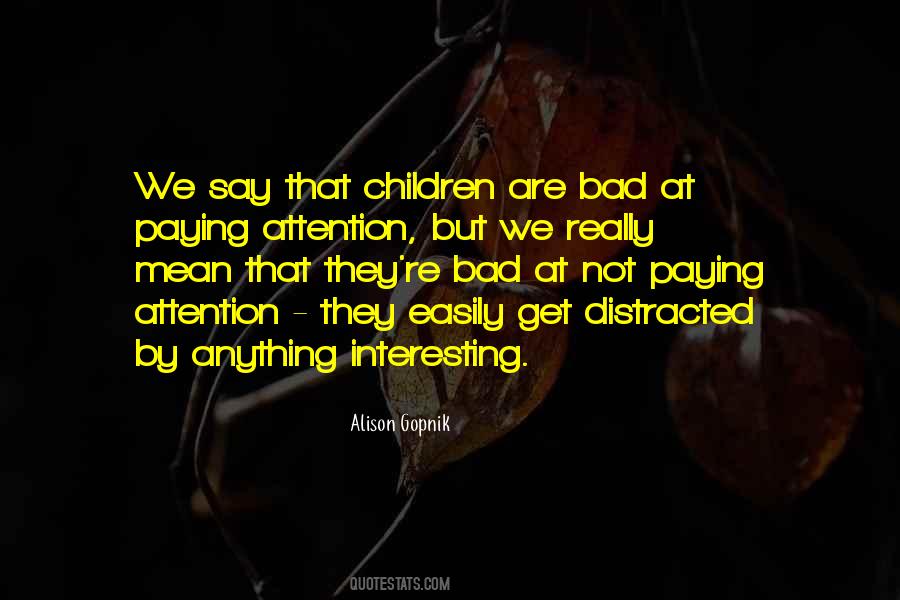 #13. I really love writing, but I am very easily distracted: my two cats fighting, a rainbow, a TV show ... I have to use every trick to keep myself at the computer.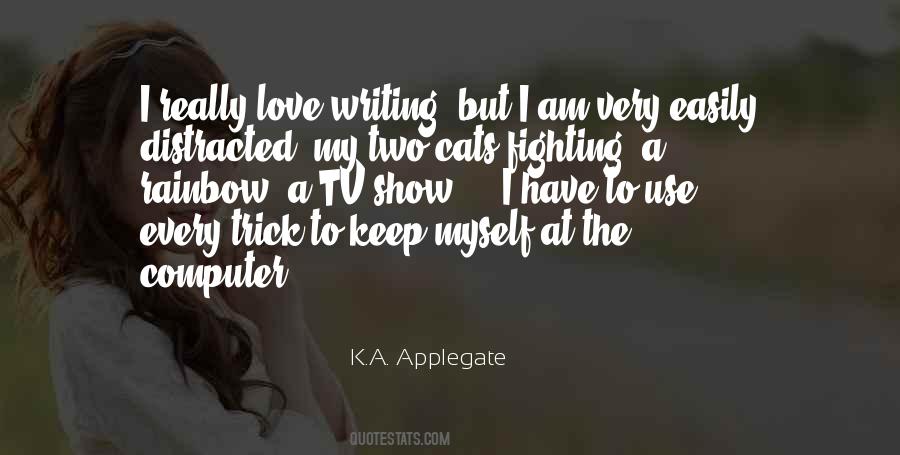 #14. If you're a disheveled, easily distracted person, it's always scary when someone asks what your plan is for the day. We don't know our plans.
Distracted people make plans in transit.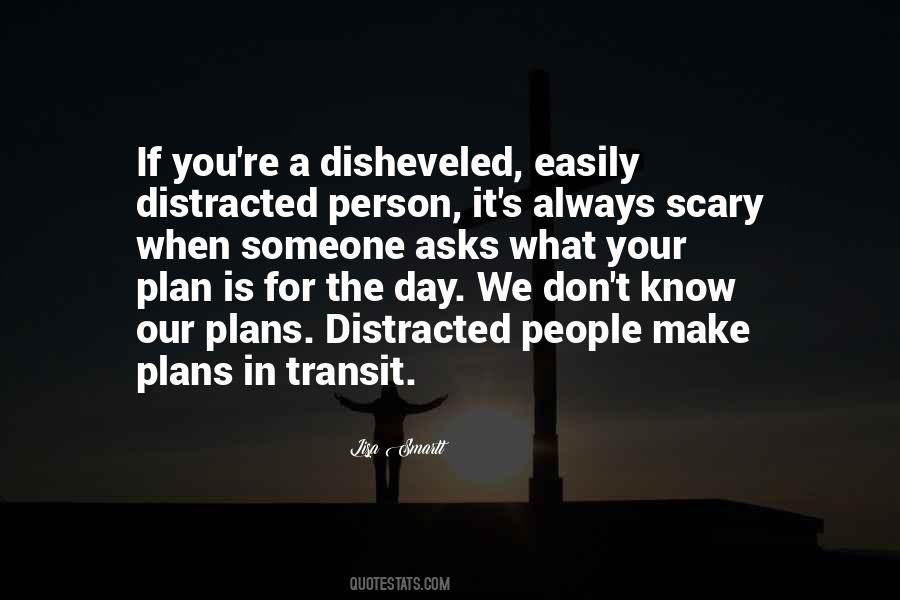 #15. Merely accepting that we are lazy, distracted, petty, easily provoked to anger, and inclined to waste our time in ways that we will later regret is not a path to happiness.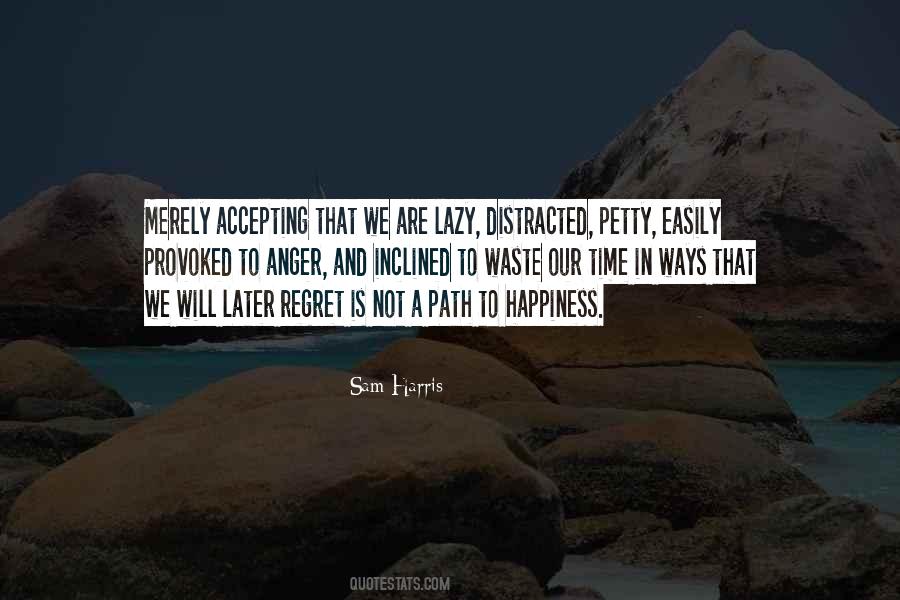 #16. I'm not too easily distracted now I've had practice, but I write with nothing to look at. I used to rent an office that just had a view of a wall!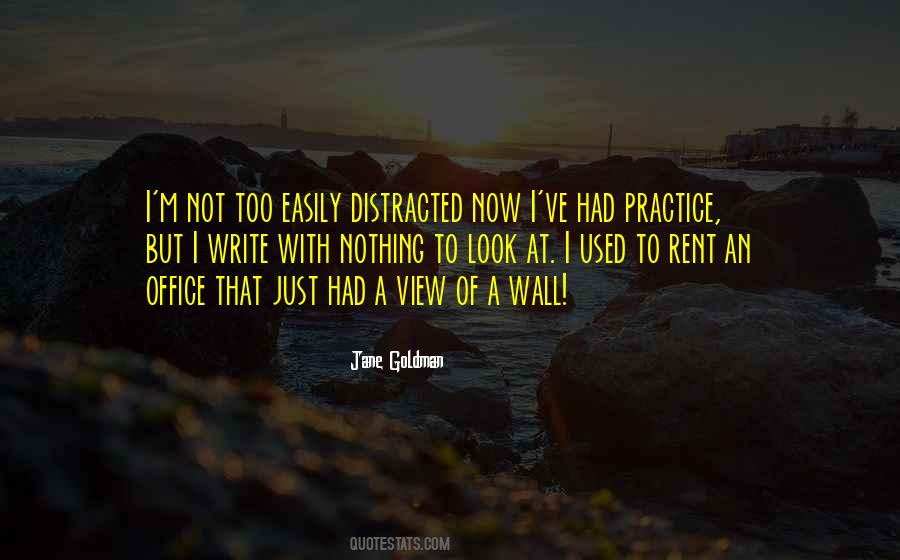 #17. It's just that I get distracted, and I get Lost kind of easily, and sometimes I have really bad days ...
... When, you know, I just want to Hide or Scream or Bleed or something, and ... All that ...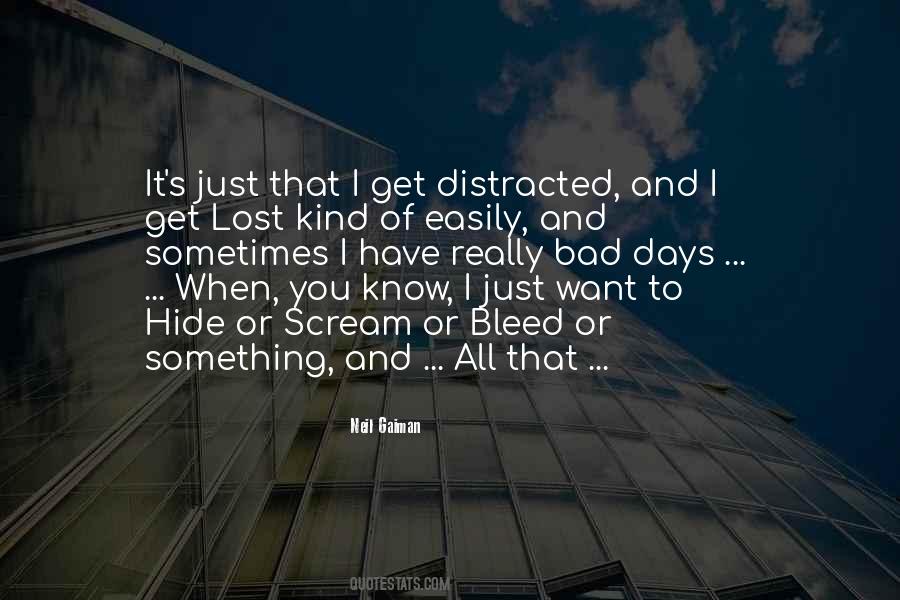 #18. When we encounter the world of ideas for the first time, we easily get overwhelmed. Scripture is telling us, 'Don't be distracted by the details. Cut to the core by asking, What is its idol?' Whatever functions as its God substitute will shape everything else.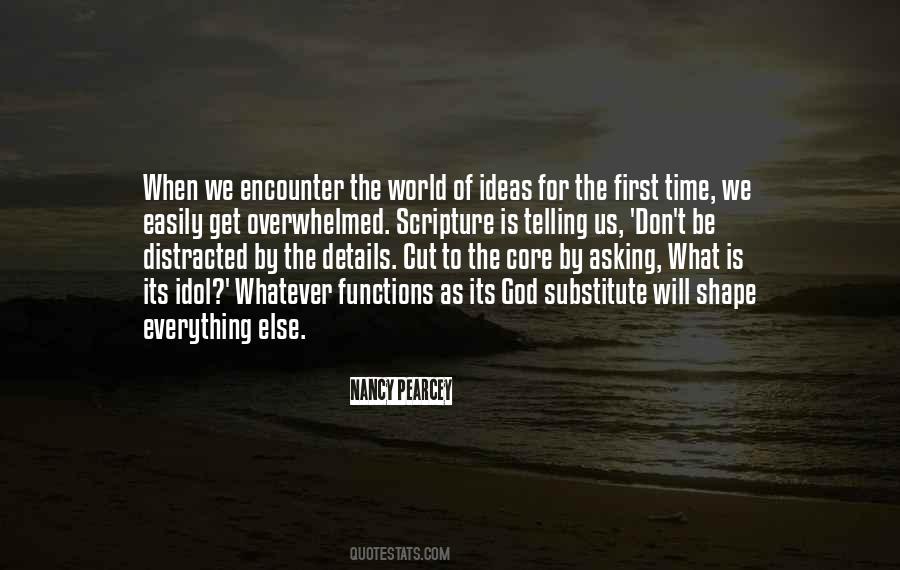 #19. I'm a visual thinker, thrill seeker, and I'm easily distracted. I see everything I'm writing, and I think it naturally affects the pace of things.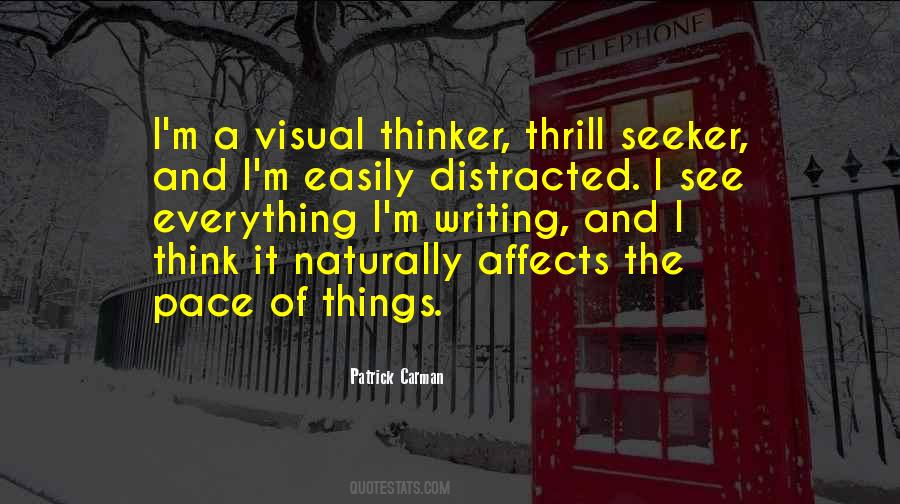 #20. One is creeping into middle age and is less easily distracted by one's appetites, which have grown feeble, and by one's passions, which seem such a bore - all but the consuming desire for knowledge and understanding. That grows. - Aldous Huxley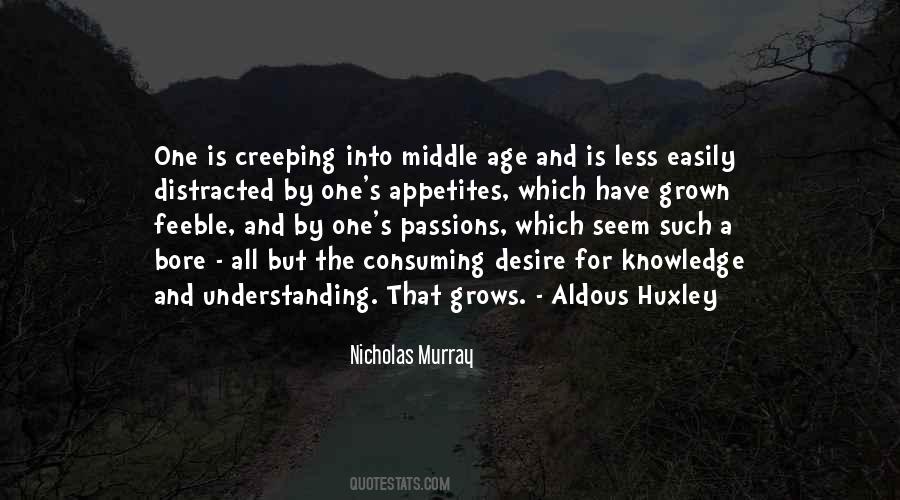 #21. The mind is easily distracted; it loses its focus and becomes restless. If it is not directed positively, its power will be diffused.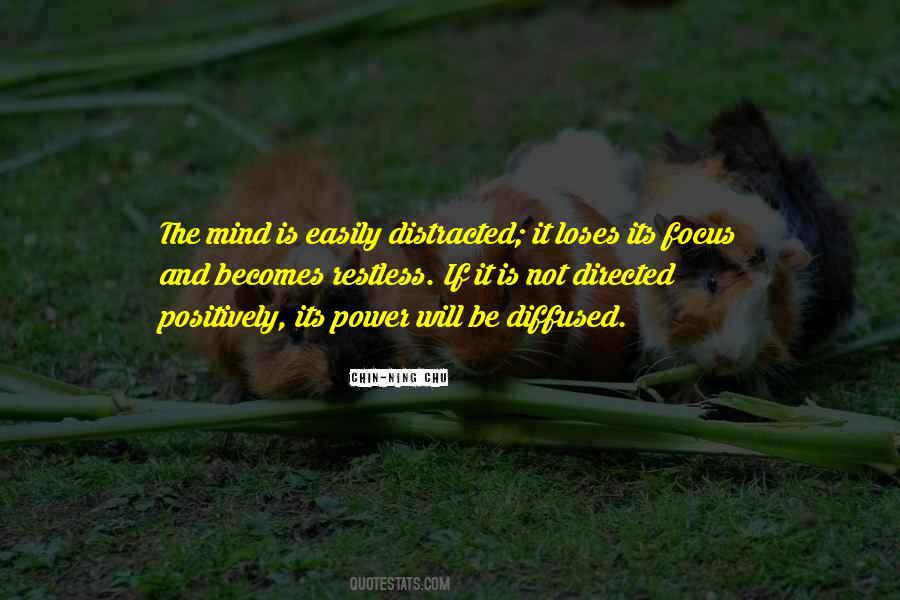 #22. Serious people are not easily distracted!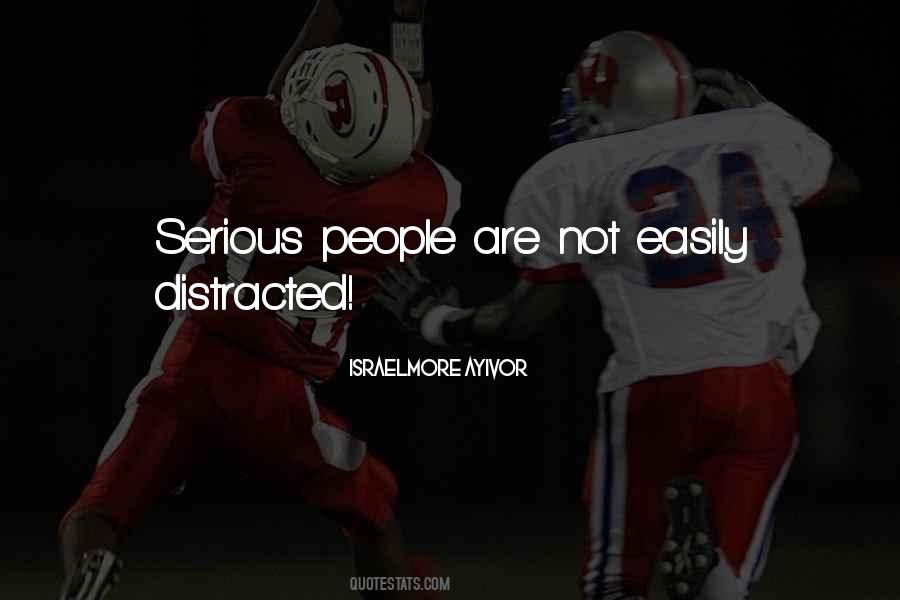 #23. I'm just a black hole for stuff. No one should ever hand me anything, because I get so easily distracted. I'll be like, 'Oh, look, something shiny!' I'm glad I never learned how to drive. I would be really dangerous.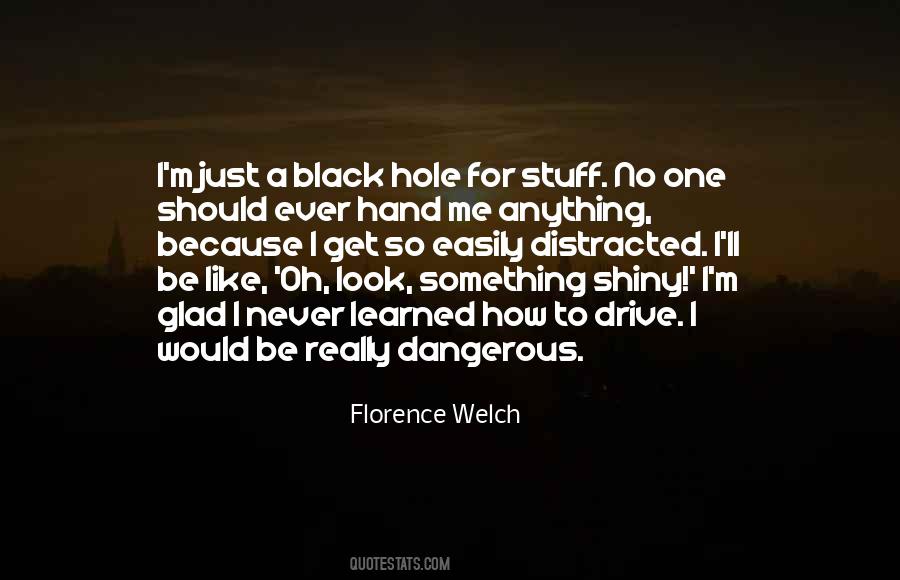 #24. It's a good thing you're not my Story Weaver. You're easily distracted by the pattern of the cloth and can't see the quality of the threads." "Well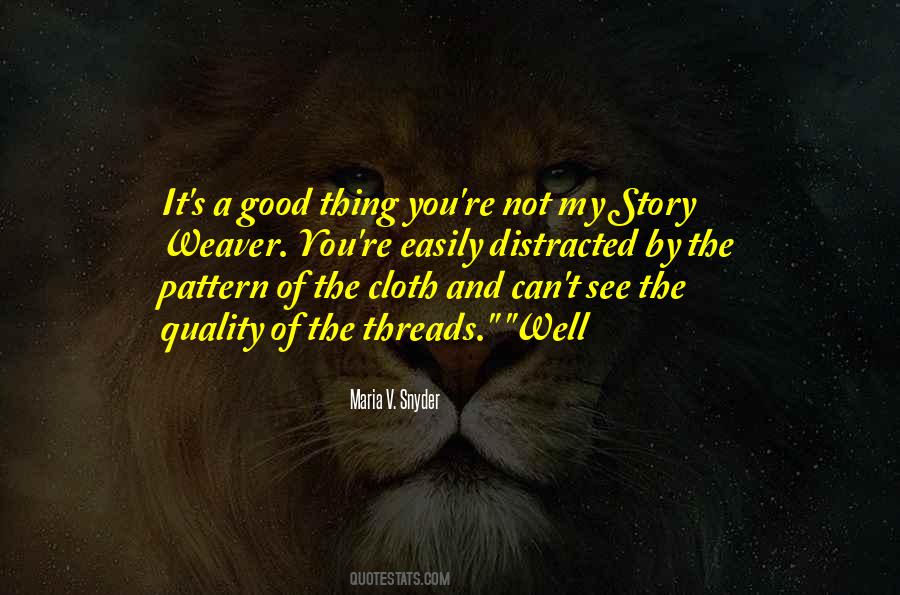 #25. We are to learn our duty from the Lord, and then we are to act in all diligence, never being lazy or slothful. The pattern is simple but not easy to follow. We are so easily distracted.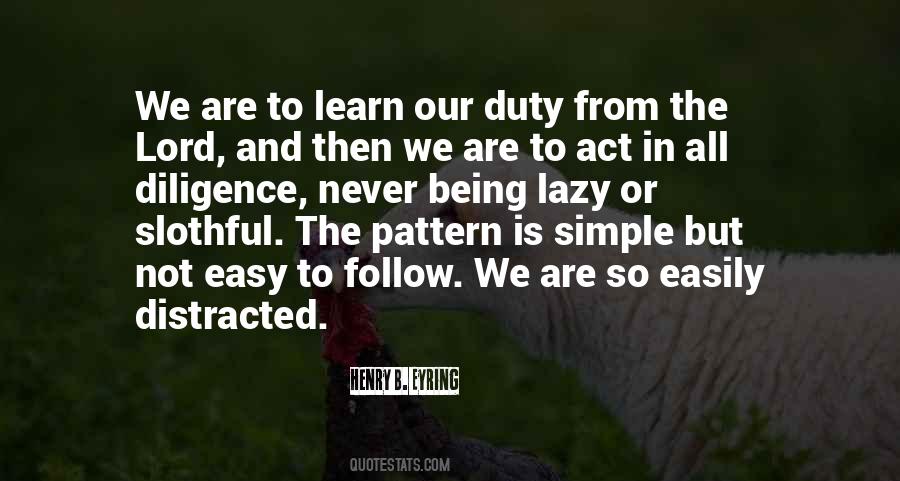 #26. So I guess you were hopelessly romantic and easily distracted, a B-plus mother, certainly good enough to get into Matriarchal State University but not quite good enough for St. Mary's College of the Blessed Womb Warriors.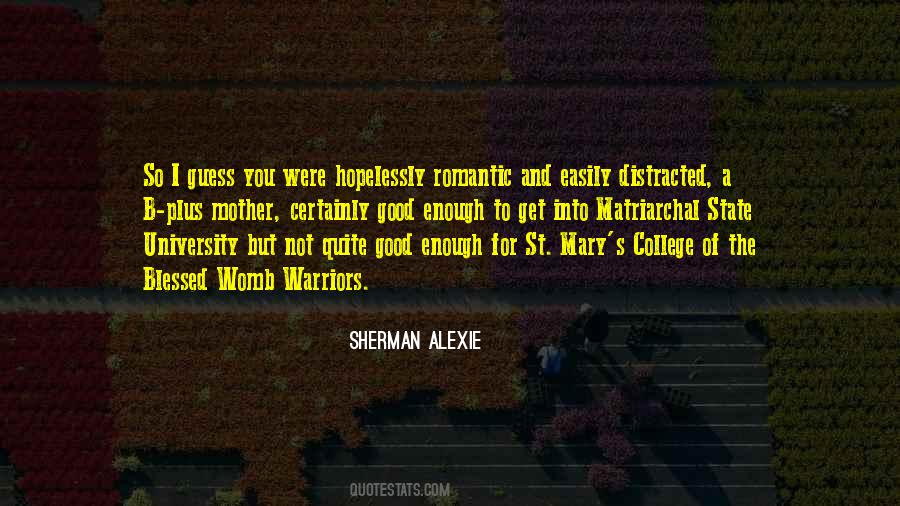 #27. I laugh and joke, but I don't get distracted very easily.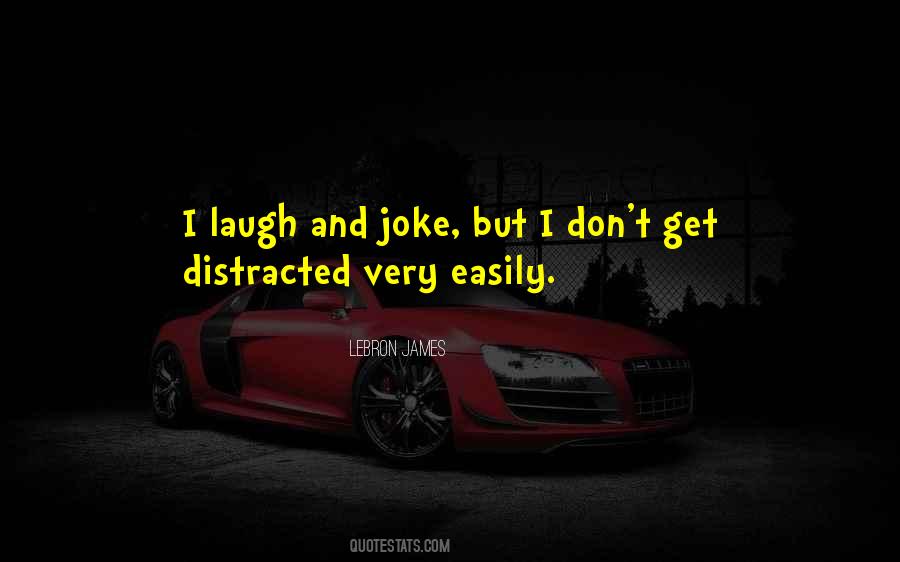 #28. The selfish mind is the distracted mind and the distracted mind is the easily oppressed mind.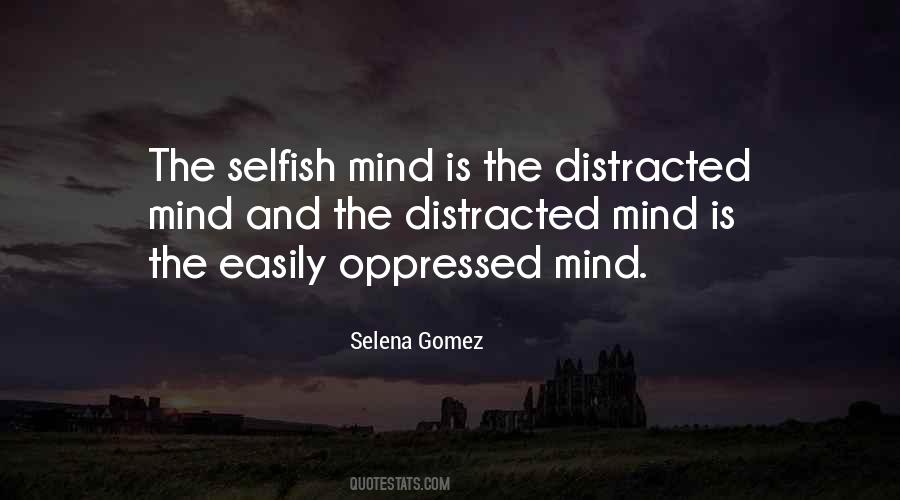 #29. I have a constitutional weakness in which I am very easily distracted by flashing lights. If there is a TV on in the room, I can't have a conversation with you. I won't eat, I won't sleep, I'll just meld with my couch.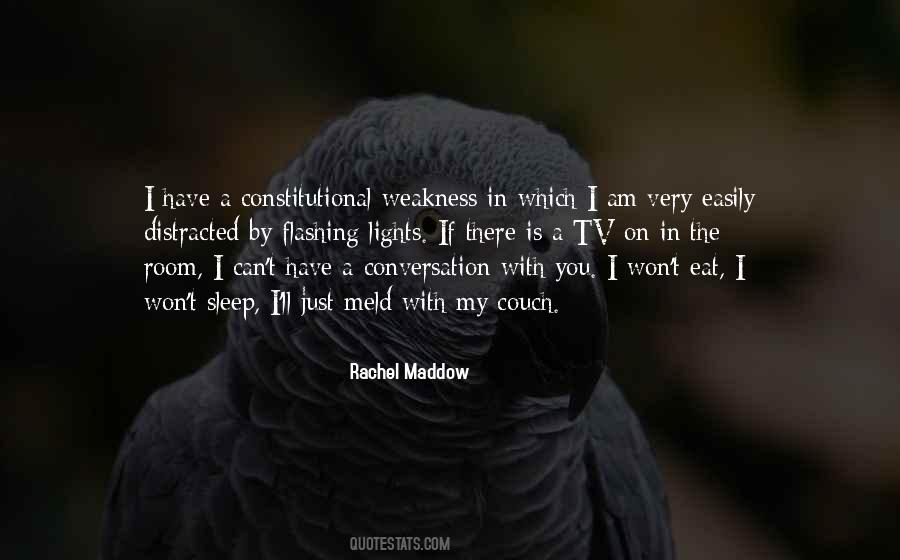 #30. My favorite quote for First Frost is, They give their hearts away too easily and get distracted by silver-eyed strangers.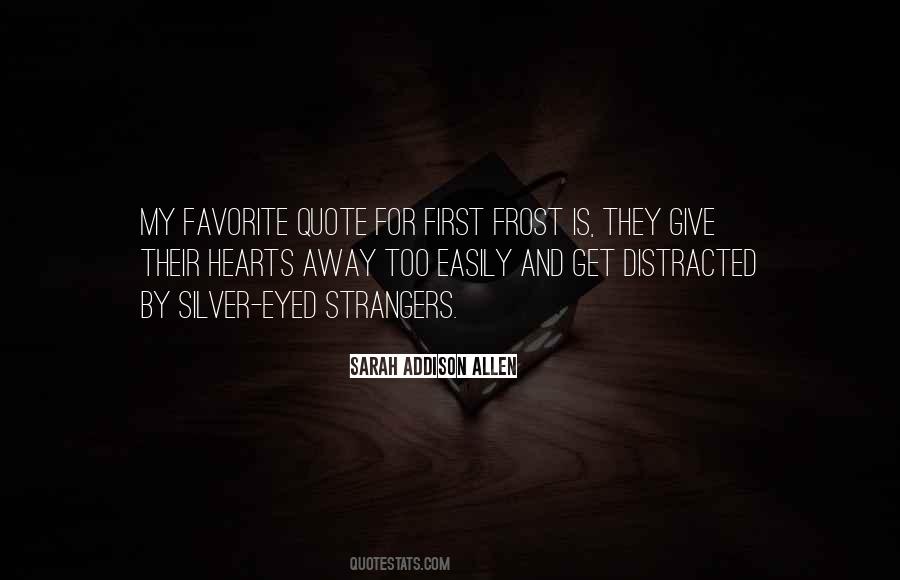 #31. You're easily distracted by the pattern of the cloth and can't see the quality of the threads.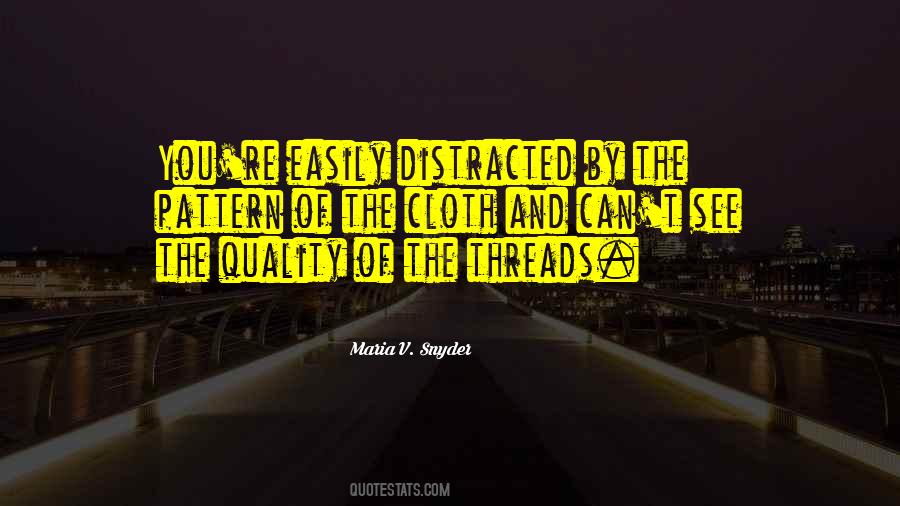 #32. I've never had WiFi at home. I'm too easily distracted, and YouTube is too tempting.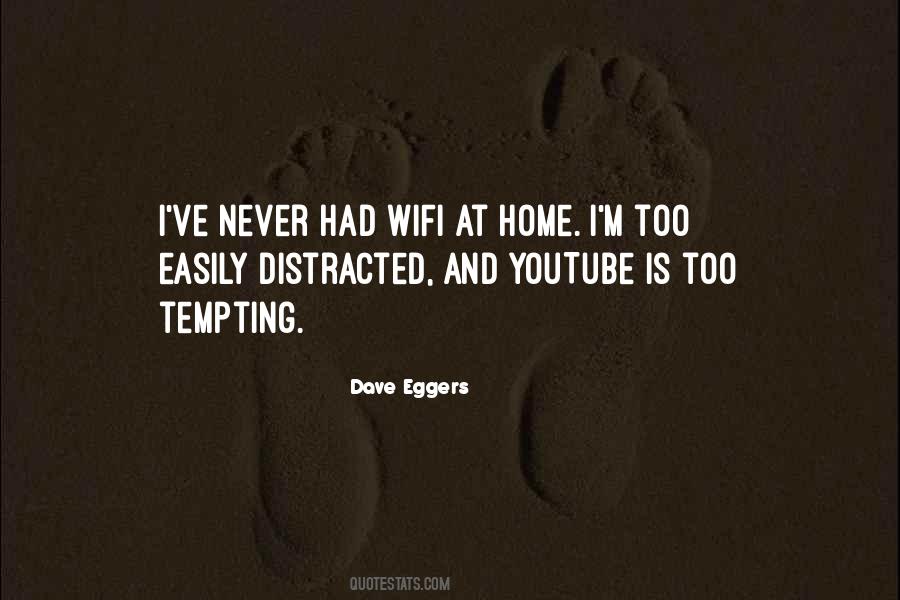 #33. I sometimes read on the subway, but I'm a hopeless eavesdropper and get easily distracted by strangers' conversations.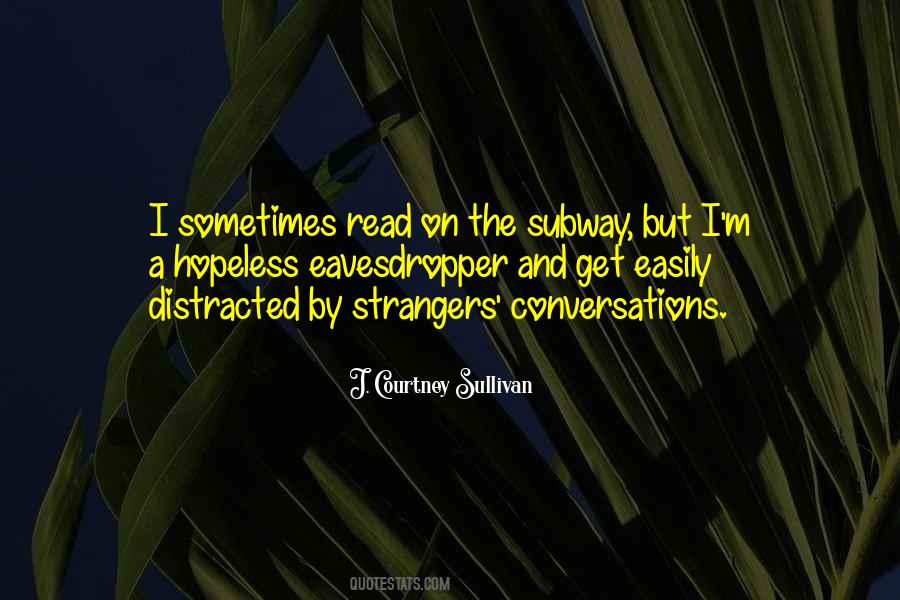 #34. I don't think we realise just how fast we go until you stop for a minute and realise just how loud and how hectic your life is, and how easily distracted you can get.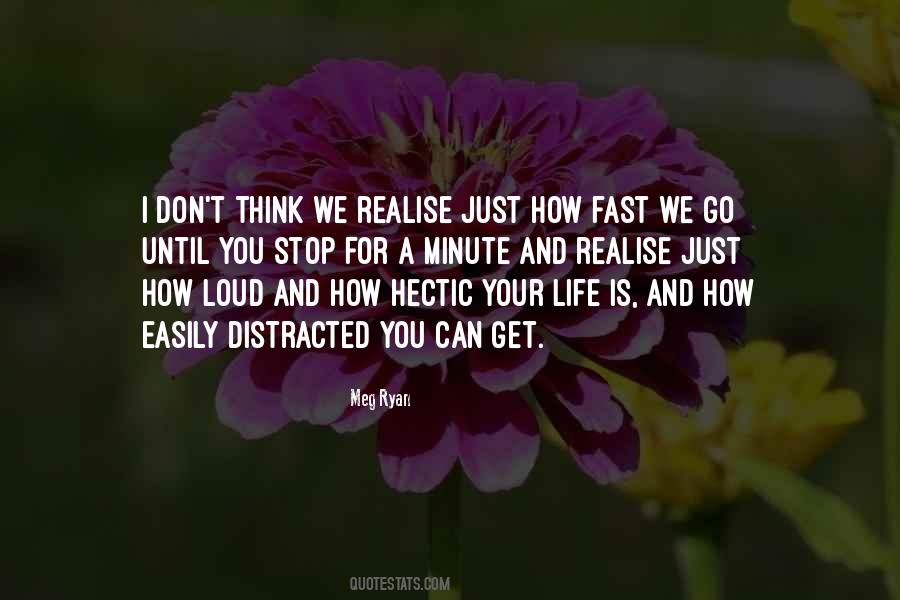 #35. How easily we become distracted by beauty. It's quite sad. If only we could close our eyes and become attracted to what's on the inside," he said flatly.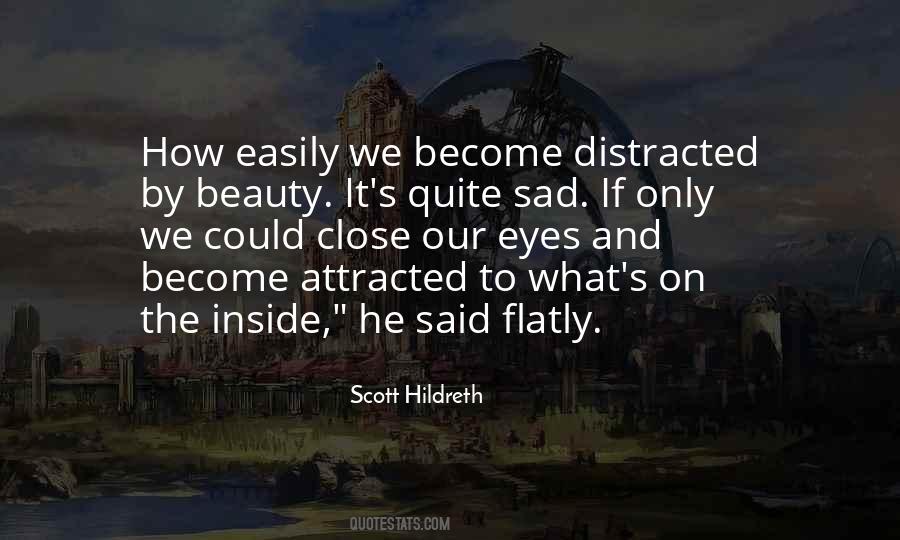 #36. I aggressively run into things, back up into things, have no depth perception, often forget which buttons and knobs do what, and am easily distracted. But enough about my sex life! Back to my driving skills!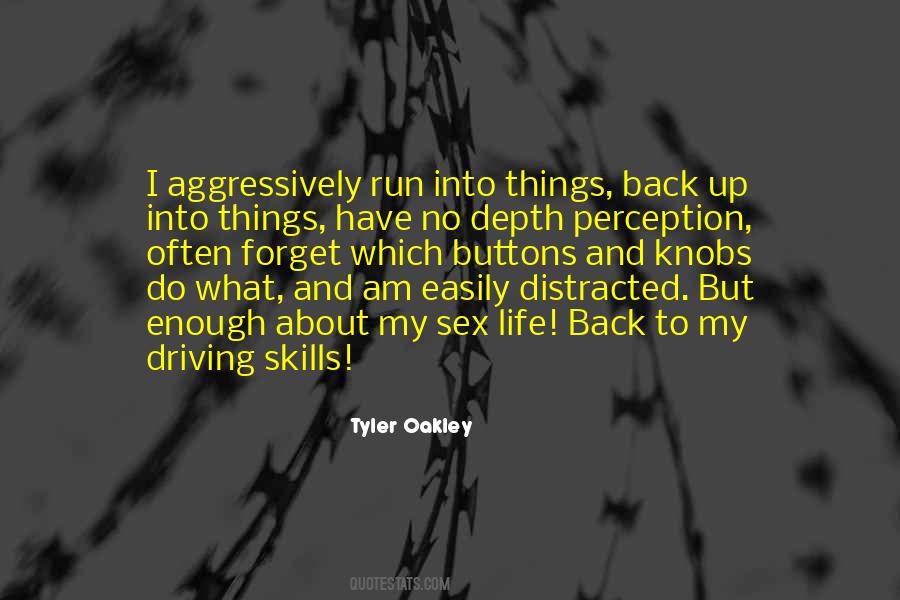 #37. You certainly are a repository of useless information. How do you know all that?' David asked, with more amusement than admiration.
'I have a mind like a magpie's, easily distracted by interesting odds and ends,' Ramses admitted.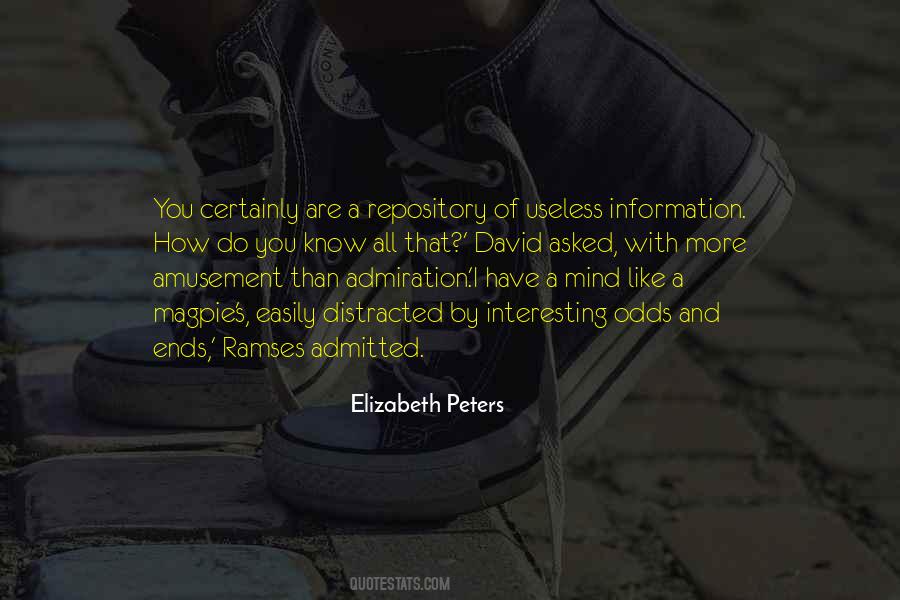 #38. We are probably the most frustrating band to soundcheck because we always go off on jams and our sound-man is sitting there going: "oh god, I don't want to interrupt this, but ... we've got to get things moving along ... " We're just easily distracted because we want to be writing all the time!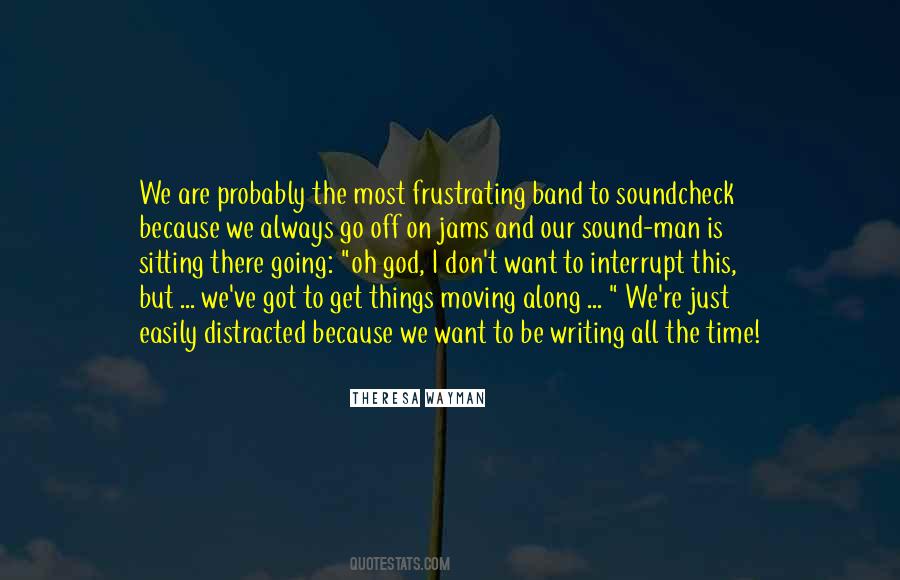 #39. People without clear vision are easily distracted, have a tendency to drift from one idea to another and often make foolish decisions that rob them of their dreams.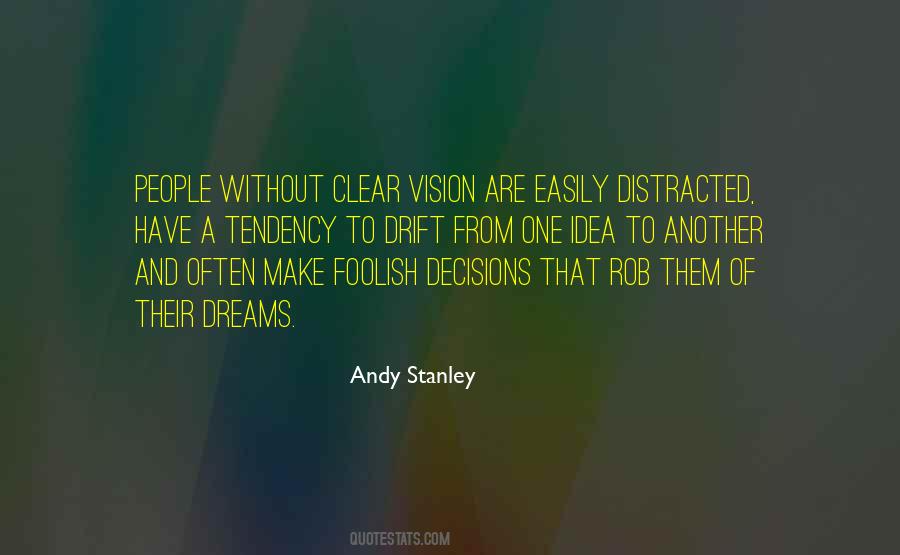 Famous Authors
Popular Topics