Creativity Inspiration Famous Quotes & Sayings
List of top 100 famous quotes and sayings about creativity inspiration to read and share with friends on your Facebook, Twitter, blogs.
Top 100 Creativity Inspiration Quotes
#1. From the tattered edges of an exhausted mind, inspiration blooms ... mental filters disintegrate and walls crumble, as the ocean of creativity washes over everything. - Author: Jaeda DeWalt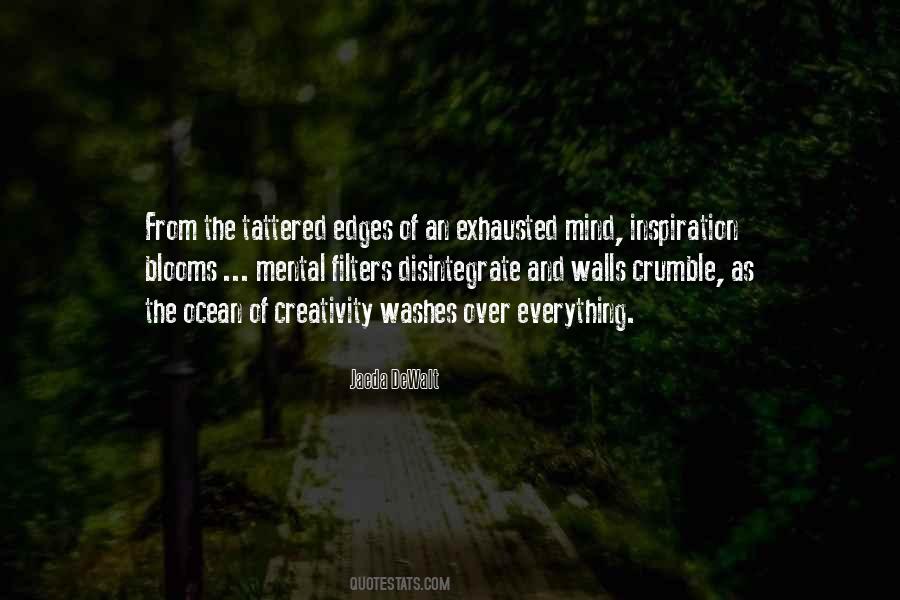 #2. If your creation is taking 99% perspiration, it stinks and you need more inspiration. - Author: Kelly Bryson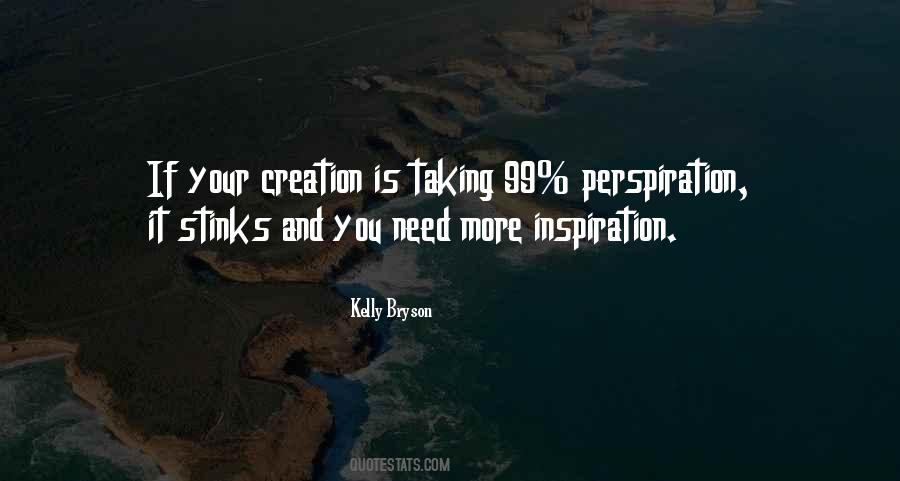 #3. We are never more creative than when we are at odds with the world and there is nothing so artistically destructive as comfort. Princess Leia taught me that. - Author: Simon Pegg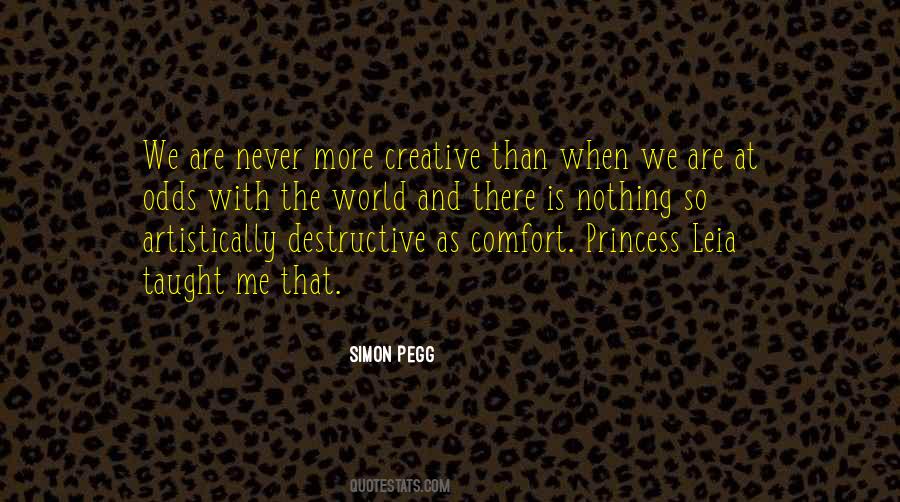 #4. Think of yourself as a brand. You need to be remembered. What will they remember you for? What defines you? If you have it in you, do something that defines you. Invent something, develop a unique skill, get noticed for something - it creates a talking point. - Author: Chris Arnold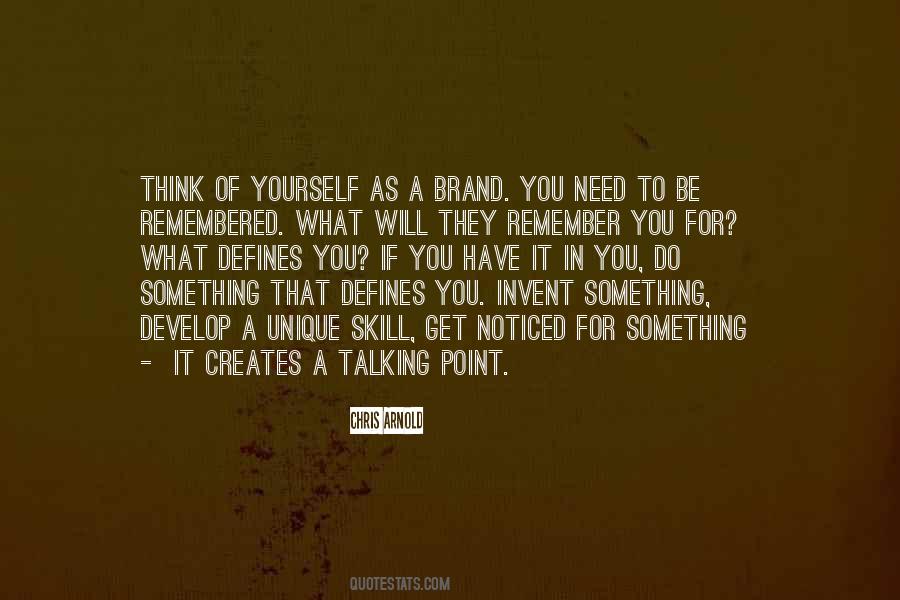 #5. Creative minds doesn't get tired. - Author: Amit Kalantri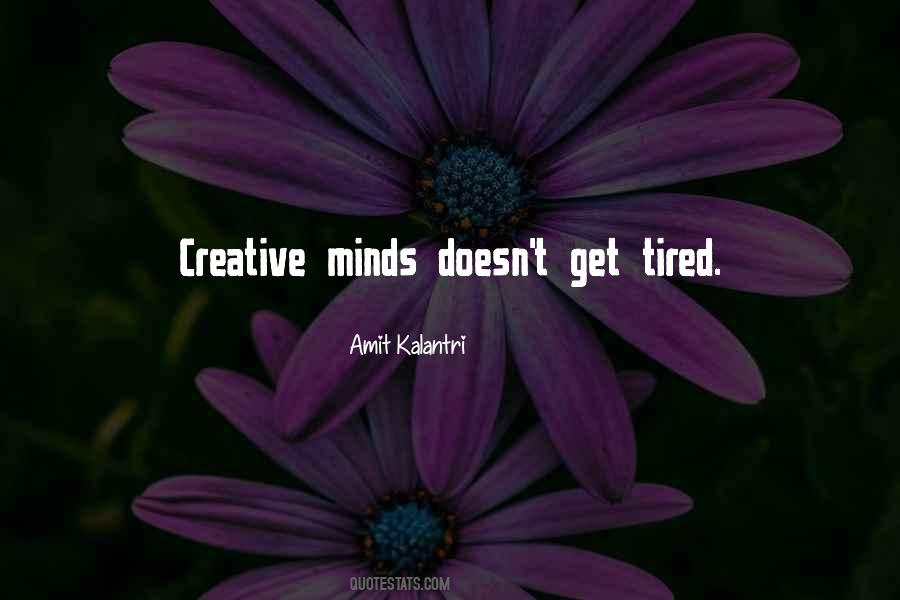 #6. Writers and artists know that ethereal moment, when just one, fleeting something
a chill, an echo, the click of a lamp, a question - -ignites the flame of an entire work that blazes suddenly into consciousness. - Author: Nadine C. Keels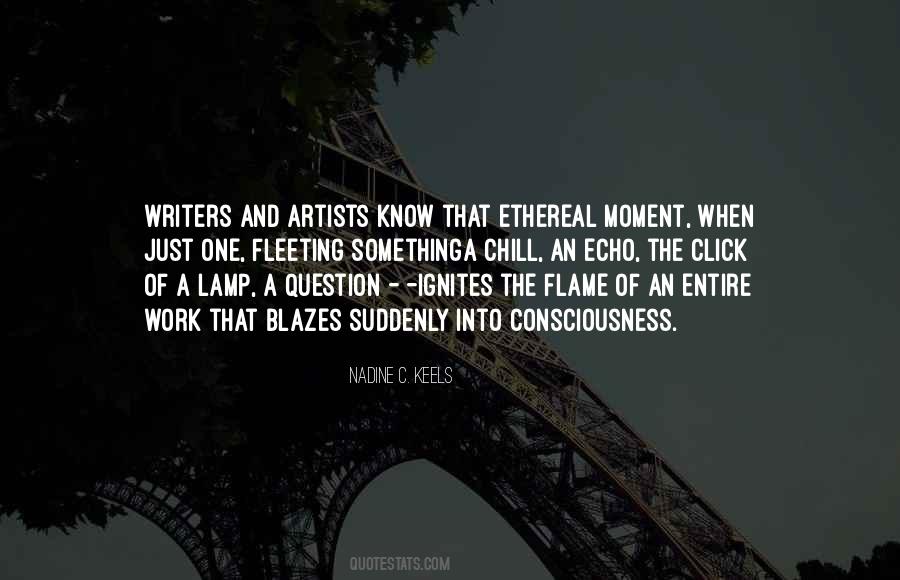 #7. Don't squash creativity, inspire it! - Author: Shellie Palmer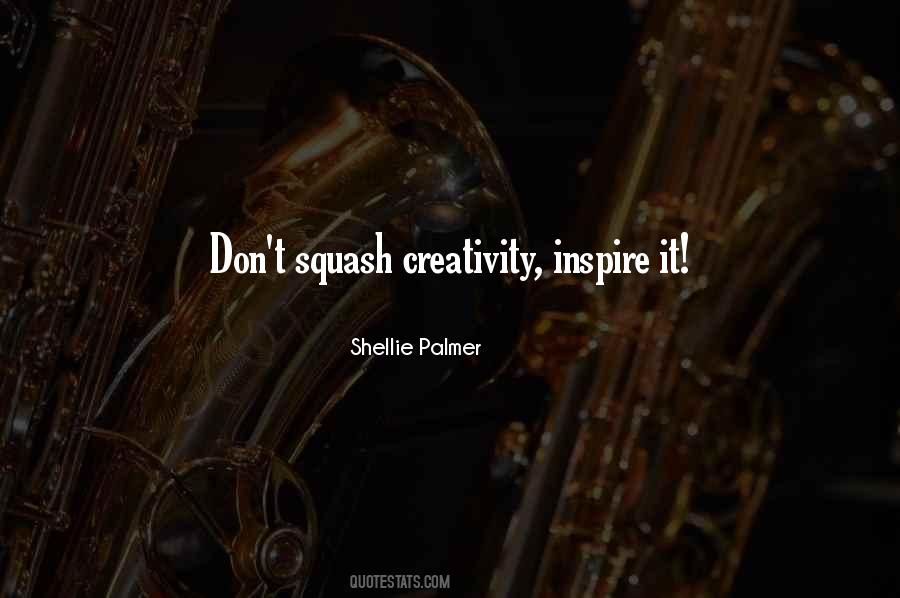 #8. There are no rules to creativity. - Author: Laura Jaworski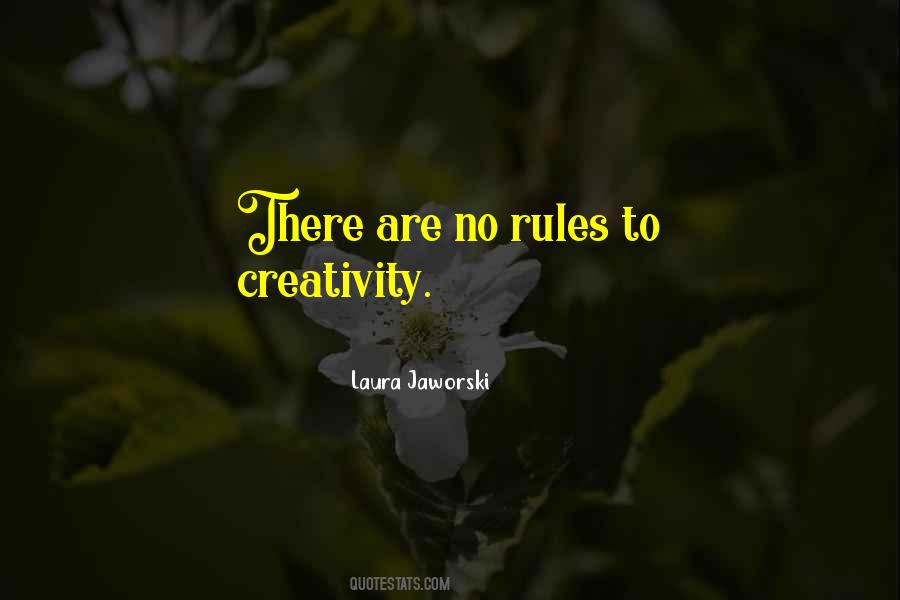 #9. God is the creator, so for that human creativity is a work of Divine. - Author: Petra Remes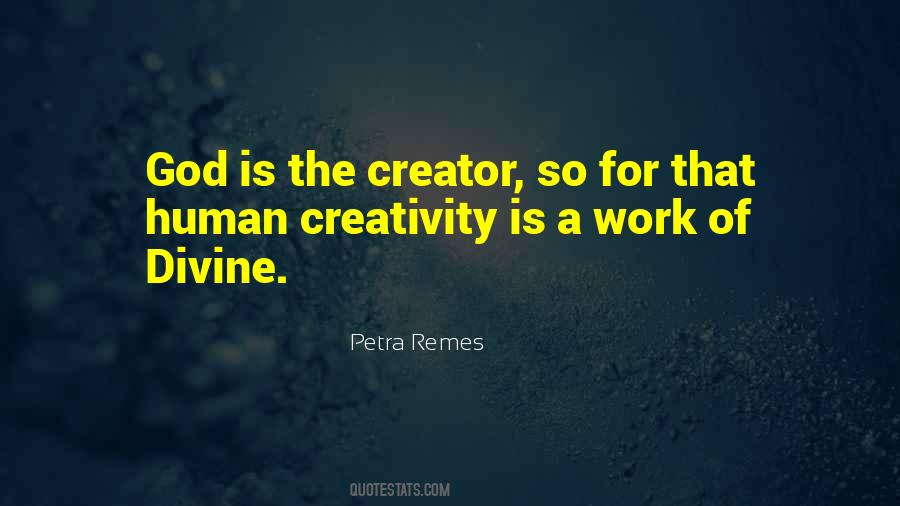 #10. Inspiration fans the flame of creation. - Author: Ka Chinery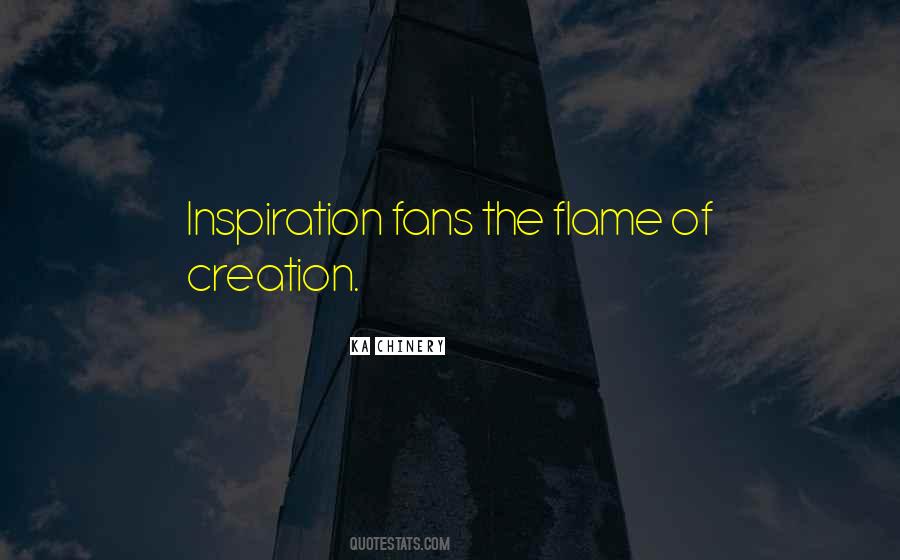 #11. Creation and Free Will are constantly moving, hand in hand, like children traveling along a path full of impulses and inspirations.Through the use of the Dragonflame philosophy they become superior artistic beings able to enjoy and share the fruits of creative labor. - Author: Lawren Leo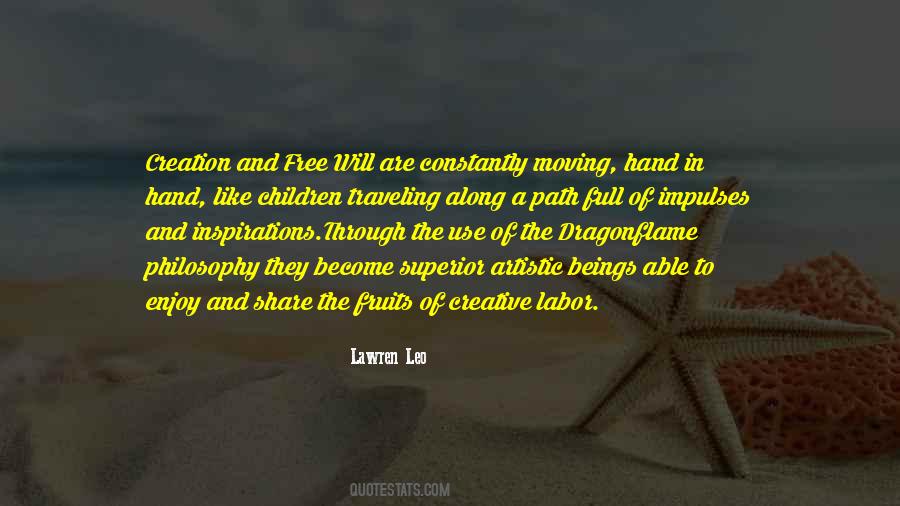 #12. Creativity is a muscle, and when we flex the muscle of our imagination, we find inspiration. - Author: Inbar Shahar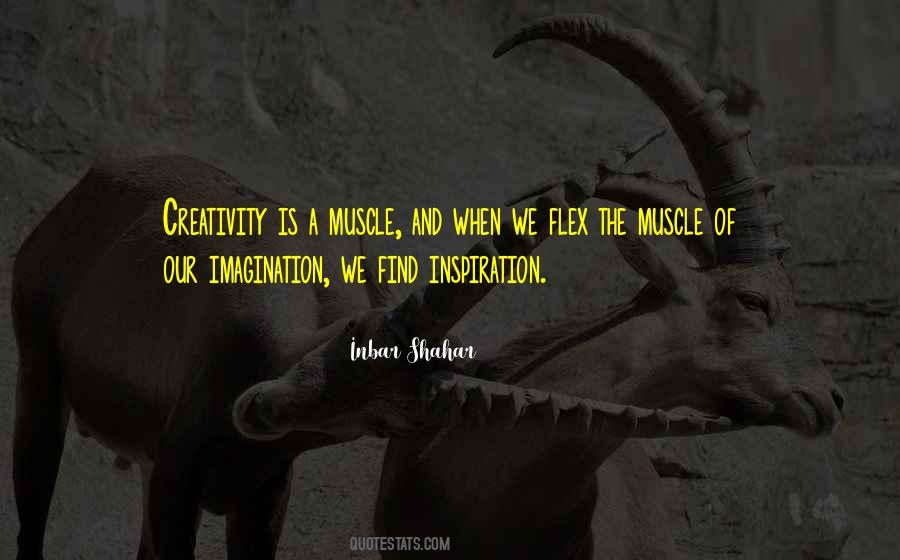 #13. The central point of the work of art is the work as origin, the point which cannot be reached, yet the only one which is worth reaching. - Author: Maurice Blanchot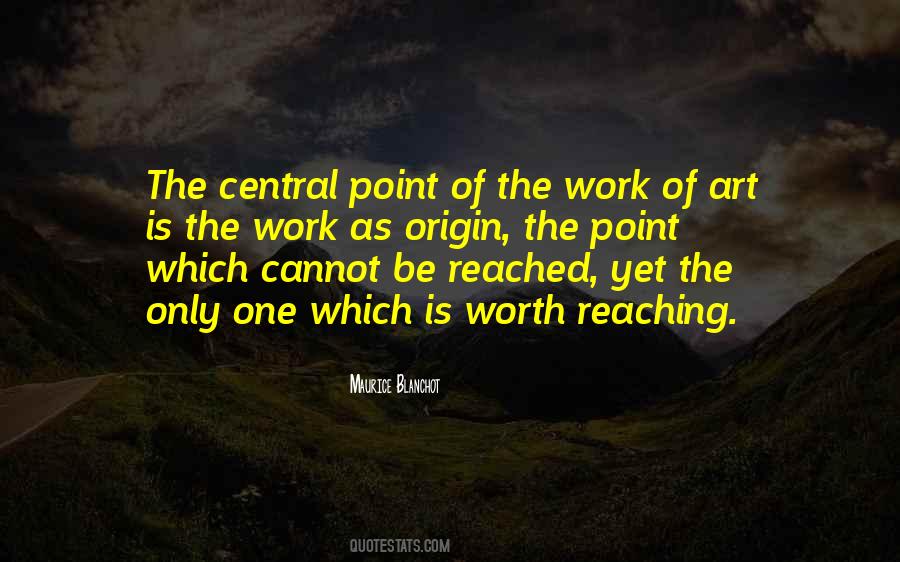 #14. Your ingenuity will remain dormant until it is provoked - Author: Bernard Kelvin Clive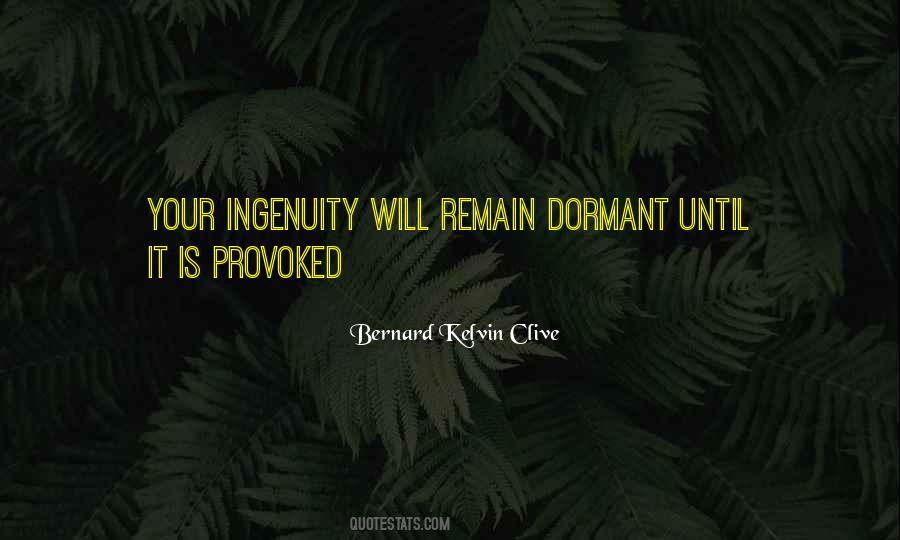 #15. The creative strength is good enough and deep enough to bring itself to flower and to grow in spite of this sickness. - Author: Joanne Greenberg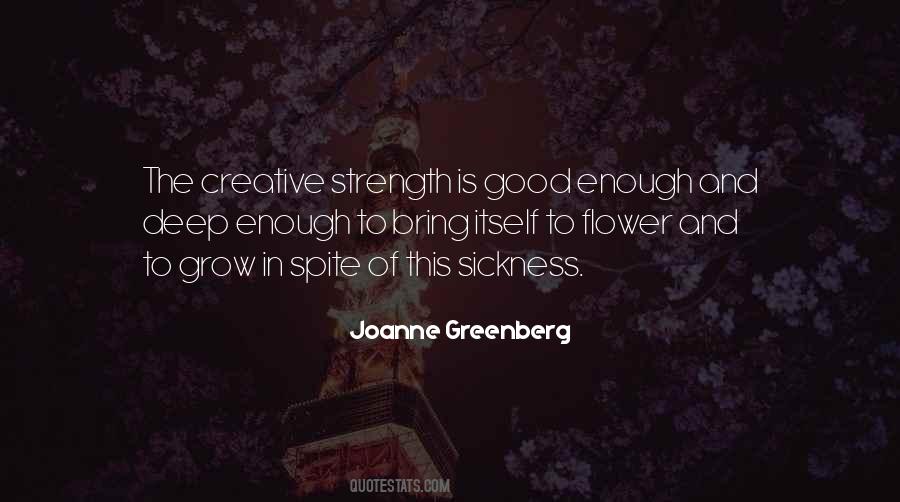 #16. Art must be an expression of love or it is nothing. - Author: Marc Chagall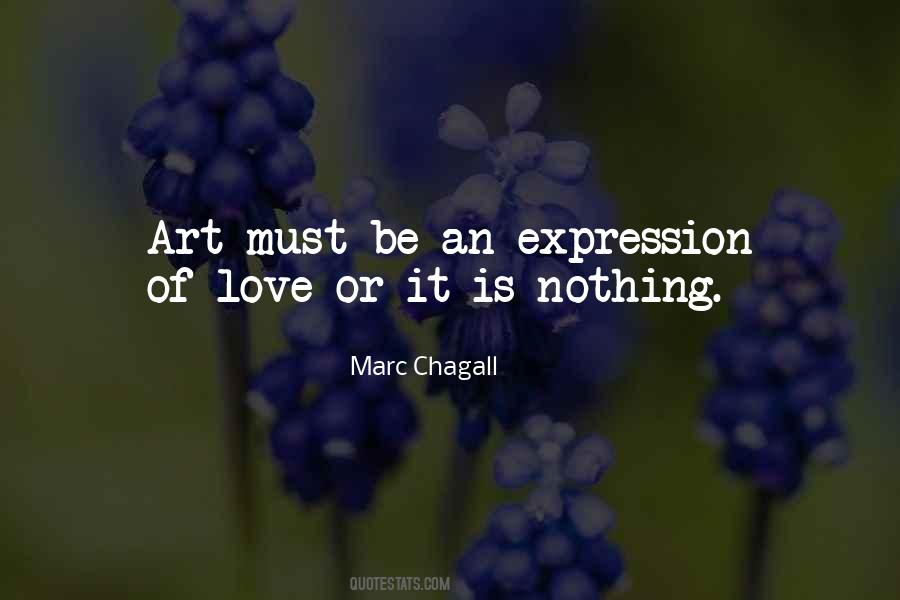 #17. It is all about technique. The great mistake of this century is to put inspiration and creativity first. - Author: Vivienne Westwood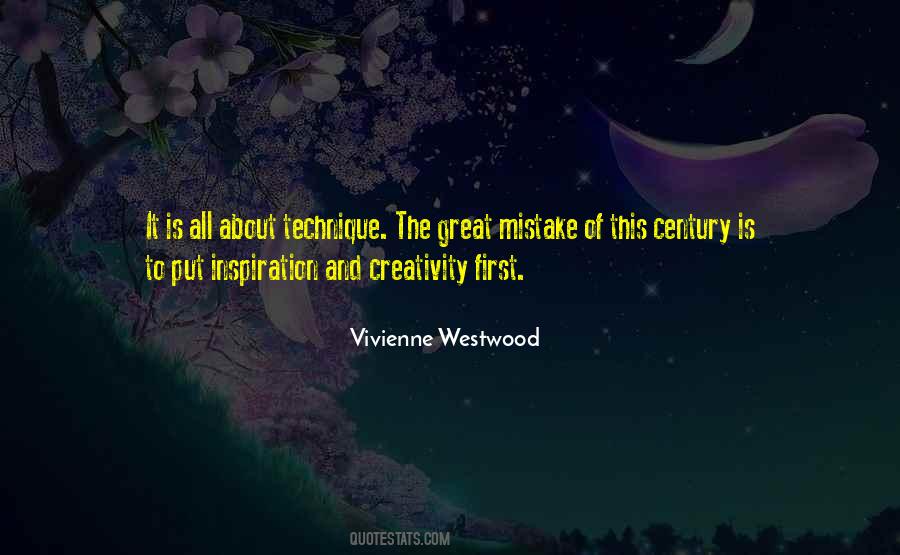 #18. One of the tutors let it slip when we were talking about the difference between revelation, inspiration, creativity and madness. How can we know which is which? - Author: James Runcie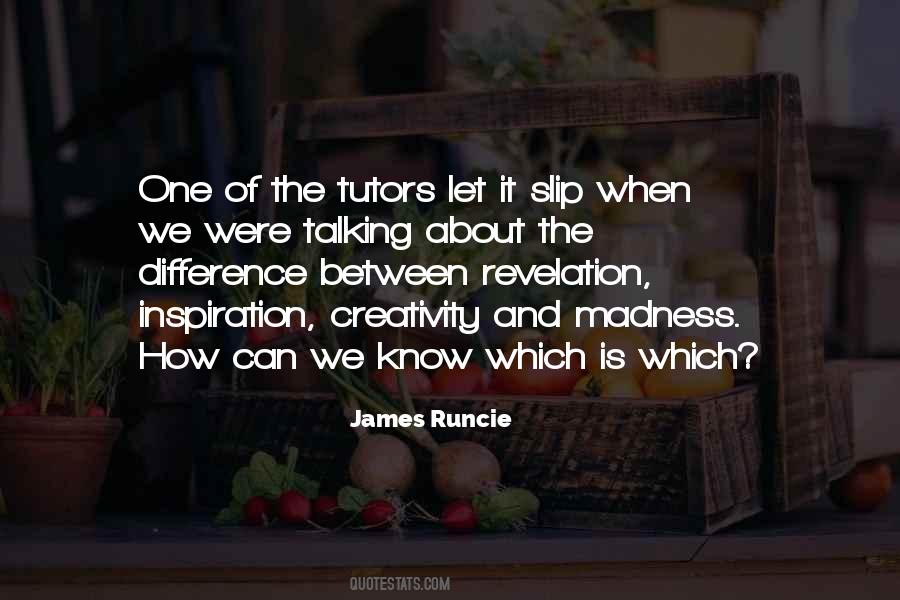 #19. I am my own experiment. I am my own work of art. - Author: Madonna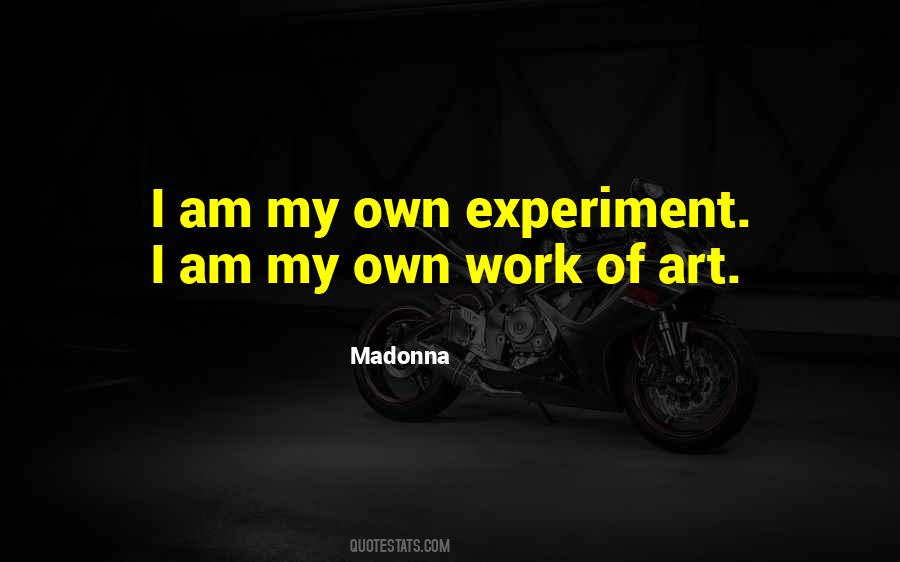 #20. An artist without ideas is a mendicant; barren, he goes begging among the hours. - Author: Irving Stone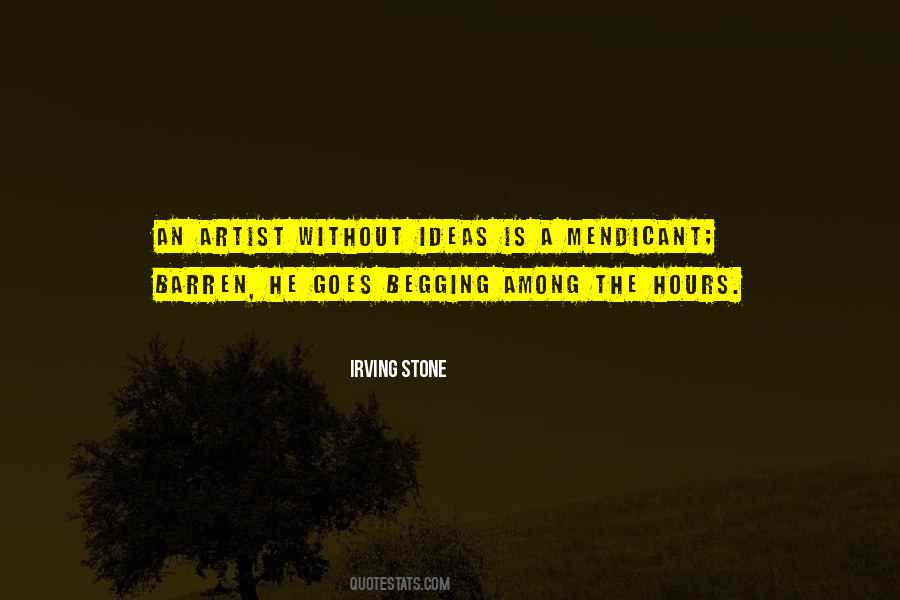 #21. Creativity is more important than imagination because it requires action. - Author: Matthew Donnelly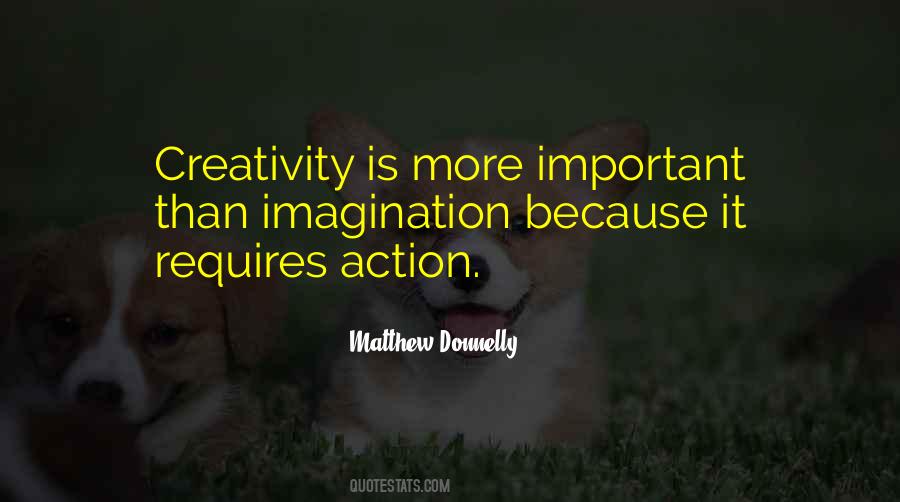 #22. Read deeply. Stay open. Continue to wonder. - Author: Austin Kleon
#23. For one person, organized files might be a crucial tool for creativity; another person finds inspiration in random juxtapositions. - Author: Gretchen Rubin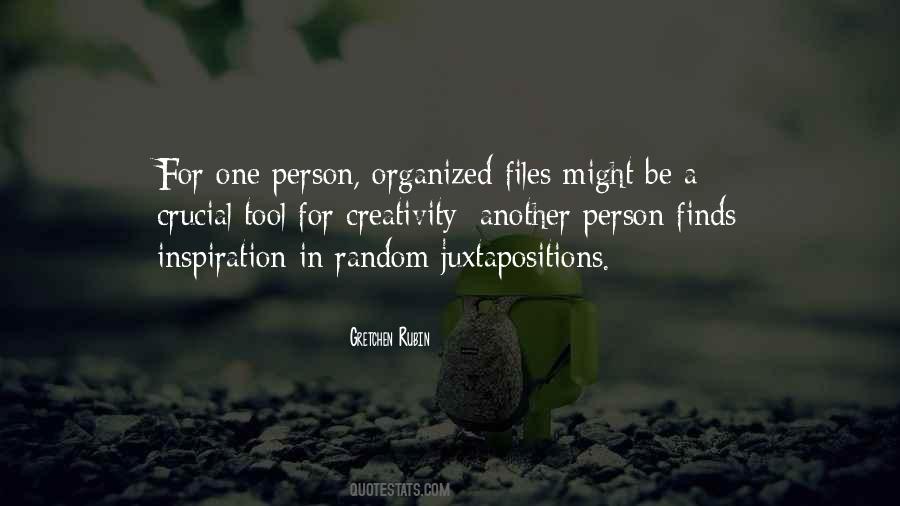 #24. A lot of people mock fandom and fan fiction, like it's lazy to base your own creativity and passion on someone else's work. But some of us need a stepping-stone to start. What's wrong with finding joy in making something, regardless of the inspiration? - Author: Felicia Day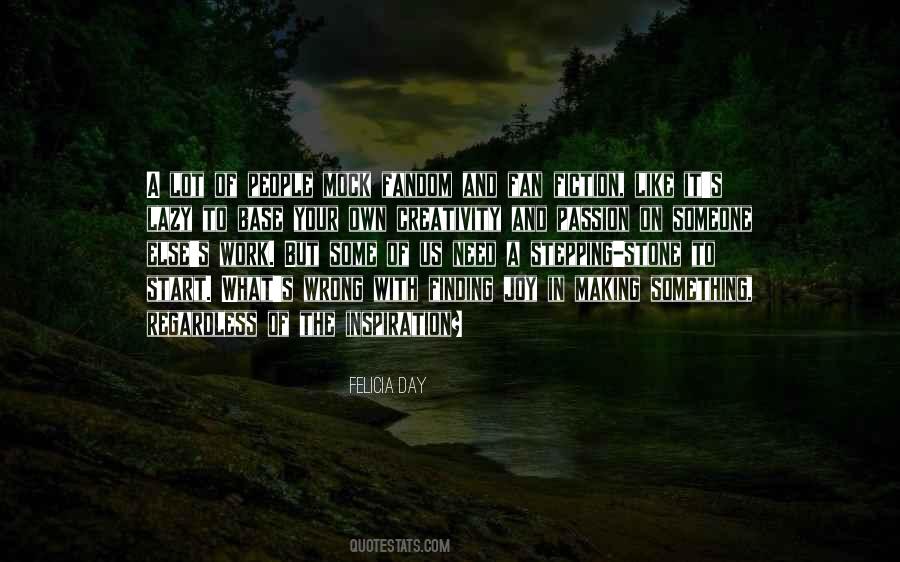 #25. Life is filled with opportunities. Be courageous and fulfill your destiny. You were created for a purpose and once you realize your potential, you become unstoppable. Let no one get in the way of you pursuing your dreams. - Author: Amaka Imani Nkosazana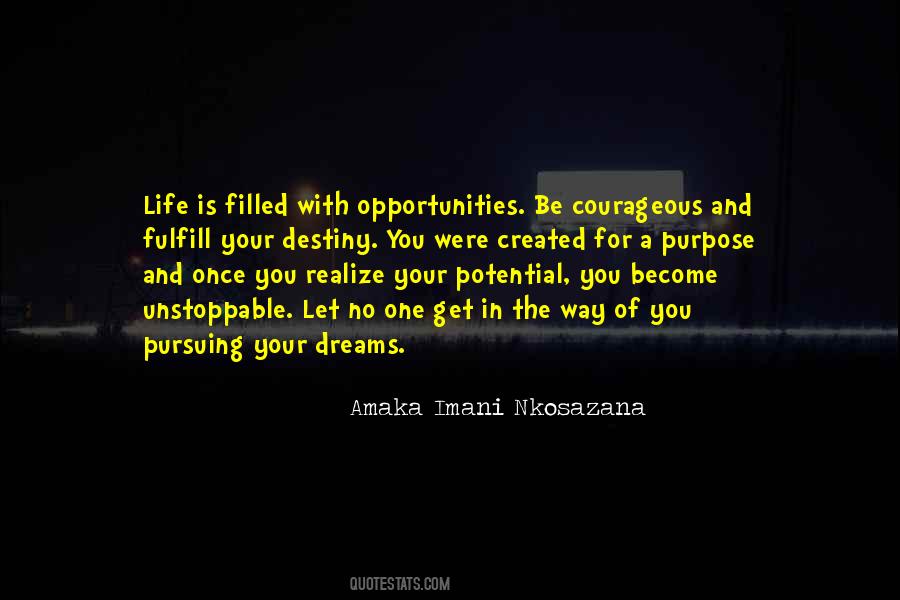 #26. Misinterpretation leads me to inspiration and creativity because I think my brain is trying to figure out some information that I'm confused about. - Author: Michel Gondry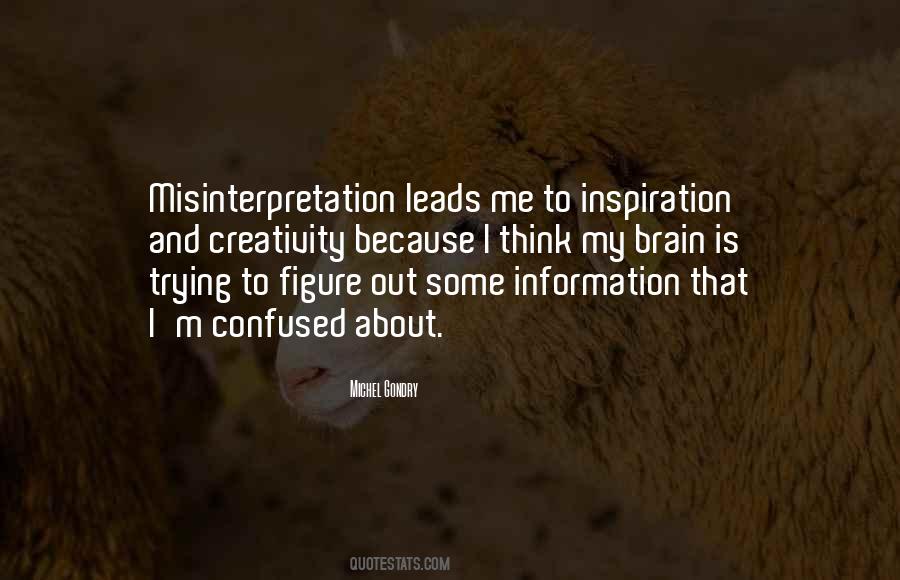 #27. When something comes from within, when it is a part of you, you have no choice but to live it, to express it. - Author: Kamal Ravikant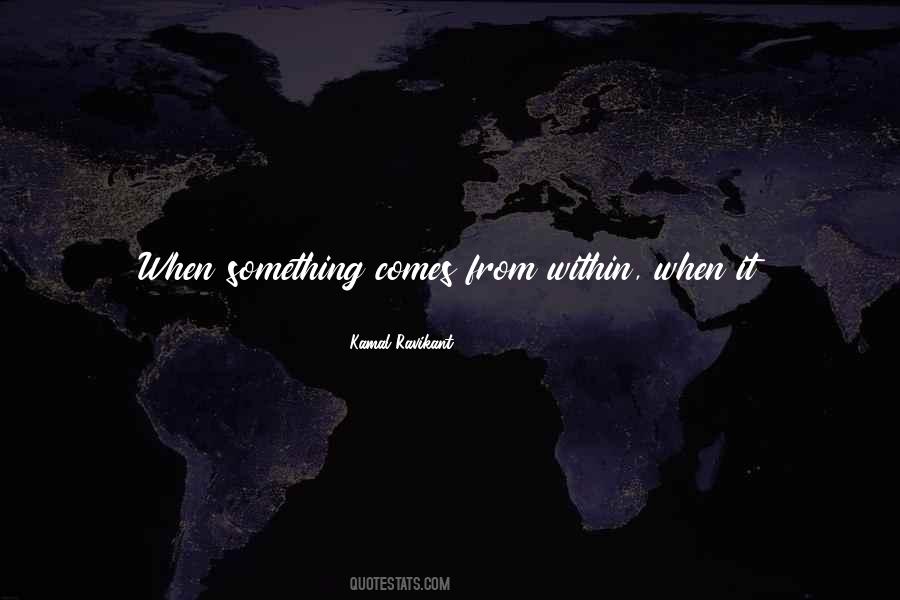 #28. Life is beautiful dream. - Author: Lailah Gifty Akita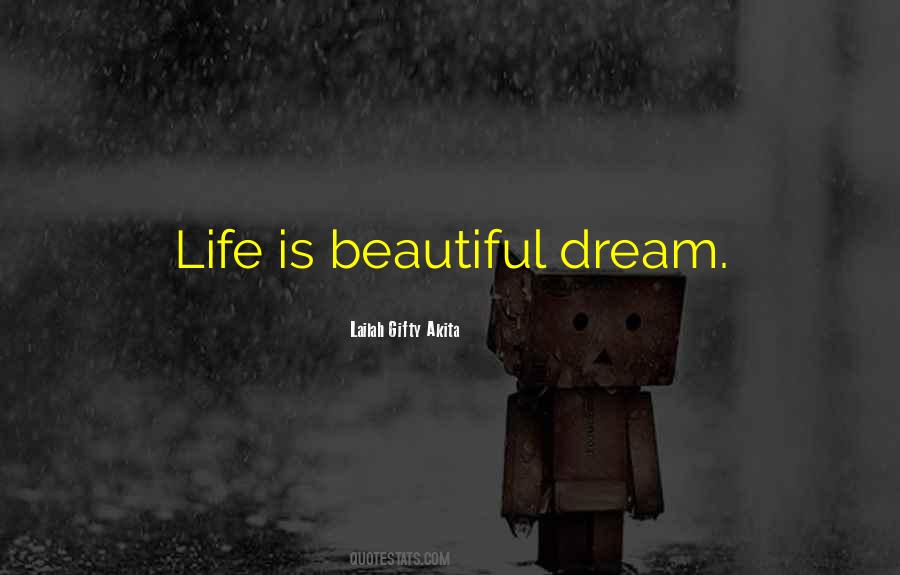 #29. Embrace the creativity and don't care about the result. It's better to be a beginner till the end of the life than waiting forever to be perfect. - Author: Elizabeth Gilbert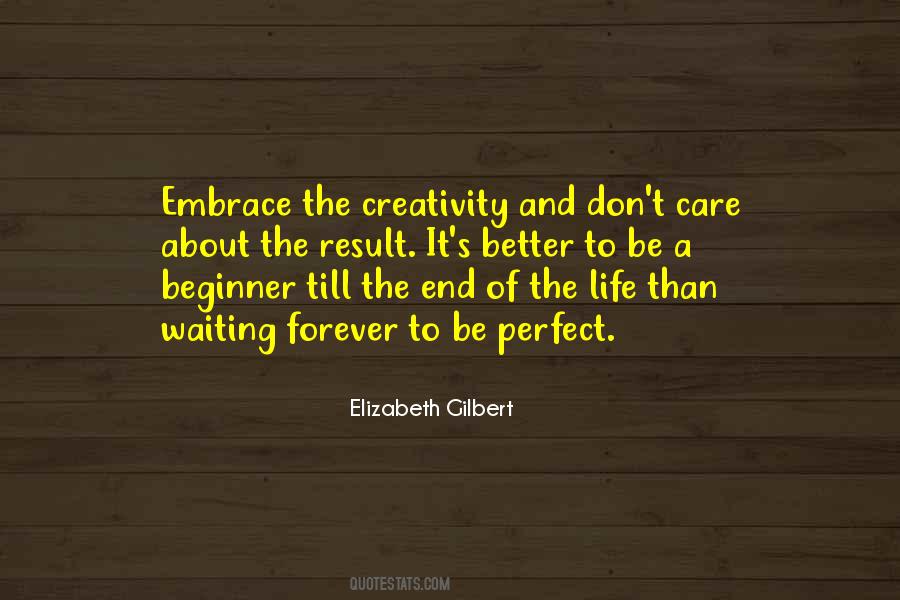 #30. This is the extraordinary thing about creativity: If just you keep your mind resting against the subject in a friendly but persistent way, sooner or later you will get a reward from your unconscious. - Author: John Cleese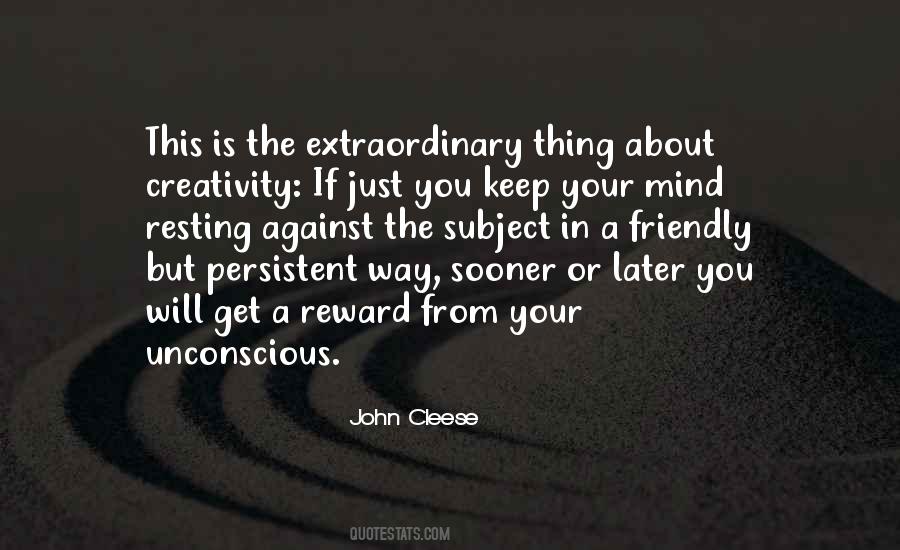 #31. If there was ever a time to create, it is now! - Author: Michele Jennae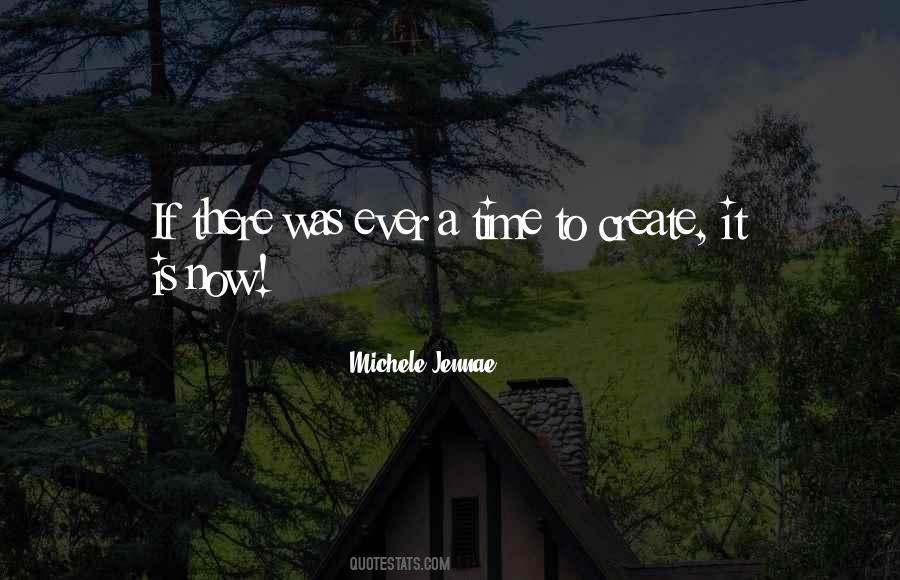 #32. Enthusiasm is excitement with inspiration,motivation, and a pinch of creativity - Author: Bo Bennett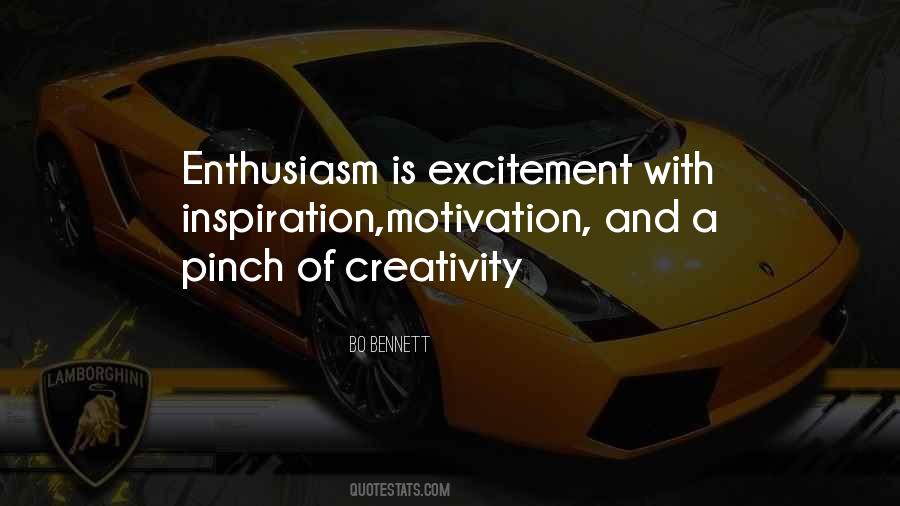 #33. Inspirations never go in for long engagements; they demand immediate marriage to action. - Author: Brendan Francis Brown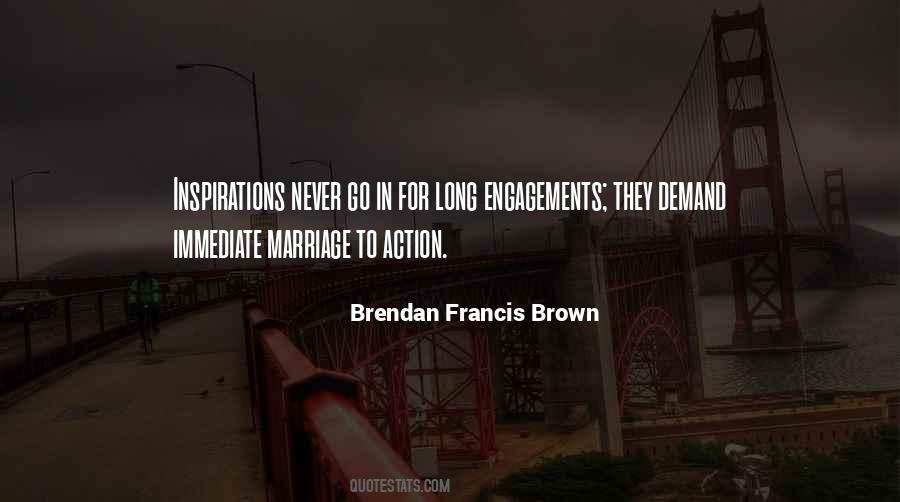 #34. Let your creative and imaginative mind run freely; it will take you places you never dreamed of and provide breakthroughs that others once thought were impossible. - Author: Idowu Koyenikan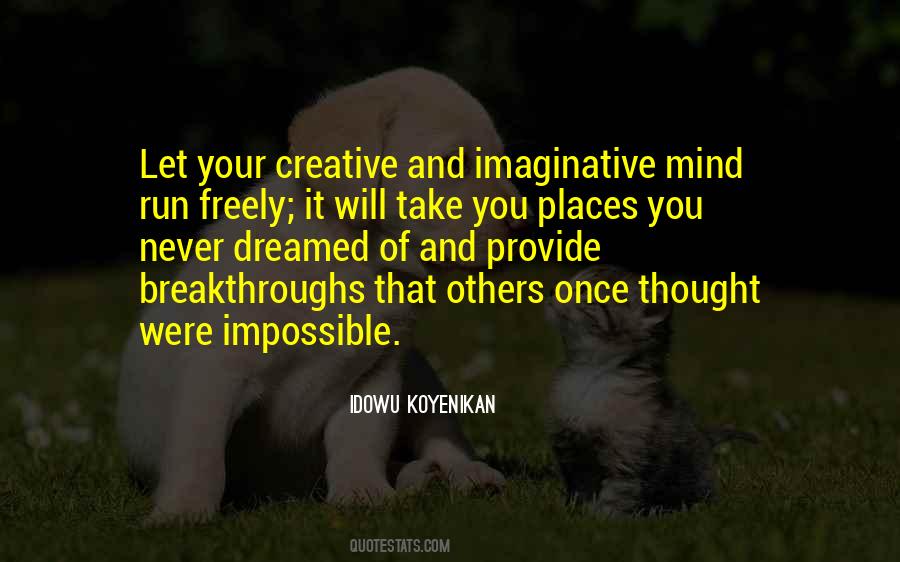 #35. Anything creative requires a bit of acting,and filling in blanks with imagination. - Author: Christina Westover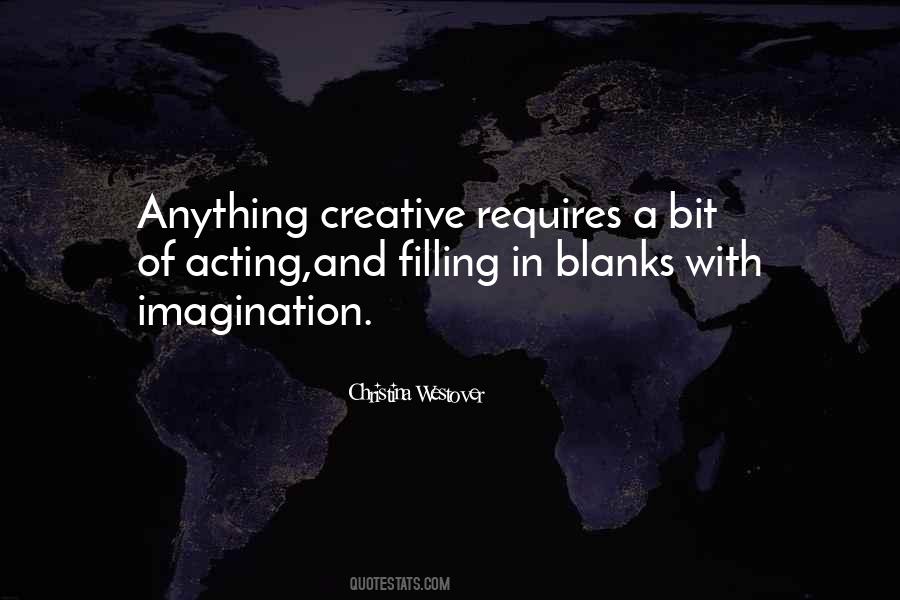 #36. I can't tell you how much I appreciate these young [Israeli] designers. There's too much strife in the world. If we become united in our creativity, not only in what we wear, but what we do, we will change the world. It's truly an honor to be around such inspiration. - Author: Donna Karan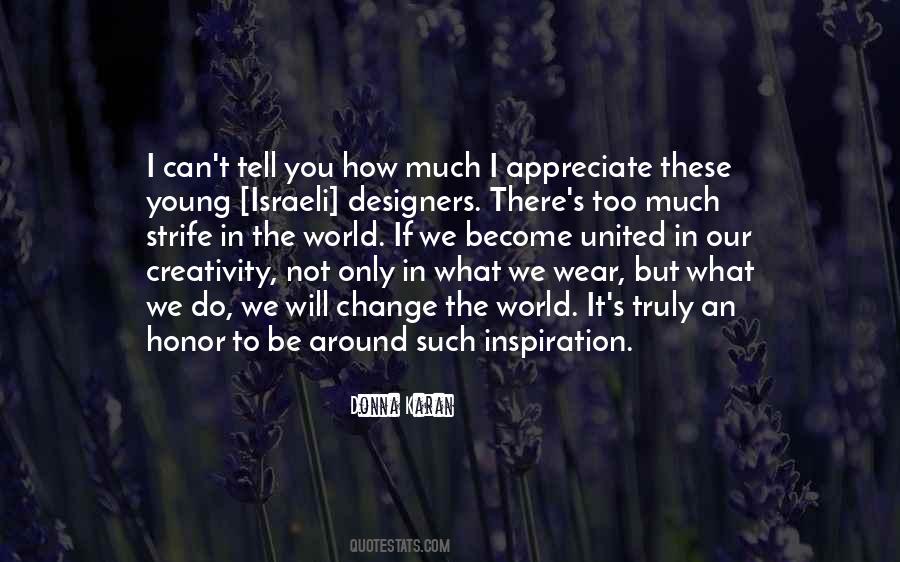 #37. In tough and desperate times when your creativity begs to be birthed, loose the confines of the ground; stand up in your faith and walk atop the waves ... - Author: Stanice Anderson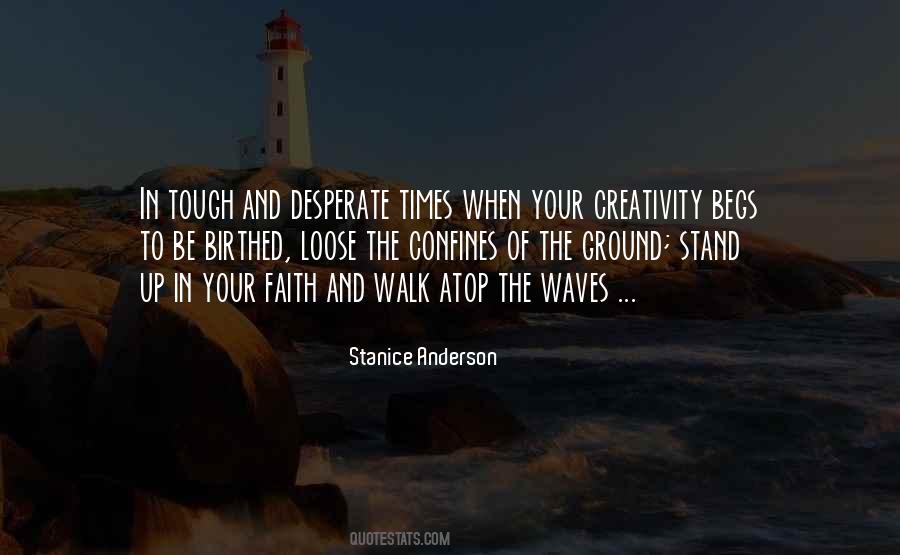 #38. Give a hundred writers the same idea and you'll get a hundred different stories. - Author: Joy Fielding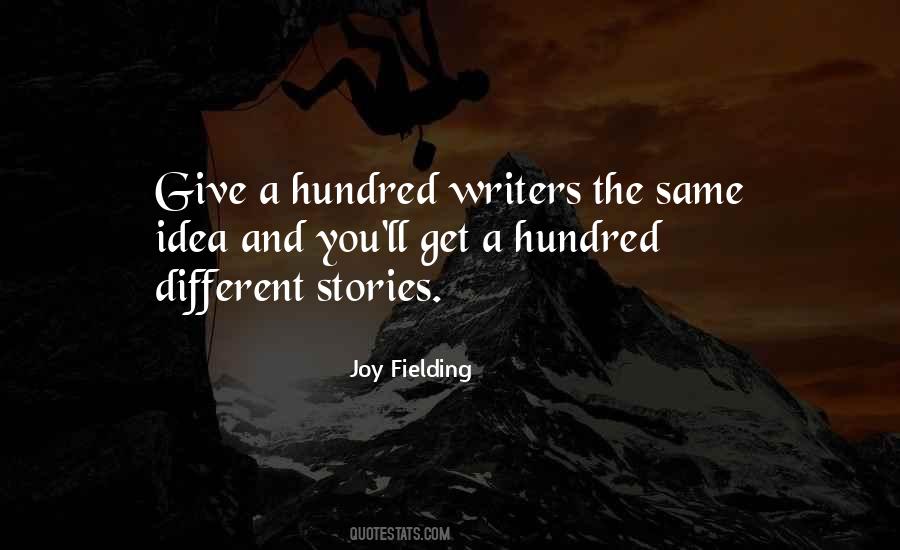 #39. The process of creation can be unpredictable and, in some way, similar to love: the brightest waves of inspiration may sometimes occur in wrong timing, wrong places, or even with wrong people. - Author: Sahara Sanders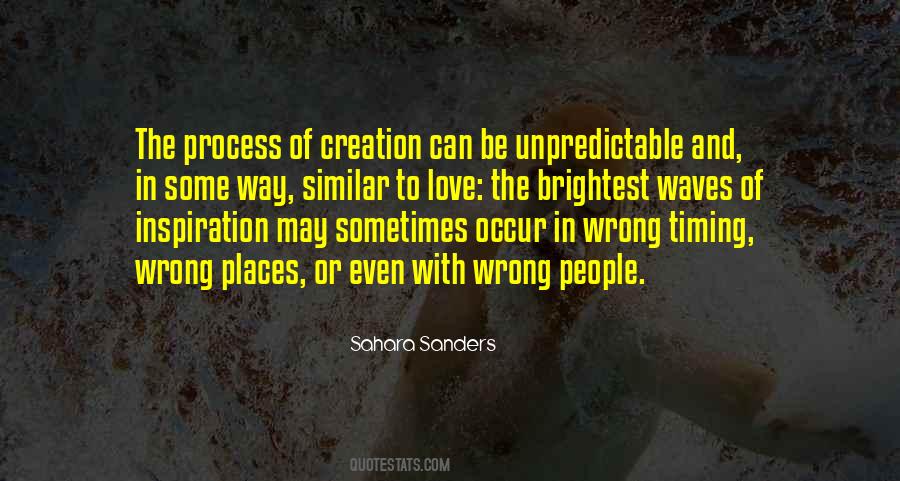 #40. Inspiration awakens our creativity, enables us to do the impossible, and improves our mental efficiency. It fires up the soul. - Author: Farshad Asl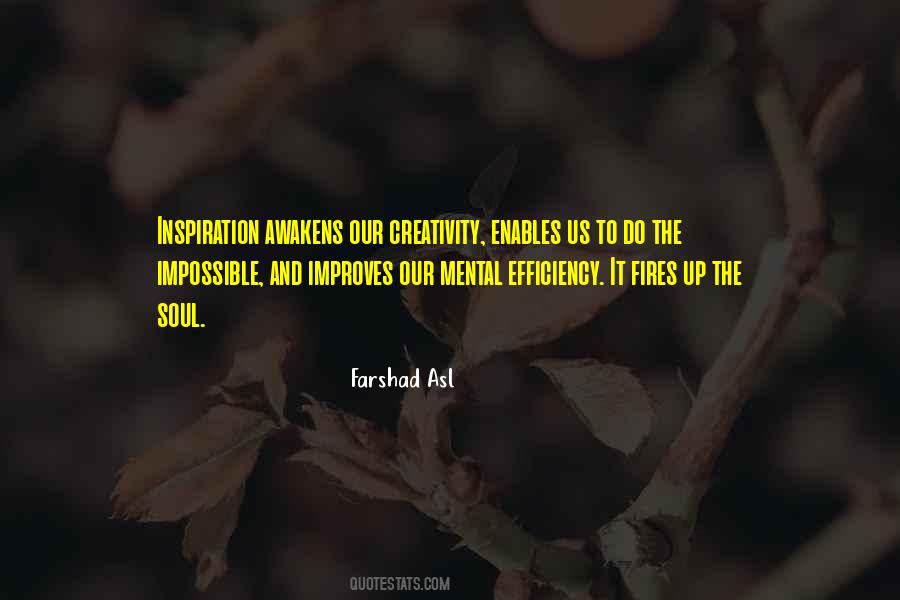 #41. Inspiration comes and goes, creativity is the result of practice. - Author: Phil Cousineau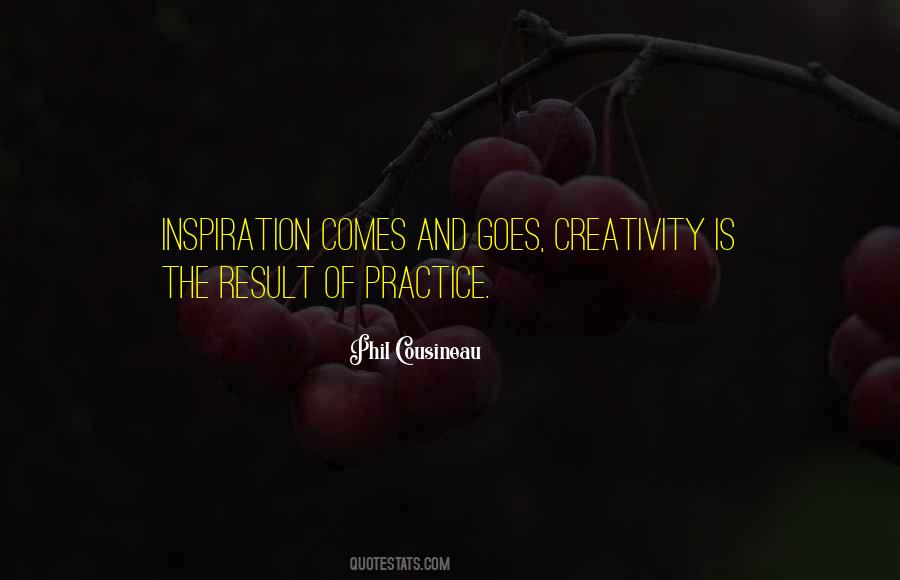 #42. Other things being equal, it is the person who can lift his work up to the plane of the intuitional and inspiration who achieves greatness, both in his work and in his career. - Author: Stanwood Cobb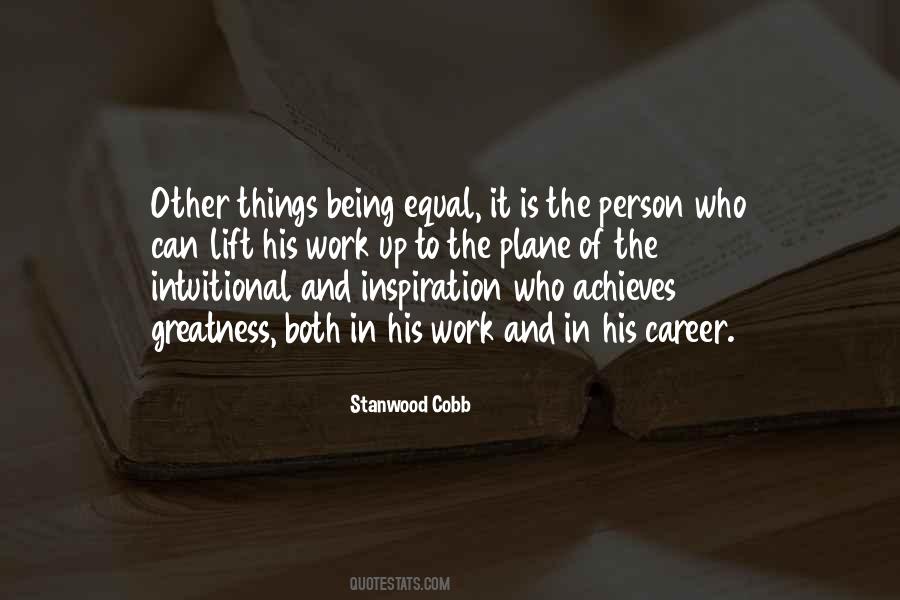 #43. It is the people who innovate that inspire, and innovation is not born of the status quo. - Author: Michele Jennae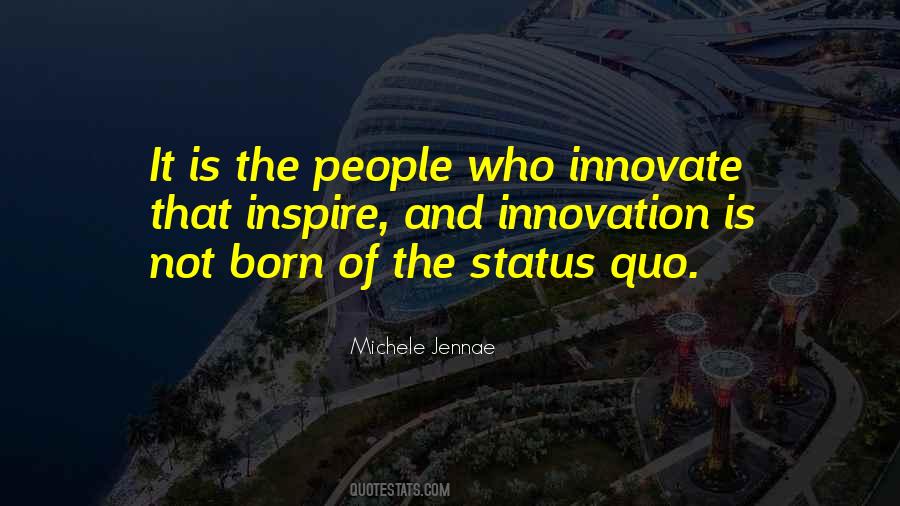 #44. As a writer, I see the saga of your life in a single glimpse. It may be inaccurate, but my version doesn't lack for creativity. - Author: Richelle E. Goodrich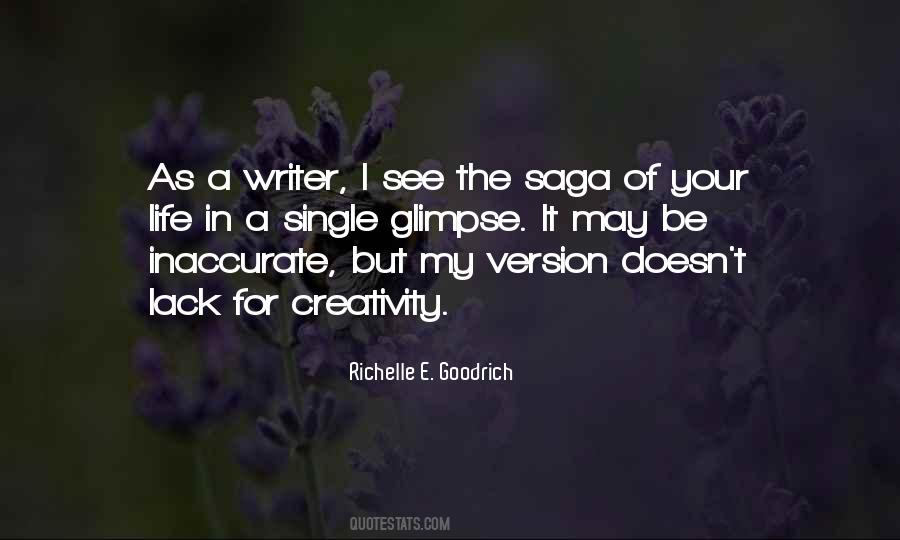 #45. Persecution inspires men who otherwise would have remained dormant. As pain whips the painter, his brush whips the canvas. - Author: Matshona Dhliwayo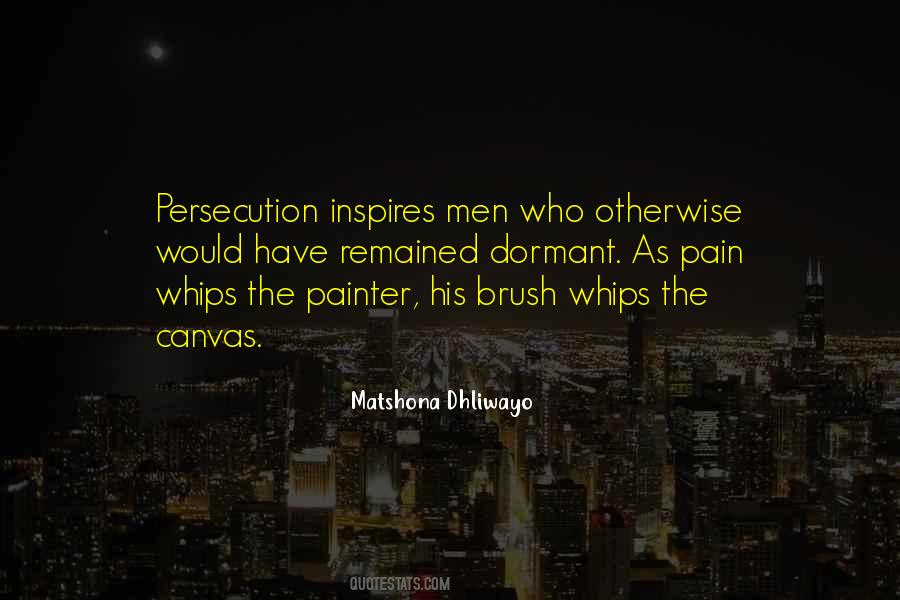 #46. I spoke fire, laughed smoke, and madness spilled forth from my inspiration. - Author: Arthur Holitscher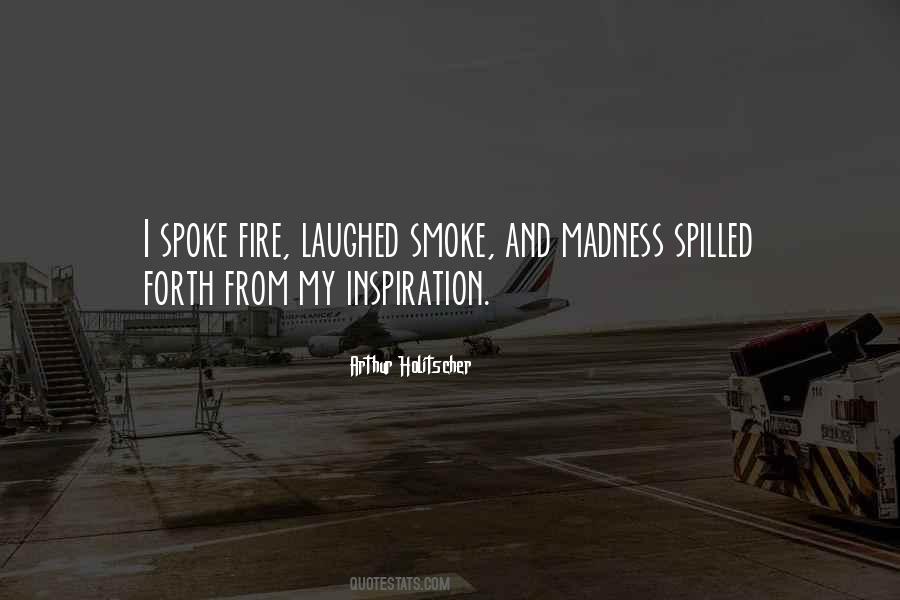 #47. It has been my personal experience that as I allow the painting to speak I become lost, it is delicious and at the same time frightening. The best ones, to me, have a life of their own. - Author: Luther E. Vann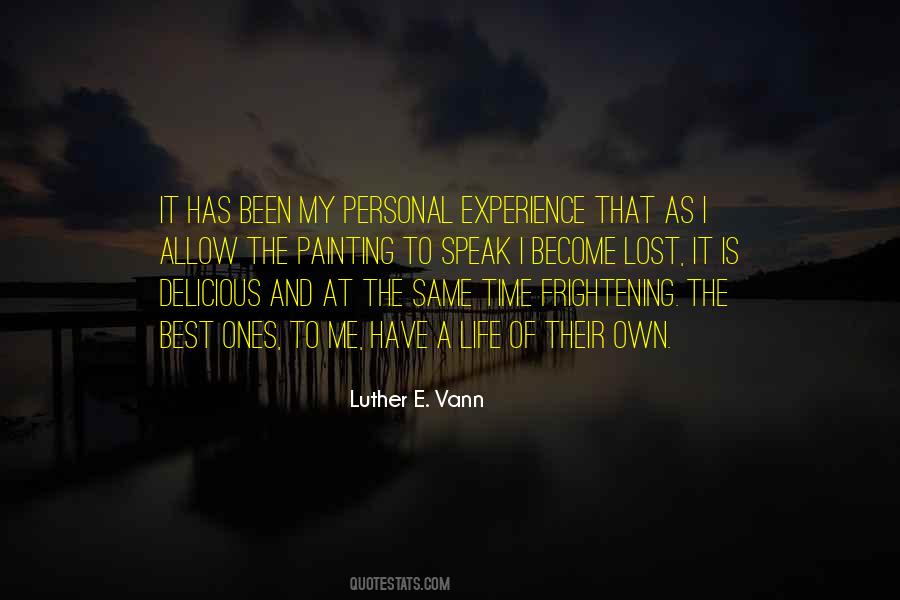 #48. Q: What is creativity? A: The relationship between a human being and the mysteries of inspiration. - Author: Elizabeth Gilbert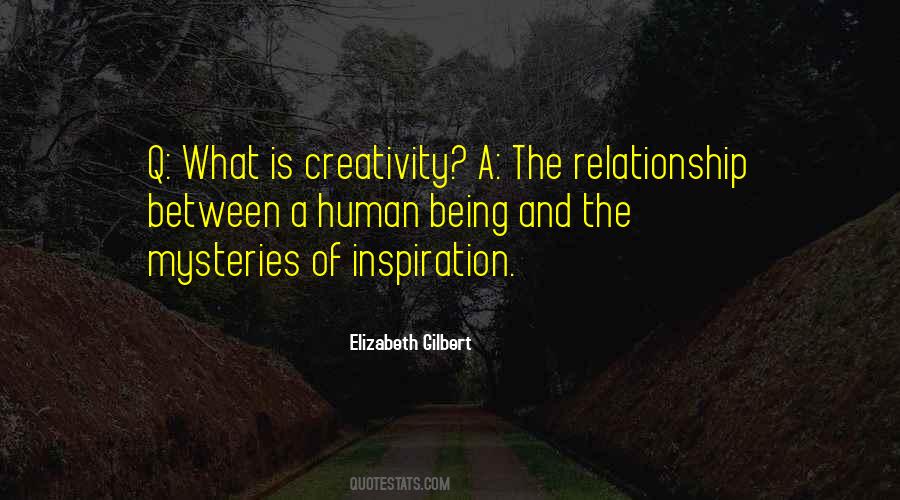 #49. Surprise is where creativity comes in. - Author: Ray Bradbury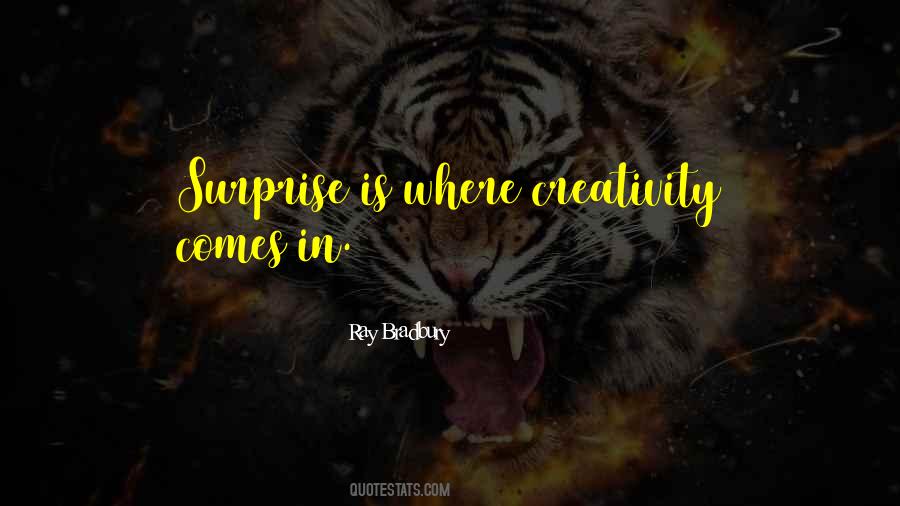 #50. The spirit of an artist's gifts can wake our own. - Author: Lewis Hyde "The Gift"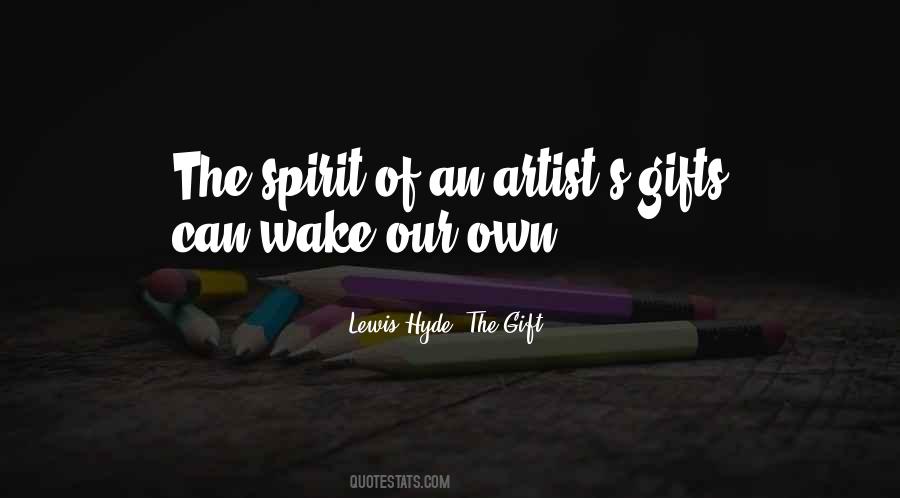 #51. Don't try to follow trends. Create them. - Author: Simon Zingerman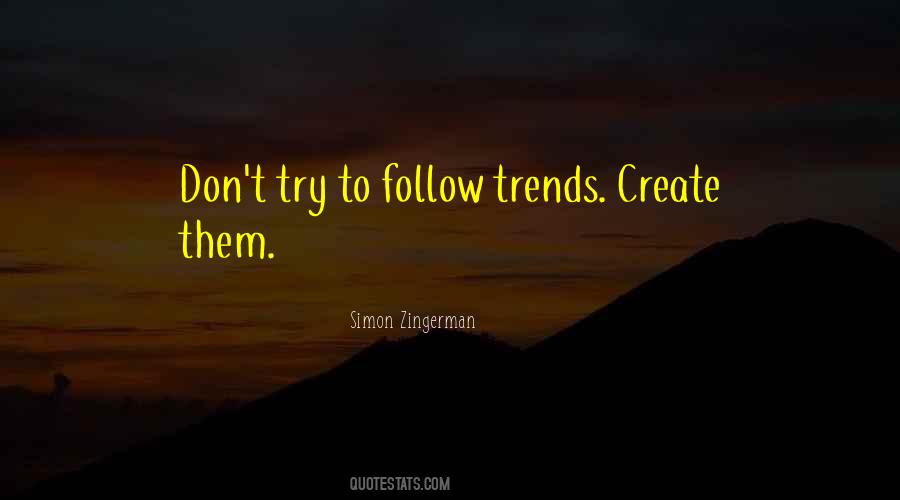 #52. The result may be important but it's not the actual measure. The measure is the feeling you have made contact with something. - Author: Eric Maisel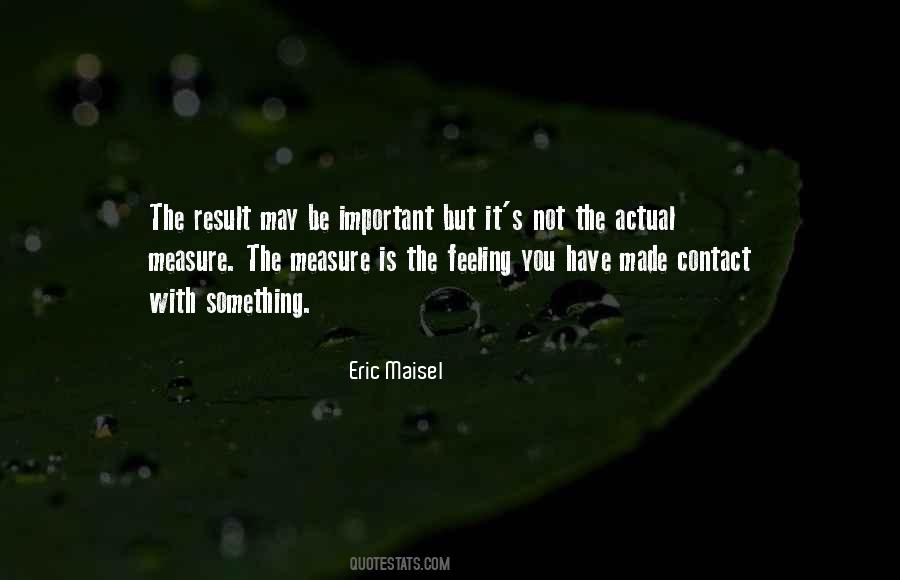 #53. Something terrible happens to people who don't create, something poisonous. Creating is a necessity for all humans, like breathing. If you don't do it, you suffer. - Author: K.A. Laity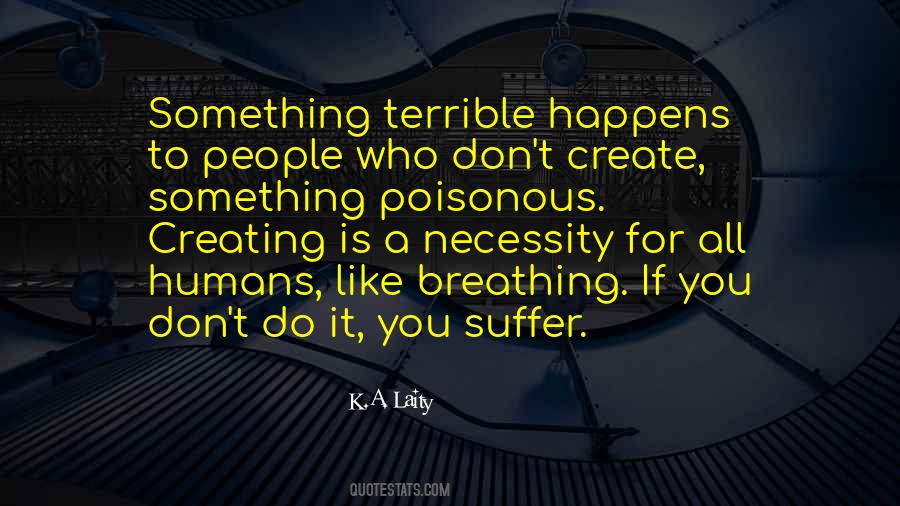 #54. The best of humanity's recorded history is a creative balance between horrors endured and victories achieved, and so it was during the Harlem Renaissance. - Author: Aberjhani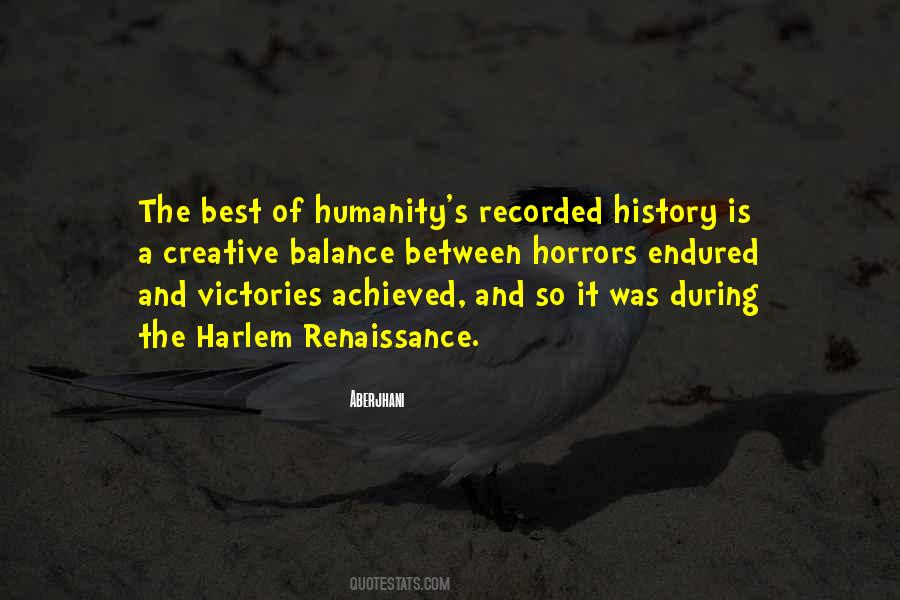 #55. I don't believe in inspiration. I believe in work, because while one works one's creativity is opened. - Author: Giacomo Manzu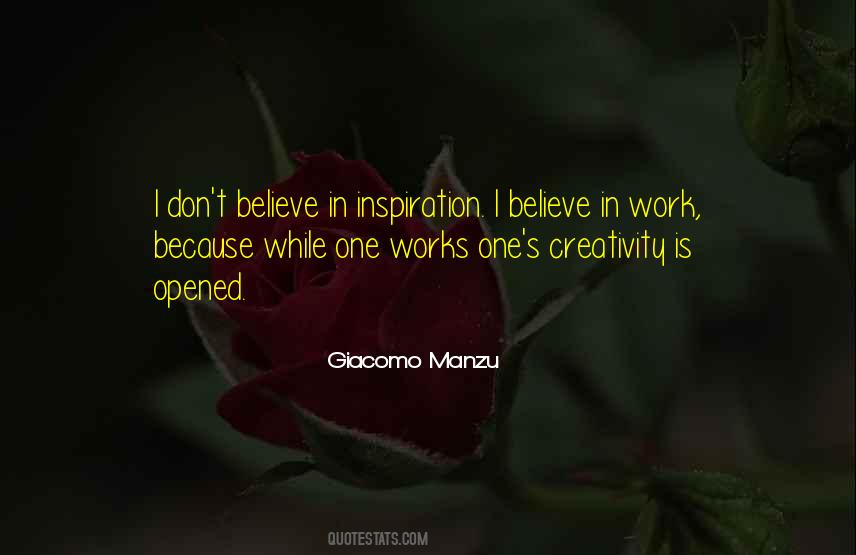 #56. An idea is like a spark to creativity, which turns to a wild conflagration of thoughts, burning every ignorance. When the fire burns, the creative power is awake, and comes out to join the ideas in your head to bring out the hidden valuables the world never knew - Author: Michael Bassey Johnson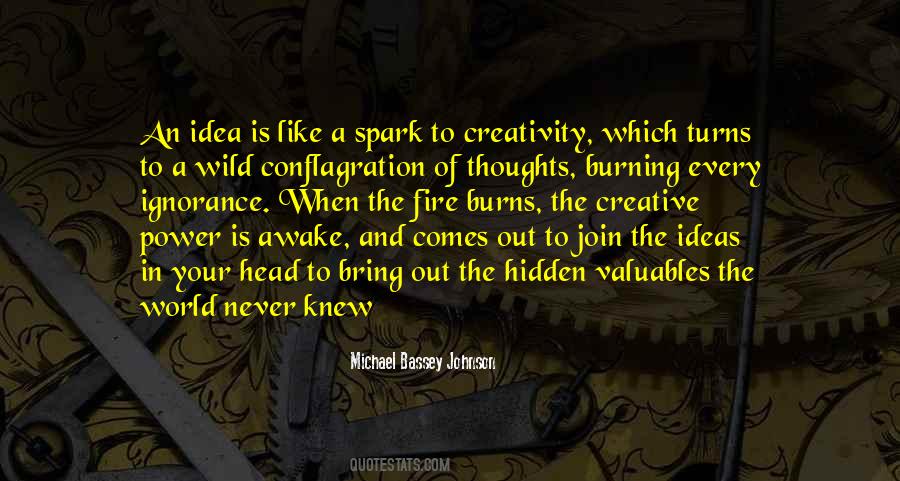 #57. Mistress Creation keeps calling my name ... i long for her, and she, for me ... we will be reunited soon. In the interim, i bide my time dreaming of her, writing about her and stretching her across the vast landscape of my imagination. "Soon", i whisper to her, "Soon - Author: Jaeda DeWalt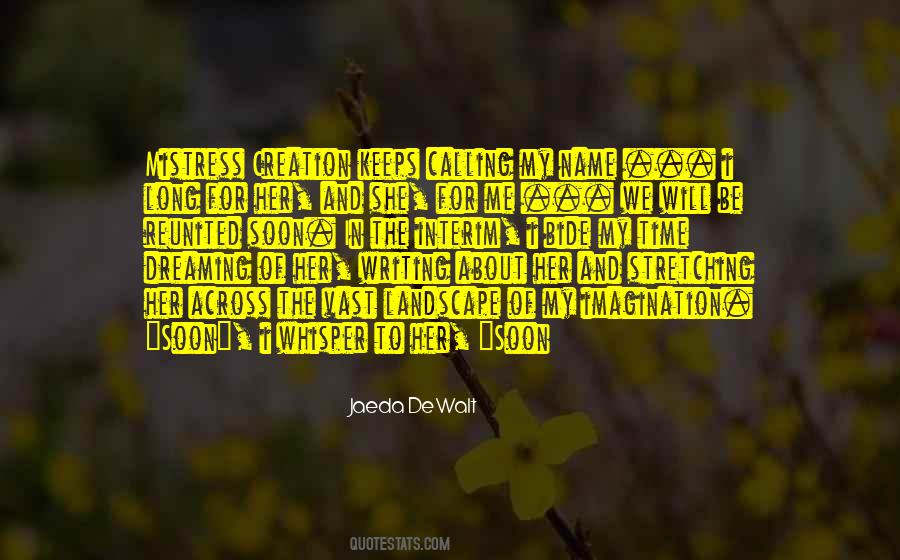 #58. Entire universes flourish in my mind. Sometimes I get lost in there. - Author: Janey Colbourne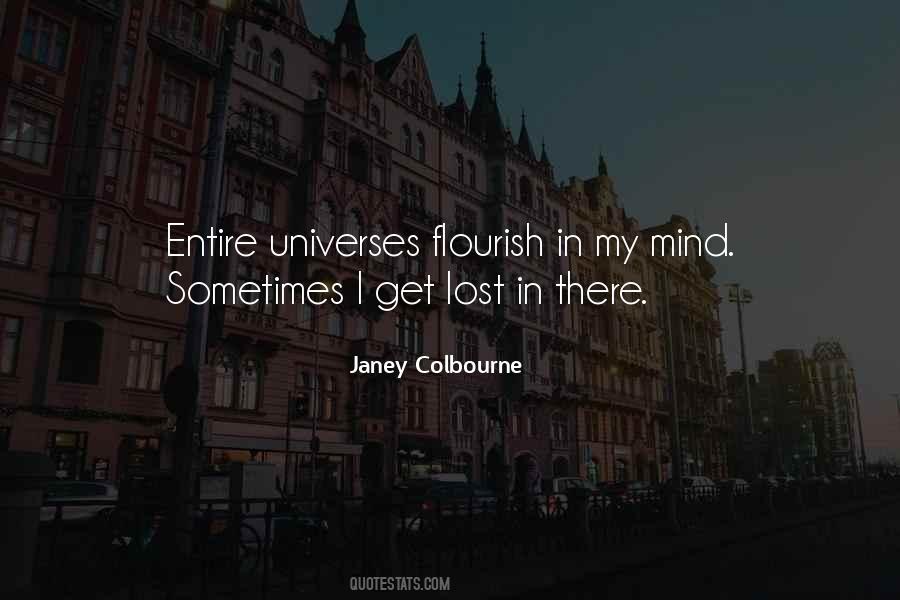 #59. The greatest moments of creativity come in absolute solitude, when one's mind is free from distraction and able to probe the depths of the impossible. - Author: Fennel Hudson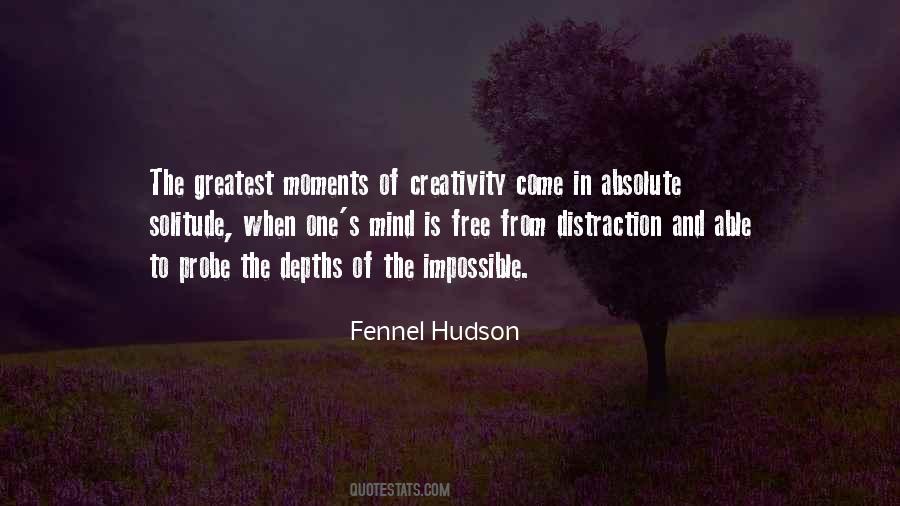 #60. What I would say to filmmakers, if I may be so bold or so arrogant, is to draw inspiration from other filmmakers, but go to the place in your own gut where everything is nothing. That's a very Zen thing to say, but that place of nothing is where real creativity comes out of. - Author: Lawrence Bender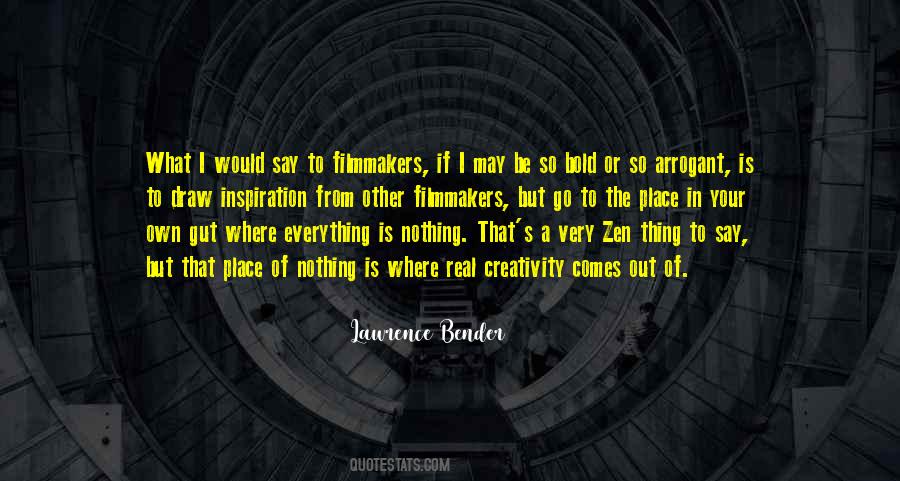 #61. Inspiration is everywhere. - Author: Charlotte Eriksson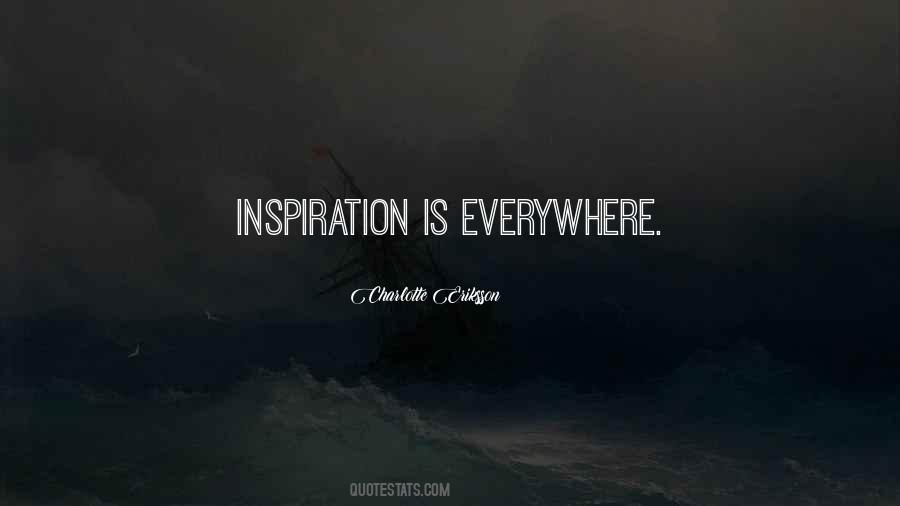 #62. The artist speaks with inspiring tools of creativity. Thinkers challenge with the weapons of choice. These two forces are necessary to move souls beyond limitation. - Author: T.F. Hodge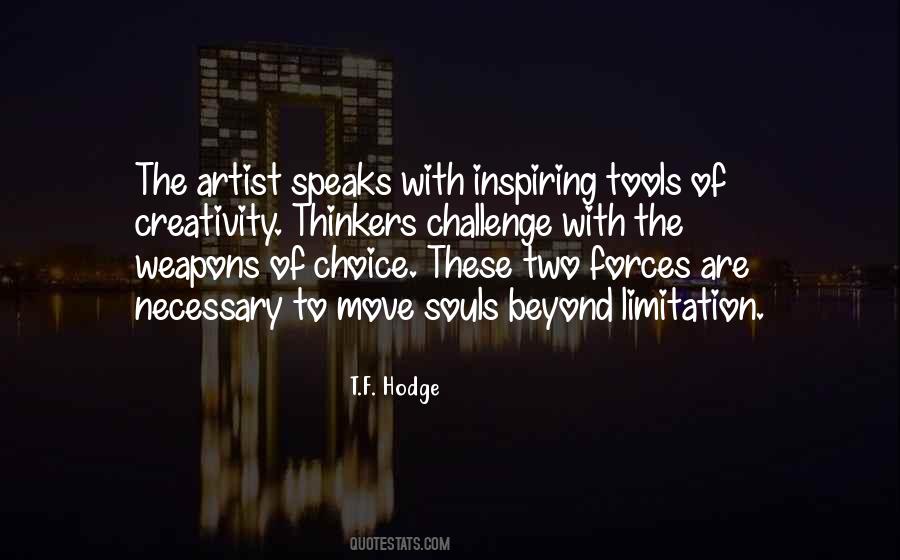 #63. At each stage ... entirely new laws, concepts and generalizations are necessary, requiring inspiration and creativity to just as great a degree as in the previous one. - Author: Poul Anderson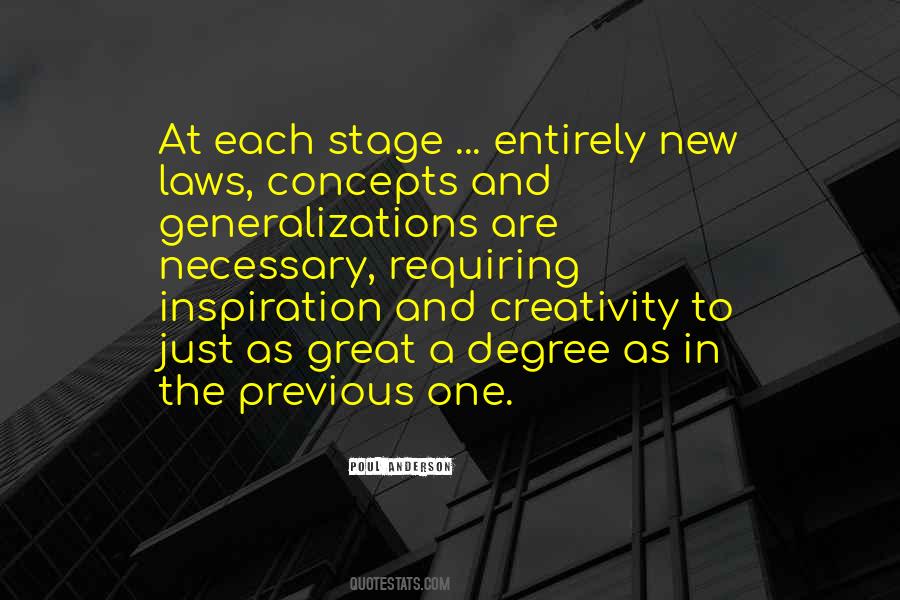 #64. You can force compliance with your directions, you can require obedience, but you can't mandate enthusiasm, creativity, fresh thinking, or inspiration. If you value that, then people need to feel ownership of the work, and the leader must cede some control to them. - Author: Roger Nierenberg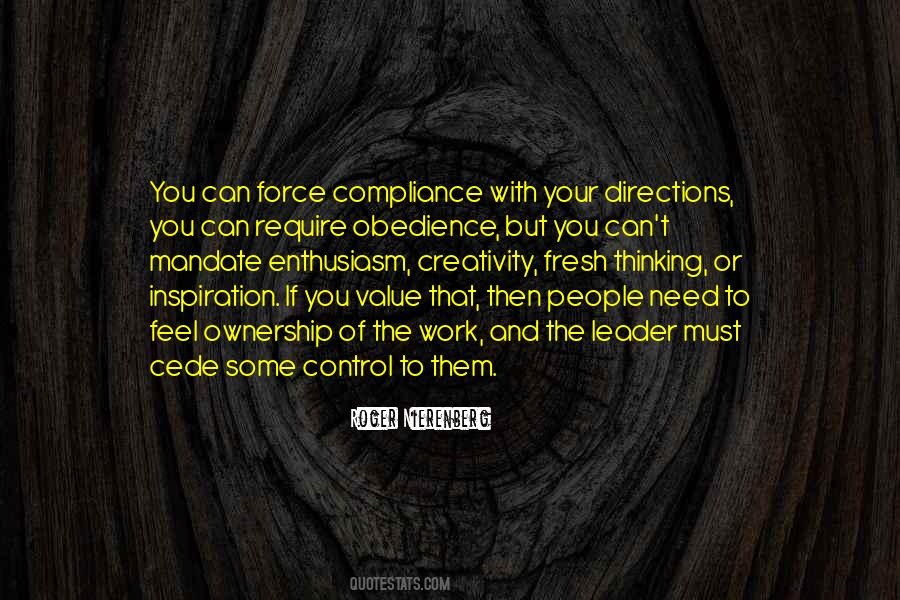 #65. It is only when the mind and imagination are enriched from exposure to the world of beauty, that artistic creativity and inspiration truly becomes manifest. - Author: Mark Woollacott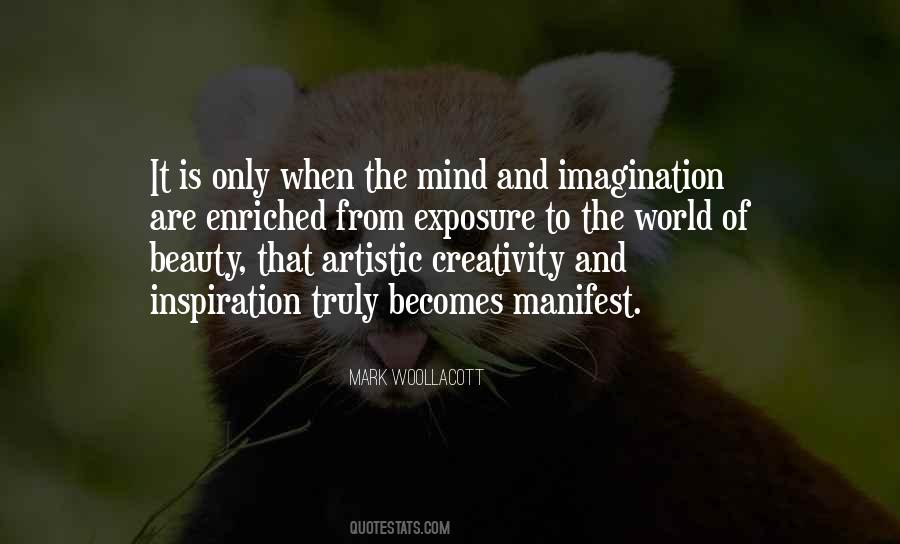 #66. When there's no stimulus to be found on the outside, you have no option but to look inside yourself for inspiration, and when I did it set off a creativity that had always been inside of me, It mixed with my environment and life experiences to make something tangible,something that expressed me. - Author: Bernard Sumner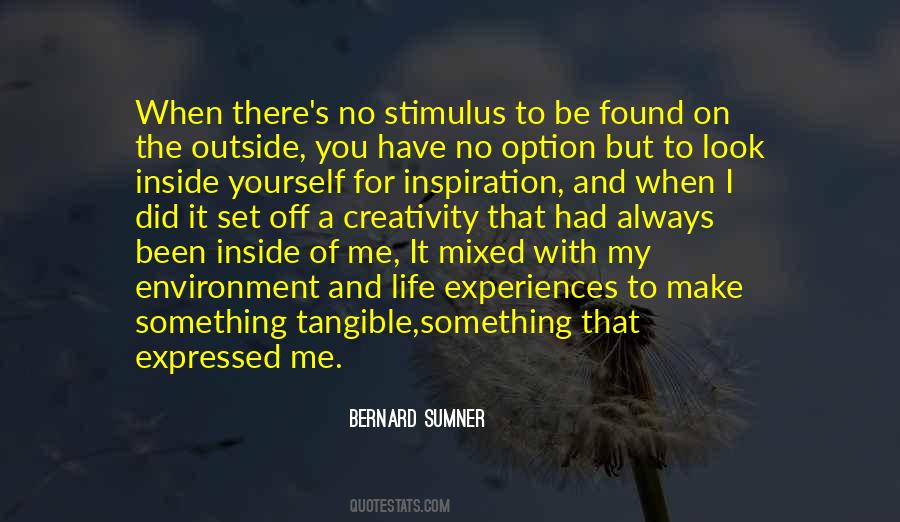 #67. Relaxation is the beginning of creativity. - Author: Lailah Gifty Akita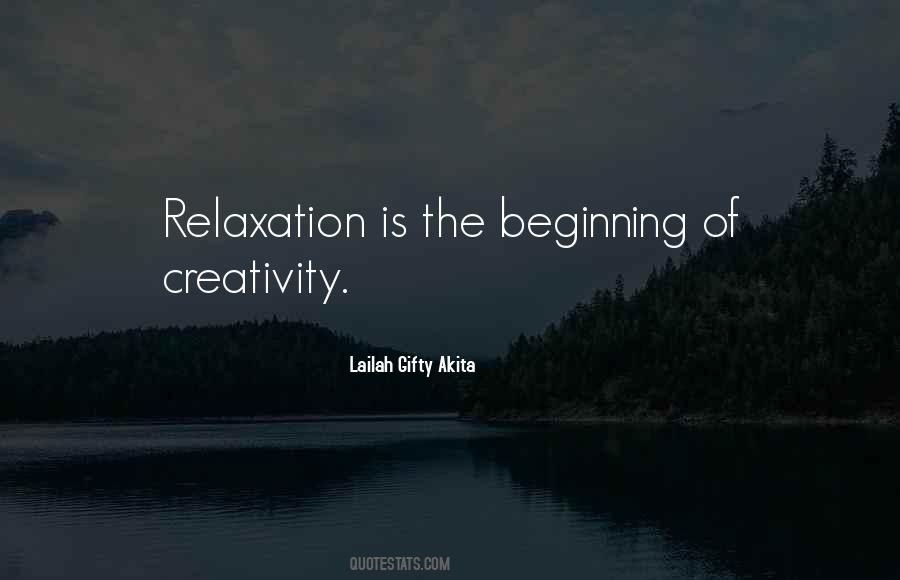 #68. There is no one who has ever created music with the combination of intelligence, intuition, depth, creativity, and humor that Jerry Garcia has. His work and life will continue to be a limitless source of inspiration for all of us. - Author: Bruce Hornsby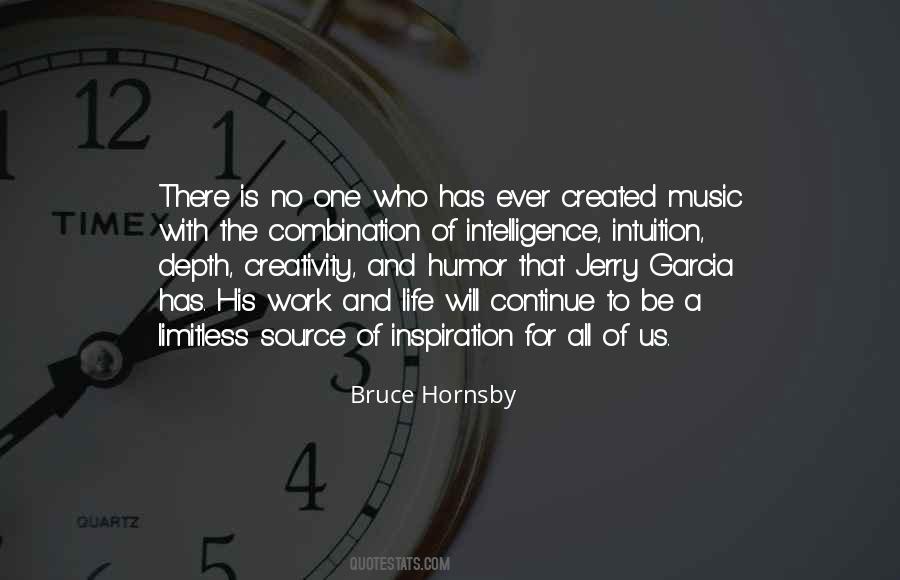 #69. Celebrate your life now, as it unfolds.
Turn away from judgement and negative theories about your worth, your potential, and your destiny. See what you already have. - Author: Danny Gregory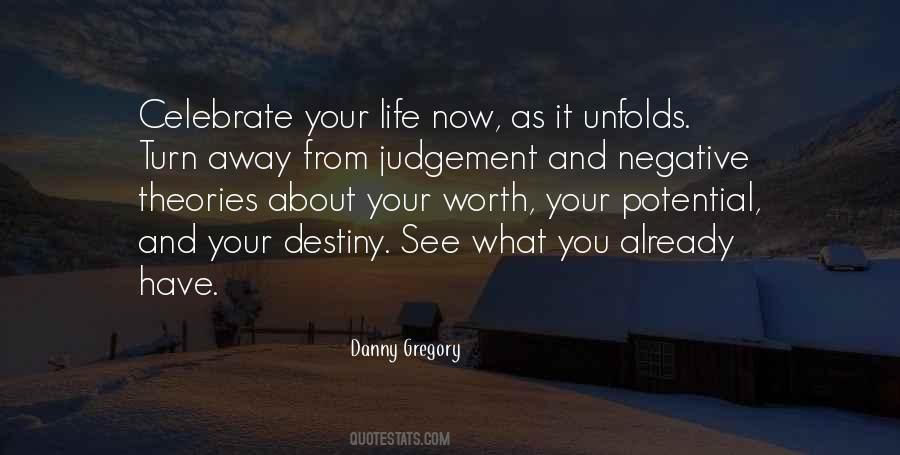 #70. From human problems come human solutions, which in turn spawn inspiration, creativity, insight and enlightenment. Without life's problems, life would become stagnant, dull and boring. - Author: Beth Johnson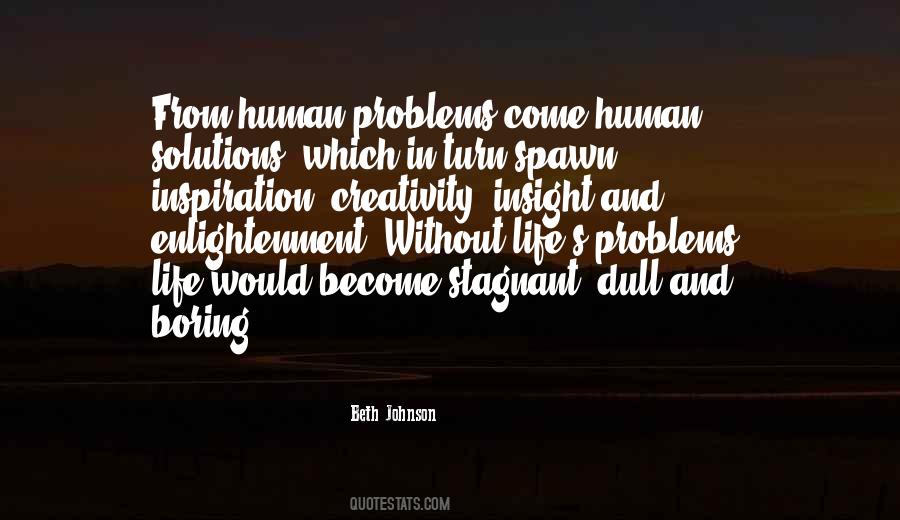 #71. Books are a gateway to the extraordinary, a portal for the unfettered imagination and limitless creativity. - Author: Diana Jane Heath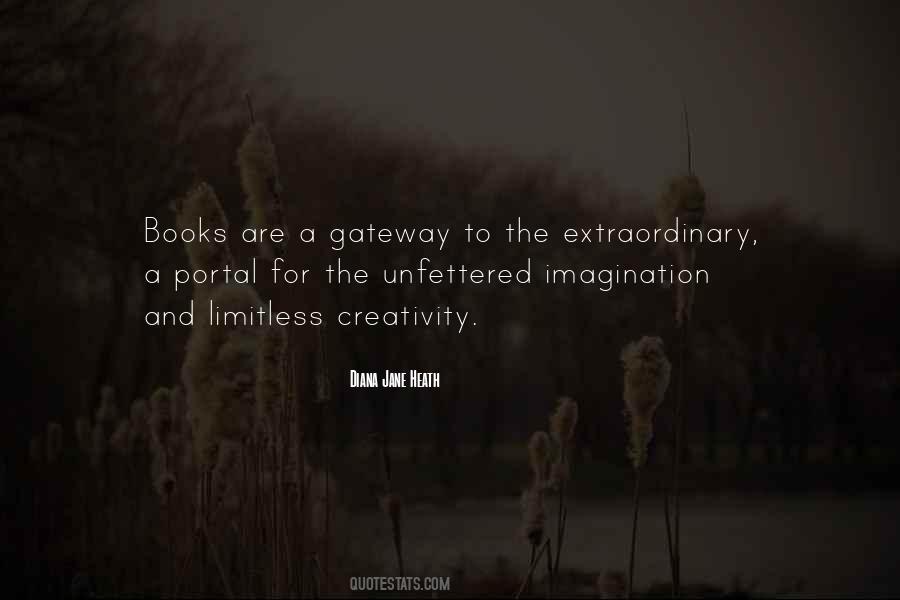 #72. To labor in the arts for any reason other than love is prostitution. - Author: Steven Pressfield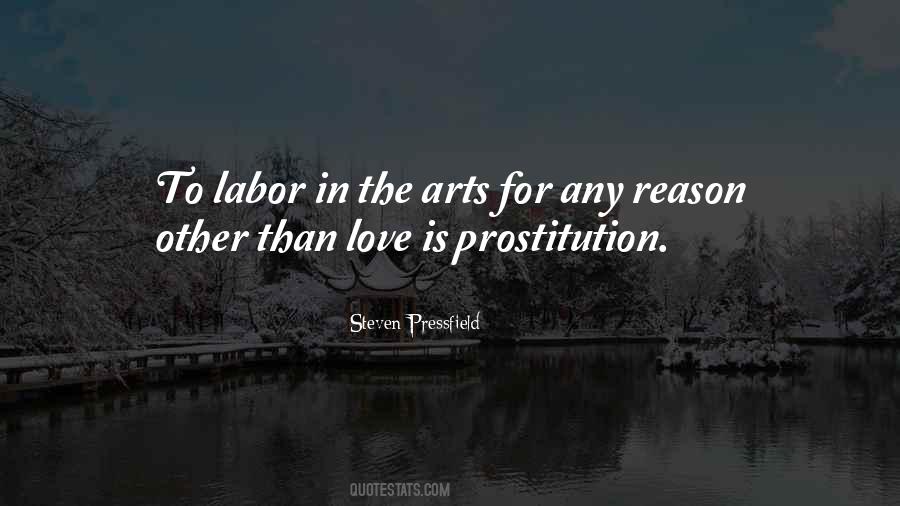 #73. Your creativity is way older than you are, way older than any of us. Your very body and your very being are perfectly designed to live in collaboration with inspiration, and inspiration is still trying to find you - the same way it hunted down your ancestors. - Author: Elizabeth Gilbert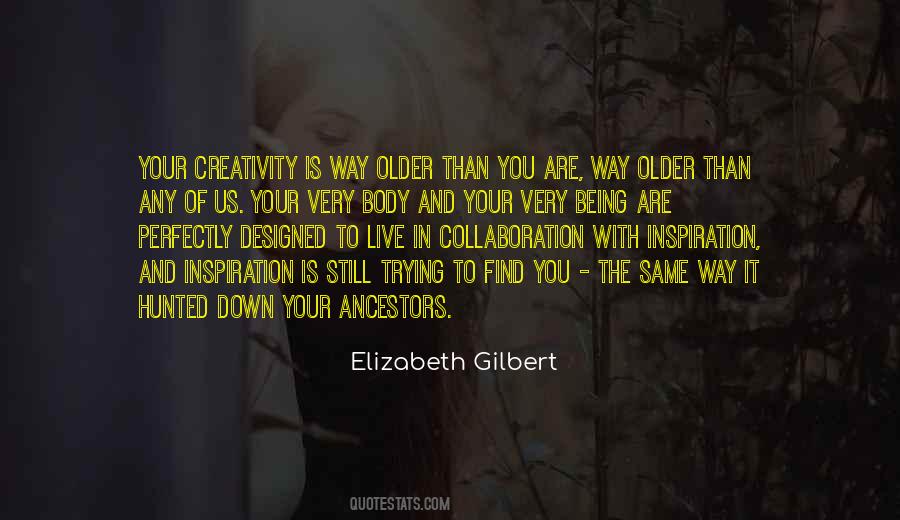 #74. Writing is a sickness only cured by writing. - Author: Niall Williams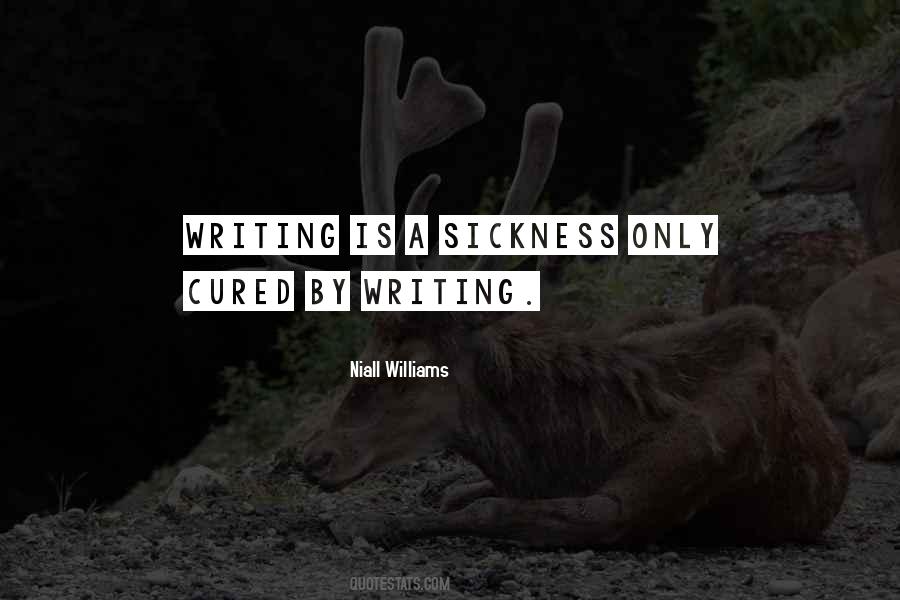 #75. It is the daily task of the creative to be curious and collect dots. The most creative people I know fill their brains, their idea factories, with as much raw material as they can. They have voracious appetites. - Author: David DuChemin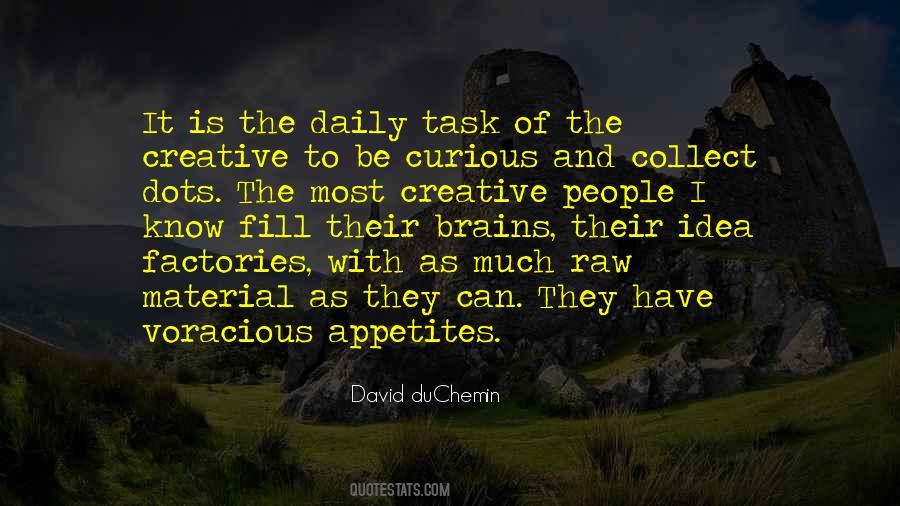 #76. As a society we should try to never inhibit another person's creativity. In people like myself, it's all we have. - Author: Michael Houbrick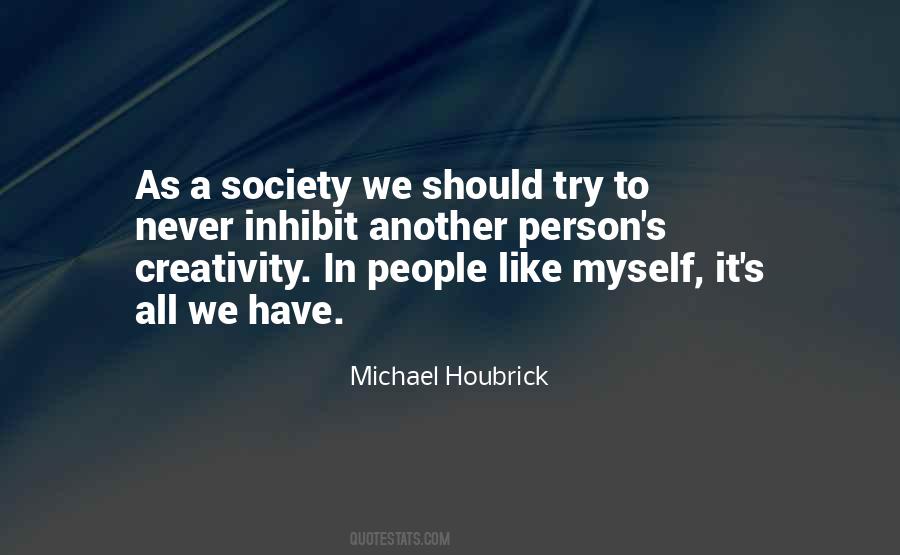 #77. My creativity keeps me from starving. Humanity keeps my life mundane. Loving secures my love for life, but my imagination keeps me sane. - Author: F.K. Preston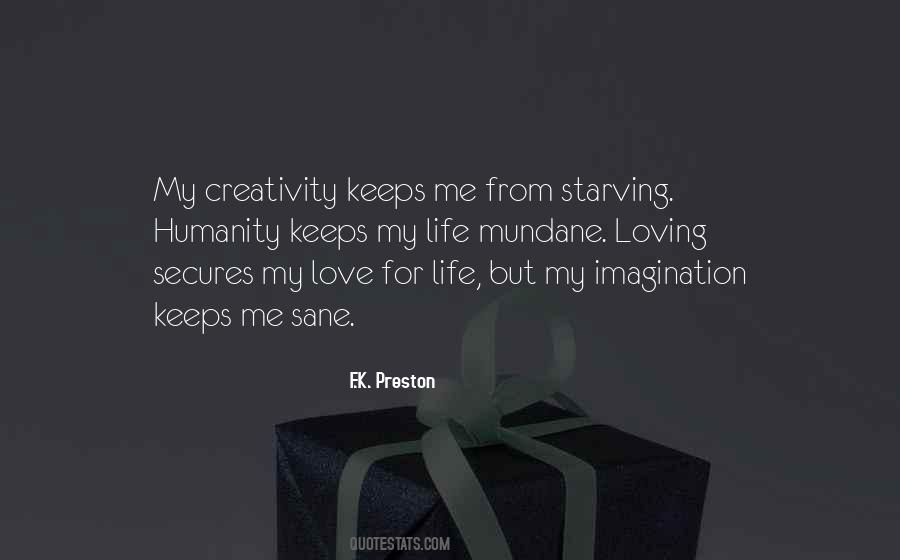 #78. The basket would never make her famous or end up in a museum. The best part of it was the making of it, sitting at the table weaving while outside the lake crashed into shore and the seagulls roosted somewhere for the night and two women stopped for a moment to watch. - Author: Ellen Airgood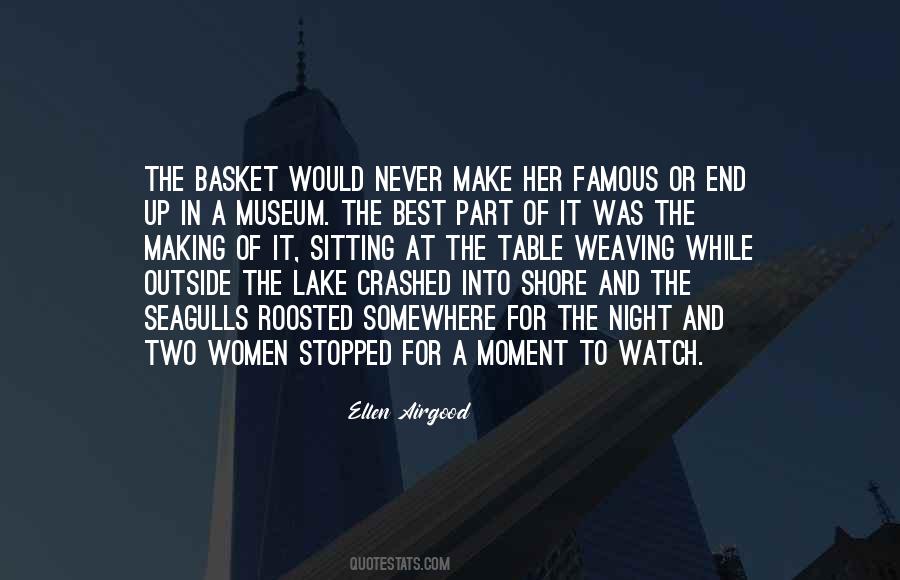 #79. That's it! Stretch way beyond your perceived limitations..Go for yours like you own it already, because you truly do. - Author: Sereda Aleta Dailey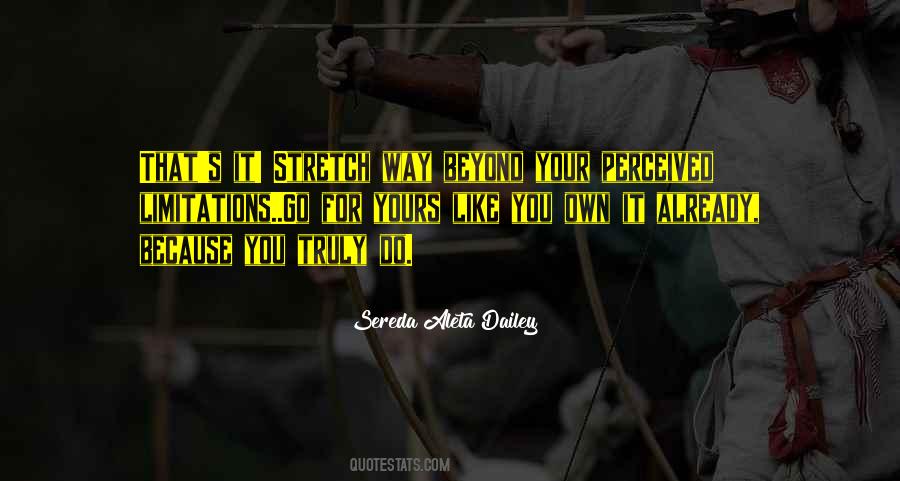 #80. When you connect with nature, you will create yourself. - Author: Lailah Gifty Akita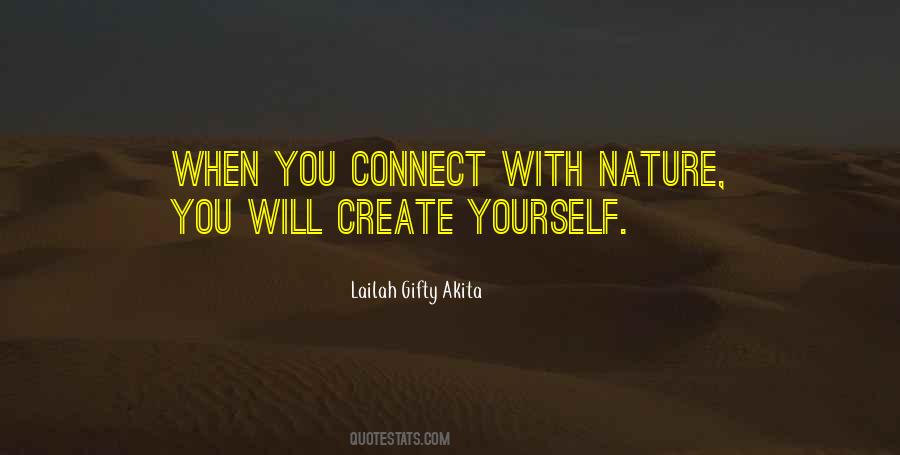 #81. Procrastination is a form of punishment - Author: Jill Badonsky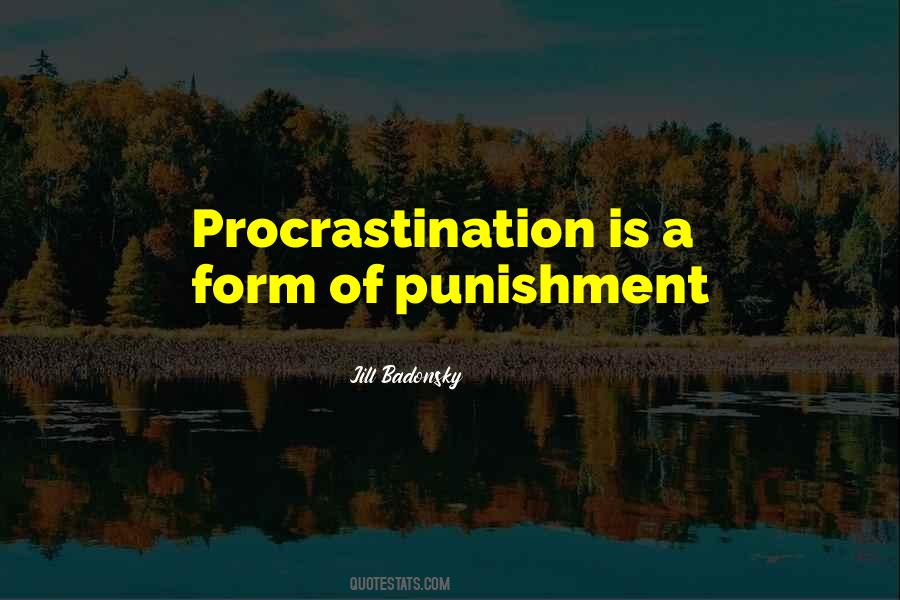 #82. Think of your passions as you do food, water, shelter ... a necessity. If someone told you to give them up, would you listen? - Author: Shelley K. Wall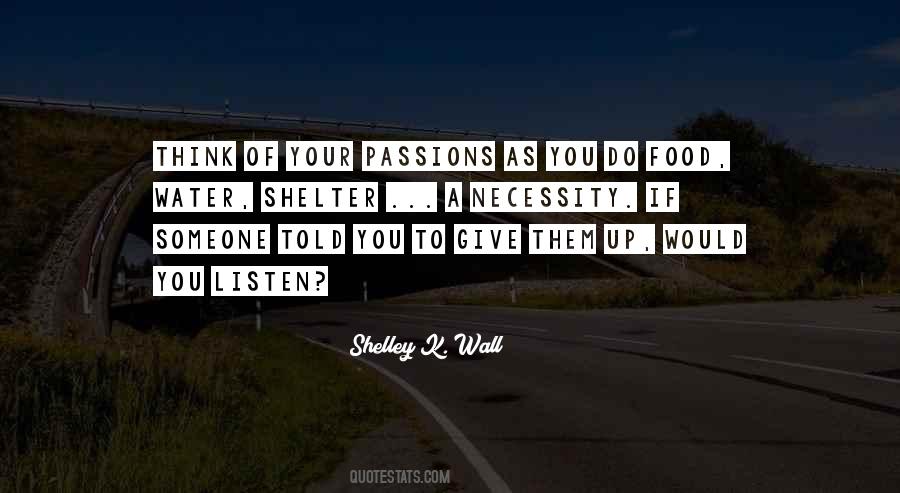 #83. For the novelist or poet, for the scientist or artist, the question is not where do ideas come from, the question is how they come. The how is the mystery. The how is fragile. - Author: E.L. Konigsburg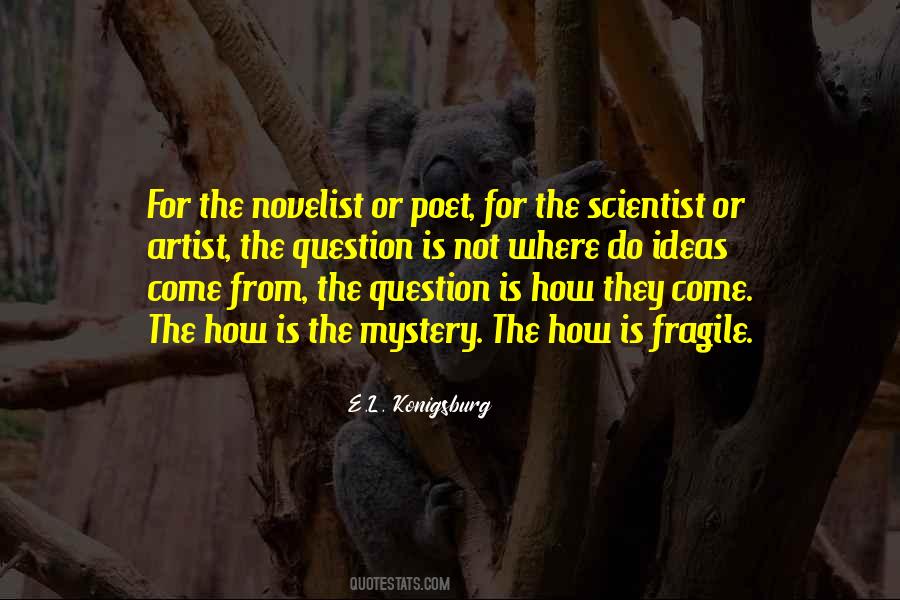 #84. I don't think you'll ever replace human judgment and human inspiration and creativity because, at the end of the day, you need to be asking questions like, O.K., the system says this. Is this really what we want to do? Is that the right thing? - Author: Laszlo Bock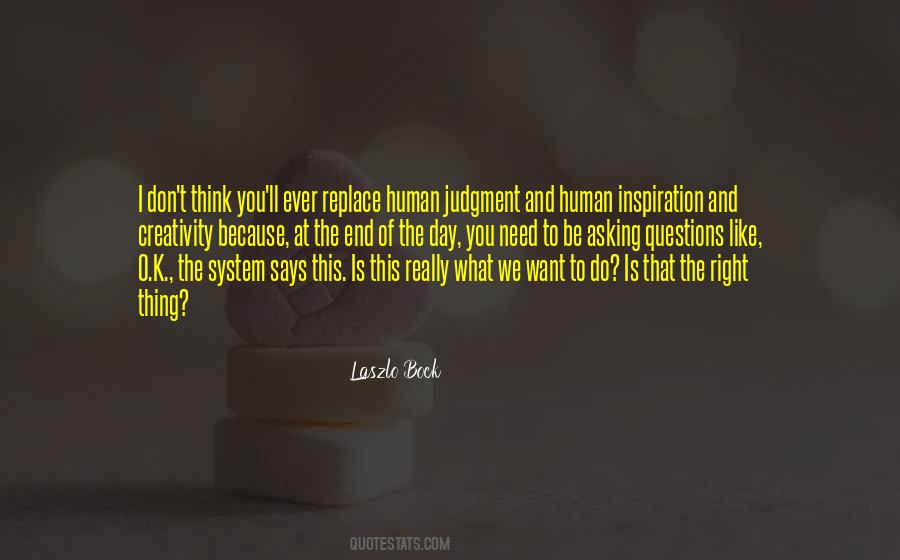 #85. To wonder is to recreate a sacred self. - Author: Lailah Gifty Akita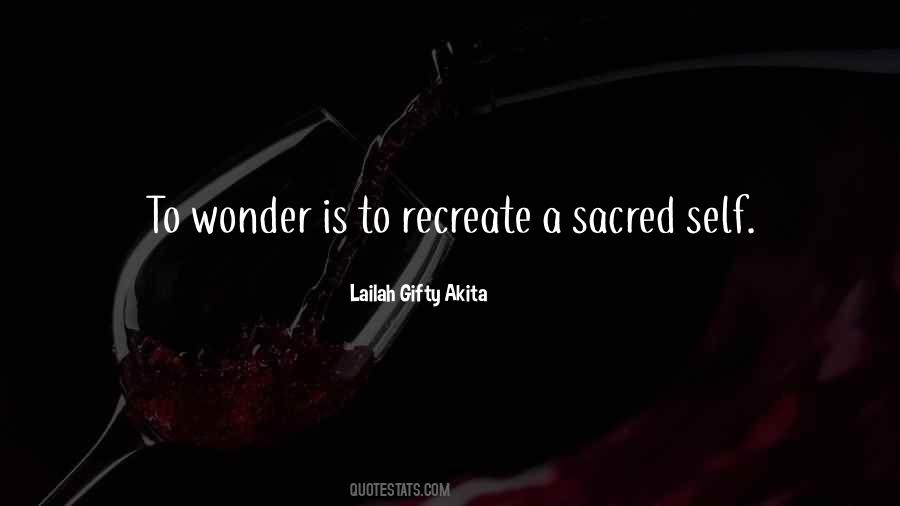 #86. Creativity...passion...sweat...heartbreak...inspiration...and lots of hard work...that is what books are made of! - Author: Tara Fairfield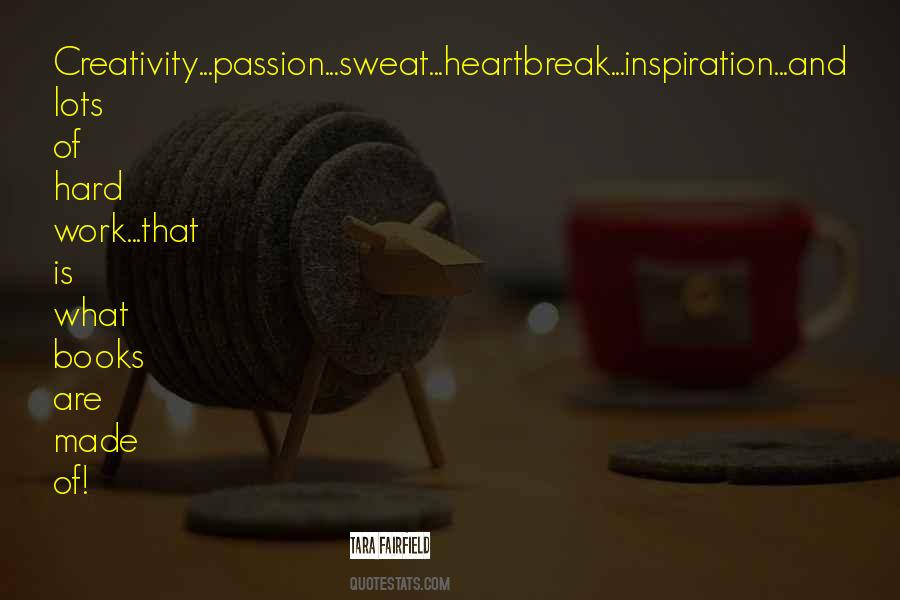 #87. When the creative impulse sweeps over you, grab it. You grab it and honor it and use it, because momentum is a rare gift. - Author: Justina Chen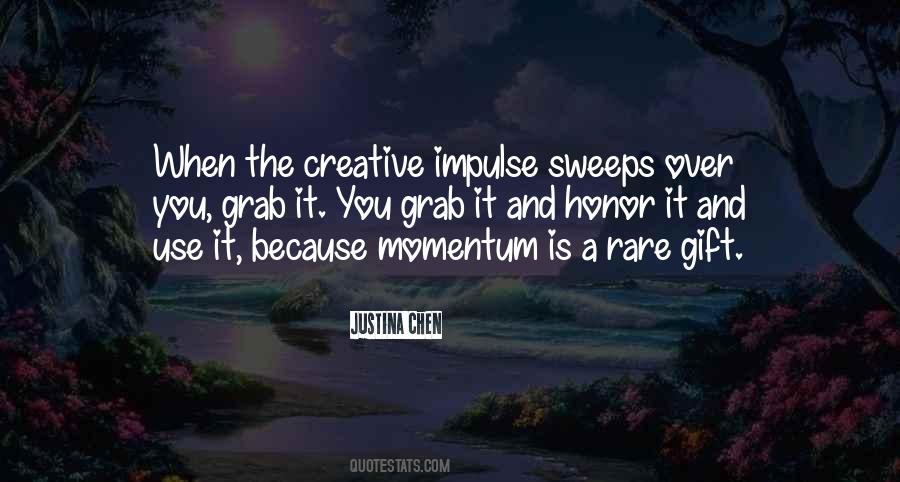 #88. There is one rule, though: once you discover your truth, you have to go all in. Fully. Every single chip. - Author: Kamal Ravikant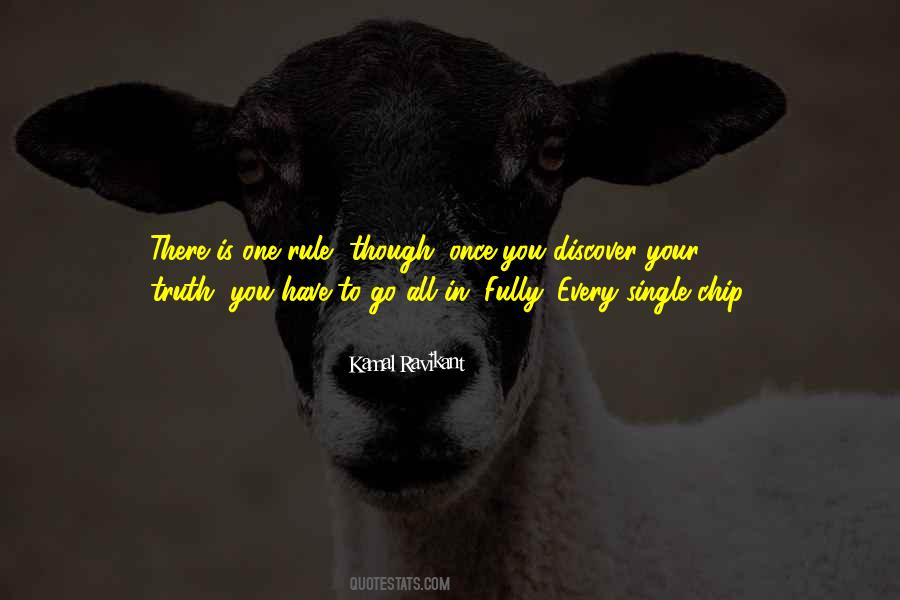 #89. Spend more time doing things that make you forget about the time. - Author: Charlotte Eriksson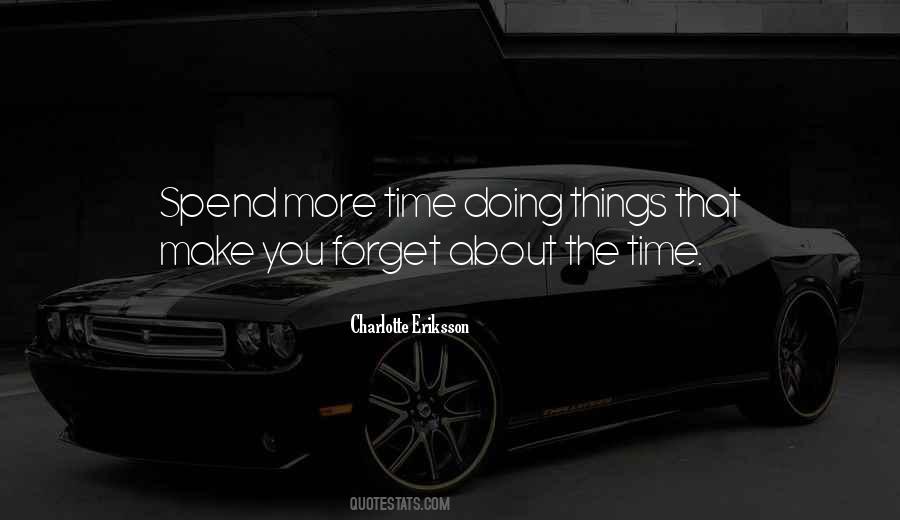 #90. Collect books, even if you don't plan on reading them right away. Nothing is more important than an unread library. - Author: John Waters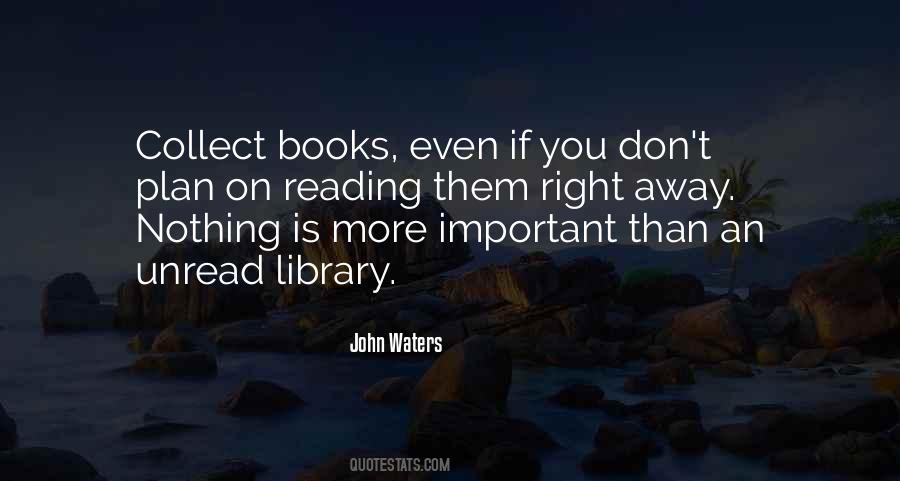 #91. My grandfather gave me inspiration to cook, and love food and flavors. My Aunt Raffie, gave me creativity and the inspiration to create new things. My mother inspires me to find simplicity in food. - Author: Giada De Laurentiis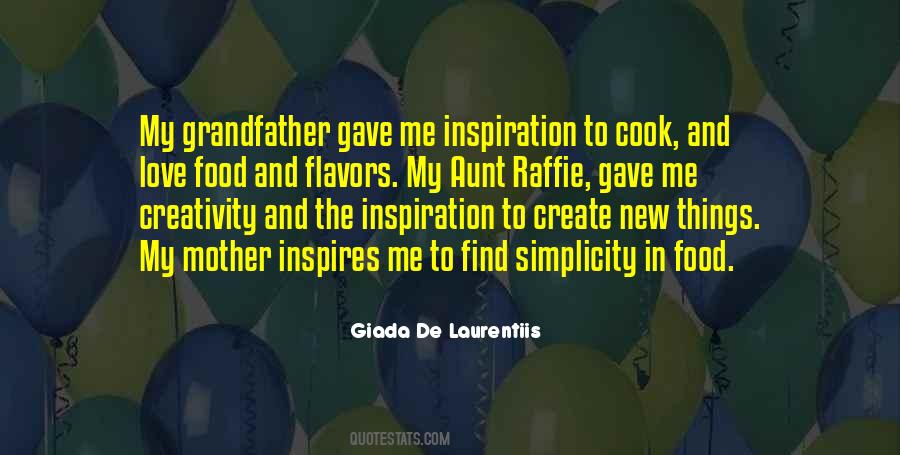 #92. Most, if not all, creativity is born out of perspiration rather than inspiration. - Author: Blaine Hogan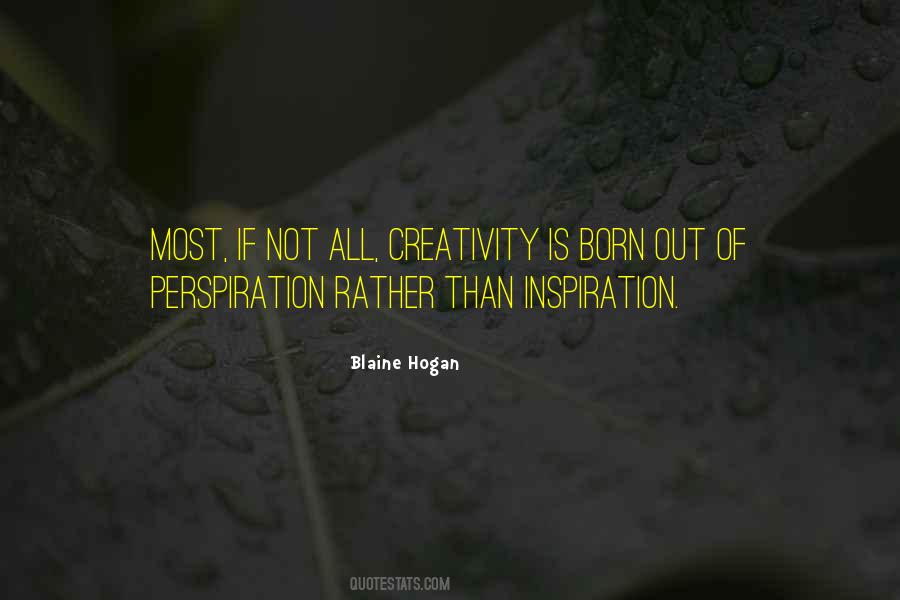 #93. Artistic temperament is like a king with vigor and unlimited opportunity. You shake the structure to pieces by playing with it. - Author: F Scott Fitzgerald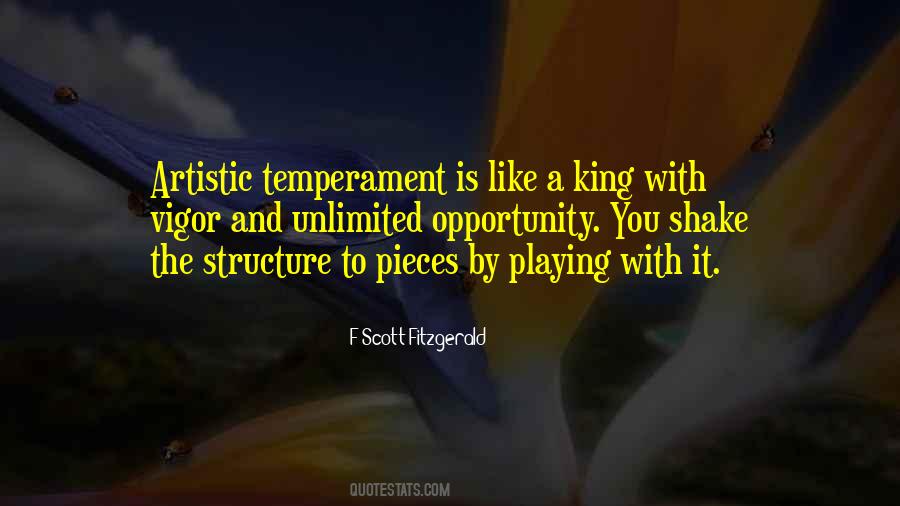 #94. It's ever so important to believe in what you do, trust your ability to create and show yourself worthy. Never sell yourself short. - Author: Simon Zingerman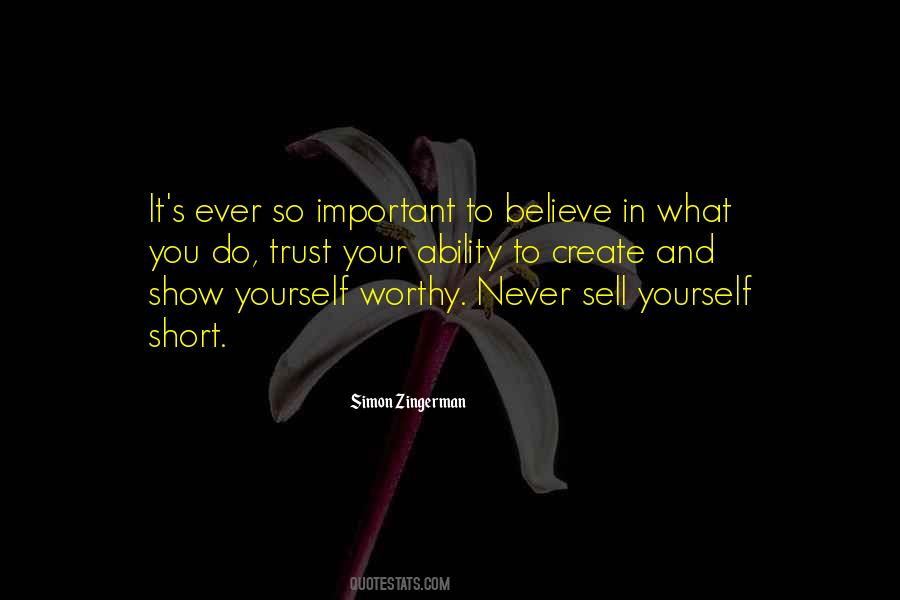 #95. If the company depends entirely on you - your creativity, ingenuity, inspiration, salesmanship or charisma - nobody will want to buy it. The risk and the dependency are too great. - Author: Margaret Heffernan
#96. Creativity thrives where its roots are crowded. - Author: Ozzie Zehner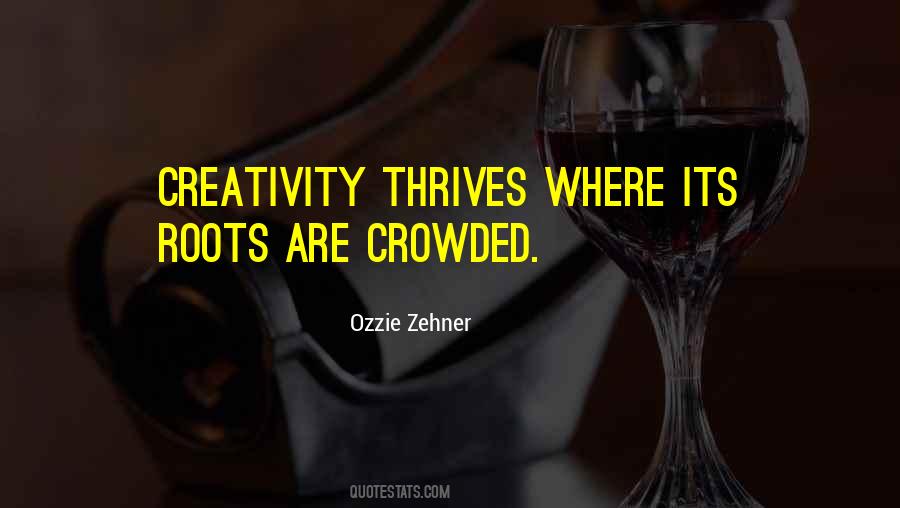 #97. Imagination takes us to the invisible world. - Author: Lailah Gifty Akita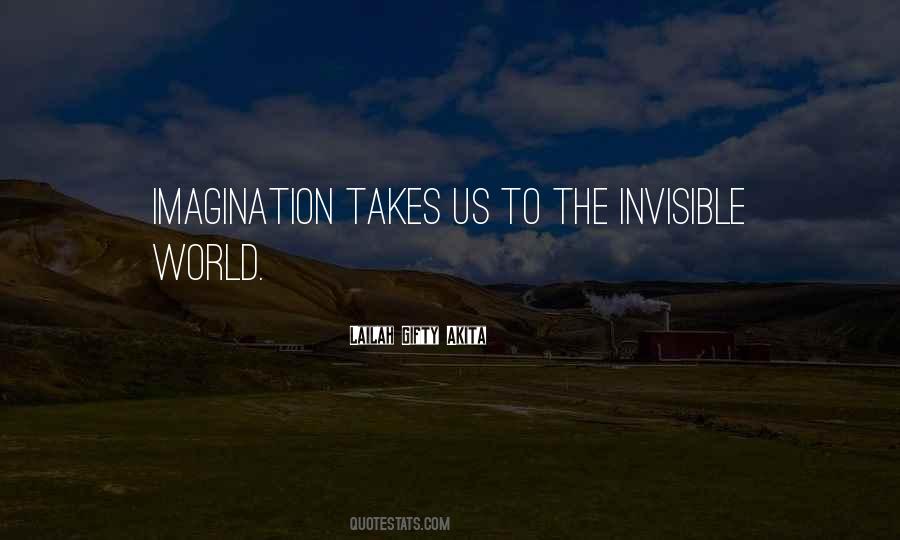 #98. Measurements are never enough. The artist's eye and desire to breathe life into the subject must be the deciding factors. - Author: David McCullough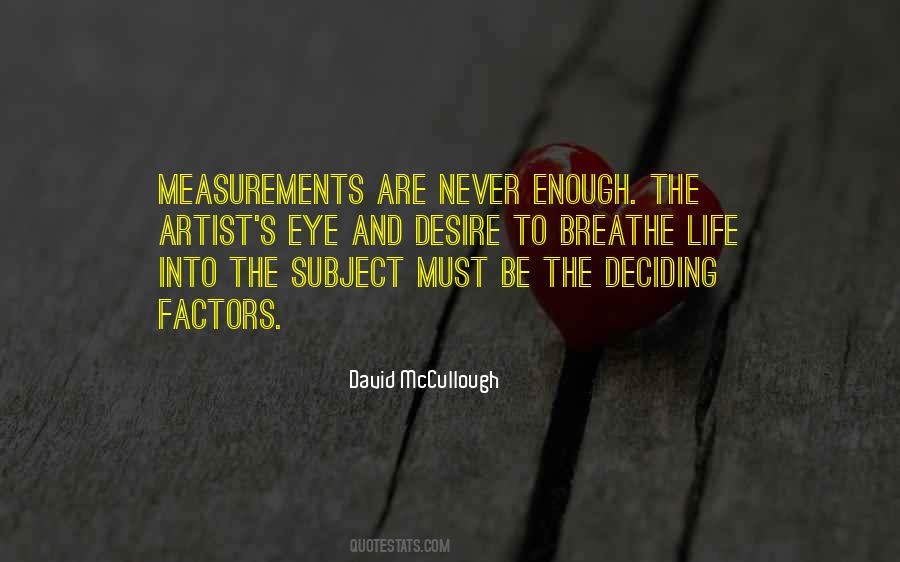 #99. Creativity is Inspiration having fun - Author: Albert Einstein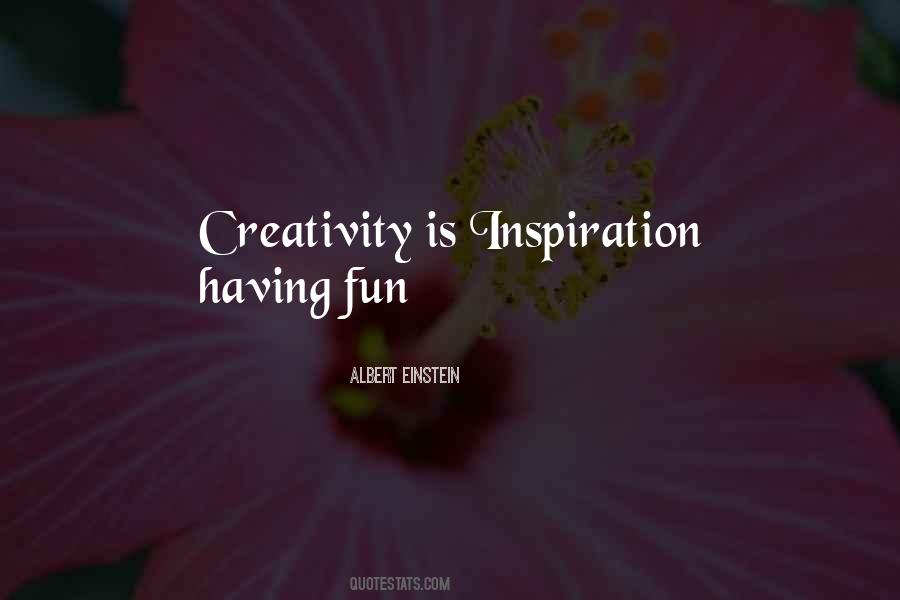 #100. Creativity and intelligence, rather than violence, are the best problem solvers. - Author: Don Roff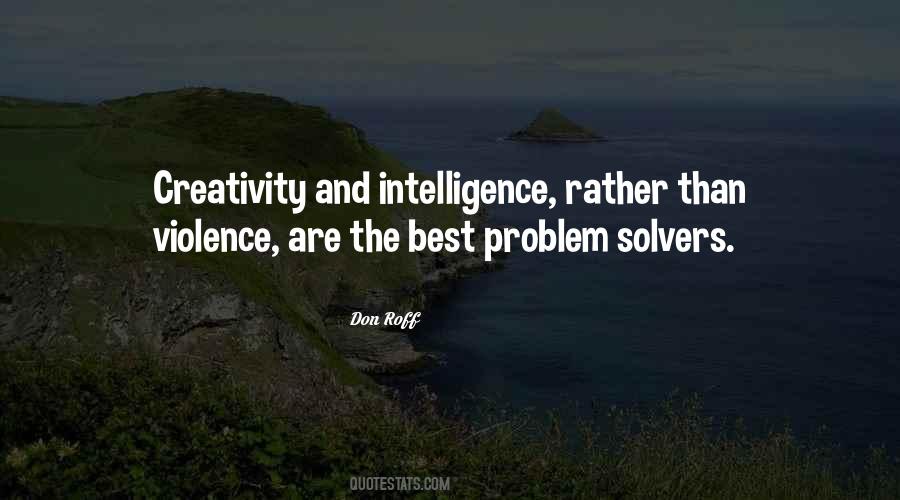 Famous Authors
Popular Topics