Could Have Would Have Should Have Famous Quotes & Sayings
List of top 49 famous quotes and sayings about could have would have should have to read and share with friends on your Facebook, Twitter, blogs.
Top 49 Could Have Would Have Should Have Quotes
#1. If only I would have done this, I should have done this, I could have done this ... " He swore. "Life is full of those three. - Author: Rachel Van Dyken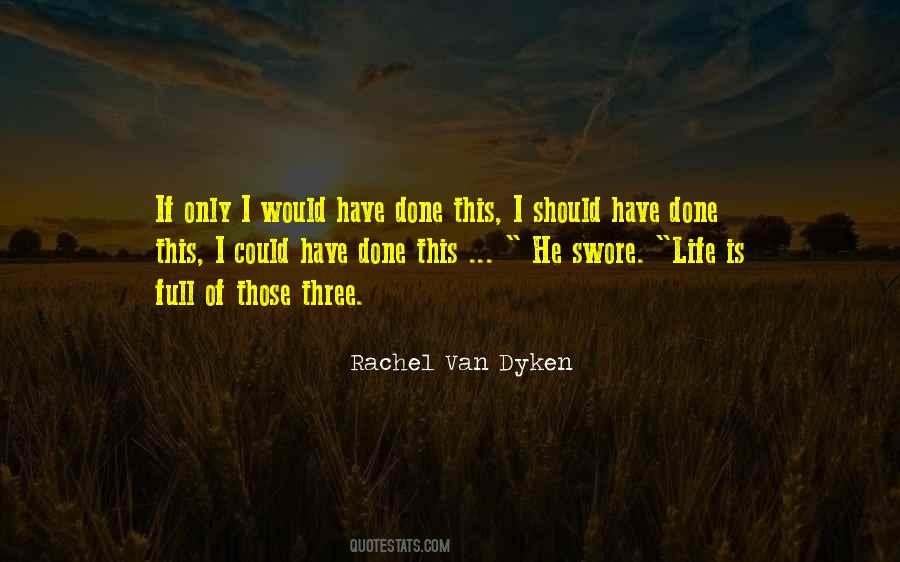 #2. Would have. Could have. Should have. This is the language of condemnation underscored by the passivity of regret. It's a dead language. The thing is, you can't un-sin. You can only repent. - Author: Steven Furtick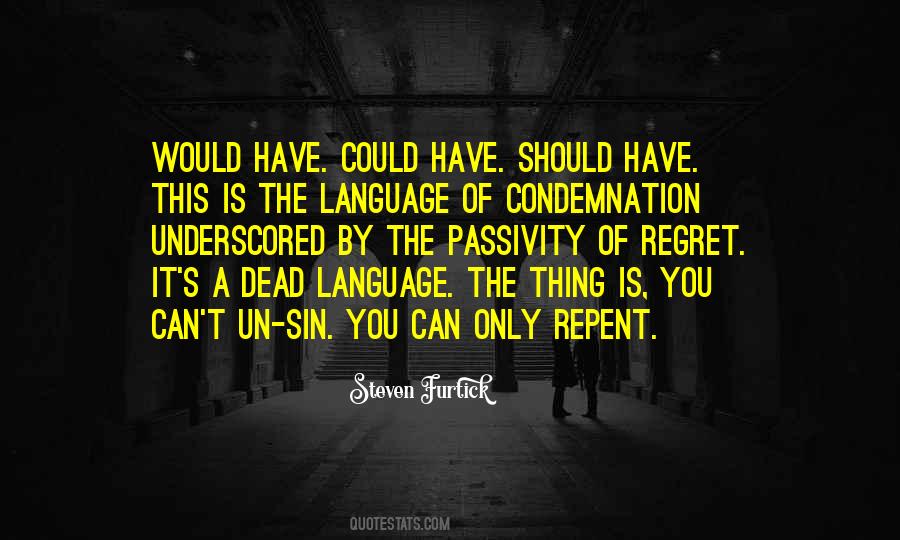 #3. I have a pullout couch, and I could sleep in the living room. You can have the bedroom."
"I'm sorry. No." Mel put her hand on his chest, her eyes sparkling. "I have to draw the line there. I should at least get sex out of this deal or this really would be a tragedy. - Author: Lisa Kessler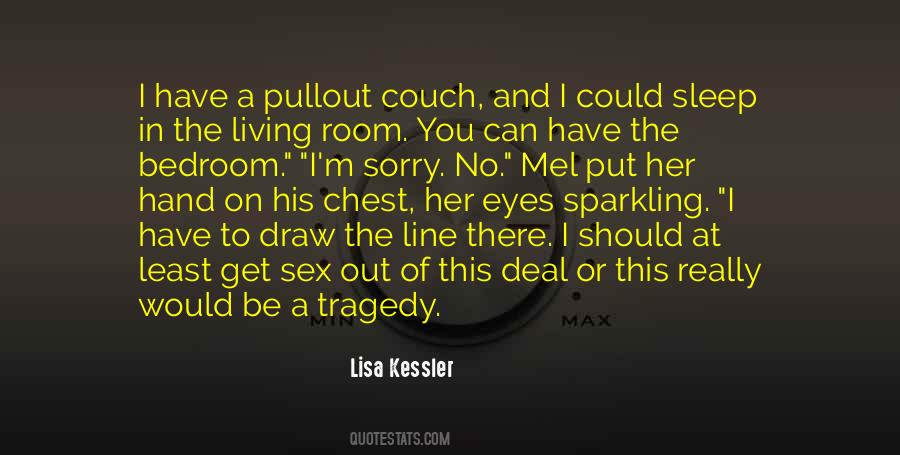 #4. Don't lie - when you are 105 years of age - on your deathbed, thinking, 'I should have done a few things!' I would like to think I tried as much as I could. - Author: Imelda May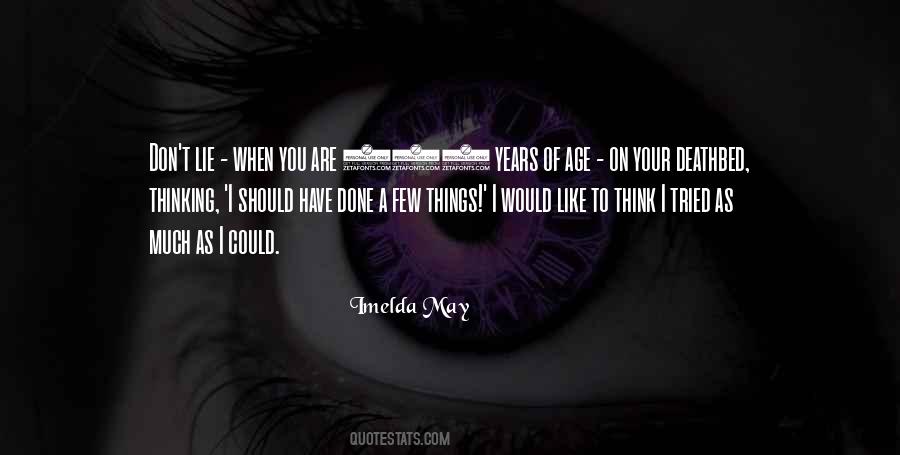 #5. If the guardians of society, the protectors of 'young persons,' could have had their way, we should have known nothing of Byron or Shelley. The voices that thrill the world would now be silent. - Author: Robert Green Ingersoll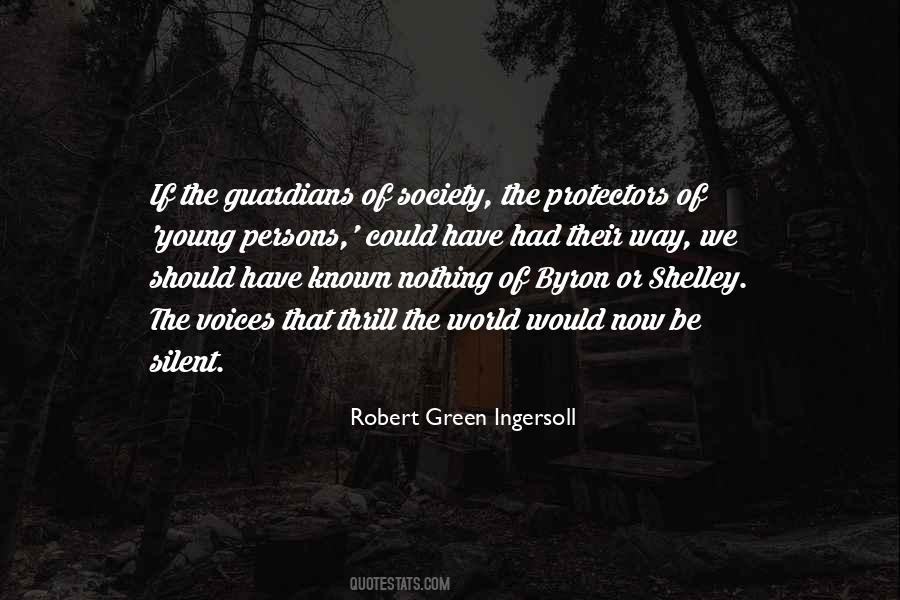 #6. I had reasoned this out in my mind; there was on of two things I had a right to, liberty or death; if I could not have one, I would have the other; for no man should take me alive. - Author: Harriet Tubman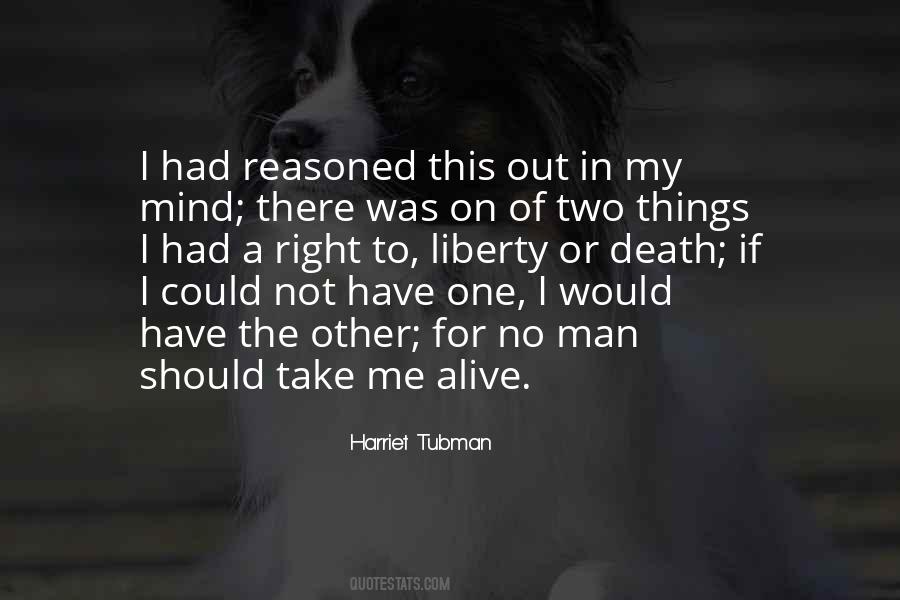 #7. If romeo was really gone, never coming back, would it have mattered whether or not juliet had taken Paris up on his offer? Maybe she should have tried to settle into the left-over scraps of life that were left behind. Maybe that would have been as close to happiness as she could get. - Author: Stephenie Meyer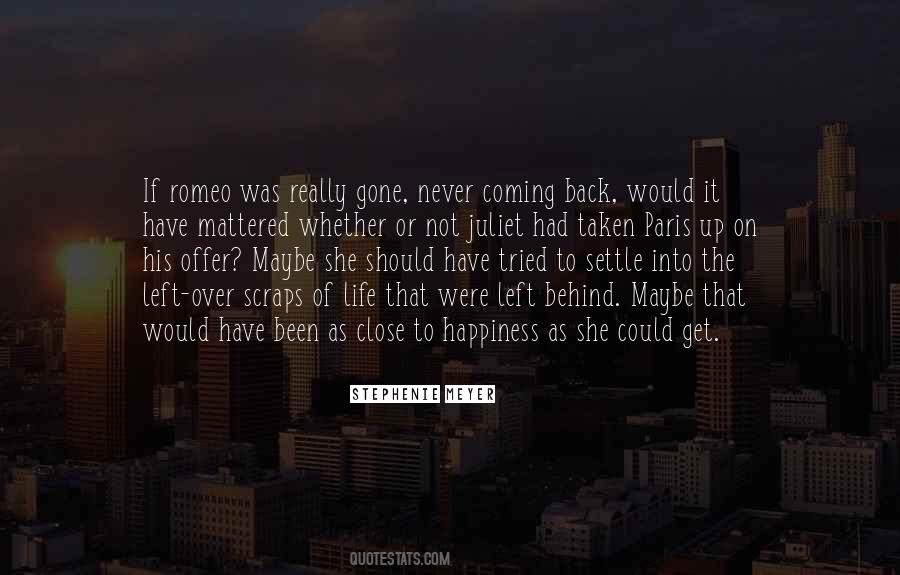 #8. I wish this knife was good for something besides death, that I could cut through time and walk into that house, into that kitchen where he trapped her, and get her out of there. I would make sure she had the future she should have had. - Author: Kendare Blake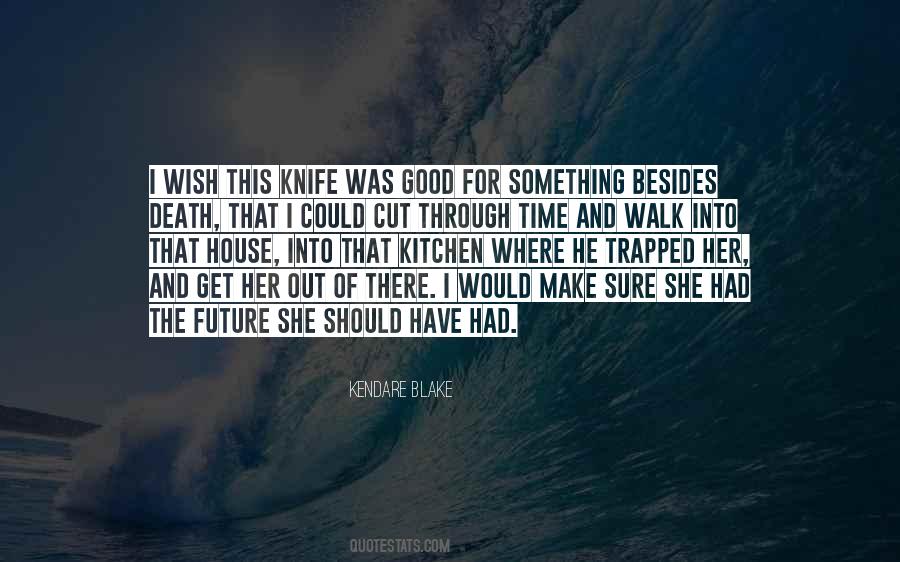 #9. You should have me restrained,' she said. 'I could kill you. You never know when I might have a razor blade tucked up my sleeve.'
'Why kill me now?' Archie said. 'It would seem anticlimactic. - Author: Chelsea Cain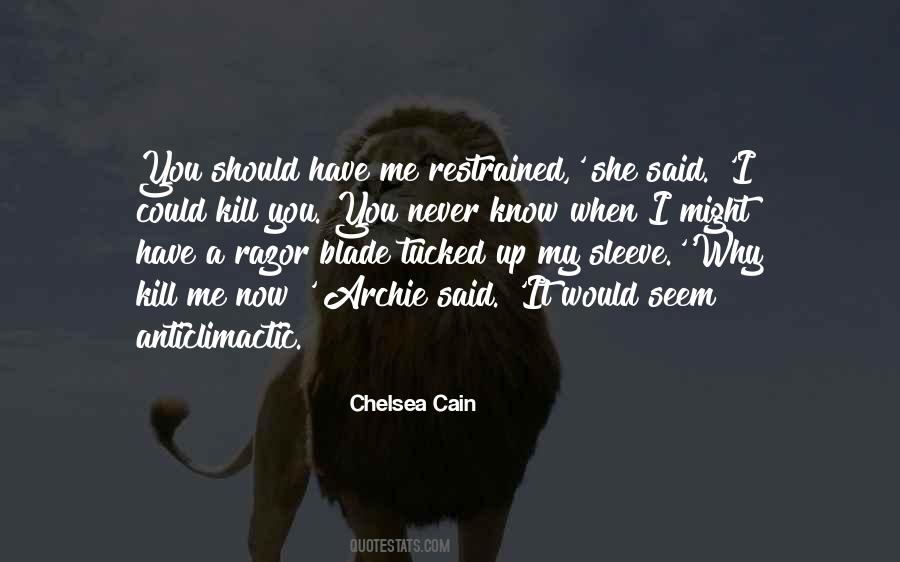 #10. Be who you are, said the Duchess to Alice, or, if you would like it put more simply, never try to be what you might have been or could have been other than what you should have been. - Author: Lewis Carroll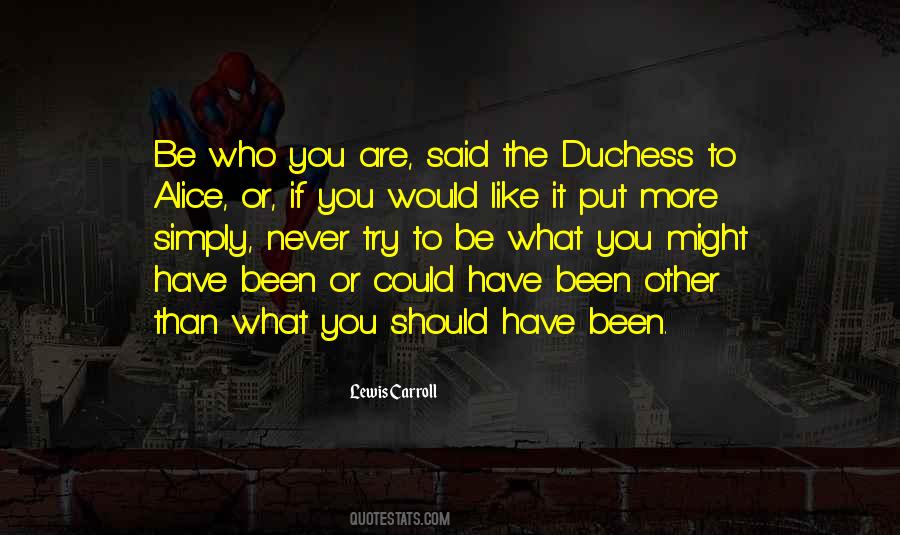 #11. How fortunate we were who still had hope I did not then realise; I could not know how soon the time would come when we should have no more hope, and yet be unable to die - Author: Vera Brittain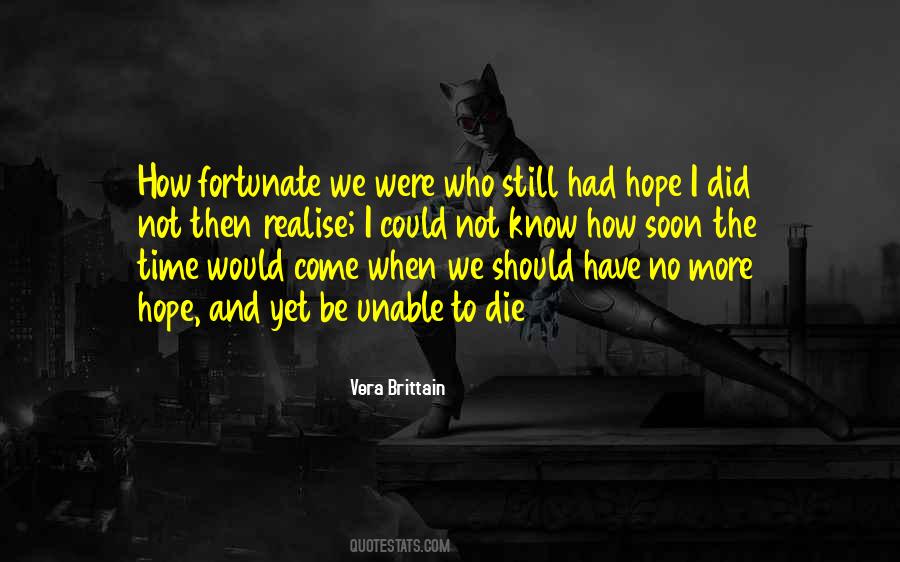 #12. Live each day , like it's your last, and never have regrets. Should've, could've, and would've should not come out your mouth, who knows if we have a tomorrow. - Author: N.a.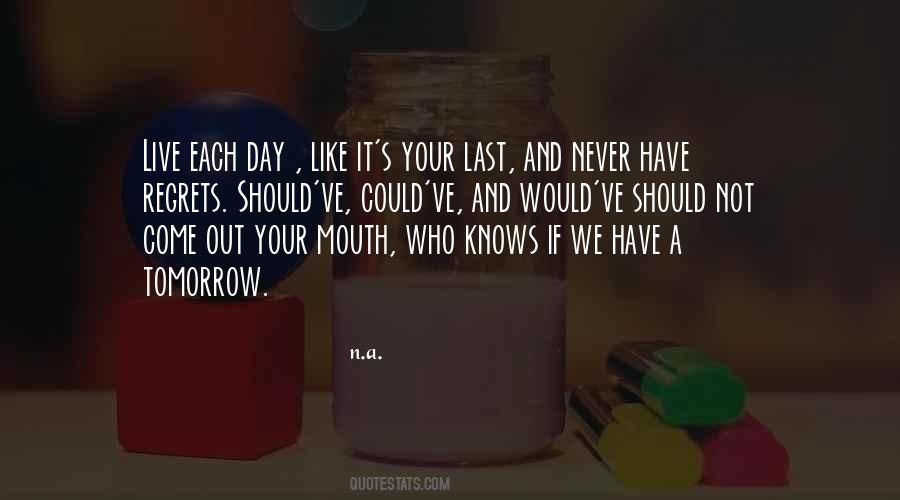 #13. What I do Coco would have hated. The label has an image and it's up to me to update it. I do what she never did. I had to find my mark. I had to go from what Chanel was to what it should be, could be, what it had been to something else. - Author: Karl Lagerfeld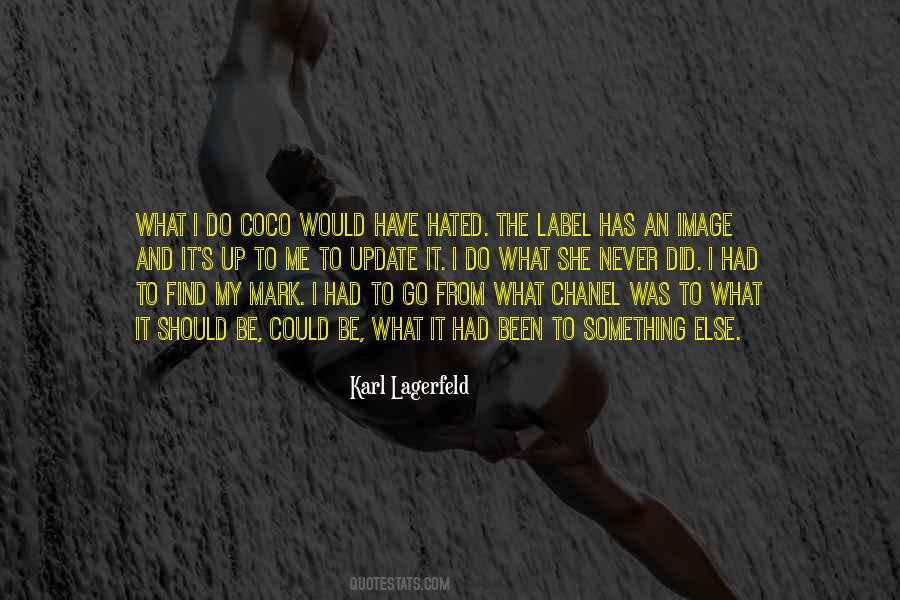 #14. Though the hen should sit all day, she could lay only one egg, and, besides, would not have picked up materials for another. - Author: Henry David Thoreau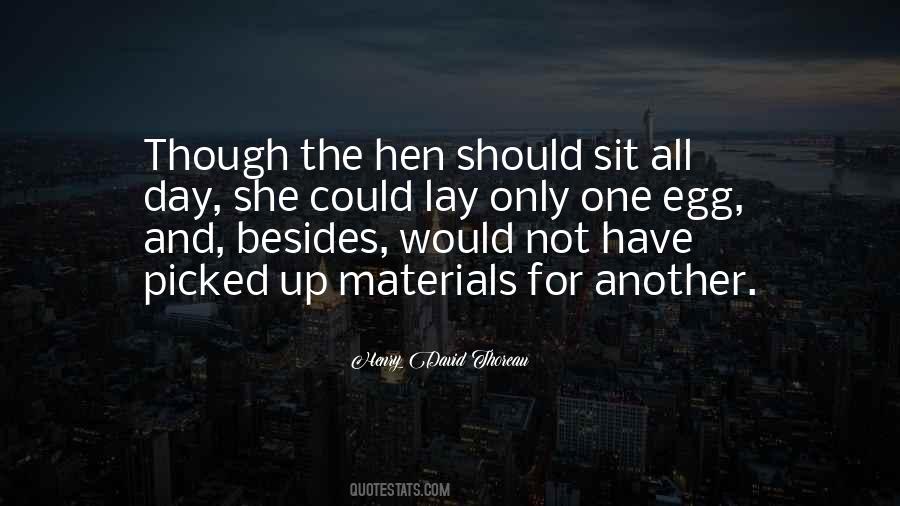 #15. It is true that I should have been surprised in the past to learn that Professor Hardy had joined the Oxford Group. But one could not say the adverse chance was 1:10. Mathematics is a dangerous profession; an appreciable proportion of us go mad, and then this particular event would be quite likely. - Author: John Edensor Littlewood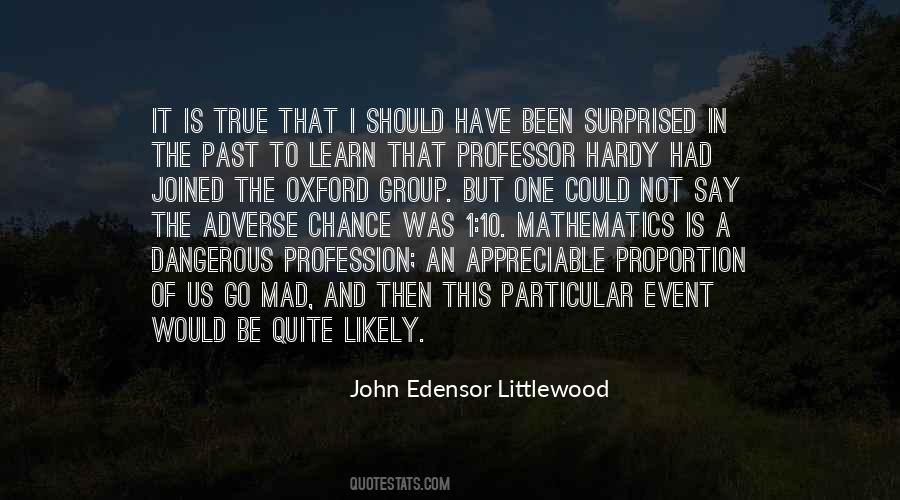 #16. Hell begins the day that God grants you the vision to see all that you could have done, should have done, and would have done, but did not do. - Author: Johann Wolfgang Von Goethe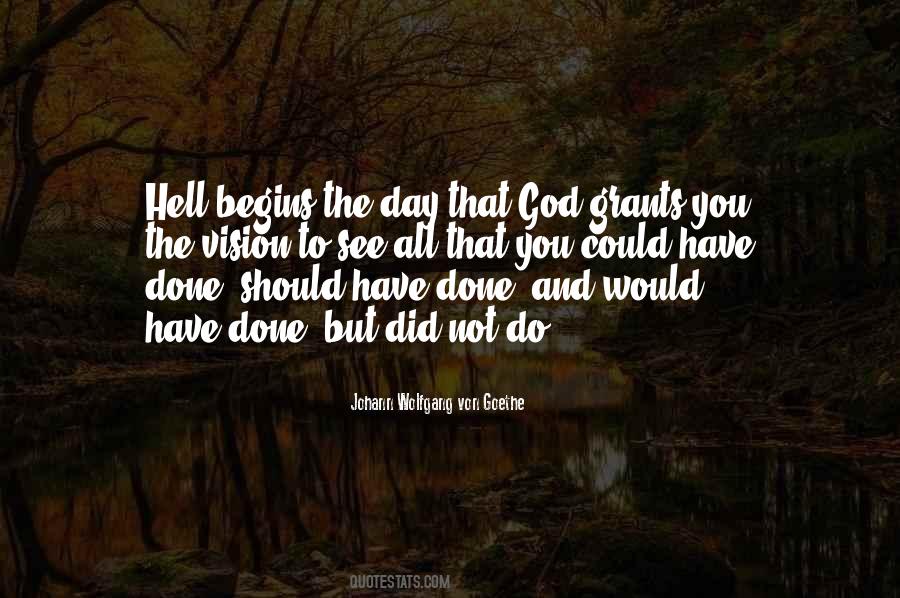 #17. Why didn't I go in? I'm such a chicken. I'm such an idiot. I should have kissed her. I've blown it. I should just go and knock on her door and just kiss her. It would be romantic. It would be something we could someday tell our kids. I'm gonna do that right now.
[drives away] - Author: Charlie Kaufman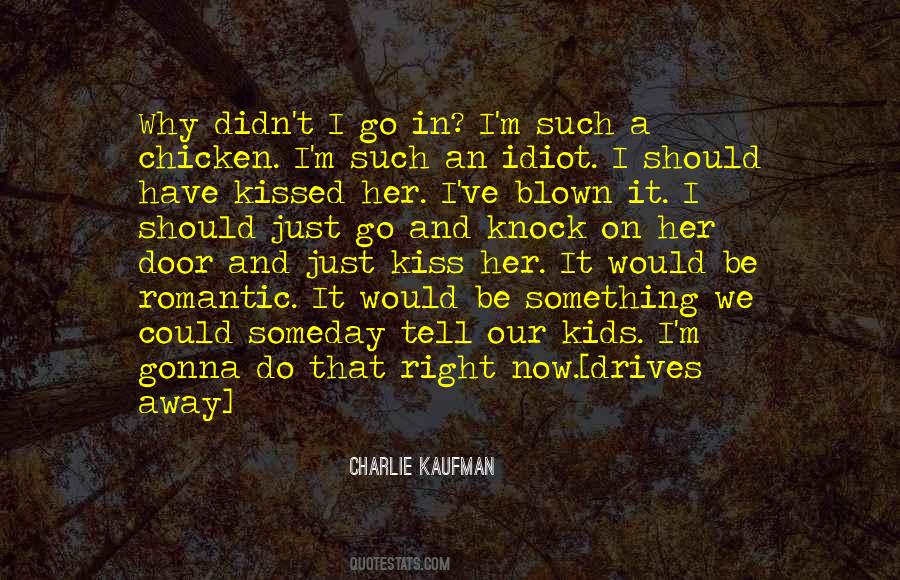 #18. You should marry me", he said. "I will be good to you. I am not like these men. I have manners. You would see how kind I would be. I would never leave you. You could have an easy life. - Author: Larry McMurtry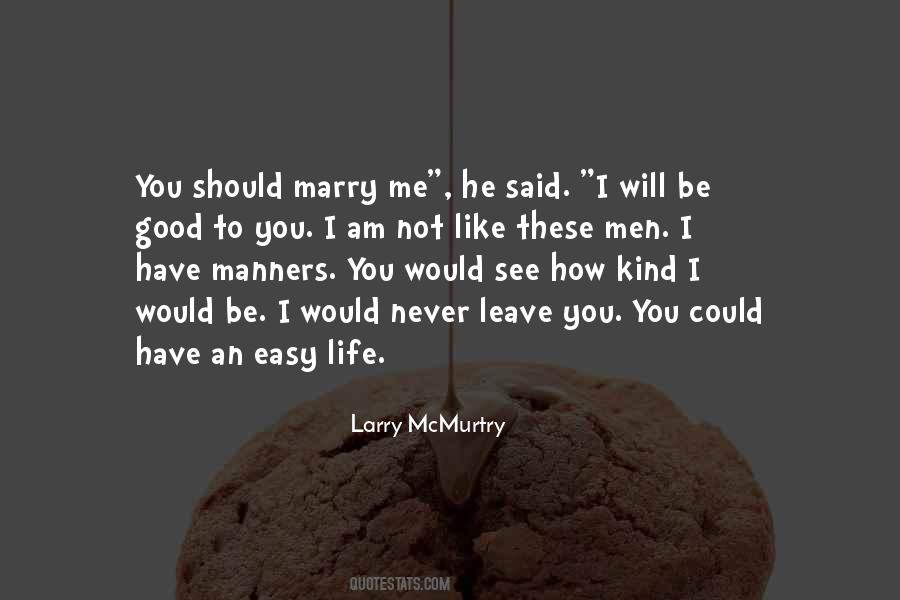 #19. I thought of my father and felt a deep sorrow that he should no longer be alive, and that I could not go to him and tell him that I had been awarded the Nobel Prize. I knew that no one would have been happier than he to hear this. - Author: Selma Lagerlof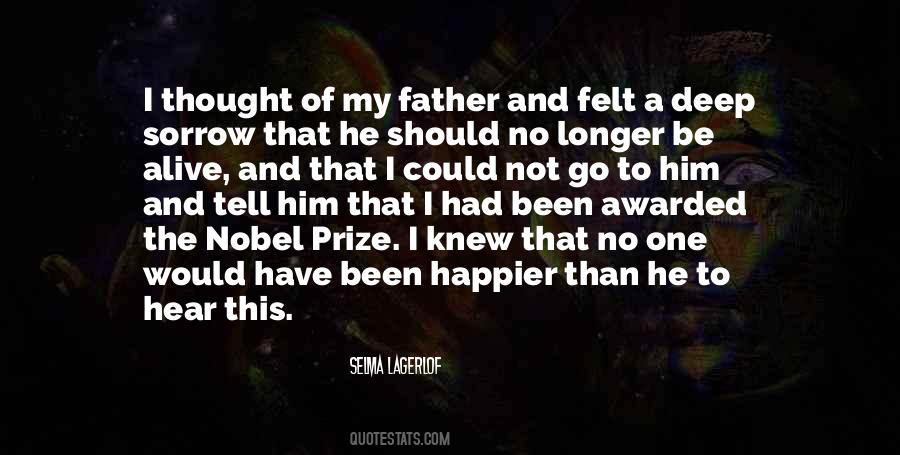 #20. She should have known from that moment; nothing could hurt them. The Four Horsemen of the Apocalypse might have rode into town. Gilly and Sam would have knocked Death off his pale steed and swiped War's sword for a souvenir. - Author: Kristopher Reisz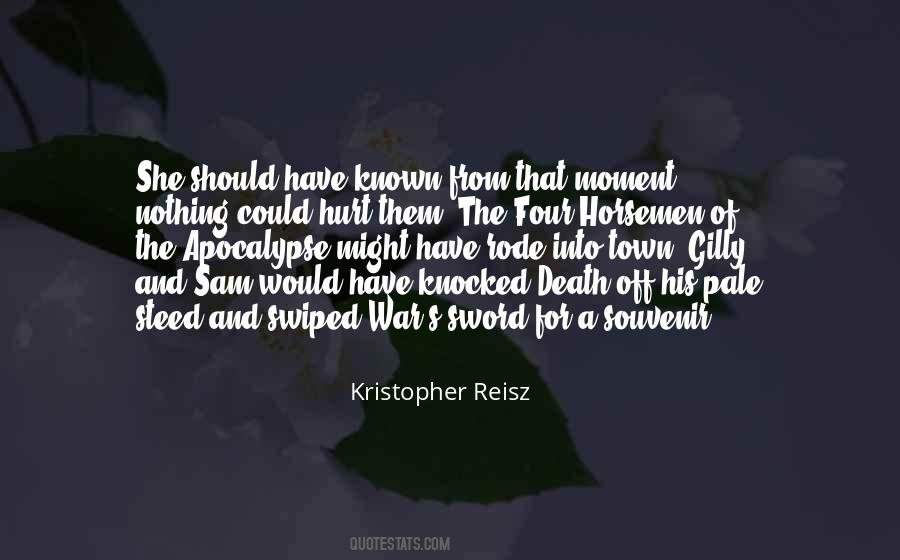 #21. It was as if Joe had given him wings, the wings his own father should have given him long ago, the sense a boy should have that he could jump and wouldn't fall, would fly, and if he failed to fly, he'd be caught, safe and sound. "Thanks. - Author: Brad Vance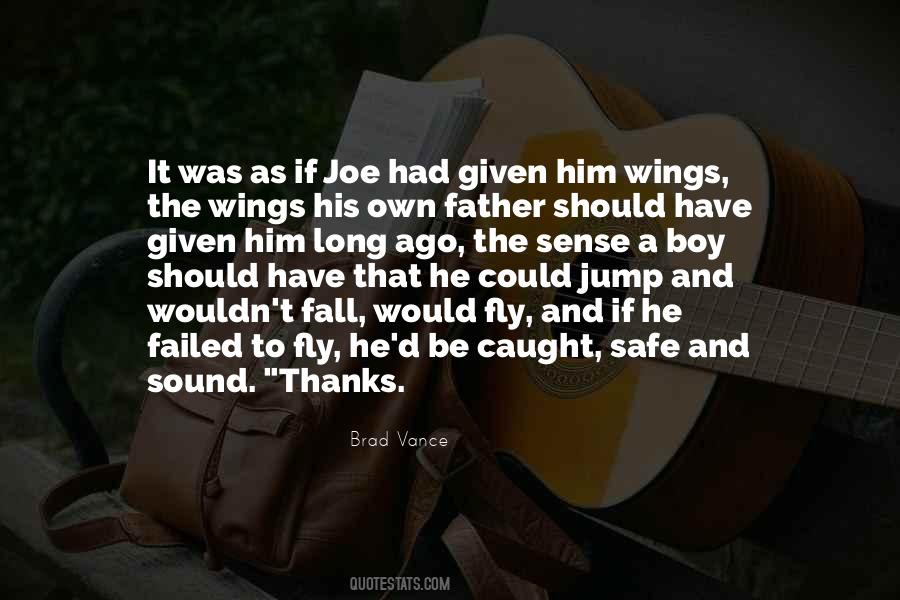 #22. I smell the fresh sea air, and have never felt so at home in my life, out on the open waters, no land as far as the eye can see. It's amazing, beautiful and the air smells of adventure, just the way it should. Just the way it always would if I could control everythig. - Author: Naya S.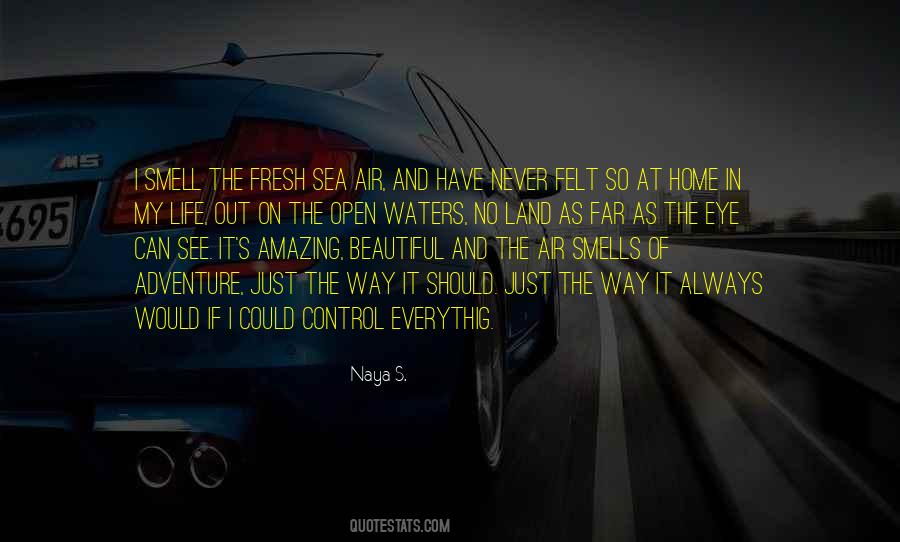 #23. Should have. Would have. Could have. Didn't. - Author: Gabrielle Zevin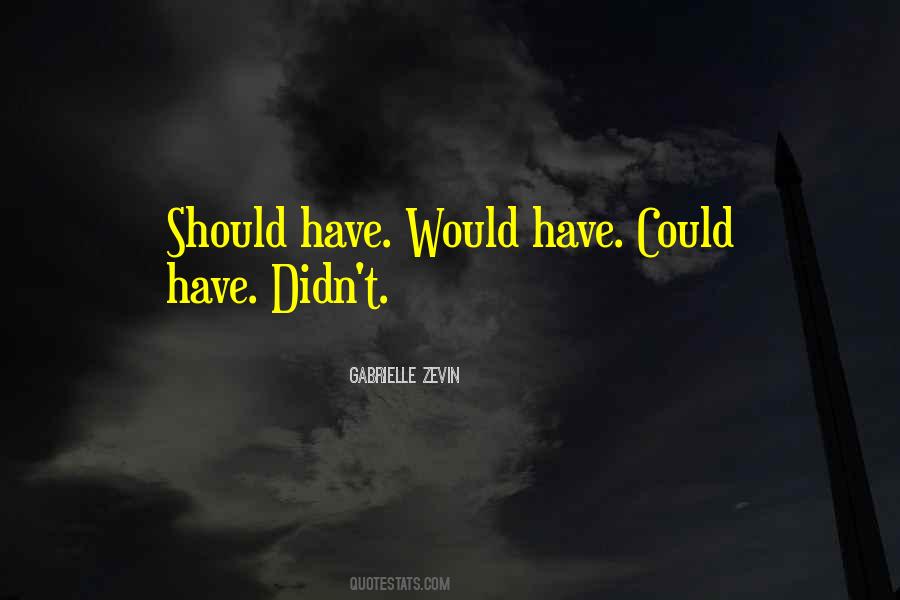 #24. I should have liked to have had him beside me in a glass coffin, so that I could watch him all the time and he would not have been able to get away from me. - Author: Angela Carter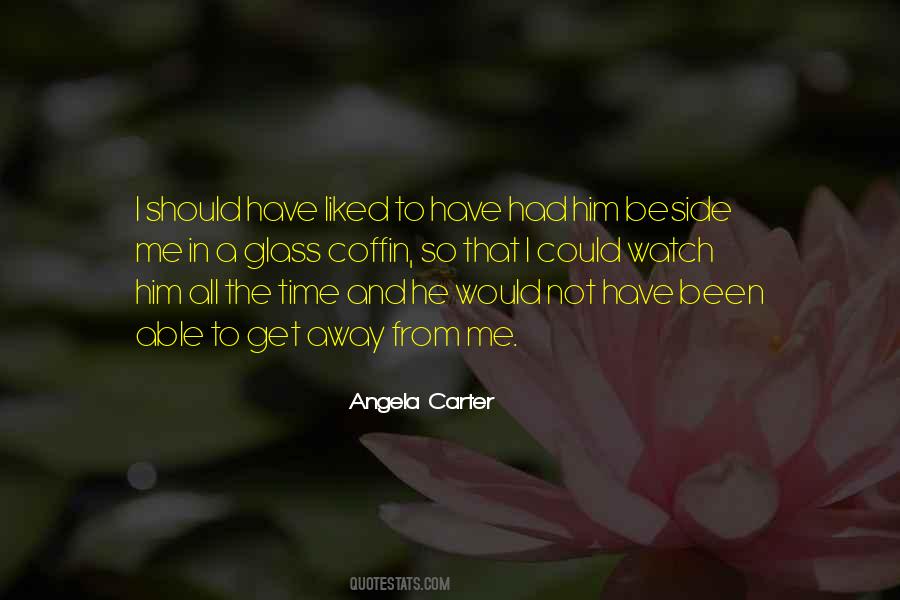 #25. When I start to write a song, I have the words and I have the melody, and then it's just a matter of making it to the end. I think if I have something that I could identify as a talent, it would be that I can finish a song. I kind of know intuitively where the melody should go. - Author: Lou Barlow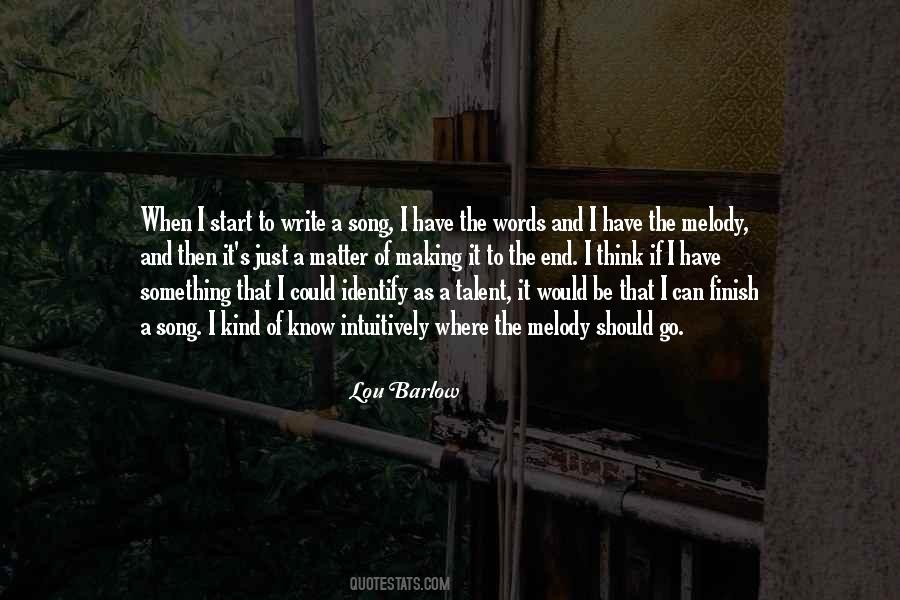 #26. I think that marijuana should not only be legal, I think it should be a cottage industry. It would be wonderful for the state of Maine. There's some pretty good homegrown dope. I'm sure it would be even better if you could grow it with fertilizers and have greenhouses. - Author: Stephen King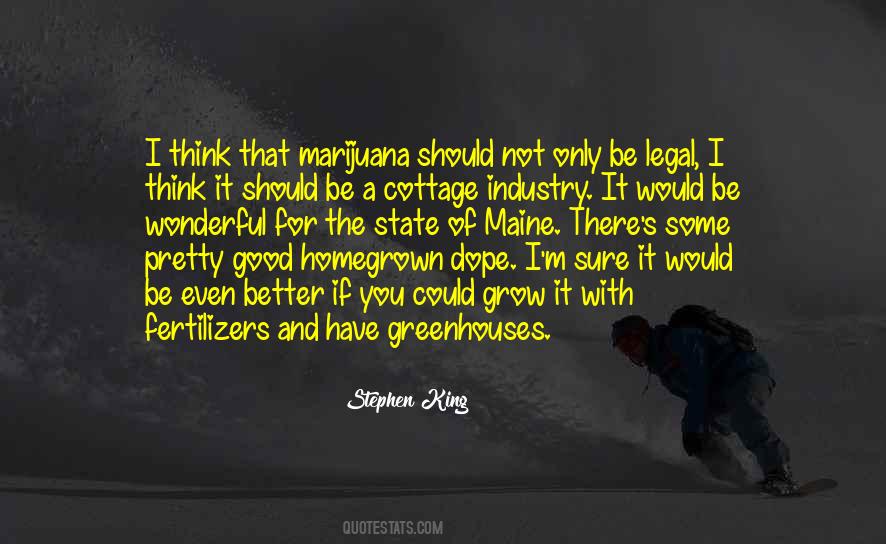 #27. Does anyone believe that the difference between the Lebesgue and Riemann integrals can have physical significance, and that whether say, an airplane would or would not fly could depend on this difference? If such were claimed, I should not care to fly in that plane. - Author: Richard Hamming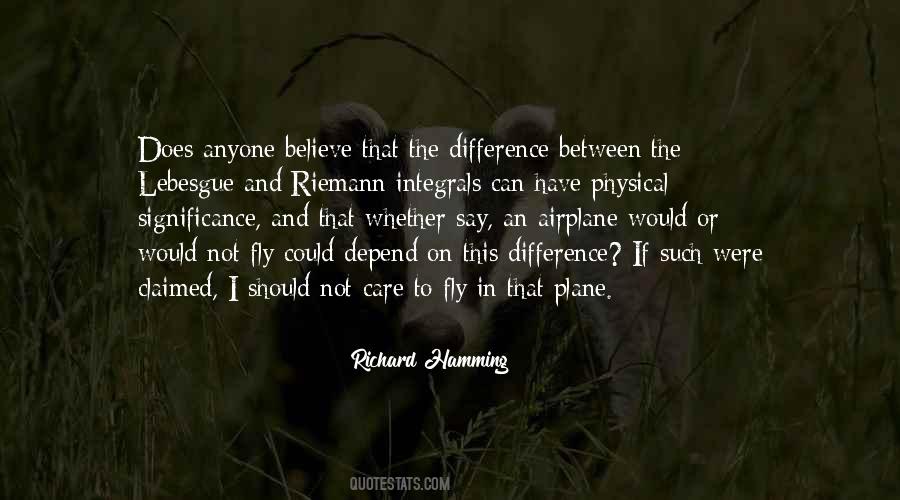 #28. I would have looked away, should have, but I had never seen a green one. A weaker man might have plucked out his own eyes, but being a philosopher, I knew the sight could never be unseen, so I persevered. - Author: Christopher Moore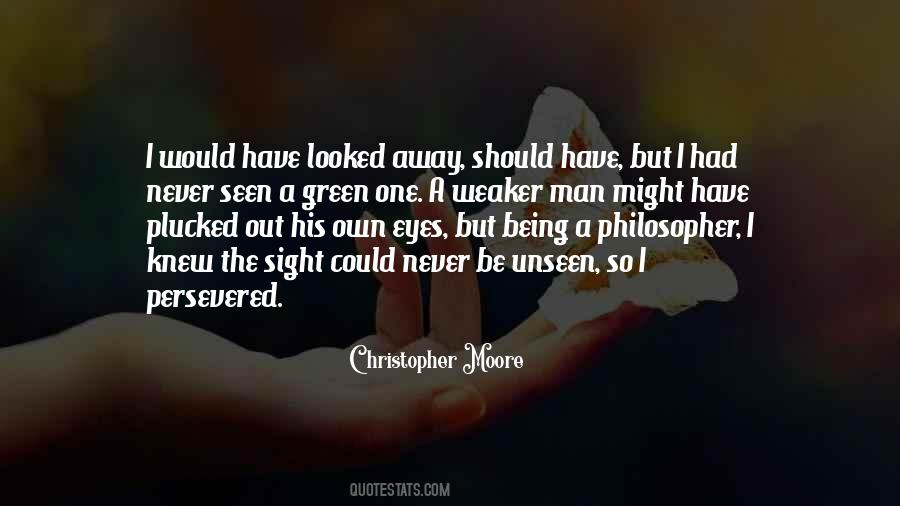 #29. Dedicated to the memory of MY FATHER. For if I had not believed that he would have wished me to give such help as I could toward making his life's work of service to mankind, I should never have been led to write this book. - Author: Leonard Darwin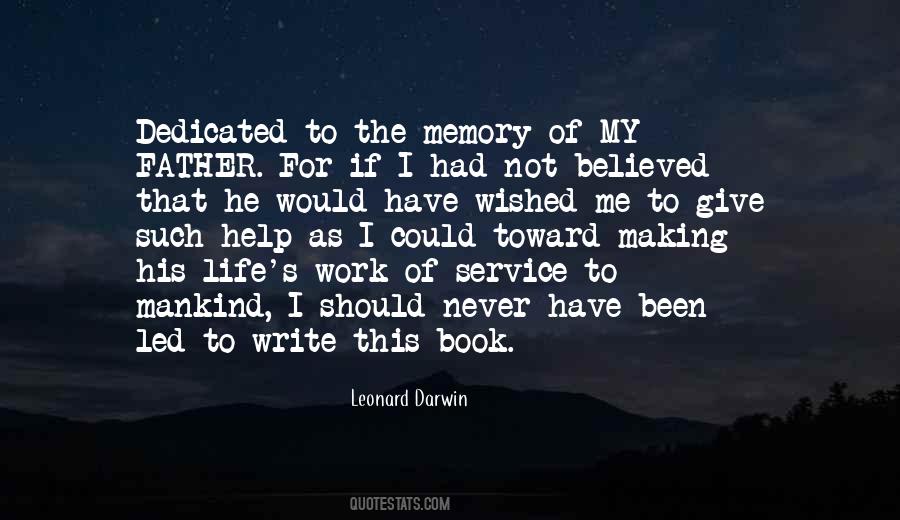 #30. A few little changes here and there and we can please everyone."
You could hand out a red Ferrari to each and every person on Earth and someone would complain that his free fucking Ferrari should have been blue. Apparently Sydney hadn't accepted that truth yet. - Author: S.E. Harmon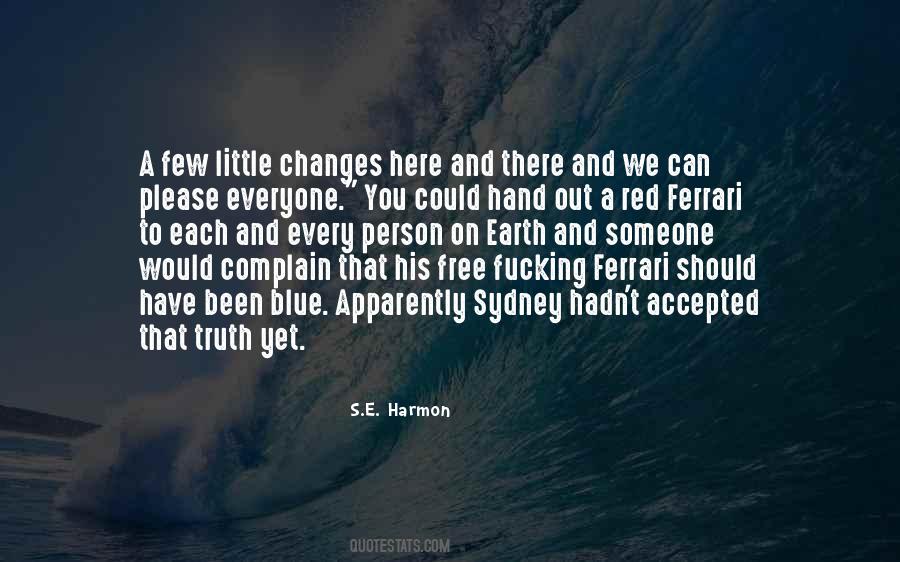 #31. I have learned a great deal in my life, and DeMolay helped me to learn that character and integrity should be cornerstones in your life. As a Senior DeMolay, as a father, the best advice I could ever give would be to take the high road in life, and you will be able to build trusting relationships. - Author: Larry Wilcox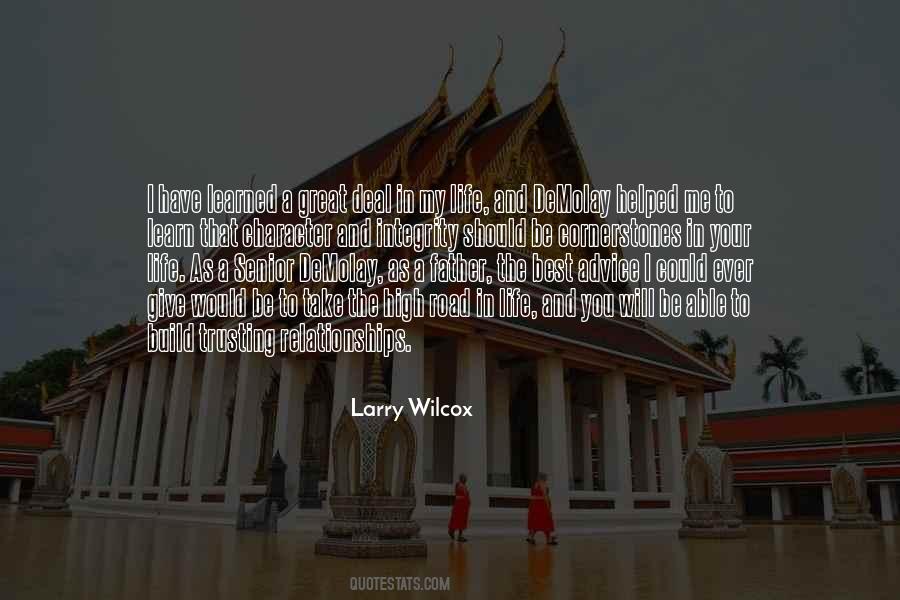 #32. You could have an eight-inch thick titanium diaper bolted to your pelvis, and you would still somehow get laid. It should be their official tourism slogan: Israel Where Virginity Goes to Die. - Author: Jesse Andrews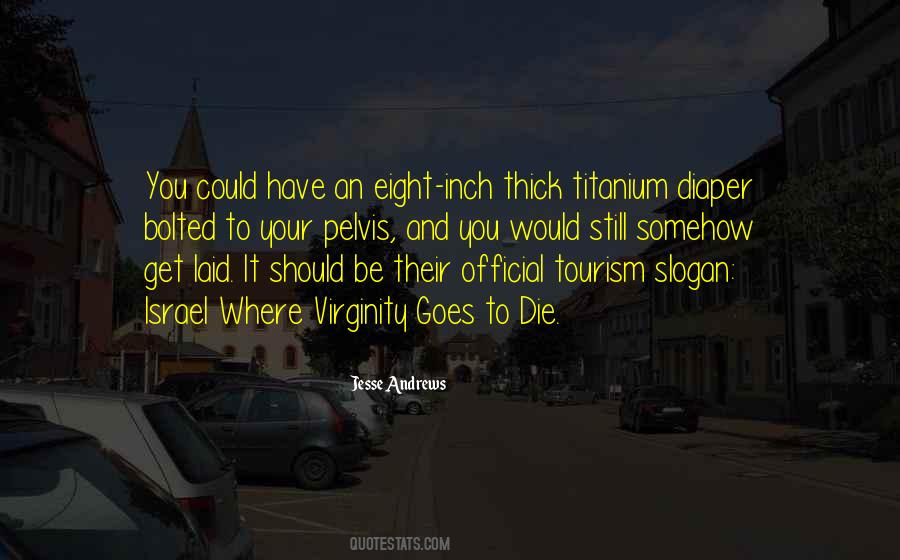 #33. I could lecture on dry oak leaves; I could, but who would hear me? If I were to try it on any large audience, I fear it would be no gain to them, and a positive loss to me. I should have behaved rudely toward my rustling friends. - Author: Henry David Thoreau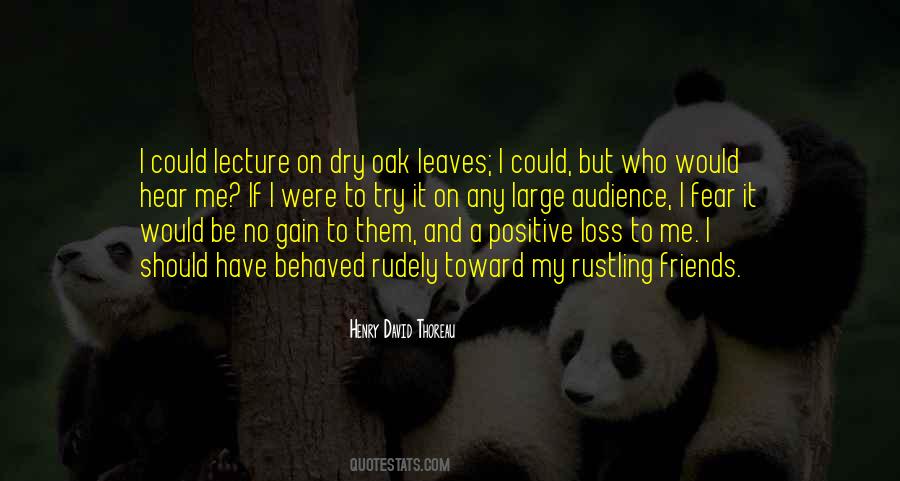 #34. There was one of two things I had a right to: liberty or death. If I could not have one, I would take the other, for no man should take me alive. I should fight for liberty as long as my strength lasted. - Author: Harriet Tubman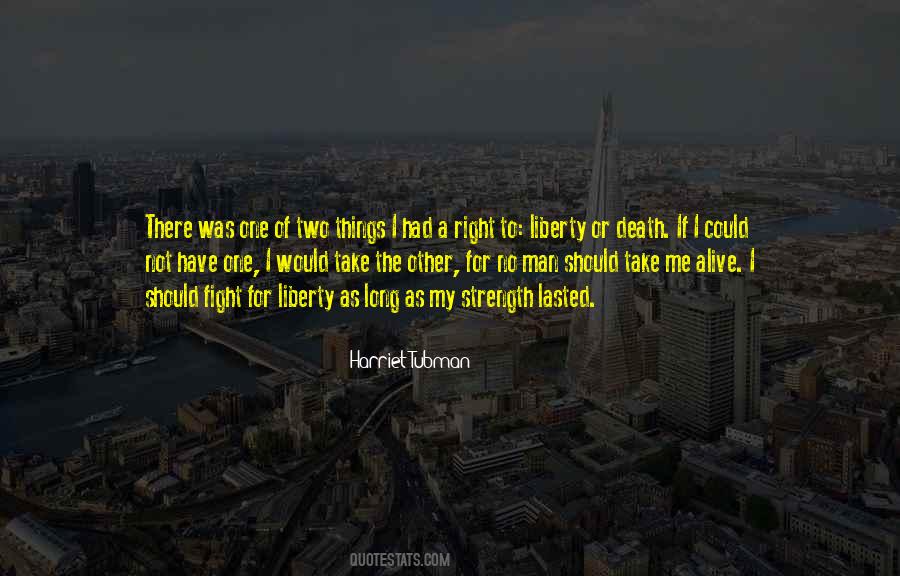 #35. The US spends more on energy R&D than all other countries put together, and I personally consider it quite inadequate. In fact, I would have said we should more than double it, if I thought the absorptive capacity could scale up and if it was actually possible to get to that level. - Author: Bill Gates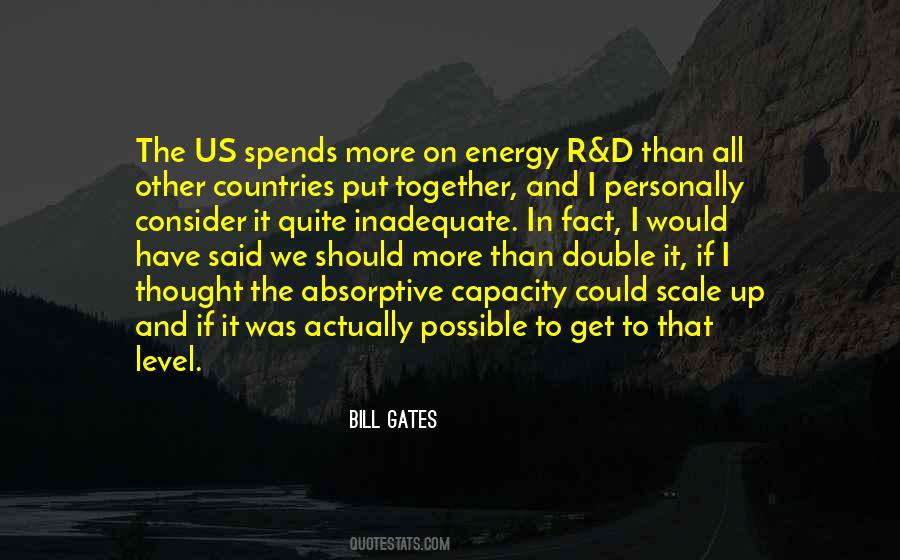 #36. As if they were supposed to have made a direct hit, to have a long, full, crazy, wild, passion-filled, child-strewn life together, but somehow they'd come at each other from the wrong angle, and missed what could have/would have/should have been. - Author: Karen Marie Moning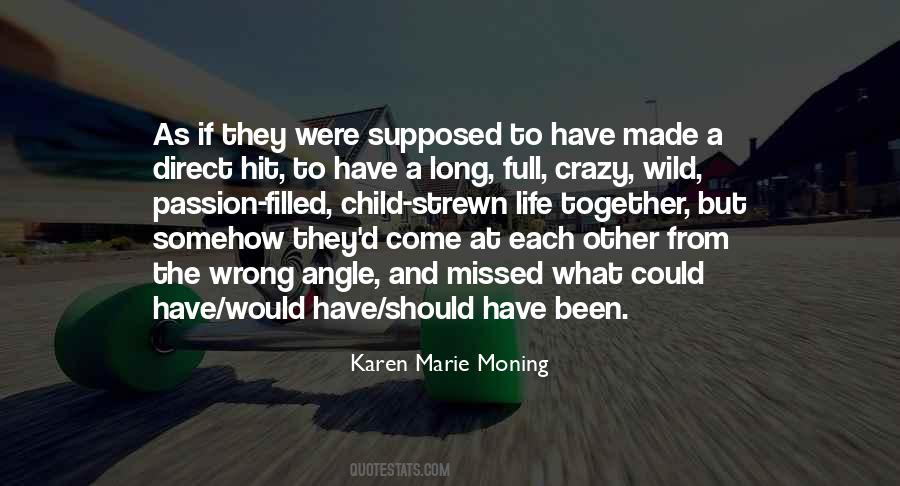 #37. I was not good at the whole making-death-a-positive-transition thing. How could I? I wanted her to fight to the last breath. It was a mistake. I should have listened to her fear, comforted her. Instead I'd promised her that everything would be okay, that she would heal. - Author: Kristin Hannah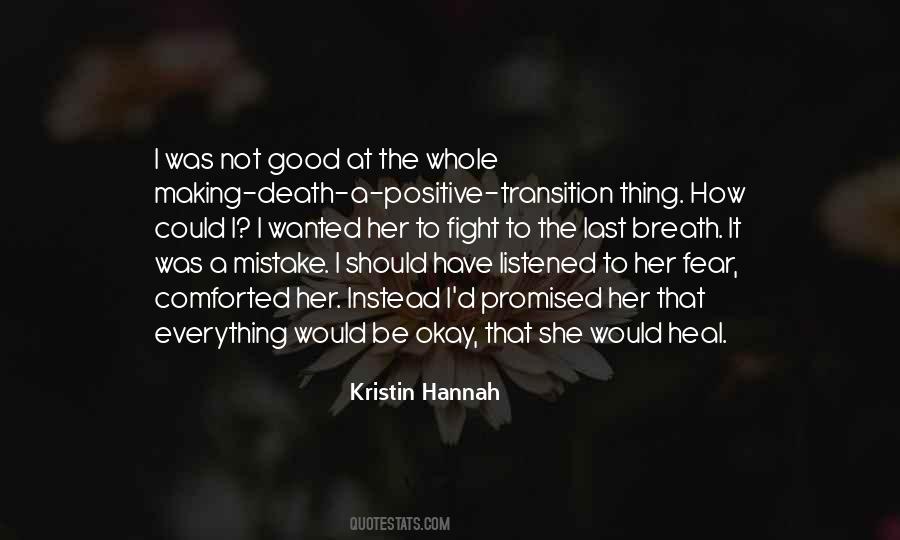 #38. We fixate on sins of commission: Don't do this, don't do that - and you're OK. But that is holiness by subtraction. And it's more hypocrisy than holiness! It's the sins of omission - what you would have, could have, and should have done - that break the heart of your heavenly Father. - Author: Mark Batterson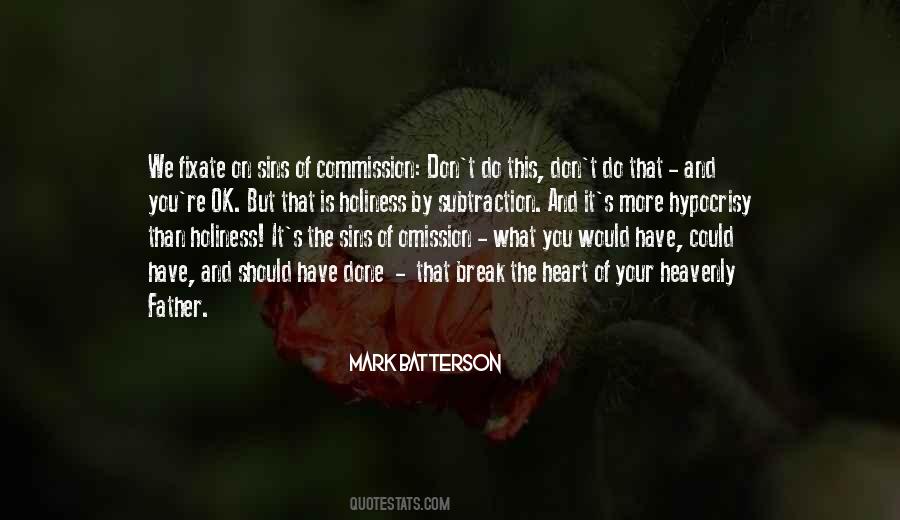 #39. And down I went to fetch my bride: But, Alice, you were ill at ease; This dress and that by turns you tried, Too fearful that you should not please. I loved you better for your fears, I knew you could not look but well; And dews, that would have fall'n in tears, I kiss'd away before they fell. - Author: Alfred Lord Tennyson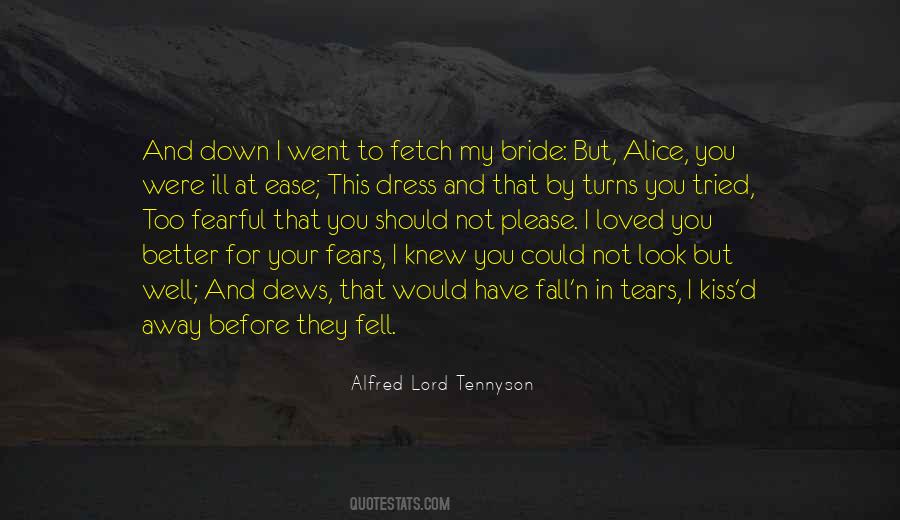 #40. Forgive yourself first. Release the need to replay a negative situation over and over again in your mind. Don't become a hostage to your past by always reviewing and reliving your mistakes. Don't remind yourself of what should have, could have or would have been. Release it and let it go. Move on. - Author: Les Brown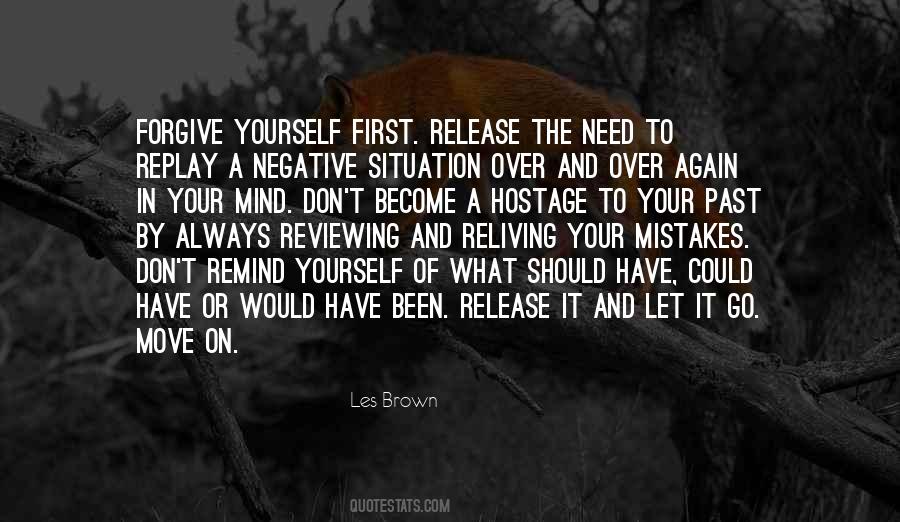 #41. How much further beyond basic research the role of the government should be, you could have a really good debate about it. Almost nobody would say it's zero. But that's where at least we need the private sector to play a big role. - Author: Bill Gates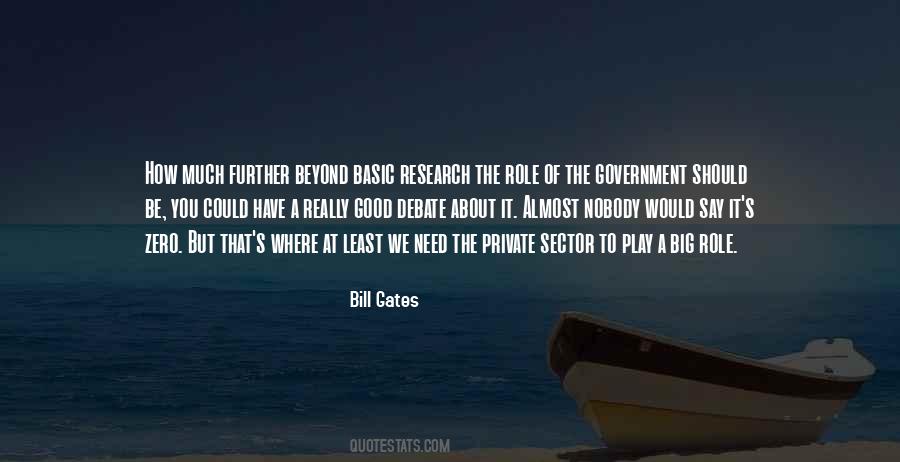 #42. This search is all about faith. Faith that what's clearly impossible might somehow turn out not to be. Faith that we can do what we never would have thought we could. Faith to keep going when everything tells us we should turn back. - Author: Terry Brooks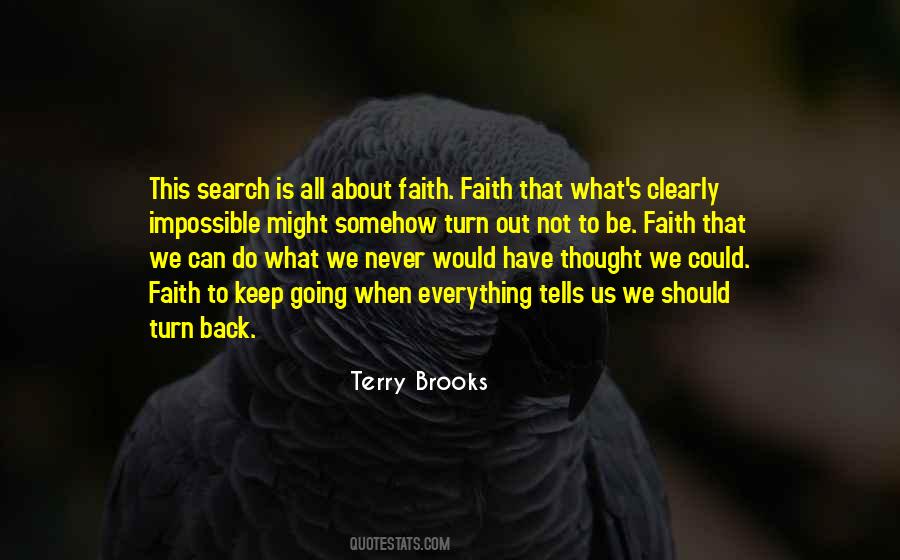 #43. But no longer could I aks God what to do, since the answer, I was sure, would not suit me. I could do what suited me know, as long as I could pay for it. 'As long as I could pay for it.' That phrase soon became the tail that wagged my dog. If I had died then, it should have been my epigraph. - Author: Jamaica Kincaid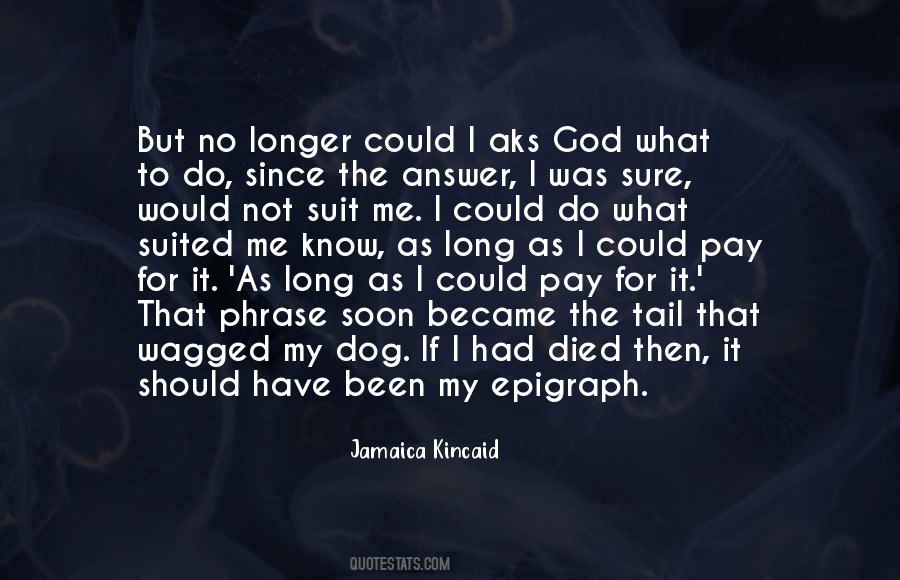 #44. When I looked back, nothing was ever as bad as I thought it would be. In fact, it was usually better than I could have imagined. I learned that we should take each moment both more and less seriously because everything passes. The joyful moments are just as fleeting as the terrible ones. - Author: Noelle Hancock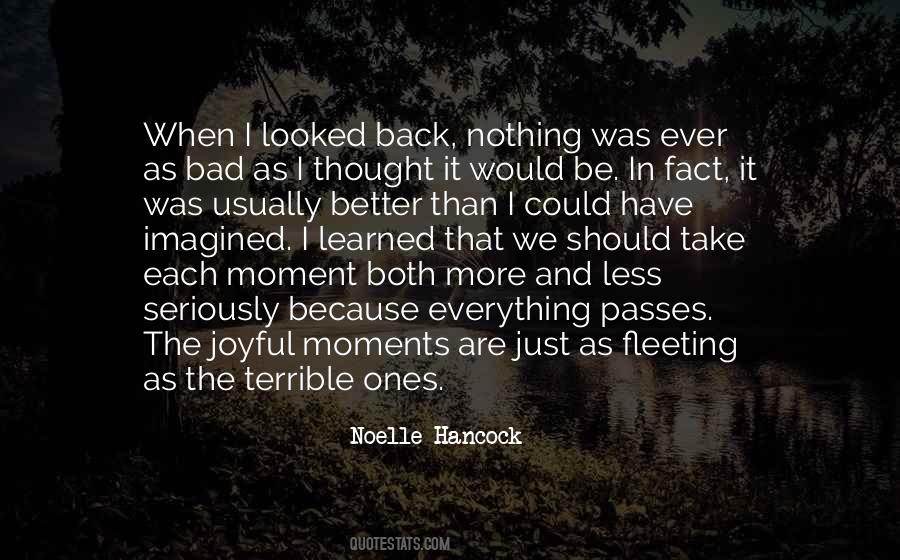 #45. How many chapters have been written about love verses - and how many more might be written! - might, would, could, should, or ought to be written! - I will venture to say, will be written! - Author: Samuel Lover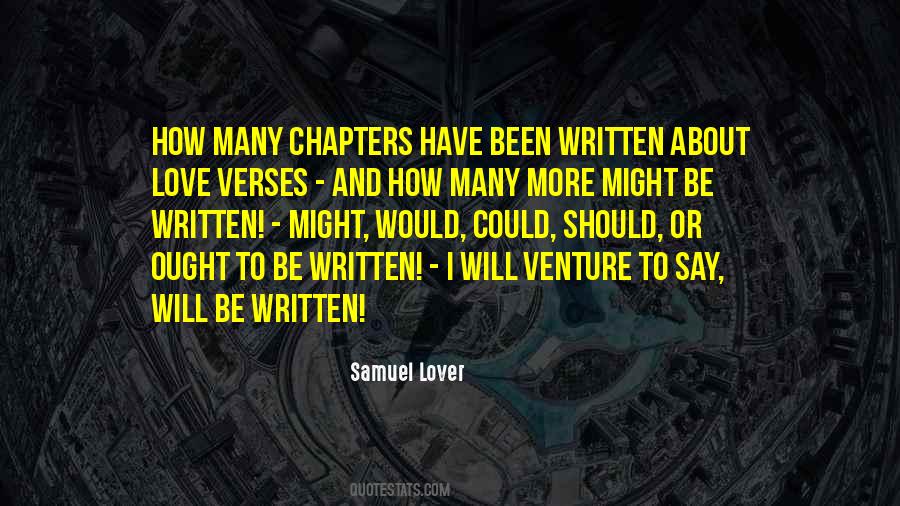 #46. We don't have to guess what Mitt Romney would have done if he were president. Because he told us. He said we should let foreclosures - and I quote - 'hit the bottom' so the market could - I quote - 'run its course.' - Author: Kamala Harris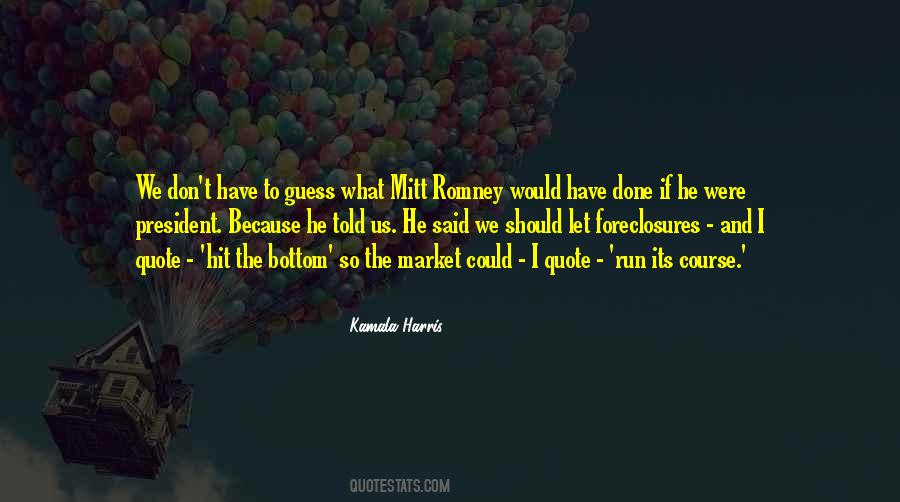 #47. She could never, she would never, should never, have this man. - Author: Elise Kova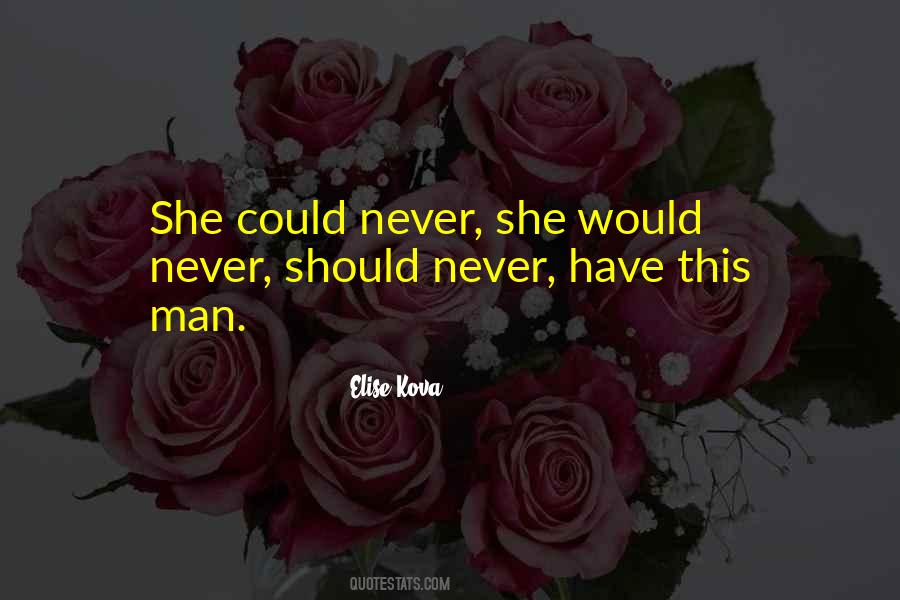 #48. If at any time all labour should cease, and all existing provisions be equally divided among the people, at the end of a single year there could scarcely be one human being left alive
all would have perished by want of subsistence. - Author: Abraham Lincoln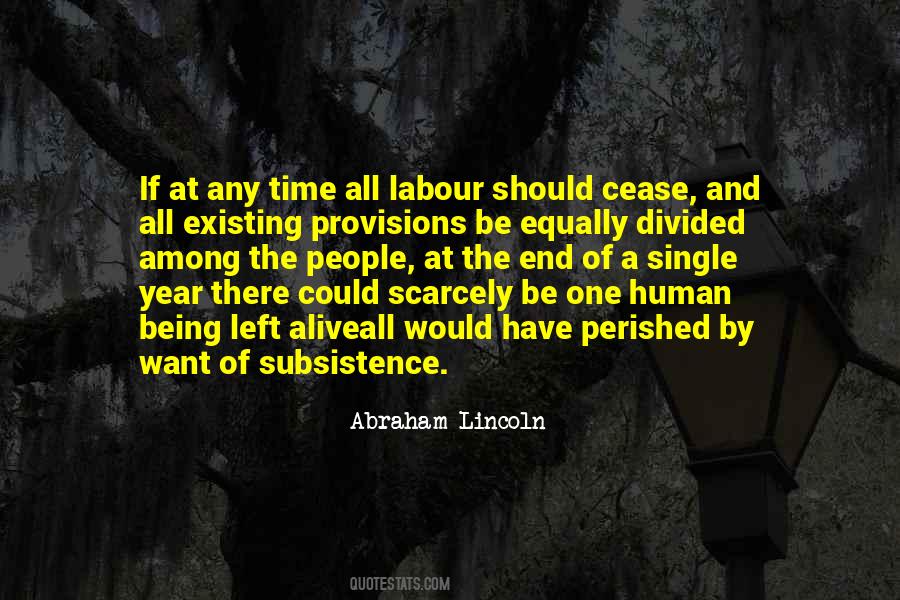 #49. One of the lessons of 9/11 and (Hurricane) Katrina was 'communication, communication, communication, .. We don't want to have to say 'should have, could have, would have.'. - Author: Mufi Hannemann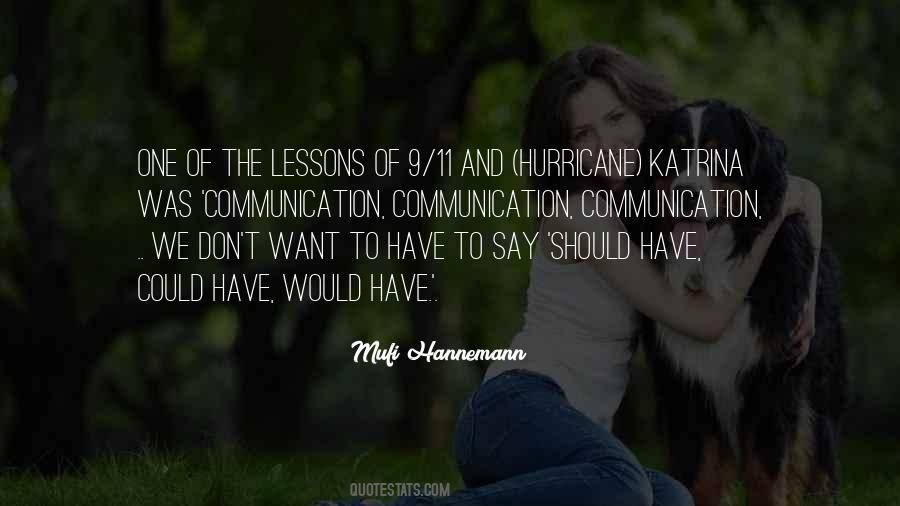 Famous Authors
Popular Topics