Business And Passion Famous Quotes & Sayings
List of top 59 famous quotes and sayings about business and passion to read and share with friends on your Facebook, Twitter, blogs.
Top 59 Business And Passion Quotes
#1. To become a distinguished entrepreneur, you need to have an undeniable, unquestionable and unmovable passion for your vision. - Author: Onyi Anyado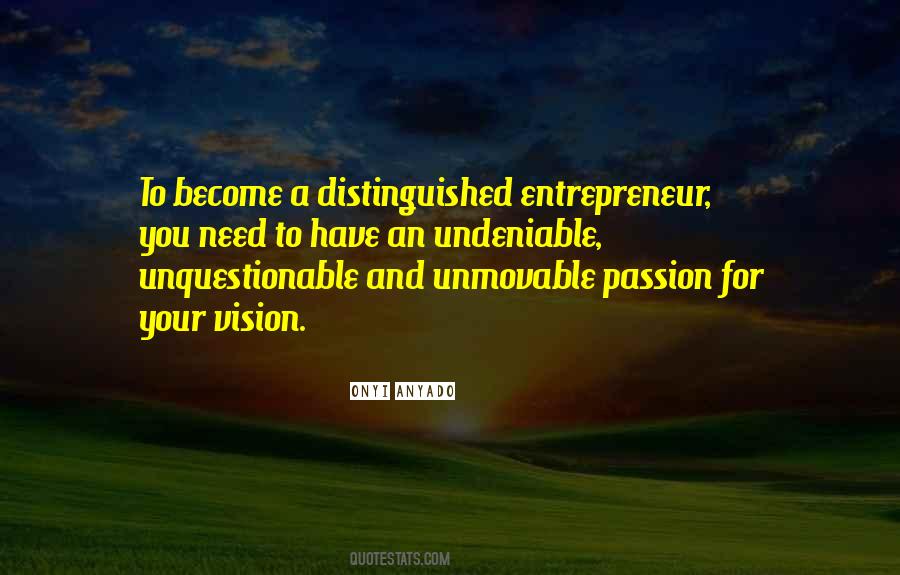 #2. Passion gets an entrepreneur through the startup days and the enormous efforts it takes to build a business. - Author: Peter Diamandis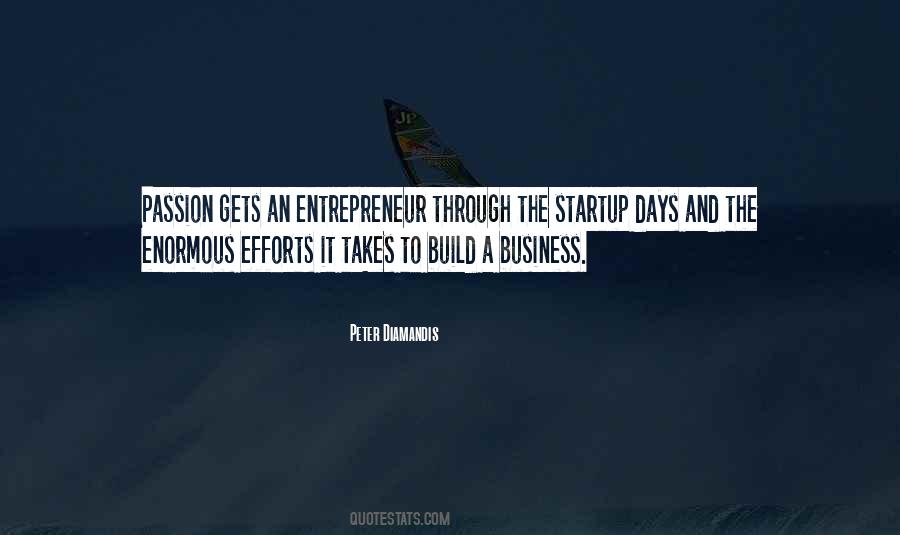 #3. You get typecast. You have to find a niche in this business. So, the roles that I got cast in were the Latina or the Italian spitfires. The woman with a passion and the woman who didn't want to listen to anyone, did everything her own way, very self-willed. - Author: Patricia Mauceri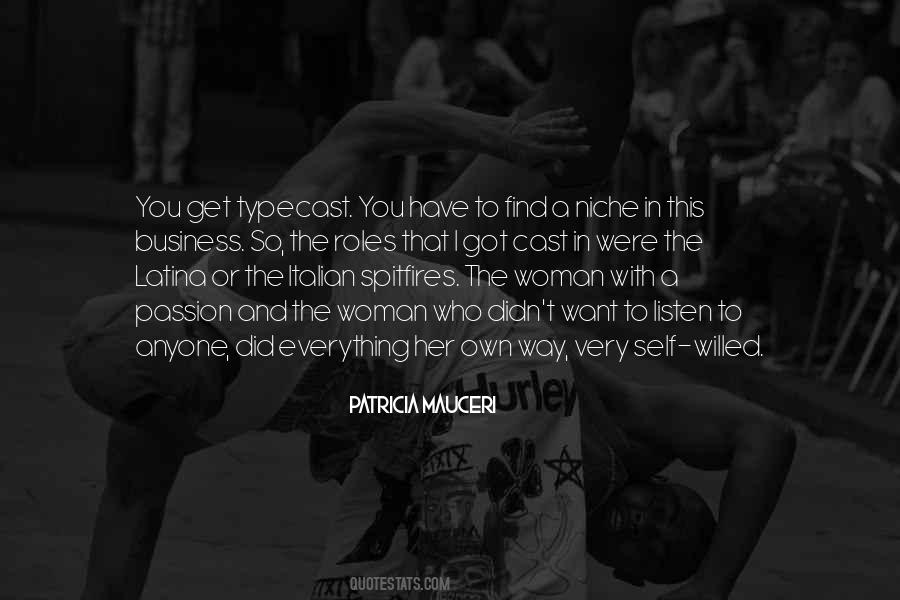 #4. Once I got my business degree I realized I didn't want to do business anymore. My passion started to kick in and say, "Are you really sure this is what you want to do with the rest of your life? Are you 100% positive?" - Author: Jay Ellis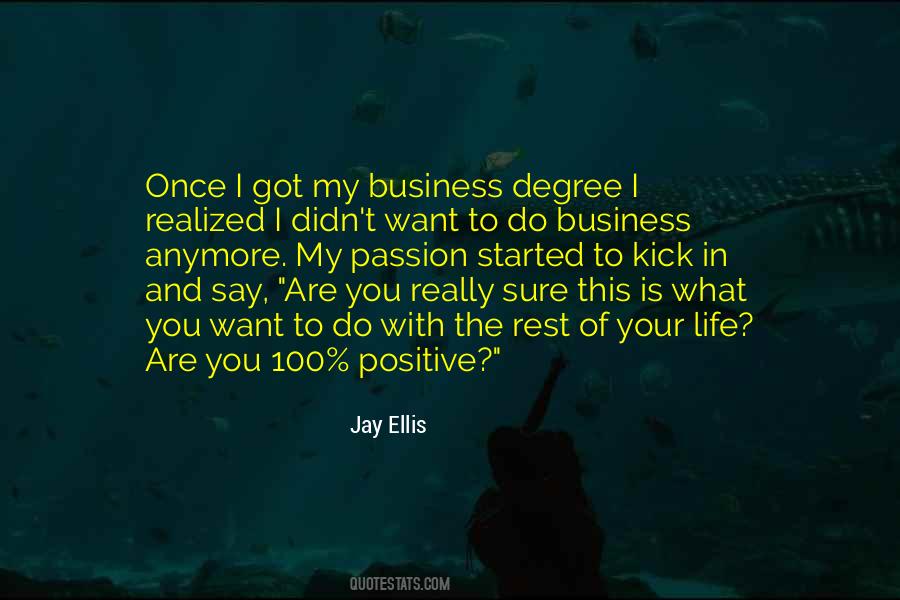 #5. Every entrepreneur talks about the passion you have for your work, and I think that's what's missing with a lot of women in business. - Author: Martha Stewart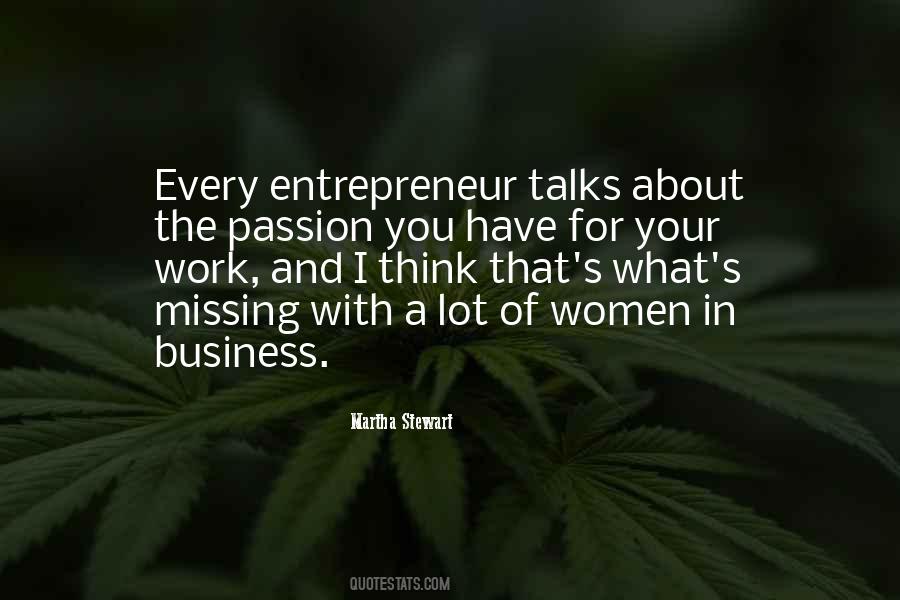 #6. Passion doesn't come from business or books or even a connection with another person. It is a connection to your own life force, the world around you and the spirit that connects us all. You are the source. Books, work, music, people, sunsets all provide sparks, but only you can light the fire. - Author: Jennifer James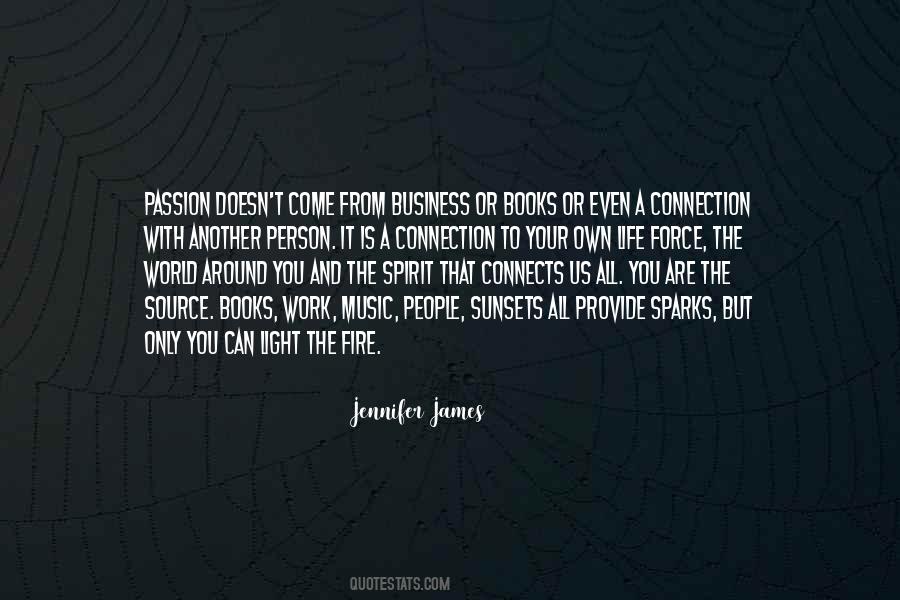 #7. It always amuses me how much time people have to sit there and focus their energy on slagging you off. If they spent a fraction of that time on passion on working on their own business... they might actually get somewhere in life! - Author: Lisa Newton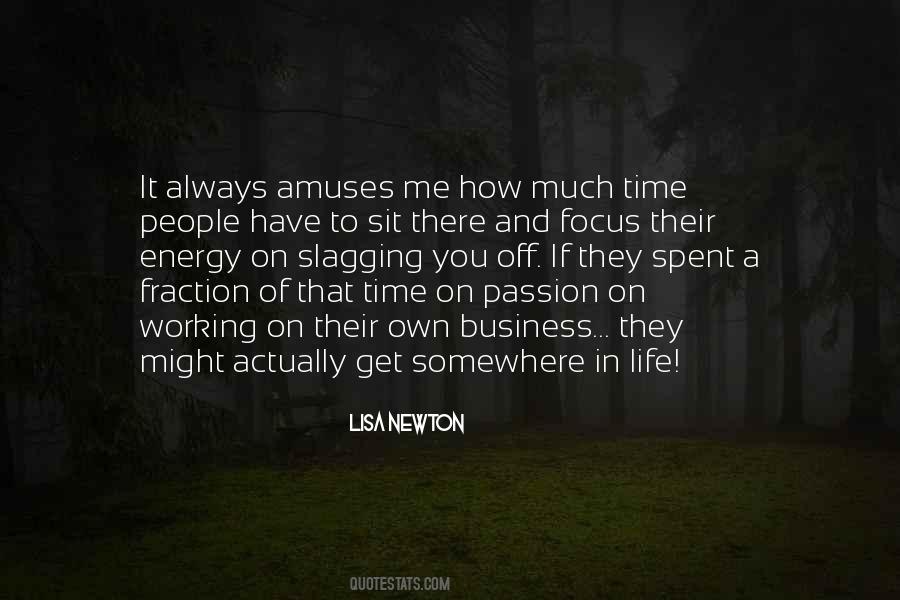 #8. Some activities may look attractive, but you don't have any business dating them, else they break you up. It may be good, but not right. Flee from good things and do right things! - Author: Israelmore Ayivor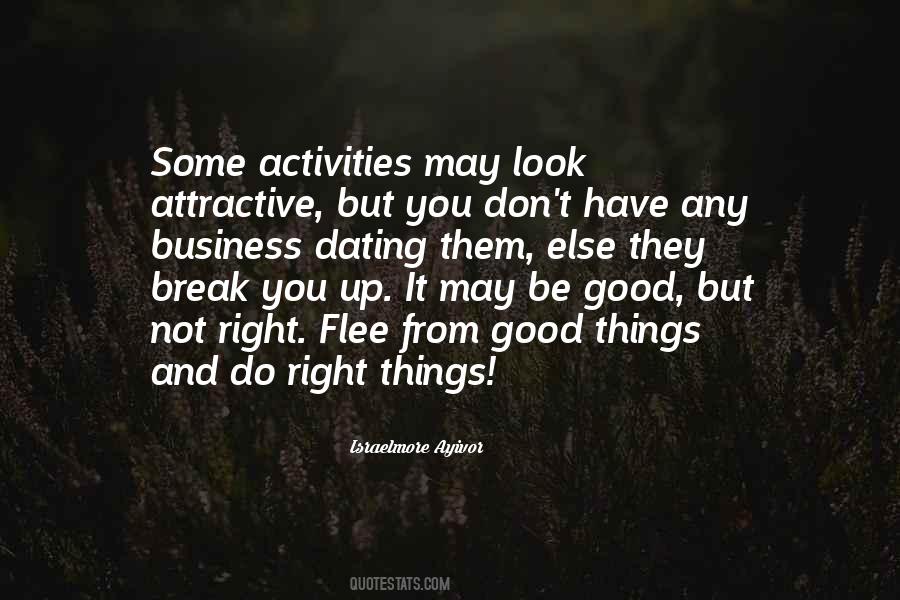 #9. I still enjoy what I'm doing, which is building businesses. I don't play golf. I don't have any particular passion apart from my business and my family, and that gives me all the pleasure that I want. - Author: Christoffel Wiese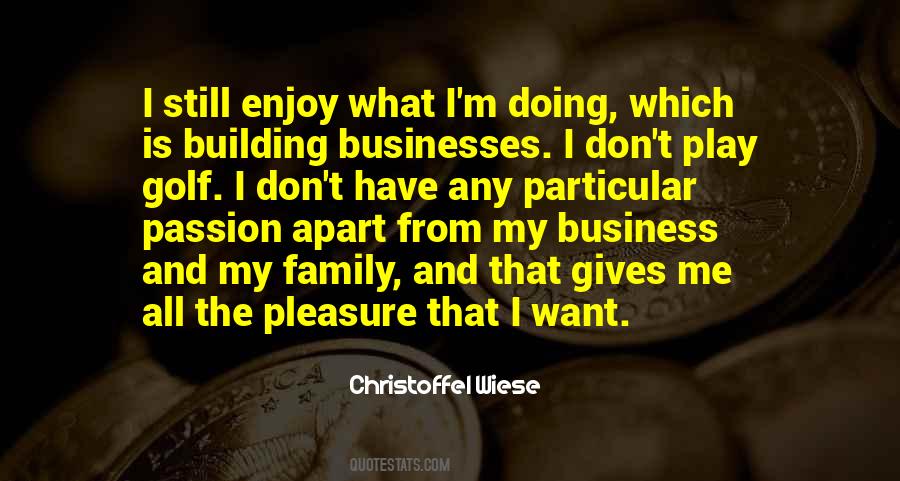 #10. All of your precious resources - time, energy, talent, passion, and money - should only go to the areas of your life or your business that are best, are fixable, and are indespensable. Otherwise, average sets in and [your life] does not become what it was designed to be. - Author: Henry Cloud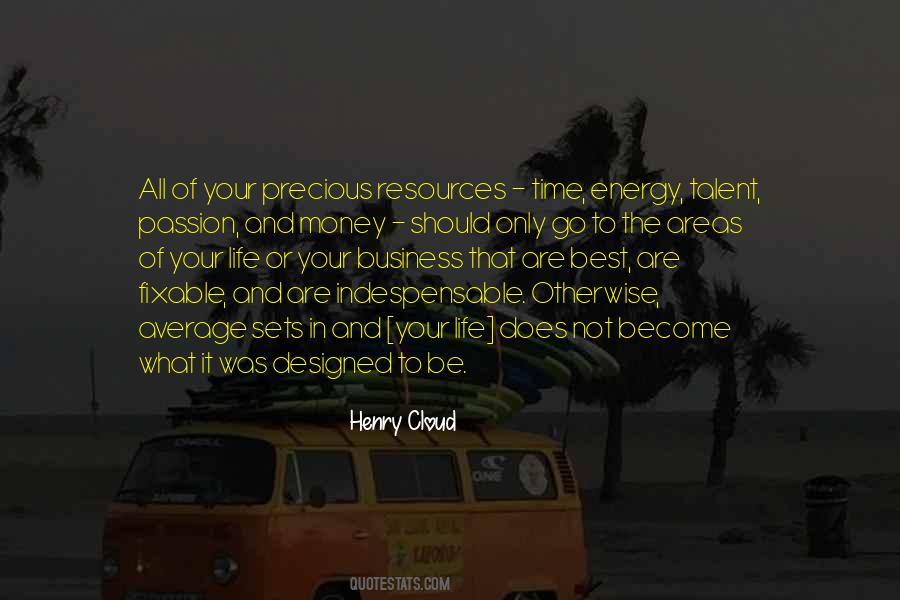 #11. While it is certainly the biographer's business to describe the foibles, passions and idiosyncrasies which make his subject a person, his work will be very meagre if these individual traits are not also seen as part of a universal drama - for each man's life is also the story of Everyman. - Author: Iris Origo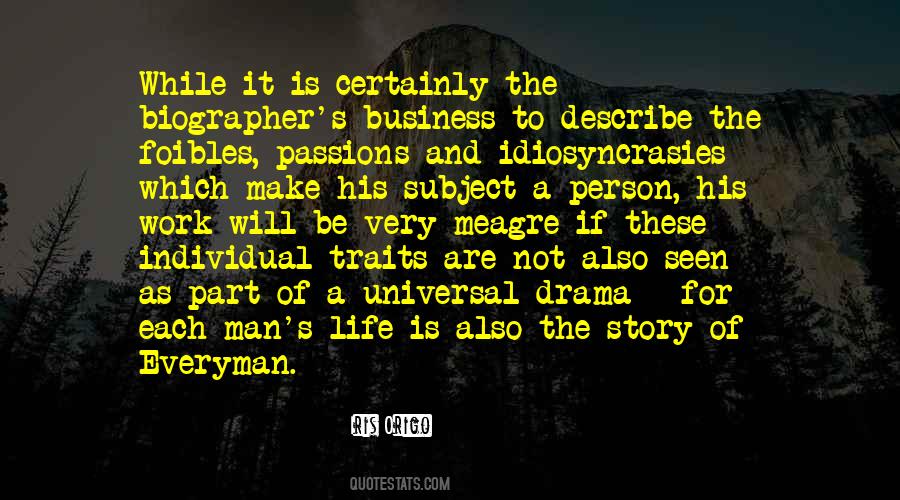 #12. a deep love and passion for your business is having a plan. A plan is critical. Without this roadmap, you are apt to get lost. - Author: Dennise Cardona
#13. Avarice is generally the last passion of those lives of which the first part has been squandered in pleasure, and the second devoted to ambition. He that sinks under the fatigue of getting wealth, lulls his age with the milder business of saving it - Author: Samuel Johnson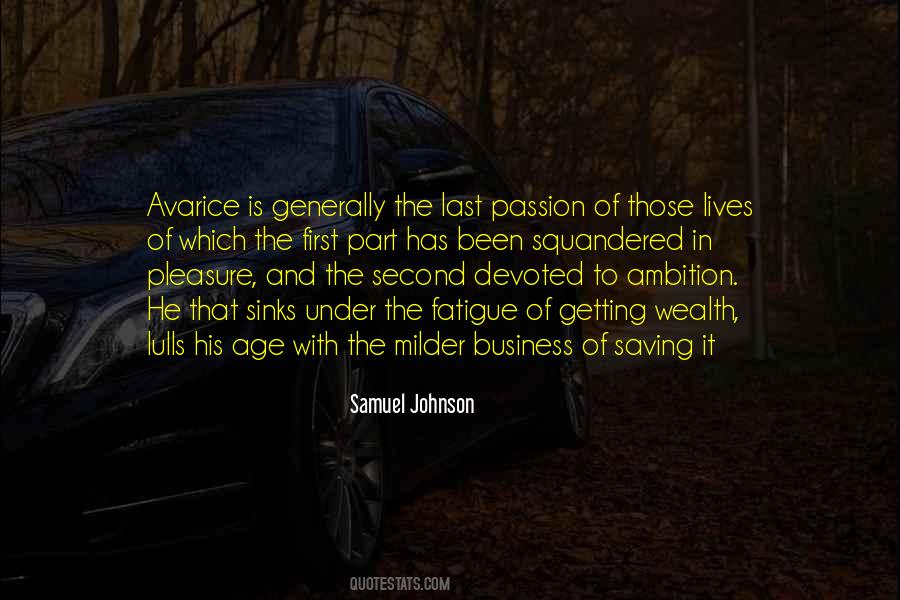 #14. There was a guy with extra millions in the bank. And he spent all his free time, all his energy, spending his money. His cars, his houses, his vacations. Just like the rich bankers here in Luxembourg, whose business was making money and whose passion was spending it. - Author: Chris Pavone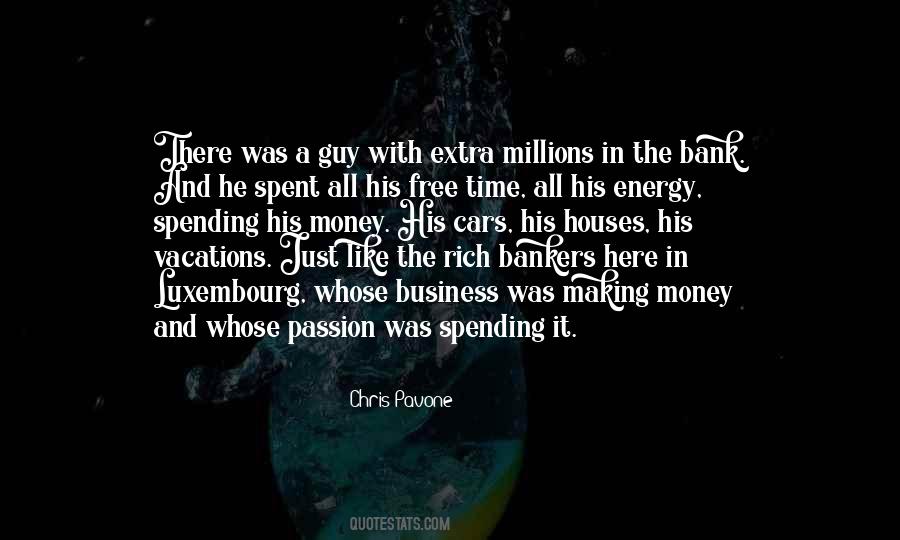 #15. When excitement and passion are evident, people want to be around you - including prospects. Prospects will want to do business with you because your joy is contagious. - Author: Michelle Moore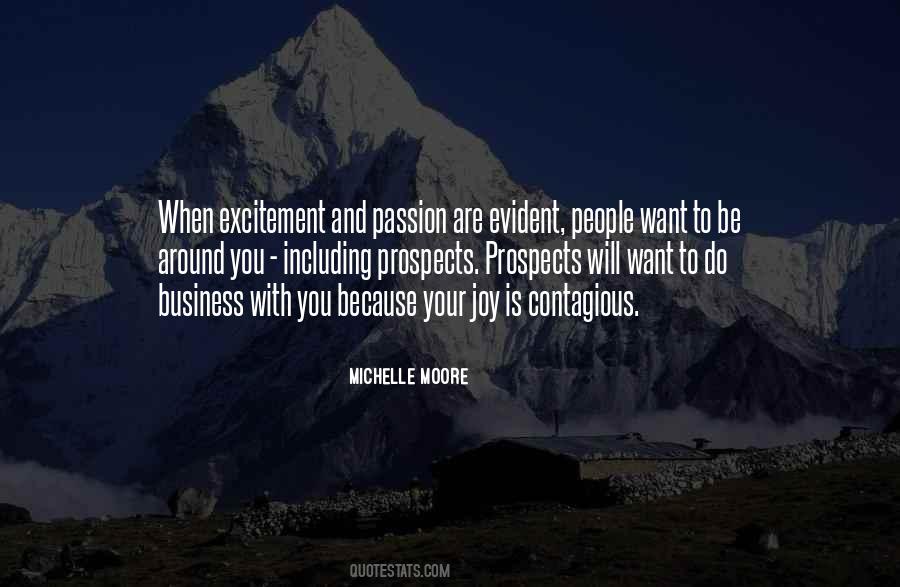 #16. Although my family - parents and sister - all work in the personnel management business, their real passion is performing, amateur operatic societies and so on. - Author: Michael Sheen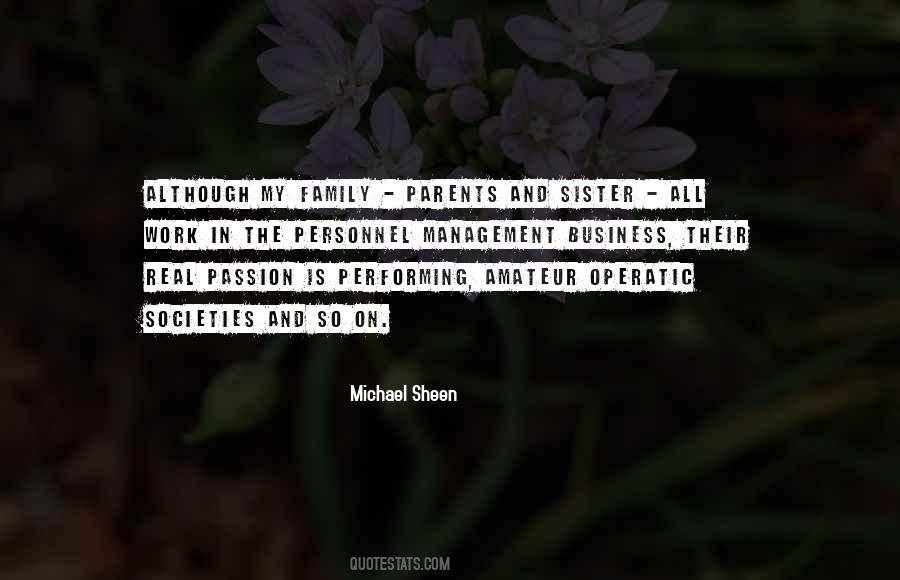 #17. Music business is not for everyone. But if you have it in you, you have that passion, if you have that energy in you that you really want to make something creative and make something that's going to impact the world, then go for it, do it and don't let anybody tell you no. - Author: John Legend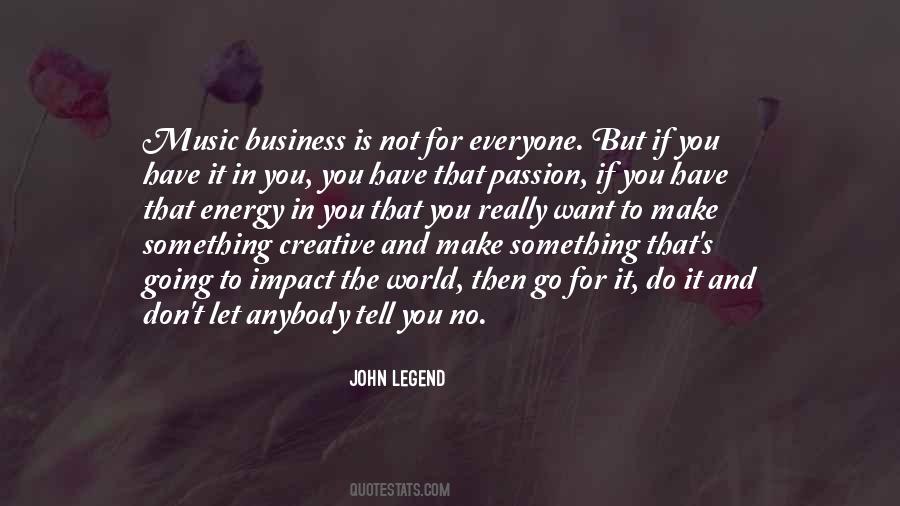 #18. It's a fire, it's a passion to get out and to create and to innovate. And that I've always enjoyed and I've always been very proud of is that the people I've done business with, the people around me have always made money. - Author: Kevin Plank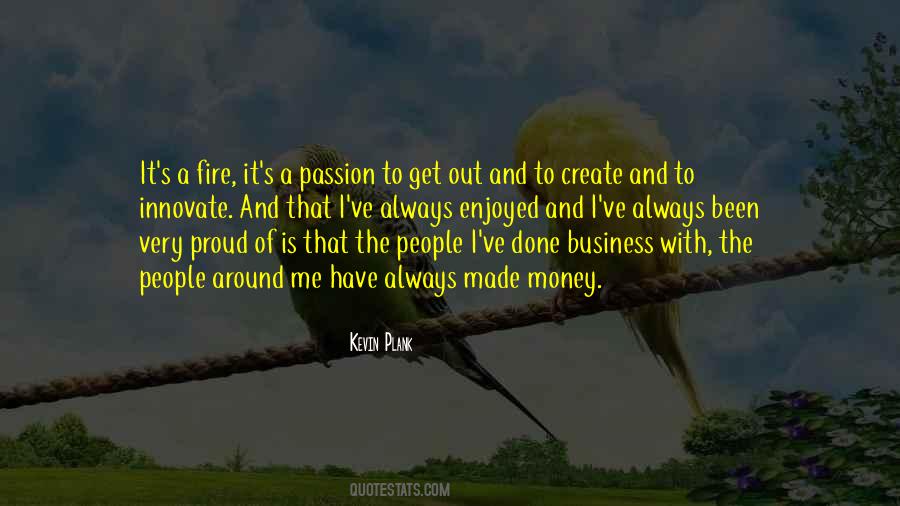 #19. I am a great believer that you need passion and energy to create a truly successful business. Remember many new businesses do not make it and running a business will be a tough experience, involving long hours and many hard decisions - it helps to have that passion to keep you going. - Author: Richard Branson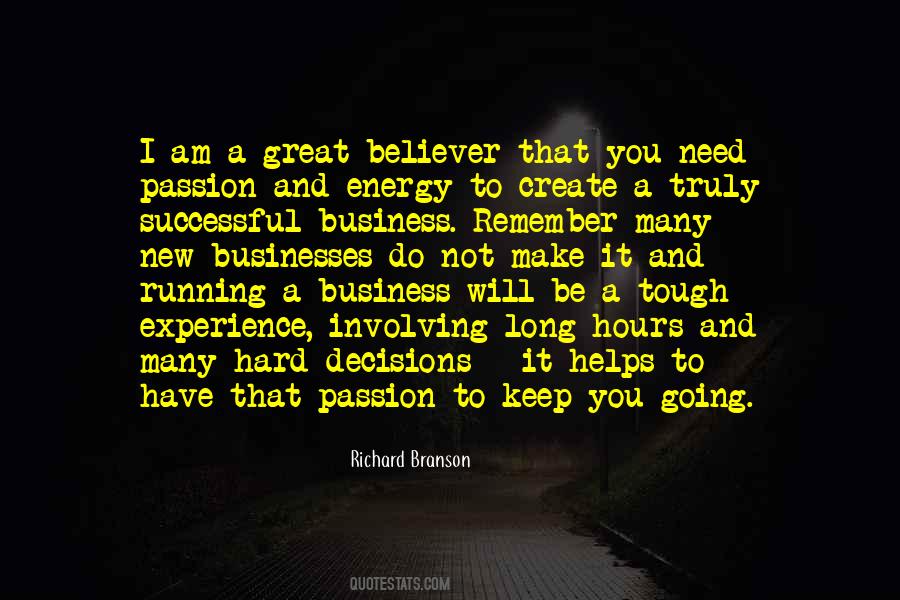 #20. Cold passion' is calm, considered and long lasting. Both the brain and the heart are working together. Emotions have been taken
out of decision-making. And decisions are given time, looked at from all angles. Cold passion is much more effective at getting results. - Author: David Hieatt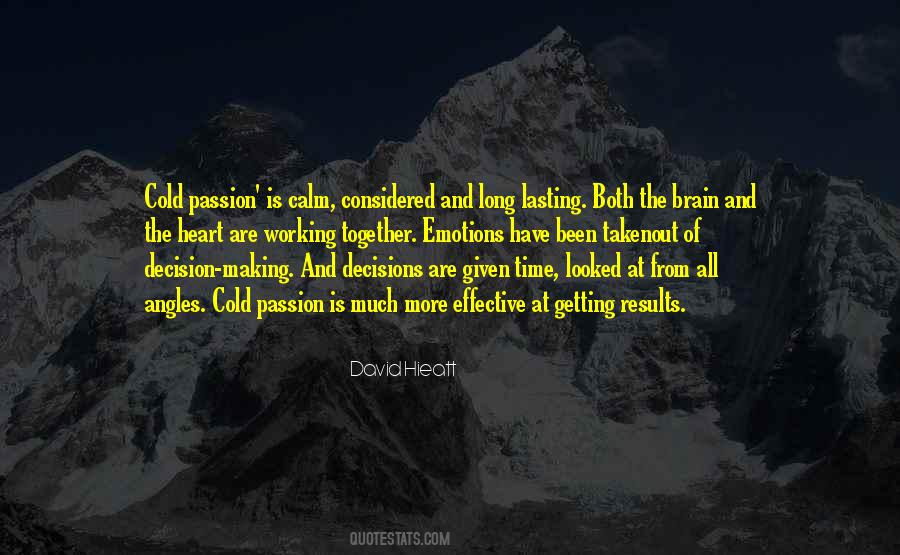 #21. We have never seen a sport as a business, and we have this great passion for football. QPR are not a trophy asset. If we had wanted a trophy asset, there were more glamorous clubs we could have bought. - Author: Amit Bhatia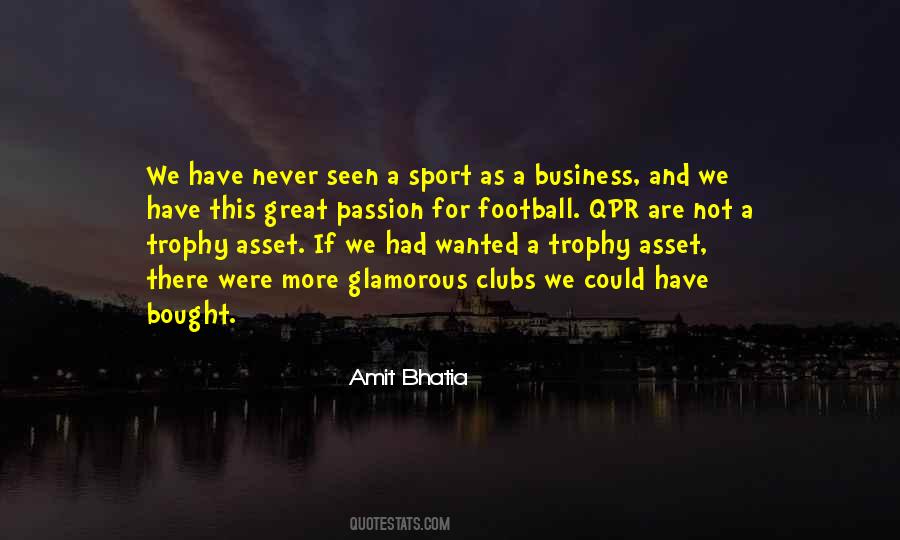 #22. We want passion for our business.. workers who can interpret and execute our mission, who want to build a career, not just take a temporary job. - Author: Howard Schultz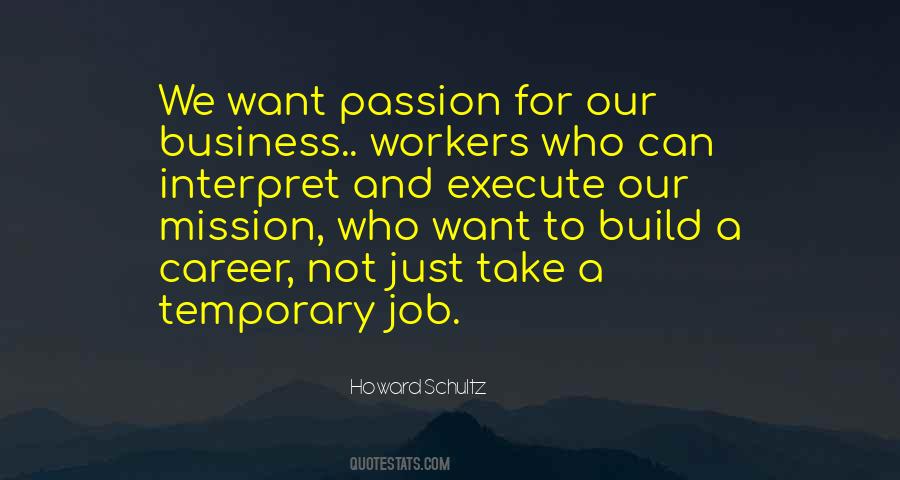 #23. Sales can never be done with 'good' skills or 'good' communication or 'thorough' product knowledge.. It can only be done with PASSION and U gotta be a people loving person, to be alive in sales ... - Author: Honeya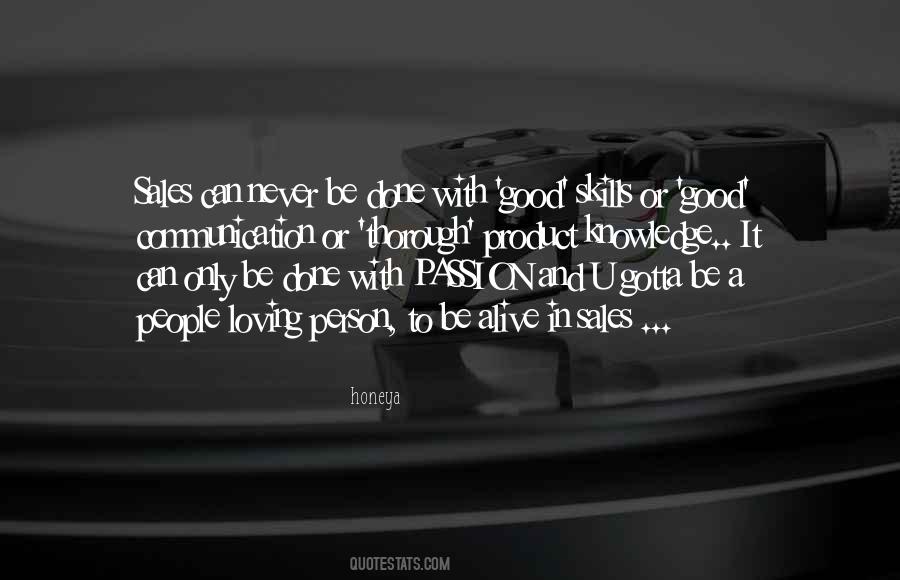 #24. The more people who come from musical backgrounds and go into promotion, production, songwriting, A&R, plus get their business head together, the better. They'll not only understand the business aspect, they'll also have a true passion and ear for how quality is represented musically. - Author: Harvey Mason Jr.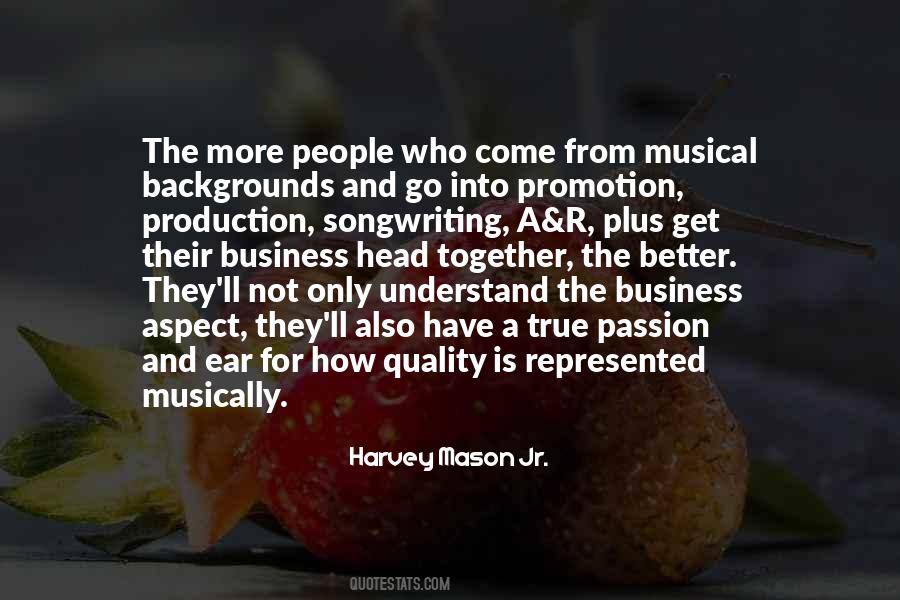 #25. If you're creative, if you can think independently, if you can articulate passion, if you can override the fear of being wrong, then your company needs you more than it ever did. And now your company can no longer afford to pretend that isn't the case. So dust off your horn and start tooting. - Author: Hugh MacLeod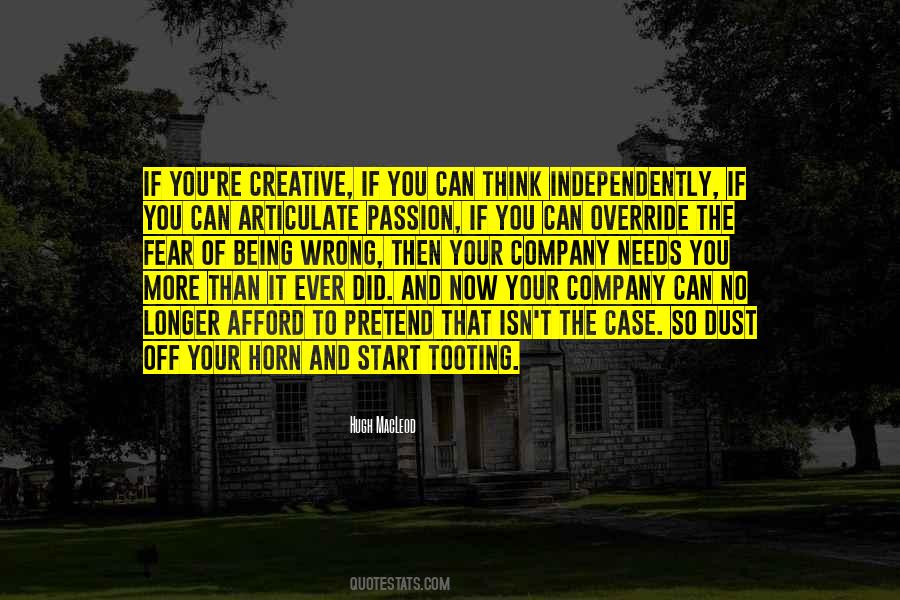 #26. The best businesses are really ones that can combine passion, profits, and purpose. - Author: Tony Hsieh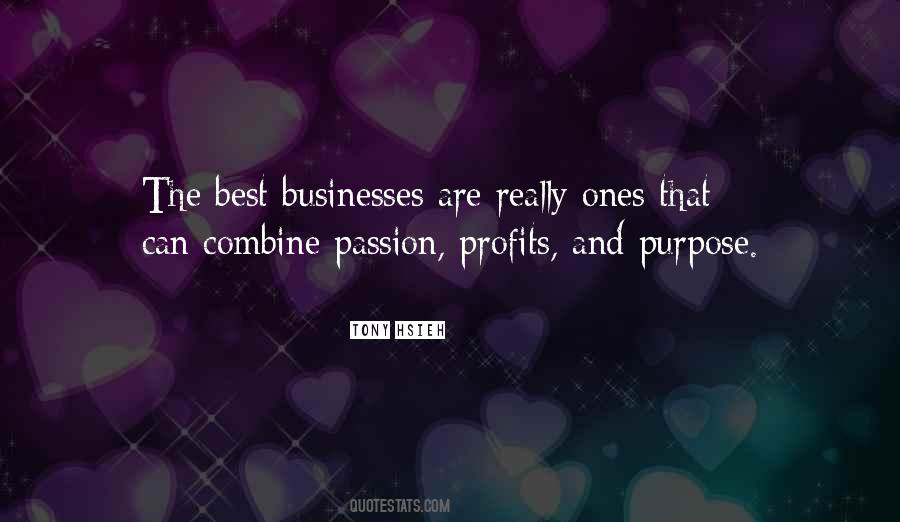 #27. What makes for a good marriage isn't necessarily what makes for a good romantic relationship. Marriage isn't a passion-fest; it's a partnership formed to run a very small, mundane and often boring non-profit business. And I mean this in a good way. - Author: Lori Gottlieb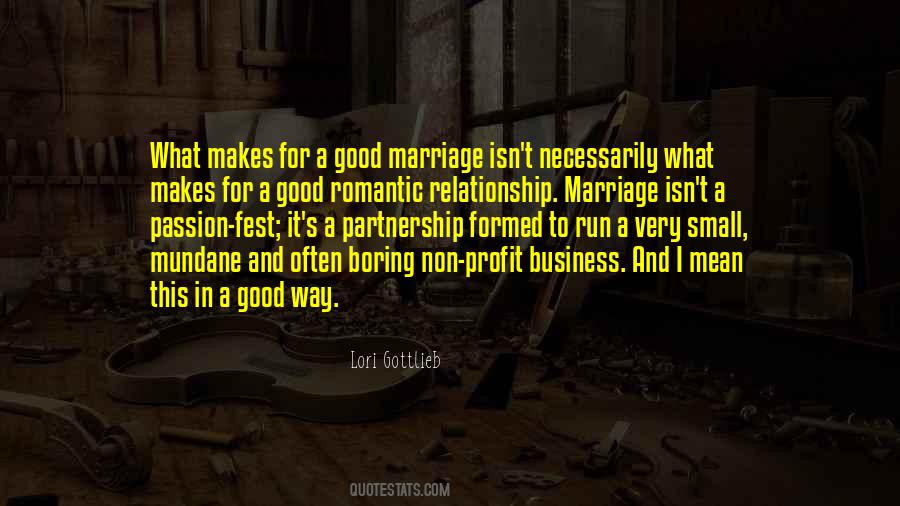 #28. Florentino Ariza wrote everything with so much passion that even official documents seem to be about love. His bills of lading were rhymed no matter how he tried to avoid it, and routine business letters had a lyrical spirit that diminished their authority. - Author: Gabriel Garcia Marquez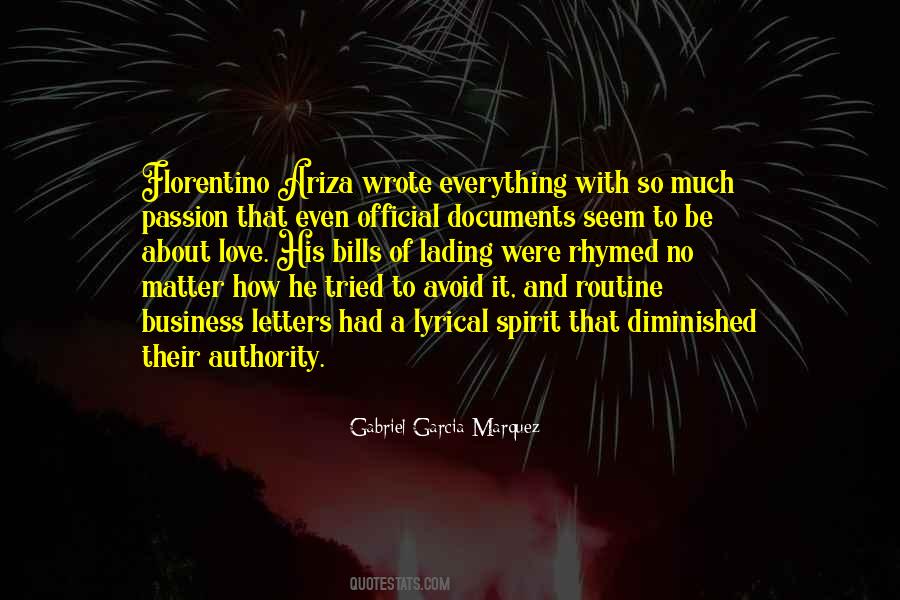 #29. Kamaswami conducted his business with care and often with passion, but Siddhartha looked upon all of this as if it was a game, the rules of which he tried hard to learn precisely, but the contents of which did not touch his heart. - Author: Hermann Hesse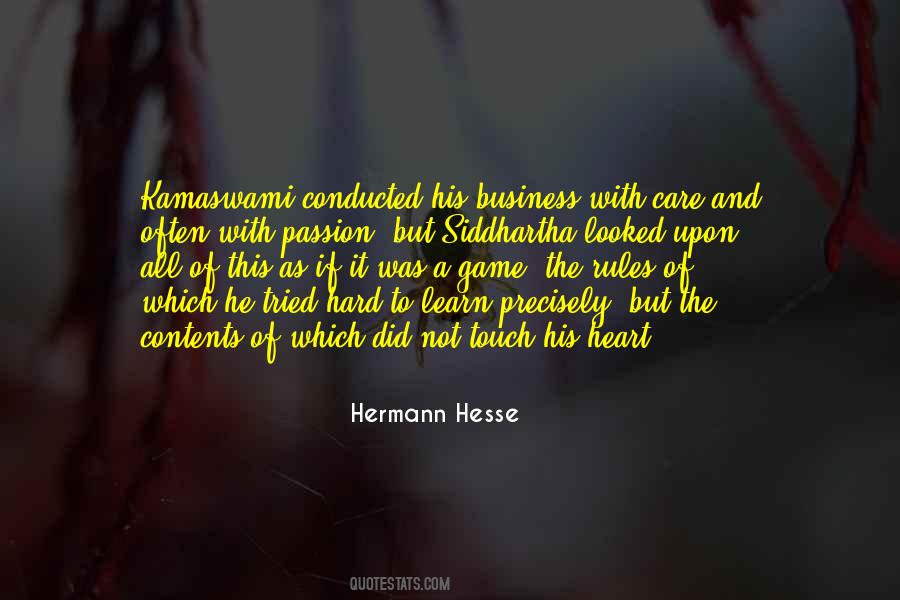 #30. Any path you take, if you commit with passion, you can be successful. By going to business school, certain opportunities may open up to you sooner. But it's who you are and how you take advantage of your opportunities that matter. - Author: Dan Rosensweig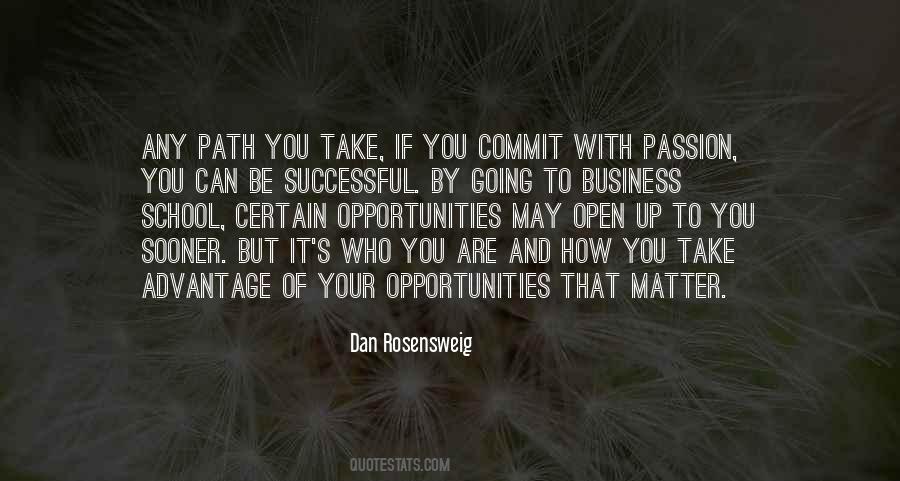 #31. We have before us the fiendishness of business competition and the world war, passion and wrongdoing, antagonism between classes and moral depravity within them, economic tyranny above and the slave spirit below. - Author: Karl Barth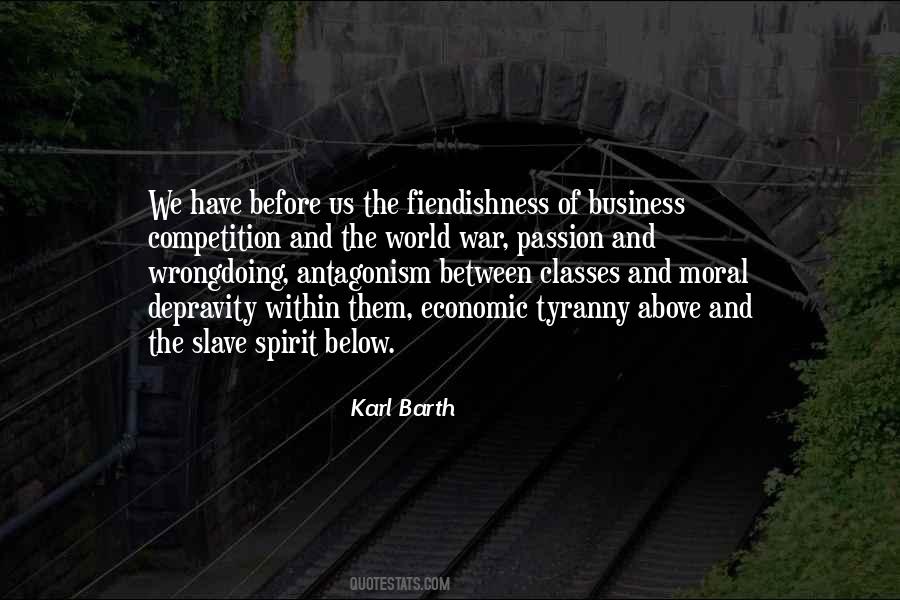 #32. Great companies first build a culture of discipline . . . and create a business model that fits squarely in the intersection of three circles: what they can be best in the world at, a deep understanding of their economic engine, and the core values they hold with deep passion. - Author: Isadore Sharp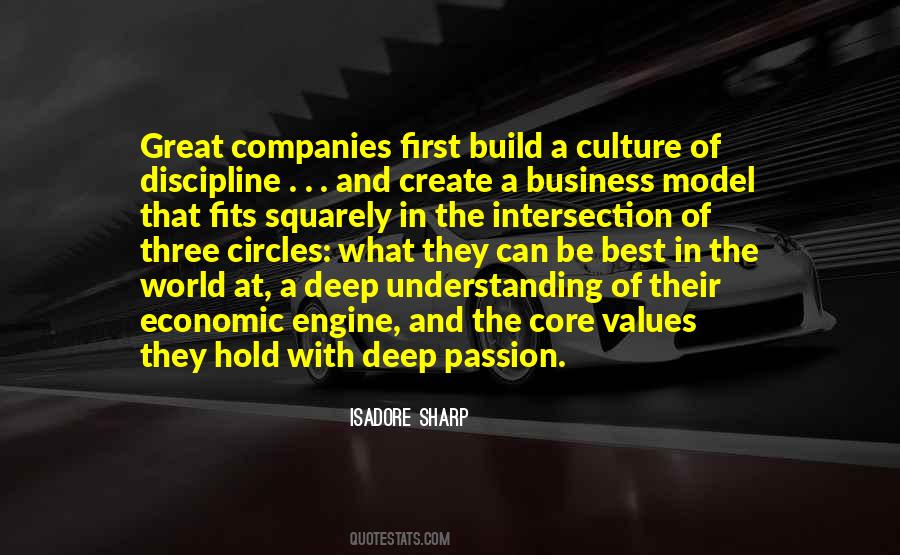 #33. Get in touch with your passion and put it to work at work. - Author: Marilyn Suttle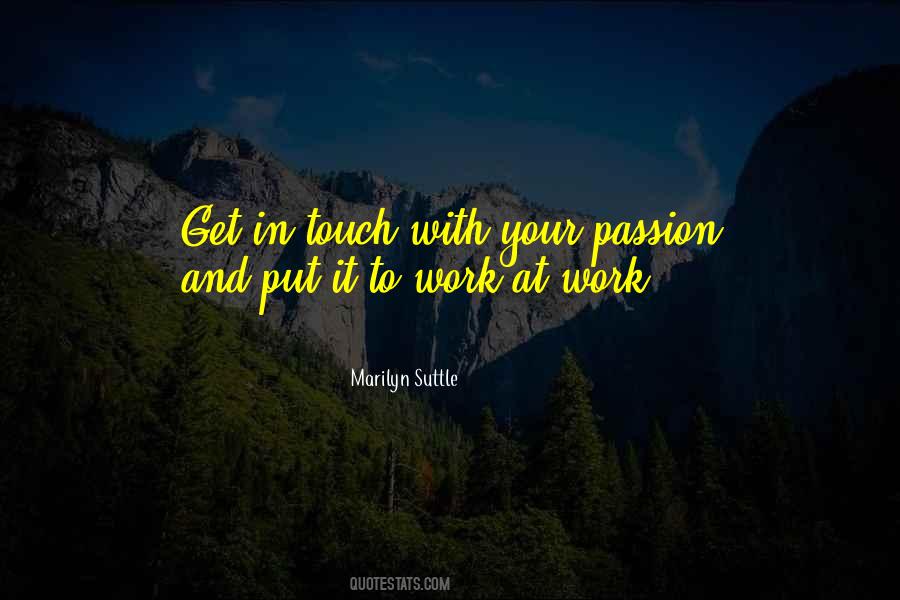 #34. For me, politics is not a career. For me, my career was being in business and starting a business and making it successful. My life's passion has been my family, my faith and my country. - Author: Mitt Romney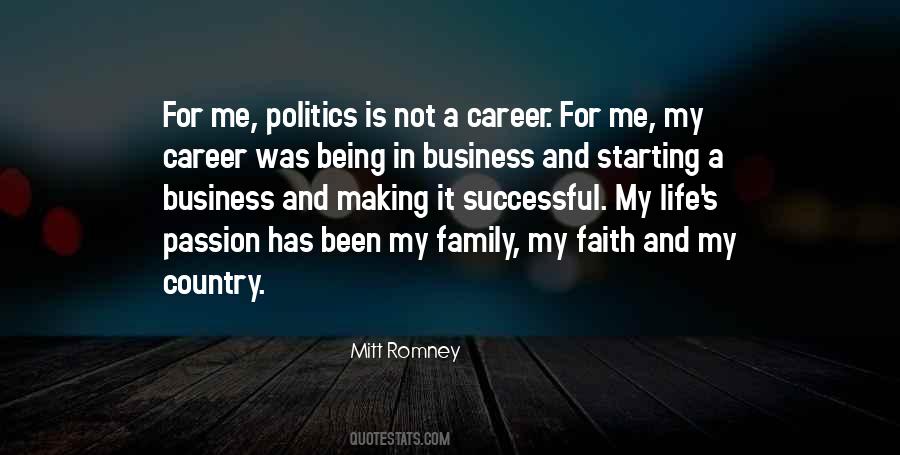 #35. A compelling personal vision creates passion. Think about something that you are passionate about, and you will always find a clear vision behind it. If you find you're lacking passion in either your business or in a relationship, it's not a crisis of passion; it's a crisis of vision. We - Author: Brian P. Moran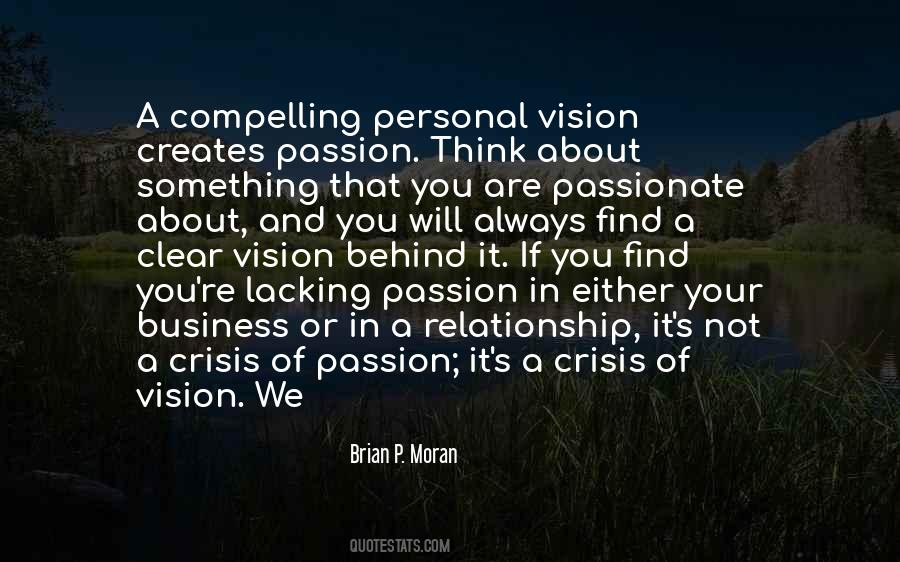 #36. Passion and hunger are the two ingredients that I look for in first making the judgment on - whether an athlete, an assistant coach, or a horse trainer or anybody I do business with. - Author: Rick Pitino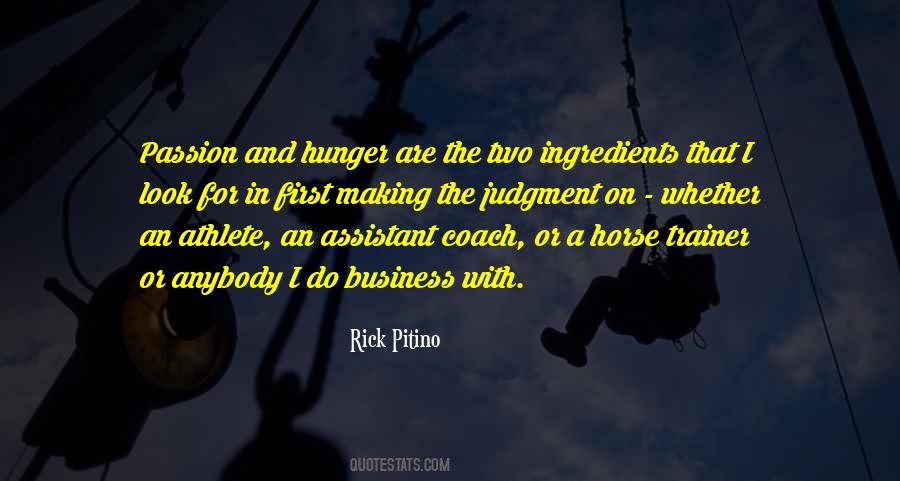 #37. Do not rush into a business just because you have the capital. You'd lose your shirt if you jump into it recklessly. Do your homework first. Study the market and look for that golden opportunity. Whatever business you choose to go into, it must be something that you can pursue with passion. - Author: Andrew Tan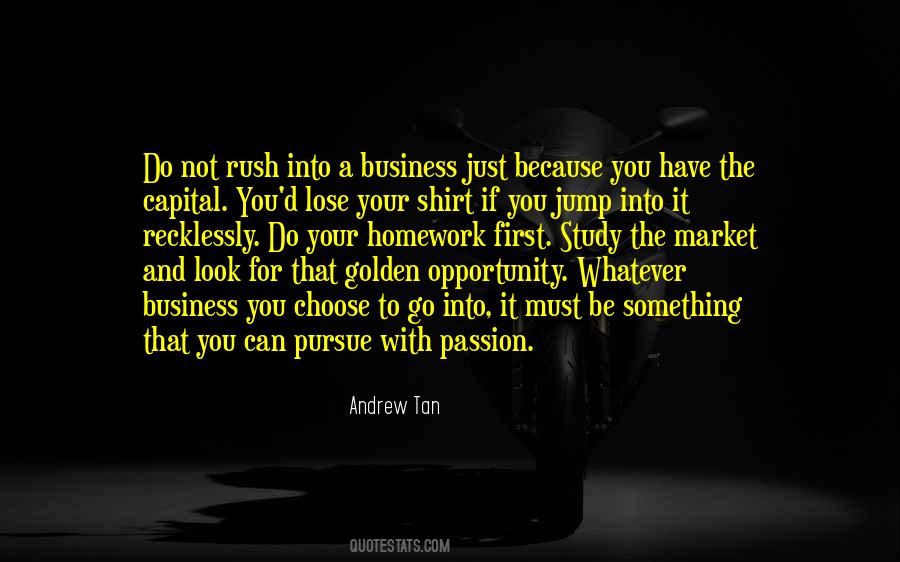 #38. While our pulse beats and we feel emotion, let us put off the business. Things will truly seem different to us when we have quieted and cooled down. It is passion that is in command at first, it is passion that speaks, it is not we ourselves. - Author: Michel De Montaigne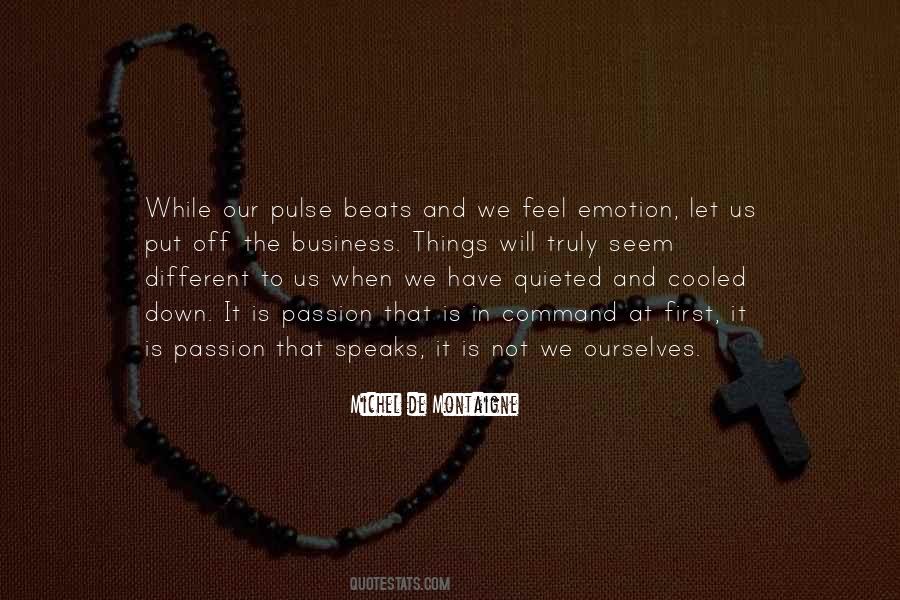 #39. The movie business can be very frustrating and very circuitous; there's no straight path. You have to have tremendous perseverance, dedication and passion. You have to want it very, very badly and you have to deal with a lot of rejection. - Author: Denise Di Novi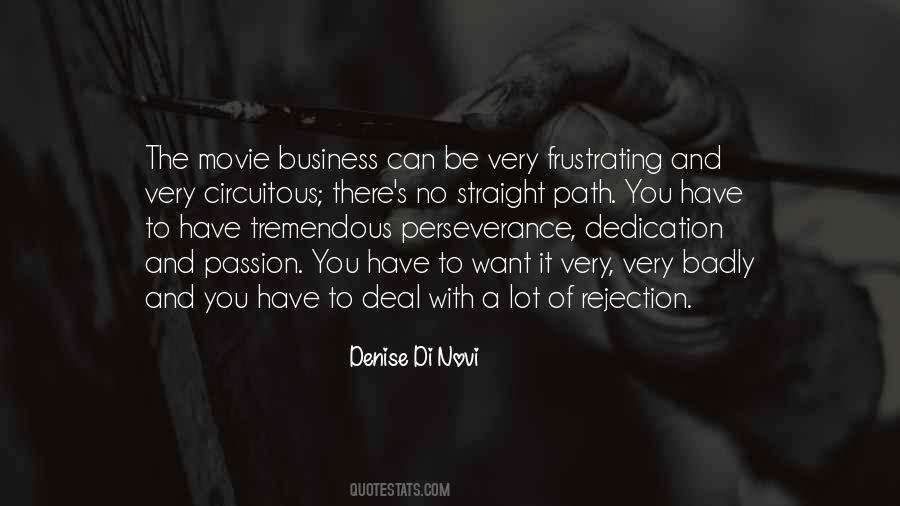 #40. It is not permitted to a man, who takes up pen or chisel, to seek originality, for passion is his only business, and he cannot but mould or sing after a new fashion because no disaster is like another. - Author: William Butler Yeats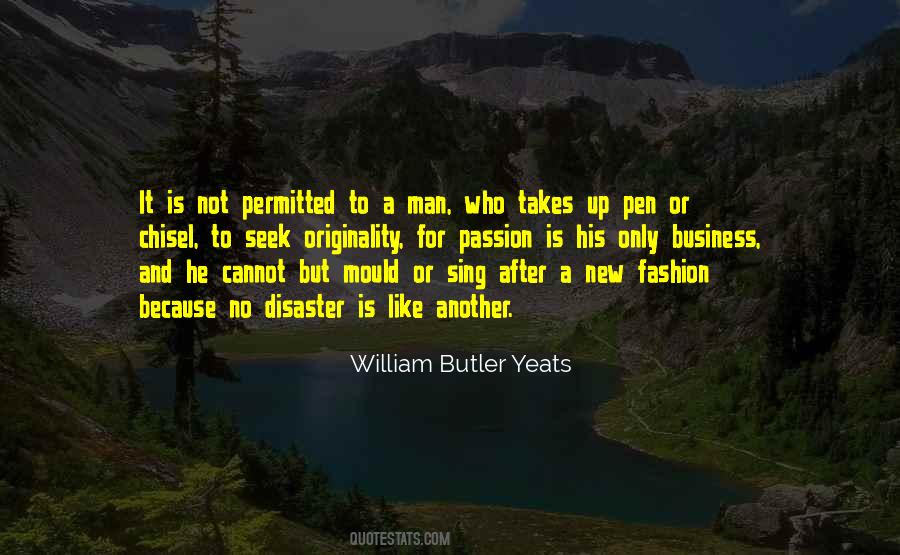 #41. I define leadership as: Emotionally, you own your business. You own it with passion. And you either have or you don't have an economic investment. But when you have all three of those, you are the boss from Day One, and you care every single day more than anyone. - Author: Mickey Drexler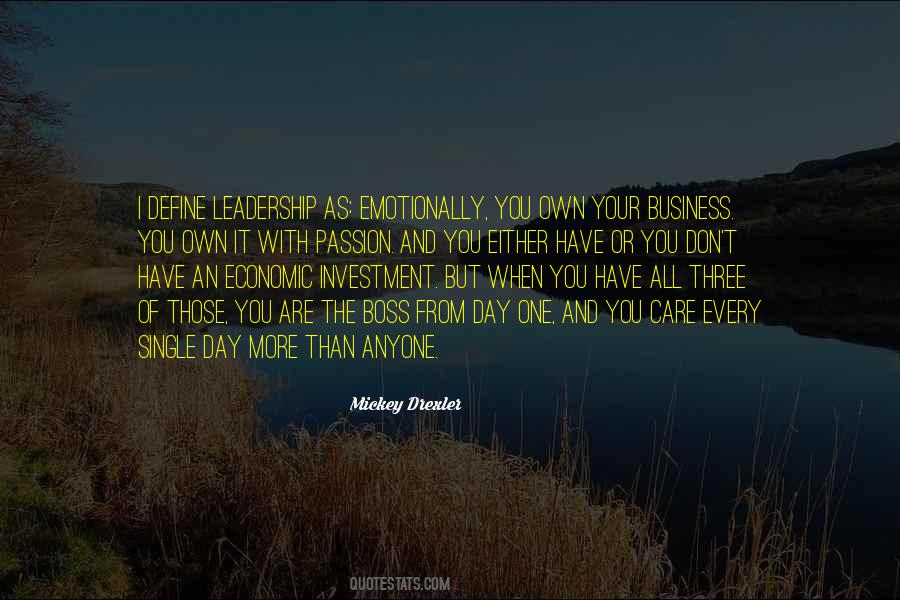 #42. My passion for innovation and my interest in the 'business of science' has seen Biocon commercialize many innovative platforms and products. - Author: Kiran Mazumdar-Shaw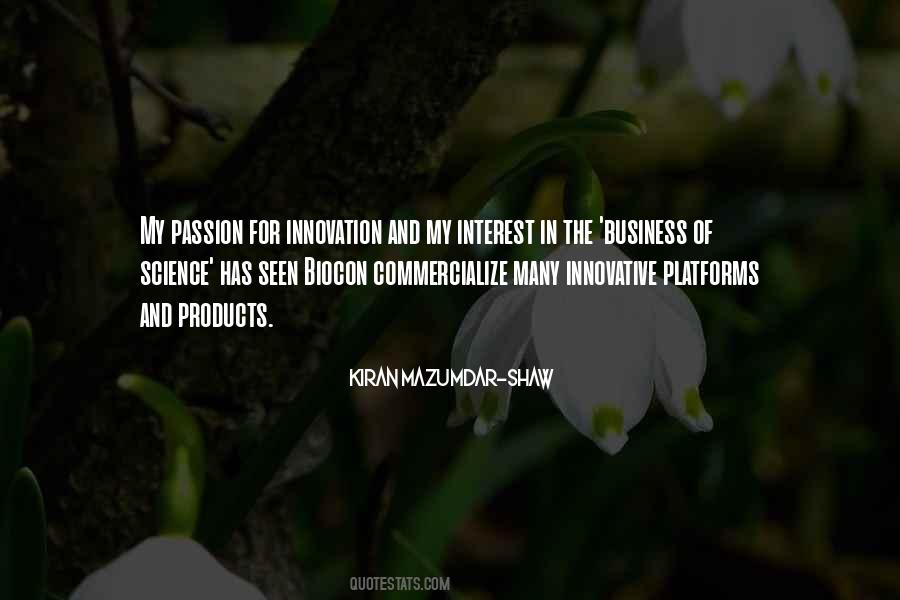 #43. Passion
it's the driving force that you just can't ignore. It's what will make your new adventure seem more like fun, than work. It's the difference between wanting to start a business and craving it. - Author: Mac Anderson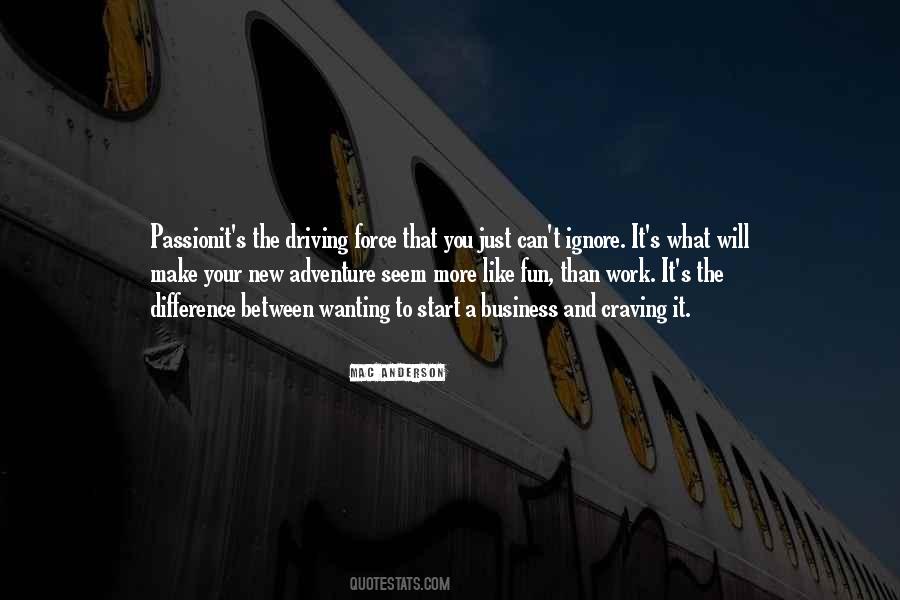 #44. Inflammatory passion and selfish interest characterizes most men, whereas ambition characterizes men who pursue and hold national office. Such men rise from the people through a process of self-selection, since politics is a dirty business that discourages all but the most ambitious. - Author: Tom Cotton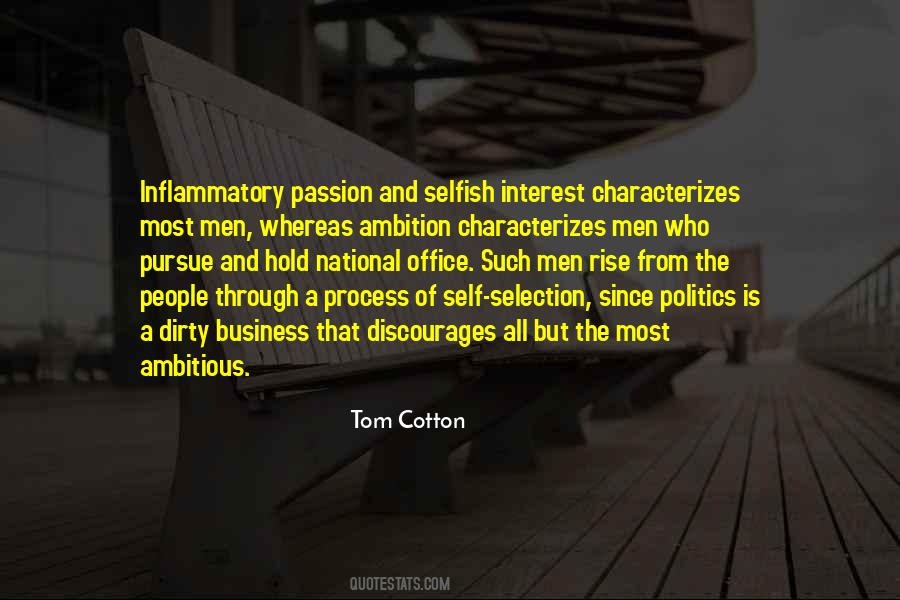 #45. Business could not make dull, nor passion wild; Who saw life steadily, and saw it whole. - Author: Matthew Arnold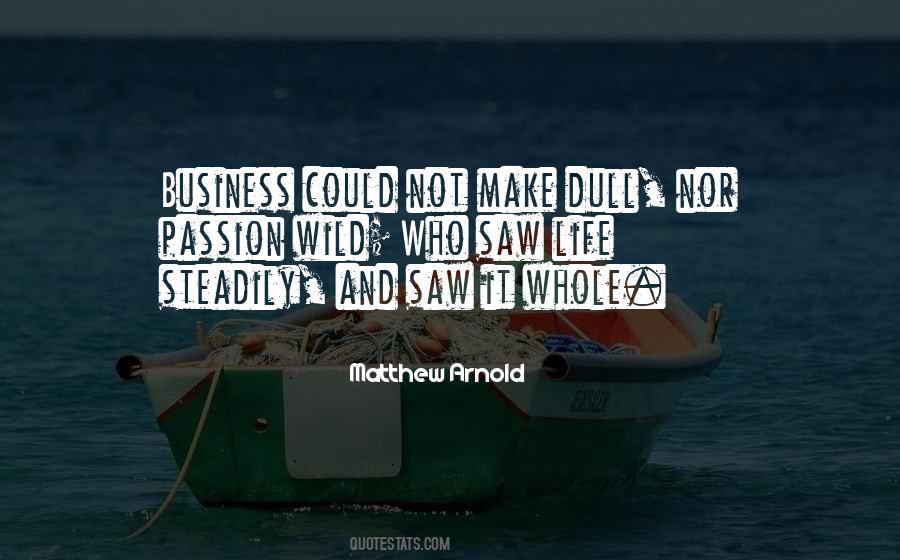 #46. This is a learning in the business life that first of all you need to have commitment, dedication and passion for what you are doing. - Author: Lakshmi Mittal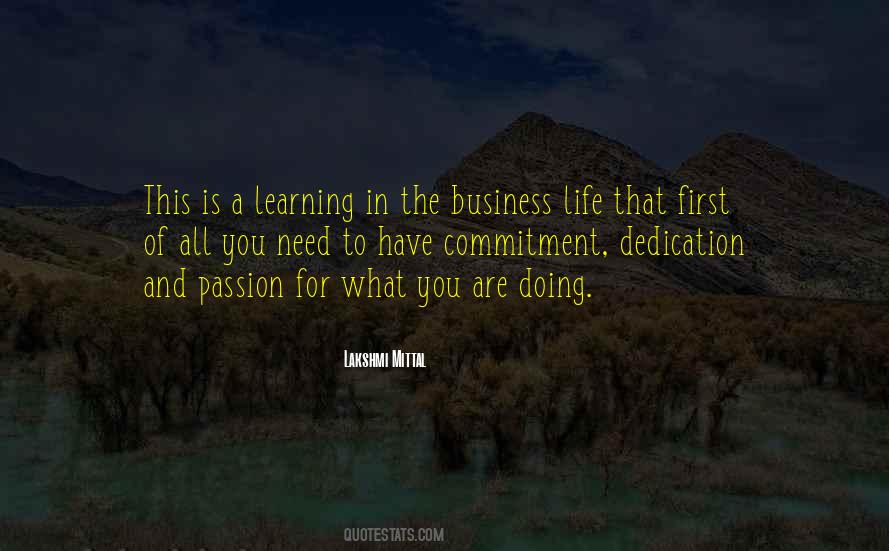 #47. If you want to make YouTube your career, you have to accept that it is also a business. I know everyone's like, 'It's my passion, it's my hobby.' And that's fine; I support that. But if you want to make it your career, it does have a business side. - Author: Lilly Singh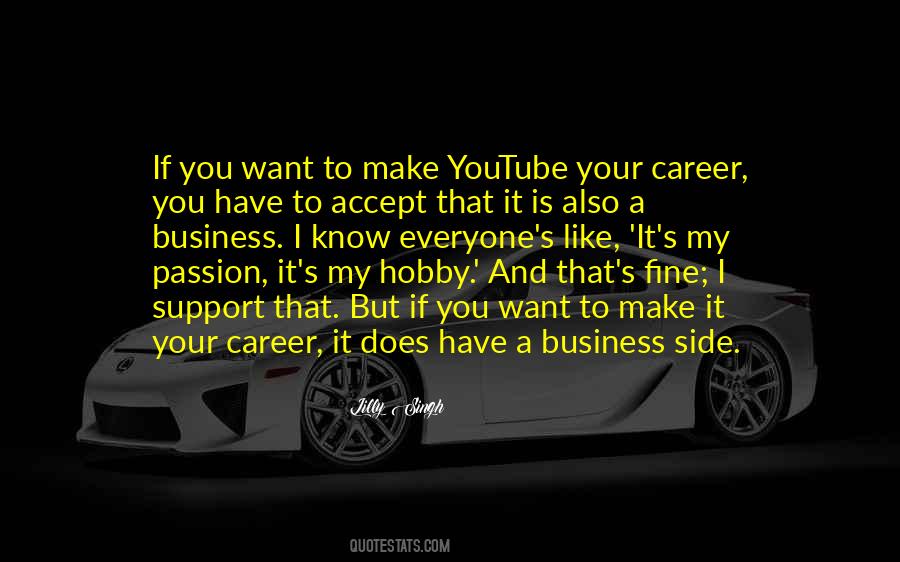 #48. It was wrong to be so joyless, so desponding; I should have made God my friend, and to do His will the pleasure and the business of my life; but faith was weak, and passion was too strong. - Author: Anne Bronte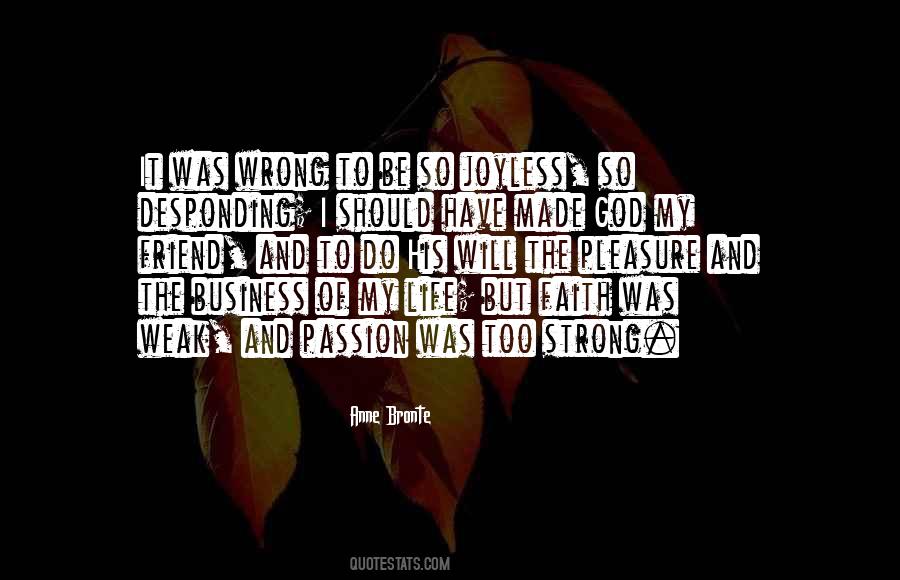 #49. I made the money; I did not let the money make me - Author: Hisham Fawzi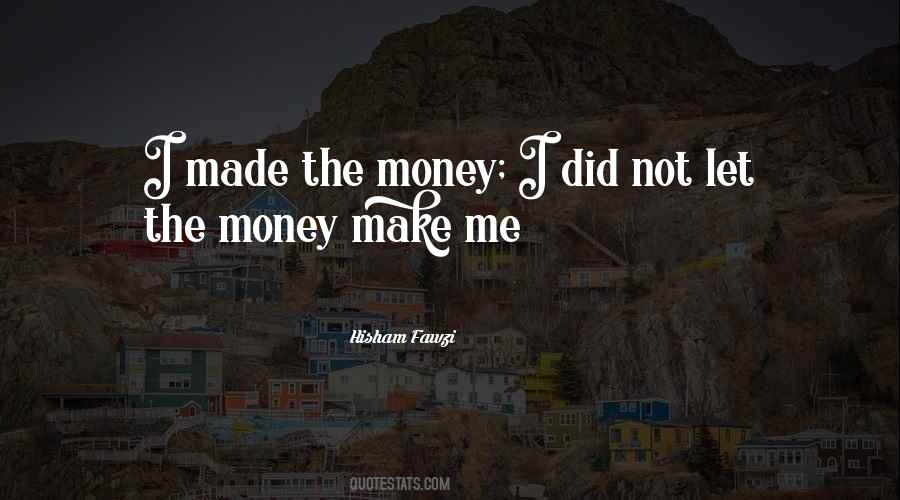 #50. A passion for continual learning, a refined, discerning ear for the moral and ethical consequences of their actions, and an understanding of the purposes of work and human organisations - Author: Warren G. Bennis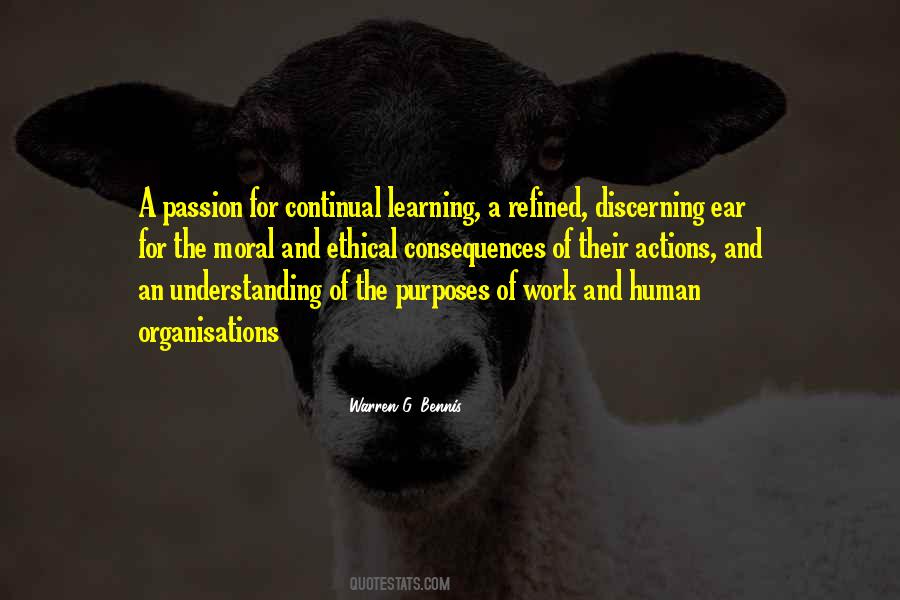 #51. Horse racing is not so much a business as it is a calling. The work requires too much time and energy to pursue it with anything less than utter passion; and even then, the odds against success can seem practically insurmountable. - Author: Joe Layden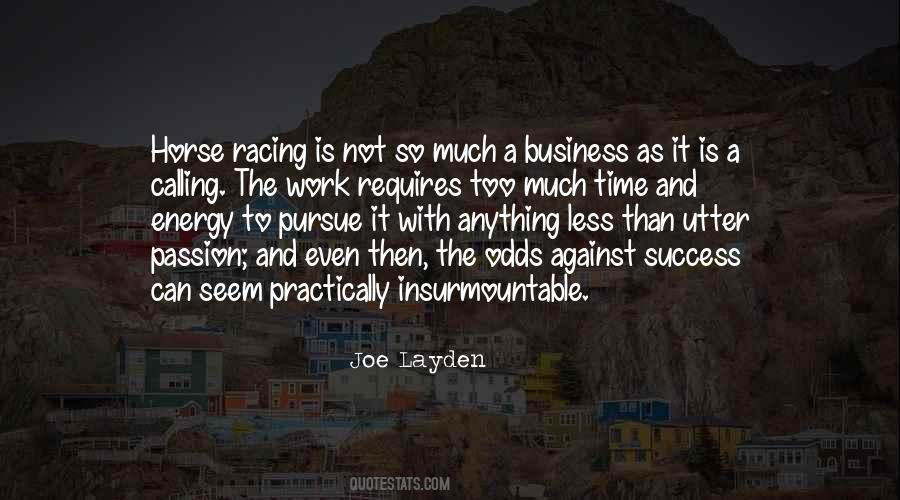 #52. We are seeing some challenges and some changes in American business, American enterprise, but the Malcolm Baldrige National Quality Award is a reminder of things that must never change: the passion for excellence, the drive to innovate, the hard work that goes with any successful enterprise. - Author: George W. Bush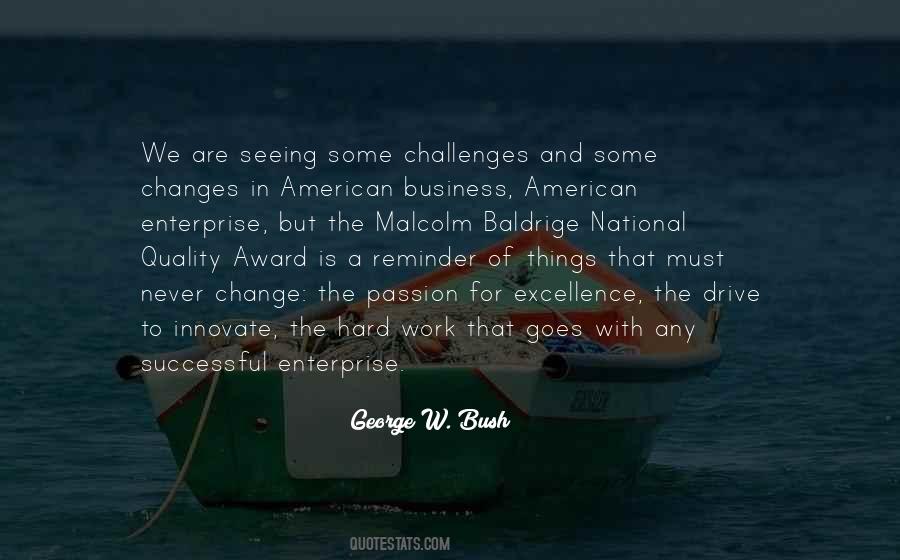 #53. Don't worry; skills are cheap, passion is priceless. If you're passionate about your content and you know it and do it better than anyone else, even with few formal business skills you have the potential to create a million-dollar business. - Author: Gary Vaynerchuk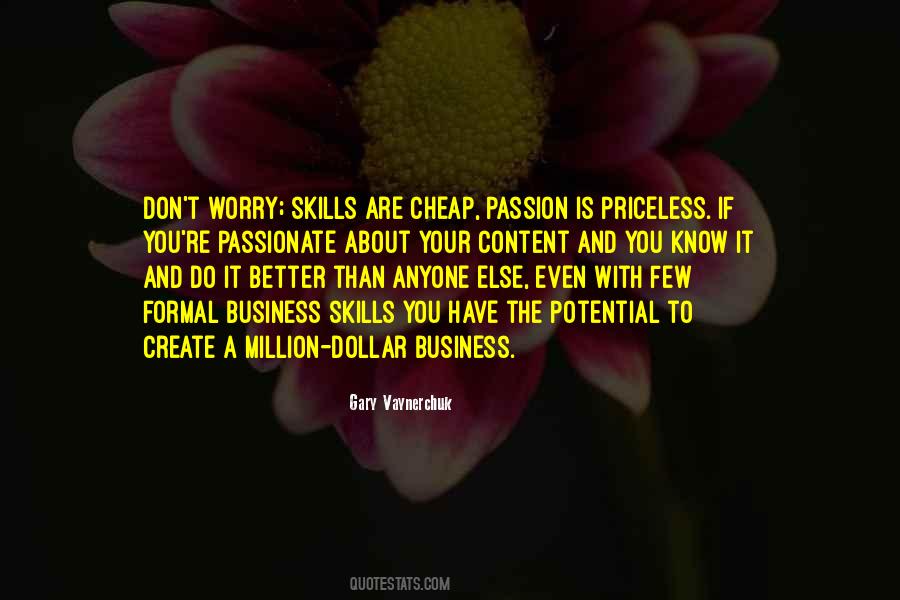 #54. The Fashion Fund celebrates the real passion that underlies the fashion business, not the frothy world of glamour and celebrity that so often surrounds it. - Author: Anna Wintour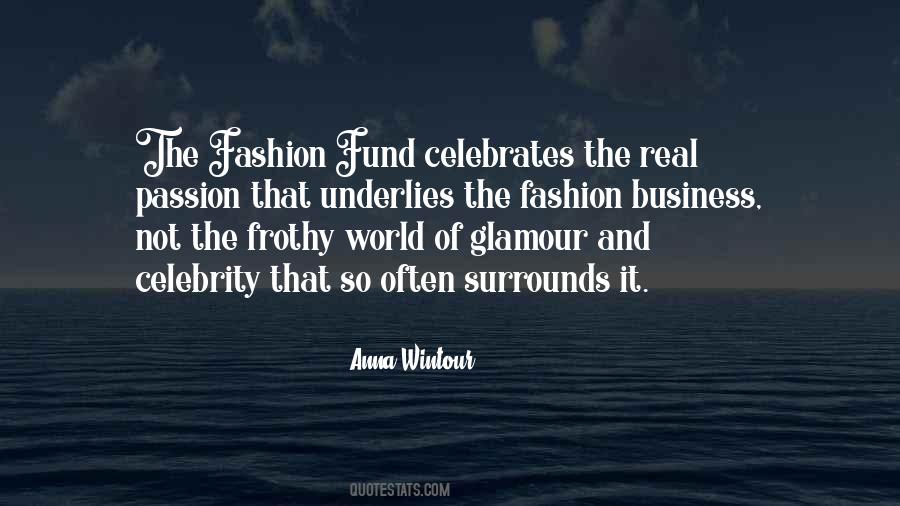 #55. I think if you checked the attendance records of all the announcers, you'd find a lot better record than you would of anybody else in any other business because we love the game and have a passion for it. - Author: Ernie Harwell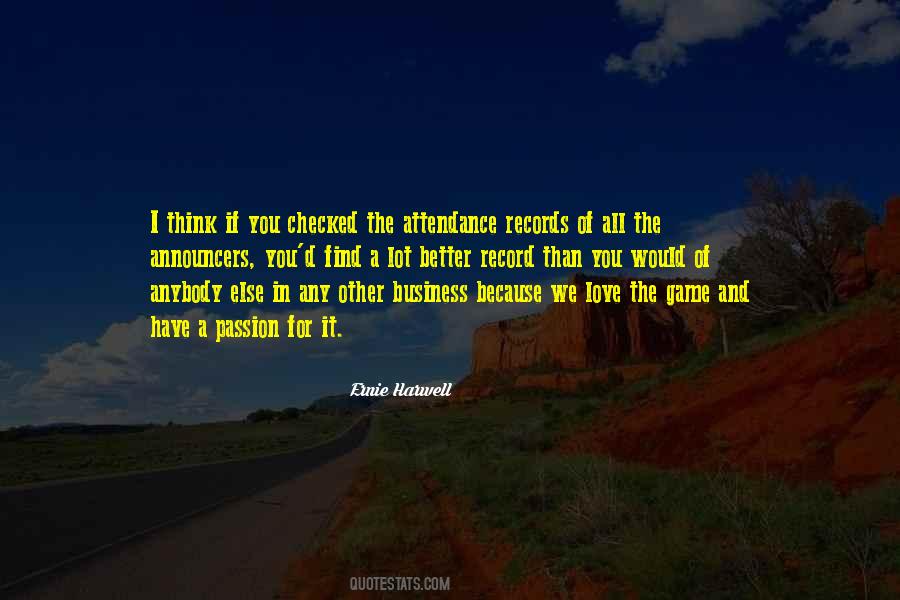 #56. Lust is a captivity of the reason and an enraging of the passions. It hinders business and distracts counsel. It sins against the body and weakens the soul. - Author: Jeremy Taylor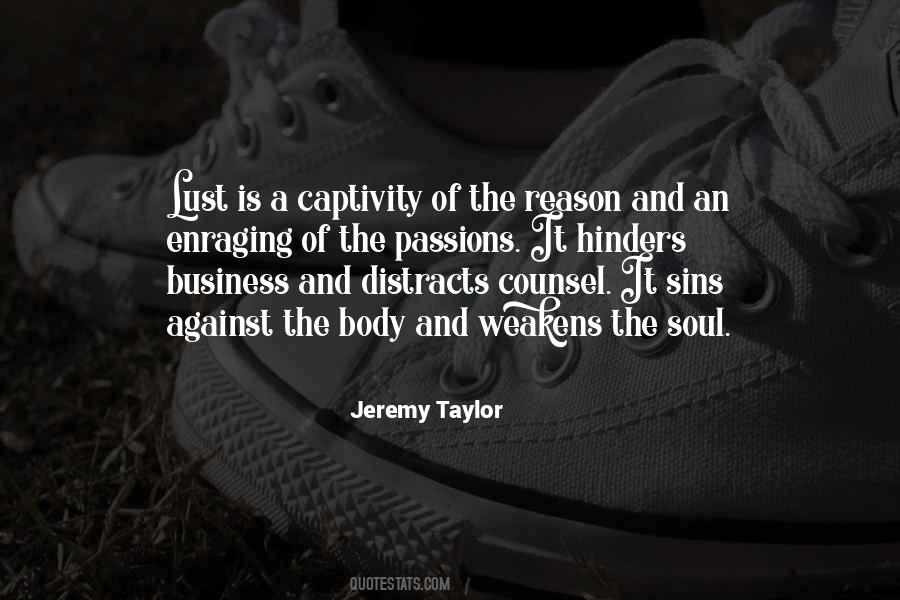 #57. For most people, it's easy to be passionate about things that are working out, and that distorts our impression of the importance of passion. I've been involved in several dozen business ventures over the course of my life, and each one made me excited at the start. You might even call it passion. - Author: Scott Adams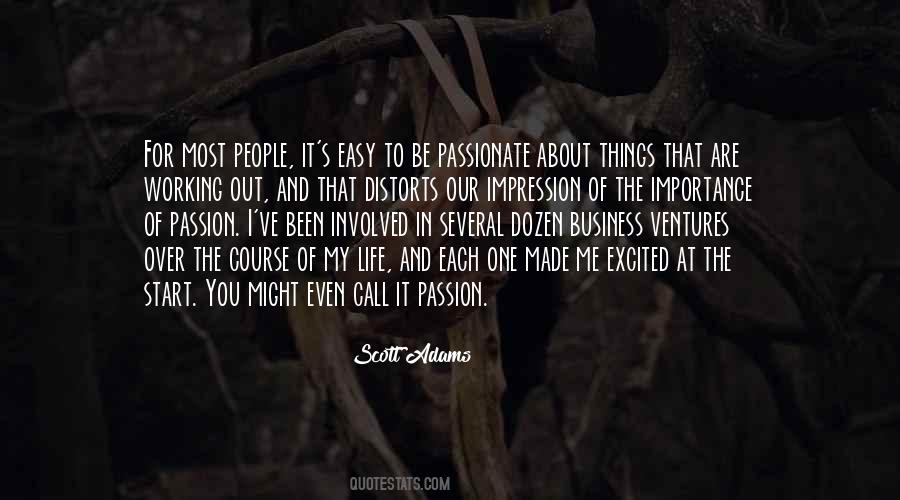 #58. It may seem odd to talk about something as soft and fuzzy as "passion" as an integral part of a strategic framework. But throughout the good-to-great companies, passion became a key part of the Hedgehog Concept. - Author: James C. Collins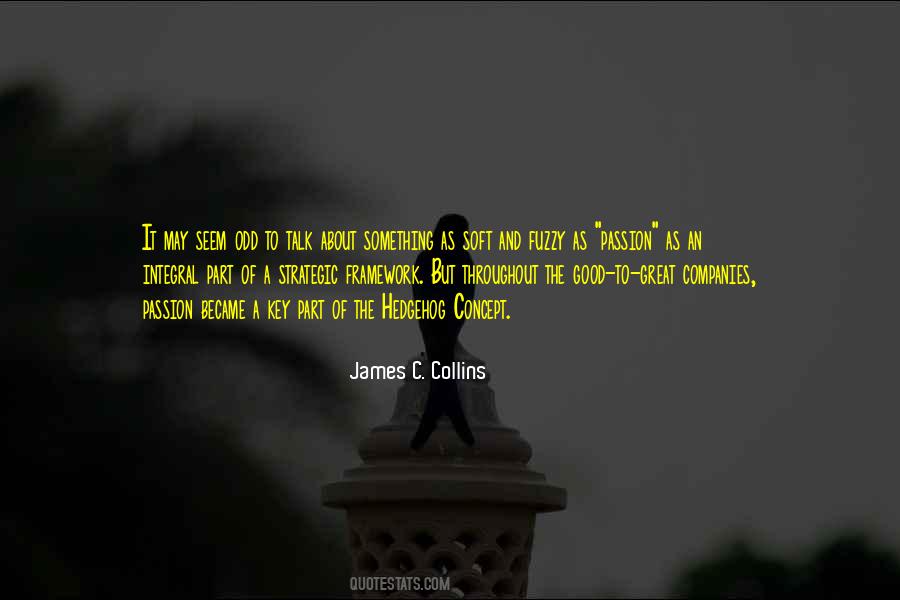 #59. Passion and love for a brand and its consumers sustain us. For how can we ever devote our continued highest energy to something if we don't believe in it passionately. - Author: John E. Pepper Jr.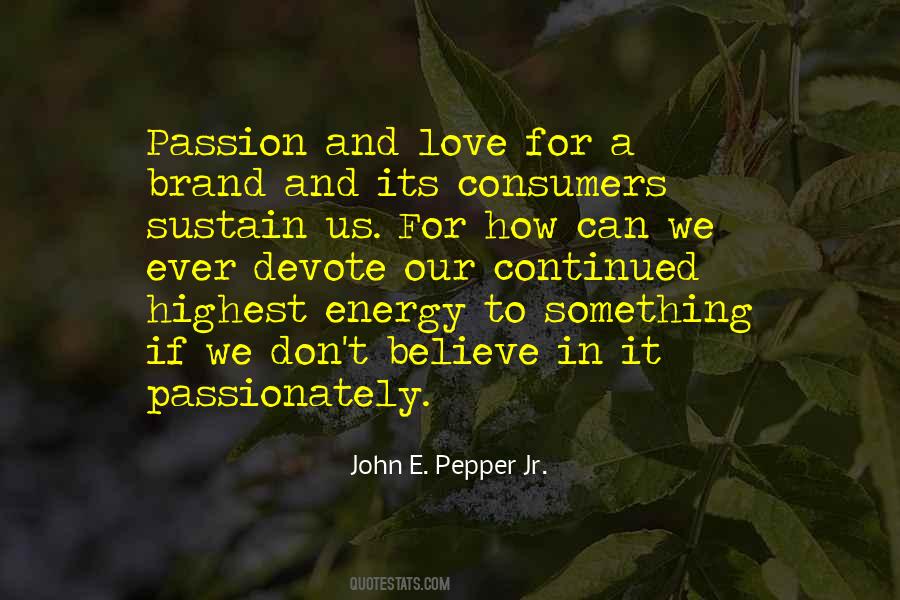 Famous Authors
Popular Topics