Business And God Famous Quotes & Sayings
List of top 100 famous quotes and sayings about business and god to read and share with friends on your Facebook, Twitter, blogs.
Top 100 Business And God Quotes
#1. There's nothing you can do God's business is adoption, Child, And He has chosen you. - Author: Beth Moore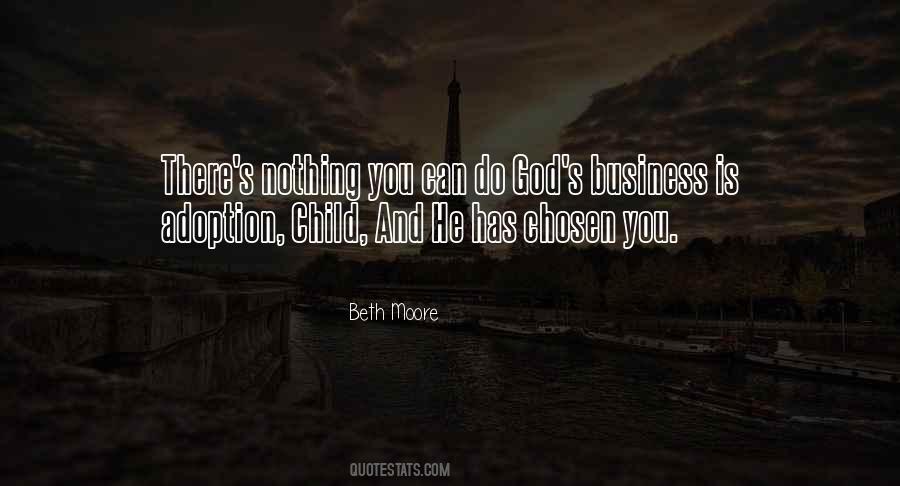 #2. At the end of the day, we're all brothers and sisters in God. What people do is none of my business. - Author: Tyson Fury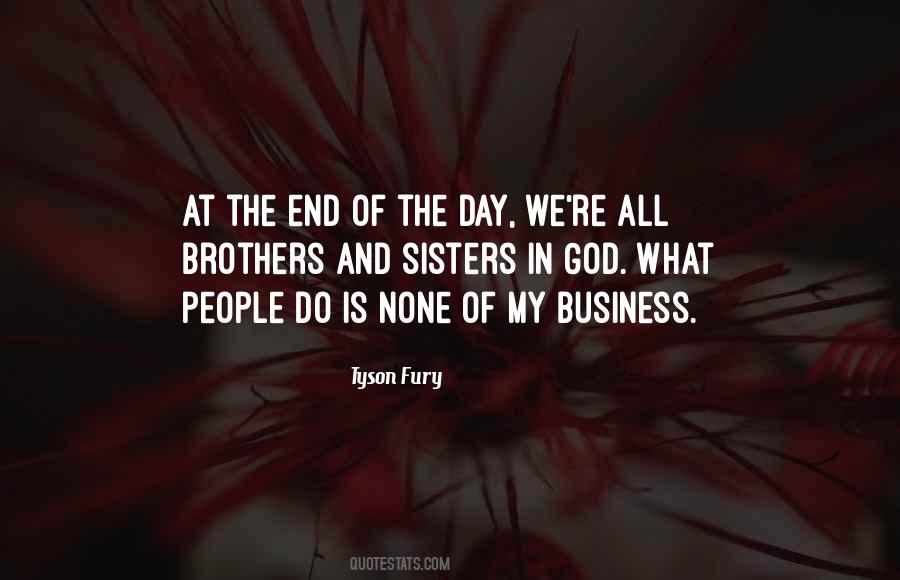 #3. O beautiful for spacious skies, ... O beautiful for heroes proved In liberating strife, Who more than self their country loved, And mercy more than life! America! America! May God thy gold refine, Til all success be nobleness And every gain divine! - Author: Katharine Lee Bates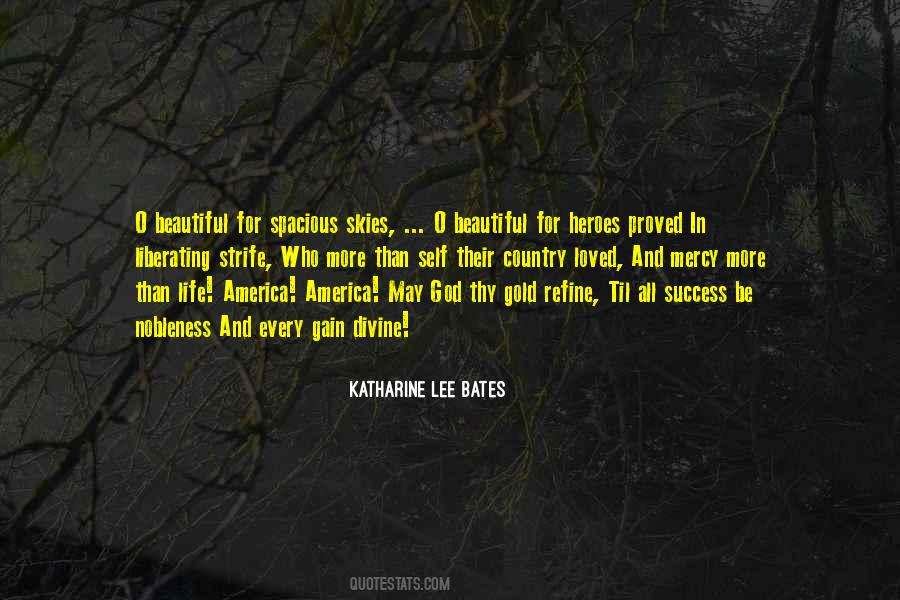 #4. Tomorrow you may look up and see me as a lawyer, a doctor, business executive,teacher - or WHATEVER I BELIEVE I CAN BE !My story isn't about nice handles or quickness on the court ,but about HARD WORK, PERSEVERANCE, and FAITH! I know God's blessings ,I can accomplish anything and i mean ANYTHING!!! - Author: Jon-Robert Holden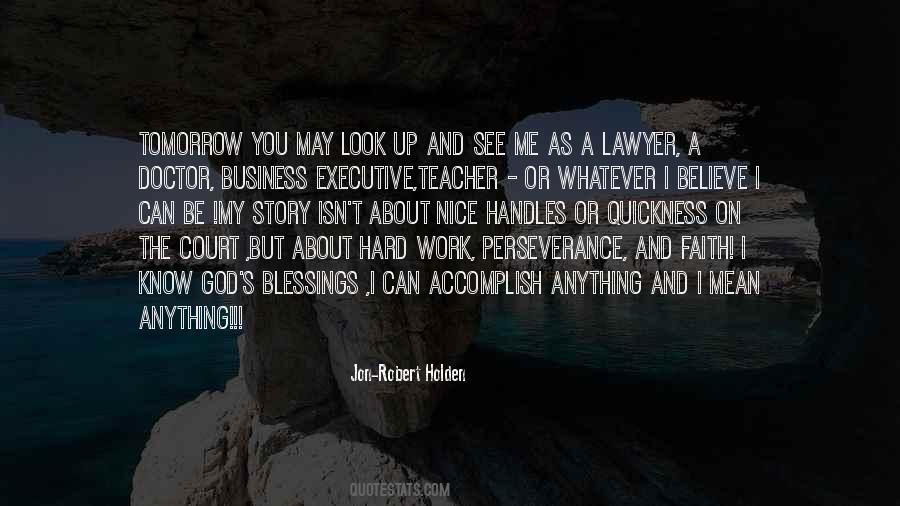 #5. The problem with most pastors and theologians was that the way they went about their business did not require the existence of God. - Author: Stanley Hauerwas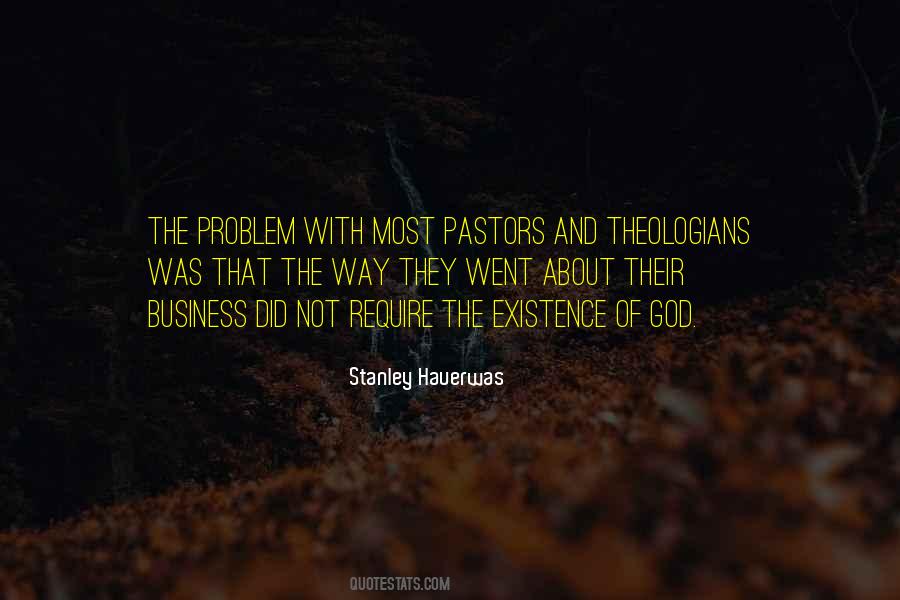 #6. Consider the problem of taking showers with Christians. They are, after all, constantly going on about the business of witnessing in the hopes of making converts to their God and church. Would you want to shower with such people? You never know when they might try to baptize you. - Author: Stanley Hauerwas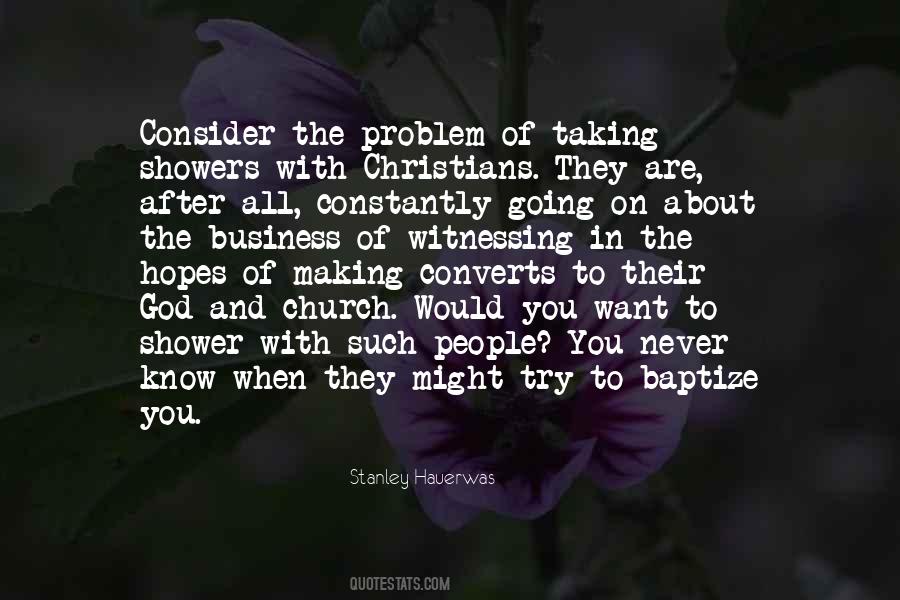 #7. Here's the bottom line: God is in the people business. More than anything He wants us to become like His Son, Jesus. To do this He will love us, bless us, discipline us, and develop us by the power of His Holy Spirit so that we become all He wants us to be. - Author: Kregg Hood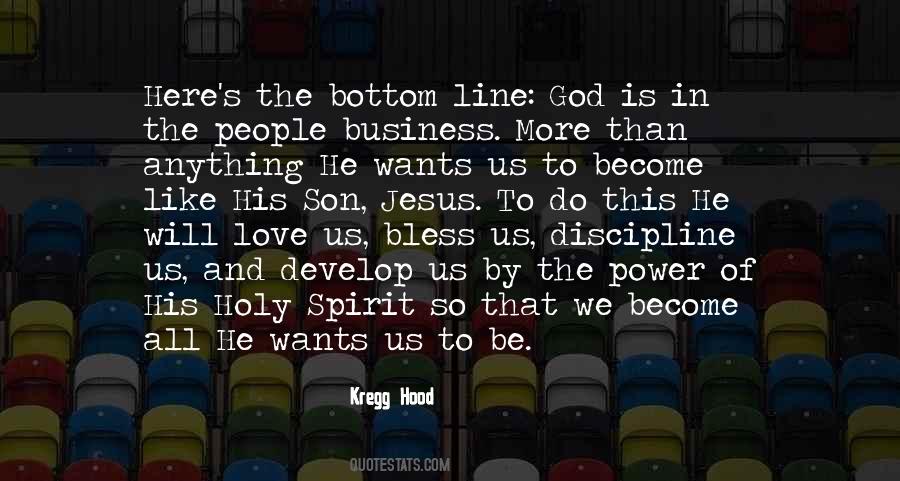 #8. Don't compare me to Babe Ruth. God gave me the opportunity and the ability to be here at the right time, at the right moment, just like he gave Babe Ruth when he was playing. I just hope I can keep doing what I've been doing - keep taking care of business. - Author: Sammy Sosa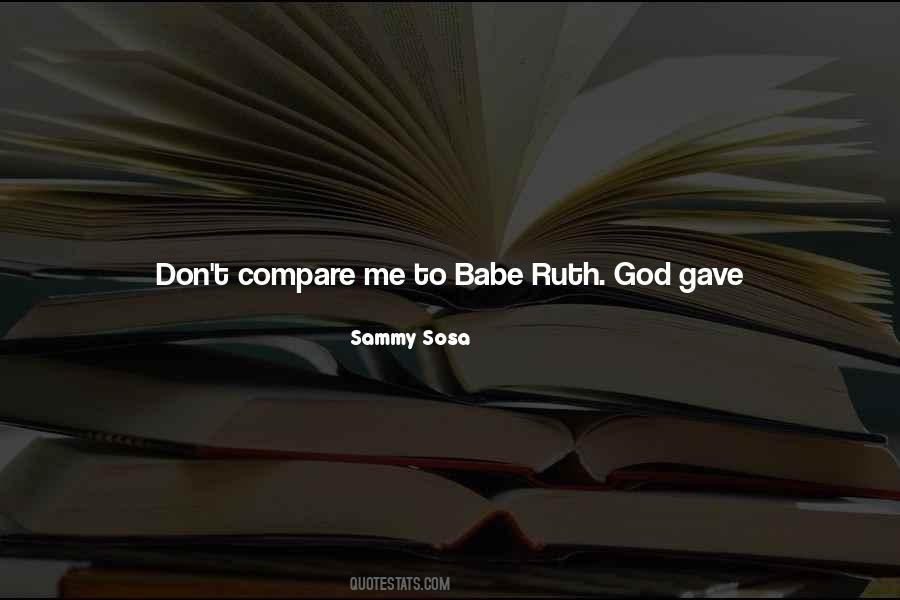 #9. Having the understanding of God, God's ambassadors are able to bring a country out of crisis, change politics, business and economy - Author: Sunday Adelaja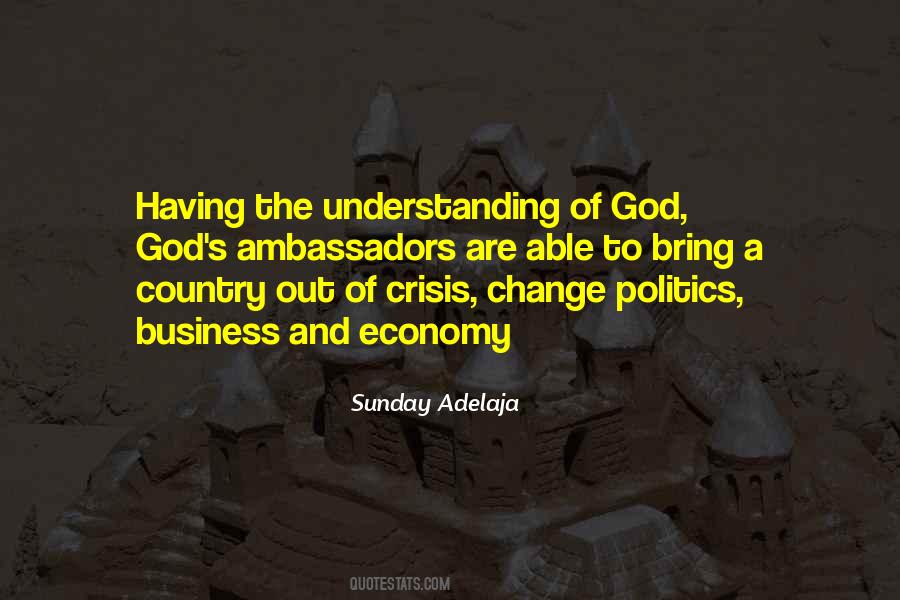 #10. God has blessed me with a wonderful family, a successful business, and outstanding employees. I do not take these blessings lightly. - Author: David Green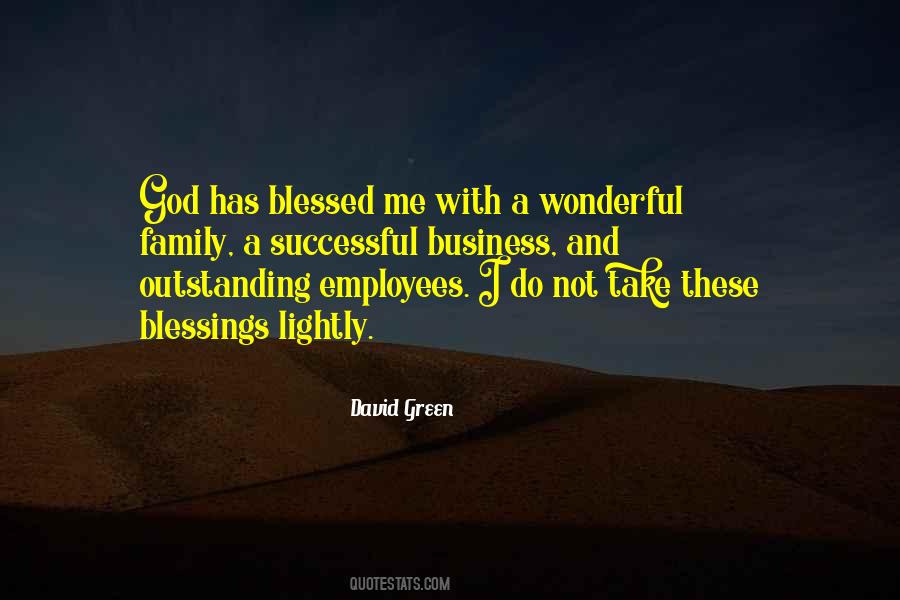 #11. Comfort and familiarity are not what God points us toward. Jesus isn't in the business of flying to and fro for the rest of our lives, hand-delivering spiritual baby food to us. - Author: Louie Giglio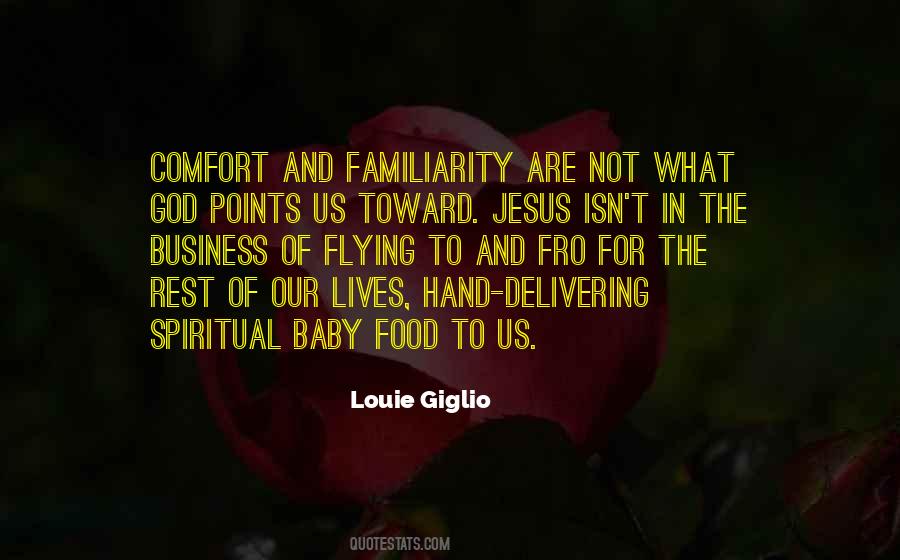 #12. Let us think often that our only business in this life is to please God. Perhaps all besides is but folly and vanity. - Author: Brother Lawrence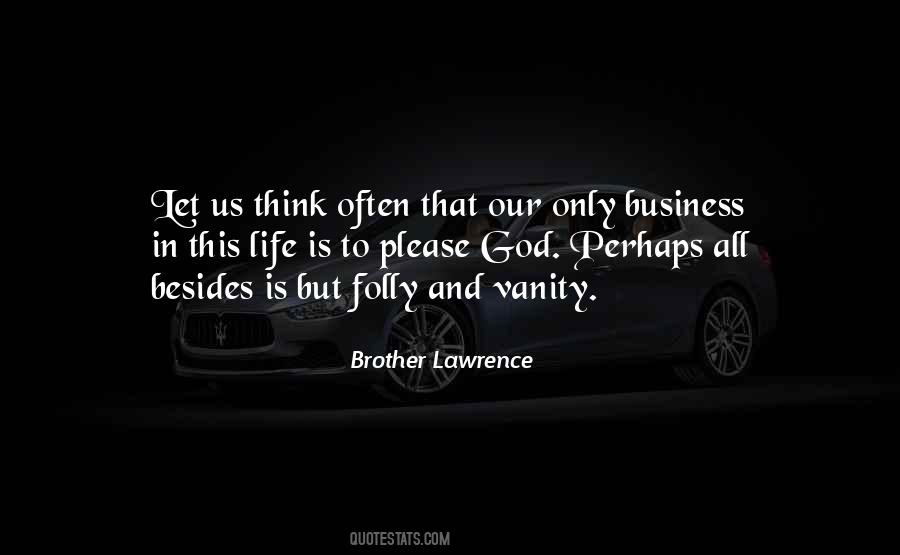 #13. I decided to come back and teach goodness in this business. To teach love, because music is the universal language. We are God's bouquet, and through music we become one. - Author: Little Richard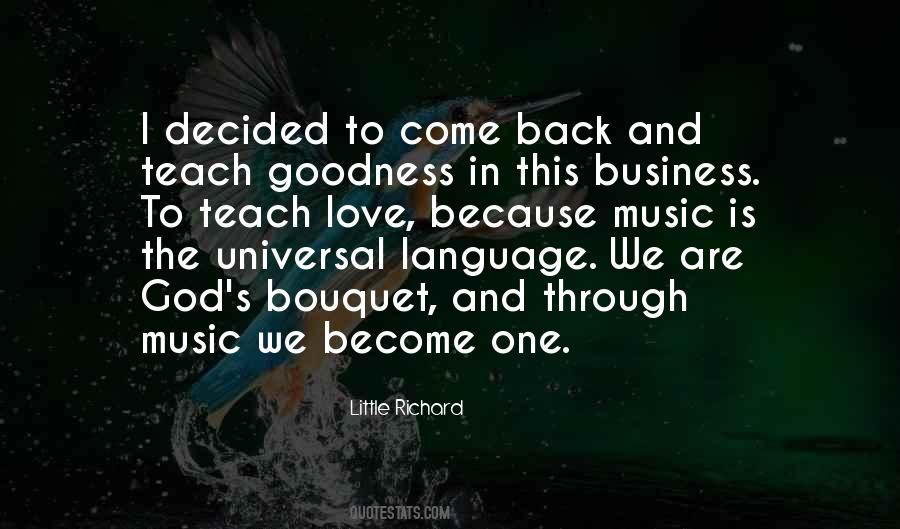 #14. When a man is willing to set aside the legitimate appetites of the body to concentrate on the work of praying, he is demonstrating that he means business, that he is seeking with all his heart, and will not let God go unless He answers. - Author: Arthur Wallis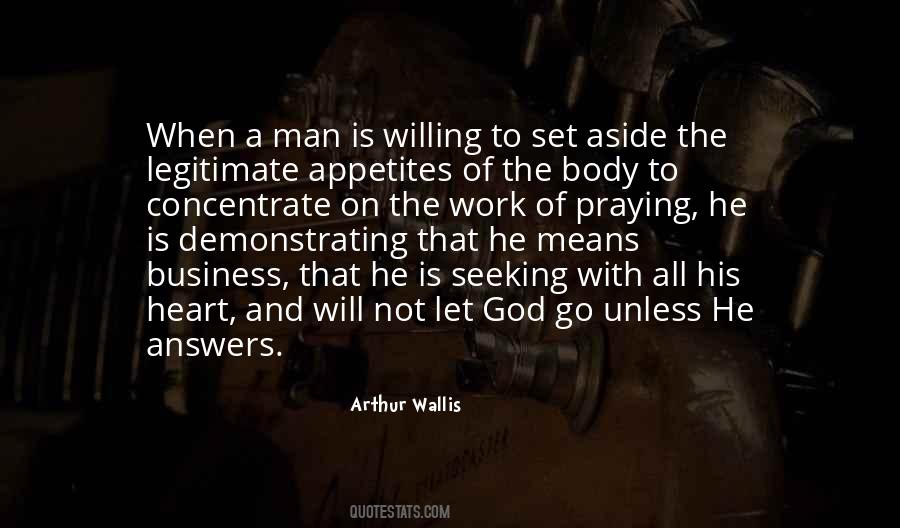 #15. We are to be lights in the world. It is God's business to light us, to set us on the lampstand, and to bring the people into the house. Our only duty is to shine forth with the gospel. - Author: Marva J. Dawn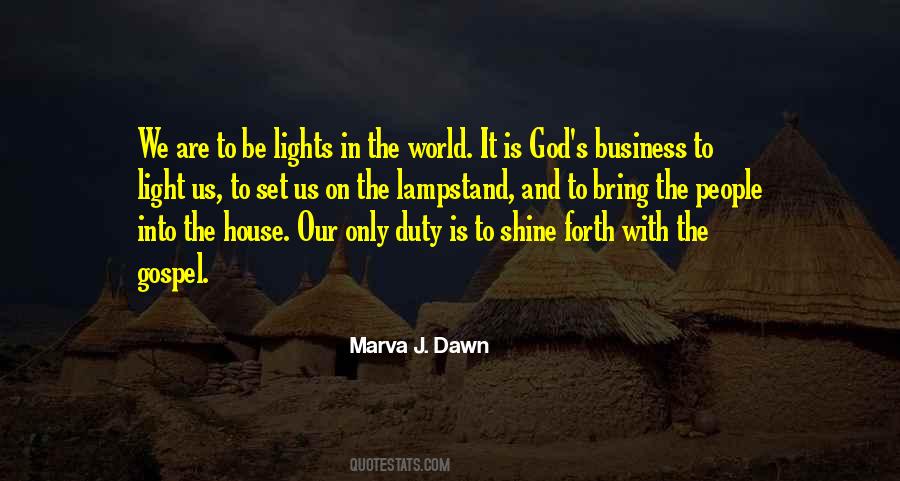 #16. Martin Luther expressed God's expectation of prayer this way: "As it is the business of tailors to make clothes and of cobblers to mend shoes, so it is the business of Christians to pray."[2] - Author: Donald S. Whitney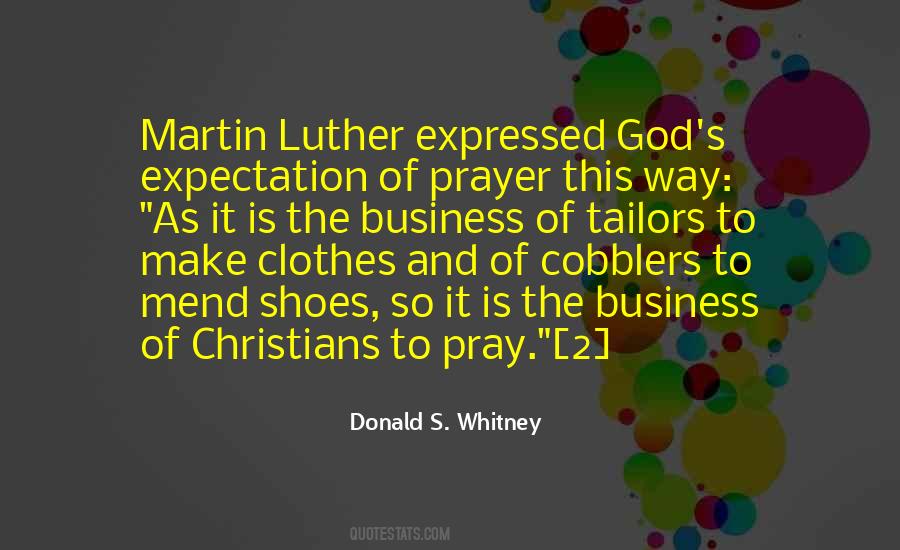 #17. It's not your business to decide if a woman you love should, or should not, marry you. It's her business. Tell her all about yourself and leave the decision to her. God knows it's trouble enough having to make one's own decisions in life without having to make other people's too. - Author: Elizabeth Goudge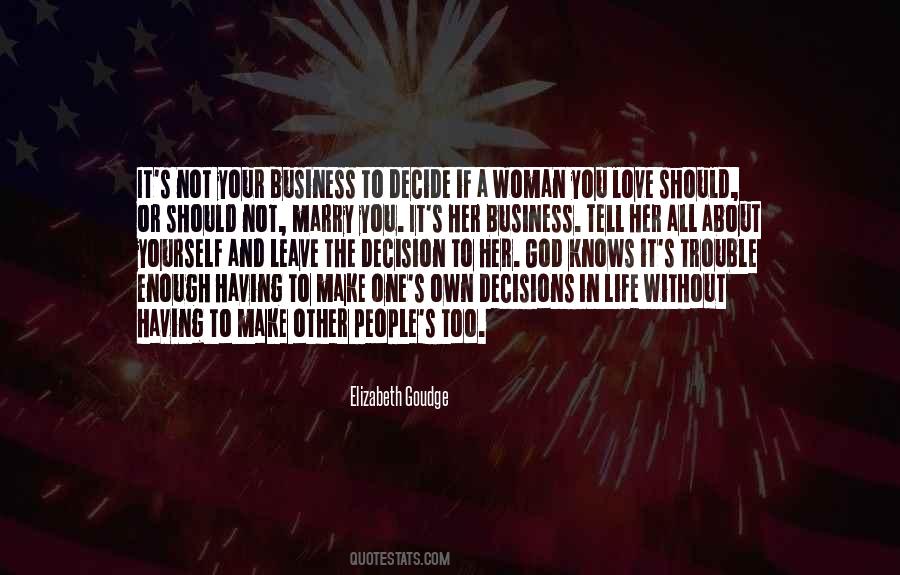 #18. I think quite a bit of organized religion has become big business. Jesus Christ never sold the word of God. He never gave a sermon and then said, 'For $8.99, you can buy the CD.' - Author: Ving Rhames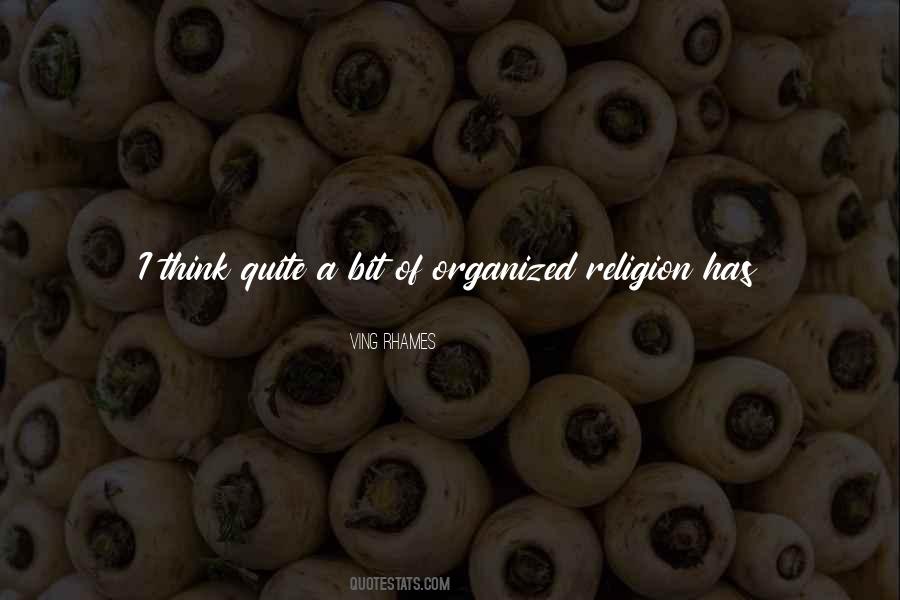 #19. And some people say Jesus wasn't Jewish. Of COURSE he was Jewish! 30 years old, single, lives with his parents, come on! He works in his father's business, his mom thought he was God's gift, he's Jewish! Give it up! - Author: Robin Williams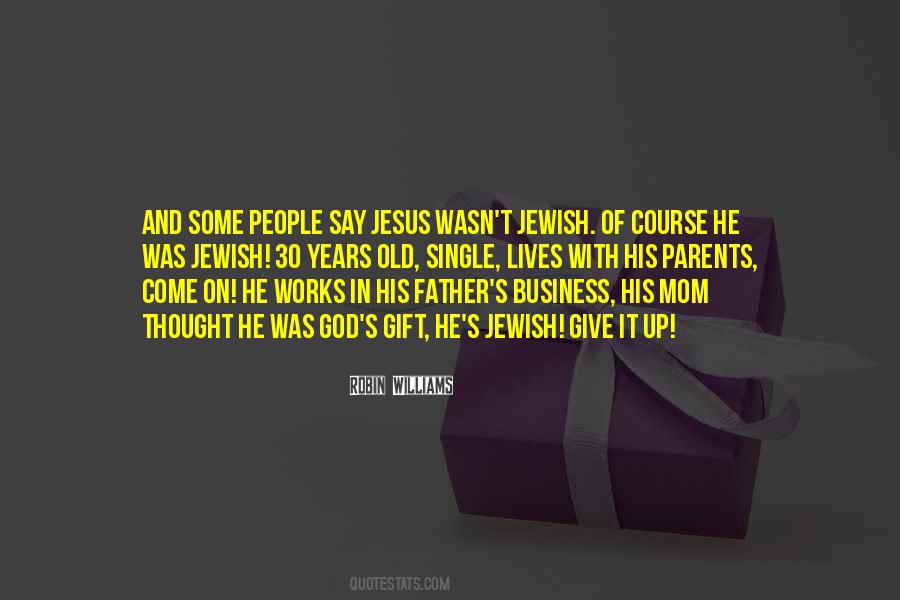 #20. God is the God of multiplication and a careless attitude toward the business of the kingdom bring regret to Him - Author: Sunday Adelaja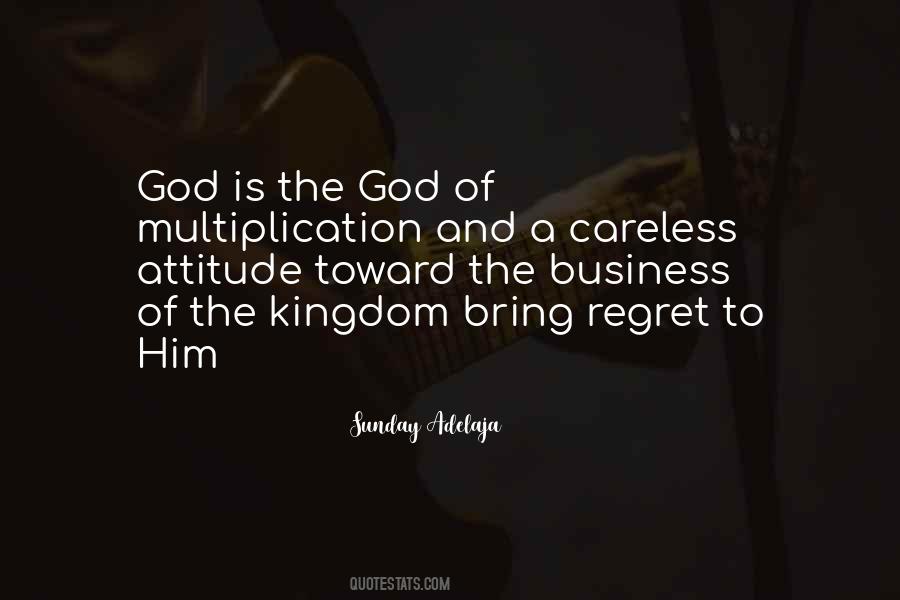 #21. Our only business is to love and delight ourselves in God. - Author: Brother Lawrence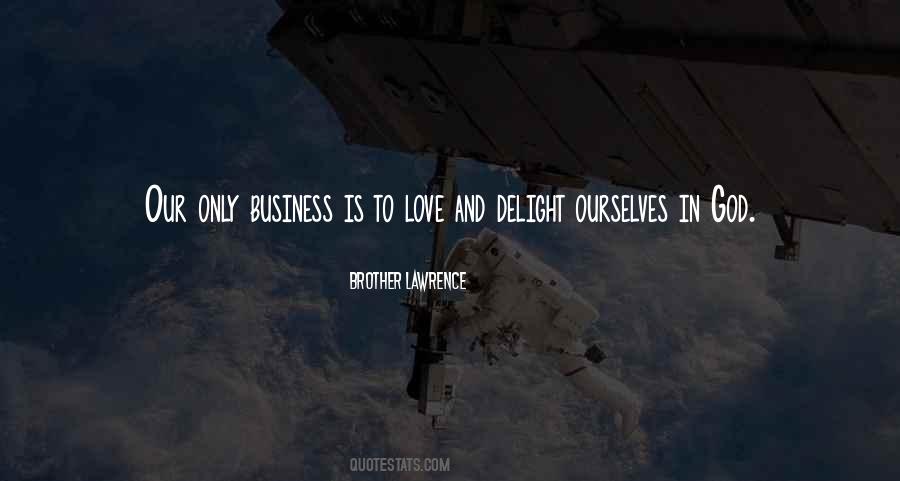 #22. The truth is that there are no "masters" in the spiritual life. Mature and wise teachers, yes. But fundamentally we are all beginners receiving and giving on our knees before God and with open hands before one another. In this business no one "lords it over" another. Pay - Author: Richard J. Foster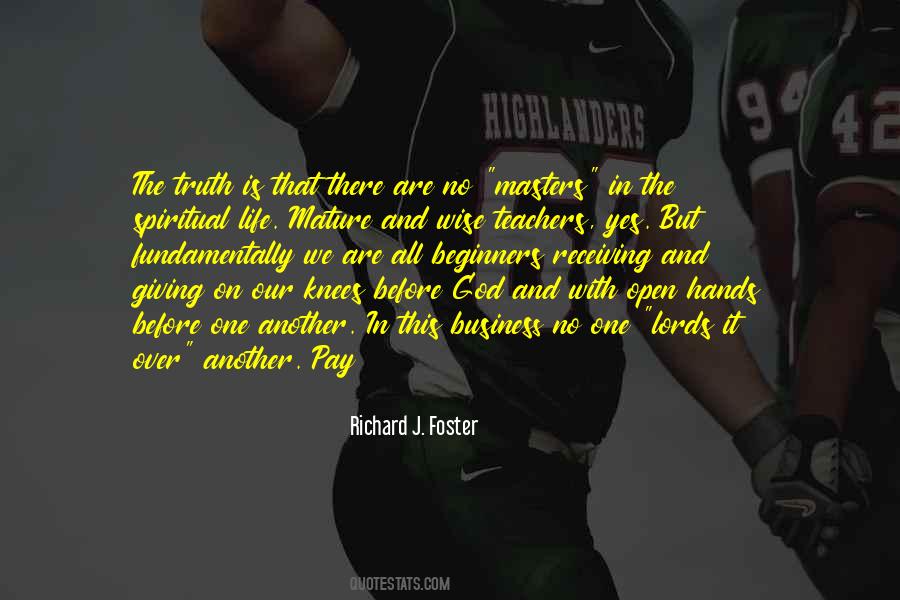 #23. The world is an ambitious business. It continuously expands and evolves. But people are lazy and God is far too lovely to do something about it. - Author: Stefan Emunds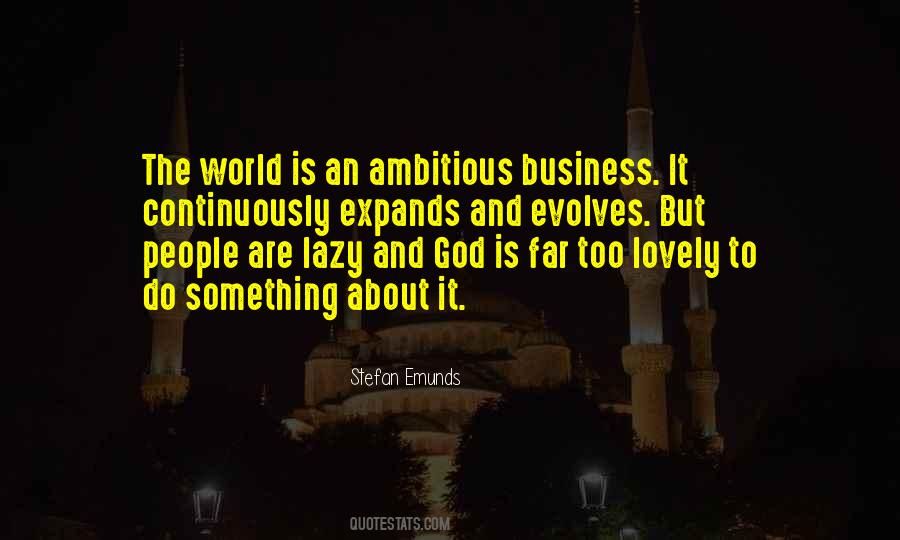 #24. The question of historicity and actuality with regard to gods and unicorns is a relatively trifling matter which may be left to antiquarians and biologists, for both the god and the unicorn had a business to perform greater than any mere existence in the flesh could explain or provide a basis for. - Author: Odell Shepard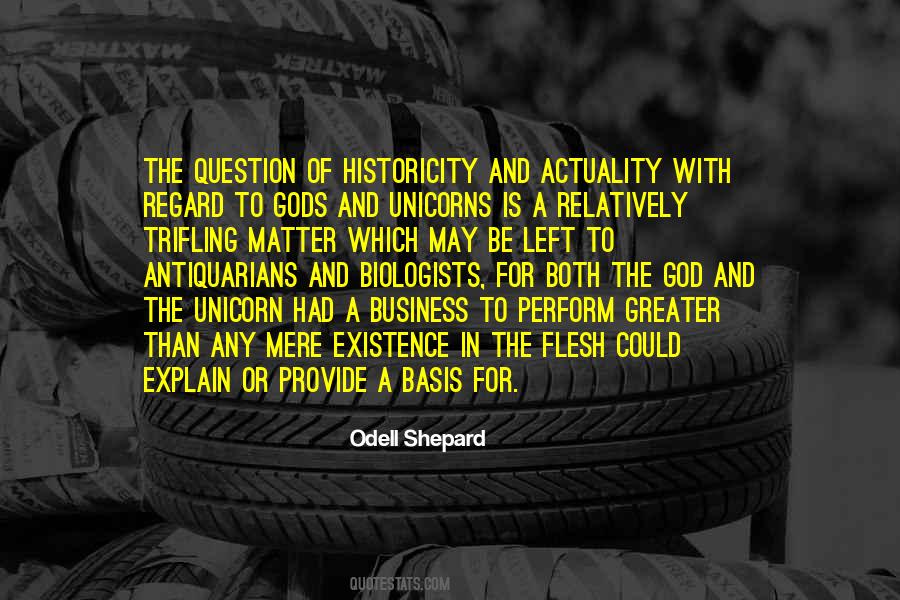 #25. Life's still stupid but we got free of story out here under the beeches and the Big Dipper. We had enough of it, of things happening one after another and no end in sight. Of reversals and falling in love and tragic flaws, and by God if I see another motif in my business I will shoot it dead. - Author: Catherynne M Valente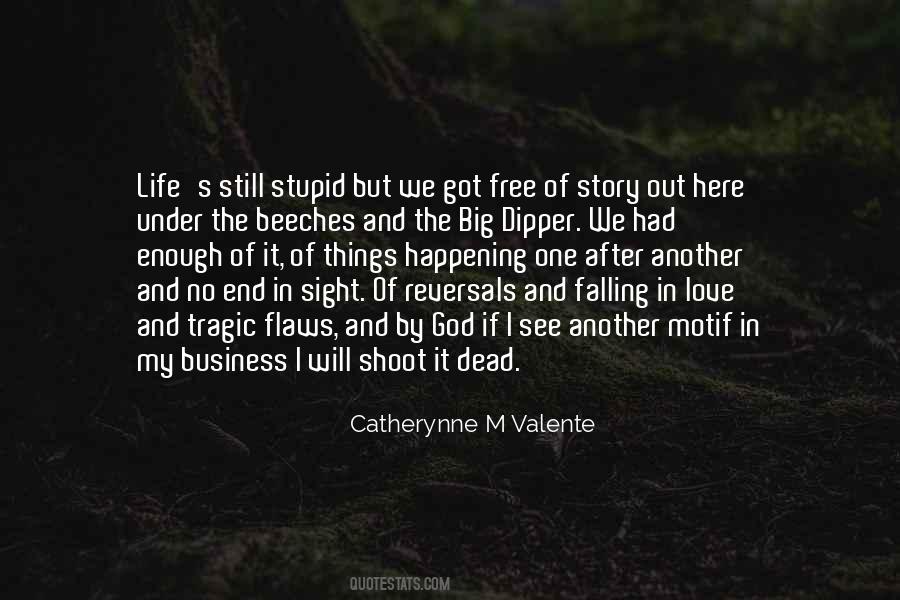 #26. Make it a part of every day's business to read and meditate on some portion of God's Word. Private means of grace are just as needful every day for our souls as food and clothing are for our bodies. - Author: J.C. Ryle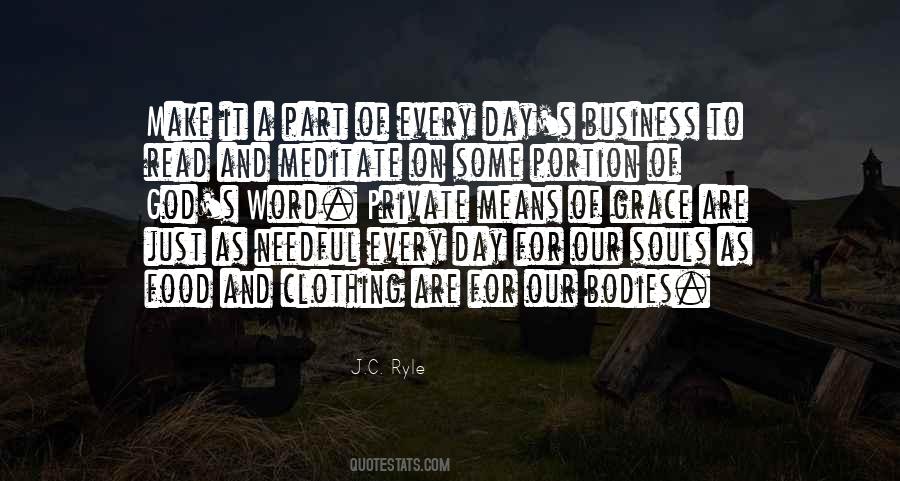 #27. I do business in 170 countries; none of them is perfect. There is not even one country that I think of, and I am like, 'God, that did everything that I wanted it to do.' - Author: Jeffrey R. Immelt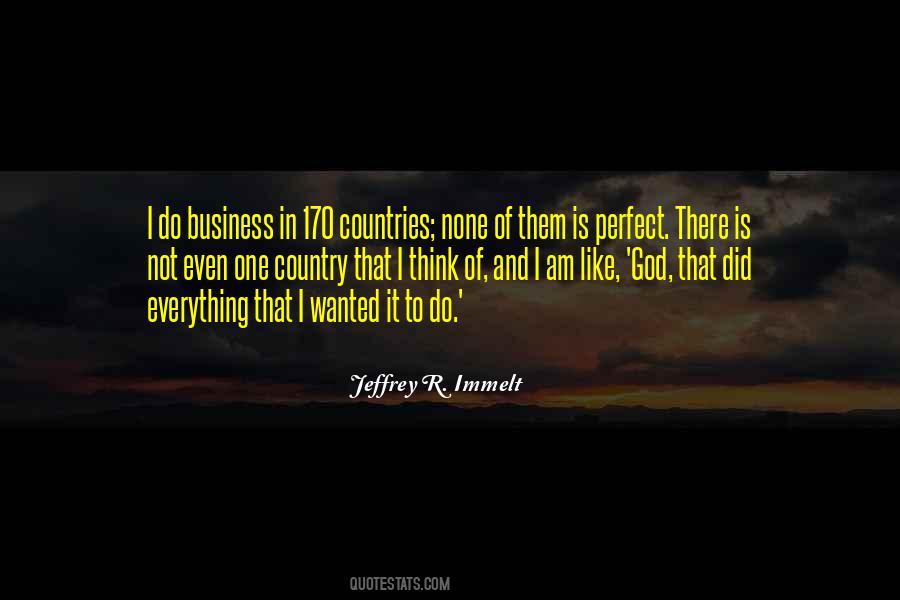 #28. The Glory of God, and, as our only means of glorifying Him, the salvation of human souls, is the real business of life. - Author: C.S. Lewis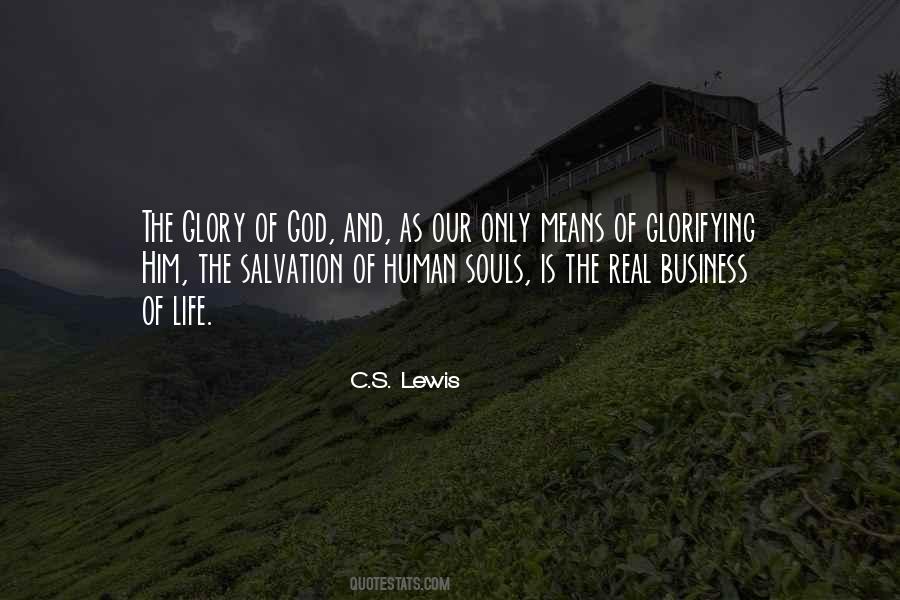 #29. God really is in the business of blessing his people in unusual ways so his goodness and his greatness will be declared among all peoples. - Author: David Platt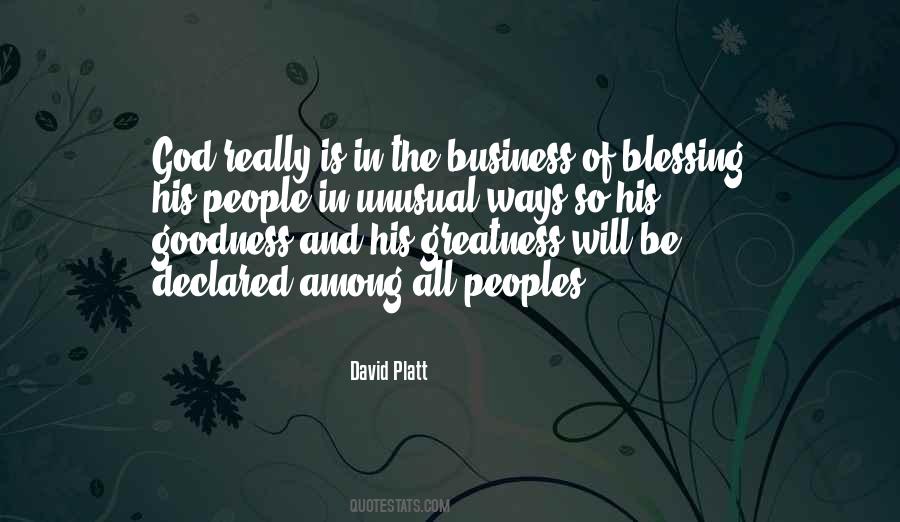 #30. There are two basic rules which should never be broken. Be subtle. And don't, for God's sake, try to do business with anyone who's having a bad game. - Author: William Davis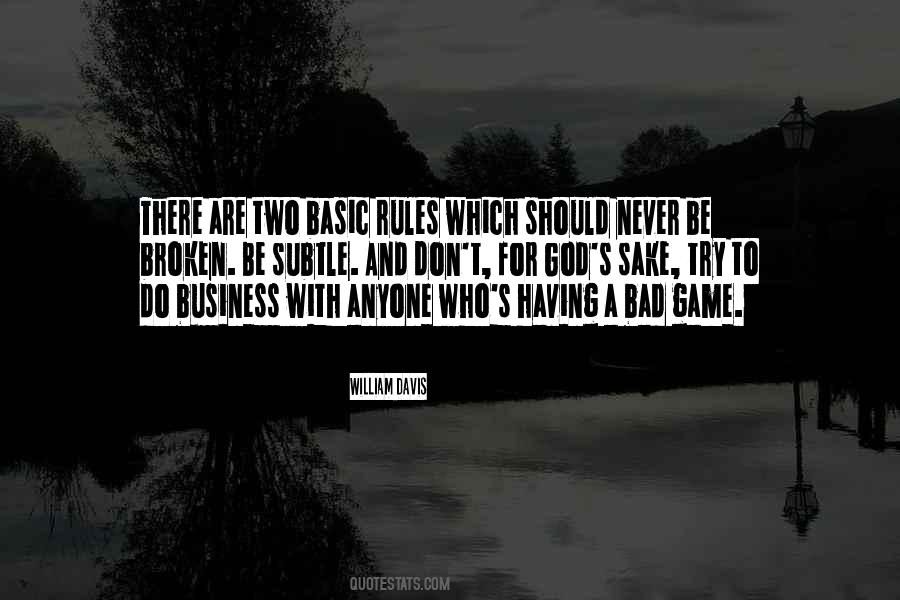 #31. But the best thing about Spain? Siestas. God bless any country that has decided yes, we shall shut down business and take a long nap in the middle of the day. How can you not love them for that? - Author: Kristen Callihan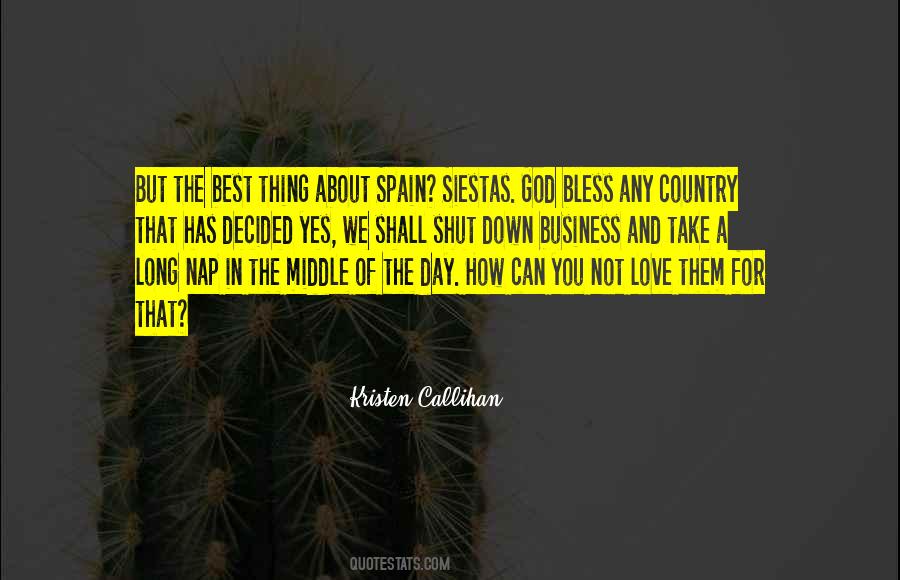 #32. Our decision to close on Sunday was our way of honoring God and of directing our attention to things that mattered more than our business. - Author: S. Truett Cathy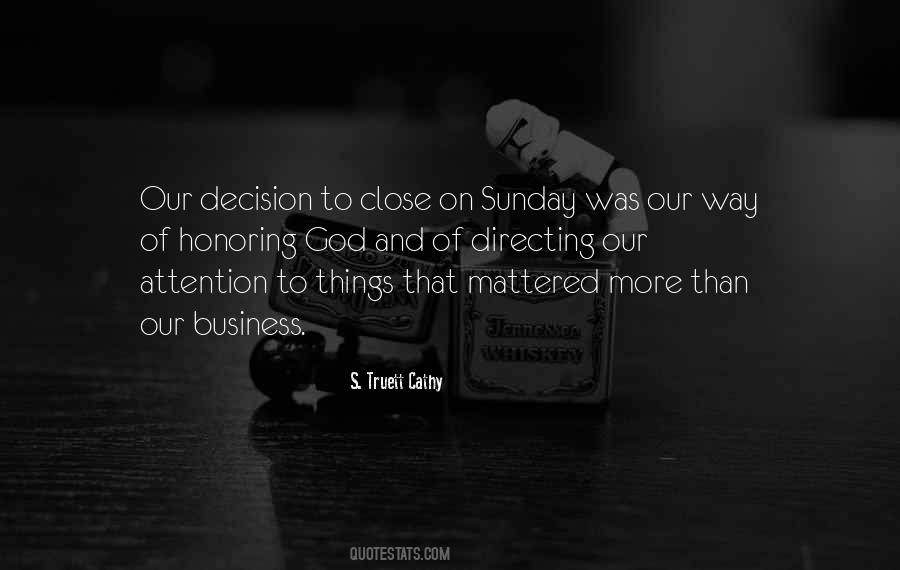 #33. I spend a lot of time thinking about this business of letting go - letting go of the children God gives to us for such a brief time before they go off on their own; letting go of old homes, old friends, old places and old dreams. - Author: Susan Estrich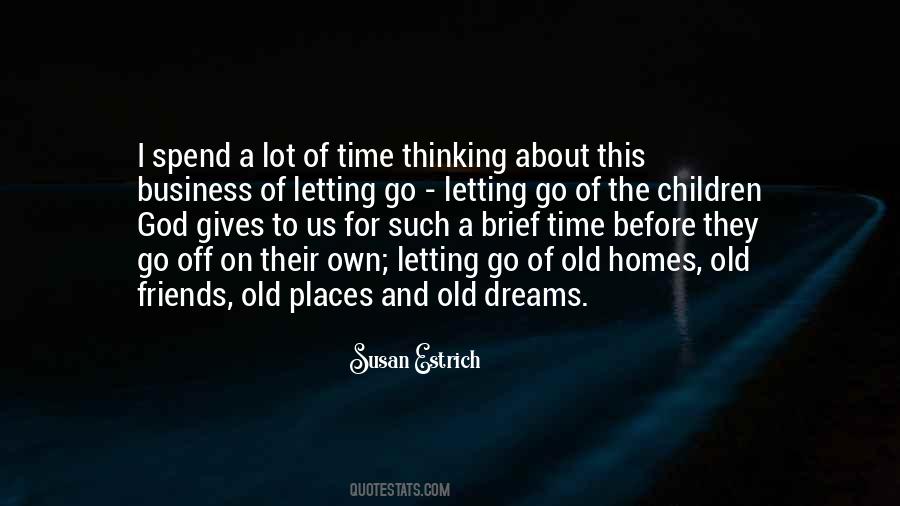 #34. It is the devotee's job to chant God's name. It is God's business to keep count. - Author: Radhe Maa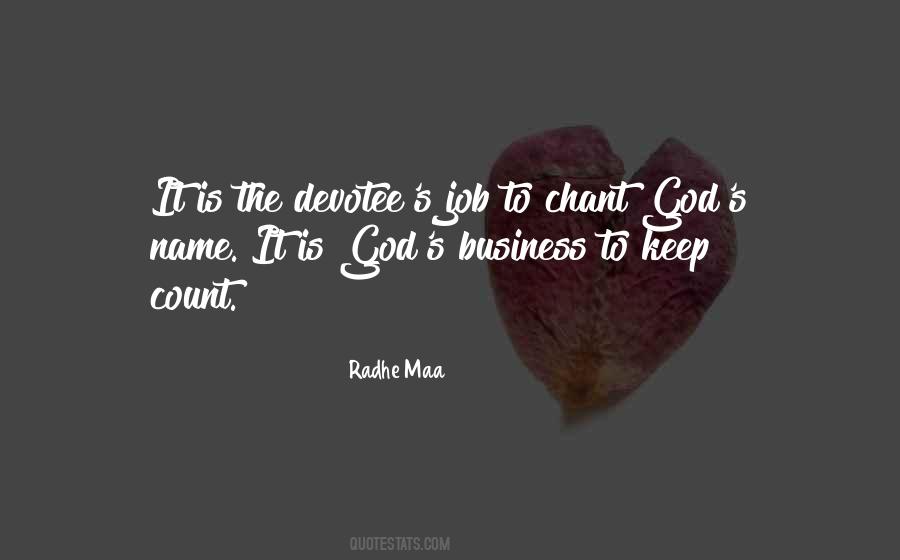 #35. God is setting you up! He is in the business of strategically positioning us in the right place at the right time. And His angels are our advance team! Each trip around the sun has been carefully choreographed for us by the Creator of the universe. We just need to take His cues. - Author: Mark Batterson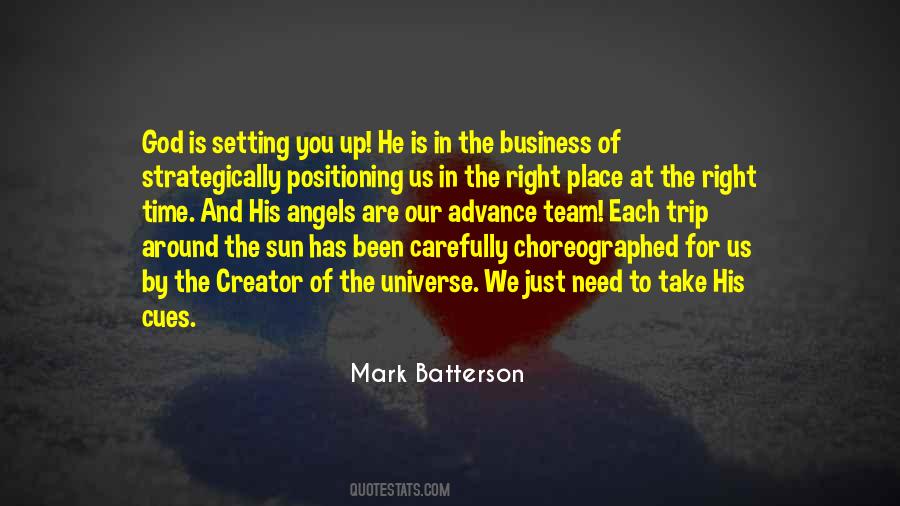 #36. Most of the heroes of Scripture rose to their greatest victories after their worst mistakes. God is in the redemption business, and He testifies of this through the lives of everyone He calls. - Author: Rick Joyner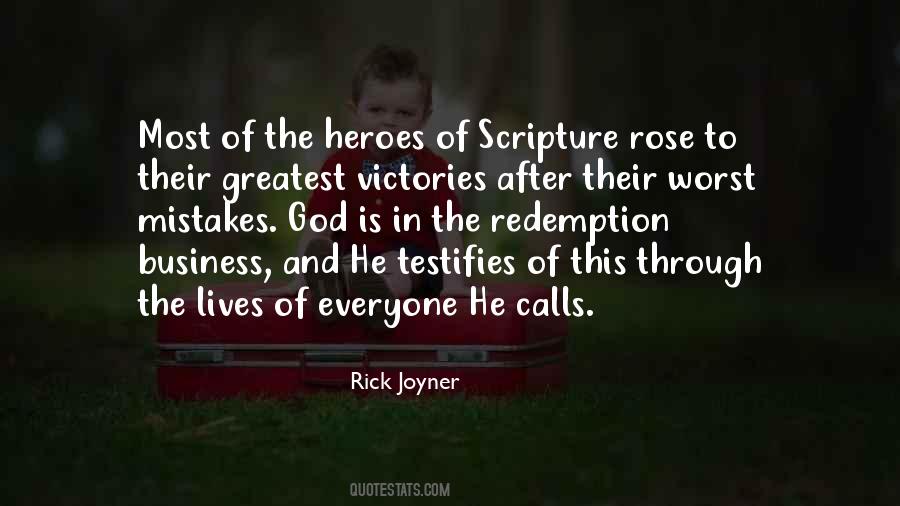 #37. God pays all bills He authorizes." When we take chances on our own, in ministry or business or finances, we take a risk. But if God directs us to do something, He will provide the desire, the means, the tools, and the wherewithal - and perhaps an angel - to help us. - Author: Betty Malz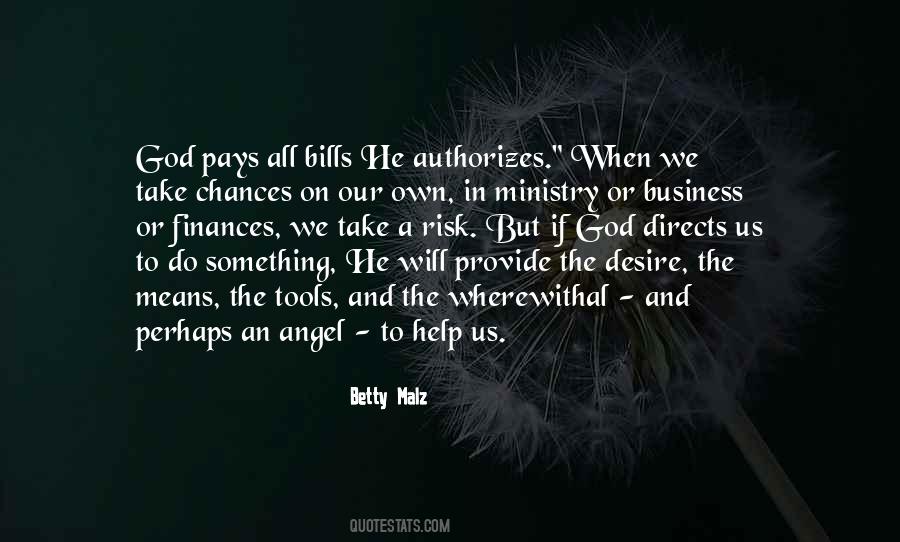 #38. That the most excellent method he had found of going to GOD, was that of doing our common business without any view of pleasing men, [Gal. i. 10; Eph. vi. 5, 6.] and (as far as we are capable) purely for the love of GOD. - Author: Brother Lawrence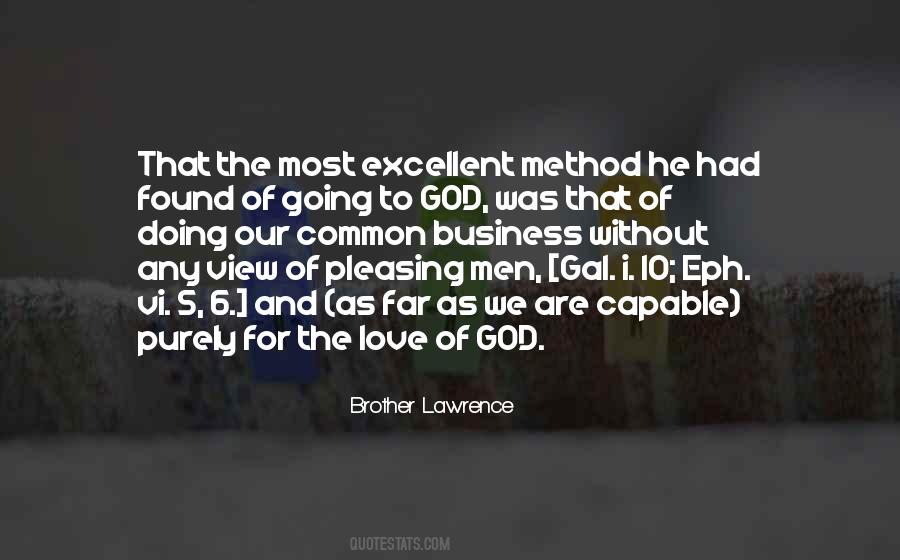 #39. It is better just to get on with the business of living and minding your own business and maybe, if God likes the way you do things, he may just let you flower for a day or a night. But don't go pestering and begging and telling him all your stupid little sins, that way you will spoil his day. - Author: Bryce Courtenay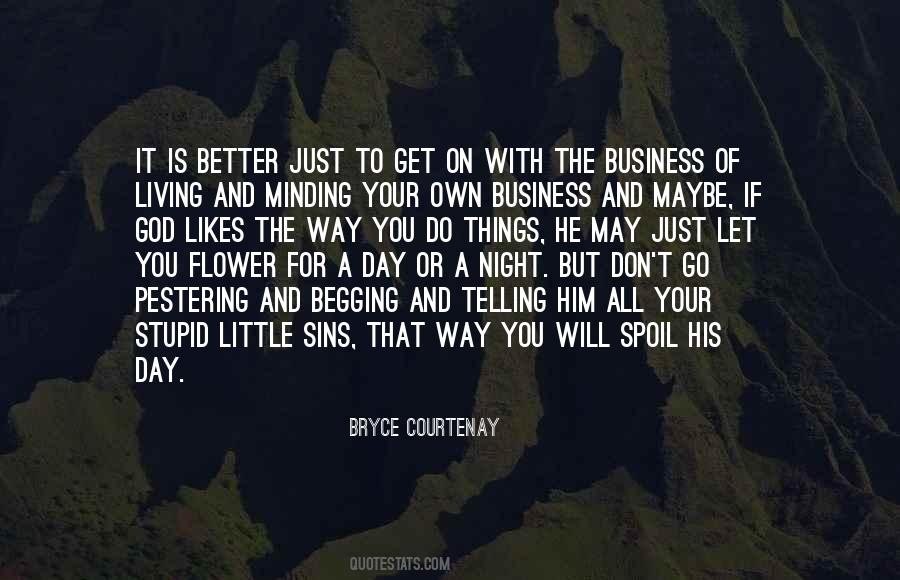 #40. The truth was that Jay Gatsby, of West Egg, Long Island, sprang from his Platonic conception of himself. He was a son of God - a phrase which, if it means anything, means just that - and he must be about His Father's Business, the service of a vast, vulgar and meretricious beauty. - Author: F Scott Fitzgerald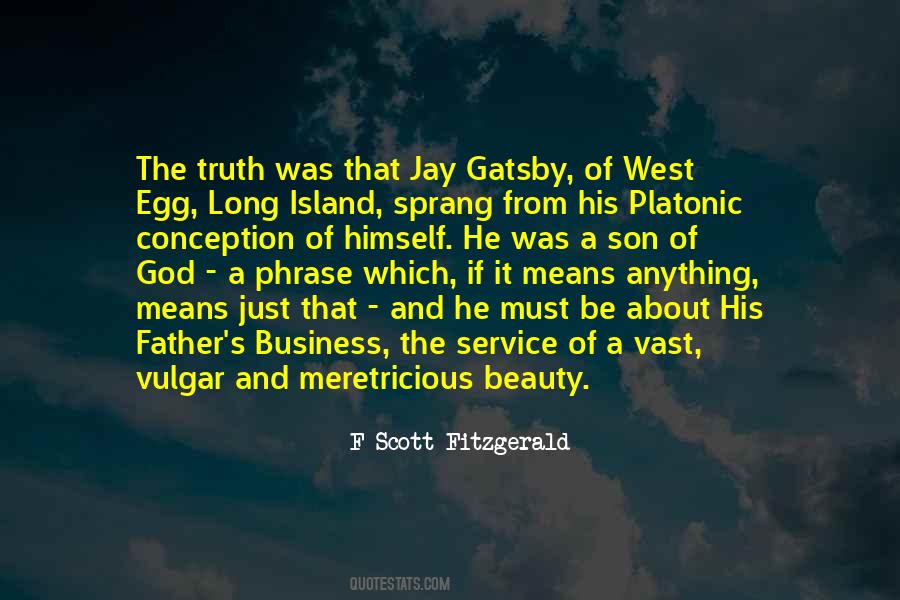 #41. God's Word is your owner's manual for life. It contains principles for health, finance, marriage, other relationships, business, and much more. - Author: Rick Warren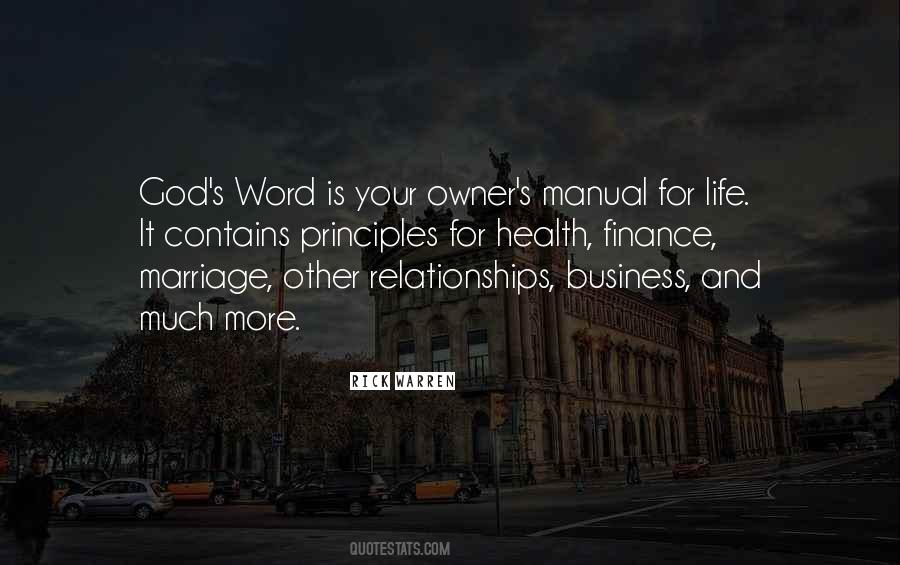 #42. Whether you practice craftiness in your business, you will have profit and if you do not practice craftiness, then also you will have [same] profit. Craftiness creates a liability for the next life. So God had said not to do craftiness. There is no benefit in it and there is infinite suffering. - Author: Dada Bhagwan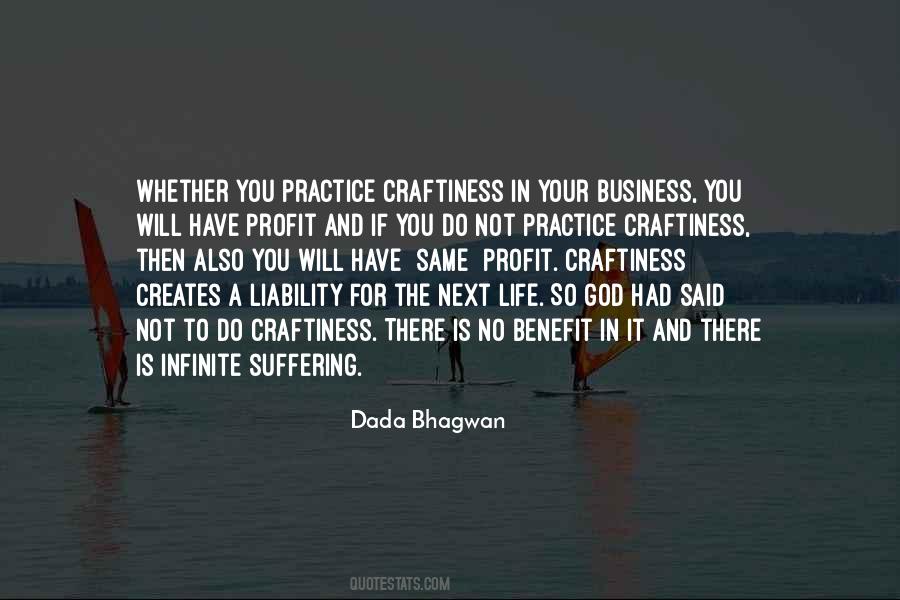 #43. We need to put people in positions of authority in government, business, law, medicine, media, sports and entertainment who are filled with the laws of God so that we can bring those laws into effect. - Author: Myles Munroe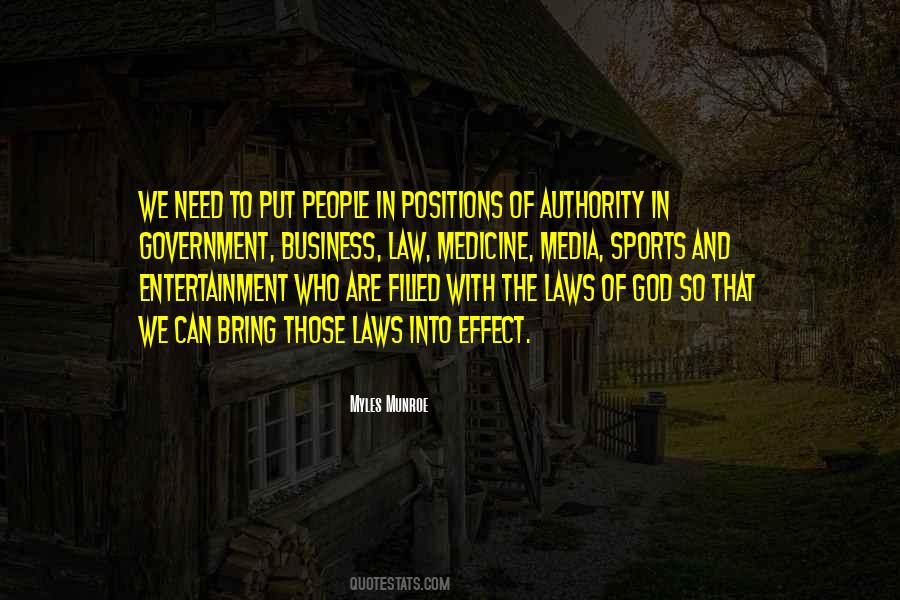 #44. Christianity is alone in thinking that sex is entirely the Devil's business and an offence to God, This is a strange doctrine and almost implies that God and the devil must have collaborated on the creation of humanity, God working above the belly button and the Devil below. - Author: Robert Anton Wilson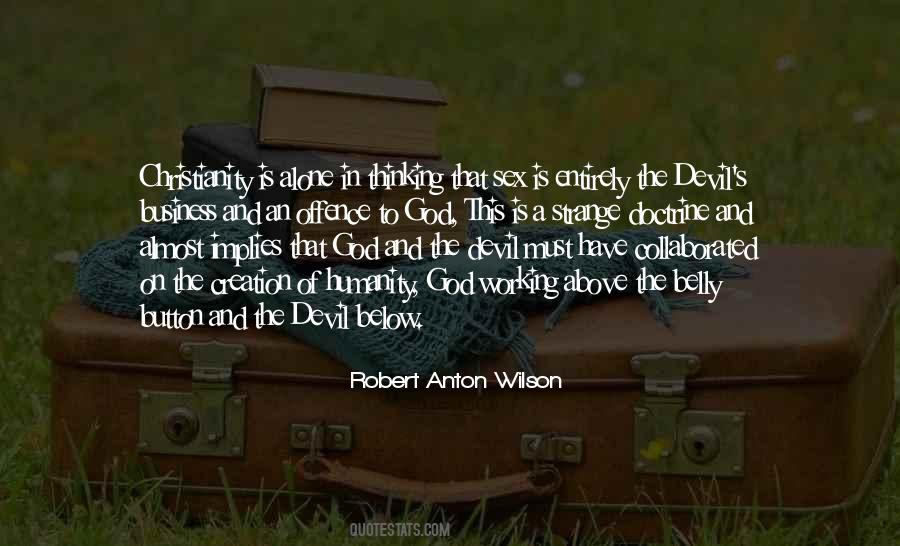 #45. It was wrong to be so joyless, so desponding; I should have made God my friend, and to do His will the pleasure and the business of my life; but faith was weak, and passion was too strong. - Author: Anne Bronte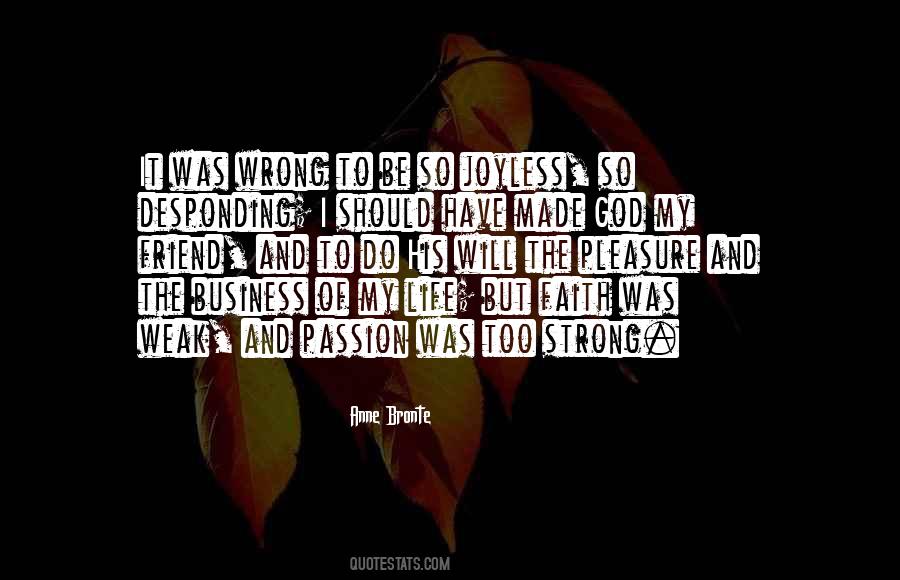 #46. And then God, in his benevolence, tasked Adam with the nasty business of nomenclature, calling beasts of land and water and air for what he saw fit, giving them names, calling them names, pegging down their potentials to classifications, to genus, to species. - Author: Carlos Malvar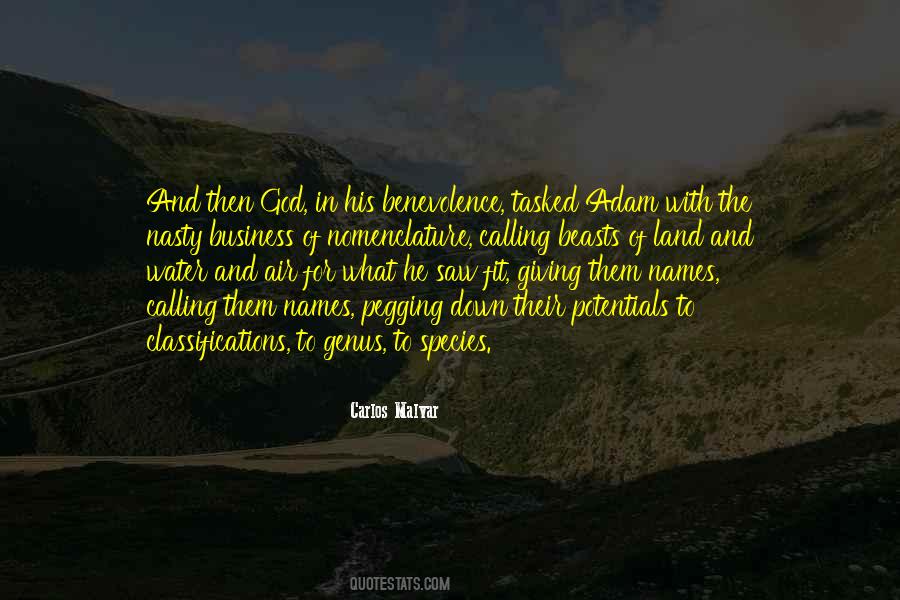 #47. I'm fortunate that I'm employed. And if you're in show business, of course, every night you go to bed and go, oh my god, tomorrow I'll never, ever work again. - Author: Rick Mercer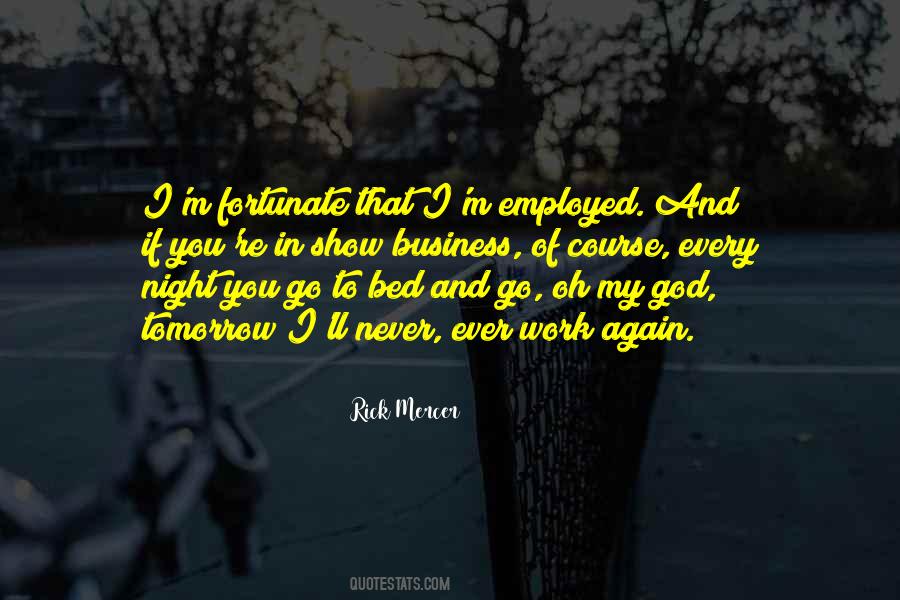 #48. The business of the missionary, and the business of the Christian Church in any situation, is to challenge the plausibility structure in the light of God's revelation of the real meaning of history. - Author: Lesslie Newbigin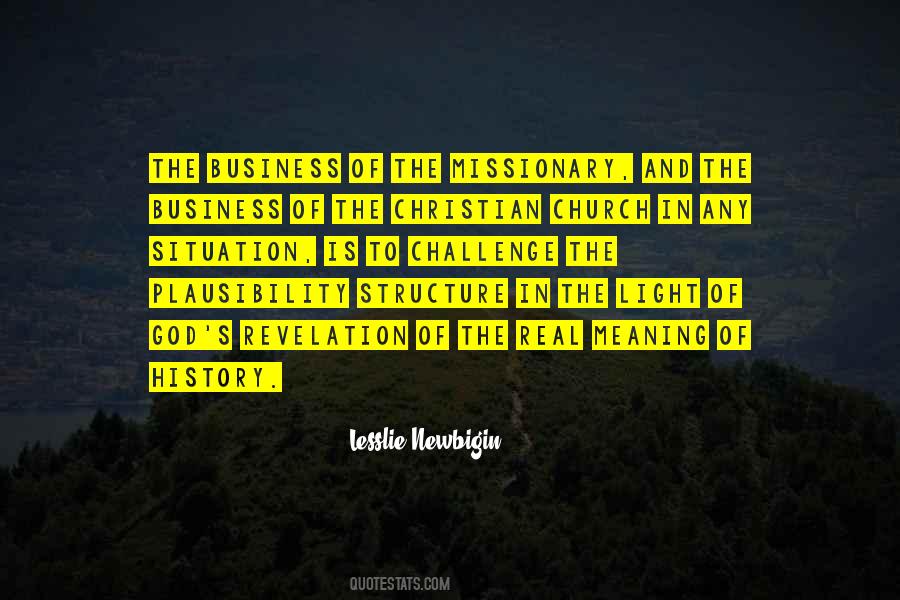 #49. Further, Take heed that you faithfully perform the business you have to do in the world, from a regard to the commands of God; and not from an ambitious desire of being esteemed better than others. - Author: David Brainerd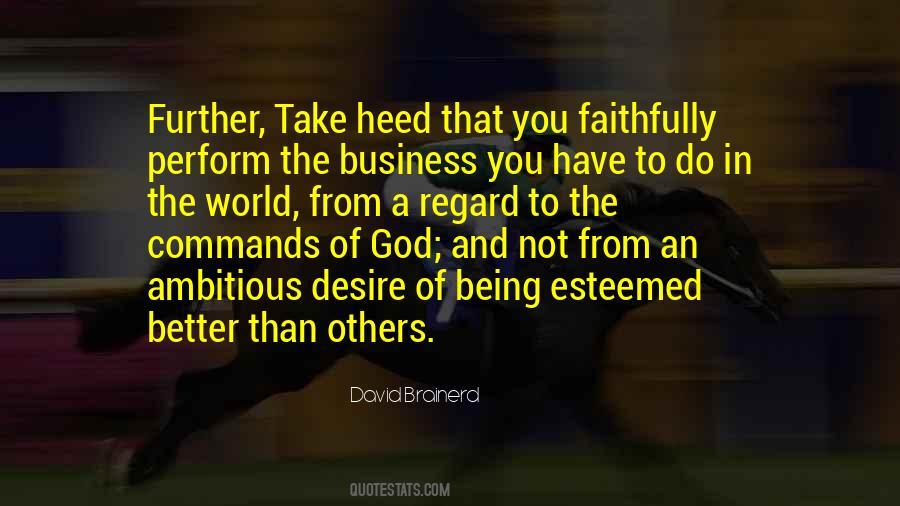 #50. Confrontation is the special business of young people. They confront their parents, peers, society, law enforcement officers, and themselves, but primarily they confront God. - Author: Billy Graham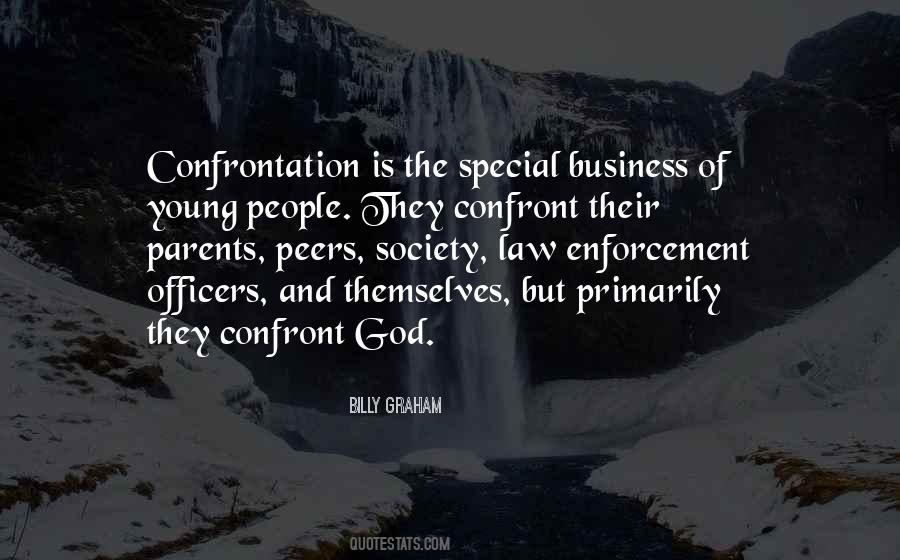 #51. My business is anything that comes between men and the Spirit of God. - Author: Richard Llewellyn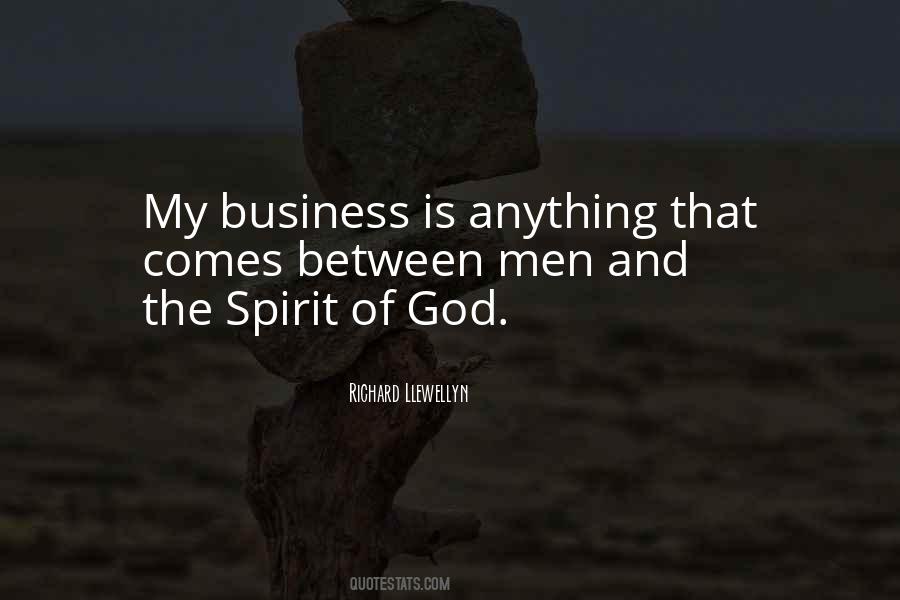 #52. Transcendence is the business of poets. That's what they're for. They're not like you and me. They have that extra bit that's always ready for take-off. Poets understand why God didn't give us wings: he wanted entertainment. He wanted us to aspire, to ascend. He wanted poetry. My - Author: Niall Williams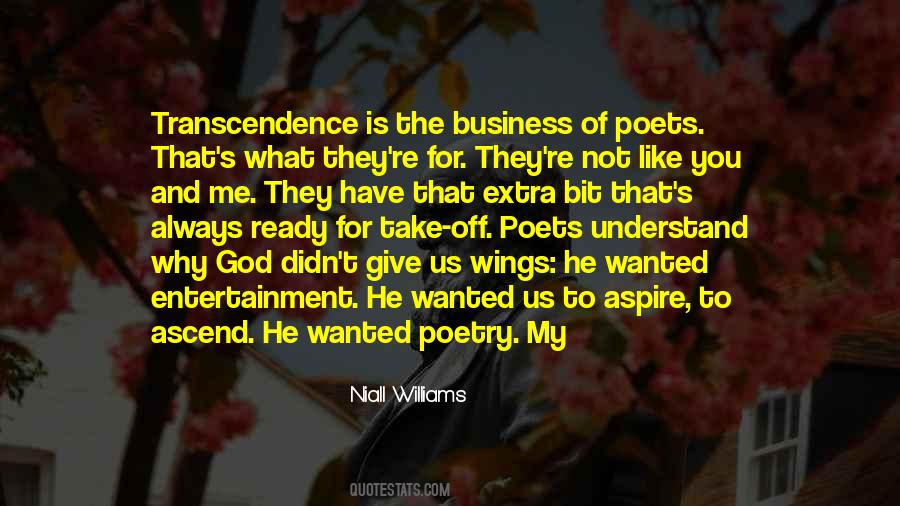 #53. The God worth worshipping is the one who pays us the compliment of self - regulation, and we might return it by minding our own business. - Author: Roger Rosenblatt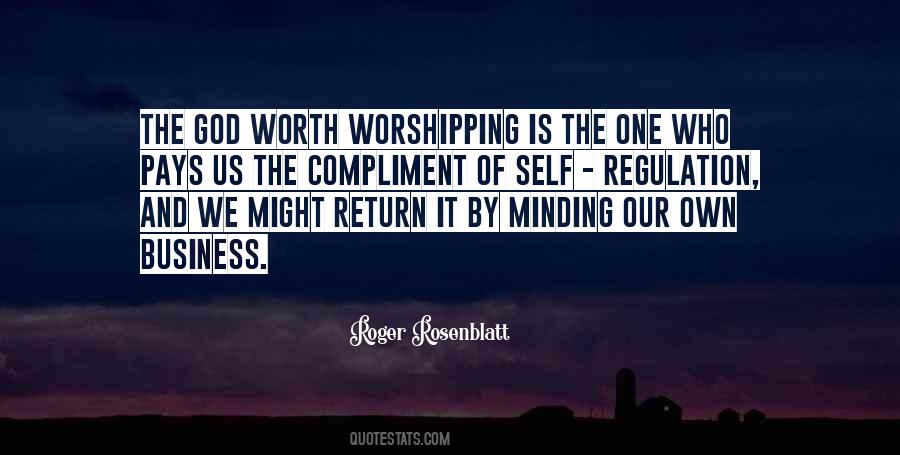 #54. My husband, children, and my family are my biggest supporters. I just pray to God to keep my family and I aligned at all times, and I just remember where it all got started before show business. - Author: Heather Headley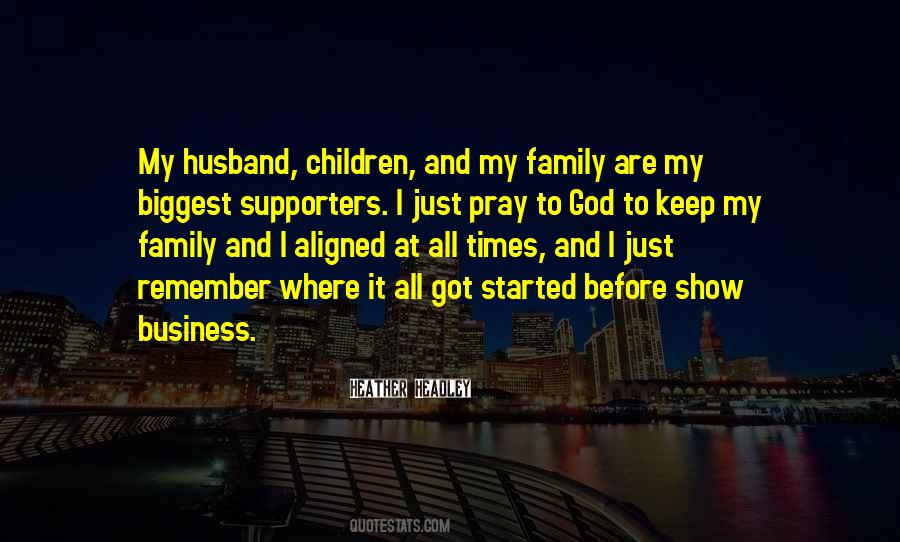 #55. It was a precept of Pythagoras, that when we enter into the temple to worship God , we must not so much as speak or think of any worldly business, lest we make God's service an idle ,perfunctory, and lazy recreation. The same I may say of closet prayer. - Author: Thomas Brooks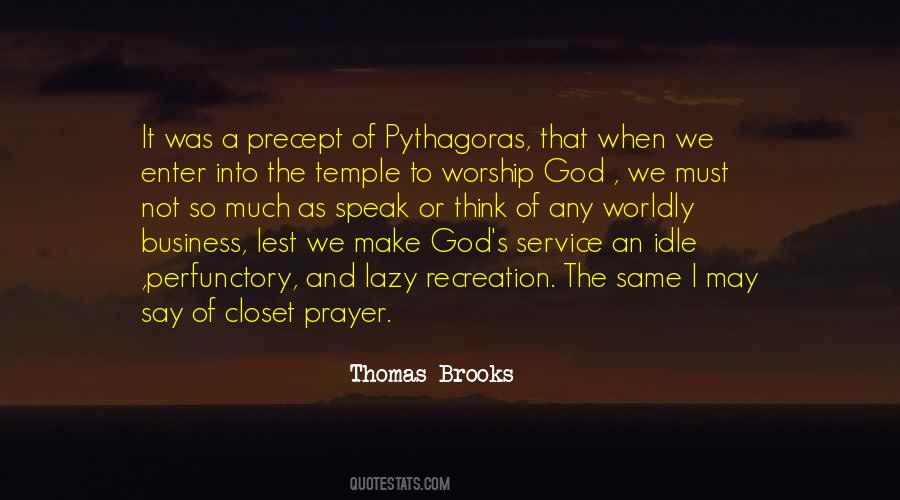 #56. My first advice is to keep God first in everything you do. Second is stay in shape, stay ready and learn about the business because you don't want to be in a business you know nothing about, because they will take advantage of you, in this business. - Author: Roy Jones Jr.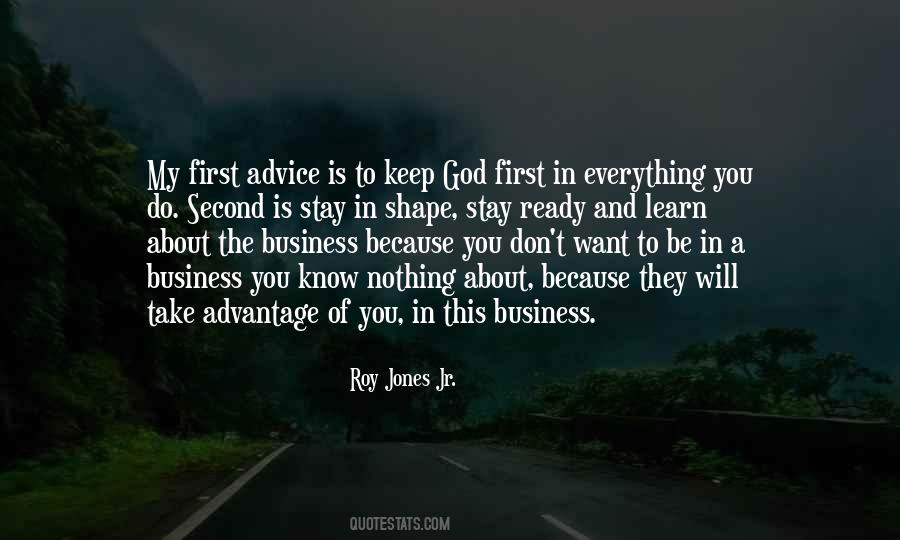 #57. The ship is sinking The ship is sinking There's leak, there's a leak,in the boiler room The poor, the lame, the blind Who ore the ones that we kept in charge Killers, thieves, and lawyers God's Away, God's away God's away on Business - Author: Tom Waits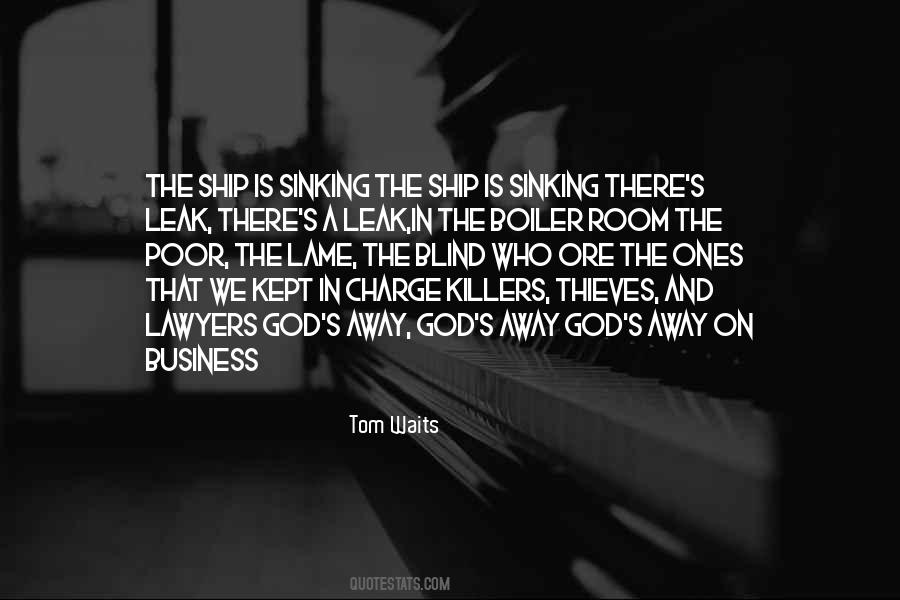 #58. Wherever you go in the galaxy, you can find a food business, a house-building business, a war business, a peace business, a governing business, and so forth. And, of course, a God business, which is called 'religion,' and which is a particularly reprehensible line of endeavor. - Author: Robert Sheckley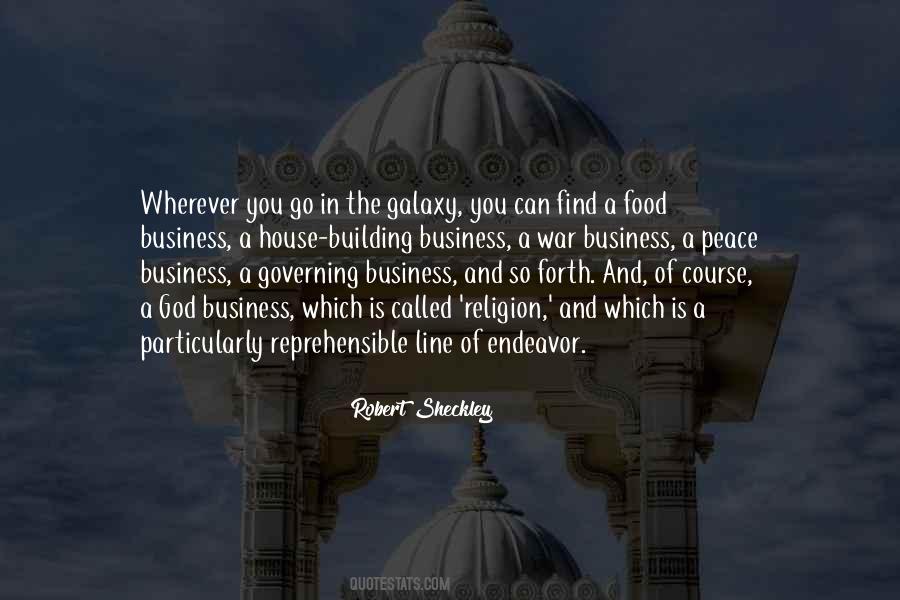 #59. People always assume that the church's primary business is to teach morality. But it isn't; it's to proclaim grace, forgiveness, and the free party for all. It's to announce the reconciling relationship of God to everybody and to invite them simply to believe it and celebrate it. - Author: Robert Farrar Capon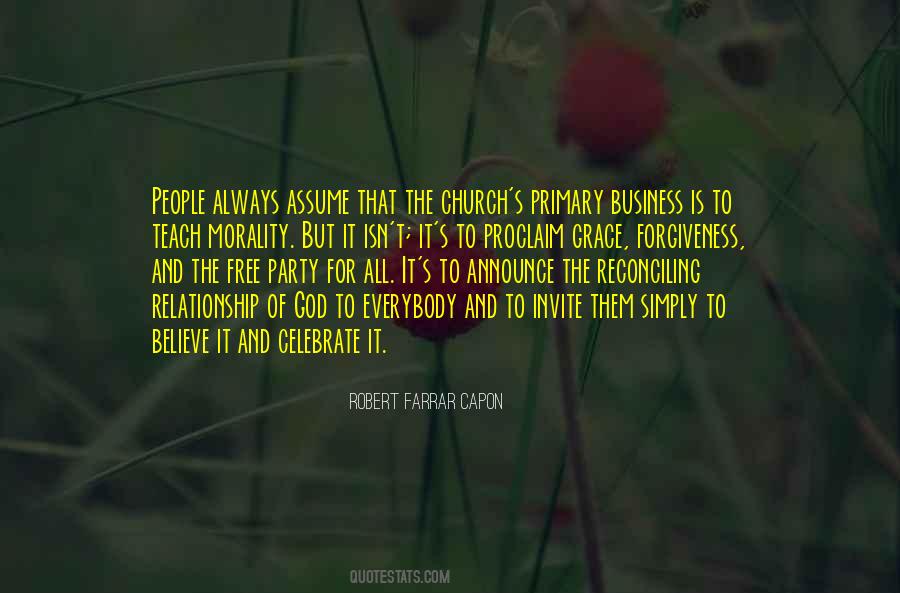 #60. For the Puritans, the God-centered life meant making the quest for spiritual and moral holiness the great business of life. - Author: Leland Ryken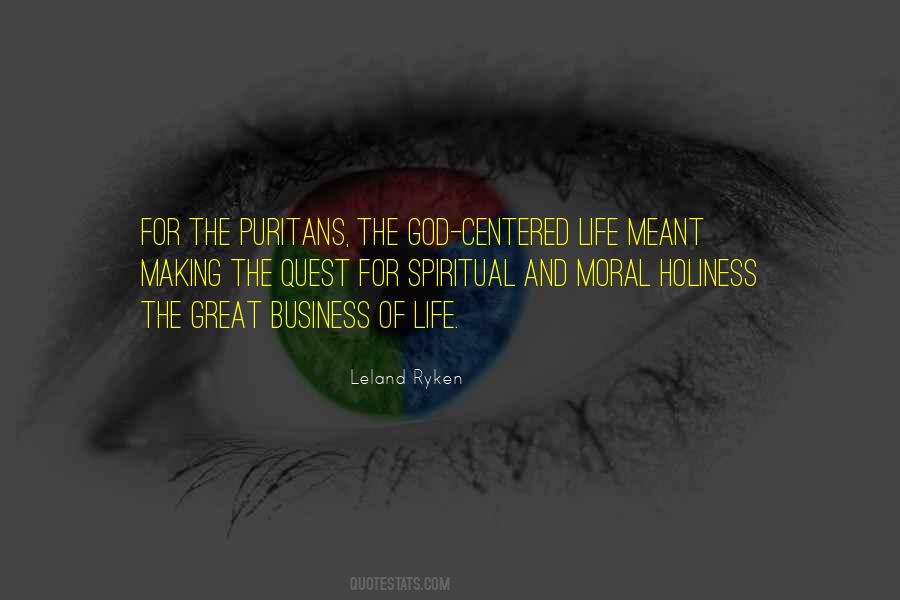 #61. It took forever for me to get work because I was a political comic, and now it's become good business, and God knows how long that'll last. You have to do it night after night after night to kind of make it. I still find myself on 'Piers Morgan' or on some show and I think, 'I hope this is funny.' - Author: Lewis Black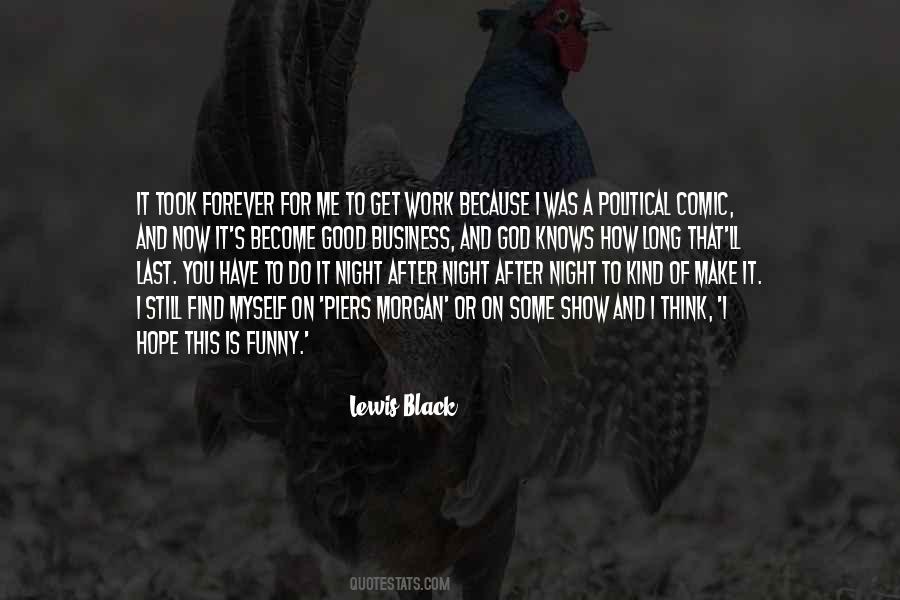 #62. We understand hereby, that the family, the business, science, art and so forth are all social spheres, which do not owe their existence to the State, but obey a high authority within their own bosom; an authority which rules, by the grace of God, just as the sovereignty of the State does. - Author: Abraham Kuyper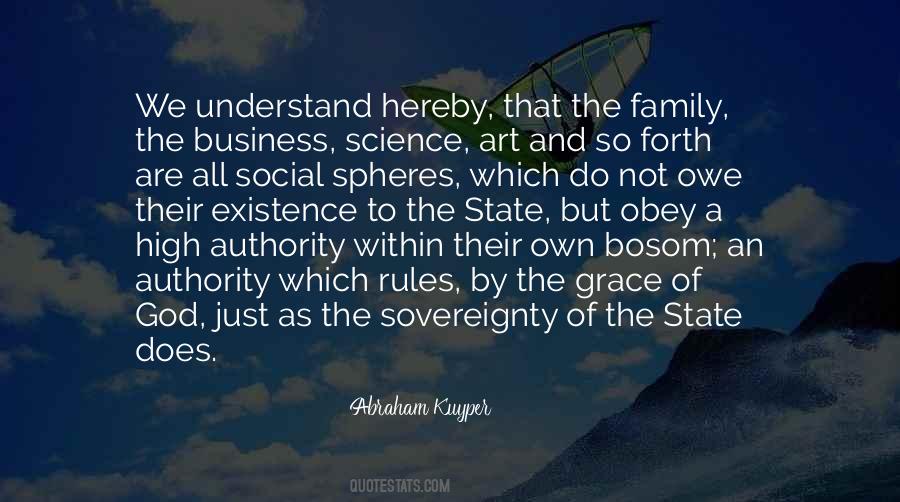 #63. The moral task of man is a process of spiritualization. All creatures are go-betweens, and we are placed in time that by diligence in spiritual business we may grow liker and nearer to God. The aim of man is beyond the temporal in the serene region of the everlasting Present. - Author: Meister Eckhart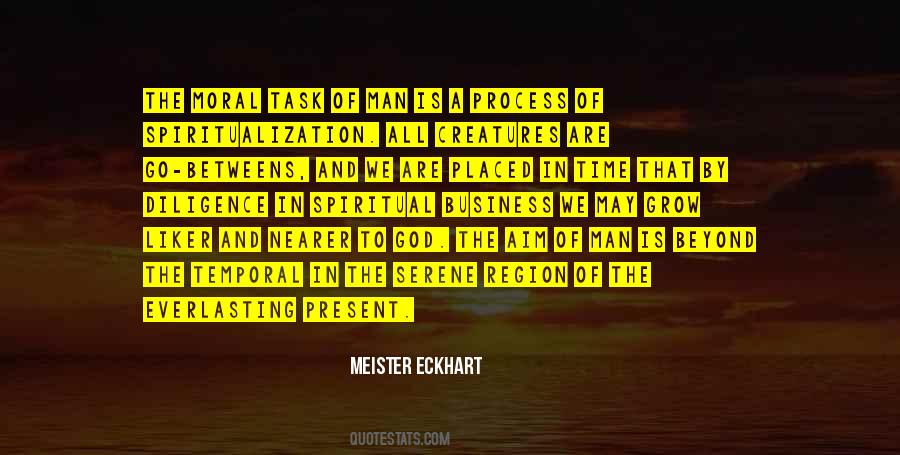 #64. The business of a seer is to see; and if he involves himself in the kind of God-eclipsing activities which make seeing impossible, he betrays the trust which his fellows have tacitly placed in him. - Author: Aldous Huxley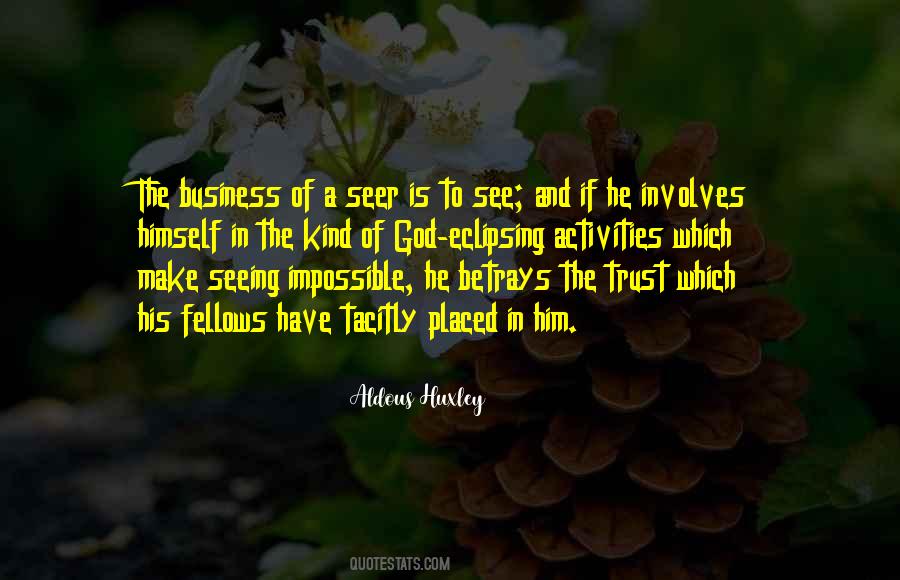 #65. We must do our business faithfully, without trouble or disquiet, recalling our mind to God mildly, and with tranquility, as often as we find it wandering from him. - Author: Brother Lawrence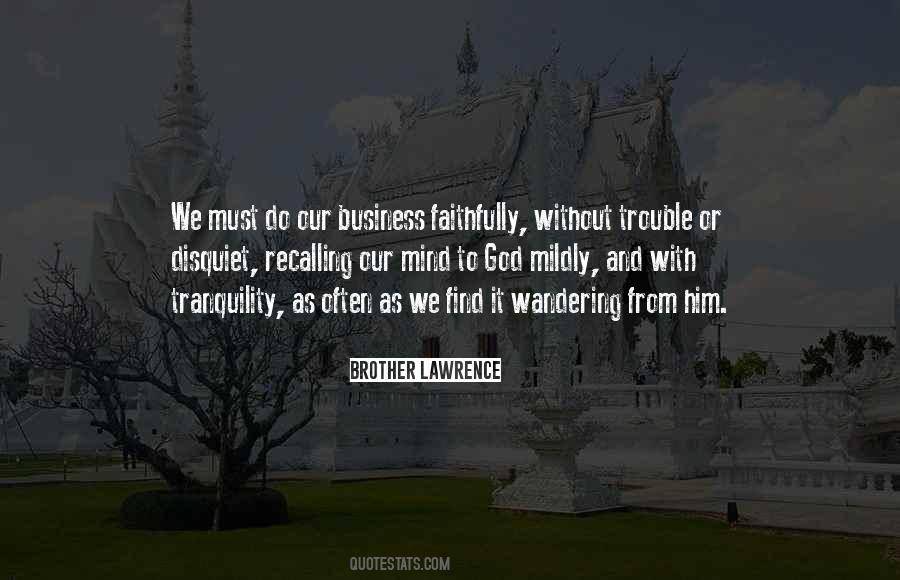 #66. My sisters are amazing. My sister is my business partner, my twin. She's an amazing producer, writer. You know, we're just grinding and trying to make my mother proud as well as God. - Author: Tasha Smith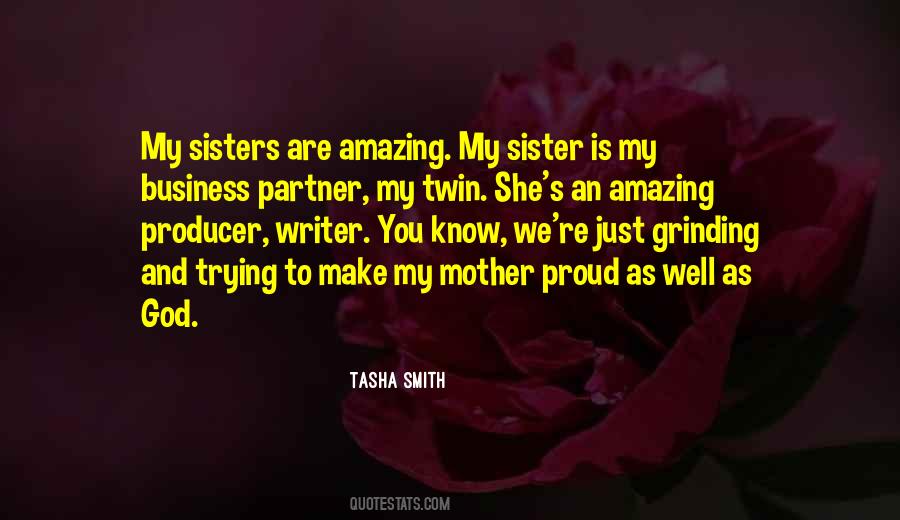 #67. In every department of life
in its business and in its pleasures, in its beliefs and in its theories, in its material developments and in its spiritual connections
we thank God that we are not like our fathers. - Author: James Anthony Froude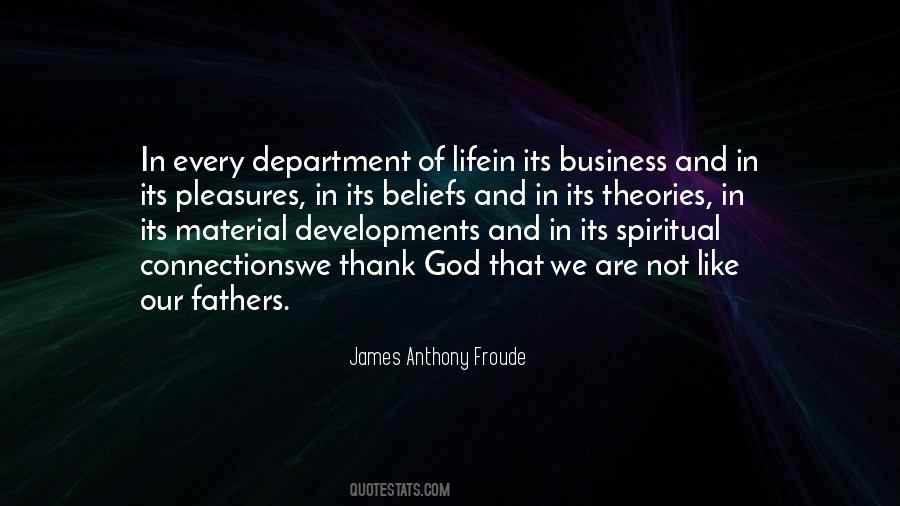 #68. If it is God who gives prayer, then God often gives it in the form of gratitude, and gratitude itself, when it is received attentively in prayer, is healing to the heart. Prayer is such a mysterious business for something so ordinary and everyday. - Author: Roberta Bondi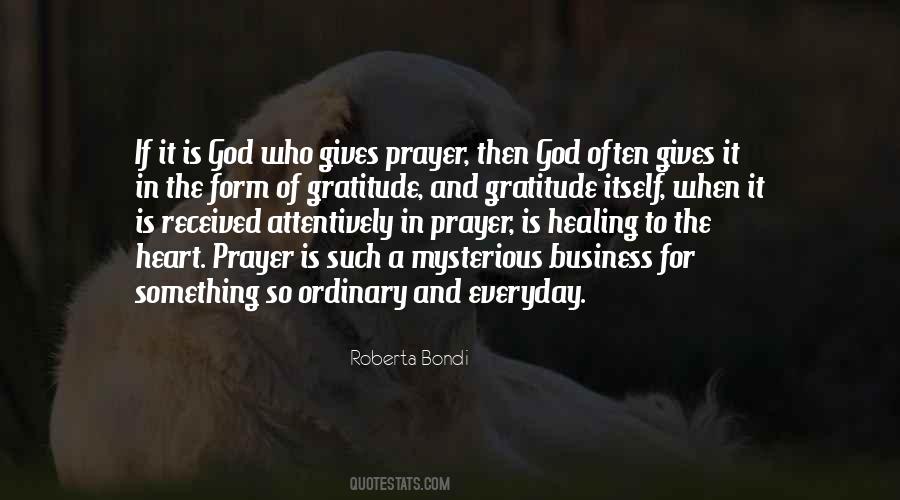 #69. My concern is that the leaders who are presently responsible for guiding the masses and teaching the people in the church environment, as well as business and corporate, reconnect themselves to God's original idea and that is that God created man to have dominion over the earth. - Author: Myles Munroe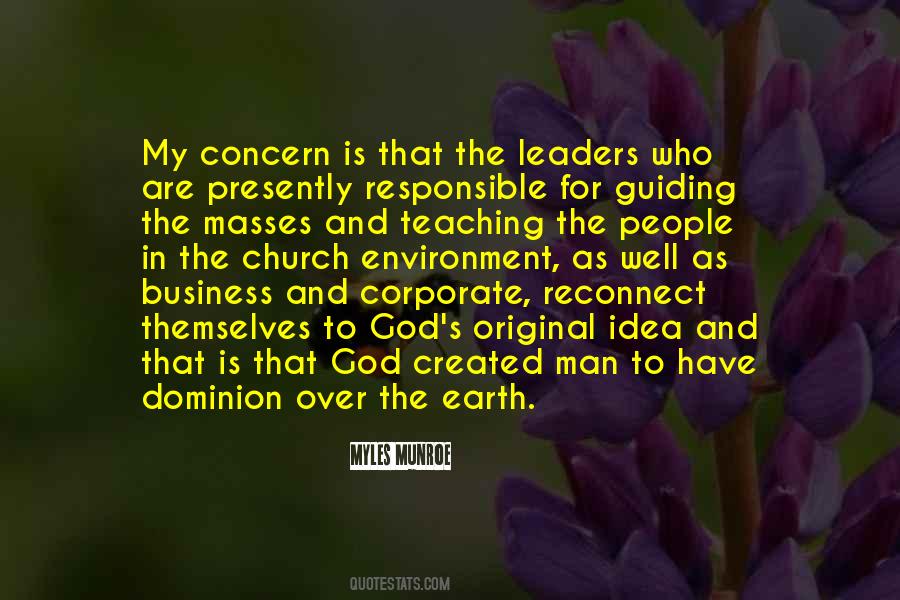 #70. It is the most ungodly and dangerous business to abandon the certain and revealed will of God in order to search in to the hidden mysteries of God. - Author: Martin Luther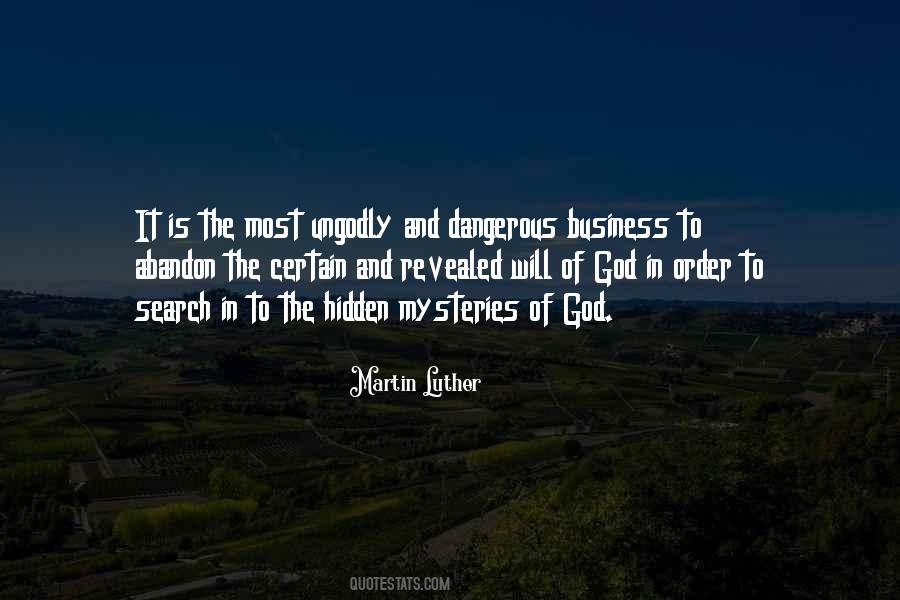 #71. God desires your increase in your leadership, stewardship, relationship, and business - Author: Sunday Adelaja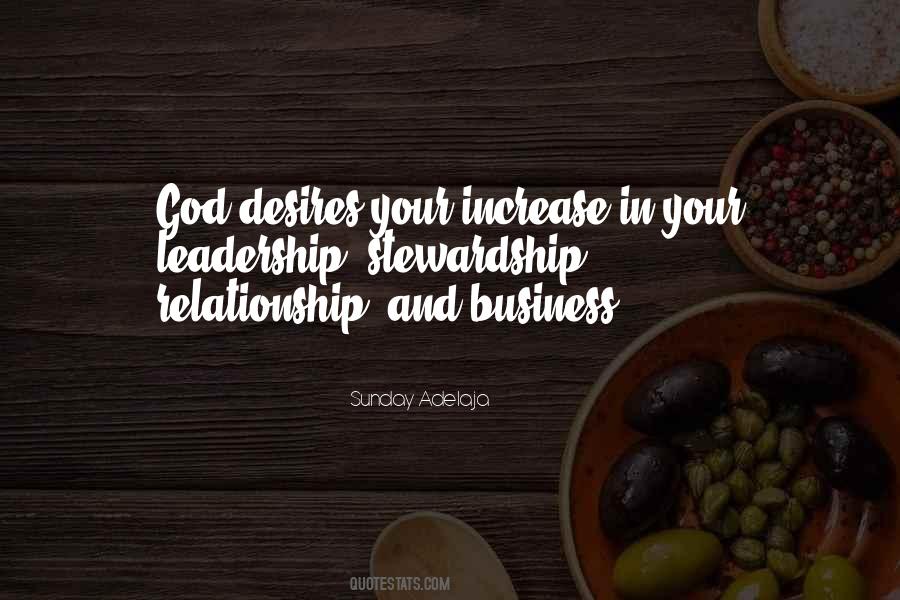 #72. A woman decides about her body and her God is her business. Women who are pro-life can be just a good a Christian as a woman who is pro-choice and vice versa. You can be a good Christian and be pro-life. You can be a good Christian and be pro-choice. - Author: Jeremiah Wright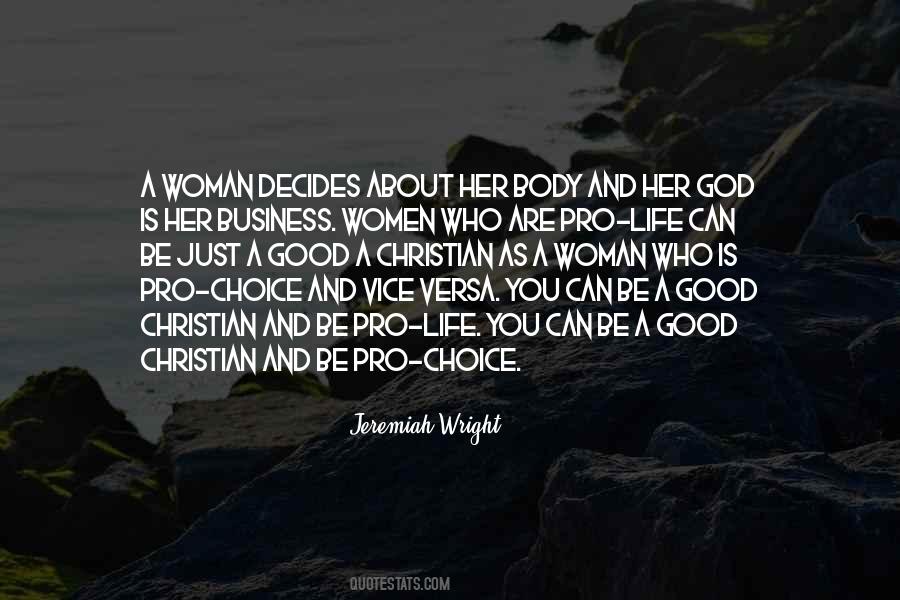 #73. You're following the Lord wholeheartedly, yet you're missing out on the forgiveness part. God's not just in the business of saving us from our sins. He's also in the business of forgiving those sins and putting them as far as the east is from the west. - Author: Jody Hedlund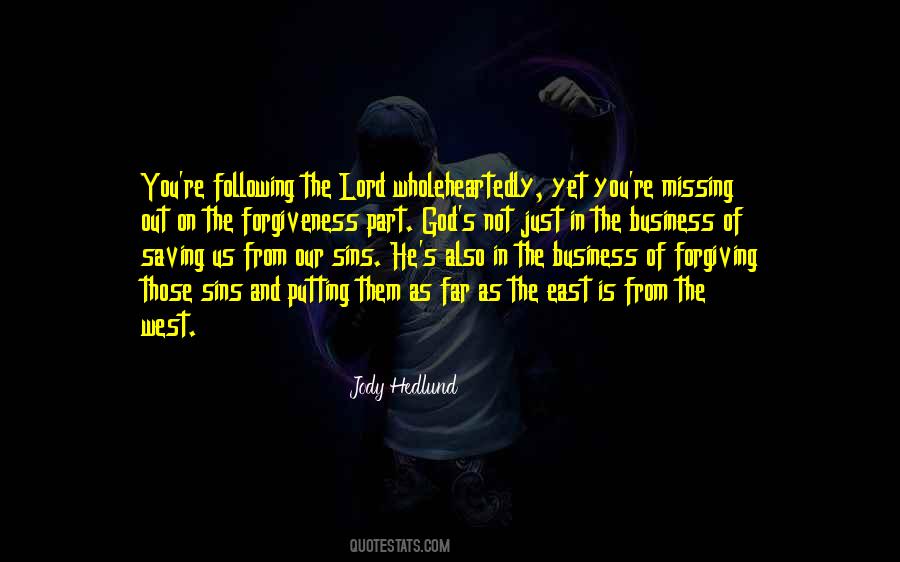 #74. Thank God, I have the opportunity to do what I love, which is my family and work on a business and try and make it the best that it can be. - Author: Rob Kardashian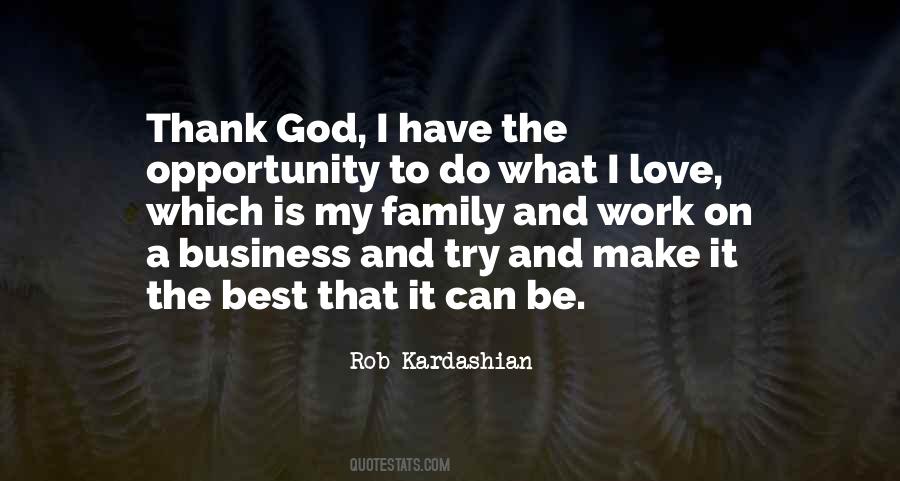 #75. When the governing representatives of the people legalize the shedding of innocent blood (as a for-profit business, nonetheless) then they have placed themselves, and those they represent, in the direct line of God's judgment. - Author: Tony Evans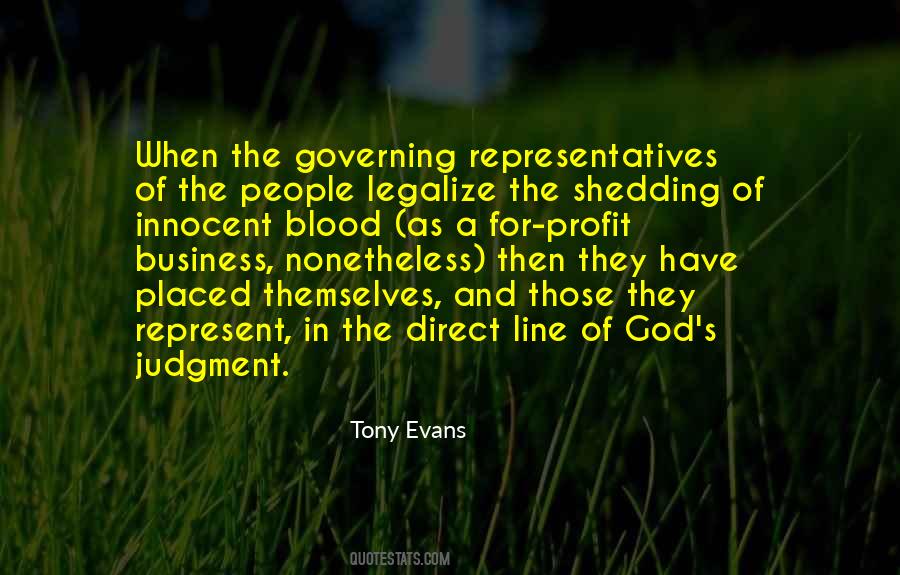 #76. The one supreme business of life is to find God's plan for your life and live it - Author: E. Stanley Jones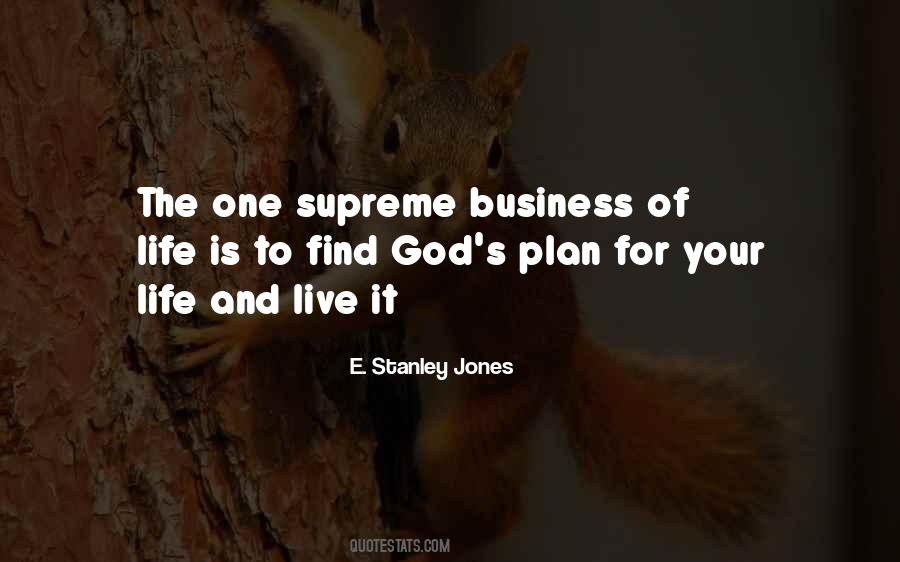 #77. Residents tended to consider it a God-given right to gossip and nose into people's business, and no one was exempt.

-Lucky Harbor - Author: Jill Shalvis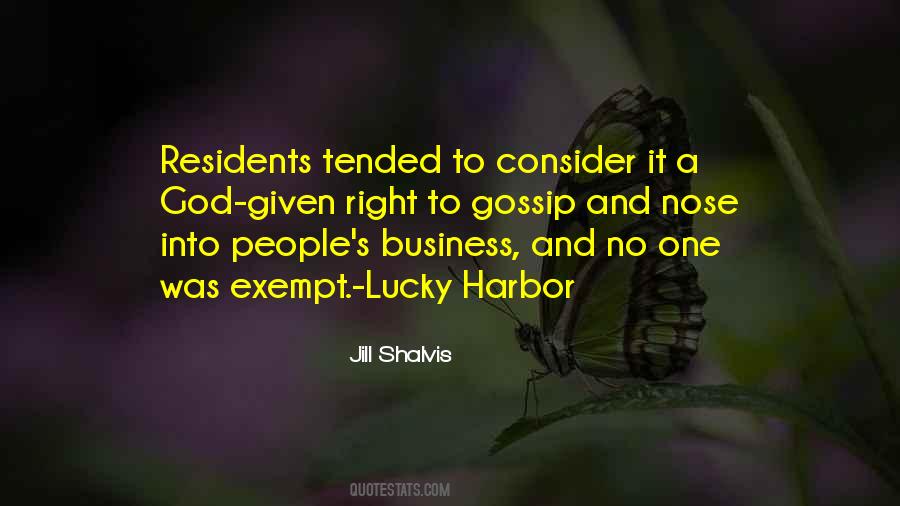 #78. Church and State, Soul and Body, God and Man, are all one at Mont Saint Michel, and the business of all is to fight, each in his own way, or to stand guard for each other. - Author: Henry Adams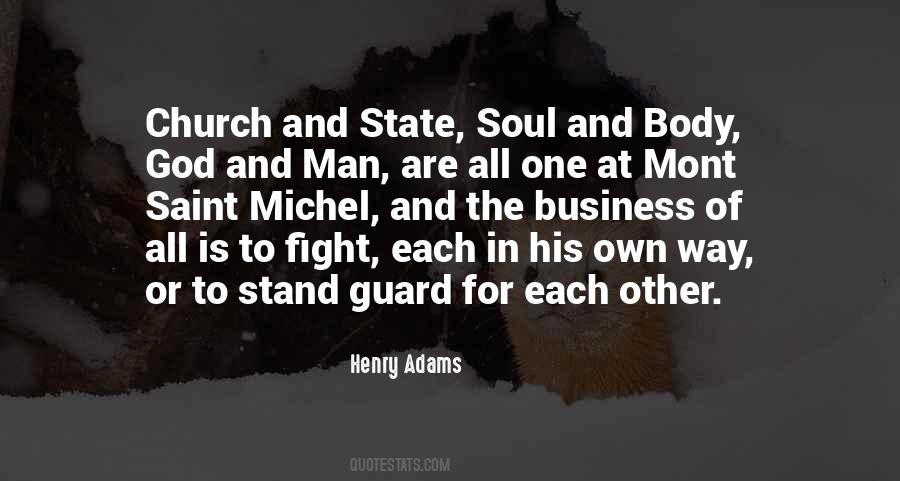 #79. Here I end (thank God) the first and dullest business of this book - the rough review of recent thought. - Author: G.K. Chesterton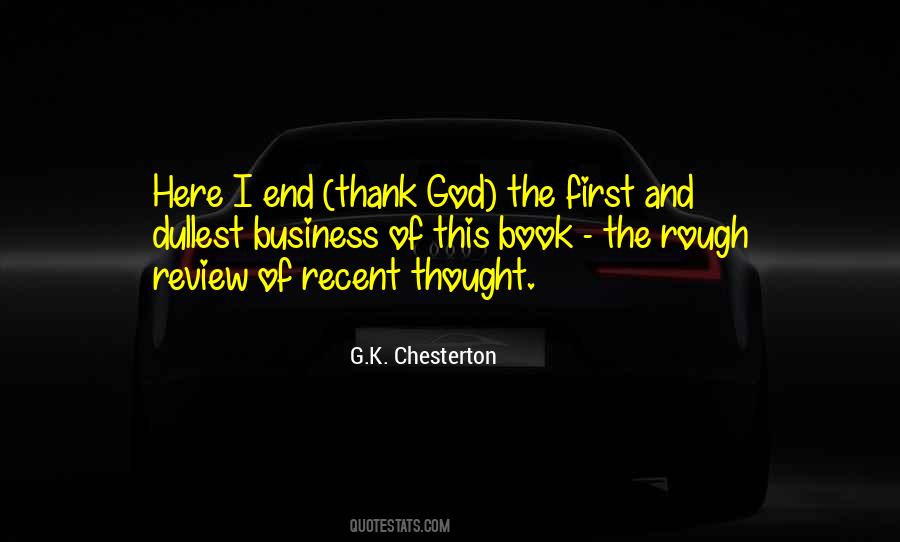 #80. Business is not the supreme virtue, and sanctity is not measured by the amount of work we accomplish. Perfection is found in the purity of our love for God, and this pure love is a delicate plant that grows best where there is plenty of time for it to mature - Author: Thomas Merton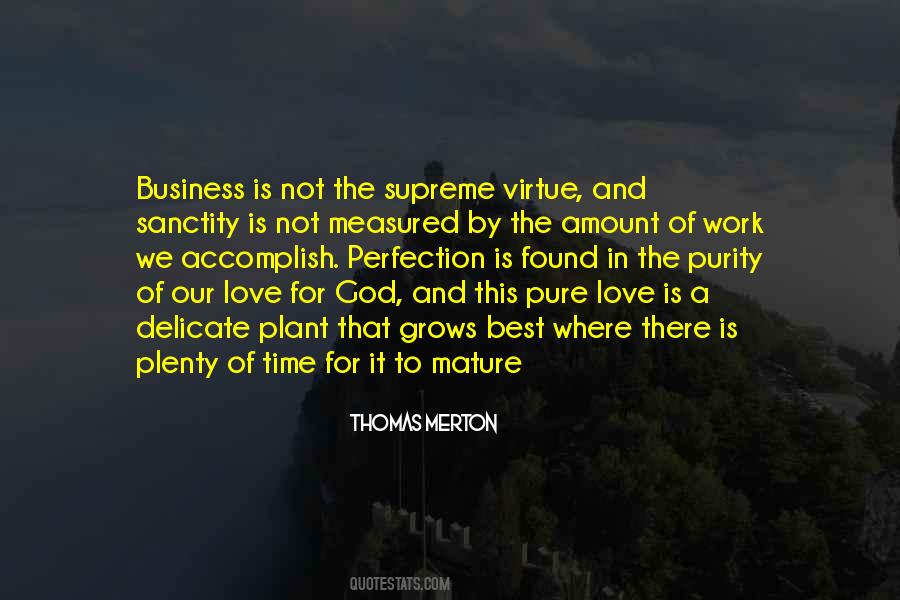 #81. To men who think prayer their main business and devote time to it according to this high estimate of its importance does God commit the keys of His kingdom, and by them does He work His spiritual wonders in this world - Author: E. M. Bounds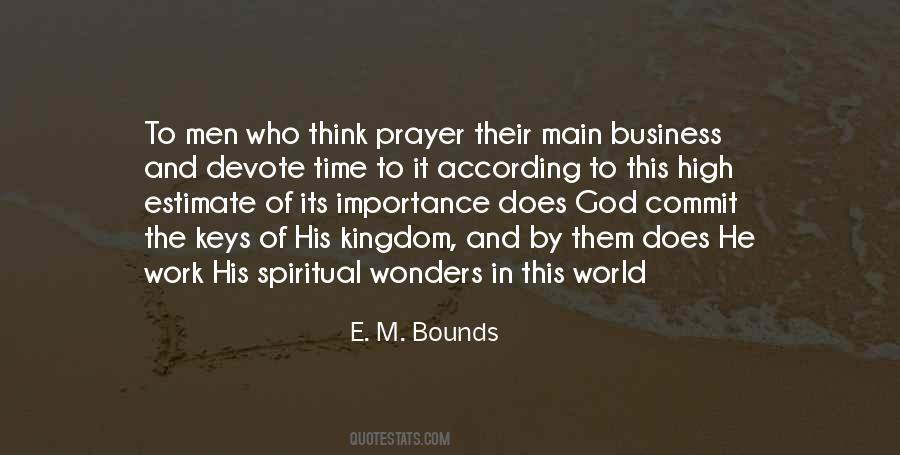 #82. I believe in God and the whole business but I love women best, music and science next, whiskey next, God fourth, and my fellowman hardly at all. - Author: Walker Percy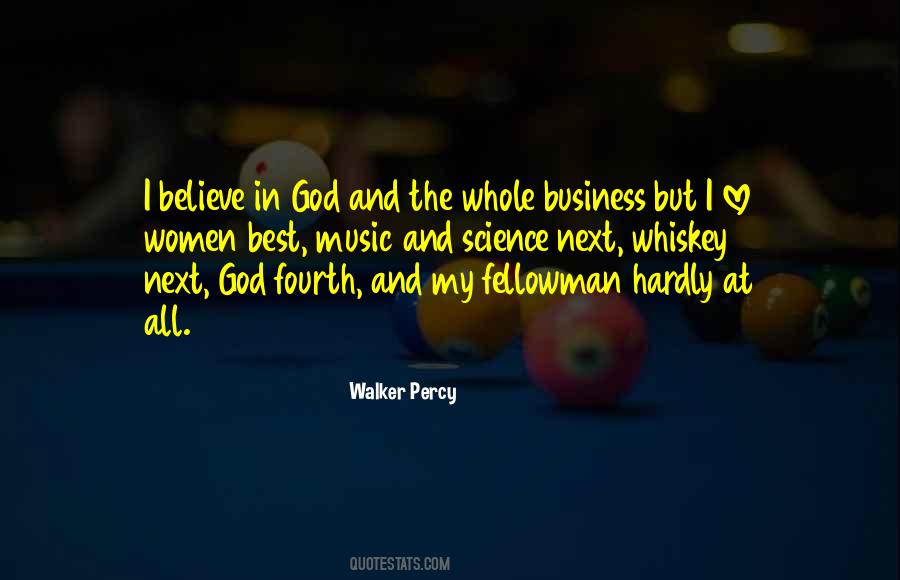 #83. Complaining is dangerous business. It can damage or even destroy your relationship with God, your relationships with other people, and even with your relationship with yourself. - Author: Joyce Meyer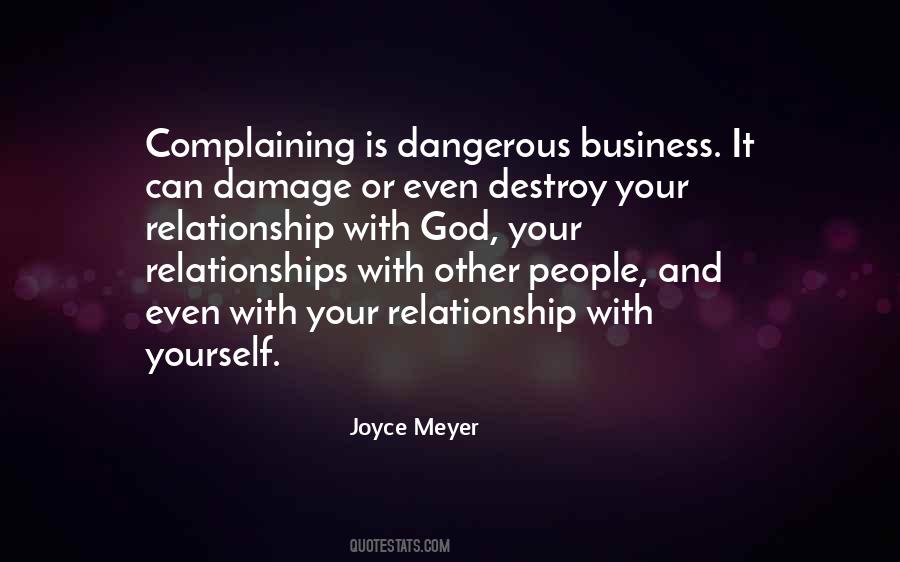 #84. So our building of the visible Church becomes much like any natural business function, using natural means and natural motives. - Author: Francis Schaeffer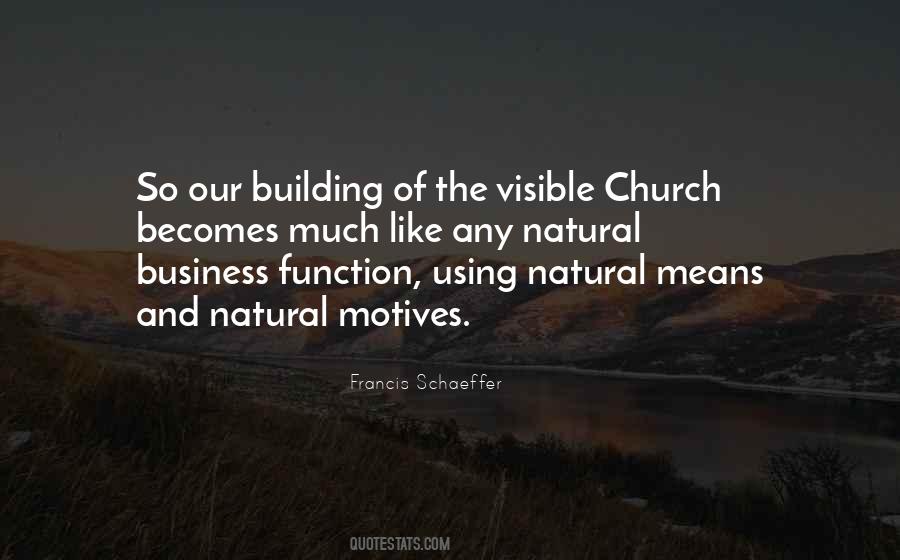 #85. It's not my business to try and make God think like me ... but to try, in prayer and penitence, to think like God. - Author: Aiden Wilson Tozer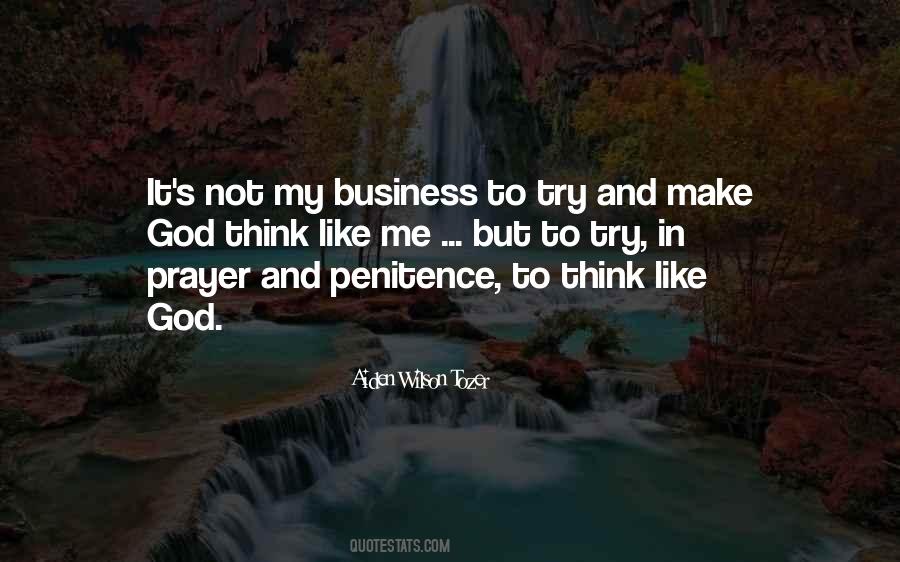 #86. You know, we can't keep talking about our dependence on foreign oil and the need to deal with global warming and the challenge that it poses to our climate and to God's creation and just let business as usual go on, and that means something has to be taken away from some people. - Author: Hillary Clinton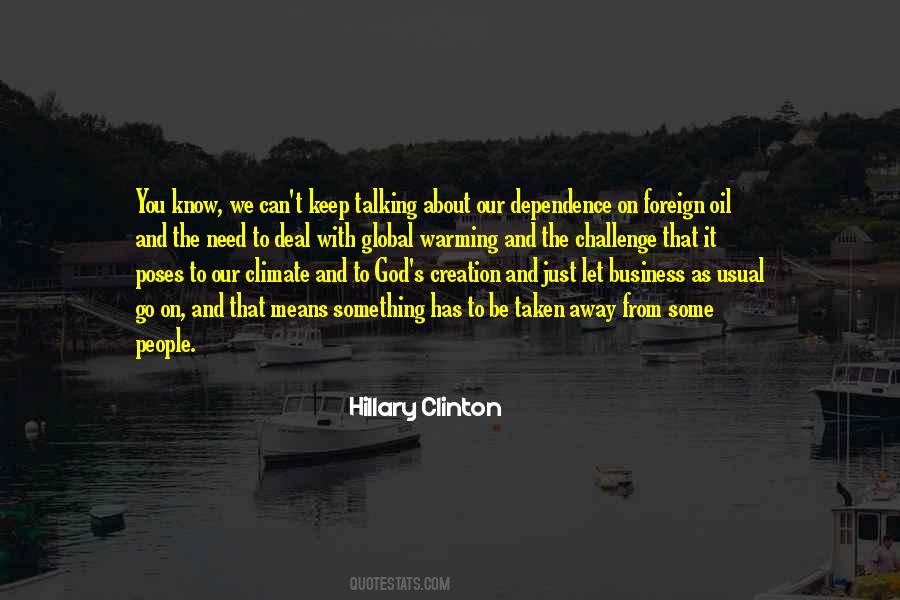 #87. A lifetime in the business had taught her that, apart from the few good people that work along-side you,nobody is to be trusted,ever,because sooner or later they'll let you down,sure as God made little green apples. And, when you came to think of it,hadn't that been the dirtiest trick of them all? - Author: Tom Holt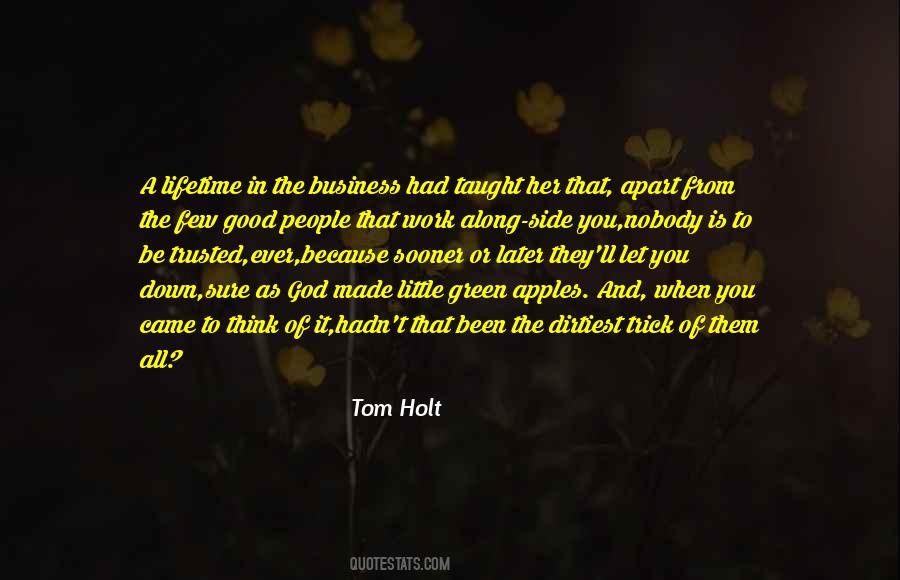 #88. What do we find God 'doing about' this business of sin and evil? ... God did not abolish the fact of evil; He transformed it. He did not stop the Crucifixion; He rose from the dead. - Author: Dorothy L. Sayers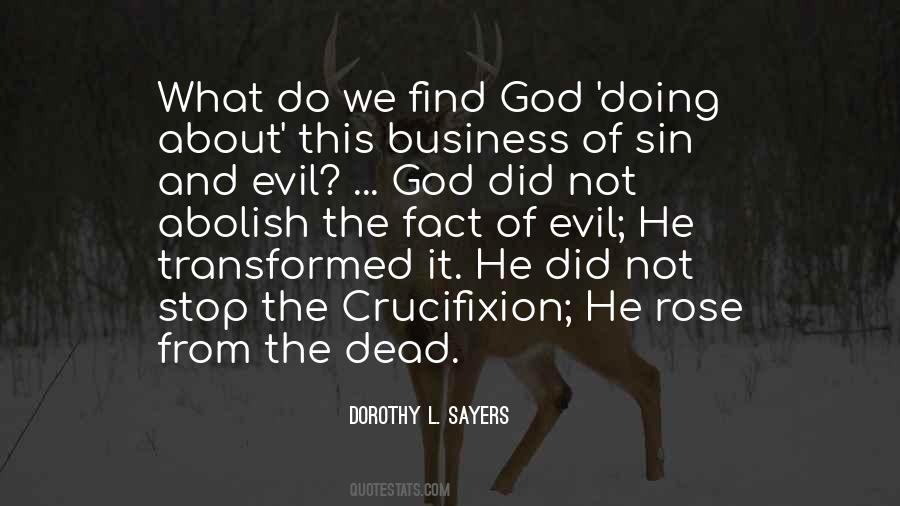 #89. I know what I say; I understand my mission and business. God Almighty is my shield; and what can man do if God is my friend? - Author: Joseph Smith Jr.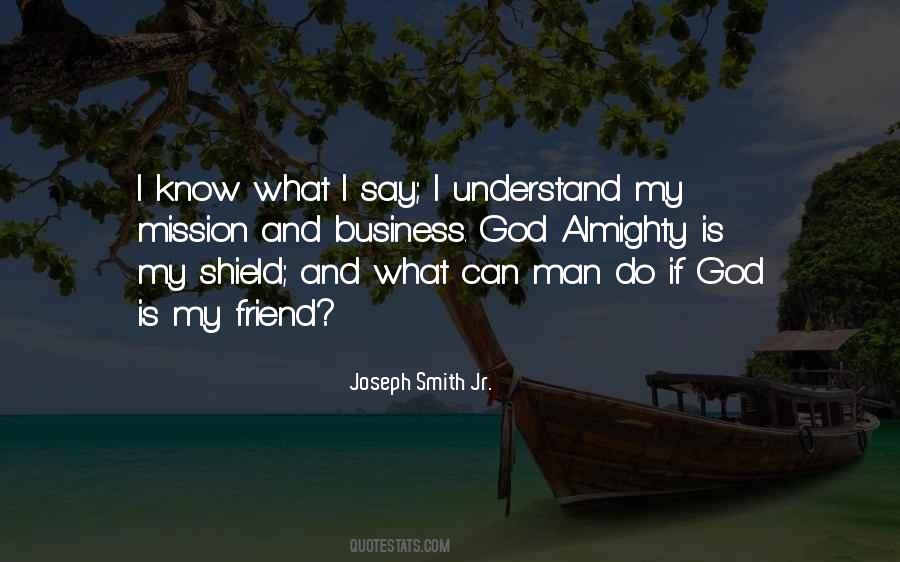 #90. I really believe God has put me in the entertainment business, and he's taken real good care of me along the way. I want to do all I can to give him all the credit. - Author: Austin O'Brien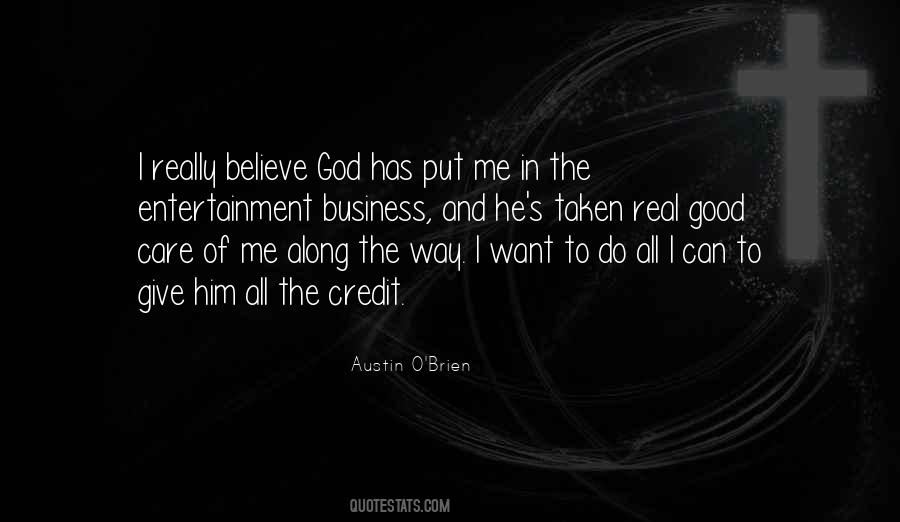 #91. I suggest the greatest challenge to Christians in the business world is within - making the heart determination (simply put, the choice) to live by God's principles and sticking with it; making the commitment to serving Christ and mankind with our efforts, our gifts and our knowledge. - Author: Zig Ziglar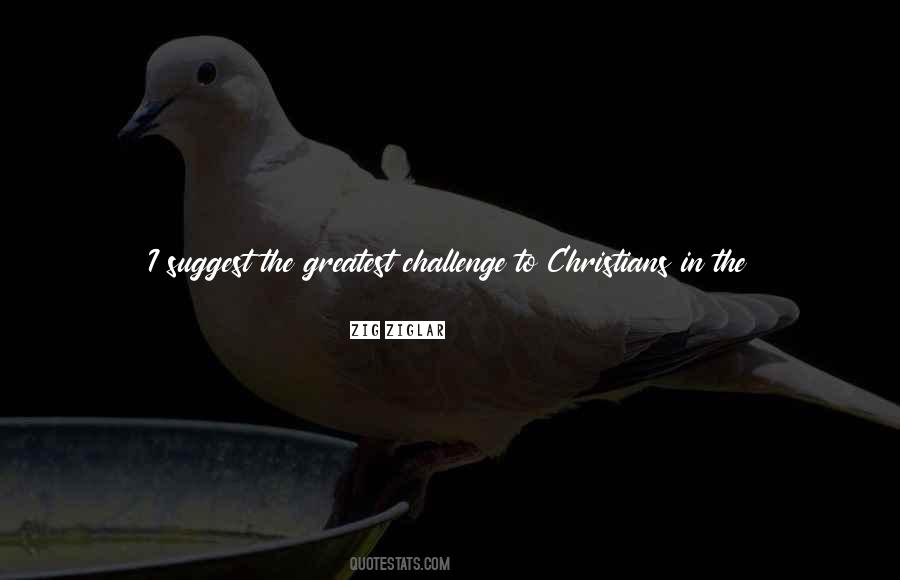 #92. Feminism? The word itself means exactly the same thing to me as the word God does - it's a spirituality that is deeply personal, deeply subjective, and deeply no one else's business. You can identify the word however you want, it's just the non-exploration of it that is unacceptable to me. - Author: Amber Tamblyn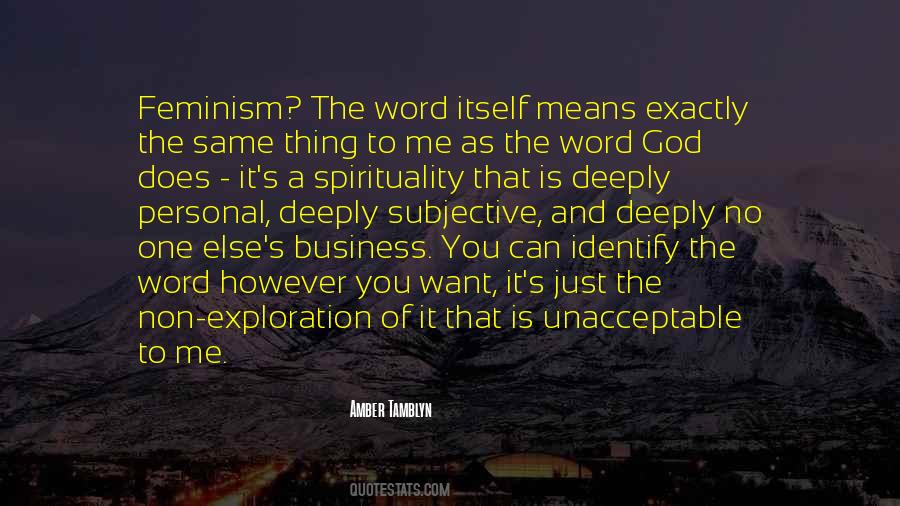 #93. We'll do our business in the East Room. It's my favorite at this time of day. If you and I didn't know God is a profitable and self-sustaining construct of the worlds' churches, the morning light would be almost enough to make us believers again. - Author: Stephen King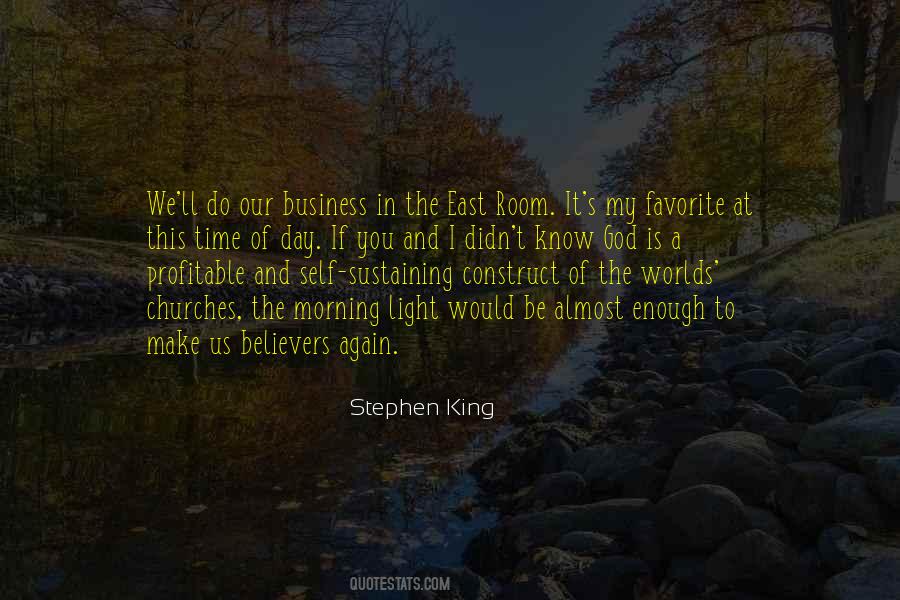 #94. Now the melancholy of God protect thee, and the tailor make thy doublet of changable taffata, for thy mind is a very opal. I would have men of such constancy put to sea, that their business might be everything, and their intent everywhere, for that's it, that always makes a good voyage of nothing. - Author: William Shakespeare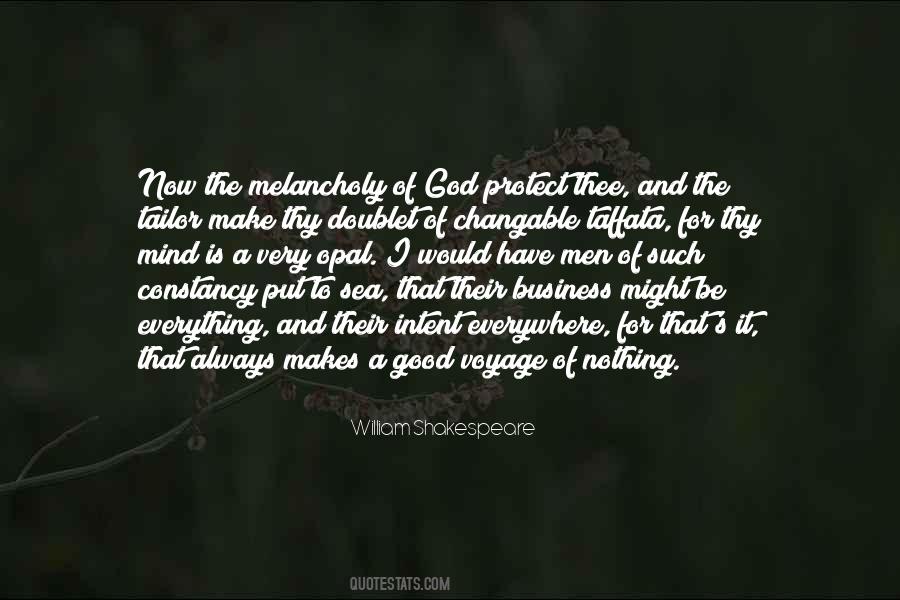 #95. We do not segment our lives, giving some time to God, some to our business or schooling, while keeping parts to ourselves. The idea is to live all of our lives in the presence of God, under the authority of God, and for the honor and glory of God. That is what the Christian life is all about. - Author: R.C. Sproul
#96. -The provisions you need to fulfill you ministry or mission is locked up in the open doors of utterance, faith and call
-During your waiting time look inward to yourself, upward to God, then outward to ur environ - Author: Ikechukwu Joseph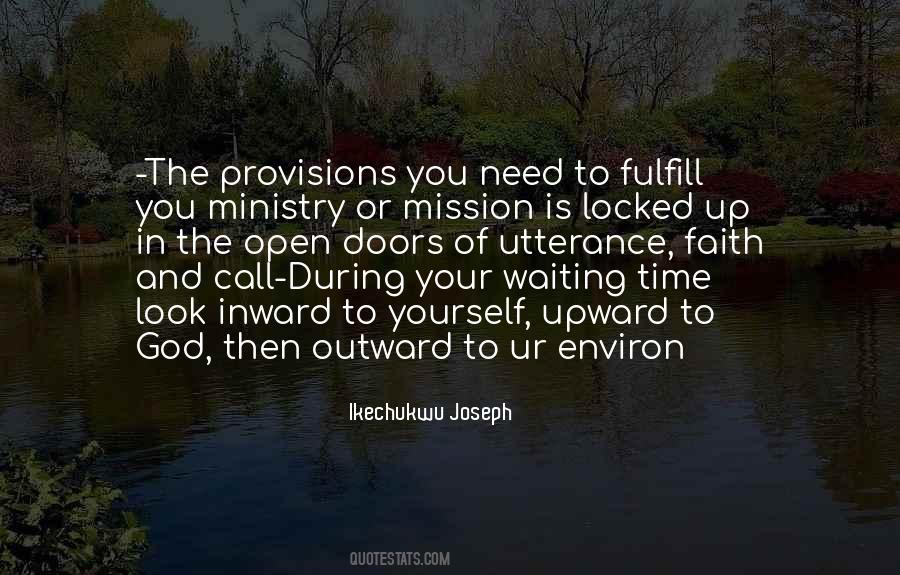 #97. Some of us are happy with our African hair, thank you very much. I don't want some poor Indian girl's hair. And I wish to God I could buy black hair products from black people for once. How we going to make it in this country if we don't make our own business? - Author: Zadie Smith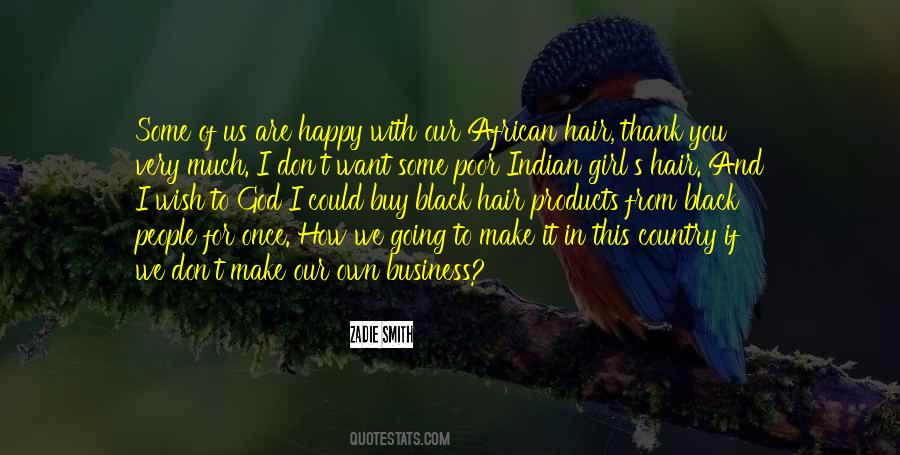 #98. You just do it. You force yourself to get up. You force yourself to put one foot before the other, and God damn it, you refuse to let it get to you. You fight. You cry. You curse. Then you go about the business of living. That's how I've done it. There's no other way. - Author: Elizabeth Taylor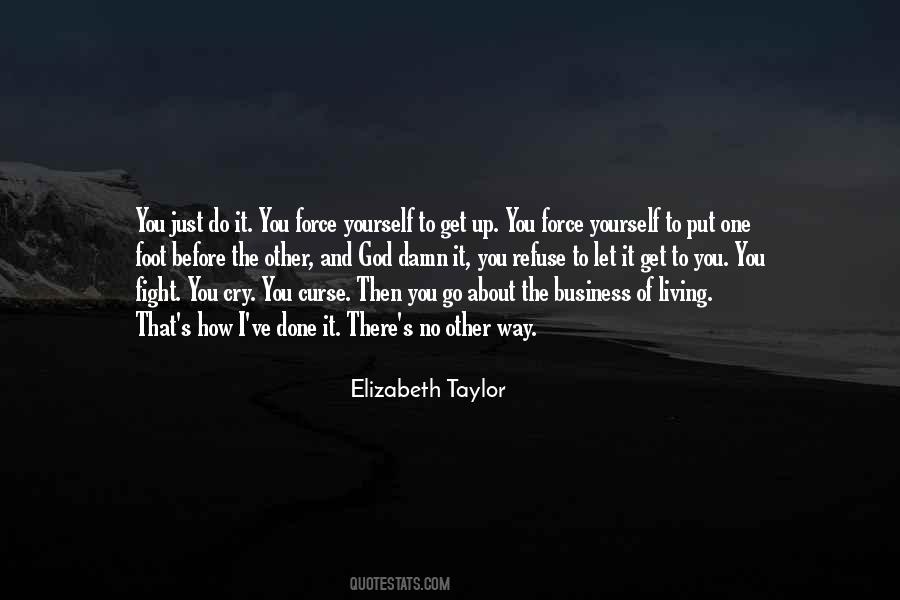 #99. The time of business does not differ with me from the time of prayer; and in the noise and clatter of my kitchen, while several persons are at the same time calling for different things, I possess God in as great tranquility as if I were on my knees. - Author: Brother Lawrence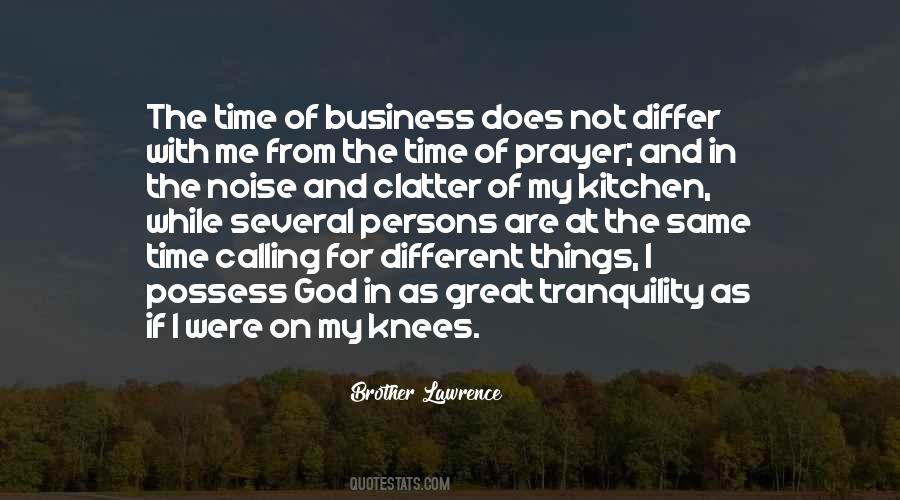 #100. We and God have business with each other, and in opening ourselves to God's influence our deepest destiny is fulfilled. - Author: William James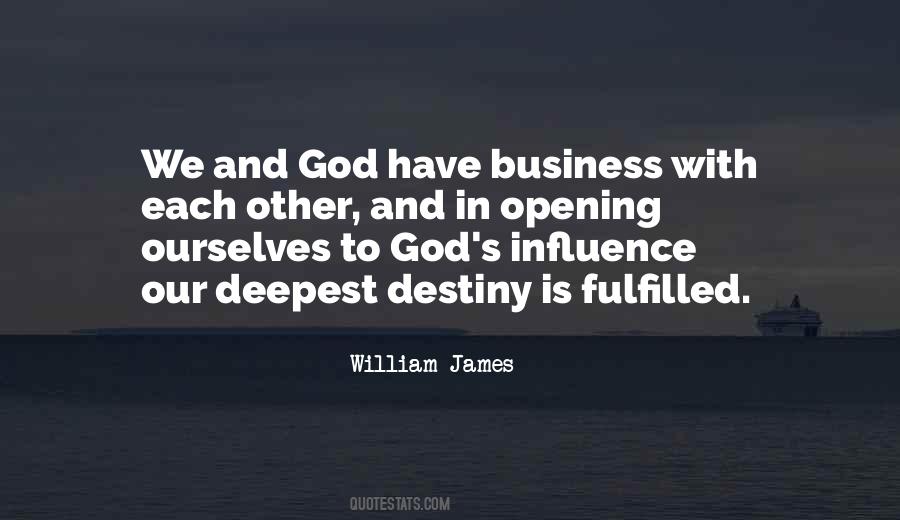 Famous Authors
Popular Topics