Blessings To All Famous Quotes & Sayings
List of top 100 famous quotes and sayings about blessings to all to read and share with friends on your Facebook, Twitter, blogs.
Top 100 Blessings To All Quotes
#1. We need deliberately to call to mind the joys of our journey. Perhaps we should try to write down the blessings of one day. We might begin; we could never end; there are not pens or paper enough in all the world. - Author: George Arthur Buttrick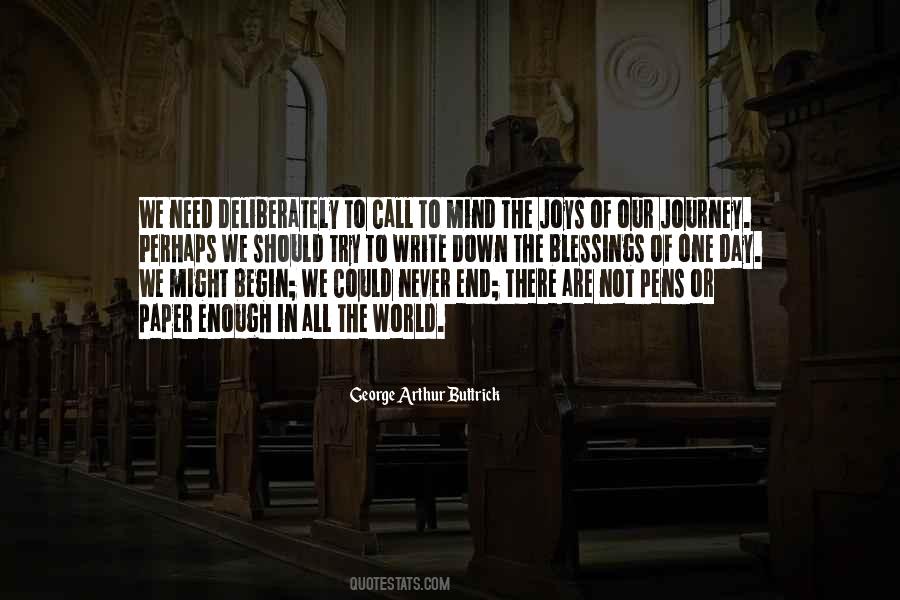 #2. Gratitude is what opens the spiritual doors to all the blessings. Everything becomes clear, you see, you feel, you live. - Author: Omraam Mikhael Aivanhov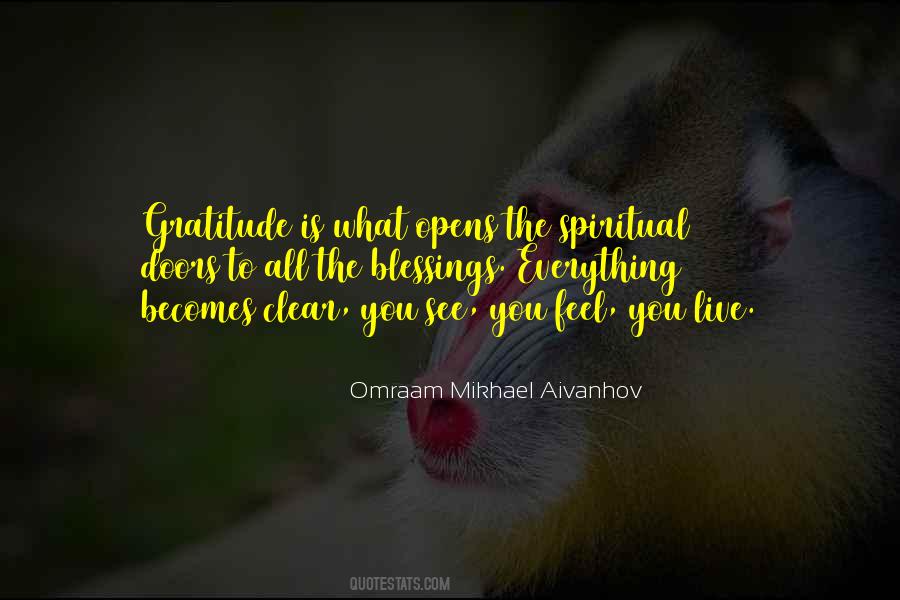 #3. All providences are doors to trial. Men may be drowned in seas of prosperity as well as in rivers of affliction. - Author: Charles Haddon Spurgeon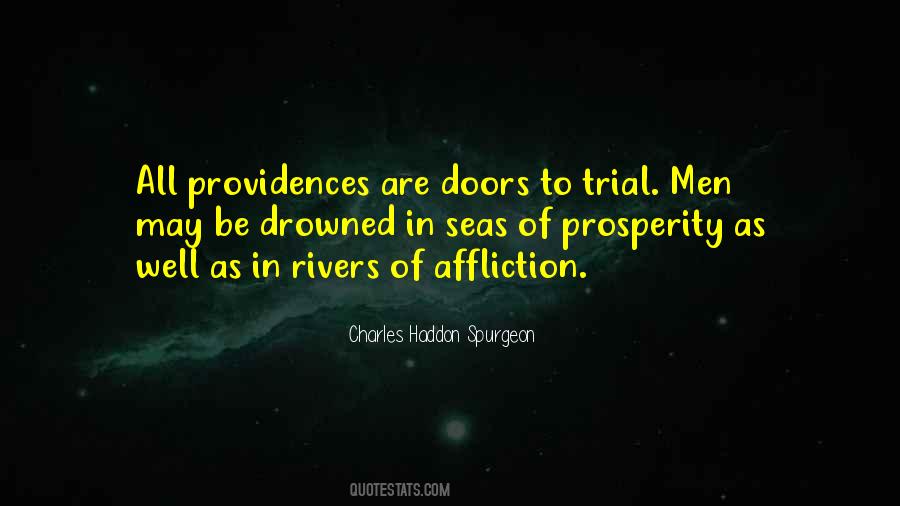 #4. Act as if the universe is a prodigious miracle created for your amusement and illumination. Assume that secret helpers are working behind the scenes to assist you in turning into the gorgeous masterpiece you were born to be. Join the conspiracy to shower all of creation with blessings. - Author: Rob Brezsny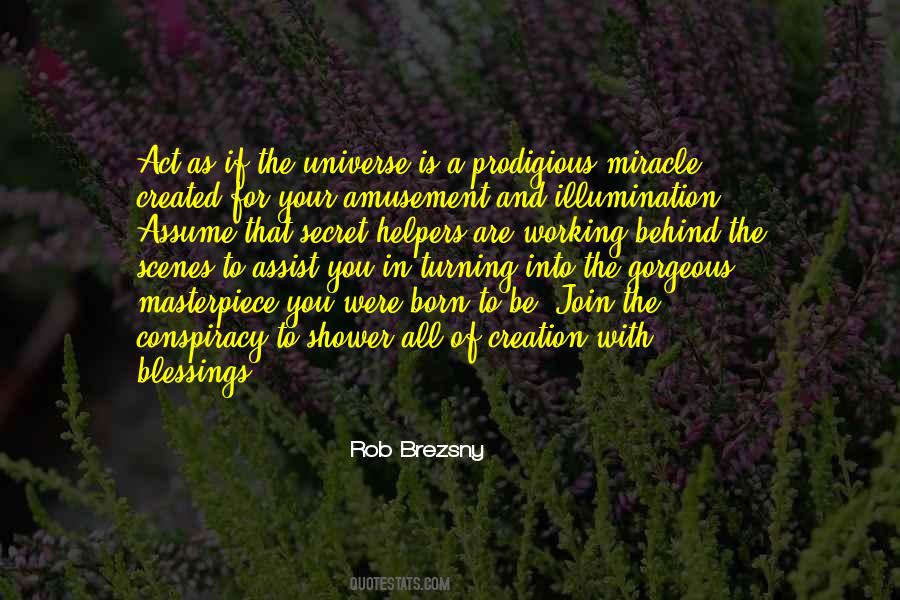 #5. No one knows whether death may not be the greatest of all blessings for a man, yet men fear it as if they knew that it is the greatest of evils. And surely it is the most blameworthy ignorance to believe that one knows what one does not know. - Author: Plato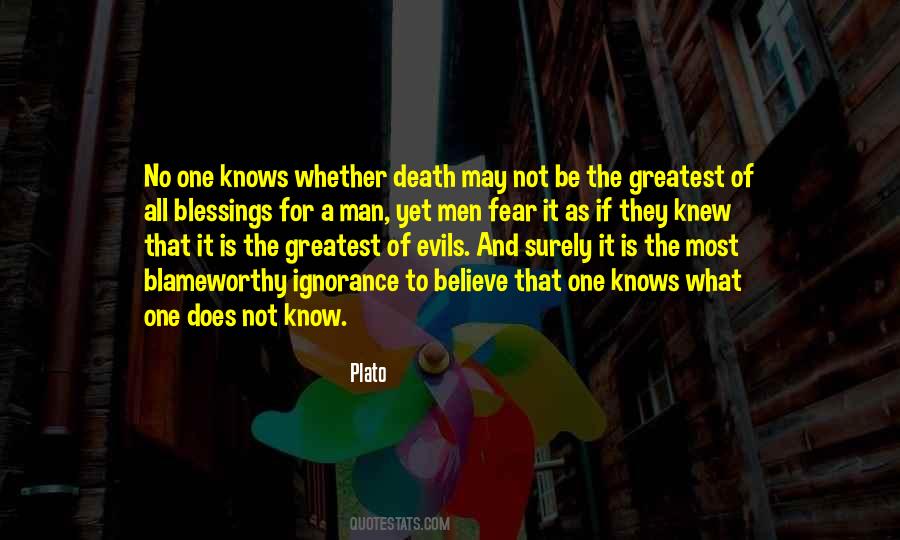 #6. We are all blessed, but we must learn to count our blessings - Author: Sunday Adelaja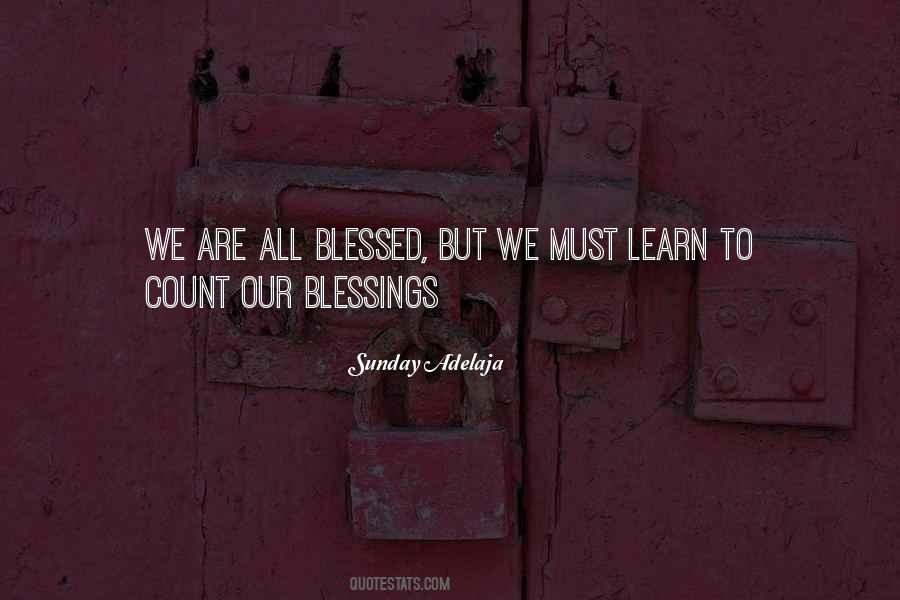 #7. The Lord will bless us as we attend to the sacred ordinance work of the temples. Blessings there will not be limited to our temple service. We will be blessed in all of our affairs. - Author: Boyd K. Packer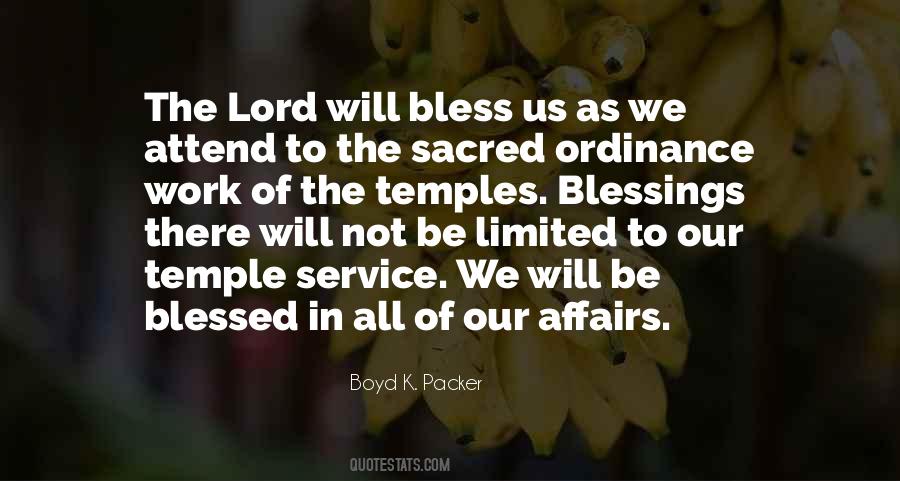 #8. It's like you're born with all these blessings, only you don't realize they're blessings until you lose them. And if you're thick-headed enough, like me, you don't even realize you've lost them, not until they come back to you. - Author: Kevin Brockmeier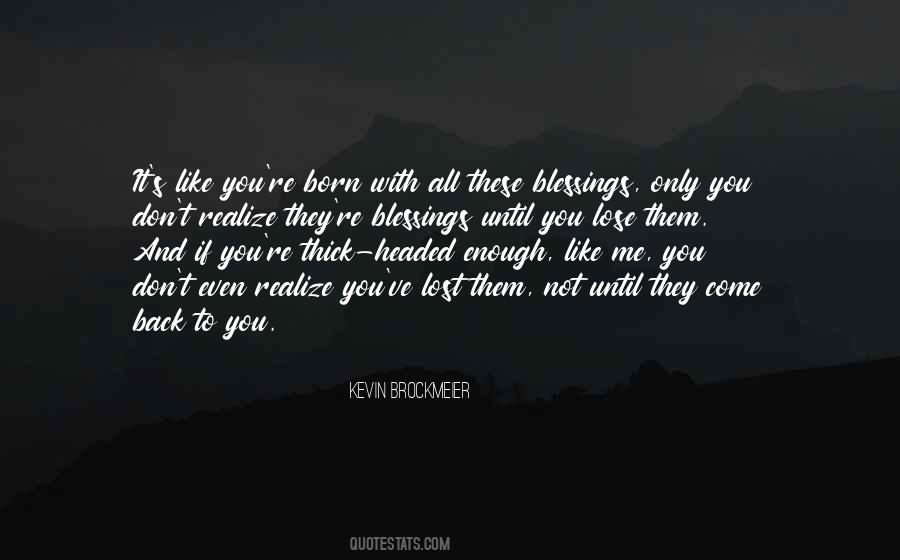 #9. We could use all the blessings we could get. The impact of what we were about to do hit me like an anvil on Wile E. Coyote's head. We were heading out to stop Satan's son and save the world from certain destruction.
Piece of cake. - Author: Terri Clark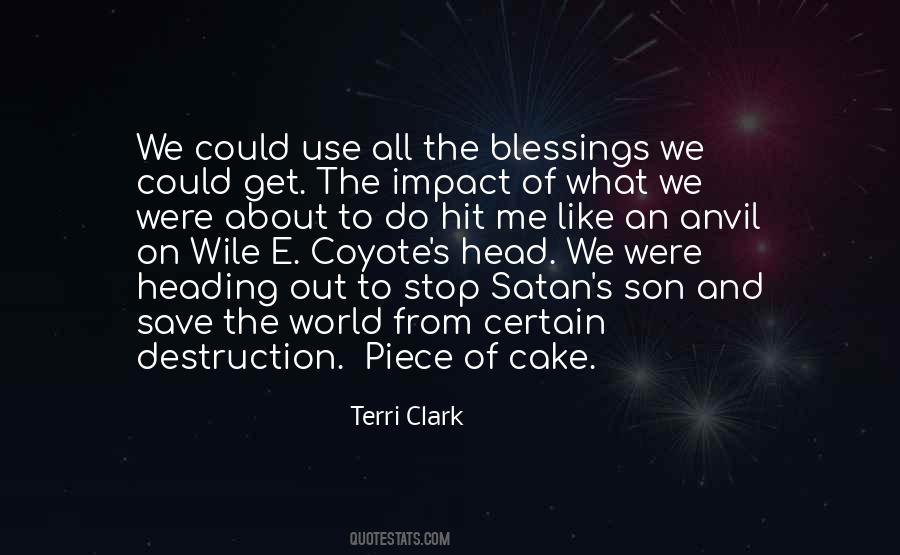 #10. May the four winds gather & disperse the strength to grant me with all the same blessings once bestowed upon the goddess of Olympus. - Author: Truth Devour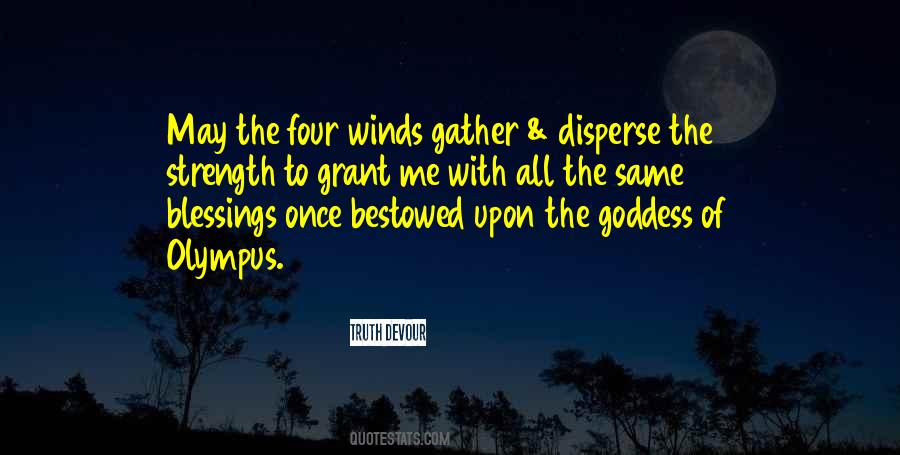 #11. Let us impart all the blessings we possess, or ask for ourselves, to the whole family of mankind. - Author: George Washington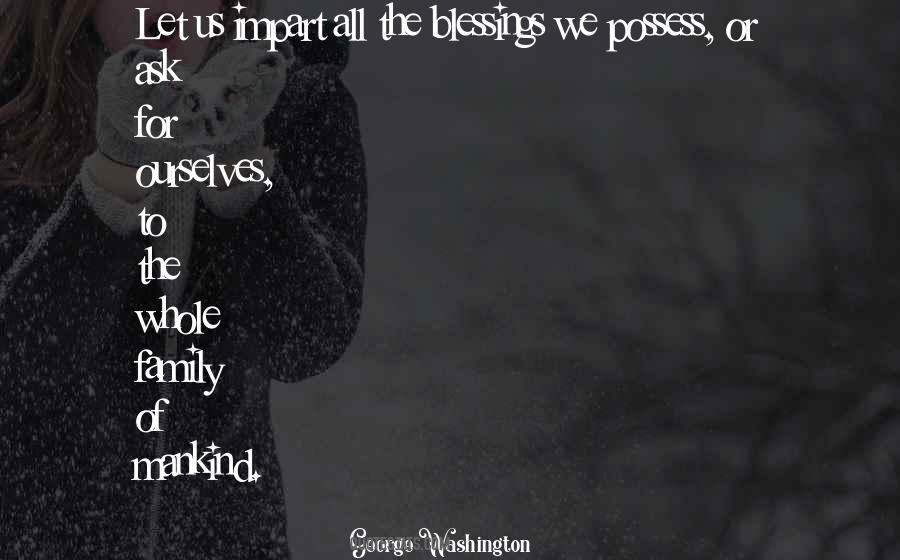 #12. The Eucharist profoundly enables the grace of God to be received with all its glories and blessings. - Author: Scot McKnight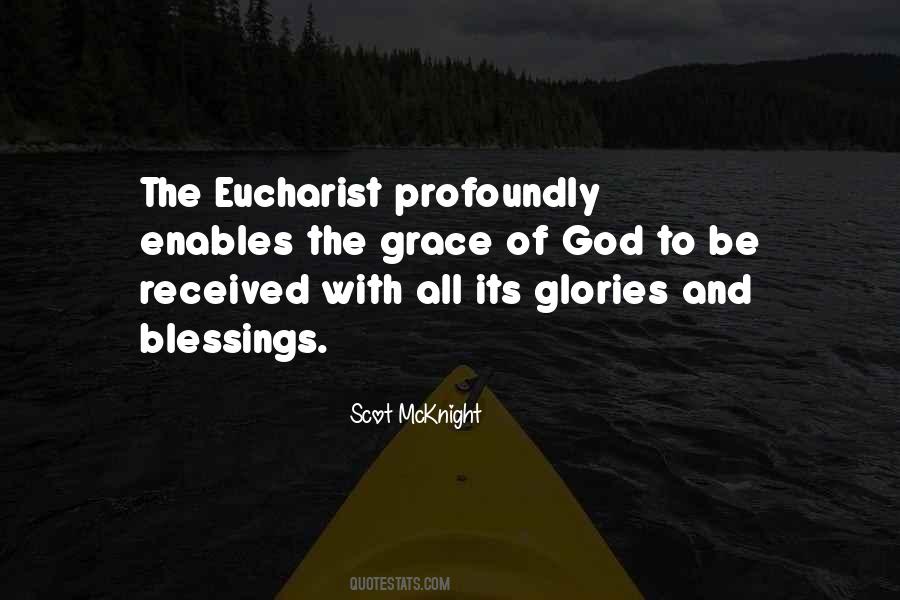 #13. Of what good is our faith, our repentance, our baptism, and all the sacred ordinances of the gospel by which we have been made ready to receive the blessings of the Lord, if we fail, on our part, to keep the commandments. - Author: Heber J. Grant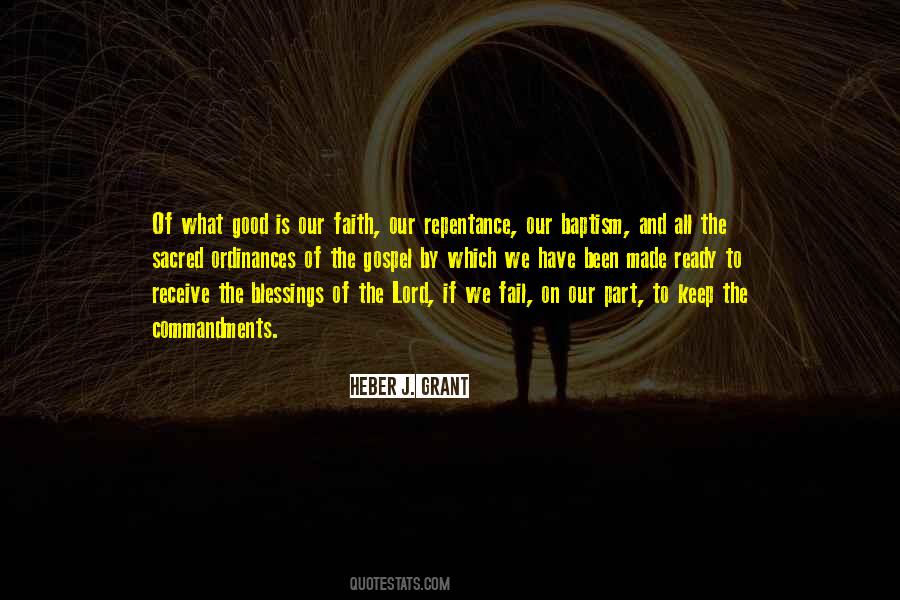 #14. If you want to live in this world, doing the duty of life, knowing the blessings of it, doing your work heartily, and yet not absorbed by it, remember that the one power whereby you can so act is, that all shall be consecrated to Christ, and done for His sake. - Author: Alexander MacLaren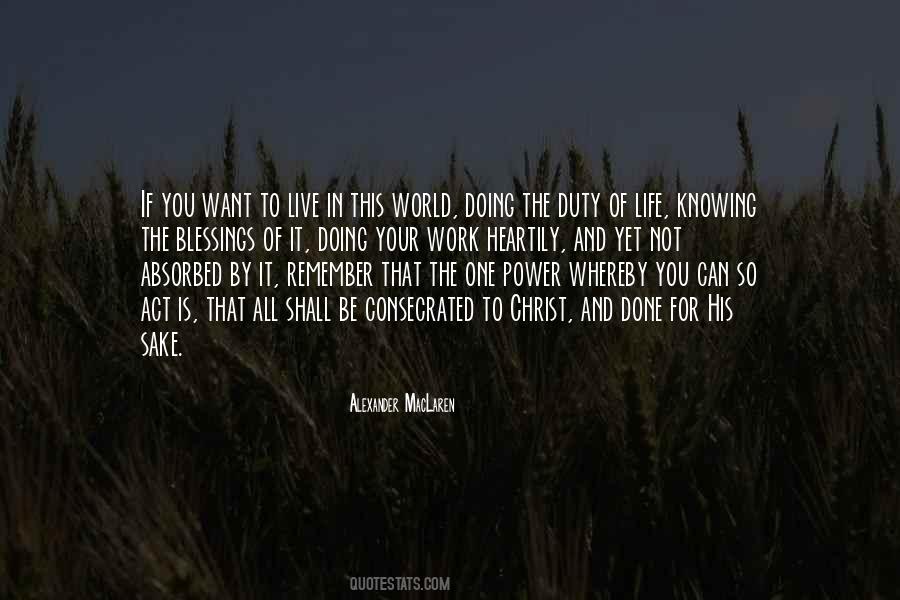 #15. Today we thank God for all the blessings He has bestowed upon this great Country and ask Him to continue to heal our land and meet our needs - and we do so through the power of prayer. - Author: Nick Rahall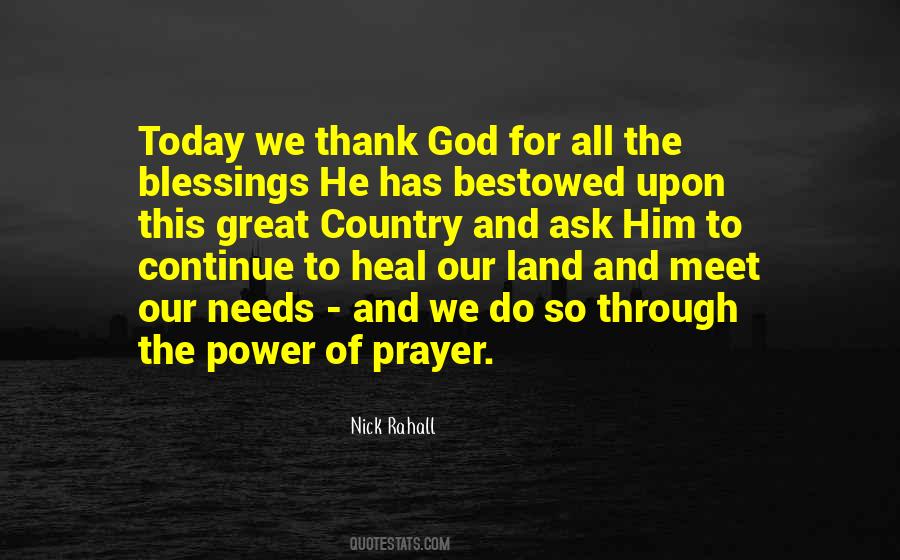 #16. All the greatest blessings create anxiety, and Fortune is never less to be trusted than when it is fairest. - Author: Seneca.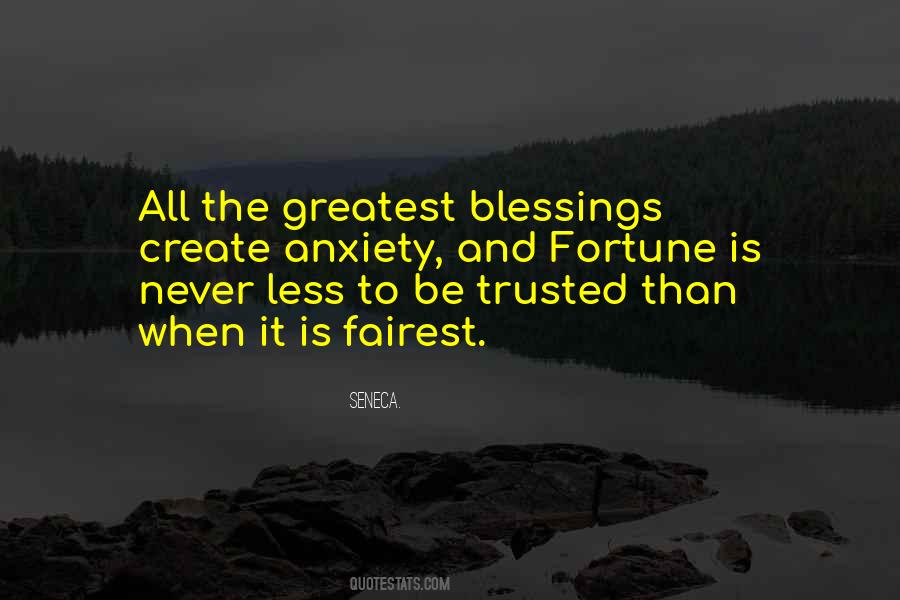 #17. The Lord requires sacrifice, meaning something above and beyond the minimum. The Master spoke of the "second mile" and told us to go there. Why? Because he wants to bless us, and he put all the blessings in the second mile. - Author: Hartman Rector Jr.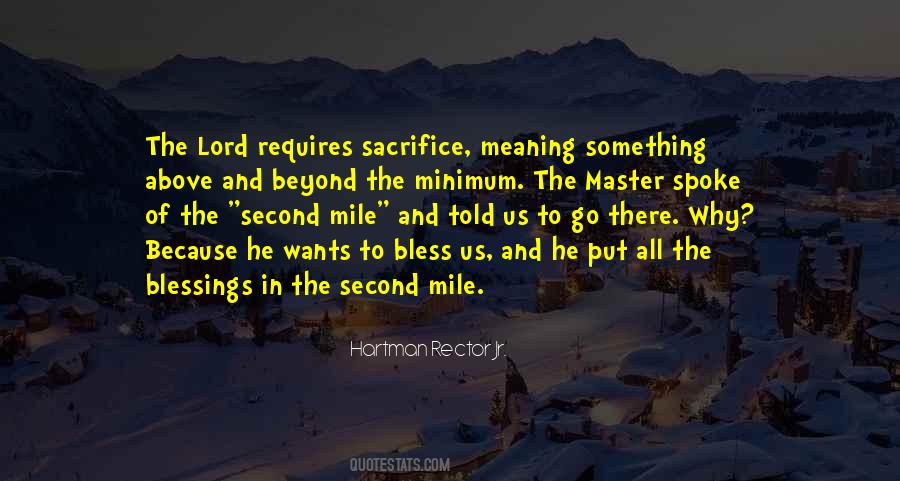 #18. You cannot imagine a more certain rule or a more powerful suggestion than this, that all the blessings we enjoy are divine deposits which we have received on this condition that we distribute them to others. - Author: John Calvin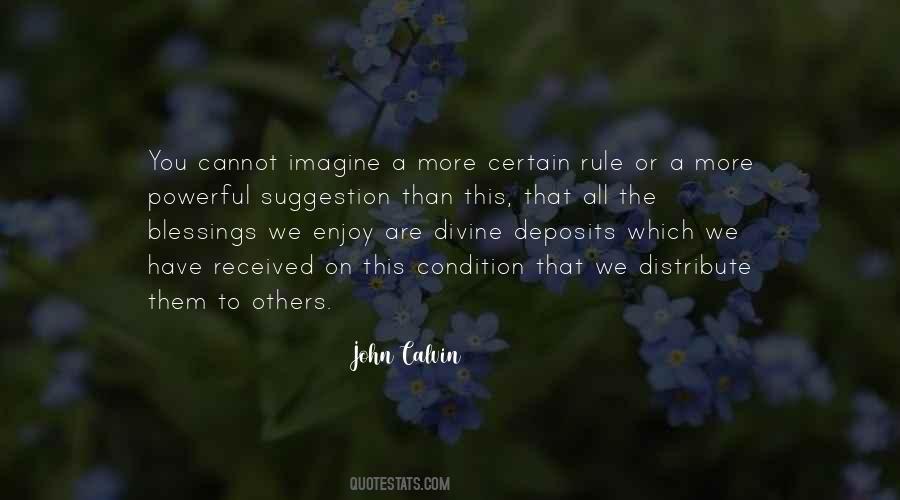 #19. We are all connected to everyone and everything in the universe. Therefore, everything one does as an individual affects the whole. All thoughts, words, images, prayers, blessings, and deeds are listened to by all that is. - Author: Serge King
#20. Life is such a very troublesome matter, when all is said and done, that it's as well even to take its blessings quietly. - Author: Mary Elizabeth Braddon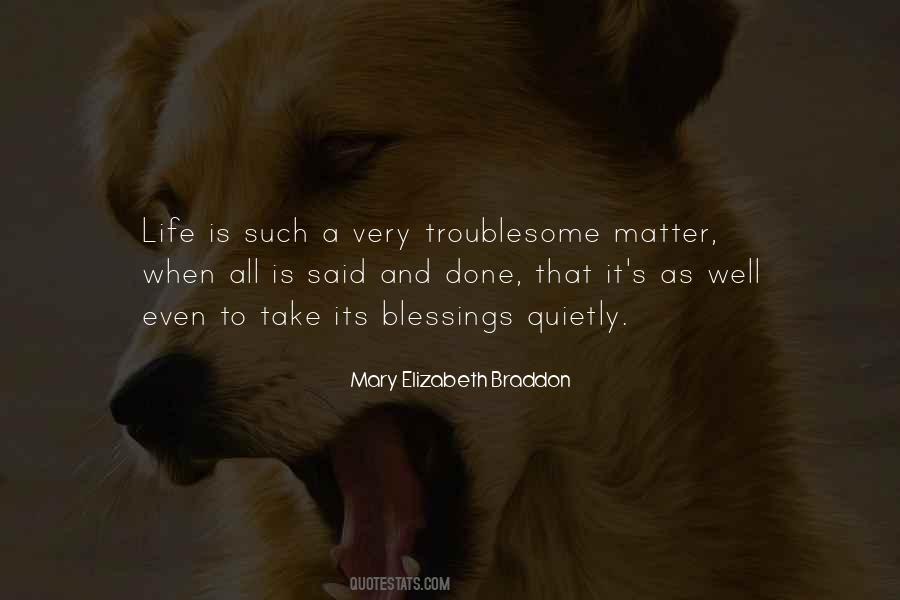 #21. Permissiveness, immorality, pornography, drugs, the power of peer pressure-all these and more-cause many to be tossed about on a sea of sin and crushed on the jagged reefs of lost opportunities, forfeited blessings, and shattered dreams. - Author: Thomas S. Monson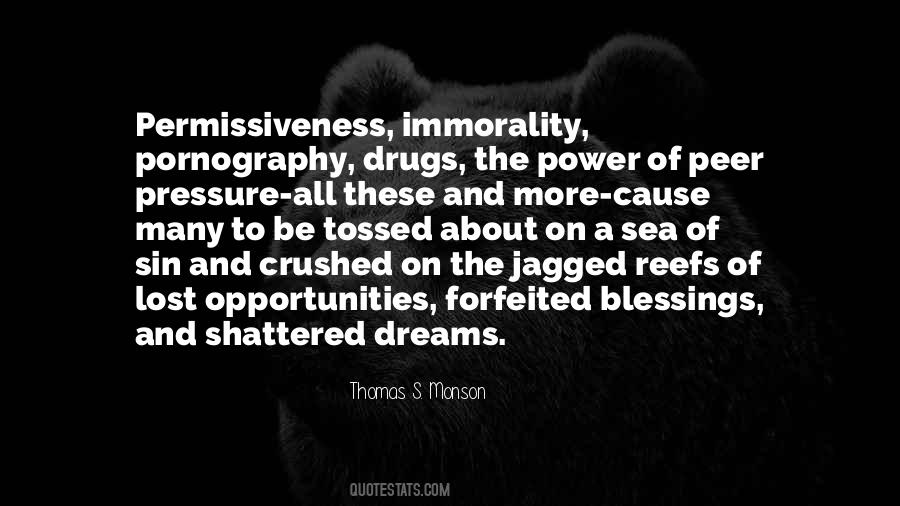 #22. A just and wise magistrate is a blessing as extensive as the community to which he belongs; a blessing which includes all other blessings whatsoever that relate to this life. - Author: Francis Atterbury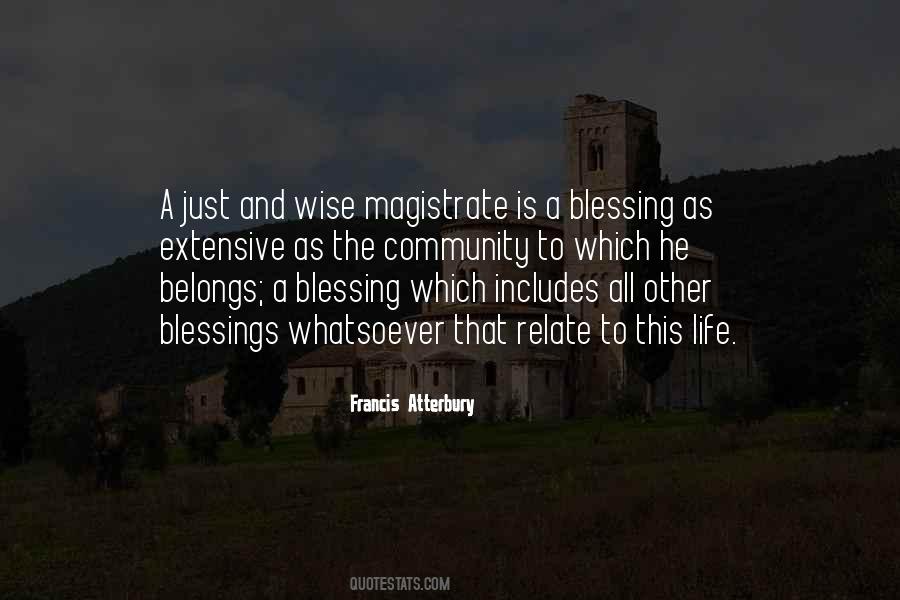 #23. I do believe that children are all blessings from god. And I feel it's all positive, it's positive experience. You know, I don't like to dwell on any of the negative. And - a lot of people do. - Author: Nadya Suleman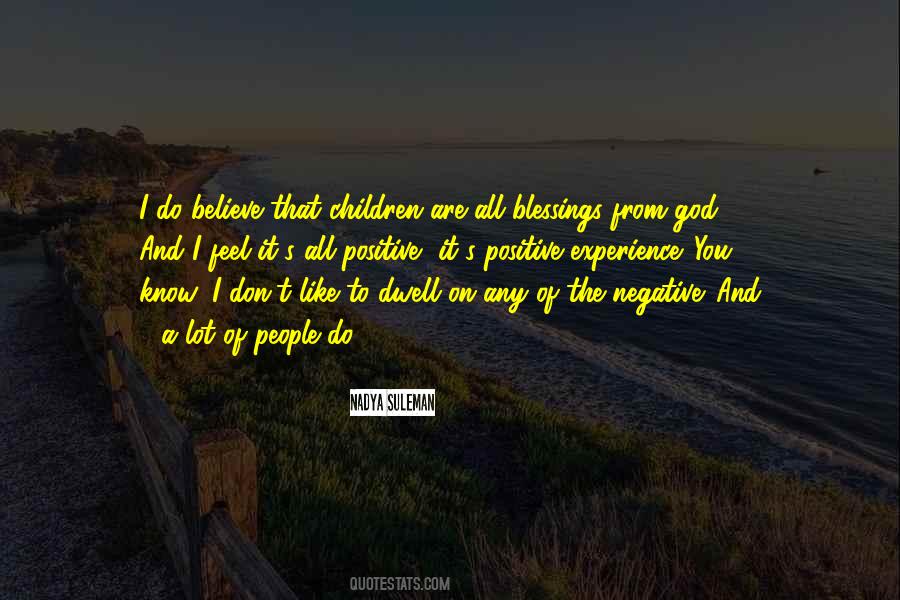 #24. To endure all things, with an equable and peaceful mind, not only brings with it many blessings to the soul; but it also enables us, in the midst of our difficulties, to have a clear judgment about them, and to minister the fitting remedy for them. - Author: San Juan De La Cruz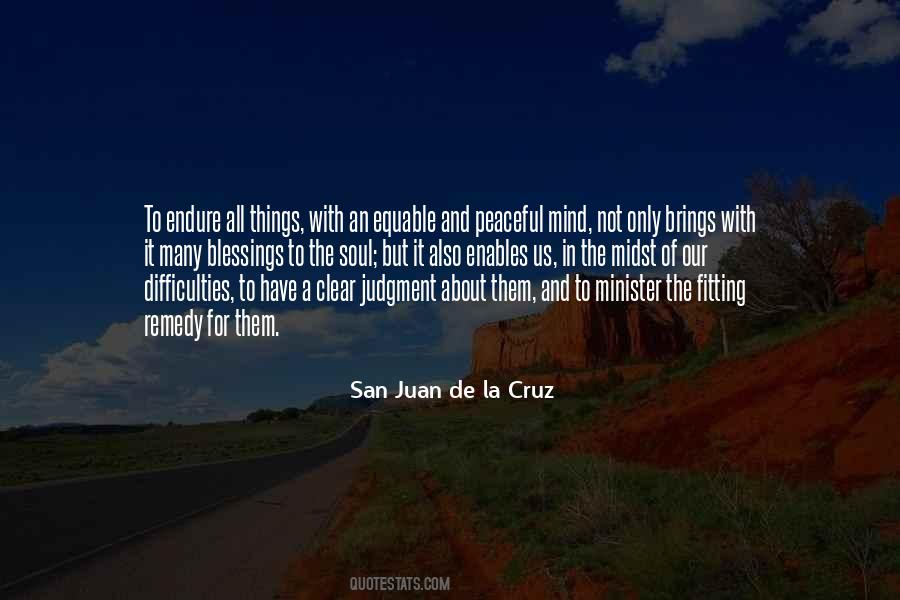 #25. Your work is a very sacred matter. God delights in it, and through it, He wants to best His blessings on you. This praise of work should be inscribed on all tools, on the forehead and the faces that sweat from toiling. - Author: Martin Luther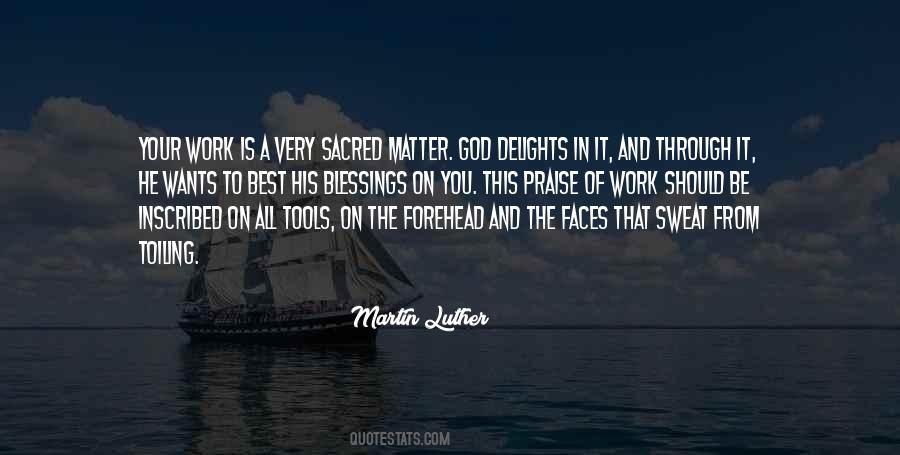 #26. Thanksgiving is a time for families and friends to gather together and express gratitude for all that we have been given, the freedoms we enjoy, and the loved ones who enrich our lives. We recognize that all of these blessings, and life itself, come not from the hand of man but from Almighty God. - Author: George W. Bush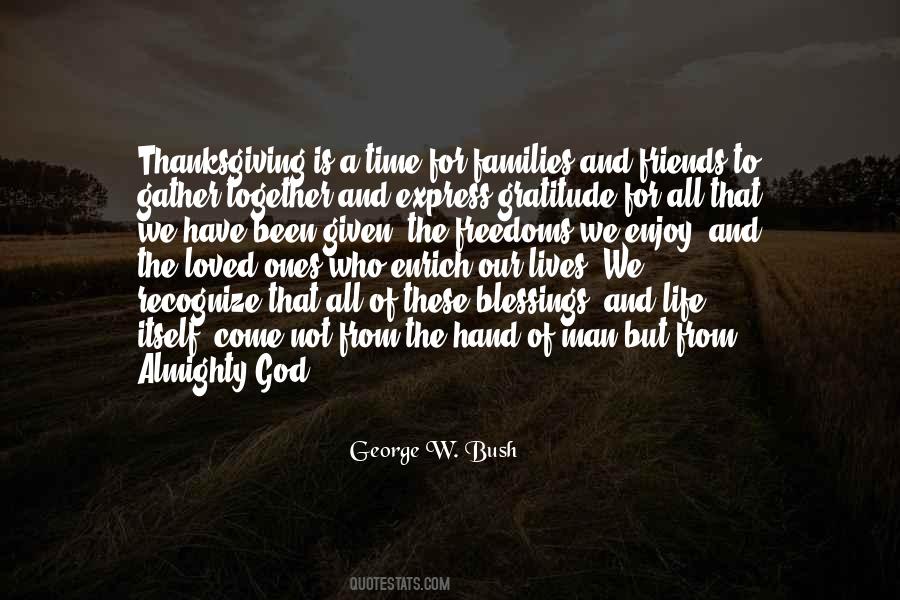 #27. We know, we'll all die one day. Death is the only truth that supersedes any factsheets. Very few get that divine blessings to break the palisade of mortality and believe me we are the chosen few. - Author: Bibhu Datta Rout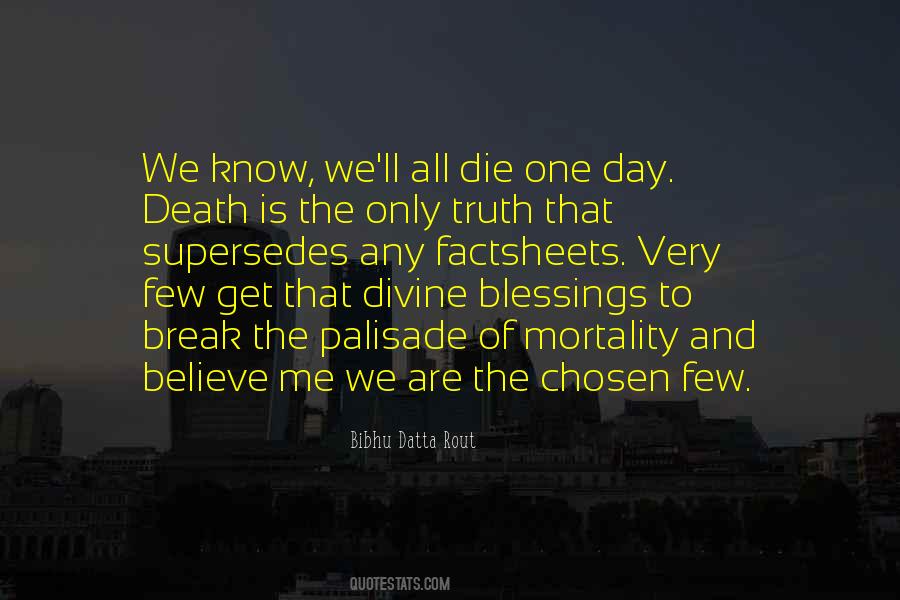 #28. We may continue to expect the enjoyment of all the blessings of civil and religious liberty, guaranteed by the Constitution. The citizens of Illinois have done themselves honor, in throwing the mantle of the Constitution over a persecuted and afflicted people. - Author: Joseph Smith Jr.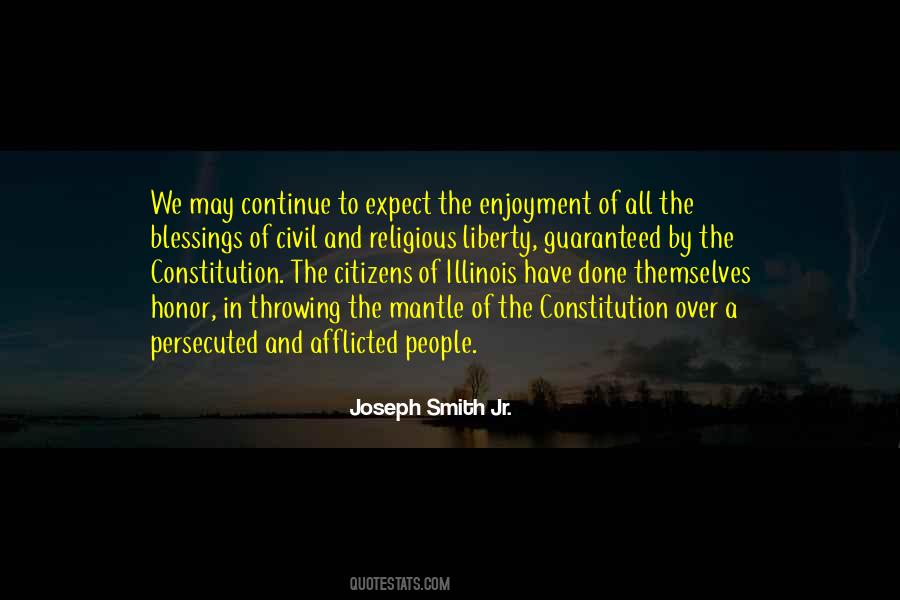 #29. The blessings of the priesthood are available to every righteous man and woman. We may all receive the Holy Ghost, obtain personal revelation, and be endowed in the temple, from which we emerge 'armed' with power. - Author: Sheri L. Dew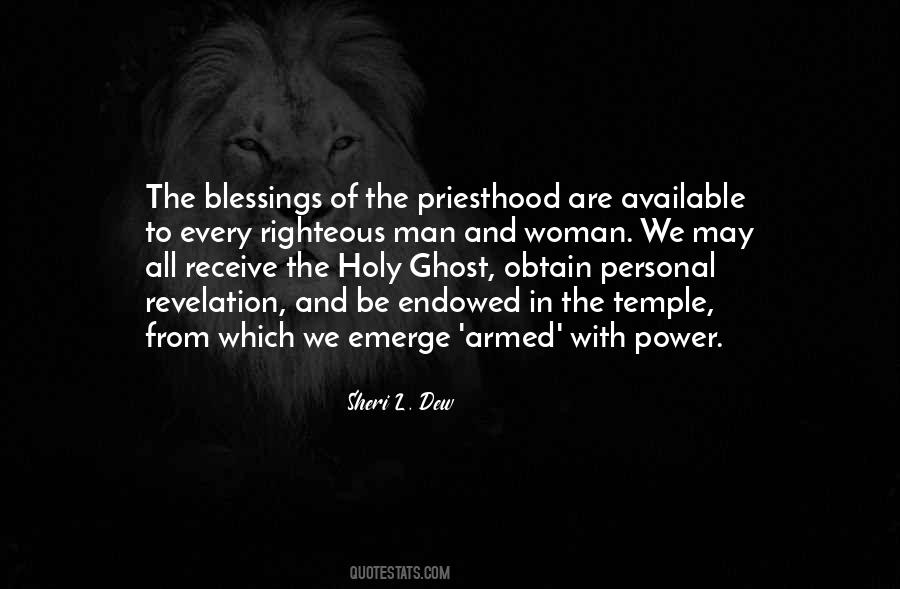 #30. When we feel sad, all we need to do is to count our blessings, no matter how few we notice, so we can feel grateful for what we have been given. Sadness soon disappears and, in return, we get inspired to bless others. - Author: Akiane Kramarik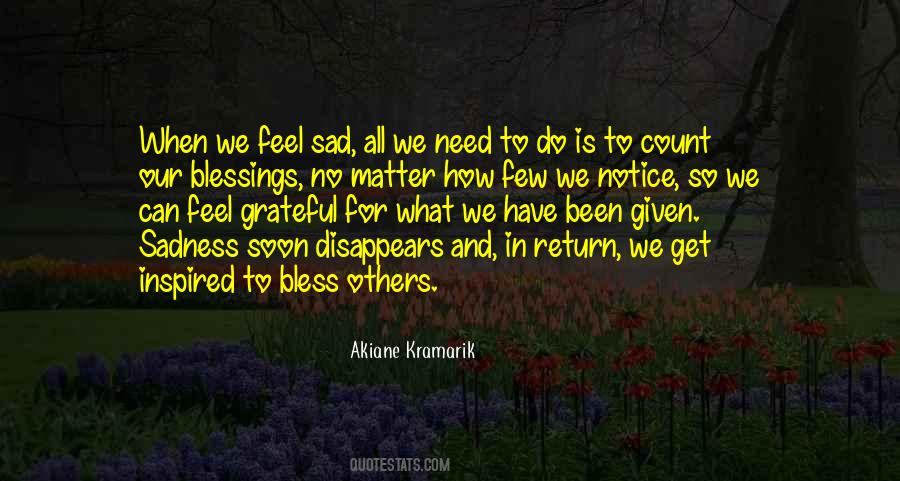 #31. Talking to someone, meditating, praying, or just plain crying it out helps. The most important thing after doing any of these things is to let them go. I focus on all of the many blessings surrounding me and all those I love, instead. - Author: Betsy Landin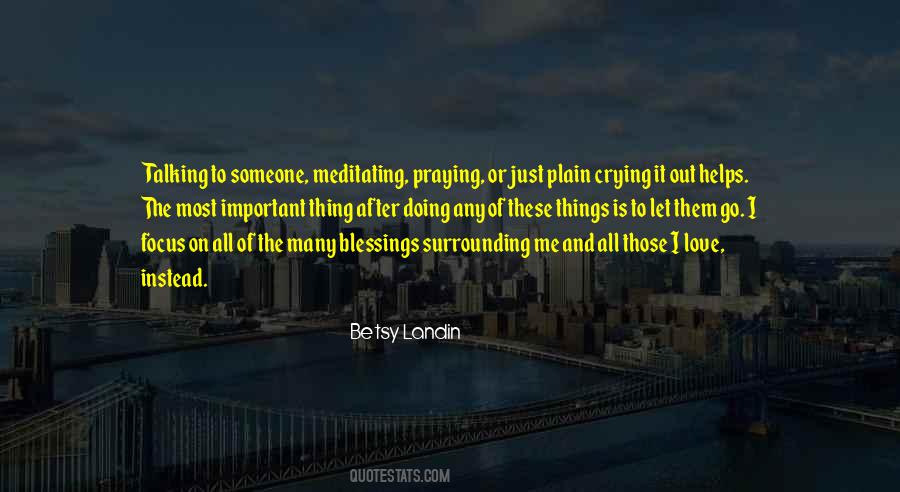 #32. We cry to God for blessings but we do not really want him. He has to teach us that he is the greatest blessing of all. - Author: John J. Murray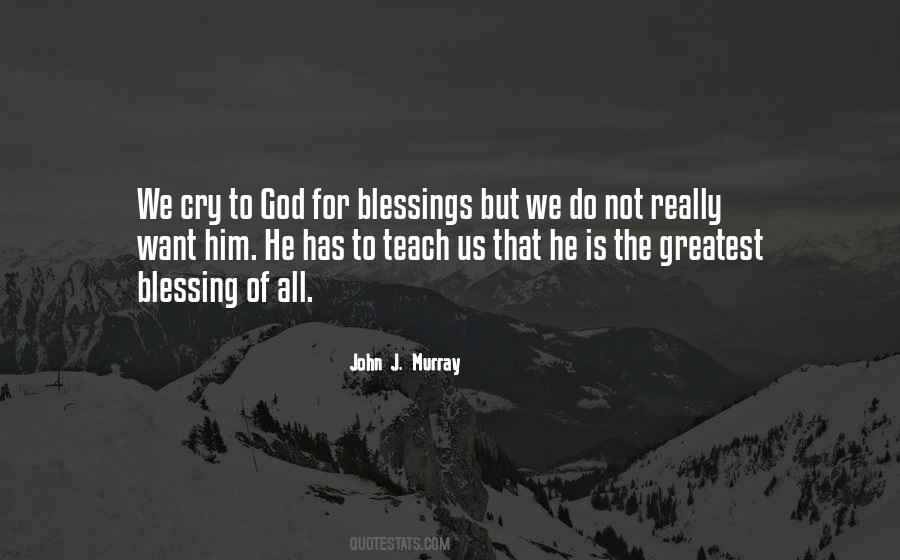 #33. [O]ne of the mixed blessings of being twenty and twenty-one and even twenty-three is the conviction that nothing like this, all evidence to the contrary notwithstanding, has ever happened before. - Author: Joan Didion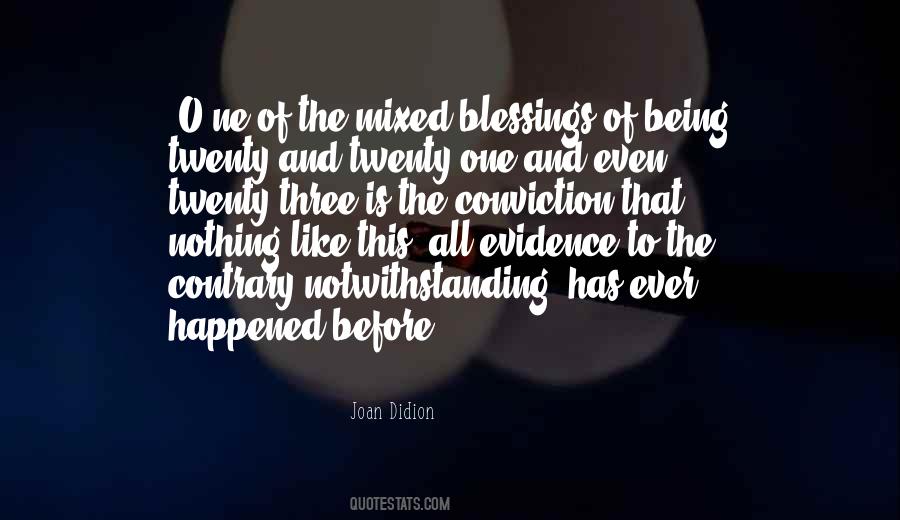 #34. For me, it's a great opportunity on a public platform to get on your knees and humble myself and thank the Lord for all the blessings he's put in my life. - Author: Tim Tebow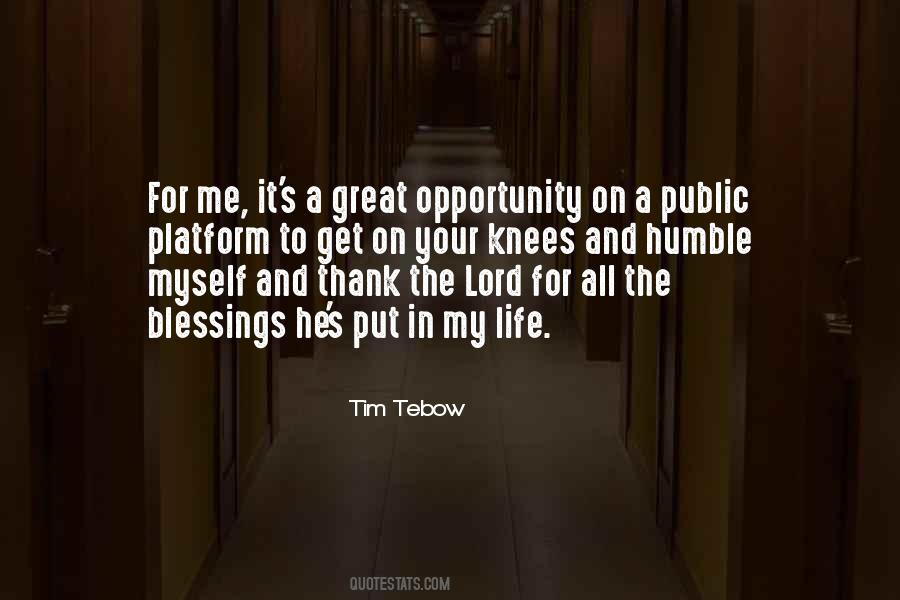 #35. Prayer is a sacred and appointed means to obtain all the blessings that we want, whether they relate to this life or the life to come. - Author: Isaac Watts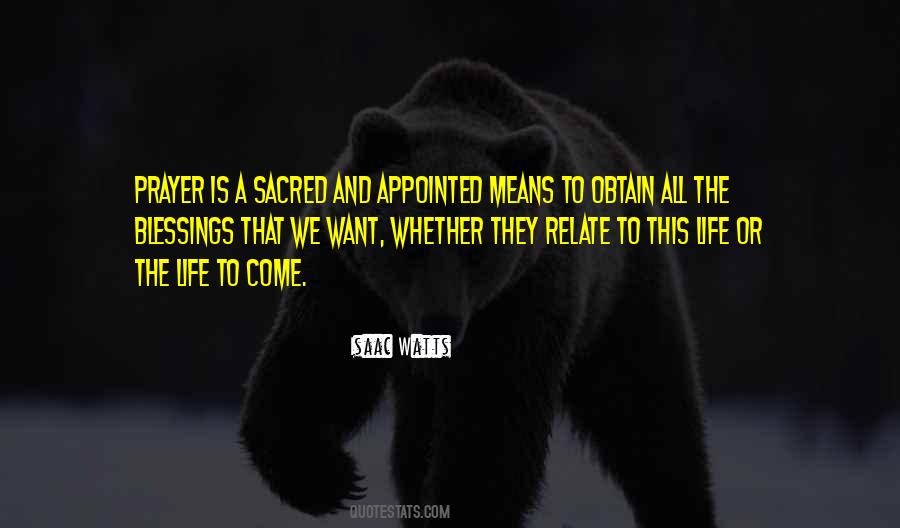 #36. All that money and still unable to count the blessings of her life, beginning with freedom from the paycheck. - Author: Stephen King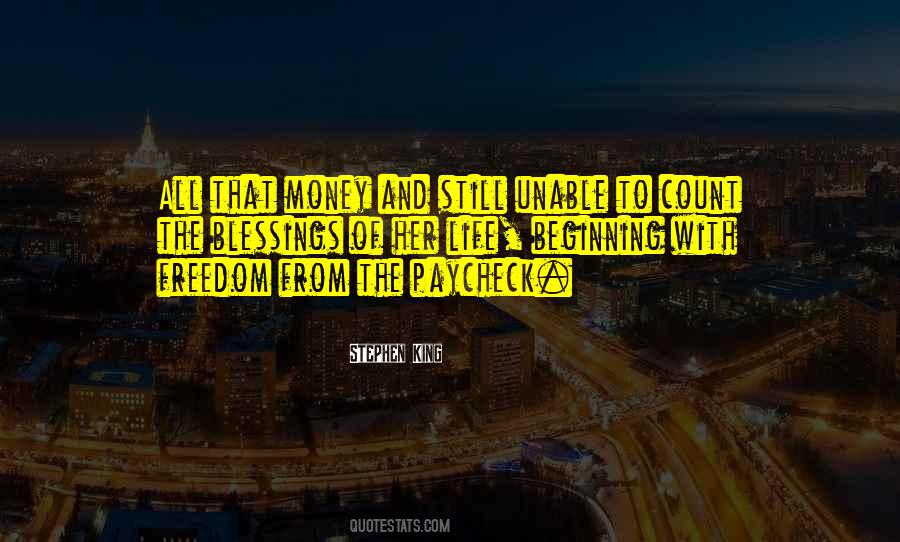 #37. The whole comes to this, that Christ, when he produces faith in us by the agency of his Spirit, at the same time ingrafts us into his body, that we may become partakers of all spiritual blessings. - Author: John Calvin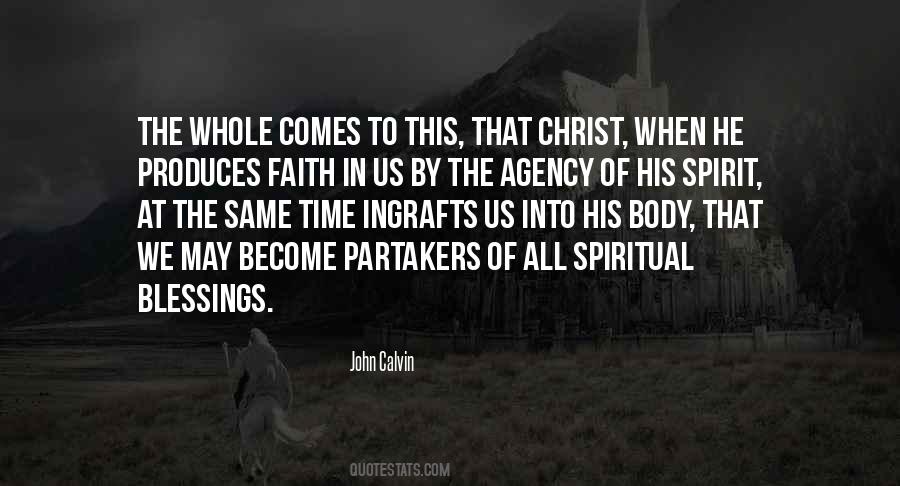 #38. God's children improve all advantages to advance their grand end; they labour to grow better by blessings and crosses, and to make sanctified use of all things. - Author: Richard Sibbes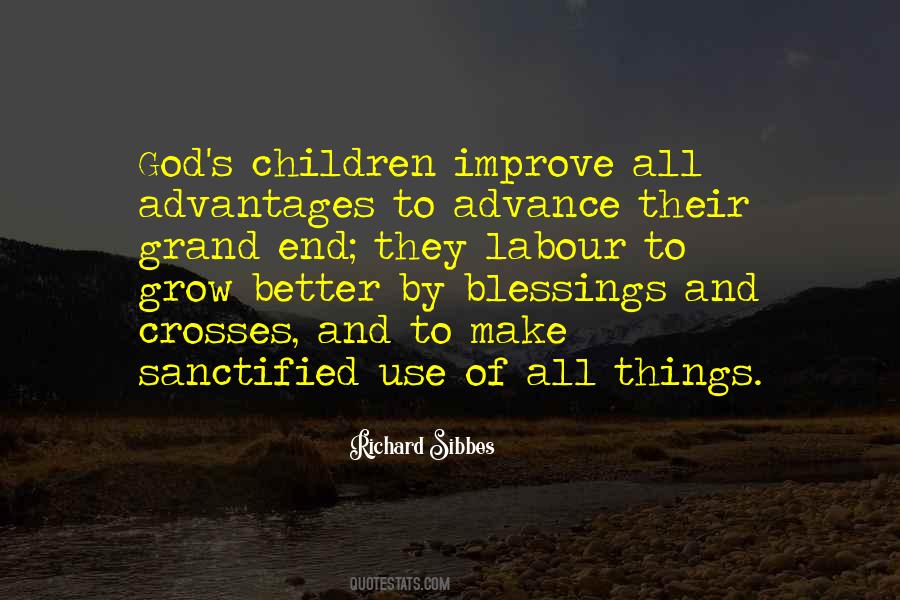 #39. Gracious Providence, to whom I owe all my powers, why didst thou not withhold some of those blessings I possess, and substitute in their place a feeling of self-confidence and contentment? - Author: Johann Wolfgang Von Goethe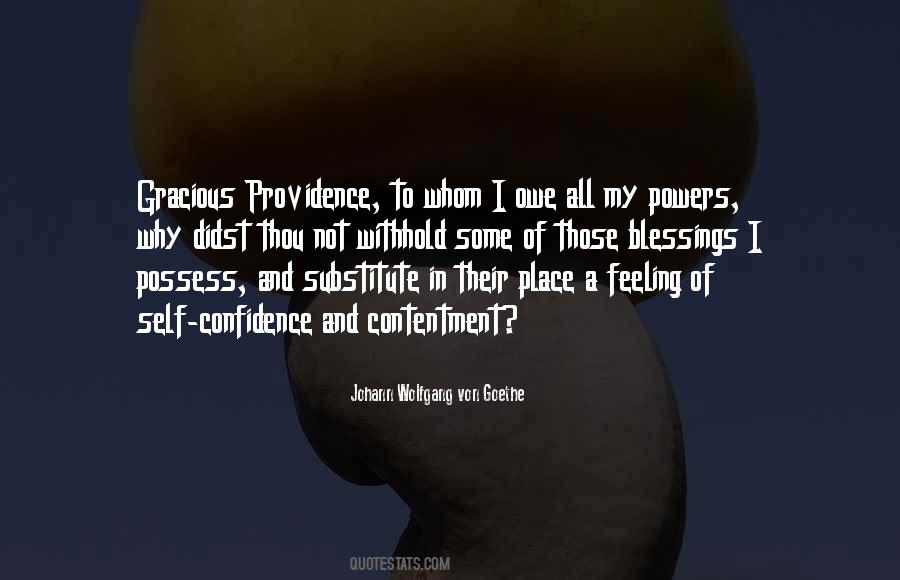 #40. Whatever your conscious mind assumes and believes to be true, your subconscious mind will accept and bring to pass. Believe in good fortune, divine guidance, right action, and all the blessings of life. - Author: Joseph Murphy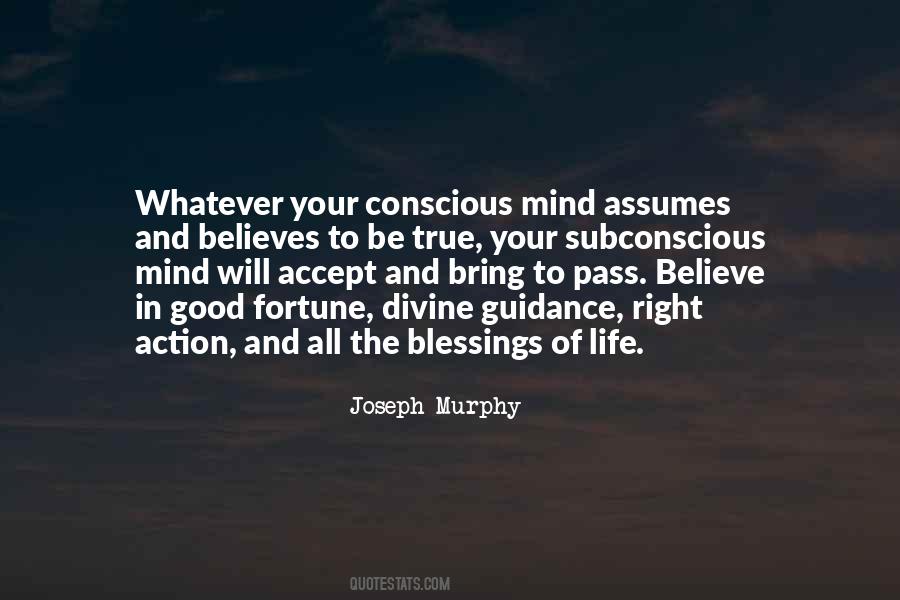 #41. Through the lens of spirituality, we see all the commandments of God as invitations to blessings. - Author: Dallin H. Oaks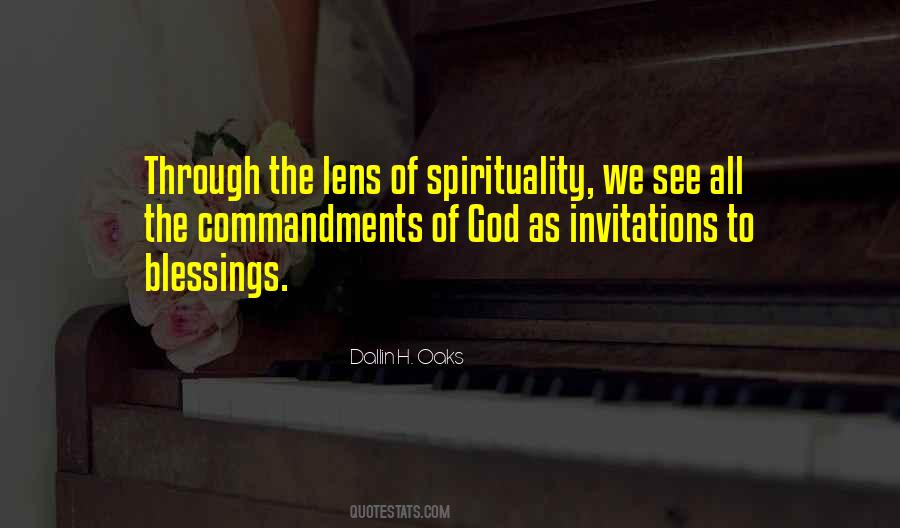 #42. Sin is the willful transgression of divine law. The Atonement of Jesus Christ is the gift of God to His children to correct and overcome the consequences of sin. The gift of the Atonement of Jesus Christ provides us at all times and at all places with the blessings of repentance and forgiveness. - Author: Dieter F. Uchtdorf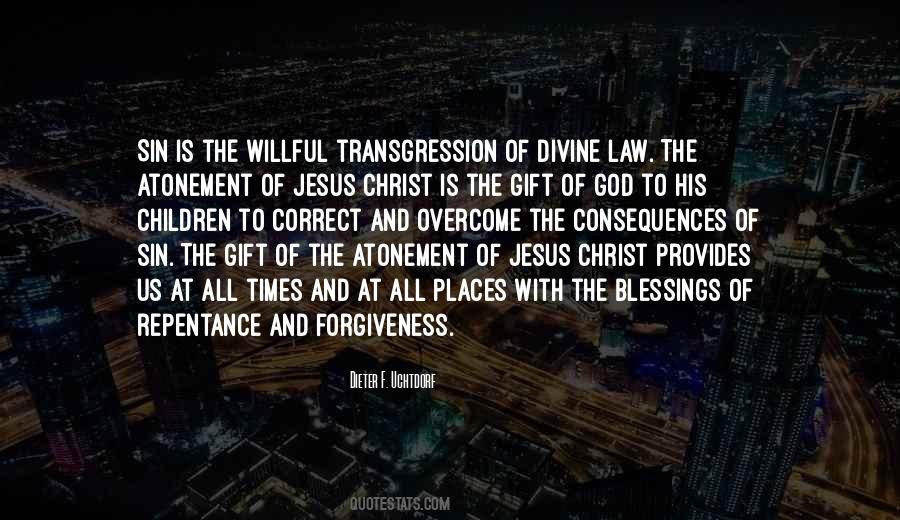 #43. To receive all of the promised blessings, we must accept the gospel in faith and in full. However, this certain faith does not usually come all at once. We learn spiritually line upon line and precept upon precept. - Author: James E. Faust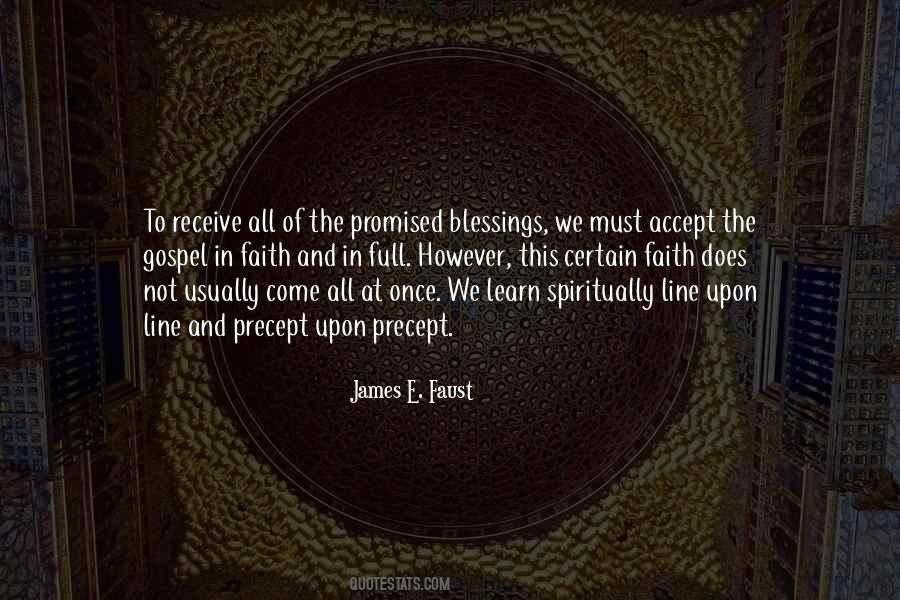 #44. Blessings to all who diligently work to help those in despair. Constantly shining light into our darken world! - Author: Timothy Pina
#45. My drawing began as a way to count my blessings. To study, capture, catalog the things that, despite it all, make my life rich. - Author: Danny Gregory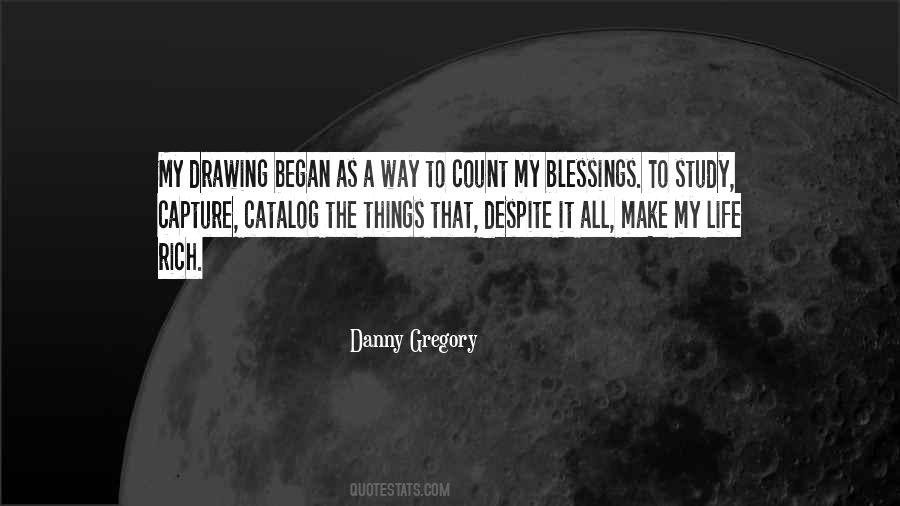 #46. Now is the time to realize your potential and look beyond disappointment and focus on blessings. They are all around you, if you only take the time to welcome them into your life. - Author: Carlos Wallace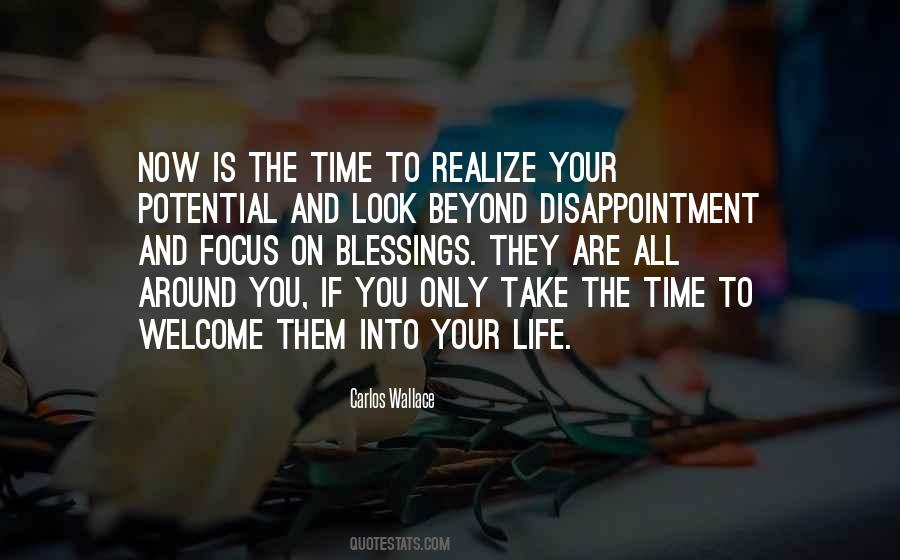 #47. It is attachment to creatures and to self-satisfaction that weakens the blessings of love in your heart. You must die to all that, if you wish the pure love of God to reign therein. - Author: Margaret Mary Alacoque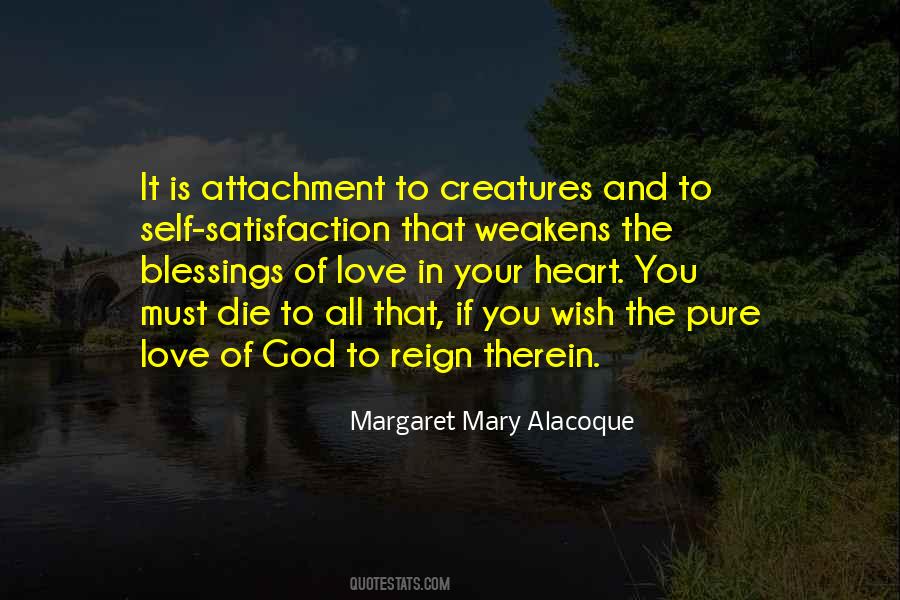 #48. All the blessings we enjoy are Divine deposits, committed to our trust on this condition, that they should be dispensed for the benefit of our neighbors. - Author: John Calvin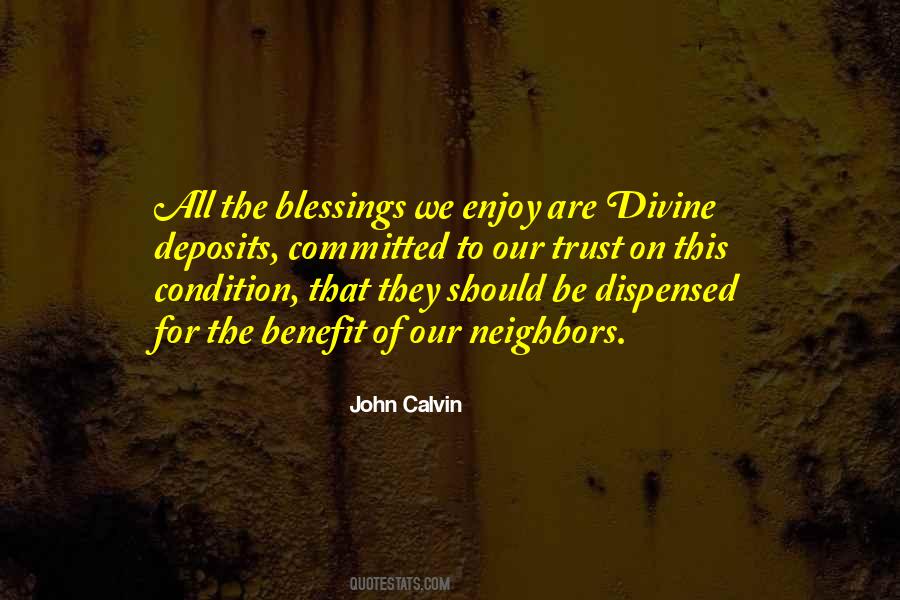 #49. I don't have any frustrations. It sounds a little silly, but life is too short for me. I don't worry about all the things that happen, I just think about what to do with them. I work a lot with blind people in my spare time and I count my blessings every day. - Author: Paul Polman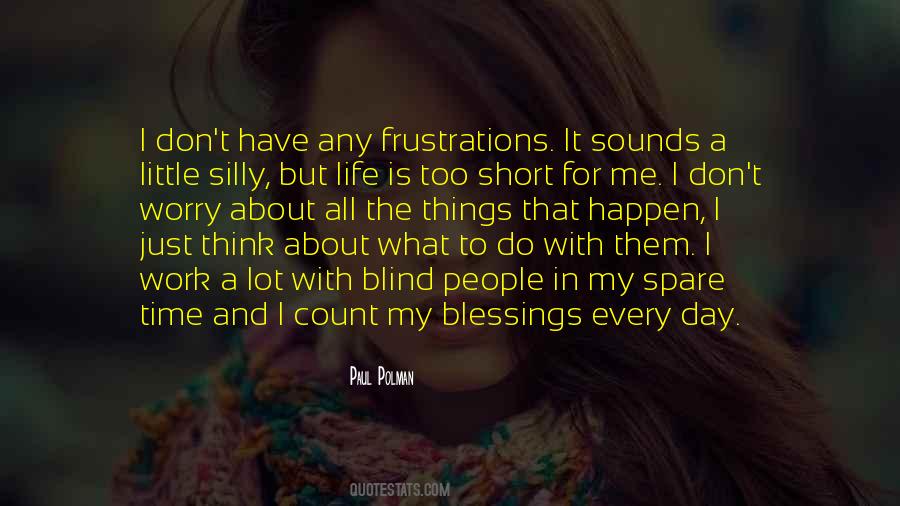 #50. It is key to remember we can maintain a genuine enthusiasm and love for what IS, in the PRESENT moment, enjoy it with gratitude for all of the blessings in our lives. - Author: Dashama Konah Gordon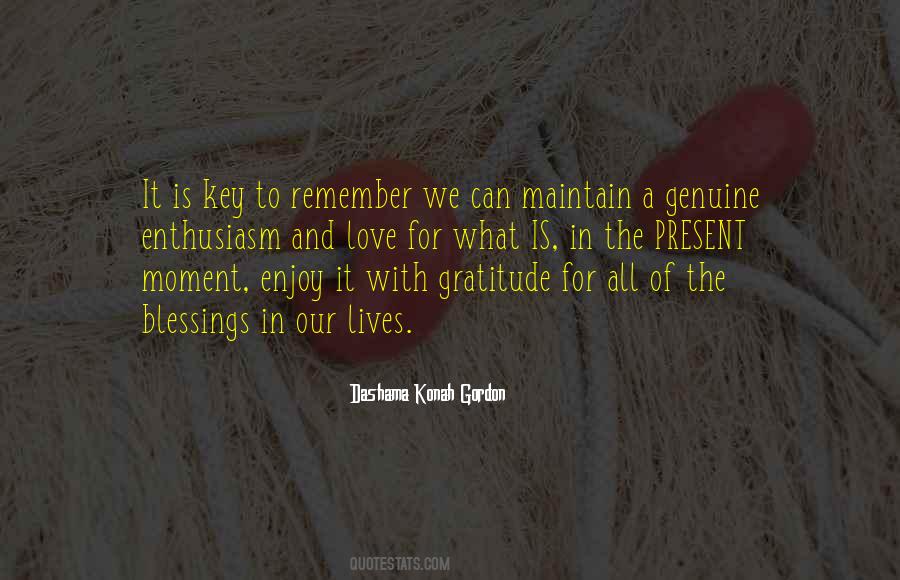 #51. Every person who will learn the right way, and who will then continue diligently to follow that right way, is absolutely certain in time to possess great riches and all attending blessings. - Author: Joseph Franklin Rutherford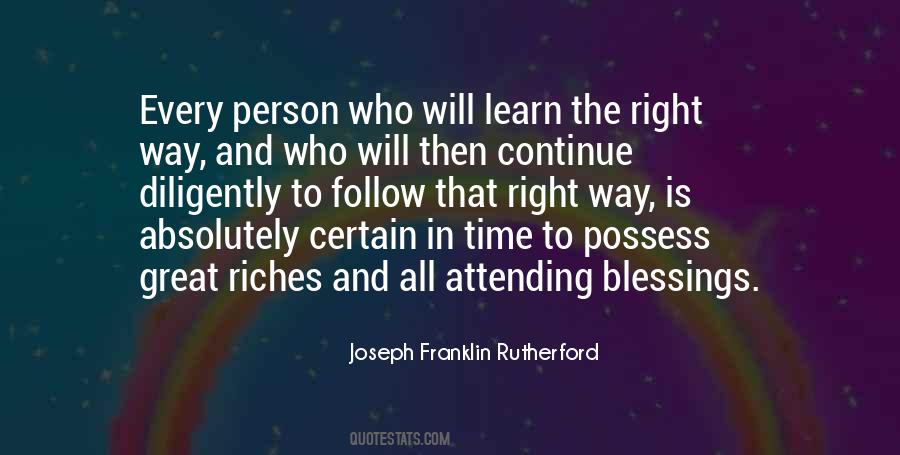 #52. [Be grateful for the simple things in life. Don't take them for granted. After all ... ] What would a blind man give to see the pleasant rivers and meadows and flowers and fountains; and this and many other like blessings we enjoy daily. - Author: Izaak Walton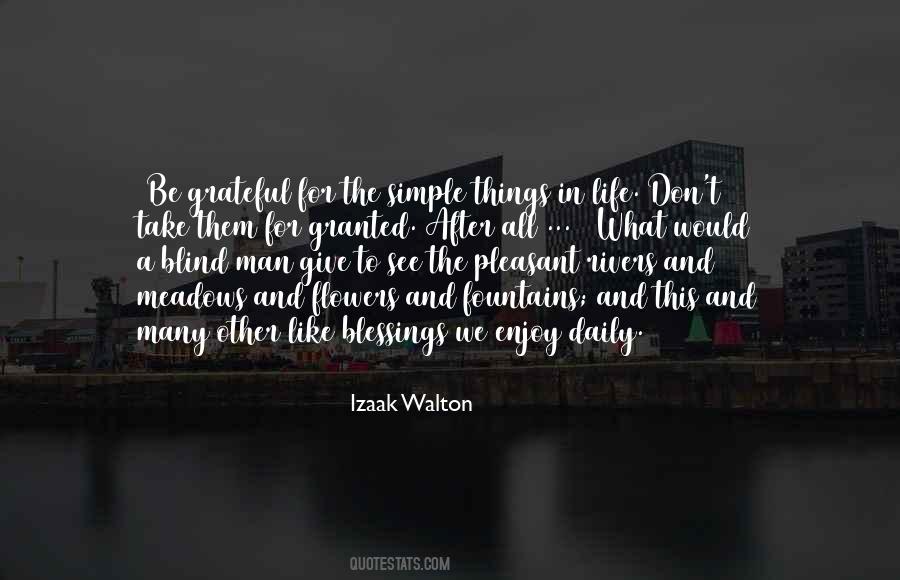 #53. Once you appreciate one of your blessings, one of your senses, your sense of hearing, then you begin to respect the sense of seeing and touching and tasting, you learn to respect all the senses. - Author: Maya Angelou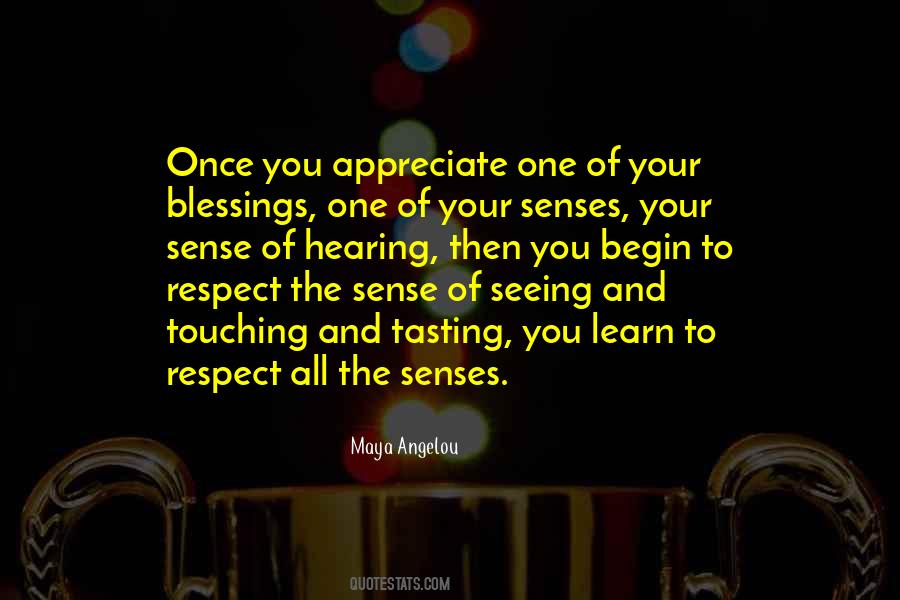 #54. Every time you make a decision to be less than what God wants for you, you're denying yourself some of God's blessings. It's up to you. You can live a life with God's blessings, or just exist with all the consequences of choosing wrong. - Author: Terri Blackstock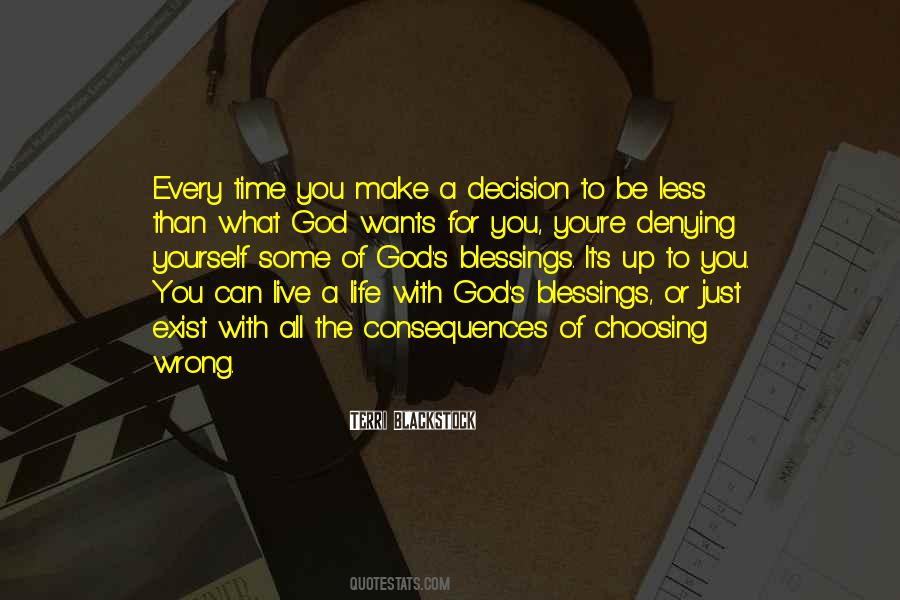 #55. There is no limit to the potential of brethren working together in complete brotherhood and selflessness toward spiritual goals. The power of God working through such channels will bring unimaginable blessings to all concerned. - Author: Joseph B. Wirthlin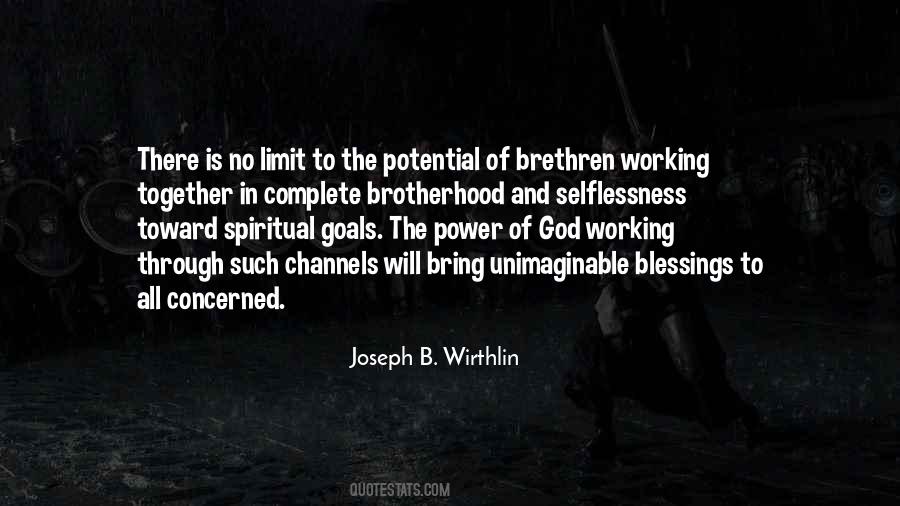 #56. There is a realm in which miracles are possible and do take place. The door to this realm is the belief in all possibilities and YOU are the key. - Author: Vivian Amis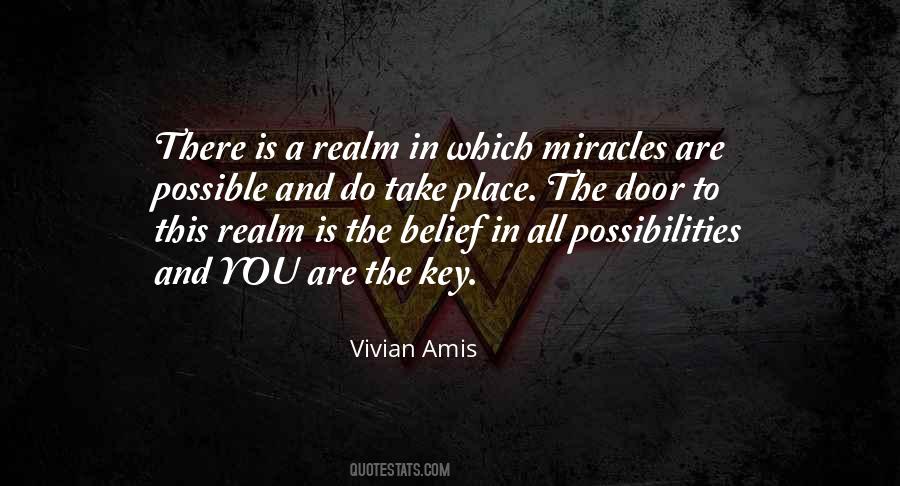 #57. The design of redemption is to exhibit the grace of God in such a manner as to fill all hearts with wonder and all lips with praise. - Author: Elizabeth George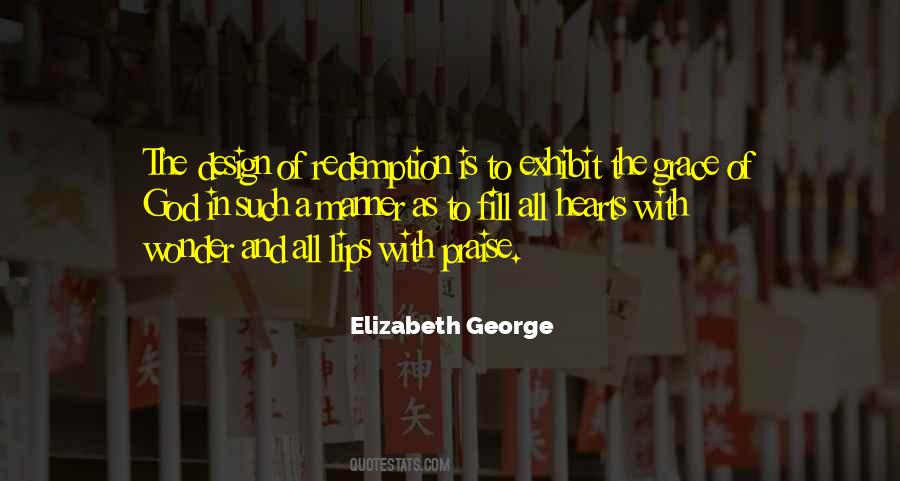 #58. Participation in the blessings of the union with Christ comes when the faithful have all the things needed to live well and blessedly to God. - Author: William Ames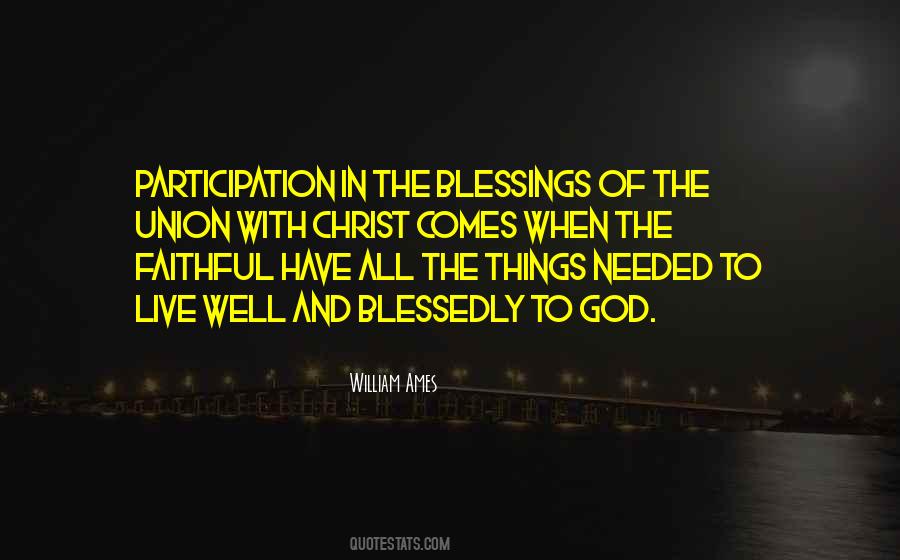 #59. I endeavored to give thanks to our Heavenly Father for all his mercies to me, for his preservation of me through all the dangers I have passed, and all the blessings which he has bestowed upon me, for I know I fall far short of my obligations - Author: Robert E.Lee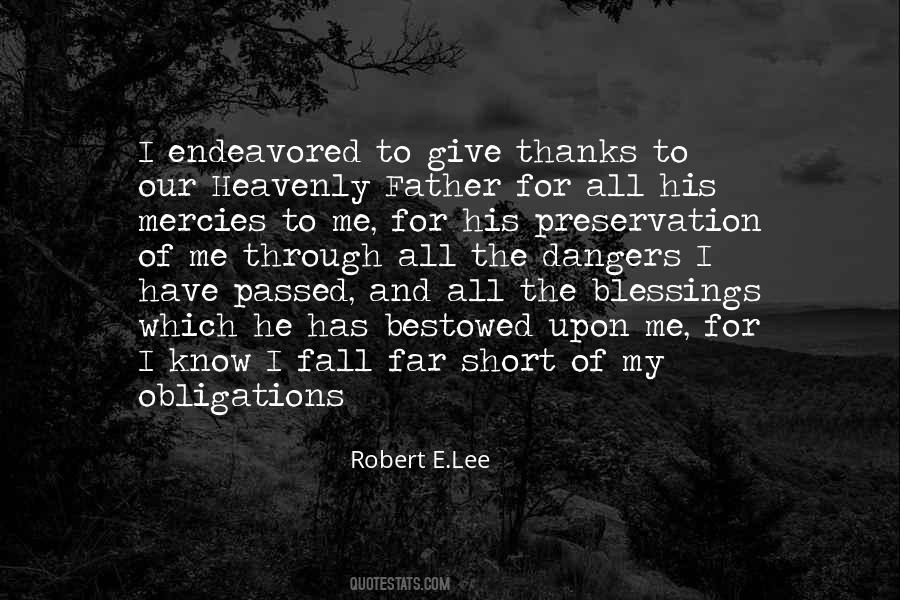 #60. Out of the lavishness displayed in the marvelous variety and richness of creation itself, God continues to pour out his common blessings on all people. Therefore, we neither hoard possessions as if God's gifts were scarce nor deny ourselves pleasures as if God were stingy. - Author: Michael S. Horton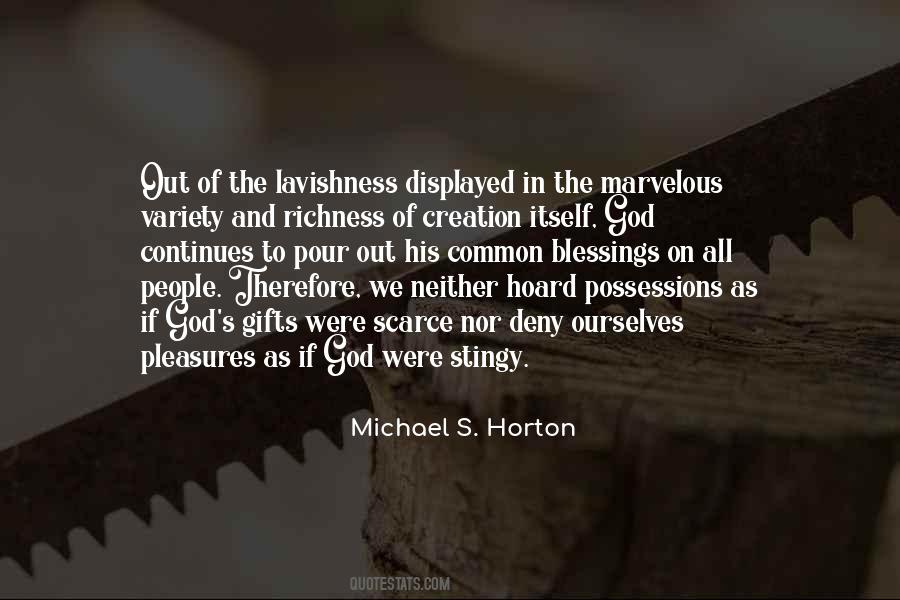 #61. Praise God (or whatever it is) from (if direction exists) whom (if personality exists) all blessings (if that word corresponds to any percept of objective reality) flow (if Heraclitus and Bergson and Einstein are correct in stating that everything is more or less flowing about). - Author: Dorothy L. Sayers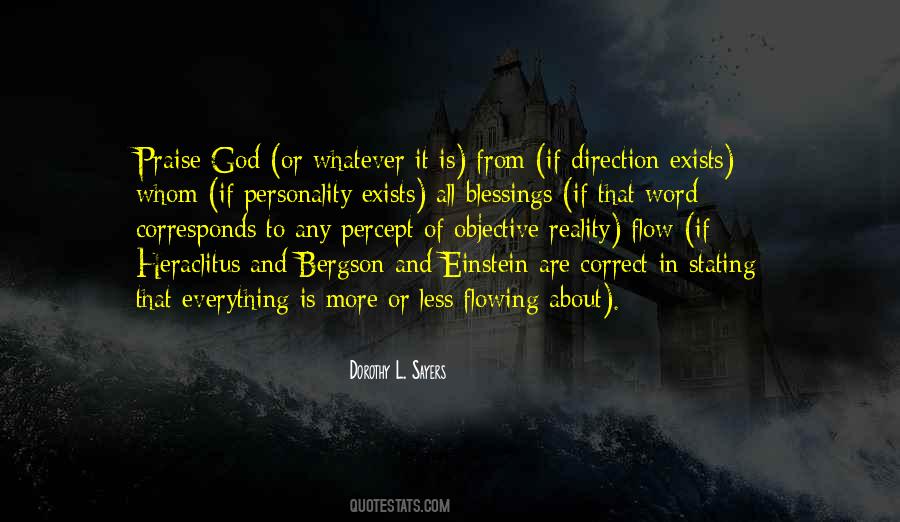 #62. I have a spiritual practice which helps to keep me grounded and centered. Yoga is vital because it keeps me in full awareness and connection with my breath. I keep a gratitude log, which helps to remind me of all the blessings I experience daily. - Author: Grace Gealey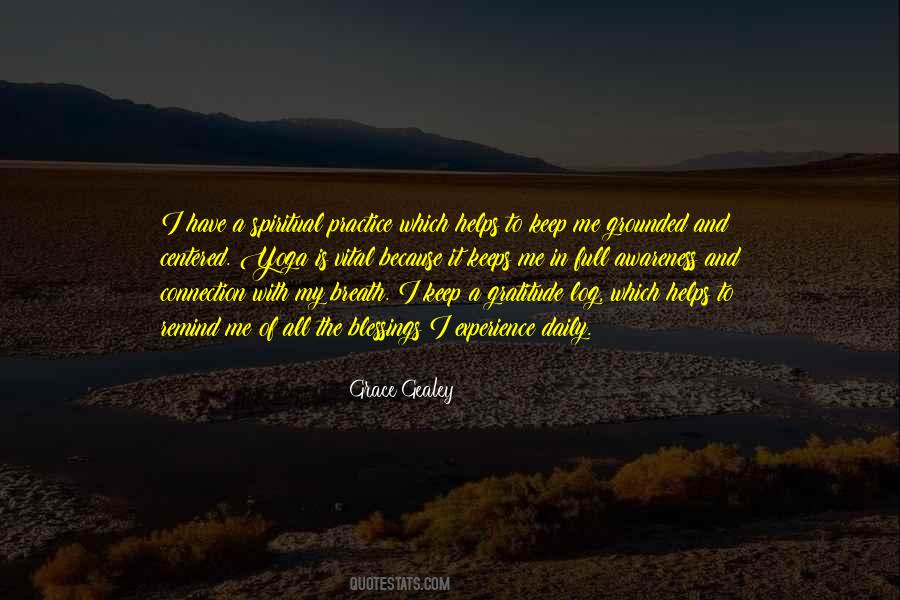 #63. In the name of Jesus Christ, who was never in a hurry, we pray, O God, that You will slow us down, for we know that we live too fast. With all of eternity before us, make us take time to live
time to get acquainted with You, time to enjoy Your blessings, and time to know each other. - Author: Peter Marshall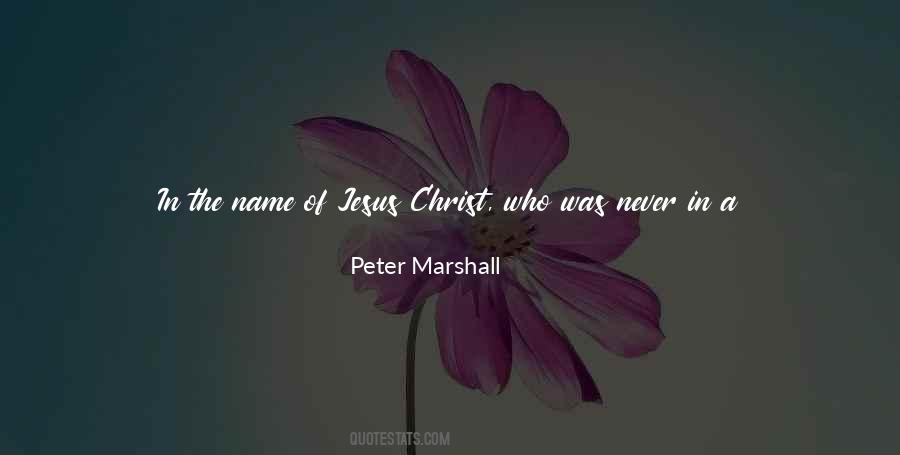 #64. A grateful heart ... comes through expressing gratitude to our Heavenly Father for His blessings and to those around us for all that they bring into our lives. - Author: Thomas S. Monson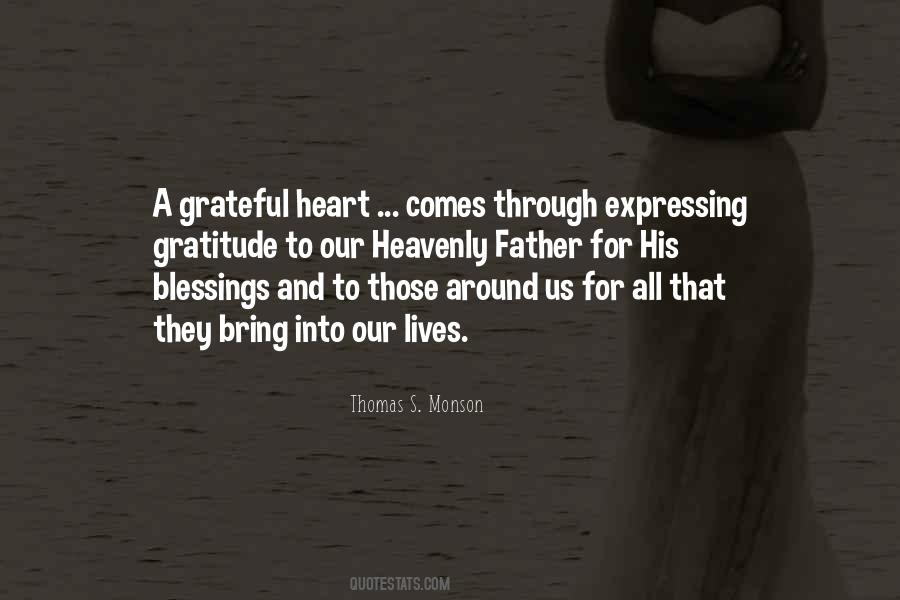 #65. It is so easy to magnify our problems and lose sight of the many blessings we all have to be so very grateful for. - Author: Robin S. Sharma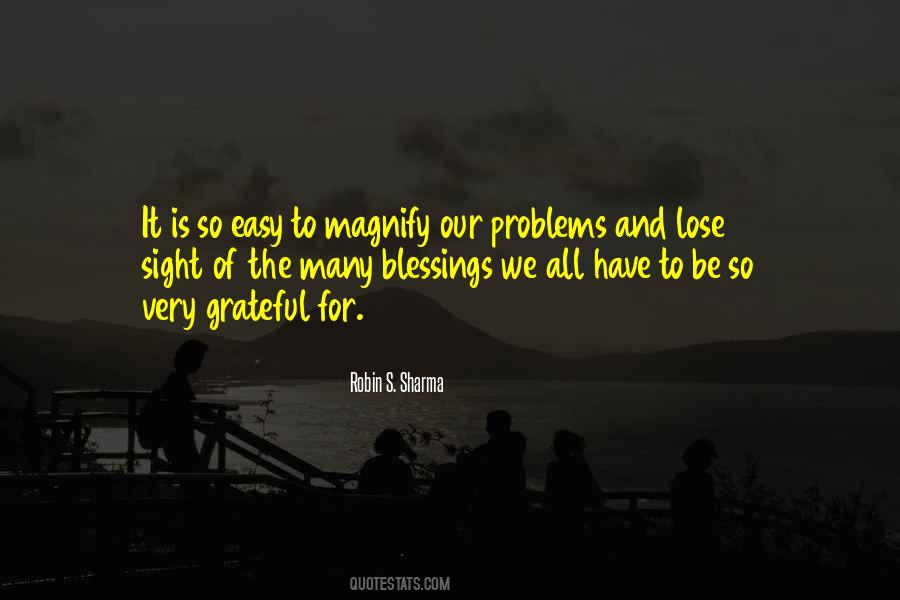 #66. Angels, please help me remember to direct blessings and prayers to everyone I meet today. Please send extra healing energy through me to all my relationships. I ask that each encounter I have bring gifts to everyone involved. - Author: Doreen Virtue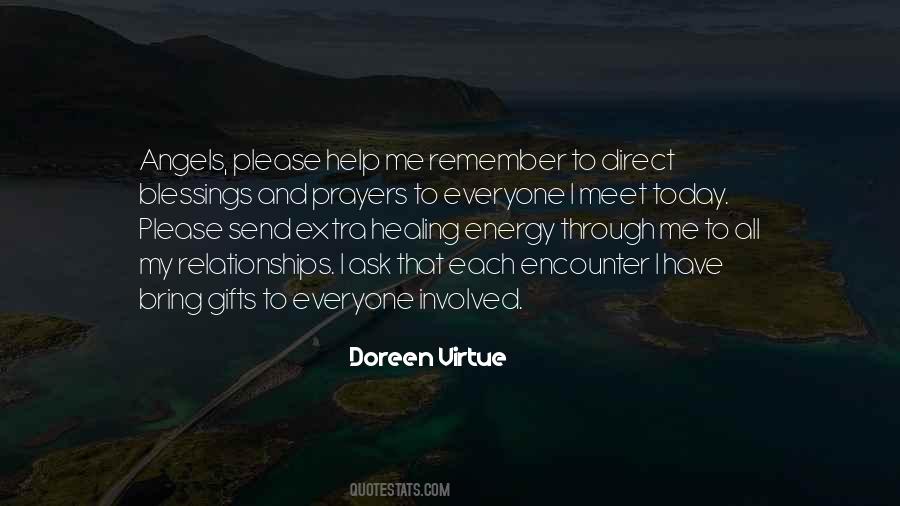 #67. To an unbelieving person nothing renders service or work for good. He himself is in servitude to all things, and all things turned out for evil to him, because he uses all things in impious way for his own advantage, and not for the glory of God. - Author: Martin Luther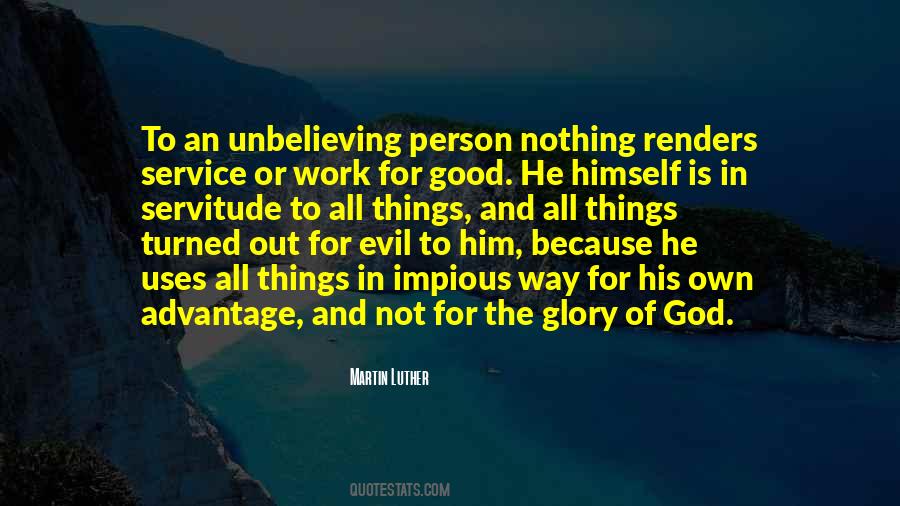 #68. We don't ask any people to throw away any good they have got; we only ask them to come and get more. What if all the world should embrace this Gospel? They would then see eye to eye, and the blessings of God would be poured out upon the people, which is the desire of my whole soul. - Author: Joseph Smith Jr.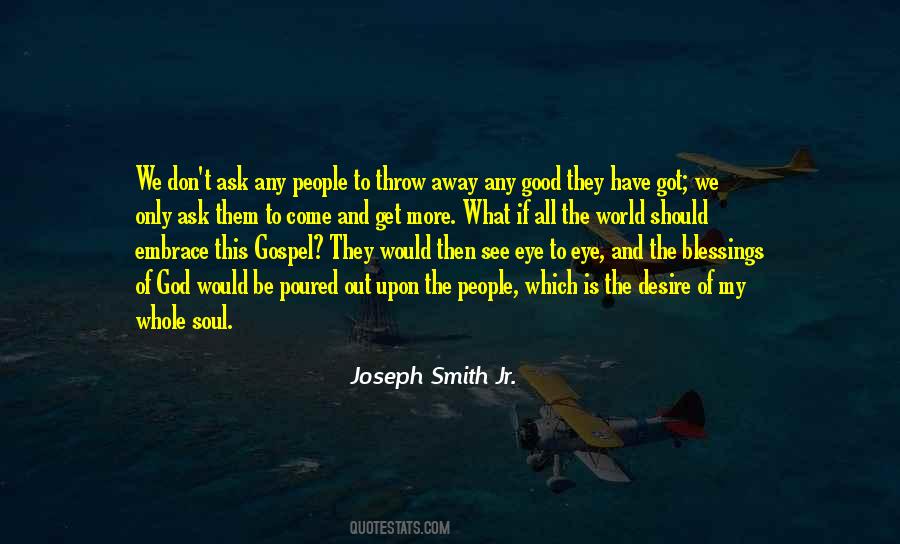 #69. All blessings come to us through our Lord. He will teach us, for in beholding His life we find that He is the best example. - Author: Saint Teresa Of Avila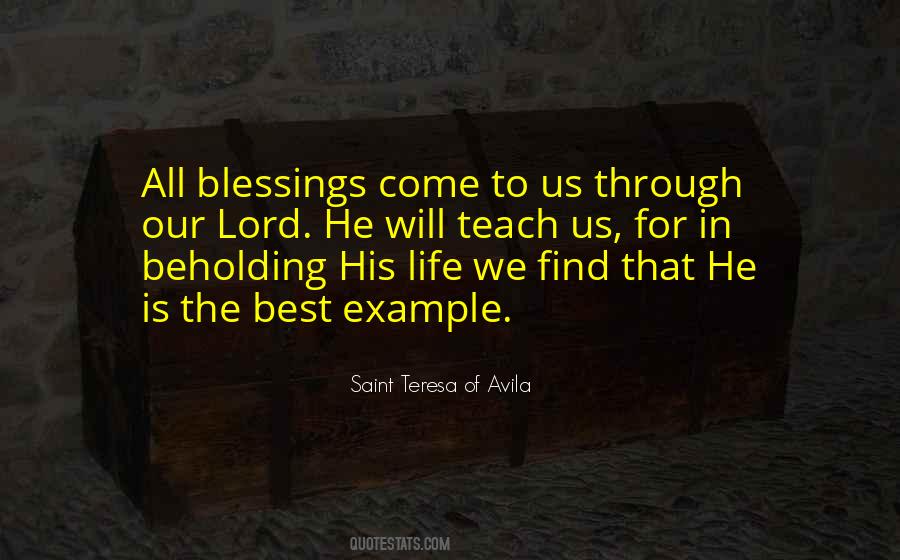 #70. Never keep your blessings all to yourself. Share them with those who need and you will receive more. - Author: Timothy Pina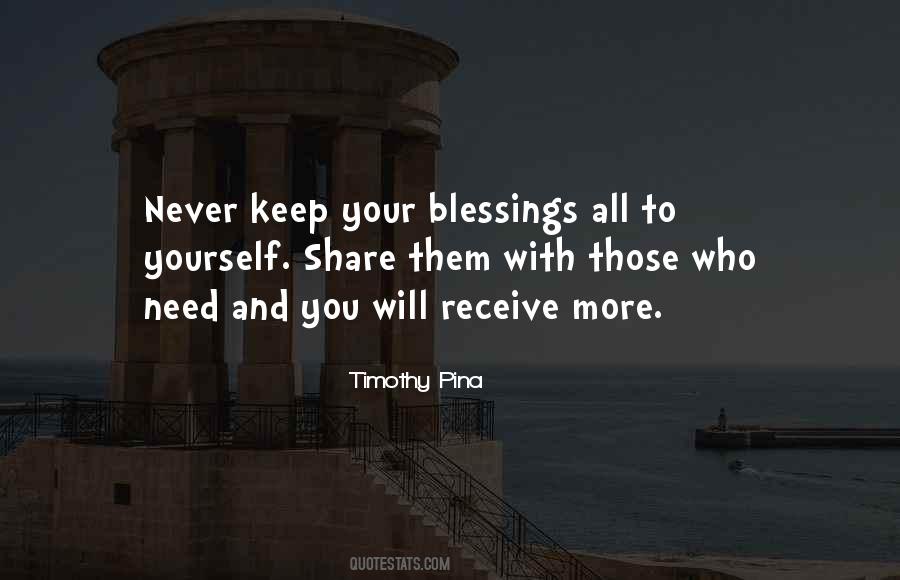 #71. Dear Friends all, A thousand Christmas pleasures and blessings to you
good resolutions and bright hopes for the New Year! Amen. People who can't be witty exert themselves to be pious or affectionate. - Author: George Eliot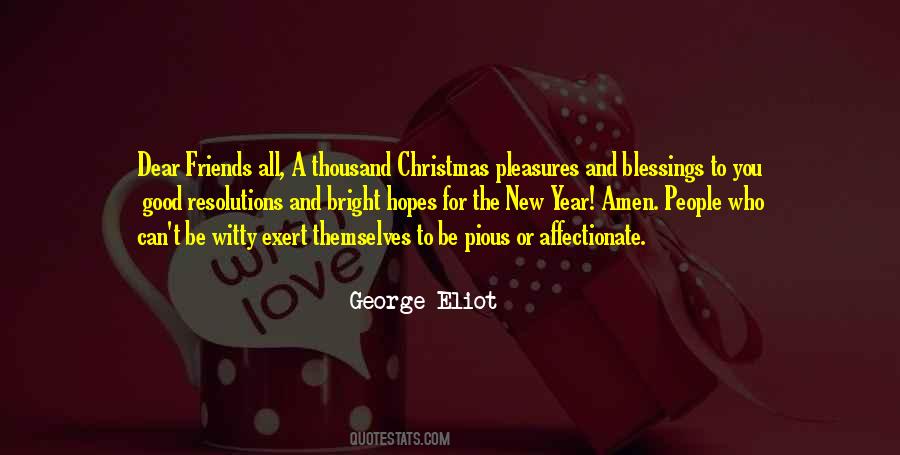 #72. There was not a single cross or worried-looking face. All seemed to have left their cares and anxieties in the porter's room with their hats, and were all deliberately getting ready to enjoy the material blessings of life. - Author: Leo Tolstoy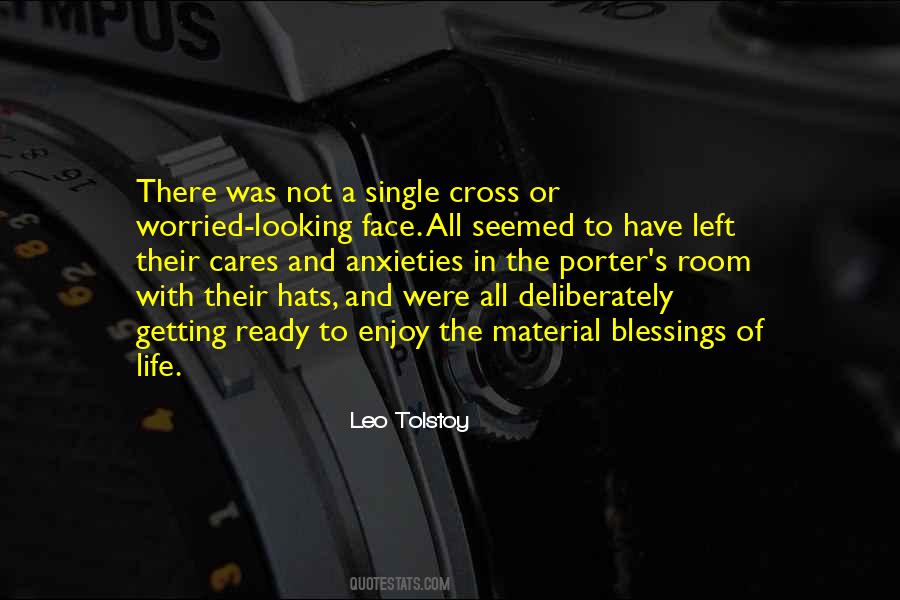 #73. Well that's convenient, i guess blessings are easier to come by than i thought. maybe i should ask for blessings on my mission against all those who wear white after labor day - Author: Cassandra Clare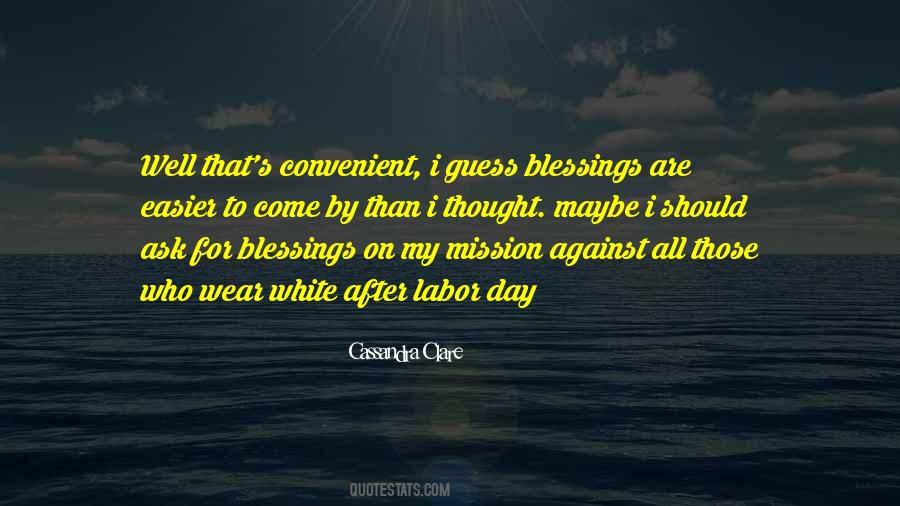 #74. I'm a Texas guy, and the good and bad of that is that I'm always, first and foremost, loyal. If it weren't for 'Supernatural,' I wouldn't have a lot of the blessings that I have today, so I'm going to play it out. I'm going to give it my all. - Author: Jared Padalecki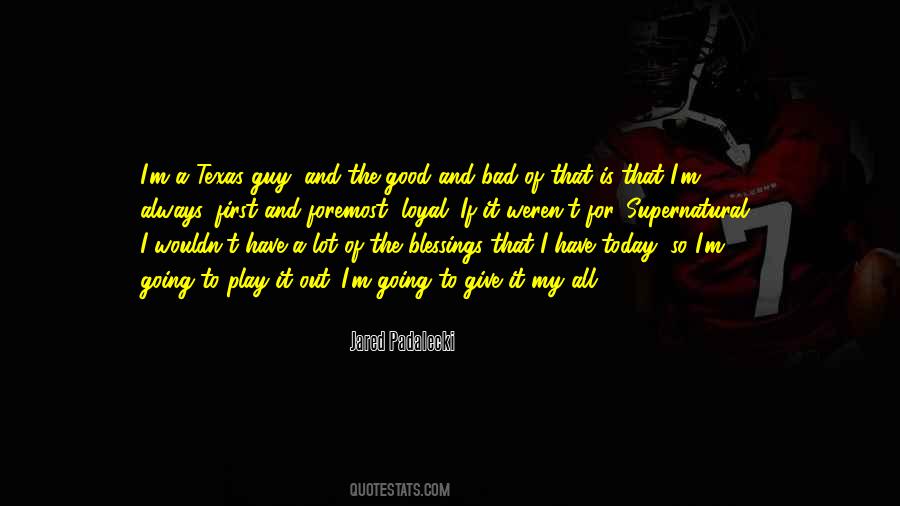 #75. Unless and until your Sahasrara is open, all the blessings of the Divine Power cannot come to you. - Author: Nirmala Srivastava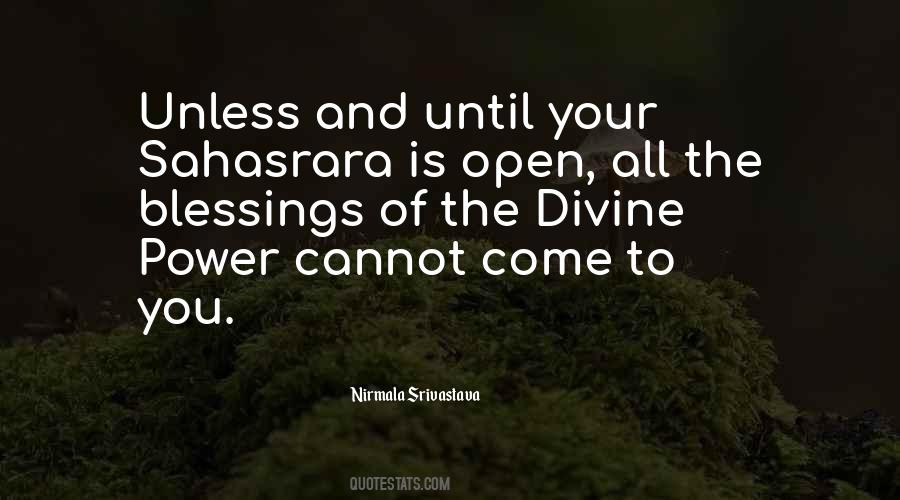 #76. When I was released from prison everybody thought I'd go back to doing the same things I did before, but I had no desire to do any of that anymore. That stuff steals, kills, and destroys your life and robs you of all the blessings that God has for you. - Author: Christian Hosoi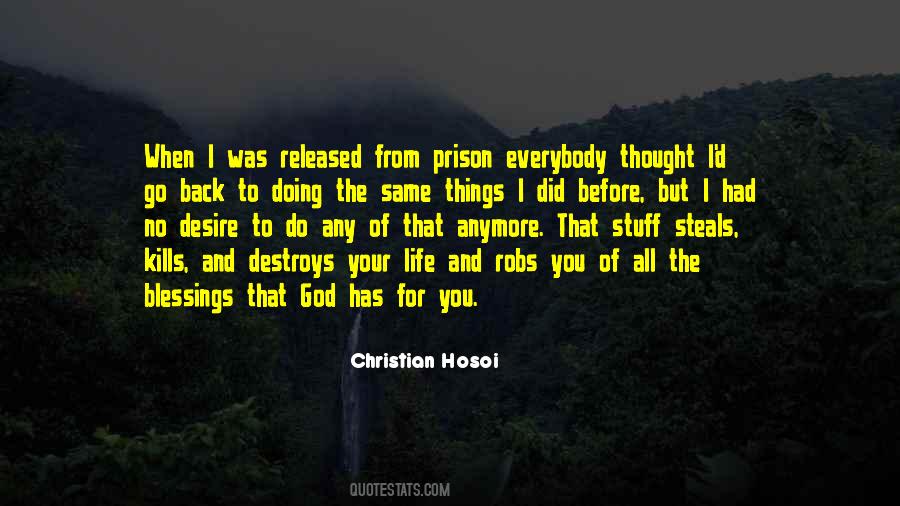 #77. Health is a great blessing
competence obtained by honorable industry is a great blessing
and a great blessing it is to have kind, faithful, and loving friends and relatives; but, that the greatest of all blessings, as it is the most ennobling of all privileges, is to be indeed a Christian. - Author: Samuel Taylor Coleridge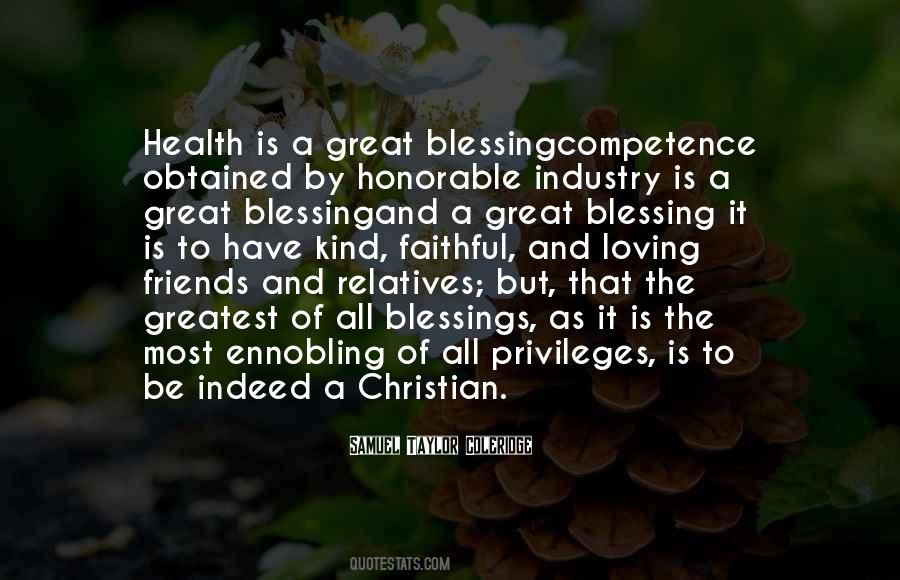 #78. There is a great need today for all mankind to heed the plea to cease to find fault one with another. Some of us are so accustomed to wearing faultfinding spectacles that we cannot see past them. We need to open our eyes and ears and look for the good and the blessings around us. - Author: Marvin J. Ashton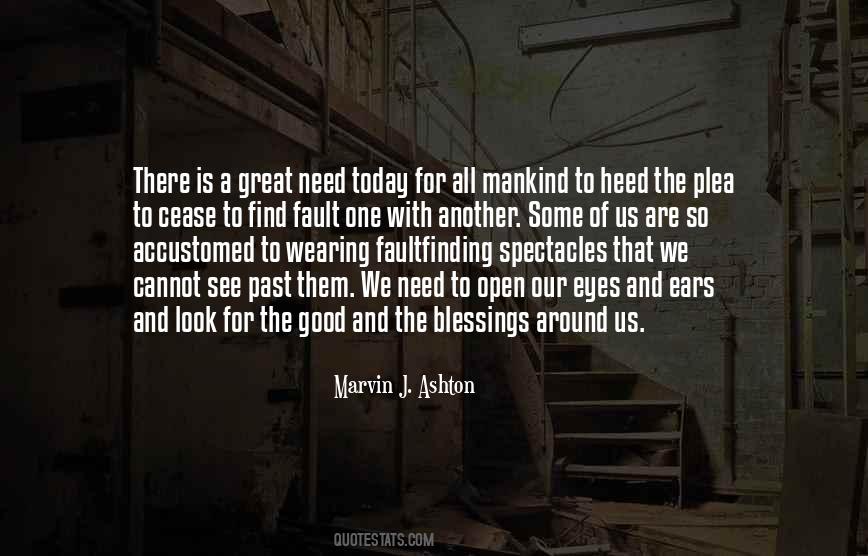 #79. I don't take for granted all the blessings that I have, and as soon as I heard about Computers for Youth, I really wanted to be involved. Anyone who knows me knows how much time I spend on computers. I'm a computer addict. Every young person deserves to have a computer in his or her home. - Author: Bow Wow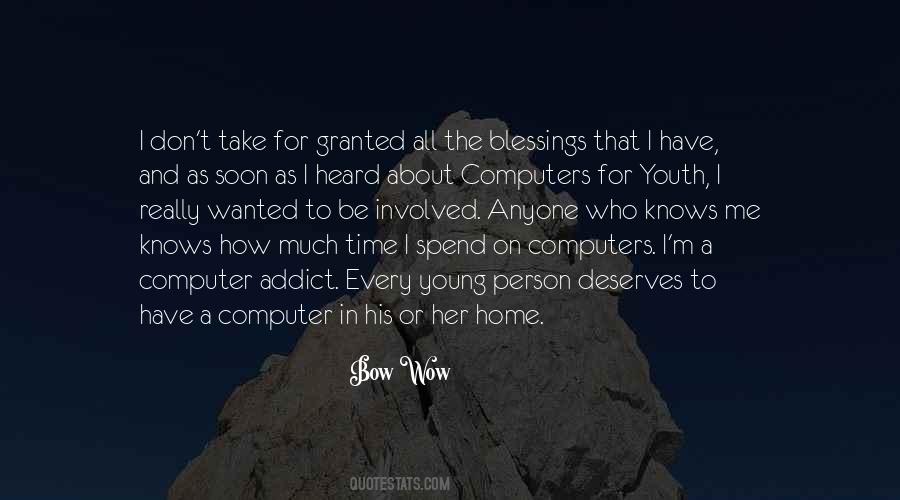 #80. We have been deceived into believing prayer is all about persuading God to release His power. We no longer need to beg or plead; we need to exercise the authority He has given us and receive His blessings. - Author: Andrew Wommack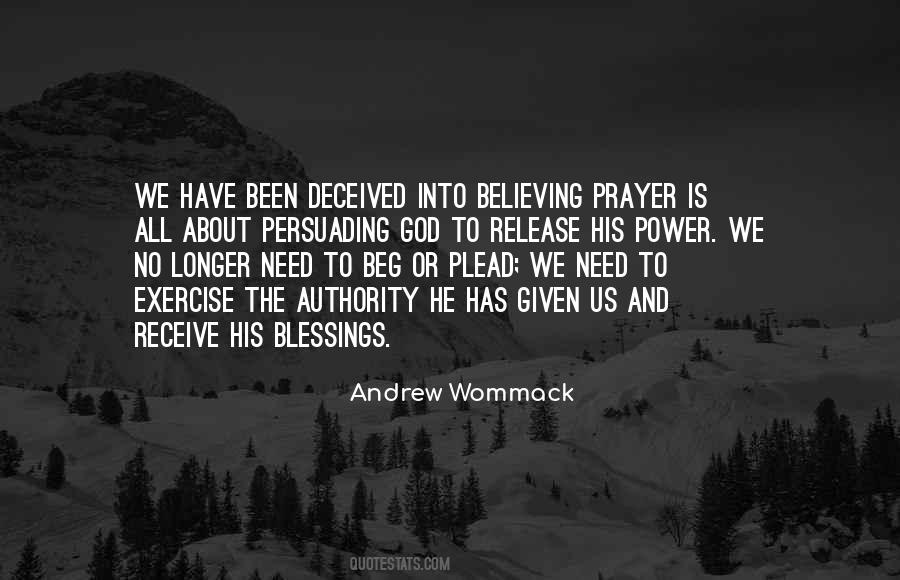 #81. When we ... read and study the scriptures, benefits and blessings of many kinds come to us. This is the most profitable of all study in which we could engage. - Author: Howard W. Hunter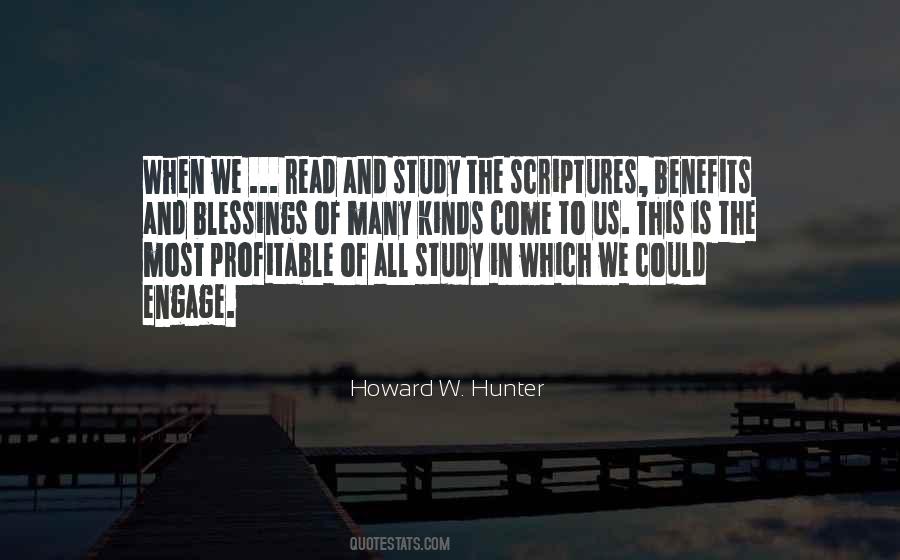 #82. I urge our people everywhere, with all of the persuasiveness of which I am capable, to live worthy to hold a temple recommend, to secure one and regard it as a precious asset, and to make a greater effort to go to the House of the Lord and partake of the spirit and the blessings to be had therein. - Author: Gordon B. Hinckley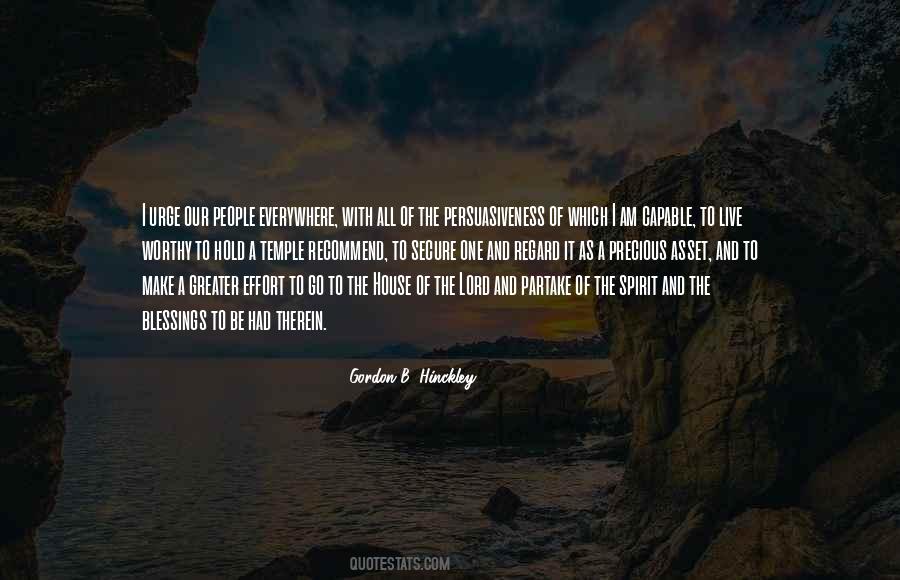 #83. And let us not trust to human effort alone, but humbly acknowledging the power and goodness of Almighty God, who presides over the destiny of nations, and who has at all times been revealed in our country's history, let us invoke His aid and His blessings upon our labors. - Author: Grover Cleveland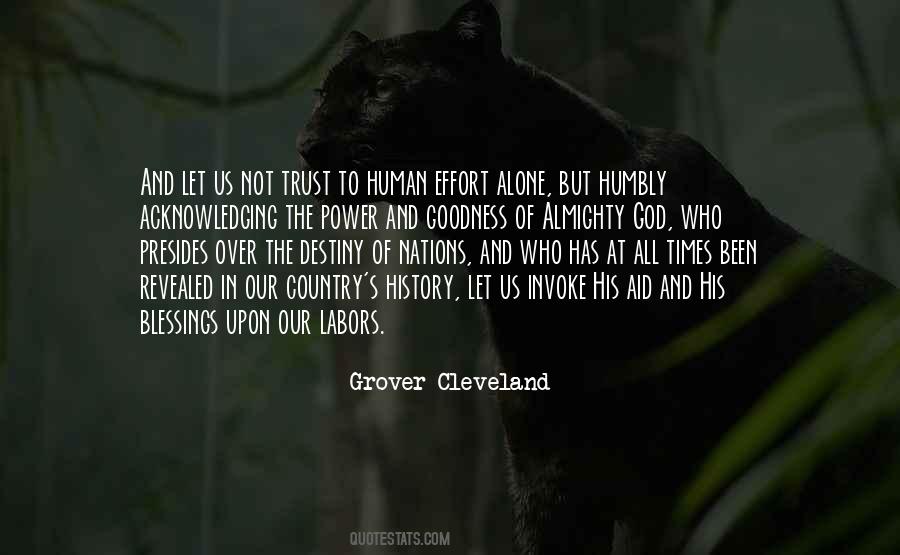 #84. This glorious union shall not perish! Precious legacy of our fathers, it shall go down honored and cherished to our children. Generations unborn shall enjoy its privileges as we have done; and if we leave them poor in all besides, we will transmit to them the boundless wealth of its blessings! - Author: Edward Everett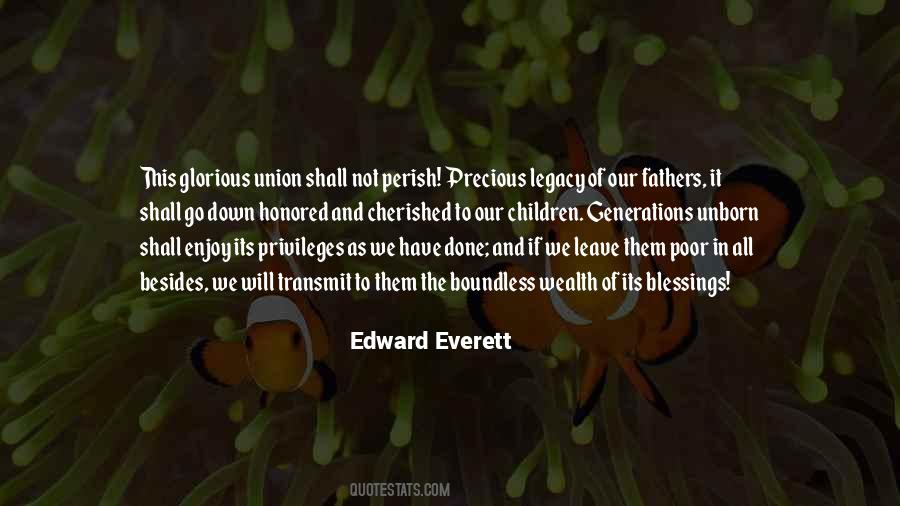 #85. This counting blessings was the unlocking of the mystery of joy, joy, "the gigantic secret of the Christian," joy hiding in gratitude ... God had used the dare to give me this; led me all he way to give me this, live fully, fully live. Page 83 - Author: Ann Voskamp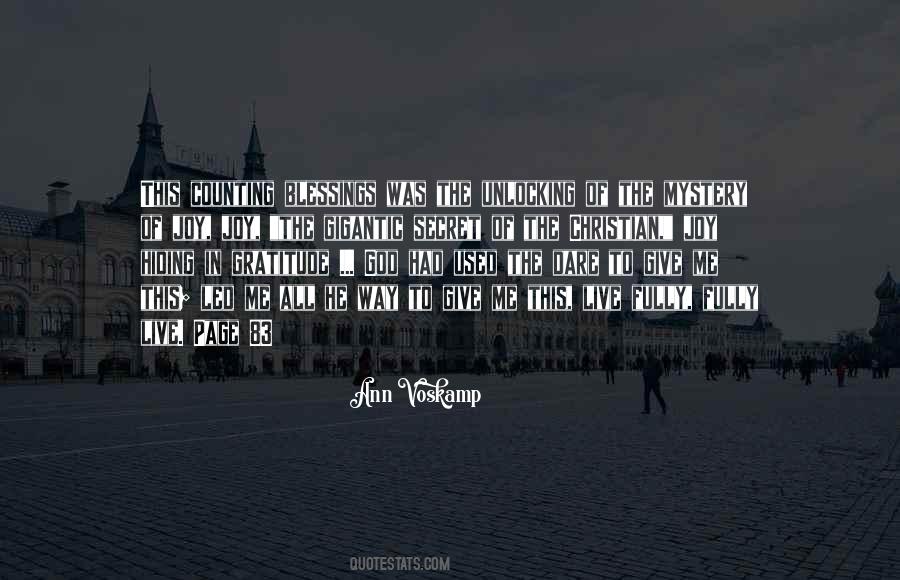 #86. If your friend has displeased you, you shall not sit down to consider it, for he has already lost all memory of the passage, and has doubled his power to serve you, and, ere you can rise up again, will burden you with blessings. - Author: Ralph Waldo Emerson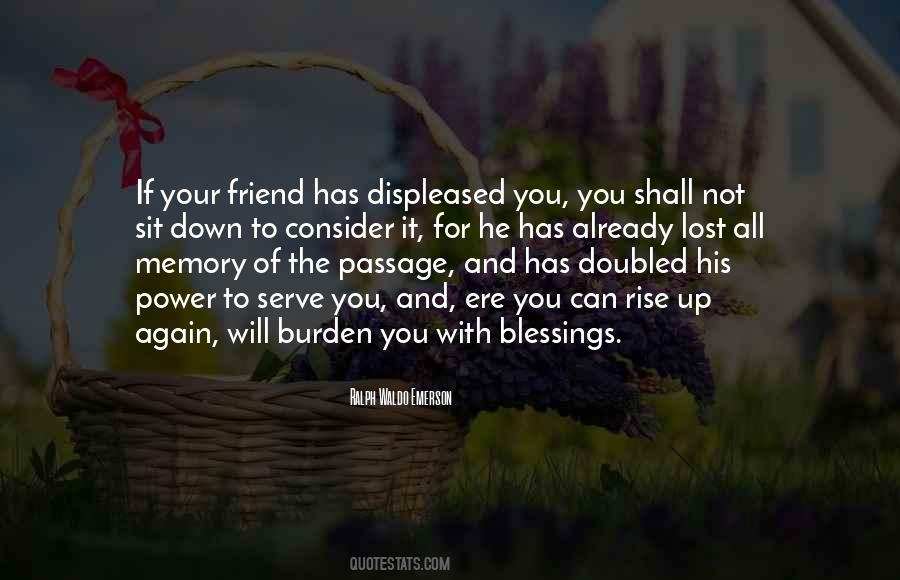 #87. You can do beautiful things with your friends; you can do beautiful things when you are all alone! In togetherness, listen to the music of the crowds; in solitude, listen to the music of the silence! Be neither afraid of the crowds, nor of the loneliness, because both are blessings! - Author: Mehmet Murat Ildan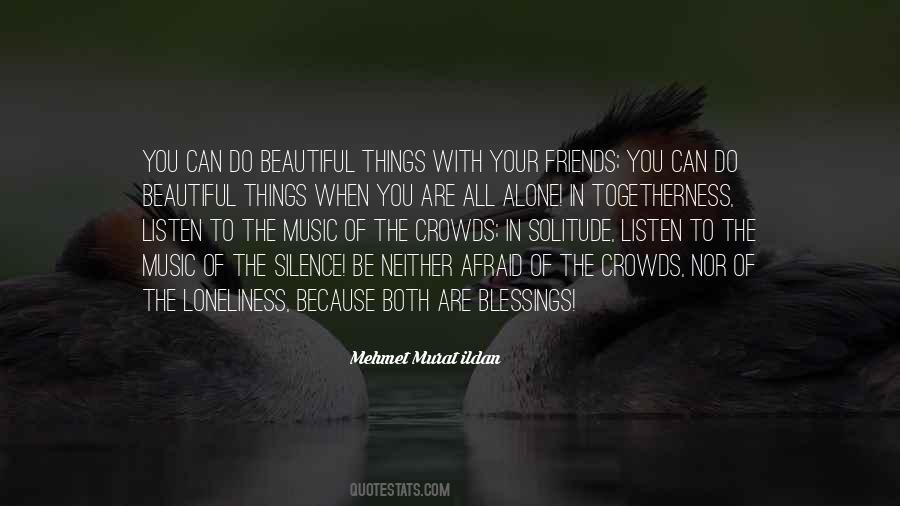 #88. Increase is God's blessing to us all and at the same time it is his commandment that we should increase - Author: Sunday Adelaja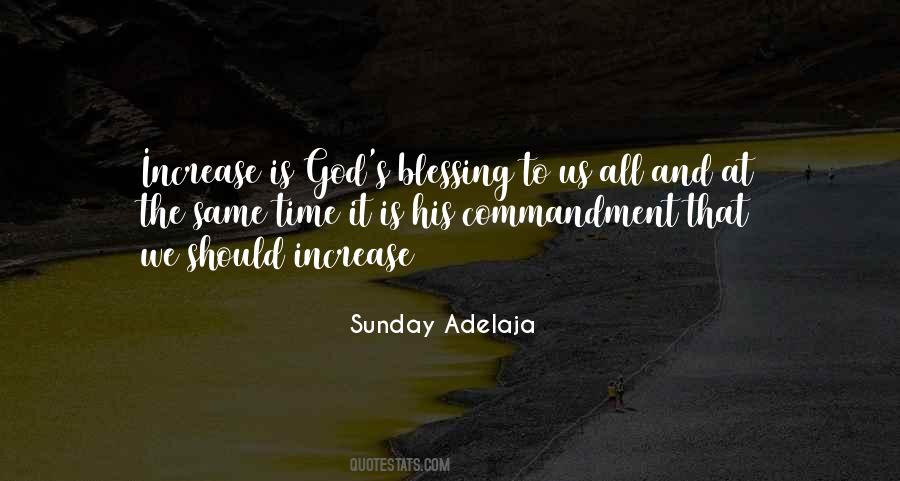 #89. It takes all my strength to do daily tasks. To some people, I'm just a number. I'm a projected food stamps debit card lifetime member. I'm seen as crazy or insane, but it doesn't matter. I know I am bigger than my suffering. - Author: Jacquelyn Nicole Davis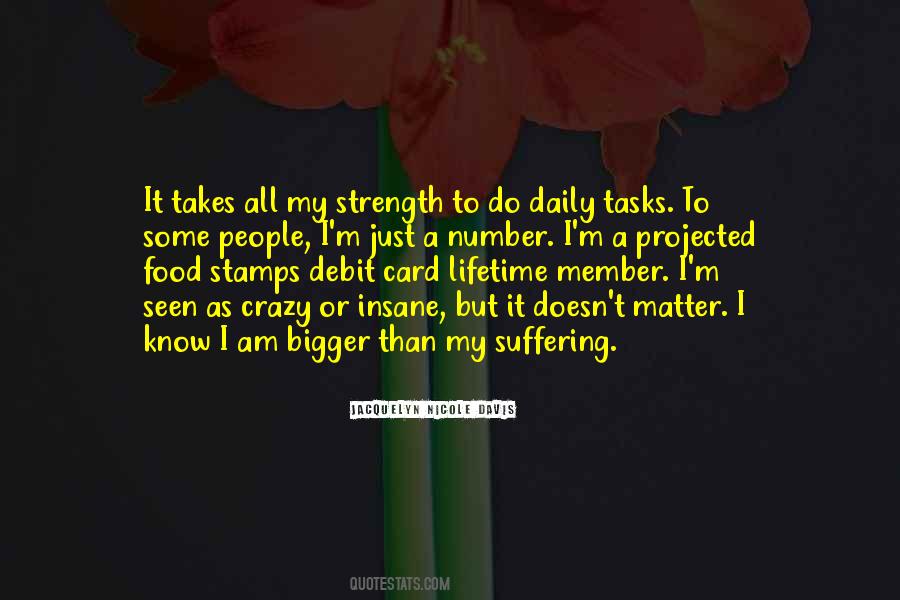 #90. But we know that the very God who gave us life, gave us liberty at the same time. And sometimes we're called upon to defend both life and liberty - God's blessings to Americans, and indeed, to all of His creation. - Author: Sonny Perdue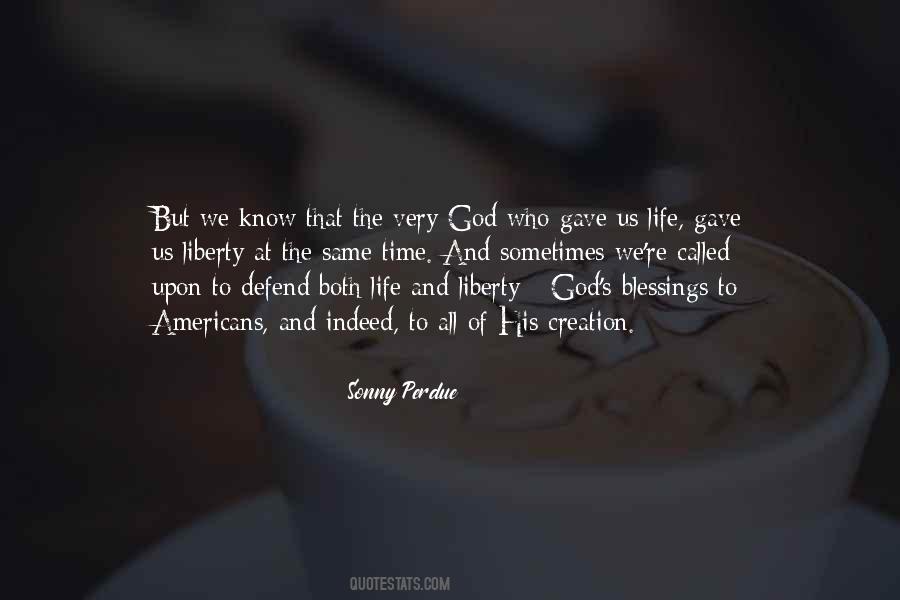 #91. God is the source of my supply. His riches flow to me freely, copiously, and abundantly. All my financial and other needs are met at every moment of time and point of space; there is always a divine surplus. - Author: Joseph Murphy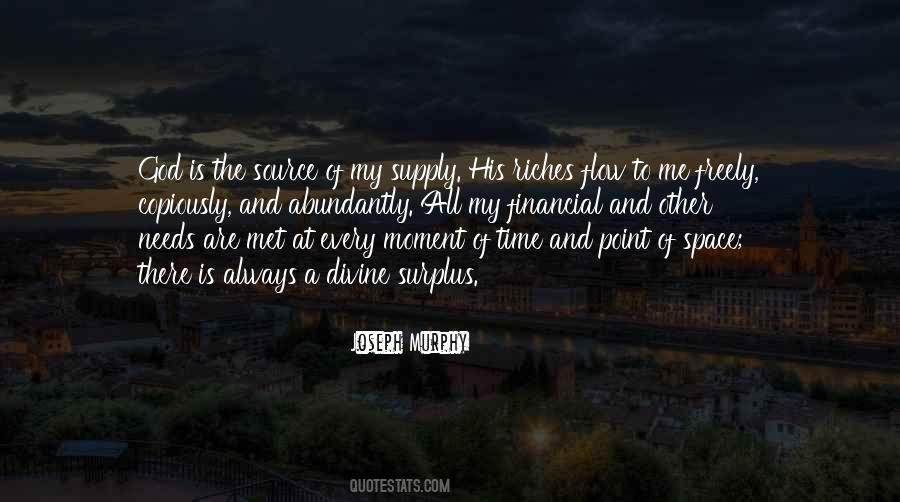 #92. I'm trying to look at my blessings and how amazingly well against all odds things have turned out for me. - Author: James Taylor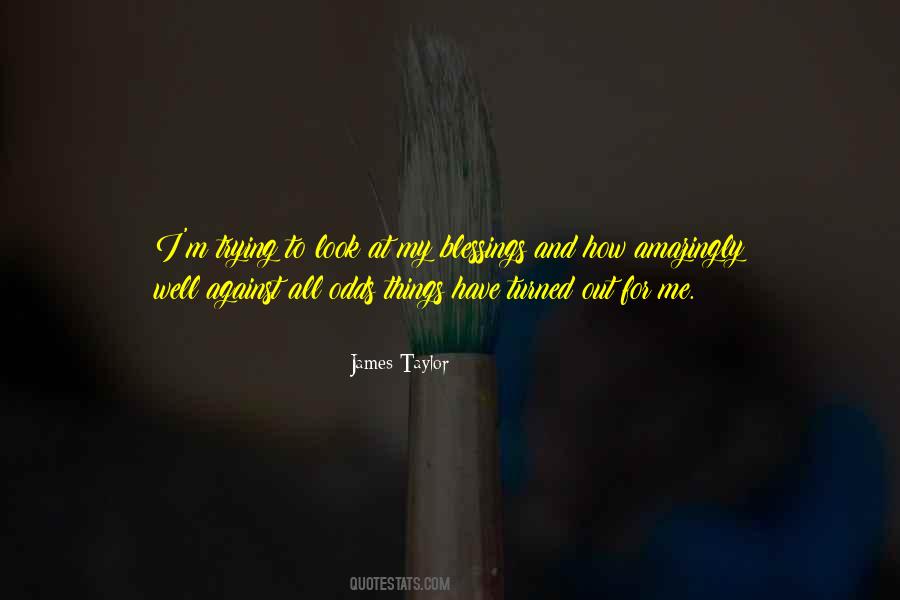 #93. Prayer is the connection that opens the door for all of God's blessings to be manifested in our lives. It is the process of granting permission for Heaven to show up with the finished works of Jesus. - Author: Paul Silway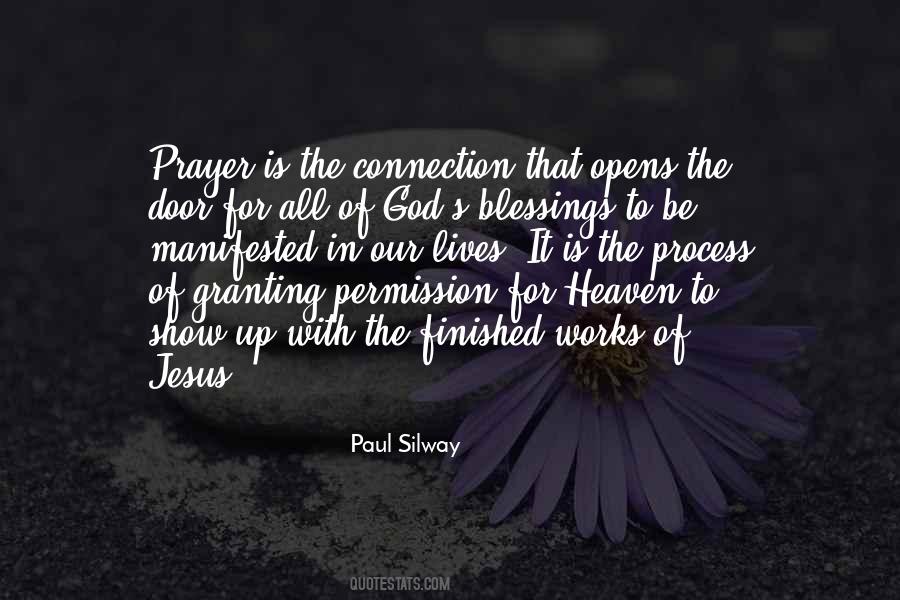 #94. There is nothing your highest self wants more than peace. This peace makes you feel worthy of all of the richest blessings of the universe, and when you radiate this out into the world, it is returned to you without fail. - Author: Wayne Dyer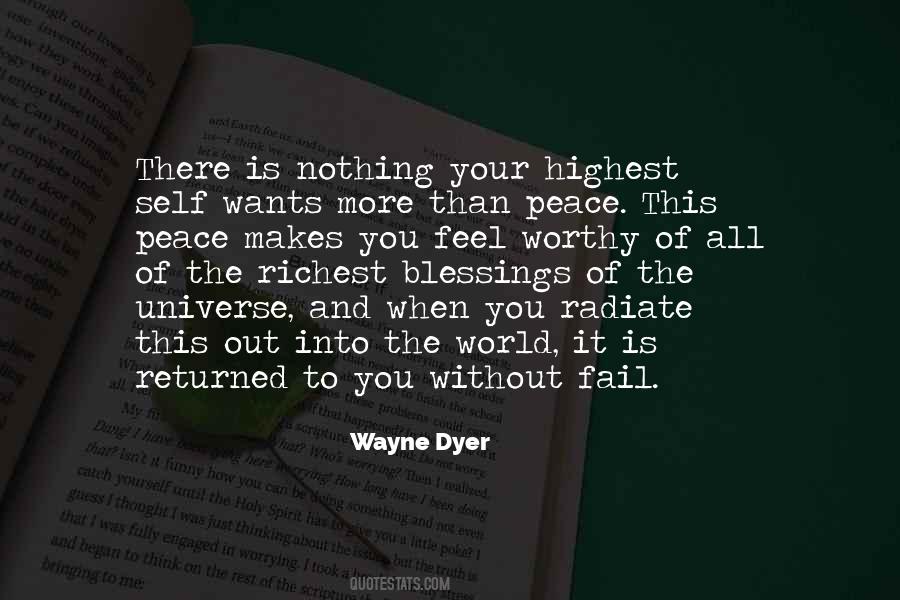 #95. When you suffer, you can look deeply at your situation and find the many blessings that are already surrounding you. It is wonderful to sit with a pen and paper and write down all the conditions for happiness that are already there, already available to you right in this moment. - Author: Nhat Hanh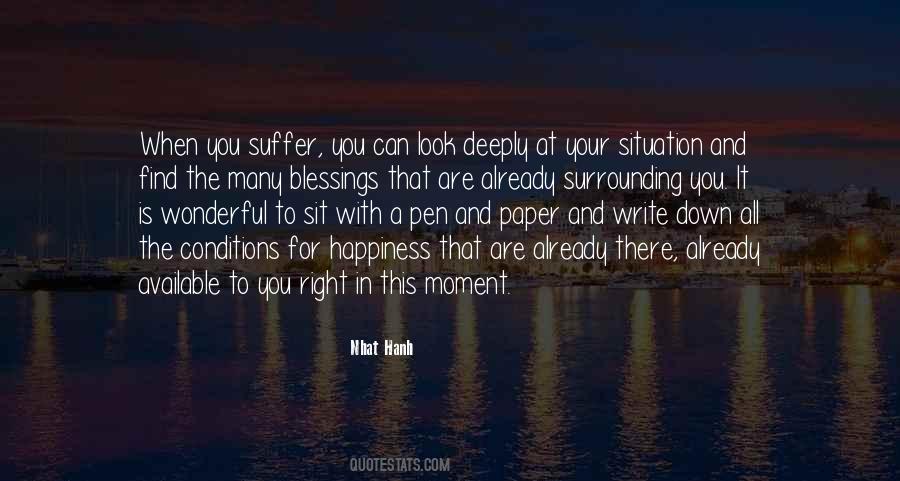 #96. Until you have entered the house of the Lord and have received all the blessings which await you there, you have not obtained everything the Church has to offer. The all-important and crowning blessings of membership in the Church are those blessings which we receive in the temples of God - Author: Thomas S. Monson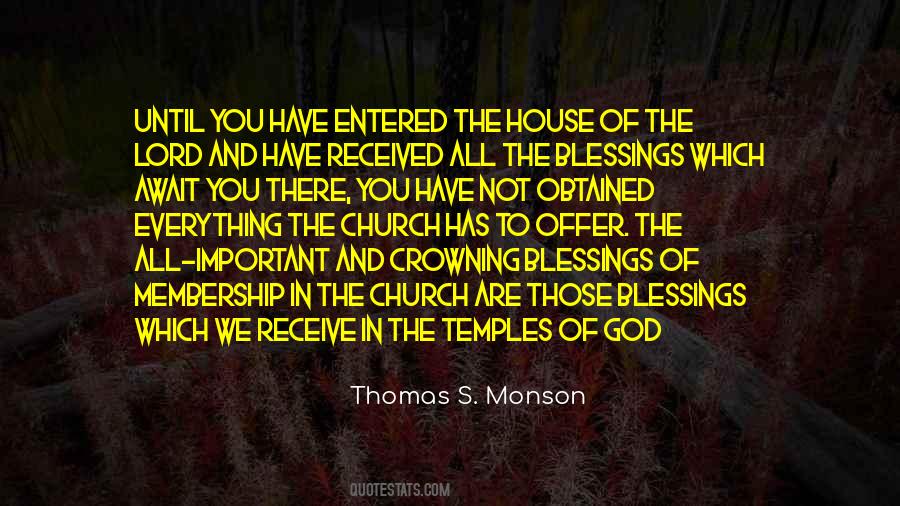 #97. I said to my wife just the other day, I was actually taking some time to consider all the blessings in my life and that things are really good. I said, you would have to be a real churl to complain about the life I'm living right now. Everything's going great. I'm having a good time. - Author: Tracy Letts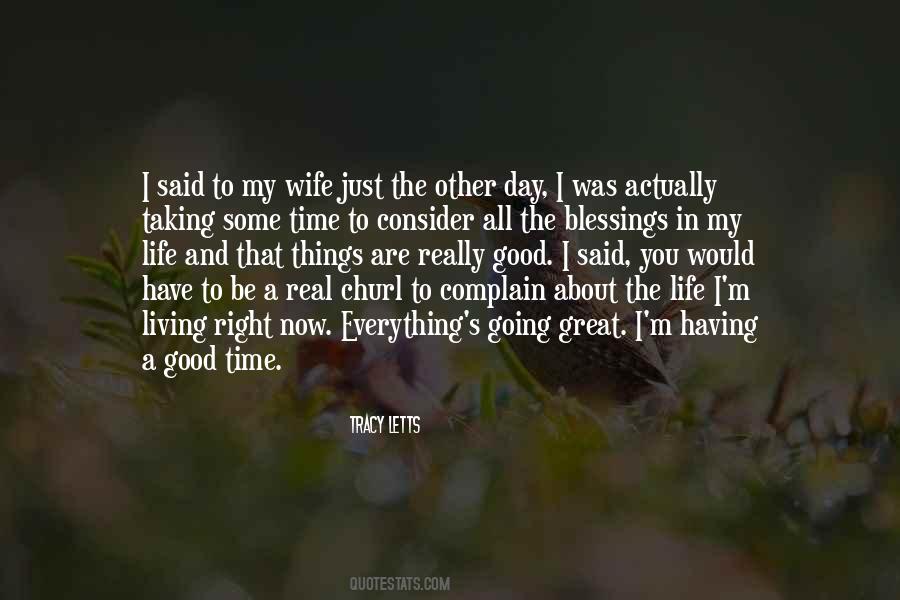 #98. Trust yourselves, my brethren, to the immortal love and perfect work of the Divine Saviour, and by His dear might your days will advance by peaceful stages, whereof each gathers up and carries forward the blessings of all that went before, to a death which shall be a birth. - Author: Alexander MacLaren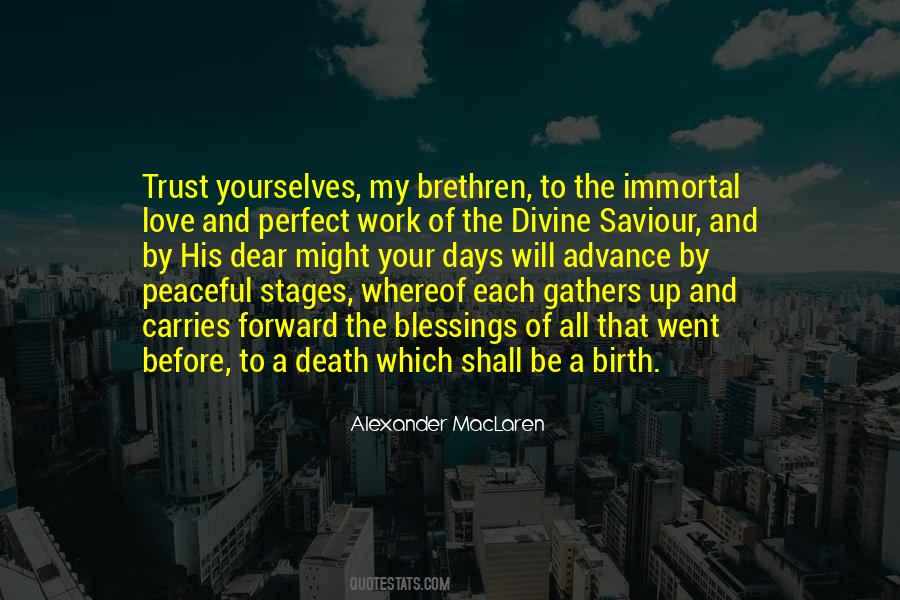 #99. At the last, this is what will determine a fulfilling, meaningful life, a life that, behind all the facades, every one of us longs to live: gratitude for the blessings that expresses itself by becoming the blessing. - Author: Ann Voskamp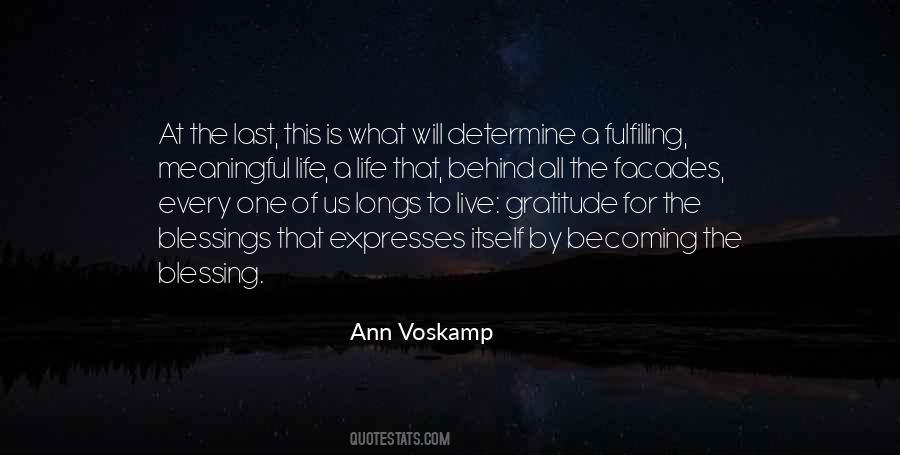 #100. It occurred to him to say the viddui, the prayer before death. He struggled to remember it. Blessed are You, who has bestowed me with many blessings. May my death atone for all I have done ... and may I shelter in the shadow of Your wings in the World to Come. - Author: Helene Wecker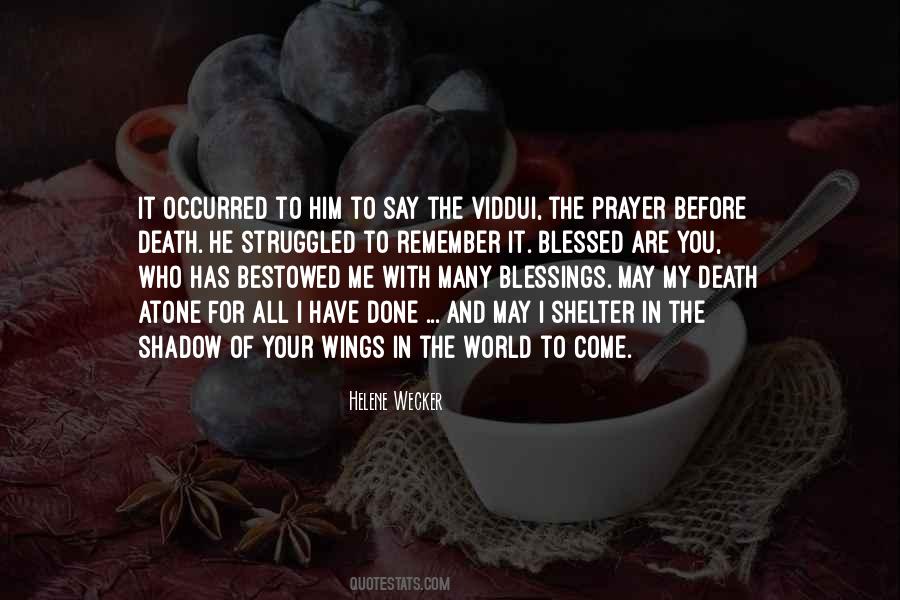 Famous Authors
Popular Topics