List of top 50 famous quotes and sayings about best heart pain to read and share with friends on your Facebook, Twitter, blogs.
Top 50 Best Heart Pain Quotes
#1. Anytime a broken heart is suffered, and there is a crushing pain inside the chest, this is a physical manifestation of the emotional experience as embodied by the anahata (heart) chakra.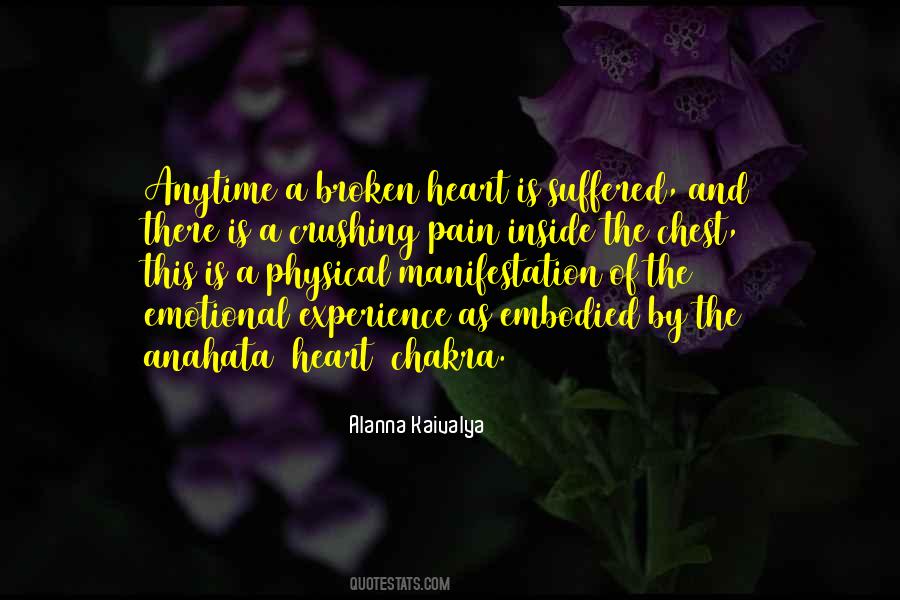 #2. Hold the sadness and pain of samsara in your heart and at the same time the power and vision of the Great Eastern Sun. Then the warrior can make a proper cup of tea.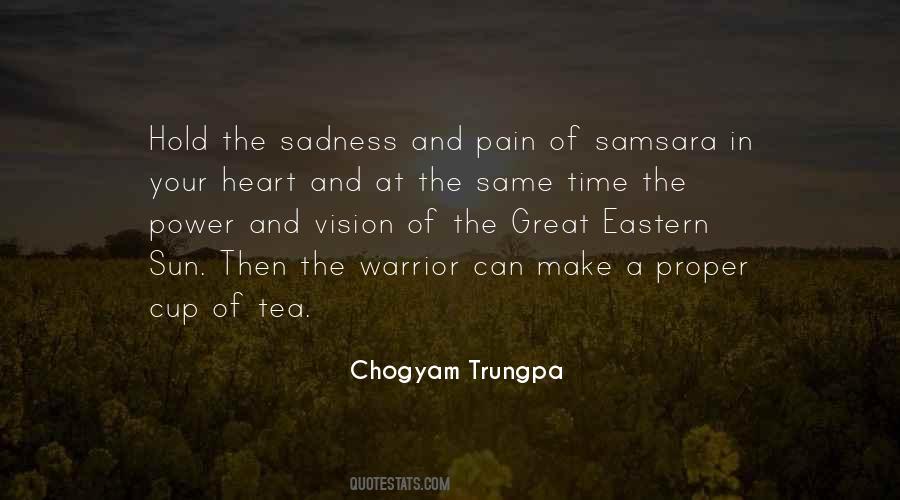 #3. I thought I'd won the match when she'd fallen into my arms, heart and all. The truth was, she'd beaten me. Snatched my soul and shattered all the lies I'd built around me to keep the pain of connecting at bay.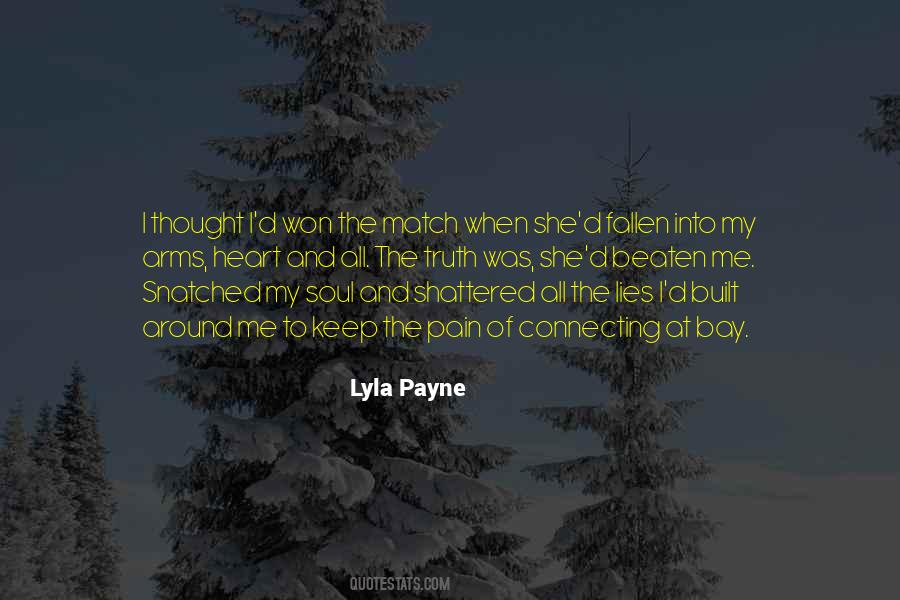 #4. Everything comes out in blues music: joy, pain, struggle. Blues is affirmation with absolute elegance. It's about a man and a woman. So the pain and the struggle in the blues is that universal pain that comes from having your heart broken. Most blues songs are not about social statements.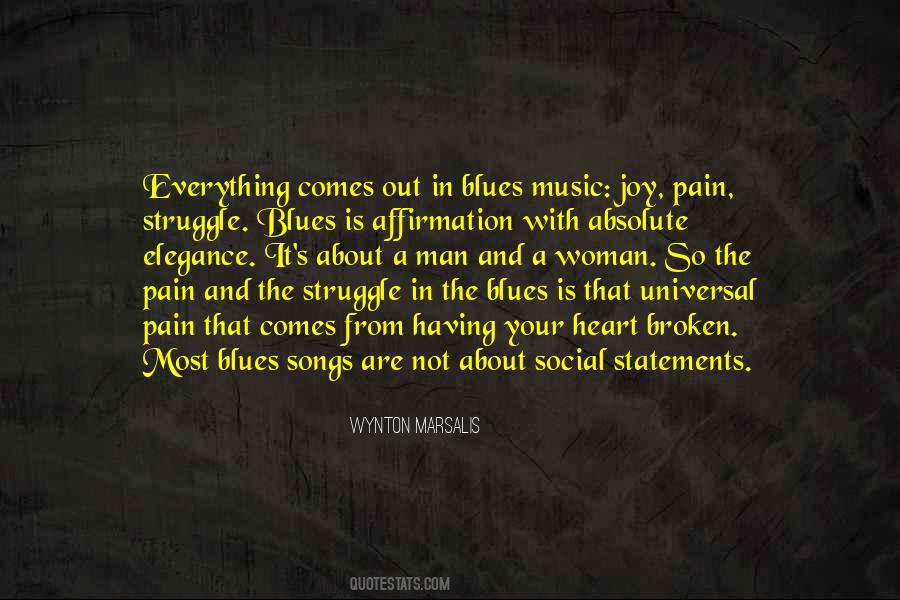 #5. Oh external worshiper, know that worship without heart is motions. Oh seeker of knowledge, know that knowledge without purification is a dangerous weapon of the ego. Oh activist, know that work without orientation of heart is fruitless. Oh lover, know that love without God is pain.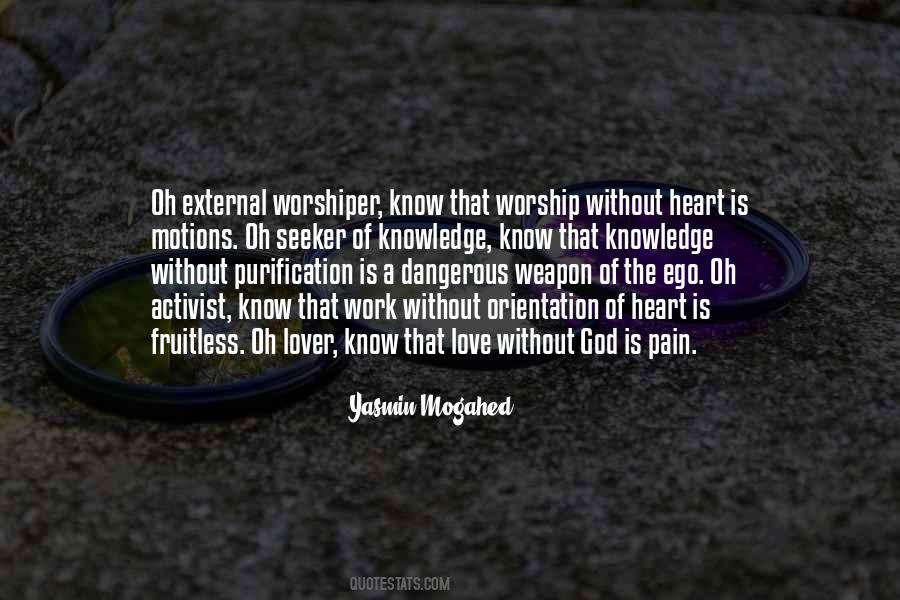 #6. Pain reaches the heart with electrical speed, but truth moves to the heart as slowly as a glacier.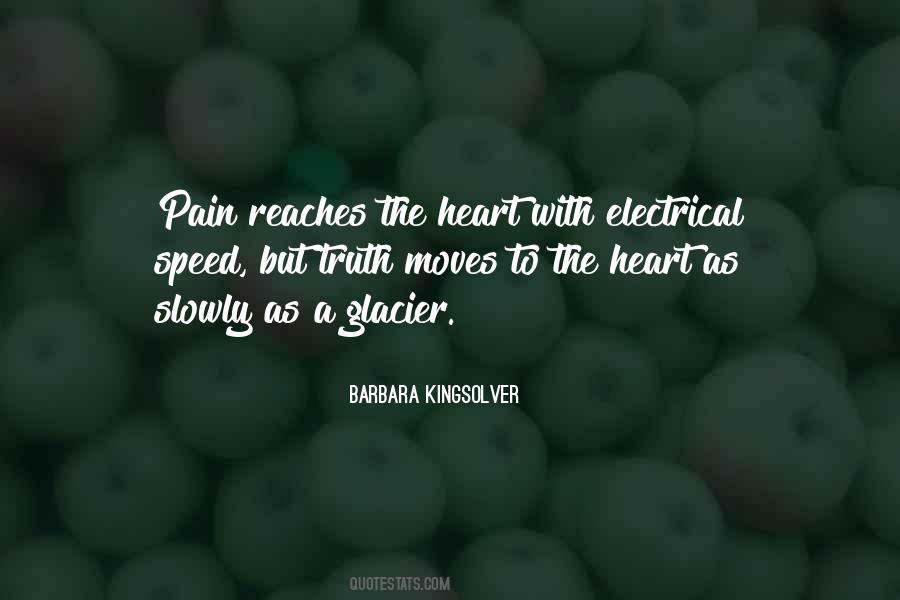 #7. Because I am in love with you. Because I cannot be around you for fear you will finally see what is written across my heart. Because the pain of you is one I cannot bear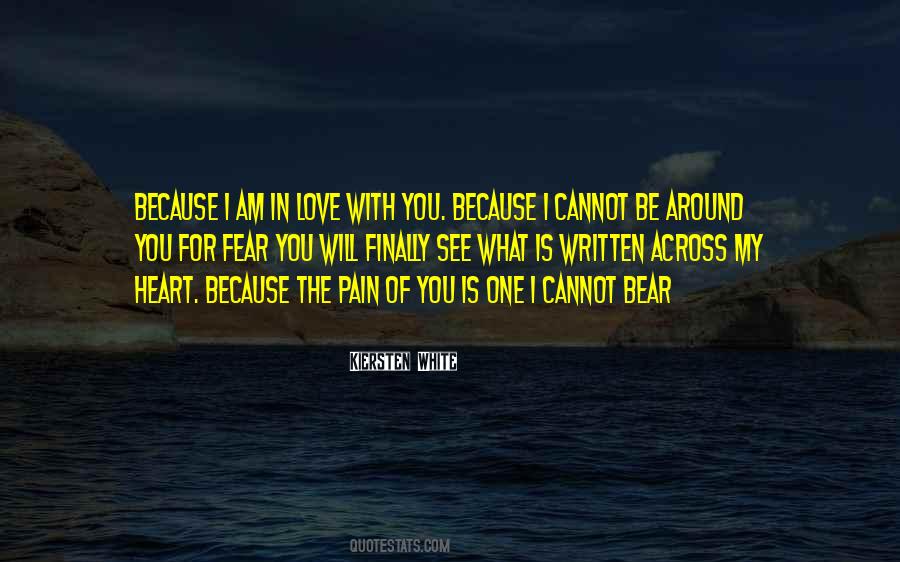 #8. Forgetting: that, too, was the heart's slow way of healing, but it could only be done alone. Love and loss turns us into the most solitary of creatures, their mysteries can never entirely be shared.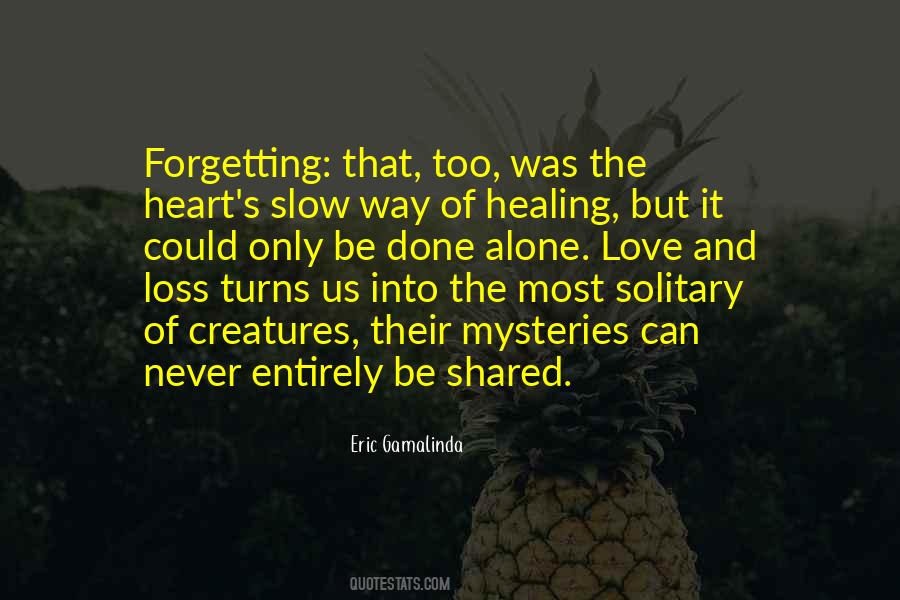 #9. Do you think anger is a sincere emotion or the timid motion of a fragile heart trying to beat away its pain?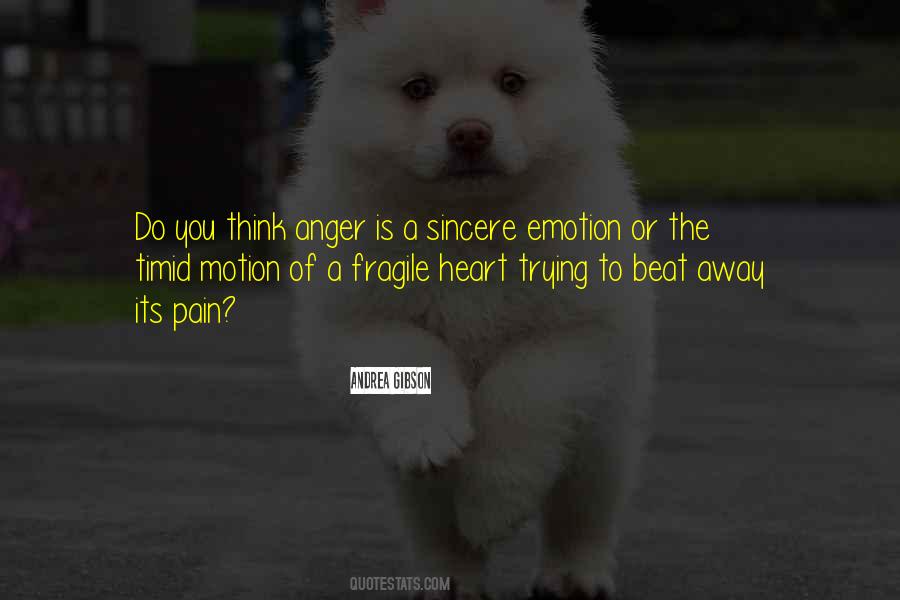 #10. I fear feeling my heart break a second time, because I'm not sure I could survive it. I'd rather live alone than risk the pain.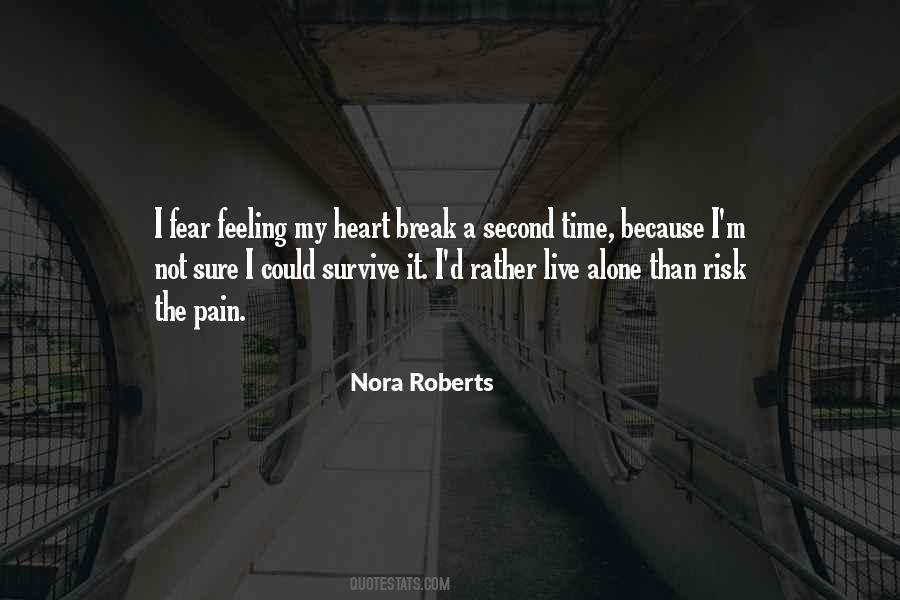 #11. I have tried to understand what crucifixion must feel like. I just know that the pain must be beyond what I have ever experienced. I respect, love, and trust the One who endured all this when He didn't have to. I understand Jesus with my heart, and the rest of the world can think of Him as it will.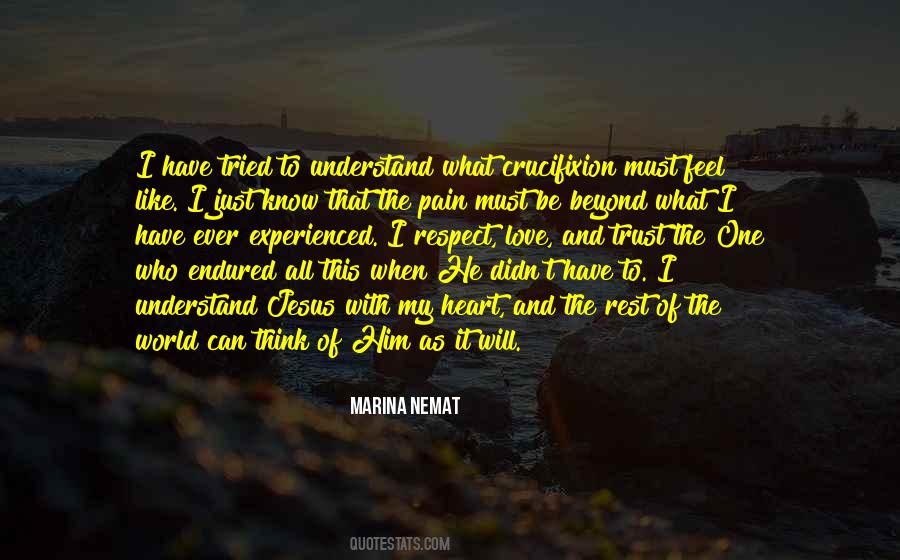 #12. A tormented mind wants to forget, what a broken heart will always remember.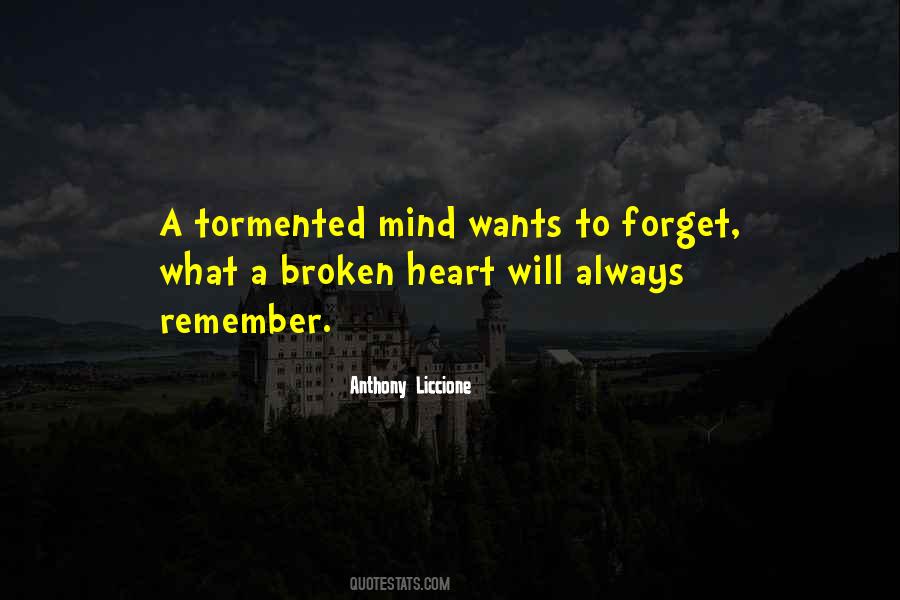 #13. I hate your reasons. I don't want reasons. If you see somebody in pain, people like you reason and reason. You say - pain is a good thing, perhaps he'll be better for it one day. I want to let my heart speak ... Yes. At the end of a gun.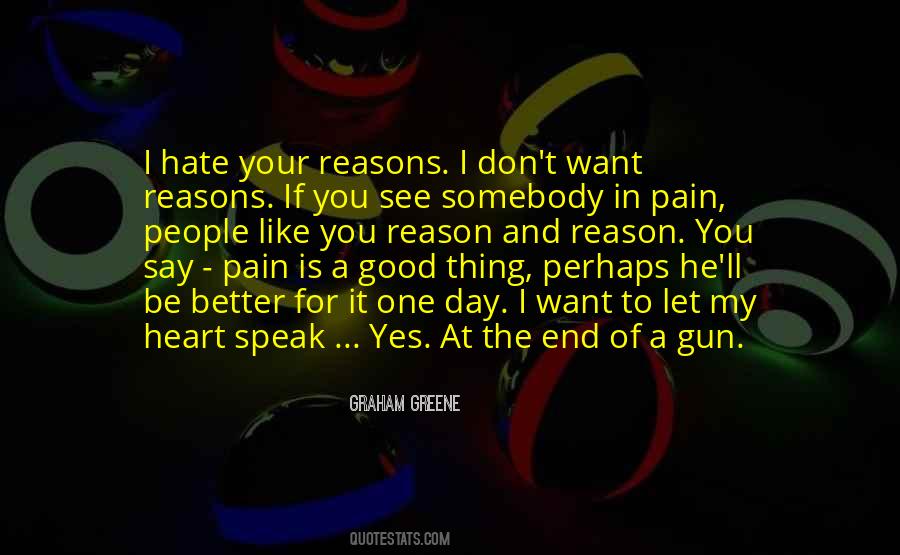 #14. The brittle bones beneath my chest cracked, piercing my heart. It was you who breathed new life into my lungs and it was you who would later syphon the life you had given so as to feed your selfish desires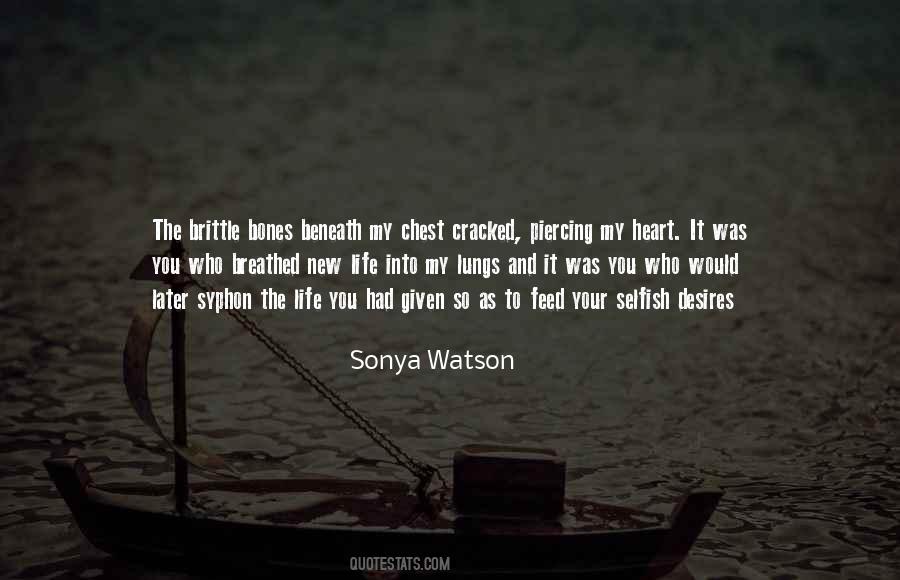 #15. There was enough ice.So I thought. For my drink.When I used it all,I cut her heart out and used it instead.I never ran out of ice that night.
#16. To fashion an inner story of our pain carries us into the heart of it, which is where rebirth inevitably occurs.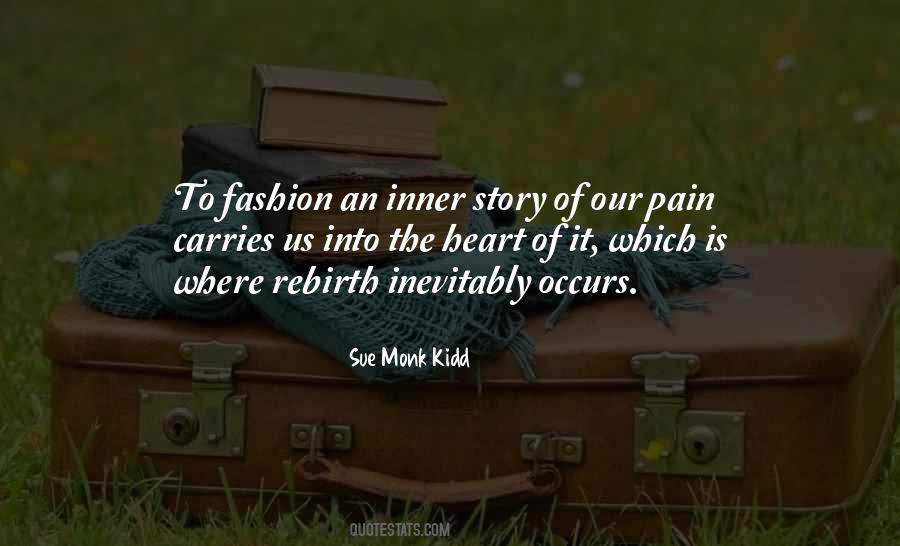 #17. My heart longs for the day when there will be no more suffering, no more hatred or violence, only love and a child will be able to grow up in a world without ever having to know the pain and anguish of an empty belly.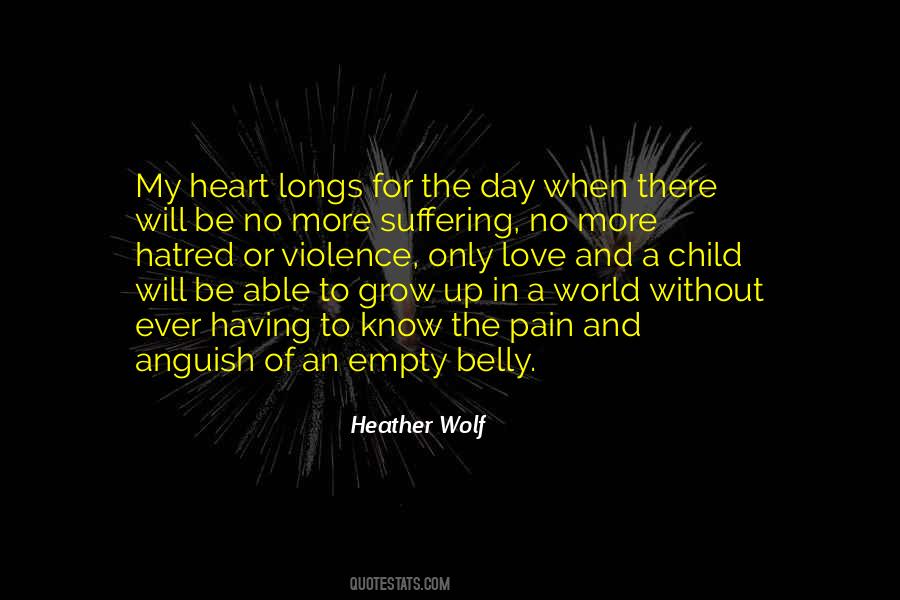 #18. He put his forehead against hers.
"Alannah, my heart is yours." He said softly.
"And yet, I must hand it over to someone else for the keeping." Her last words falling to a strained whisper.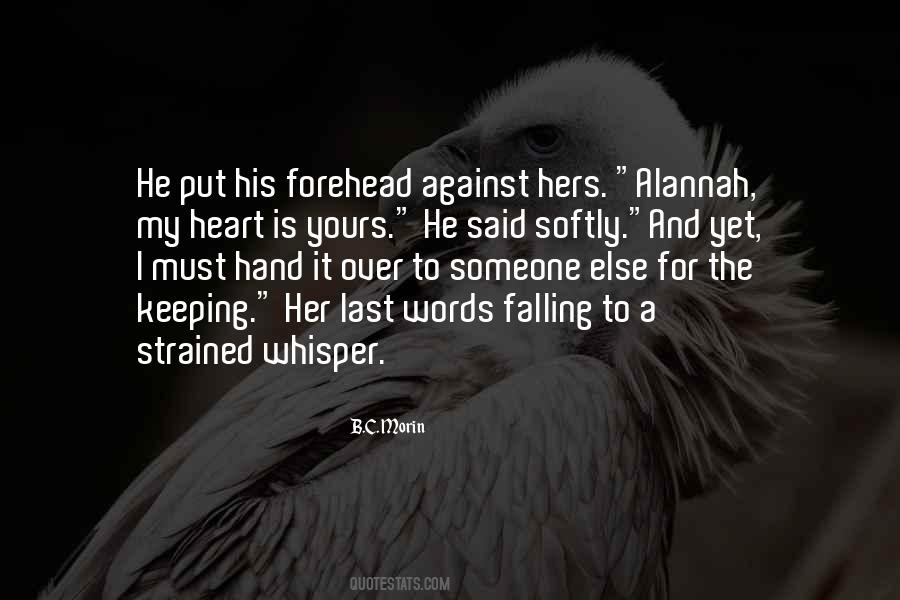 #19. Nana acts like a stray cat, wild, free, and proud ... But inside her heart, she houses a wound. Dense as I am, i thought that. This trait of hers was a part of her charm as well..but she never realized how much pain it brought her ... -Nana Komatsu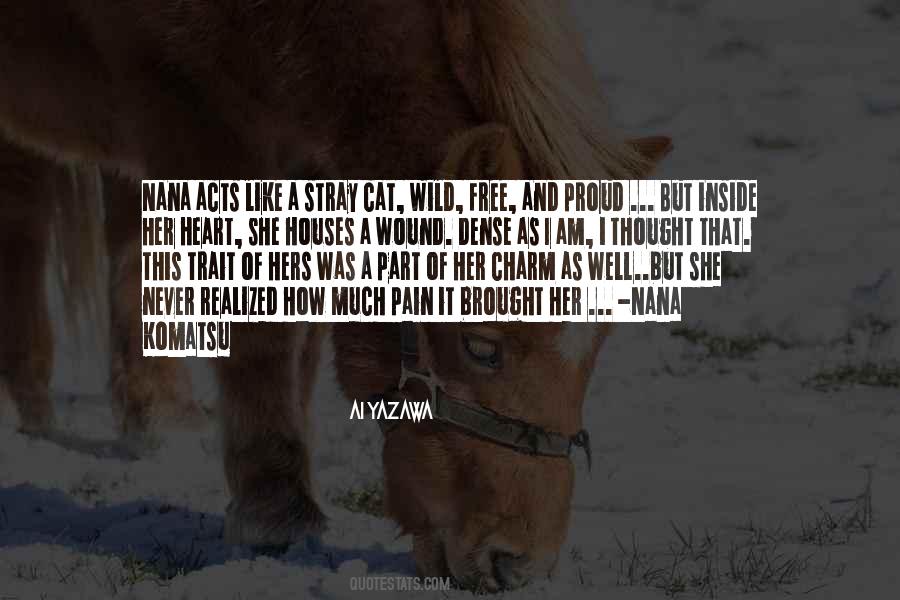 #20. This form of love is like the pain
of childbirth: so intense
it's hard to remember afterwards,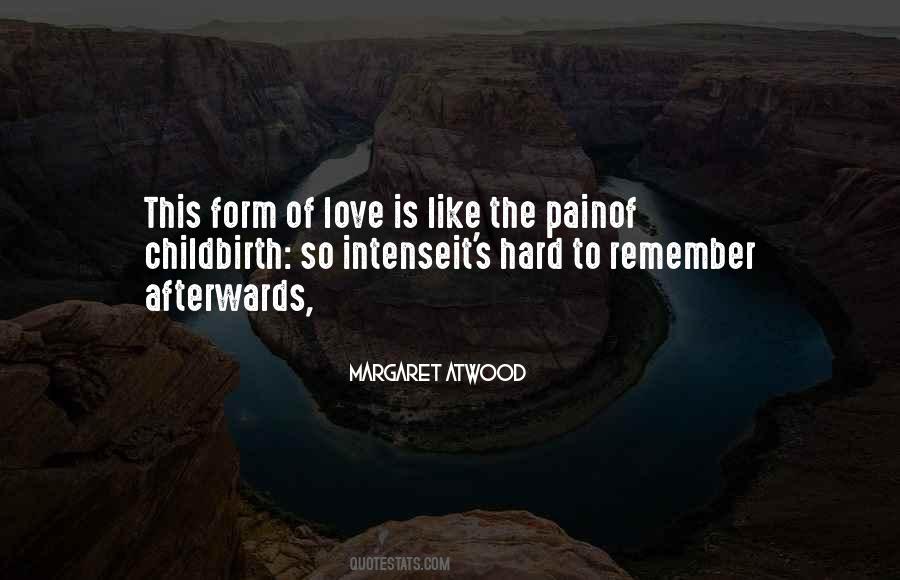 #21. You have a great heart, but will only find it to be so through great pain. This is the wisdom of love, and its doubtful gift ... I have endured much suffering and still remain unbitter and unclosed.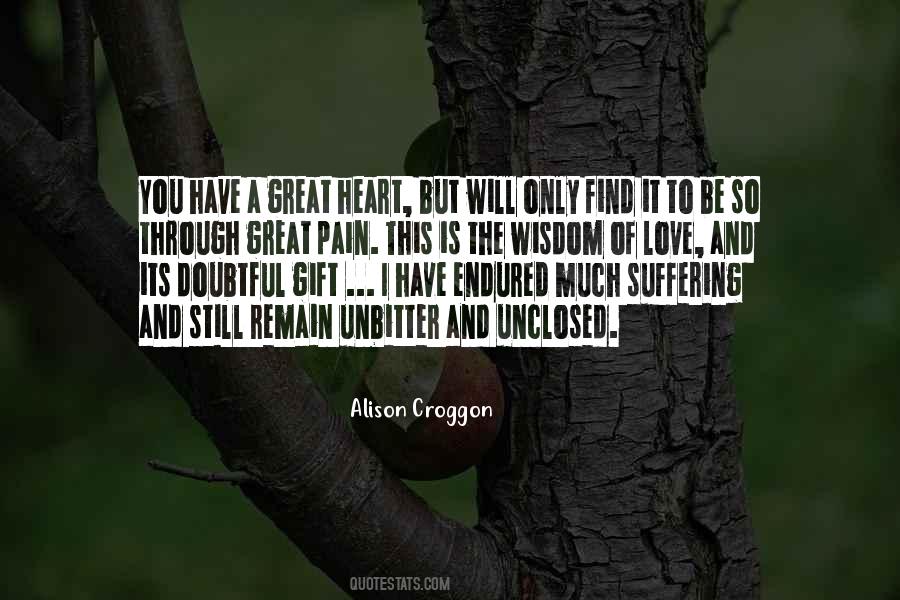 #22. Nothing was more cruel than a heart made of flesh and blood, because it knew what gives pain.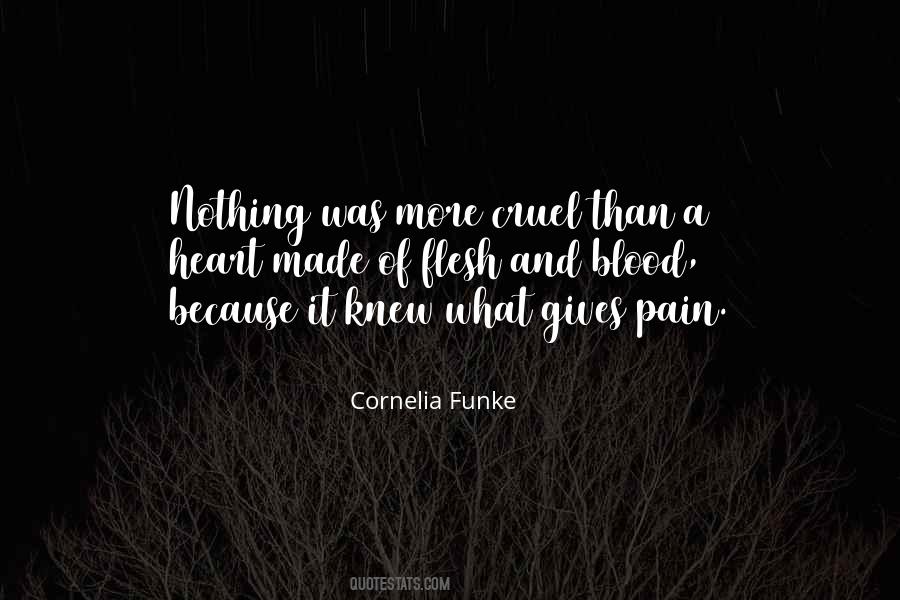 #23. May the crushed spirit revived.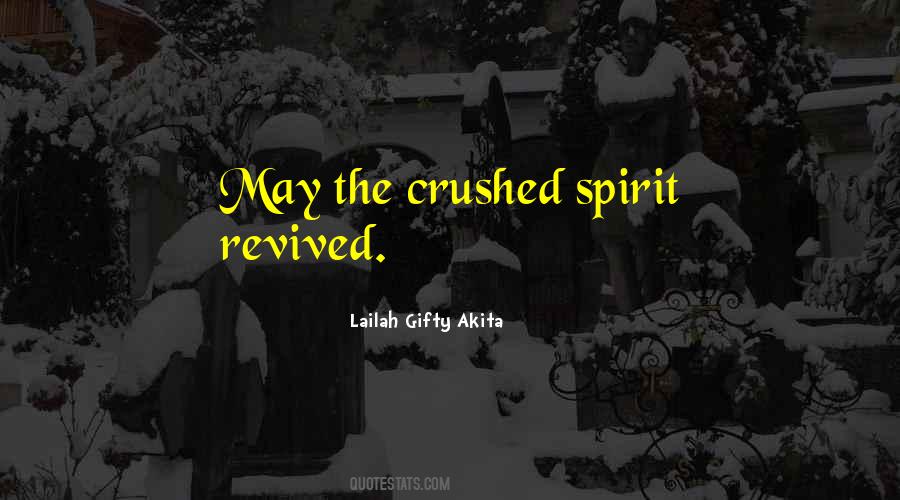 #24. Your tears mean nothing! You have never loved me; you have neither heart nor honorable feeling! You are hateful to me, disgusting, a stranger - yes, a complete stranger! With pain and wrath she uttered the word so terrible to herself - stranger.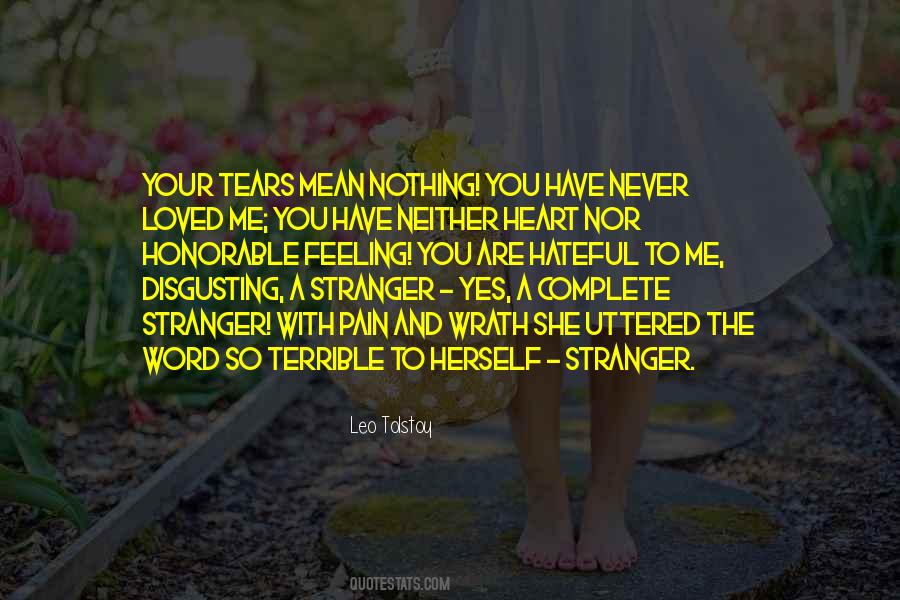 #25. The water in the pond inside my heart doesn't shine anymore. It has turned dark. Every ghost from my mind breaks all the barriers and take a dip there, making it darker. and every time it happens, my soul in the pond cries with pain.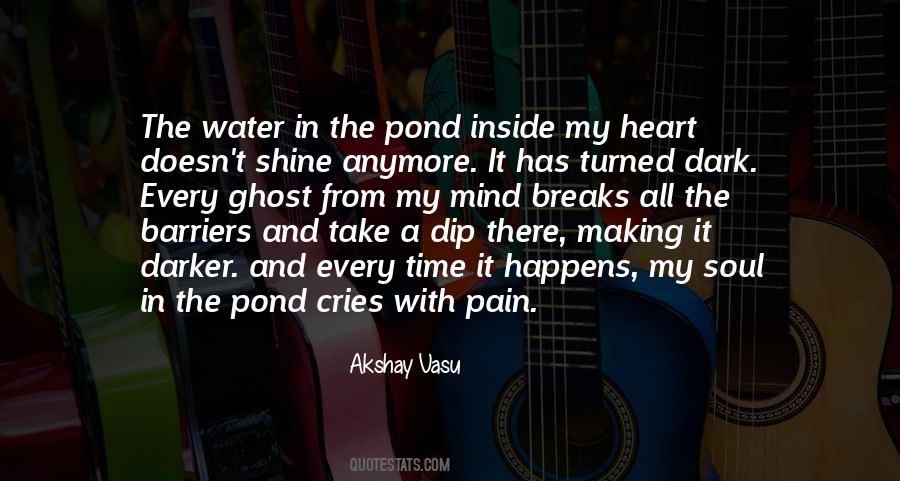 #26. I felt like a glutton for pain, like I wanted to clutch the misery close to my heart and let it sit there.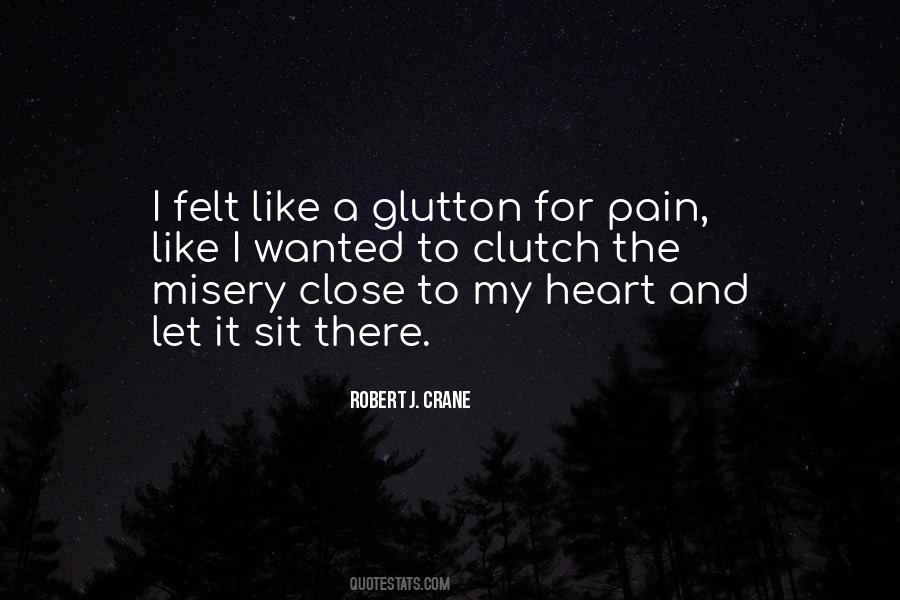 #27. Sometimes a broken heart can mend something else's brokenness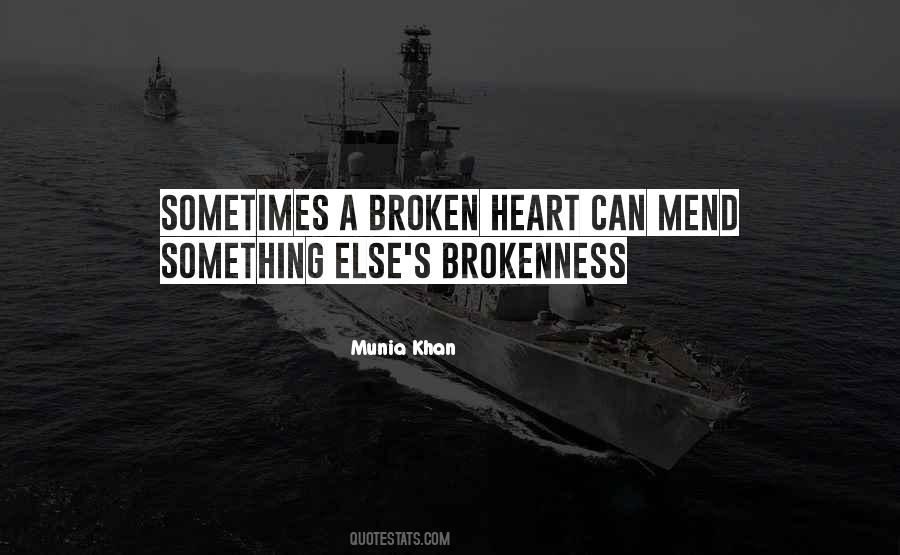 #28. Don't hold on too long;to which does not belong,
Don't shed a tear; for all the pain that's gone,
Create a new;from the wisdom of the past,
Open your heart wider, as storms do not last.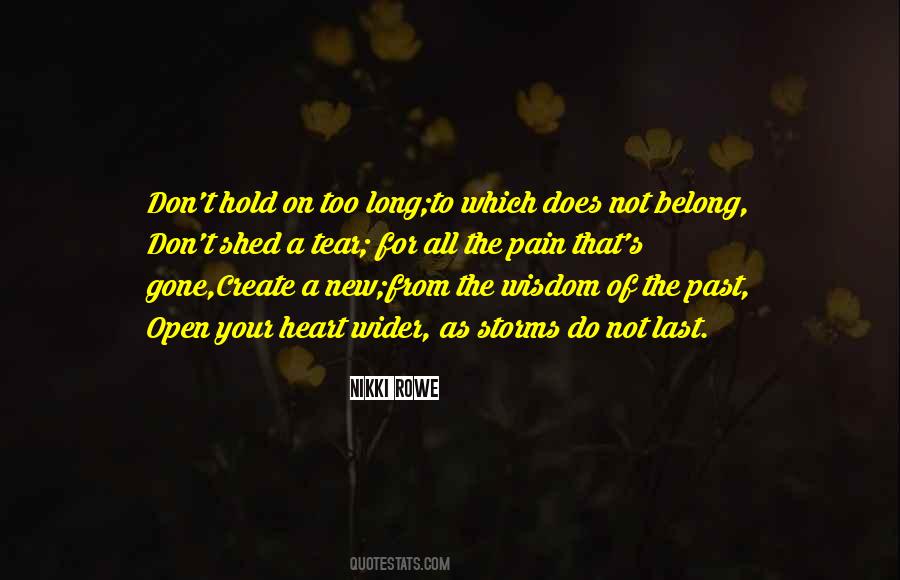 #29. To know your mind, to see your heart,to taste your pain, to touch your dreams, to trace your scars, and to worship your joy...is my sole interest.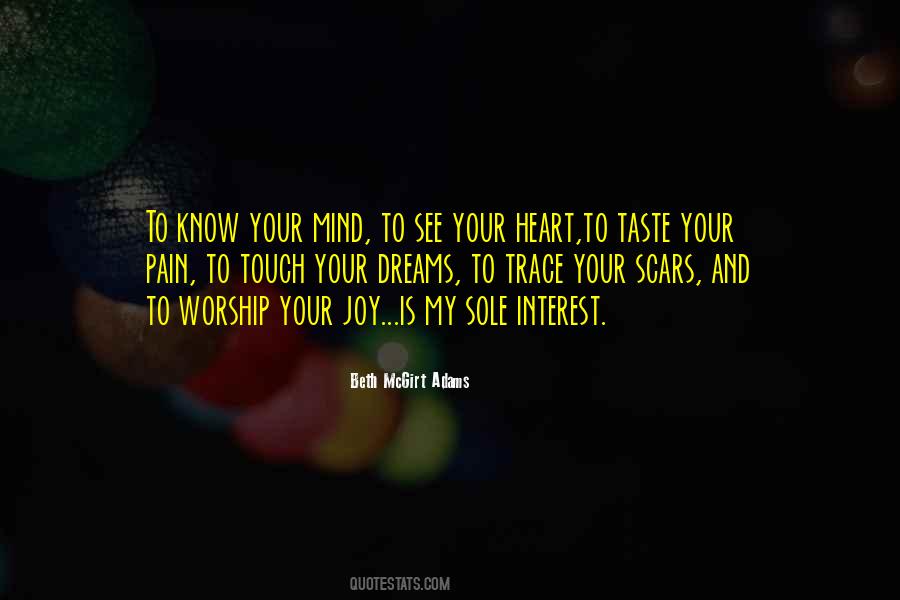 #30. There in that pool stained with green blood, he had learned two things: one was that all the pain stopped when you stopped fighting death; and the other was that as long as you could still hear your heart beating, you had to keep fighting back.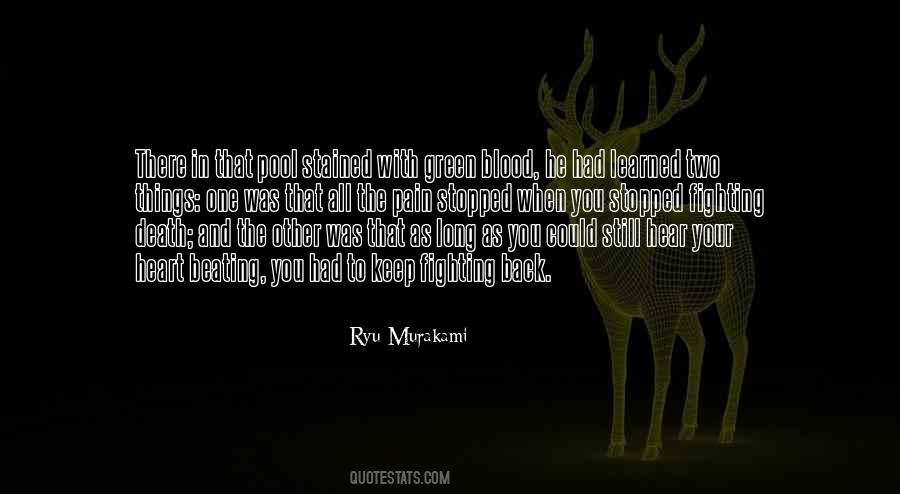 #31. There will be pain for us all, but it will not be all pain, nor will this pain be the last. We and you too, you most of all, dear boy, will have to pass through the bitter water before we reach the sweet. But we must be brave of heart and unselfish, and do our duty, and all will be well!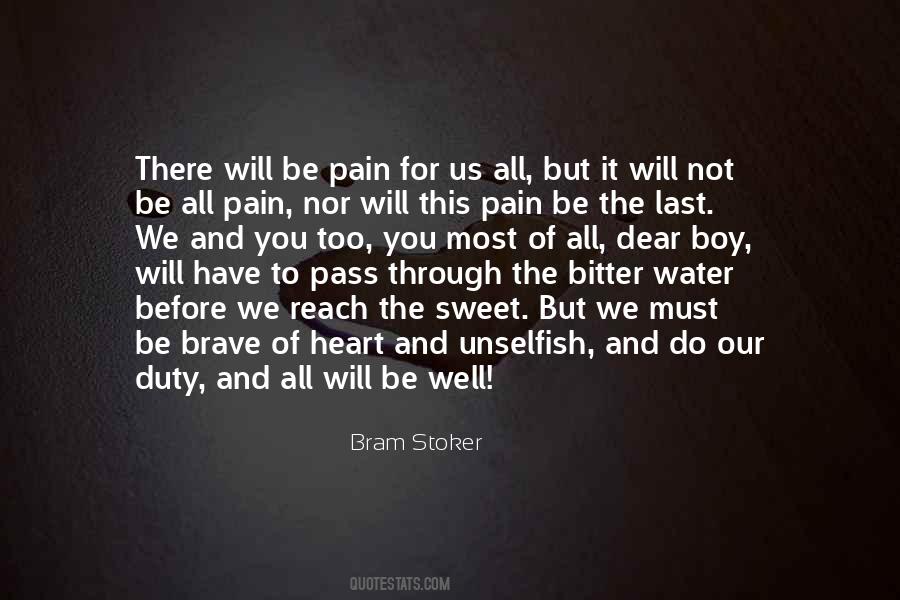 #32. When we are suddenly released from an acute absorbing bodily pain, our heart and senses leap out in new freedom; we think even the noise of streets harmonious, and are ready to hug the tradesman who is wrapping up our change.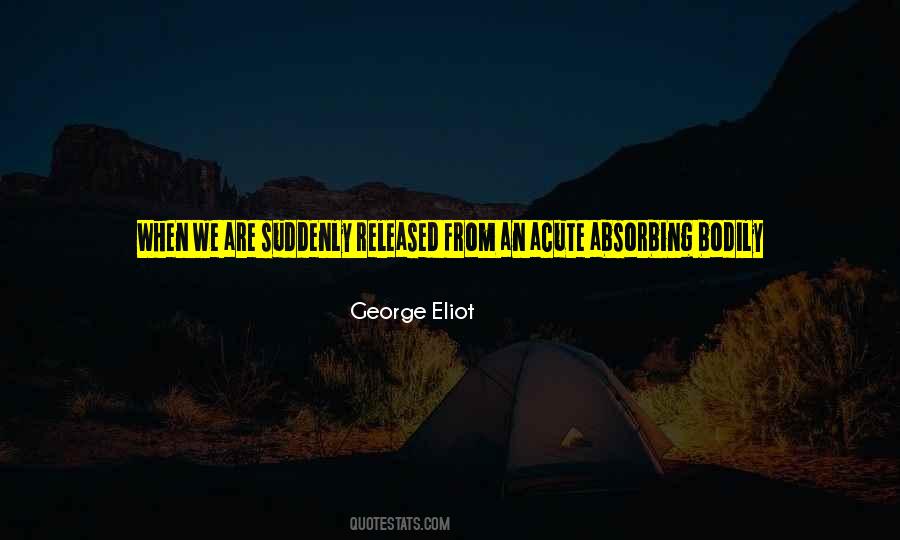 #33. Death never pierces the heart so much as when it takes someone we love; cleaving the heart they held with their passing.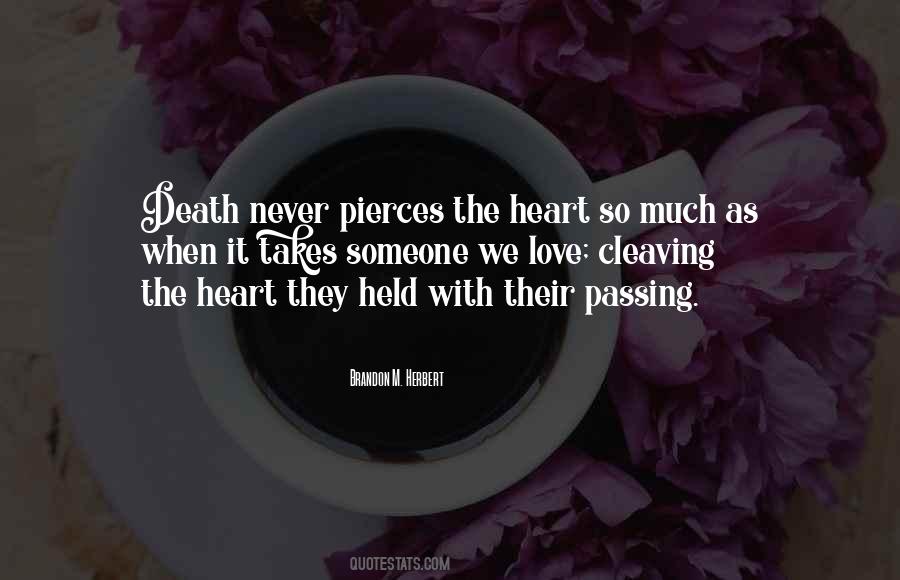 #34. There is within you, waiting to be called, a great source of power called courage. Call its name and it will give you the strength to confront challenges despite fear and to continue and the heart to continue with bold confidence despite the pain of caused by tragedy.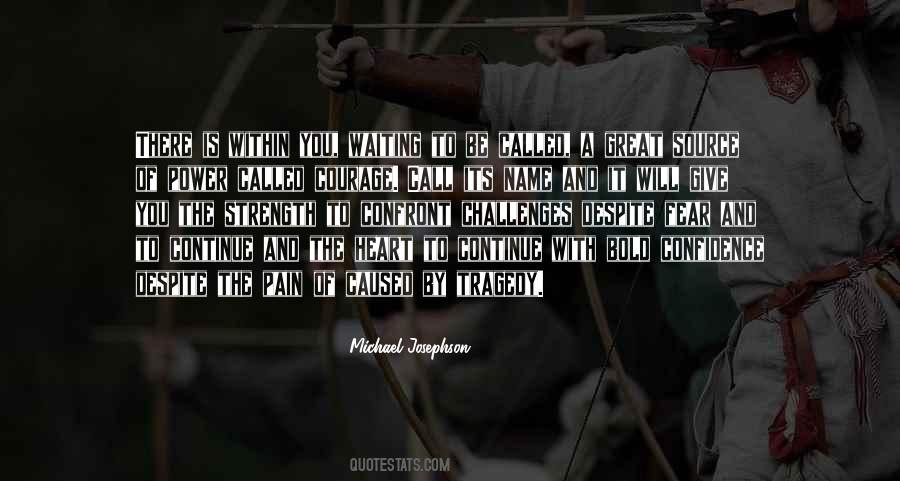 #35. It lies here deep in the heart, the small chest of pain
Sharp words like daggers placed it here
To fill with hurt
In filling it grew heavy and drug me down
For to not feel is not to live
Until I rest at last in dirt
The worst of you got the best of me ...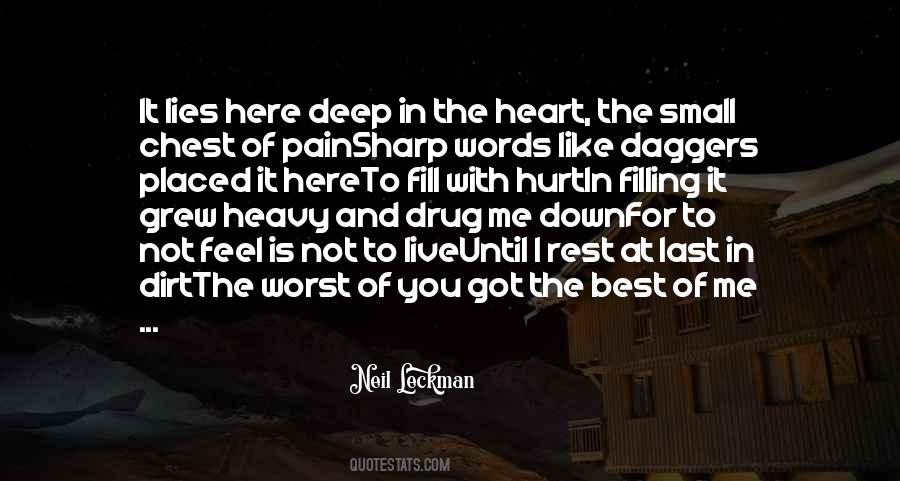 #36. Everybody's heart is open, you know, when they have recently escaped from severe pain, or are recovering the blessing of health.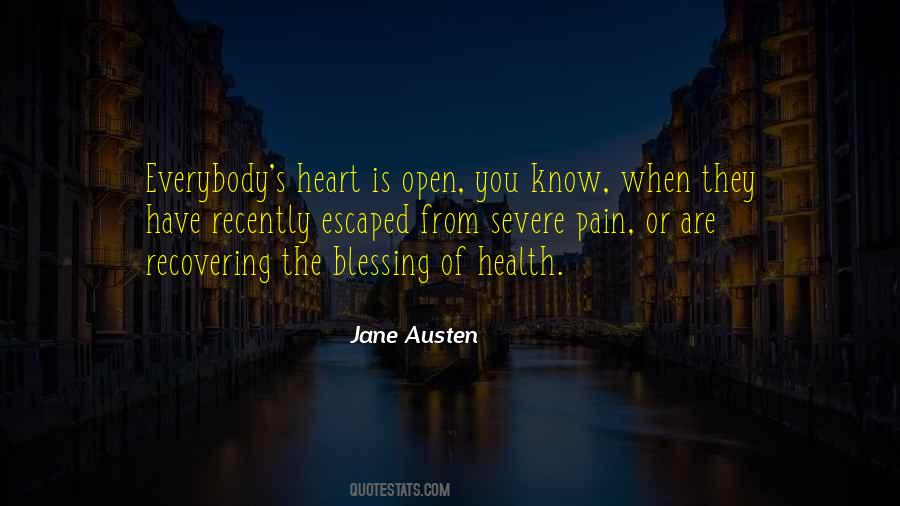 #37. A dark hand had let go its lifelong hold upon her heart. But she did not feel joy, as she had in the mountains. She put her head down in her arms and cried, and her cheeks were salt and wet. She cried for the waste of her years in bondage to a useless evil. She wept in pain, because she was free.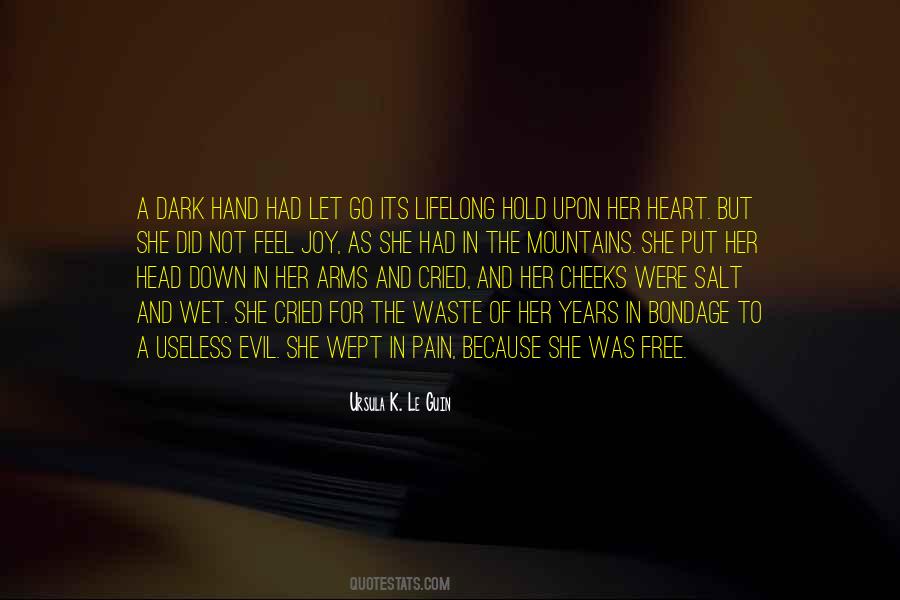 #38. I still find that a kind of stricture of the heart happens when I see any form of bigoted or racist behaviour. I get an actual pain in my heart.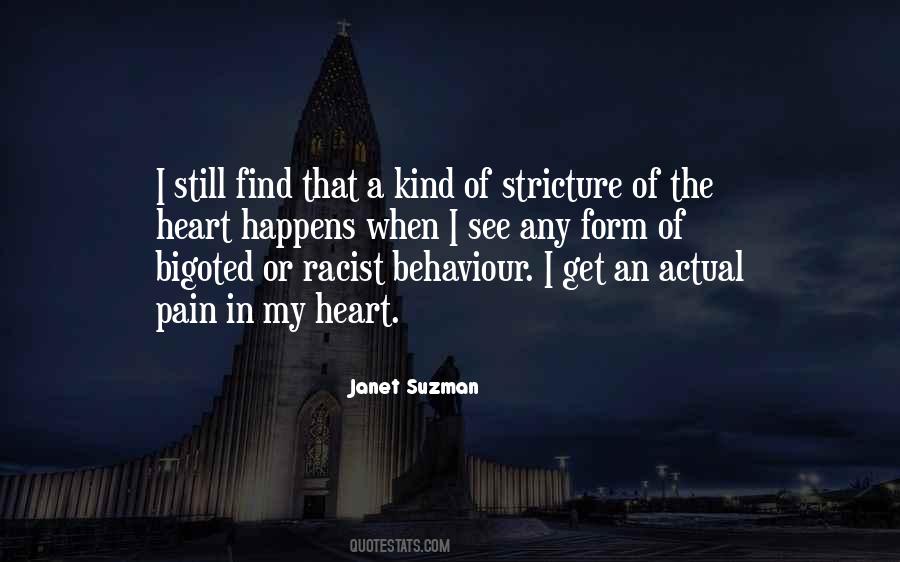 #39. Pain is the mind. It's the thoughts of the mind. Then I get rid of the thoughts, and I get in my witness, which is down in my spiritual heart. The witness that witnesses being. Then those particular thoughts that are painful - love them. I love them to death!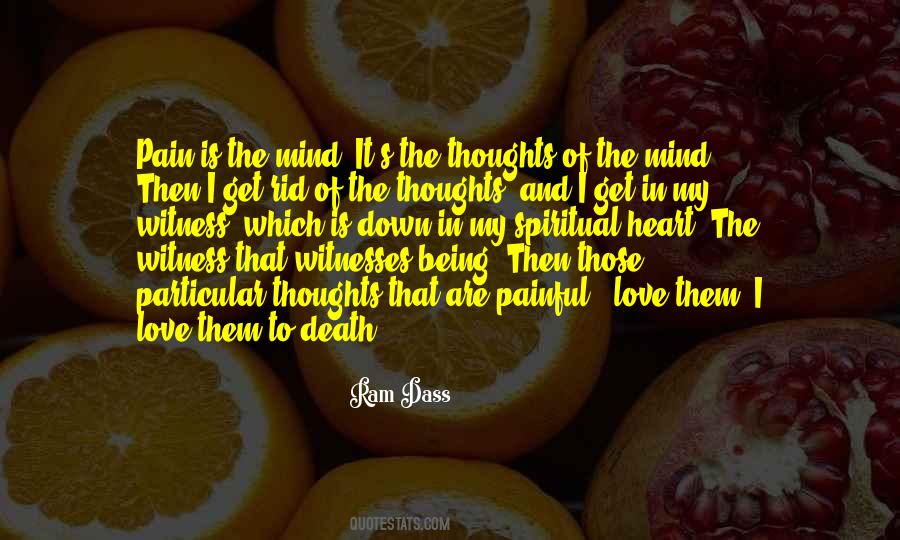 #40. When you are deeply in love,. even the smallest thing can hurt u like hell and break u into pieces ...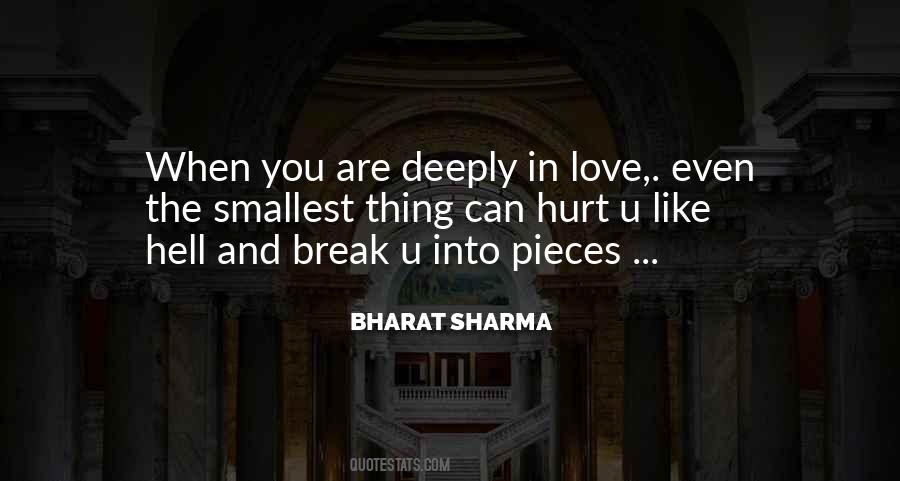 #41. But I think I know so well the pain we children clutch to our chests, how it lasts our whole lifetime, with longings so large you can't even weep. We hold it tight, we do, with each seizure of the beating heart: This is mine, this is mine, this is mine.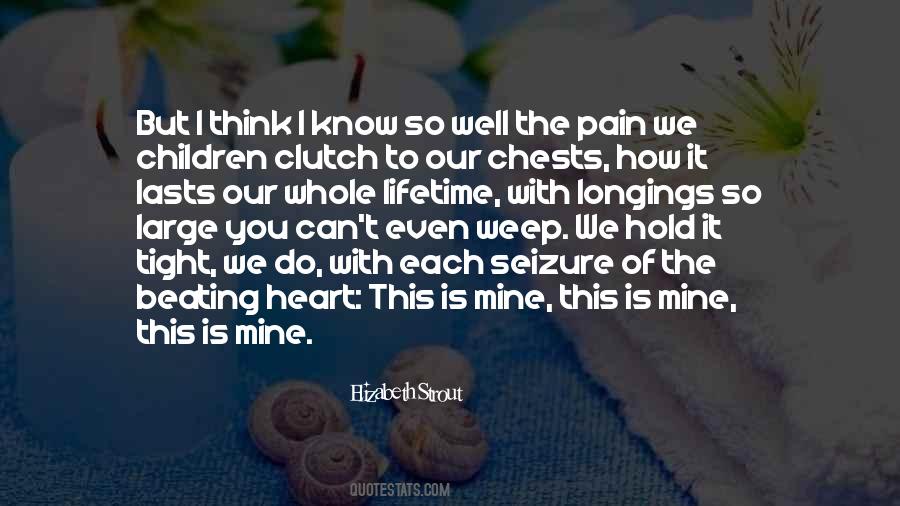 #42. Now, in our opinion no author should be blamed for obscurity, nor should any pains be grudged in the effort to understand him, provided that he has done his best to be intelligible. Difficult thoughts are quite distinct from difficult words. Difficulty of thought is the very heart of poetry.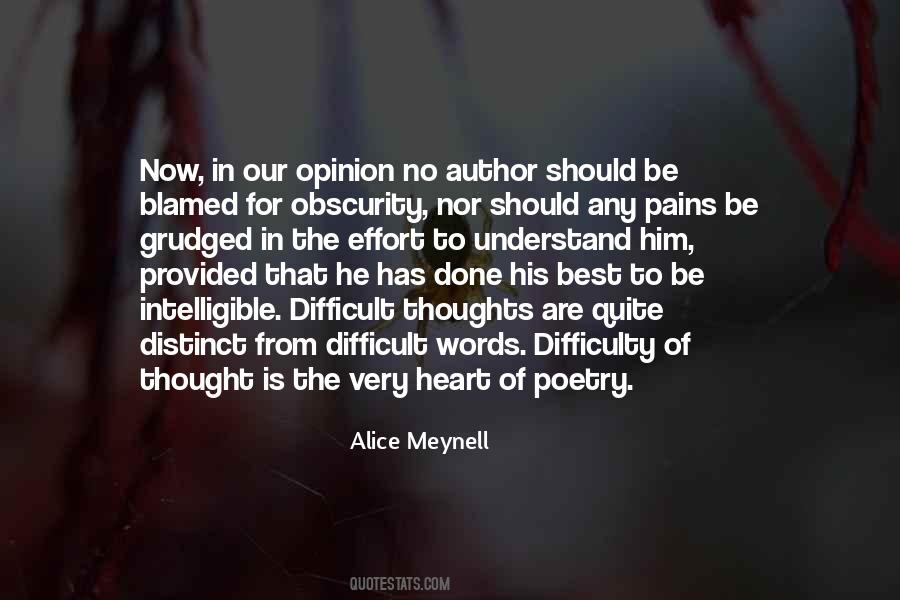 #43. The heart aches in brokenness as daylight awakens the pain of knowing.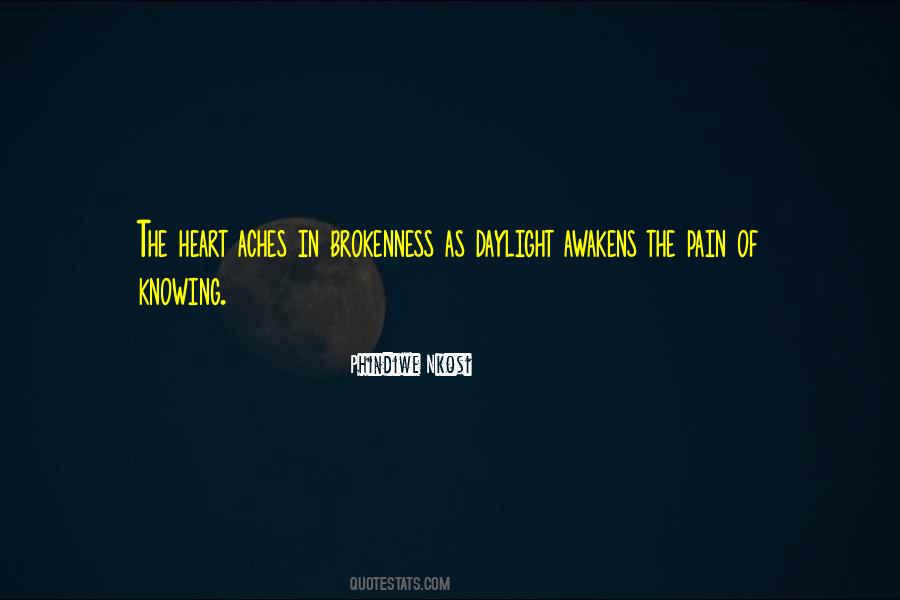 #44. Laughter IS the BEST medicine! It's FREE! You can overdose on it! It helps you embrace the insanities of life! It reduces stress, heals your body and relieves pain! It fights disease and cancer and strengthens the immune system! It eases your mind, it protects your heart and soothes your soul!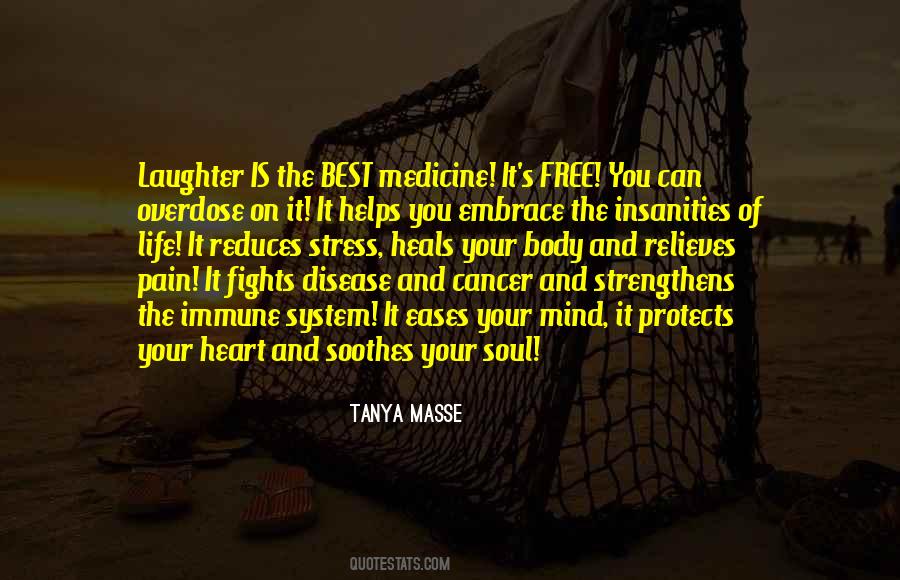 #45. A compassionate heart will lift you out of the pain and suffering of your own world because it knows that everyone is doing the best they can, given their state of consciousness and the histories they're dragging behind them.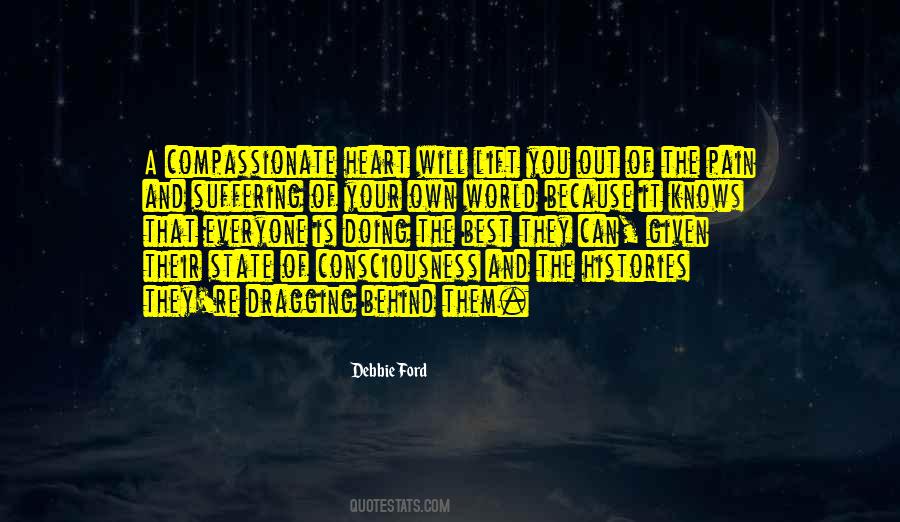 #46. Heart in champions has to do with the depth of our motivation and how well your mind and body react to pressure - that is, being able to do what you do best under maximum pain and stress.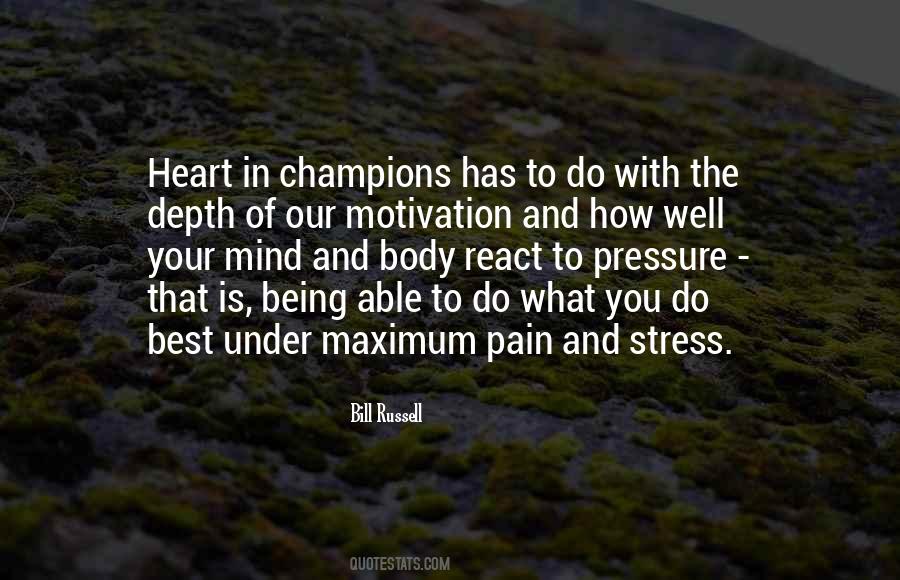 #47. You try getting any sympathy when you tell your best friends how much the self-avowed sadist broke your heart, how much pain she put you through. - Ivan E. Coyote to --------, 2004 (age 35)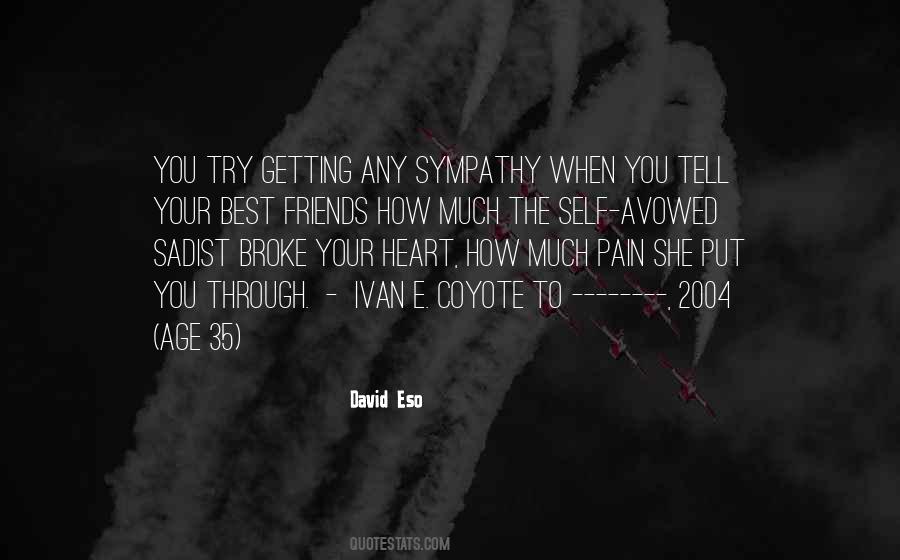 #48. Afterwards I learned, that the best way to manage some kinds of pain fill thoughts, is to dare them to do their worst; to let them lie and gnaw at your heart till they are tired; and you find you still have a residue of life they cannot kill.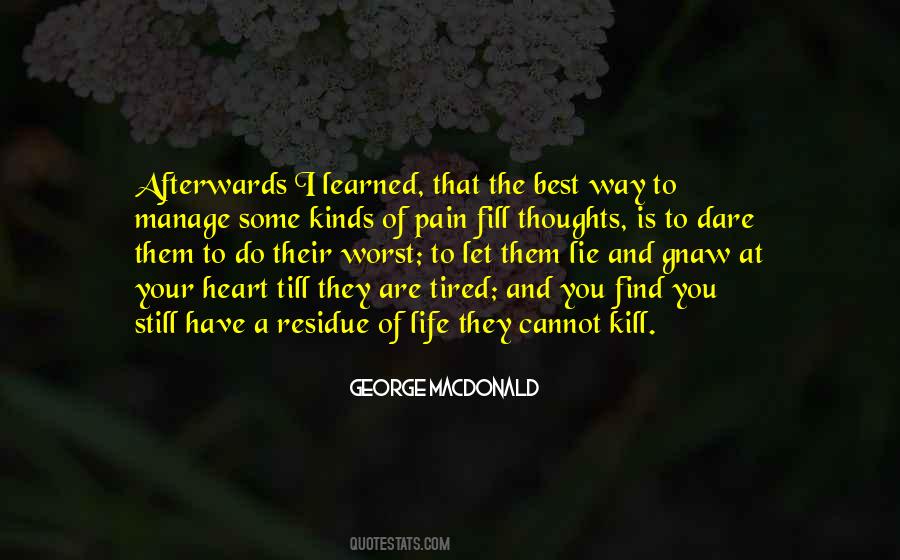 #49. My mother's influence in molding my character was conspicuous. She forced me to learn daily long chapters of the Bible by heart. To that discipline and patient, accurate resolve I owe not only much of my general power of taking pains, but of the best part of my taste for literature.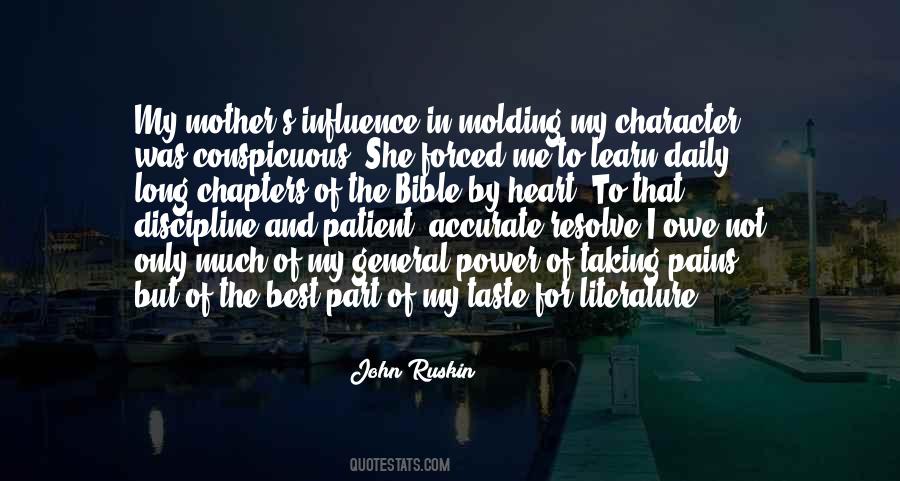 #50. The best cure for cranial constipation is emotional fiber. Feel 'something', anything.
Pain, anger, joy; if your heart goes eerily cold or leaps erratically from your chest, your synaptic bowels will soon find release.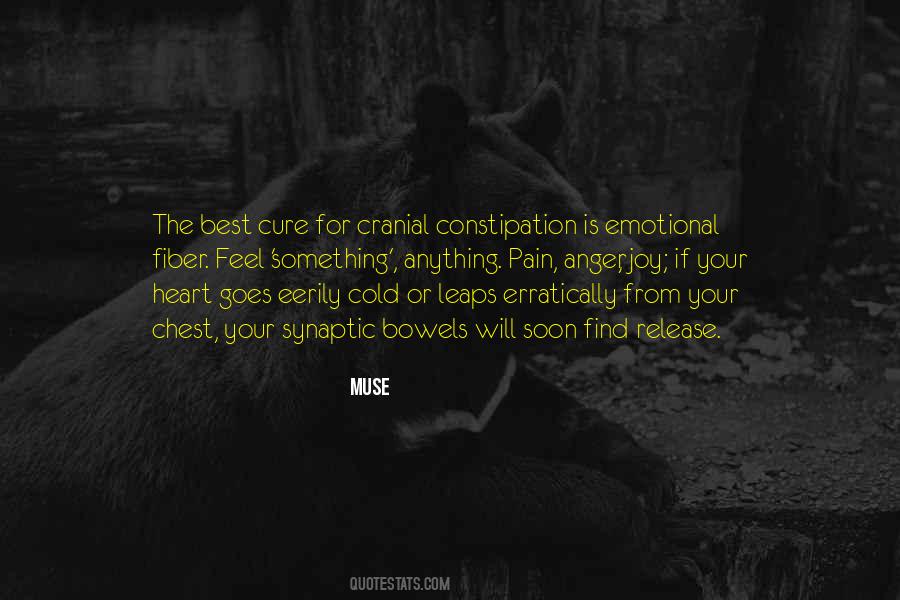 Famous Authors
Popular Topics