Arms Open Famous Quotes & Sayings
List of top 100 famous quotes and sayings about arms open to read and share with friends on your Facebook, Twitter, blogs.
Top 100 Arms Open Quotes
#1. I choose to open my arms to all the good that life has in store for me. - Author: Louise Hay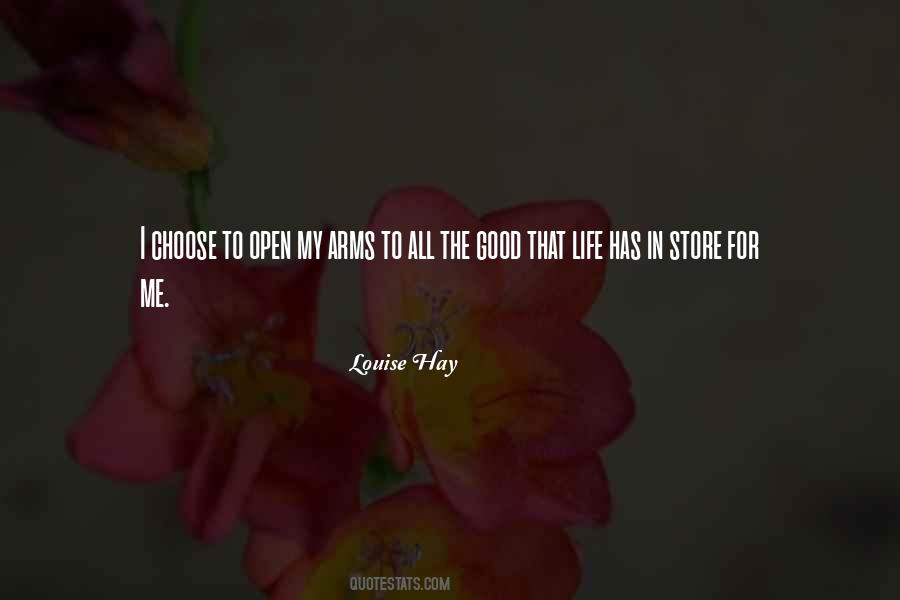 #2. You know what my favorite part of the day is? It's those few seconds in the morning, when my mind wakes up but my body hasn't, and I feel you in my arms. And I know that when I open my eyes, it's you that I get to see. - Author: Jay McLean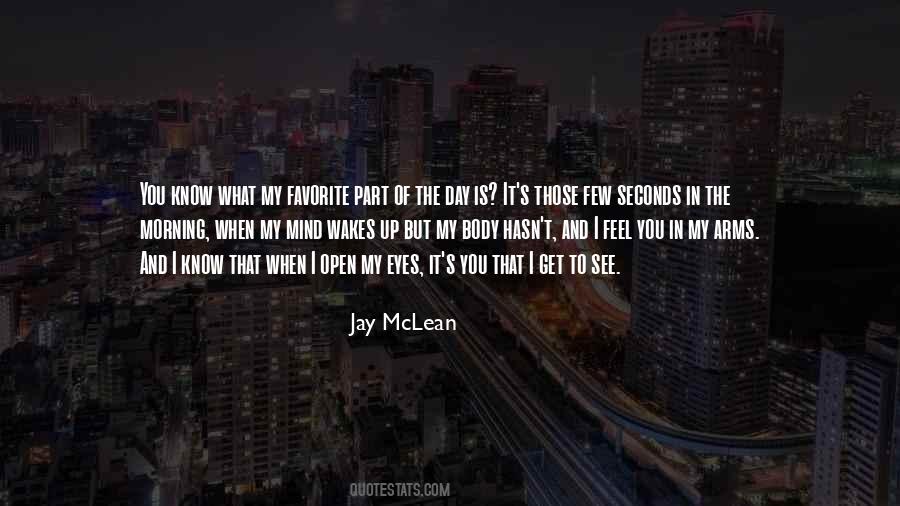 #3. Was he bewitched by those beautiful eyes, that soft, half-open, sighing mouth which lay so close upon his shoulder only yesterday? He could not even shake off the recollection that she had been there; that her arms had been round him, once - if never again. - Author: Elizabeth Gaskell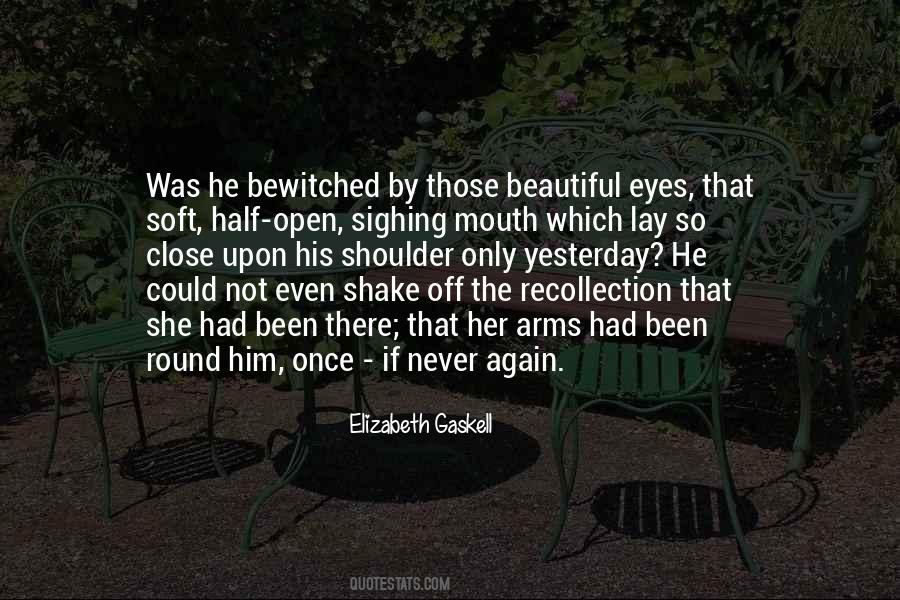 #4. For a second something deep and old rises inside me and I could fall on the ground and weep for joy, or open up my arms and spin. After being enclosed for so long, I want to drink in all the space, all the bright, empty air stretching around me on all sides. - Author: Lauren Oliver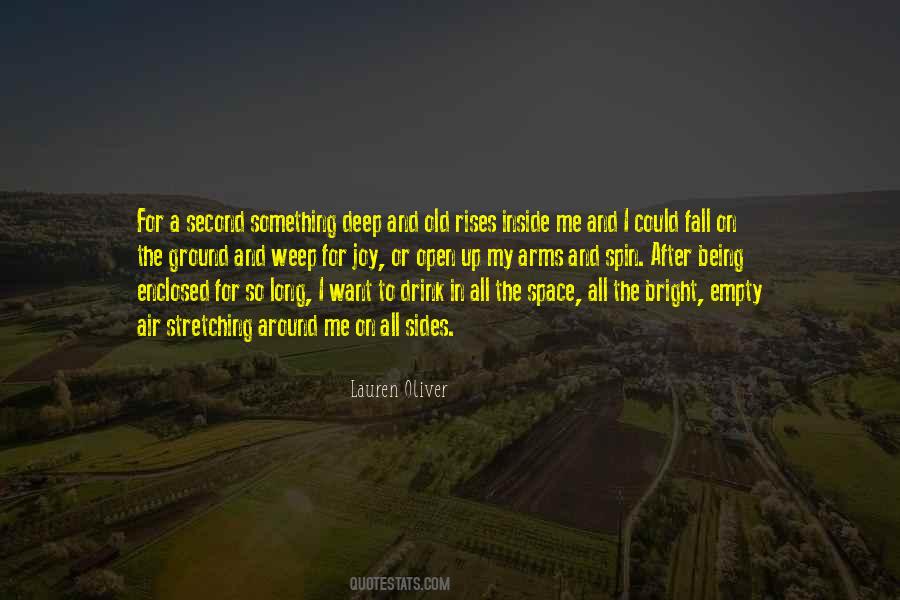 #5. I feel like life is really short, and it's important to enjoy yourself and embrace whatever comes your way, whether it's a challenging day or a great day, just welcome it with open arms. No matter who you are, you can't escape challenges; they are part of life. - Author: Miranda Kerr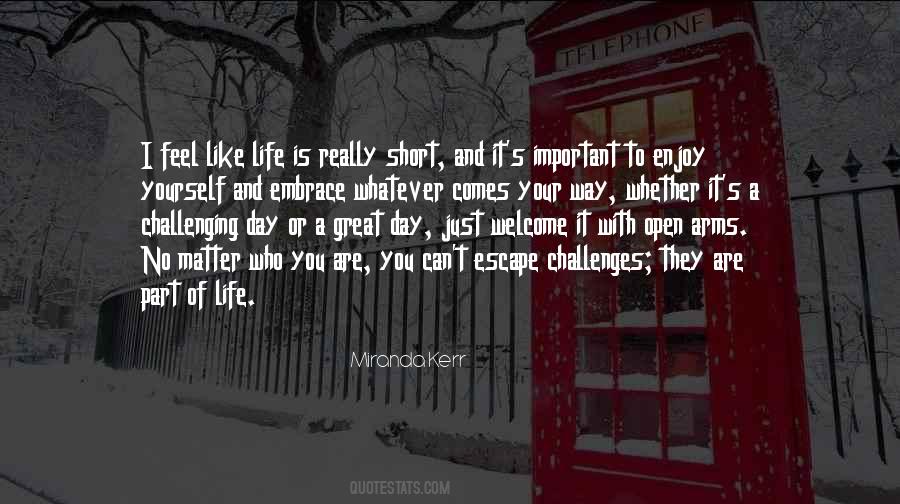 #6. When we align our lives with spiritual laws, challenges remain, but we can approach them with arms open wide, ready to dance. - Author: Dan Millman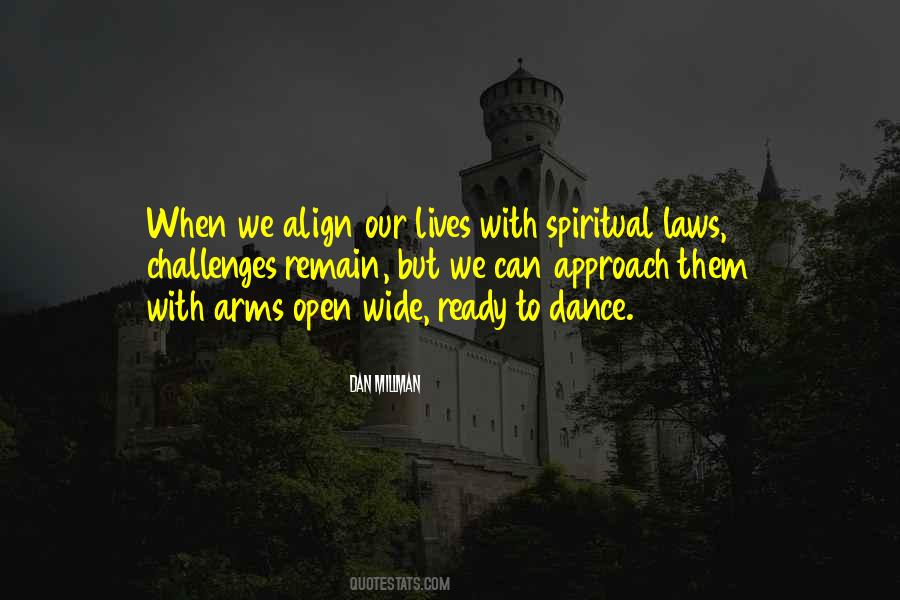 #7. Love is always open arms. - Author: Leo Buscaglia
#8. Living in thanksgiving daily is a habit; we must open our hearts to love more, we must open our arms to hug more, we must open our eyes to see more and finally, we must live our lives to serve more. - Author: Farshad Asl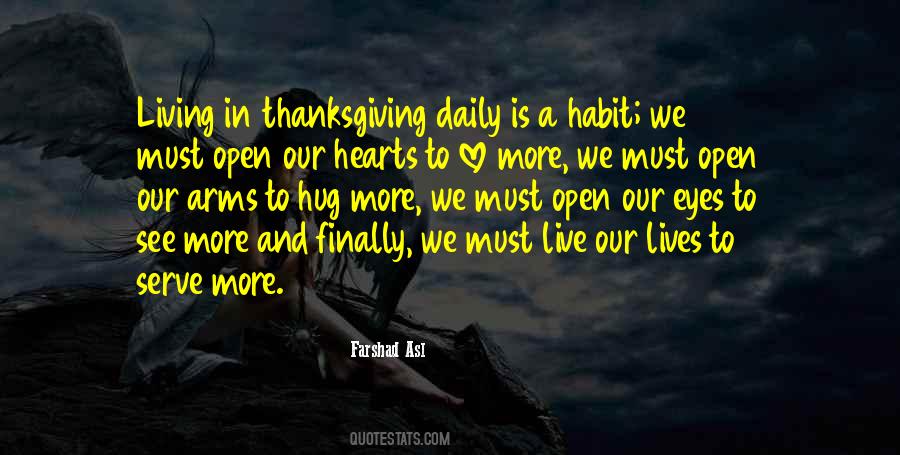 #9. Come on then!" Lussk was laughing, jeering as the things charged at him. He'd stopped fighting them off and instead had allowed them full access to his wrists, which Rucker saw he'd slashed open with a dinner knife. Blood poured from his arms. "Come on and take me!" His voice became a scream. - Author: Joe Schreiber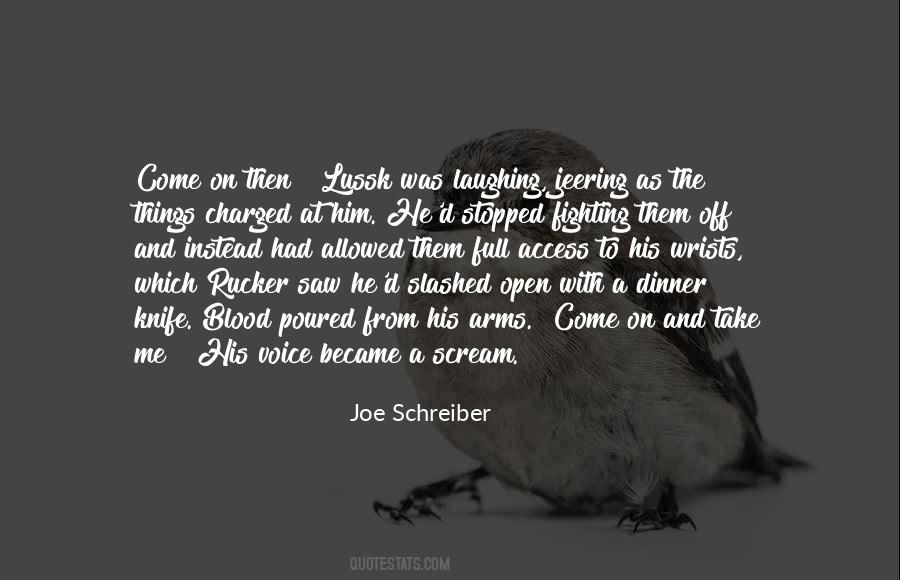 #10. I dropped my head into my arms. I could hear the sea vibrating, the tiny hiss of displaced sand and the click of stones. If I lay still and quiet enough, I thought, I could melt into this elemental world of sun, water and wide, open horizon. - Author: Elizabeth Buchan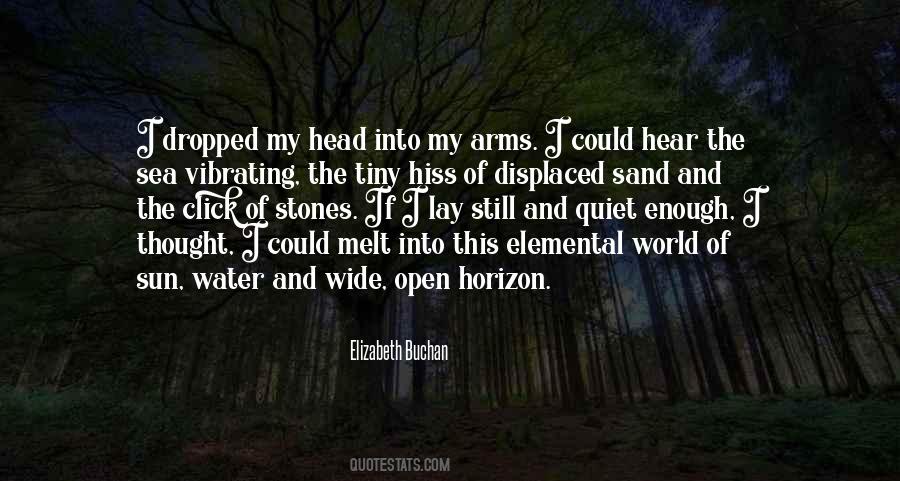 #11. I'm terribly sad about Farrah's passing. She was incredibly brave, and God will be welcoming her with open arms. - Author: Cheryl Ladd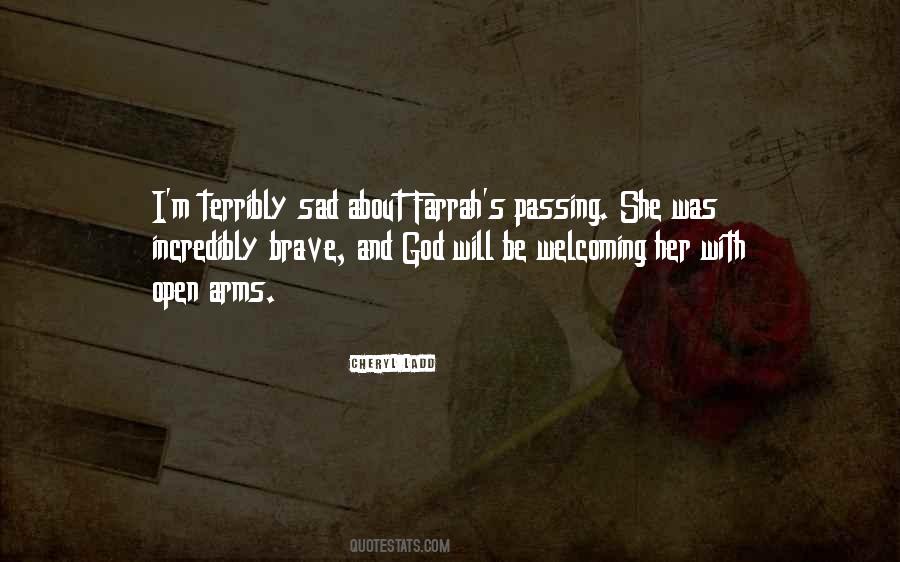 #12. no matter how far you are from God, His arms are open to you - Author: Charles F. Stanley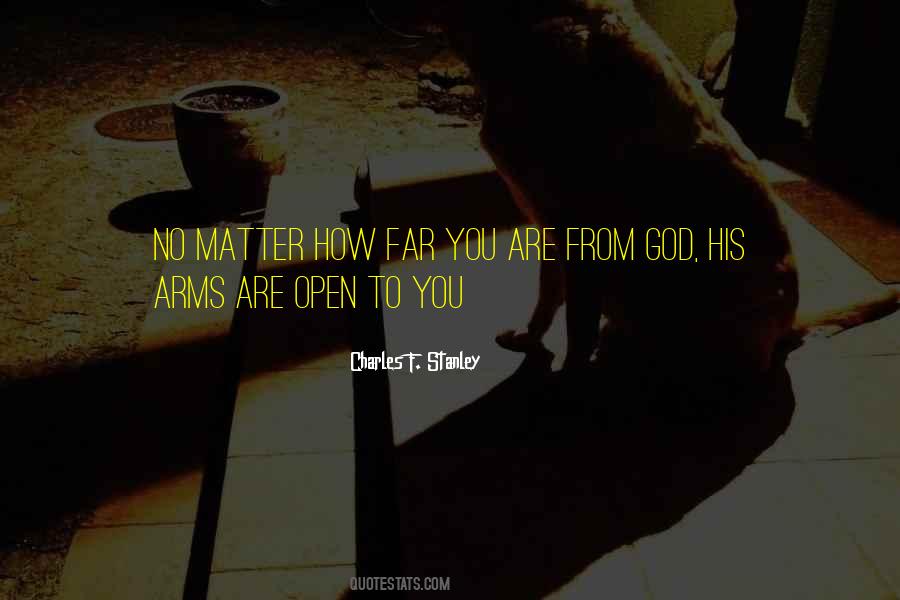 #13. But I believe in fair trade, and I will tell you, I have many, many friends heading up corporations, and people that do just business in China, they say it's virtually impossible. It's very, very hard to come into China. And yet, we welcome them with open arms. - Author: Donald Trump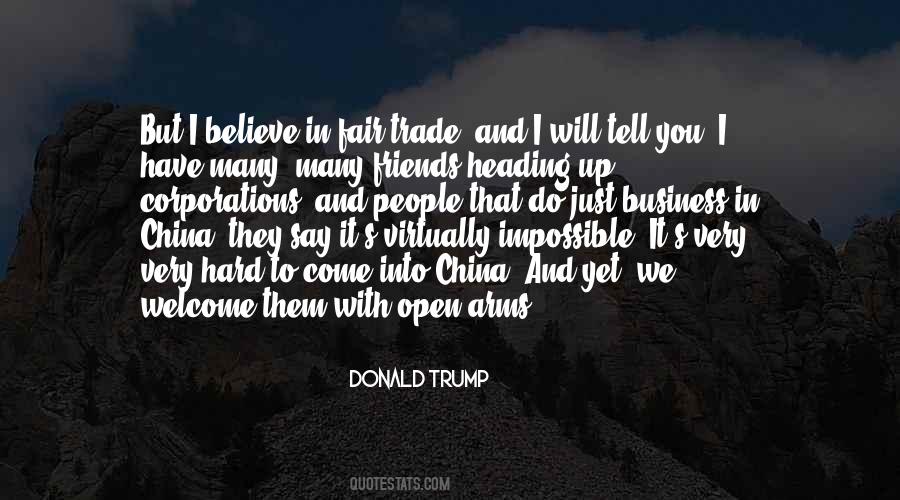 #14. I rejoice in what I have and I know that fresh new experiences are always ahead. I greet the new with open arms. I trust life to be wonderful. - Author: Louise Hay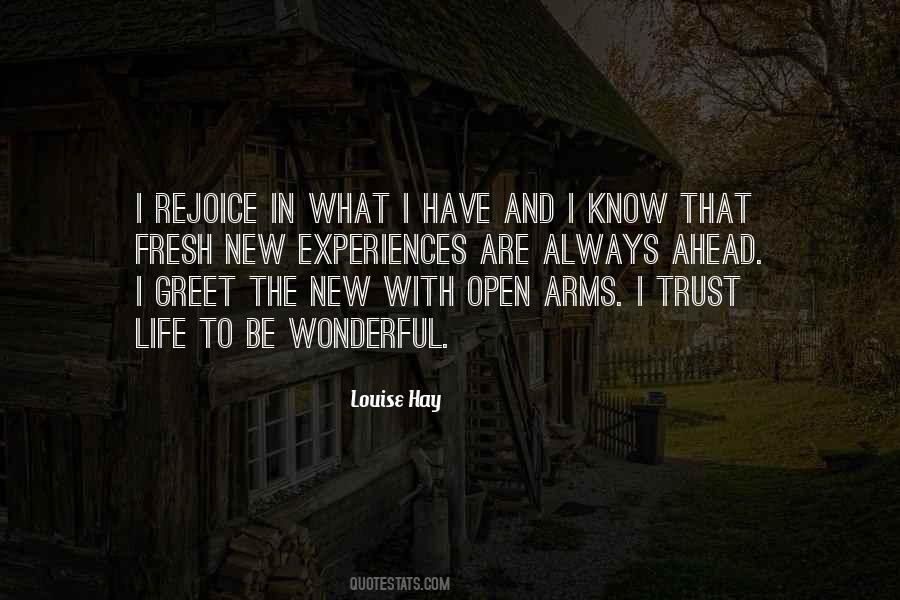 #15. Whenever we take a step towards Jesus, we come to realize that he is already there, waiting for us with open arms. - Author: Pope Francis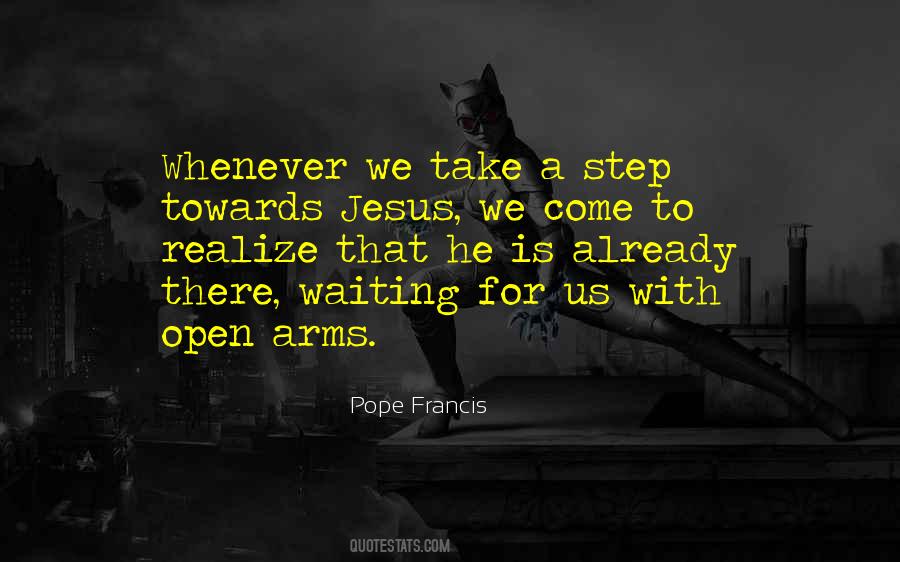 #16. Thank you, Lord, for never turning me away. For never getting scared, for never lashing out when I hurt you, for always being there with arms wide open, ready to take me back. - Author: Colleen Coble
#17. She watched hungrily for visitors from out of town, threw open her arms at the slightest hint of a wind and at night she struggled Jacob-like against the ocean pressing down on her. - Author: Junot Diaz
#18. "Open Arms" has a lot of unison singing in it. And it works: Grown men will come to our gigs and cry during that one. - Author: Guy Garvey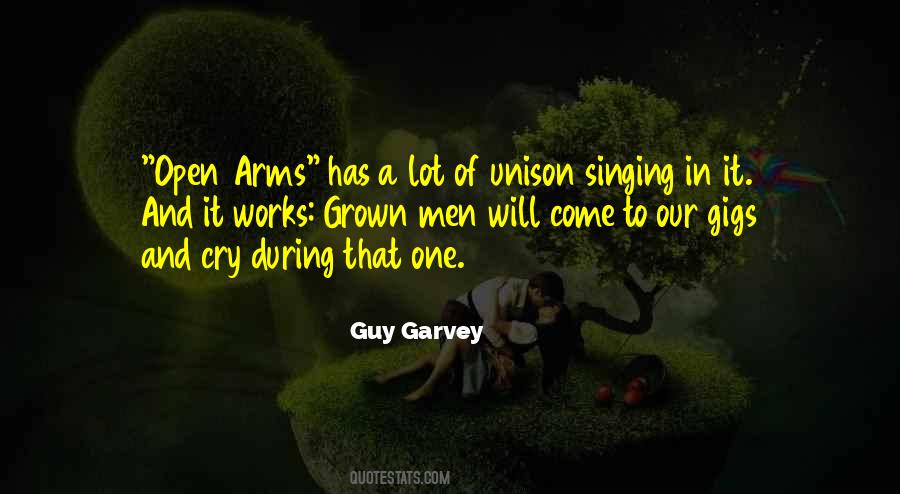 #19. When we read or hear how some professed Christian has turned defaulter, or lapsed into drunkenness, or slipped from the communion table into open disgrace, it simply means than a human arm has broken. The man has forsaken the everlasting arms. - Author: Theodore L. Cuyler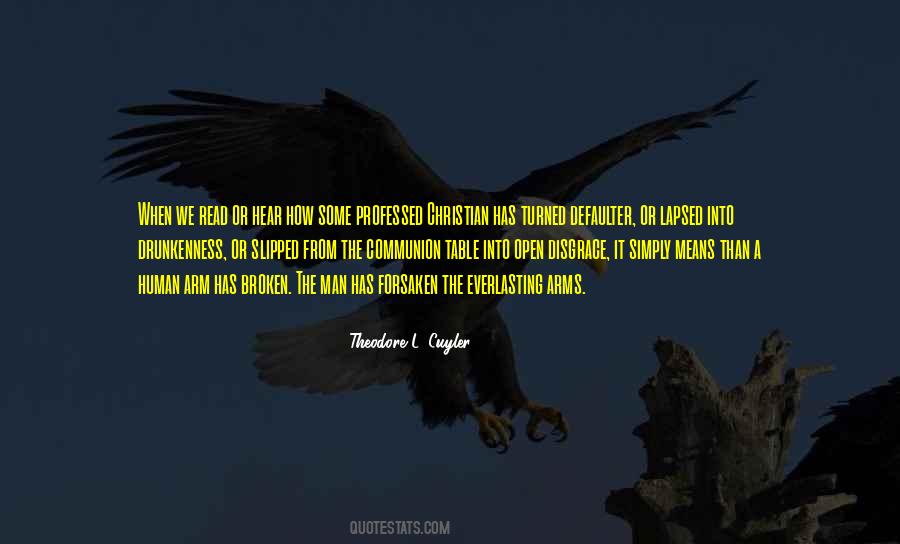 #20. If you still want to do this crap after the first time you've burned the body of a six-year-old with blood on her lips and a Barbie in her hands, I'll welcome you with open arms. - Author: Mira Grant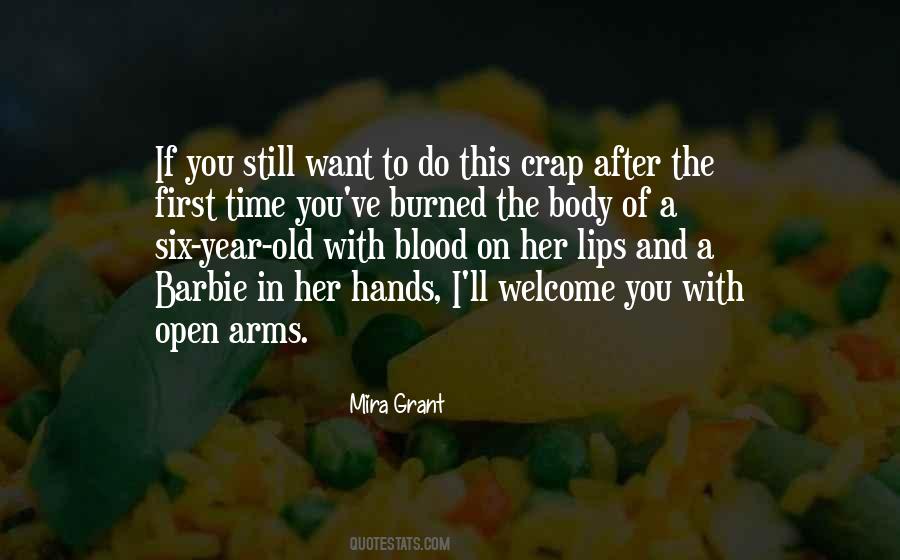 #21. Broken I run to you for your arms are open wide. I am weary but I know your touch restores my life. - Author: Kathryn Scott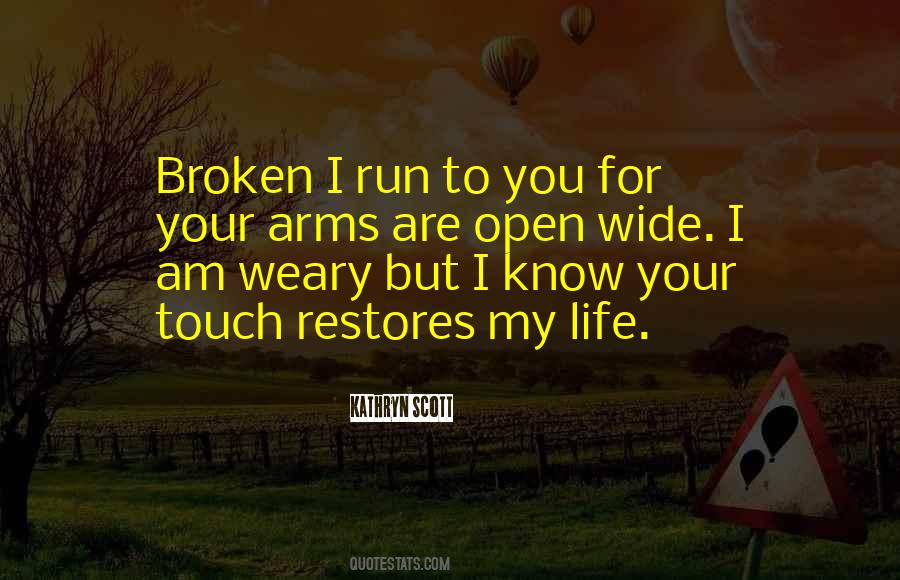 #22. Father God, we just ask You to open Your wide, wide arms and look down upon us, Lord, and lead us, and let us know what we should do to stop this, this terrible, terrible holocaust. - Author: Norma McCorvey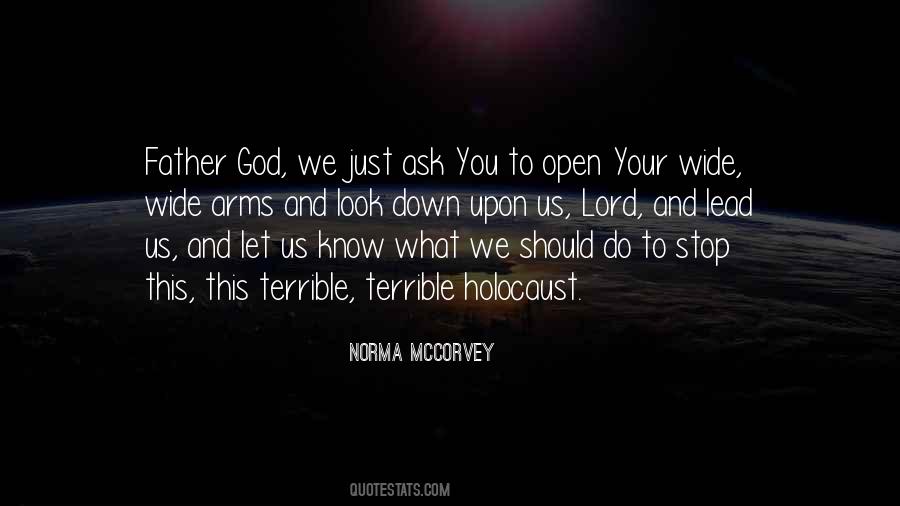 #23. Common sense would suggest that having ability, like being smart, inspires confidence. It does, but only while the going is easy. The deciding factor in life is how you handle setbacks and challenges. People with a growth mindset welcome setbacks with open arms. - Author: Travis Bradberry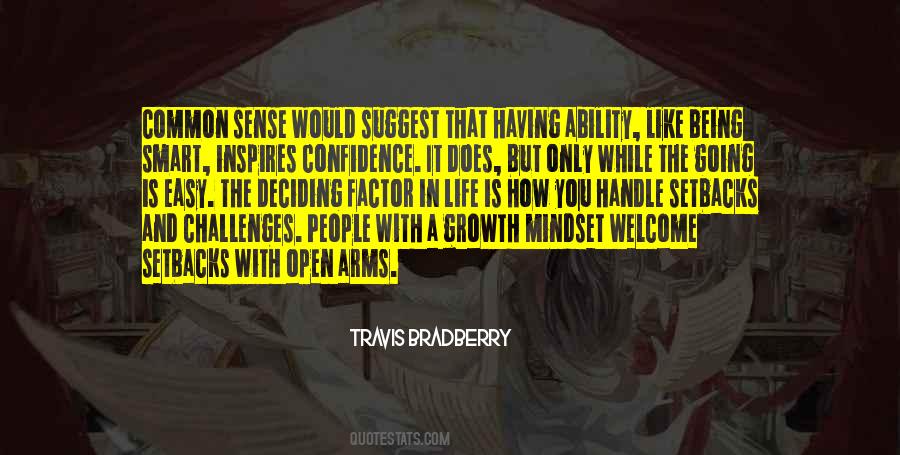 #24. She stood beside him, sagging in his arms, abandoning herself to anything he wished, in open acknowledgment of his power to reduce her to helplessness by the pleasure he had the power to give her. - Author: Ayn Rand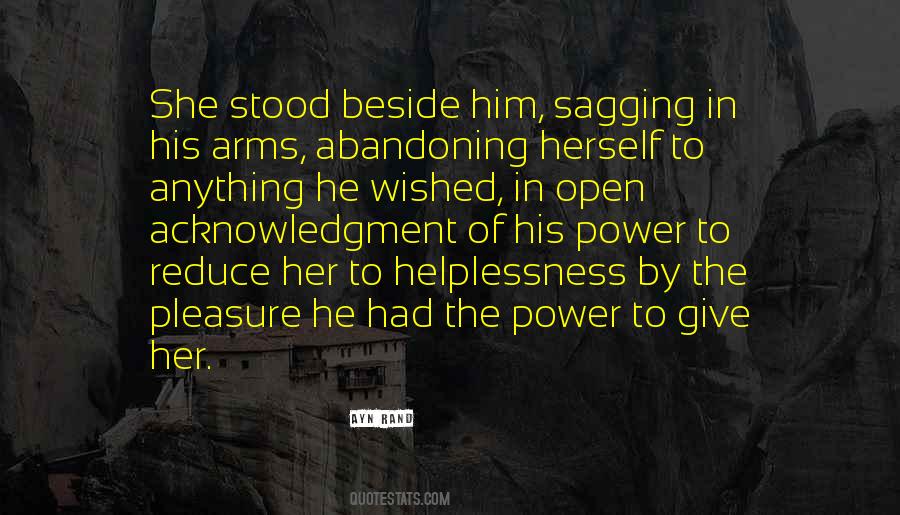 #25. But soon I loved her completely and wished to possess her, own her, absorb her, eat her. I wanted her in my arms and in my bed, I longed she would open her legs to me - Author: Ian McEwan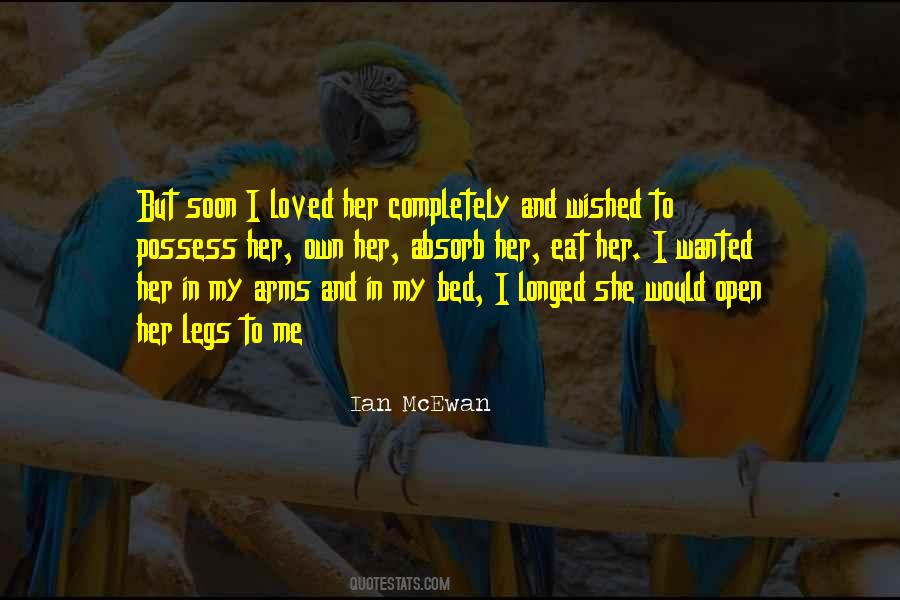 #26. So when the world knocks at your front door,
clutch the knob and open on up,
running forward into its widespread greeting arms
with your hands before you,
fingertips trembling though they may be. - Author: Anis Mojgani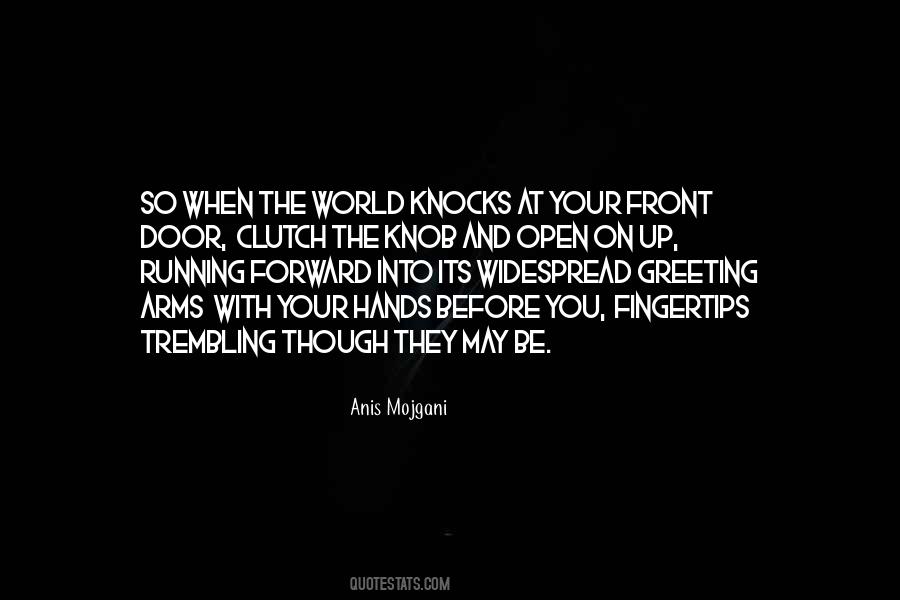 #27. It is only by seeing beauty in everything that we can see it in any one single thing, day after day. Don't run into the arms of obsession, for that quickly fades. Long lasting love comes from an open, loving heart. - Author: Vironika Tugaleva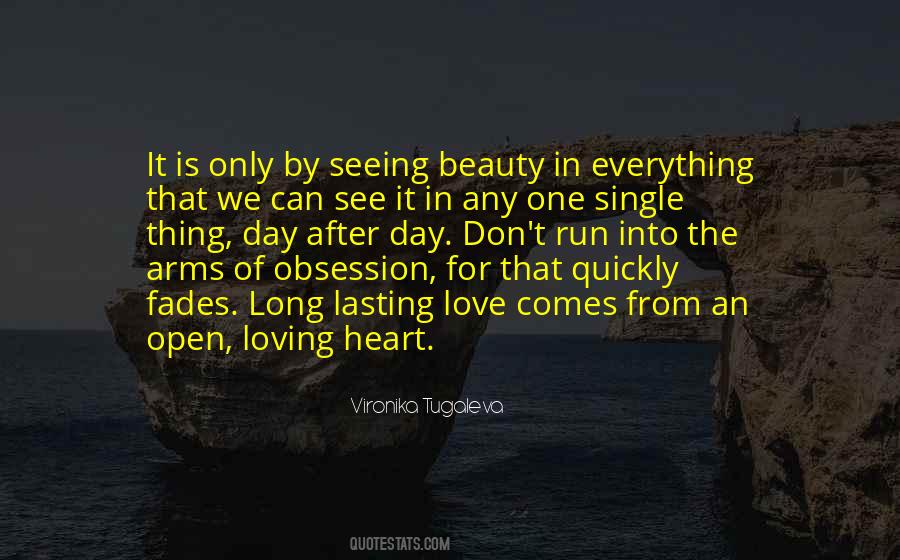 #28. Certainly, for time out of mind, an obsessive dwelling on happier former days has been synonymous with getting older, while it was the juvenescent who rushed with open arms to embrace the future. - Author: Will Self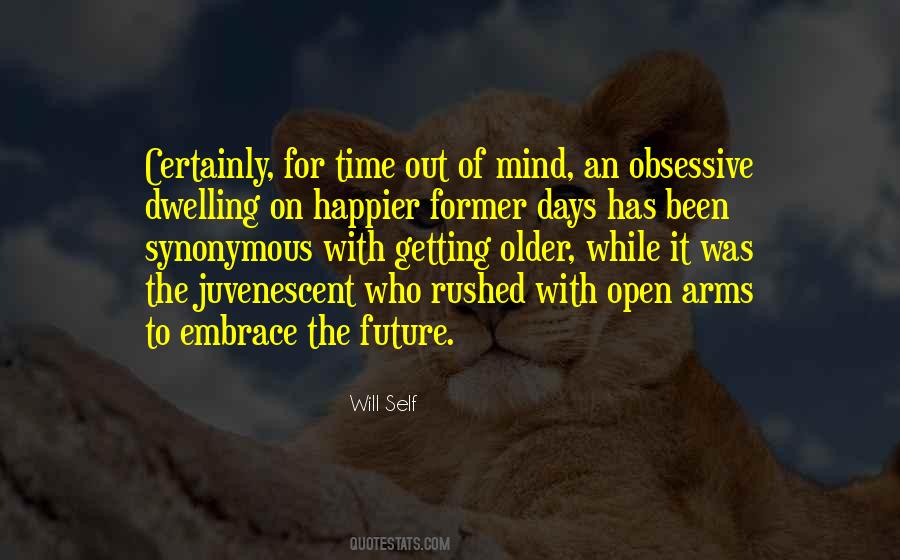 #29. The scriptures speak of His arms being open, extended, stretched out, and encircling. They are described as mighty and holy, arms of mercy, arms of safety, arms of love, lengthened out all the day long. - Author: Neil L. Andersen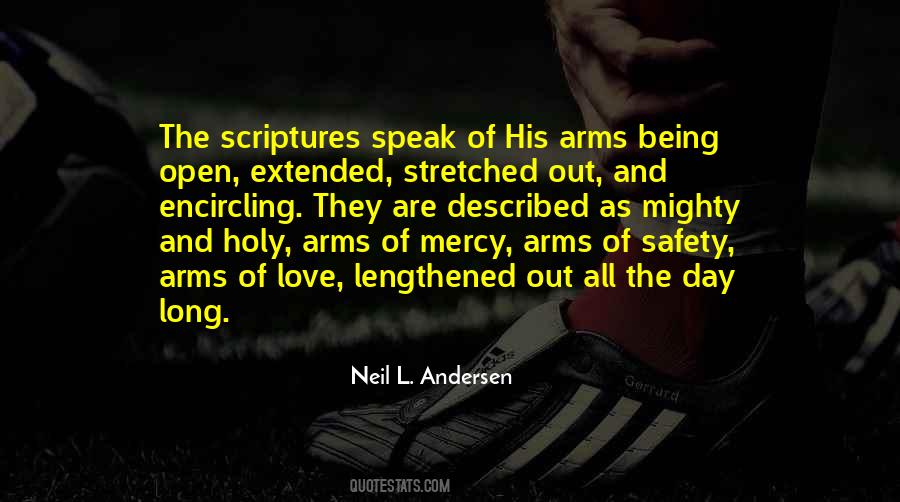 #30. Welcome the righteous,
avoid the wicked,
and yet open both arms to the repentant.
Whoever receives them receives God. - Author: Matshona Dhliwayo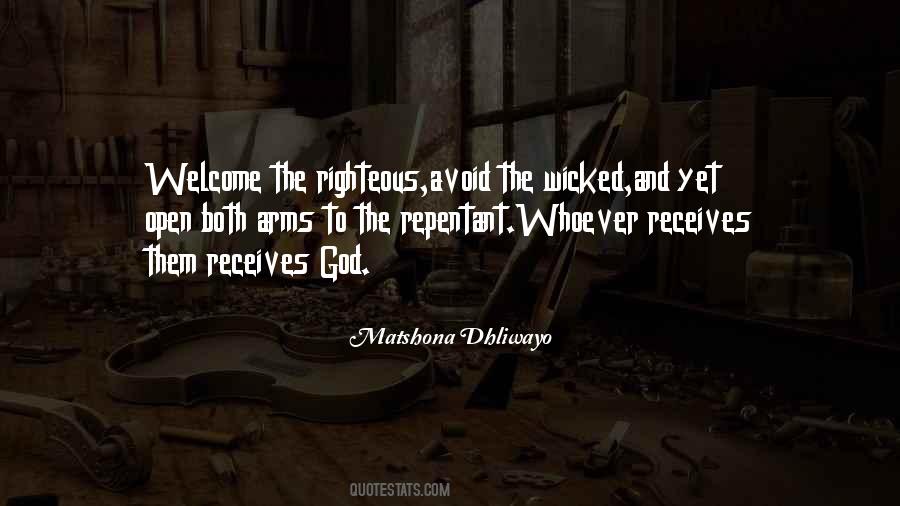 #31. You are one with the same force that provides the spiral arms of the galaxy. That universal creativity. It's also what you are as well. And when the mystic eye is open and sees that, a person is forever changed ! - Author: Alex Grey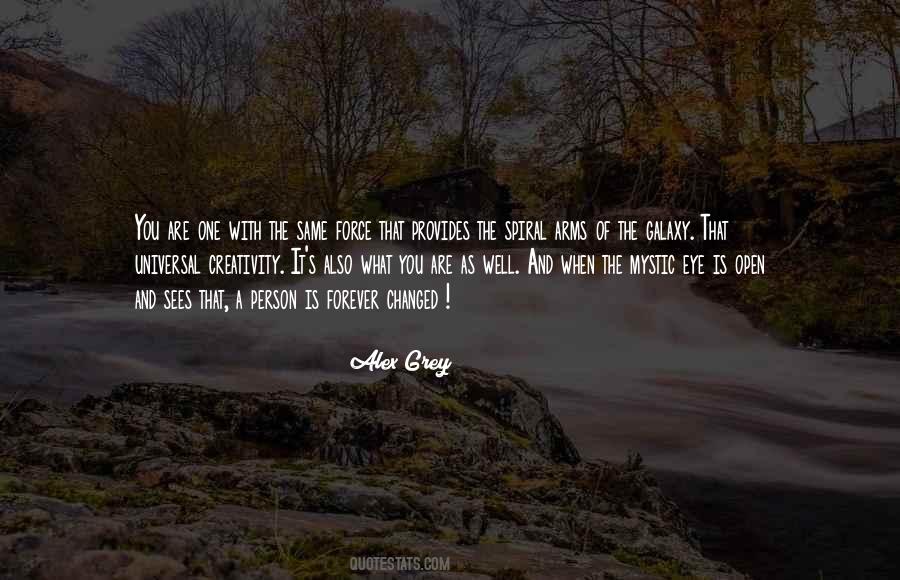 #32. Everything's a fan. Brother, open up your arms. God is the pivot. - Author: Federico Garcia Lorca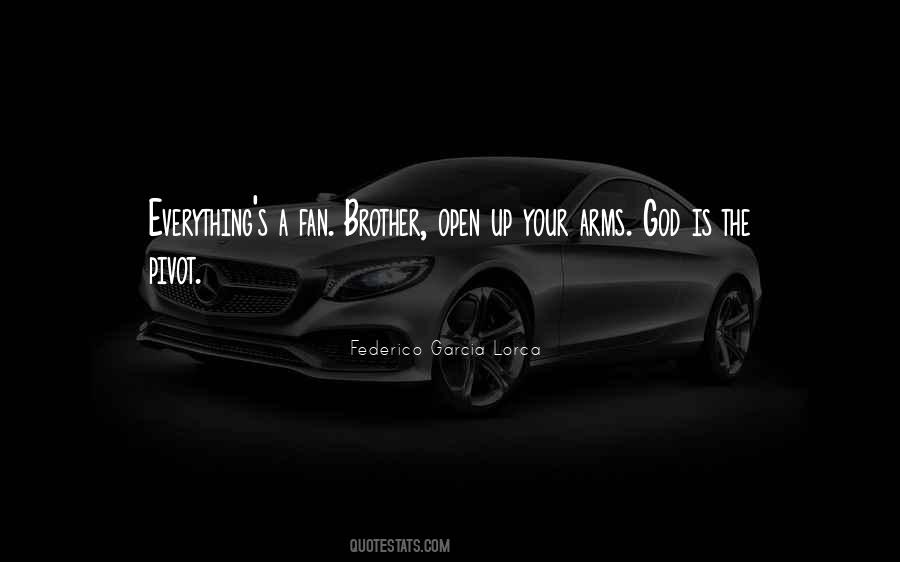 #33. As you know, I'm an immigrant. I came over here as an immigrant, and what gave me the opportunities, what made me to be here today, is the open arms of Americans. I have been received. I have been adopted by America. - Author: Arnold Schwarzenegger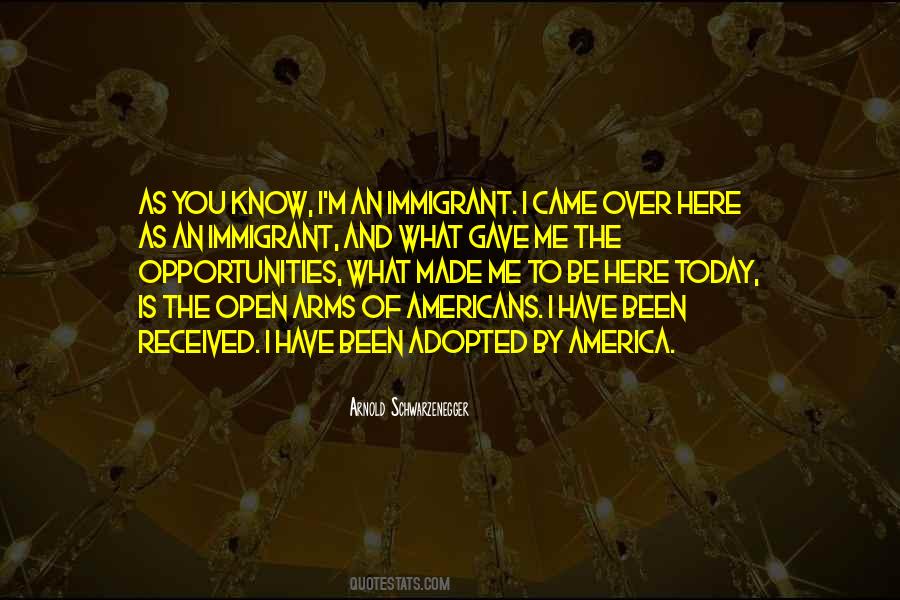 #34. I've received a lot of positive feedback from both the secular and Christian markets. People seem to be receiving it with open arms and hearts, and are interested in the stories I want to share about my relationship with God and my faith. - Author: Brian Littrell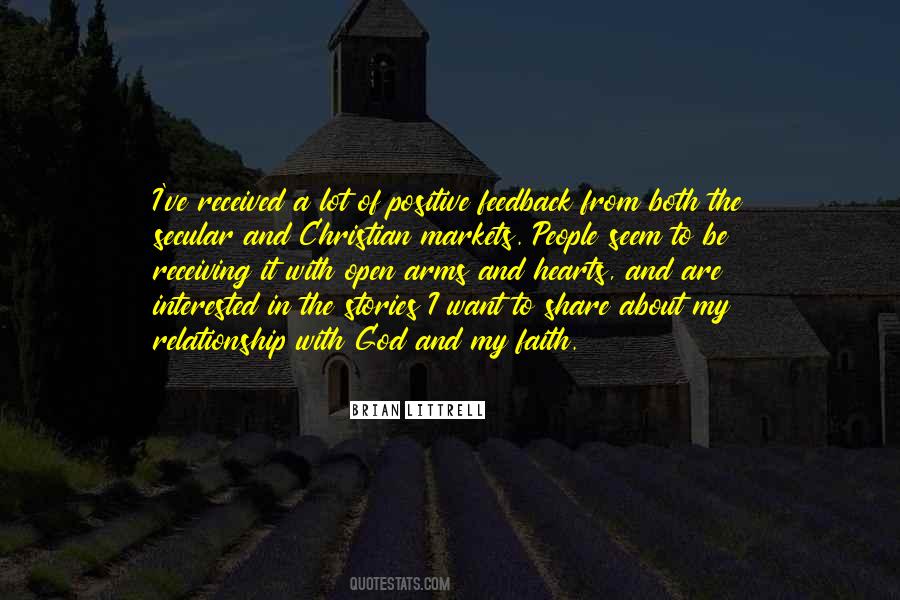 #35. I think we should love sinners, and welcome them, and open our arms to them, and then we don't totally accept them into our fellowship as believers and as Christians until they have repented their sins and changed their way of living. - Author: Billy Graham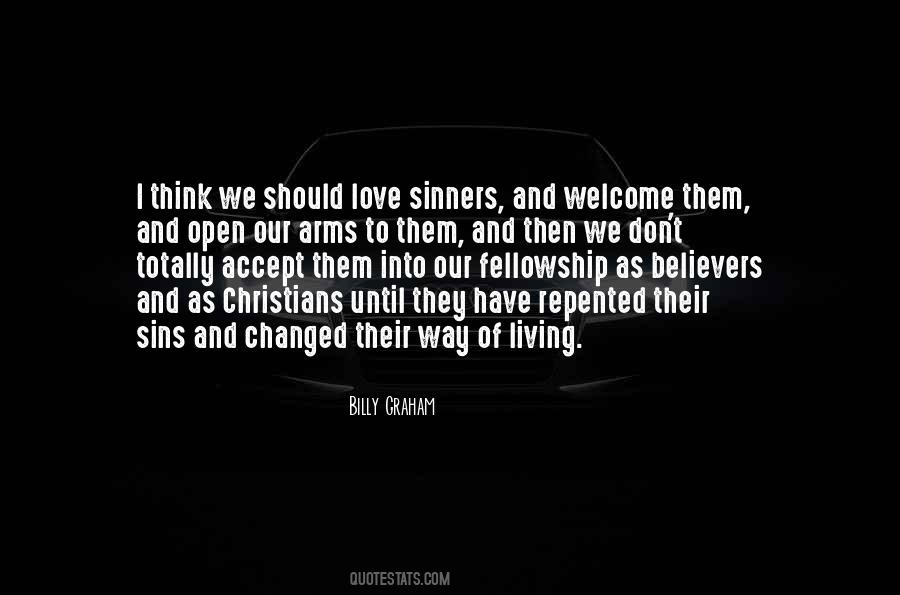 #36. I love you," she said softly.
Jason's arms tightened around her. He grinned sleepily. "I know."
Taylor drifted off contentedly. Until through the darkness, she heard a low, sneaky whisper.
"Mrs. Taylor Andrews ... "
She didn't bother to open her eyes.
"Still not gonna happen. - Author: Julie James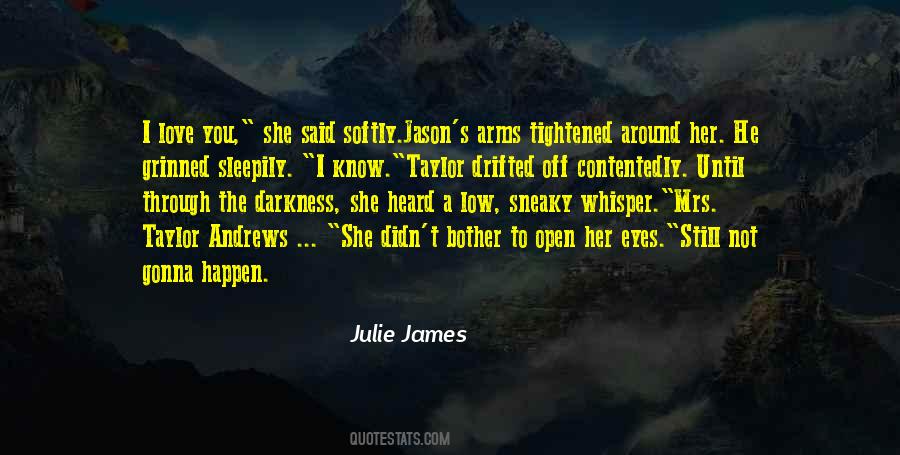 #37. Well let there be sunlight, let there be rain Let the brokenhearted love again Sherry, we can run with our arms open before the tide. - Author: Bruce Springsteen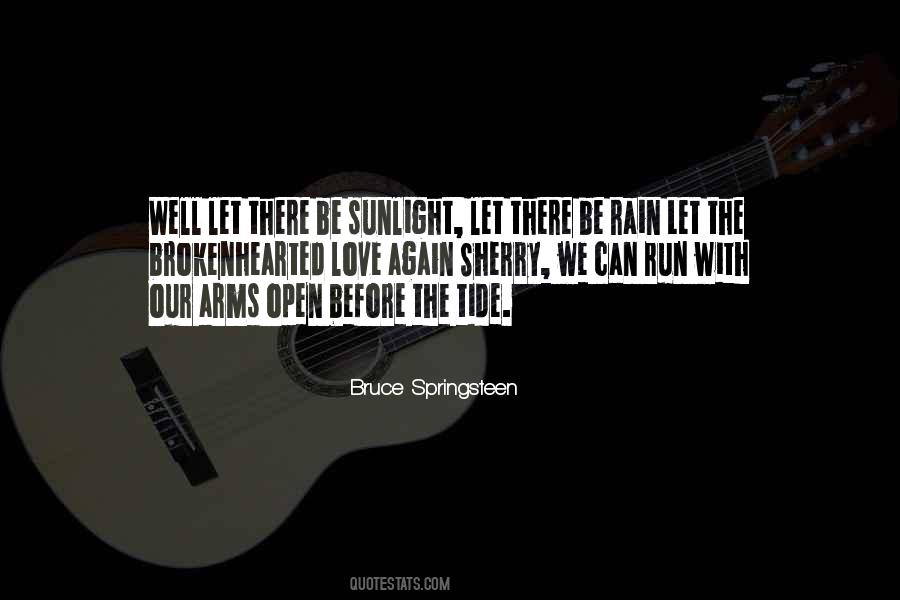 #38. I feel like I'm on top of the world. Honestly, I feel like I've climbed a very giant mountain, and I'm just standing right on top with my arms wide open and breathing rarified air. - Author: Shania Twain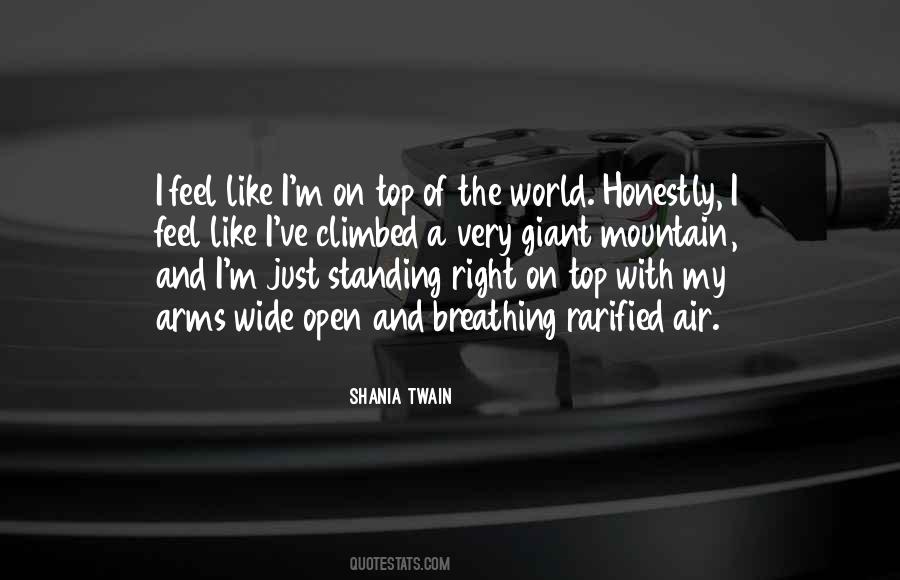 #39. Whatever tomorrow brings I'll be there, with open arms and open eyes. - Author: Brandon Charles Boyd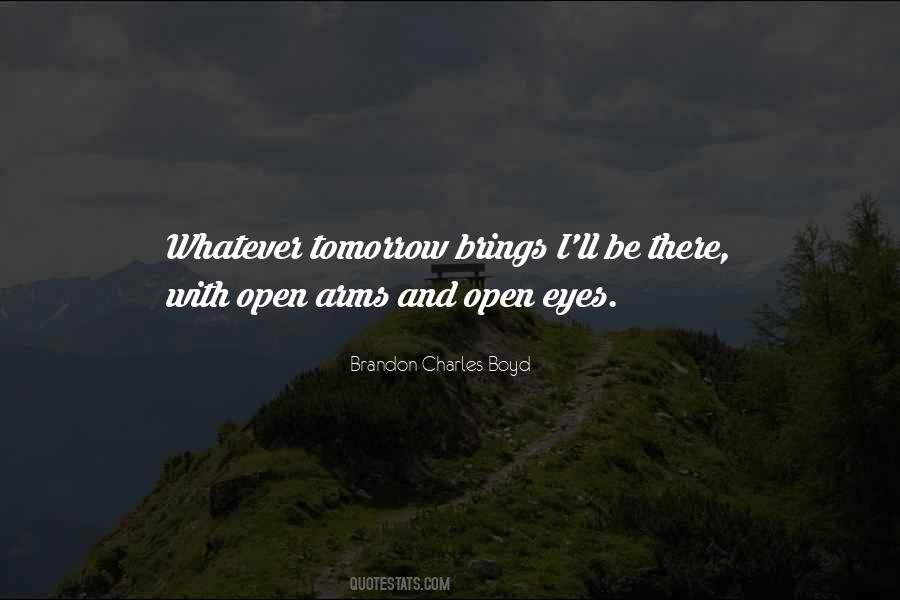 #40. Love is always open arms. If you close your arms about love you will find that you are left holding only yourself. - Author: Leo Buscaglia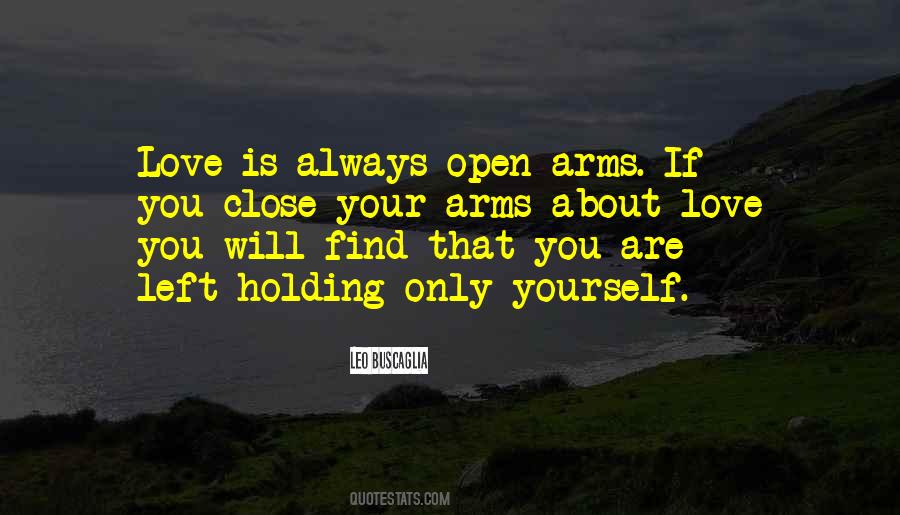 #41. Not many shows bring fans and artists together, and 'Rock Dinner' is one of the few shows that does it. Every opportunity I get to get closer to one of my fans - and get to know them and talk to them - I'm always going to take that opportunity with arms wide open and make it a priority. - Author: Jencarlos Canela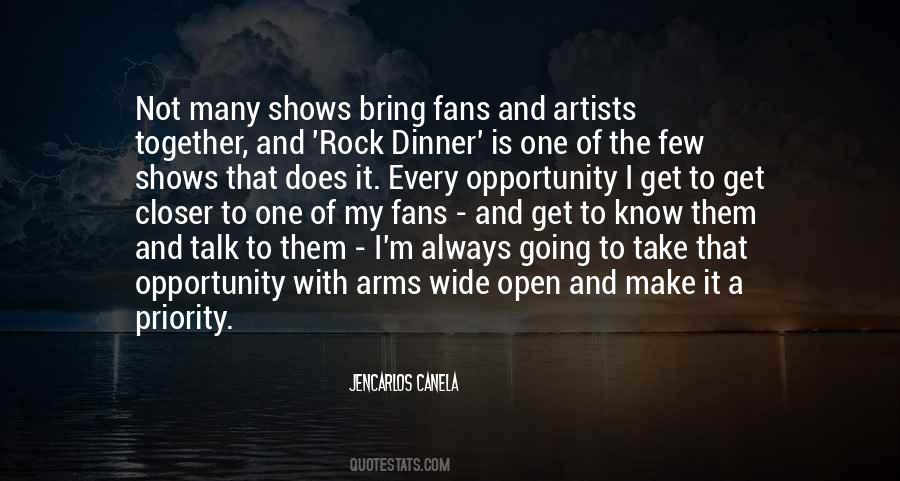 #42. He lay before God as a woman opens herself to a man, with legs apart, stomach exposed, arms open. But unlike some women, he did not have the inner strength that allowed them to do such a thing without fear. There was no woman's strength in Mellas at all. - Author: Karl Marlantes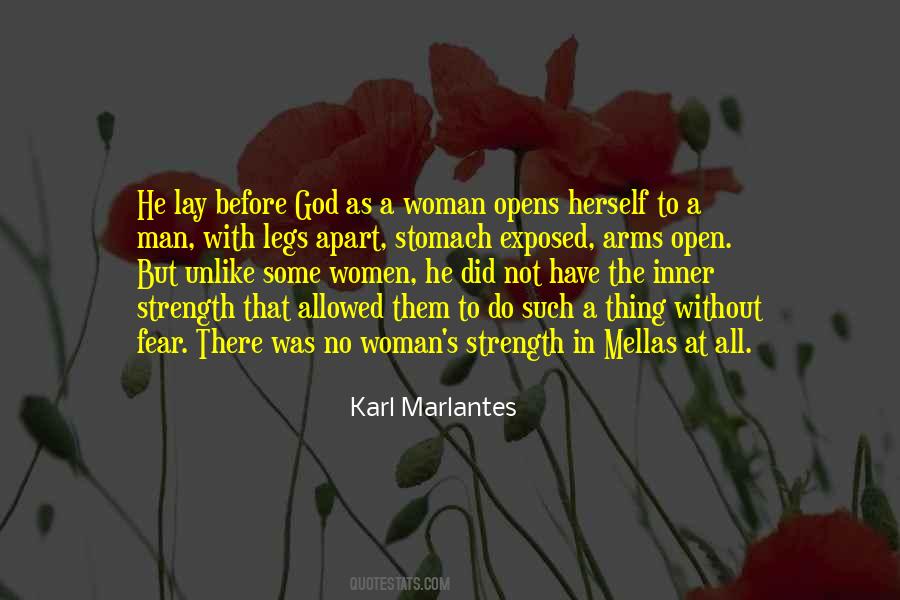 #43. He turns to me with open arms - expecting a hug of course. Because I have a vagina.
...
penises shake hands, vaginas hug. Not this one, buddy. - Author: Emma Chase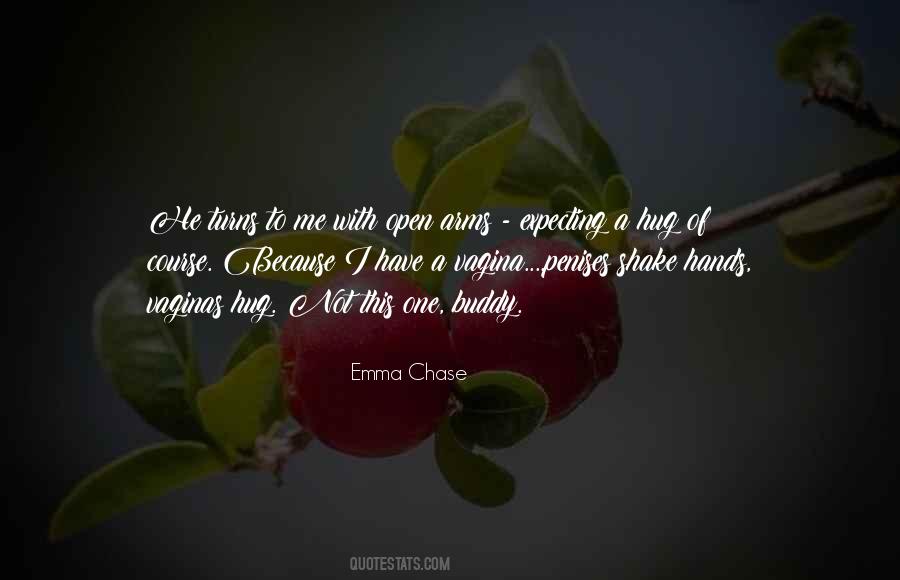 #44. A library should be like a pair of open arms. - Author: Roger Rosenblatt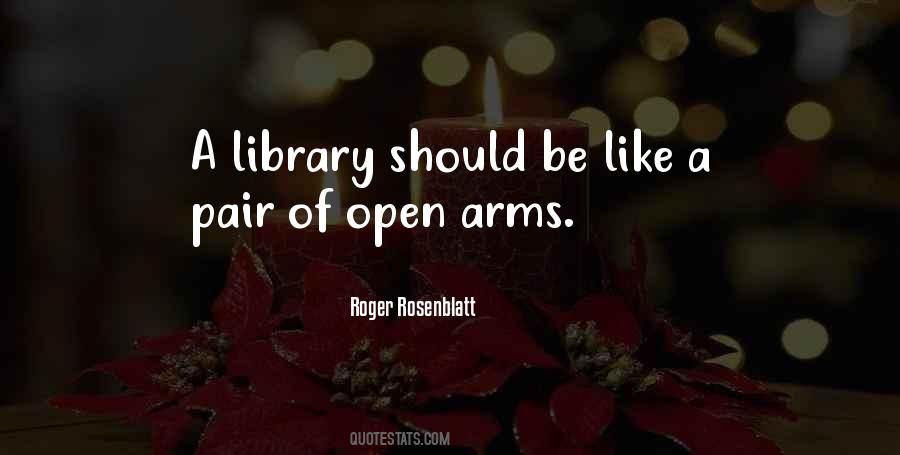 #45. And when I die bury me upside down so the whole world can
Kiss my ass
Open my mouth
Pull my tongue
Stretch my arms
Stretch my cold, proud middle finger - Author: Lourd Ernest H. De Veyra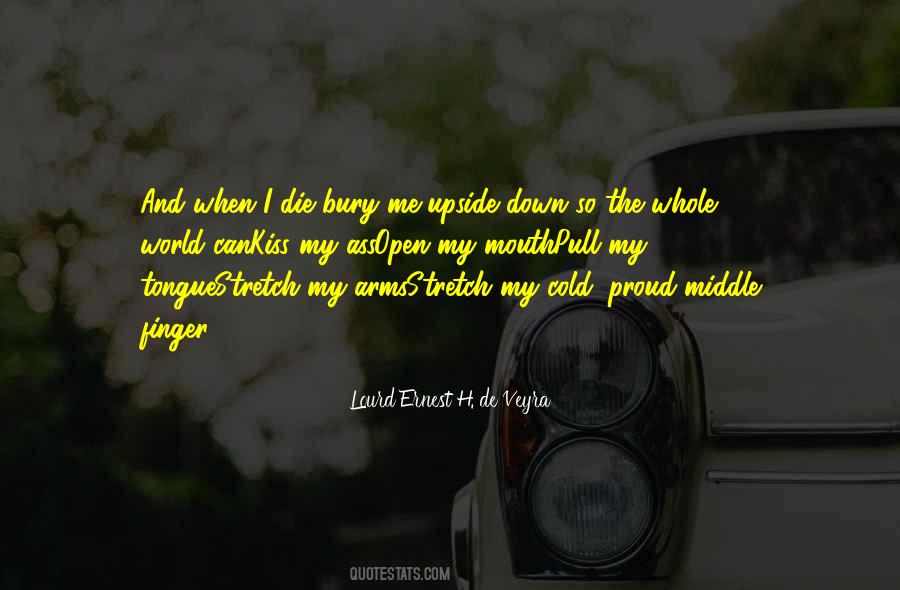 #46. Pushing himself off the bed in a violent thrust, his lats widen like wings down his sides, where his waistcoat is open halfway to his waist to accommodate muscular builds, he indicates the gilded cage with outstretched arms. Showing off his supreme musculature, he says, We have forever Phoebe. - Author: Poppet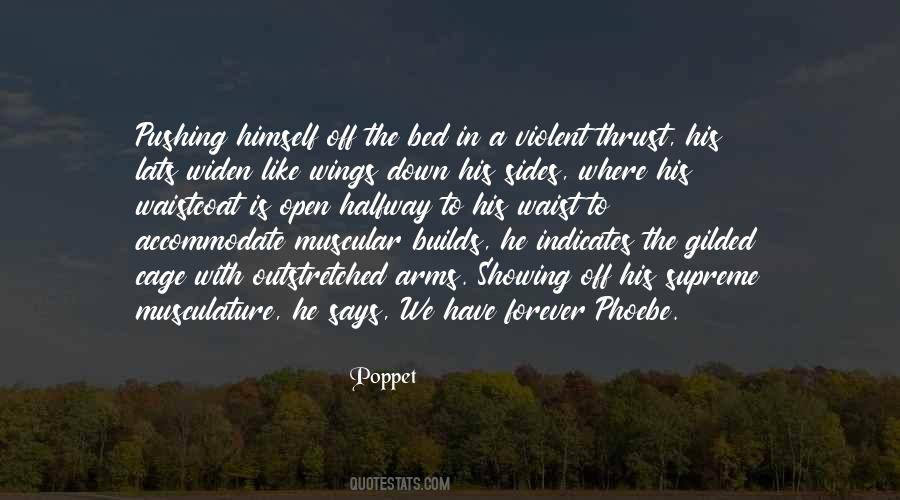 #47. It seemed as if Gisela's screams were growing closer. The brutal kicking stopped. He heard a loud thud and several startled yells. He forced his eyes open. Gisela was on top of Ruexner on the ground, pummeling his head with her fists, while Ruexner held his arms up to protect his face. - Author: Melanie Dickerson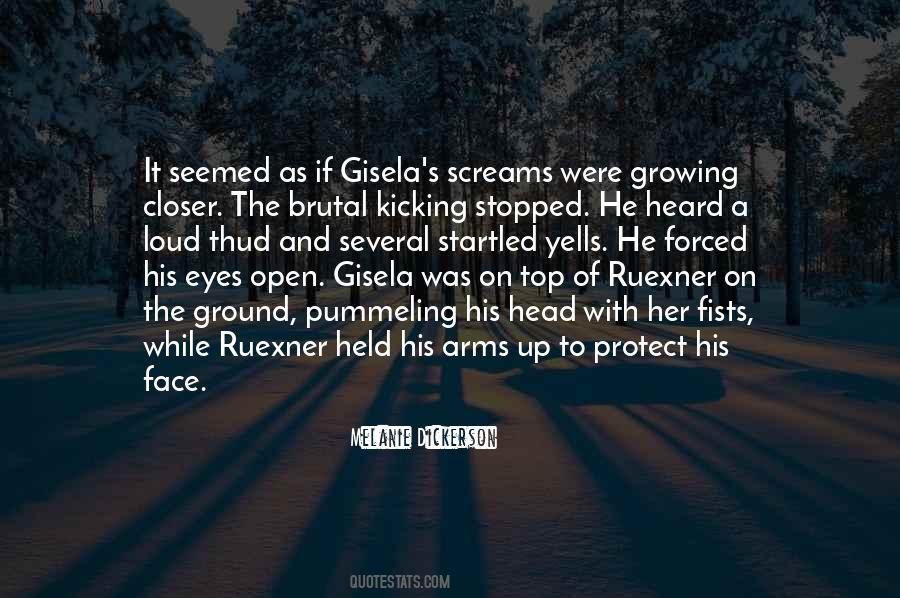 #48. To be given the opportunity to help shape new artists' careers and mentor them to see their dreams come to fruition is a task I welcome with open arms. - Author: Christina Aguilera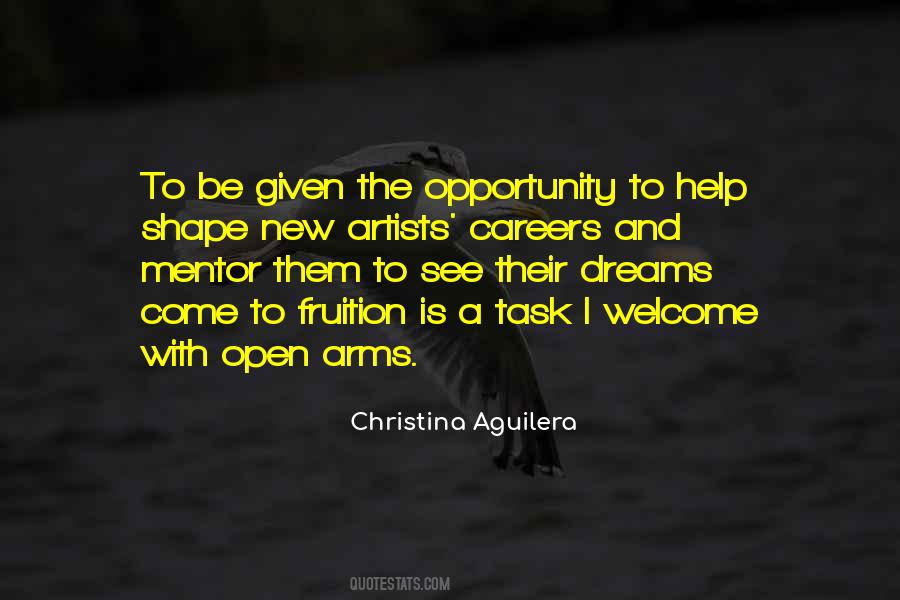 #49. And, like the prodigal son, he had returned broken in body and also in mind to the house where he had been born, and he and his child had been welcomed with open arms. - Author: Catherine Cookson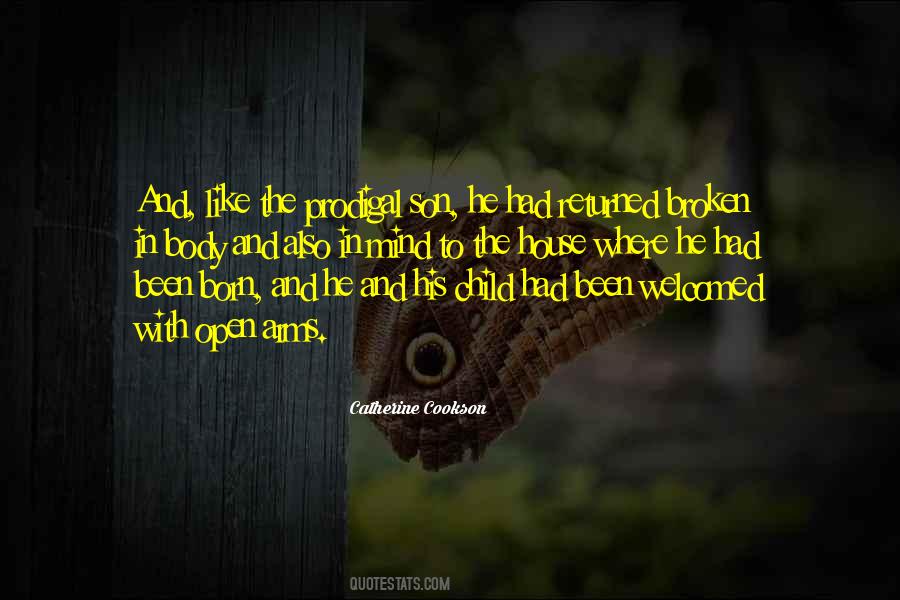 #50. As one, they leap, laughing, and that is where we leave them - mouths open, arms spread wide, fingers splayed to take in the whole world, bodies flying high in defiance of gravity, as if they will never fall. - Author: Libba Bray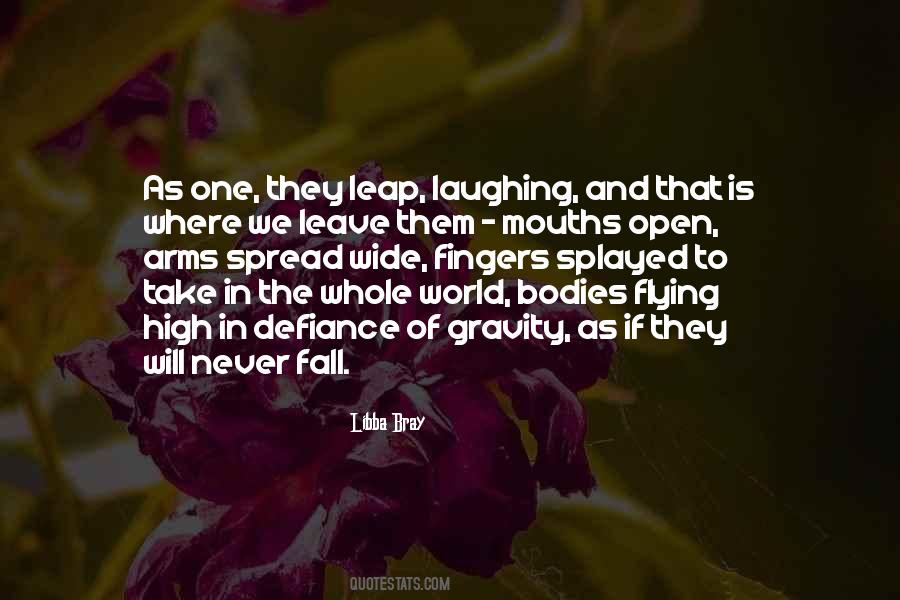 #51. The lock splits. The iron gate swings open. She emerges, raises her arms towards the suddenly chilled moon. The world changes. - Author: Margaret Atwood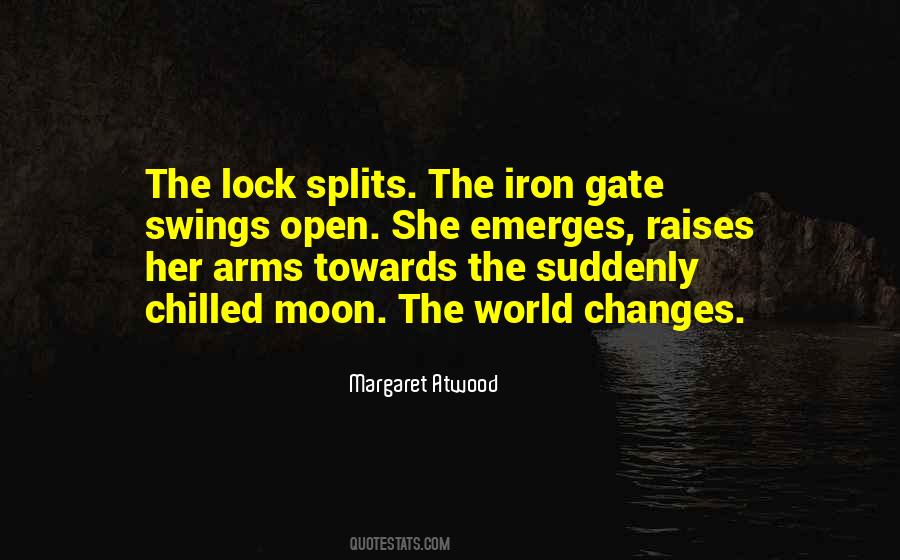 #52. And my arms will be wide open to catch you. Always. - Author: Lorelei James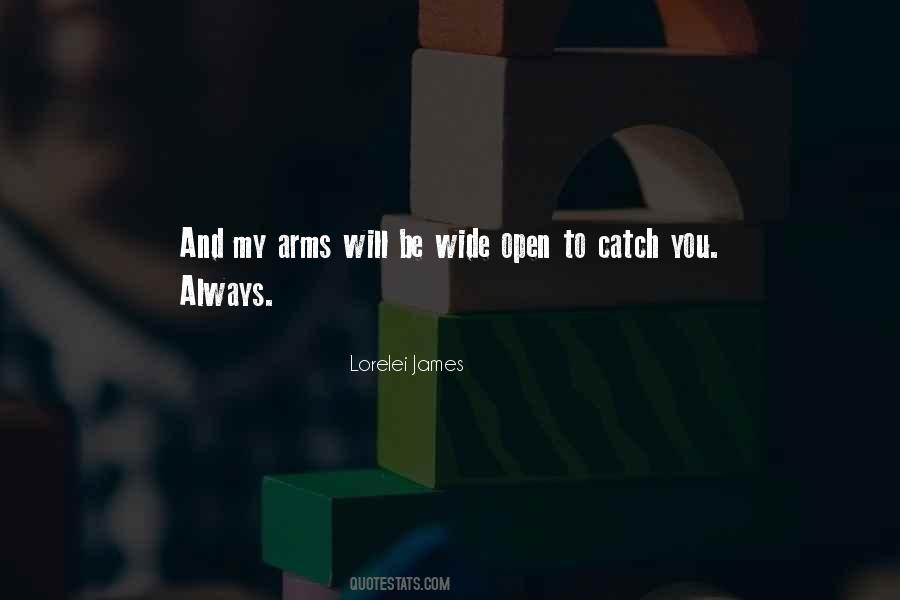 #53. The defining moment when we finally admit, "I can't do this alone. Its too much for me. Take it."
That's the moment our heart cracks open, our will pours out and Christ stands ready with his arms stretched wide and his smile even wider.
That's the moment a miracle is born. - Author: Toni Sorenson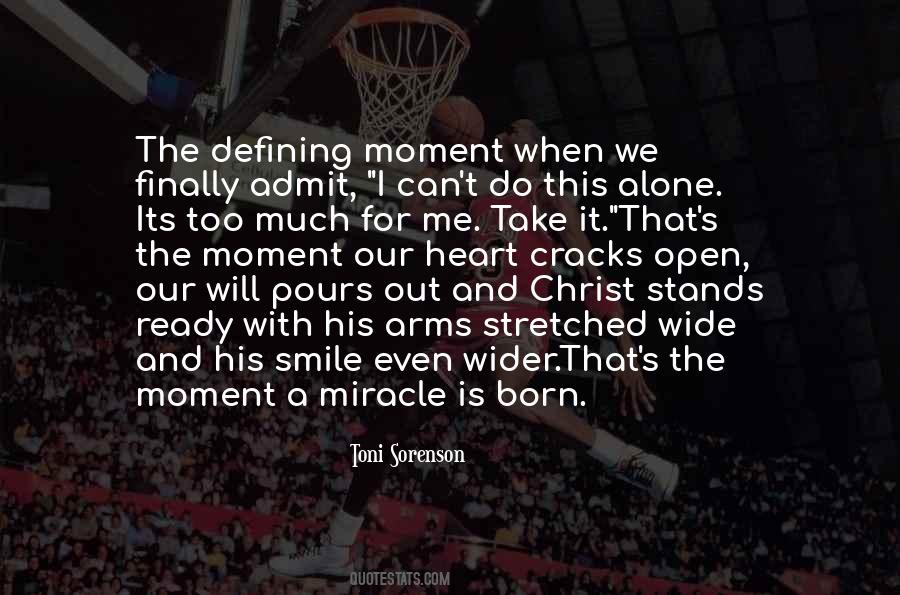 #54. Souls who can recognize God in the most trivial, the most grievous and the most mortifying things that happen to them in their lives, honor everything equally with delight and rejoicing, and welcome with open arms what others dread and avoid. - Author: Jean-Pierre De Caussade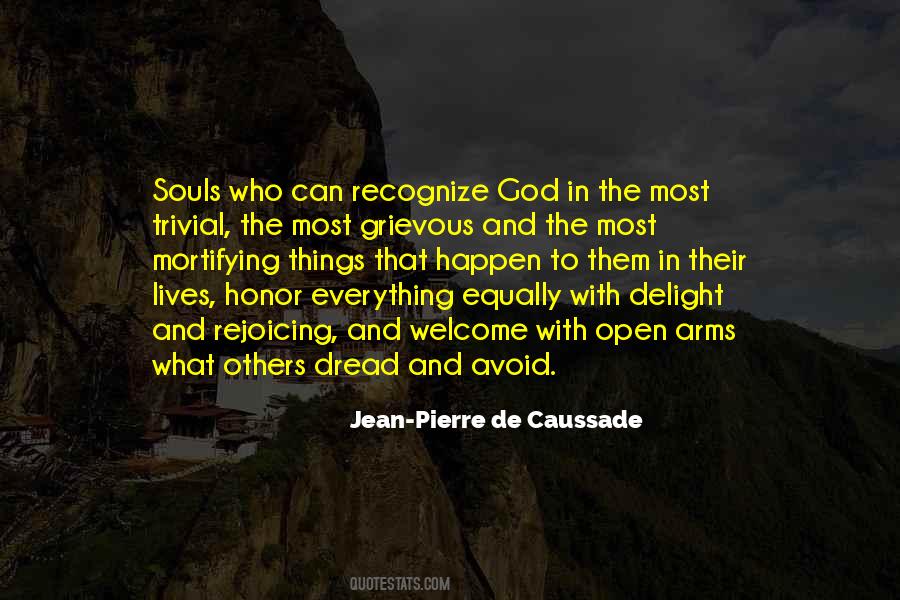 #55. The world is always ready to receive talent with open arms. Very often it does not know what to do with genius. - Author: Oliver Wendell Holmes, Sr.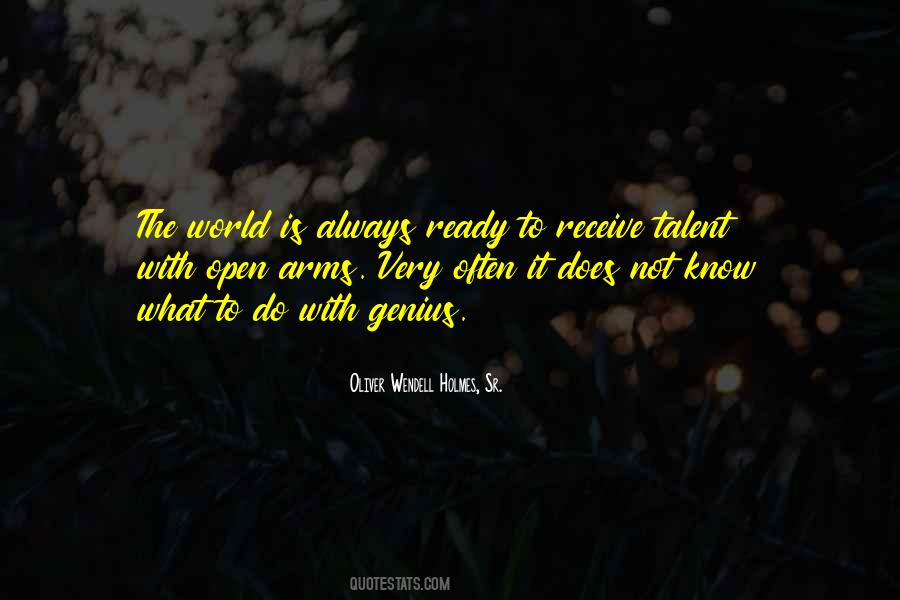 #56. His young wife - thirty years his junior - ran toward him with open arms. Rather than simply embracing him, she leaped onto him, wrapped all four limbs around him like a squid, and clung. - Author: Daniel Arenson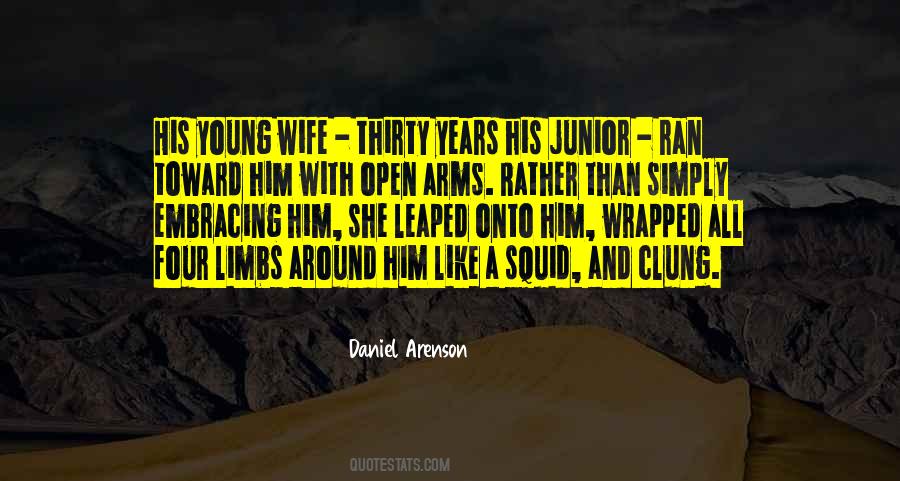 #57. Jane," he whispered as the streaks of dawn broke through their bedroom window. "Once more. In the daylight, so I can see you with the sun upon your skin."
And she rolled over, smiled, and held open her arms to him, welcoming him home at last. - Author: Charlotte Featherstone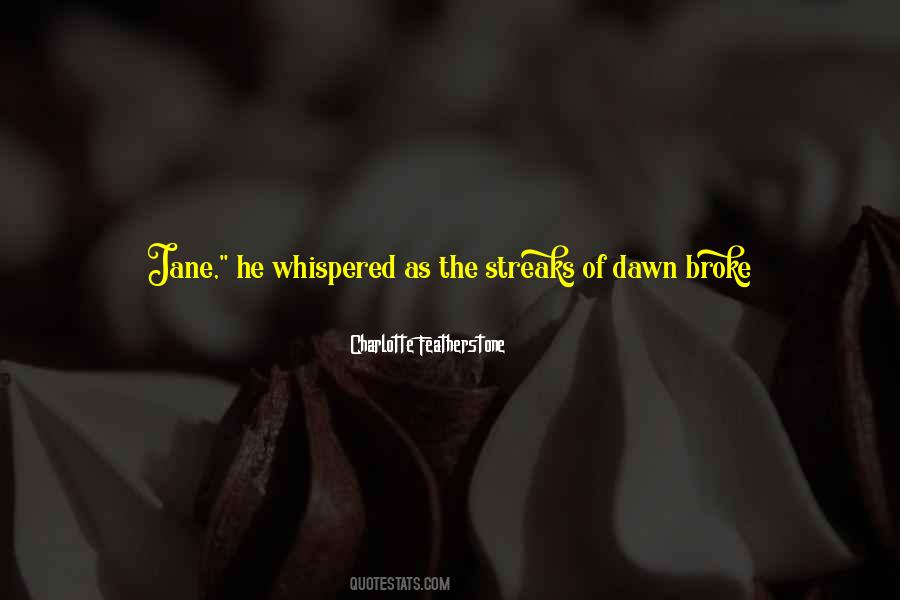 #58. My love has saved me. It wraps strong arms around me when I cry with despair;it gives me the routine of a working week to lend vicarious structure to my shapeless days. It brings me daily laughter, a reason to keep washing...and it slices me open with guilt. - Author: Anna Lyndsey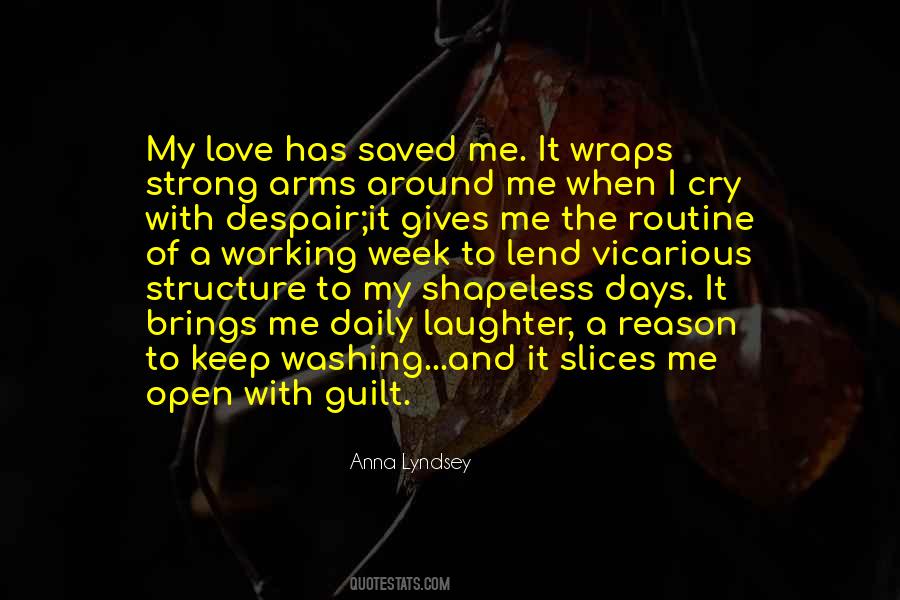 #59. Greet every morning with open arms and say thanks every night with a full heart. Each day is a precious gift to be savored and used, not left unopened and hoarded for a future that may never come. - Author: Regina Brett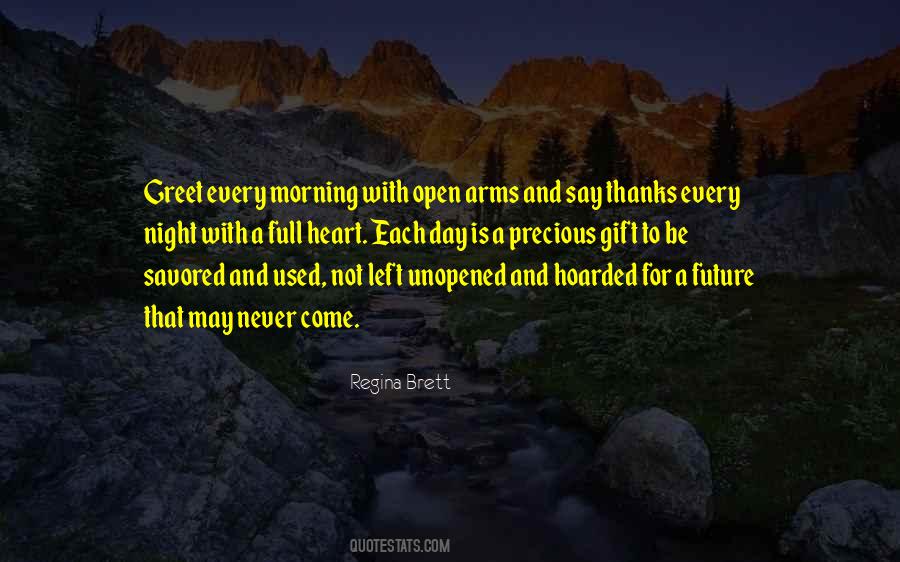 #60. God saw your entire life from beginning to end, birth to hearse, and in spite of what he saw, he still dreams of having you by his side. Even with your faults and failures. Despite your muddles and missteps. He still stands near, arms open wide, ready to embrace you with a Father's love. - Author: Max Lucado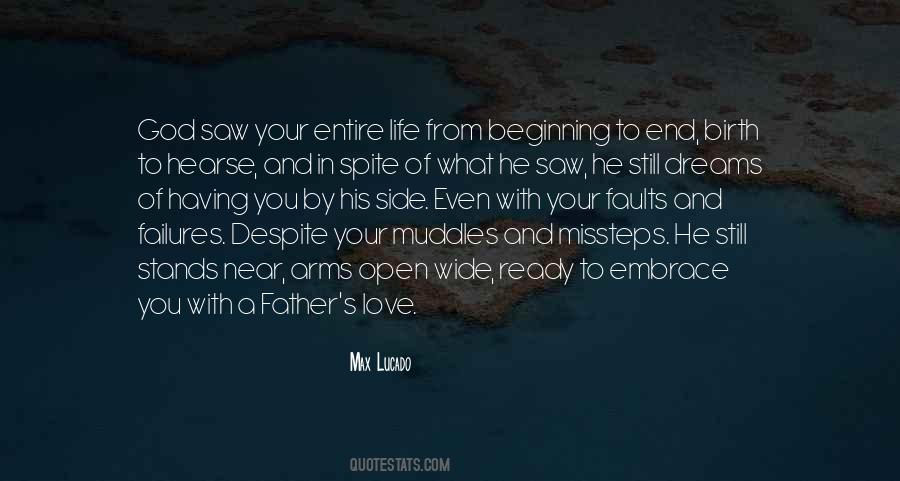 #61. I end up standing in front of the nearby painting with my arms and legs open wide, flapping them around and doing a damn fine imitation of a demented hooker doing an upright snow-angel as I try to protect the painting from damage. - Author: Elle Casey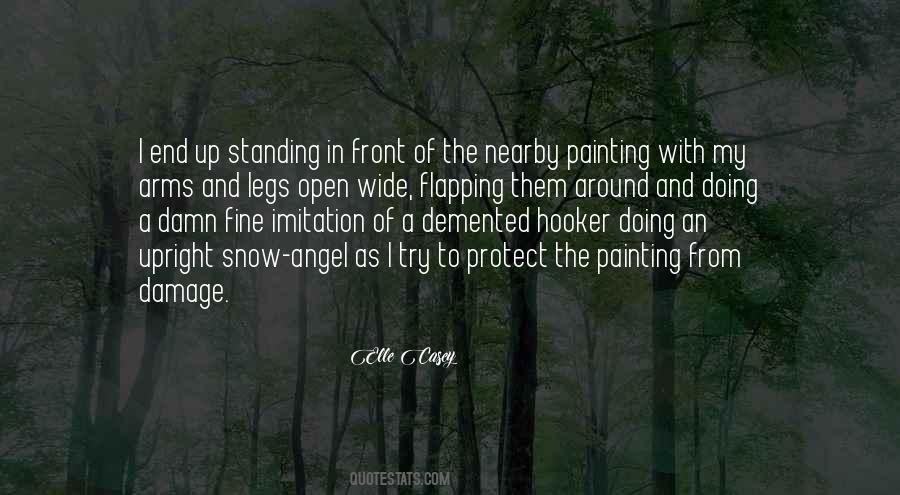 #62. I wish you wouldn't have given the sundial bracelet to Terease"

"Why?" I question and press my head onto his chest, pushing my arms back into his open jacket and around his back.

"If I had it to lead me to my deepest desire, I know it would always be a direct path to you. - Author: Michelle Warren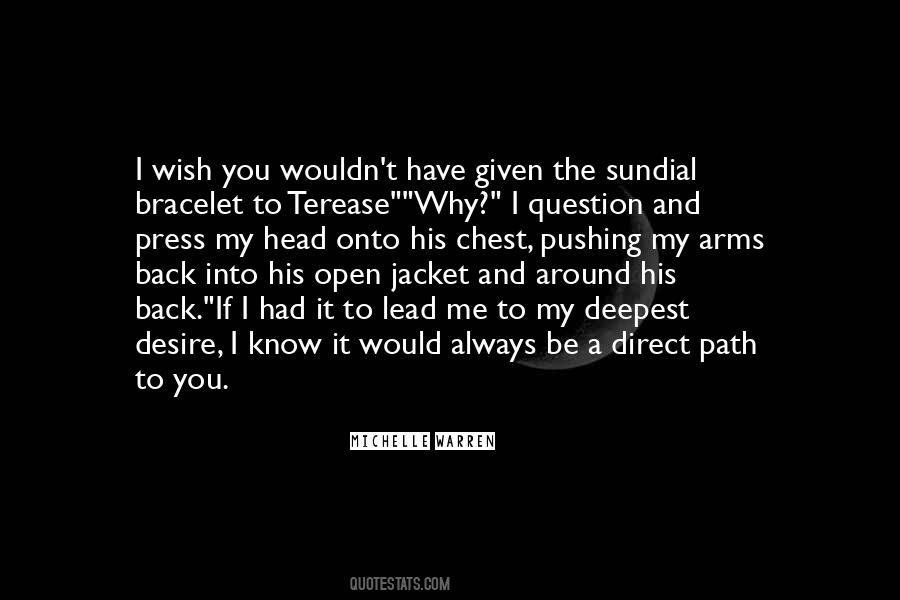 #63. And as man turned from the light of day, all that was left to him was the endless night. Without contrast, he threw open his arms, and darkness took hold. - Author: Aaron Dembski-Bowden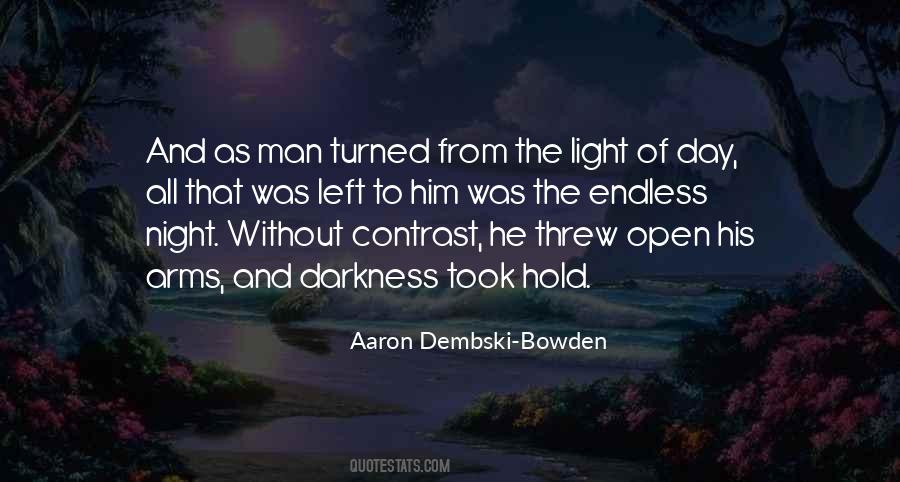 #64. Hobgoblins know the proper way to dance: Arms akimbo, loopy legs askew, Leaping into darkness with delight, Lusting for the ecstasy of fright, Open to the charm of horrors new. - Author: Nick Gordon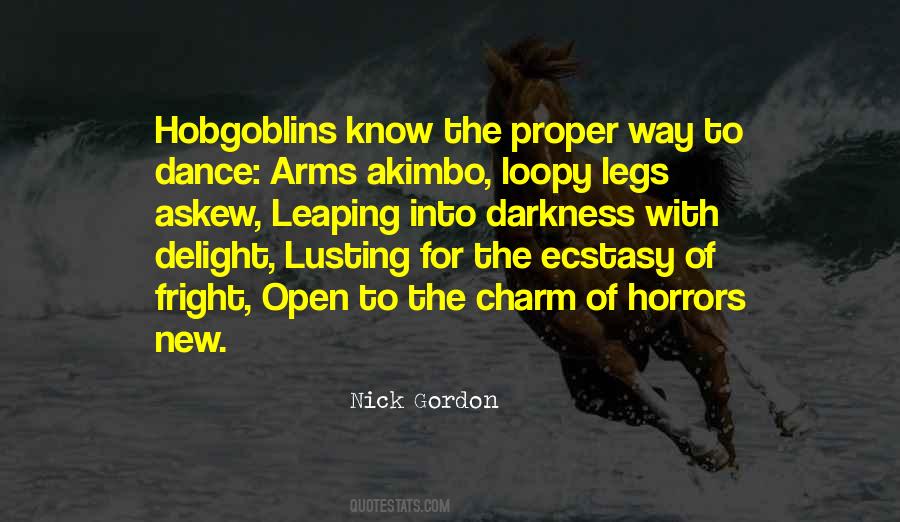 #65. I welcome anyone that wants to come into the WWE and try it, because, I was the type of person that was not welcome with open arms. People didn't want me to come in because I was from a Reality background. But I'm the first person that says, bring anybody in. - Author: The Miz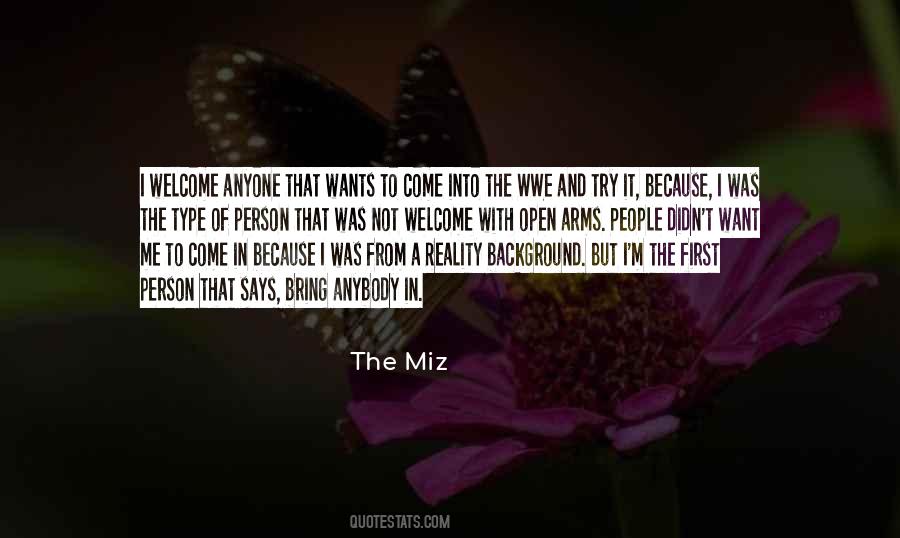 #66. We need this city to actually live up to its name-The City of Angels. We need to spread our wings. We need to show that we are more than red carpets, we are more than Hollywood, that we are a city ourselves of open arms. We are a city of generosity and compassion. - Author: Maria Shriver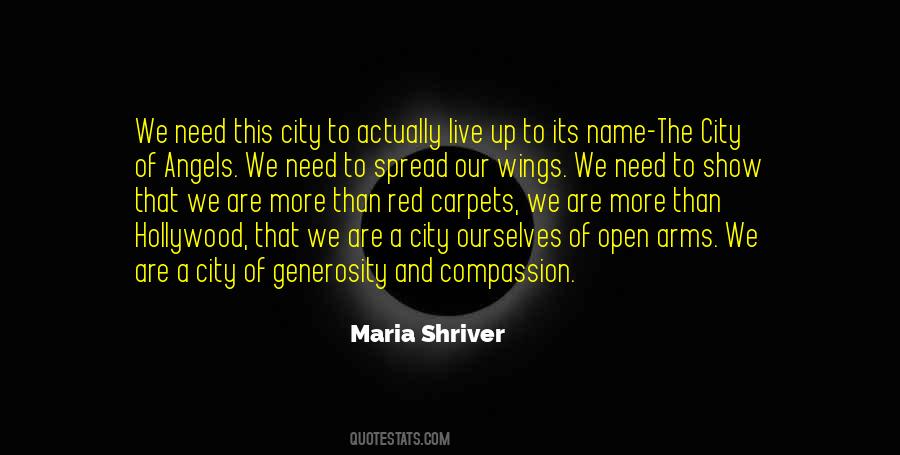 #67. Open your arms to embrace what you see, and never lose sight of what you have - Author: Robert Funston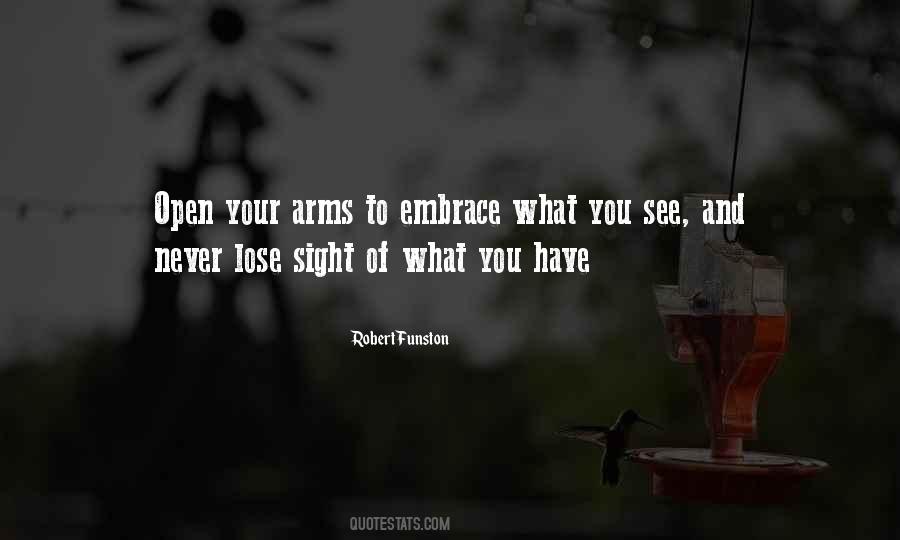 #68. And finally i prayed for the mouse-I prayed that he didn't get hurt when he went flying out the door of the open arms baptist church of naomi. I prayed that he landed on a nice patch of grass. - Author: Kate DiCamillo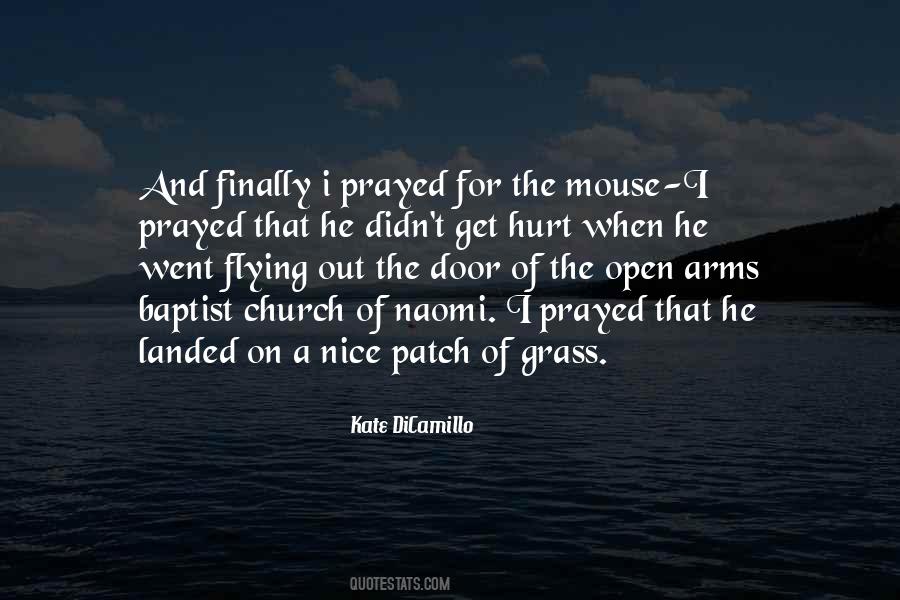 #69. I open my arms wide and declare with love that I deserve and accept all good! - Author: Louise Hay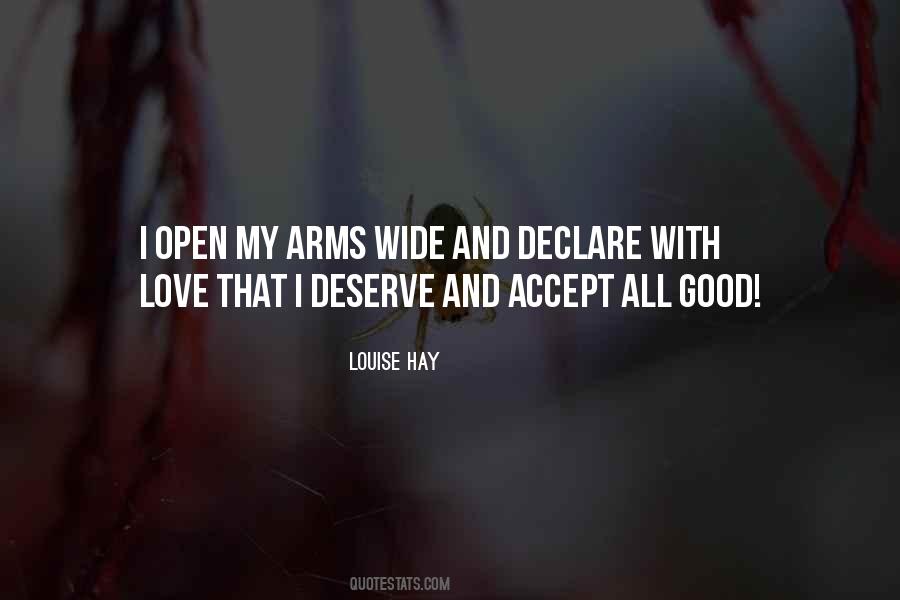 #70. Philip looked incredulously at the tiny bundle in Johnny's arms. He reached out a hand tentatively, and lifted a corner of the blanket. He saw a wrinkled pink face, an open toothless mouth and a little bald head - a miniature of an aging monk. - Author: Ken Follett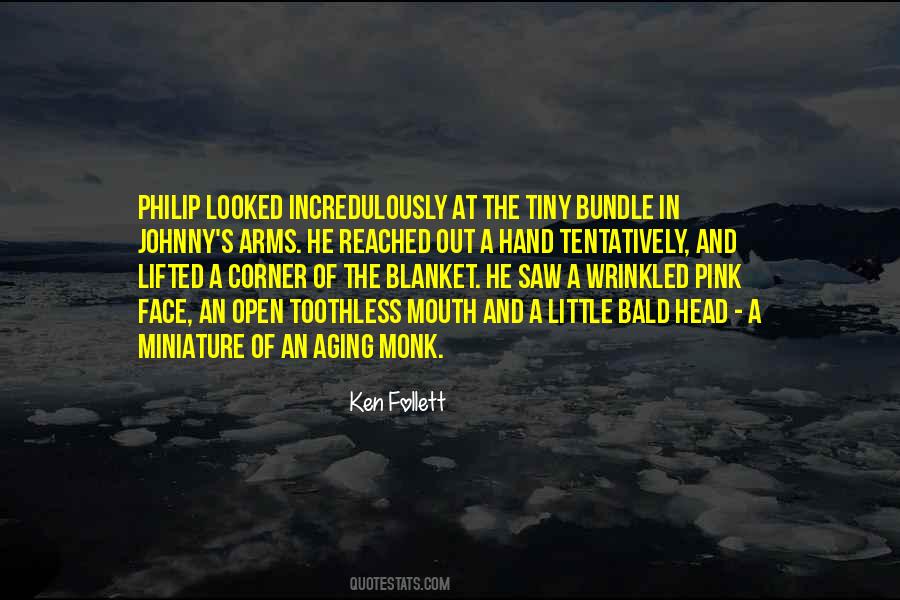 #71. You never know what's gonna happen if you don't just jump in with open arms. - Author: Shannon Lynette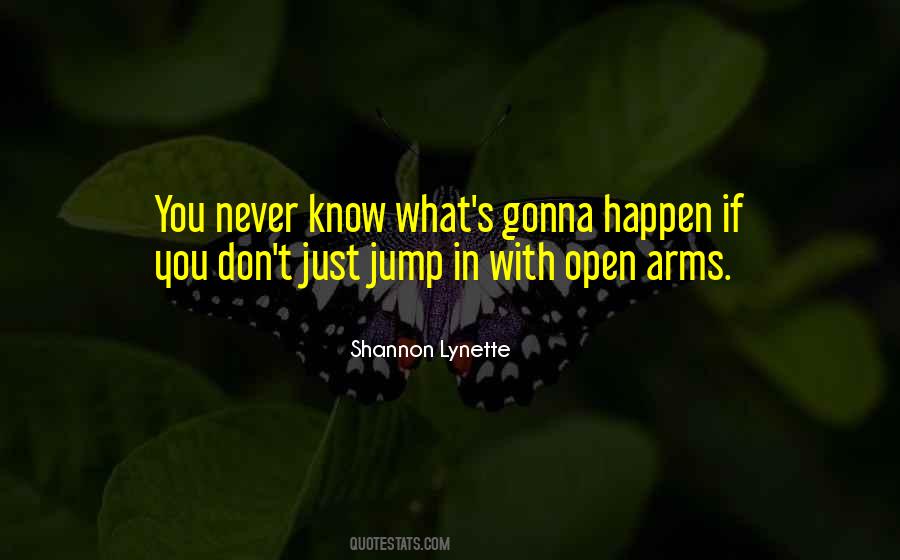 #72. Our extended family is an integral part of our daily lives and Connie and I welcome you with open arms. - Author: Frank Jordan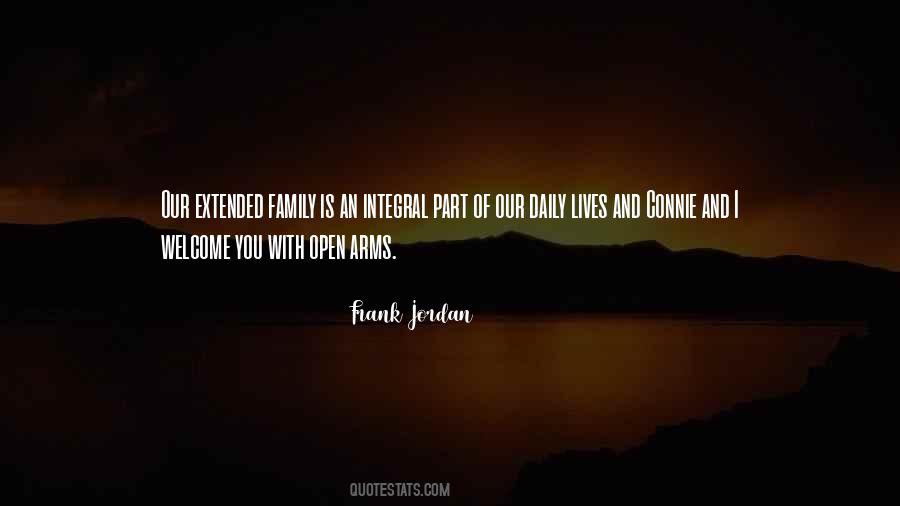 #73. Will you dance with me?" The charms on Sahara's bracelet clinked against one another as she lifted her arms to link them around his neck, her love for him proud and open.
Deep inside, even the part of him that was the void, merciless and dark and broken, knew happiness, knew joy. - Author: Nalini Singh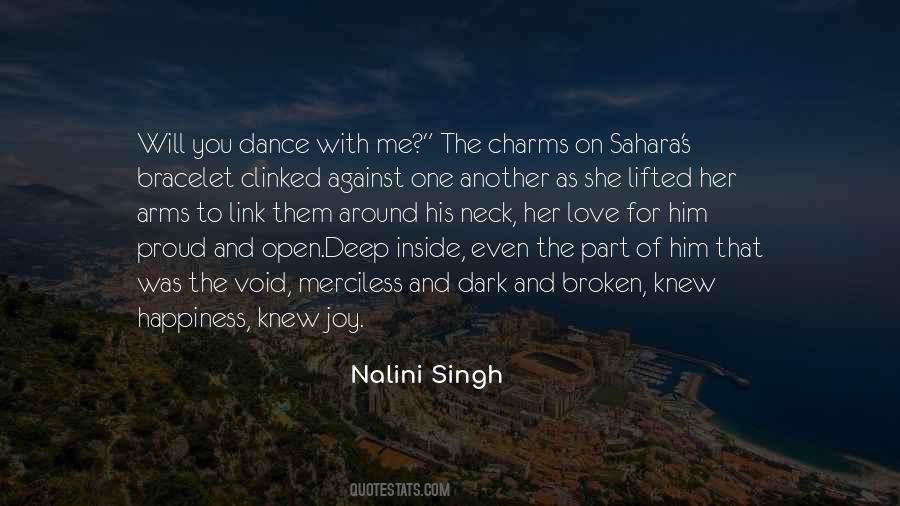 #74. Up home we loved a good storm coming, we'd fly outdoors and run up and down to meet it," her mother used to say. "We children would run as fast as we could go along the top of that mountain when the wind was blowing, holding our arms right open. The wilder it blew the better we liked it. - Author: Eudora Welty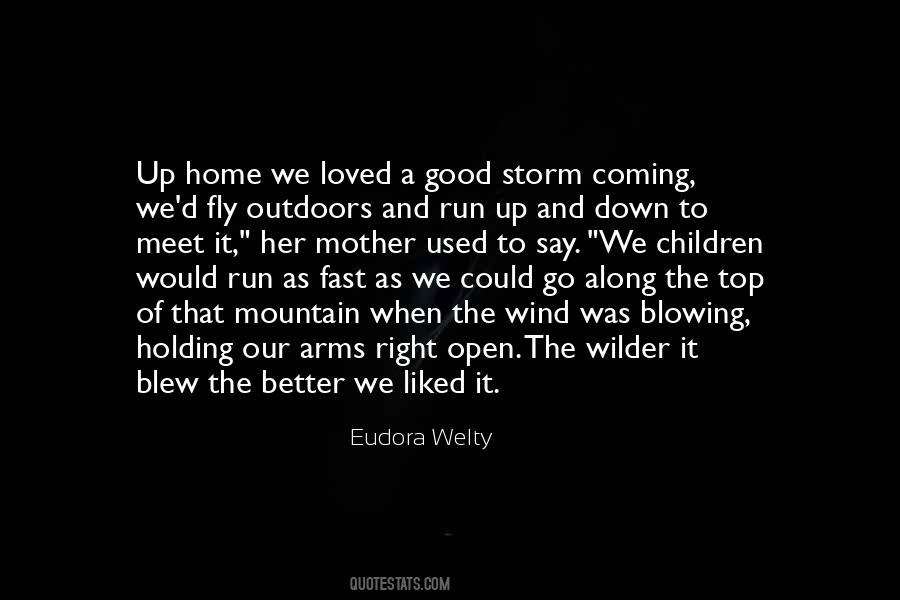 #75. [Happily broken] arms unlocked. Eyes wide open.
Eager. Torn apart. Heart explosive.
Fingers composing [Happily broken].
Come in, come in. I am ready. I am open.
Happy to be open [Happily broken]. - Author: Coco J. Ginger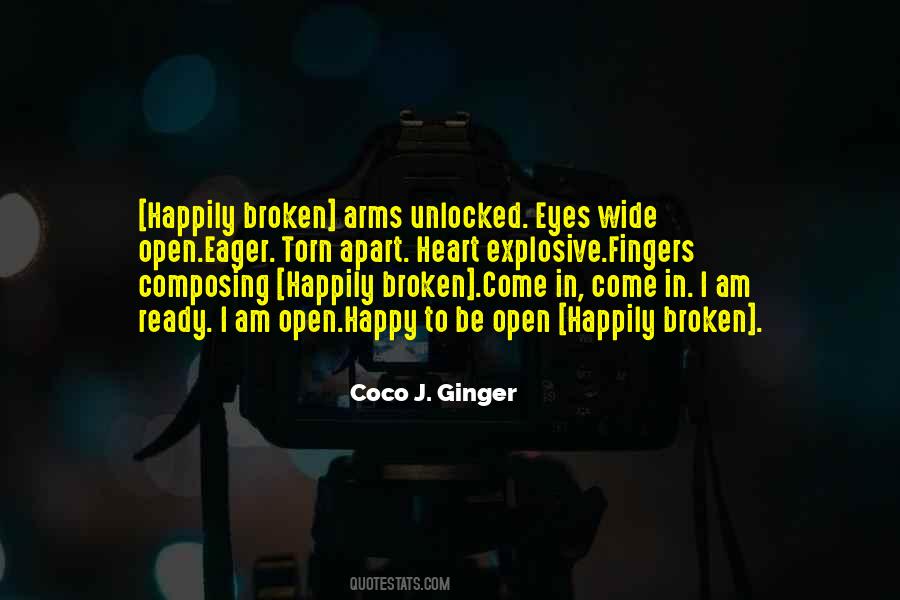 #76. I want to be outside with the misfits, with the rebels, the dreamers, second-chance givers, the radical grace lavishers, the ones with arms wide open, the courageously vulnerable, and among even - or maybe especially - the ones rejected by the Table as not worthy enough or right enough. - Author: Sarah Bessey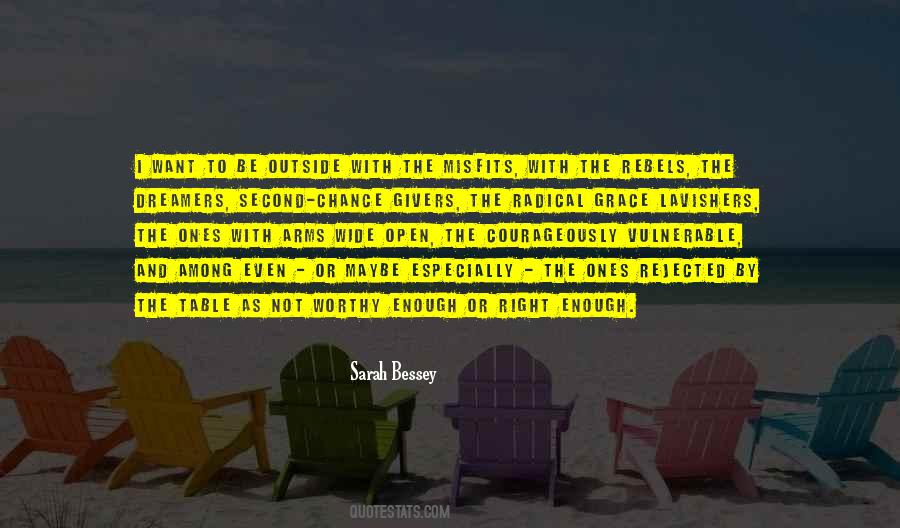 #77. Sigh like the wind--open your arms, your chest, your heart--and all creatures will hum to you. - Author: Penelope Smith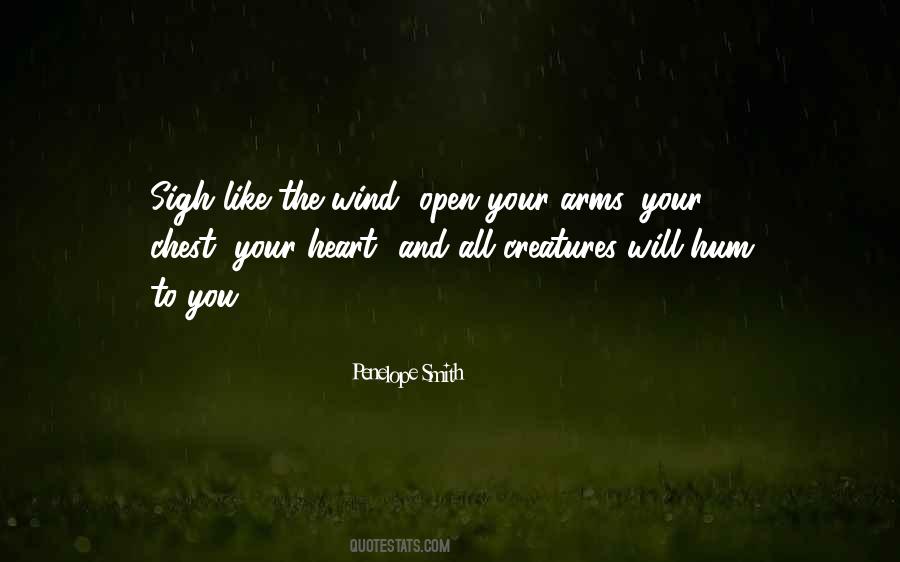 #78. And I want to rise up, throw my arms open for a vast embrace, address an ample, luminous discourse to the invisible crowds. I would start like this: O rainbow-colored gods ... - Author: Vladimir Nabokov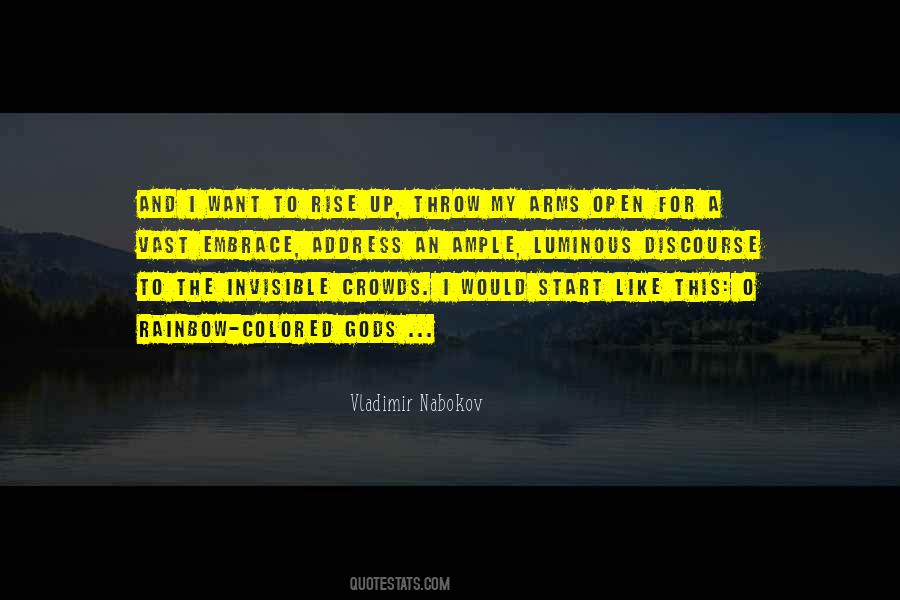 #79. The future, at once hopeful and fearsome, does not possess the ability to prophesy the final word. That future day will come, and when it does, Now and Not Yet will be waiting there with open arms, cheering me on. - Author: Robin Zaruba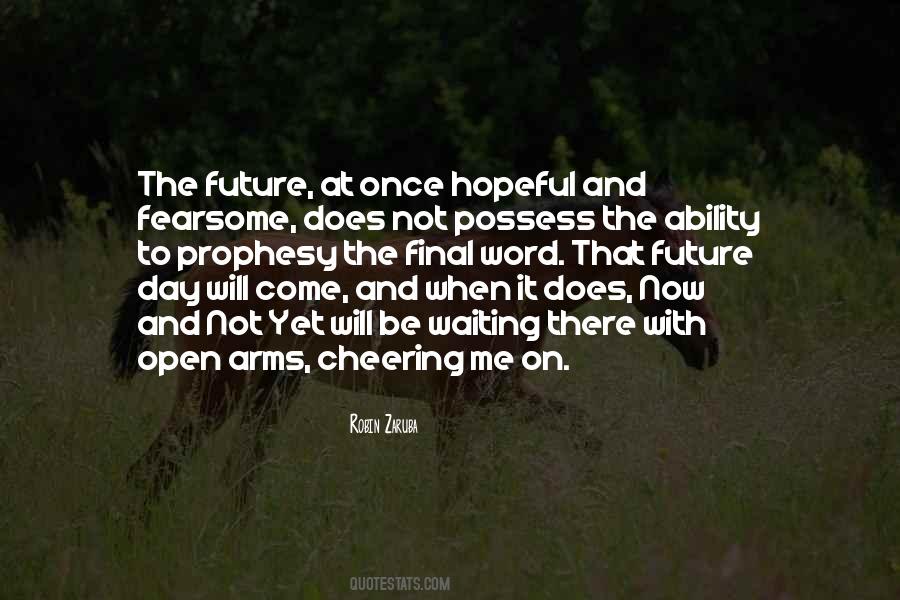 #80. But they were wasting their time. Because Hassan stood with his arms wide open, smiling, waiting for the kite. And may God - if He exists, that is - strike me blind if the kite didn't just drop into his outstretched arms. - Author: Khaled Hosseini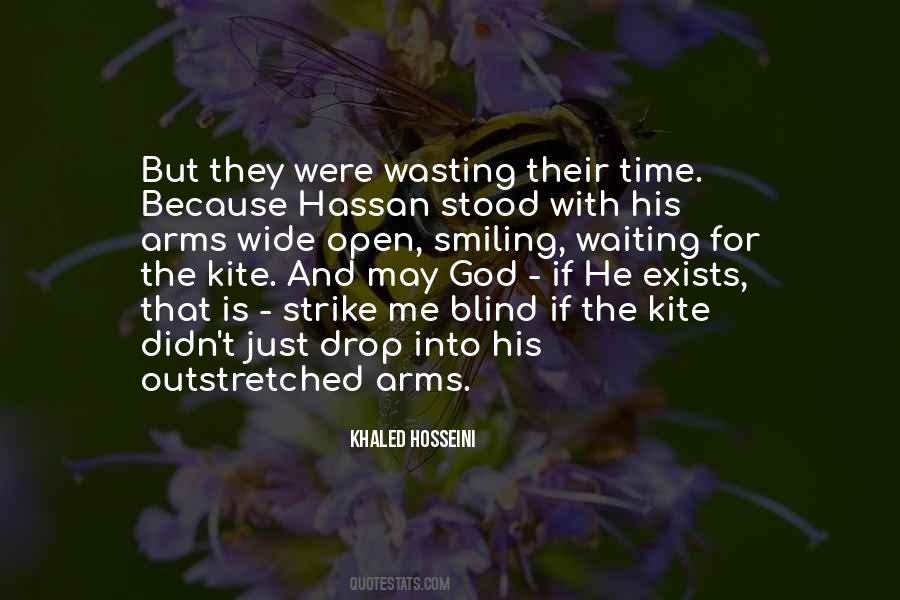 #81. Compassion is like mother giving love to her children. Mother's ways are higher than others, even when everyone rejects, mother accepts with her arms open and wide. - Author: Amit Ray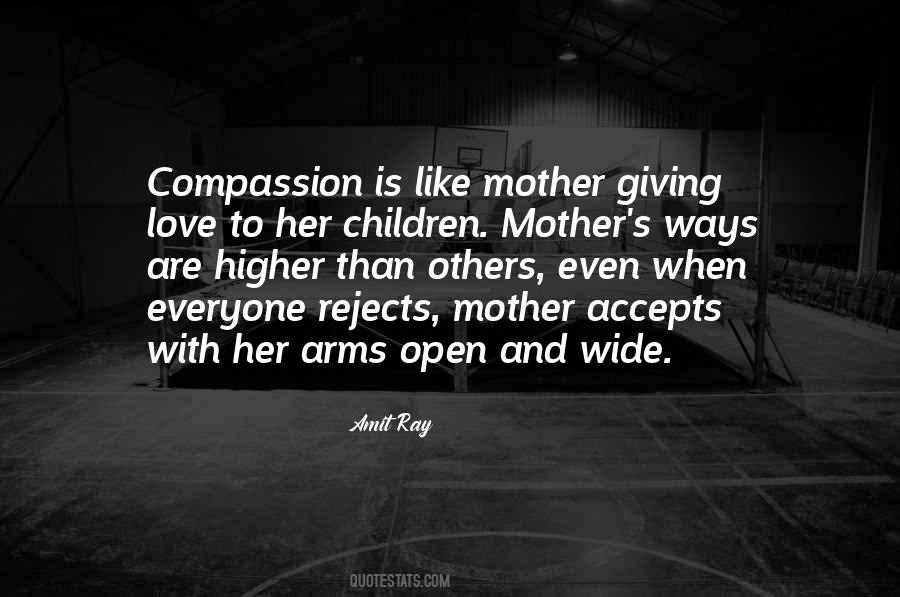 #82. Open your arms if you want the Beloved's embrace. - Author: Rumi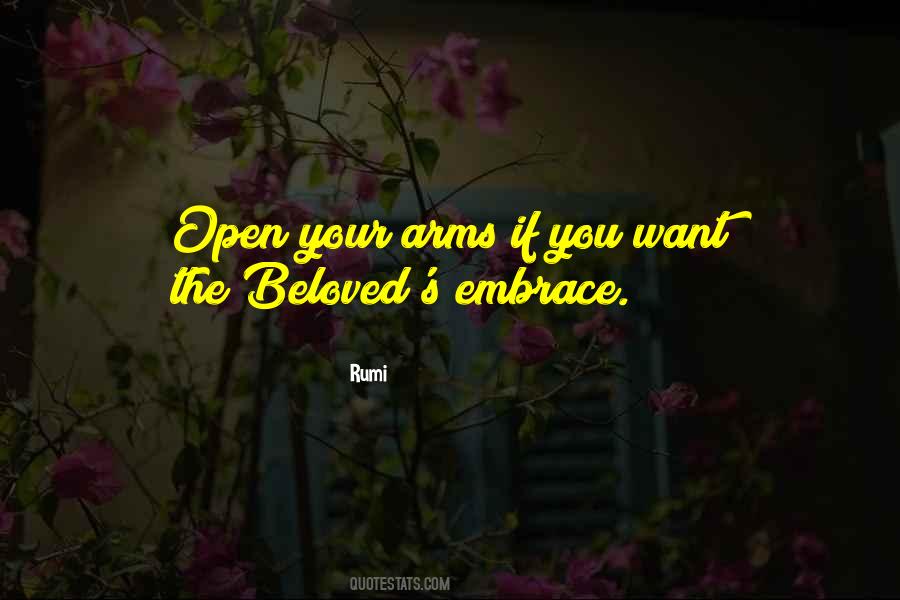 #83. He throws his arms out over his head, fists clenched, and shouts: 'Open your eyes and look at me! I'm right bloody here!' He shouts all the things he hates and wants to change until his voice is hoarse. Then he nods over at me. 'Your turn. - Author: Jennifer Niven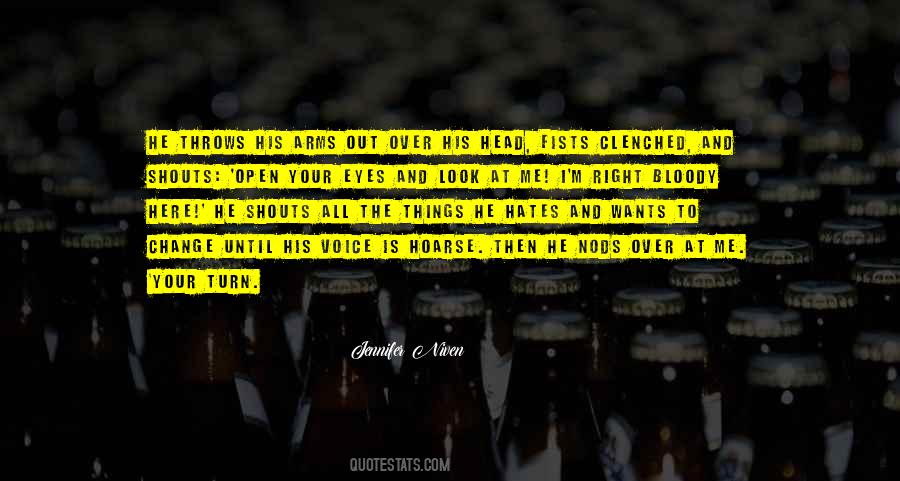 #84. When I step into the light
My arms are open wide
When I step into the light
My eyes searching wildly - Author: Dave Matthews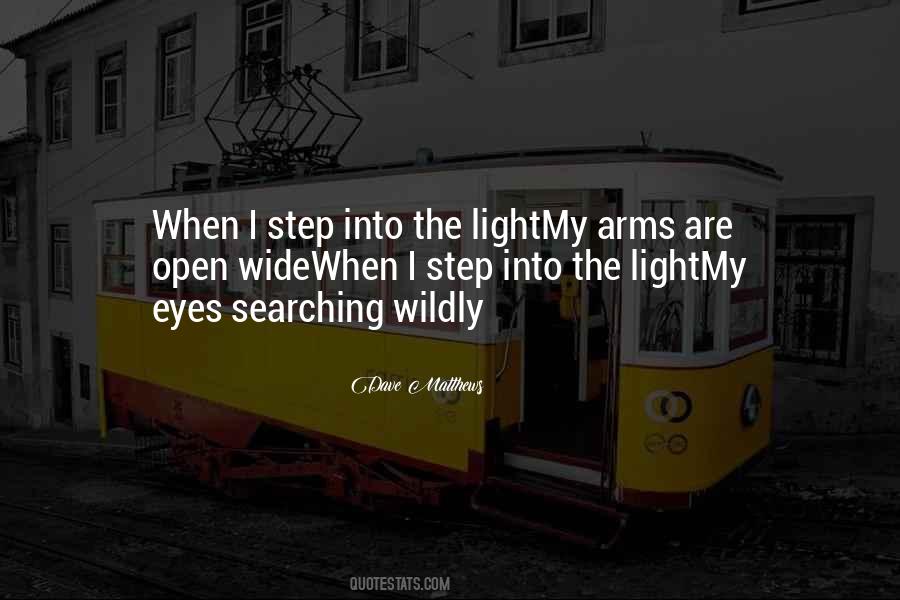 #85. When the mind becomes like a beautiful woman It bestows all that you want of a lover. Can you go that deep? Instead of making love in the body With other children of God, Why not seek the true Lover Who is always in front of you With open arms? Then you will be free of this world at last Like me. - Author: Deepak Chopra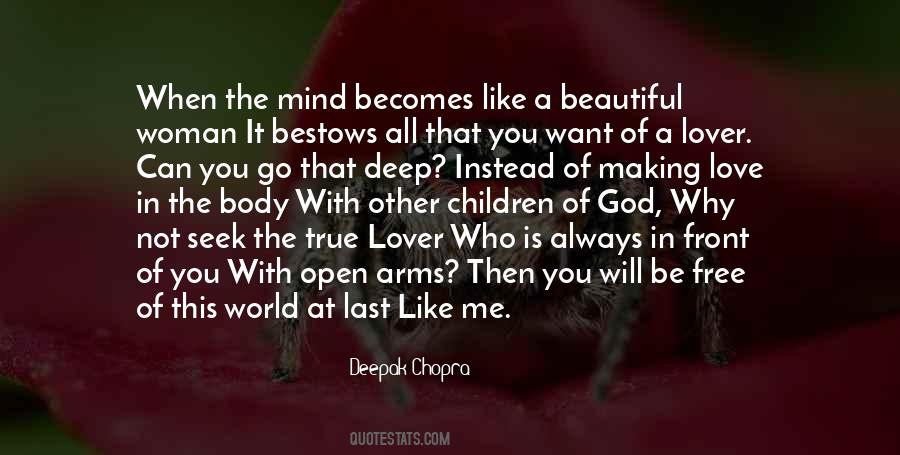 #86. So I just open up my arms and Vera leans against me, and Gabe steps closer, putting one hand on her hair and petting it absently. None of us say anything. The city pulses on around us, and I'm not sure which one of us is anchoring the others, but I've never felt less adrift. - Author: Emma Mills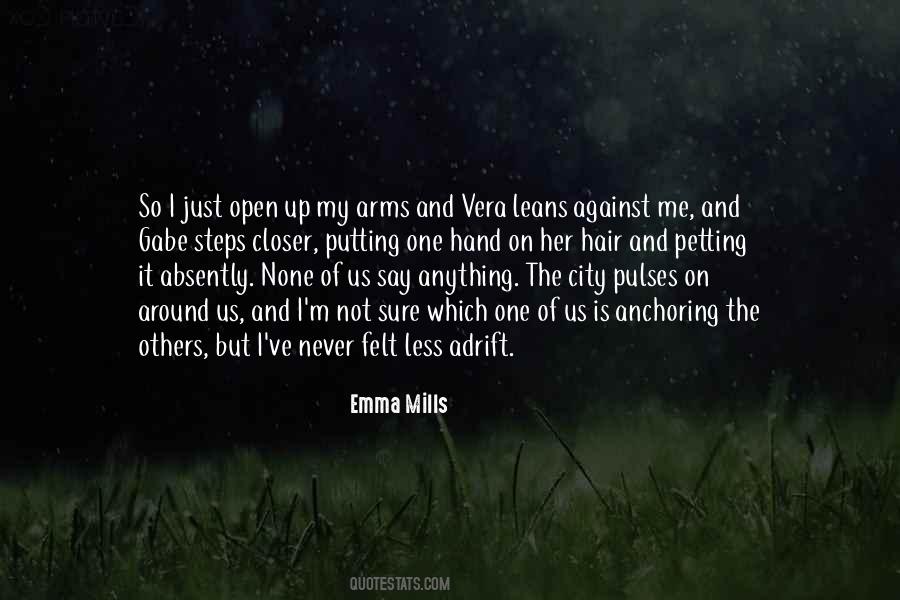 #87. I'm not expecting the American literary community to welcome me with open arms. To them I'm just some schmuck kid who wrote some book. - Author: Macaulay Culkin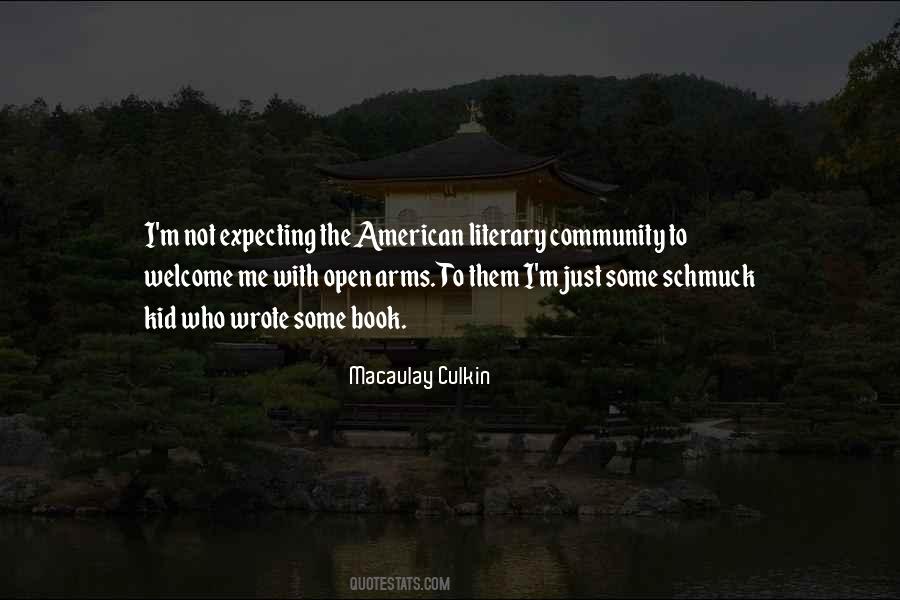 #88. if there's one dude that everyone on the Upper West Side will welcome with open arms, it's the fucking jogger. - Author: Caroline Kepnes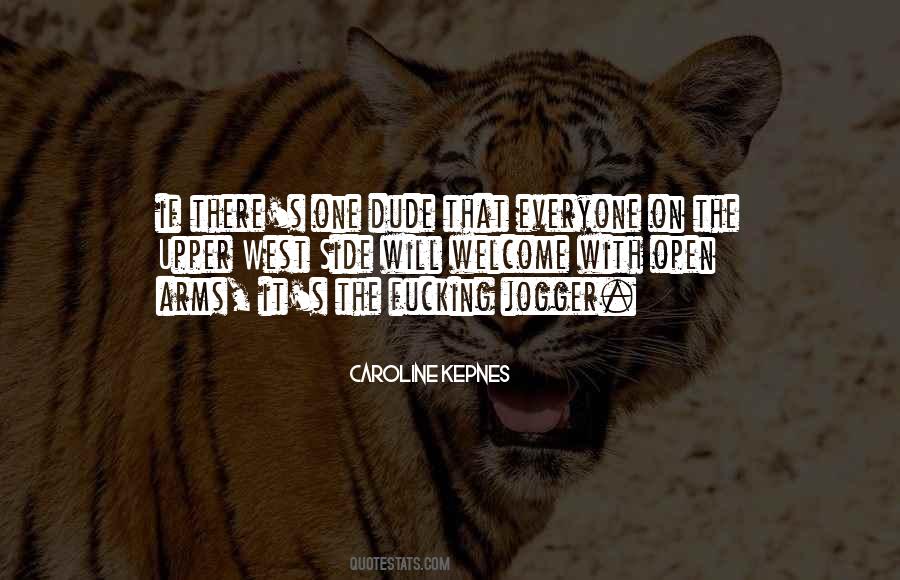 #89. We'd like to be welcomed with open arms and open legs - Author: Andy Biersack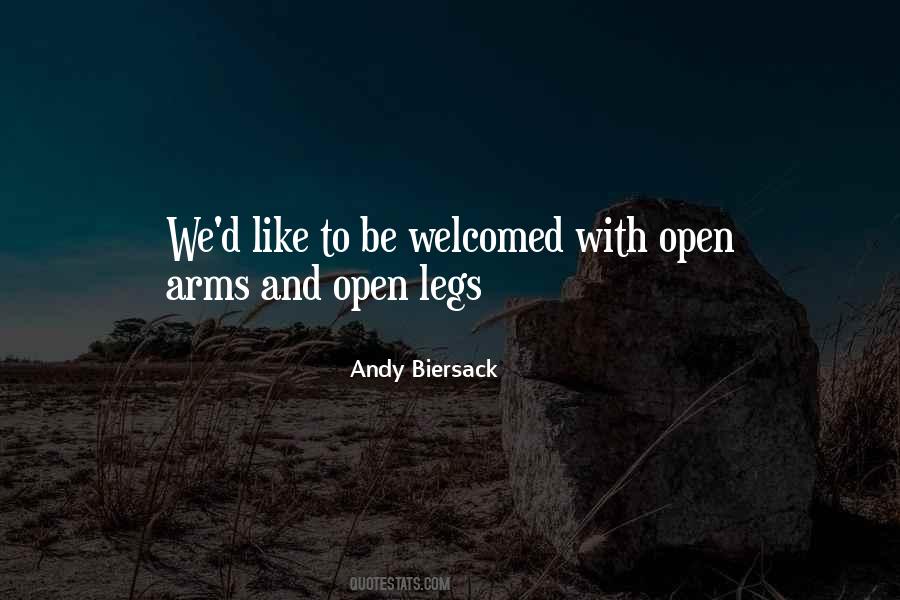 #90. Take off your undead blinders and open your dismembered arms to progress. Fast zombies are scarier, plain and simple! - Author: Greg McCabe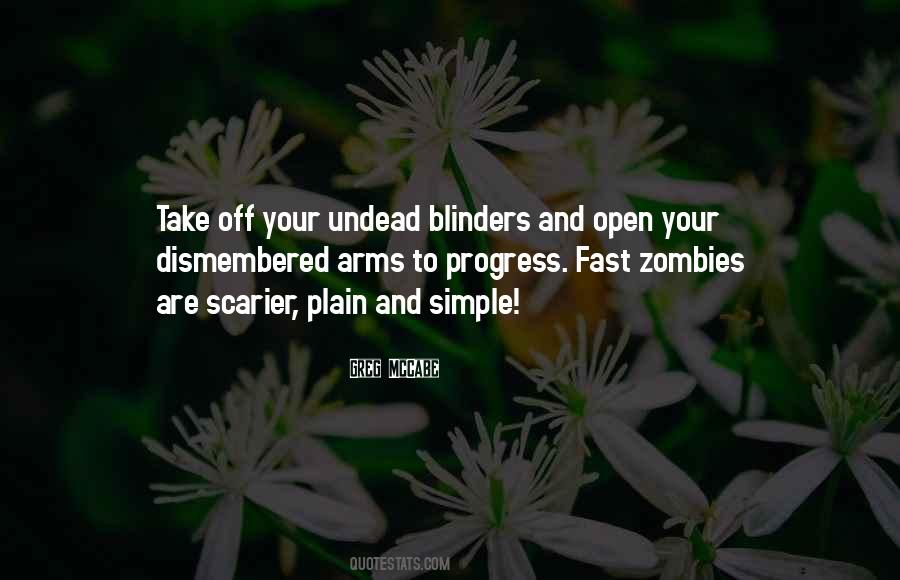 #91. Death could be waiting for him, but he wasn't afraid. Whether it be sooner or later, he welcomed the inevitability with open arms. - Author: Craig R. Key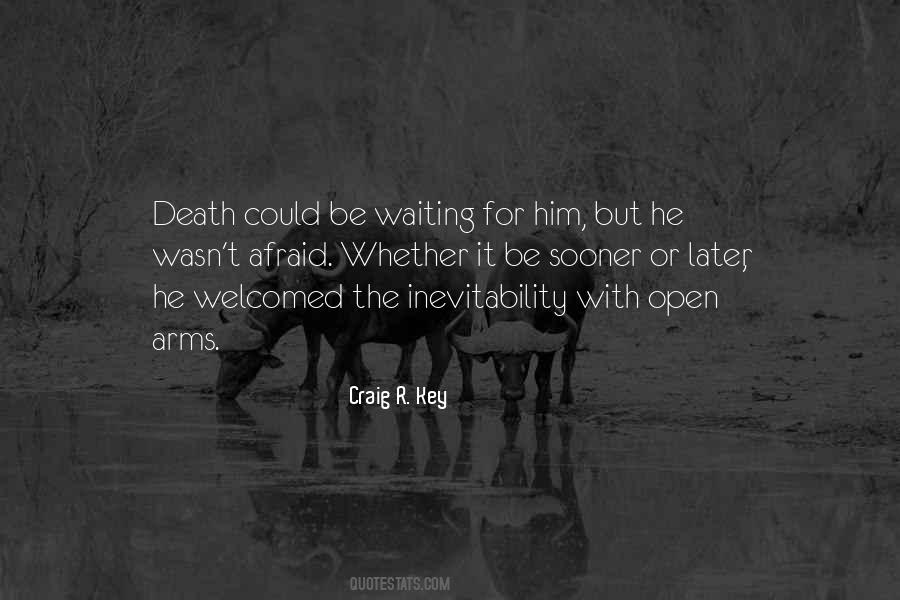 #92. coming home" meant, for me, walking step by step toward the One who awaits me with open arms and wants to hold me in an eternal embrace. I - Author: Henri J.M. Nouwen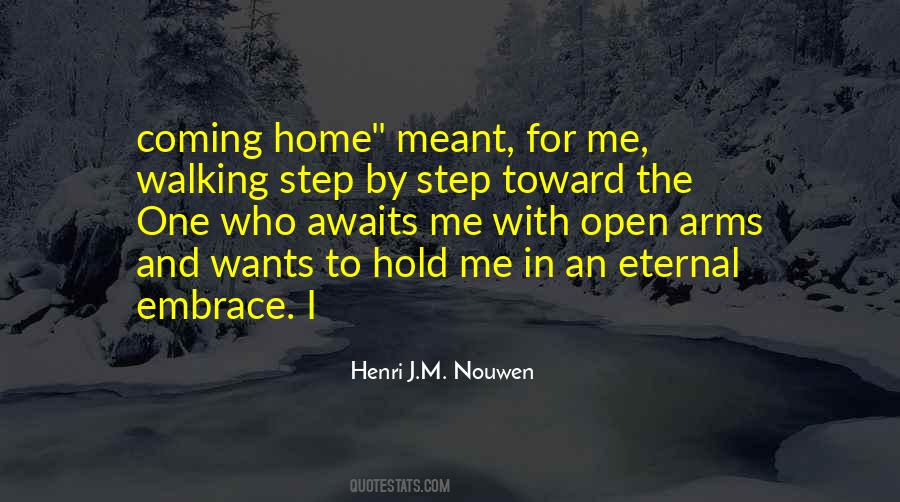 #93. We welcome Chinese investment in the United States with open arms. - Author: Gary Locke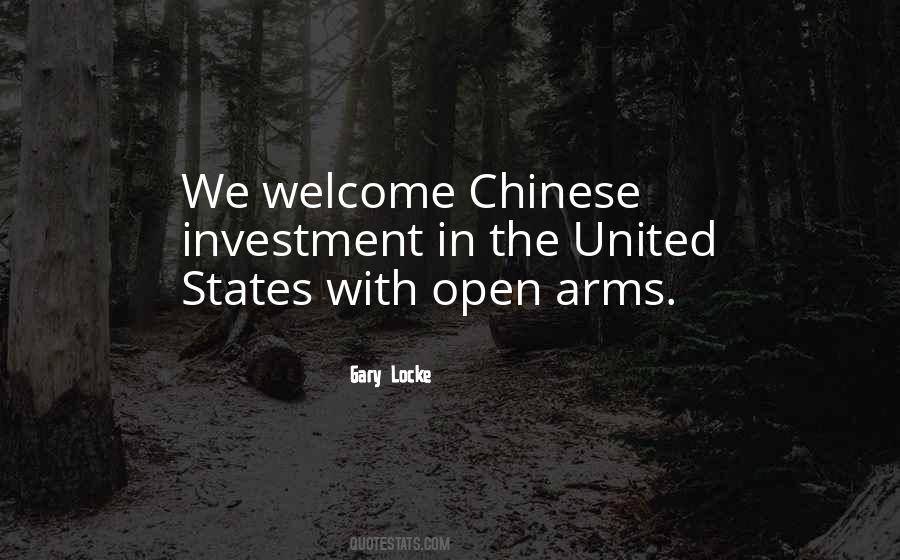 #94. Take the emptiness you hold in your arms
And scatter it into the open spaces we breathe.
Maybe the birds will feel how the air is thinner,
And fly with more affection. - Author: Rainer Maria Rilke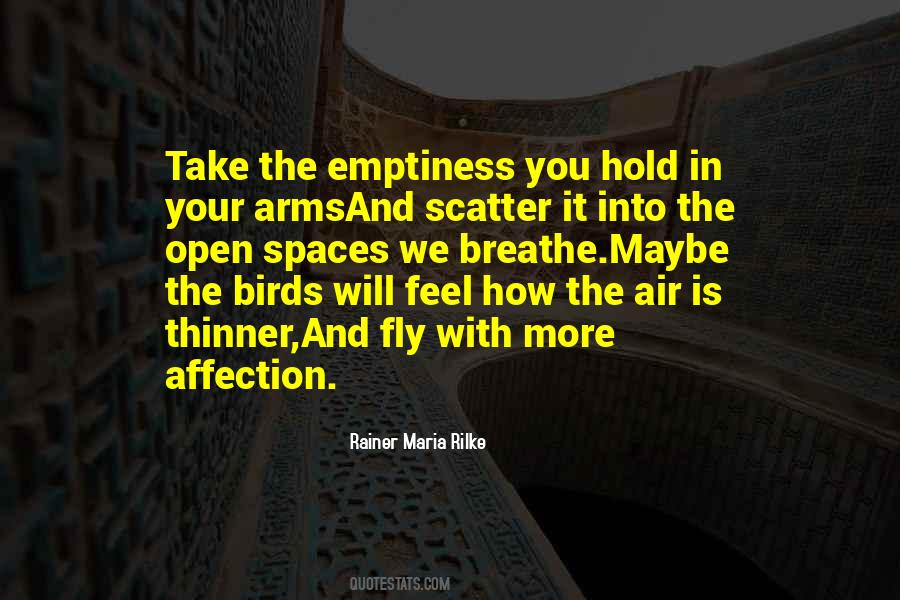 #95. Herbert received me with open arms, and I had never felt before so blessedly what it is to have a friend. When he had spoken some sound words of sympathy and encouragement, we sat down to consider the question, What was to be done? - Author: Charles Dickens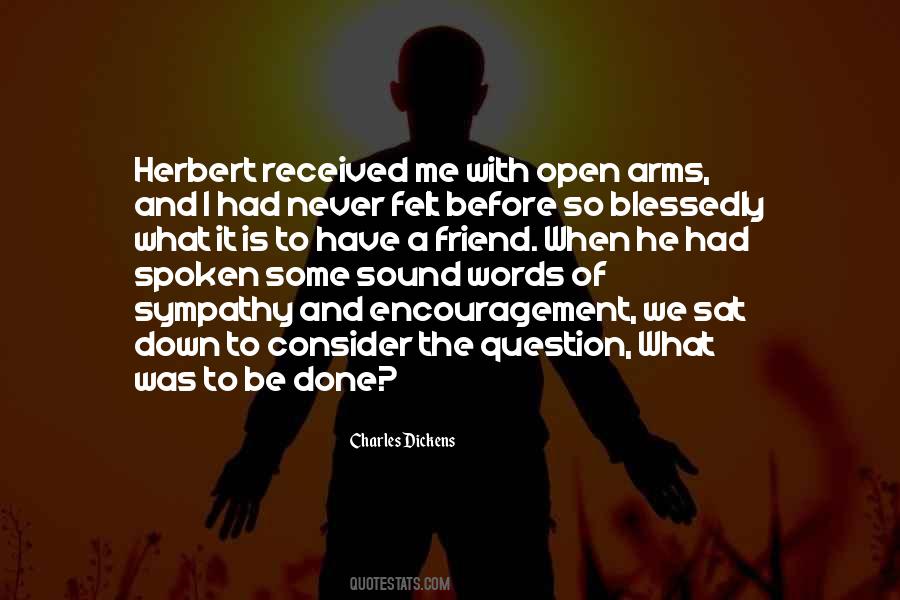 #96. When I am searching for something, it is always waiting for me with open arms. - Author: Debasish Mridha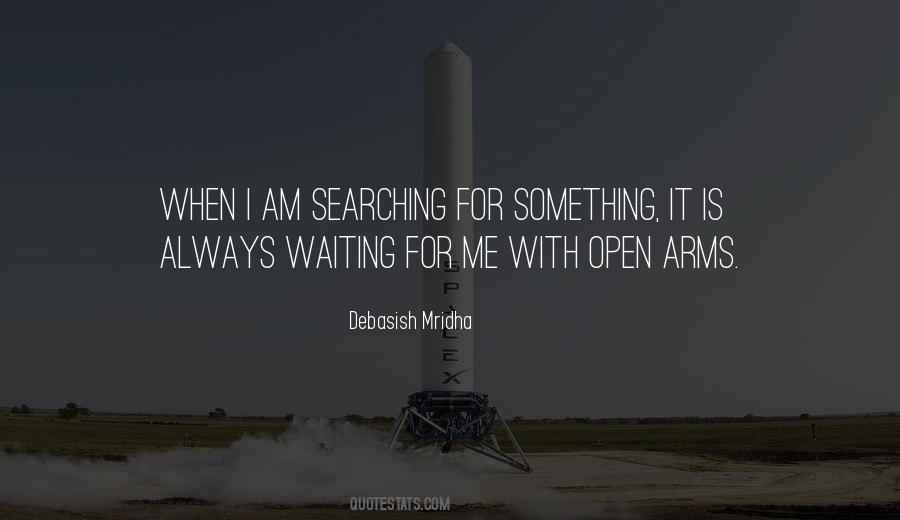 #97. Like any self-governing group of people, the Recording Academy has made missteps over the years. Still, it has corrected course and done more to open its arms to the future than nearly any other industry group around. - Author: Shawn Amos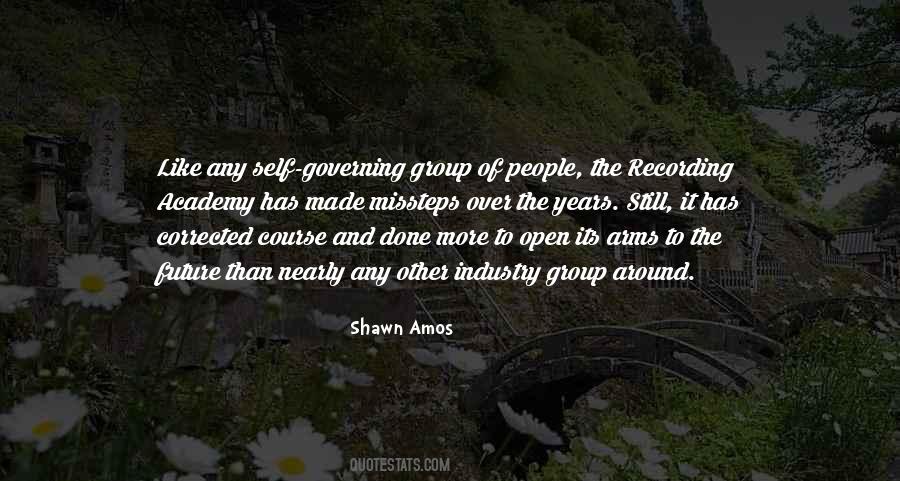 #98. The future is sending back good wishes and waiting with open arms. - Author: Kobi Yamada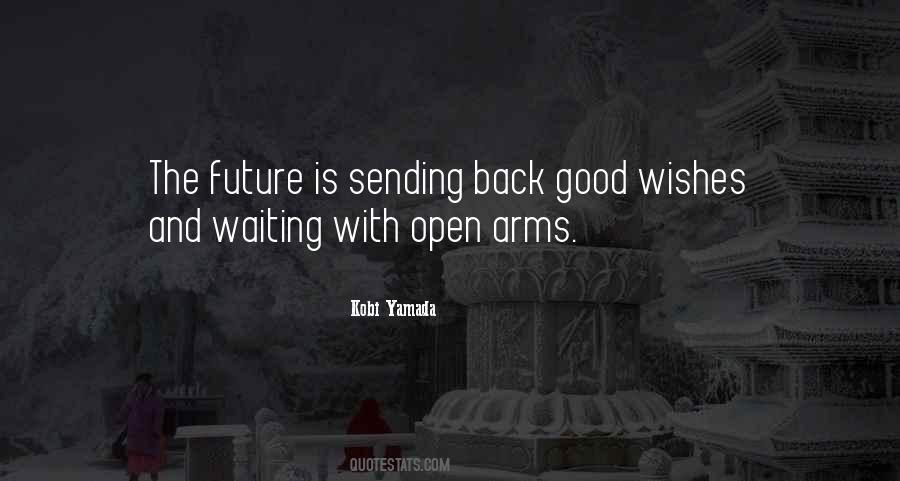 #99. It's like I'm trying to keep the bad away with one hand while holding on to the good with the other, and it just doesn't work. It's stupid. I need both hands. So I guess I just have to spread out my arms and accept the bad with the good. - Author: Andrea Lochen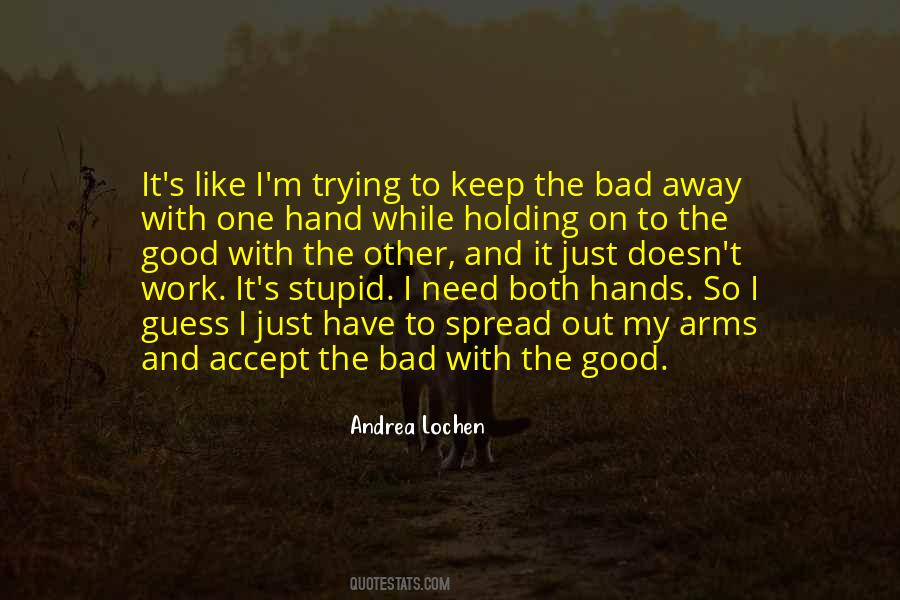 #100. Maggie scoffed. "Denial will not save you when Cupid's arrow find its mark."
"If i see Cupid anywhere in the vicinity, I'm ripping his chubby little arms off." Vanda yanked the door open to Romatech. - Author: Kerrelyn Sparks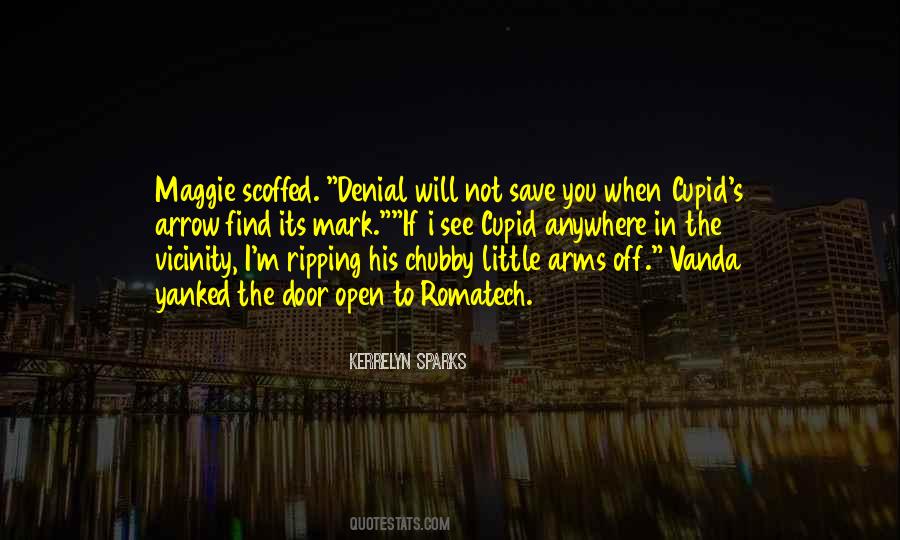 Famous Authors
Popular Topics