Am Flexible Famous Quotes & Sayings
List of top 56 famous quotes and sayings about am flexible to read and share with friends on your Facebook, Twitter, blogs.
Top 56 Am Flexible Quotes
#1. If life's a circle then karma is f*** flexible - Author: A. Mani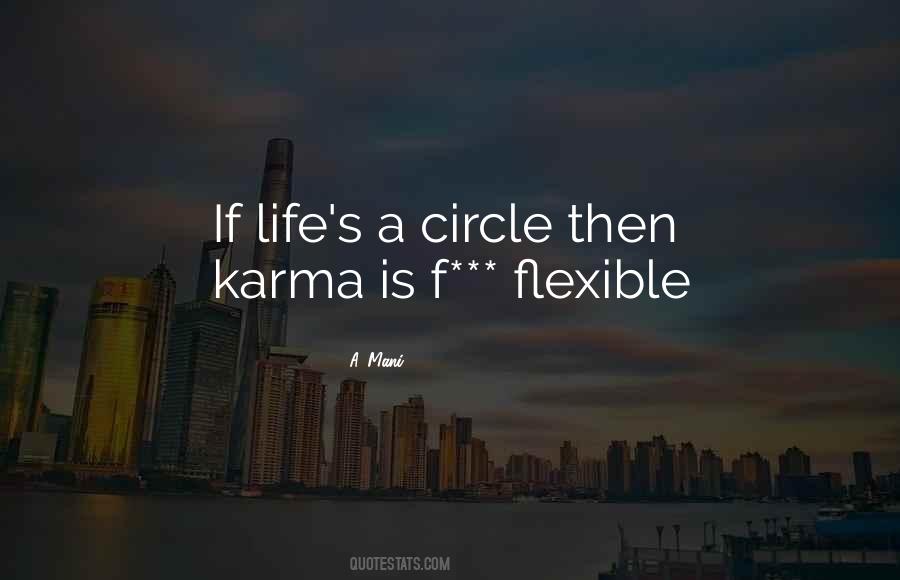 #2. The best experts and the best mentors have flexible minds. - Author: Eric Greitens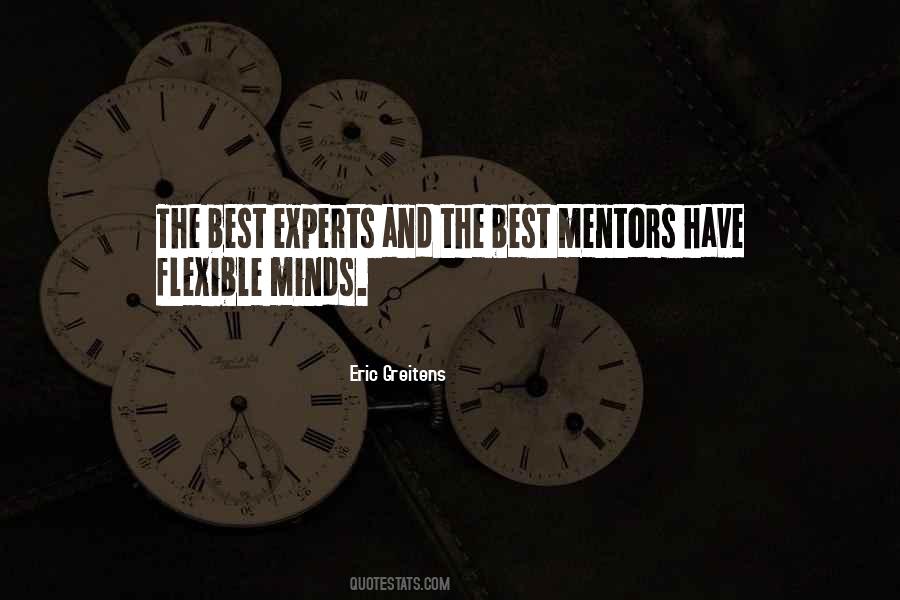 #3. The awareness that we cultivate is what makes yoga a practice, rather than a task or a goal to be completed. Your body will most likely become much more flexible by doing yoga, and so will your mind. - Author: Cyndi Lee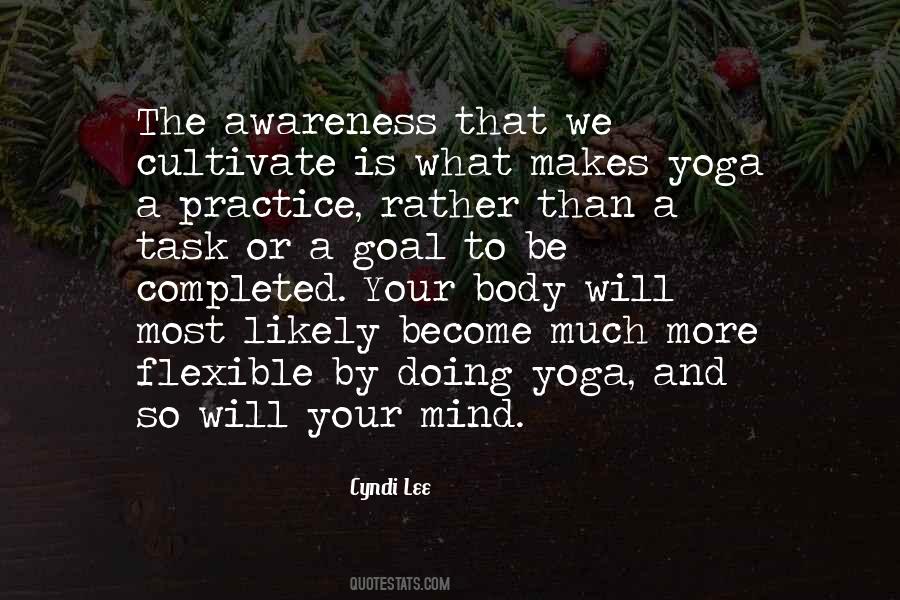 #4. If you are truly flexible and go until ... there is really very little you can't accomplish in your lifetime. - Author: Tony Robbins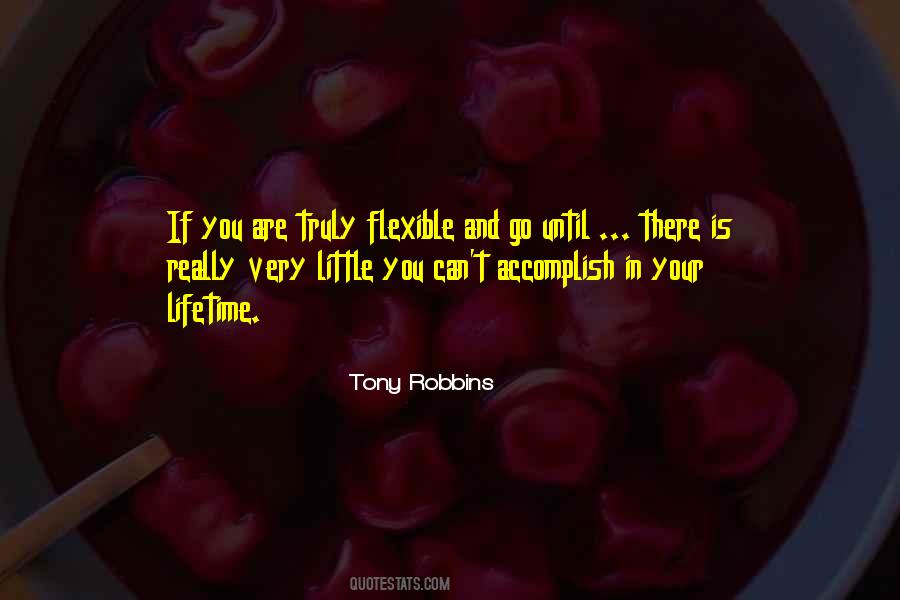 #5. As children know, there's lots of fun in nonsense. We never stop benefiting from staying flexible, open and responsive, even in the midst of confusion. - Author: Joanna Scott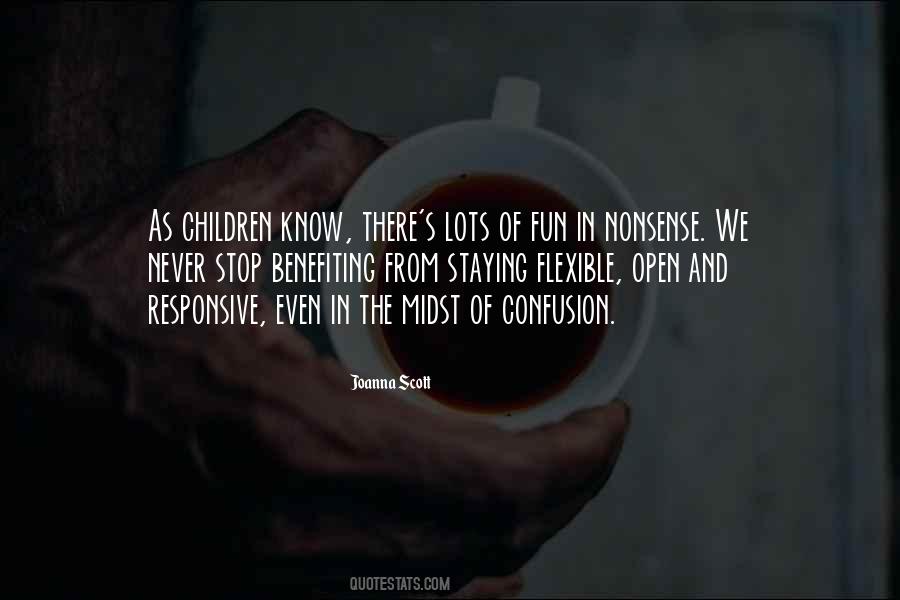 #6. I'm a product of a military dictatorship. Under a dictatorship, you cannot trust information or dispense it freely because of censorship. So Brazilians become very flexible in the use of metaphors. They learn to communicate with double meanings. - Author: Vik Muniz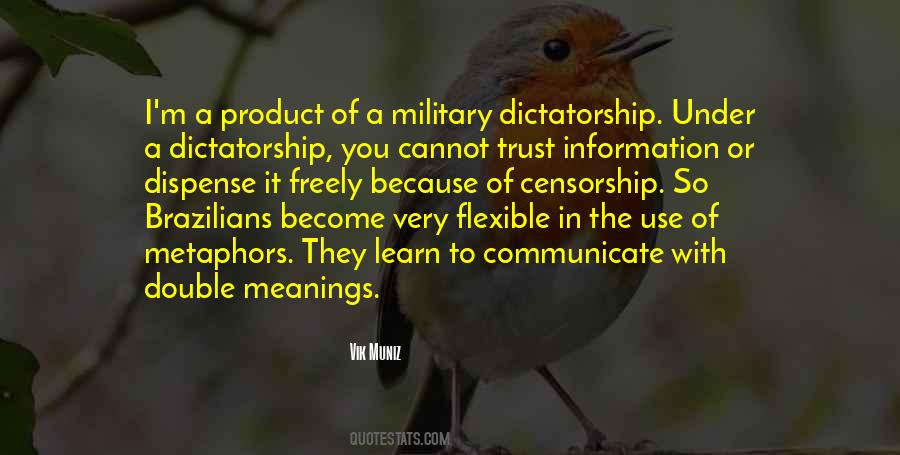 #7. When people try to use religion to address the natural world, science pushes back on it, and religion has to accommodate the results. Beliefs can be permanent, but beliefs can also be flexible. Personally, if I find out my belief is wrong, I change my mind. I think that's a good way to live. - Author: Lisa Randall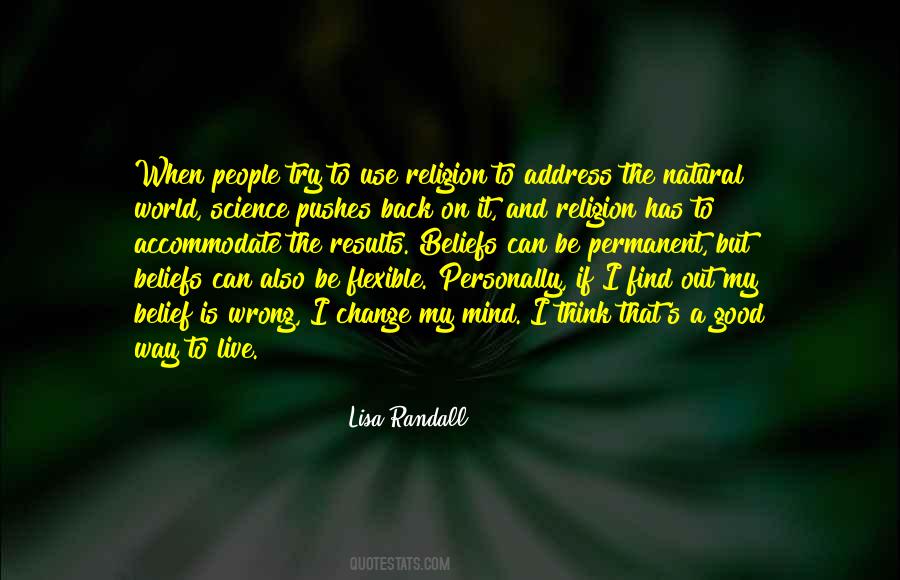 #8. I am definitely still the same kid that I was picking up the guitar at 15. But, I have definitely learned to be more flexible and roll with the punches. It's such an unpredictable business to be in and it's insane how things change so last minute. - Author: Kate Voegele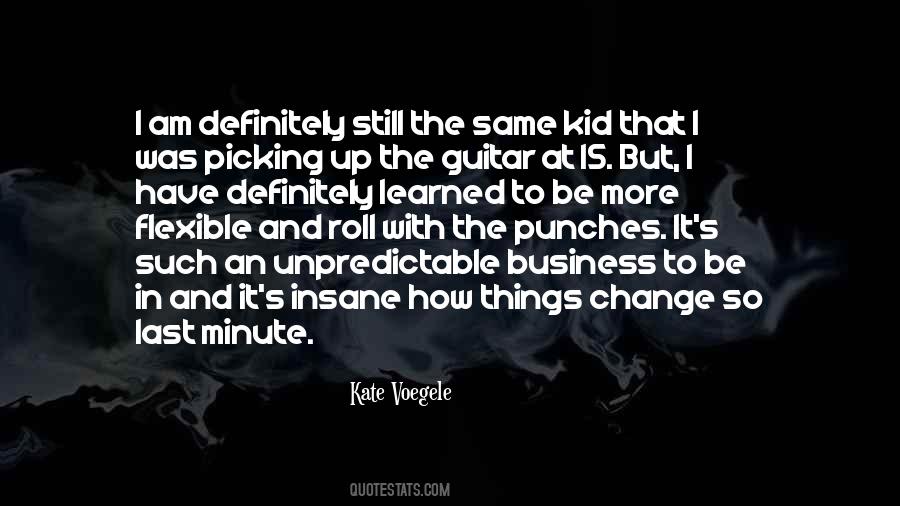 #9. I love dancing, actually. My mother taught children's dance, ballet, tap, jazz ... I'm very flexible. - Author: Michael Angarano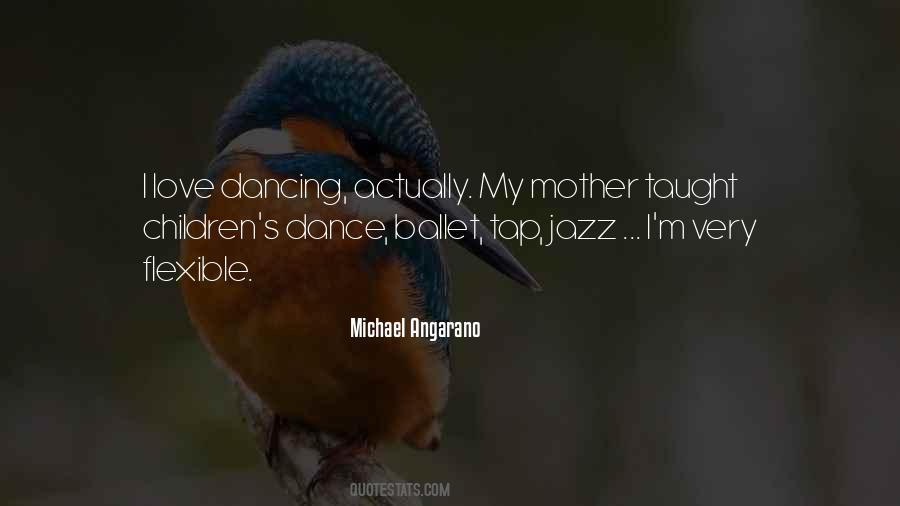 #10. They'd scared me and had me thinking about what it meant to be really strong, on my own terms - not just fit and brown from the sun, not just flexible and accommodating. - Author: Paula McLain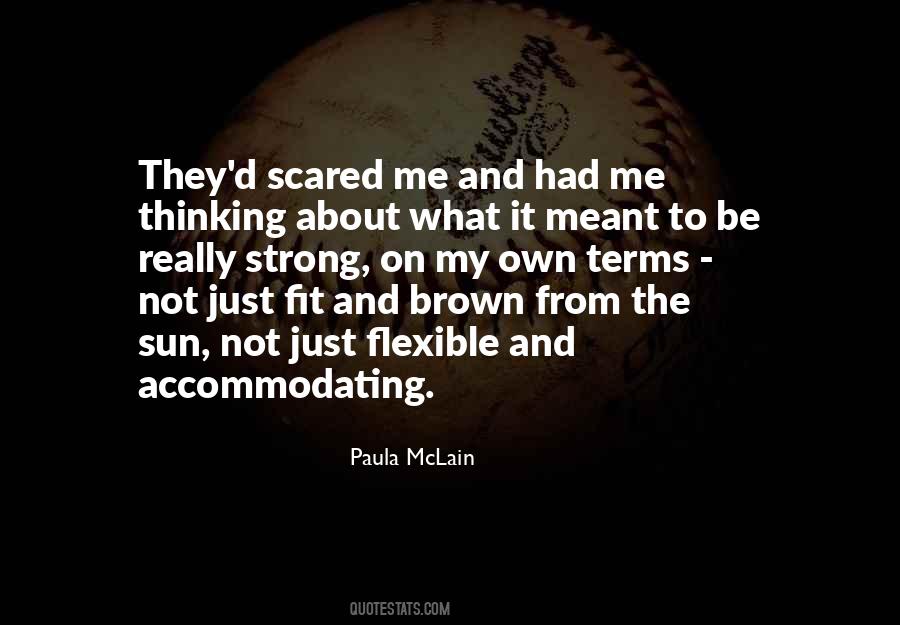 #11. You've got to be flexible. Directors do a massive amount of planning and homework, and if after all that your director decides to throw it all out of the window and shoot spontaneously, then you must follow his lead. - Author: Michael Caine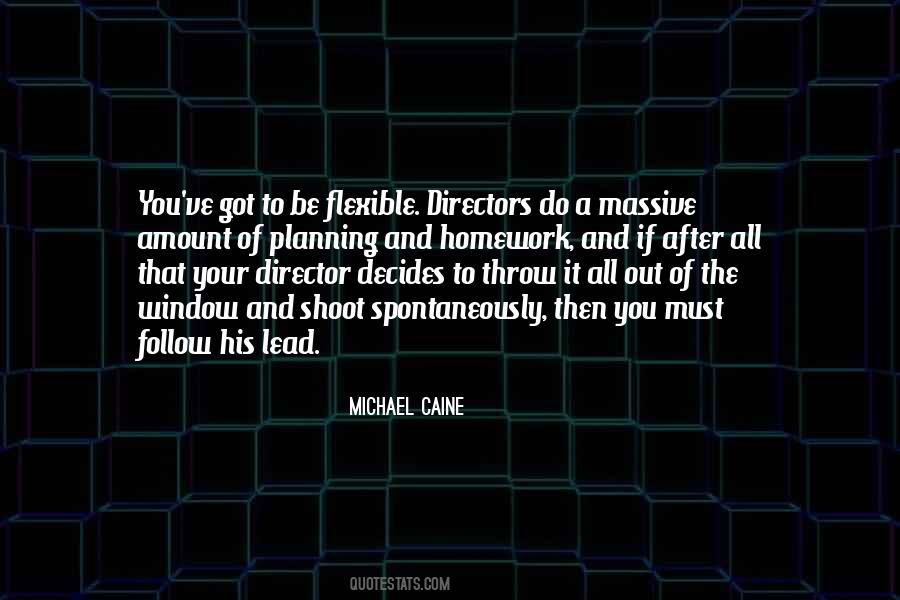 #12. Women are angels, and when someone breaks your wings...We simply continue to fly...On a broomstick. We are flexible like that - Author: Grace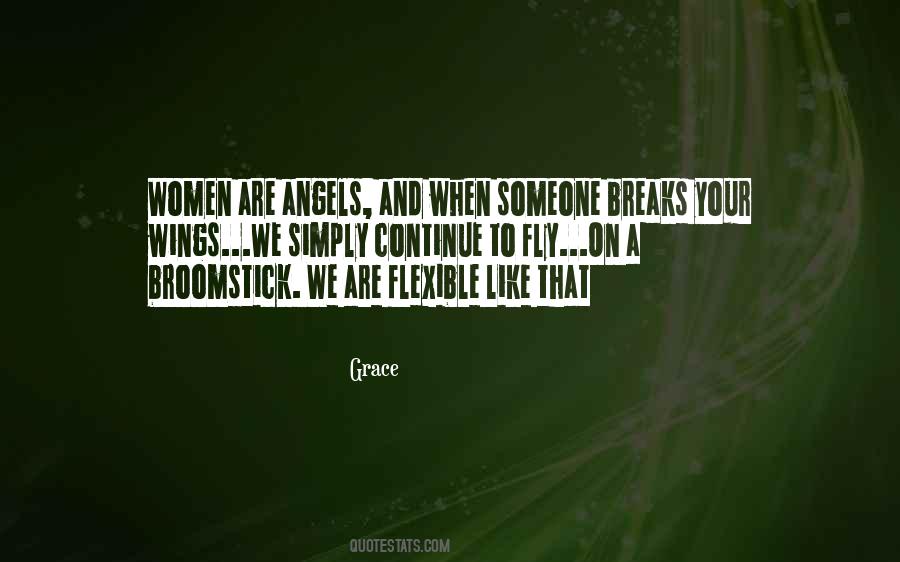 #13. But I would also warn against diverting too many of the Empire's resources from a flexible navy of capital ships and starfighters to massive projects that can bring the Imperial presence to only one system at a time. - Author: Timothy Zahn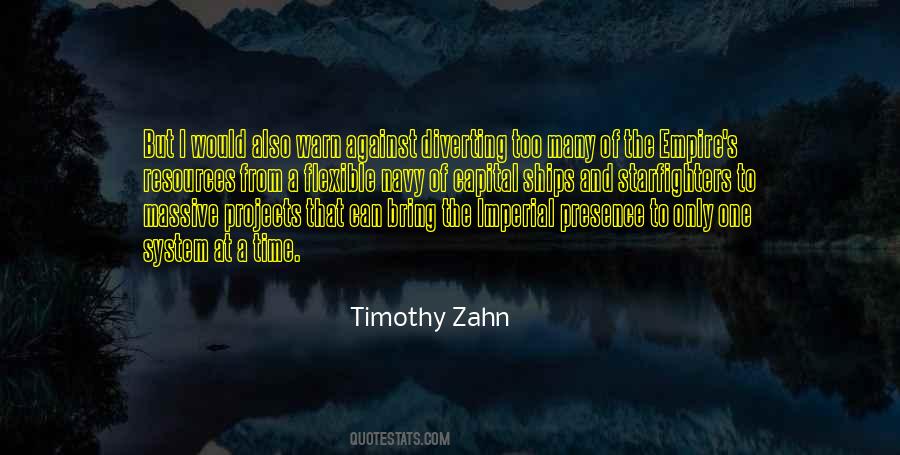 #14. I'm having a psychic moment. It involves you and me."
Distracted, Gansey glanced up from the computer screen. "Were you talking to me or Ronan?"
"Either. I'm flexible."
Blue made a small, terrible noise.
"I would appreciate if you'd turn your inner eye towards the water. - Author: Maggie Stiefvater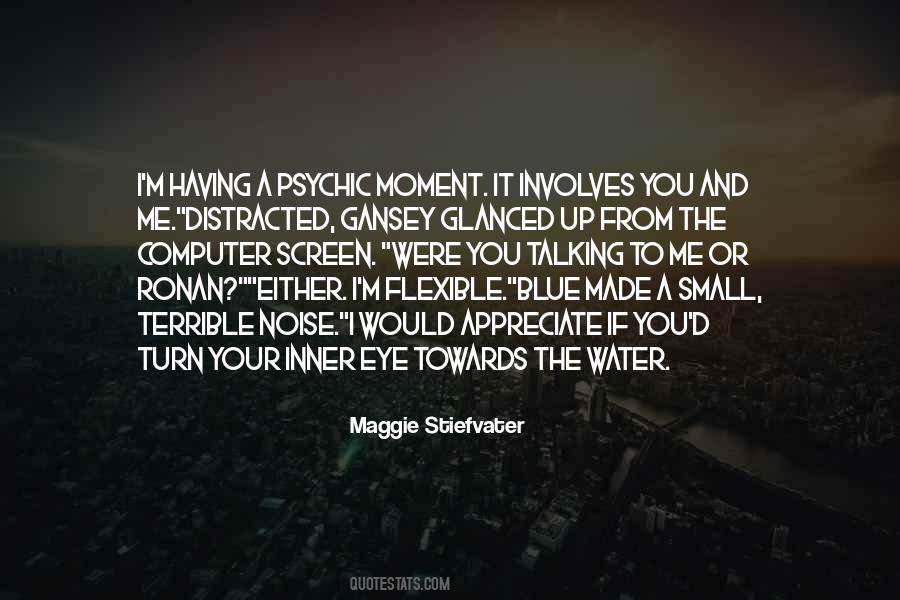 #15. It's easy to get stuck thinking one particular way. And a lot of times it's even good to be rooted in your beliefs. But every once in a while someone comes along and blows everything you ever thought to be true right out of the water. Sometimes it's more important to be flexible than right. - Author: Rachel Higginson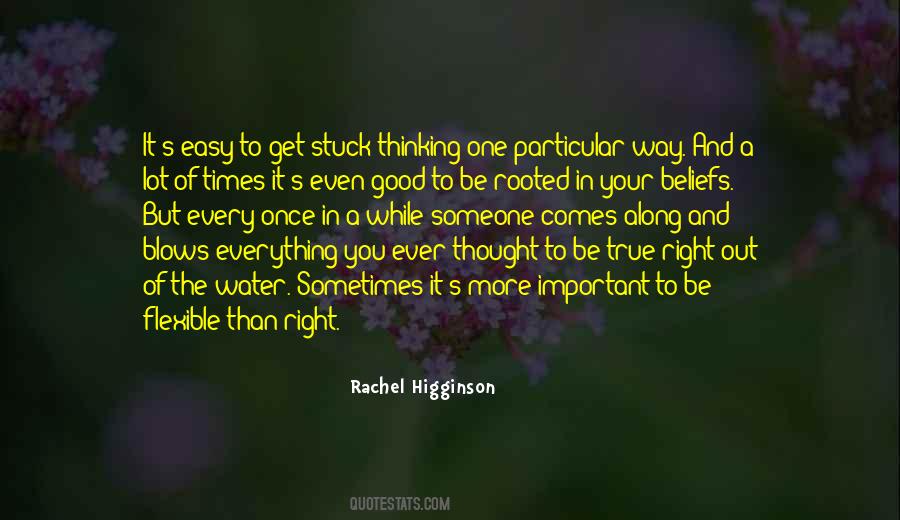 #16. Flexible supply chains are great for multinationals and consumers. But they erode already thin profit margins in developing-world factories and foster a pell-mell work environment in which getting the order out the door is the only thing that matters. - Author: James Surowiecki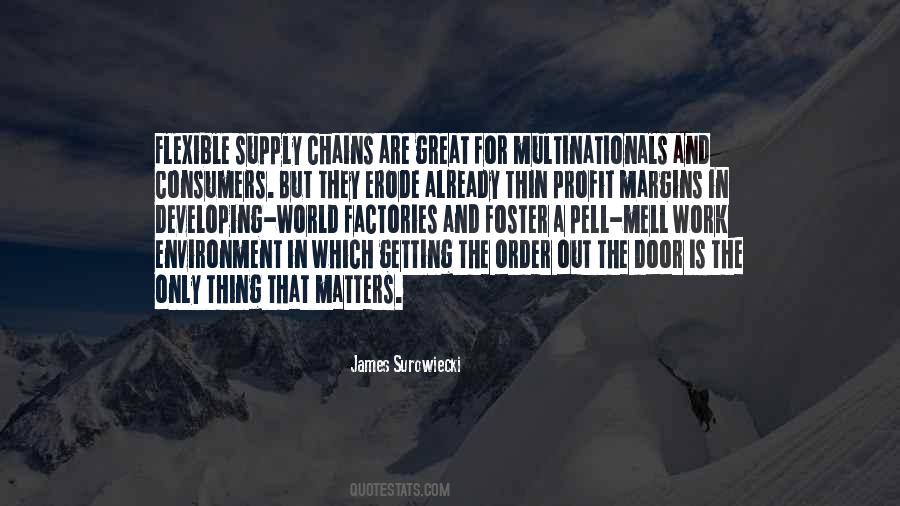 #17. NECK: I am flexible. I welcome other viewpoints. - Author: Louise L. Hay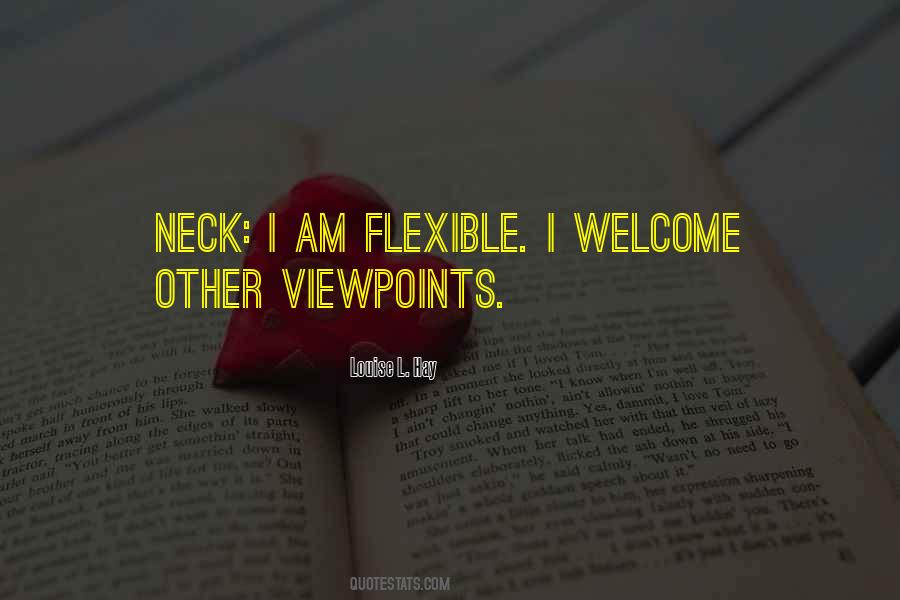 #18. Balance for me now means seeing myself as a tree, being strong enough in my roots and trunk to not be a pushover, but being flexible enough in every circumstance not to break. I am continuing to expand, but not any faster than my roots can support me. - Author: Brenda Strong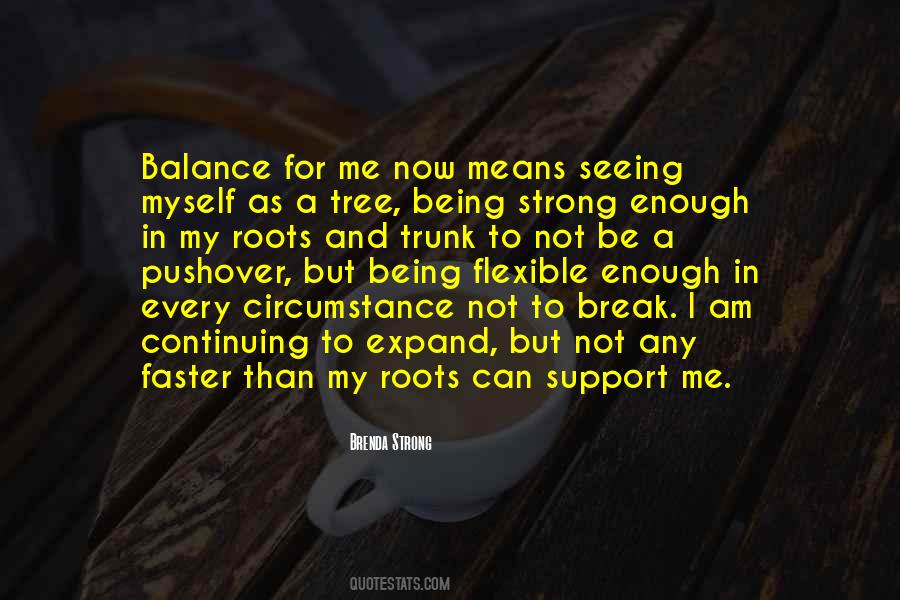 #19. I am very proud to be taking command of a Type 23 frigate, which is an extremely flexible warship, and I'm looking forward to taking HMS Portland on operations with a professional and focused team. - Author: Sarah West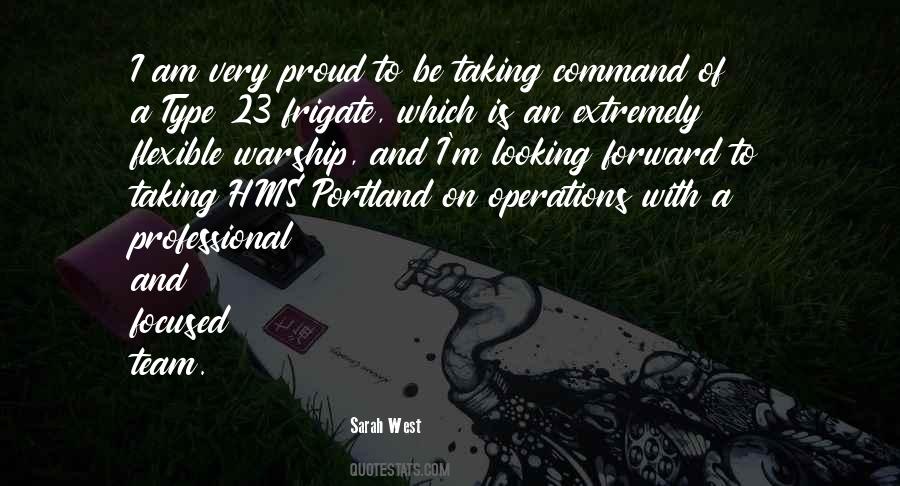 #20. The key to having "more than enough time" is to relax. Time is change, therefore I have more time per clock-hour when i am flexible. Rigid control means less time because less change. I can lengthen my life by saying out of doctrines and ruts. - Author: Hugh Prather
#21. I am a man of fixed and unbending principles, the first of which is to be flexible at all times. - Author: Everett Dirksen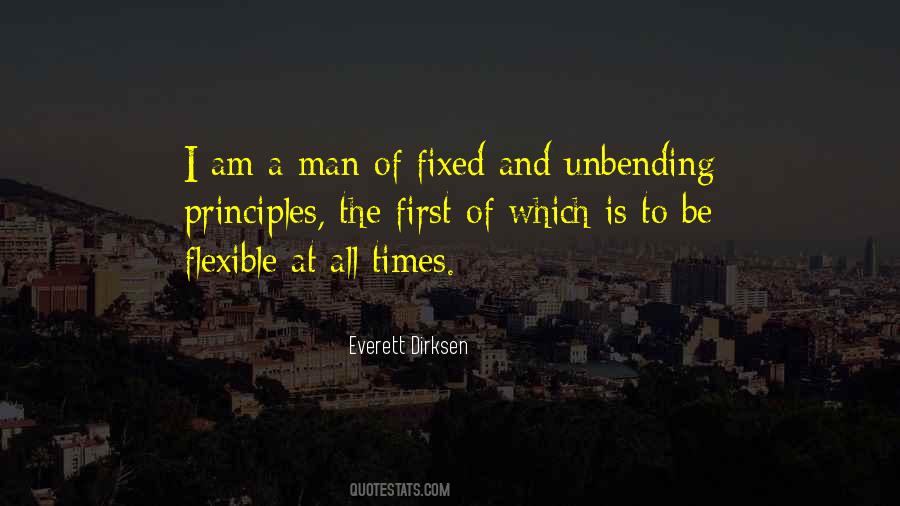 #22. He didn't miss a beat. "Is this an interview?"
"Yes."
"What job am I applying for?"
"The job of my dance and life partner - figuratively, literally, horizontally, vertically, and hopefully, laterally. And, depending on how flexible you are, diagonally. - Author: Penny Reid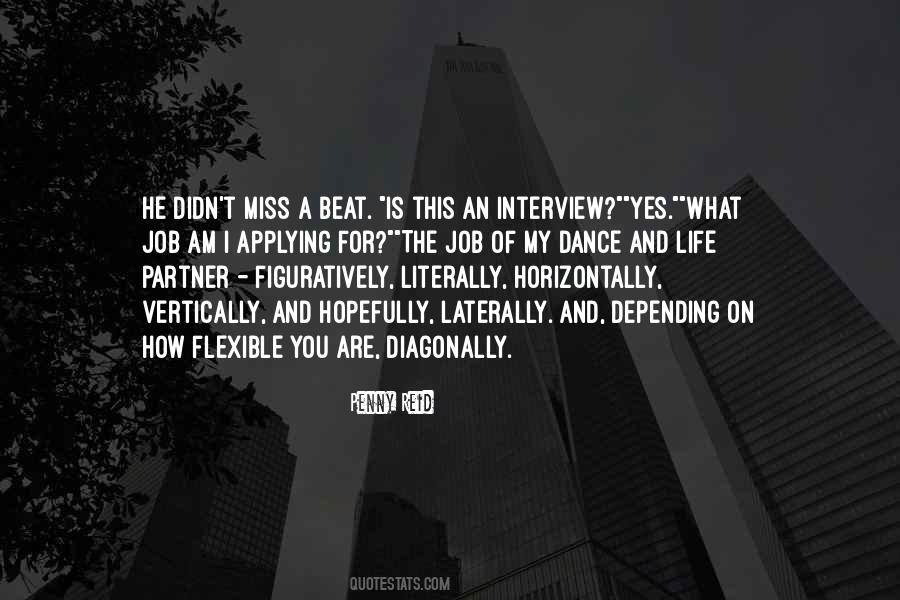 #23. Although I am flexible and ready to take advice, I can't carry an umbrella of thoughts over my head that would distract me and affect my music making. - Author: Zubin Mehta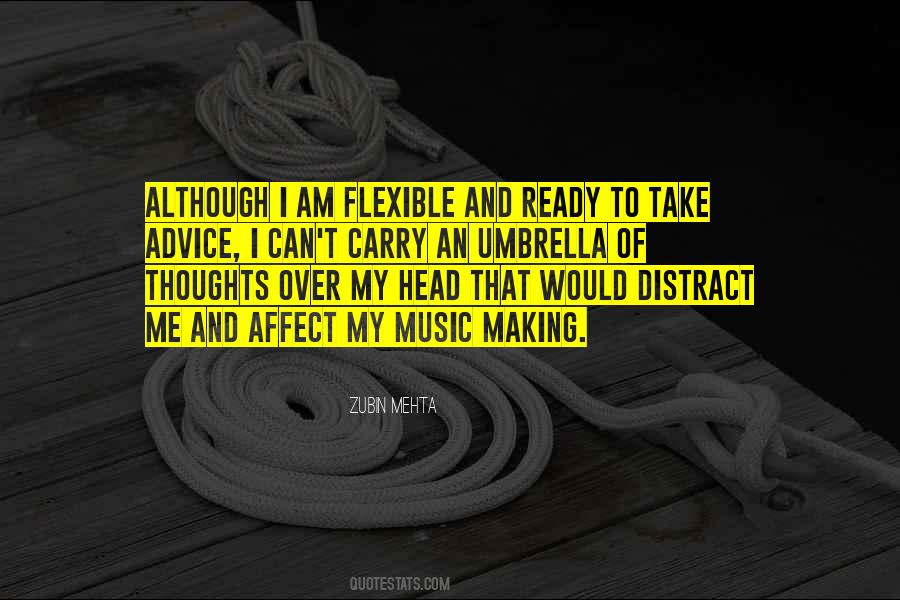 #24. I may not believe in sin," he said, "but I do feel guilt. We Shadowhunters live by a code, and that code isn't flexible. Honor, fault, penance, those are real to us, and they have nothing to do with religion and everything to do with who we are. This is who I am, Clary," he said desperately. - Author: Cassandra Clare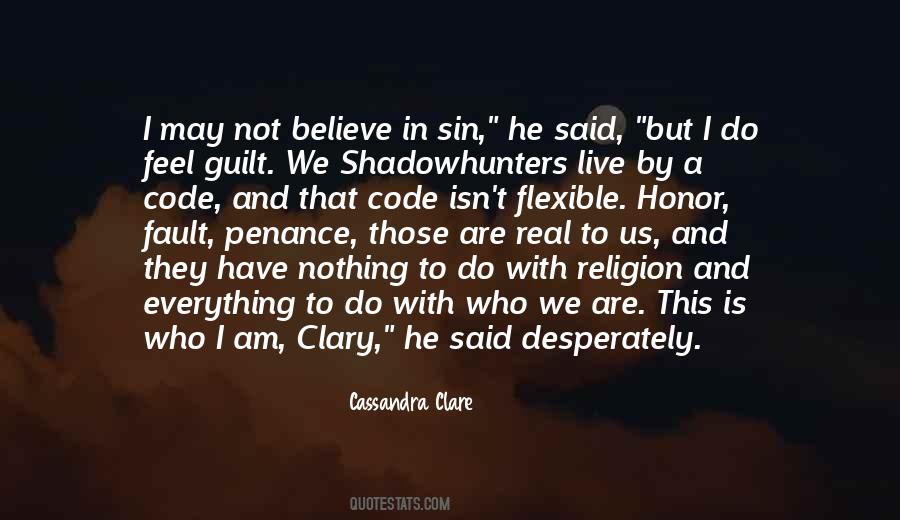 #25. Everyone will tell you how rigid I am, but a teacher has to be flexible. You can't cut the student to your cloth; you have to cut yourself to theirs. - Author: Jeanine Basinger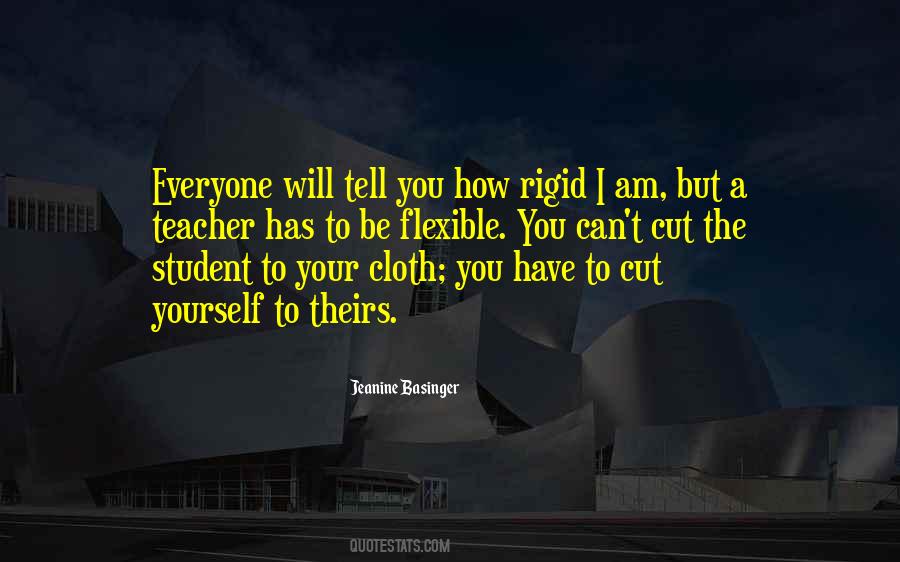 #26. My friends call me a 'pace-setter.' Sometimes I am impatient, I think, but you must be fast and flexible in business because uncertainty is the only certainty in life. - Author: Guler Sabanci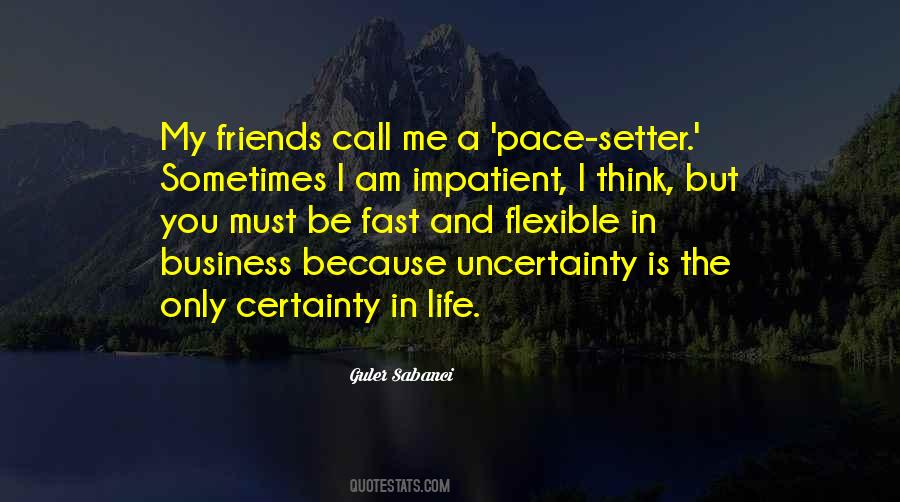 #27. I can hear the sizzle of newborn stars, and know anything of meaning, of the fierce magic emerging here. I am witness to flexible eternity, the evolving past, and I know we will live forever, as dust or breath in the face of stars, in the shifting pattern of winds. - Author: Joy Harjo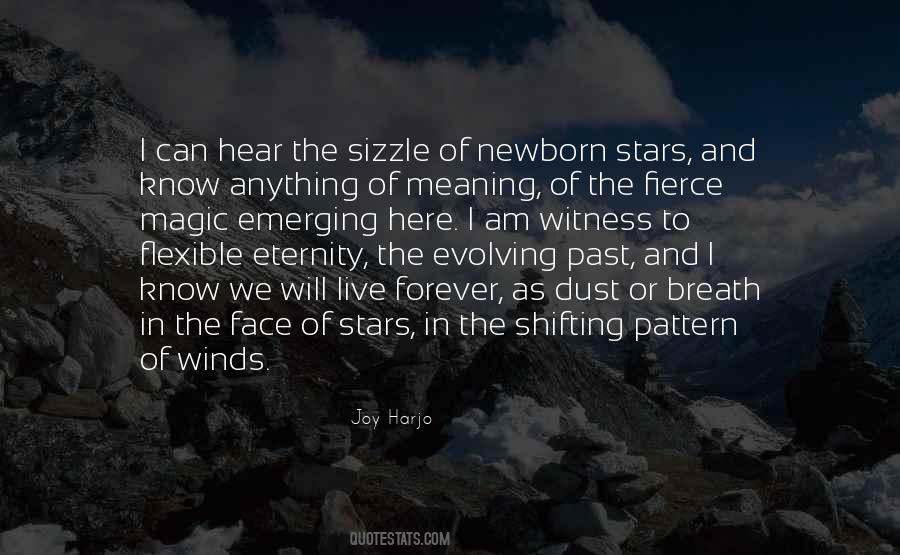 #28. I have very set and consistent principles, but I am flexible on tactics. I like to get the job done. - Author: Madeleine Albright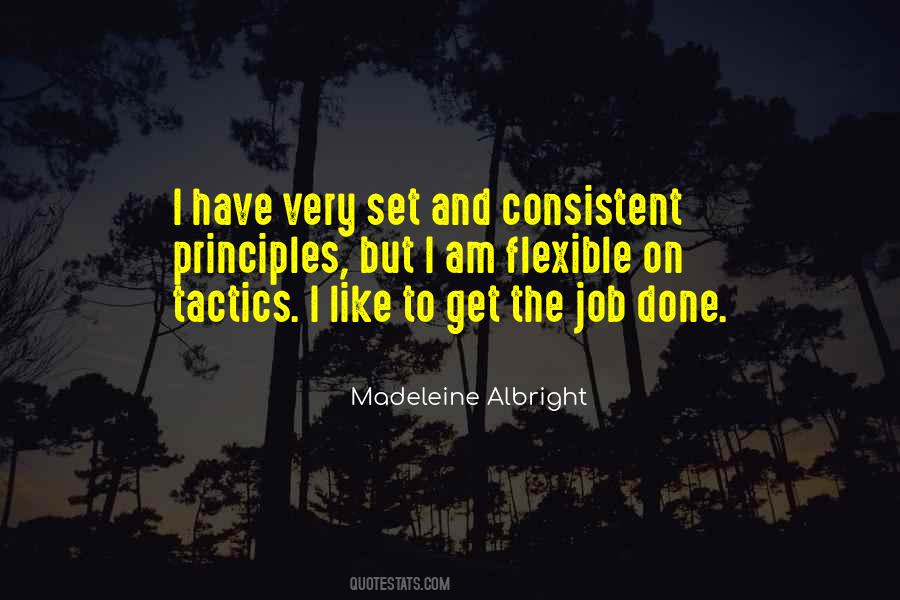 #29. When going for your goals, staying motivated, enthusiastic, and flexible are daily deeds of daring. - Author: Beverly K. Bachel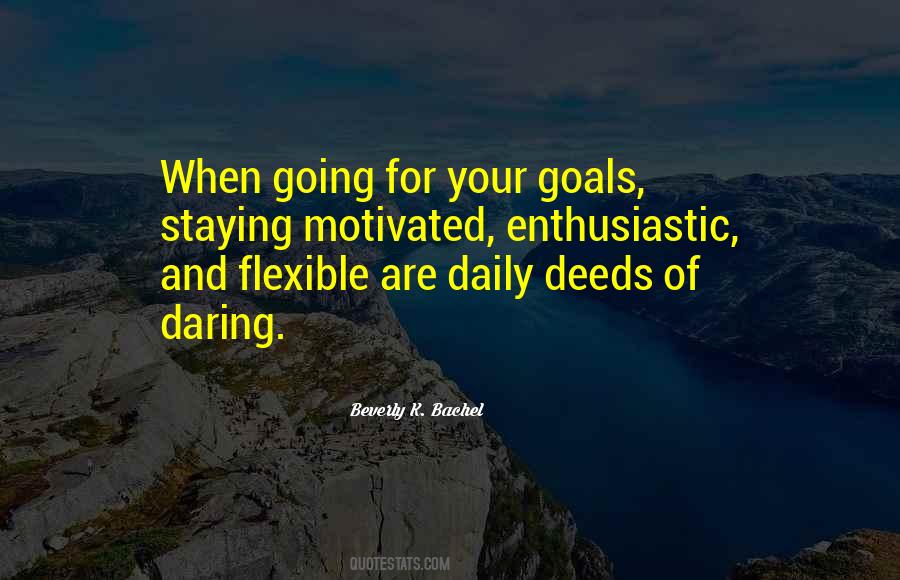 #30. As much as I enjoyed yoga courses, it was hard to make time for them. Generally speaking, my work arrangements were flexible, so it was mostly a psychological problem: it was hard to convince myself it was acceptable to go twist my body into knots for two hours when there was work to be done. - Author: Josh Kaufman
#31. 2. Stay lean and flexible - Author: Peter Thiel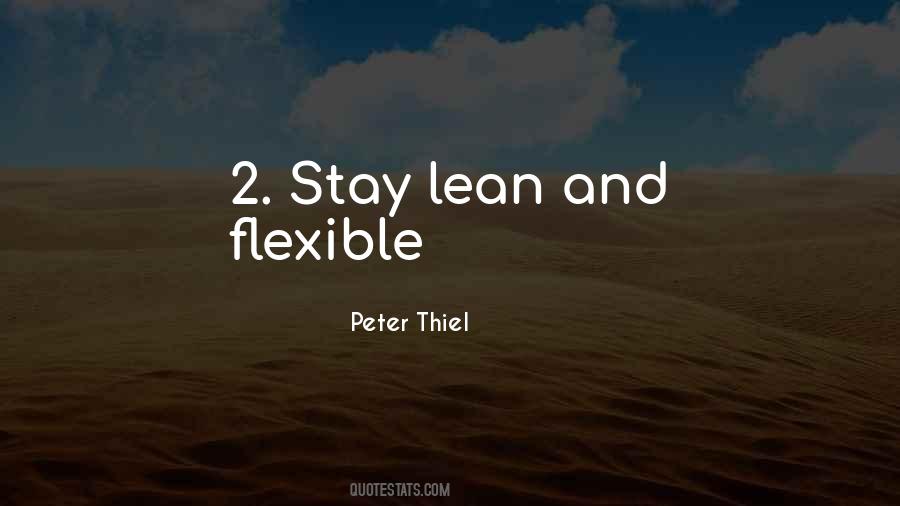 #32. Raise your standards for the one thing over which you have complete control
yourse lf. It means you're committed to being intelligent, flexible, and creative enough to consistently find a way to look at your life in a fashion that makes any experience enriching. - Author: Tony Robbins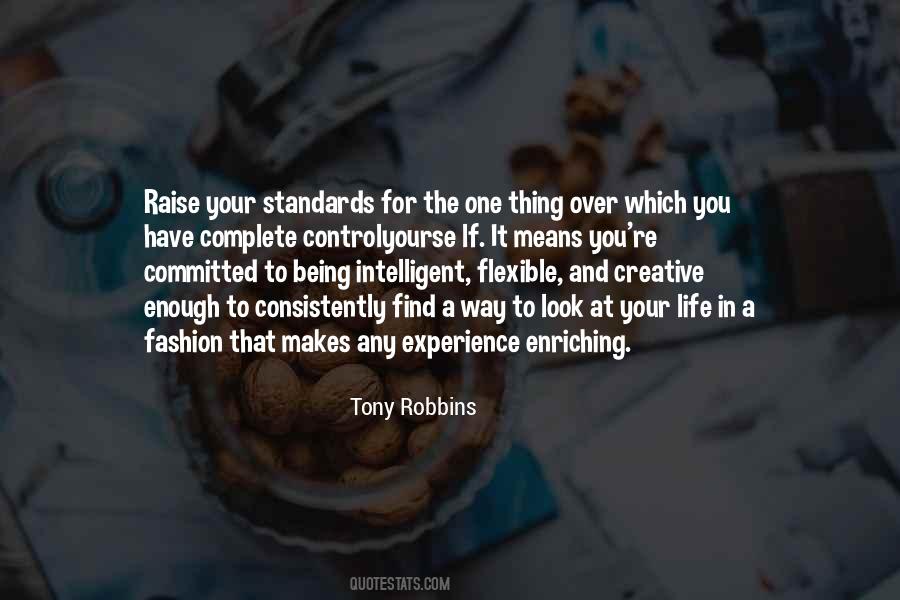 #33. If you're not stubborn, you'll give up on experiments too soon. And if you're not flexible, you'll pound your head against the wall and you won't see a different solution to a problem you're trying to solve. - Author: Jeff Bezos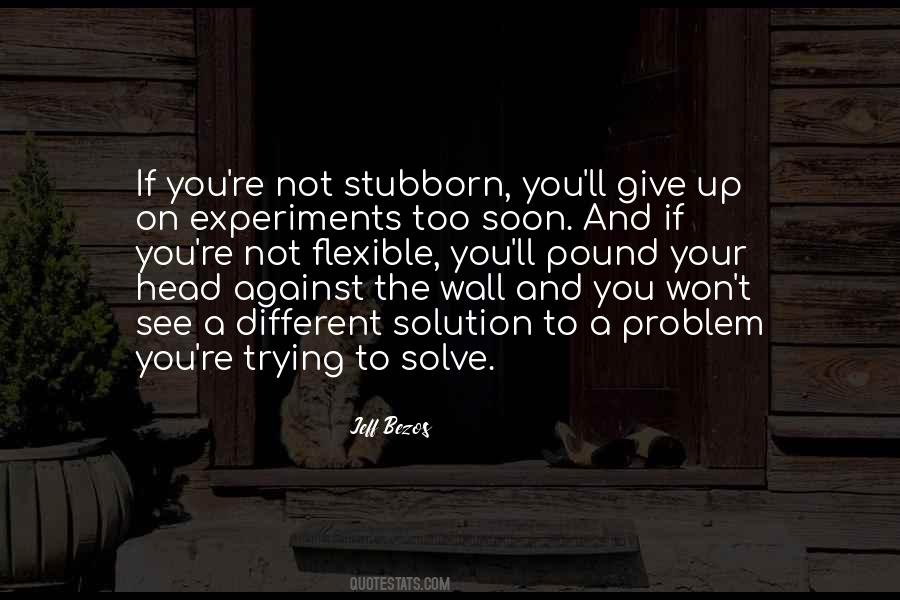 #34. There is always something to do. You just need to look harder, be creative and a little flexible. - Author: Peter Cundill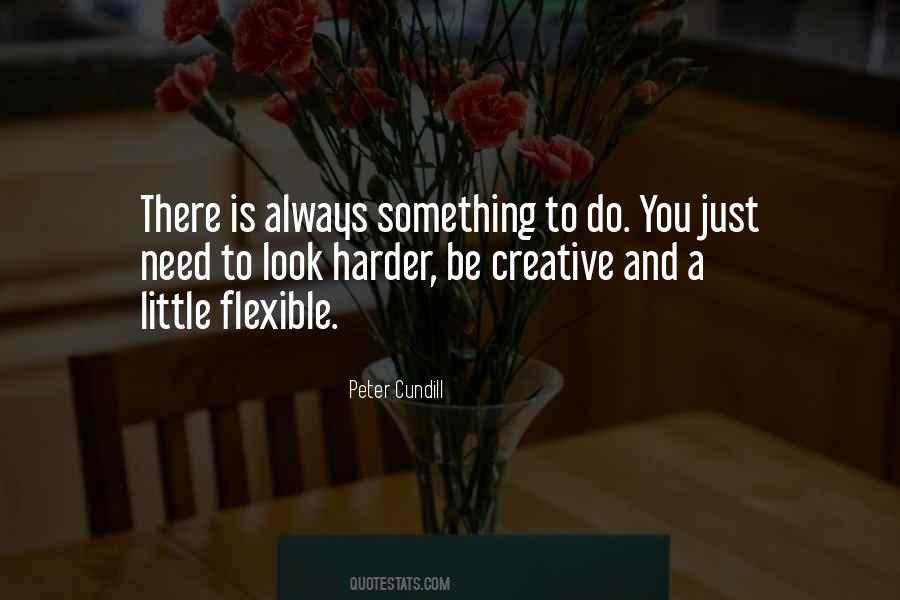 #35. Different brands are indeed different, and that's the challenge of developing recipes for a cooker. But just like anything, you have to be flexible. - Author: Michele Scicolone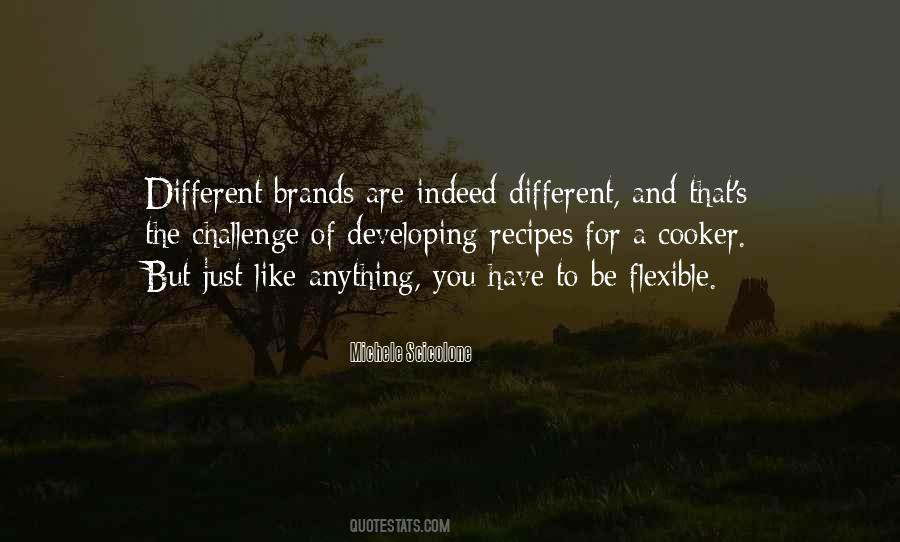 #36. It's one of my favorite things to do, watch TV and stretch. I'm so flexible. I can put my legs behind my head. I want to be the most flexible person in the world. - Author: Mo Rocca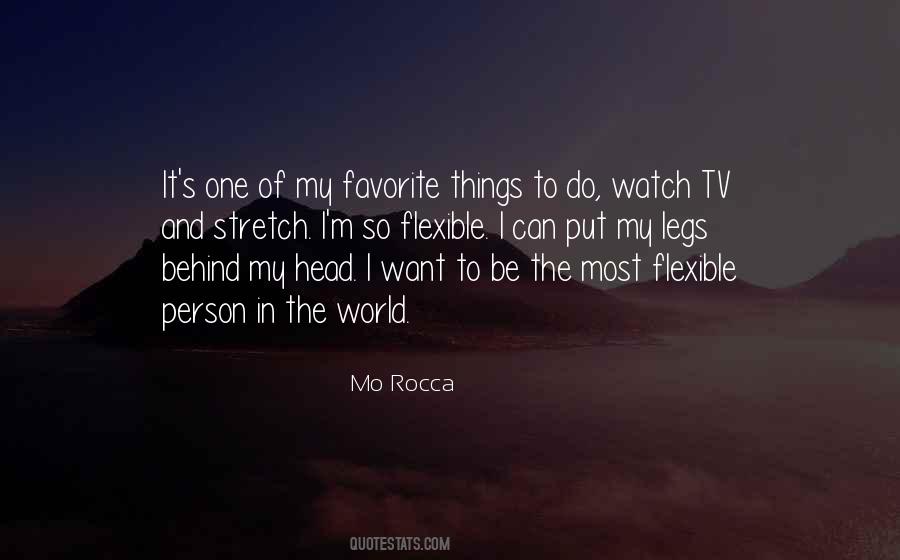 #37. I really believe that being flexible and grateful contributes a lot to your happiness, which contributes to your health and contributes to your look. - Author: Christie Brinkley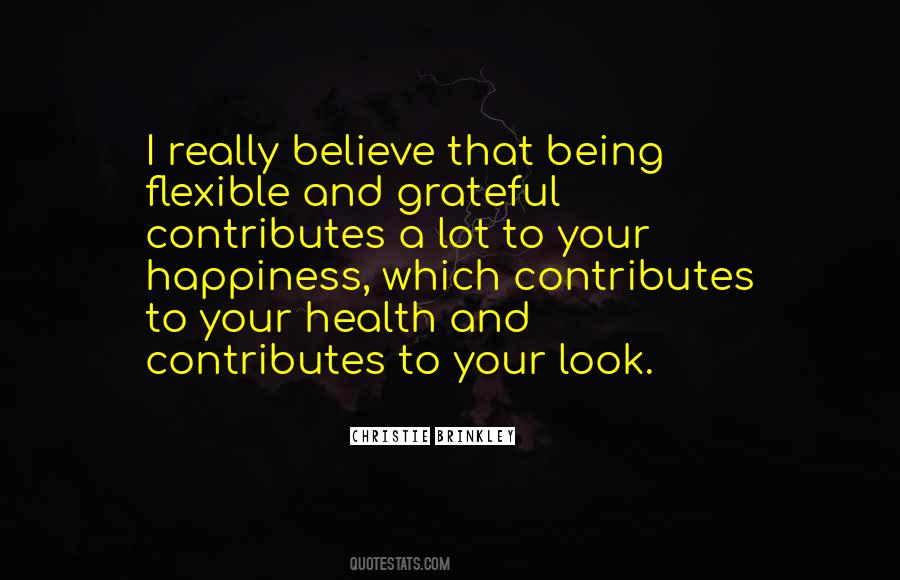 #38. A kitten is so flexible that she is almost double; the hind parts are equivalent to another kitten with which the forepart plays. She does not discover that her tail belongs to her until you tread on it. - Author: Henry David Thoreau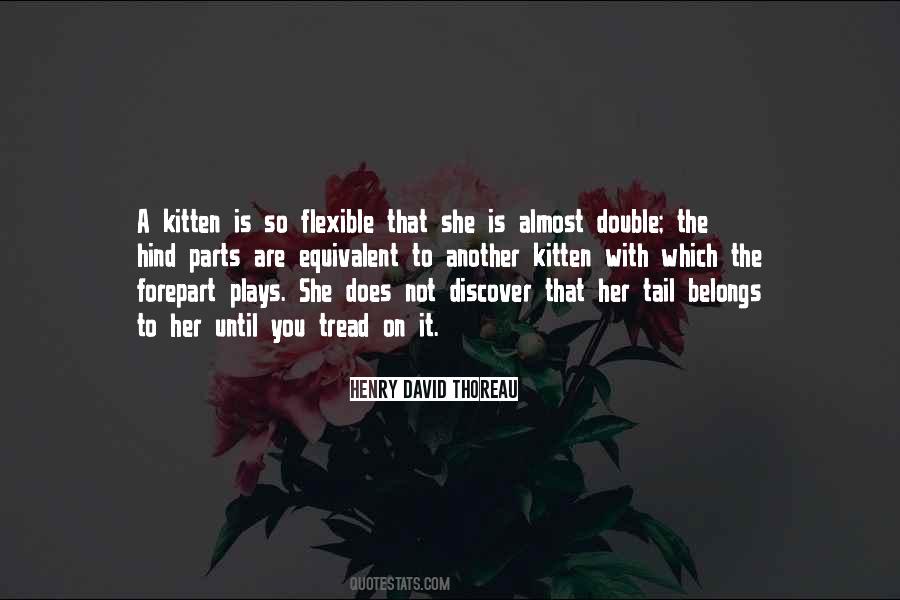 #39. My mother always says, "The bamboo that bends is stronger than the oak." I can be very focused and determined. But, I can also be very stubborn. Be flexible be nuanced. - Author: Sarah Lafleur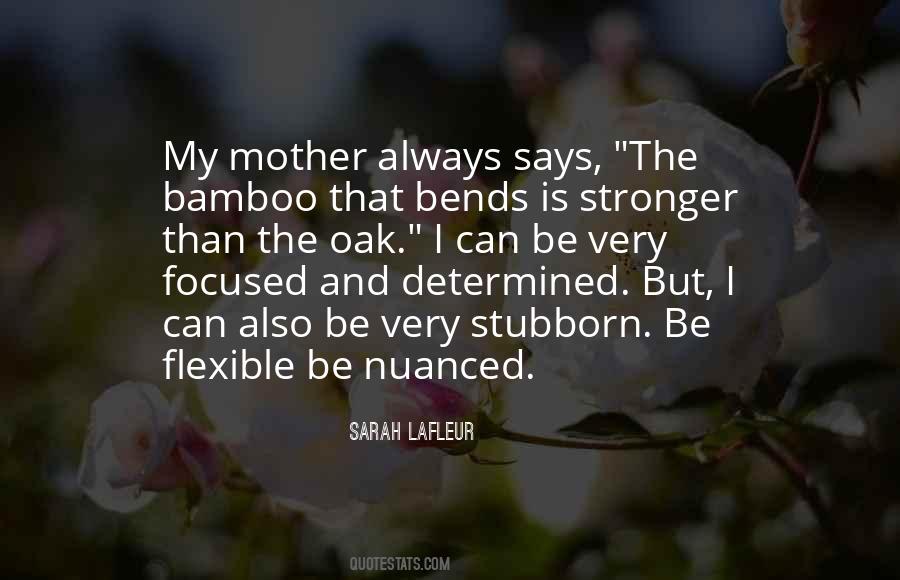 #40. As a society, we need to get lots more flexible about what constitutes beauty. It isn't a particular hair color or a particular body type; it's the woman who grew the hair and lives in the body. Keeping this in mind can only make things better. (341) - Author: Victoria Moran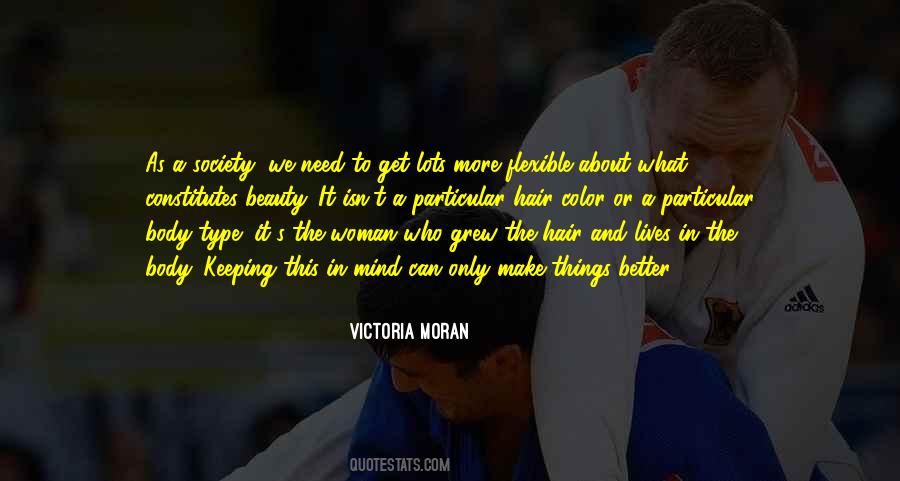 #41. We have the most flexible and adaptive economy. Making sure we sustain the ability of the American economy to perform well is really the priority of economic policy. - Author: John W. Snow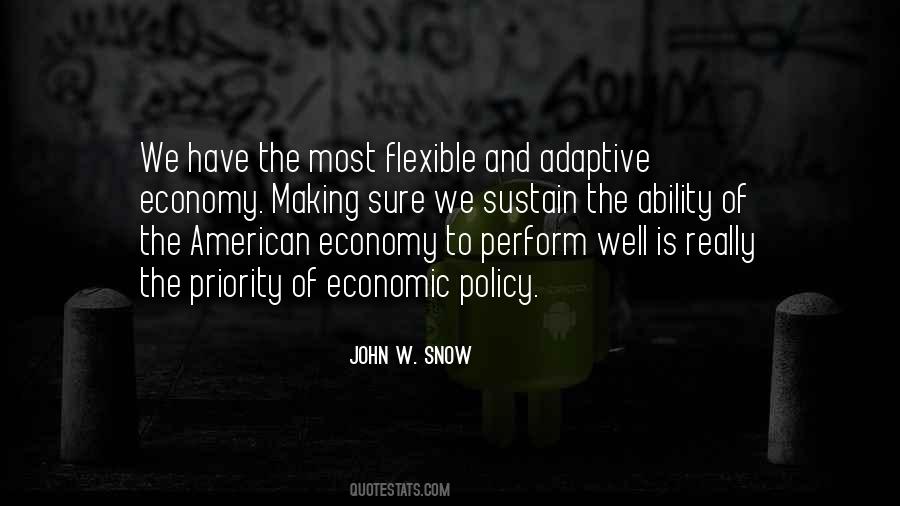 #42. Dissociative parts of the personality are not actually separate identities or personalities in one body, but rather parts of a single individual that are not yet functioning together in a smooth, coordinated, flexible way. P14 - Author: Suzette Boon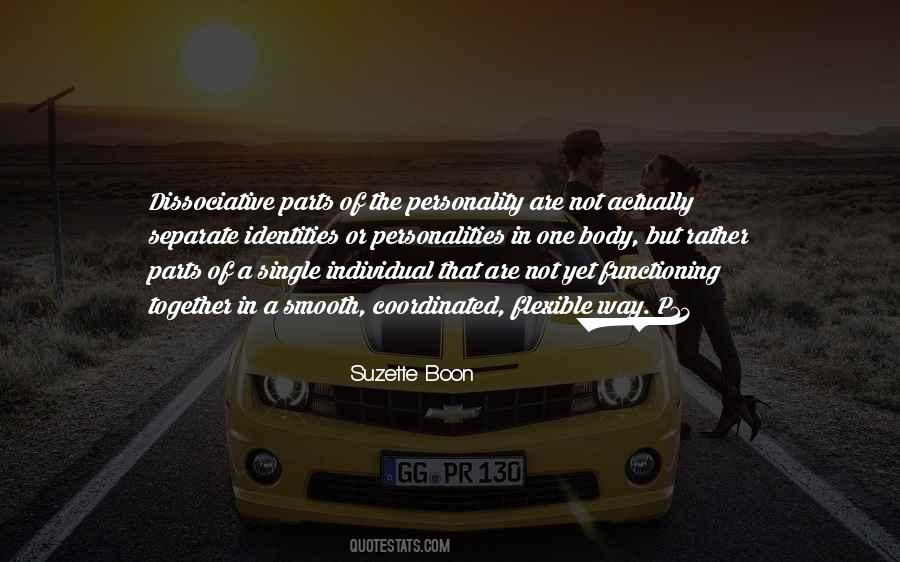 #43. One way to make health care more affordable is a Flexible Savings Account that allows families to save tax free money to pay for medical bills. - Author: Marco Rubio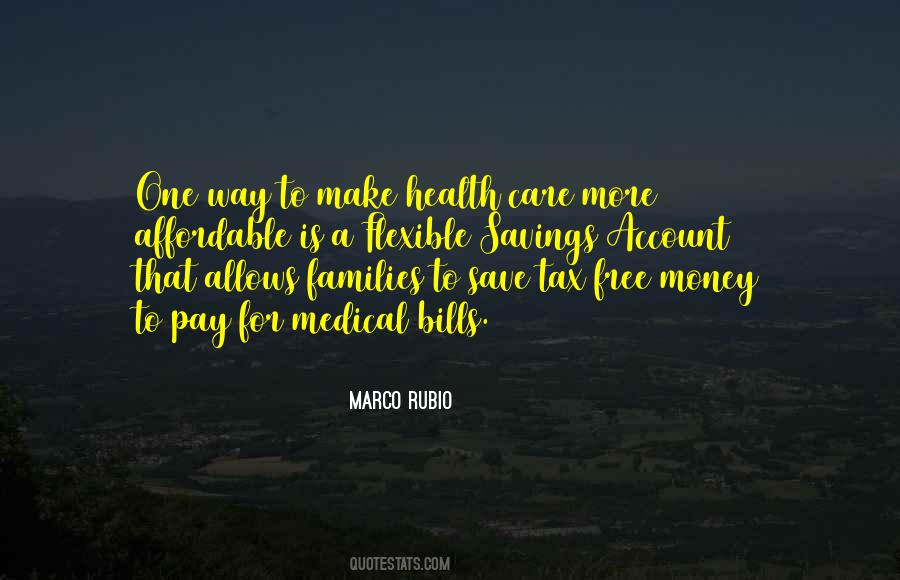 #44. Politics needs a flexible mind, for it has no immutable or eternal rules. In politics immutable or eternal rules lead to inevitable and swift defeat. - Author: Georgi Plekhanov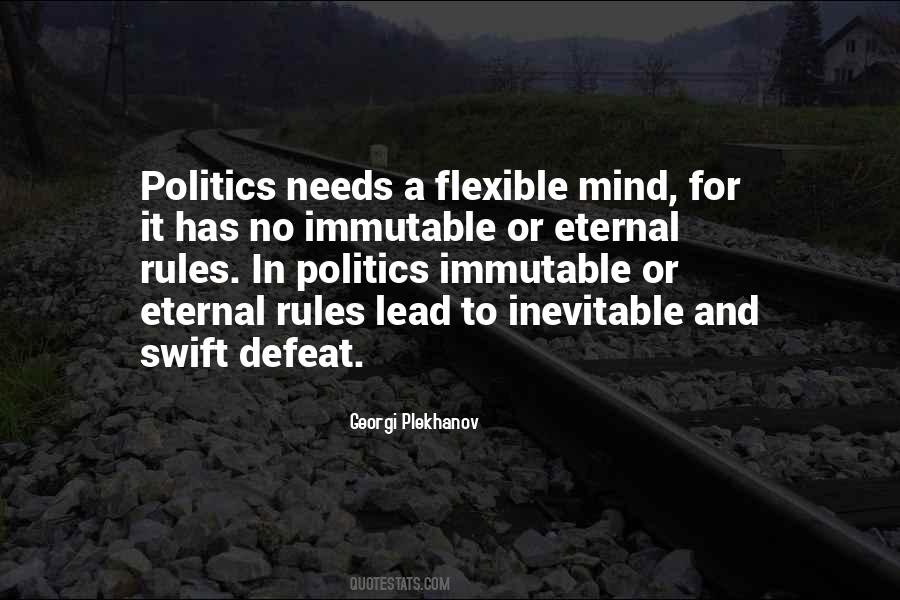 #45. Why are you so interested in amoebas?"
"Oh, they're immortal," he said, "and sort of shapeless and flexible. Being a
person is getting too complicated. - Author: Margaret Atwood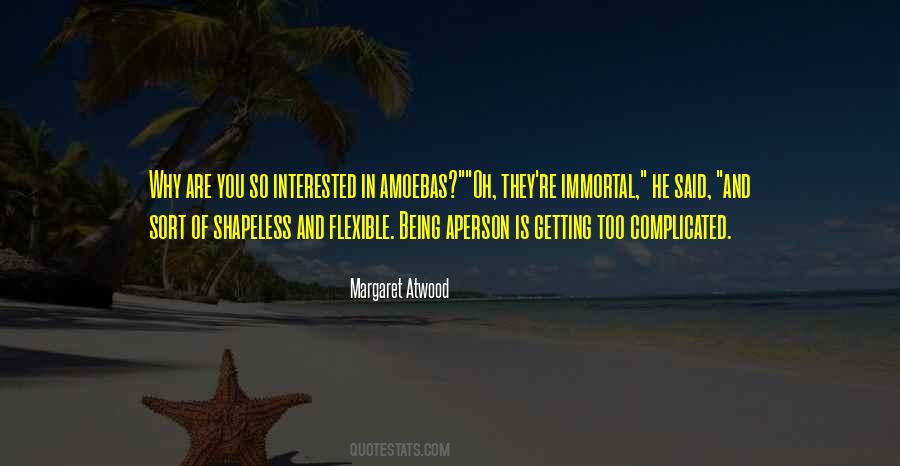 #46. Choose a summit; make a plan to reach there! If you think you can't make it, choose a new summit, make another plan. Or give up the summits, make new plans, find lower targets! In short, be 'flexible' in life! - Author: Mehmet Murat Ildan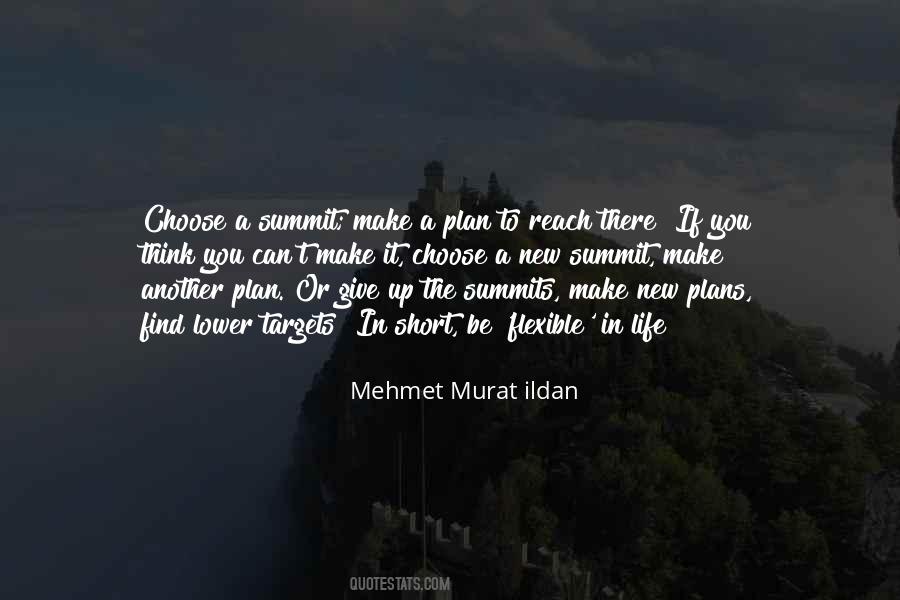 #47. I use different kinds of materials on different kinds of projects. Today we can do things with steel and glass that we could not do before. flexible enough to change. - Author: Gottfried Bohm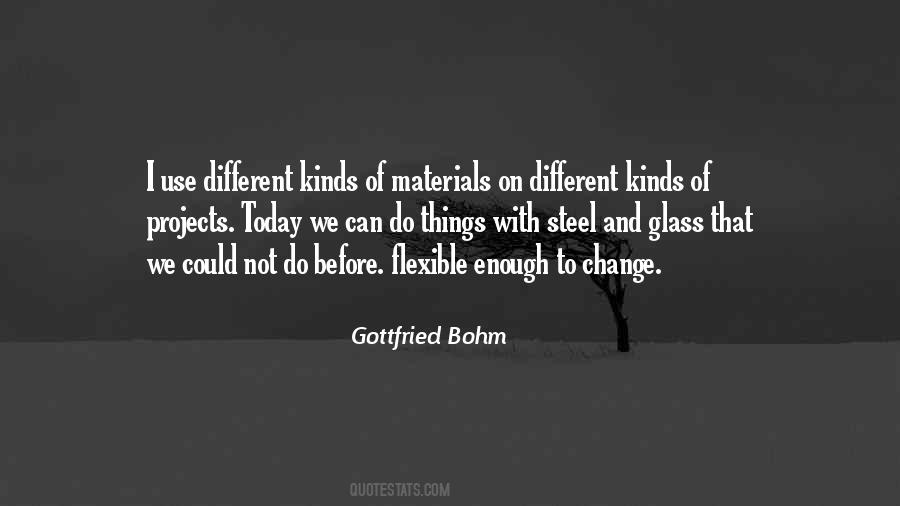 #48. The follower of Tao is always flexible and adaptable to circumstance. - Author: Ming-Dao Deng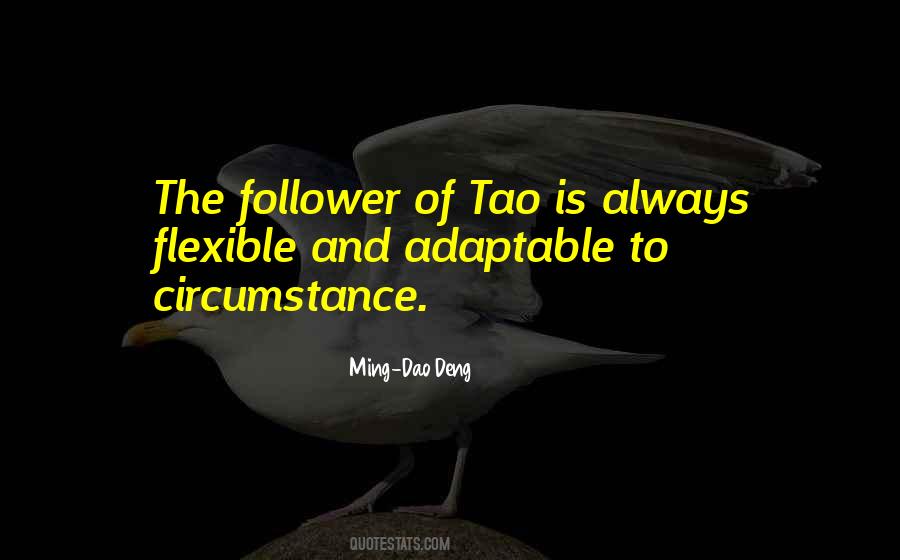 #49. English is the language of a people ho have probably earned their reputation for perfidy and hypocrisy because their language itself is so flexible, so often light-headed with with statements which appear to mean one thing one year and quite a different thing the next. - Author: Paul Scott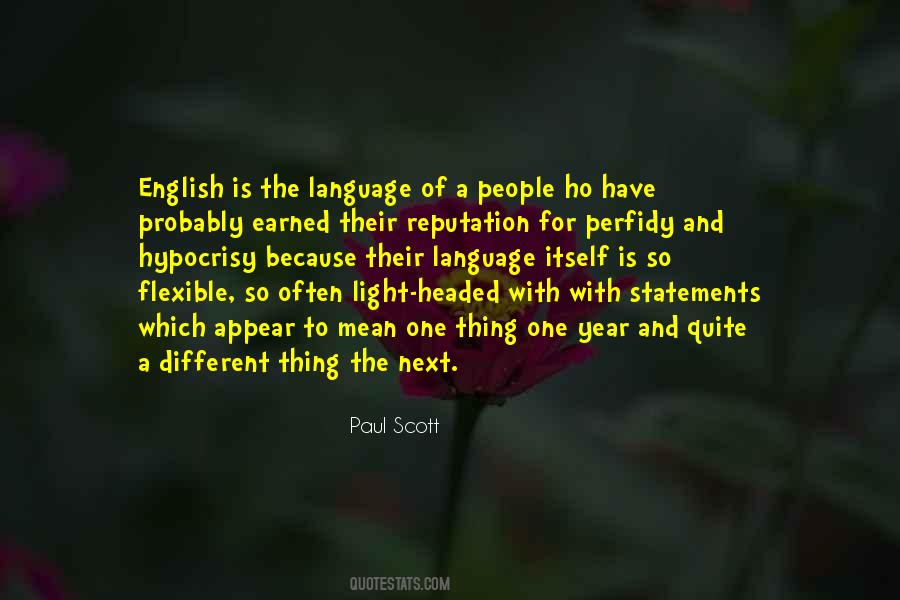 #50. Nothing in the world is more flexible and yielding than water. Yet when it attacks the firm and the strong, none can withstand it, because they have no way to change it. So the flexible overcome the adamant, the yielding overcome the forceful. Everyone knows this, but no one can do it. - Author: Laozi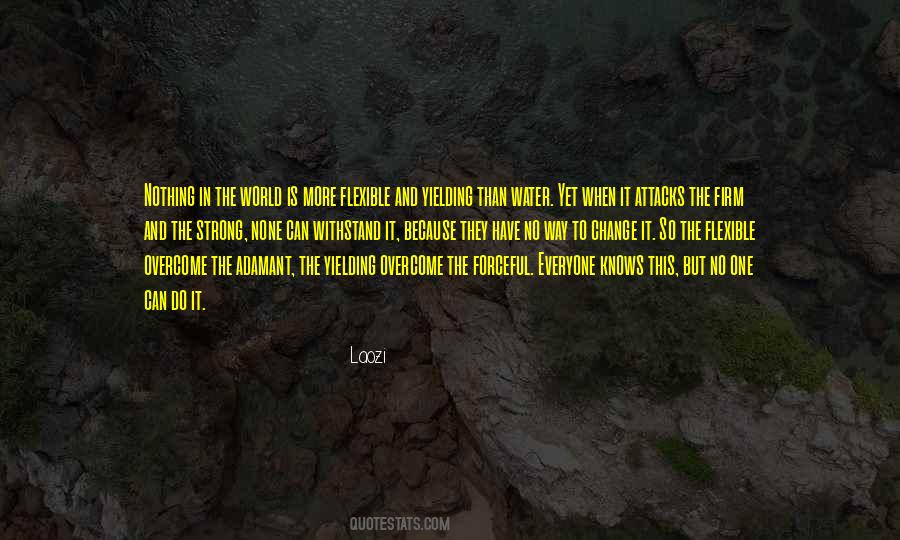 #51. We are like water, aren't we? We can be fluid, flexible when we have to be. But strong and destructive, too. And something else, I think to myself. Like water, we mostly follow the path of least resistance. - Author: Wally Lamb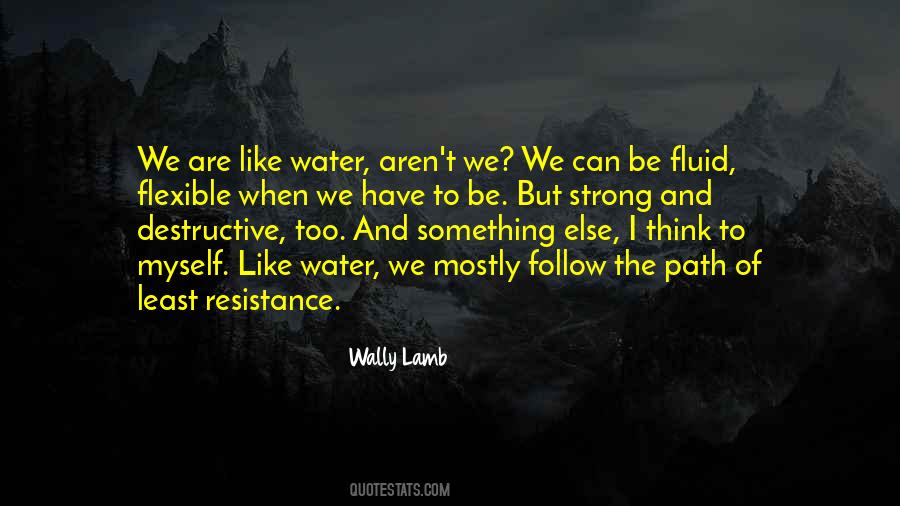 #52. I feel like it's important to be flexible, particularly when I'm coming in late in the game and I'm connective tissue in the story. I'm not at the very center. It's important for me to have a certain kind of flexibility and try to help people do what they need to do. - Author: Willem Dafoe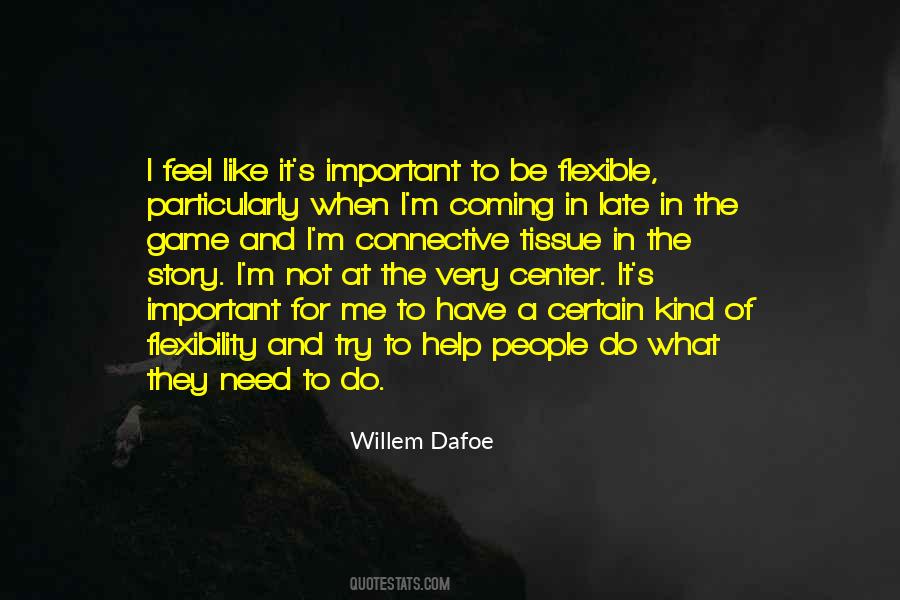 #53. Your goal should be to take your body and make it as healthy, strong, flexible and well-proportioned as you can. - Author: Jane Fonda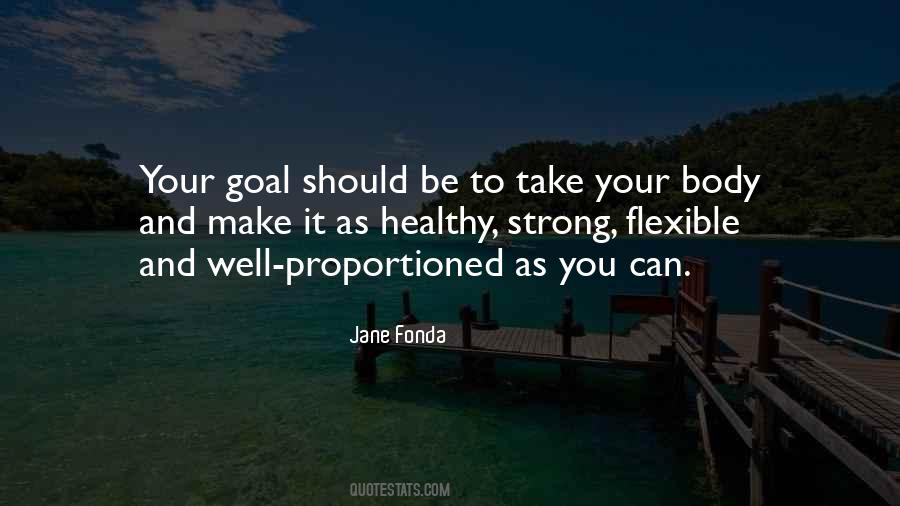 #54. A dream is a vision, a goal is a promise. You can keep your promises to yourself by remaining flexible, focused, and committed. - Author: Denis Waitley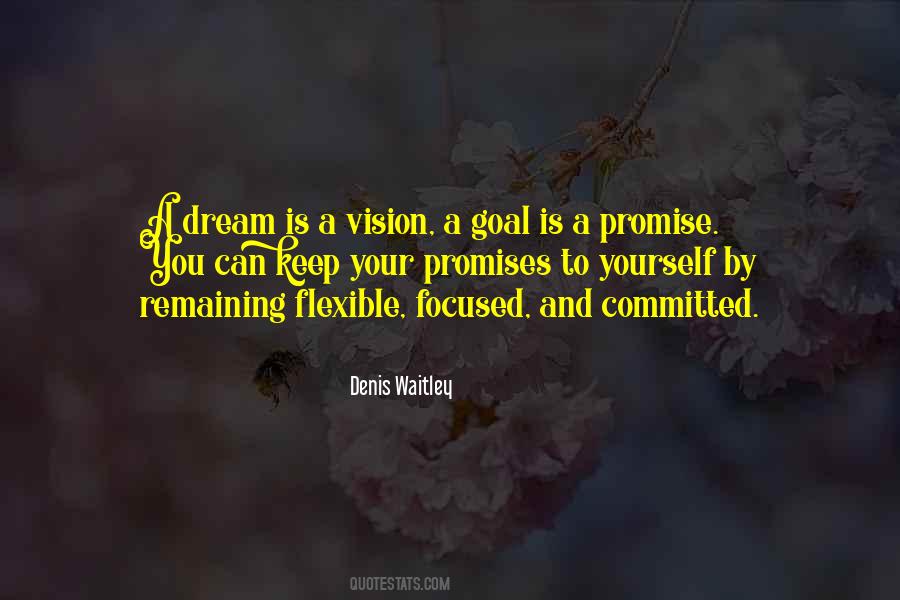 #55. I've never been someone that's had a five-year plan, or a three-year plan. That just seems to lead to a lot of disappointment, and doesn't give you the chance to be flexible. - Author: Eric Bana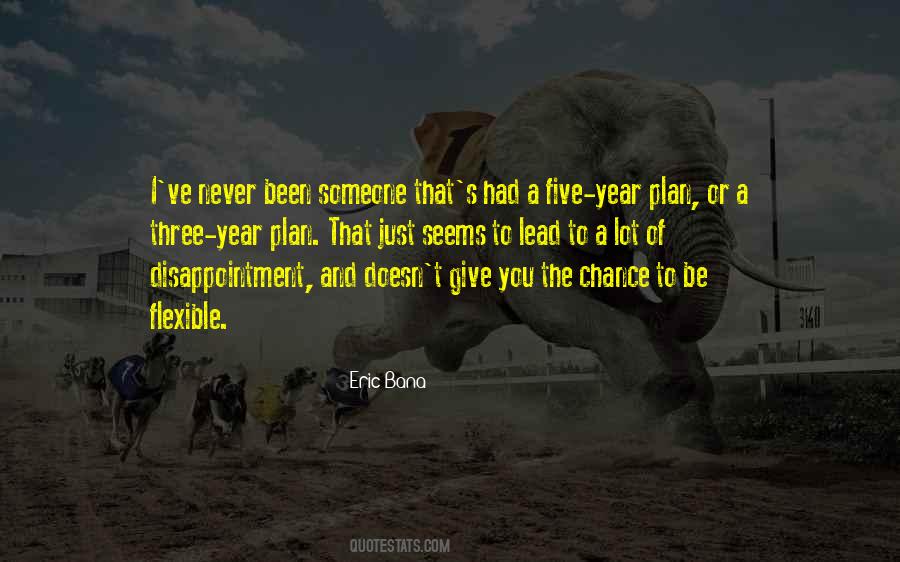 #56. The broad liberal objective is a balanced and flexible "mixed economy," thus seeking to occupy that middle ground between capitalism and socialism whose viability has so long been denied by both capitalists and socialists. - Author: Arthur M. Schlesinger Jr.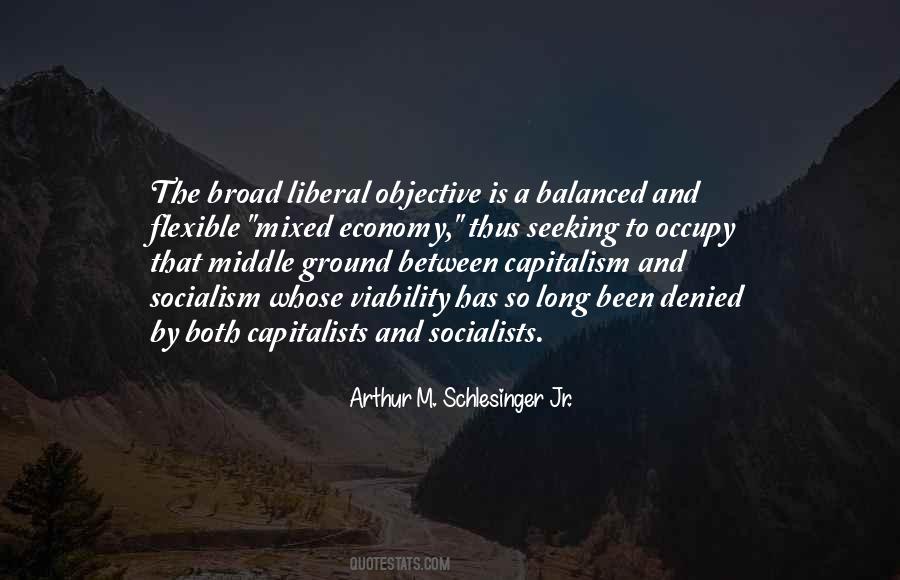 Famous Authors
Popular Topics