All It Takes Is One Famous Quotes & Sayings
List of top 100 famous quotes and sayings about all it takes is one to read and share with friends on your Facebook, Twitter, blogs.
Top 100 All It Takes Is One Quotes
#1. Sometimes all it takes is one Deep Breath and everything falls into place. - Author: Liz Hester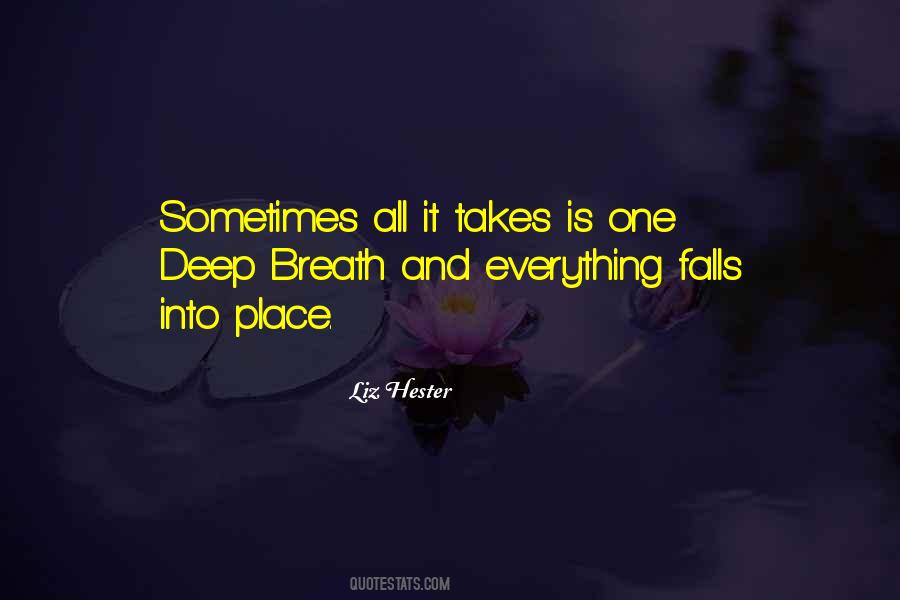 #2. I've never been a believer in fate. I like to think I'm in control, that my life hasn't been plotted out ahead of time. Sometimes all it takes is one wild thought, one brave decision to change everything. This must be one of those times. - Author: Kyle Richardson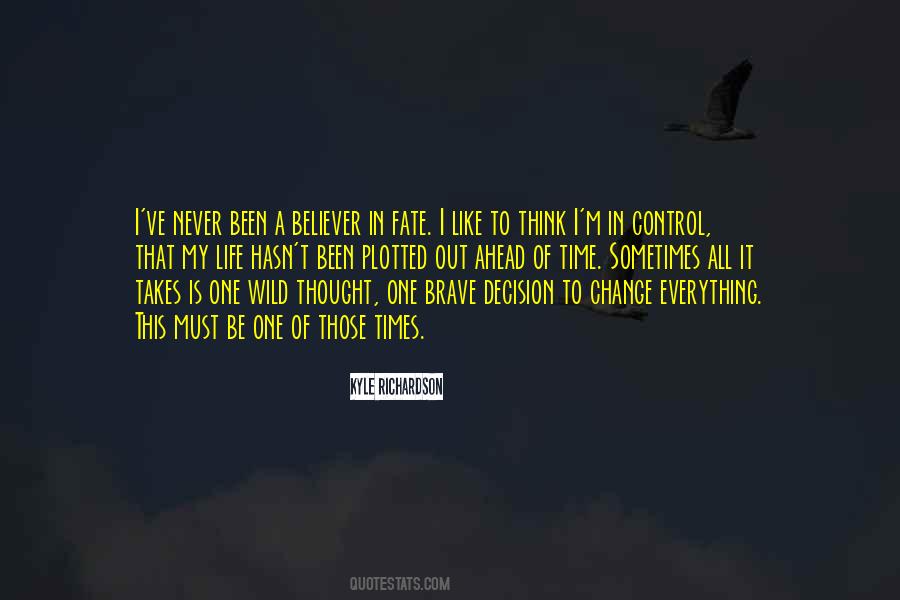 #3. All it takes is one person in any generation to heal a family's limiting beliefs. - Author: Gregg Braden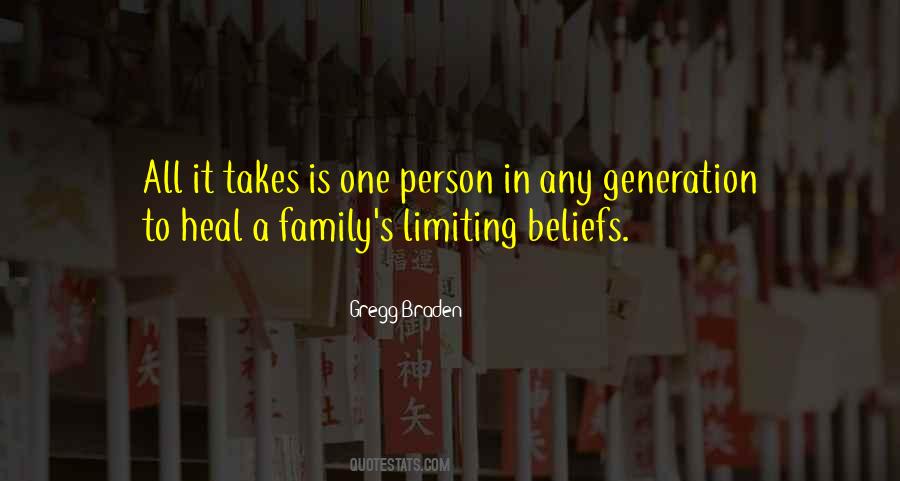 #4. It can be depressing when no one takes interest, and a lack of response makes the writer question why they're writing at all. To have one's writing rejected is like you, yourself, are being rejected. - Author: Elizabeth Clements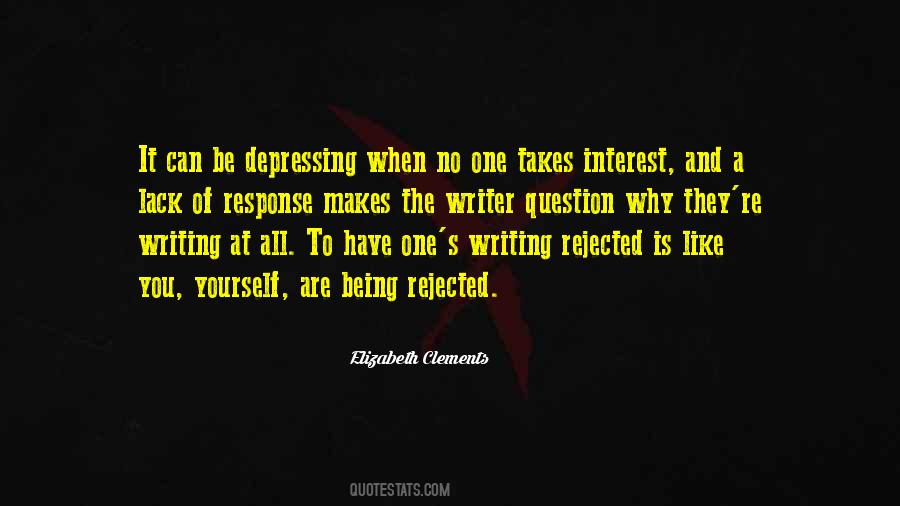 #5. If you're wise, you'll drop the odd coin in a cap, here and there. Because karma has teeth, all it takes is one really bad day, and we can all fall off the edge. - Author: Simon R. Green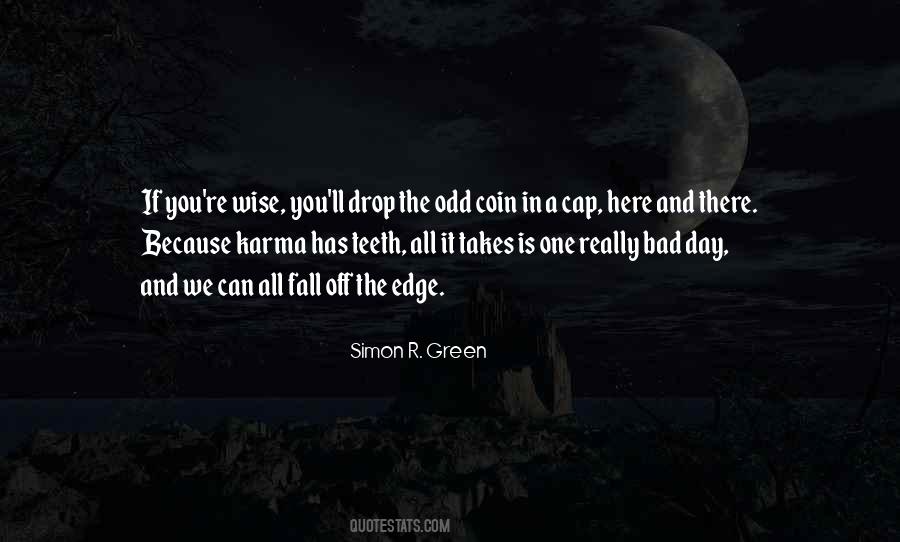 #6. You know, I've always wrote my best stuff when it takes me hardly any time at all. Actually I wrote ... this is actually a really funny story ... 'Ghost Of Vincent Price', I've been wanting to write a song about Vincent Price coz he's one of my favorite characters of all time. - Author: Wednesday 13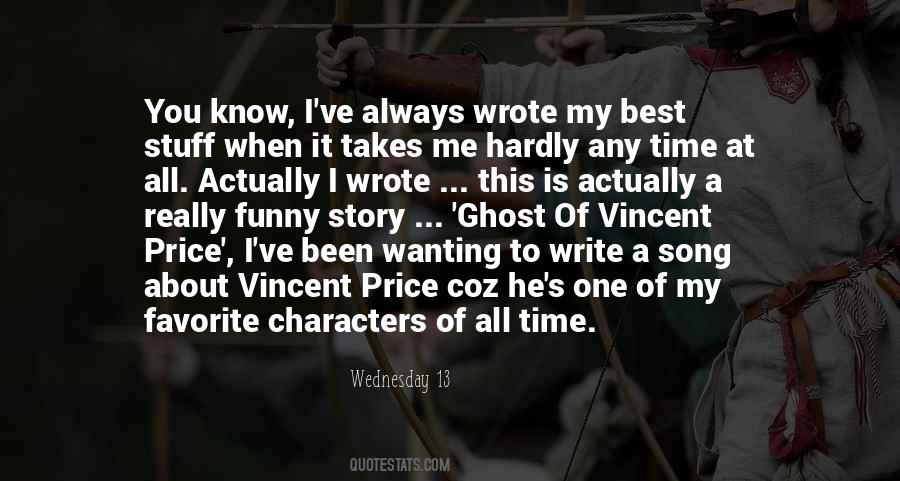 #7. Time is all we have. One lifetime under this name to produce a body of work that says, This is how I saw the world. Your work is worthy of whatever time it takes. - Author: Jan Phillips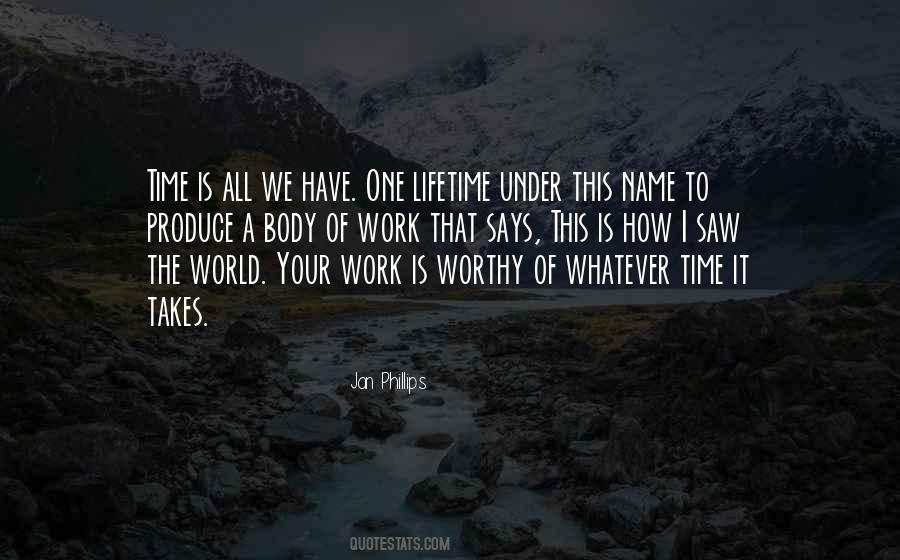 #8. An avalanche starts with one pebble. A forest with one seed. And it takes one word to make the whole world stop and listen. All you need is the right one. - Author: Jay Kristoff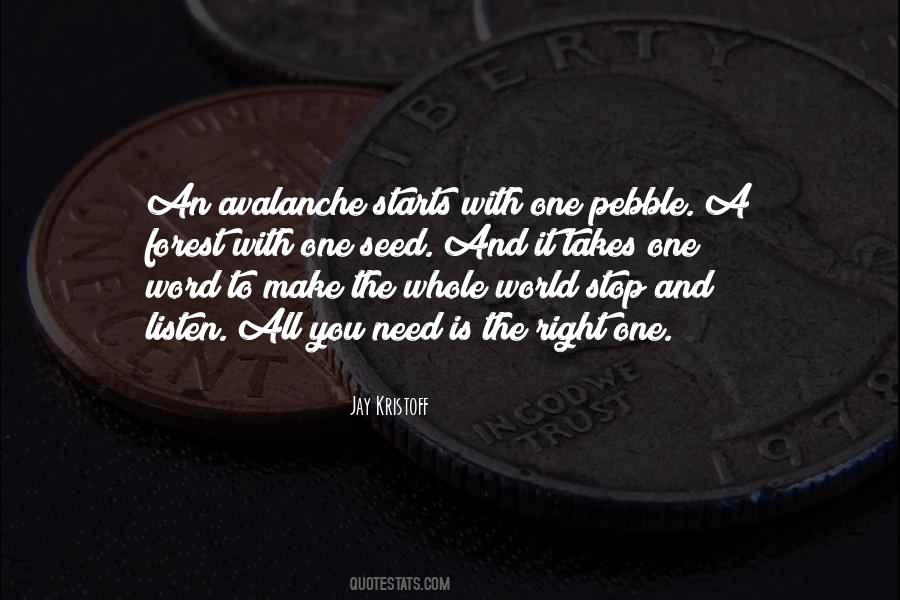 #9. It takes one asshole to ruin the whole thing. That's it. One. The problem with the world is one asshole comes up with a really bad idea and now we're all taking our shoes off at the airport. - Author: Steven Soderbergh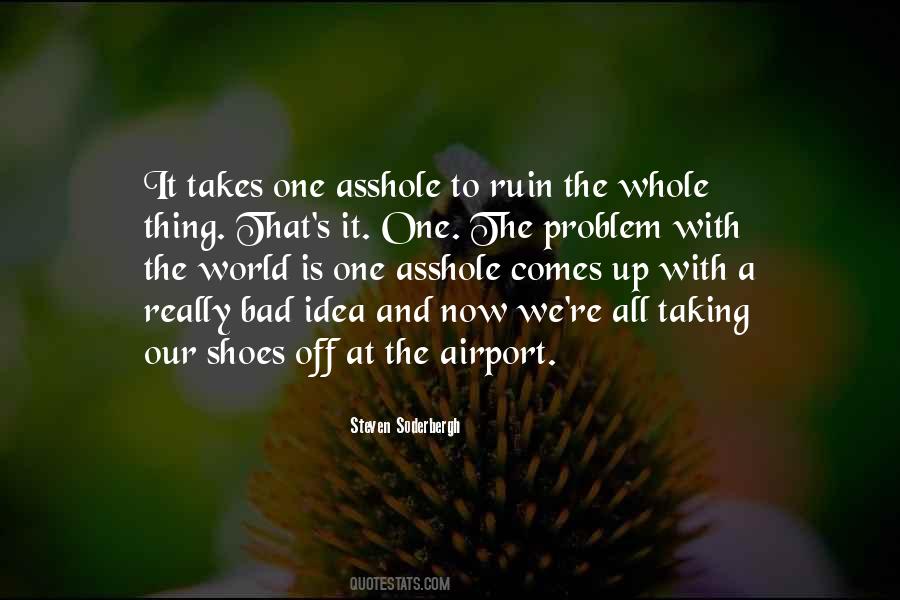 #10. All it takes is one bad day to reduce the sanest man alive to lunacy. That's how far the world is from where I am. Just one bad day. - Author: Alan Moore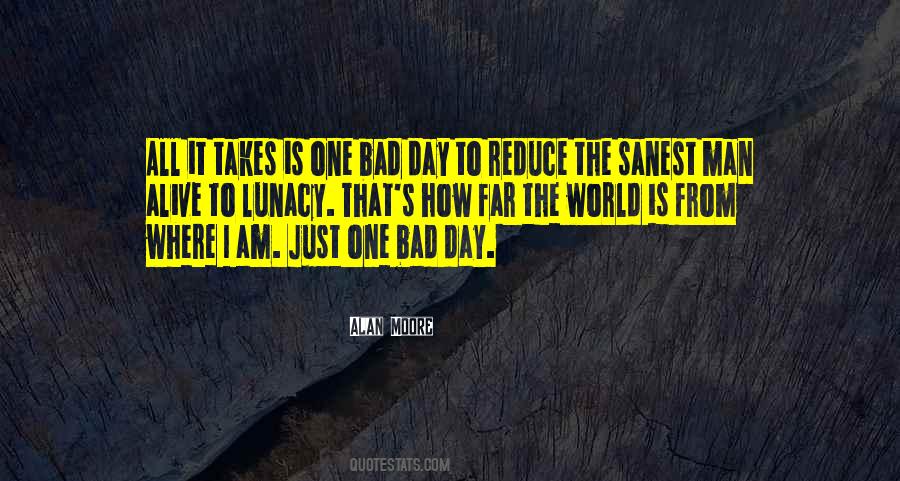 #11. When one loves somebody everything is clear - where to go, what to do - it all takes care of itself and one doesn't have to ask anybody about anything. - Author: Maxim Gorky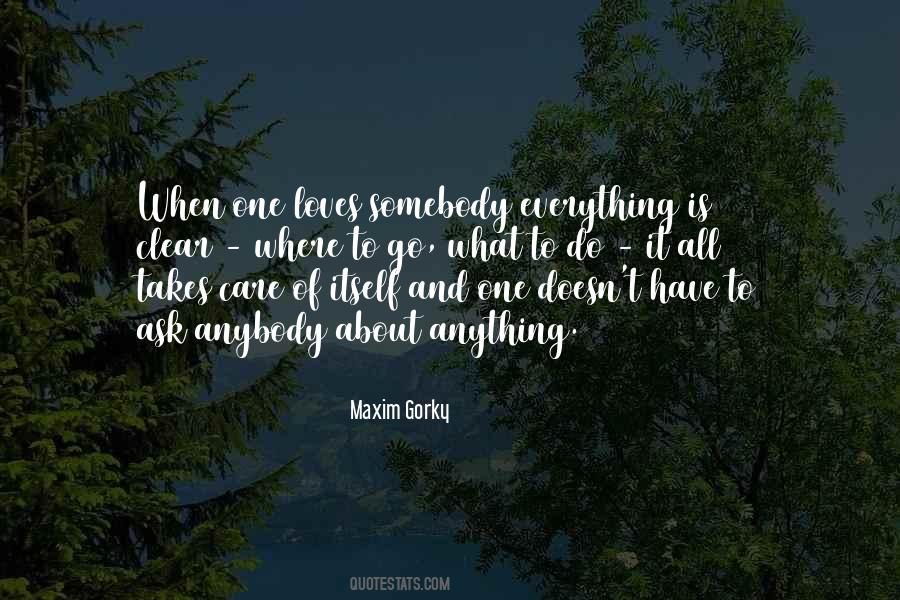 #12. One hour per day of study in your chosen field is all it takes. One hour per day of study will put you at the top of your field within three years. Within five years you'll be a national authority. In seven years, you can be one of the best people in the world at what you do. - Author: Earl Nightingale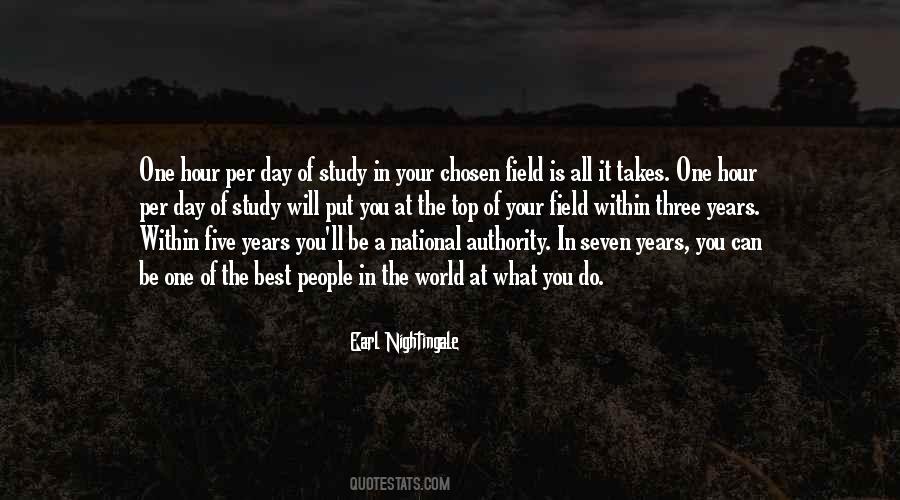 #13. Sword fighting is not a dance, not in battle. You save all that showing off for the duels if you want to. In battle, when you kill, kill quickly, and be ready for the next enemy to come at you. One strike should be all it takes. It's all you'll get - Author: G.R. Matthews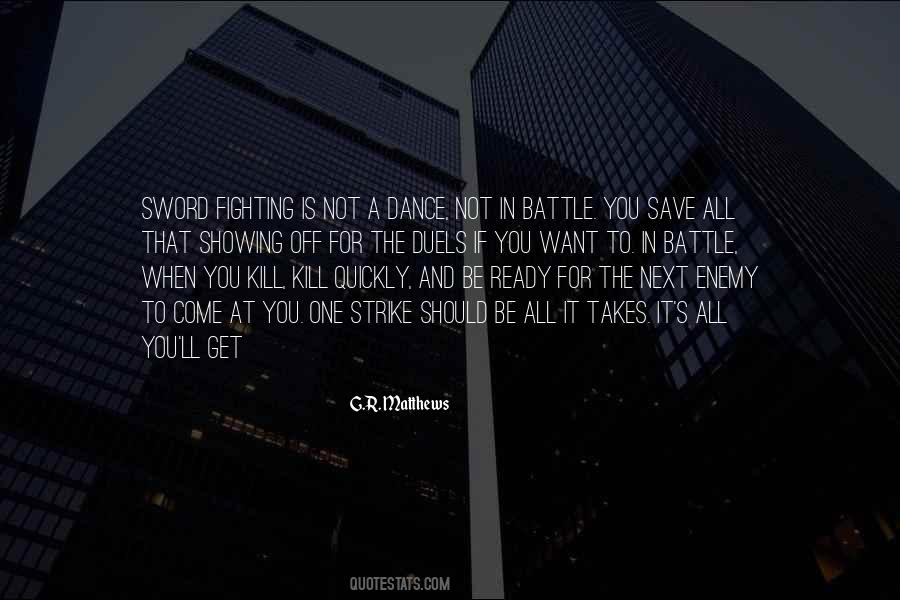 #14. Nature will forgive those who accept their own mistakes and not blame God for them. When God is not the doer of anything at all, one takes on grave liability by saying that God did it. - Author: Dada Bhagwan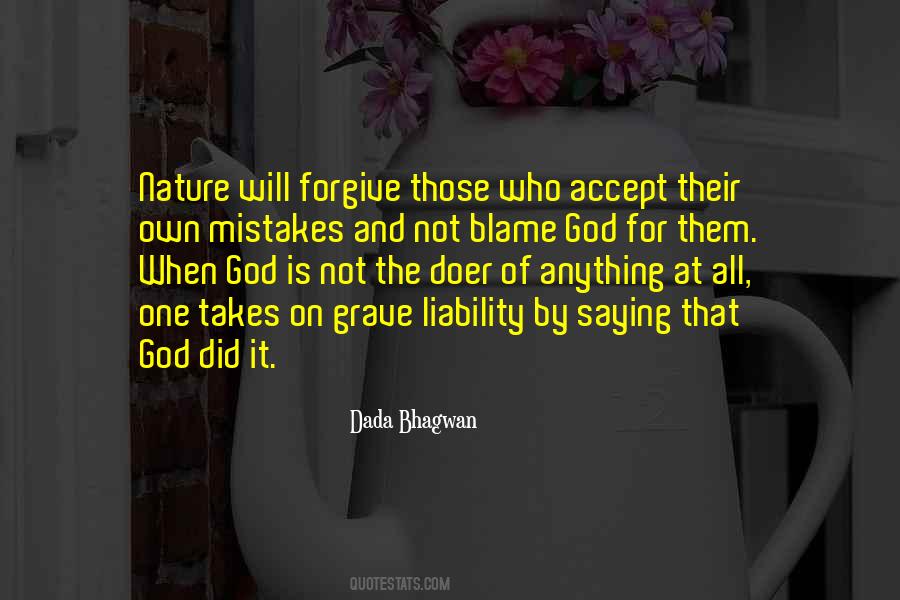 #15. All it takes is one good person to restore hope. - Author: Pope Francis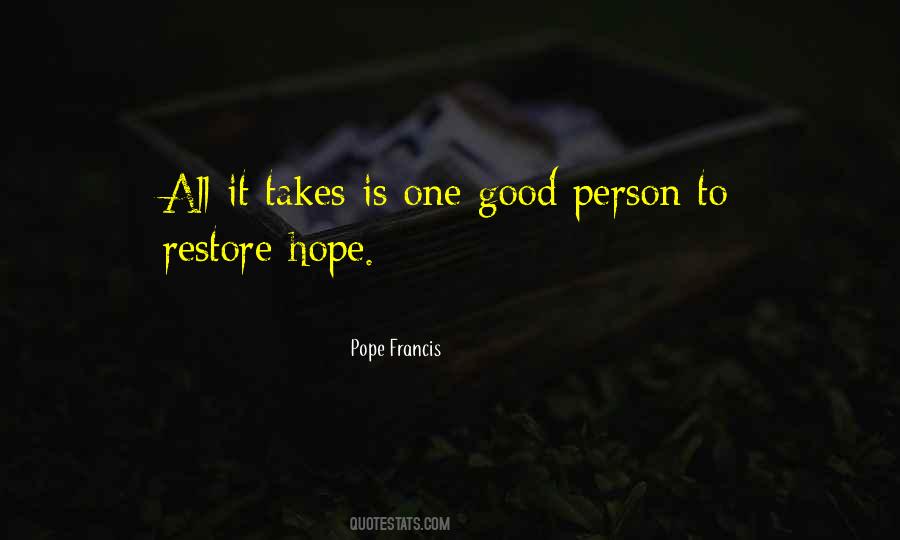 #16. Fear about what, exactly?'
'Everything,' I said. 'But mostly just the realization that all it takes is one moment for your entire world to turn upside down. One wrong decision, and it's over. - Author: Kristina McBride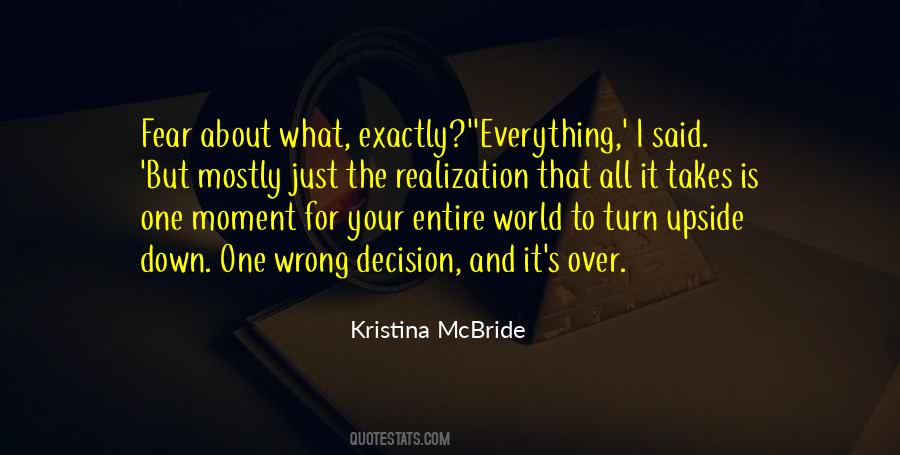 #17. One step at a time is all it takes to get you there. - Author: Emily Dickinson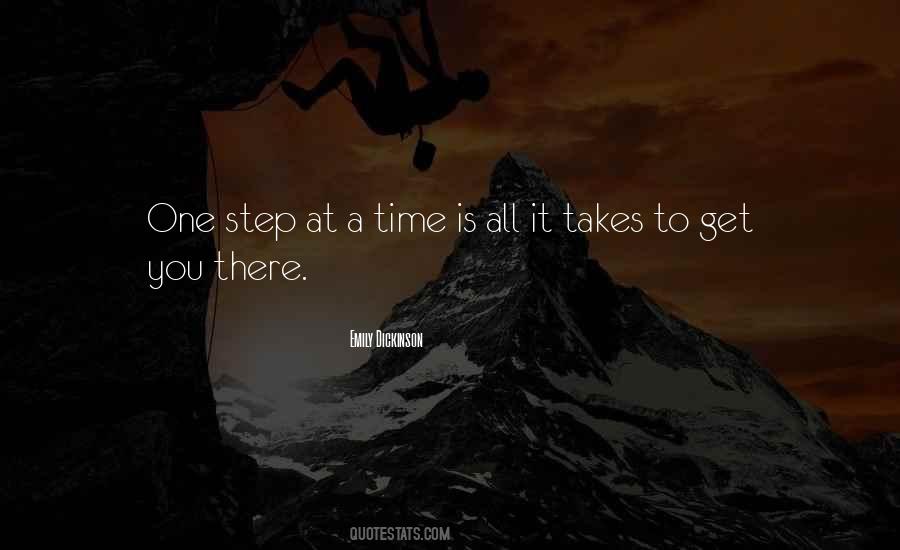 #18. Sometimes, all it takes is one arm wrap-round. And a heart's home. - Author: Alyse M. Gardner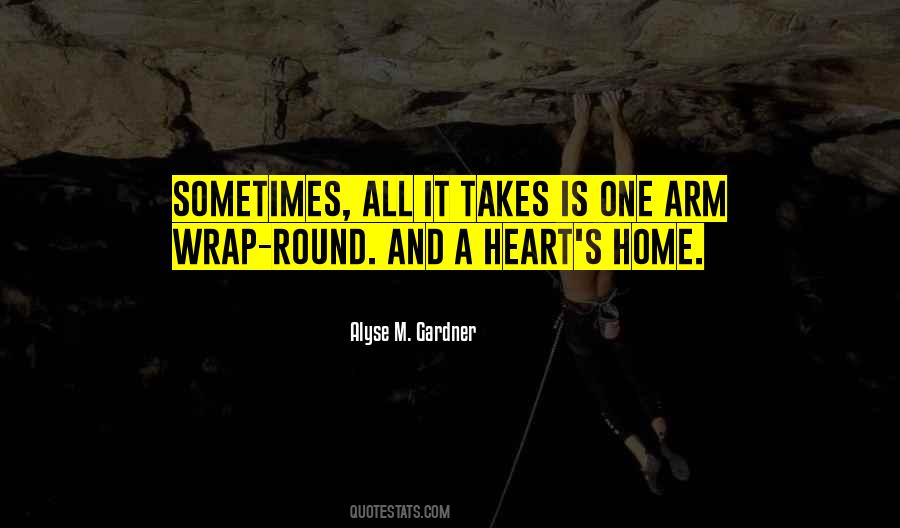 #19. Dreams are nervy things - all it takes is for one stern word to be spoken in their direction and they shrivel up and die. - Author: Lloyd Jones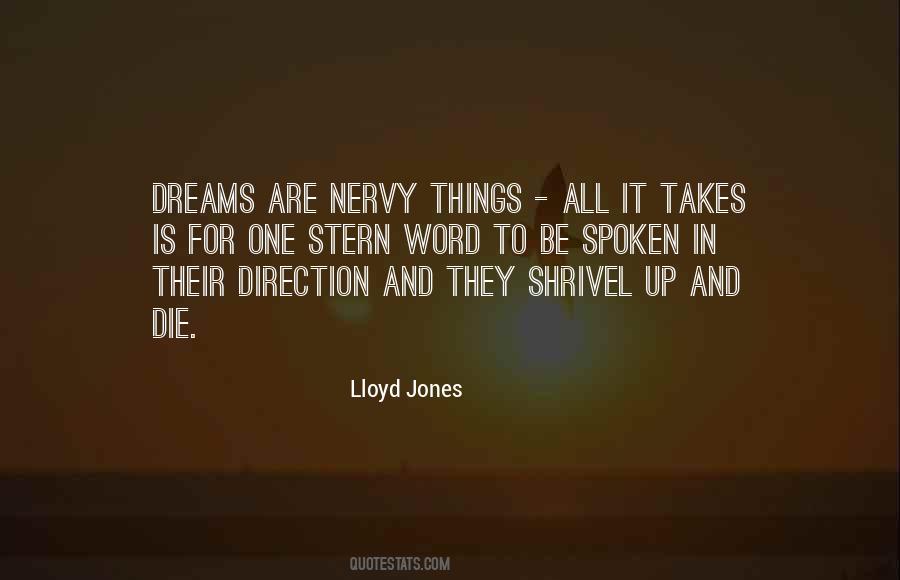 #20. I began a poem in lines of one syllable. It's rather difficult, but the merit of all things lies in their difficulty. The subject matter is gallant. I'll read you the first canto; it's four hundred verses long and takes one minute. - Author: Alexandre Dumas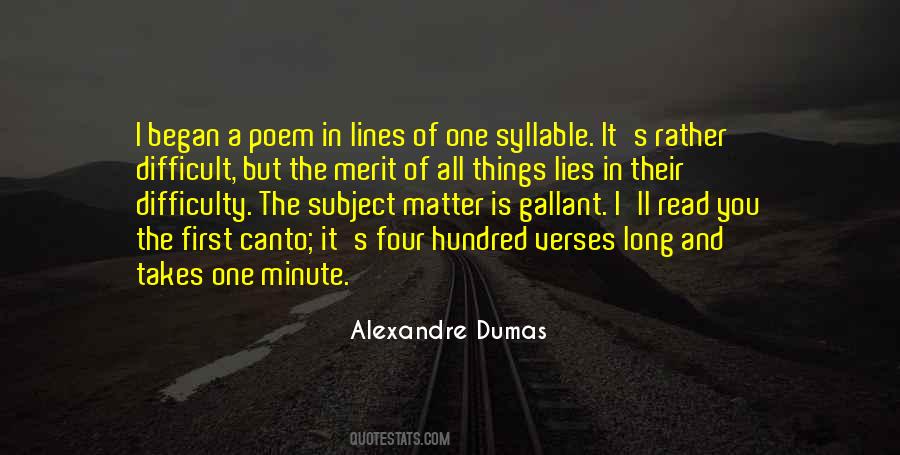 #21. When God wants to move a mountain, he does not take a bar of iron, but he takes a little worm. The fact is, we have too much strength. We are not weak enough. It is not our strength that we want. One drop of God's strength is worth more than all the world. - Author: Dwight L. Moody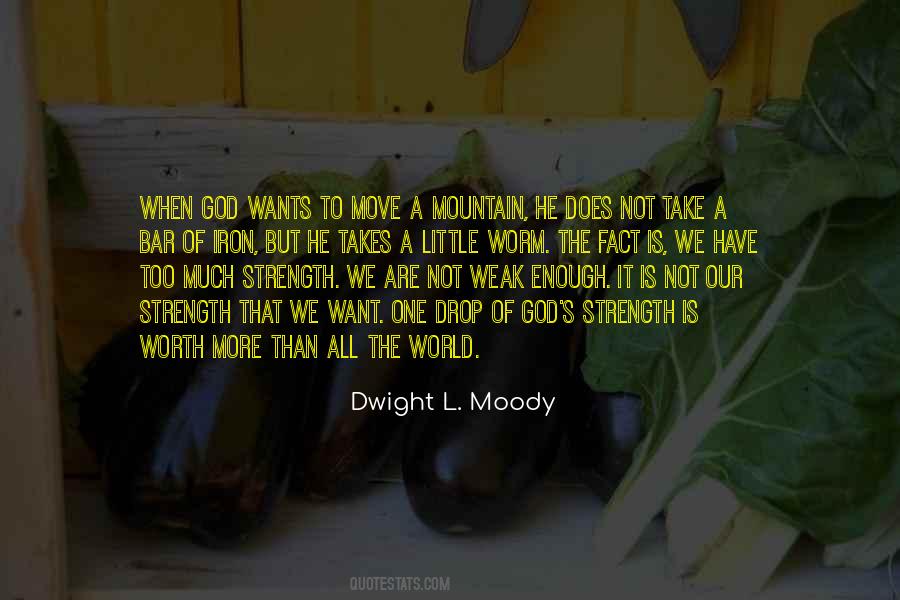 #22. One day, a musician asked me what I did. When I told him I was to be a businessman, he laughed and said, 'You are not a businessman.' Sometimes all it takes is one person to put an important thought in your head, and he did. - Author: Alexander Hanson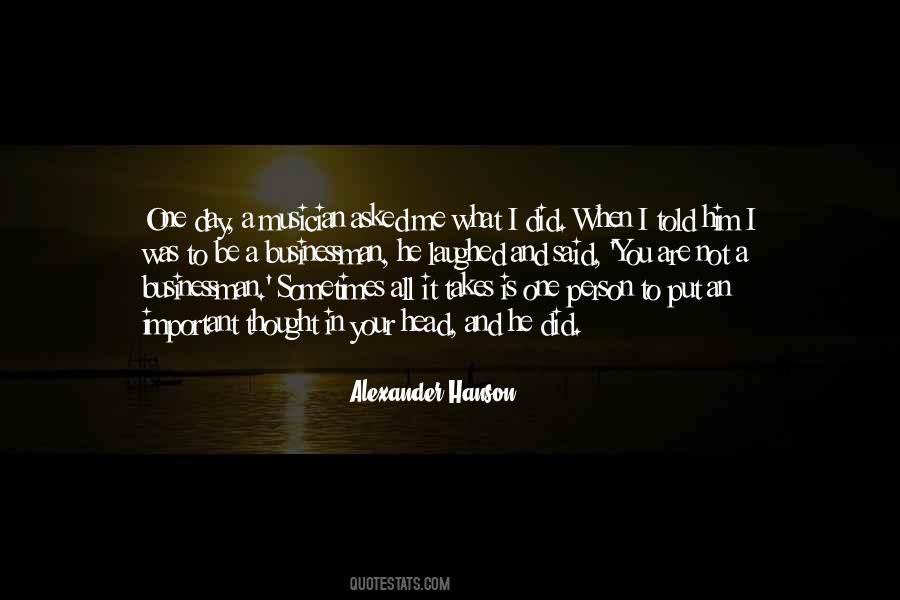 #23. I'll be out shopping, and all it takes is for one person to recognise me and it can get scary. - Author: Bonnie Wright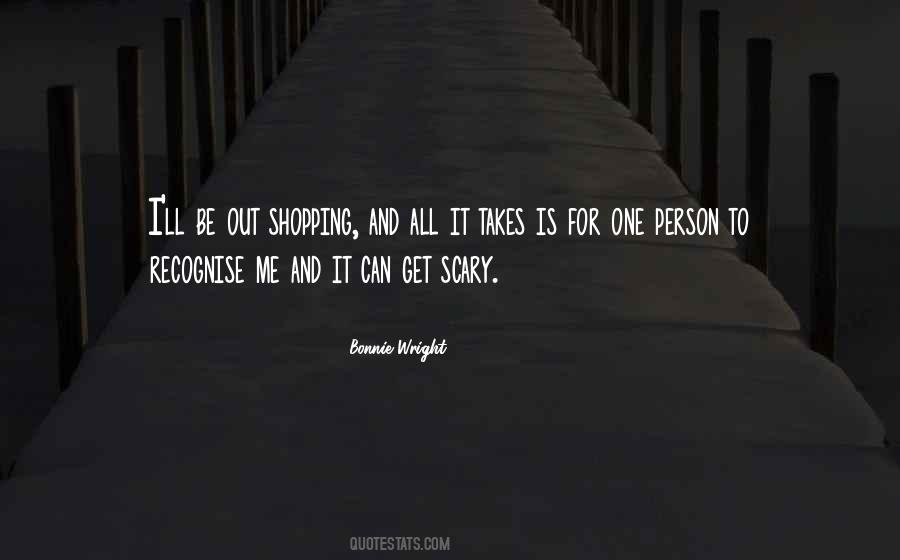 #24. Is it so hard to offer your help and sympathy to somebody in grief? It takes a little to make one step, but, in an inexplicable manner, it stretches into thousands of kilometers. All of us are full of empathy and consolation but always prefer to express it from a distance. - Author: Igor Eliseev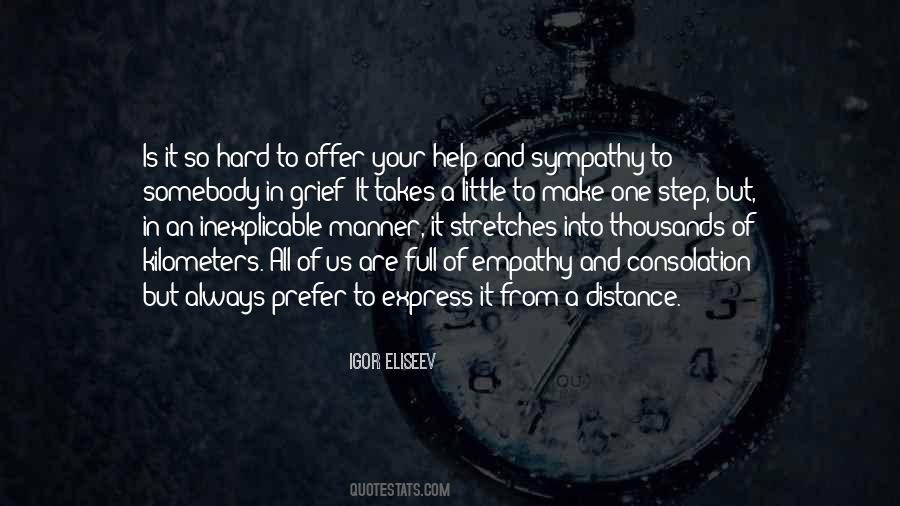 #25. A pointless mind is a careful mind.when you're pointless, you don't know which one is your true goal. It takes time to process what is good and what's not. And when it is all set, it means success is achieved. - Author: Christian Thogolith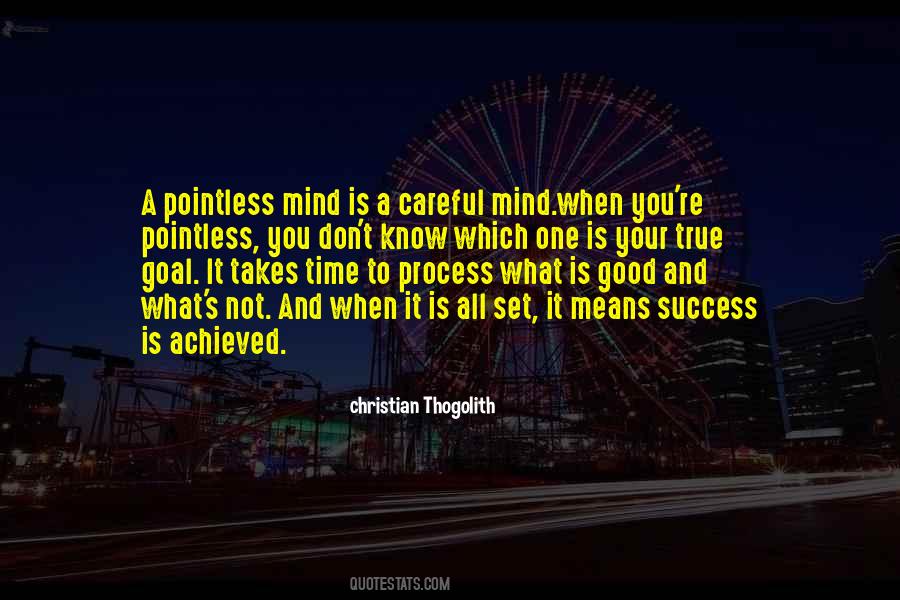 #26. The fact is, that among his hunters at least, the whale would by all hands be considered a noble dish, were there not so much of him; but when you come to sit down before a meat-pie nearly one hundred feet long, it takes away your appetite. - Author: Herman Melville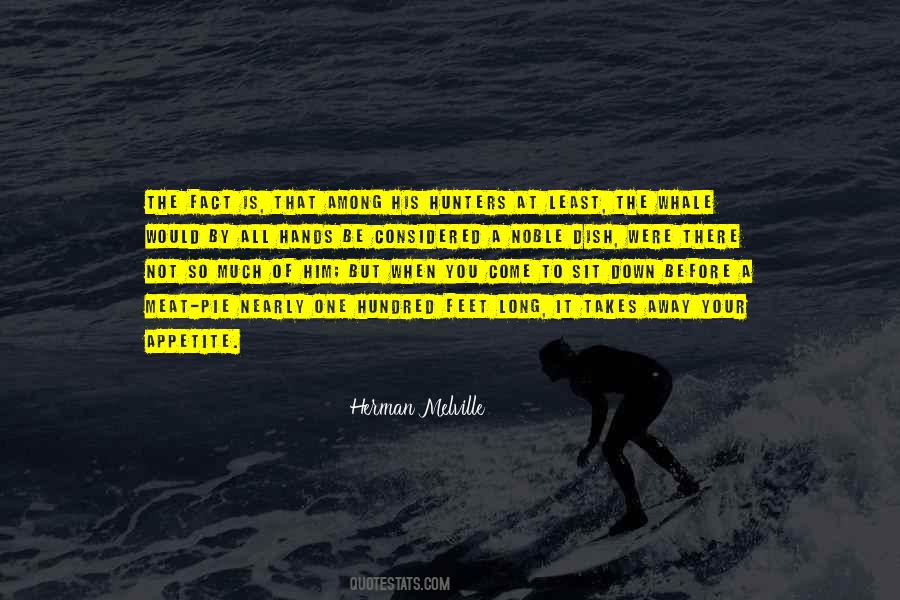 #27. All it takes for a contagious manly culture to form is for one genuine man to live out genuine manhood. It creates a model, something for other men to feed upon and pattern themselves after. It also gives other genuine men a vital connection that sustains and extends who they are. - Author: Stephen Mansfield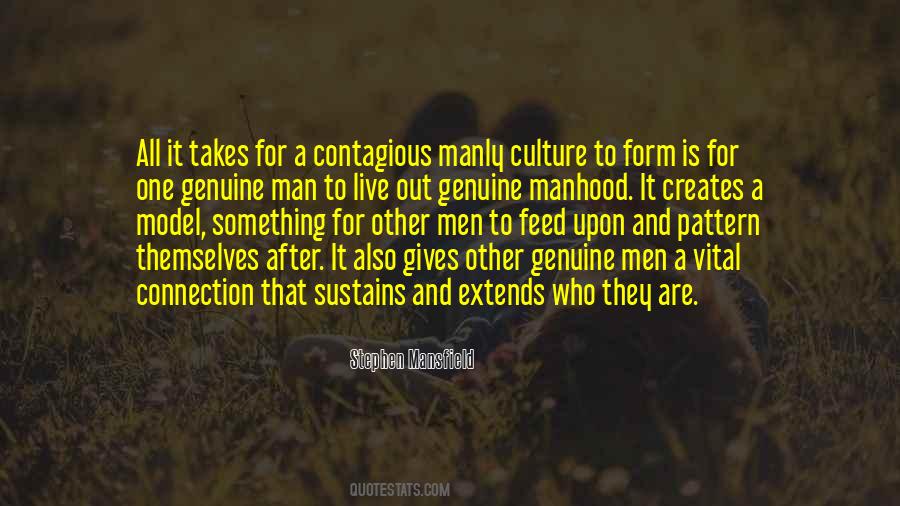 #28. All it takes is for one person to say you're ugly, and you're like, I guess I'm ugly. And that was it. - Author: Tori Spelling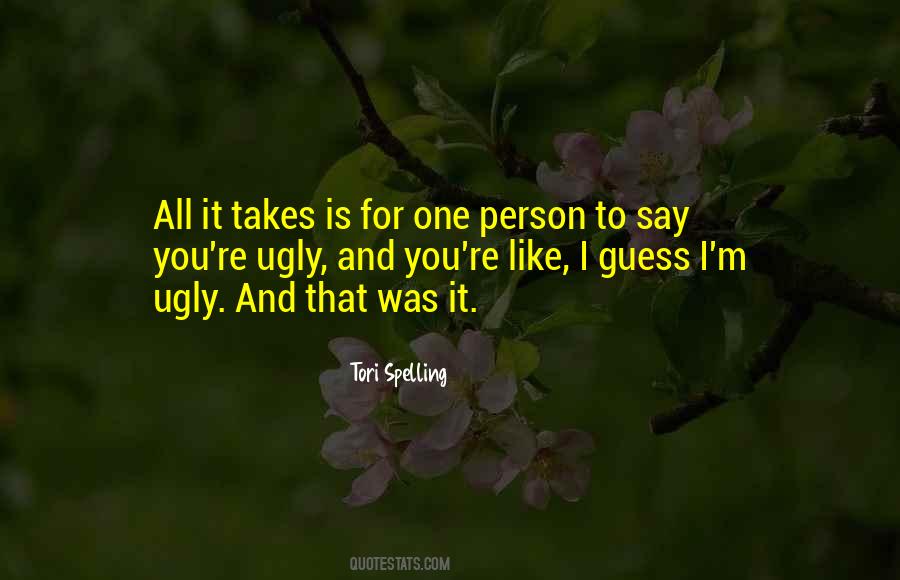 #29. Hue does not refer to how light, dark, or intense, but only what kind of color: what hue. It takes all three aspects to make a color, therefore 'red' is not a color, but only one aspect, the hue, of some partially defined color. - Author: William Tapley Bennett Jr.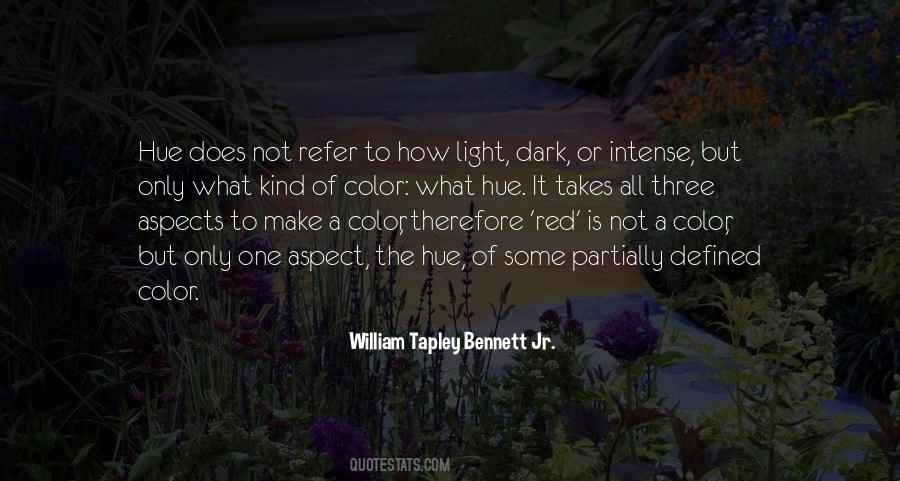 #30. We all try to camouflage the monotony, But it takes a lot of energy. To insist on being special all the time. When we're so much like one another anyway. Our triumphs are the same. Our pain. Try for a moment to feel what relief there is in the ordinary. - Author: Peter Hoeg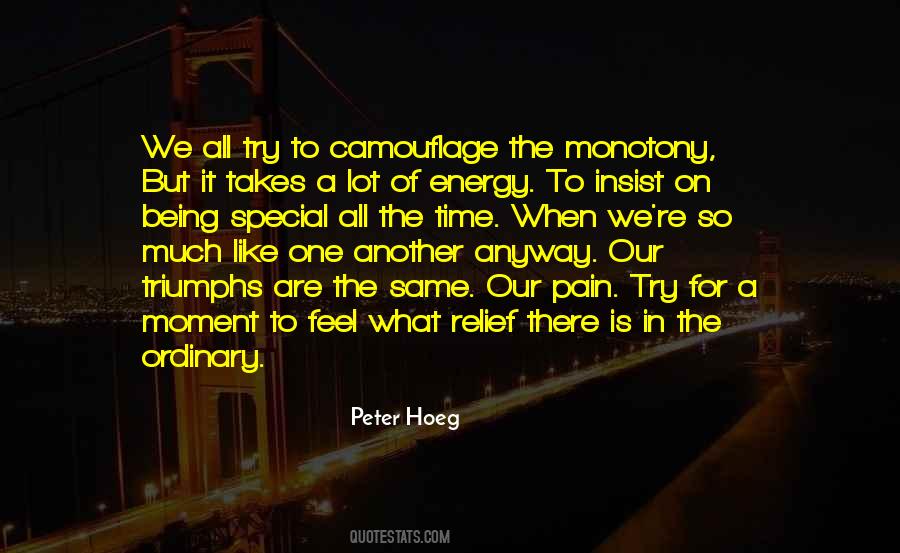 #31. I love music. I love every kind of extreme sort of music, and many different genres, and if I were to have to dedicate myself to just one kind of genre, I would feel kind of gypped. I'd be like, man, I wish I could do this or that. And really all it takes is trying it out. - Author: Phil Anselmo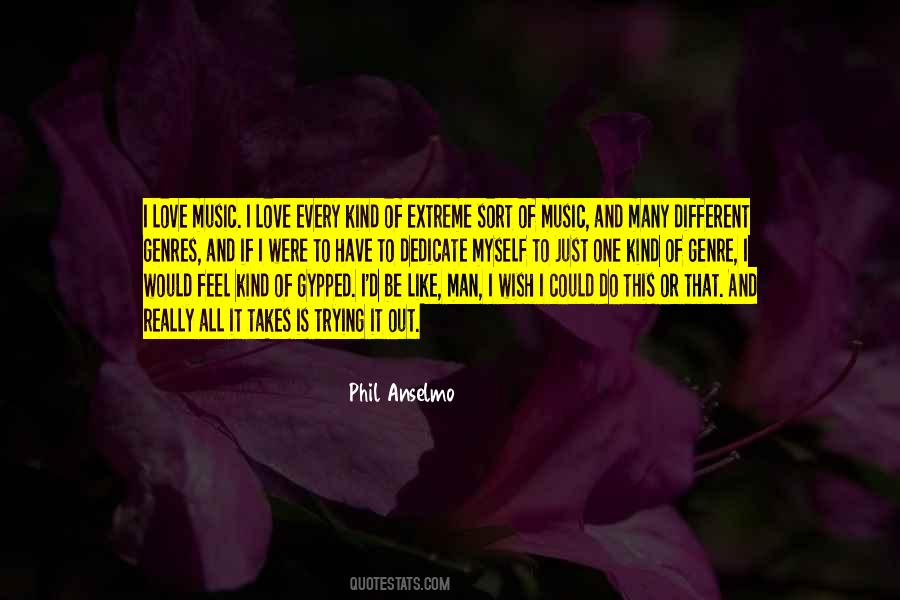 #32. When a second finger joins the party, his brows draw together. Beads of sweat break out on his forehead. Mine, too. Loosening him up is one of the hottest things I've ever done. It takes all my concentration. Stroking, teasing, twisting, getting him ready for me. - Author: Sarina Bowen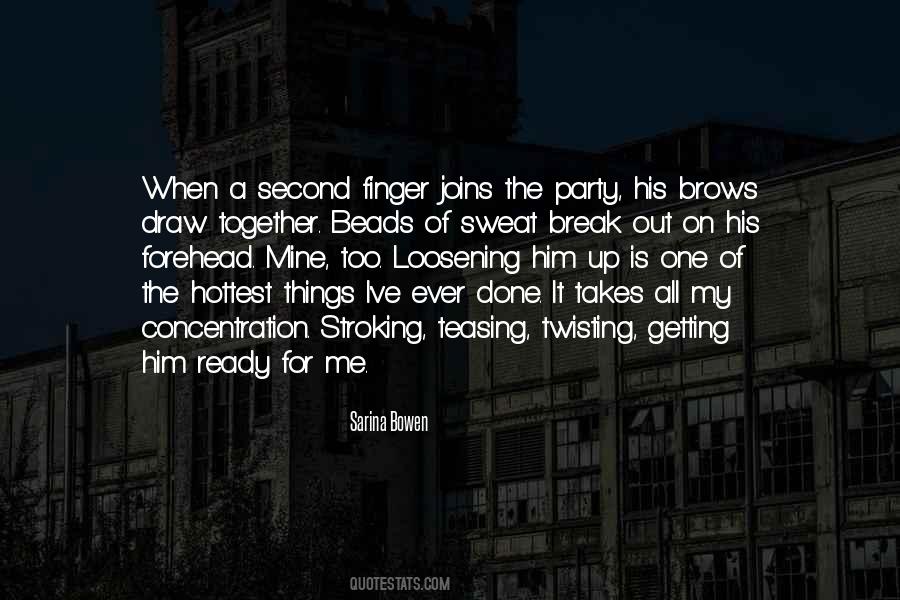 #33. All it takes is one small voice to make a difference." ~Artum Keogh~ - Author: Shawn Reilly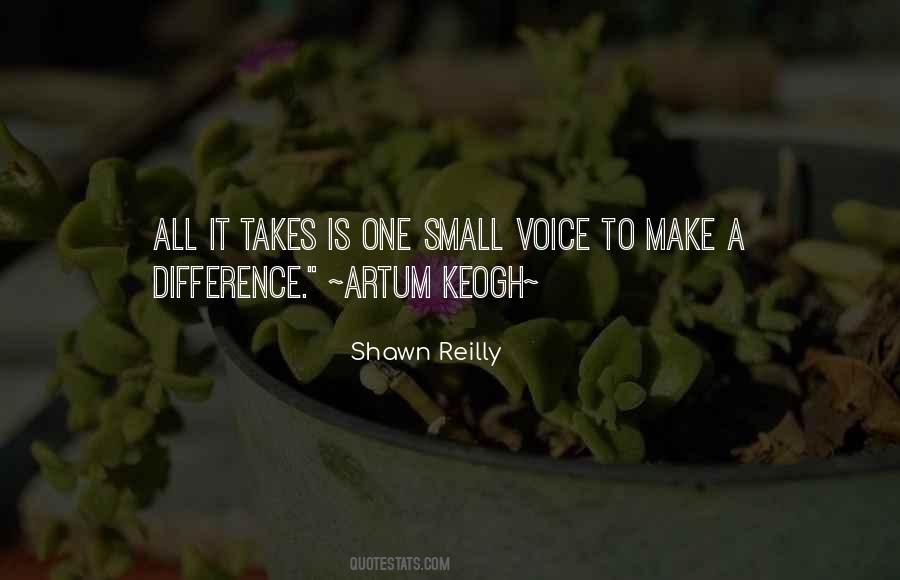 #34. Speech is often barren; but silence also does not necessarily brood over a full nest. Your still fowl, blinking at you without remark, may all the while be sitting on one addled egg; and when it takes to cackling will have nothing to announce but that addled delusion. - Author: George Eliot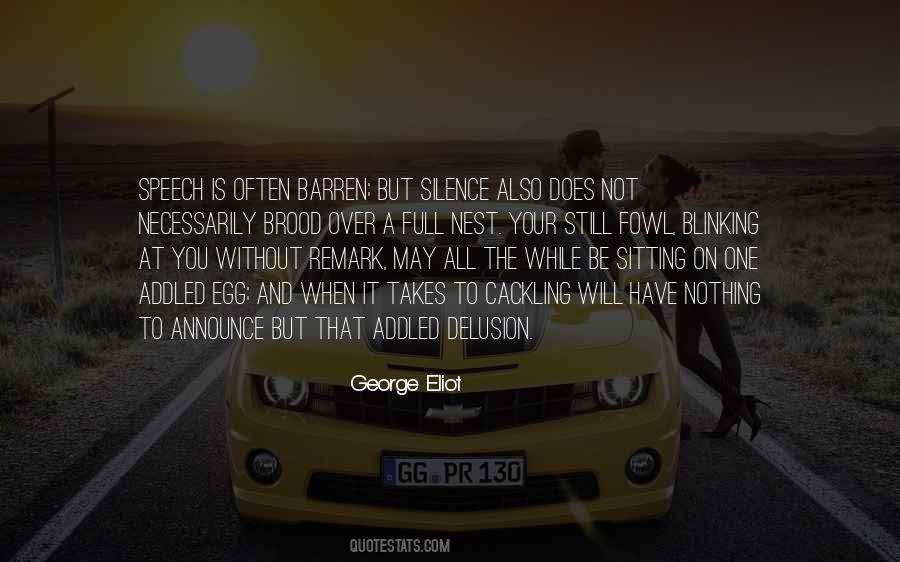 #35. Love, if it be love indeed, asks no permission as to where it shall seek vantage ground or gain its victory - it is of all powers the most unfettered and the one which takes the widest course of largest liberty ... - Author: Marie Corelli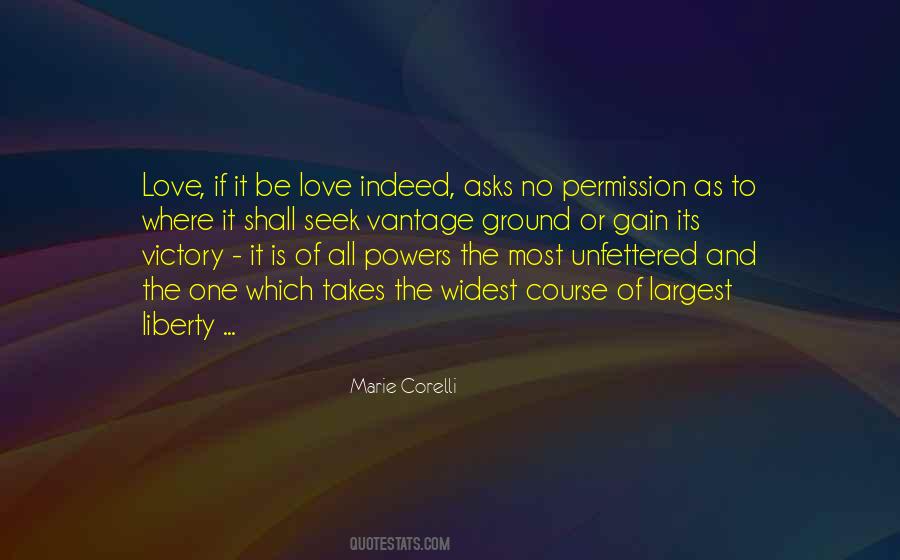 #36. Babies are unreasonable; they expect far too much of existence. Each new generation that comes takes one look at the world and thinks wildly, "Is this all they've done to it?" and bursts into tears. - Author: Clarence Day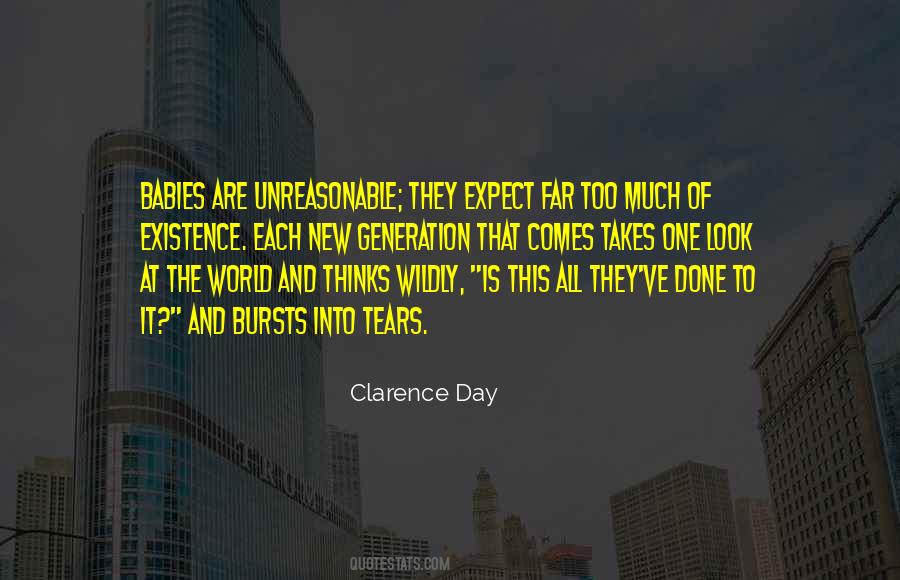 #37. You know, Chihiro, darling- all it takes is one little wrong step and you end up feeling frustrated your whole life, like me. - Author: Banana Yoshimoto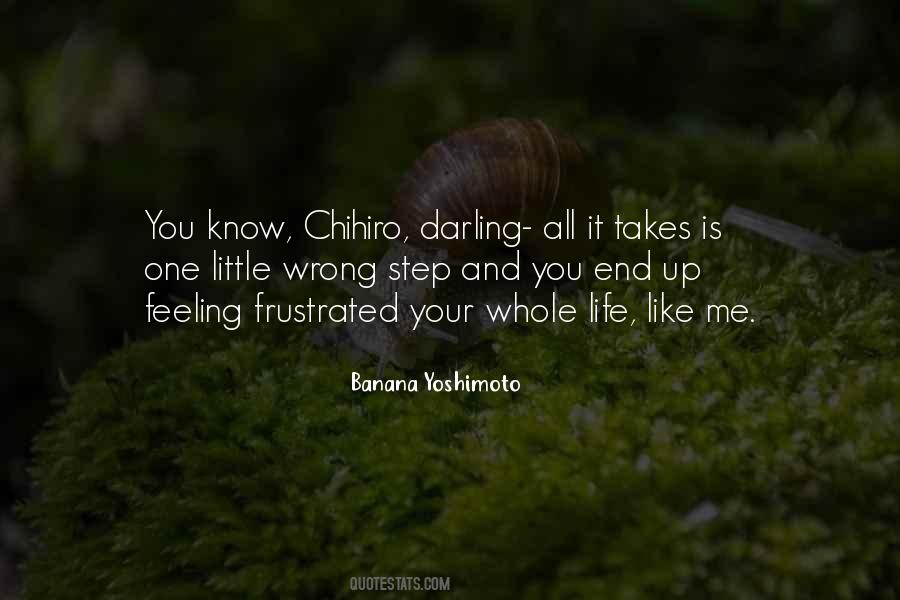 #38. It used to be you needed to have a very large sophisticated state before you could even have a nuclear weapon ... Now the technology is widespread enough. It doesn't take very many people to be able to cobble together a devastating attack, and all it takes is one. - Author: Dick Cheney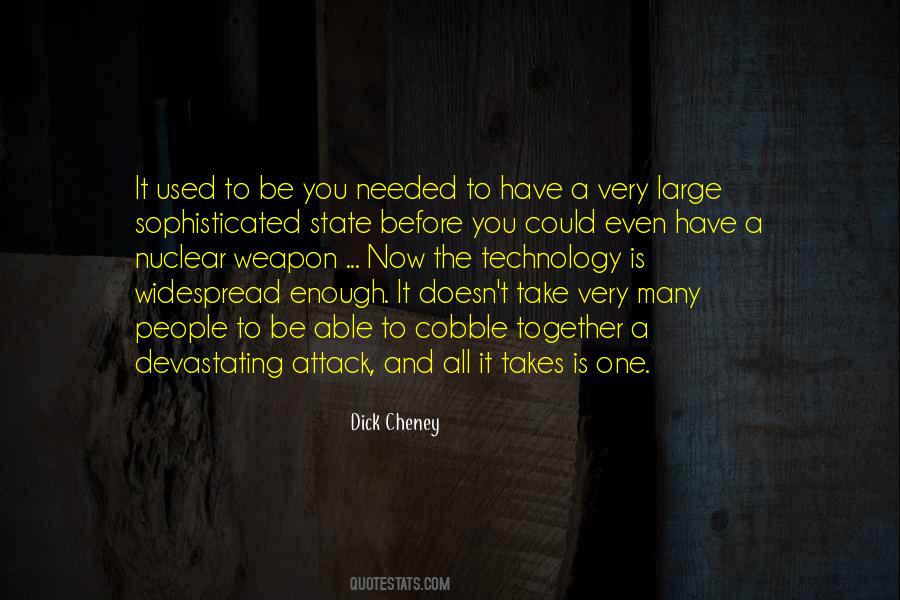 #39. Finding great training, I think, is number one. I did a lot of research and found really great teachers, and it just takes - I took a year off from school and did independent studies so that I could devote all of my time to it. But I think that training is the key, definitely, and it's not a sport. - Author: Misty Copeland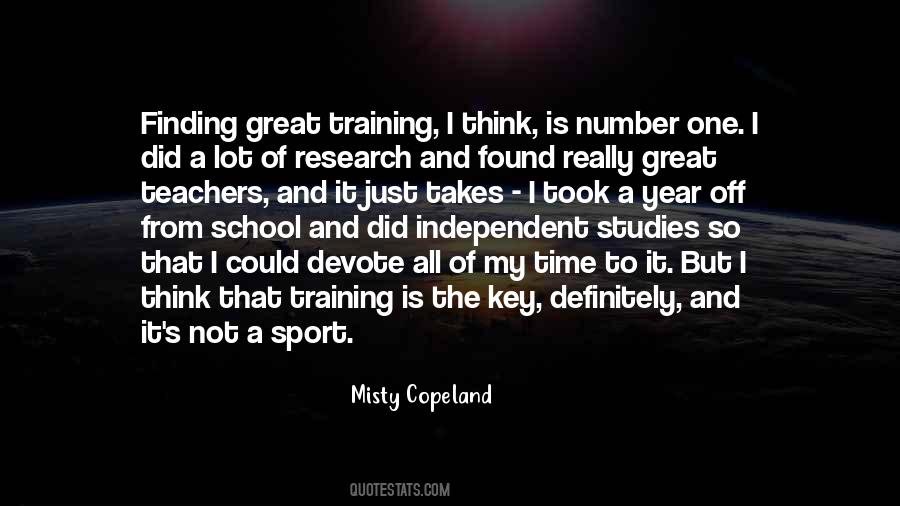 #40. Life is smoke, plain and simple; we just fool ourselves that it's otherwise. All it takes is one good gust and we float away and disappear, leaving behind only the scent of our passing in the form of memories. - Author: Cody McFadyen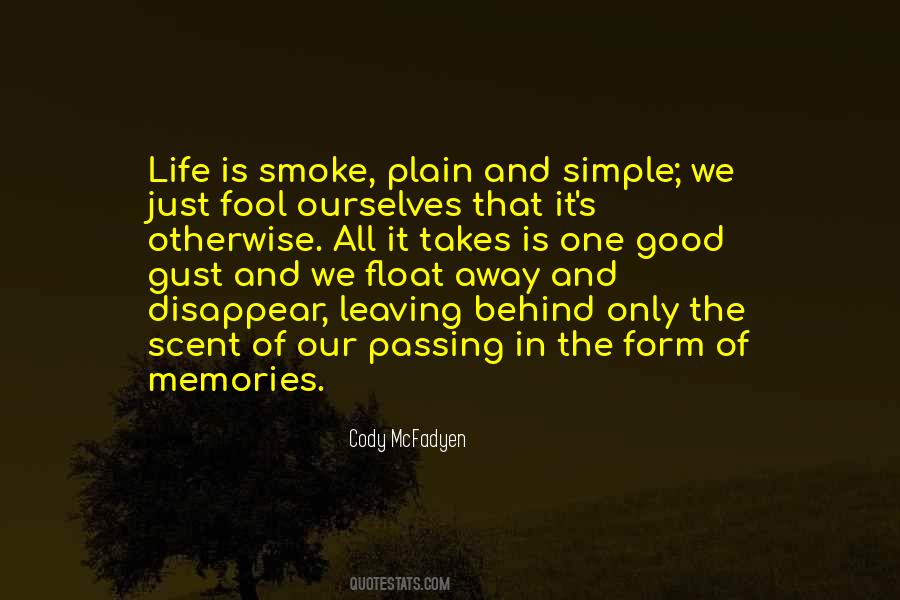 #41. I buy a lot of books I never read. But that's not really a waste, since all it takes is one idea from even one book to radically reshape the way a person leads, thinks and lives. - Author: Robin S. Sharma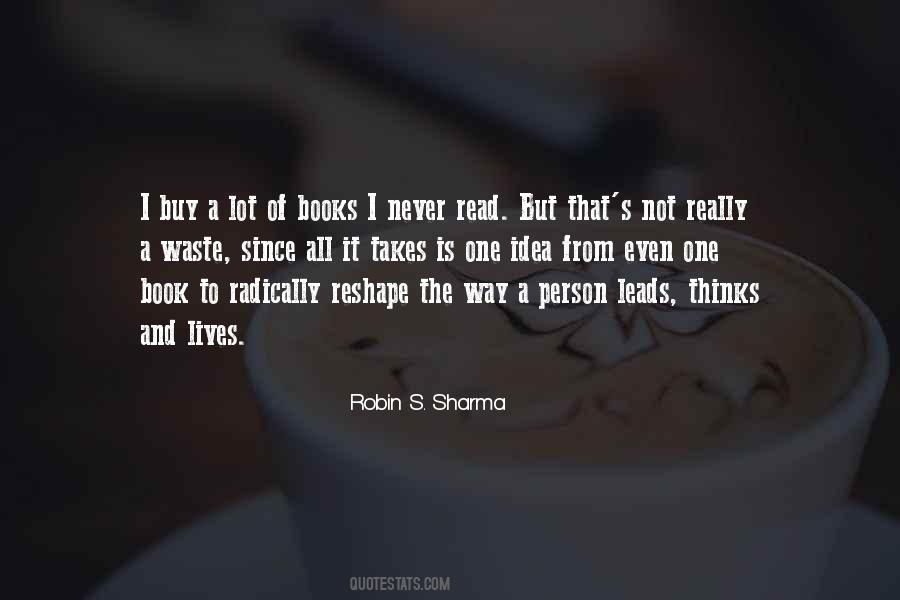 #42. There's one fundamental law that all of nature obeys that mankind breaks every day. Now, this is a law that's evolved over billions of years, and the law is this: Nothing in nature takes more than it needs. - Author: Tom Shadyac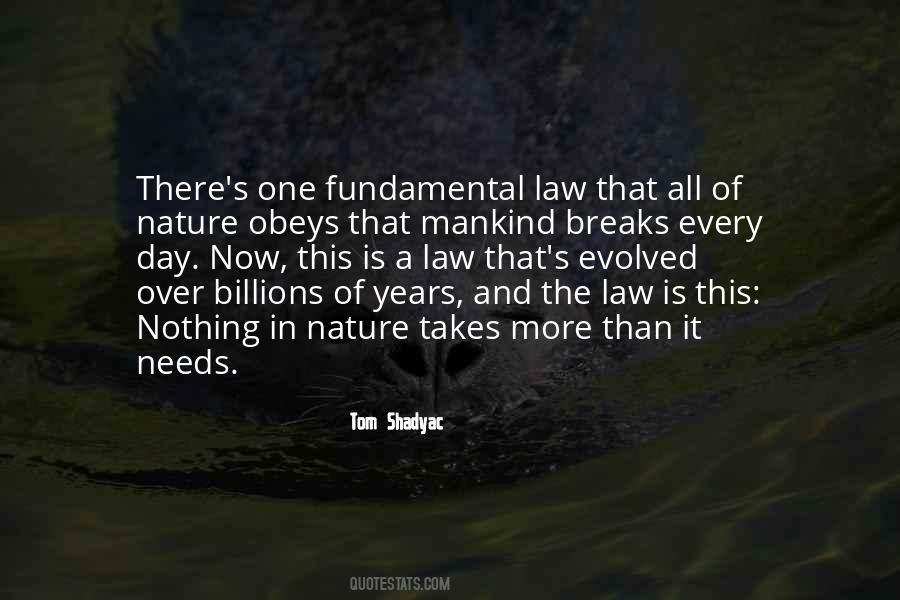 #43. Let me ask you one question
Is your money that good
Will it buy you forgiveness
Do you think that it could
I think you will find
When your death takes its toll
All the money you made
Will never buy back your soul - Author: Bob Dylan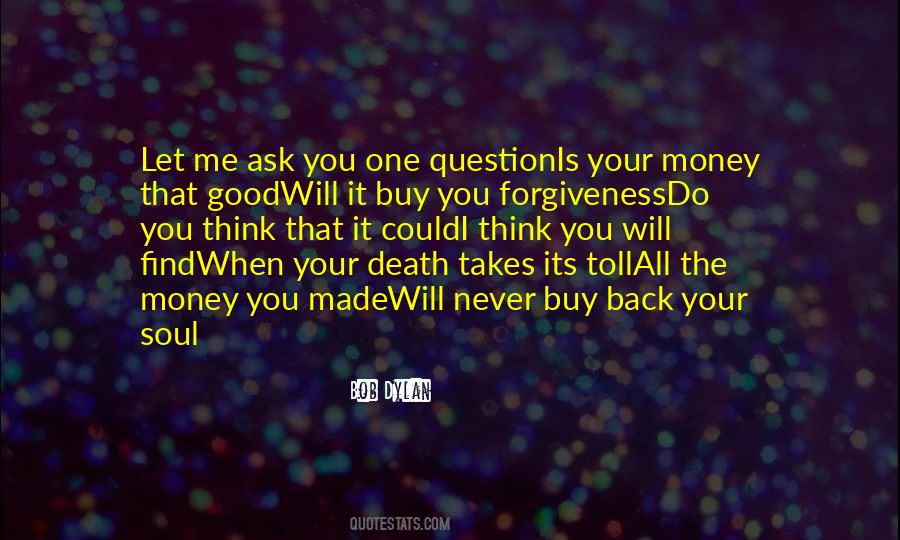 #44. One unfortunate circumstance can change our lives for the worst, and all it takes is an act of kindness to turn it around the other way. - Author: Colleen Coble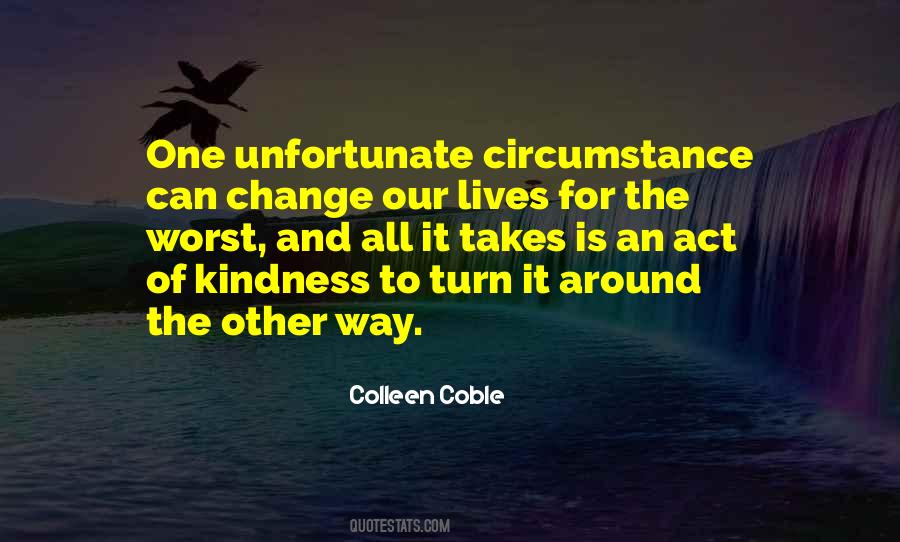 #45. Leadership is first and foremost bout character, one who is in power but not subordinate to it, one has control of money but is not lured by it, one whose position opens all doors but prefers the simplicity of lifestyle, and one who is followed by many but takes the heart of a servant. - Author: Wilfrido V. Villacorta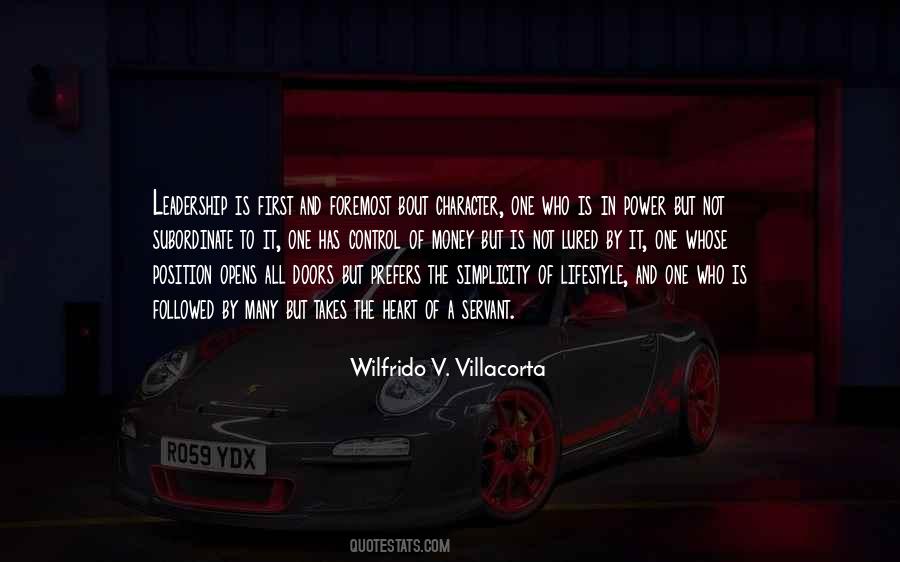 #46. All it takes is one wrong turn. And there's always one wrong turn. - Author: Grant Morrison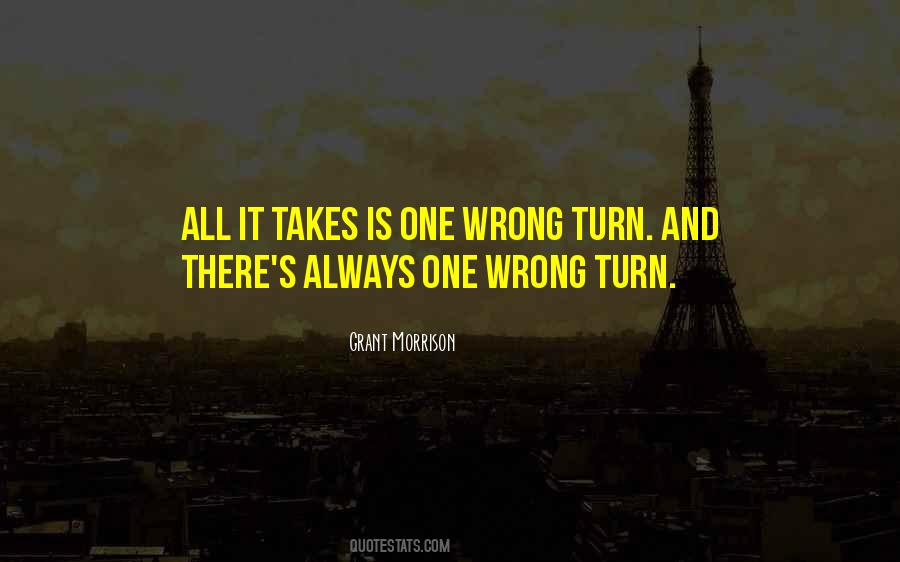 #47. If anyone wants to save the planet, all they have to do is just stop eating meat. That's the single most important thing you could do. It's staggering when you think about it. Vegetarianism takes care of so many things in one shot: ecology, famine, cruelty. - Author: Paul McCartney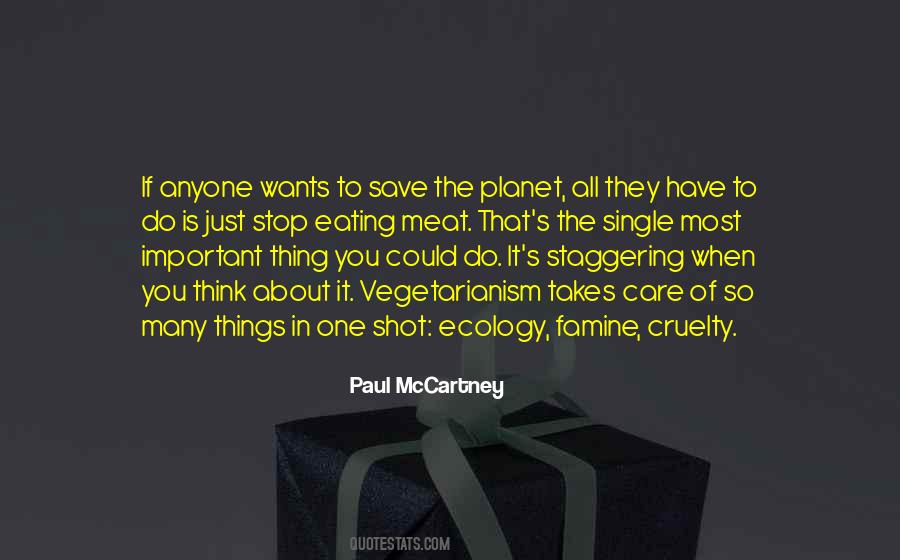 #48. Of all natural forces, vitality is the incommunicable one ... Vitality never "takes." You have it or you haven't it, like health or brown eyes or a baritone voice. - Author: F Scott Fitzgerald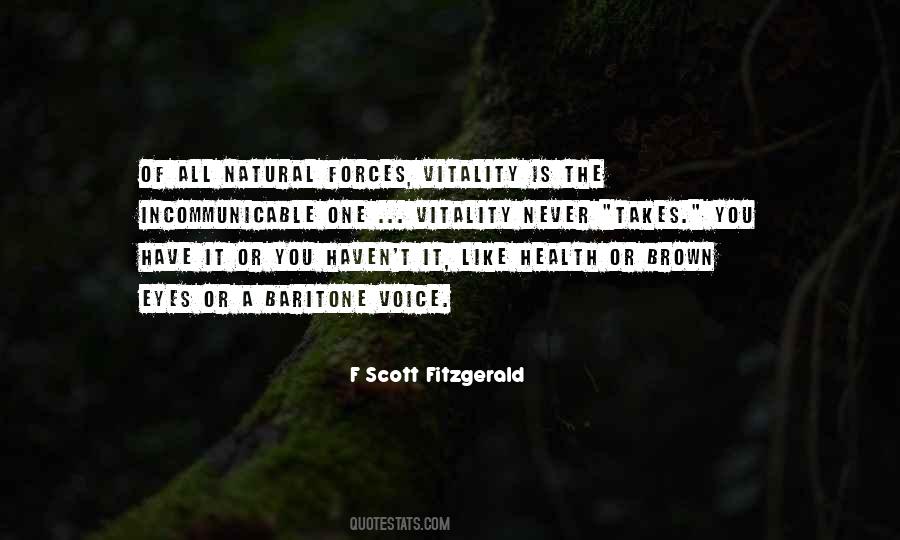 #49. People say it takes a village to raise a child. People ask me how my daughter is doing. She's only doing good if your daughter's doing good. We're all one family. - Author: Kanye West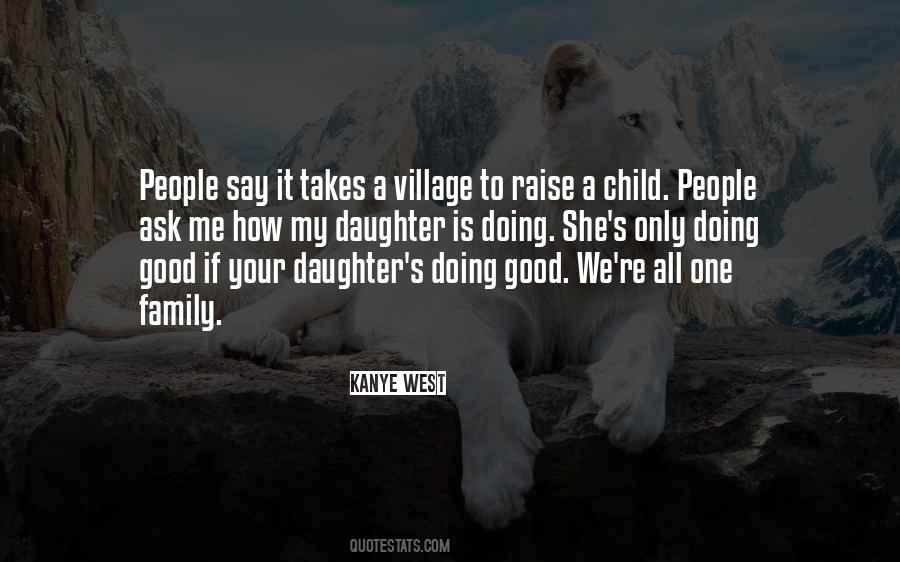 #50. Since that day there is nothing anyone could ever say to convince me that one person cannot change a nation. One person can do unbelievable things. All it takes is that one person who's willing to risk everything to make it happen. - Author: Sam Childers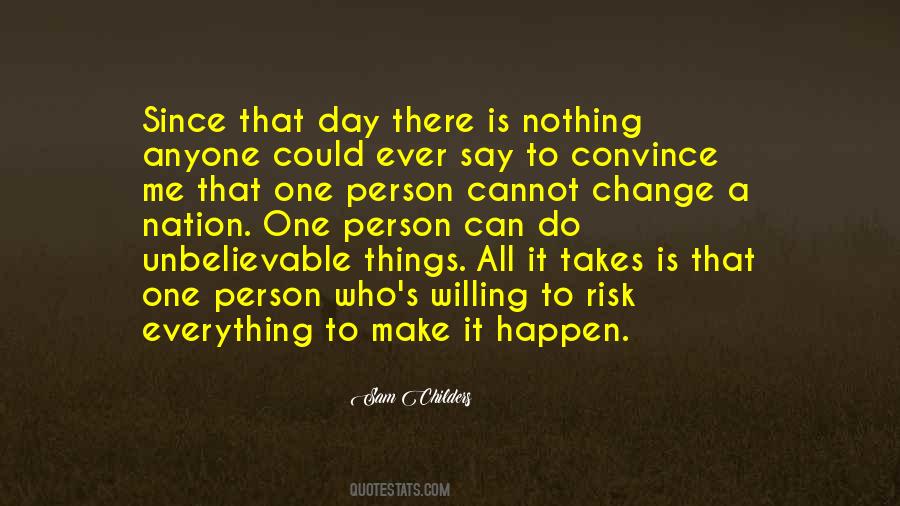 #51. I'll pit my God against your god any day, I say to the Calvinists. It's not their god I'm praying to ... The God I'm praying to is neither male nor female. My God is the one who exists apart from all of men's agendas, the God who takes you away when there is no possible place you can go. - Author: Brunonia Barry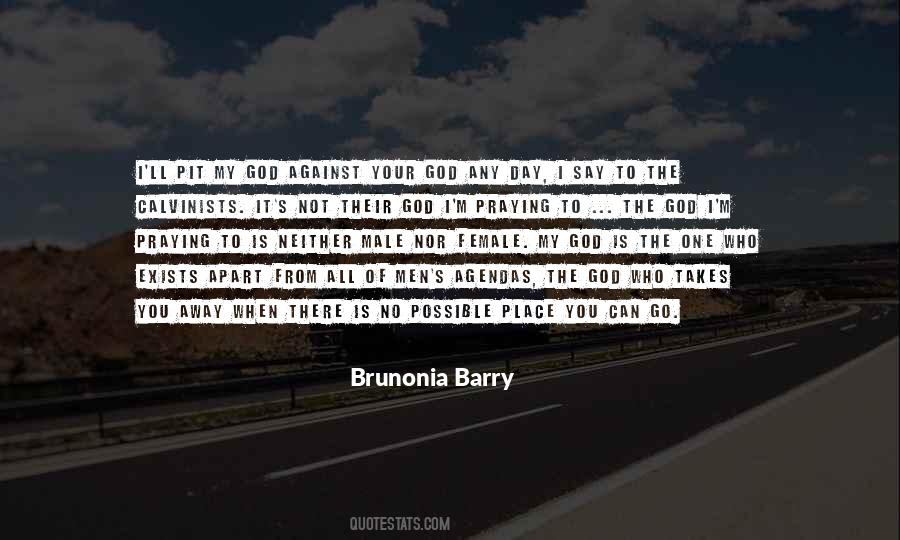 #52. One of the great things about moving to Silicon Valley is that you're surrounded by all these people who've done it before. This place is an assembly line that takes a couple of twenty-somethings and walks you through everything you need to learn. - Author: Drew Houston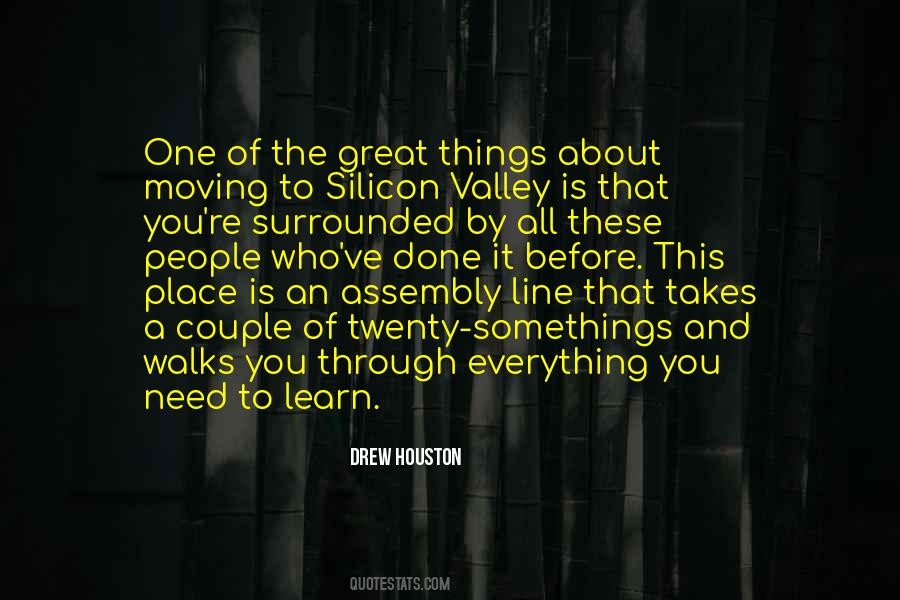 #53. Sometimes, all it takes to save people from a terrible fate is one person willing to do something about it. Even if that "something" is a fake bathroom break. - Author: Veronica Roth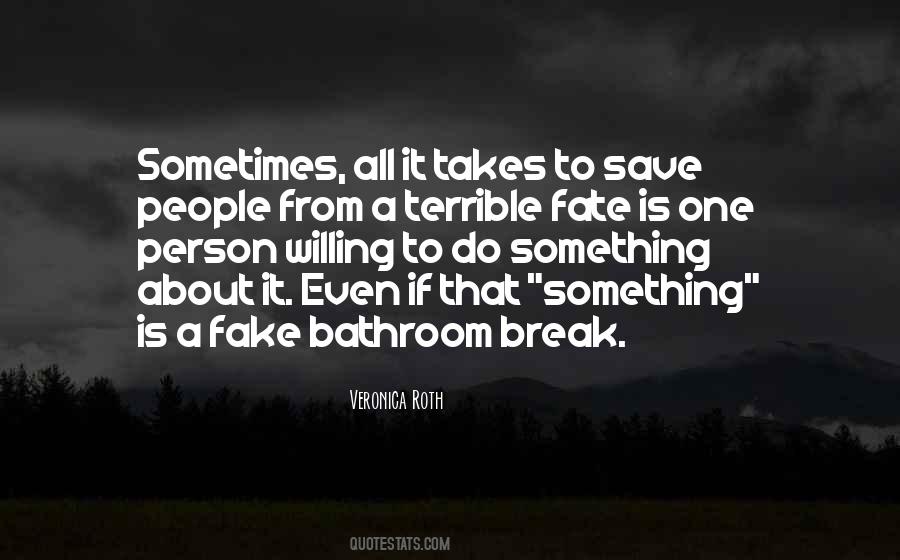 #54. Sometimes the producer has more say and the director takes what he is given. On other occasions, you don't see the producer very much and the director is the one who it is all about. - Author: Julie Harris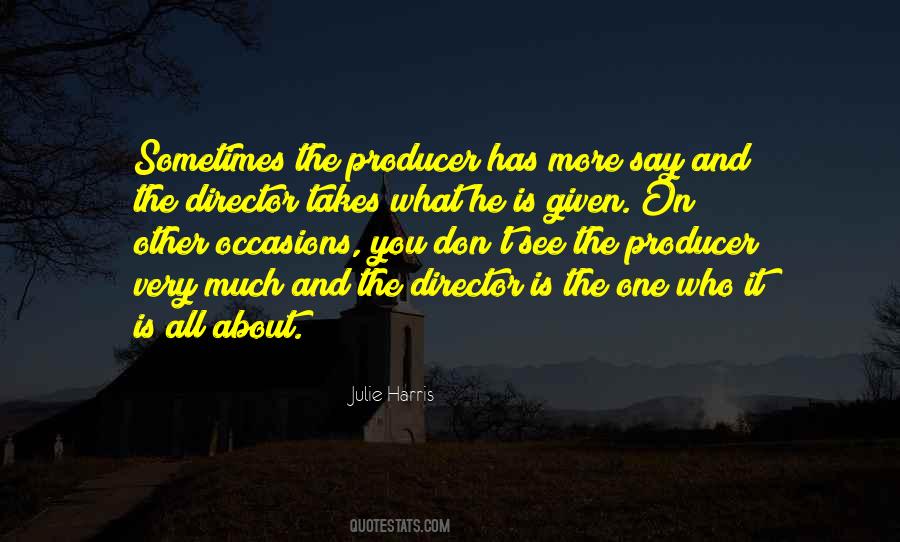 #55. In the end, all it takes is one small action, by one person. One at a time. - Author: Susan Cooper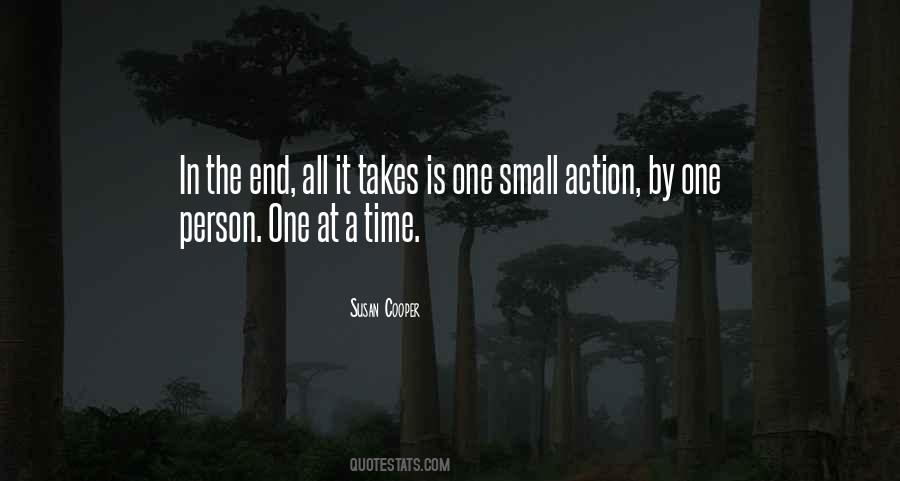 #56. What I love about the Bible is that it's a group of stories but it's all telling one main story. It's about Jesus Christ. The story is not about me. That takes a lot of the pressure off me, but it also puts the responsibility on me to point people to who the true story is about. - Author: Matt Diaz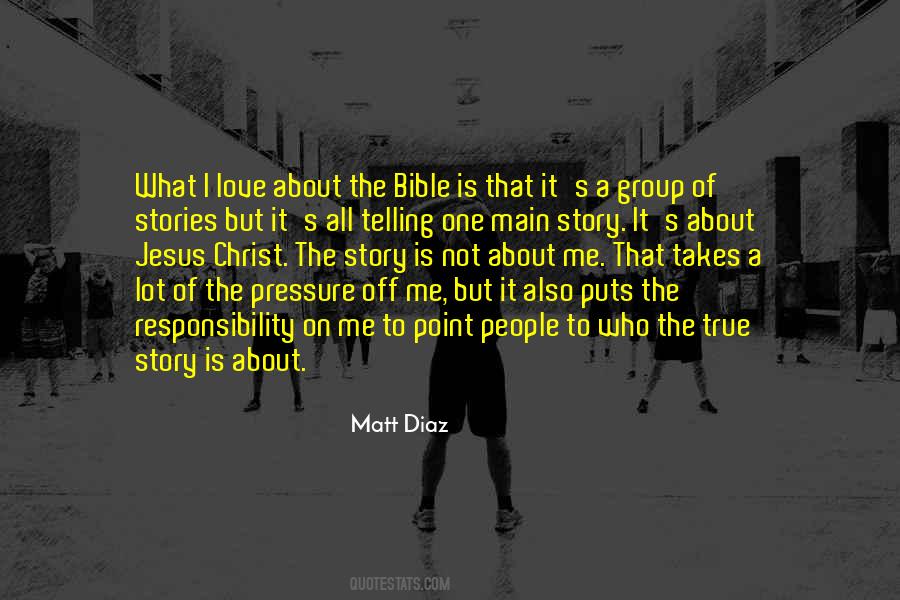 #57. All it takes," said Crake, "is the elimination of one generation. One generation of anything. Beetles, trees, microbes, scientists, speakers of French, whatever. Break the link in time between one generation and the next, and it's game over forever. - Author: Margaret Atwood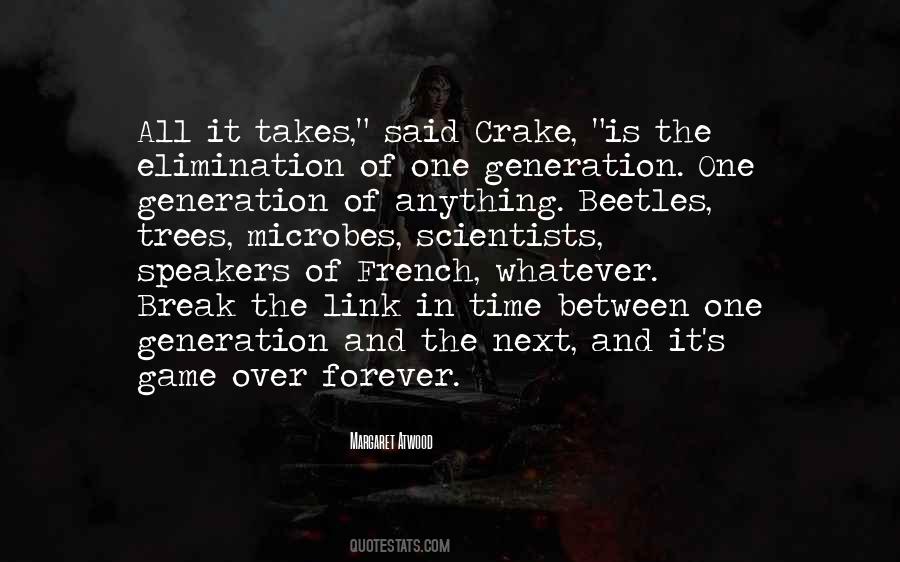 #58. The sports world is an echo chamber. All it takes is one quote from a general manager and a thousand sports columns bloom. - Author: Michael Lewis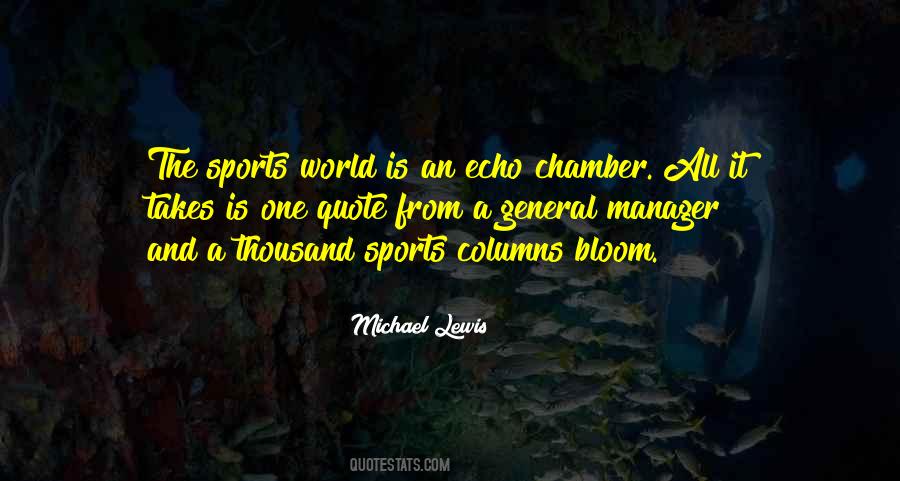 #59. My lifesaver has always been the hazel iris of your soul. It never fails. When the world plunges me deep into the darkness, one look from you is all it takes to save me. - Author: LeAnne Mechelle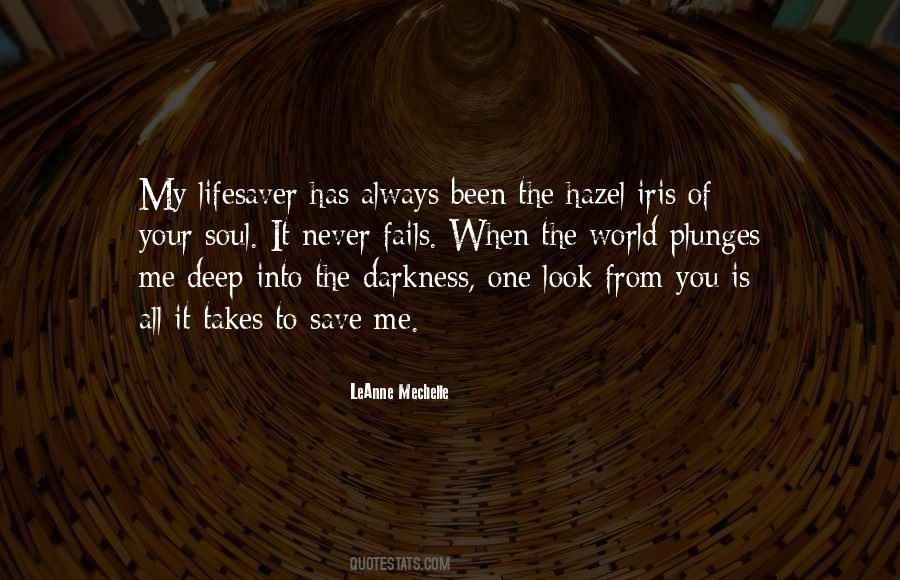 #60. Once you work with a studio on a film, the studio is sort of like this enormous clam that just opens, takes everything and then closes, and no one enters again. They own it all. - Author: Don Bluth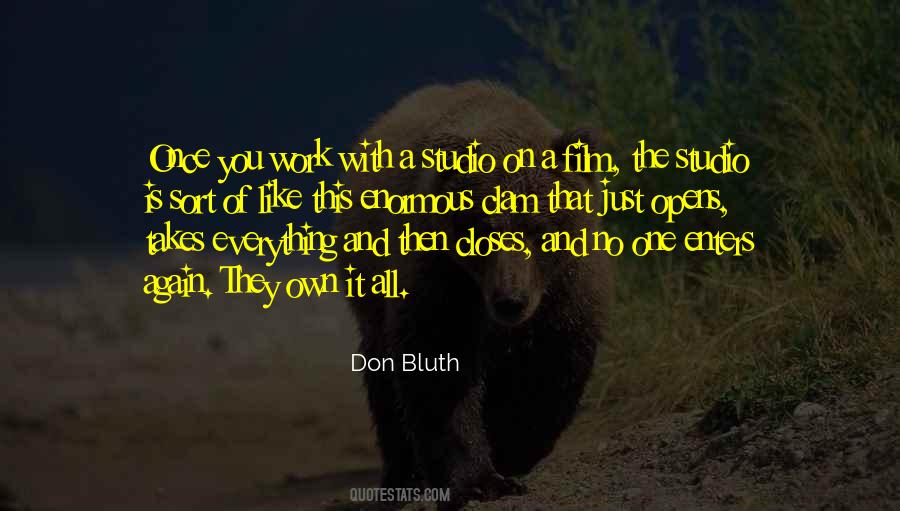 #61. I will say that all it takes is one group of wrong-minded people with a bad idea that, in retrospect, sounded like a good one at the time. - Author: Ernie Lindsey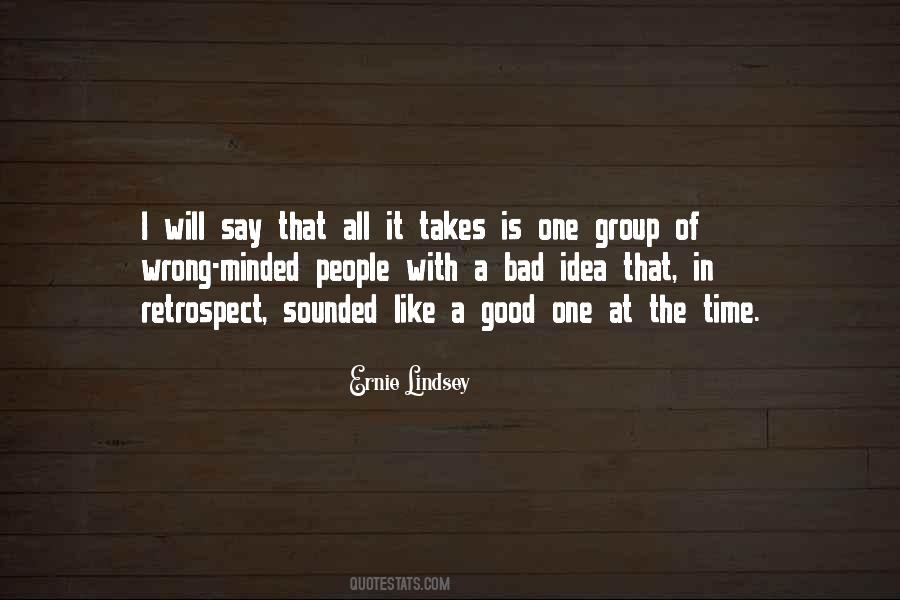 #62. All it takes is one person who is committed, focused, and on a mission to spark an entire team into believing in themselves. - Author: Bruce Brown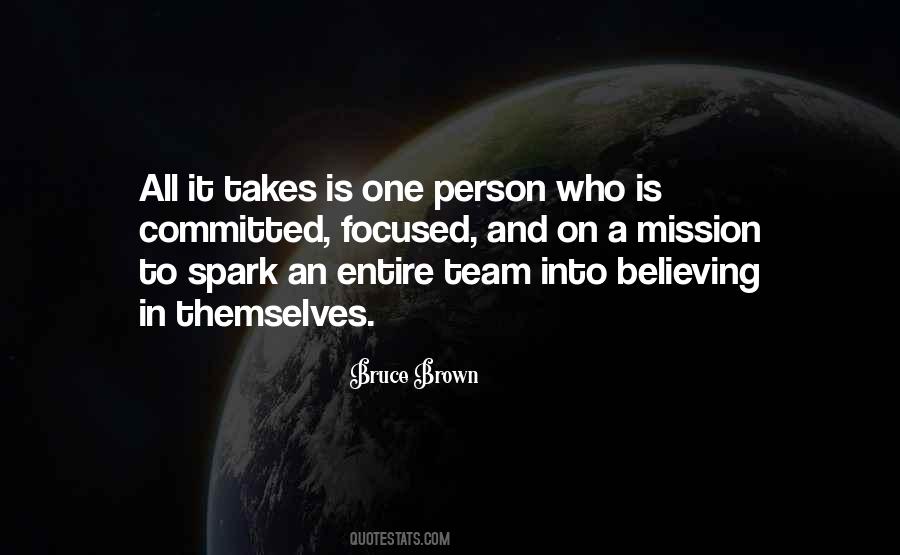 #63. You can't avoid the inevitability of death. It comes at you one way or another, and takes us all to the same place in the end. To apologize for it is to apologize for the sun shining or the rain falling. It is what it is. - Author: Catherine Doyle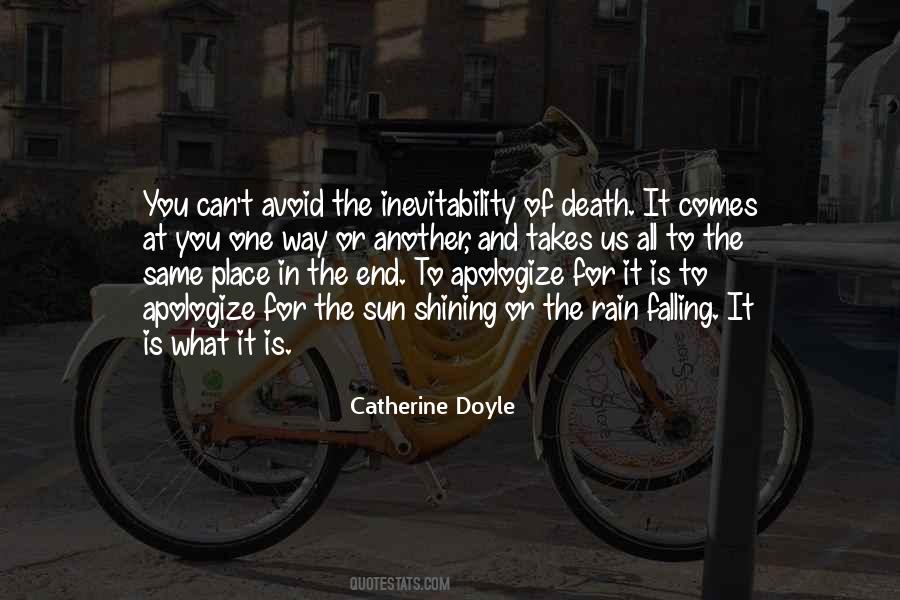 #64. If you're a guy, you should get girls flowers all the time. They never get old and you can never get them enough. I'm never disappointed when I get flowers. I always thought guys who don't buy women flowers are such fools. All it takes is one. A little goes a long way with flowers. - Author: Alison Brie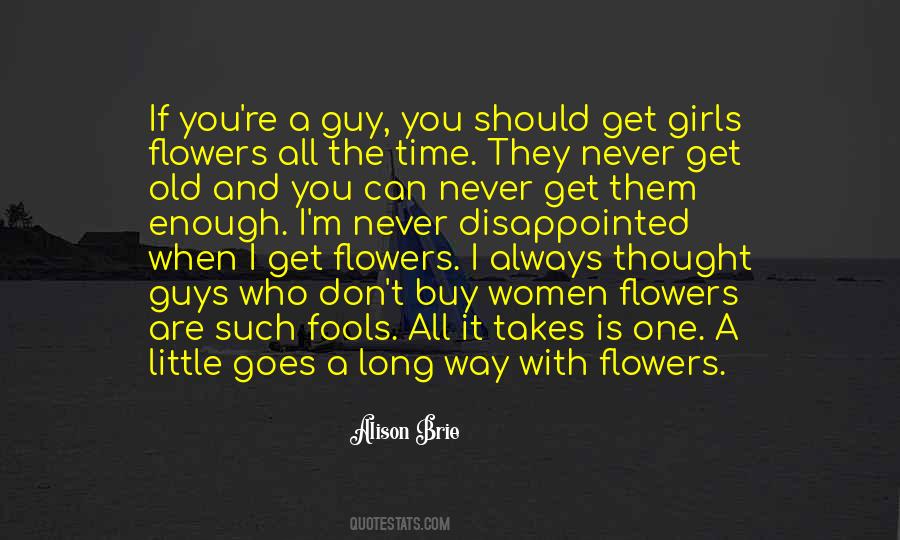 #65. I think being jilted is one of life's most painful experiences. It takes a long time to heal a broken heart. It's happened to all of us and never gets any easier. I understand, however, that playing one of my albums can help. - Author: Frank Sinatra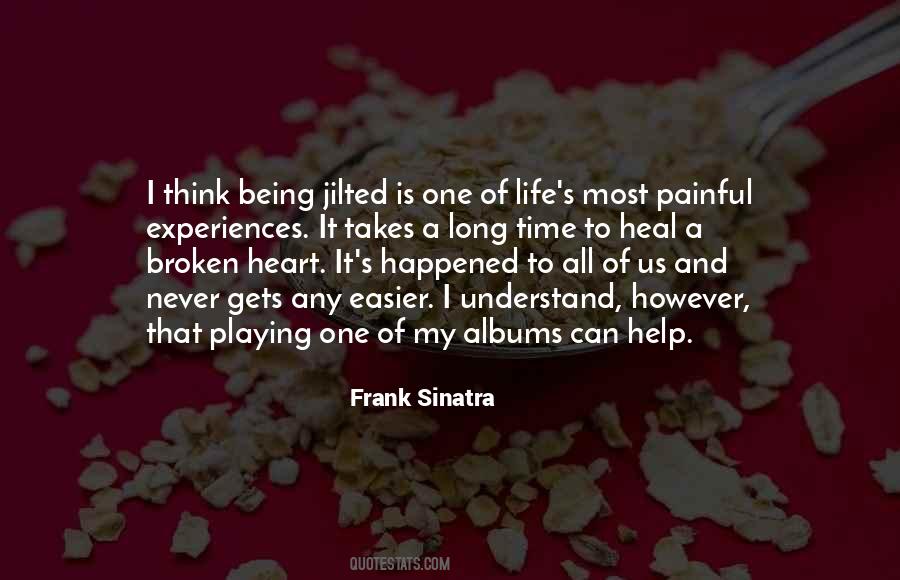 #66. I will lift mine eyes unto the pills. Almost everyone takes them, from the humble aspirin to the multi-colored, king-sized three deckers, which put you to sleep, wake you up, stimulate and soothe you all in one. It is an age of pills. - Author: Malcolm Muggeridge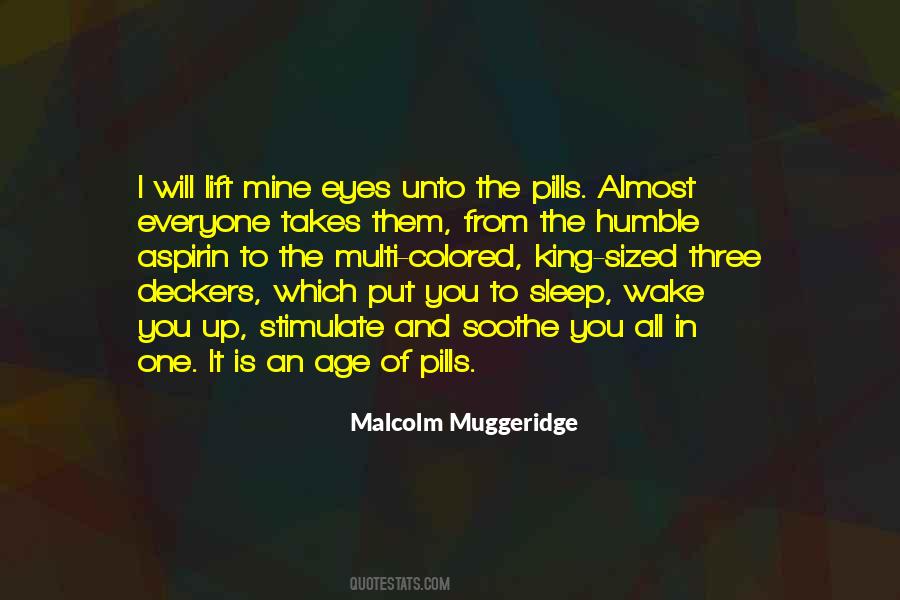 #67. In a sense, evolution adheres to the classic twelve-step program: it takes things one day at a time. It does not strive for perfection; it does not strive at all. There is no progress, no plans, no scala natura, or scale of nature, that ranks organisms from lowly to superior, primitive to advanced. - Author: Natalie Angier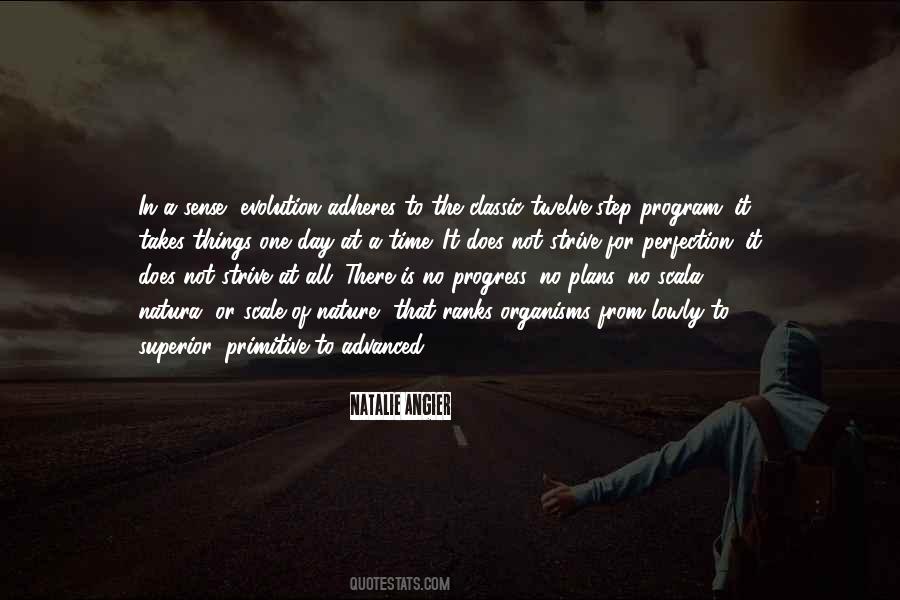 #68. The message of "The Winner Takes It All" is straightforward: It argues that the concept of relationships ending on mutual terms is an emotional fallacy. One person is inevitably okay and the other is inevitably devastated. - Author: Chuck Klosterman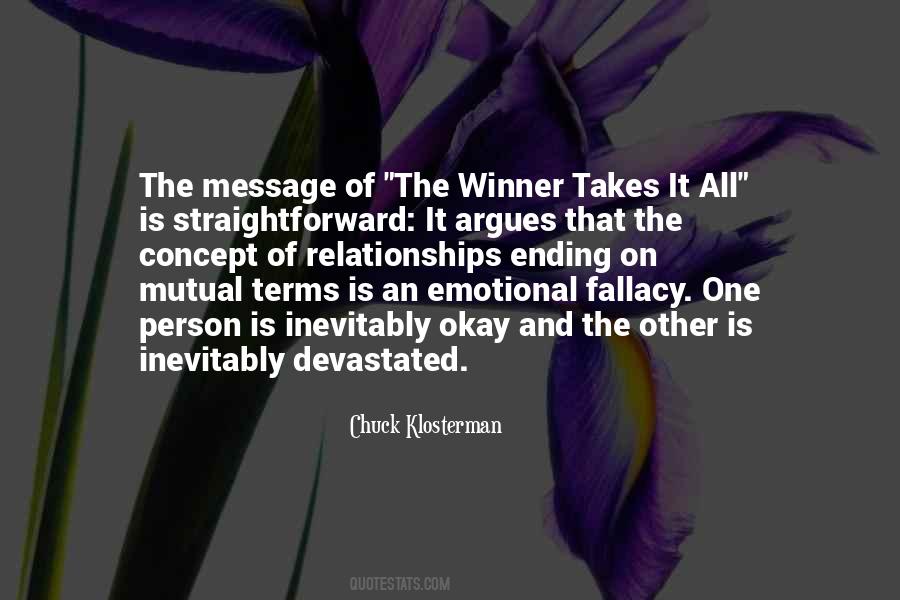 #69. All it takes is one word, one action, one voice. Believe in yourself, and you can accomplish anything! - Author: Samuel Colbran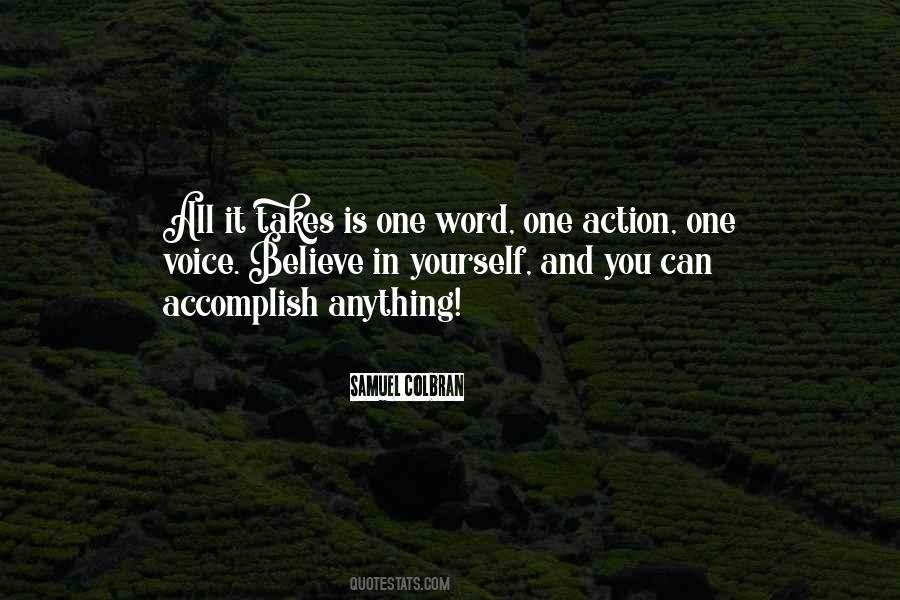 #70. All it takes is one drink to mess with the way you drive - it clouds your judgment and slows your reflexes. Don't take any chances. It just isn't worth it. - Author: Paris Hilton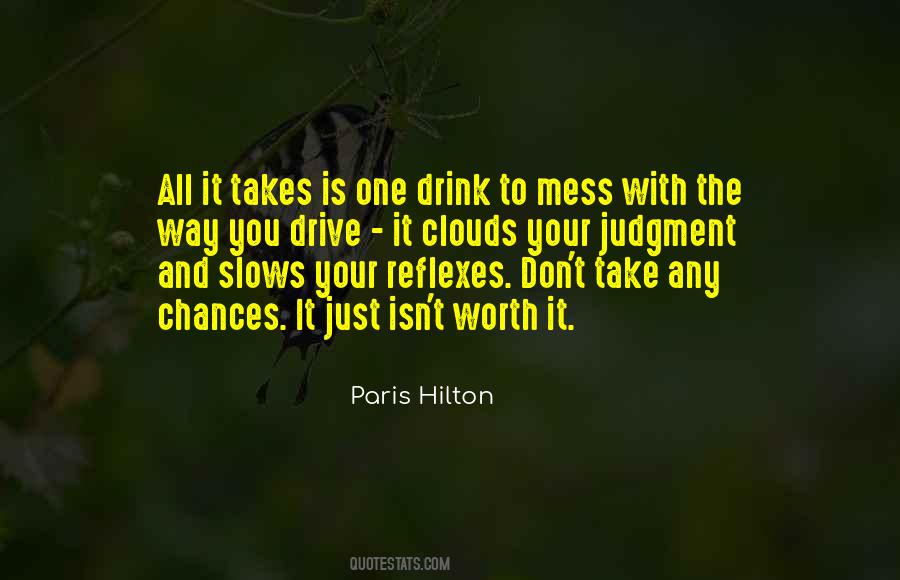 #71. When you move from a different country, it takes a while to make friends. I found myself being lonely a lot at first. In New Delhi, I had all my family. But Portland is one of those cities you can immerse yourself in and feel comfortable. People are so friendly. - Author: Kunal Nayyar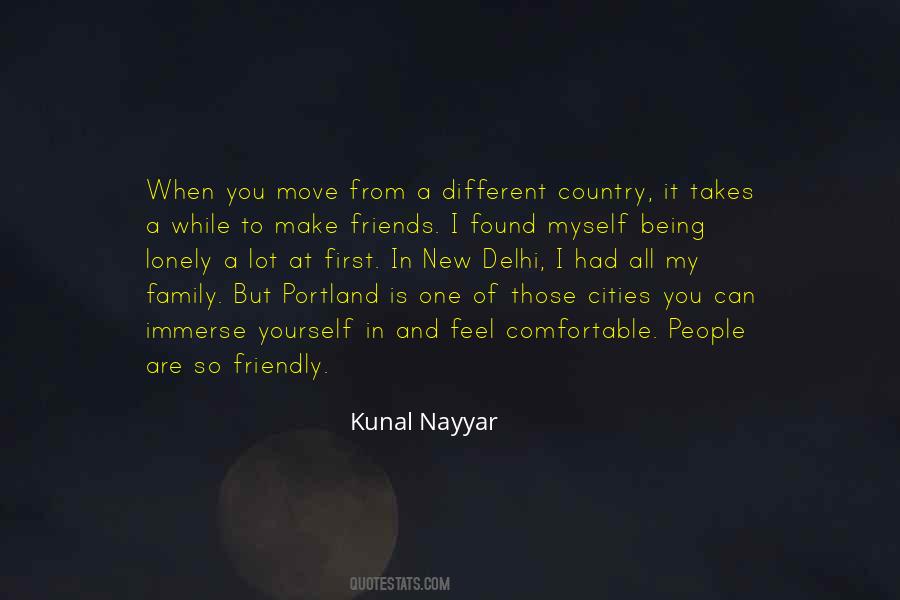 #72. The math is dead simple: it seems that the frequency of planets able to support life is roughly one percent. In other words, a billion or more such worlds exist in our galaxy alone. That's a lot of acreage, and it takes industrial-strength credulity to believe it's all bleakly barren. - Author: Seth Shostak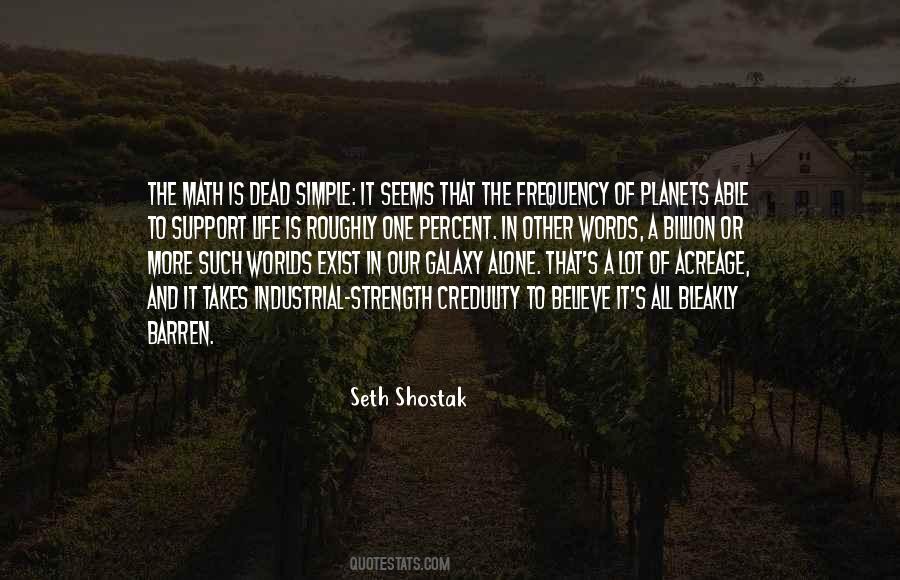 #73. If you want to be creative in your company, your career, your life, all it takes is one easy step ... the extra one. When you encounter a familiar plan, you just ask one question: "What ELSE could we do?" - Author: Dale Dauten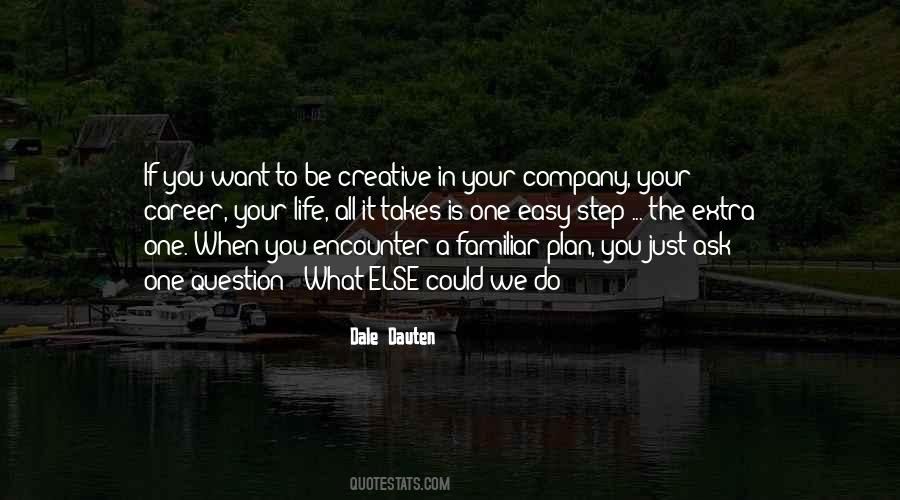 #74. Desire consumes you, it takes you over. You forget yourself completely. All you can think about is the other, the one you desire, your self is just a fire. - Author: Marilyn French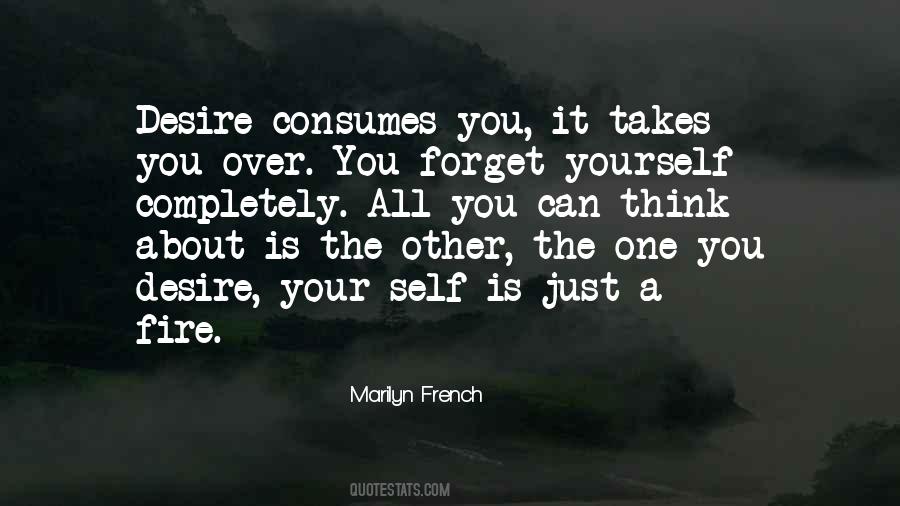 #75. Life is full of surprises, but the biggest one of all is learning what it takes to handle them. - Author: Deborah Wiles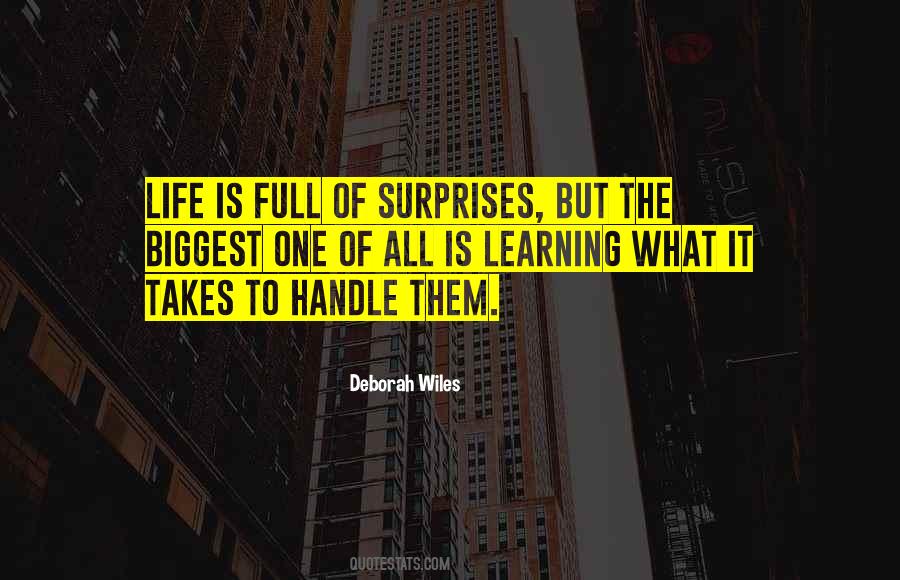 #76. The message sent to one is truly sent to all because everyone is a "one," and they know that if you treat one that way, all it takes is a change of circumstances and you'll treat them that way, too. - Author: Stephen R. Covey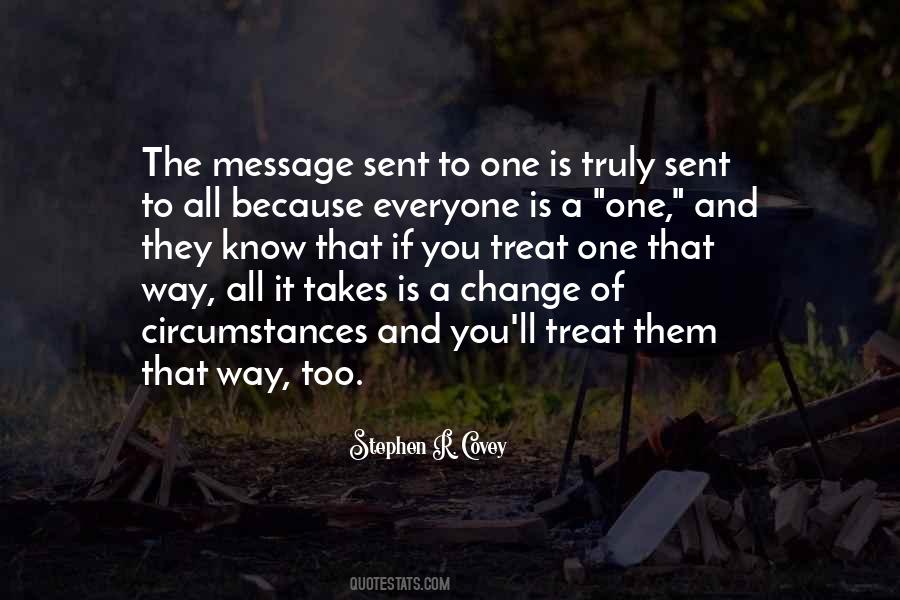 #77. What a blessed habit I have found my prayer list, morning by morning, it takes me via the Throne of all Grace straight to the intimate personal heart of each one mentioned here, and I know that He Who is not prescribed by time and geography answers immediately. - Author: Oswald Chambers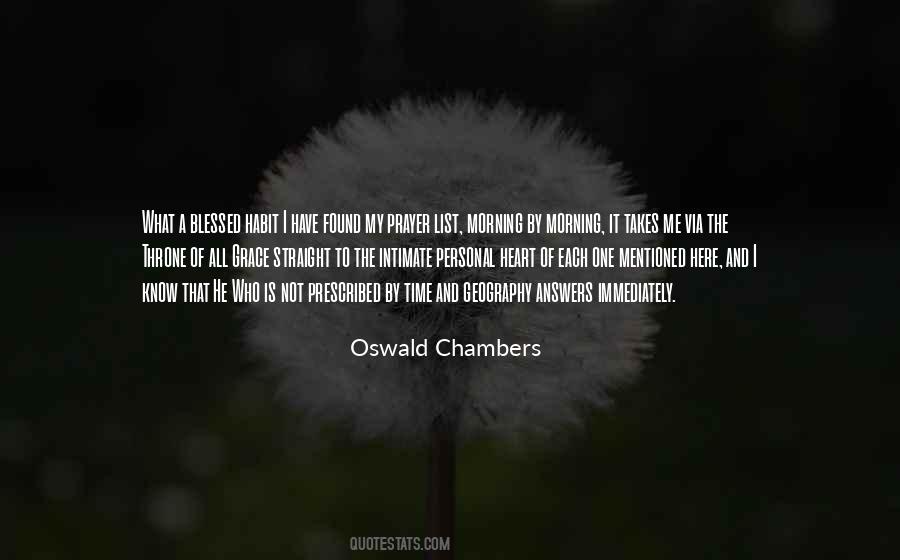 #78. Sometimes all it takes is one person to speak their truth. Speak yours. - Author: Catherine Louise Birmingham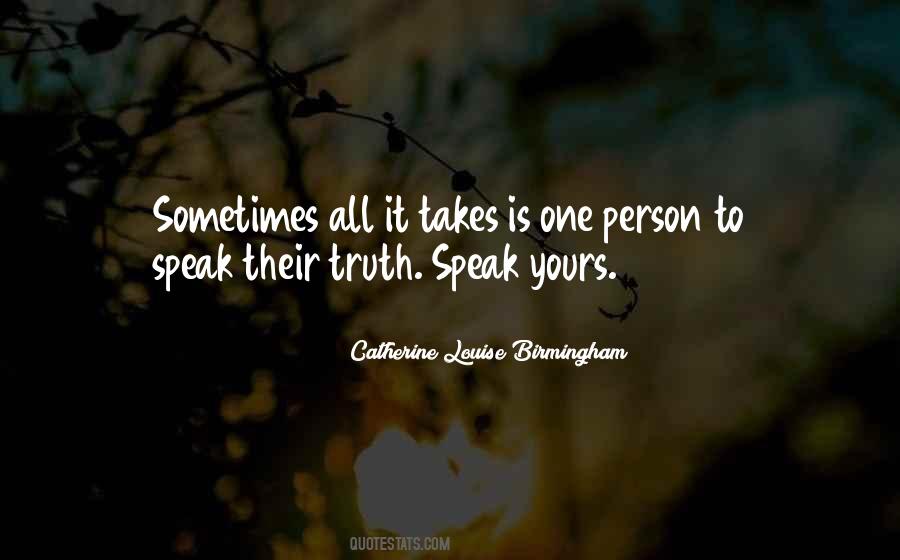 #79. I'm writing all the time. And as the songs begin to coalesce, I'm not doing anything else but writing. I wish I were one of those people who wrote songs quickly. But I'm not. So it takes me a great deal of time to find out what the song is. - Author: Leonard Cohen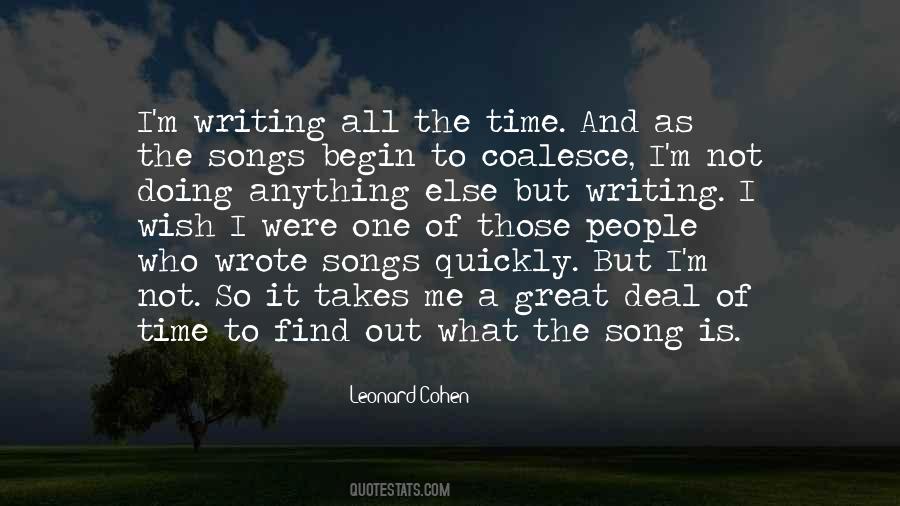 #80. It's only recently women got to be action heroes on TV. Progress is slow, and often non-existent. There's plenty of cool comics with female characters ... But all it takes is one Catwoman to set the cause back a decade. - Author: Joss Whedon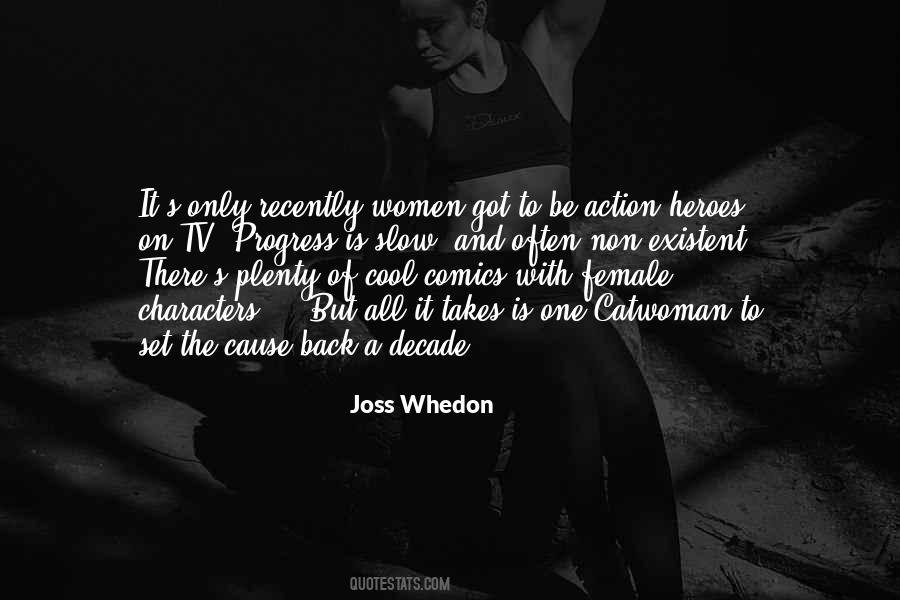 #81. Rev Run is a living legend of Hip-Hop, who's still making great music, but now he's also the dad to an amazing family, ... This series takes us inside his world. It's a kind of a reality 'Father Knows Best' with comedy, heart, Hip-Hop and drama-all under one roof at Run's House. - Author: Tony DiSanto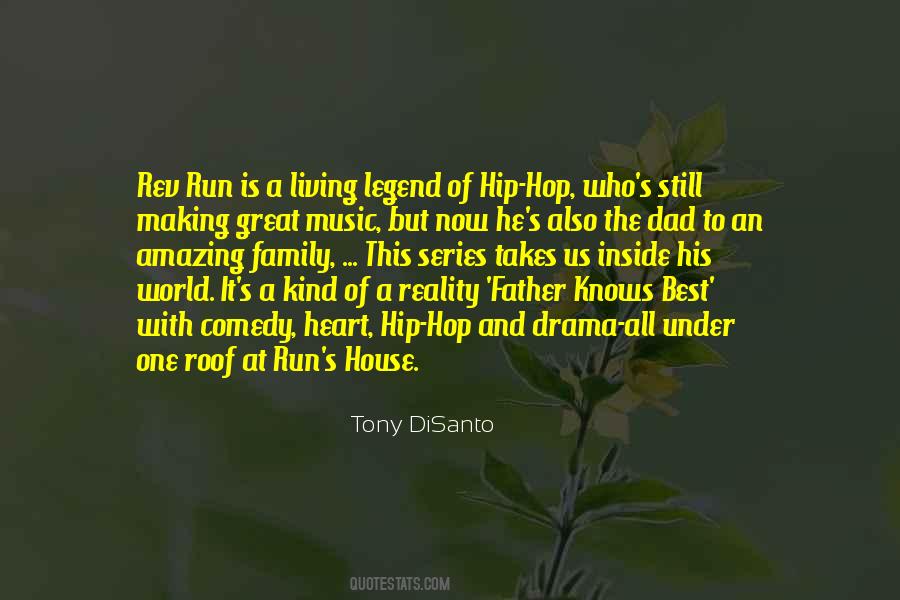 #82. All it takes is one teacher - just one - to save us from ourselves and make us forget all the others. - Author: Daniel Pennac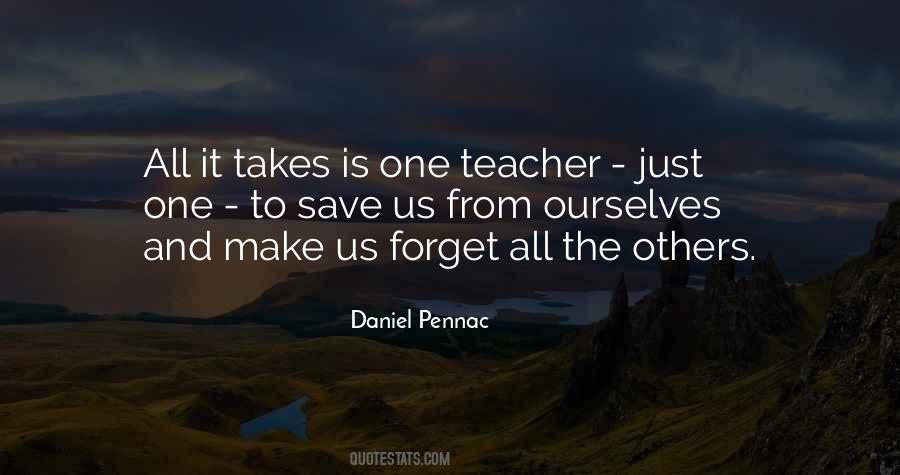 #83. The thing about dreams, though, is they usually sound crazy to everyone but you. All it takes is one other person to buy into them to keep you going. - Author: Lopez Lomong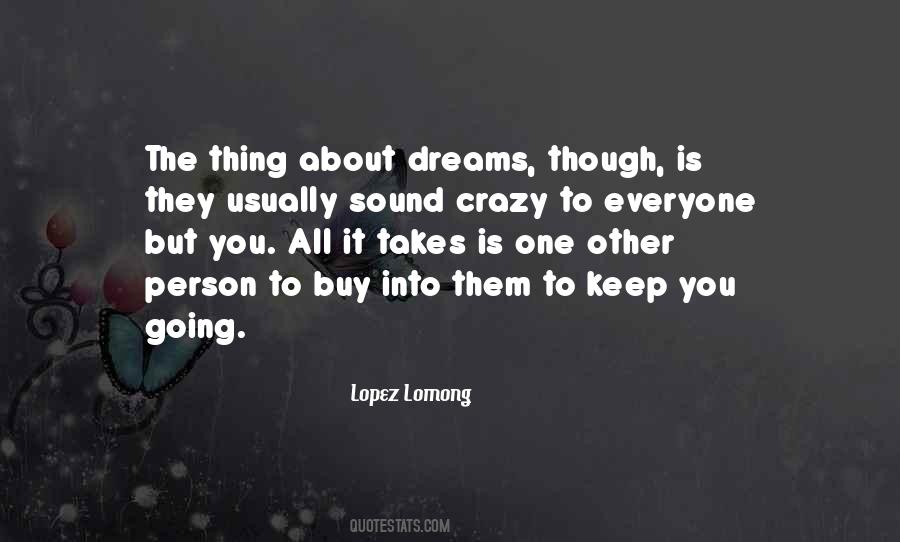 #84. Maybe they didn't want you to realize that every civilization has its weakness. There's always one thing we depend on. And if someone takes it away all that's left is some story in a history class. - Author: Scott Westerfeld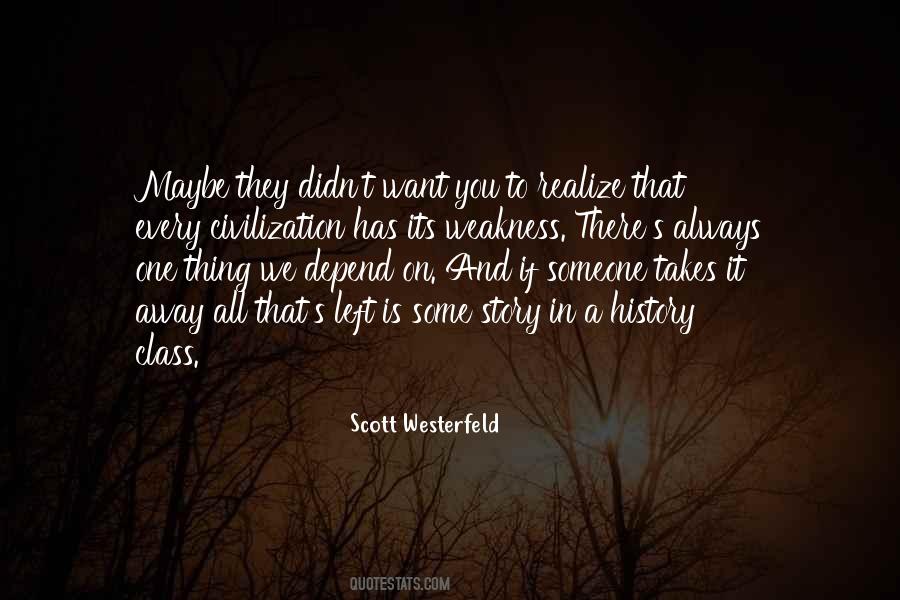 #85. That beast inside you, the one you think is tethered tightly to the post, the one you've tamed with art, love, prayer, meditation: it's barely muzzled. The knot is weak. The post is brittle. All it takes is two words and a siren to cut it loose. - Author: Adrian J. Walker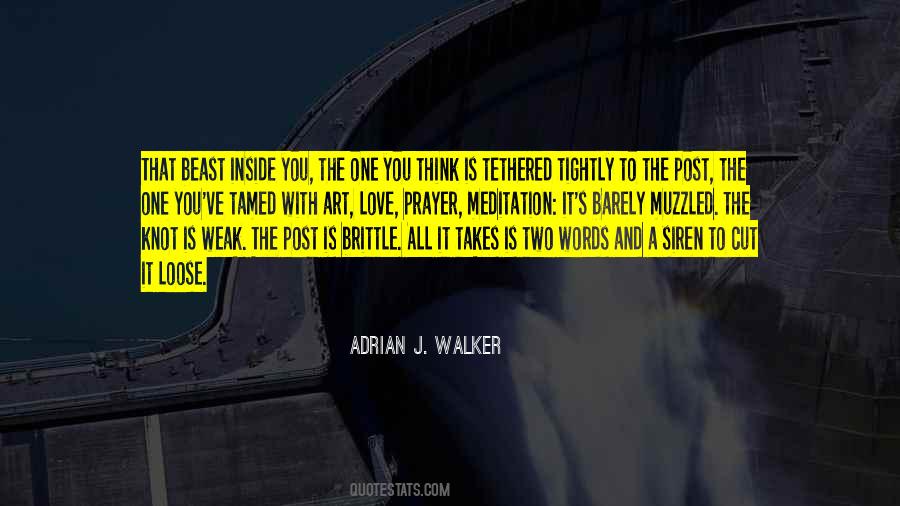 #86. One person. All it takes is one person.
-Severus Snape , Harry Potter and the Cursed Child - Author: J.K. Rowling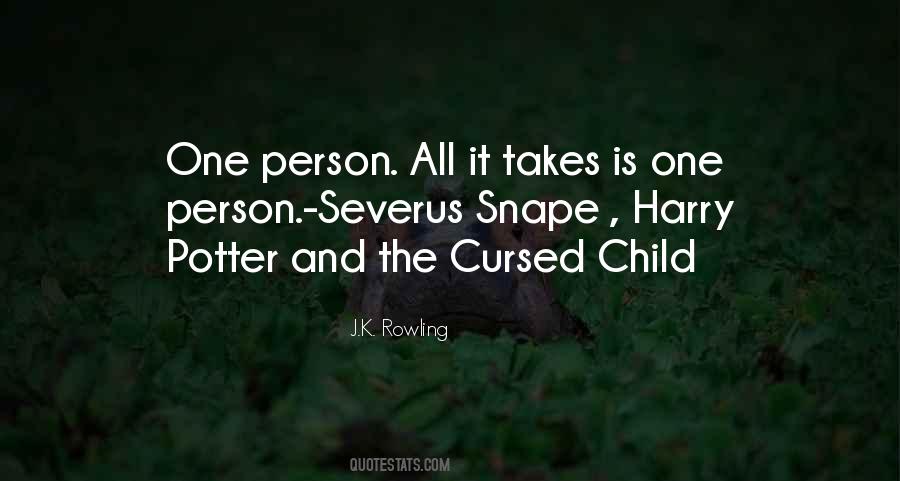 #87. One myth that has become established in the self-development arena is that it only takes 21 days to form a new habit. This simply isn't true in all cases. Sometimes it takes a shorter time, sometimes a longer time, and sometimes old habits are so hard to break that new ones never take hold. - Author: Gudjon Bergmann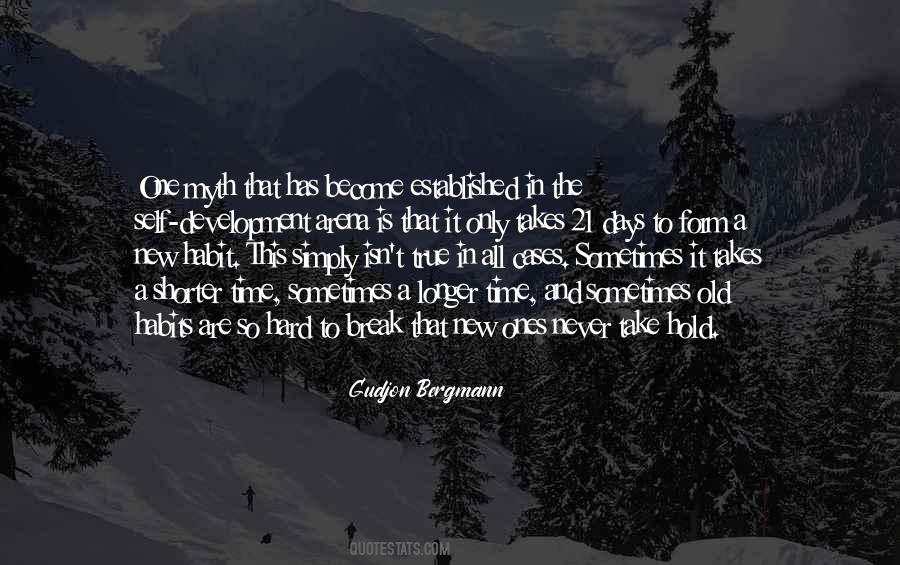 #88. Back up everything! You are not invulnerable. Catastrophic data loss can happen to you - one worm or Trojan is all it takes. - Author: Kevin Mitnick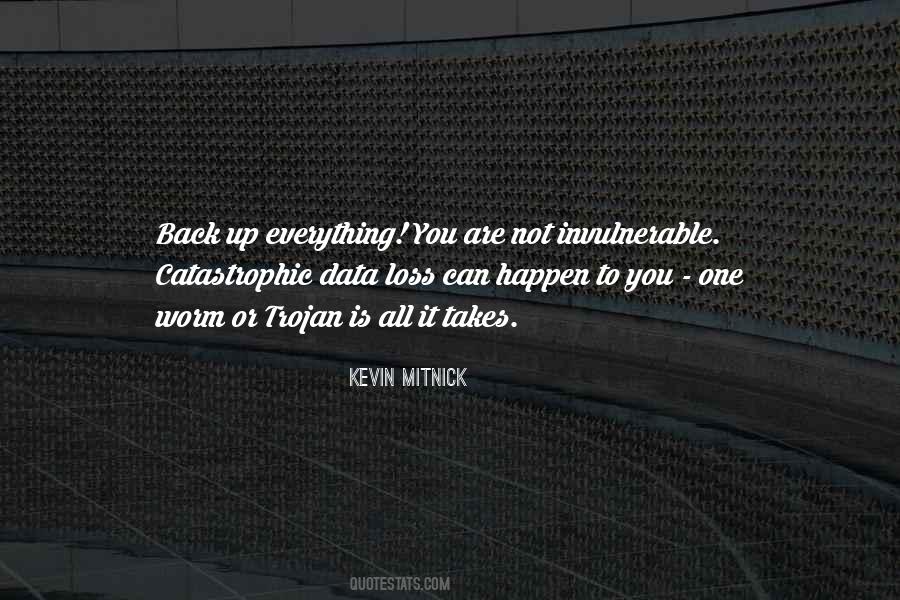 #89. What goes around may come around, but it never ends up exactly the same place, you ever notice? Like a record on a turntable, all it takes is one groove's difference and the universe can be on into a whole 'nother song. - Author: Thomas Pynchon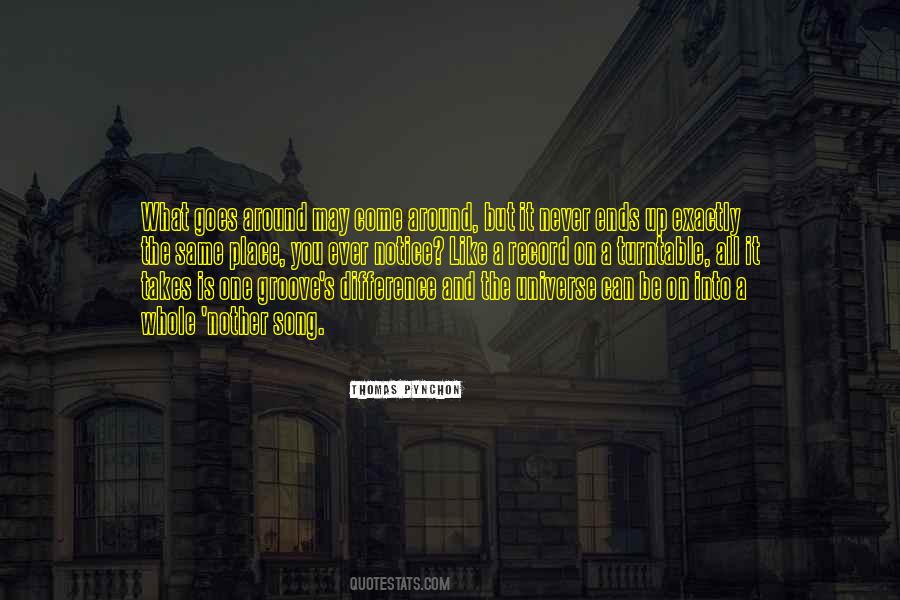 #90. Working with children is a whole other ball game. They're like little animals. You have to keep the camera turned on them all the time. Sometimes it takes a 41-minute take to get one sentence out in a believable way. - Author: Vera Farmiga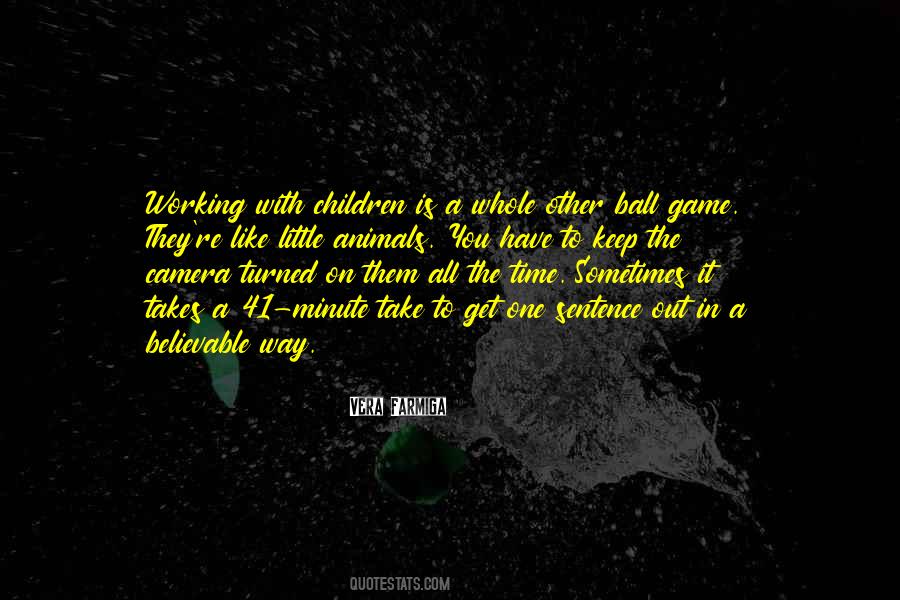 #91. The only one who is responsible for the way your life works out is you. Kamu nggak bisa mengubah masa lalu, tapi kamu bisa bertanggung jawab terhadap masa depan kamu. All it takes is a decision. - Author: Nina Ardianti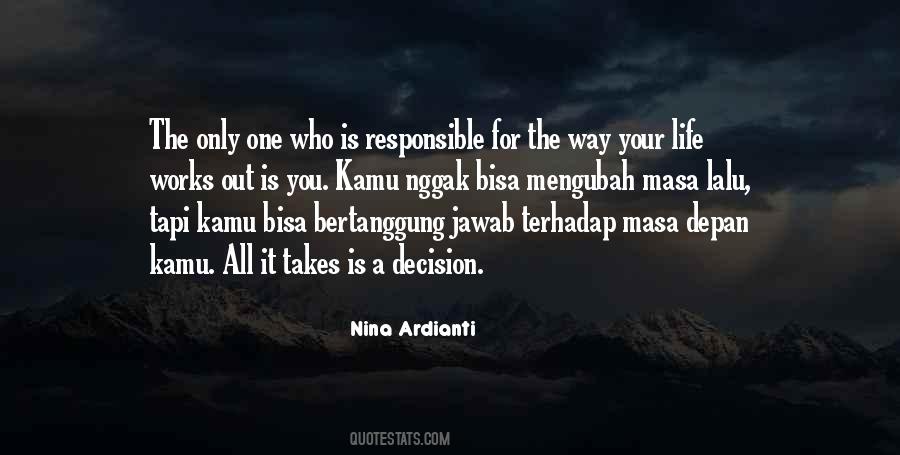 #92. One of the great things about music is that it has the capability of time travel - you smell a certain smell in the room and it takes you back to your childhood. I feel like music is able to do that, and it happens to me all the time. - Author: M. Ward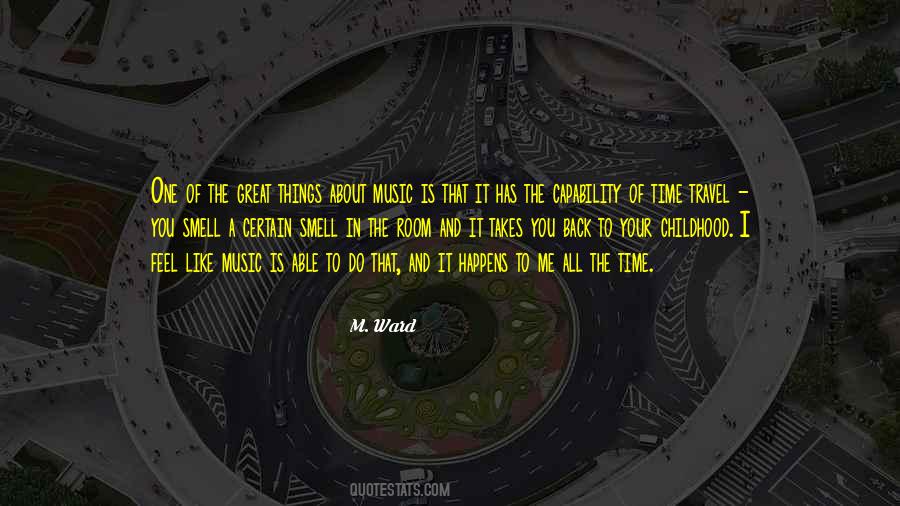 #93. With a tree, all the growth takes place at the growing tips. Humanity is exactly the same. All the growth takes place in the growing tip: among that one percent of the population. It's made up of pioneers, the beginners. That's where the action is. - Author: Abraham Maslow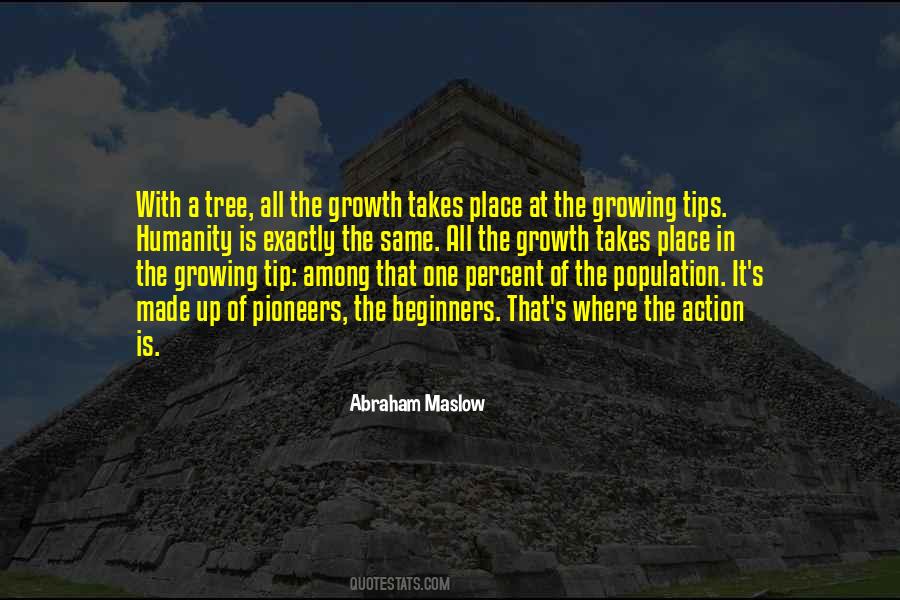 #94. One of my problems with a lot of things I watch is that everybody's too pretty, and it takes me out of the film because I'm thinking that all these people look like I've seen them in a cafe in Los Angeles. - Author: Cary Fukunaga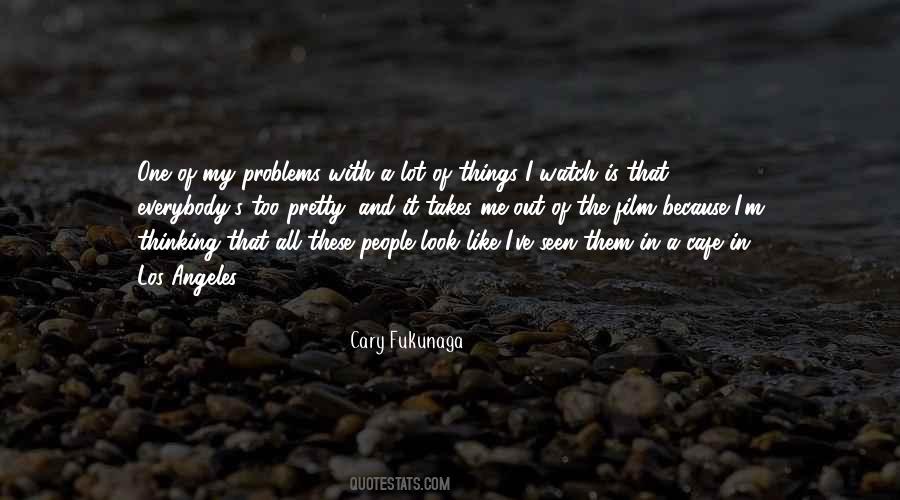 #95. See how the light tenderly love the apricots, it takes them over completely, enters into their pulp, light them from all sides! But it is miserly with the peaches and light only one side of them. - Author: Paul Cezanne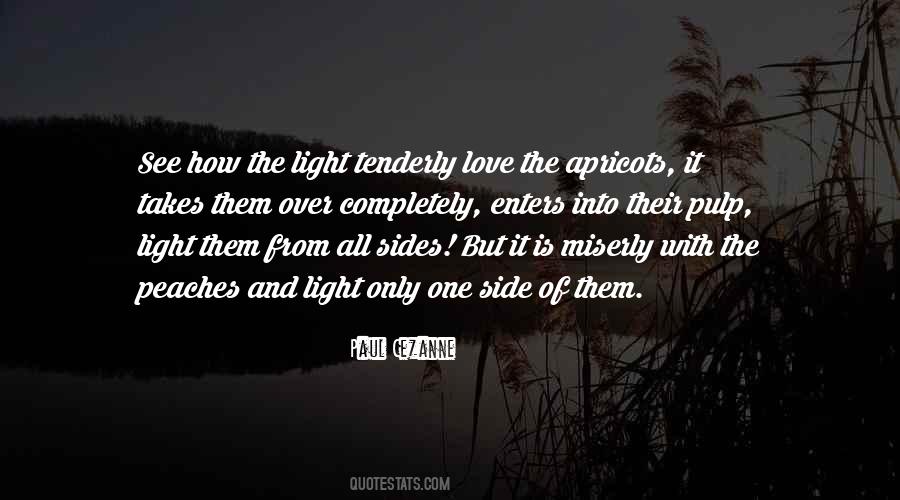 #96. When love is real, even when you can't find it under mountains of hurt feelings and shuttered emotions, it's not really gone. All it takes is finding one new reason to fall in love. Just one, and all the other reasons become clear again. - Author: Amy E. Reichert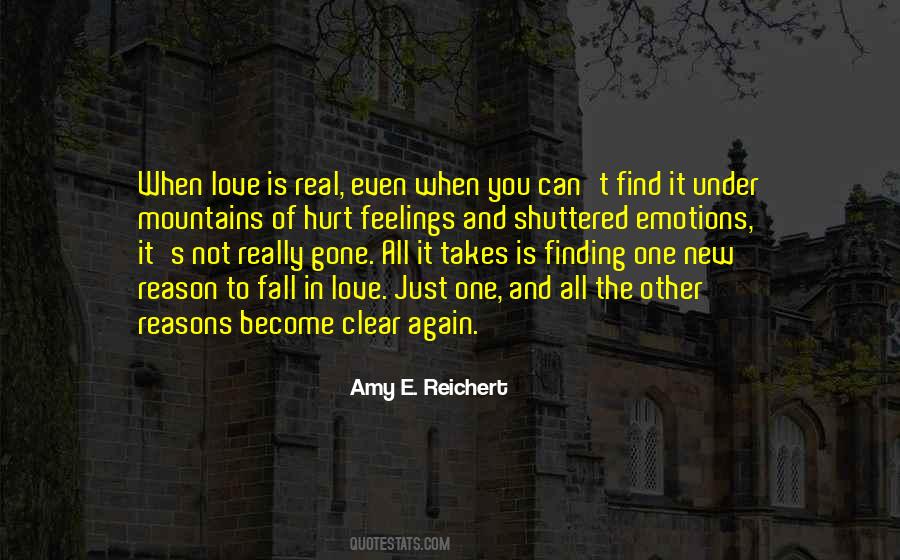 #97. Doubts never end. If one doubt is removed, another takes its place. It is like removing the leaves of a tree one by one. Even if all the leaves are clipped off, new ones grow. The tree itself must be uprooted. - Author: Ramana Maharshi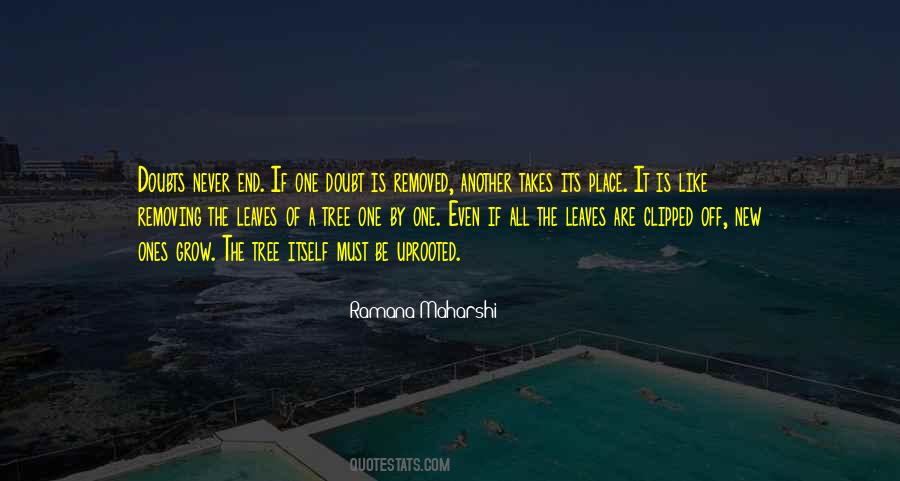 #98. Women have one great advantage over men. It is commonly thought that if they marry they have done enough, and need career no further. If a man marries, on the other hand, public opinion is all against him if he takes this view. - Author: Rose Macaulay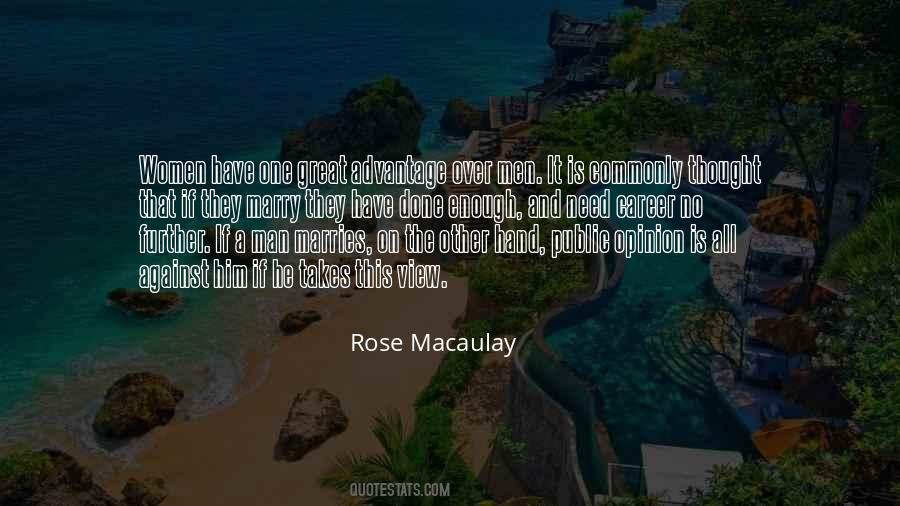 #99. Sometimes, all it takes is one gesture, one word, to change the course of someone's life. Even if you know it won't last forever. - Author: Jean-Claude Izzo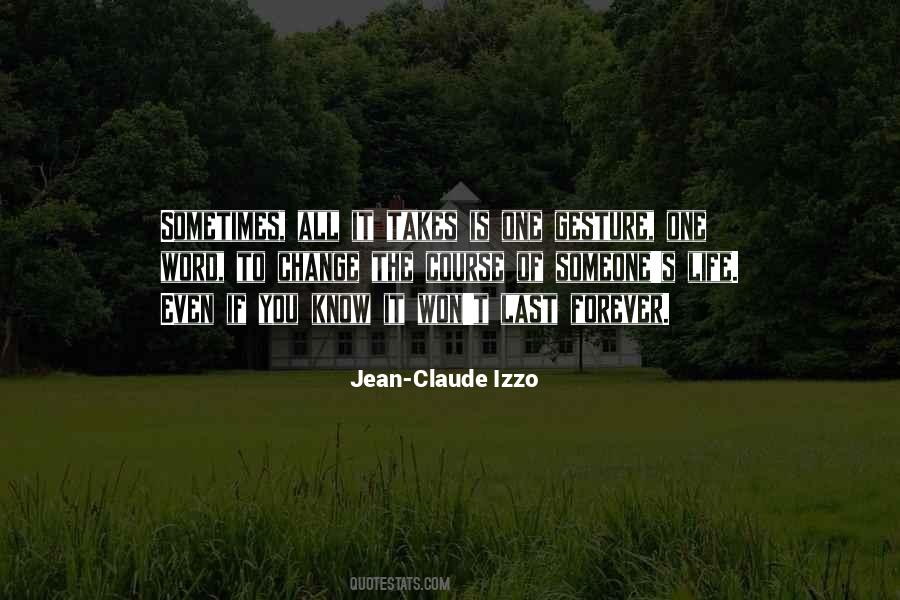 #100. Sometimes I've felt that the industry has typecast me as a certain kind of character. But then I think all it really takes is one role, the right role, to shake that up and change that perception. - Author: David Schwimmer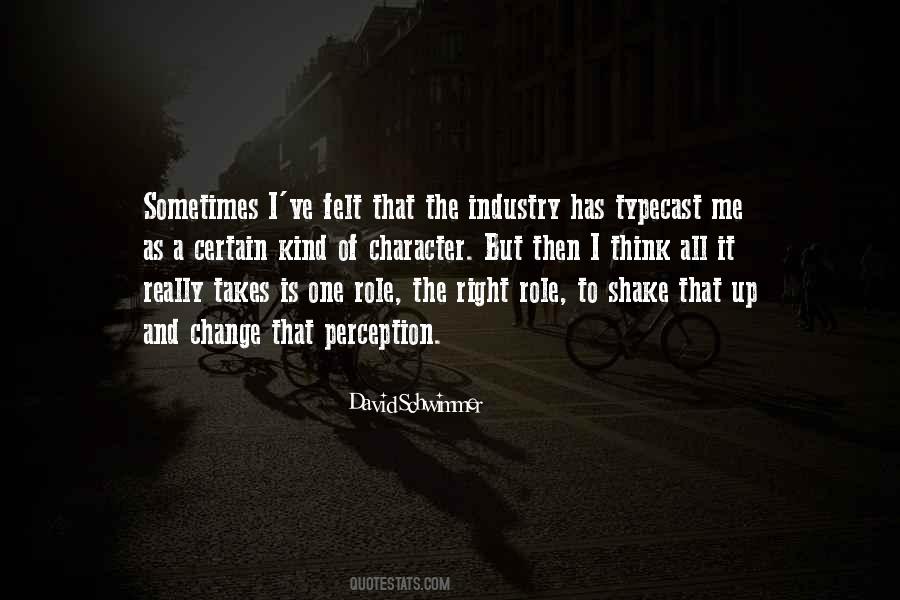 Famous Authors
Popular Topics