You're A Strong Person Famous Quotes & Sayings
List of top 64 famous quotes and sayings about you're a strong person to read and share with friends on your Facebook, Twitter, blogs.
Top 64 You're A Strong Person Quotes
#1. Just because one of your films does well at the box office, that doesn't make you a good person. It doesn't make you strong, smart, or secure, either. - Author: Tina Majorino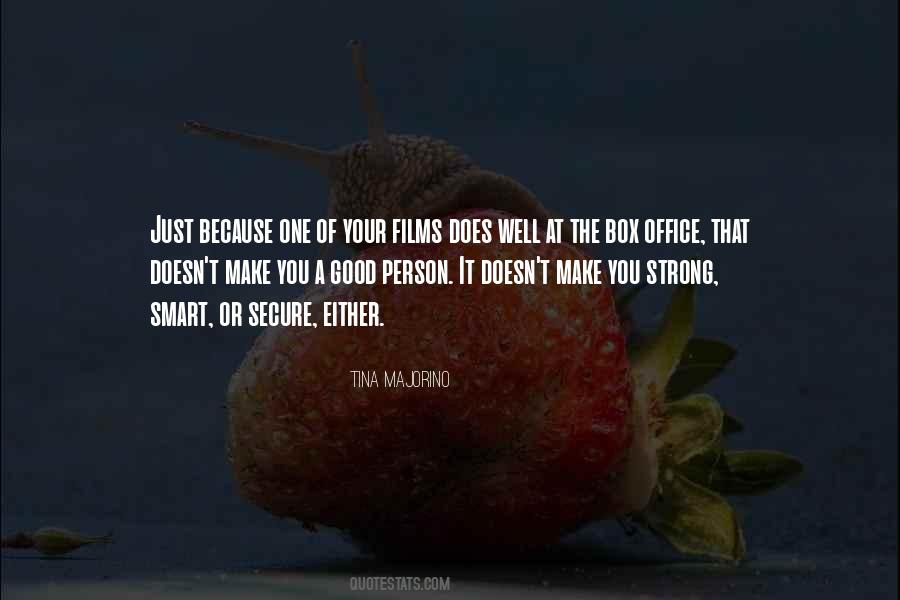 #2. Adversity awaken in us a strong-will to a daring life.
You become a stronger person with each adversity that you overcome. - Author: Lailah Gifty Akita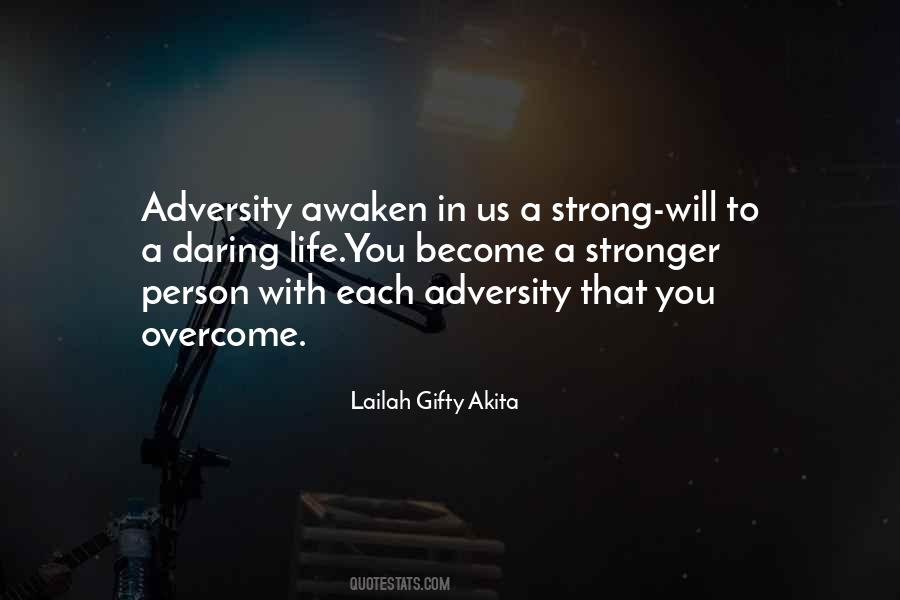 #3. No matter how strong of a person you are, there's always someone who can make you weak. - Author: Josephine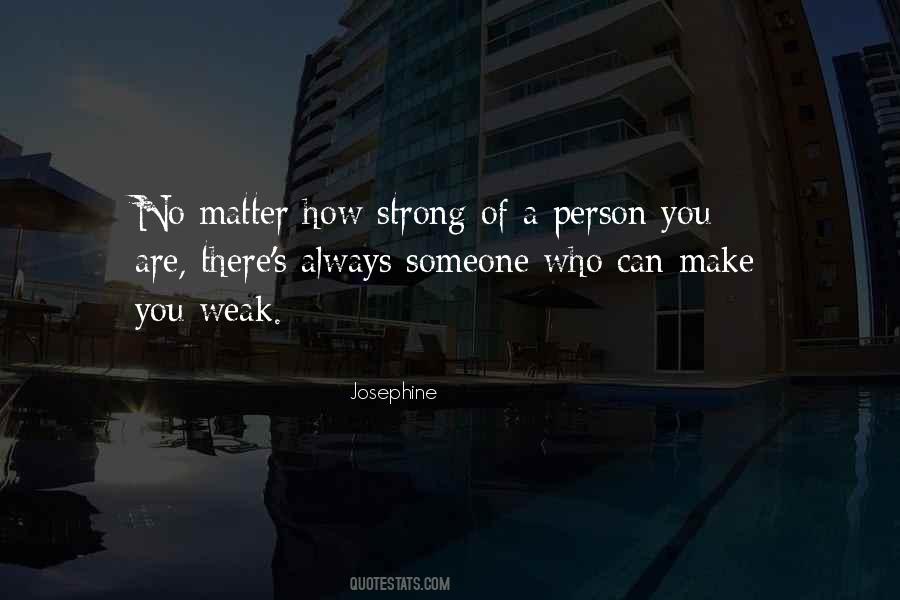 #4. I think, being emotional is this thing that people think you're not strong. They don't look at you as a strong person, and it's weird 'cuz honestly being emotional has nothing to do with your strength. - Author: Melanie Martinez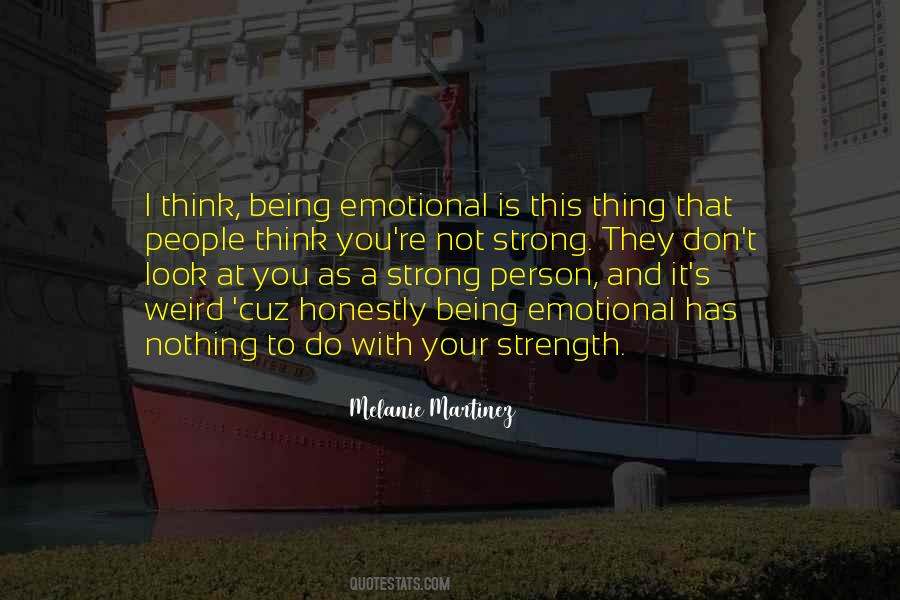 #5. My mother's not a political person. She just doesn't want me to be mean ... sometimes I have to be mean. It's like a parent or a teacher. Sometimes for the good of everybody you have to be a little bit strong, a little bit confrontational. - Author: Bill O'Reilly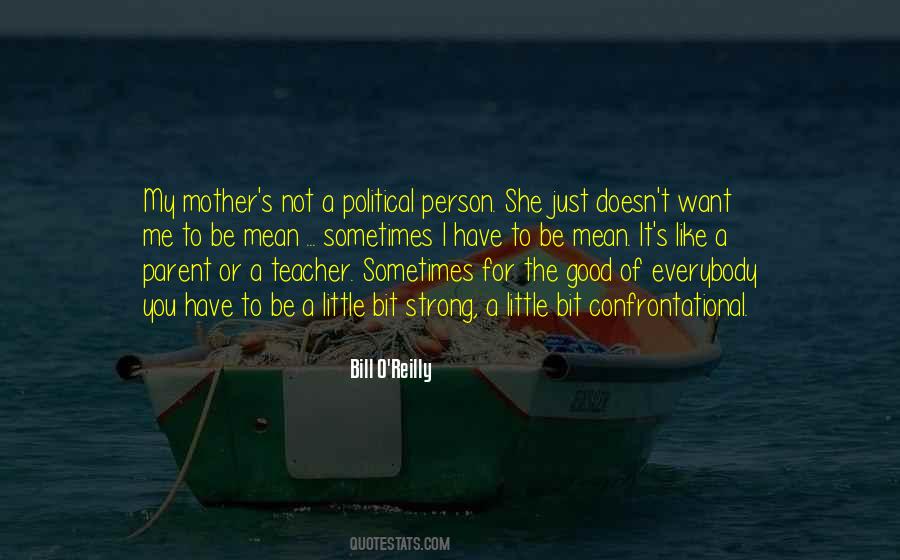 #6. I think you need a really strong businessperson running the state, a person who's used to turning negatives into positives, which is what happens in business. - Author: Mike Curb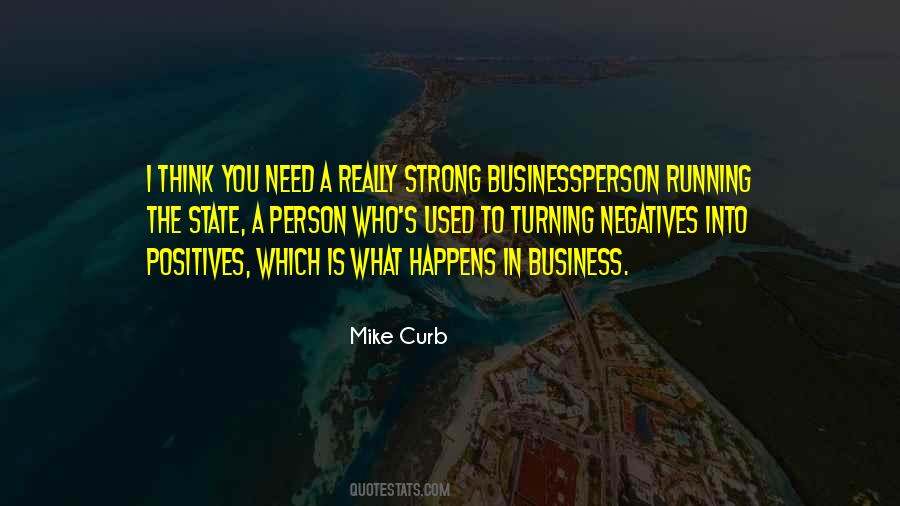 #7. Its weak people who are dangerous, who lash out uncontrollably and hurt you back. Strong people can walk away- no repercussions, you see, if you attack a strong person. - Author: Sophie Hannah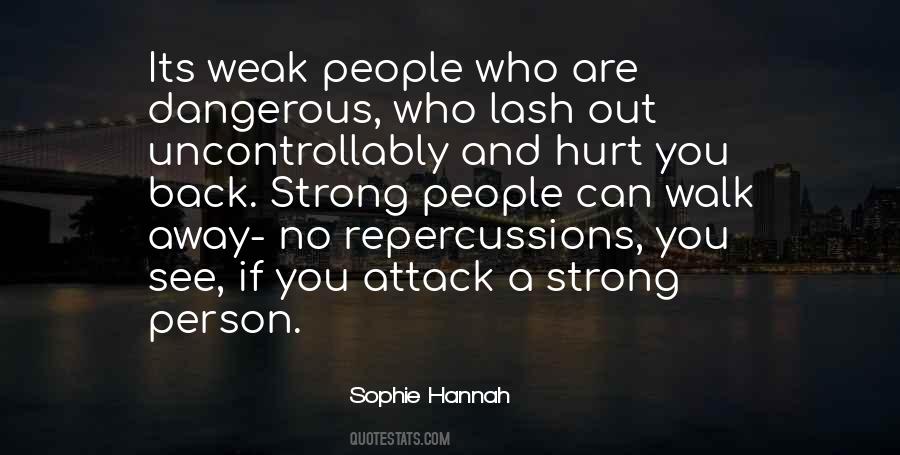 #8. You have to be a strong person to be in music, especially. - Author: Christina Milian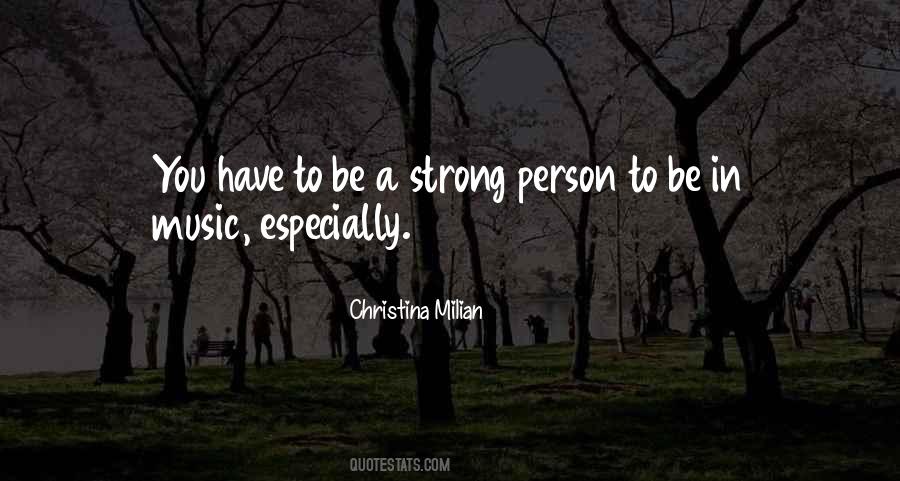 #9. I should know better than anyone
you can't tell who a person is just from his looks. - Author: Cheryl Rainfield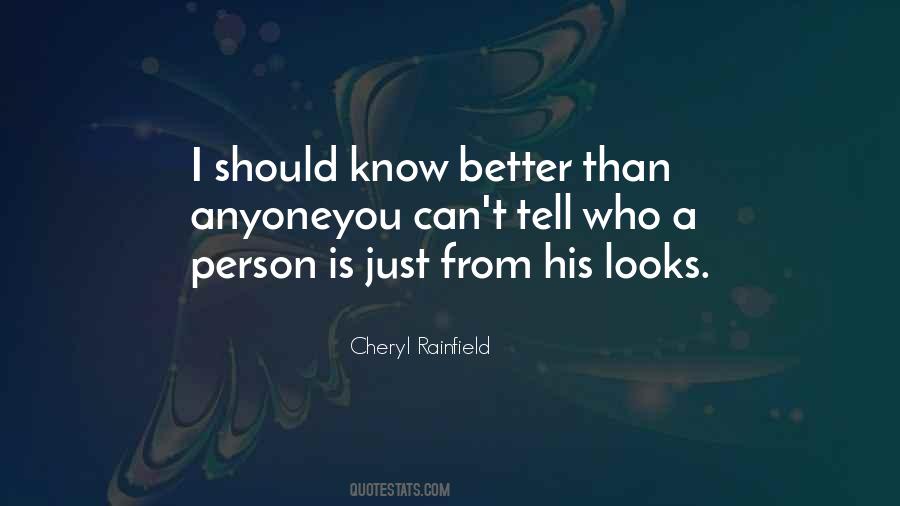 #10. That's the whole problem, isn't it?" He turned his face toward the night sky and let out a horrible laugh, like a gasp of pain. "Why are you the only person who's allowed to be strong? - Author: Katie Alender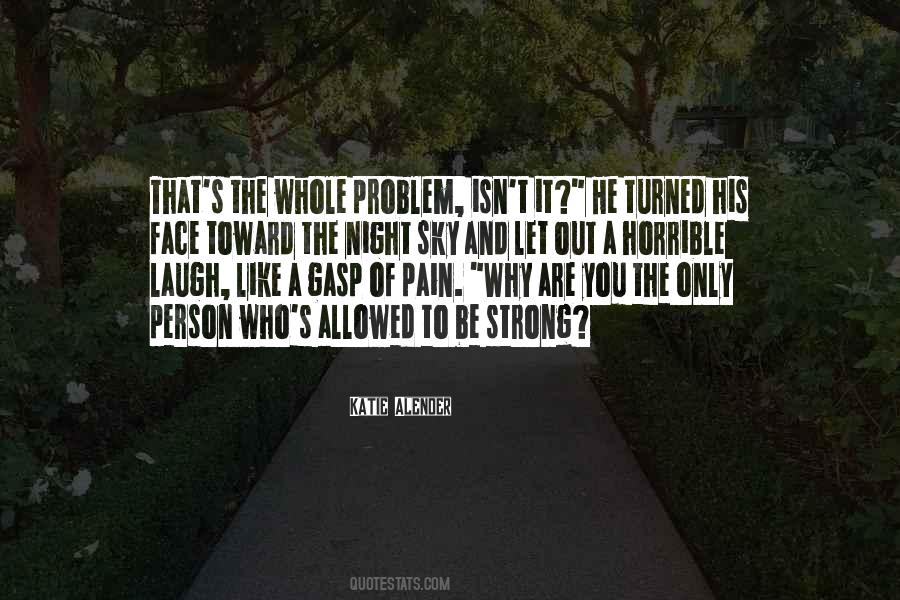 #11. Because you see, when you're a strong person, people often look to you to take care of them. People look to you for help. People look to you for strength.
And when your life spins out of control, it's as if their lives are tied to your own and will come crashing down with yours. - Author: Nessie Q.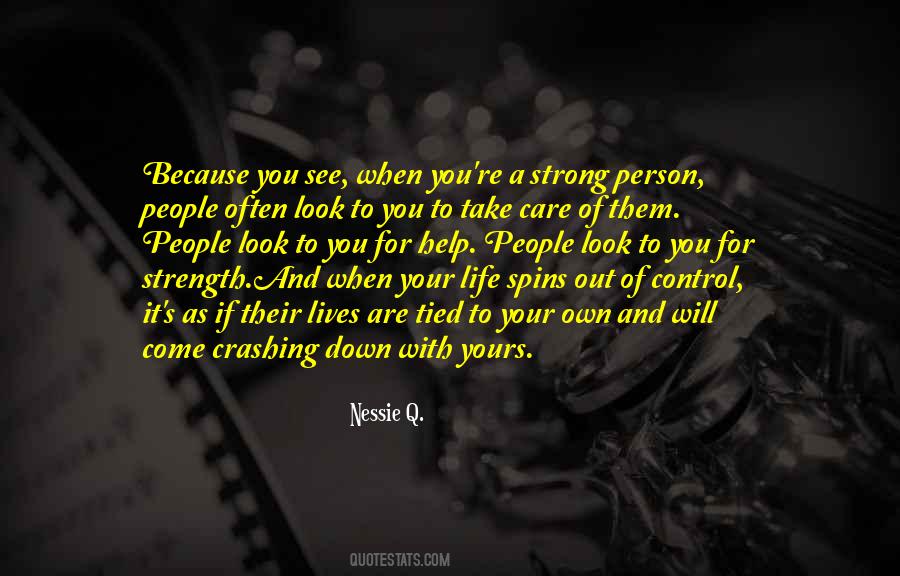 #12. I ask, "You ever hear that a person has to go through fire to become who they're meant to be?"
Mendes sips her coffee, nods. "Sure."
"I've always wanted to be strong, Miss Mendes, I just wish there wasn't so much fire. - Author: David Arnold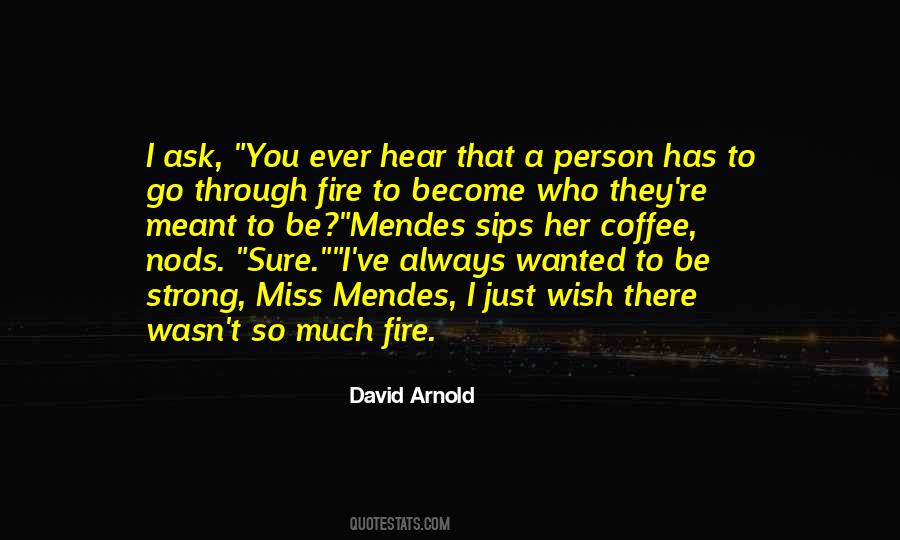 #13. Smiling doesn't always mean you're happy. Sometimes it simple means that you're a strong person. - Author: L.J.Smith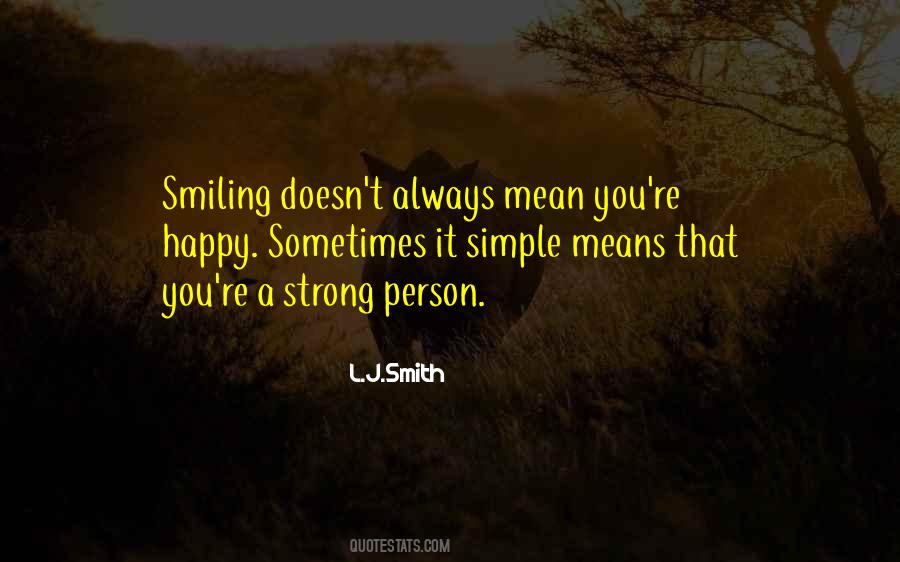 #14. Sometimes all one needs is a strong anchor, a person you can trust blindly. Someone who will lead you on, be there for you and never let you down. - Author: Preeti Shenoy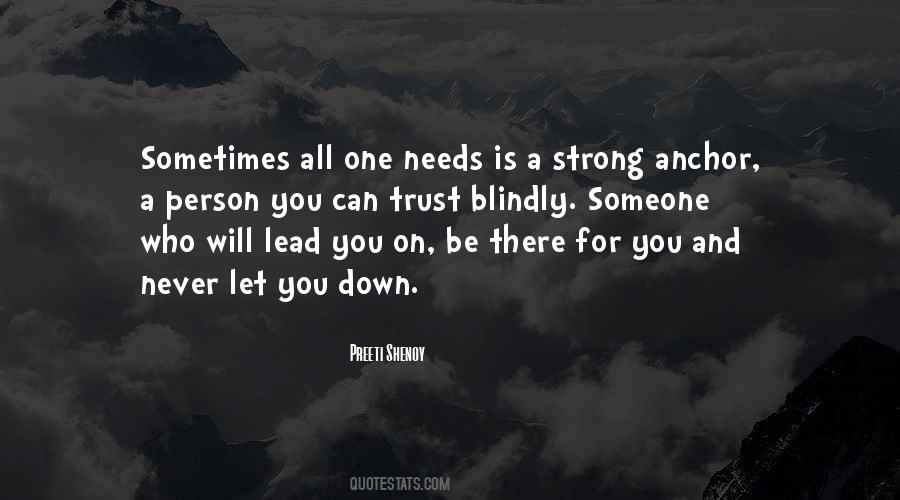 #15. Endurance is not a young person's game. I thought I might even be better at 60 than I was at 30. You have a body that's almost as strong, but you have a much better mind. - Author: Diana Nyad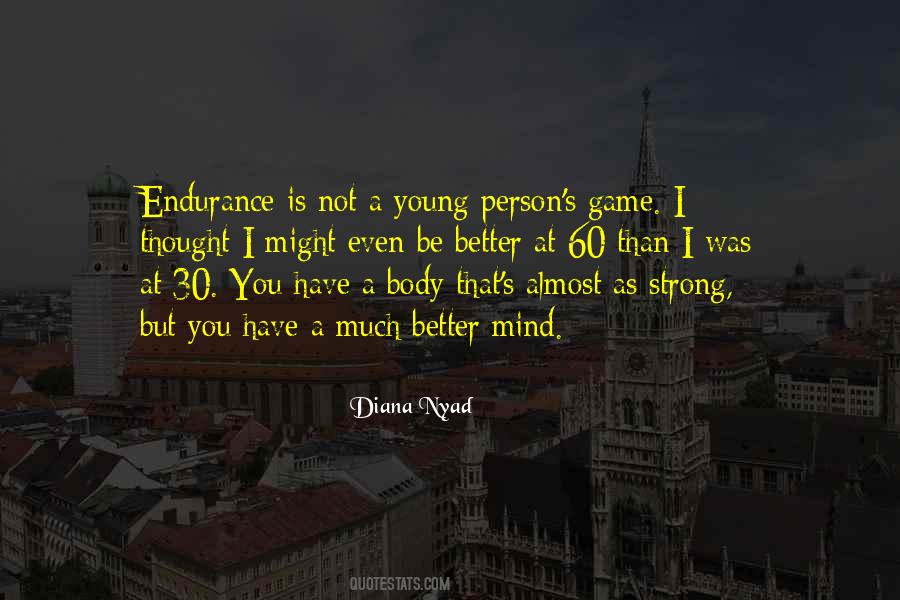 #16. Weak people always attack strong people - it's safer. It's weak people who are dangerous, who lash out uncontrollably and hurt you back. Stong people can walk away - no repercussions, you see, if you attack a stong person. - Author: Sophie Hannah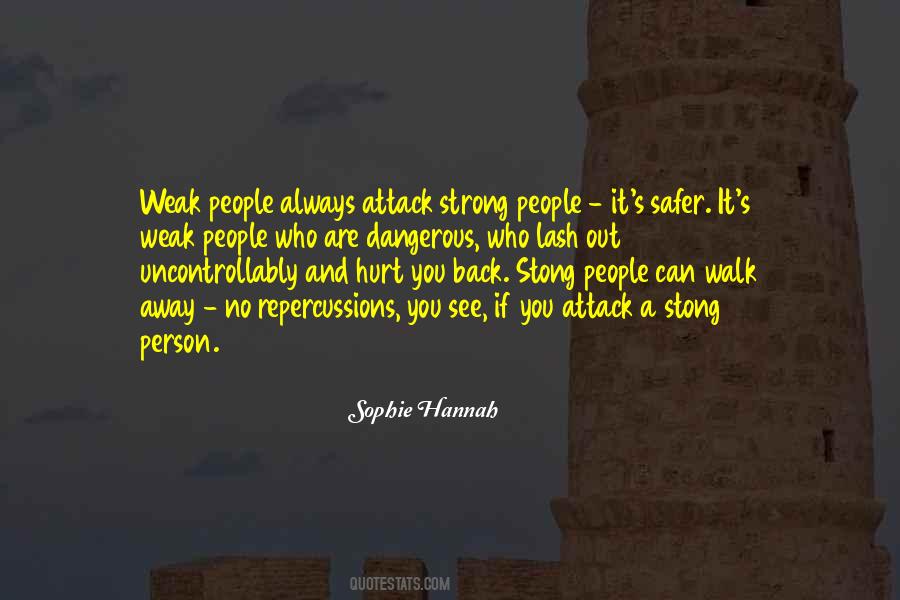 #17. You know, I like to think that I'm a really strong, tough person, but I'm not. I'm a very, very needy person. I'm very insecure. I'm very impressionable. - Author: Katee Sackhoff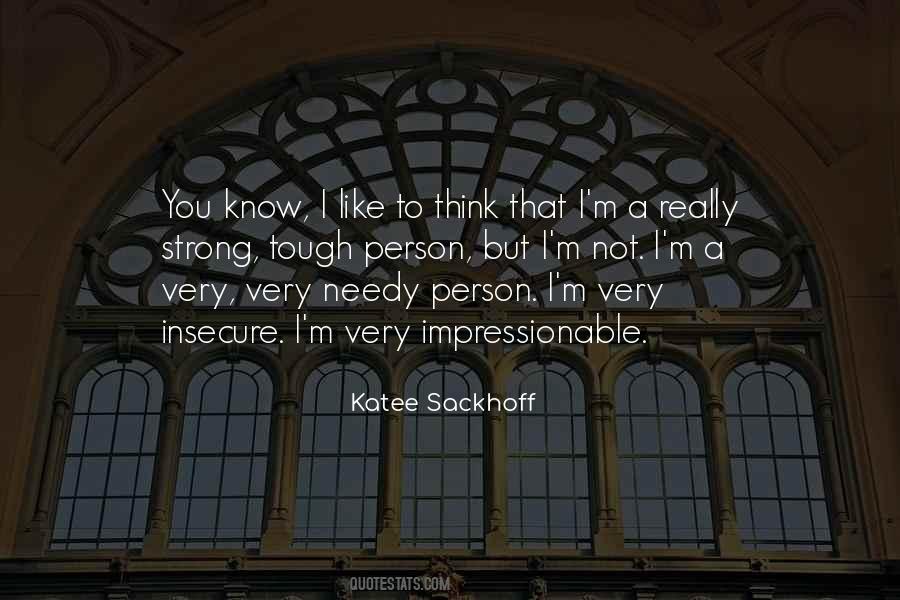 #18. I realized that no matter how strong your love & no matter how you truly love a person, if your heart gets tired, everything changes, even if you don't want to.
#shreyasi - Author: Shreyasi Phukon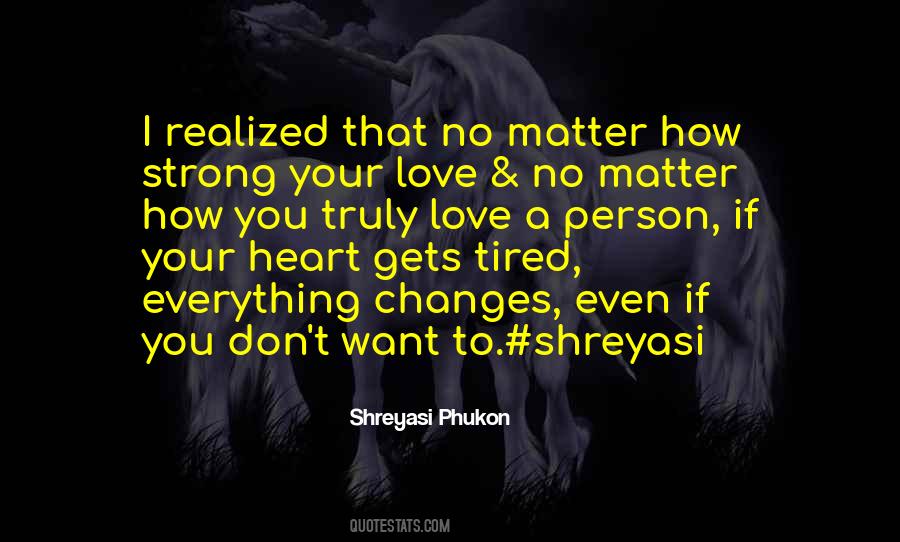 #19. Let's face it. you become a deeper person amidst adversity. You become a more perceptive, strong, resilient person when life is not handed to you on a silver platter held by a butler. - Author: Cathy Lamb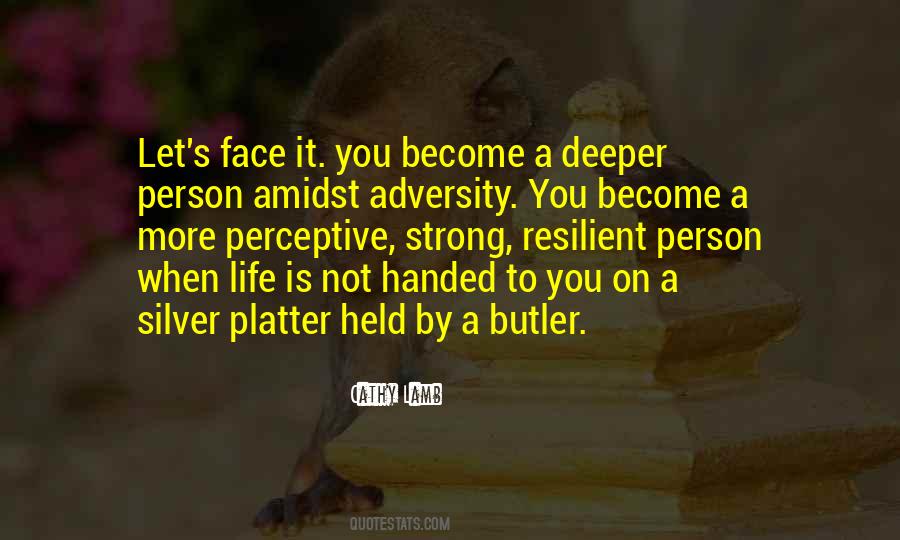 #20. I at least wanted to appear strong and elegant in your eyes just like a manga heroine who's too perfect to be real - Nana
The only person who will ever be my hero is you, Nana - Hachi - Author: Ai Yazawa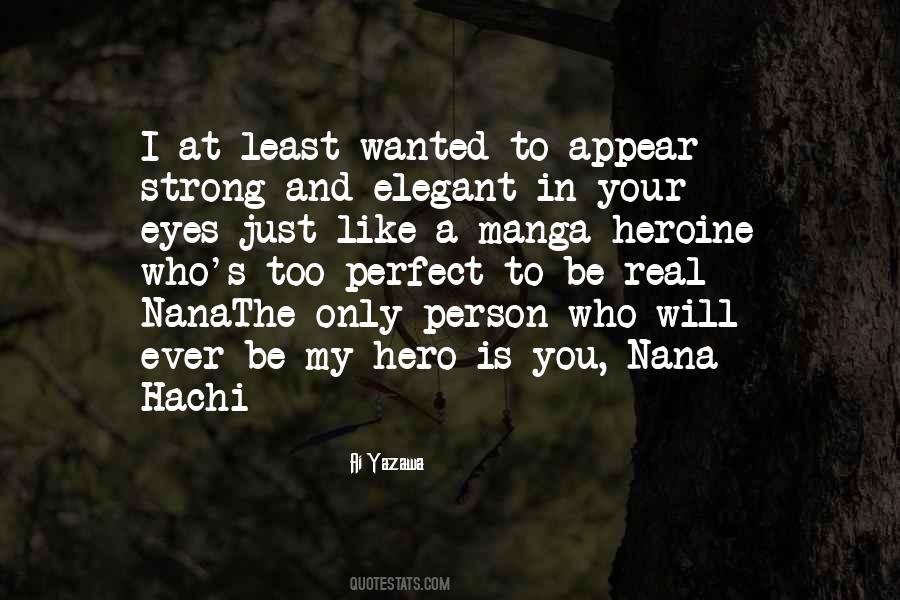 #21. But desperation does funny things to a person. Makes you grasp for any sliver of hope. Makes you throw rational thought and logic out the window. Makes you act in ways you would never have imagined possible. Turns strong men into weak. Honest men into liars. - Author: Siobhan Davis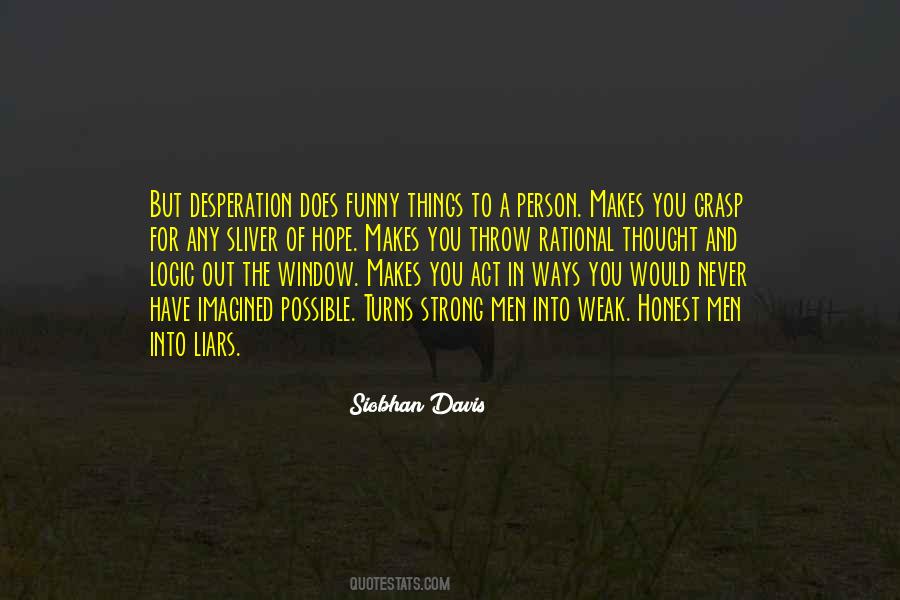 #22. I'm a strong-headed person, and you can always tell how I'm feeling in that moment. - Author: Ashley Wagner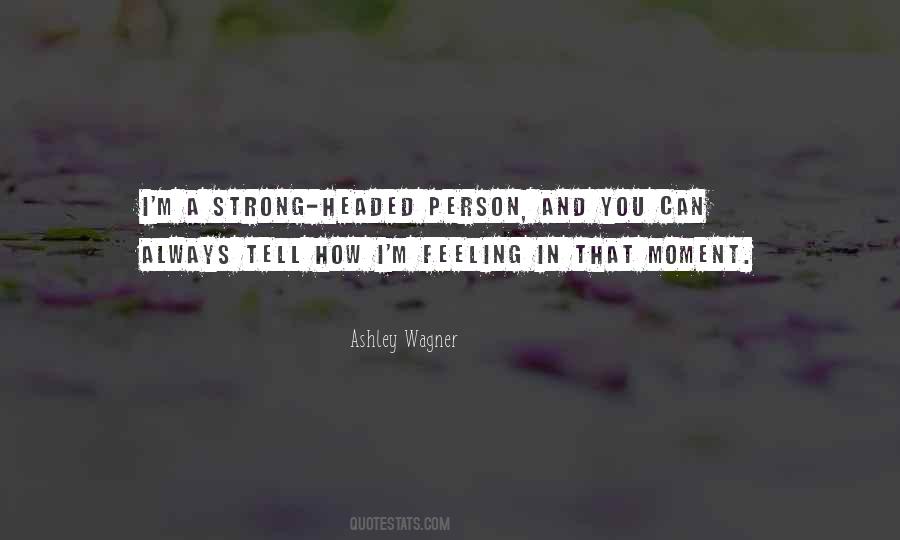 #23. Awareness of your weakness and confusion makes you strong because conscious awareness is the bright light that destroys the darkness of negativity. Detection of inner negativity is not a negative act, but a courageously positive act that makes you a new person. - Author: Vernon Howard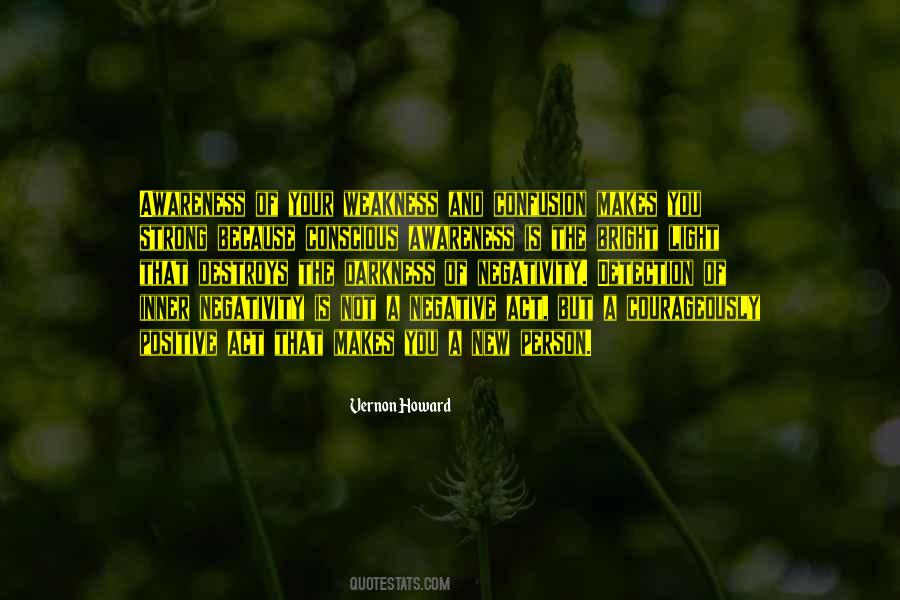 #24. You are strong only as long as you don't deprive people of everything. For a person you've taken everything from is no longer in your power. He's free all over again. - Author: Aleksandr Solzhenitsyn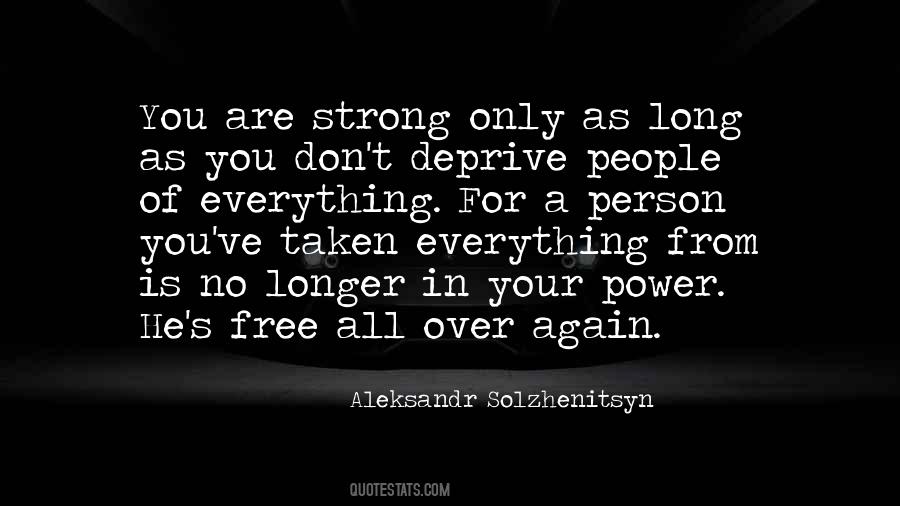 #25. Believe in yourself and be proud of who you are. Don't let anyone tell you differently. There is beauty in everyone and no one should stop you from growing into a confident and strong young person. - Author: June Sarpong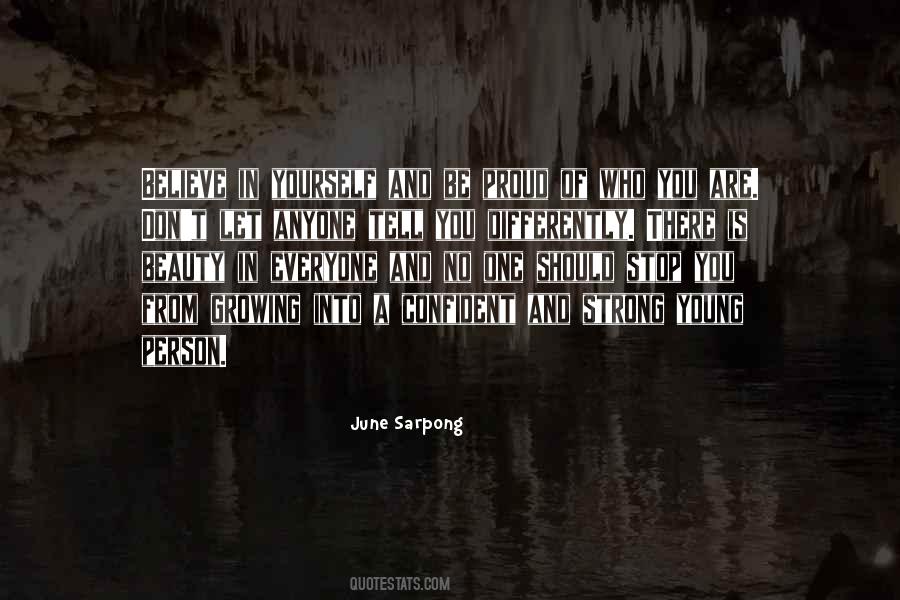 #26. I'd forgotten how your blood flows toward a person when they move, so that all at once, you know what the pull of gravity feels like. And you know that this is something strong and important, something that you need for life, this woman moving through the room. - Author: Jane Hamilton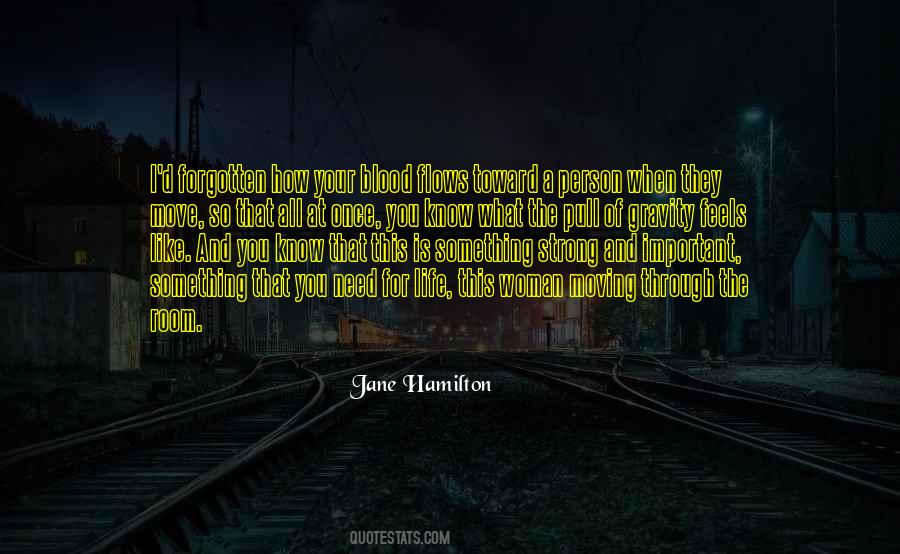 #27. If I hit you and you hit me and I hit you back and you hit me back and go on, you see, that goes on ad infinitum. It just never ends. Somewhere somebody must have a little sense, and that's
the strong person. - Author: Martin Luther King Jr.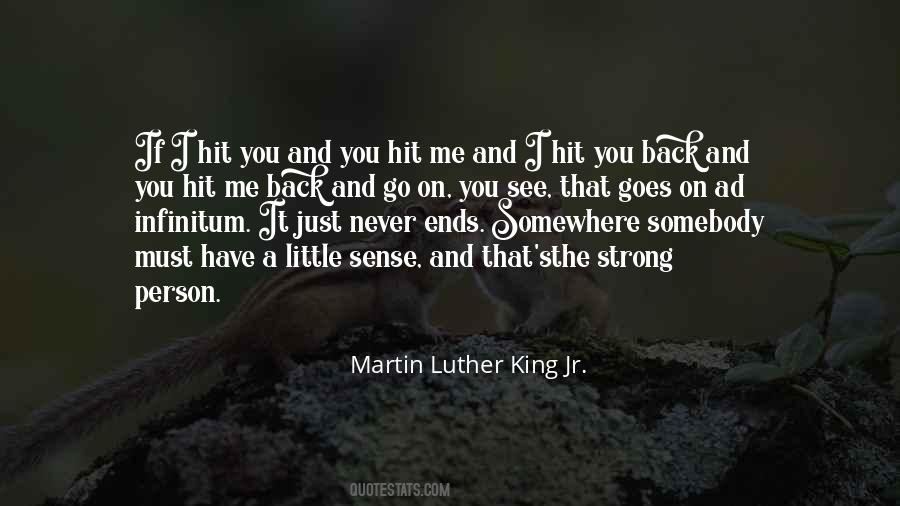 #28. For modelling, you have to be such a strong person in a way - or seen to be a strong person, do you know what I mean? But in acting you have to get in touch with all the vulnerability that you carry. - Author: Agyness Deyn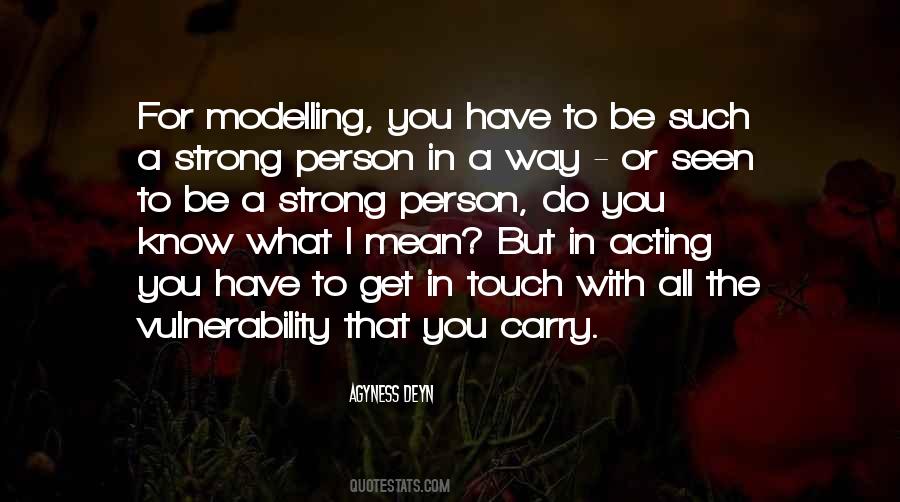 #29. The world feeds us a steady diet of it's-okay-if-you-are-a-nice-person sprinkled with a bit of if-you-try-your-hardest and topped with a strong drink of you-meant-well. - Author: Elyse M. Fitzpatrick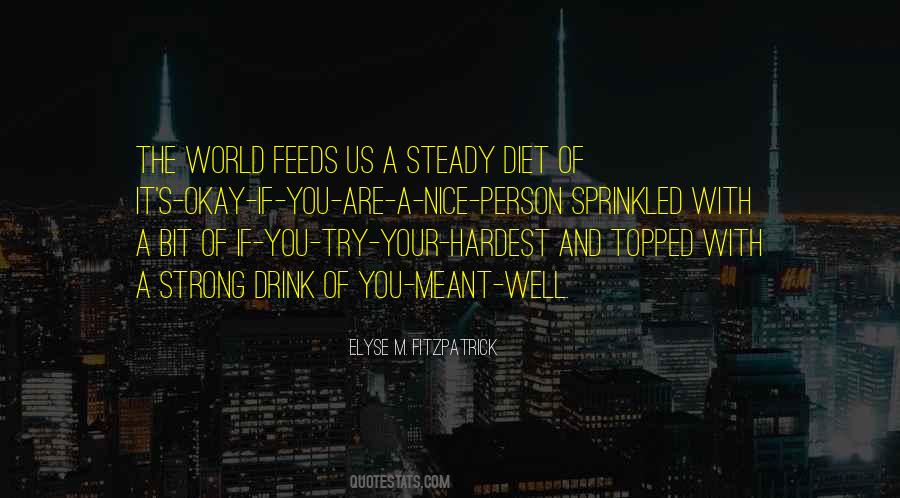 #30. White people are drawn to farmer's markets like moths to a flame. In fact, white people have such strong instincts that if
you release a white person into a random Saturday morning they will return to you with a reusable bag full of fruits and vegetables. - Author: Christian Lander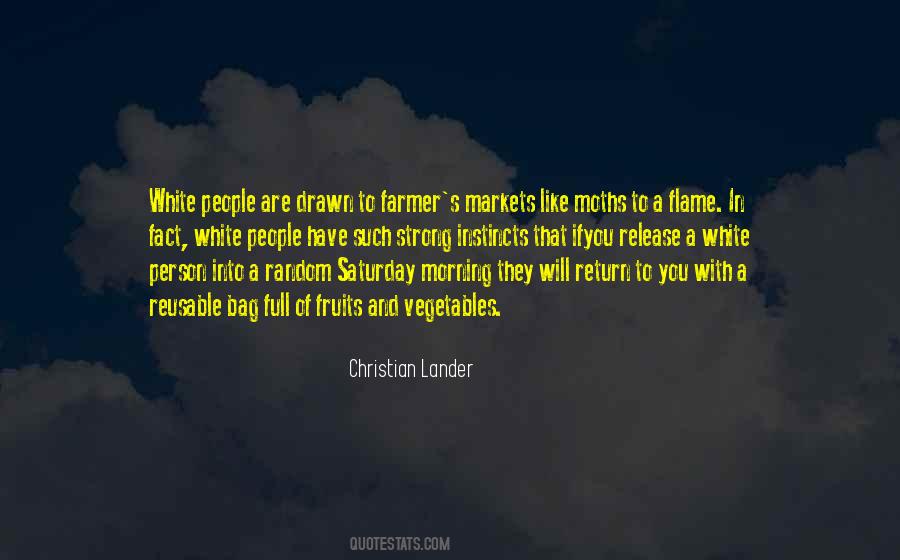 #31. I grew up in a very strong, nuclear family. My father was a sportsman. He represented South Africa in a couple of sports, so he was a very positive person and someone who encouraged you to be your best and give your best with everything that you do. - Author: Gail Kelly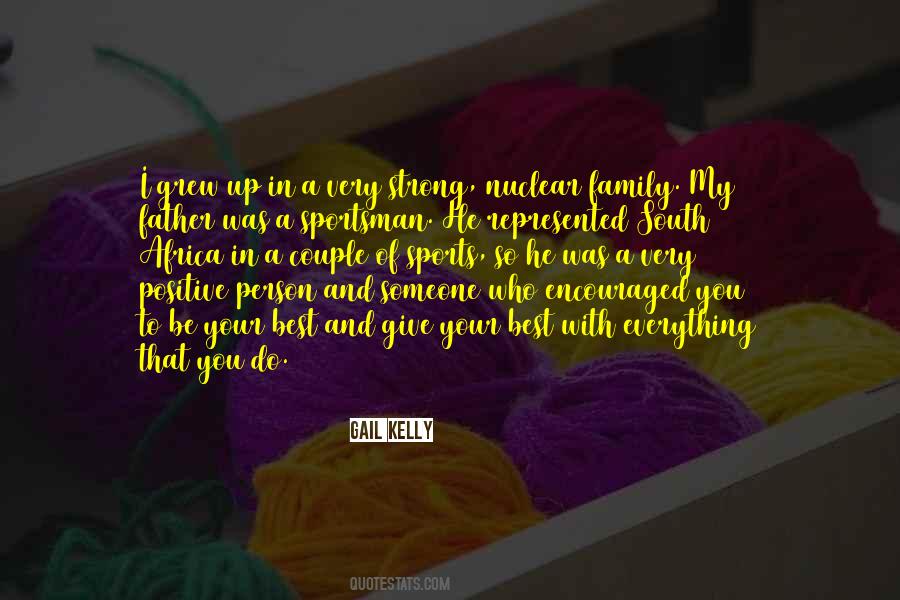 #32. Giving is like a muscle. To be strong, you have to exercise it, and to grow as a person, giving is the exercise. You can't really enjoy anything without sharing it. - Author: Zig Ziglar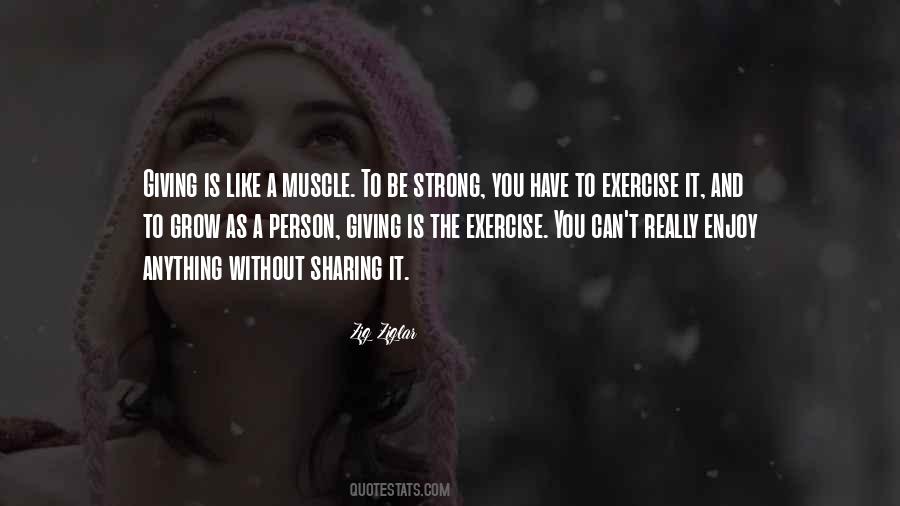 #33. I think you either have to have a very strong decisive person at the top or else a really brilliant staff command. - Author: Hunter S. Thompson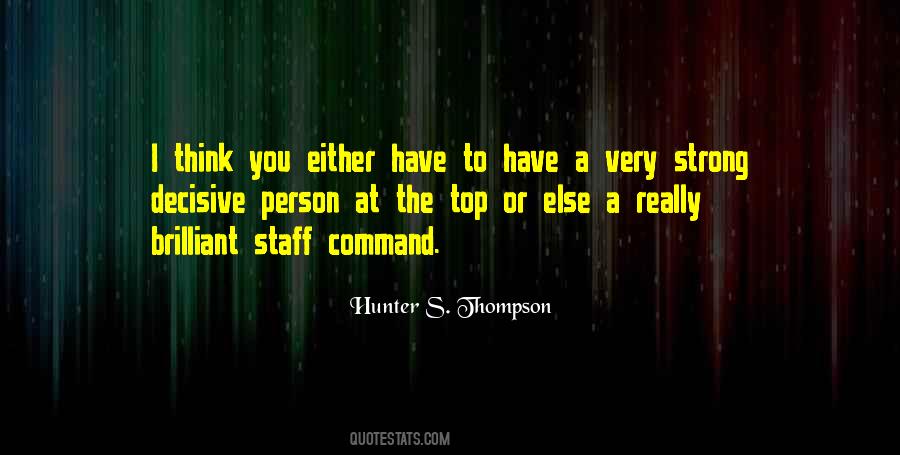 #34. Anytime you're with somebody, you become a reflection of that person. I believe the first five years of our relationship was me grooming her, getting her tough and getting her ready for all of this and how to deal with it. The last was just her being a strong Black woman who has her man's back. - Author: Snoop Dogg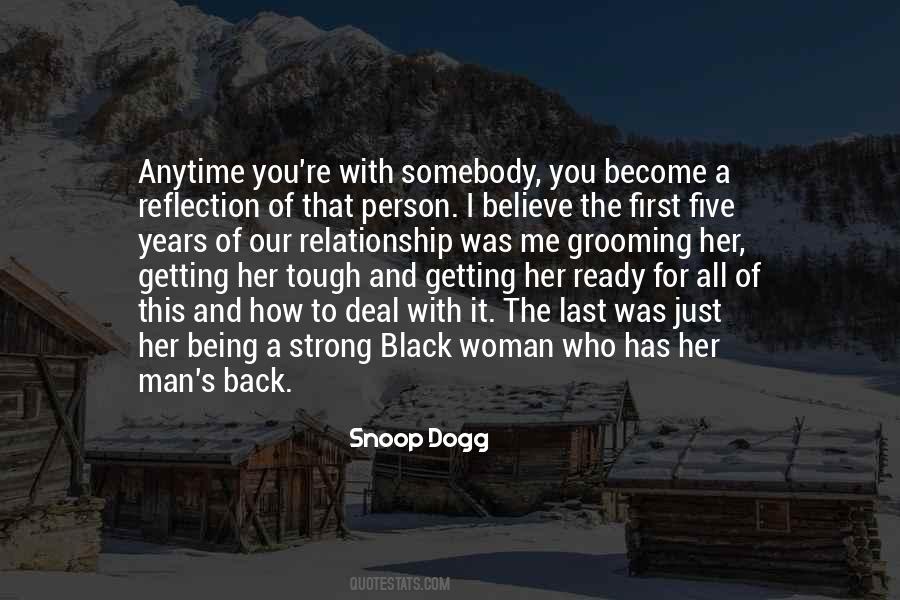 #35. Producing major change in an organization is not just about signing up one charismatic leader. You need a group - a team - to be able to drive the change. One person, even a terrific charismatic leader, is never strong enough to make all this happen. - Author: John P. Kotter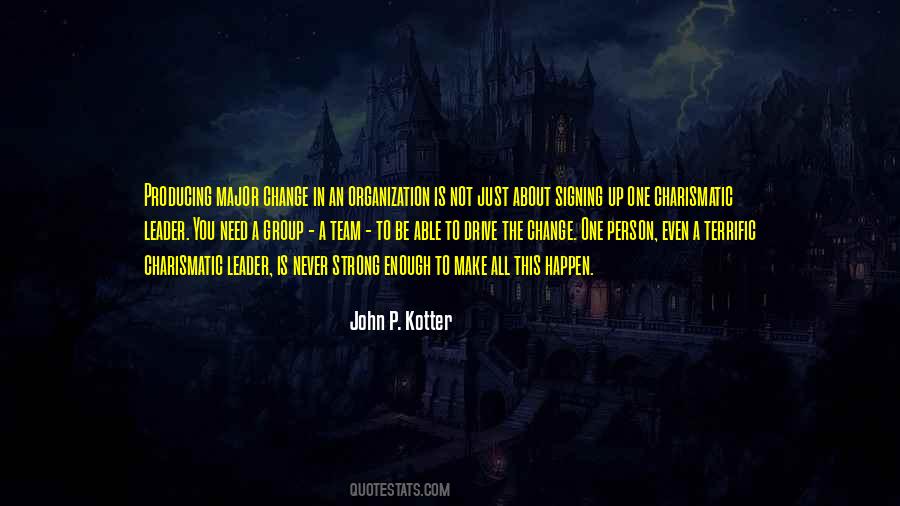 #36. To be strong, you have to know your weaknesses, confront them, and ultimately accept them. A person isn't strong because they lack weakness but because they don't let it guide them. - Author: Nicole Williams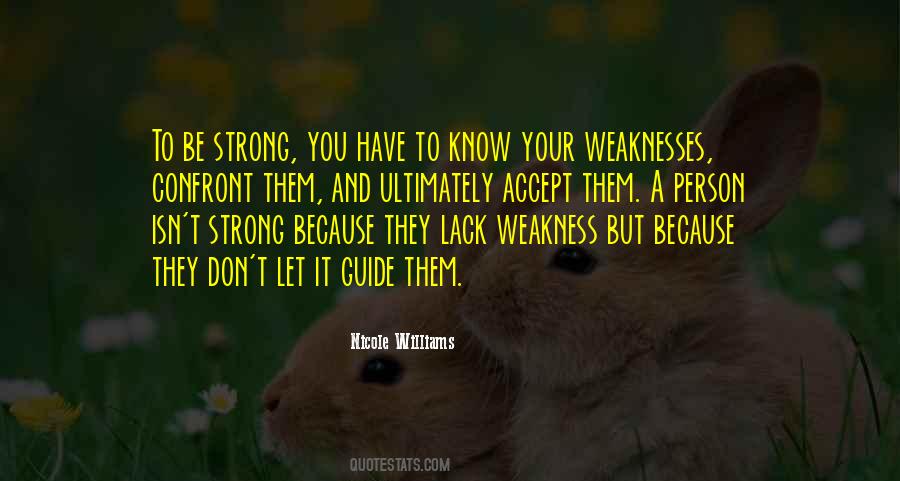 #37. My heart has grown strong, and I will look out for you, if you will look out for me. Life is going to be hard for both of us now, and I will need to grow hard with it. Soon I may seem like a different person, but I will always love you. My heart is locked away - but just for you, I've made a key. - Author: Nathaniel Firmath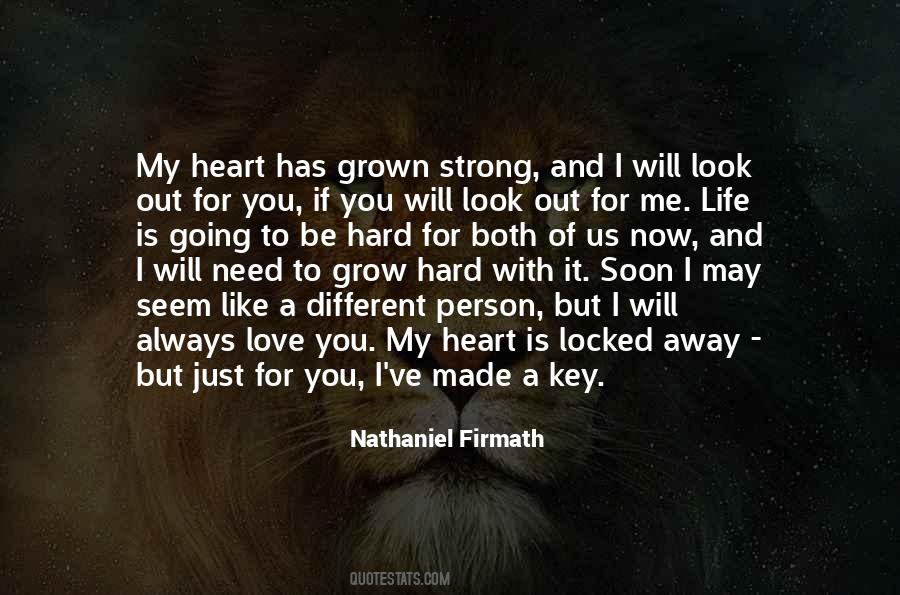 #38. She struggled with all her might, but he was much too heavy and strong.
With a sigh, Amelia finally said, "You win. How can I defend myself in a situation like this?"
"That's a good question."
With a satisfied grin, he got to his feet and said, "I'll show you. - Author: Linda Weaver Clarke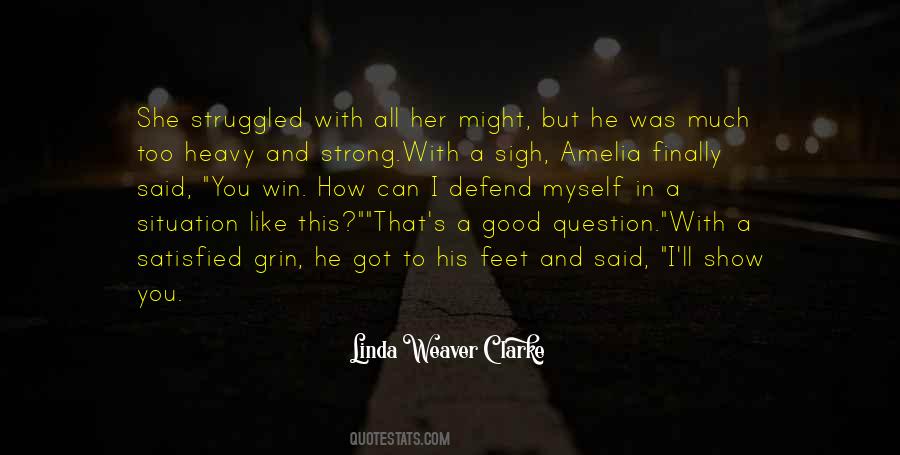 #39. As a single mother of four, my mother taught me that you always want to show up strong for the moments that really matter with family, friends, and community. I now recognize how her strength helped shape the person I am today and the mother that I have become. - Author: Andie MacDowell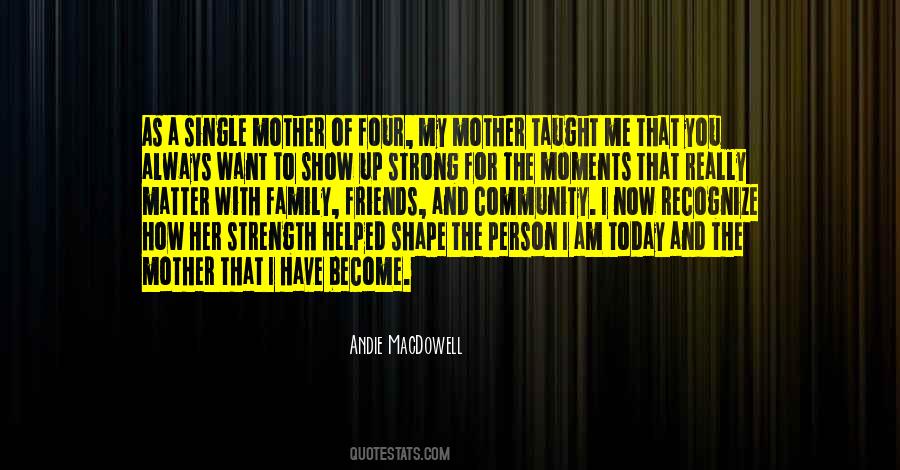 #40. Music is a total constant. That's why we have such a strong visceral connection to it, you know? Because a song can take you back instantly to a moment, or a place, or even a person. No matter what else has changed in your or the world, that one song says the same, just like that moment. - Author: Sarah Dessen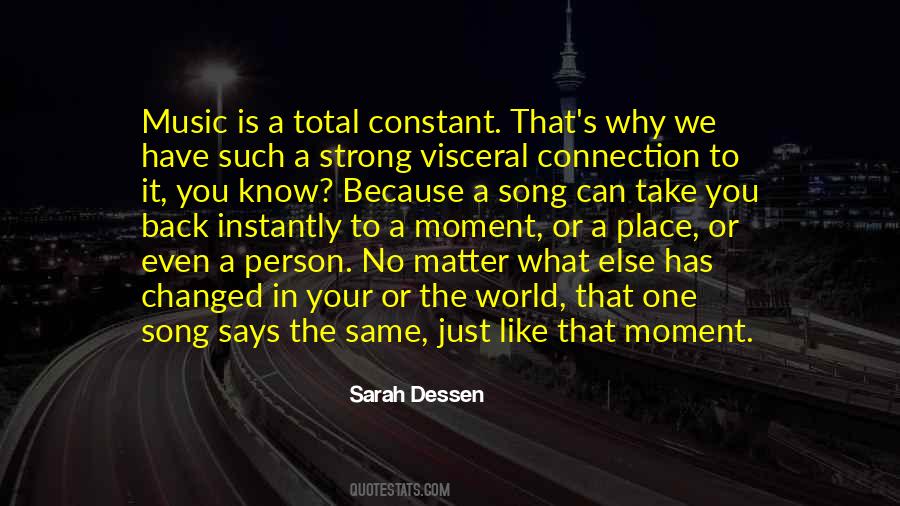 #41. I've got a feeling that, if it's so easy for you, the struggle and the initiative are not as strong as they are for a person who has to struggle and therefore has more to say. - Author: Charles Mingus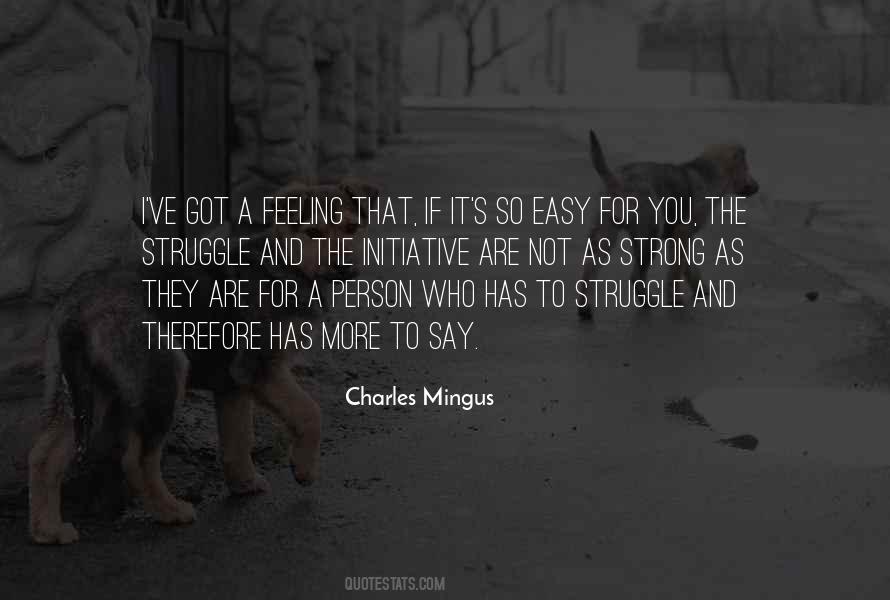 #42. Look at someone like Steve Jobs. His look wasn't very special - black turtleneck and jeans - but he had style. He looked the same, and you knew it was him when you saw him. Plus, he was a very smart person, which is also very attractive. His style was simple, not distracting, and very strong. - Author: Carine Roitfeld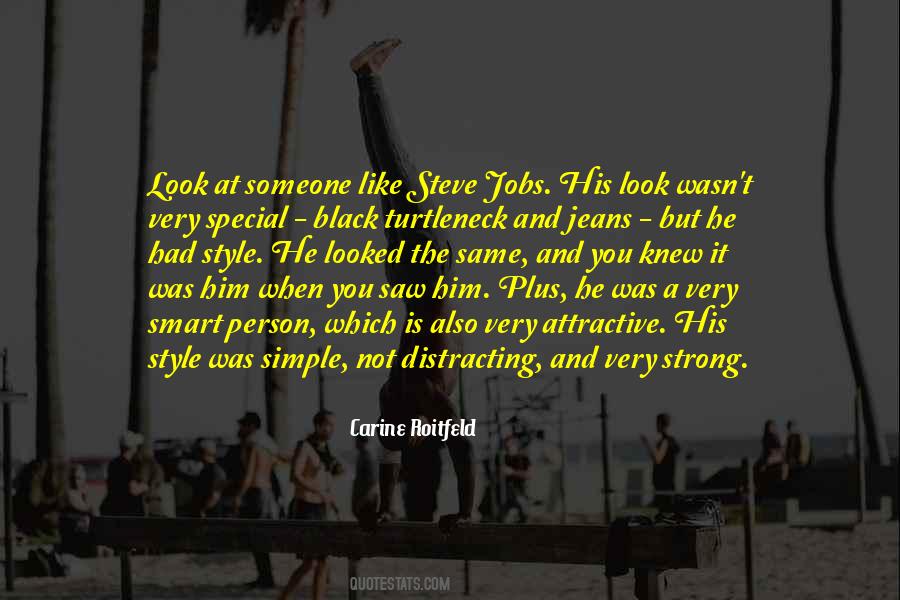 #43. You feel like a criminal. Knowing you can knock somebody out and know you can put somebody in a temporary coma, that's what you want to go for. It shows how strong, how powerful a person can be to be able to do that. - Author: Henry Cejudo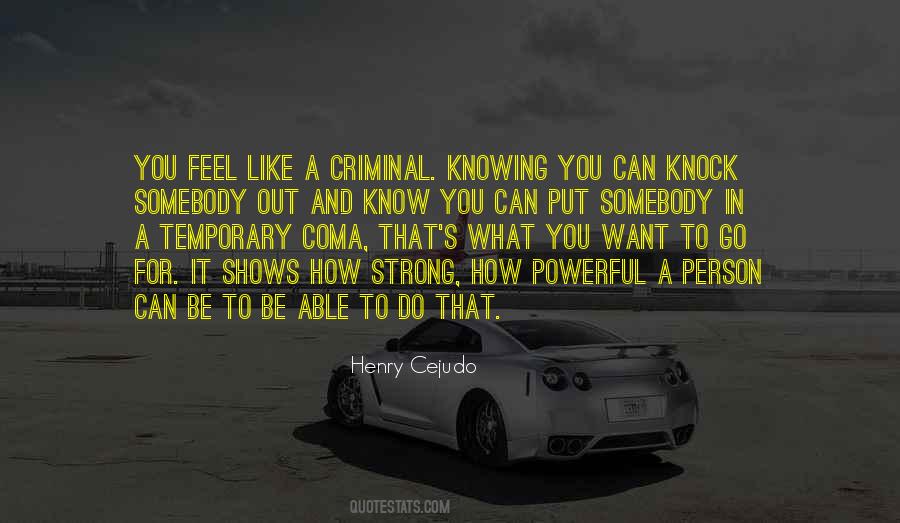 #44. Bunny was a good soul and a strong believer but she would have been that way whether she went to church or not, wouldn't she. church doesn't make you a better person. - Author: Ellen Wittlinger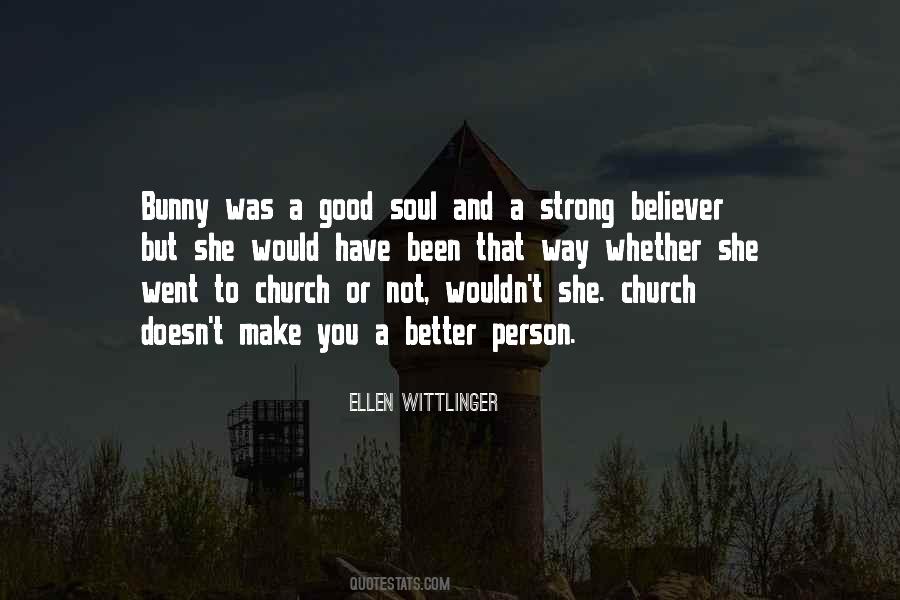 #45. A strong person like you doesn't have break downs. They have moments. You're having one. - Author: Jessica Gadziala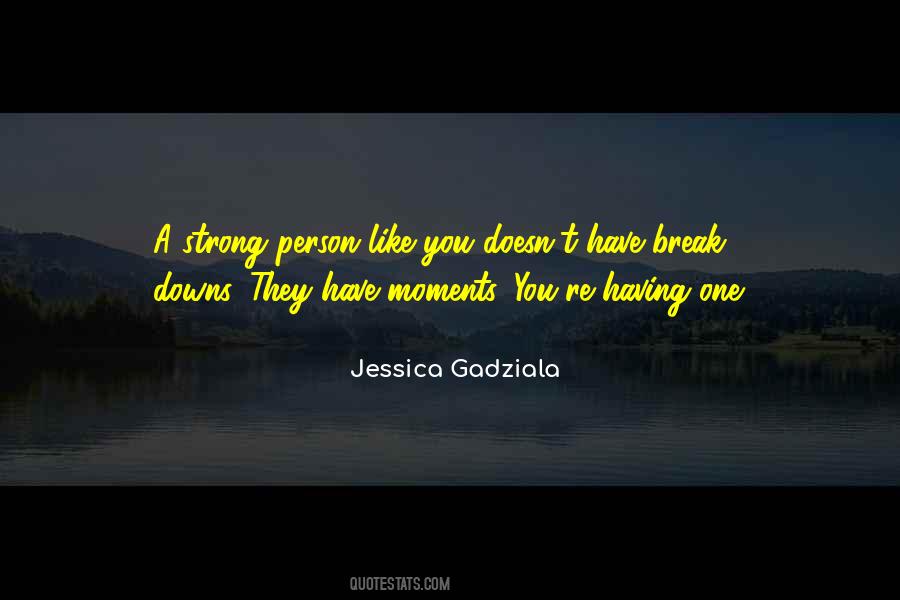 #46. Lauren Kirshner creates a first-person narrator you never stop rooting for ... [Where We Have to Go] highlights Kirshner as a new novelist to watch. A very strong, original debut. - Author: Zoe Whittall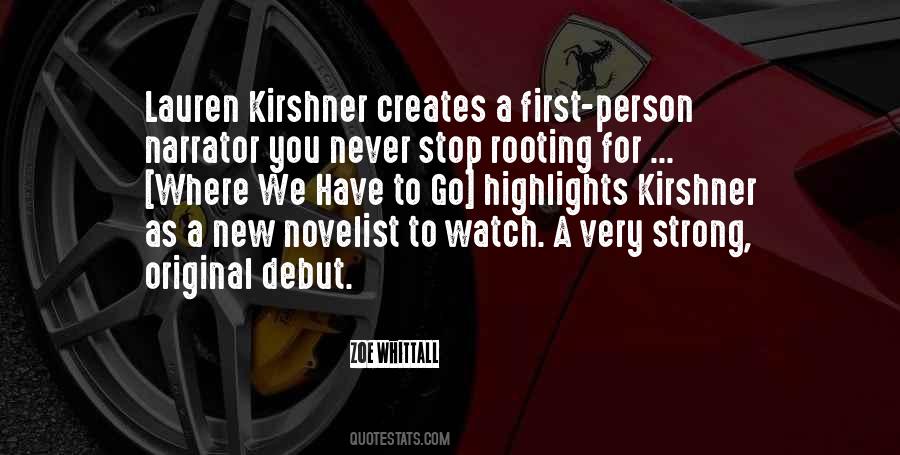 #47. A love so strong, you can't tell where you end and the other person begins. - Author: Margaret Stohl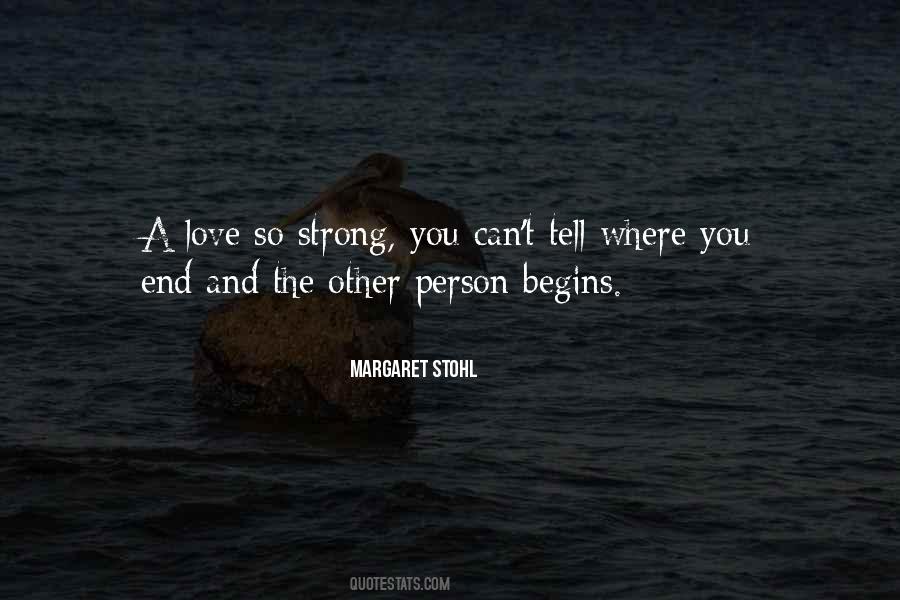 #48. The prospect of happiness has a way of clouding up a person's vision. When you are in love, the kind of love that comes way too fast and way too strong, the flaws of that person you love seem to disappear.
Unfortunately, that's exactly what happened to me. - Author: Chamera Sampson
#49. When enough people believe something of you, it can distort your view of yourself. We mimic the judgments of others. It would take a very strong person indeed to resist the effects of so much ill will. - Author: Jeff Wheeler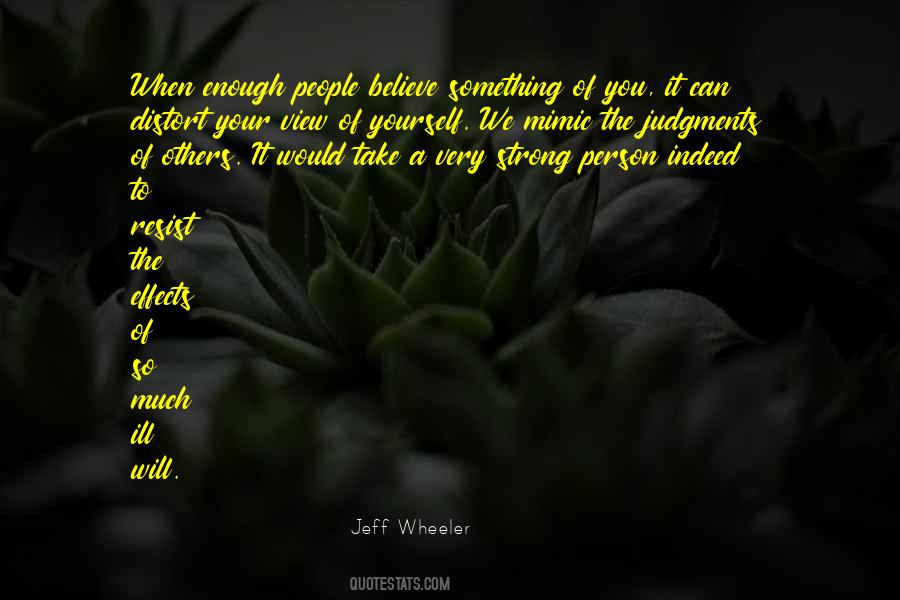 #50. You may look through the streets of heaven, asking each how they came to b there, and you will look in vain everywhere for a person who is morally and spiritually strong, whose strength did not come to him in struggle. There is no exception anywhere. Every true strength is gained in struggle. - Author: Phillips Brooks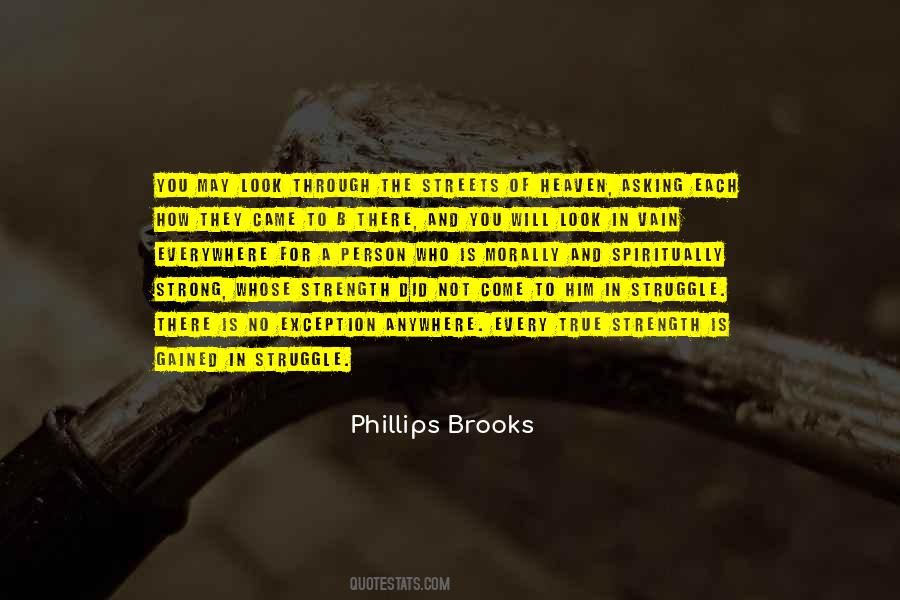 #51. "Strong" to people means "real." It means you believe that's a person who exists, as opposed to some two-dimensional depiction of women. - Author: Jane Fonda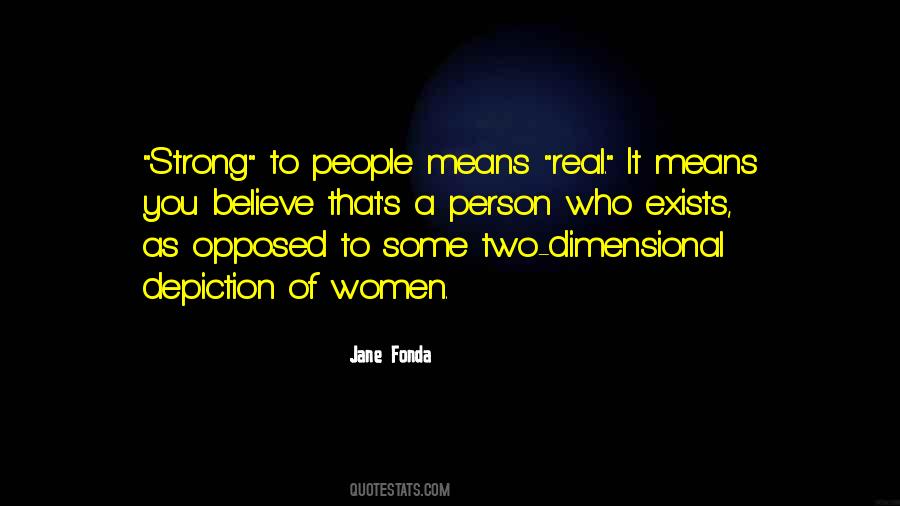 #52. I could beat my mike stand into the stage, but I was still in pain. Maybe fans liked it, but sometimes people forget you're a person and they're more into the entertainment value. It's taken a long time to turn that around and give a strong show without it being a kamikaze show. - Author: Axl Rose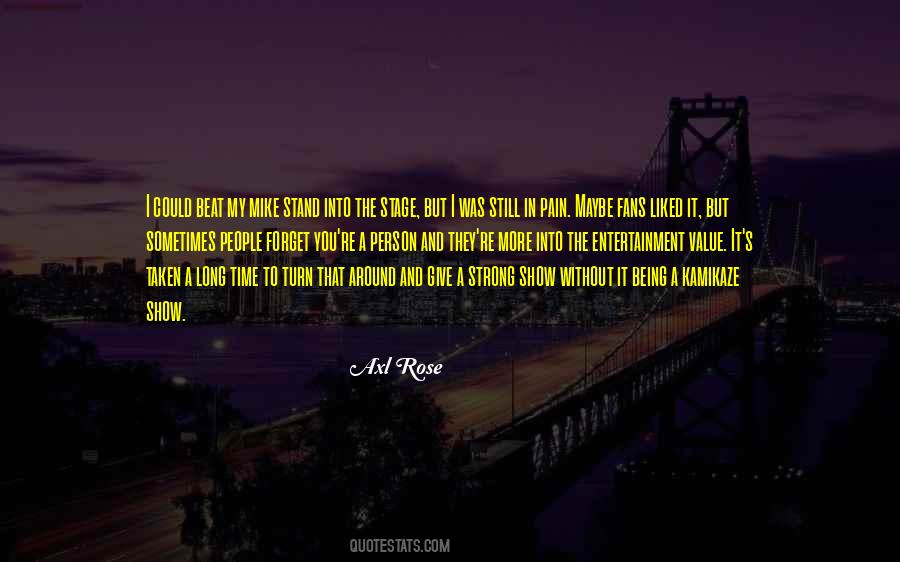 #53. There's warm skin. A strong body that embraces you. Breaths that escape his gasping mouth. But... we're calling out another's name in our hearts. With our eyes closed, that person's image surfaces in our minds. It was a sweet, gentle, yet cruel night. - Author: Yuuri Eda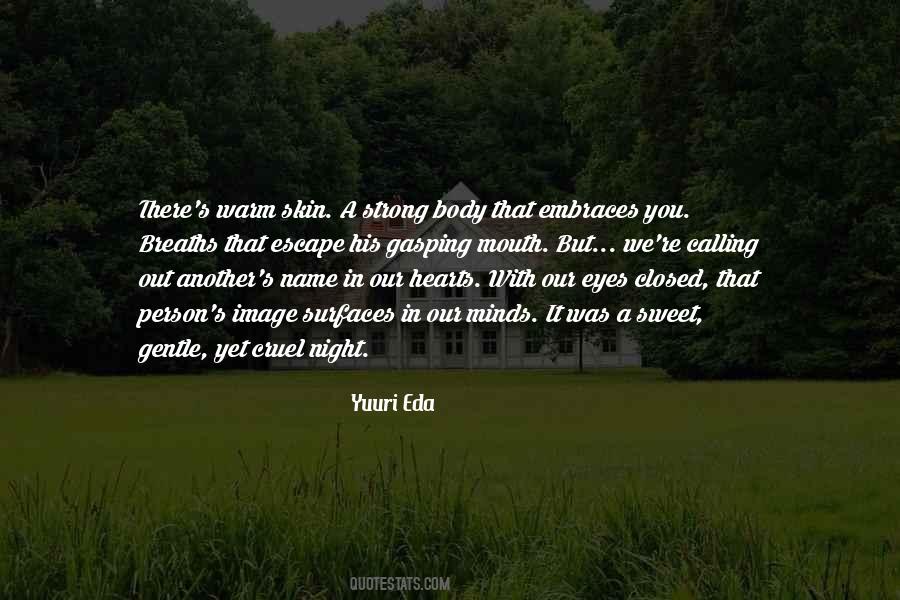 #54. Surely you ain't weak.
You just can't accept yourself as a strong person. - Author: Toba Beta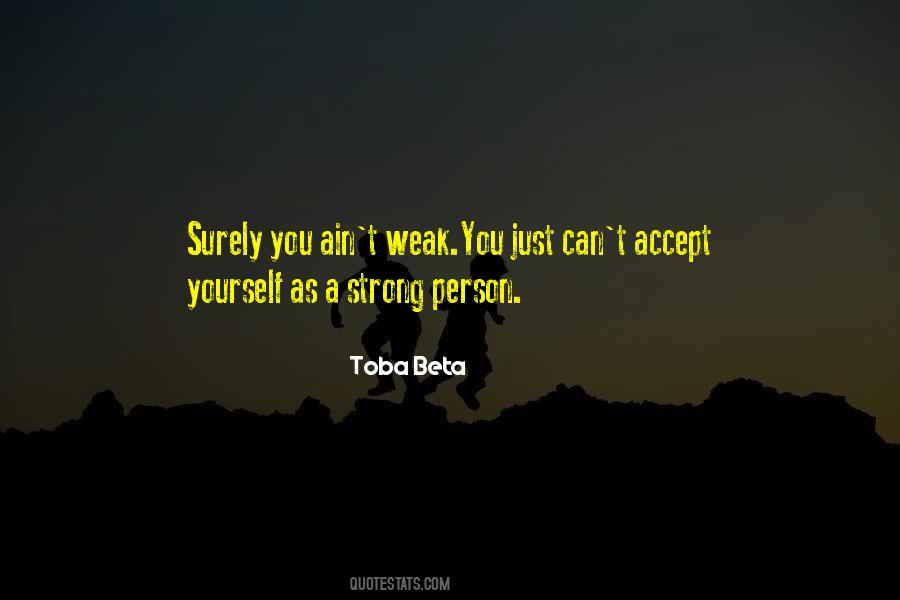 #55. Because of my job, I learned to be confident a little earlier than most. People pick you apart when you're in the public eye - you're wearing the wrong shoes or you have ugly nail polish on or they're wondering if you got your boobs done - so you have to be a strong person right away. - Author: Heidi Klum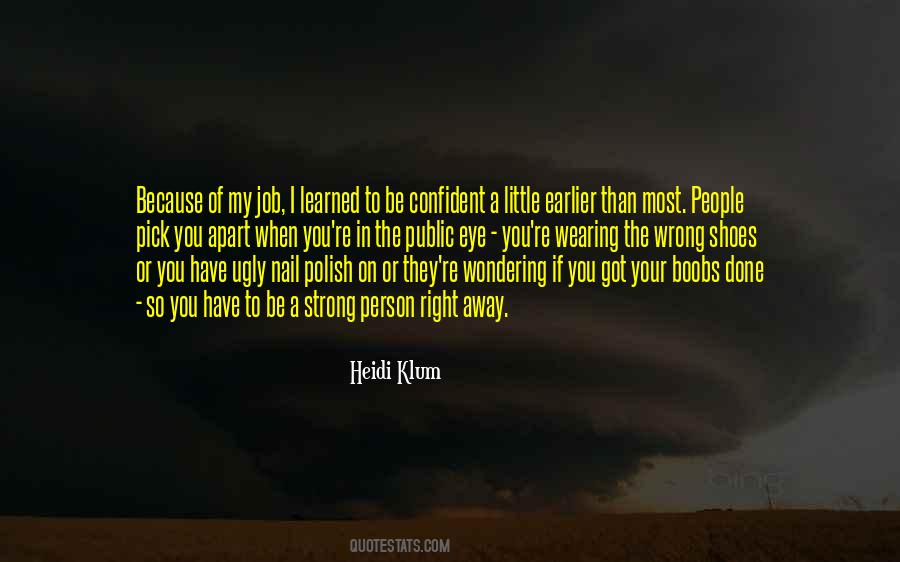 #56. It takes a strong person to stand up to his or her fate and overcome the obstacles that stand in the way of freedom and success, but I believe in you. - Author: Pax Prentiss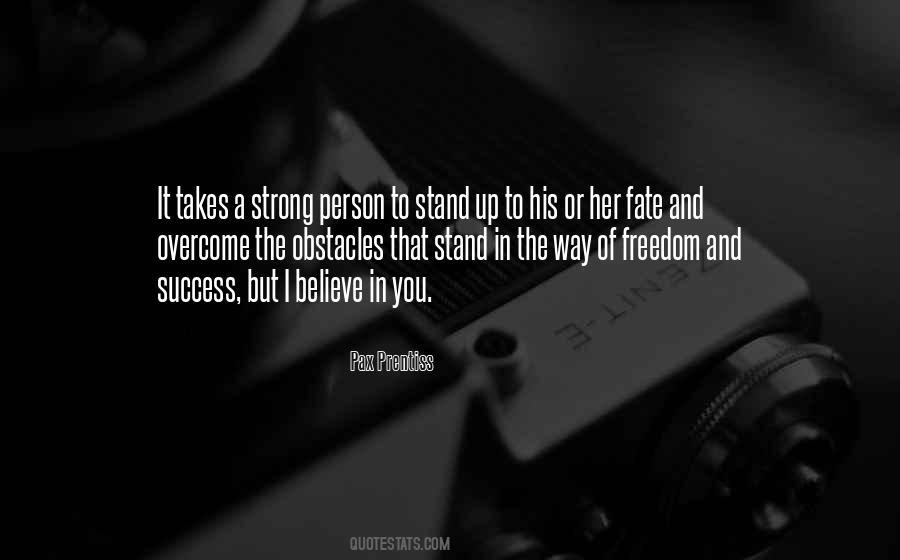 #57. Consider your self as a strong person when you have been challenged enough...(think about it) If you have allowed people to continually step all over you,then you deserve to be used as a doormat! - Author: Auliq Ice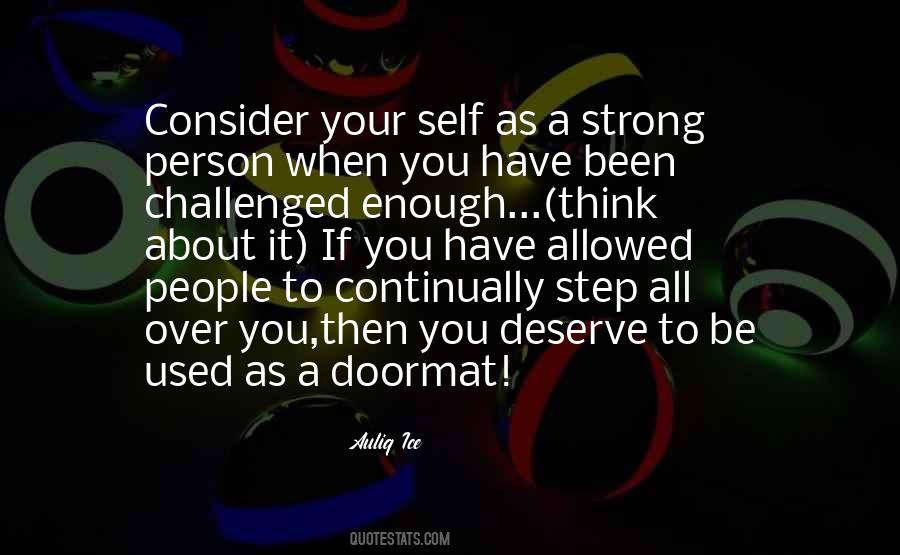 #58. When you look at a person, any person, everyone has a story. Everyone has gone through something that has changed their life. Anxiety, depression and panic attacks are not signs of weakness. They are signs of trying to remain strong for way too long. - Author: Deepika Padukone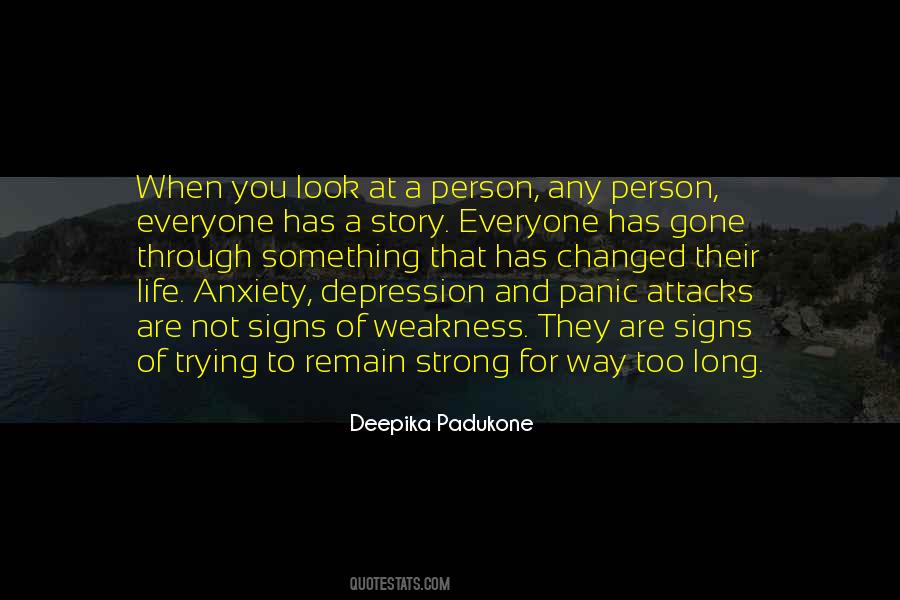 #59. I think you're wonderful. You're the only person I have in this awful, twisted world, and it's incredibly scary, but if I had to fight my way through this disease of a life with one person by my side, I'm glad it's with you. You inspire me to be stronger, and I need to be strong. - Author: Christina L. Barr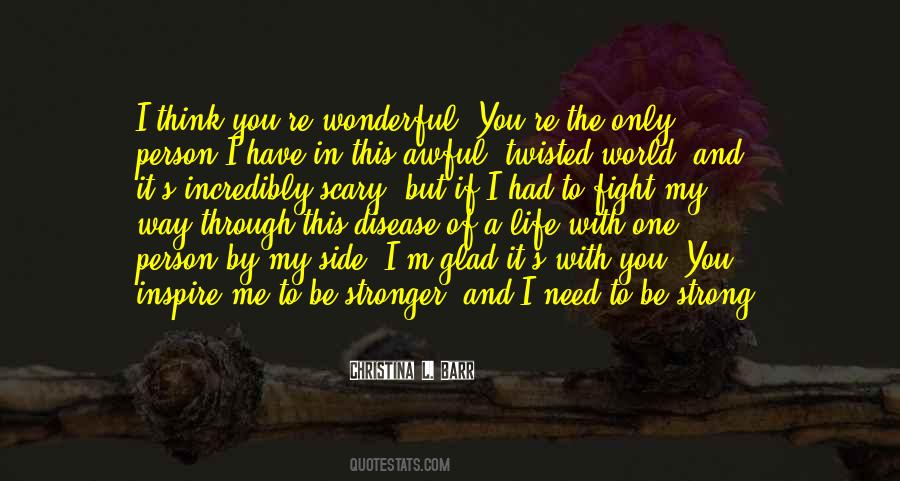 #60. I'm a strong nonbeliever in the Christmas letter where you don't really read it because it's just full of kind of meaningless information. It doesn't really resonate to the person reading it, but it means so much to the person that wrote it. - Author: BD Wong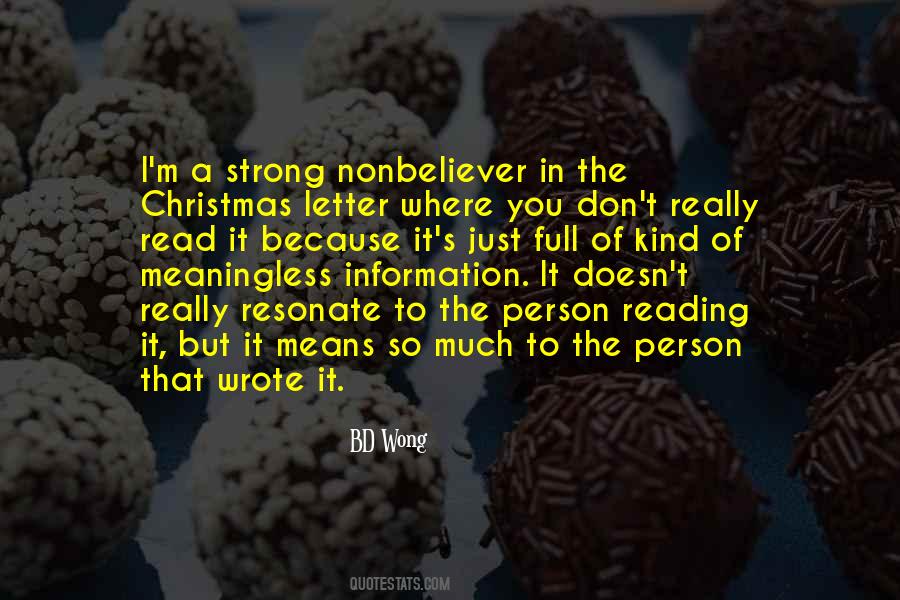 #61. You must have a strong will and determined spirit to fight any form of oppression. - Author: Lailah Gifty Akita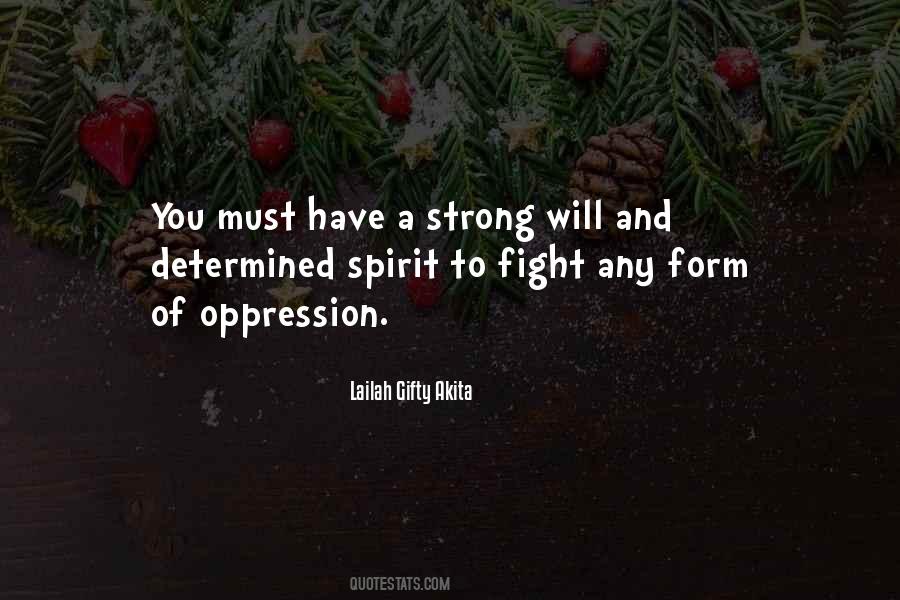 #62. To her, saving grace meant you got to live out your life like a normal person: You were healthy and strong, an the prospect of death was just some far-off, barely acknowledged hypothetical. A debt to be paid off in a future you couldn't imagine - Author: J.R. Ward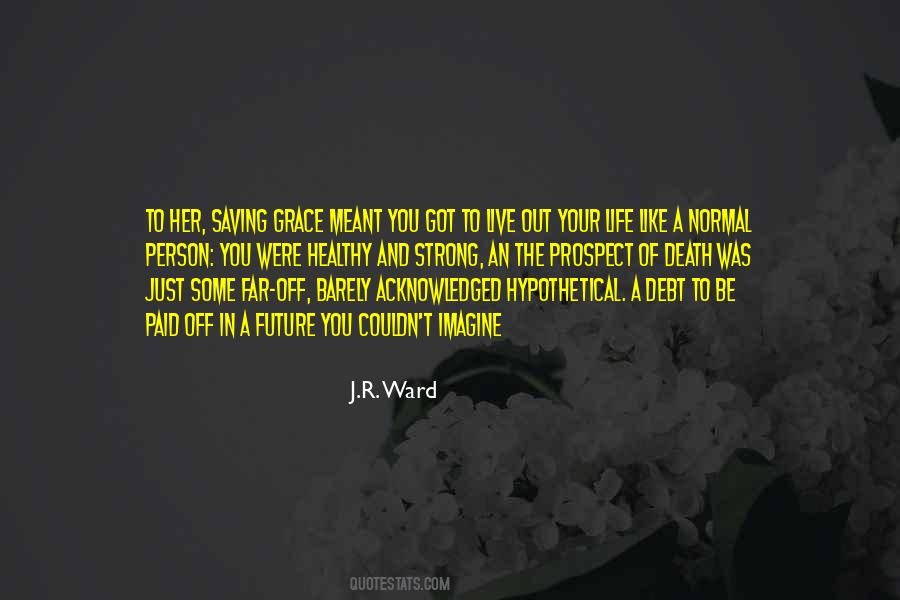 #63. It's not always going to be easy, and you will, without a doubt, screw up over and over again; but the next morning you'll wake up a new, changed person, and you'll try again. Be strong. Be brave. And, please, be good. - Author: Tammy Blackwell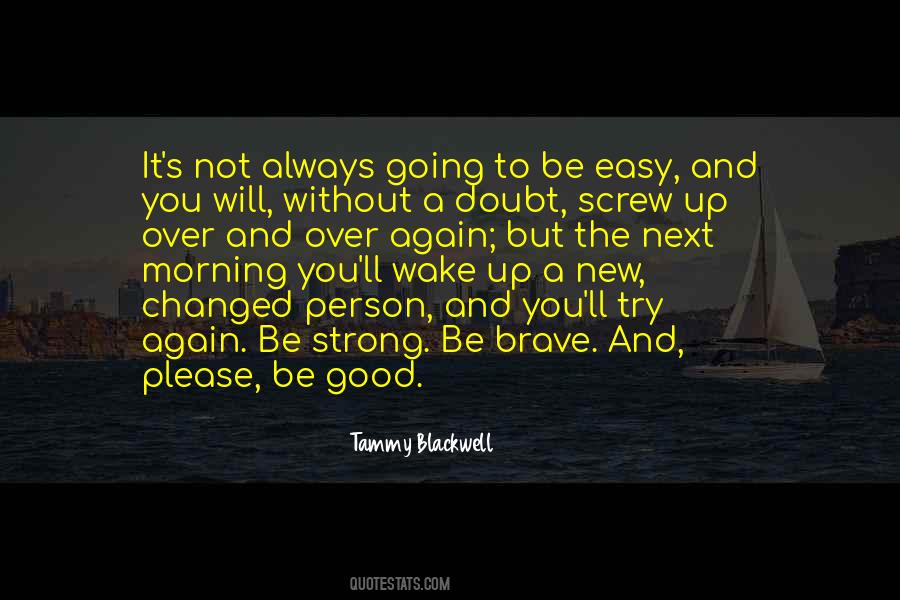 #64. You can meet a young person who goes to school and is really enthusiastic, but if a sufficiently strong personality convinces them that this is a waste of time, that person might flunk out. - Author: Stanley Crouch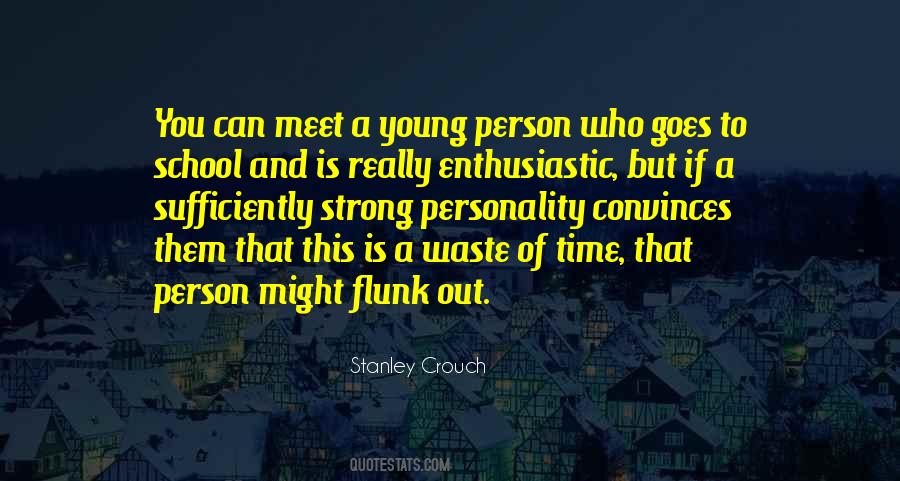 Famous Authors
Popular Topics