Your Greatest Strength Famous Quotes & Sayings
List of top 88 famous quotes and sayings about your greatest strength to read and share with friends on your Facebook, Twitter, blogs.
Top 88 Your Greatest Strength Quotes
#1. Health is the greatest strength. - Author: Lailah Gifty Akita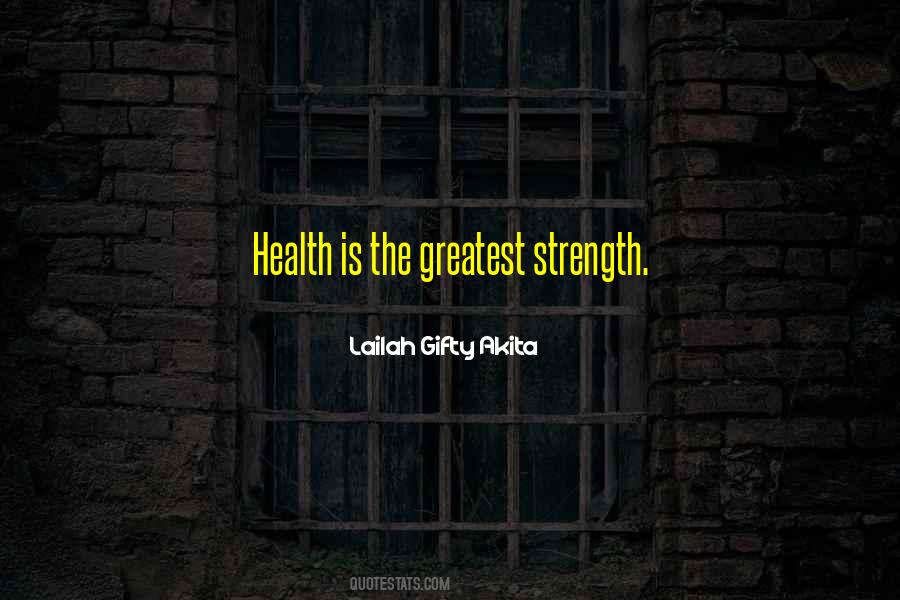 #2. The fact that you can feel pain like this is your greatest strength - Author: J.K. Rowling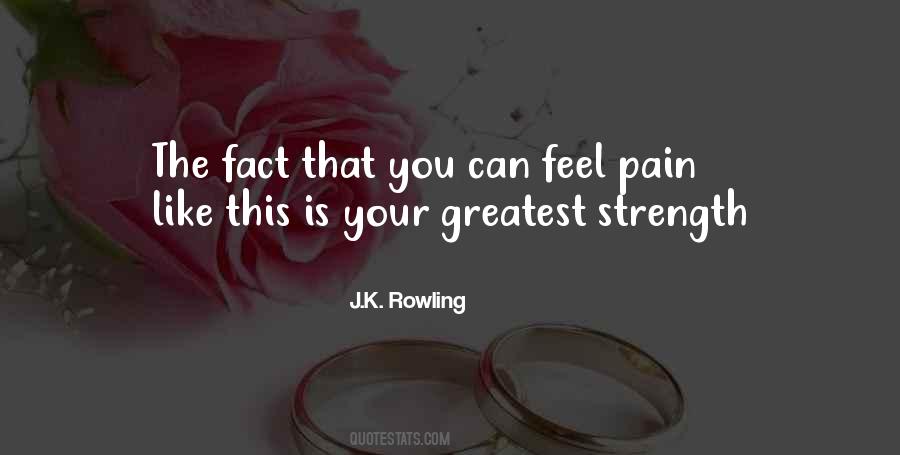 #3. Forgiveness - this needs to be our greatest skill. The way to get good at forgiveness is: to be thankful for all the little things you see in the other person. - Author: Tony Robbins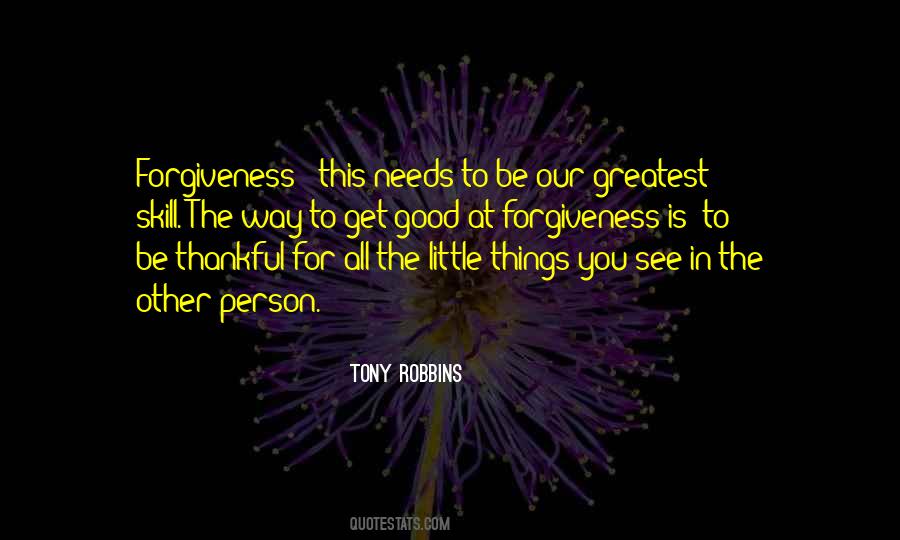 #4. What is the elevation of the soul? A prompt, delicate, certain feeling for all that is beautiful, all that is grand; a quick resolution to do the greatest good by the smallest means; a great benevolence joined to a great strength and great humility. - Author: Johann Kaspar Lavater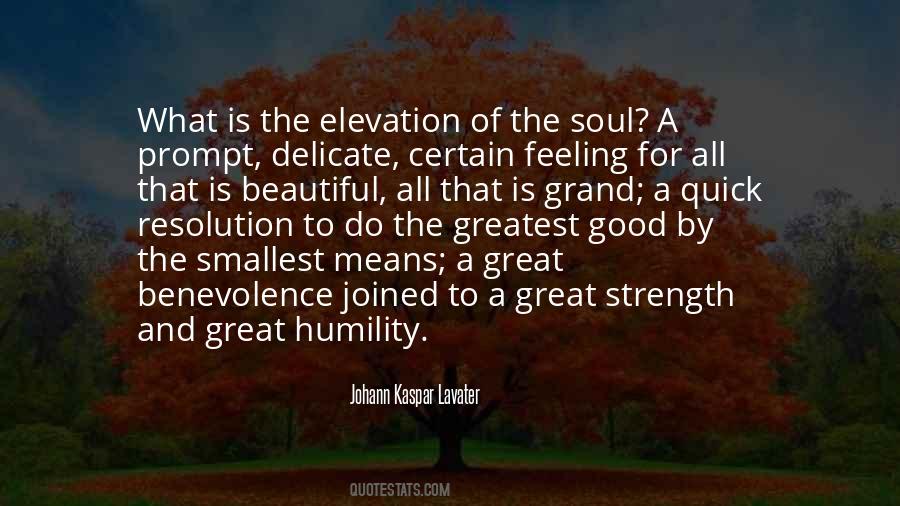 #5. My greatest strength is that I have no weaknesses. - Author: John McEnroe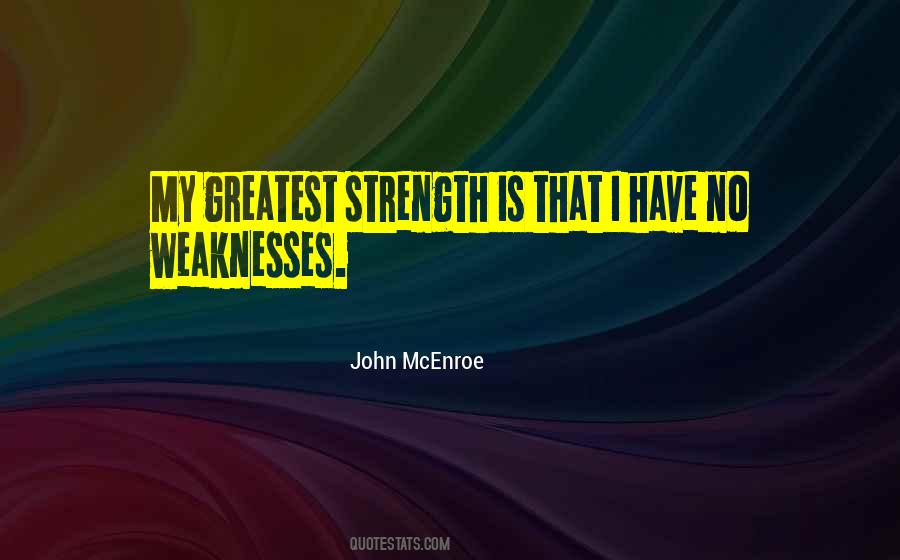 #6. Be at peace with yourself and everyone. It is the greatest inner strength. - Author: Lailah Gifty Akita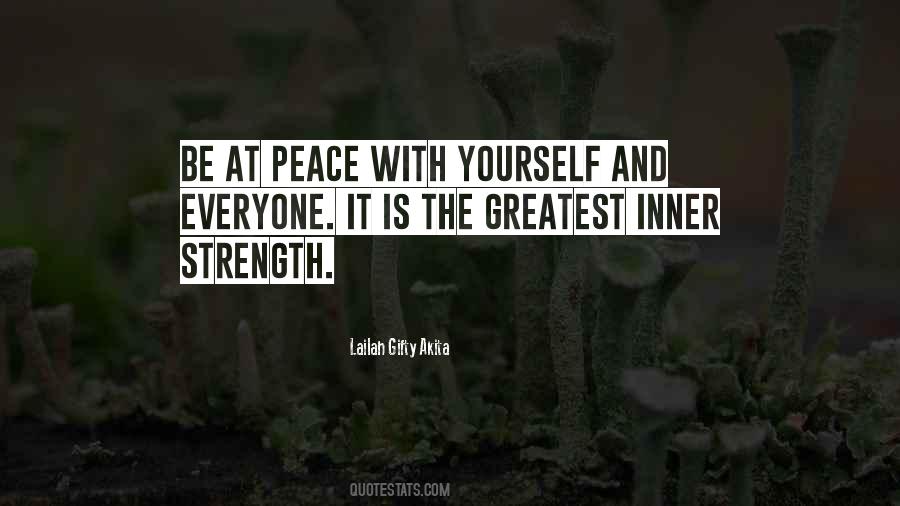 #7. Men's greatest weakness is their facade of strength, and women's greatest strength is their facade of weakness. - Author: Warren Farrell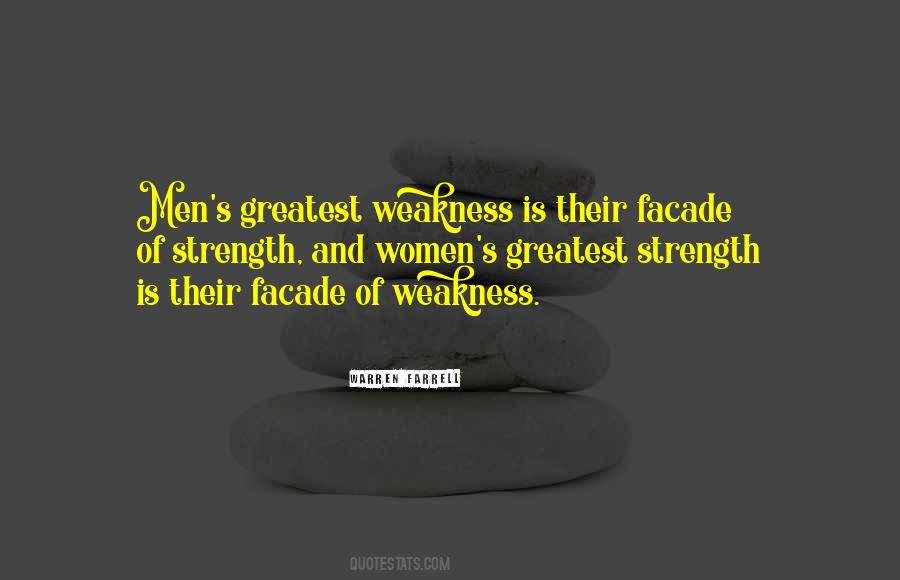 #8. To seek out in a world full of joy the one thing that is certain to give you pain, and hug it to your bosom with all your strength; that's the greatest human happiness. - Author: Jean Giraudoux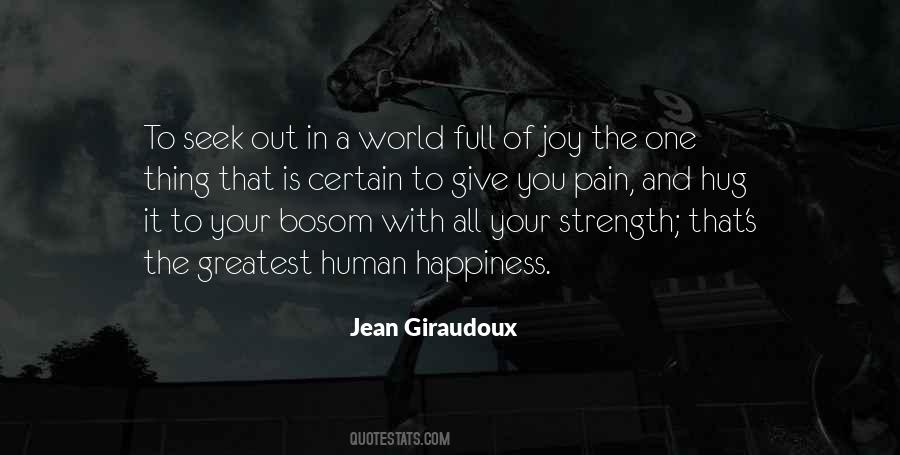 #9. If any proof were needed of the progress of the cause for which I have worked, it is here tonight. The presence on the stage of these college women, and in the audience of all those college girls who will some day be the nation's greatest strength, will tell their own story to the world. - Author: Susan B. Anthony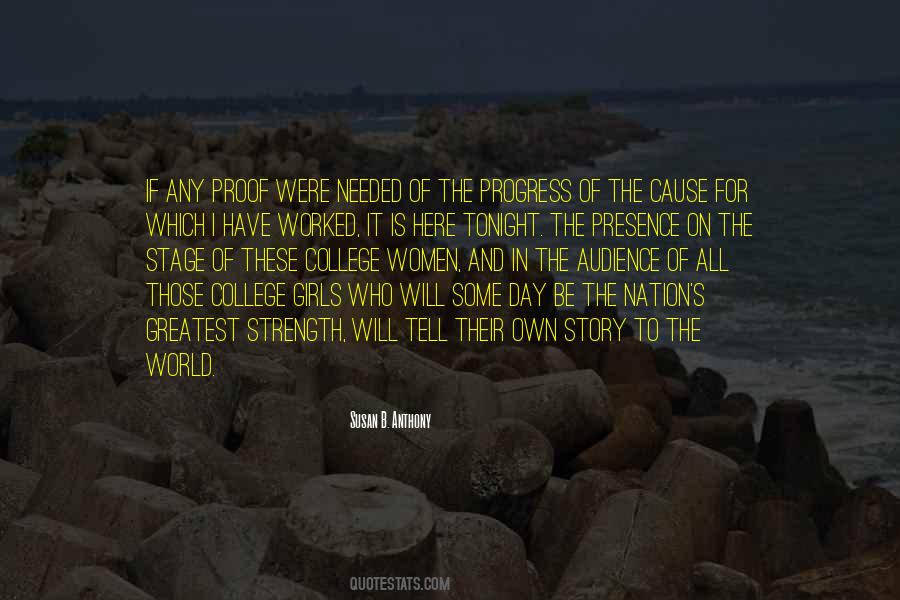 #10. My greatest strength as an actor is that I follow my director's brief completely. The film is always the director's visual baby. - Author: John Abraham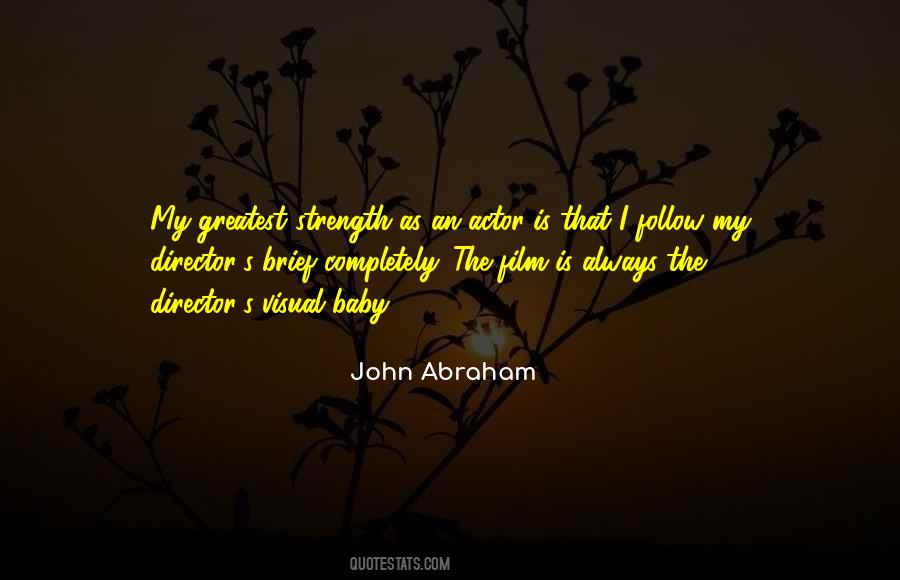 #11. Flexibility is the greatest strength. - Author: Steven Redhead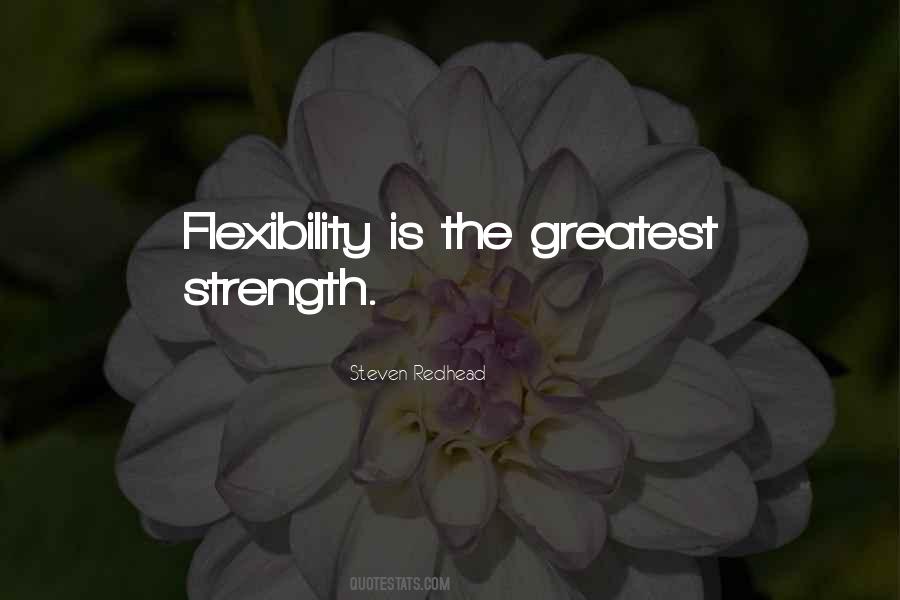 #12. Isn't it refreshing to know that what comes perfectly natural for you is your greatest strength? Your power is in your nature. You may not think it's a big deal that you can spend hours immersed in something that interests you - alone - but the extrovert next door has no idea how you do it. - Author: Laurie A. Helgoe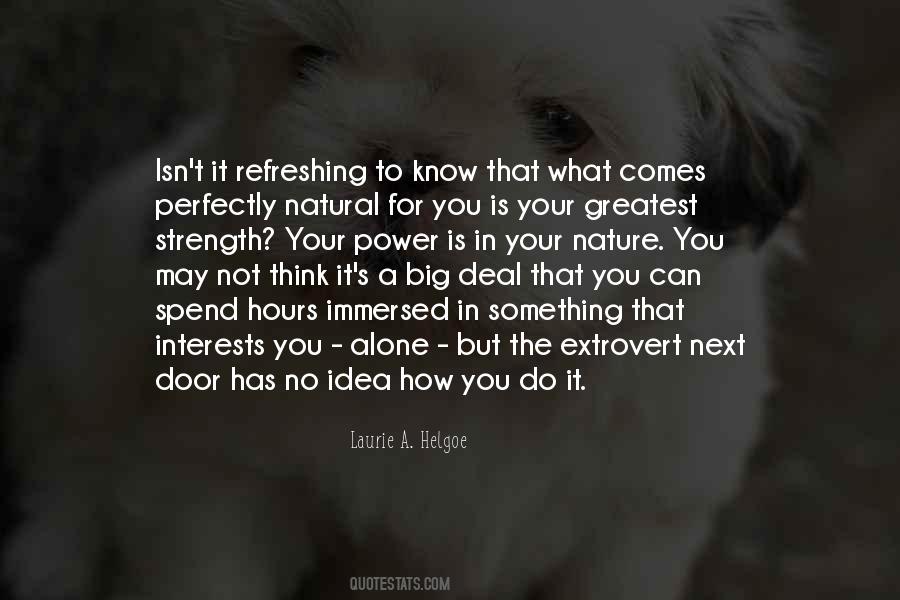 #13. Not by gain our life is measured, But by what we've lost 'Tis scored; 'Tis not how much wine is drunken But how much has been outpoured. For the strength of love never standeth In the sacrifice we bear; He who has the greatest suffering Ever has the most to share. - Author: Watchman Nee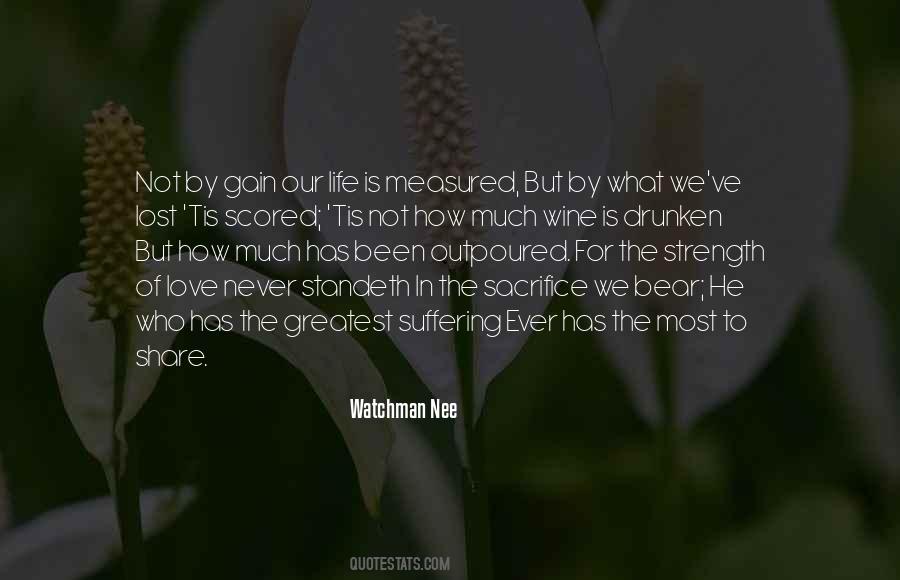 #14. Love is the greatest divine force. - Author: Lailah Gifty Akita
#15. You have been the summary of my entire existence; my biggest weakness, my greatest strength. The weathers of my life start and end with you. You complete me. - Author: Sapan Saxena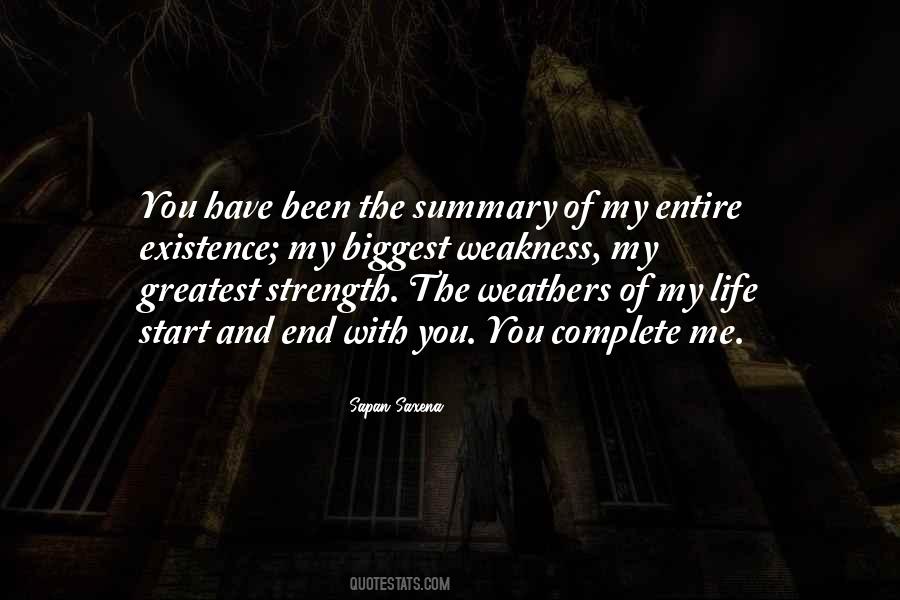 #16. Belief is not weakness. Faith is the greatest strength we can have. - Author: Kiersten White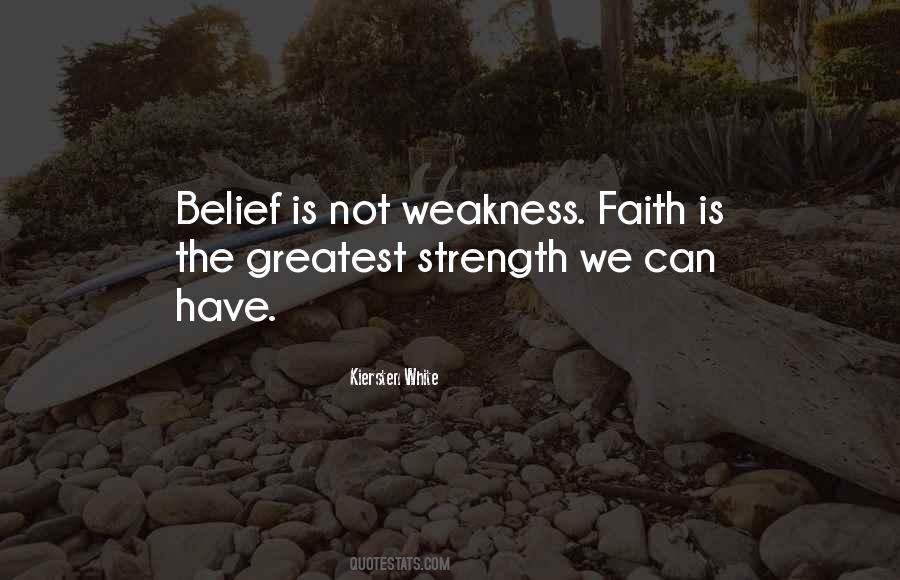 #17. The greatest gift in life is the ability to think great thoughts and have the strength to take action so that those thoughts become reality in this wonderful and abundant world. - Author: Jack Black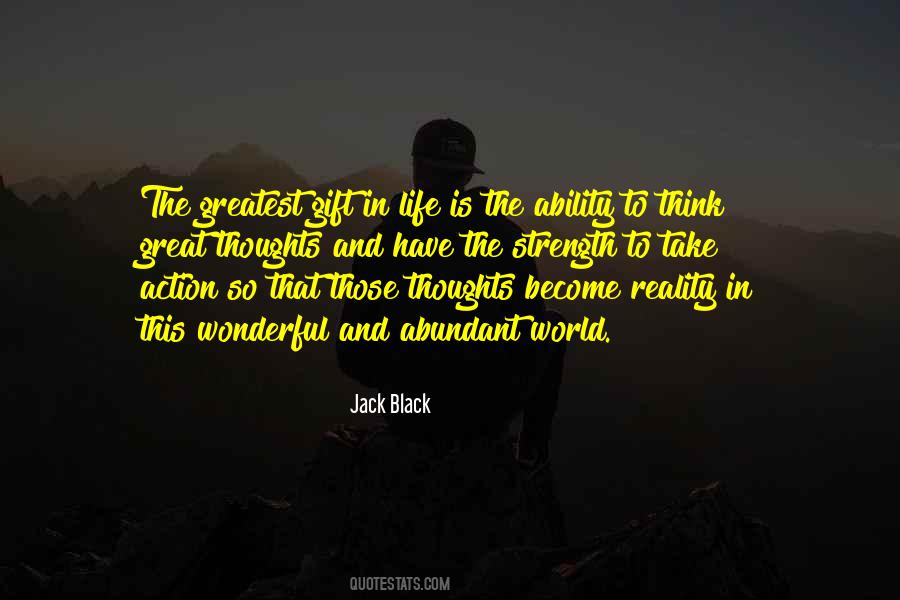 #18. Truth must be integrated with love; morality is not whole without it. Love is the greatest strength of the powerless. Unity founded on love will never be coercion; power guided by love will never be violence. Love is all-powerful and will even overcome hatred. And only love can do this! - Author: Vaclav Havel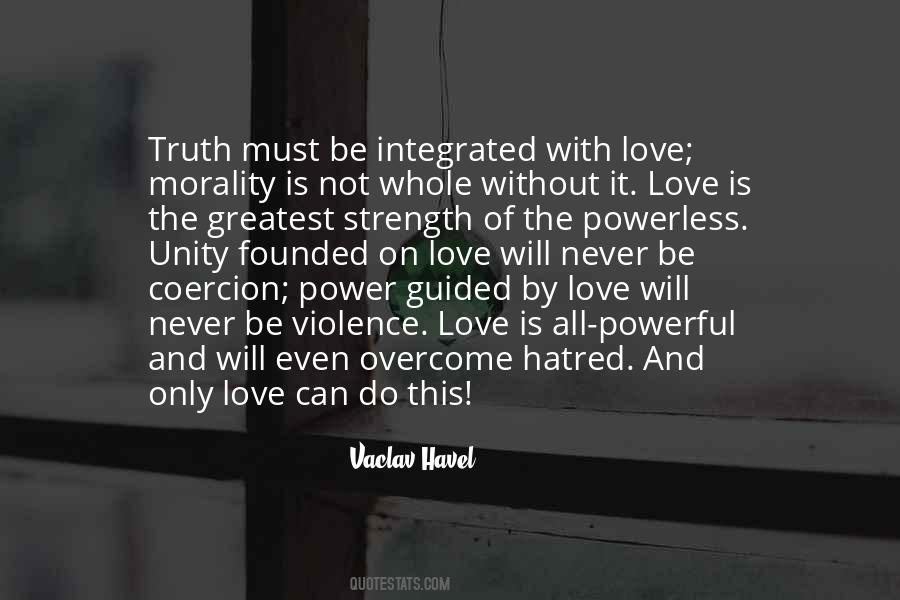 #19. I think it's the strength of her music, using art to make a statement. I think it really is. It was not a cheap gift. The gift was an expensive gift for Nina [Simone]. Diamonds are expensive. Her music was expensive. She paid for it, but I think it's her greatest gift. - Author: Nikki Giovanni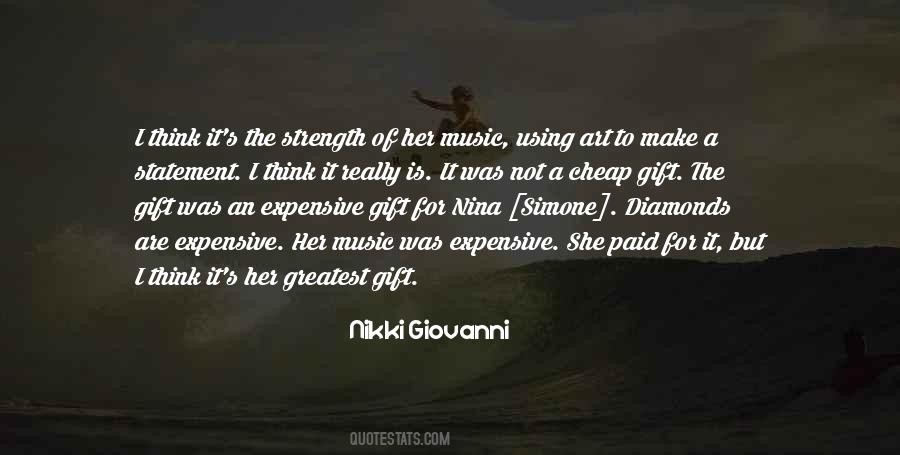 #20. For neither our greatest fears nor our greatest hopes are beyond the limits of our strength
we are able in the end both to dominate the first and to achieve the second. - Author: Marcel Proust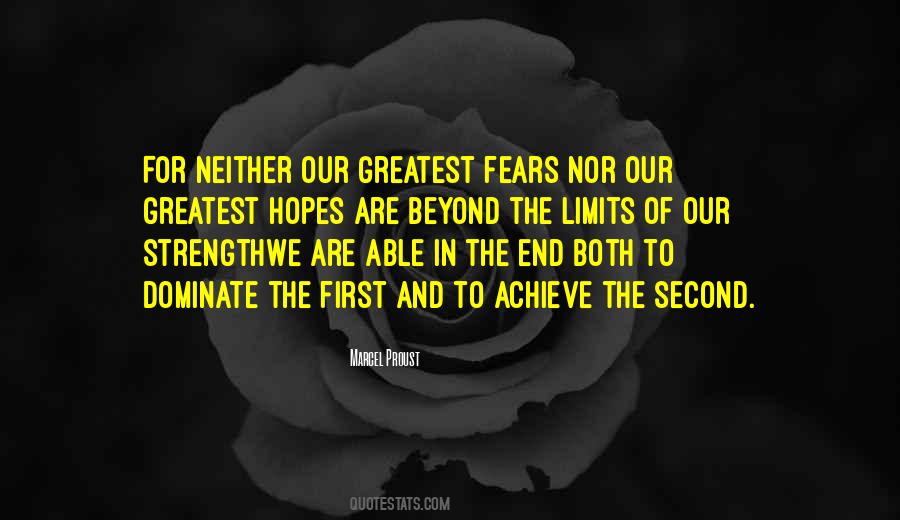 #21. My greatest strength as a child, I realize now, was my imagination. While every other kid was reading and writing, I had seven whole hours a day to practice my imagination. When do you get that space in your life, ever? - Author: Barbara Corcoran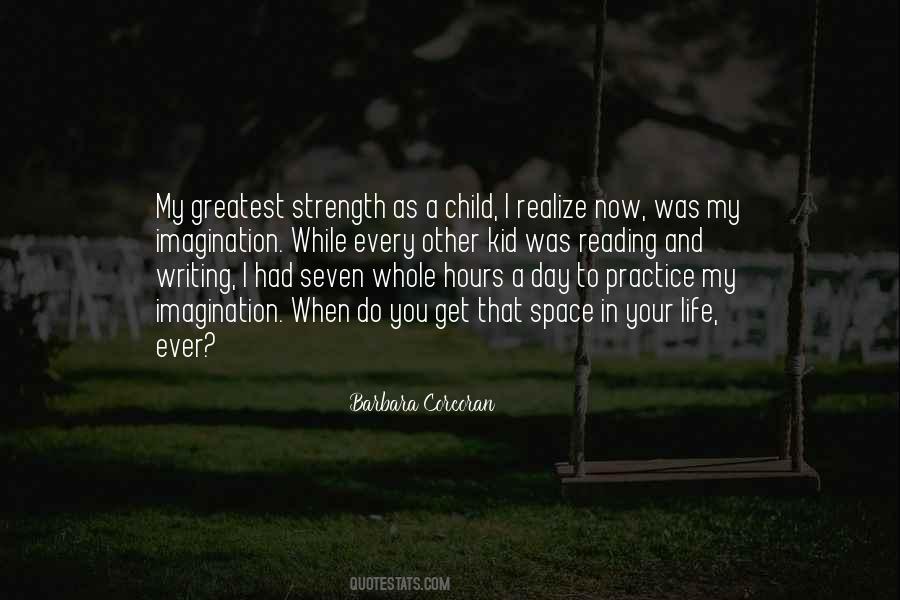 #22. Every combat is the bloody and destructive measuring of the strength of forces, physical and moral; whoever at the close has the greatest amount of both left is the conqueror. - Author: Carl Von Clausewitz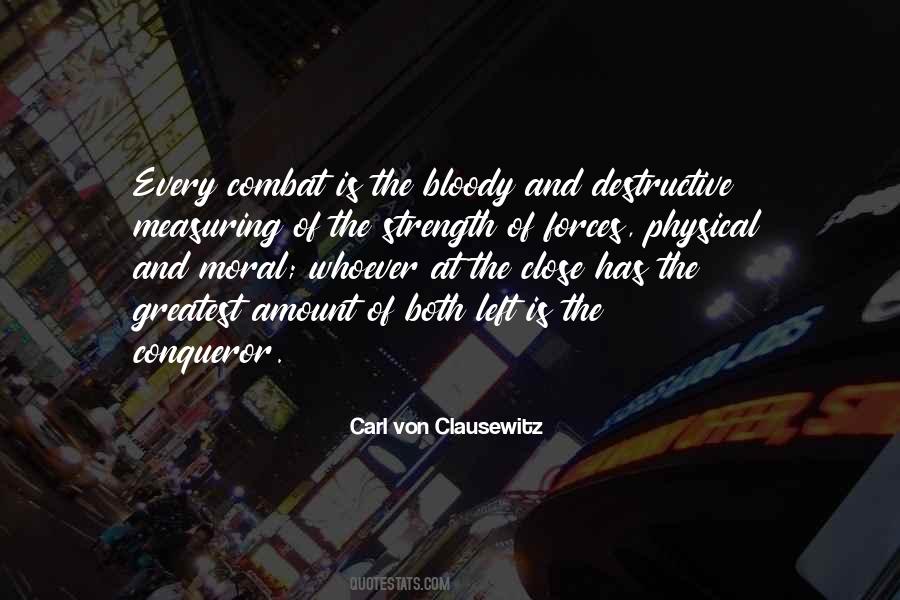 #23. How easy it is to be bitter or angry; that's when you're at your weakest! But when you choose to be kind, to forget your hurt, that's when you find within the greatest strength of all. - Author: Judy Croome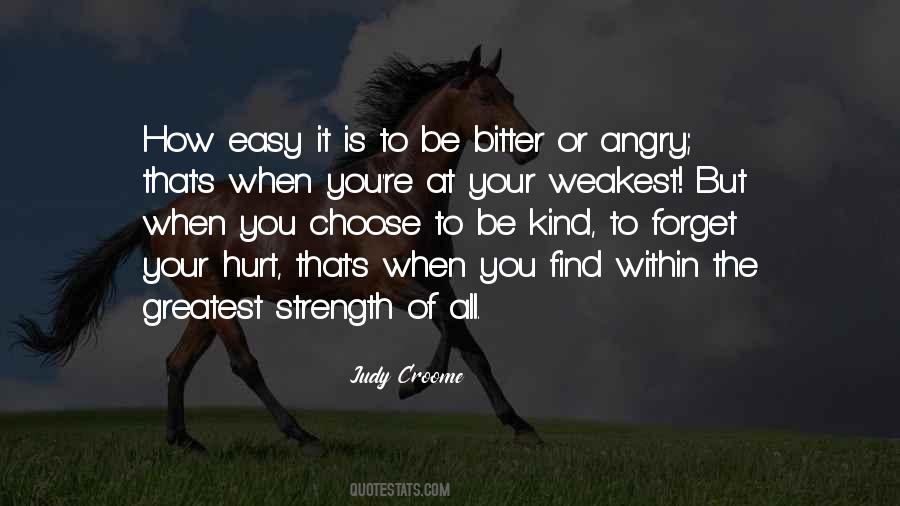 #24. At the end of the day, if pride is your greatest strength, turn it into vanity. - Author: Lionel Suggs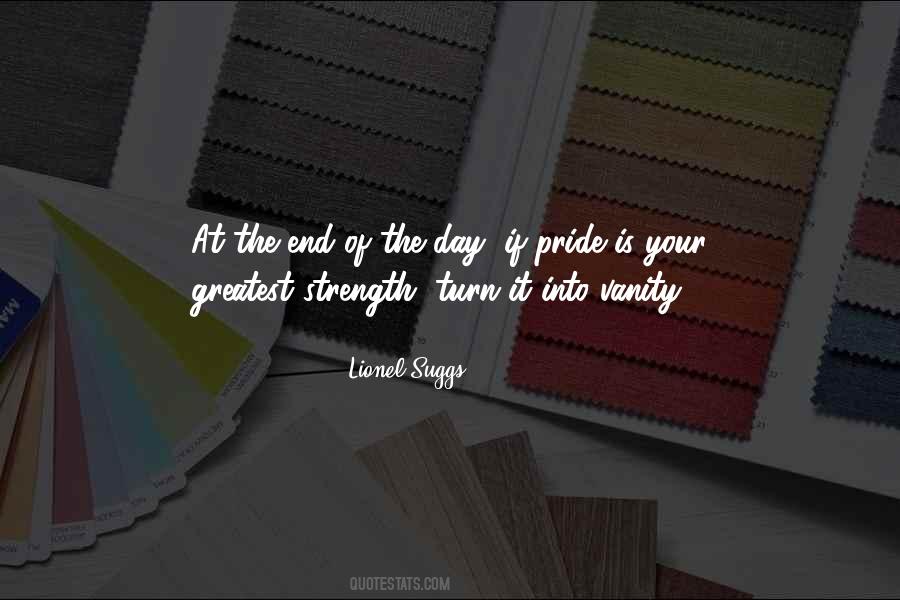 #25. Your greatest strength is love. Your greatest weakness is fear. - Author: Harbhajan Singh Yogi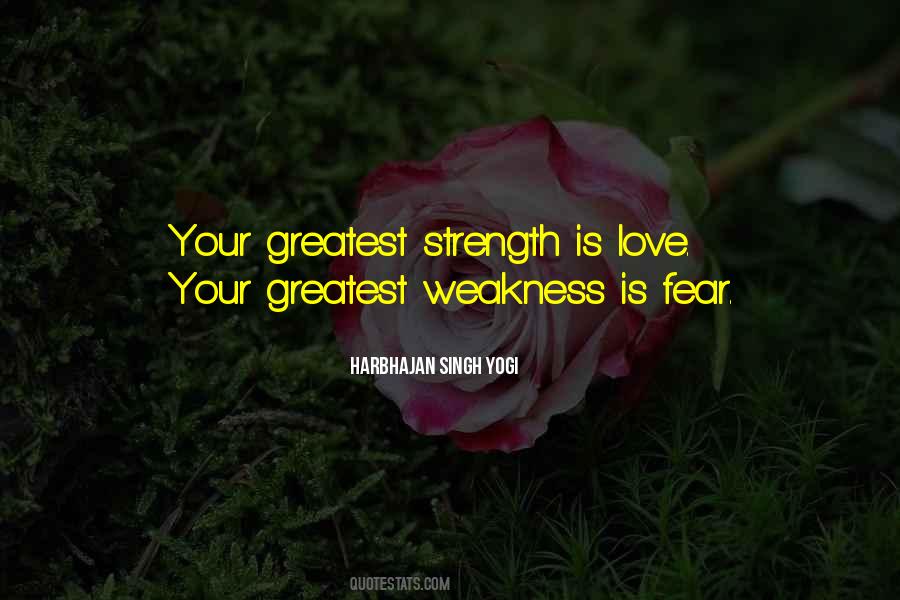 #26. Your brain never stops developing and changing. It's been doing it from the time your were an embryo, and will keep on doing it all your life. And this ability, perhaps, represents it greatest strength. - Author: James Trefil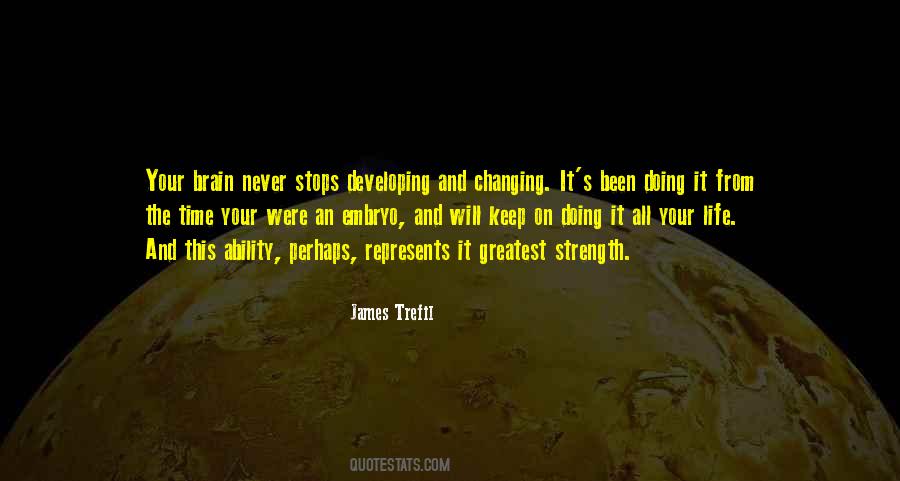 #27. Do not fear the dark for you are never truly alone. Embrace your' fear for it will bring you strength in your' greatest time of need. - Author: Lyn Gibson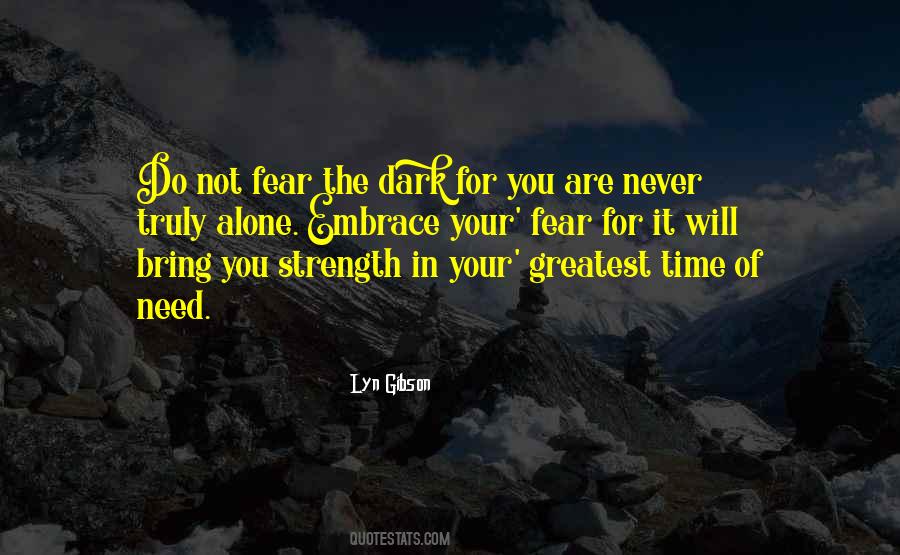 #28. Don't be intimidated by what you don't know. That can be your greatest strength and ensure that you do things differently from everyone else. - Author: Sara Blakely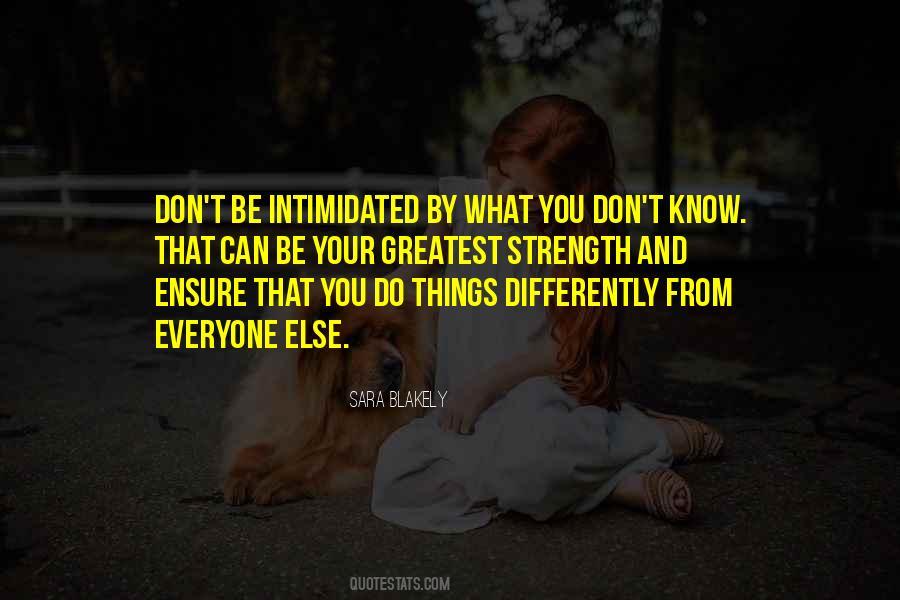 #29. Your greatest competence are your courage and confident. - Author: Lailah Gifty Akita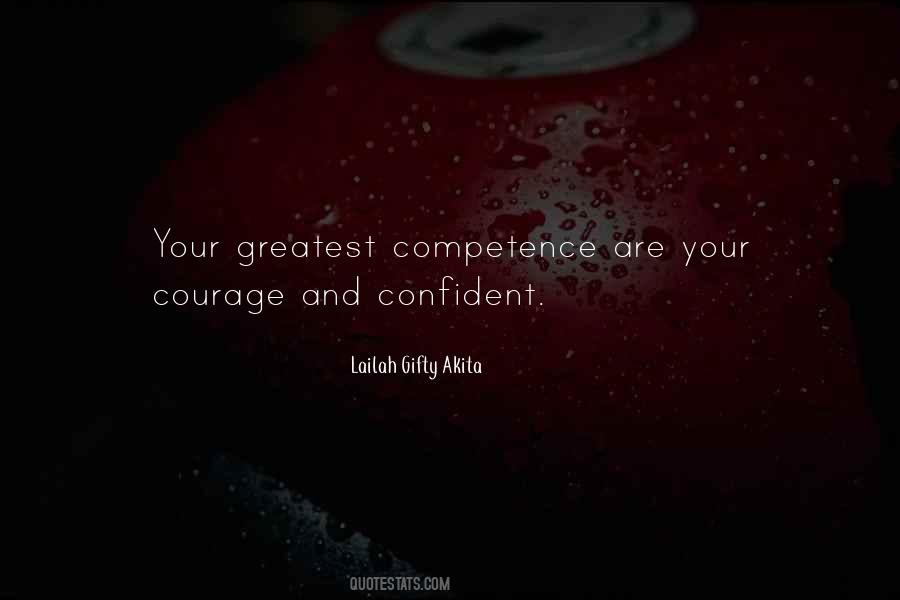 #30. My instinct is to keep people guessing. I think as an actor your greatest strength is your versatility, I suppose. The blanker the canvas, the easier it is to project the illusion of a character onto it. I think there are many actors who do that very successfully. - Author: Tom Hiddleston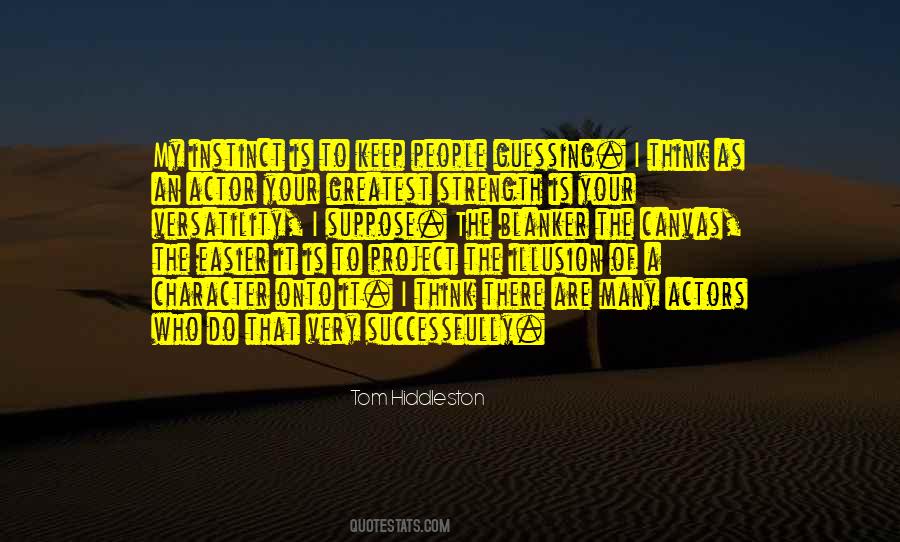 #31. The greatest strength you can have is to know your own strengths. You've got to figure out what you're good at and make the most of it. - Author: Cristina Alger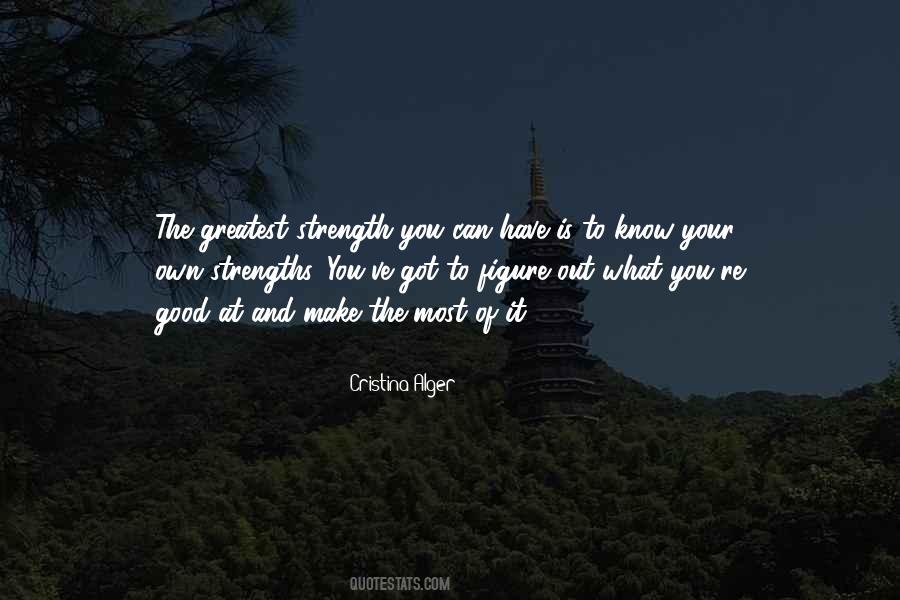 #32. Contrary to conventional military and game theory, the most effective offense is sometimes a direct attack against your political opponent's greatest strength - not his weaknesses - to place him immediately on the defensive. - Author: Mark McKinnon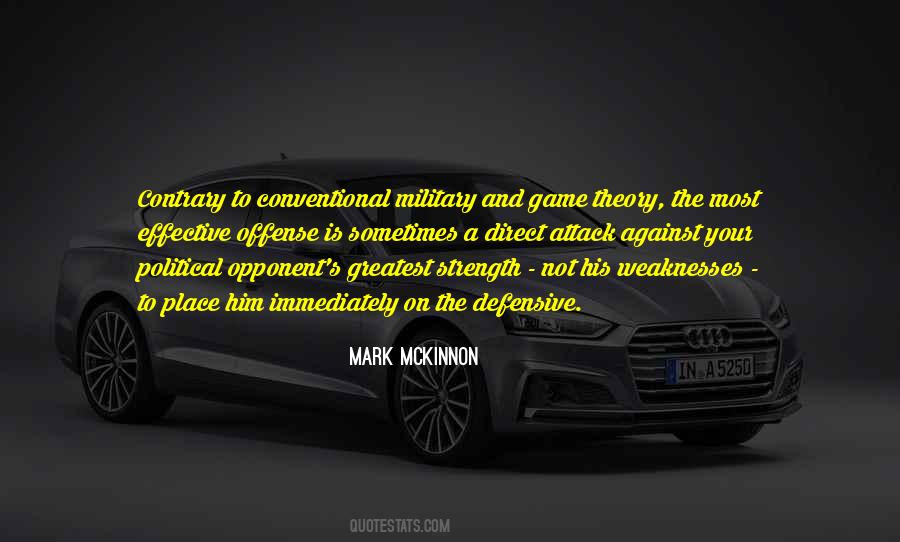 #33. Your uniqueness is your greatest strength, not how well you emulate others. - Author: Simon S. Tam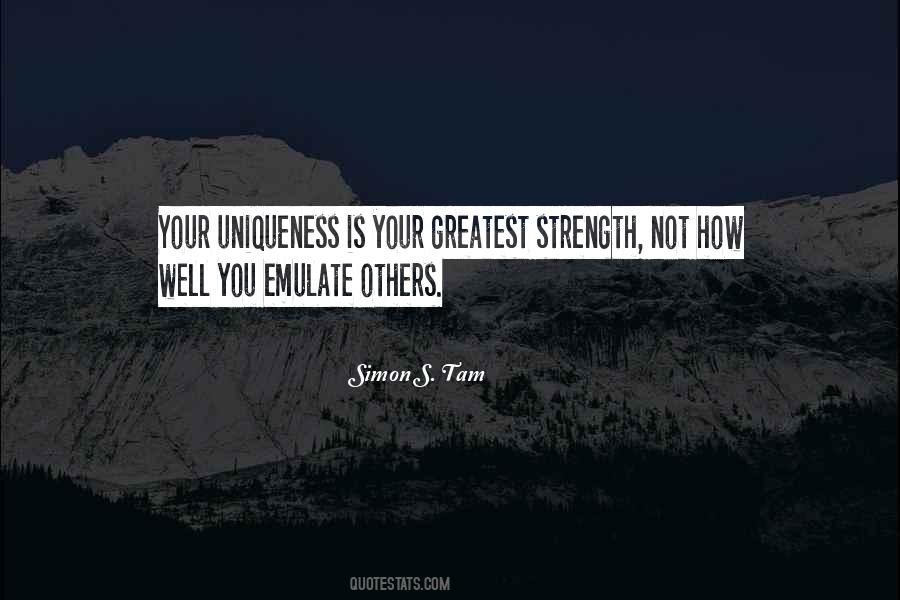 #34. It is worth remembering that the time of greatest gain in terms of wisdom and inner strength is often that of greatest difficulty. - Author: Dalai Lama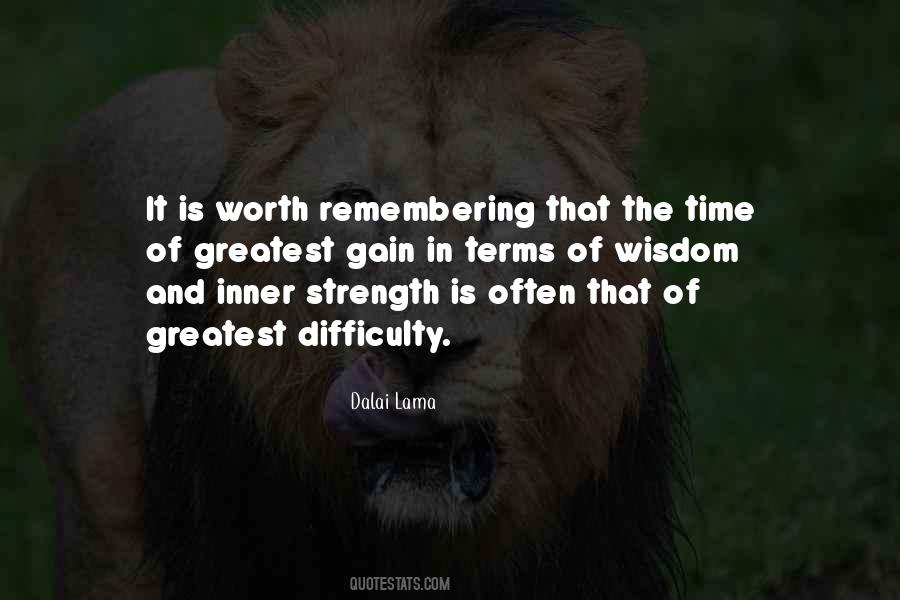 #35. Sometimes your greatest strength can emerge as a weakness if the context changes. - Author: Harsha Bhogle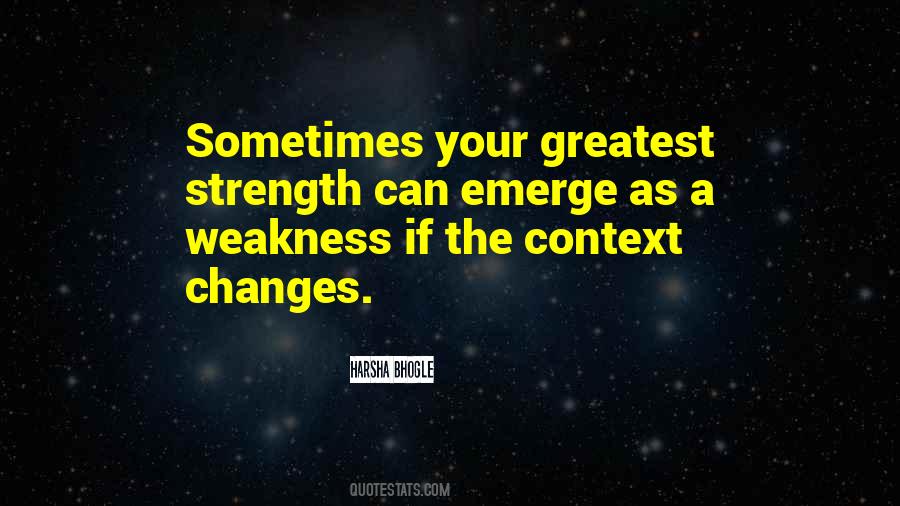 #36. What you think and do now builds.
Value this moment.
Be patient.
Smile often.
Love the process of living each minute fully.
Your presence is a source of strength
and an inspiration
to people you spend time with.
Give your greatest gift
your full attention,
yourself. - Author: Alexandra Stoddard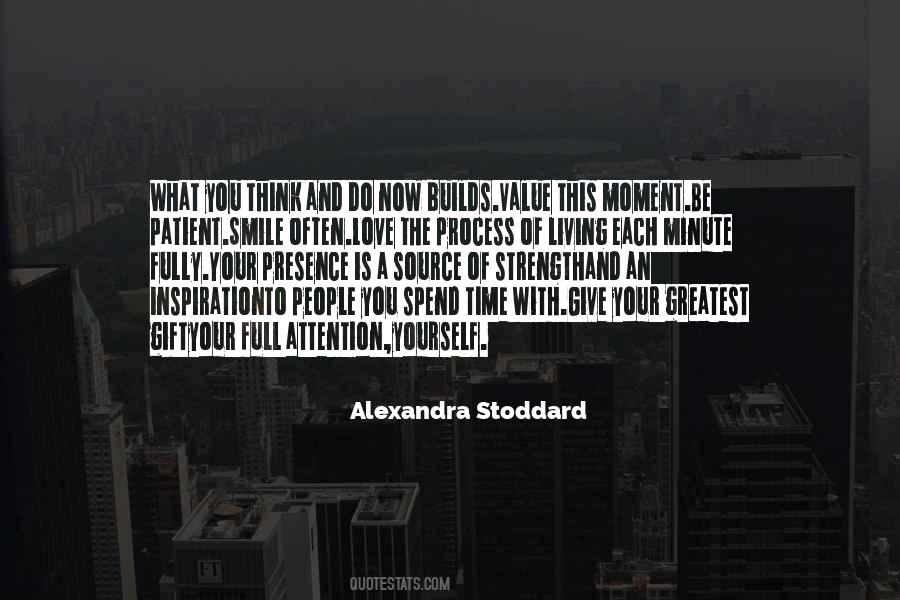 #37. Our strength lies in spiritual concepts. It lies in public sensitivities to evil. Our greatest danger is not from invading armies. Our dangers are that we may commit suicide from within by complaisance with evil, or by public tolerance of scandalous behavior. - Author: Herbert Hoover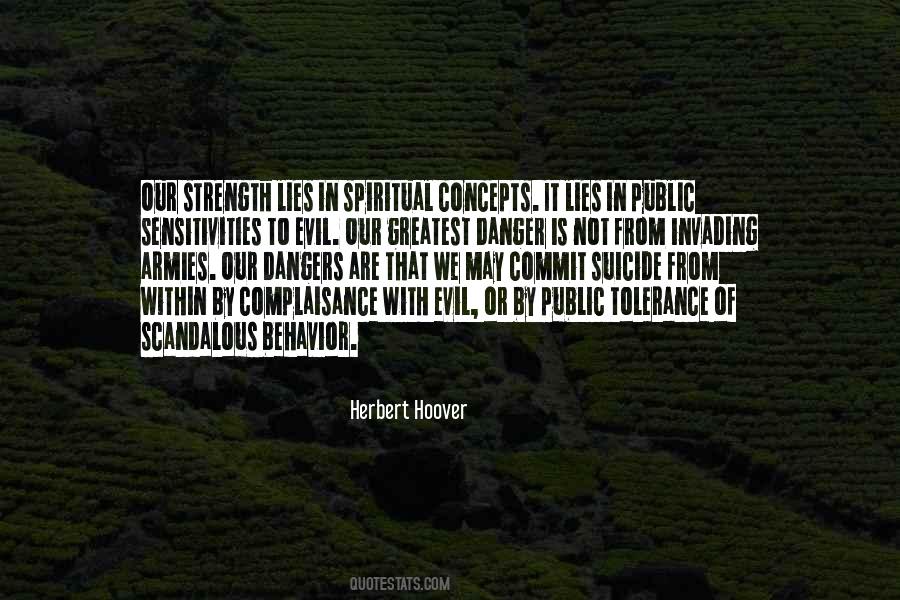 #38. One of the greatest lies ever told is that there's no power in vulnerability. - Author: Dianna Hardy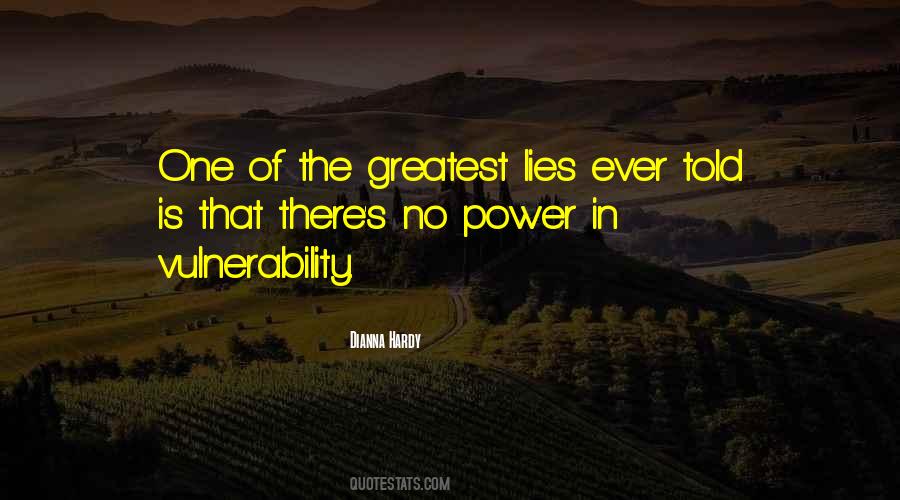 #39. He is the greatest whose strength carries up the most hearts by the attraction of his own. - Author: R.J. Palacio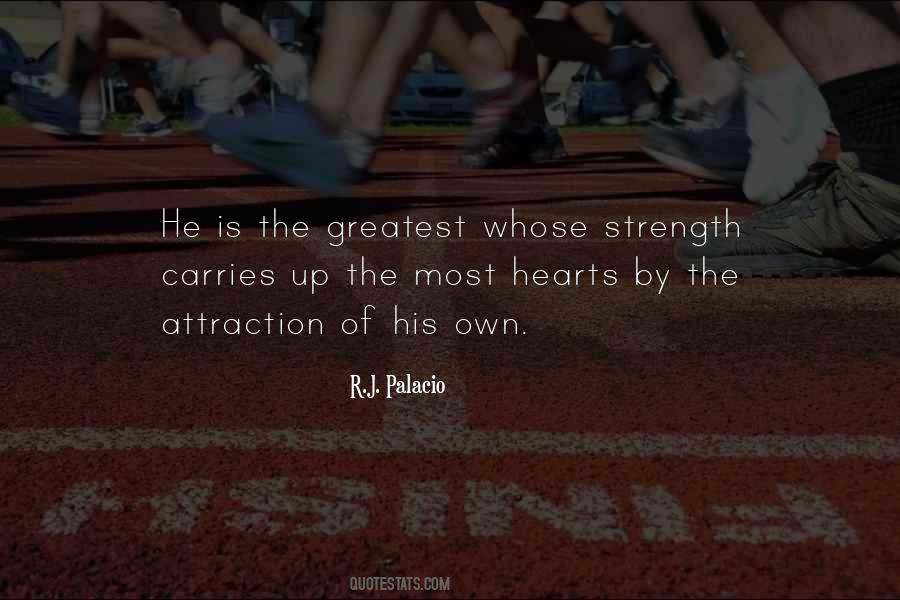 #40. The greatest strength can be a weakness, if
properly exploited. - Author: Charles Peterson Sheppard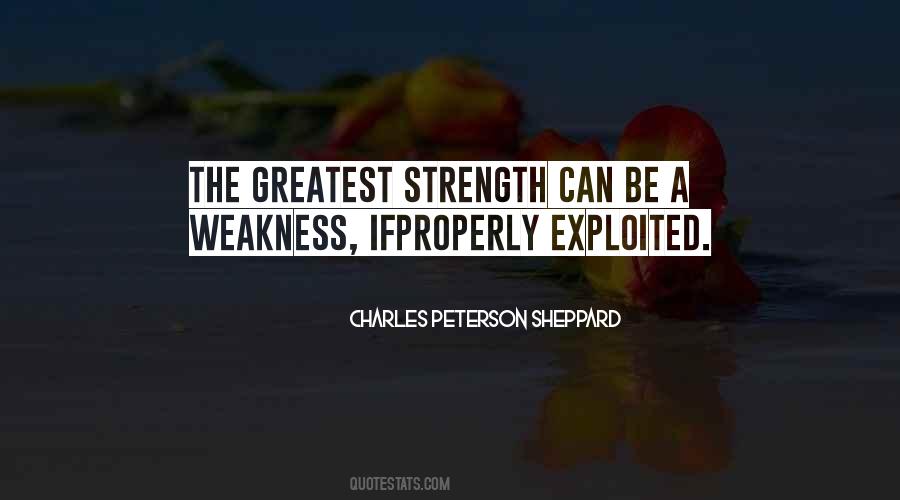 #41. The one thing God is doing in all of redemptive history is to show forth his mercy in such a way that the greatest number of people will throughout eternity delight in him with all their heart, strength, and mind. - Author: John Piper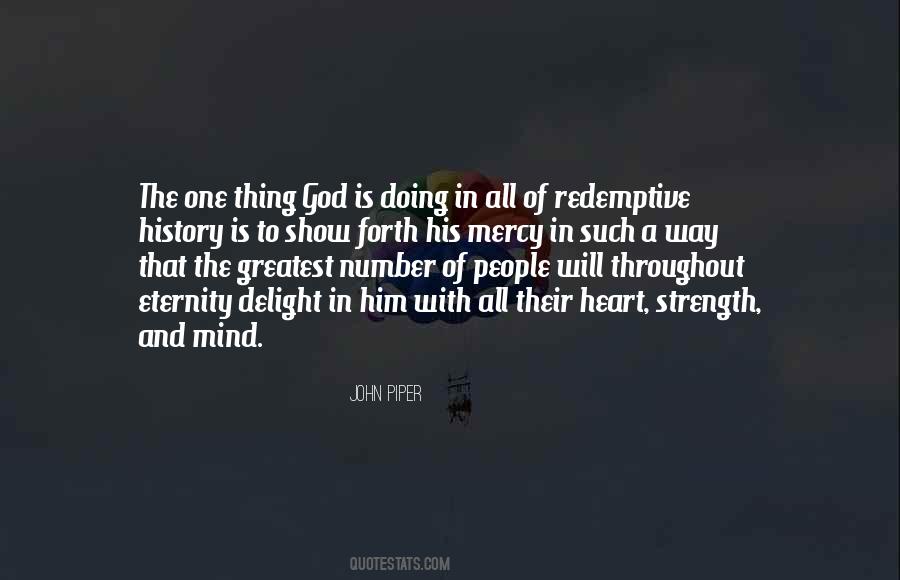 #42. Vision is perhaps our greatest strength ... it has kept us alive to the power and continuity of thought through the centuries, it makes us peer into the future and lends shape to the unknown. - Author: Li Ka-shing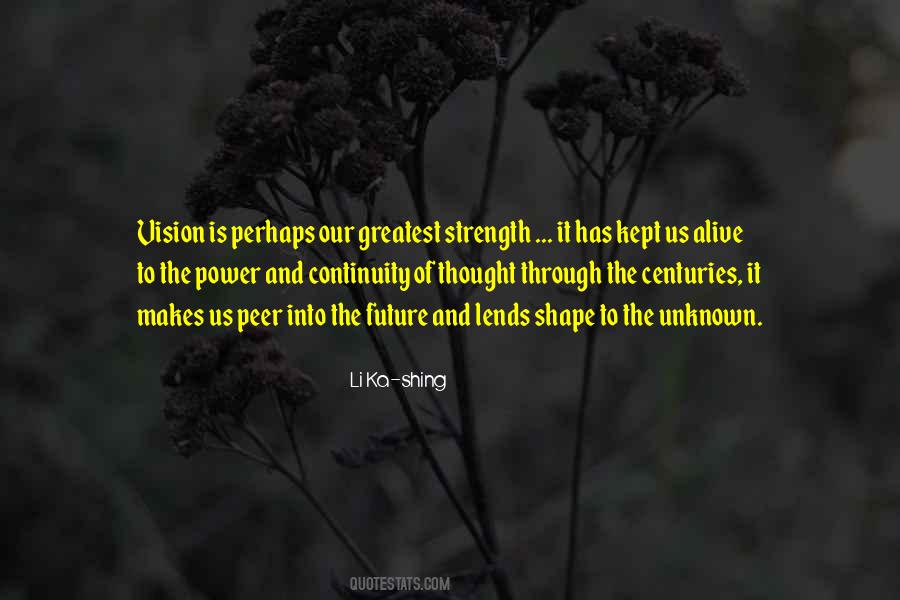 #43. I consider my greatest strength my complete and utter faith in a loving God. Strong family values are also important and I do not hesitate to write them into my books. My reader mail tells me this is something that readers especially like about my books. - Author: Debbie Macomber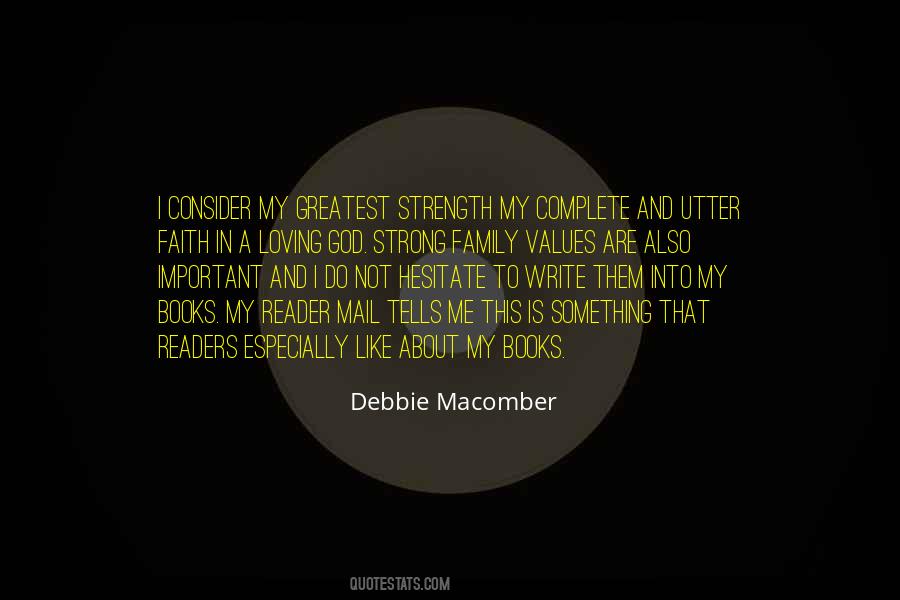 #44. When a man is at his weakest is where he will find the greatest opportunity to become his strongest. - Author: Calvin W. Allison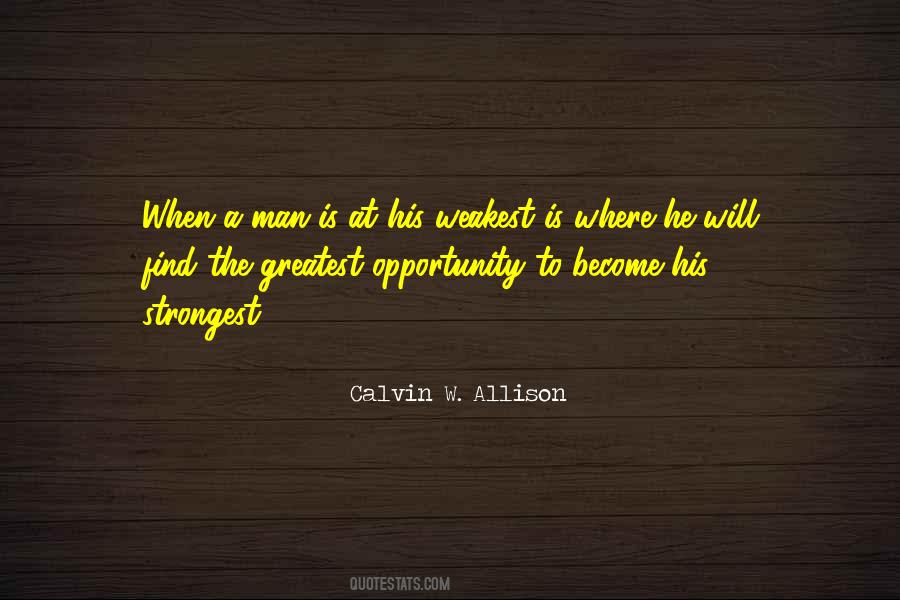 #45. Don't worry about not fitting in. The things that make people think you're weird are what makes you you, and therefore your greatest strength. - Author: Birgitte Hjort Sorensen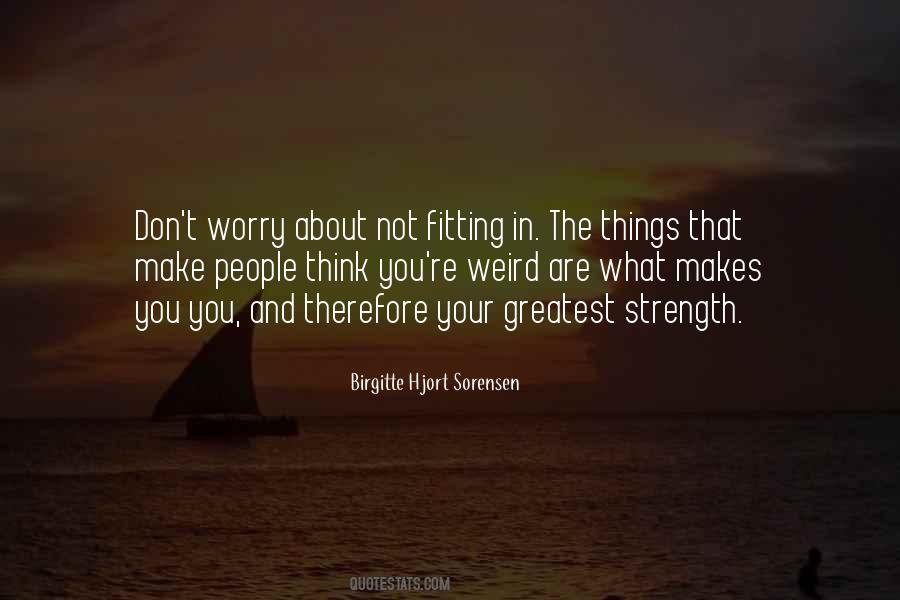 #46. We draw our strength from the battle. From our greatest conflicts come our greatest victories. - Author: Rod Parsley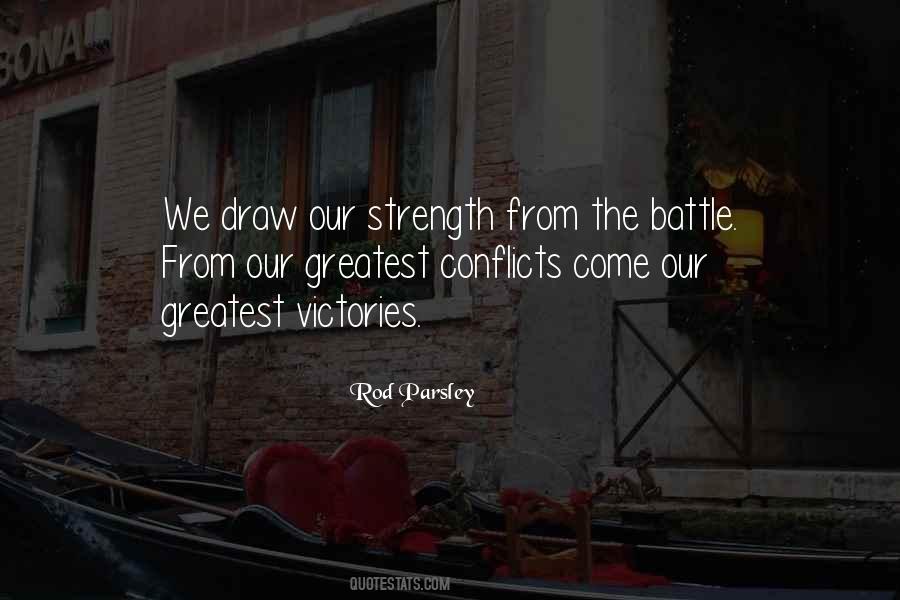 #47. Weakness has its hidden resources, as well as strength. There is a degree of folly and meanness which we cannot calculate upon, and by which we are as much liable to be foiled as by the greatest ability or courage. - Author: William Hazlitt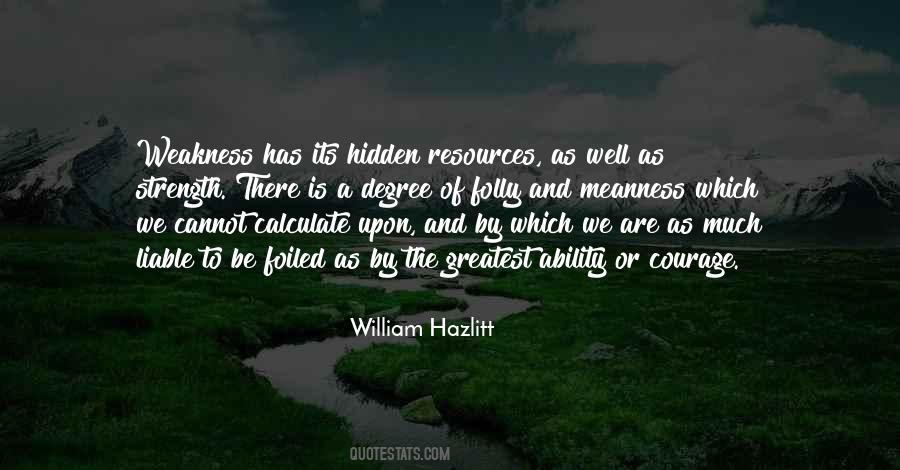 #48. The strength to move forward when others stop, to keep going when others turn back, is the key to unlocking your greatest potential. - Author: Matshona Dhliwayo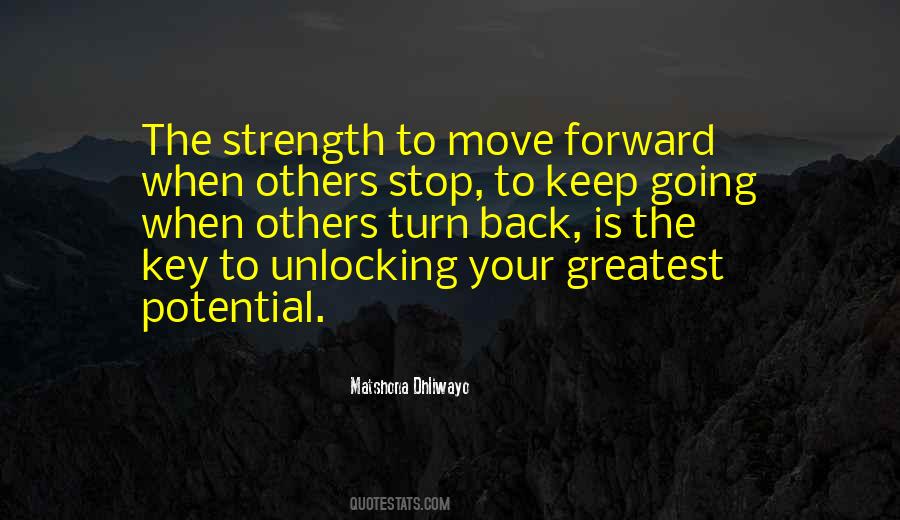 #49. The greatest comfort comes from within. Sit down comfortably. As you control your breath, let your mind watch your body. Tell yourself, "It's Ok." At this moment your soul will find peace and your body, too, will follow, finding comfort and new strength. - Author: Ilchi Lee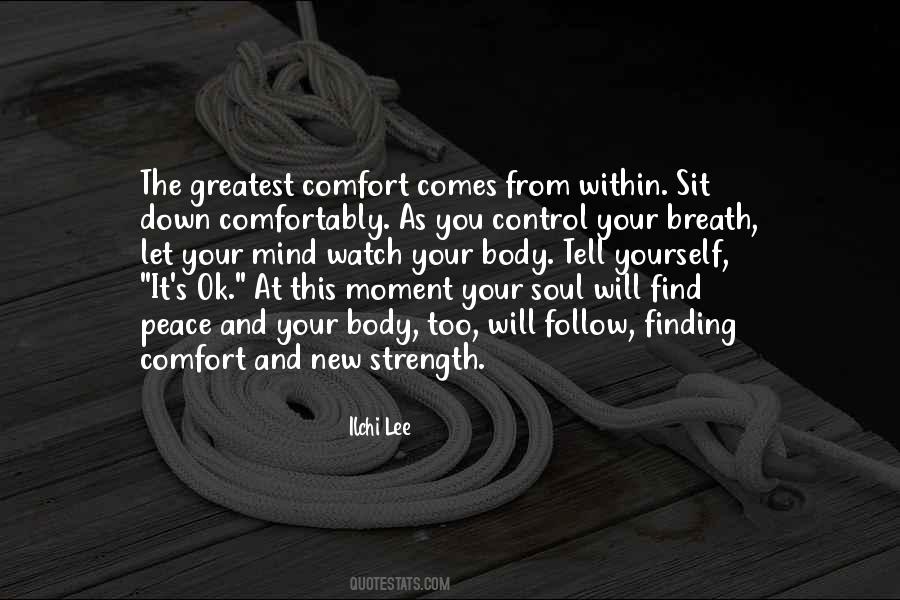 #50. The Green Lantern is a unique superhero because it's not that he's super that is his focus; it's that he's a man. He's very human. That's his greatest strength and his greatest weakness. - Author: Blake Lively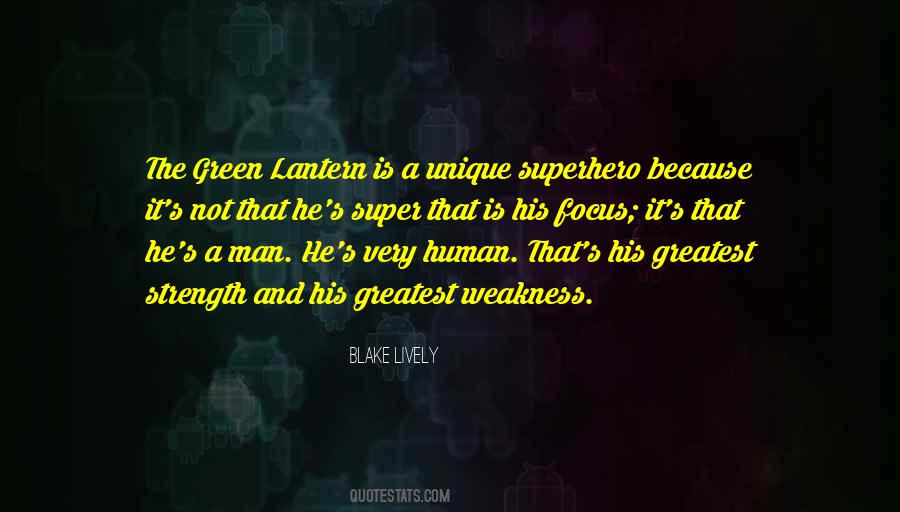 #51. Dee's search for knowledge was always his greatest strength ... and his weakness. - Author: Michael Scott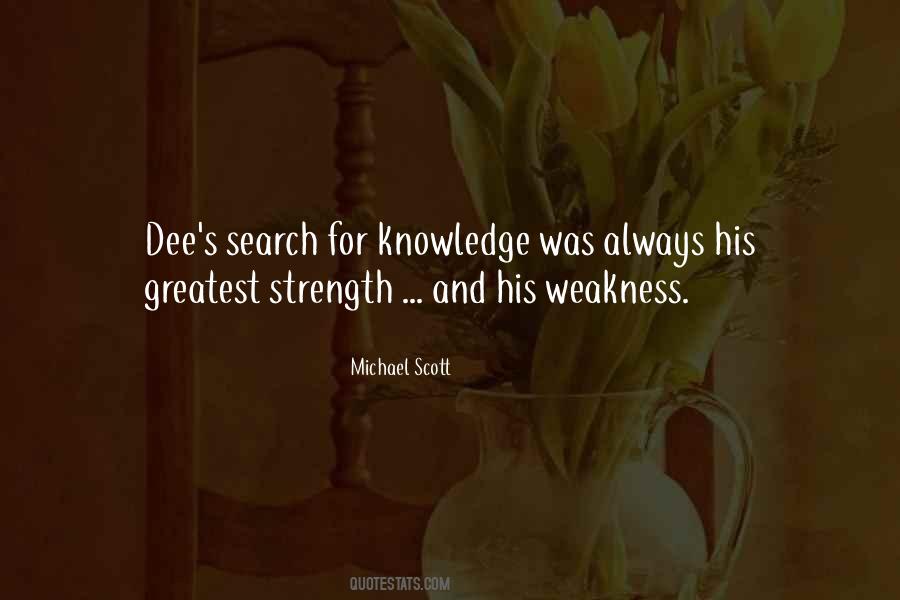 #52. The greatest antidote to insecurity & sense of fear is compassion. It brings one back to the basis of one's inner strength. - Author: Dalai Lama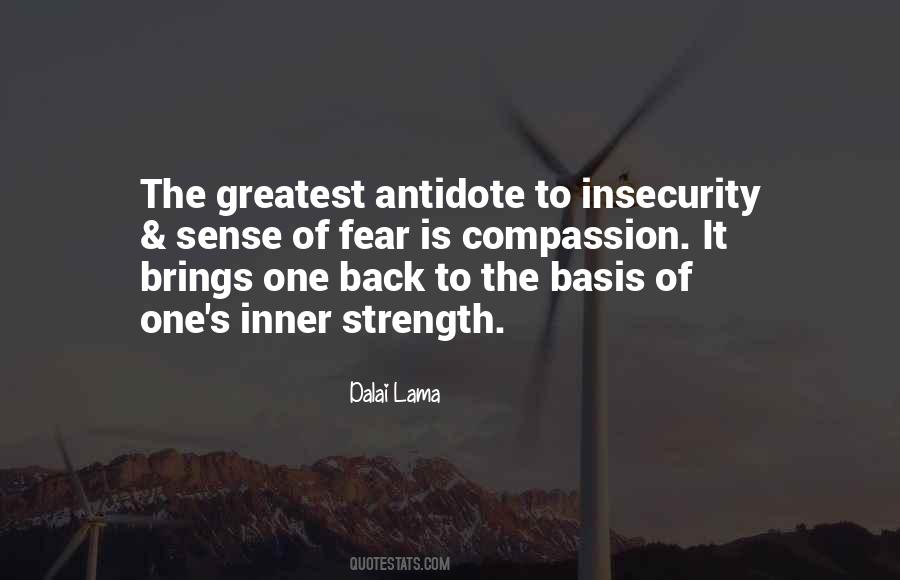 #53. Achi used to say that, for a woman, sex was her greatest strength. Morality was nothing but a chain invented by man to enslave women. - Author: Anand Neelakantan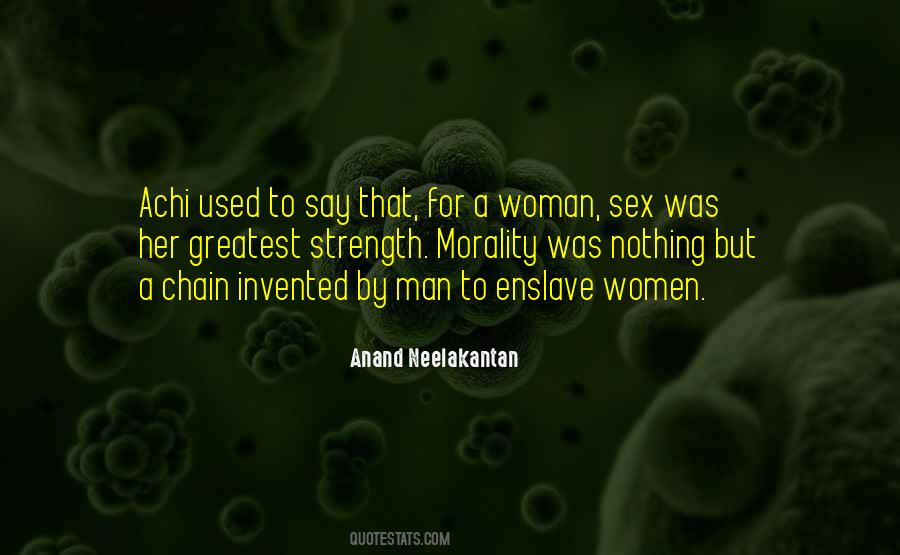 #54. In our instinctive attachments, our fear of change, and our wish for certainty and permanence, we may undercut the impermanence which is our greatest strength, our most fundamental identity. Without impermanence, there is no process. The nature of life is change. All hope is based on process. - Author: Rachel Naomi Remen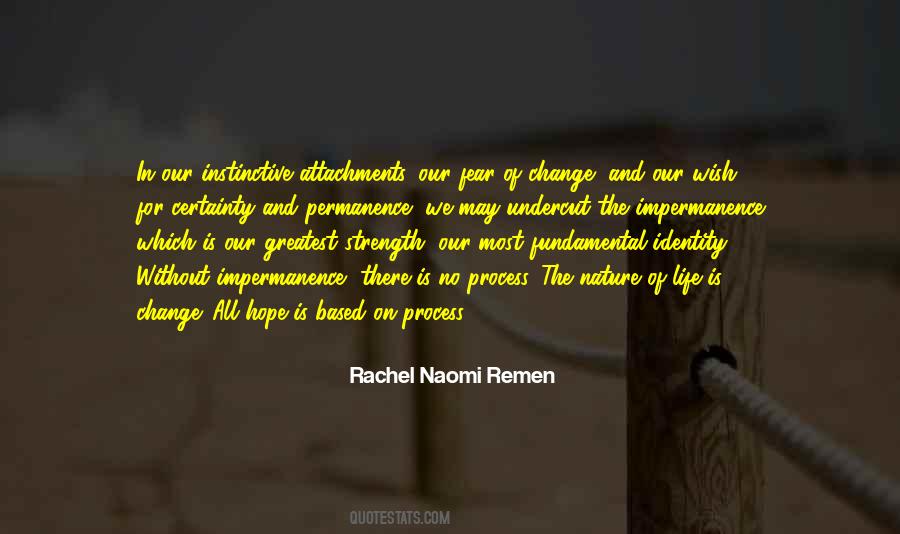 #55. Our toil must be in silence, and our efforts all in secret; for this enlightened age, when men believe not even what they see, the doubting of wise men would be his greatest strength. - Author: Bram Stoker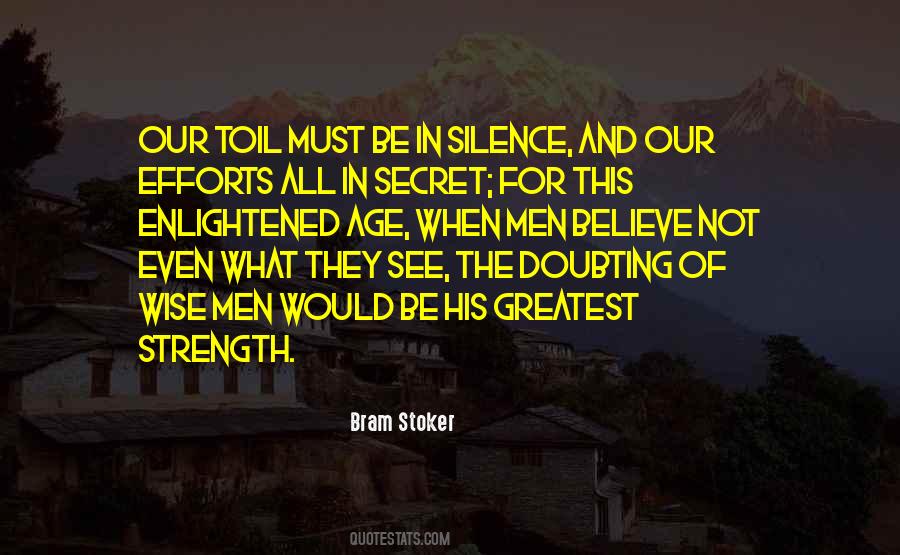 #56. A religious man is a person who holds God and man in one thought at one time, at all times, who suffers harm done to others, whose greatest passion is compassion, whose greatest strength is love and defiance of despair. - Author: Abraham Joshua Heschel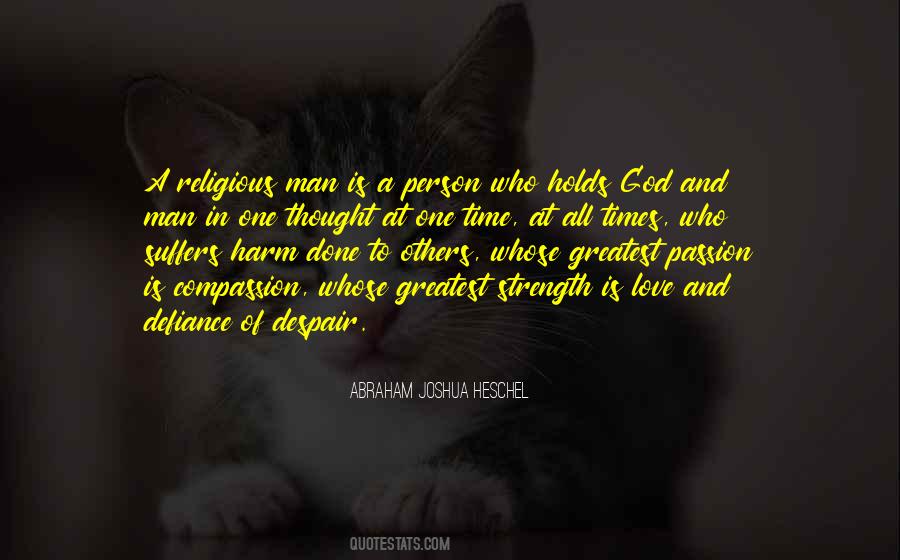 #57. I have a theory and I really believe it. I think your worst weakness can become your greatest single strength. - Author: Barbara Corcoran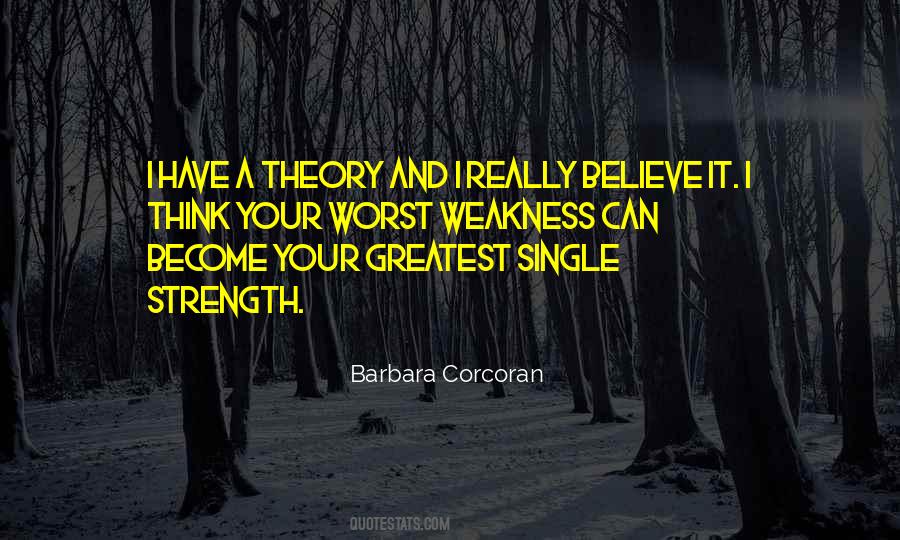 #58. I also believe that introversion is my greatest strength. I have such a strong inner life that I'm never bored and only occasionally lonely. No matter what mayhem is happening around me, I know I can always turn inward. - Author: Susan Cain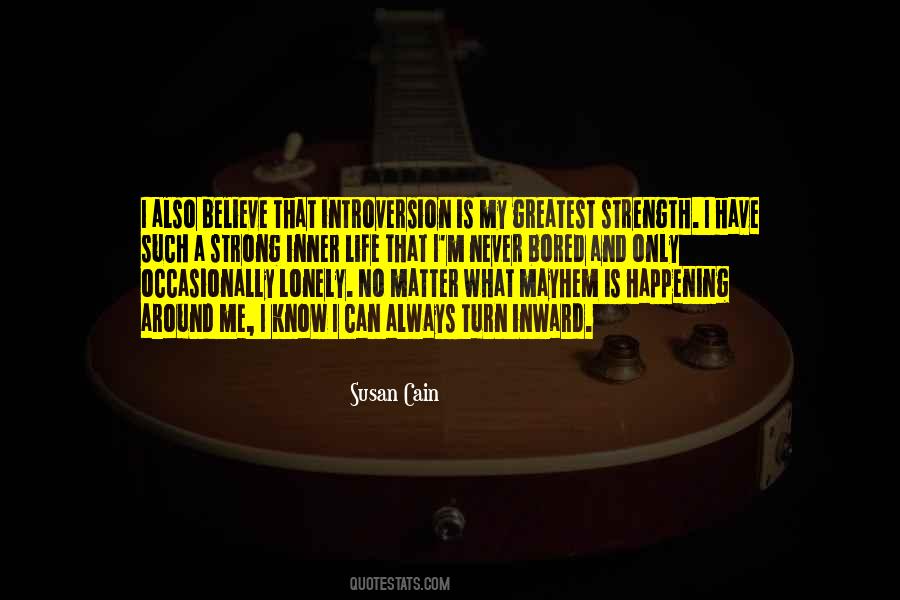 #59. Give me strength to forgive. Because he who forgives is the greatest. And I know I cannot forget. - Author: Mesa Selimovic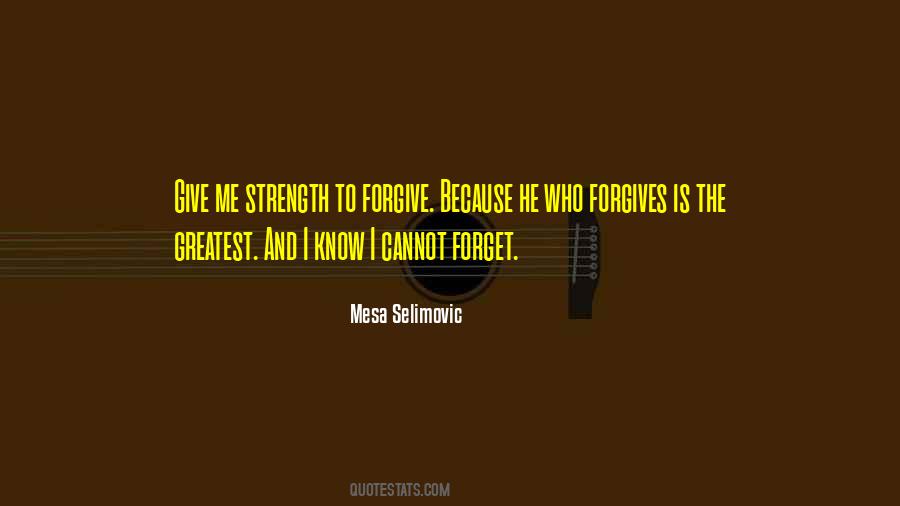 #60. You have enough courage to face even your greatest fear. - Author: Chris Prentiss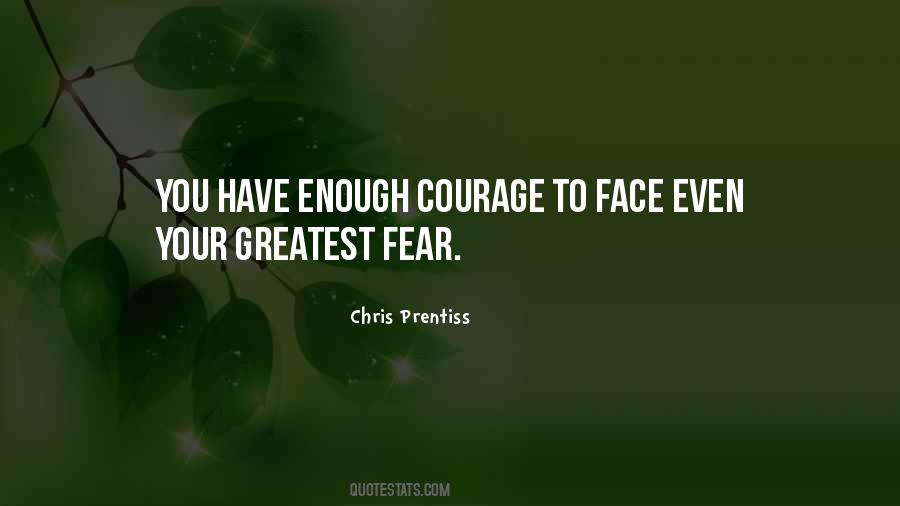 #61. 190 Sometimes our greatest strength shows when we let go of things we can't control. - Author: Becket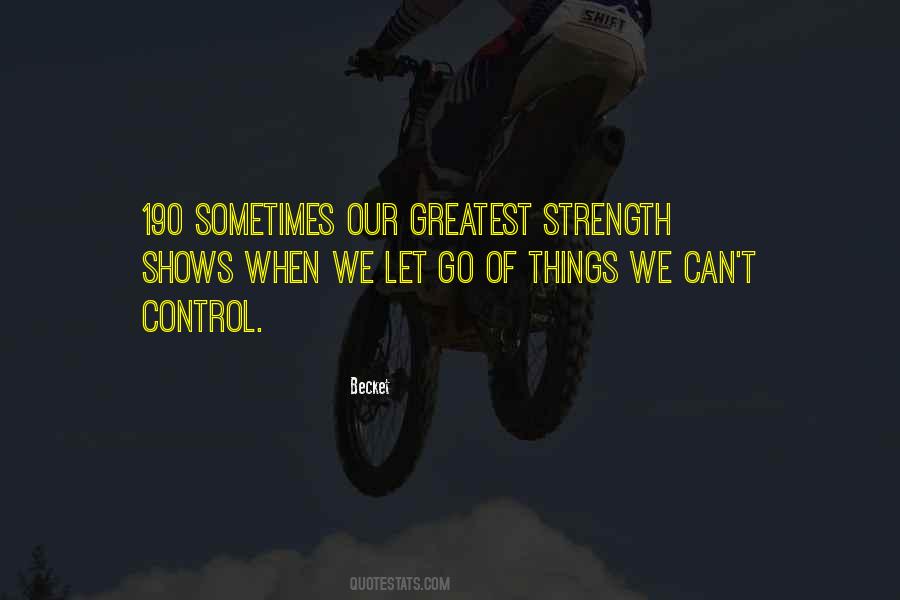 #62. Science is not the affirmation of a set of beliefs but a process of inquiry aimed at building a testable body of knowledge constantly open to rejection or confirmation. In science, knowledge is fluid and certainty fleeting. That is at the heart of its limitations. It is also its greatest strength. - Author: Michael Shermer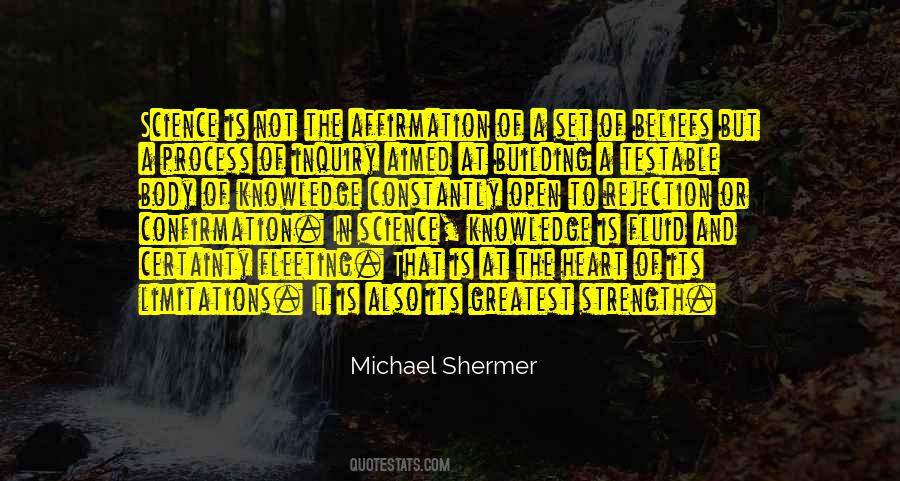 #63. You cannot become the greatest without at least a gr- and a test inside of you - Author: Johnnie Dent Jr.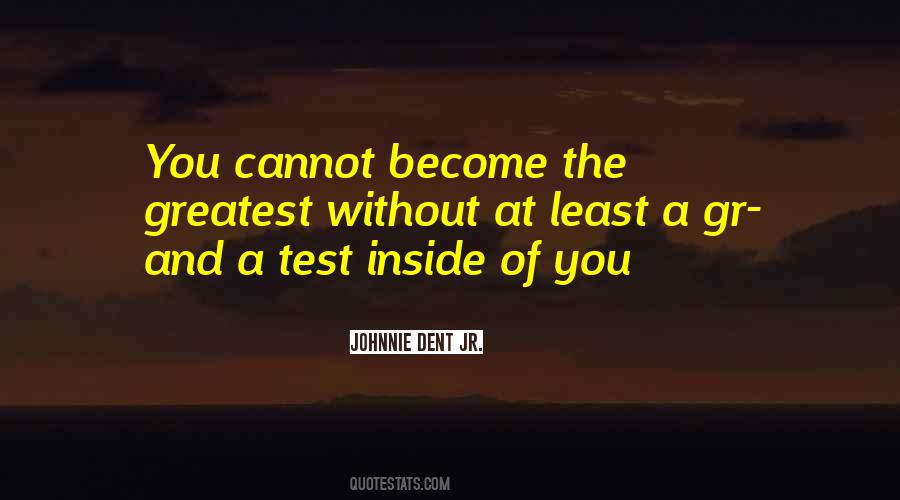 #64. There is no shame in what you are feeling, Harry," said Dumbledore's voice. "On the contrary . . . the fact that you can feel pain like this is your greatest strength." Harry - Author: J.K. Rowling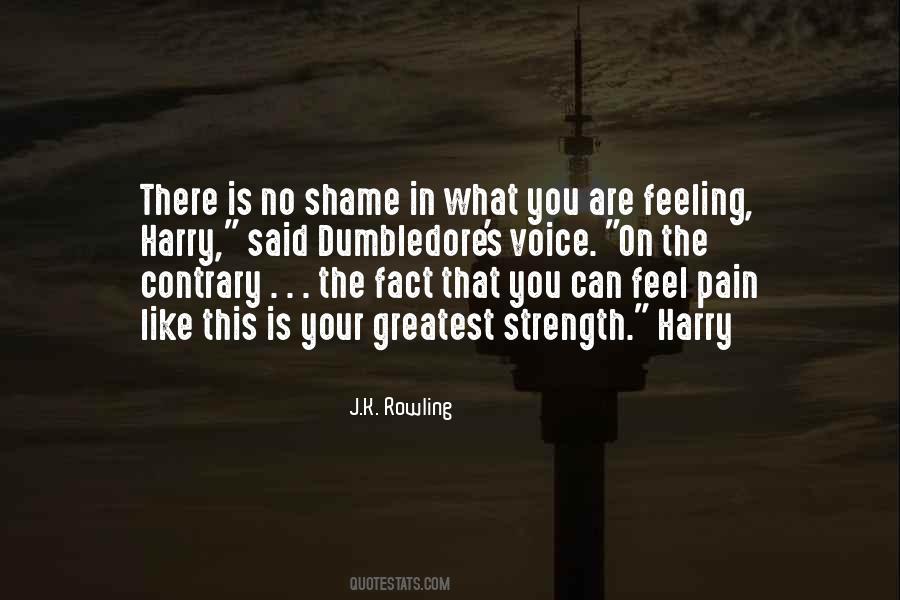 #65. Gymnastics has made me strong. I feel like it broke me down to my lowest point, but at the same time, it has given me the greatest strength anyone could ask for. - Author: Shawn Johnson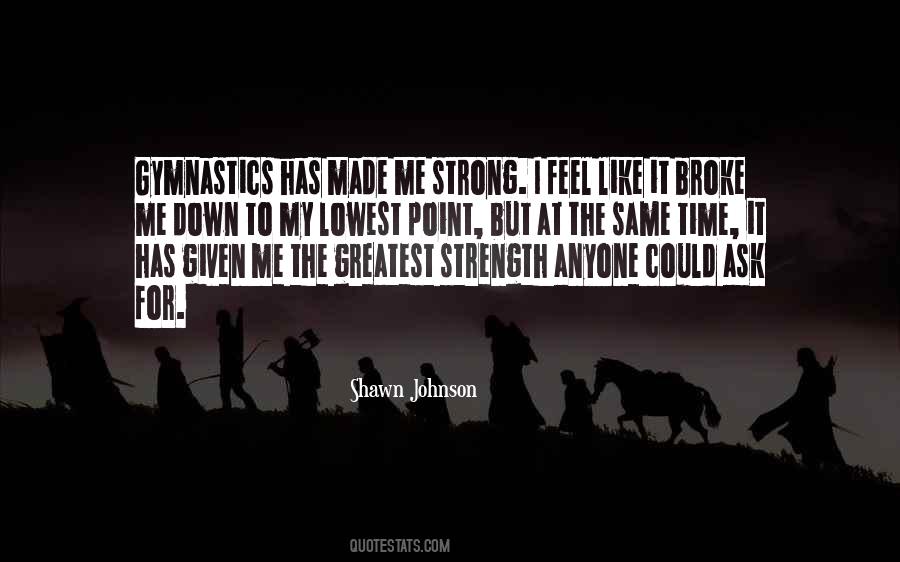 #66. My greatest strength is an unfocused mind. This is because while you are all thinking of one idea, I'm thinking of five different ideas. My greatest weakness however is an unfocused mind. This is because while I'm supposed to be thinking about one thing, I'm actually thinking of five other things. - Author: Ben Mitchell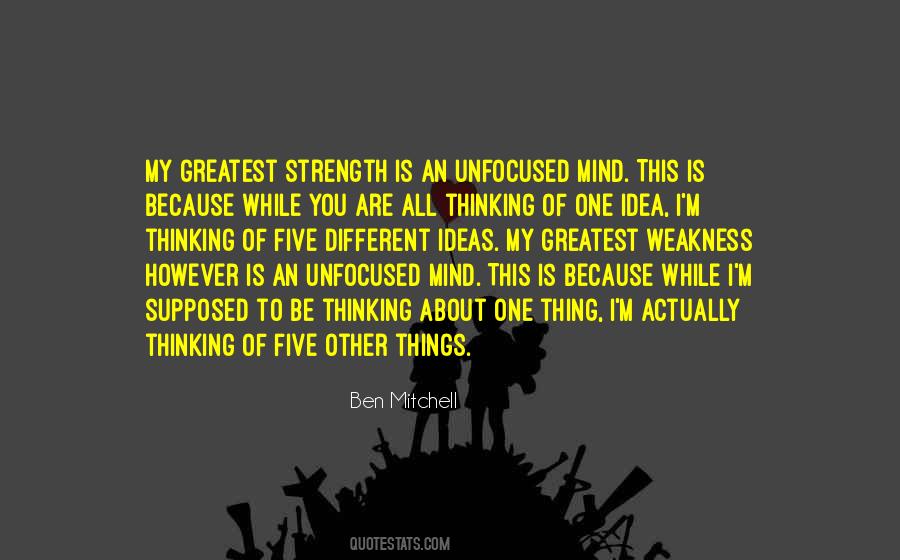 #67. I think my best skill in this whole deal is as a conduit to try to bring people together, because I think it's in our unity that we'll have the greatest strength. - Author: Woody Harrelson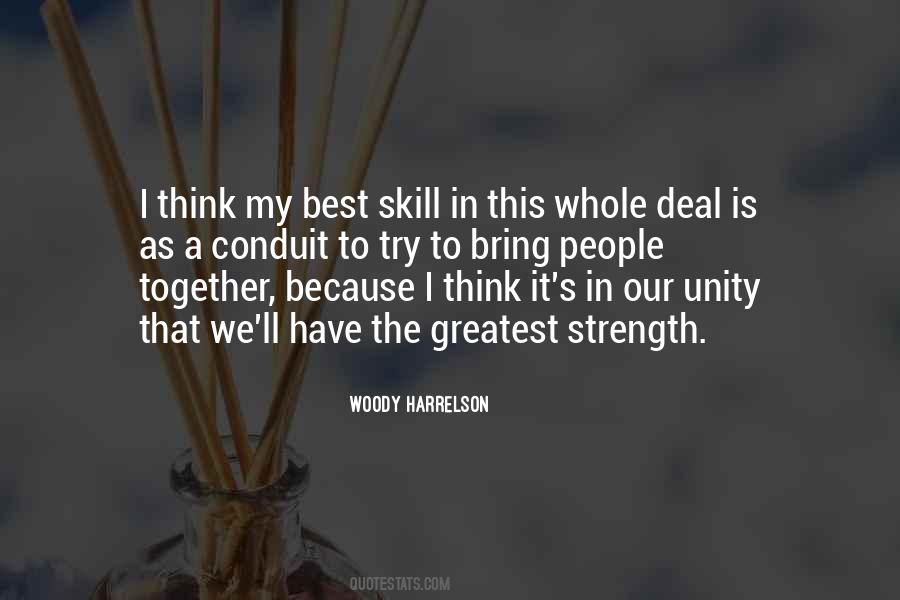 #68. To be capable of steady friendship or lasting love, are the two greatest proofs, not only of goodness of heart, but of strength of mind. - Author: William Hazlitt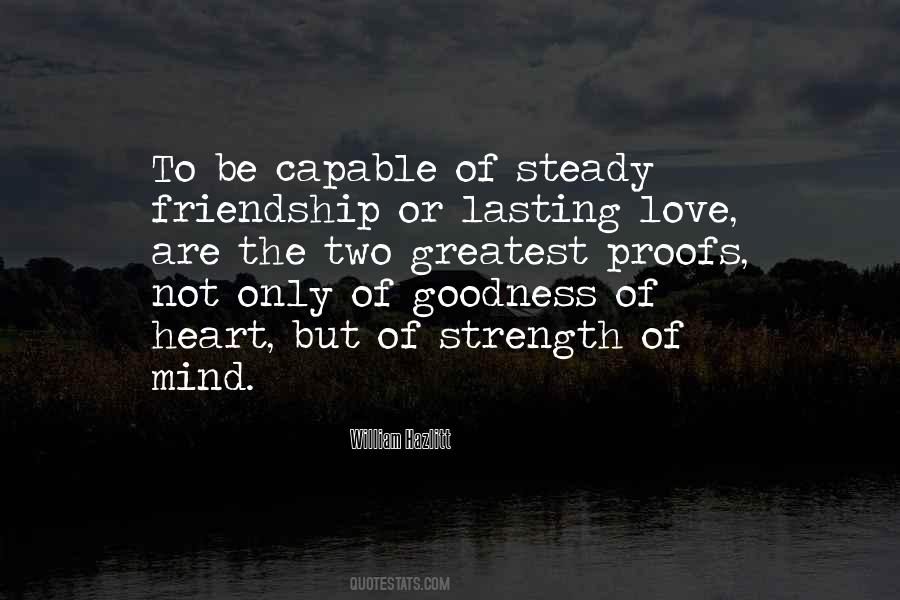 #69. My greatest strength is common sense. I'm really a standard brand - like Campbell's tomato soup or Baker's chocolate. - Author: Katharine Hepburn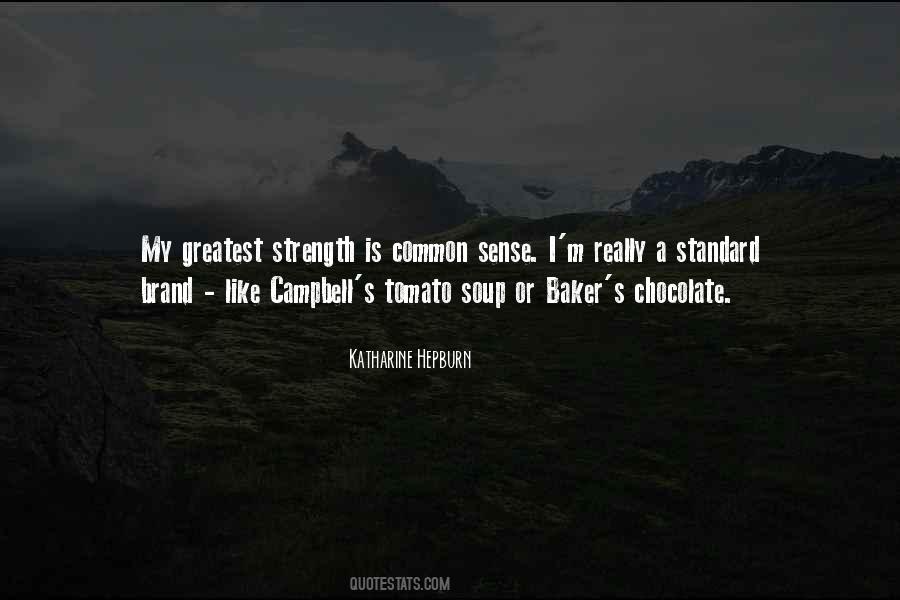 #70. The Royal Navy of England hath ever been its greatest defense and ornament; it is its ancient and natural strength; the floating bulwark of the island. - Author: William Blackstone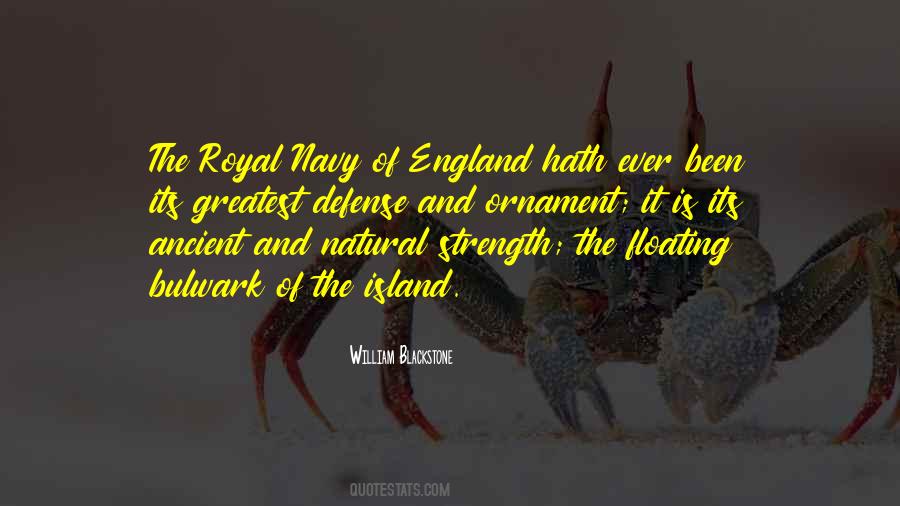 #71. If this war is not fought with the greatest brutality against the bands both in the East and in the Balkans then in the foreseeable future the strength at our disposal will not be sufficient to be able to master this plague. - Author: Wilhelm Keitel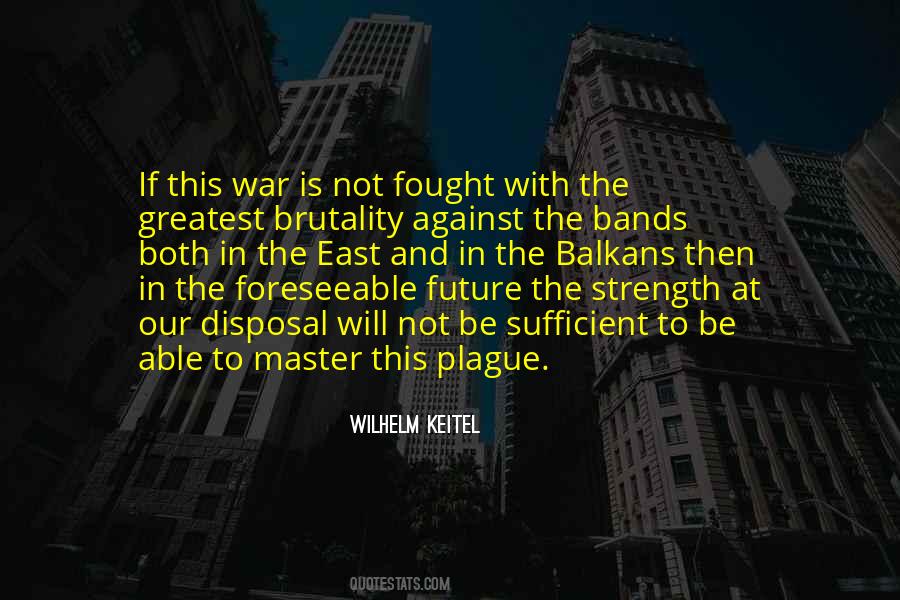 #72. The golden glory of love's light Has never dawned on my way My path has always led through night To some deserted by way But though life's greatest joy I miss There lies a greater strength than this I have been worthy of it.29 - Author: Colin Grant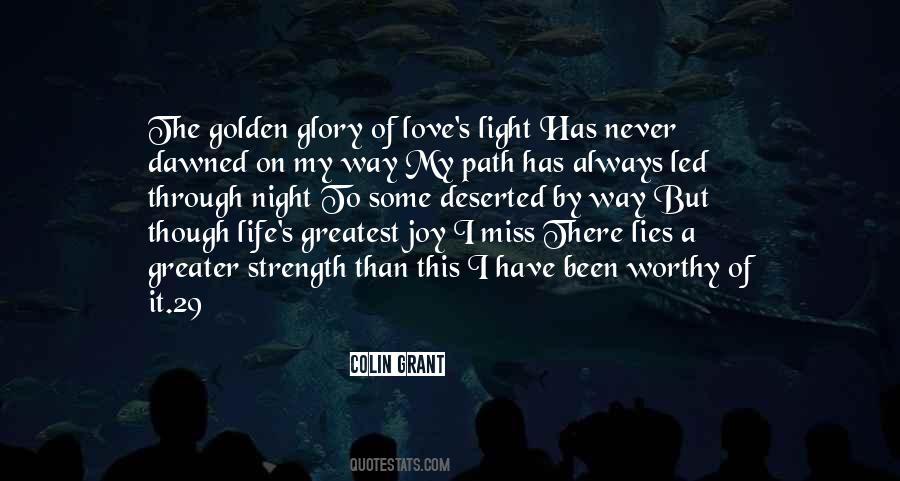 #73. Beginning today, set an intention and a relentless focus on living your life as the greatest person you can be, in all situations. Demand that you demonstrate a strength of character in such a way that you find pride in who you are, and that others see you as a role model. - Author: Brendon Burchard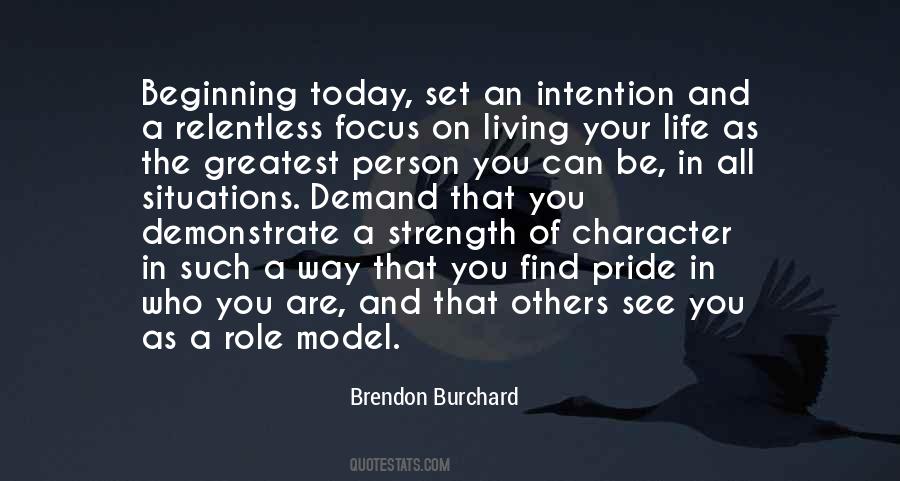 #74. You should know by now that love is never a weakness, Ares. Love is the mortal world's greatest strength. - Author: Gina Ardito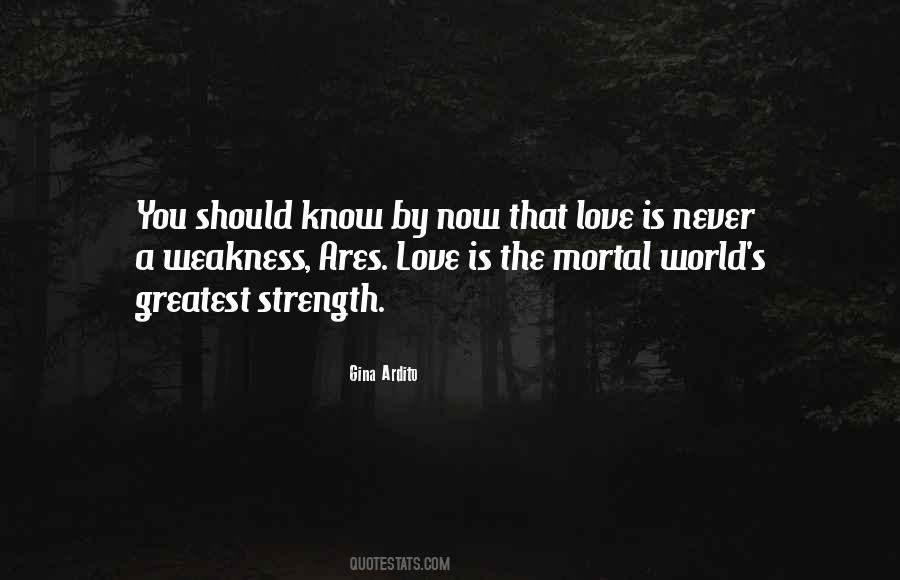 #75. They'd taken their greatest strength and hidden it like a weakness.
"Should we try this again?" he asked.
Aria smiled. "The right way," she said, and wove her fingers through his. "Together. - Author: Veronica Rossi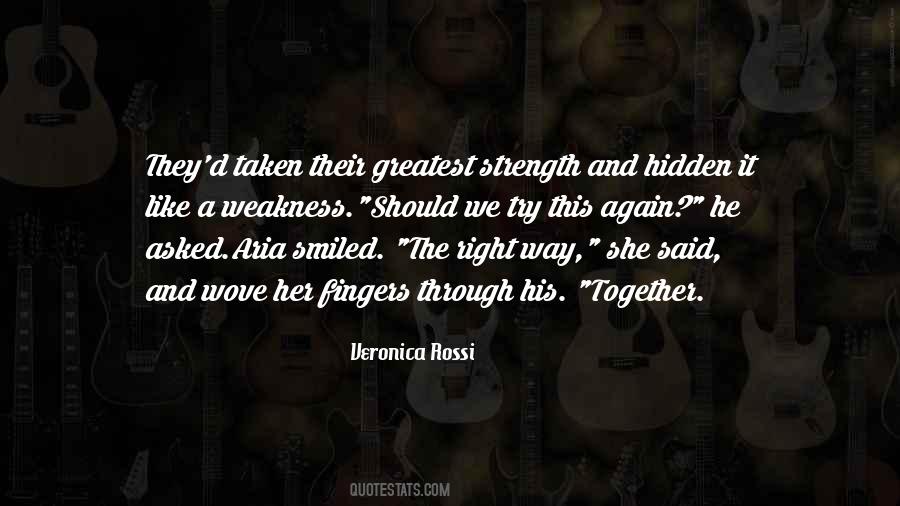 #76. In the end, some of your greatest pains become your greatest strengths. - Author: Drew Barrymore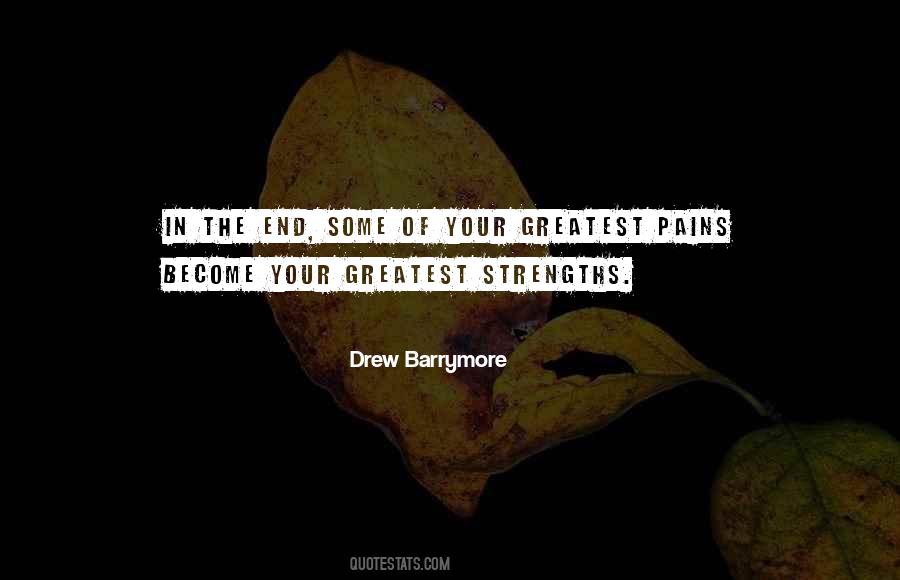 #77. The greatest thing to conquer is self. - Author: Lailah Gifty Akita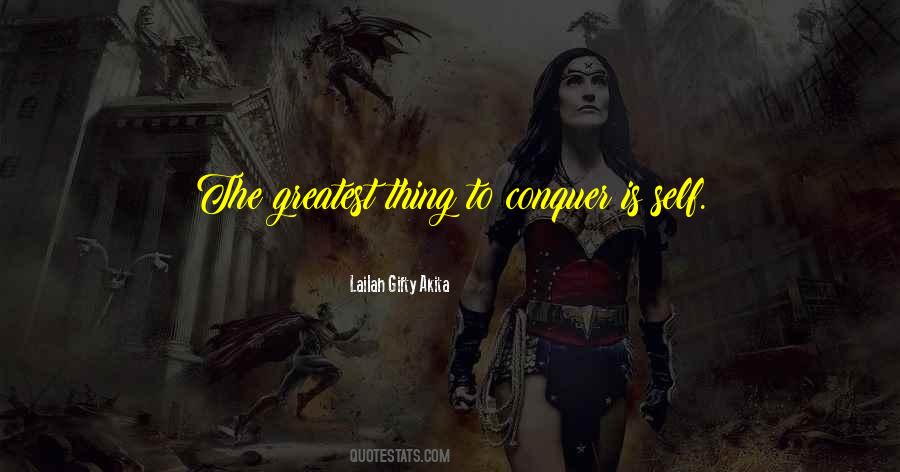 #78. I think that the power over death and life is the greatest strength that any person can have. It trumps sex and wealth. If I'm willing to die no one can master me. - Author: Walter Mosley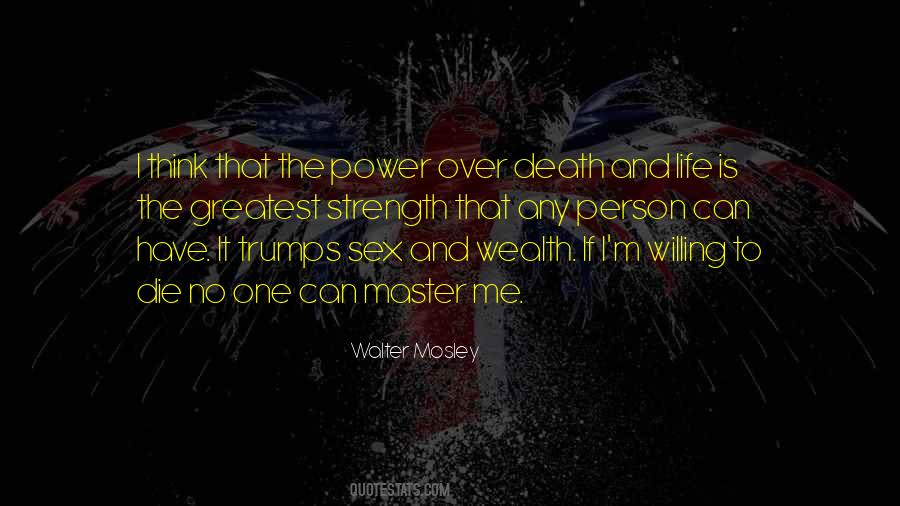 #79. The greatest strength any human being an have is to recognize his or her own weaknesses. When you identify your weaknesses, you can begin to remedy them - or at least figure out how to work around them. - Author: Pat Summitt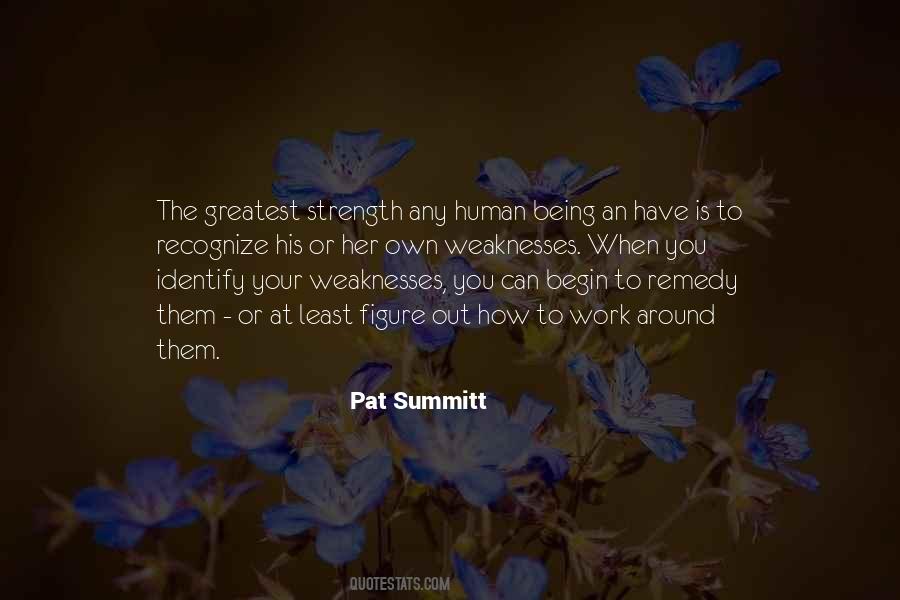 #80. I feel like it's always about embracing what it is that you think is wrong with you. It's often times your greatest 'flaw' which actually forays into what is also your greatest strength. - Author: Olivia Thirlby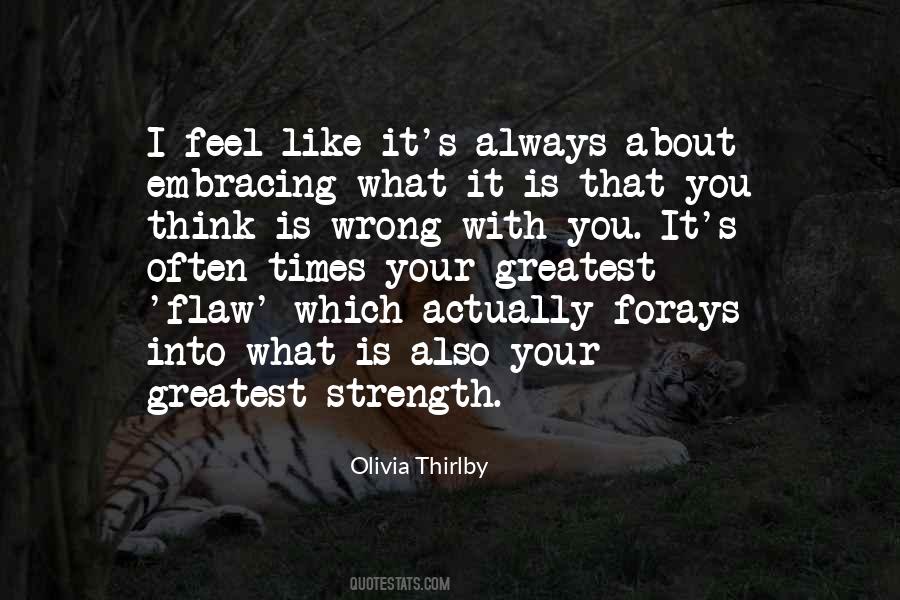 #81. Sometimes you don't realize your own strength until you come face to face with your greatest weakness. - Author: Susan Gale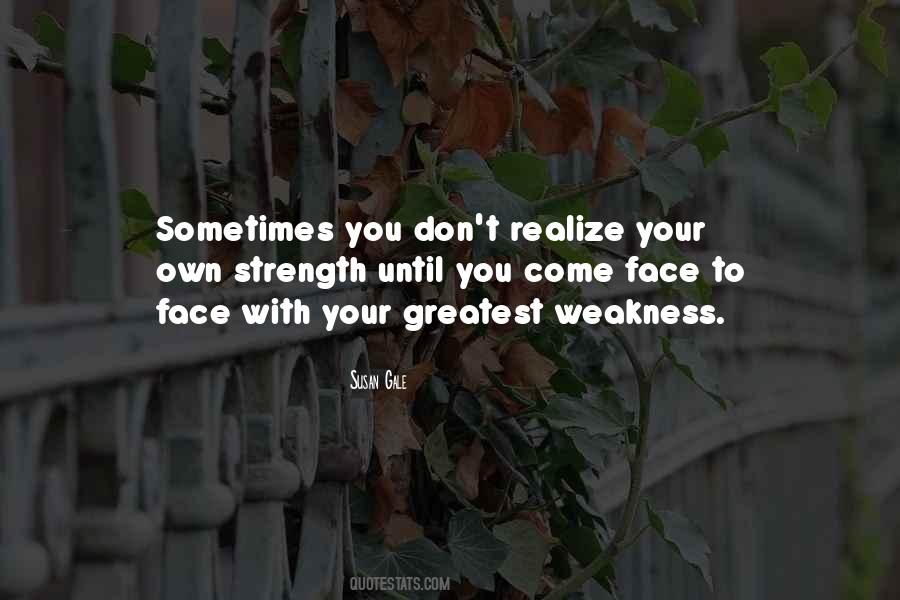 #82. I can't say what my greatest strength between acting and singing is ... I'll leave that to the critics. Maybe my best strength is performance itself, being with the audience and feeling what they feel, bouncing off of them. - Author: Erica Schroeder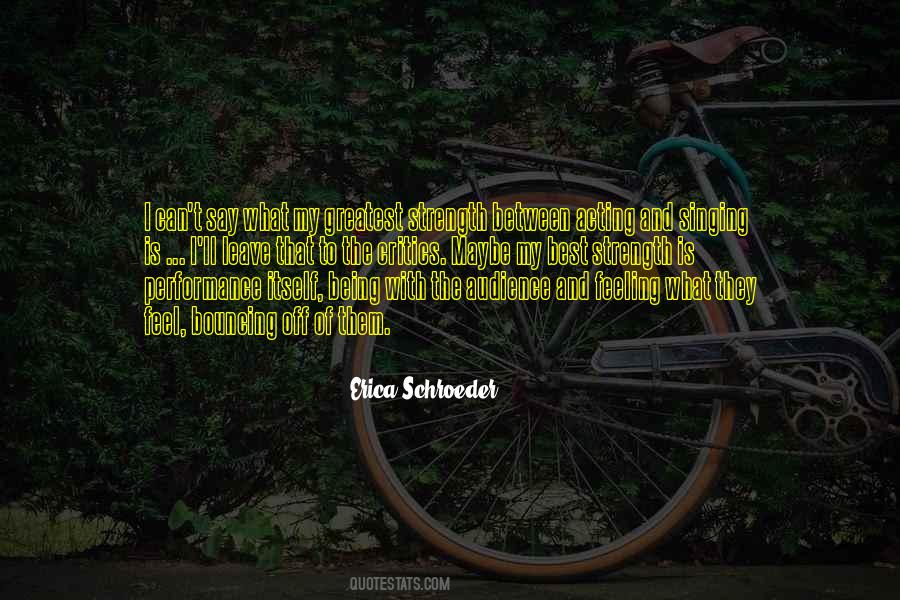 #83. The greatest quality of teamwork is strength and unity. - Author: Abdulazeez Henry Musa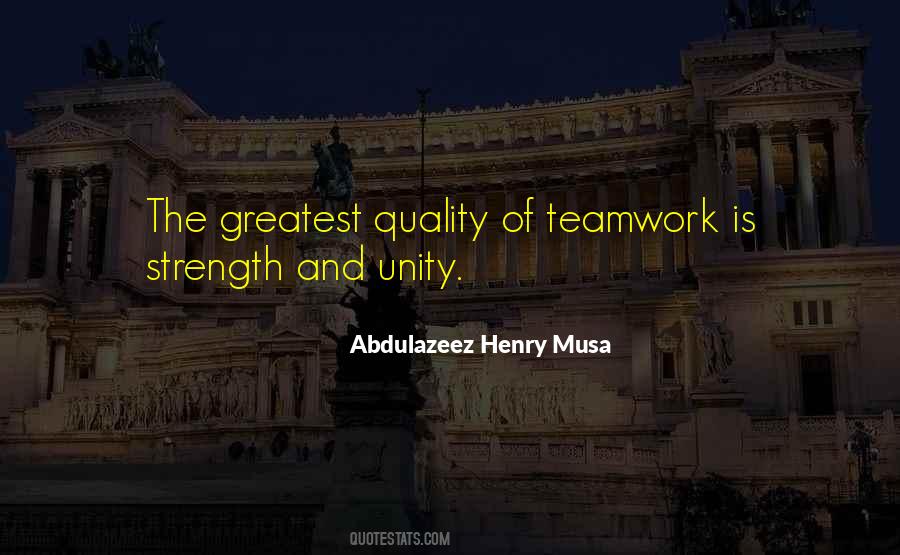 #84. Give me strength, not to be better than my enemies, but to defeat my greatest enemy, the doubts within myself. Give me strength for a straight back and clear eyes, so when life fades, as the setting sun, my spirit may come to you without shame. - Author: P.C. Cast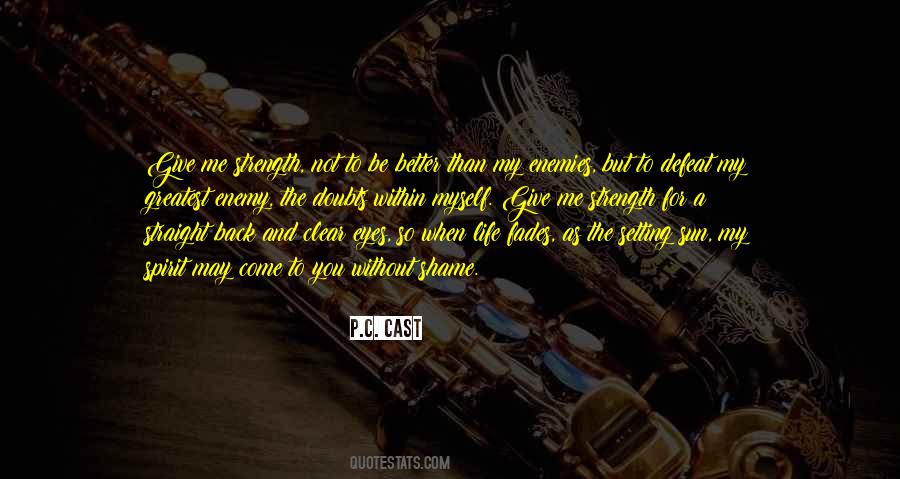 #85. I have found the Iron to be my greatest friend. It never freaks out on me, never runs. Friends may come and go. But two hundred pounds is always two hundred pounds - Author: Henry Rollins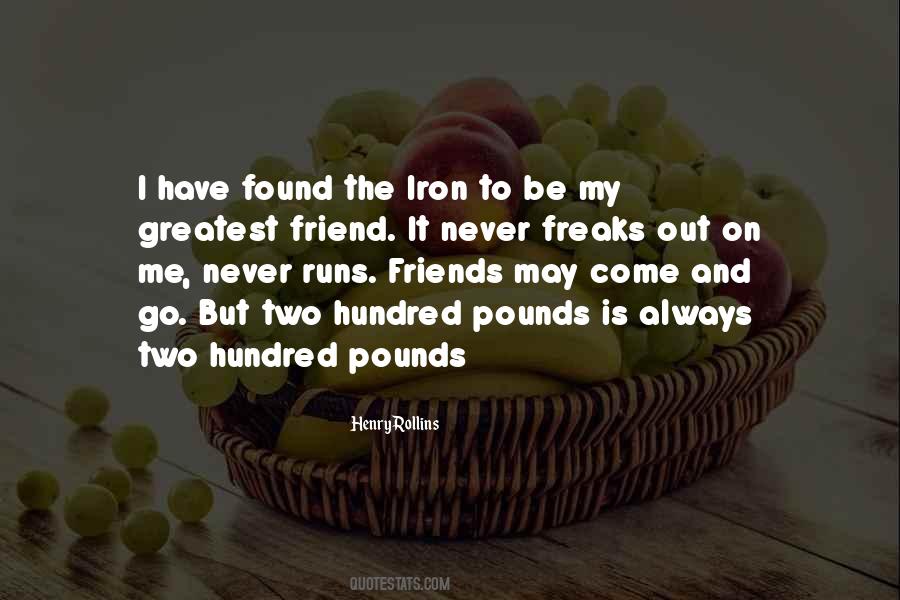 #86. Be confident, be bold! These are your life greatest strength for success. - Author: Lailah Gifty Akita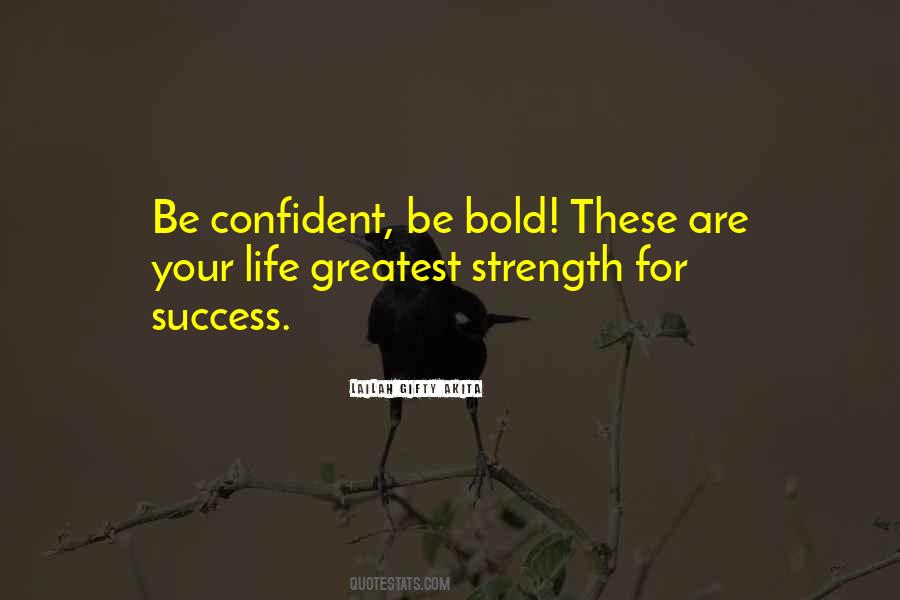 #87. Must one become seventy years old to recognize that one's greatest strength lies in creating musical kitsch? - Author: Richard Strauss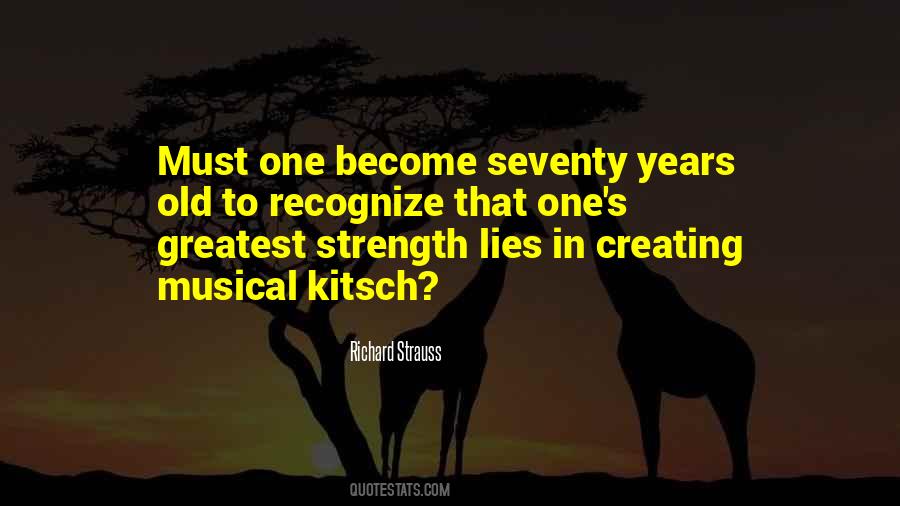 #88. Our greatest strength lies in the gentleness and tenderness of our heart. - Author: Rumi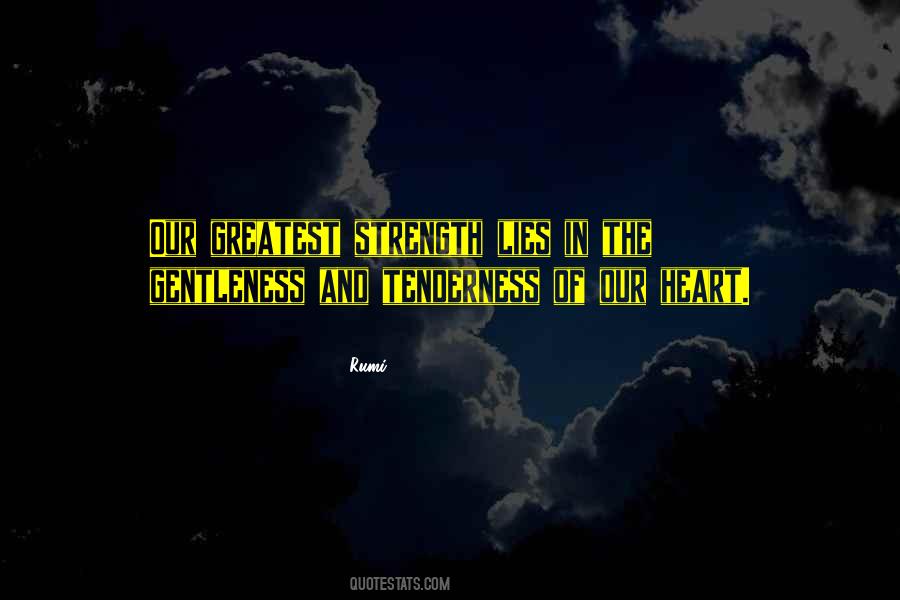 Famous Authors
Popular Topics