Trust That Things Will Work Out Famous Quotes & Sayings
List of top 34 famous quotes and sayings about trust that things will work out to read and share with friends on your Facebook, Twitter, blogs.
Top 34 Trust That Things Will Work Out Quotes
#1. Trust yourself to be able to confront and work through your emotions. If you believe you can't do it, you won't do it and you'll become stuck. If you believe you can do it, you will. - Author: Sam Owen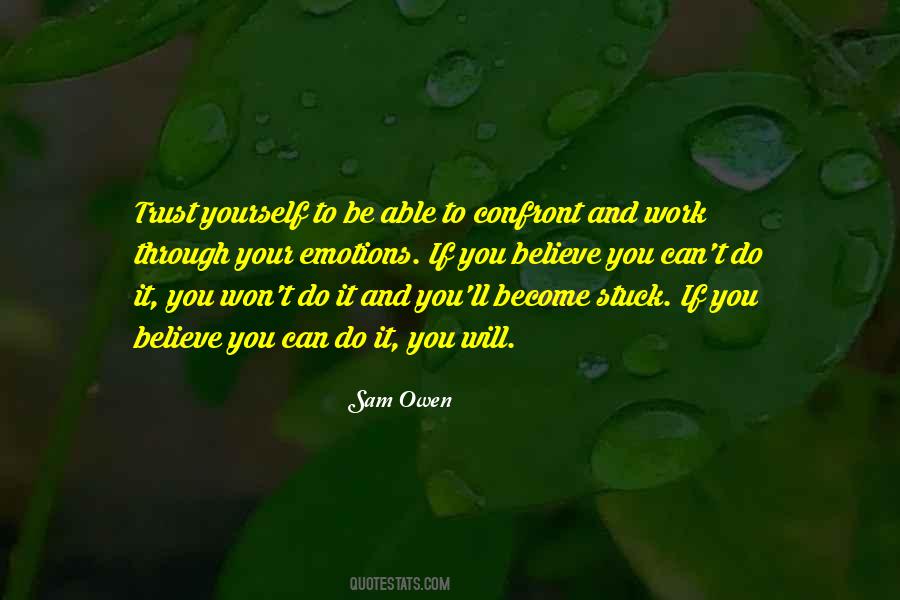 #2. The miraculous is always happening, even though we forget it or even when our faith is too small to trust God for miracles or even when we don't see the miracles occurring. God is always still at work, and God will always provide for us. - Author: Louie Giglio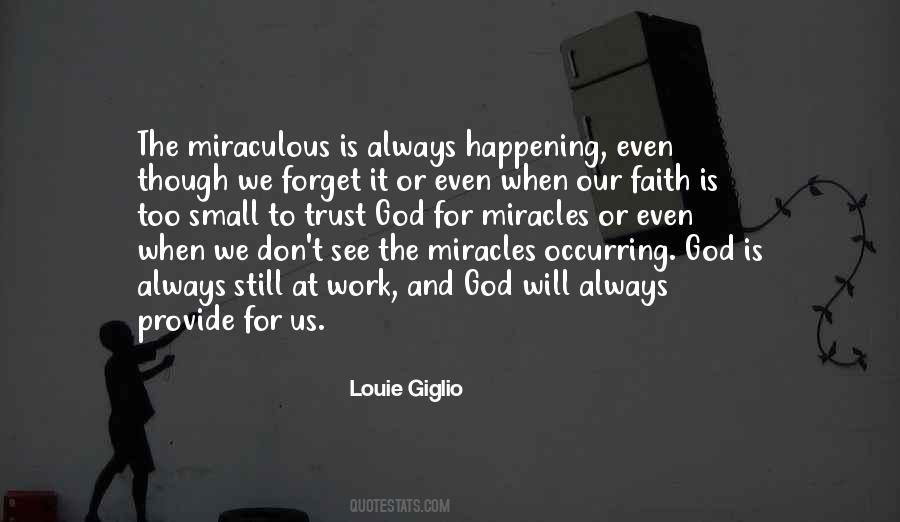 #3. I like being free to take on any project that inspires me and to trust that the work will speak for itself. - Author: Gugu Mbatha-Raw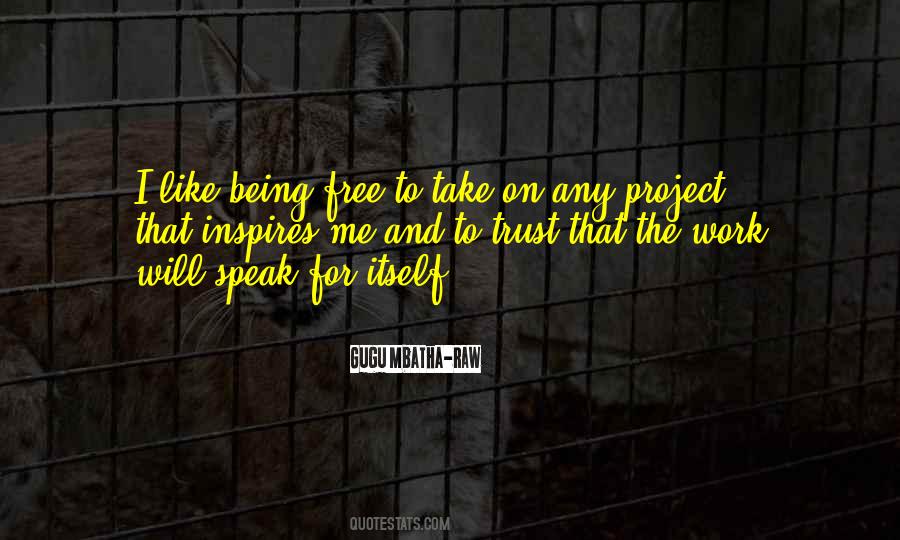 #4. When you form a team, why do you try to form a team? Because teamwork builds trust and trust builds speed. - Author: Russel Honore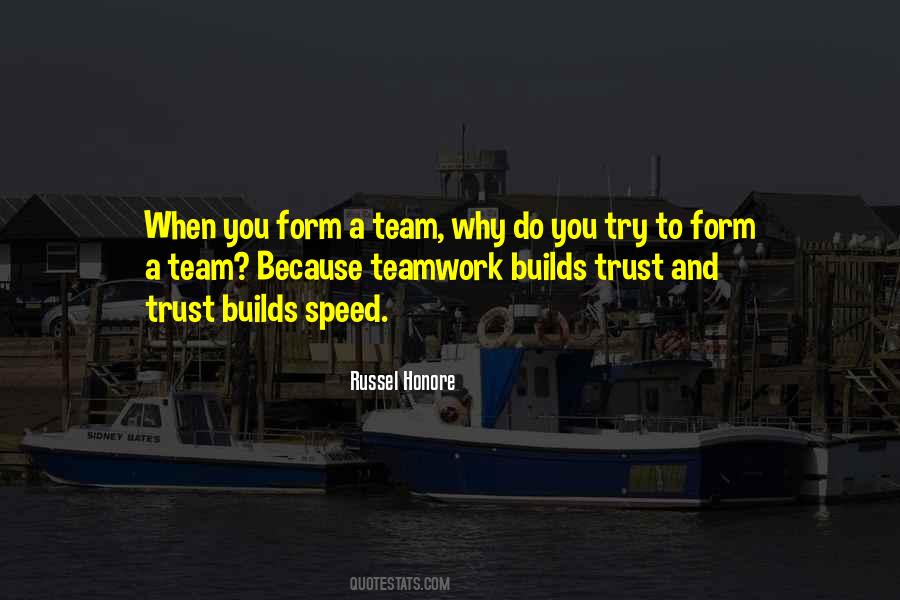 #5. You make the work for yourself first and the next line is the people you trust, and you know that they're going to tell you what they feel. They let you know if you're dishing bullshit or if it's real. - Author: Robert Longo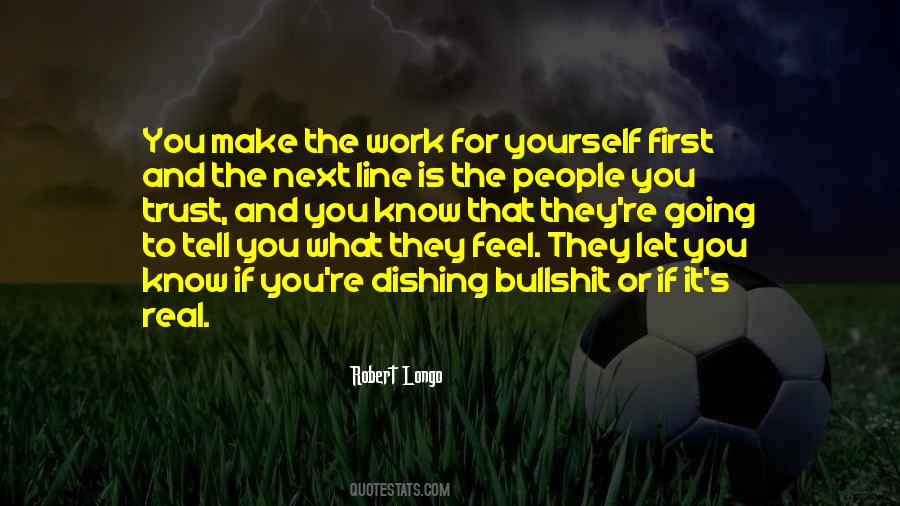 #6. Work hard, do your best, live the truth, trust yourself, have some fun ... and you'll have no regrets. - Author: Byrd Baggett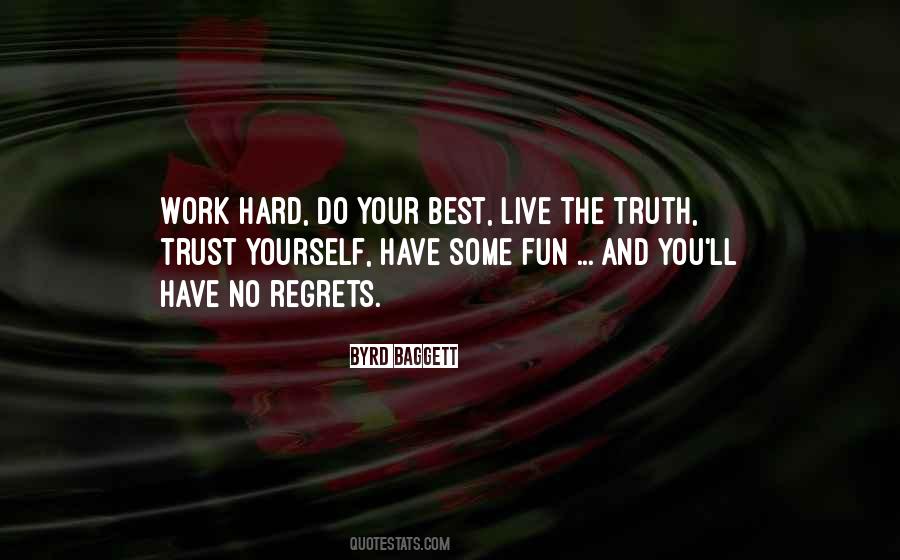 #7. For the most important decisions in your life, trust your intuition, and then work with everything you have, to prove it right. - Author: Tim Cook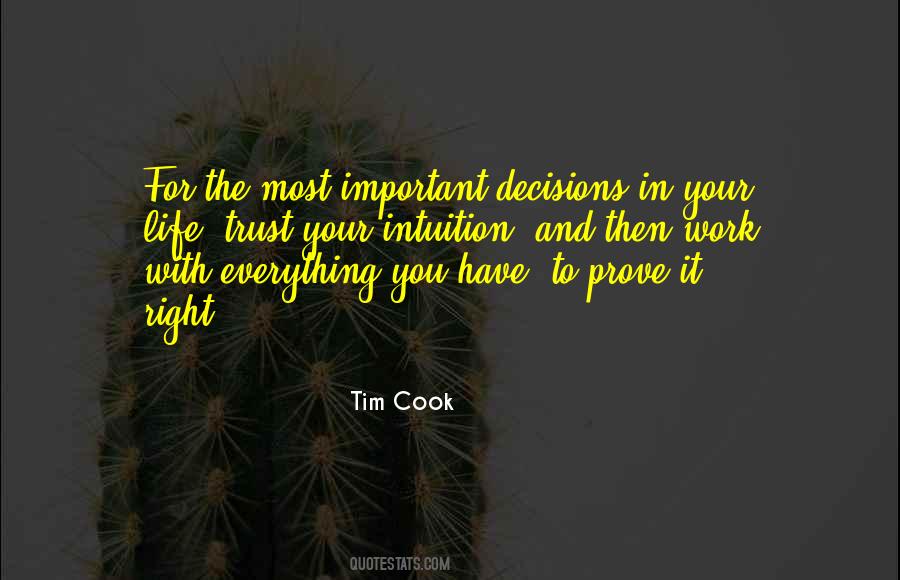 #8. I love when you get to work with people you know because there's so much more trust, and you're much more willing to be vulnerable in a scene with someone you trust. - Author: Malin Akerman
#9. Be the kind of person others admire, can count on, trust, and enjoy spending time with. After you have developed that reputation, people will start to ask you what you do and you will be amazed at how many people will want to work with you. You will attract others based on your character. - Author: Larry Winget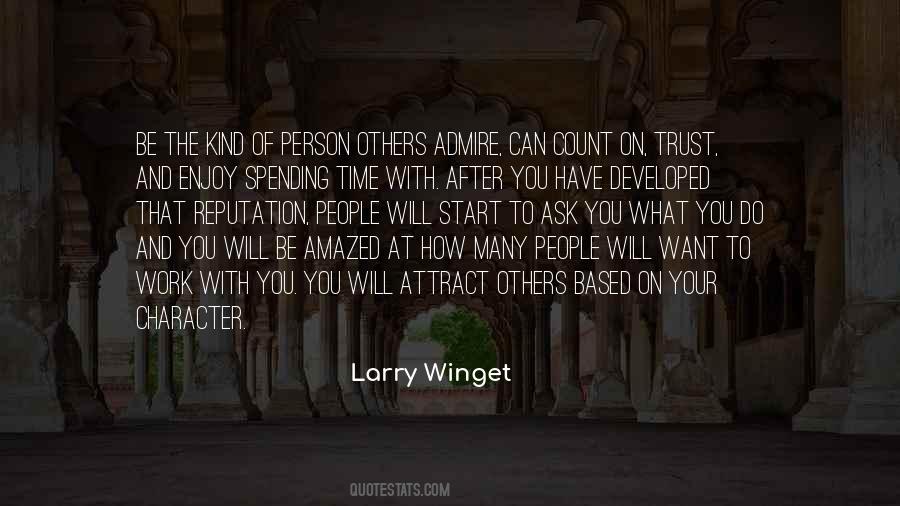 #10. It's hard to be happy in the now when you can't stop worrying about the future. What I want is to trust that everything will work out. To believe with all my heart that I'll end up where I belong. - Author: Lisa Schroeder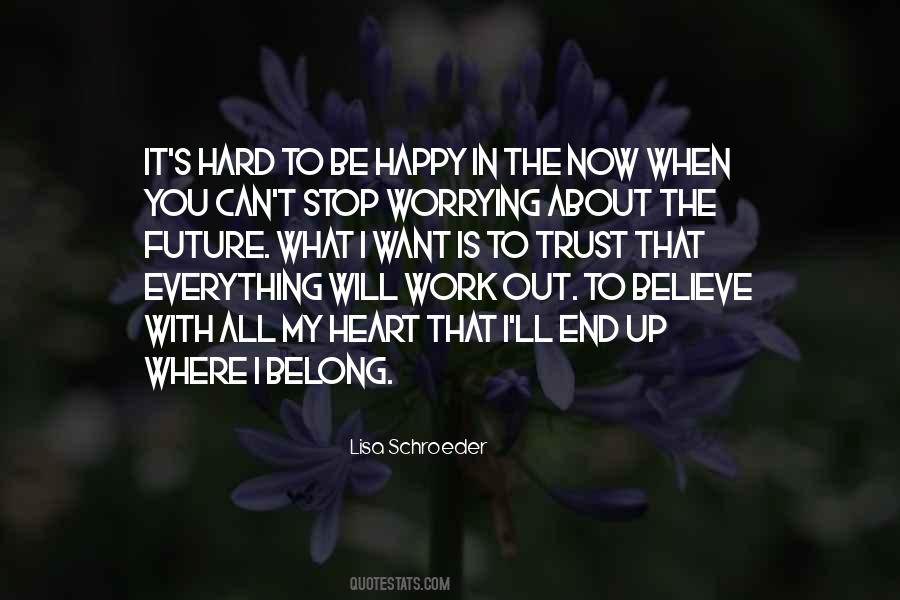 #11. You have to believe in yourself and only trust your own vision and instincts. If I'd listened to what other people thought about my work in the first 10 years that I was a writer, I never would have made it to begin with. - Author: Philipp Meyer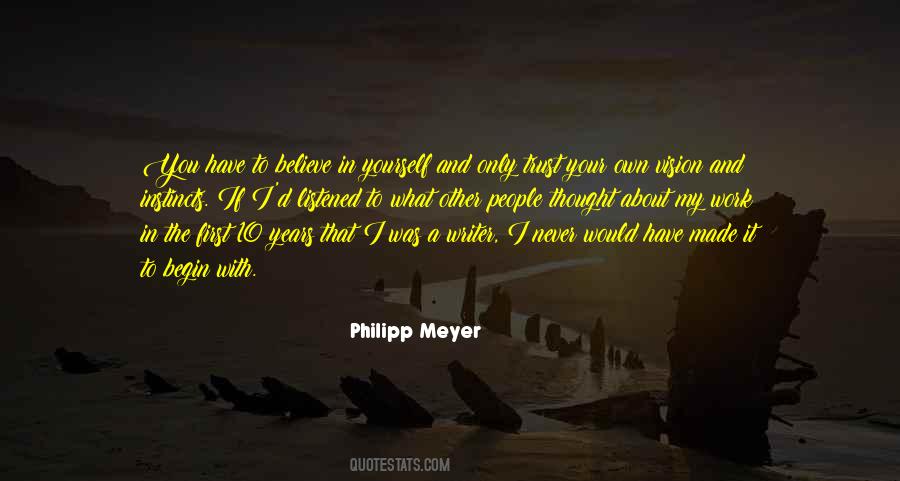 #12. We developed a philosophical credo and applied it consistently. We accept that morality, power, and consensus are the underpinnings for any society and work to maintain all three in balance. Trust and mutual respect are, in a way, the mortar that hold the other three together. - Author: L.E. Modesitt Jr.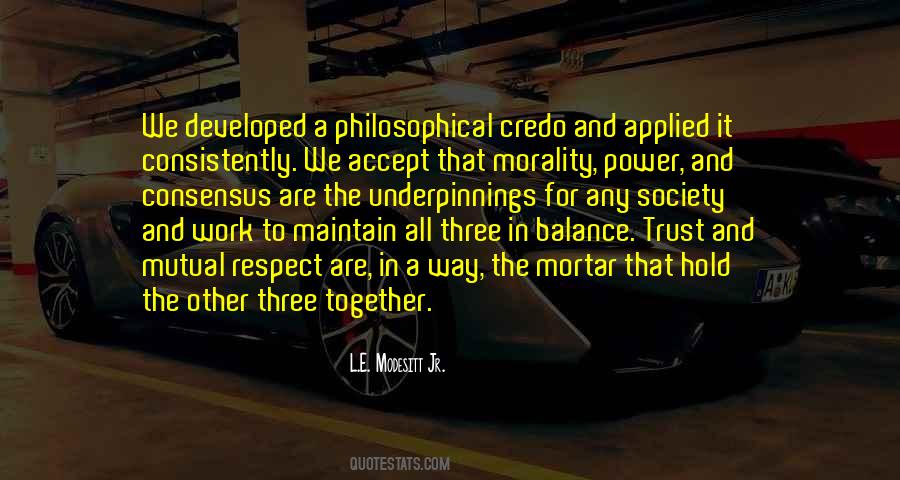 #13. Put thou thy trust in God;
In duty's path go on;
Fix on His word thy steadfast eye;
So shall thy work be done. - Author: Martin Luther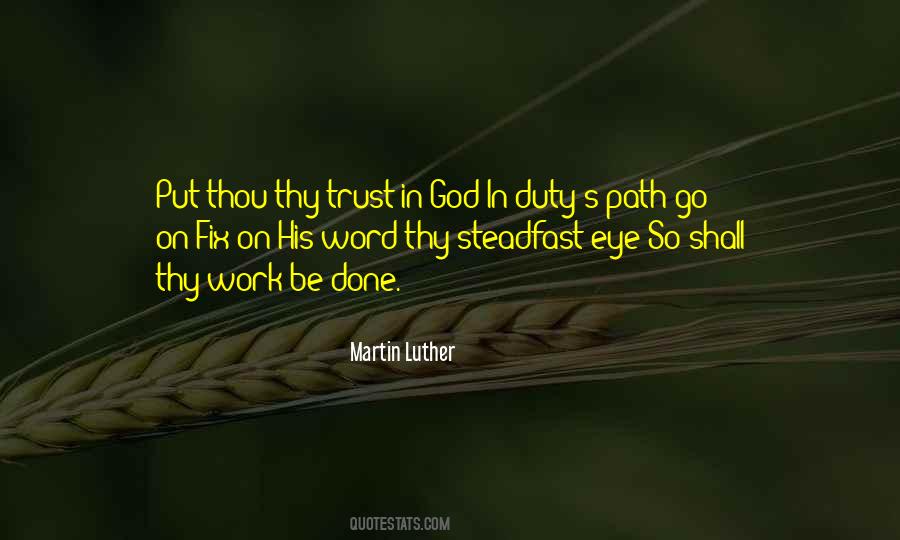 #14. Creating and maintaining healthy boundaries demonstrates respect for ourselves and others and builds trust in both our work and personal relationships. - Author: Michael Thomas Sunnarborg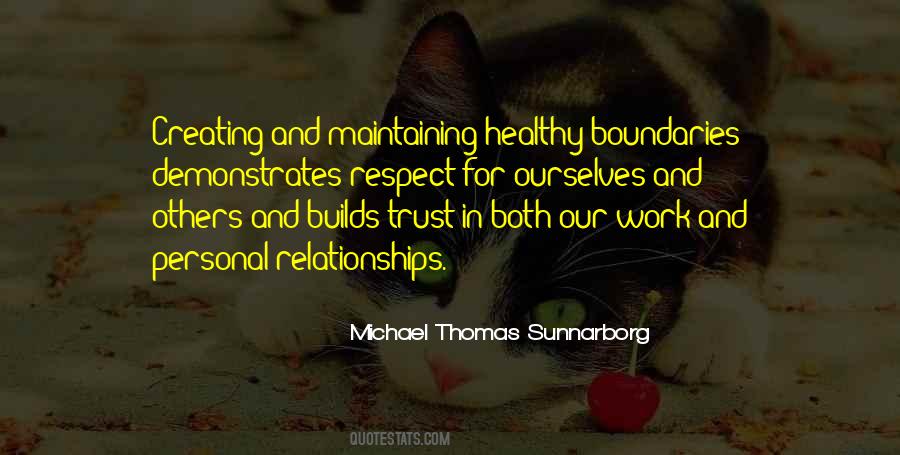 #15. Besides, men aren't worth your time anyway, Letti. If we women spent as much time on ourselves as we do fretting over men, we'd be invincible! Work on yourself because at the end of the day, you're the only person you can trust. - Author: S.R. Crawford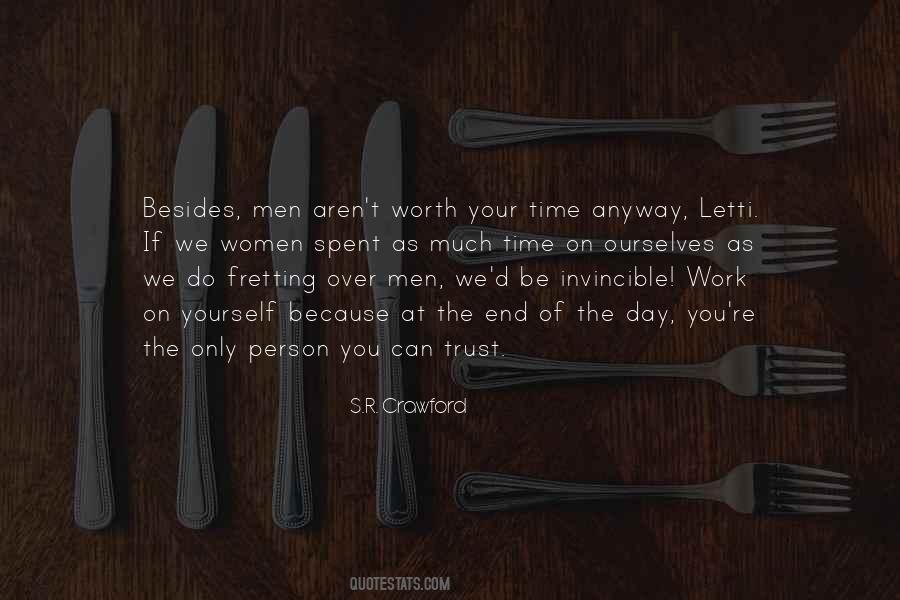 #16. You've got to trust the ground you're standing on and the work you've done in telling your story. The goal should be to bring those thousands of people - viewers - together and make them one. When you feel that happening, it's usually in silence, not applause or laughter. - Author: Kevin Spacey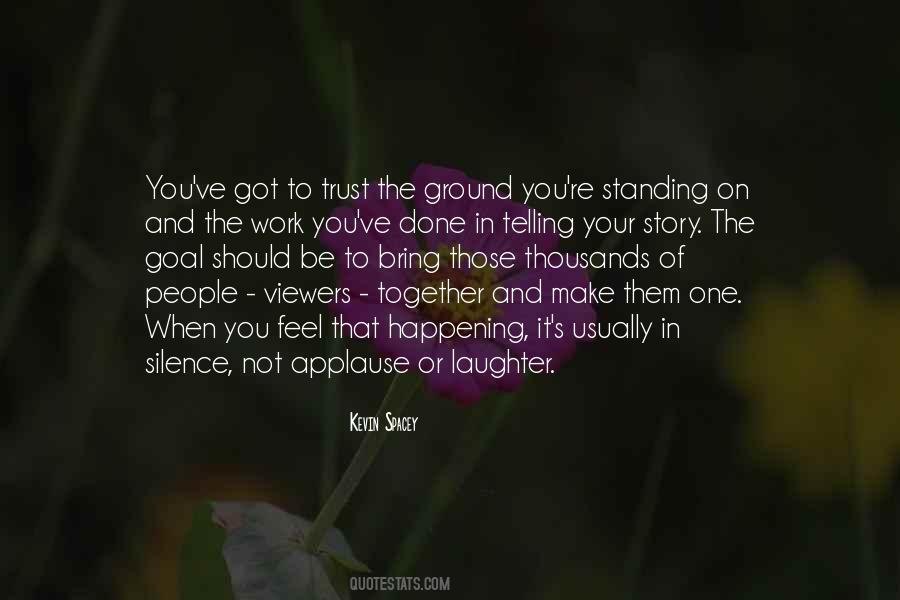 #17. To live your best life now, you must learn to trust God's timing, you may not think He's working, but you can be sure that right now, behind the scenes, God is arranging all the pieces to come together to work out His plan for your life. - Author: Joel Osteen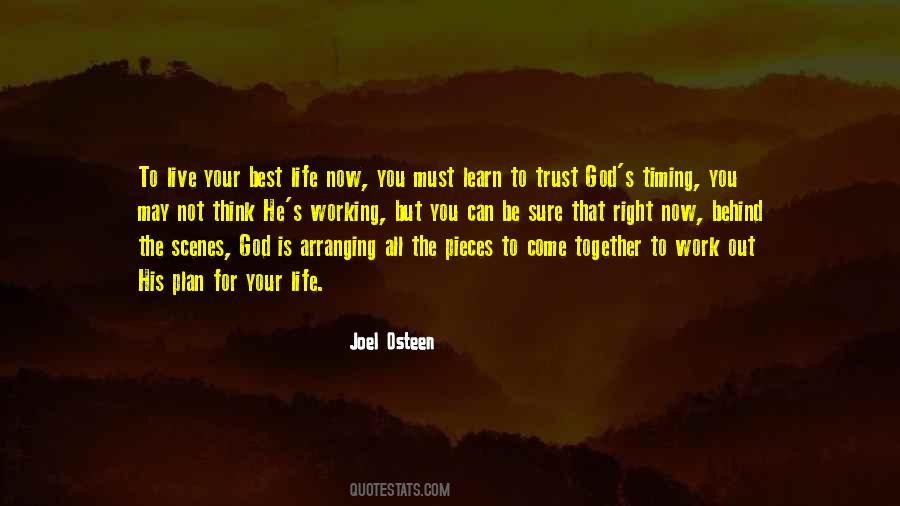 #18. My father had a very simple view of life: you don't get anything for nothing. Everything has to be earned, through work, persistence and honesty. My father also had a deep charm, the gift of winning our trust. He was the kind of man with whom many people dream of spending an evening. - Author: Grace Kelly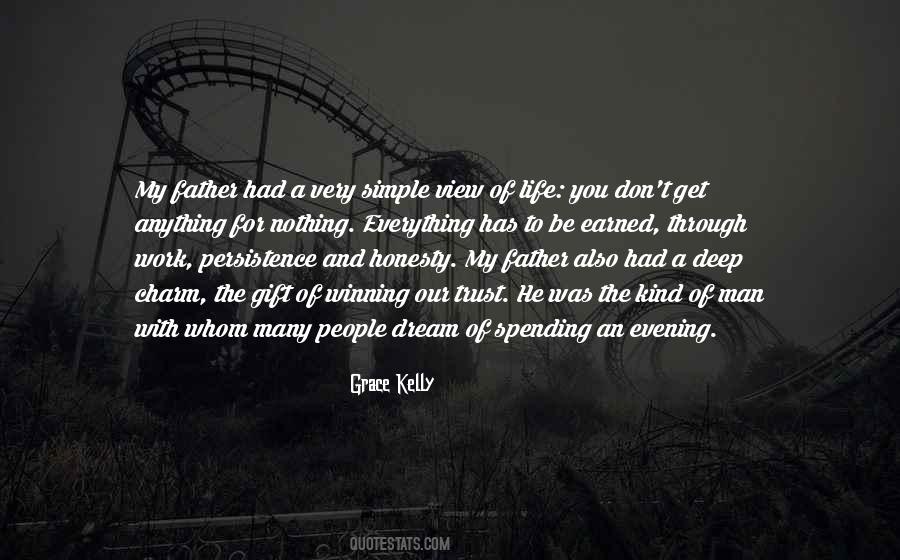 #19. Who were my fictitious witches and what did they mean? Never ask that of yourself while writing. It may stop you cold. Just trust that if you believe in your characters, others will too. ... Whenever I thought too critically about my work, I couldn't write. - Author: Erica Jong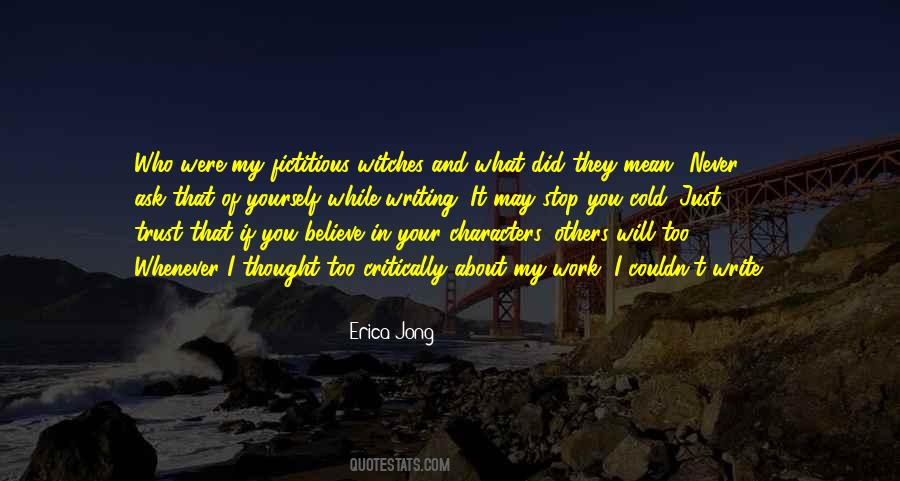 #20. I always feel like I'm rehearsing. I'm a workaholic. But youve got to let go and trust and enjoy! I'm a real perfectionist. Its probably my biggest disadvantage. But as long as I can go out there, trust in the work and just have fun, thats what matters. - Author: Nicole Scherzinger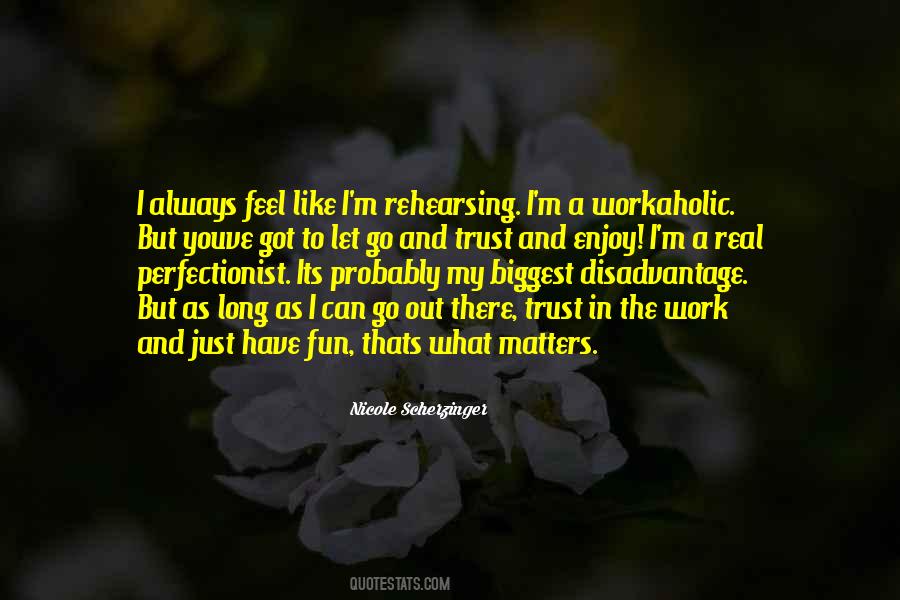 #21. I realized that my life was to be one of simple, childlike faith, and that my part was to trust, not to do. I was to trust in Him and He would work in me to do His good pleasure. From that time my life was different. - Author: Charles Studd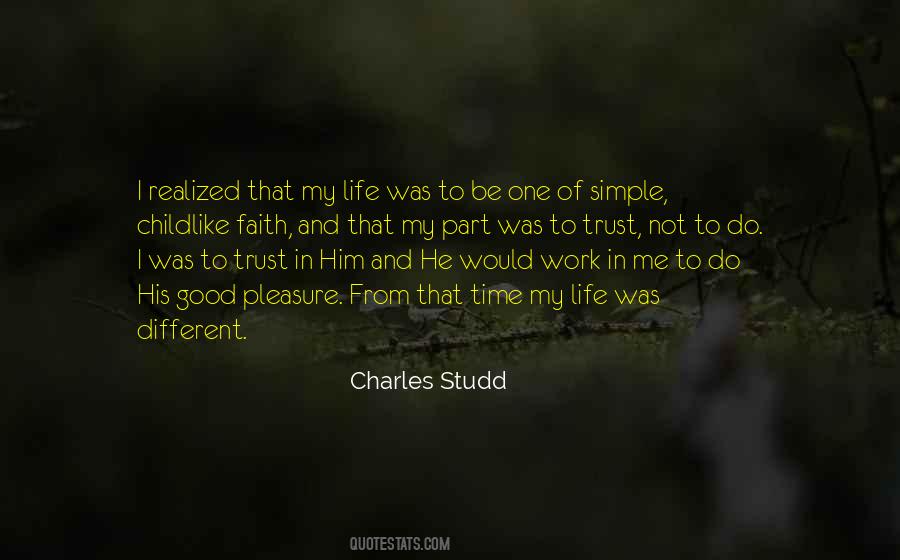 #22. When we have hope, we are showing that we trust God to work out the situation. Trust is the only way we're going to make it through and be a part of God's marvelous plan for His child. - Author: Barbara Johnson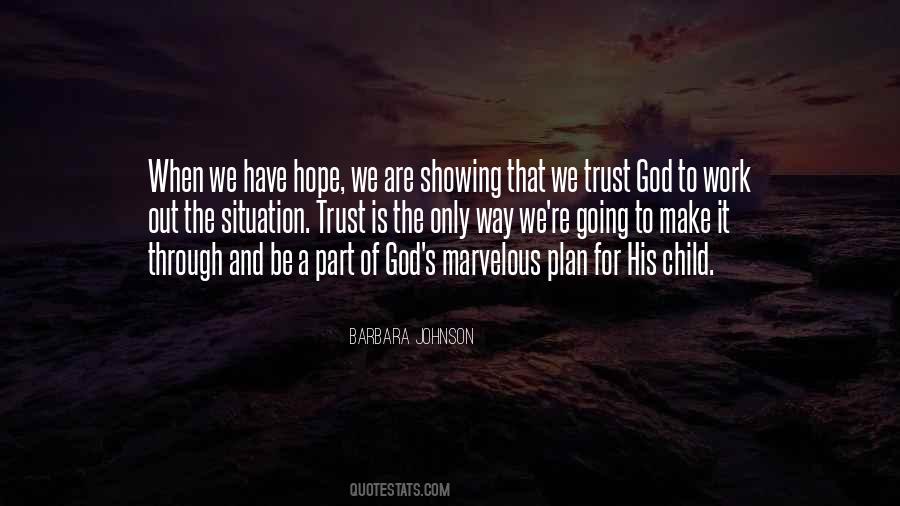 #23. It is a prerequisite, then, for someone to trust the culture in which they work to share the values and beliefs of that culture. Without it, that employee, for example, is simply a bad fit and likely to work only for self-gain without consideration for the greater good. - Author: Simon Sinek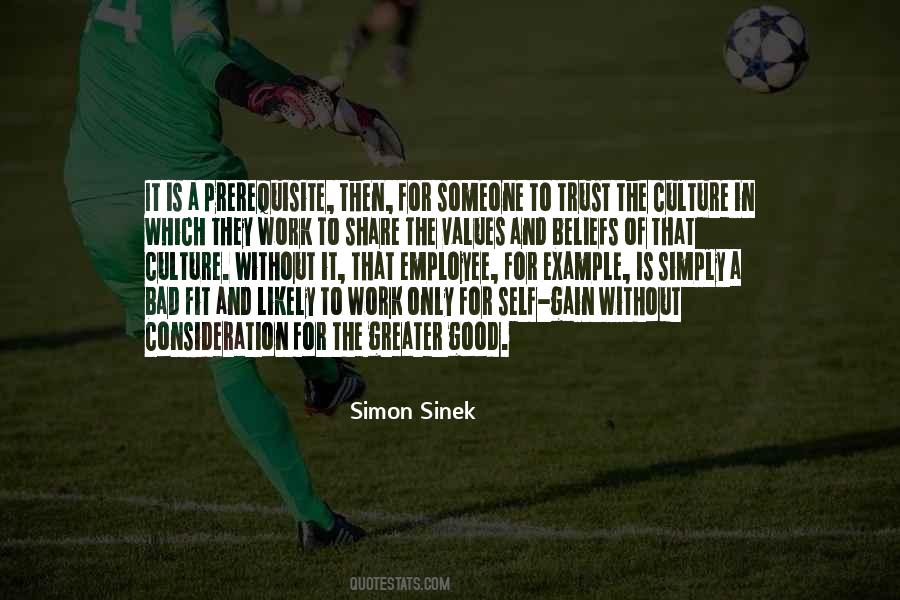 #24. Work Hard. Do your best. Keep your word. Never get too big for your britches. Trust in God. Have no fear; and Never forget a friend. - Author: Harry S. Truman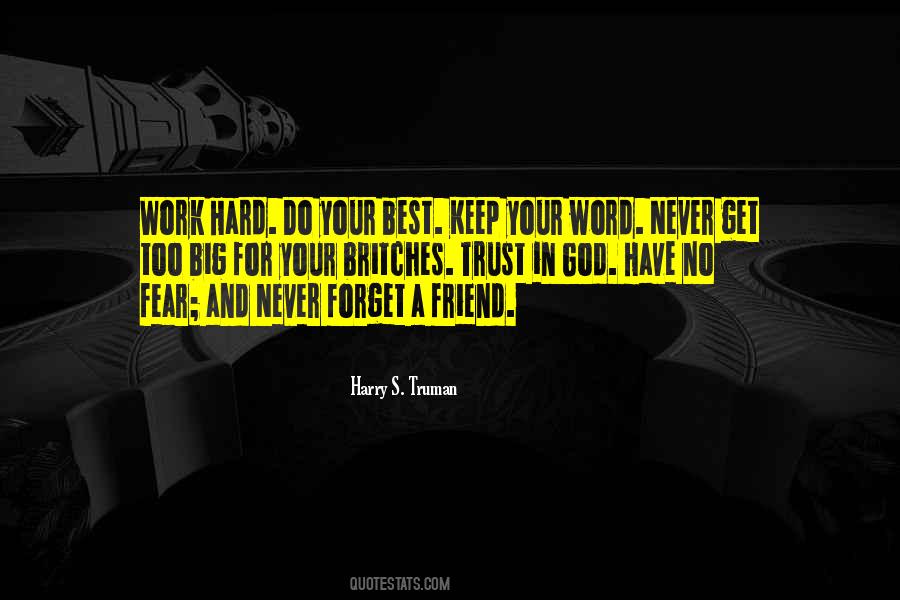 #25. I think this is an exciting time to be a female filmmaker. Trust your instincts, work harder than anyone else and learn your craft. Know it all. This means learn how to shoot, edit, produce and direct. Get as much experience as you can and watch a lot of films. - Author: Alex Hammond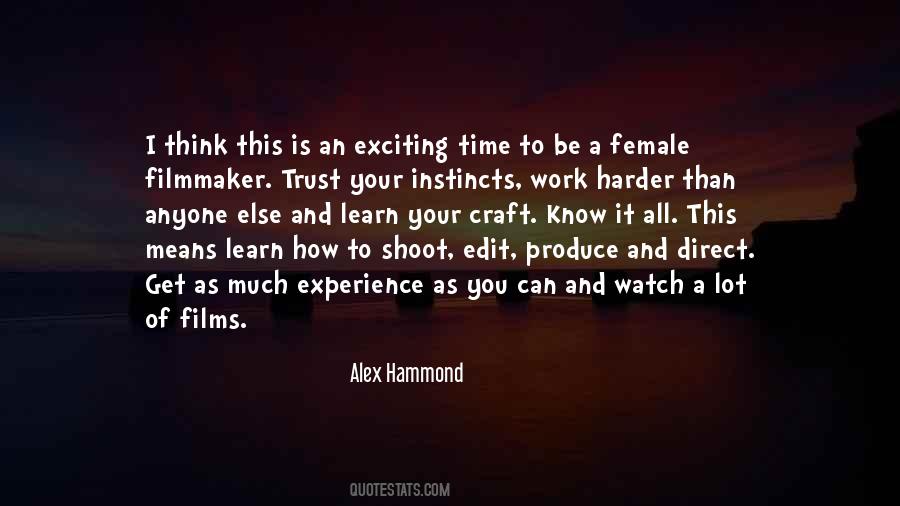 #26. Before a community can prosper, the people must believe in their leaders. They must know that at the core of every decision is careful planning, hard work, and unbending integrity rather than partisanship or self-gain. They must trust that the awesome power of government is not being abused. - Author: Linda Lingle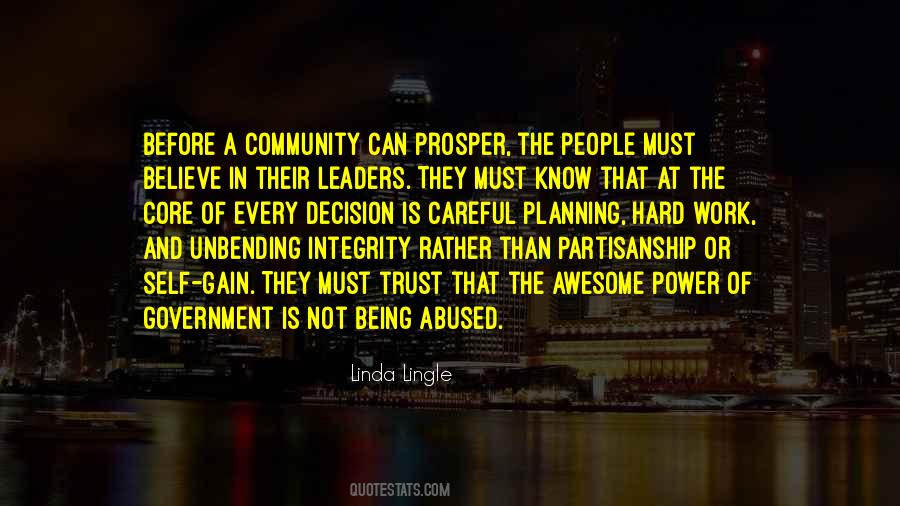 #27. When he talked about a Higher Power, he used words like gratifying, restorative and life-changing. It was something that "got you through the tough times," which "any young person could manage with a little hard work, trust and tenacity." God was a trip to Cancun. - Author: Marisha Pessl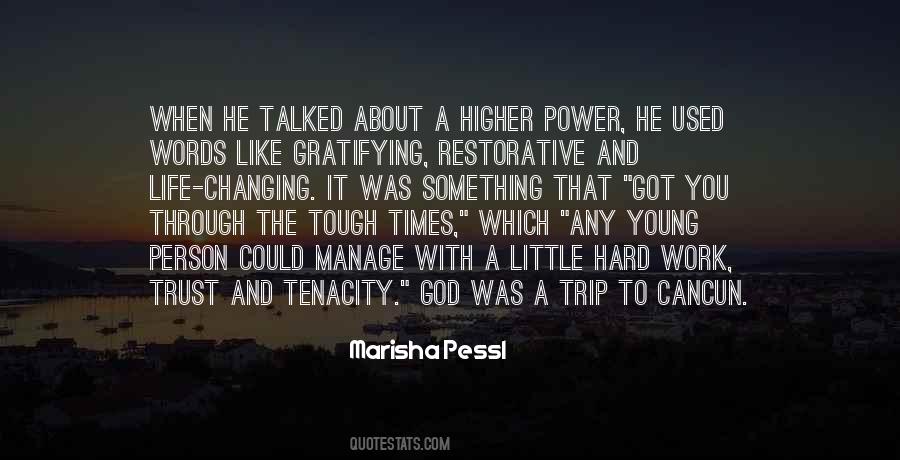 #28. What are you will to sacrifice for success? Whatever it is, don't sacrifice your values, your morals, your principles. Not worth it. - Author: Richie Norton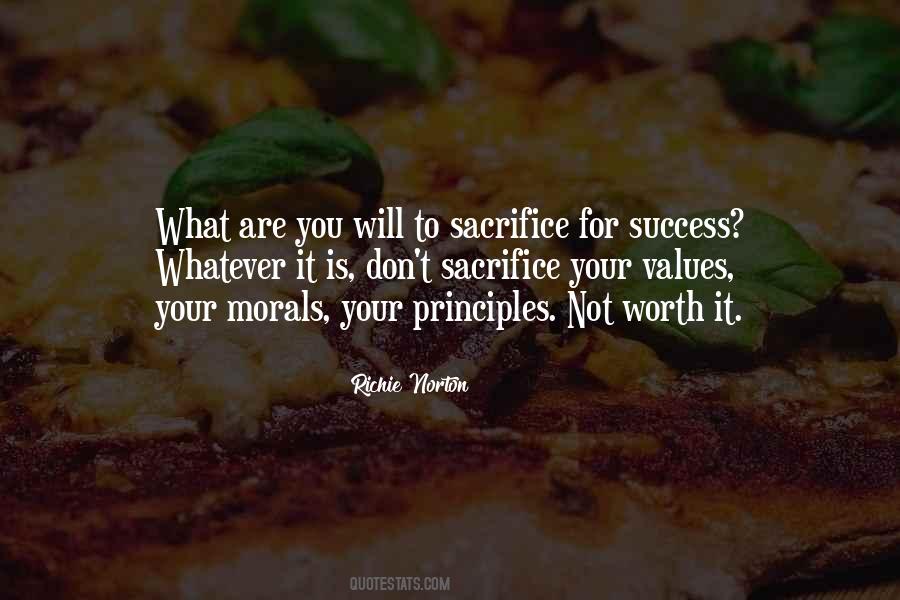 #29. The competition is out to get you. Are you a moving target or a sitting duck? Innovate or die. - Author: Richie Norton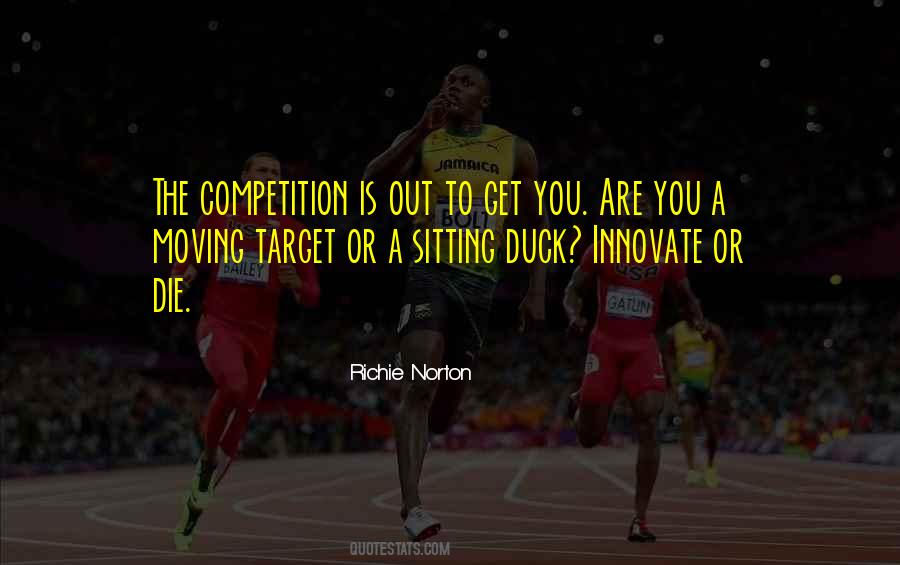 #30. Dear Influencers: Trolls will lurk under the bridges you build to gobble you up. They are hangry for attention. Build bridges anyways. - Author: Richie Norton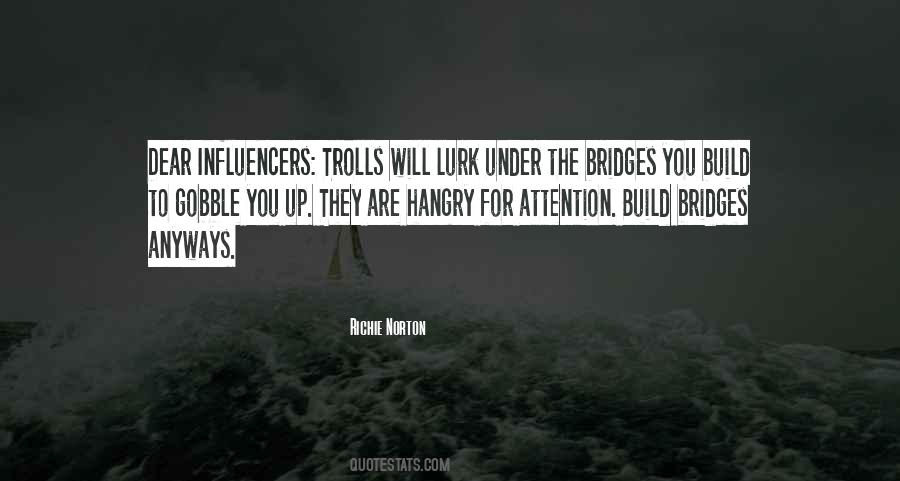 #31. I think the most important issue we have as a people is what we started, and that is to begin to trust our own thinking again and belive in ourselves enough to think that we can articulate our own vision of the future and then work to make sure that that vision becomes a reality. - Author: Wilma Mankiller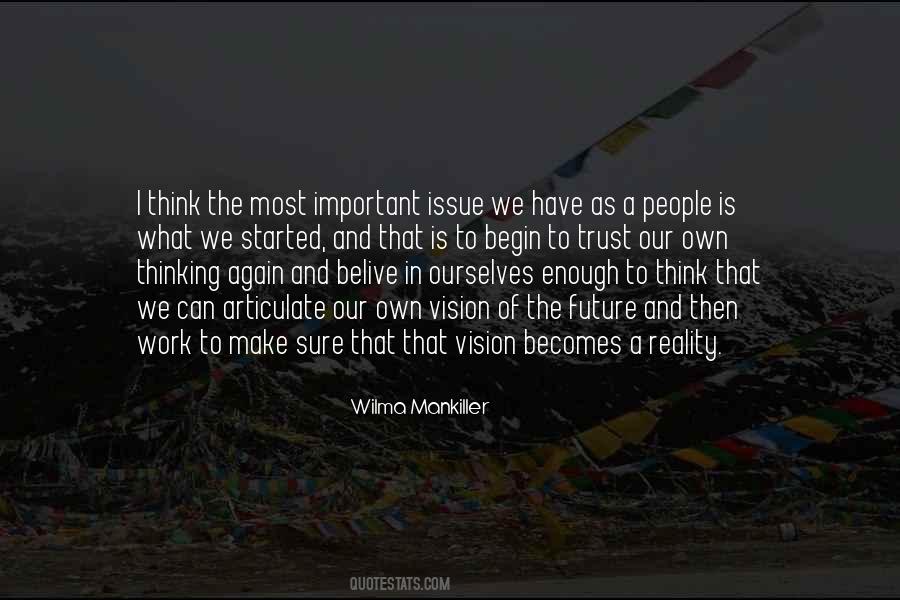 #32. And trust, yes, which is important, but that is what I aim towards. Now that is difficult for some people, and with that desire to get things as good as possible, I would say that I'm probably regarded as quite prickly to work with. - Author: Jeremy Irons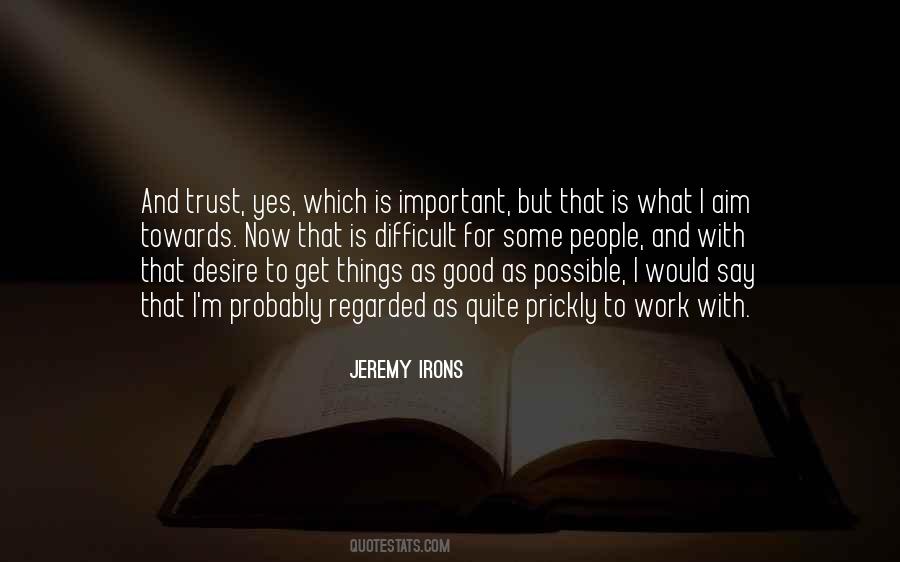 #33. If we can just let go and trust that things will work out they way they're supposed to, without trying to control the outcome, then we can begin to enjoy the moment more fully. The joy of the freedom it brings becomes more pleasurable than the experience itself. - Author: Goldie Hawn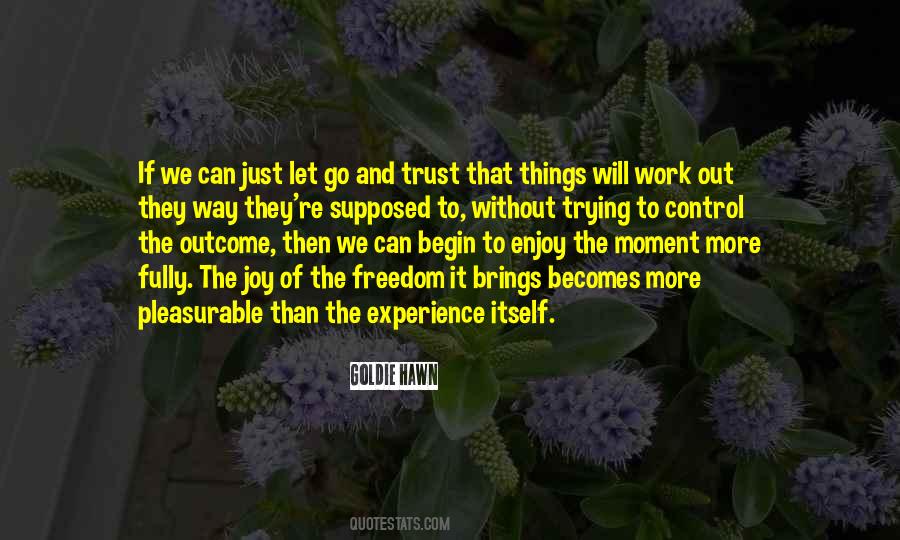 #34. Fr. Bert White: I think when you focus on money and property ownership, you go the way of the material world, of the Big, of Up and More. It becomes your agenda and then faith can fly out of the window. There has to be faith and a trust in God's reality - a trust that things will work out. - Author: Mother Teresa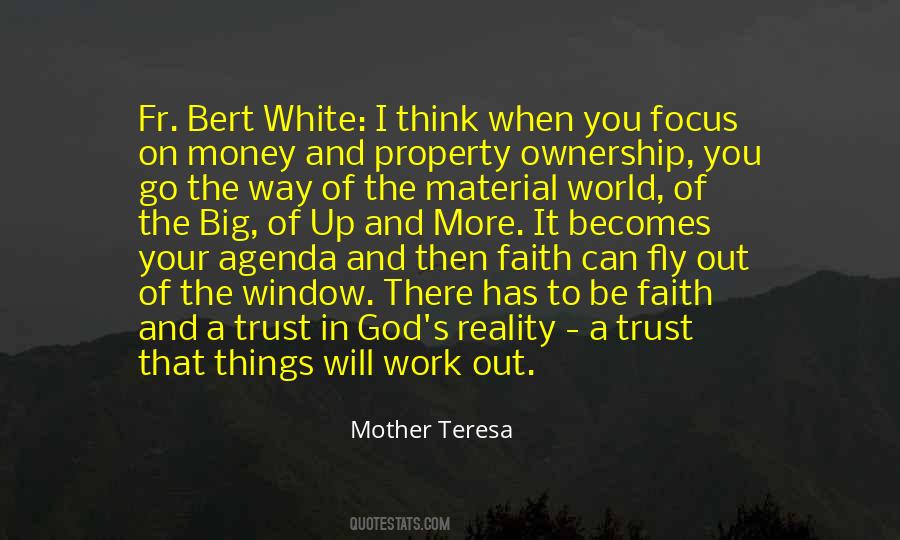 Famous Authors
Popular Topics