The Special Moments Famous Quotes & Sayings
List of top 39 famous quotes and sayings about the special moments to read and share with friends on your Facebook, Twitter, blogs.
Top 39 The Special Moments Quotes
#1. Winning the Indy 500 in 1995 and the Formula 1 championship in 1997 are very special moments for me, and the people in NASCAR show me respect for what I've achieved so far in my career. - Author: Jacques Villeneuve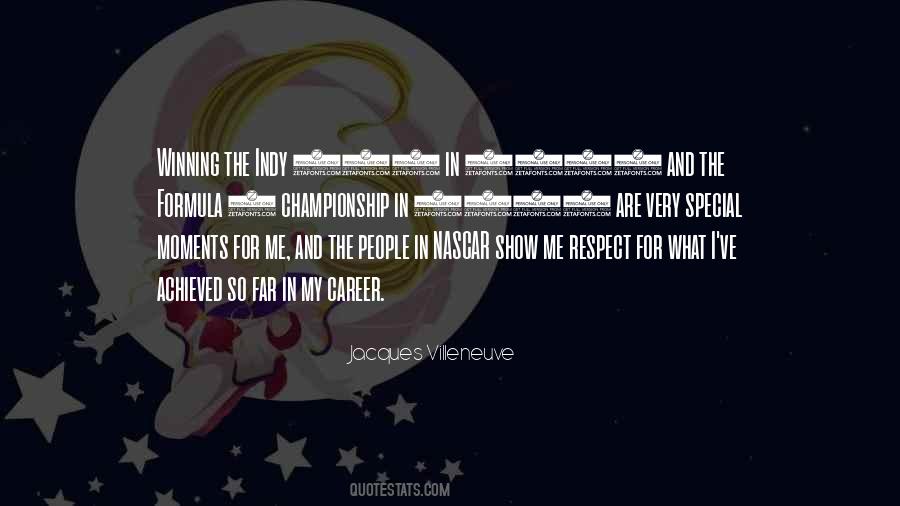 #2. Each person has his special moment of life when he unfolded himself to the fullest, felt to the deepest, and expressed himself to the utmost, to himself and to others. - Author: Aleksandr Solzhenitsyn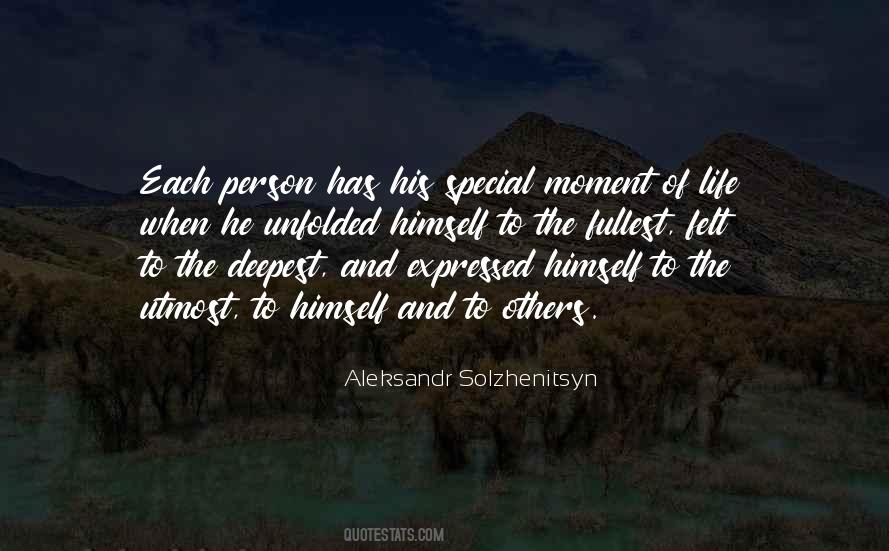 #3. Life is a long boring drive on an empty road punctuated by special moments that make the journey worth taking. - Author: Chloe Thurlow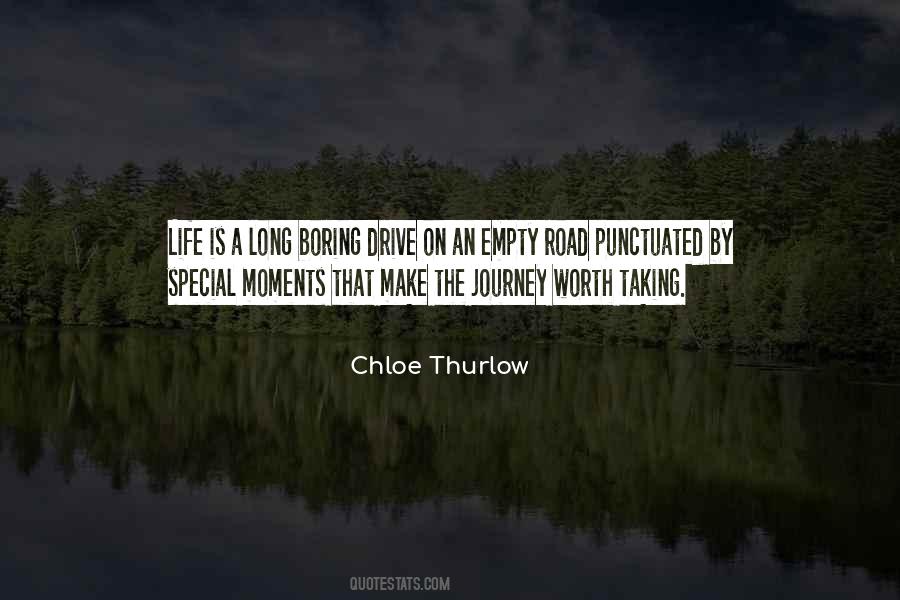 #4. We're here today, gone tomorrow and all we have in between are the little moments we can fill up with life, with love. It's not the big things we do, it's the energy we put into making special moments every day. That's what counts. - Author: Jan Hambright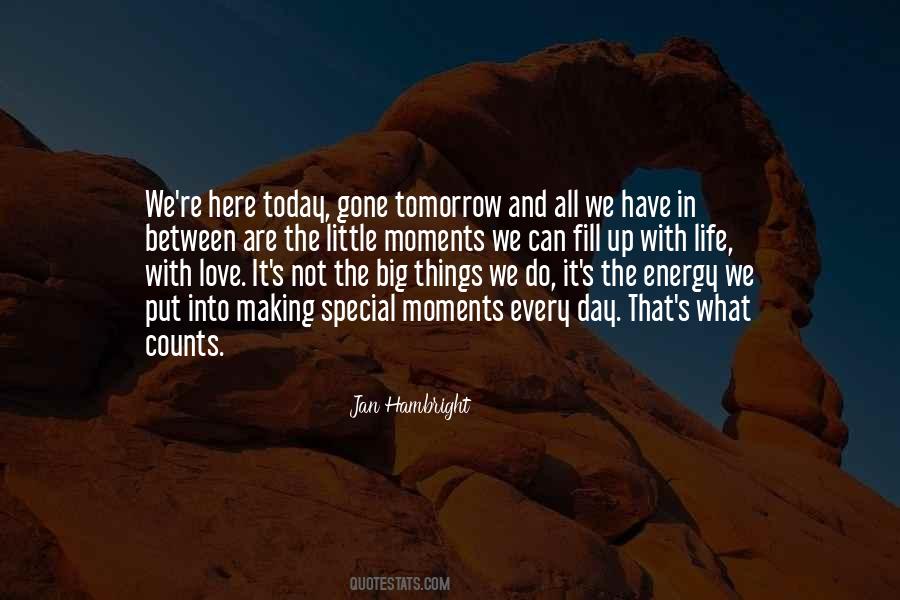 #5. Intimacy makes you feel unique. Intimacy makes you feel as though you have been singled out, that someone in the world believes you have special qualities that nobody else has. - Author: Heather O'Neill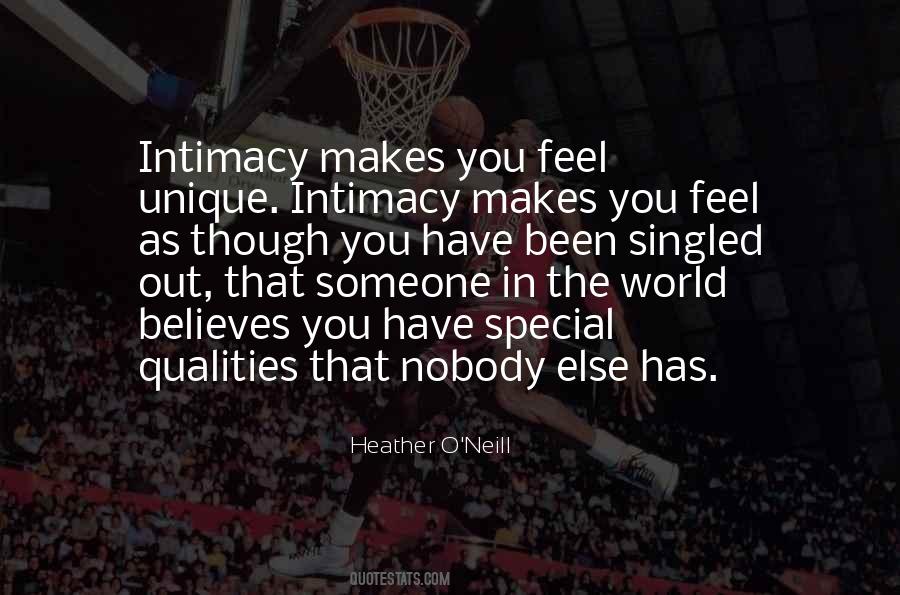 #6. Vacations are not just about the two weeks you are away from work; they're also about the time you spend anticipating and imagining your trip, as well as the time after the trip when you get to replay special moments from your vacation in your mind. - Author: Dan Ariely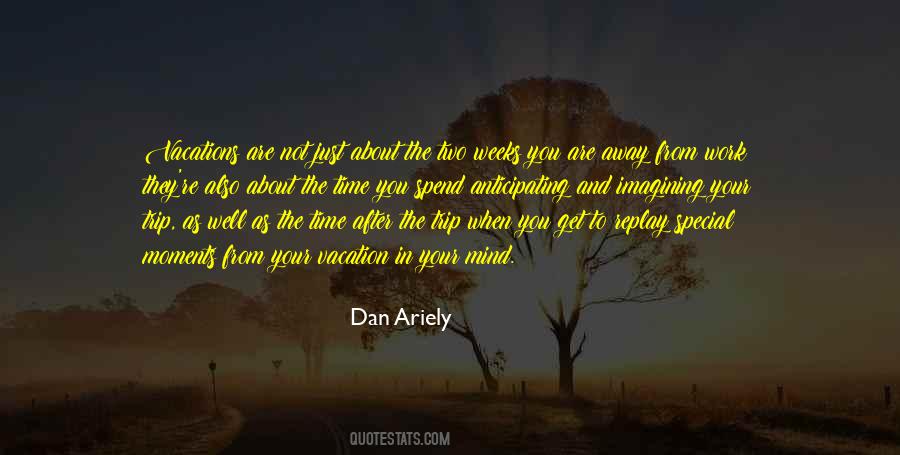 #7. I suppose all couples feel this way at some point - that their bond is the most special, the strongest, the Greatest Love of All. Not all the time, just in those few and far between moments where you look at the person you're with and think: Yes. It's you. - Author: Colleen Oakley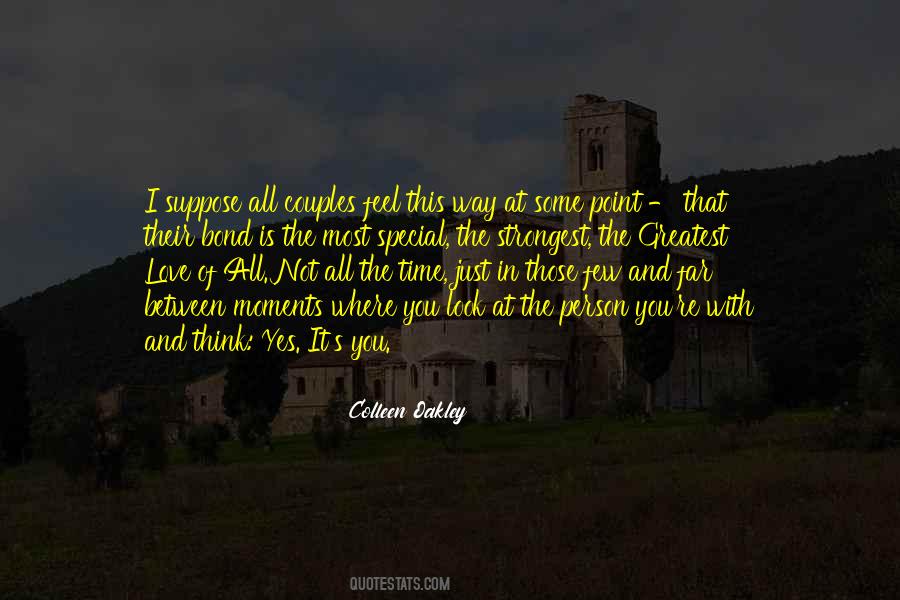 #8. In our lives are special moments that live as their own, the rest is movement with the passage of time. - Author: Donna Lynn Hope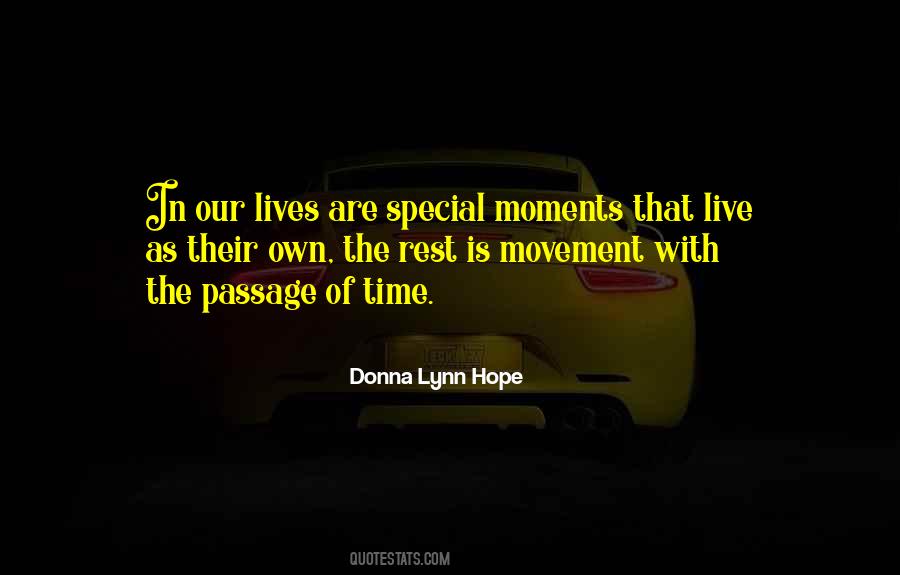 #9. What Snapchat said was if we try to model conversations as they occur, they're largely ephemeral. We may try to write down and save the really special moments, but by and large, we just try to let everything go. We remember it, but we don't try to save it. - Author: Evan Spiegel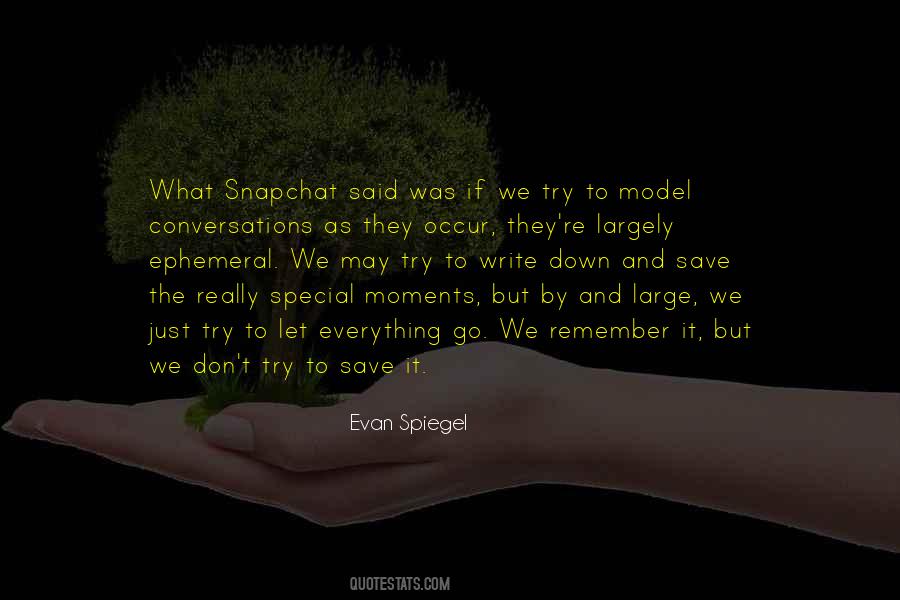 #10. The best gift we can give each other is the gift of time
those precious, special, eternal moments. - Author: Shmuley Boteach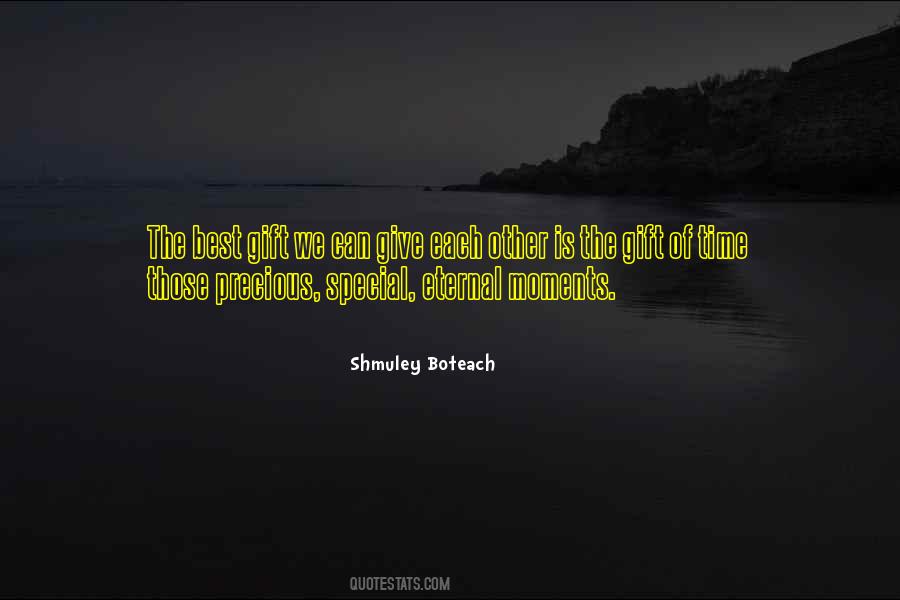 #11. I want the public to know that it will be an honor for me to meet them and spend a few special moments with all those who helped me through my filmed career. - Author: Tony Curtis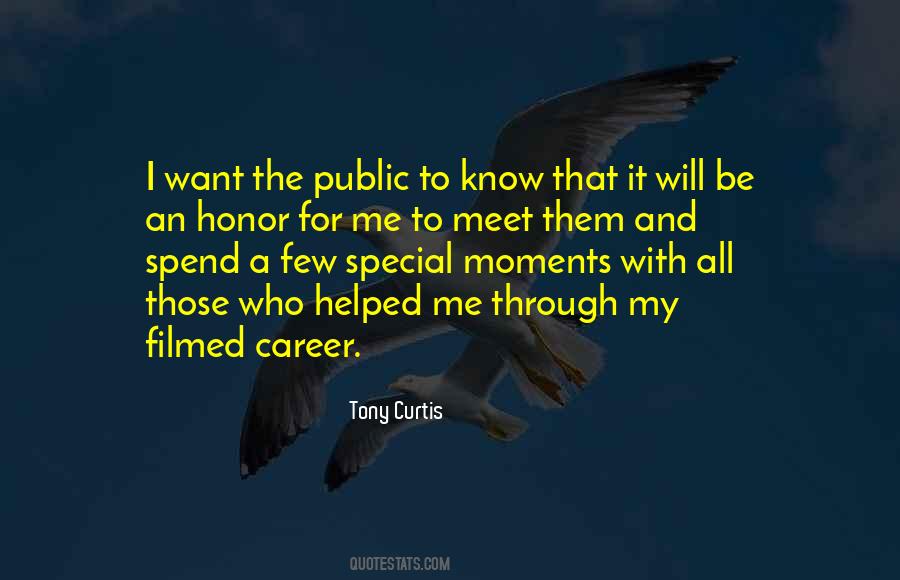 #12. I'm never home. I miss birthdays. I miss holidays. I miss anniversaries. I miss special moments. I'm not always there for important times, because I'm out on the road trying to make people laugh. I give up my privacy. I give up the ability to walk somewhere and relax. - Author: Gabriel Iglesias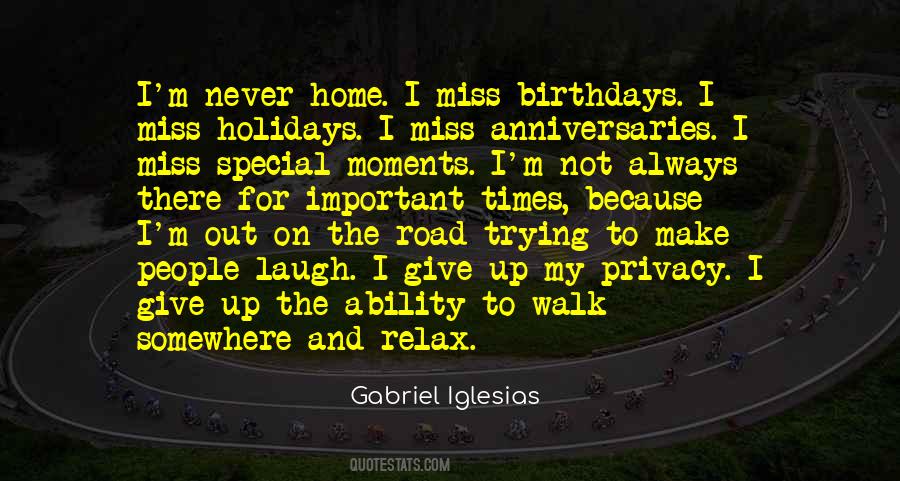 #13. Hats are attached to special moments in people's lives - weddings, or the races. In difficult times, people still get married; they still want to look their best. - Author: Philip Treacy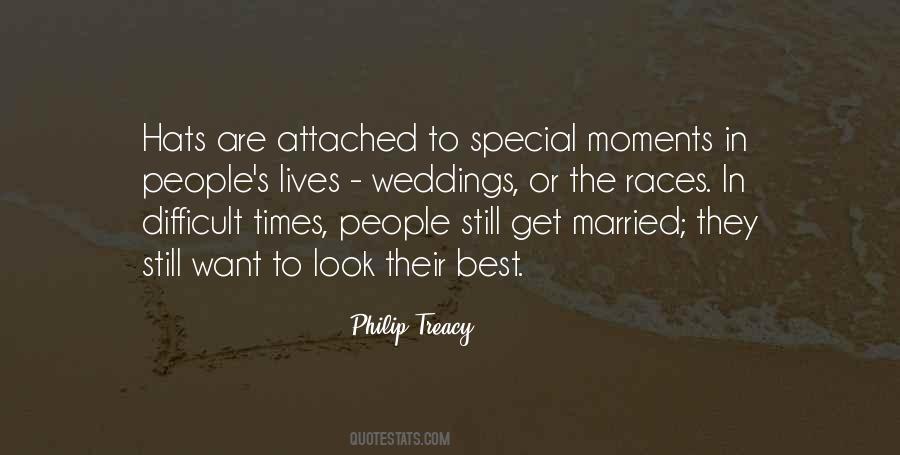 #14. The most evocative life memories, which produced a synesthesia of emotions, consist of a host of small pleasures intertwined with the homespun stitches of love, affection, kindness, humility, and appreciation of nature. - Author: Kilroy J. Oldster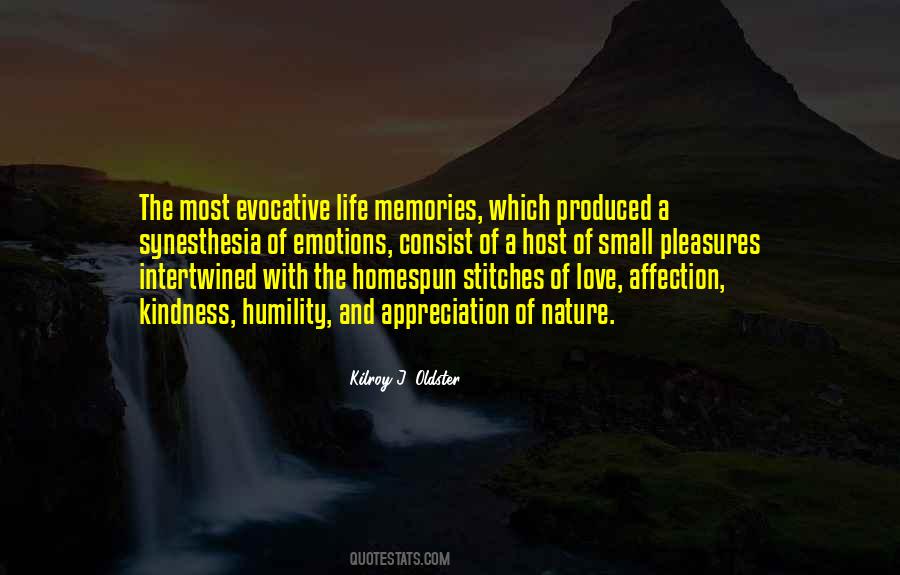 #15. Ask God for a special alertness to sense moments in this day when you can clothe yourself with compassion, kindness, humility, gentleness, and patience. Thank the Lord for each person who has demonstrated one of those character traits of Jesus in your life. - Author: Max Lucado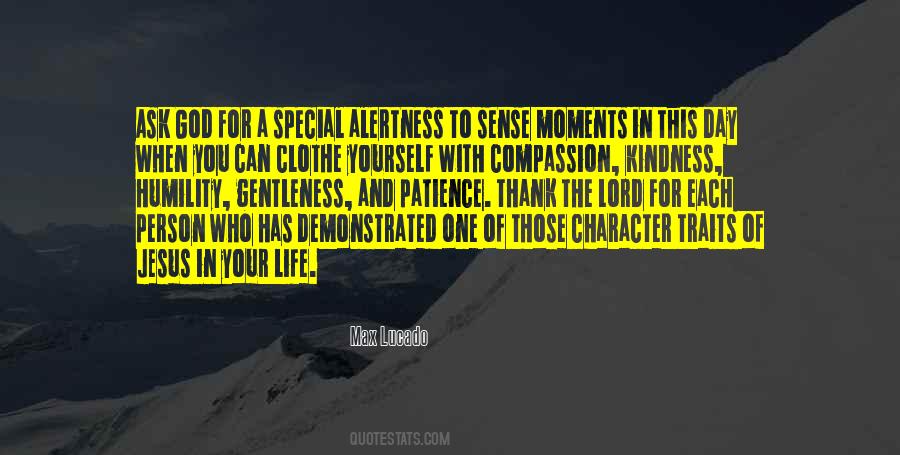 #16. For right now he was wanted and he was good. And he so rarely experienced either that it was one of the most special moments of his life. - Author: Laura Kaye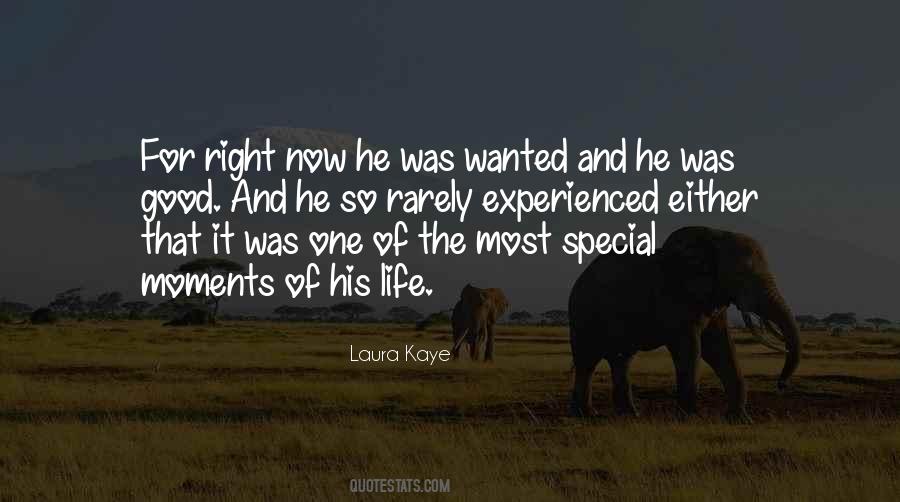 #17. Once I threw a water bottle from the stage into the audience, and it hit Tony Bennett in the head. It was a special moment for me. - Author: Marilyn Manson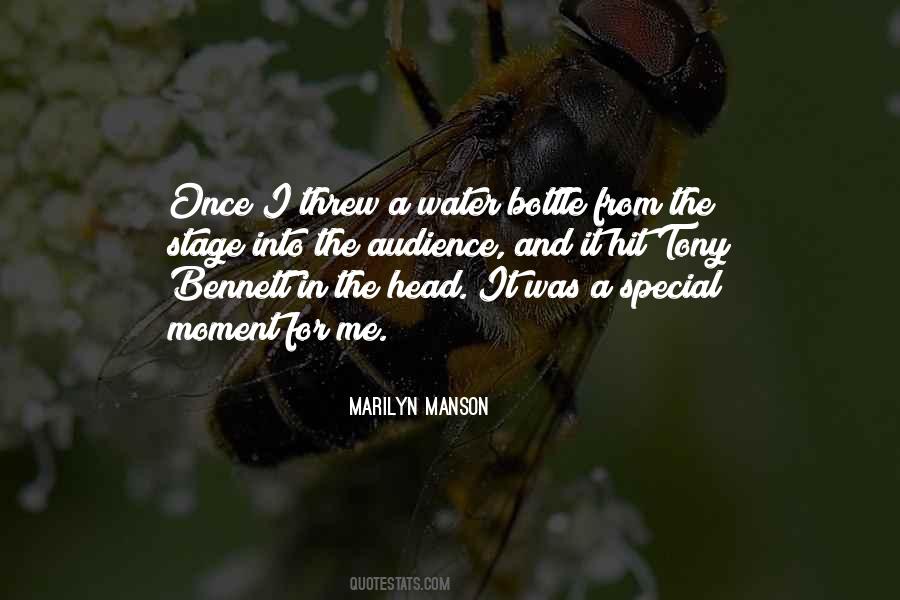 #18. Motherhood is an amazing feeling, and if you get to relive those special moments while working, it works as an icing on the cake. Kids have always been close to my heart, and working with them is a pleasure for me. - Author: Kajol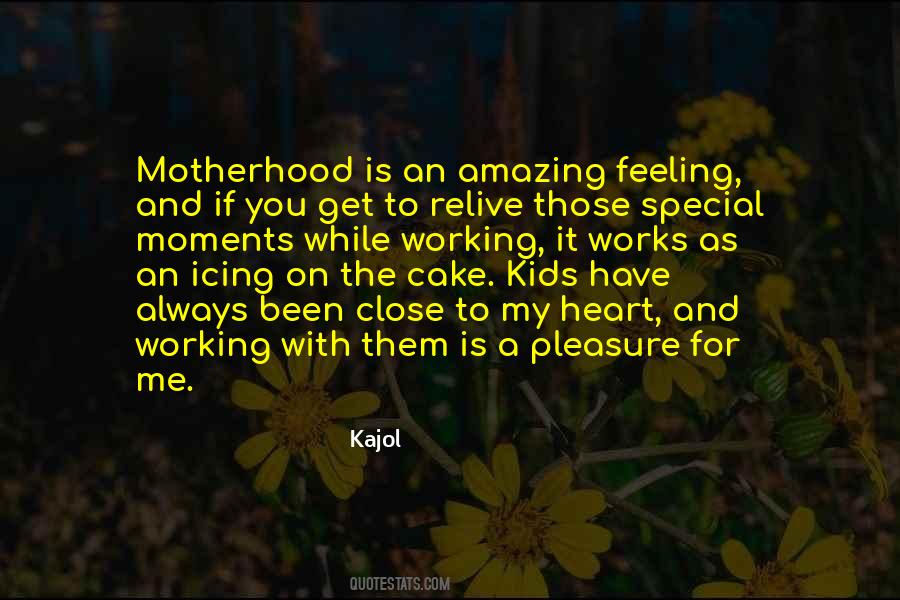 #19. How many times have you noticed that it's the little quiet moments in the midst of life that seem to give the rest extra-special meaning? - Author: Fred Rogers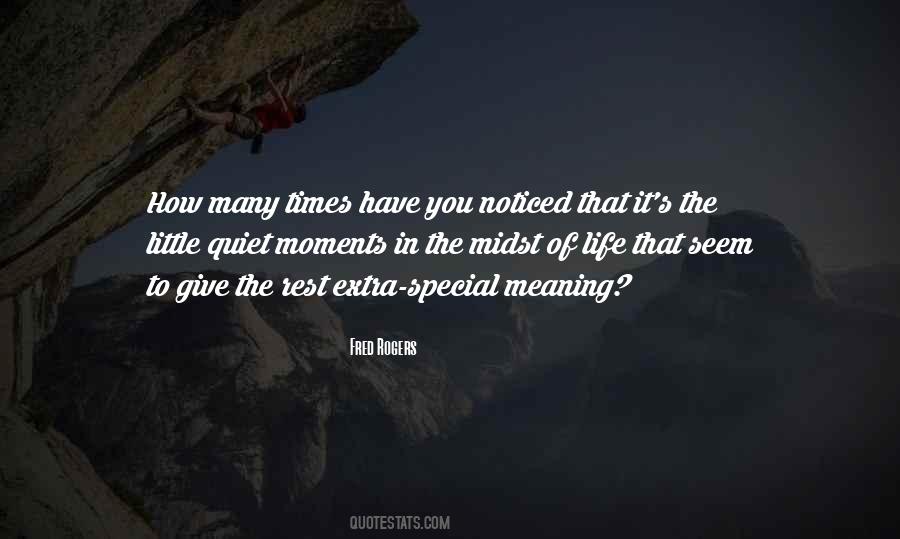 #20. I try to save being angry for the really important moments - for special occasions. - Author: Jon Cryer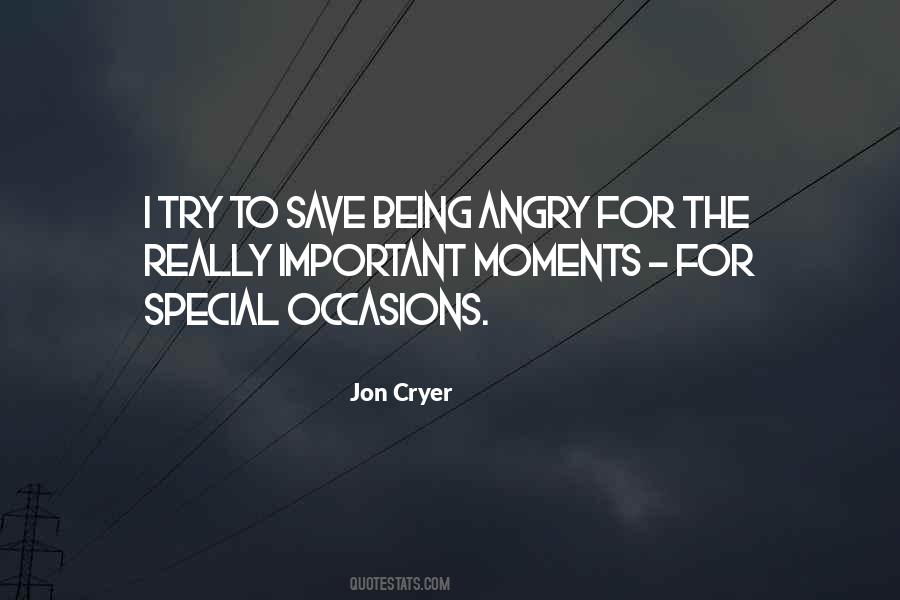 #21. Knowledge above the average can be crammed into the average man, but it remains dead, and in the last analysis sterile knowledge. The result is a man who may be a living dictionary but nevertheless falls down miserably in all special situations and decisive moments in life. - Author: Adolf Hitler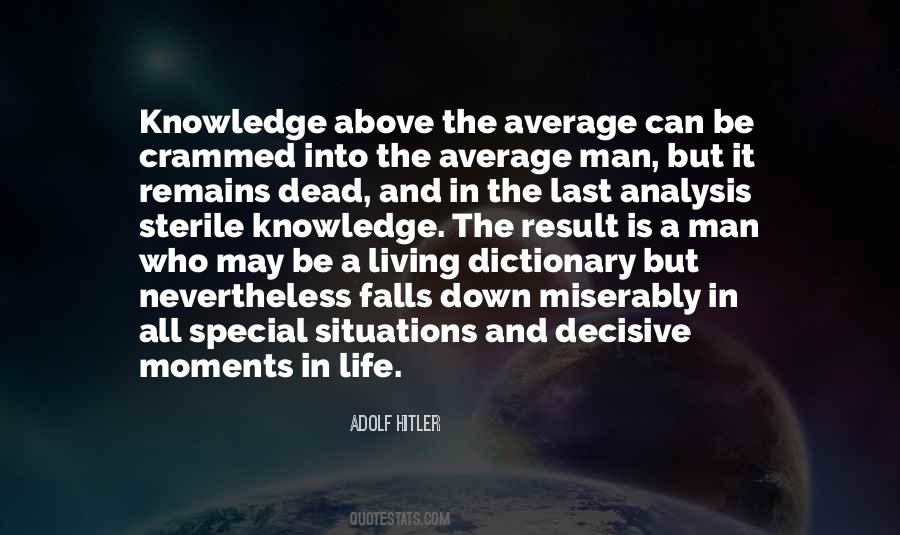 #22. The music began, and it was one of those life-changing moments. I saw an artist, Janis Joplin. She was exhilarating. She was vibrating. And she was like no other artist that I had ever seen before ... It struck me that hard. Maybe the word is epiphany, when you get that special sensation. - Author: Clive Davis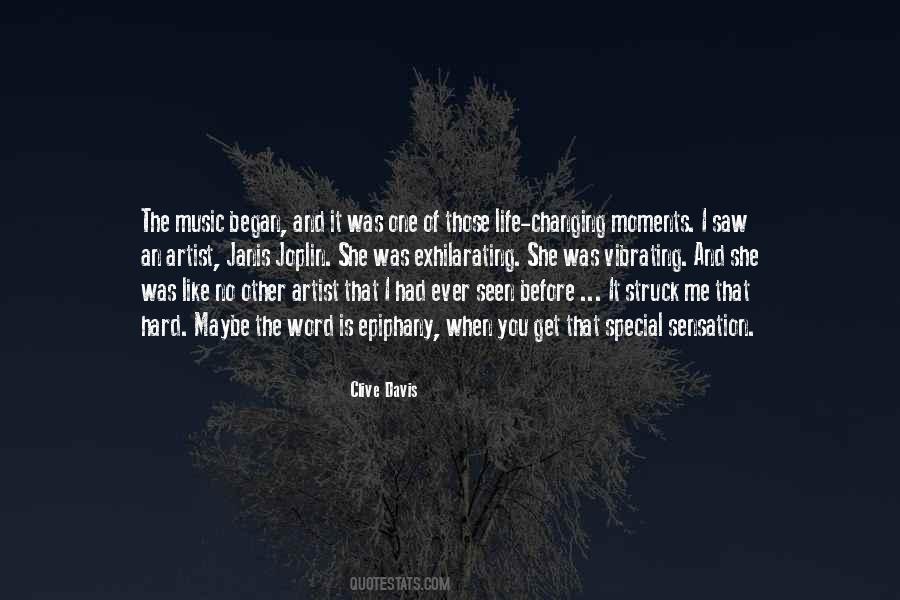 #23. Savor the moments that are warm and special and giggly. - Author: Sammy Davis Jr.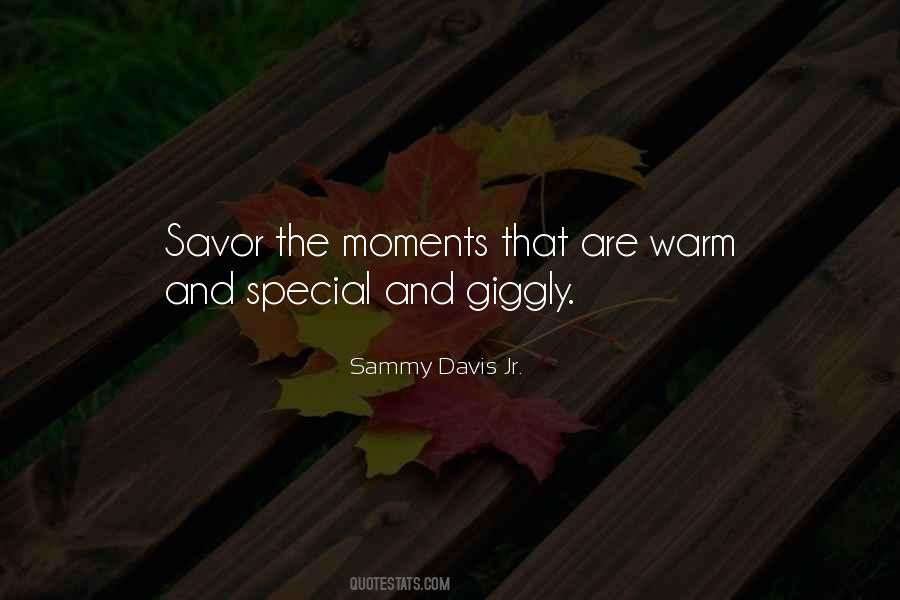 #24. Self-expression is not enough; experiment is not enough; the recording of special moments or cases is not enough. All of the artshave broken faith or lost connection with their origin and function. They have ceased to be concerned with the legitimate and permanent material of art. - Author: Jane Heap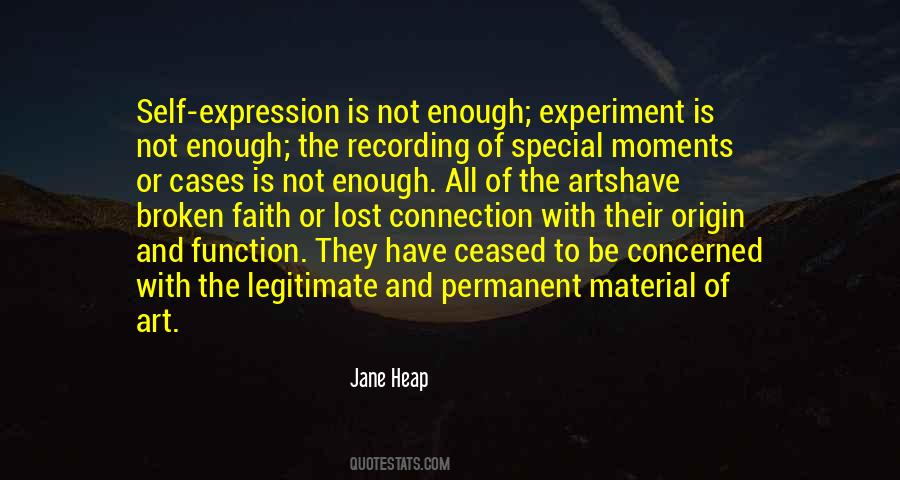 #25. Today is a special day that will go by very fast, so let's take every second to make the most out of every moment. - Author: Auliq Ice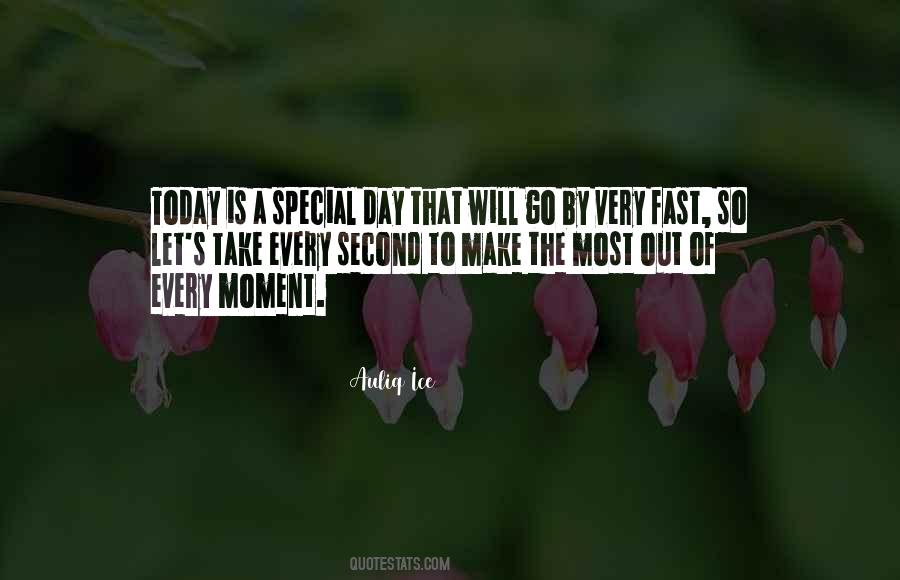 #26. Between the initial idea and the finished piece lies a gulf we can see across, but never fully chart. The truly special moments in artmaking lie in those moments when concept is converted to reality - those moments when the gulf is being crossed. - Author: David Bayles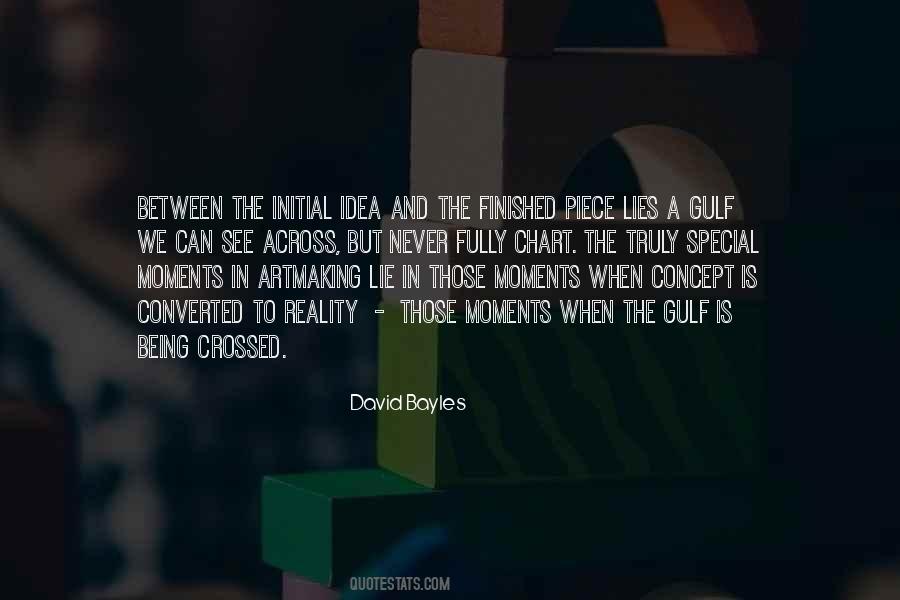 #27. Does a special love withstand the test of time? Like the grass that overcomes a 500lb slab of sidewalk concrete or the proverbial flower that shatters the stone, can Christ overcome the barriers and deep darkness of mortal moments? - Author: Rob Guinan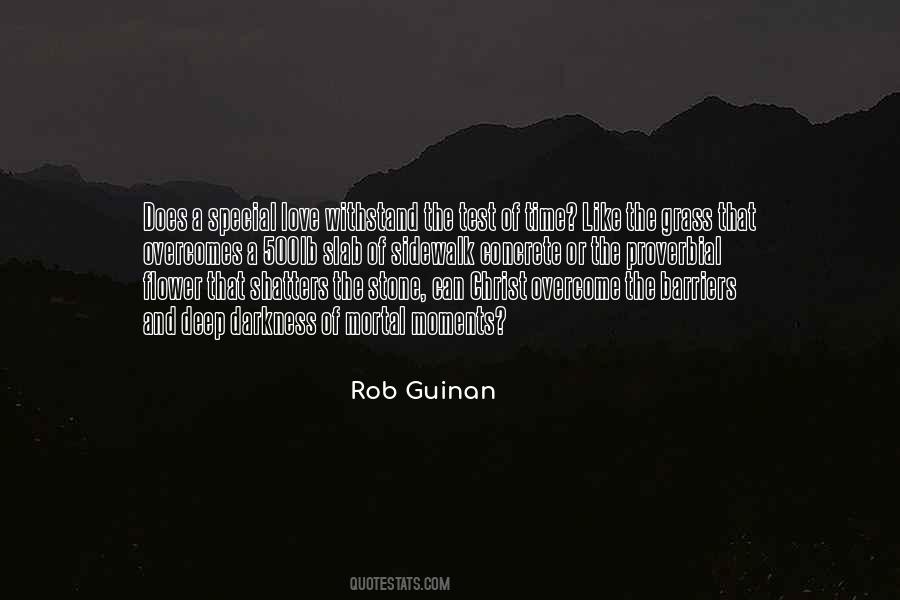 #28. God has special confidences for each soul. Indeed, it would seem as though the deepest truths came only in moments of profound devotional silence and contemplation. - Author: Charles Brent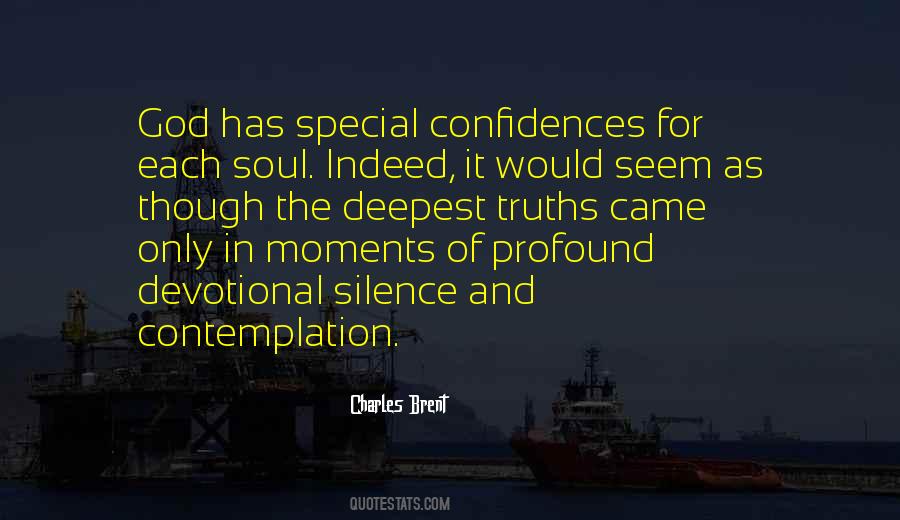 #29. It was very weird because for a long time no one really recognised me from my films, but 'The Hobbit' has totally changed that, and I've had some really special moments, especially with youngsters. - Author: Luke Evans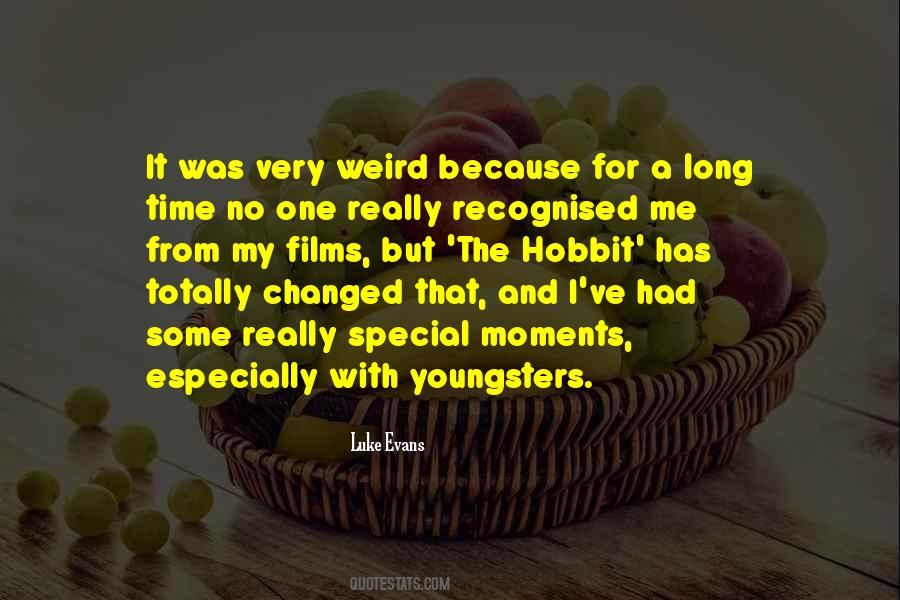 #30. I love my kids, and the moments I have with them, and it's kind of weird, it's such an age old cliche, but the way that my sons, the way they make me feel when I look at them, the way they say things, no one else would probably react to them, but it's a special thing for me. - Author: Michael Rapaport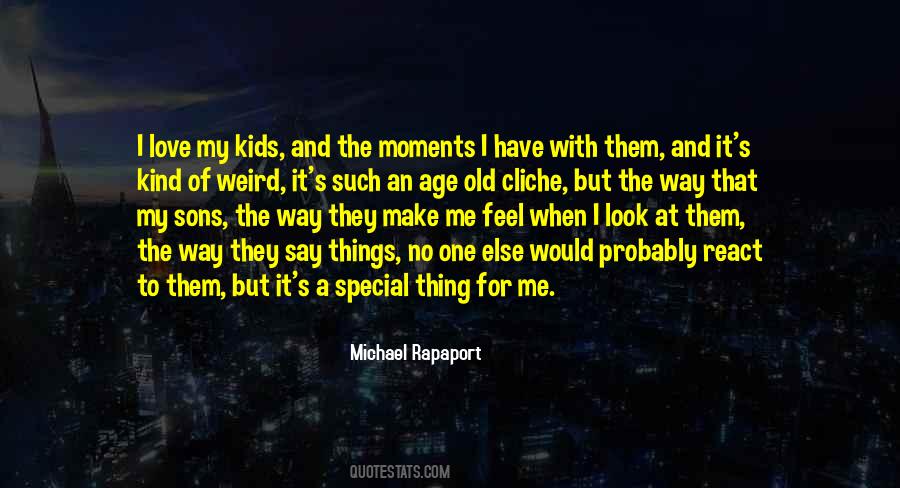 #31. To captain Liverpool in any game is special, but to do it in a final, would be one of the proudest moments of my life. - Author: Jamie Carragher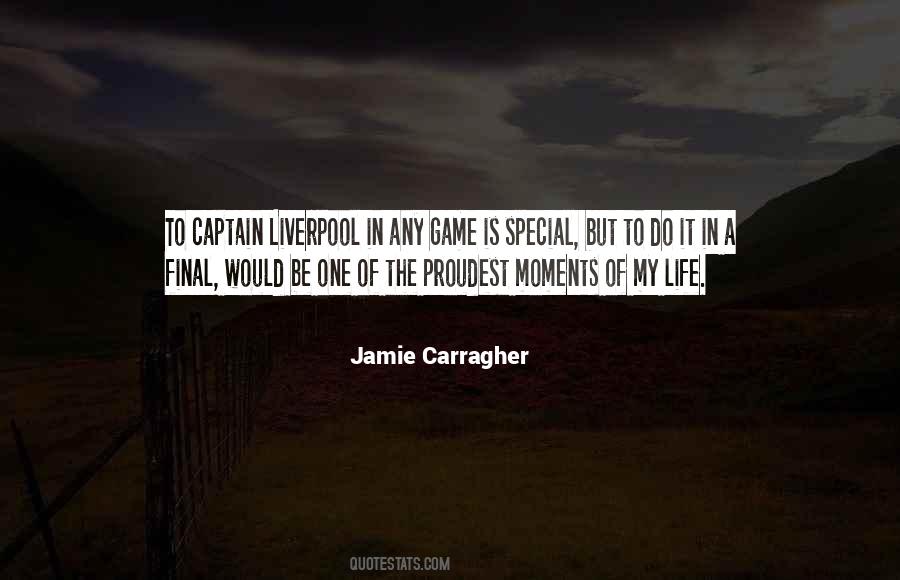 #32. I don't wear dresses all the time - it's nice to save those moments for certain occasions and to make it feel extra special. - Author: Lily Collins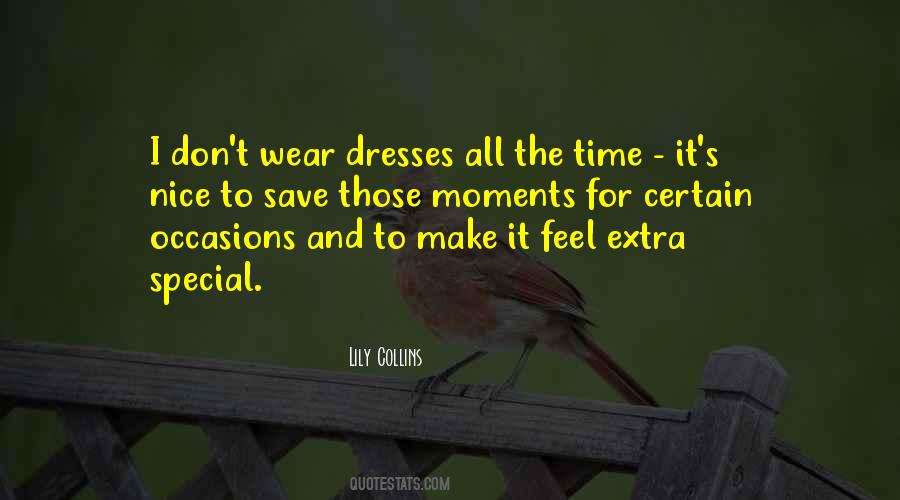 #33. The real world reveals itself like surprise gifts on our doorstep, special moments that seem above and beyond the reality of others. These times are full, beautiful and meaningful beyond words, even when wrapped in pain. - Author: Christopher Hawke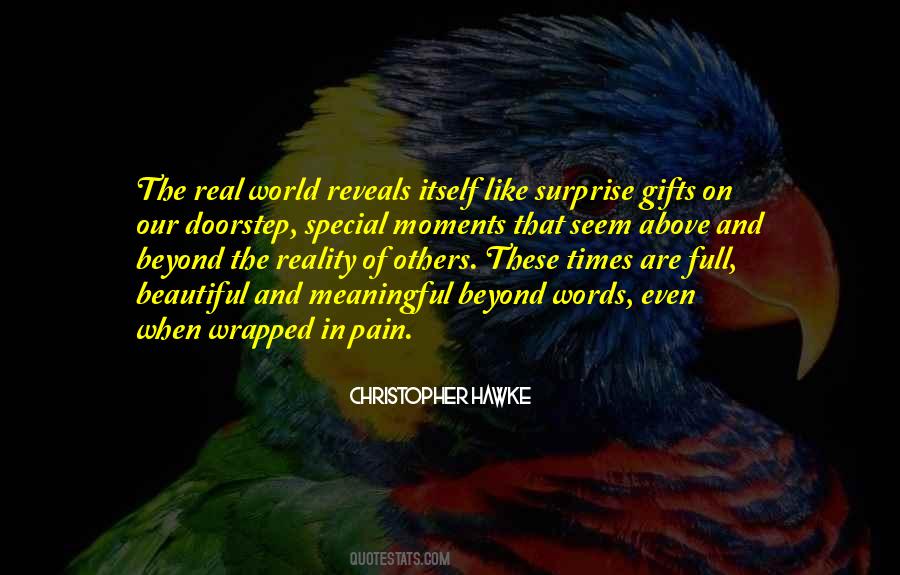 #34. The mere size of the brain has been proved to be no measure of superiority. The woman has greater moral courage than the man; she has also special gifts which enable her to govern in moments of danger and crisis. If necessary she can become a warrior. - Author: Abdu'l- Baha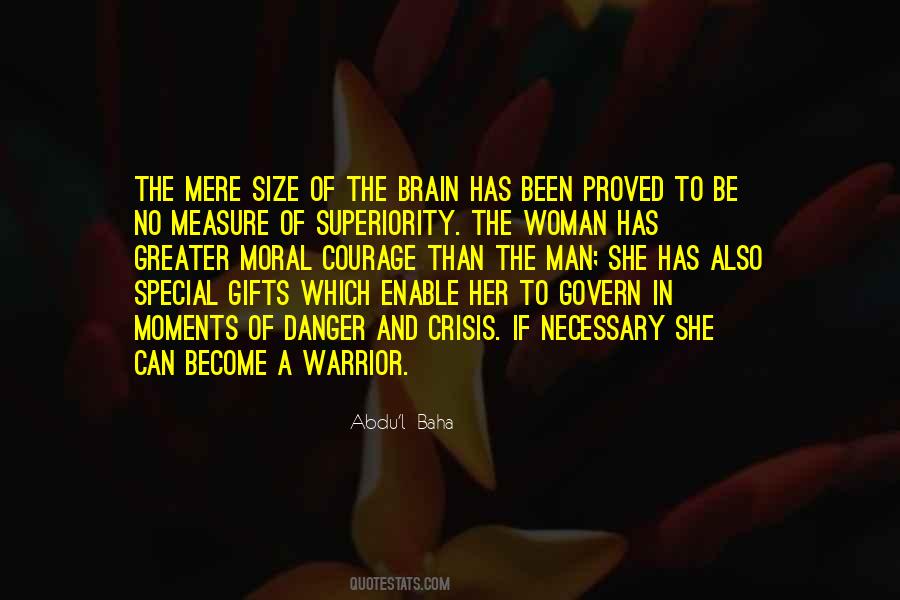 #35. At some point, when we have been blessed with profoundly moving, touching and special moments, it is important to stop questioning and to begin accepting the gift of the experience. Such moments add only richness and great joy to this journey called life. - Author: Susan Barbara Apollon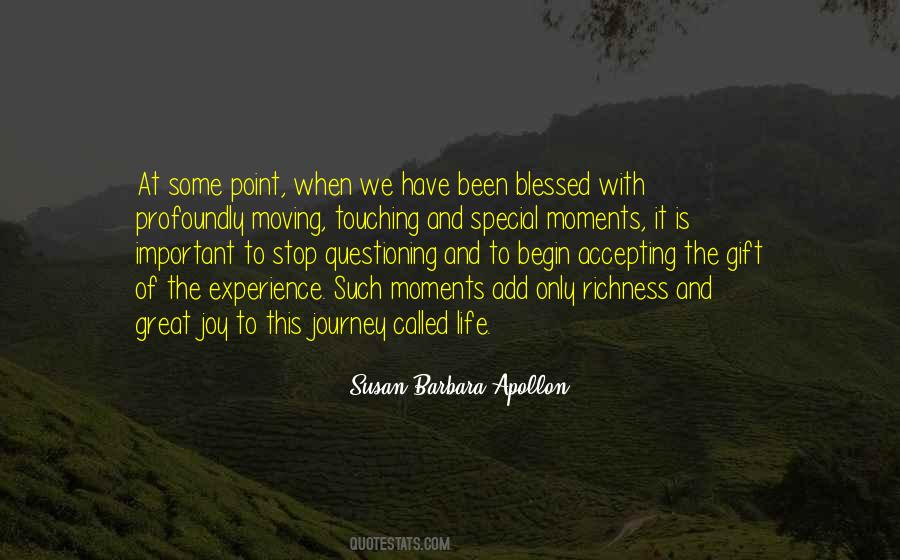 #36. A woman's orgasm," he began, his eyes drifting to a spot on the wall behind me, "is beyond beautiful. It's beyond sexy. It's one of those rare special, fleeting moments when life seems to make sense; my life seems to make sense, you know?" he finished, nervously searching my face for understanding. - Author: Clara James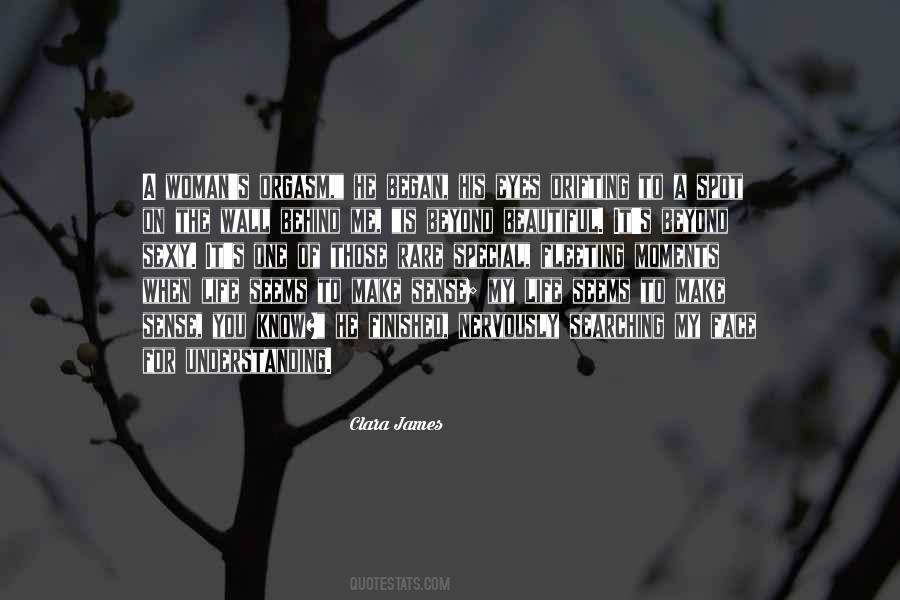 #37. I'm slowly learning that my happiest, most special moments happen when the circus is at its peak. - Author: Emily Ley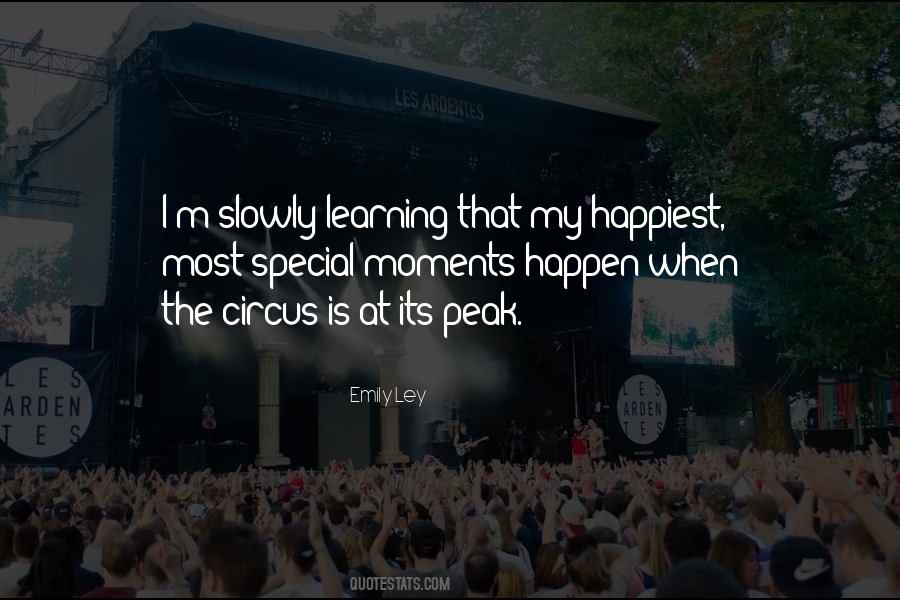 #38. Winning is one of the most special moments. Every time I take the field it's a special moment. The fans are the ones that make it special. Because that's what we do it for. - Author: Derek Jeter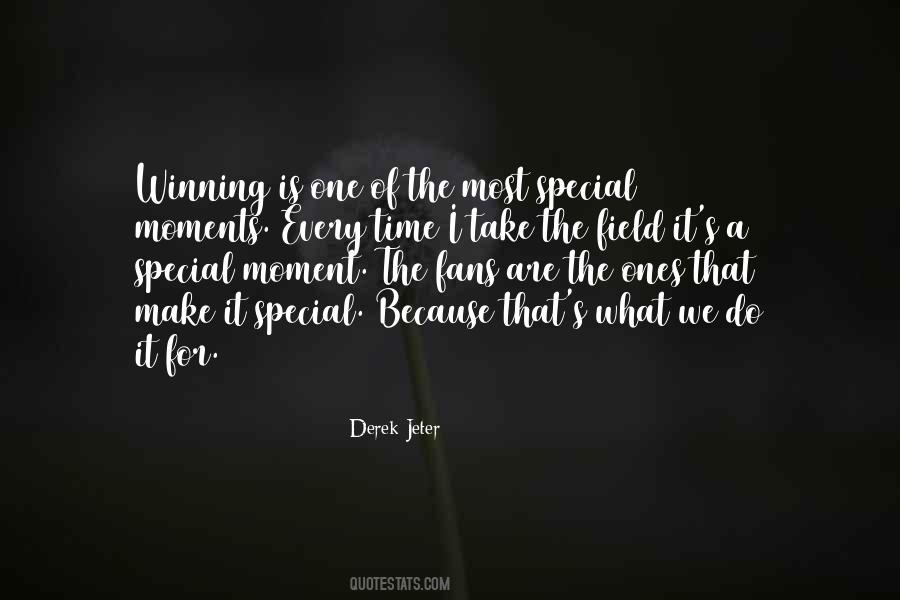 #39. Our memories, those precious moments that shape our lives and makes us who we are. Our friends, our families, and all the special things we hold close to our hearts. Those are the things that can never be replaced - Author: Virginia McKevitt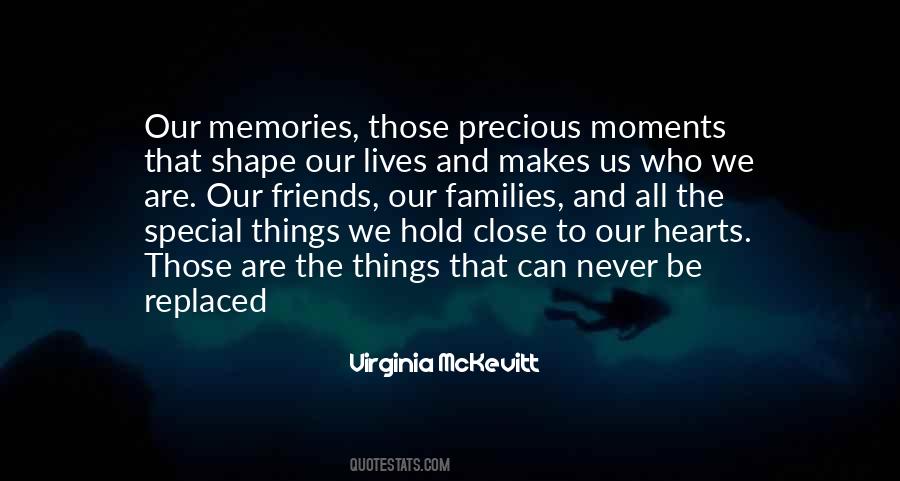 Famous Authors
Popular Topics