The More We Grow Famous Quotes & Sayings
List of top 100 famous quotes and sayings about the more we grow to read and share with friends on your Facebook, Twitter, blogs.
Top 100 The More We Grow Quotes
#1. As different as we are from one another, as unique as each one of us is, we are much more the same than we are different. That may be the most essential message of all, as we help our children grow toward being caring, compassionate, and charitable adults. - Author: Fred Rogers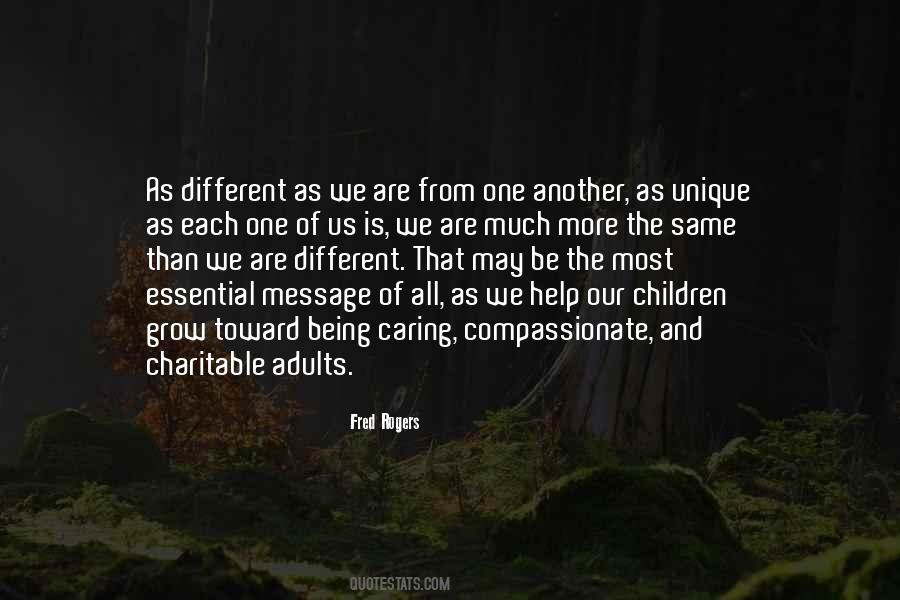 #2. Nature! We are enveloped and embraced by her, incapable of emerging from her and incapable of entering her more deeply. Unbidden and unwarned, she receives us into the circuits of her dance, drifting onward with us herself, until we grow tired and drop from her arms. - Author: Johann Wolfgang Von Goethe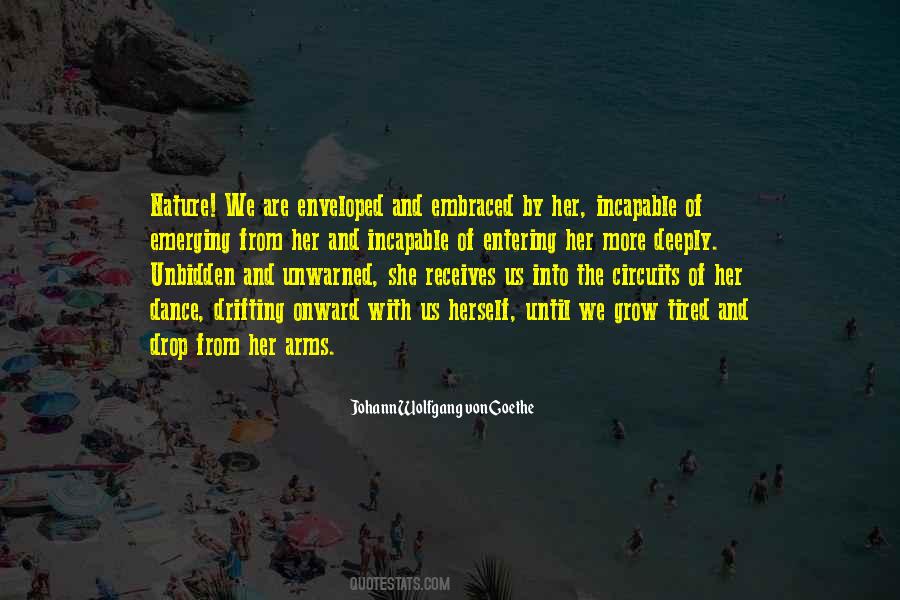 #3. I guess I do tend to leave an impression." - Jackaby
"More like a smoldering crater." - Bertram
...
"You've done something with the front garden, haven't you?" - Jackaby
"Yes," said Spade. "We've let it grow back. - Author: William Ritter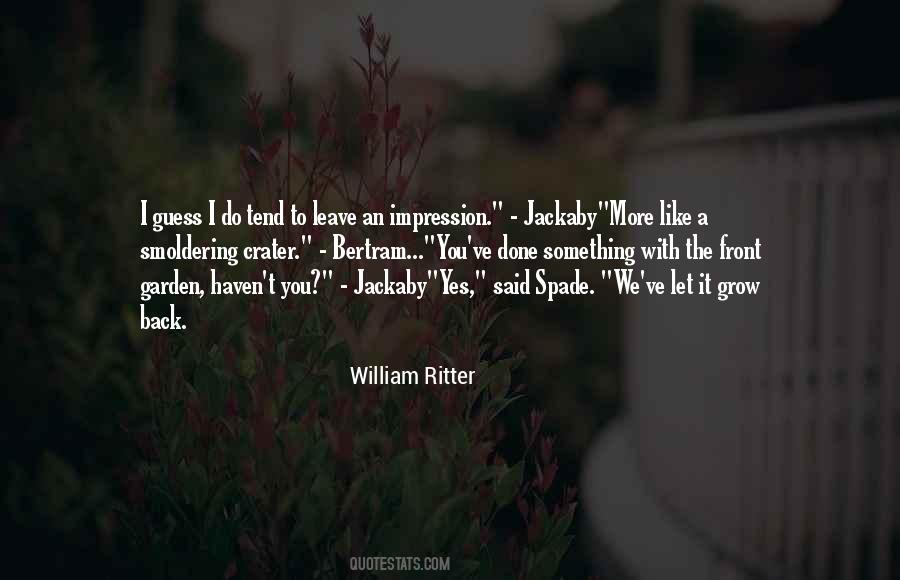 #4. Purity is not innocence, it is much more. Purity is the outcome of sustained spiritual sympathy with God. We have to grow in purity. - Author: Oswald Chambers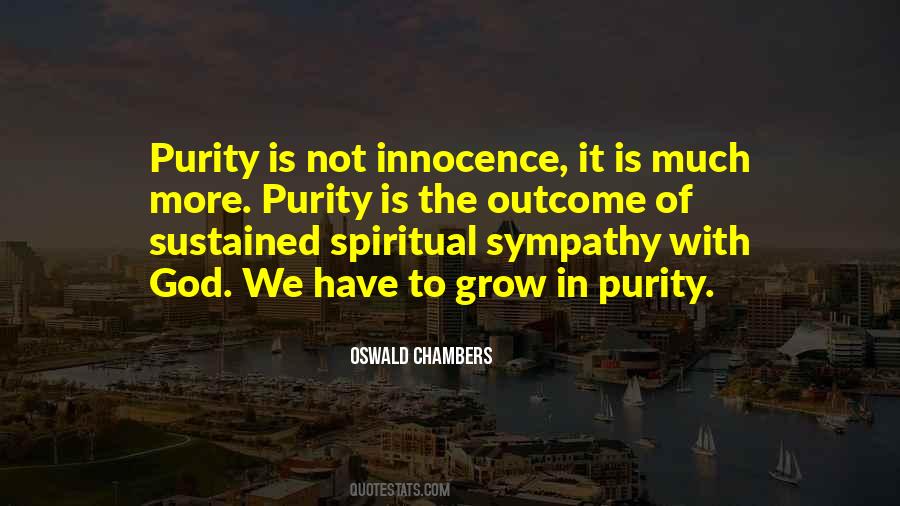 #5. In order to grow in grace, we must be much alone. It is not in society that the soul grows most vigorously. In one single quiet hour of prayer it will often make more progress than in days of company with others. It is in the desert that the dew falls freshest and the air its purest. - Author: Horatius Bonar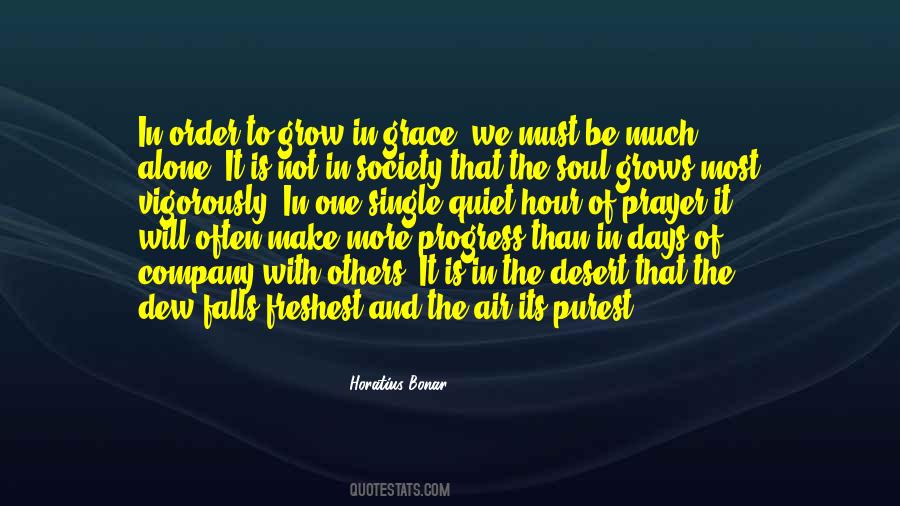 #6. DEATH IS A PROFOUND LESSON IN TRUTH: We grow to understand more about it from childhood until the day we must cross the mystic chasm and abandon the land of the living. - Author: Loren Mayshark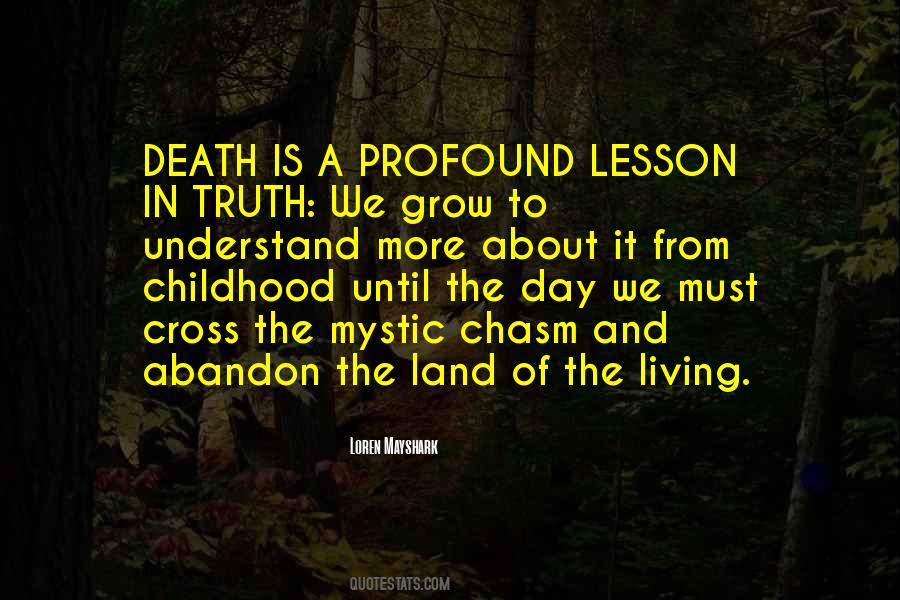 #7. When we first fell in love in the dead of winter, we said, "If we aren't more in love in lilactime, we shall be finished." But we were more in love: for love must grow or die. - Author: Sheldon Vanauken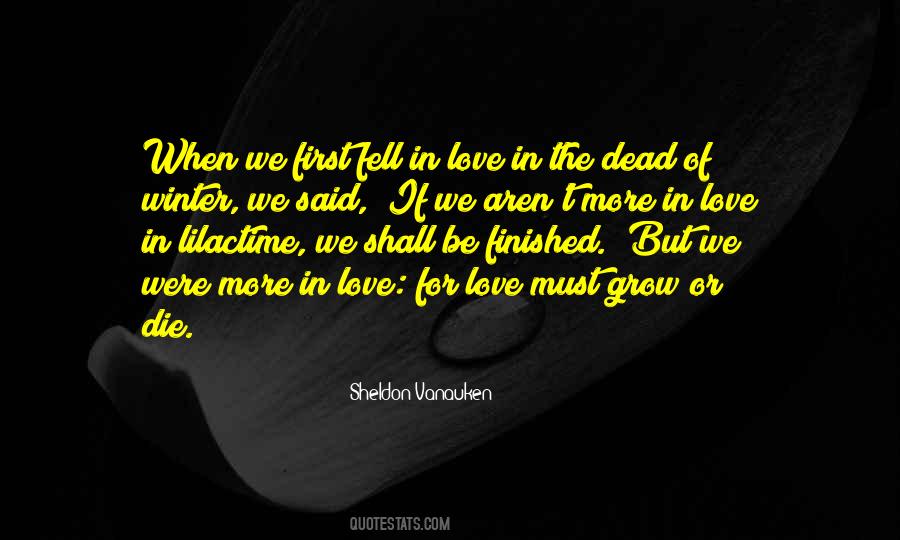 #8. Youth means a temperamental predominance of courage over timidity of the appetite, for adventure over the love of ease. This often exists in a man of sixty more than a body of twenty. Nobody grows old merely by a number of years. We grow old by deserting our ideals. - Author: Samuel Ullman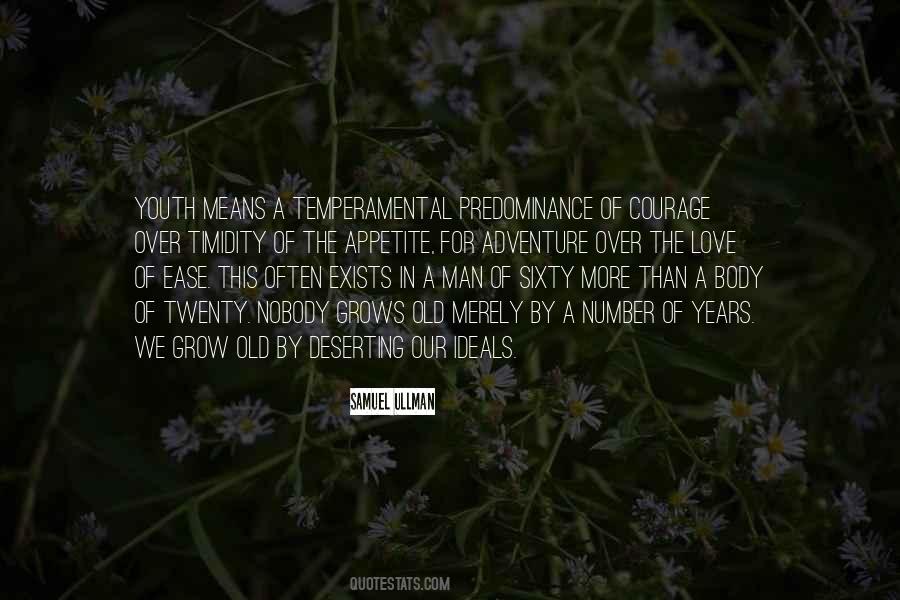 #9. We can never expect to grow in the likeness of our Lord unless we follow His example and give more time to communion with the Father. A revival of real praying would produce a spiritual revolution. - Author: Edward McKendree Bounds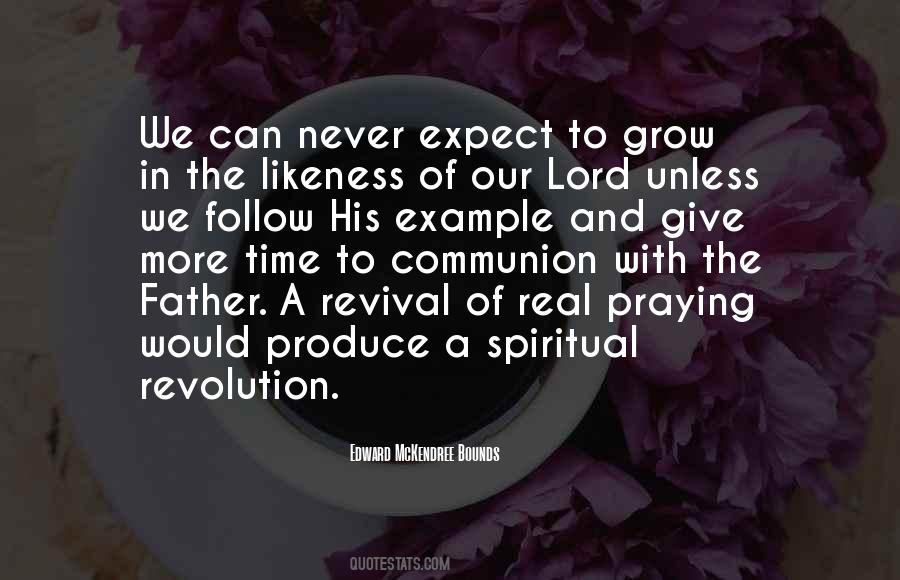 #10. The more we can do to create a better society, that benefits more people, the better chance we have that our society will continue to grow and prosper. - Author: Sanford I. Weill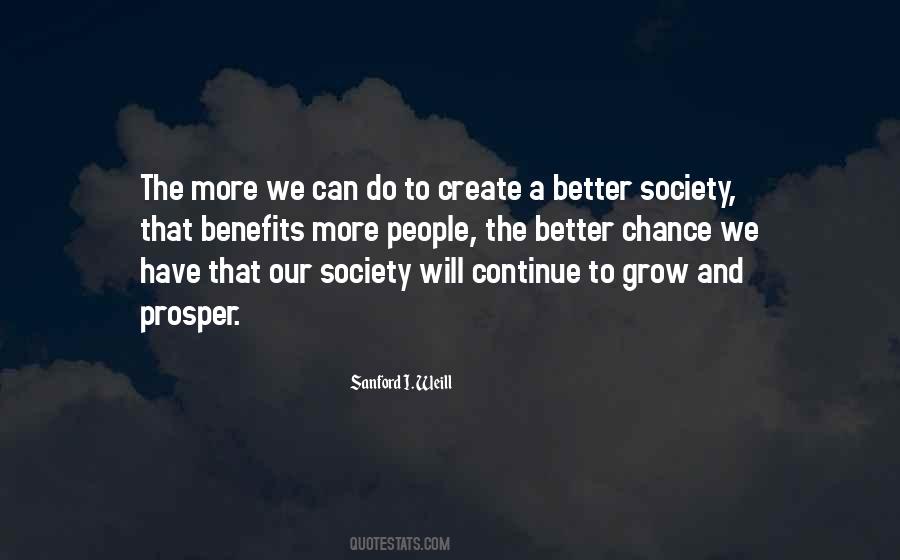 #11. If there be no great love in the beginning, yet heaven may decrease it upon better acquaintance, when we are married and have more occasion to know one another: I hope, upon familiarity will grow more contempt. - Author: William Shakespeare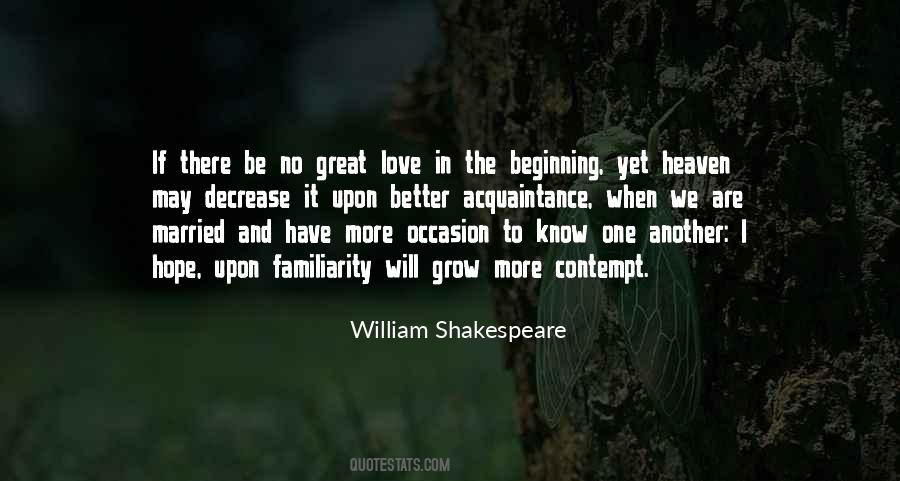 #12. It's like parenting. The hardest, most intensive time comes at the very beginning. We still love those babies as they grow into daredevil children, recalcitrant teens, and parents setting eyes on their own babes for the first time. We just get a little more sleep while we do it. - Author: Debora Geary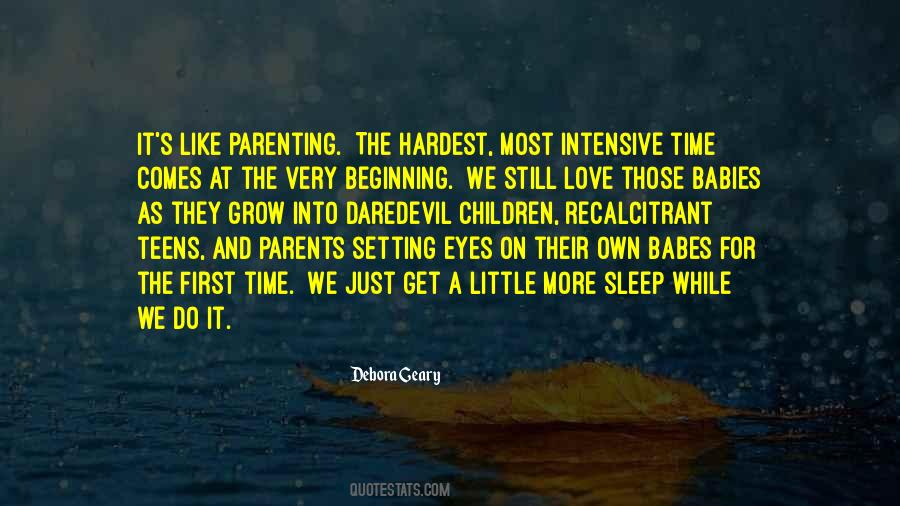 #13. Kindness, love, patience, understanding, and unity will increase as we serve, while intolerance, jealousy, envy, greed, and selfishness decrease or disappear. The more we give of ourselves, the more our capacity to serve, understand, and love will grow. - Author: CARLOS H. AMADO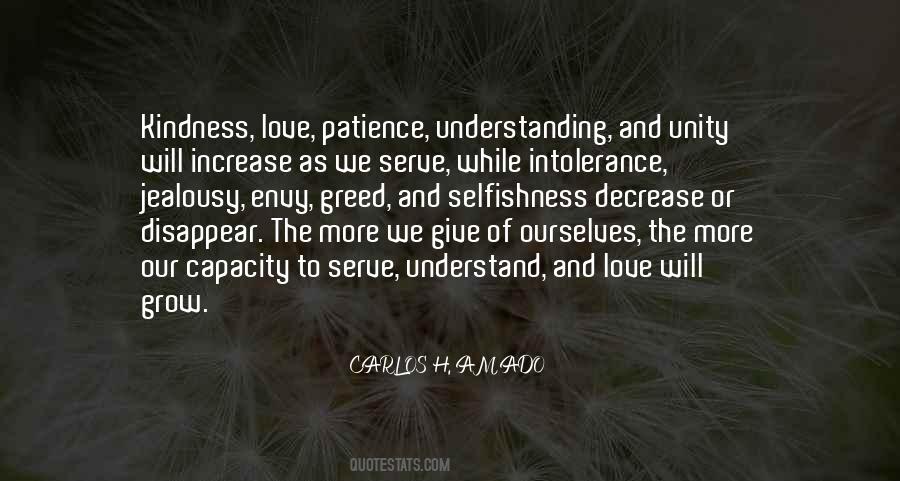 #14. [I]f we can bring our children understanding, comfort, and hopefulness when they need this kind of support, then they are more likely to grow into adults who can find these resources within themselves later on. (from the introduction) - Author: Fred Rogers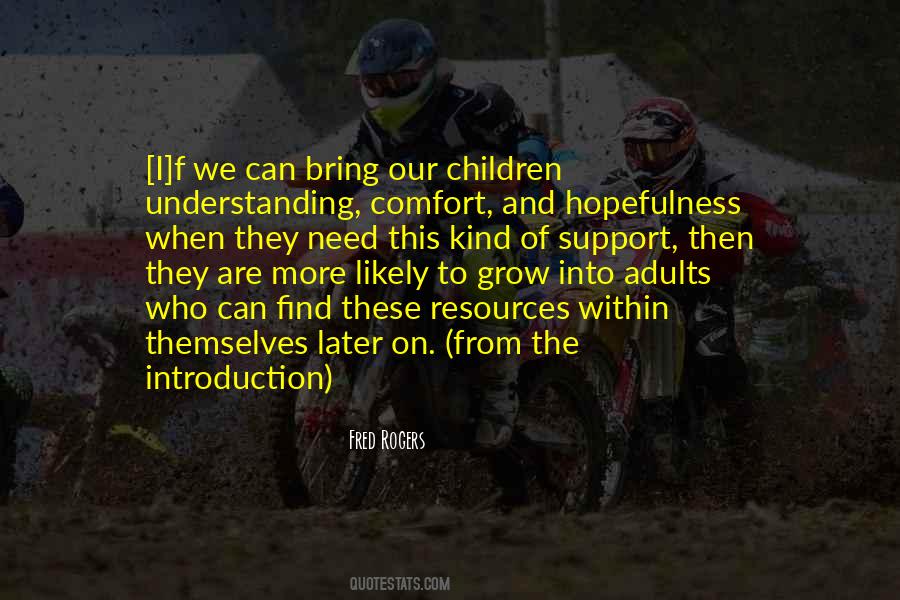 #15. If we grow old wisely, we lay aside the senseless forms and meaningless conventions of society and go back to a more primitive mode of social intercourse, picking our friends the way children do, - because we like them, - spending time enough with them to get some real good out of them. - Author: Mary Heaton Vorse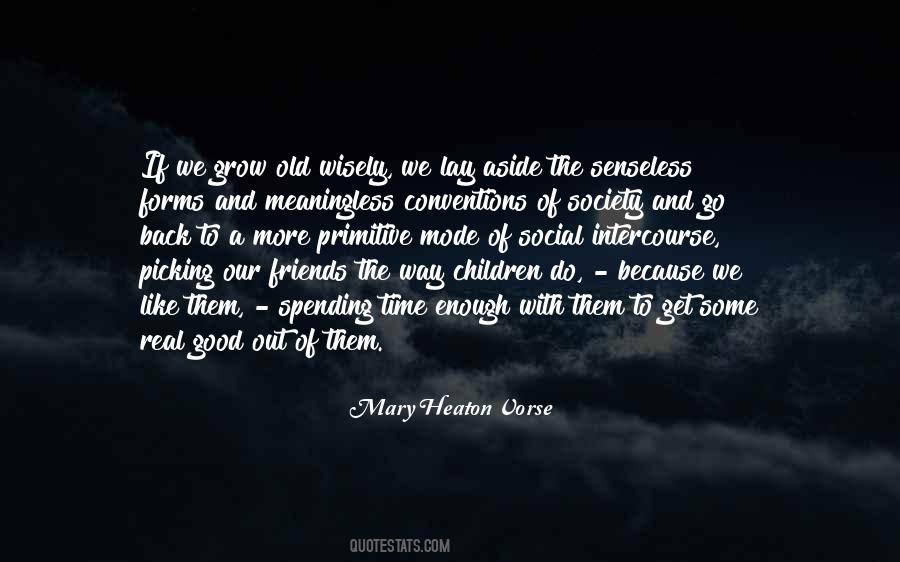 #16. The harder the conflict, the more glorious the triumph. What we obtain too cheap, we esteem too lightly; it is dearness only that gives everything its value. I love the man that can smile in trouble, that can gather strength from distress and grow. - Author: Thomas Paine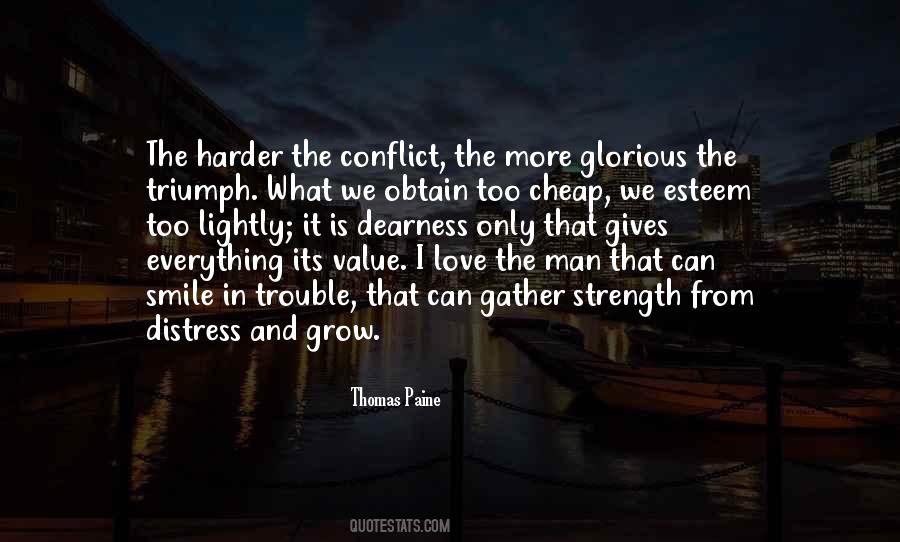 #17. The more we grow in faith, the more we grow in love. - Author: Lailah Gifty Akita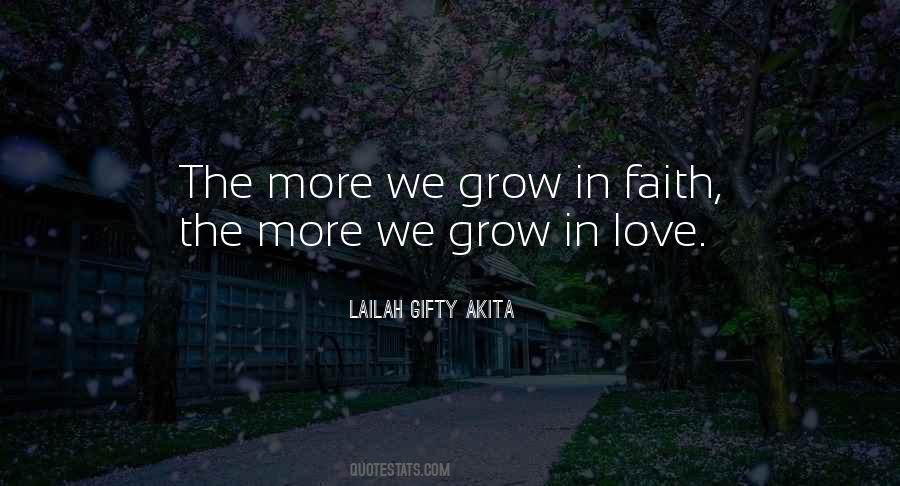 #18. How we all love extreme cases and apocalypses, fires, drownings, stranglings, and the rest of it. The bigger our mild, basically ethical, safe middle classes grow the more radical excitement is in demand. Mild or moderate truthfulness or accuracy seems to have no pull at all. - Author: Saul Bellow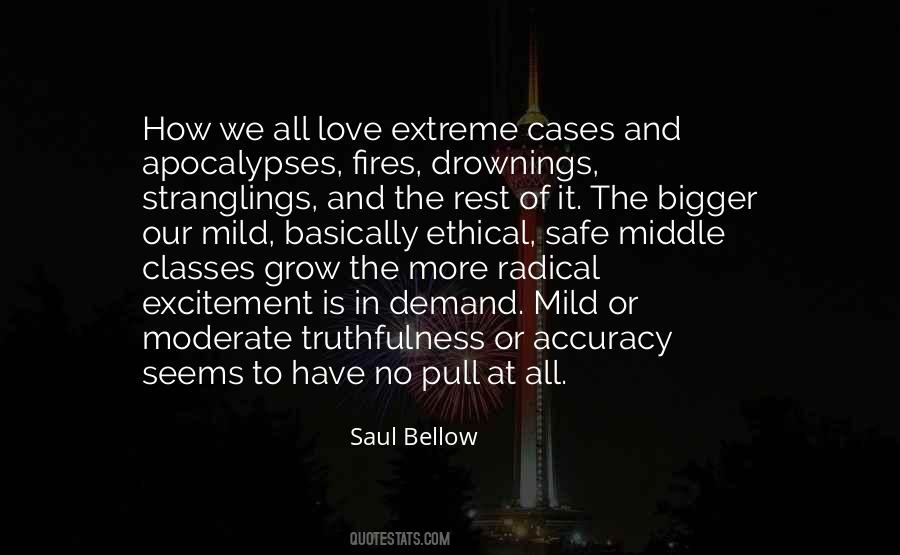 #19. The older I grow the more I become certain that it makes no difference what words we use to tell the same truths. - Author: Marion Zimmer Bradley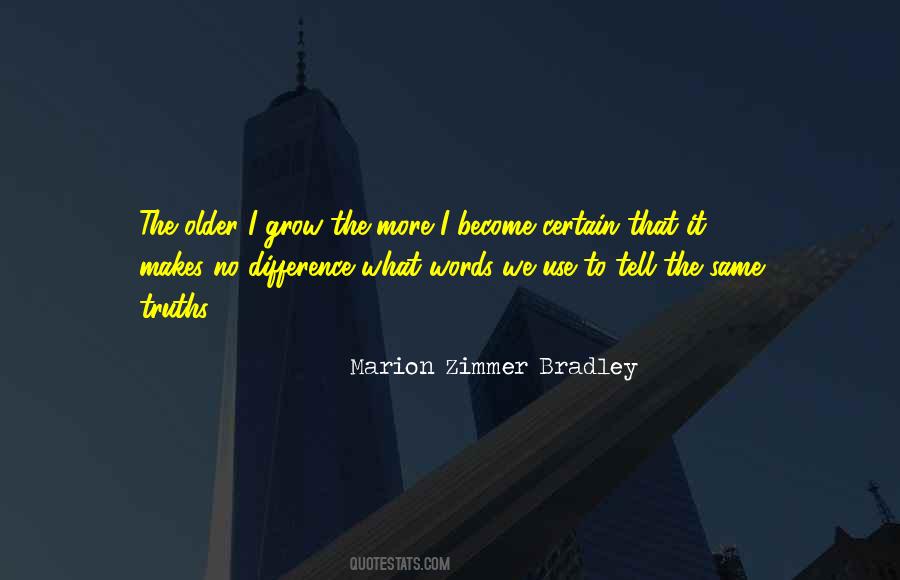 #20. As we grow older, we live more coarsely, we relax a little in our disciplines, and, to some extent, cease to obey our finest instincts. But we should be fastidious to the extreme of sanity, disregarding the gibes of those who are more unfortunate than ourselves. - Author: Henry David Thoreau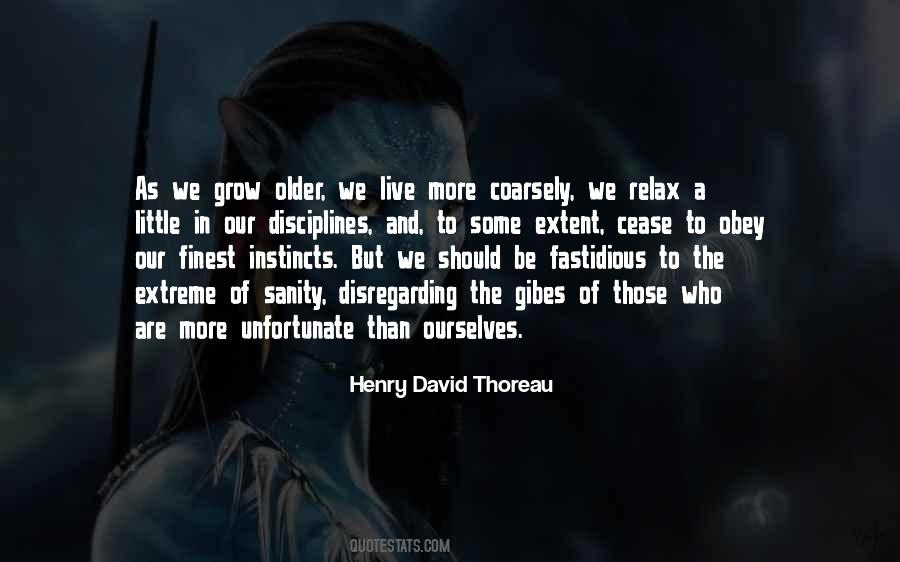 #21. Through the Social Enterprise Demonstration Fund, we are connecting high-potential social enterprises with the resources they need to grow and create jobs. This not only contributes to a fairer, more prosperous province; it also helps position Ontario as a global impact investment leader. - Author: Brad Duguid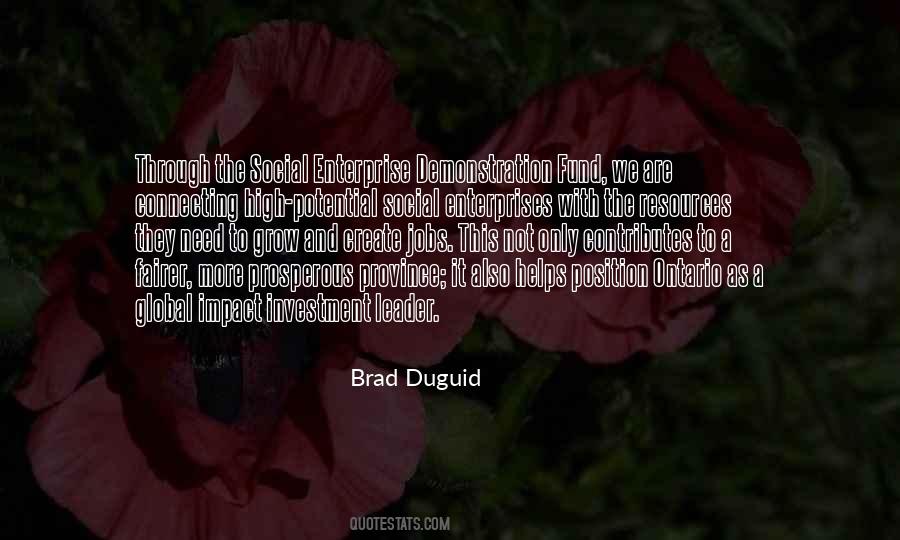 #22. The Bible grows more beautiful, as we grow in our understanding of it. - Author: Johann Wolfgang Von Goethe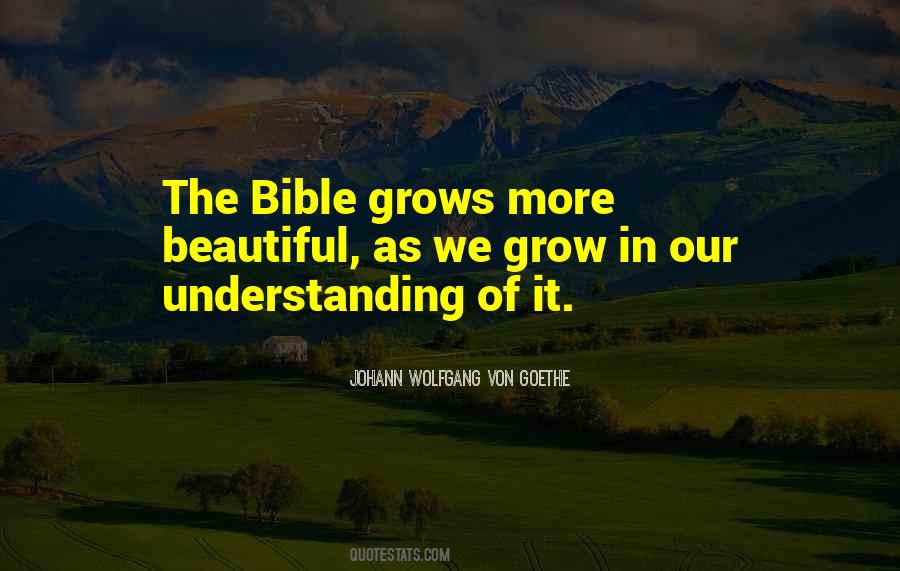 #23. It is strange, is it not, how the more strenuously we deny the importance of race in human affairs, the more obsessed with it and the touchier on the subject we grow. - Author: Anthony Daniels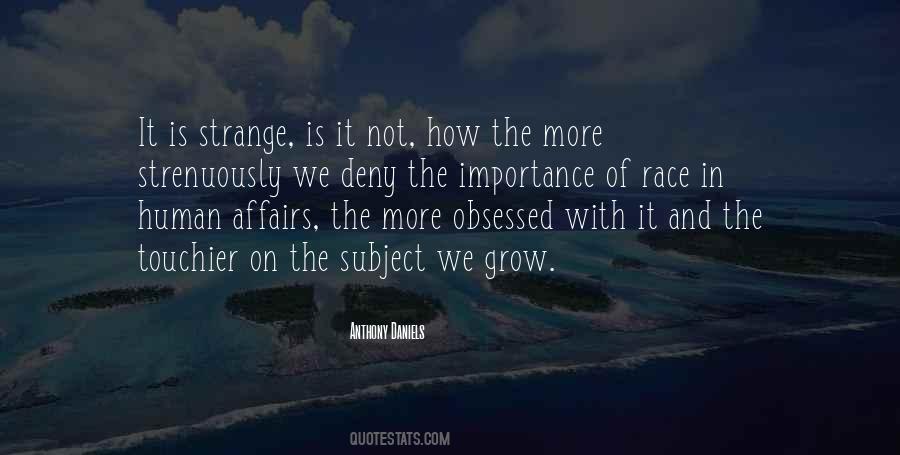 #24. I've learned in my life that things change. Seasons changes, times change. We take different jobs. Our children grow. So, we have to study the people in our lives and adapt to them, because when we do that, we get more out of our relationships. - Author: Victoria Osteen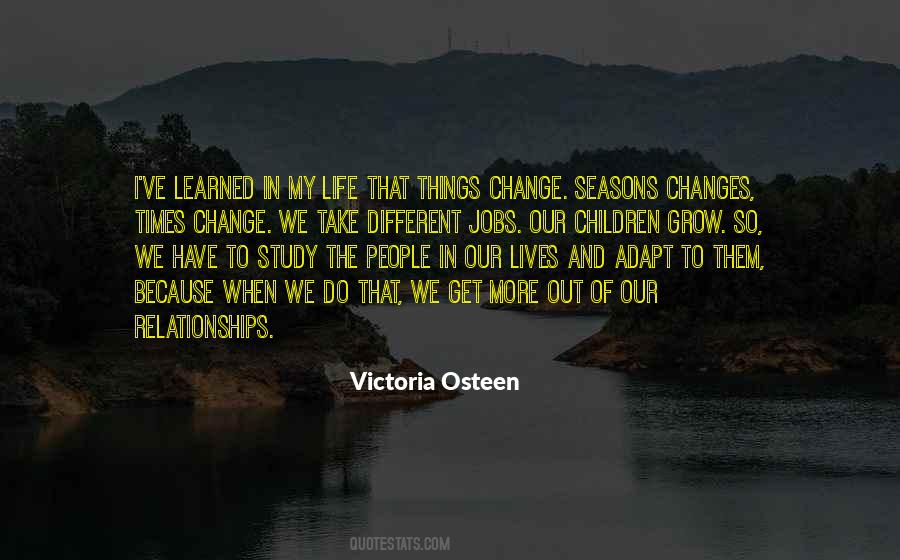 #25. Every rock is spoon by the Word. Every time I touch a stone, I am touching the Voice of God. Every cell of me is crafted by that artistry. My life is His breath. But we mortals grow numb. We want to feel more. And so we add MSG to our earthly brands of holiness. - Author: N.D. Wilson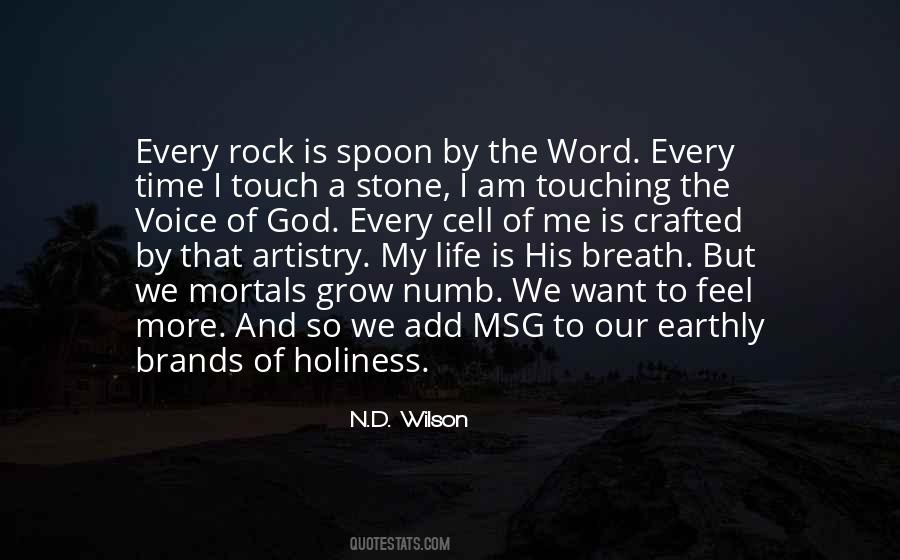 #26. The older I grow, the more I realize how unfit we are for relationships. We are all such antagonists. It's part of the human condition to be deeply unfaithful to constancy. I do believe that. - Author: Vivian Gornick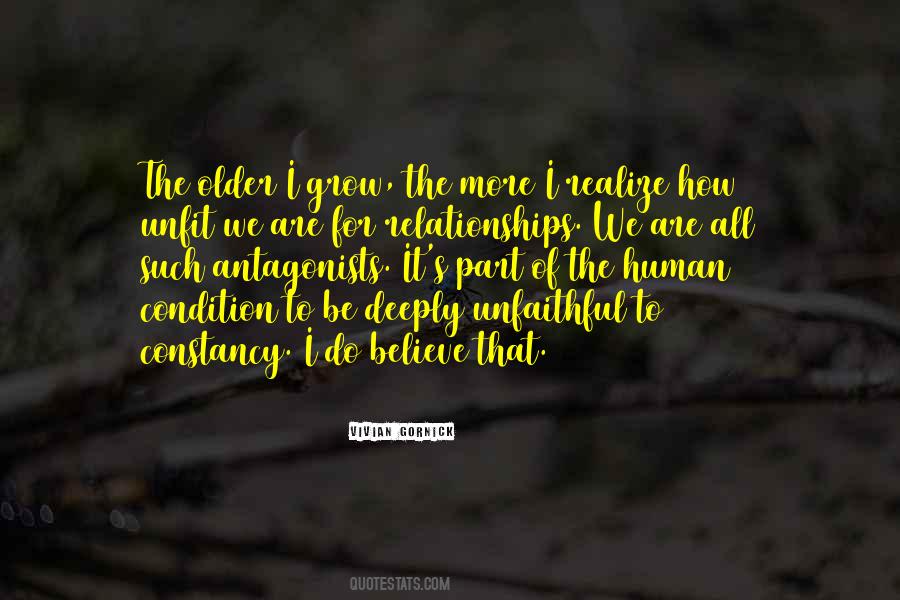 #27. All we can do when we think of kids today is think of more hours of school, earlier age at the computer, and curfews. Who would want to grow up in that world? - Author: James Hillman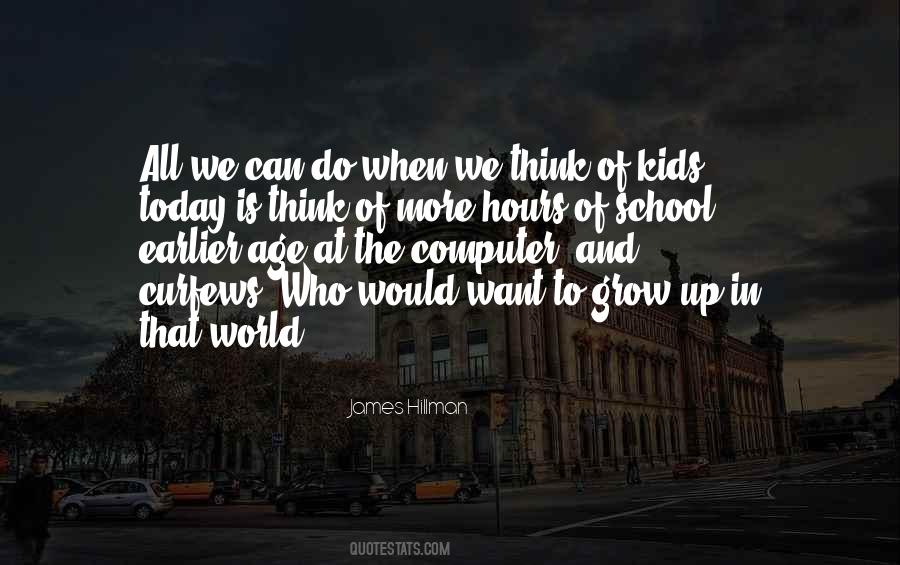 #28. At heart, science is the quest for awesome - the literal awe that you feel when you understand something profound for the first time. It's a feeling we are all born with, although it often gets lost as we grow up and more mundane concerns take over our lives. - Author: Sean Carroll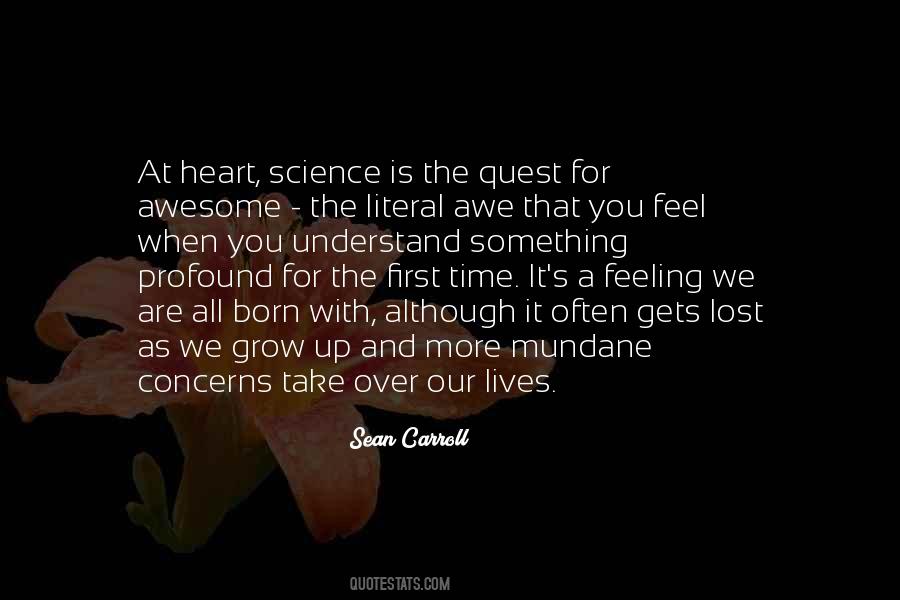 #29. From the accounts of those who have had glimpses of Heaven in visions and revelations, it seems that we do mature somewhat in Heaven. Those who arrive in their youth grow to maturity, while older people appear more middle-aged, in the prime of life. - Author: David Berg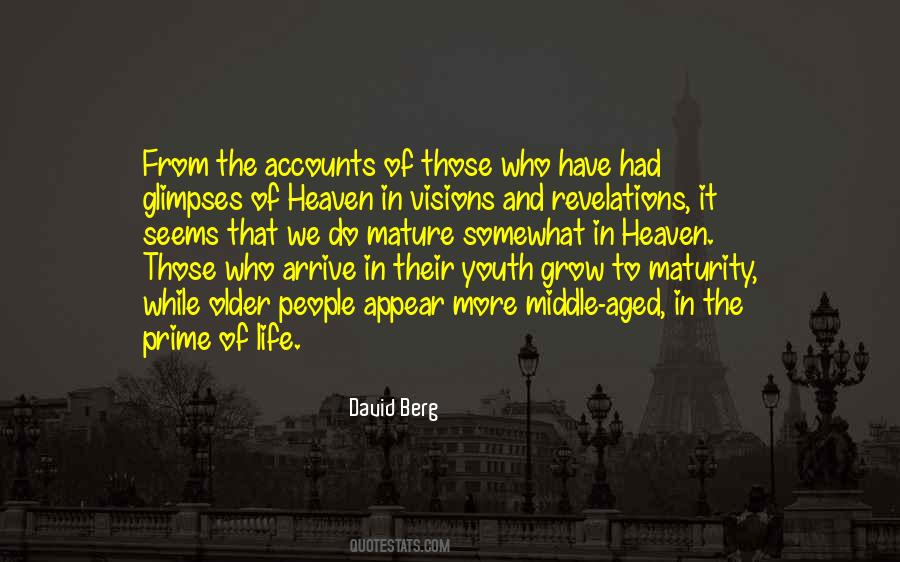 #30. I've evolved, but I'm the same dude, I'm just in a different place. We all change, we all grow. I shouldn't be in the same place that I was 30 years ago; I should be more intelligent, you know. - Author: Ice-T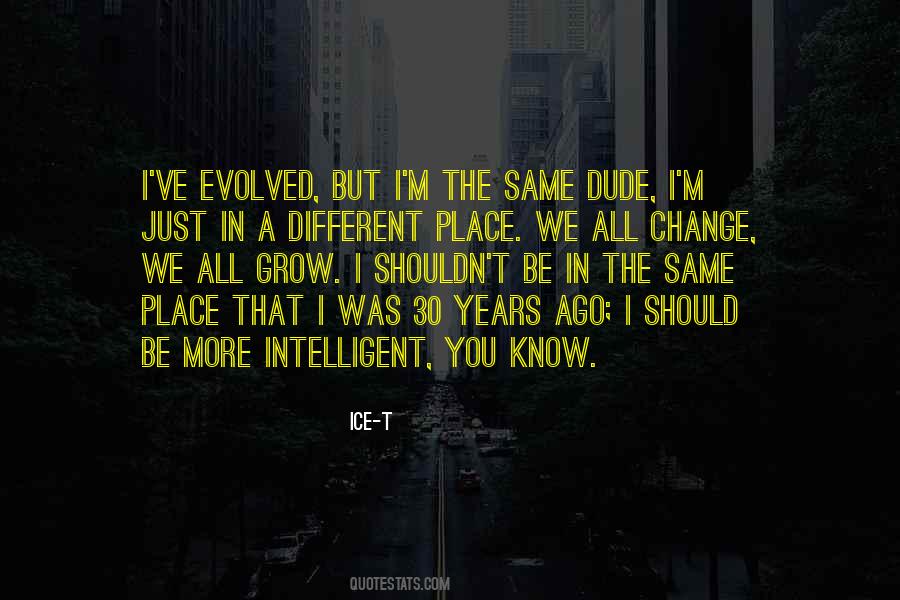 #31. God is loving you into better relationships. He is loving you into being a more loving person. The more we grow in love, the less offended we become. The less offended we become, the more easily and quickly we get healed when people do wound us. - Author: Graham Cooke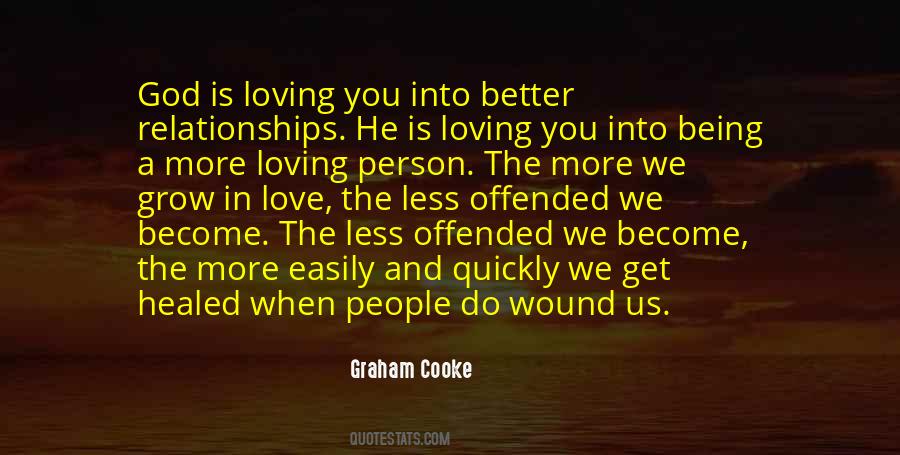 #32. We can't afford more top-down economics. What we need are policies that will grow and strengthen the middle class. - Author: Barack Obama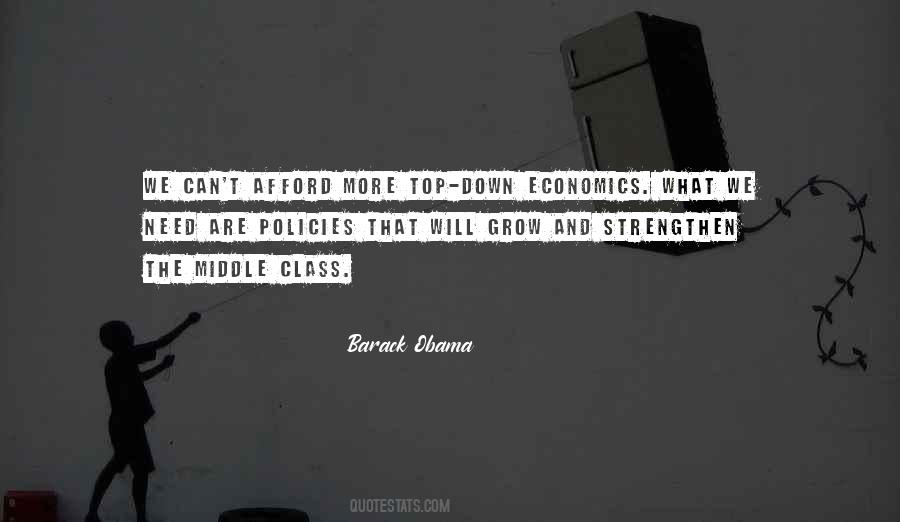 #33. I understand now, Fluttering Bird! I must draw the cats close - together once more - so that we can grow strong and spread like the Blazing Star. - Author: Erin Hunter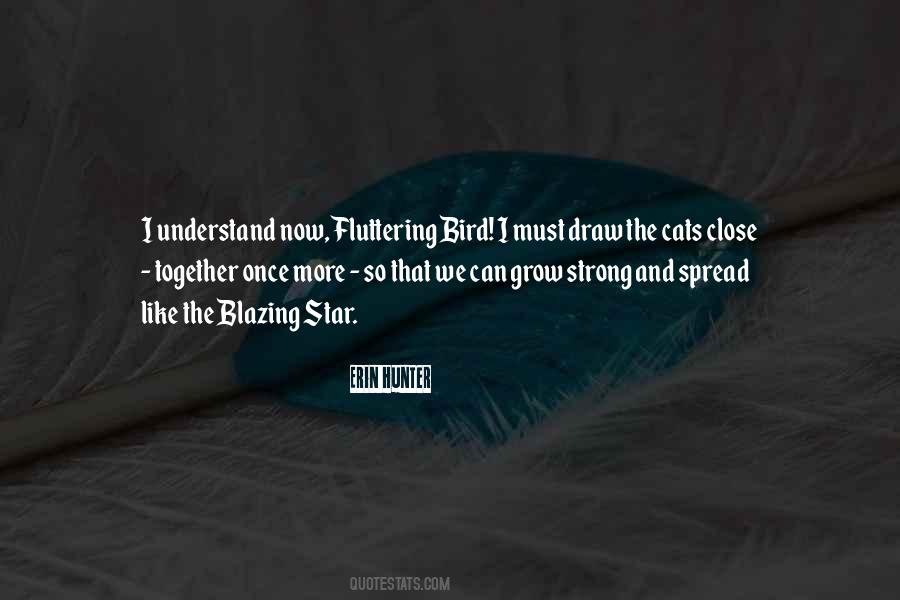 #34. The debate around the ageing population should, in my view, focus much more on how we grow the active, working population. - Author: Nicola Sturgeon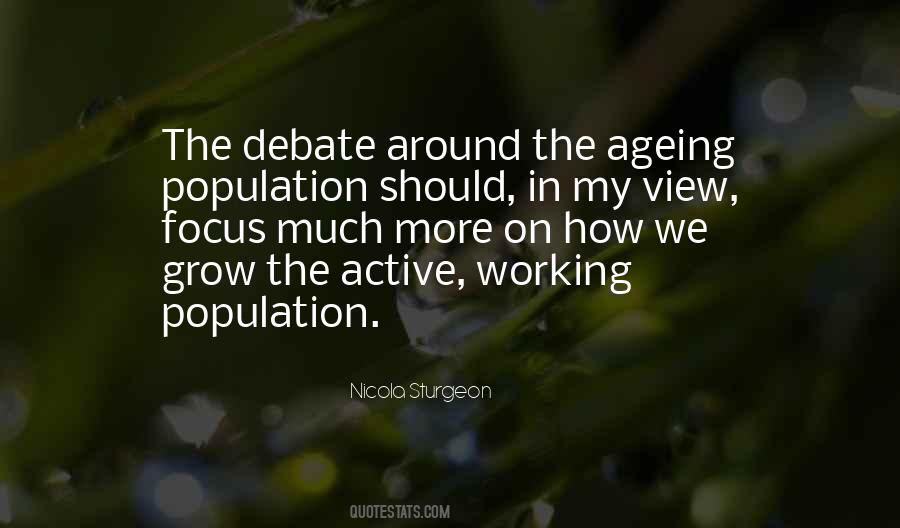 #35. I want my son - and my kids, if I have more - to grow up in a way that is as anonymous as possible. The fact that his father and I have chosen to do the work that we do doesn't give anybody the right to invade our privacy. - Author: Penelope Cruz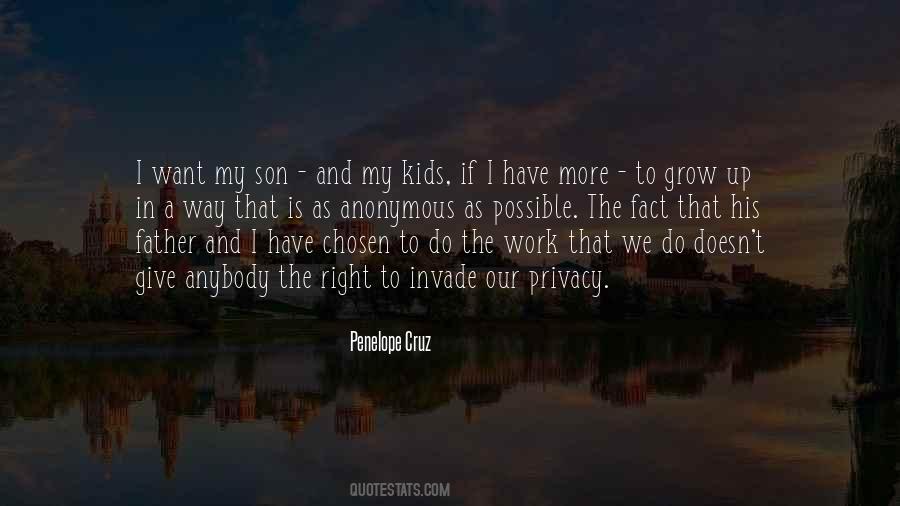 #36. As we grow older and realize more clearly the limitations of human happiness, we come to see that the only real and abiding pleasure in life is to give pleasure to other people. - Author: P.G. Wodehouse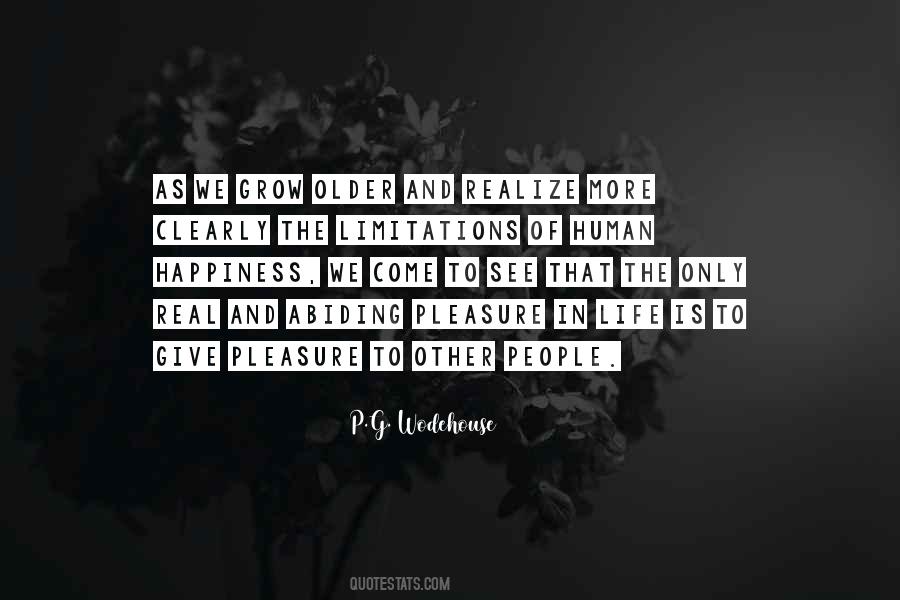 #37. What is it about summer that makes children grow? We feed and water them more. They do get more sun, but that probably doesn't matter as much as the book they read or the rule they broke that taught them something they couldn't have learned any other way. - Author: Nancy Gibbs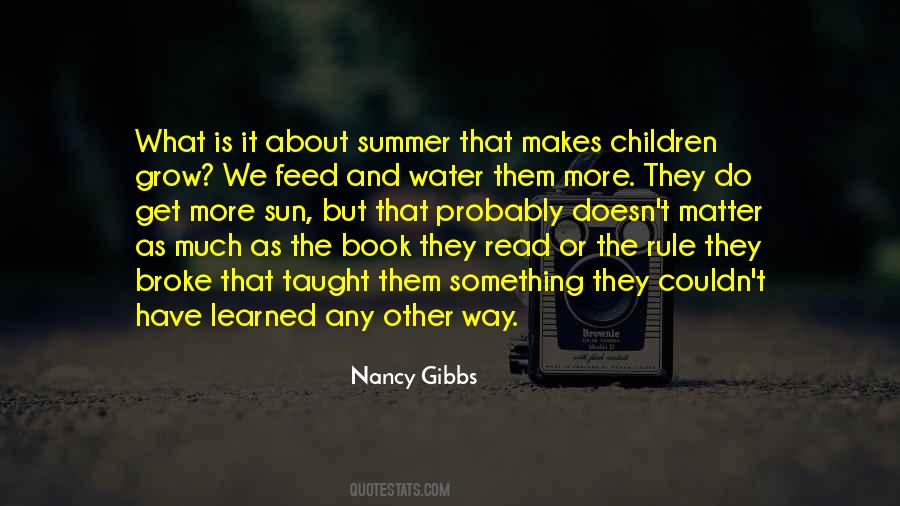 #38. Someone once said that we get more difficult to love with each passing year because, over time, our histories grow so tangled that newcomers can no longer bushwhack their way into the thicketed and overgrown depths of our hearts. - Author: Adrian Barnes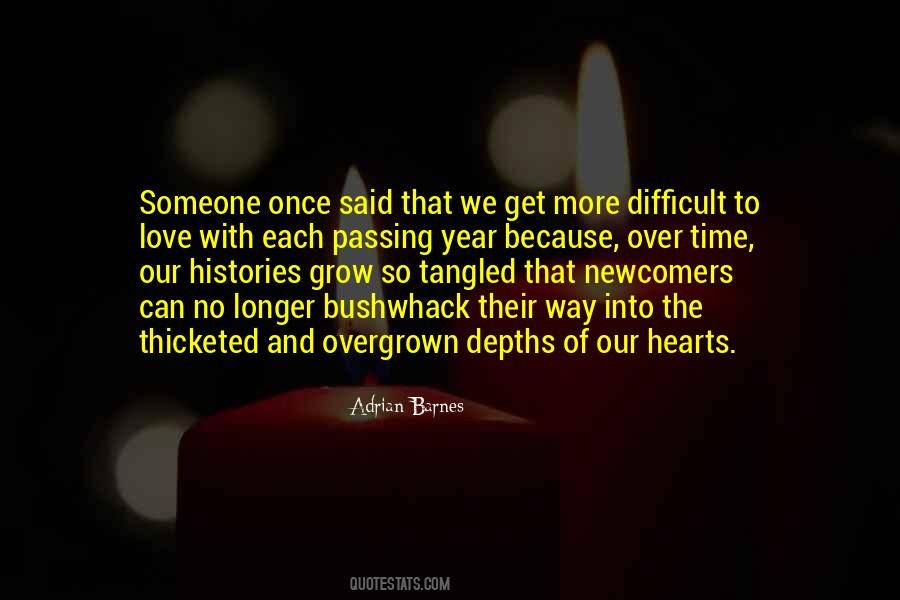 #39. As we grow in our consciousness, there will be more compassion and more love, and then the barriers between people, between religions, between nations will begin to fall. Yes, we have to beat down the separateness. - Author: Ram Dass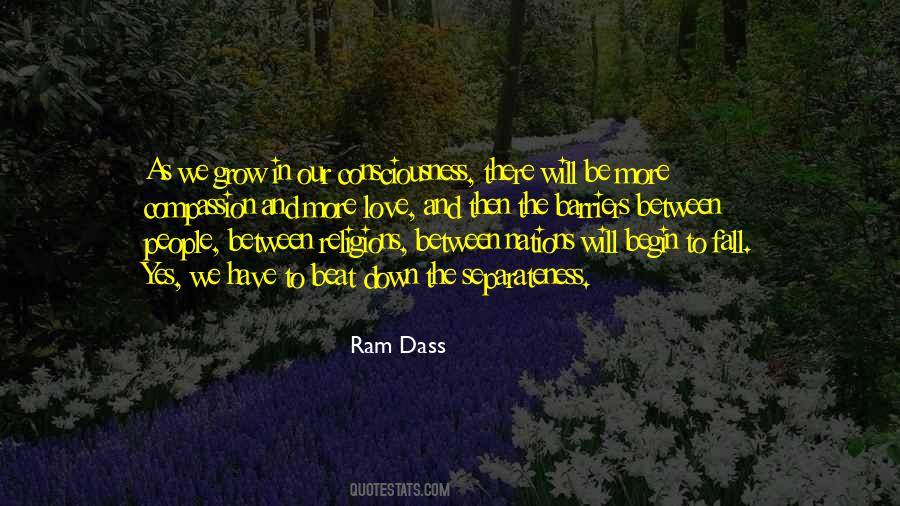 #40. The emergence of new conflicts mean, that we will need to be more creative, in the use of our diplomatic tools. The demands for peace-keeping forces is likely to grow, and we need to increasingly adapt our forces to that challenge. - Author: Susilo Bambang Yudhoyono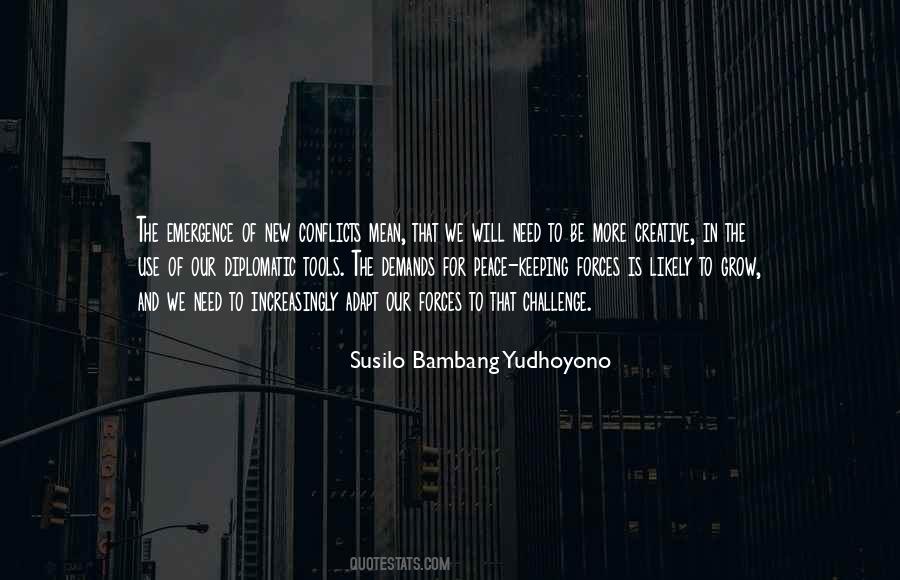 #41. As important as finding the Why behind your Purpose and Goals is knowing the Who. We will often do more and endure more for people we love than we will endure for ourselves. Find your Why and your Who and you will endure and overcome anything. - Author: Tom Cunningham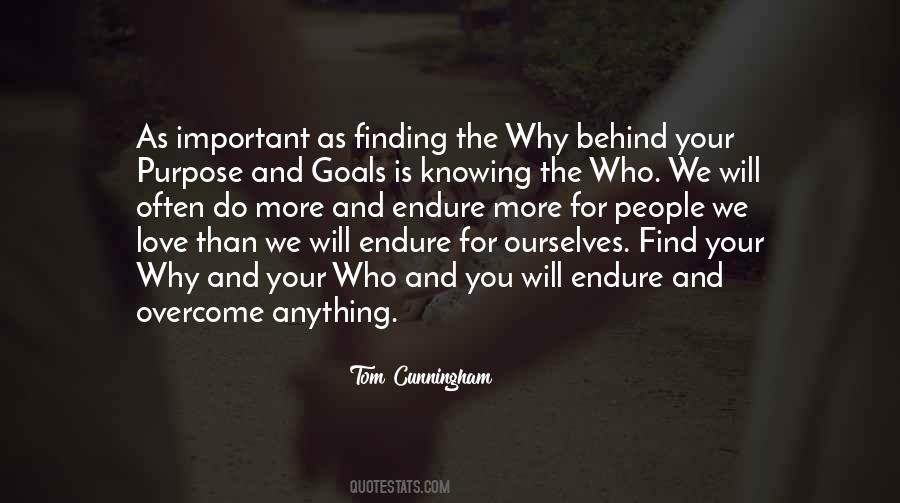 #42. it seems to me that aging, wisdom, and wondering are synonymous. The older we grow, the more likely we are to reject the simple answers. - Author: Brandon Sanderson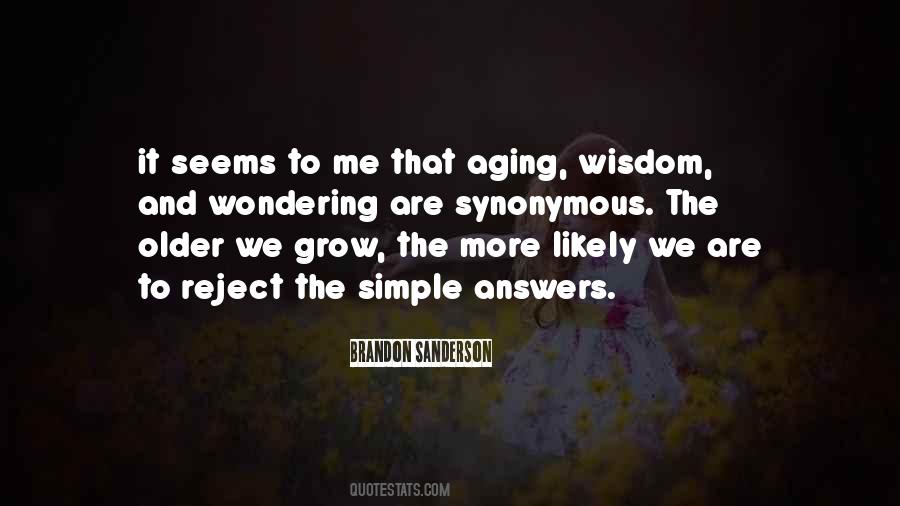 #43. The more we grow in faith, the less we shall fear. - Author: Lailah Gifty Akita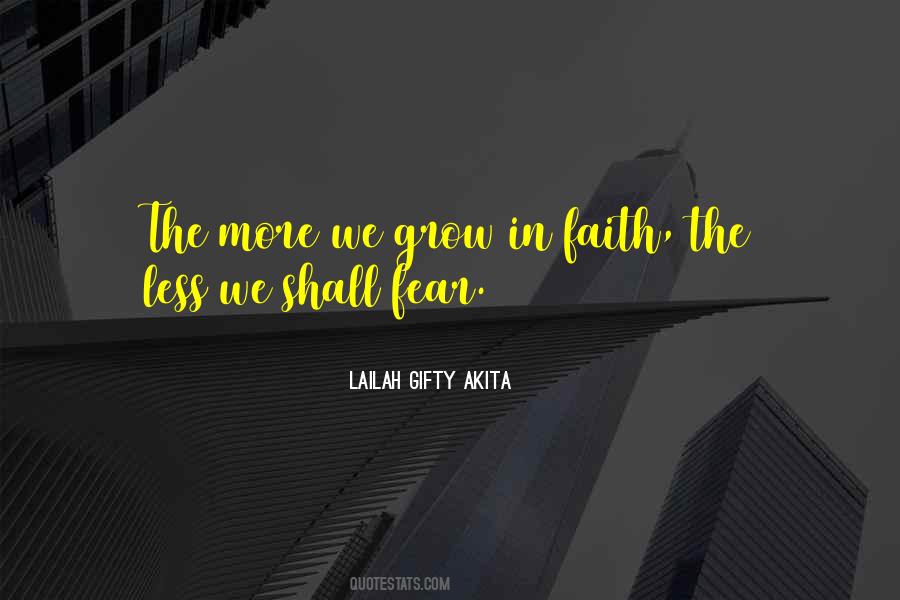 #44. As we grow older, the world becomes stranger, the pattern more complicated of dead and living. - Author: T. S. Eliot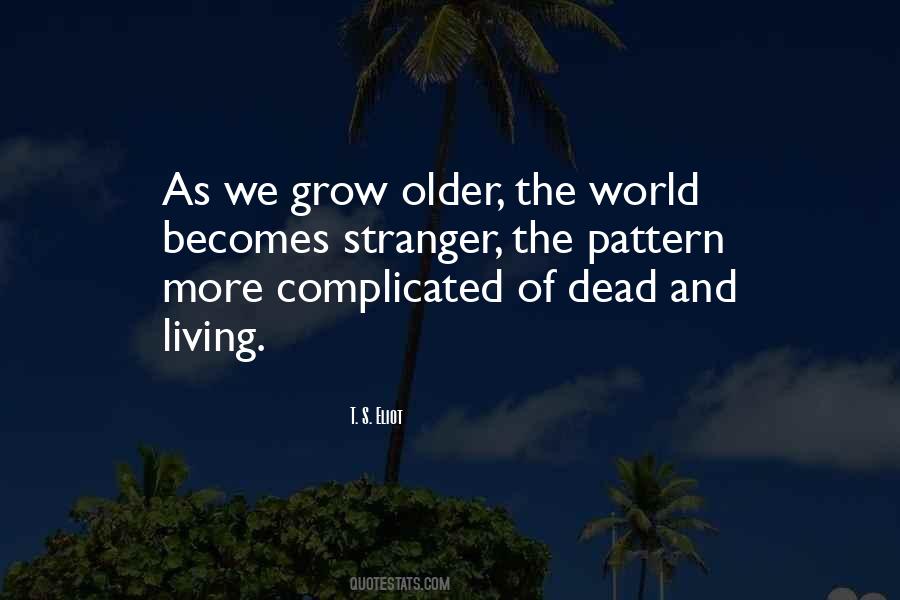 #45. Being a member of a church means so much more than standing next to someone else and singing some songs once a week. Being a member of a church means realizing that we are responsible for helping the brothers and sisters around us to grow as disciples of Jesus. - Author: David Platt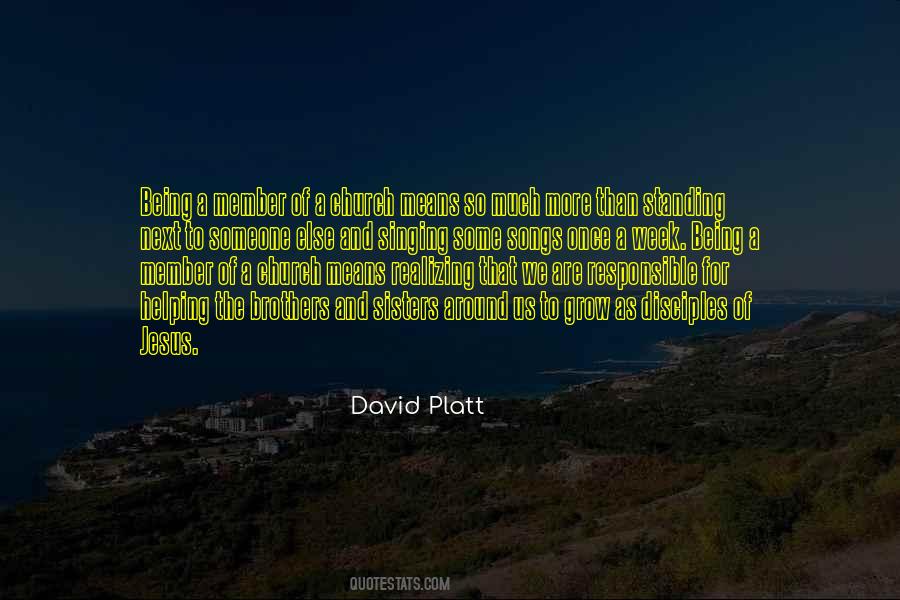 #46. Yes, and because we grow old we become more and more the stuff our forbears put into us. I can feel his savagery strengthen in me. We think we are so individual and so misunderstood when we are young; but the nature our strain of blood carries is inside there, waiting, like our skeleton. - Author: Willa Cather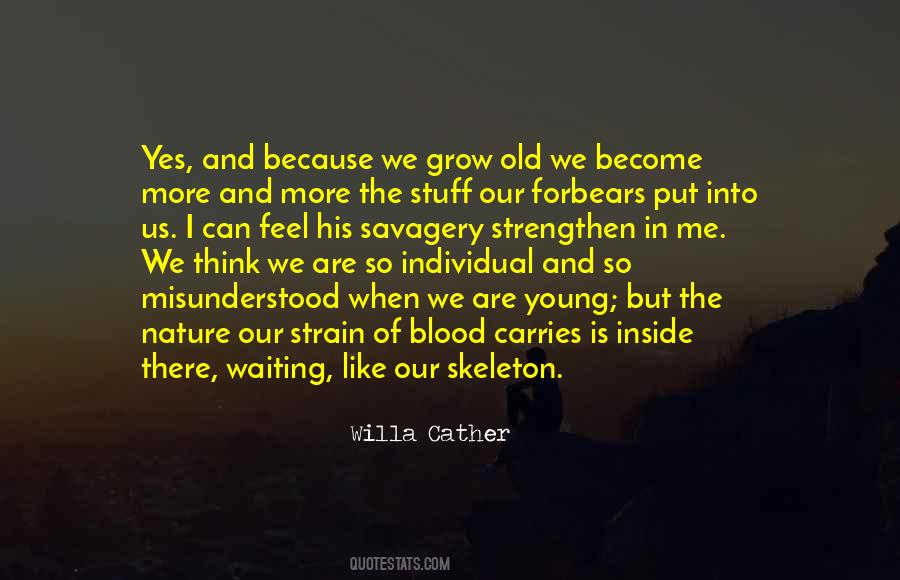 #47. There's an understanding of common prayer that I think we're seeing grow, more and more. When I travel, I hear from people who are deeply touched that our common prayer takes time to remember some of the terrible tragedies that have happened around the world. - Author: Shane Claiborne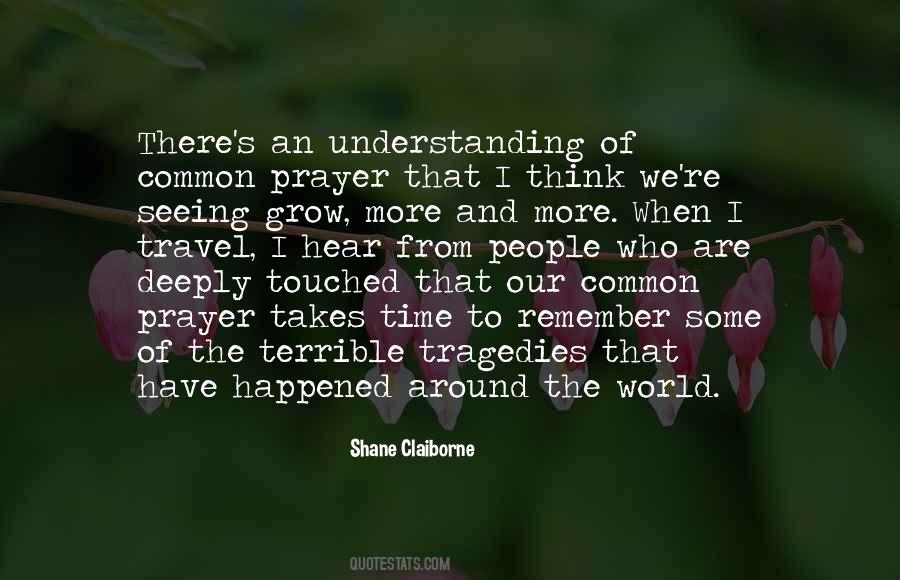 #48. Joy blossoms in our hearts not as we try harder and harder to grow, but as we see more clearly the depth of our sin and understand more fully our helplessness. - Author: Barbara R. Duguid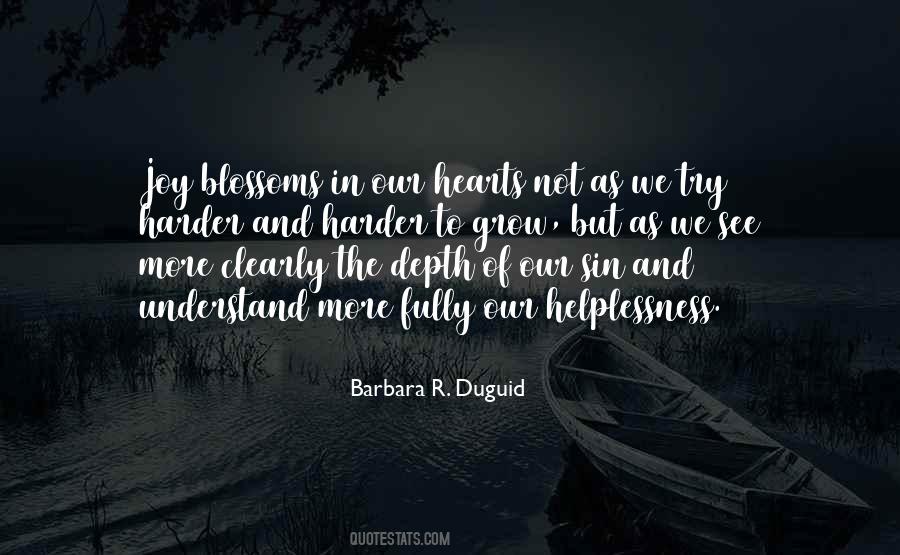 #49. Charlie and I discovered at a really young at that we had a passion for figure skating, and I think that passion drives us to work every day to improve and grow. We have really learned to love our sport more and more, year to year. And the hard work really pays off. - Author: Meryl Davis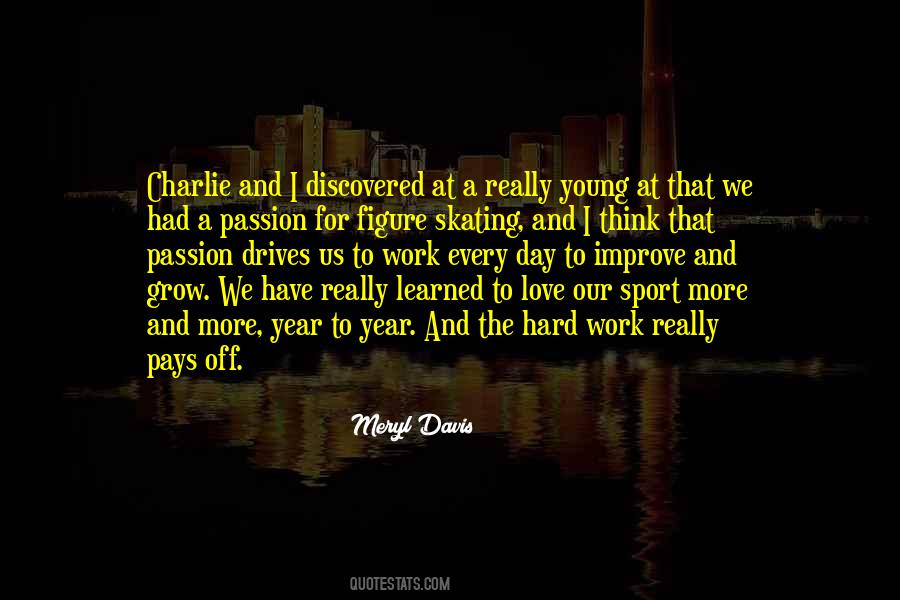 #50. In a perfect world perhaps we would all see more clearly. But this is not a perfect world, and it is enough to hope that each of us will share our talents, and find the balance between greed and benevolence that will allow us to live and thrive and help the world around us grow. - Author: Kent Nerburn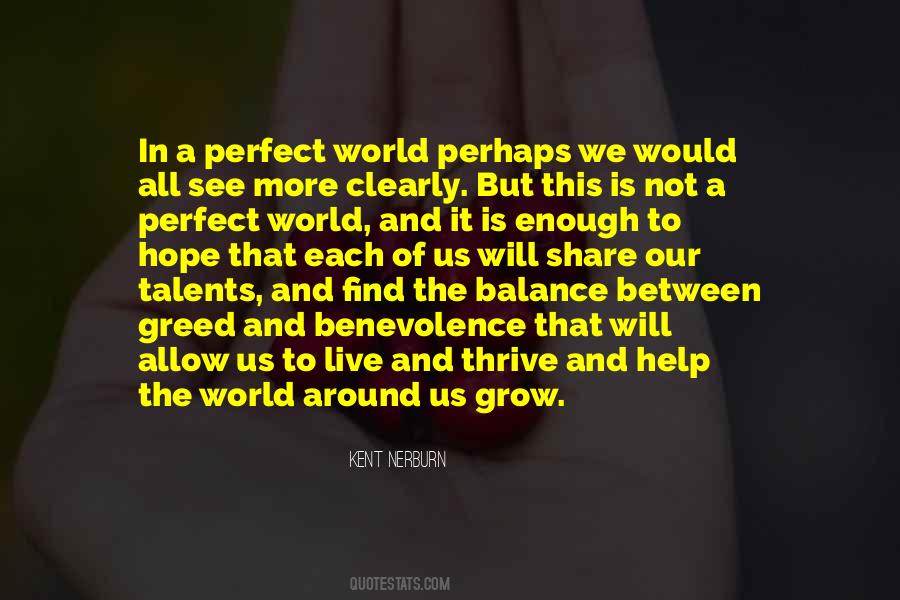 #51. Women and men grow up with both sexes. Our mothers and fathers mean a lot to us, so it's just a question of finding a balance between their influences. I've found mine. And it tends to be more on the male side. I mean male side the way we understand it in the West. - Author: Grace Jones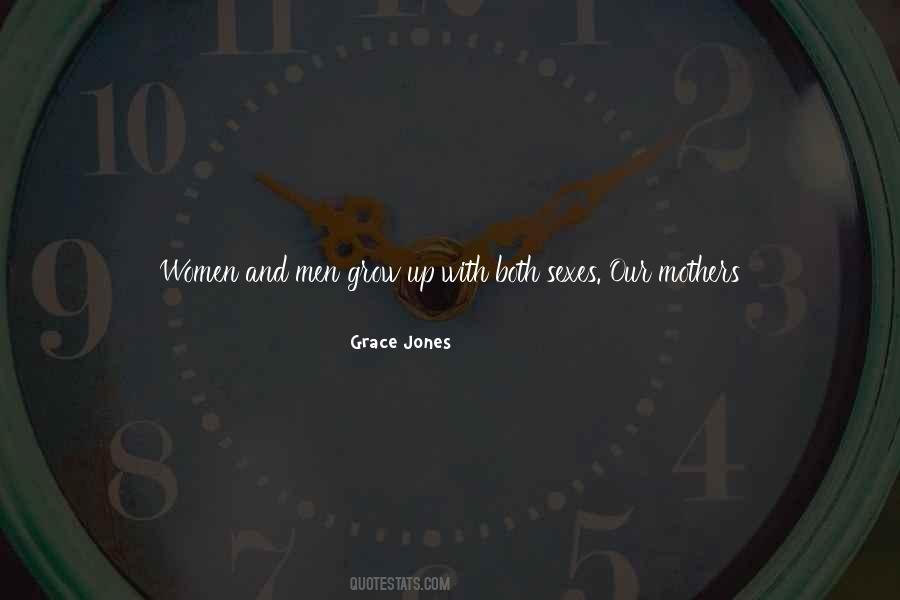 #52. And I look forward to the time when I can become more indulgent with my songwriting. But this band is a family, and it's a process that we have to grow with together. - Author: Stone Gossard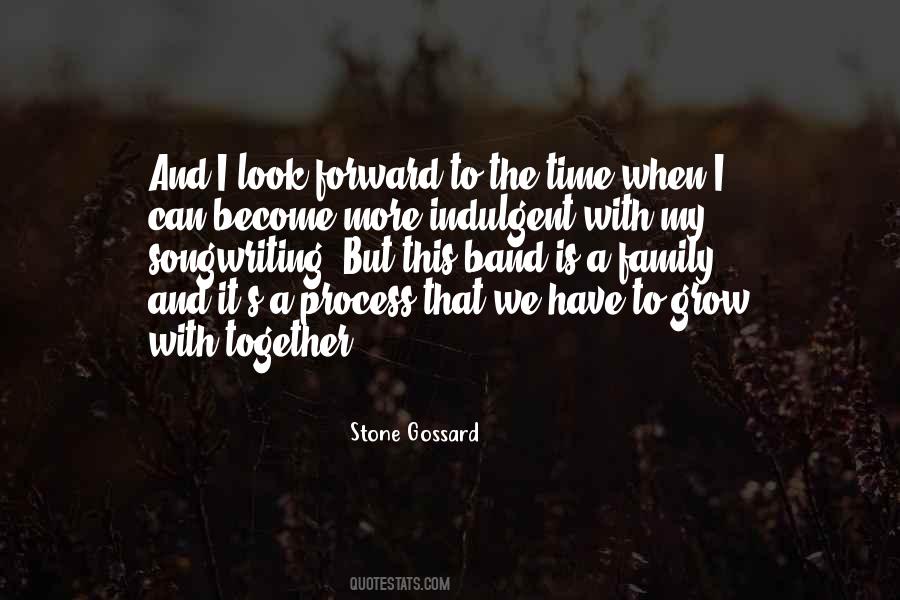 #53. There is a direct relationship between our personal experience with the Lord and how we see ourselves. The closer we grow to him, the more clear and complete becomes our vision of who we are, who we have always been, and who we may become. - Author: Sheri Dew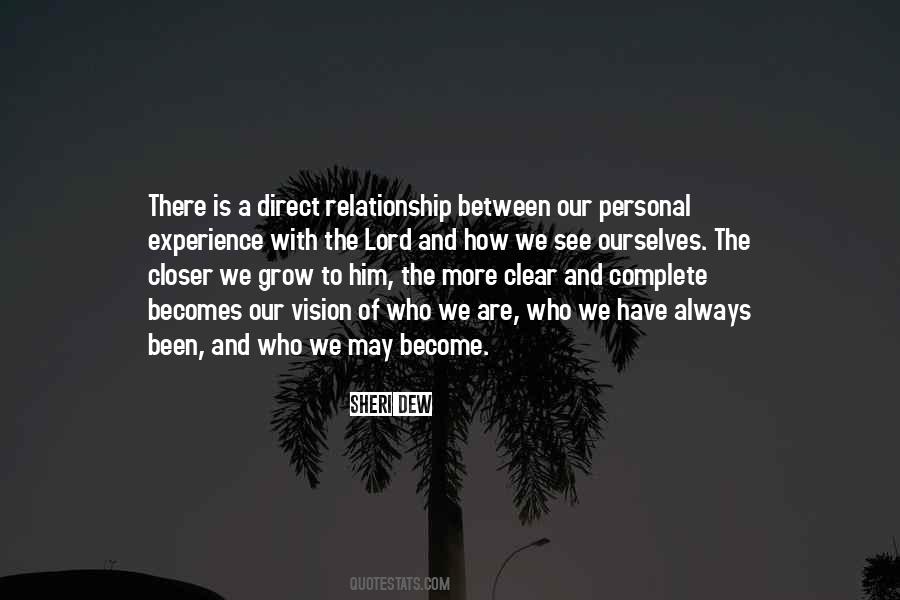 #54. I know I'm as comfortable doing period as I am contemporary. I suppose we grow up with it in a sense, in the theater. We get to put on costumes and play a lot of period dramas or plays so we're exposed to it a little bit more I think because of our theatrical background. - Author: Ioan Gruffudd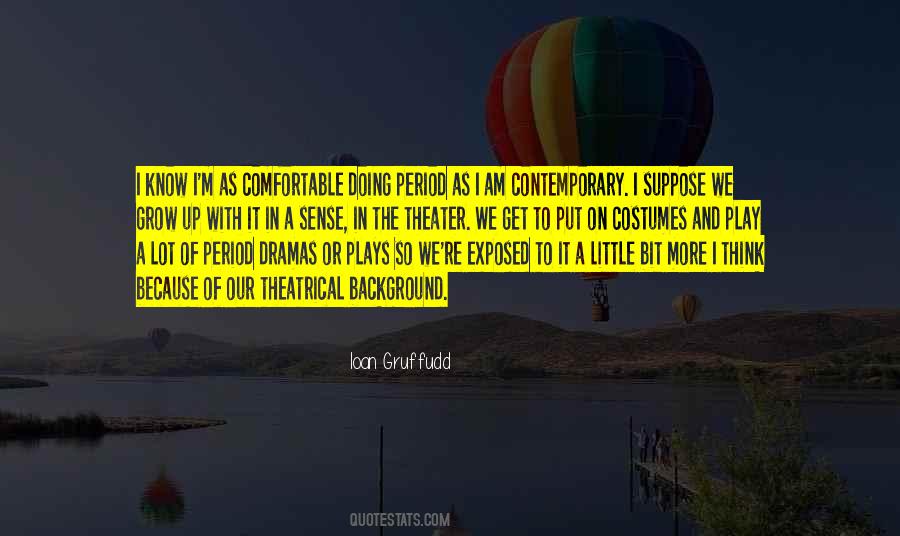 #55. To be content with life or to live merrily, rather all that is required is that we bestow on all things only a fleeting, superficial glance; the more thoughtful we become the more earnest we grow. - Author: Georg C. Lichtenberg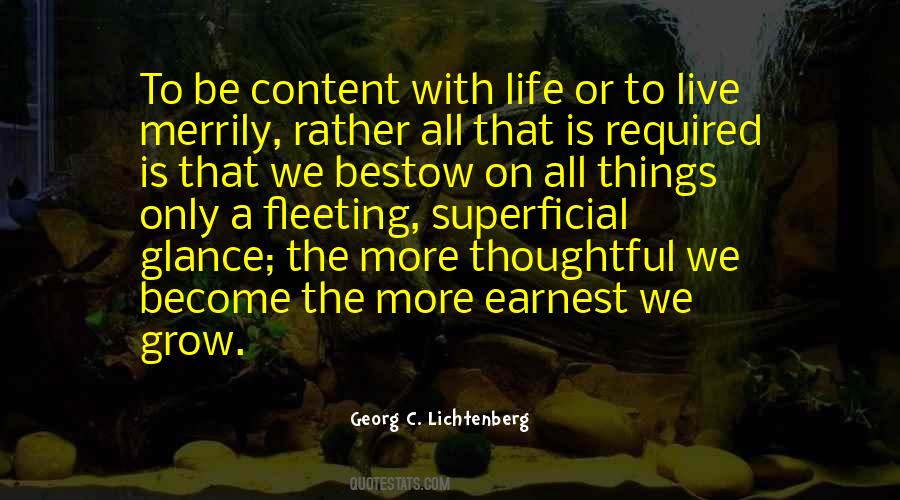 #56. In the lives of children, pumpkins can turn into coaches, mice and rats into human beings. When we grow up, we learn that it's far more common for human beings to turn into rats. - Author: Gregory Maguire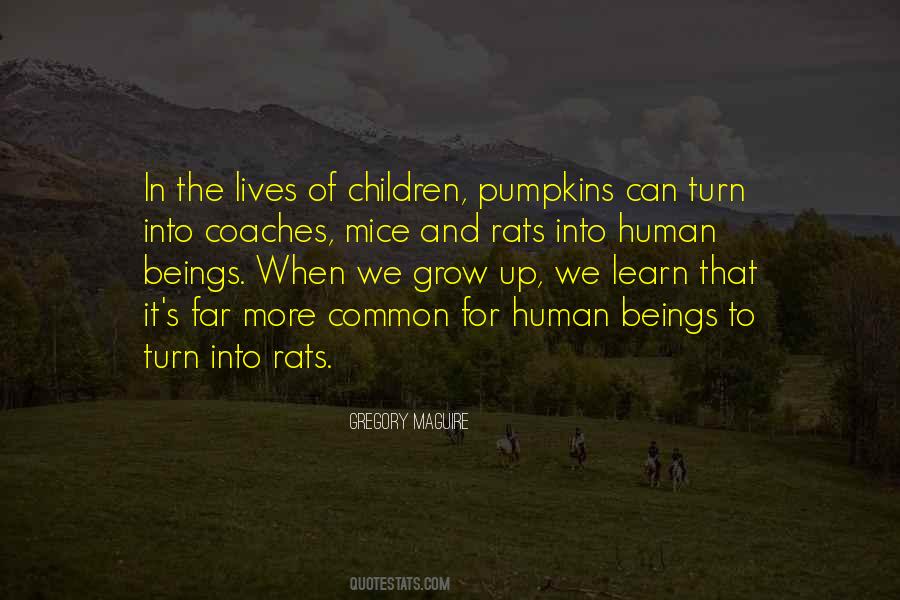 #57. As we grow in the knowledge of God's holiness, even though we are growing in the practice of holiness, it seems the gap between our knowledge and our practice always gets wider. This is the Holy Spirit's way of drawing us to more and more holiness. - Author: Jerry Bridges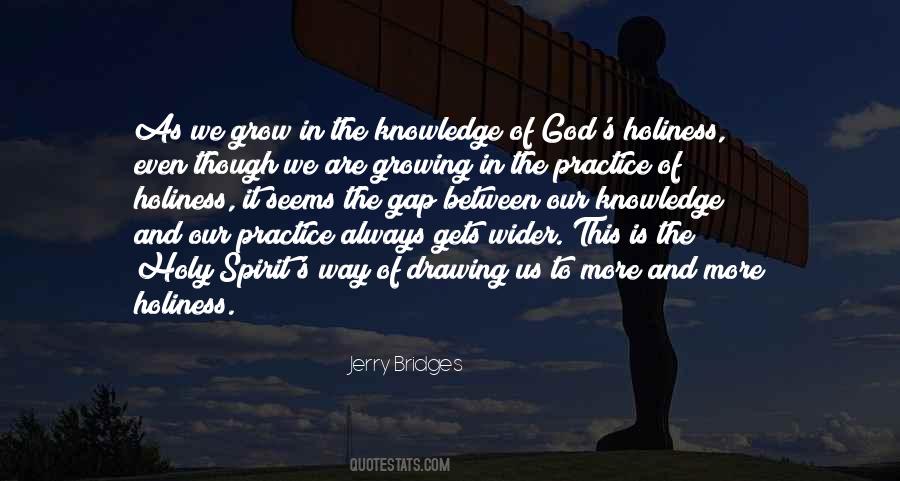 #58. We know in the field of aging that some people tend to senesce, or grow older, more rapidly than others, and some more slowly. - Author: S. Jay Olshansky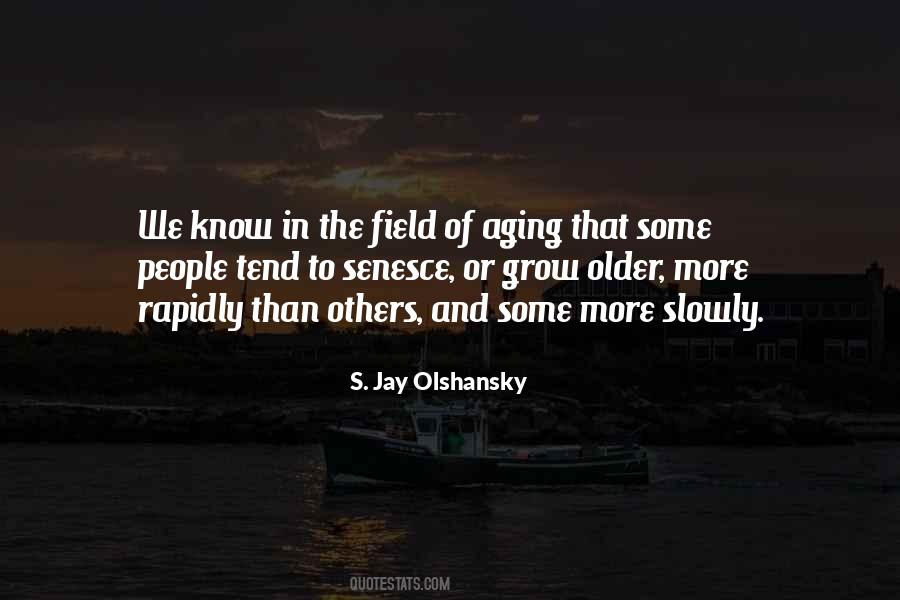 #59. It is by desiring to grow in love that we receive the Holy Spirit, and the thirst for more charity is the effect of this more abundant reception. - Author: Thomas Merton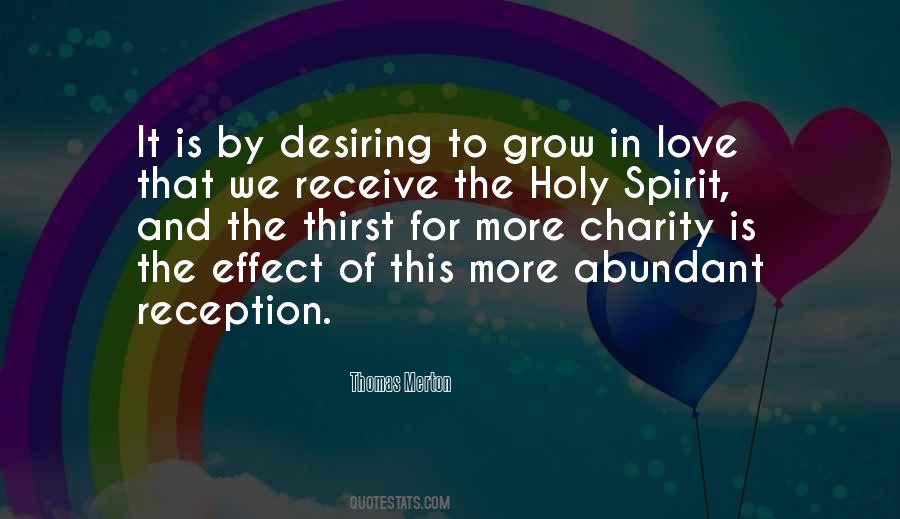 #60. Experience tells us that we do not need more overspending or higher taxes to grow jobs. We do not need more regulations or more government control - such as the government takeover of health care or the restrictions in domestic energy production. - Author: Tim Walberg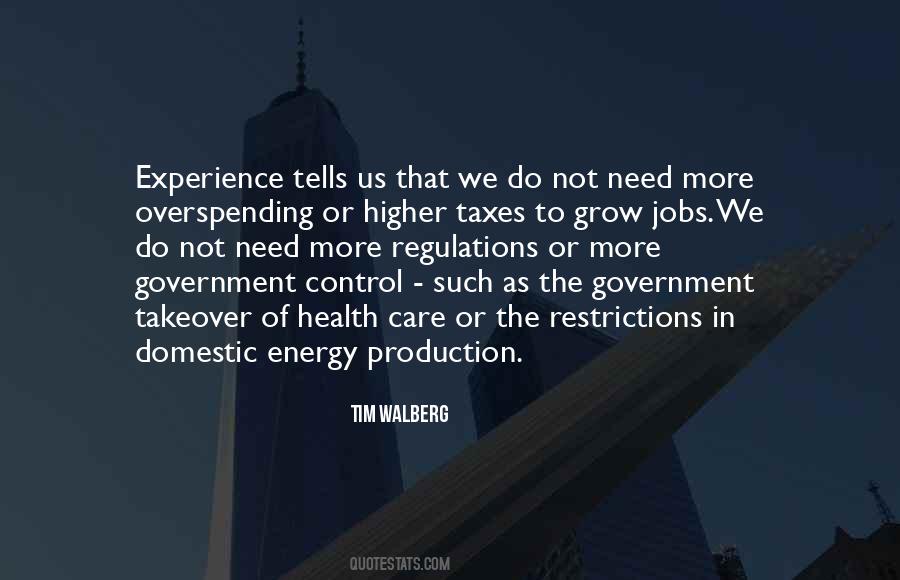 #61. It's not that we have more patience as we grow older, it's just that we're too tired to care about all the pointless drama - Author: Karen Gibbs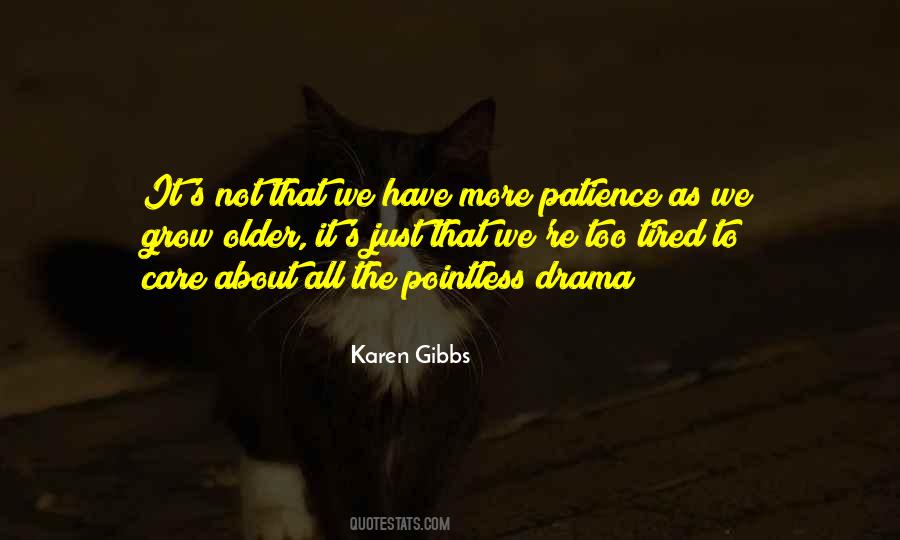 #62. But if we hide ourselves away, afraid to grow and learn, we might wake up in the flames of the ignorance that burns and we'll never be much more than only casualties of war in a struggle we can't win if we have no faith to begin. We've got to tip the lid and let some sunlight in. - Author: Dawud Wharnsby Ali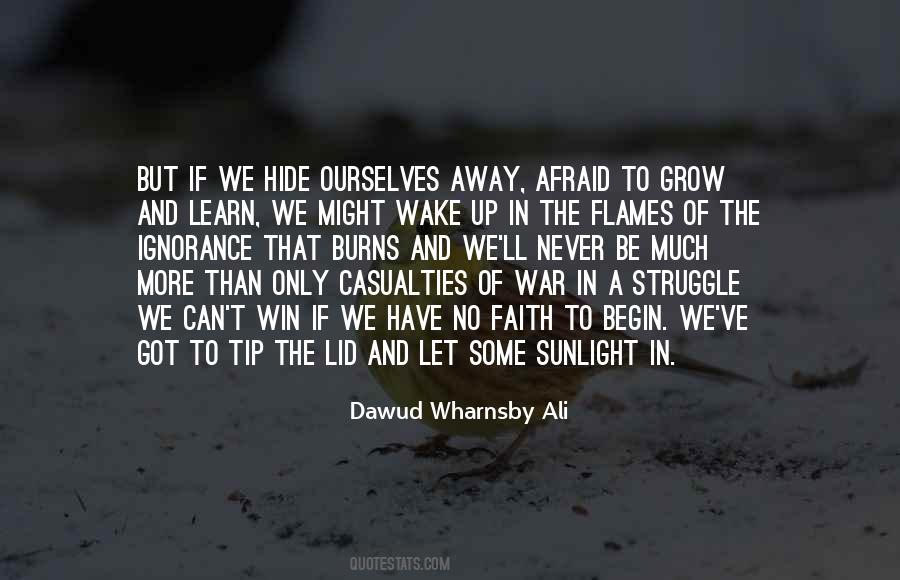 #63. Once more, dully menacing, comes the noise of gunfire, and already from afar, like the bill of a woodpecker, sounds the knock-knocking of a machine gun. We grow calm and are almost glad to hear again the familiar, trusty noises of death. - Author: Erich Maria Remarque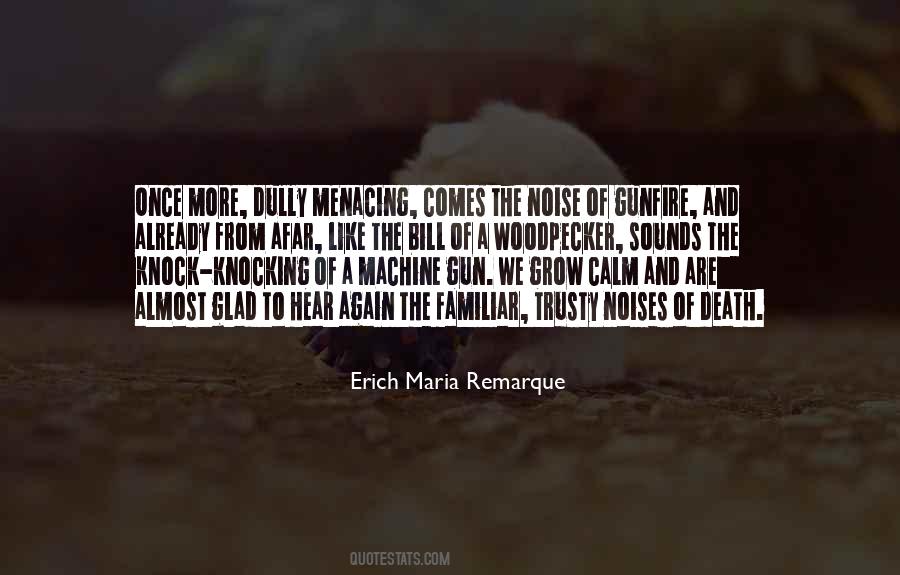 #64. She laughed that joyous full-blown sound that children eventually grow out of, as if the world bleeds the joy from them. Unless we're very lucky, the world teaches us to laugh more quietly, more coyly. - Author: Laurell K. Hamilton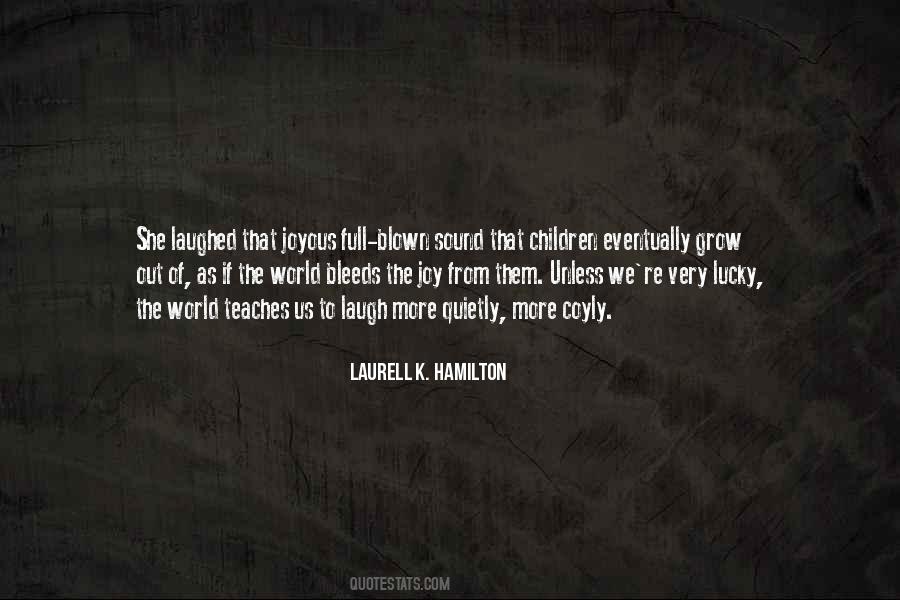 #65. Travel spins us round in two ways at once: It shows us the sights and values and issues that we might ordinarily ignore; but it also, and more deeply, shows us all the parts of ourselves that might otherwise grow rusty. - Author: Pico Iyer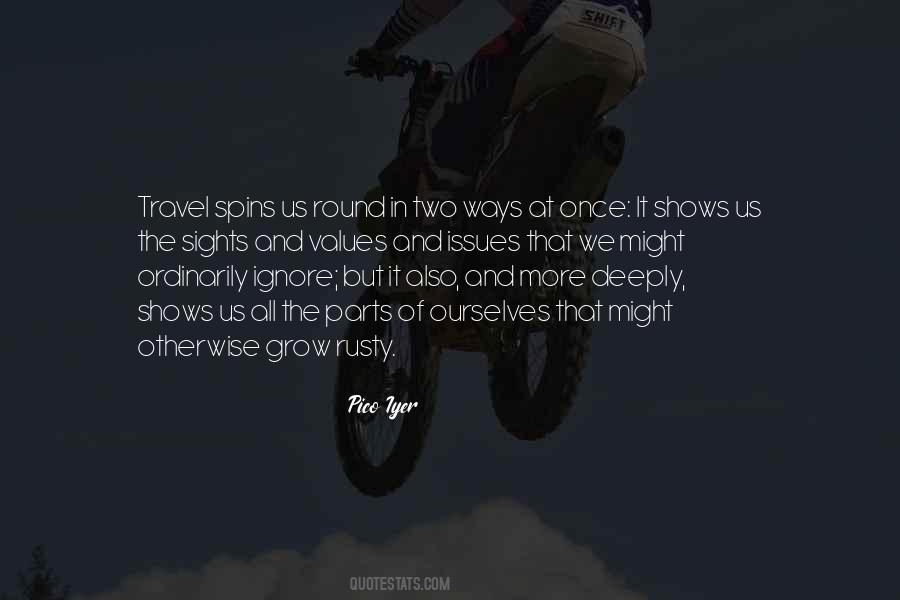 #66. We want more women players to take up chess. There are few participants at the national level and hope it will grow. - Author: Viswanathan Anand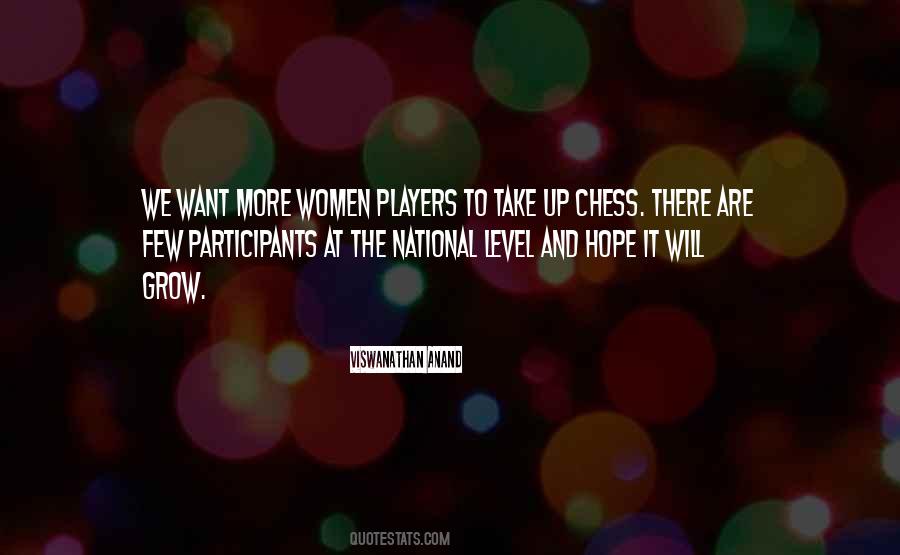 #67. The more we practice risking to leap, the more proficient we become, the more our fears melt away, and we grow ever stronger in the doing. - Author: Gloria Feldt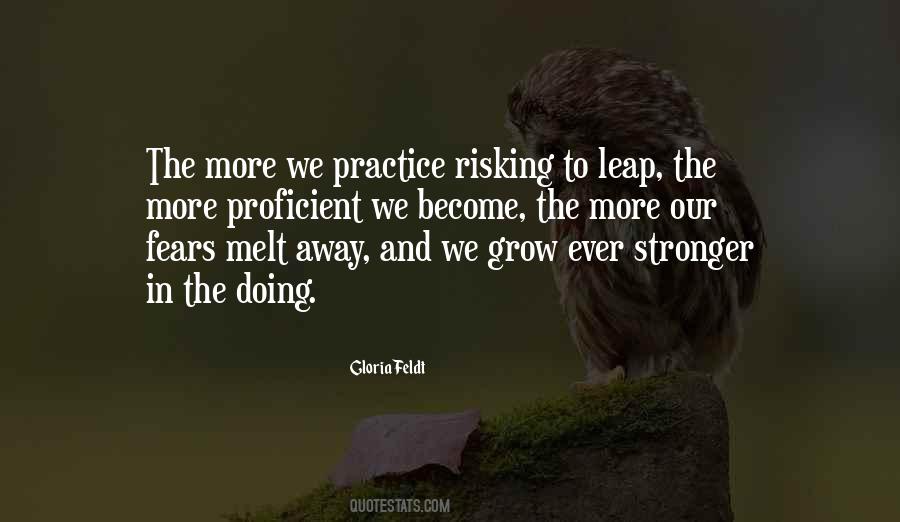 #68. While they were floundering / I was pondering / 'No more wandering through the dark tunnels of grim determination / For no; it is time to grow in a thousand folded folds, for which we need an infinite fuel! - Author: Nathan Coppedge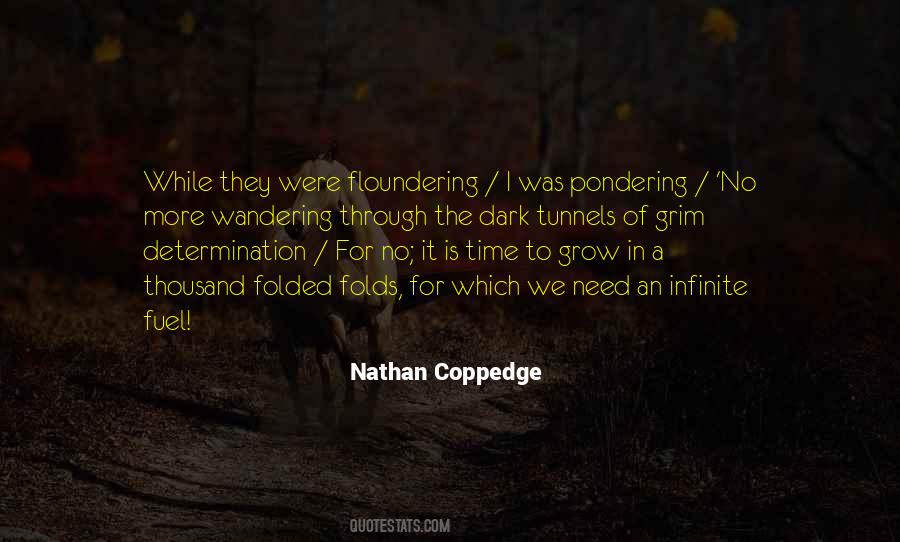 #69. The key thing for me is to secure medium-term funding for the Roundhouse studios. It costs around £2m a year to run, but we want to grow it, and of course that will cost more. - Author: Lloyd Dorfman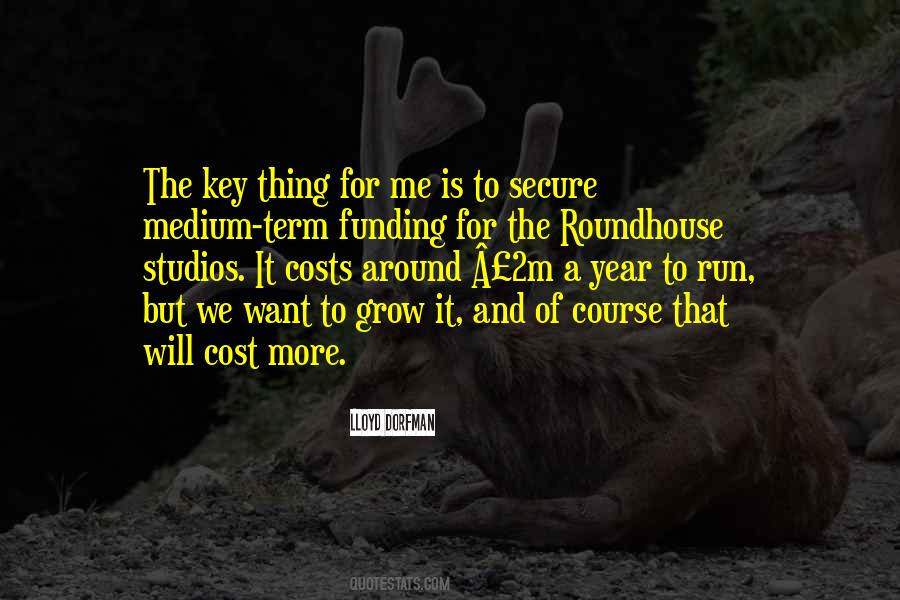 #70. We'll need to revise the tired assumption that people automatically become more conservative as they grow older. - Author: Charles Kennedy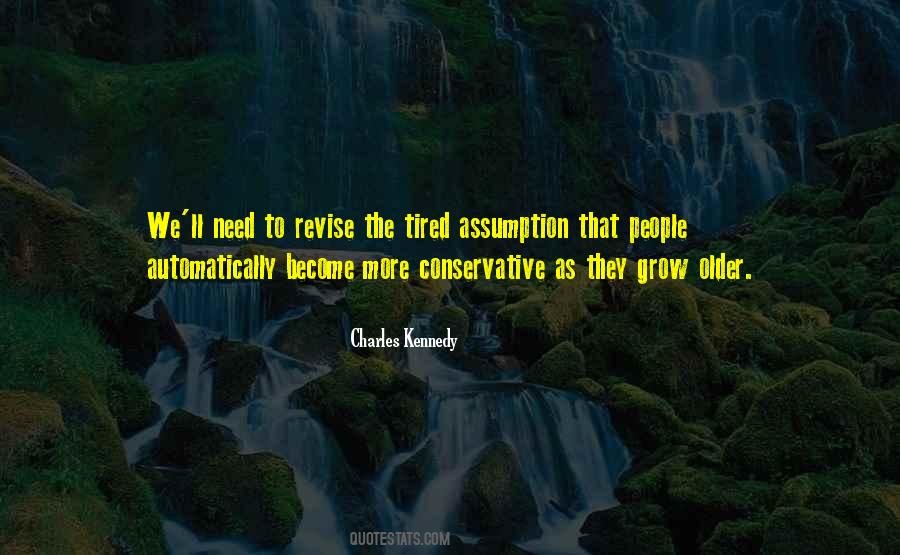 #71. We New Yorkers see more death and violence than most soldiers do, grow a thick chitin on our backs, grimace like a rat and learn to do a disappearing act. Long ago we outgrew the need to be blowhards about our masculinity; we leave that to the Alaskans and Texans, who have more time for it. - Author: Edward Hoagland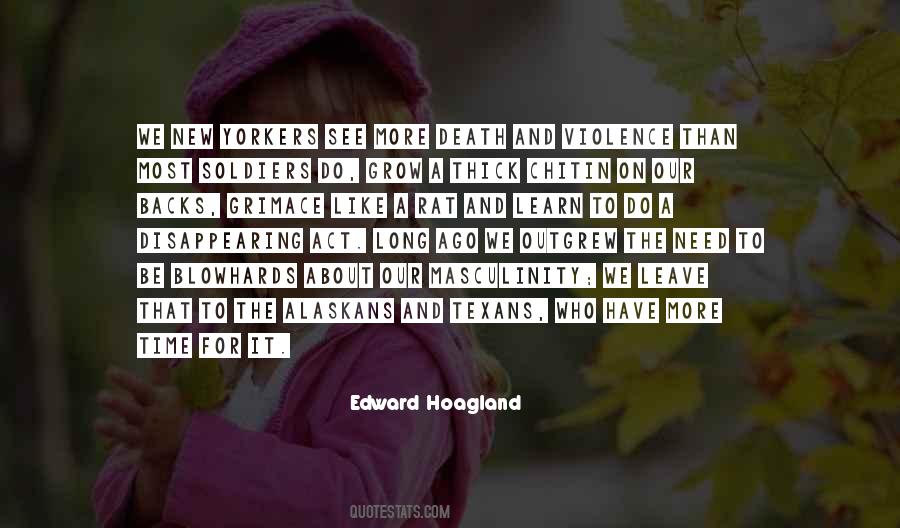 #72. The more we grow to know God, the more we realize how little we know of Him. - Author: Steven J. Lawson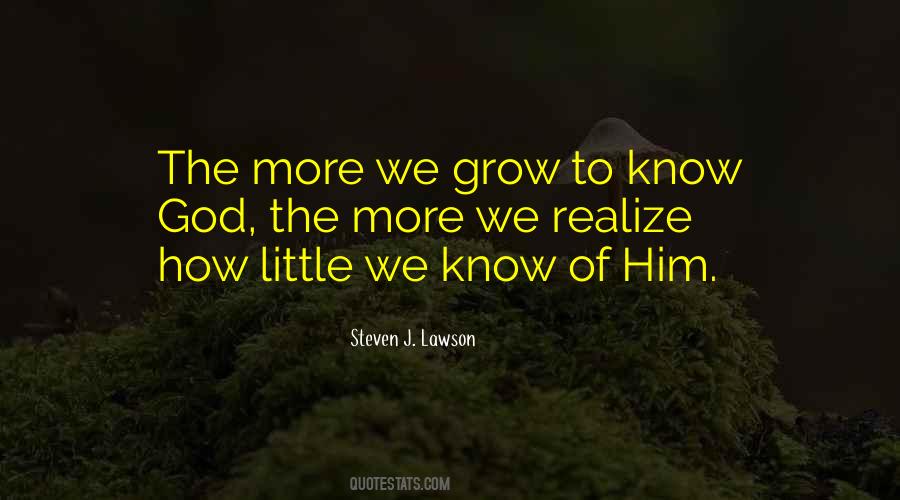 #73. This fear is what is the ruin of us all. And some dominate us; they take advantage of our fear and frighten us still more. Mark this: as long as people are afraid, they will rot like the birches in the marsh. We must grow bold; it is time! - Author: Maxim Gorky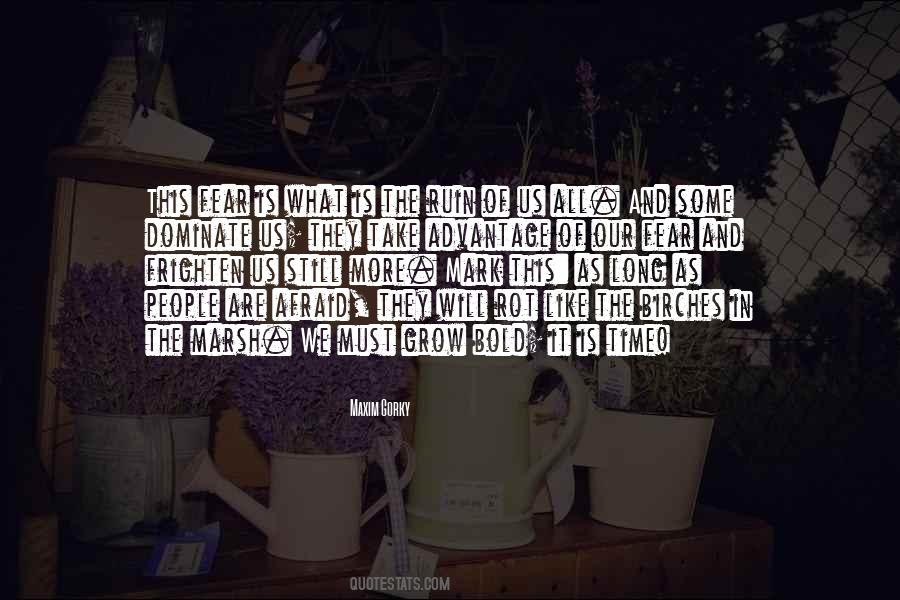 #74. It is a well-known fact that very often, putting the period of boyhood out of the argument, the older we grow the more cynical and hardened we become; indeed, many of us are only saved by timely death from moral petrification, if not from moral corruption. - Author: H. Rider Haggard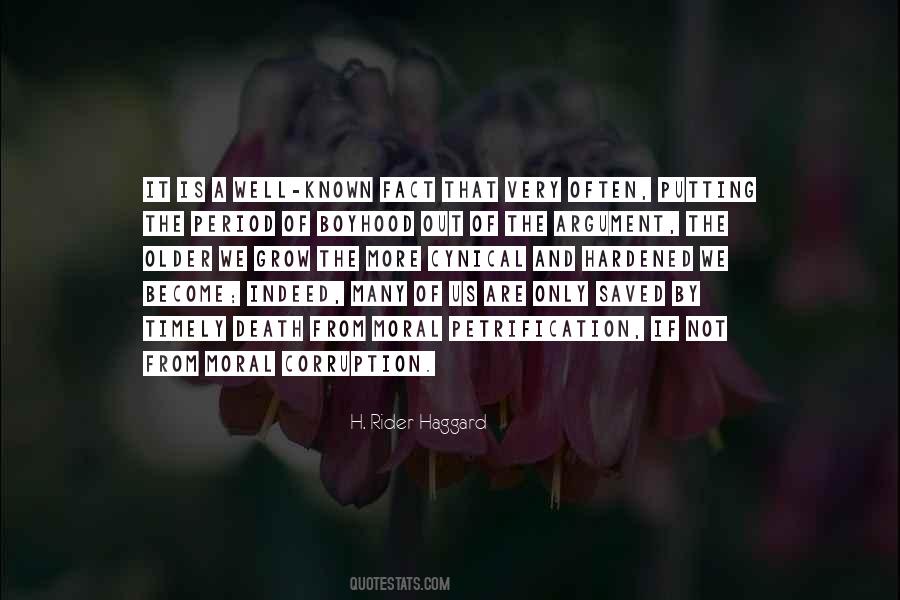 #75. As we grow up, nothing changes more than the definition of loss. - Author: Saleem Sharma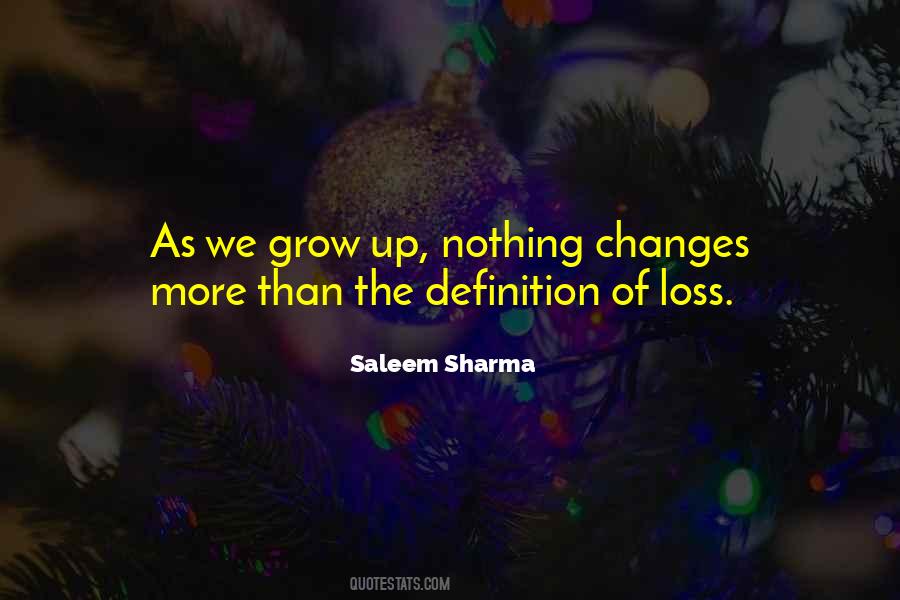 #76. We should all know more, live nearer to God, and grow in grace, if we were more alone. Meditation chews the cud and extracts the real nutriment from the mental food gathered elsewhere. - Author: Charles Haddon Spurgeon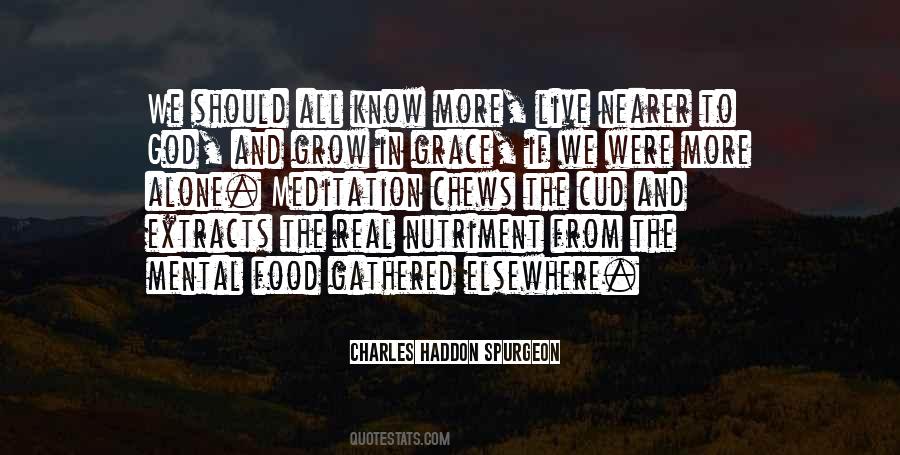 #77. We grow with years more fragile in body, but morally stouter, and can throw off the chill of a bad conscience almost at once. - Author: Logan Pearsall Smith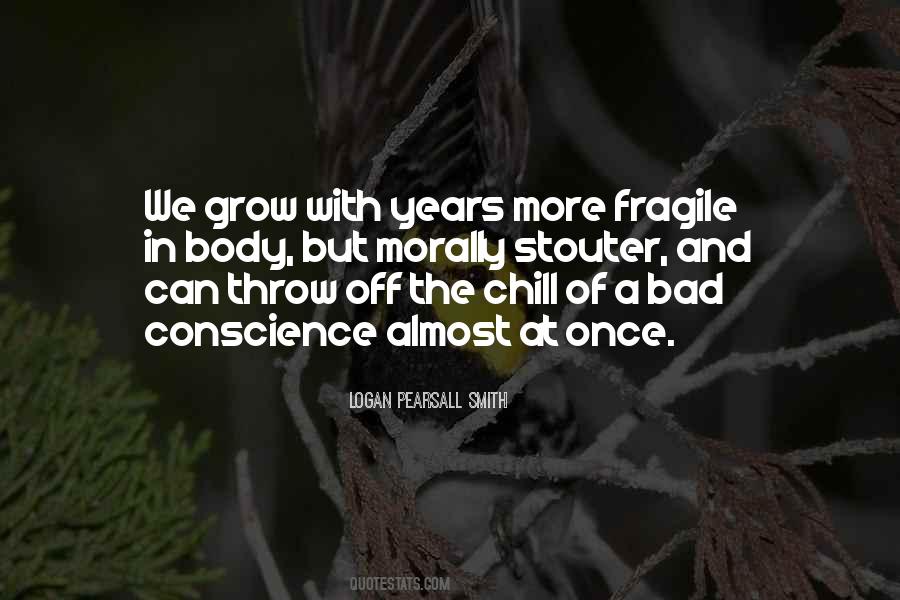 #78. Our painful experiences strengthen us in becoming more empathetic, more caring, and deeper human beings. We grow in depth of understanding, with greater appreciation for the miracle of life. - Author: Alexandra Stoddard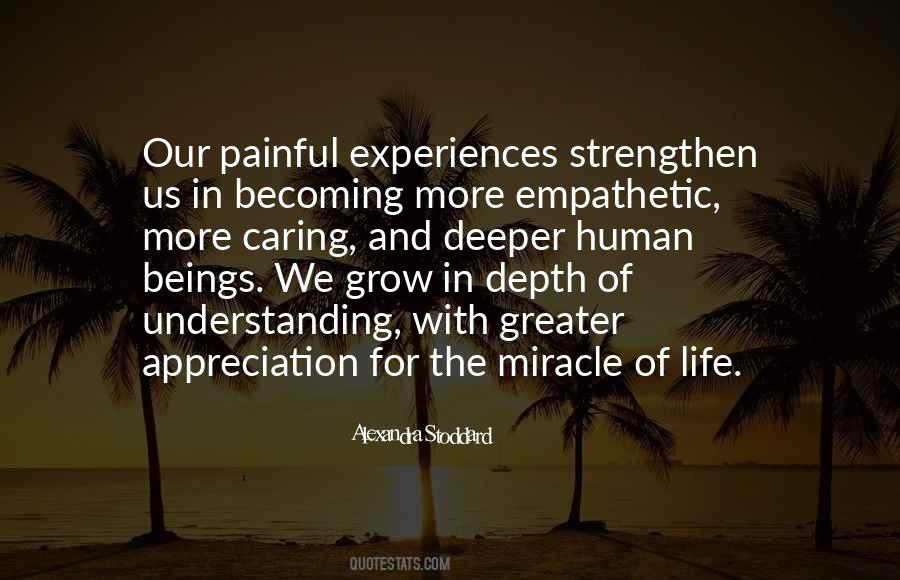 #79. Pollution from human activities is changing the Earth's climate. We see the damage that a disrupted climate can do: on our coasts, our farms, forests, mountains, and cities. Those impacts will grow more severe unless we start reducing global warming pollution now. - Author: Frances Beinecke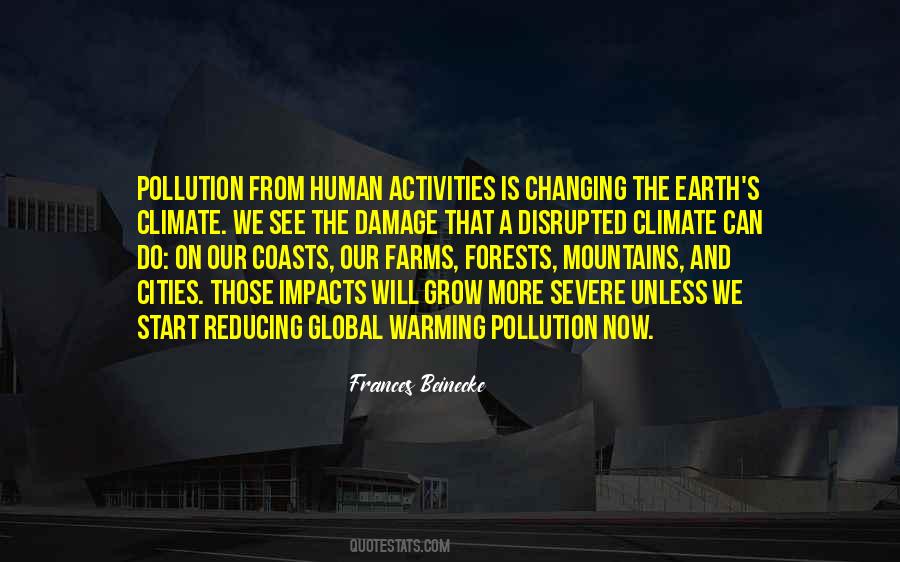 #80. Blood family, that's something we get dealt. Sometimes we get a bad hand. Not much way around it. You just have to grow up and get more family. The kind you get to pick out yourself. - Author: Catherine Ryan Hyde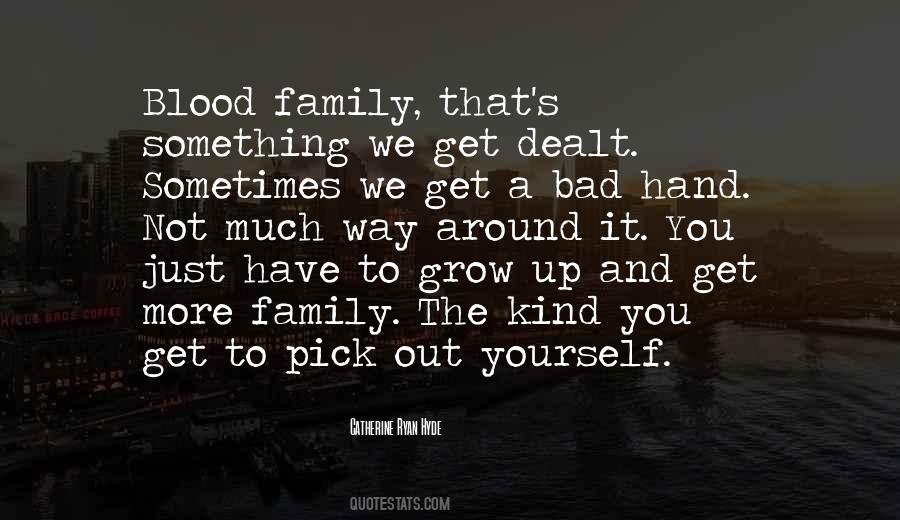 #81. The older I get, the more I meet people, the more convinced I am that we must only work on ourselves, to grow in grace. The only thing we can do about people is to love them. - Author: Dorothy Day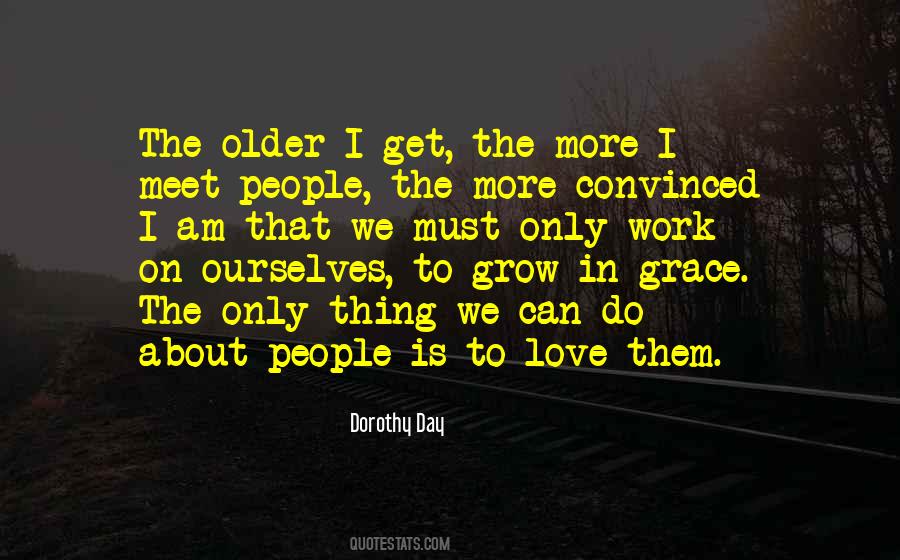 #82. Hopefully you'll grow old enough to realize that Achilles was a gorydamn fool. And we're fools all the more for not realizing he wasn't Homer's hero. He was warning. - Author: Pierce Brown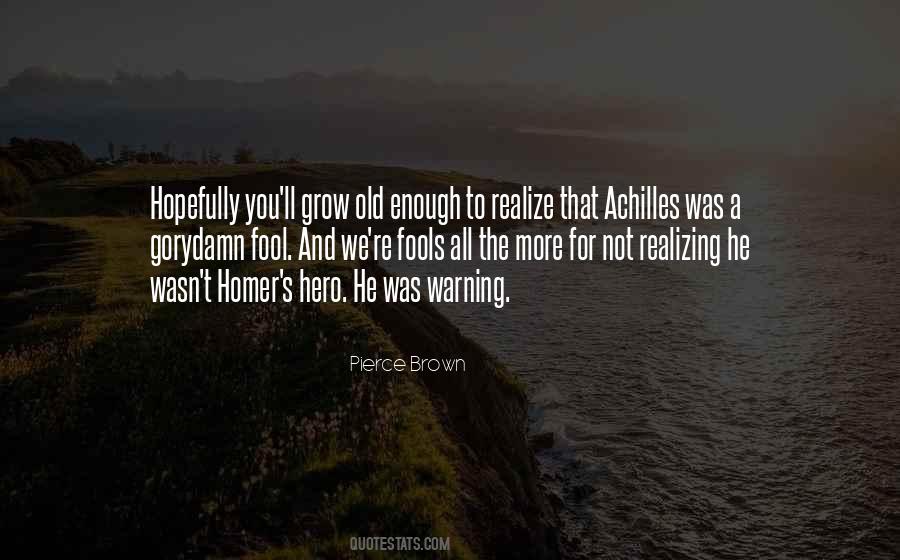 #83. As we grow in higher consciousness, we discover that it is more important to be the right person then to find the right person. - Author: Ken Keyes Jr.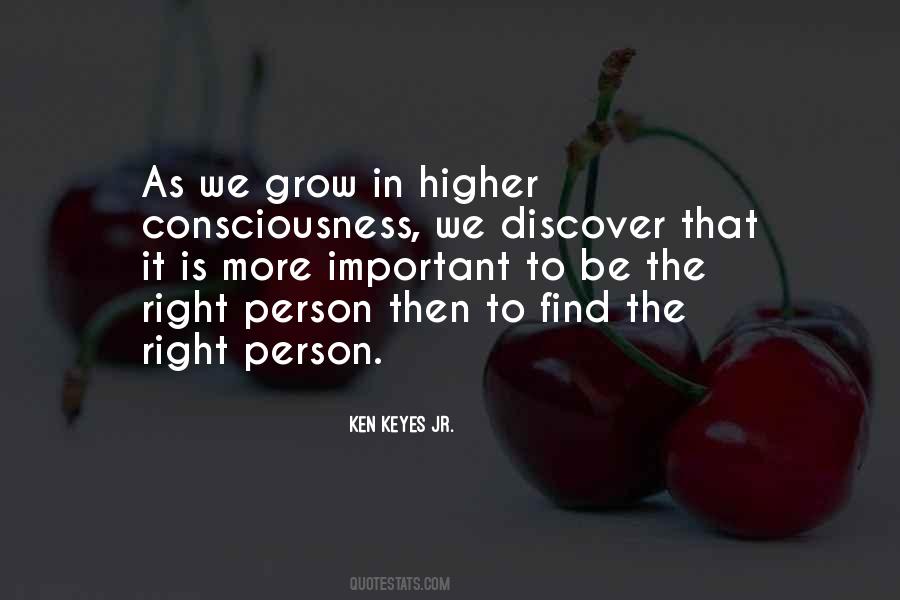 #84. No single thing abides; but all things flow. Fragment to fragment clings - the things thus grow Until we know them and name them. By degrees They melt, and are no more the things we know. - Author: Lucretius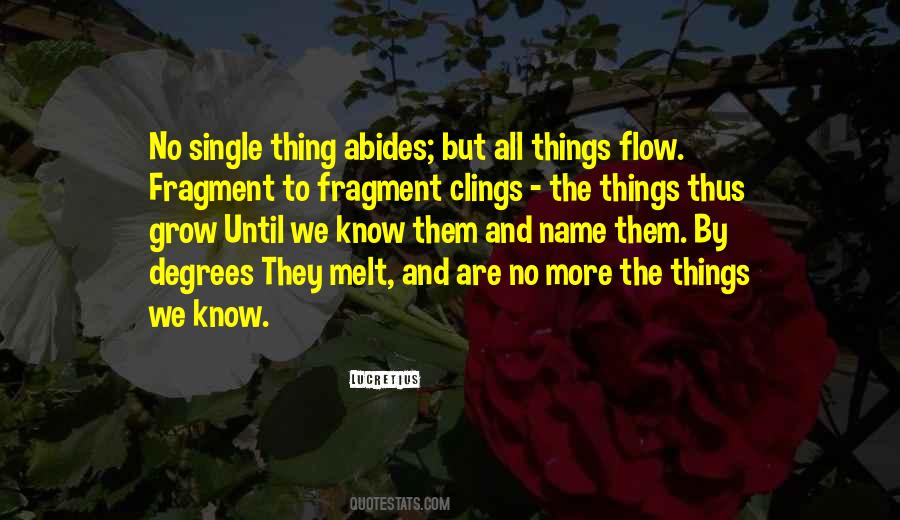 #85. I'm trying to grow more limbs in order to multitask at a greater rate and I'm also investigating the possibilities of cloning. Because nothing would be more useful than having multiples of me, and that way, I could do all of the things I'd like to do in the short amount of time we all have here. - Author: Ezra Miller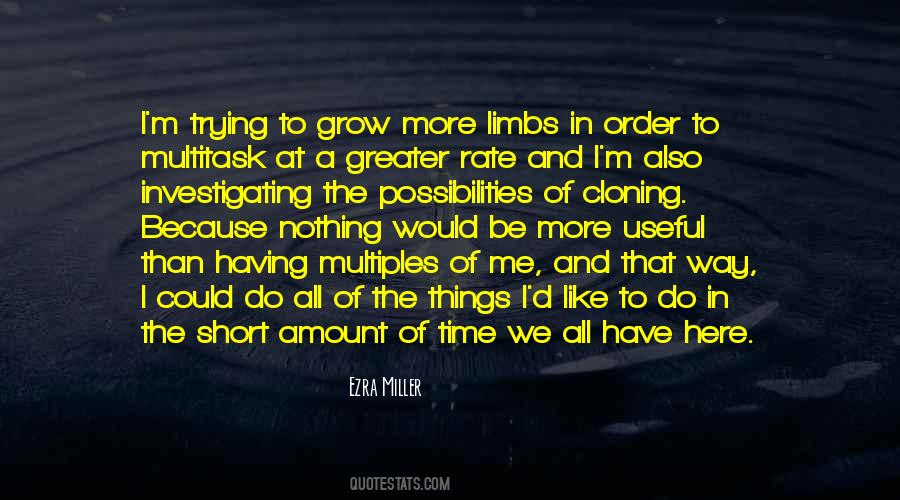 #86. By 2050, the Australian population is expected to grow from 22 million to 36 million. That increase alone will put huge pressure on our towns and our cities. We will need more homes, more roads, more rail lines, more hospitals, more schools, just to accommodate so many Australians. - Author: Kevin Rudd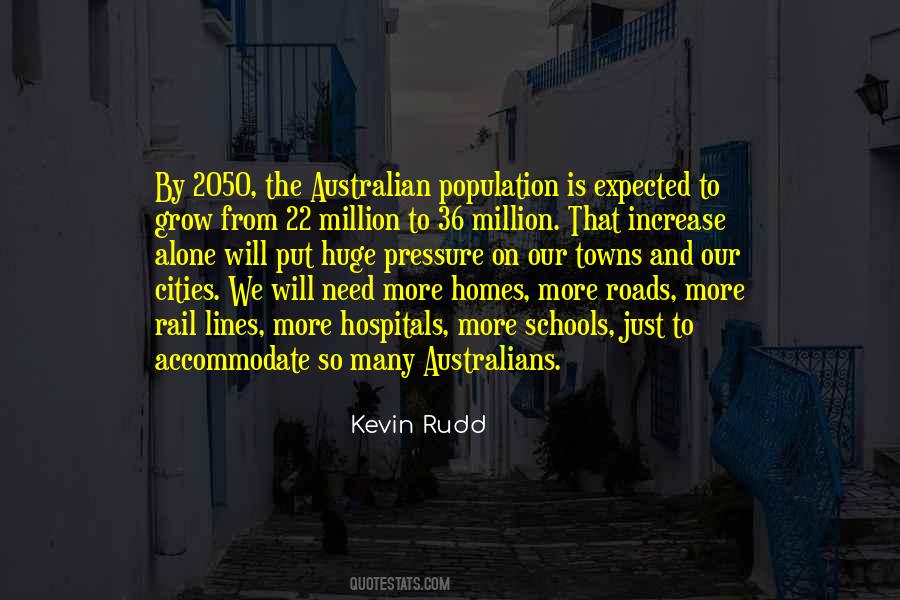 #87. We need to let our children grow up to face the world armed with knowledge, with much more knowledge than we ourselves had at their age. It is scary, but the alternative is worse. - Author: Daniel Dennett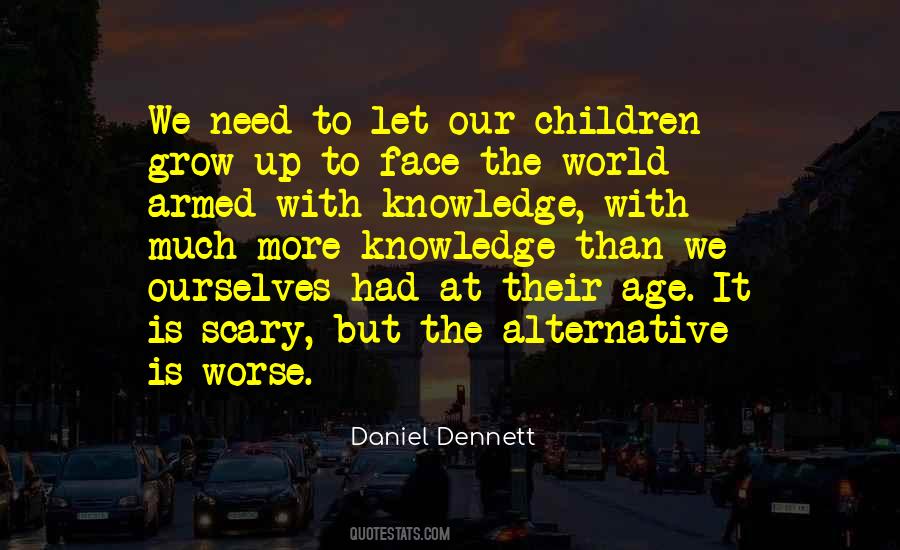 #88. Maybe this whole obsession about colouring our hair is about our inability to grow up. To let go of the fact we aren't children any more, and the whole thing about changing our faces and looking young, and 60 being the new 40, is maybe we don't want to let go of our childhood. - Author: Tamsin Greig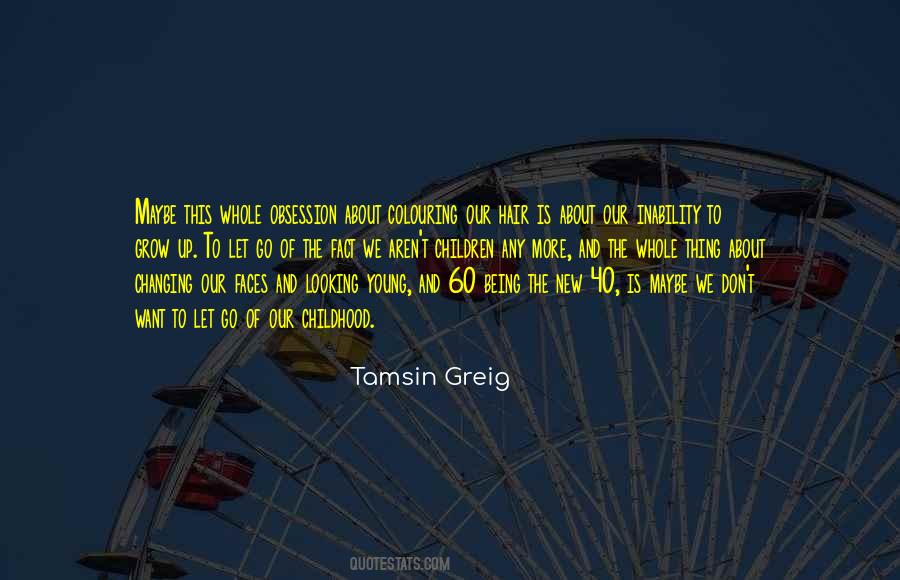 #89. There are more and more products with fewer people able to consume them. We have to help those who don't have the economic stability to grow, or one day there will be very few who are able to buy what we're selling. - Author: Guy Laliberte
#90. The more hunger, the greater the desires, like those of men in prison, wild and haunting. So we had here a perfect world in which to grow the flower of eroticism. Of course, if you get too hungry, too continuously, you become a bum, a tramp. - Author: Anais Nin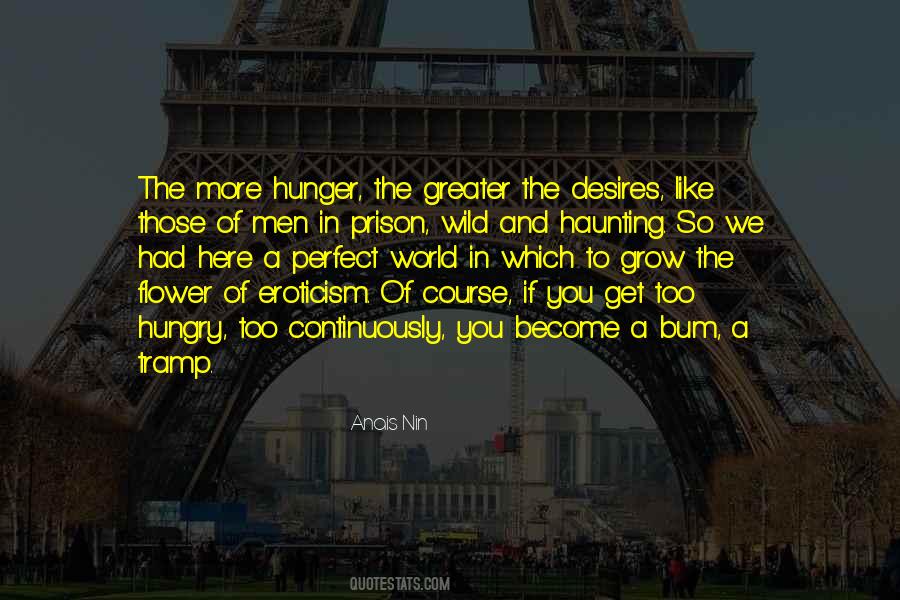 #91. Despite our very recent appearance on the planet, humanity combines arrogance with increasing material demands, even as we become more numerous. Our toughness is a delusion. Have we the intelligence and discipline to vigilantly guard against our tendency to grow without limit? - Author: Lynn Margulis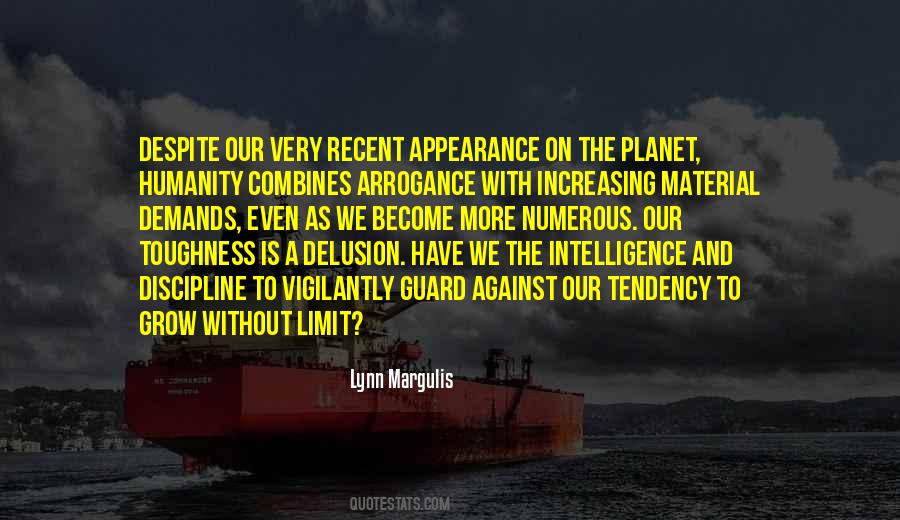 #92. Make your kids go out and play. Kids ought to grow up the way you and I grew up and we grew up fifty years apart or maybe more. But we did the same things. Now who's out playing in the afternoon? Nobody. - Author: C. Everett Koop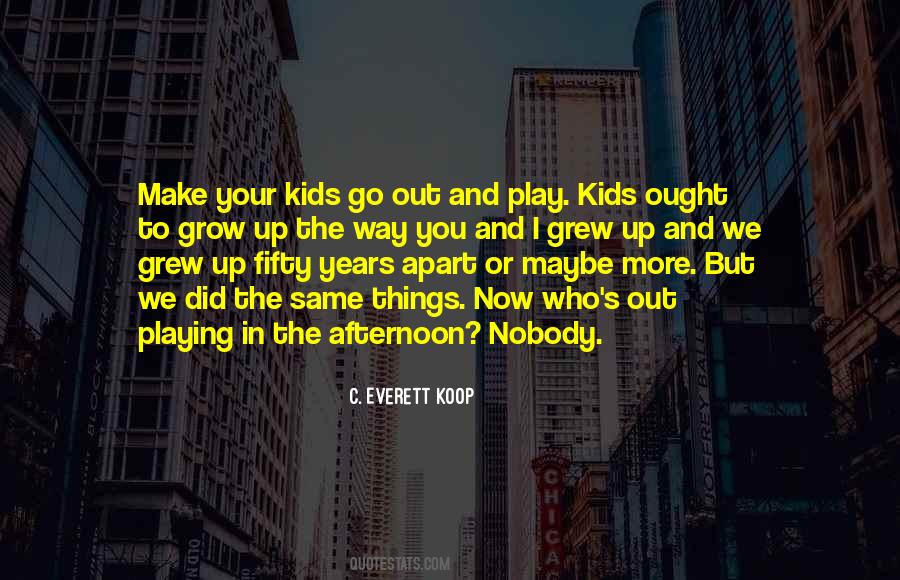 #93. In our development, as we grow throughout our lives, the structure of our beliefs becomes very complicated, and we make it even more complicated because we make the assumption that what we believe is the absolute truth. - Author: Don Miguel Ruiz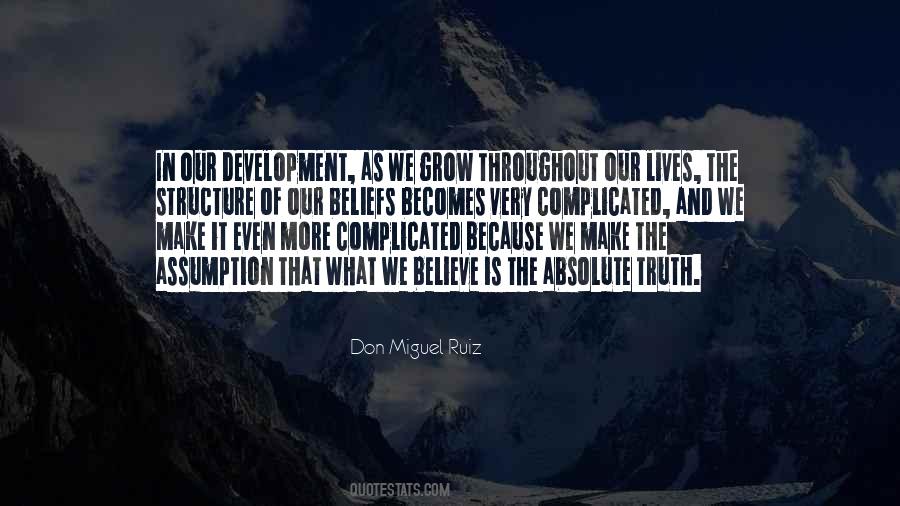 #94. The economy in the Valley will need to grow if students want to come back and work with their specialized degrees. We need to develop more to create more opportunities. - Author: Frank Murphy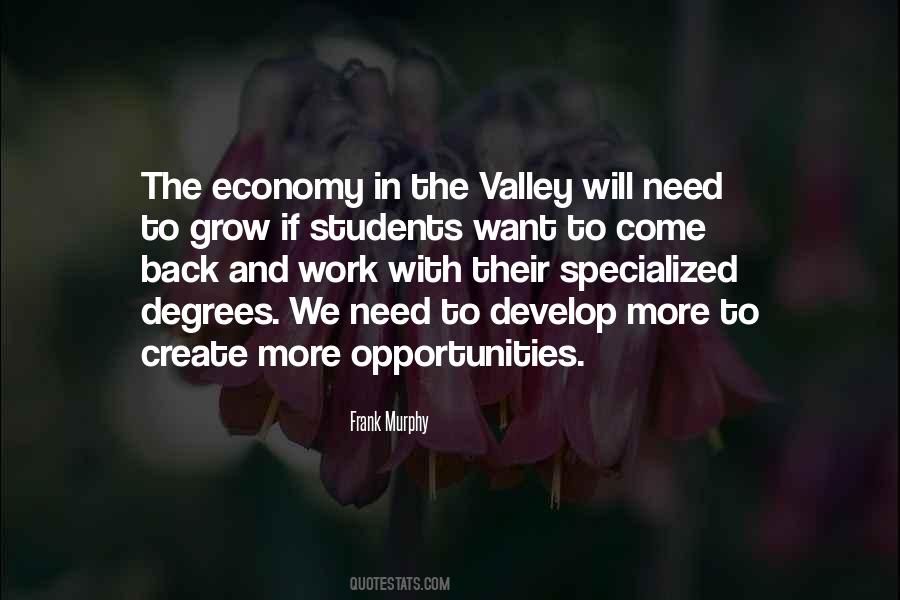 #95. Half of the receipts in our cookbooks are mere murder to such constitutions and stomachs as we grow here ... in America, owing to our brighter skies and more fervid climate, we have developed an acute, nervous delicacy of temperament far more akin to that of France than of England. - Author: Catharine Beecher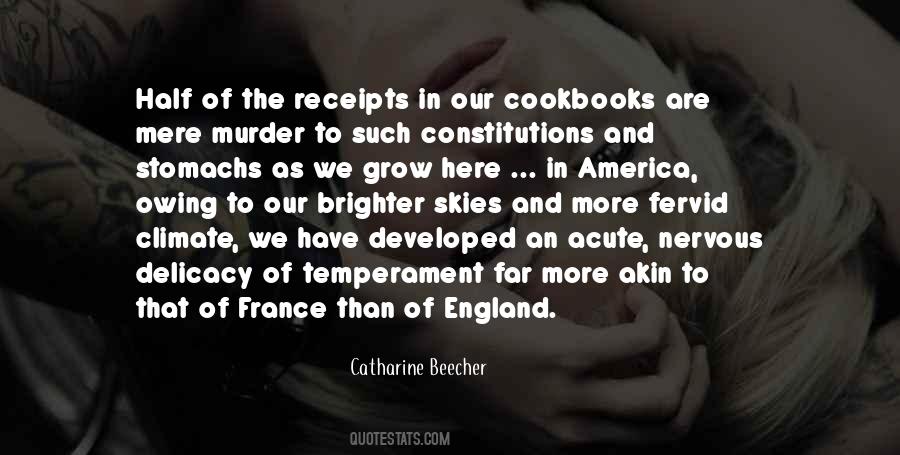 #96. The glory of the old Irish nation, which in our hour will grow young and strong again. Should we fail, the country will not be worth more than it is now. The sword of famine is less sparing than the bayonet of the soldier. - Author: Thomas Francis Meagher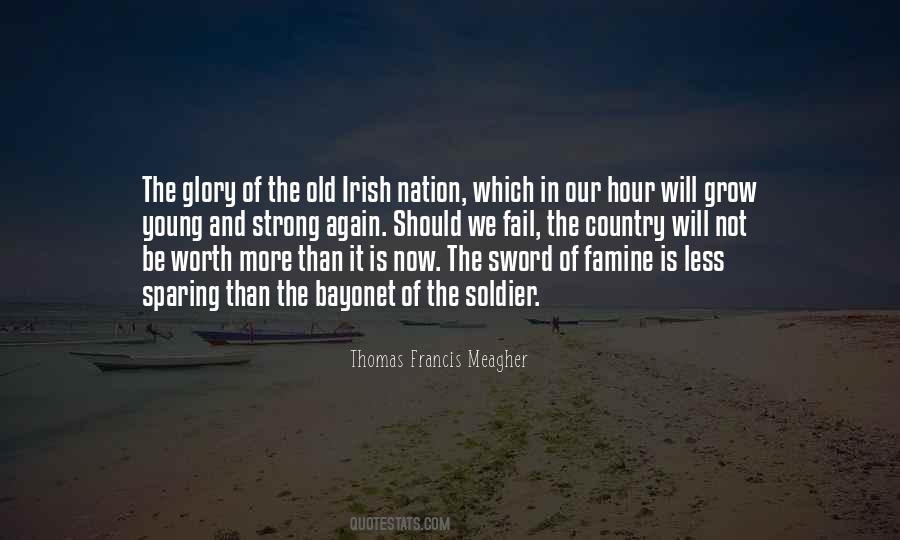 #97. I know not anything more pleasant, or more instructive, than to compare experience with expectation, or to register from time to time the difference between idea and reality. It is by this kind of observation that we grow daily less liable to be disappointed. - Author: Samuel Johnson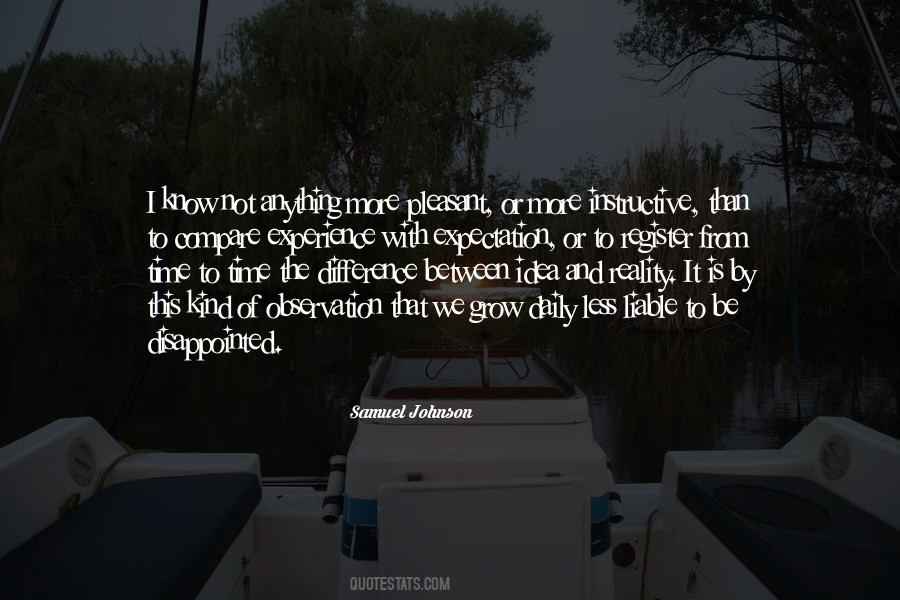 #98. The old forests are going and once they are gone we will have to wait a thousand years or more to see their like. Though nothing will be allowed such a generous measure of time to grow. - Author: Annie Proulx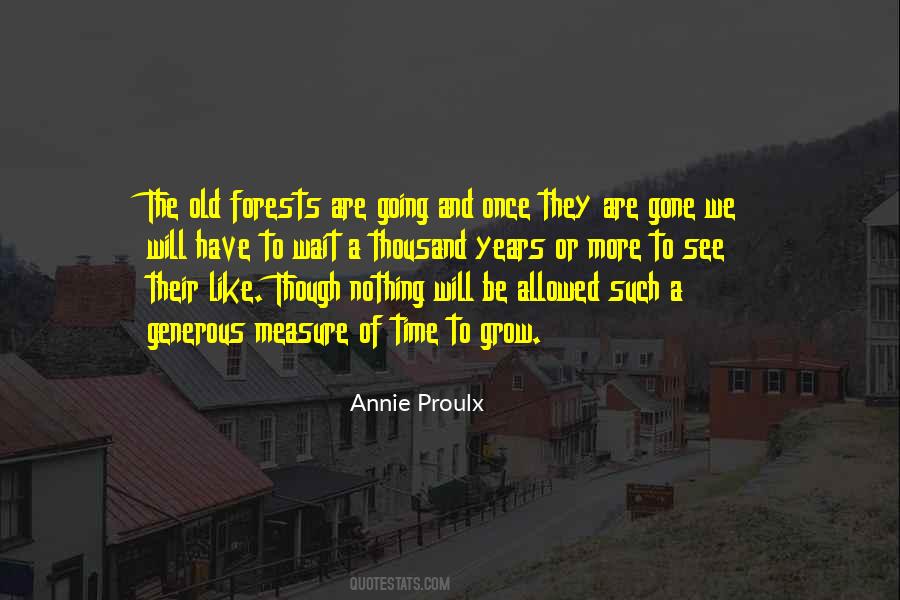 #99. The more we grow in Love, Virtue and Holiness, the more we see Love, Virtue and Holiness outside. - Author: Swami Vivekananda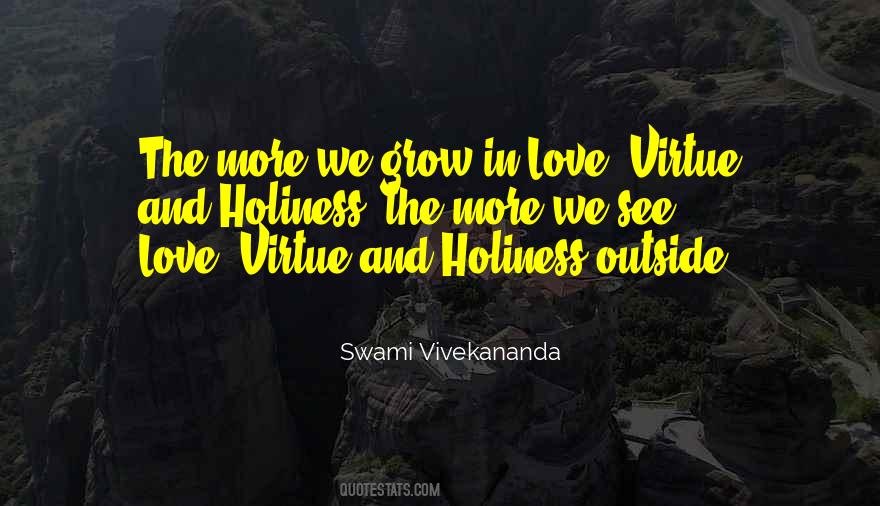 #100. We grow older, but we do not change. We become more sophisticated, but at bottom we continue to resemble our young selves, eager to listen to the next story and the next, and the next. - Author: Paul Auster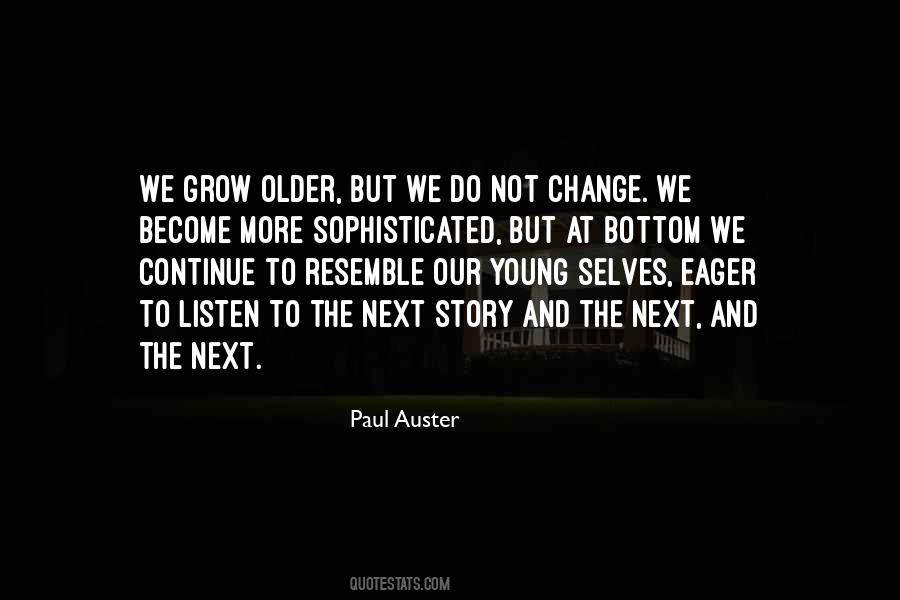 Famous Authors
Popular Topics