Talk To Famous Quotes & Sayings
List of top 100 famous quotes and sayings about talk to to read and share with friends on your Facebook, Twitter, blogs.
Top 100 Talk To Quotes
#1. If he touched her, he couldn't talk to her, if he loved her he couldn't leave, if he spoke he couldn't listen, if he fought he couldn't win. - Author: Arundhati Roy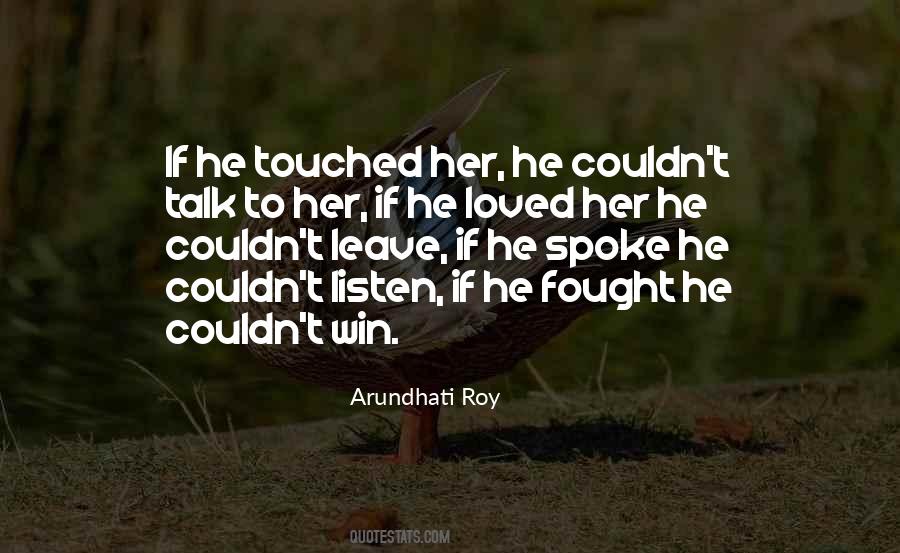 #2. In this dark, when we all talk at once, some of us must learn to whistle. - Author: Walt Kelly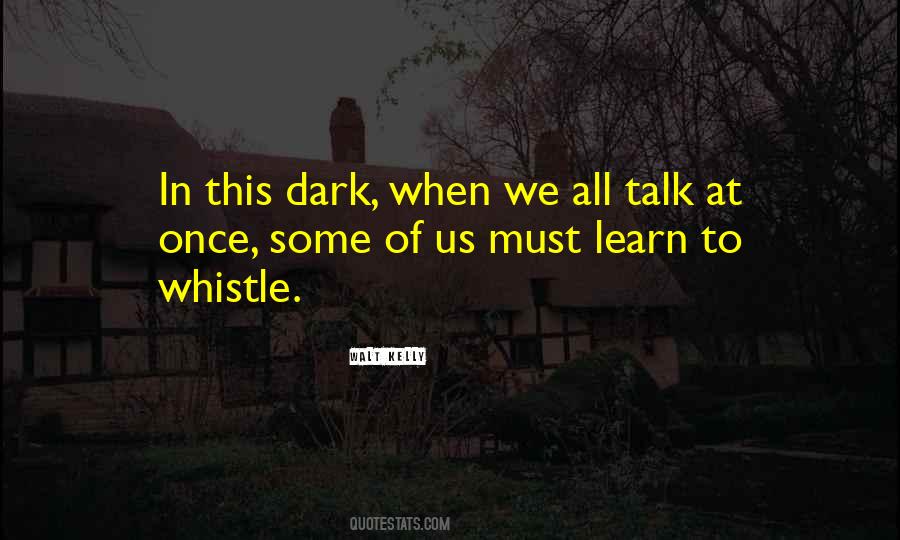 #3. Popularity's a weird thing. You can't really define it, and it's not cool to talk about, but you know it when you see it. Like a lazy eye, or porn. - Author: Lauren Oliver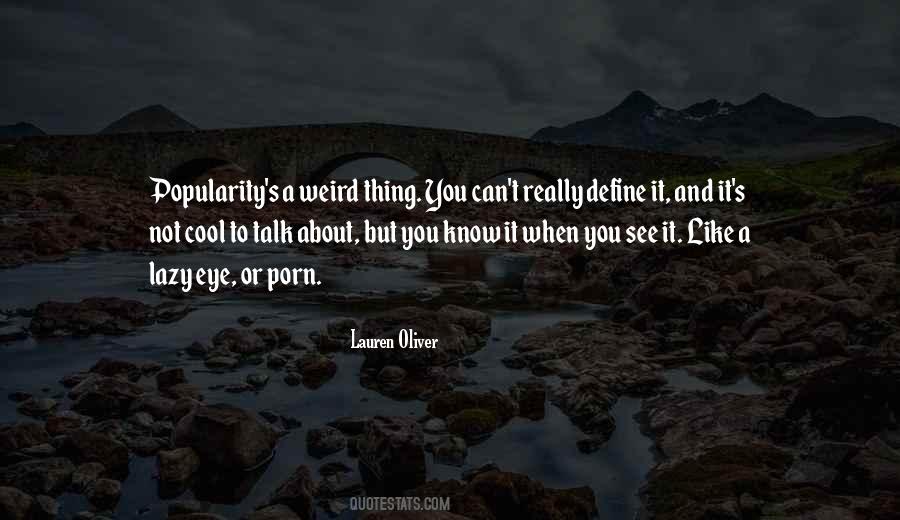 #4. I would love to do comedy. I'm actually really animated and goofy. I talk with my hands so intensely. - Author: Tracy Spiridakos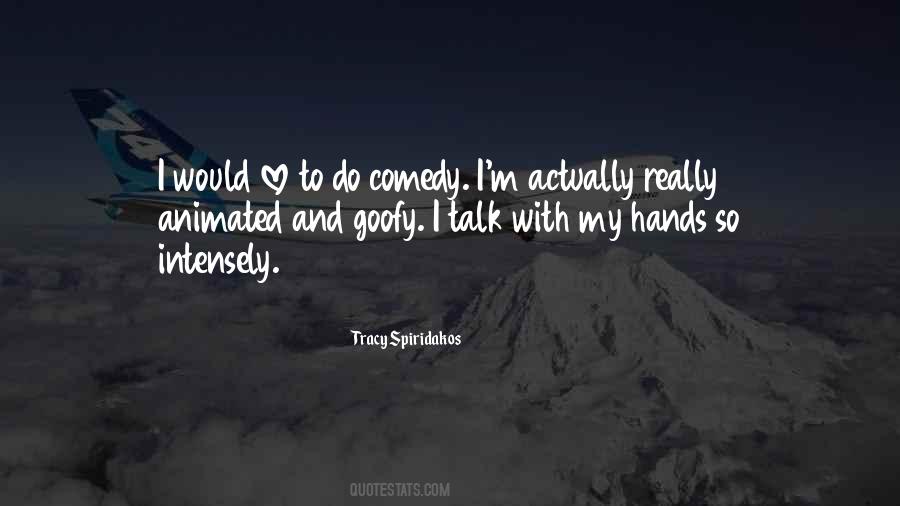 #5. The internal and external ethics of an organization must be the same; you cannot talk about minimum wages for poor people and not pay minimum wages to your own workers. - Author: Aruna Roy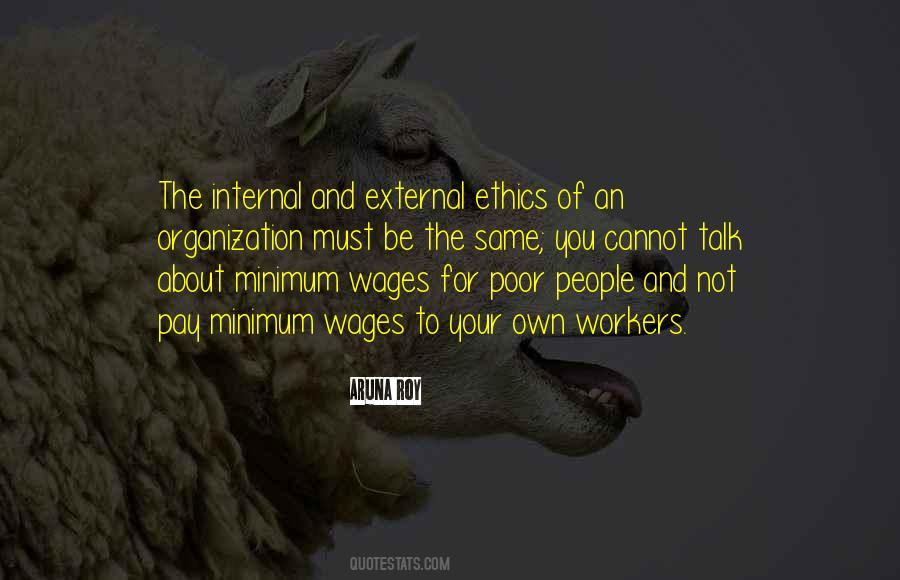 #6. I was told by a girl once that I should teach a course on how to kiss properly. I thought that was really a nice compliment. I then asked her what she thought about my sexual prowess and she recommended I talk to a guy she used to date. Body blow. - Author: Dane Cook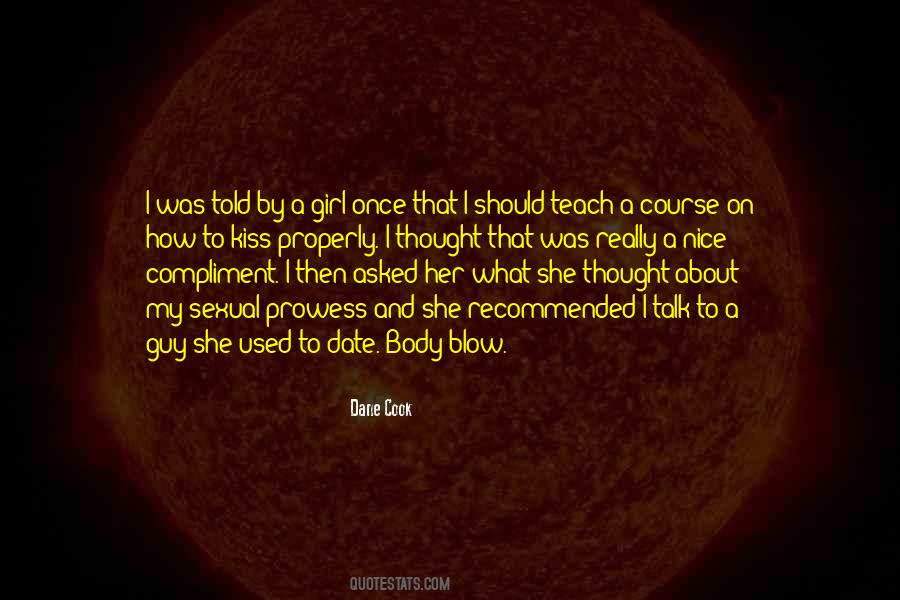 #7. If my arm trembles, it is because it has never been held by a pretty little hand like yours. I am a complete stranger to women; that is, I have never been used to them. You see, I am alone ... I don't even know how to talk to them. - Author: Fyodor Dostoyevsky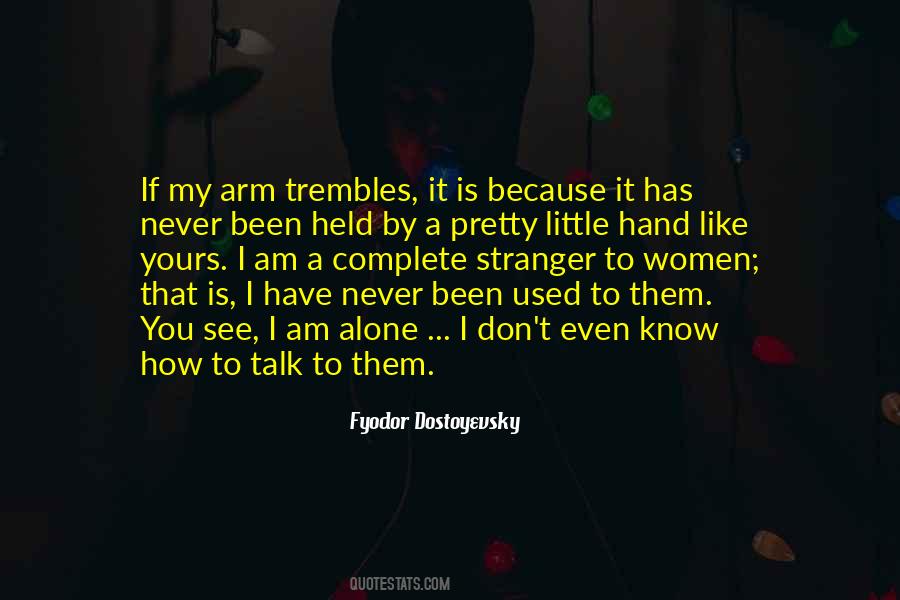 #8. Don't talk about your diet. It's just boring, and the last thing you need when dieting is to be considered boring. - Author: Diane Von Furstenberg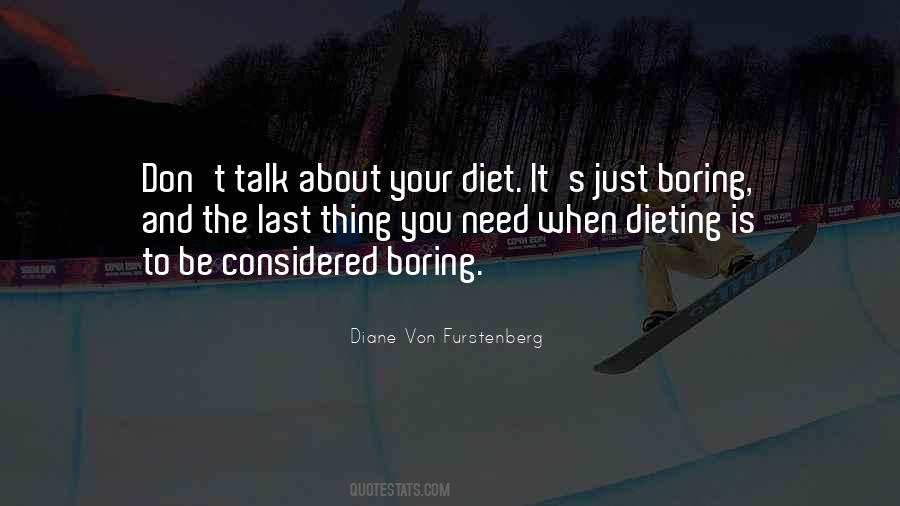 #9. I don't want to misrepresent who I am personally. I don't want my kids to see me on a talk show and say, "You're talking different" or "You look different, dad." I'm not gonna be an animal; I know how to conduct myself. - Author: Michael Rapaport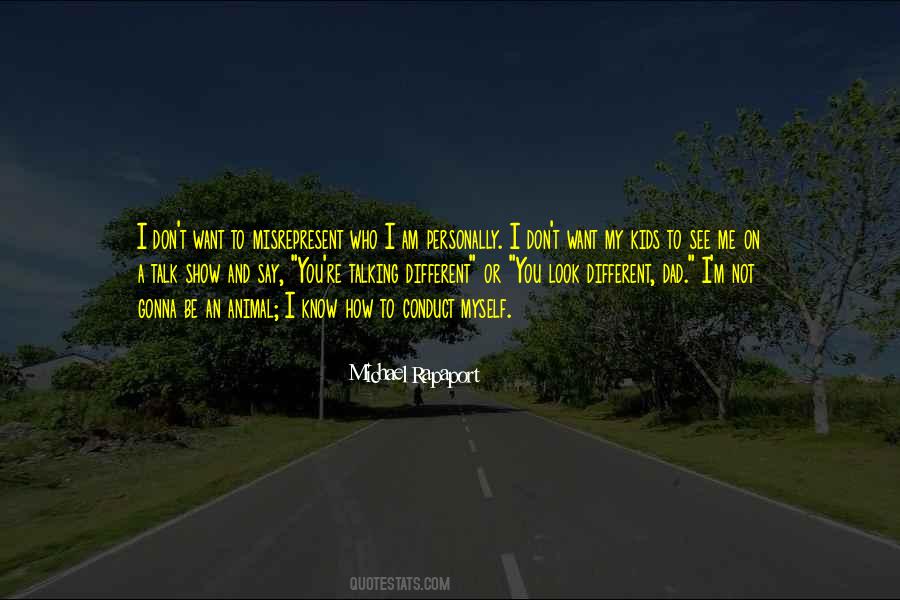 #10. I like to write about people who are real and likeable. I like to write about people who tell their stories in that close and intimate voice we use with best friends. I love the closeness and honesty and vulnerability that come from characters who can talk that way. - Author: Katherine Center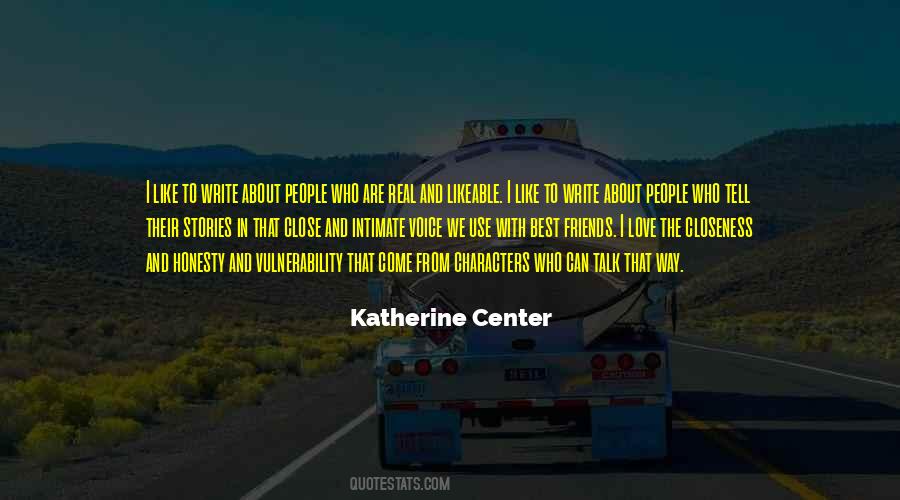 #11. There wasn't use trying to talk with a girl just because of something she'd said to me in a dream - Author: Ross Raisin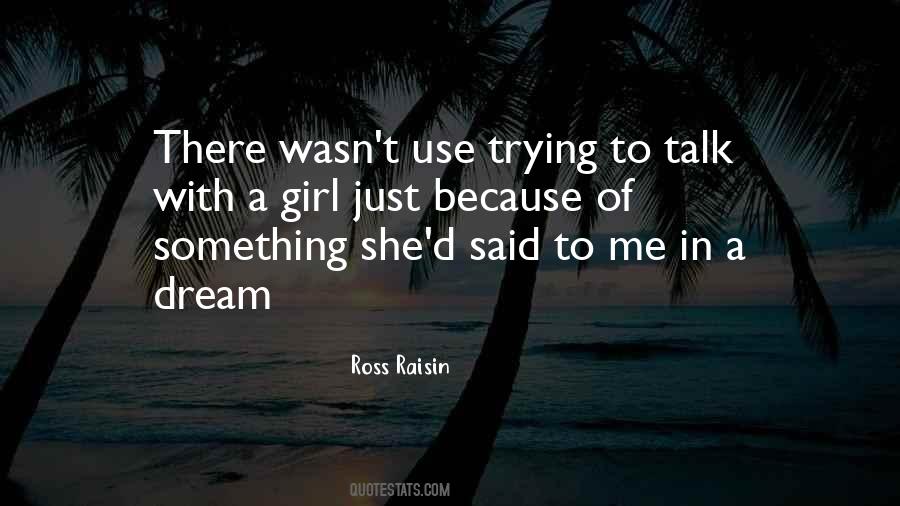 #12. Don't tell me I should only talk to people with a high influence score, or I'll Klout you ... - Author: John Geddes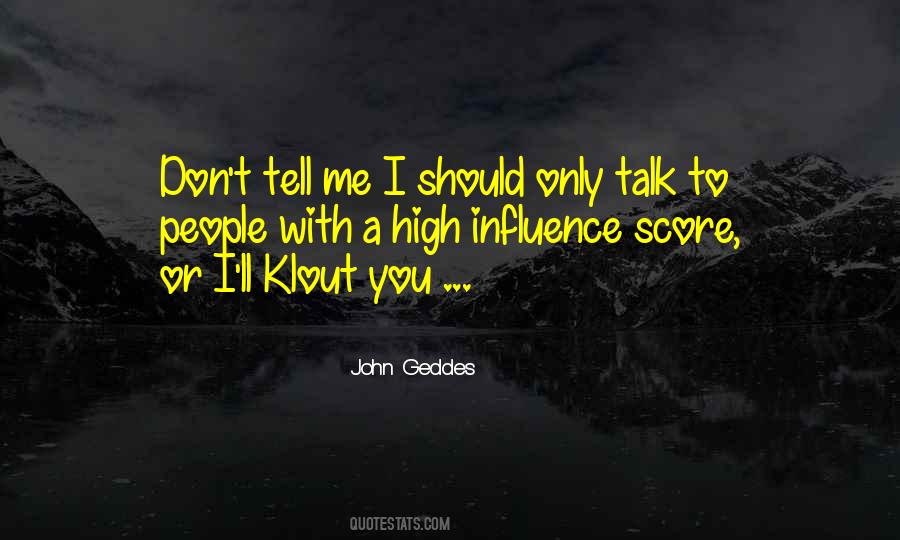 #13. You have to understand, writing a novel gets very weird and invisible-friend-from-childhood-ish. Then you kill that thing, which was never really alive except in your imagination, and you're supposed to go buy groceries and talk to people at parties and stuff. - Author: David Foster Wallace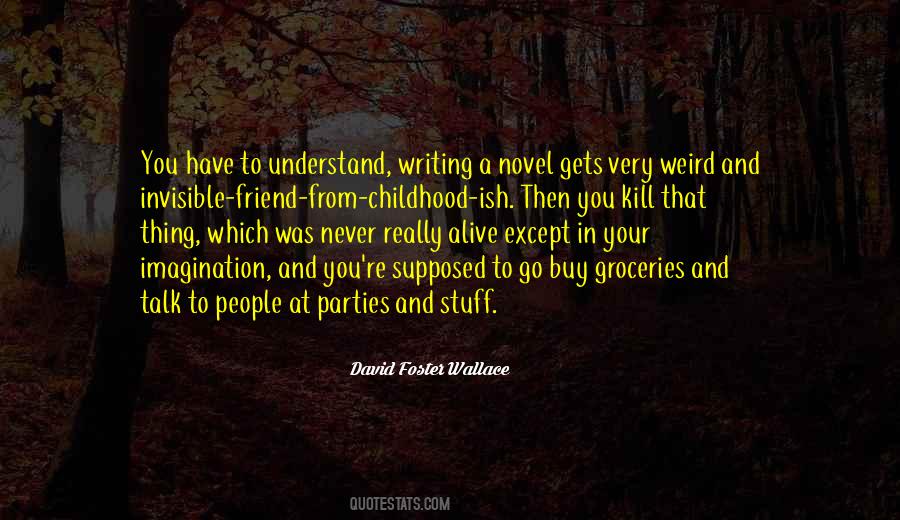 #14. I like it when people talk s**t. Because if people weren't talking s**t, there would be nothing for me to come back with. I need that. If I don't have any ammo, what am I going to say? - Author: Eminem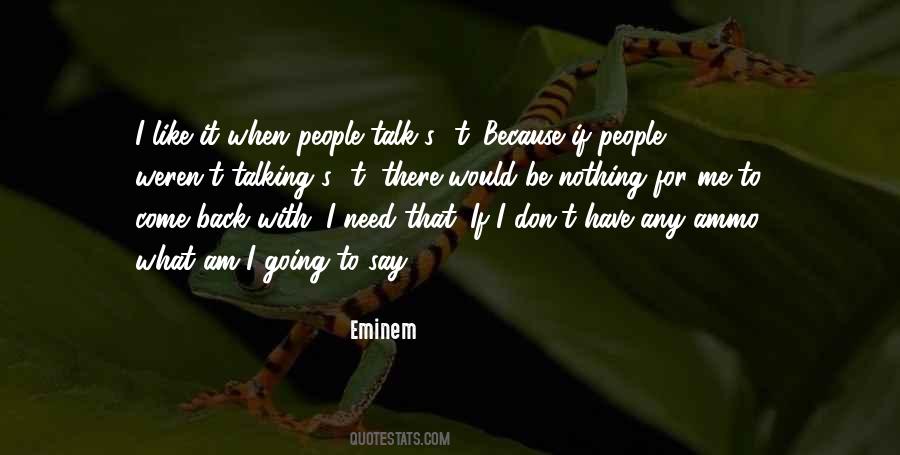 #15. Women are more emotional, and it's natural to talk about it. - Author: Jenny Eclair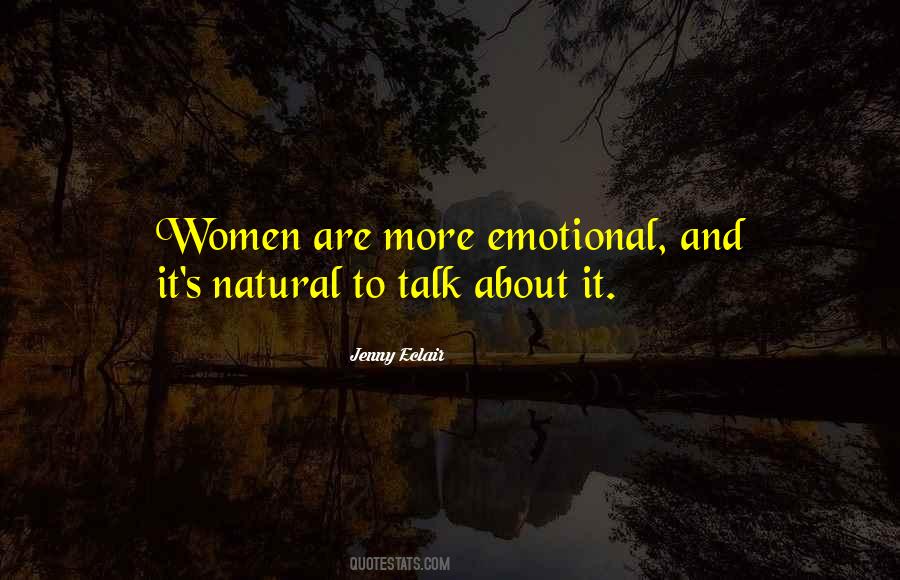 #16. I think it was much better when you got on your horse and rode two miles to talk to your neighbor. - Author: Laura Schlessinger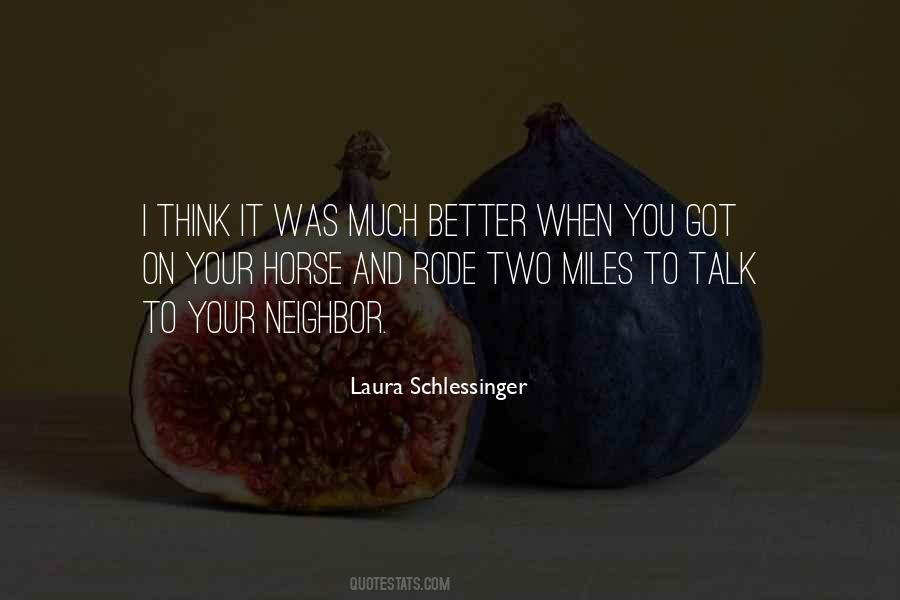 #17. I met Bush but we didn't talk at all. To tell you the truth, I was too pissed. - Author: Ozzy Osbourne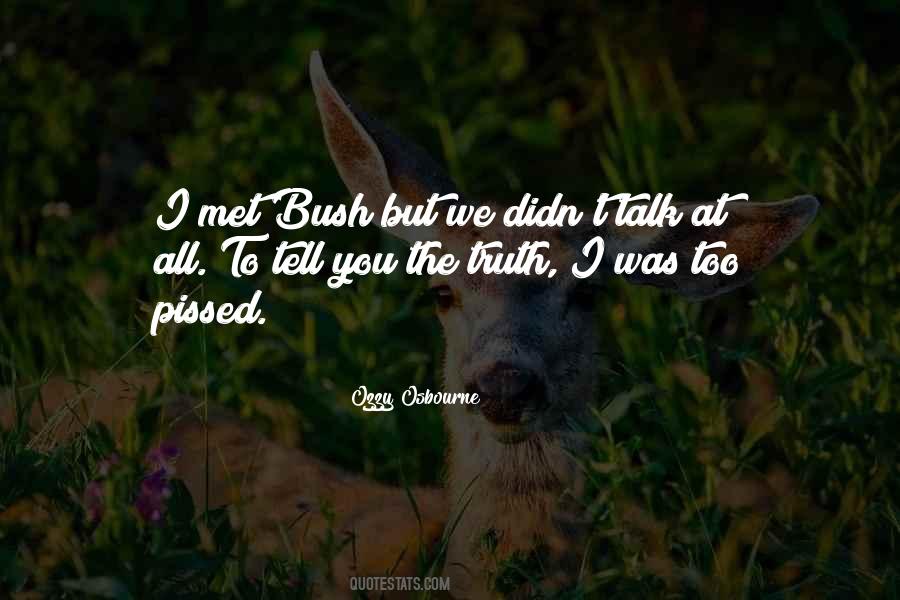 #18. A woman is more than the sum of her parts. So I had an opportunity to present some work at the White House. I chose not just to talk about the sky, the planet, love or heartache. I wanted to actually be there, to place a mark on that moment. - Author: Jill Scott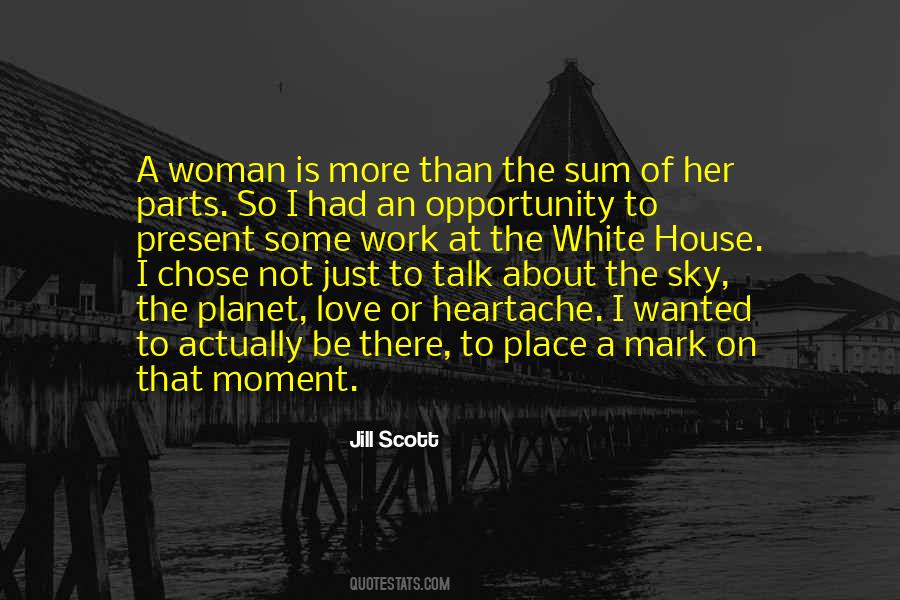 #19. I wanted to talk," he said.
"I don't want to talk," said Jared. "And I won't want to talk. Ever."
"Can we just - "
"Talk?" Jared asked. "All right, if you insist. Let's talk about the many definitions of the word no. - Author: Sarah Rees Brennan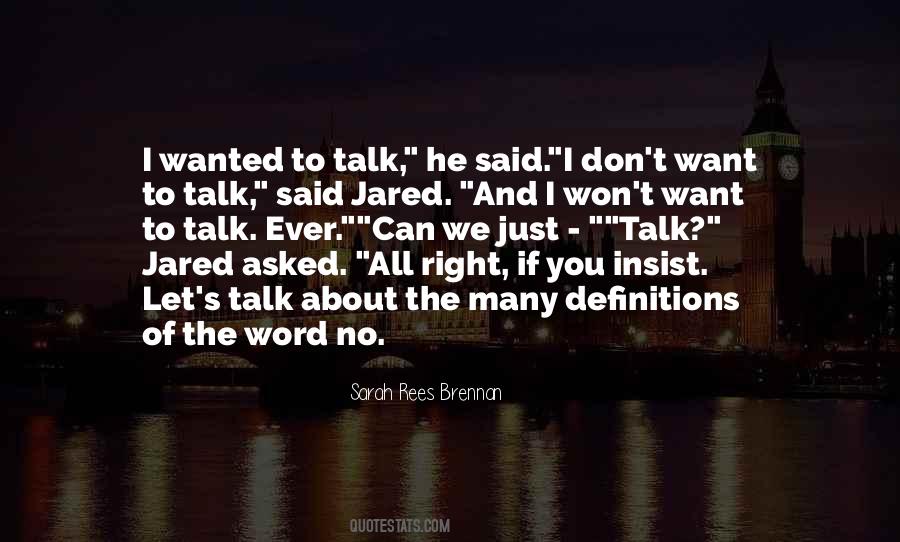 #20. I just hate plugs. It just doesn't seem entertaining to me. I've never plugged anything in my life on a talk show ever. I understand people use that vehicle. It's just not very entertaining. - Author: Norm MacDonald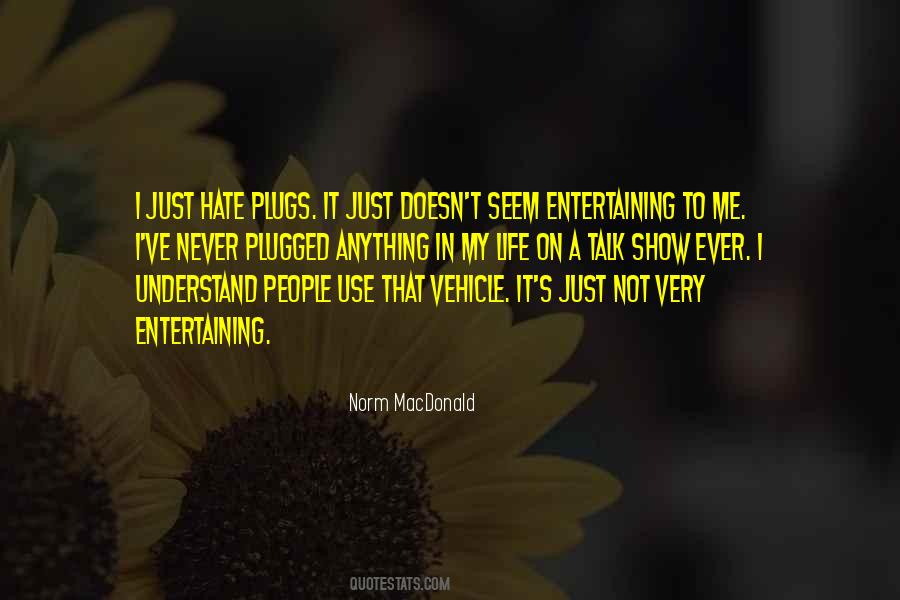 #21. One of the greatest things I've learned, as an actor, was how to talk to actors. - Author: Eric Balfour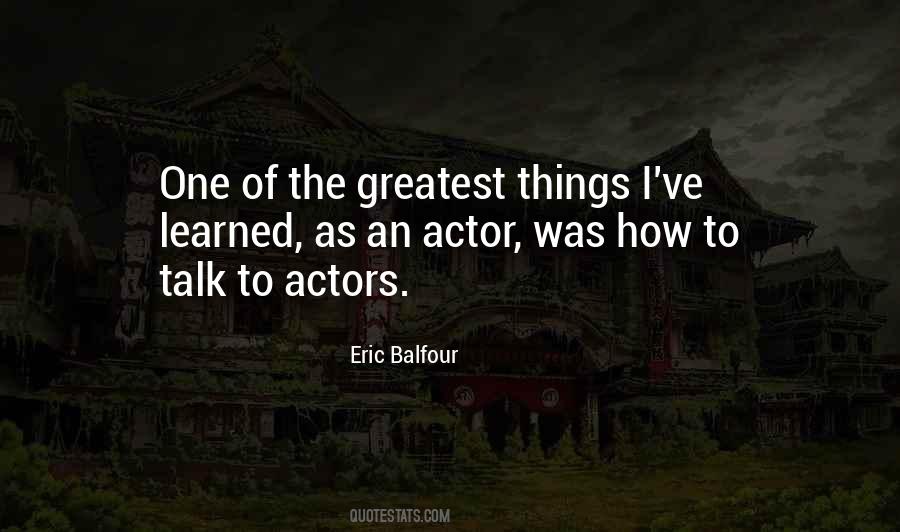 #22. Grade A objectivity won't come from those who are closest to us. It will come from outsiders. That's where we'll find divergent thinking, unexpected questions, novel ideas, differences of opinion, and added expertise. - Author: David Sturt
#23. Those social networks, there's something sad about them. Is it because they don't have enough knowledge about friends and people? I don't understand it. It's like a talkative mirror where people talk to themselves. And what I hate most in life is selfies. - Author: Karl Lagerfeld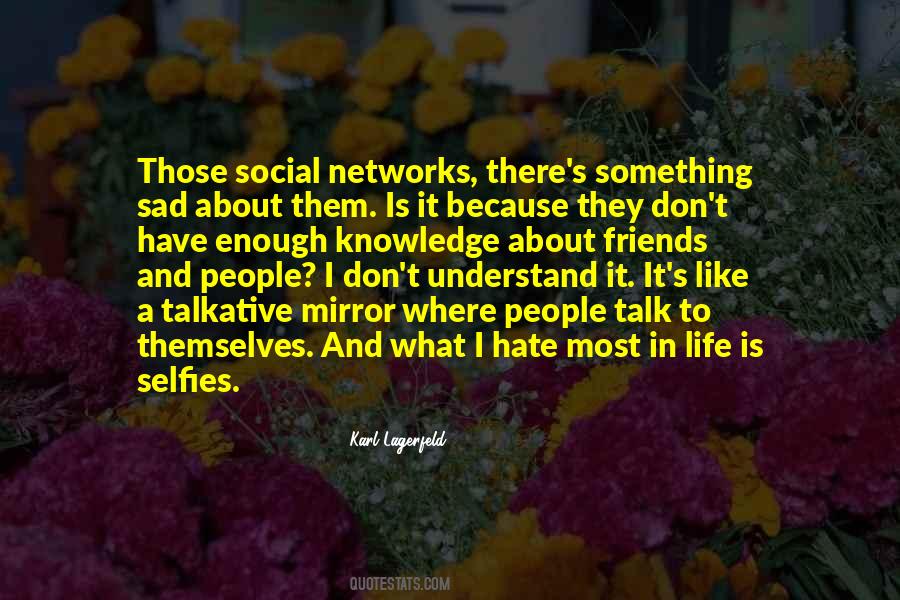 #24. For I am verily persuaded the generality of preachers talk of an unknown and unfelt Christ; and the reason why congregations have been so dead is, because they have had dead men preaching to them. - Author: Gilbert Tennent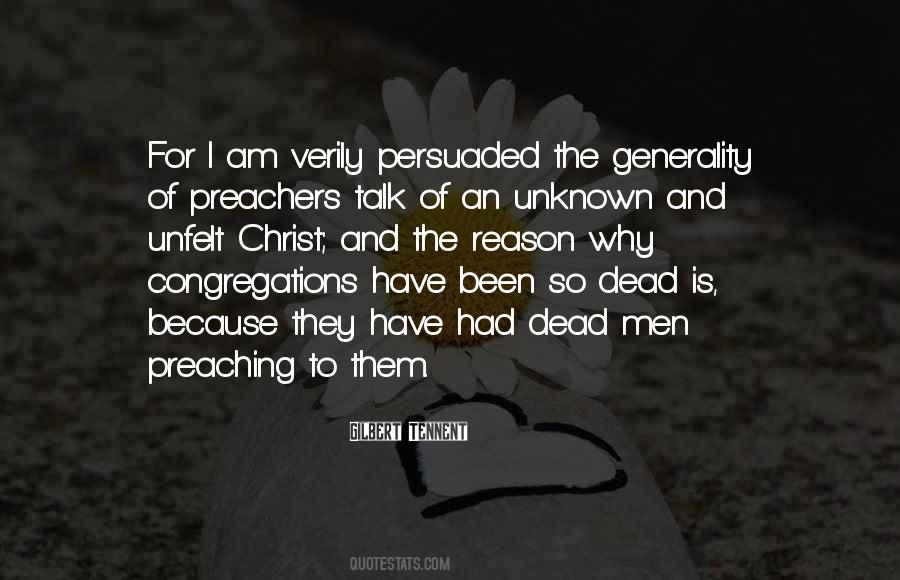 #25. People talk differently. You can say some things some places you can't say in other places. But me as a film maker, no words are ever going to be off limits in something I write. As long as people use the words, I'm going to report that. - Author: Dax Shepard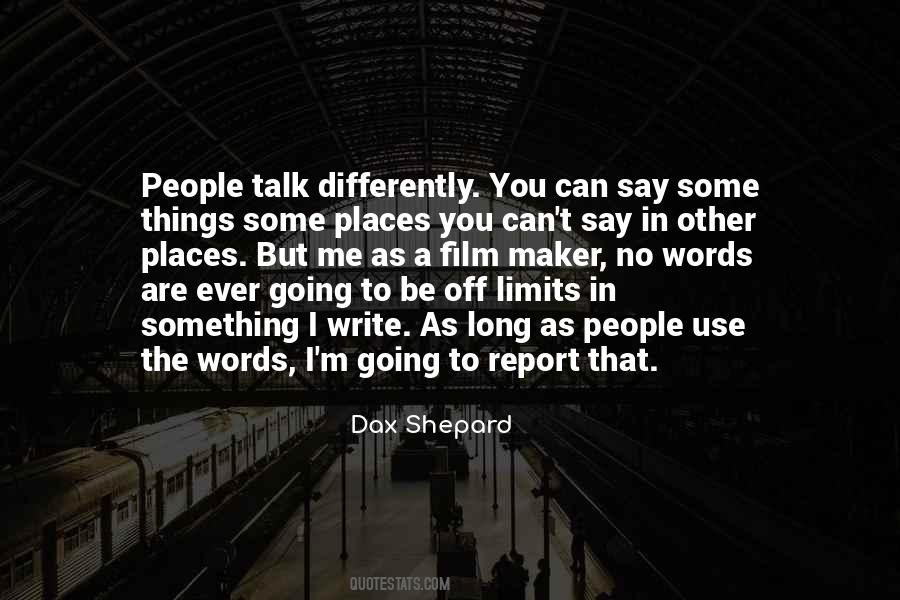 #26. He made a careful rehearsal of some of their bits of talk
why had she said this? what had she meant by that? why had she done the other? He dwelt on these matters with an absorbed speculation, and with a young man of Ogden's temperament speculation was but the first step on the way to love. - Author: Henry Blake Fuller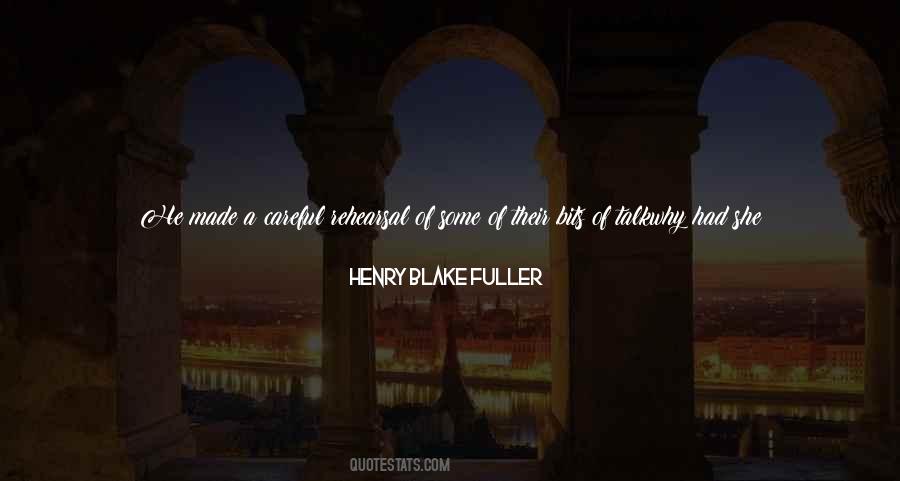 #27. He feels excited. He feels ashamed. He wants to talk to her, but he is afraid. Maybe he imagined it all. Maybe she will call him a bad name if he asks her what happened. - Author: Naomi Alderman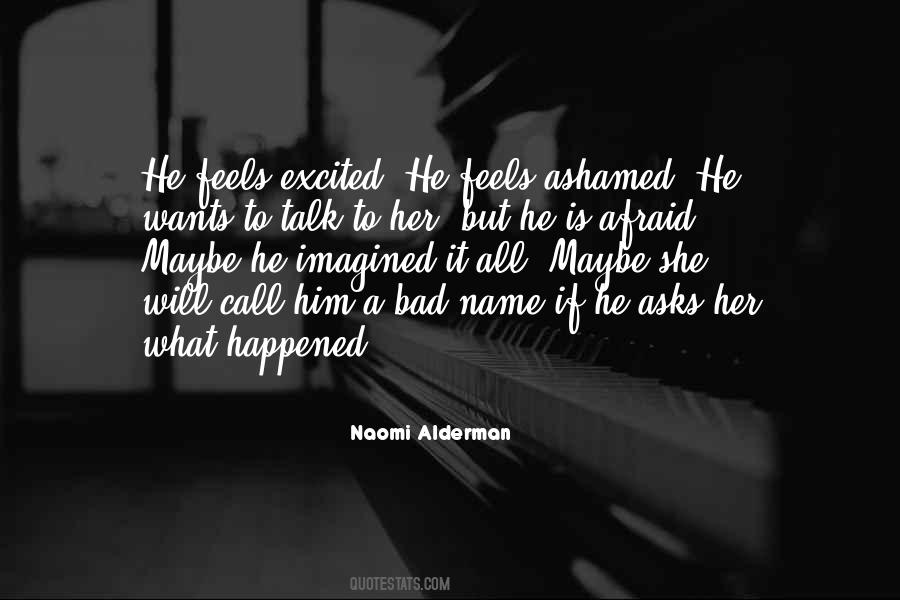 #28. I could never stop eating meat ... I'm not a good person to talk about diets. If I had to only eat salads, I'd kill myself! - Author: Izabel Goulart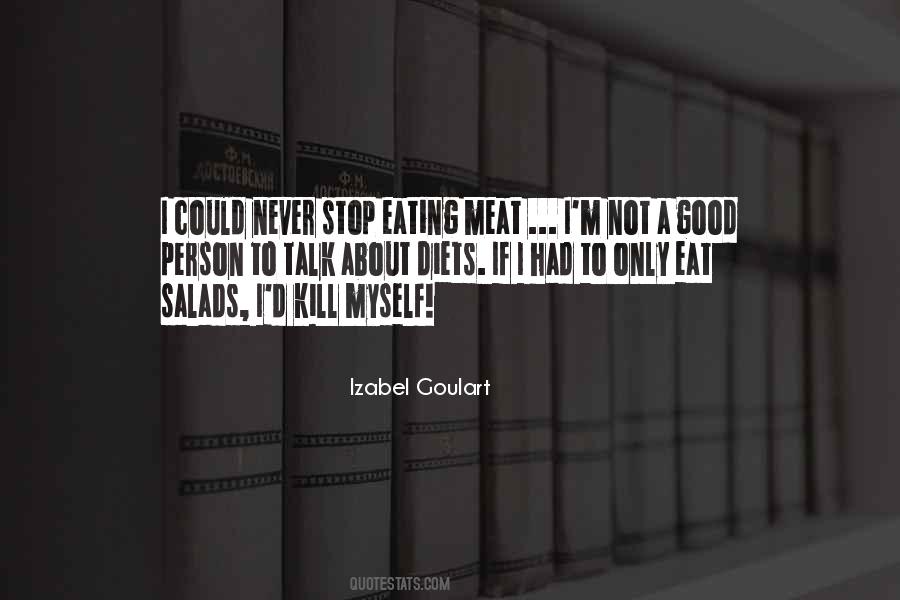 #29. Is there Gawker ethics? I mean, I guess there's Gawker ethics. It's a dangerous thing to talk about. - Author: Nick Denton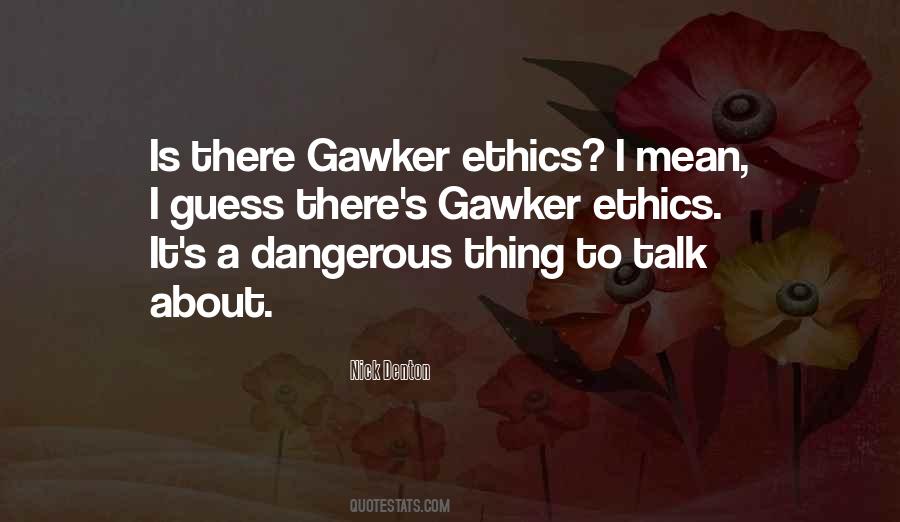 #30. It is easier to love people than to talk to them. - Author: Debasish Mridha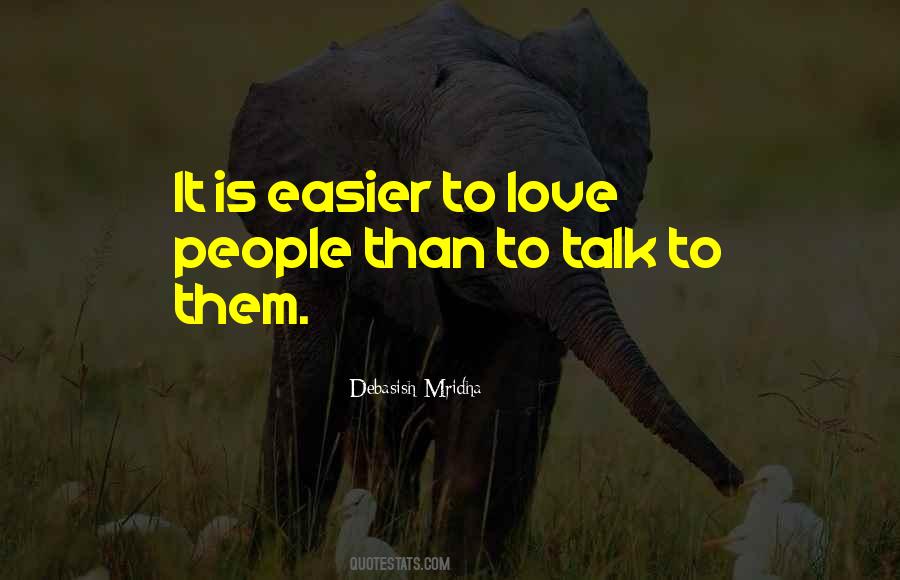 #31. I talk to friends who get their feelings hurt when they read Twitter mentions. I have an amazing solution - don't read Twitter mentions. - Author: Sarah Silverman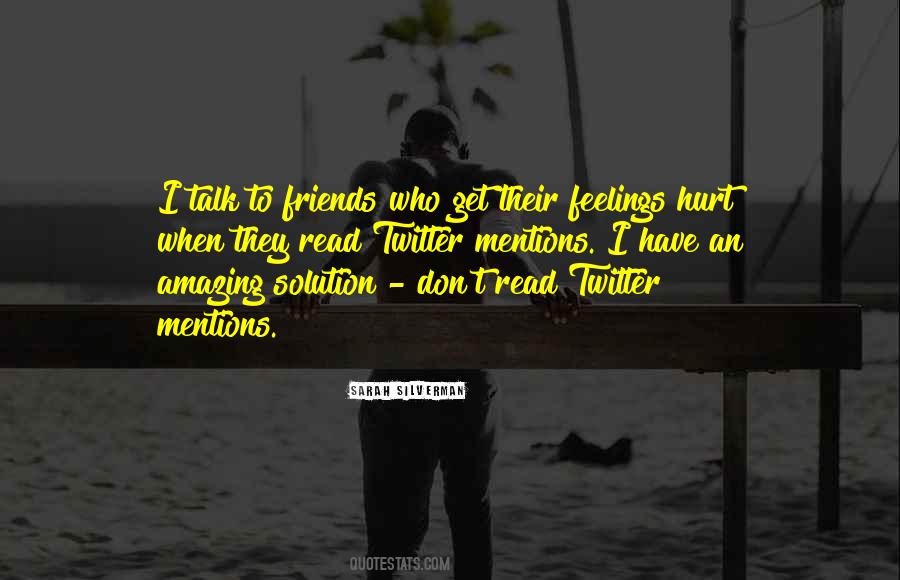 #32. When I talk football with my friends, I don't talk about Tom Brady's hair. I talk about how he handles the blitz, or how he runs his offense. I talk as a fan. I don't want pink jerseys, and I don't want dumbed-down content. I want to be treated as a real fan - because I am proud to be one. - Author: Indra Nooyi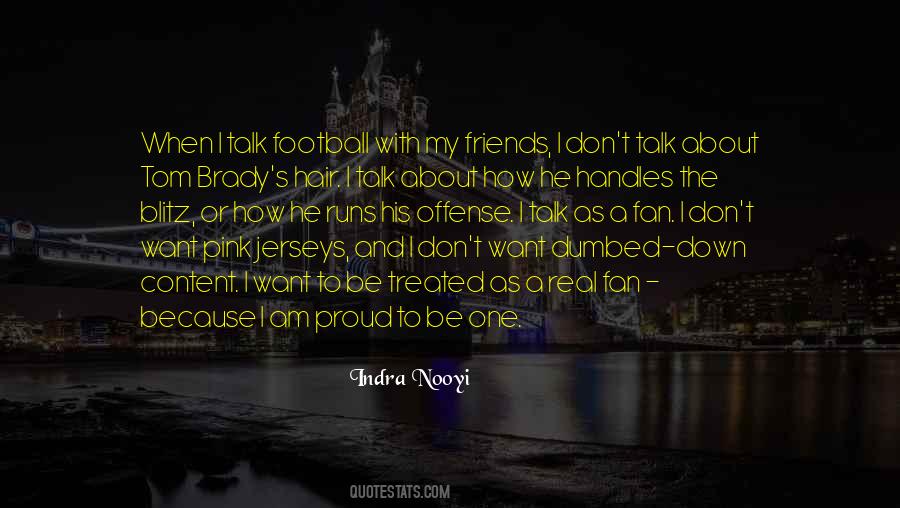 #33. Warner Studios official in the era of silent movies: Who the hell wants to hear actors talk? - Author: H.W. Brands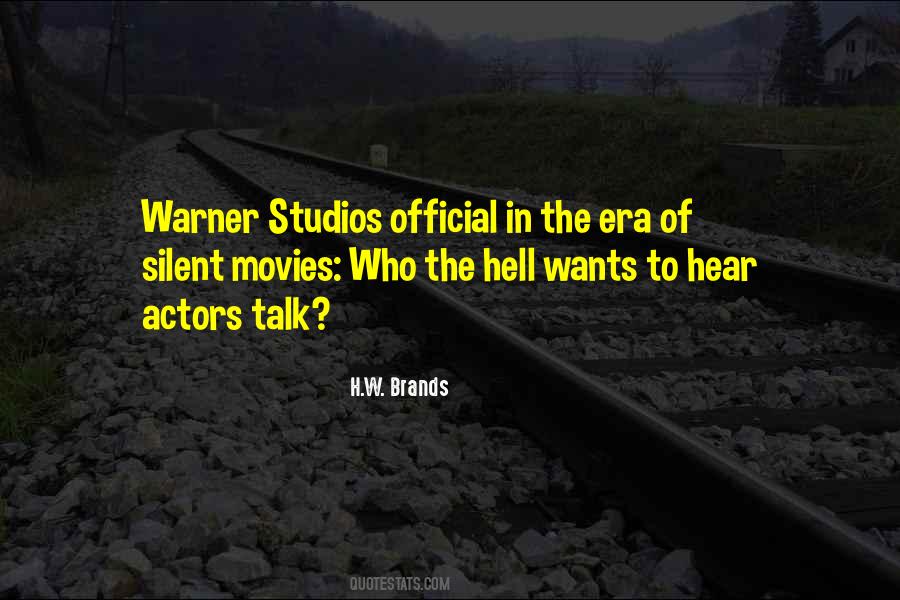 #34. I remember the day my mother died, and it's still hard to talk about it. I just blocked it out. - Author: Peaches Geldof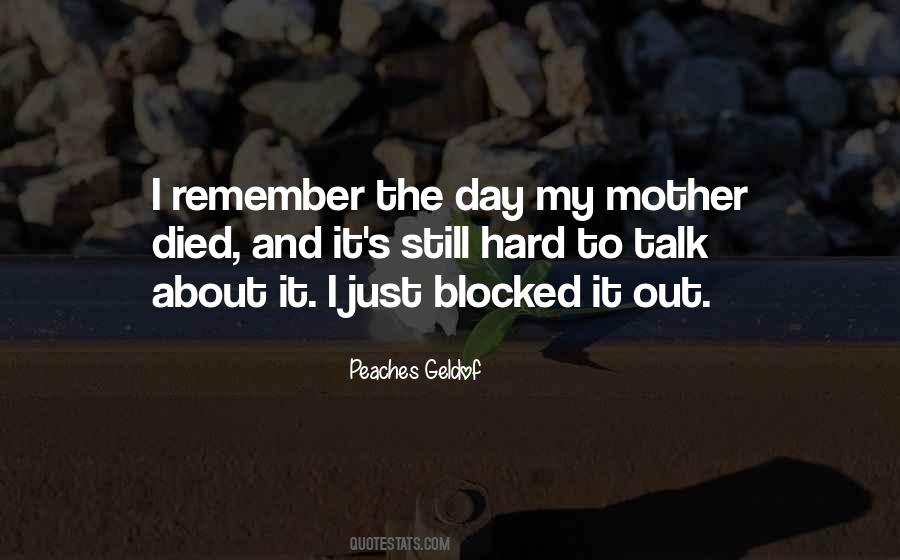 #35. I need to be in front of my obstacle. I like to have a back dialogue; I like to talk with people; I like to share ideas. - Author: Maiwenn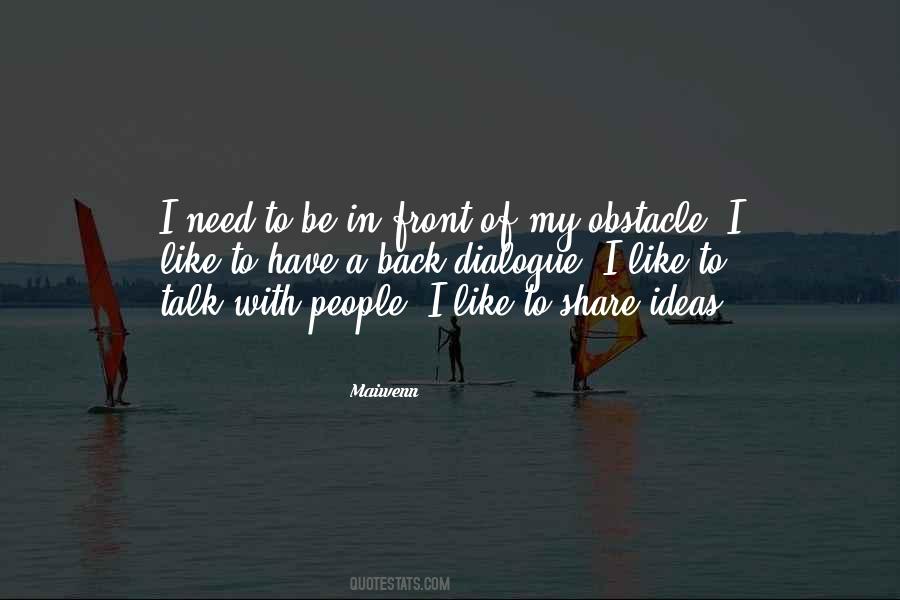 #36. Talk about the joys of the unexpected, can they compare with the joys of the expected, of finding everything delightfully and completely what you knew it was going to be? - Author: Elizabeth Bibesco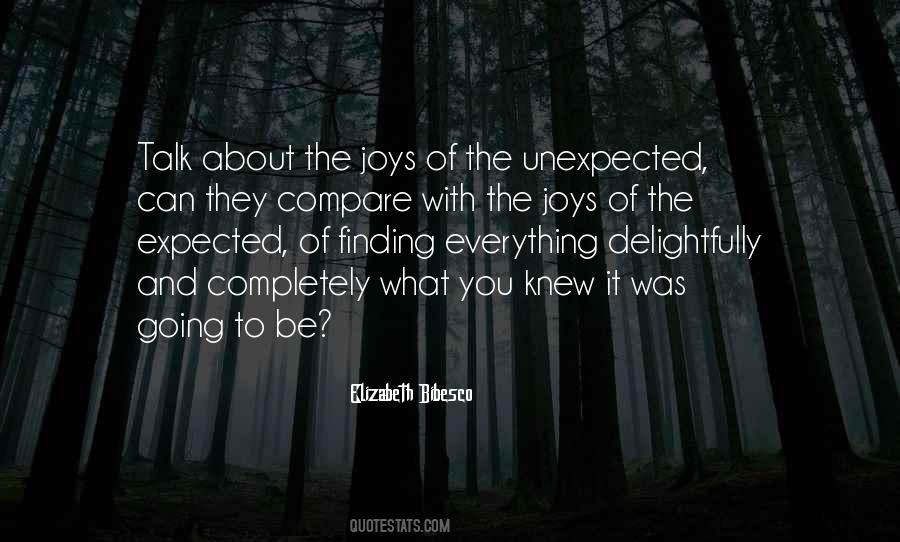 #37. Shawn rested his head against the seat then turned to talk to Sarah. "It's your birthday tomorrow." "Ruby Tuesday's thought it was three months ago." "Ruby Tuesday's has a touch of dementia. - Author: Nina Post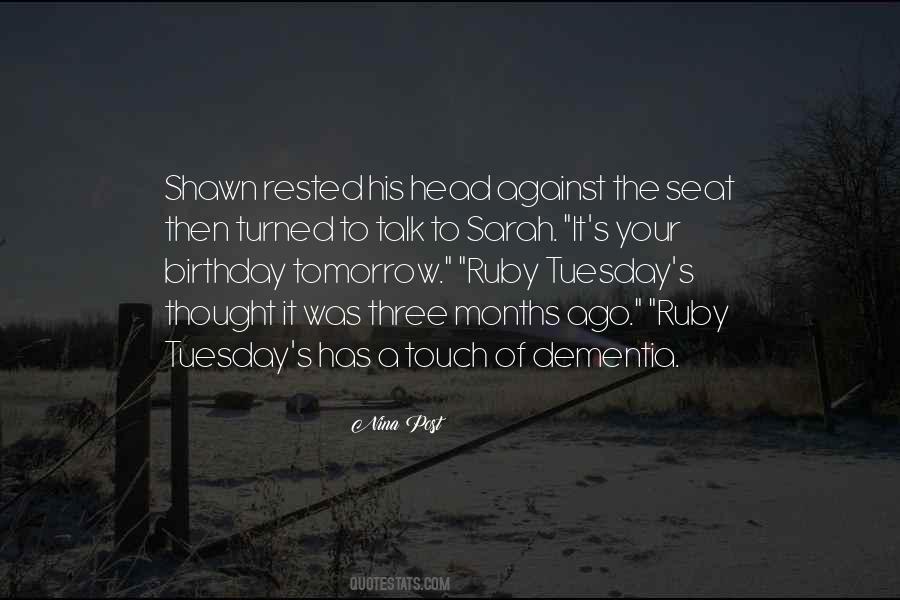 #38. The disadvantage of not being together at same place, not meeting each other personally, not able to talk with each other eye into eye, not able to feel each others touch; makes it difficult for a Long Distance Relationship to work. - Author: Abhijeet Sawant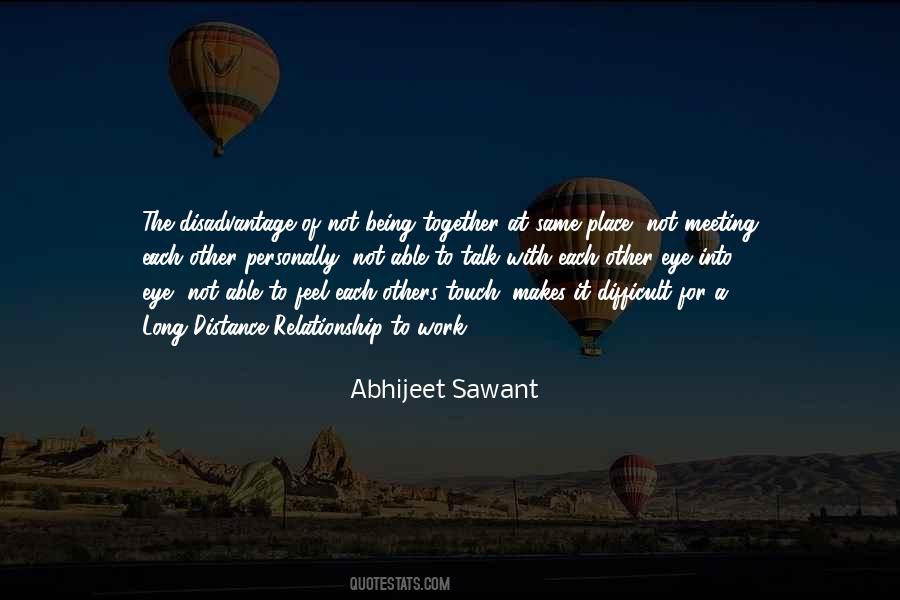 #39. I think you need a concrete, real-world metaphor to talk about inner life without feeling like a jerk. - Author: Tift Merritt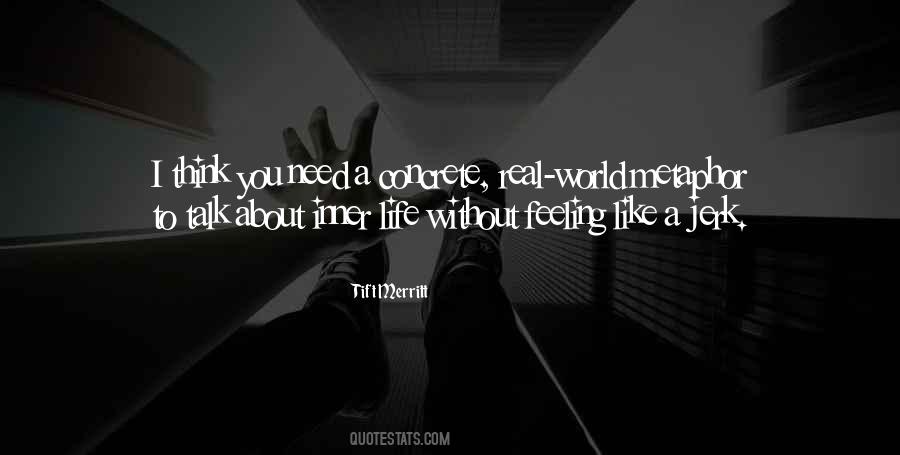 #40. We didn't talk about the decision at all, which was great, just to get together as friends. The only thing he said to me was 'It's your decision. Just do what you have to do and I will back you 100 per cent. - Author: Craig Stevens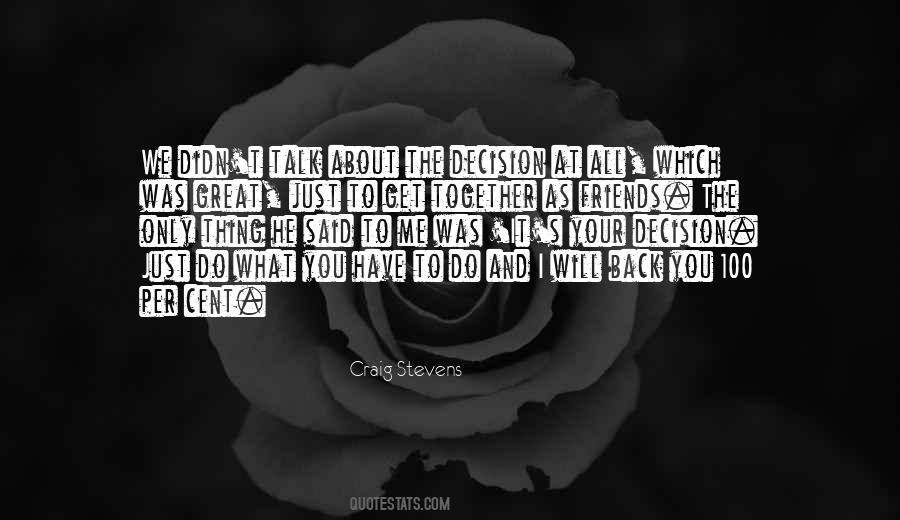 #41. 'Whale Talk' is a tough book, but it is also a compassionate book about telling the truth and about redemption. I didn't draw the tough parts out of thin air; they are stories handed to me by people in pain. - Author: Chris Crutcher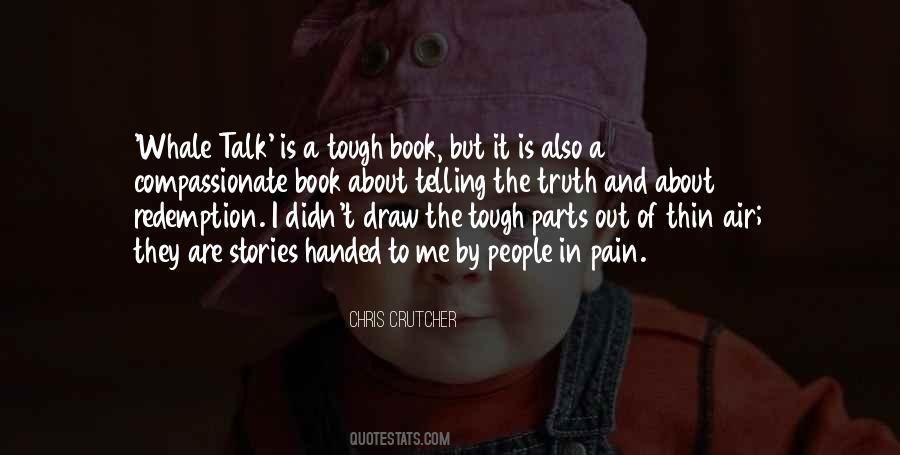 #42. I think we should all talk to our enemies and talk to our friends. Talk! That's the only way we'll find solutions. - Author: Dave Matthews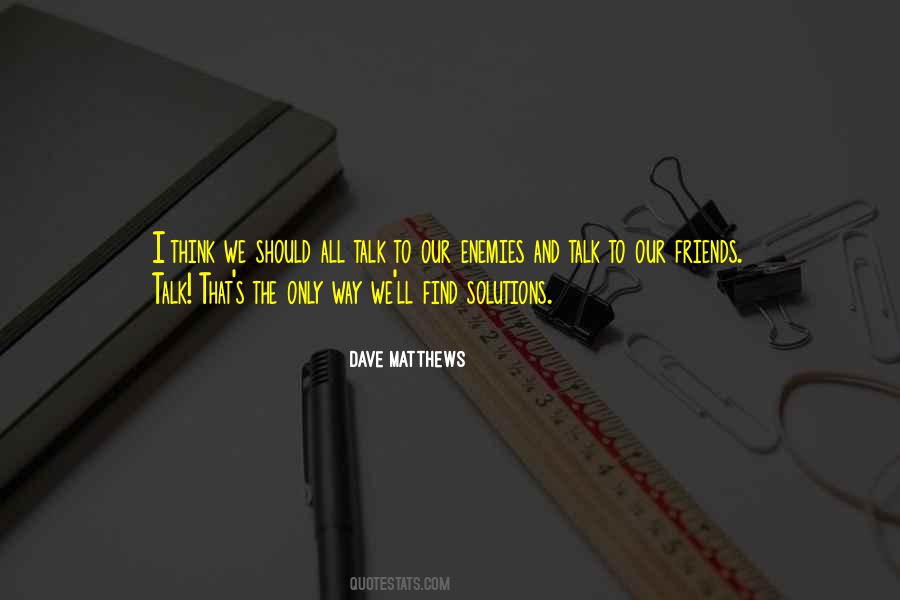 #43. I think I've got it pretty easy compared with somebody who works at a desk nine to five. I'm just working for an hour in the evening. I get a bit breathless, as I have to talk non-stop because of the puppets. - Author: Nina Conti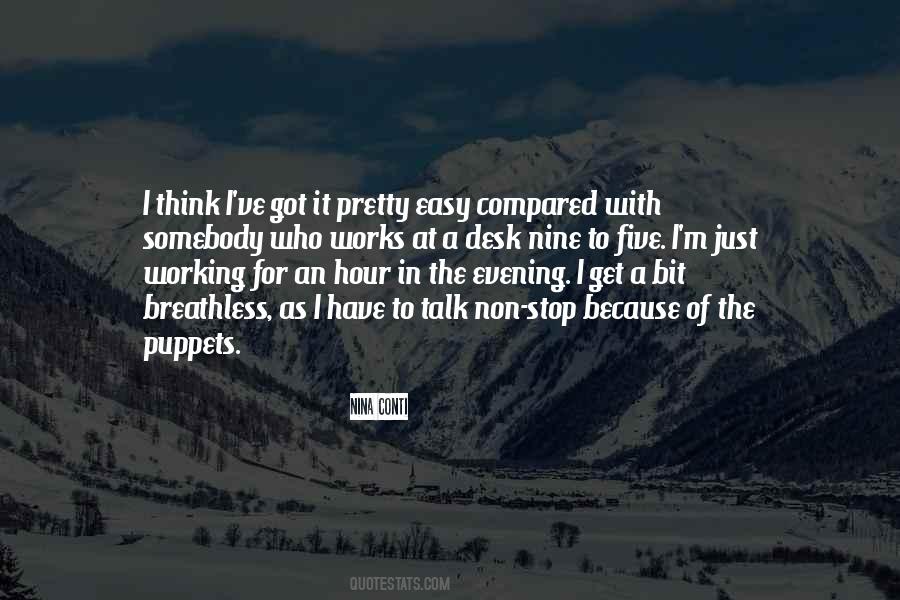 #44. So, do you have to send The Piano Man the secret code word to come down?"
"Did you just call Josh The Piano Man?"
"Well, I thought we should have a code name for him in case anyone's listening when we talk about you, and your mom said he plays the piano. - Author: Jennifer Comeaux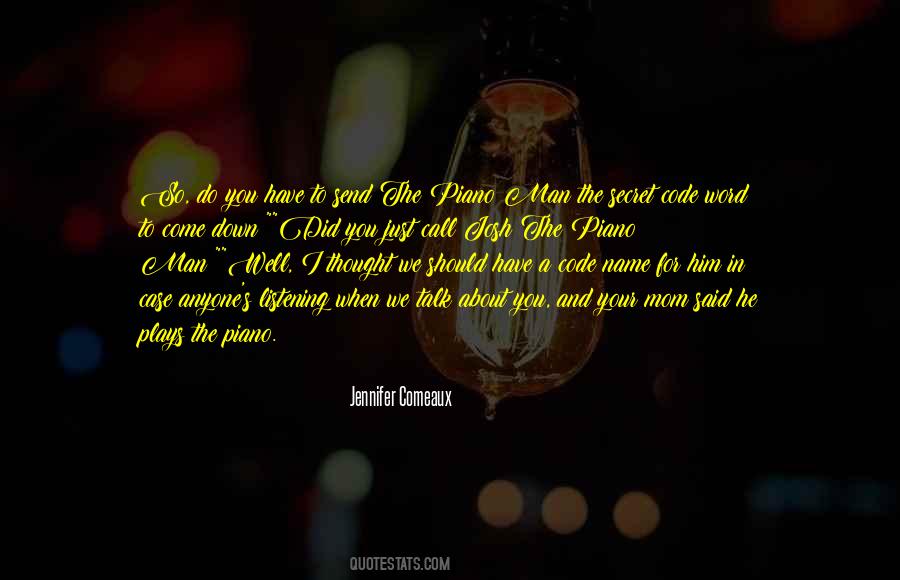 #45. I would be scared to go under the knife, but you know, talk to me when I'm 50. I'll try anything. Except I won't do Botox again, because I looked crazy. I looked like Joan Rivers! - Author: Gwyneth Paltrow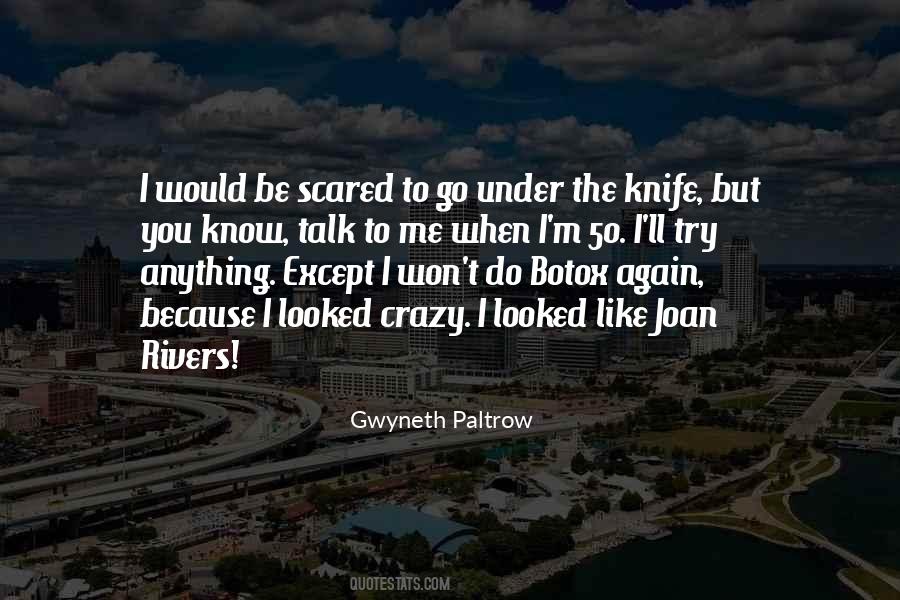 #46. It's good for art to make us think, to give us a shared experience that creates a dialogue, makes us talk to each other, including strangers. - Author: Janet Echelman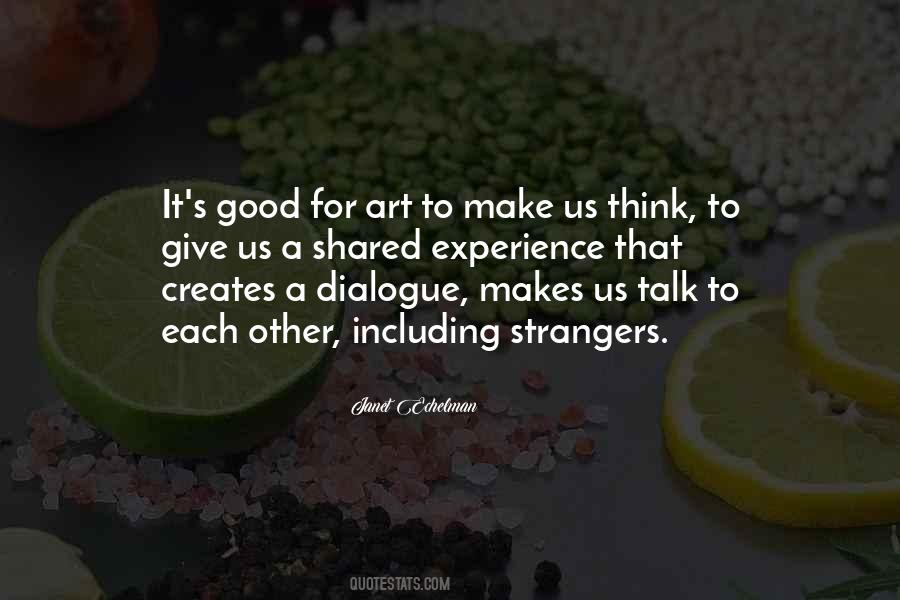 #47. I really don't over-theorize about design. I'd rather feel it than talk it to death. A lot happens as you unroll the design. - Author: Colleen Atwood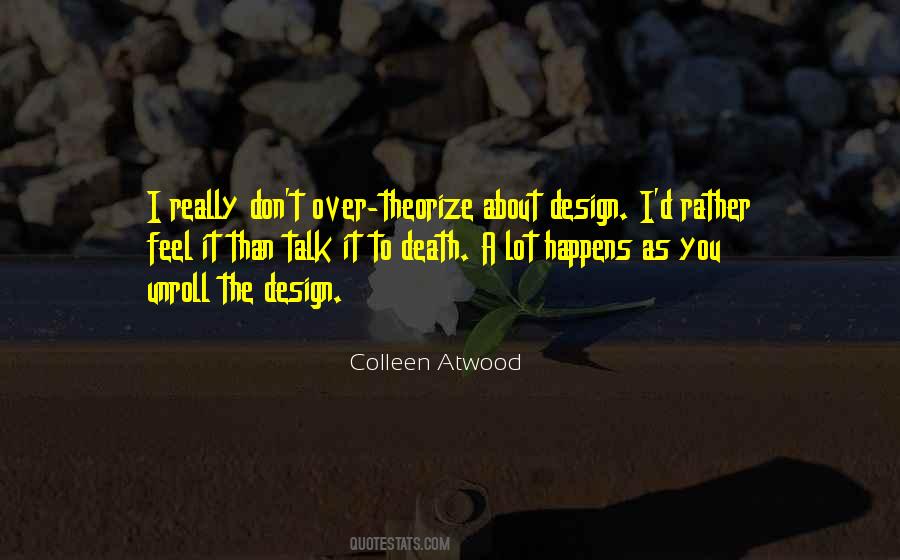 #48. That's all small talk is - a quick way to connect on a human level - which is why it is by no means as irrelevant as the people who are bad at it insist. In short, it's worth making the effort. - Author: Lynn Coady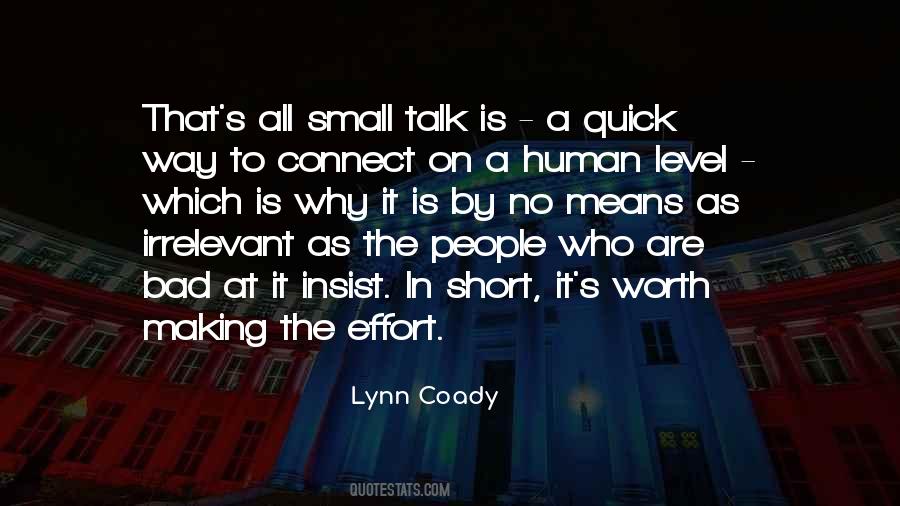 #49. I thought of God as being able to talk big and write *very* small. - Author: John Hersey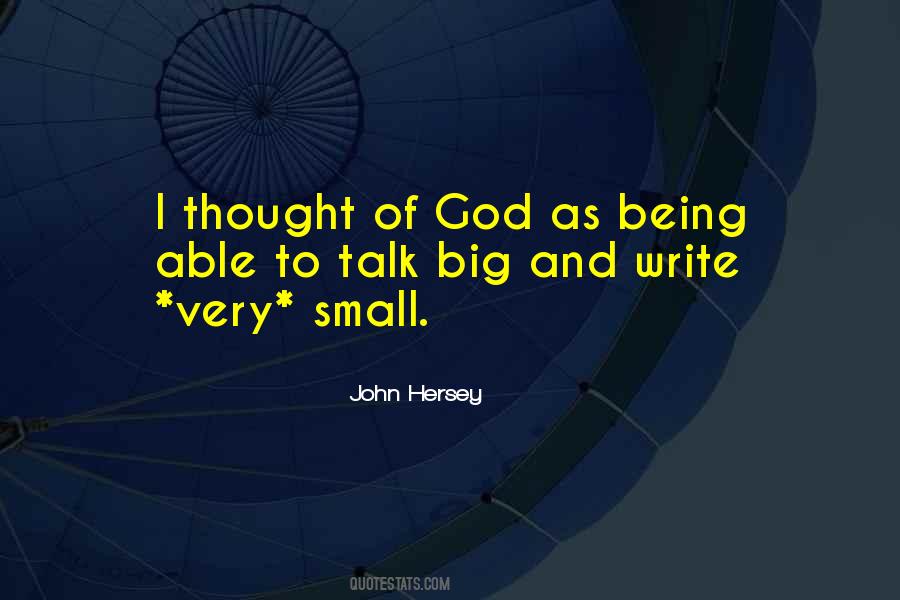 #50. When you're warm and approachable, you don't have to go up and talk non-stop to someone in a social situation. You just have to be open to the conversations you're already having - and warm and receptive to the people you're meeting. - Author: Karen Salmansohn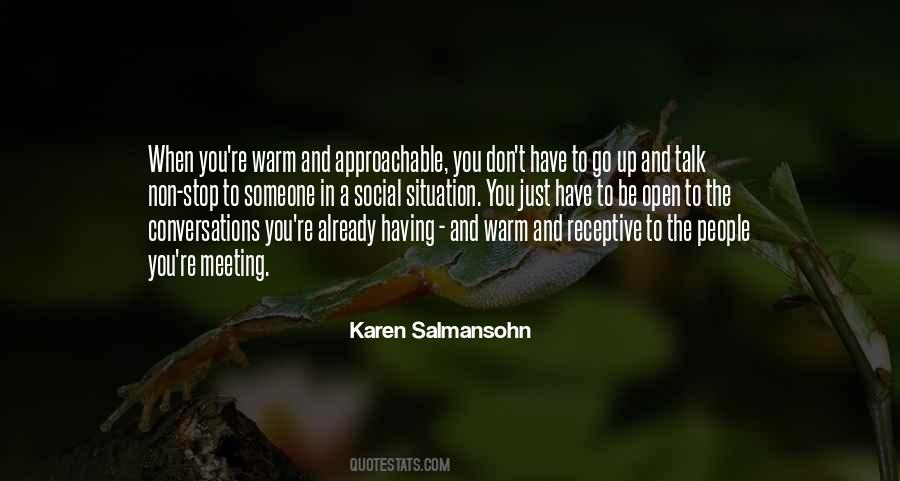 #51. Keep your dreams ALIVE. No matter how hard it gets, no matter how many people talk about you; they're going to throw dirt on you but that's alright, when they put you in that box (after your dead), they're going to put dirt on you some more, so that's okay - GO, don't be afraid, have NO FEAR. - Author: Tyler Perry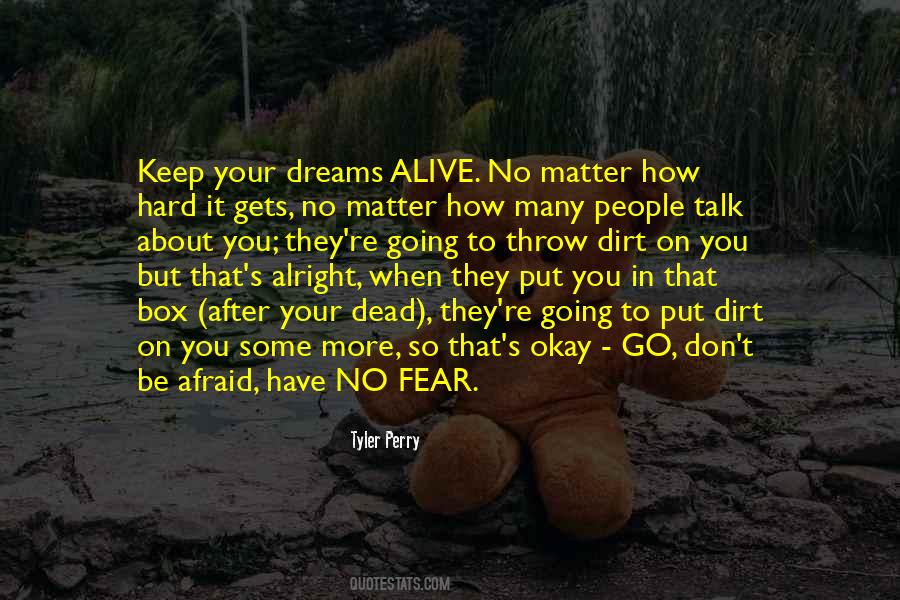 #52. Small talk plunged to its death around him. - Author: Michael Ondaatje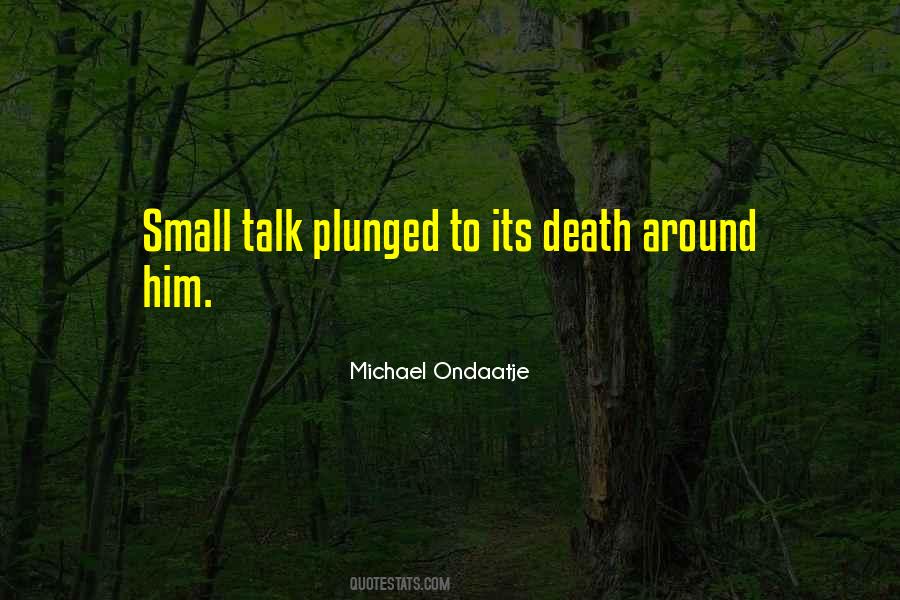 #53. If I'm learning something, that's all I want to talk about. - Author: LeCrae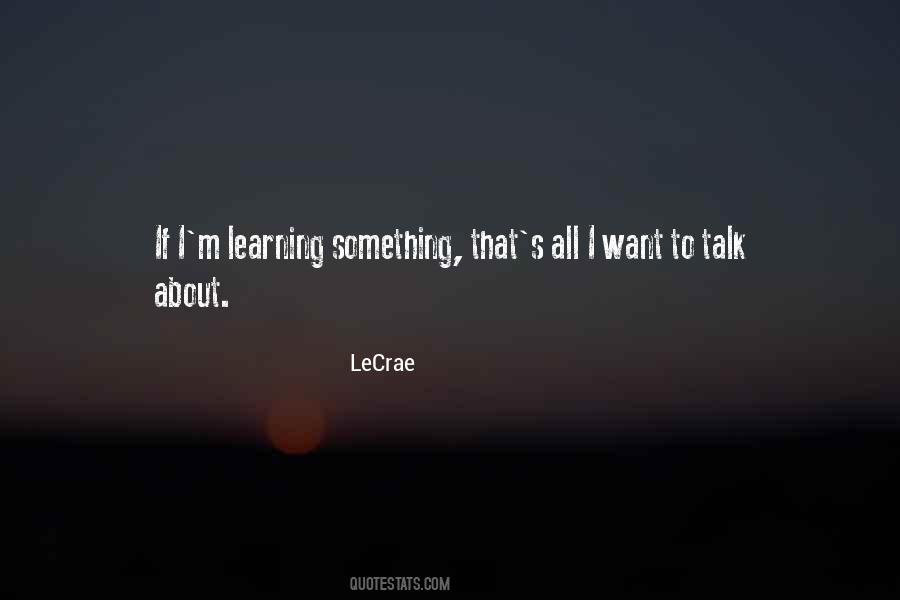 #54. It's weird: making a movie is like life compacted into three months. You have these very intense relationships with people, and you talk to them every day - your editor, the casting people, music people, your actors - then it ends. It's like a circus life. - Author: Dito Montiel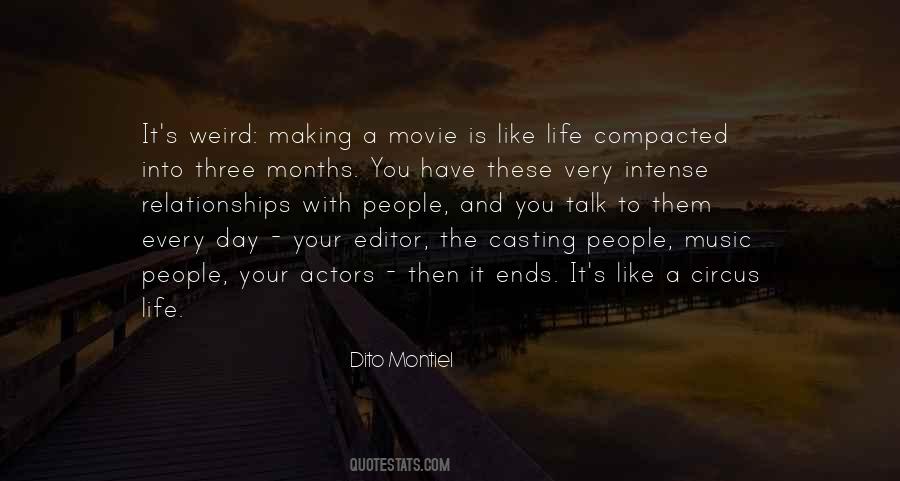 #55. When I received the news of the Nobel Peace Award, I could not believe it. I told my father, 'I think they have the wrong name, Dad. Please, can you talk to this man on the phone? I'm busy cooking!' - Author: Betty Williams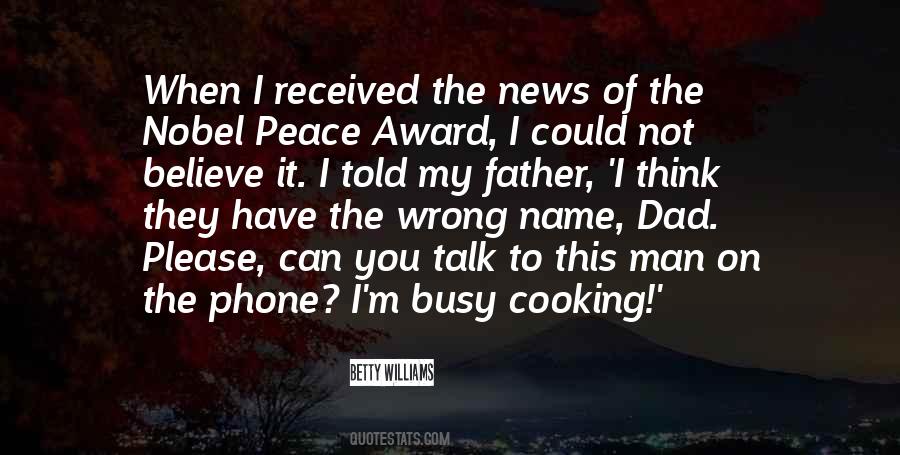 #56. All my books are made up of other books. They're all deeply structured on other fiction, because I was a student in fiction and I didn't have much actual living to draw on. I suspect a lot of other people's novels are like that, too, though they might be slower to talk about it. - Author: Zadie Smith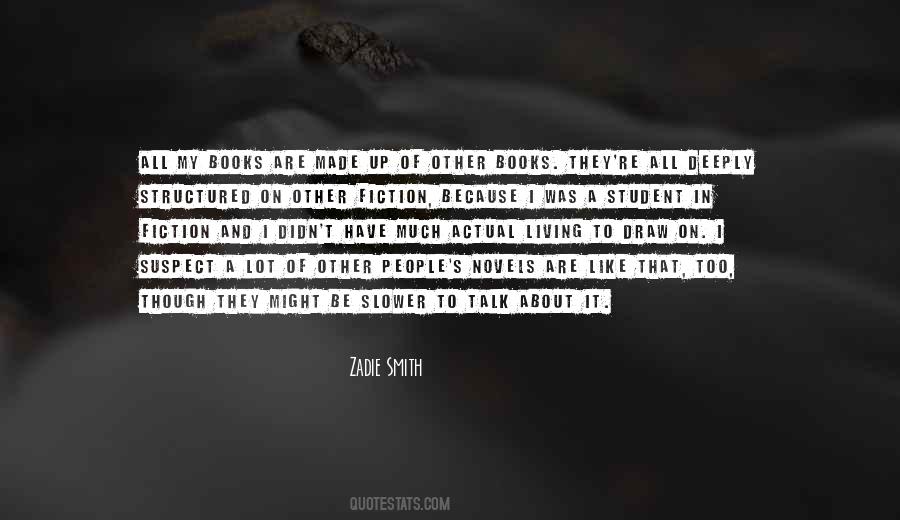 #57. Everybody has unattainable crushes too and imaginary friends. Some part of their mind that they talk to when they can't deal with talking to real people. - Author: Kate Hattemer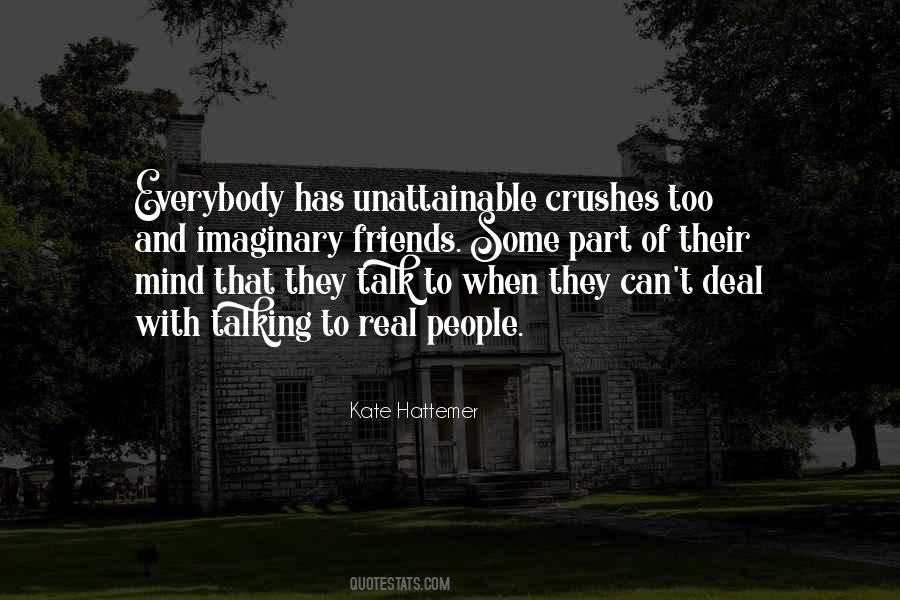 #58. Conservatives don't want to read good, smart books. They mostly want to read Fox and talk radio hosts writing about presidents. - Author: Alex Pareene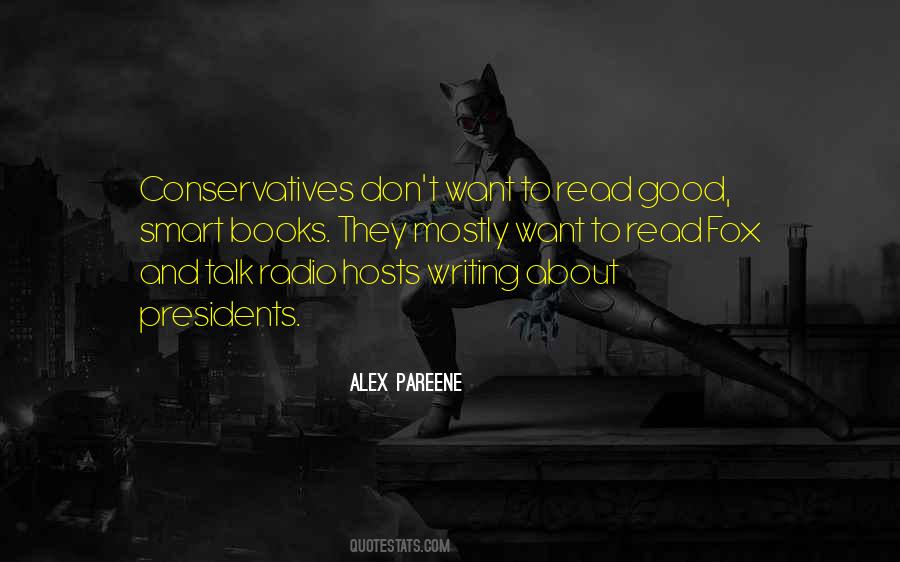 #59. I can't talk fellowship to you who are gathered here. Too much blood has been spilled. I know from my experience it is up to the working people to save themselves. The only way they can save themselves is by a strong working-class movement. - Author: Rose Schneiderman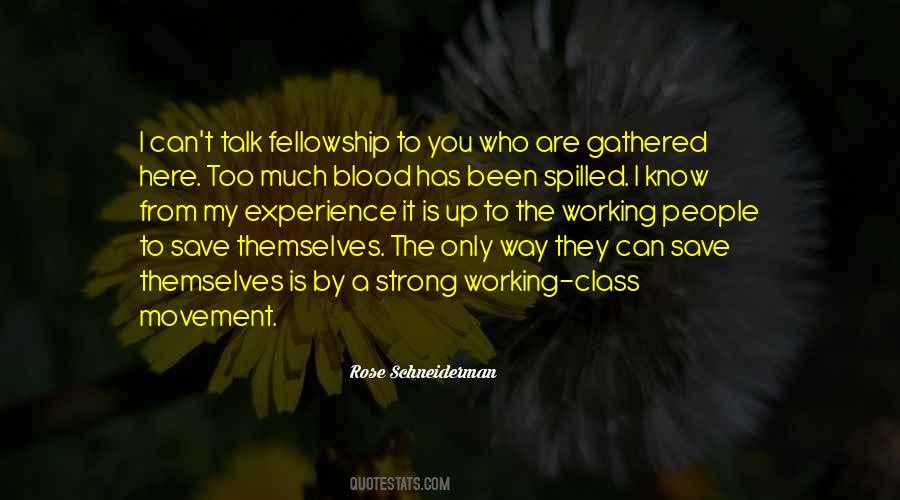 #60. We can all talk to the dead. It's getting them to talk back that's the hard part."2 - Author: Bruce M. Hood
#61. And on the way, we'll have plenty of time to talk or not talk about whatever's on your mind - Author: Justin Somper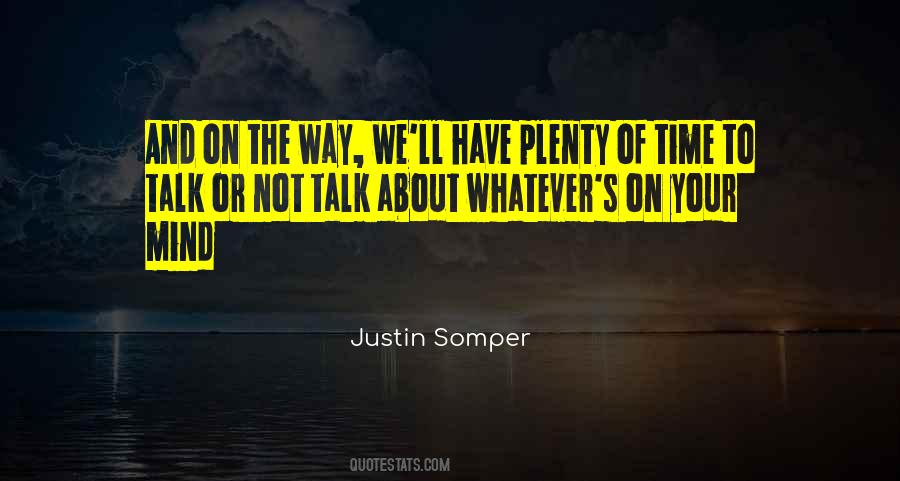 #62. It's risky to talk about one's most secret dreams a bit too early. - Author: Tove Jansson
#63. I'd love to talk to Janeane Garafalo or Randi Rhodes or Stephanie Miller from Air America. I'm an Air American junkie; I listen to them every day. - Author: Henry Rollins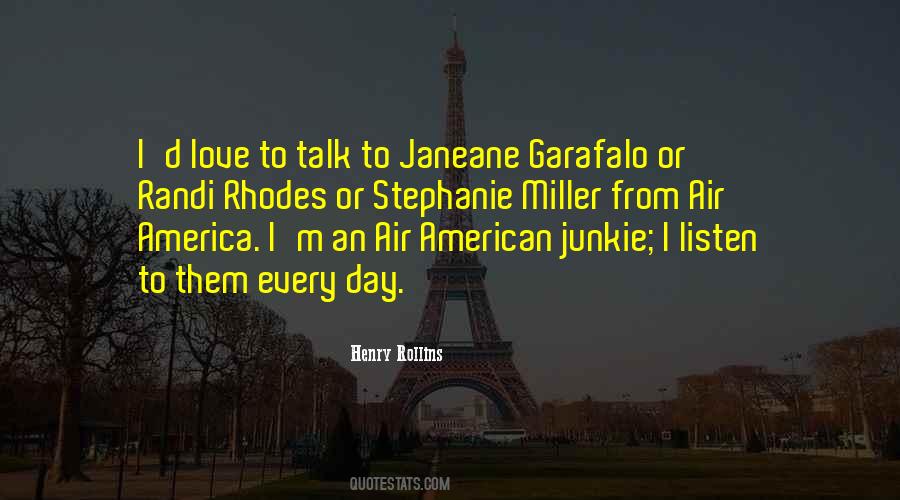 #64. Our most important problem is that we can talk to express our thoughts. - Author: Debasish Mridha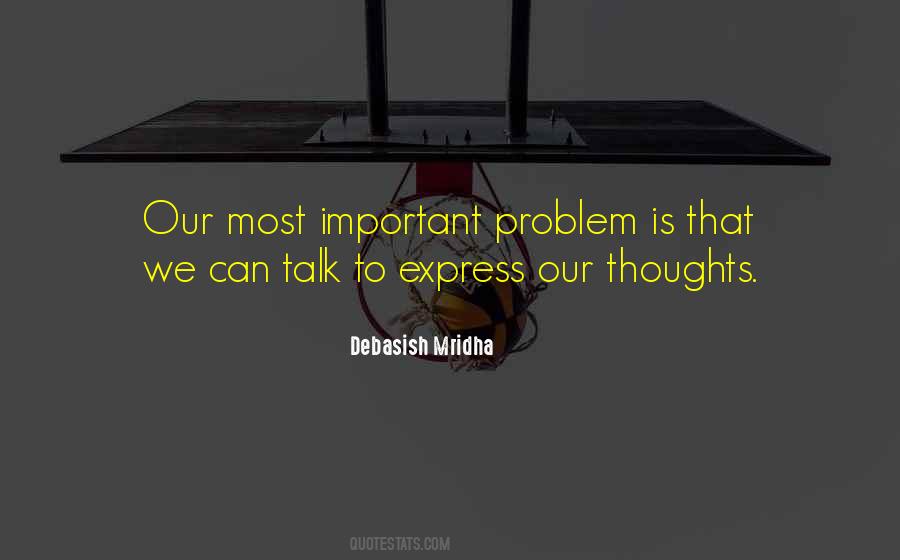 #65. He couldn't just take her home, bed her, and wait for children to pop out. Somewhere in between, he'd have to talk to her. - Author: Jodi Thomas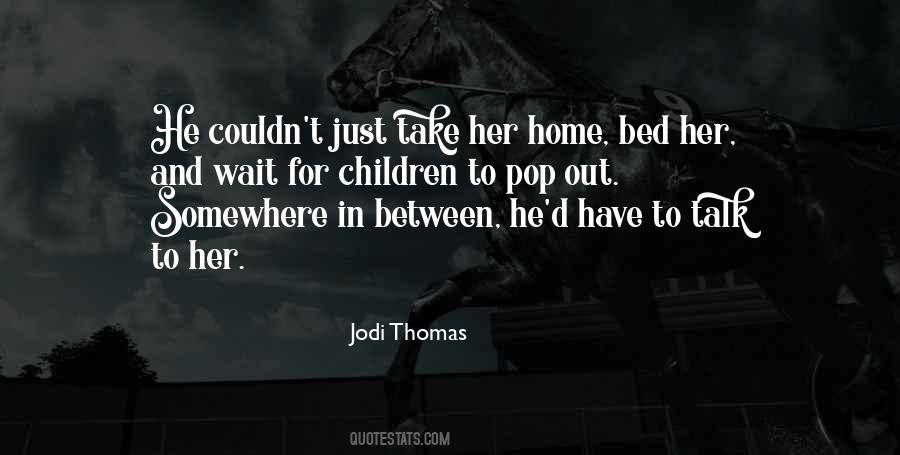 #66. I only worked theater jobs, but they were all really silly when I first graduated. I was a line monitor at 'Spamalot,' which means I got there at 8 A.M. and told people how much the tickets were for standing room. I was an NYU Medical School fake patient, to teach doctors how to talk to patients. - Author: Lauren Worsham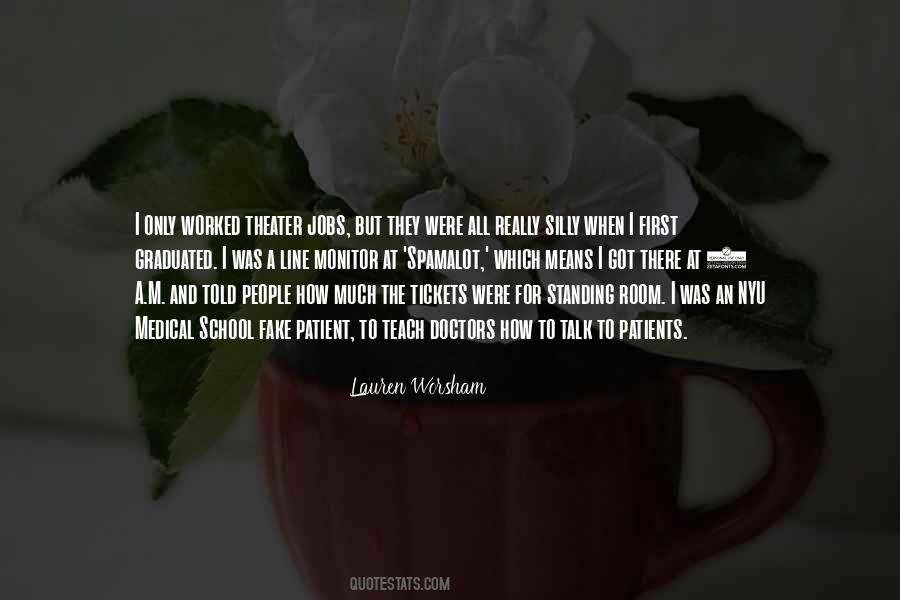 #67. My son walked up to Nicole on the beach and I was throwing the ball for the dogs in the ocean. I was like, 'Max, you get the dogs. I'll talk to the hot blondes.' - Author: John C. McGinley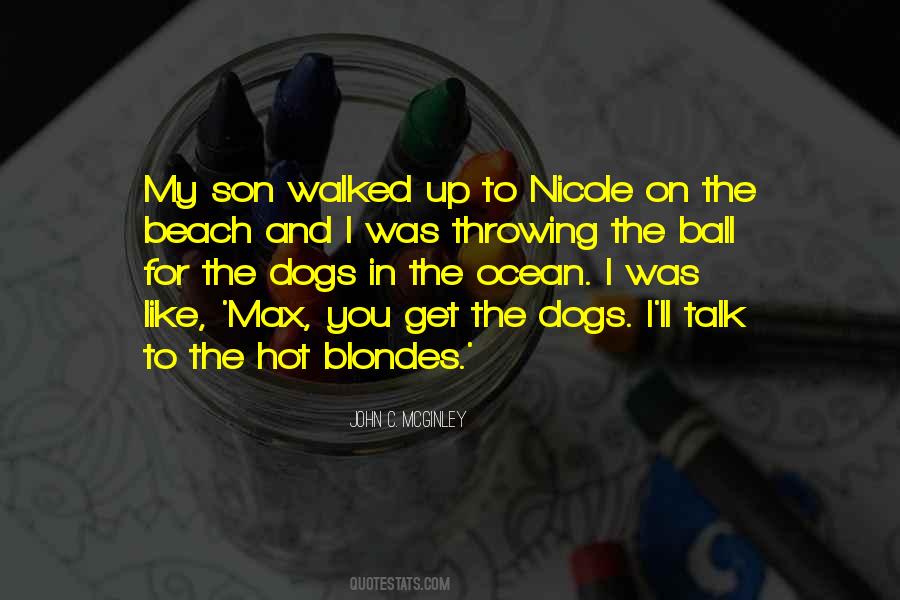 #68. Dont allow a worthless bitch to cause you lose an irreplaceable queen - Author: Prince Simus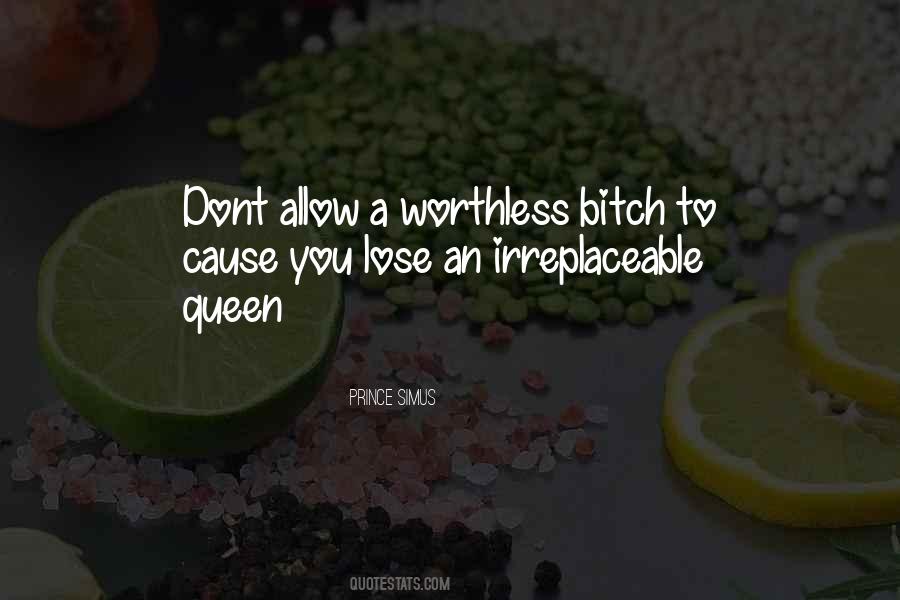 #69. You can't go to sleep without a cup of tea and maybe thats the reason that you talk in your sleep ... - Author: Louis Tomlinson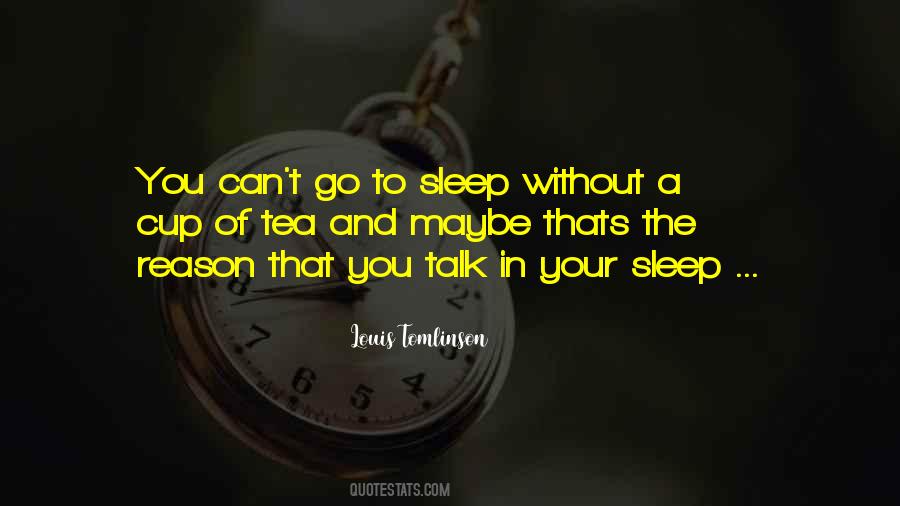 #70. I'm really happy to have the chance to talk about the editing process. It's something that I think doesn't get the weight it deserves, especially with the rise of self-publishing. - Author: Sarah Dessen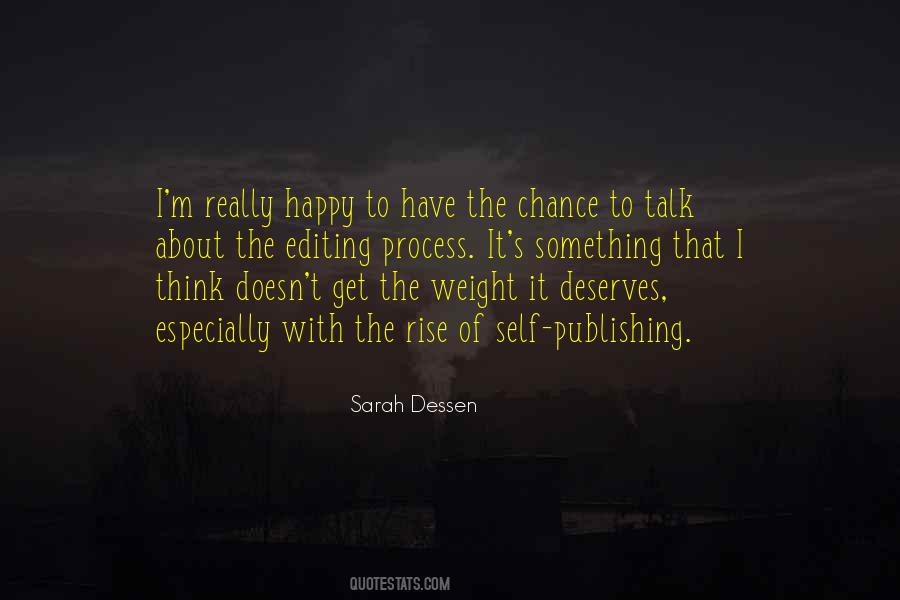 #71. It's strange to play outdoors, especially in the daytime. But we're figuring it out. The rules are different for festival shows - how you talk to the crowd, how you can try to get them involved. Things are just a little different, and I think we've learned to adapt our show. - Author: Andrew Dost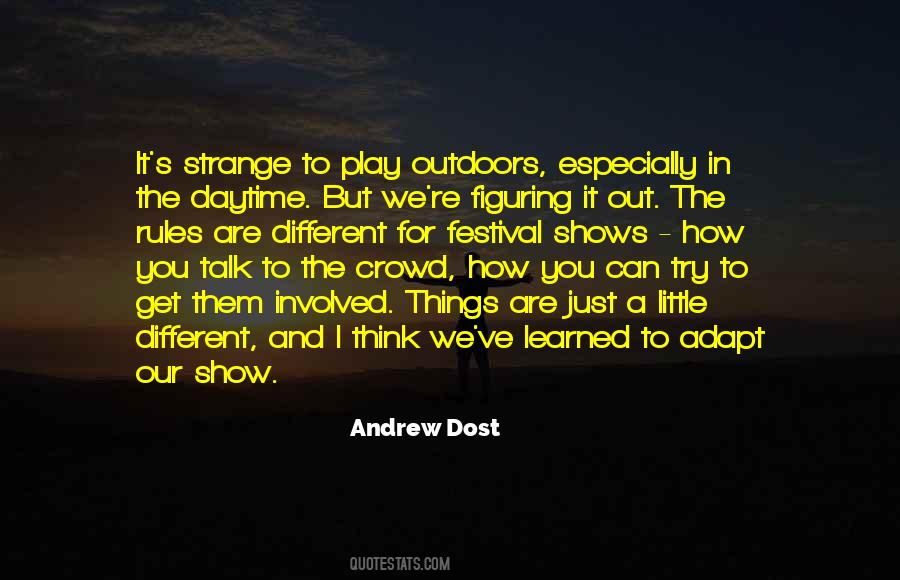 #72. Somebody came up to me after a talk I had given, and say, "You make mathematics seem like fun." I was inspired to reply, "If it isn't fun, why do it?" - Author: Ralph P. Boas Jr.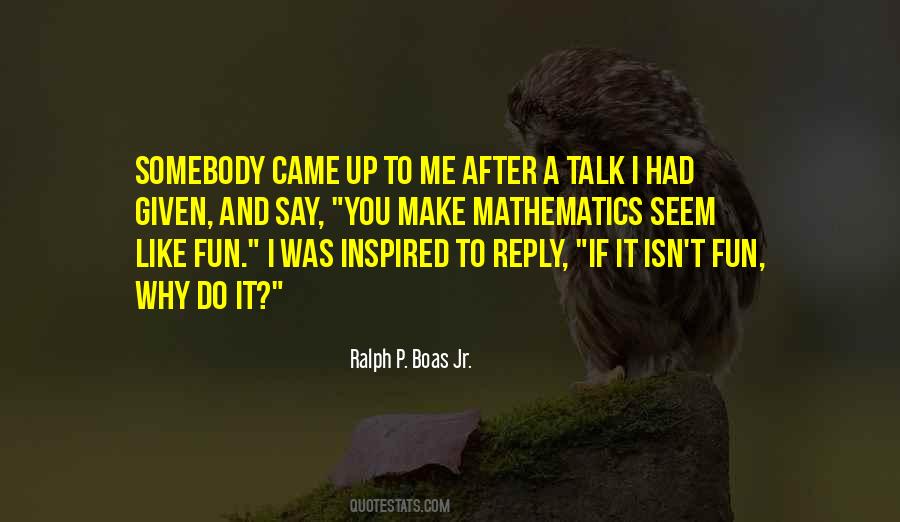 #73. My friends like to play as me in the baseball games, and they call to tell me about every bag I steal. And you know, every time a new game comes out, I check to make sure my speed is up to par. But to me, when you talk video games, you're talking 'Madden.' - Author: Carl Crawford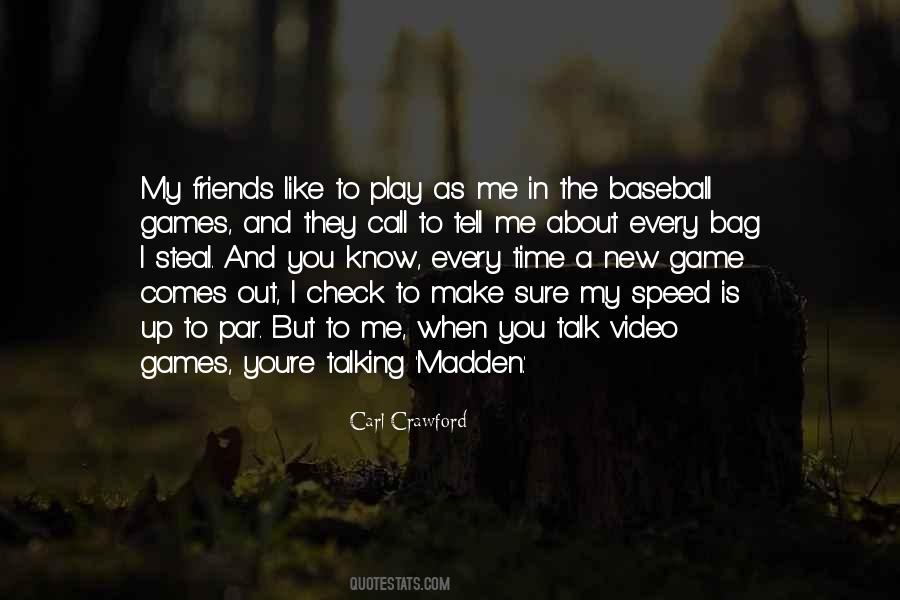 #74. We 'can't' always 'cushion' our views..
'Soften' the stance..
'Straight Talk' involves least effort..
No 'beating about the bush'..
Say it as it is..
Ofcourse, stay ready to be unpopular! - Author: Abha Maryada Banerjee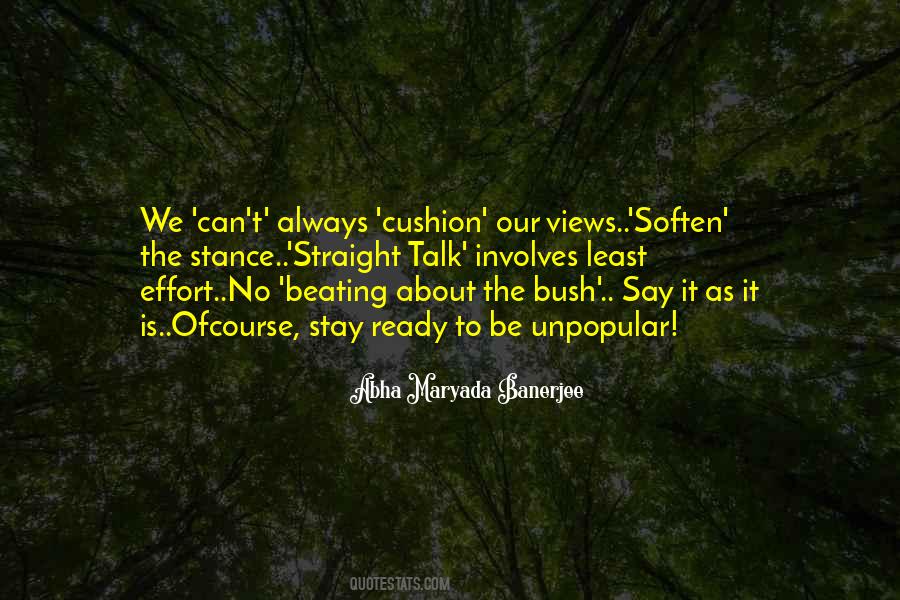 #75. We all have to start with ourselves. It is time to walk the talk. Take the journey of making very difficult decisions. Start removing things from your life that are not filling your cup and adding things that bring joy in to your life. - Author: Lisa Hammond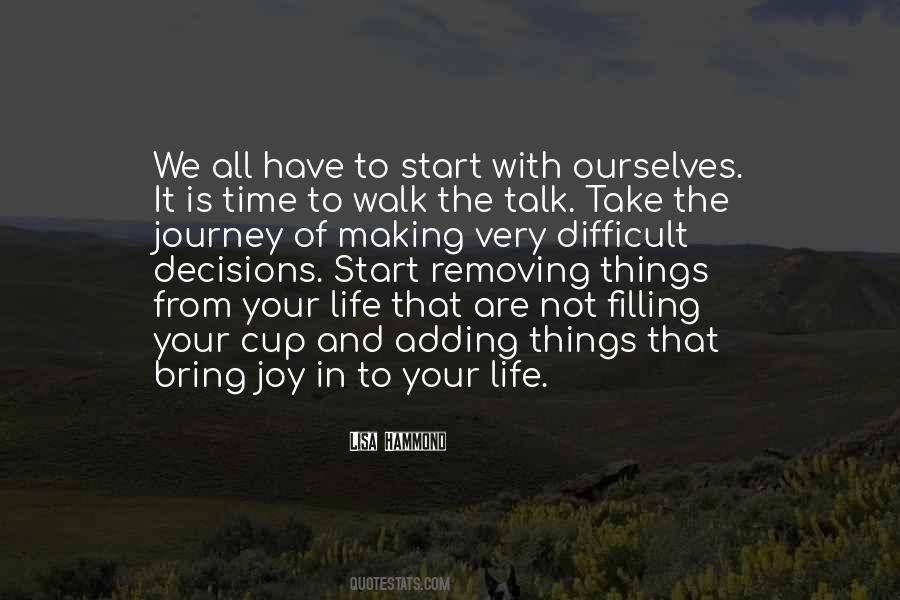 #76. Any time you talk to anyone about something that they love, they're, like, their most beautiful. It's a cool gift to get to talk to people about what they love. - Author: Amy Poehler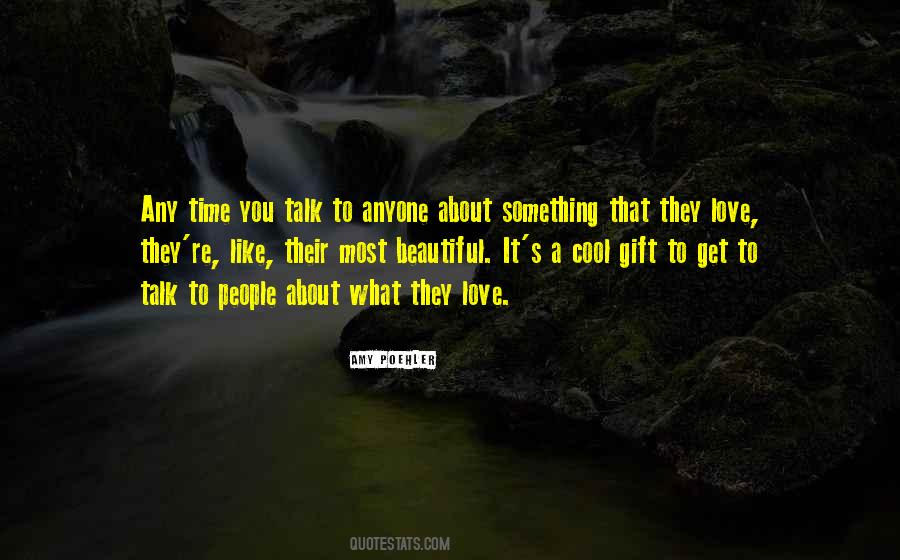 #77. Twitter seems just to be constant updates; it seems to me as promotional tool where people talk themselves up, and I don't want it to take over what I'm doing. - Author: Tristan MacManus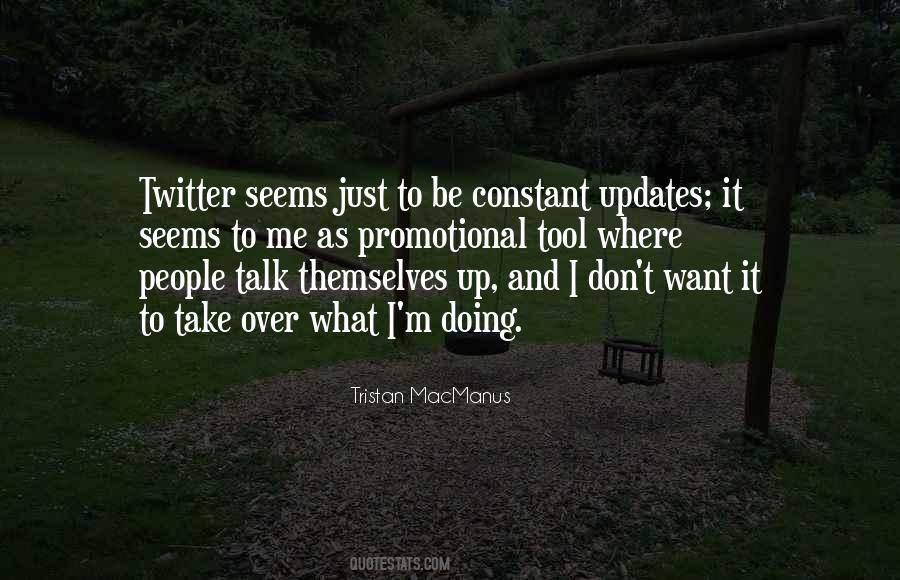 #78. I'm just flowing through, when I see things, I talk about 'em. And it's cool. I don't want any title. I just say what I say, and hopefully somebody gets it. I'm not perfect, and I'm just here and trying to make a dollar, and being real at the same time - Author: Nas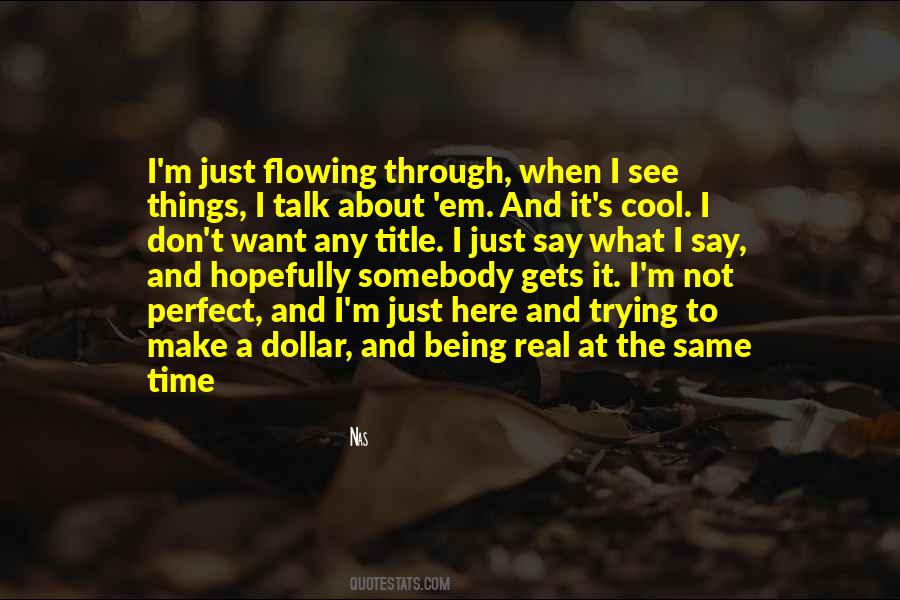 #79. Touring is just not normal for me. My personality is to never ever talk to people if I can help it. - Author: John Darnielle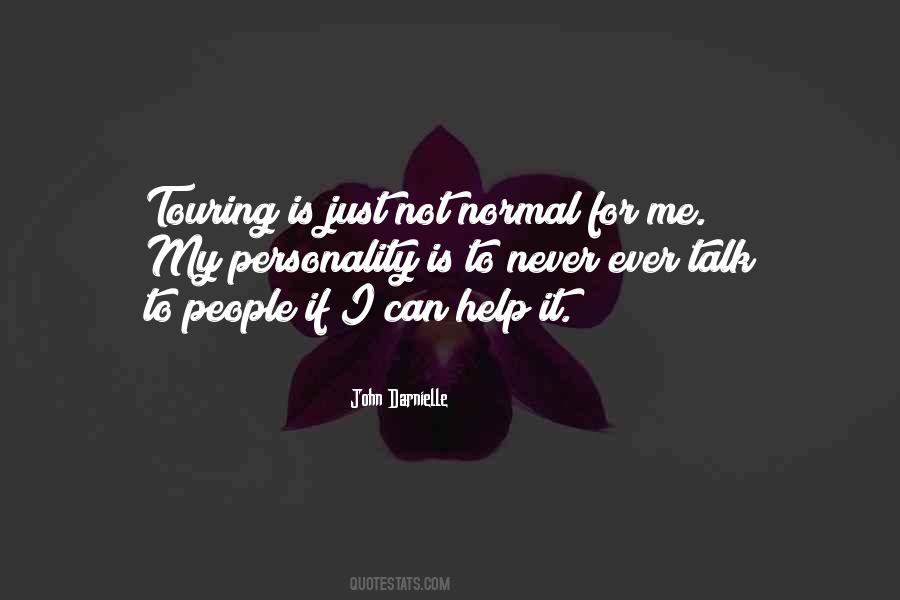 #80. If there wasn't The Beach Boys and there wasn't music, I wouldn't even talk to them. But through the music I fell in love with my brothers. - Author: Dennis Wilson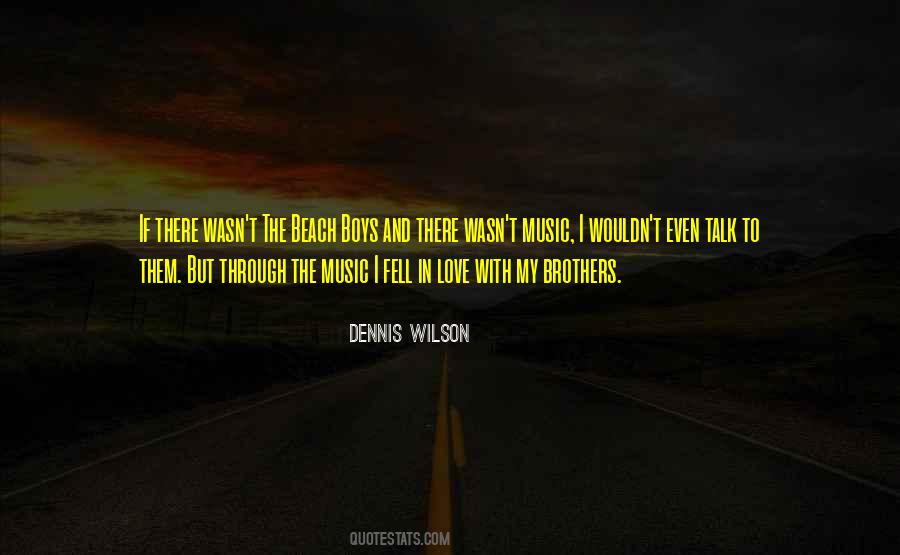 #81. I'm watching her talk. Watching her jaw move and collecting her words one by one as they spill from her lips. I don't deserve them. Her warm memories. I'd like to paint them over the bare plaster walls of my soul, but everything I paint seems to peel. - Author: Isaac Marion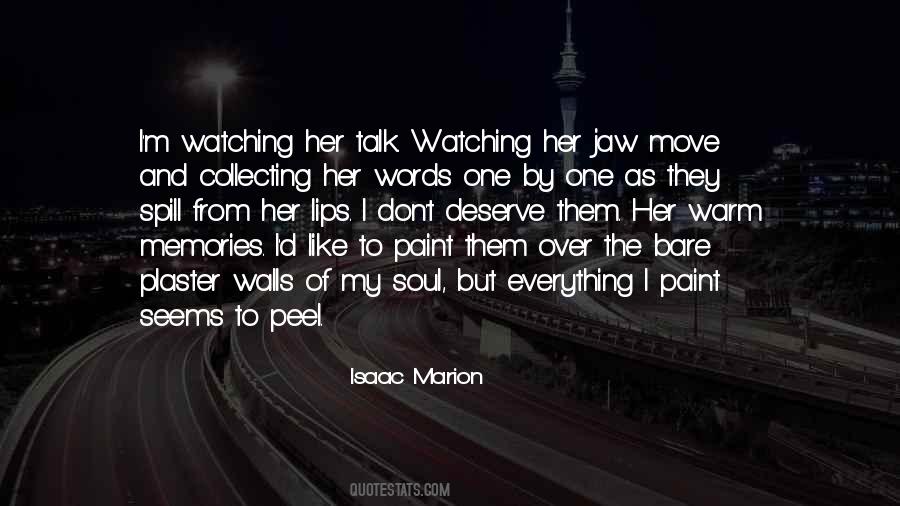 #82. Men talk about Bible miracles because there is no miracle in their lives. Cease to gnaw that crust. There is ripe fruit over your head. - Author: Henry David Thoreau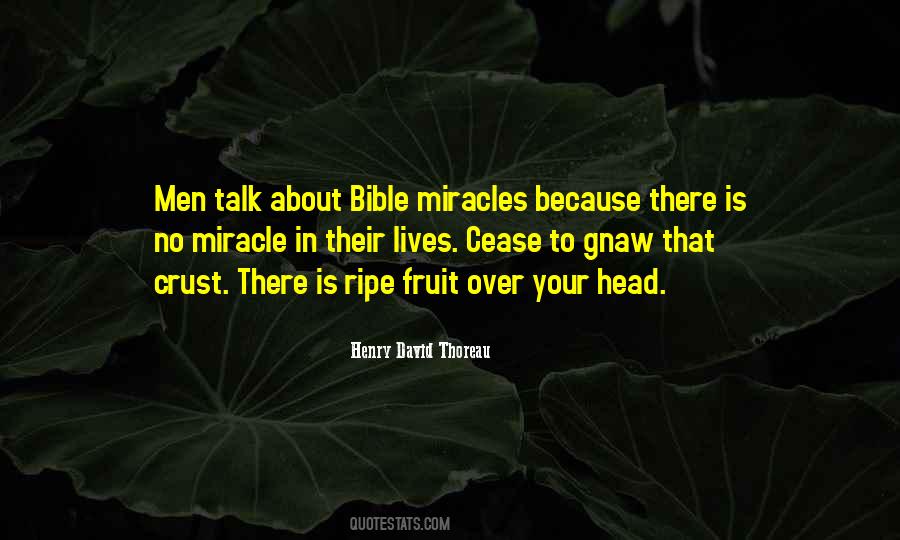 #83. All I want to talk about is the oncoming apocalypse in my brain. - Author: Elizabeth Wurtzel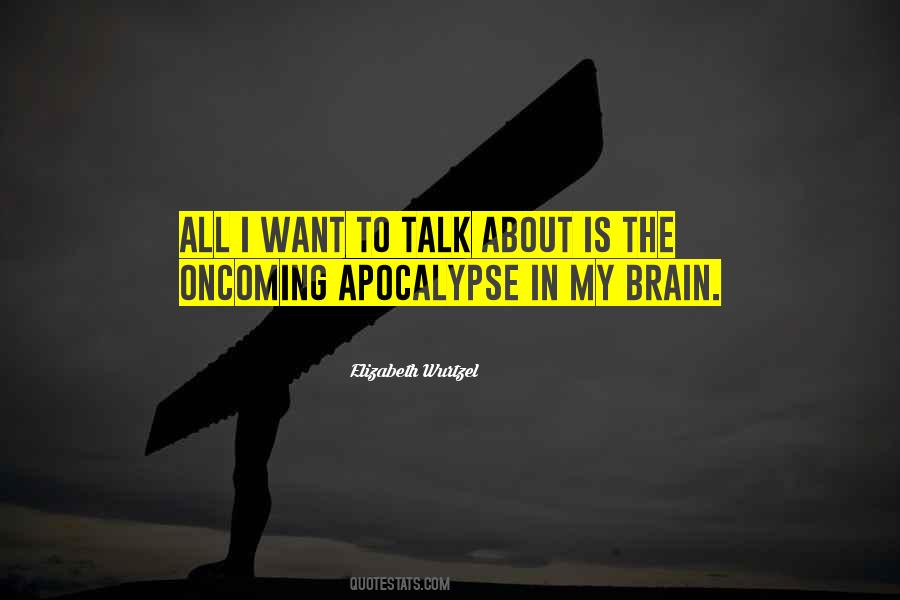 #84. It's more fun to talk with someone who doesn't use long difficult words but rather short easy words like What about lunch?" - Winnie-the-Pooh - Author: Tony Hsieh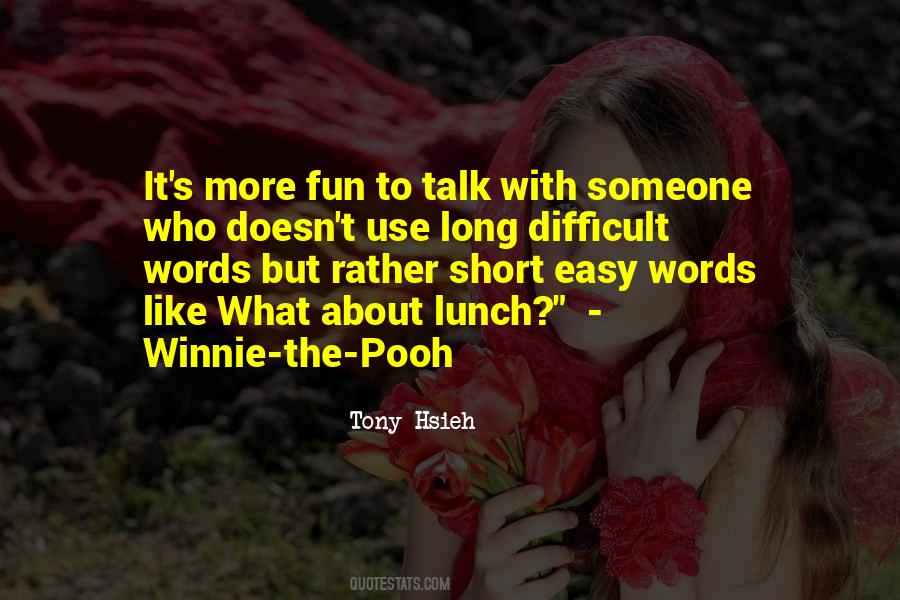 #85. Drying up in conversation, You will be the one who cannot talk, All your insides fall to pieces, You just sit there wishing you could still make love. - Author: Thom Yorke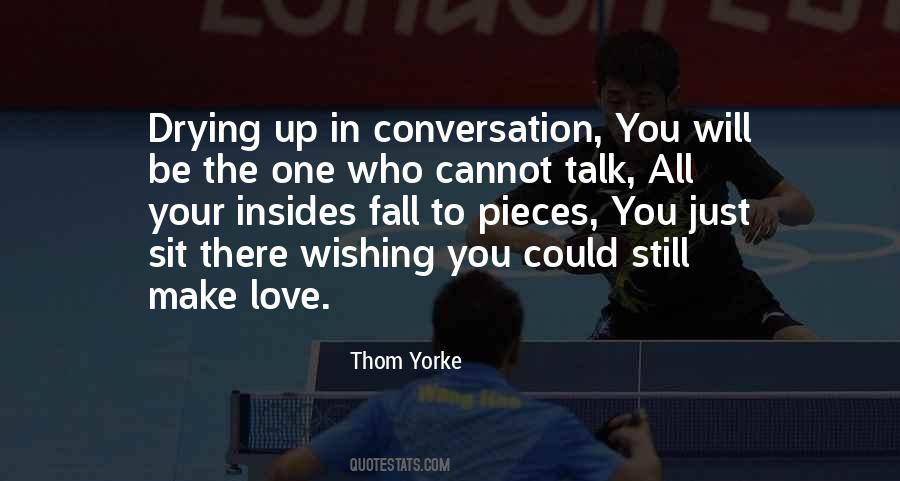 #86. Lilac won't talk to me again. There's a tremor. Lilac won't kiss me again. I won't hear her laugh. My lungs constrict. Why am I doing this to myself ? - Author: Amie Kaufman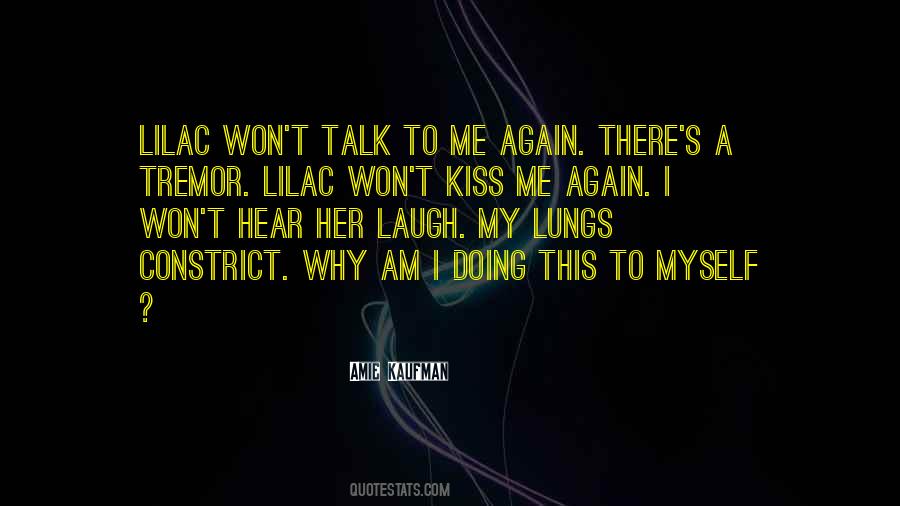 #87. People don't want to talk about death, just like they don't want to talk about computer security. Maybe I should have named my workstation Fear. People are so motivated by fear. - Author: Dan Farmer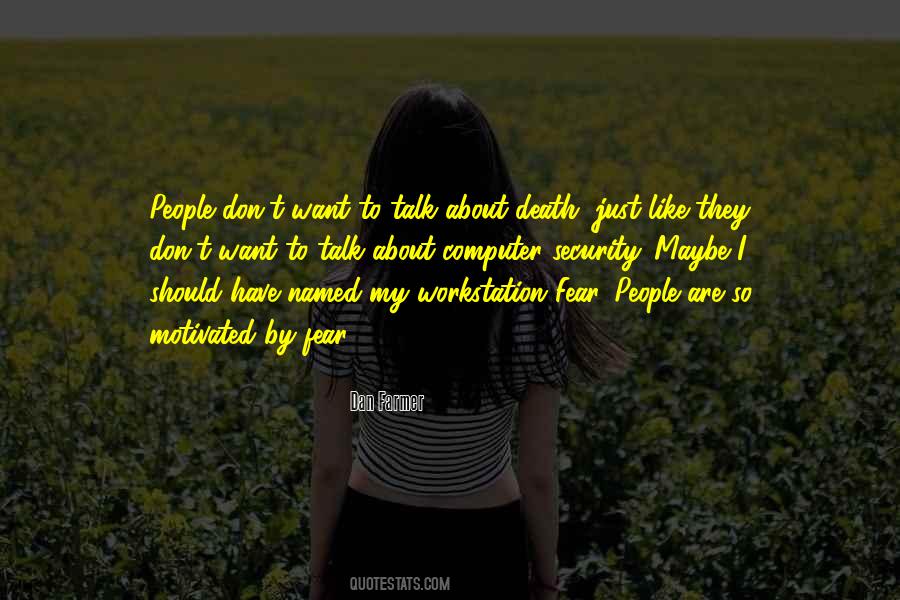 #88. I don't like to talk about things where you're going to gt one side or the other unhappy. My music has no politics. - Author: Loretta Lynn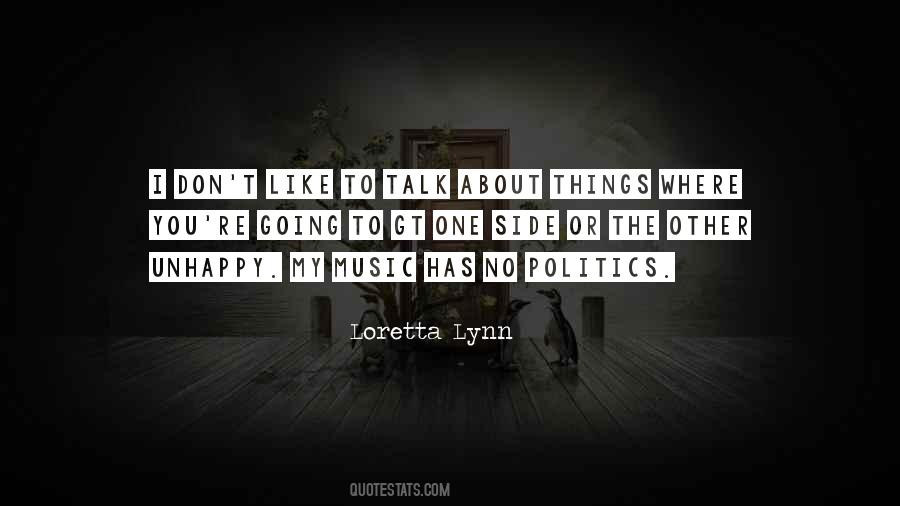 #89. The dead don't talk. Perhaps they know things about death that the living are not permitted to learn from them. - Author: Dean Koontz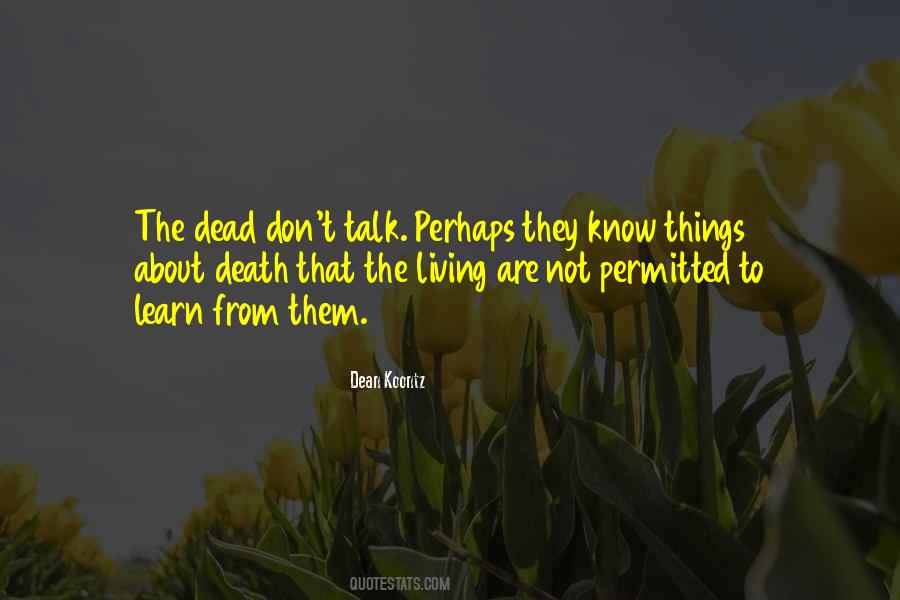 #90. It's not listed in the Bible, but my spiritual gift, my specific calling from God, is to be a television talk-show host. - Author: Jim Bakker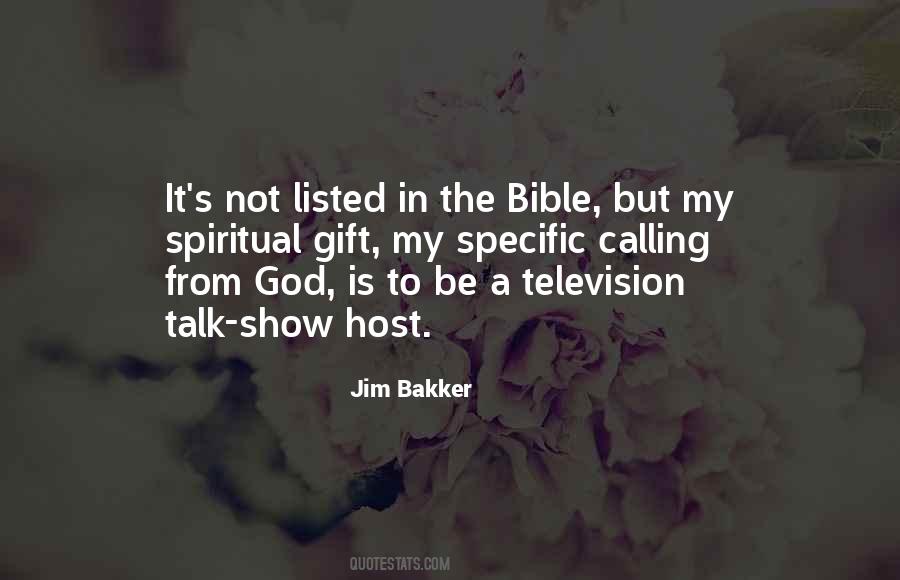 #91. You shouldn't talk about yourself all the time - most of us aren't for sale. Our books are. Talk about them. It's not a question of whether or not you're fascinating on a personal level - it's that your trivia and trials might not have any connection to the tone, tenor and sense of your books. - Author: M.J. Rose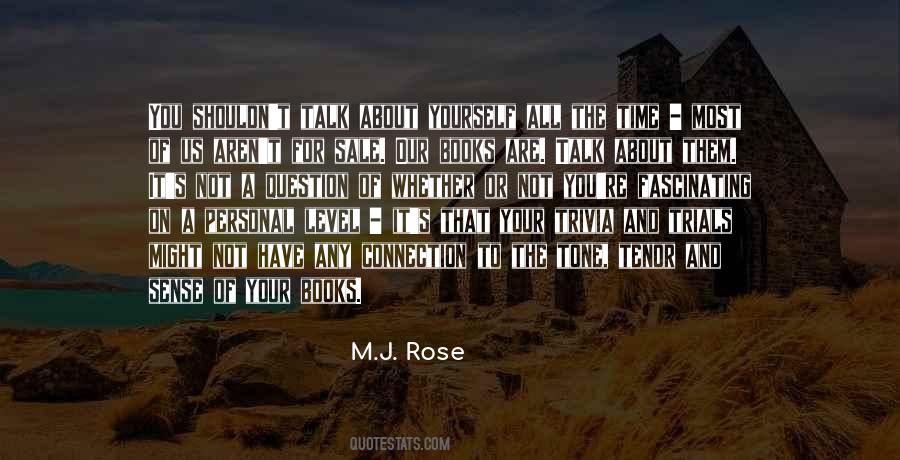 #92. The help (in Japan) is very polite. They bow so much, you don't know which end to talk to. - Author: Bob Hope
#93. Most people talk; we do things. They plan; we achieve. They hesitate; we move ahead. We are living proof that when human beings have the courage and commitment to transform a dream into reality, there is nothing that can stop them. - Author: Mohammed Bin Rashid Al Maktoum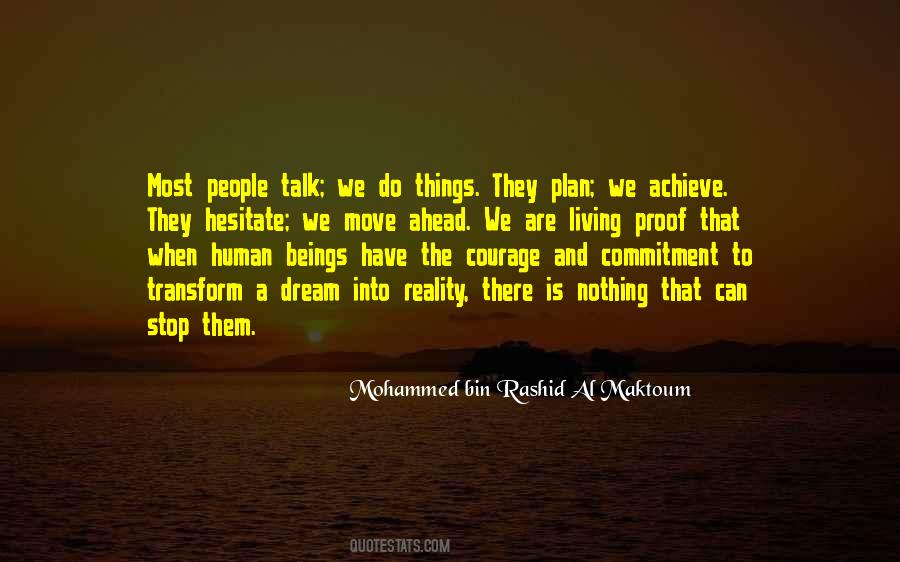 #94. So I'm sorry, I'm going to continue to talk to the people, because I do believe that if they get to know you and what you are as a human being, they can more appreciate what you are as a performer. - Author: Mel Torme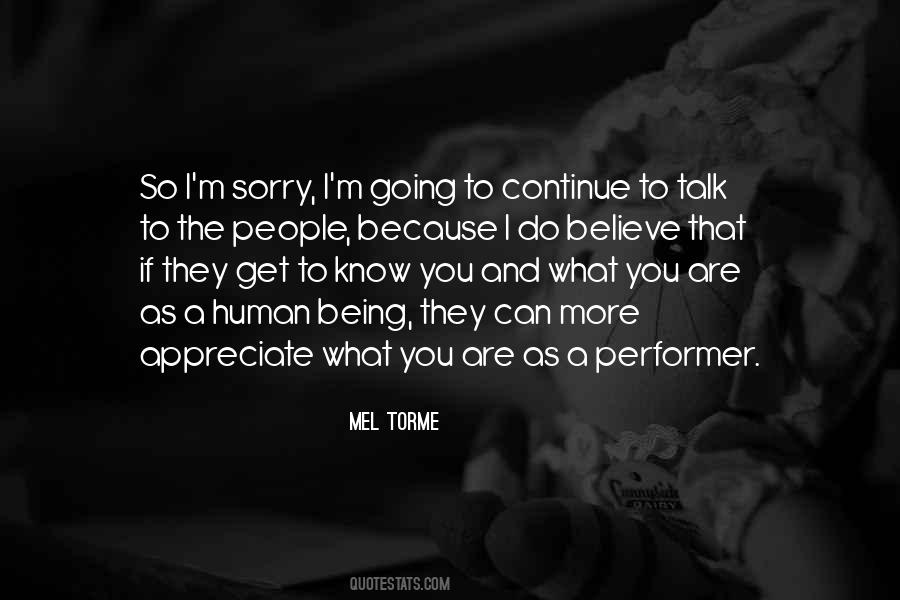 #95. I think I want to talk about life from the point of view of death. - Author: Alejandro Gonzalez Inarritu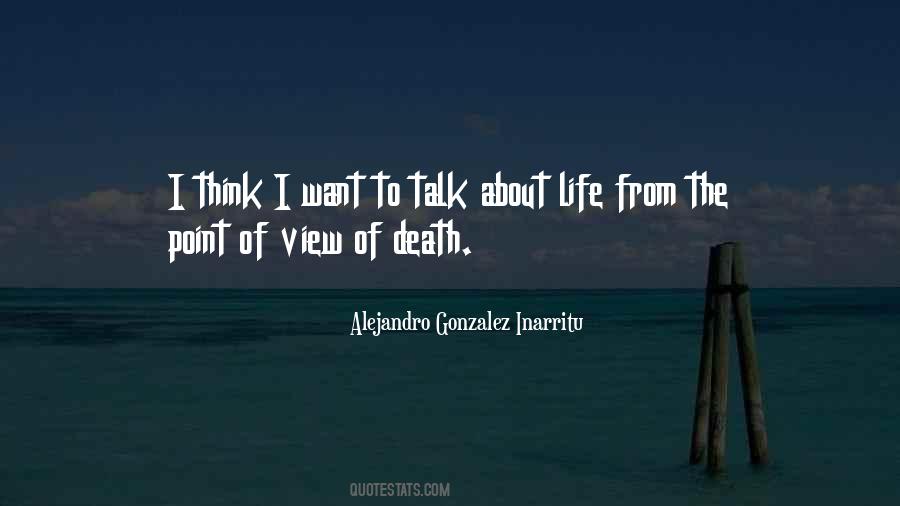 #96. The thing about interviews is that if someone interviews you, and they're an idiot, then they make you sound like an idiot, too. They ask you stupid questions, and they bring you down to their level. It's tempting to not ever want to talk to anybody, but you can't do that. - Author: Dean Wareham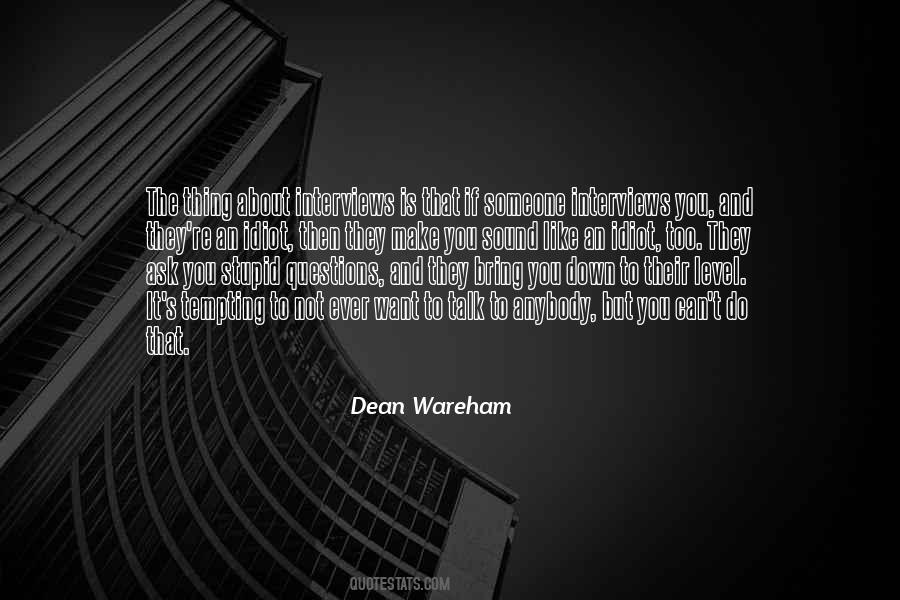 #97. Once you become successful, people know where you live, the type of house you live in, the kind of car you drive, the clothes you wear, and so it would be patronising to go and talk like a welder. Welding's a mystery to me now. You can't go back, your life changes every day. - Author: Billy Connolly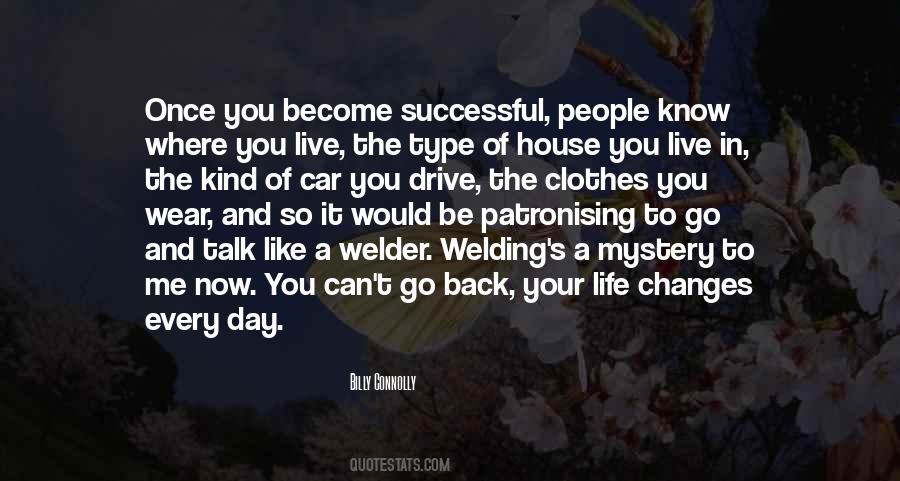 #98. We struck up a conversation, but took pains to keep to small talk at first. We touched on the most trivial of topics: I asked if he thought the fate of man was unalterable. He thought it was. - Author: Gunter Grass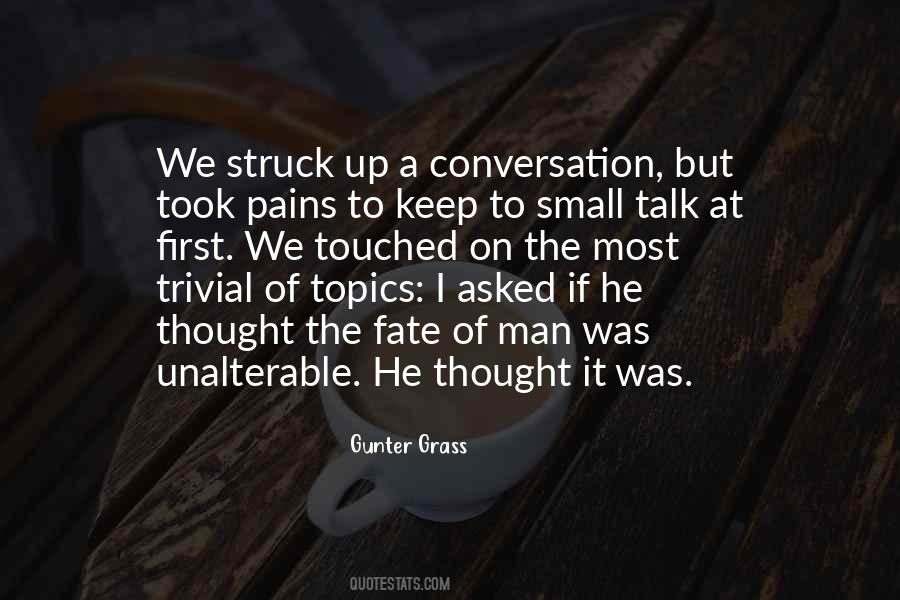 #99. Table talk and amorous talk are equally impossible to grasp; amorous talk is all pretty bubbles, table talk, hot air. - Author: Victor Hugo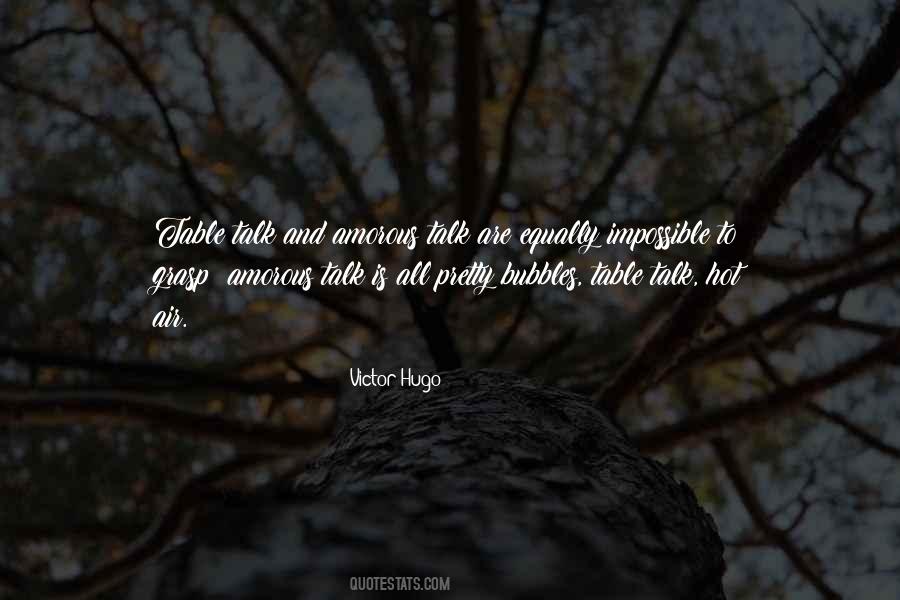 #100. No child, still less a fetus, has ever mastered the art of small talk, or would ever want to. It's an adult device, a covenant with boredom and deceit. - Author: Ian McEwan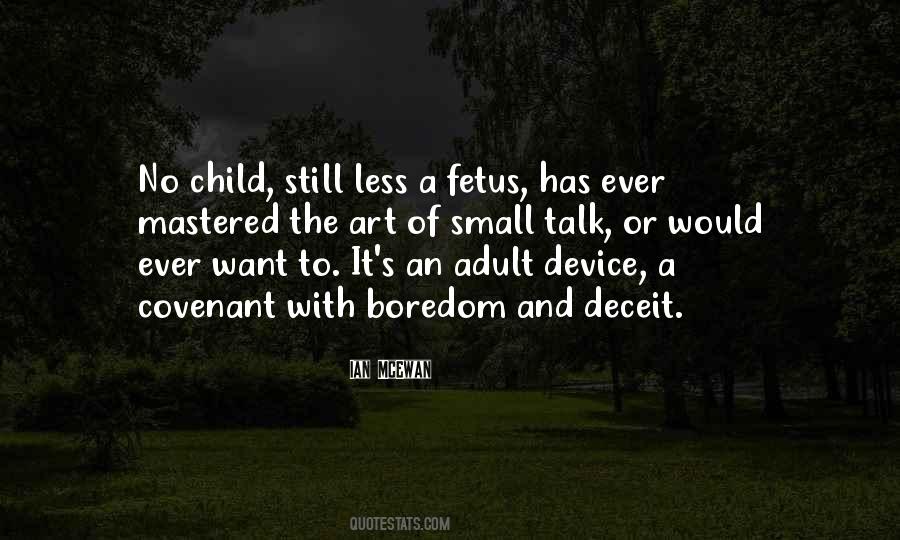 Famous Authors
Popular Topics