Speak What You Believe Famous Quotes & Sayings
List of top 64 famous quotes and sayings about speak what you believe to read and share with friends on your Facebook, Twitter, blogs.
Top 64 Speak What You Believe Quotes
#1. I believe that 'MasterChef' brings something more to the table, so to speak, than simply being another reality food TV show. My hope is that it will inspire America to get more involved in the food they eat, how it is prepared. - Author: Joe Bastianich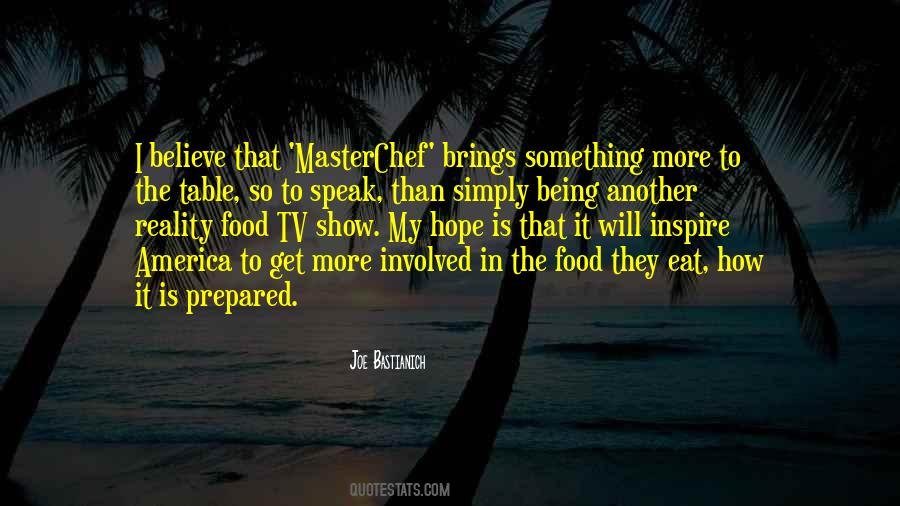 #2. I believe in the future resolution of these two states, dream and reality, which are seemingly so contradictory, into a kind of absolute reality, a surreality, if one may so speak. - Author: Andre Breton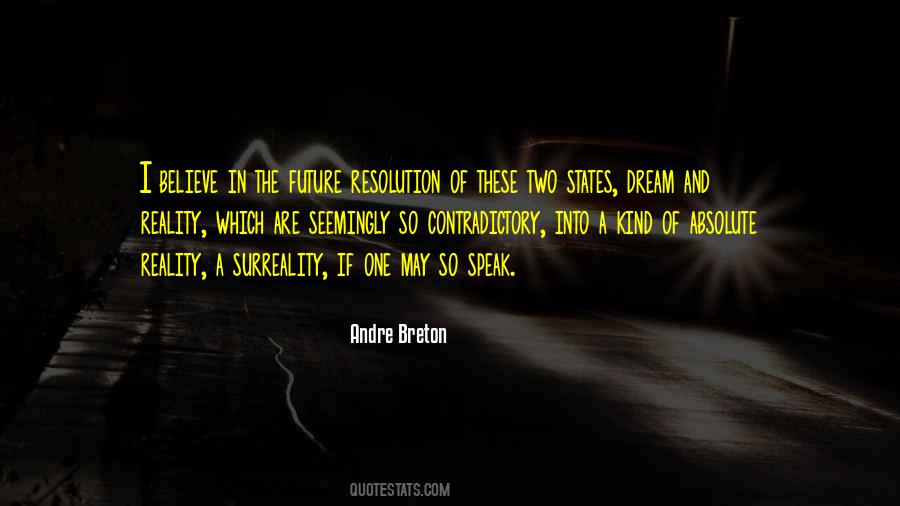 #3. I'm not supposed to be able to speak clearly, and decipher what's going on in the media. I'm supposed to be the typical amateur who's 22 and scared to death and can't believe he won the Olympics. - Author: Carl Lewis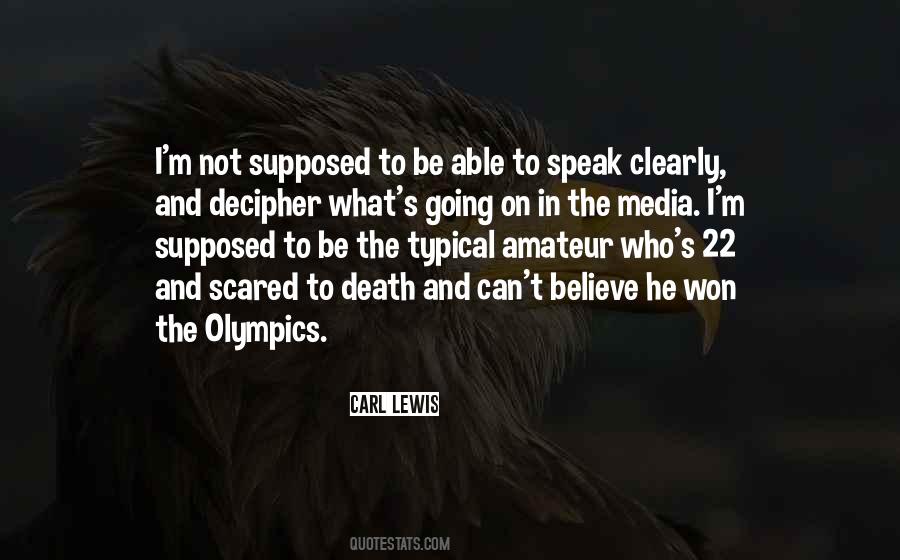 #4. If you want your lie to be believed then you need to speak thousand truths before you lie. - Author: Amit Kalantri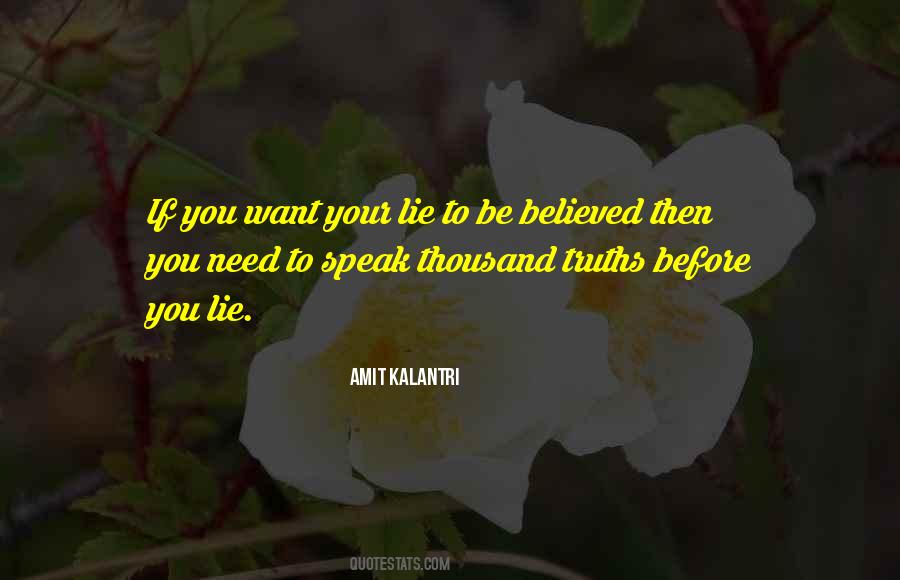 #5. Do not speak to me of martyrdom, of men who die to be remembered on some parish day. I don't believe in dying though, I too shall die. And violets like castanets will echo me. SONIA SANCHEZ - Author: Ta-Nehisi Coates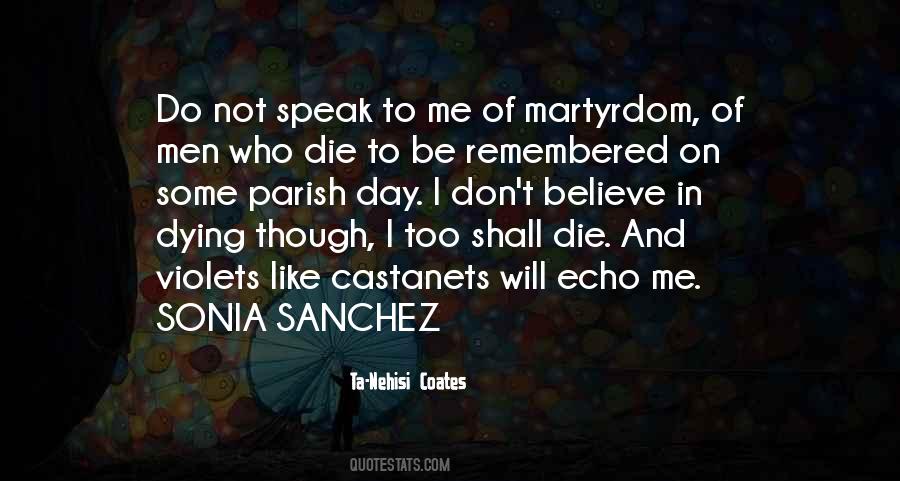 #6. I can't speak for them, of course, but I believe that most economists would accept the view that, while you sometimes can make a score by sheer luck, you can't do it constantly, unless you're willing to put the resources in. - Author: Merton Miller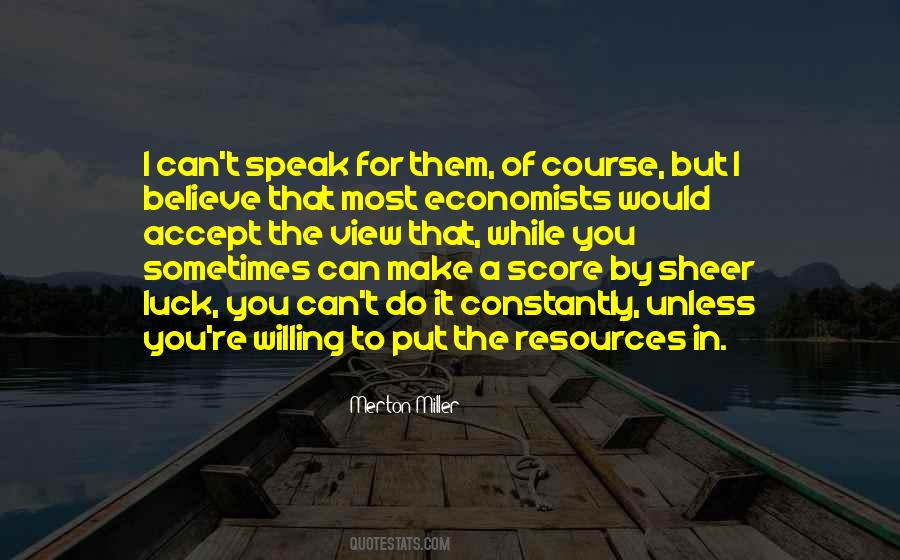 #7. I believe you can speak things into existence. - Author: Jay-Z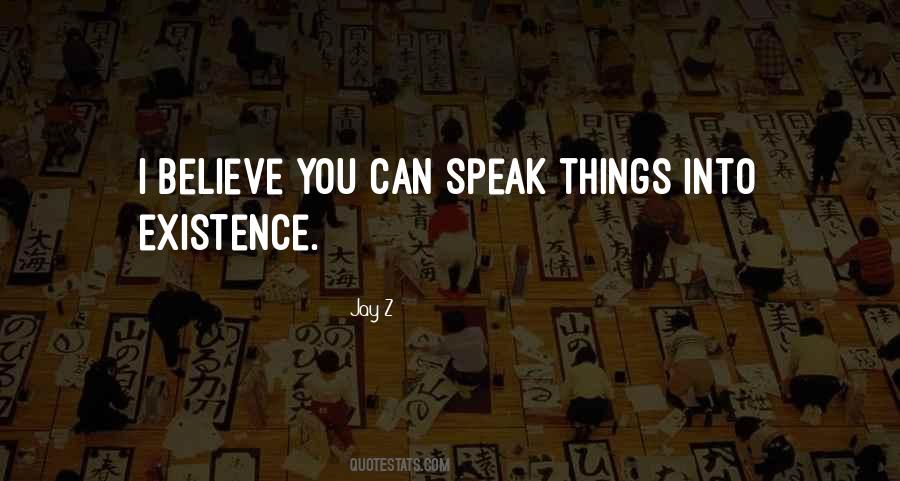 #8. I believe that the old man did indeed have far too narrow an idea of what a vision might be. He may, so to speak, have been too dazzled by the great light of his experience to realize that an impressive sun shines on us all. - Author: Marilynne Robinson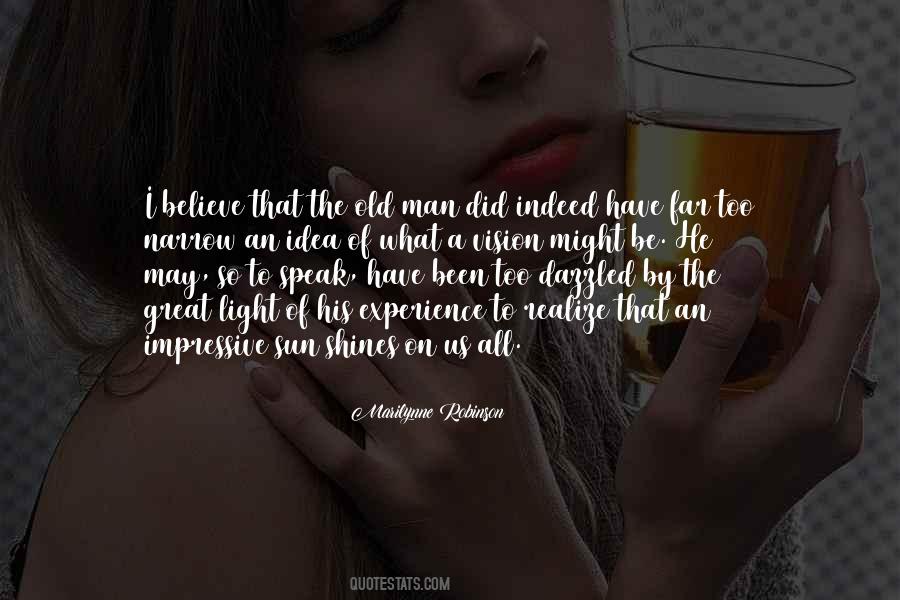 #9. We must be able to identify all the parts in a system and allow them to speak. All the parts in a group, even those we do not like or believe to be useless, must be present and supported. - Author: Arnold Mindell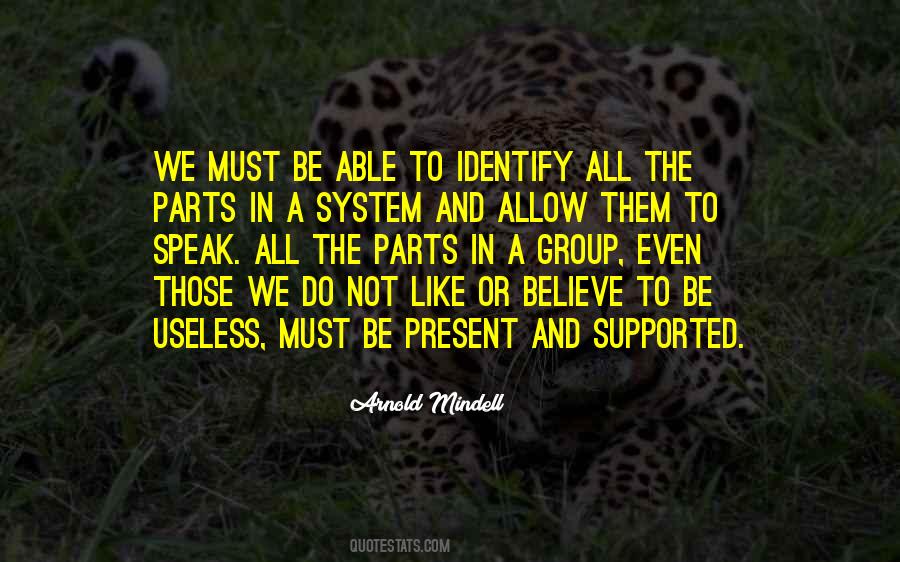 #10. A free people, free to believe as we wish, free to speak our minds, free to raise our children as we see fit, will, make no mistake about it, endure. - Author: Nick Rahall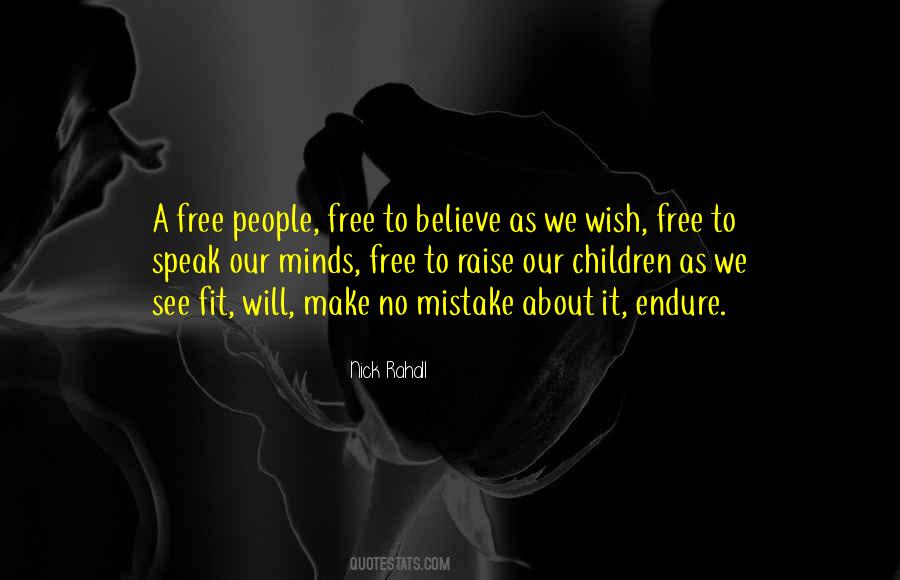 #11. So the dream is continually reminding us of the part which our conscious is forgetting. It does not speak with any absolute authority; it simply gives a true picture of a situation which exists in the unconscious. It speaks truth; but not, as some persons believe, the truth. It shows the other side. - Author: Frances G. Wickes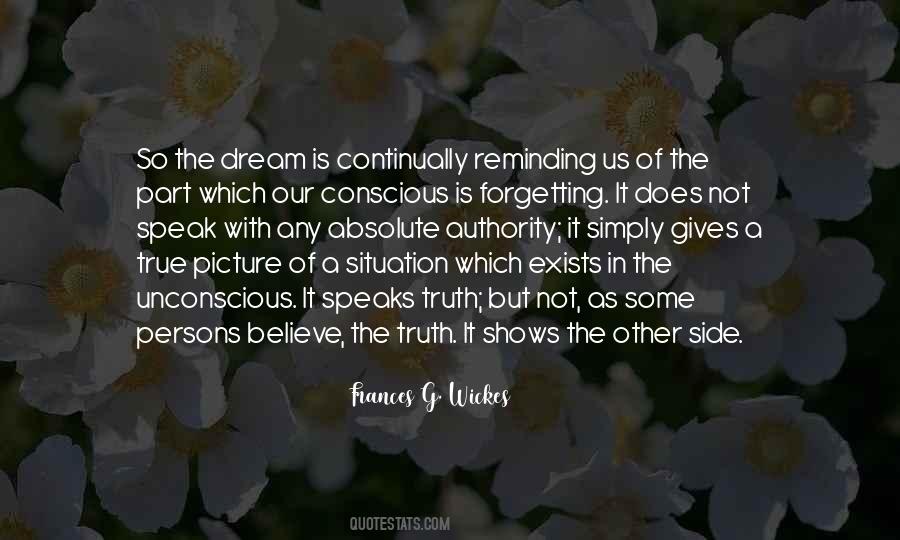 #12. It may, indeed, be assumed that a man who loses his temper while he is speaking is endeavouring to speak the truth such as he believes it to be, and again it may be assumed that a man who speaks constantly without losing his temper is not always entitled to the same implicit faith. - Author: Anthony Trollope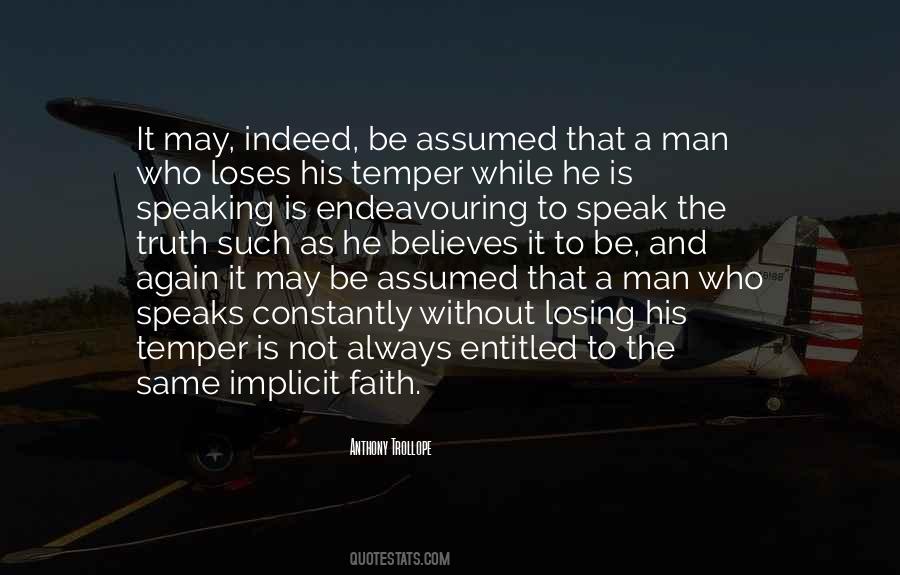 #13. People have been wonderful to me in the good times and the bad, and I've come to believe that you do indeed reap what you sow. For those who constantly gripe about life, I turn and walk away. For those who speak negatively about people behind their backs, I move on. - Author: Bob Losure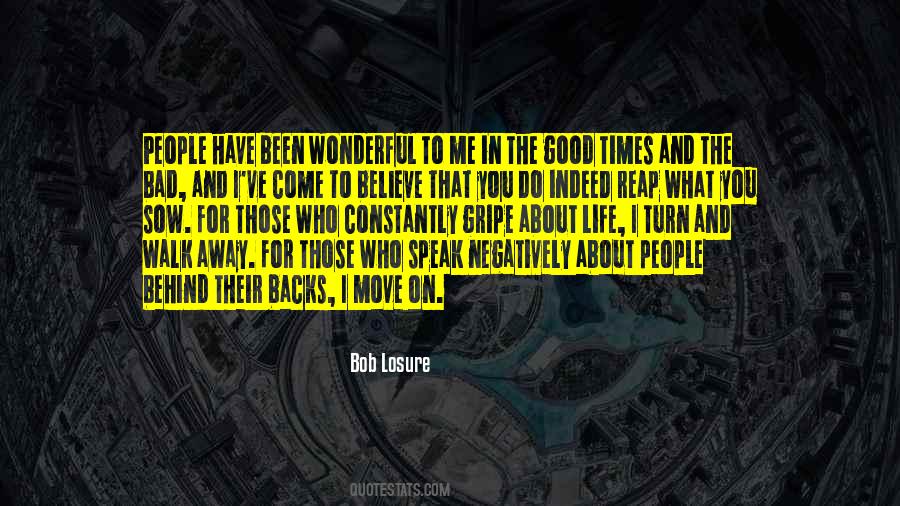 #14. As a newcomer to America who learned to 'speak American' by watching movies, I firmly believe that to change the politics of immigration and citizenship, we must change culture - the way we portray undocumented people like me and our role in society. - Author: Jose Antonio Vargas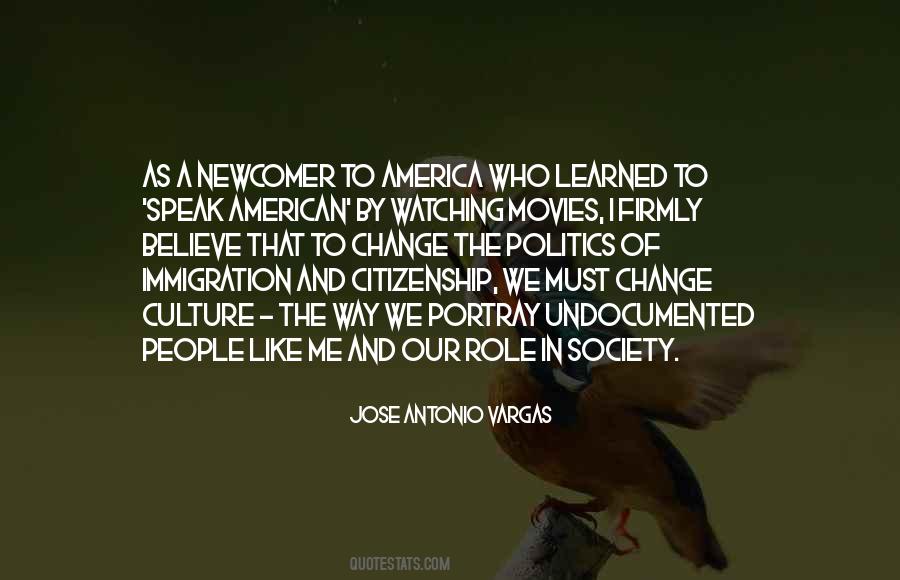 #15. Muslim women must stand up and speak out about who we are, what we believe and where we are going. I think we need to know that our counterparts in the west are also willing to listen and reciprocate. - Author: Queen Rania Of Jordan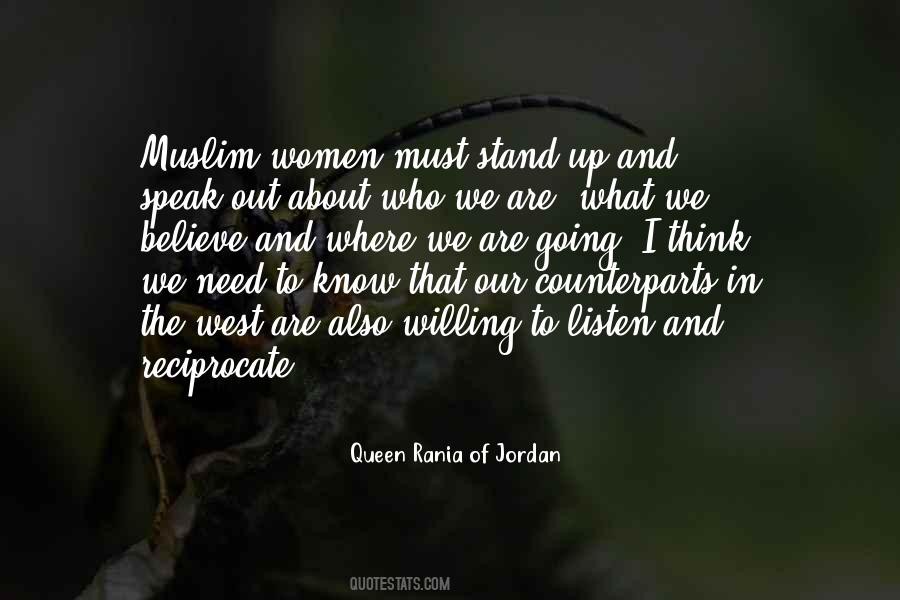 #16. You cannot be afraid to speak up and speak out for what you believe. You have to have courage, raw courage. - Author: John Lewis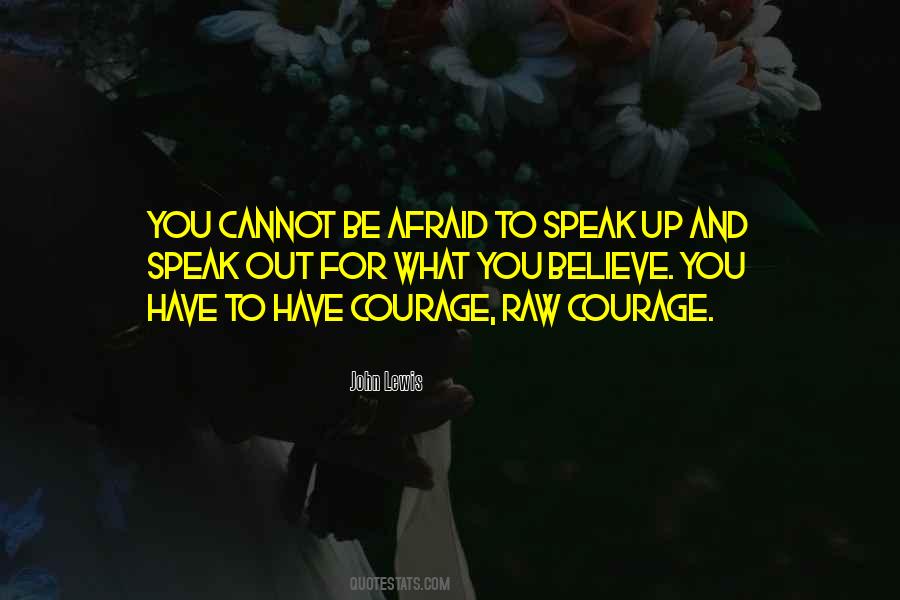 #17. All of us ... when we think we are talking most intimately to someone else, are actually addressing an image we have of the person to whom we believe we speak. - Author: Gene Wolfe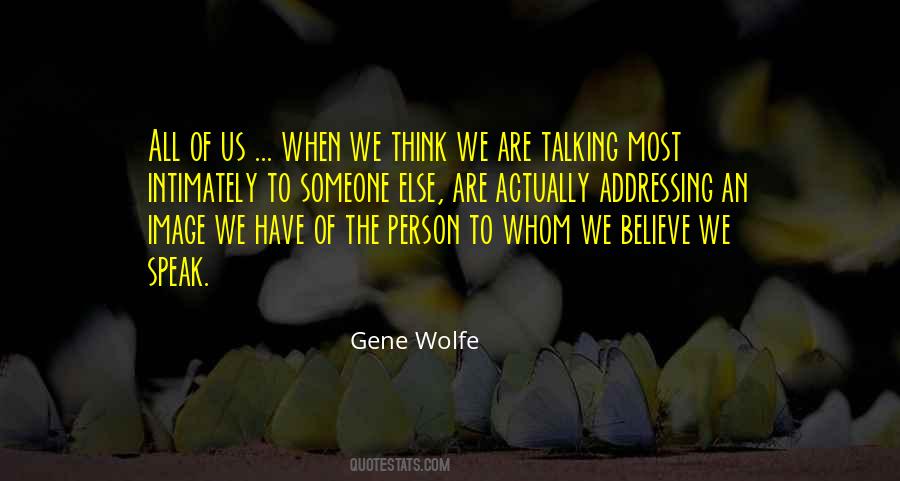 #18. At Ford Motor Company, we believe the arts speak a common language that weaves a common thread among all people. - Author: William Clay Ford Jr.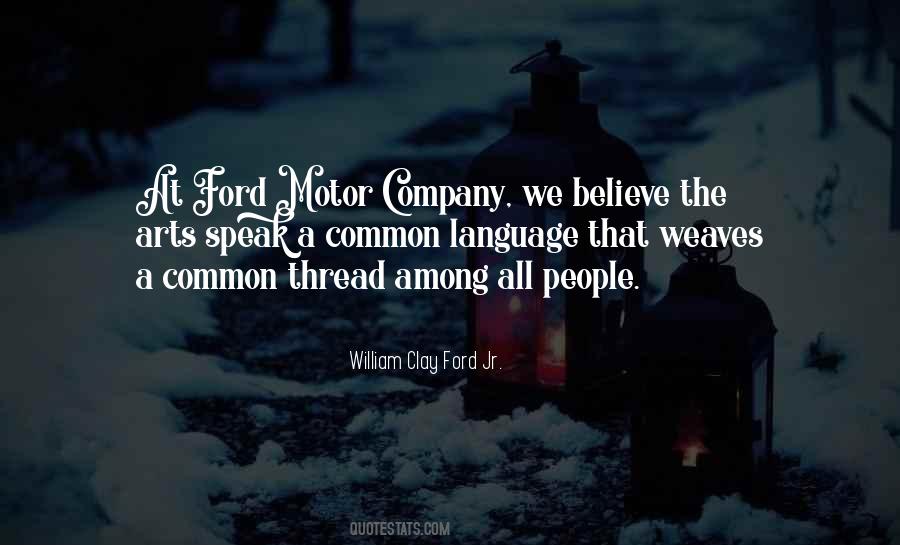 #19. You speak what you believe, and you believe you're doomed. If there's one thing I've learned throughout the years, it's that what you believe is the impetus for your entire life. - Author: Gena Showalter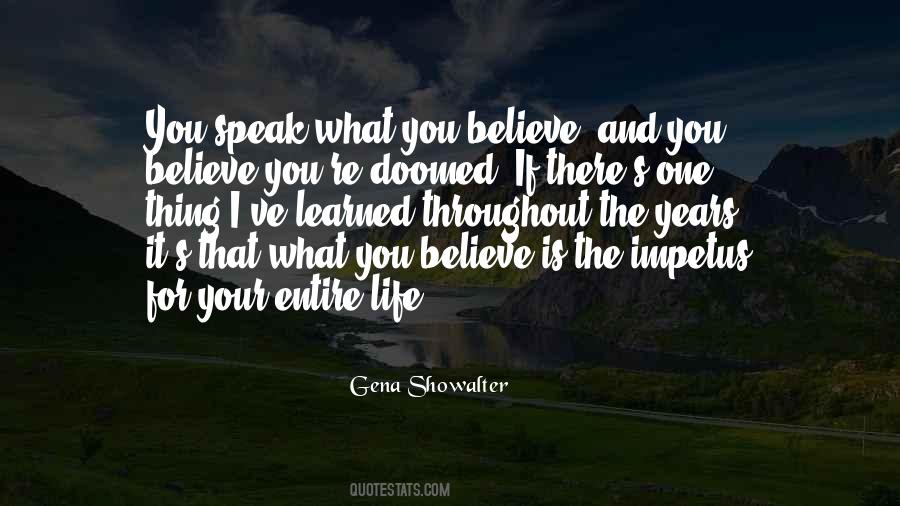 #20. People stand themselves next to the righteous They believe the things they say are true They speak in terms of what divides us To justify the violence they do But it is one, it is one One world spinning 'round the sun Wherever it is you call home Whatever country you come from It is one - Author: Jackson Browne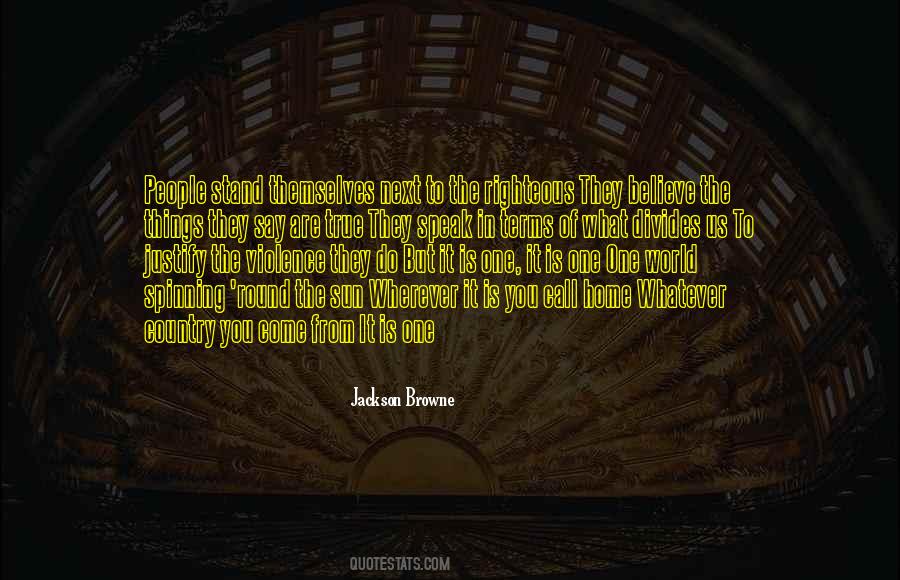 #21. While we generally believe in free speech and giving everyone as much ability to speak as possible, in practice there are lots of barriers to that, whether it's legal restrictions, technological restrictions or you can't share what you want if you don't have access to the internet. - Author: Mark Zuckerberg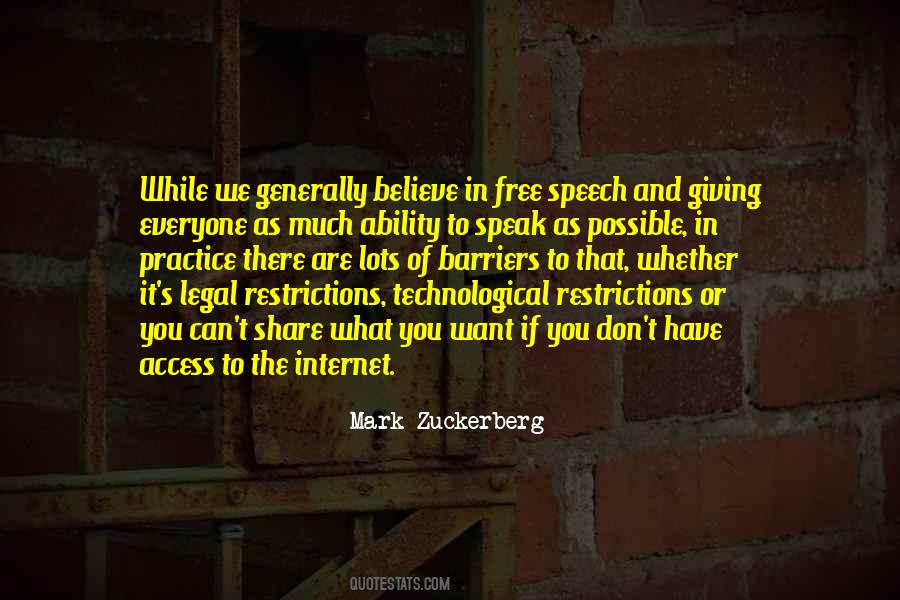 #22. Jesus kept it simple. The lesson wasn't complicated. 'I speak; you believe My word; your son will be fine.' We complicate what God has made simple by seeing the world through human eyes. We want to see in order to believe and presume that our limitations are His. - Author: Charles R. Swindoll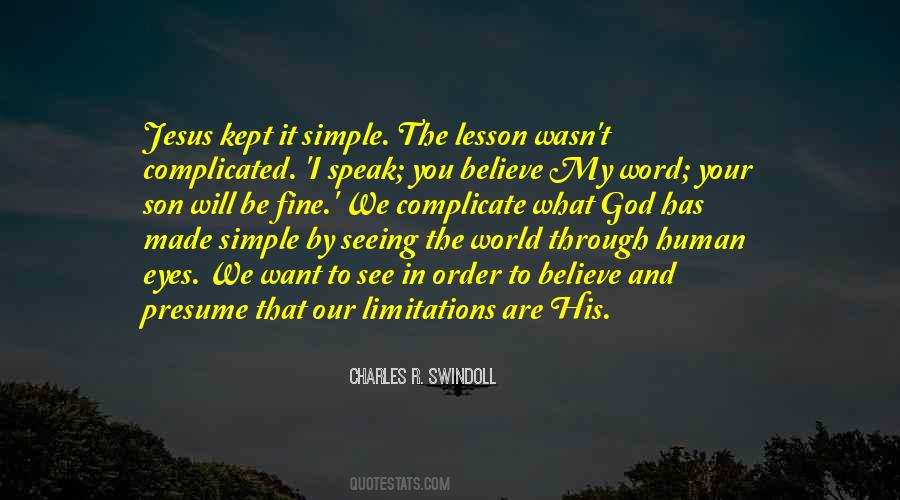 #23. I believe every pencil has to be sharpened every now and then to stay sharp, or you dull out. So my records, I chose to speak on what black people do, what white people do, what women do, what men do. - Author: Ice Cube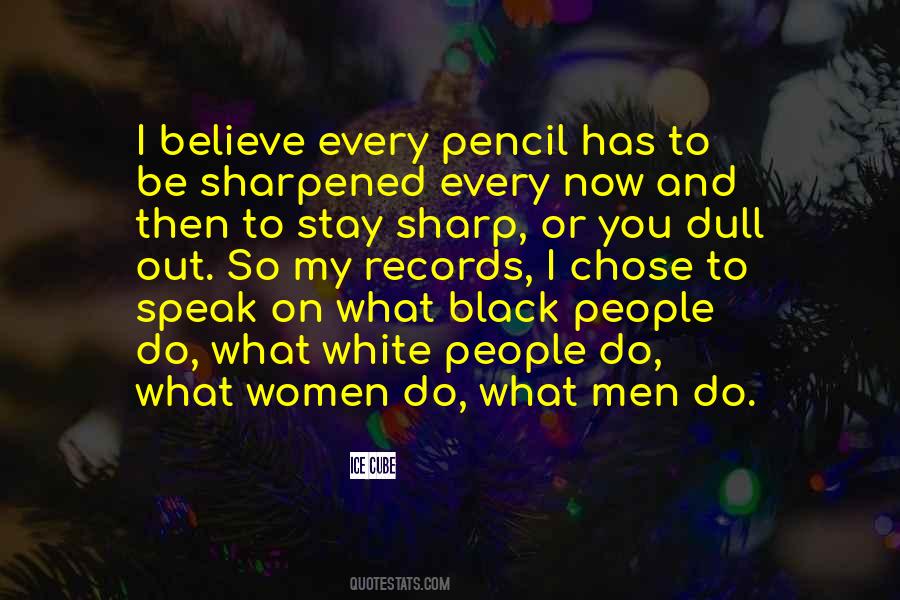 #24. You don't want your credibility banana to turn brown, but you do want to speak out about what you believe in. - Author: Bradley Whitford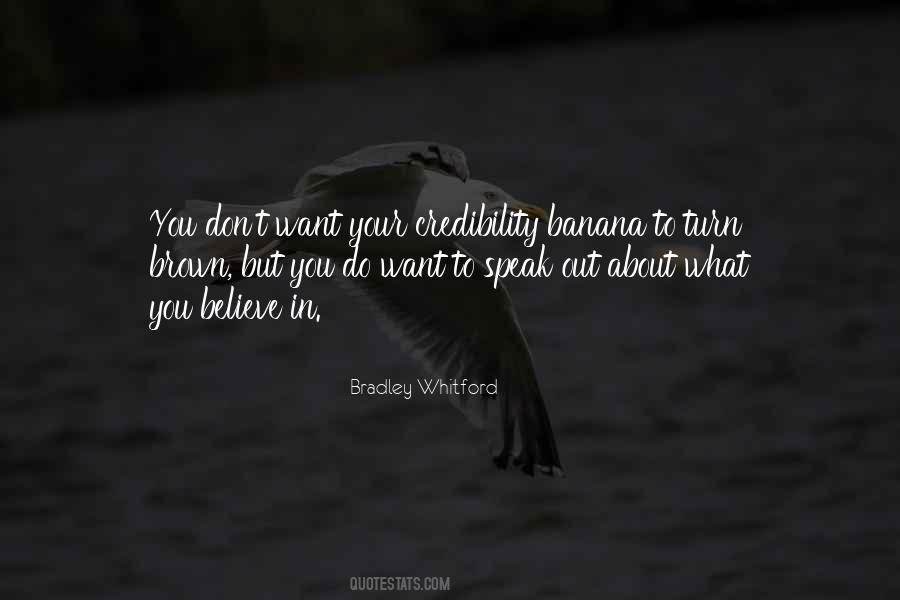 #25. What of all the men who made her what she is by associating with her?" she asked. "No one worries about the reputation of the men who patronize whores." "I can't believe you would speak of such things," he sputtered in outrage. - Author: Elizabeth Hoyt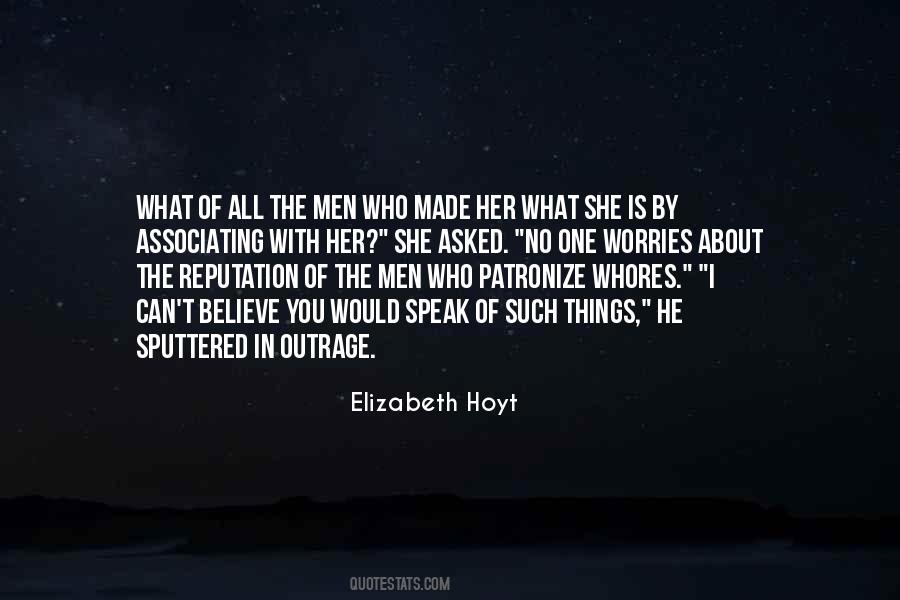 #26. The way you keep your house, the way you organize your time, the care you take in your personal appearance, the things you spend your money on, all speak loudly about what you believe. The beauty of thy peace shines forth in an ordered life. A disordered life speaks loudly of disorder in the soul. - Author: Elisabeth Elliot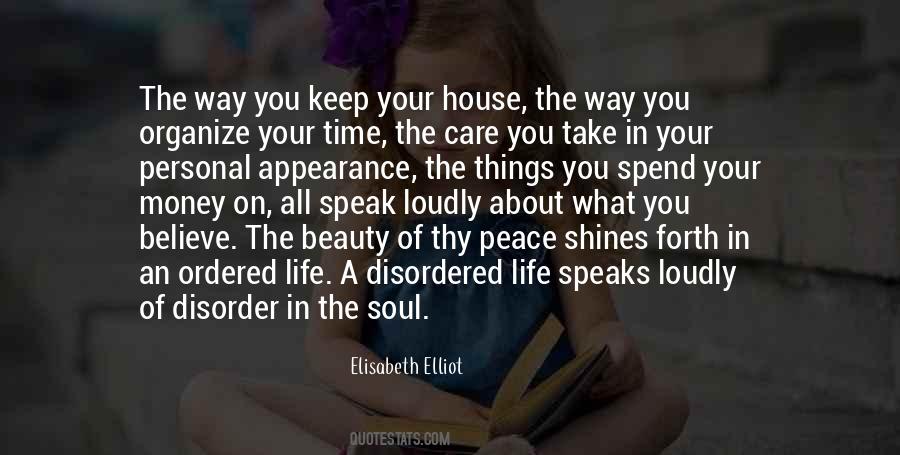 #27. I believe in the law of attraction ... I believe you can speak things into existence. When you know where you're going and you know what you want, the universe has a way of stepping aside for you. - Author: Jon Jones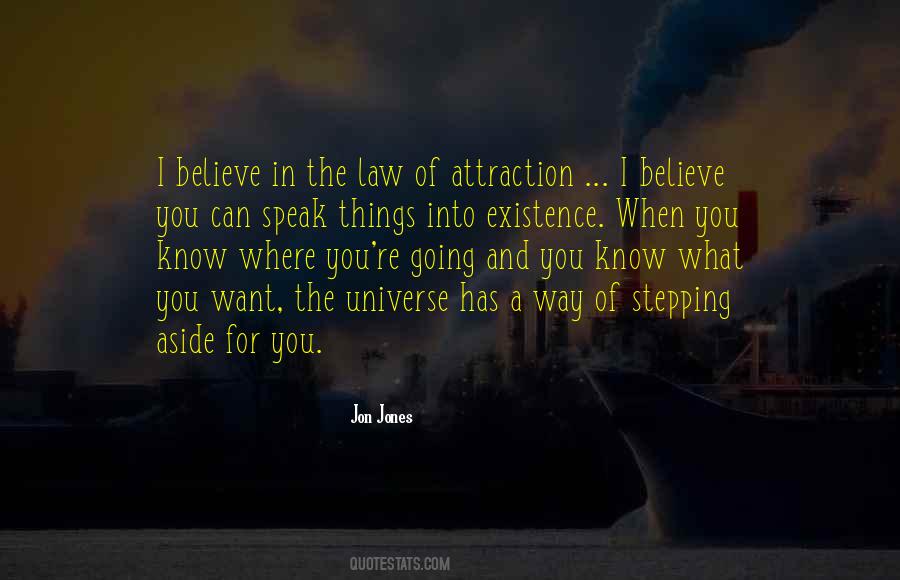 #28. There's one word that exists in every language on the face of the Earth and in every society since man began to speak. And the word is truth. And in every language it means exactly the same thing. Truth is ... what you get other people to believe. - Author: Tommy Smothers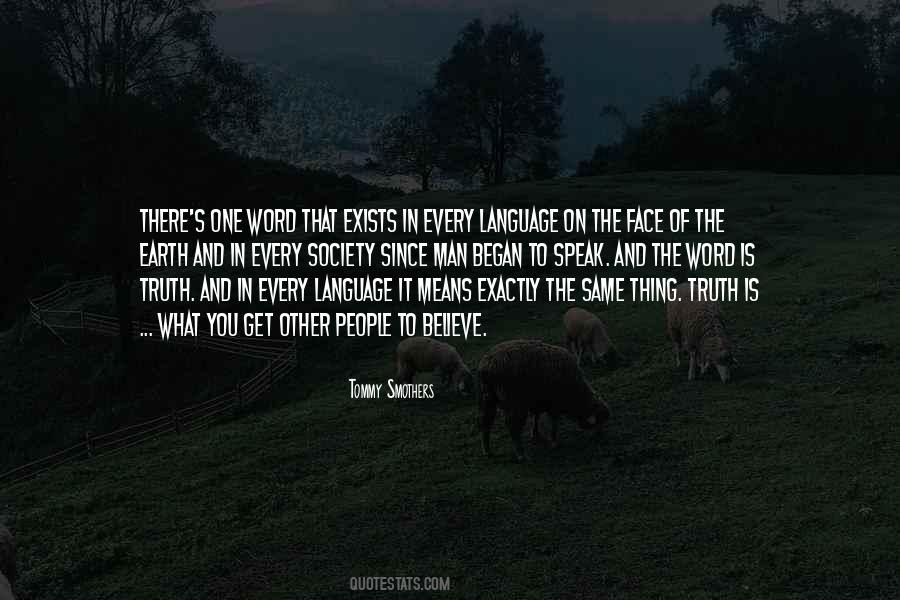 #29. When you become healthy, courageous, and hopeful, following your conscience becomes much easier. When people are healthy, courageous, and hopeful, it's difficult to bend their mind and will. They will speak out what they believe, and stand up and do what is right even when it means a loss to them. - Author: Ilchi Lee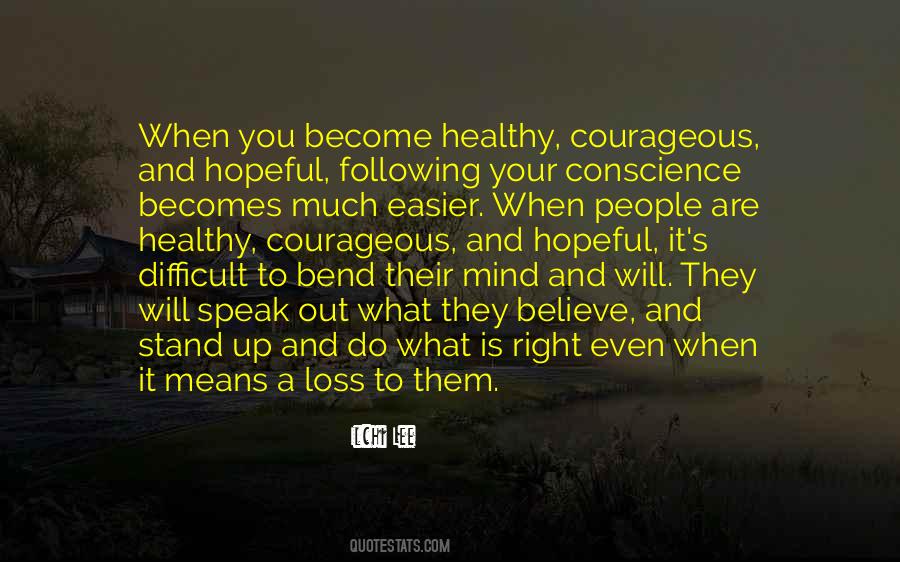 #30. Doesn't matter what you believe in. Do you think things will stop or change because you've forgotten what the bogeyman looks like? Maybe that's what pissed it off, so to speak. It doesn't like being forgotten. So it decided to shake things up a little. - Author: Jeyn Roberts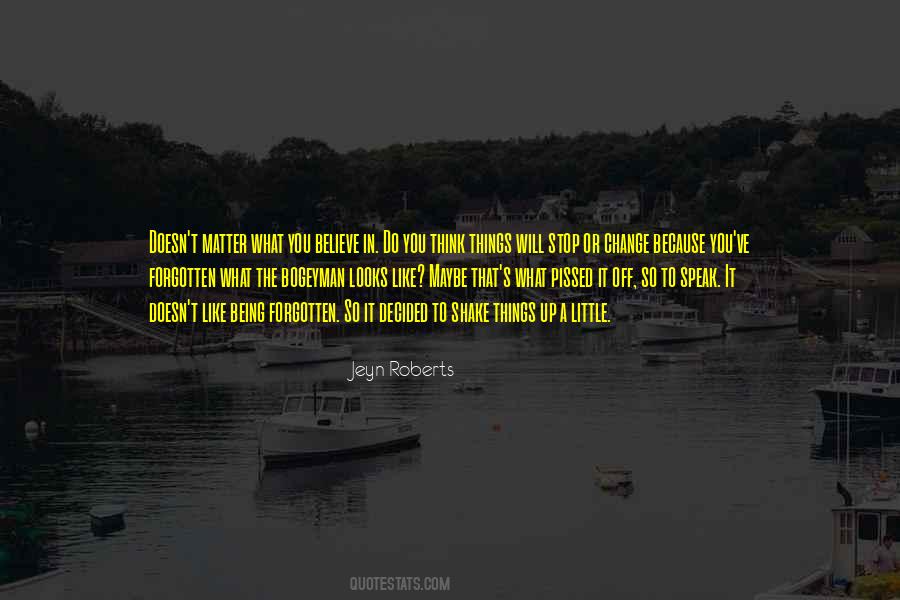 #31. In most matters, most people speak and act as if reality matters. But not when it comes to God. Somehow, in matters of religion, spirituality, faith, or God, people have this idea that it doesn't matter what you believe, as long as you're sincere and don't hurt people. - Author: Kenneth D. Boa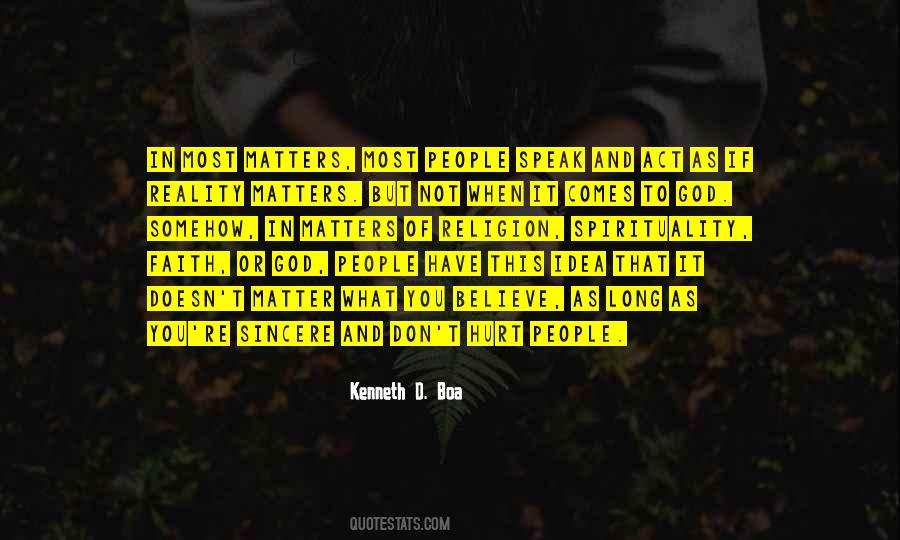 #32. When you do what someone else wants you to do, you are wasting your time. Don't get tricked by other people's thinking. The life is yours and so are goals. Believe in your own intuitions, speak your own voice, and follow what your heart says. The rest is secondary. - Author: Ashish Patel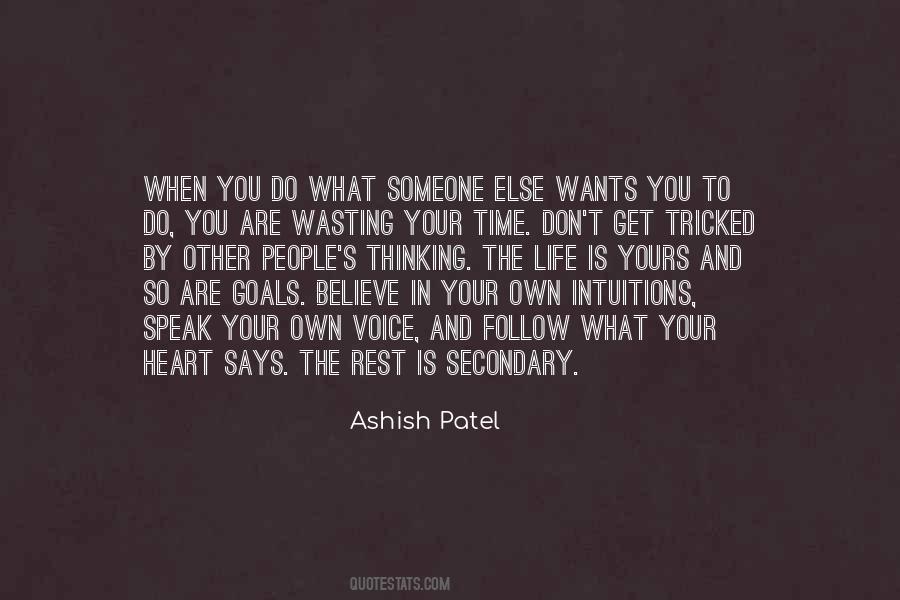 #33. I support mosques, obviously. We need churches, temples, mosques. Whatever people use to speak with their god or to receive spiritual inspiration is good for the country. But the symbolism of it at ground zero, within two blocks or three blocks, I believe is wrong. - Author: Peter T. King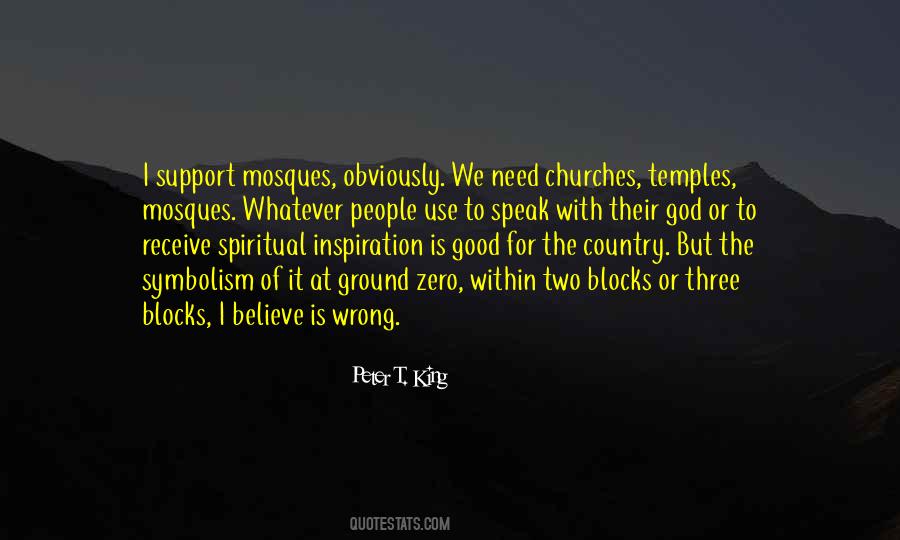 #34. I hate it when I get mad at myself because it's impossible to turn on my heel and walk away in a huff and refuse to speak to me again. I've tried it plenty of times, believe me. - Author: Gary Reilly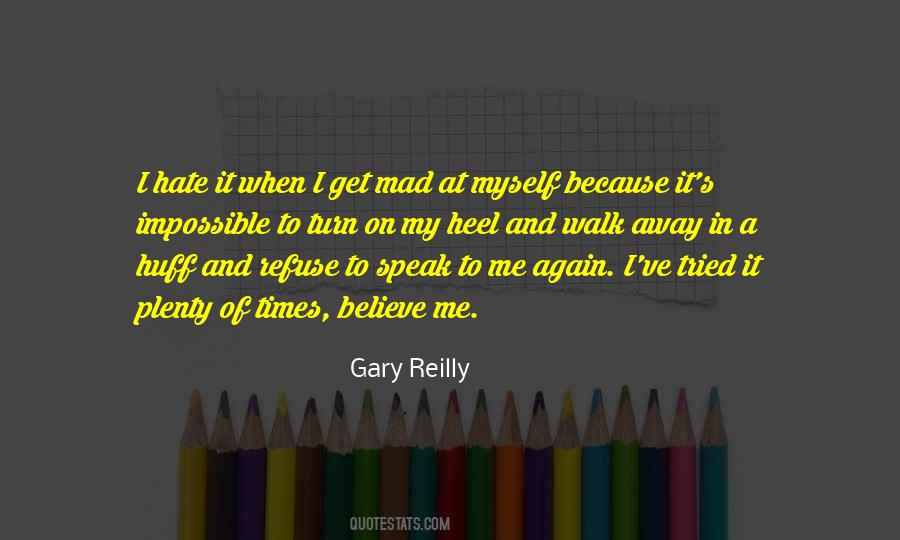 #35. Don't say it do it, Don't act it out prove it, Don't just speak it make me believe it. - Author: The Prolific Penman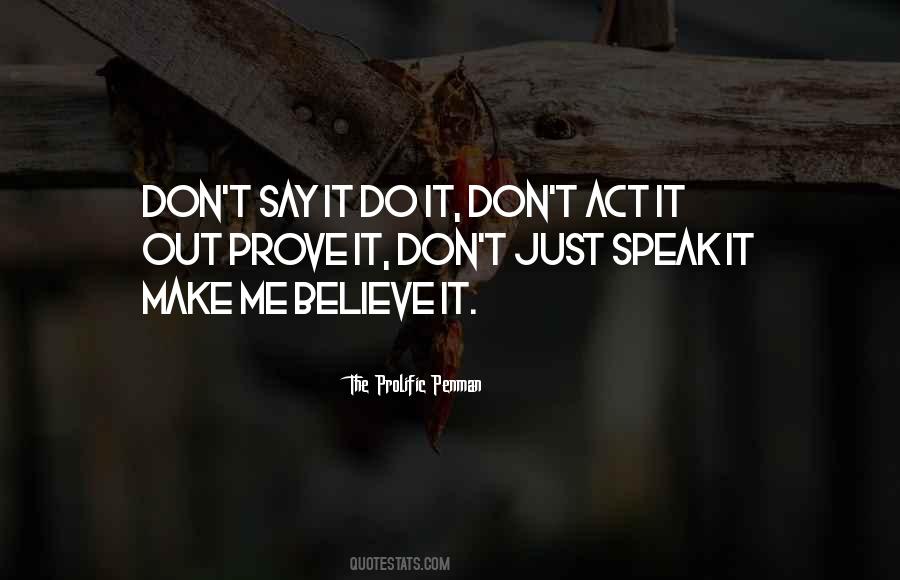 #36. I don't believe in the so-called Olympic spirit. I speak from personal experience. When China hosted the Games, it failed to include the people. The event was constructed without regard for their joy. - Author: Ai Weiwei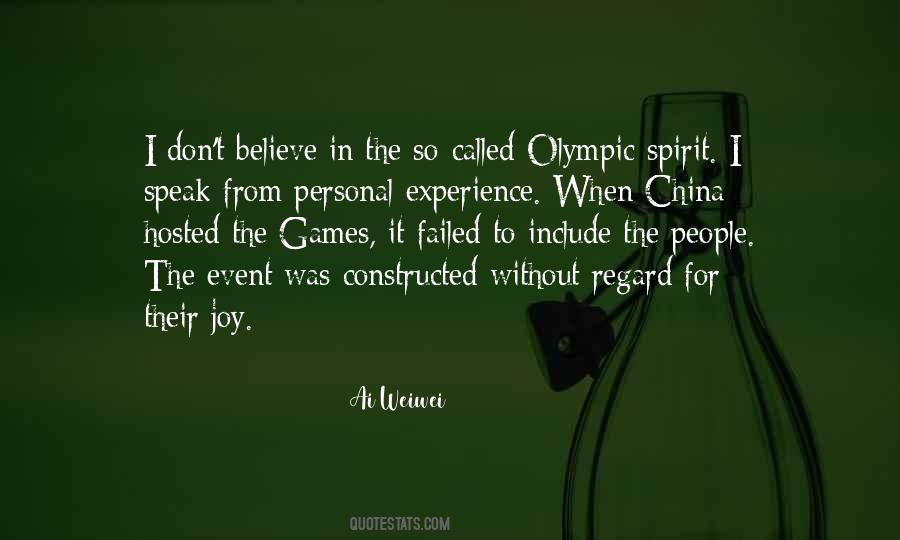 #37. The biggest segment of our audience is 18 to 34, and, believe it or not, they still speak Spanish, and they still watch novellas and soccer games and news. - Author: Randy Falco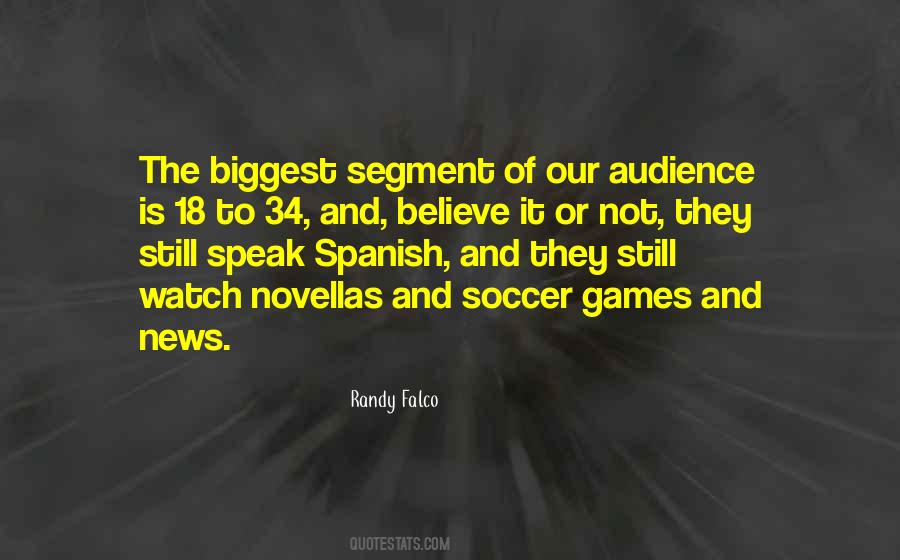 #38. Yes, I believe that the art of winning is through intimidation, and not necessarily do you have to speak about it. - Author: Mark Spitz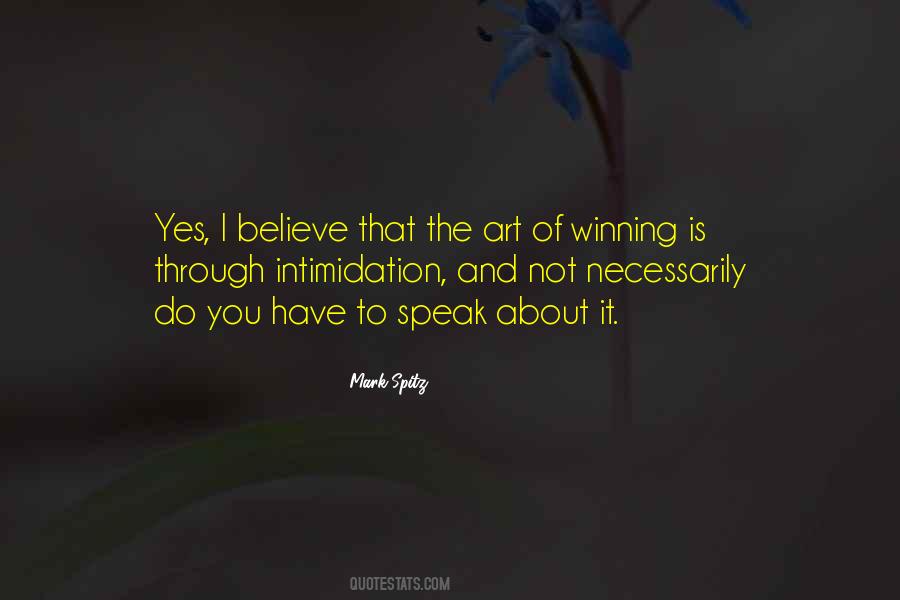 #39. I thought it was important to speak about what I believe would be the right response to Russian aggression in Ukraine. I'm pleased to hear there is more sanctions maybe coming tomorrow. But the truth of the matter is I think we need less talk and more deeds. - Author: Mike Pence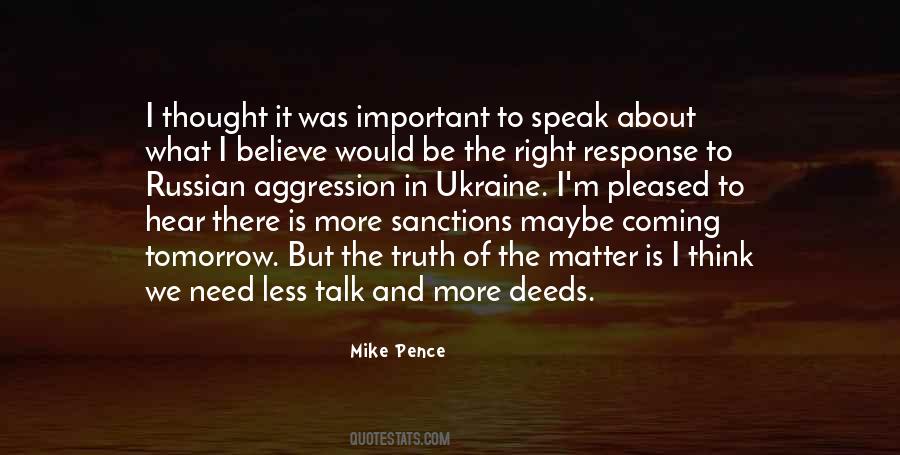 #40. When I speak of Team India I believe that the foundation for India's development will not be the single pillar of the Central Government, but 30 pillars comprising the Central Government and all our States. - Author: Narendra Modi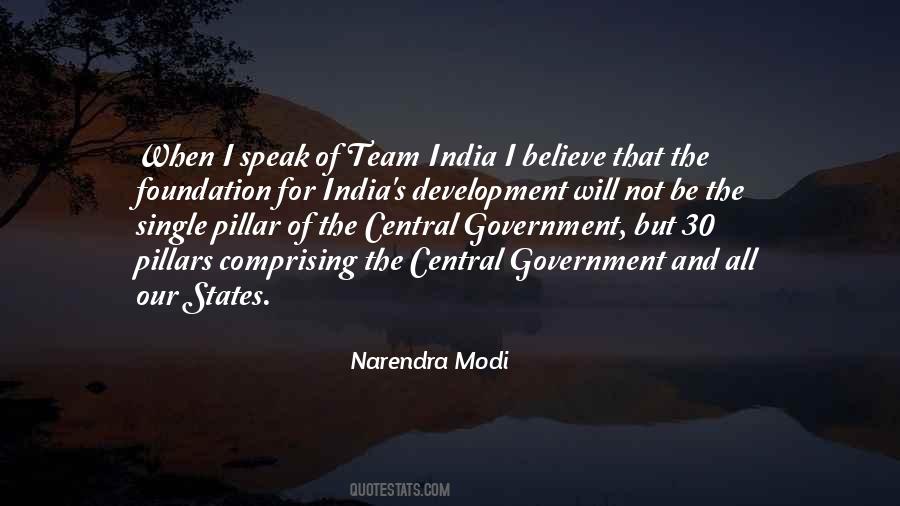 #41. Work is of utmost importance in a person's life and not only as a means of meeting one's needs at various levels of Maslow's pyramid. Believe me, I speak from experience when I say that good, focused hard work is also one of the most effective remedies for depression. - Author: Indu Muralidharan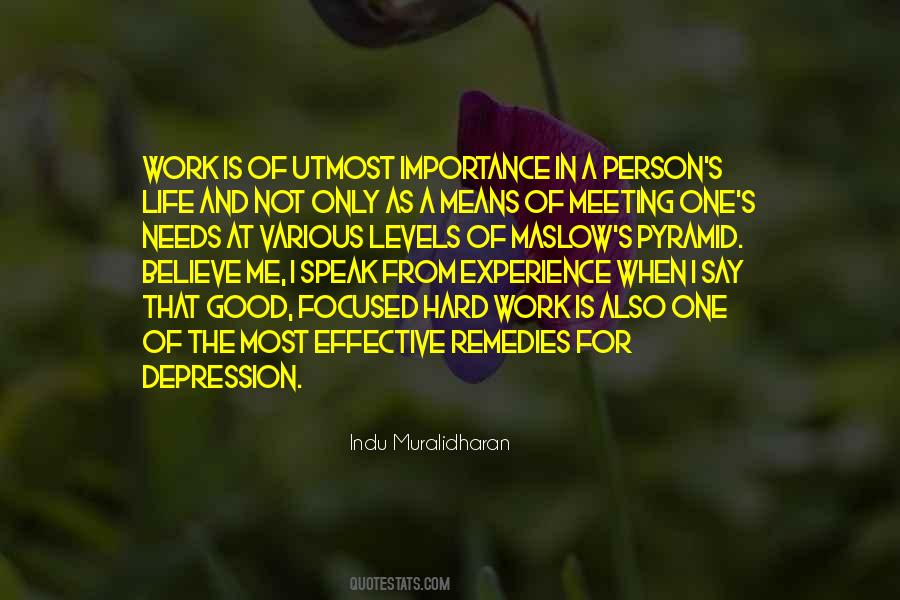 #42. Speak up. Believe in yourself. Take risks. - Author: Sheryl Sandberg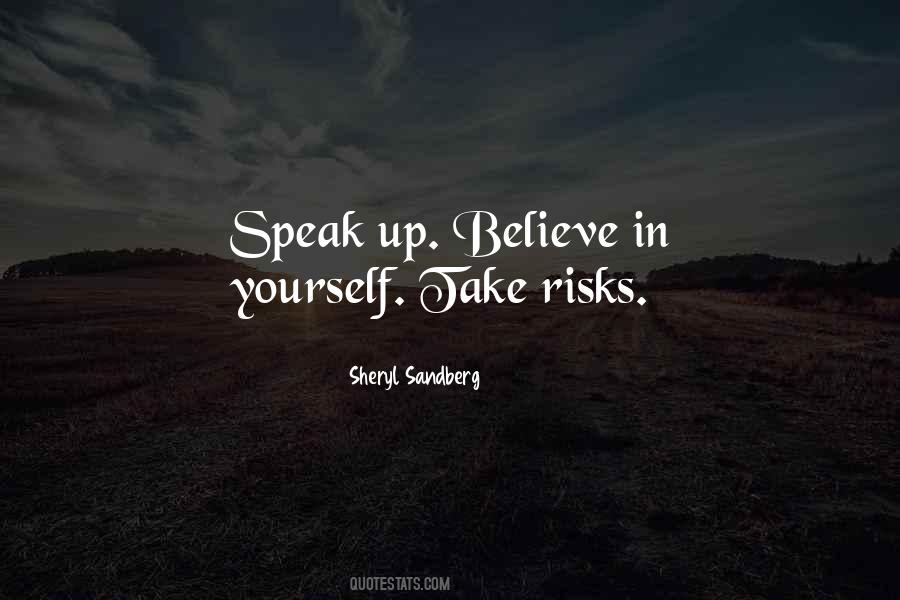 #43. There are Latino people in our world who believe strongly that if you are Latino you should speak the language, you should eat the food, you should listen to the music, you should be proud. And when you don't do those things, some people will look at it as if you're neglecting who you are. - Author: Selenis Leyva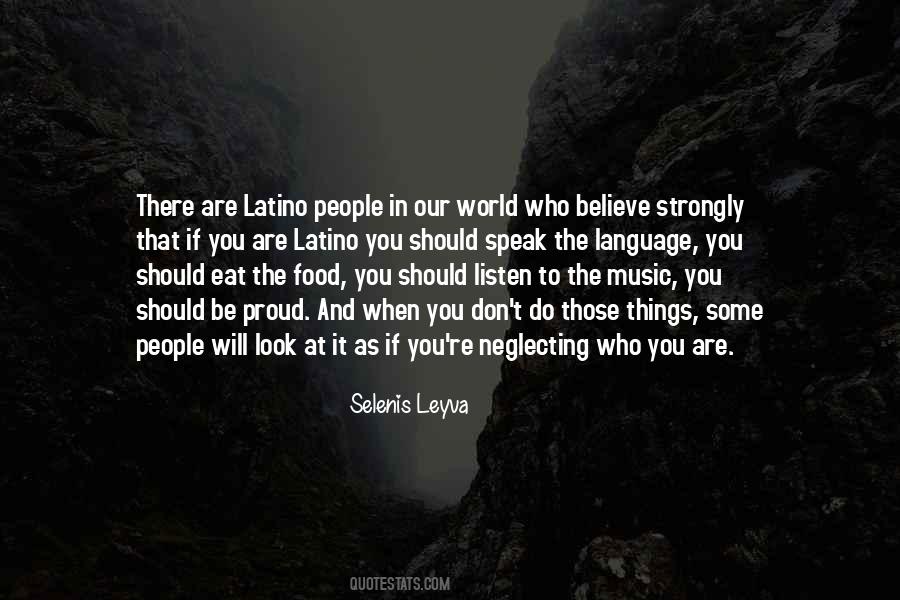 #44. I believe the United States should allow all foreigners in this country, provided they can speak our native language ... Apache. - Author: Steve Martin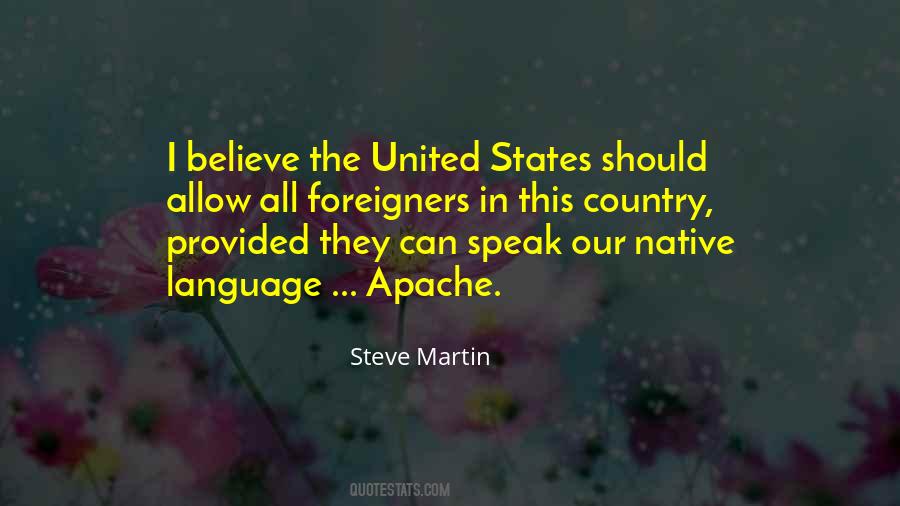 #45. Speak truth and believe in the power of truth, the more you will believe in yourself, the more you will see the beauty of nature and mother earth. - Author: Santosh Kalwar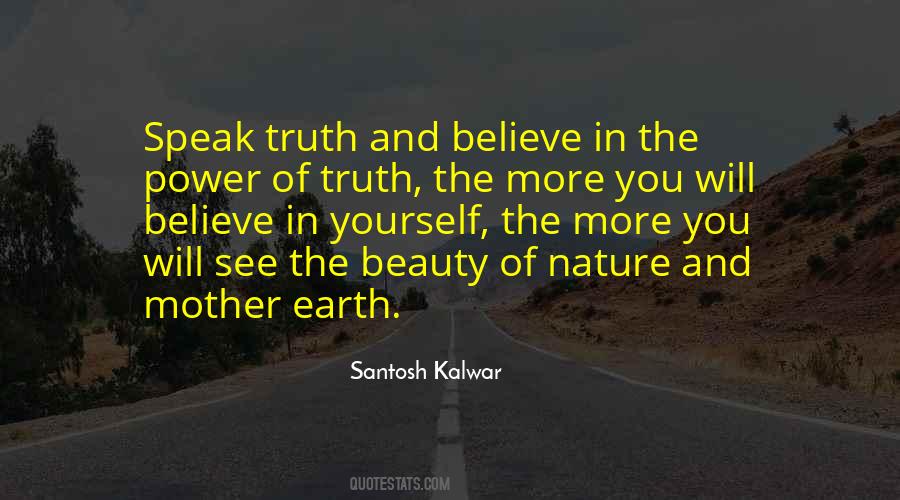 #46. I do believe that actions often speak louder than words. - Author: Annette Gordon-Reed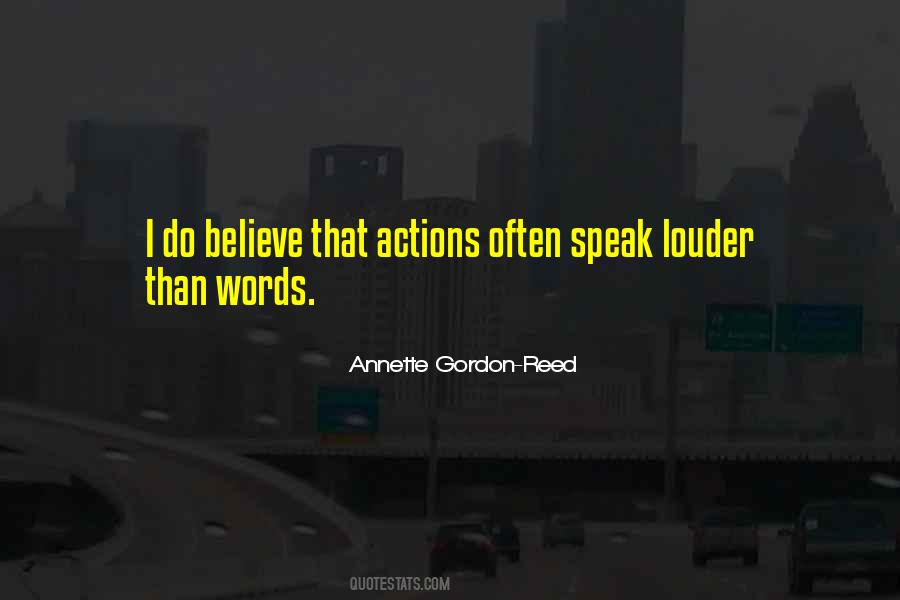 #47. I believe in Ronald Reagan's 11th commandment, thou shall not speak unfavorably of another Republican. - Author: Renee Ellmers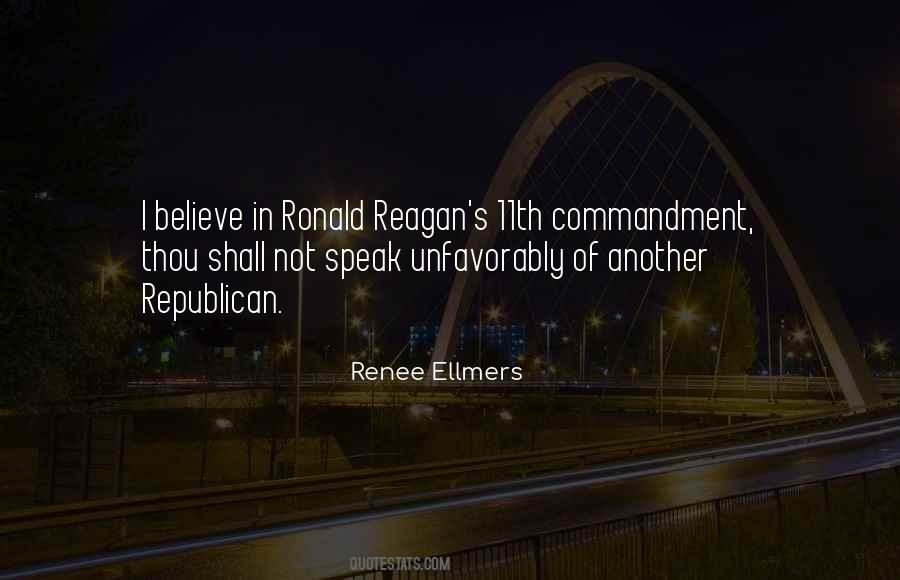 #48. I don't believe in talking about my work. I let it speak for itself. I'd rather make money than just talk about my business. People think that because I don't talk much to the media, I am arrogant. I am not arrogant, but I do have an attitude. - Author: Shailender Singh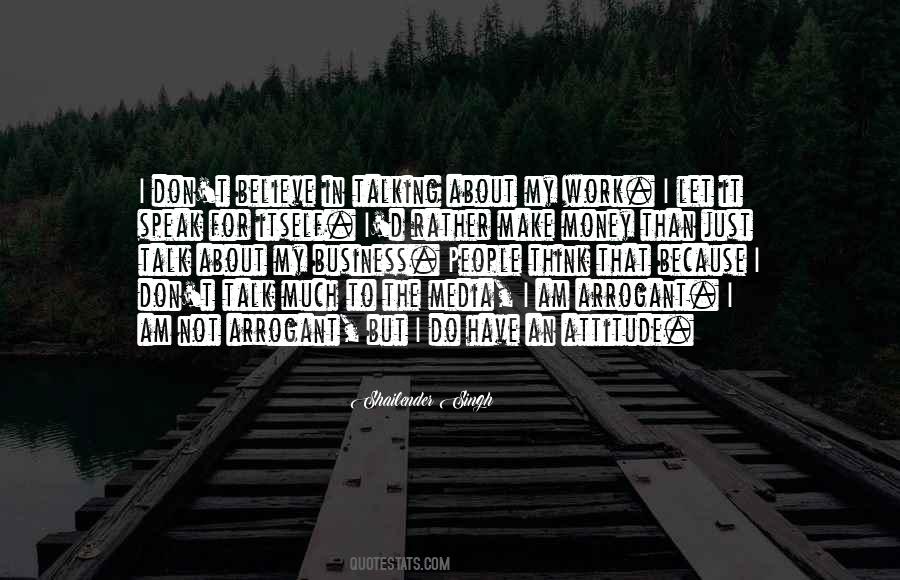 #49. Leaders speak truth into people who believe lies about themselves. - Author: Orrin Woodward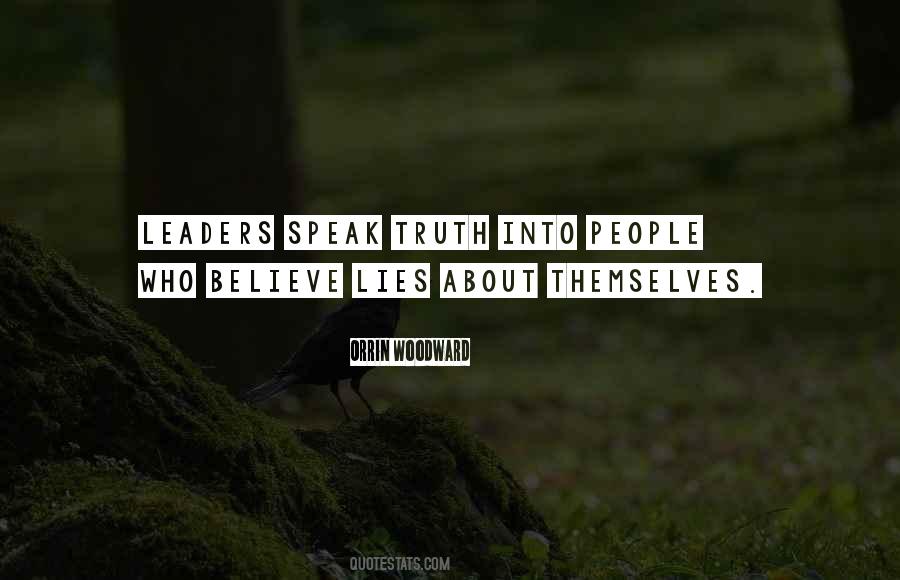 #50. I believe I shall never be old enough to speak without embarrassment when I have nothing to talk about. - Author: Abraham Lincoln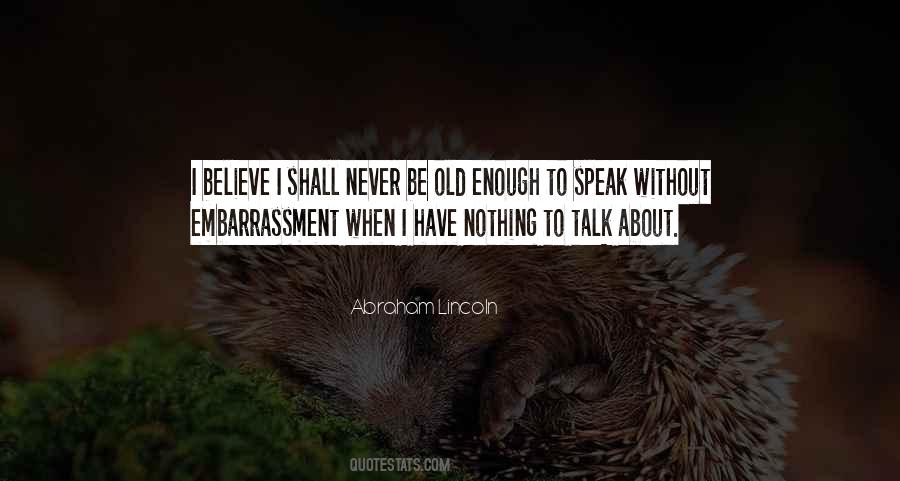 #51. Death has its revelations: the great sorrows which open the heart open the mind as well; light comes to us with our grief. As for me, I have faith; I believe in a future life. How could I do otherwise? My daughter was a soul; I saw this soul. I touched it, so to speak. - Author: Victor Hugo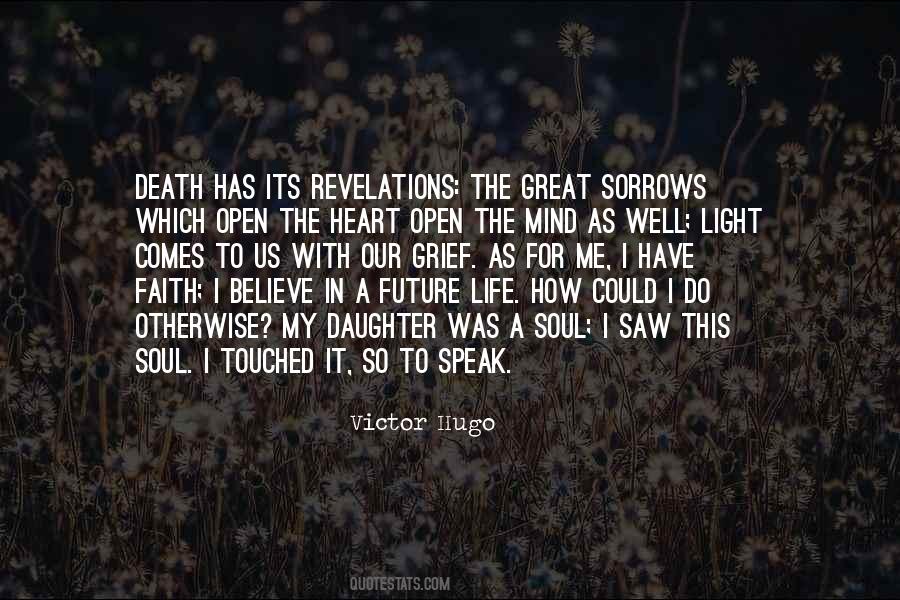 #52. I believe that if you speak from your heart each time you open your mouth, you cannot go wrong. - Author: David Anthony Durham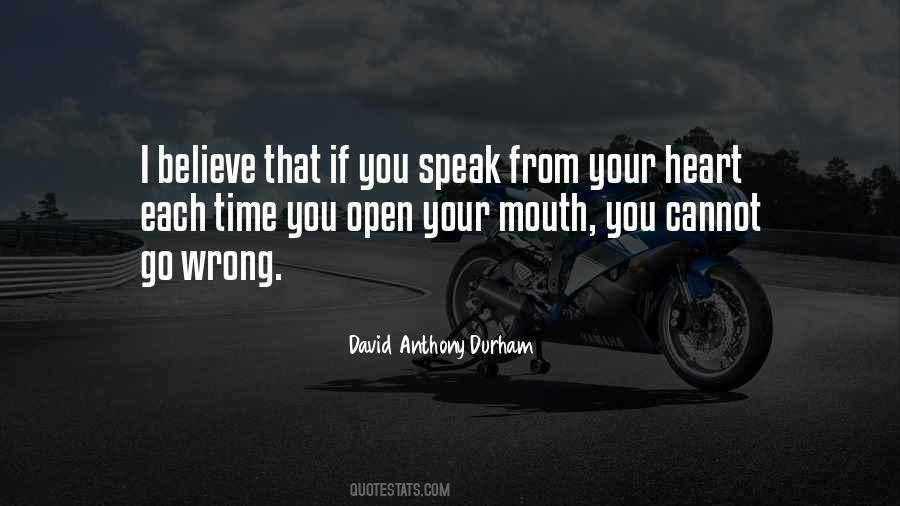 #53. I think we have a great deal of mythology around writing. We believe that only a few people can really do it. I wrote a book called 'The Right to Write.' In it, I argued that all of us have the capacity to write. That it's as normal to write as it is to speak. - Author: Julia Cameron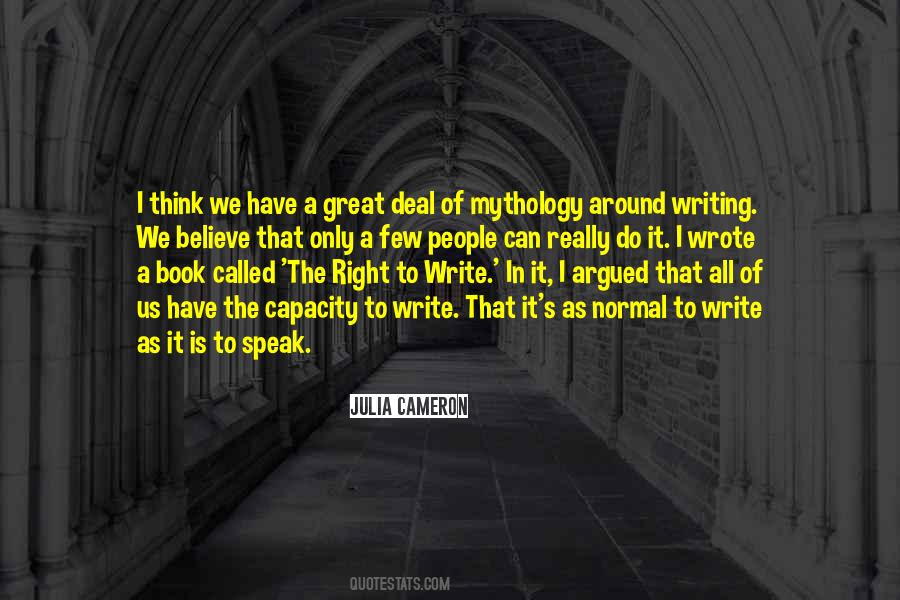 #54. What alarms me most is the fact that, even when God has now raised up a voice to speak on these issues, many sincerely believe that I am in error or at worst that I am doing something utterly wrong - Author: Sunday Adelaja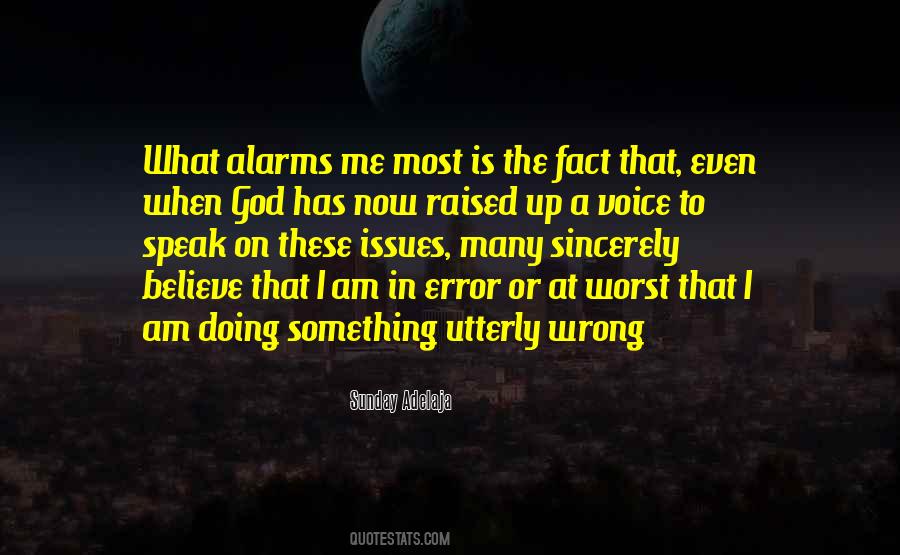 #55. I profoundly believe in - and teach - the proposition that photography is inherently a fiction-making process. Don't speak to me of the document; I don't really believe in it particularly now. A picture is not the world, but a new thing. - Author: Tod Papageorge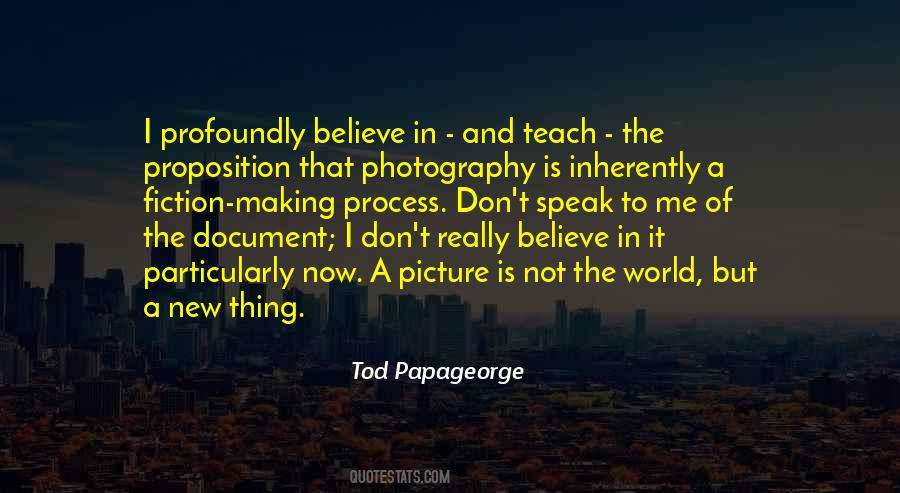 #56. We believe that we know something about the things themselves when we speak of trees, colors, snow, and flowers; and yet we possess nothing but metaphors for things - metaphors which correspond in no way to the original entities. - Author: Friedrich Nietzsche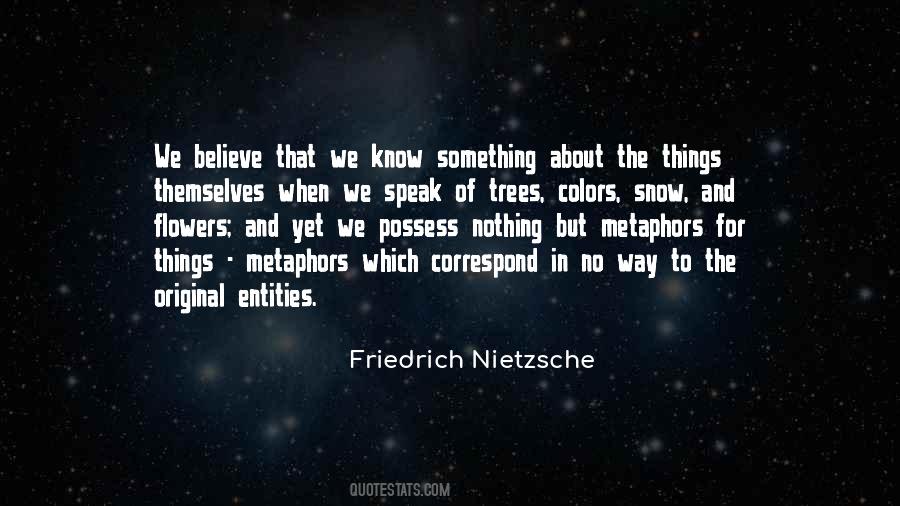 #57. I really believe amendment " to make English our common and unifying language" is racist. I think it's directed basically to people who speak Spanish. - Author: Ruben Aguilar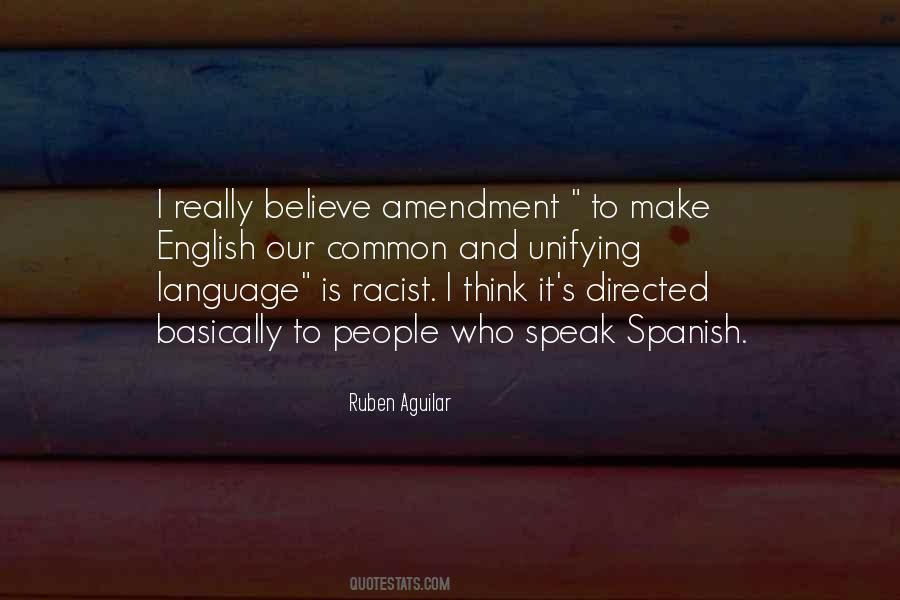 #58. They believe themselves Lucifer's equals, Cain, all these pitiful little gnats. But there is only one that we have ever owned to be our superior. There is but one greater than us, and to him ... to him we no longer speak. - Author: Neil Gaiman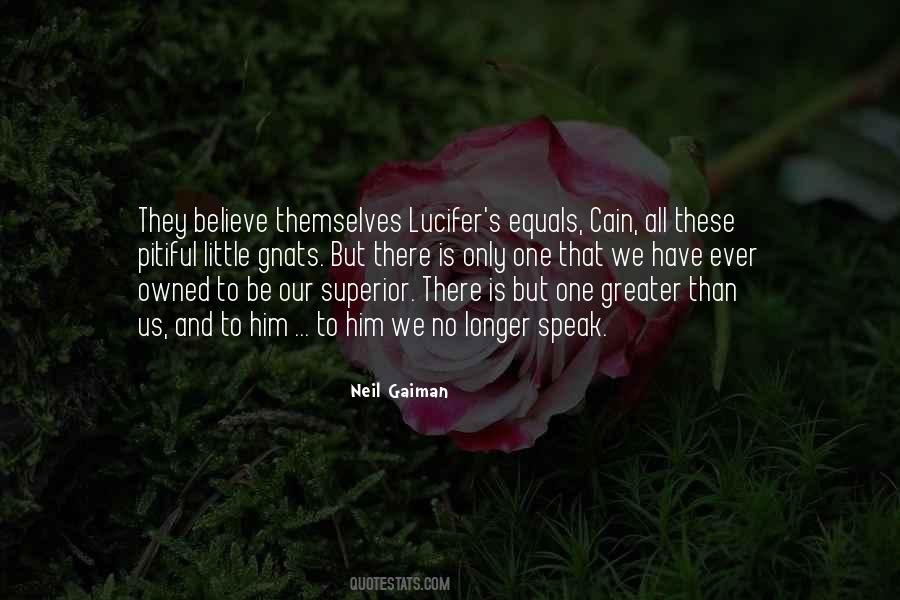 #59. I believe that a triangle, if it could speak, would say that God is eminently triangular, and a circle that the divine nature is eminently circular; and thus would every one ascribe his own attributes to God. - Author: Baruch Spinoza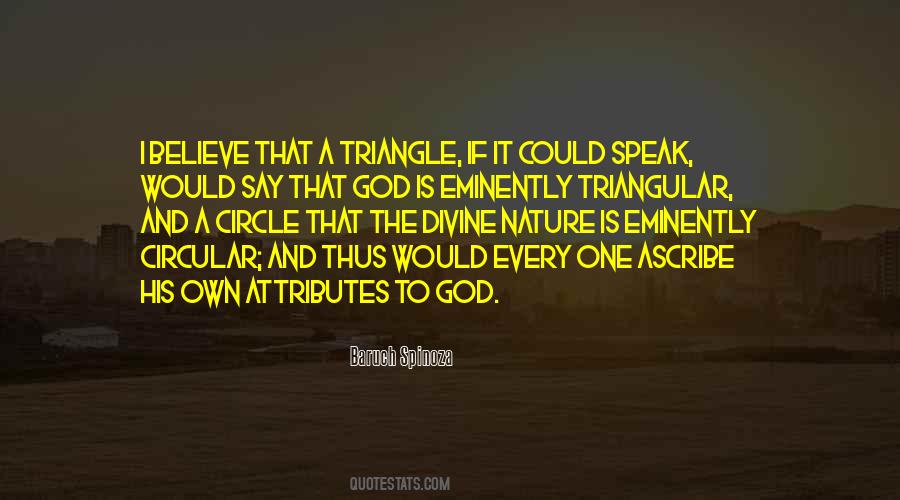 #60. They like to tell us that it is important to speak the truth, but it has been my experience that real happiness lies in having people tell you what you want to believe, usually not the same thing at all, and if you have to stub your toe on the truth later, so be it. - Author: Jeff Lindsay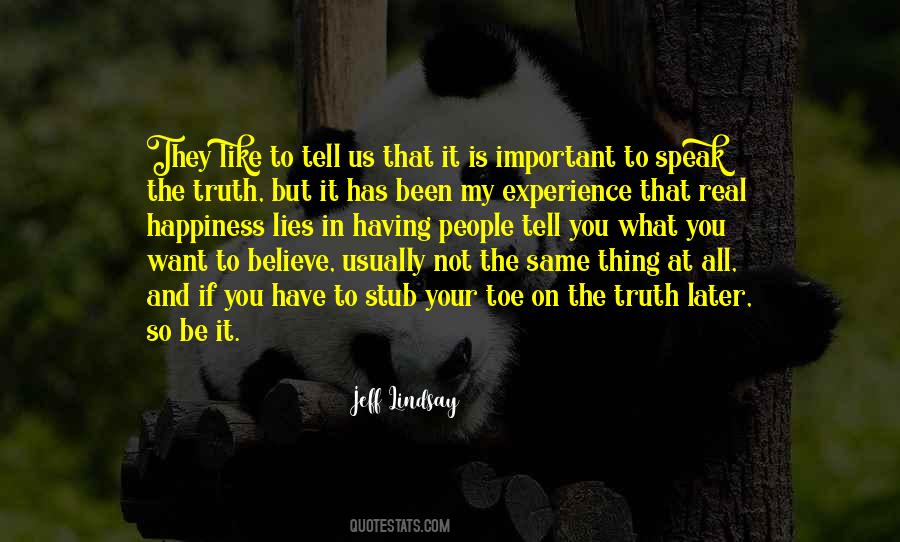 #61. 'Never again' is the rallying cry for all who believe that mankind must speak out against genocide. - Author: Jon Corzine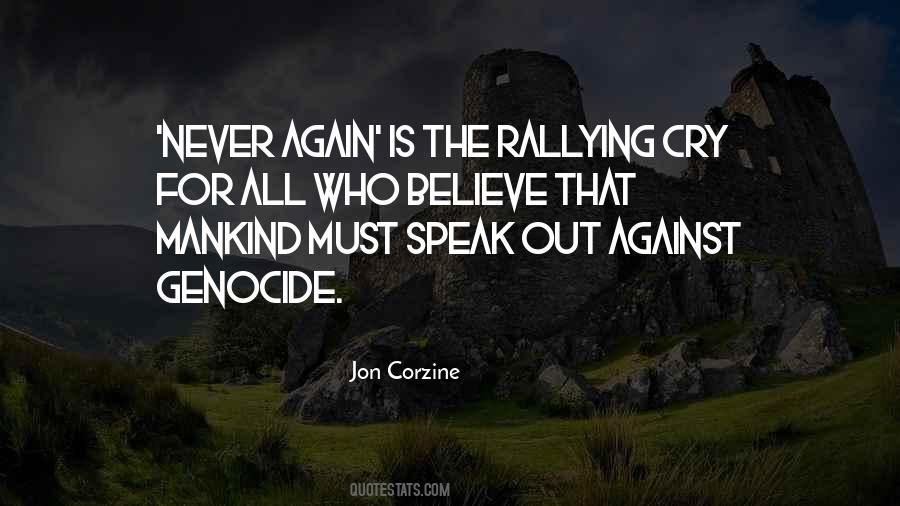 #62. In some ways I believe music is the more convincing communicator of ideas than words. For instance, we can hear of Kordaly and Bartok and recognise them as Hungarian, but very few of us speak Hungarian, but the music itself speaks to more people. - Author: Leonard Slatkin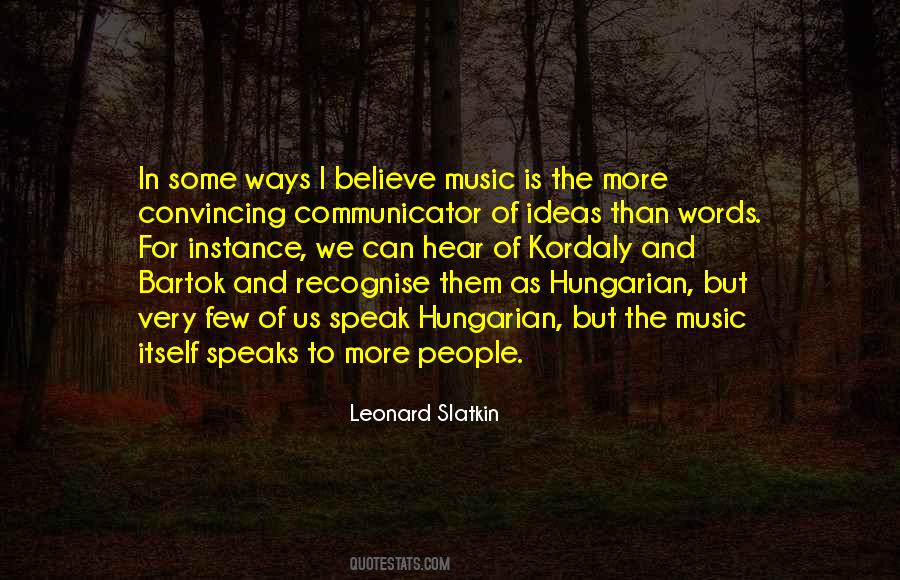 #63. I beg of you my brothers, remain true to the earth, believe not those who speak to you of otherworldly hopes! Poisoners are they. - Author: Friedrich Nietzsche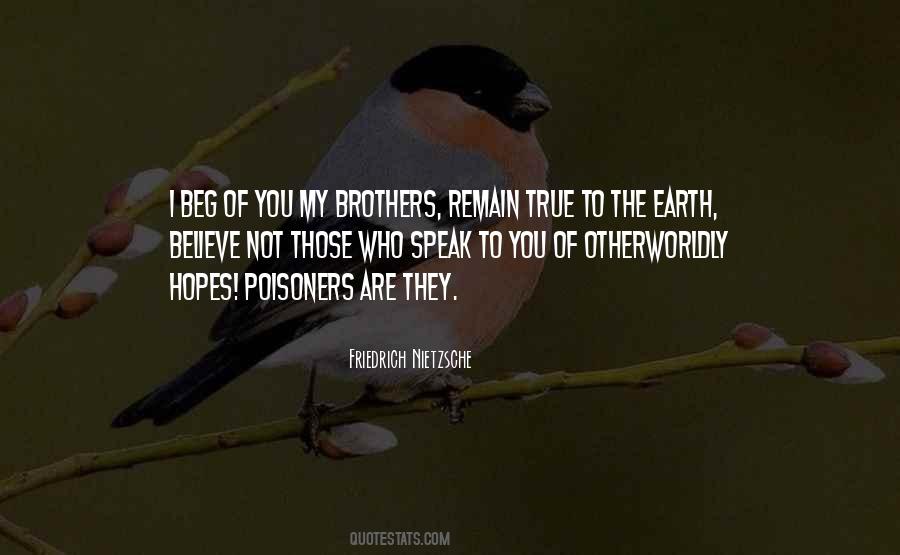 #64. One should never believe the words I speak. - Author: Kenya Wright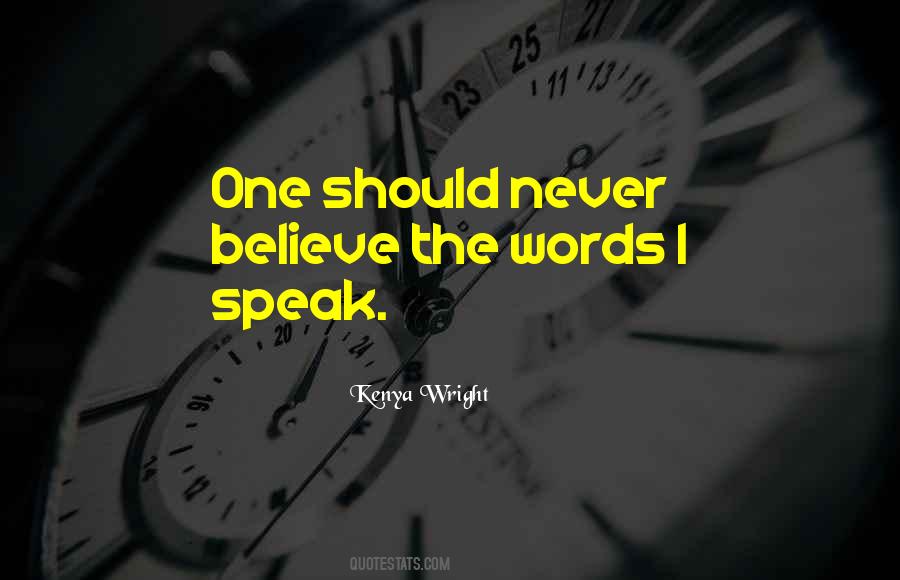 Famous Authors
Popular Topics