Soul And Music Famous Quotes & Sayings
List of top 100 famous quotes and sayings about soul and music to read and share with friends on your Facebook, Twitter, blogs.
Top 100 Soul And Music Quotes
#1. Oh! none are so absorb'd, as not to feel Sweet thoughts like music coming o'er the mind: When prayer, the purest incense of a soul, Hath risen to the throne of heaven, the heart Is mellow'd, and the shadows that becloud Our state of darken'd being, glide away; ... - Author: Robert Montgomery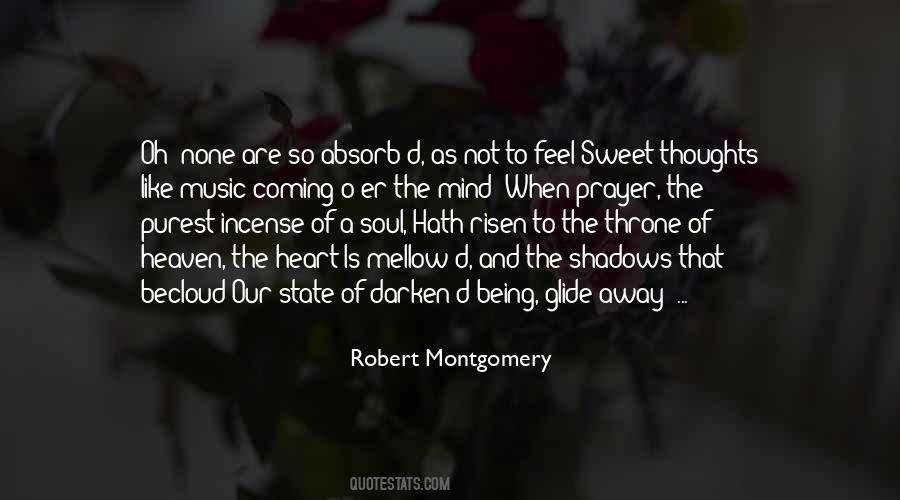 #2. Music is powerful. It sets the mind and body and soul free in a way that I've need fully been able to understand. Maybe because it's not meant to be understood. It's simply meant to be experienced. - Author: Jacqueline E. Smith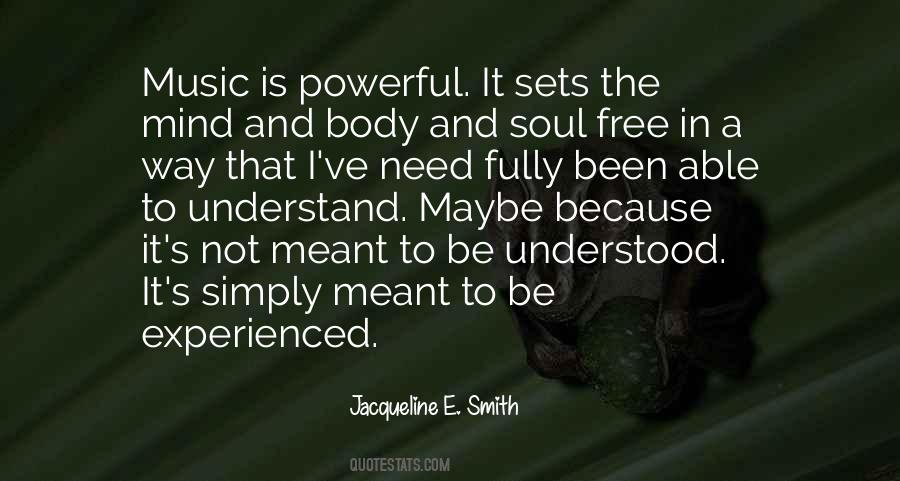 #3. It naturally elevates the soul to feel this intimate relationship to it's primal ground ... A man then feels himself truly at home, and whenever he is lifted up through music he can say to himself: "Yes, you come from other worlds, and in music you can experience your native place." - Author: Rudolf Steiner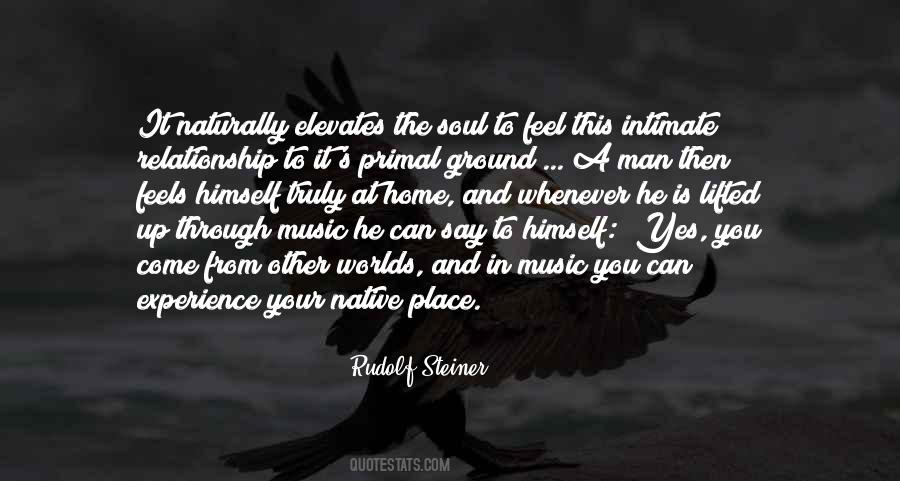 #4. Next to jazz music, there is nothing that lifts the spirit and strengthens the soul more than a good bowl of chili. - Author: Harry James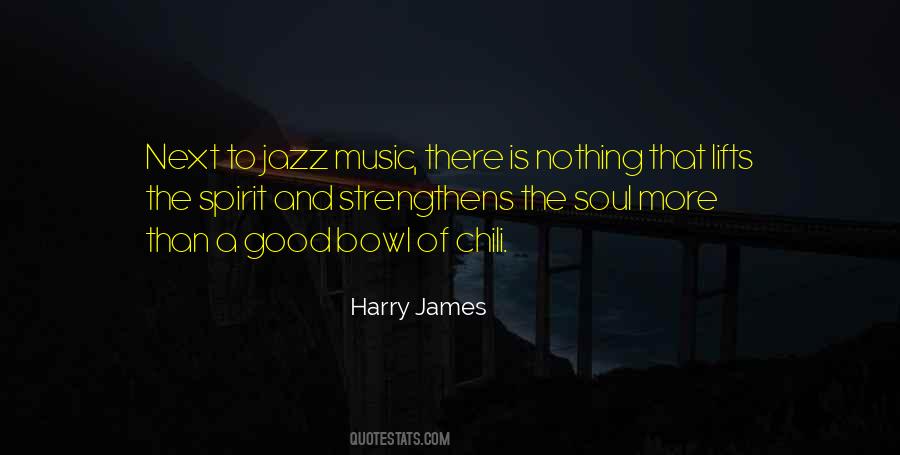 #5. I am passionate about making music that feeds the soul and brings people together. - Author: Judith Hill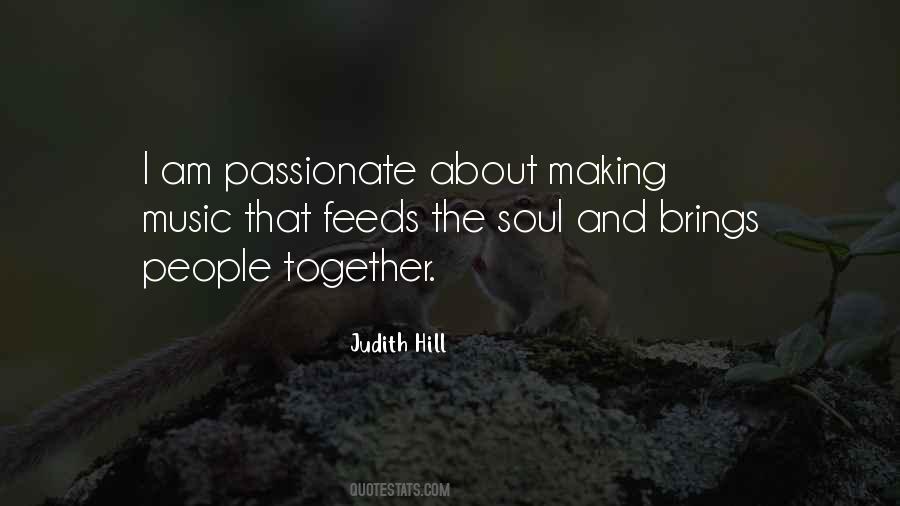 #6. Music imitates (represents) the passions or states of the soul, such as gentleness, anger, courage, temperance, and their opposites. - Author: Aristotle.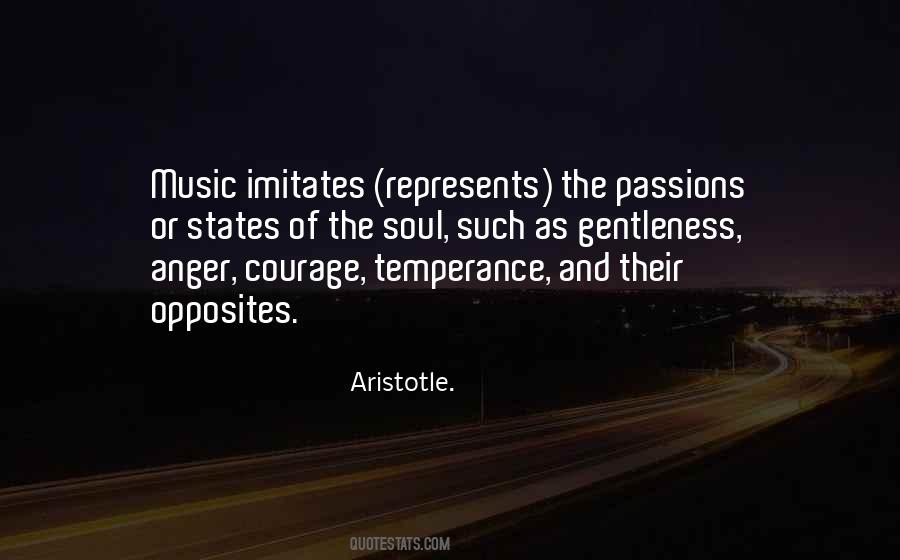 #7. Sex parties, alcohol and drugs lost their appeal to Sven after a while. Music never did, in his continual search for that sober connection
intimacy with one person over a long period of time, as opposed to periods of intimacy with a bunch of random faces. - Author: Jess C. Scott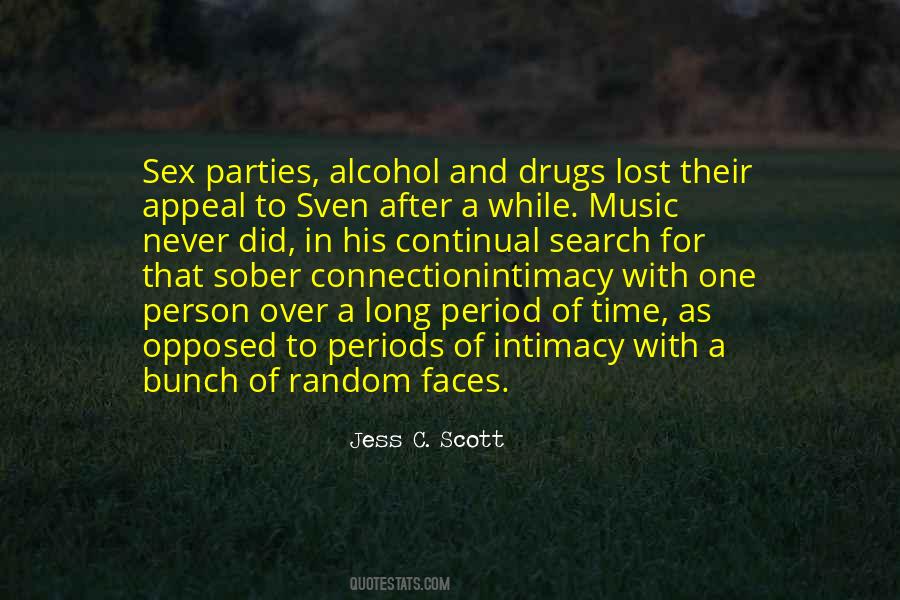 #8. Guys like me and Ray Charles, when we was coming up through our days, country music and soul music was just a very thin line between the two. - Author: Percy Sledge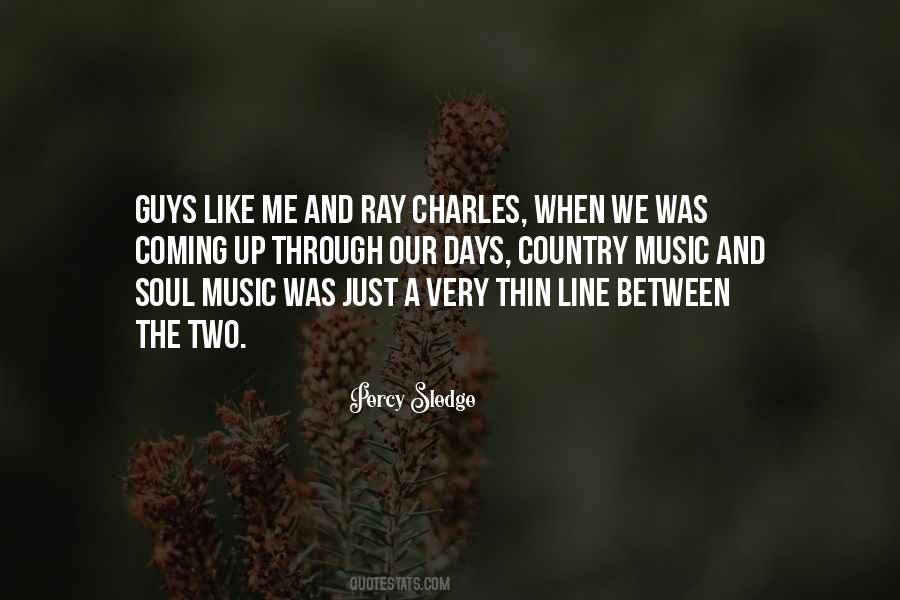 #9. The light of love, the purity of grace,
The mind, the Music breathing from her face,
The heart whose softness harmonised the whole
And, oh! that eye was in itself a Soul! - Author: George Gordon Byron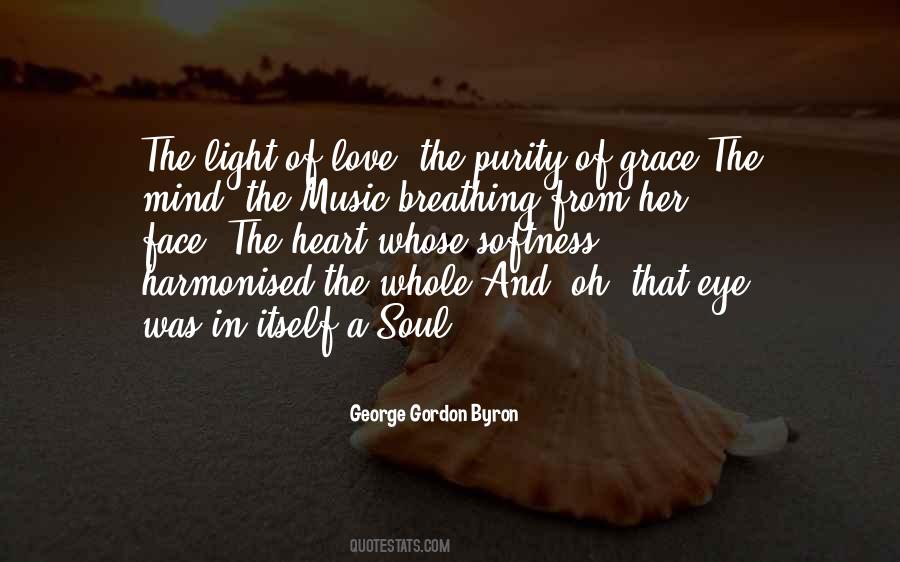 #10. Education isn't just about feeding the brain. Art and music feed the heart and soul. - Author: Julie Garwood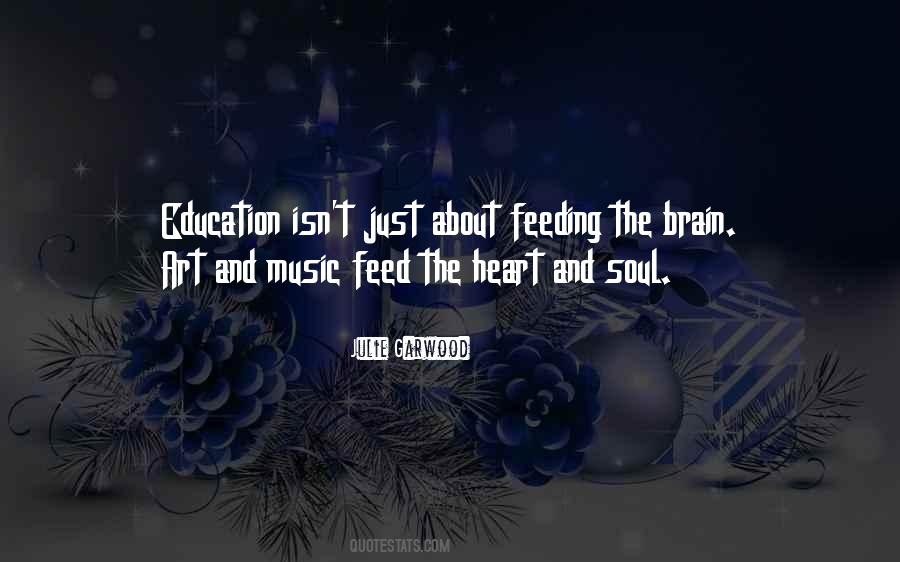 #11. Things. Cosas. Things attach themselves like leeches to the human soul, then they bleed out the sweetness and the music and the primordial joy of being unencumbered upon the land. - Author: Tom Robbins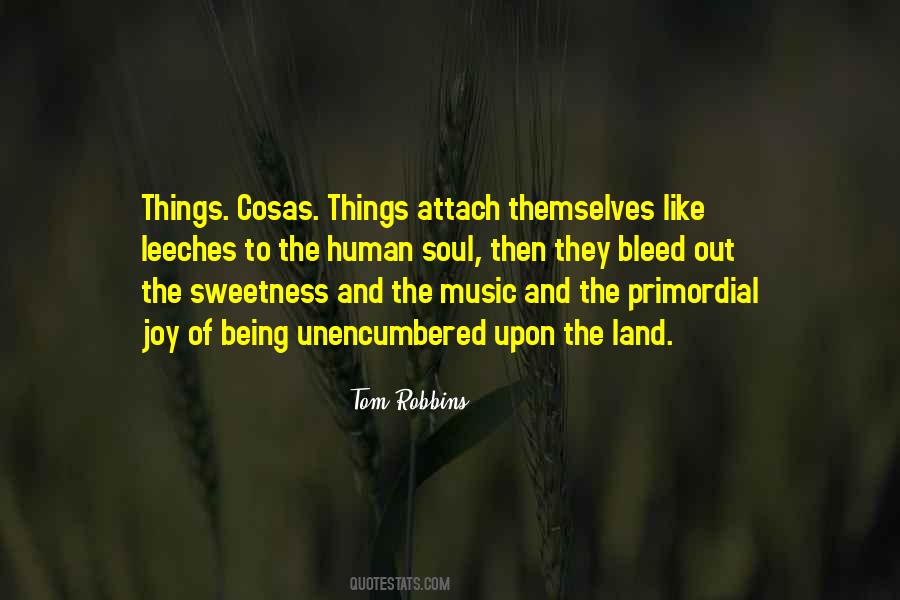 #12. When you touch the celestial in your heart, you will realize that the beauty of your soul is so pure, so vast and so devastating that you have no option but to merge with it. You have no option but to feel the rhythm of the universe in the rhythm of your heart. - Author: Amit Ray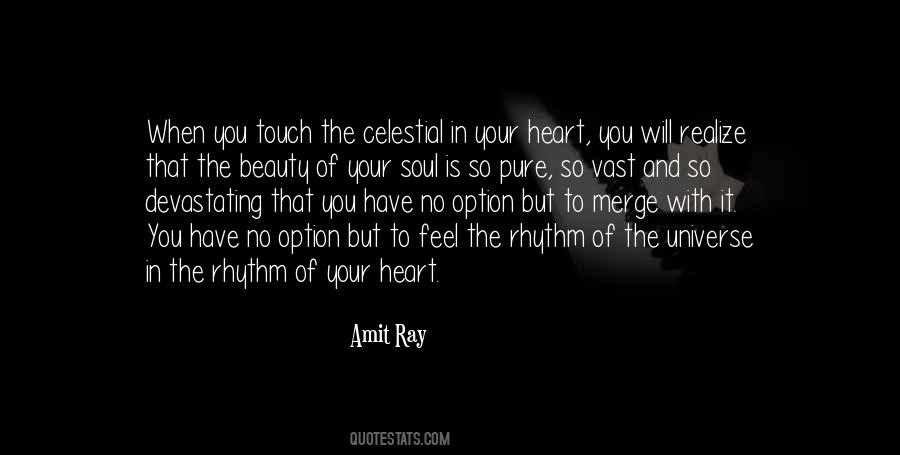 #13. I think that's what's really beautiful about music, that it is little pieces of your heart and soul. - Author: Darren Hayes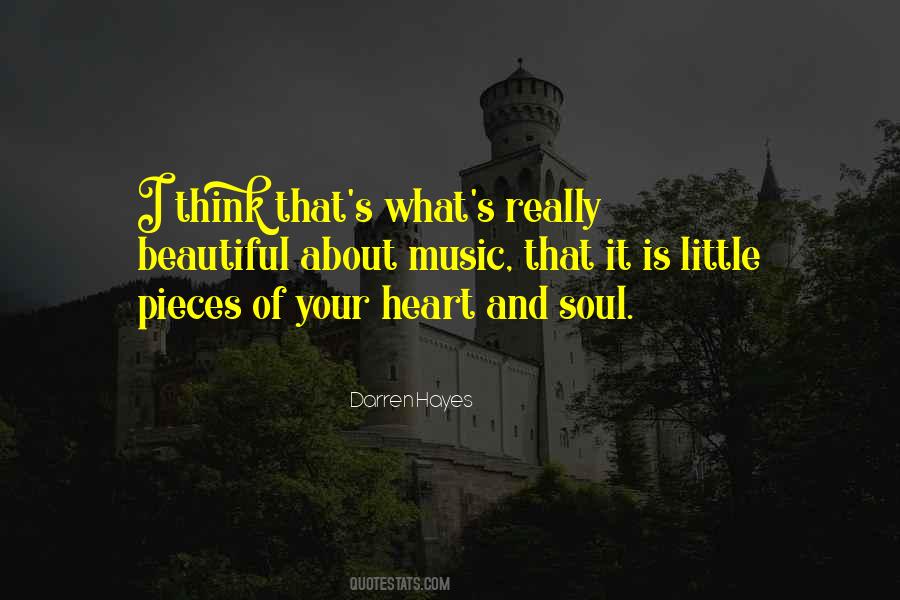 #14. And because soul music is the limitless affirmation of the individual despite his or her past sins and all obstacles in his or her way, - Author: Greil Marcus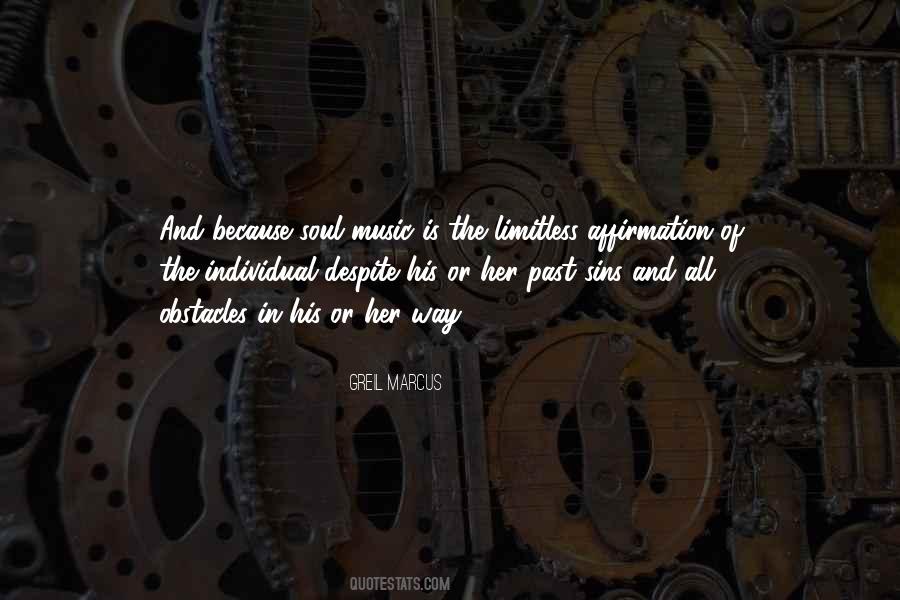 #15. Music is the only thing that you can share with a million million people and you don't lose, you gain. It helps you to get energy and to live long, because when your soul is very happy then you don't want to die. - Author: Ali Akbar Khan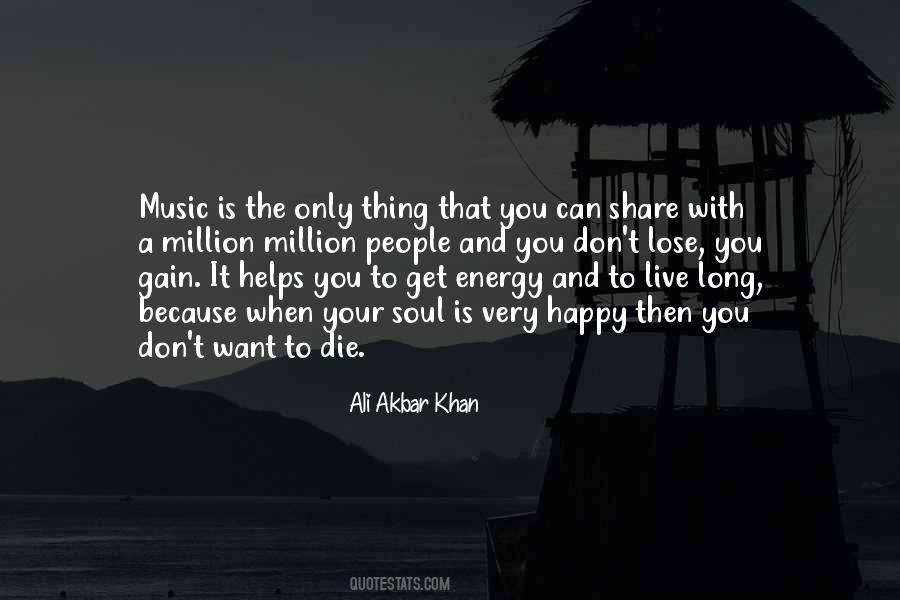 #16. Did Beethoven create his symphonies for his glorification? I don't believe it. I believe he created them because the music in his soul demanded expression and then all he tried to do was to make them as perfect as he knew how. - Author: W. Somerset Maugham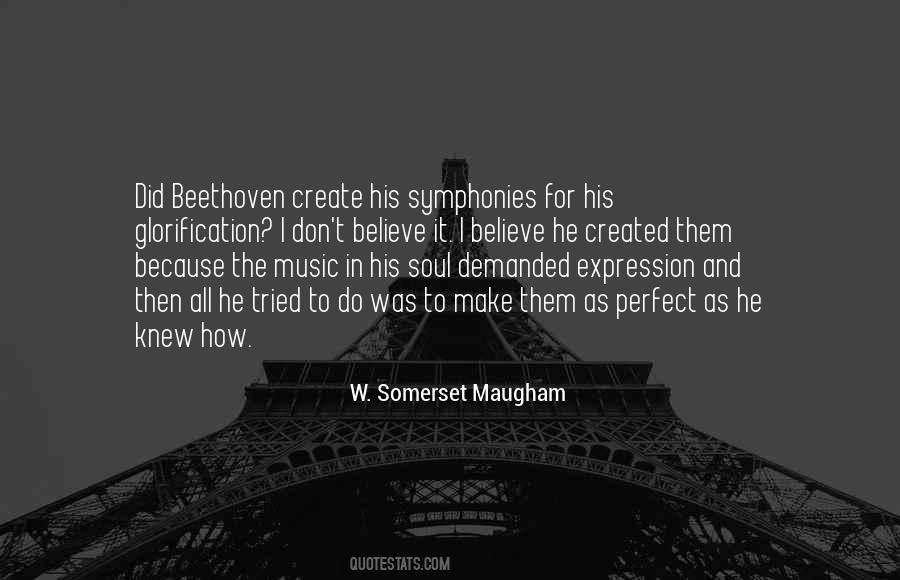 #17. I love Barbra Streisand and Sade who've both had careers in soul and I want my music to have that timeless quality that isn't necessarily now. - Author: Jessie Ware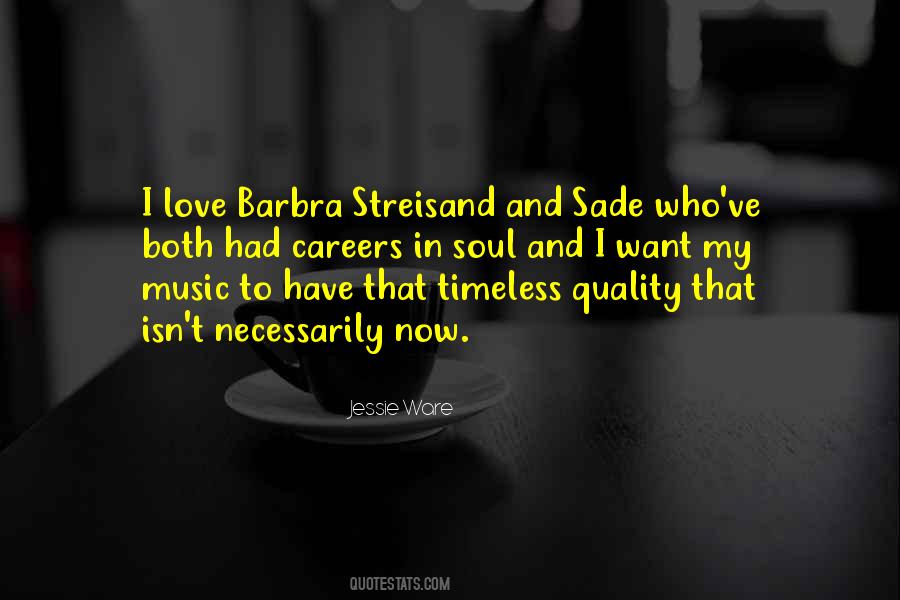 #18. Music is an emotional experience, and that is what imprints itself on the soul. And I think for me, any great art is art which communicates human emotion. - Author: Greg Lake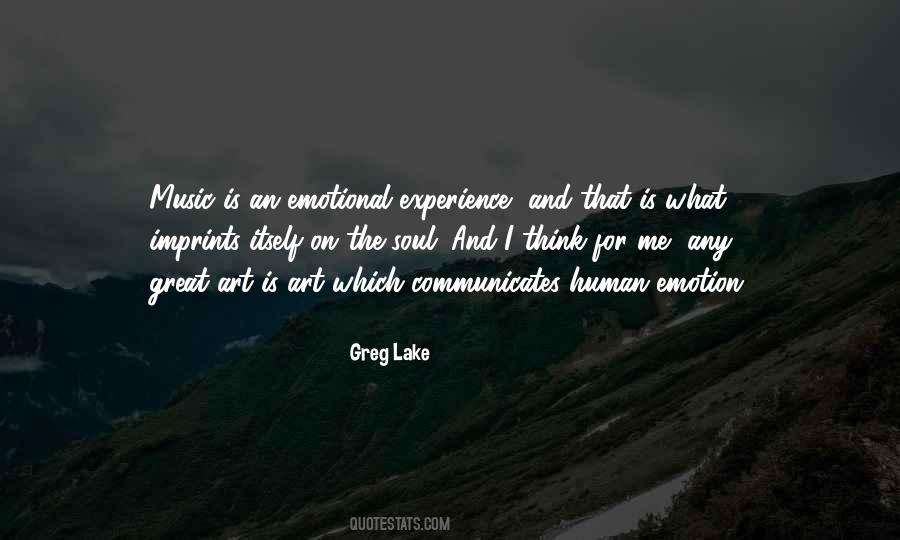 #19. If you have feelings about reading, you feel the rhythm of prose or of a poem like music. It awakens something in your soul and then of course you study, read, you grow up and you begin to understand the message and that is the first step towards understanding life. - Author: Maria Kodama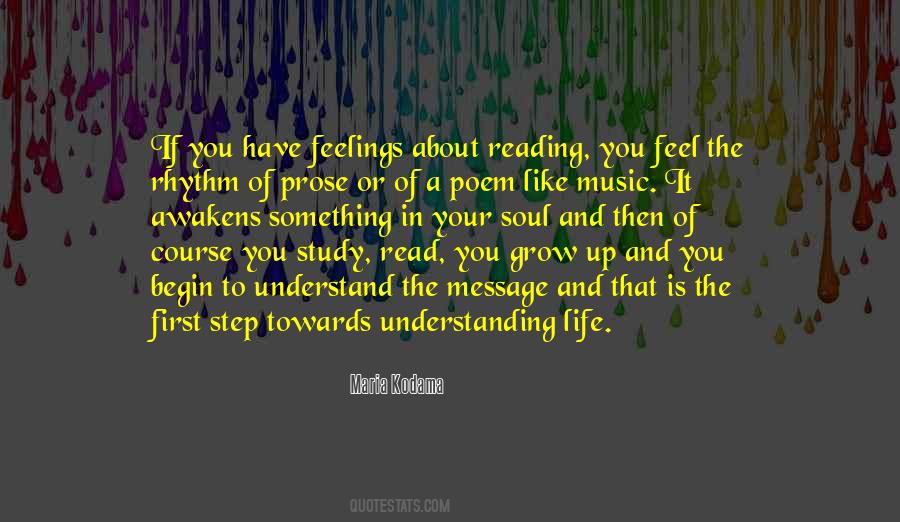 #20. I think any music of any worth has been done by people who were very interested in the internal process of their soul and their mind that's taking place while they're writing music. - Author: John Frusciante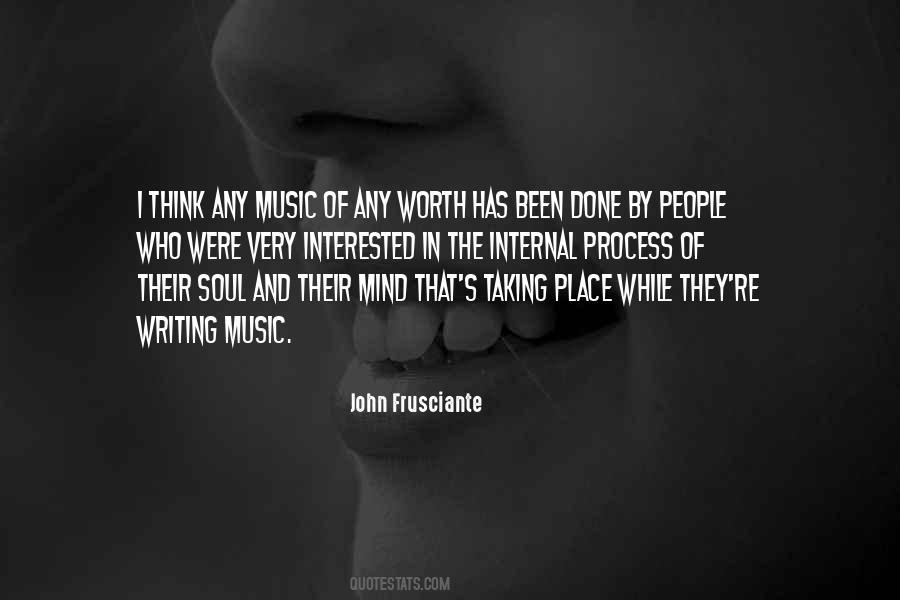 #21. Today, music is great for entertainment, but it is lacking soul; it's lacking substance, and it's difficult to find good stuff. There are too many corporate interests. It's not about the actual music because it's about the corporation, and music just becomes part of a package. - Author: Ziggy Marley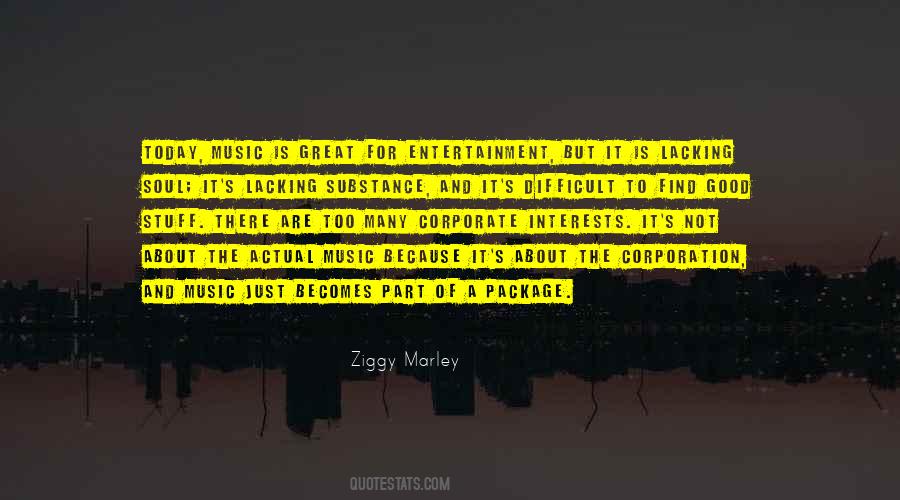 #22. No matter what walk of life you're from, you can appreciate the music - songs [can] resonate in your soul and your heart. - Author: Common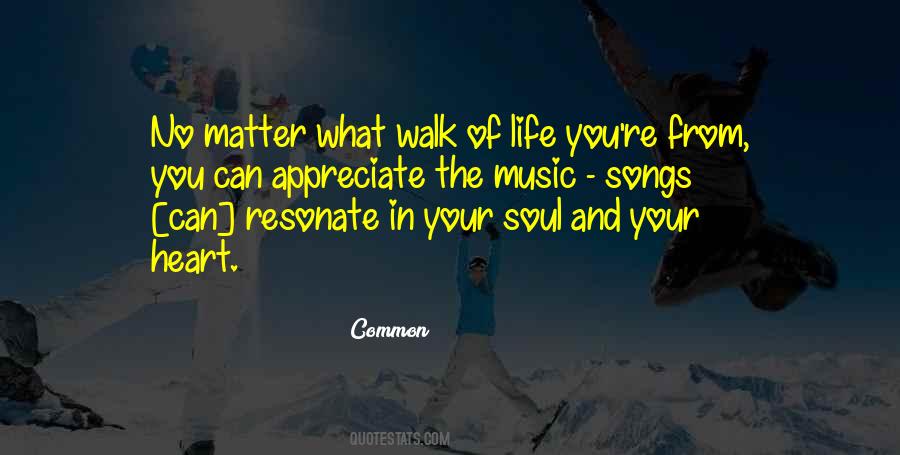 #23. Peace is the music of every soul. Our glory lies in understanding, listening and honoring that music - Author: Amit Ray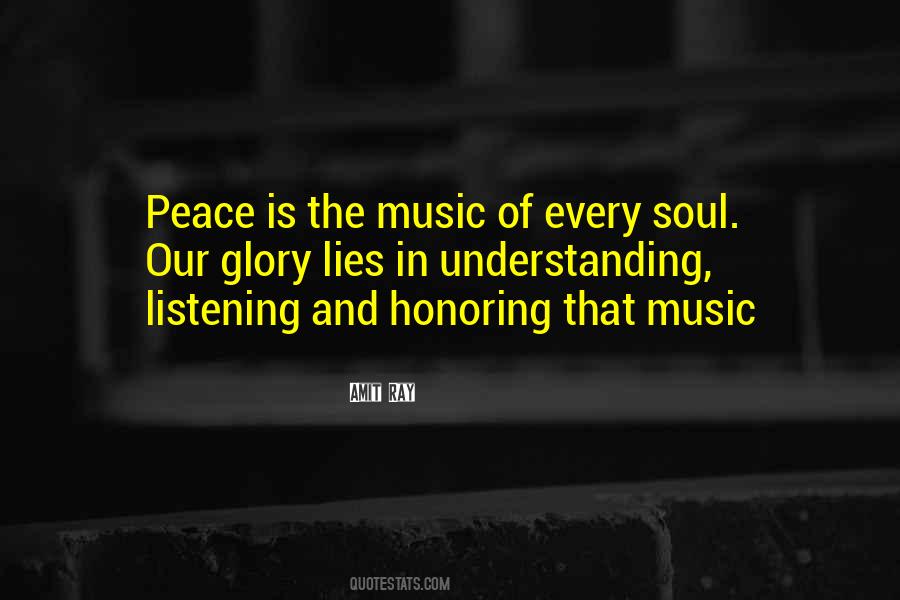 #24. Music fills the void between the heart and soul and connects them in heavenly delights. - Author: Debasish Mridha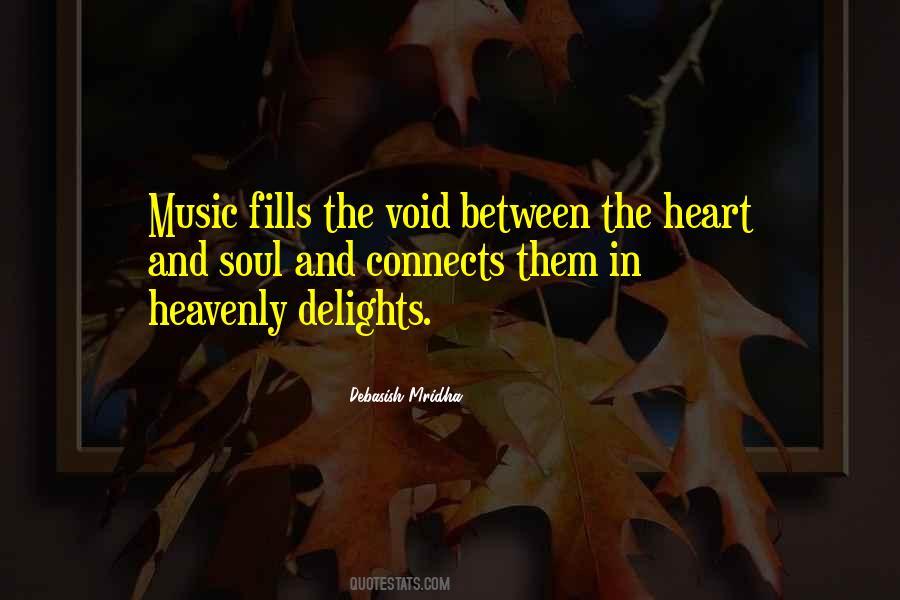 #25. Music speaks what cannot be expressed, soothes the mind and gives it a rest, heals the heart and makes it whole, flows from heaven to the soul. - Author: Unknown Author 429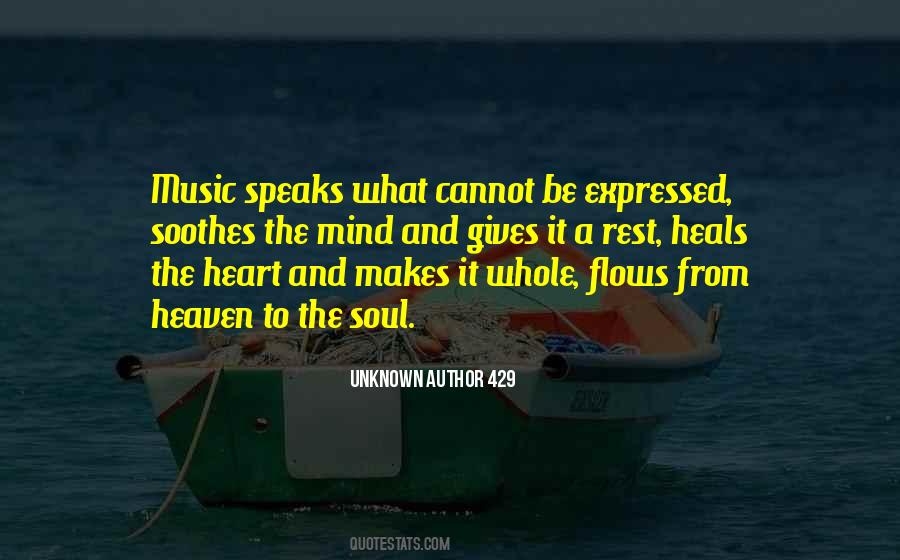 #26. A man should hear a little music, read a little poetry, and see a fine picture every day of his life, in order that worldly cares may not obliterate the sense of the beautiful which God has implanted in the human soul. - Author: Johann Wolfgang Von Goethe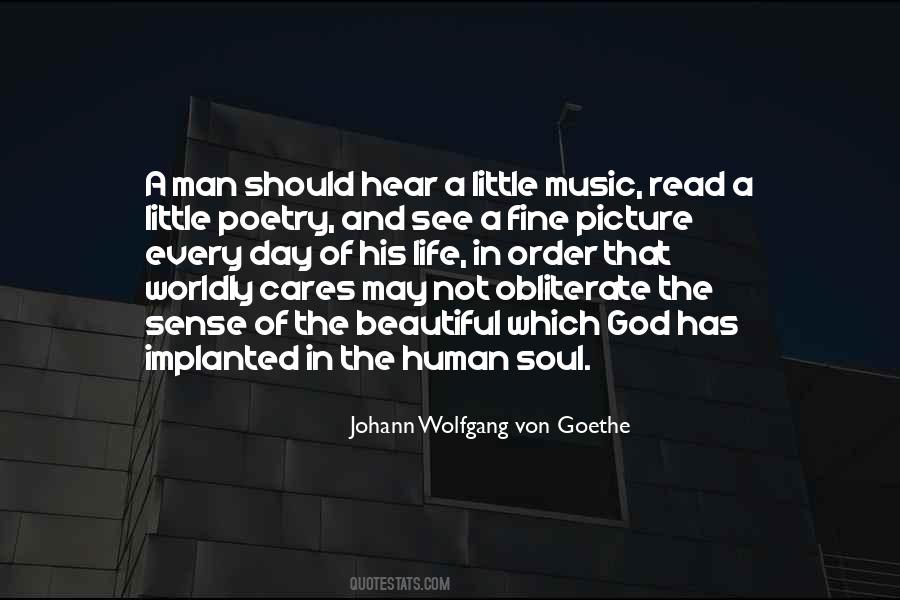 #27. Light quirks of music, broken and uneven,Make the soul dance upon a jig to Heav'n. - Author: Alexander Pope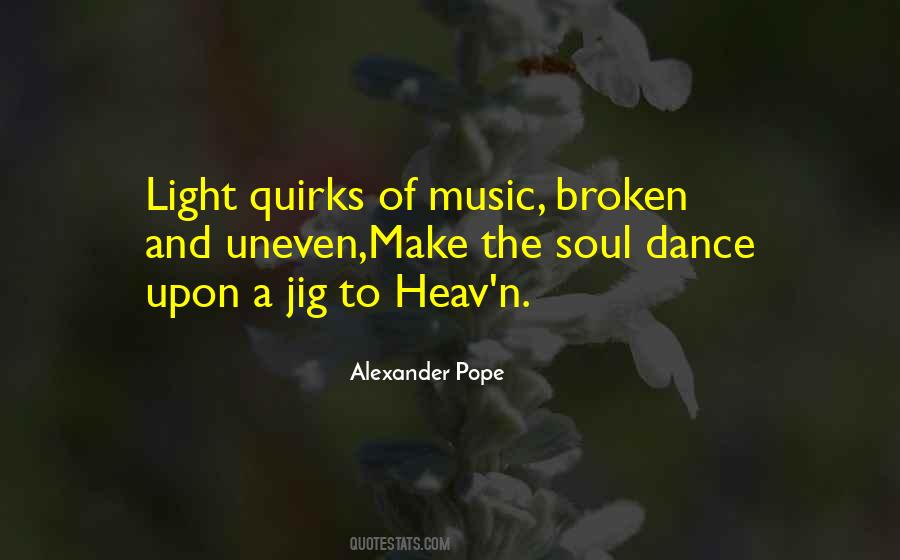 #28. I've hosted the Soul Train awards, the American Music Awards ... and I had my own talk show. So if I can't host by now, what the hell can I do? - Author: Queen Latifah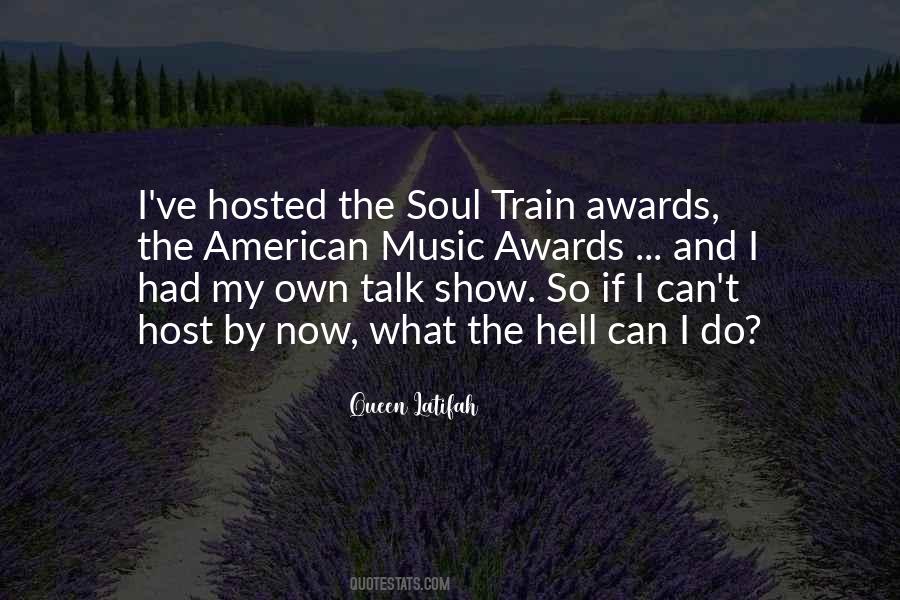 #29. Dark and sour humours, especially those which have a spice of malevolence in them, are vastly disagreeable. Such men have no music in their souls. - Author: Abigail Adams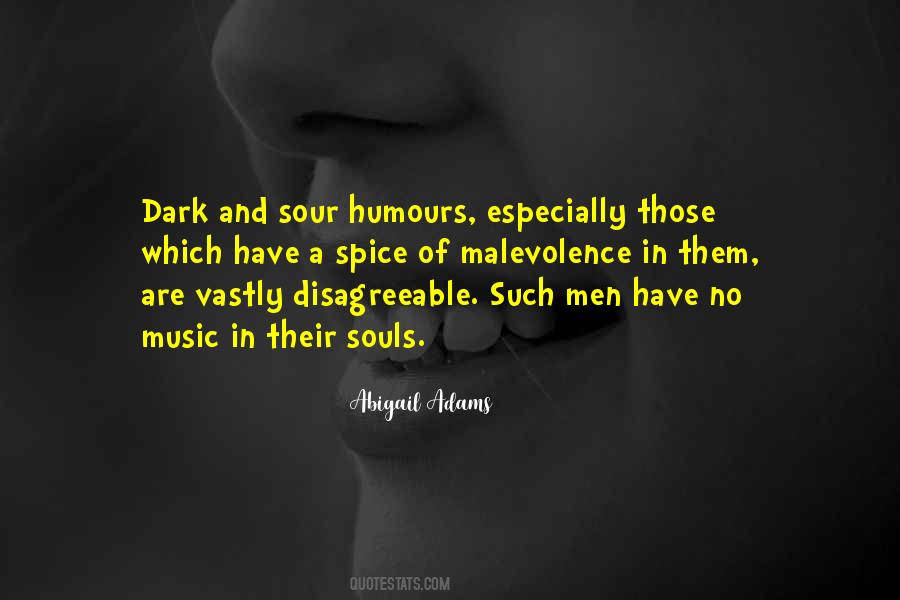 #30. Nature, through all her works, in great degree,
Borrows a blessing from variety.
Music itself her needful aid requires
To rouse the soul, and wake our dying fires. - Author: Charles Churchill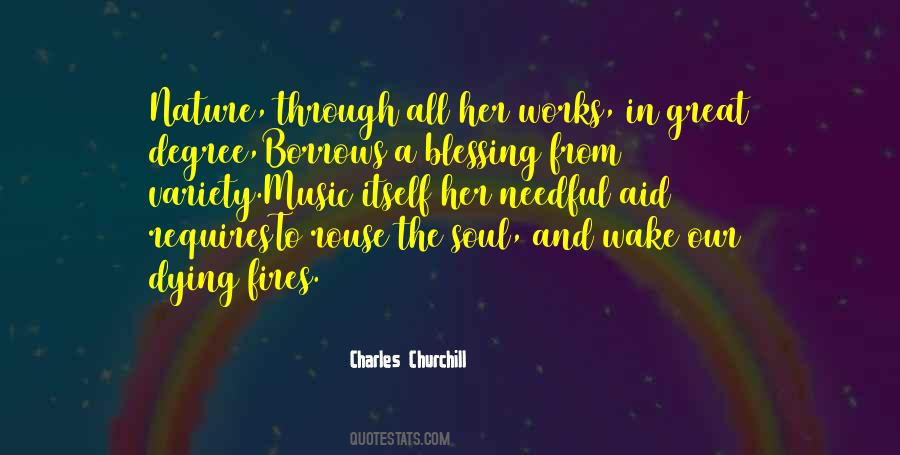 #31. Music and art and poetry attune the soul to God. - Author: Thomas Merton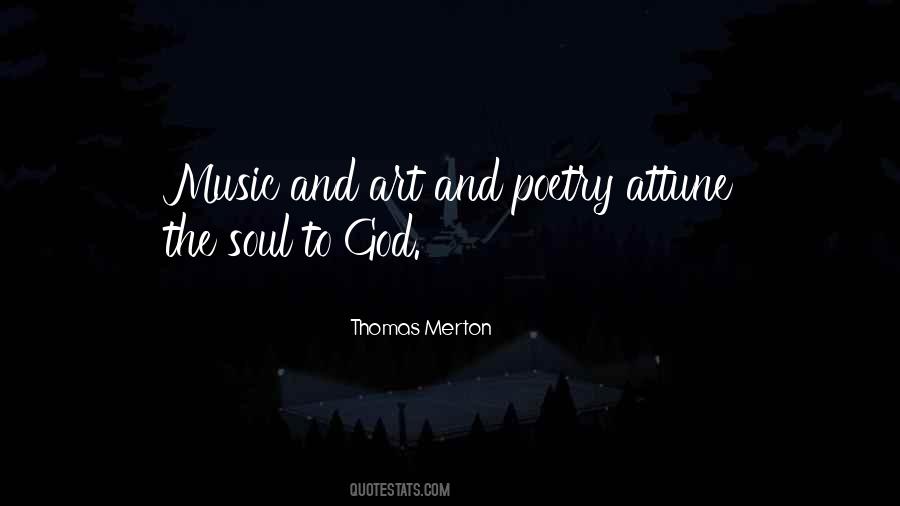 #32. It wasn't until my late teens that I really got into soul music and then I was like 'Ooh, this is good!' You'd always here it at old family parties, like, Gladys Knight and I'd always love it but I didn't really get to know it and respect it until I was a bit older. - Author: Rebecca Ferguson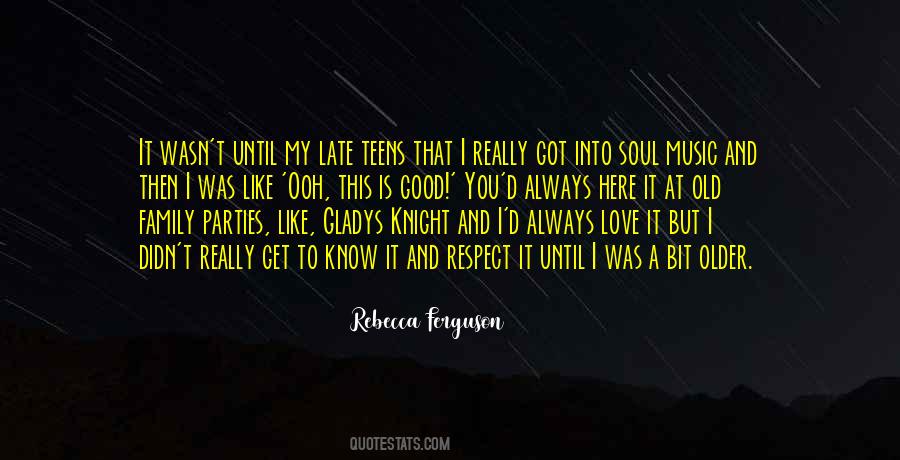 #33. Soul was the music made by and for black people. For most of the Sixties it was thoroughly divorced from white popular music, but by the end of the decade several artists with their roots firmly in both soul and R&B traditions had crossed over. - Author: Jon Landau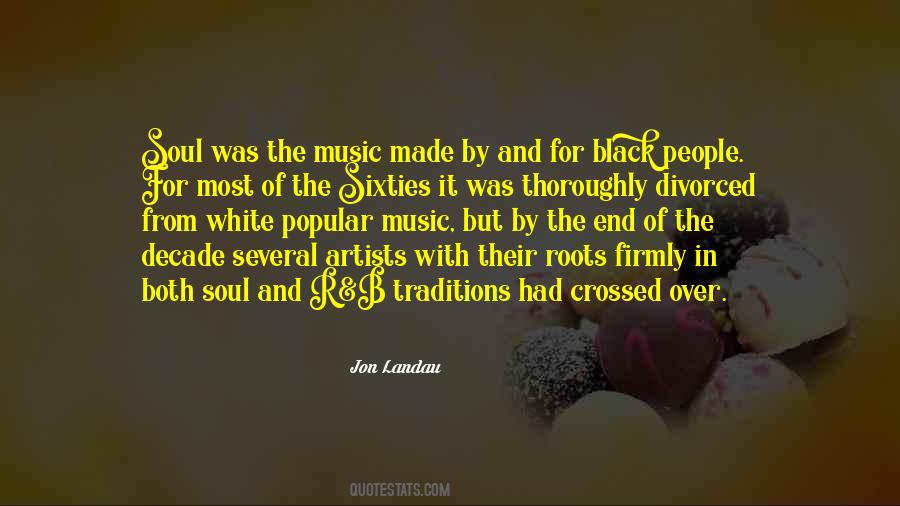 #34. Music from my fourth year began to be the first of my youthful occupations. Thus early acquainted with the gracious muse who tuned my soul to pure harmonies, I became fond of her, and, as it often seemed to me, she of me. - Author: Ludwig Van Beethoven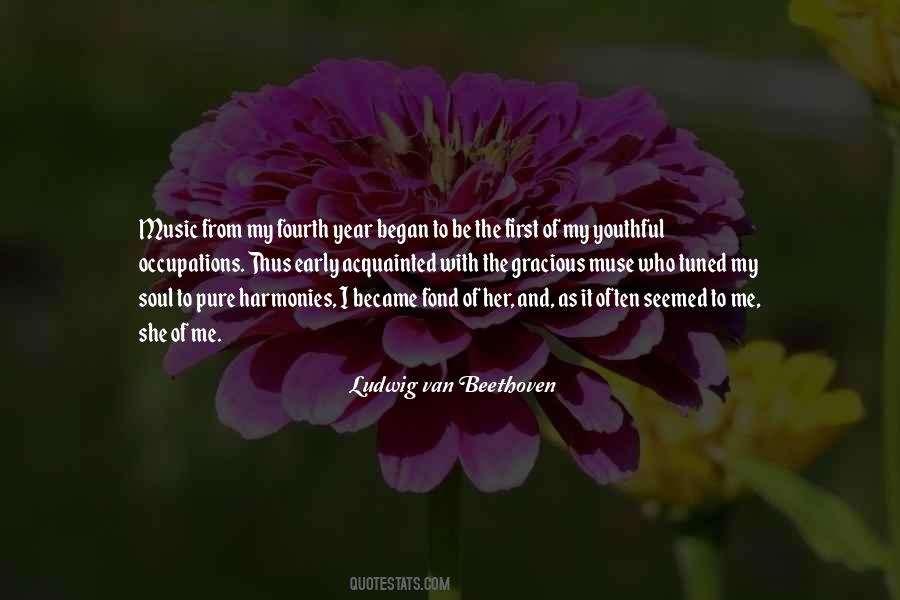 #35. It's hard to come across a true country fan in L.A., but it's true that the fans are so loyal, once you're in their circle, you're in for your entire career. It just really speaks to me. Country music has so much soul and is so heartfelt. I think it's a perfect fit for me. - Author: Lucy Hale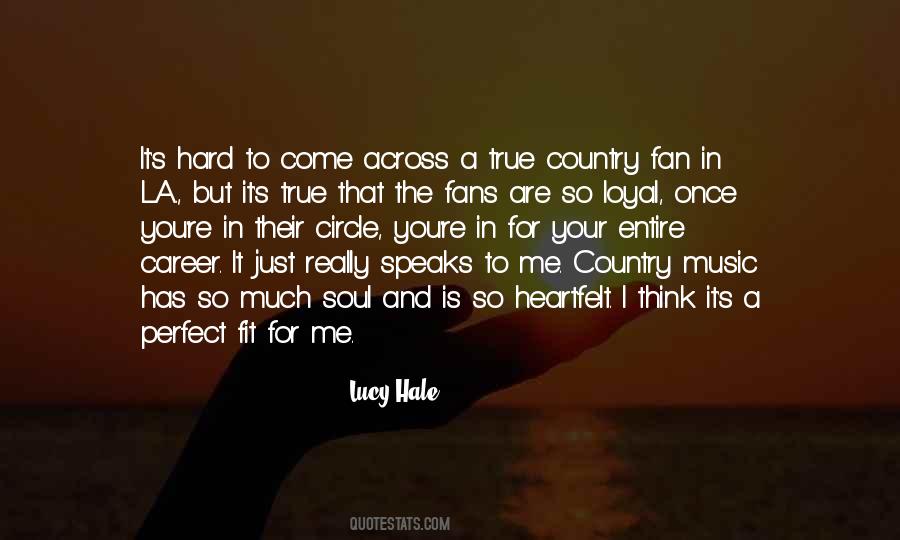 #36. Rhythm and melody enter into the soul of the well-instructed youth and produce there a certain mental harmony hardly obtainable in any other way. ... thus music, too, is concerned with the principles of love in their application to harmony and rhythm. - Author: Plato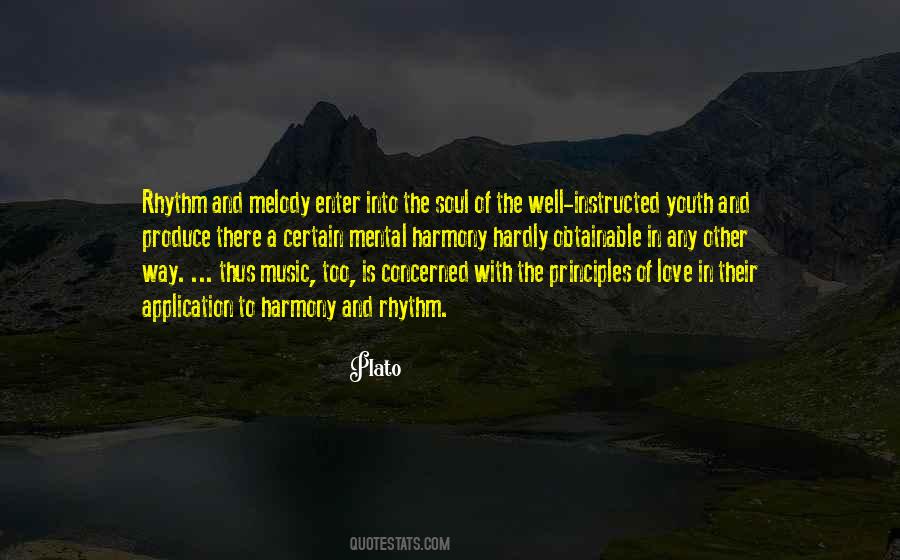 #37. Don't go where it is all fine music and grand talk and beautiful architecture; those things will neither fill anybody's stomach, nor feed his soul. Go where the gospel is preached, the gospel that really feeds your soul, and go often. - Author: Charles Spurgeon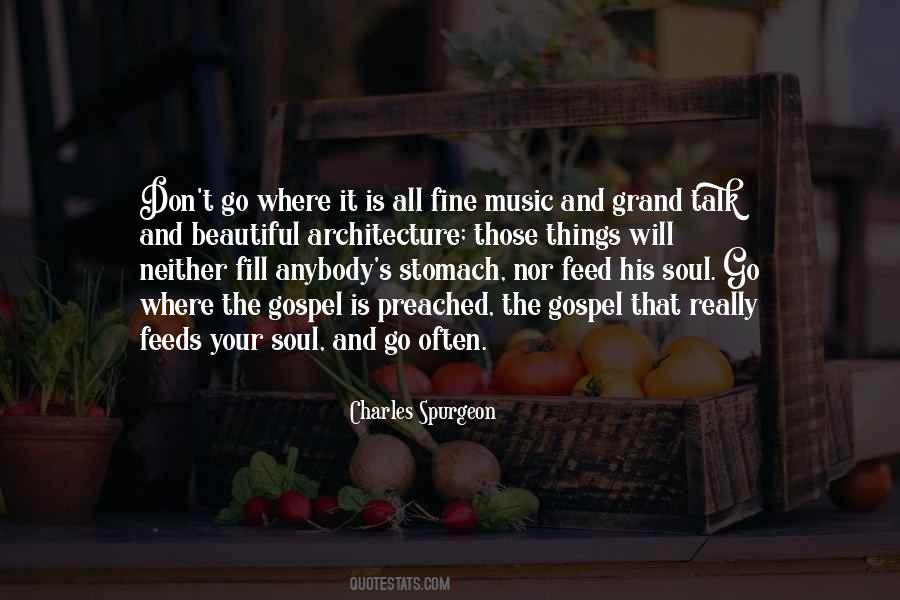 #38. The type of music that I love to sing would have to be more bluesy and jazzy and more soul-like 'cause I love to belt when it comes to singing, so I guess bigger songs are what I lean more towards. - Author: Thia Megia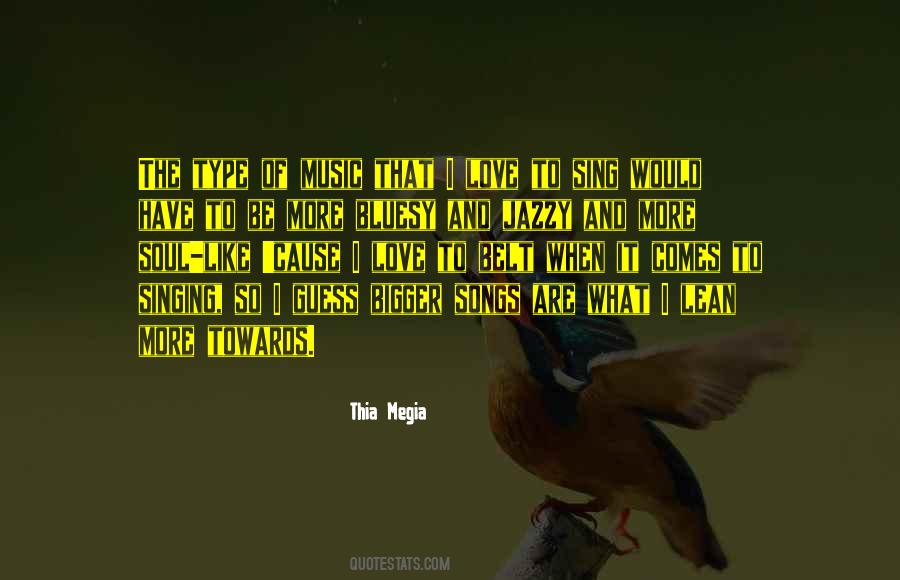 #39. The music of the soul is also the music of salesmanship. Exchange value, not truth value counts. On it centers the rationality of the status quo, and all alien rationality is bent to It. - Author: Herbert Marcuse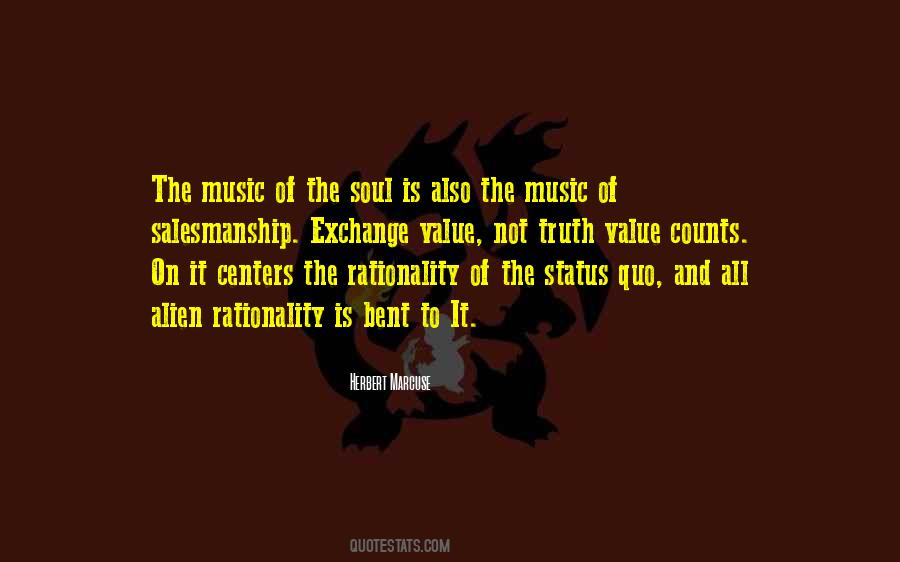 #40. Lifting her head, she joined in as the others in the group began to howl in response to Brace's triumph. The sound was ... It touched the soul, the music haunting, starkly pure and yet so very earthy. - Author: Nalini Singh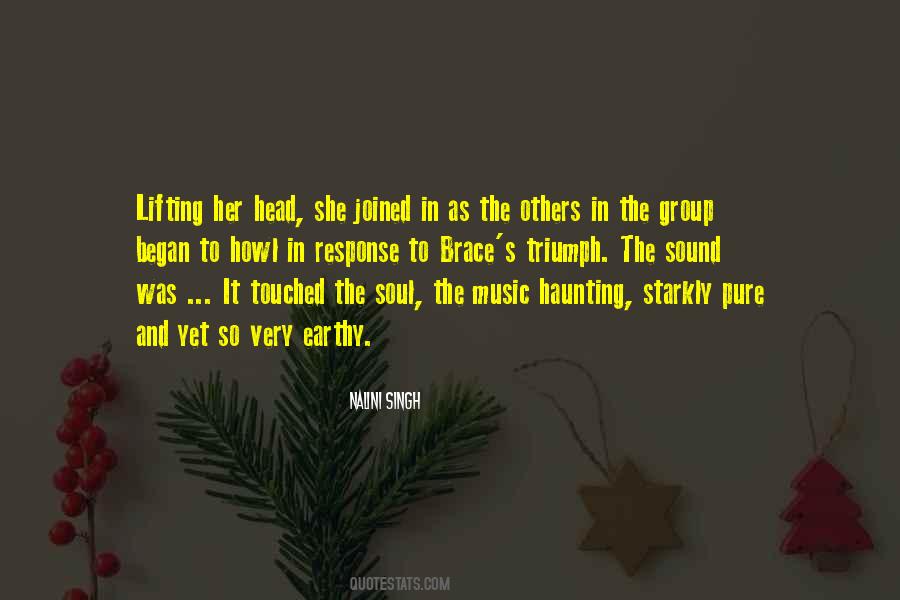 #41. When you listen with your soul, you come into rhythm and unity with the music of the universe. - Author: John O'Donohue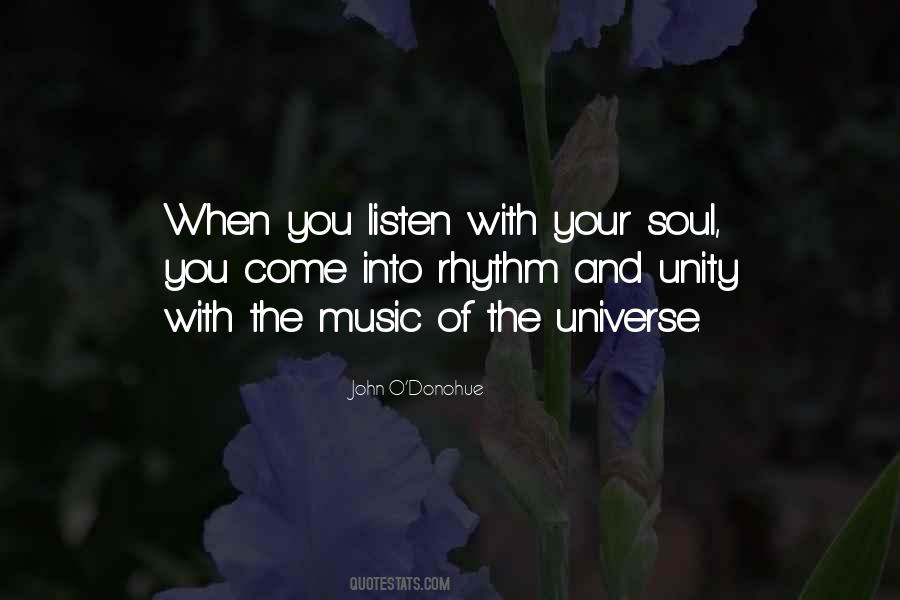 #42. Music in general and lately opera in particular fills my soul with hope and inspiration. - Author: China Forbes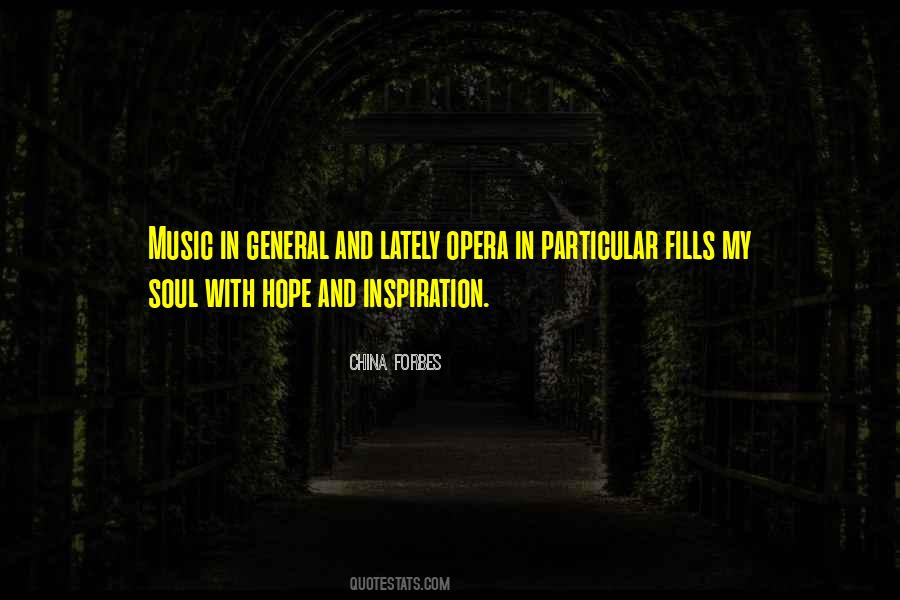 #43. Music lifted our spirit and awakens our soul. - Author: Lailah Gifty Akita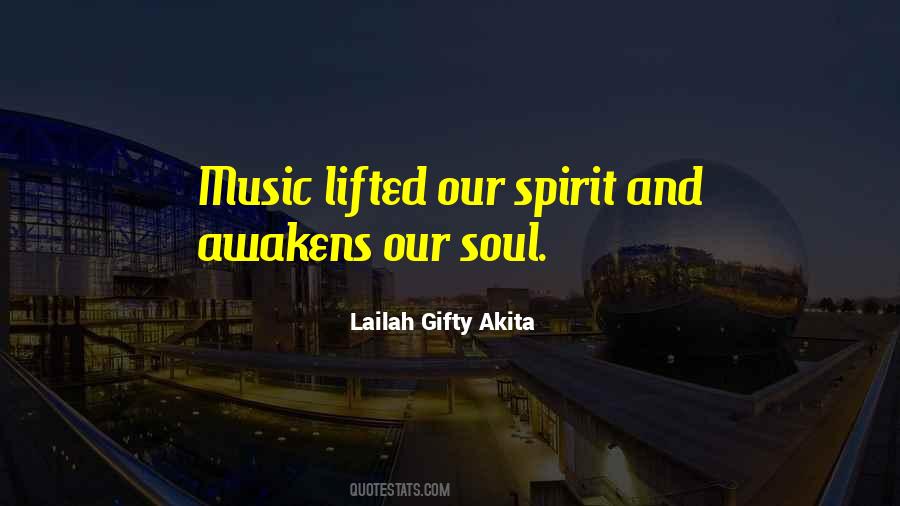 #44. Hip Hop was supposed to be this new thing that had no boundaries and was so different to everyday music. As long as it has soul to it, hip hop can live on. - Author: Tupac Shakur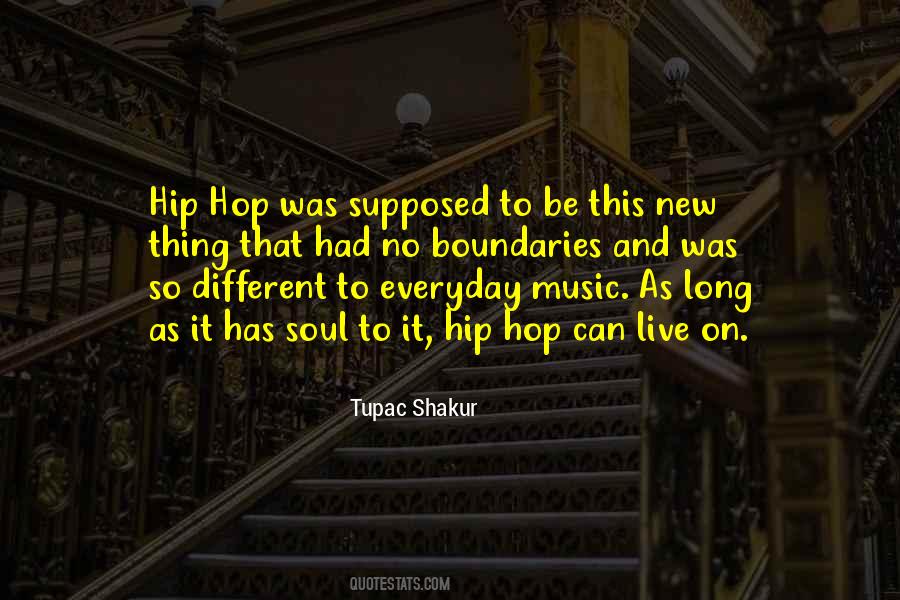 #45. In a cool solitude of trees Where leaves and birds a music spin, Mind that was weary is at ease, New rhythms in the soul begin. - Author: William Kean Seymour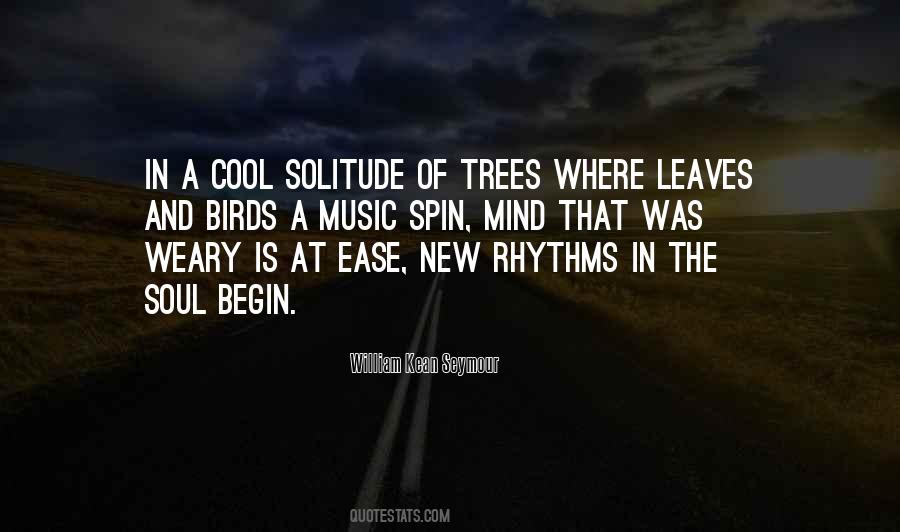 #46. I'm definitely inspired by music; I feel like I can express a part of myself, a part of my heart and my soul, that I can't express just acting by writing music or singing music. It takes the emotions to another level. I feel really connected to something else, you know. - Author: Laura Bell Bundy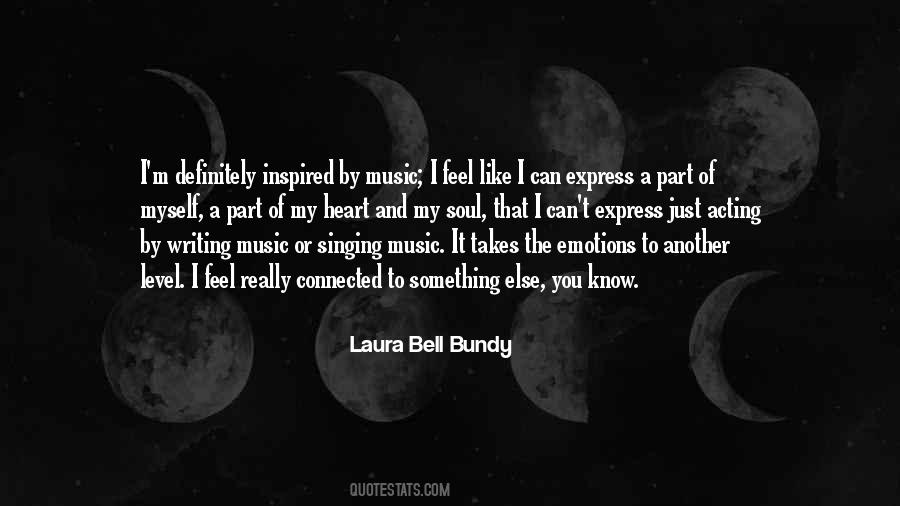 #47. The Bee Gees were always heavily influenced by black music. As a songwriter, it's never been difficult to pick up on the changing styles of music out there, and soul has always been my favourite genre. - Author: Robin Gibb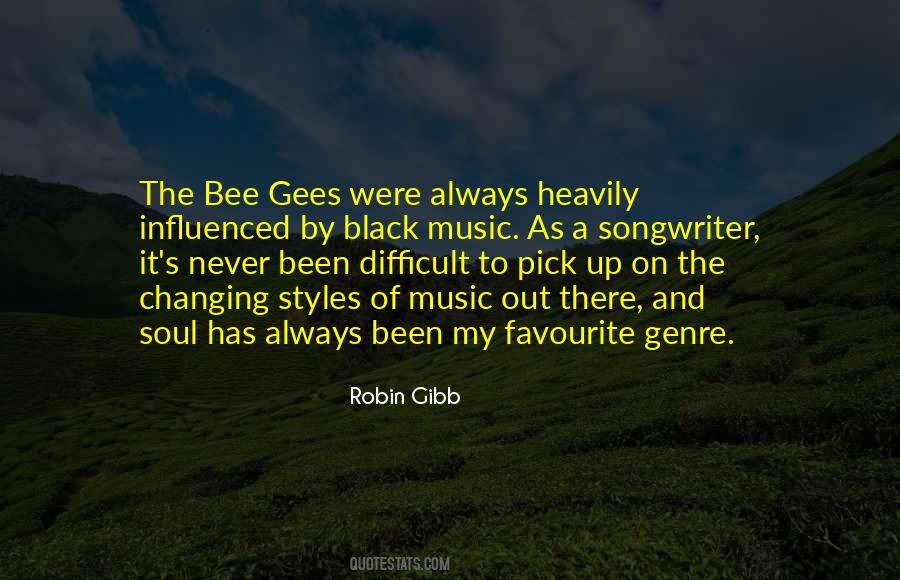 #48. All these ways we classify things as R&B and hip-hop and rock ... It's bullshit. It's all music. If you put yourself in that box, then you won't be able to hear that it's all music at its soul. - Author: Jay-Z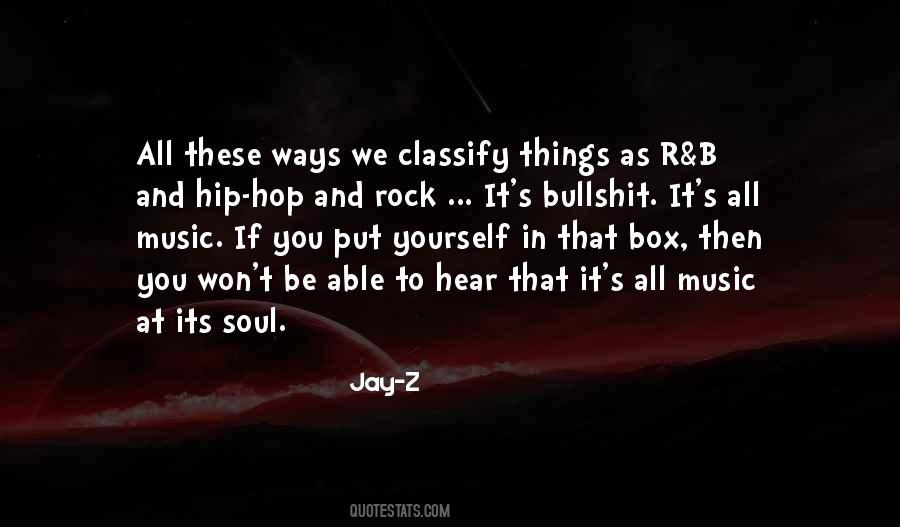 #49. My soul is always lifted up, and my spirit cheered and comforted, when I hear good music. I rejoice in it very much indeed. - Author: Joseph Fielding Smith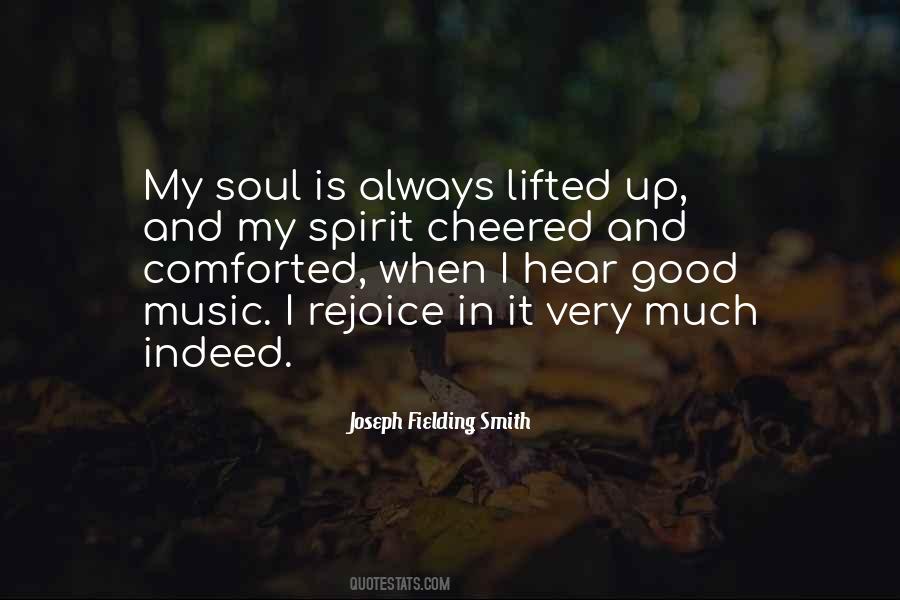 #50. So from Jazz, Blues, R&B, Soul, Classical and Country music, Hip Hop has introduced us to a little bit of everything. - Author: B.J. The Chicago Kid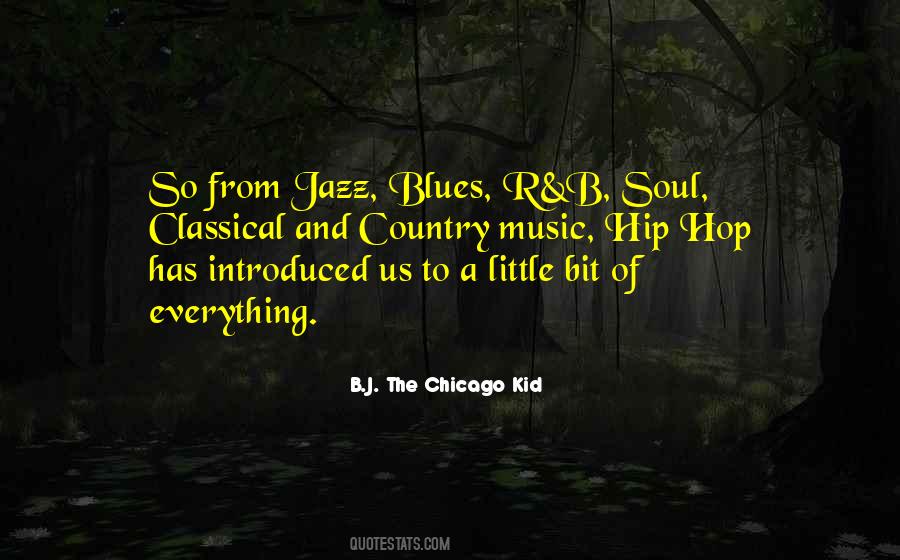 #51. Sometimes when we hear a song we breathe deeply and sigh. This reminds the prophet that the soul arises from heavenly harmony. In thinking about this, he was aware that the soul itself has something in itself of this music ... - Author: Hildegard Of Bingen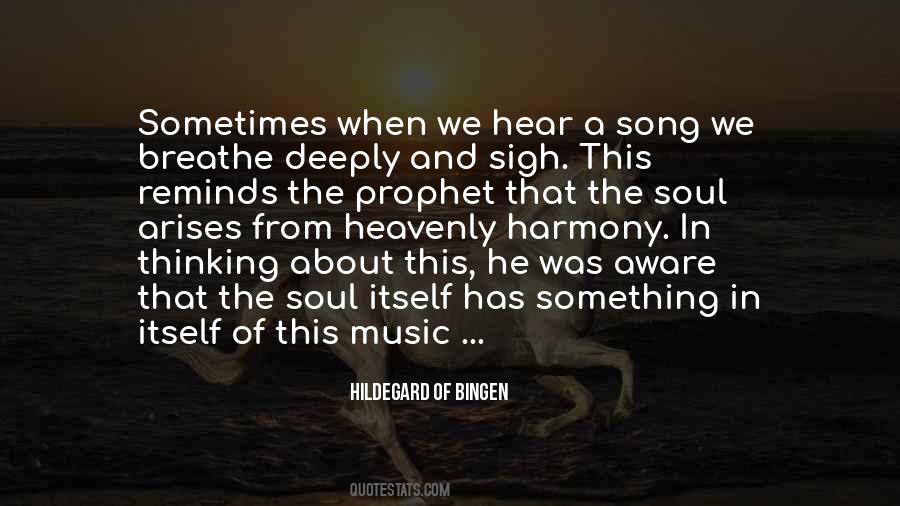 #52. Music becomes flesh and thrives in a new world, a new man . . .

He, the last-born, son of music and love, shall arise in triumph over an ample land, prophet of a soul yet more ample . . . - Author: Kostis Palamas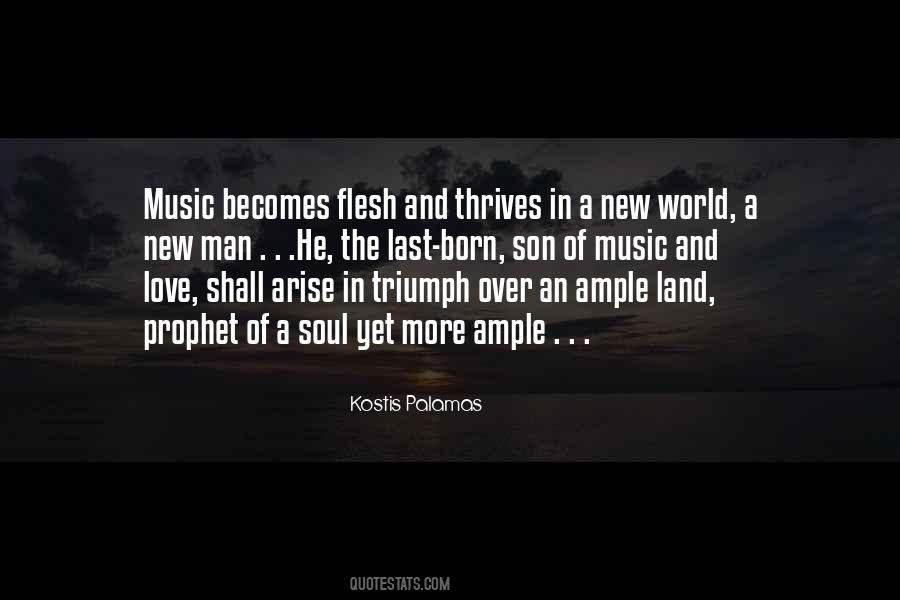 #53. Language must resound with all the harmonies of music. The writer must always, at all times, find the tremulous word which captures the thing and is able to draw a sob from my soul by its very rightness. - Author: Knut Hamsun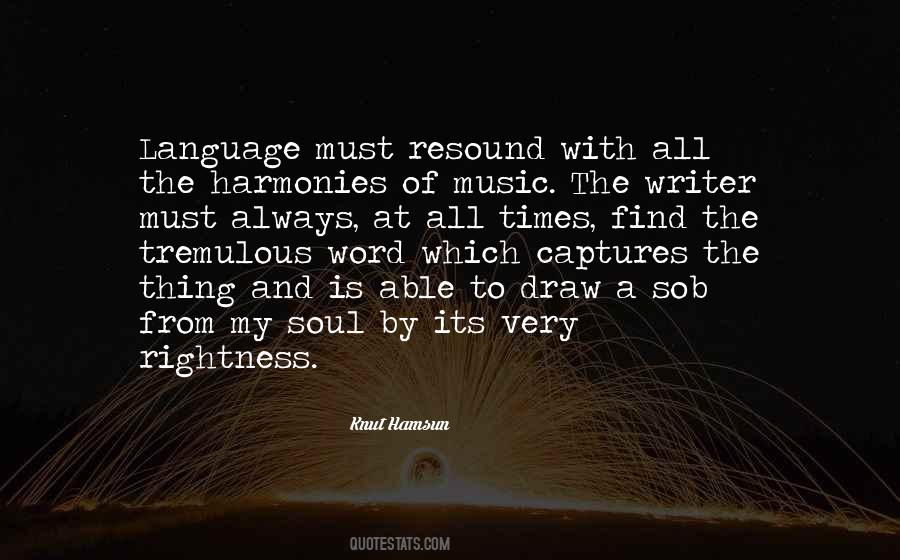 #54. We are slowed down sound and light waves, a walking bundle of frequencies tuned into the cosmos. We are souls dressed up in sacred biochemical garments and our bodies are the instruments through which our souls play their music. - Author: Albert Einstein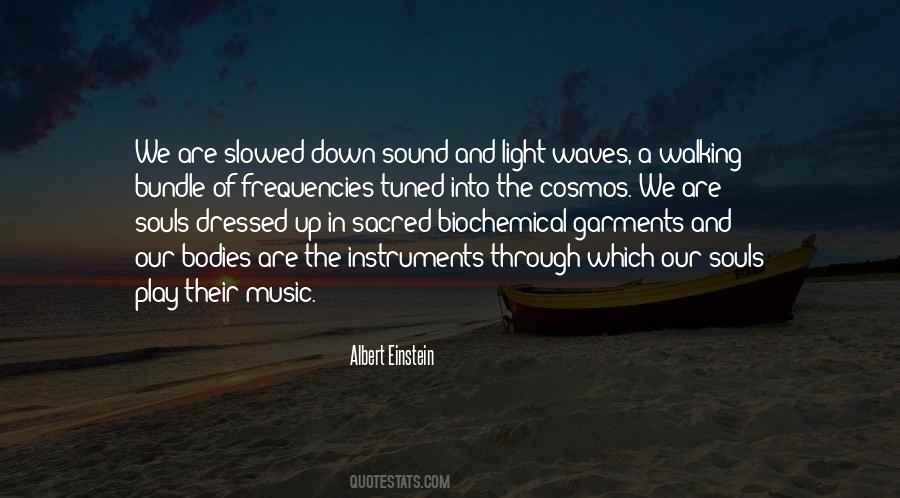 #55. I've never had a very quiet voice. I tried in choir to make it smaller, and it just didn't work out. And I listened to a lot of soul music when I was growing up on my own accord. But I was mostly into Mama Cass and Gladys Knight, and they all had big voices too; just different than mine. - Author: Beth Ditto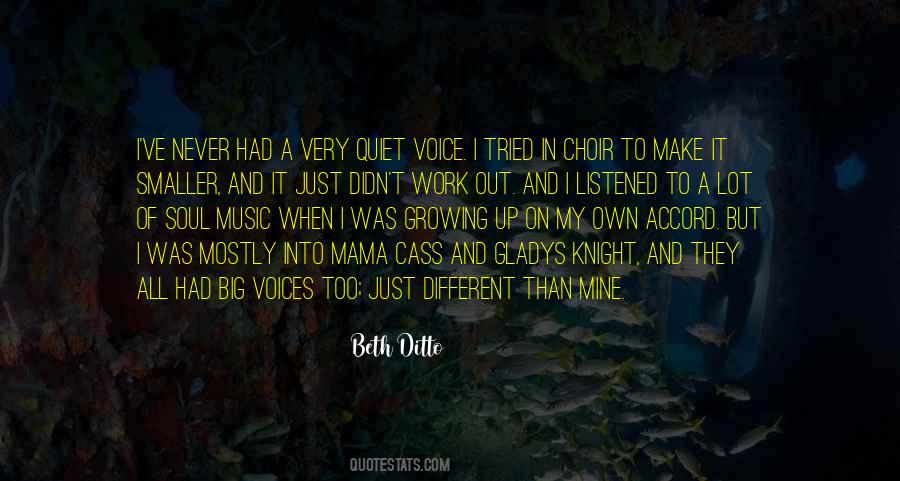 #56. Charles and I are from Augusta, Ga. - so we come from James Brown territory, soul music and Motown. And Charles has always had a lot of Southern rock in there as well. - Author: Dave Haywood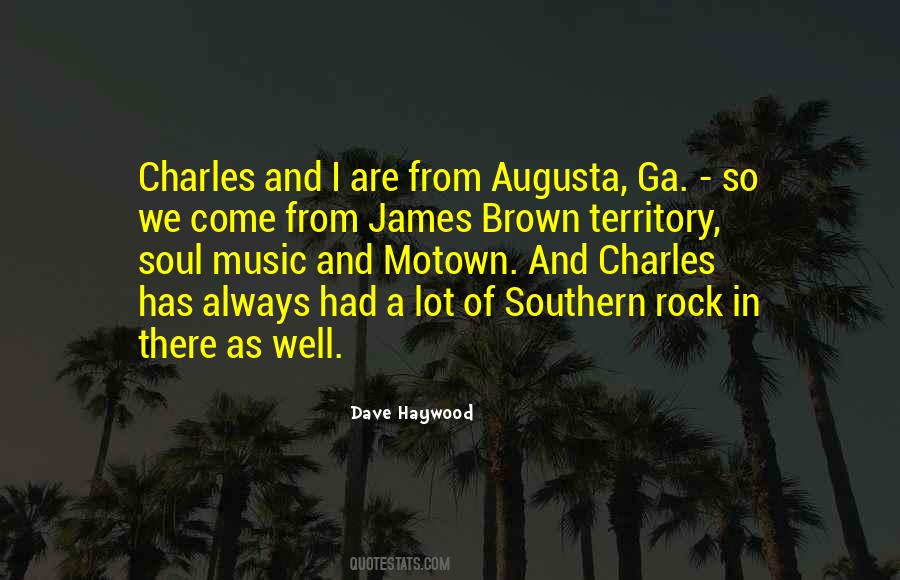 #57. One of the things that personally kept me in music was that it has always been my passion,my vision and change. No matter how far I may think I can go without it, it always tend to slap me right back in the face! So why not do what naturally fills your soul. Music completes me. - Author: Mandisa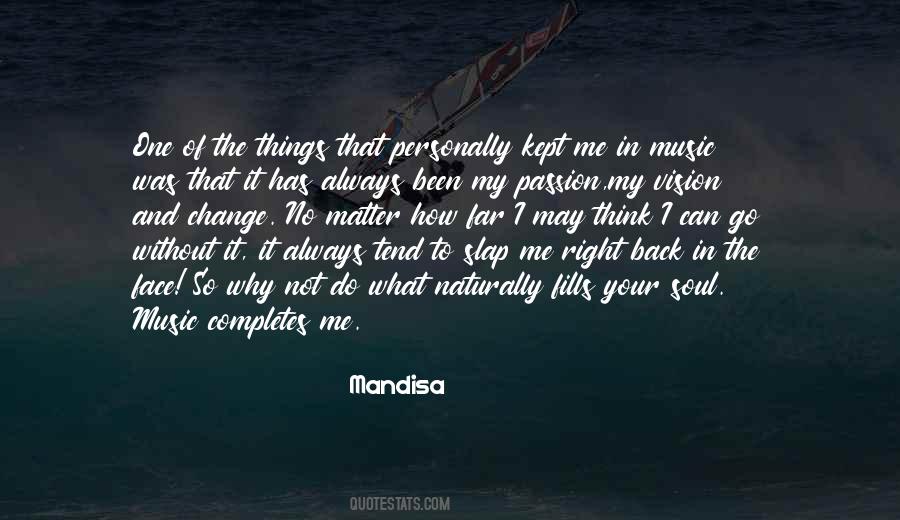 #58. Musical training is a more potent instrument than any other, because rhythm and harmony find their way into the inward places of the soul. - Author: Plato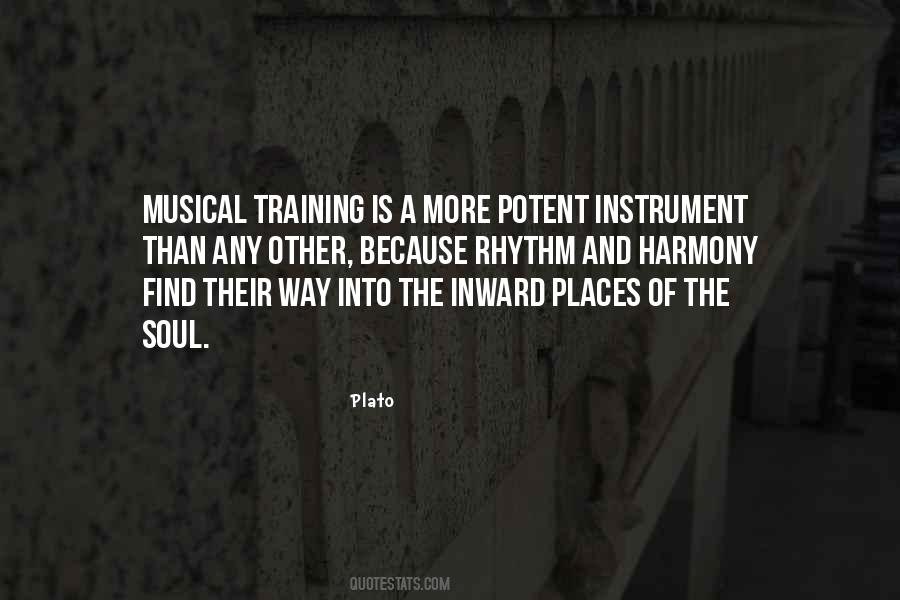 #59. I started to write a lot of ballads that were sultry and had a Norah Jones-for-country kind of feel. I wanted to bring elements of old soul music and old country music. - Author: Laura Bell Bundy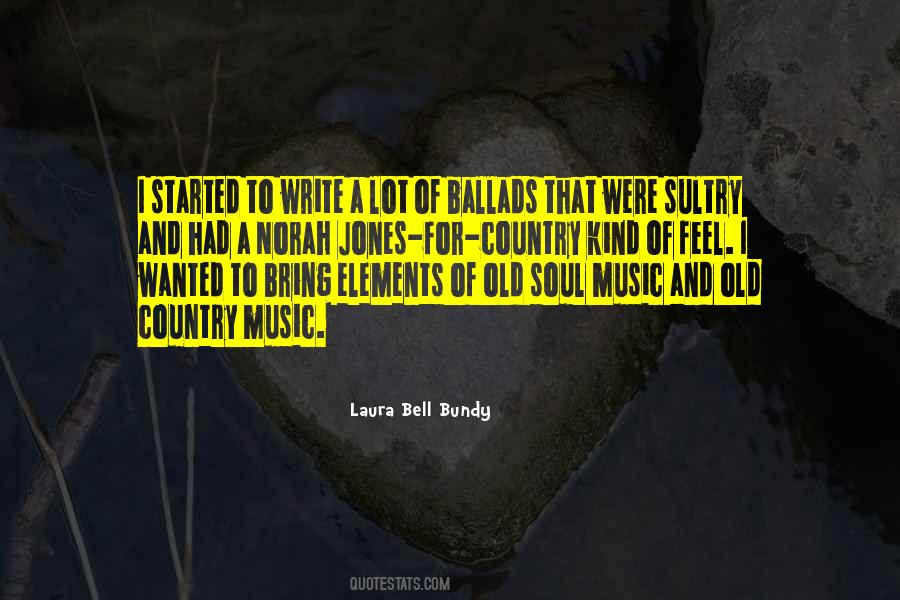 #60. Captain Shotover: How much does your soul eat?
Ellie: Oh, a lot. It eats music and pictures and books and mountains and lakes and beautiful things to wear and nice people to be with. - Author: George Bernard Shaw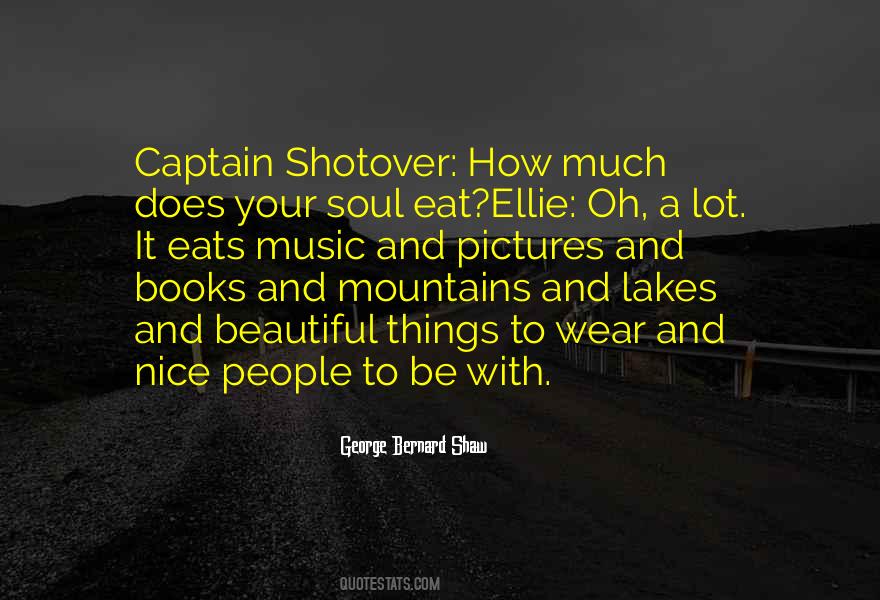 #61. I enjoy the healing music and touch of love, touching my heart and soul when I give it away. - Author: Debasish Mridha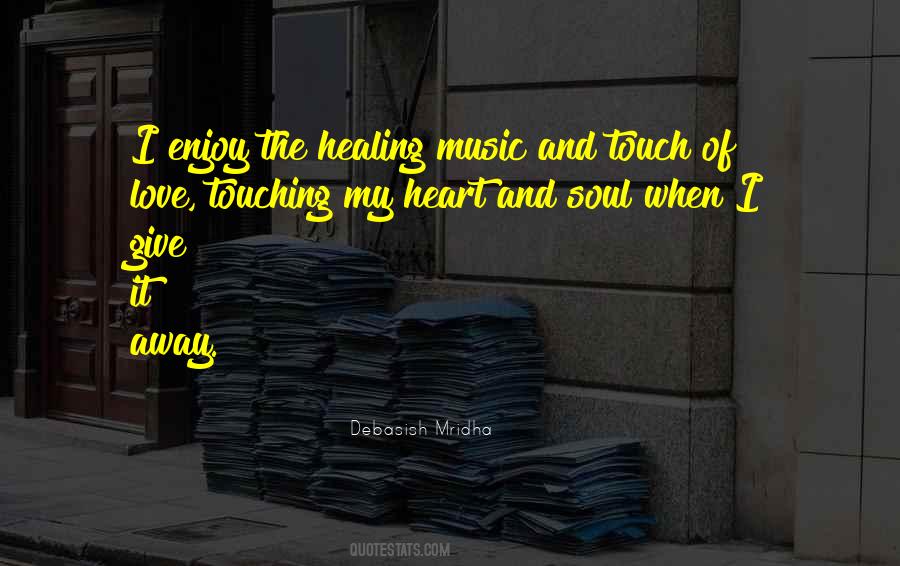 #62. Swing is so much more than a dance, it's a way of life. The music gets stuck in your mind and the dance is in your heart and the whole scene is engraved on your soul. You can fly. - Author: Nicholas Hope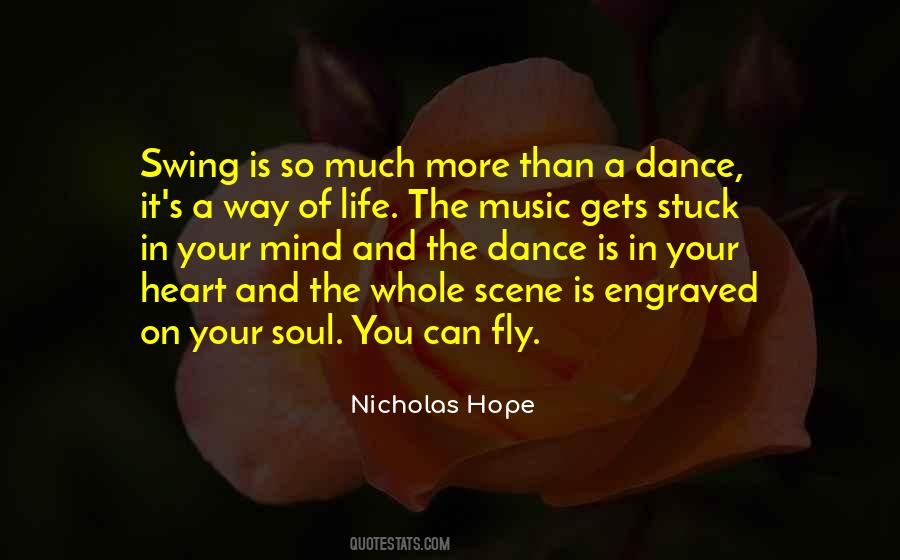 #63. We always get back to old soul singers like Nina Simone, and how her recordings sound. Also new music like Tobacco, or people that use a mixture of analog and electronic music. - Author: Jose Gonzalez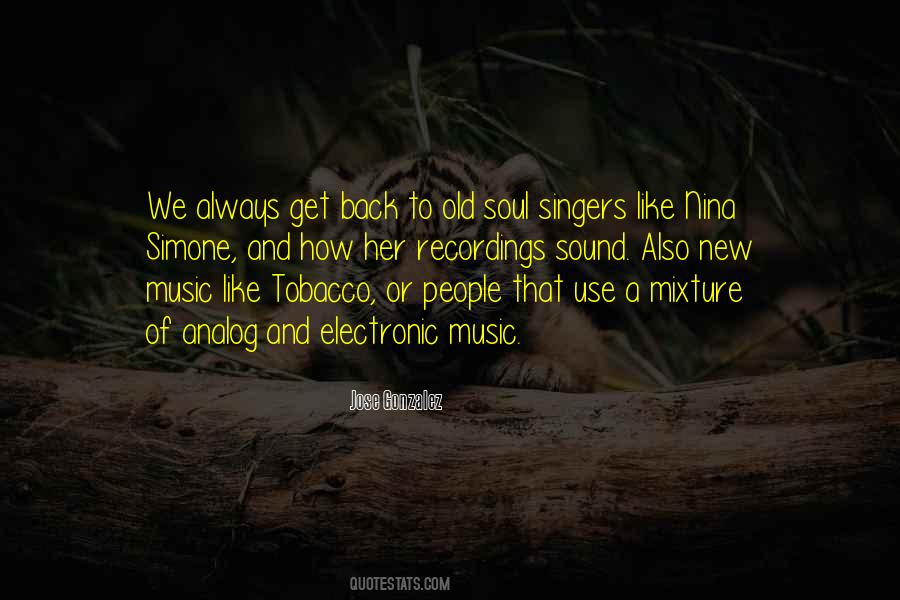 #64. I think records and music are more appropriate and more respectful of the human soul than the churches are. And more respectful of the needs of humans to communicate with the aspects of themselves that are neglected by language. - Author: Will Oldham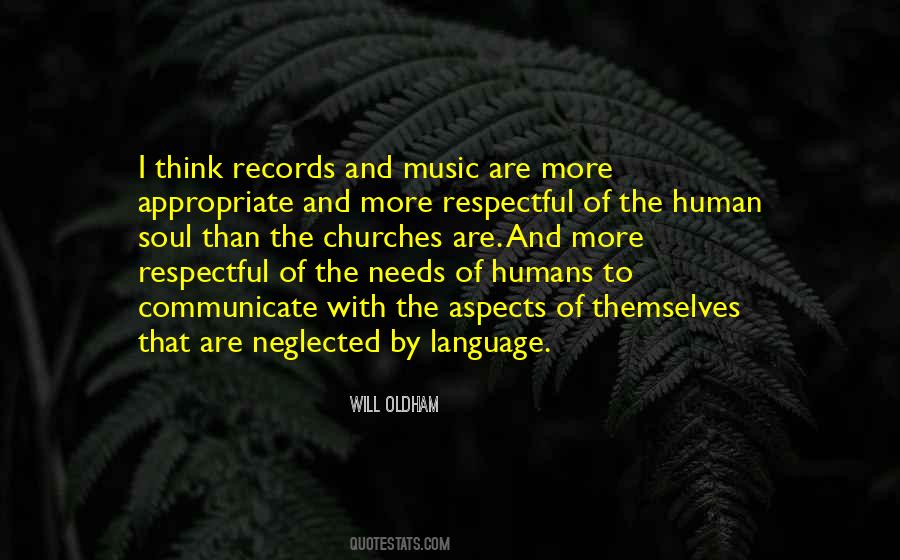 #65. I fell in love with funk music through my father - Funkadelic - as well as soul and classical early on. - Author: Miguel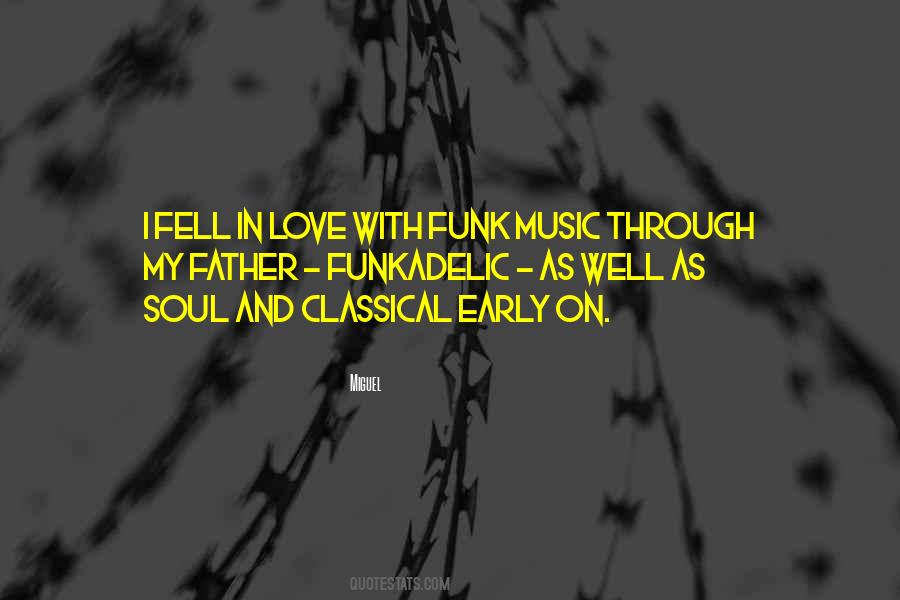 #66. Smiles are the dance of our soul,
with the music of love,
to express the beauty of mind,
for the happiness of spirit,
and for the joy of the world. - Author: Debasish Mridha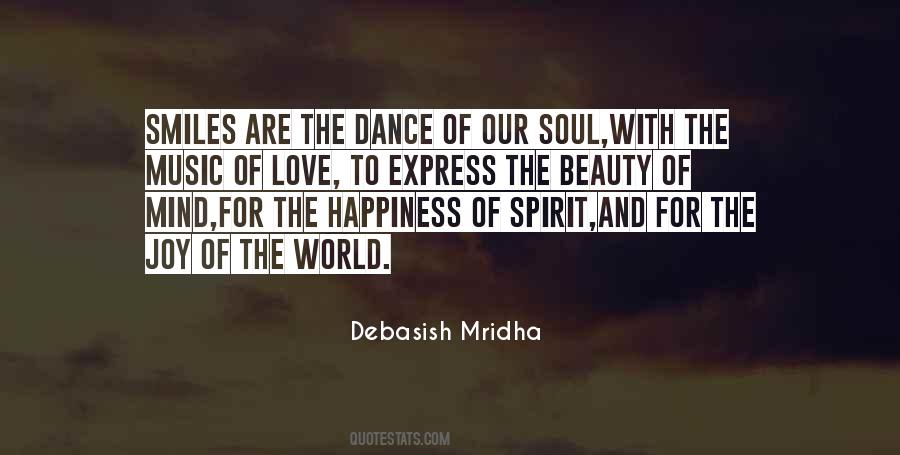 #67. It is hard to describe the thrill of creative joy which the artist feels when the conviction seizes her that at last she has caught the very soul of the character she wishes to portray, in the music and action which reveal it. - Author: Maria Jeritza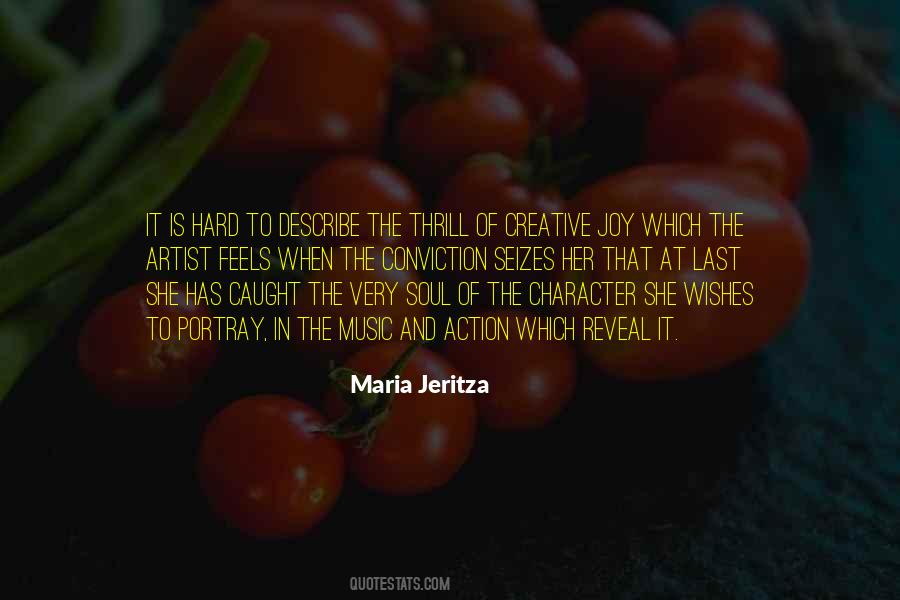 #68. I figured as long as the music stayed hot and important and good, that there would always be a reason for 'Soul Train.' - Author: Don Cornelius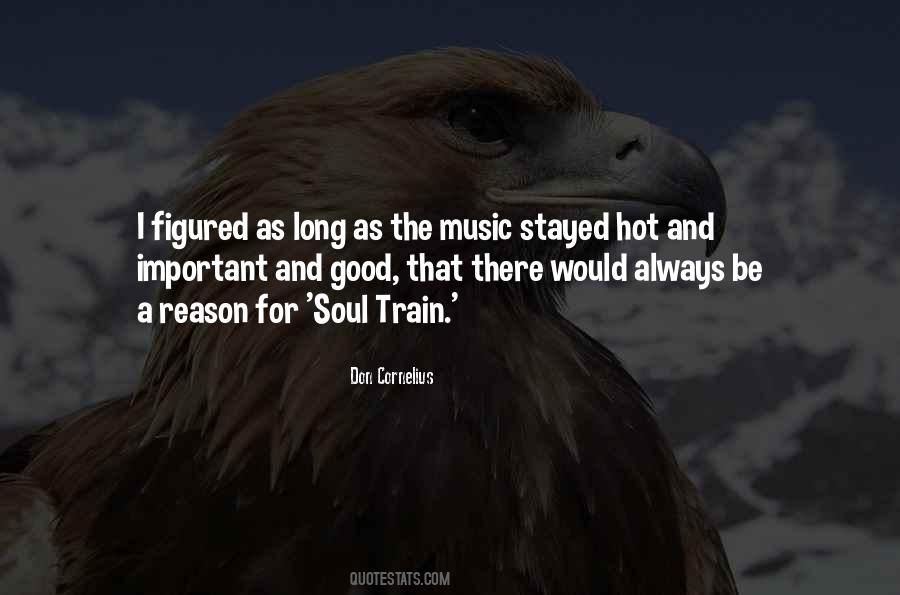 #69. Music is a good thing; and after all that soul-butter and hogwash, I never see it freshen up things so, and sound so honest and bully. - Author: Mark Twain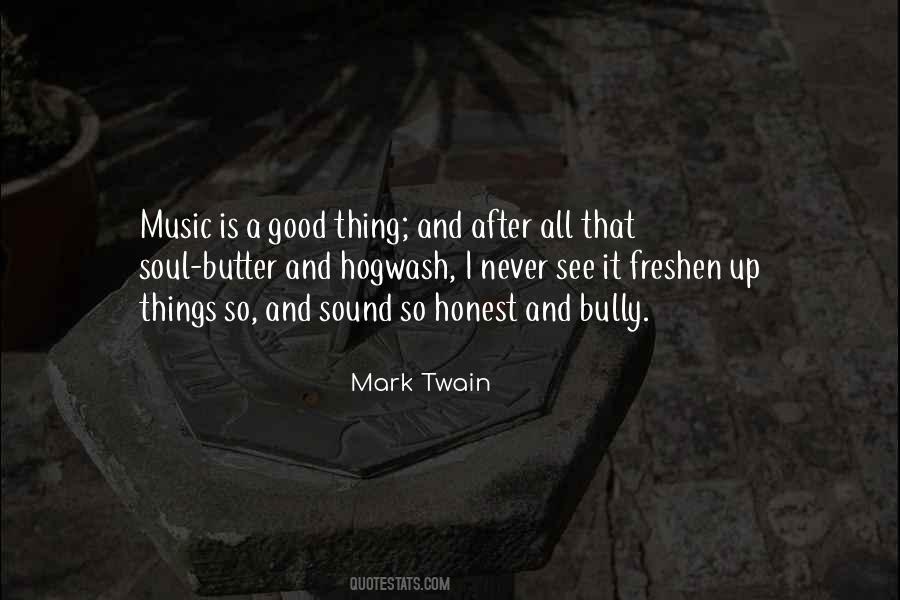 #70. Music, once admitted to the soul, becomes a sort of spirit, and never dies. - Author: Edward Bulwer-Lytton
#71. We're a gumbo of American music, and aren't ashamed to play pop or soul or rock because we all grew up on radio. - Author: Jonathan Cain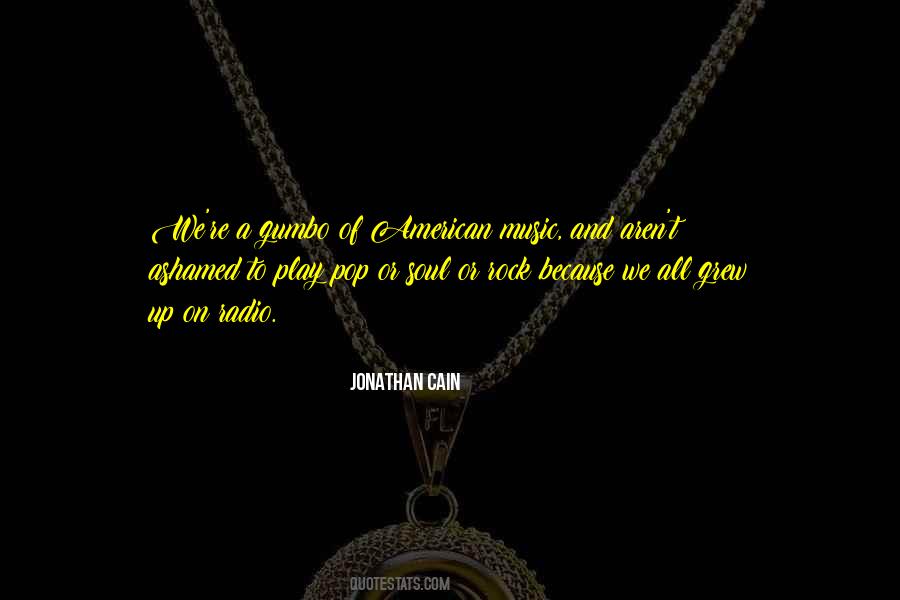 #72. In Montreal, there is a friend of mine at school who is a jazz pianist with an amazing voice, and we sort of have this fusion/soul/R&B/folk music kind of thing. We've been keeping it low-key and opening for some friends. - Author: Jake Epstein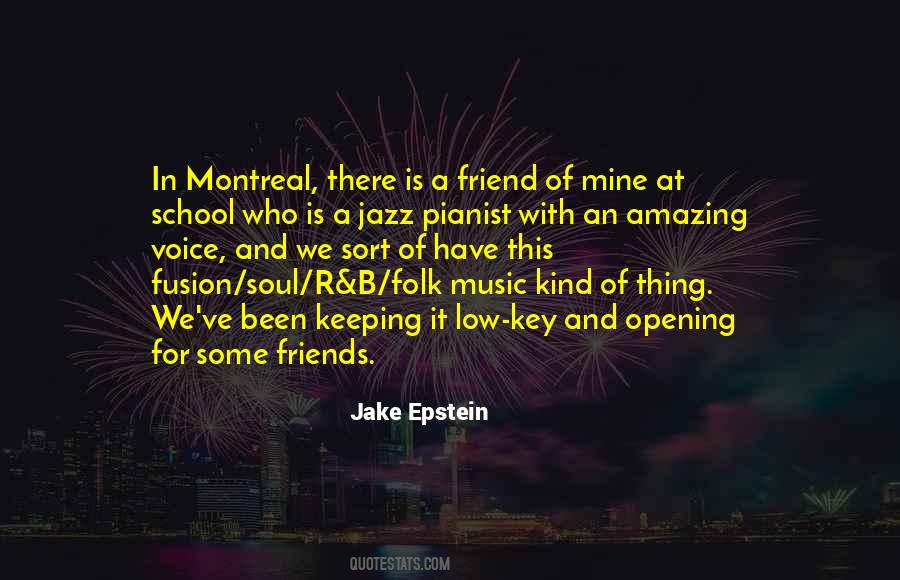 #73. I was actually under a lot of heaviness when I was younger. I thought of myself as an old soul. I was very obsessed with death. Basically, I didn't really have a youth - I sublimated all that into my identity and my music. - Author: Ariel Pink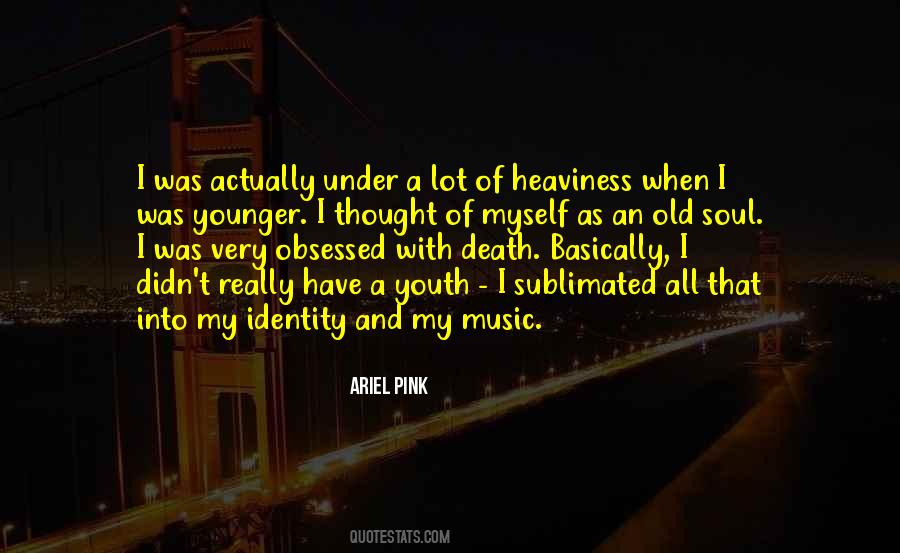 #74. I'm singing the way that I love to sing, which is like old soul, like old Al Green. I grew up about an hour from Memphis. So all that music that I grew up with - the Stax music and early rhythm 'n' blues - I'm doing that. I'm actually getting out from behind my guitar and I'm singing. - Author: Sheryl Crow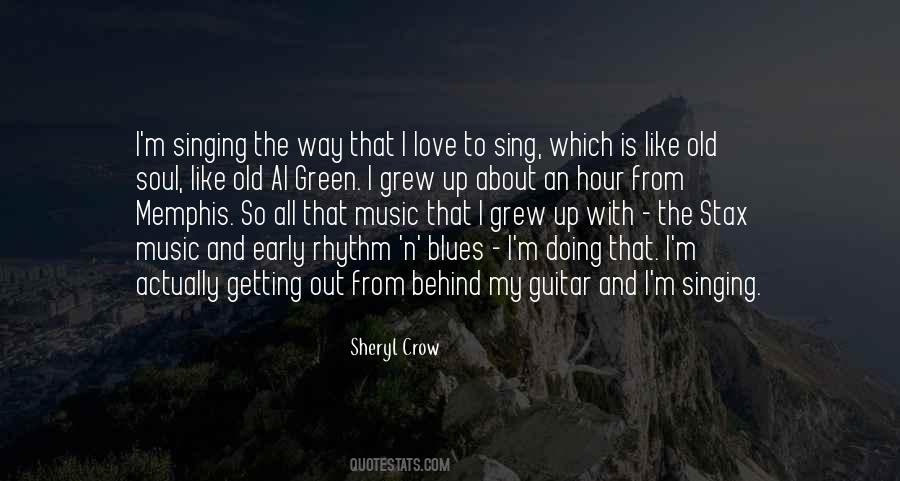 #75. The mouthpiece of the half-inarticulate, all-suggesting music that is at once the very soul and the inseparable garment of romance. - Author: Walther Von Der Vogelweide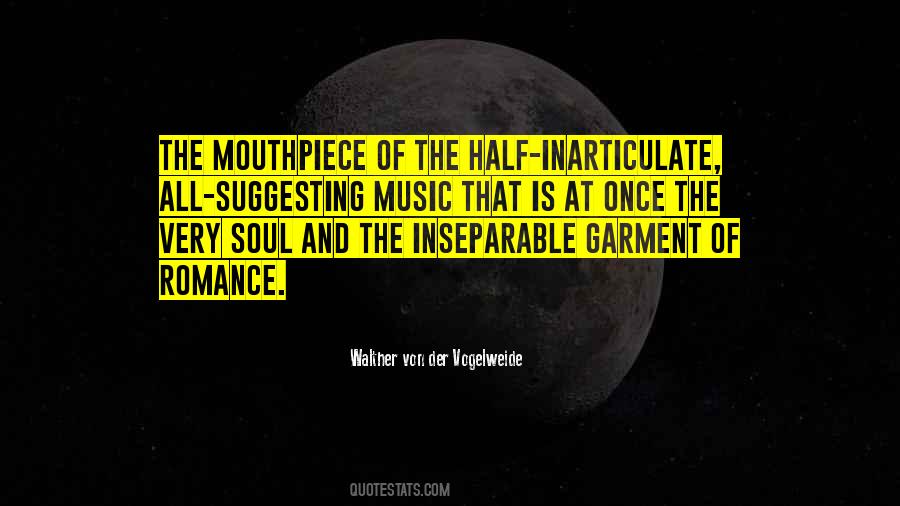 #76. Music is the language of the soul; and for two people of different nations or races to unite, there is no better means than music - Author: Hazrat Inayat Khan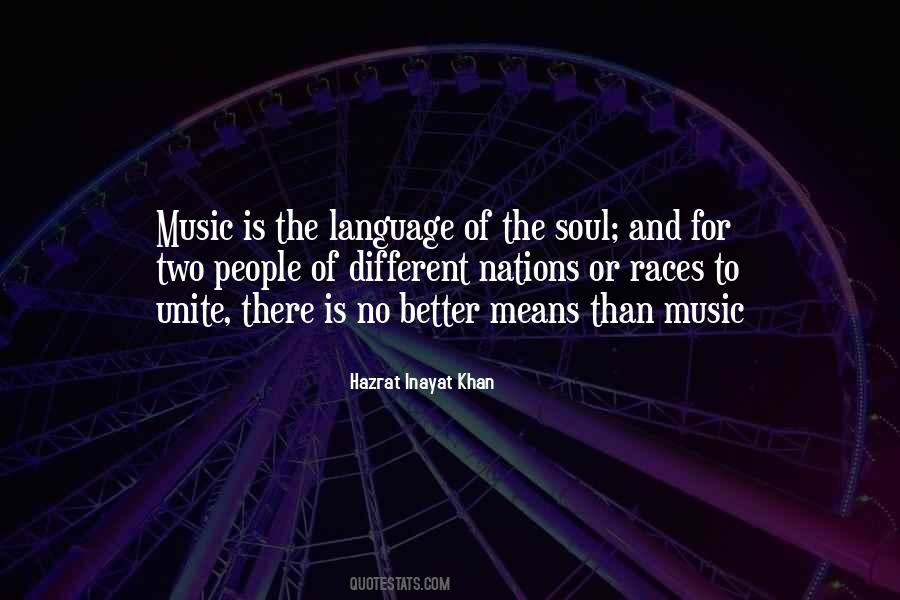 #77. I listen to crazy, robust rock music where they sing their faces off, and soul music, which can be similar. - Author: Adam Lambert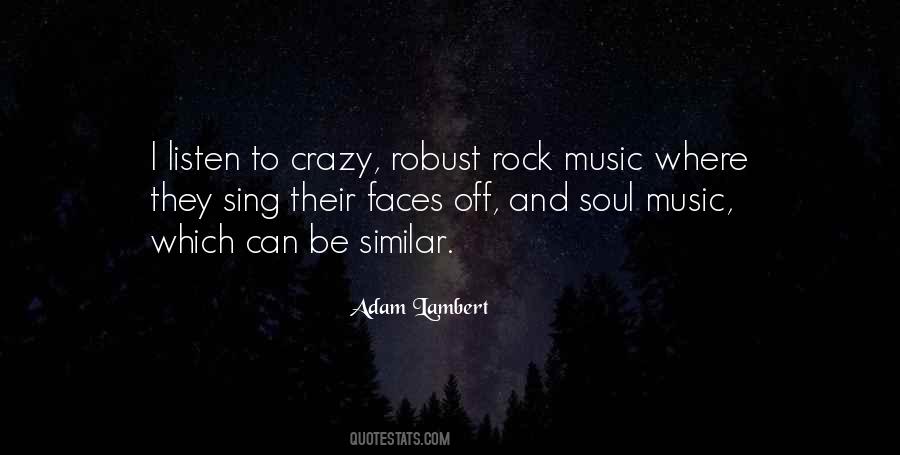 #78. Education in music is most sovereign because more than anything else rhythm and harmony find their way to the innermost soul and take strongest hold upon it - Author: Plato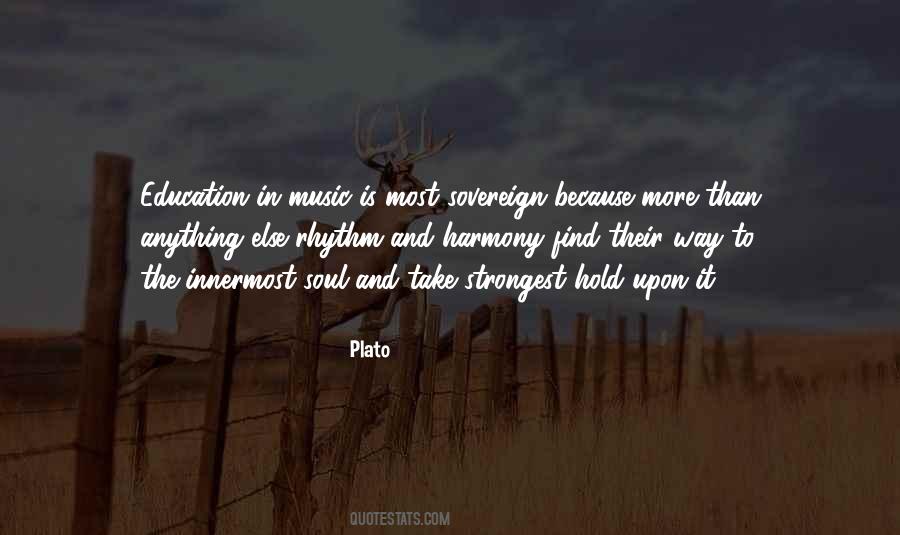 #79. For me, the highlight was meeting all the Motown acts, as I adore black soul music. I met Stevie Wonder who I love, and Diana Ross And The Supremes. I also met The Carpenters. I was actually there in the studio when they recorded We've Only Just Begun. - Author: Tony Blackburn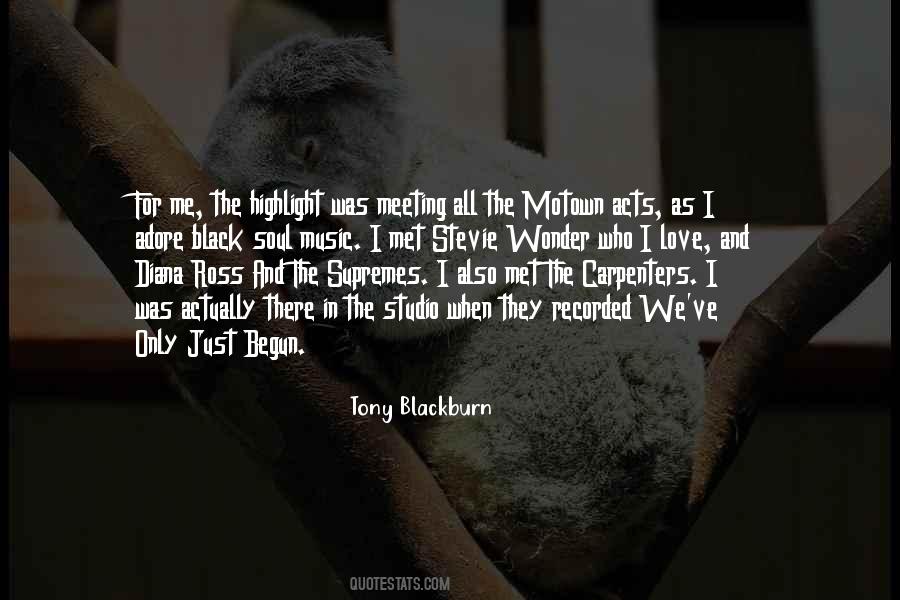 #80. A lot of my music is very roots-oriented, and that's country and soul. I've been in every roadhouse in the South, soaking in all of that ... Nashville is like a second home to me, and I'm just gravitating toward the songs. - Author: Taylor Hicks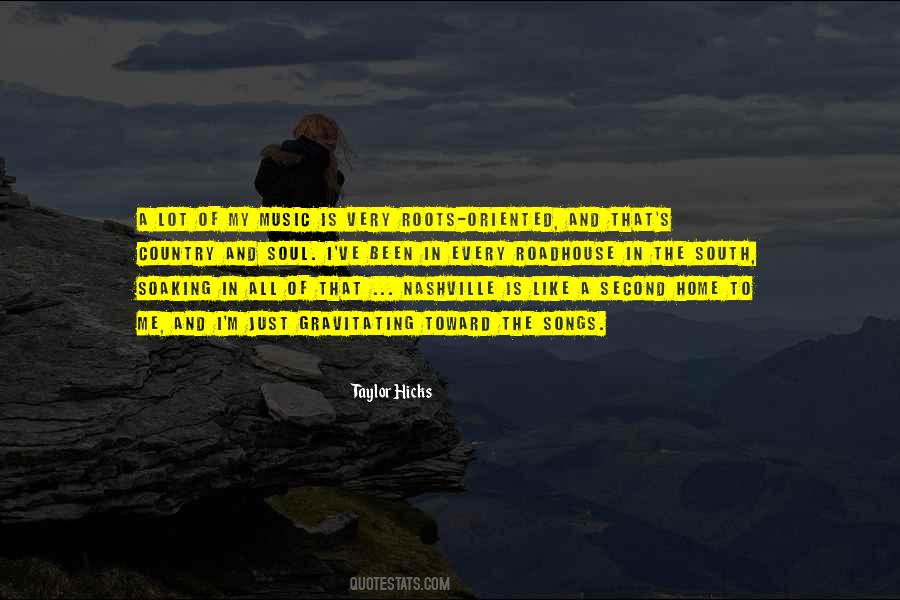 #81. When I'm down and depressed
Hopeless and confused
Full of despair
After being mistreated and used
Music helps me get out of bed
Once it flows through my ears
To my heart and to my soul
My spirit rise to speak
Freedom
The sweetest song I ever heard - Author: Ocean Crisstopher Poet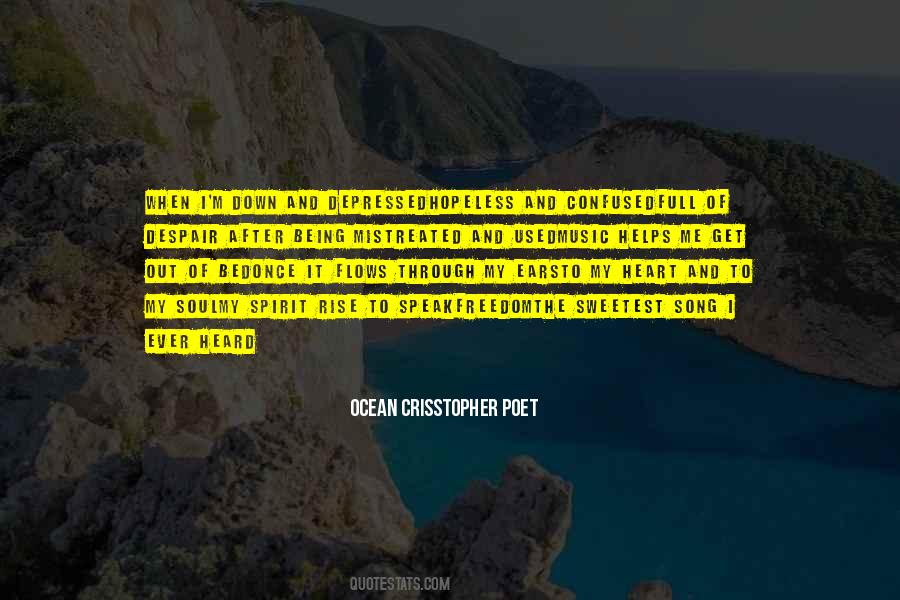 #82. Music can enter my soul like none other. It can reach me and awaken my being - Author: Tina J. Richardson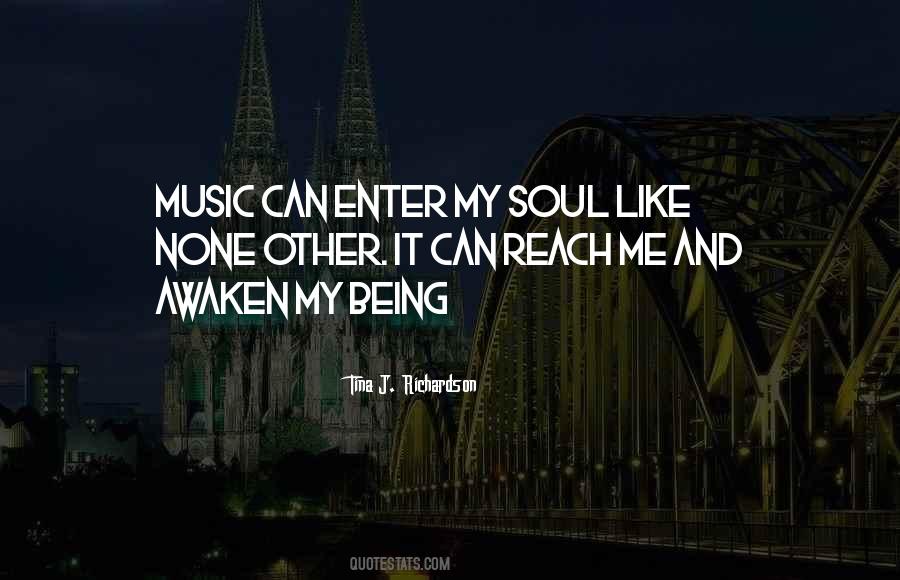 #83. Then the room was spinning and I was hugging people, and crying - all at the same time, in a blur of warm orange lights and friendly faces and music that touched my soul. I - Author: Derek Murphy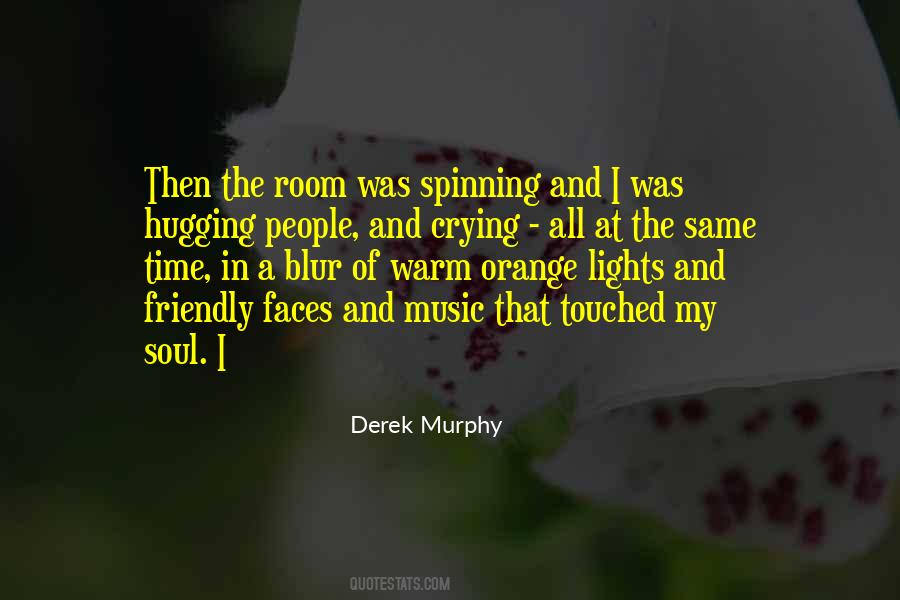 #84. Music is a secret and unconscious mathematical problem of the soul. - Author: Gottfried Leibniz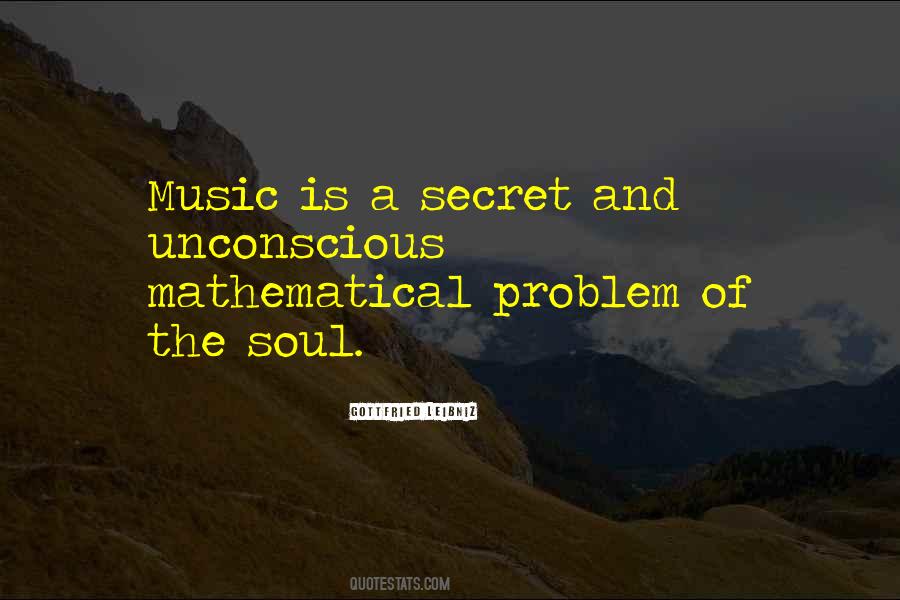 #85. The language of soul ... possesses a pronounced lyrical quality which is frequently incompatible to any music other than that ceaseless and relentlessly driving rhythm that flows from poignantly spent ideas. - Author: Claude Brown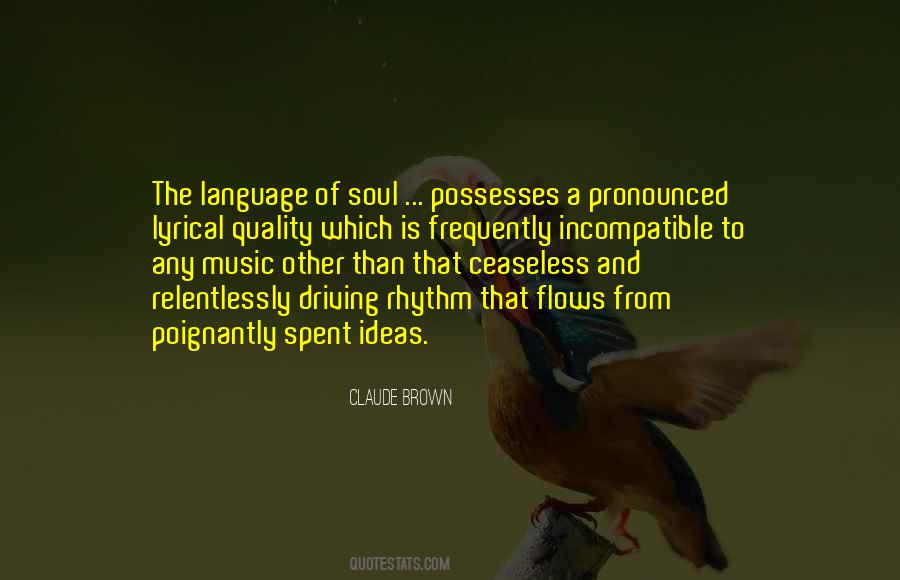 #86. Music is the song of eternal love which touches the soul and fills us with joy. - Author: Debasish Mridha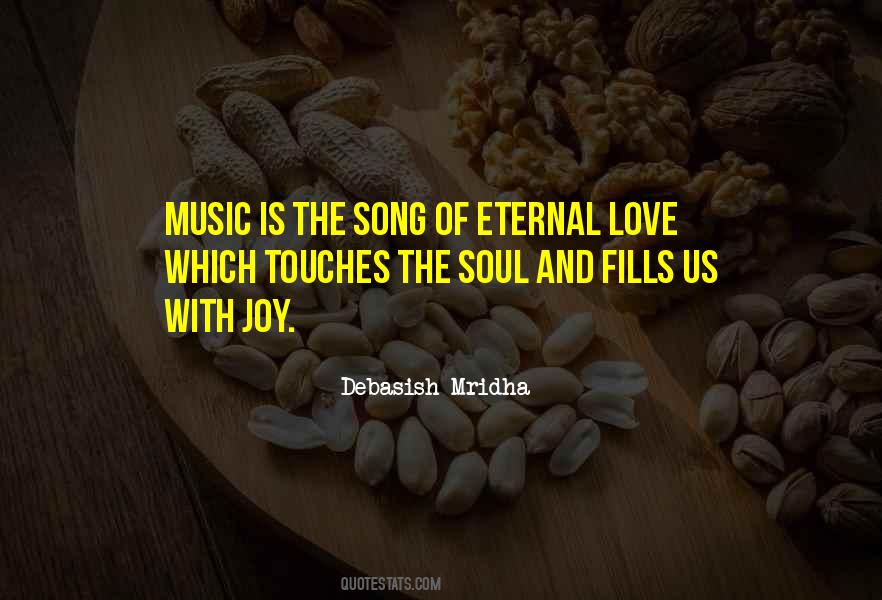 #87. As sunlight is for flowers, and sustenance for the mortal shell, music is for the human soul. - Author: Richelle E. Goodrich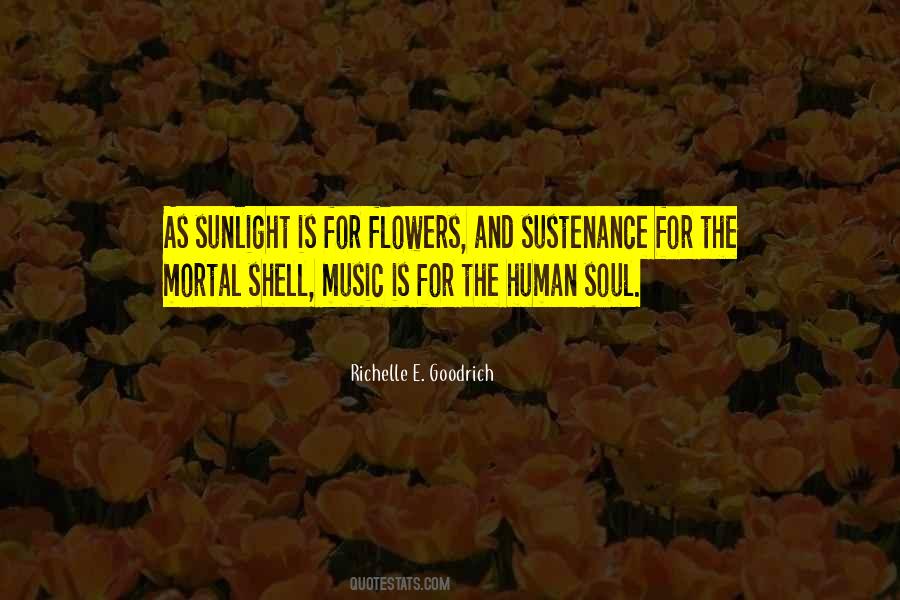 #88. There's nothing like music to relieve the soul and uplift it. - Author: Mickey Hart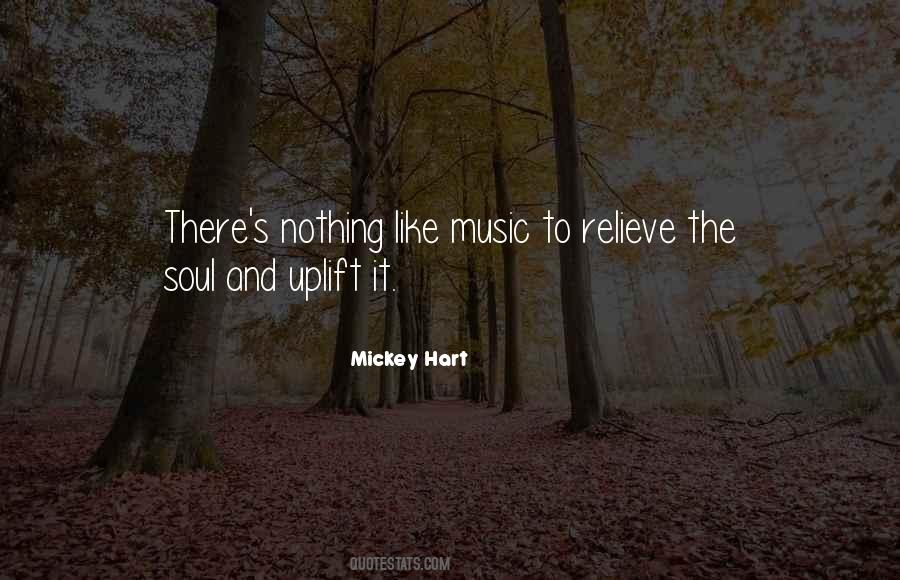 #89. As a songwriter, it's very hard to listen to music that's not coming from the heart and soul, personally. - Author: Jake Bugg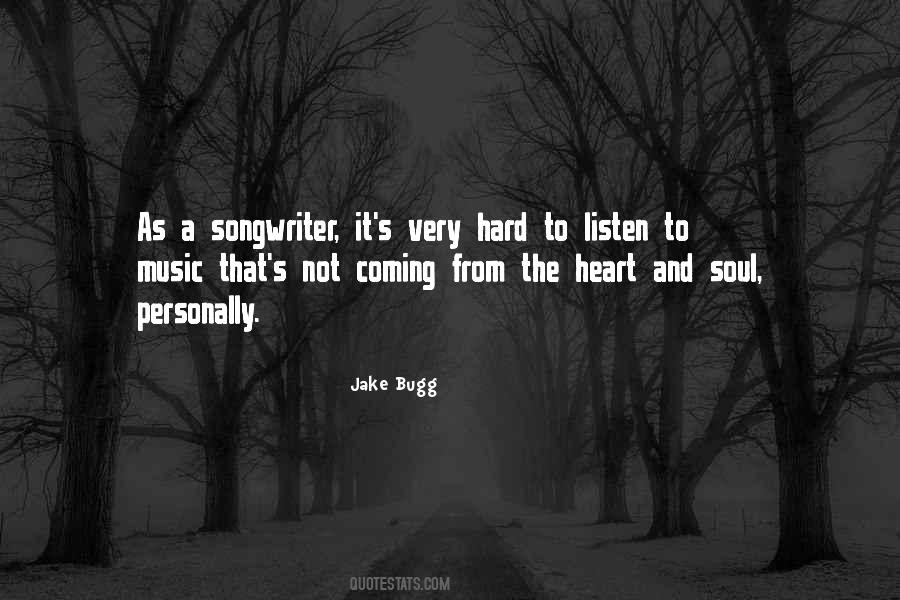 #90. Everybody, no matter what vocation they're looking at, should add music as an essential to their curriculum. Music can be a very important part of your soul and your growth as a human being. It's so powerful. - Author: Quincy Jones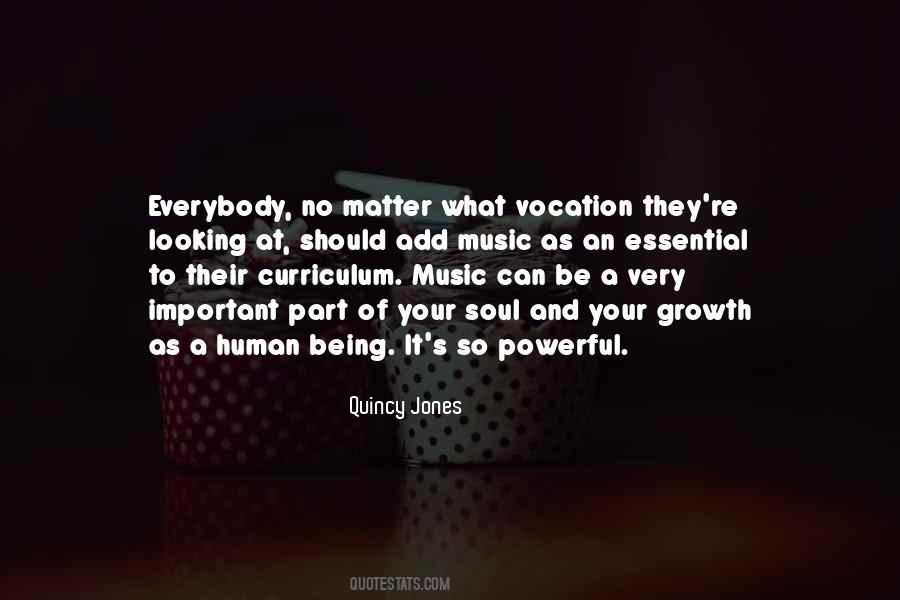 #91. Music and love are the wings of the soul. - Author: Hector Berlioz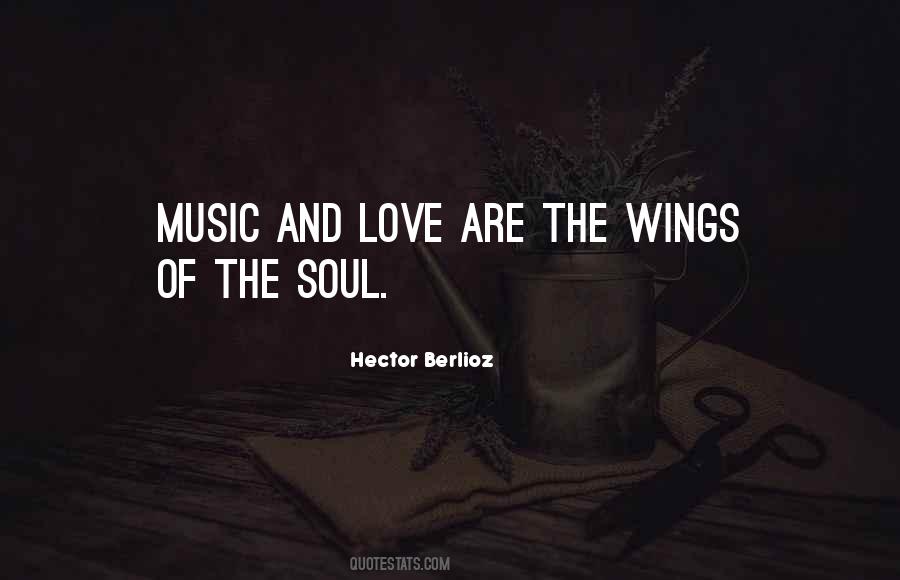 #92. I see you better in music, I hear you better in wind, I feel you more in a flooding moonlight, that understands nothing, but darkness and silence. - Author: Anthony Liccione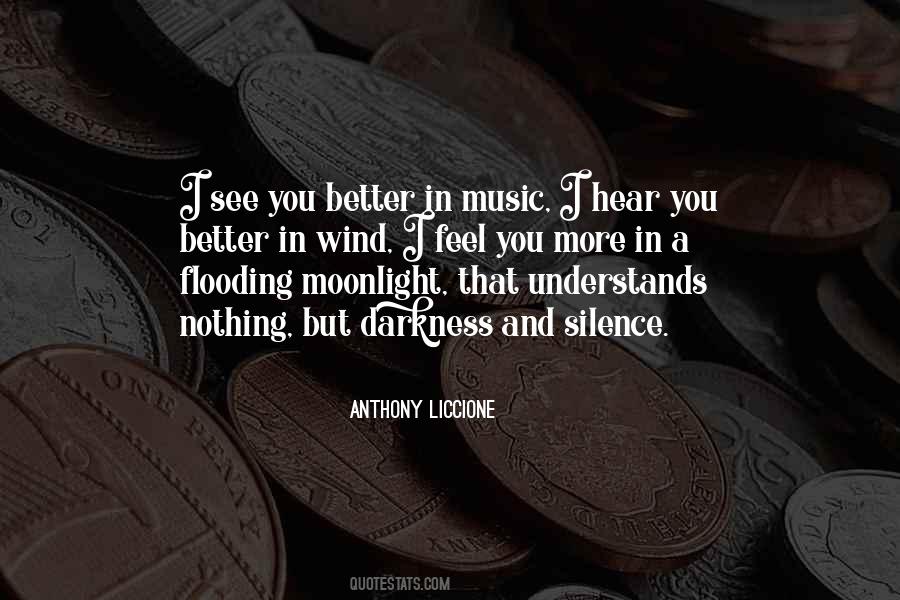 #93. I'm not trying to compete with any other revival soul acts. It's just Leon Bridges, a kid from Fort Worth trying to be himself and give people hope. It's great music to dance to and just love. - Author: Leon Bridges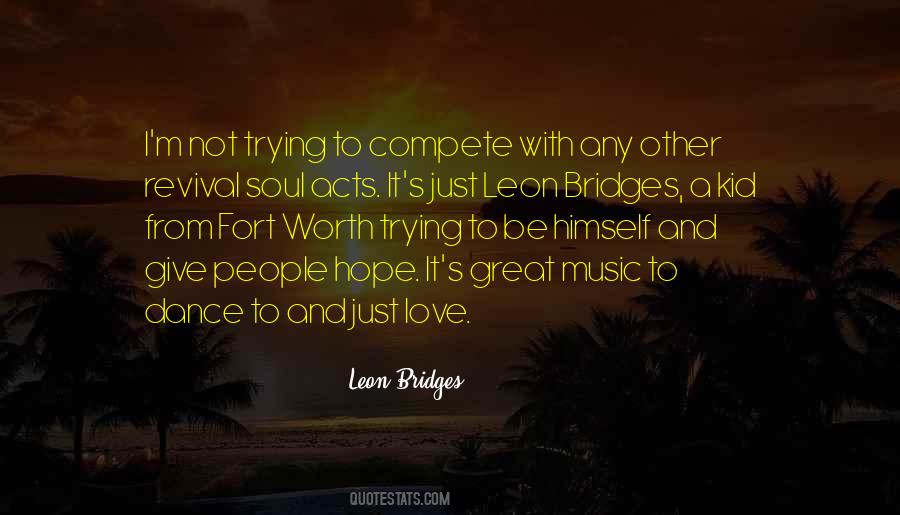 #94. Listen to your own music. Feel its rhythm and beat. Notice what creates music in you. Tap into your natural gifts and talents, your passionate interests so your soul can sing. - Author: JJ DiGeronimo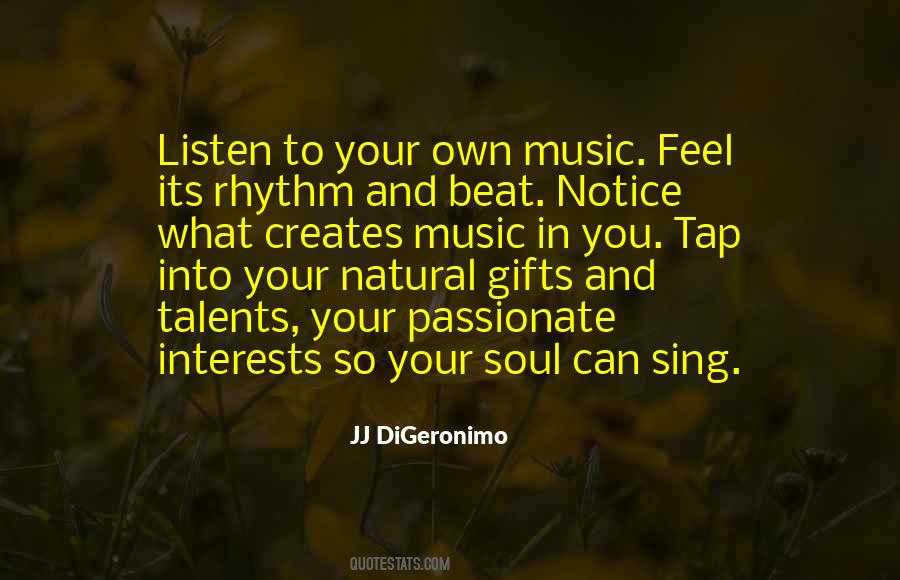 #95. As much as I am a huge soccer fan, music just kills it when it comes to importance. I could go to a desert island without a football and survive happily, but if I had to go without music, I think I'd end up killing myself. It fuels my soul. It always has. - Author: Joe Elliott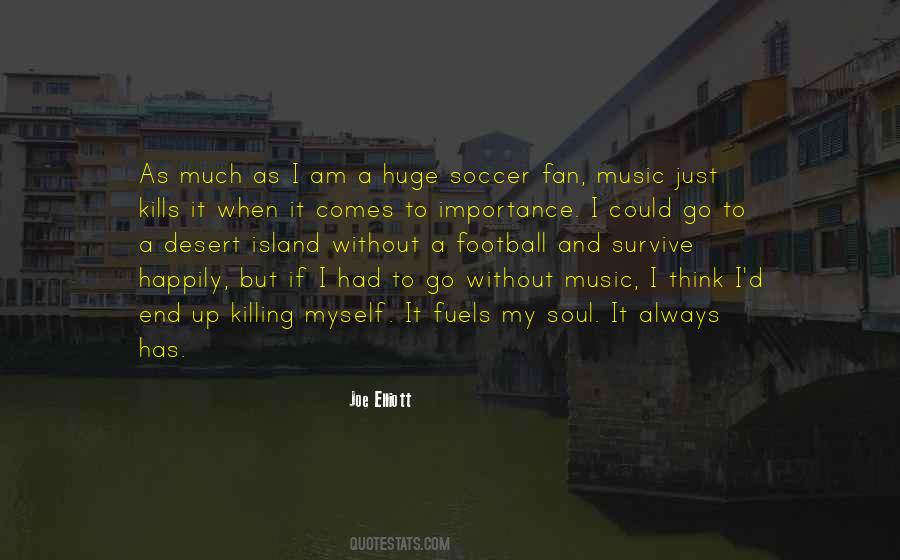 #96. Would that I could be the peacemaker in your soul, that I might turn the discord and the rivalry of your elements into oneness and melody. - Author: Khalil Gibran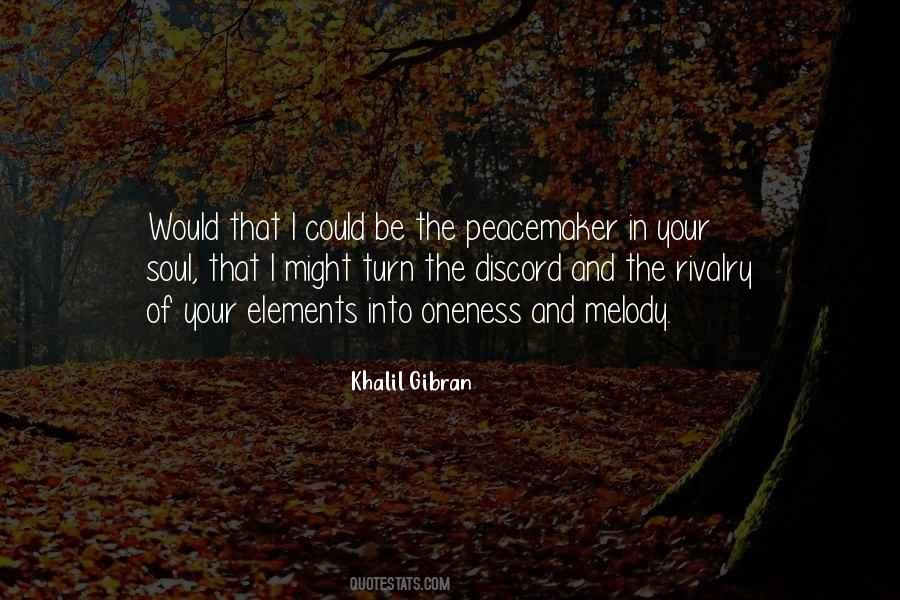 #97. And in the background of Early's story was her voice. Her soul. Her sadness and longing. Because when it's raining, it's always Billie Holiday. p. 81 - Author: Clare Vanderpool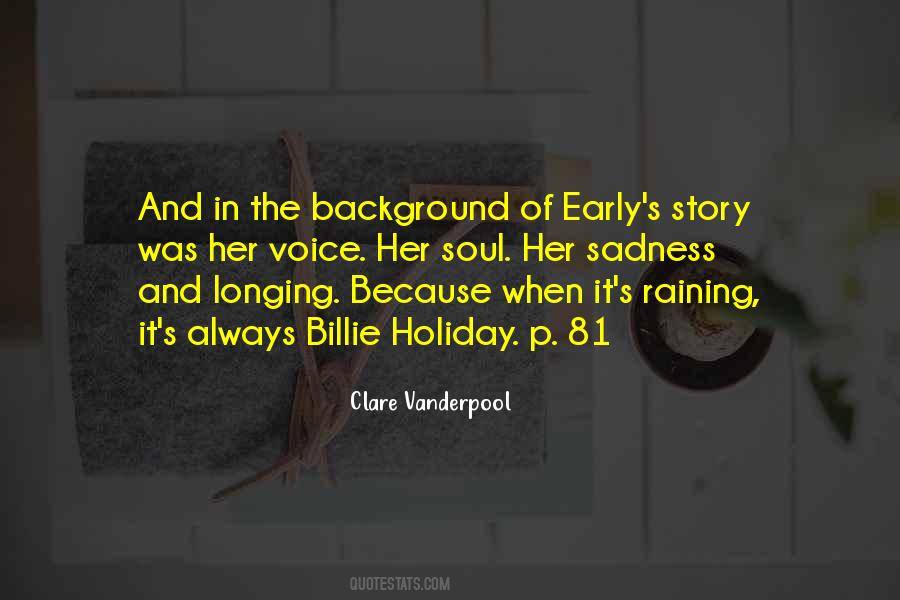 #98. The music I desire must be supple enough to adapt itself to the lyrical effusions of the soul and the fantasy of dreams. - Author: Claude Debussy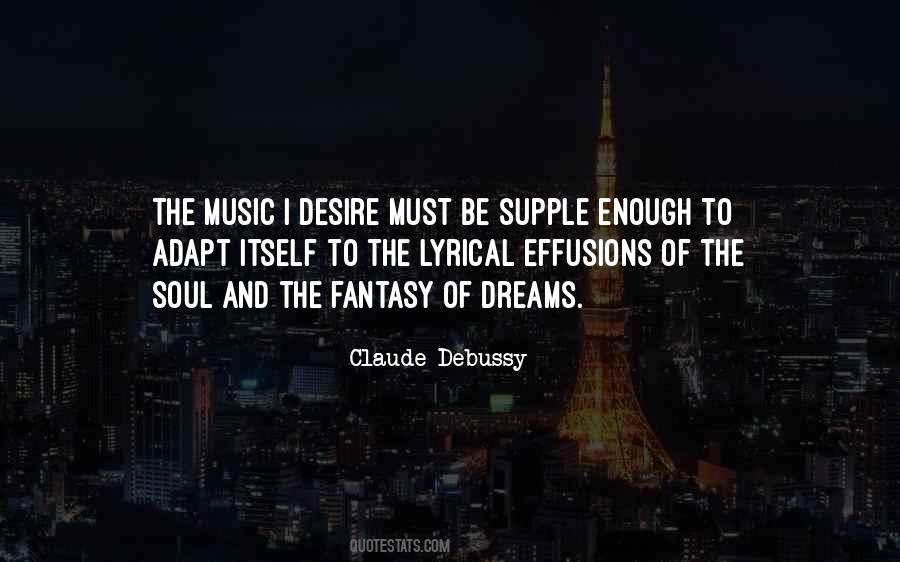 #99. Anytime a person can play the blues, he has a soul and he has a 'lift' to play anything else he wants to play. It's sort of like the foundation to a building. - Author: Jimmy Rushing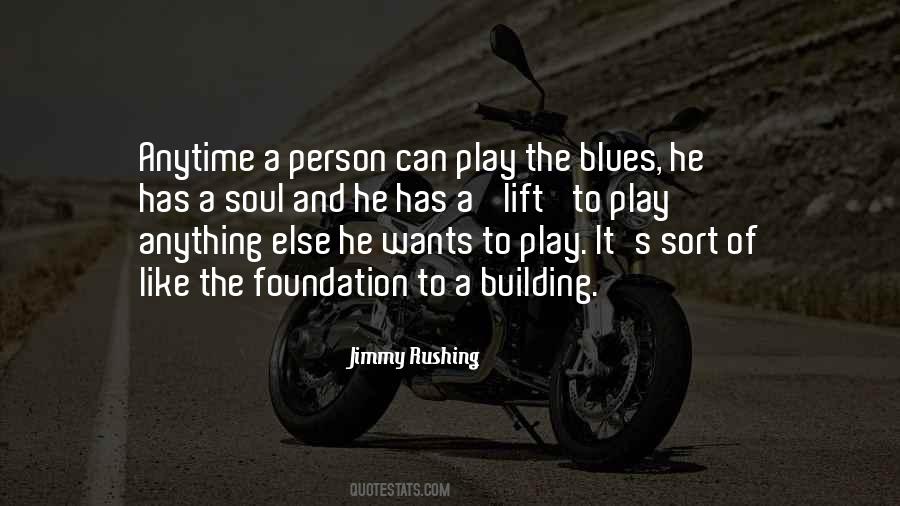 #100. Music is a moral law. It gives soul to the universe, wings to the mind, flight to the imagination, and charm and gaiety to life and to everything. - Author: Plato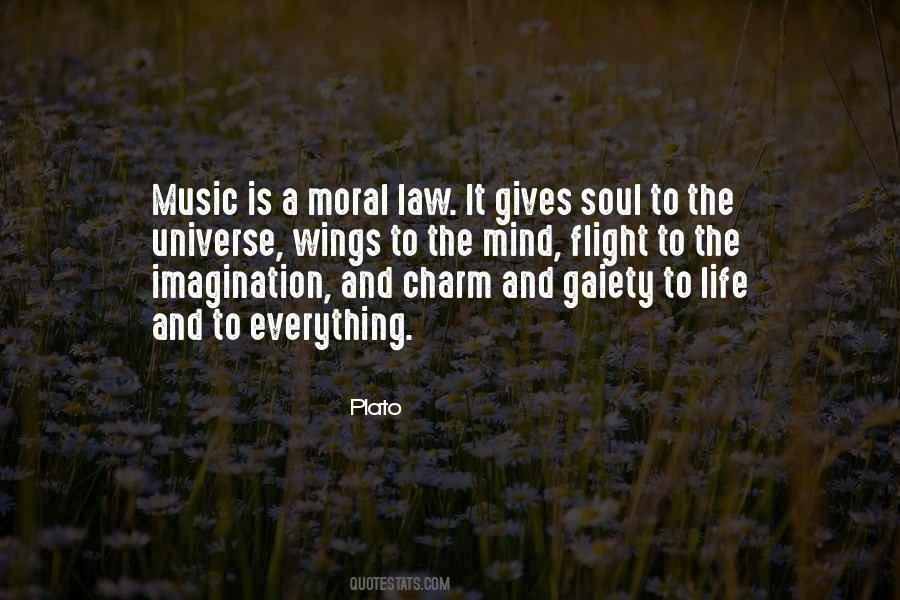 Famous Authors
Popular Topics