Sometimes Tears Famous Quotes & Sayings
List of top 90 famous quotes and sayings about sometimes tears to read and share with friends on your Facebook, Twitter, blogs.
Top 90 Sometimes Tears Quotes
#1. Sometimes, somehow ...
I feel that ocean contains tears of mother earth,
that mourns over terrible great sin done by men. - Author: Toba Beta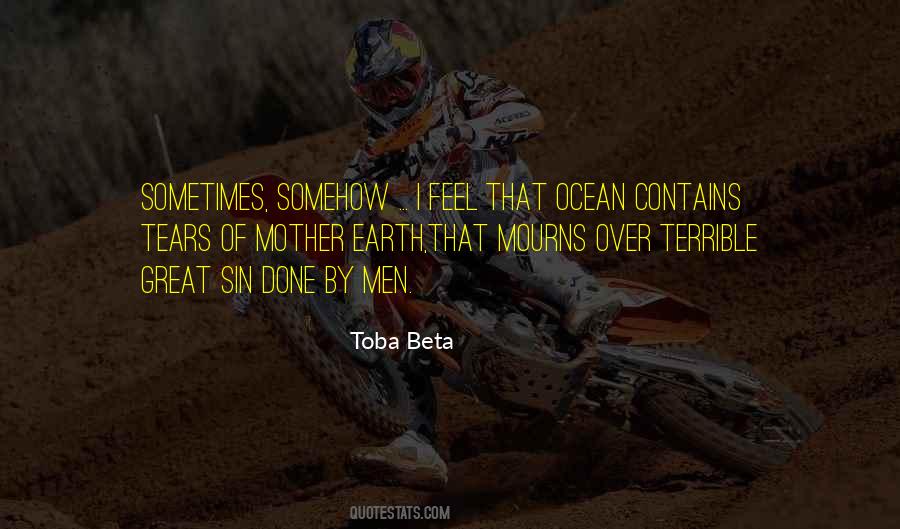 #2. I always have strong feelings when I'm writing a book. Sometimes when I'm writing a book, I even cry when I'm writing. Once I read a quotation that I thought was very true for me, which is: "No tears in the writer, no tears in the reader." - Author: Eve Bunting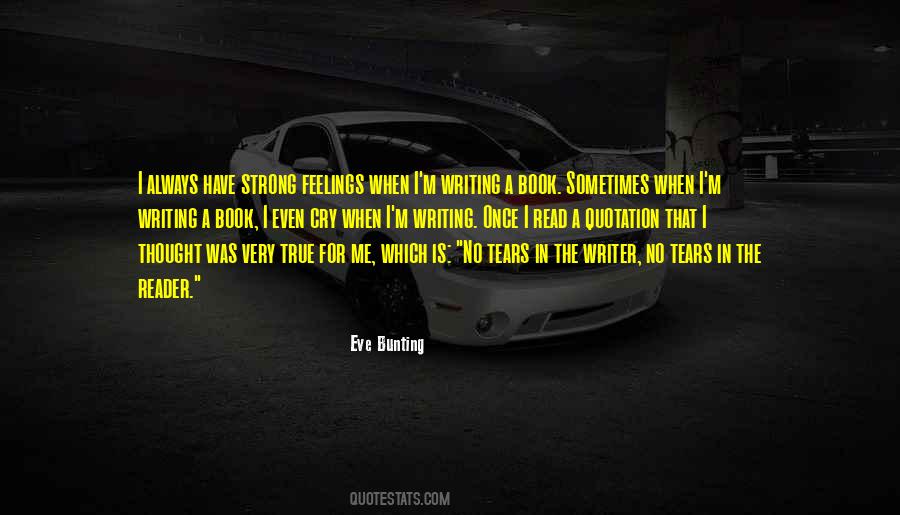 #3. Don't ever discount the wonder of your tears. They can be healing waters and a stream of joy. Sometimes they are the best words the heart can speak. - Author: Wm. Paul Young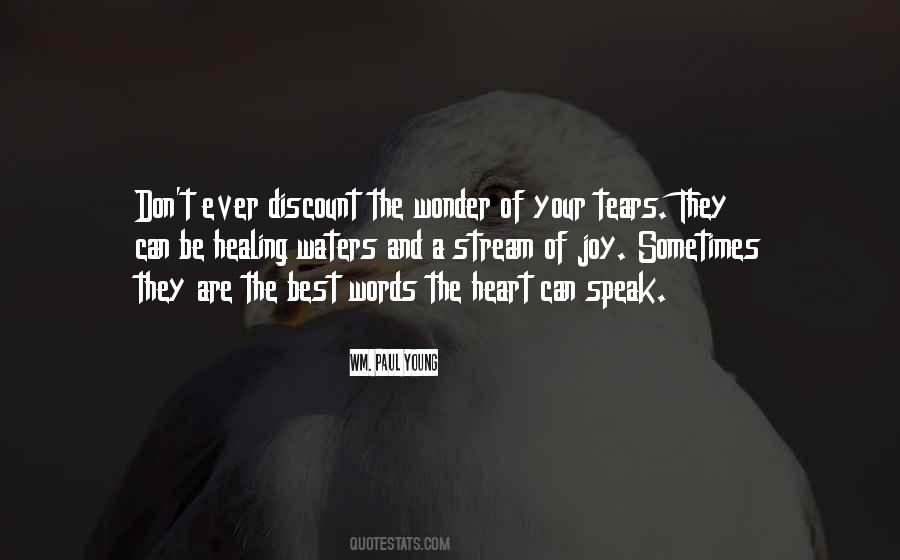 #4. Go ahead and cry, Andy. Don't be afraid of those tears. Sometimes they help to wash the soul clean. - Author: Sharon M. Draper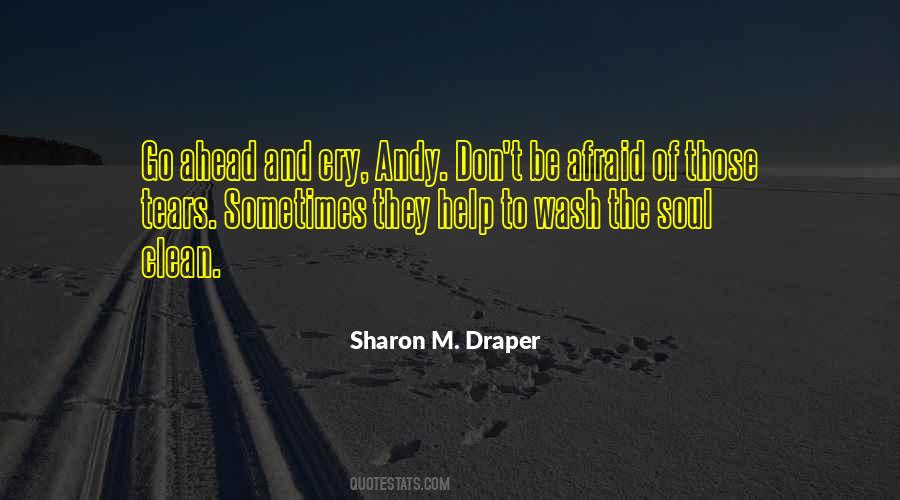 #5. I acknowledge to myself that sometimes I am a snail. I move myself by gliding. I contract my muscles and produce a slime of tears. Sometimes you see the tears and sometimes you don't. It is my tears that allow me to glide. - Author: Chinelo Okparanta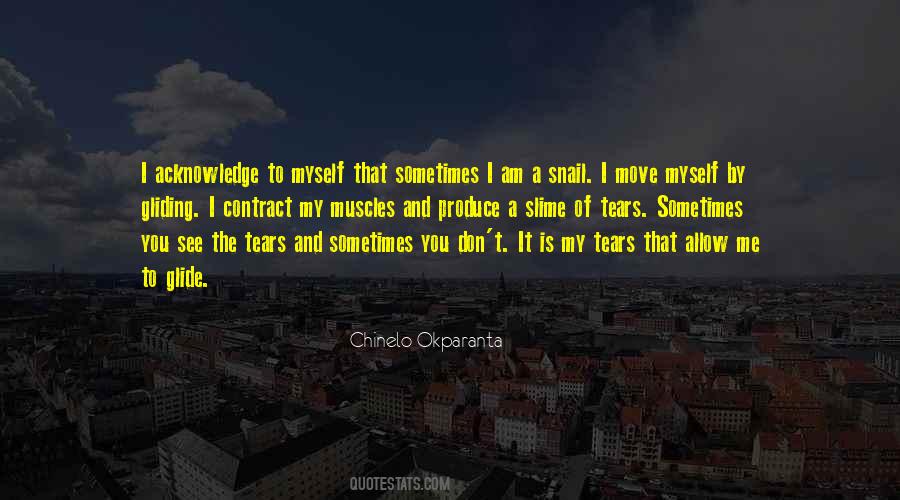 #6. Crying feels so good sometimes, and I do it when I'm happy, sad, stressed, scared. I like to believe that tears are my friend. - Author: Renee Marino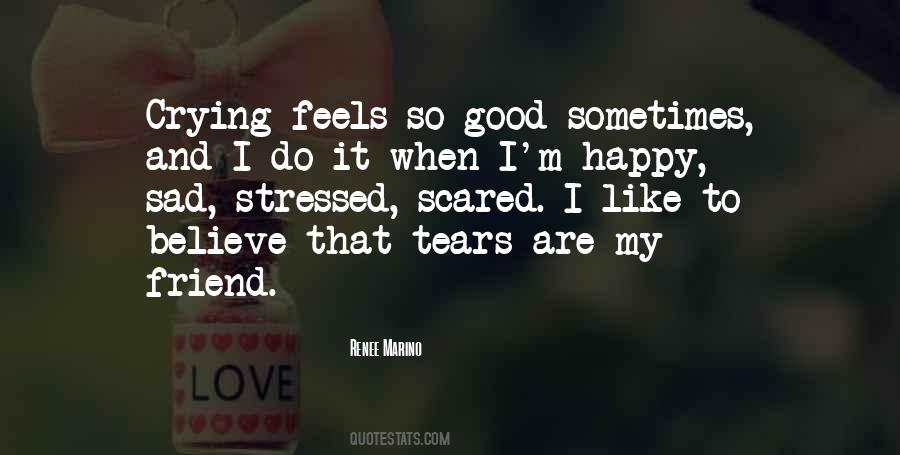 #7. Sometimes we believe in miracles, and stars fall from the sky, as if the moon had poured his tears in gold. - Author: Kristian Goldmund Aumann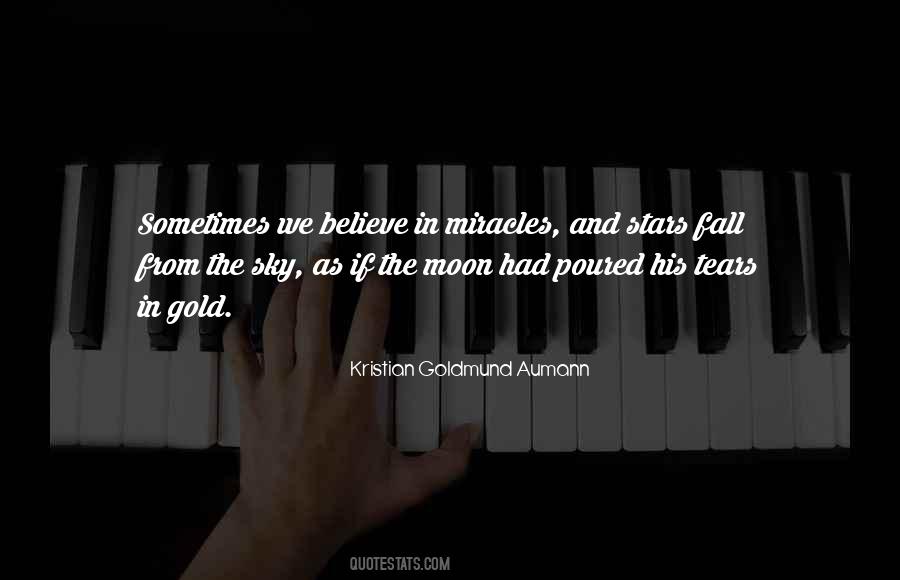 #8. I have sometimes imagined my own death and brought myself to tears. - Author: Martin Short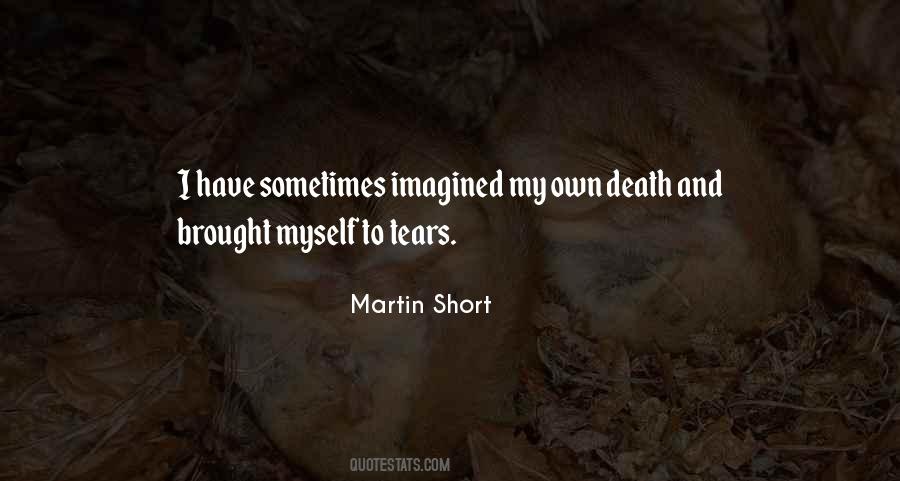 #9. We are paint streaked runners,
deafened by the cries of all the sad people.
It's a powerful sound that practically yanks the tears right out of you.
Sometimes, you just can't help but feel like a
very small
clam in
a very
big ocean. - Author: Taylor Rhodes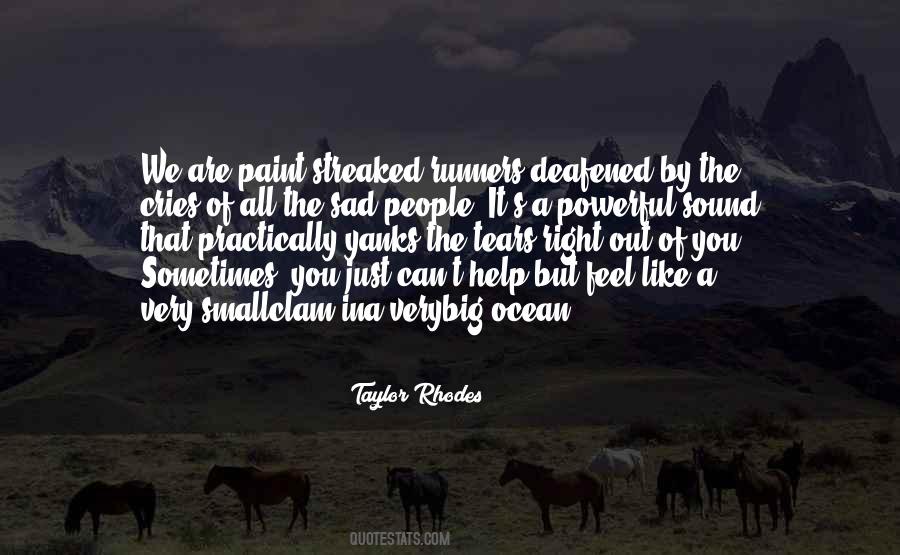 #10. Sometimes we love with nothing more than hope. Sometimes we cry with everything except tears. - Author: Gregory David Roberts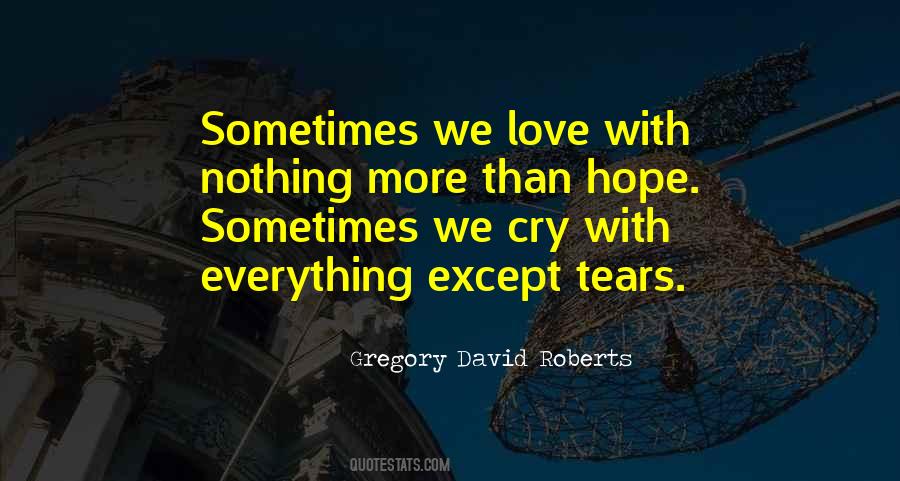 #11. Sometimes tears are the glasses that we need to see Jesus. - Author: Pope Francis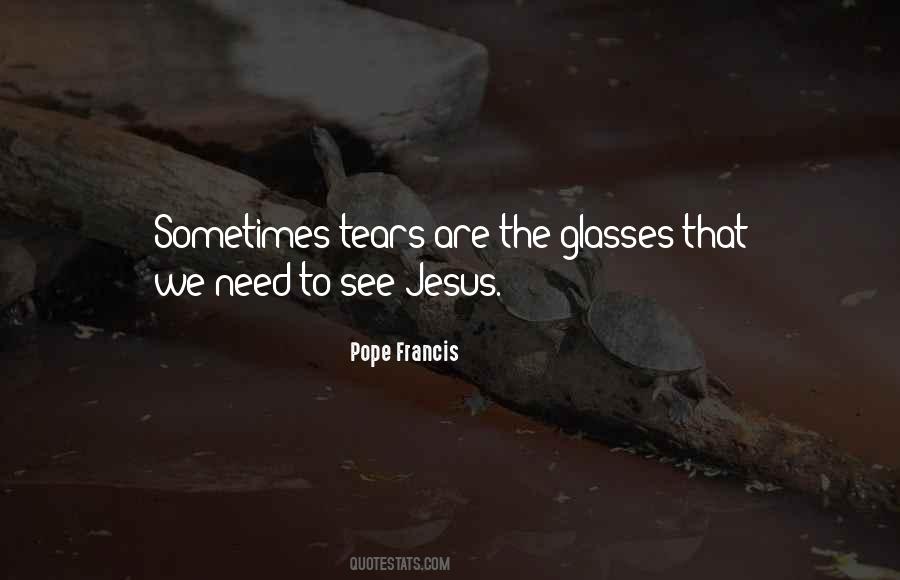 #12. Sometimes you brush against a truth, feeling it before you can say it, and instead of theories or conclusions, tears are the evidence it leaves. - Author: Dianna Ortiz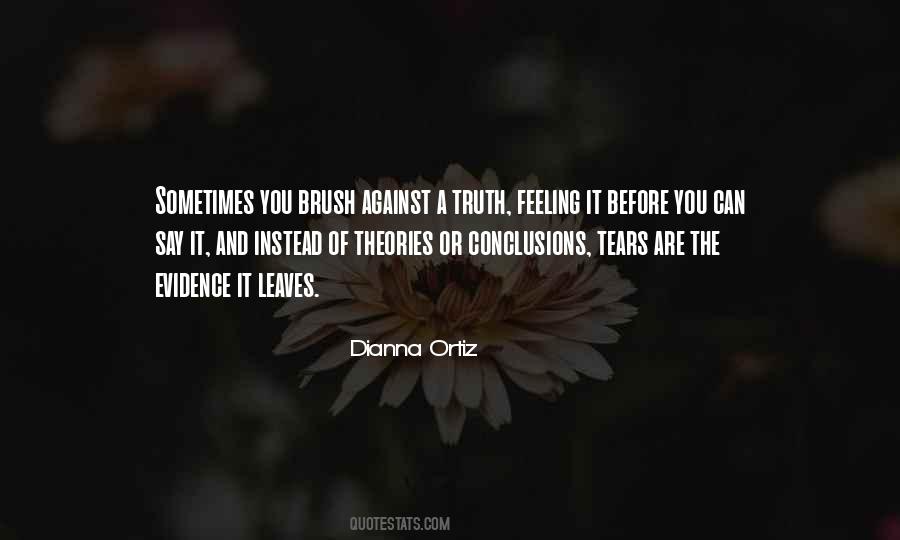 #13. Charlie Chaplin is the greatest artist of the 20th century. He takes me from laughter to tears in seconds. And he was one of the very first funny men. It's like the original violins were made in Cremona and there's never been any better since. Sometimes the best come right off the bat. - Author: Emo Philips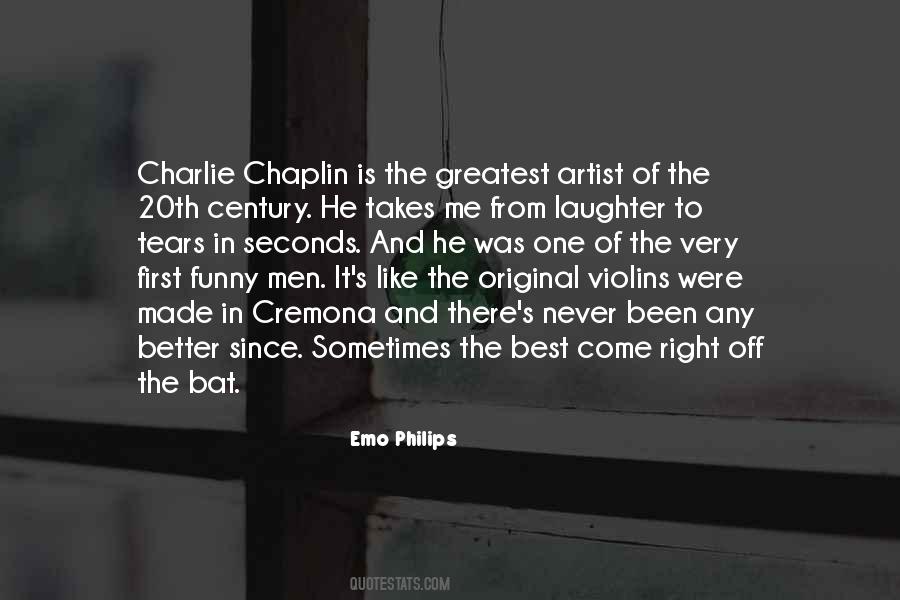 #14. Never be afraid to cry. Sometimes, nothing can cleanse the heart more than a few wet tears. - Author: Donald L. Hicks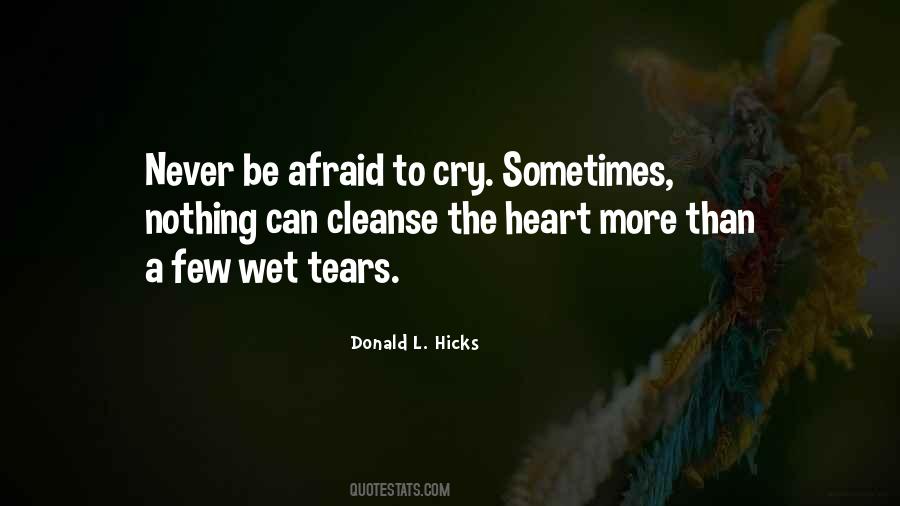 #15. Sometimes I wanna drop a tear but no emotion from a king. - Author: Lil' Wayne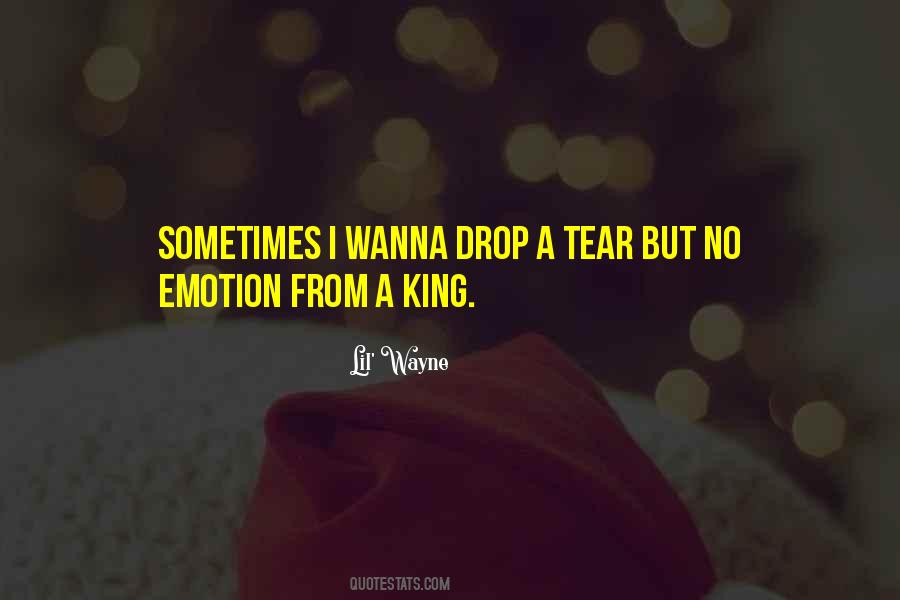 #16. Sometimes my need to love hurts
myself, my family, my cause. Is there a cure? Of course. But I refuse. Refuse to stop loving, to stop caring. To avoid those tears, that pain ... To err on the side of passion is human and right and the only way I'll live. - Author: Jon Krakauer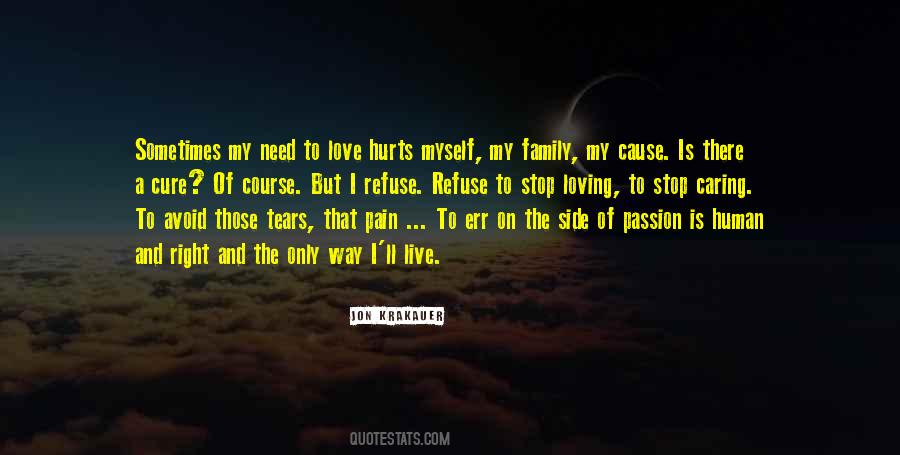 #17. Sometimes we need the salt of tears to remind us how to savor the sweetness of life. - Author: Lysa TerKeurst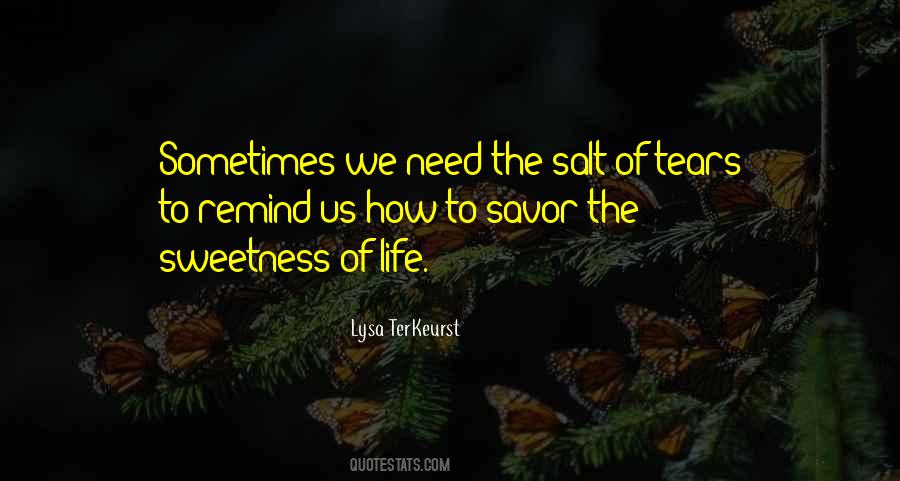 #18. I give the character a history and a full life; this way the tears come naturally for the character in whatever situation calls for tears. Also, sometimes a certain song will help me feel emotions that evoke tears. - Author: Danielle Panabaker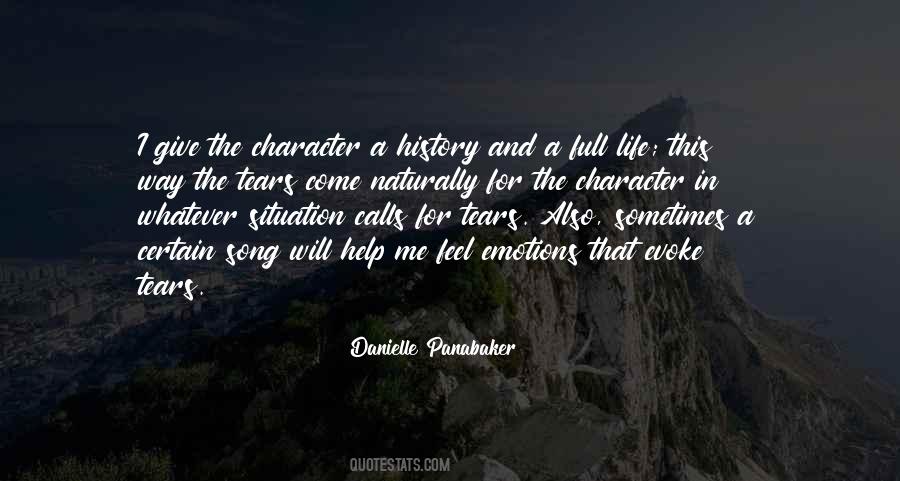 #19. What is the weight of a tear? The single tear falls when the buckets have stopped, when dry eyes and a slightly raised chin sometimes let it slip, like a prayer. It carries the weight of a lifetime. - Author: Wendy Murray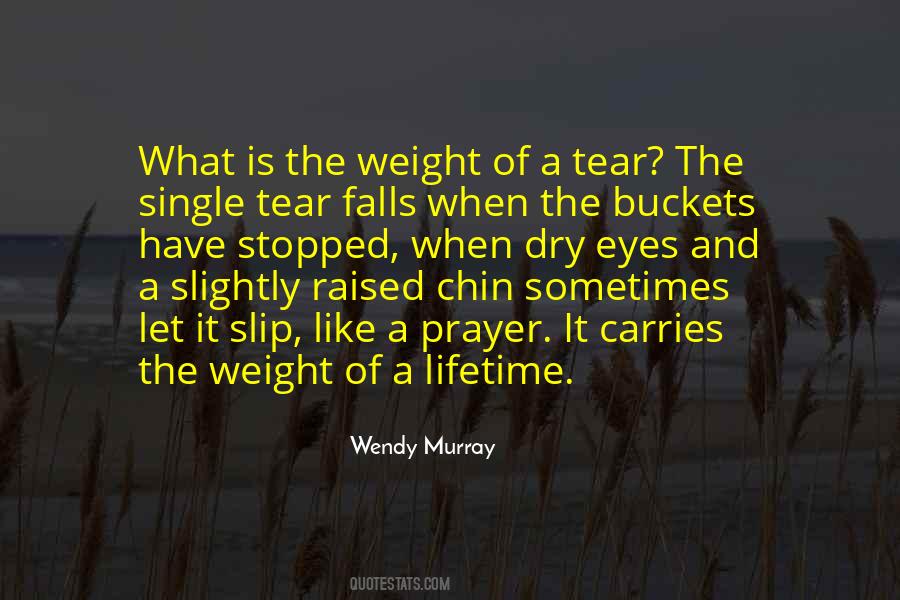 #20. It's blood, sweat, sometimes tears. - Author: Bob Hayes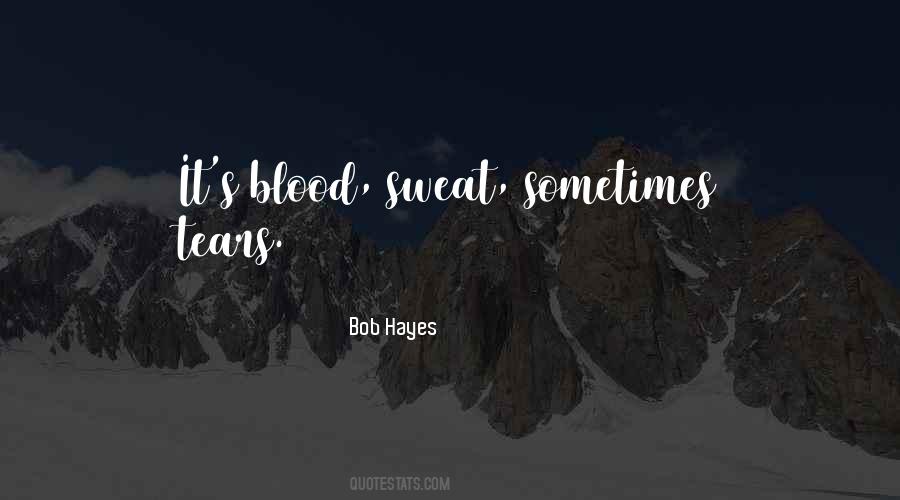 #21. Vera looked at me, and her eyes filled with tears. She does this sometimes, especially when I'm being hateful and difficult; she responds by having all the feelings I'm refusing to have. Now she reached over and took my hand, and we both began to cry. - Author: Nora Ephron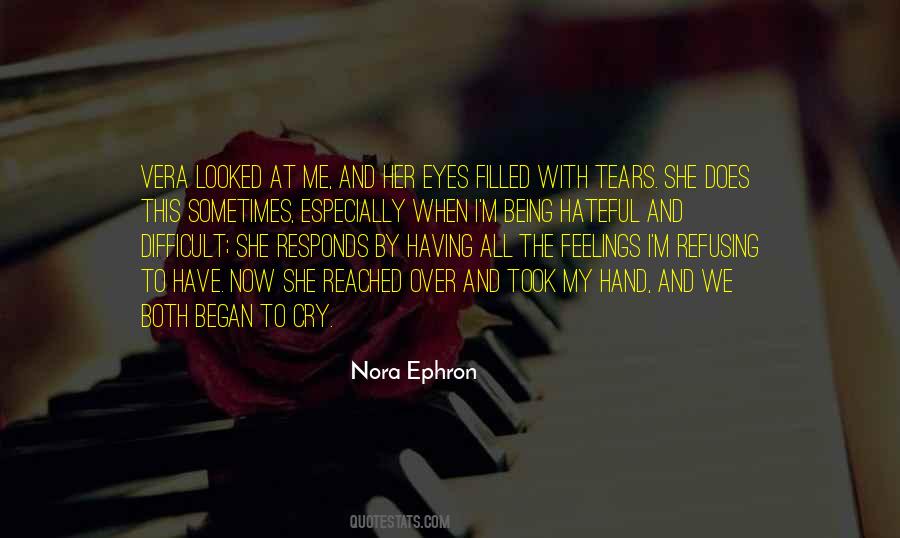 #22. A theology that cannot be sung is not worth having ... Authentic Christian faith is not merely believed. Nor is it merely acted upon. It is sung - with utter joy sometimes, in uncontrollable tears sometimes, but it is sung. - Author: Reggie M. Kidd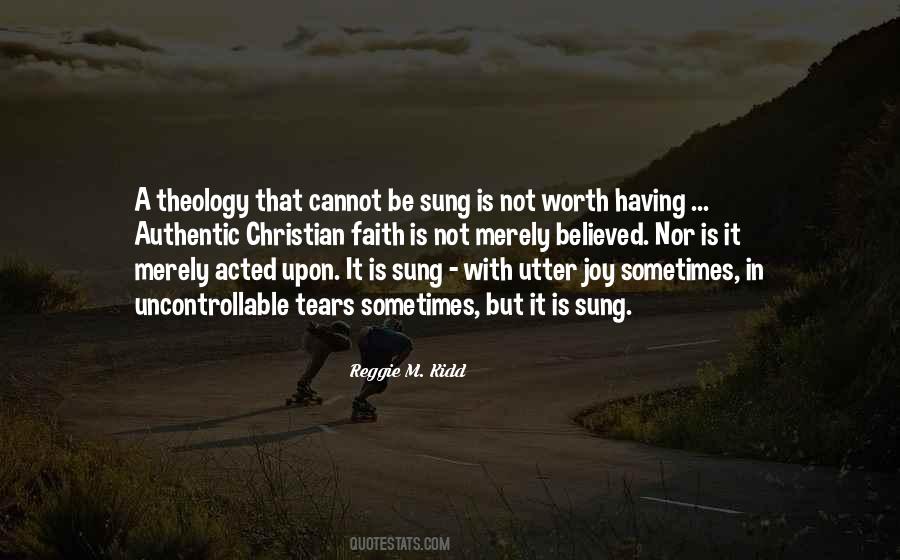 #23. She choked on a sob.
She wouldn't cry. She wouldn't. She refused to cry about Gifford.
But then she did. She was a sixteen-year-old girl, after all, and sometimes a sixteen-year-old girl needs to throw herself into a pillow and let the tears come as they may. - Author: Cynthia Hand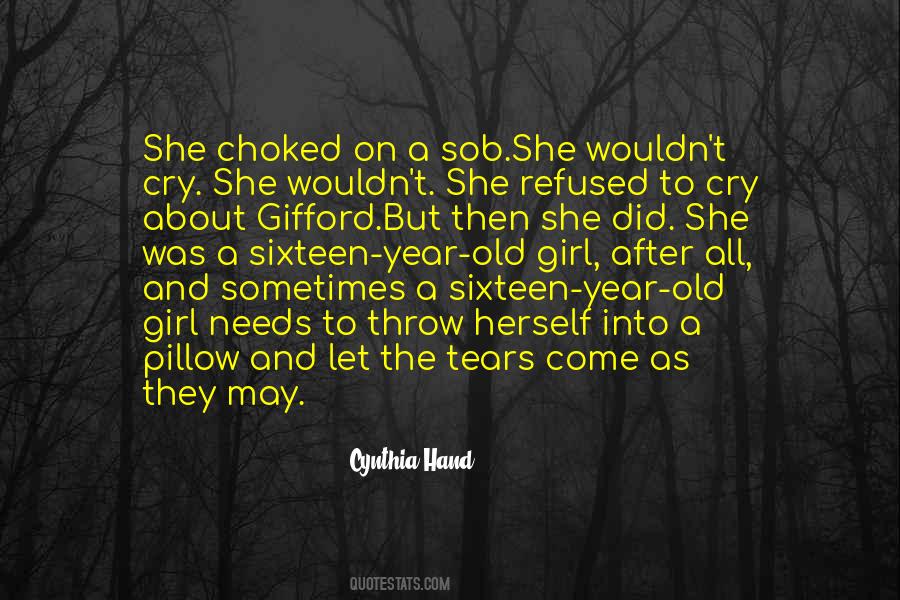 #24. Laugh often friends tho' passing years bring, sometimes, smiles and, sometimes, tears, for mirth forever warms and cheers. Laugh often! - Author: John McLeod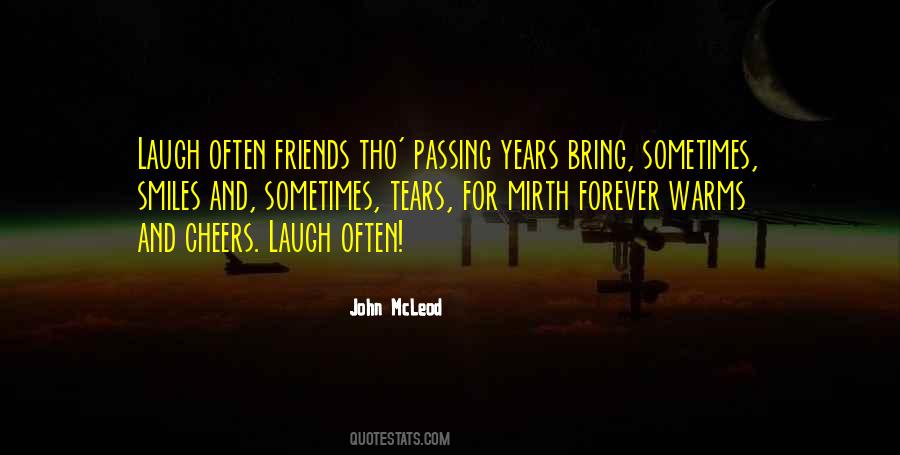 #25. A beautiful word in the middle of a sentence can sometimes reduce me to tears in an interview, and when I'm reading, too. I've sometimes wondered whether I'm at the point of tears all the time because I use my eyes so much that they're strained and on the verge of tears anyway. - Author: Michael Silverblatt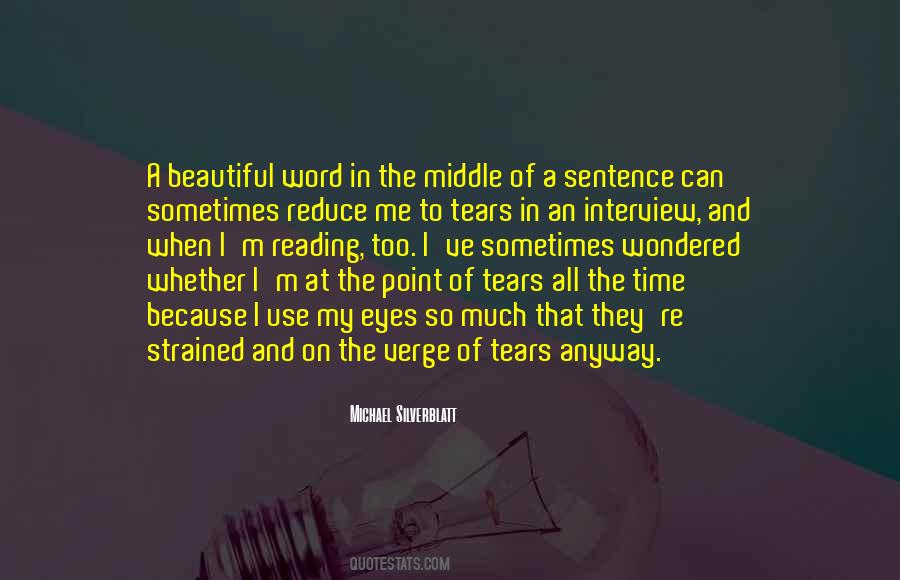 #26. We sometimes see God better through out tears and broken hearts. What seems hopeless becomes blessing and miracles... - Author: Dwight Robertson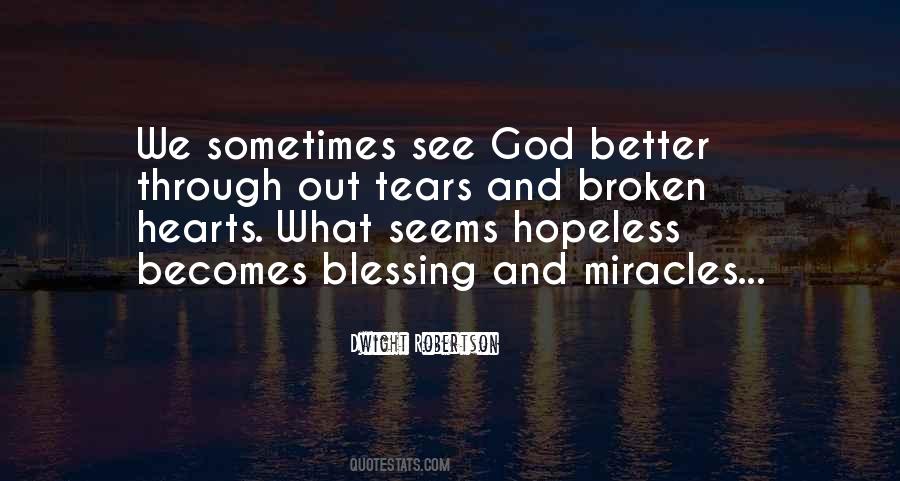 #27. Sometimes even music cannot substitute for tears. - Author: Paul Simon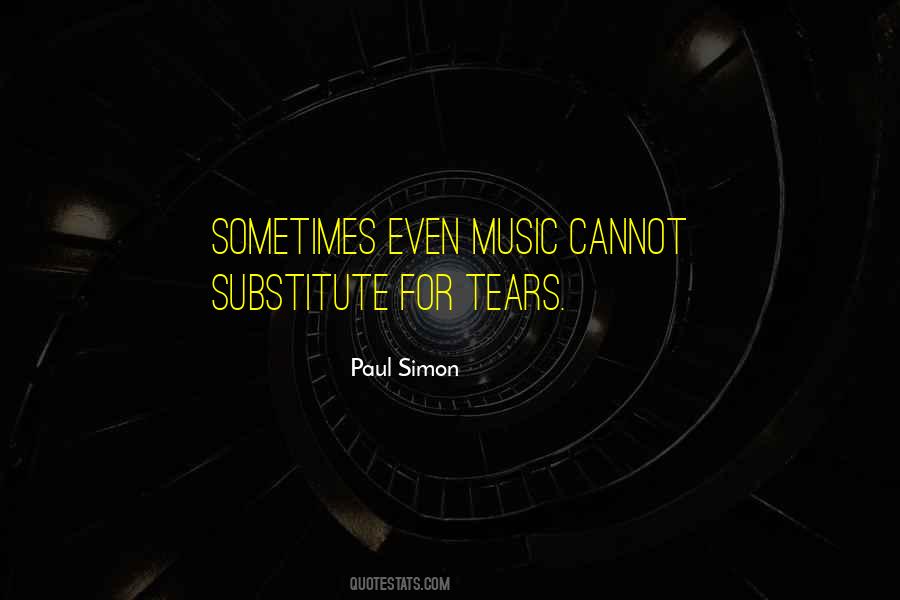 #28. The evening ended with dancing. On its being proposed, Anne offered her services, as usual, and though her eyes would sometimes fill with tears as she sat at the instrument, she was extremely glad to be employed, and desired nothing in return but to be unobserved. - Author: Jane Austen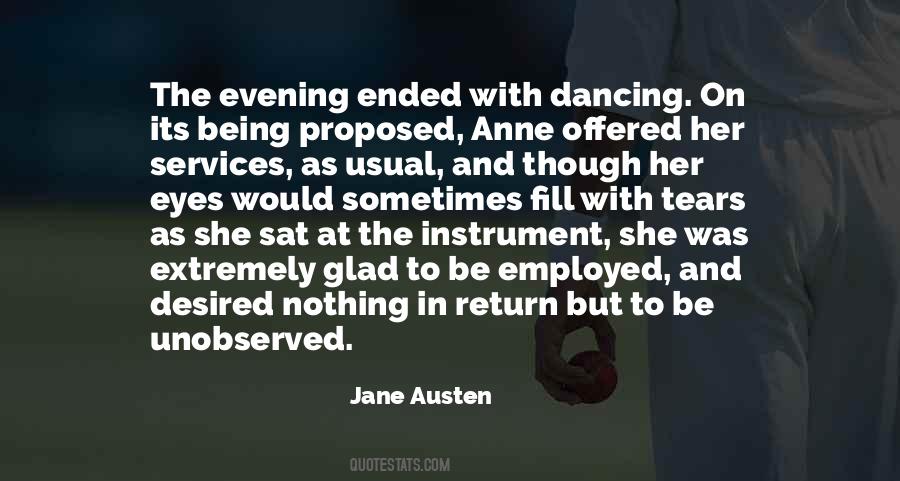 #29. There are things in this book, as in life, that might upset you. There is death and pain in here, tears and discomfort, violence of all kinds, cruelty, even abuse. There is kindness, too, I hope, sometimes. Even a handful of happy endings. (Few - Author: Neil Gaiman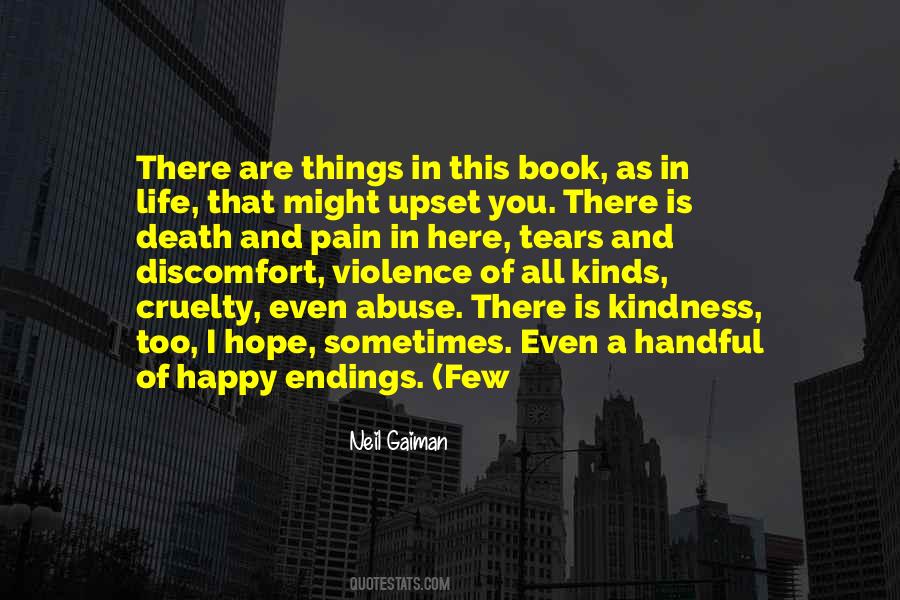 #30. It happened that sometimes I kissed in mirrors the reflection of my face; since the hands, face and tears of Annalena had caressed it, my face seemed suffused to me divinely beautiful and as if suffused with heavenly sweetness. - Author: Oscar Milosz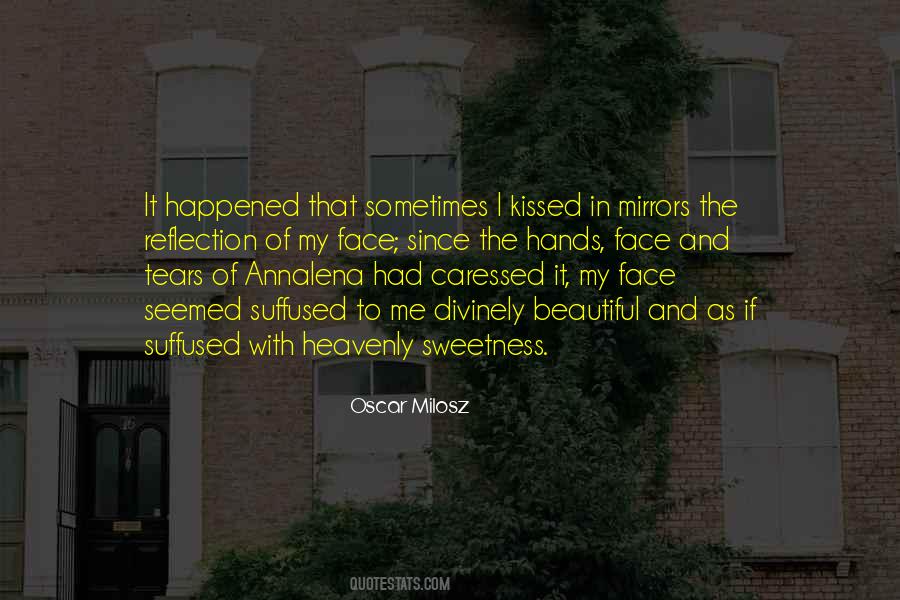 #31. Pitching ... sometimes I did so poorly, it brought me to tears. - Author: Dennis Eckersley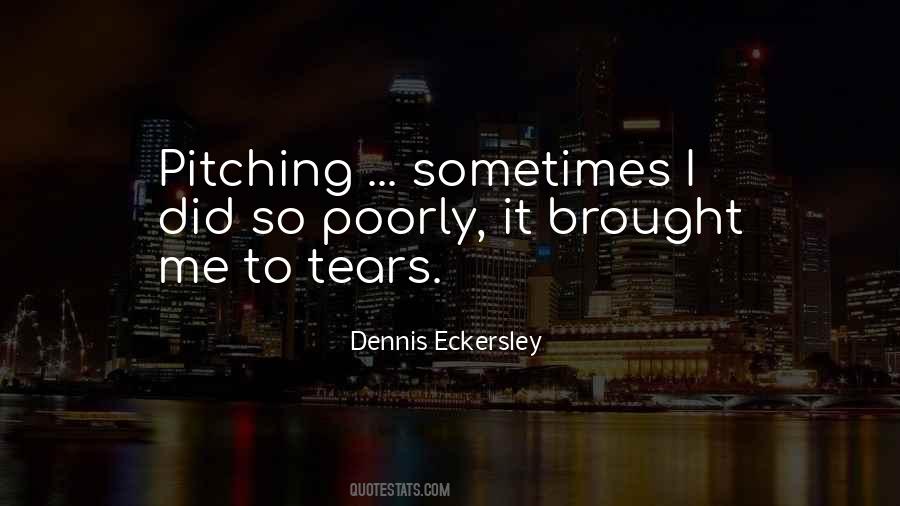 #32. Sometimes something comes along and tears your roots right out the ground, and that's when you know you been planted too long. - Author: Sheri Reynolds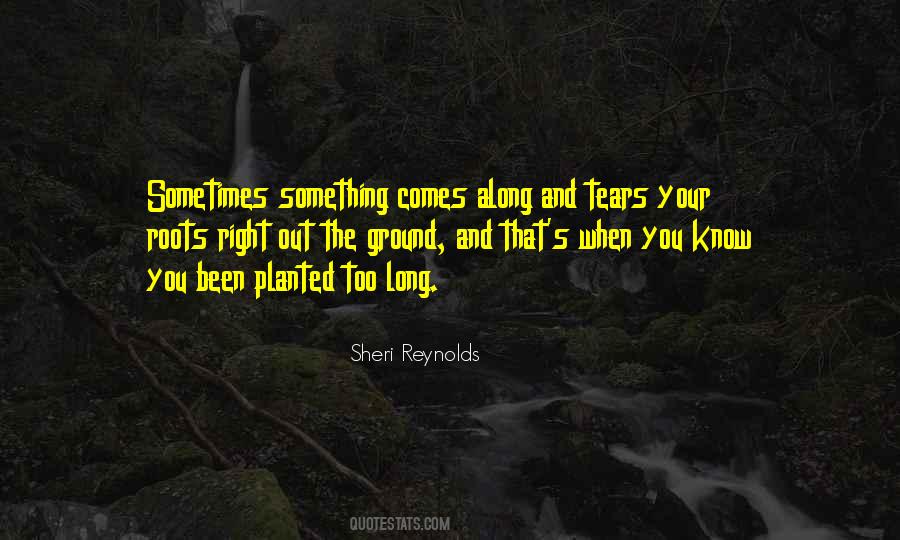 #33. Even crocodile has honest tears..sometimes - Author: Mohammed Sekouty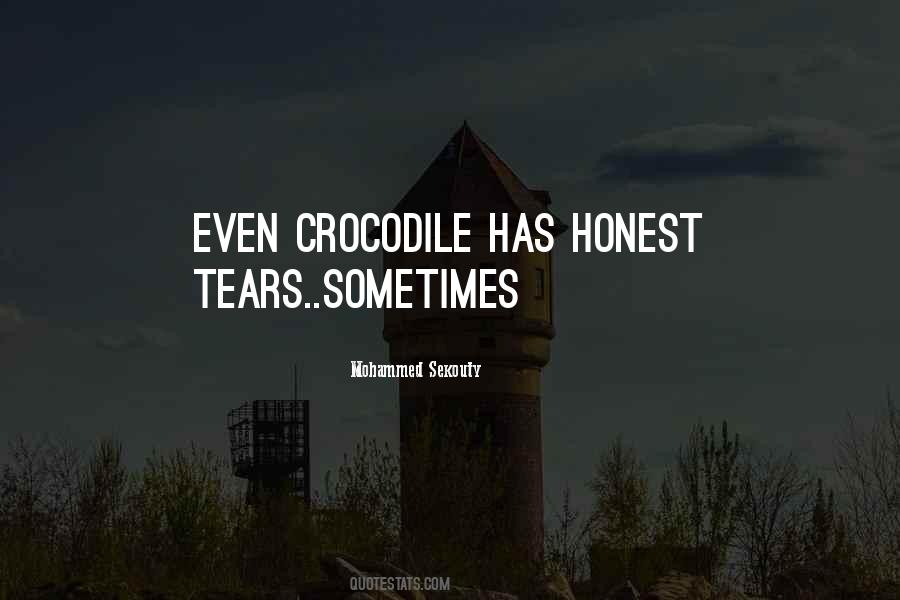 #34. Sometimes you gotta laugh through the tears, smile through the pain so that you can live through the sorrow ... - Author: Alex Tan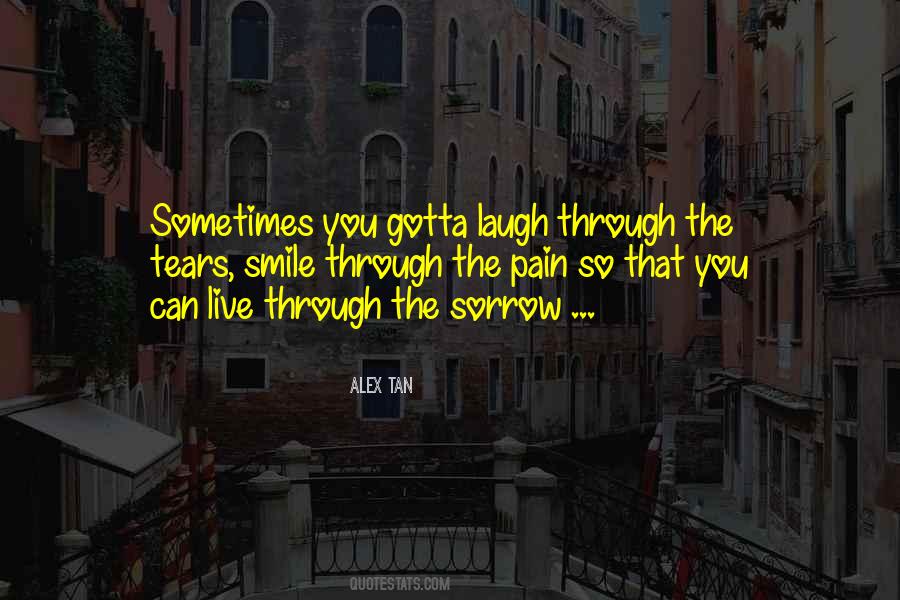 #35. We weep for gladness, weep for grief;
The tears they are the same;
We sigh for longing, and relief;
The sighs have but one name,
And mingled in the dying strife,
Are moans that are not sad
The pangs of death are throbs of life,
Its sighs are sometimes glad. - Author: George MacDonald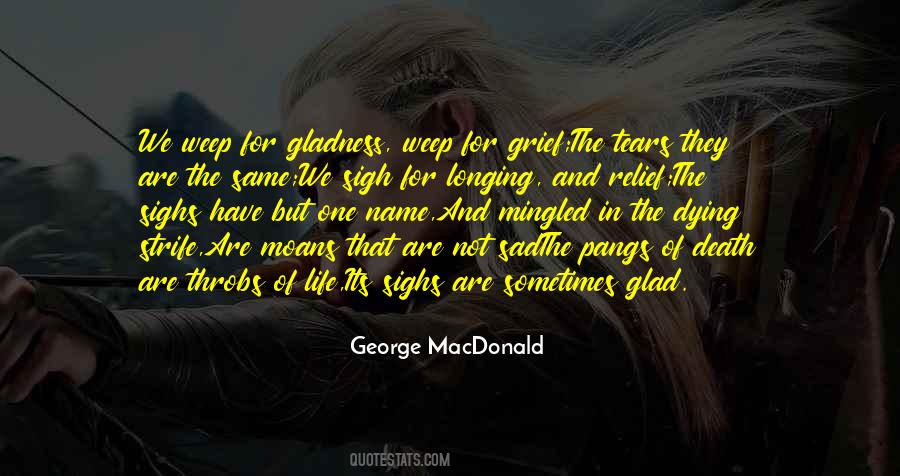 #36. I remember, when I have preached at different times in the country, and sometimes here, that my whole soul has agonized over men, every nerve of my body has been strained and I could have wept my very being out of my eyes and carried my whole frame away in a flood of tears, if I could but win souls - Author: Charles Spurgeon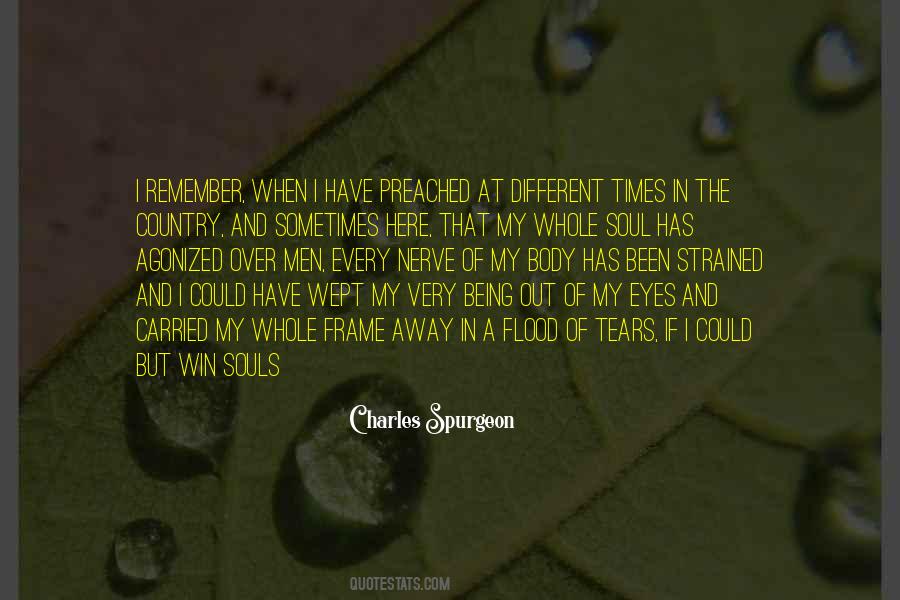 #37. God sometimes washes the eyes of His children with tears in order that they may read aright His providence and His commandments. - Author: Theodore L. Cuyler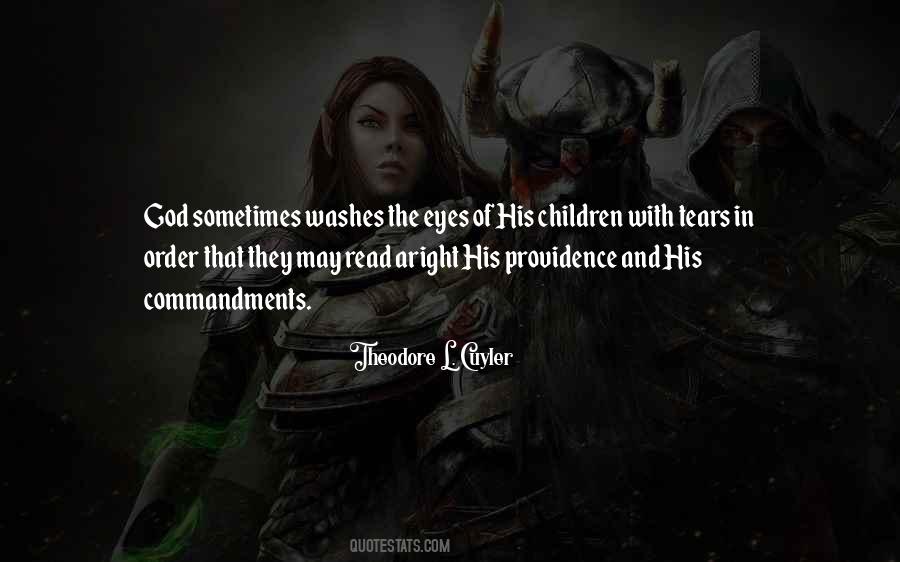 #38. As for my feelings toward 'Over the Rainbow,' it's become part of my life. It is so symbolic of all my dreams and wishes that I'm sure that's why people sometimes get tears in their eyes when they hear it. - Author: Judy Garland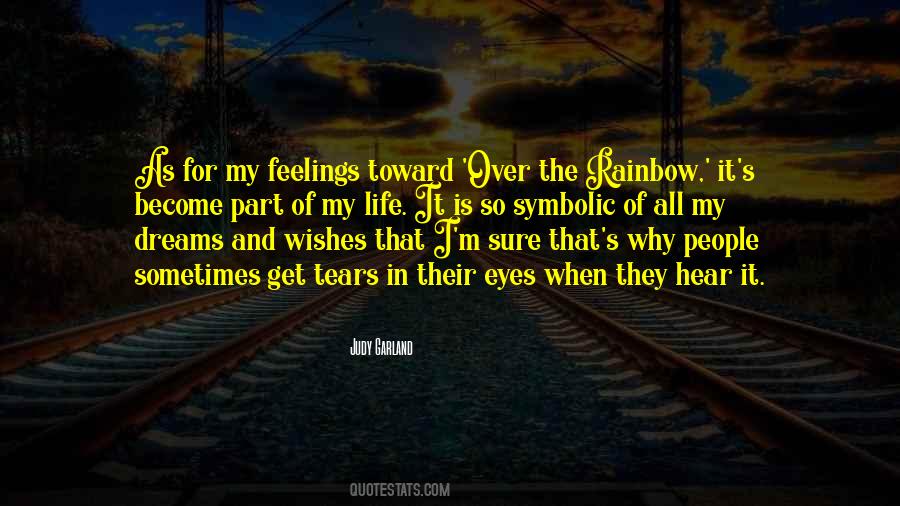 #39. Sometimes I write a line and it fills me with self doubt. Sometimes I write a line and its poetry reduces me to tears. - Author: Sandra J. Jackson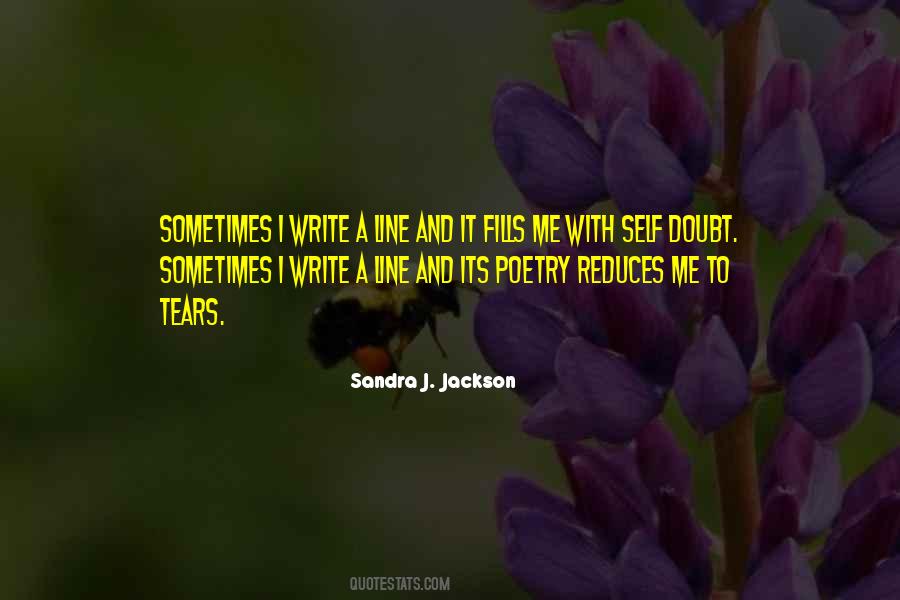 #40. Close friends are truly life's treasures. Sometimes they know us better than we know ourselves. With gentle honesty, they are there to guide and support us, to share our laughter and our tears. Their presence reminds us that we are never really alone. - Author: Vincent Van Gogh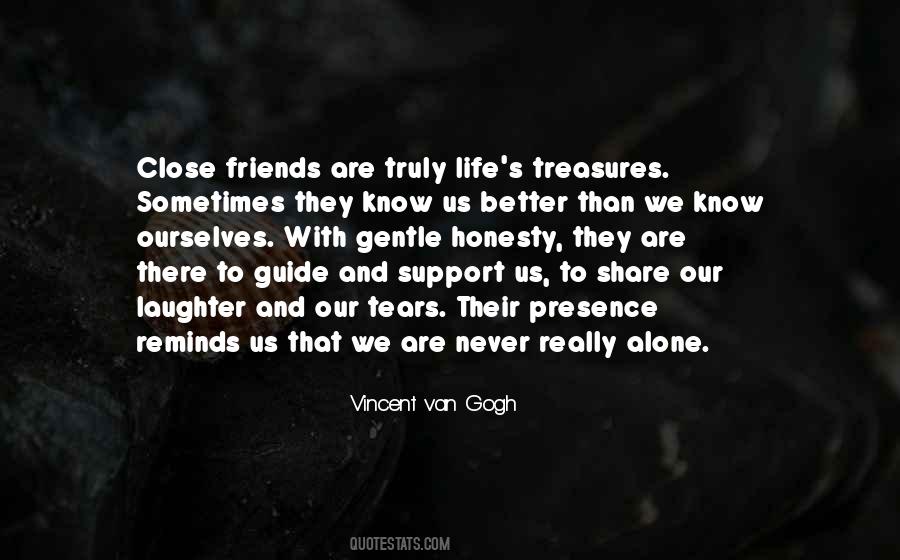 #41. Sometimes the fabric that separates us tears just enough for love to shine through. Sometimes the tear is surprisingly small. - Author: Michael Cunningham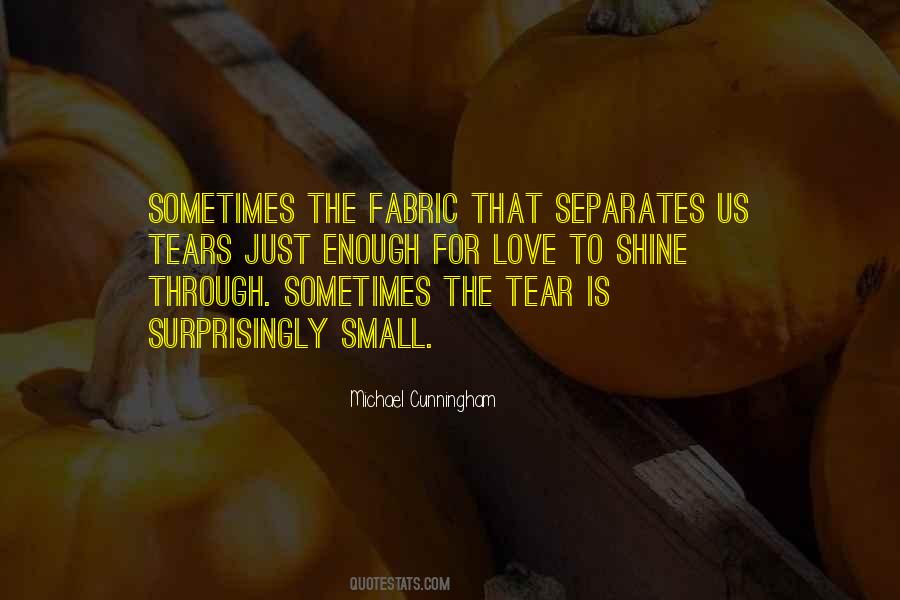 #42. Sometimes in comedy you can make the audience feel poignancy stronger than you can with tears or anguish. - Author: Shelley Winters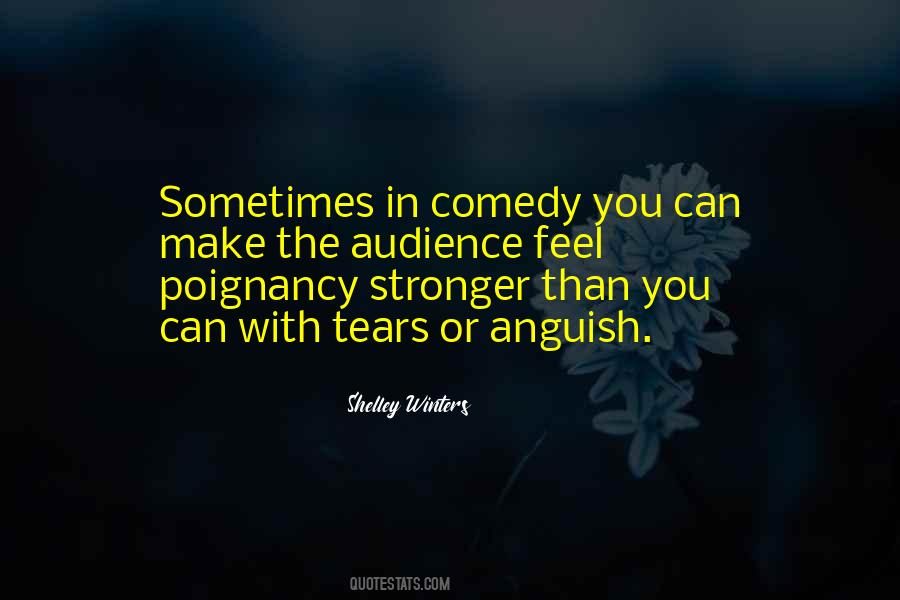 #43. Sometimes I find myself standing on the edge of a pool of despair, filled by my tears...but not today. - Author: Judith Sanders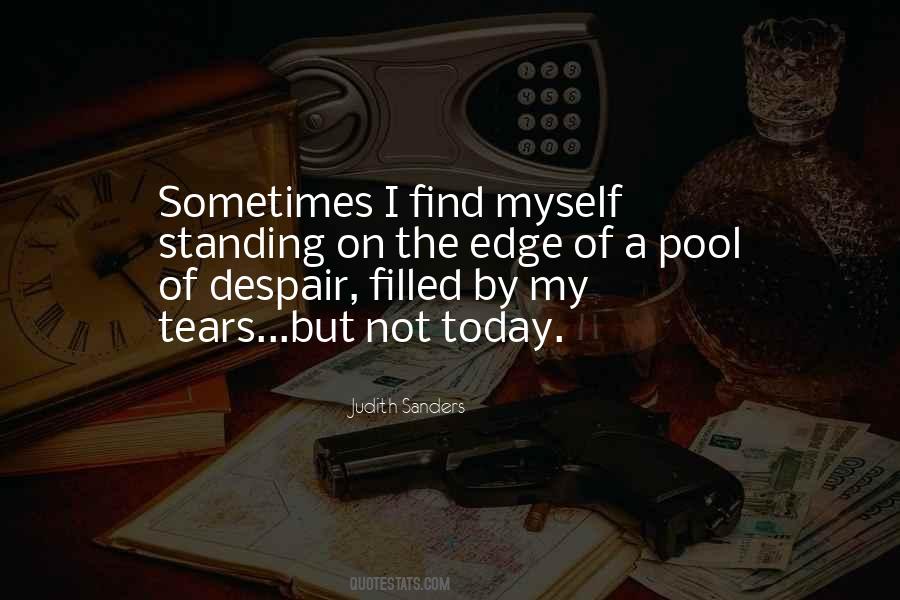 #44. I need to cry some more. I'll drown if I don't...Sometimes you're swimming in unwept tears and you'll go under if you store them up inside. - Author: Nina George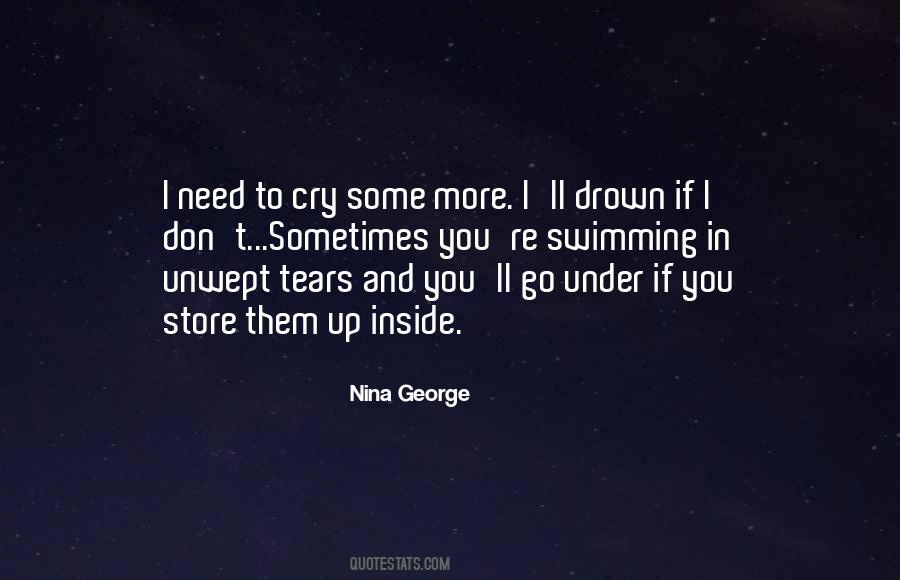 #45. In order to get past something terrible, sometimes you have to walk through the pain, not around it. It might be messy. It might make you sob. But if you let yourself cry long enough, you finally reach the bottom of your tears. I haven't reached the bottom yet, but I know that someday I will. - Author: Michelle Knight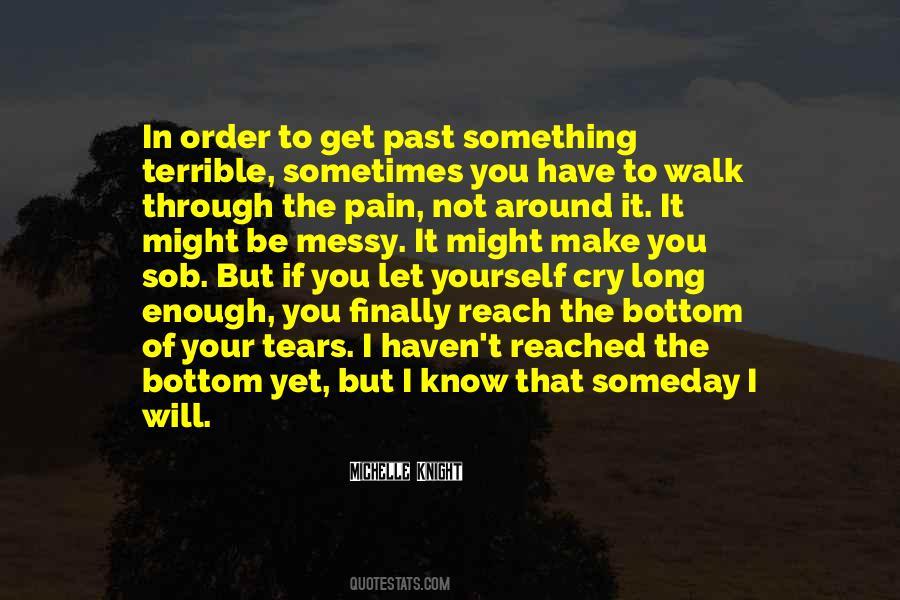 #46. Breakups can be sad, but sometimes tears are the price we pay for a freedom we need. - Author: Steve Maraboli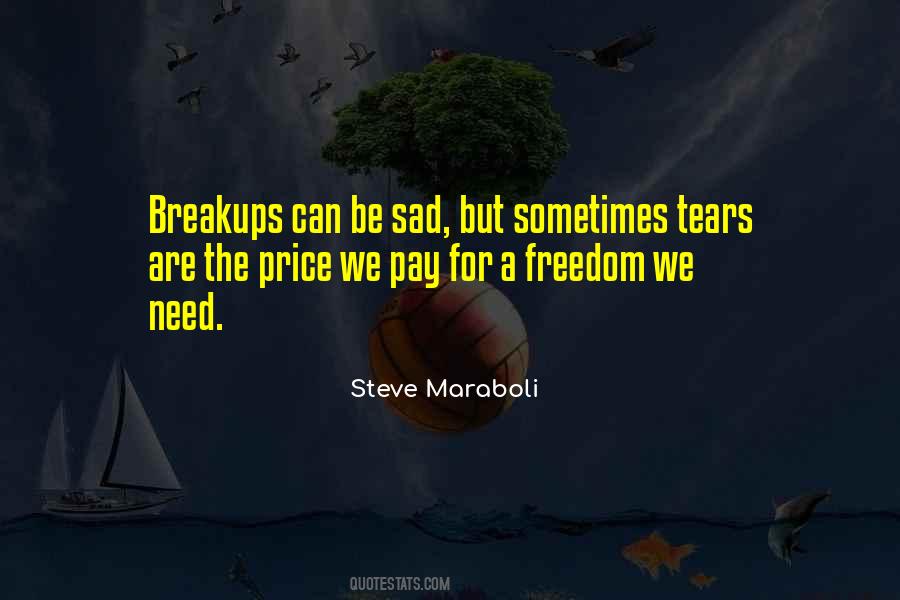 #47. I thought about how often this was needed in everyday life. How we feel lonely, sometimes to the point of tears, but we don't let those tears come because we are not supposed to cry. - Author: Mitch Albom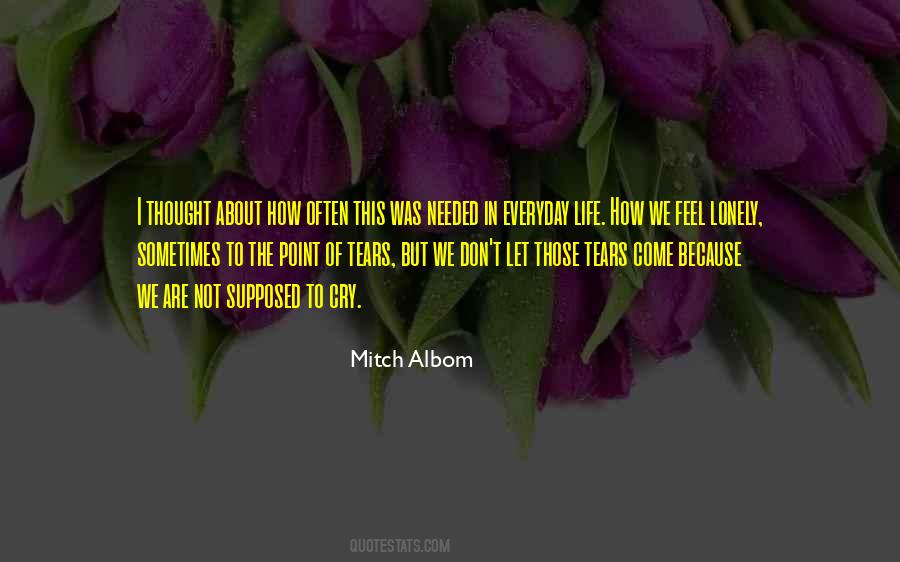 #48. Sometimes you just gotta cry, but you never,ever do it in public. - Author: Nina Totenberg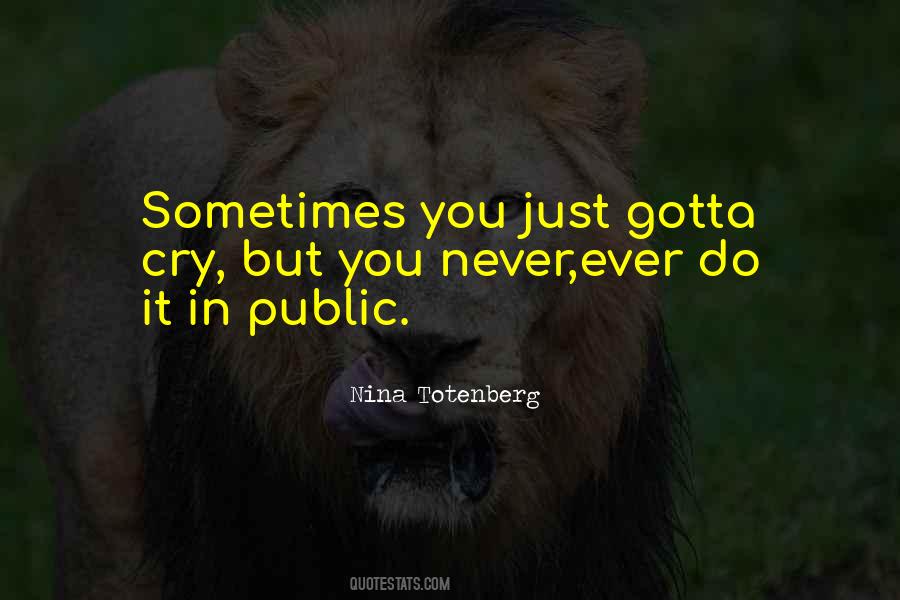 #49. Sometimes we have to soak ourselves in the tears and fears of the past to water our future gardens. - Author: Suzy Kassem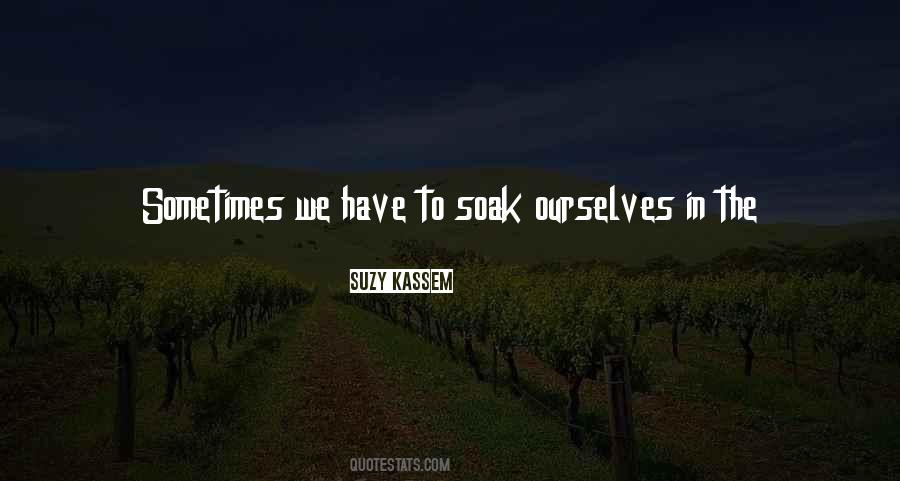 #50. Sometimes the world begins
To set you up on your feet again
It wipes the tears from your eyes
How will you ever know
The way that circumstances go
Always going to hit you by surprise
I know my past
You were there
In everything I've done
You are the one - Author: Blue Rodeo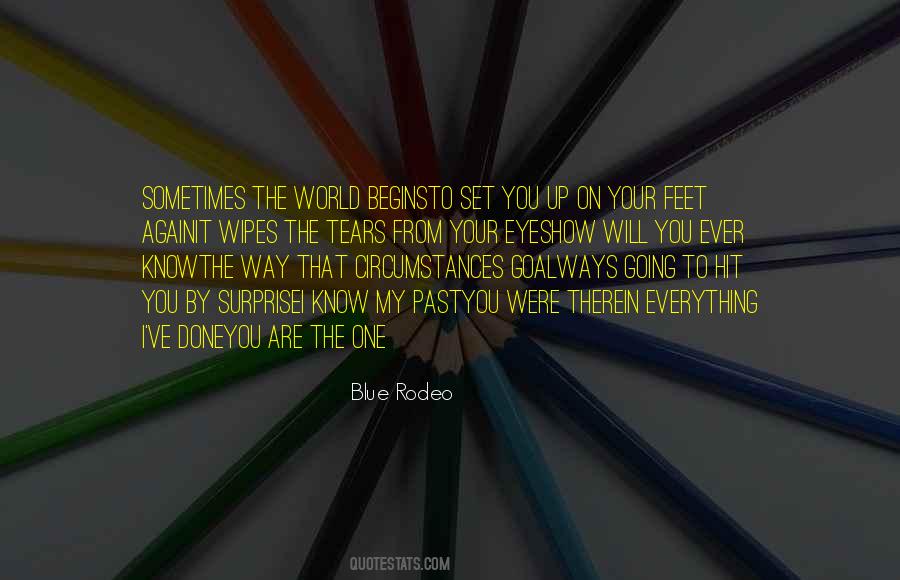 #51. It's hard to tell our bad luck from our good luck sometimes. And most of us have wept copious tears over someone or something when if we'd understood the situation better we might have celebrated our good fortune instead. - Author: Sarah Ban Breathnach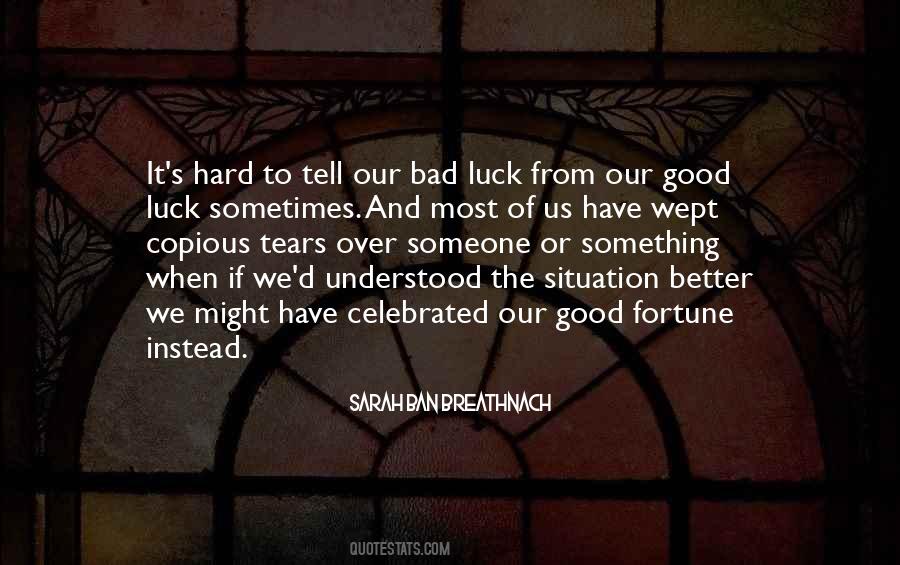 #52. Tears are sometimes an inappropriate response to death. When a life has been lived completely honestly, completely successfully, or just completely, the correct response to death's perfect punctuation mark is a smile. - Author: Julie Burchill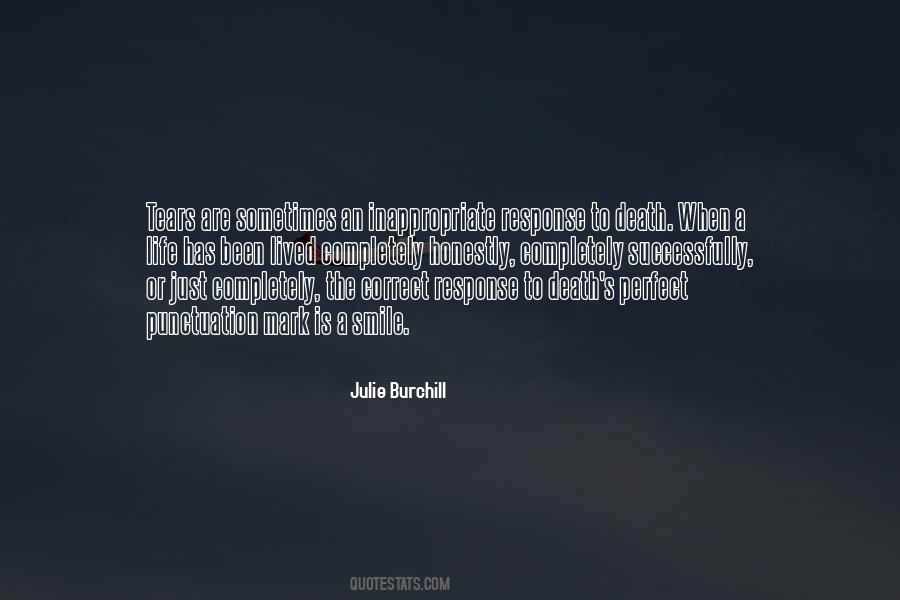 #53. I find myself often moved to tears by what is being written in front of me. Sometimes, I just sit on the couch and write the words down and cry because the beauty of the thoughts and how exquisitely they are being expressed. - Author: Neale Donald Walsch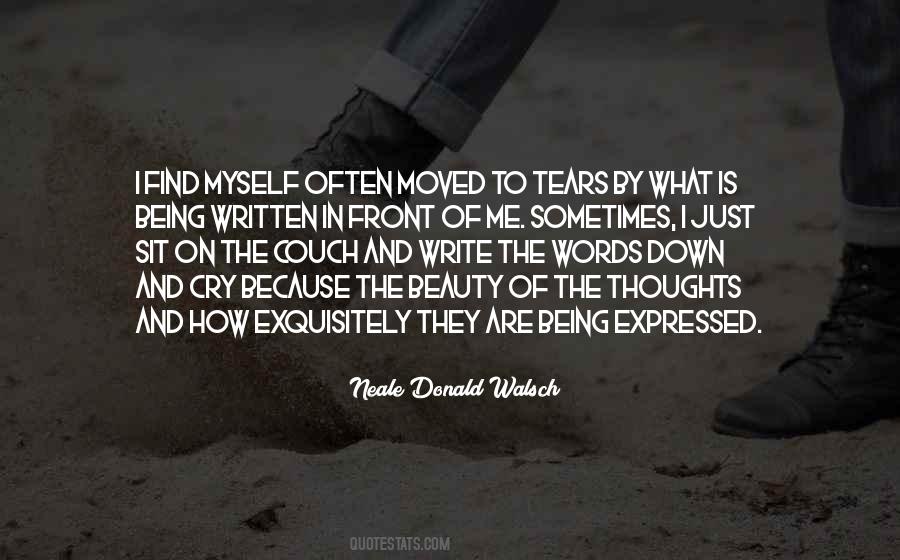 #54. Sometimes when she told stories about the past her eyes would get teary from all the memories she had, but they weren't tears. She wasn't crying. They were just the memories, leaking out. - Author: Ruth Ozeki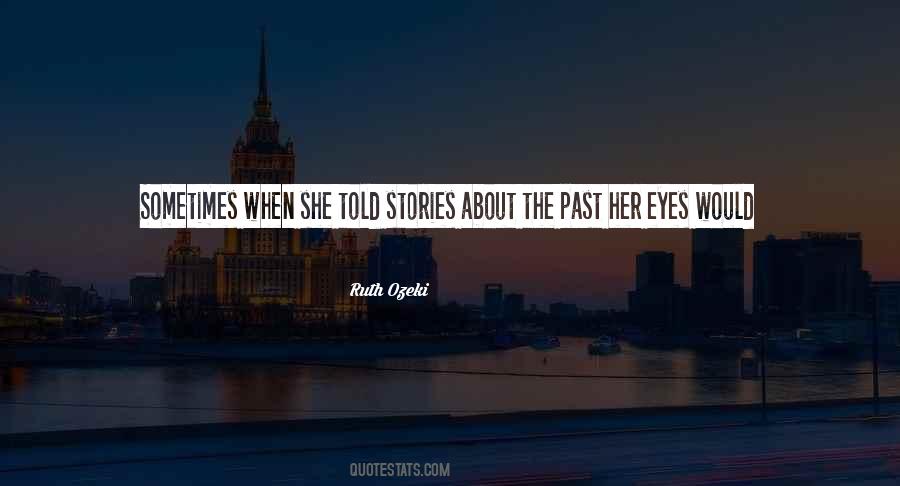 #55. Tears are sometimes the best words a heart could speak - Author: Darlene Bernaola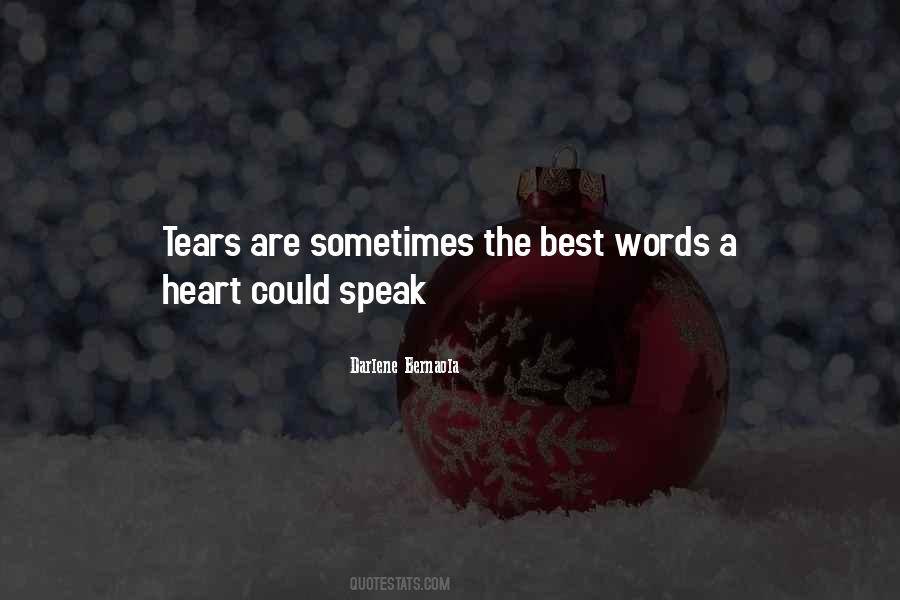 #56. We all go to the theater and cinema to be inspired and moved on an emotional level, sometimes to laughter, sometimes to tears. Once I discovered that acting could have such an effect, I was sold. It has been one of the most rewarding discoveries I have ever made. - Author: Ian Anthony Dale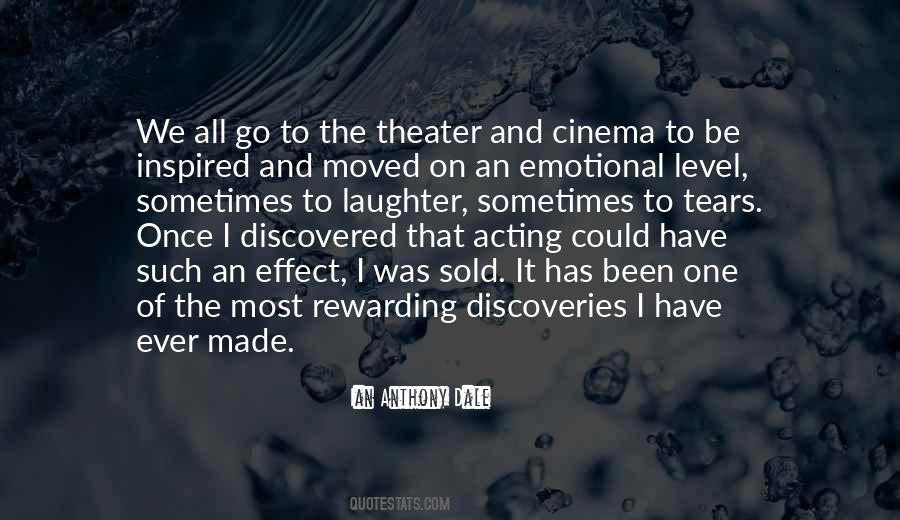 #57. Sometimes in order to help He makes us cry
Happy the eye that sheds tears for His sake
Fortunate the heart that burns for His sake
Laughter always follow tears
Blessed are those who understand
Life blossoms wherever water flows
Where tears are shed divine mercy is shown - Author: Rumi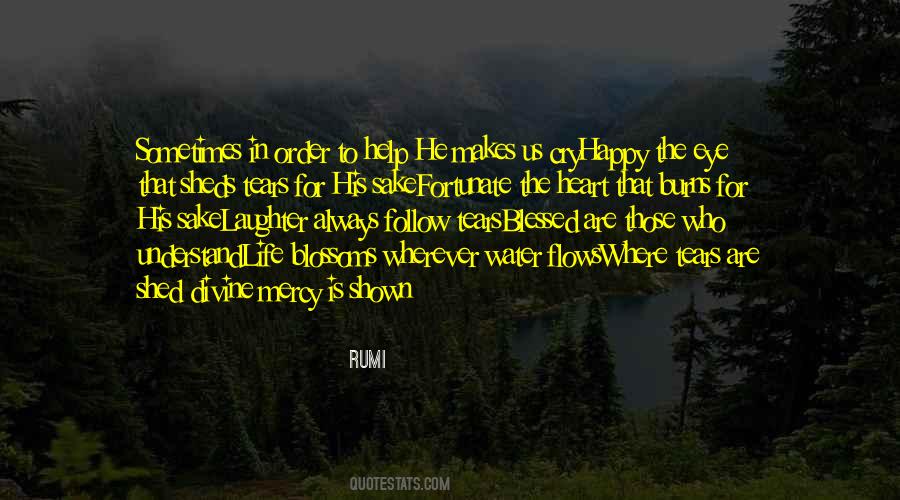 #58. It's okay not to be okay ... Sometimes it's hard, to follow your heart but tears don't mean you're losing, everybody's bruising, there's nothing wrong with who you are. - Author: Jessie J.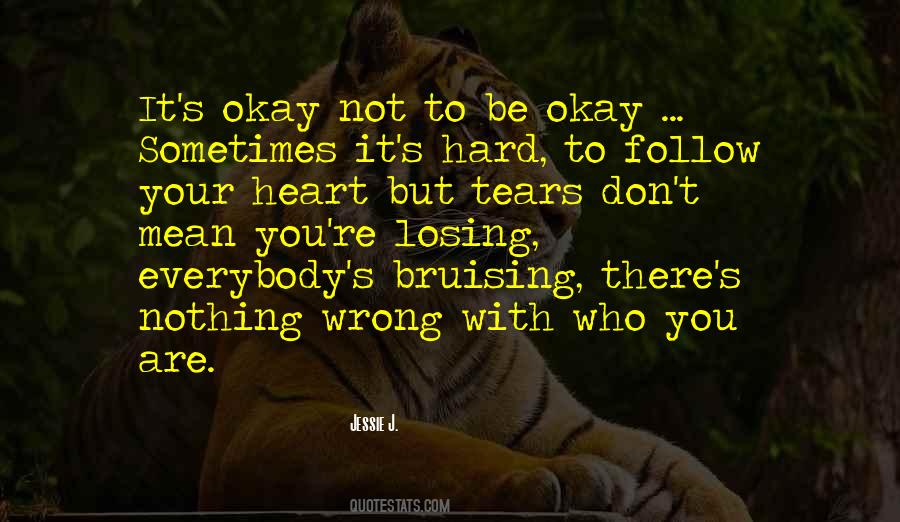 #59. I don't believe a person can truly do "smiles" unless they are willing to risk doing "tears". You have to be able to risk to be able to gain, even if sometimes it is your tenuous grasp on your temporary sanity that is at risk. - Author: Jim Melanson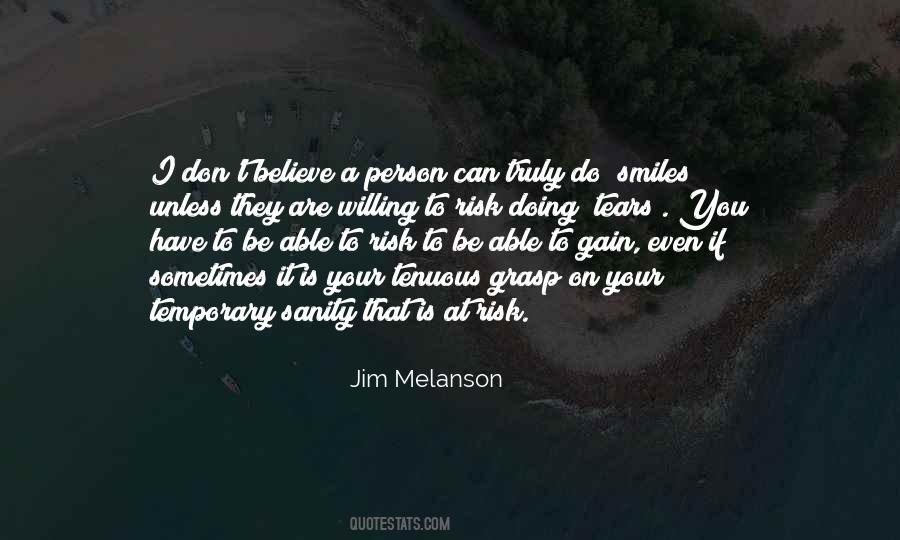 #60. Sometimes you want to cry but the tears deceive you, but at other, you just want to hold the tears but they disobey you. - Author: Girdhar Joshi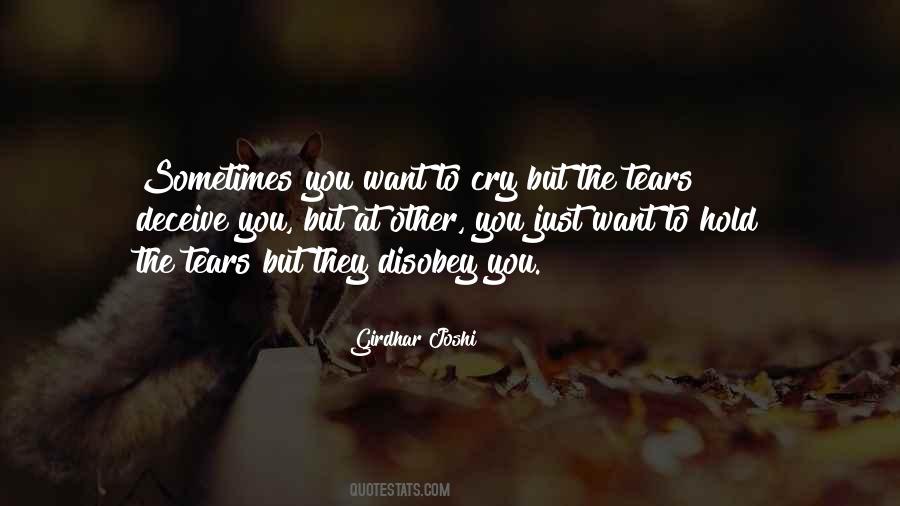 #61. He took the box but did not avail himself of a tissue. She understood. Sometimes it was comforting to feel the wetness of grief's tears on your face. - Author: Julius Lester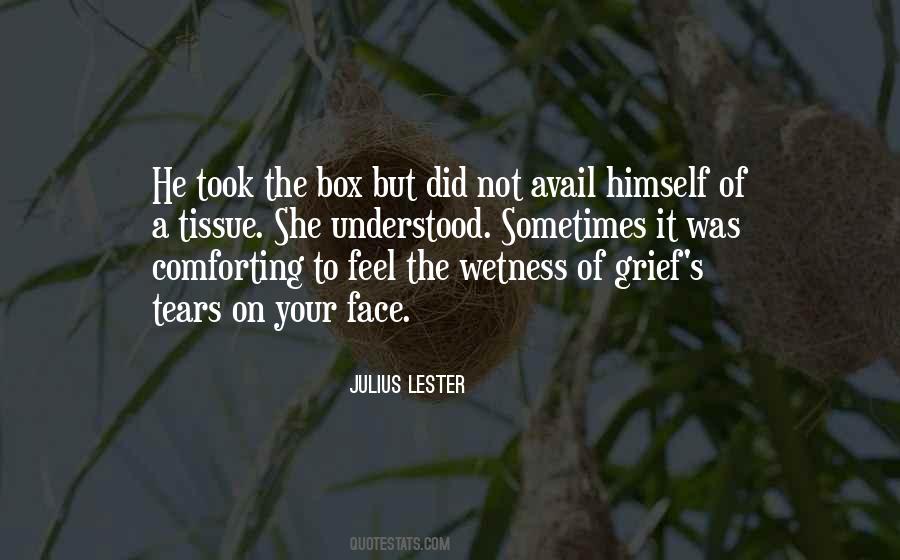 #62. Tears are perhaps 1% water but 99% emotions. They contain hurt, pain, sorrow, disappointment, sadness ... so cry sometimes and let go of the feelings welling in your heart. Crying won't necessarily solve your problems but it will make you feel better. - Author: Rita Zahara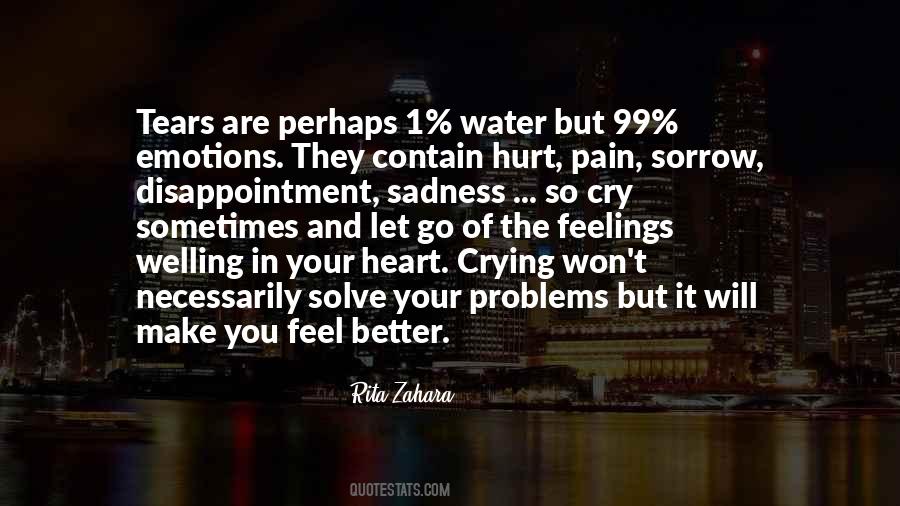 #63. Most of things in life are two way, like sometimes, there are tears of happiness too. - Author: Lovely Goyal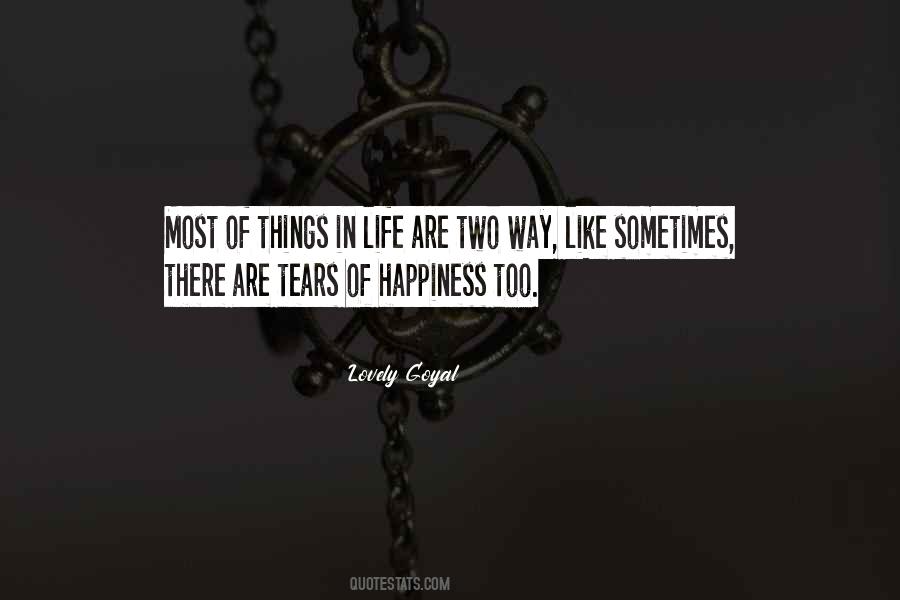 #64. Sometimes you just gotta let some tears out or you'll burst. -Miz Allemond - Author: Kimberley Griffiths Little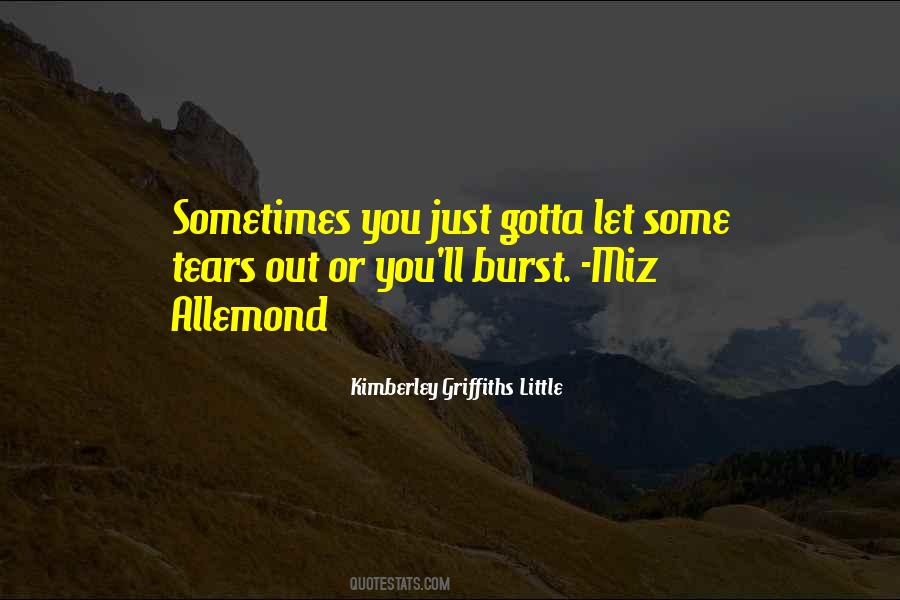 #65. It was a long story, and sometimes she grew quiet and cried - and during those times he leaned over to wipe away her tears. - Author: Sarah J. Maas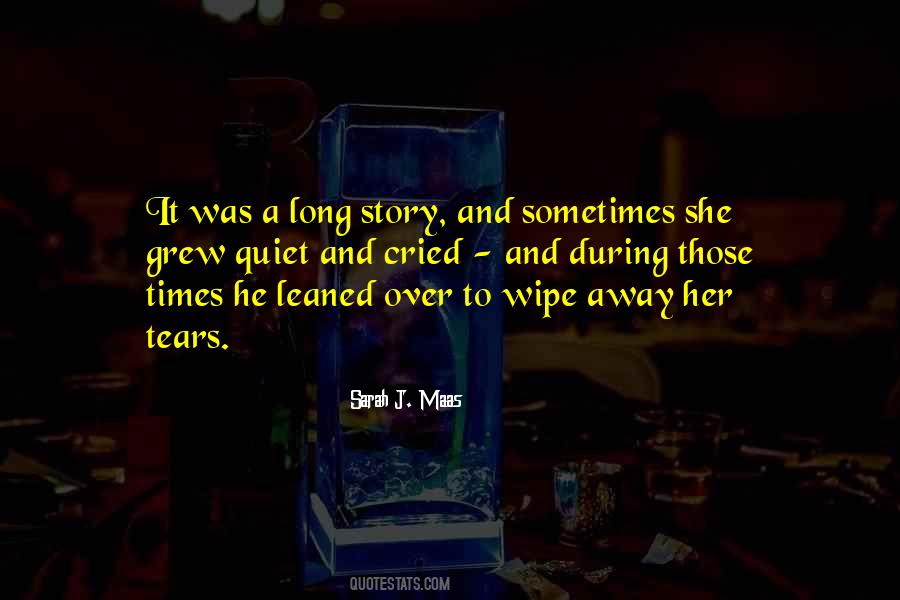 #66. Sometimes, when you're sad you don't know what to do, it helps to be angry. But then the tears come back again all the same, and you fall asleep with the salty taste of them on your lips. - Author: Cornelia Funke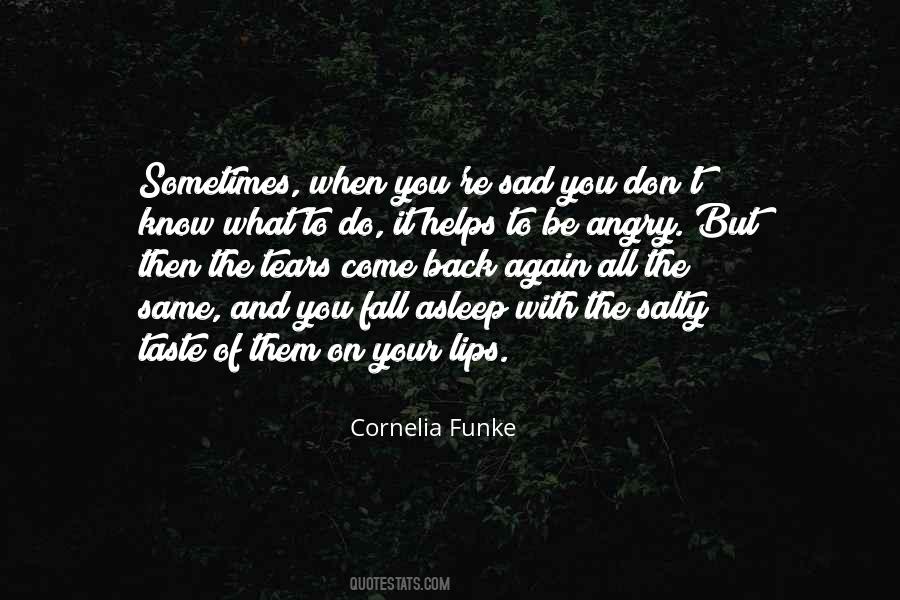 #67. A magpie can be happy or sad: sometimes so happy that he sits on a high, high gum tree and rolls the sunrise around in his throat like beads of pink sunlight; and sometimes so sad that you would expect the tears to drip off his beak.
This magpie was like that. - Author: Colin Thiele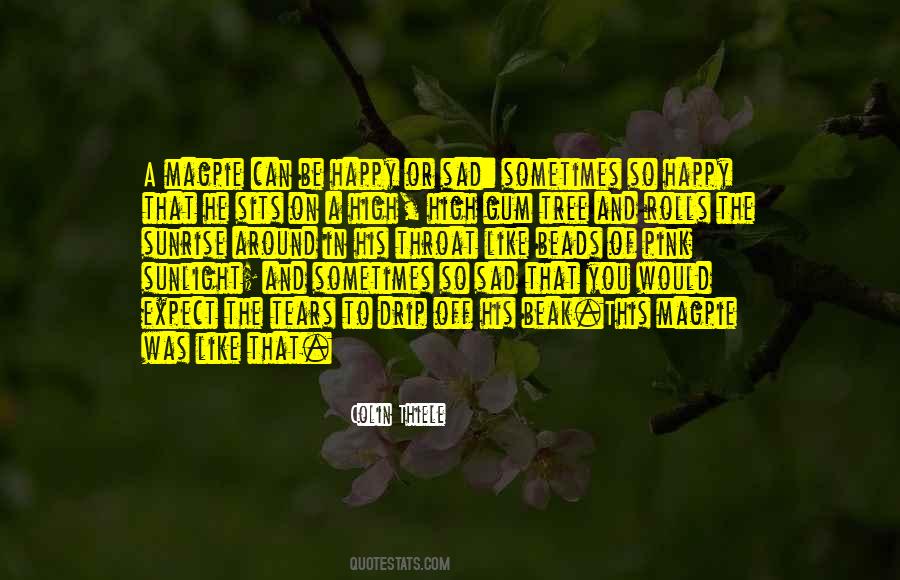 #68. The man who loves God with a true heart, and prizes him above all things, sometimes sheds floods of tears at prayer, and has in abundance of favours and spiritual feelings coming upon him with such vehemence, that he is forced to cry out, Lord! let me be quiet! - Author: Philip Neri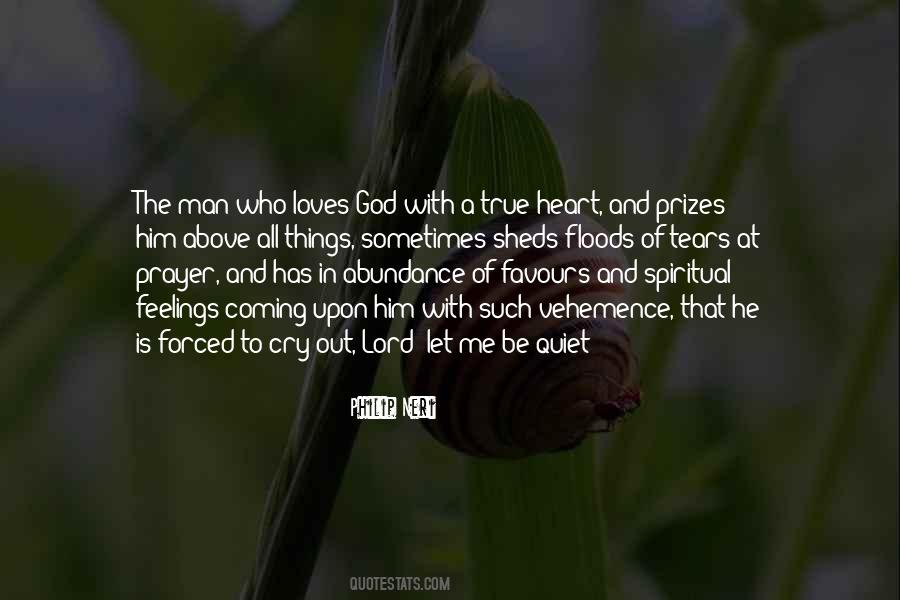 #69. We're all unlucky in love sometimes. When I am, I go jogging. The body loses water when you jog, so you have none left for tears. - Author: Wong Kar-Wai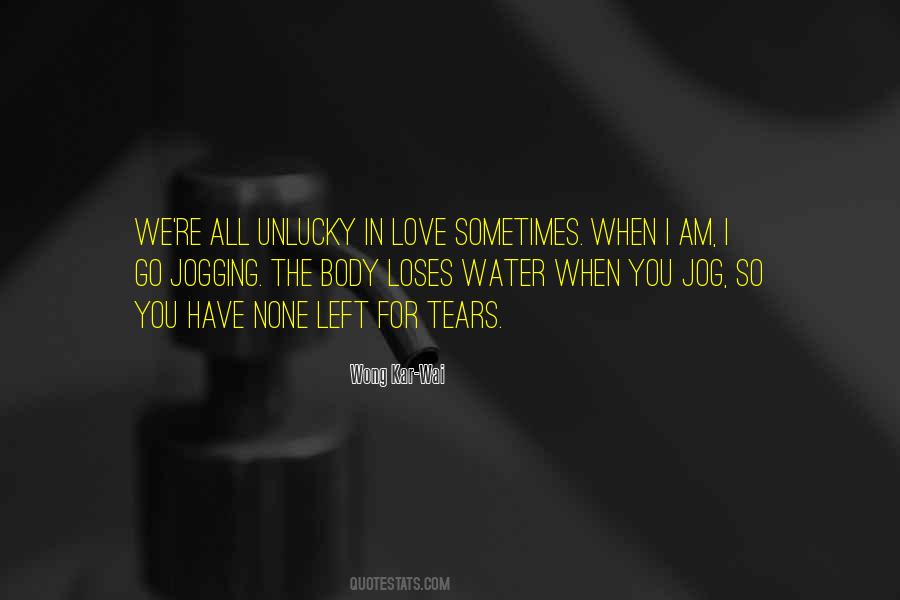 #70. It took all her strength not to weep. She had been weeping too much of late. It was unseemly, she knew, but she could not seem to help herself; the tears would come, sometimes over a trifle, and nothing she did could hold them back. - Author: George R R Martin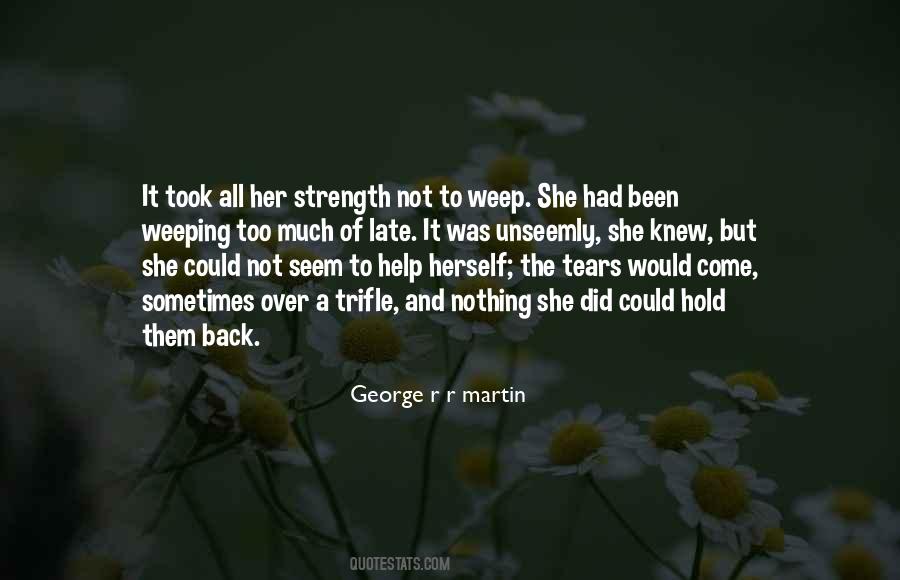 #71. Sometimes,when life gets hard, and people make you angry or even when you're scared, the best response is laughter.Laugh in the face of fear, in the face of what scares you the most.It's the only way to get you through the things that bring you to tears. - Author: Rachel Van Dyken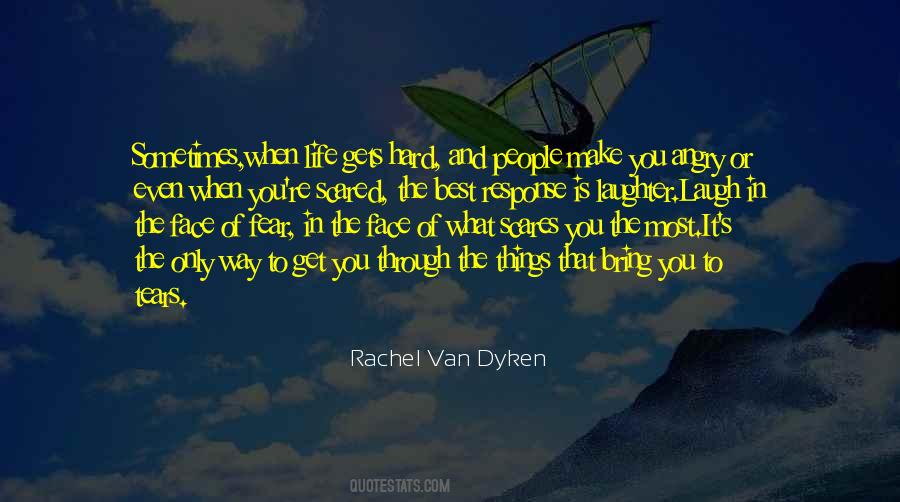 #72. Sometimes you just need to train your self to be alone, so that in the end, whenever they leave you, you'll be brave enough to face your fears and tears. - Author: Auliq Ice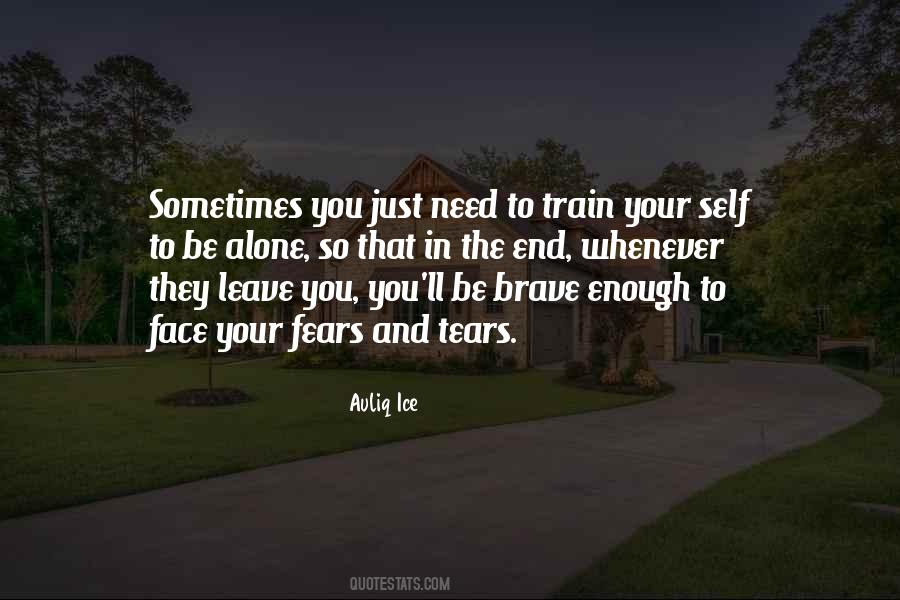 #73. Sometimes the truth is so deep that it takes someone with the same depth to see it, while others can't see past the level they have never moved from. - Author: Shannon L. Alder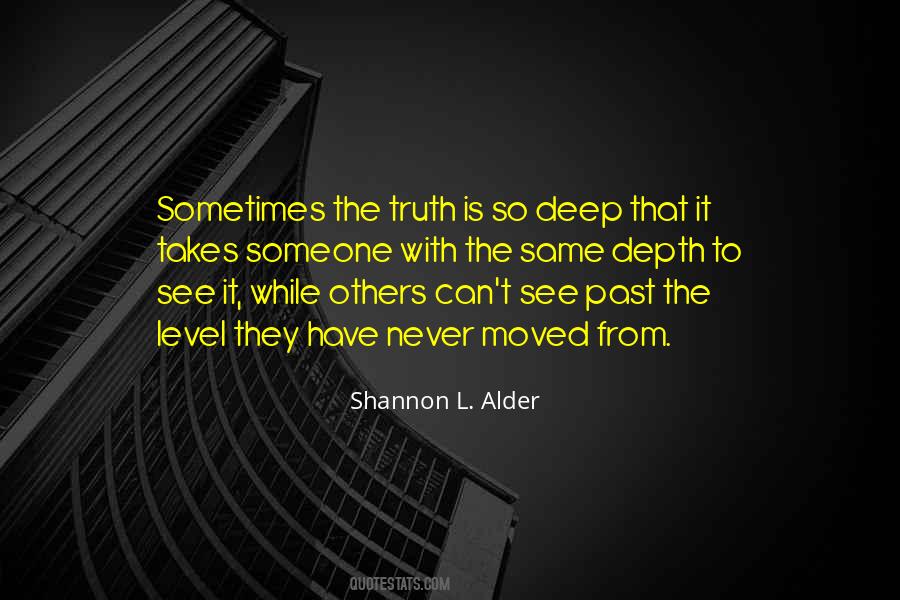 #74. Your voice tears me away from the reality that I exist and places my mind somewhere in between the infinity and beyond. Where everything is made of bliss and magic. Sometimes, I am scared of not hearing it again and never being able to get separated from this chaotic reality again. - Author: Akshay Vasu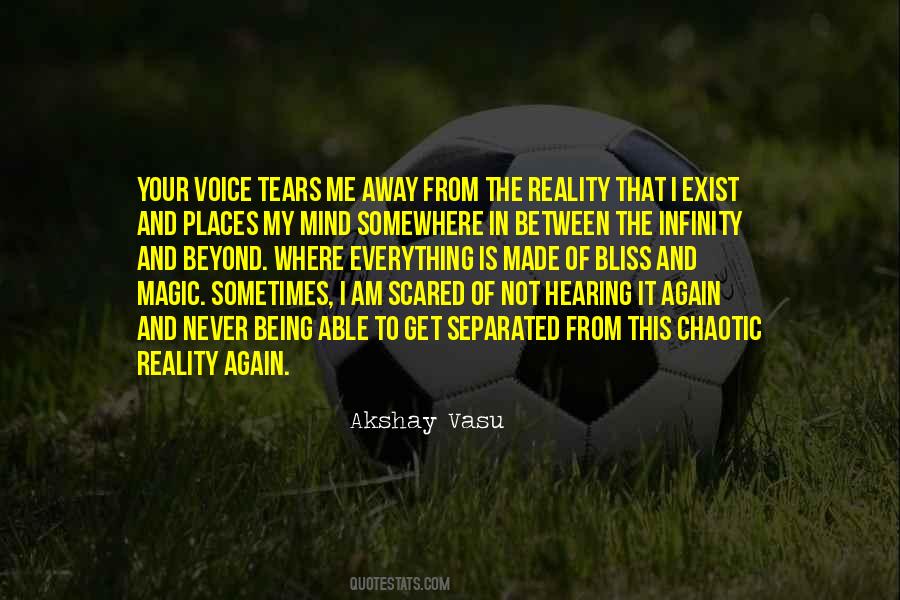 #75. I'm crying again. I cry so often now that sometimes I don't even realize it until the tears are already streaming down my cheeks. - Author: Kim Holden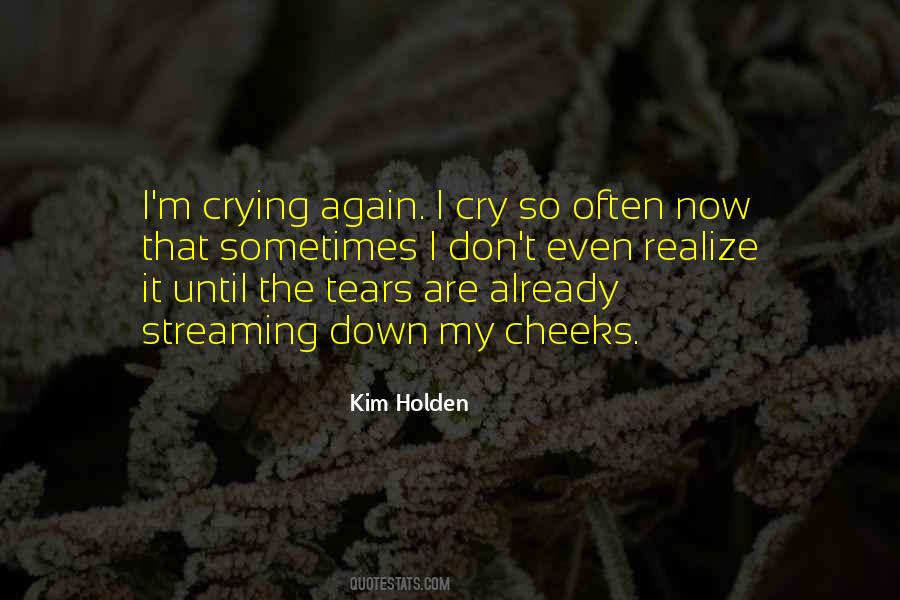 #76. People talk sometimes of a bestial cruelty, but that's a great injustice and insult to the beasts; a beast can never be so cruel as a man, so artistically cruel. The tiger only tears and gnaws, that's all he can do. He would never think of nailing people by the ears, even if he were able to do it. - Author: Fyodor Dostoevsky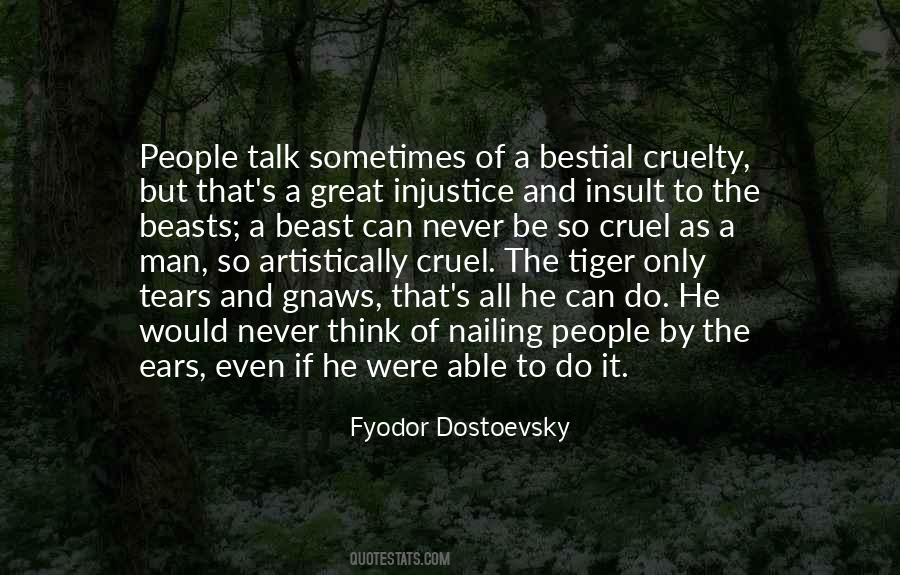 #77. If you want something good to come out of something, you have to put in a lot of effort. That involves a lot of hard work, and a lot of blood, sweat and tears sometimes. No different to anything, no different to what we all do. - Author: Ed O'Brien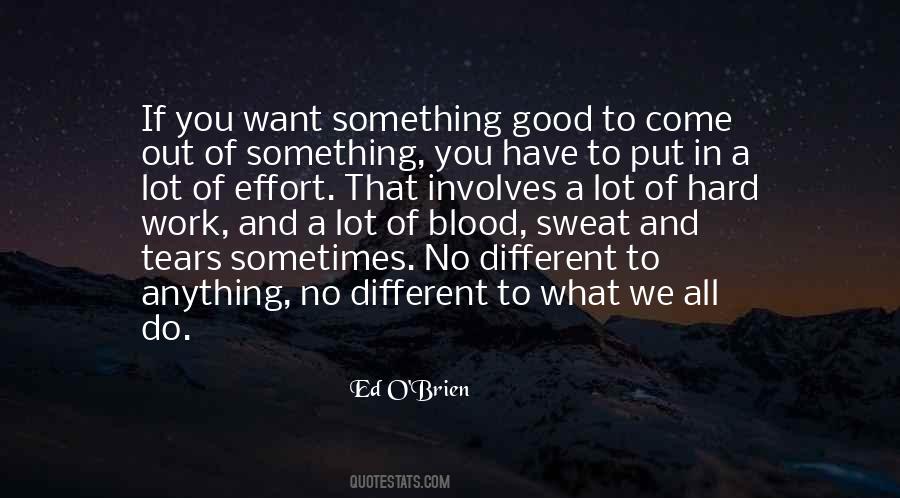 #78. With depression, you can go in and out of it and not really know whether it's still there or not. Sometimes I'd find myself bursting into tears for no reason. - Author: Keisha Buchanan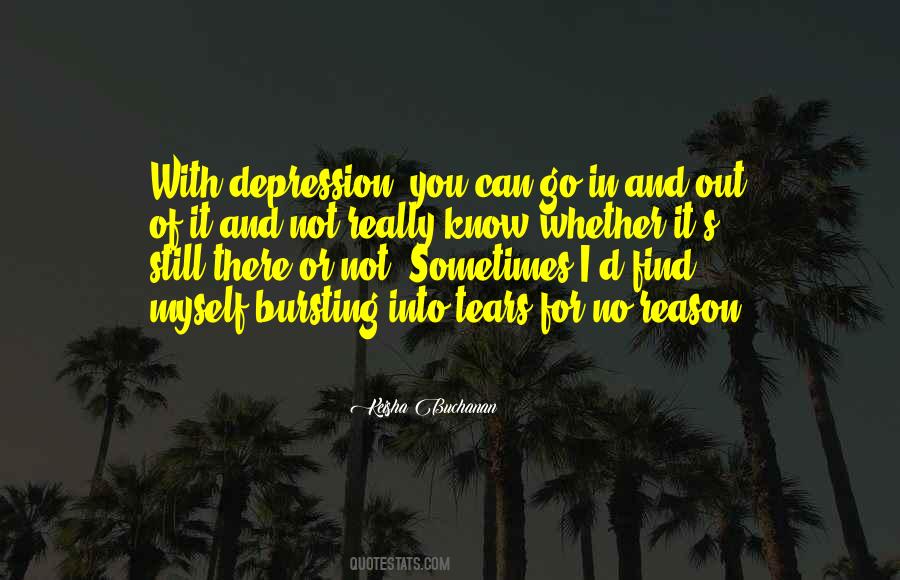 #79. These tears need to be shed, wept into the earth where there is no hope of consolation. Sometimes a man has to cry alone. - Author: Edmond Manning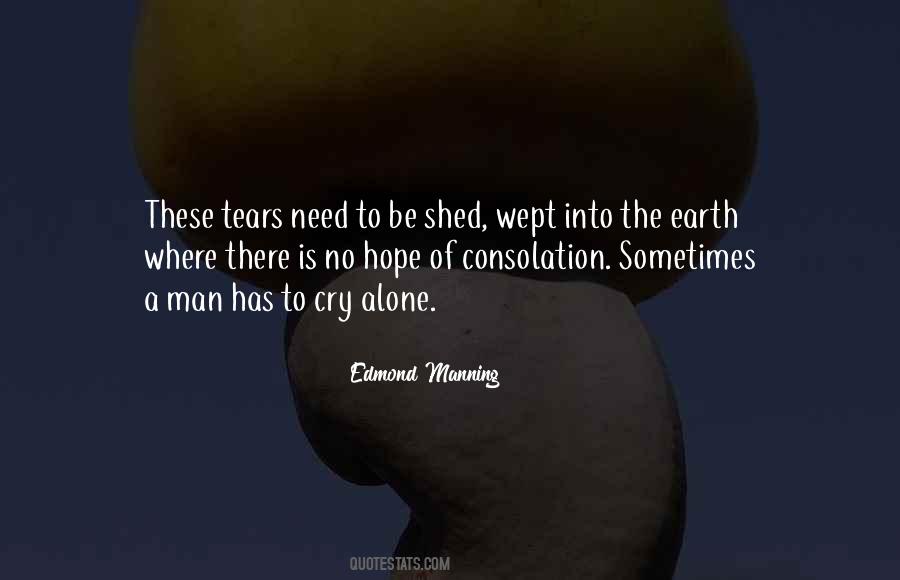 #80. Sometimes, we can't help but to shed tears! - Author: Lailah Gifty Akita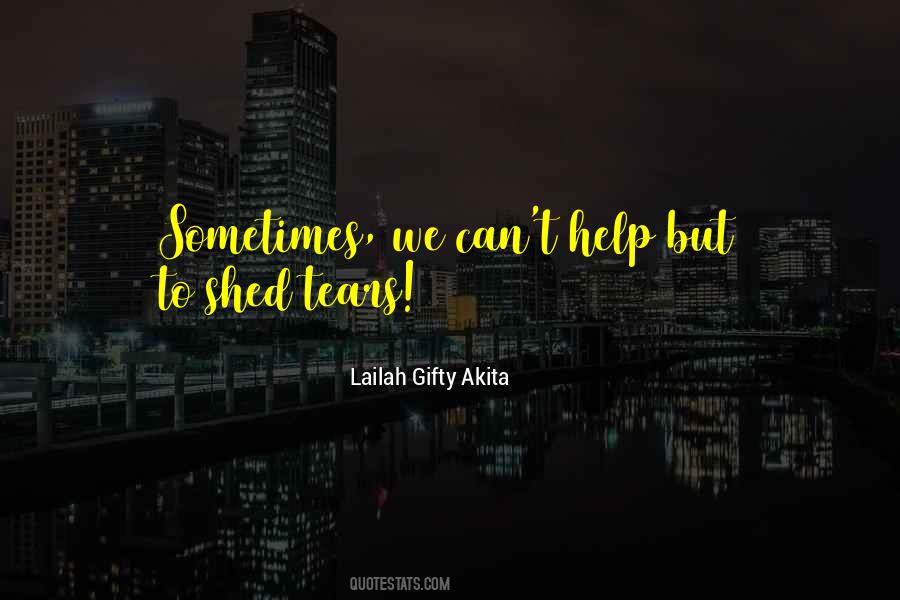 #81. Andromache: See, I've stopped crying. I won't cry ever again, I promise you.

Helen: Don't promise that. Never promise that. Tears are good sometimes. They clear the heart of sorrow. Cry. - Author: Adele Geras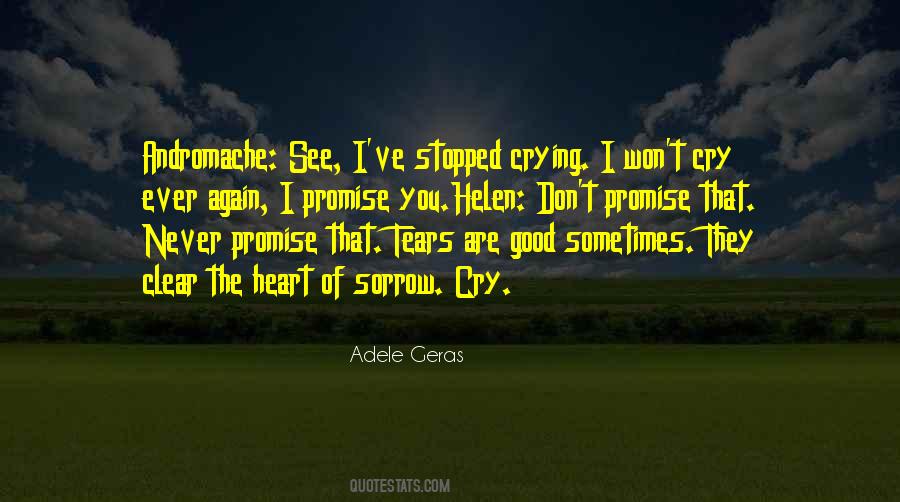 #82. Sometimes there's that perfect moment when the crowd, the music, the energy of the room come together in a way that brings me to tears. - Author: John Legend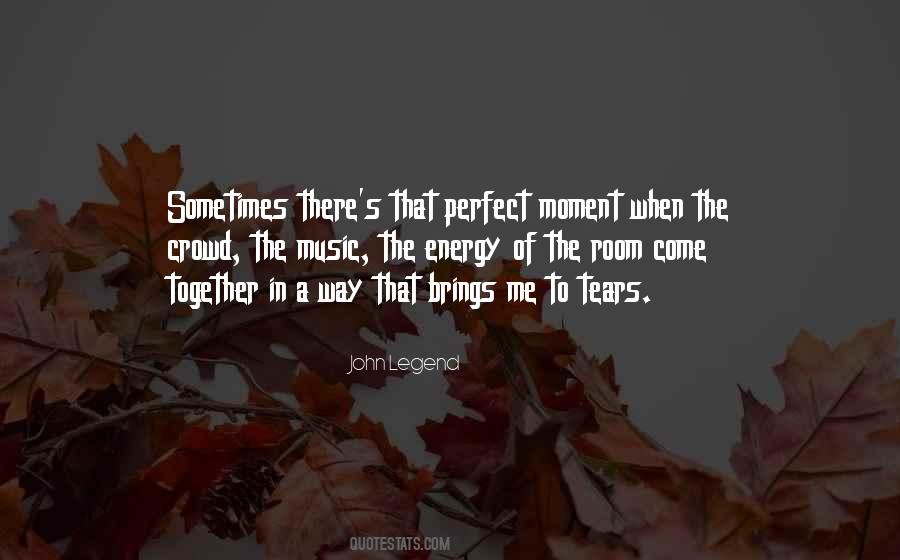 #83. But remember, child, we may all have our own story and destiny, and sometimes our seemingly bad fortune, but we're all part of a greater story too. One that transcends the soil, the wind, time ... even our own tears. Greater stories will have their way. - Author: Mary E. Pearson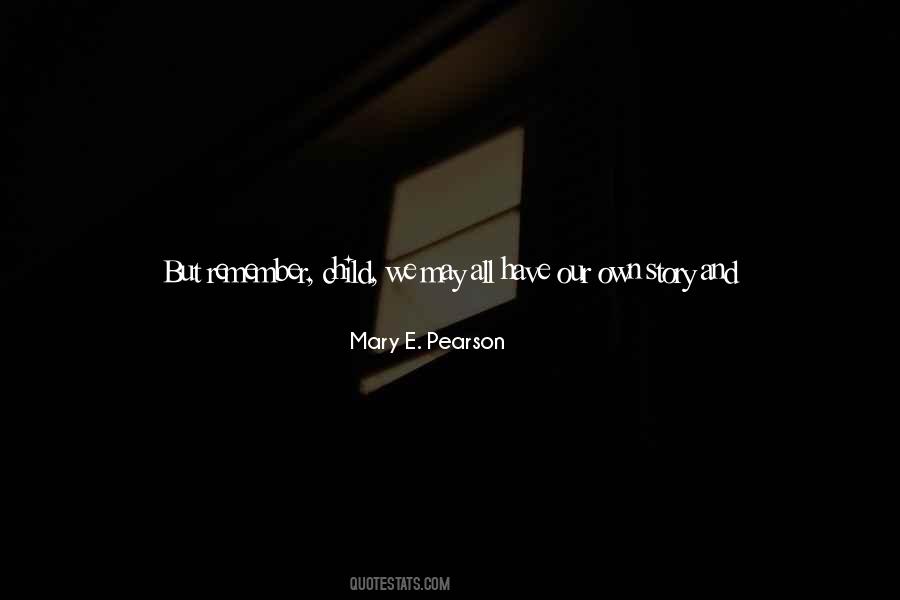 #84. Sometimes I look at my wife and get this amazing feeling inside, and tears will start to form in the corners of my eyes, and at that moment I feel truly blessed - Author: Steven Aitchison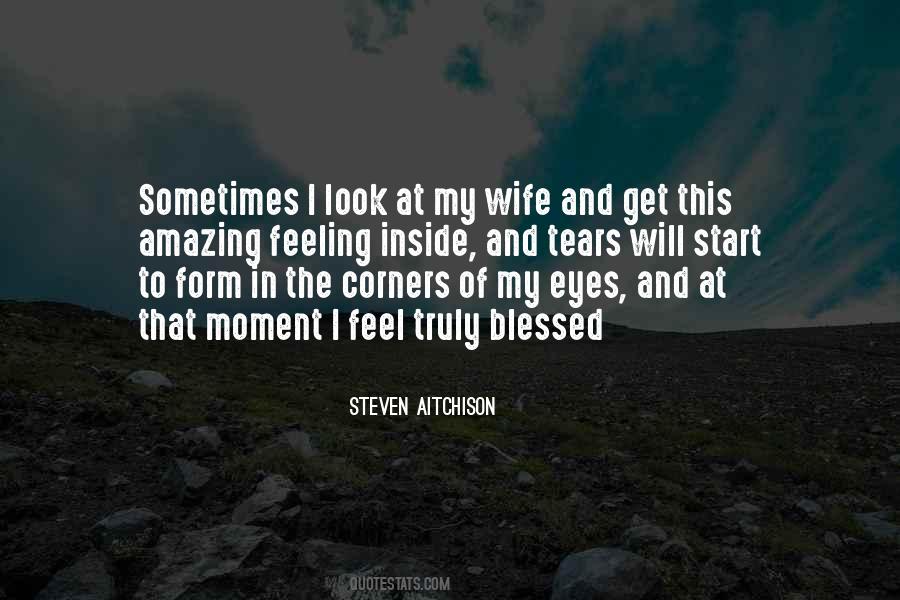 #85. Music has touched me deeply, sometimes to tears. But at the same time it's been life-affirming, because I've been grateful for the fact that I'm alive and human and capable of being so moved. - Author: Brian Molko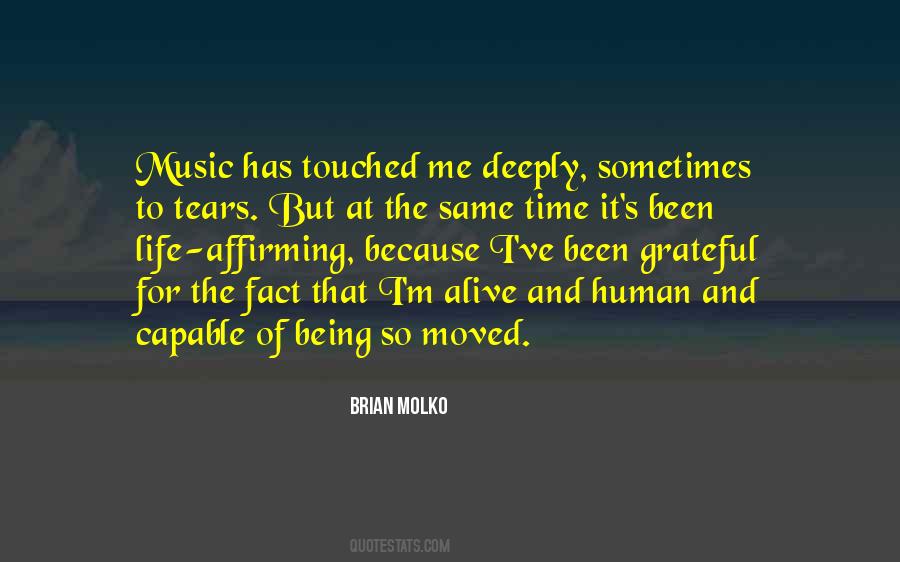 #86. Best friends are made are made through smiles and tears, and sometimes that fades away through miles and years. - Author: Arnold McCuller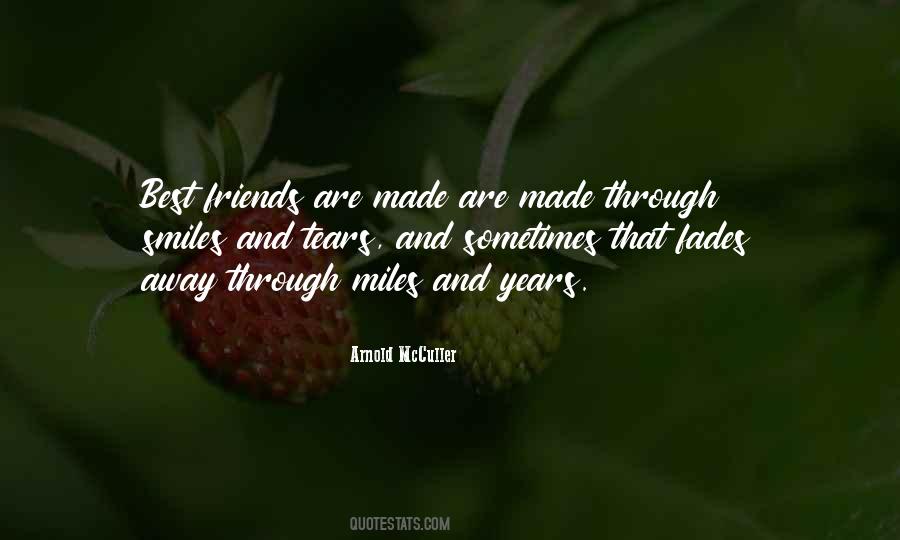 #87. Sometimes the fog in his eyes would clear, that fog caused by the pain and the killers of pain, and when it cleared, I saw regret and fear in those eyes swimming with tears and I was convinced that this was it, this was the end, this was surely the end. - Author: Tony Parsons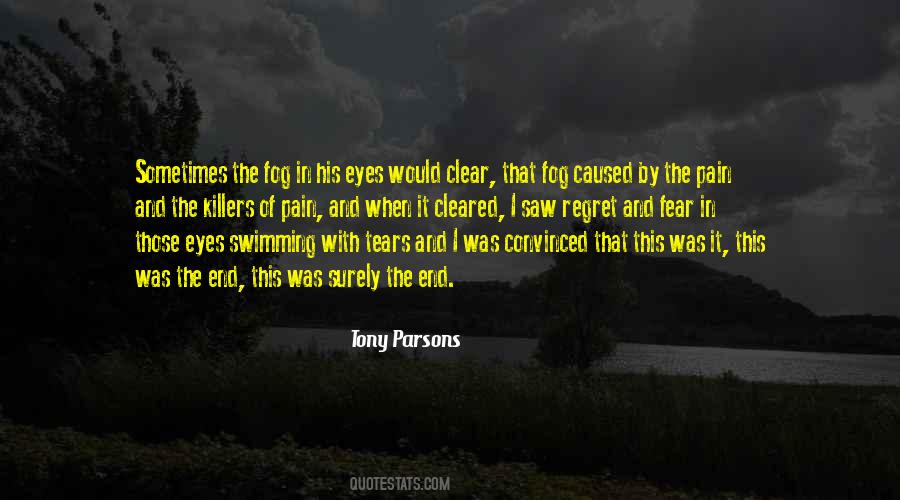 #88. I've seen people that get onstage and sing while they have tears running down their face - I can't do that. When I cry, it starts like in my throat, so when I have something that's really emotional, sometimes if I access that too much, I can't finish the song. - Author: Carrie Underwood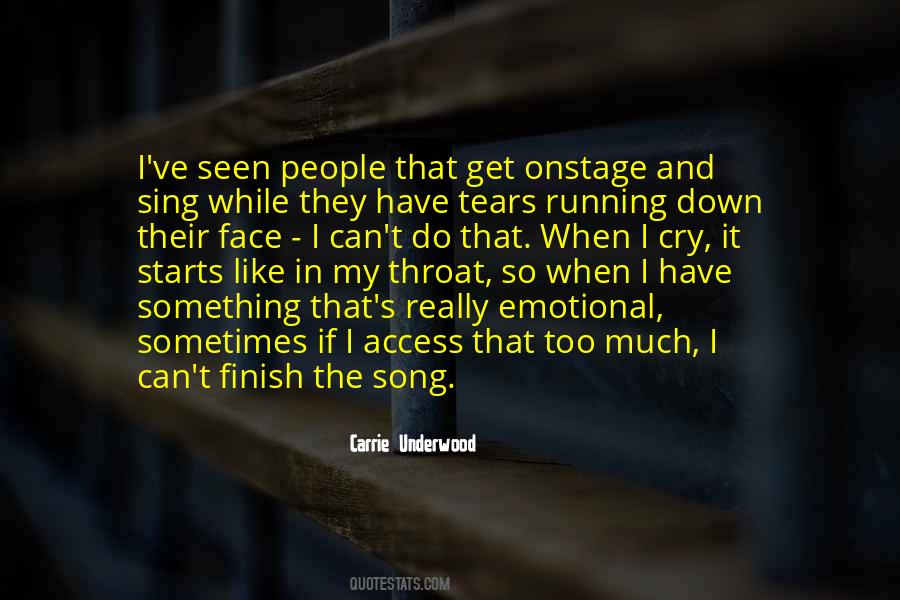 #89. Tears have a better character cried alone. Pity can sometimes be more wolf than dog. - Author: Sebastian Barry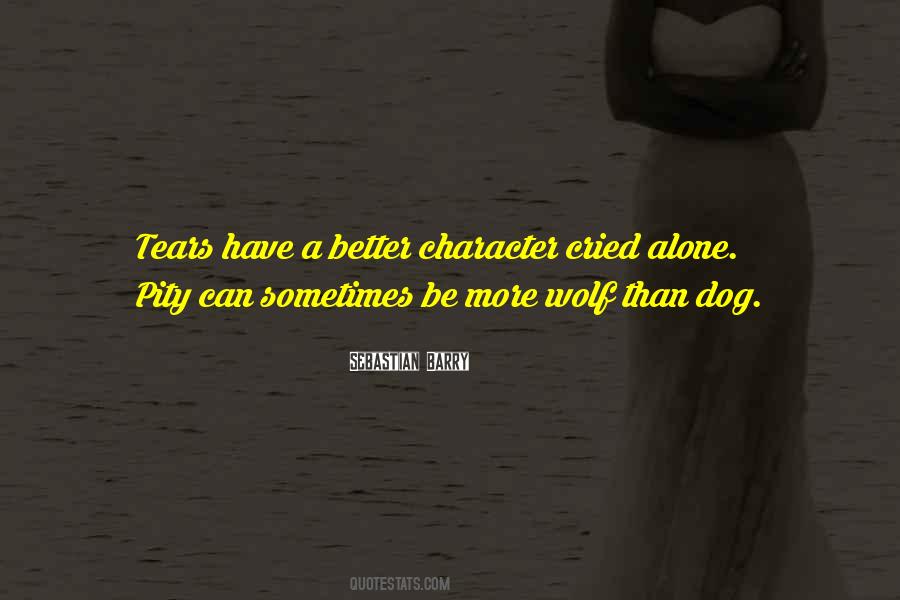 #90. Sometimes your eyes are not the only place the tears fall from. - Author: Faraaz Kazi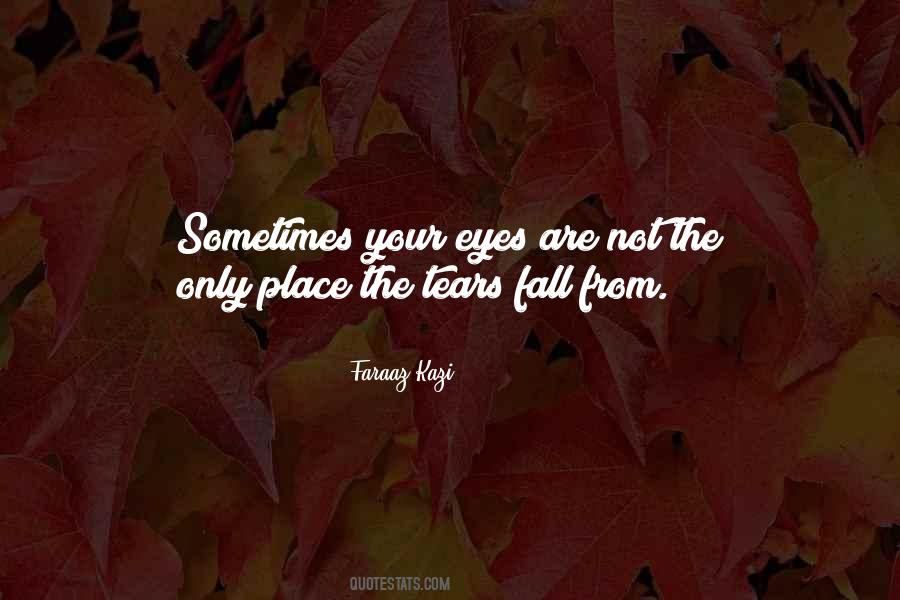 Famous Authors
Popular Topics