Soil Life Famous Quotes & Sayings
List of top 100 famous quotes and sayings about soil life to read and share with friends on your Facebook, Twitter, blogs.
Top 100 Soil Life Quotes
#1. A seed cannot grow in stone. It requires fertile soil, air, water, and sunlight. Compassion is like the fertile soil where life grows. - Author: Amit Ray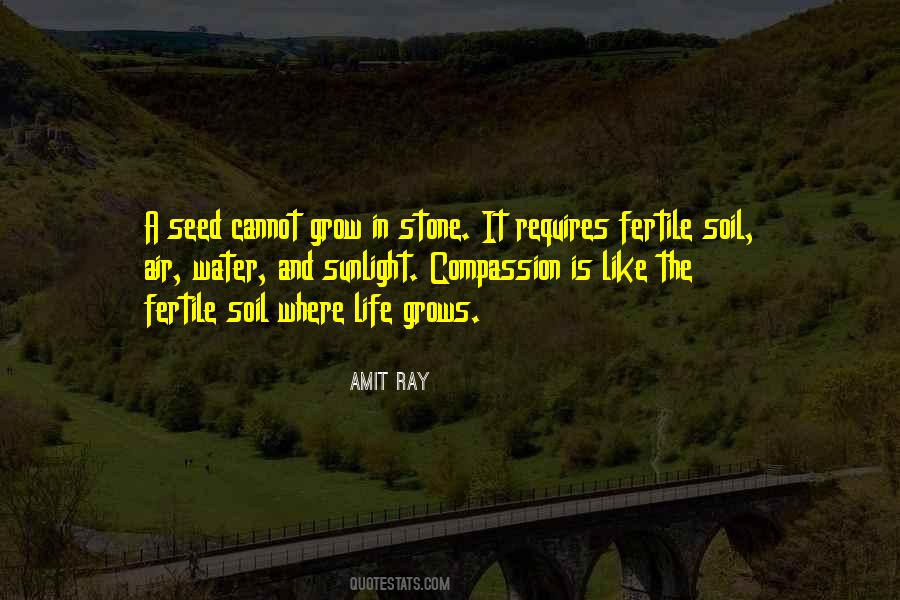 #2. The Life of true holiness is rooted in the soil of awed adoration - Author: J.I. Packer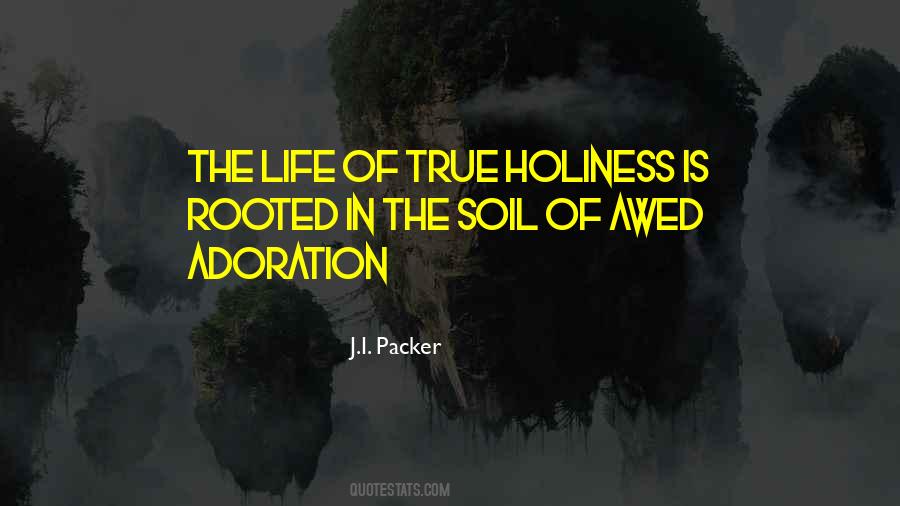 #3. When I as reading and writing, I was in that exhilarating place where the life of the imagination is more real than the tiles and soil and rock under my feet. - Author: Deborah Lawrenson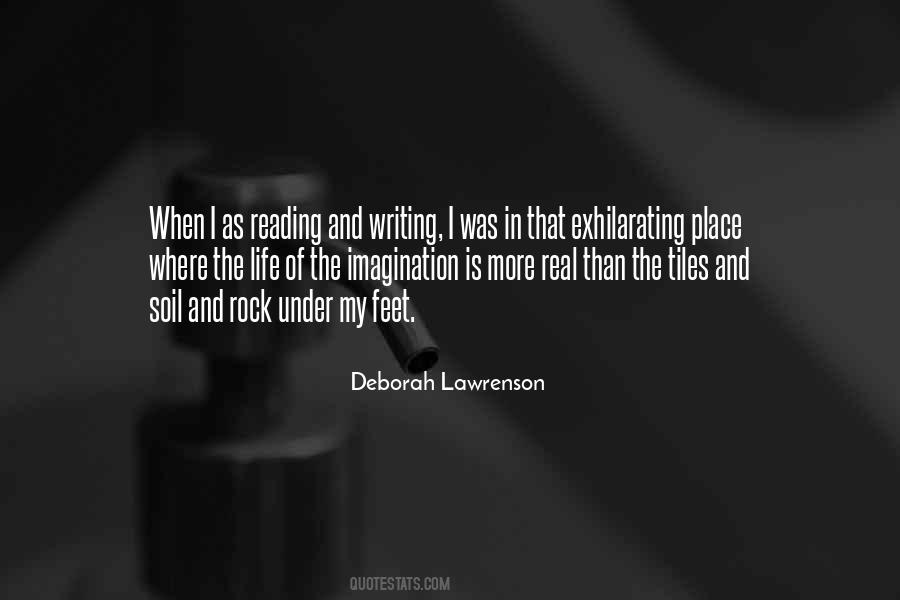 #4. Clouds, leaves, soil, and wind all offer themselves as signals of changes in the weather. However, not all the storms of life can be predicted. - Author: David Petersen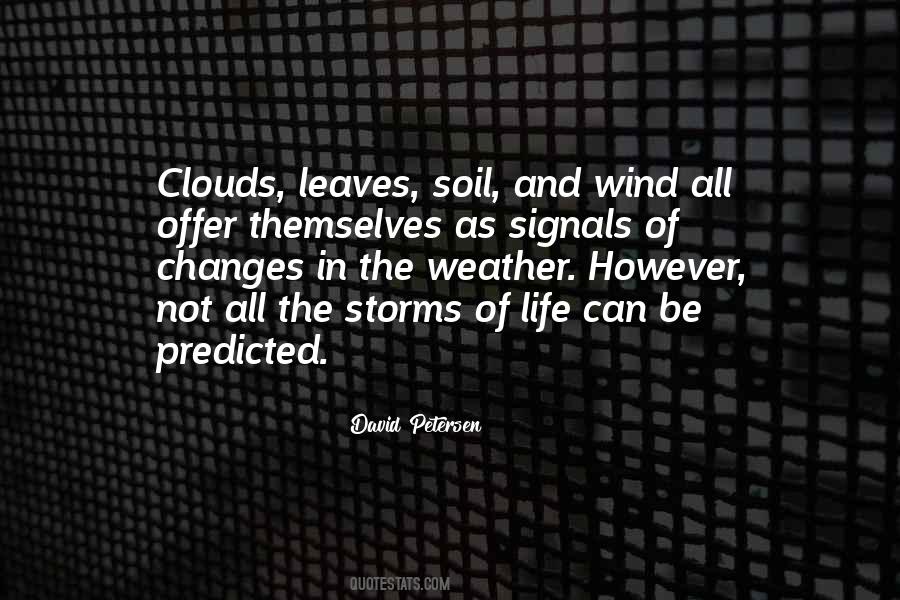 #5. We are such spendthrifts with our lives, the trick of living is to slip on and off the planet with the least fuss you can muster. I'm not running for sainthood. I just happen to think that in life we need to be a little like the farmer, who puts back into the soil what he takes out. - Author: Paul Newman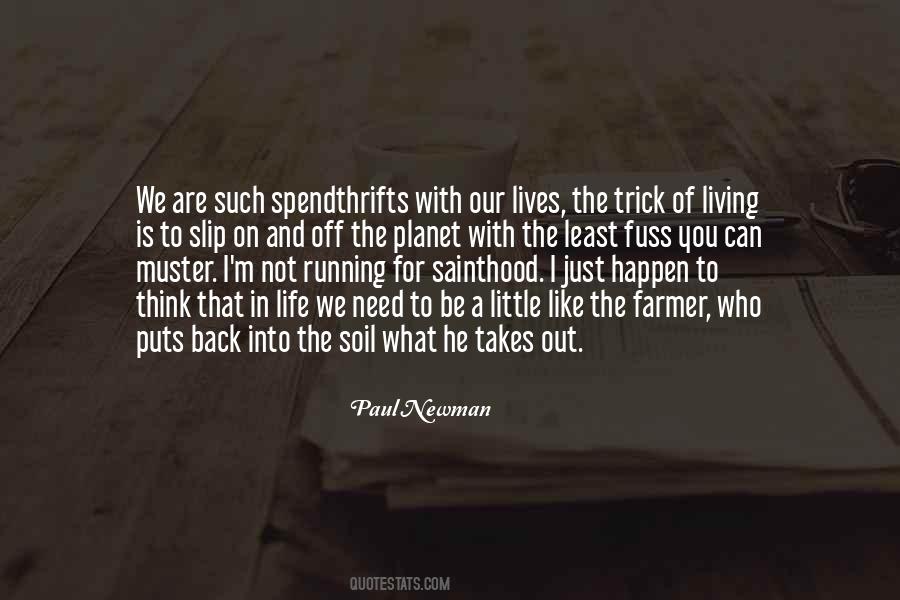 #6. My idea of working for a living is not going to office and earning a salary. It is to build a log house and catch my own fish and till some soil. - Author: Girish Kohli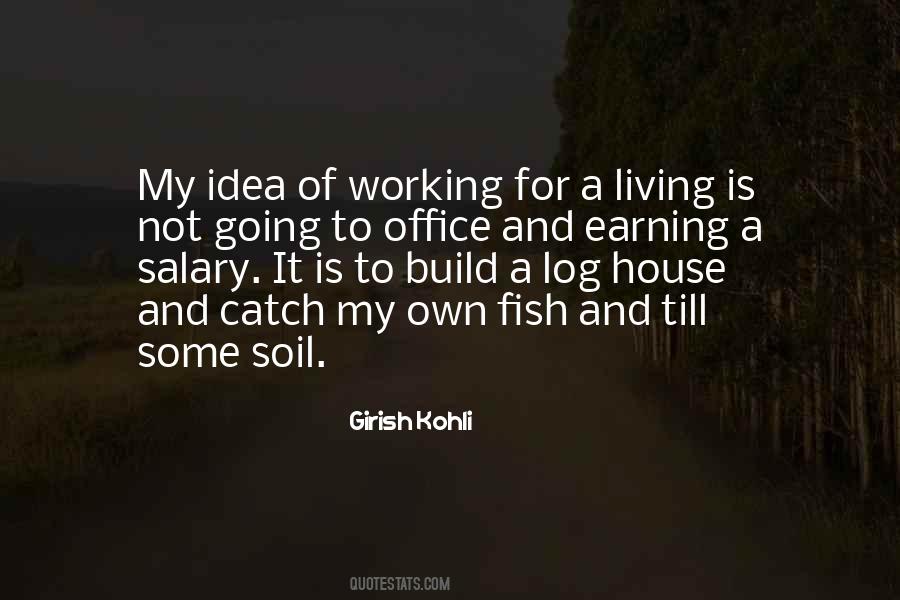 #7. When you assess your own life, consider it with the eye of a gardener. Underneath the surface lies rich, fertile soil waiting to nurture the seeds you sow. Even more than you can imagine will grow there if given a chance. - Author: Steve Goodier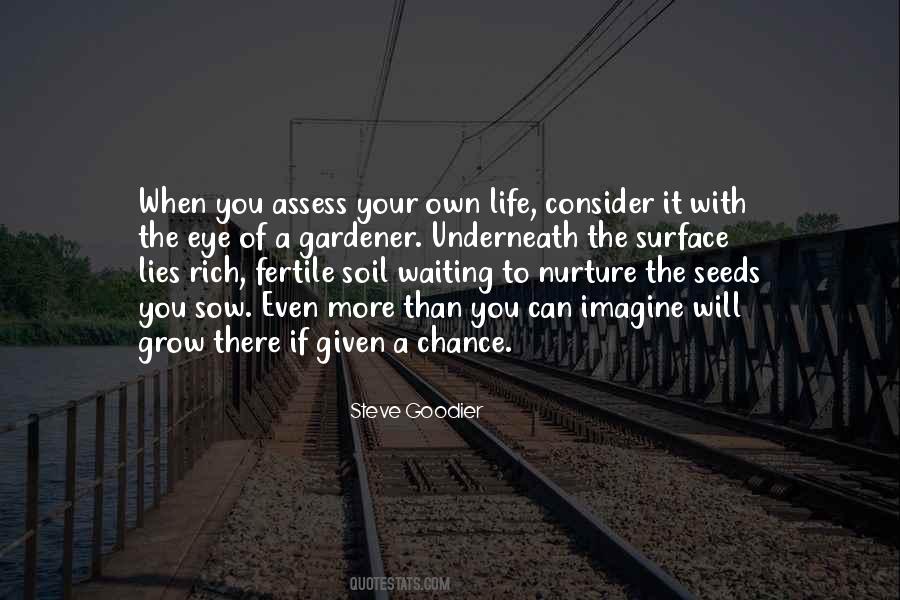 #8. Reap your harvest. (Benefits) You have been sowing seeds on good soil. (Working Hard) Your garden is overflowing abundantly.(Successful) Now is the time for you to fill your basket with the fruits of your labor. (Savings). Prepare your soil for new seeds. (Investments) - Author: Amaka Imani Nkosazana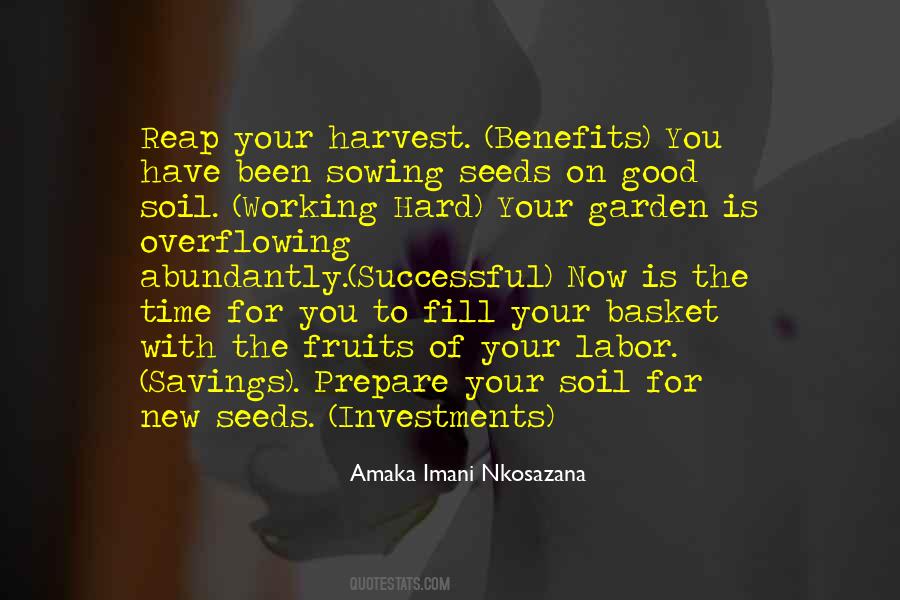 #9. It's very difficult to tell someone how to protect themselves from a terrorist attack, whether it occurs in the U.S. or on foreign soil, particularly when you have terrorists with no concern for human life. - Author: Saxby Chambliss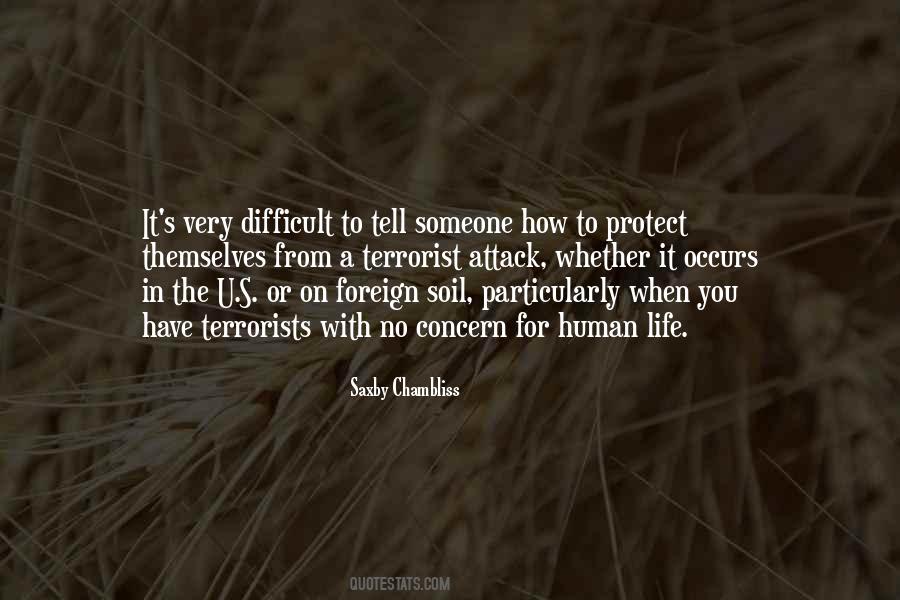 #10. Material wealth can be bad for your health.
Because when you're in the soil it'll make your blood boil,
that you couldn't keep it all for your self. - Author: Benny Bellamacina
#11. The damages of our present agriculture all come from the determination to use the life of the soil as if it were an extractable resource like coal. - Author: Wendell Berry
#12. The violence present in our hearts, wounded by sin, is also reflected in the symptoms of sickness evident in the soil, in the water, in the air and in all forms of life. - Author: Anonymous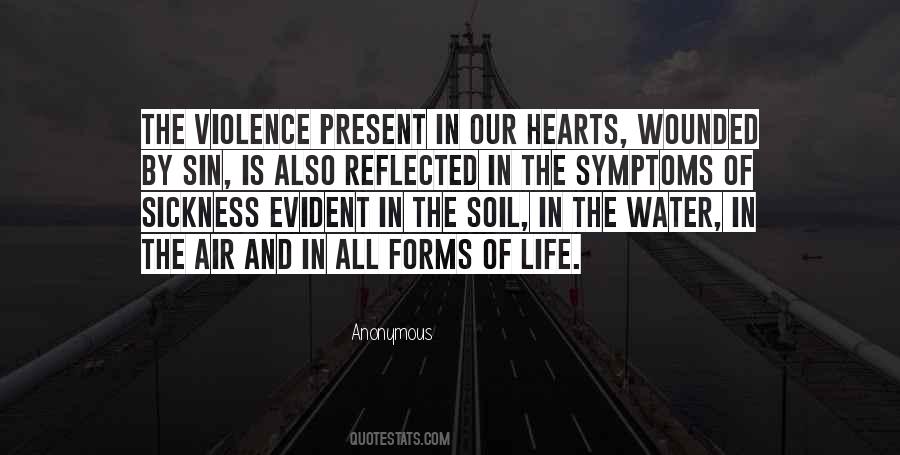 #13. That's what I want for my life. I want to go to Peshawar ... Because there's more past than present there. Two and a half thousand years of history beneath its soil. How long a list of reasons do you need? - Author: Kamila Shamsie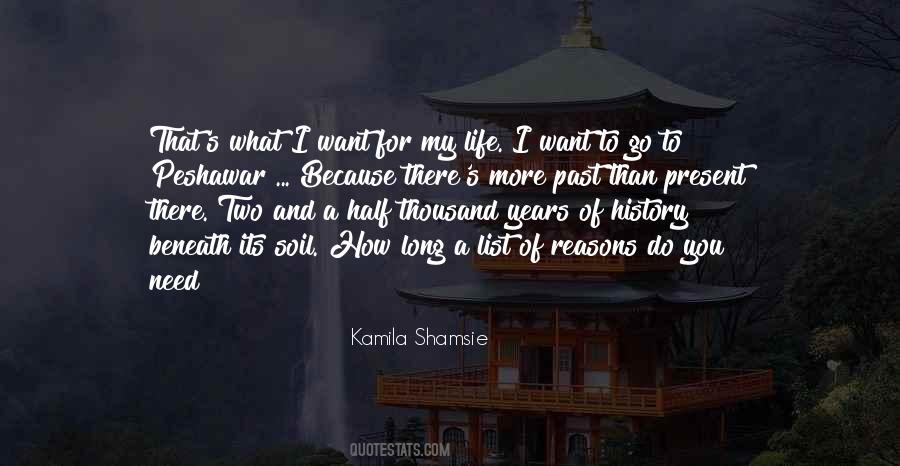 #14. If a healthy soil is full of death, it is also full of life: worms, fungi, microorganisms of all kinds ... Given only the health of the soil, nothing that dies is dead for very long. - Author: Wendell Berry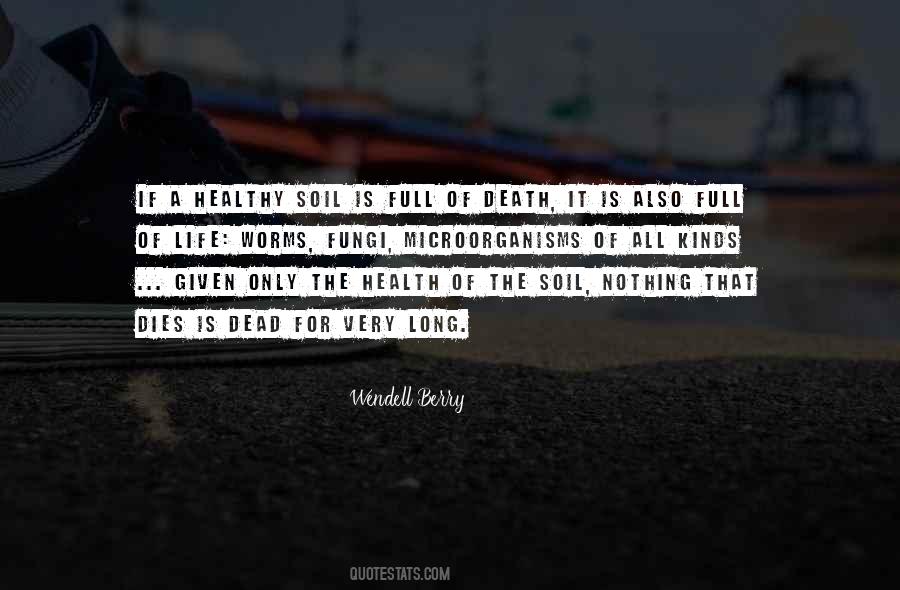 #15. By the deficiency or absence of one necessary constituent, all the others being present, the soil is rendered barren for all those crops to the life of which that one constituent is indispensable. - Author: Justus Von Liebig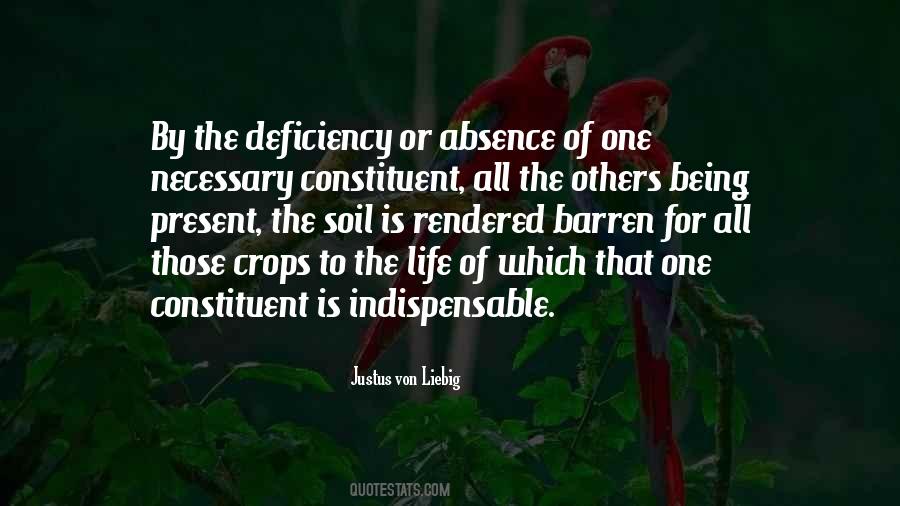 #16. Ideas, like individuals, live and die. They flourish, according to their nature, in one soil or climate and droop in another. They are the vegetation of the mental world. - Author: William Macneile Dixon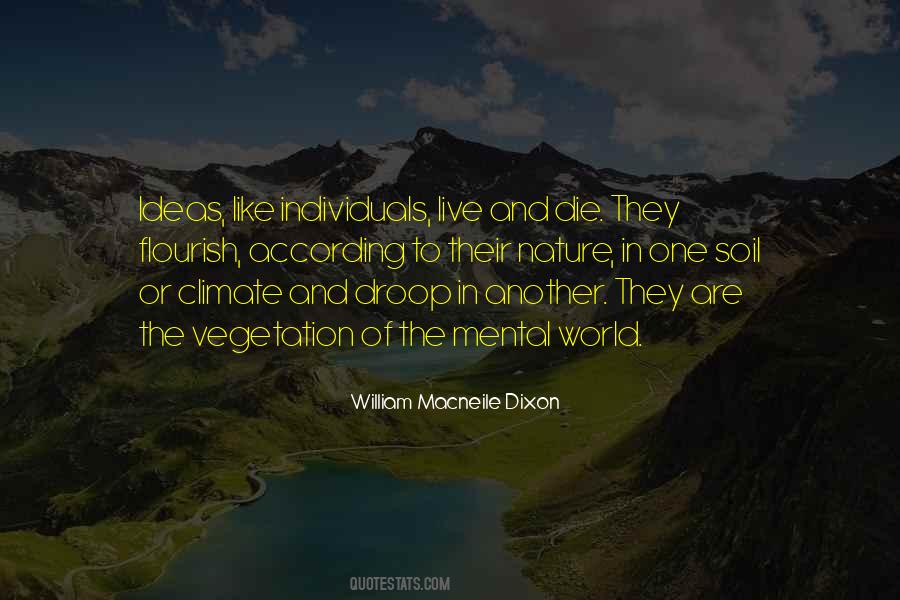 #17. While it is relatively easy to recognize the perennial grasses and seed-eating sparrows as characteristic of meadows, the ecosystems exist in their fullest sense underground. What we see aboveground is only the outer margin of an ecosystem that explodes in intricacy and life below. - Author: Amy Seidl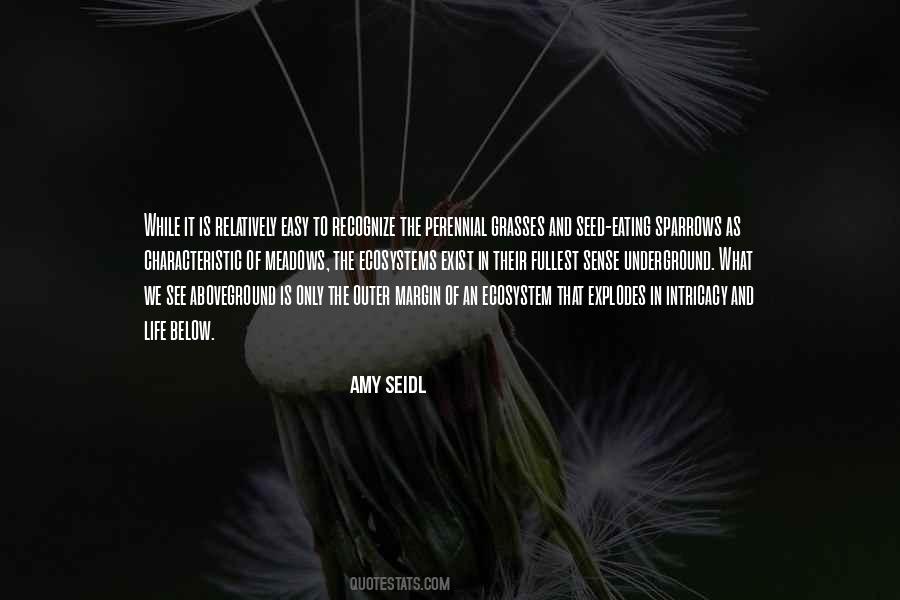 #18. But we have to look after mother nature so she can look after us - the water, the soil, the air and all the life within it. - Author: Costa Georgiadis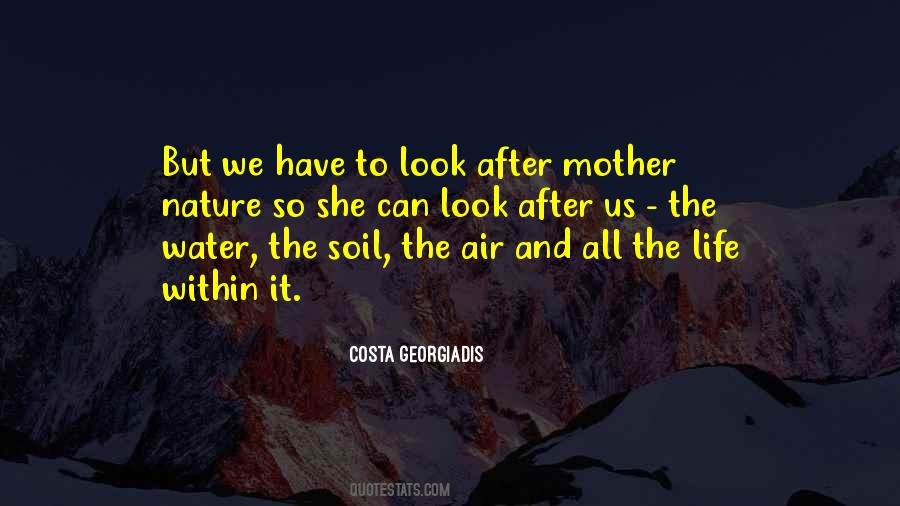 #19. Live, die, something else lives. The very soil humanity walks upon is built up from death. Digging into a flowerbed means digging into bones. - Author: M. Jones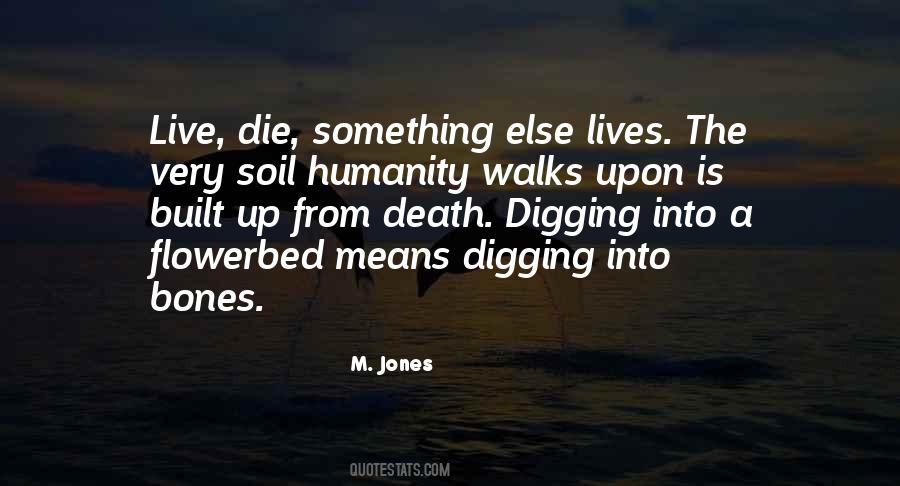 #20. Dr. Stockmann. I have already told you that what I want to speak about
is the great discovery I have made lately
the discovery that all the
sources of our moral life are poisoned and that the hole fabric of our
civic community is founded on the pestiferous soil of falsehood. - Author: Henrik Ibsen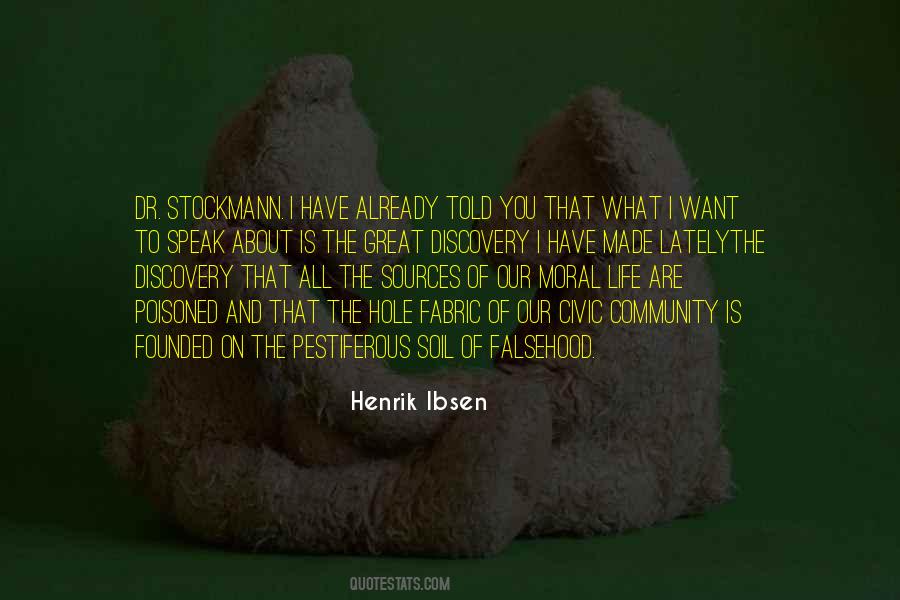 #21. Way for new, winter taking away the remnants of the old to clear room for the young growth. Life, in other words, in all its fierce beauty and stark routine. All things went to the soil eventually. It was the way of life. - Author: Diana Palmer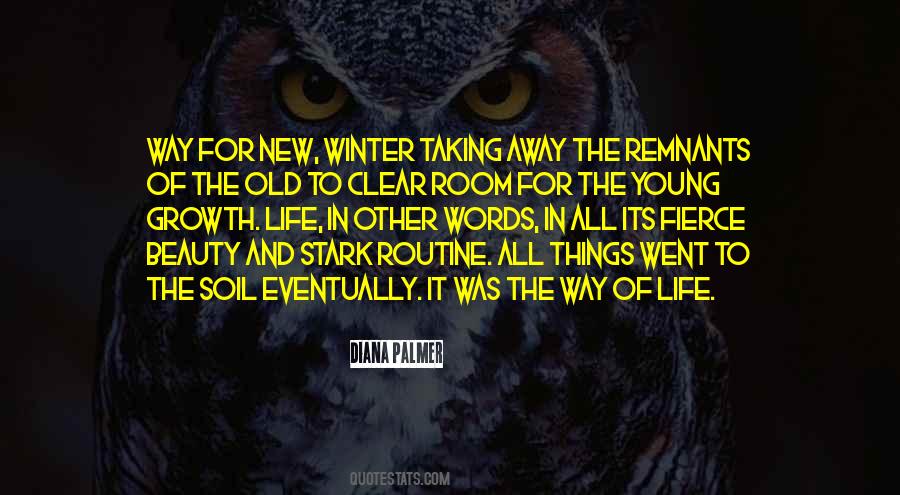 #22. There's something outrageously simple about extending yourself toward a goal the way a plant seeks the sun's rays or a gopher the crunch of easy soil beneath his paws, and then getting exactly what you want, sunshine or some prized tuber. - Author: Gary Shteyngart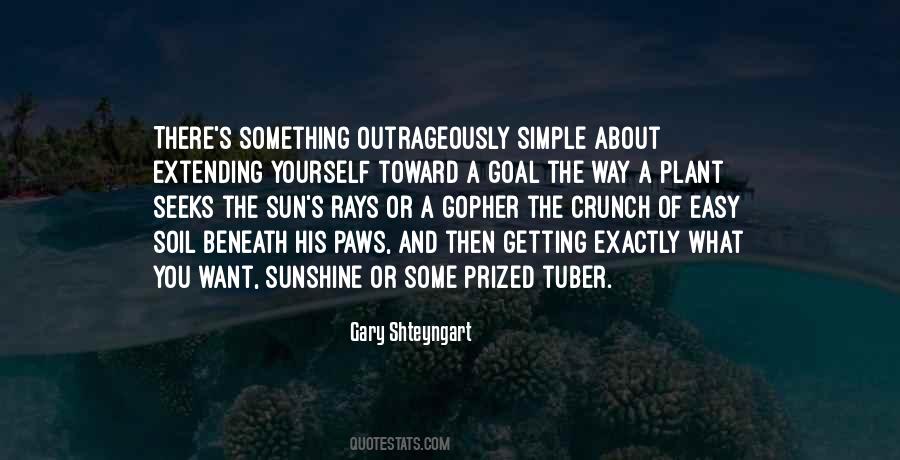 #23. Take ACTION! When we DO NOT take action, our potentiality becomes the soil that houses the seeds of our regret. - Author: Steve Maraboli
#24. I have learned that bitterness, resentment and self-pity do nothing to lift the gloomy clouds of a spiritual February in my life. If anything, these sins only harden the soil of my heart, making it difficult for new growth to spring forth at God's appointed time. - Author: Katherine J. Walden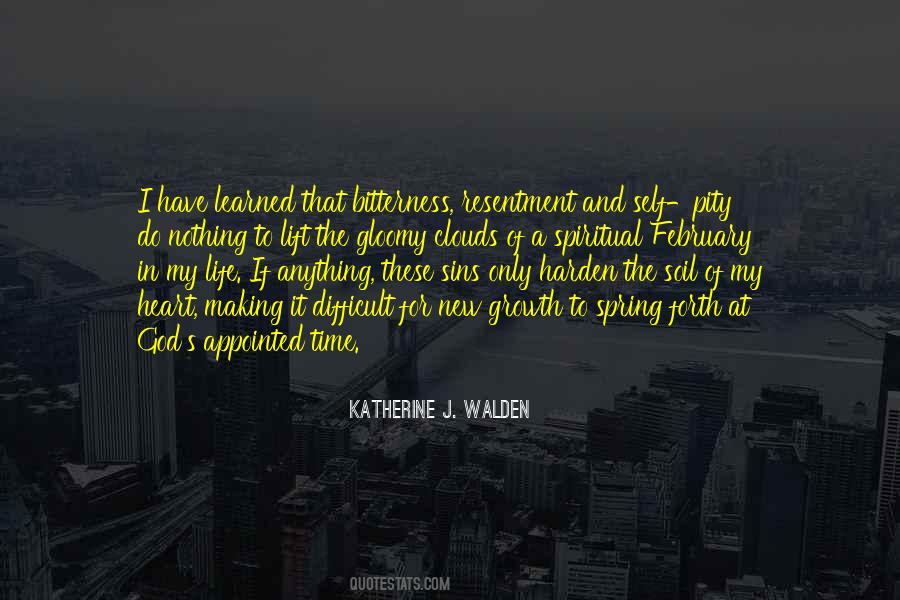 #25. Try as we might, we cannot force our children to reach their full potential. Theirs is the life that they alone must live. The role of the parent is to prepare the most fertile soil and appropriately water the seedling so it can most fully blossom. - Author: Gabriel Cousens M.D.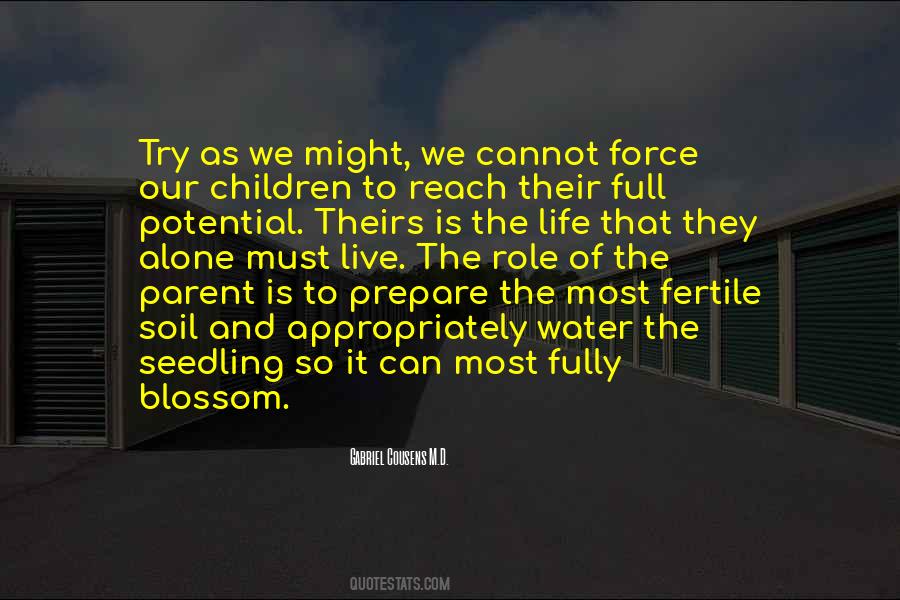 #26. The ideal is a synthesis of the different cultures that have come to stay in India, that have influenced Indian life, and that, in their turn, have themselves been influenced by the spirit of the soil. - Author: Mahatma Gandhi
#27. The beautiful in life ...
Some talk of it in poetry,
Some grow it from the soil,
Some build it in a steeple,
Some show it through their toil.
Some breathe it into music,
Some mold it into art,
Some shape it into bread loaves ...
Some hold it in their hearts. - Author: Bernard Meltzer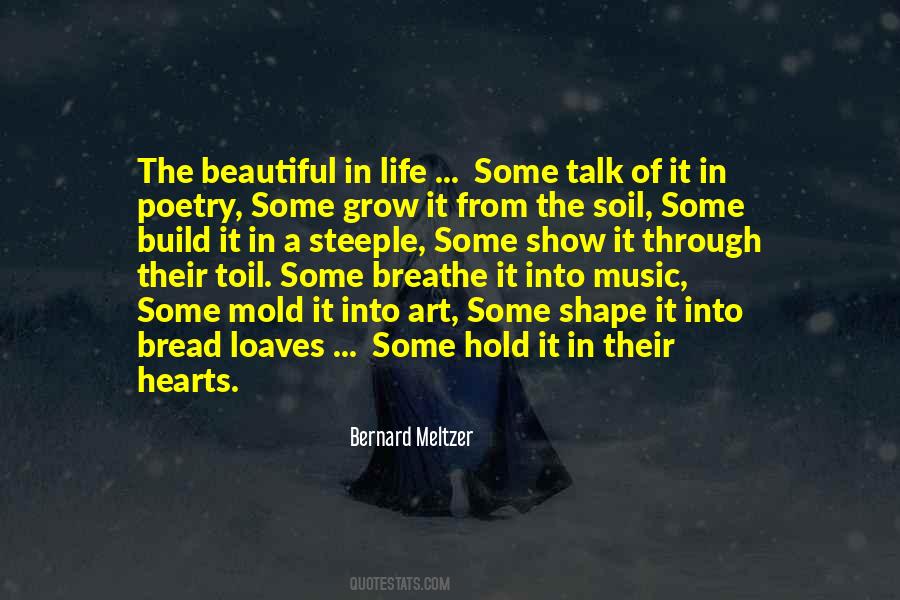 #28.
Respect every soul on this SOIL
If you make them toil, there blood will BOIL
Prepare to witness the fury of the FRAIL
New Phoenix will emerge as you life my VEIL!!!

Priyanka Sahi - Author: TheRisingHuman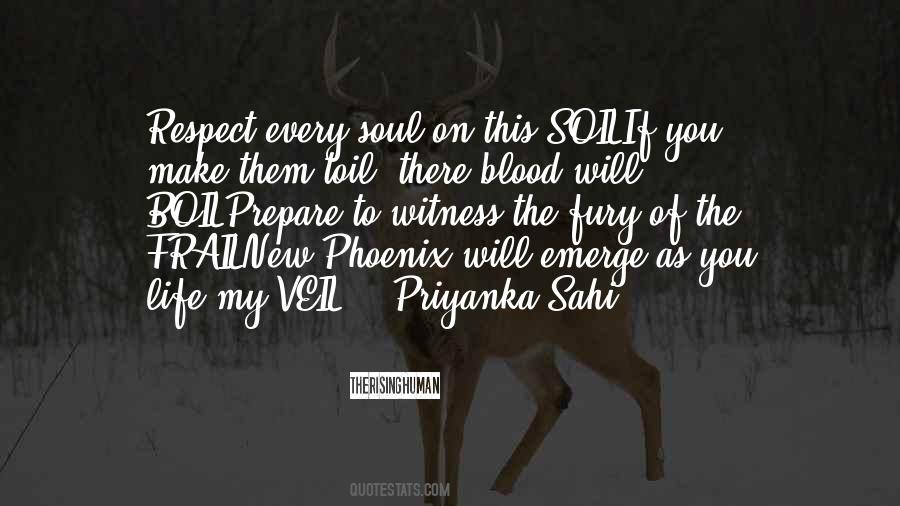 #29. Sand is for fun; soil is for life! - Author: Mehmet Murat Ildan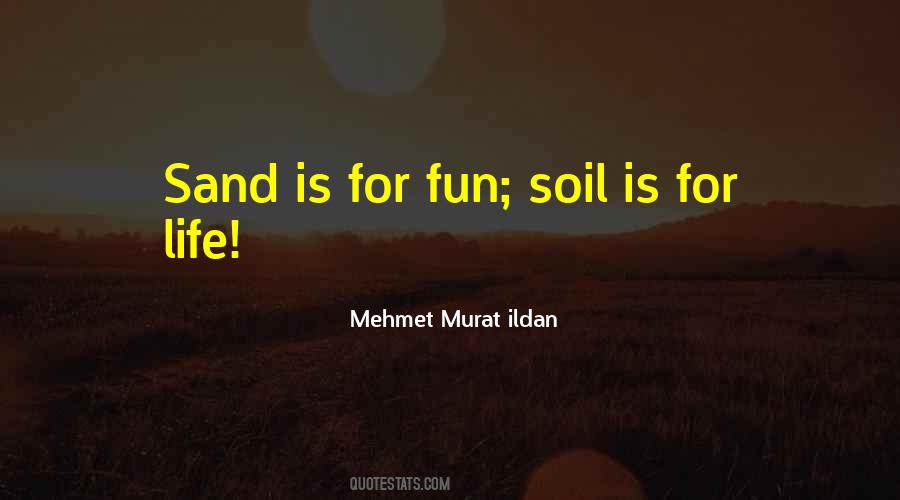 #30. Dear Woman,
You are a beautiful flower of earth, allow the rain to feed you the same strength as the sun. Don't stop growing through the storms, they are sent to test how solid your soil is not too destroy your roots. - Author: Keysha Jade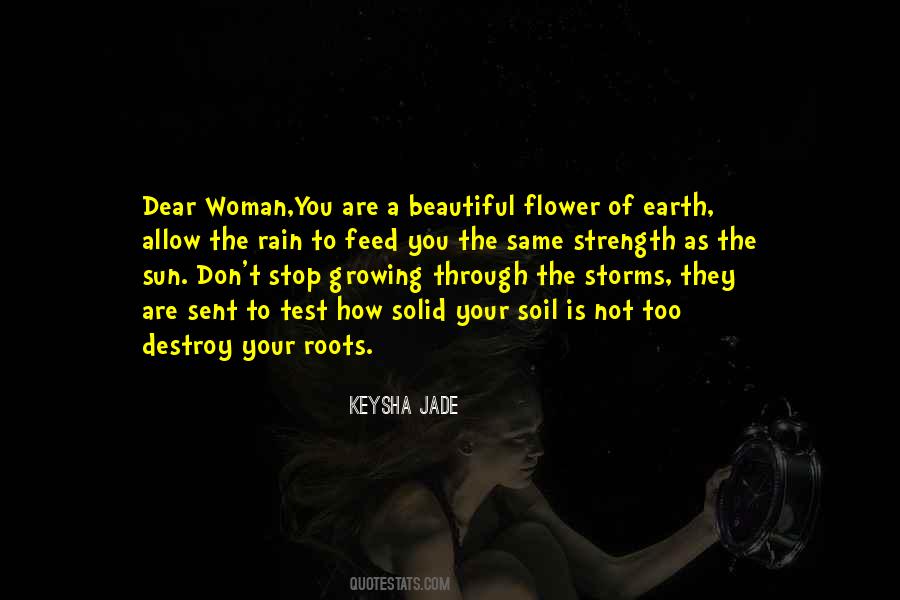 #31. Life's fulfillment finds constant obstacles in its path; but those are necessary for the sake of its advance. The stream is saved from the sluggishness of its current by the perpetual opposition of the soil through which it must cut its way. The spirit of fight belongs to the genius of life. - Author: Rabindranath Tagore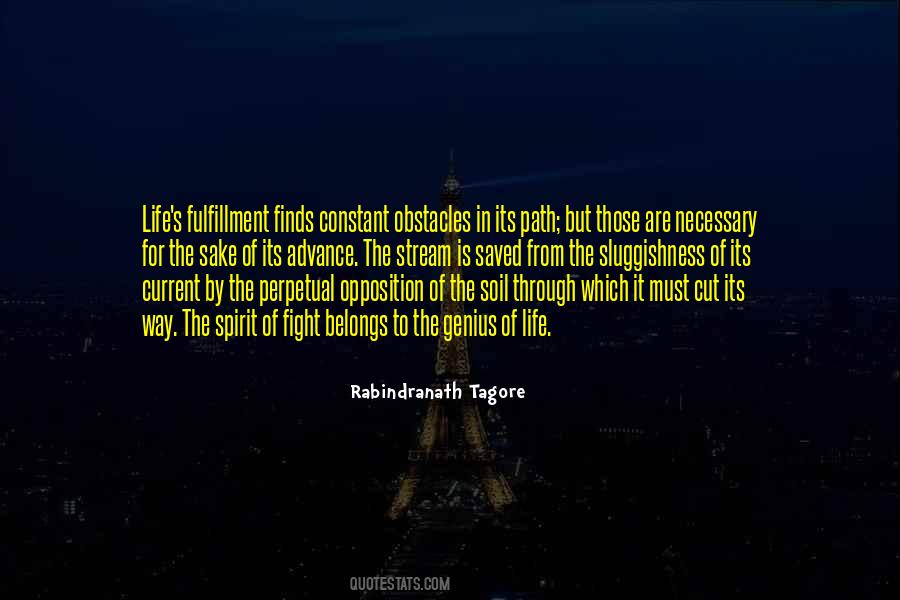 #32. Acceptance makes an incredible fertile soil for the seeds of change. - Author: Steve Maraboli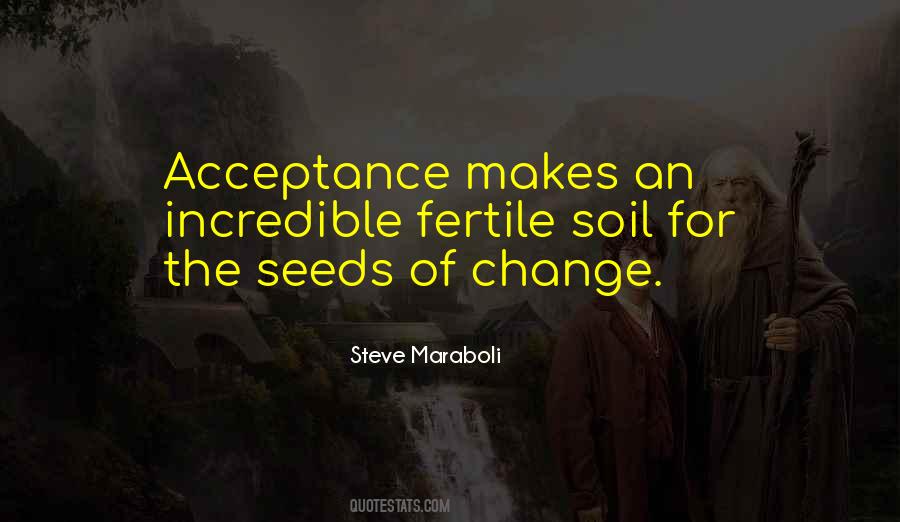 #33. Let us celebrate the soil. Most men toil that they may own a piece of it; they measure their success in life by their ability to buy it. - Author: Charles Dudley Warner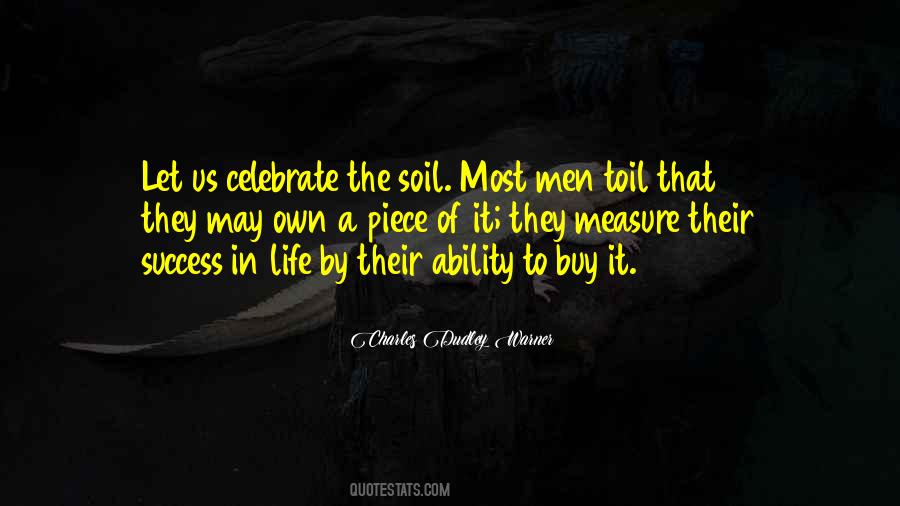 #34. They say the seeds of what we will do are in all of us, but it always seemed to me that in those who make jokes in life the seeds are covered with better soil and with a higher grade of manure. - Author: Ernest Hemingway,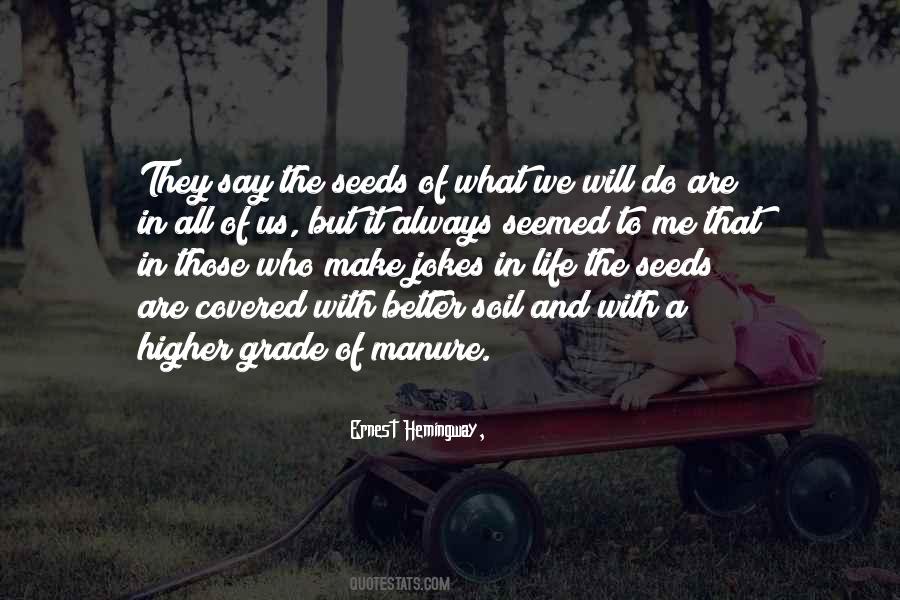 #35. I fall for centuries of life. First sunlight touches this hillside; and buried inside the earth, a seed stirs, turning slowly in the deep soil like a tadpole turning itself in a dank pool. - Author: Ned Hayes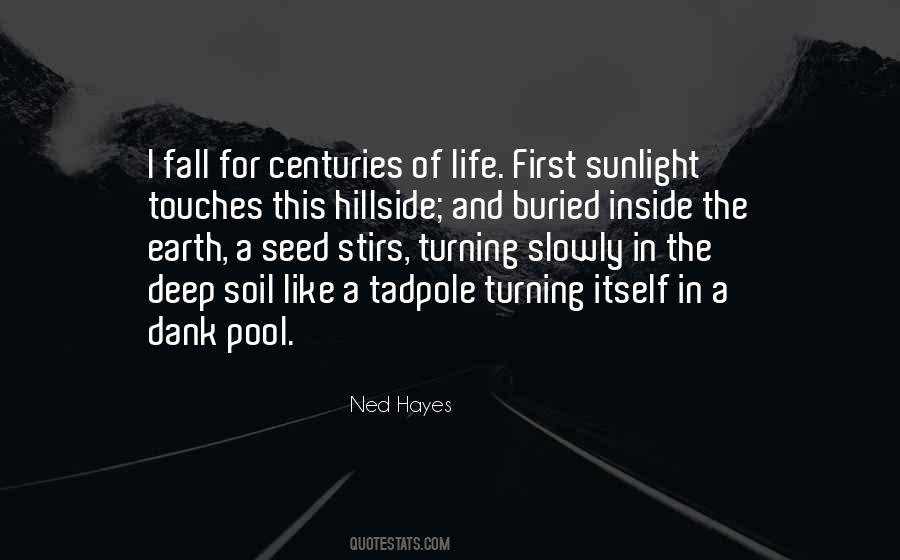 #36. The soil is not a mass of dead debris, merely resulting from the physical and chemical weathering of rocks; it is a more or less homogeneous system which has resulted from the decomposition of plant and animal remains. It is teeming with life. - Author: Selman Waksman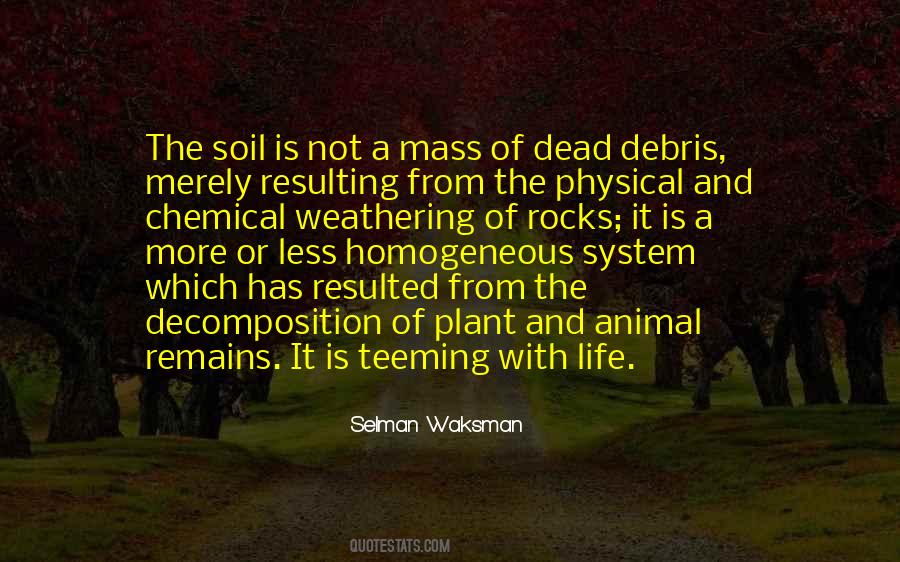 #37. I did not get over the loss of my loved ones; rather, I absorbed the loss into my life, like soil receives decaying matter, until it became a part of who I am. - Author: Gerald L. Sittser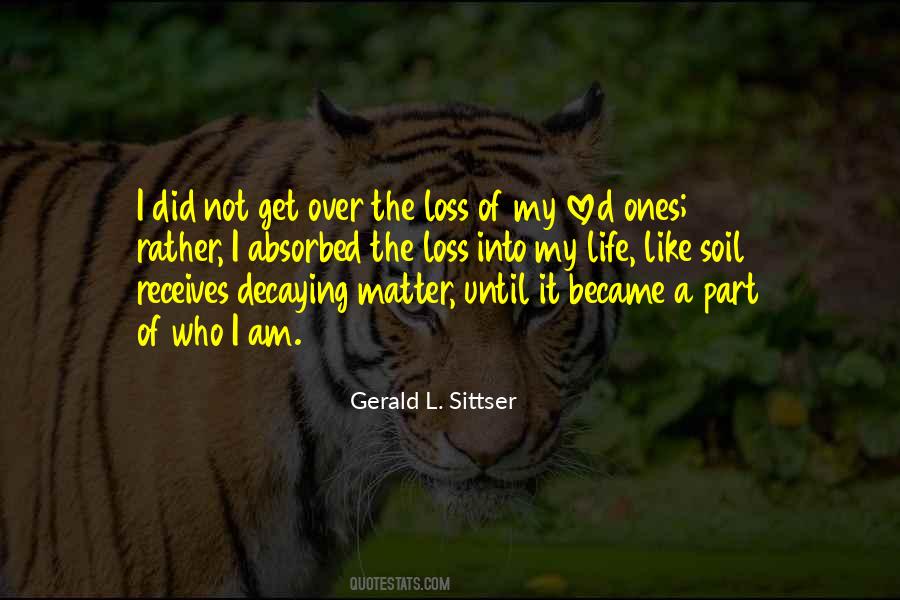 #38. The sun shall always rise upon a new day and there shall always be a rose garden within me. Yes, there is a part of me that is broken, but my broken soil gives way to my wild roses. - Author: C. JoyBell C.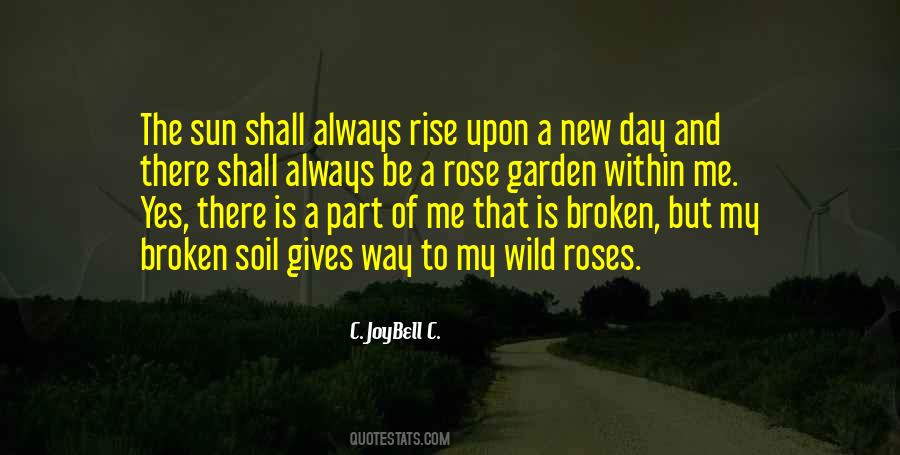 #39. I believe the duality of life is fertile soil. - Author: Ken Grace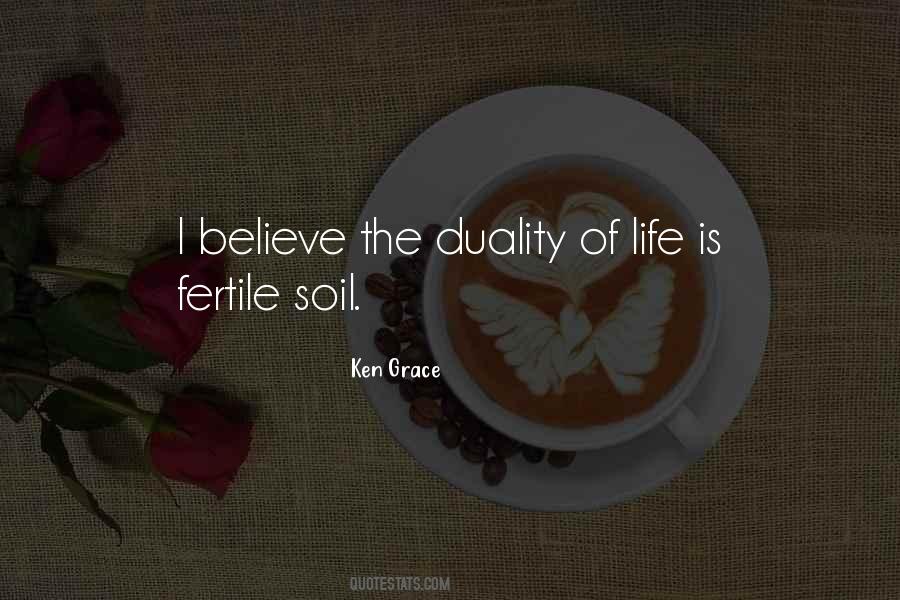 #40. The flower draws its life energy from the soil and from the sun. We are very similar. We continuously receive energy from the earth through our feet and from the air. Energy is everywhere, like love. We just have to open ourselves up to receive it. - Author: Ratu Bagus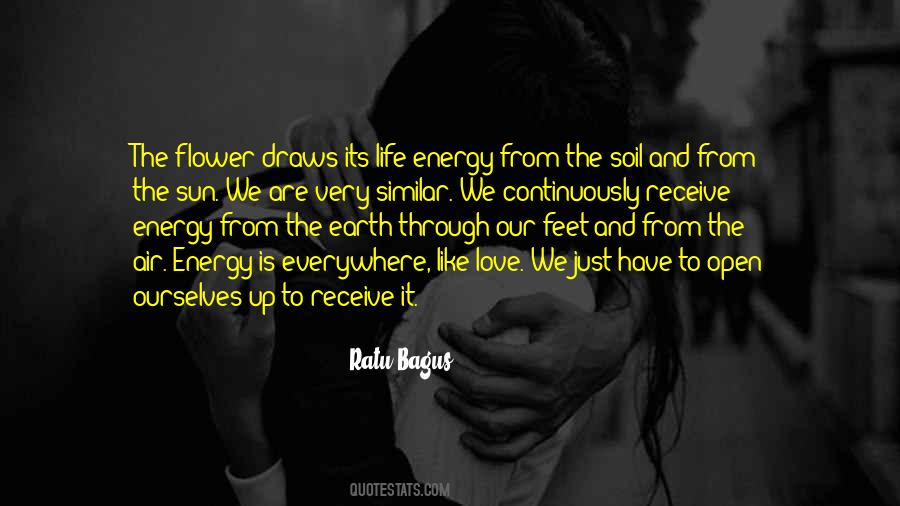 #41. Standing on soil feels so much different than standing on city pavement; it lets you look inward and reflect and see who you really are, while you see a beautiful, unspoiled land as far as the eye can see. It allows your inner life to grow. - Author: Ricardo Montalban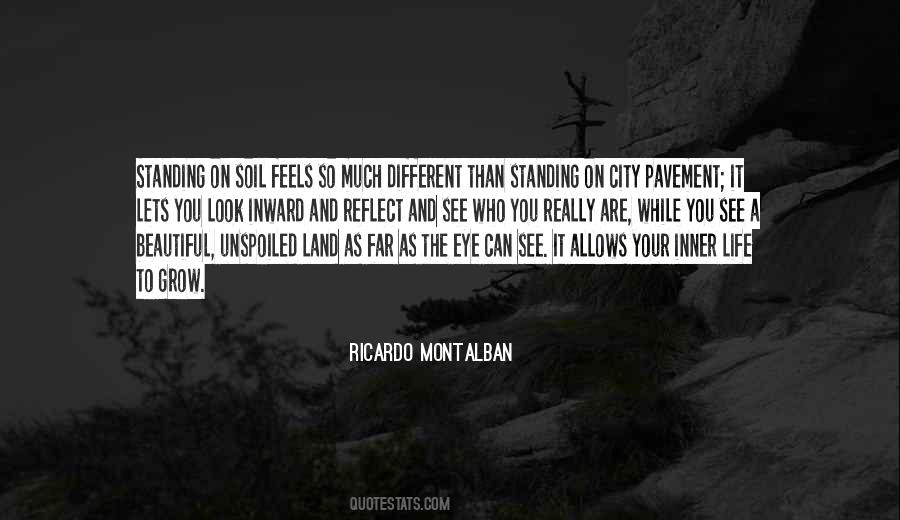 #42. In my mind, the CalMac ferry is linked with the joy of arrival, the sadness of departure, the loss of loved ones brought home by ferry to rest in island soil. It is friendships made and a working life begun. - Author: Johann Lamont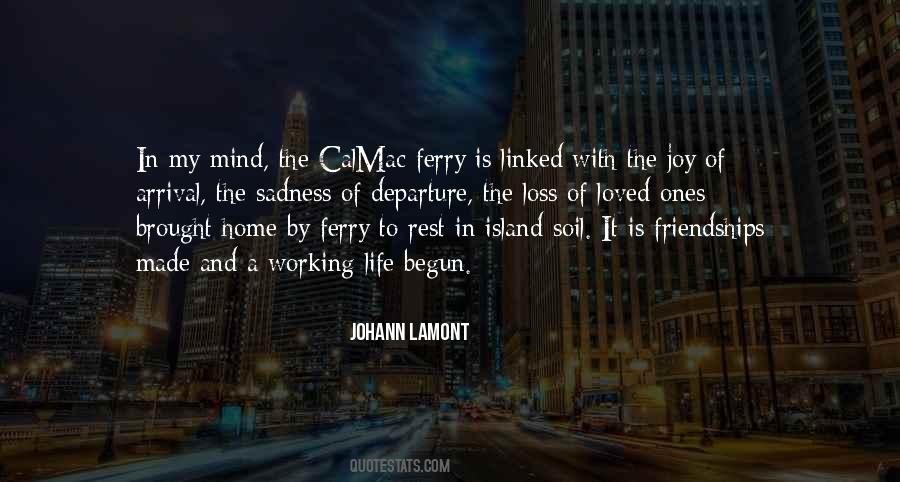 #43. It helps to think of soil as a living organism covered with skin like a human. We can live with a certain percentage of our skin damaged, but if too high a percentage is damaged, we die. So, too, does soil and thus most life - Author: Allan Savory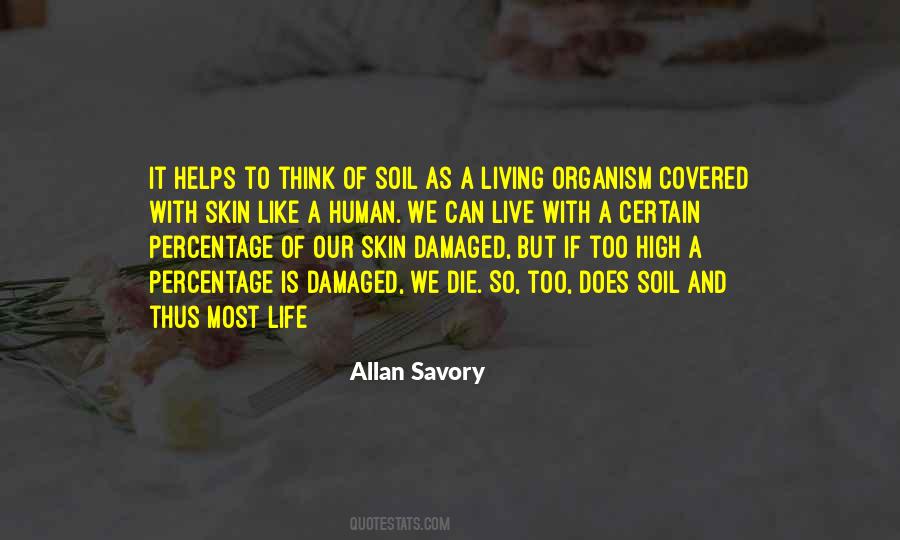 #44. There is new life in the soil for every man. There is healing in the trees for tired minds and for our overburdened spirits, there is strength in the hills, if only we will lift up our eyes. Remember that nature is your great restorer. - Author: Calvin Coolidge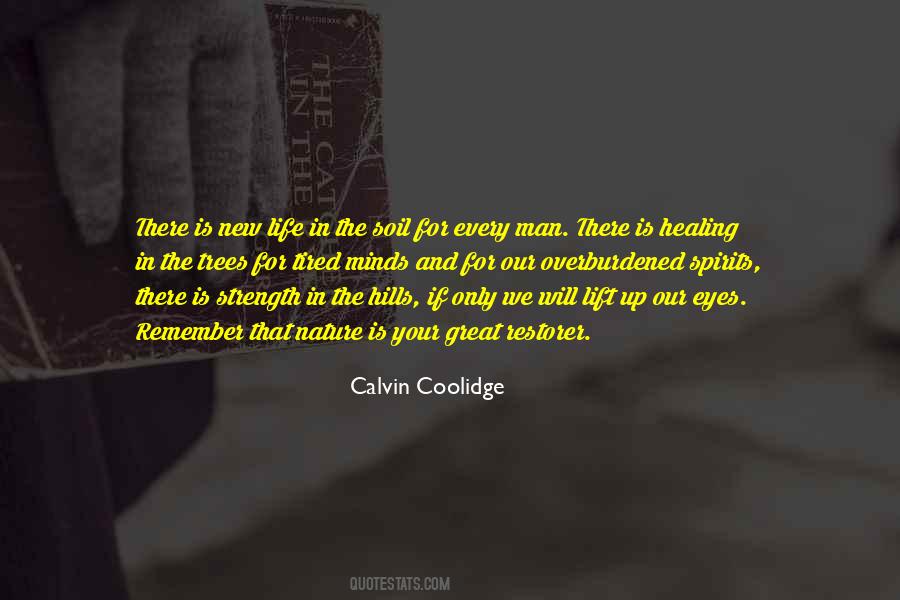 #45. Collaboration has no hierarchy. The Sun collaborates with soil to bring flowers on the earth. - Author: Amit Ray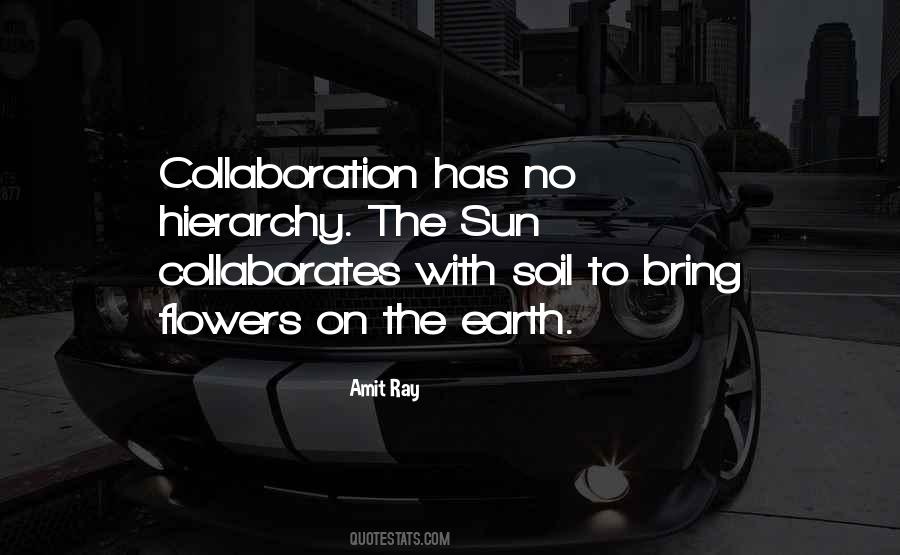 #46. The most fertile soil does not necessarily produce the most abundant harvest. It is the use we make of our faculties which renders them valuable. - Author: Thomas Wentworth Higginson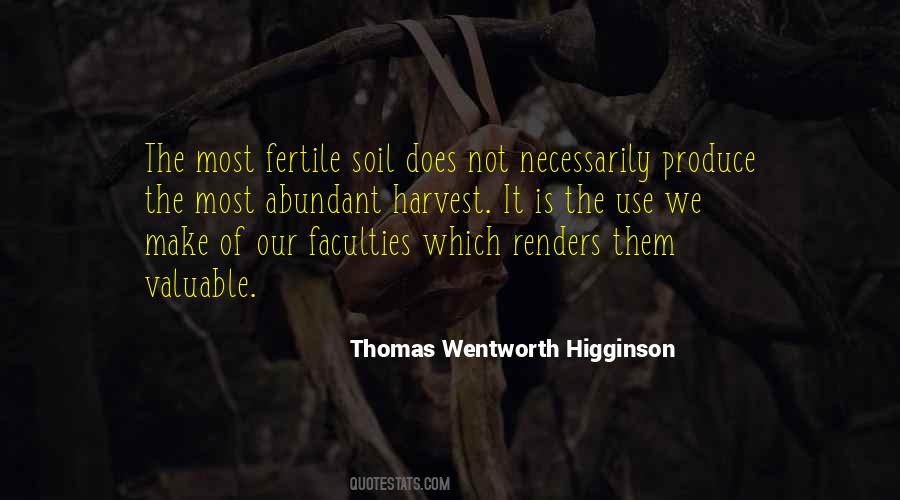 #47. But plants grow again," She murmured, focusing on the verdant beauty around her. "They put down new roots, create room for themselves in foreign soil. - Author: Nalini Singh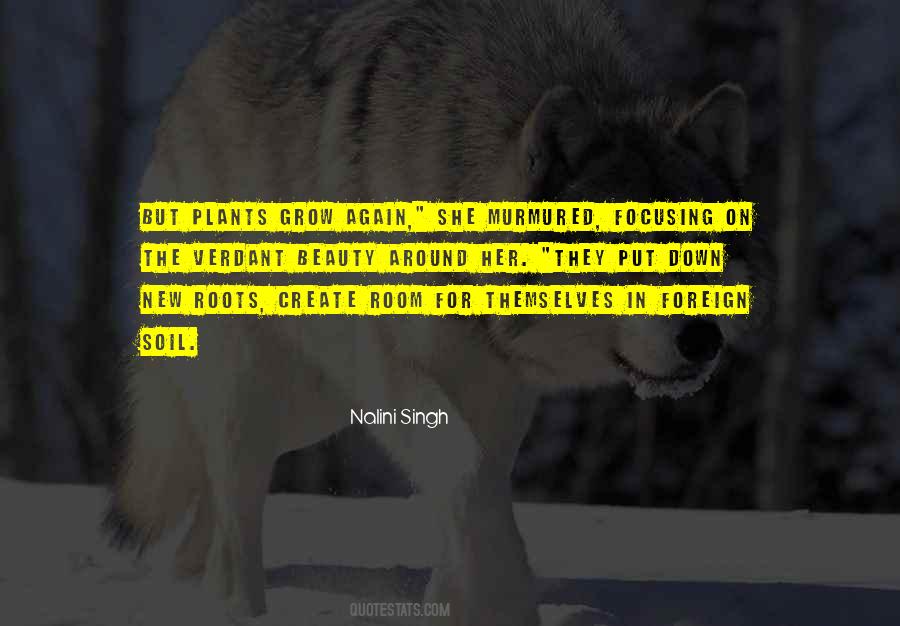 #48. There is no chronic disease to be found
among fish and animal life in the sea that
compares to those on land.
It is also known that all land animals
develop arteriosclerosis, yet sea animals
have never been diagnosed as
arteriosclerotic. - Author: Maynard Murray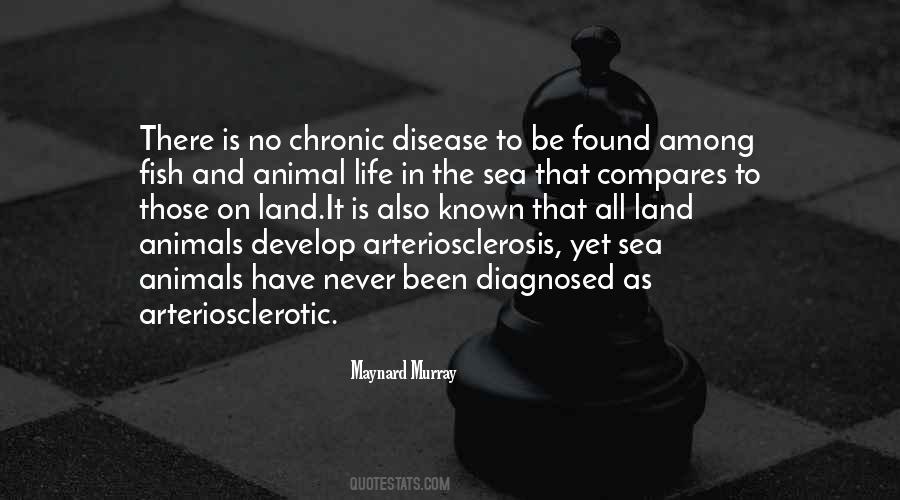 #49. Because we are always growing, life compounds and magnifies what is already in us. If you are miserable you grow in misery and if you are joyful you grow in joy. This makes self-love is the perfect soil from which to grow love. - Author: Bryant McGill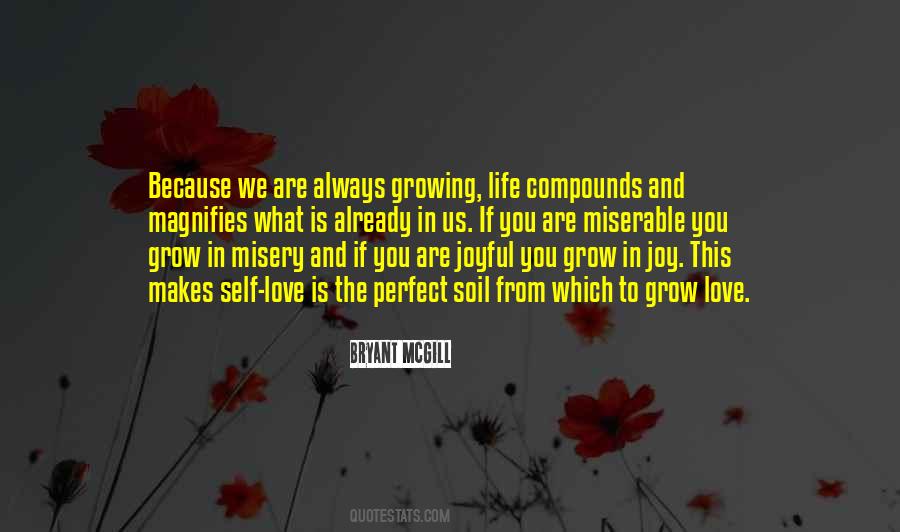 #50. It's impossible to contemplate the life of soil very long without seeing its analogy to the life of the spirit. - Author: Wendell Berry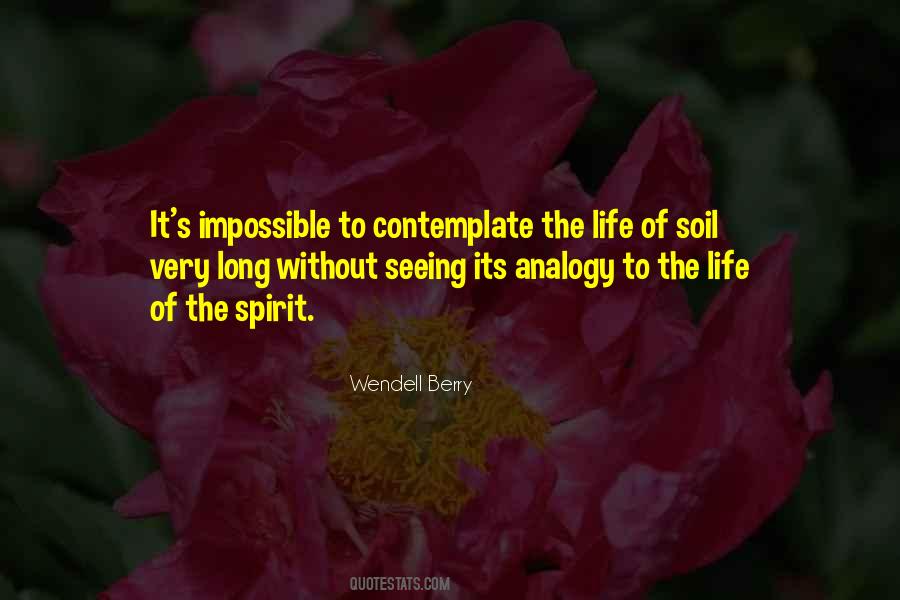 #51. Language to me is a tool a very clumsy tool. And words are garden tools with which to till the soil of one's life. - Author: Joy Kogawa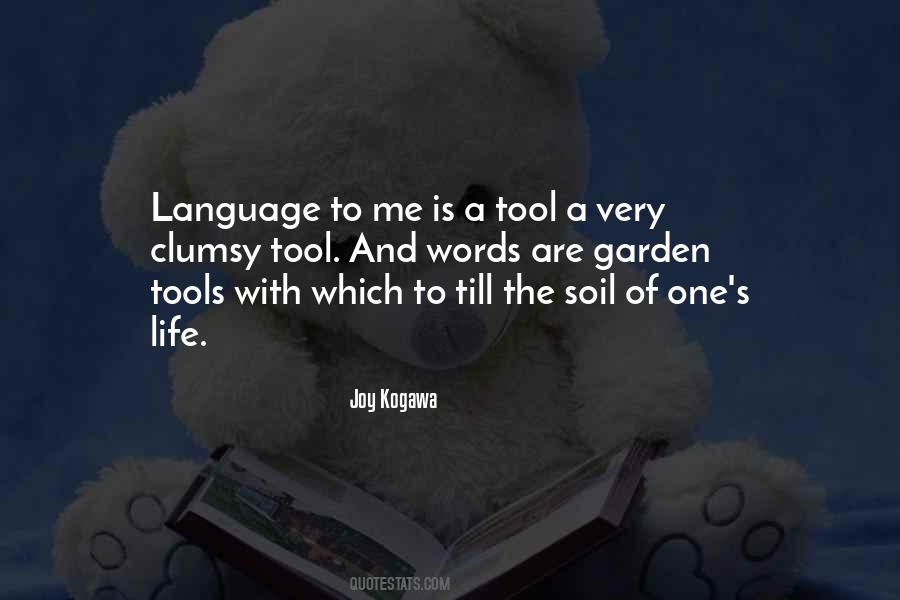 #52. There have been many many times where the uncertainty of life has made me want to force roots into the soil I'm currently standing on - because I'd rather have roots in any soil - than none at all. I hate living with unknowns. - Author: Katie Kiesler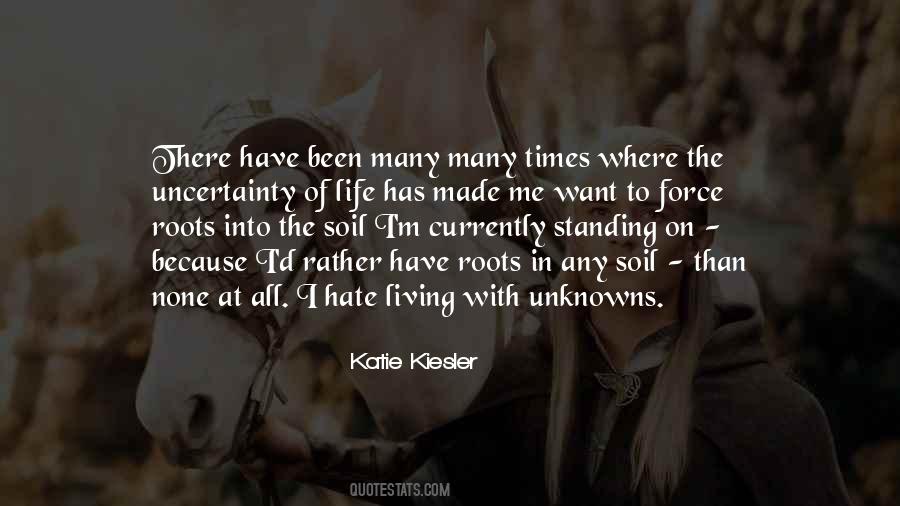 #53. We are overcome by the "cares ... of this life" when we are paralyzed by fear of the future, which hinders our going forward in faith, trusting in God and His promises. It is up to each of us to set the priorities and to do the things that make our soil good and our harvest plentiful. - Author: Dallin H. Oaks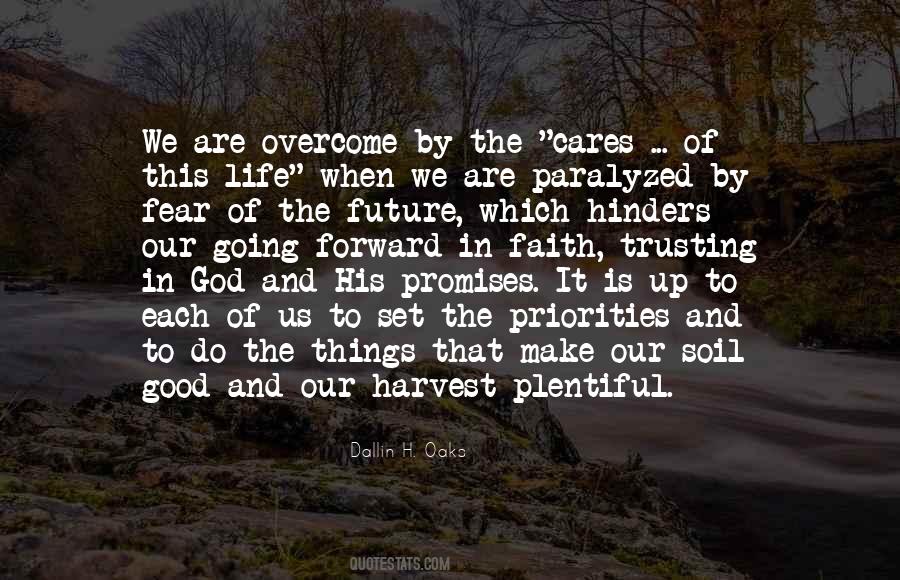 #54. It is the glory of English Law, that its roots are sunk deep into the soil of national history; that it is the slow product of the age long growth of the national life. - Author: Edward Jenks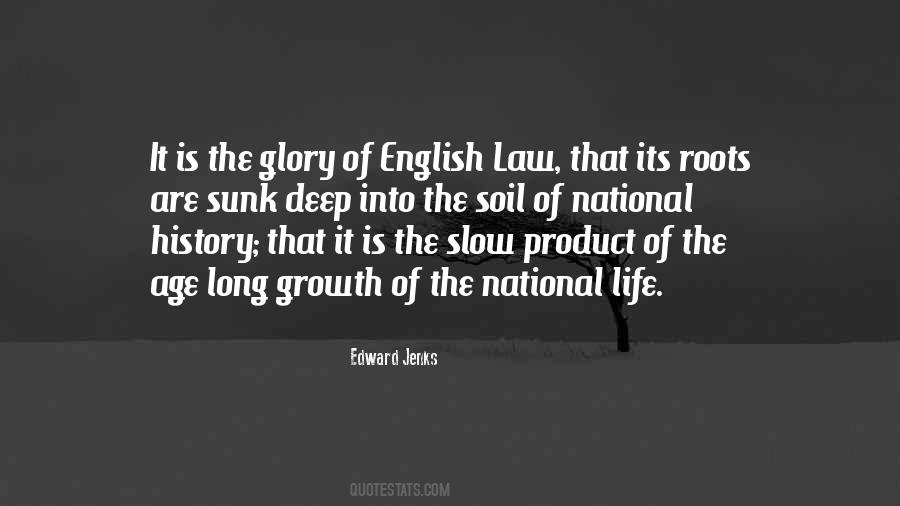 #55. I was poor but I knew that life is beautiful. And I had no other ambition than to discover with the help of new means those deep inner ties that linked me to the very soil. - Author: Maurice De Vlaminck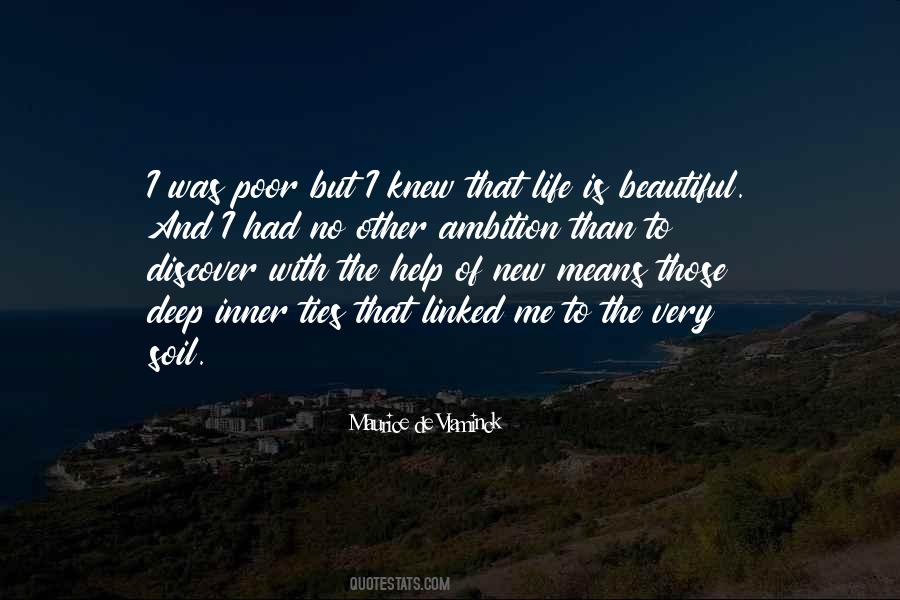 #56. Like the lotus which thrives in mud, the potential for realization grows in the rich soil of everyday life - Author: Dalai Lama
#57. Even when the tree falls, it makes the soil fertile to give birth to life. So where is the question of death? You live in one form or another! The world is a stage for the wonderful dance of life. - Author: Aruna Shenoy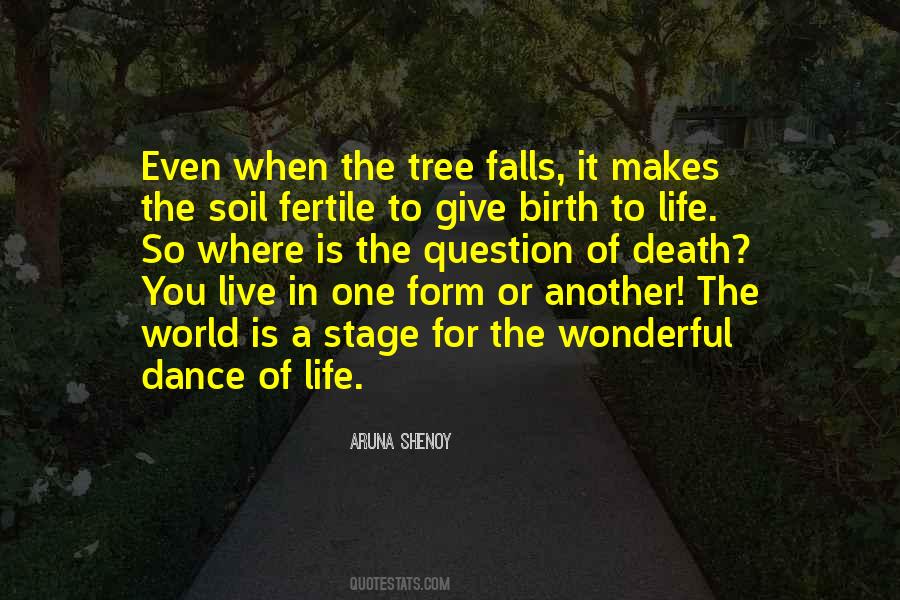 #58. Land is a nation's basis for existence. The nation has its roots like those of a tree deep in the country's soil whence it derives its nourishment and life. There is no people that can live without land, as there is no tree which can live hanging in air. - Author: Corneliu Zelea Codreanu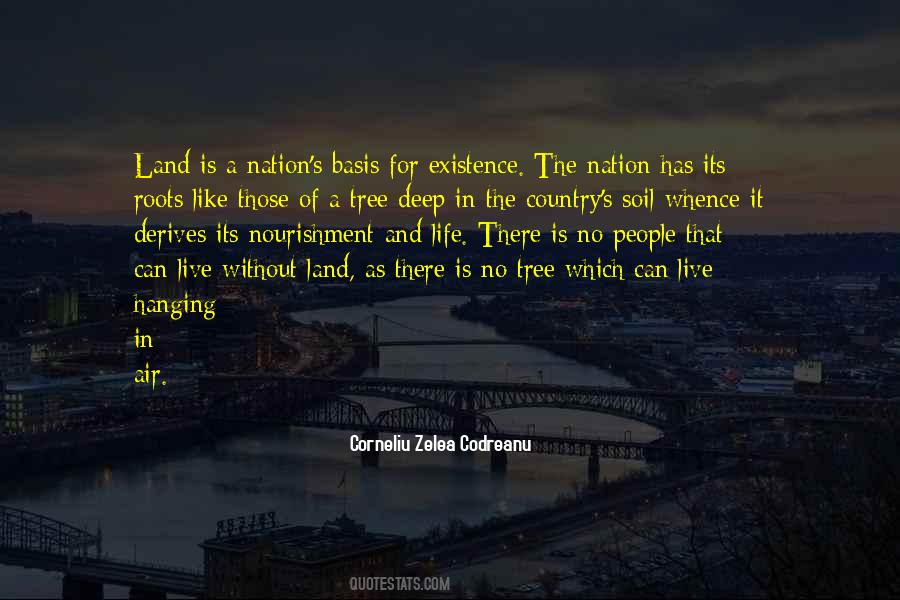 #59. God will never plant the seed of his life upon the soil of a hard, unbroken spirit. He will only plant that seed where the conviction of his spirit has brought brokenness, where the soil has been watered with the tears of repentance as well as the tears of joy. - Author: Alan Redpath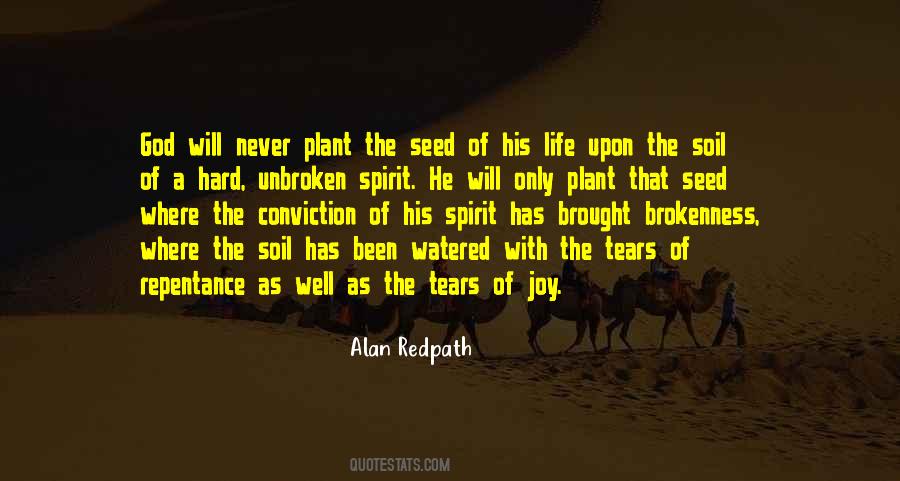 #60. [At Marc Antony's tomb:] Nothing could part us in life, but now in death we are likely to change places, you the Roman lying here in Egyptian soil, and I, helpless woman that I am, being buried in Italy. - Author: Cleopatra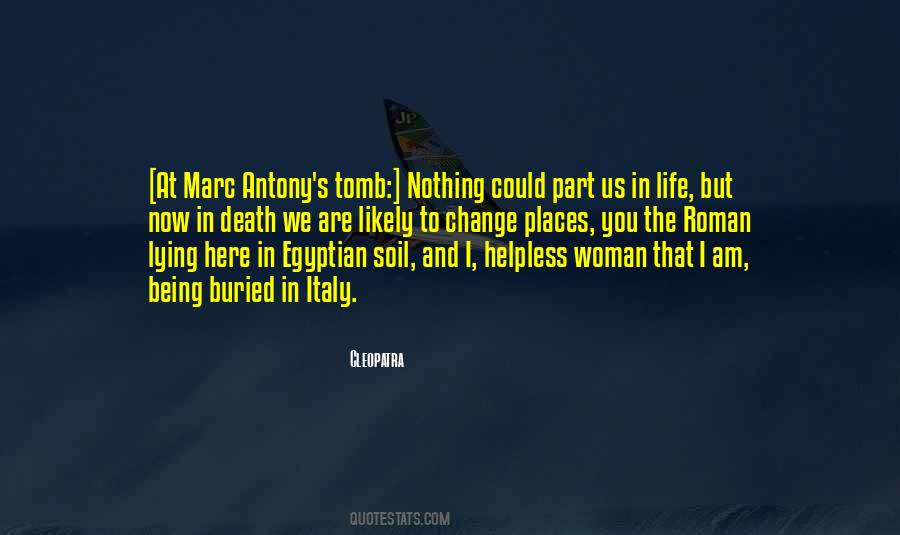 #61. Pure felicity is reserved for the heavenly life; it grows not in an earthly soil. - Author: Edwin Hubbel Chapin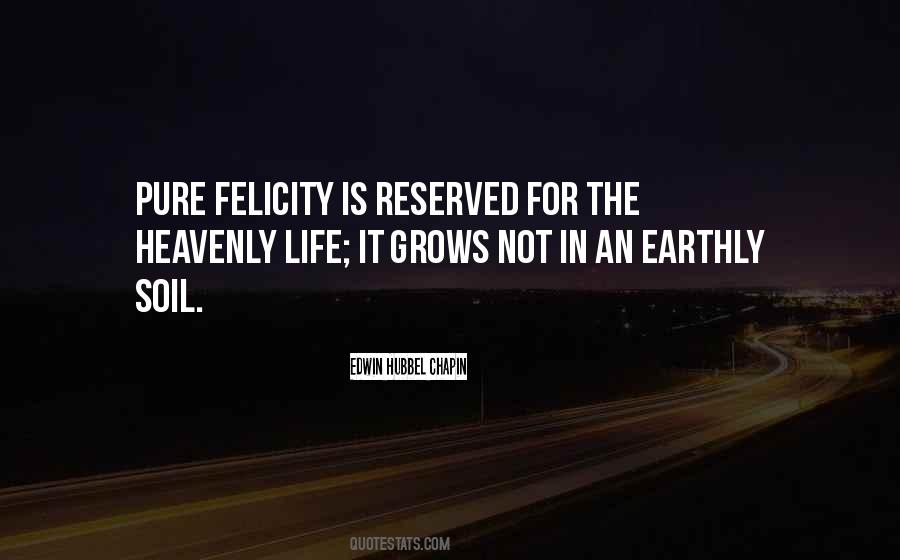 #62. We do not have to be ashamed of what we are. As sentient beings we have wonderful backgrounds. These backgrounds may not be particularly enlightened or peaceful or intelligent. Nevertheless, we have soil good enough to cultivate; we can plant anything in it. - Author: Chogyam Trungpa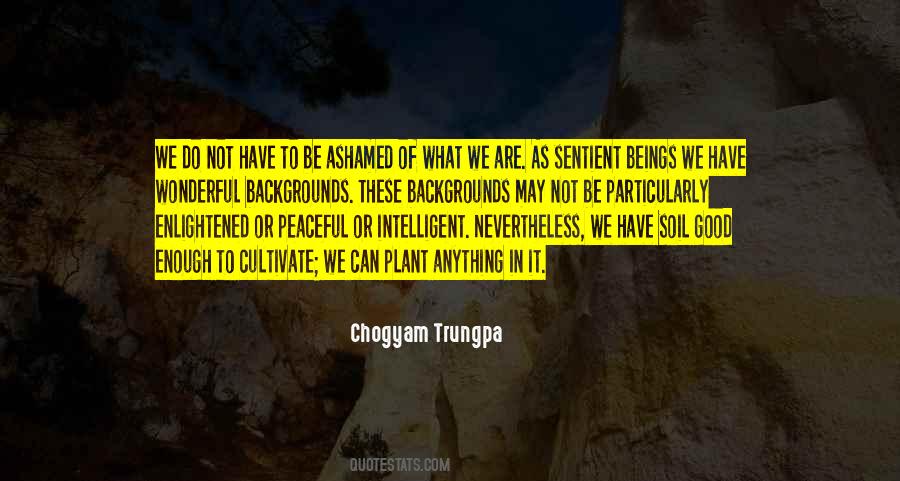 #63. The church is where God's future enters human life in advance, like seed growing secretly in the soil long before the harvest is ever seen (Mk. 4:26-29). - Author: William E. Hull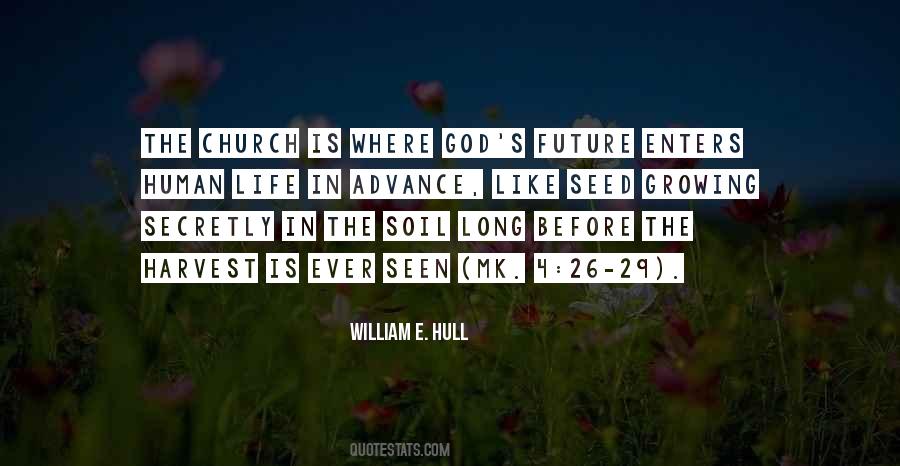 #64. Life is the soil, our choices and actions the sun and rain, but our dreams are the seeds. - Author: Richard Paul Evans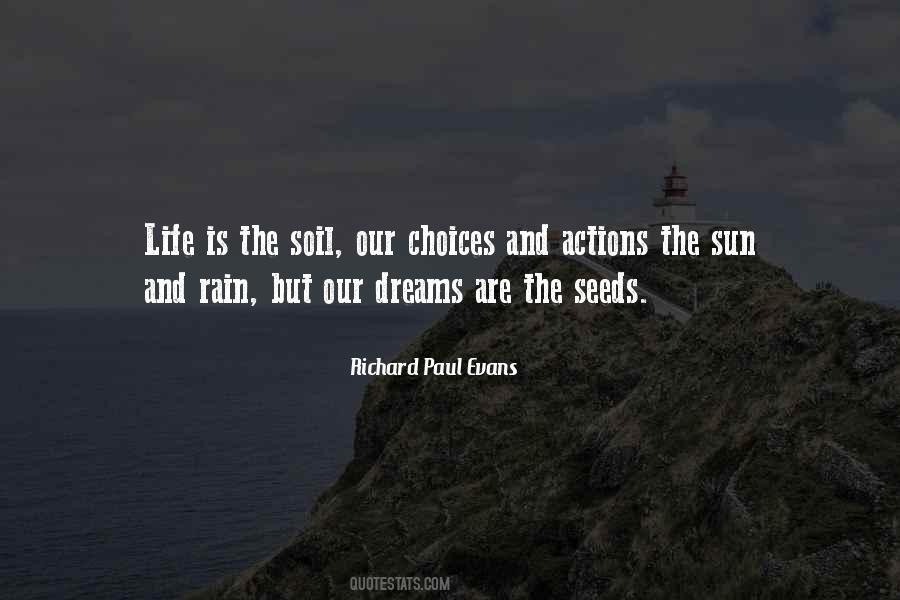 #65. She thought of the orchids spreading across the plains below, choking the life out of other plants, out of the soil itself, selfish and unstoppable. Tally Youngblood was a weed. And, unlike the orchids, she wasn't even a pretty one. - Author: Scott Westerfeld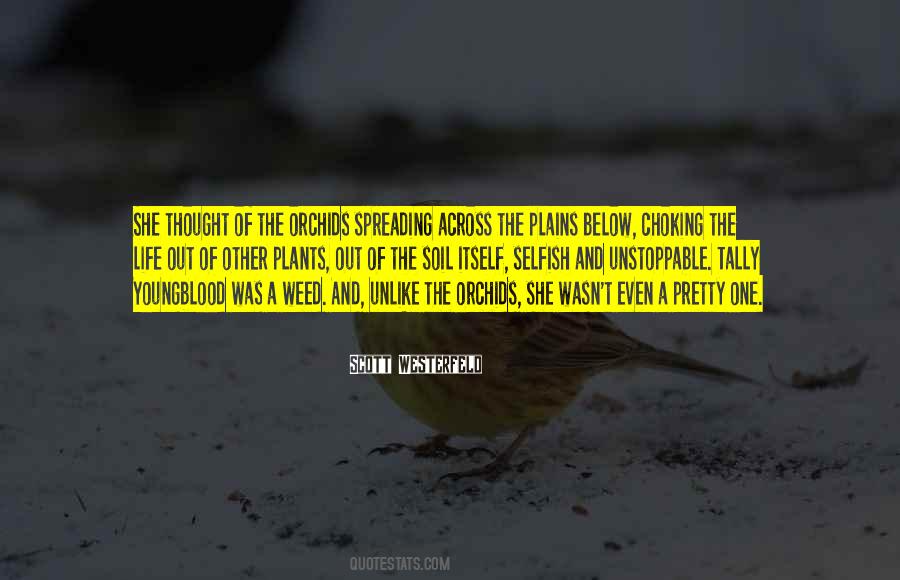 #66. Isn't it the moment of most profound doubt that gives birth to new certainties? Perhaps hopelessness is the very soil that nourishes human hope; perhaps one could never find sense in life without first experiencing absurdity. - Author: Vaclav Havel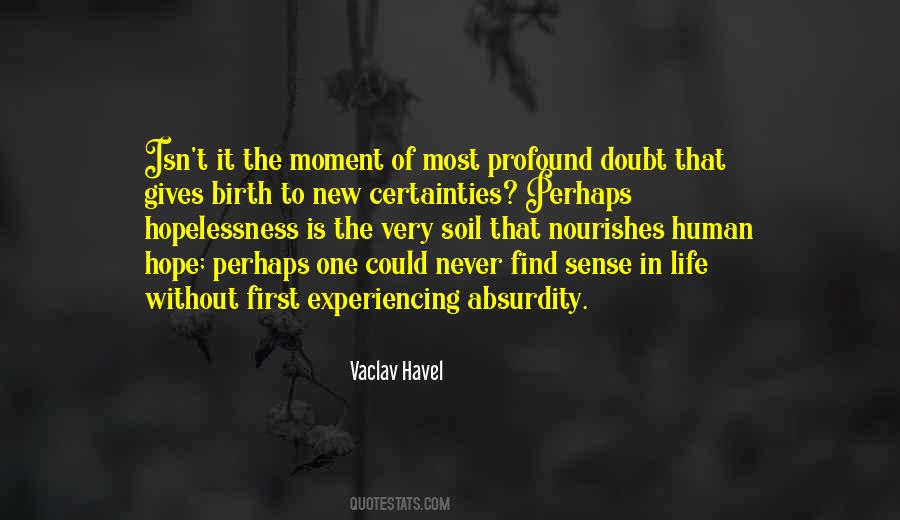 #67. A seed doesn't stay beneath the soil, too afraid to grow. It journeys upwards boldly, for that is all it knows. - Author: Atalina Wright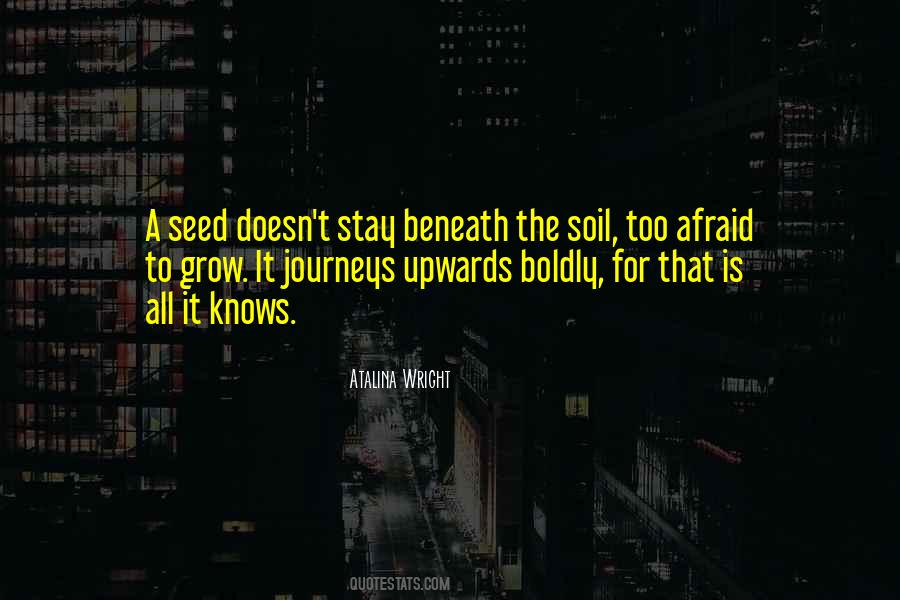 #68. Most people who lose their lives because life might be down for them only refuse to know what a tuber of yam that is put into the soil goes through before it comes up as a fresh green creeping plant to bear yet another bigger tuber - Author: Ernest Agyemang Yeboah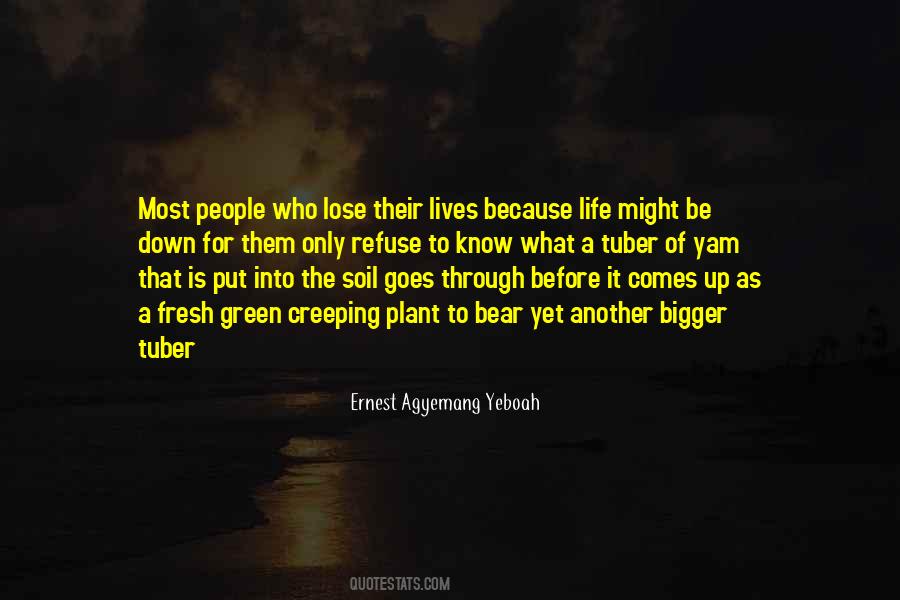 #69. My roots are firmly planted in the glory of nature. The soil beneath my feet heartens each step. - Author: Amy Leigh Mercree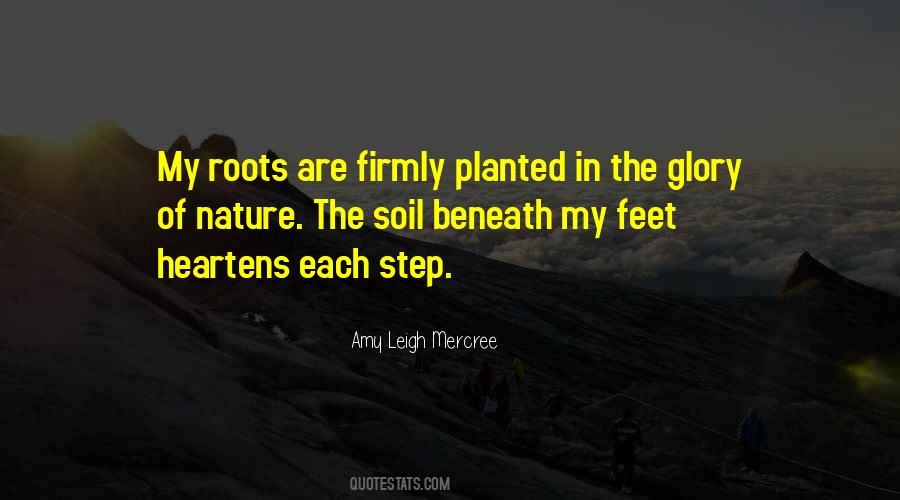 #70. Everyone in the tribe believed in life after death and the spirit's ability to be reborn and live again in a new body. The undying soul was unquestioned. Did not the leaves fall off the tree and become part of the soil that nourished the tree which spouted new leaves? - Author: M.J. Rose
#71. When we lay the soil of our hard lives open to the rain of grace and let joy penetrate our cracked and dry places, let joy soak into our broken skin and deep crevices, life grows. How can this not be the best thing for the world? For us? - Author: Ann Voskamp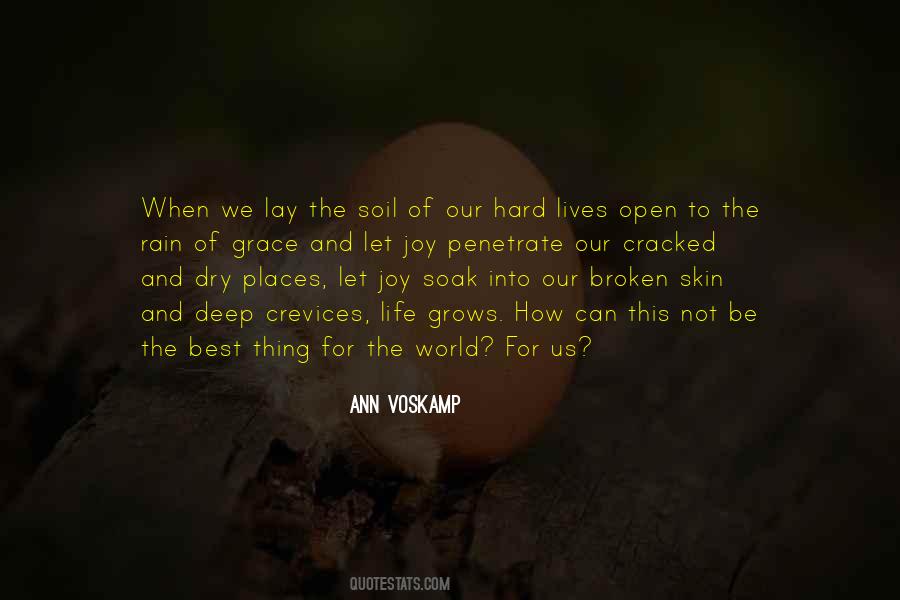 #72. Men nowhere, east or west, live yet a natural life, round which the vine clings, and which the elm willingly shadows. Man would desecrate it by his touch, and so the beauty of the world remains veiled to him. He needs not only to be spiritualized, but naturalized, on the soil of earth. - Author: Henry David Thoreau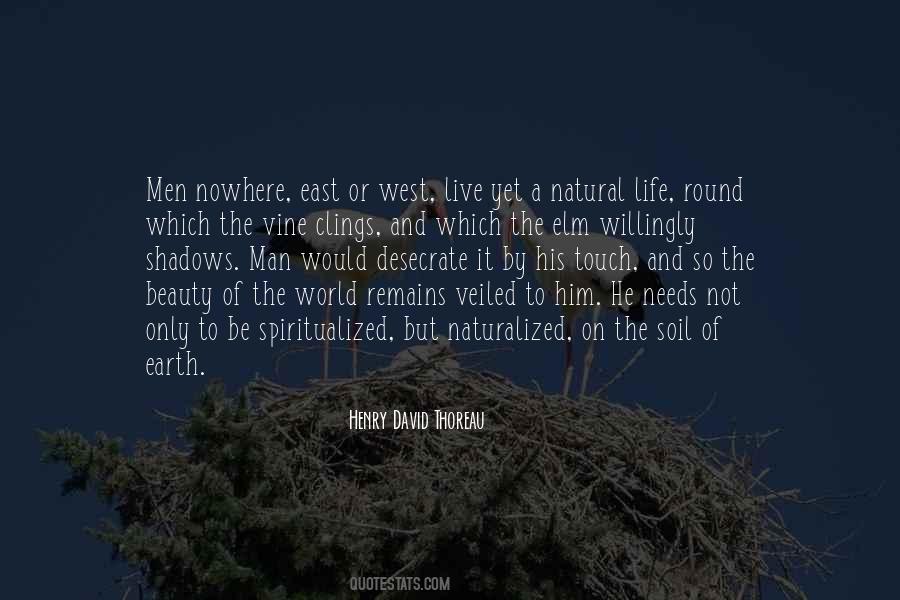 #73. That human life depends upon resources, good soil, and governments with just procedures. - Author: Noah Cicero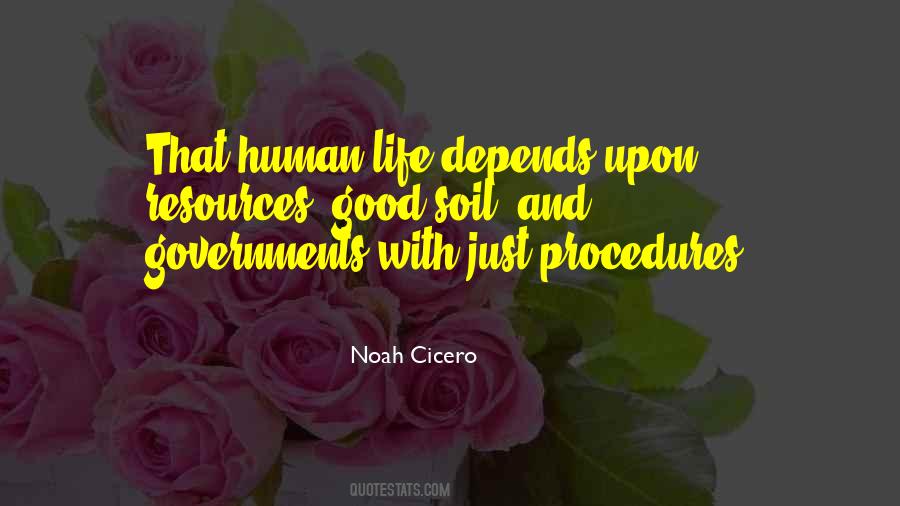 #74. The Inhabitants of Carolina, thro' the Richness of the Soil, live an easy and pleasant Life. - Author: John Lawson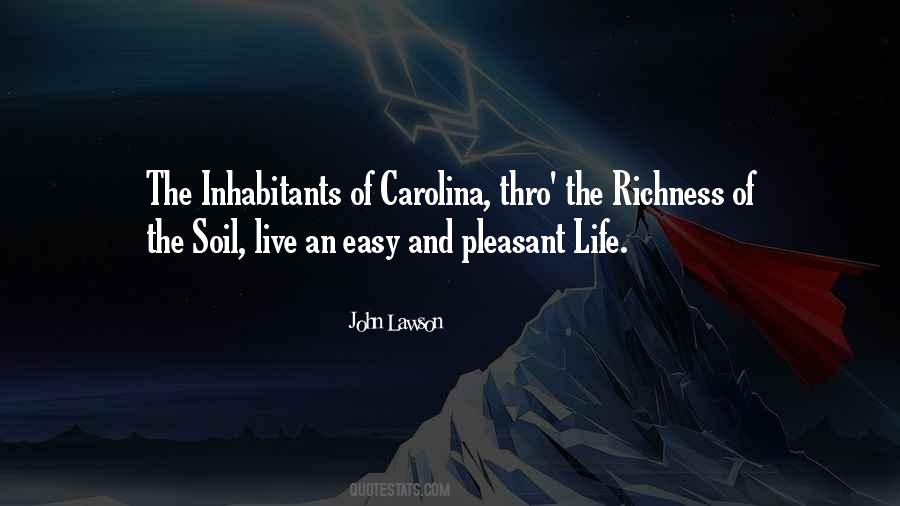 #75. Even the richest soil, if left uncultivated will produce the rankest weeds. - Author: Leonardo Da Vinci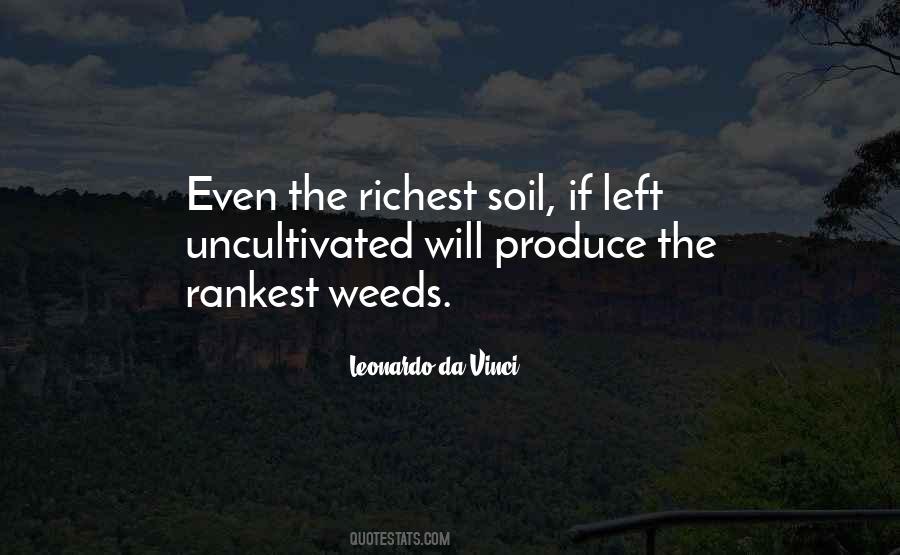 #76. Ah, never shall the land forget
How gush'd the life-blood of the brave,
Gush'd warm with hope and courage yet,
Upon the soil they fought to save! - Author: William C. Bryant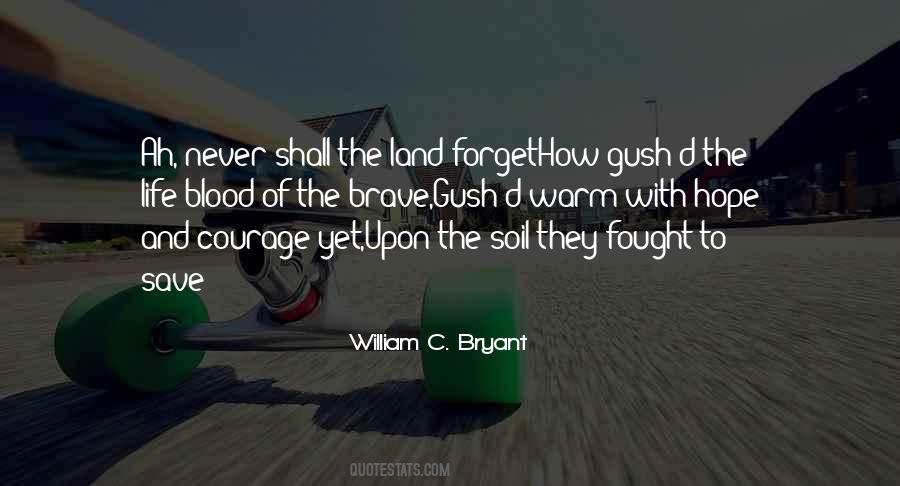 #77. Out of the long list of nature's gifts to man, none is perhaps so utterly essential to human life as soil. - Author: Hugh Hammond Bennett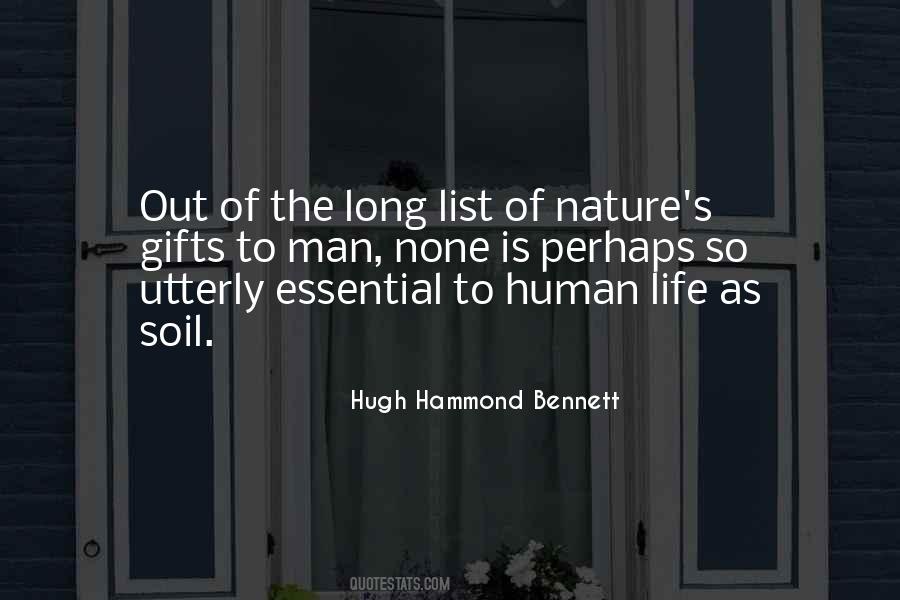 #78. Greatness is finding your natural talent, fueling it with passion, planting it in well-nourished soil, and toiling in the garden until it breaks through the earth and reaches for the stars. - Author: Janet Autherine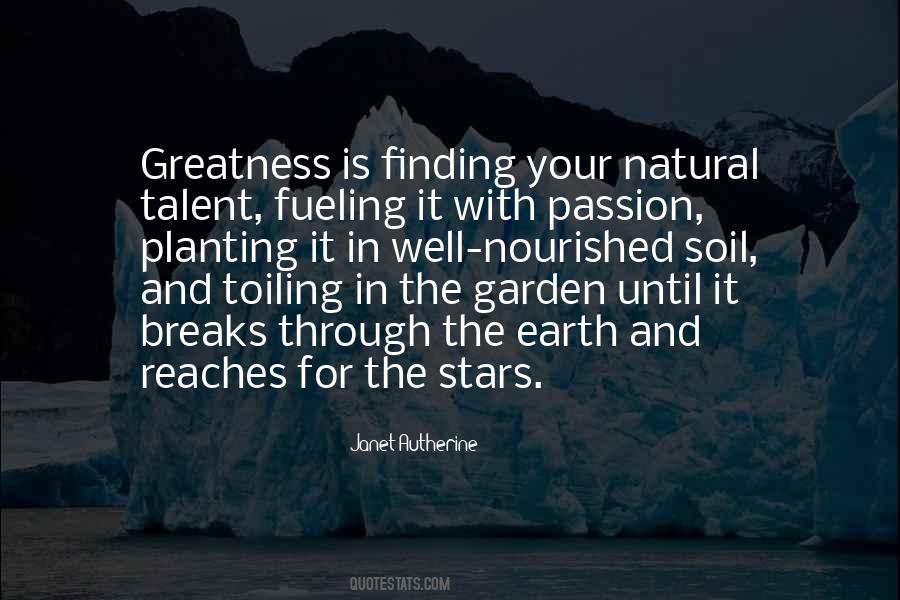 #79. Your thoughts are certain kinds of seeds in your life. You can water them and allow them to grow on fertile soil. Or, you can let them diminish and wither amongst the weeds. Be careful that your seeds are not contaminated as they begin to take root. - Author: Amaka Imani Nkosazana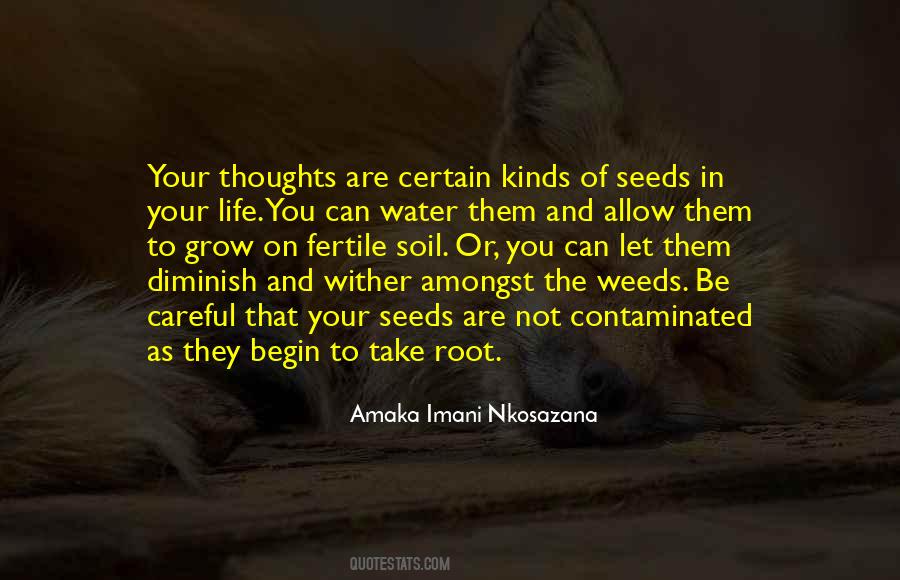 #80. He wished he could have roots spreading under every inch of his lost soil, his beloved lost home, that he could have been part of something, that he could have been himself, walking down the road not taken, living a life in context and not the migrant's hollow journey that had been his fate - Author: Salman Rushdie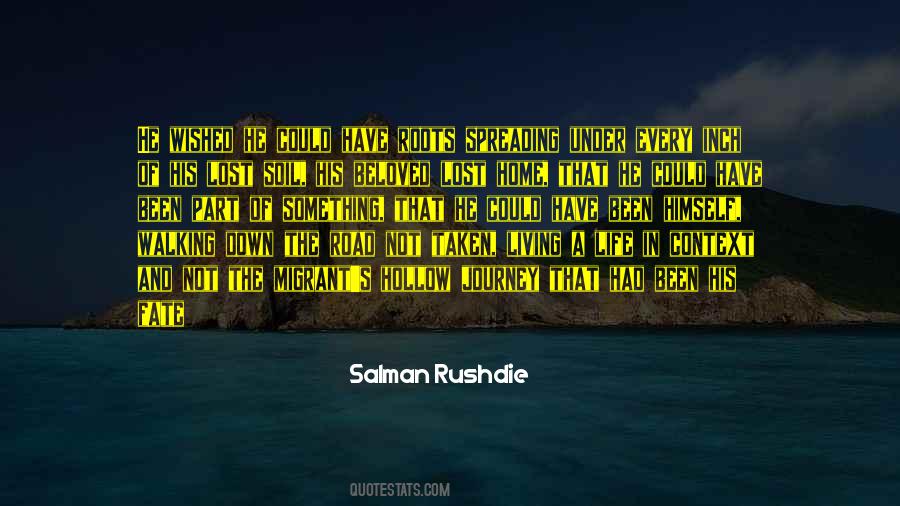 #81. Court-virtues bear, like gems, the highest rate,
Born where Heav'n influence scarce can penetrate.
In life's low vale, the soil the virtues like,
They please as beauties, here as wonders strike. - Author: Alexander Pope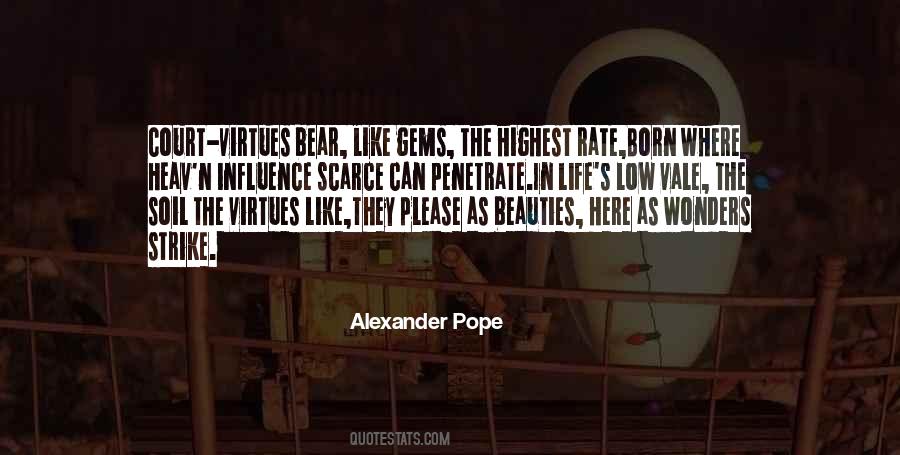 #82. Re-programming your mind, body & spirit is like planting a garden, if the soil isn't right nothing will grow. - Author: Nikki Rowe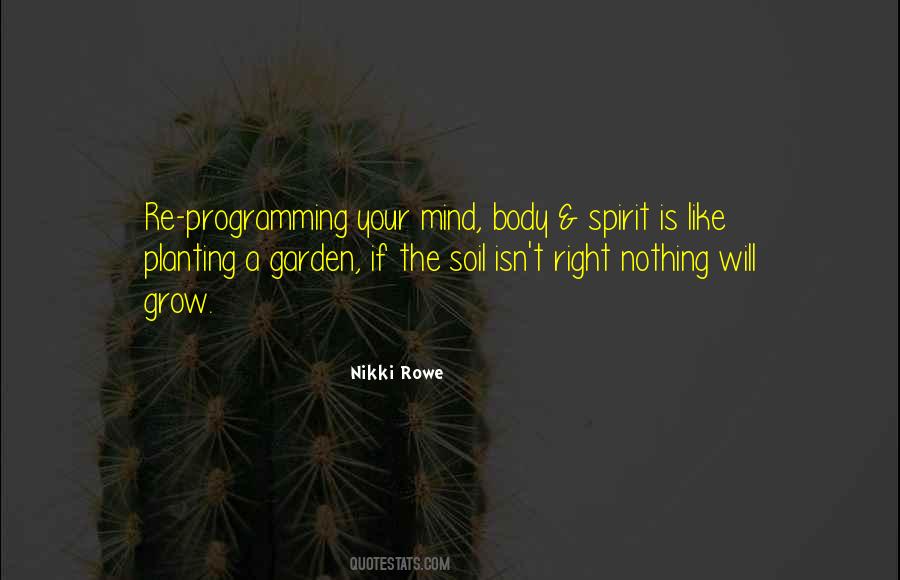 #83. Every good thing in the Christian life grows in the soil of humility. Without humility, every virtue and every grace withers. That's why Calvin said humility is first, second, and third in the Christian faith. - Author: John Piper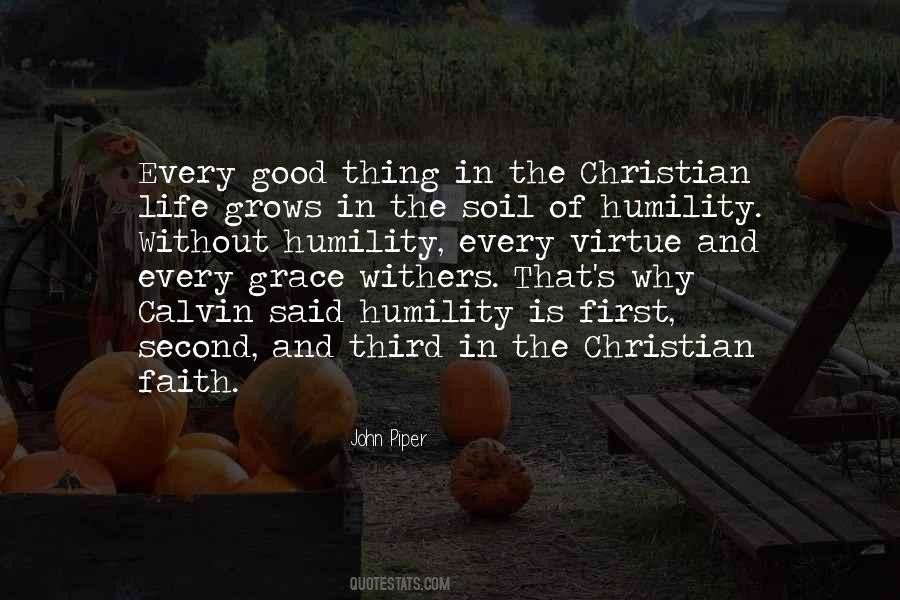 #84. She holds on to life as resiliently as the rose that grows out of the cold, desolate soil of a graveyard. A graveyard rose! - Author: Ginny Clyde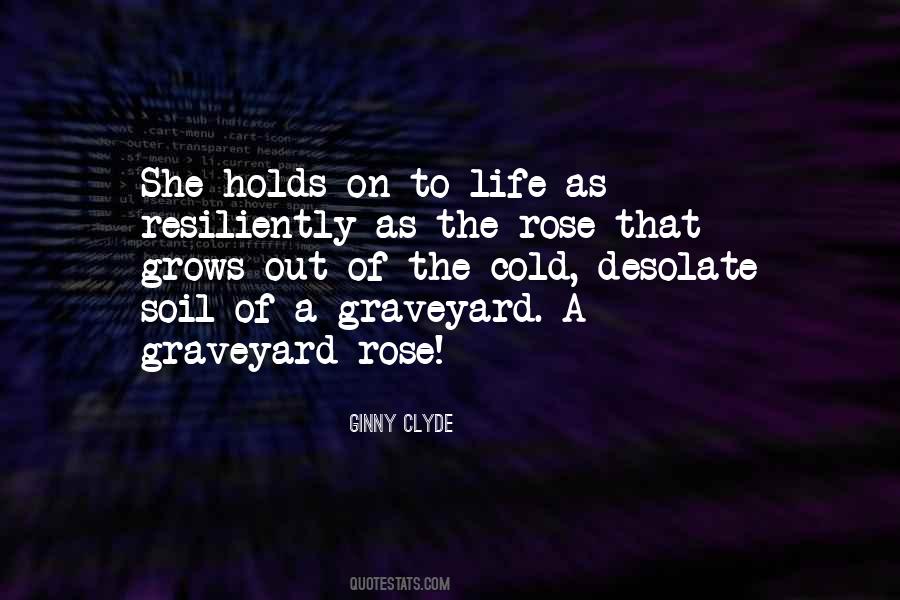 #85. SOWING LIGHTNING
Seize
Bolts of lightning from the sky
And plant them in fields of life.
They will grow like tender sprouts of fire.
Charge somber thoughts
With unexpected flash,
You, my lightning in the soil! - Author: Visar Zhiti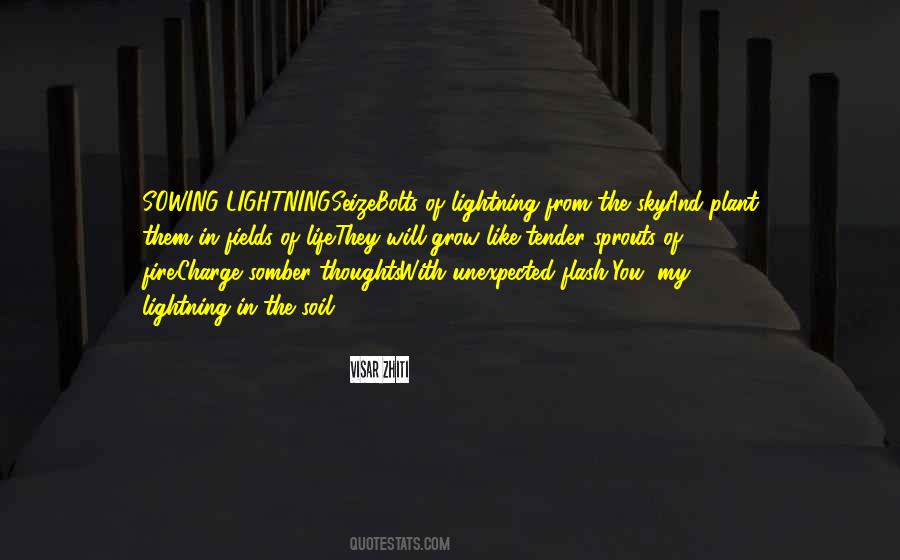 #86. Unless our souls had root in soil divine We could not bear earth's overwhelming strife. The fiercest pain that racks this heart of mine, Convinces me of everlasting life. - Author: Stefan Zweig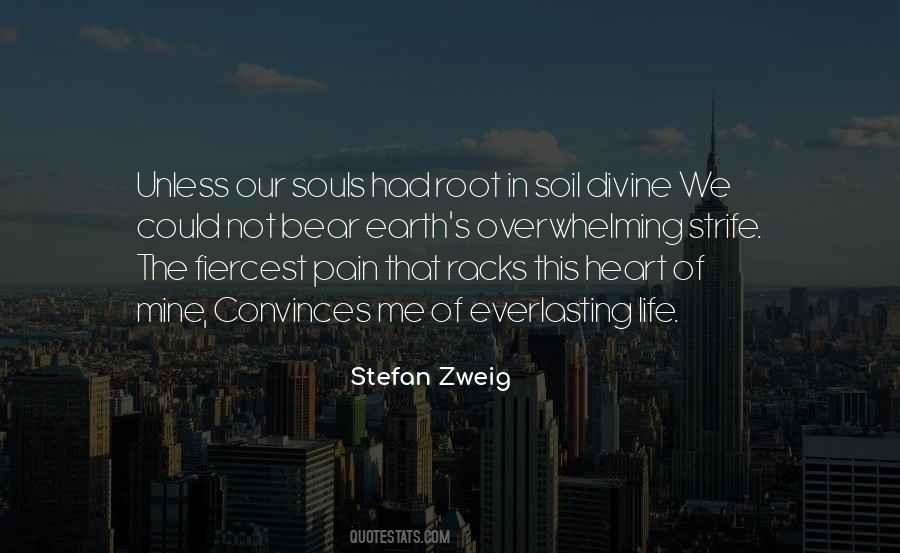 #87. I knew he wouldn't die, because his life was like the roots of a tree that went miles into the soil and miles around its trunk and came up in my cousins, in their faces and their voices and their character. I didn't think you could kill a tree that big. Not even God could kill a tree that big. - Author: Donald Miller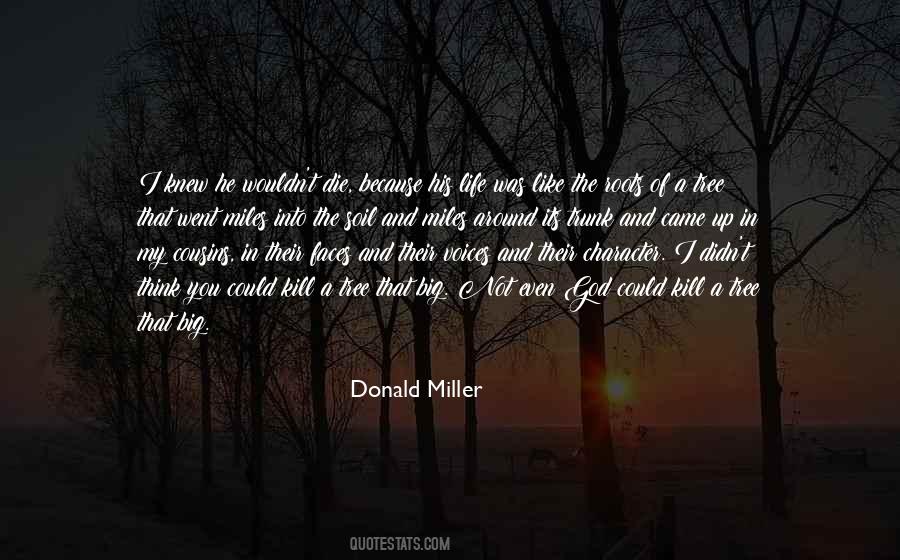 #88. A seed cannot grow in stone. Compassion is the fertile soil where life grows. - Author: Amit Ray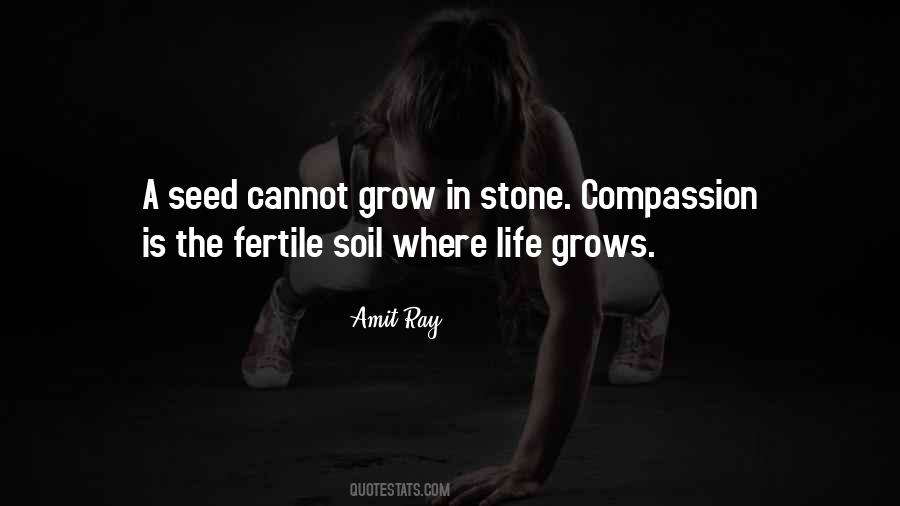 #89. With wrong farming methods, we turn fertile land into desert. Unless we go back to organic farming and save the soil, there is no future. - Author: Jaggi Vasudev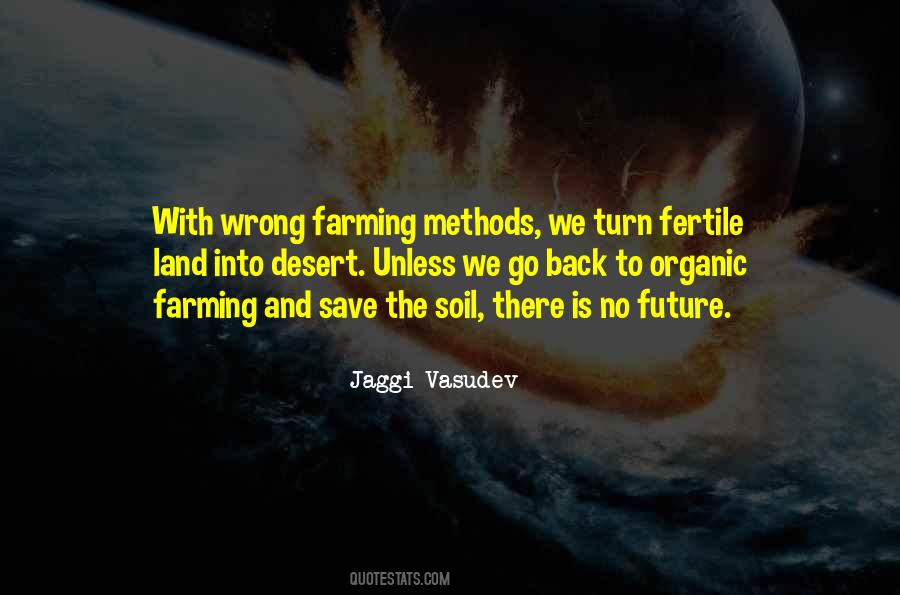 #90. Don't be discouraged when your life boils hot. With just a little more toil, you'll reap from the soil. More oil to your elbows. Stay awake and make it happen! - Author: Israelmore Ayivor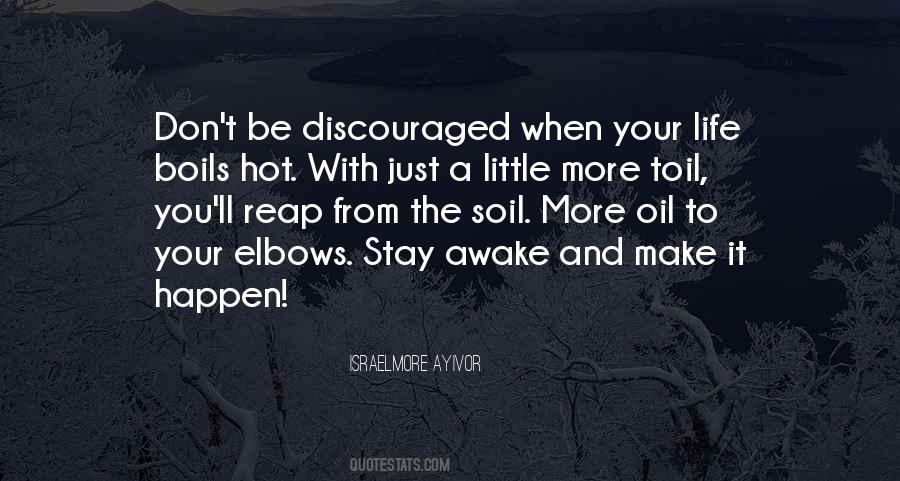 #91. How can I stand on the ground every day and not feel its power? How can I live my life stepping on this stuff and not wonder at it? - Author: William Logan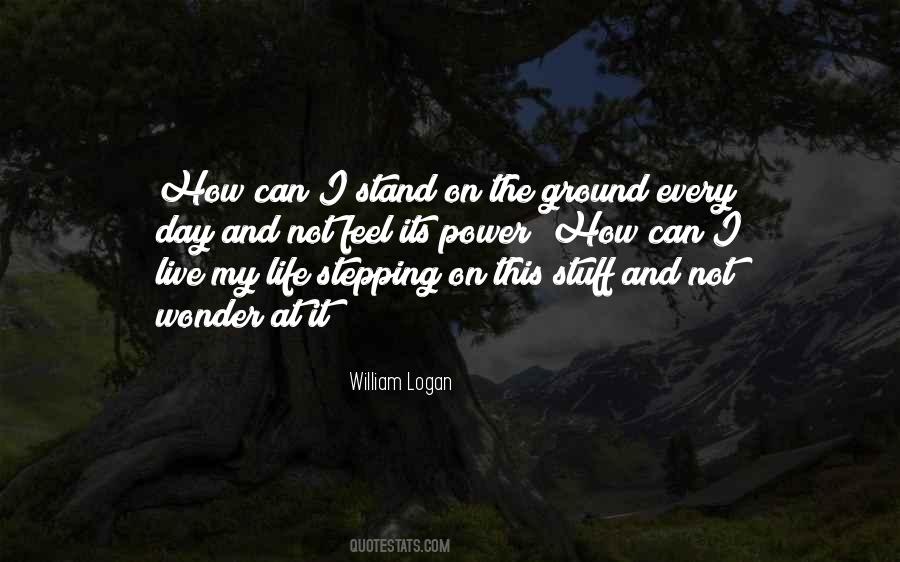 #92. There are more life forms in a handful of forest soil than there are people on the planet. A mere teaspoonful contains many miles of fungal filaments. All these work the soil, transform it, and make it so valuable for the trees. - Author: Peter Wohlleben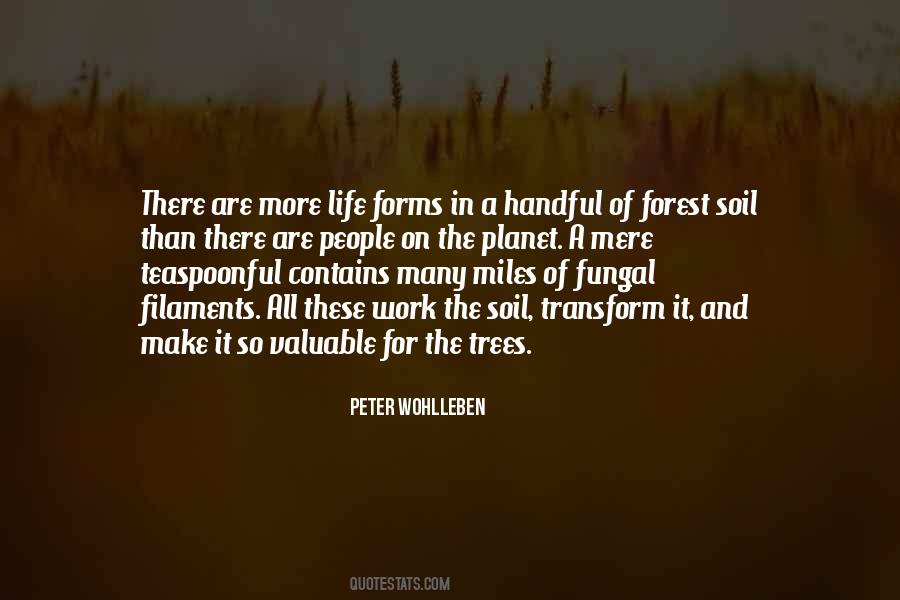 #93. Uniformity, in its motives, its goals, its far-ranging consequences, is the natural enemy of poetry, not to mention the enemy of trees, the soil, the exemplary life therein. - Author: C.D. Wright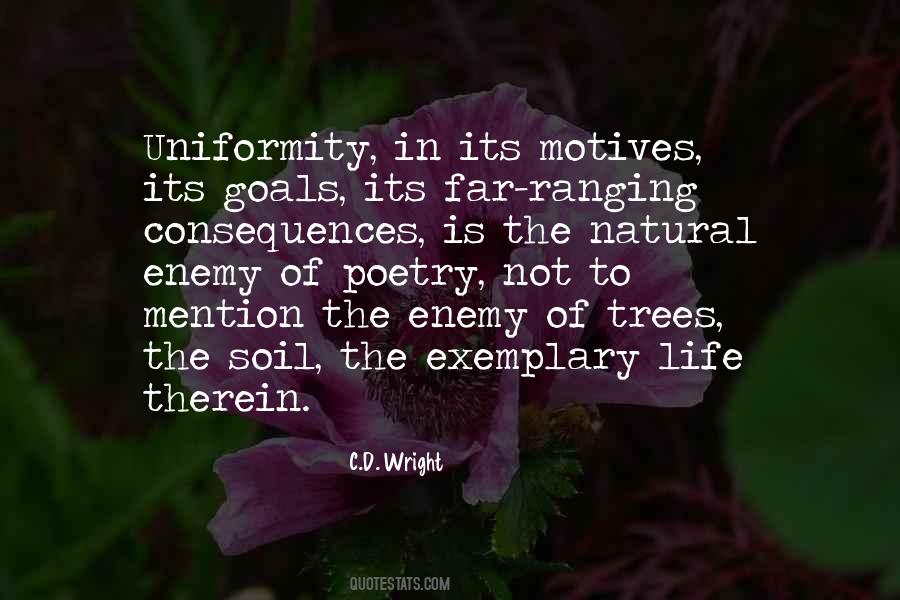 #94. It has been recognized since the dawn of microbiology that the soil is inhabited by a living microscopic population which is responsible for the numerous reactions that take place in the soil and that affect the life and economy of man in many ways. - Author: Selman Waksman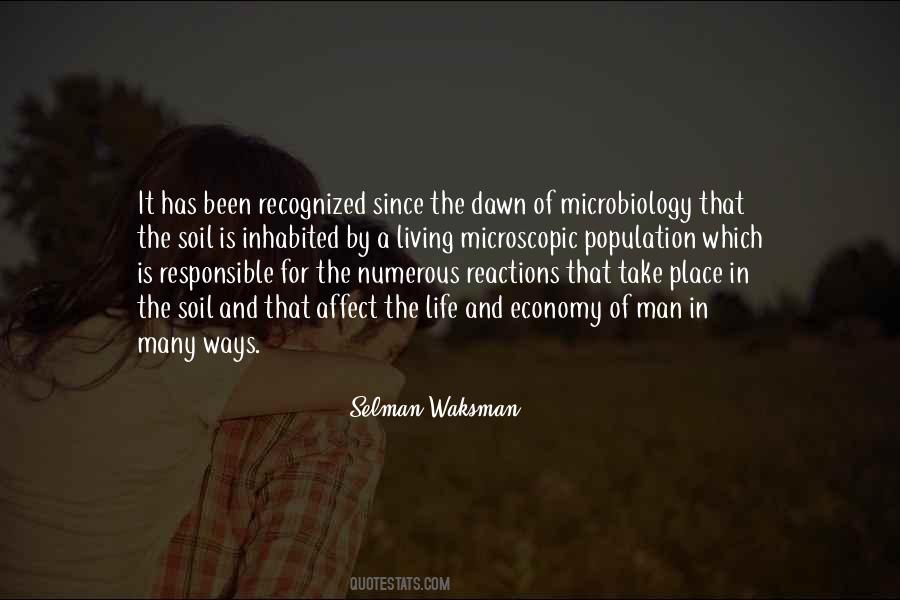 #95. Studying wine taught me that there was a very big difference between soil and dirt: dirt is to soul what zombies are to humans. Soil is full of life, while dirt is devoid of it. - Author: Olivier Magny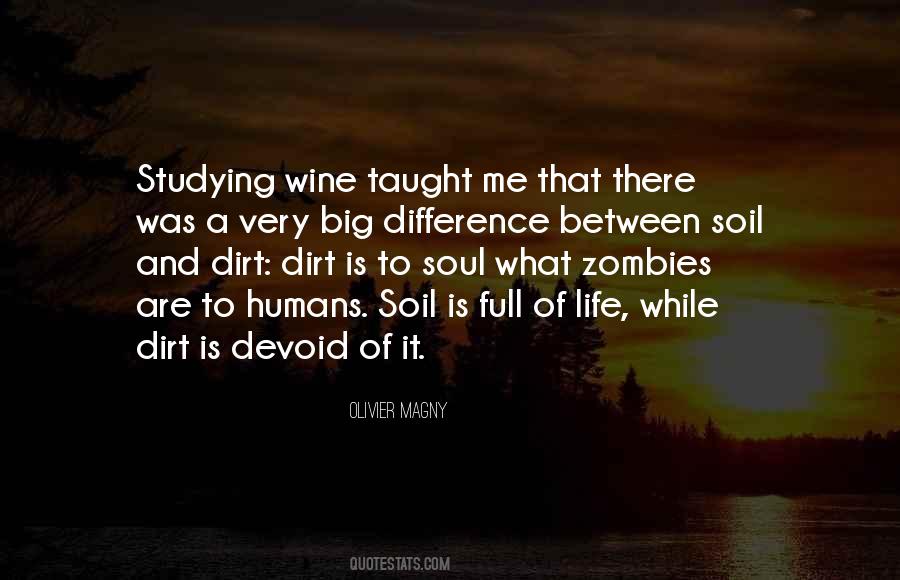 #96. The Music of Negro religion is that plaintive rhythmic melody, with its touching minor cadences, which, despite caricature and defilement, still remains the most original and beautiful expression of human life and longing yet born on American soil. - Author: W.E.B. Du Bois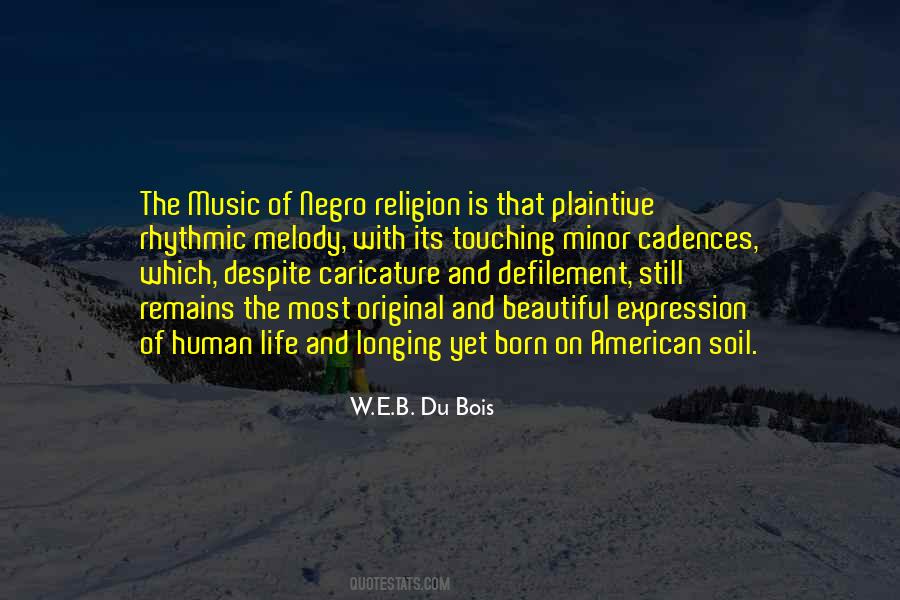 #97. Can there be any act of creation that does not first destroy? Villages fall. Cities rise. Humans die. Life springs from the soil wherein they lie. Is not any act of destruction, should Time enough pass, an act of creation? - Author: Karen Marie Moning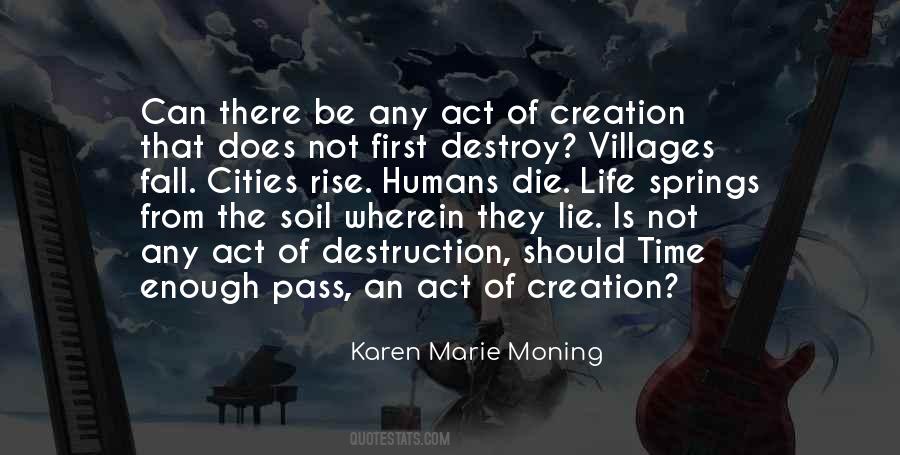 #98. Such is life. It is no cleaner than a kitchen; it reeks like a kitchen; and if you mean to cook your dinner, you must expect to soil your hands; the real art is in getting them clean again, and therein lies the whole morality of our epoch. - Author: Honore De Balzac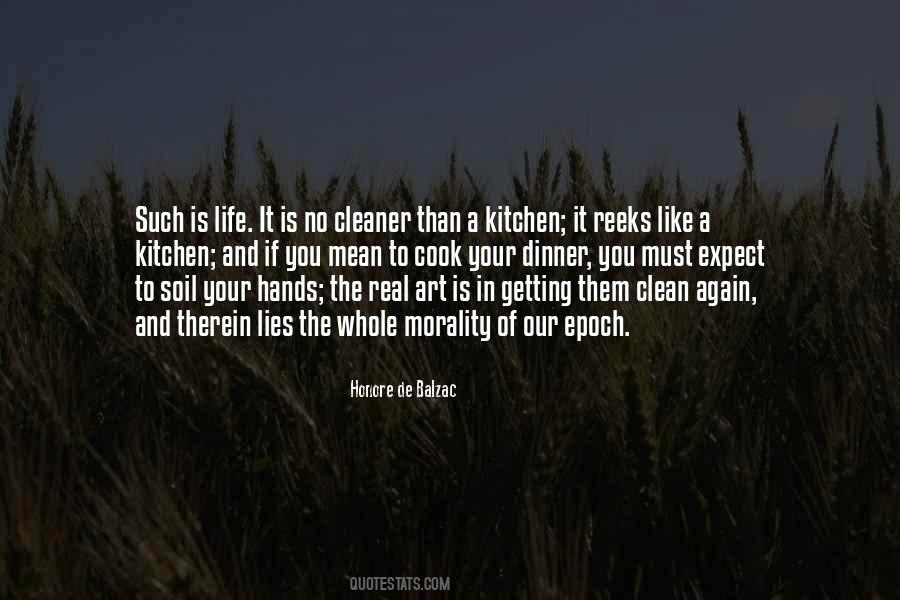 #99. What may be possible for a minority of humankind, albeit at great cost, simply cannot work for the humankind. Our kind of progress depends on lacerating the Earth,on gouging out its riches, on stripping is life-sustaining skin of soil and forest - Author: Jonathon Porritt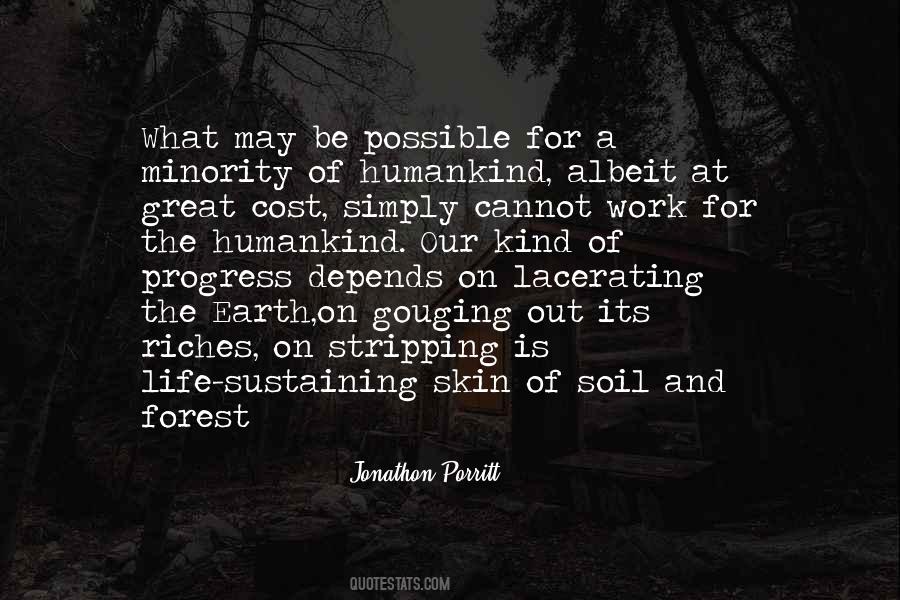 #100. The constant abrasion and decay of our lives makes the soil of our future growth. - Author: Henry David Thoreau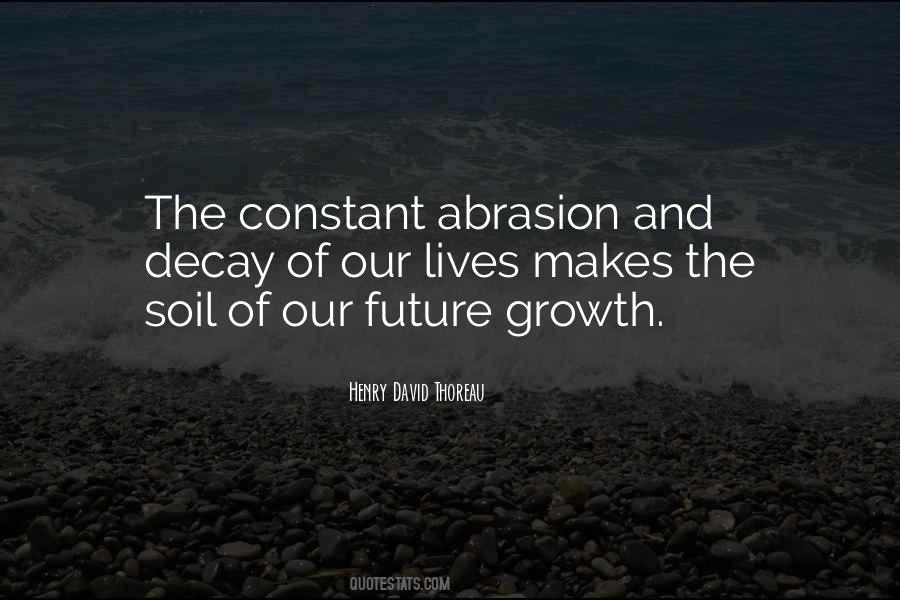 Famous Authors
Popular Topics