Smile Each Day Famous Quotes & Sayings
List of top 58 famous quotes and sayings about smile each day to read and share with friends on your Facebook, Twitter, blogs.
Top 58 Smile Each Day Quotes
#1. The beckoning Hands Of God's hopeful Smile Will, without fail, one day greet The fruitful cries Of man's prayerful heart. - Author: Sri Chinmoy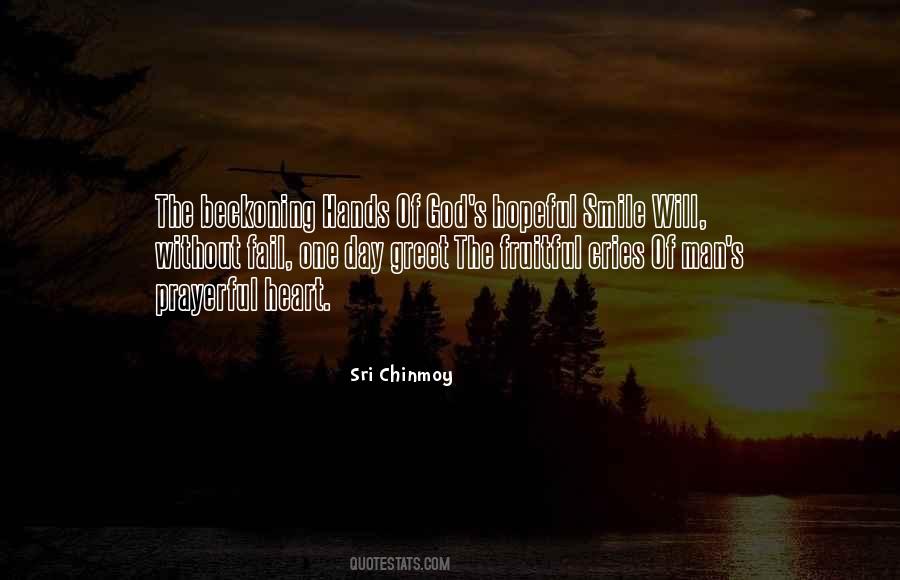 #2. Find someone who makes you smile, because it only takes a smile to make a day better - Author: Paulo Coelho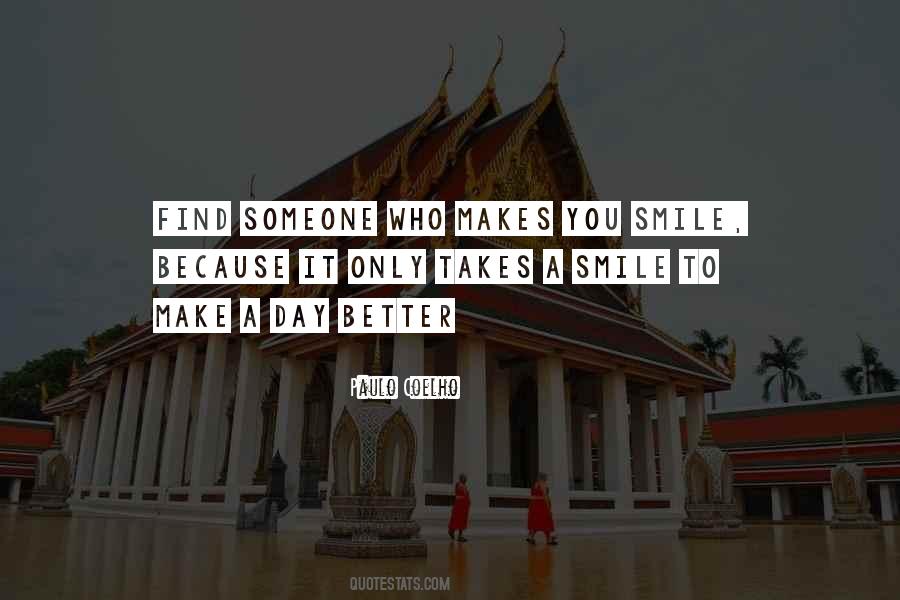 #3. Every day of my life I have been in situations, not just in Mexico, in the US too, in which I identified the form of operation as racism. There are situations in which a smile, a laugh, a greeting are racist exercises. - Author: Bocafloja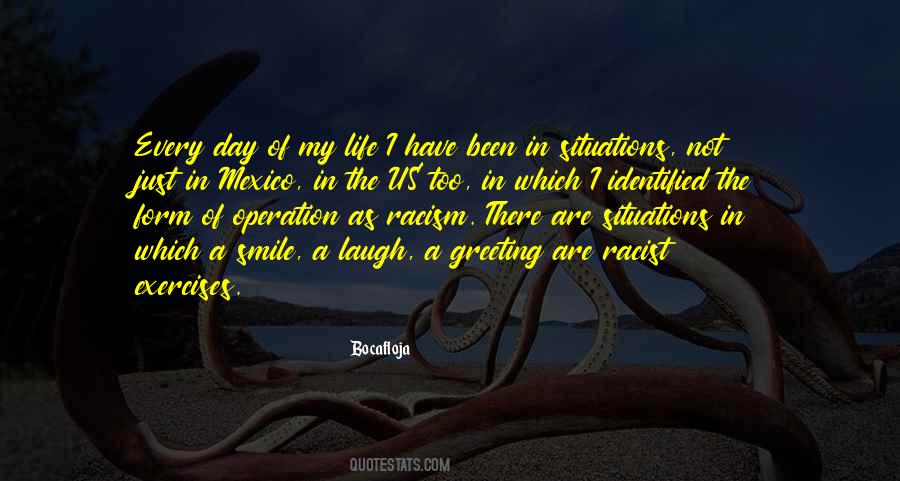 #4. A genuine, affectionate smile is very important in our day-to-day lives. - Author: Dalai Lama XIV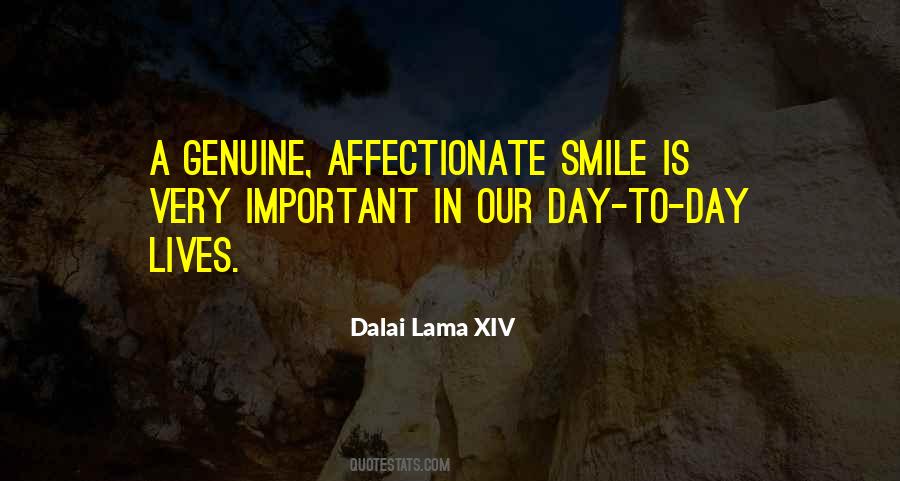 #5. Losing You
I used to think I couldn't go a day without your smile. Without telling you things and hearing your voice back. - Author: Lang Leav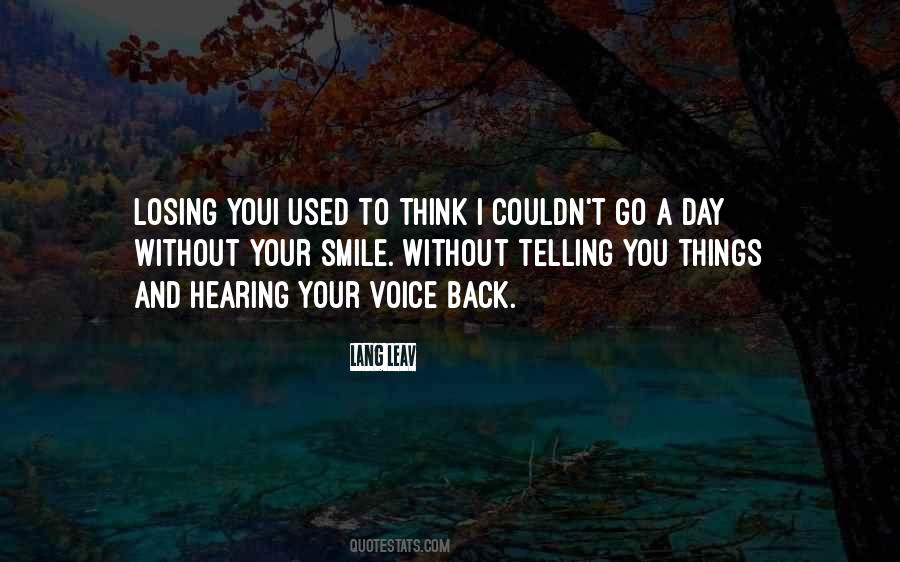 #6. There's a long goodbye,and it happens every day,when a passerbyinvites your eyeto come away.Even as you smile a quick helloyou let her go,you let the moment fly ... Too late you turn your head,you know you've saidthe Long Goodbye. - Author: Johnny Mercer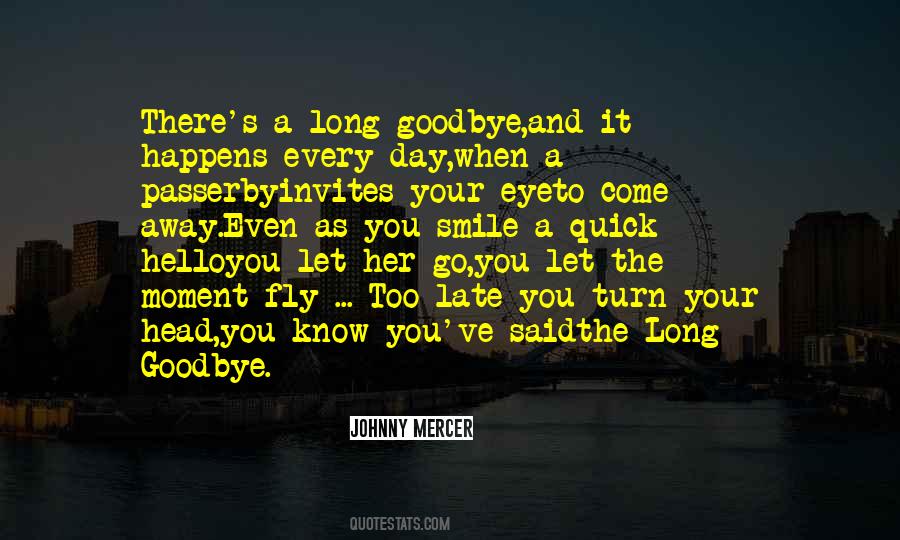 #7. Glass is sand and sand is glass!
The ant dancing blind as blind ants do
on the lip of the rim and the rim of the lip.
White in the night and grey in the day-
smiling spider she never smiles but smile she does
though the ant never sees, blind as it is-
and now was! - Author: Steven Erikson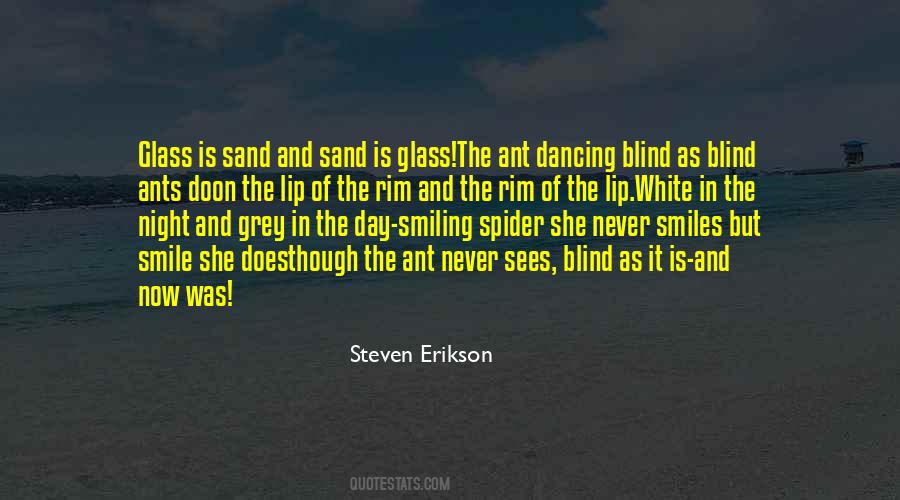 #8. We are all capable of living each day with a fiery passion and sense of purpose that radiates in our smile and voice. - Author: Robert Cheeke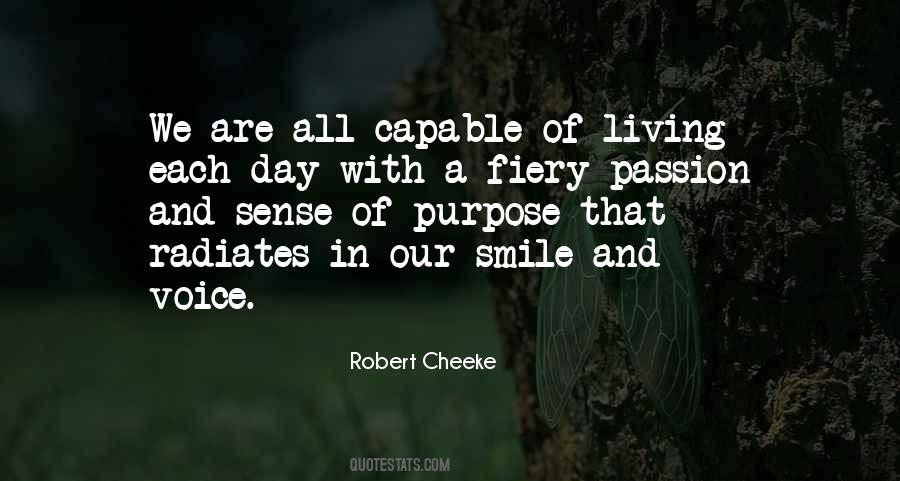 #9. No matter what the day brings and no matter how hard life hits you, if you can breathe, smile and keep moving on! Once you have life, know that God is alive! - Author: Ernest Agyemang Yeboah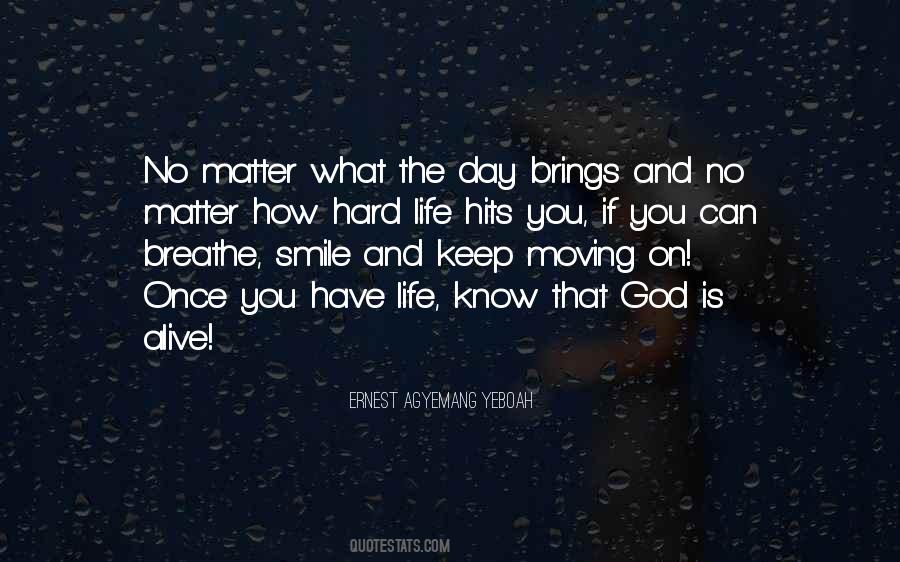 #10. A quiet-hearted person awakes with a smile on his lips and an eagerness in his heart for the day ahead. - Author: Wu Wei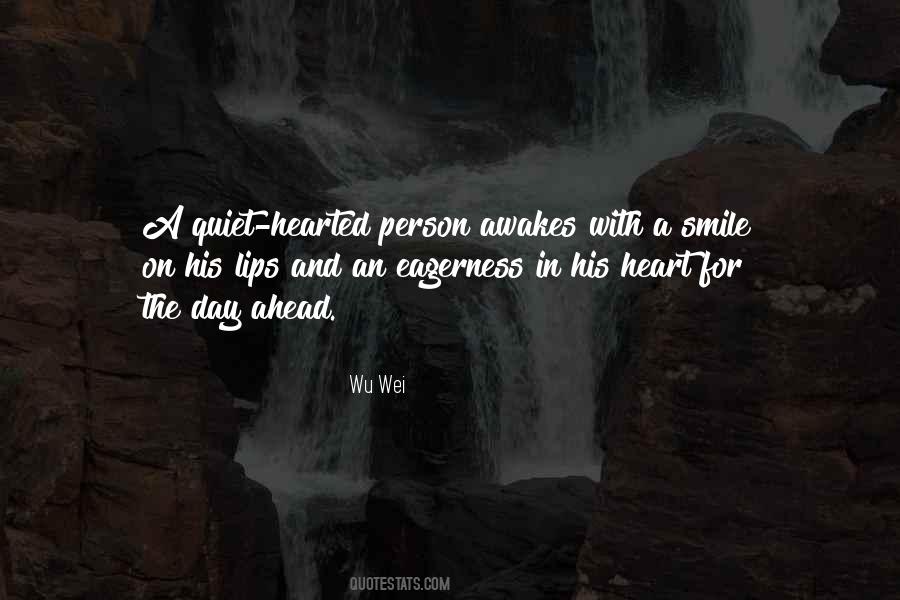 #11. This day would bring only one of two possible outcomes: liberty or death. I faced both with a smile on my face. The - Author: Tillie Cole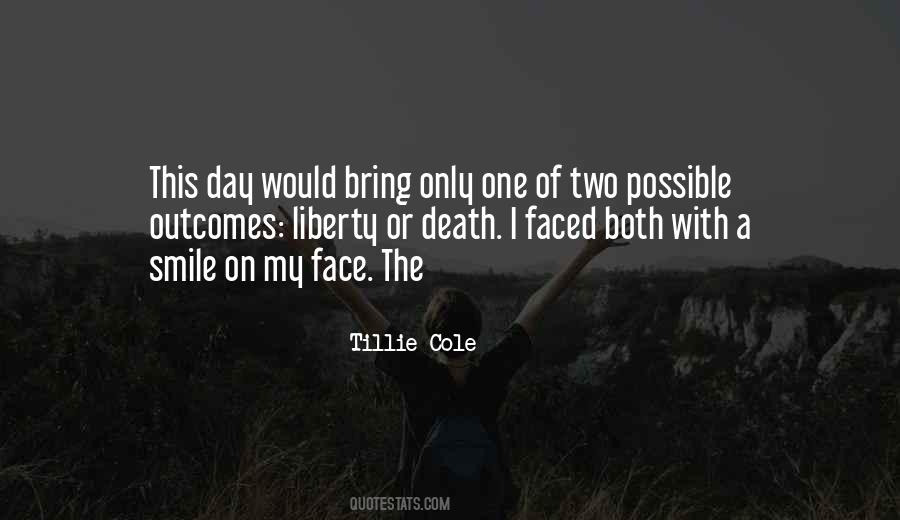 #12. My grandma loved to be on stage entertaining people. She loves to make people smile and laugh. She loves to brighten other people's day. She often calls perfect strangers her angel, as a way of witnessing, but also to encourage and build their self-esteem. - Author: Lisa Bedrick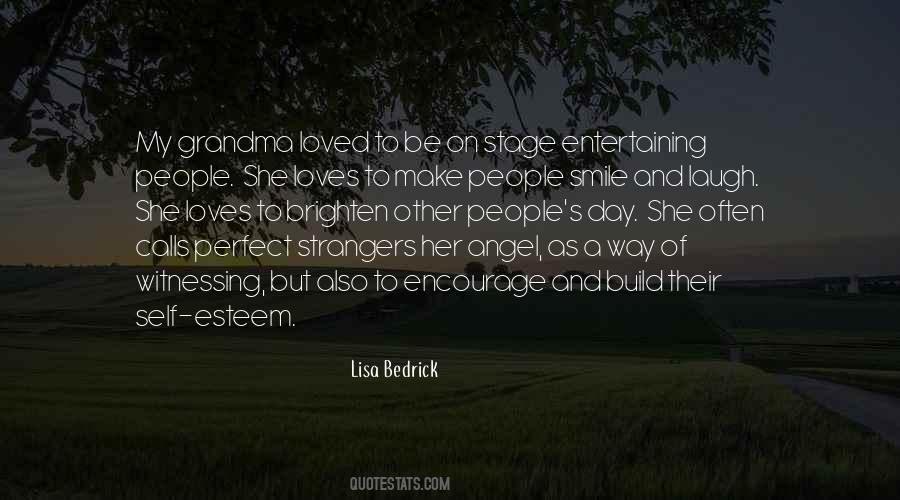 #13. Anyone can smile on their best day. I like to meet a man who can smile on his WORST. - Author: Lauren Graham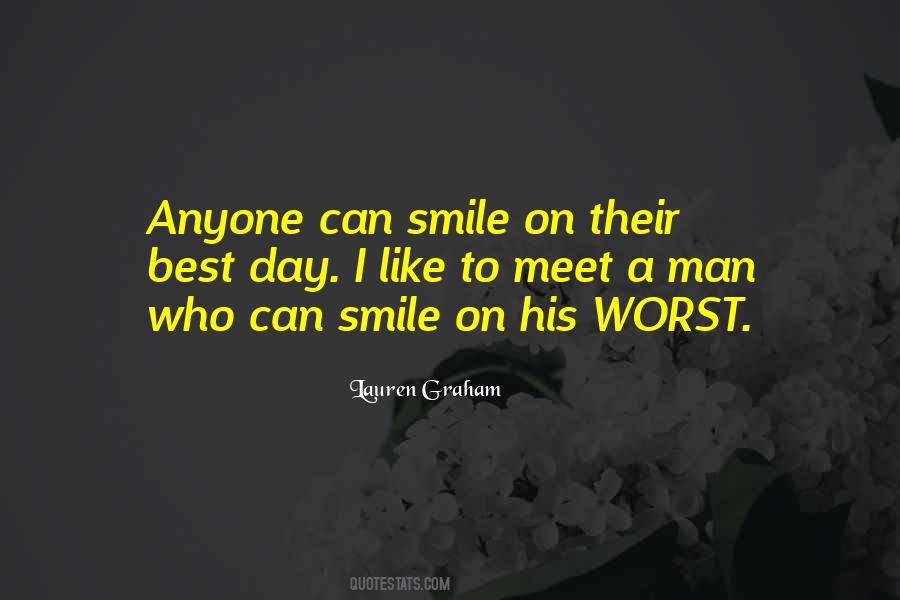 #14. I live life and try and smile as much as possible. Family and friends are everything." - "That was my first real lesson. At the end of the day, you could be a hell of a marketer, but you're only as good as what you're marketing. - Author: Scooter Braun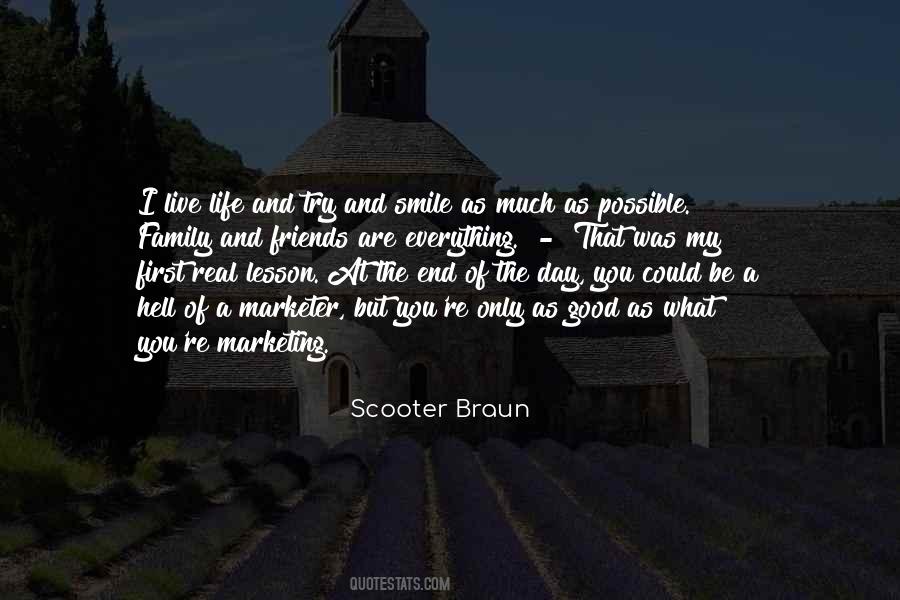 #15. I encourage you to deliberately look for something to smile or laugh about every day, and be sure to share a smile or a laugh with someone else and brighten their day too! - Author: Joyce Meyer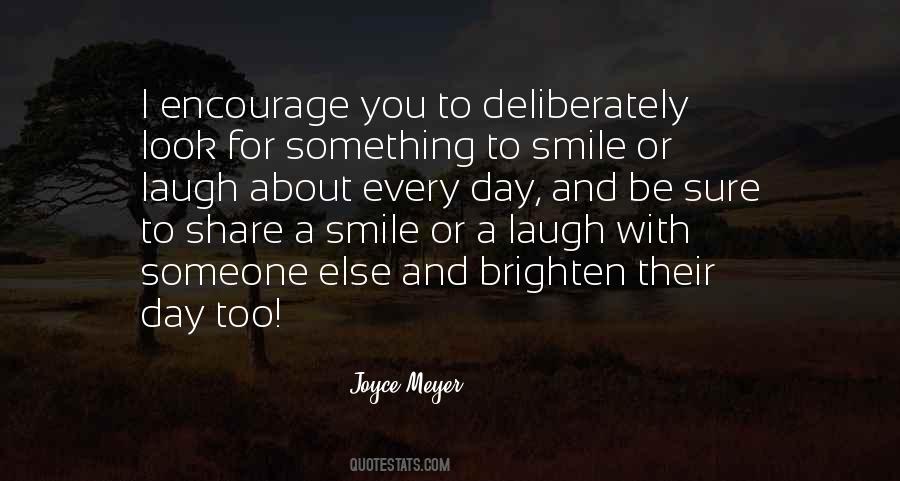 #16. Love is when her smile act as a magic wand to vanish whole day fatigue...!! - Author: Akansh Malik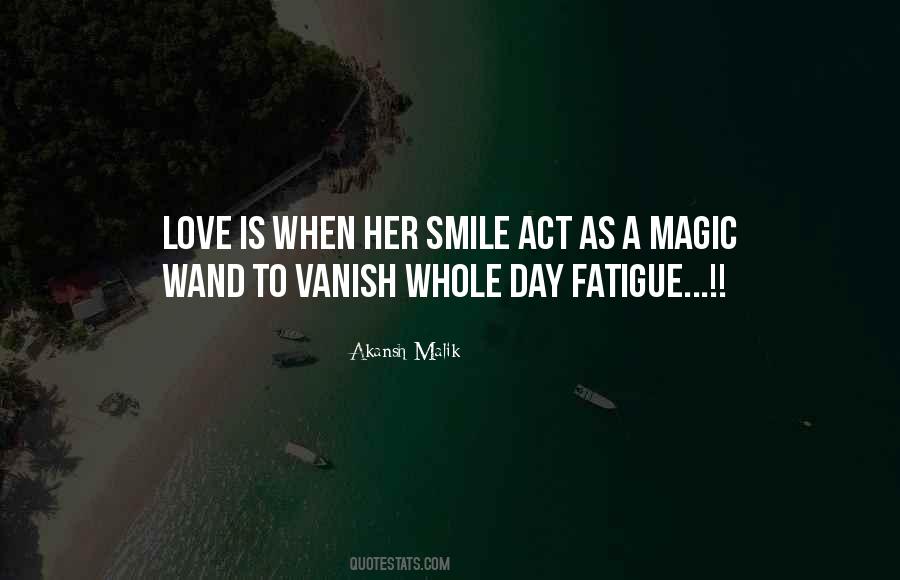 #17. I wake up each and every day with a smile on my face knowing I get to do something musically. - Author: Two Chainz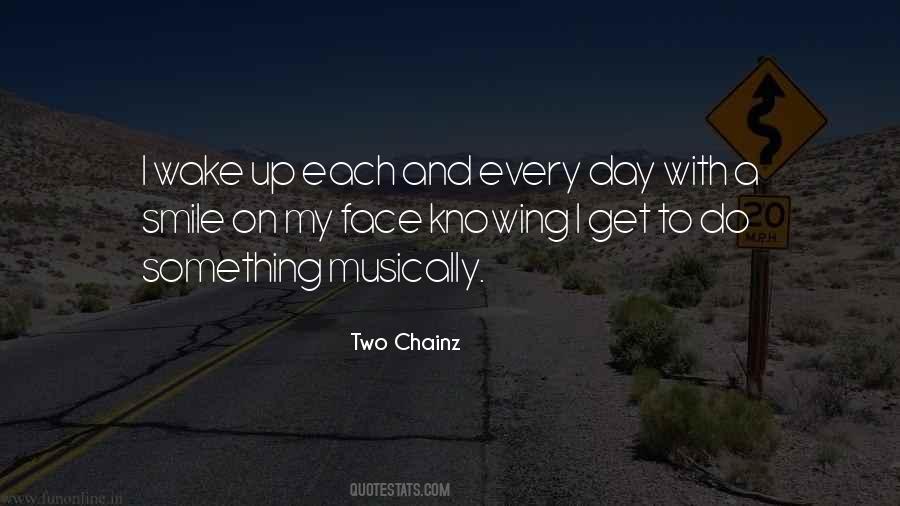 #18. Each day is just another reason to smile! - Author: Somya Kedia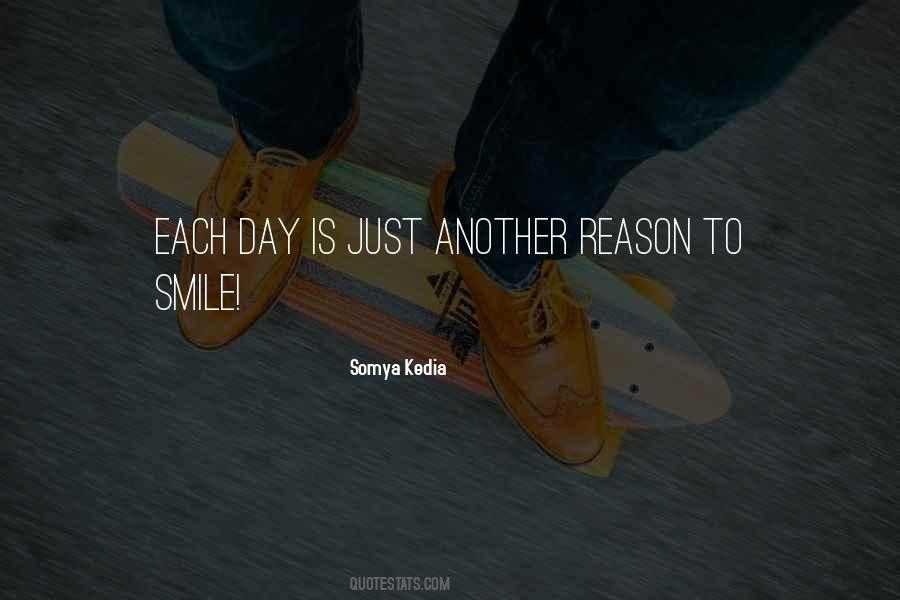 #19. Make it a point each day to score a distinctive point each day - Author: Ernest Agyemang Yeboah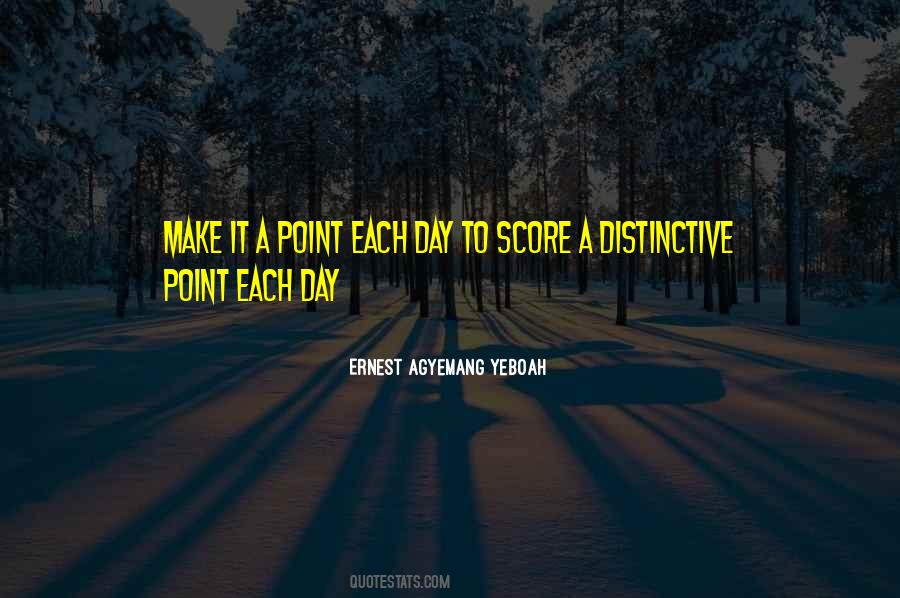 #20. I still doubt it will work."
"You'd doubt the sun's rising if you weren't proven wrong each day," Raoden
said with a smile. - Author: Brandon Sanderson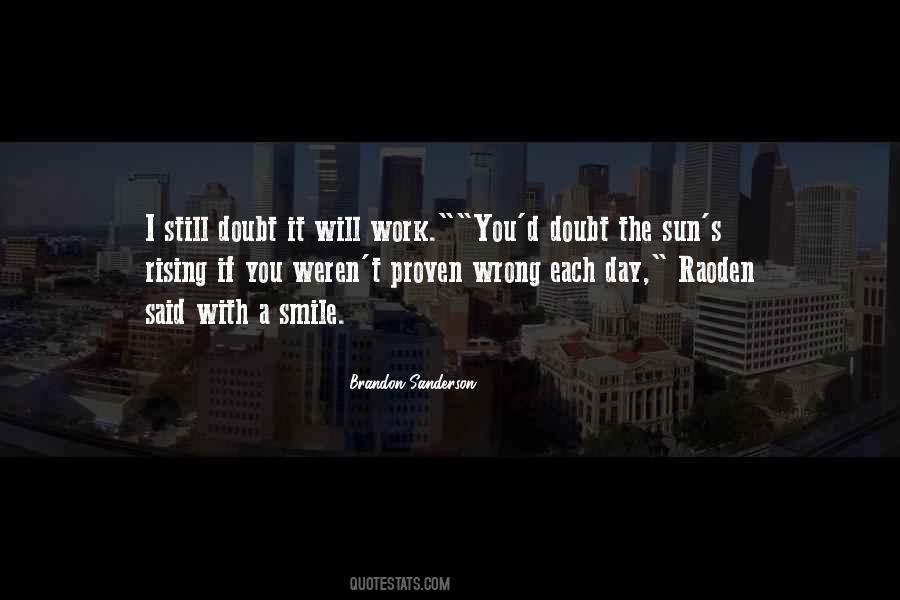 #21. Maybe not this year or the next but one day they'd end up married. In this lifetime and every one after it. Just knowing that I'd get to watch them find each other and fall in love in every life made me smile. - Author: Abbi Glines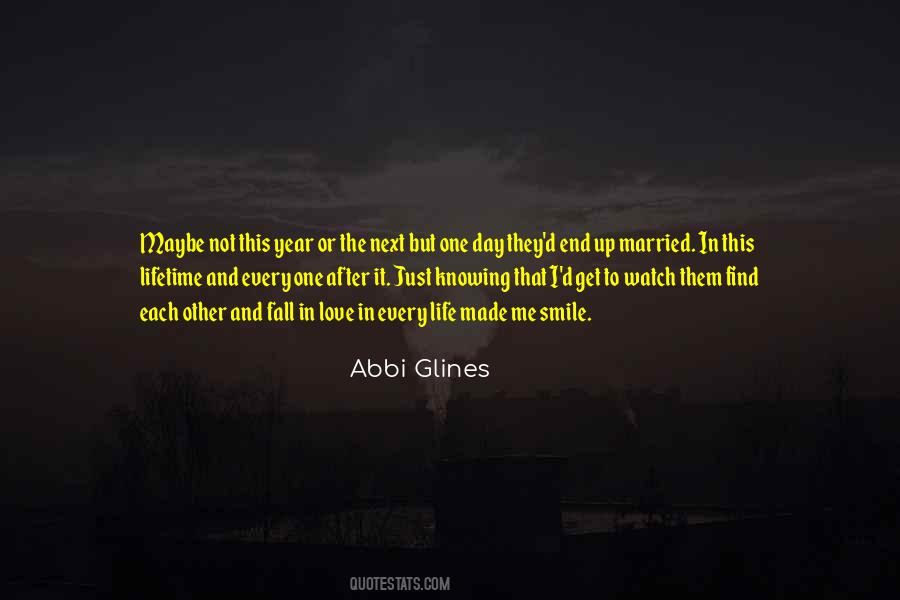 #22. Each one of us can do a good deed, every day and everywhere. In hospitals in desperate need of volunteers, in homes for the elderly where our parents and grandparents are longing for a smile, a listening ear, in the street, in our workplaces and especially at home. - Author: Shari Arison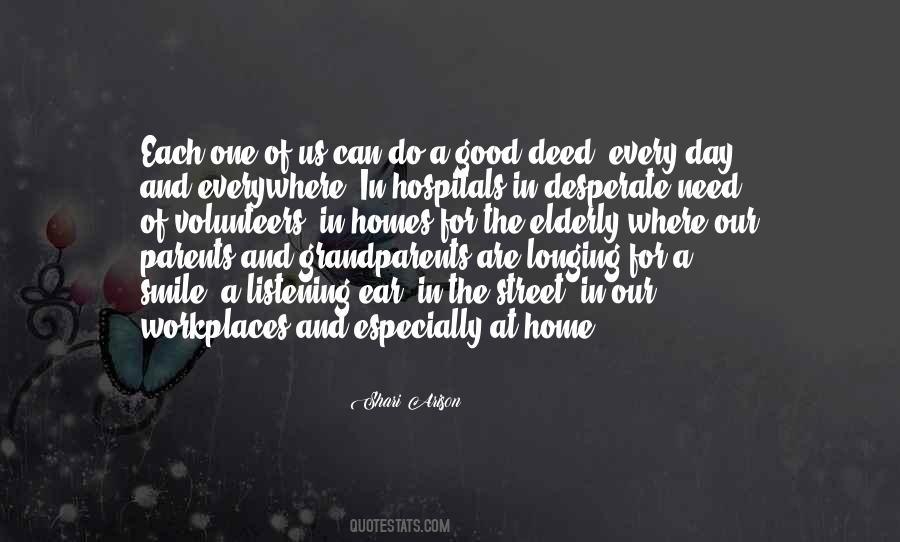 #23. Like the sun, start each day with a smile. - Author: Debasish Mridha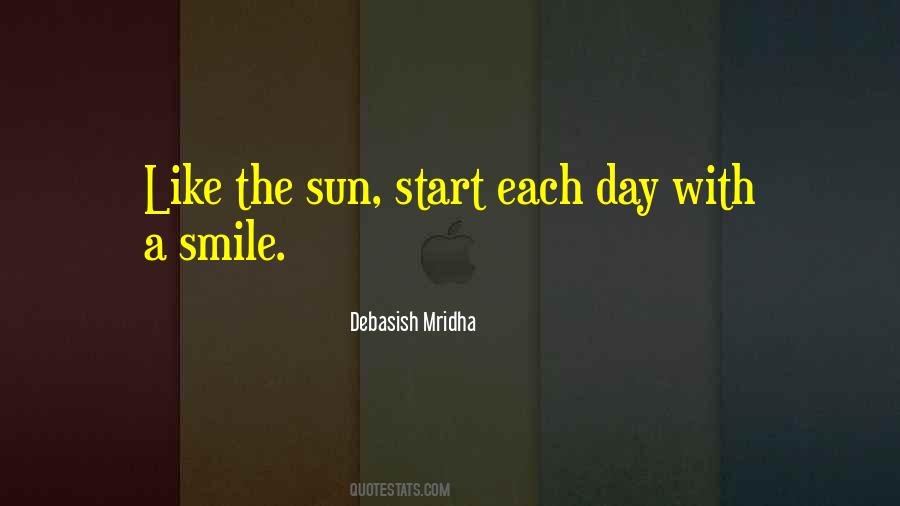 #24. Reach for the sky, set goals, live life to fullest and always remember to wake up each day with a smile. - Author: Brandy Miller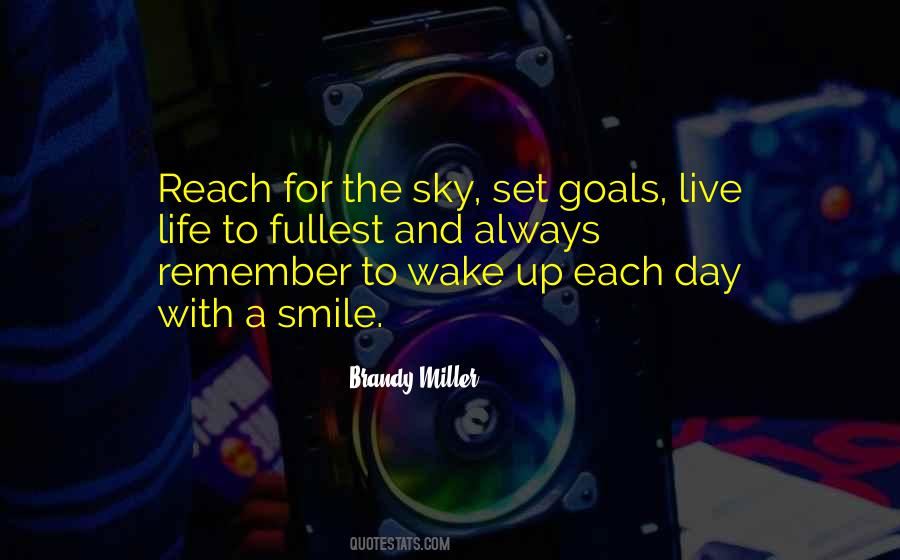 #25. It's getting crazier and crazier each day. A lot of people think I'd get aggravated, but I just stay with a smile and keep on. It's the life I chose, and you have to deal with it. If not, change what you're doing. - Author: Vince Young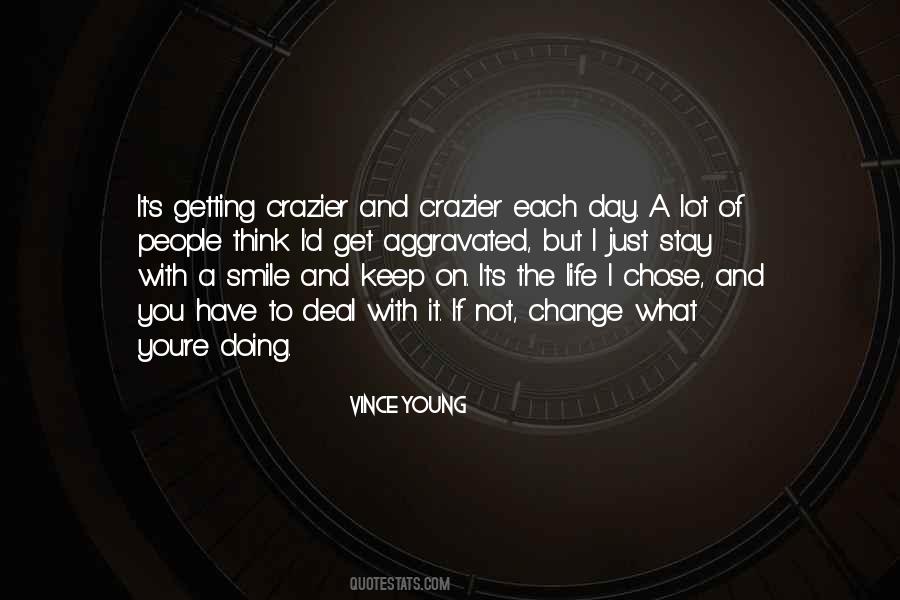 #26. My dream is every day. When I wake up, I want to find something new. Something beautiful about each day I'm given. I want to take the cards I'm given and play them with a smile, not to win, just to play. - Author: Marilyn Grey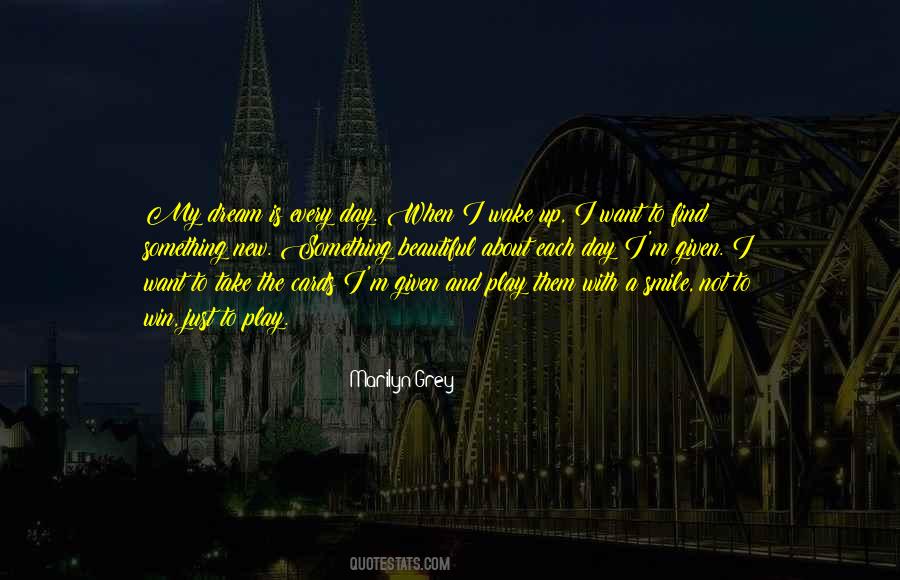 #27. He set the suitcases in the back then tossed her the keys. "You drive."
She repressed a smile as she climbed behind the wheel. "With each passing day, your reasons for wanting a wife become clearer. - Author: Susan Elizabeth Phillips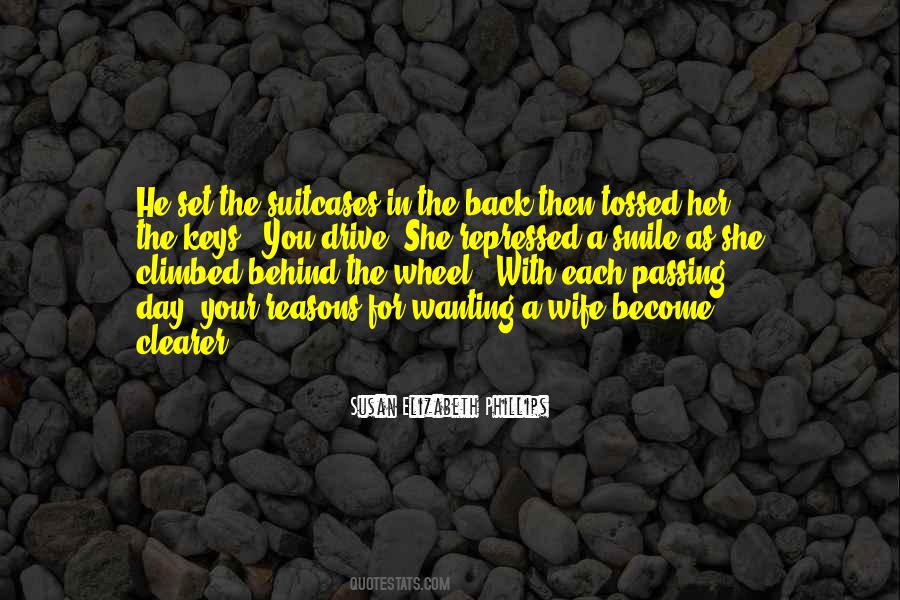 #28. Each day will be triumphant only when your smiles bring forth smiles from others. - Author: Og Mandino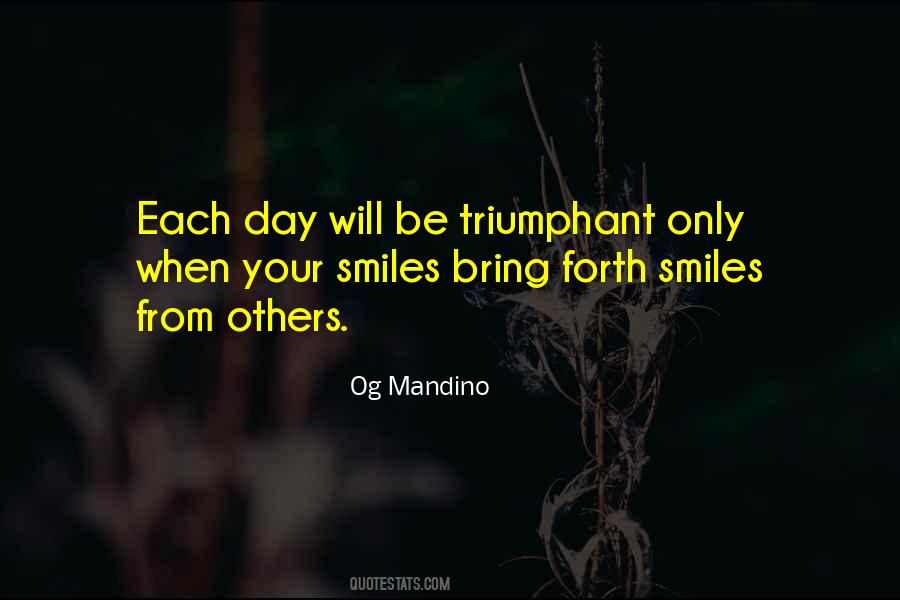 #29. On the other side of self-doubt comes a confidence from faith in the process. Even though our destination may be a long way off, each day we rise with a subtle smile as if we have already achieved it, because, when we are truly committed to a task, we already have. - Author: Chris Matakas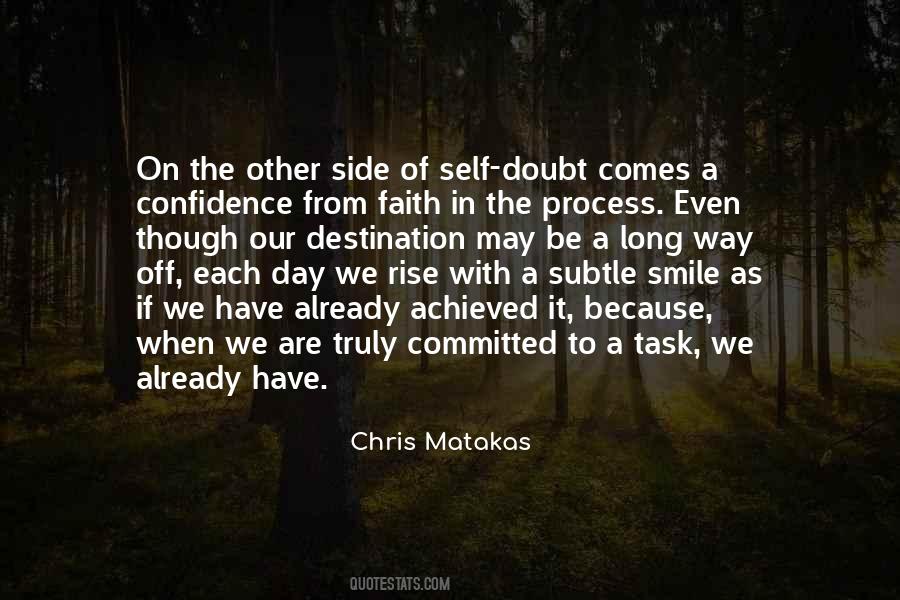 #30. Breathing in, I am aware that I am breathing in.
Breathing out, I am aware that I am breathing out.
Breathing in, I am grateful for this moment.
Breathing out, I smile.
Breathing in, I am aware of the preciousness of this day.
Breathing out, I vow to live deeply in this day. - Author: Nhat Hanh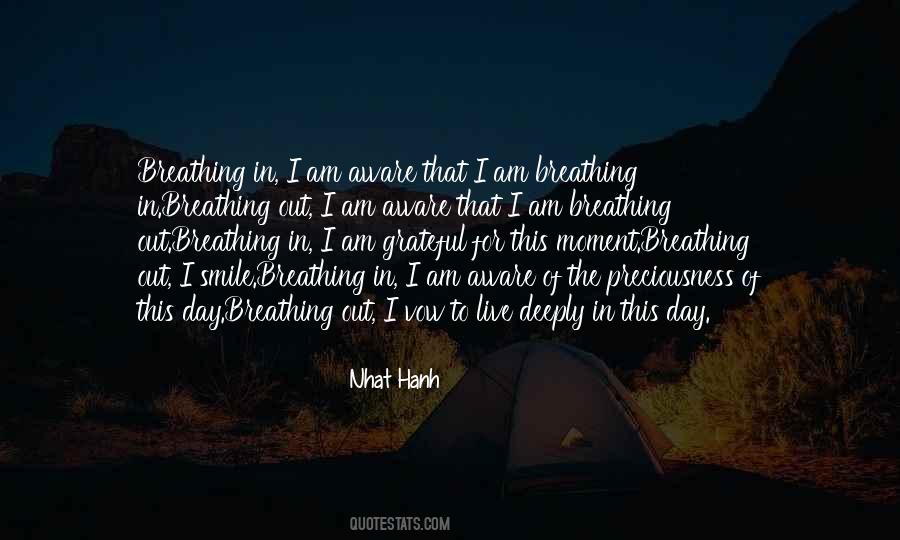 #31. Smile is the shortest and fastest communication between strangers. - Author: Saru Singhal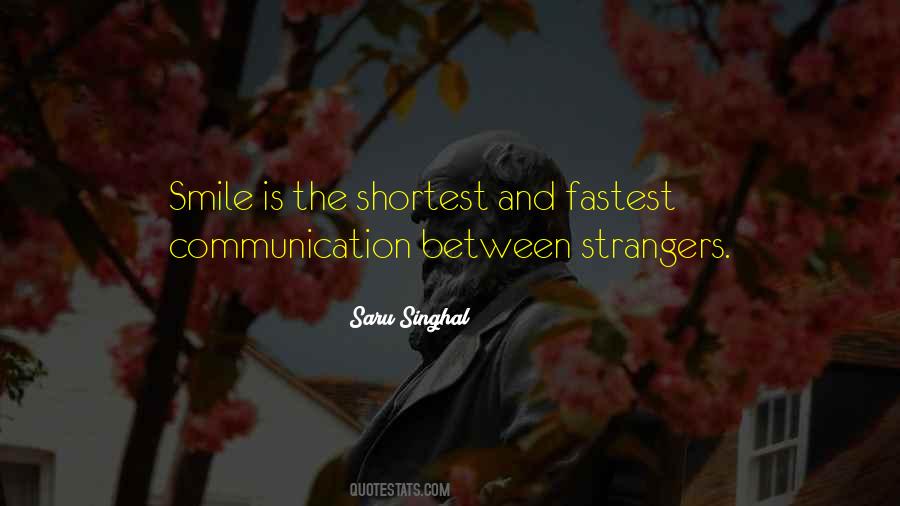 #32. One day you'll make peace with your demons, and the chaos in your heart will settle flat. And maybe for the first time in your life, life will smile right back at you and welcome you home. - Author: Robert M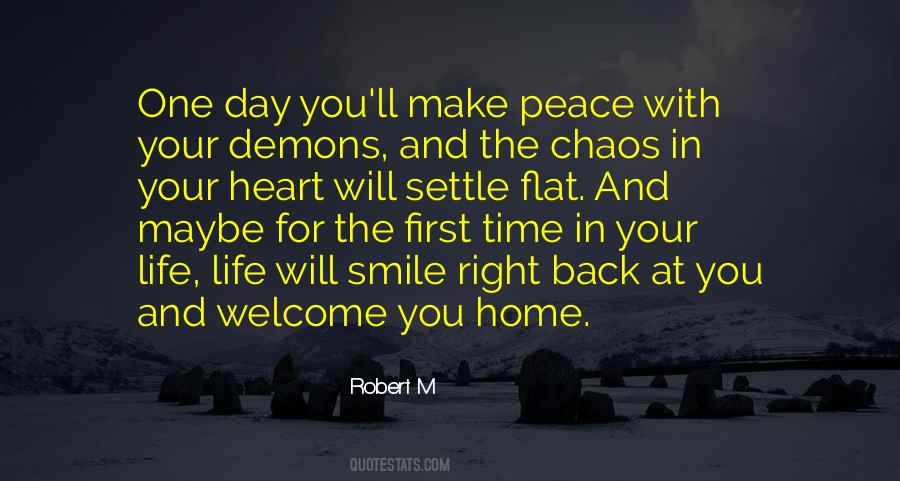 #33. I kept hiding my smile in pictures throughout middle school and most of high school until picture day came my senior year. - Author: Uzo Aduba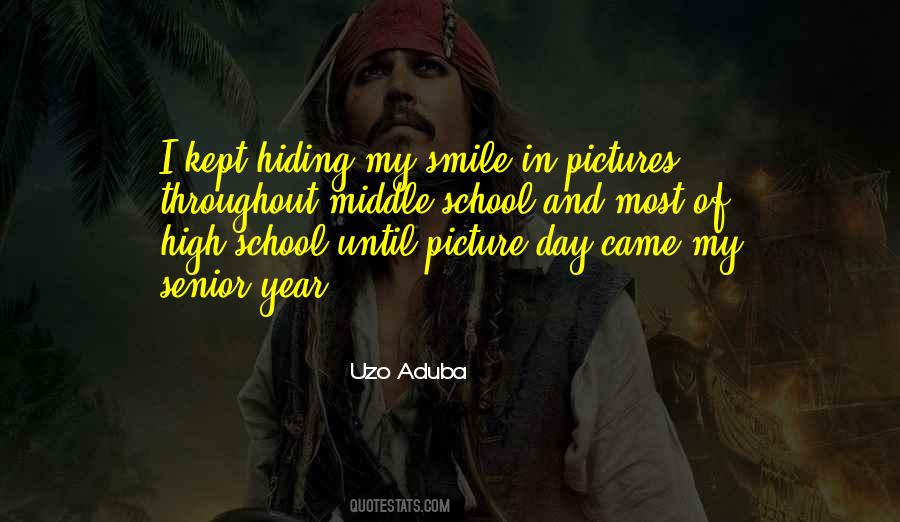 #34. I am thankful for a new day, to live, to love, to talk, to smile, to laugh to walk, to dream, to share, to write, to hope, to pray, to praise God and to fulfill my purpose of life. - Author: Lailah Gifty Akita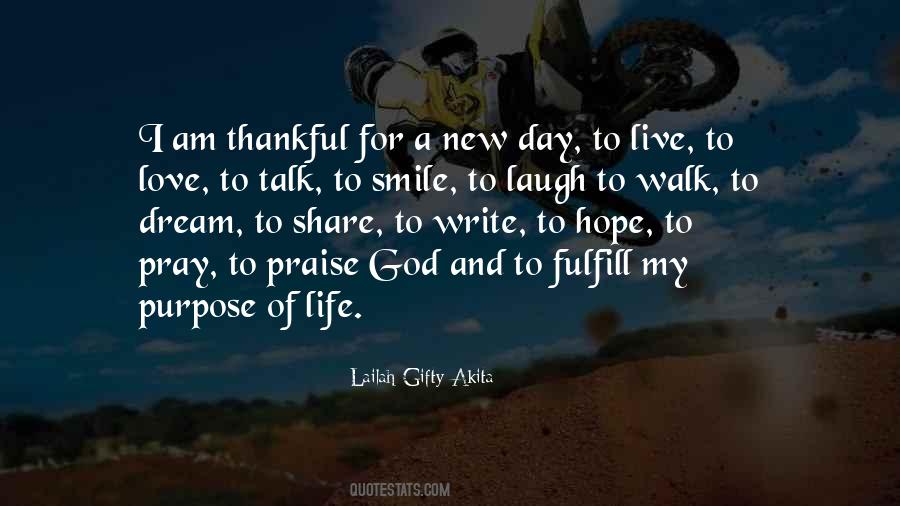 #35. You smile upon your friend to-day, To-day his ills are over; You hearken to the lover's say, And happy is the lover. 'Tis late to hearken, late to smile, But better late than never: I shall have lived a little while Before I die for ever. - Author: A.E. Housman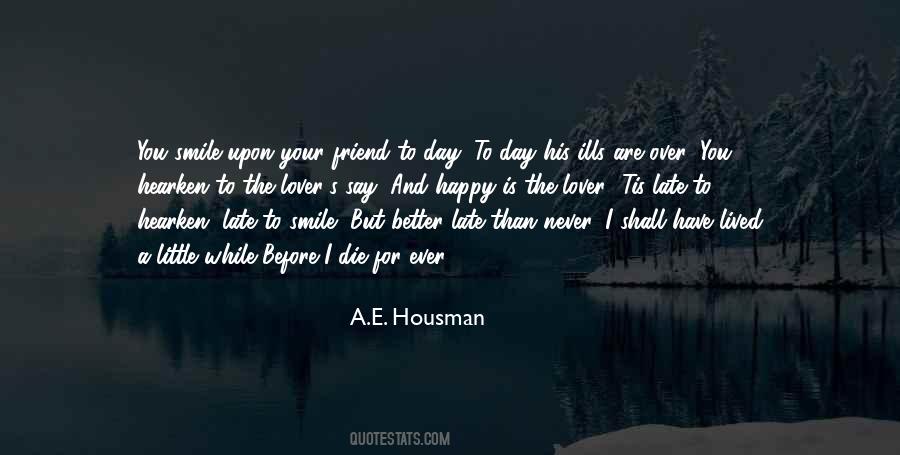 #36. His smile was like lightning in the darkness, blinding and beautiful and mysterious, and I wanted him so badly it was physically painful. - Author: Sylvia Day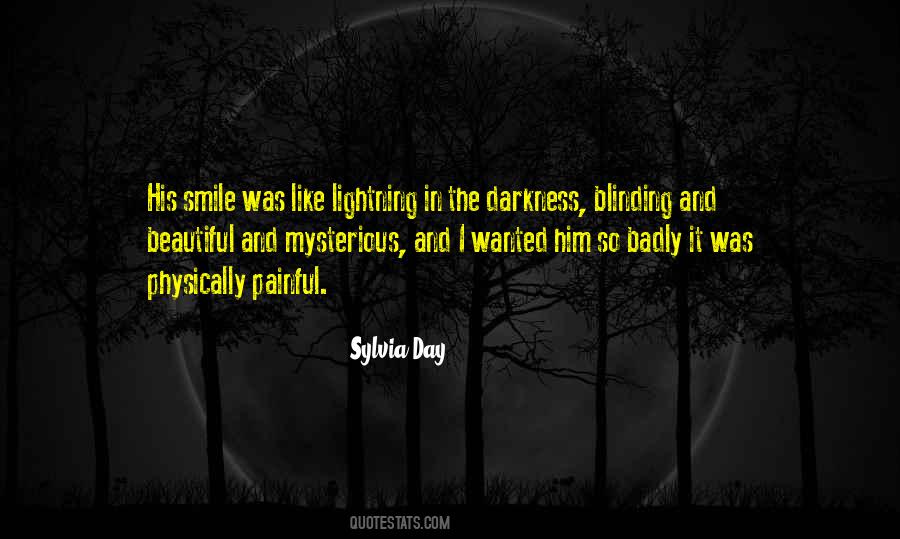 #37. She smiled as she looked at the flower. ... It was such a tender smile, and so happy, I decided right then that I wanted to make her smile like that again and again and that I wanted to look at that smile until the day I died. - Author: Christopher Paolini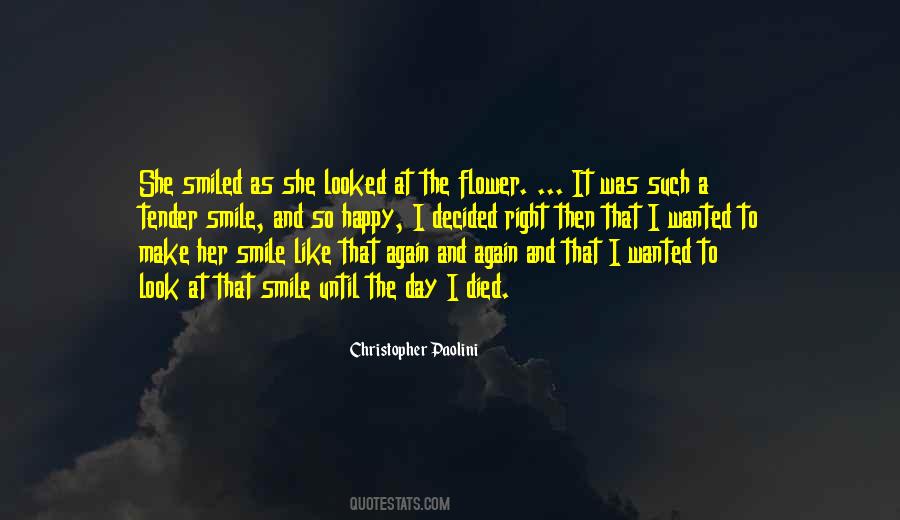 #38. I've learned that the heart does not lie. The thought of never being with him or having him in my life again shattered me. Not a day went by that I didn't think of his smile or remember his laugh, his touch, and how that alluring Scottish accent always made my knees tremble. - Author: Victoria Roberts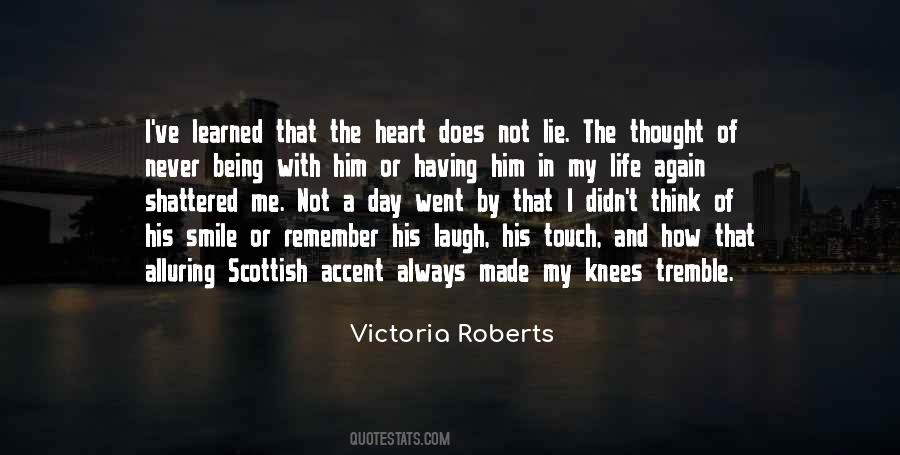 #39. You're the one, princess. The reason I wake up with a smile on my lips. The reason it stays on my face all fucking day. When I hurry home from work, I'm hurrying back to you. - Author: Elle Aycart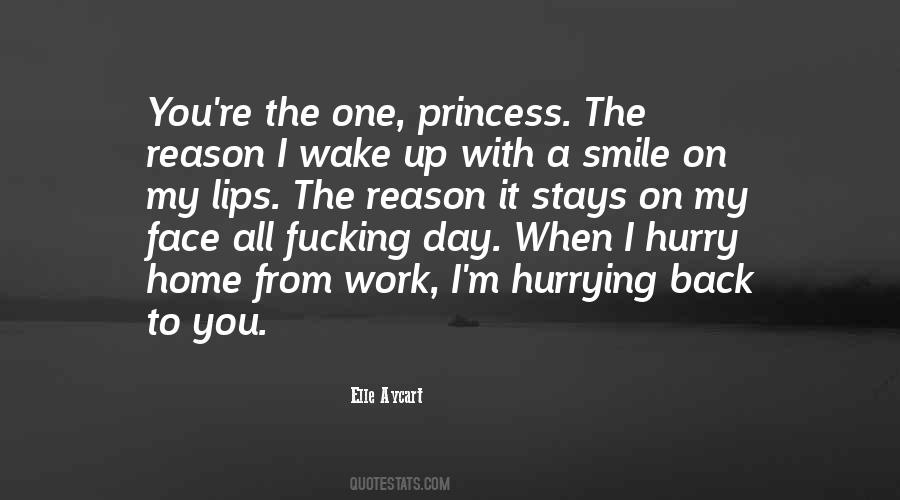 #40. Your day usually follows the direction of the corners of your mouth. So SMILE. - Author: Gregory Dickow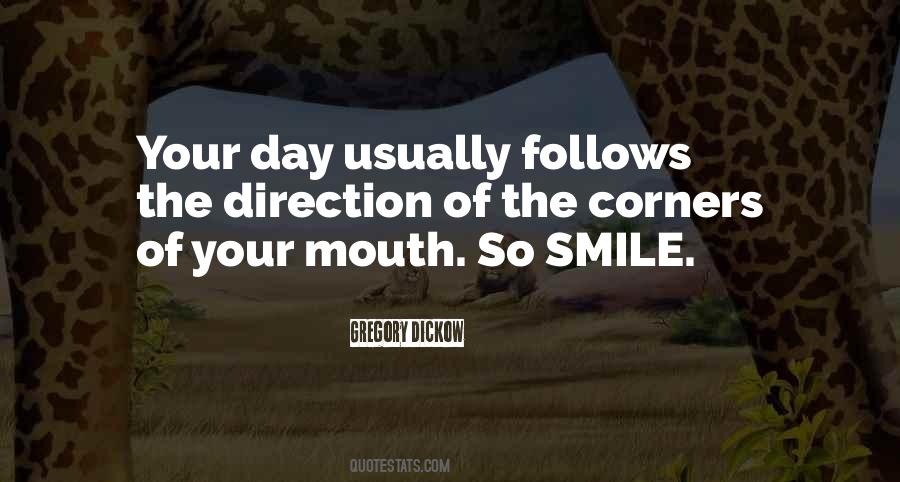 #41. Peace begins with a smile-smile five times a day at someone you really don't want to smile at. Do it for Peace. - Author: Mother Teresa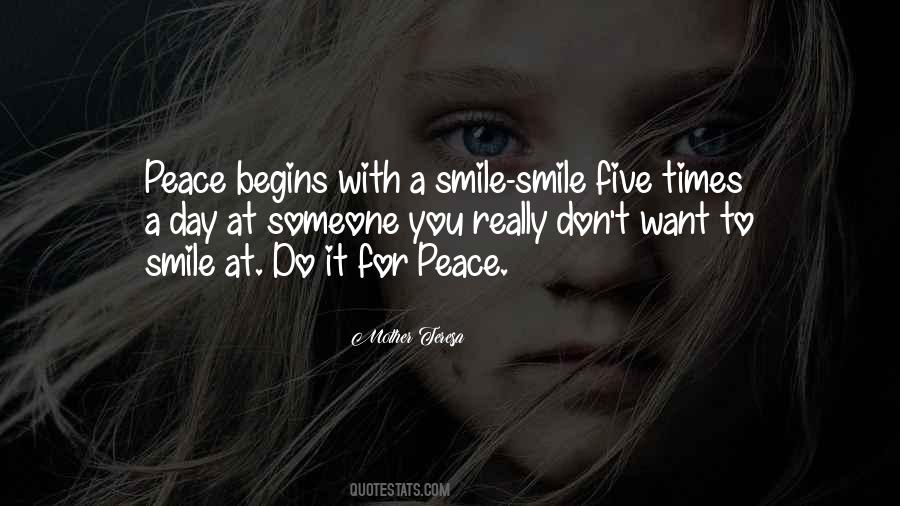 #42. Happy Holidays

Is it not this day to smile?
Is it yet a time to give?
Is this friend as old as good?
Is my family so well?

Santa is just on his way,
Bringing gifts and love tonight,
Have a prosperous New Year!
And a happy day to last! - Author: J.M.K. Walkow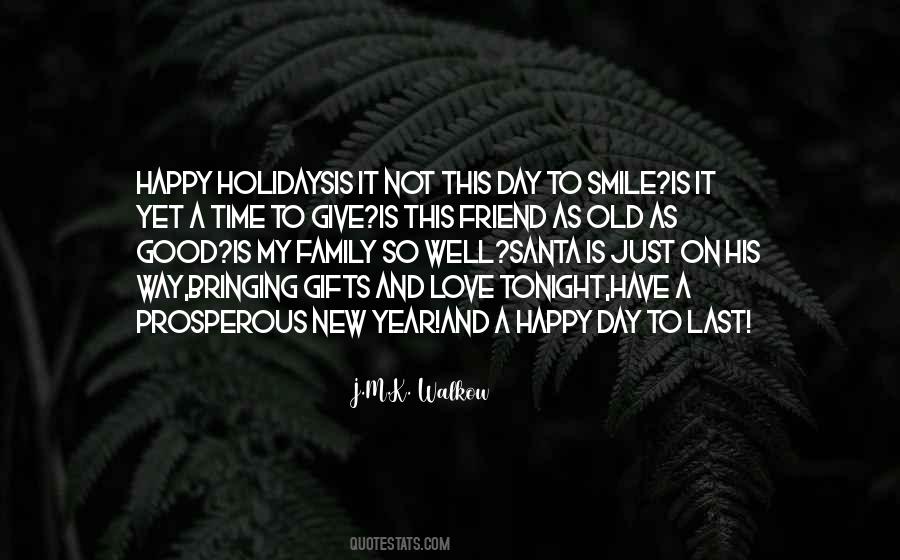 #43. Good manners, Madam, are had these days not
For your asking, nor mine, nor what-we-used-to-be's.
The day is a loud grenade that bursts a smile
Of serious weeds in a comic lily plot ... - Author: Allen Tate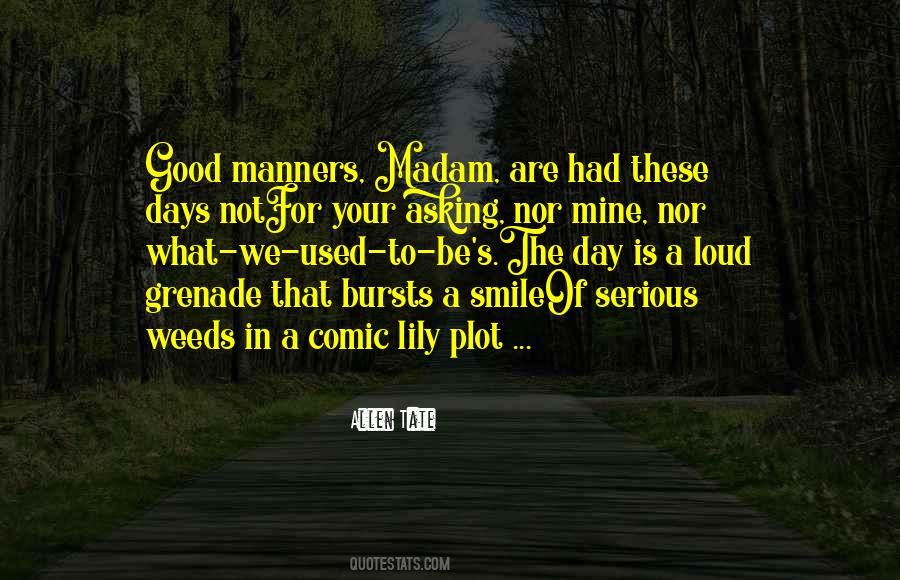 #44. This is your day." I nodded and tried not to smile. "I'm just your arm candy."
She grinned with a sparkle in her eyes. "I do like candy."
Holy shit. We were flirting. - Author: Lisa Kessler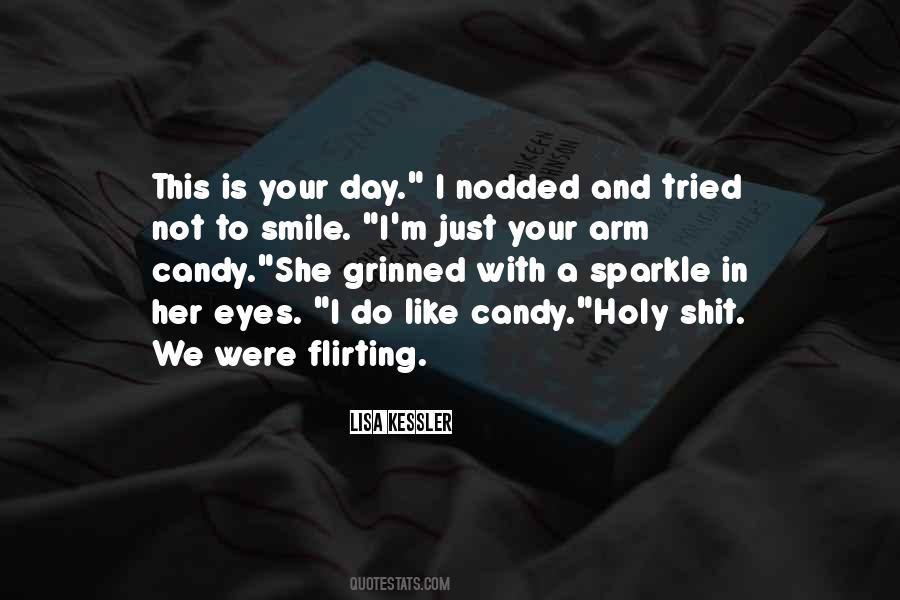 #45. You lose, you smile, and you come back the next day. You win, you smile, you come back the next day. - Author: Ken Griffey Jr.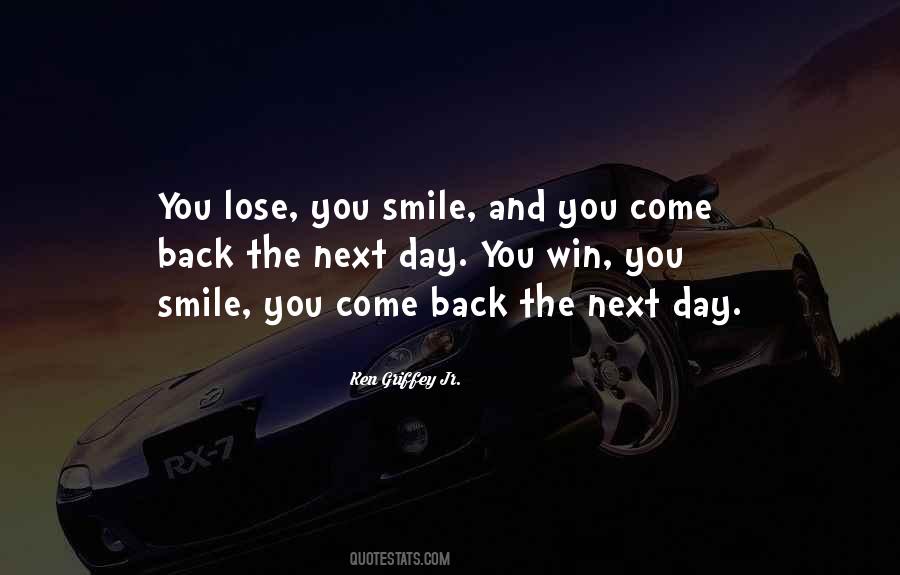 #46. Every single day, no matter who you meet in the day - friends, family, work colleagues, strangers - give joy to them. Give a smile or a compliment or kind words or kind actions, but give joy! Do your best to make sure that every single person you meet has a better day because they saw you. - Author: Rhonda Byrne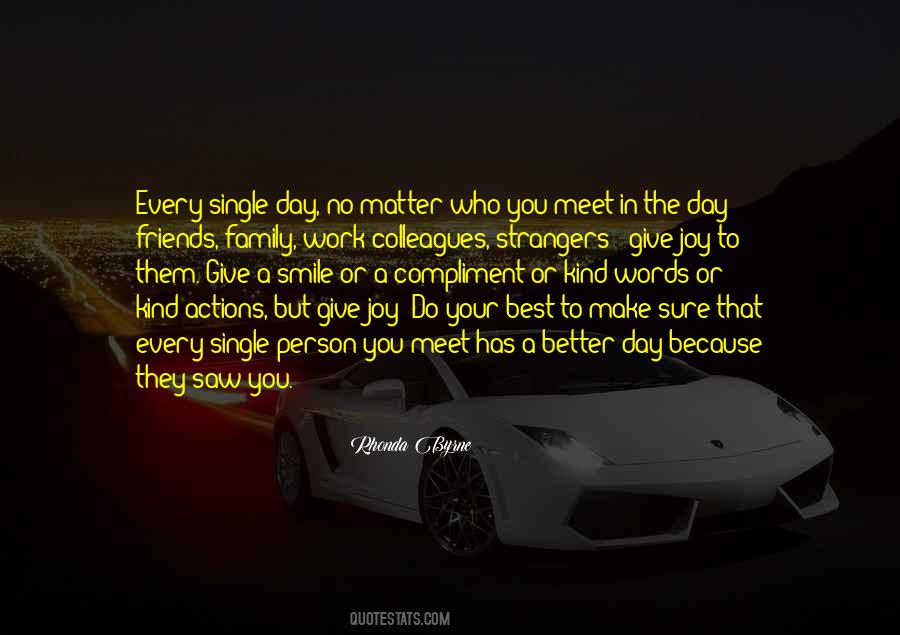 #47. His repertoire. He grinned sheepishly, a boyish smile so at odds with the mature sexuality of his bared body. - Author: Sylvia Day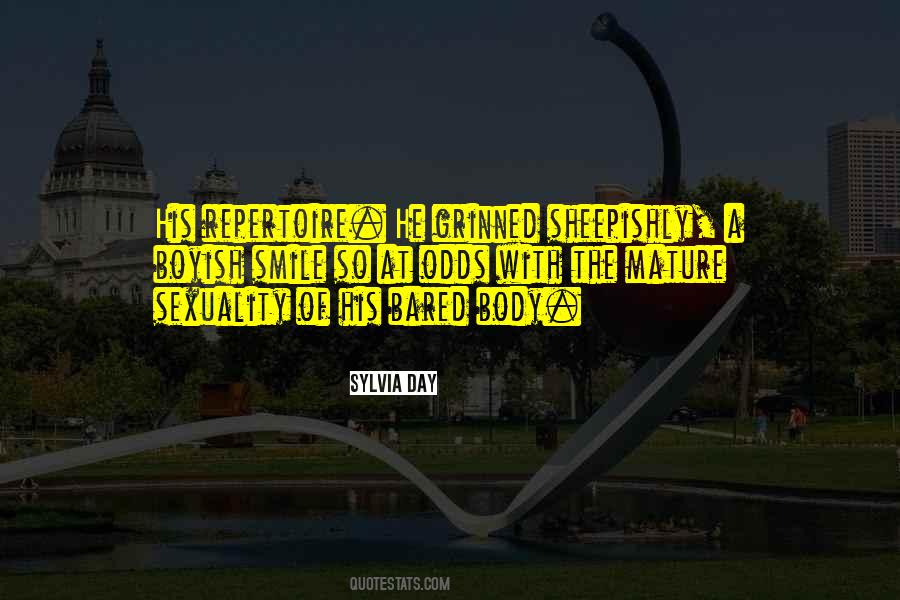 #48. It was only a sunny smile, and little it cost in the giving, but like morning light it scattered the night and made the day worth living. - Author: F Scott Fitzgerald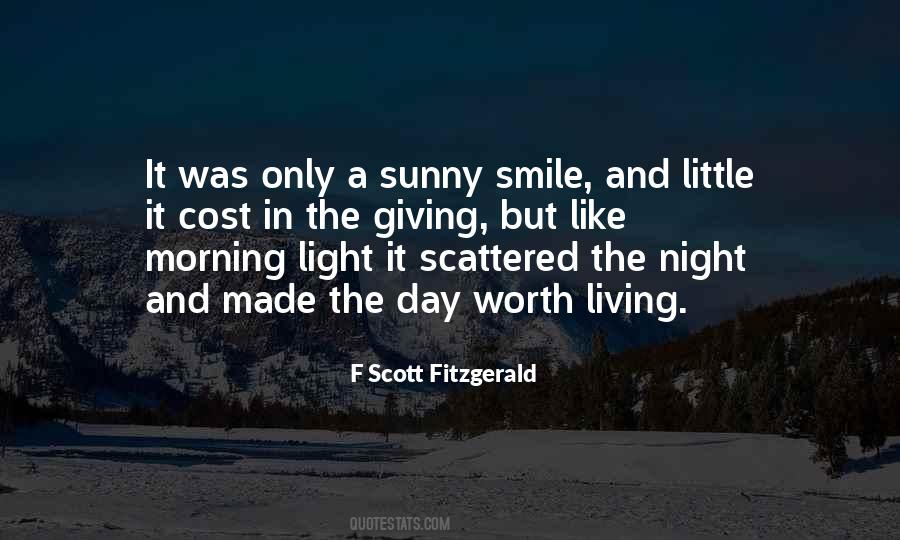 #49. I'm perfectly discriminating,' he said with a devilish smile.
'How's that? No blondes after Labour Day?'
'I said I was discriminating, not an imbecile. - Author: Ally Blake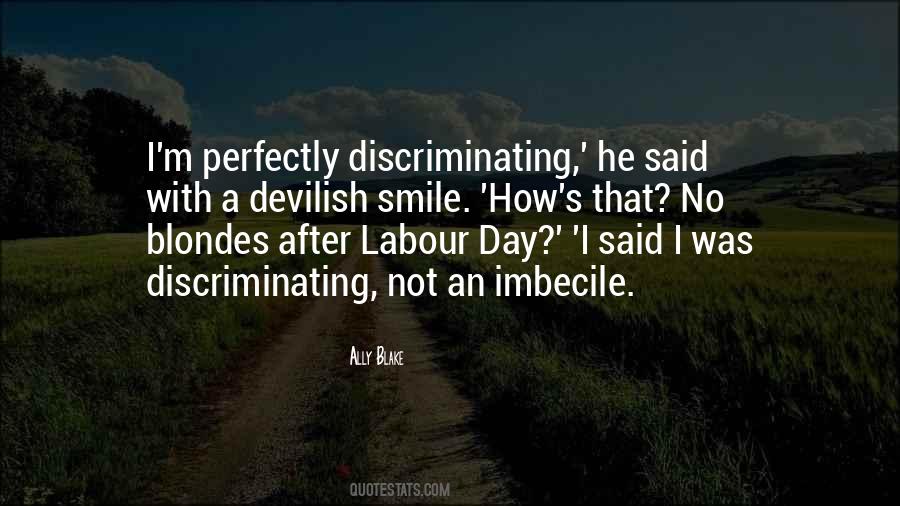 #50. Start every day off with a smile and get it over with. - Author: W.C. Fields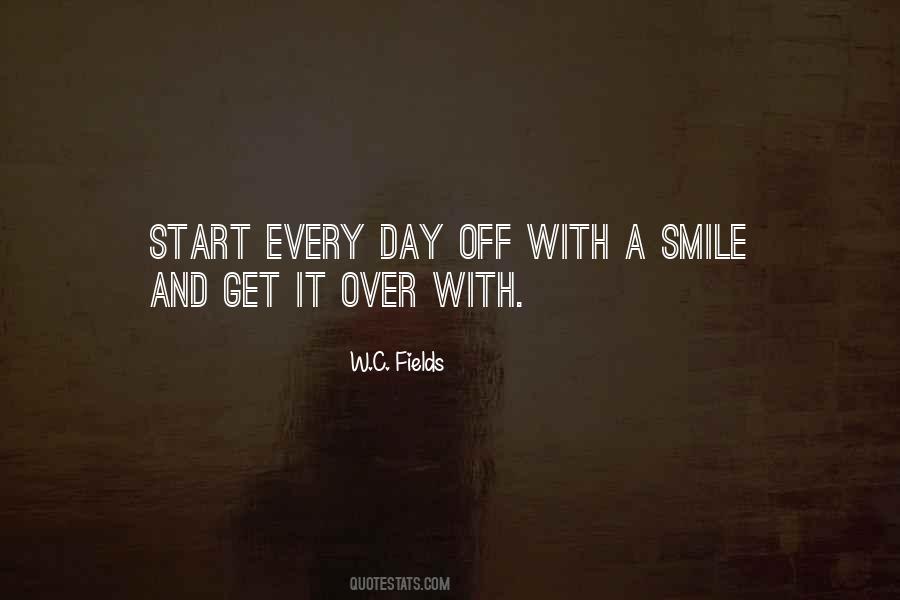 #51. The smile of the morning doesn't judge the day. - Author: Auliq Ice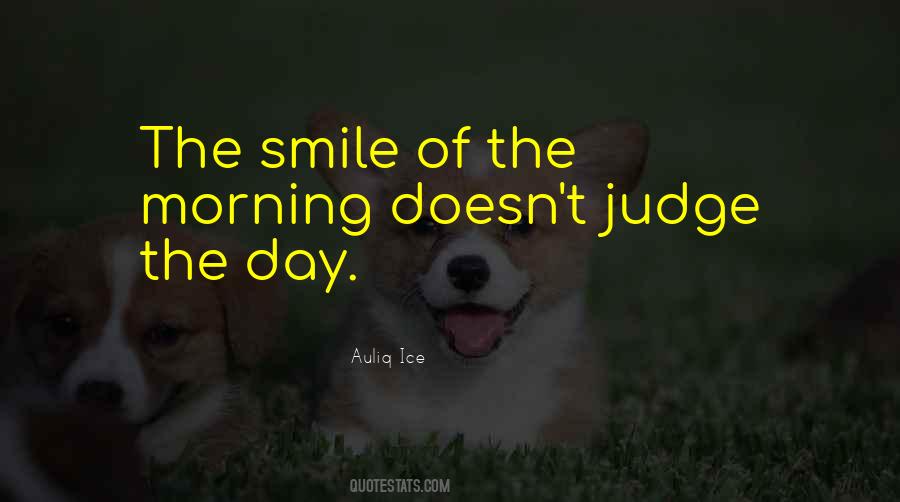 #52. And to the casual observer it looks like I have moved on since I go around wearing my little happy mask all day. I smile and laugh and carry on like my heart's still in one piece, but beneath it all, I am dying. - Author: Melody Carlson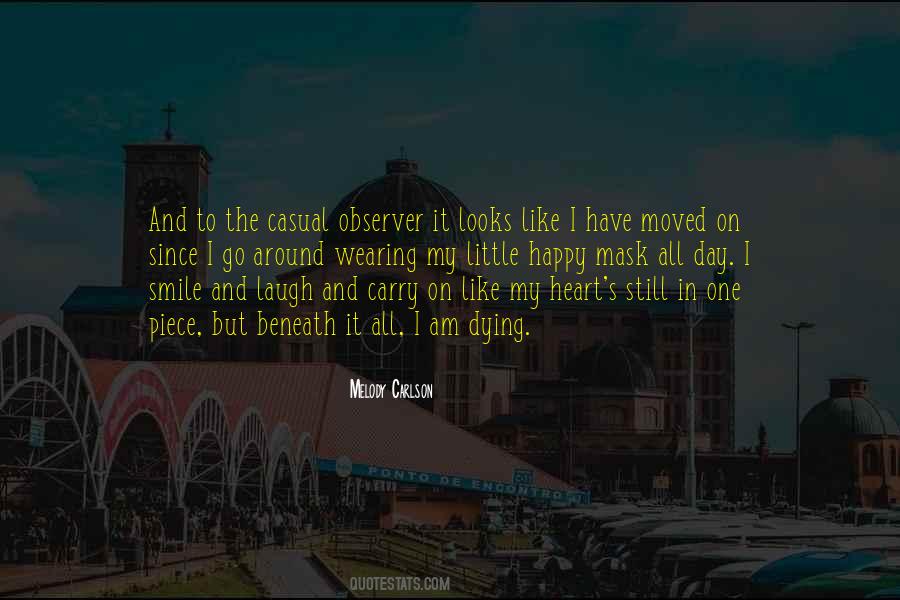 #53. Sometimes you might miss that person, sometimes you'll feel like running back to them ... sometimes you'll suffer from unbearable pain but sometimes you have to forget what you feel. And simply remember what you deserve, smile and move on! - Author: Nehali Lalwani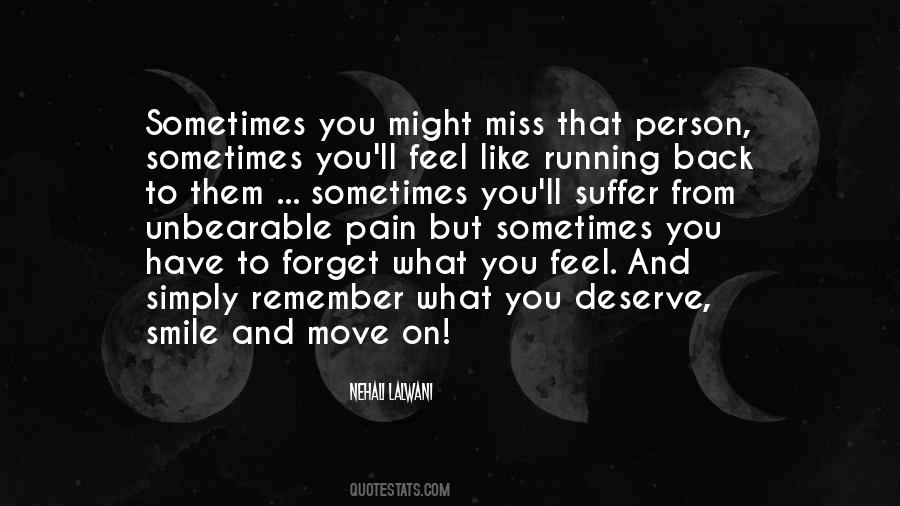 #54. He offers me his first smile of the day, and I'm suddenly glad he keeps that thing put away. - Author: Kasie West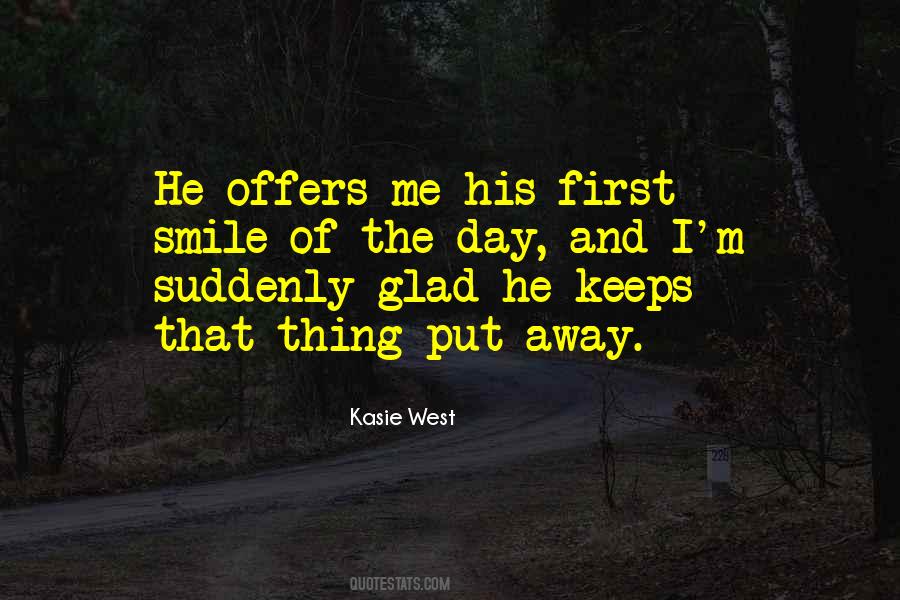 #55. Believe in people, they fly for a day. Teach them to believe in themselves, they soar for a lifetime. - Author: A.D. Posey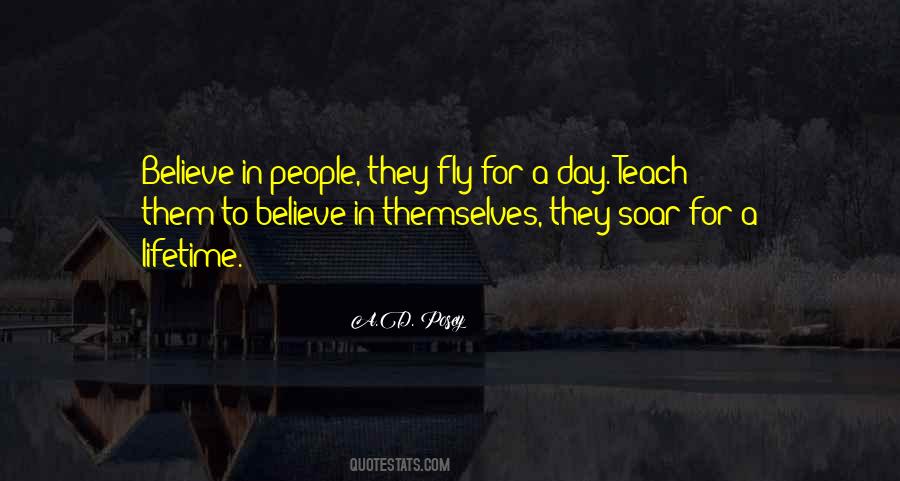 #56. So this is how "happy" feels, I thought. The energy, the automatic smile. This is what it's like to look forward to the day, to believe there could be good things coming. - Author: James Patterson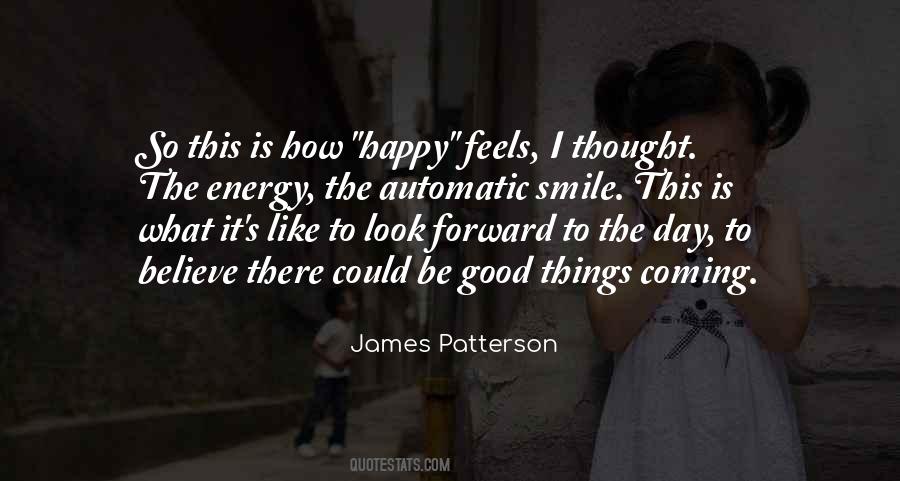 #57. Fall, leaves, fall; die, flowers, away;
Lengthen night and shorten day;
Every leaf speaks bliss to me
Fluttering from the autumn tree.
I shall smile when wreaths of snow
Blossom where the rose should grow;
I shall sing when night's decay
Ushers in a drearier day. - Author: Emily Bronte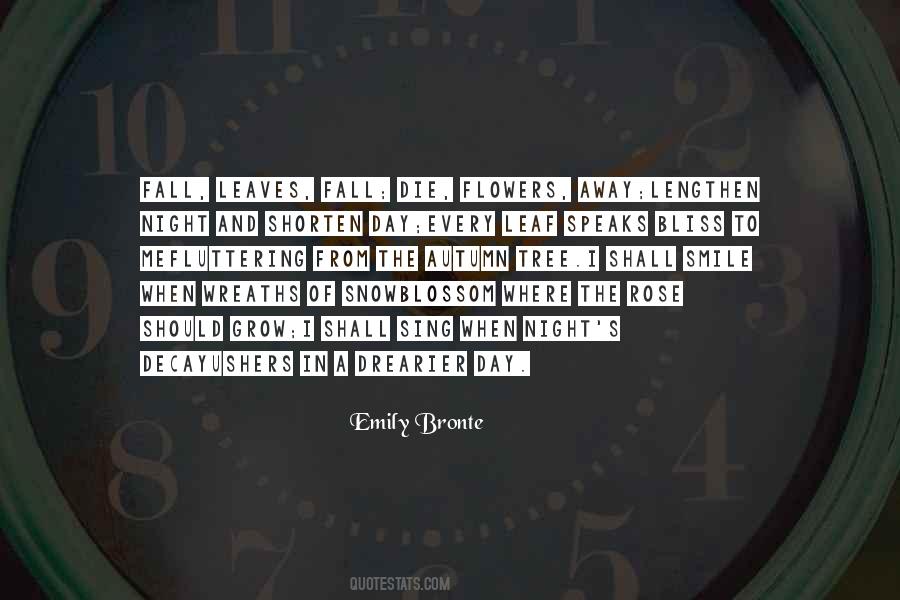 #58. The day I found my smile again was when I stood in my own storm and danced with my tribe. - Author: Shannon L. Alder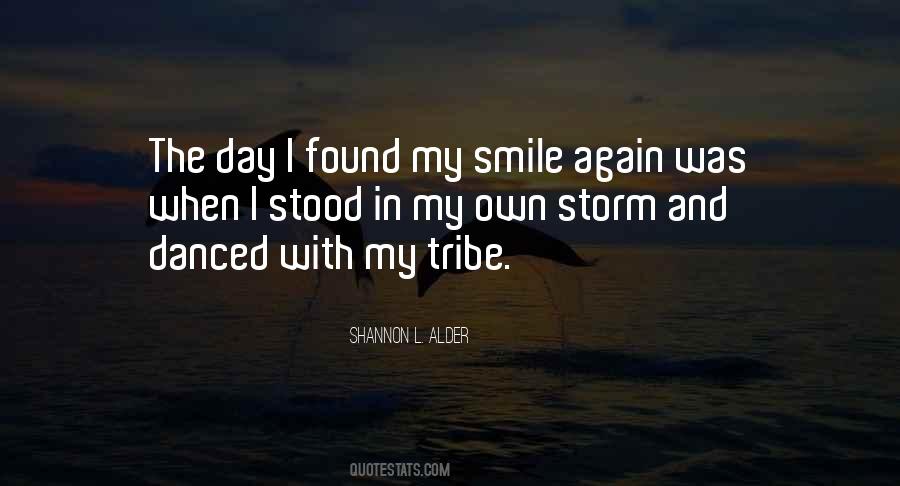 Famous Authors
Popular Topics