Self Heal Famous Quotes & Sayings
List of top 47 famous quotes and sayings about self heal to read and share with friends on your Facebook, Twitter, blogs.
Top 47 Self Heal Quotes
#1. I've experienced several different healing methodologies over the years - counseling, self-help seminars, and I've read a lot - but none of them will work unless you really want to heal. - Author: Lindsay Wagner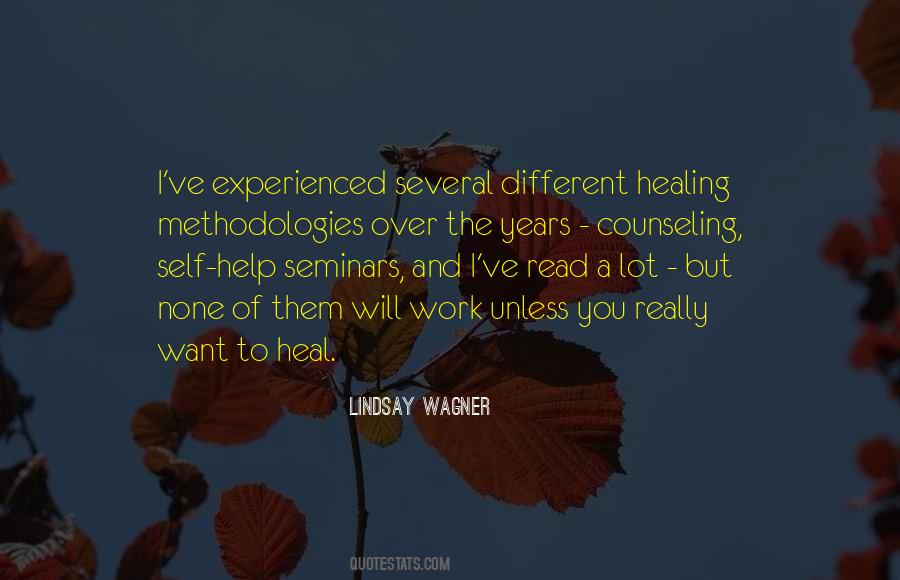 #2. To really know who you are, your core self, you need to know who you are pretending to be and who you are not, and the way to heal is the same way to grow in awareness. - Author: Aleta Edwards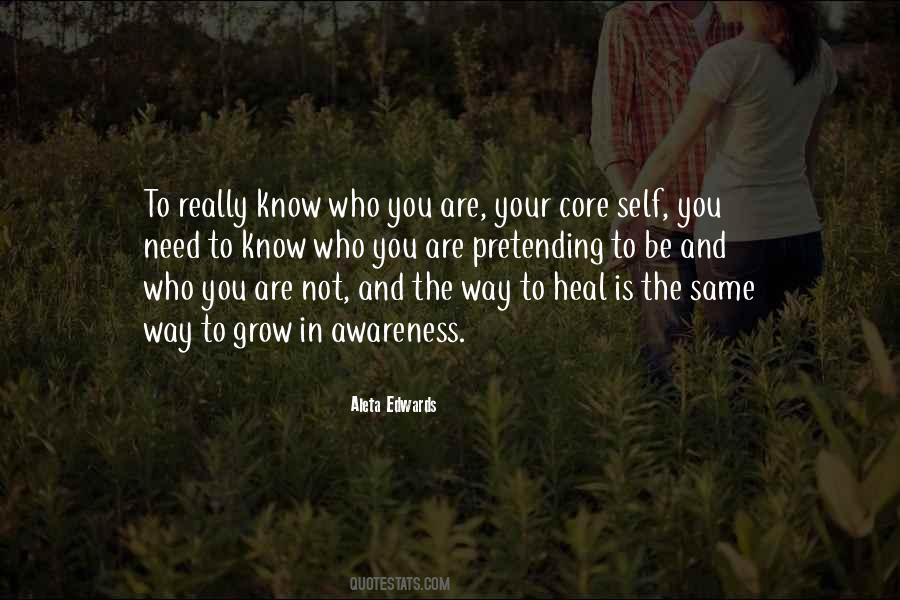 #3. You have the power to heal your life, and you need to know that. We think so often that we are helpless, but we're not. We always have the power of our minds ... Claim and consciously use your power. - Author: Louise L. Hay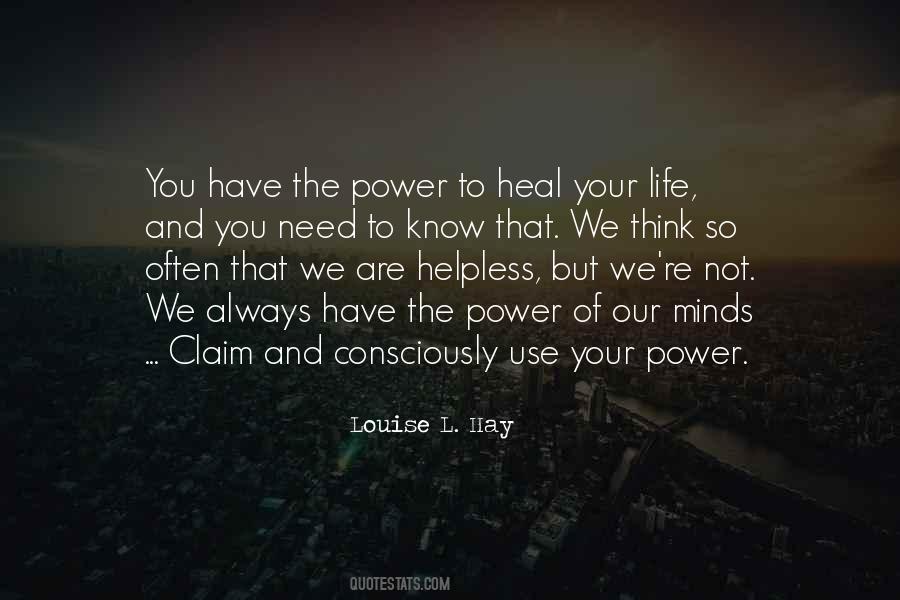 #4. Words create conceptions and self-conceptions and ultimately nations. They can start and stop wars. They can would and heal. Choosing words carefully is a moral responsibility. - Author: Amos Oz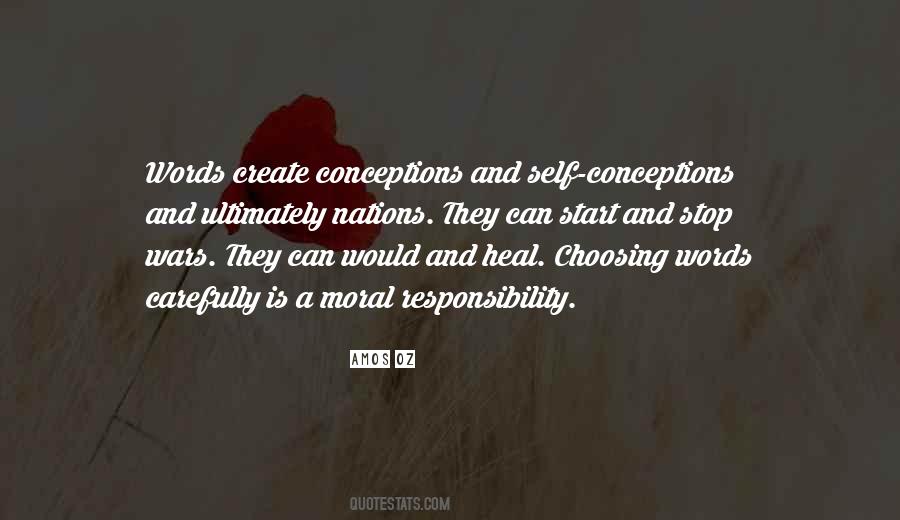 #5. It was come as you are when visiting my blog, CiCI's Garden -otherwise what would be the point? Readers were welcomed to a virtual place where emotions were respected and affirmed, and encouragement was offered to those who longed to know that wounded hearts can heal - even if it takes a lifetime. - Author: EsthersChild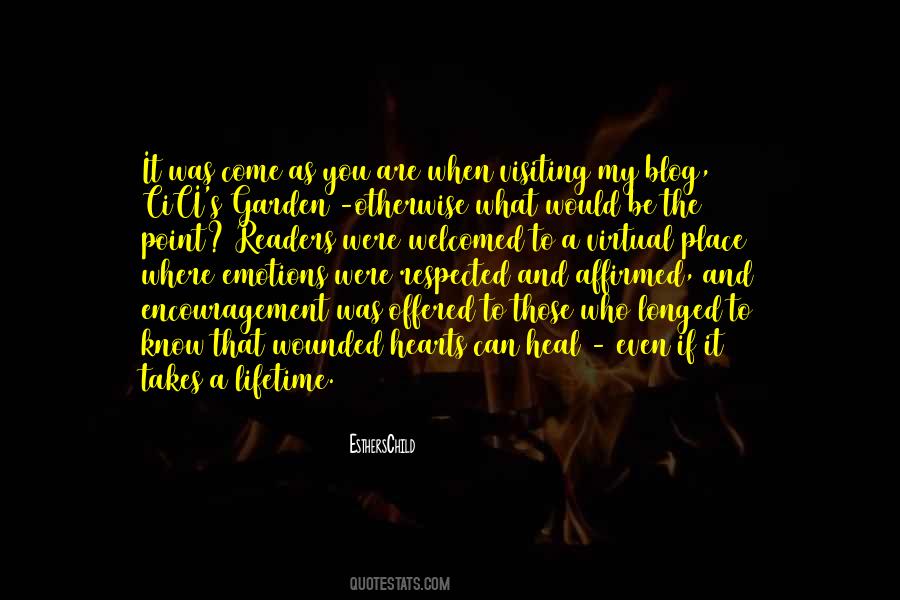 #6. Your life is shaped by the thoughts and experiences you choose - and make no mistake, the decision is always yours. I promise, when you learn to be conscious and in control of what you are focusing on, you can begin to create high vibrational experiences, which will transform and heal your life. - Author: Susan Barbara Apollon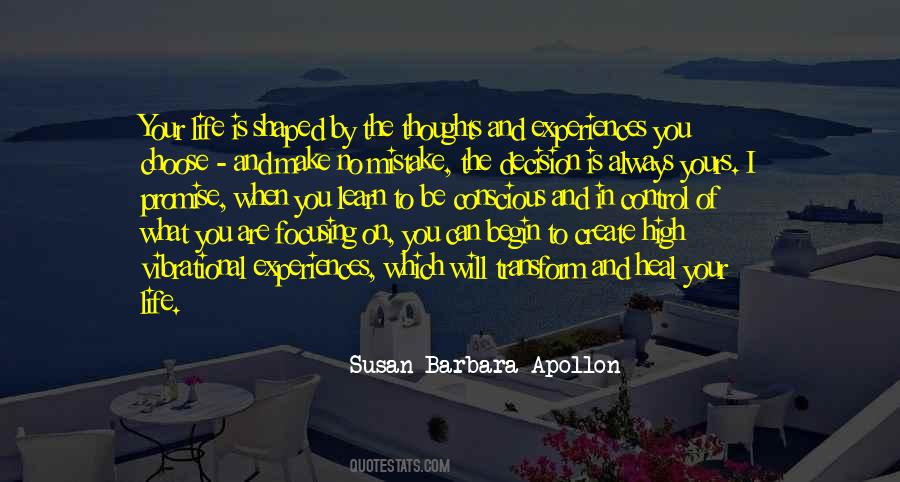 #7. The role of your genius spirit is to essentially heal, transform, and evolve consciousness. - Author: Carolyn Elliott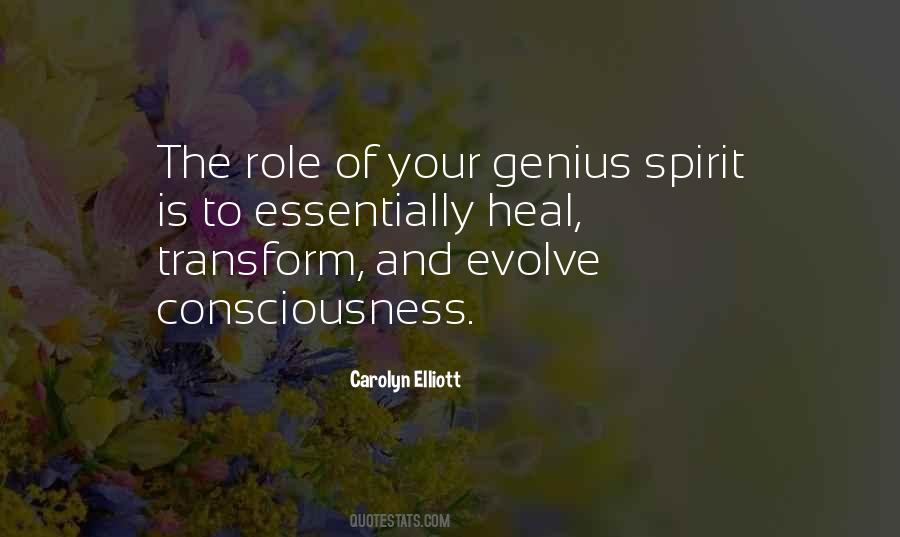 #8. Healing your wounds will hurt, so cry.
Cry your pretty little heart out until you have nothing left to shed, that's how beauty is grown;
through the darkest of our days we become the light. - Author: Nikki Rowe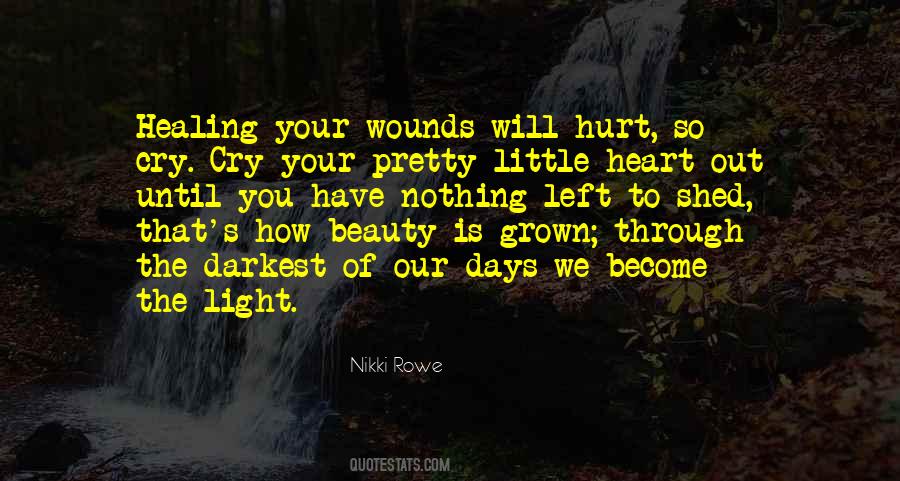 #9. I have learned to become not an M.D. but a 'C.D.' for the wounded people I meet. Yes, a 'Chosen Dad' who may not like their behavior but loves and reparents them and helps them to heal their lives and find self-worth and self-esteem and save their lives. - Author: Bernie Siegel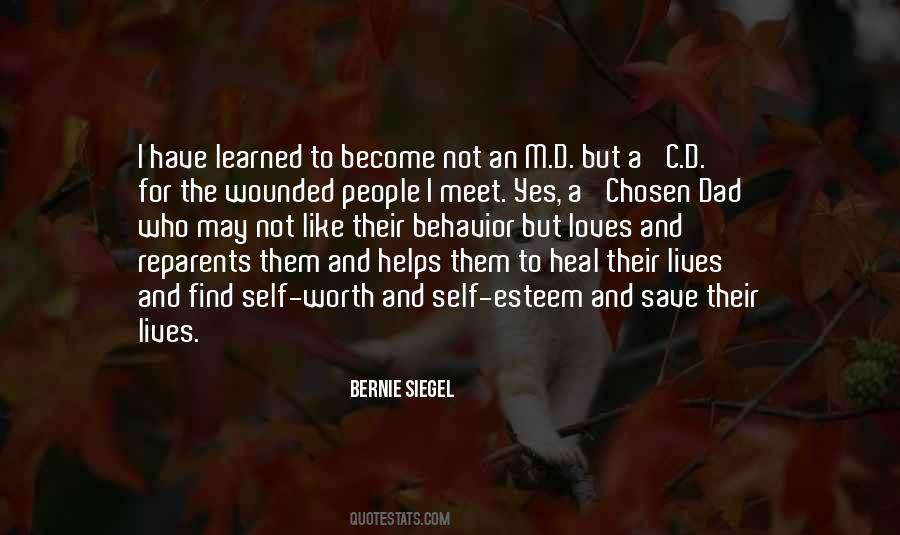 #10. ...If we can achieve this, then one day whole rooms, buildings, perhaps even bridges may generate their own energy, funnel it to where it is needed, detect damage, and self-heal. If this seems like science fiction, bear in mind that it is only what living materials do already. - Author: Mark Miodownik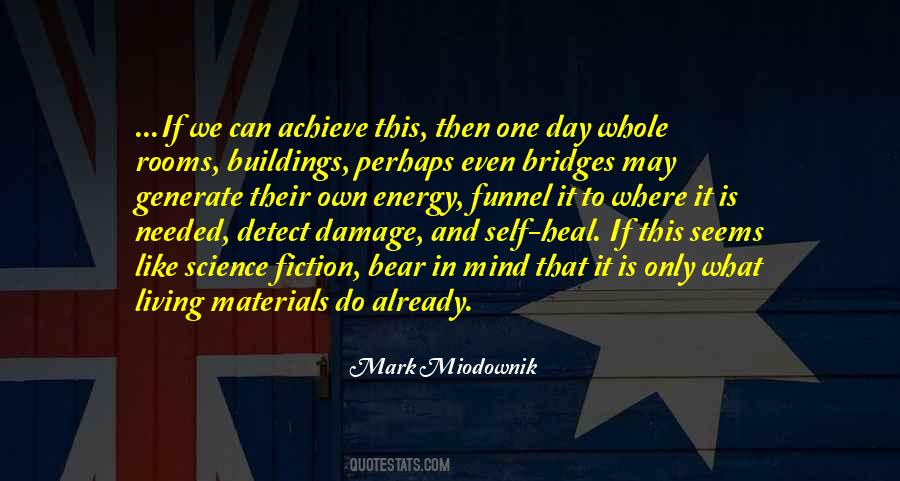 #11. No matter how long it takes to heal ... we share the same scars ... - Author: Daniel Yanez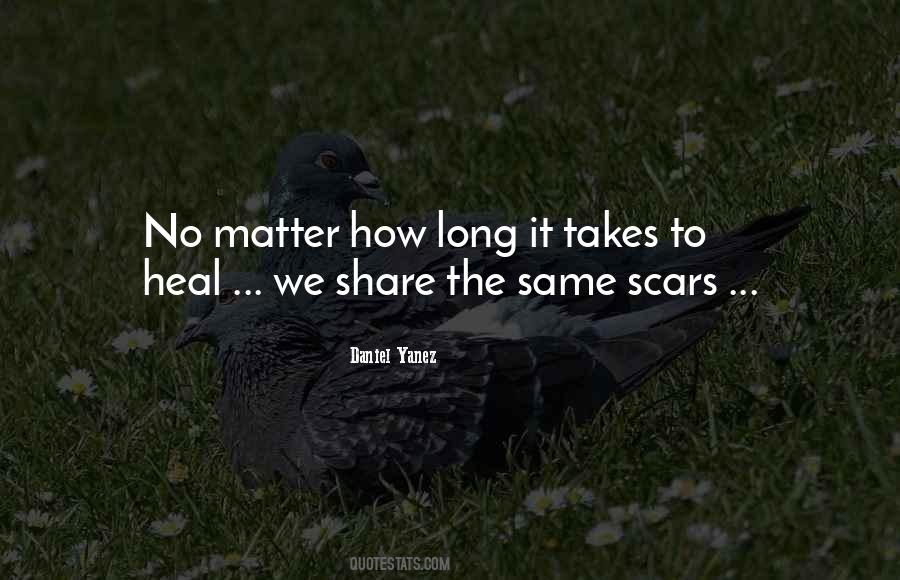 #12. Real childhood scars heal, but not when band-aids replace self-reflection. - Author: Cameron Conaway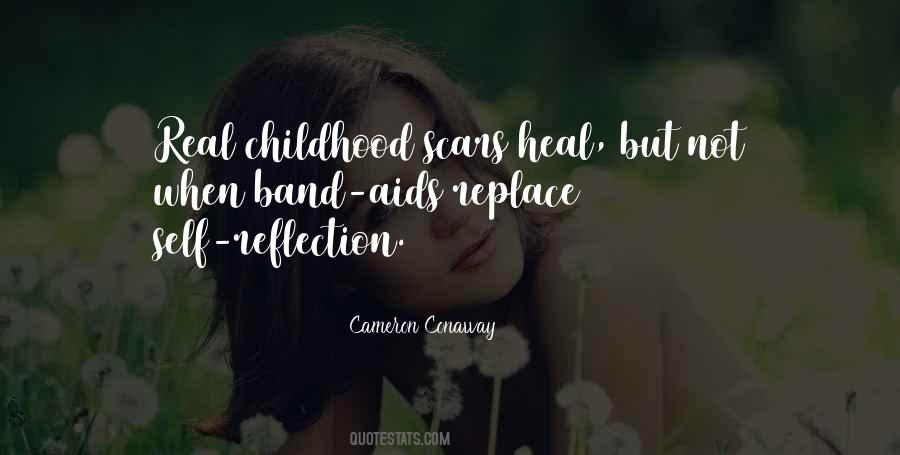 #13. Time doesn't always heal all wounds. - Author: A.J. Darkholme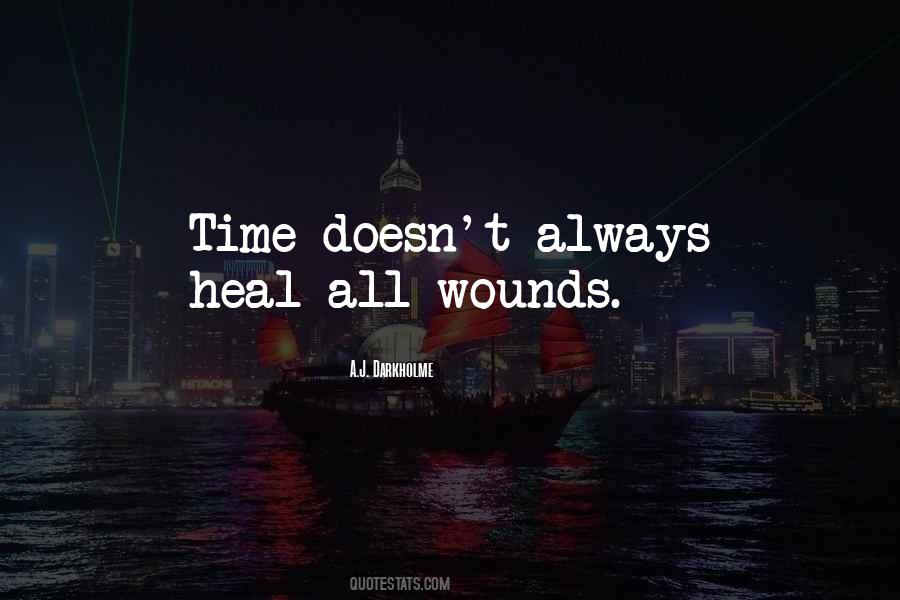 #14. I'll just wait right here for you cause I know your new love won't last. I wound easy, but I heal fast. - Author: Dolly Parton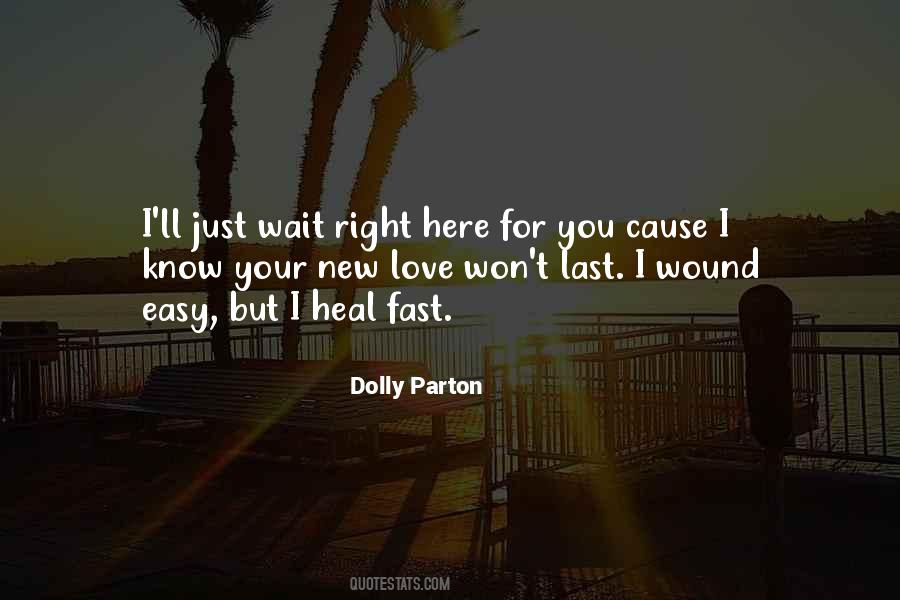 #15. Understand indigenous healing will also heal other nations and peoples. We've all been living on broken ugly systems built on genocide and slavery. Strengthening and empowering others, in whatever capacity, also helps the self. - Author: Red Haircrow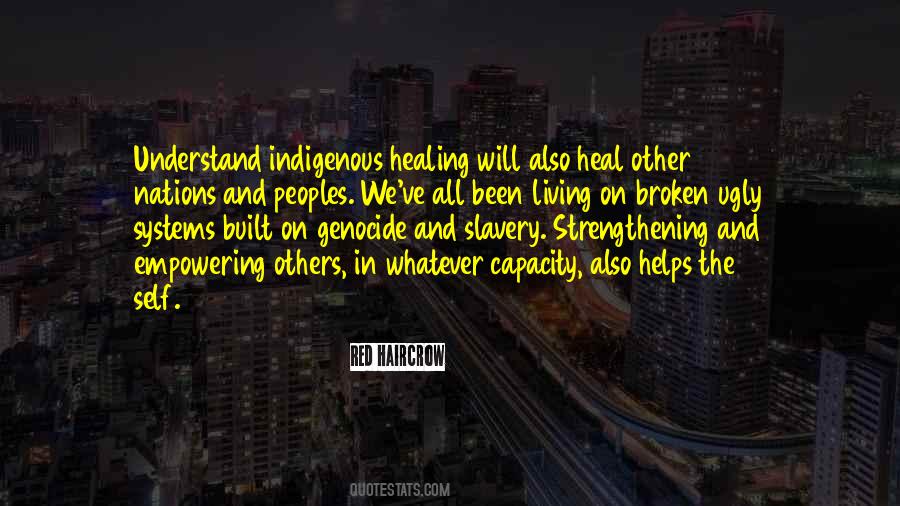 #16. There is no time for despair, no place for self-pity, no need for silence, no room for fear. We speak, we write, we do language. That is how civilizations heal. - Author: Toni Morrison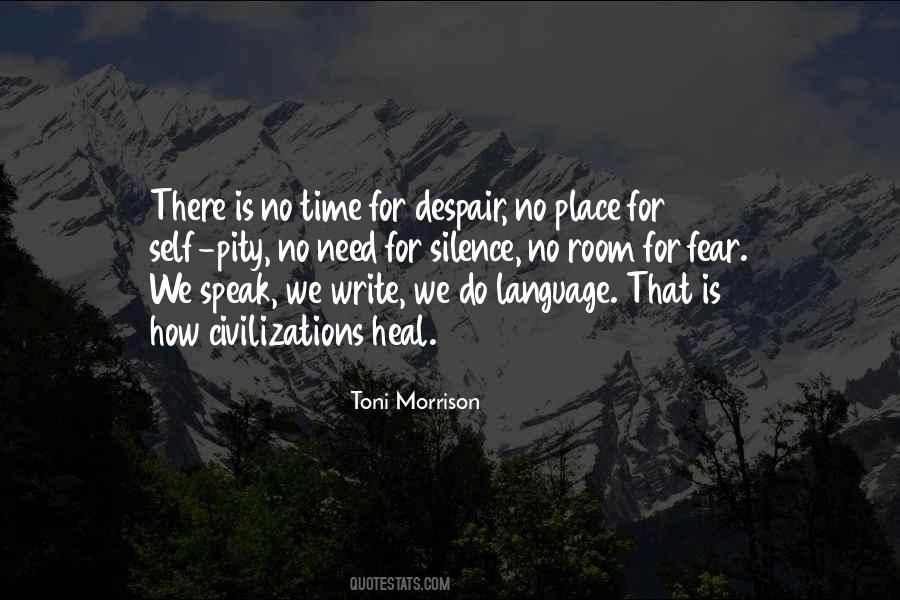 #17. Ache my bones, flame my muscles, tingle my nerves, but you will never taint my beautiful mind & I will overcome this condition with the belief that I already have.
- CRPS AWARENESS - - Author: Nikki Rowe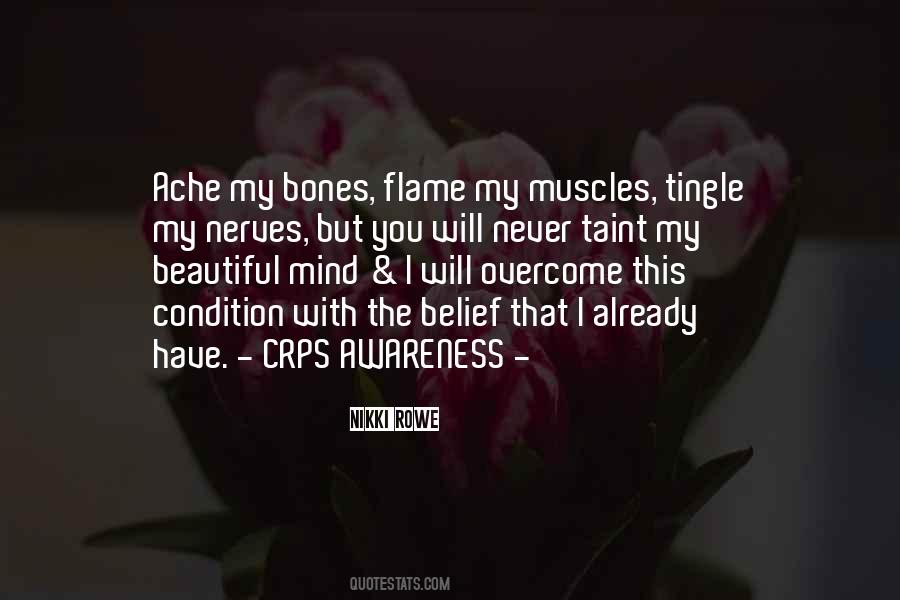 #18. To heal our world we must be silent; willing to listen to the roars of the wounded. We must teach eachother how to feel, only than can an entire nation grow in peace, as the war within will slowly diminish. - Author: Nikki Rowe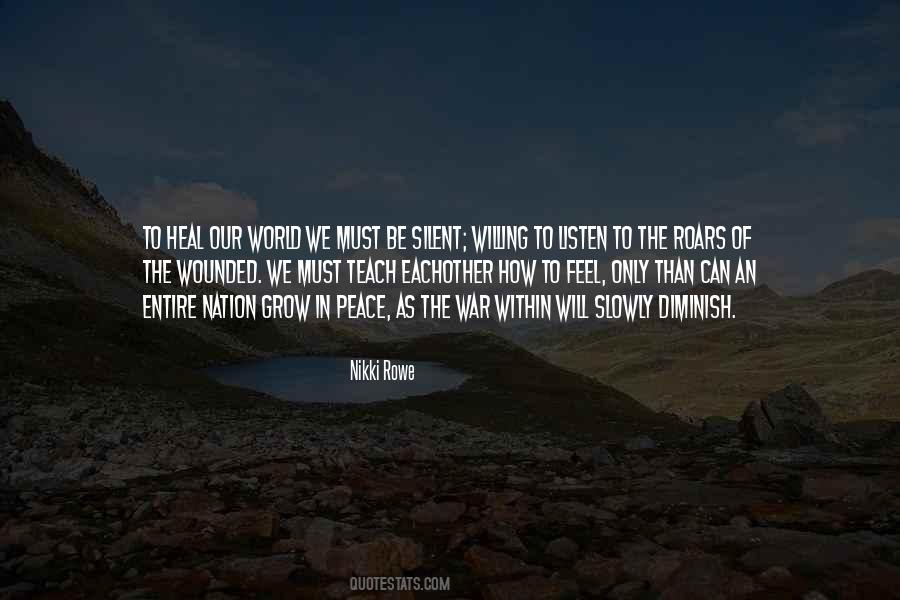 #19. Self- examination is essential if you want to heal and become whole. Through self-examination the Holy Spirit will show you what you need to change or deal with. Taking responsibility for your hurt and pain will lead to internal changes, character growth and needed personality changes. - Author: Michael Barbarulo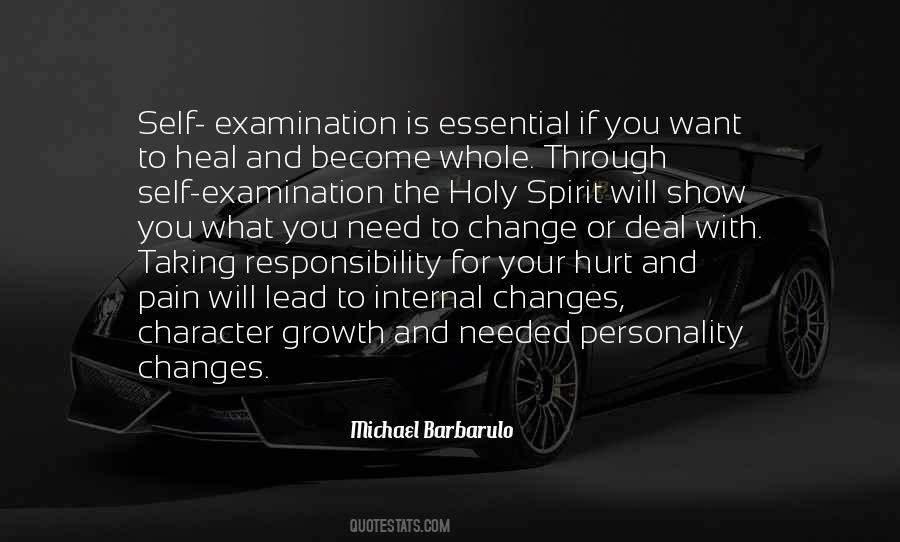 #20. Even to someone as notorious as Madonna, I think Jesus would say, 'I'll help you experience the fulfillment that has eluded you despite your struggle to find it. I'll help heal whatever's driving you to affirm your self-worth in self-defeating ways. But I can only help you if you let me. - Author: Lee Strobel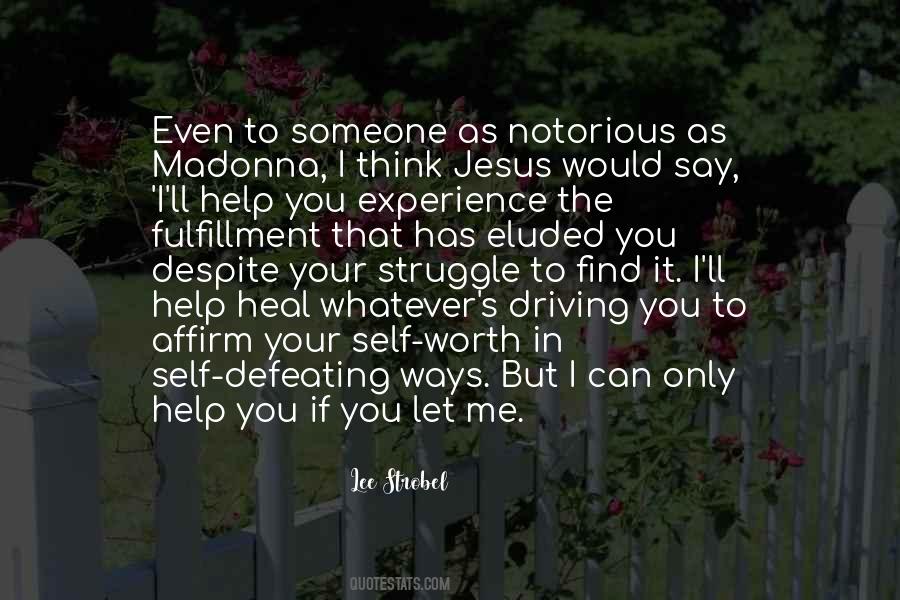 #21. Men who believe that the way to the mind is not by way of ice picks through the brain or large dosages of dangerous medicine but through an honest reckoning of the self. - Author: Dennis Lehane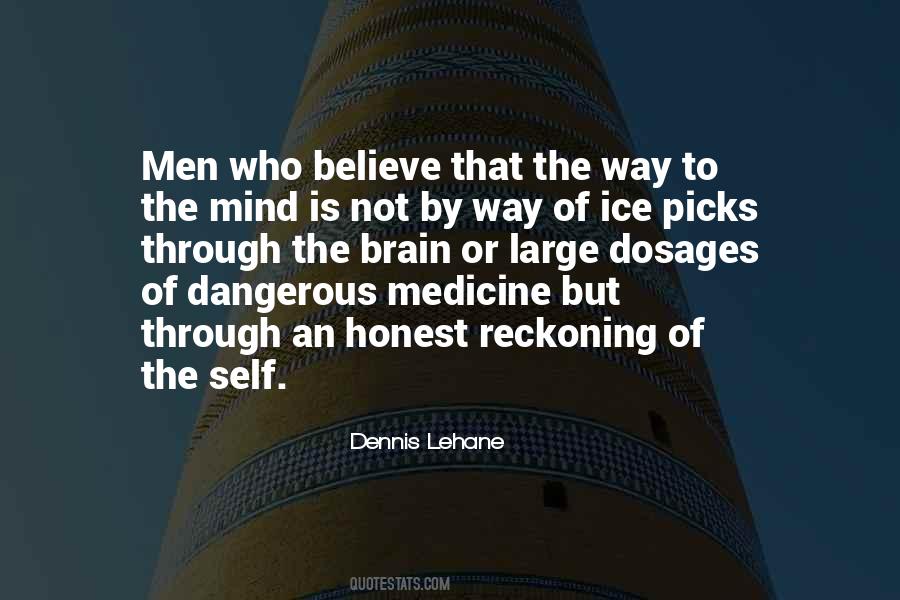 #22. You can learn to heal yourself, learn to understand that the pain you feel today is the strength you feel tomorrow! - Author: Stephen Richards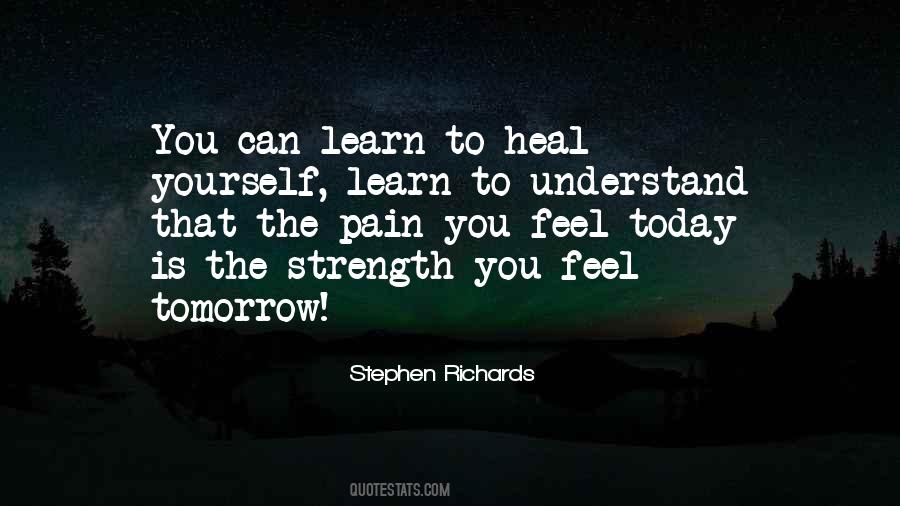 #23. There is no quick fix-all procedure to heal your insecurities. Like any relationship, the relationship with yourself must be built and re-built one kind, loving conversation at a time. - Author: Vironika Tugaleva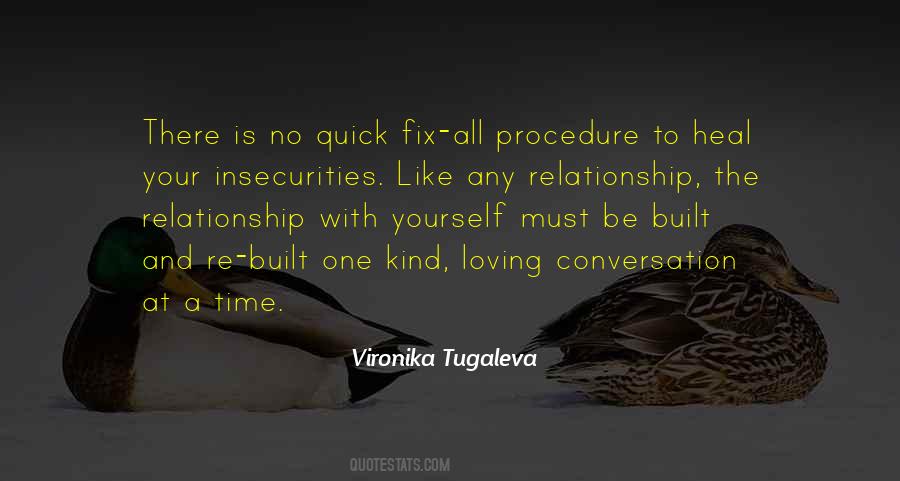 #24. Do not settle for labels that presume you will never heal. Believe in yourself. Find a tribe who understands and believes in you too. Don't ever give up. - Author: Vironika Tugaleva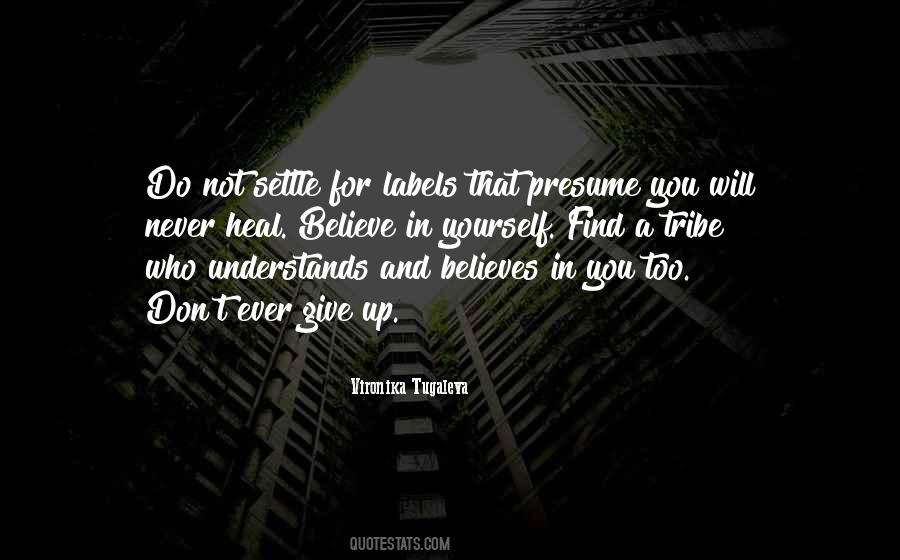 #25. Finally my heart is starting to self heal it is like the skin eventually the cut that was once so painful and deep is on the mend as the time passes ... Time heals everything! But at least I have experienced that pain so next time I know how to avoid such an event and take it as a life lesson - Author: Abe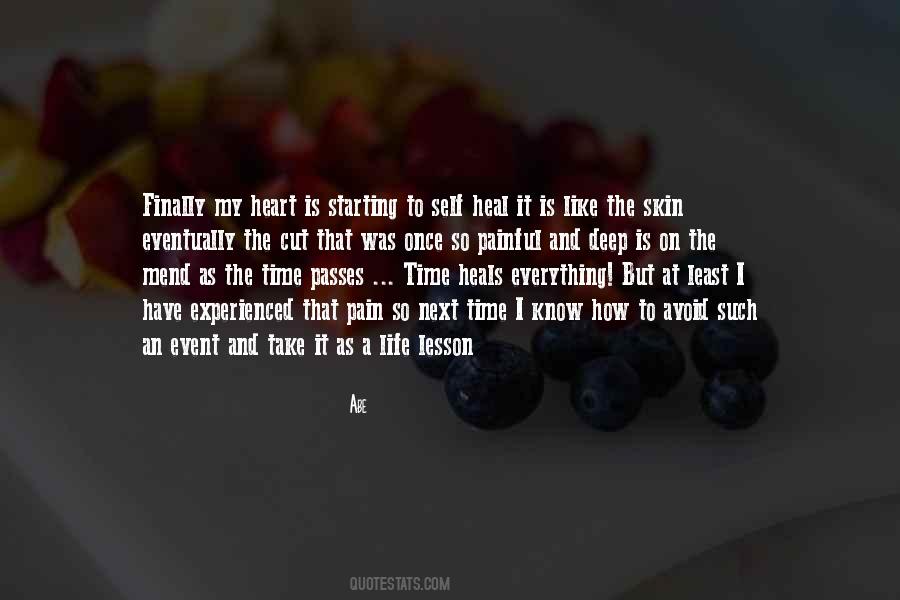 #26. Your soul is your mind, your will and your emotions. When the Word gets rooted in there and begins to change your mind, it begins to heal your emotions and turn your will away from self-will and onto doing the will of God. - Author: Joyce Meyer
#27. Certain people give off positive energy, others negative. It's the quality of someone's being, a measure of the love with which they've led their lives. It also reflects the inner work they've done, their efforts to heal anger, hatred, or self-loathing, which poison us like toxic fumes. - Author: Judith Orloff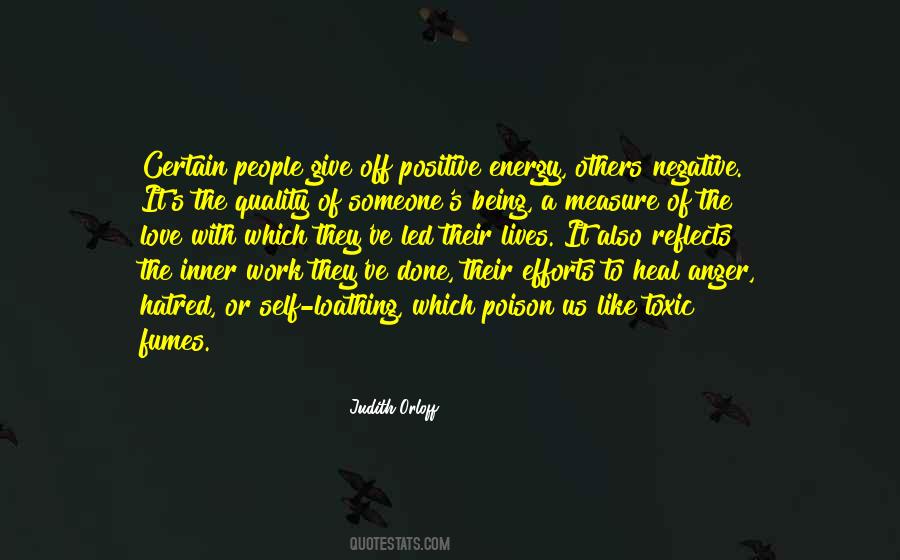 #28. The use of love is to heal. When it flows without effort from the depth of the Self, love creates health. - Author: Deepak Chopra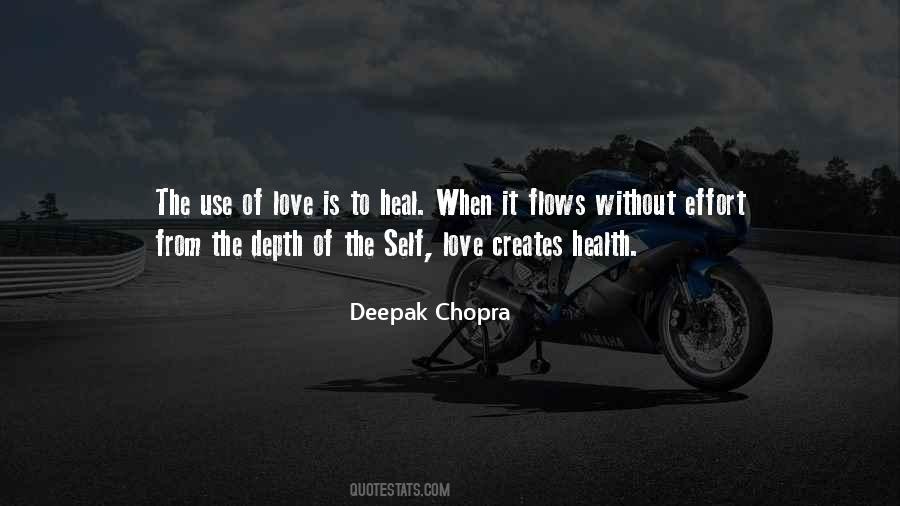 #29. They called her witch because she knew how to heal herself. - Author: Te' V. Smith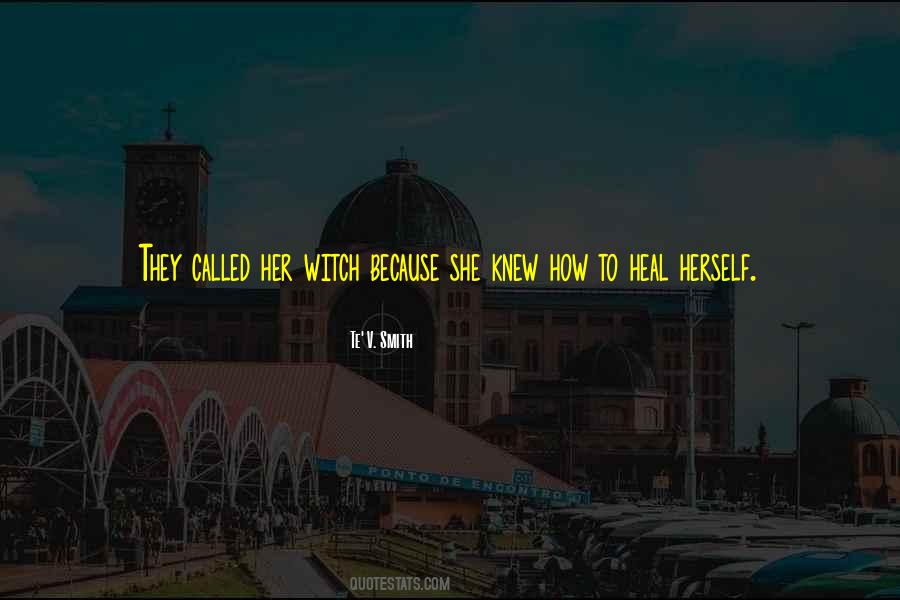 #30. When a person has adequate self-esteem little slights offer no threat at all - they are simply "passed over" and ignored. Even deeper emotional wounds are likely to heal faster and cleaner, with no festering sores to poison life and spoil happiness. - Author: Maxwell Maltz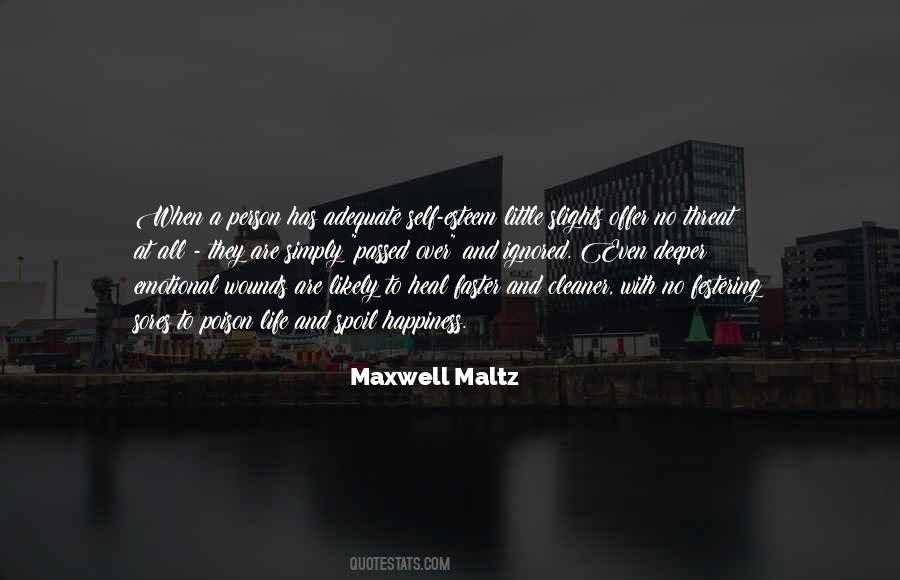 #31. The inner self of every human waits patiently until we are ready to discover it; then it extends an invitation to enter the luminous mystery of existence in which all things are created, nurtured, and renewed. In the presence of this mystery, we not only heal ourselves, we heal the world. - Author: Deepak Chopra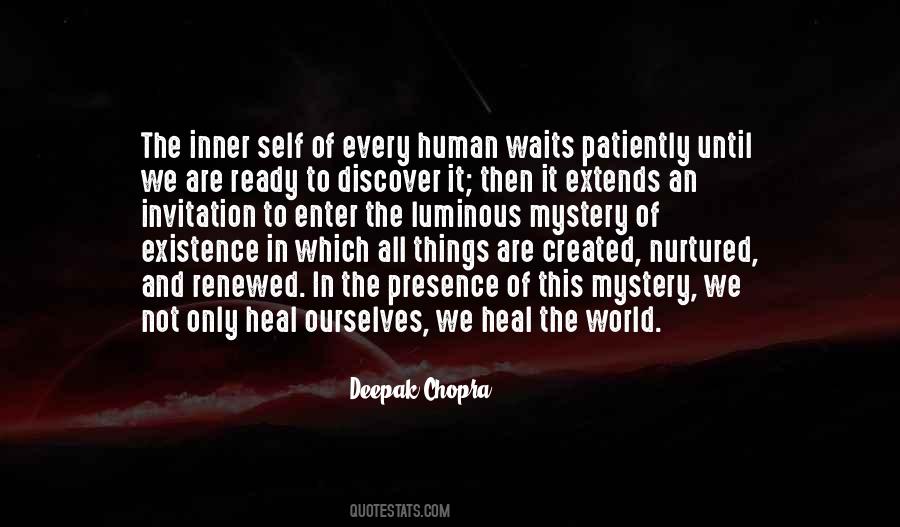 #32. Boys need healthy self-esteem. They need love. And a wise and loving feminist politics can provide the only foundation to save the lives of male children. Patriarchy will not heal them. If that were so they would all be well. - Author: Bell Hooks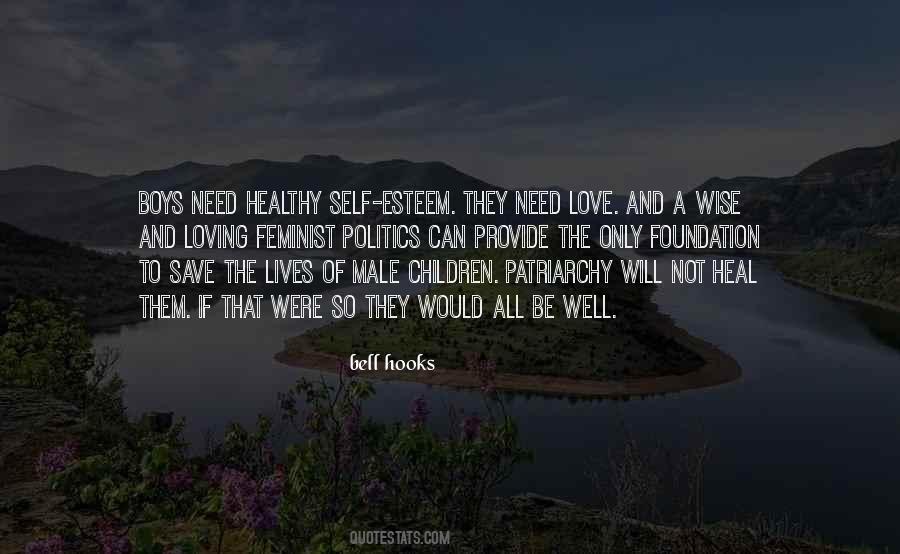 #33. If art is therapy, if art is to inspire, if art is a weapon, if it is a medicine to heal soul wounds, if it makes one not feel alone in his or her visions, or if it serves as transportation to a higher self, then that is where I aspire to live every day. - Author: Rudy Gutierrez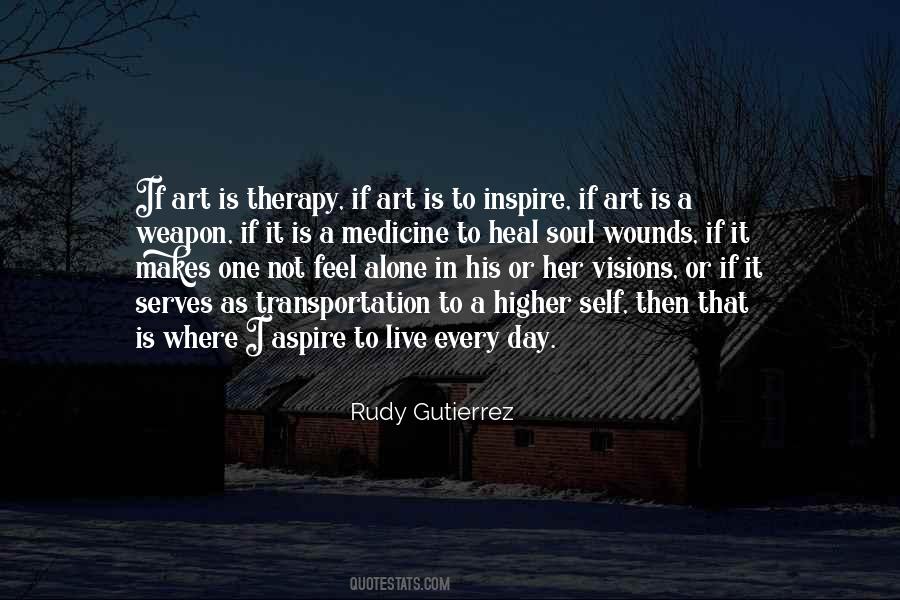 #34. Through depression and many other dark low emotions, our Light dims and our immune system declines along with it. White blood cells are the physical Light of our body.
Colors can be used to heal, restore and to uplift us. - Author: Jacqueline Ripstein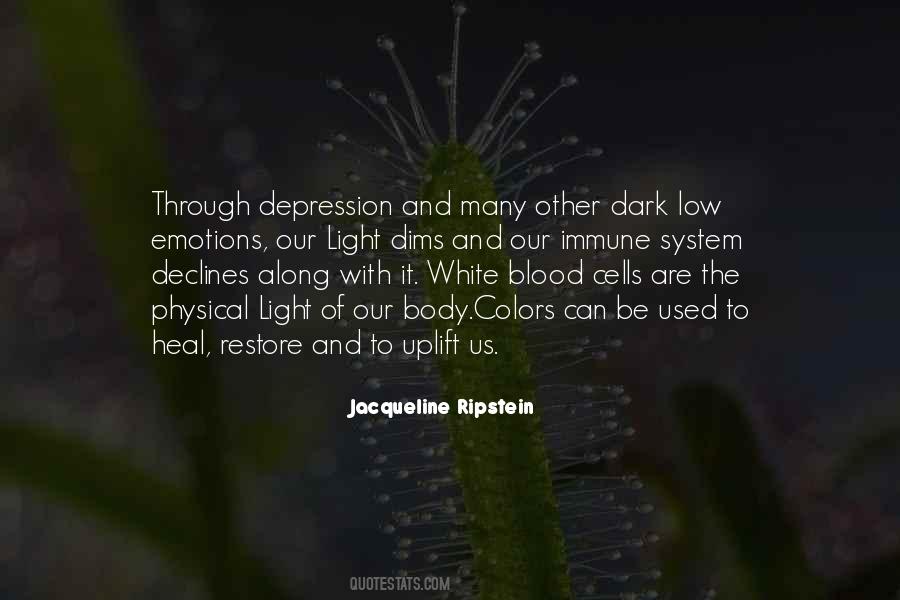 #35. Give it air & let the scar on your soul reveal itself, because, like the body, it too was made to heal itself. - Author: Curtis Tyrone Jones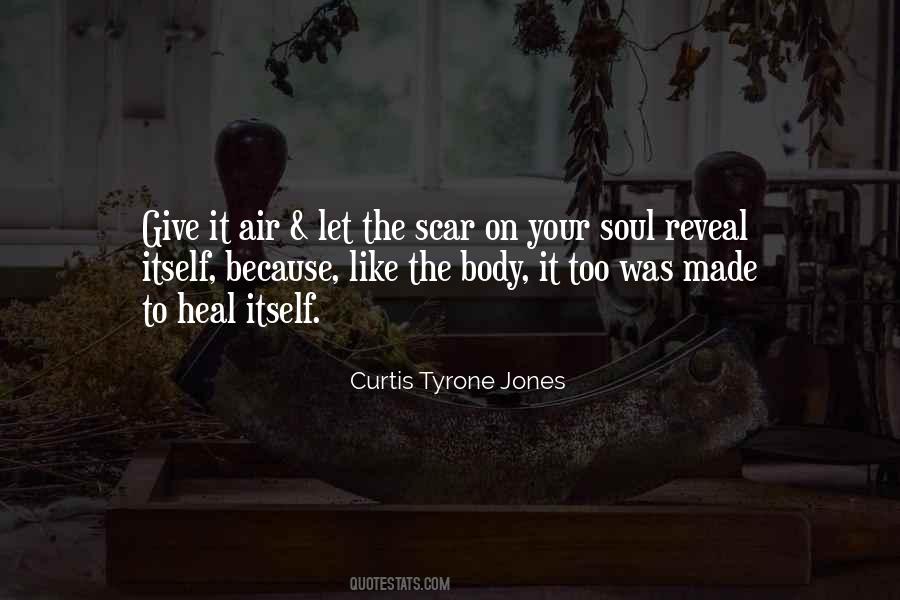 #36. It was humanity's ability to heal so quickly, by means of babies, which encouraged so many people to think of explosions as show business, as highly theatrical forms of self-expression, and little more. - Author: Kurt Vonnegut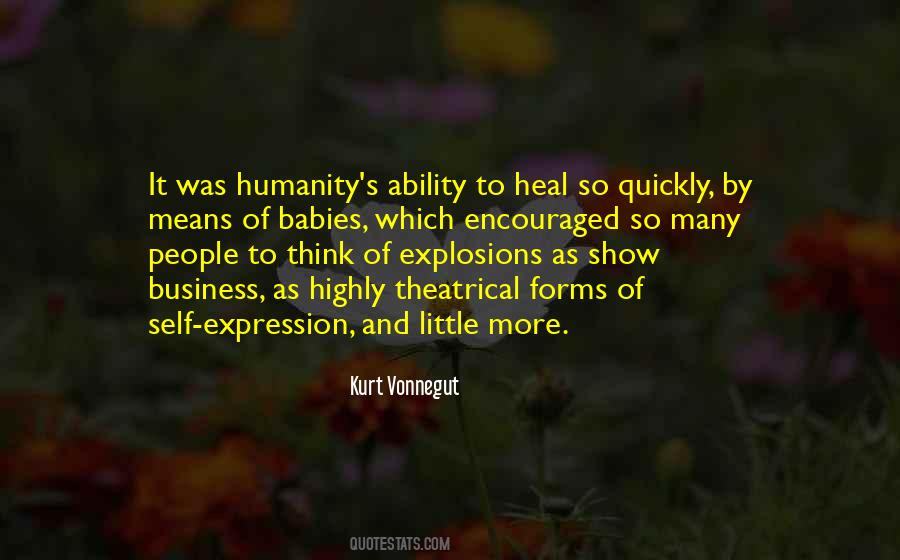 #37. Vulnerability gives us freedom, power and connects us to a network of injured souls. It is through the art of being real that we can heal ourself and others. - Author: Shannon L. Alder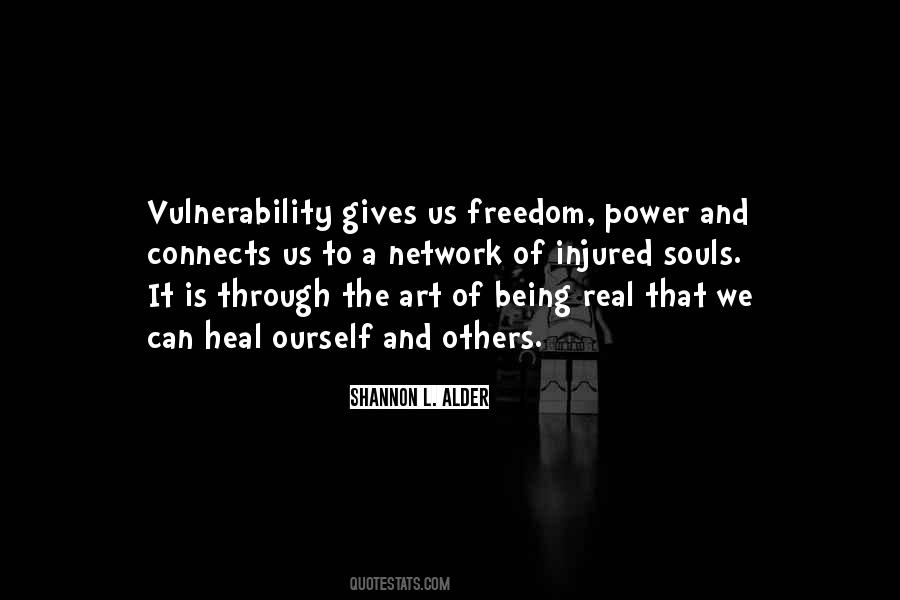 #38. The body is a self-healing organism, so it's really about clearing things out of the way so the body can heal itself. - Author: Barbara Brennan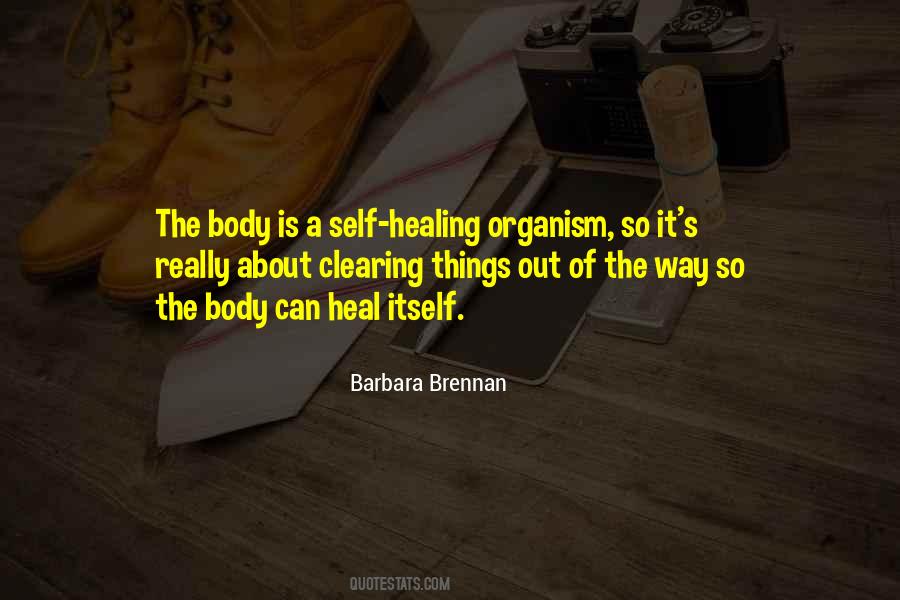 #39. Remember, you have been criticizing yourself for years and it hasn't worked. Try approving of yourself and see what happens. - Author: Louise L. Hay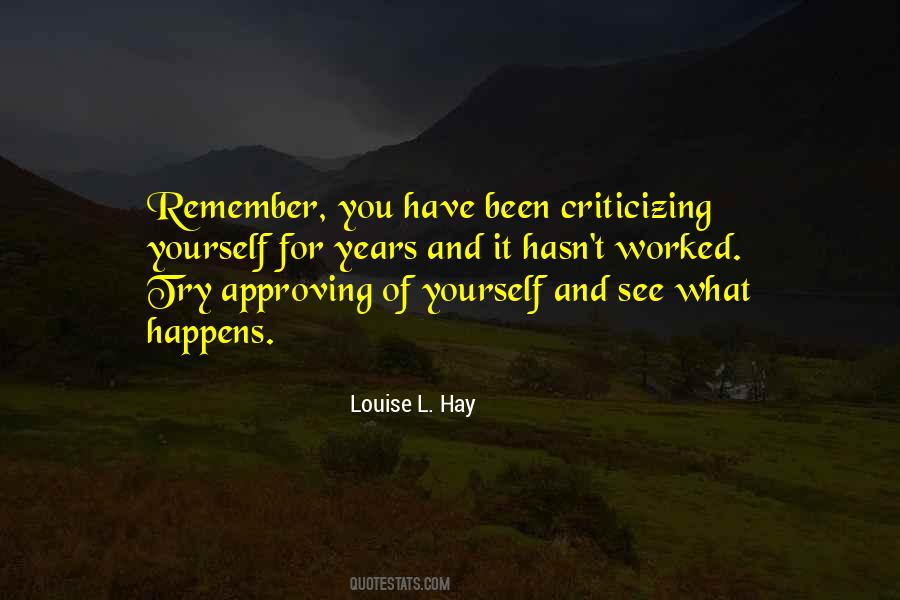 #40. Maybe if we love ourselves healthy we will all heal? - Author: Nikki Rowe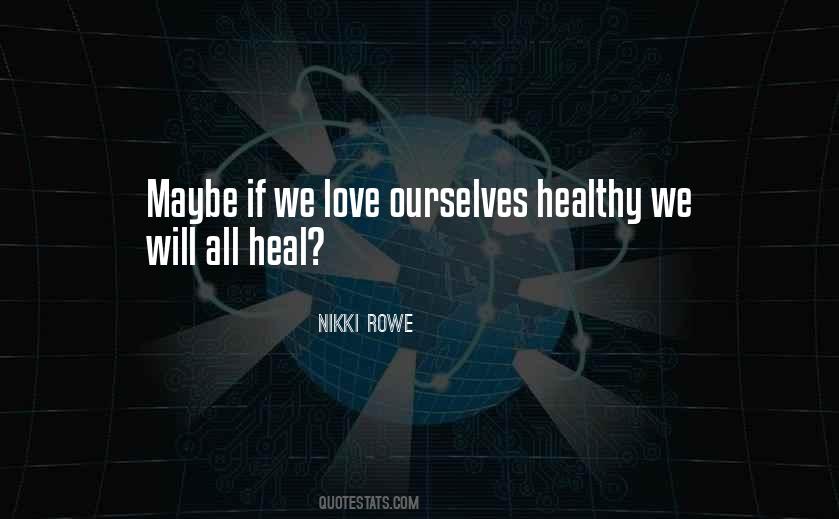 #41. Action on behalf of life transforms. Because the relationship between self and the world is reciprocal, it is not a question of first getting enlightened or saved and then acting. As we work to heal the earth, the earth heals us. - Author: Robin Wall Kimmerer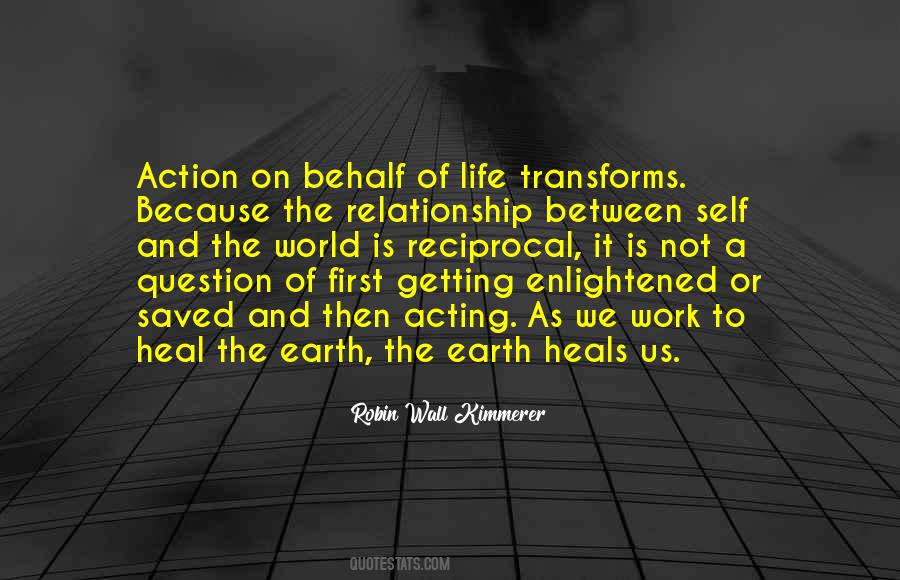 #42. The more you've struggled to heal and love yourself, the more inspiring your story will be to others when you come out the other side full of triumph, awareness, and honour. Don't give up. Your struggle today is the source of your wisdom tomorrow. - Author: Vironika Tugaleva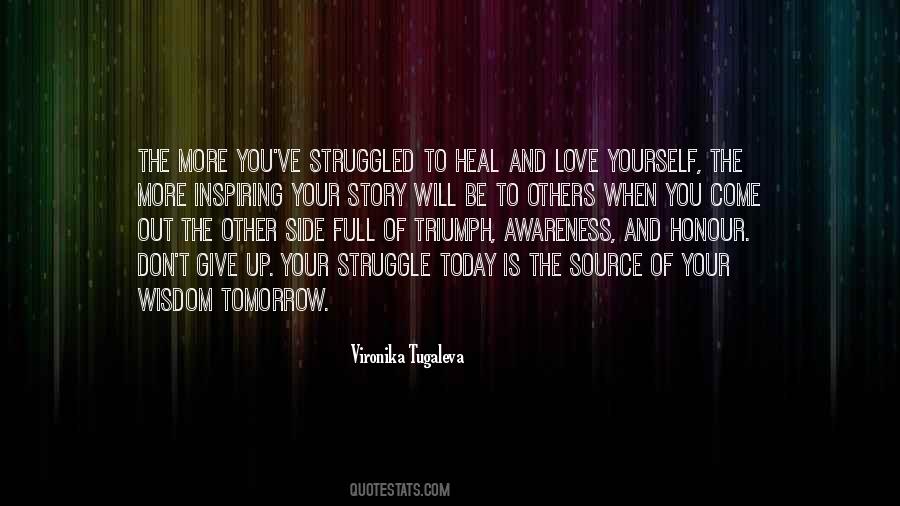 #43. When our eyes see our hands doing the work of our hearts, the circle of Creation is completed inside us, the doors of our souls fly open and love steps forth to heal everything in sight. - Author: Michael Bridges
#44. There is so much love in your heart that you could heal the planet. - Author: Louise Hay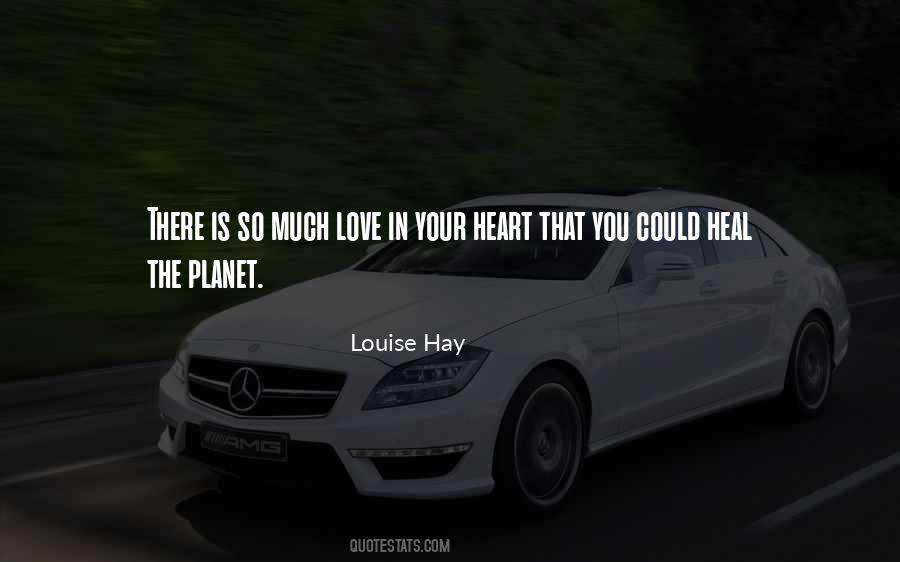 #45. President Ford was a devoted, decent man of impeccable integrity who put service to his country before his own self interest. He helped heal our nation during a time of crisis, provided steady leadership and restored people's faith in the presidency and in government. - Author: Mark Udall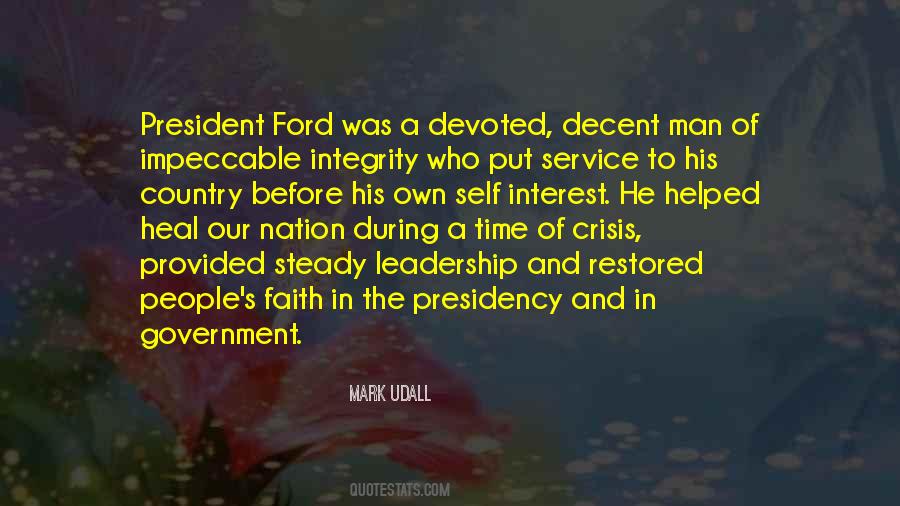 #46. Opportunities to share love and compassion are all around us. Its going to take an army of compassionate people to heal our world. How will you show yours? - Author: Renae A. Sauter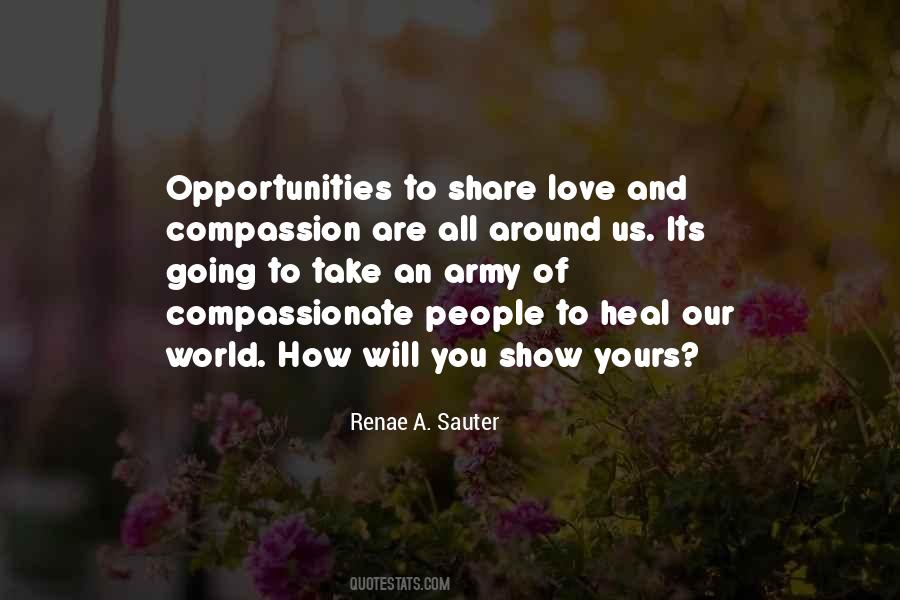 #47. Families that feel together, heal together. - Author: Christina G. Hibbert Psy.D.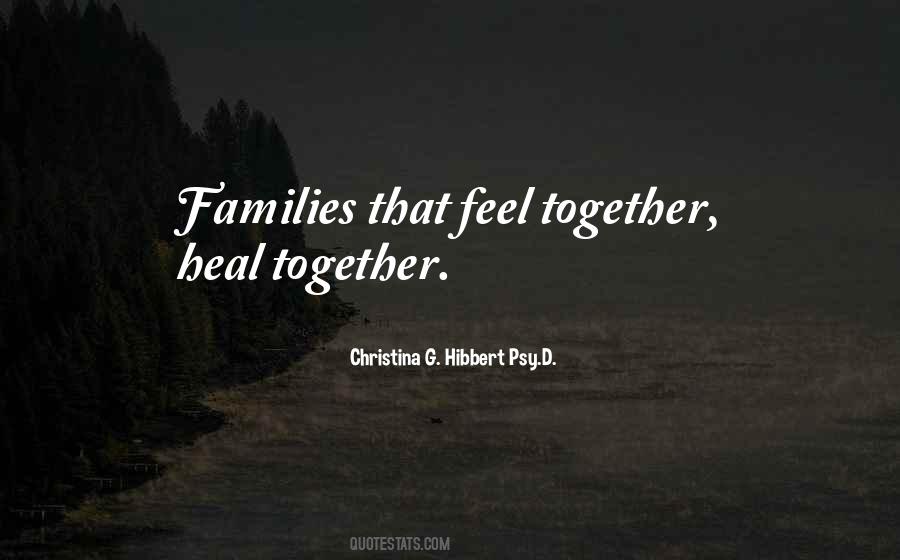 Famous Authors
Popular Topics