Not Being Naive Famous Quotes & Sayings
List of top 43 famous quotes and sayings about not being naive to read and share with friends on your Facebook, Twitter, blogs.
Top 43 Sayings About Not Being Naive
#1. Tereza realized, she positively enjoyed being welcome into the day by Karenin. Waking up was sheer delight for him: he always showed a naive and simple amazement at the discovery that he was back on earth; he was sincerely pleased
(..describing how Karenin, Tereza's pet dog welcomed each day) - Author: Milan Kundera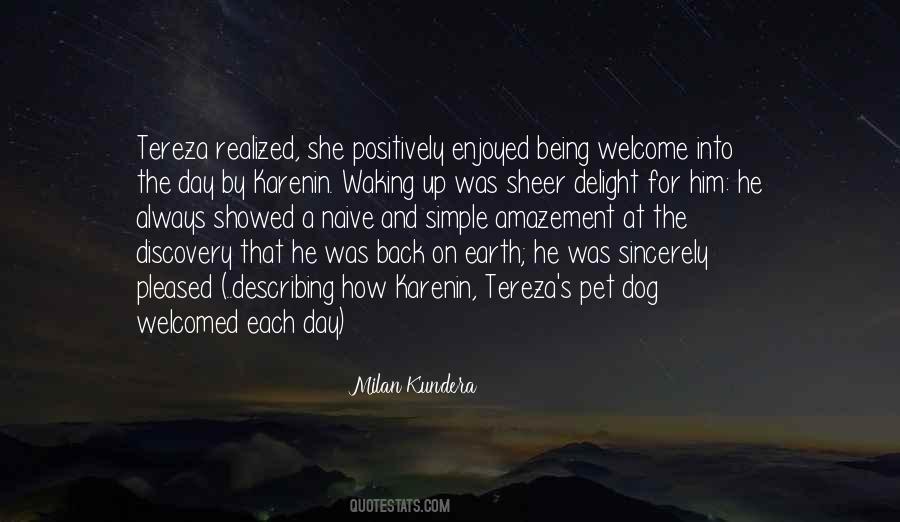 #2. Probably I am very naive, but I also think I prefer to remain so, at least for the time being and perhaps for the rest of my life. - Author: Edsger Dijkstra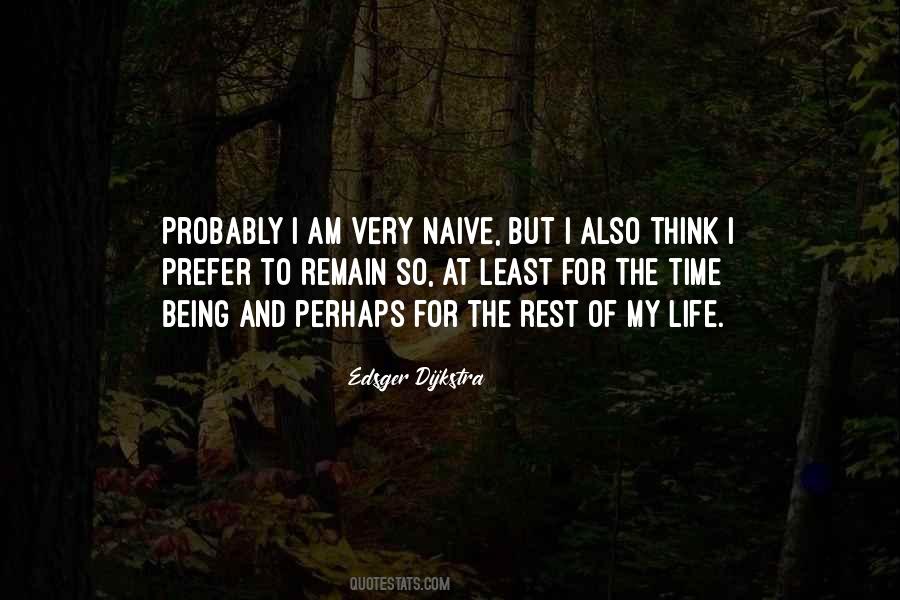 #3. It's no good being nice and young and naive. There's no good in that at all. You've got to do it all yourself, and you've gotta learn quick. And you can't look for sympathy either. - Author: John Lydon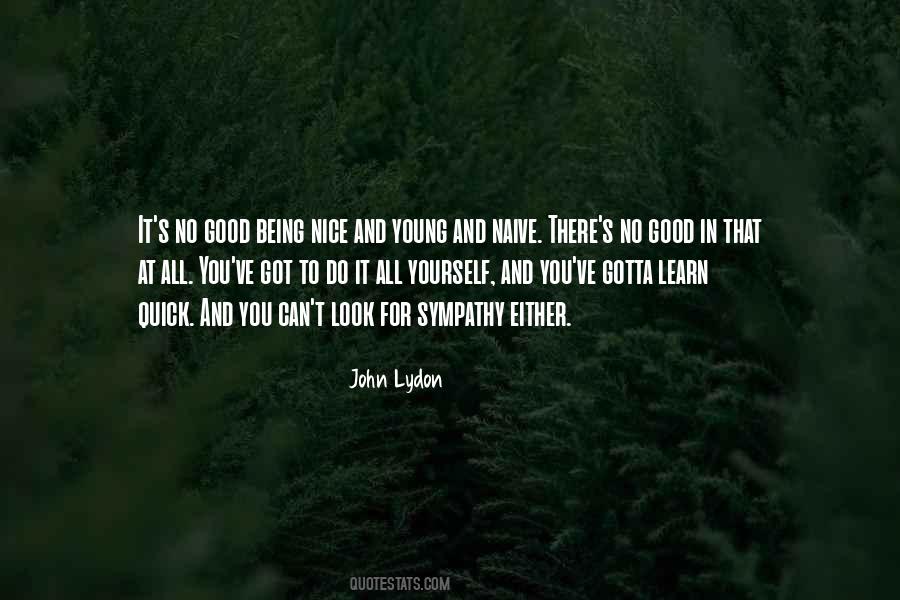 #4. You're blond, but surely you can't be so naive as to believe that."
"You're stressed," I countered, "but surely you know you're being an ass. - Author: Sylvia Day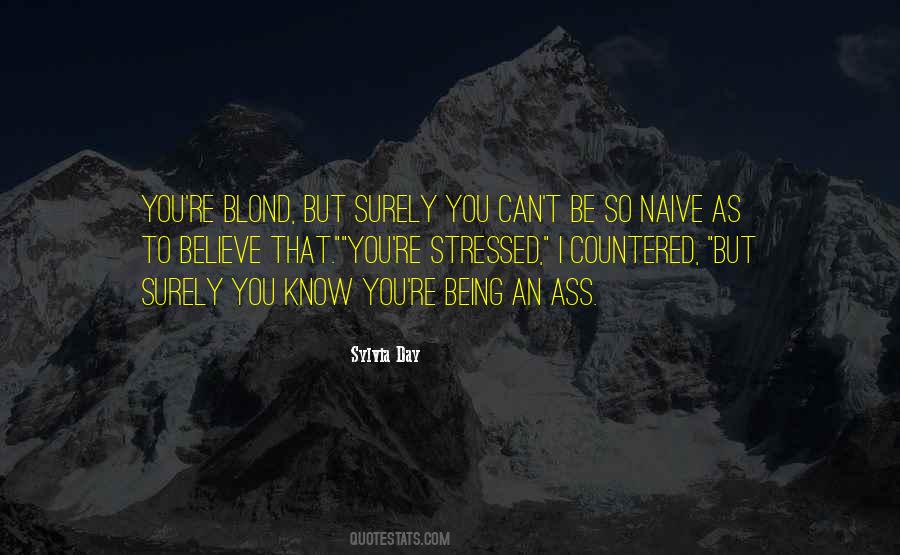 #5. The idea that being scientific simply means being irreligious is a particularly naive one. It has caused a lot of confusion and will get us nowhere. - Author: Mary Midgley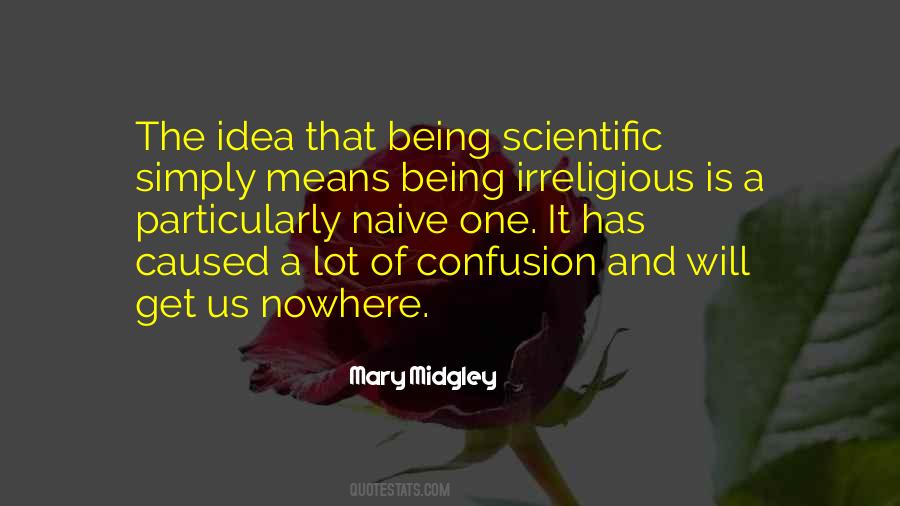 #6. Being positive in a negative situation is not naive. It's leadership. - Author: Ralph Marston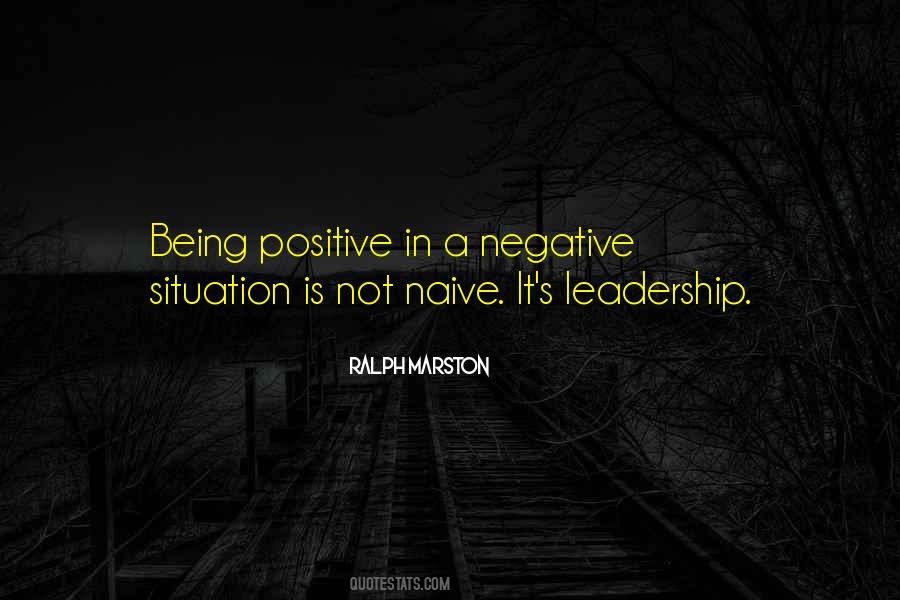 #7. If a spiritual being is naive to the lower aspects of the world, they usually are killed or die young. Did Jesus really know which of the twelve would betray him? I doubt it. - Author: Frederick Lenz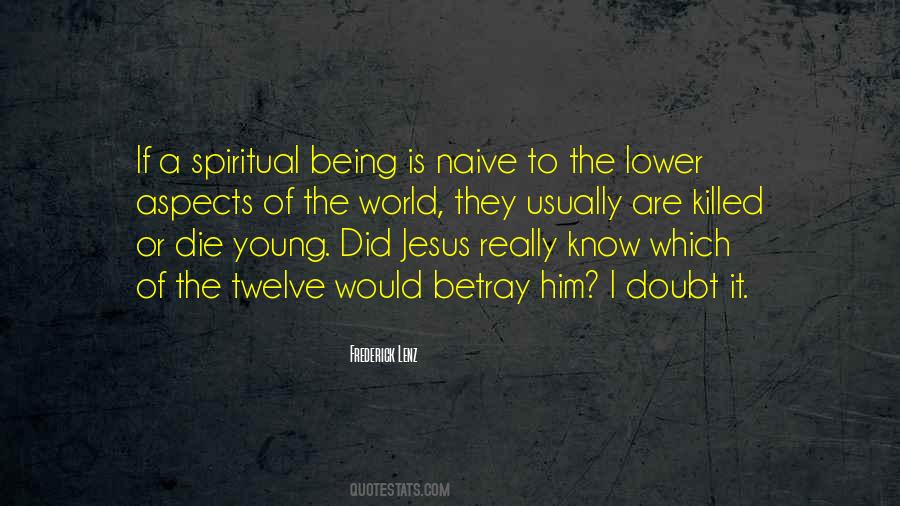 #8. Be honest: Are you surprised that I didn't realize sooner? Are you surprised that it took me so long to even /think/ the word
death? Dying? Dead?
Do you think I was being stupid? Naive?
Try not to judge. Remember that we're the same, you and me.
I thought I would live forever too. - Author: Lauren Oliver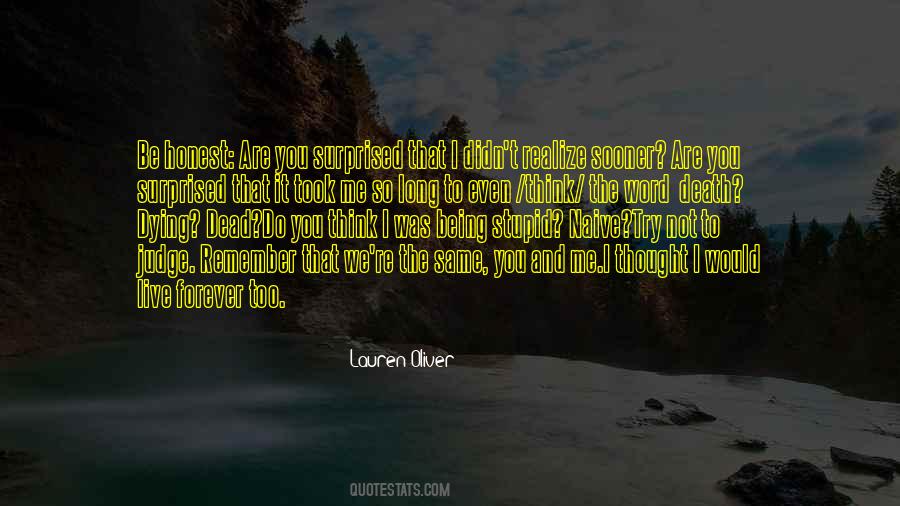 #9. 'Twilight' was about a naive person who knew nothing of a certain world, basically discovering that this world existed and totally being indoctrinated into it and falling in love with a vampire, which is interesting. - Author: Mark Waters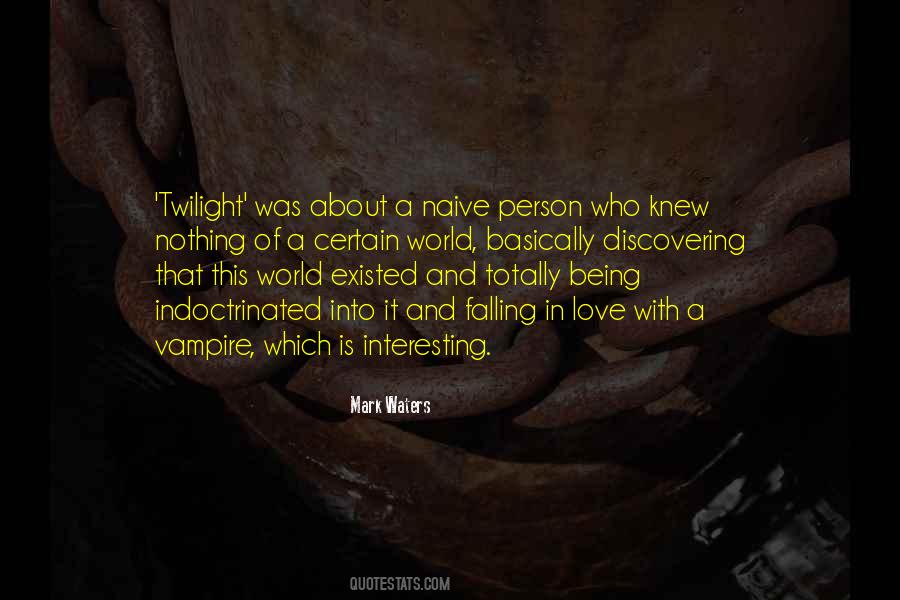 #10. Gospel hope keeps us from being muted by being either a naive Pollyanna or a despairing Cassandra. Voices of warning are meant to be heard, not just raised. - Author: Neal A. Maxwell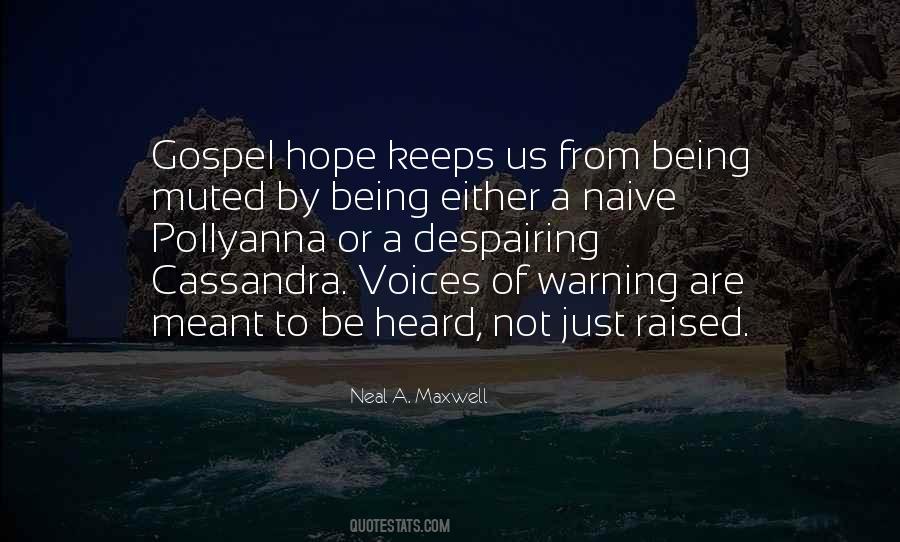 #11. Artists will come into my office and say, "I just came from another label and they said you're research guys, you're data guys." I don't know what that means. Everybody who says that is being naive. - Author: Monte Lipman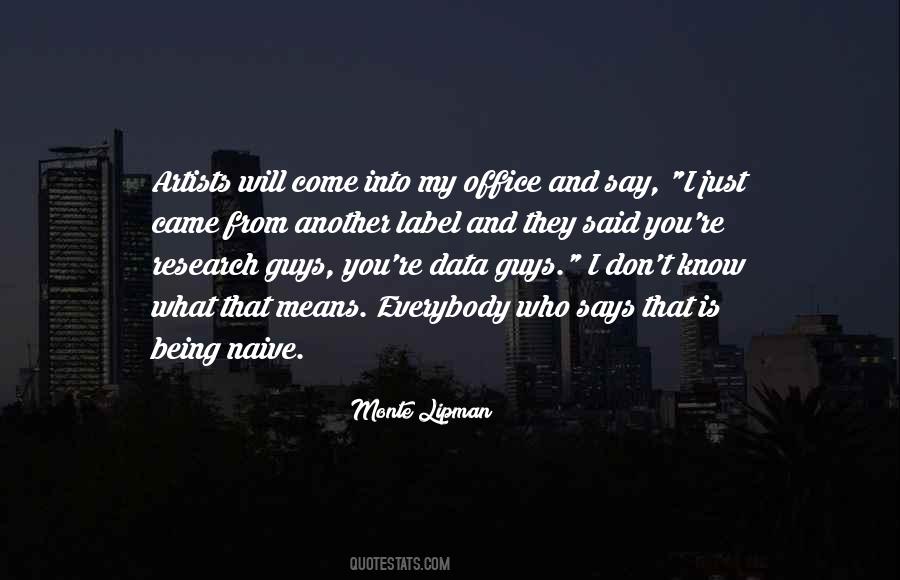 #12. My first record was about childhood. There were a lot of nursery rhyme and fairytale references; it was all about being naive. - Author: Mika.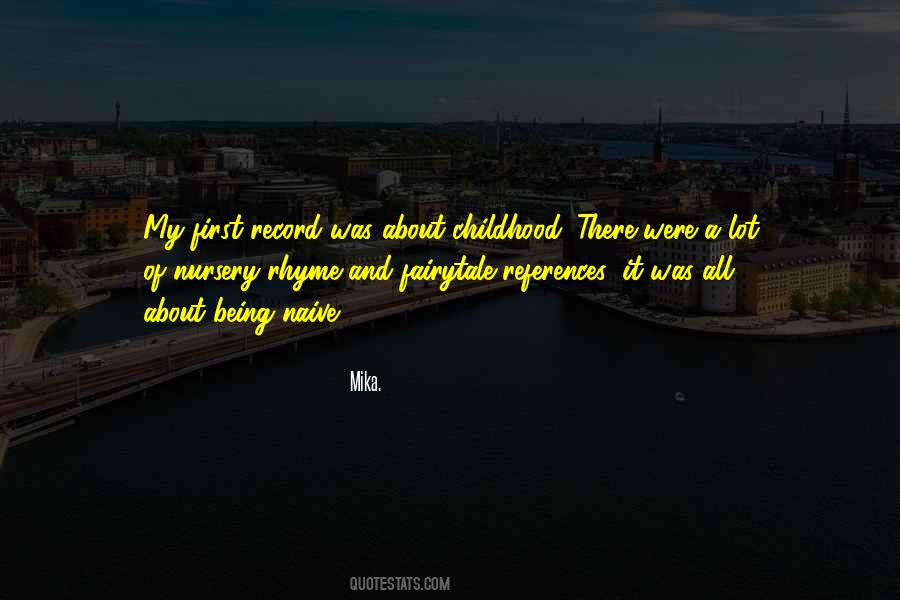 #13. I have to declare in all candor that no one interested in being published in our time can afford to be so naive as to believe that a book will make it merely because it's good. - Author: Richard Curtis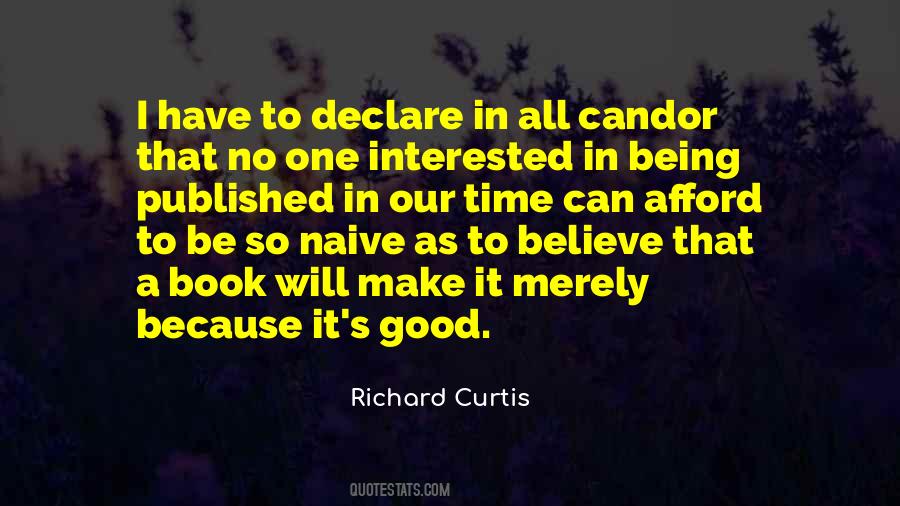 #14. I'm not being naive; I realise there's no such thing as a pure reading. But I'd rather keep myself as far out of it as I can. - Author: Anne Michaels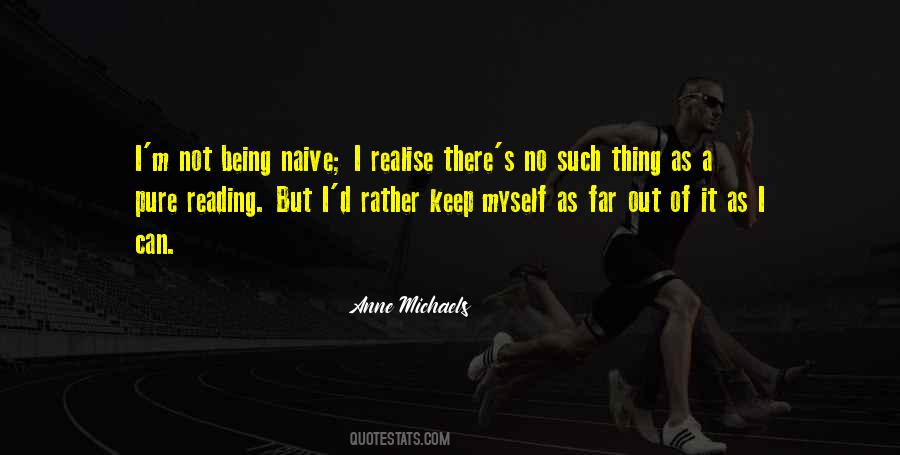 #15. To place your ideas and your dreams before the crowd is to risk being called naive. - Author: Leo Buscaglia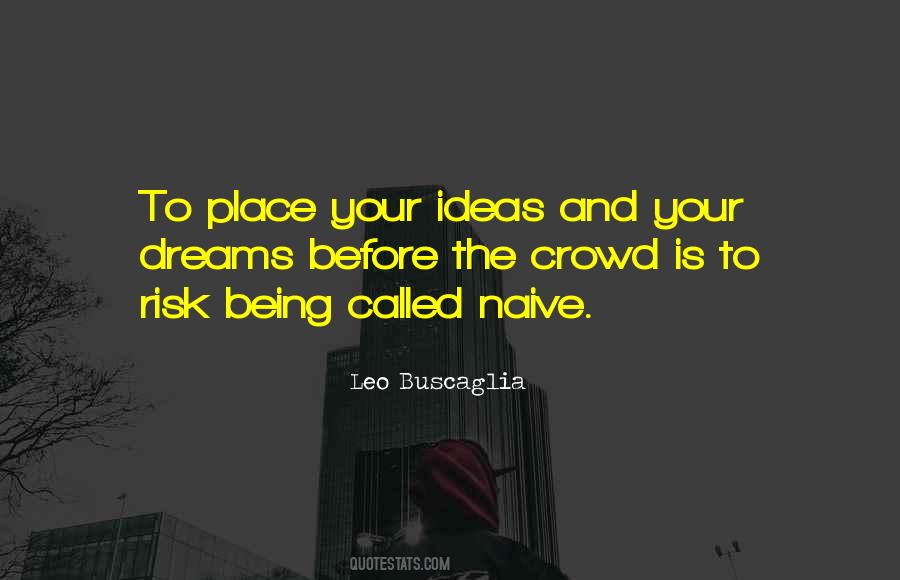 #16. I oscillate between being cynical and being naive on a regular basis. I always think that not much shocks me until something much too obvious does. - Author: Rabih Alameddine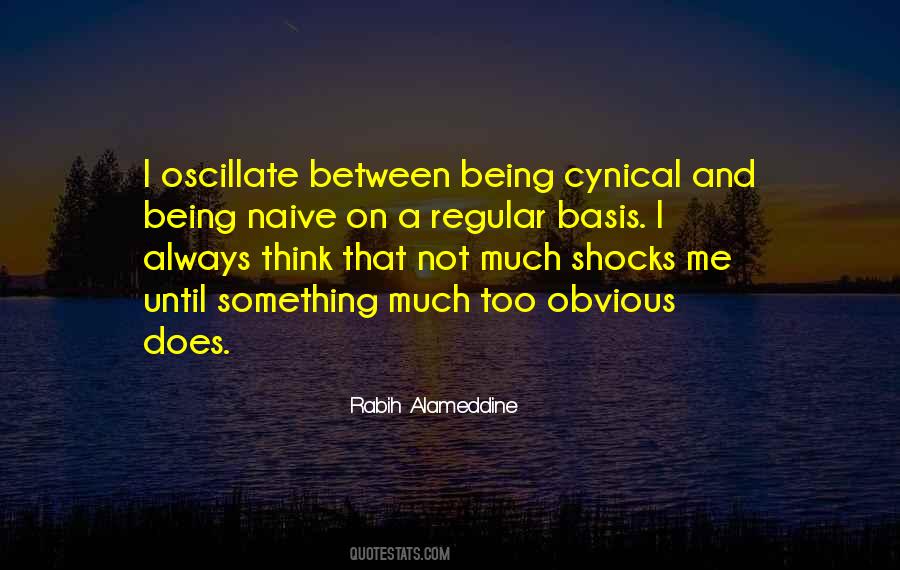 #17. Being a little naive can work to your advantage. - Author: Gia Coppola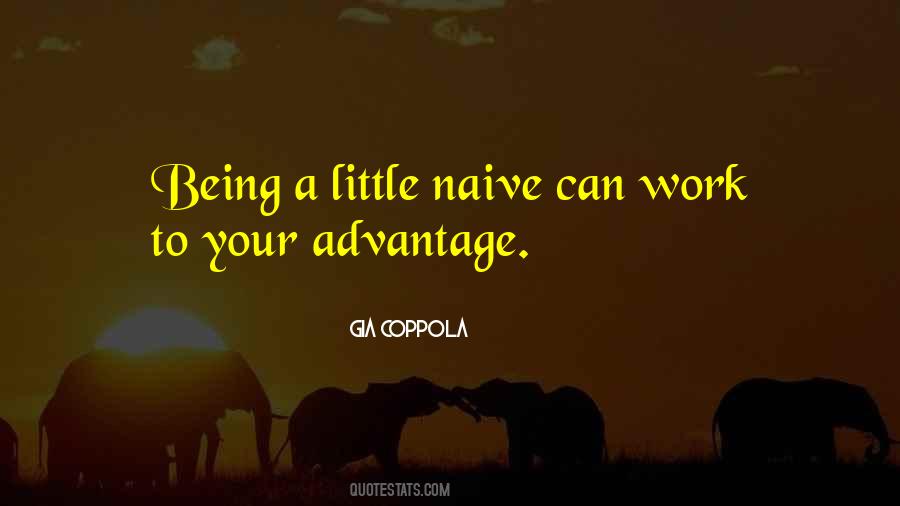 #18. Too many people get lost in the game of having a good time and being naive about things. - Author: Steve Brown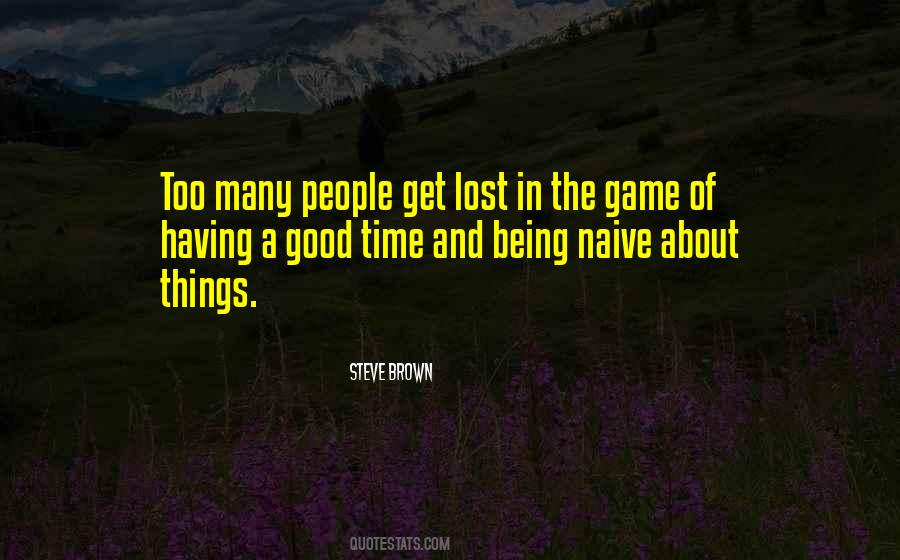 #19. How could you be so naive as to tell a human being the truth? Men live by embedding themselves in ongoing systems of illusion. Religion. Patriotism. Economics. Fashion. That sort of thing. If you wish to gain the favor of the two-legged ilk, you must learn to fabricate as wholeheartedly as they do. - Author: Tom Robbins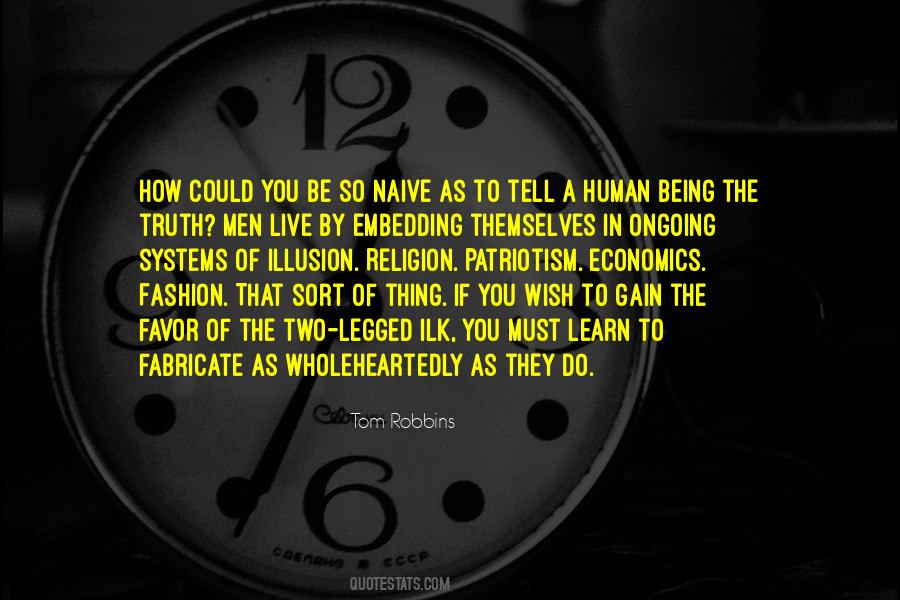 #20. I believe that everything is political, and as such it should concern all of us. Authors who claim they don't deal with politics in their work are being naive, because even that is a political stance. - Author: Elena Poniatowska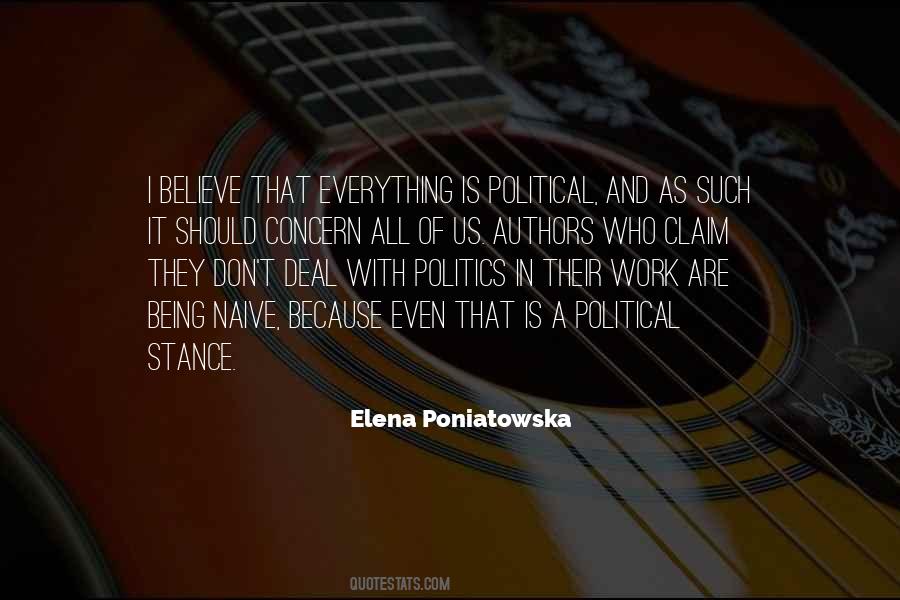 #21. Children, I always think, are just putting on a performance of being naive and not understanding anything. I have worked with children in films, and they're treated as adults and they just drop the pretense of being children. - Author: Wallace Shawn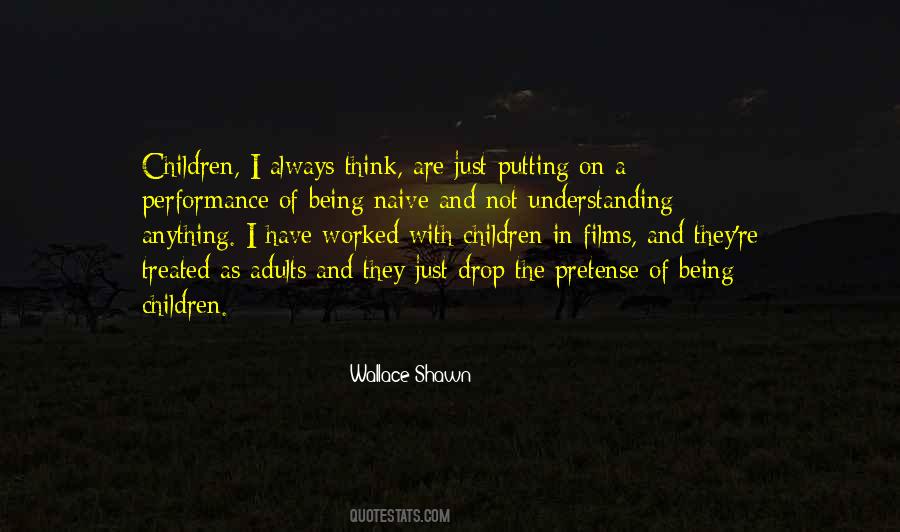 #22. I would define myself as being naive and perverse at the same time. And I think that if that is consistent it will make the tone consistent. - Author: Michel Gondry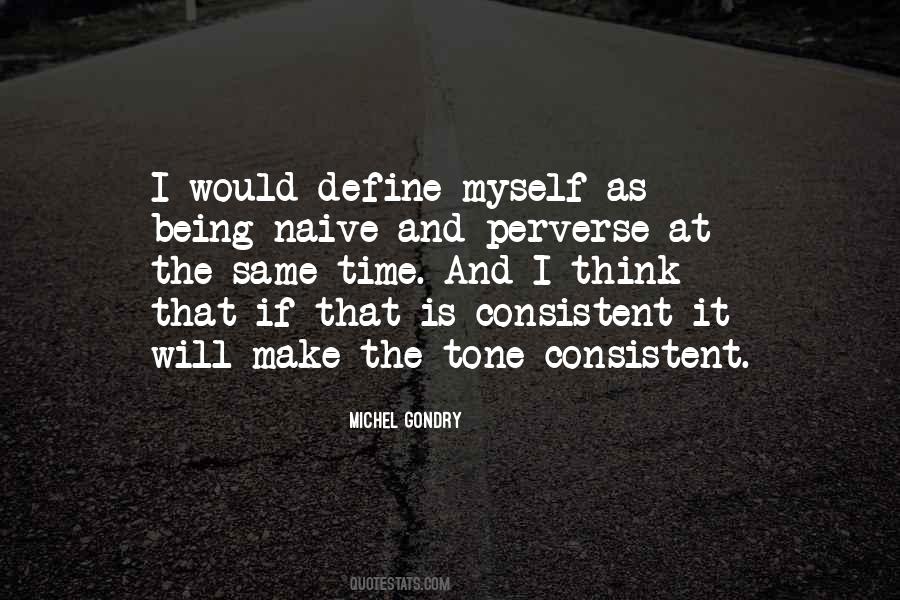 #23. We confess our bad qualities to others out of fear of appearing naive or ridiculous by not being aware of them. - Author: Gerald Brenan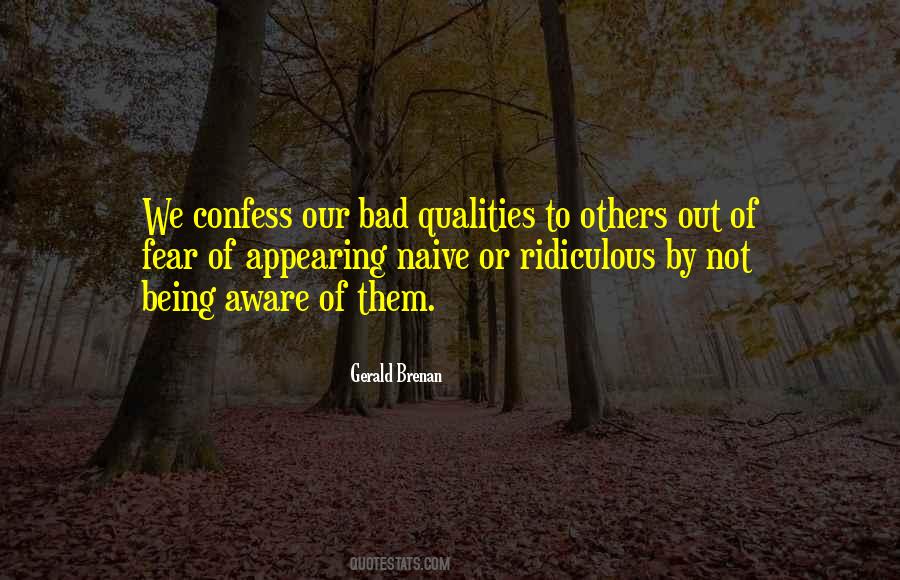 #24. I always think of my films within the context of where aesthetics meet economics. That's the nature of making art - not being naive about what is possible and getting what you need to tell the story you want to tell. - Author: Ira Sachs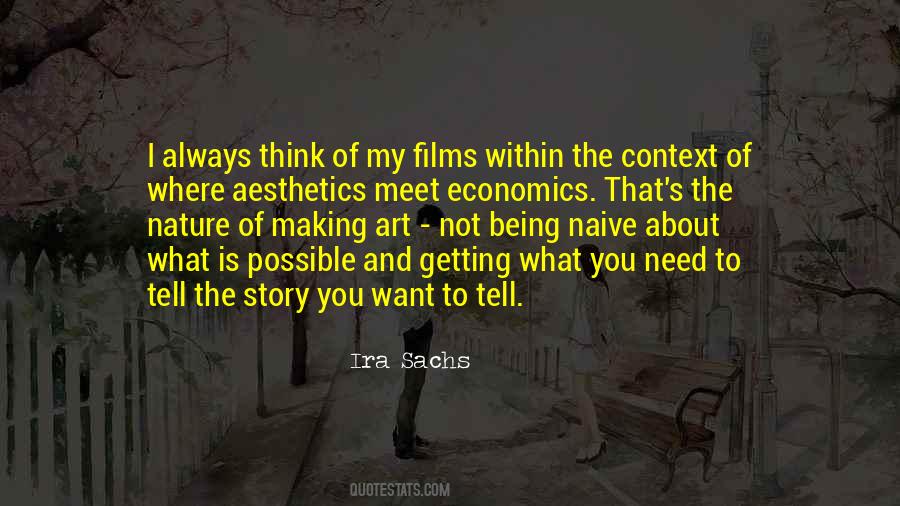 #25. Being naive simply means that we reject received wisdom that something is a problem. We are always naive relative to some definition of the situation, and if we try to become less so, we may accept a definition that confines the definition of small wins to narrower issues than is necessary. - Author: Karl E. Weick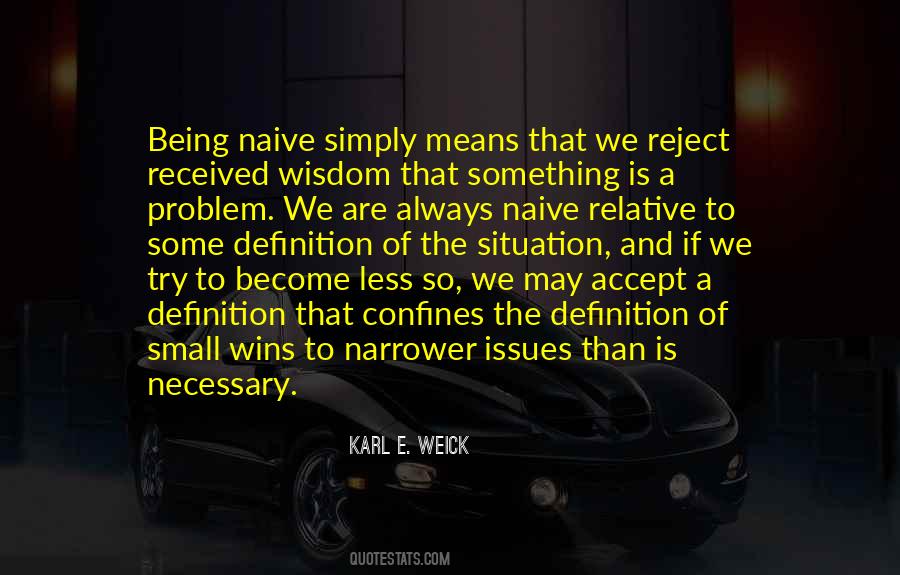 #26. What you don't get necessarily at drama school is a gigantic mix of people. At university, there's people from every social background, and you get to go through that period of being naive and not quite sure who you're going to be. - Author: Tom Riley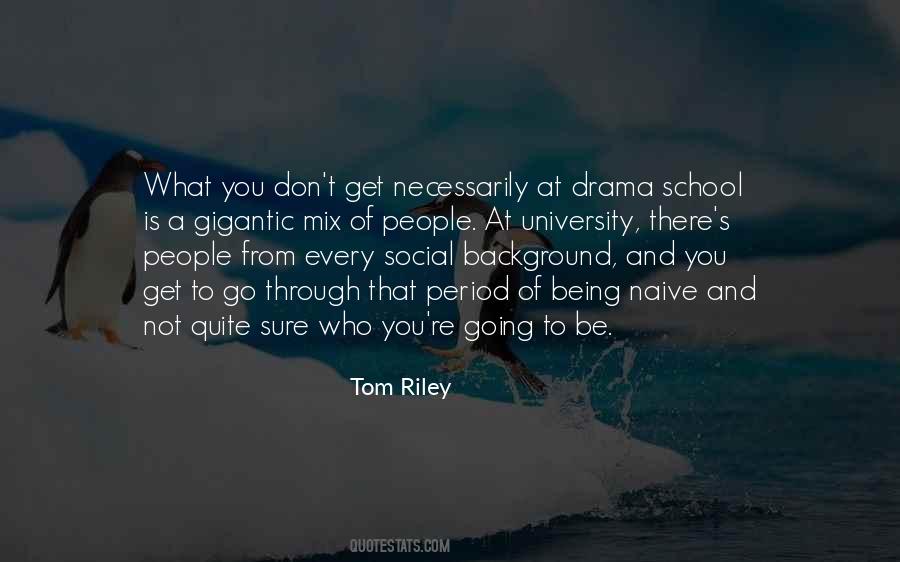 #27. I'm not an activist per se, but I have strong feelings about things. People can jump on celebrities for being ill-informed or naive, but I've got a right to say what I believe. - Author: Ed Harris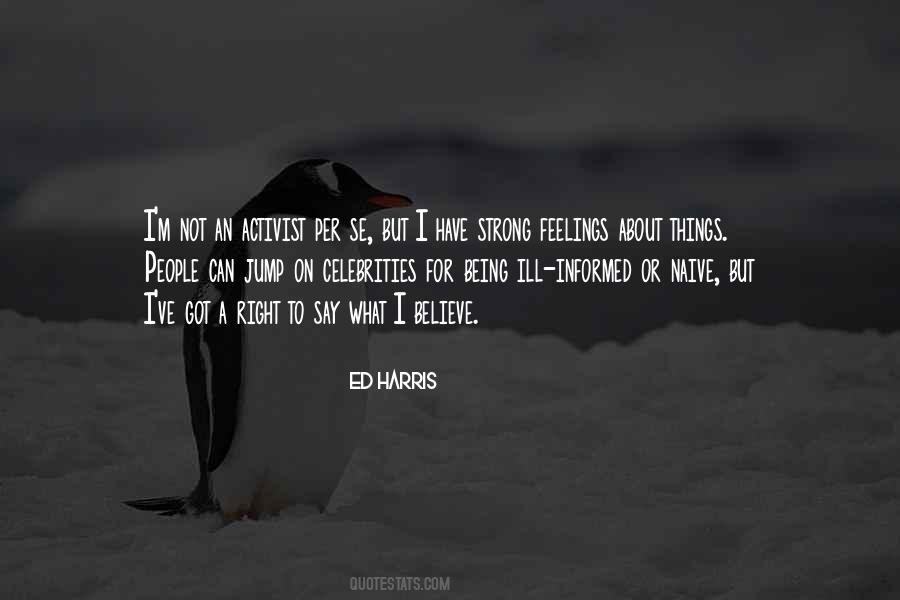 #28. I didn't get into this for fame, I genuinely didn't. I love acting, and I know that's a cliche, but I didn't, really, I was very naive when it came to the whole being recognized thing. - Author: Kit Harington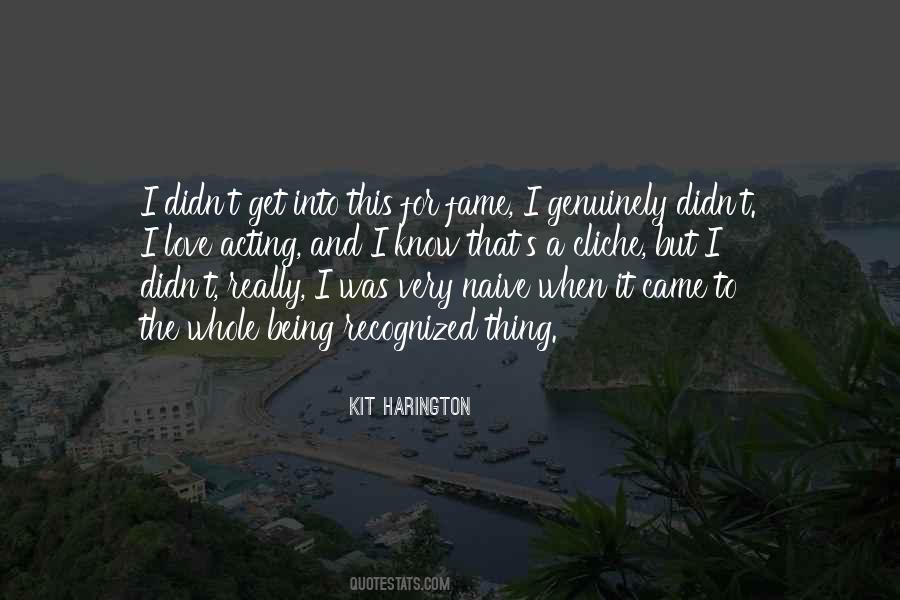 #29. It's rather naive, apart from being ethically objectionable, to assume that our investigators travel around the country with bags of money trying to bribe witnesses to lie on the witness stand. We just don't operate that way. - Author: Jim Garrison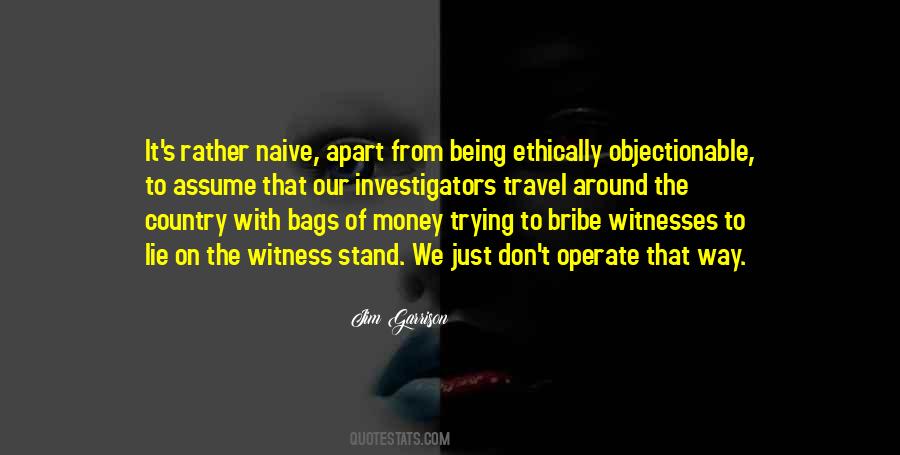 #30. Being a naive 20-something I didn't think that I could just go to the screen cartoonist's union, that I was a member of, and scream bloody murder and they would have jumped all over this guy and said, "Oh, but yes he does get screen credit." - Author: Mike Royer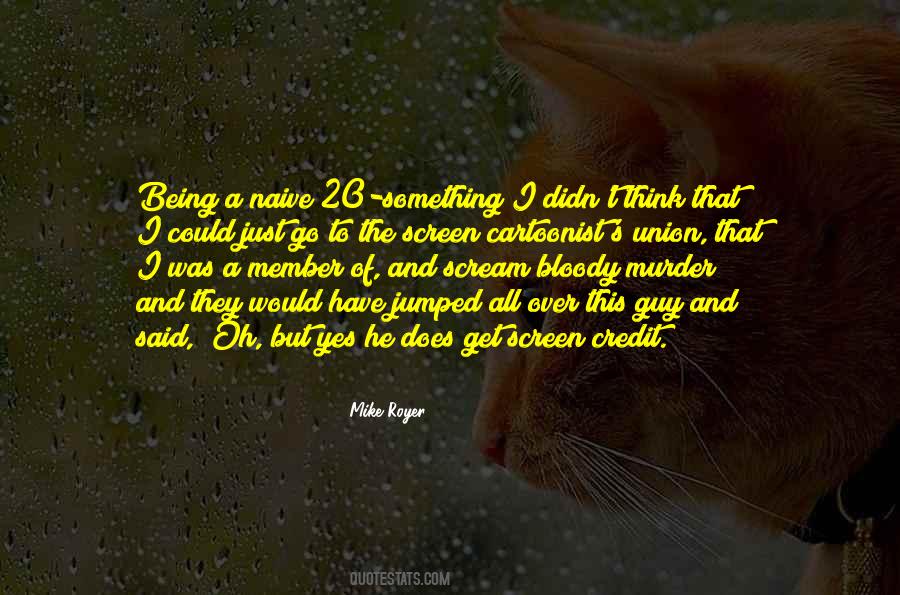 #31. The greatest gift I've been given is being naive, because I don't know what I can't do. And when you don't know what you can't do, you think you can do everything. - Author: Kelsea Ballerini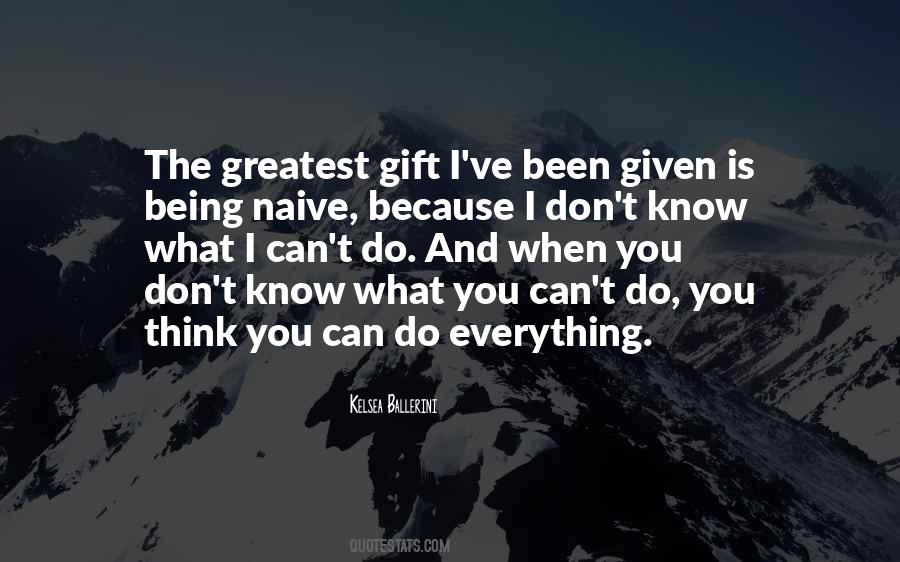 #32. The only thing I think I can be accused of about paparazzi is being really naive. I didn't think about it coming along with the job and I never, during my three years at drama school, fantasized about one bit of it. - Author: Paul Bettany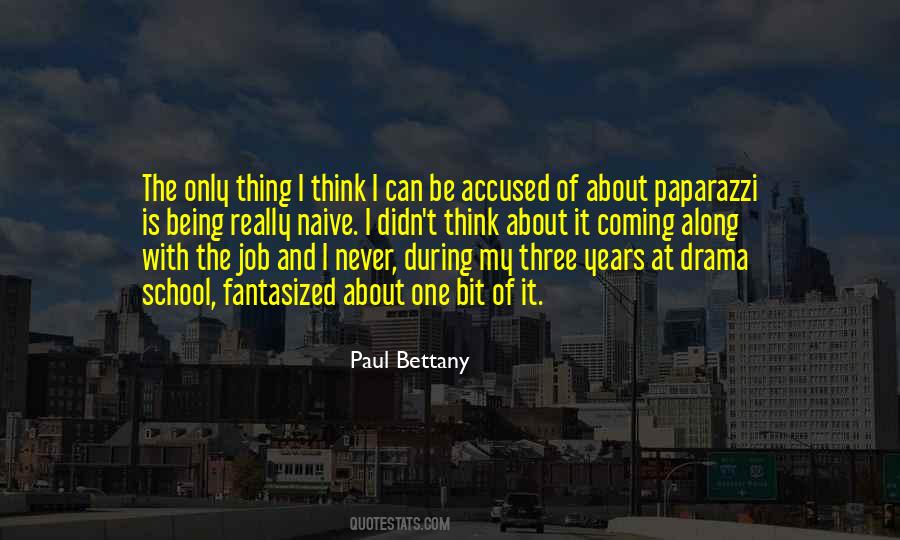 #33. The most difficult part of being a mother was to observe the mistakes of one's children: the foolish loves, the desperate solitude and alienation, the lack of will, the gullibility, the joyous and naive leaps into the unknown, the ignorance, the panicky choices and the utter determination. - Author: David Bergen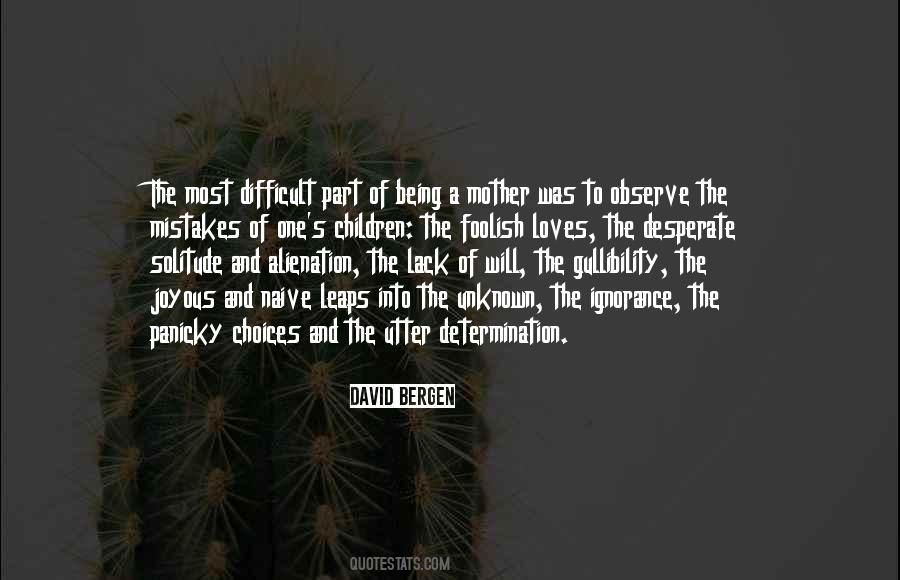 #34. The creative genius may be at once naive and knowledgeable, being at home equally with primitive symbolism and rigorous logic. - Author: Frank X. Barron
#35. I love being down at Occupy Wall Street. The sincerity, the youth involvement, the desire for better, is palpable and moving. There is true caring, sharing, and refreshingly naive hope. - Author: Elayne Boosler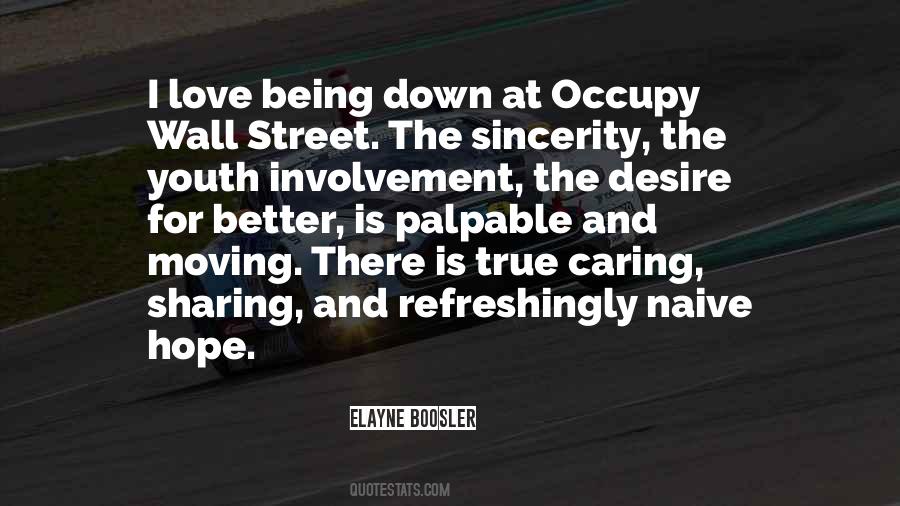 #36. I think the main function of contemporary irony is to protect the
speaker from being interpreted as naive or sentimental. - Author: David Foster Wallace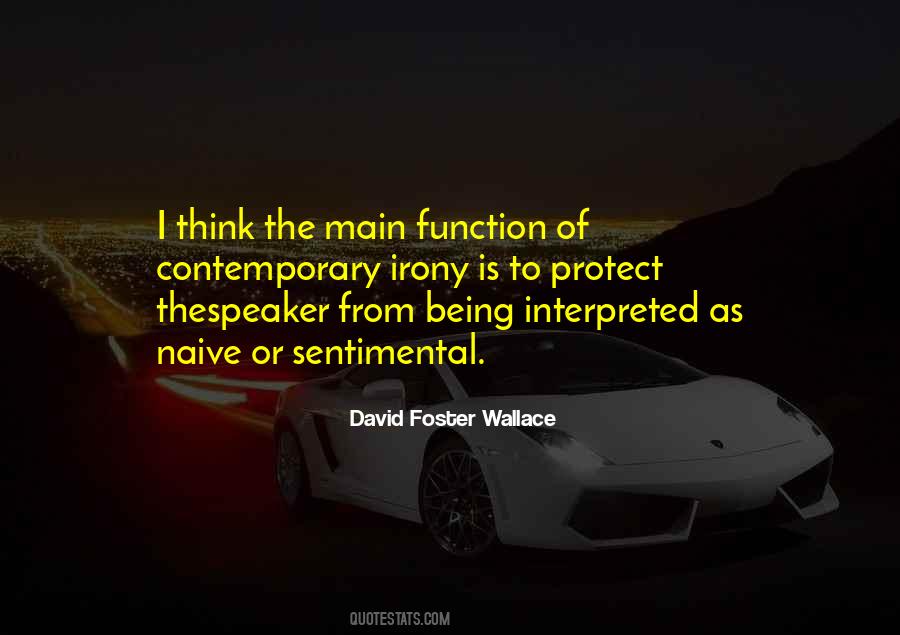 #37. The experience of being a young, blonde, naive but well-intentioned young producer was both intimidating and eye-opening. - Author: Clarissa Ward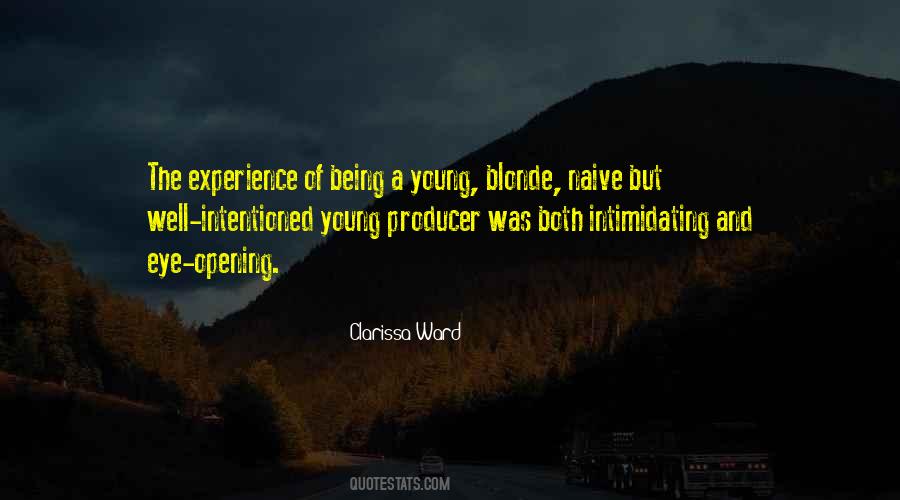 #38. There is a difference," I said stiffly, "between being naive and being innocent. - Author: Kristen D. Randle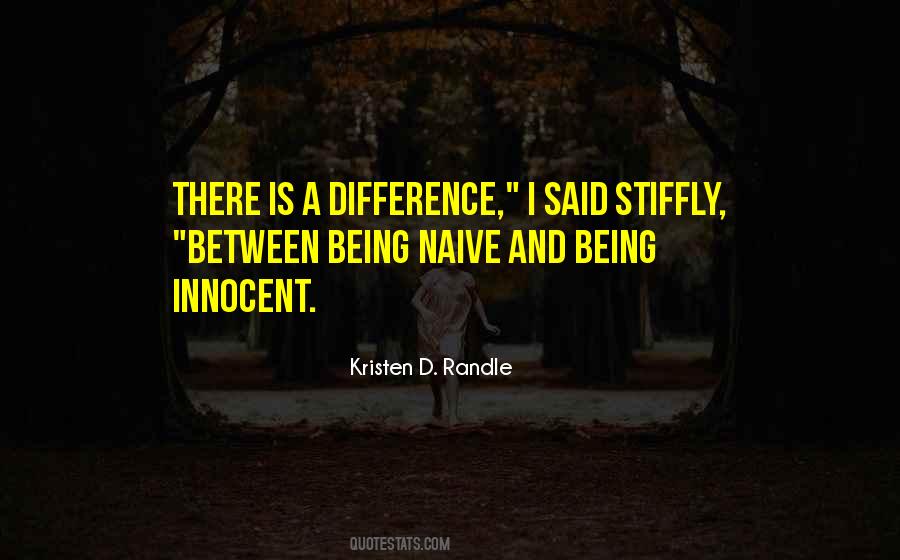 #39. My biggest regret is being naive enough in thinking that what happened is a big enough reason to miss out on each other's live. - Author: Frank Warren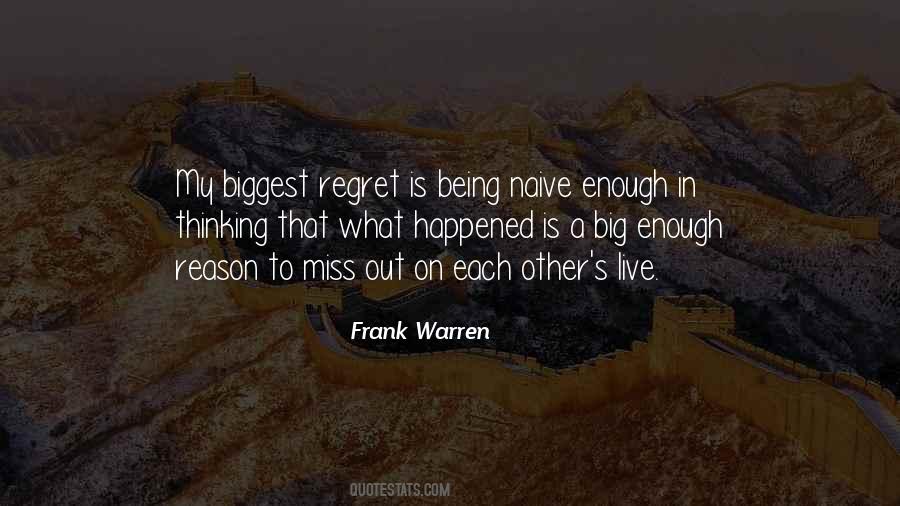 #40. Maybe I was naive, but I thought the whole point of being an MP was to scrutinise legislation and improve it. - Author: Sarah Wollaston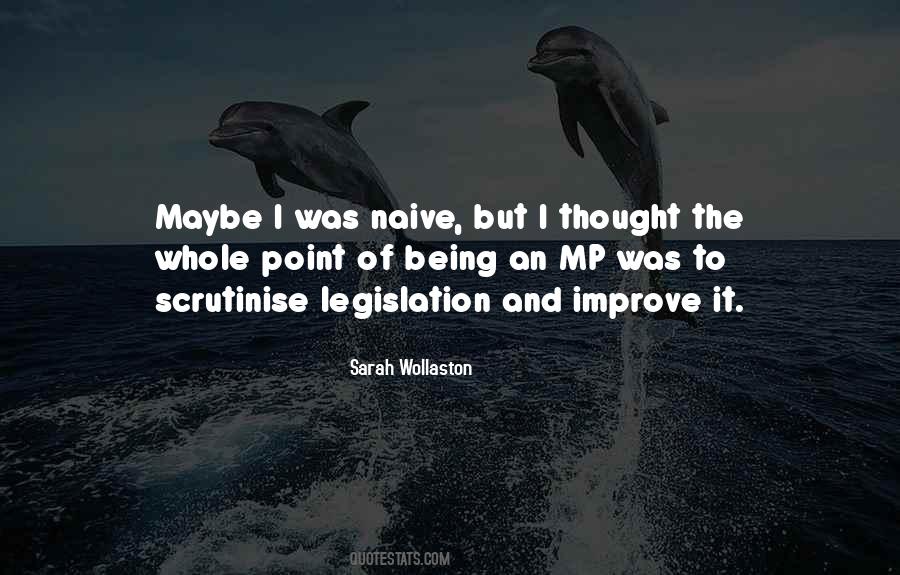 #41. Maybe I was being naive. Even stupid. I mean, who would trade Standford for being homeless? [ ... ] But I had to know if I was meant to be a musician. Otherwise I'd spend the rest of my life regretting it. Asking myself ... what if? - Author: Tara Kelly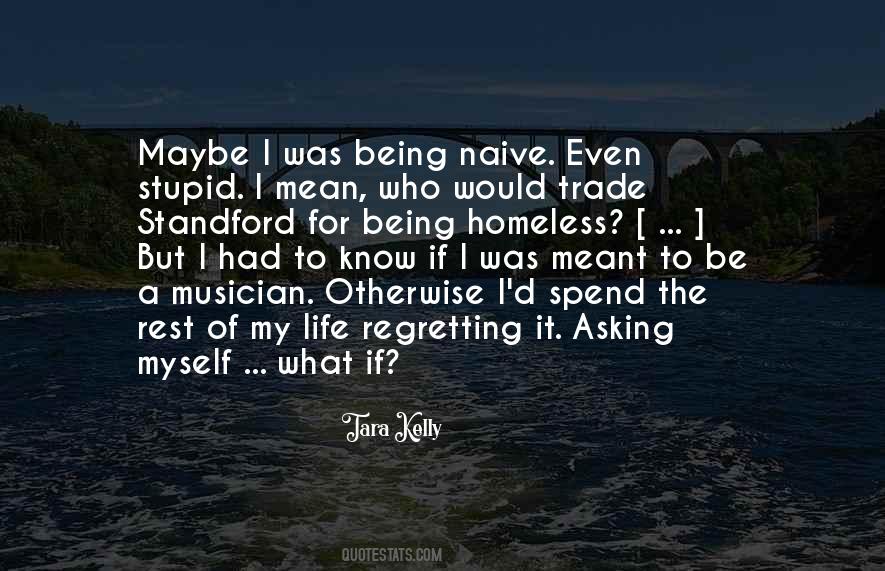 #42. I've never had prejudice against me because of being a woman in comedy, I've never felt any sort of unfairness because of that - but I do think it is naive to think that it doesn't exist. - Author: Ellie Kemper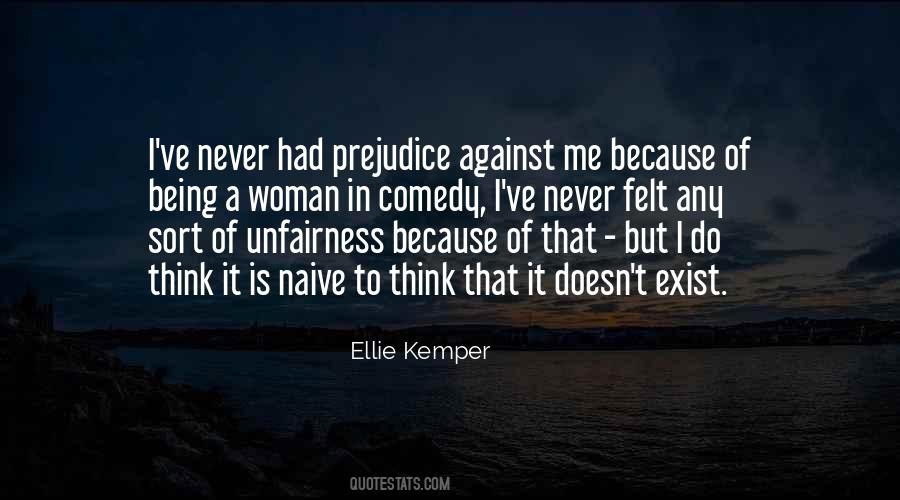 #43. Building codes are a good thing. People who throw rocks at inspectors are being naive. It's a lot like police officers; we want them around unless they stop us for a ticket. It's the same with inspectors. - Author: Dan Phillips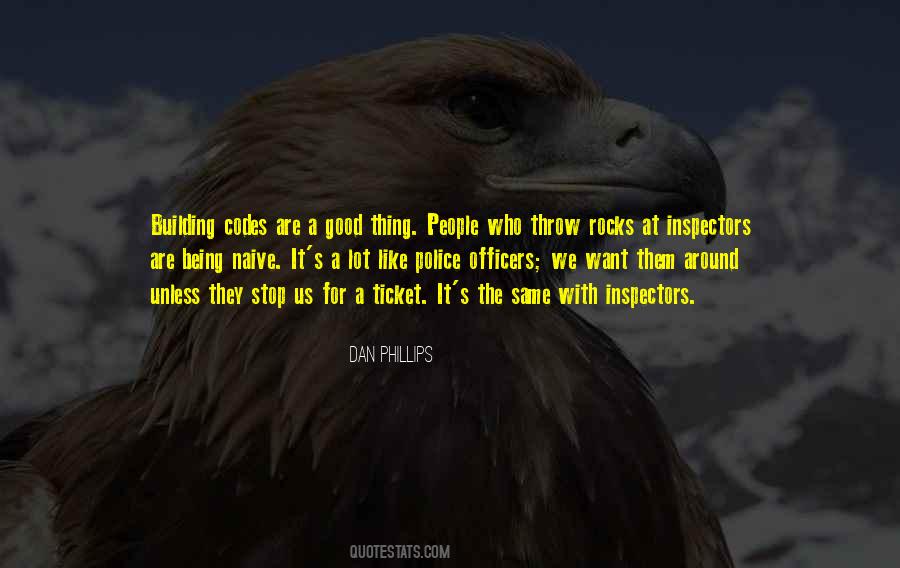 Famous Authors
Popular Topics