Saddest Ever Love Famous Quotes & Sayings
List of top 32 famous quotes and sayings about saddest ever love to read and share with friends on your Facebook, Twitter, blogs.
Top 32 Saddest Ever Love Quotes
#1. Chocolate is the great love of my life." "That is either the saddest or smartest thing I've ever heard." "Smartest. Chocolate has never let me down and it's brought me a lot closer to the elusive-O than any man ever has. Tastes better, too. - Author: Genna Rulon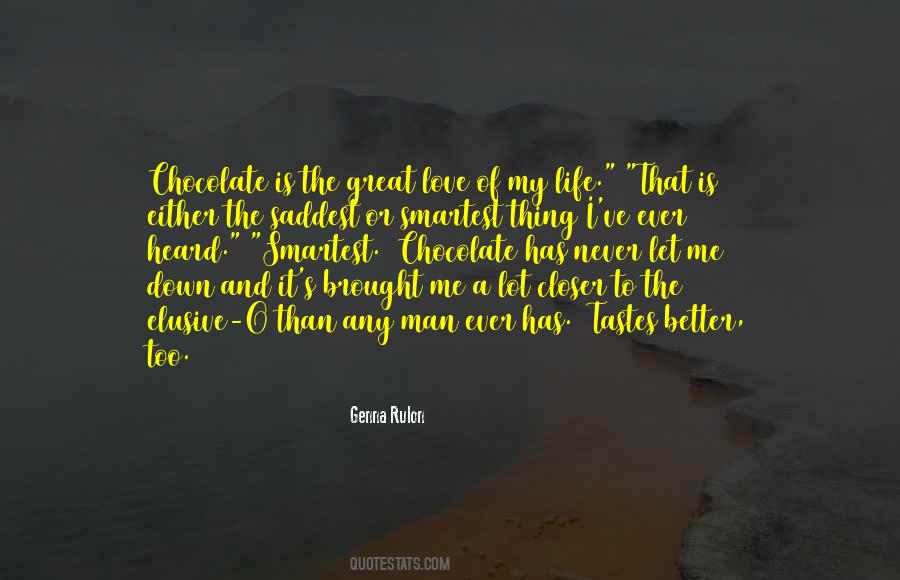 #2. Love delights in paradoxes. Saddest when it has most reason to be gay, sighs are the signs of its deepest joy, and silence is the expression of its yearning tenderness. - Author: Christian Nestell Bovee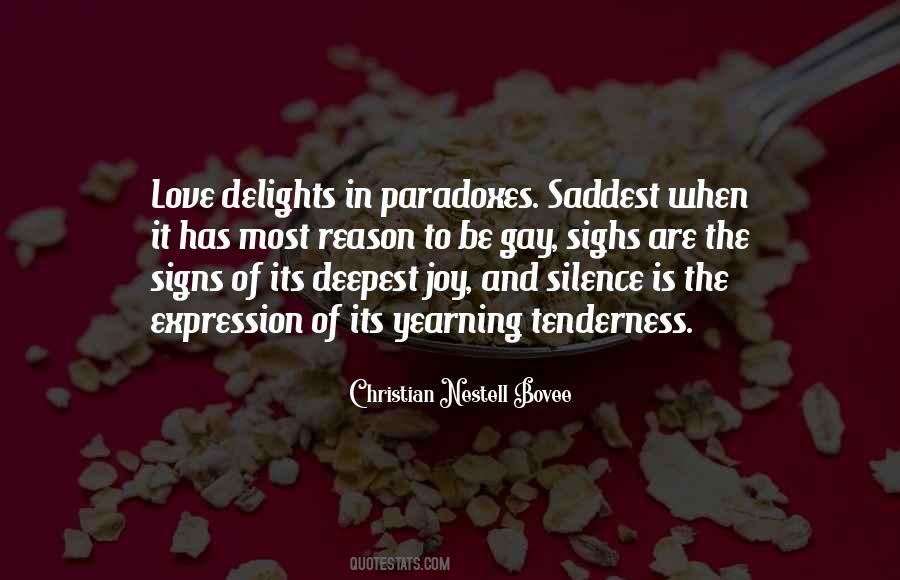 #3. I watched her on the stand in that unfamiliar suit and thought of the soft hairs at the back of her neck, warm and smelling of the sun, and it seemed an impossible thing to me, it seemed the vastest and saddest miracle of my life: I touched her hair, once. - Author: Tana French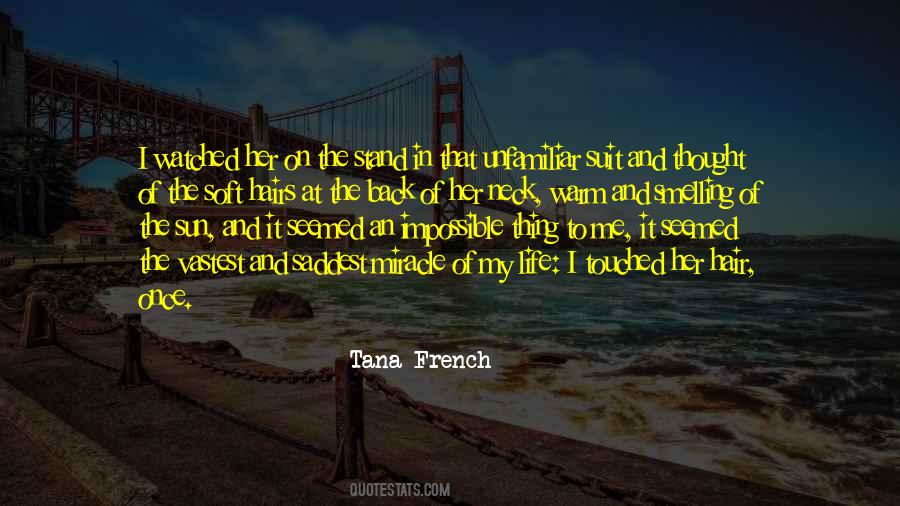 #4. The saddest thing about love, Joe, is that not only the love cannot last forever, but even the heartbreak is soon forgotten. - Author: William Faulkner
#5. The happiest she'd ever been was with him, and the saddest. Was that the true test of love? - Author: Stewart O'Nan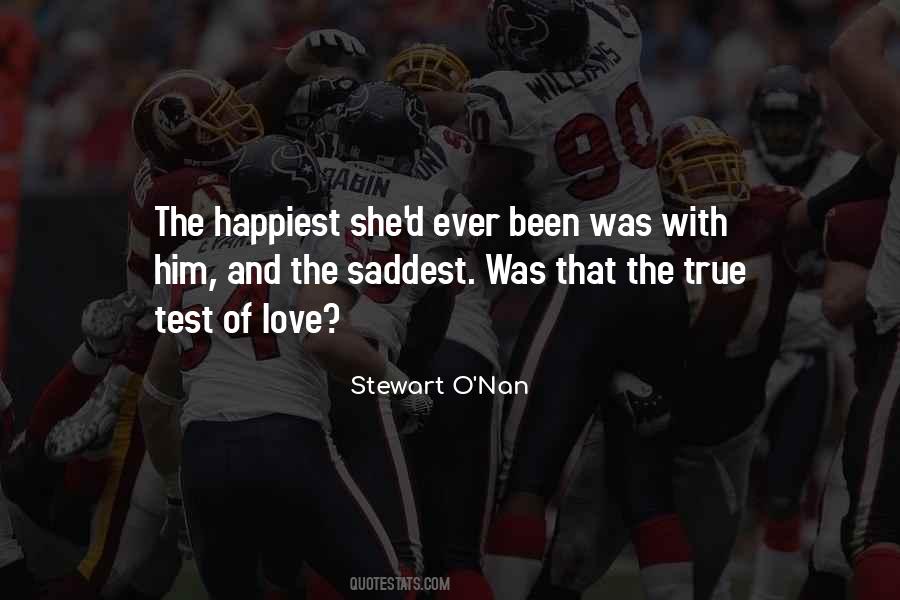 #6. The saddest thing about falling in love is that sooner or later something will go wrong. - Author: Unknown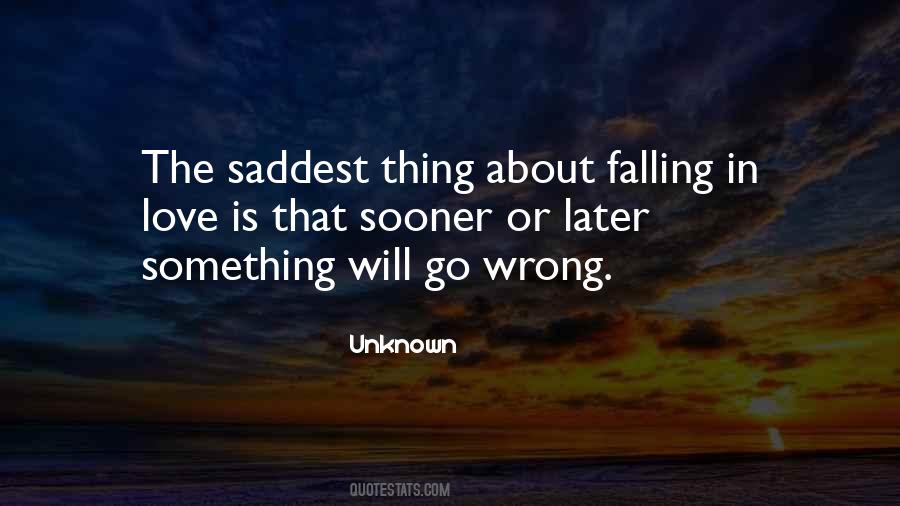 #7. It was stories like these that would stun Miller into silence, bury him alive with desire to save her. He called her "the saddest girl in the world," which she accurately interpreted as a statement as love. - Author: Elizabeth Winder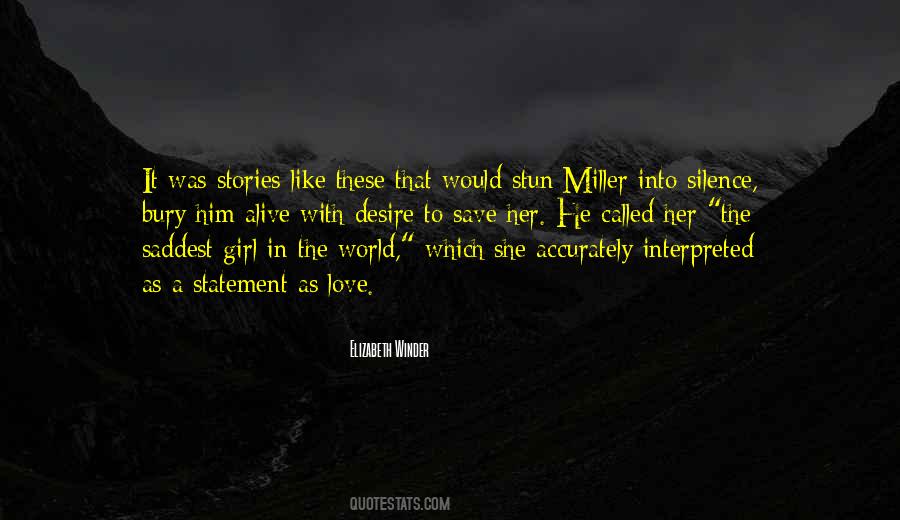 #8. So sad! This is the saddest part when you lose someone you love- that person keeps changing. And later you wonder, Is this the same person I lost? - Author: Amy Tan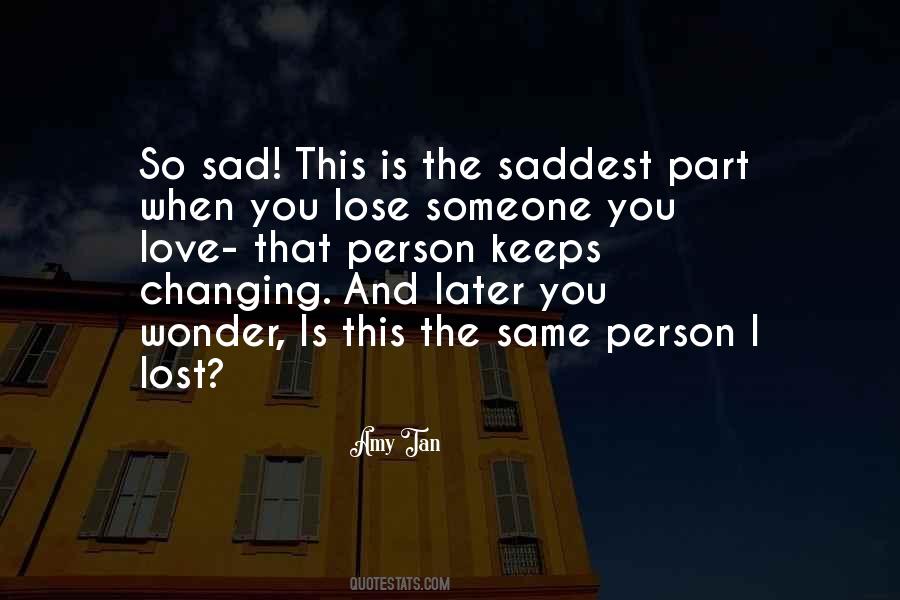 #9. All through life that piece of crape had hung between him and the world; it had separated him from cheerful brotherhood and woman's love and kept him in that saddest of all prisons his own heart; - Author: Nathaniel Hawthorne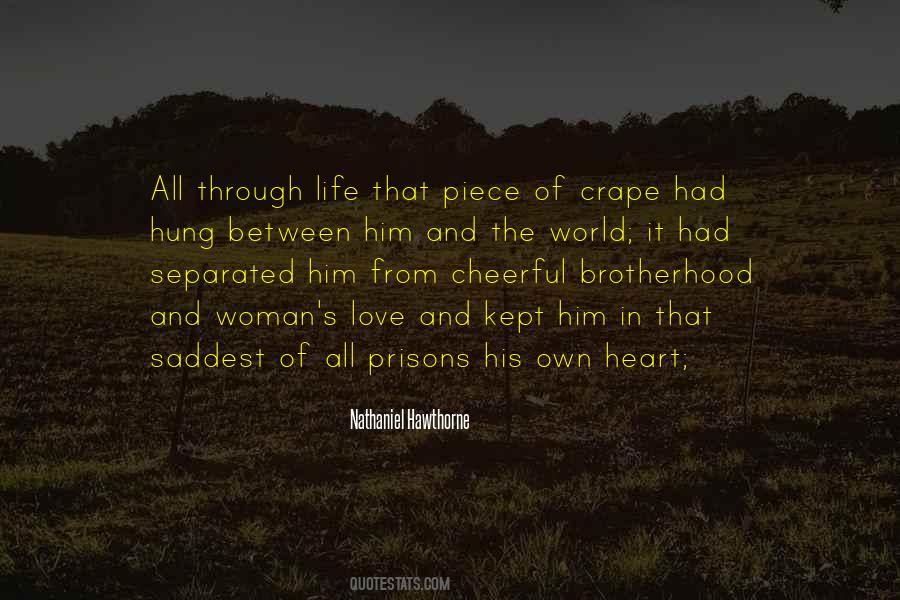 #10. The saddest truth is realising you have fallen madly in love with what can never be. - Author: Michael Faudet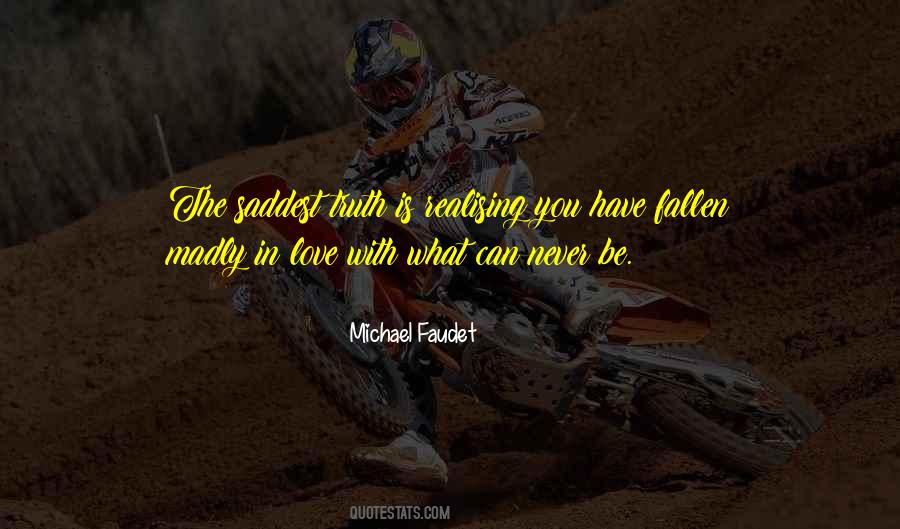 #11. I spend the rest of the afternoon trying to explain to Zoe one of the very saddest notions in love and life: sometimes the timing is wrong
and sometimes you realize the heart of the matter way to late in the game. - Author: Emily Giffin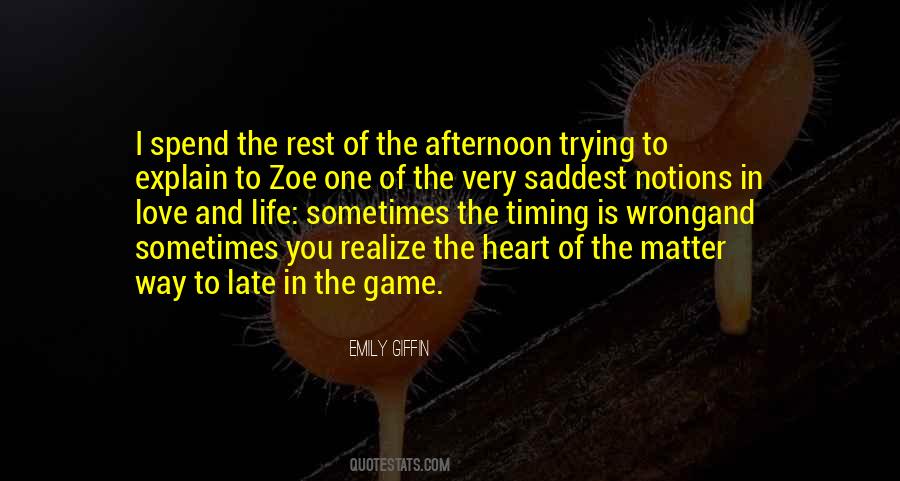 #12. Tonight I can write the saddest lines
I loved her, and sometimes she loved me too. - Author: Pablo Neruda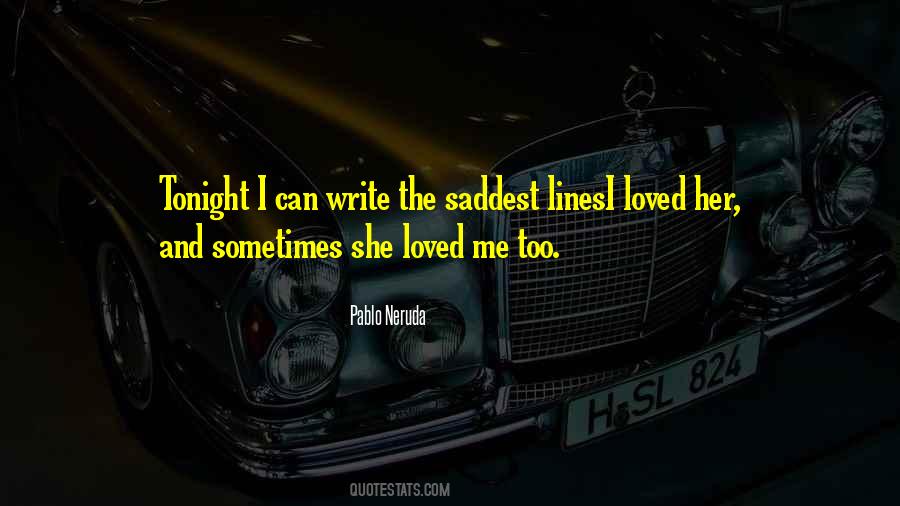 #13. The saddest line you scraped in your diary was not that you cried but those moments when we both shared smile. - Author: Santosh Kalwar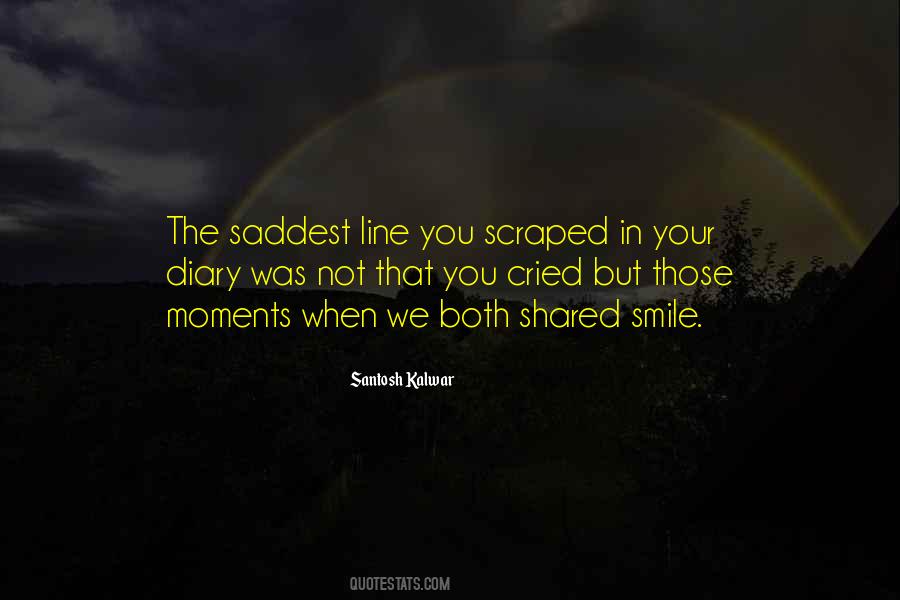 #14. ( ... ) and then I realized there was no one else to call, which was the saddest thing. The only person I really wanted to talk to about Augustus Water's death was Augustus Water. - Author: John Green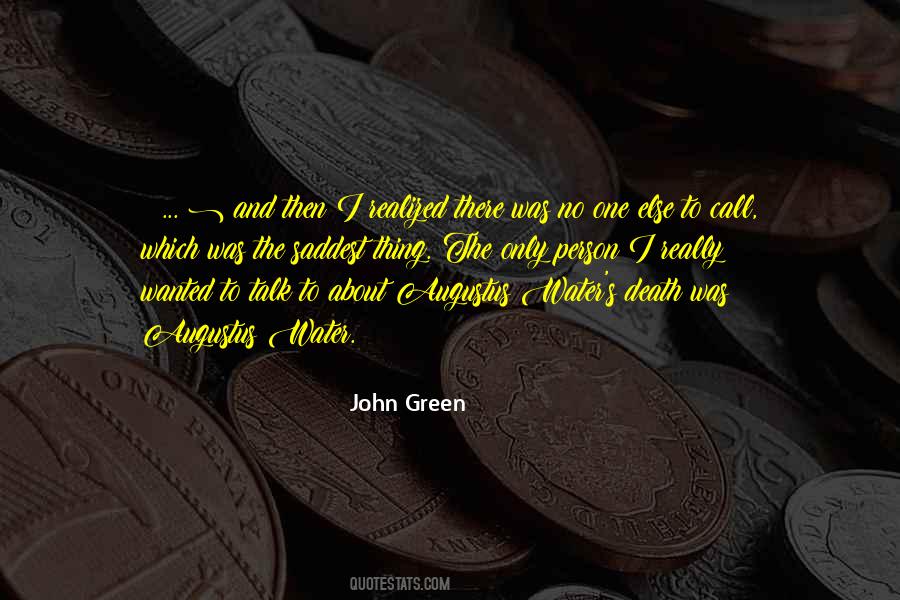 #15. The sadest part of love life is when you cannot live with and without the one you love - Author: Amit Abraham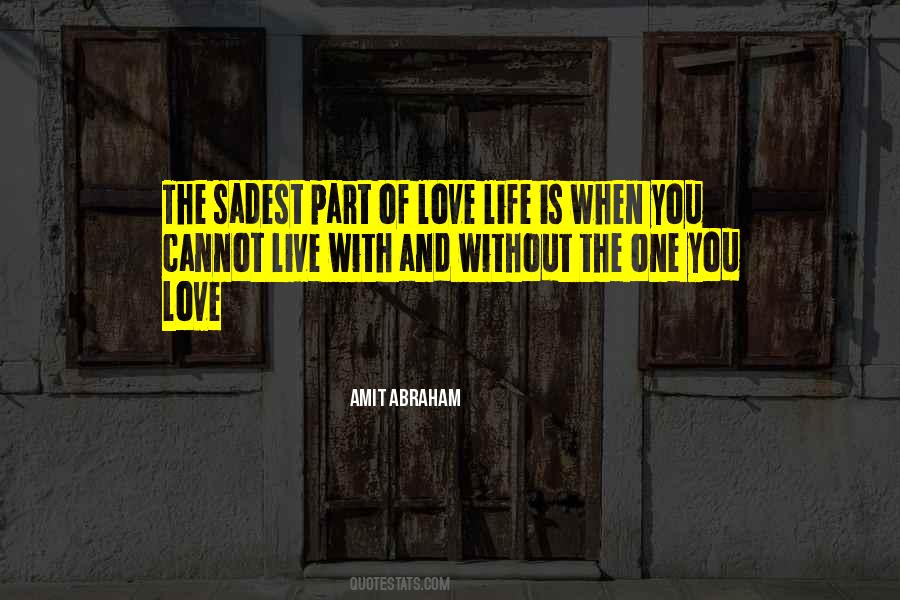 #16. The saddest thing in life and the hardest to live through, is the knowledge that there is someone you love very much whom you cannot save from suffering. - Author: Agatha Christie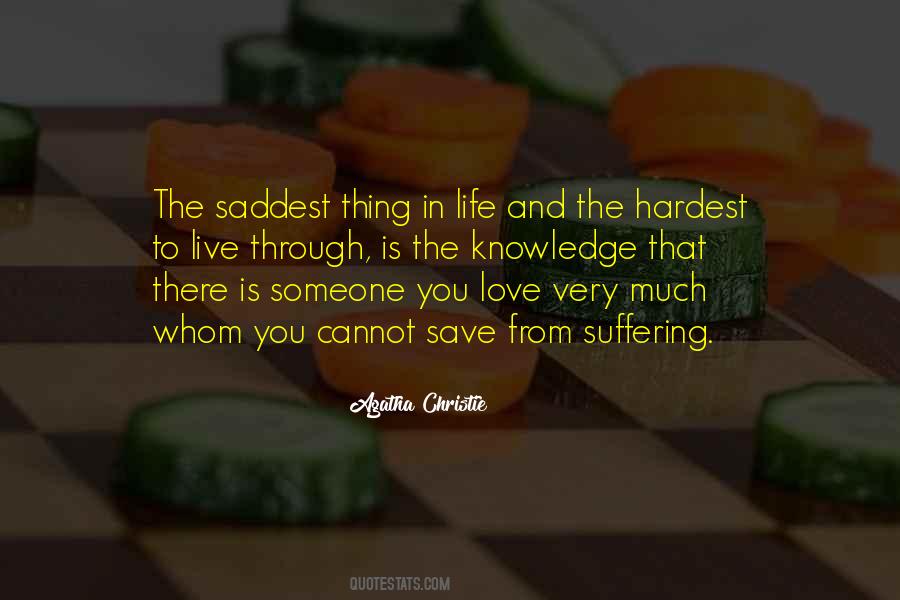 #17. The saddest thing about ephemerals was that their little lives rarely held time enough for love. - Author: Robert A. Heinlein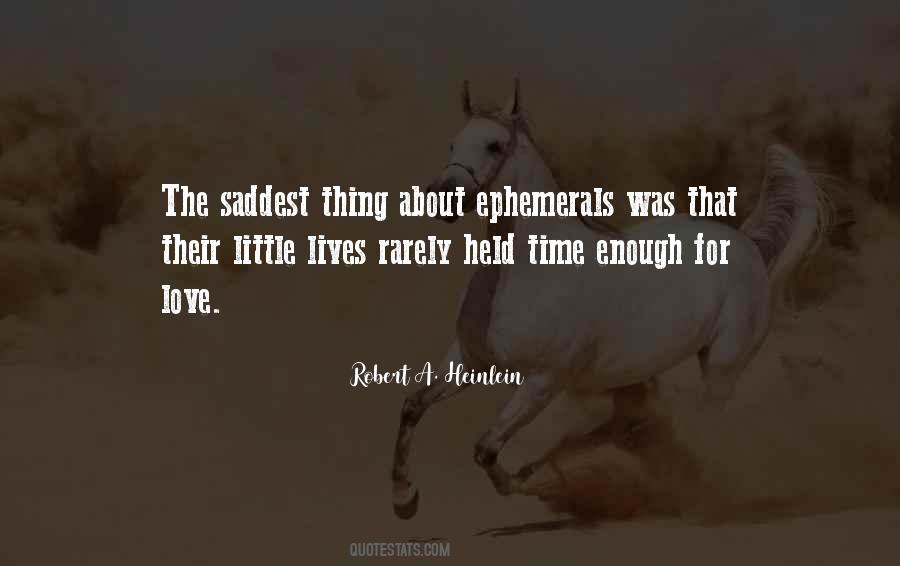 #18. We so love all new and unusual things that we even derive a secret pleasure from the saddest and most tragic events, both because of their novelty and because of the natural malignity that exists within us. - Author: Madeleine De Souvre, Marquise De ...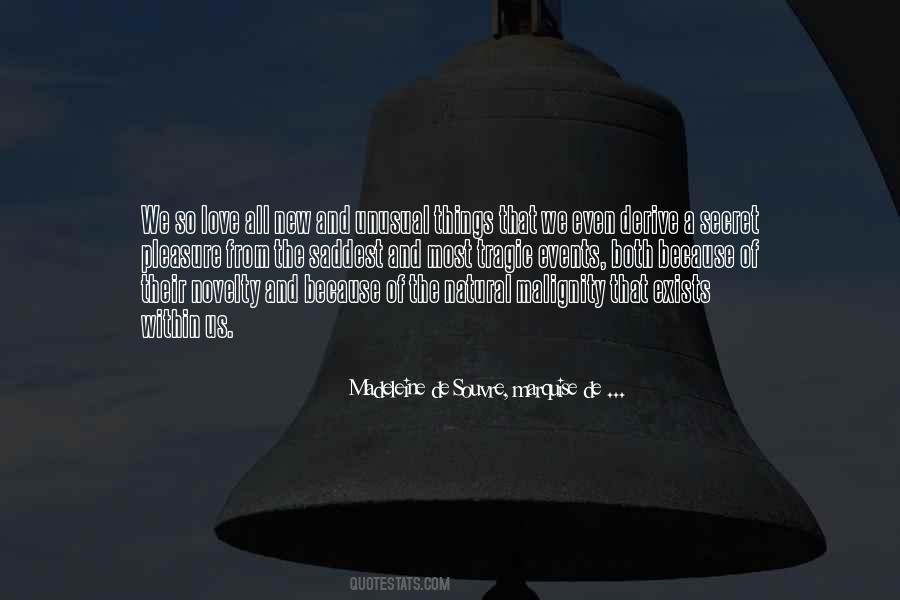 #19. You want to know what the saddest part is Tess?" I said, sounding choked up.
"What's that Josh?"
I felt my heart constricting as the brutal truth flowed from my lips. "You say she's mine ... but honestly, I don't think she was ever mine to begin with. - Author: Angela Richardson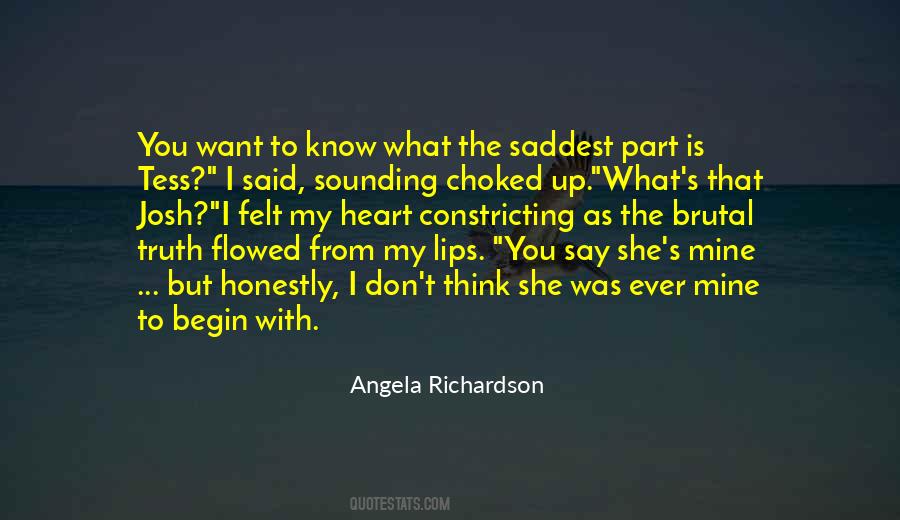 #20. In great misfortunes, people want to be alone. They have a right to be. And the misfortunes that occur within one are the greatest. Surely the saddest thing in the world is falling out of love
if once one has ever fallen in. - Author: Willa Cather
#21. The saddest people I've ever met in life are the ones who don't care deeply about anything at all. Passion and satisfaction go hand in hand, and without them, any happiness is only temporary, because there's nothing to make it last. - Author: Nicholas Sparks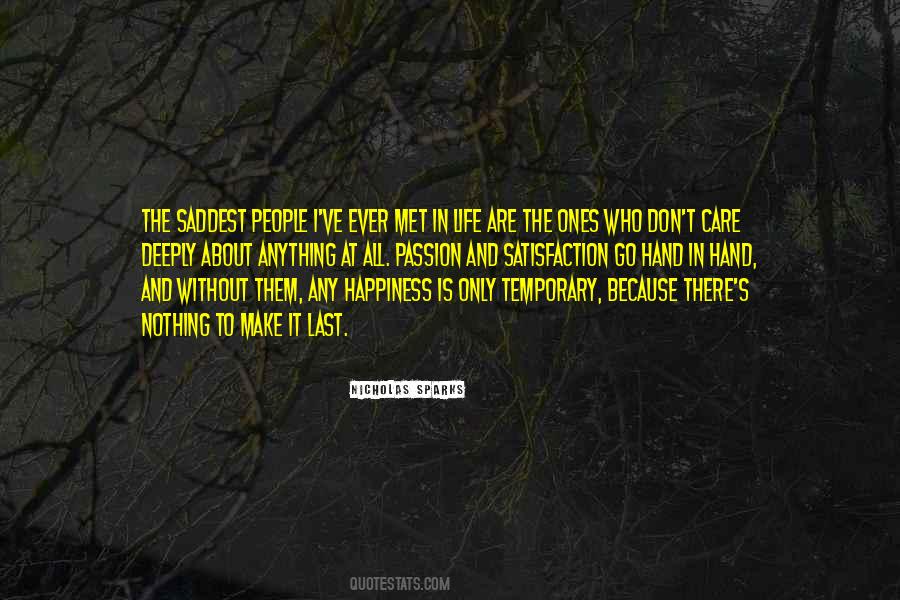 #22. Life without love is like a bird without feathers. Life without love is like a butterfly without wings it's the saddest of things.
"In this life I can live without many things love is not on that list - Author: Charles W. Warner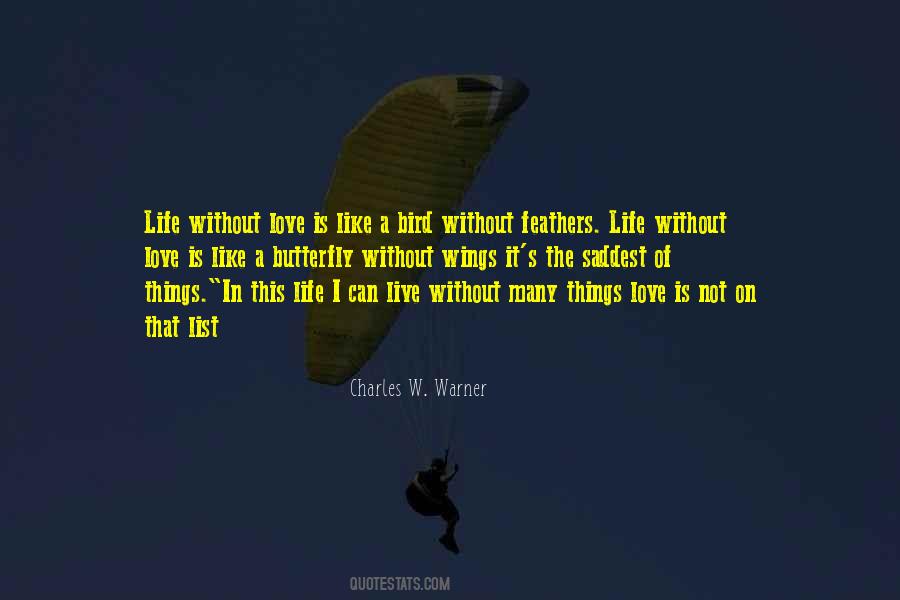 #23. Sheffield had decided, centuries back, that the saddest thing about ephemerals was that their little lives rarely held time enough for love.) "Oh, - Author: Robert A. Heinlein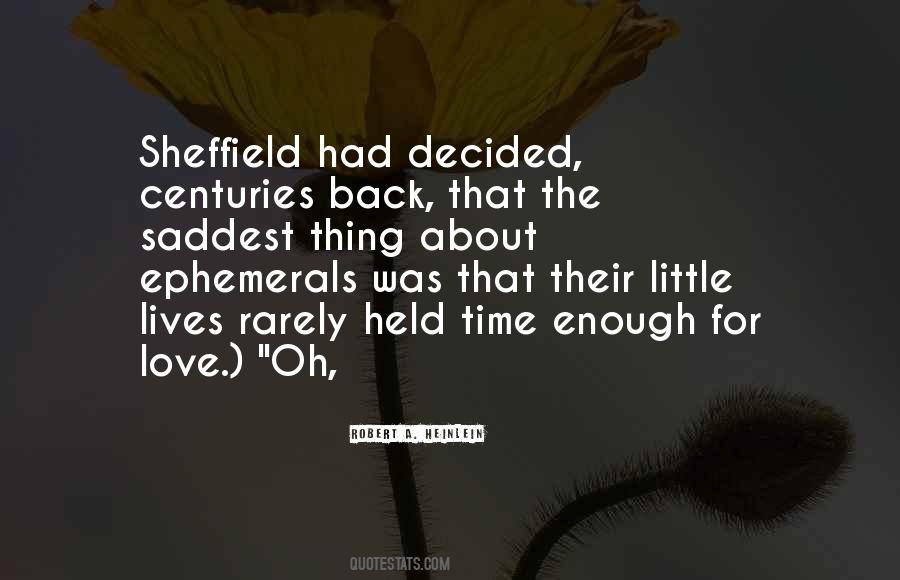 #24. The saddest songs are always about love. - Author: Nora Roberts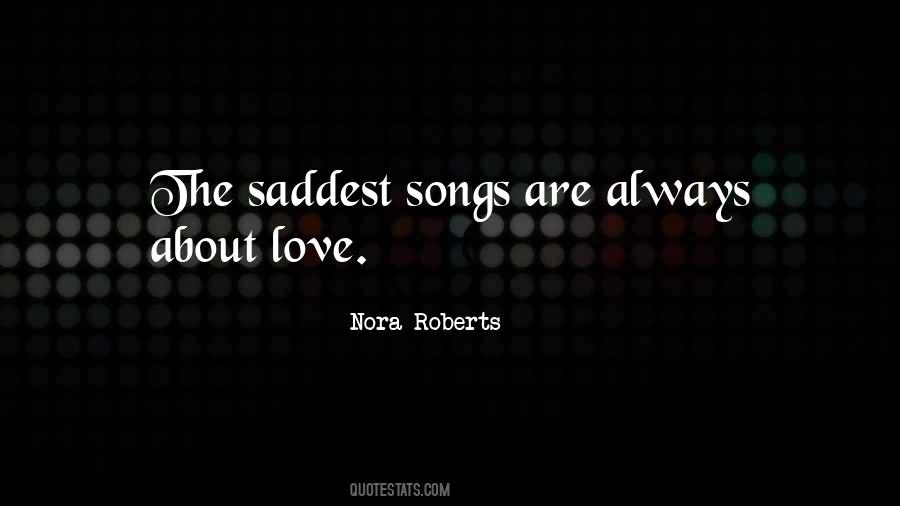 #25. perhaps the saddest of all
are those who live waiting
for someone they're not
sure exists - Author: Rupi Kaur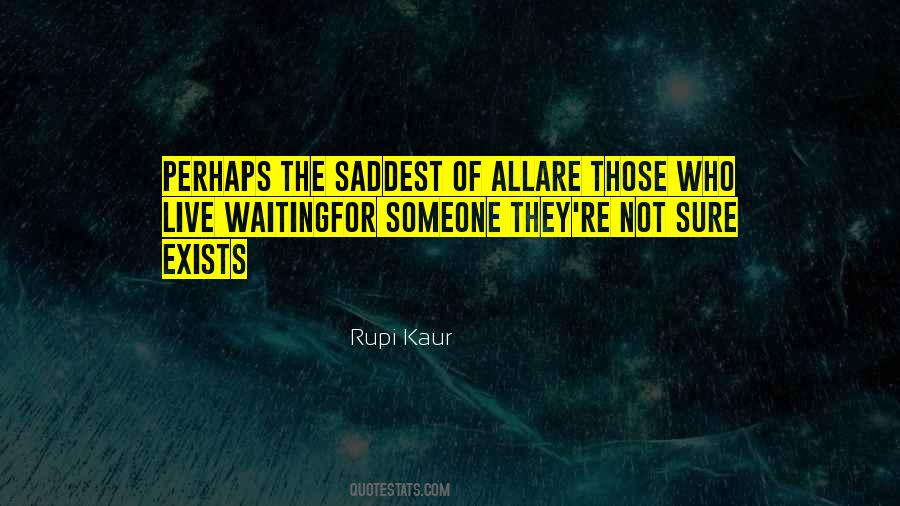 #26. Being a mother must be the saddest yet the most hopeful thing in the world, falling into a love that, once started, would never end. - Author: Yiyun Li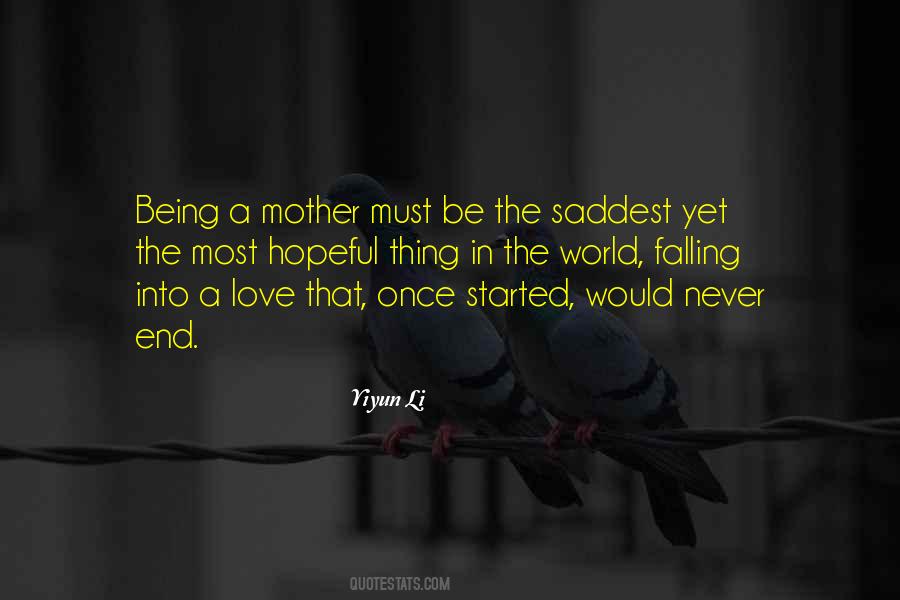 #27. May the saddest day of your future be no worse than the happiest day of your past. May your hands be forever clasped in friendship, and your hearts joined forever in love. To the bride and groom. - Author: Tracy Brogan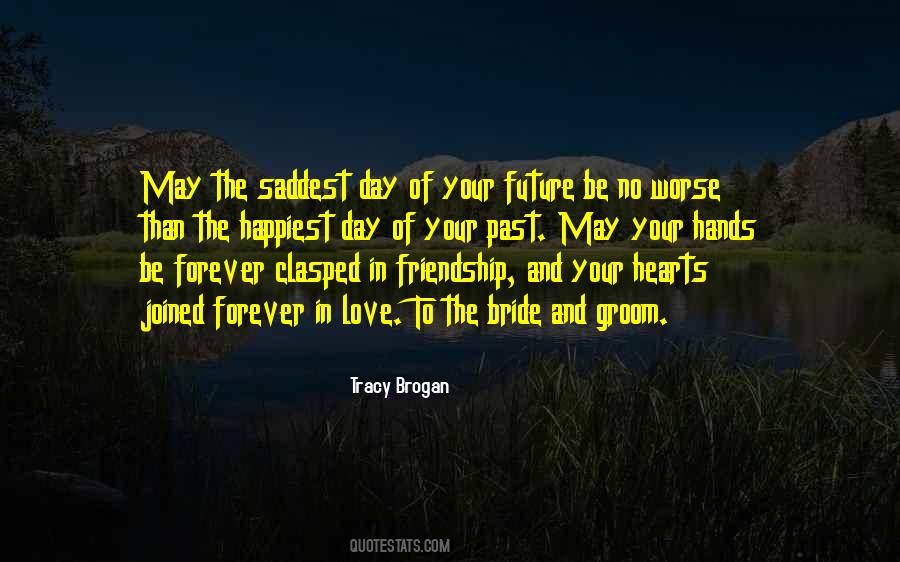 #28. You may glory in a team triumphant, but you fall in love with a team in defeat. Losing after great striving is the story of man, who was born to sorrow, whose sweetest songs tell of saddest thought, and who, if he is a hero, does nothing in life as becomingly as leaving it. - Author: Roger Kahn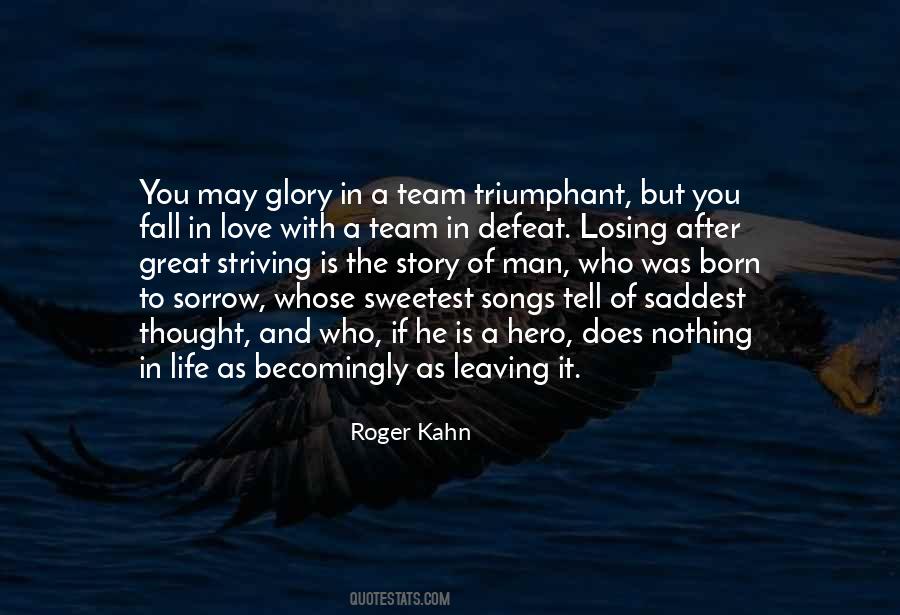 #29. Saddest of all God's creatures in the world is the religious person who has disciplined himself to outward obedience but who has no inward love to God. - Author: Walter Chantry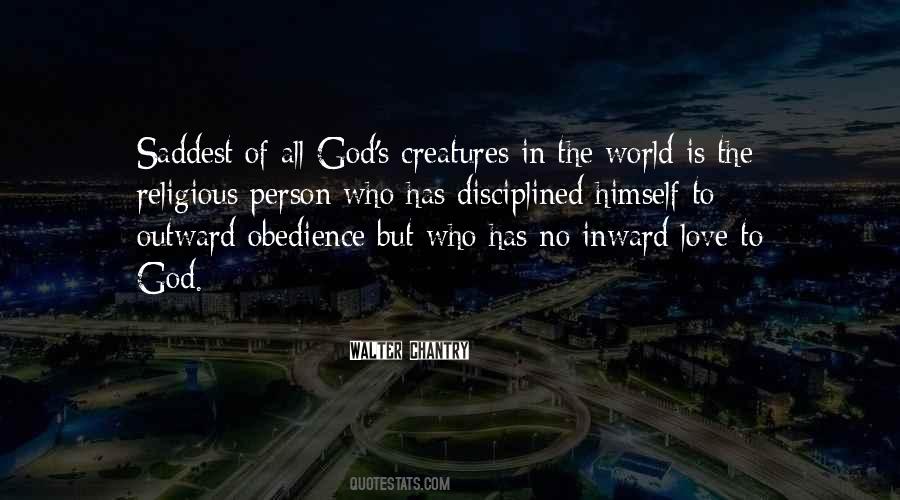 #30. My mother, poor fish,
wanting to be happy, beaten two or three times a
week, telling me to be happy: "Henry, smile!
why don't you ever smile?"
and then she would smile, to show me how, and it was the
saddest smile I ever saw - Author: Charles Bukowski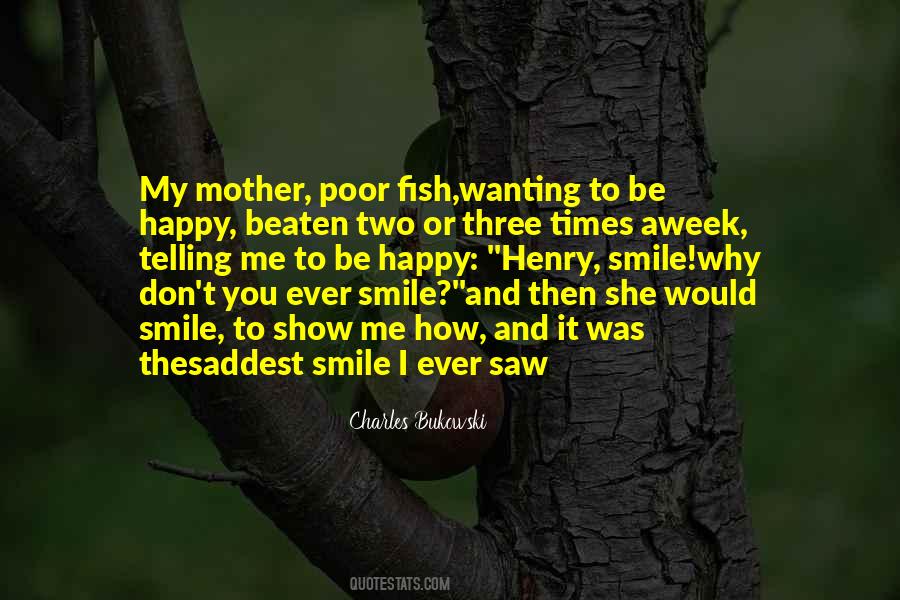 #31. The saddest thing is that every love has an unhappy ending, and all the more unhappy in proportion to how divinely it began, with what wings it first took flight. - Author: Charles Baudelaire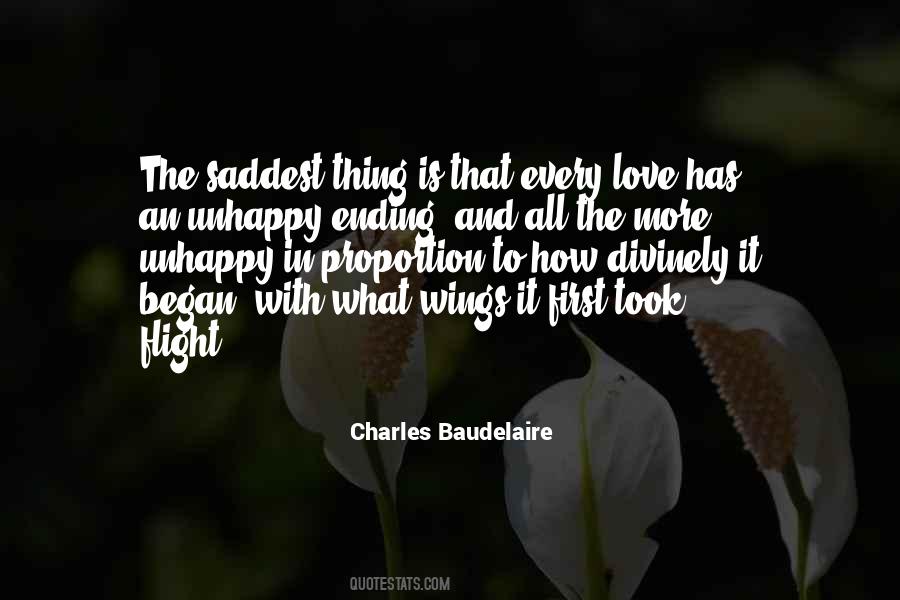 #32. And they can't understand, what hurts more - Missing the other person, or pretending not to. - Author: Khadija Rupa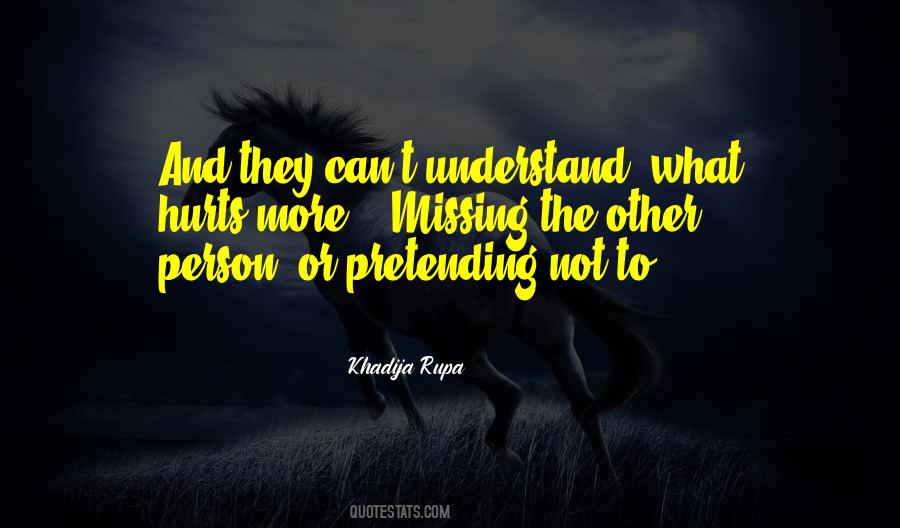 Famous Authors
Popular Topics