Race Track Famous Quotes & Sayings
List of top 55 famous quotes and sayings about race track to read and share with friends on your Facebook, Twitter, blogs.
Top 55 Race Track Quotes
#1. "On Pat Hearne - He made money in stocks, and that made people ask him for advice. He would never give any. If they asked him point-blank for his opinion about the wisdom of their commitments he used a favorite race-track maxim of his: "You can't tell till you bet."" - Author: Jesse Lauriston Livermore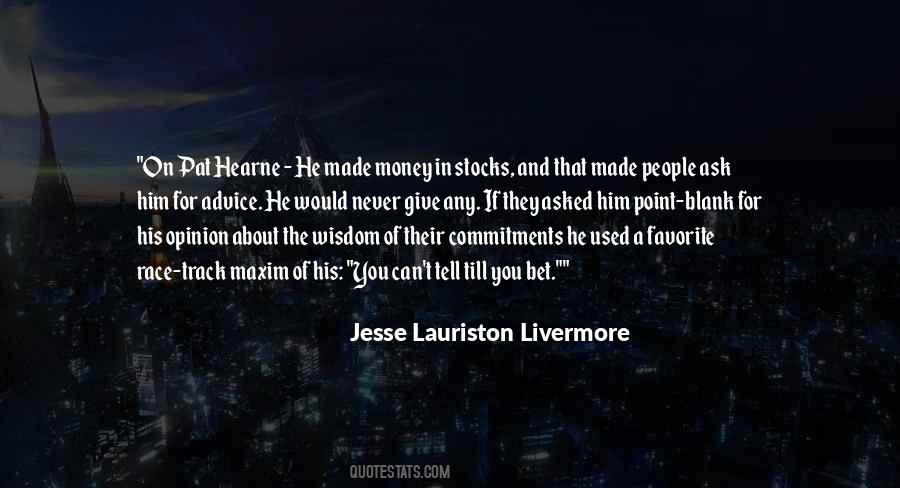 #2. I used to race at the YMCA in Crystal Lake, Illinois, they used to have a dirt track there, and there was also a track near Rockford, Illinois, that I would go to. - Author: Matt Skiba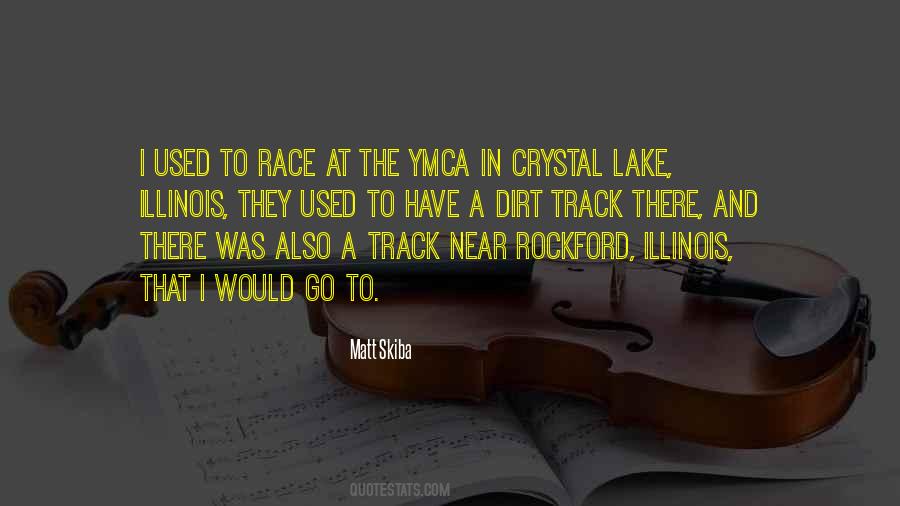 #3. It is hard to dispute the evidence that we are a race defined to a significant degree by our pettiness, by how vicious our desire is to keep track, to compare, to win. - Author: Christine Sneed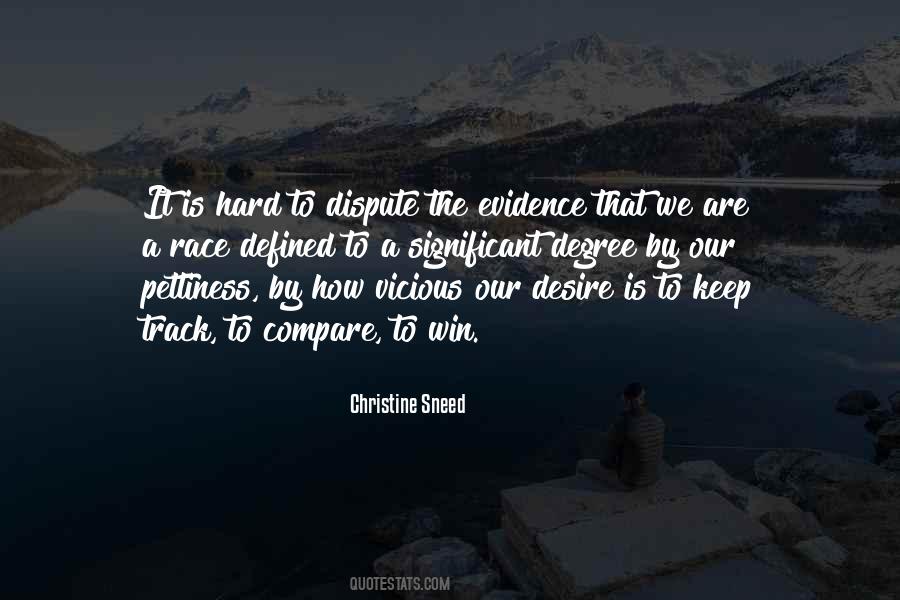 #4. Sometimes, when I walk out onto the track I think, 'What am I doing here? Why do I put myself through this?' But that's when you really get into your focus ... you focus on the race you are going to run. - Author: Kelly Holmes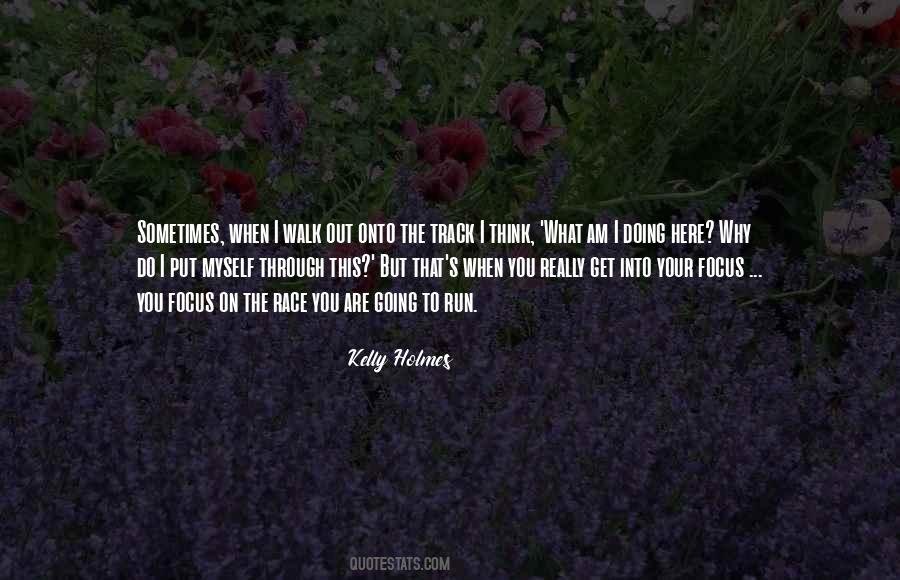 #5. When you put yourself on the line in a race and expose yourself to the unknown, you learn things about yourself that are very exciting. - Author: Doris Brown Heritage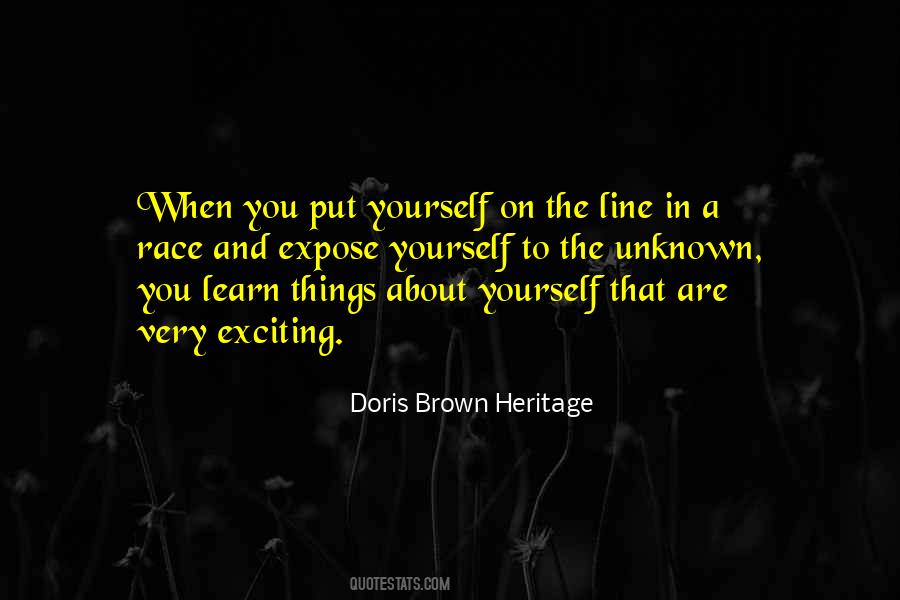 #6. I can be really fast, but other people are in the race. So you've got to be able to maneuver around those guys, and you have to be a little more versatile out there on the ice. I bring my fitness that I gained from the long track over to here. Hopefully, I'll be able to put it to good use. - Author: Shani Davis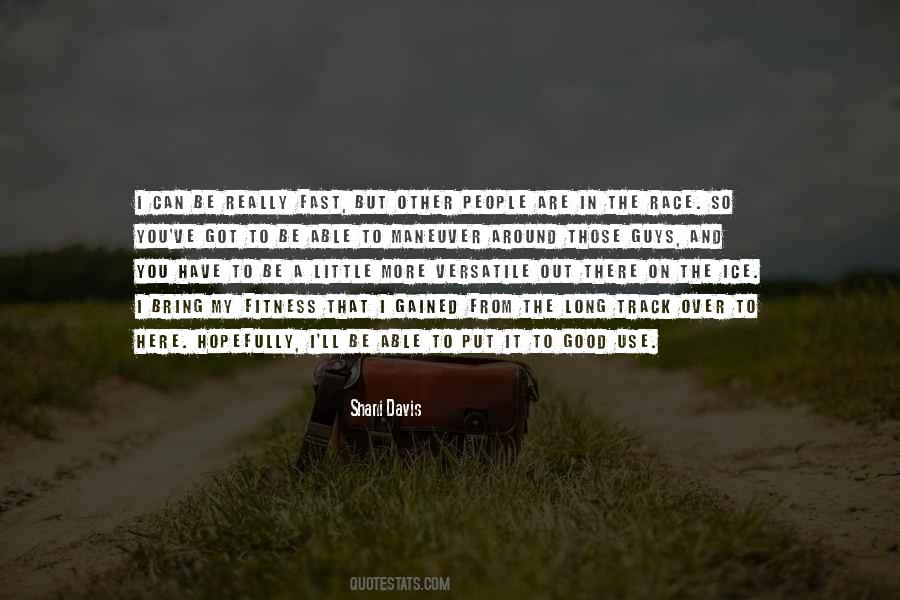 #7. Every student of science, even if he cannot start his journey where his predecessors left off, can at least travel their beaten track more quickly than they could while they were clearing the way: and so before his race is run, he comes to virgin forest and becomes himself a pioneer. - Author: Theodore William Richards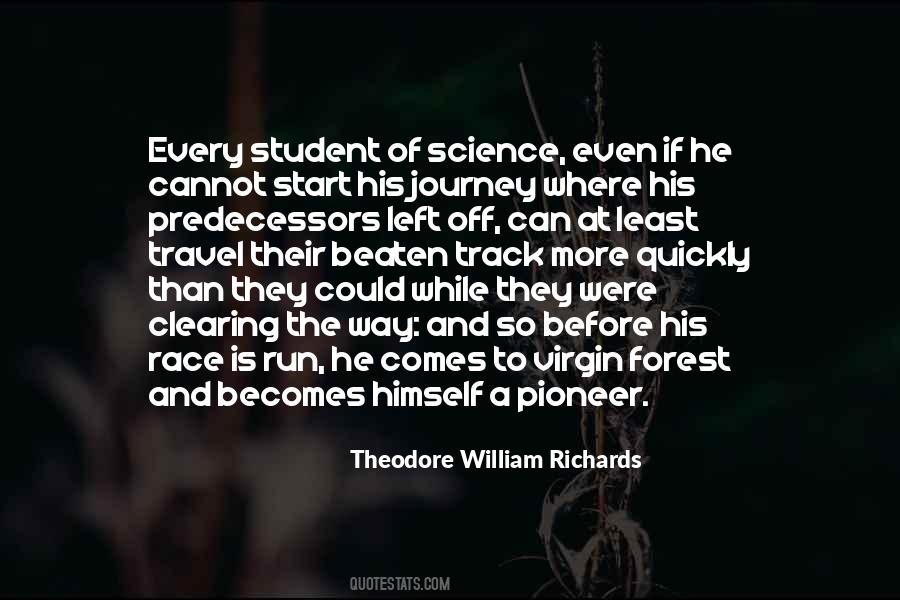 #8. When I'm driving the race track, it's all about repetition. - Author: Helio Castroneves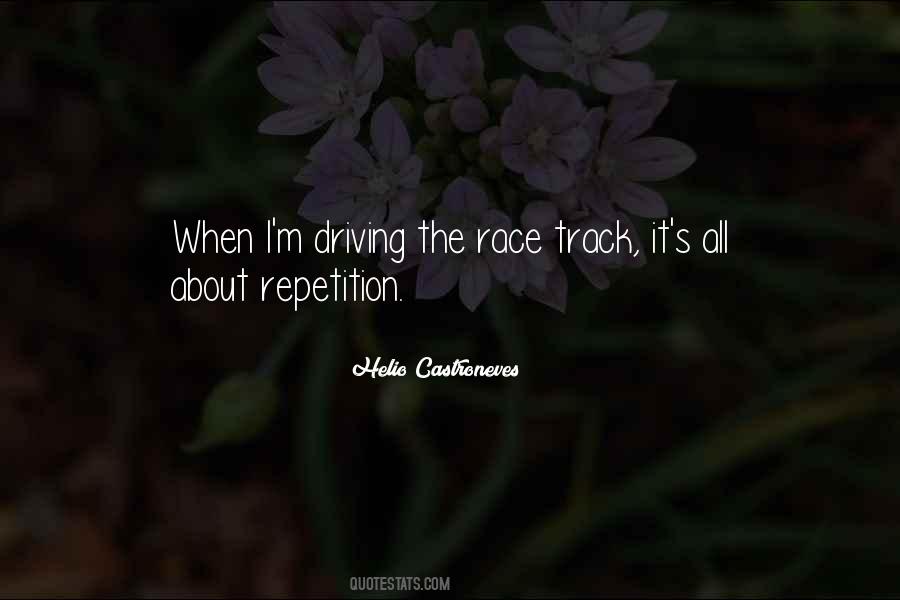 #9. What we do is just race hard on the track every week. That's the way I'd like it to be documented, and if we watch the tape, we'll see that the No. 48 swerved into us first and I know that, before even watching the tape. - Author: Kurt Busch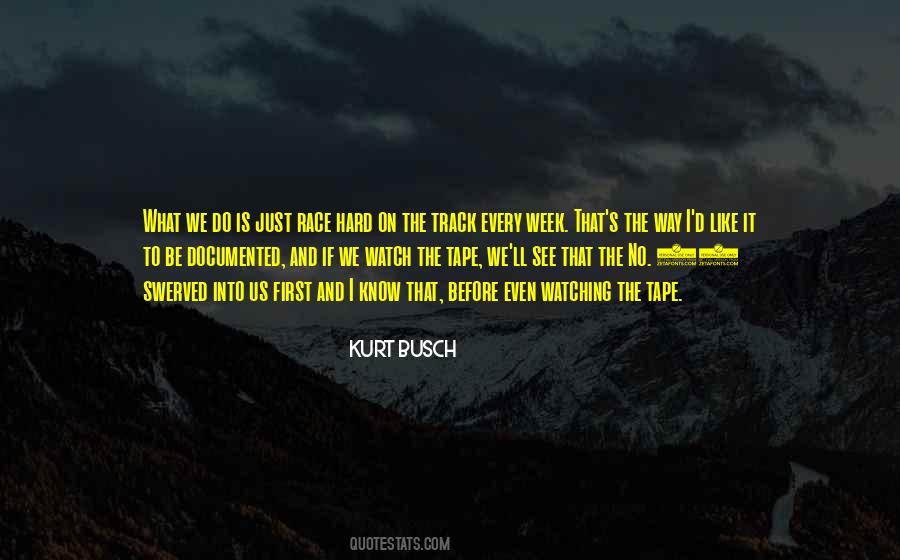 #10. If I'm going to get in these races and run against the best guys, I'm going to be there with them. And if I die, then I die, but I'm not going to walk away from the track saying, 'I didn't give everything.' Ever again. - Author: David Krummenacker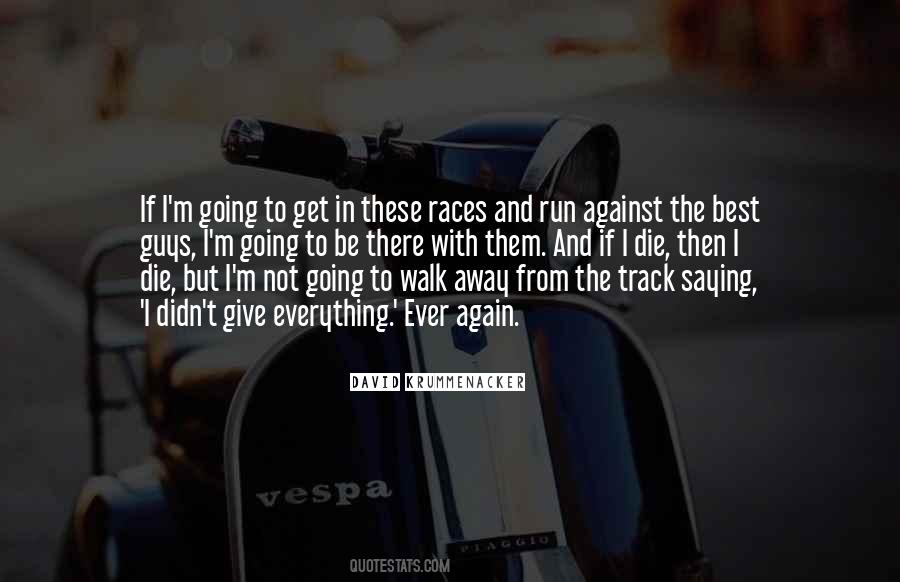 #11. I think faith is the one common denominator between everything that goes on at the race track - a faith in Christ. - Author: Kyle Petty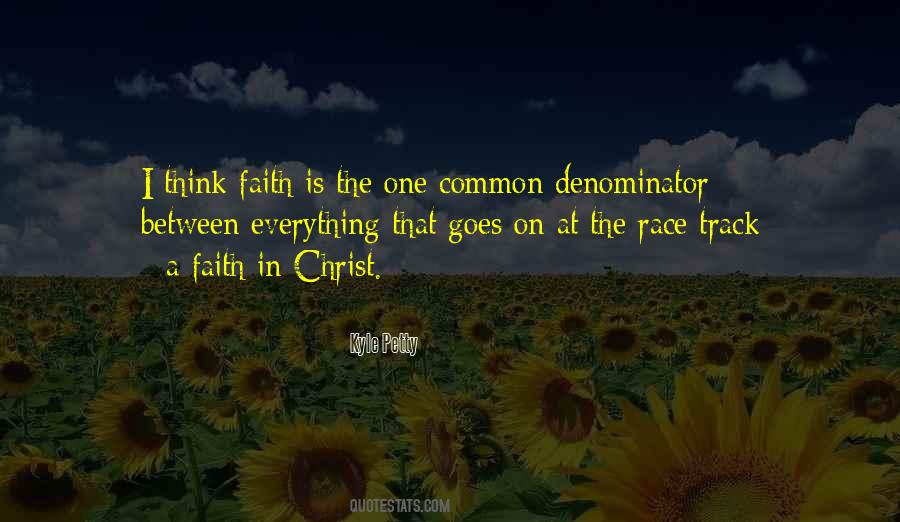 #12. I started running track when I was 13 years old, as a freshman in high school. I ran the 400 meters, which is a very tough race and a full sprint. - Author: Norah O'Donnell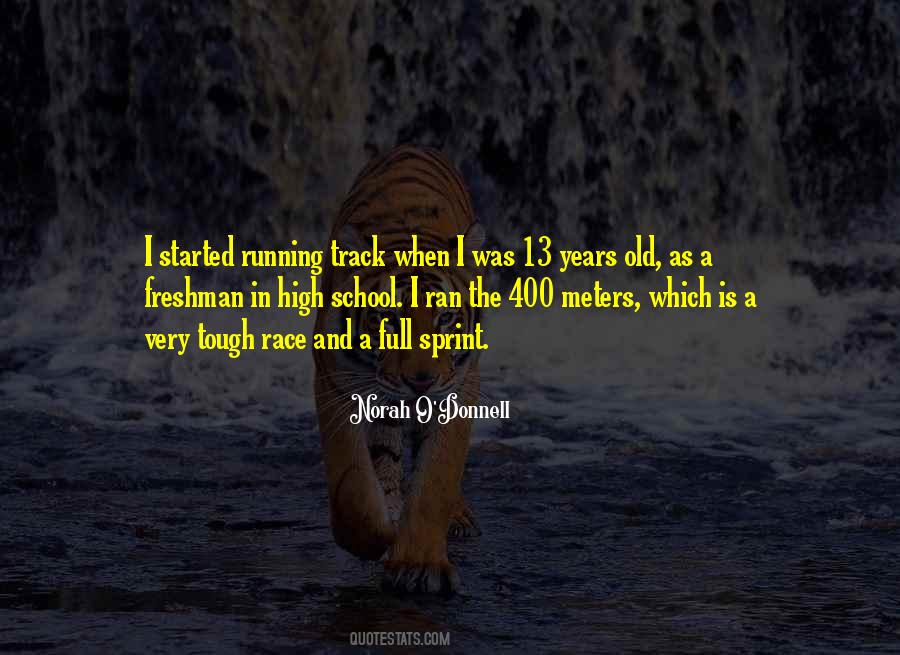 #13. I felt like I already knew how to race by the time I was four. I was always at the race track with my dad. I watched him race thousands of laps in a sprint car standing on top of a trailer watching him, getting down and cleaning the mud off his car. That's just what I grew up doing. - Author: Ricky Stenhouse Jr.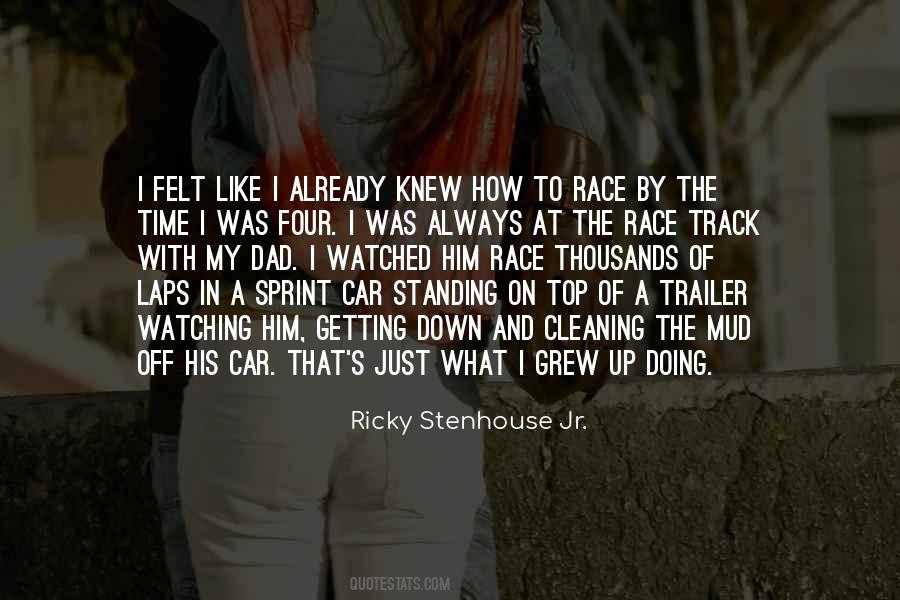 #14. As a race car driver, driving is the easy part. The hard part is containing the emotions on the race track. - Author: Kevin Harvick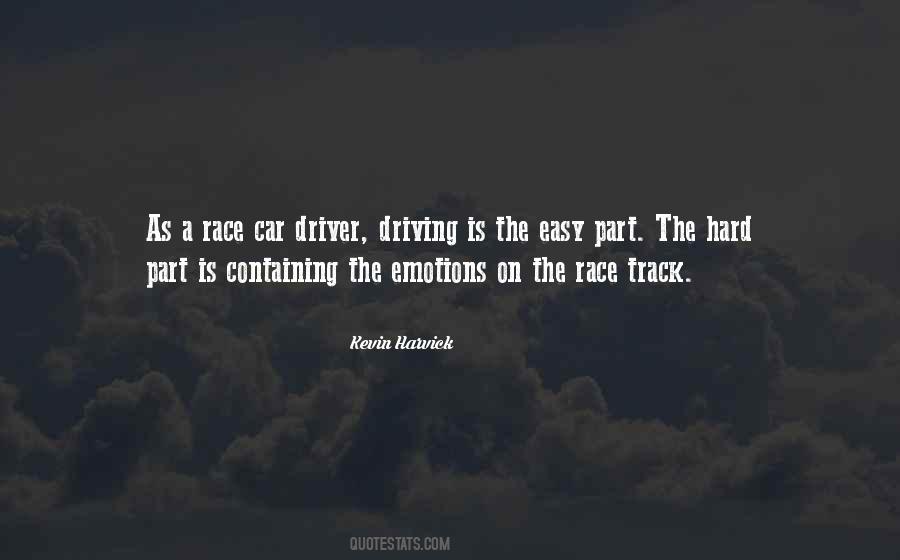 #15. What track needs to figure out: how to engage us between the races. Instead, the entire off-the-track conversation is about doping. This is how you kill a sport. - Author: Malcolm Gladwell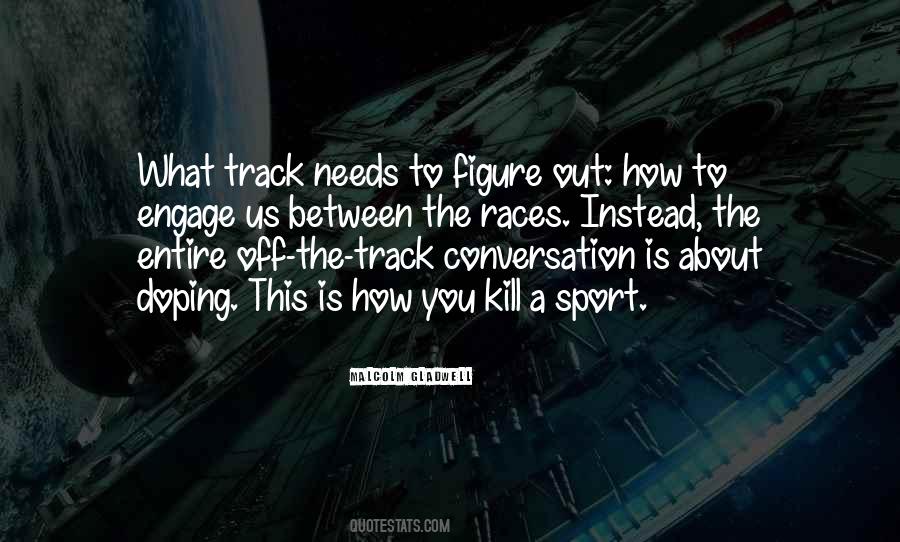 #16. It's hopeless, trying to recruit a stranger to help me find someone who's a stranger to him. But then again, we are all strangers to ourselves, caught up in the monotony of daily life, stuck in our routines, never really stopping to think about what will happen to us if we fall off track. - Author: Shannon Mullen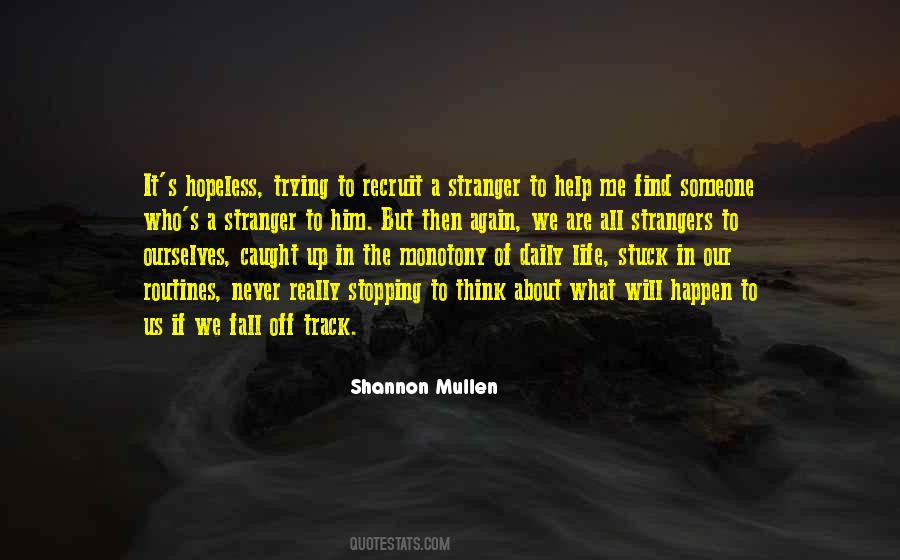 #17. When it came to spankings, my dad never used a belt. One time he grabbed a piece of my Hot Wheels race car track. In my mind I'm thinking, 'Great, now I'm being beaten with my own toys ... ' Thank God I didn't get that wood burning set I wanted. - Author: Scott Wood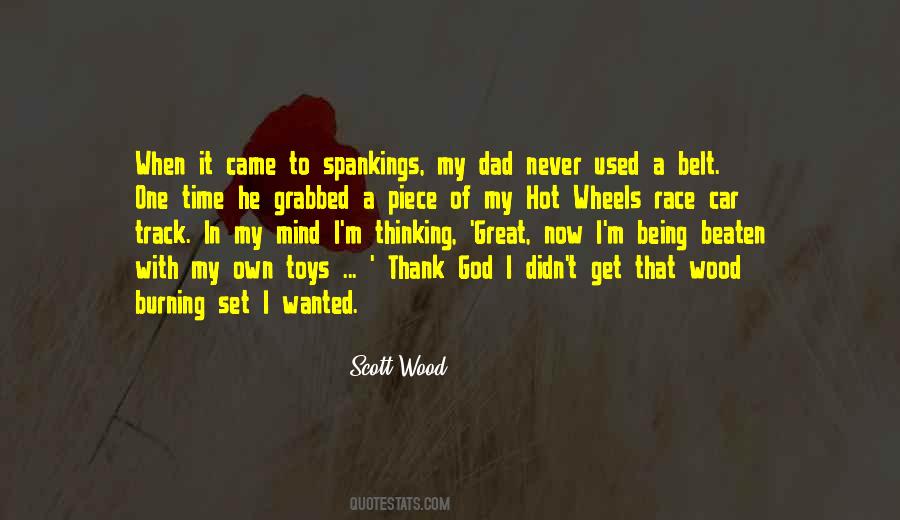 #18. I mean, you've kind of got the track down, especially with ovals. The only thing that improves is that when race conditions come, you know what to expect slightly more from the track and from your car. - Author: Danica Patrick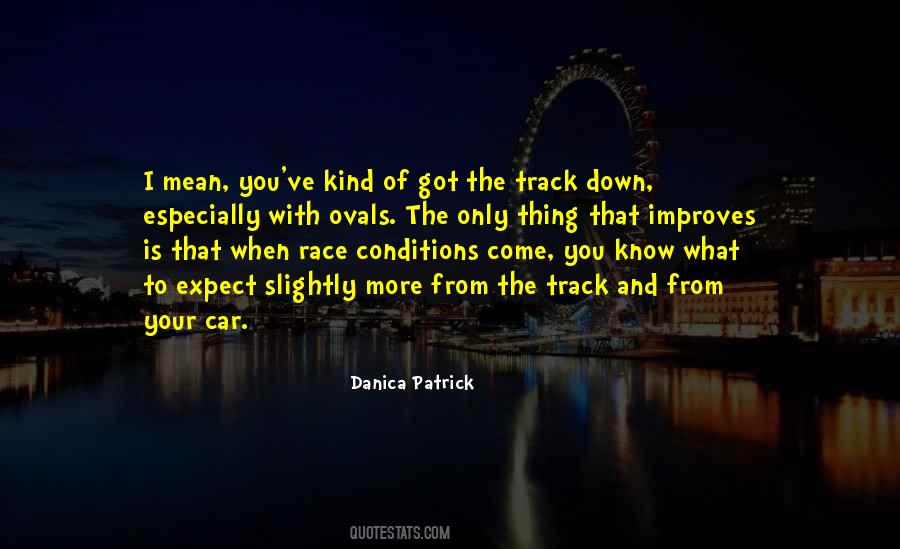 #19. I'll give you a list of a hundred ways that I'm more likely to be injured than belting around a race track with people who know what they're doing. It's not a place where I feel I'm in unnecessary danger. - Author: Eric Bana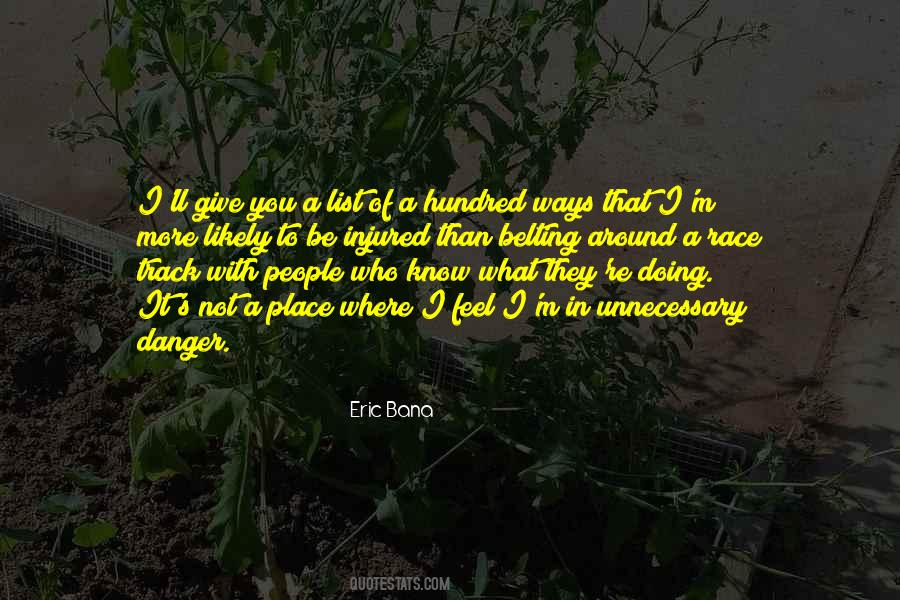 #20. I have to keep going, as there are always people on my track. I have to publish my present work as rapidly as possible in order to keep in the race. The best sprinters in this road of investigation are Becquerel and the Curies ... - Author: Ernest Rutherford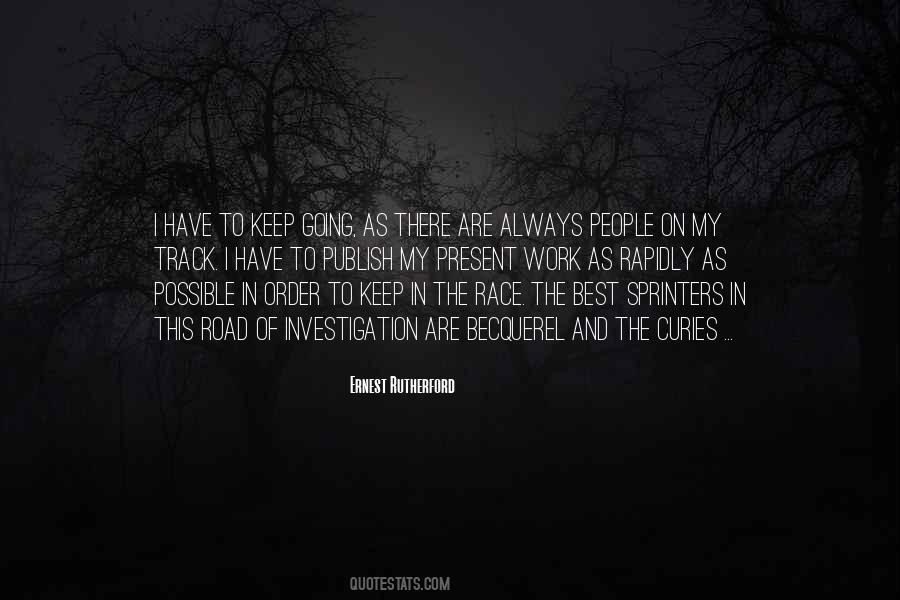 #21. Nothing is ever in such short supply at a race track as time. It doesn't seem to matter whether we are at the track for a race meeting or for testing - there is never enough time. - Author: Carroll Smith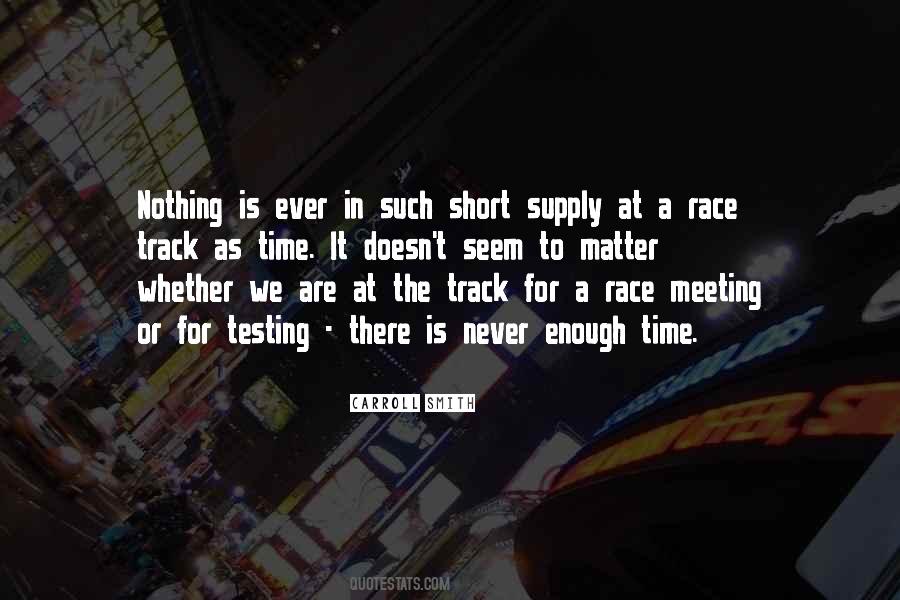 #22. When I started running cross-country and track in high school, literally every race was a failure. - Author: Chad Hurley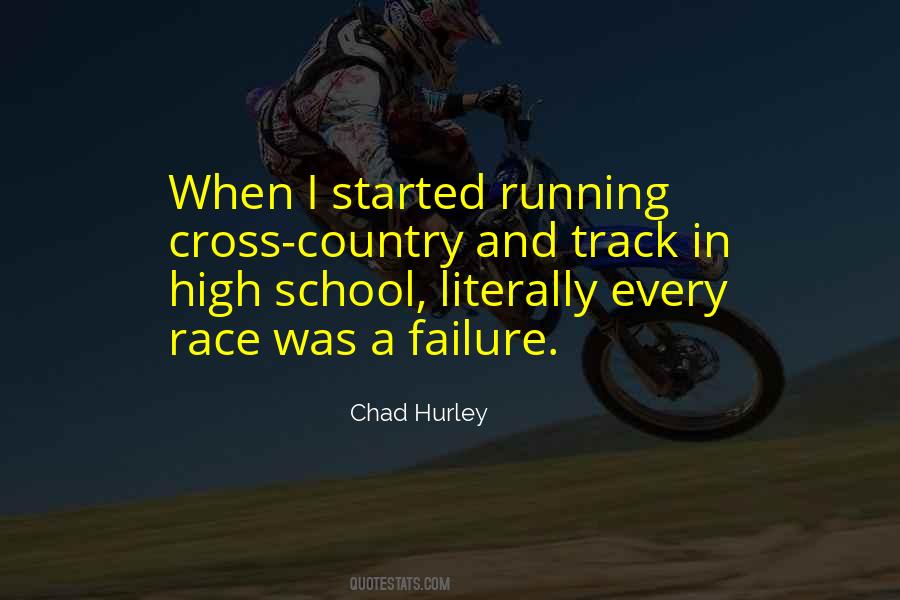 #23. Speed is relative. Does it feel fast going 70 miles per hour down an eight lane highway? No, probably not, but I bet it does if you are going down some single lane dirt road. It's the same in a race car. It depends on the track. - Author: Kyle Petty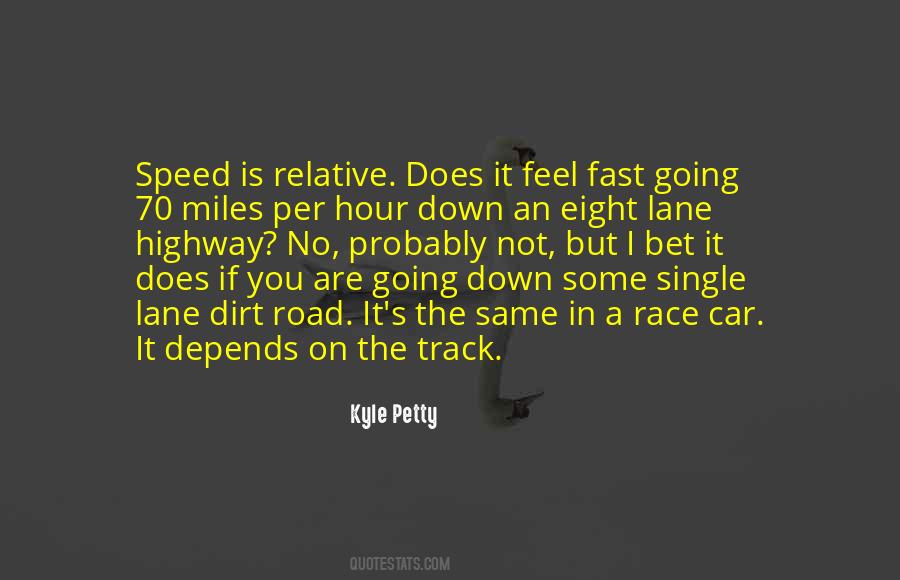 #24. To drive an F1 car you have to be a little mad. On the morning of a race there's a mix of excitement and fear. If it's a wet track, then it's worse as you're not in control most of the time, which is the thing all drivers fear the most. - Author: Jenson Button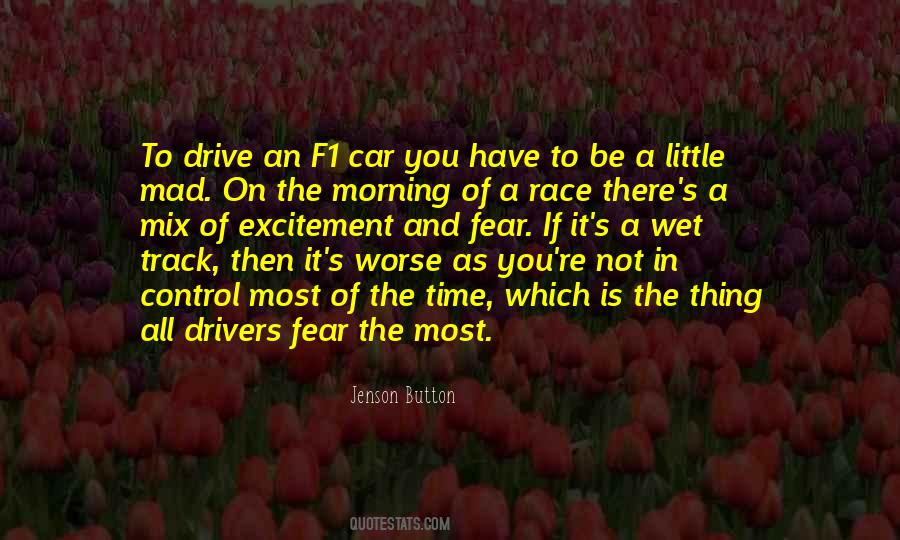 #25. It was not perfect but I'm very happy. It could have been better, but I'm now looking forward to my second race of the season. - Author: Usain Bolt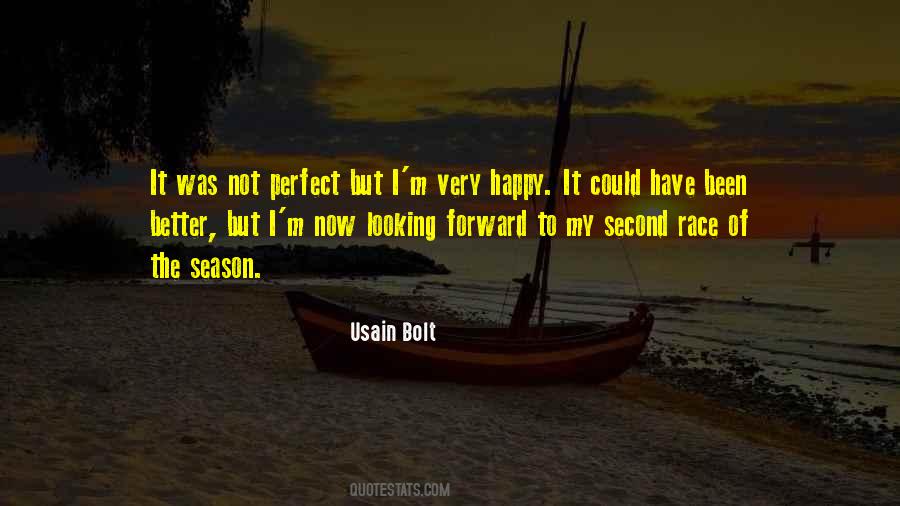 #26. Around the property I have here, I'm about to put an all weather race track. I'm about to build stables. I'm about to ship over a couple of my thoroughbreds from England. - Author: Davy Jones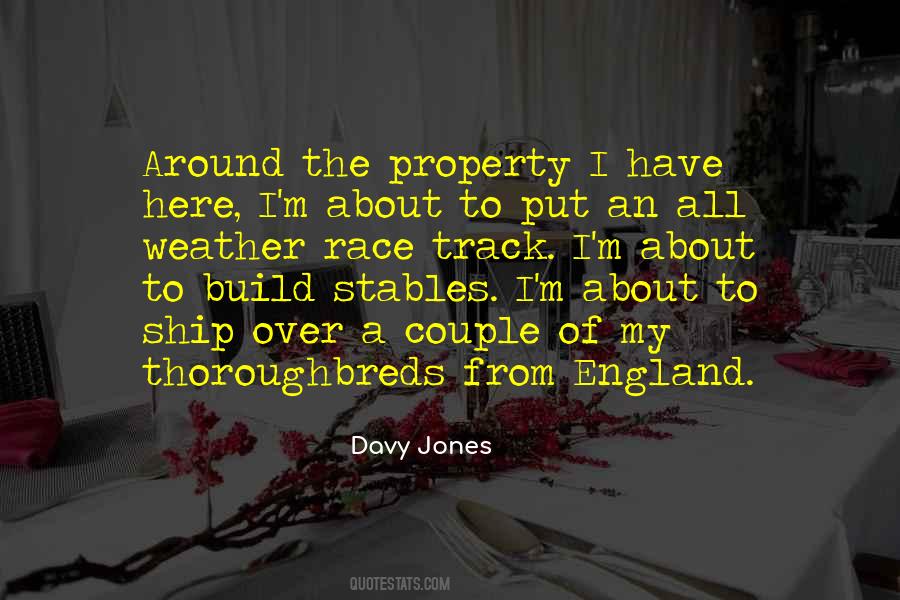 #27. I'm gonna be the best dad that ever lived. I'll have a ranch with a race car track and a golf course. - Author: Jeremy London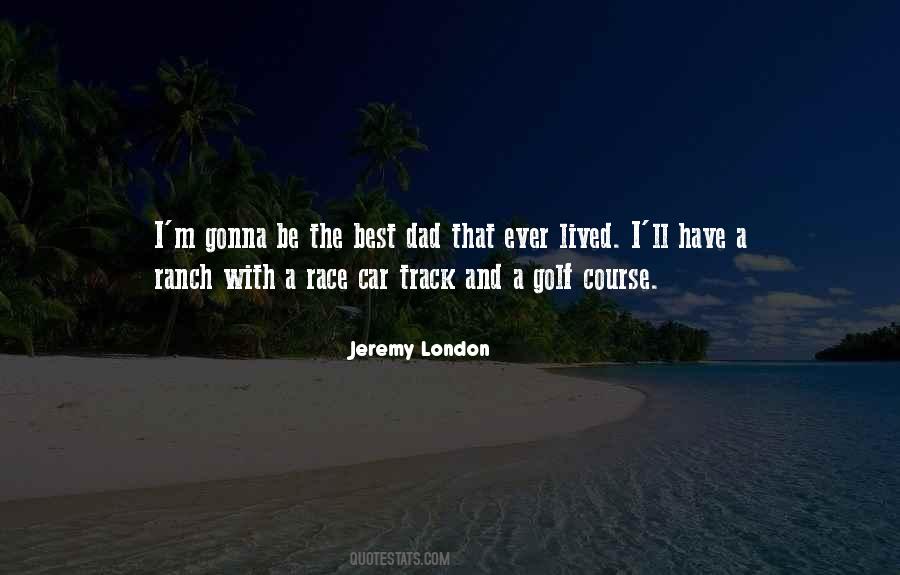 #28. Im running in a race and people are on the other track, I'm running with myself - Author: Shahrukh Khan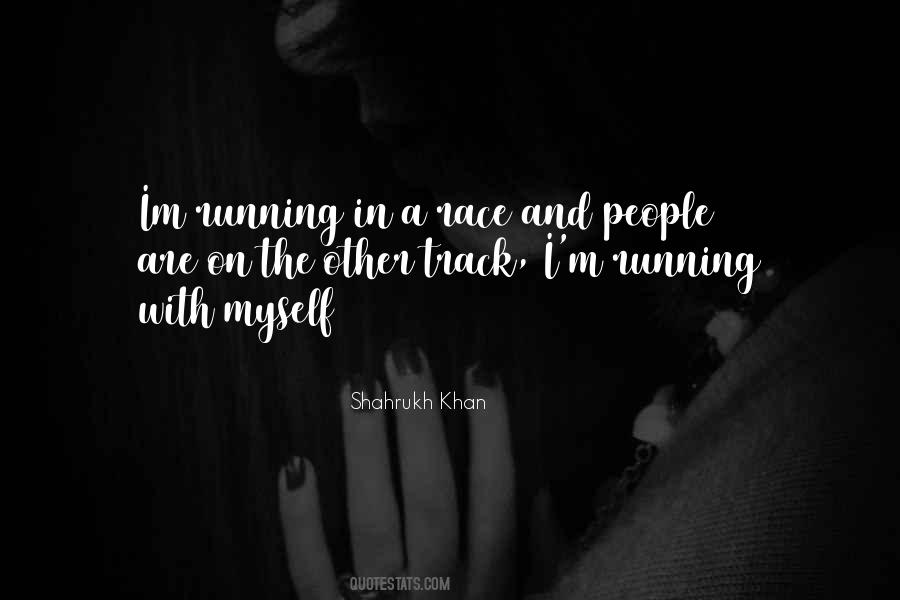 #29. You know, sometimes the little victories that I have throughout the season are not necessarily obvious on the track. Maybe they're another aspect of what I'm doing, winning little victories here and there to get everything in line to be able to perform from top to bottom on race day. - Author: Danica Patrick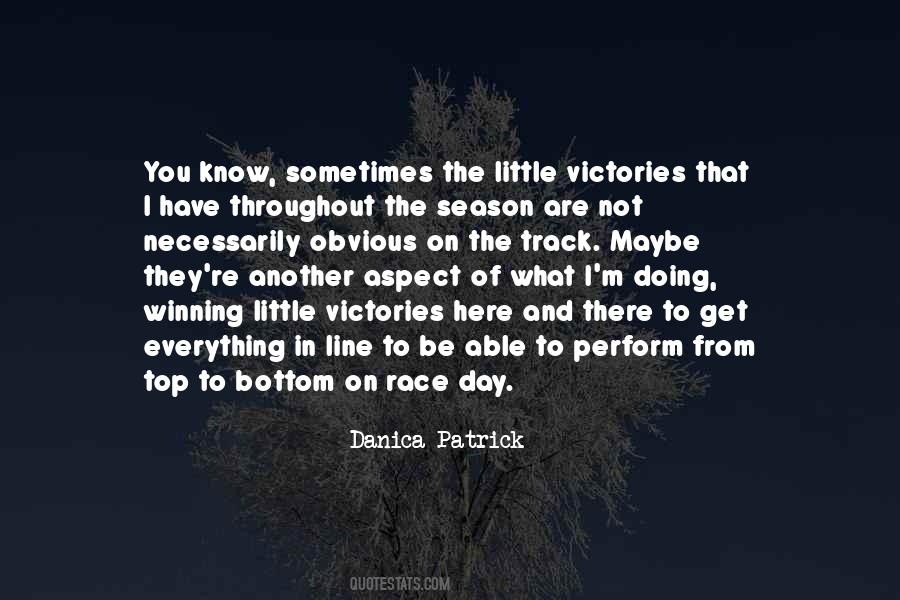 #30. Many track and field people know that if I stay relaxed and run my race like I'm supposed to, I will be the winner at the Olympic Games. - Author: Asafa Powell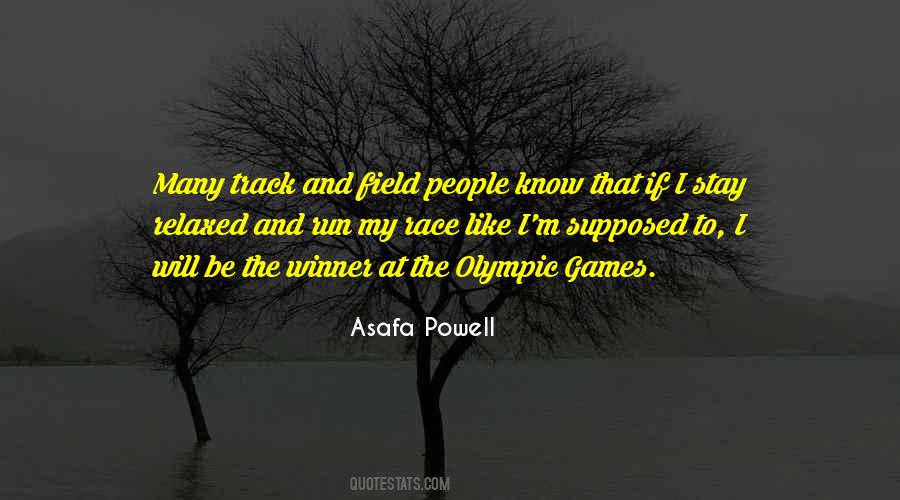 #31. I see History as a relay race in which one of us, before dropping in his tracks, must carry one stage further the challenge of being a man. - Author: Romain Gary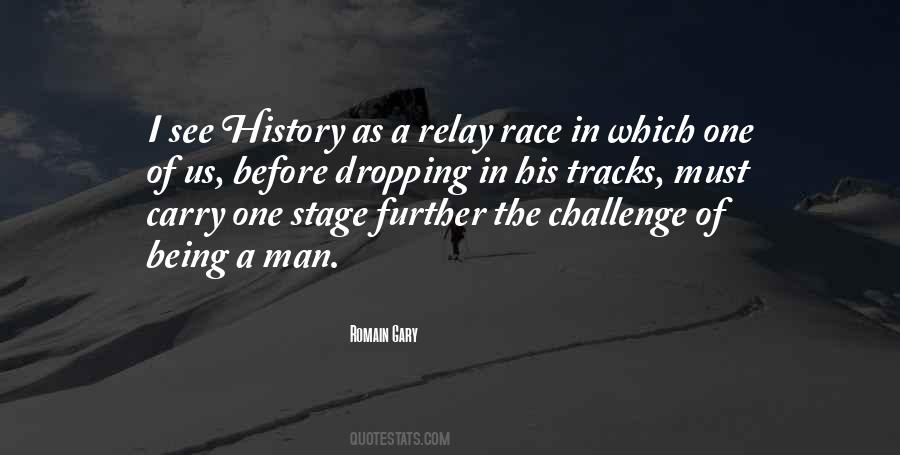 #32. The last sort of really low-key race I ran, I realized with about a hundred metres to go, that my heart just wasn't in it. I wasn't trying my hardest, I didn't care to compete against the girls I was up against. That spoke a lot about where my heart was taking me-which was off the track. - Author: Cathy Freeman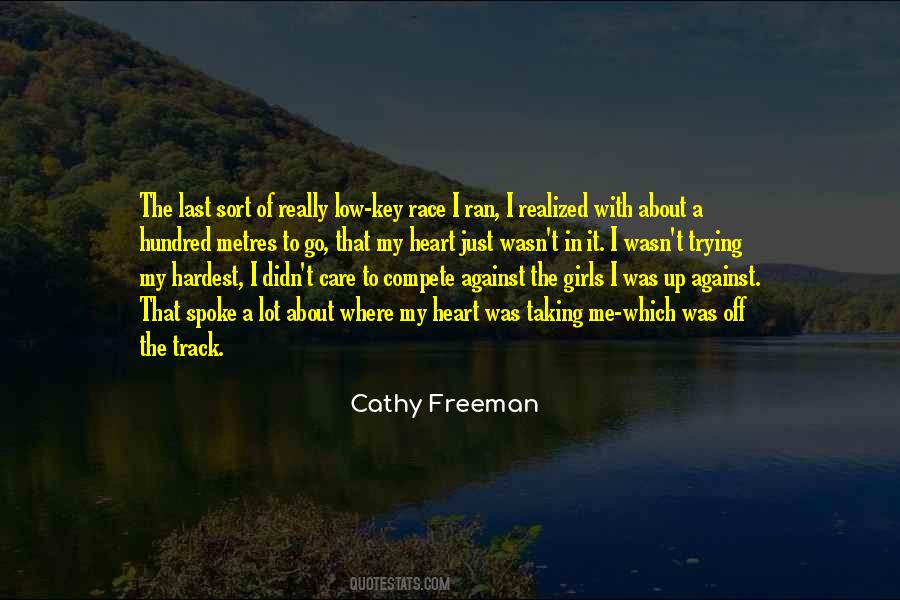 #33. There's no other place I'd rather have it than here in Mexico. It's a race track that I was looking forward to going to from the time we were here last year. This track just fits my driving style perfectly. - Author: Denny Hamlin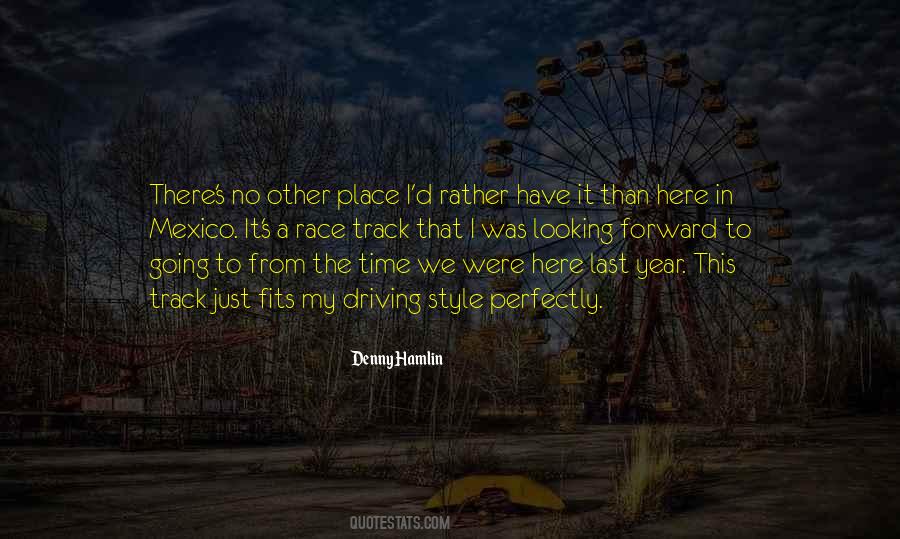 #34. You don't go to a race track to finish second. - Author: Joey Logano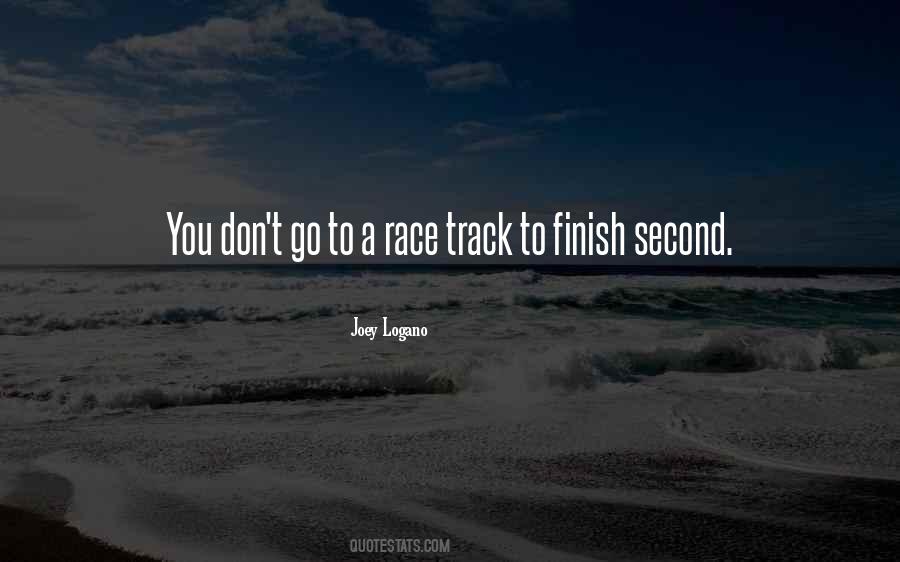 #35. In golf, you have to stay patient and calm. On the race track you can let loose, but in golf you can't and you must be calm. - Author: Heikki Kovalainen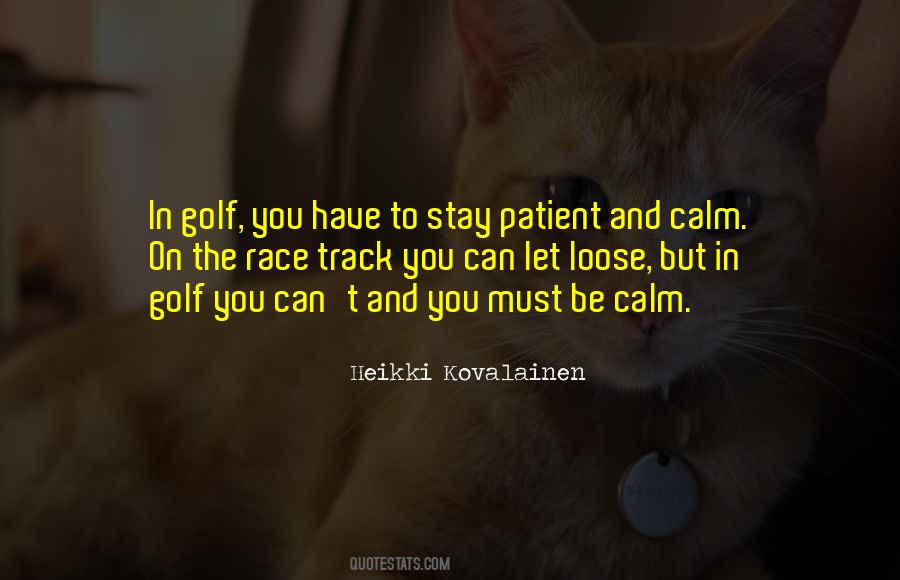 #36. I can't even walk out the door without, even to go to the race track, without my MAC lip gloss. - Author: Angela Cope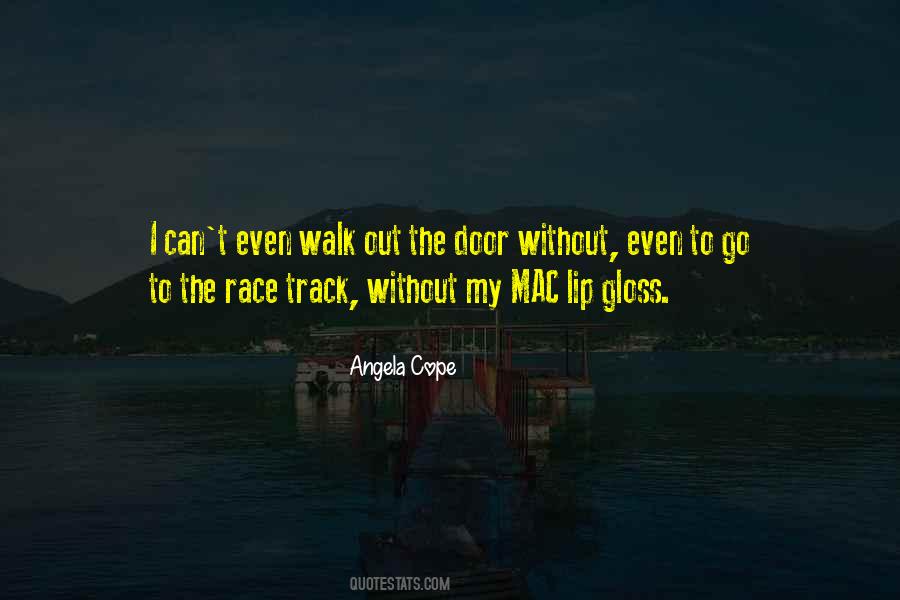 #37. We are in a race between knowledge and catastrophe. If we keep track of what is important, never lower our standards or forget why we are here, we have the ability to determine the fate of the world. - Author: Dean Kamen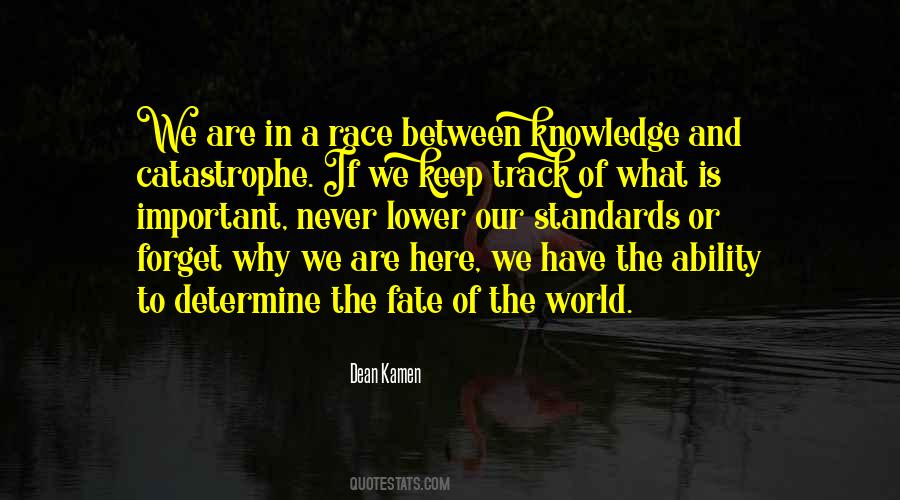 #38. The marathon is all about energy management. I had planned to run it like a track race with strategic surges to blow up my competitors by putting them into oxygen debt, so that is the way I prepared. - Author: Frank Shorter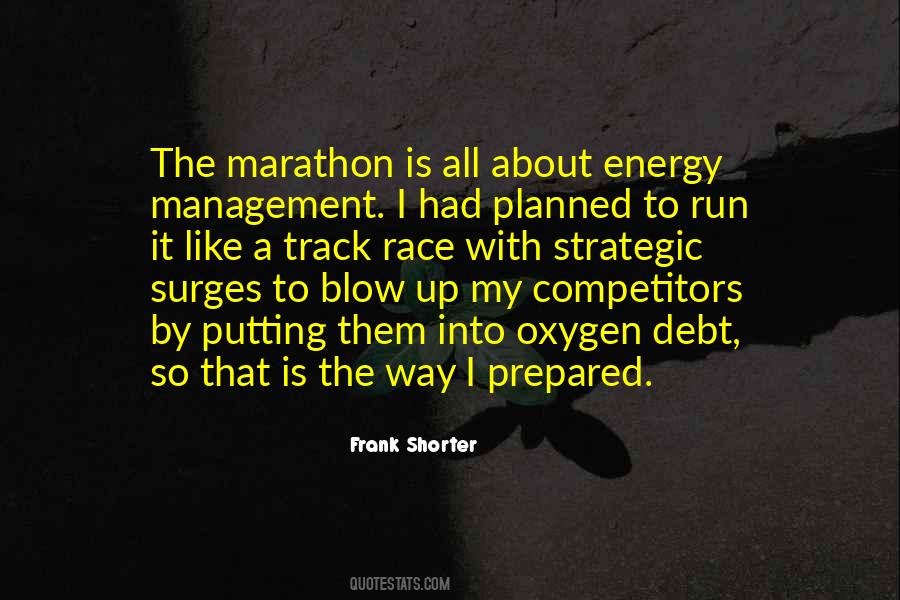 #39. A race track is a place where windows clean people. - Author: Danny Thomas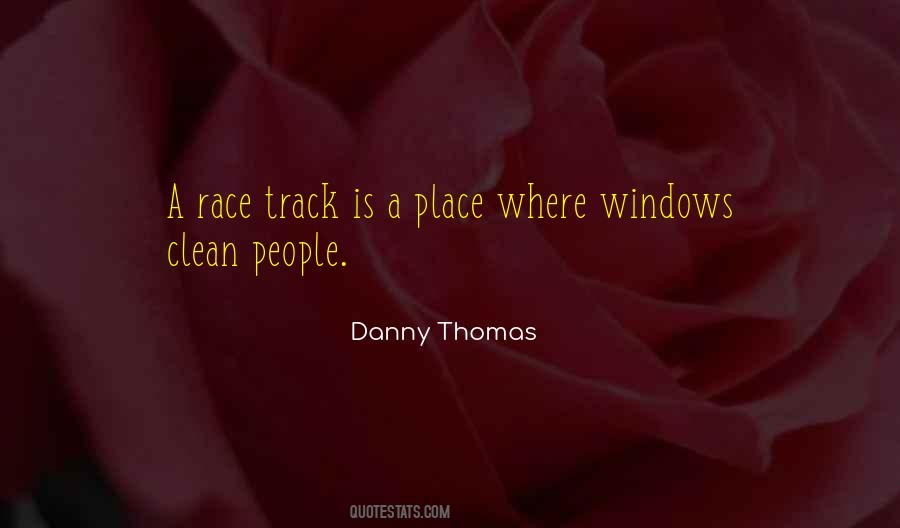 #40. On our track to success, we have to fight the tendency to look at others and see how far they've come. The only thing that counts is how we use the potential we possess and that we run our race to the best of our abilities. - Author: Denis Waitley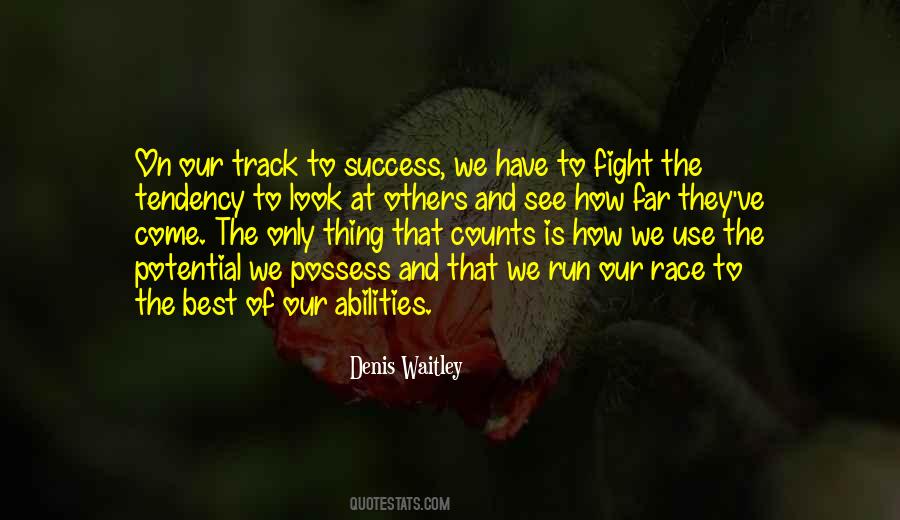 #41. Yeah, our car was really good even after the crash. I told you before the race that if we had good track position at the end I thought we could finish good. It was a really good day for our Linksys car. Just a fun day racing. - Author: Jamie McMurray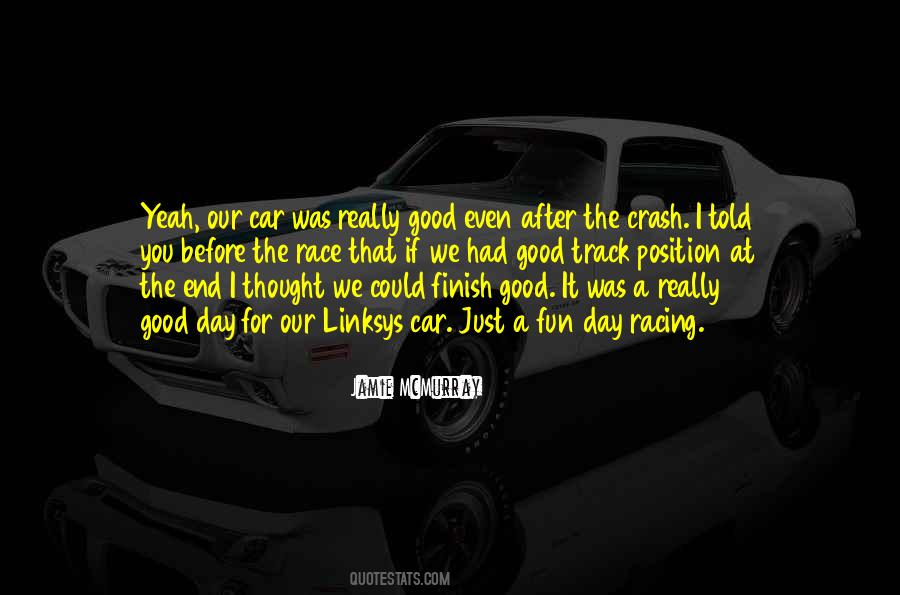 #42. After college I picked my races to be one race every two weeks. That gave me time to recover. I raced just as fast as my legs would carry me. At the end of every race there was nothing left. I walked off the track completely spent! - Author: Gerry Lindgren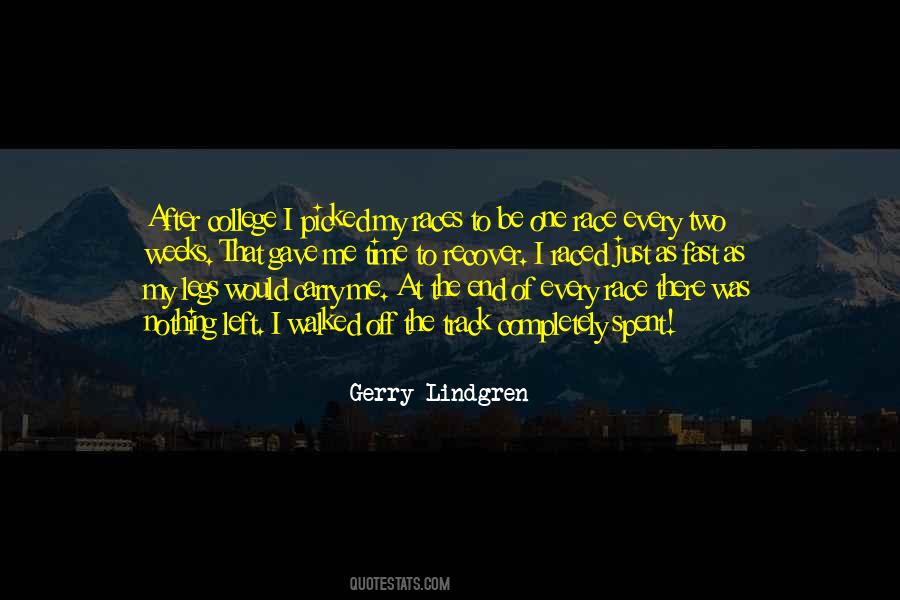 #43. Snake has been everything to me. Look at where I was when I started with the company in 1988 and where I'm at now. I mean, he's shown me just about everything on and off the race track. - Author: Larry Dixon
#44. The French doctor - the French, they are a very logical race and make good doctors - says: "M'sieu, they have all been on the wrong track - ("Jane Brown's Body") - Author: Cornell Woolrich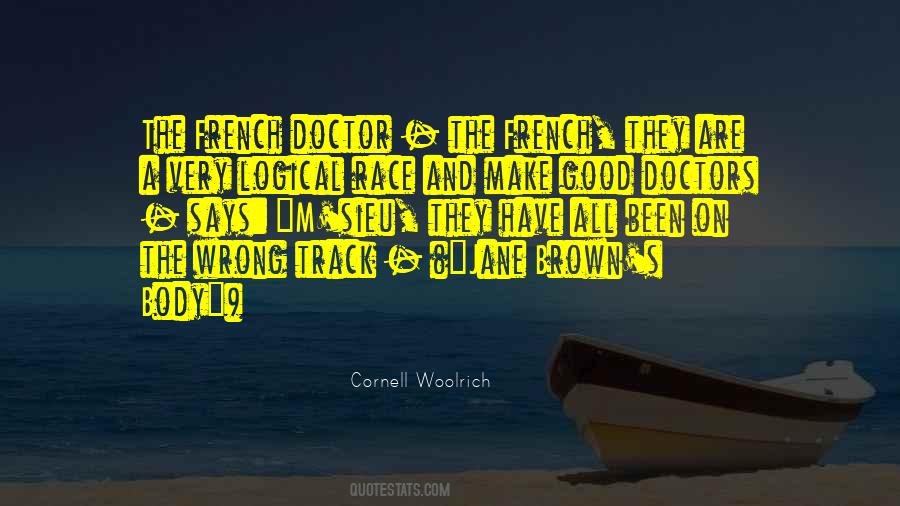 #45. However I am looking forward to the two new Grands Prixs both Shanghai and Laguna Seca are fantastic tracks and it will be good to race at them. - Author: Valentino Rossi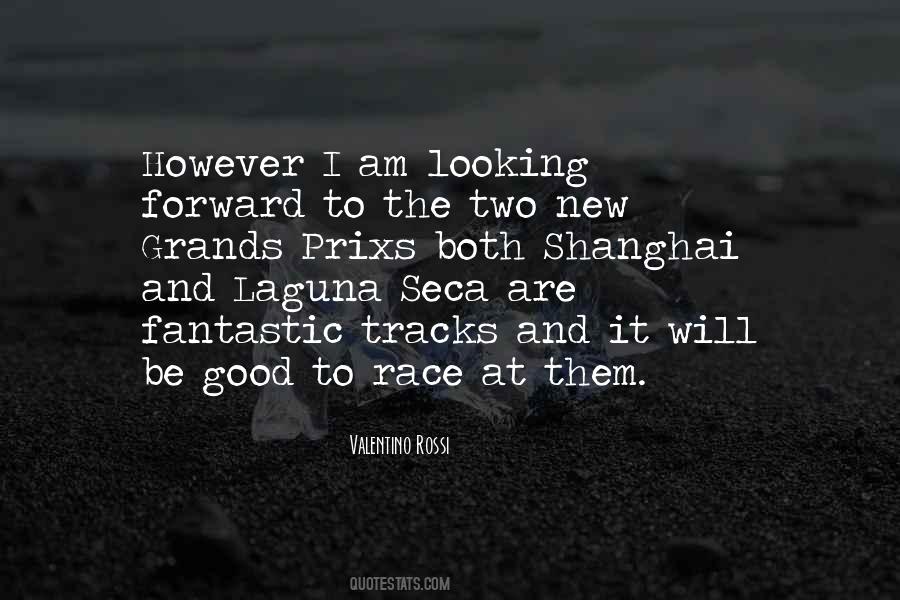 #46. Where I went off, you can get back on the track by going through the support race pitlane, but you have to go through a gate. I know this as I did the same thing in 2001 and the gate was open that year. Somebody closed it this time. Next year, I'll make sure it's open again. - Author: Kimi Raikkonen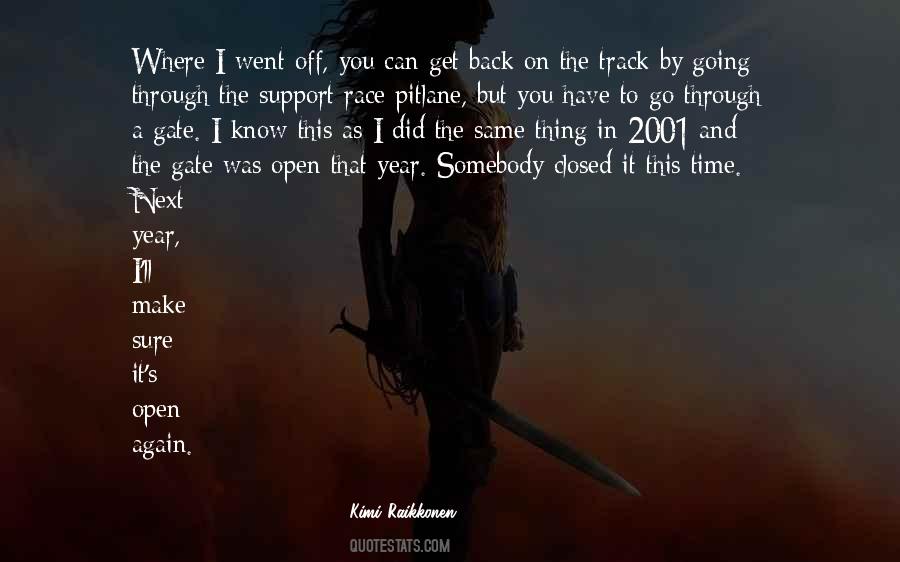 #47. The Mahdi rolls along the path to the race track as red, broad and shining as a John Deere tractor ... - Author: Jaimy Gordon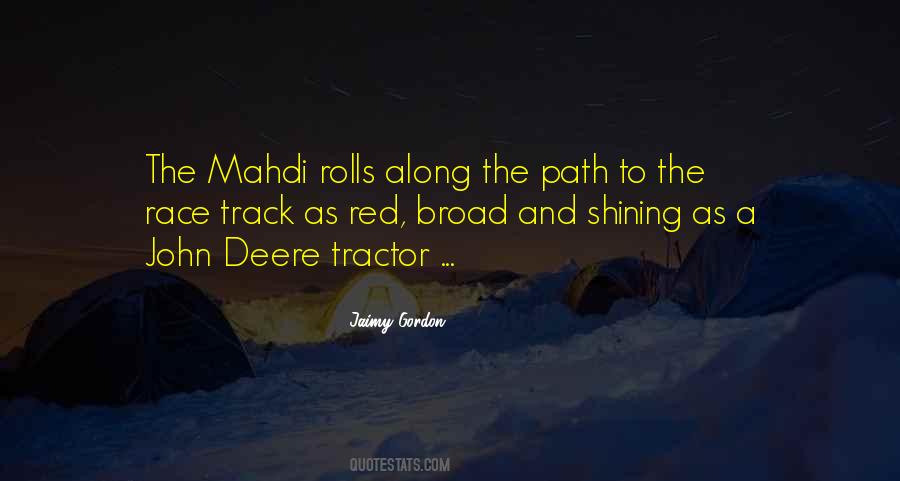 #48. My friend is a former race car driver, so he races for Mercedes, and I root for him. I have a car that I love to race, I'll take it to the track. - Author: Hill Harper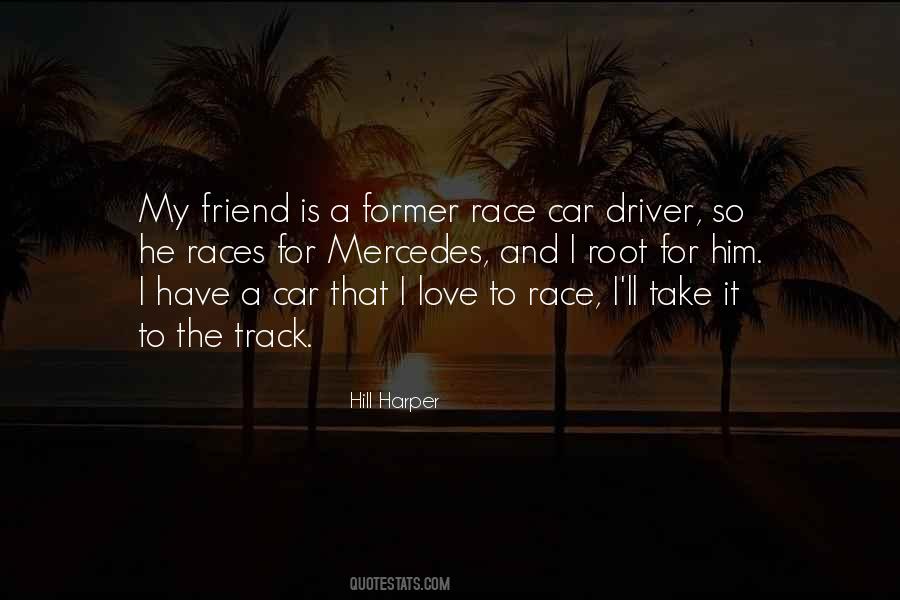 #49. When you can leave a race track and there's people in tears because they won and (people) in tears because they got crashed, you know, that's what brings us to the race track. - Author: Clint Bowyer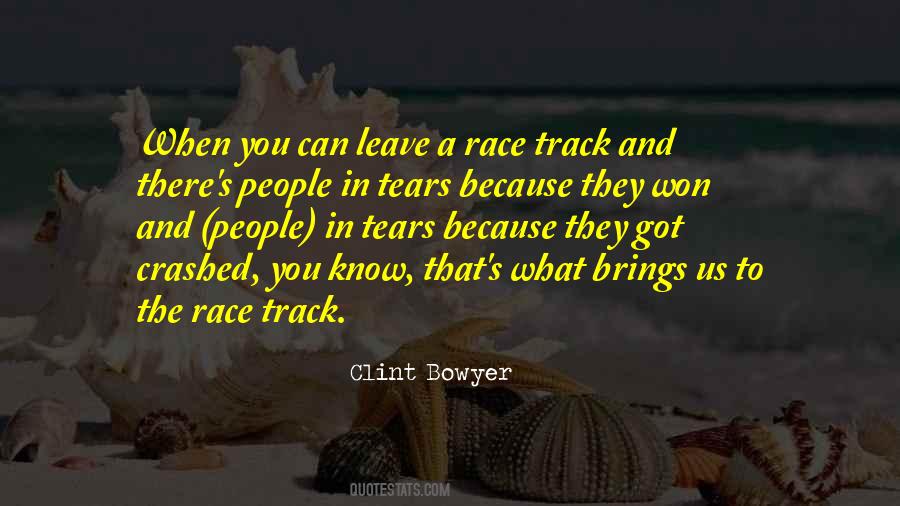 #50. Three half-mile repeats on the track at 5-K race pace with a short recovery jog in between shouldn't scare anyone away-and it will improve your speed. - Author: Frank Shorter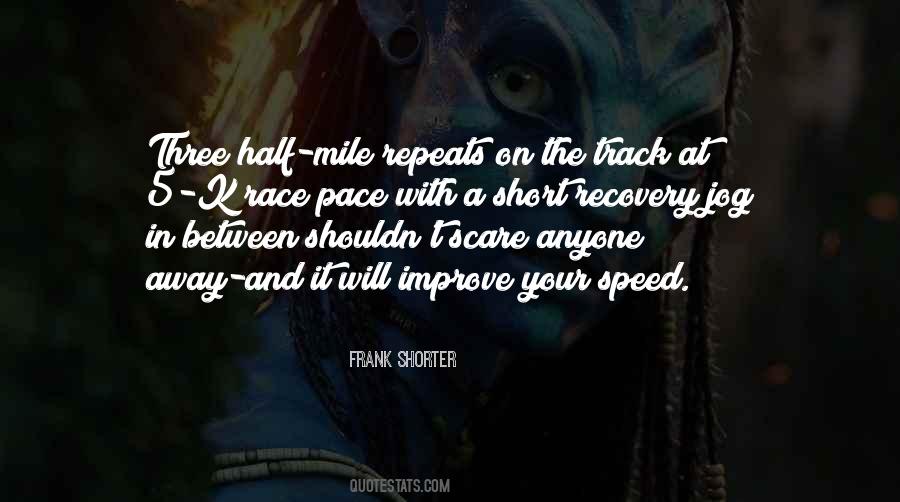 #51. Average" isn't so hot at the race track given those steep track takes. "Average" is pretty decent for stocks, something like 6 percent above the inflation rate. For a buy-and -hold investor, commissions and taxes are small. - Author: William Poundstone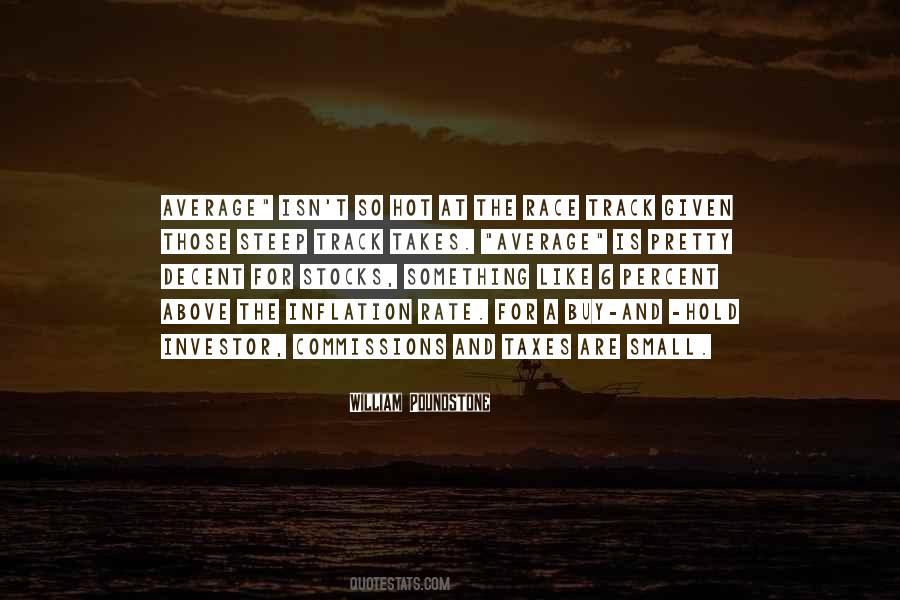 #52. You're safer in the race car than you are in cars going to and from the track. - Author: Mario Andretti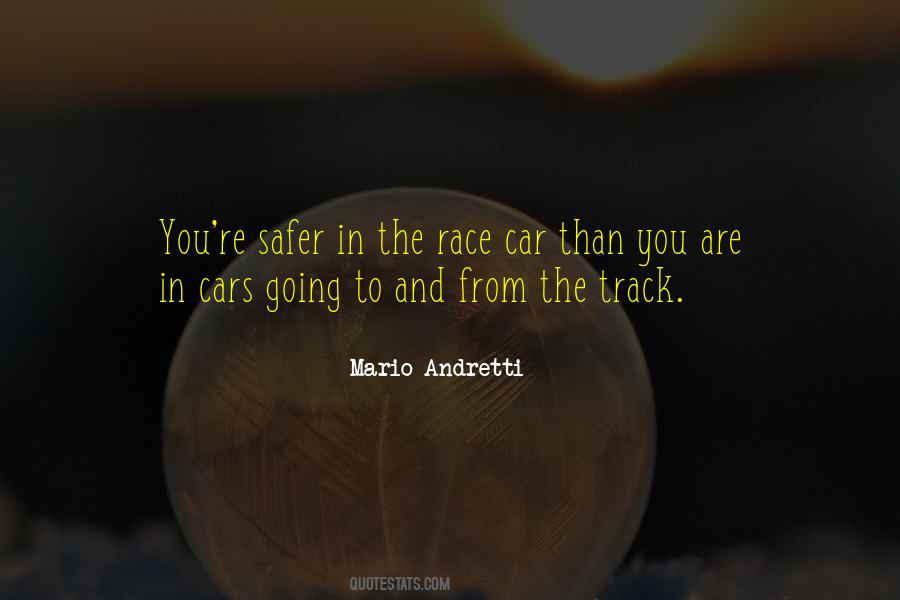 #53. In Las Vegas we all know that it's the croupiers who win. At the race track, it's those who control the handle who win. State lotteries, does anybody think the participants in the lottery win? No. The state wins. - Author: John C. Bogle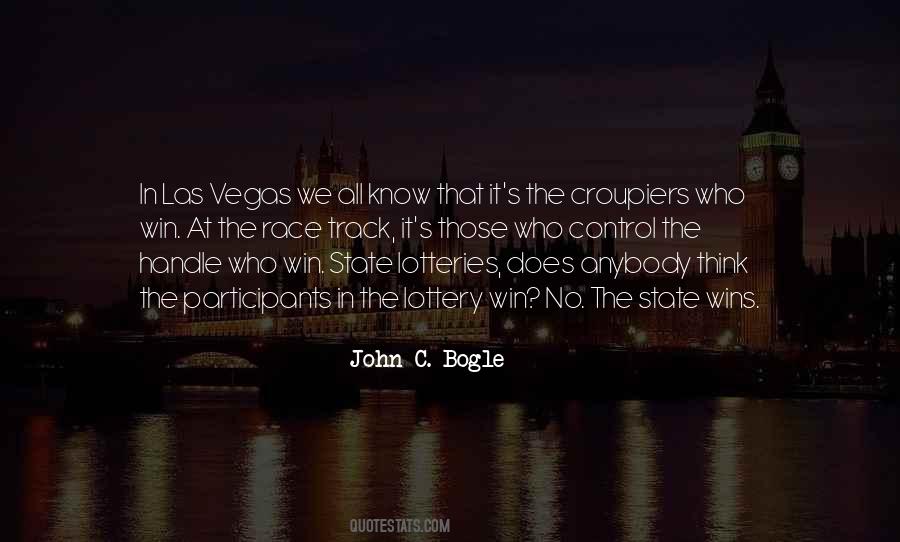 #54. You learn how to be a better person not just on the [race] track, but all around. - Author: Bobby Labonte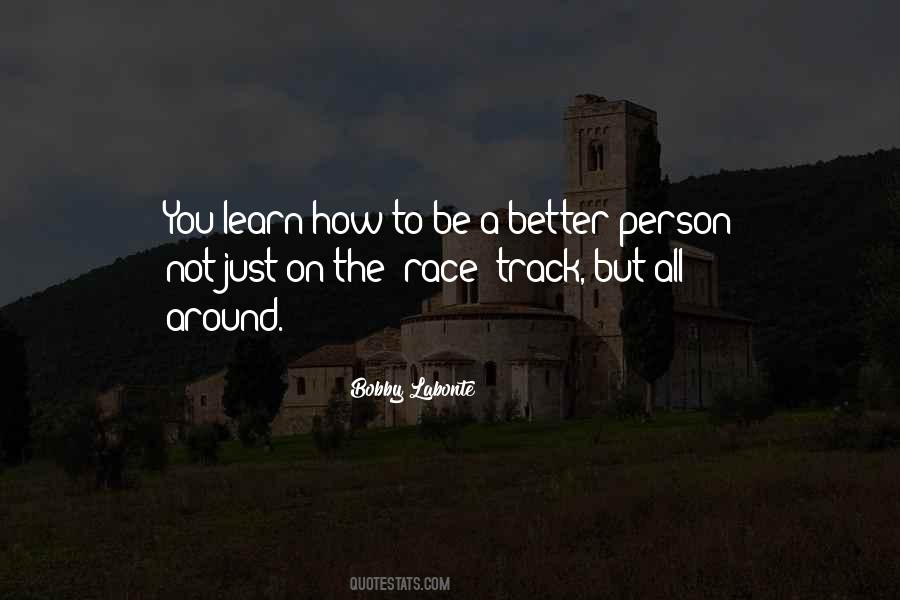 #55. The America's Cup is like driving your Lamborgini to the Gran Prix track to watch the charter buses race. - Author: P. J. O'Rourke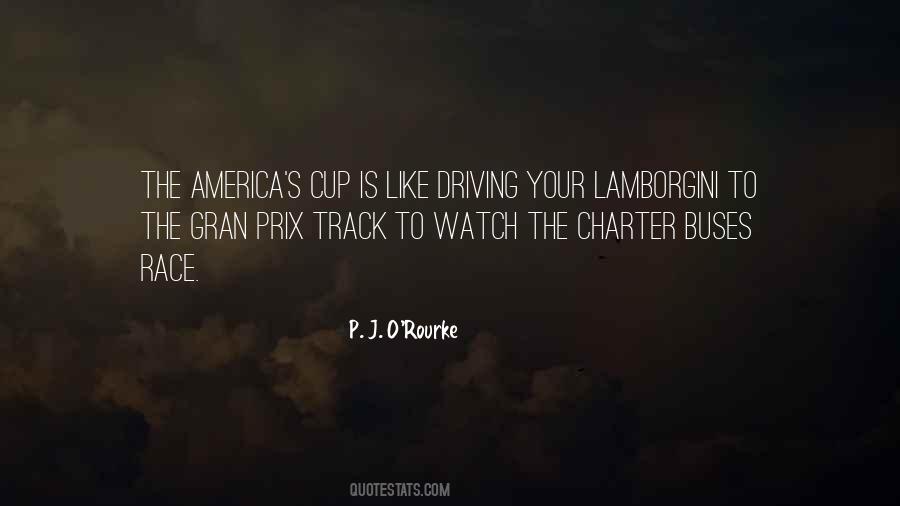 Famous Authors
Popular Topics