Passion For Learning Famous Quotes & Sayings
List of top 61 famous quotes and sayings about passion for learning to read and share with friends on your Facebook, Twitter, blogs.
Top 61 Quotes On Passion For Learning
#1. Understanding our children's frustrations with dyslexia and giving them the tools to blossom will give them the confidence to reach their true potential. We can help our children channel their interests and talents and ignite the passion within. - Author: Carolina Frohlich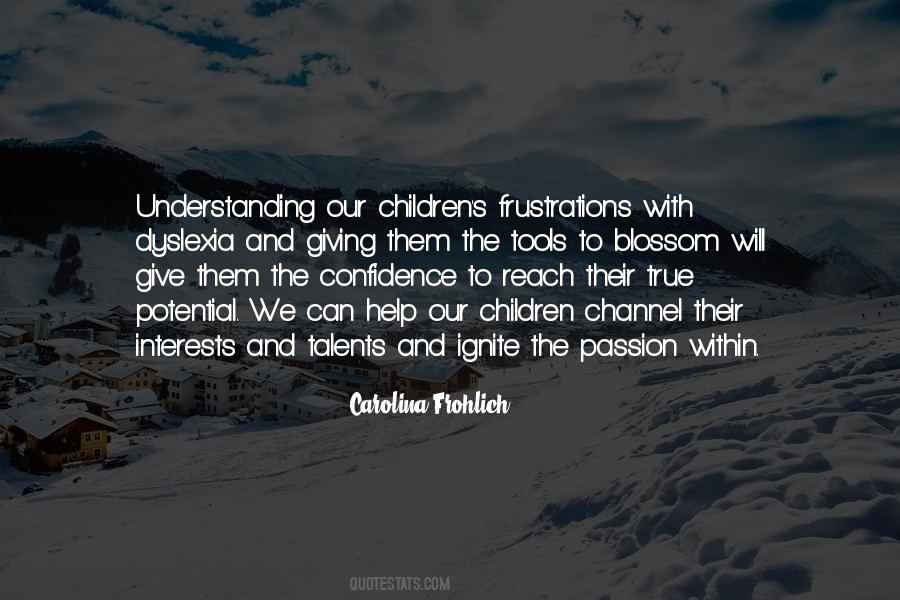 #2. True learning takes energy, passion and a burning desire. - Author: Robert Kiyosaki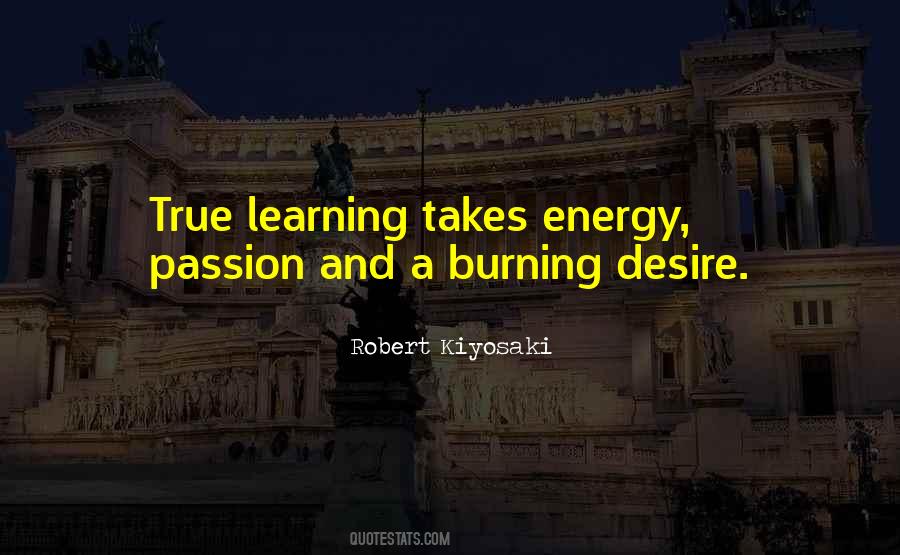 #3. The quest for knowledge is passion to study. - Author: Lailah Gifty Akita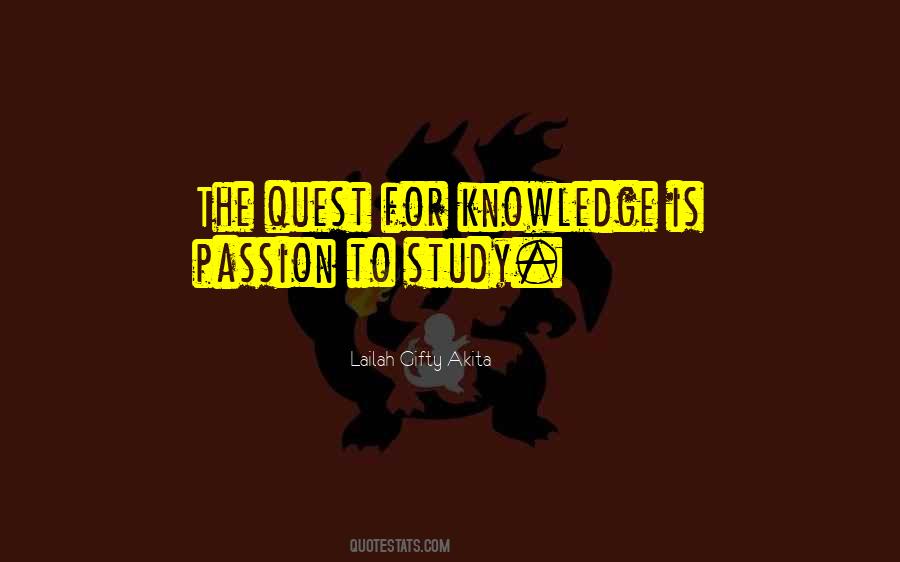 #4. My life path has been a blessing and a great learning experience. Skateboarding is my passion and I don't see that changing. When I'm not skating, I love to surf. I'm open to the new experiences and opportunities. - Author: Ryan Sheckler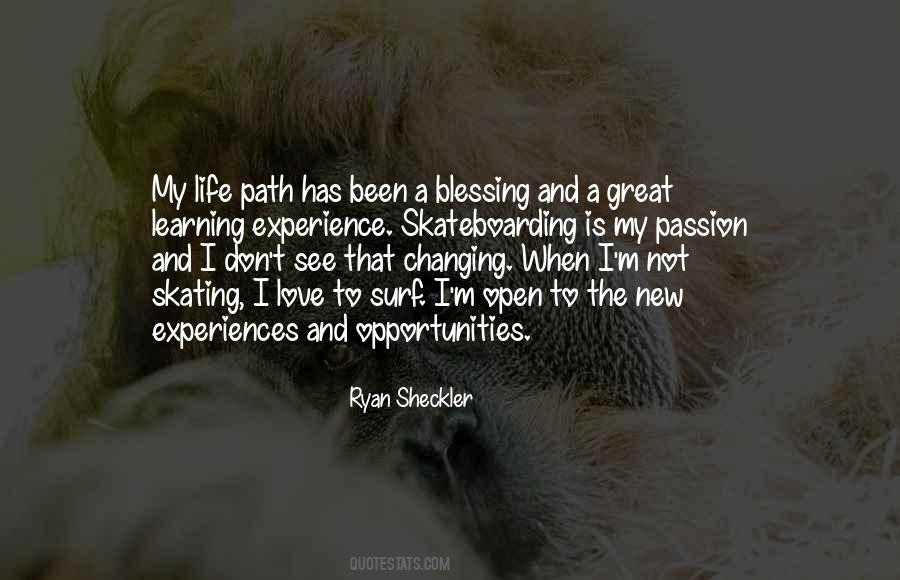 #5. A great football team is the right balance and the right mixture of players. Good leaders, good communicators and good technicians. You need people that are strategically astute. People need passion, desire and most importantly, a willingness to keep learning. - Author: Hope Powell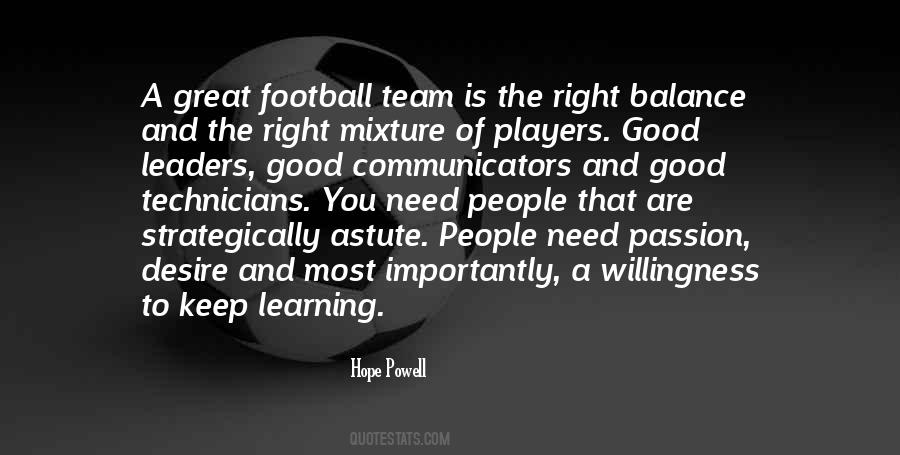 #6. Perhaps the mission of those who love mankind is to make people laugh at the truth, to make truth laugh, because the only truth lies in learning to free ourselves from insane passion for the truth. - Author: Umberto Eco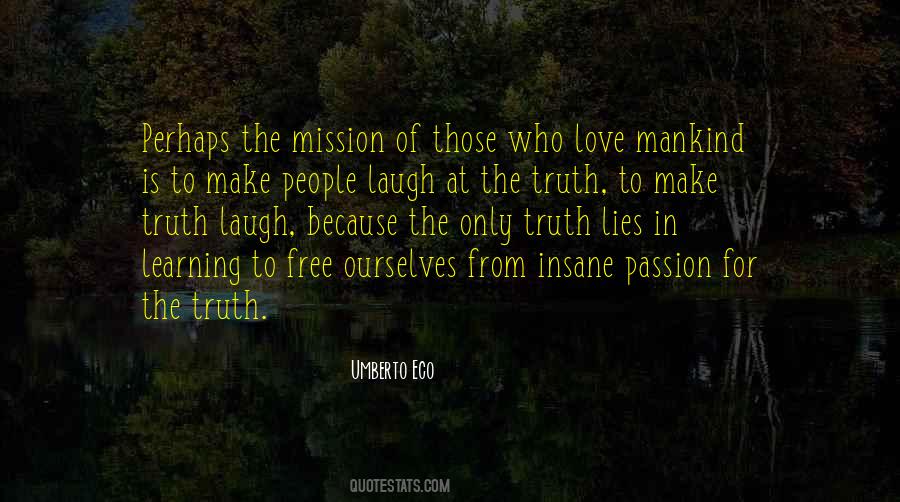 #7. A passion for learning ... isn't something you have to inspire with; it's something you have to keep from extinguishing. - Author: Deborah Meier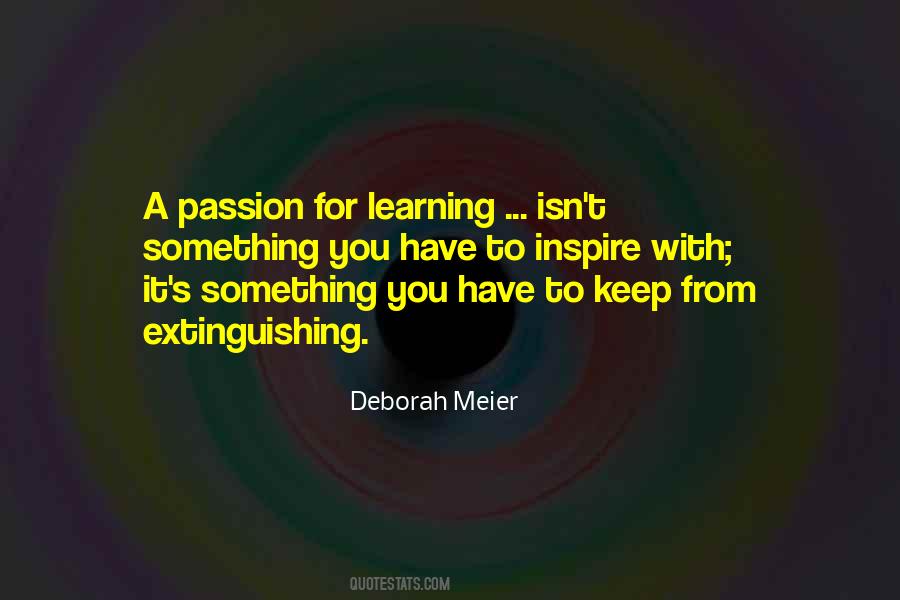 #8. If you want to be a graduate student, you have to fall in love with reading. - Author: Lailah Gifty Akita
#9. I think there's too much emphasis placed on learning things by rote that you don't really care about. So what happens to students in school is that they eventually lose interest in learning, because they've been forced to learn the required courses, rather than pursing their passion. - Author: Jack Canfield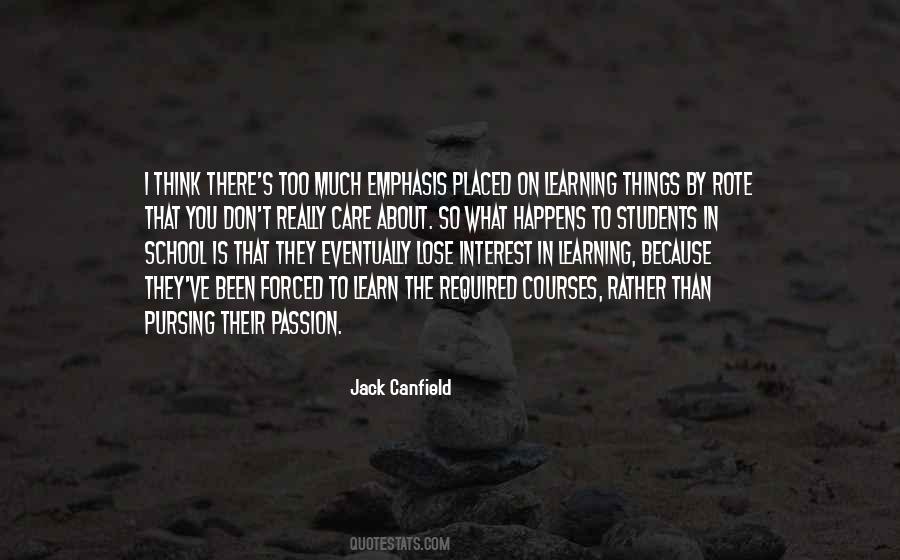 #10. Self-education begins with the passion to read the Scriptures. - Author: Lailah Gifty Akita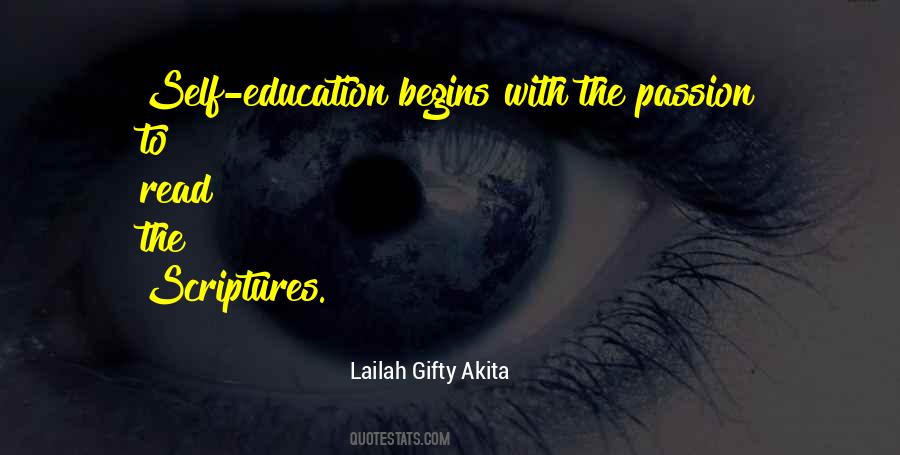 #11. Learning's purest form," Jones replied, "is realized by the individual who continues a quest beyond the classroom, fueled by a passion to discern wisdom. Wisdom - genuine truth - holds the key to refining one's thinking. - Author: Andy Andrews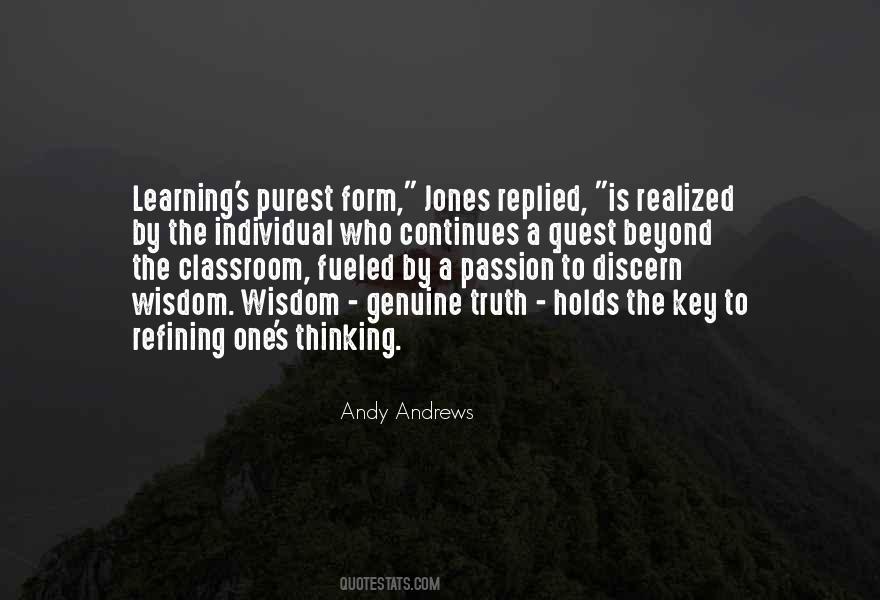 #12. People come to me with their passion about transportation, about education, about health care, about agriculture, the dairy industry, the almond growers. I'm just a kid in a candy store, learning and eating up all this different knowledge. - Author: Jerry McNerney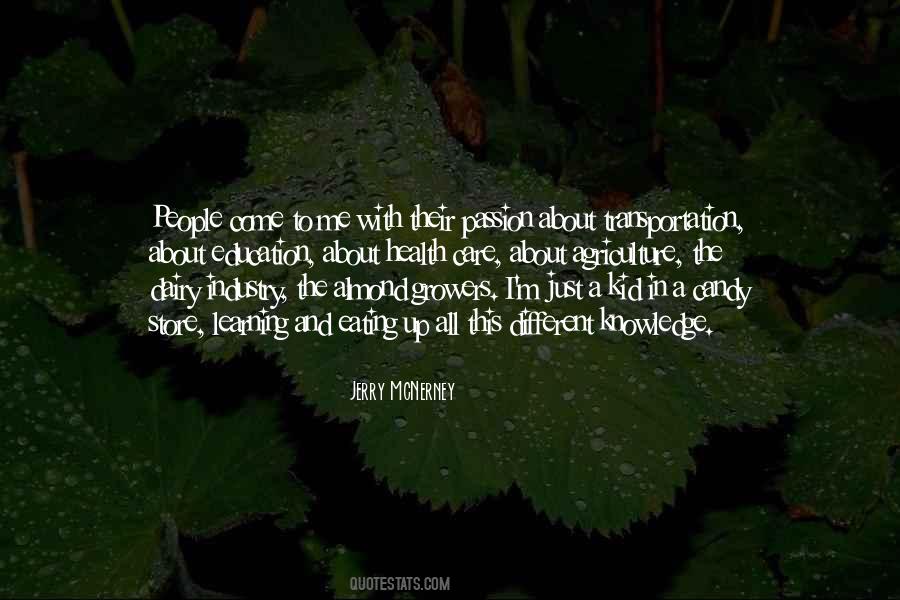 #13. I hit a ball for a living, but I have that passion to keep learning. - Author: Maria Sharapova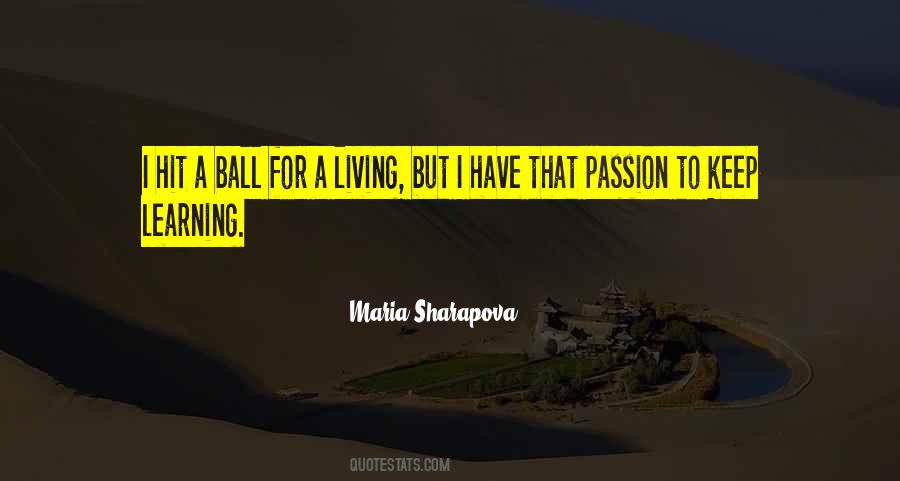 #14. Education is a means of empowerment, never take it for granted.
Always make time for independent learning.
Find your passion in life and pursue it with your heart and soul.
Never stop believing in yourself. - Author: Deborah Gabriel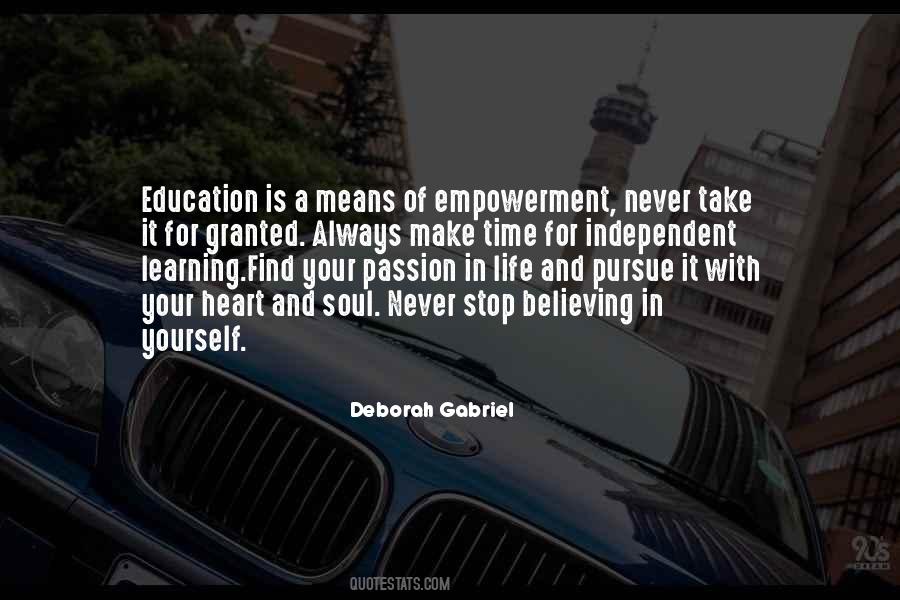 #15. Practice is a shared history of learning. Practice is conversational. 'Communities of Practice' are groups of people who share a concern (domain) or a passion for something they do and learn how to do it better (practice) as they interact regularly (community). - Author: Etienne Wenger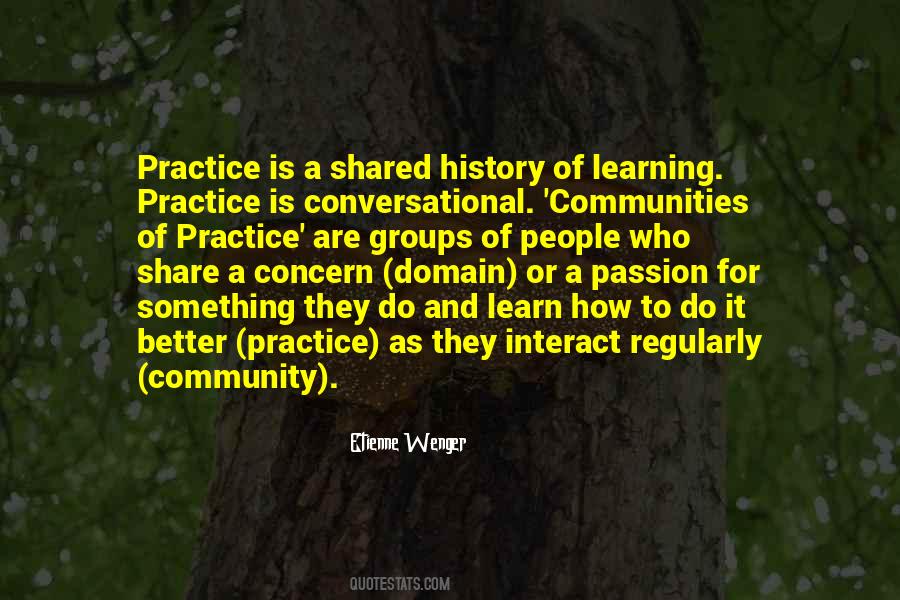 #16. you give your best for today, you create a greater tomorrow. - Author: Lailah Gifty Akita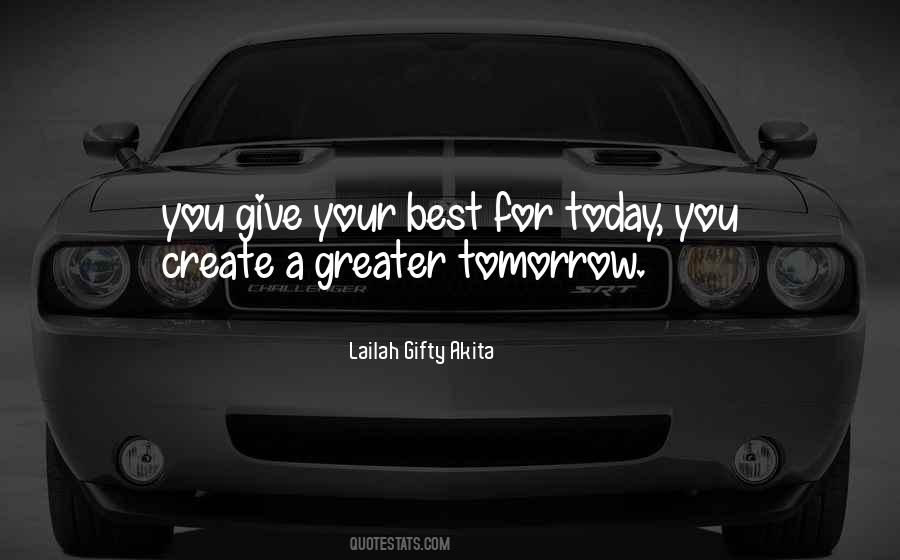 #17. I have been a teacher myself all my life. I have an intense passion to share with people. Our only salvation is in knowledge, in learning. - Author: Leo Buscaglia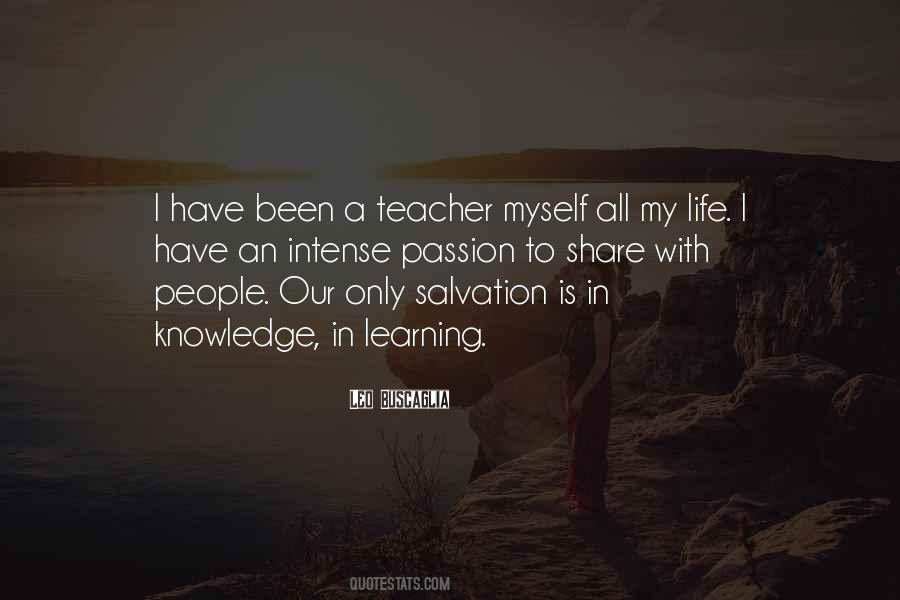 #18. Mastering an art is like reaching the top of the passion mountain ... at the top the passion dies out! So keep learning. - Author: Siddharth Katragadda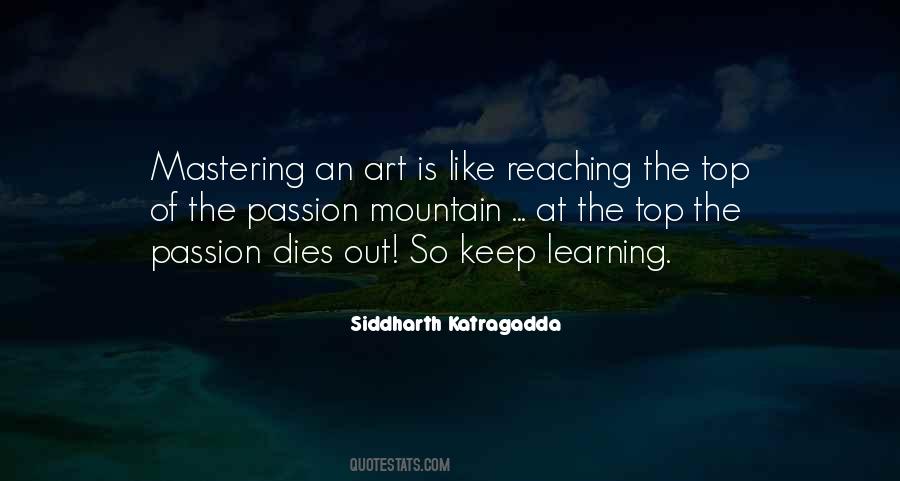 #19. Love of learning is the most necessary passion ... in it lies our happiness. It's a sure remedy for what ails us, an unending source of pleasure. - Author: Emilie Du Chatelet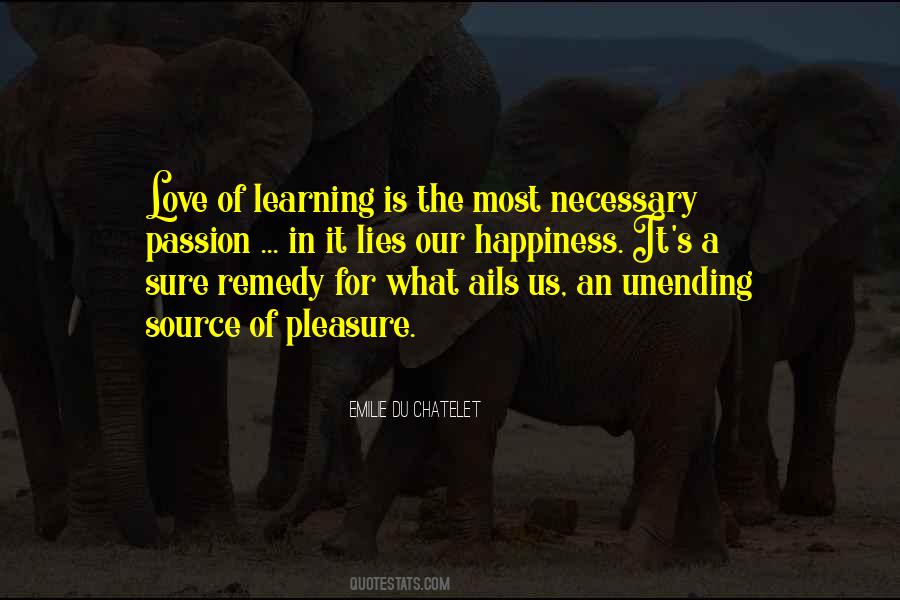 #20. The race will go to the curious, the slightly mad, and those with an un-satiated passion for learning and dare-deviltry. - Author: Tom Peters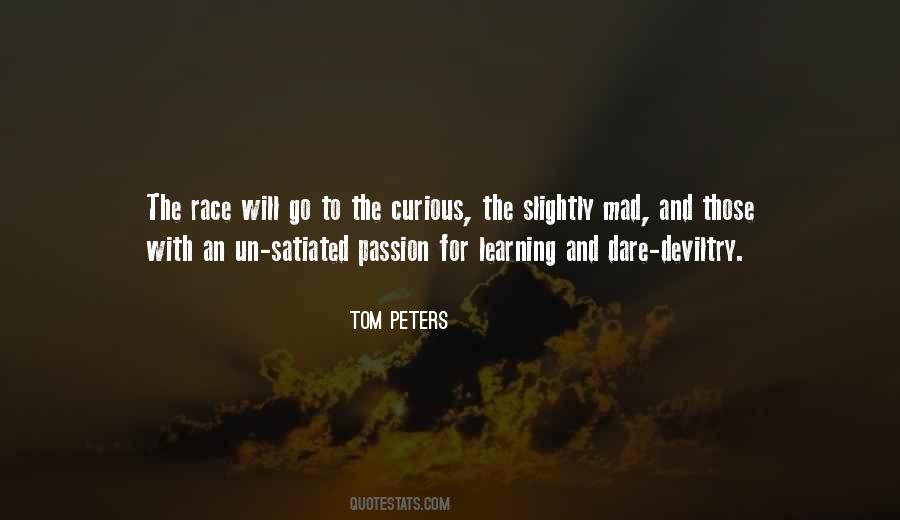 #21. In order to eat, you have to be hungry. In order to learn, you have to be ignorant. Ignorance is a condition of learning. Pain is a condition of health. Passion is a condition of thought. Death is a condition of life. - Author: Robert Anton Wilson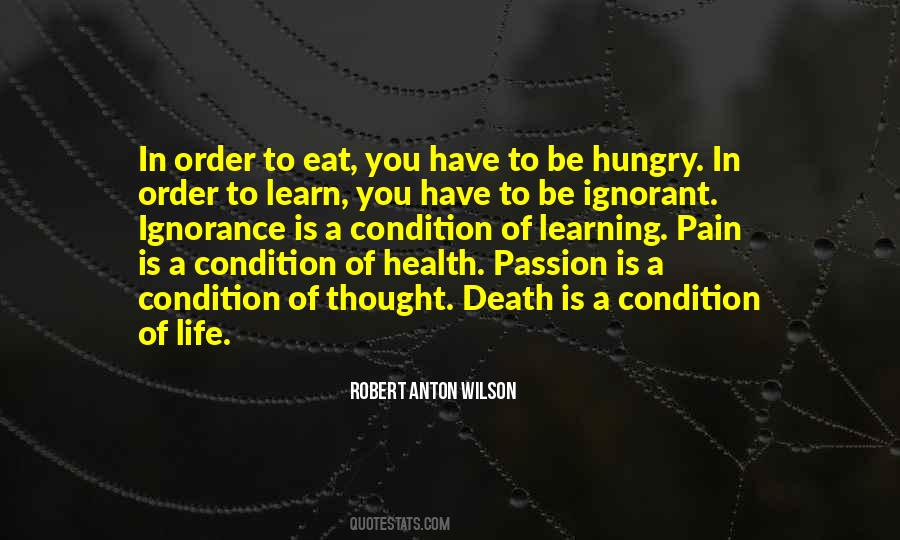 #22. My coach and my parents both had this relationship to what I was doing, which was allowing me to express myself with chess. And so I could love it. I had a passion for it. I was expressing myself through chess, and I was learning about myself through chess. - Author: Joshua Waitzkin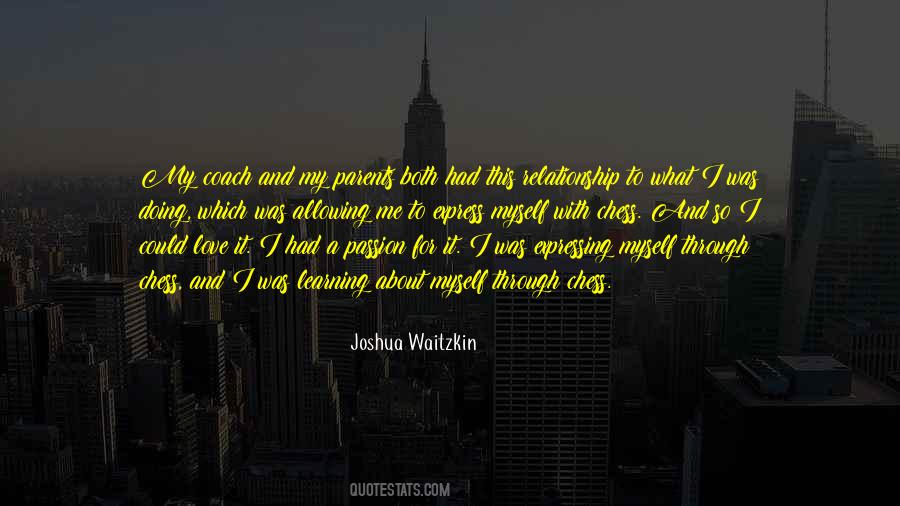 #23. I grew up watching my father work, and learning from him what good quality is. I took from him the passion to create beautiful and exclusive products. He also taught me to persevere if I want to reach my goals. - Author: Diego Della Valle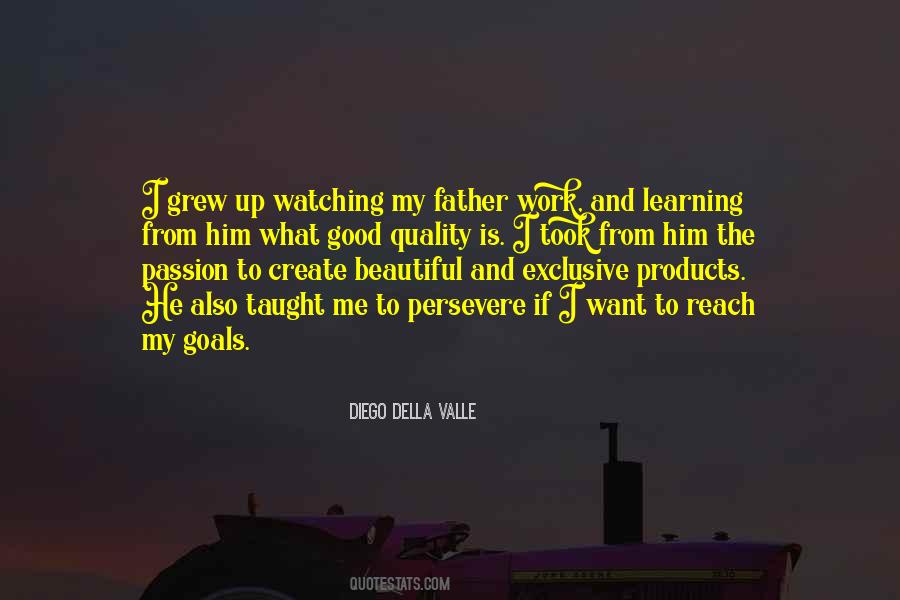 #24. If we spark a student's passion, we unleash a powerful force upon the world. - Author: Tim Fargo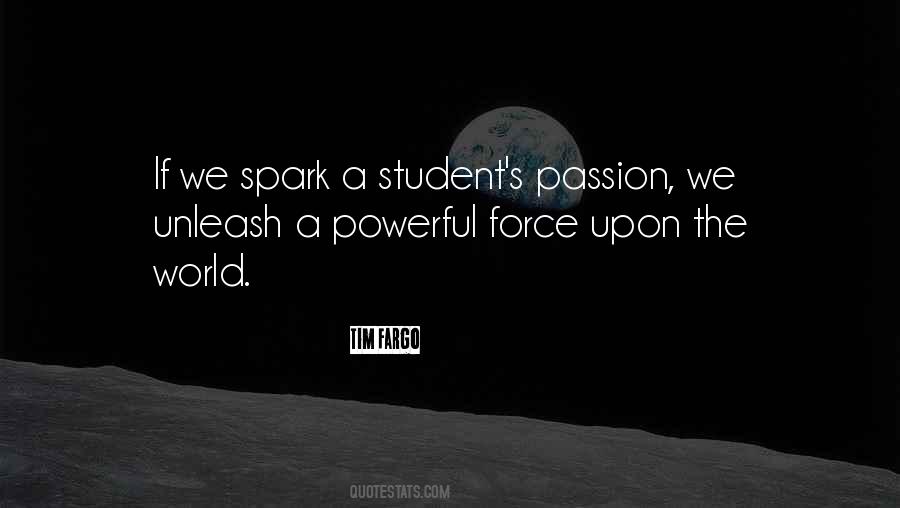 #25. Sadly, children's passion for thinking often ends when they encounter a world that seeks to educate them for conformity and obedience only. - Author: Bell Hooks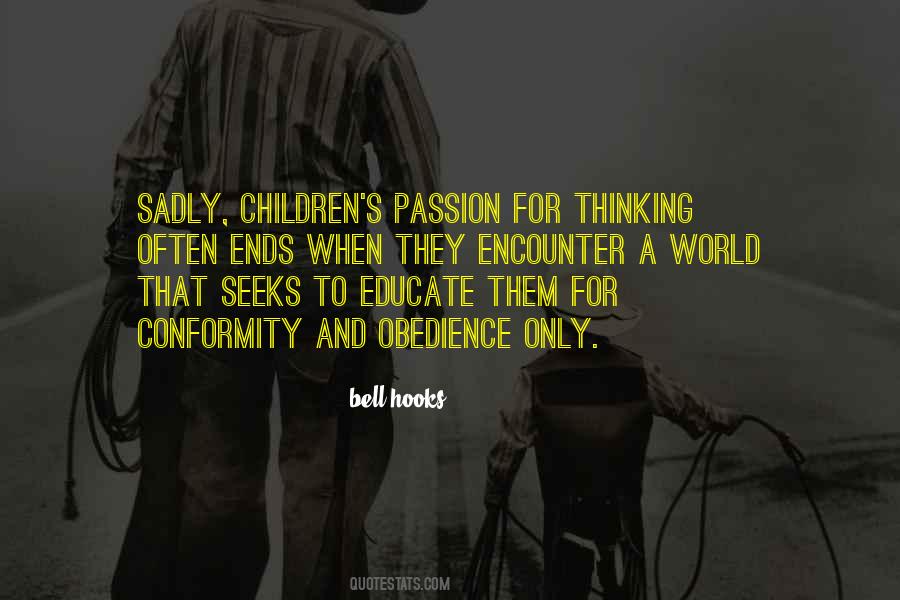 #26. Passion for books is the desire to read. - Author: Lailah Gifty Akita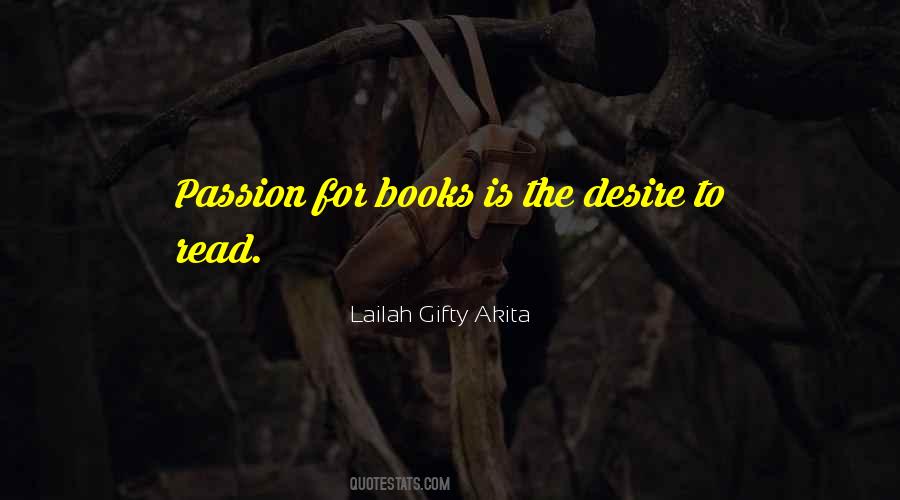 #27. I have a passion for teaching kids to become readers, to become comfortable with a book, not daunted. Books shouldn't be daunting, they should be funny, exciting and wonderful; and learning to be a reader gives a terrific advantage. - Author: Roald Dahl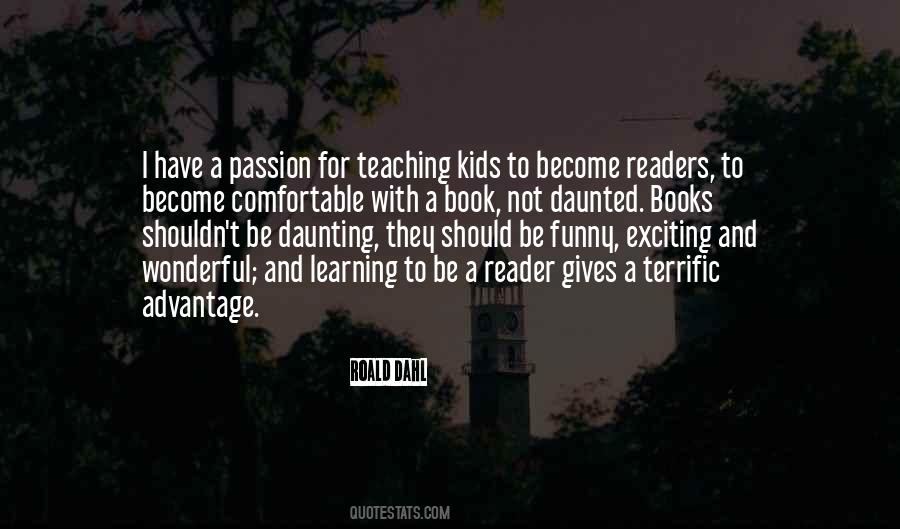 #28. A learned man who doesn't restrain his passions is like a blind man holding a torch, he guides others but not himself. - Author: Shaykh Sa Di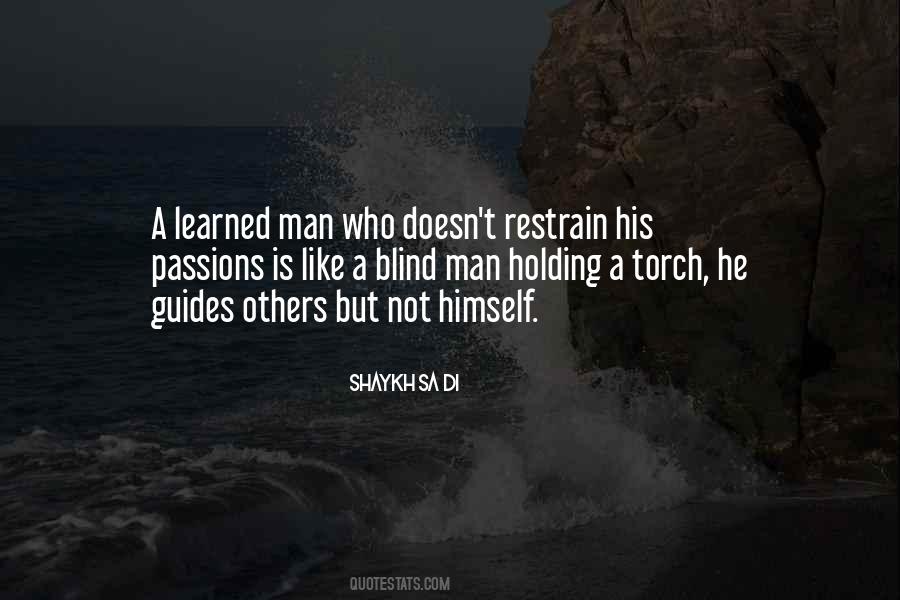 #29. Nobody works harder at learning than a curious kid. - Author: Thomas L. Friedman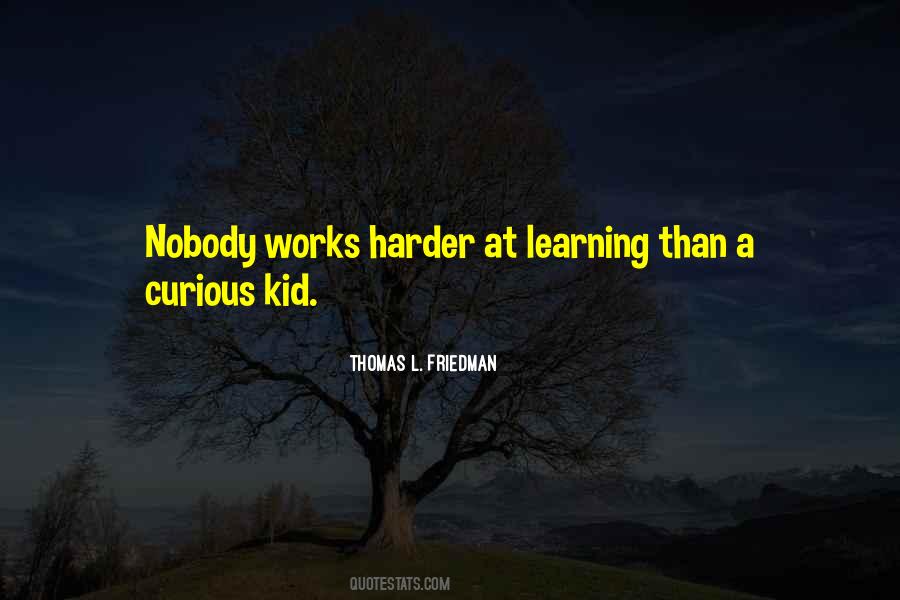 #30. Music is a passion of mine. I'm always listening, always learning. - Author: J. D. Pardo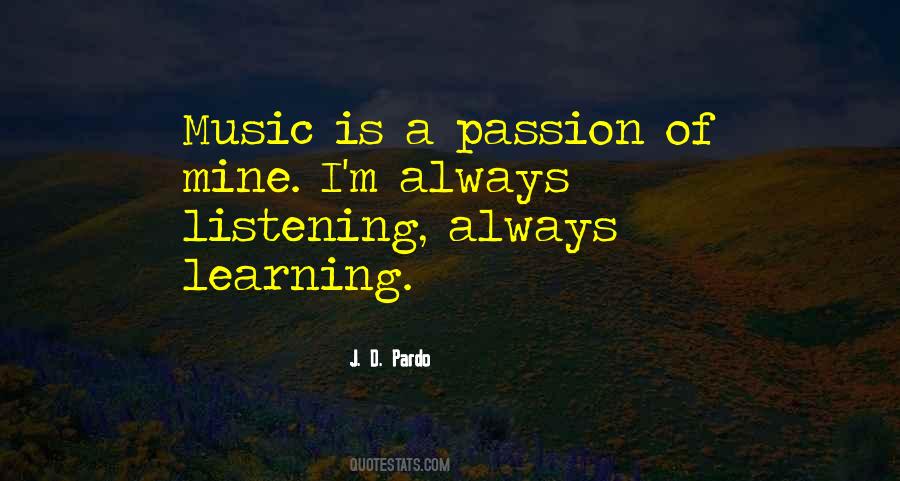 #31. Find the willpower to begin work. - Author: Lailah Gifty Akita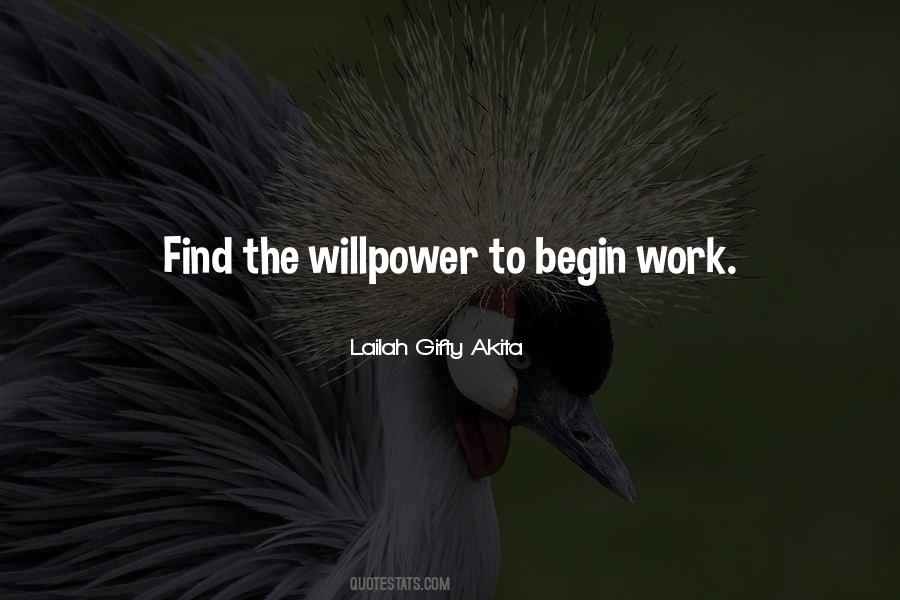 #32. What a splendid thing is literature, what a splendid thing! It strengthens and instructs the heart of man. Literature is a sort of picture. It connotes at once passion, expression, fine criticism, good learning, and a document. - Author: Fyodor Dostoyevsky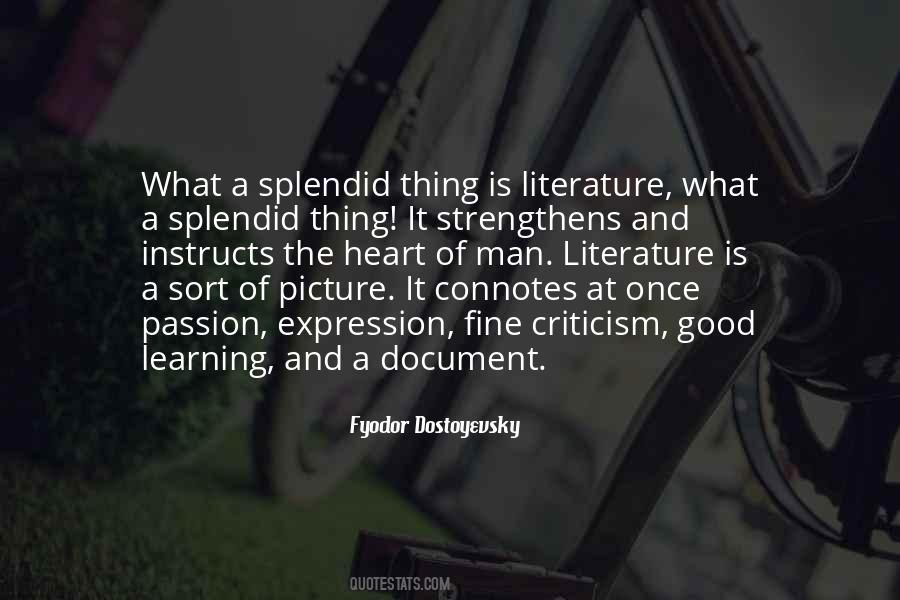 #33. The earliest memories I have of the ocean are actually stories - stories from my grandfather, the legendary ocean explorer and conservationist Jacques Cousteau. My passion for ocean conservation stems from learning at a very young age that we're all connected; we're all in this together. - Author: Philippe Cousteau Jr.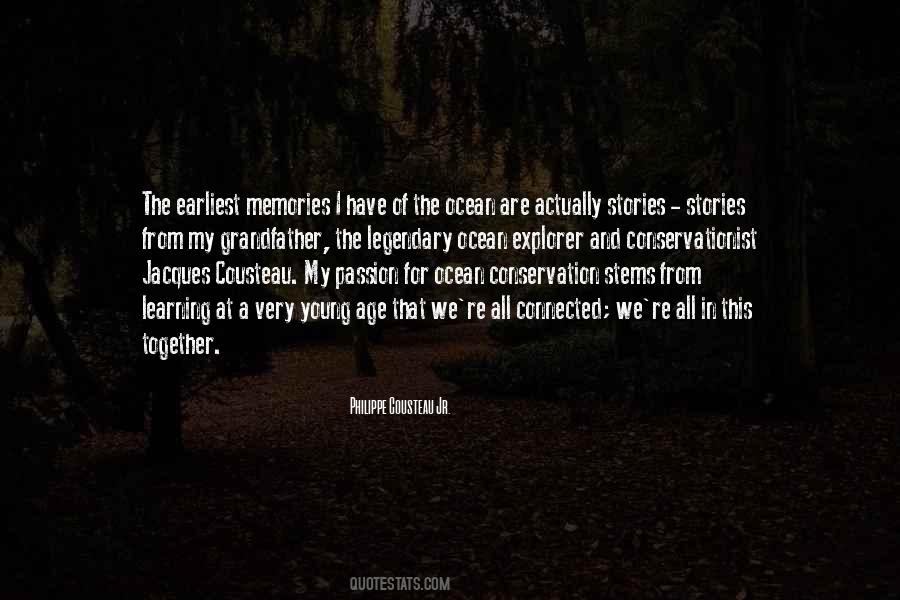 #34. Transmit your vision emotionally by gaining credibility, demonstrating passion, establishing relationships and communicating a felt need. Transmit it logically by confronting reality, formulating strategy, accepting responsibility, celebrating victory and learning from defeat. - Author: John C. Maxwell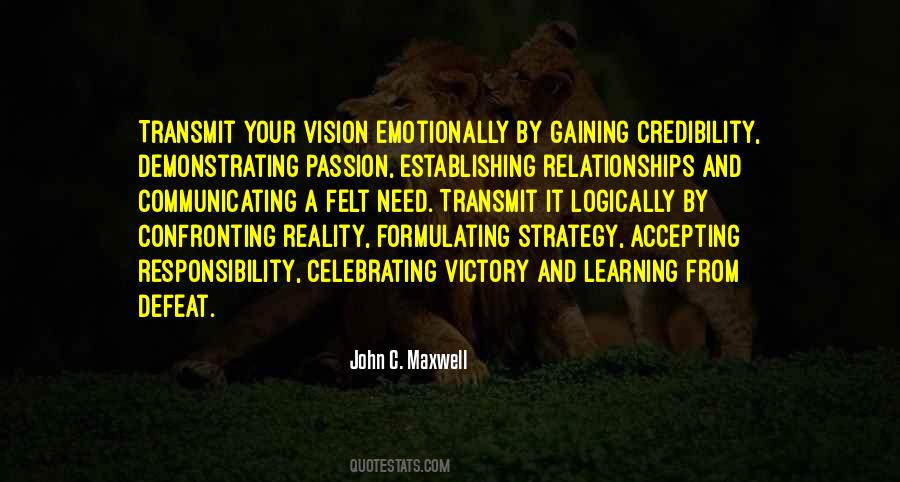 #35. I get into a tearing passion about something I know very little about, and when I learn more my passion ebbs away. - Author: John Buchan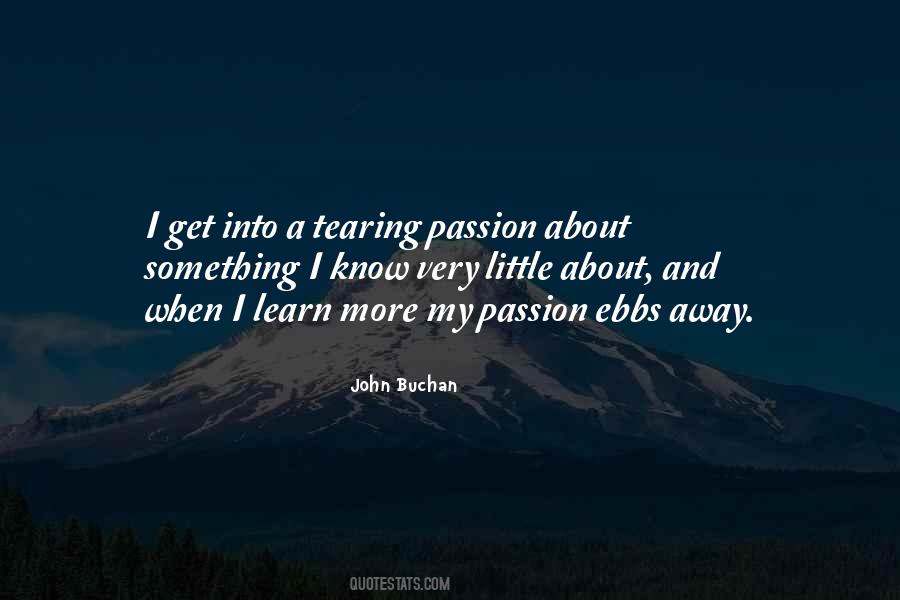 #36. When we go to school, very often, we don't see that passion because the way school is run, the disciplinary nature of it and the rote learning are so, sort of, offensive actually, that children sort of lose that passion more often than not. - Author: Nicholas Negroponte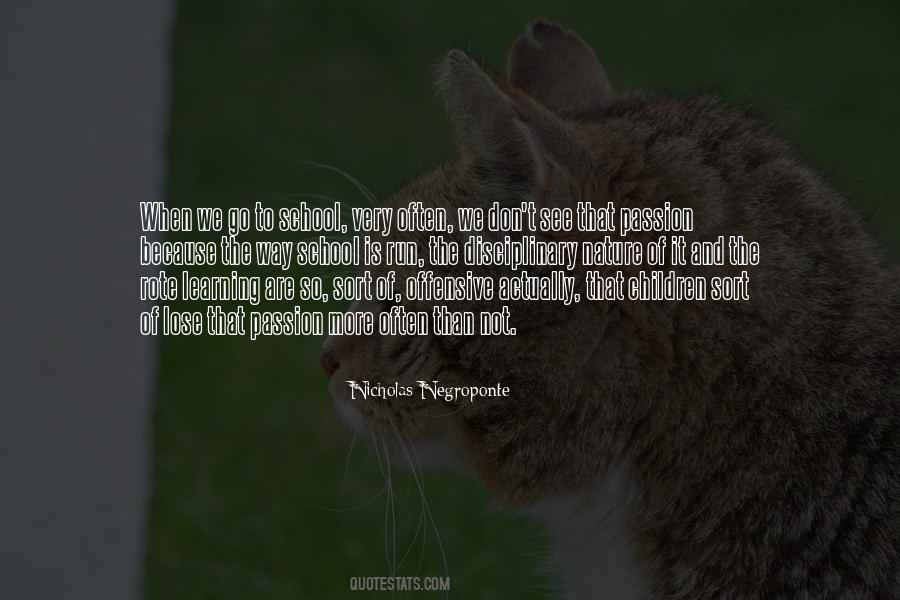 #37. I had a passion and love of learning and wisdom that was inseparable from a love of music and the arts. I've never viewed them in any way as being separable. - Author: Cornel West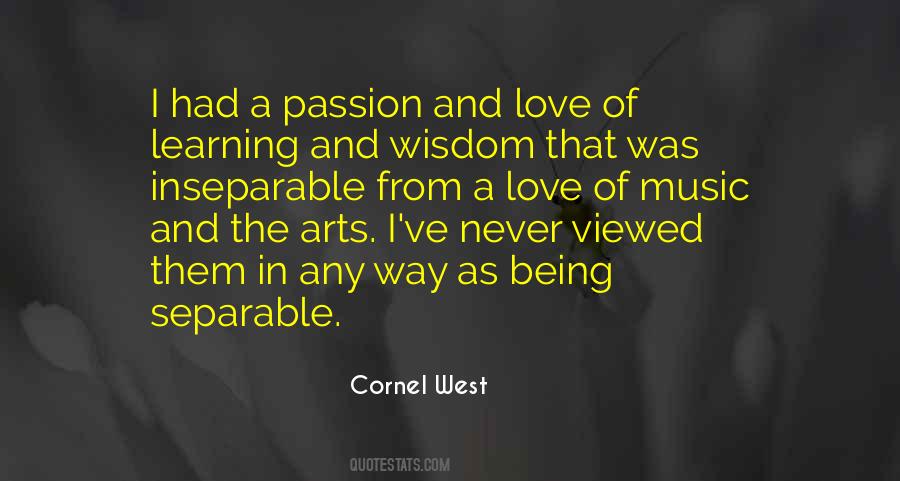 #38. The greatest education is learning to know the divinity of thy soul. - Author: Lailah Gifty Akita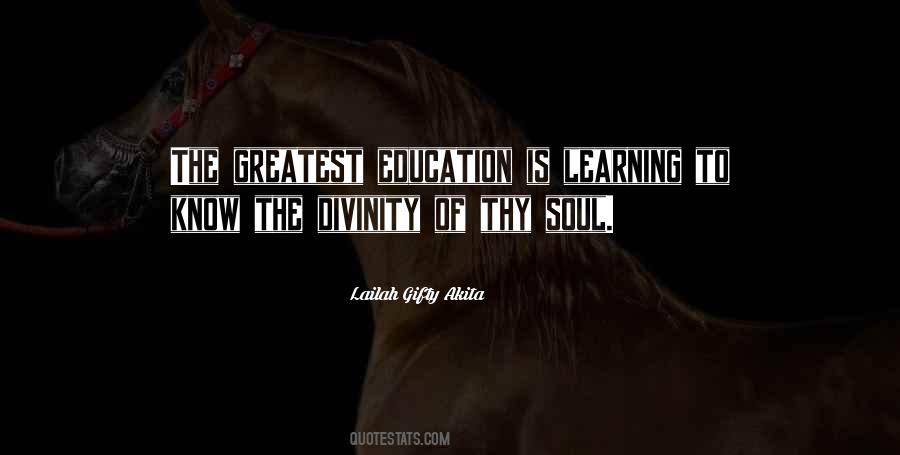 #39. The passion for self improvement is the love for reading, learning and writing. - Author: Lailah Gifty Akita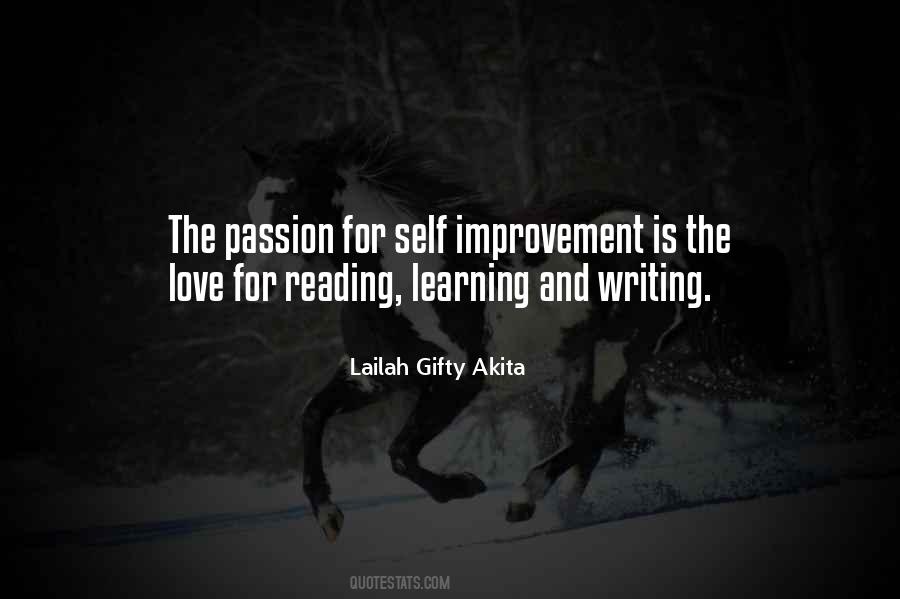 #40. In the matter of learning, the difference between the earnest and the careless student stands out clearly. The same holds true in the mastering of passion and the weaknesses to which our nature is subject, as in the acquiring of virtue. - Author: Saint Ignatius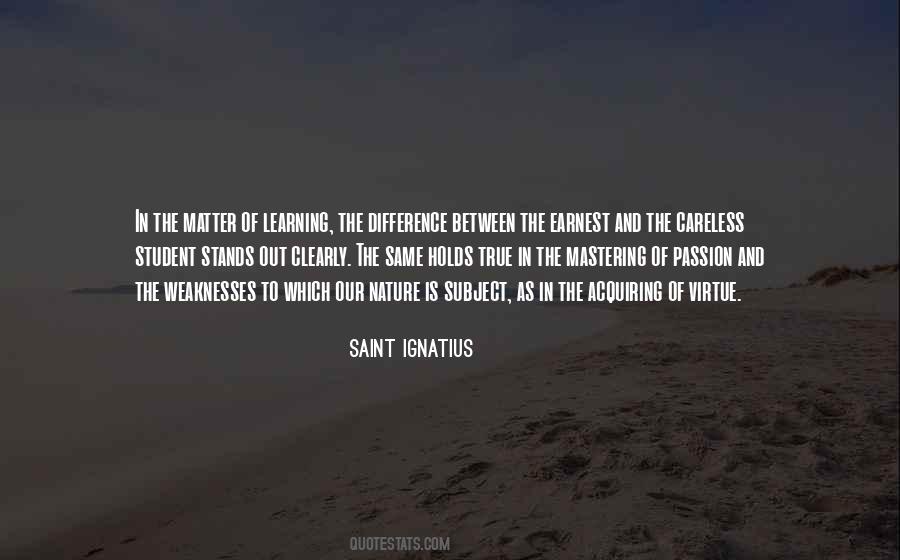 #41. People learn what they want to learn. If learning is forced on us, even if we master it temporarily, it is soon forgotten. - Author: Daniel Goleman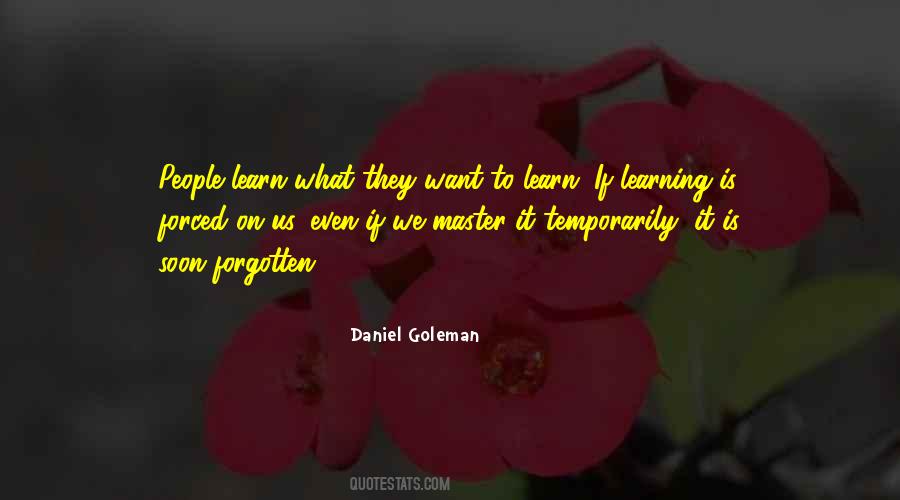 #42. He who studies without passion will never become anything more than a pedant. - Author: Stefan Zweig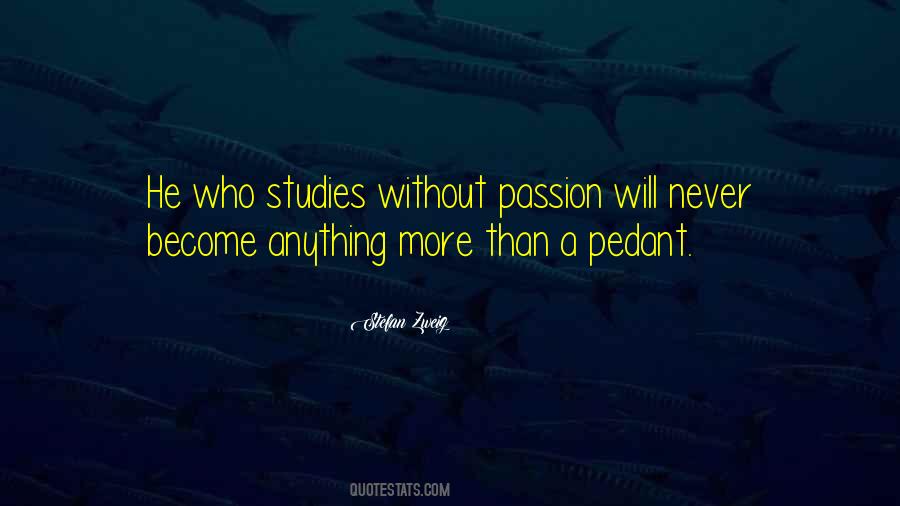 #43. Read a short story every day. - Author: Lailah Gifty Akita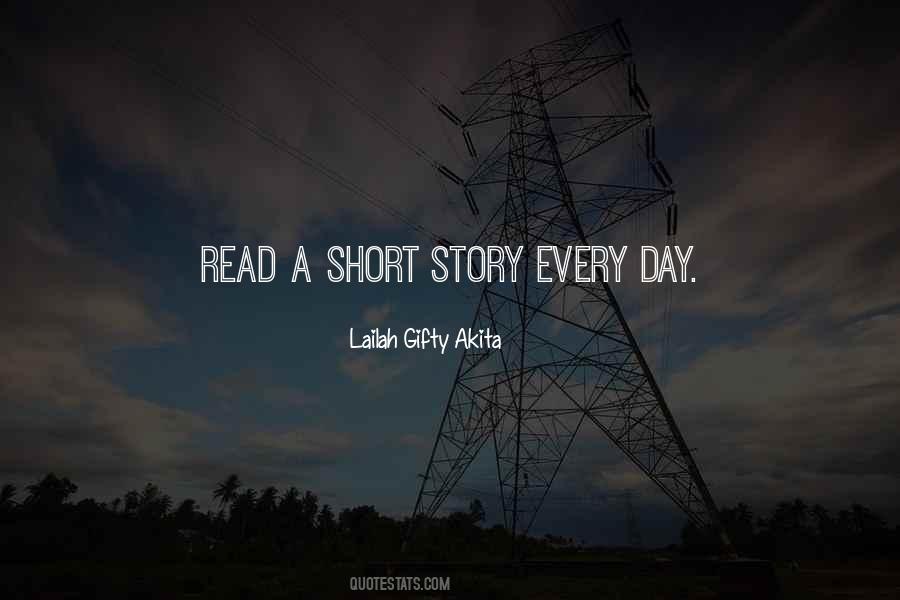 #44. Under the pretext of study we spent our hours in the happiness of love, and learning held out to us the secret opportunities that our passion craved. Our speech was more of love than of the books which lay open before us; our kisses far outnumbered our reasoned words. - Author: Peter Abelard
#45. He felt a renewal of the old passion for study and learning; and with the curious and disembodied vigor of the scholar that is the condition of neither youth nor age, he returned to the only life that had not betrayed him. He discovered that he had not gone far from that life even in his despair. - Author: John Edward Williams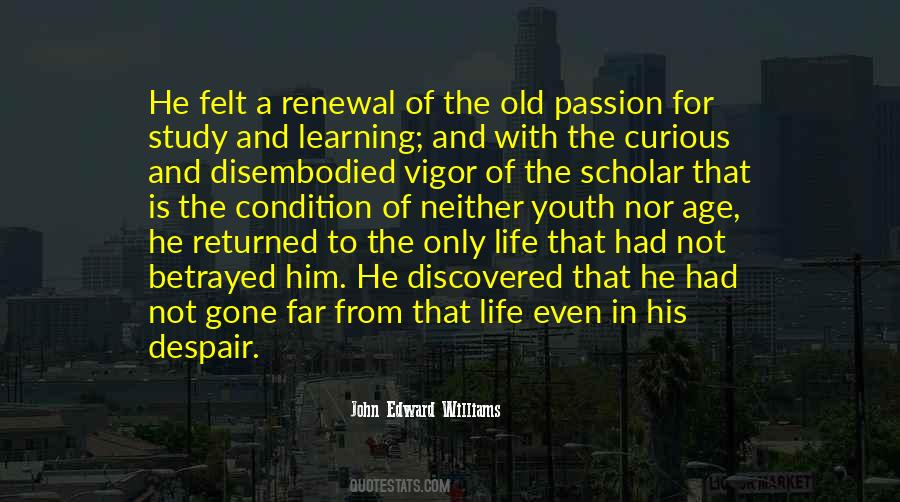 #46. Our passion for learning ... is our tool for survival. - Author: Carl Sagan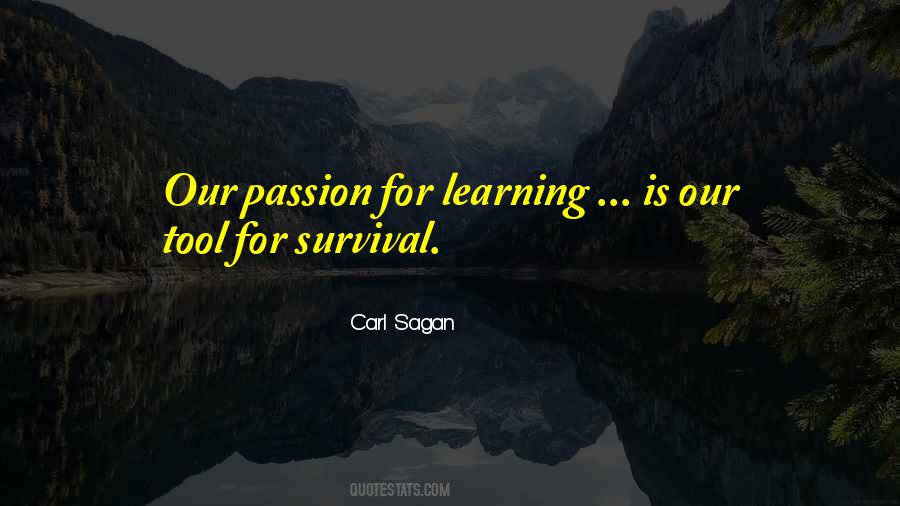 #47. This is a learning in the business life that first of all you need to have commitment, dedication and passion for what you are doing. - Author: Lakshmi Mittal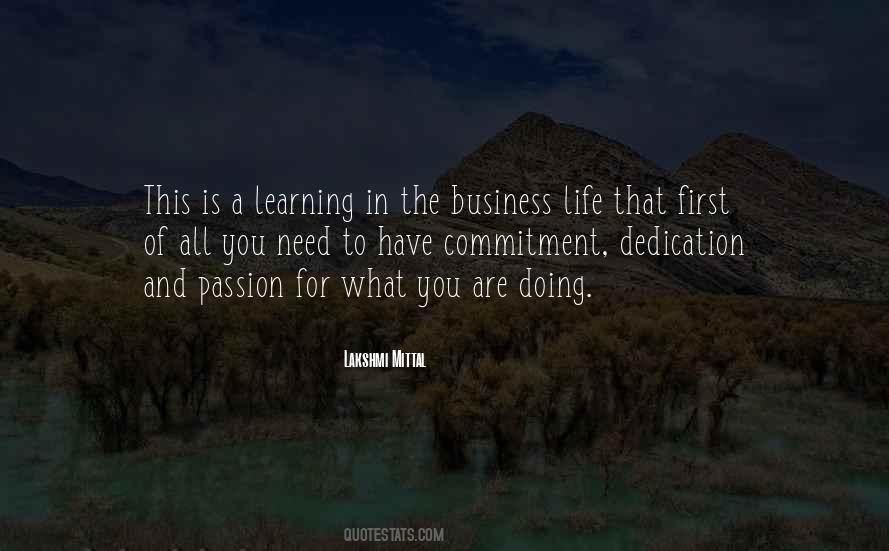 #48. A person with passion will not look somewhere to see who is not doing it; they will focus and do what they can. - Author: Israelmore Ayivor
#49. A doctorate study is the passion for extensive research, reading, thinking and writing. - Author: Lailah Gifty Akita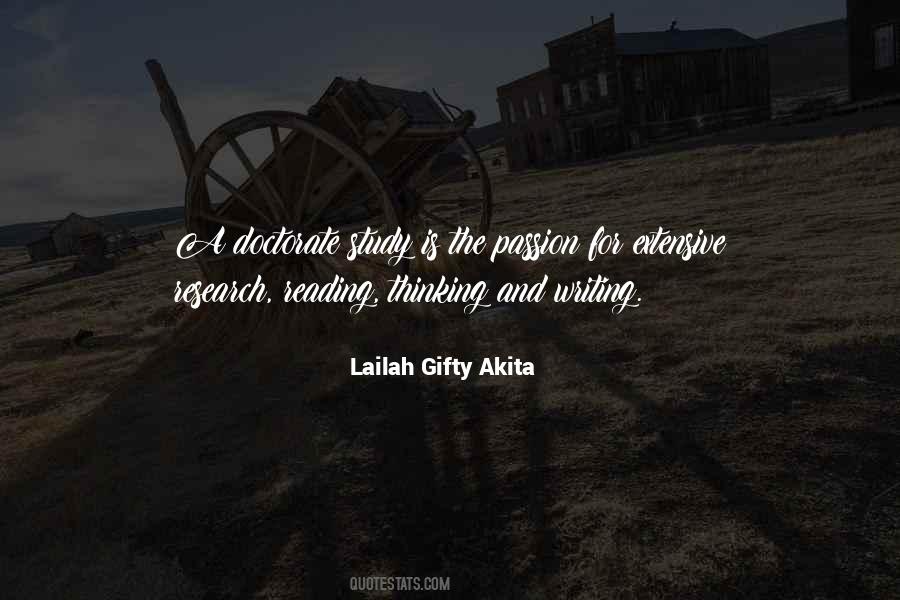 #50. A passion for continual learning, a refined, discerning ear for the moral and ethical consequences of their actions, and an understanding of the purposes of work and human organisations - Author: Warren G. Bennis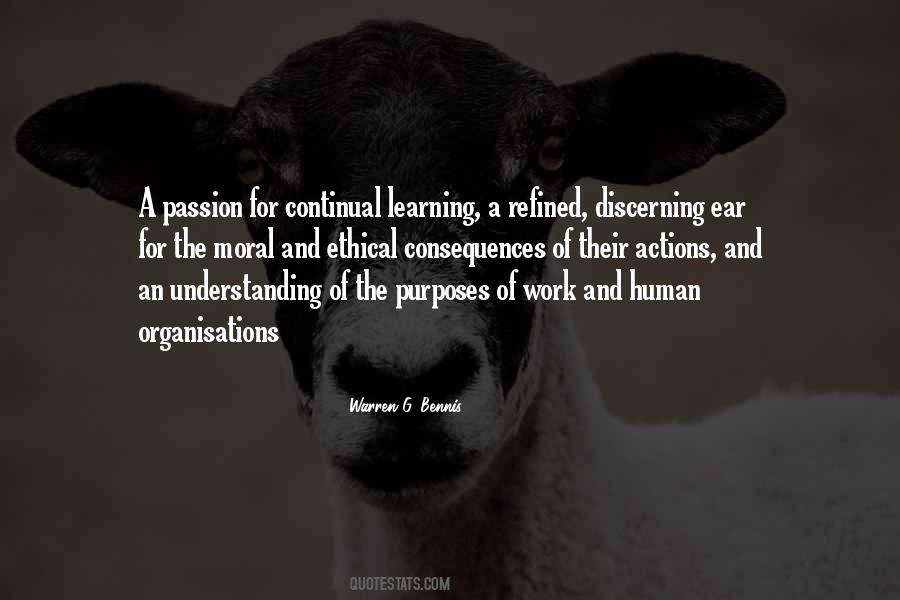 #51. Early morning exercise will keep you active for the entire day. - Author: Lailah Gifty Akita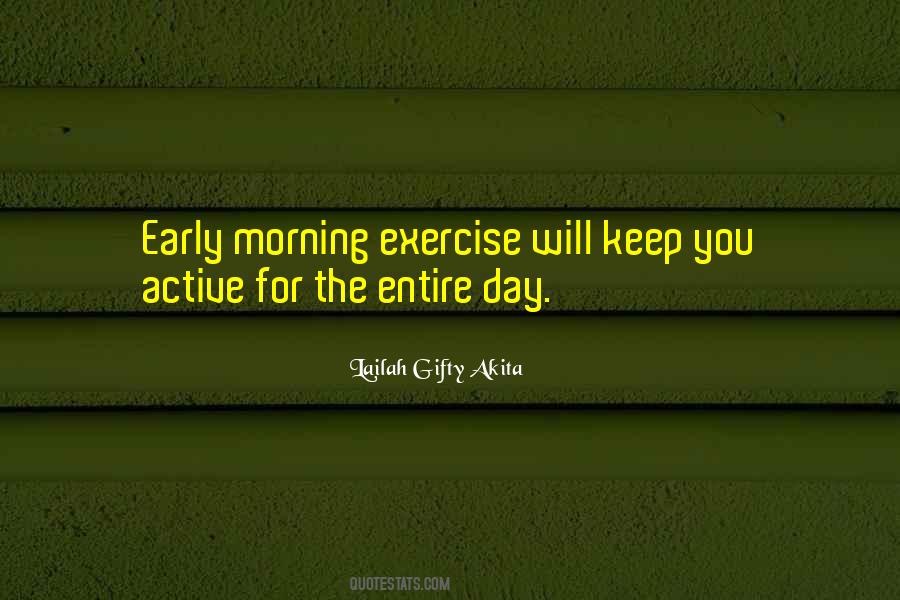 #52. Develop a passion for learning. If you do, you will never cease to grow. - Author: Anthony J. D'Angelo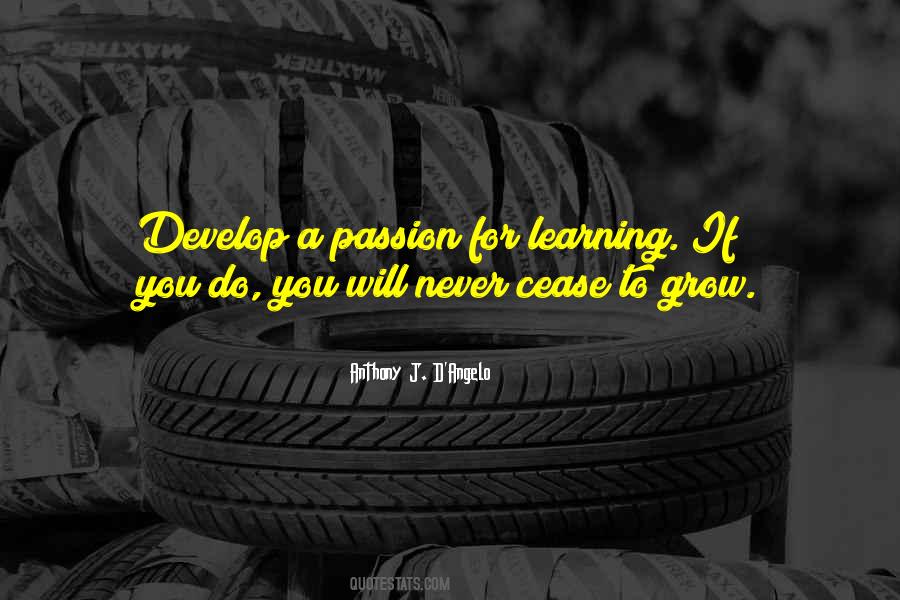 #53. I enjoy being a student and learning. I don't think you should ever stop being a student. That's where the most creative ideas come from. Teaching is a blessing as well because I get to share what I've learned and my passion for creative movement with people. - Author: Derek Hough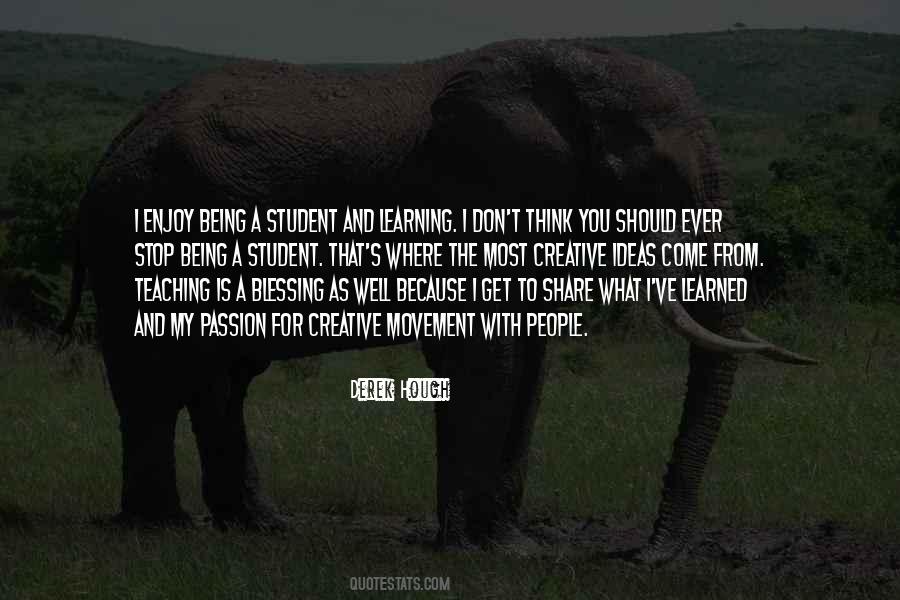 #54. For me, chess is not a profession, it is a way of life, a passion. People may feel that I have conquered the peak and will not have to struggle. Financially, perhaps that is true; but as far as chess goes, I'm still learning a lot! - Author: Viswanathan Anand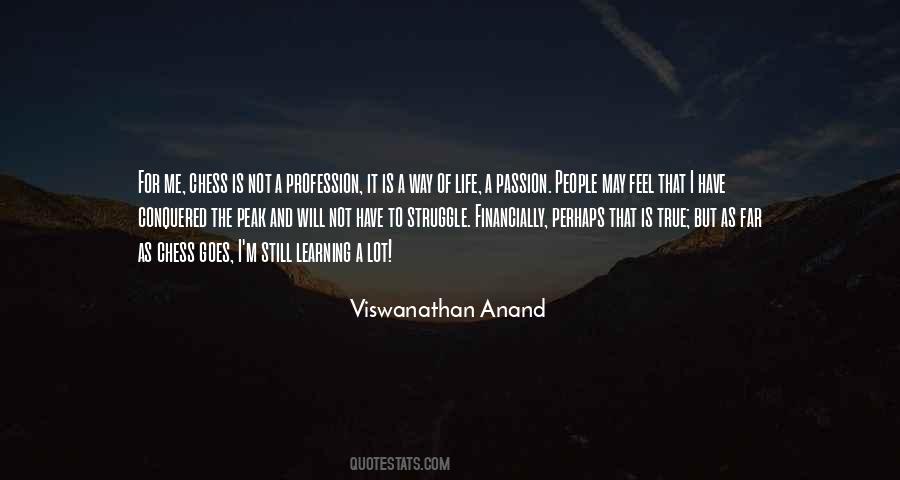 #55. Writing is a Passion, Art is my Dreams, Crafting is something I Enjoy.

The day one stops learning is the day one stops living. - Author: Carol Hopkins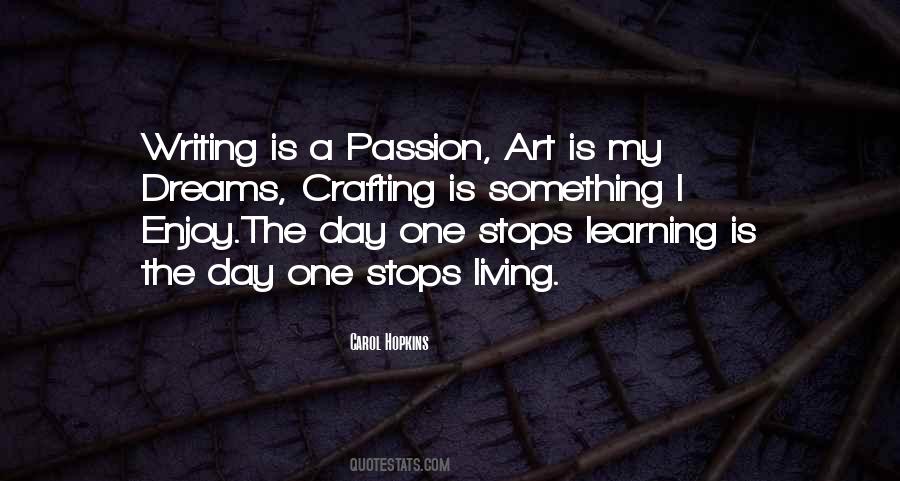 #56. Begin to pursue your dream. - Author: Lailah Gifty Akita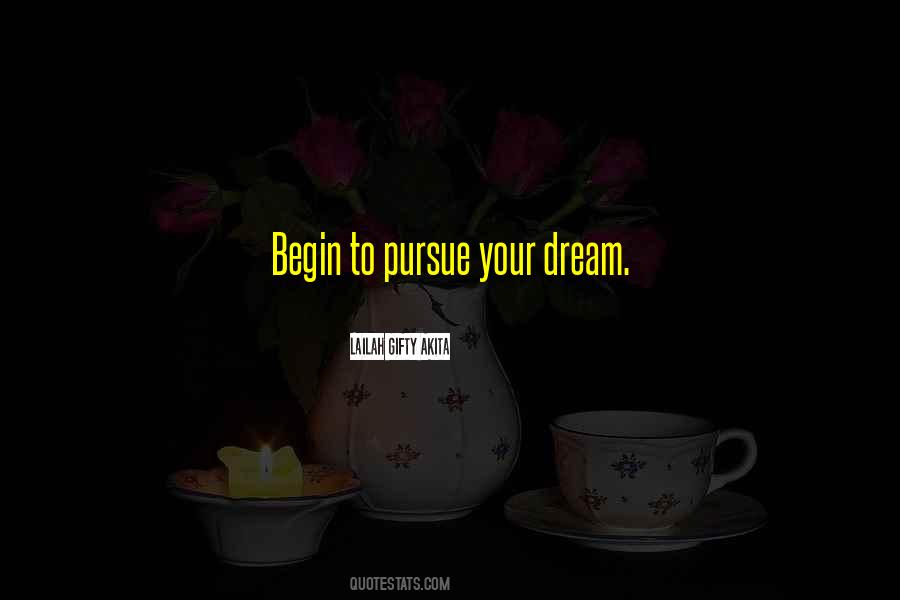 #57. The more you read, the more you will love to read. - Author: Lailah Gifty Akita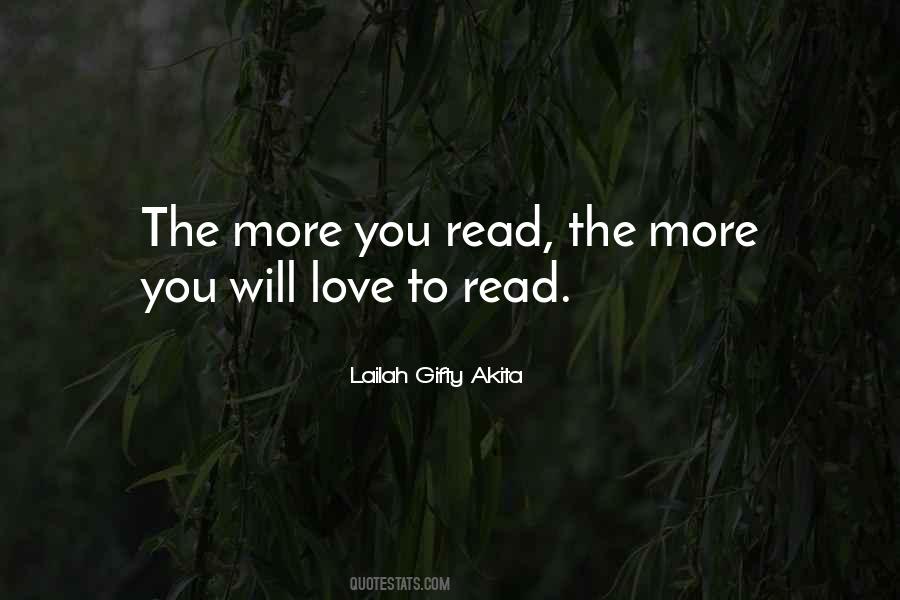 #58. Think of at least three ways to generate income from your knowledge, passion and expertise. Yes, there may be a learning curve until you are actually doing it, but you're going to love the extra money flowing in. - Author: Meera Lester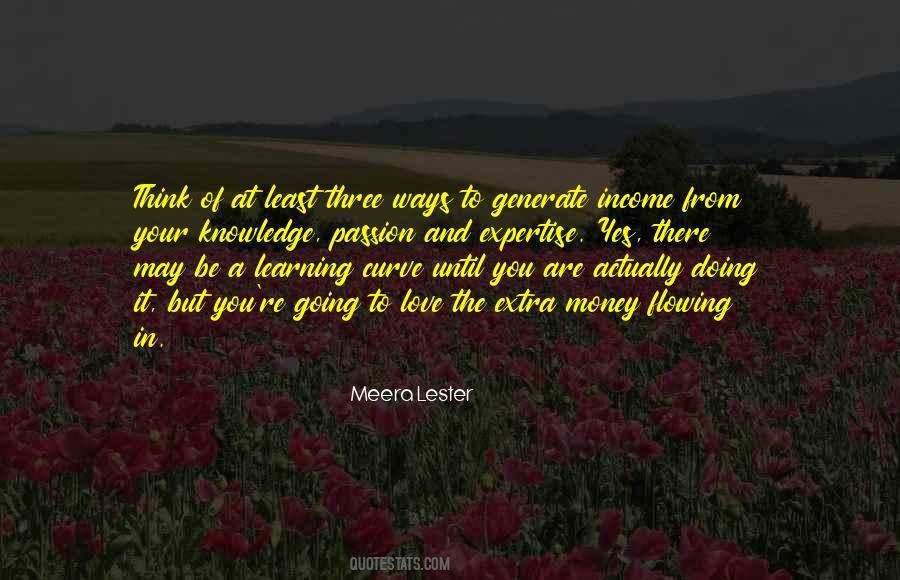 #59. I believe in knowing who you are but without limiting yourself to your own expectation of who you are. - Author: Charlotte Eriksson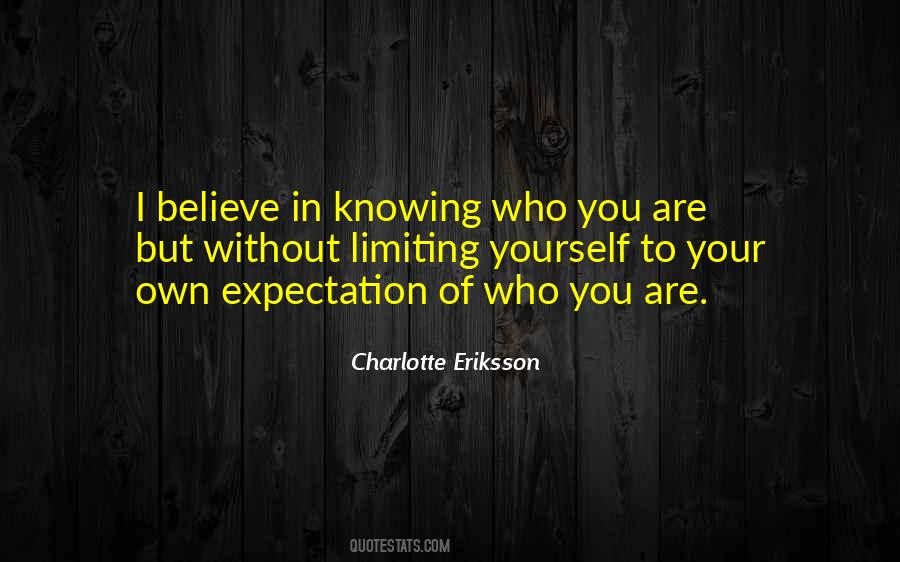 #60. The answer you seek lies in learning to combine the power of reason with the passion of emotion. If you let reason alone control your choices, you lose the power of intuition. If you let emotion control your choices, you will be a slave to every minor tragedy. - Author: Roy Huff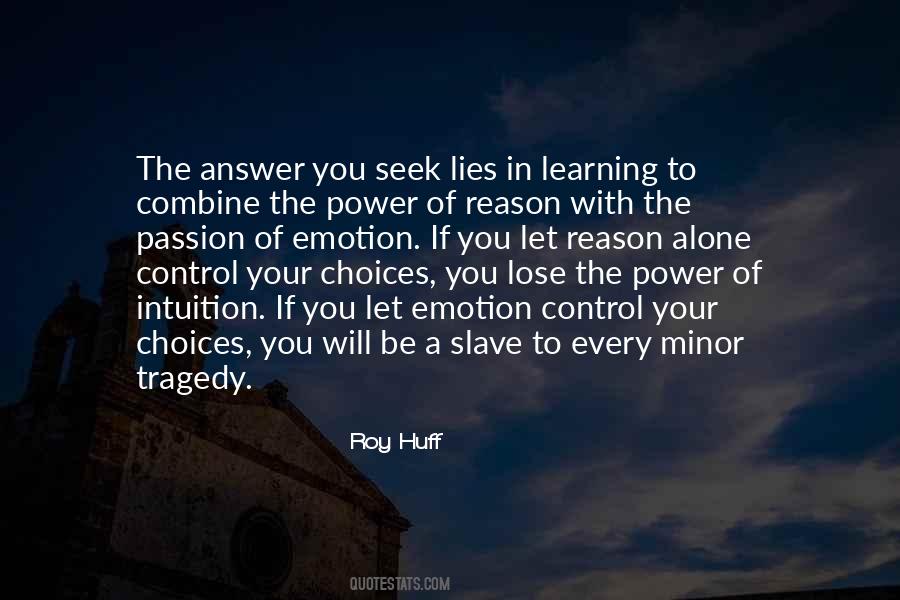 #61. Find your passion, learn how to add value to it, and commit to a lifetime of learning. - Author: Ray Kurzweil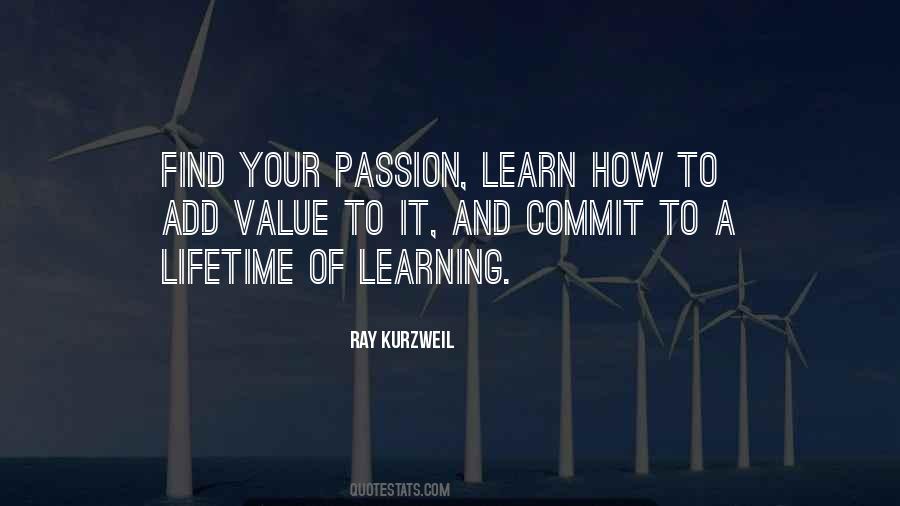 Famous Authors
Popular Topics