Happiness And Freedom Famous Quotes & Sayings
List of top 100 famous quotes and sayings about happiness and freedom to read and share with friends on your Facebook, Twitter, blogs.
Top 100 Quotes On Happiness And Freedom
#1. Freedom is the real source of human happiness and creativity. Irrespective of whether you are a believer or nonbeliever, whether Buddhist, Christian, or Jew, the important thing is to be a good human being. - Author: Dalai Lama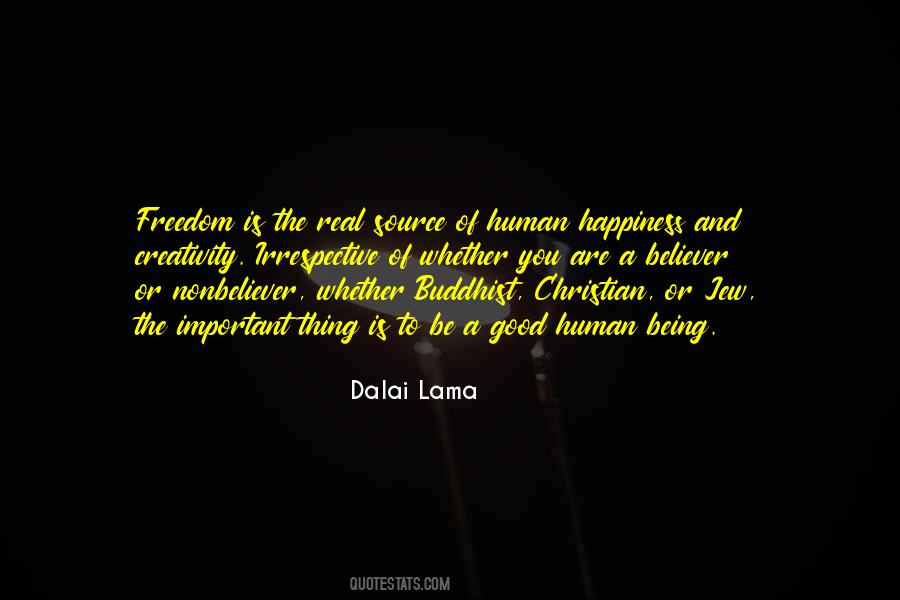 #2. Laughter is taken as a sign of strength, freedom, health, beauty, youth, and happiness. - Author: Martin Grotjahn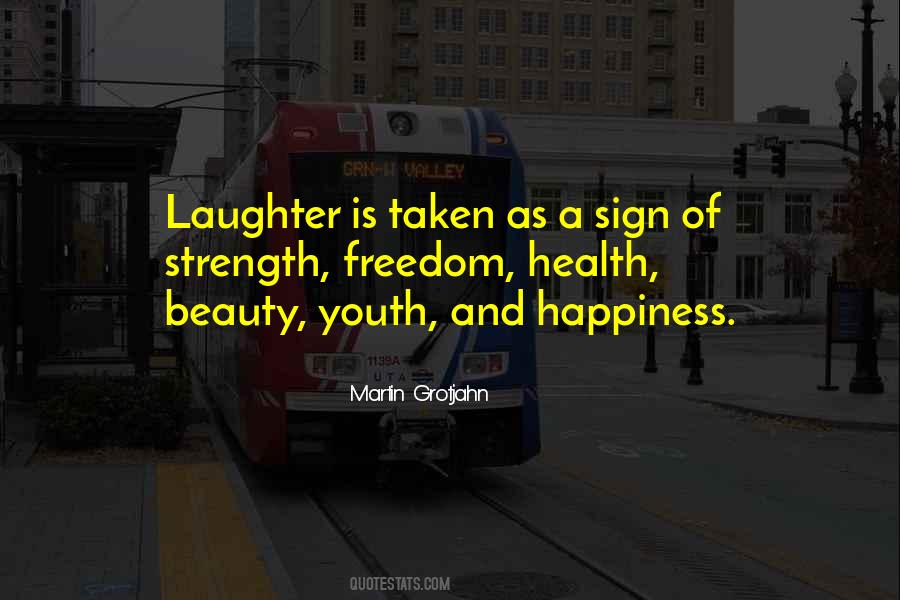 #3. There is far more happiness in a life that is your own than a life in which you are handed the lines to say and shown the gestures to make. Do not ever be ambitious. - Author: Ken Liu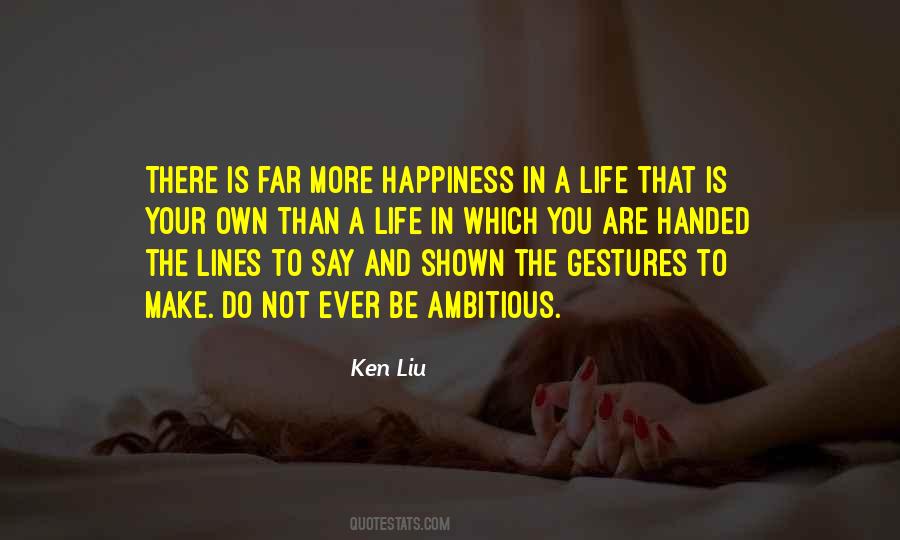 #4. Nonsense," Bridget said. "The secret to happiness is freedom - and the secret to freedom is courage. - Author: Liz Rosenberg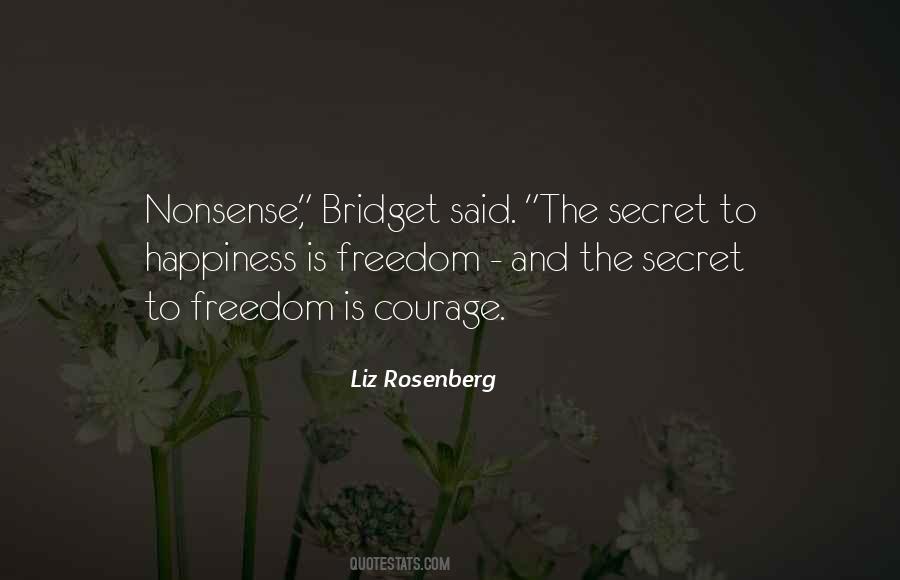 #5. A sense of freedom is something that, happily, comes with age and life experience. - Author: Diane Keaton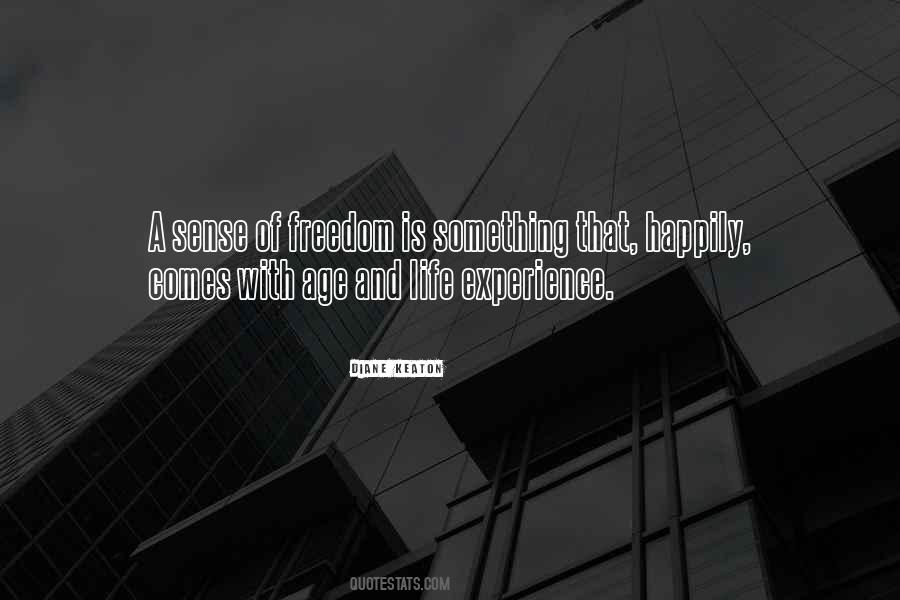 #6. Give as you wish to live, it all come's back to you. And that's without exception ... - Author: Ian Tucker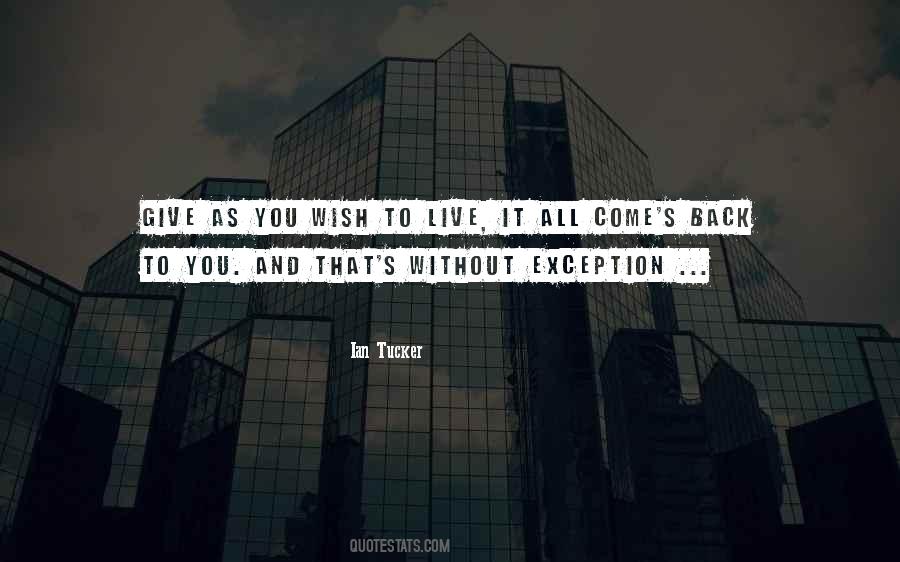 #7. As Christians, we needn't be at all ashamed of some impatience, longing, opposition to what is unnatural, and our full share of desire for freedom, earthly happiness, and opportunity for effective work. - Author: Dietrich Bonhoeffer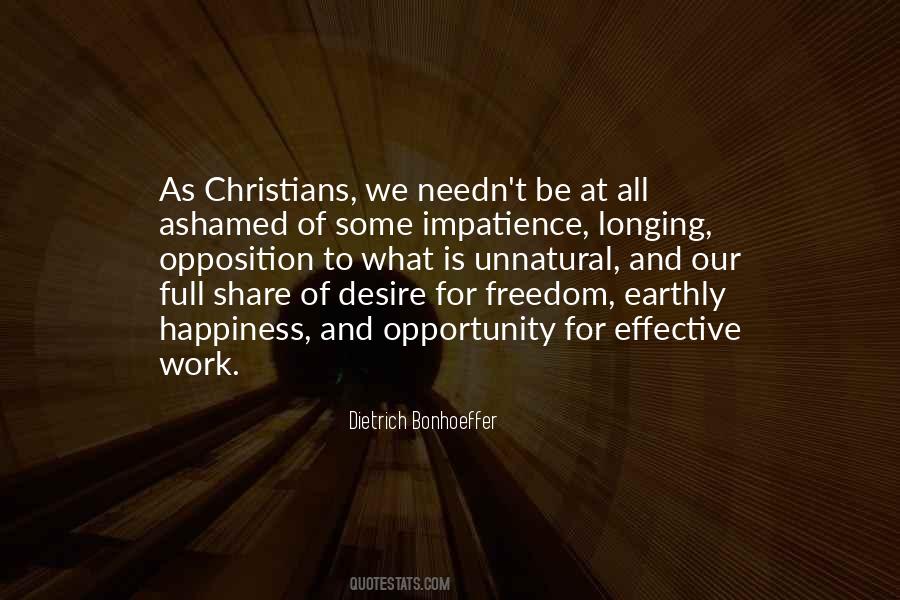 #8. Constant thoughts of money, possession, and control are a personal prison. Thoughts of God, family, and happiness are freedom. - Author: Ron Baratono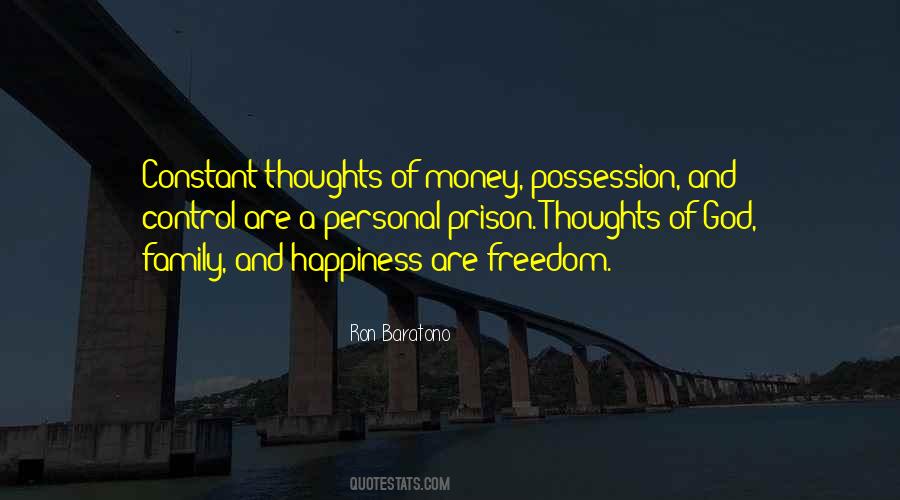 #9. Cut away the nonsense, the drama, the regret, the scars of the past, and make a decision to no longer let them govern your happiness and freedom. - Author: Steve Maraboli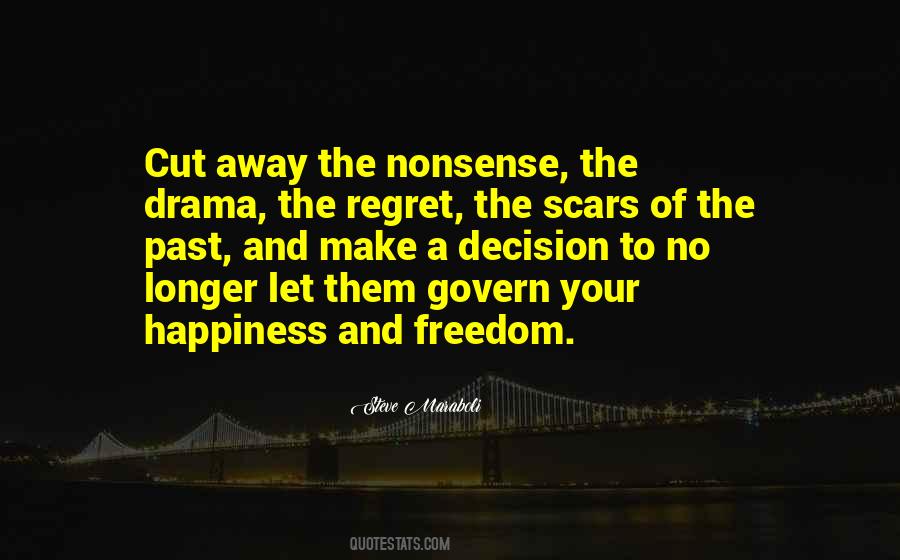 #10. Happiness is like a genre of music that nearly everyone knows how to dance to. Happiness has a very simple tempo, catchy phrasing, and memorable lyrics. It's the song at the wedding that makes everyone excited to run to the dance floor. - Author: T.K. Coleman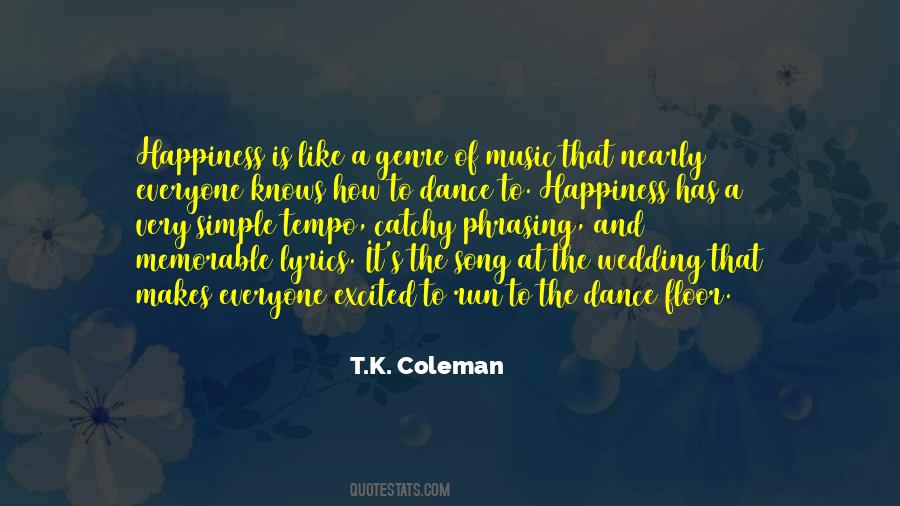 #11. According to the Buddha's teachings, the most basic condition for happiness is freedom. Here we do not mean political freedom, but freedom from the mental formations of anger, despair, jealousy, and delusion. - Author: Thich Nhat Hanh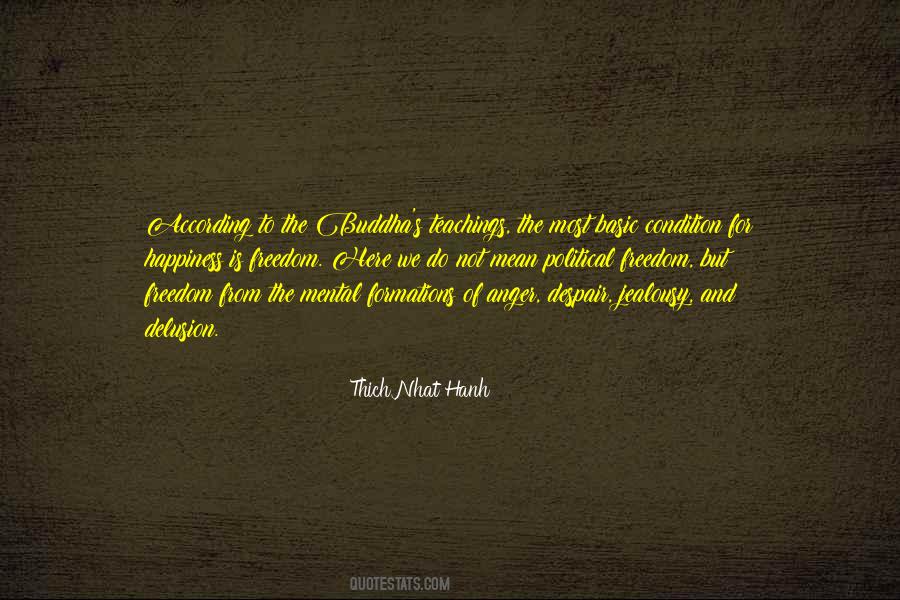 #12. Whether or not money can buy happiness, it can buy freedom, and that's a big deal. Also, lack of money is very stressful. - Author: Sam Altman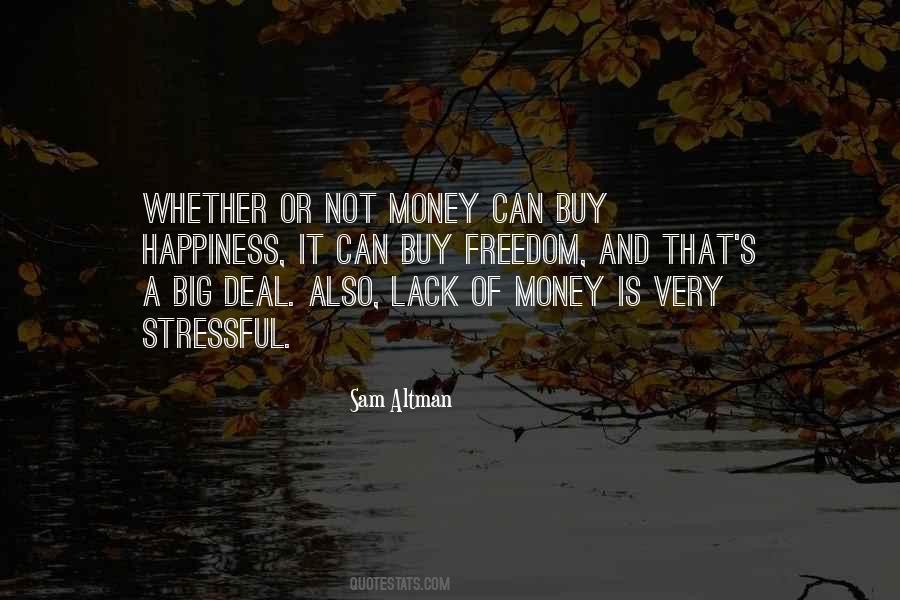 #13. Forgiveness is the highest form of a gift of kindness and it brings freedom from the prison of hatred and revenge. - Author: Debasish Mridha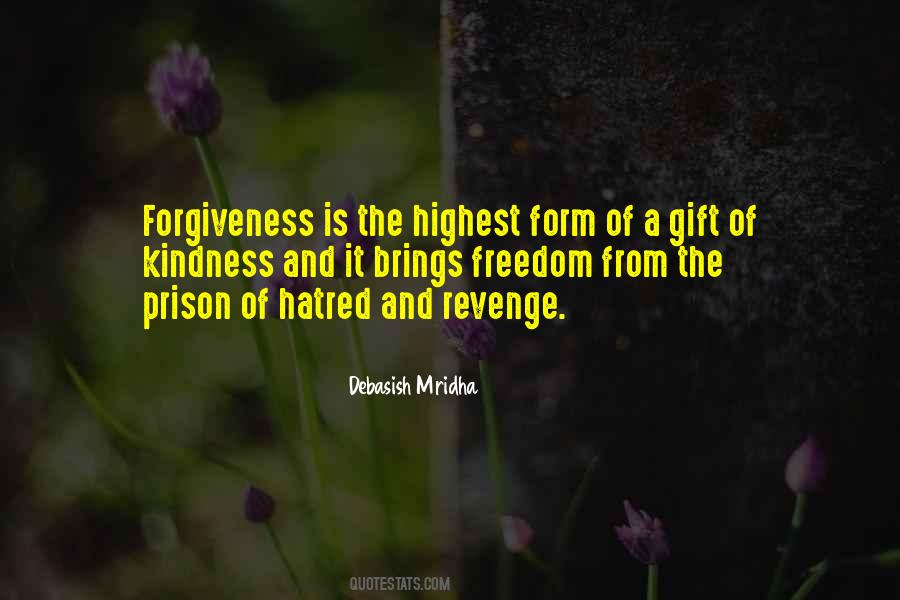 #14. To The Veterans of the United States of America
Thank you, for the cost you paid for our freedom, thank you for the freedom to live in safety and pursue happiness, for freedom of speech (thus my book), and for all the freedoms that we daily take for granted. - Author: Sara Niles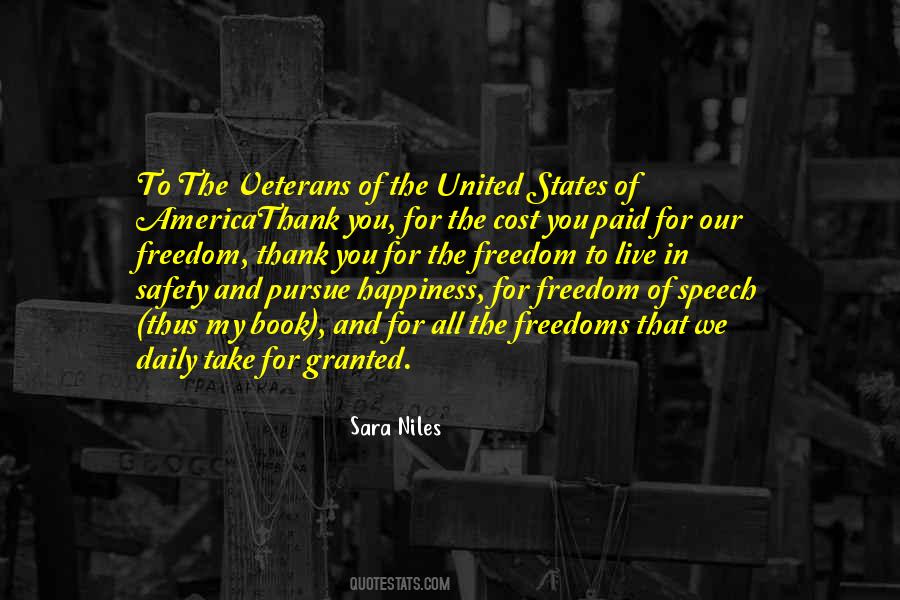 #15. The main objects of all science, the freedom and happiness of man ... [are] the sole objects of all legitimate government.
(A plaque with this quotation, with the first phrase omitted, is in the stairwell of the pedestal of the Statue of Liberty.) - Author: Thomas Jefferson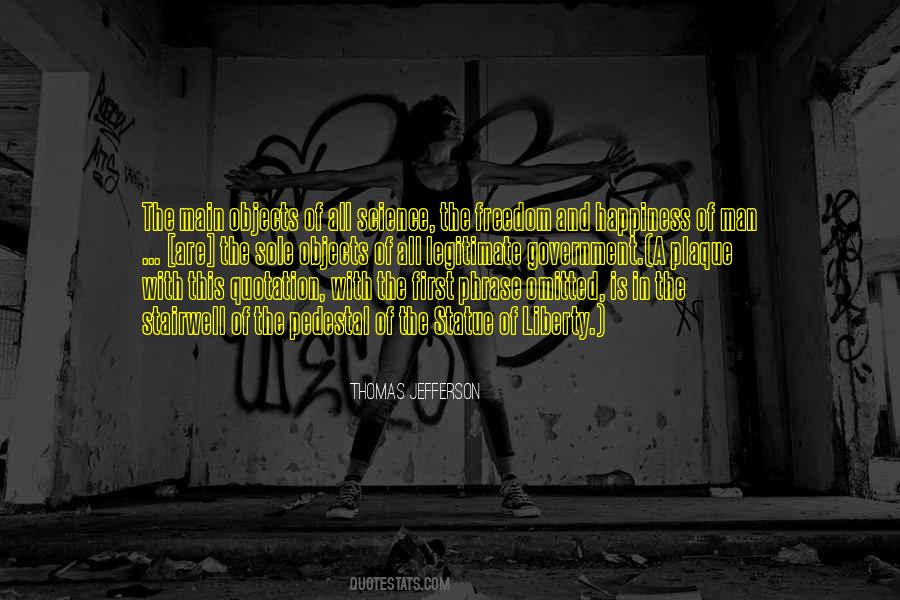 #16. I want to be part of the happiness team - let's create the happiness team - from love, not greed, love of life & our planet, true & free. - Author: Jay Woodman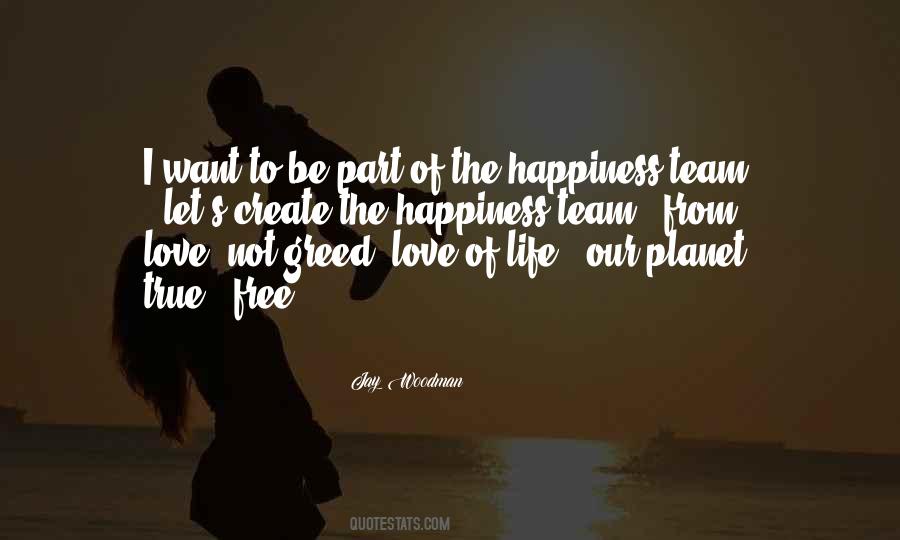 #17. Knowing the secret of happiness to be freedom, and the secret of freedom a brave heart, not idly to stand aside from the enemy's onset. - Author: Thucydides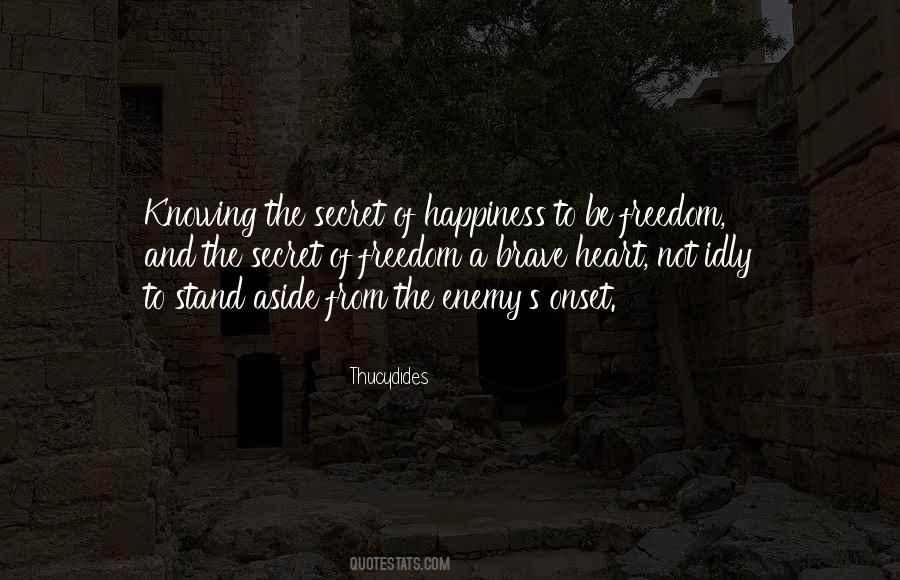 #18. Today I choose life. Every morning when I wake up I can choose joy, happiness, negativity, pain ... To feel the freedom that comes from being able to continue to make mistakes and choices - today I choose to feel life, not to deny my humanity but embrace it. - Author: Kevyn Aucoin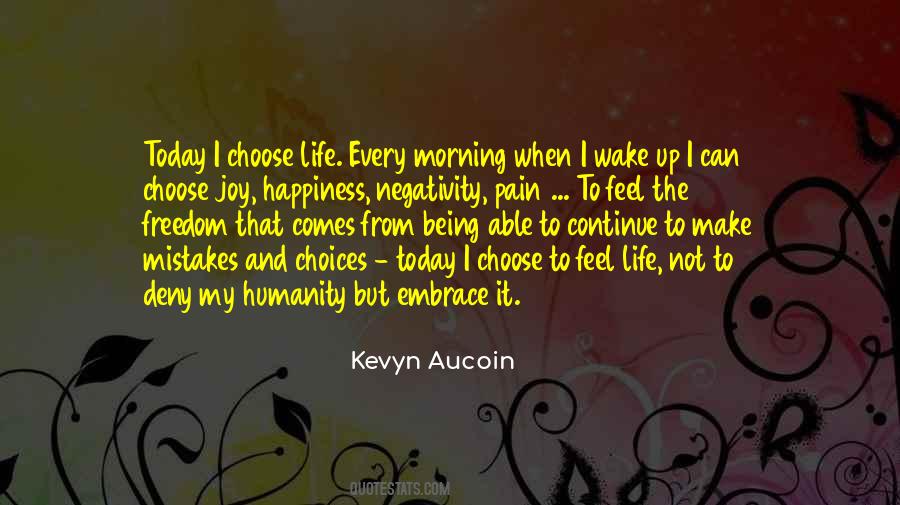 #19. Freedom and happiness are found in the flexibility and ease with which we move through change. - Author: Gautama Buddha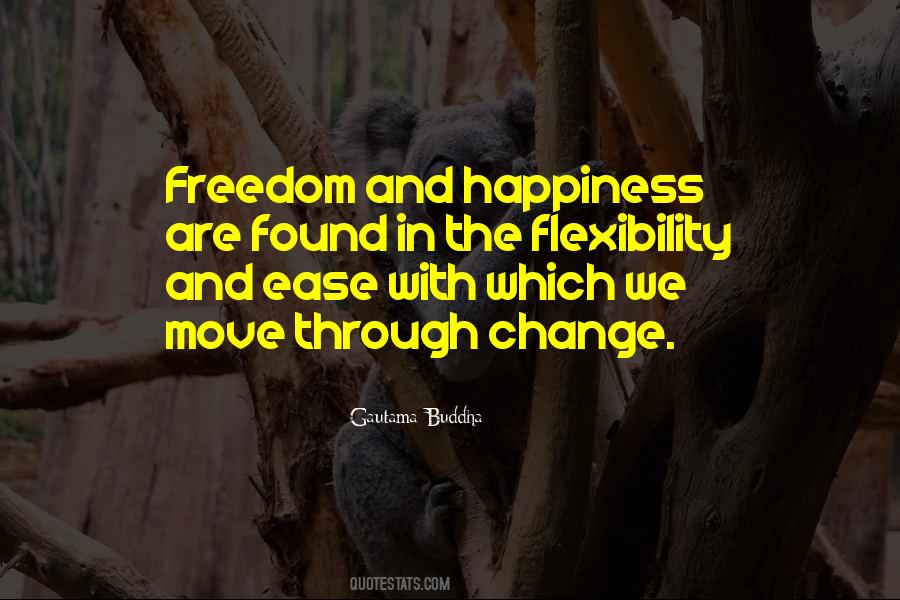 #20. For me, there is no happiness without freedom, and freedom is not given to us by anyone; we have to cultivate it ourselves. - Author: Thich Nhat Hanh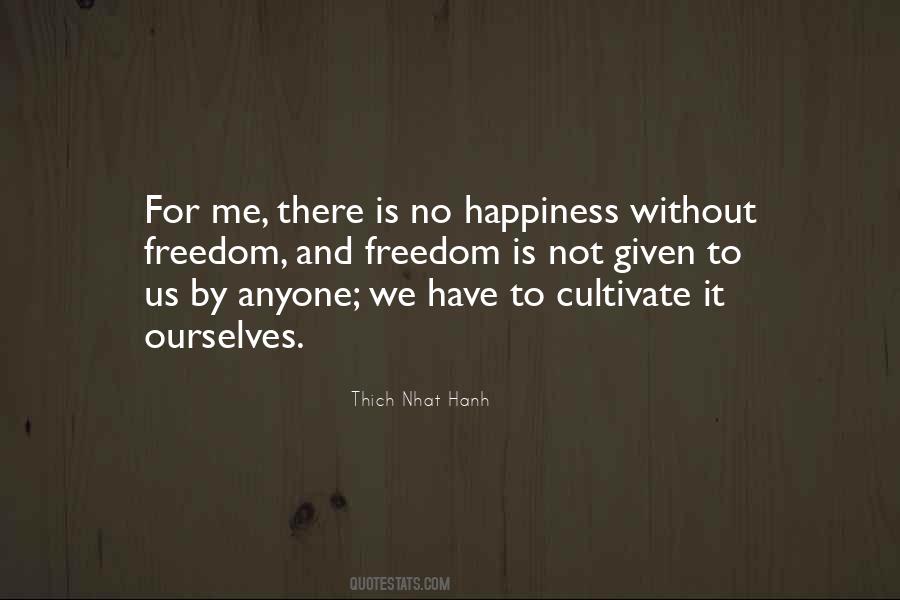 #21. In the face of love, everyone is equal. Let everyone have the freedom to love and to pursue their happiness. I am Tsai Ing-wen, and I support marriage equality. - Author: Tsai Ing-wen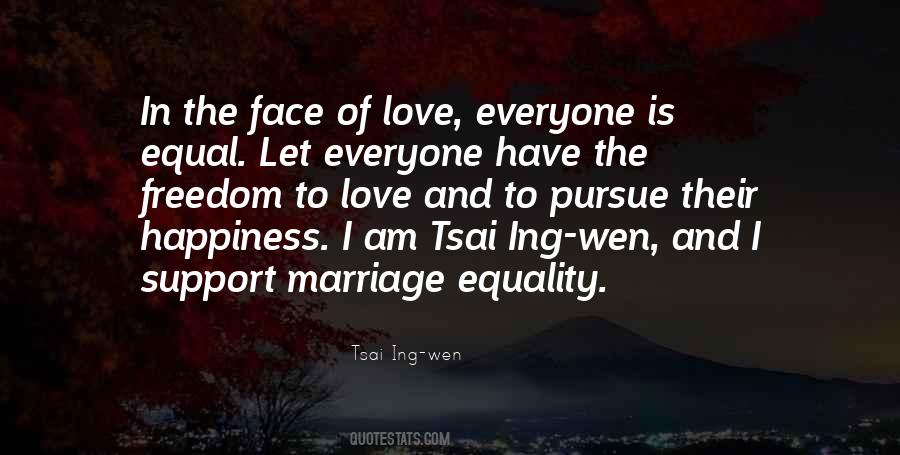 #22. Happiness follows sorrow, sorrow follows happiness, but when one no longer discriminates happiness and sorrow, a good deal and a bad deed, one is able to realize freedom. - Author: Gautama Buddha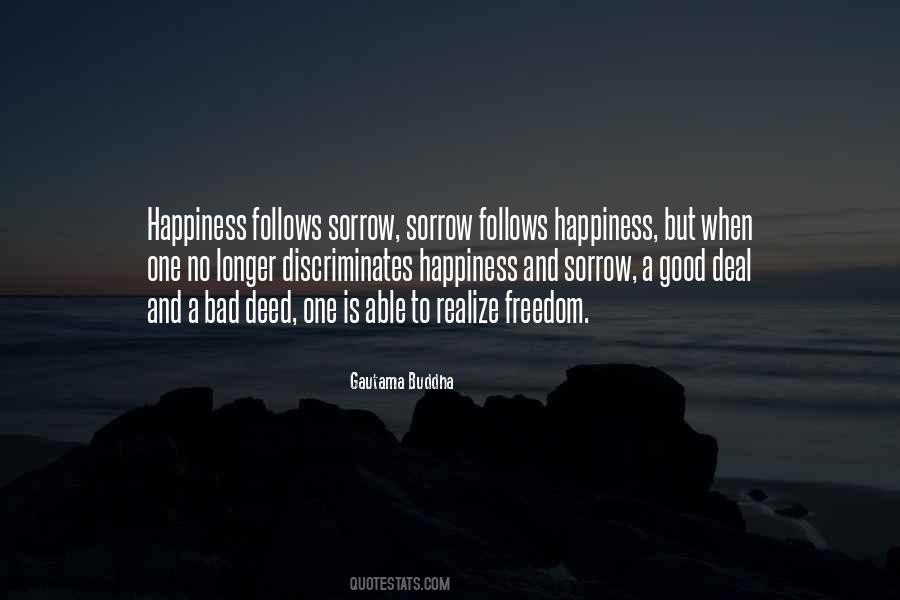 #23. When we let our freedoms slip away without a fight or even without concern, we take freedom, prosperity and happiness away from our posterity. What kind of people do that? Are we such people? These are questions each of us must face. - Author: Oliver DeMille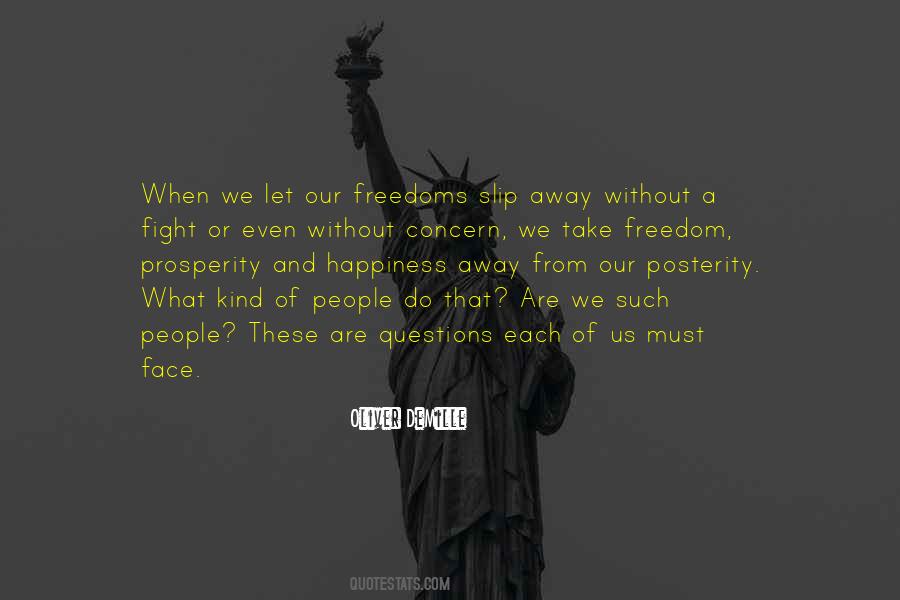 #24. Prosperity and abundance in a society depend on a certain type of person: the producer. Societies with few producers stagnate and decay, while nations with a large number of producers vibrantly grow-in wealth, freedom, power, influence and the pursuit of happiness. - Author: Oliver DeMille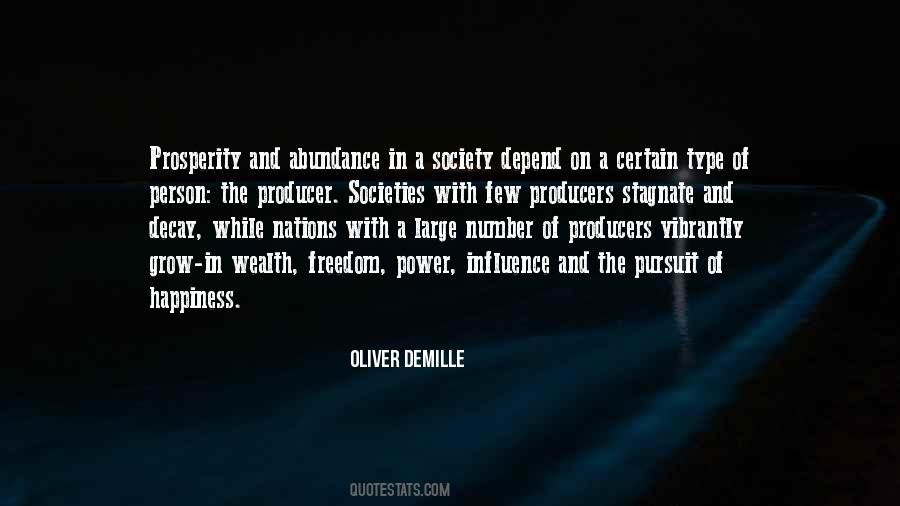 #25. A tranquil conscience invites freedom from anguish, sorrow, guilt, shame, and self-condemnation. It provides a foundation for happiness. It is a condition of immense worth. - Author: Richard G. Scott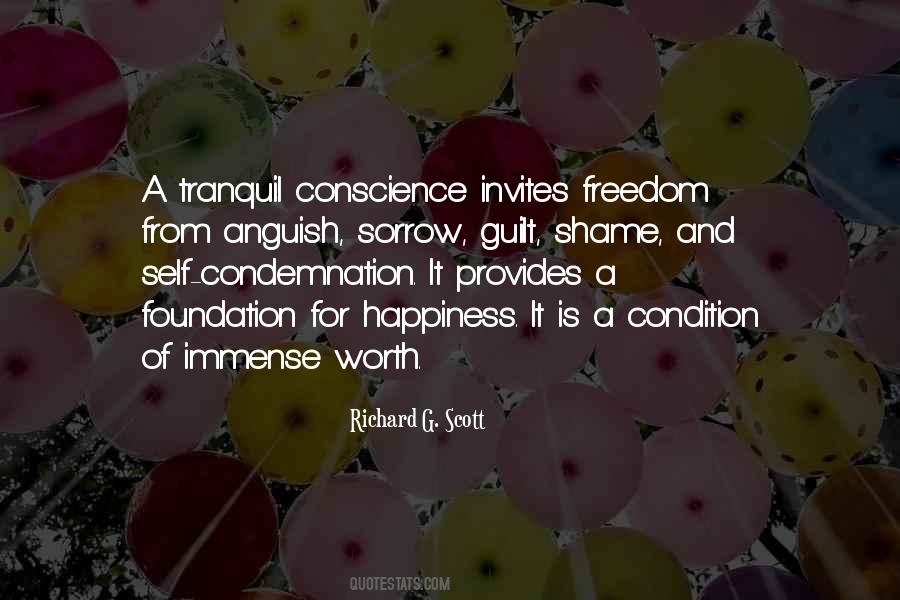 #26. The affirmation of one's own life, happiness, growth and freedom, is rooted in one's capacity to love. - Author: Erich Fromm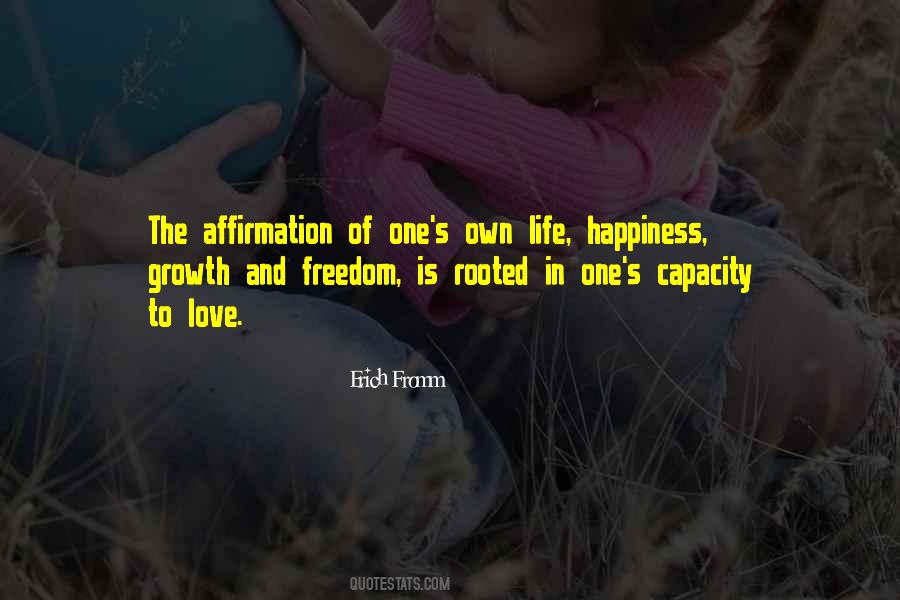 #27. The most glorious moment you will ever experience in your life is when you look back and see how God was protecting you all this time. - Author: Shannon L. Alder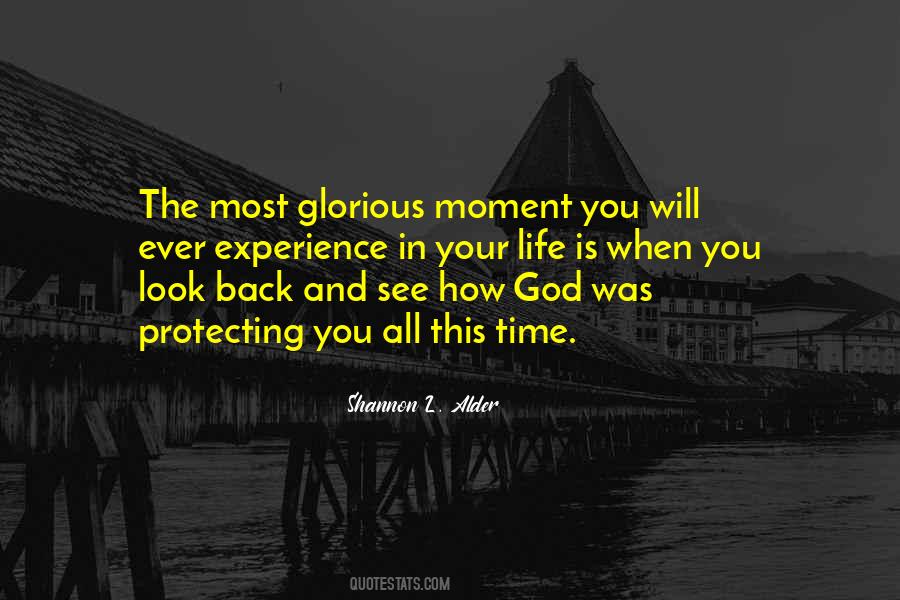 #28. Why chose strife and anger if it will only take us further from our purpose? Happiness can be attained anywhere, not just in a place of beauty or freedom. - Author: Kaza Kingsley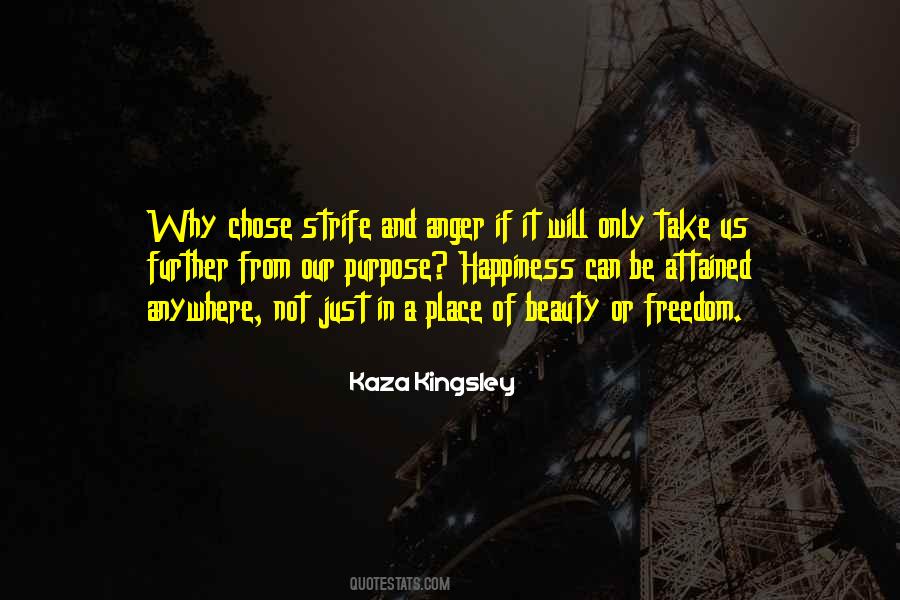 #29. The secret of happiness is freedom but to be totally free you need to earn: courage, persistence and boldness. - Author: Santosh Kalwar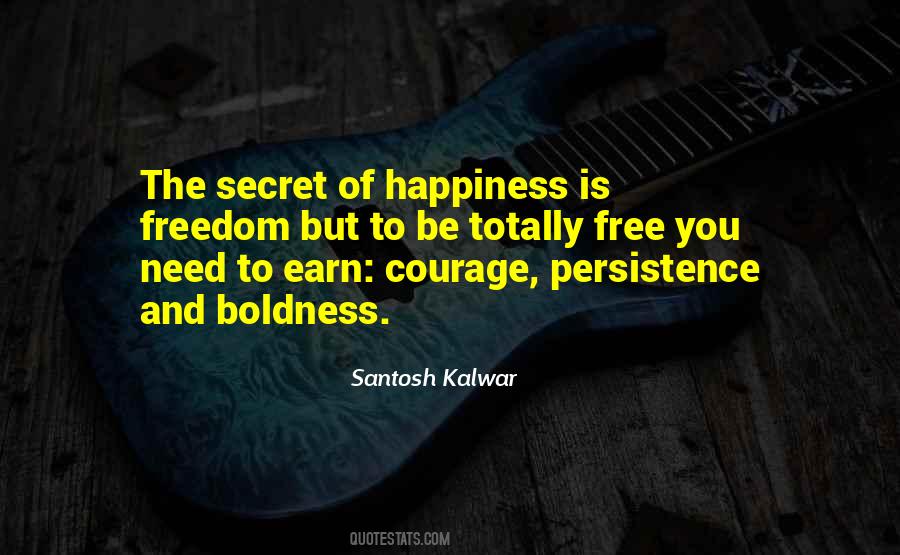 #30. In the beginning his dream and his happiness, in the end it was his bitter fate ... But in the midst of the freedom he had attained Harry suddenly became aware that his freedom was a death and that he stood alone. - Author: Hermann Hesse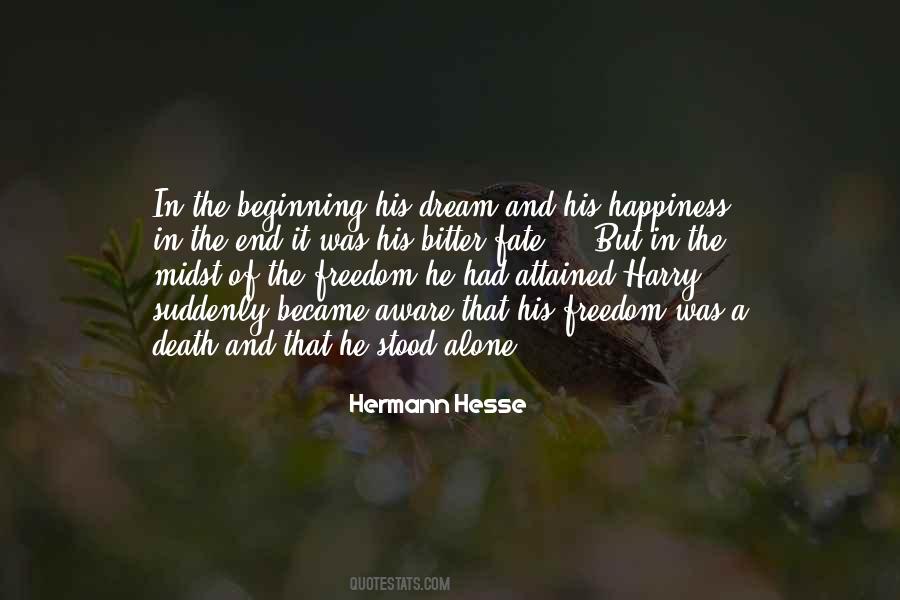 #31. The paradox of faith is that when we conform our lives to Christ then we gain our true freedom. And its fruit is profound and lasting happiness. - Author: Vincent Nichols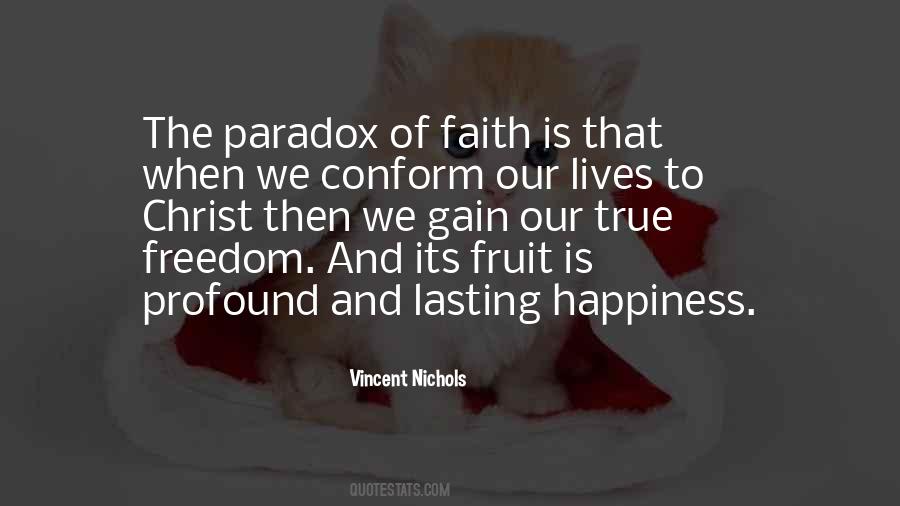 #32. You see the bird and you see its flight.
You can not see through its eyes. Therefore, you don't know its plight. - Author: Amaka Imani Nkosazana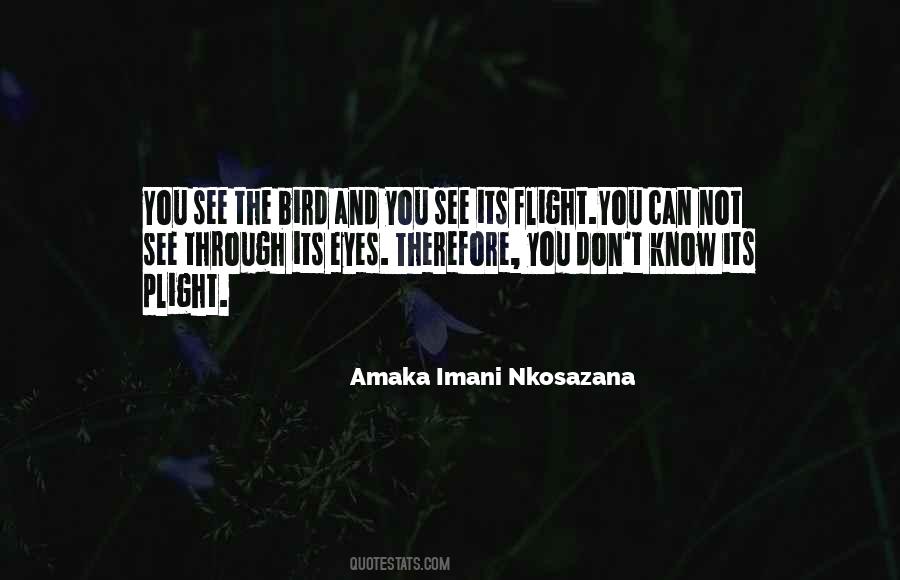 #33. I show people the techniques for gaining knowledge, and this inspires them in their search for truth, freedom and happiness. I also try to show people that truth exists as much in this world as it does in any other world. - Author: Frederick Lenz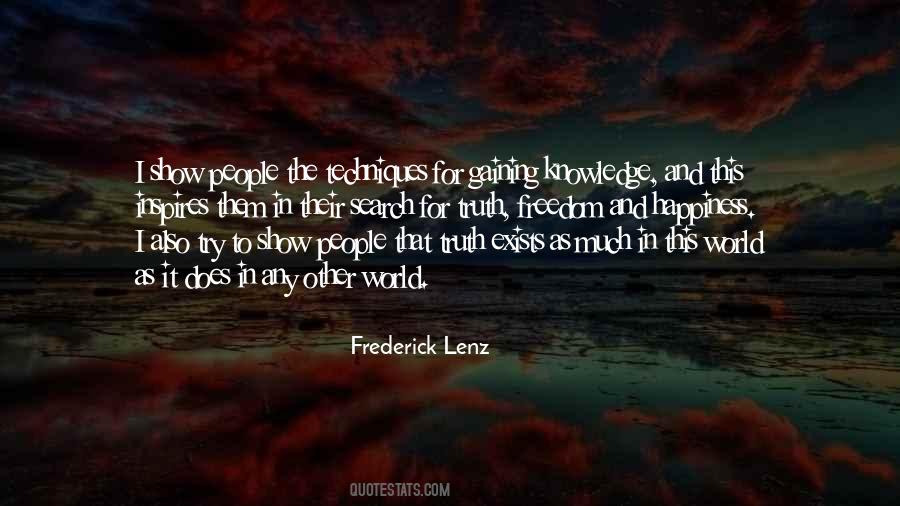 #34. I too hope you find everything in life you're looking for - freedom, happiness, and perhaps a little integrity. Best, - Author: Jake Wells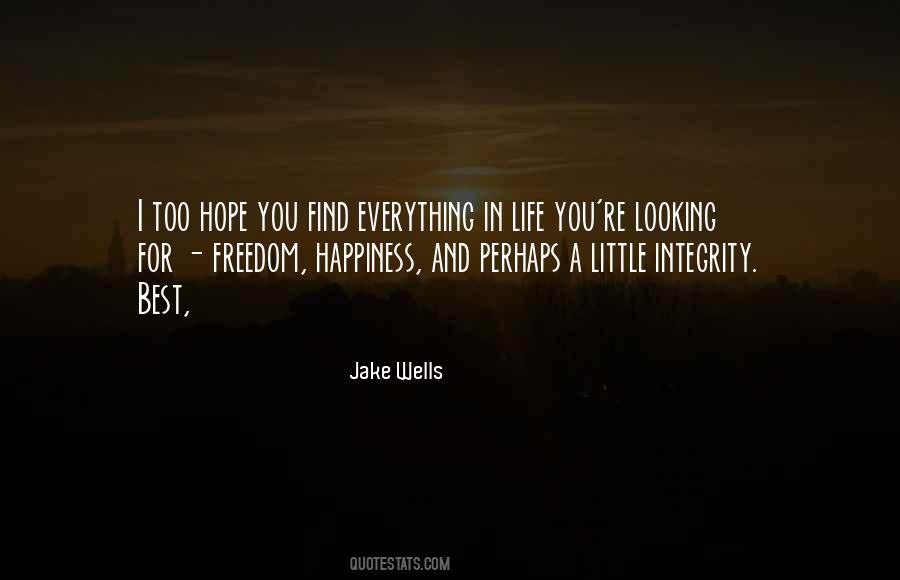 #35. Let's assume there really is no such thing as happiness, no such thing as peace, and no freedom either. But there are kind of attacks of senseless ecstasy. Can this be me? - Author: Sergei Dovlatov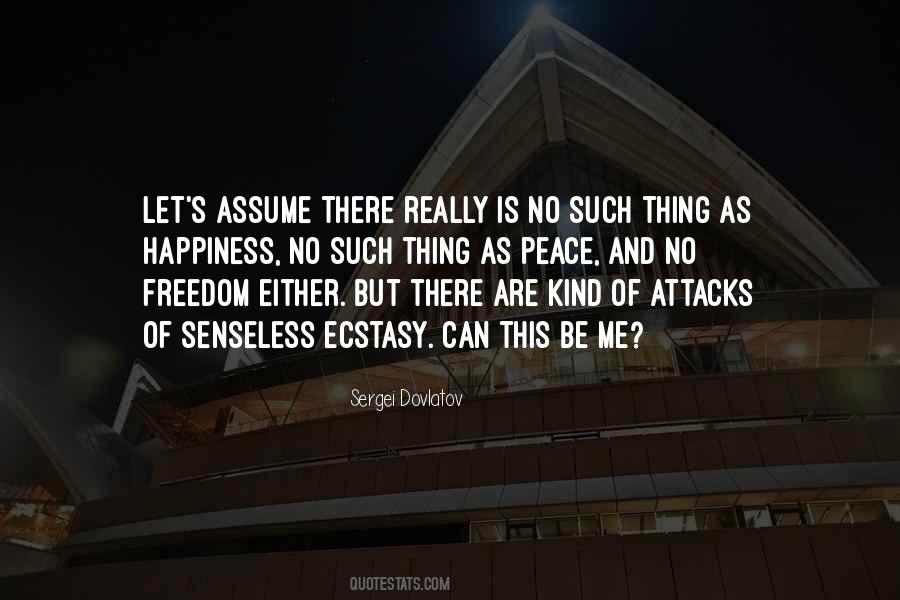 #36. I will always hold on to my heart.
Hold on to that feeling...
Of happiness, peace and freedom.
LOVE. - Author: Bram Joosten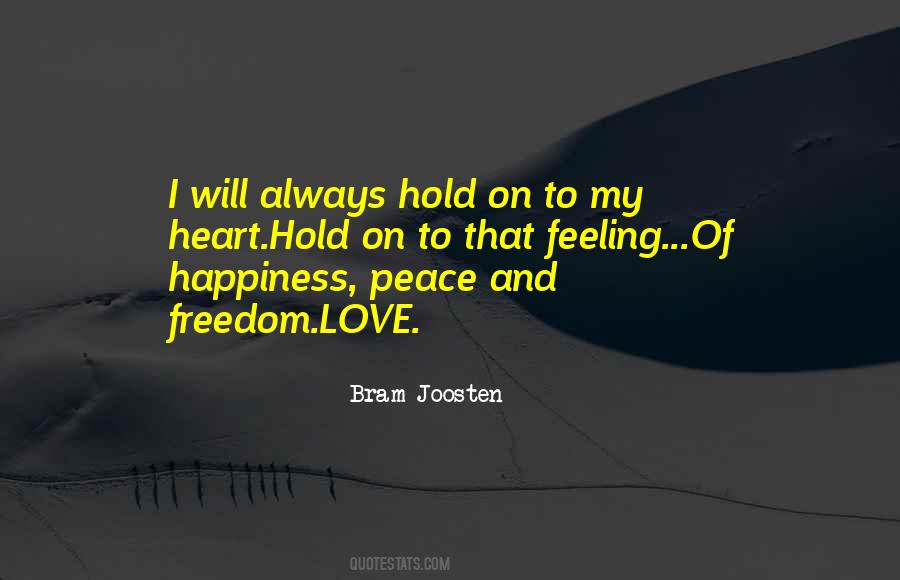 #37. As soon as I enter the door of a tavern, I experience oblivion of care, and a freedom from solicitude. There is nothing which has yet been contrived by man, by which so much happiness is produced as by a good tavern or inn. - Author: Samuel Johnson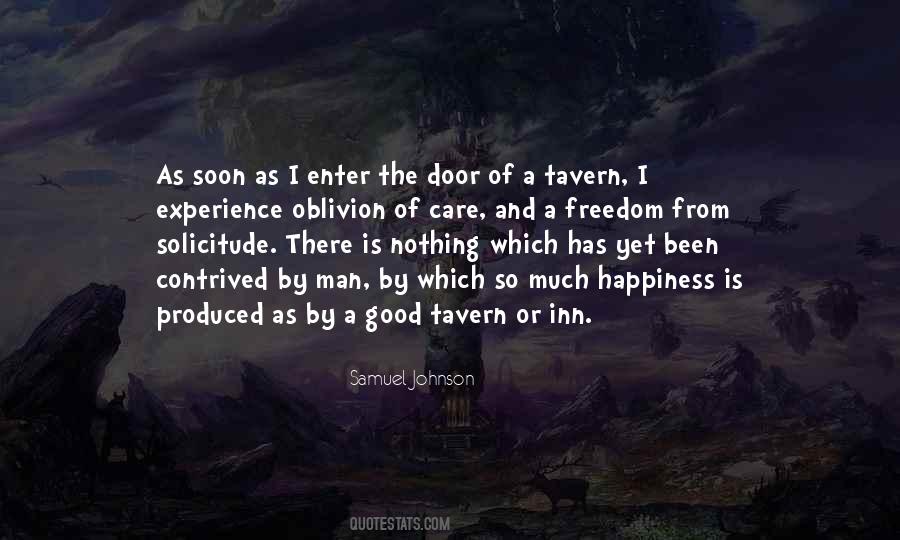 #38. I don't desire happiness. I think it's a myth, and I don't think it's ... and it makes you complacent. I feel very satisfyingly uncomfortable. I have the freedom to feel uncomfortable in the way I want to, is maybe a way to put it. - Author: Beau Willimon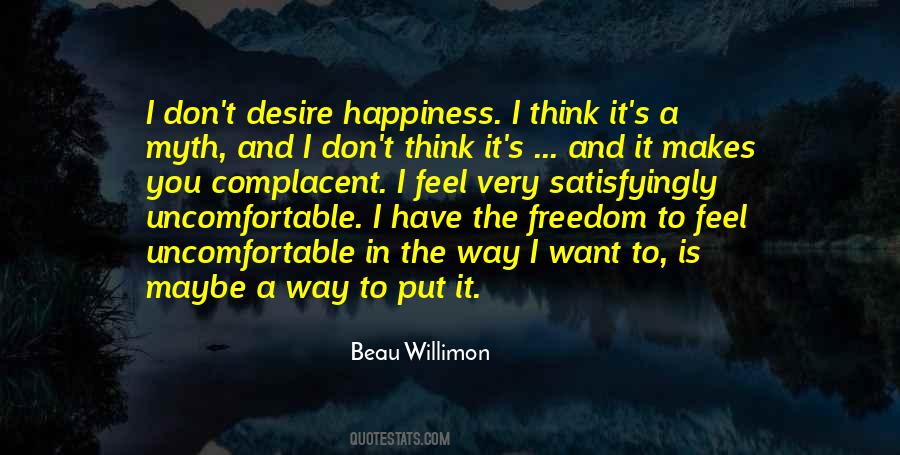 #39. I think by far the most important bill in our whole code is that for the diffusion of knowlege among the people. no other sure foundation can be devised for the preservation of freedom, and happiness. - Author: Thomas Jefferson
#40. The right to "liberty" and "pursuit" of happiness is incompatible with a government that makes choices for you. - Author: A.E. Samaan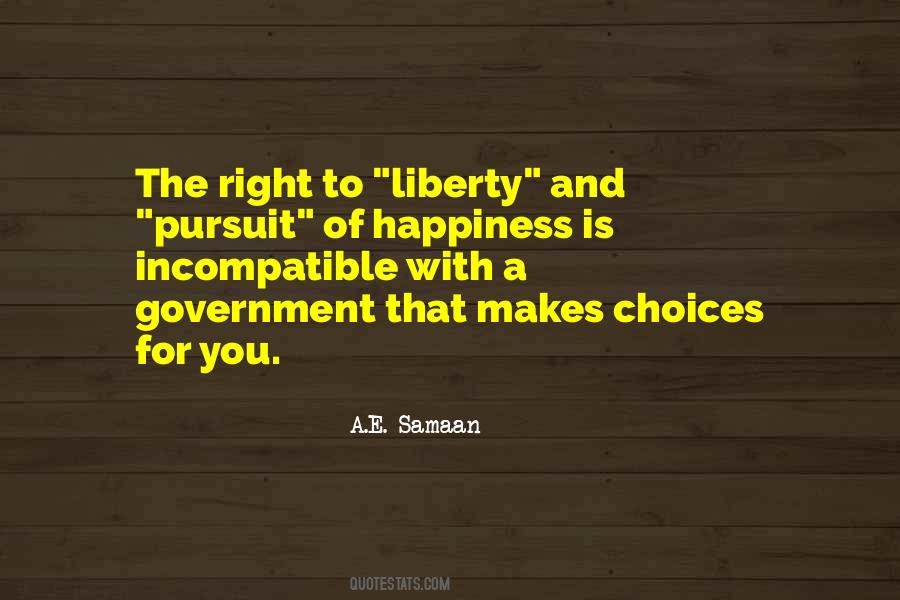 #41. There is a wonderful mythical law of nature that the three things we crave most in life
happiness, freedom, and peace of mind
are always attained by giving them to someone else. - Author: Peyton C. March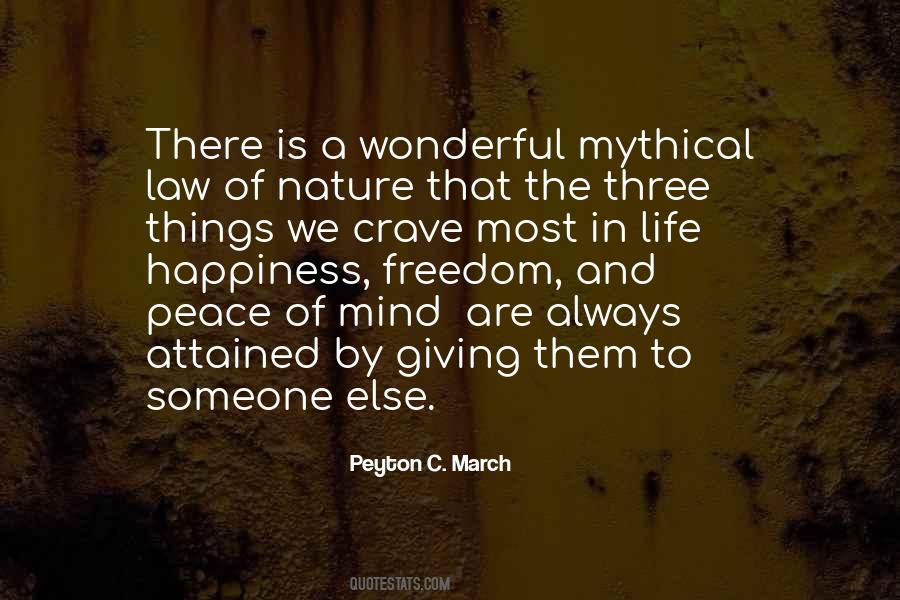 #42. Every American is free to do anything at all here in this supposedly great free country. Why don't they use their freedom and liberty to pursue happiness? - Author: Matthew Quick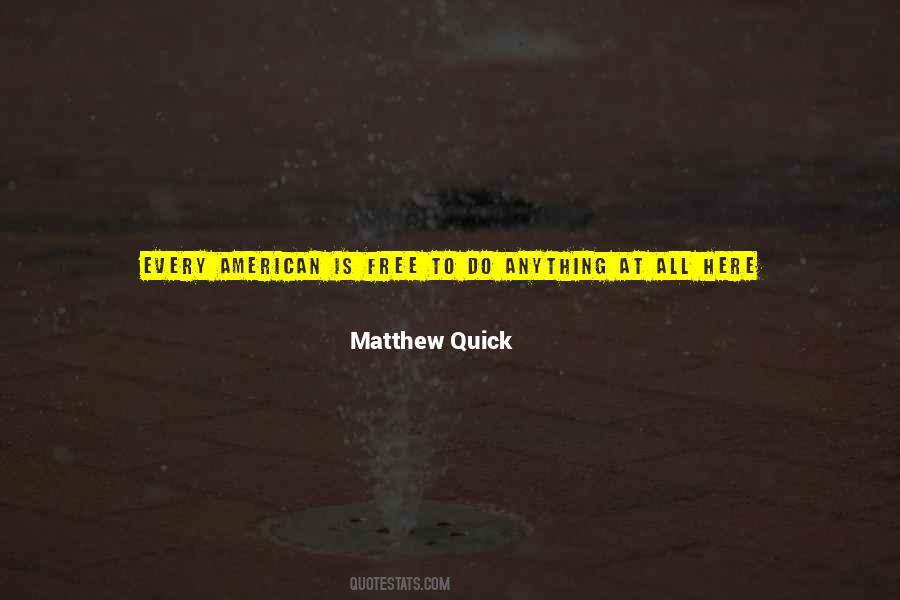 #43. Peace is self-examination and being all right with what you see. Freedom is being able to open up to others without the worry of persecution. Happiness is seeing others for who they are and embracing the differences. - Author: Leeann Smith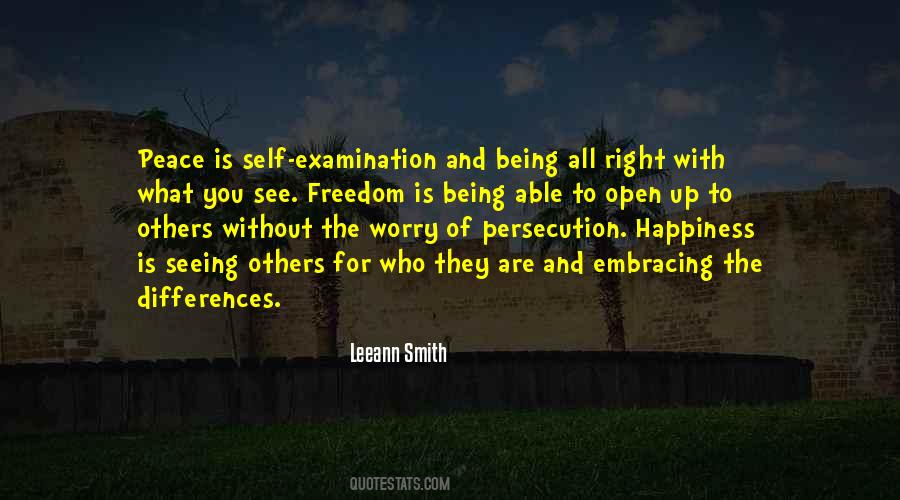 #44. Happiness is nothing but good health and freedom, and money is the single best way you can buy your freedom. - Author: Scott Adams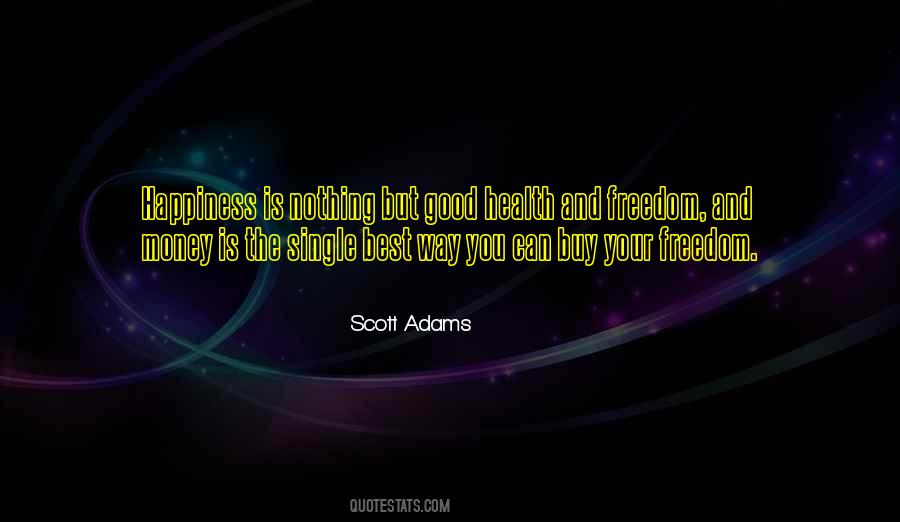 #45. If [God] send me no husband, for the which blessing I am at him upon my knees every morning and evening ... - Author: William Shakespeare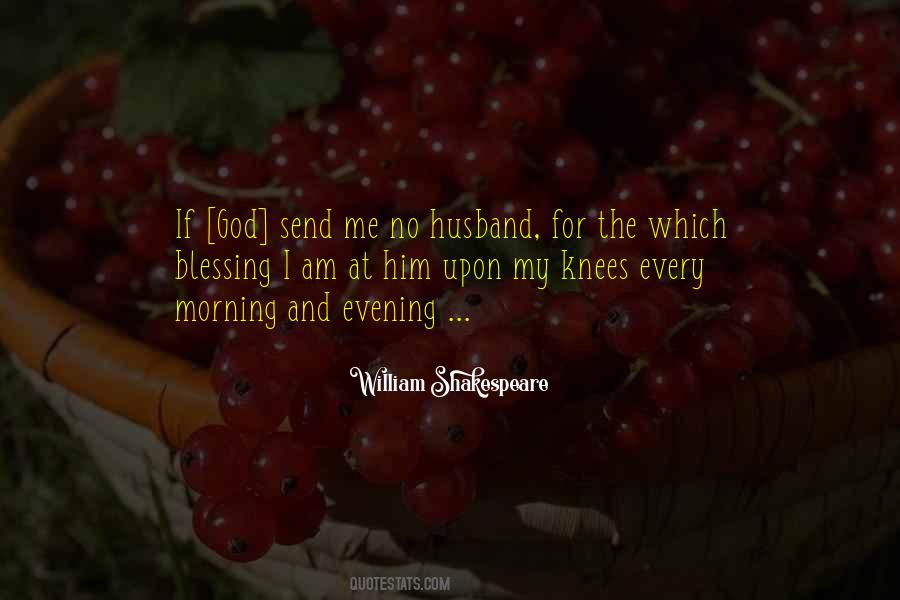 #46. A simple line painted with the brush can lead to freedom and happiness. - Author: Joan Miro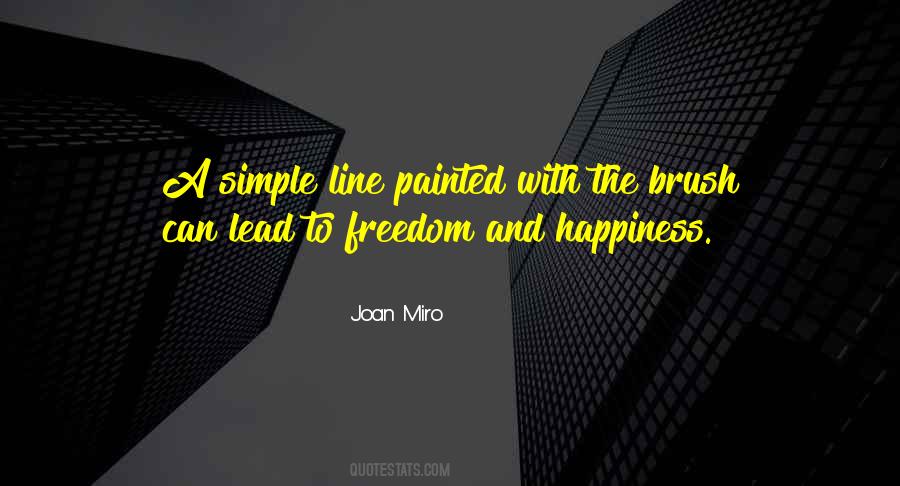 #47. The purpose of empowerment is to urge you towards freedom, to help each of you to break free of all limitations. It is that freedom that will give you eternal happiness and finally connect you with the unconditional realization of TRUTH. - Author: Steve Maraboli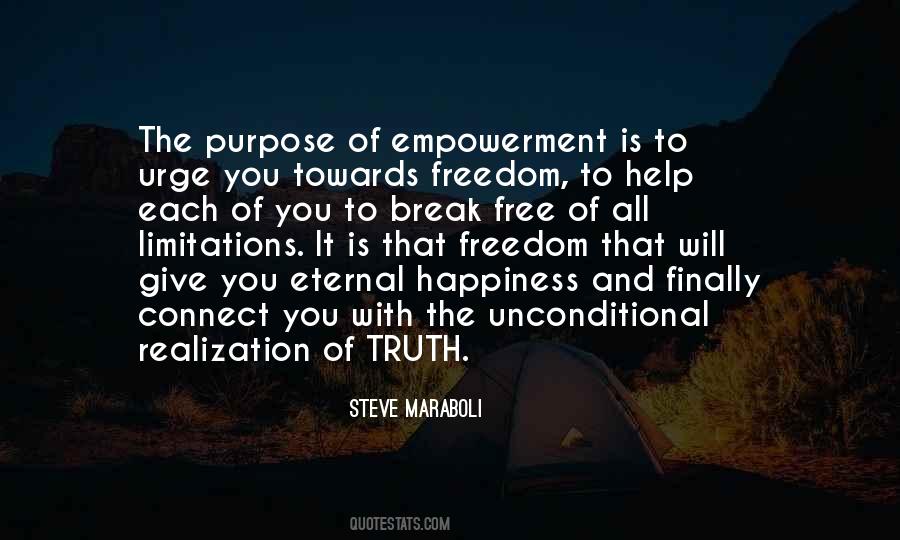 #48. Your true purpose is to become your own unique self, and to do so with happiness and freedom from fear. - Author: Bryant McGill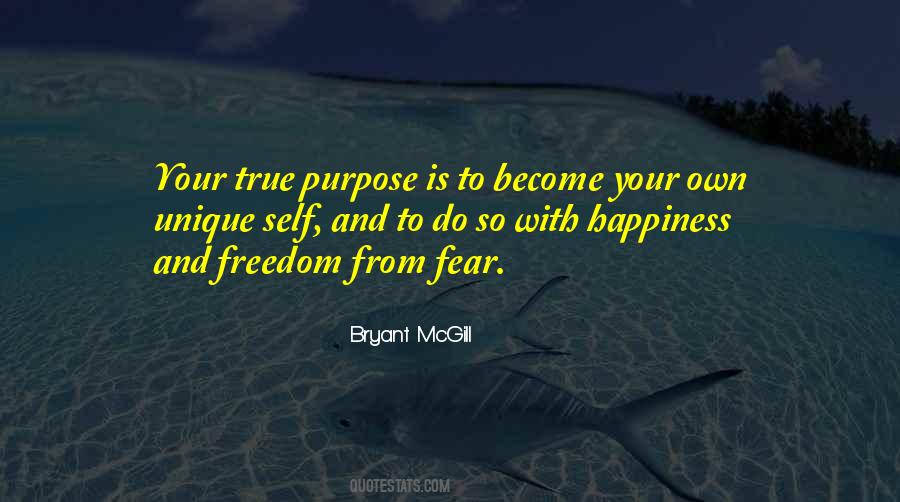 #49. The will to power is the will to ecstasy is the will to surrender is the will to submit and, in extremis, to die. Or to put it another way, the rage to attain a freedom and happiness one's psyche cannot accept creates enormous anxiety and ends in self-punishing despair. - Author: Ellen Willis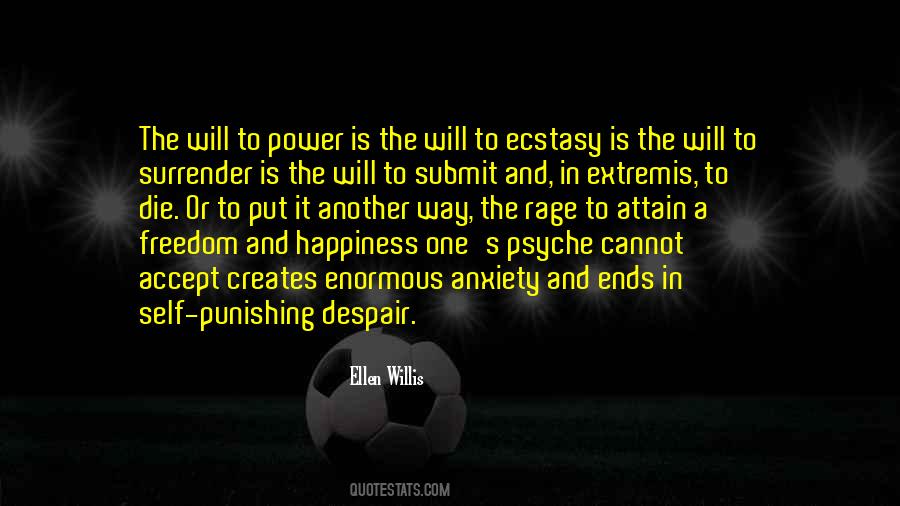 #50. Suffering is just about the easiest of all human activities; being happy is just about the hardest. And happiness requires, not surrender to guilt, but emancipation from guilt. - Author: Nathaniel Branden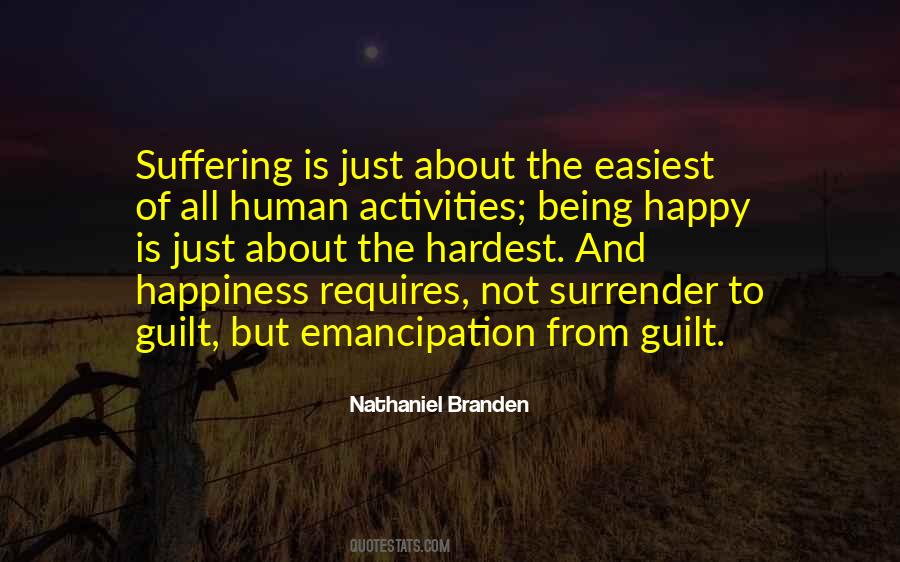 #51. We need sentiment and skepticism. Sentiment to be happy; skepticism to be free. - Author: Marty Rubin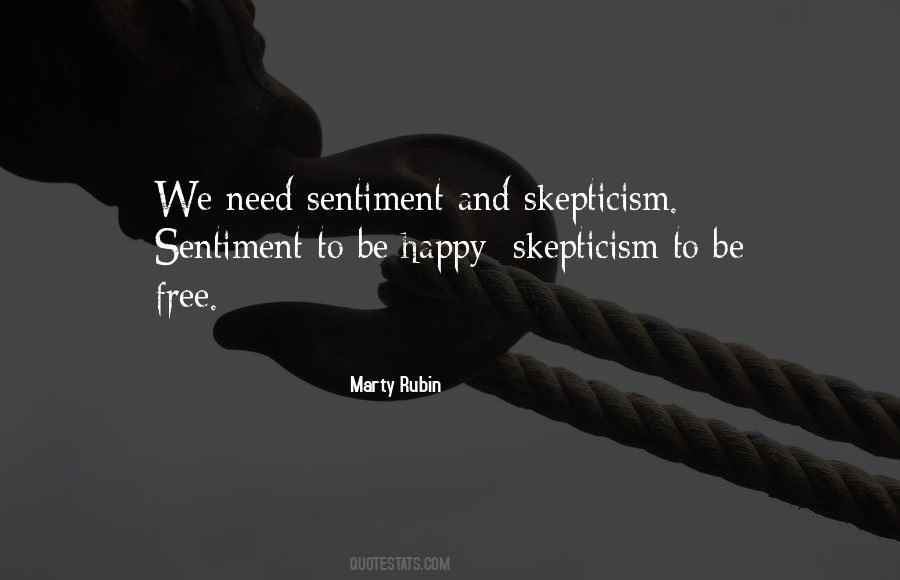 #52. Live to start your stupid ideas, and start to live a life without regret
a life filled with meaning, freedom, happiness, fun, authenticity, and influence. - Author: Richie Norton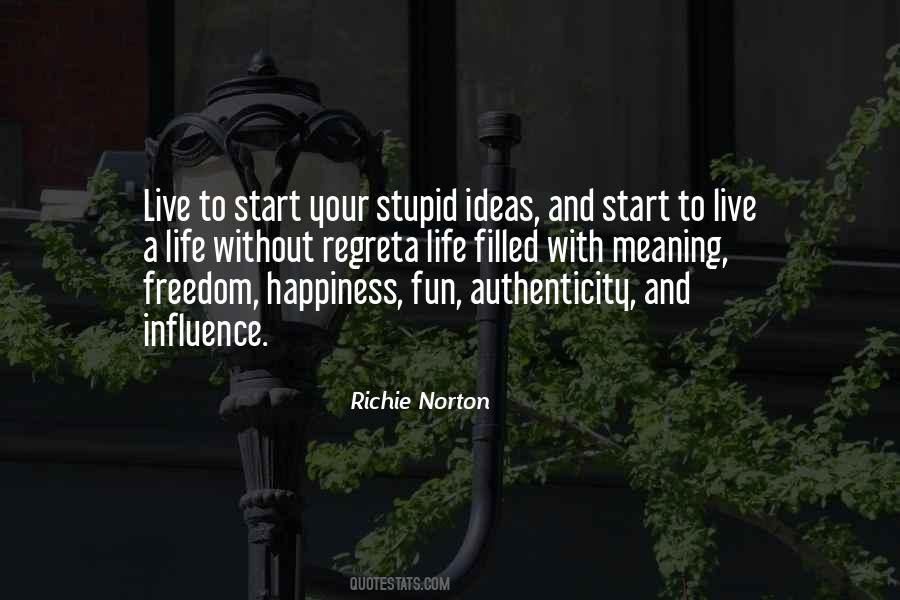 #53. It had been wishful thinking, plain and simple, dangerous for me to indulge in. Hope, happiness and freedom were not in my future. - Author: Maria V. Snyder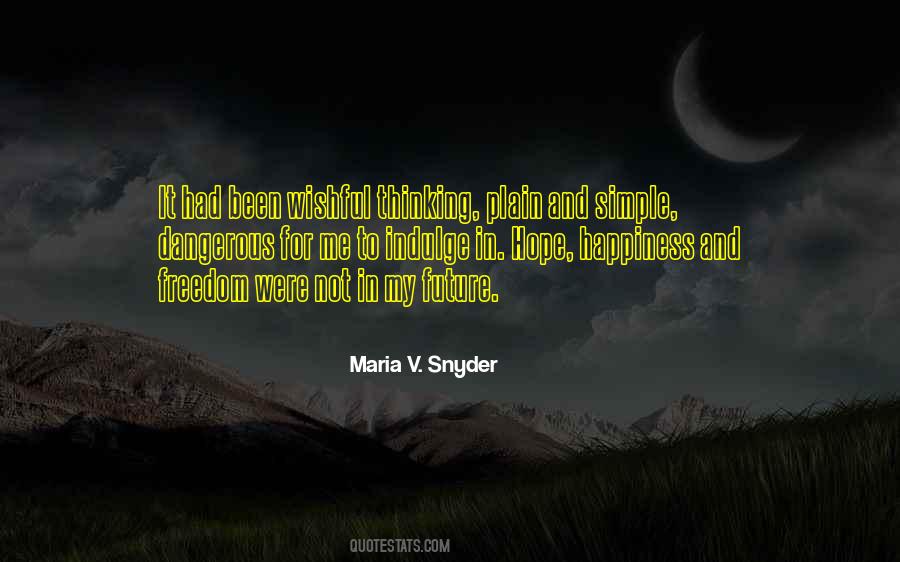 #54. The total absence of desire brings happiness. It also brings freedom and liberation, because whenever something is lacking there are both limits and dependency. Only when nothing at all is lacking is there the possibility of total freedom. Freedom brings happiness. And happiness is salvation. - Author: Rajneesh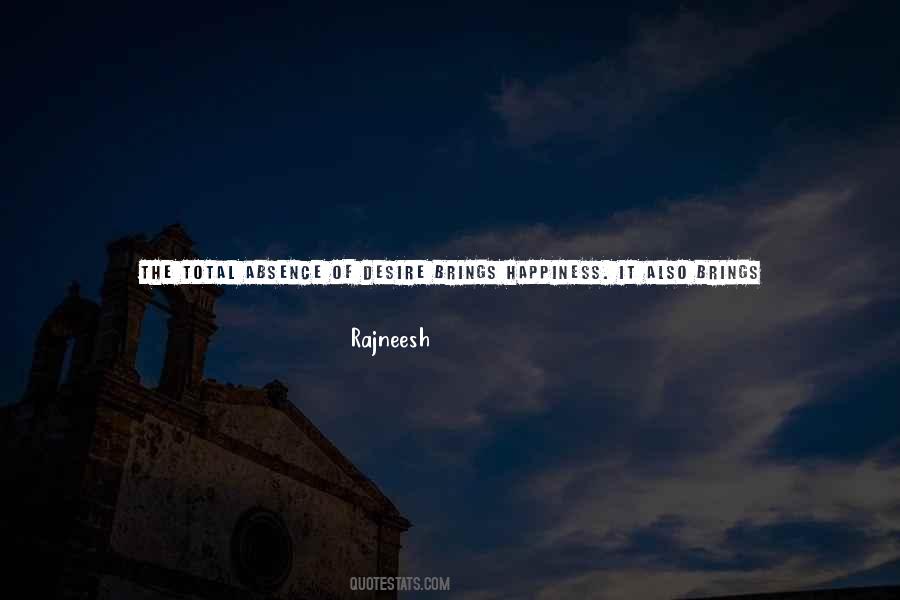 #55. Five or six hundred heads cut off would have assured your repose, freedom and happiness. - Author: Jean-Paul Marat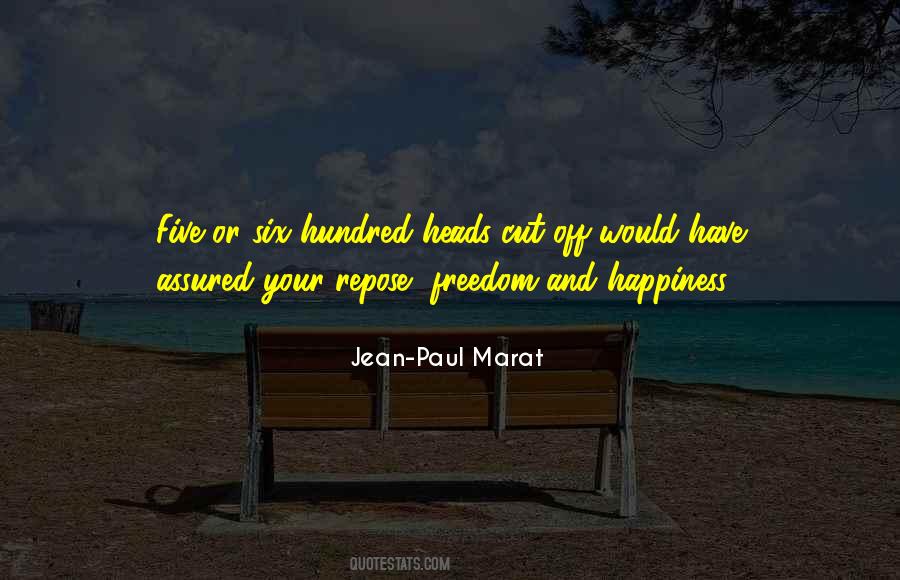 #56. The secret of happiness is living in accordance with how one thinks. Be yourself and don't try to impose your criteria on the rest. I don't expect others to live like me. I want to respect people's freedom but I defend my freedom. - Author: Jose Mujica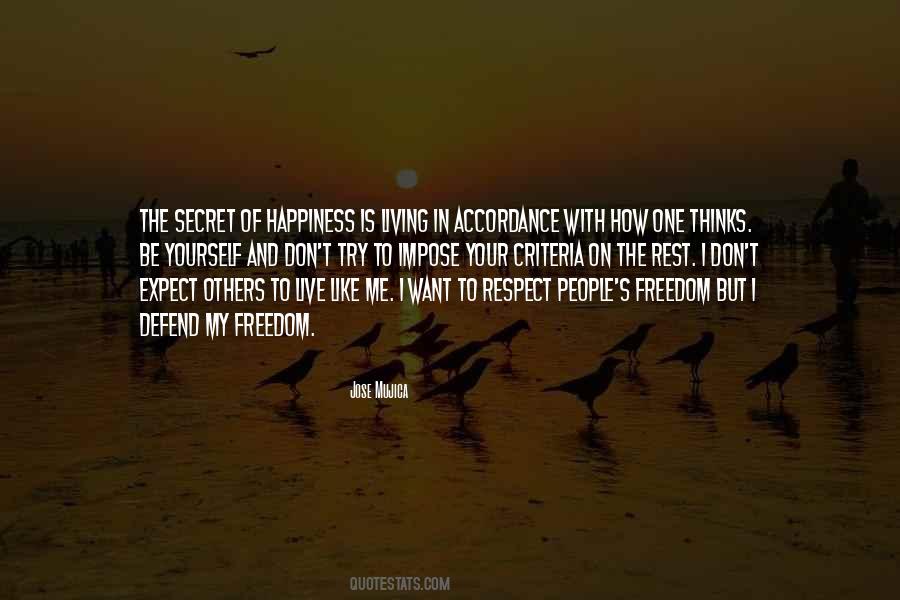 #57. If happiness truly consisted in physical ease and freedom from care, then the happiest individual would not be either a man or a woman; it would be, I think, an American cow. - Author: William Lyon Phelps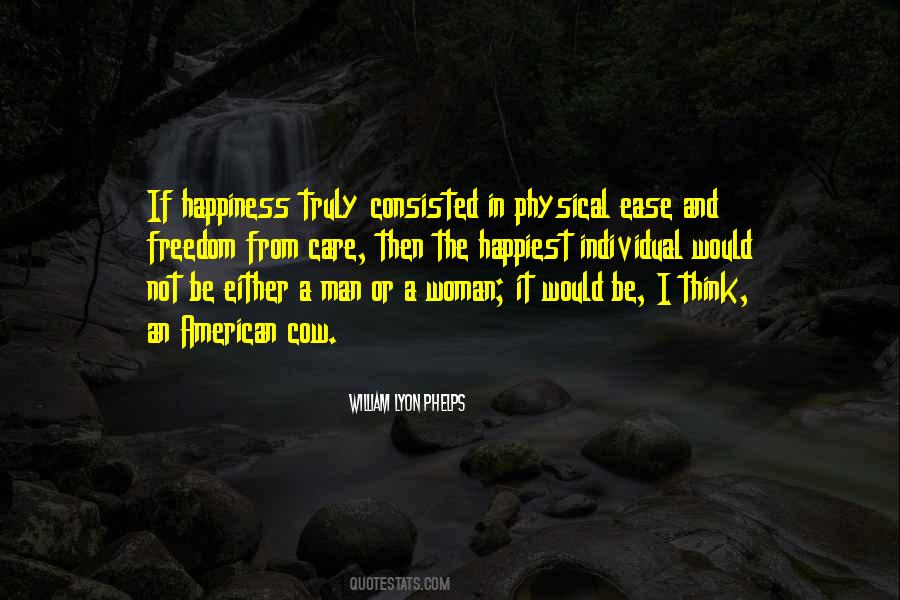 #58. It is only in the space that our thoughts and our feelings enclose that our happiness can breathe in freedom. - Author: Maurice Maeterlinck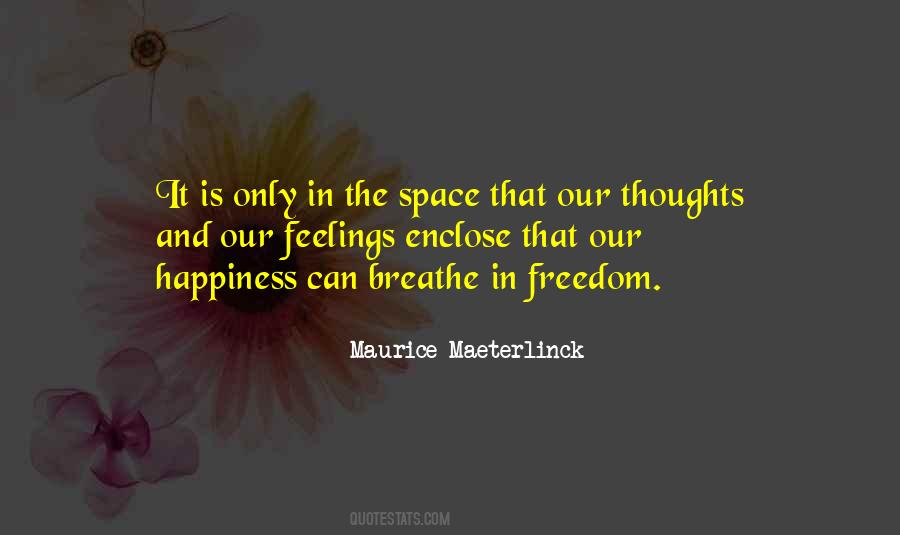 #59. The feeling of freedom, driving into scenery as green and lush as a postcard of Ireland was close to bliss. - Author: Diane Meier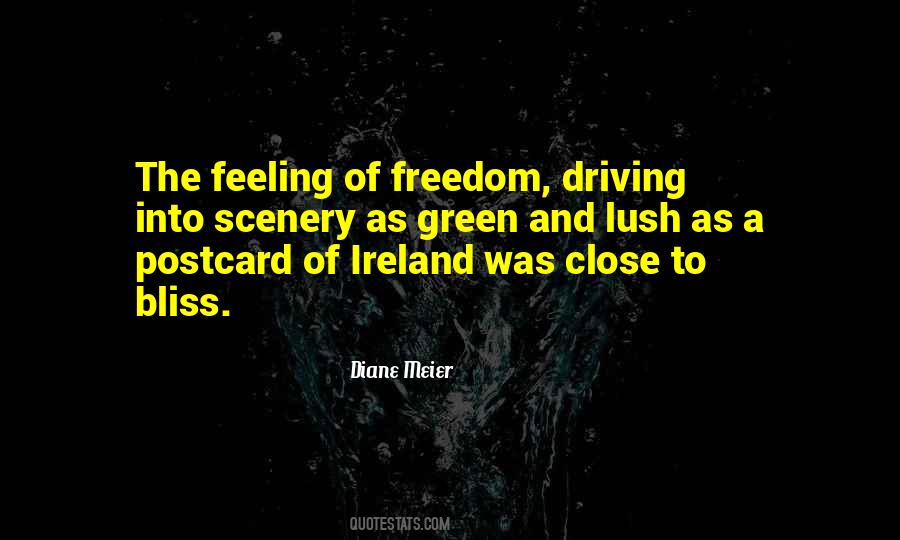 #60. Today there could be laughter and freedom, but soon the magic would end and they would have to go back to the real world. However, there would still always be time to get under Dak's skin. - Author: Alyson Serena Stone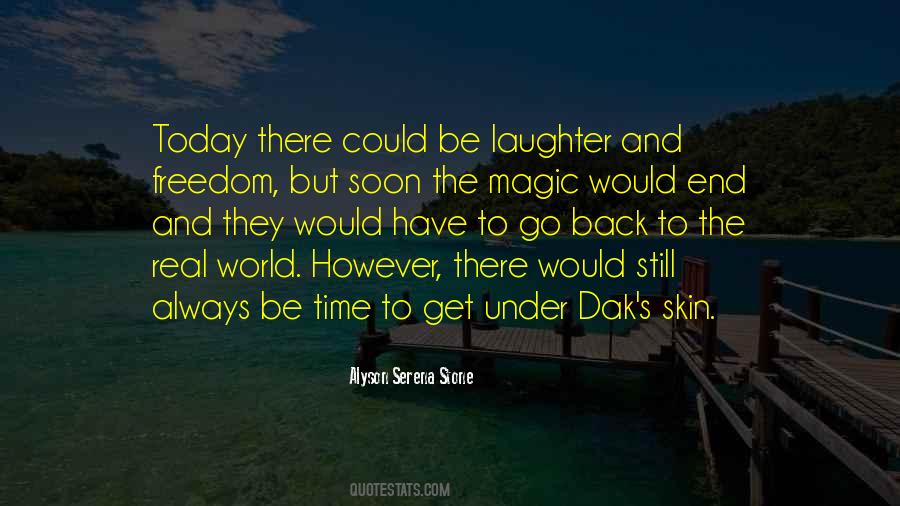 #61. We believe that human happiness requires freedom and that freedom requires limited government. - Author: Charles A. Murray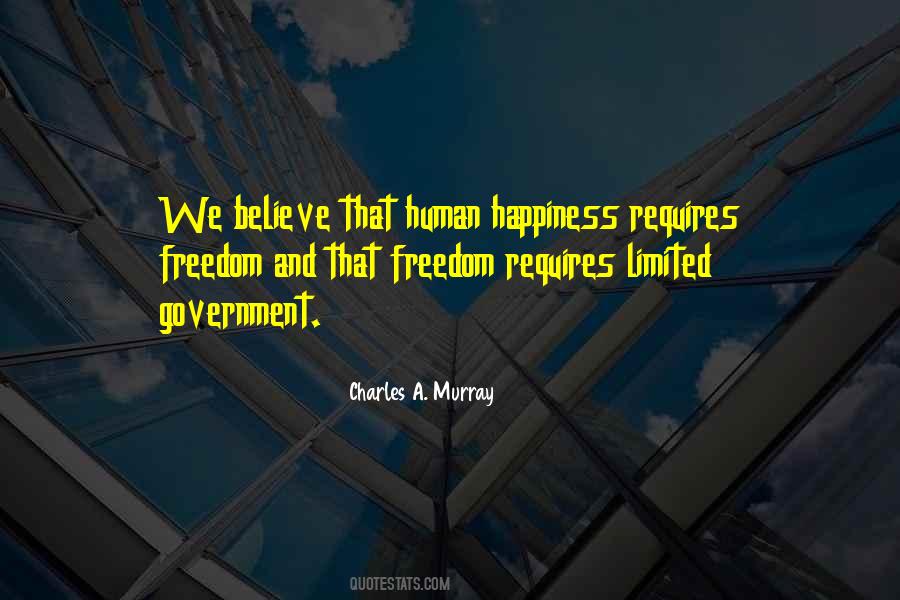 #62. Individuality is the aim of political liberty. By leaving the citizen as much freedom of action and of being as comports with order and the rights of others, the institutions render him truly a freeman. He is left to pursue his means of happiness in his own manner. - Author: James F. Cooper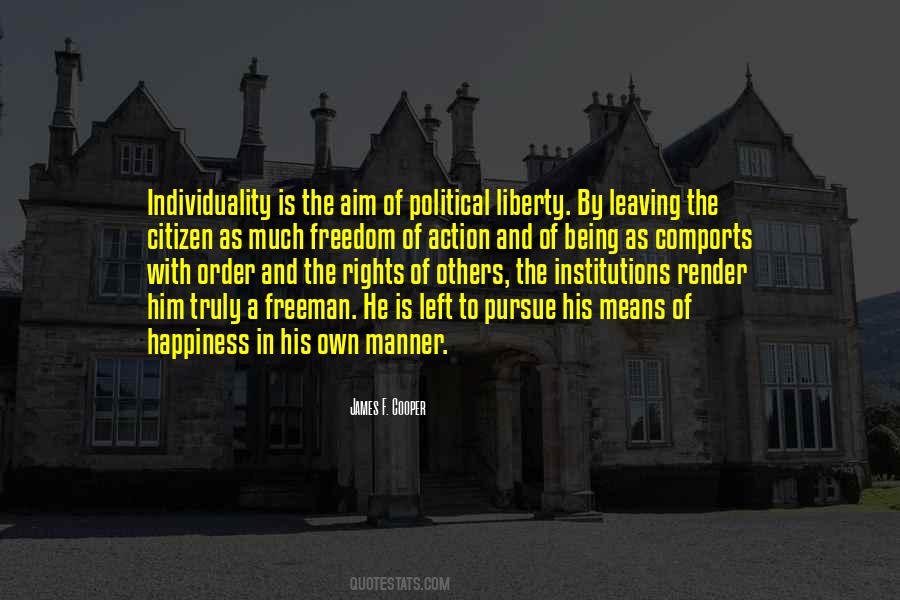 #63. There is also a false serenity that is not at all Christian. We need feel no shame as Christians about a measure of impatience, longing, protest against what is unnatural, and a strong measure of desire for freedom and earthly happiness and the capacity to effect change. In - Author: Dietrich Bonhoeffer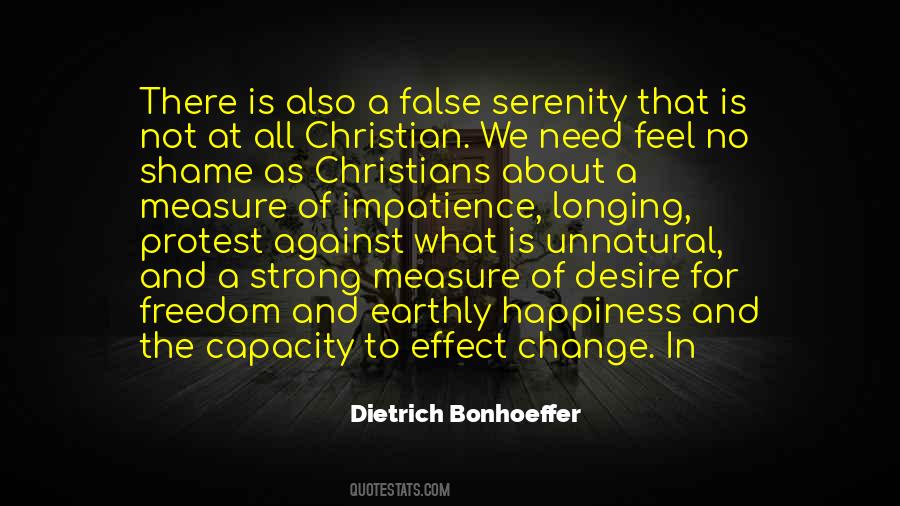 #64. Morality and freedom are as certainly the only bases of the happiness and dignity of the human race as the system of Galileo is the true theory of the celestial motions. - Author: Germaine De Stael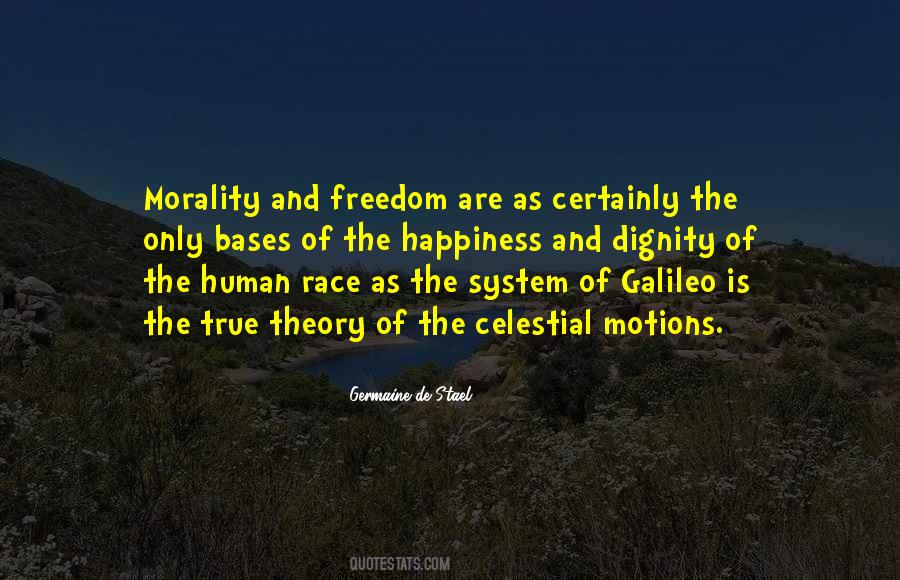 #65. Not merely by rules of conduct and religious observances, nor by much learning either, nor even by attainment of concentration, nor by sleeping alone, do I reach the happiness of freedom, to which no worldlings attain. If you have not put an end to compulsions, nurse your faith - Author: Gautama Buddha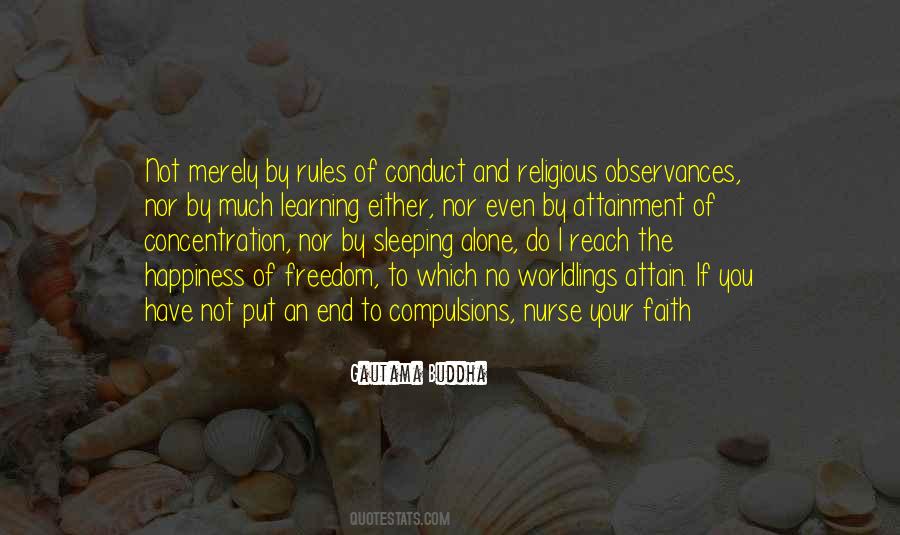 #66. I think service to others is the real key to winning our own personal freedom and the road to our own happiness, our own personal contentment and fulfillment. - Author: Martin Sheen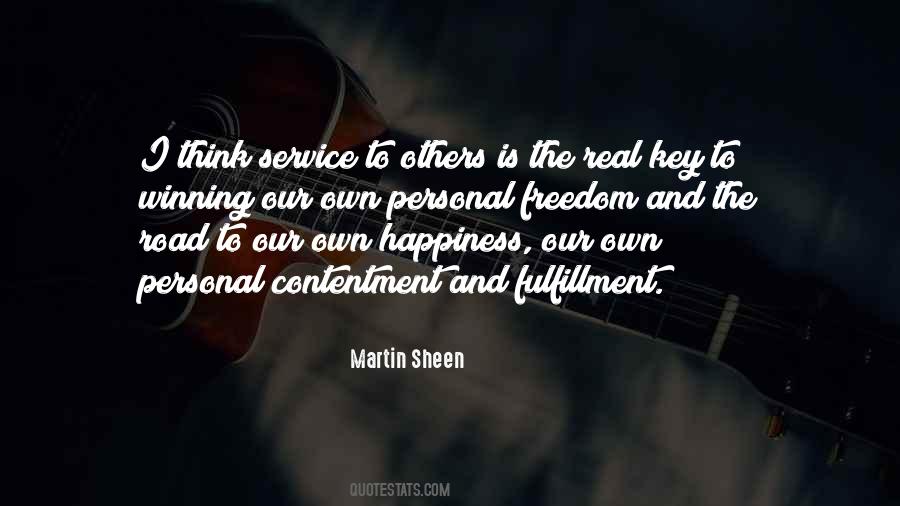 #67. They were happy, and free, and the endless sky awaited them. It was enough. - Author: Chris Wooding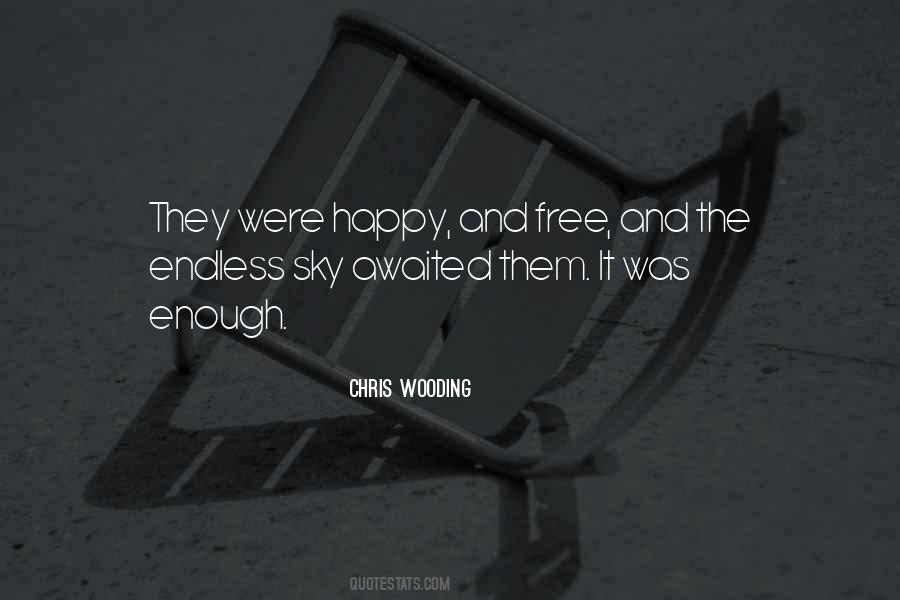 #68. Attachment strangles freedom and clarity and makes us a puppet to our desires and cravings; attachment is the root of suffering, a root that if left unattended grows into a tree which drops the fruits of anger, greed, envy, dispersion, competitiveness, ego and pain - Author: Evan Sutter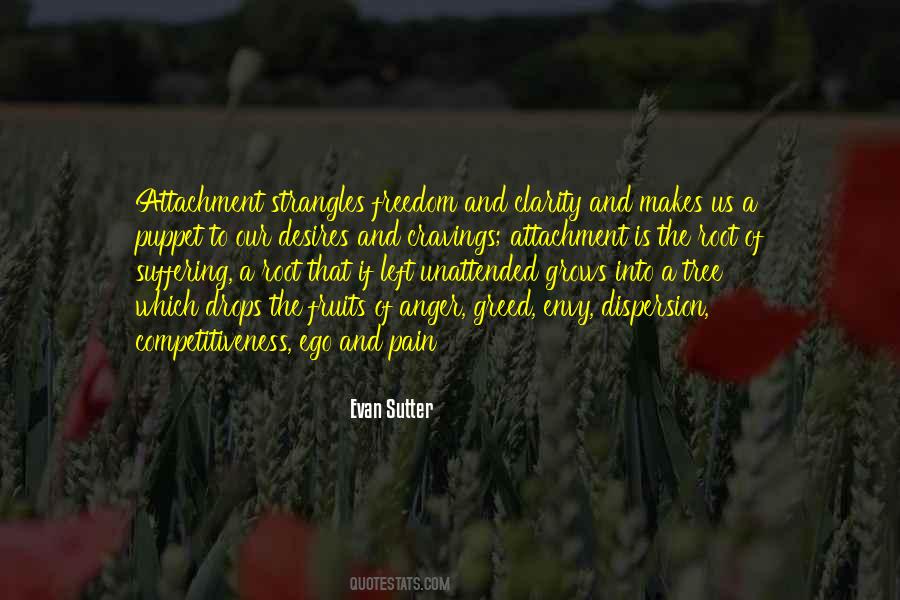 #69. For, after all, the foundation of our whole nature, and, therefore, of our happiness, is our physique, and the most essential factor in happiness is health, and, next in importance after health, the ability to maintain ourselves in independence and freedom from care. - Author: Arthur Schopenhauer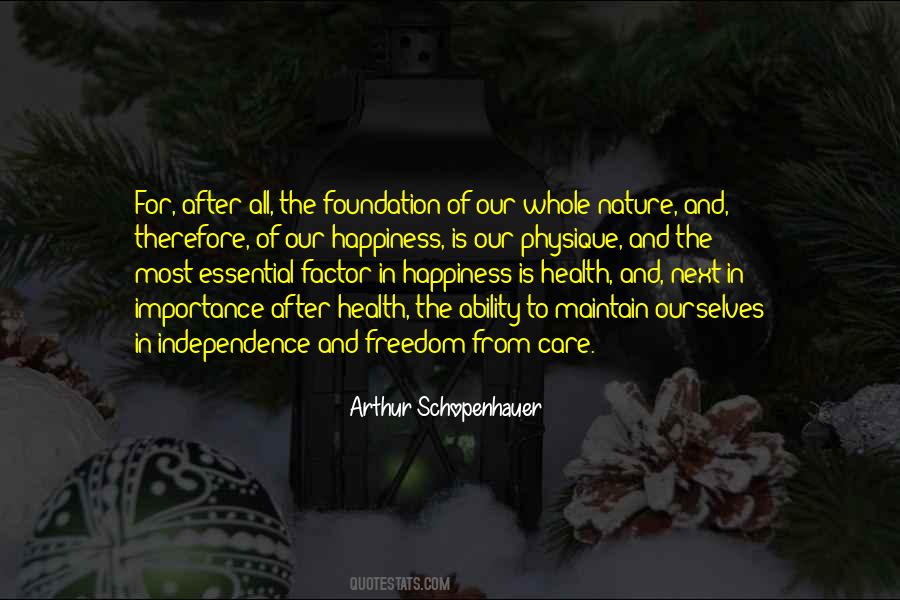 #70. But freedom and human happiness has a direct relationship to the number of people who have power over their own world, their own lives. Far too many people still have no say in how they live.

The more power is dispersed, the more that will change. - Author: Robert Jackson Bennett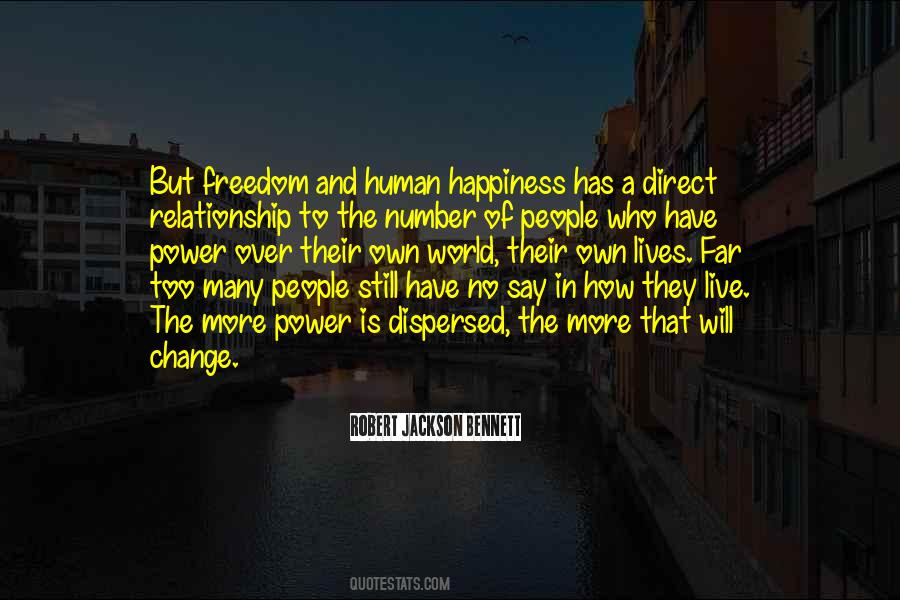 #71. It was a flight, a kind of fleeing, a kind of falling, falling higher and higher, spinning off the edge of the earth and beyond the sun and through the vast silent vacuum where there were no burdens and where everything weighed exactly nothing. - Author: Tim O'Brien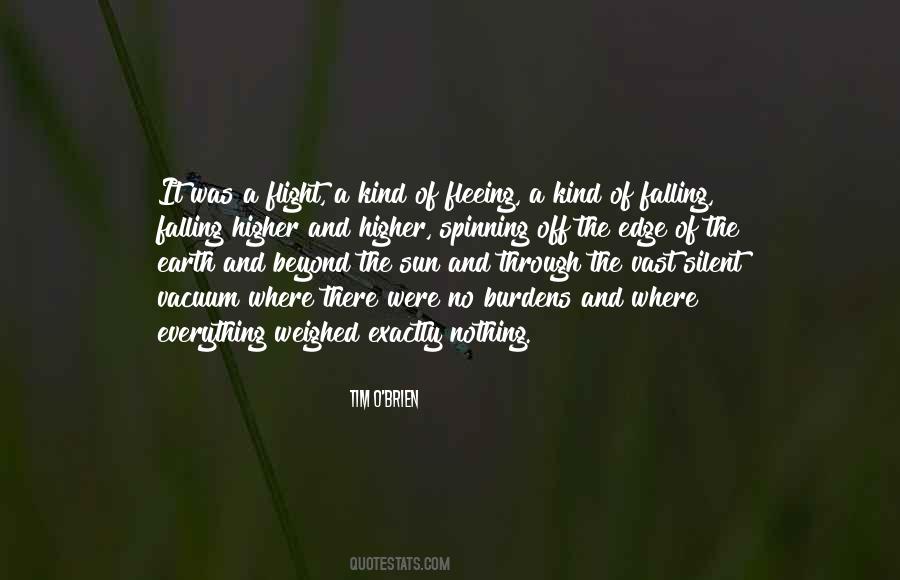 #72. Until you're willing to accept what already is - the things of your past that you can't change - there's no space for you to create what you want. Acceptance is the key to unlocking the door to true peace, happiness, and freedom. - Author: Hal Elrod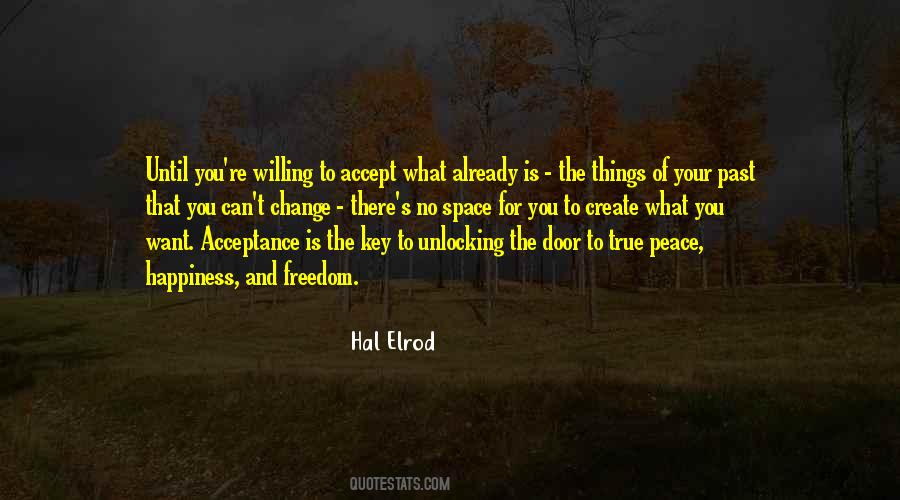 #73. Femininity for me means happiness and freedom ... freedom of being who you are in whatever shape or size you come in. - Author: Kate Winslet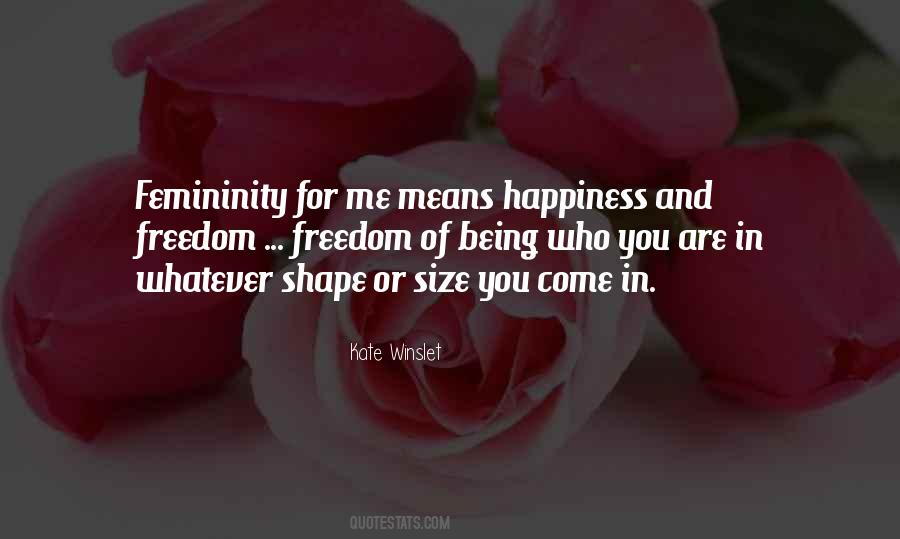 #74. Happiness is the freedom of choice. The freedom to choose where to live, what to do, what to buy, what to sell, from whom, to whom, when and how. - Author: Eleni Zaude Gabre-Madhin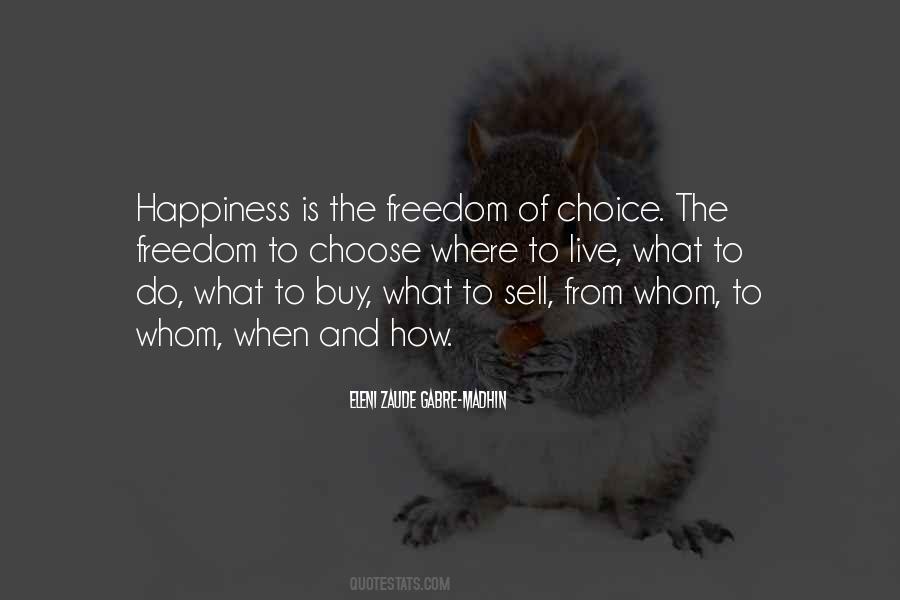 #75. Life, Liberty, and the Pursuit of Happiness ... but only when you pay your taxes? That means your freedom is rented, leased, & not unalienable. - Author: Steve Maraboli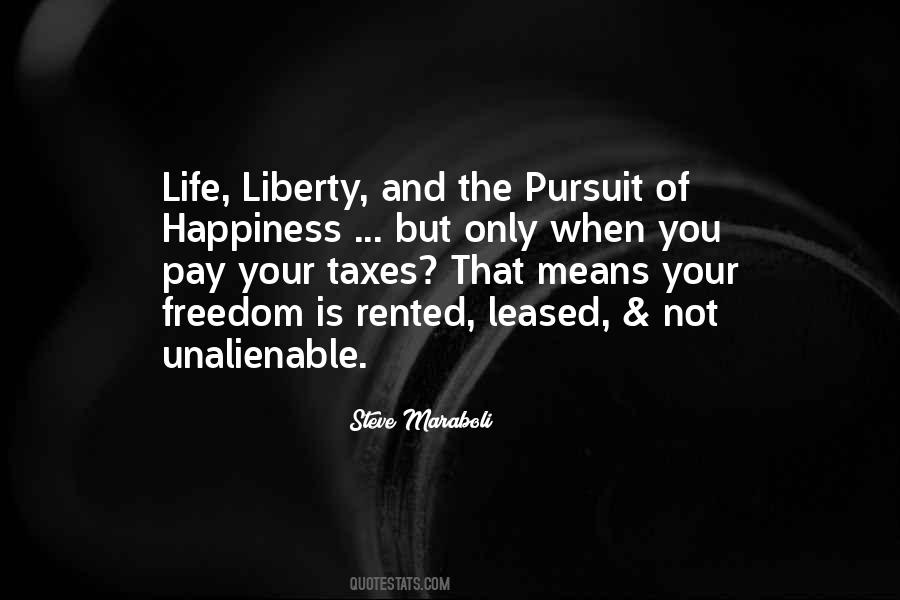 #76. The only people for me are the ones who spill things, the ones who drop their cups sometimes, the ones who get dirty hands and messy hair, the ones who can go barefoot if they feel like it, the people who forget things, and can laugh at themselves every day ... - Author: C. JoyBell C.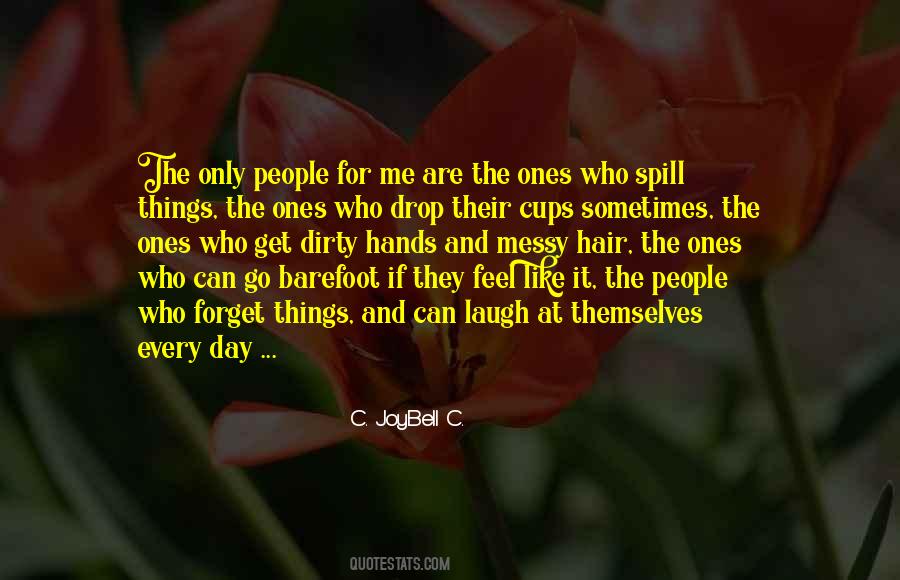 #77. Hmm. I think love is about loving all things, to treat each and every thing and every one as a sovereign being that's free to make its own choices. - Author: Michael Sanders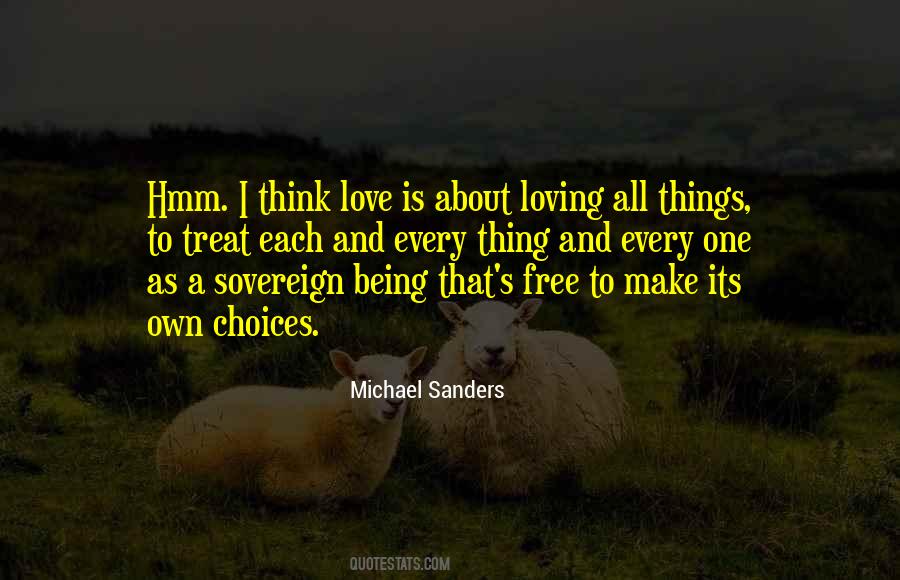 #78. We want the happiness of the Philippines, but we want to obtain it through noble and just means. If I have to commit villainy to make her happy, I would refuse to do so, because I am sure that what is built on sand sooner or later would tumble down. - Author: Jose Rizal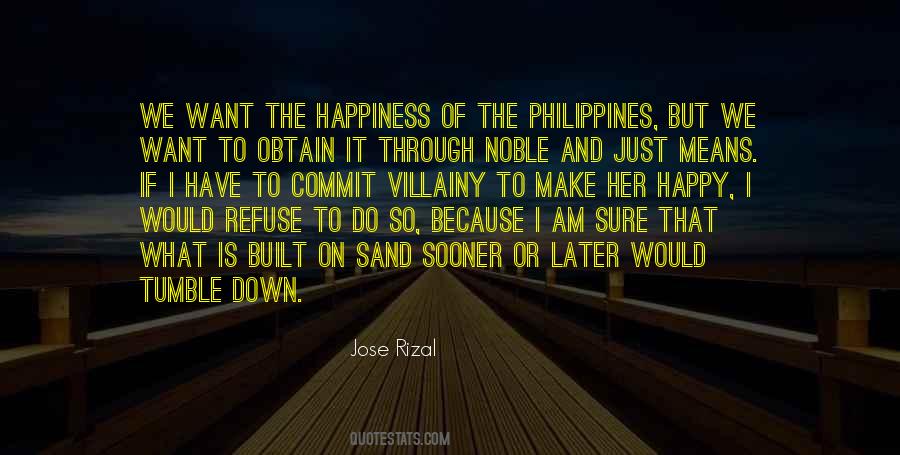 #79. There are children who will leave a game to go and be bored in a corner of the garret. How often have I wished for the attic of my boredom when the complications of life made me lose the very germ of freedom! - Author: Gaston Bachelard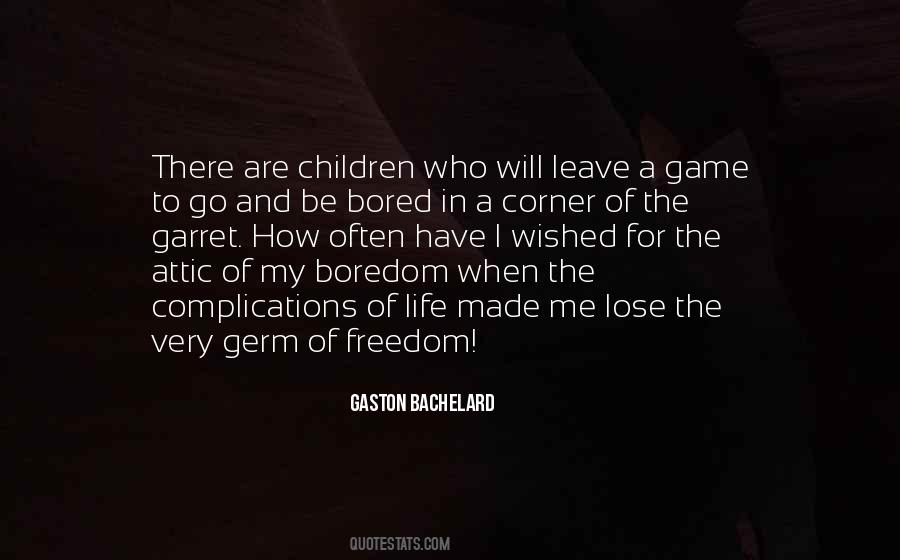 #80. What I had not realized then, but now know only too well, is that sparks carry within them the wish to be relieved of the burden of brightness. And that is why I no longer write, and why the dark is is my freedom and my happiness. - Author: Mark Strand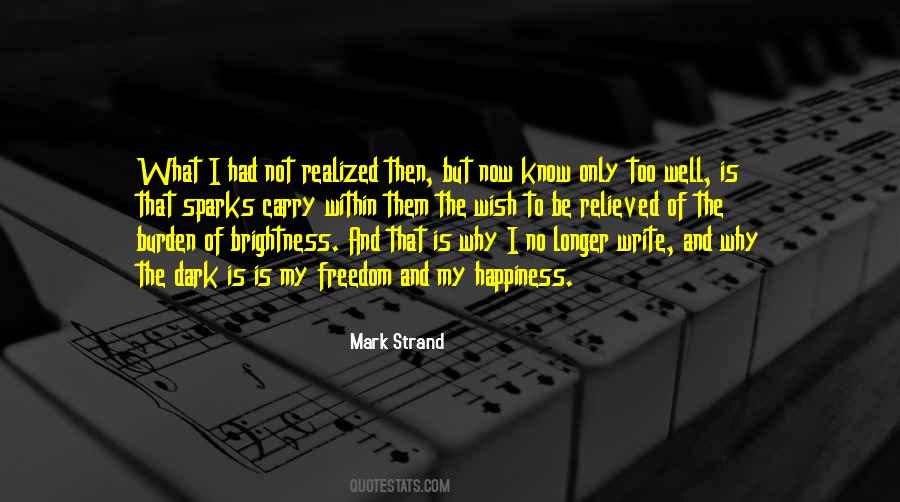 #81. For me, religion is serious business - a farrago of authoritarian nonsense, misogyny and humble pie, the eternal enemy of human happiness and freedom. - Author: Katha Pollitt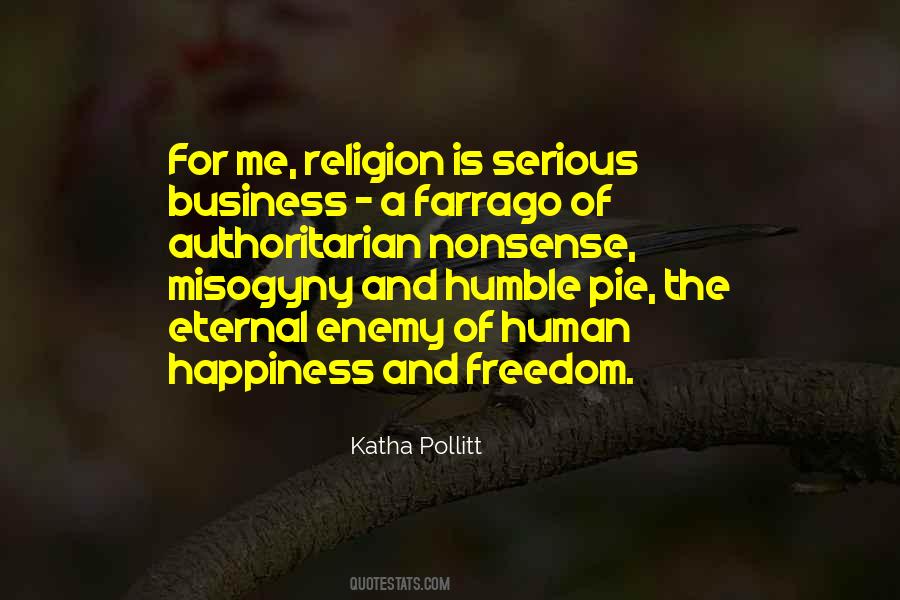 #82. Supreme happiness consists in self-content; that we may gain this self-content, we are placed upon this earth and endowed with freedom. - Author: Jean-Jacques Rousseau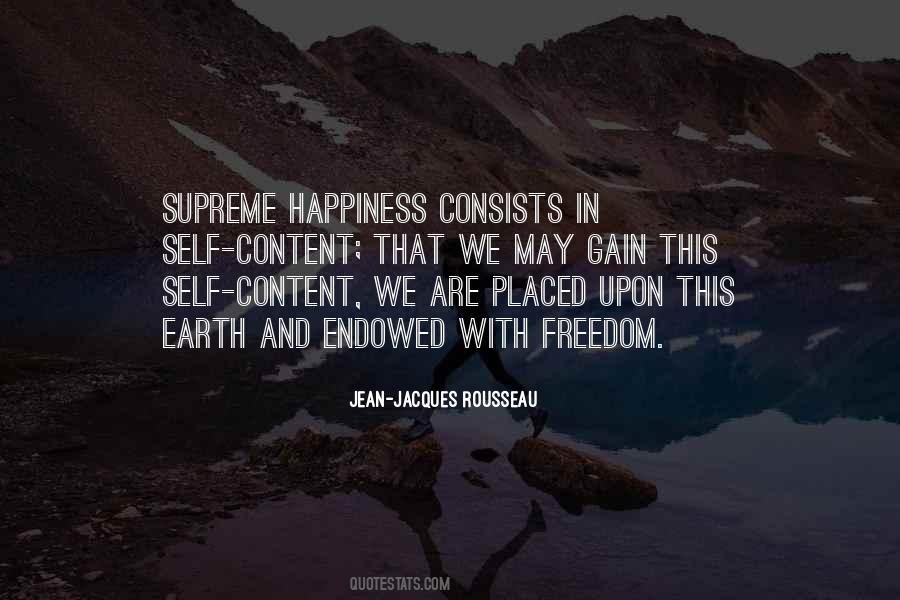 #83. People are constantly forced to choose between having freedom and having success and stability; freedom with suffering or happiness without freedom. The majority choose the latter. - Author: Svetlana Alexievich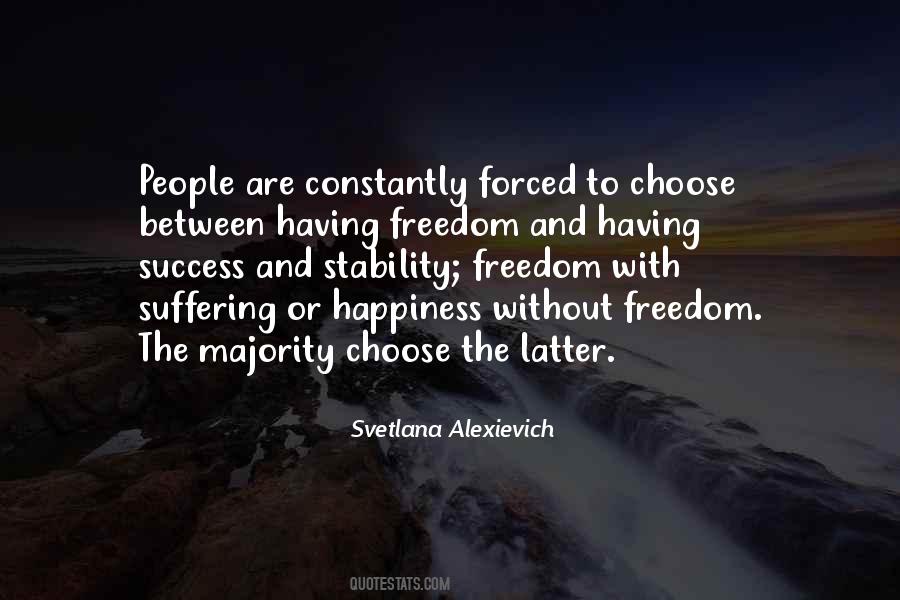 #84. There is nothing wrong with falling in love. Don't trip and bump your head only to realize you're experiencing infatuation. - Author: Amaka Imani Nkosazana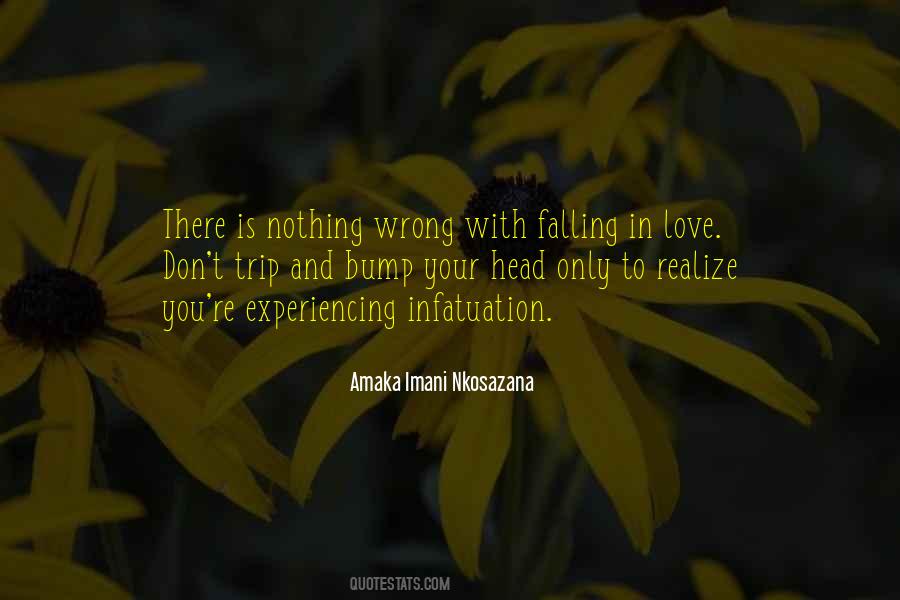 #85. That which gives us true freedom and true happiness is the compassionate love of Christ. - Author: Pope Francis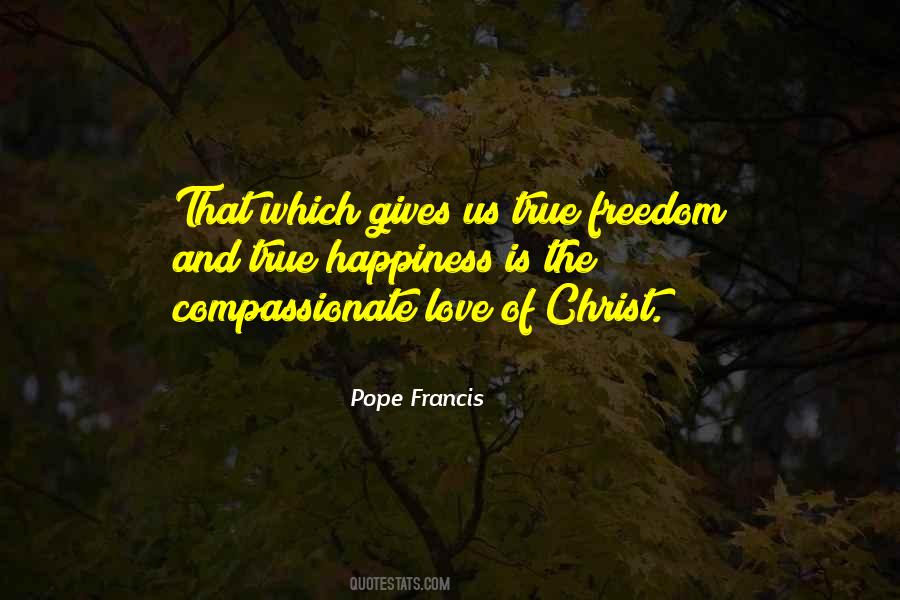 #86. The thought of a happiness that comes from outside the person, brings him sadness. But the recognition in the value of one's will and the freedom granted by its uplifting, brings great joy. - Author: Abraham Isaac Kook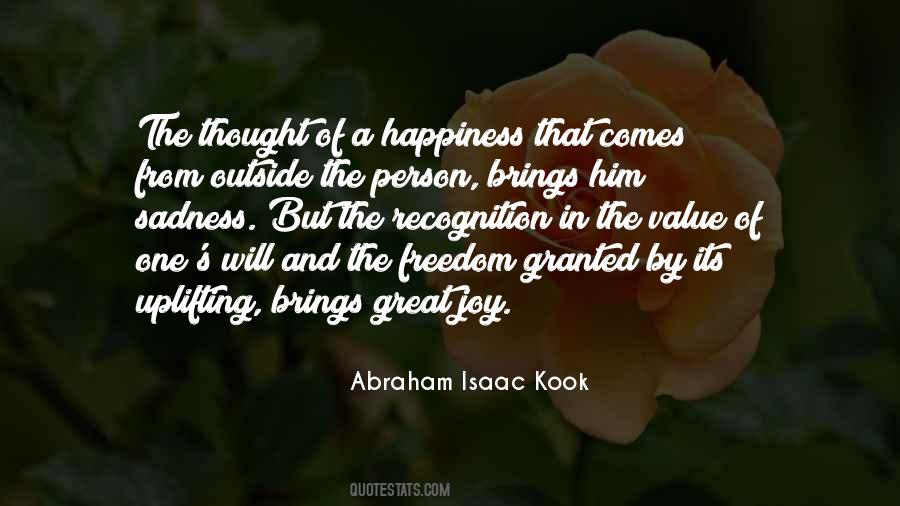 #87. Today only the person who no longer believes in a happy ending, only he who has consciously renounced it, is able to live. A happy century does not exist; but there are moments of happiness, and there is freedom in the moment. - Author: Ernst Junger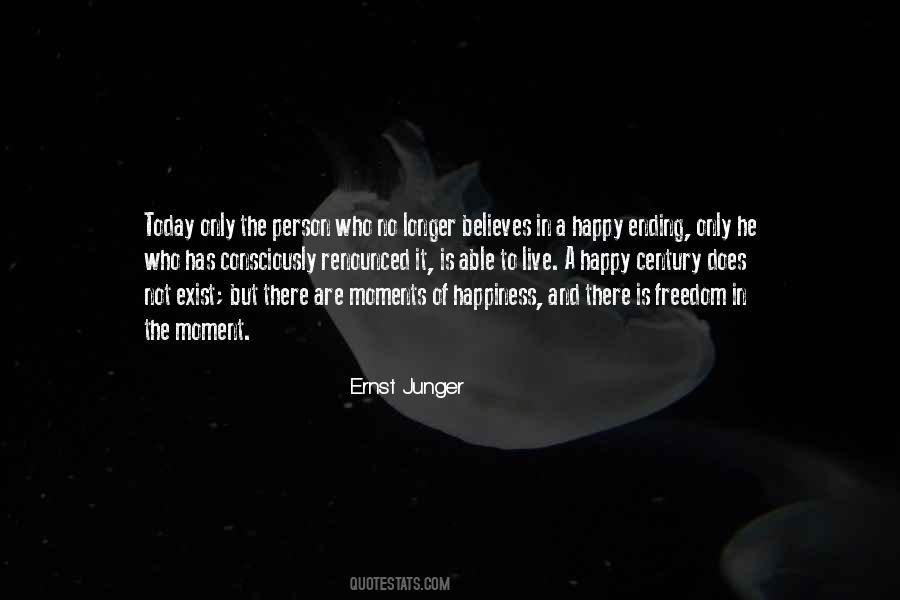 #88. Huge difference between being happy at will, and chasing euphoric moments as an escape. One doesn't cost a dime, the other will tax your soul. - Author: T.F. Hodge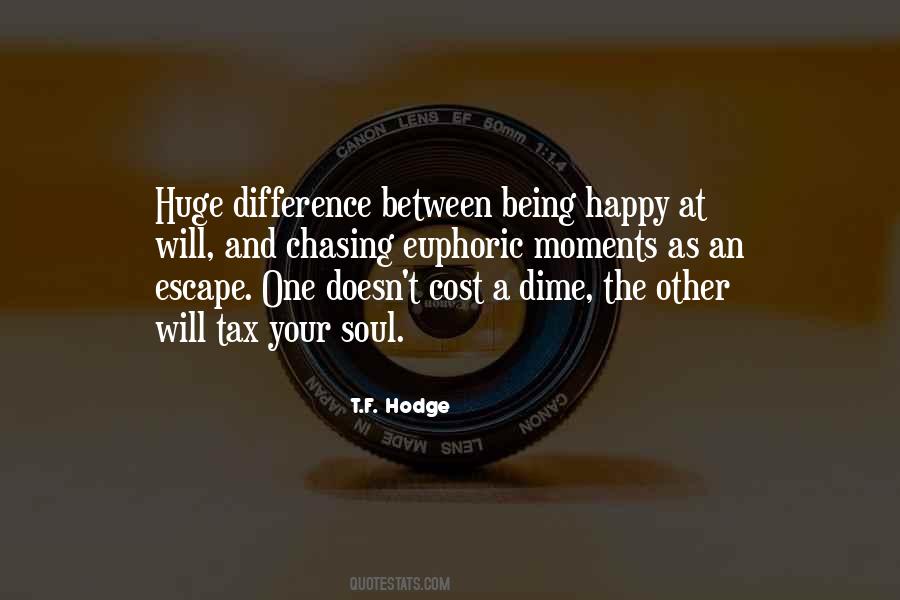 #89. True success, true happiness lies in freedom and fulfillment. - Author: Dada Vaswani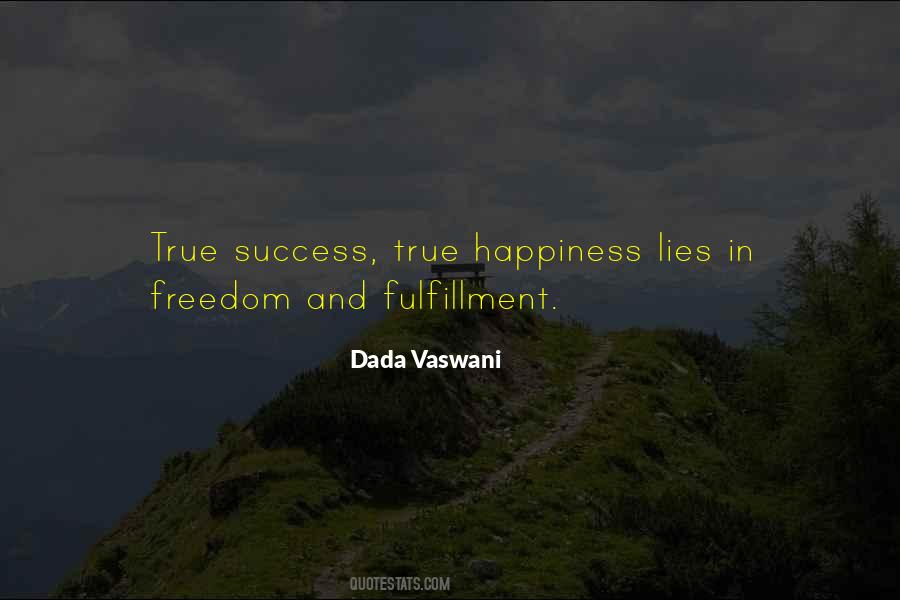 #90. The intense happiness of our union is derived in a high degree from the perfect freedom with which we each follow and declare our own impressions. - Author: George Eliot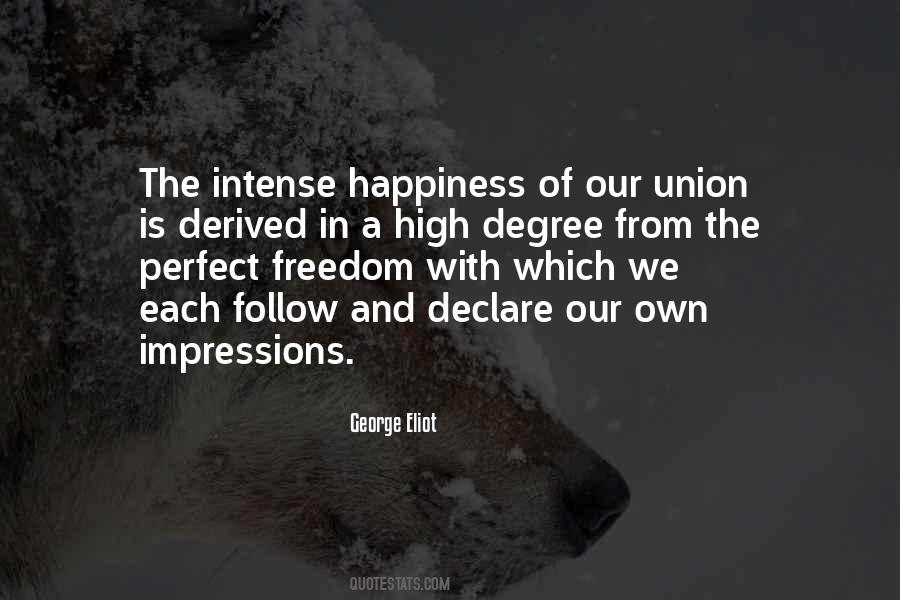 #91. To be alone is to be free, and freedom was the only happiness accessible to my nature. - Author: Isabelle Eberhardt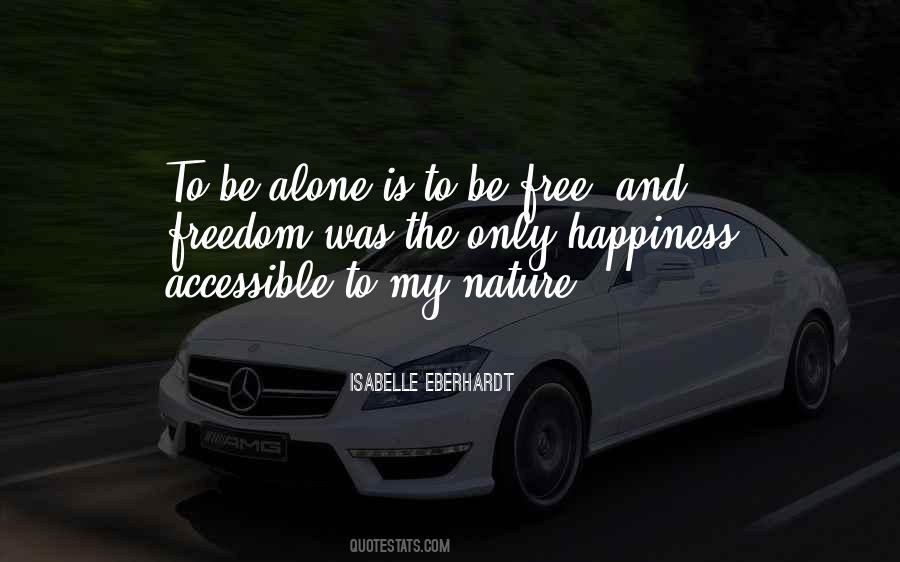 #92. The absence of suffering, the satisfaction of one's needs and consequent freedom in the choice of one's occupation, that is, of one's way of life, now seemed to Pierre to be indubitably man's highest happiness. - Author: Leo Tolstoy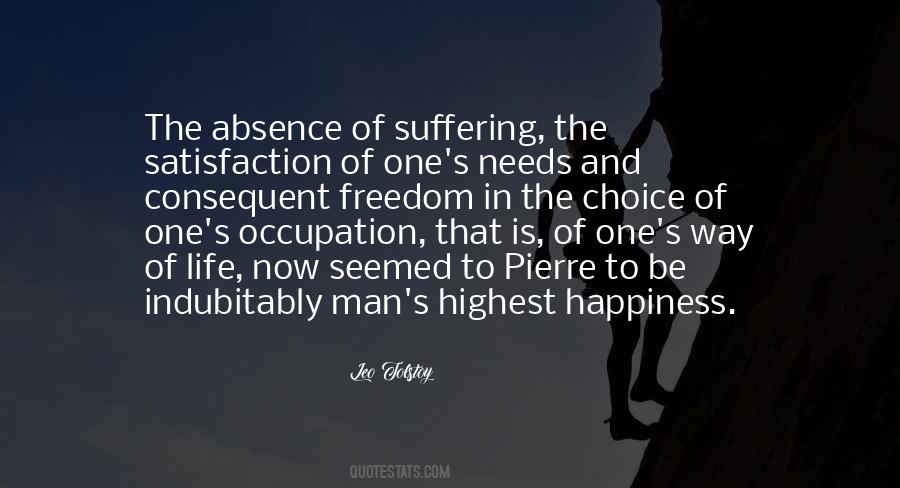 #93. Enlightenment, the great mysterious state of mind, is contentment, or freedom from suffering. How then do we measure happiness? We measure it in smiles, in the openness of our hearts, in generosity, in gratitude and compassion towards others, and in the steadiness of our contentment. - Author: Andrew Furst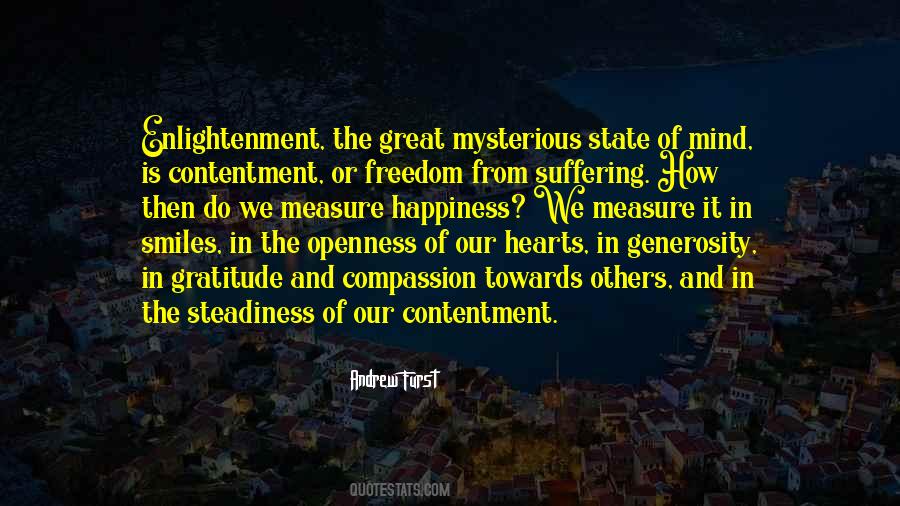 #94. Because of our freedom to pursue life, liberty, and happiness. People assume the most important word in that sentence is 'freedom,' when, in fact, it is 'pursue.' If we don't pursue life, we are just as free to waste it. Our averageness is the degree to which we fail to attempt that pursuit. - Author: Ryan Quinn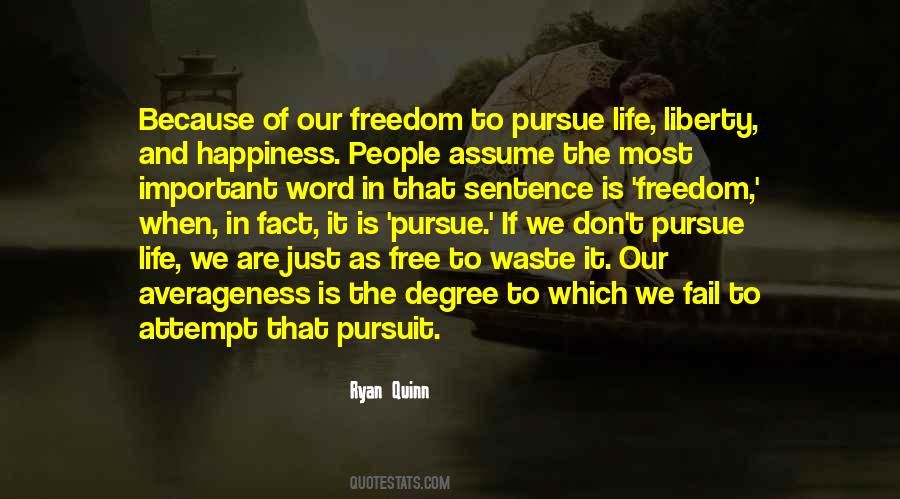 #95. Divine love is perfect peace and joy, it is a freedom from all disquiet, it is all content and happiness; and makes everything to rejoice in itself. - Author: William Law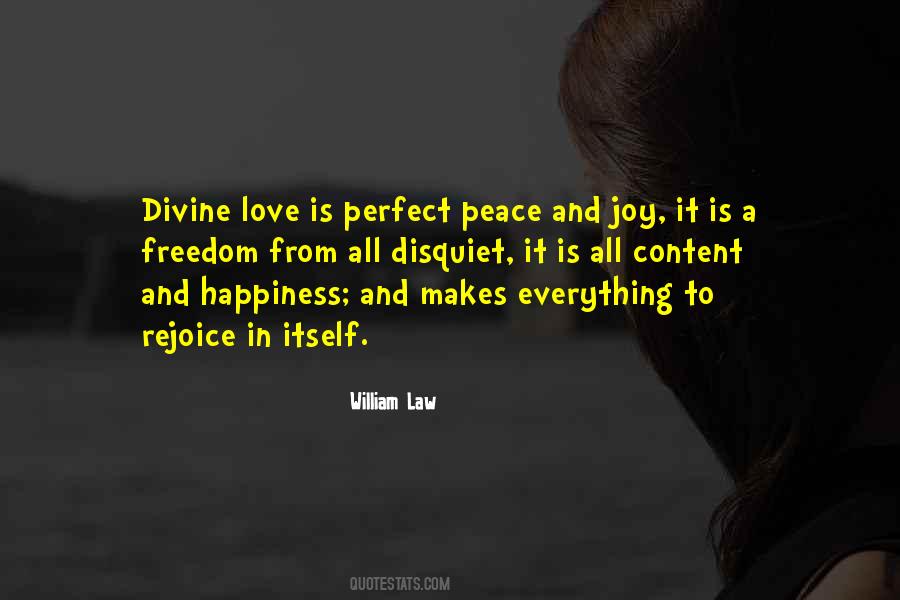 #96. One of Satan's most frequently used deceptions is the notion that the commandments of God are meant to restrict freedom and limit happiness. - Author: Ezra Taft Benson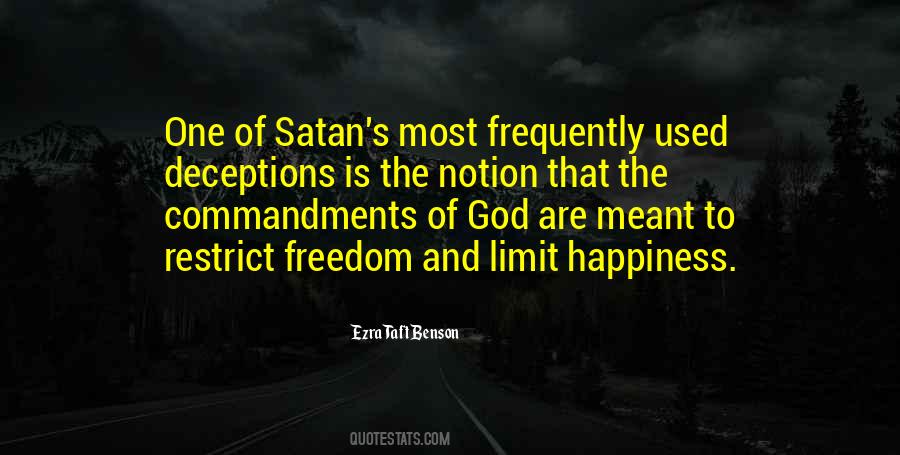 #97. The process of discovering your greatest self is of refinement, not adding. The best way to reconnect with your freedom is to look at the rules you have that govern and hinder it. - Author: Steve Maraboli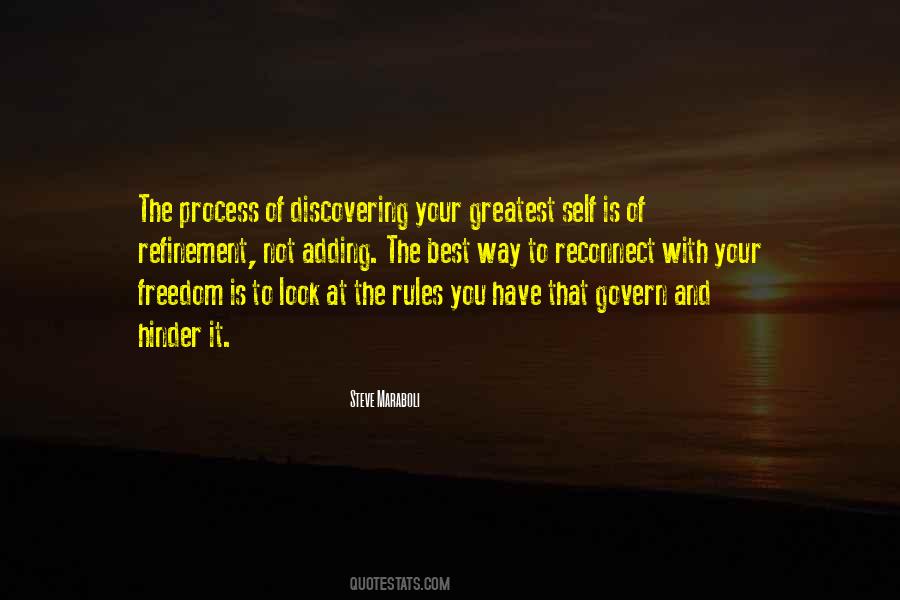 #98. The longing for happiness and freedom from suffering
expresses the great natural potential of mind. - Author: Dzigar Kongtrul Rinpoche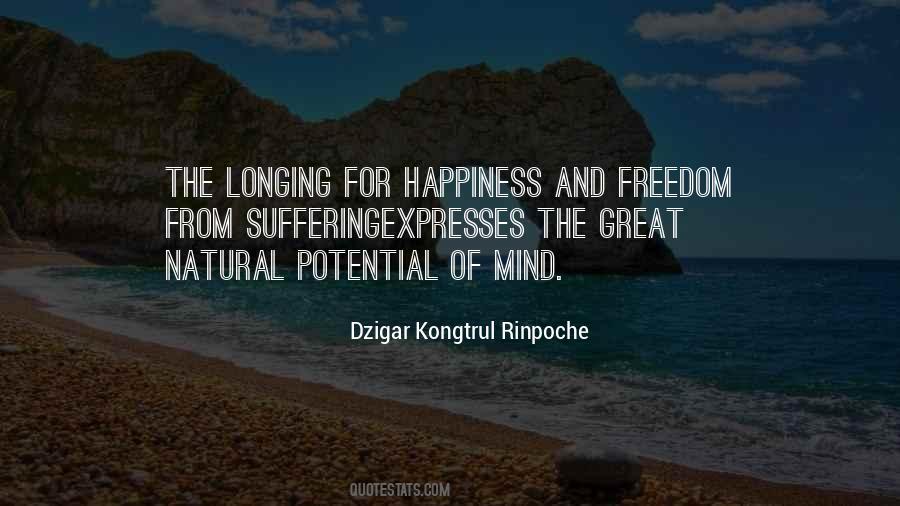 #99. No woman truly wants independence. She wants the freedom to choose her own master. This is also what men want. The origin of all human conflict is, possibly, disagreement about who ought and ought not to be one's master. The origin of all human happiness is, maybe, mutual agreement on the subject. - Author: Gina Wohlsdorf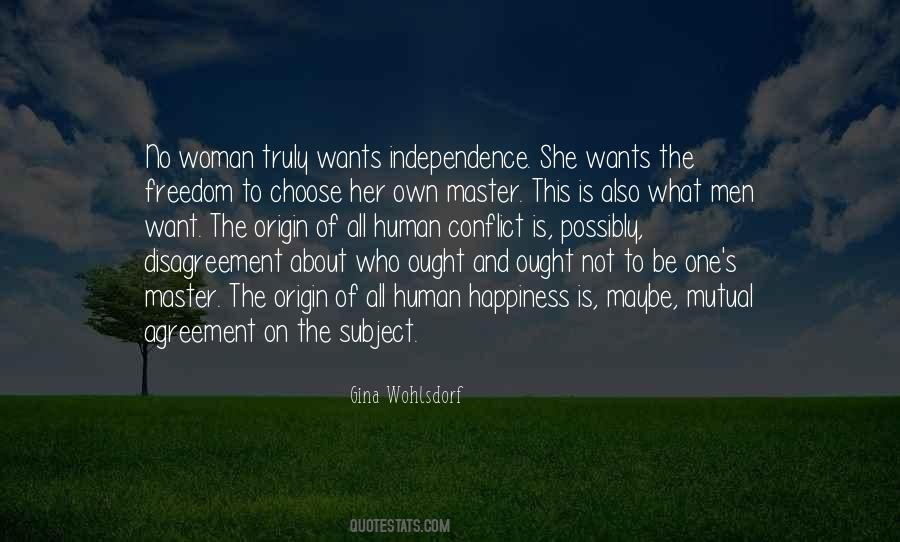 #100. When I look back at that freedom of childhood, which is in a way infinite, and at all the joy and the intense happiness, now lost, I sometimes think that childhood is where the real meaning of life is located, and that we, adults, are its servants - that that's our purpose. - Author: Karl Ove Knausgaard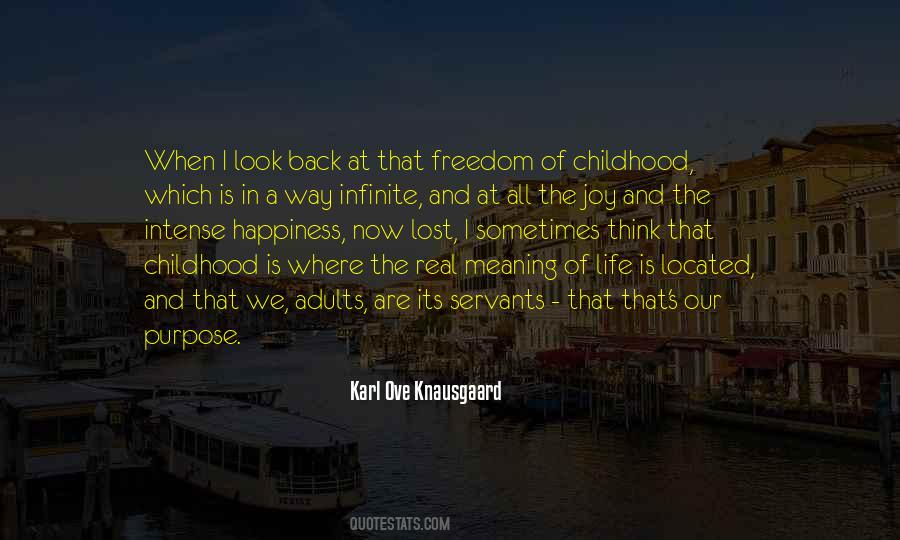 Famous Authors
Popular Topics