World Travel Famous Quotes & Sayings
List of top 100 famous quotes and sayings about world travel to read and share with friends on your Facebook, Twitter, blogs.
Top 100 Quotes About World Travel
#1. As we go deeper and deeper into the world of meditation, we are able to travel along the luminous bands, just like you travel along a highway or road. - Author: Frederick Lenz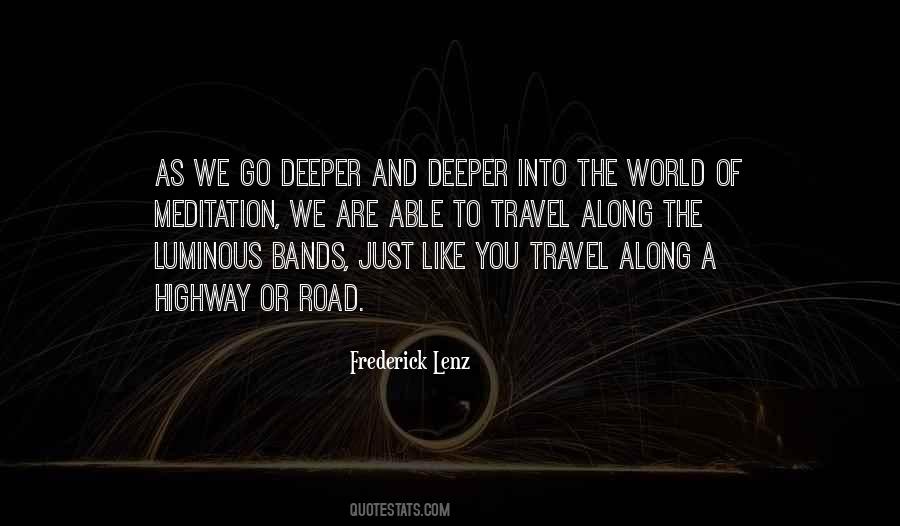 #2. That's my dream job, to be able to mail songs out to people who want to hear them. Paste my face on them and not travel all over the world trying to sell them. - Author: Kristin Hersh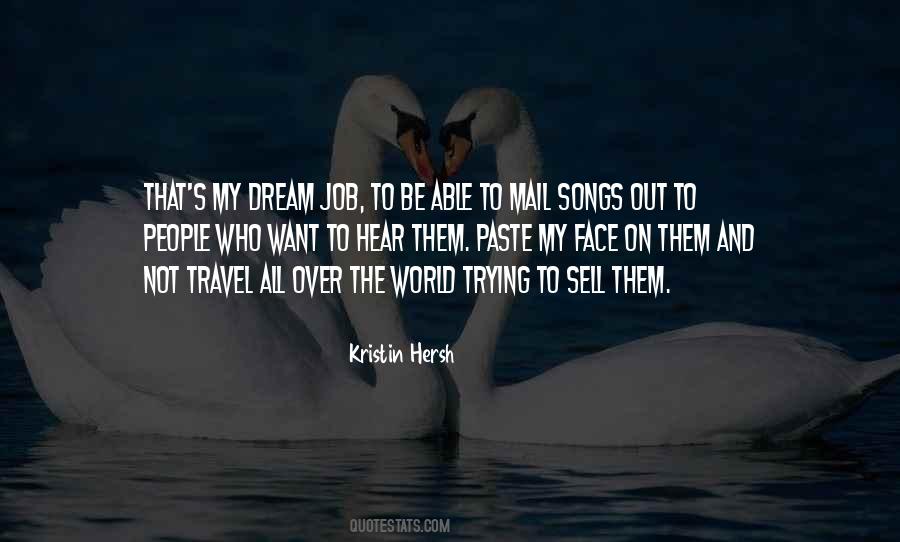 #3. If people would know how little brain is ruling the world, they would die of fear. - Author: Ivo Andric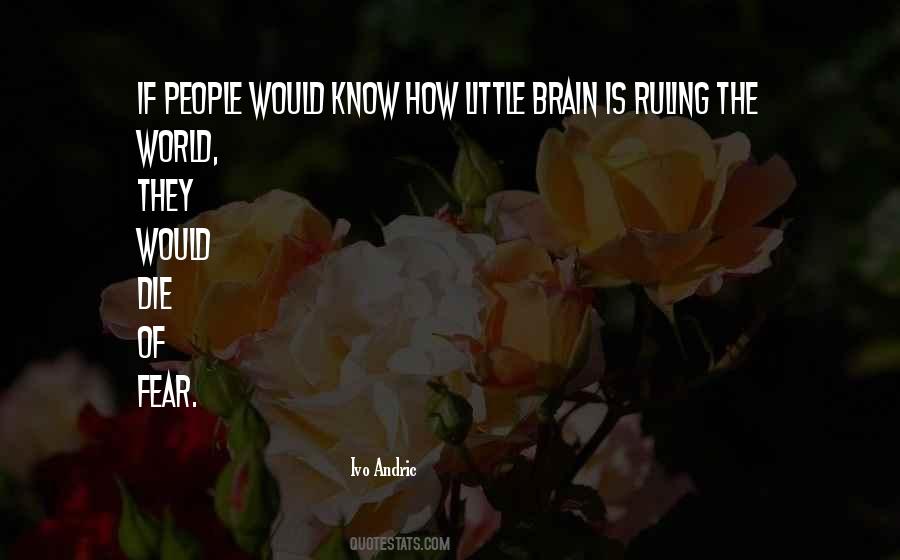 #4. I'm passionate and I travel the world not just as a tourist but to understand cultures ... I've lived with Masai tribe ... I travel the world and bring it back in the form of a research book that would become the starting point for the collection. - Author: John Galliano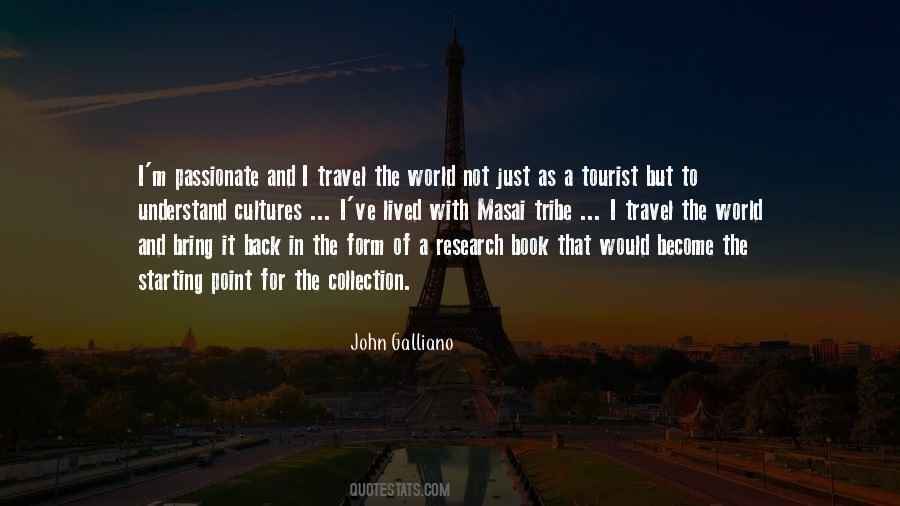 #5. My jet lag is getting a bit ridiculous. But, you know, it's first-world problems. It's a wonderful problem, 'Oh I have to travel around the world; how awful.' - Author: Margot Robbie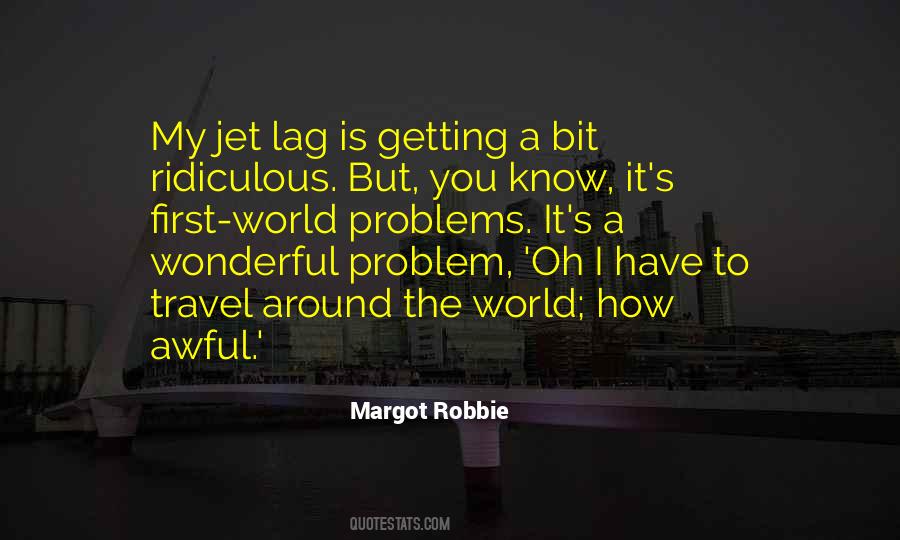 #6. Dare to explore the beautiful places of the world. - Author: Lailah Gifty Akita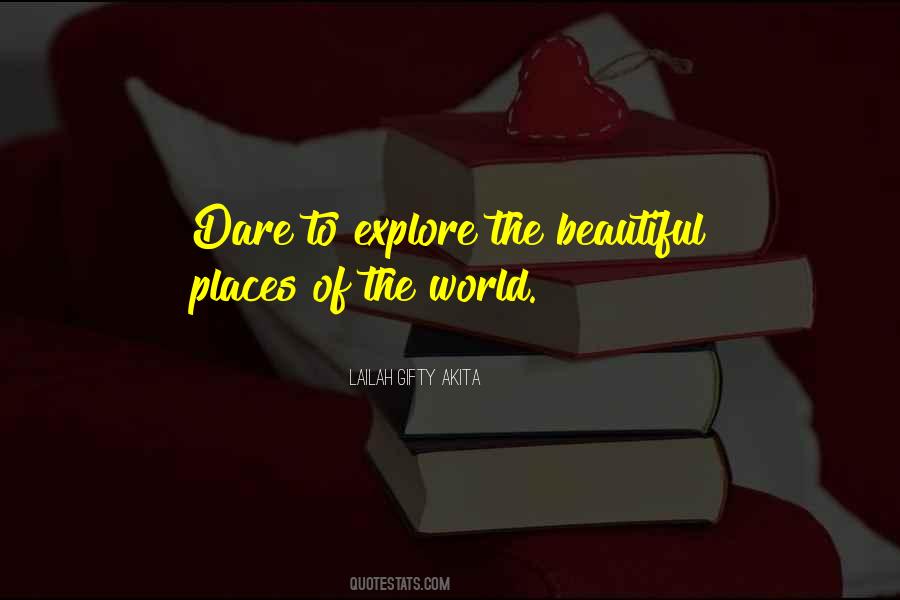 #7. I think that you certainly don't have to be aged and travel the world to write a poem. - Author: Rita Dove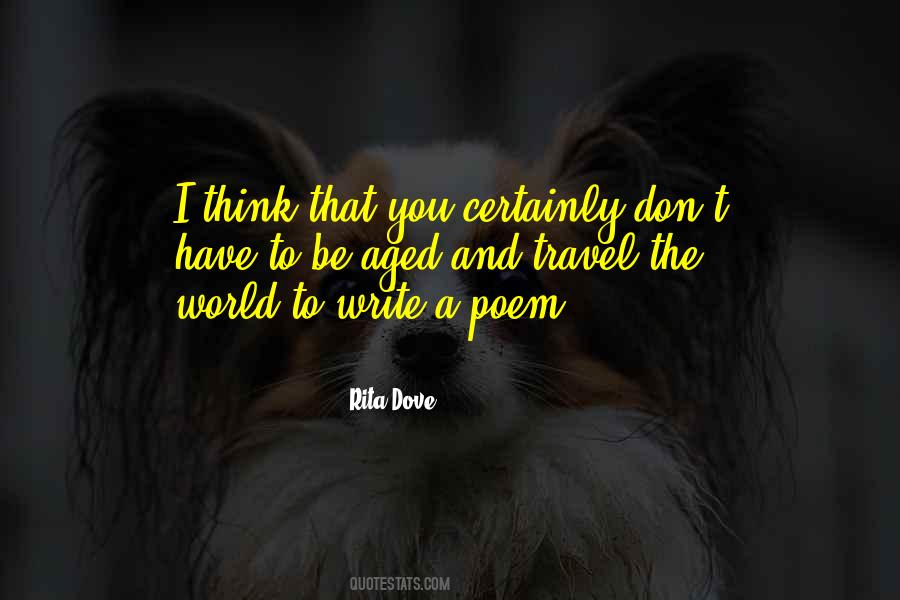 #8. The places we visited were always richer and always more intricate than one could imagine. I loved to find out about the world, the good and the bad, in this way. For me, observing things with my own eyes was the only way. My wanderlust was also a wonderlust. - Author: Luke F.D. Marsden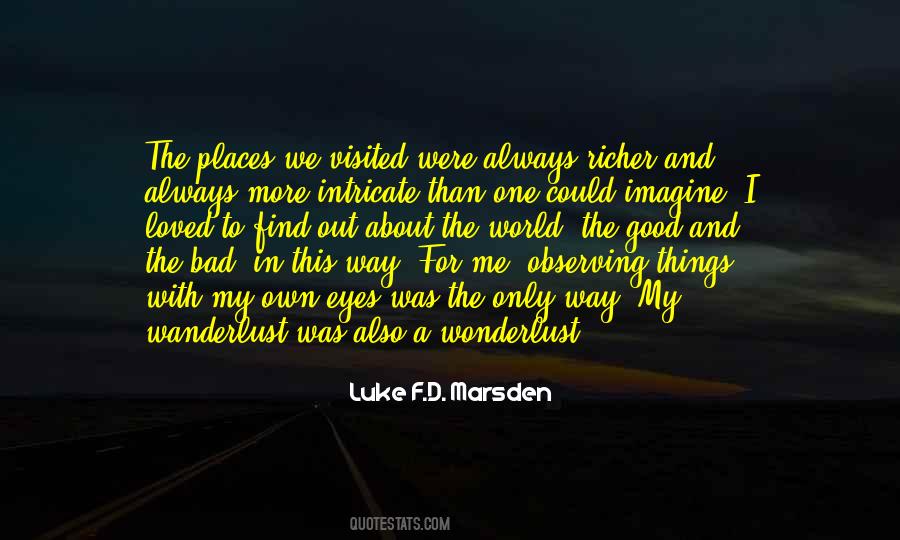 #9. Travel changes you. As you move through this life and this world you change things slightly, you leave marks behind, however small. And in return, life - and travel - leaves marks on you. - Author: Anthony Bourdain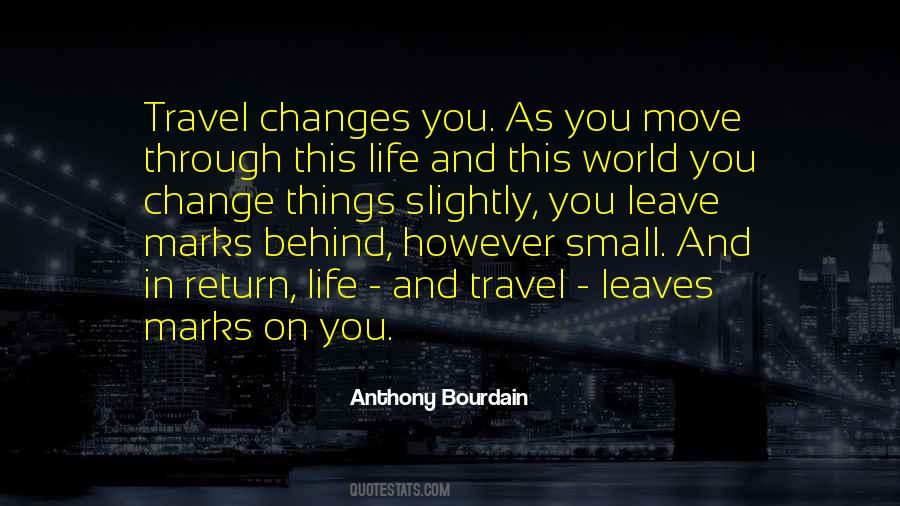 #10. 'Leonie' did get made and it was an extremely wonderful experience. I got to travel the world. I filmed for 6 months - 3 months in New Orleans and 3 months in Japan. - Author: Emily Mortimer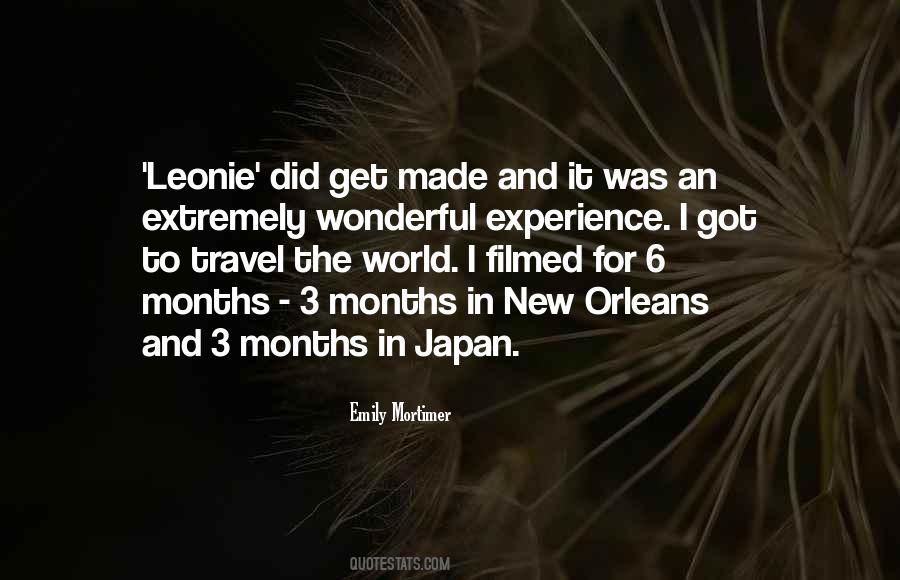 #11. Pack your bags and explore the most amazing places around Istanbul, Madrid or any other destination around the world with your virtual travel guide. - Author: Madrid Travel Guide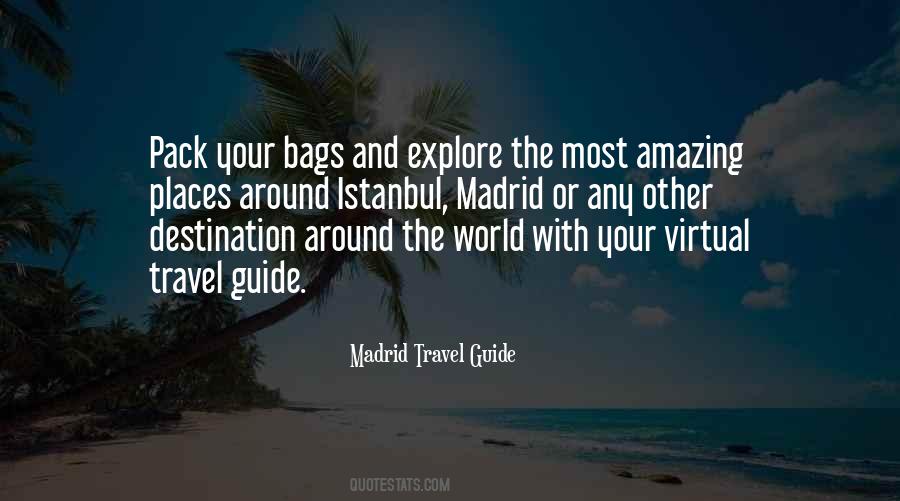 #12. The traveler used to go about the world to encounter the natives. A function of travel agencies now is to prevent this encounter. - Author: Daniel J. Boorstin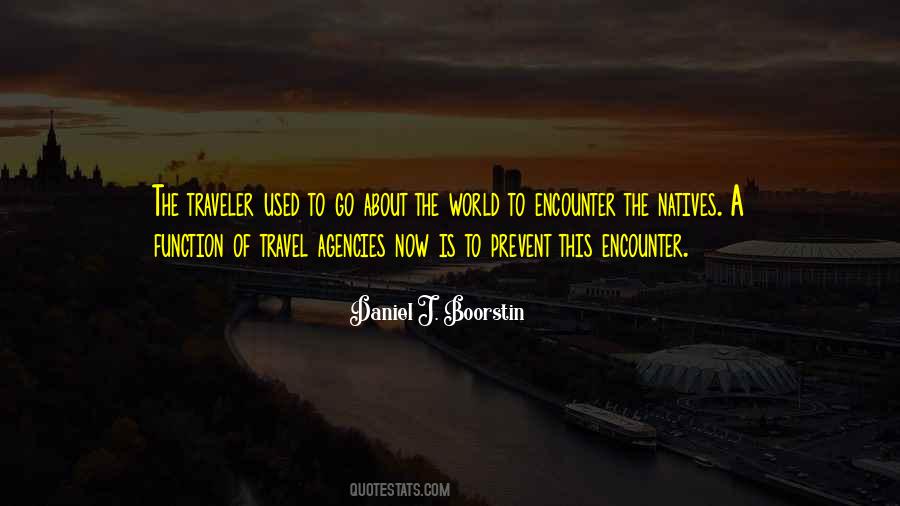 #13. By hook or by crook, I hope that you will possess yourselves of money enough to travel and to idle, to contemplate the future or the past of the world, to dream over books and loiter at street corners and let the line of thought dip deep into the stream - Author: Virginia Woolf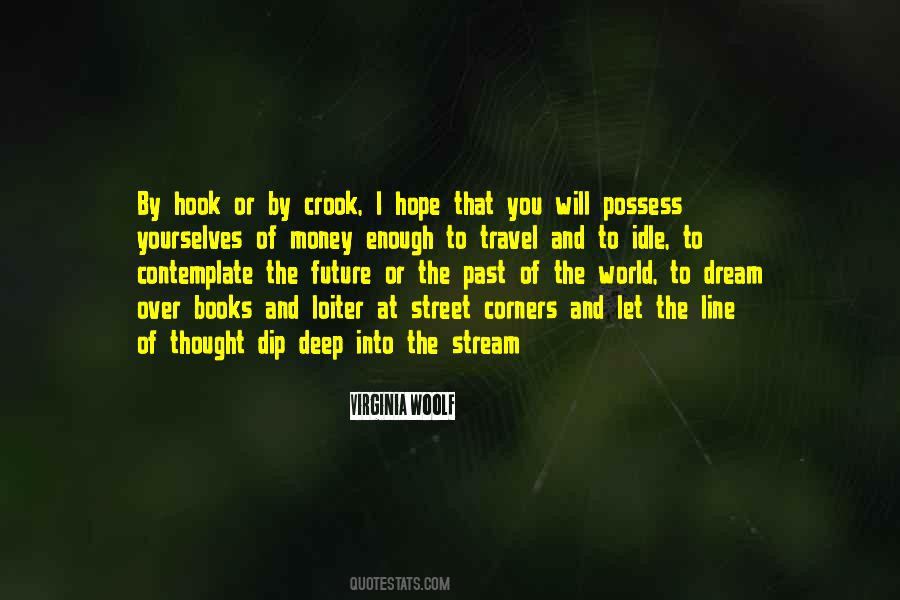 #14. Travel is the best teacher. The only way to an open mind is by taking a plane out into the open world. - Author: C. JoyBell C.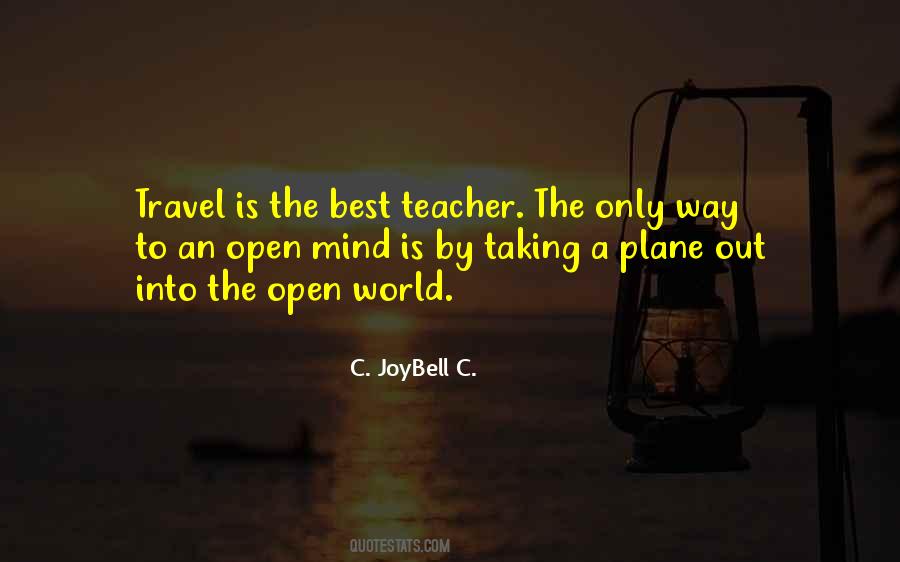 #15. As the President has indicated, my life has been a life of travel - for 60 years constantly moving over the wide world on journeys which first and last have taken me to 83 countries, and, what is more significant, to most of them again and again. - Author: John Raleigh Mott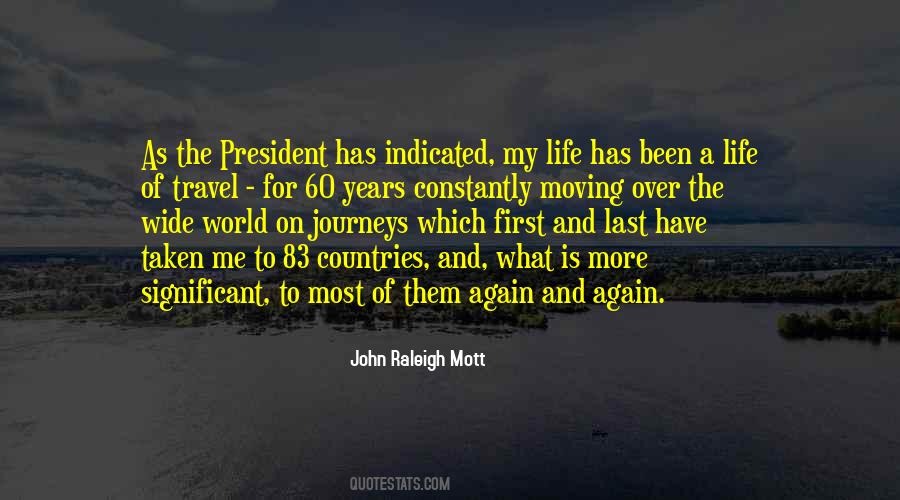 #16. A man may shout the eternal virtues and be unheard forever, but if he babble nonsense in a wilderness it will travel around the world. - Author: Mary Roberts Rinehart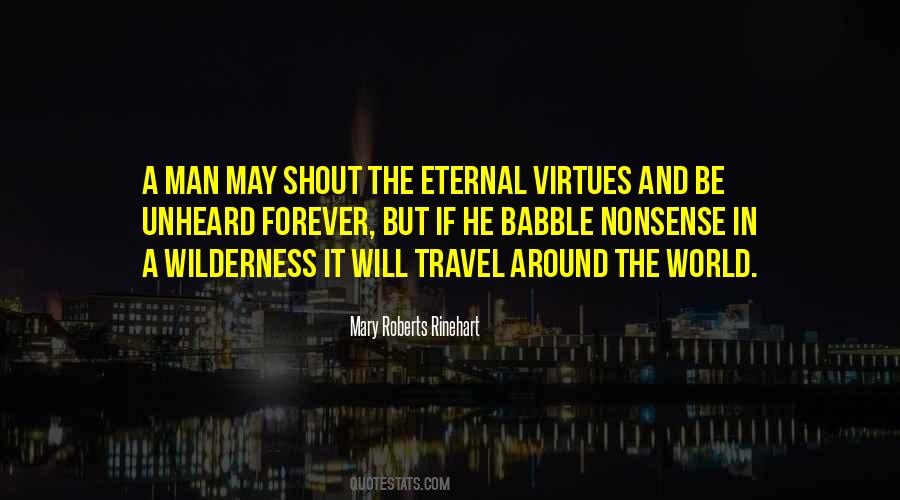 #17. What an idiot Santa is for flying around alone. Because who would want to travel the world without another person's heartbeat beside him? - Author: Rachel Cohn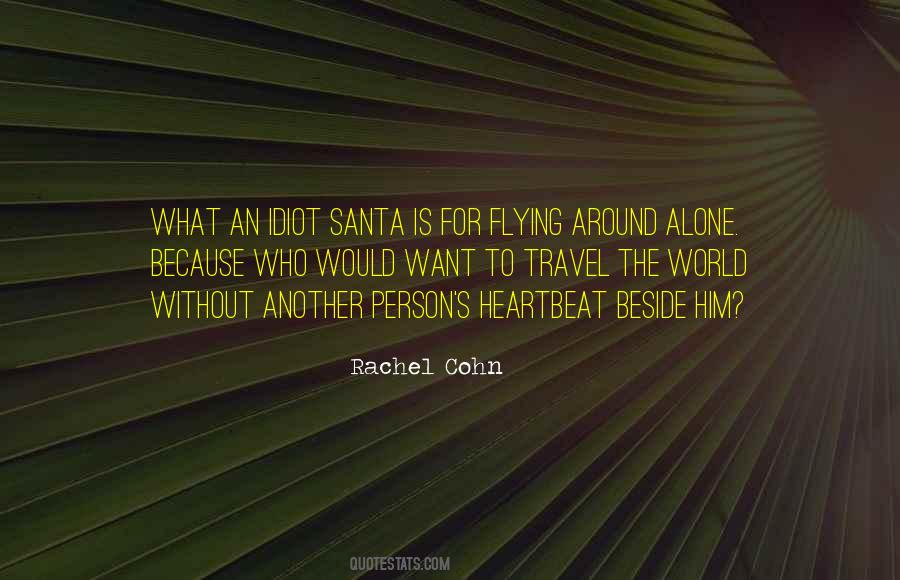 #18. There are several ways to react to being lost. One is to panic: this was usually Valentina's first impulse. Another is to abandon yourself to lostness, to allow the fact that you've misplaced yourself to change the way you experience the world. - Author: Audrey Niffenegger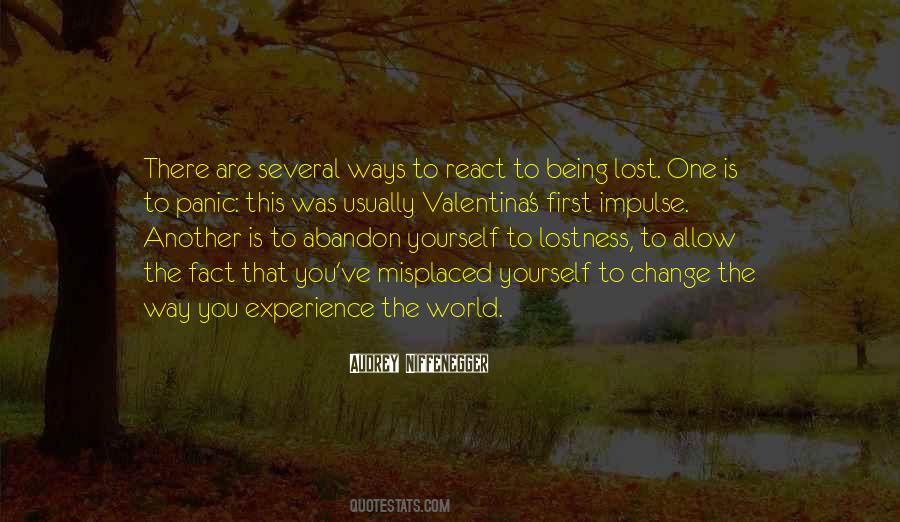 #19. Writing allows me the time to travel and see the world, which is what I always wanted to do. I'd really like to have been Sir Richard Francis Burton, but it's the wrong century. - Author: Alan Dean Foster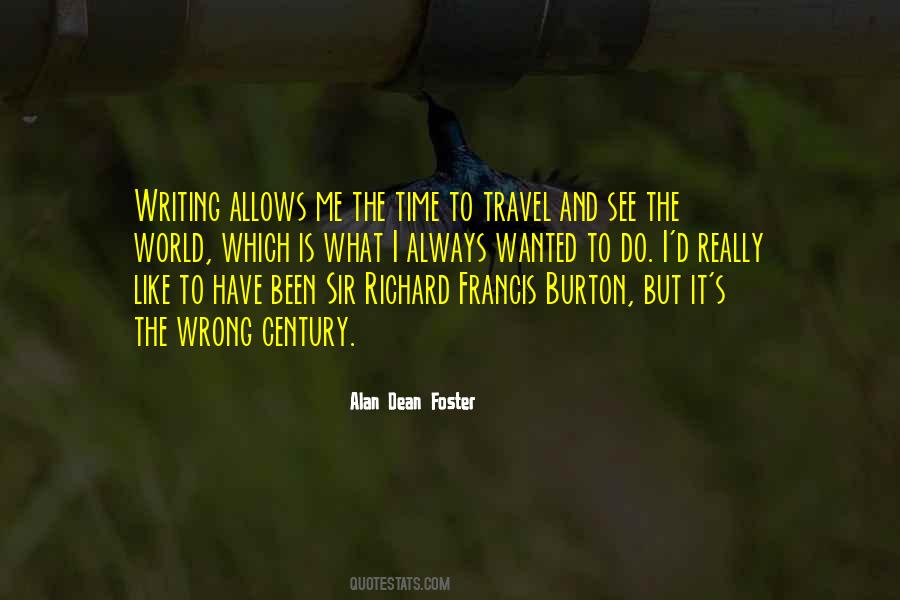 #20. Is there any point in going across the world to eat something or buy something or watch people squatting among their ruins? Travel is a state of mind. It has nothing to do with distance or the exotic. It is almost entirely an inner experience. - Author: Paul Theroux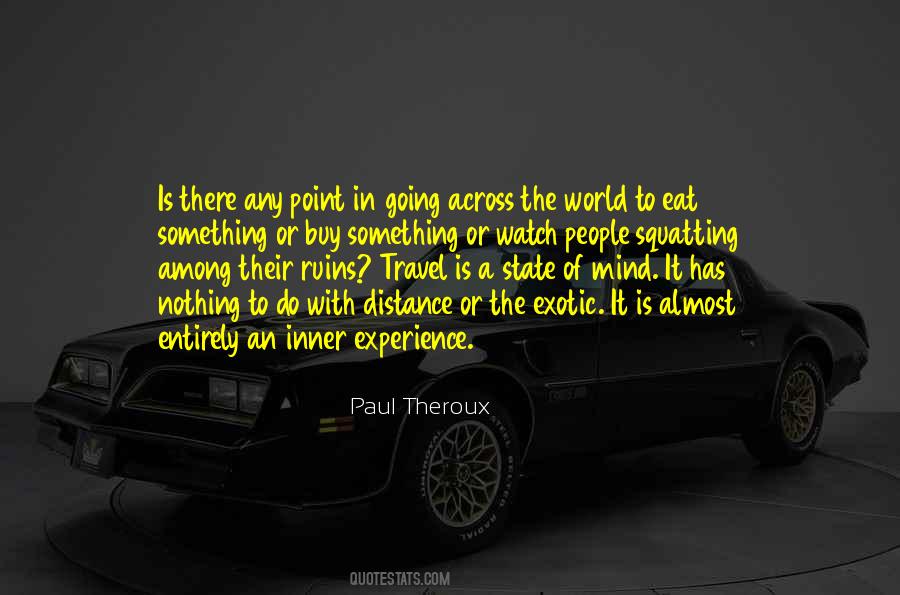 #21. I just travel the world with my backpack and my cameras and a bunch of Clif bars. - Author: Henry Rollins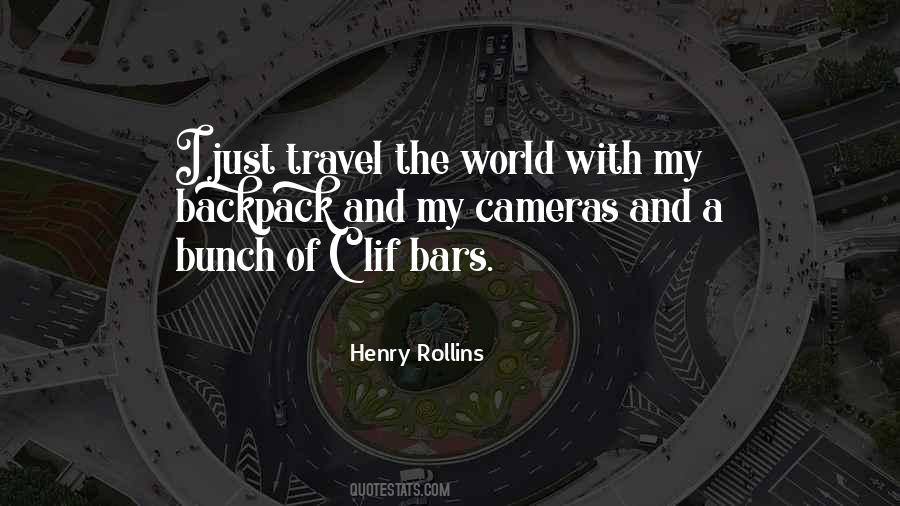 #22. But paper and ink have conjuring abilities of their own. arrangements of lines and shapes, of letters and words on a series of pages make a world we can dwell and travel in. - Author: Lynda Barry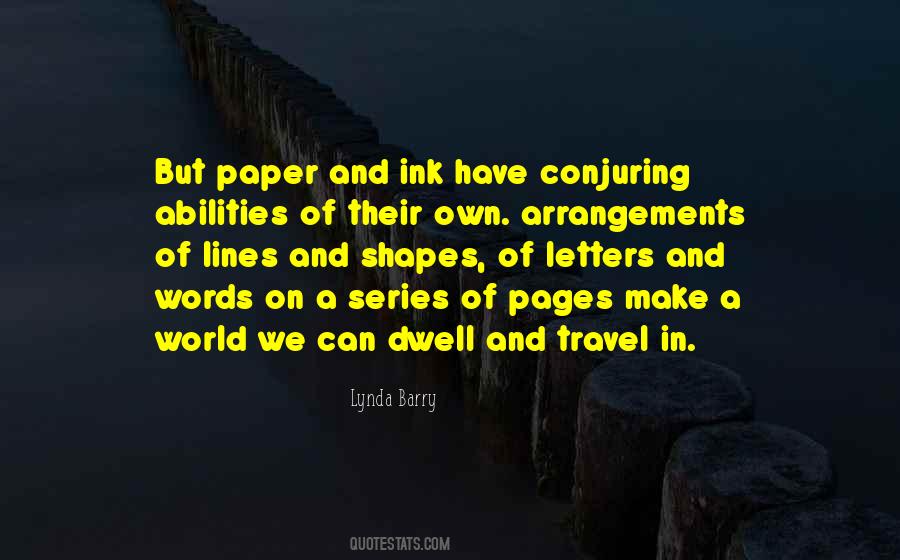 #23. So many Americans, for one reason or another, they watch the news and it doesn't really give them the idea of the world. Or they don't read or travel. They have no idea that America is part of the world and not the world itself. - Author: Henry Rollins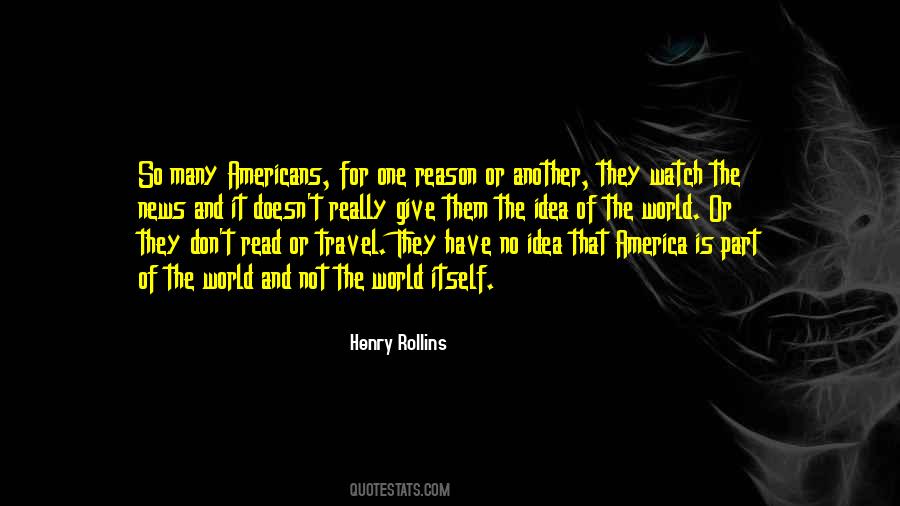 #24. I've been lucky enough to travel the world and win awards and medals, but it was time to stop. - Author: Natalie Du Toit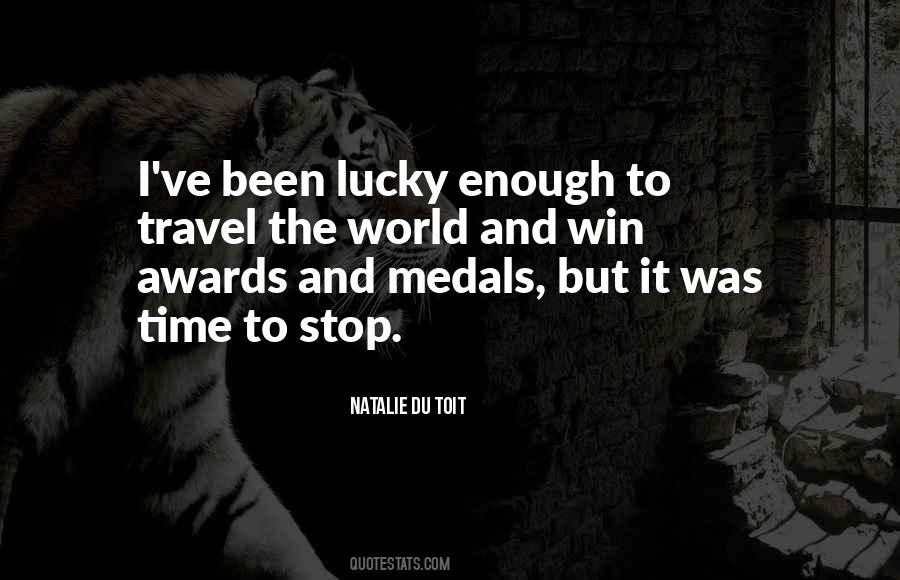 #25. All roads to world peace travel through peace of mind. - Author: Charles F. Glassman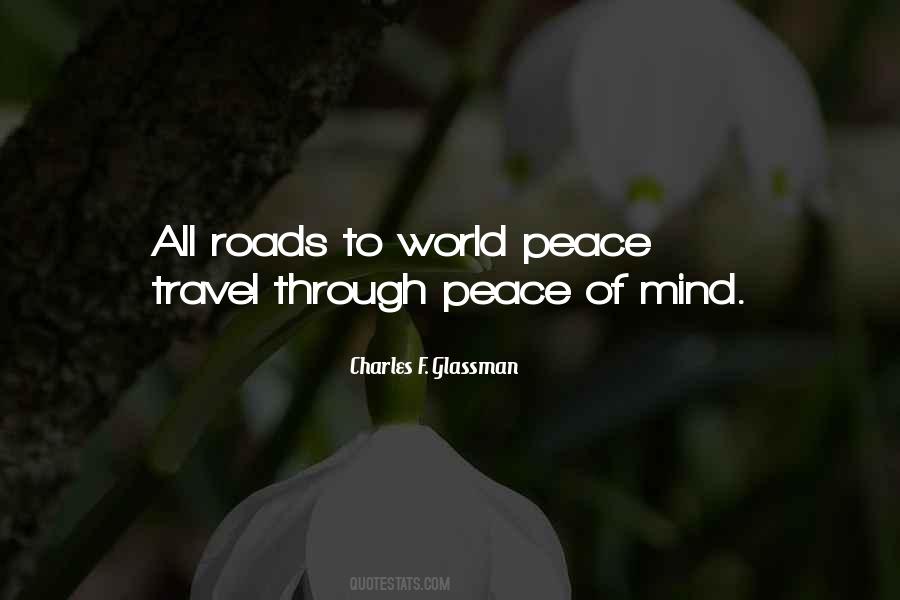 #26. The only thing I ran into is that I am a wanderlust, as far as travel and adventure. I will go off on any given moment with the family and friends to explore the world. I go around the world once a year. I go to Africa, you know, Russia, wherever ... I love it. - Author: John Travolta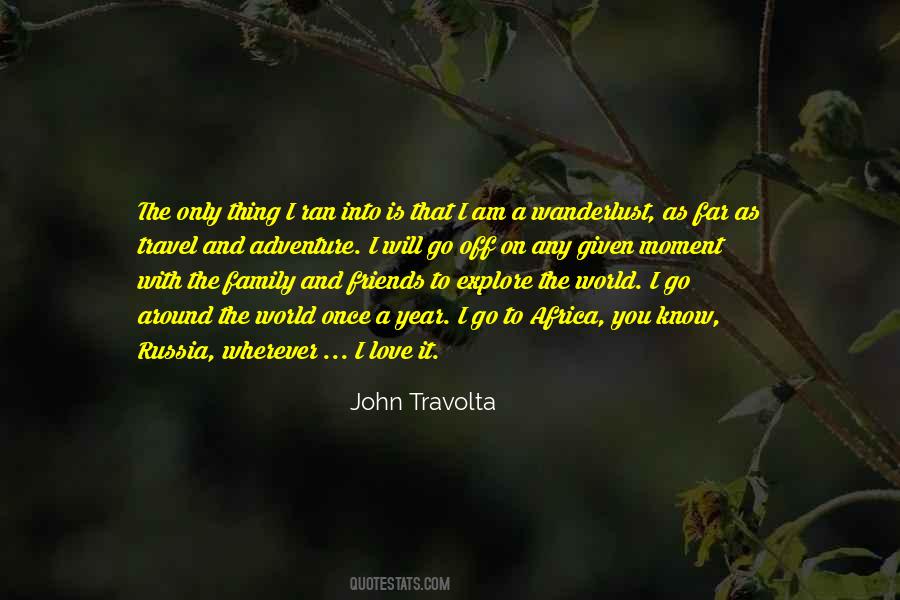 #27. A rich and mature life involves opening up to a wider world. If we base our understanding of life only on what we personally experience, we are impoverished indeed. - Author: Robert Strayer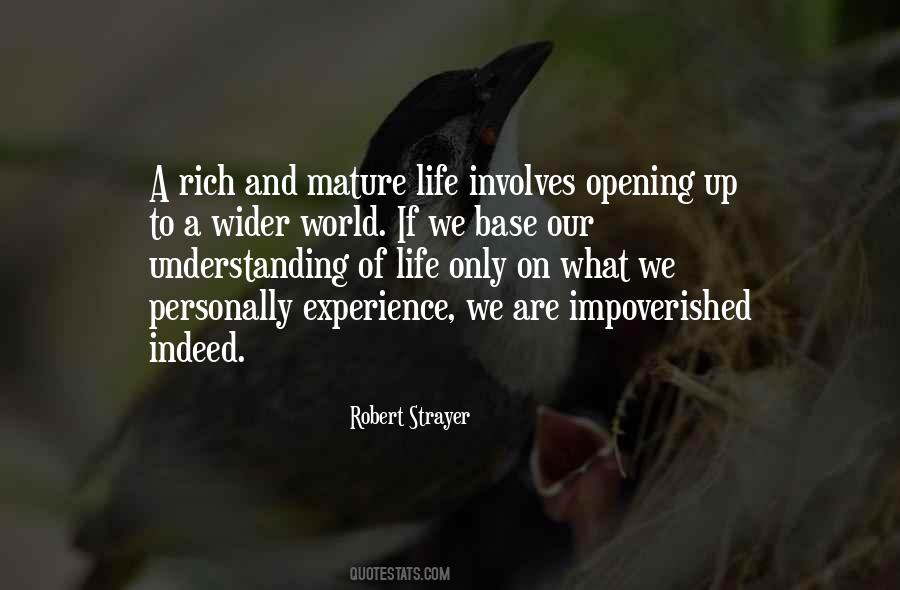 #28. If the world seems unfair or beyond our understanding, sublime places suggest that it is not surprising that things should be thus. We are the playthings of the forces that laid out the oceans and chiselled the mountains. - Author: Alain De Botton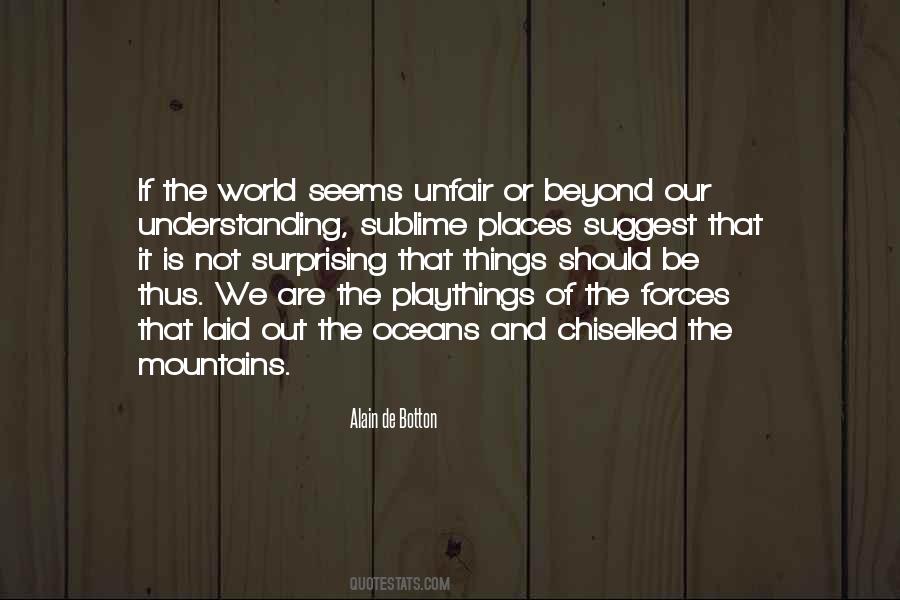 #29. Our career is a dream. I mean, we get to act, travel around the world, and meet cool people. What's not to love! - Author: Mary-Kate Olsen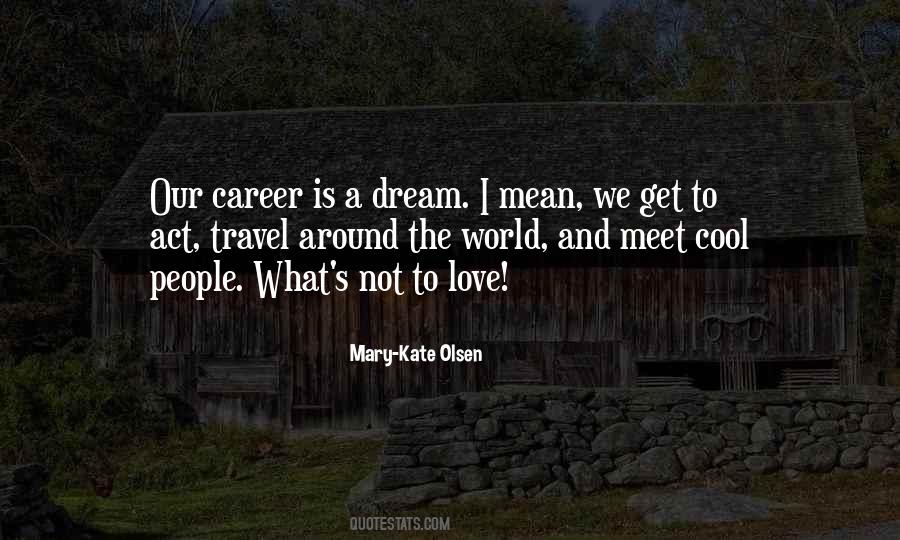 #30. So you've decided to travel around the world. This is an excellent thing to do. It's a precious place, this planet. We should see it. - Author: J. Maarten Troost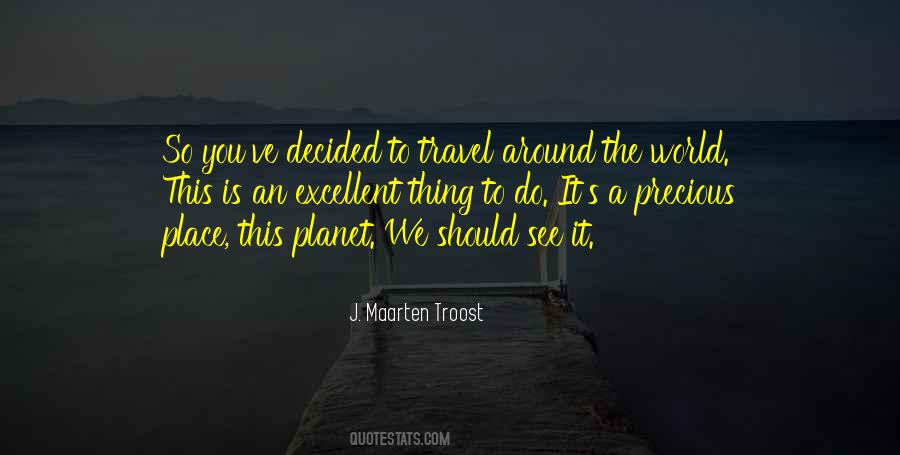 #31. Both JFK and George W. Bush were the sons of wealthy U.S. ambassadors and thus privileged to meet distinguished figures, to travel, and to see the world and think about its problems if they chose. - Author: Nigel Hamilton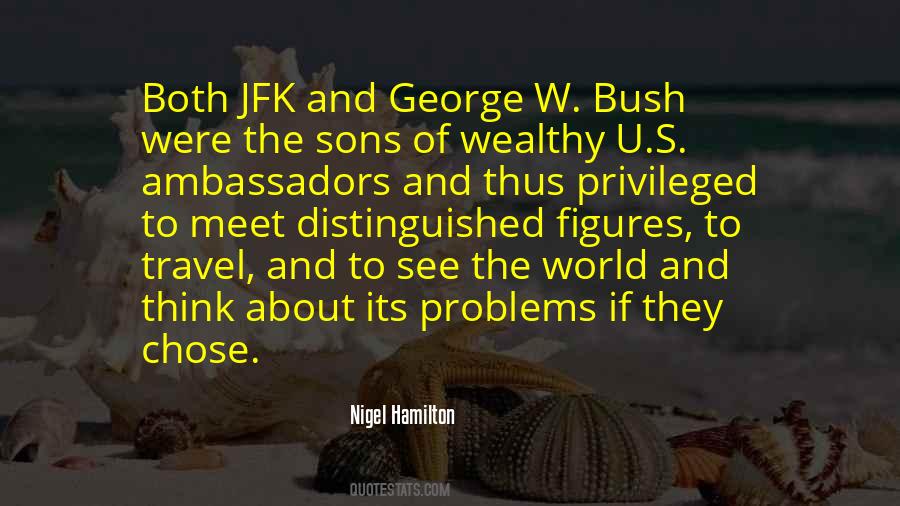 #32. There is a vast world for us, a boundless space beyond and between the fences and the rules. We will travel it freely. We will be okay. - Author: Lauren Oliver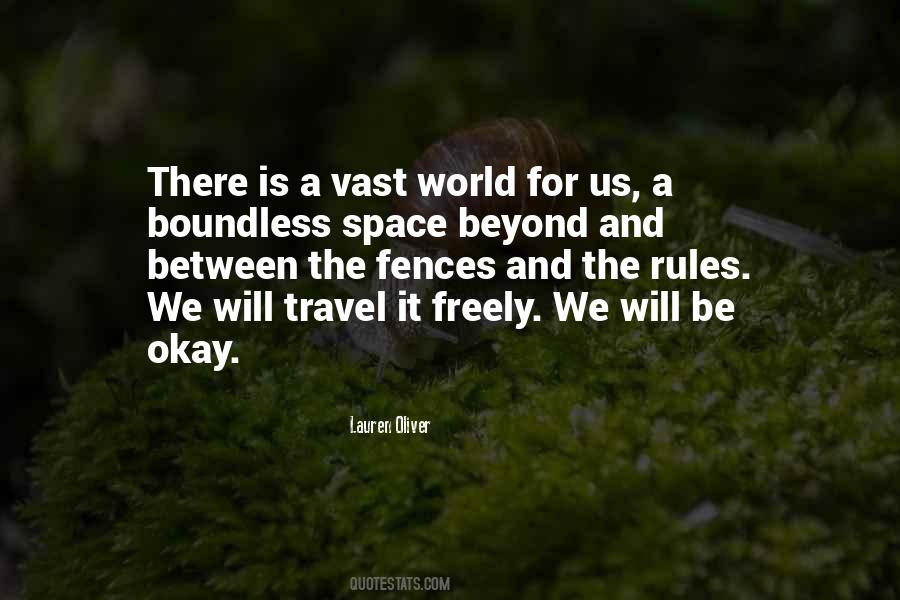 #33. In the World through which I travel, I am endlessly creating myself. - Author: Frantz Fanon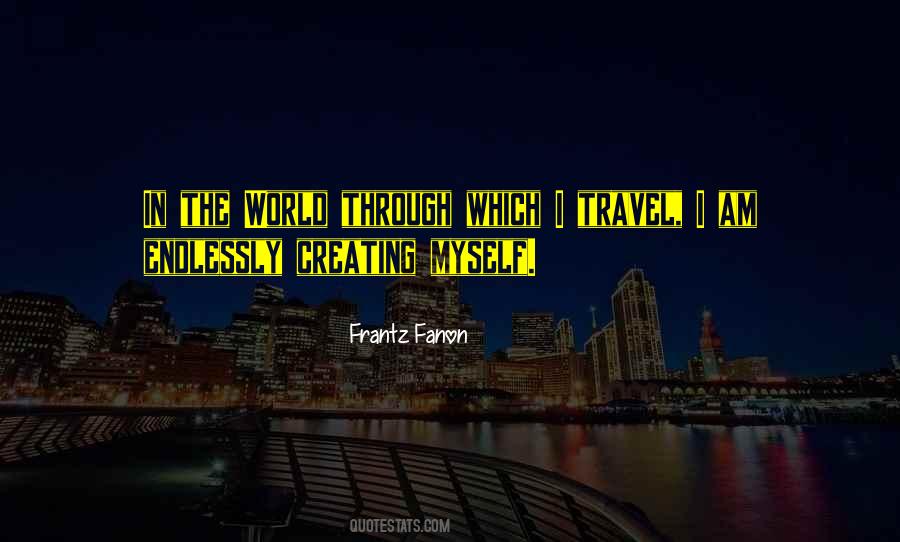 #34. I think the most romantic thing you can do is just turn up. Turn up when it's difficult for you. Travel halfway around the world or just up the road. Whatever it is, just be there. - Author: James McAvoy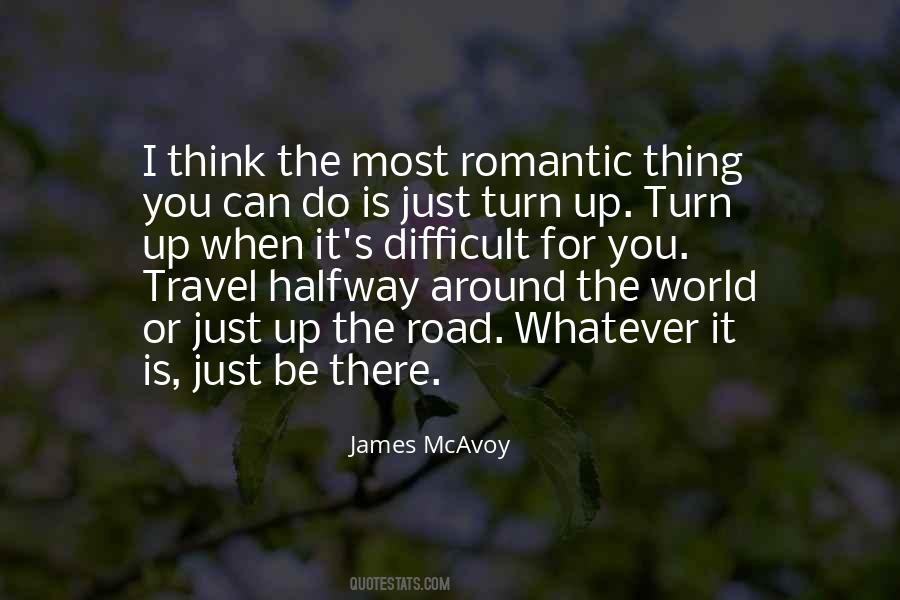 #35. Doing Shakespeare once is not fair to the play. I have been in Shakespeare plays when it's not until the last two or three performances when I even understand certain things. In the old days star actors would travel the world doing the same parts over and over again. - Author: Al Pacino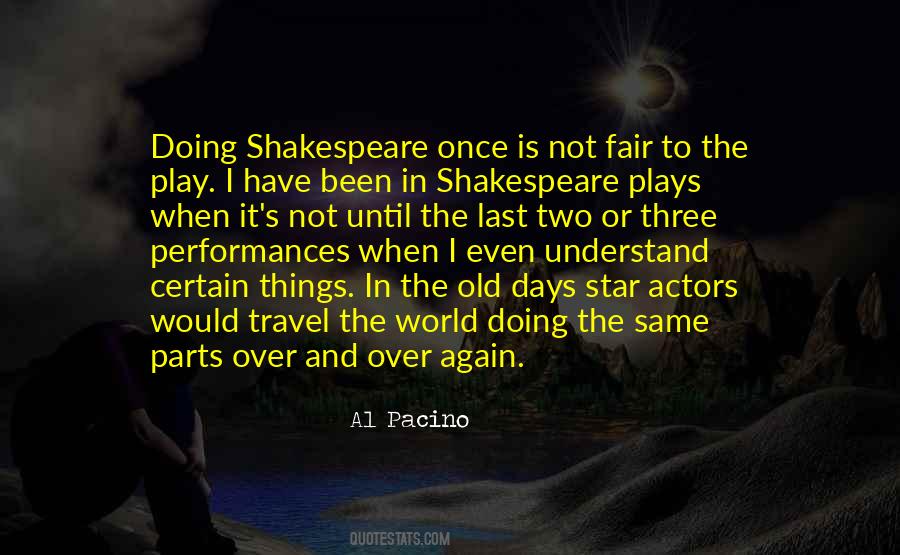 #36. I realized I couldn't have one foot in the fiction world and one foot in the nonfiction world, which is why 'Here I Go Again' is so not me. I didn't graduate from high school in the '90s, I never listened to metal music, and I don't time travel. - Author: Jen Lancaster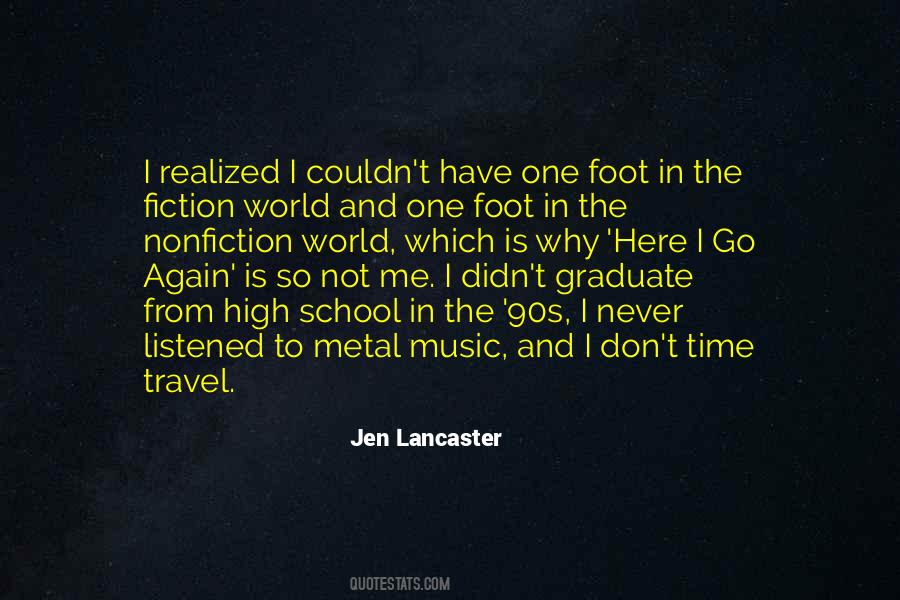 #37. I like photography and writing and travel, so I have a lot of cerebral occupations. I am going to become a sailor and do a world tour on my yacht if I don't get any more work. - Author: Audrey Tautou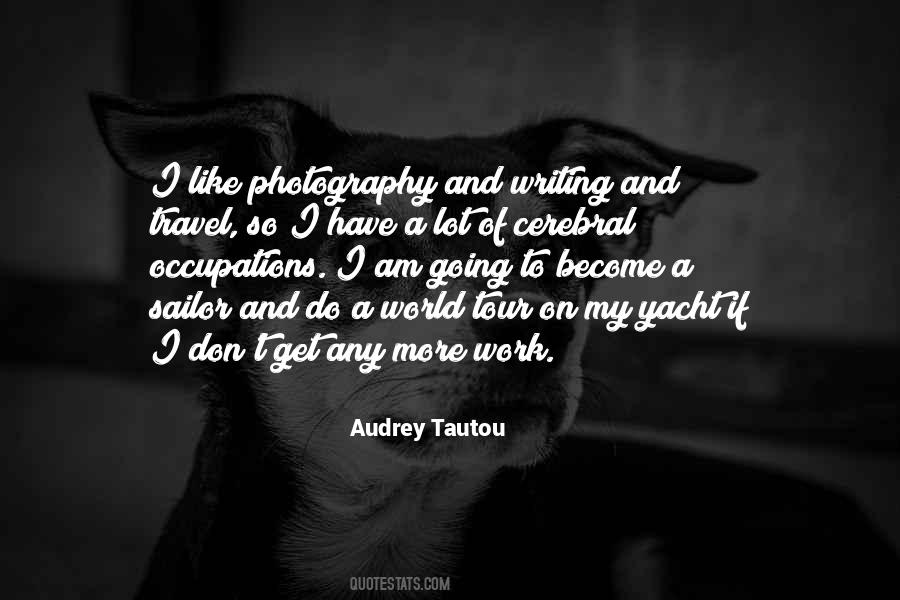 #38. If I do depart this world out here, let it be known that I went out grinning will you, and loving it. LOVING IT.
Steve, are you listening ? I FEEL GREAT. Life's so joyous, so sad, so ephemeral, so crazy, so meaningless, so goddamn funny. This is paradise, and I wish I could give you some. - Author: Robyn Davidson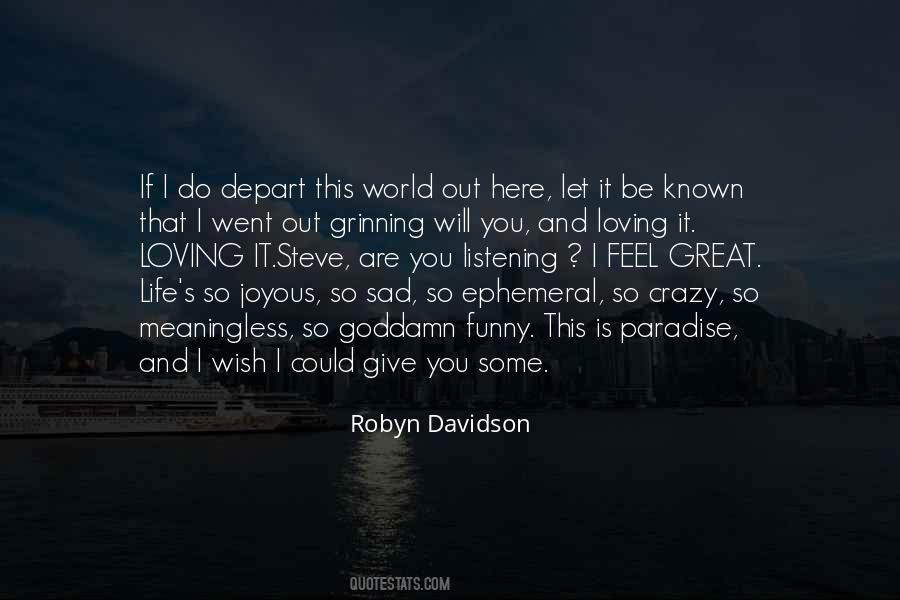 #39. I knew from the first moment I picked up a camera, on my first school assignment, what I wanted to do for the rest of my life. I was going to find a way to travel the world and tell the stories of the people I met through photographs. - Author: Mary Ellen Mark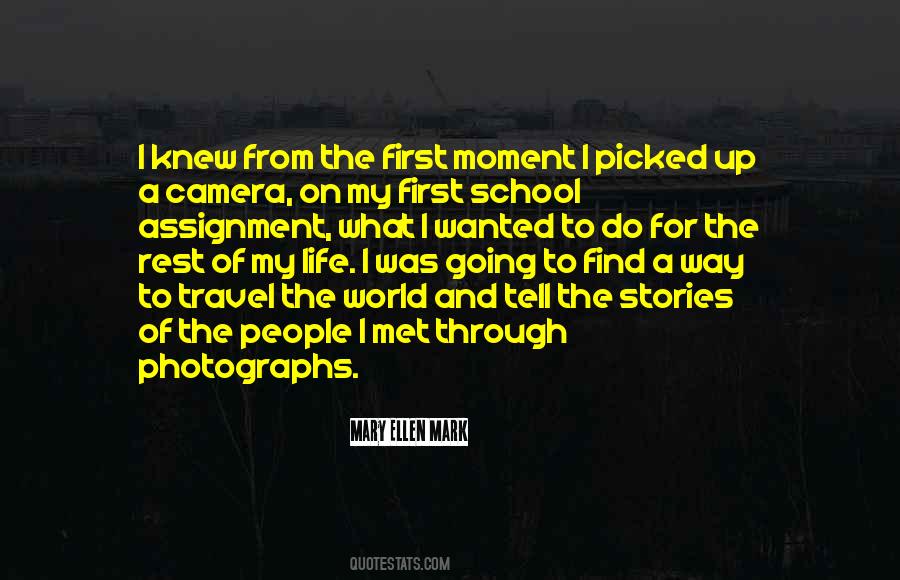 #40. Real travel would be to see the world, for even an instant, with another's eyes - Author: Robyn Davidson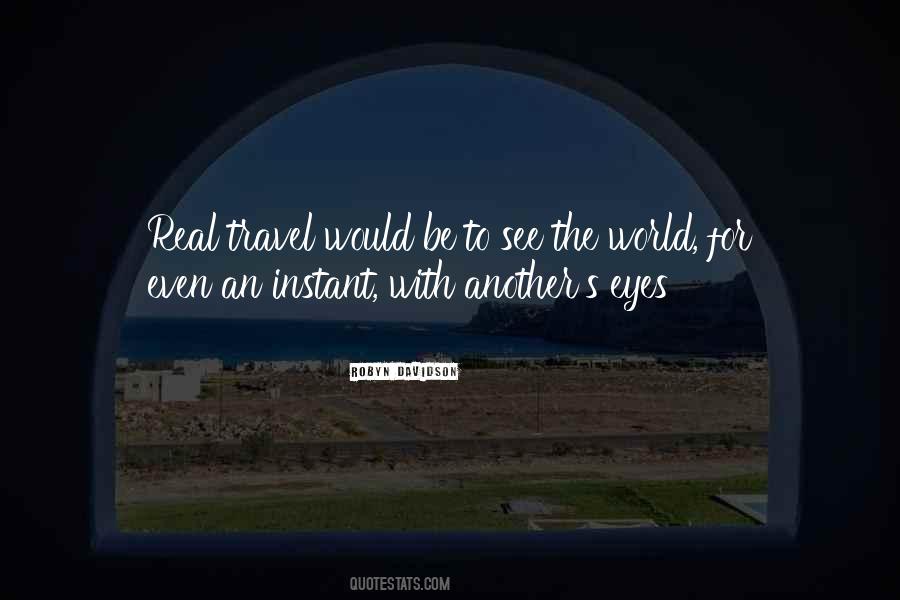 #41. Beyond this world are countless dimensions. They stretch on forever. You can travel to them and have experiences in them. - Author: Frederick Lenz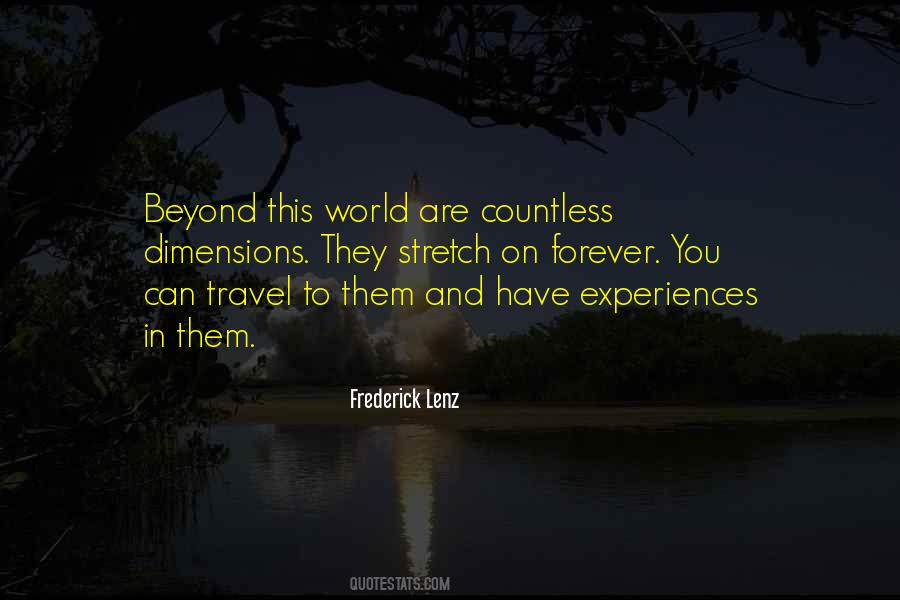 #42. It's all about that cosy, homey feeling, the one you leave behind when you travel across the world. - Author: Danielle Esplin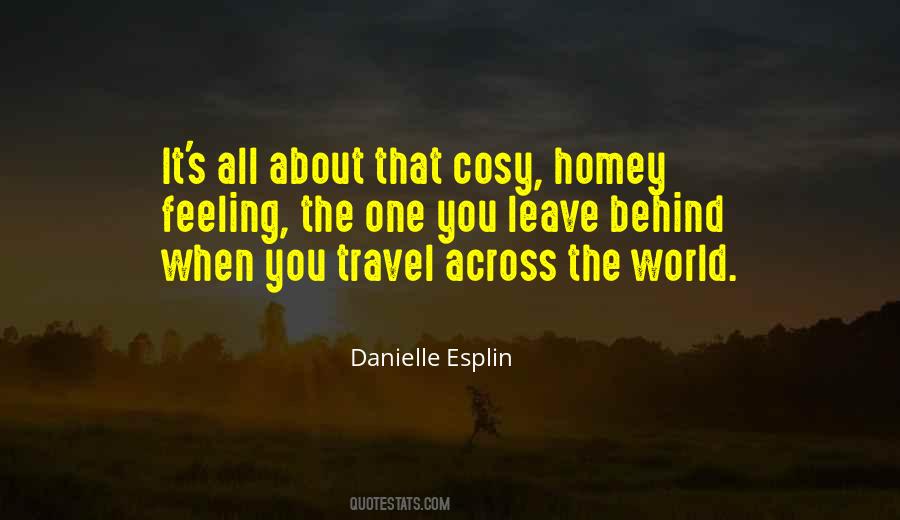 #43. The only pool of young people lies in Saudi Arabia, some of the Middle-East countries, and few African countries. But they are not prepared as Indians are ... we travel well; we are accepted globally very well, and that makes India truly a place to source world's workforce. - Author: Sunil Mittal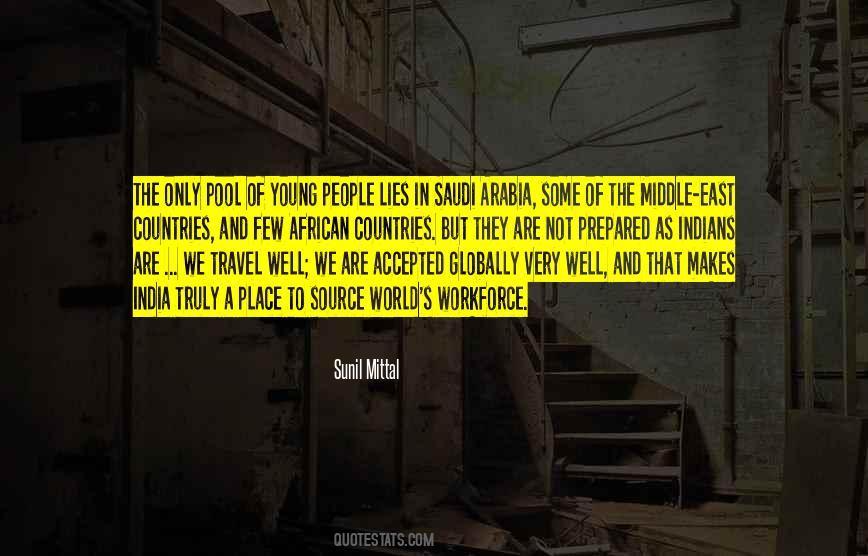 #44. The world isn't built with a ramp. - Author: Walt Balenovich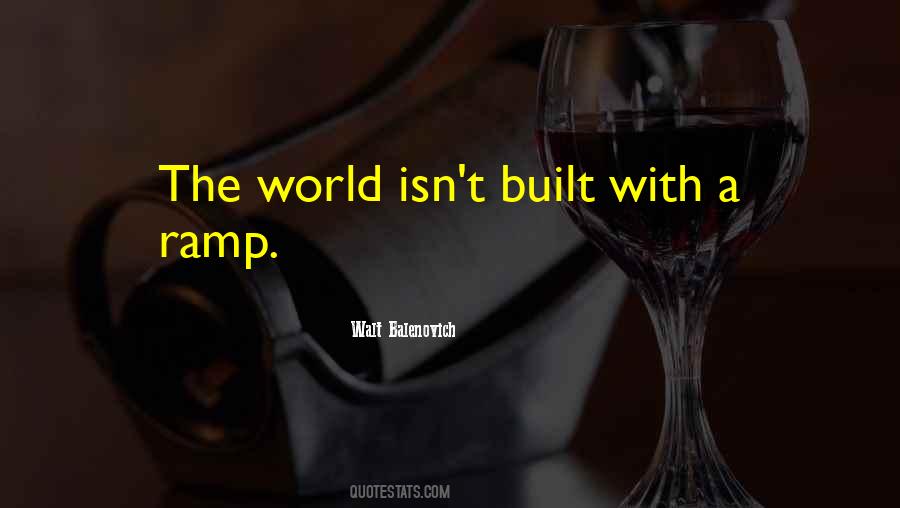 #45. Time travel? Saving the world? Had I fallen into a straight-to-DVD release? - Author: Myra McEntire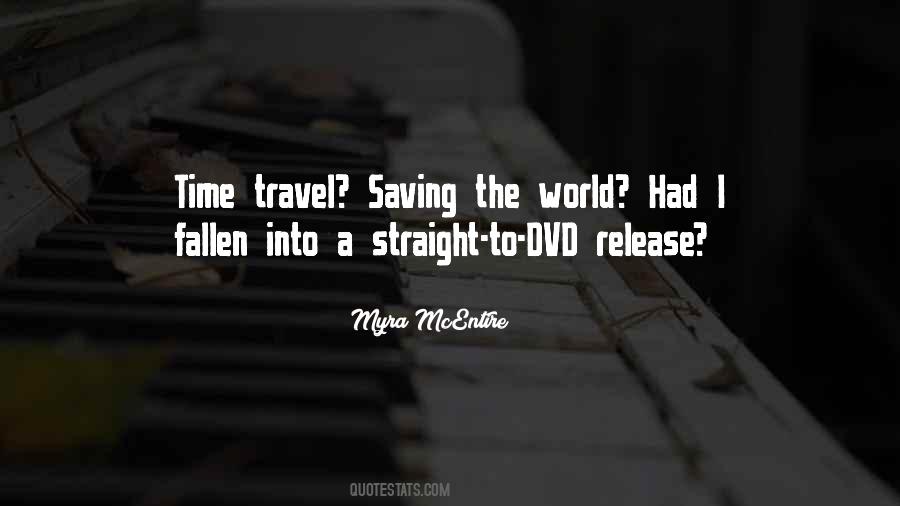 #46. I HAD PLANNED TO GIVE the phone back this morning. No, really. I did. Then again, I also planned to finish college. And travel the world. - Author: Vi Keeland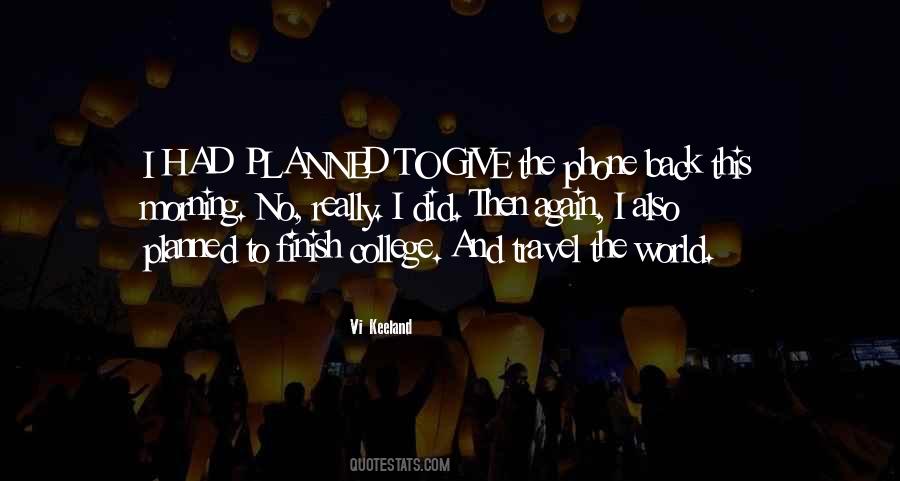 #47. Sometimes a journey arises out of hope and instinct, the heady conviction, as your finger travels along the map: Yes, here and here ... and here. These are the nerve-ends of the world ... - Author: Colin Thubron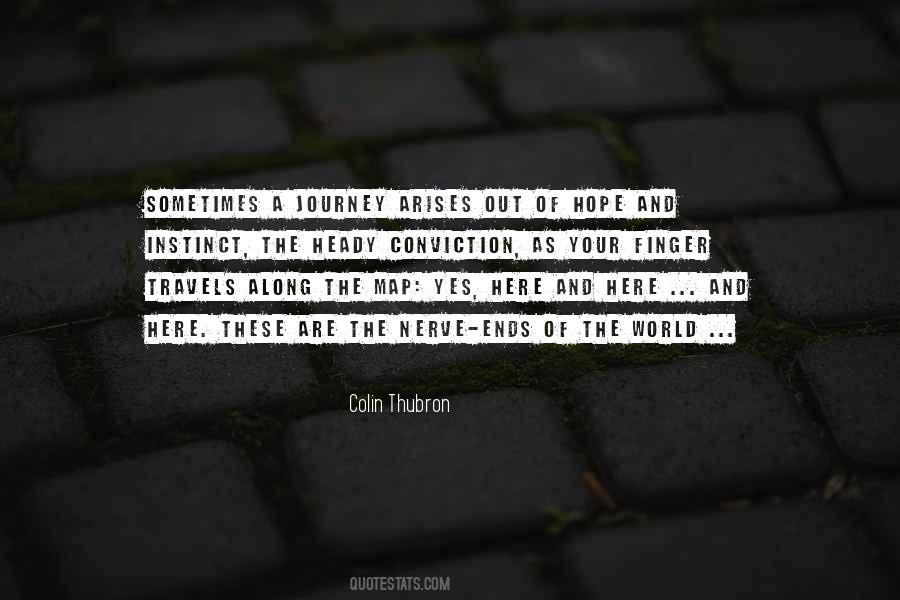 #48. Travel light. She extended her arms to embrace her house, maybe the whole world. - Author: Junot Diaz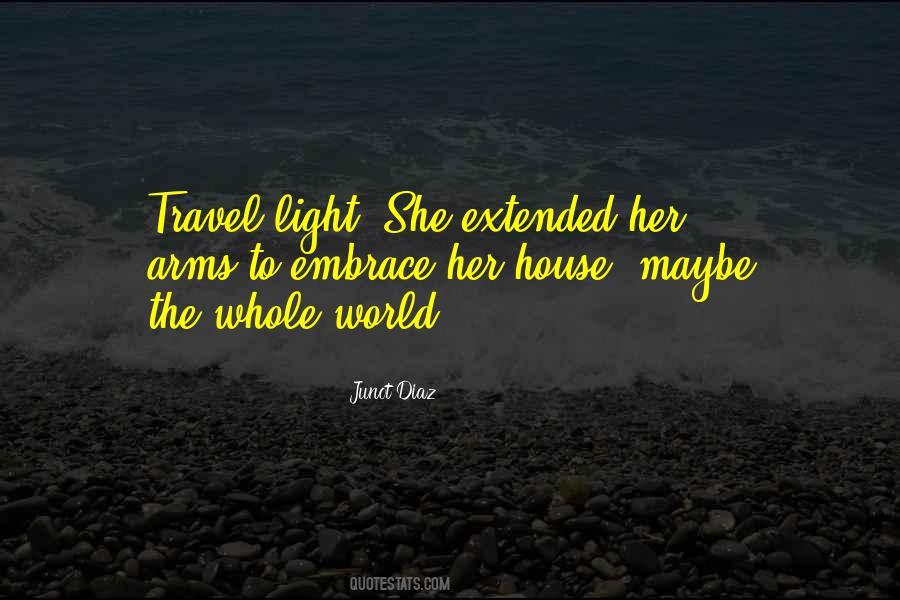 #49. It liberates the vandal to travel-you never saw a bigoted, opinionated, stubborn, narrow-minded, self-conceited, almighty mean man in your life but he had stuck in one place since he was born and thought God made the world and dyspepsia and bile for his especial comfort and satisfaction. - Author: Mark Twain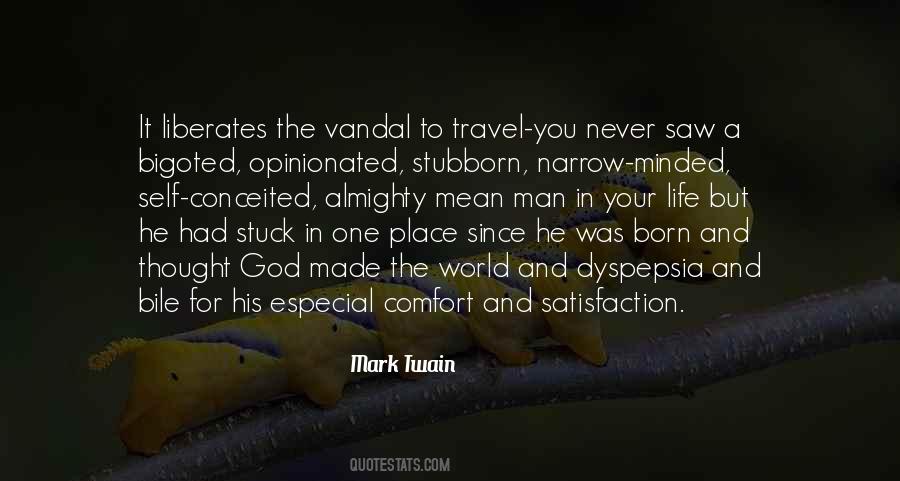 #50. When I work I do it from my heart. And my heart is that I bring love to the world. When I travel around the world I bring my love. I bring so much love in my heart. I hope you can feel that. - Author: Jackie Chan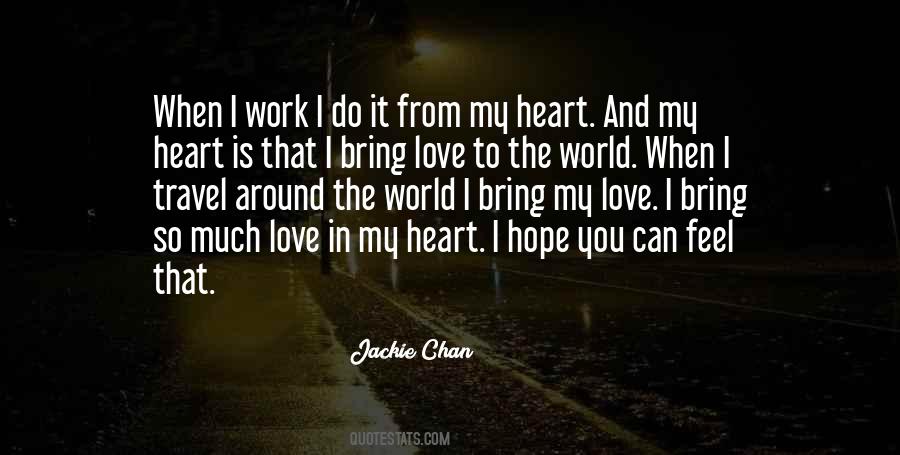 #51. [On Malaysia:] Mr. Darwin says so truly that a visit to the tropics (and such tropics) is like a visit to a new planet. This new wonder-world, so enchanting, tantalising, intoxicating, makes me despair, for I cannot make you see what I am seeing! - Author: Isabella Bird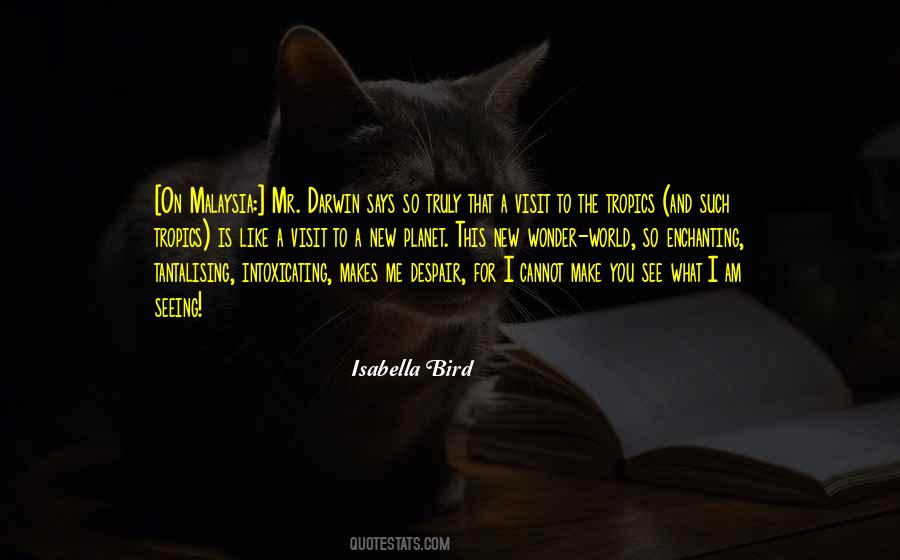 #52. We may travel the world over to find a good spot,
But if we are blind to search within, we find it not. - Author: Ana Claudia Antunes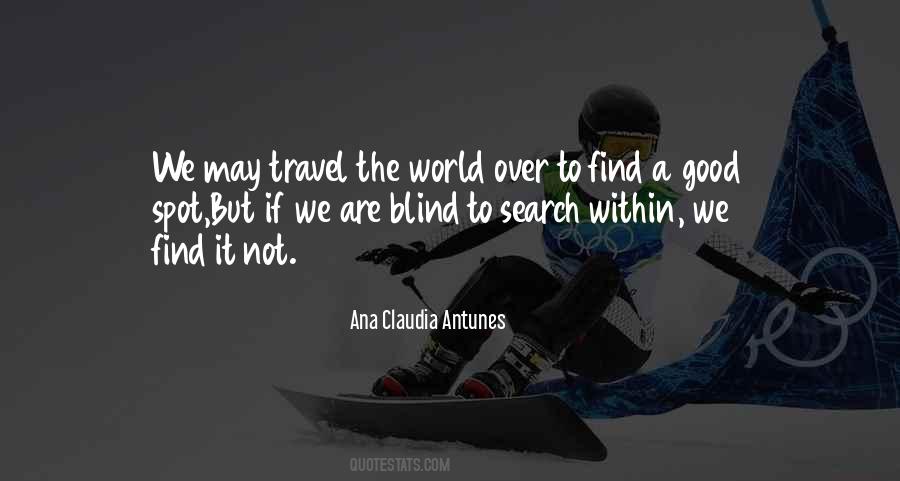 #53. We all know we have a problem, a broad problem. Ninety-eight percent of the fuel that is used by our vehicles, our autos and trucks for personal and commercial purposes, for highway and air travel operates on oil. The world has the same problem. - Author: John Olver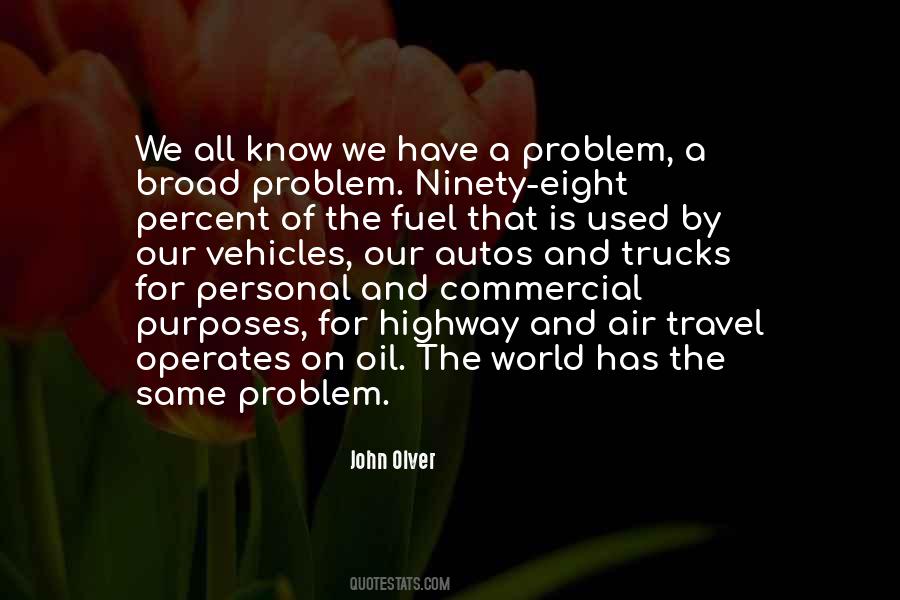 #54. In these xenophobic times, when politicians are stoking everyone's anxiety about threats from abroad, I would argue that engaging with the rest of the world is not only a luxury, in the way that travel is, but actually a moral responsibility. - Author: Andrew Solomon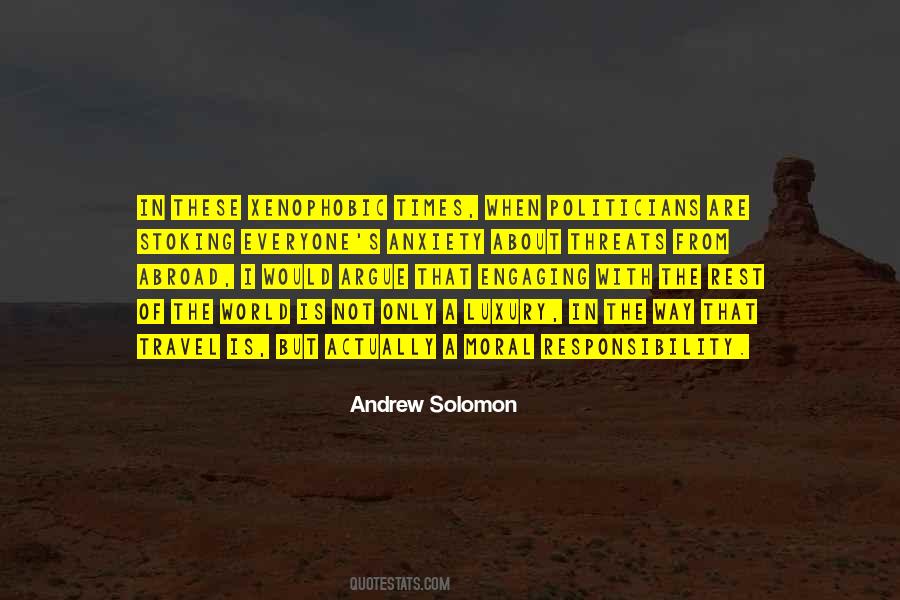 #55. Take a great adventure to a place, learn the rich history and make your own observation about the place. - Author: Lailah Gifty Akita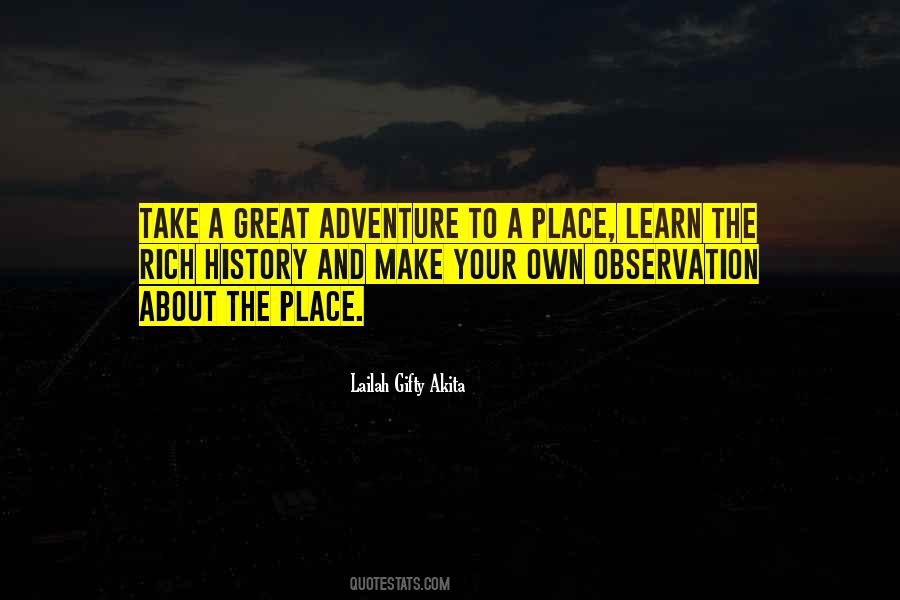 #56. Just imagine if you took all the money you've spent on these things and traveled around the world with it, instead, or bought books and read them. Think about how much you would know about life. - Author: Eustace Conway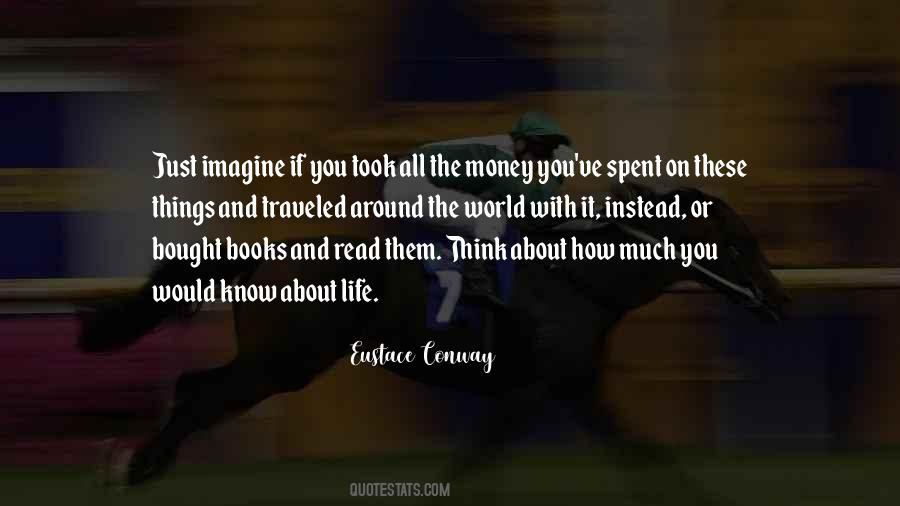 #57. With my pen I have engraved warrants of citizenship in the most remote corners, for truly the world has been my home. - Author: James A. Michener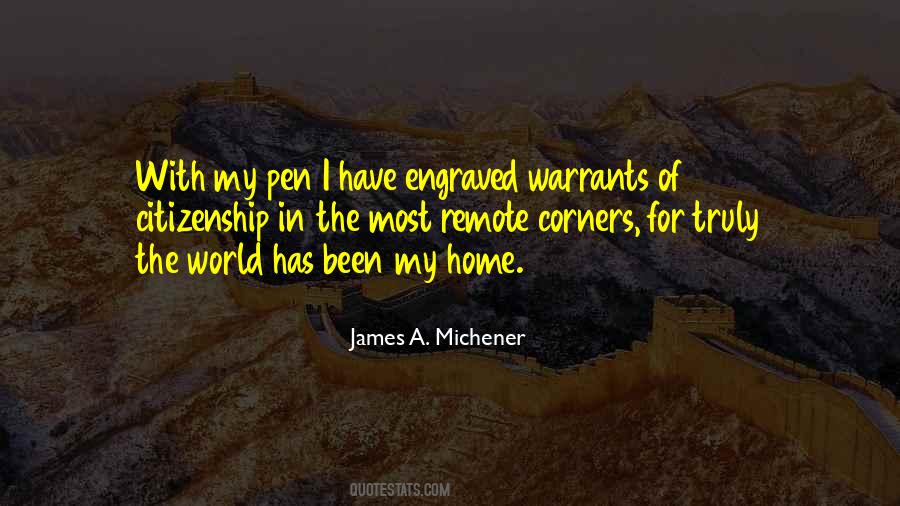 #58. The world is a beautiful place, travel has been my greatest teacher, my close friends and folks are the greatest givers. I even have a ring of support around my bed as I type ... Goodbye world. Spread good energy. Pay it forward! - Author: Brittany Maynard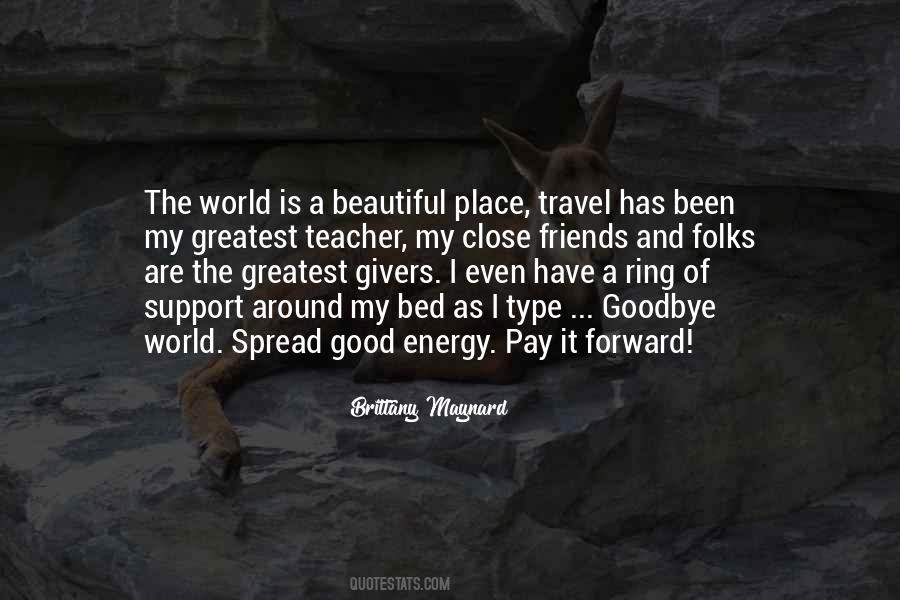 #59. The reading of tourist prospectuses is one of the joys of the world
it is like operetta in prose
all so flowery and heavenlike. - Author: Marsden Hartley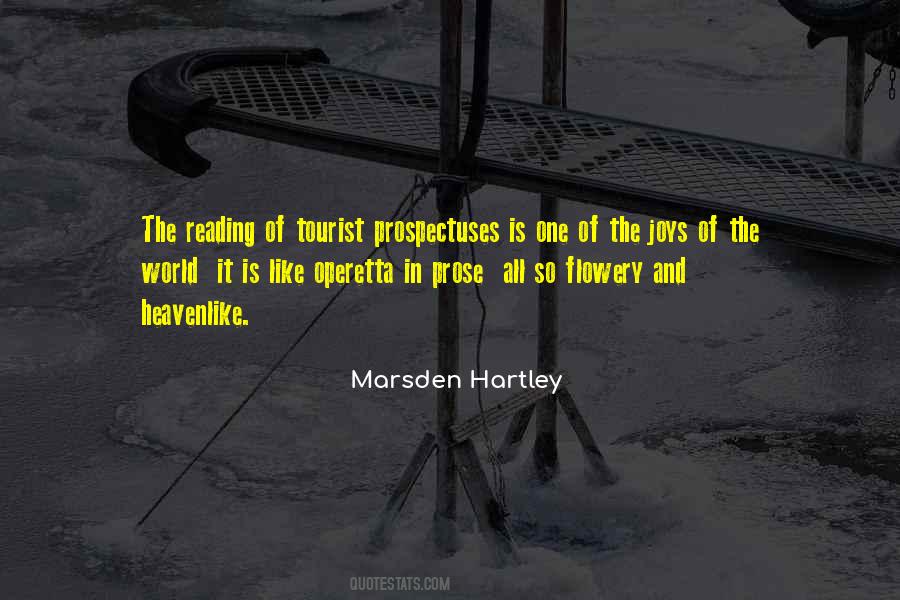 #60. I know you lost your partner in crime, but ... I want YOU to be MINE. Maybe WE should travel the world together, Camryn ... I know I can't replace your ex
"
"Andrew ... it was always you. - Author: J.A. Redmerski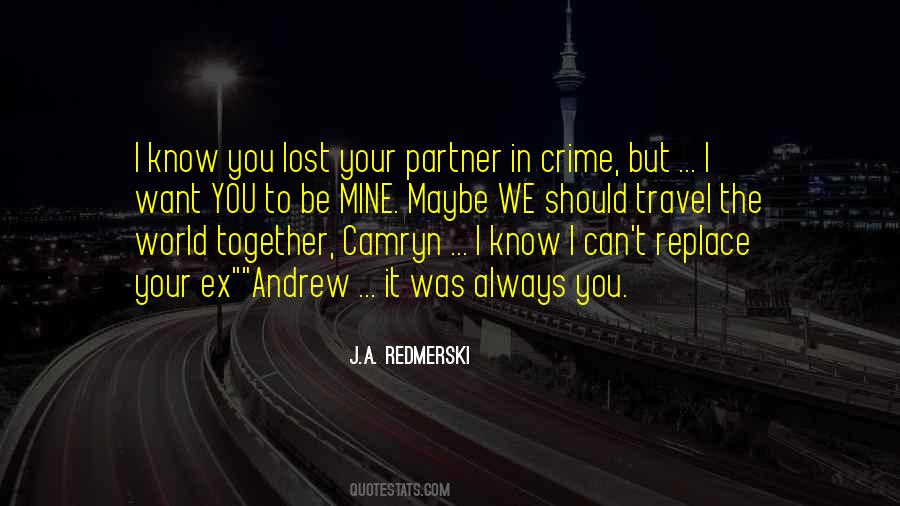 #61. The desire to change the world is a tremendous advantage as you travel down the difficult path ahead because focusing on a lofty goal is more energizing and attracts more talent than simply making a buck. - Author: Guy Kawasaki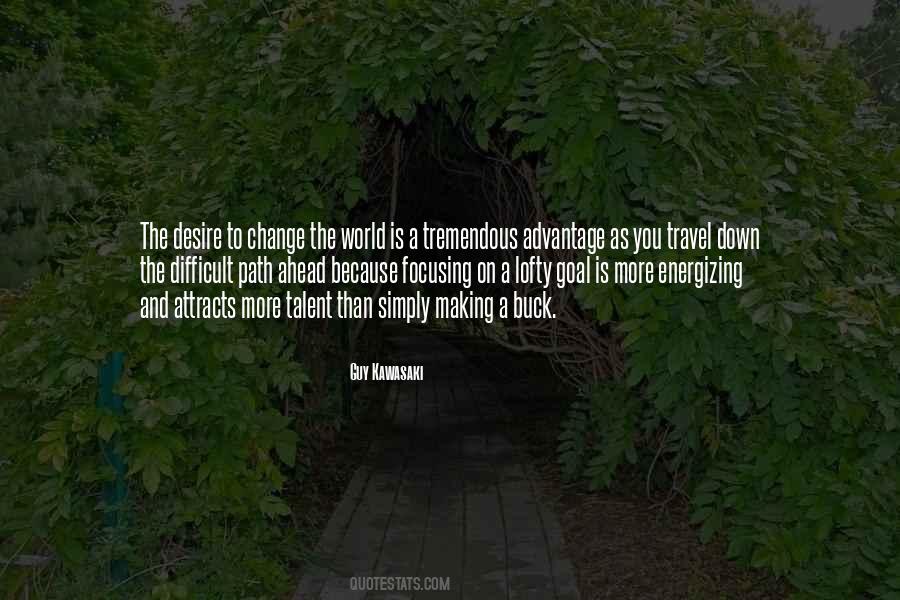 #62. Welcome to my world! I've been through it all, and I often pinch myself to believe my luck. I design jewlery, create cosmetics, perform comedy, act, lecture, write books, travel, have a fabulous daughter, and a phenomenal grandson-and I feel I'm the luckiest woman on the planet. - Author: Joan Rivers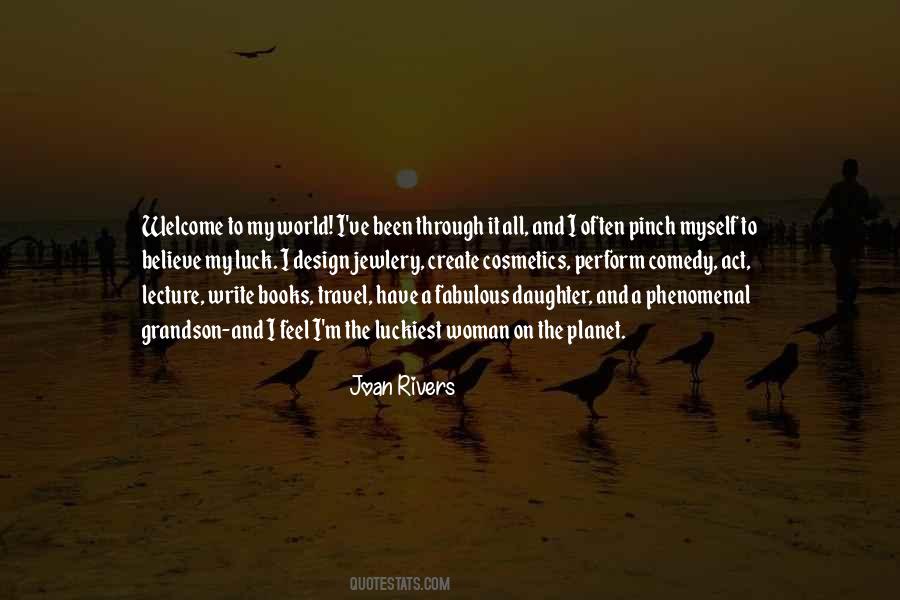 #63. One need not scale the heights of the heavens, nor travel along the highways of the world to find Ahura Mazda. With purity of mind and holiness of heart one can find Him in one's own heart. - Author: Zoroaster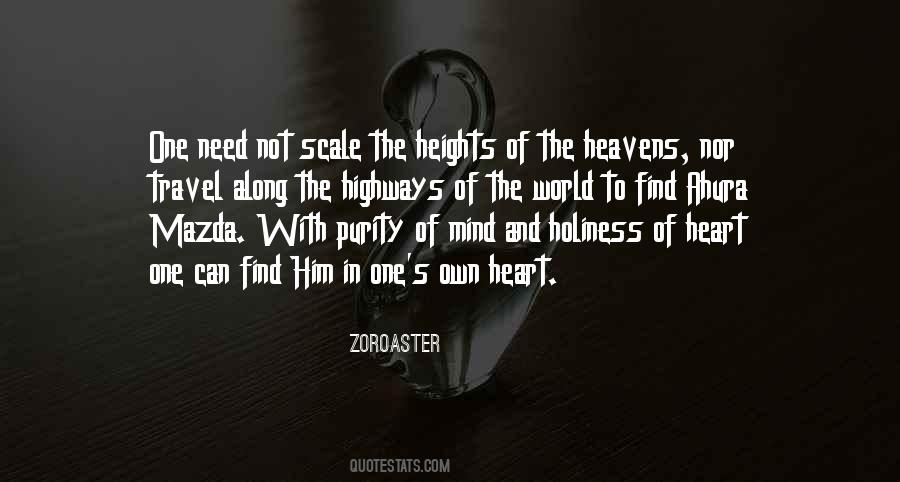 #64. You need not even listen, just wait ... the world will offer itself freely to you, unmasking itself. - Author: Franz Kafka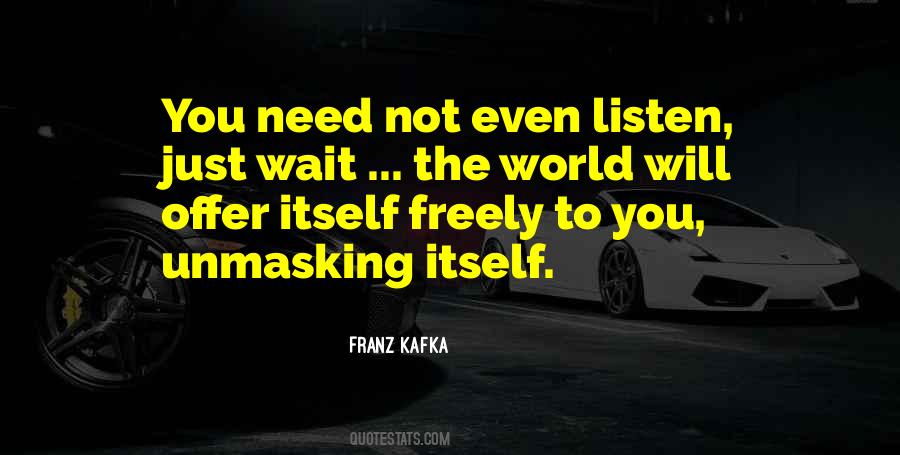 #65. Keep travelling. You will discover new paths and new places. - Author: Lailah Gifty Akita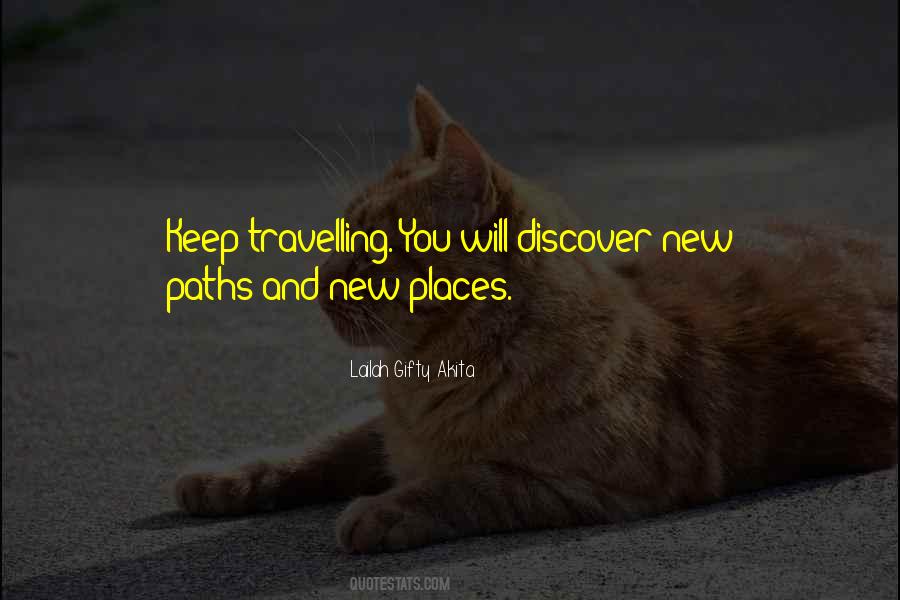 #66. The very first thing on the docket is to have the opportunity to travel to look at spiders in other parts of the world. I know there are really cool silks out there. - Author: Cheryl Hayashi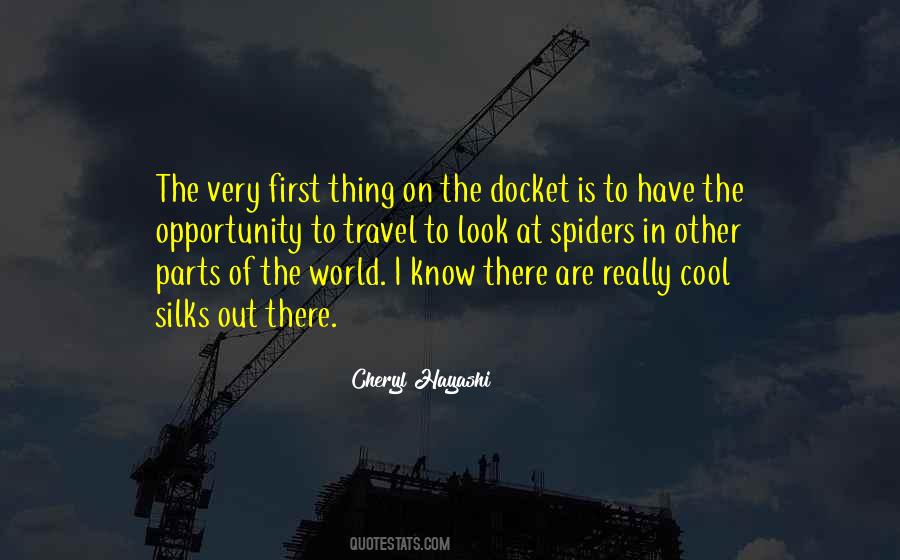 #67. We live in a wonderful world that is full of beauty, charm and adventure. There is no end to the adventures we can have if only we seek them with our eyes open. - Author: Jawaharlal Nehru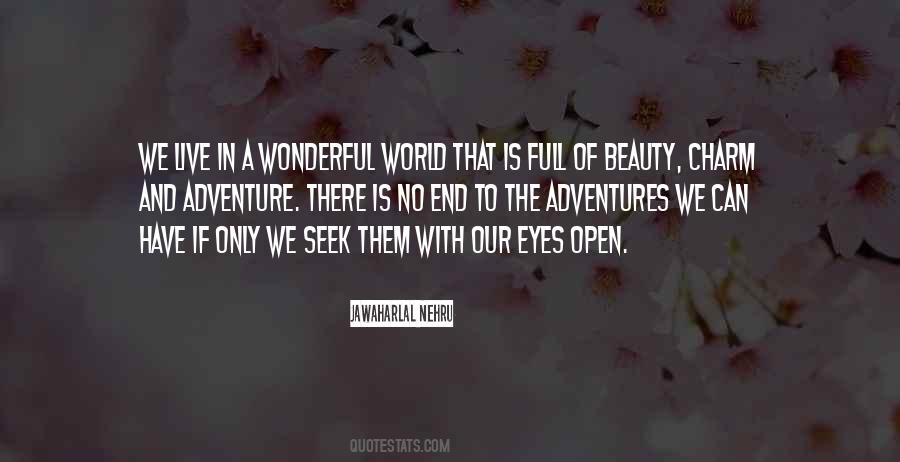 #68. I got the chance to do things that I dreamed of when I was a kid: I got to travel around the world; I had my own 'Goosebumps' attraction at Disney World; I've been on TV and had three TV series. - Author: R.L. Stine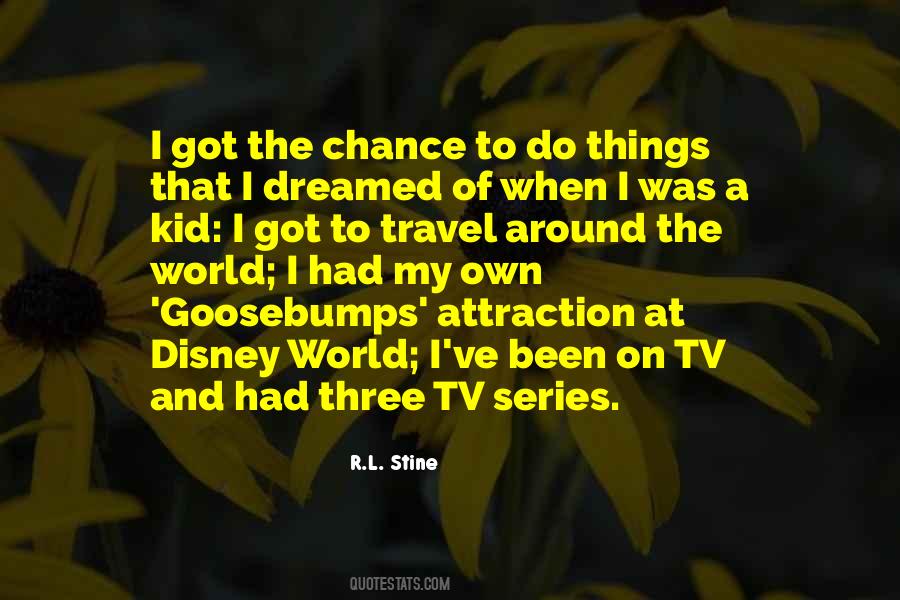 #69. Every one of a hundred thousand cities around the world had its own special sunset and it was worth going there, just once, if only to see the sun go down. - Author: Ryu Murakami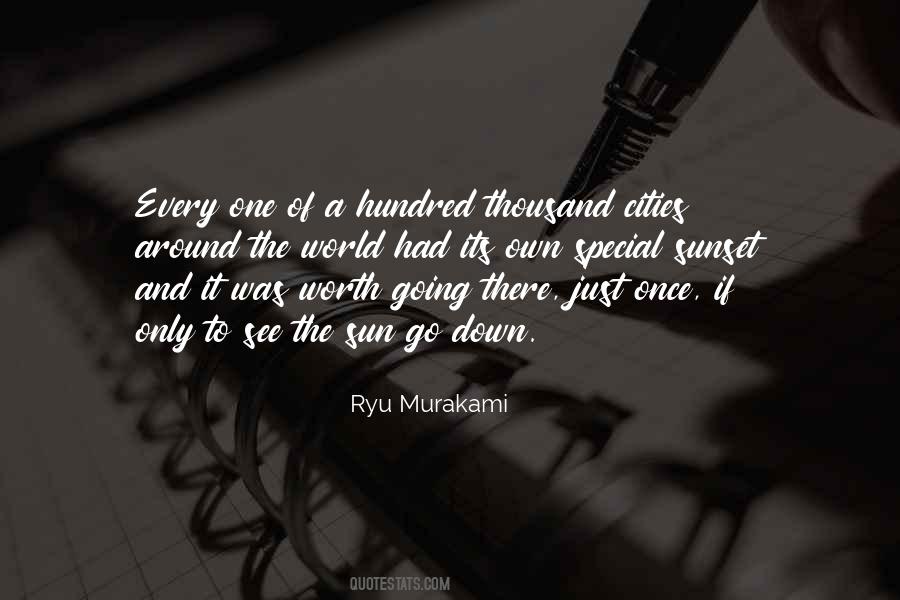 #70. All I wanted was to go off to some other world, a place beyond anybody's reach. A place beyond the flow of time. - Author: Haruki Murakami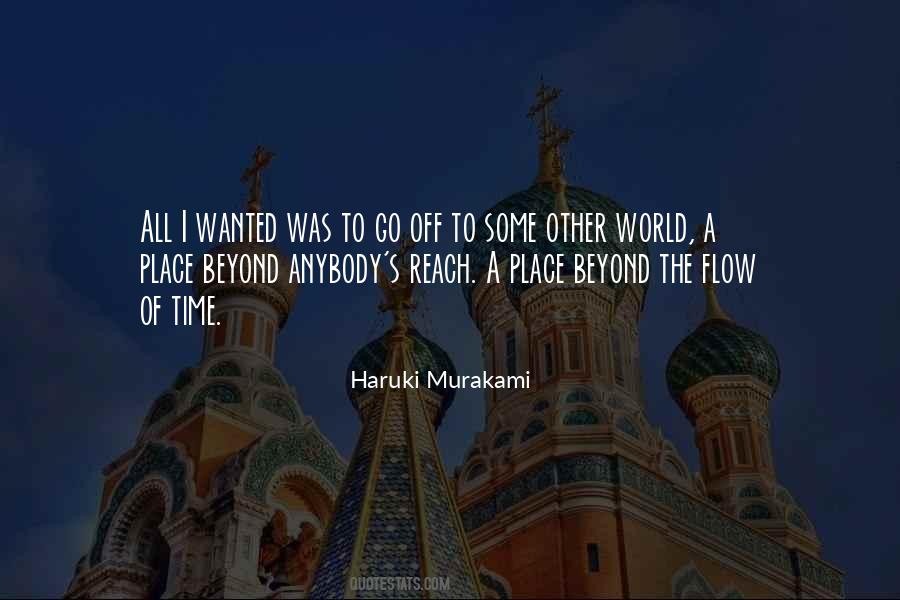 #71. Plan for the rest of my life, I will travel the world and retire in the himalayas. - Author: Poonam Parihar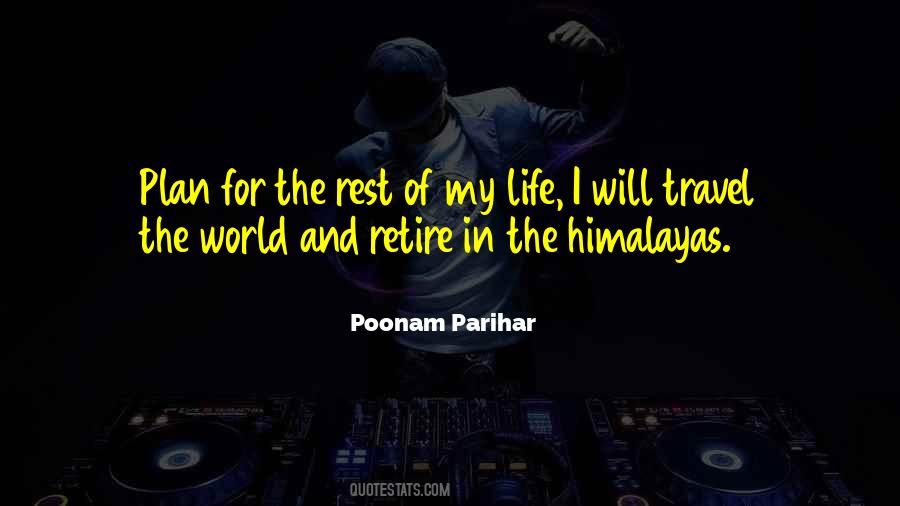 #72. May came home with a smooth round stone
as small as a world and as large as alone. - Author: E. E. Cummings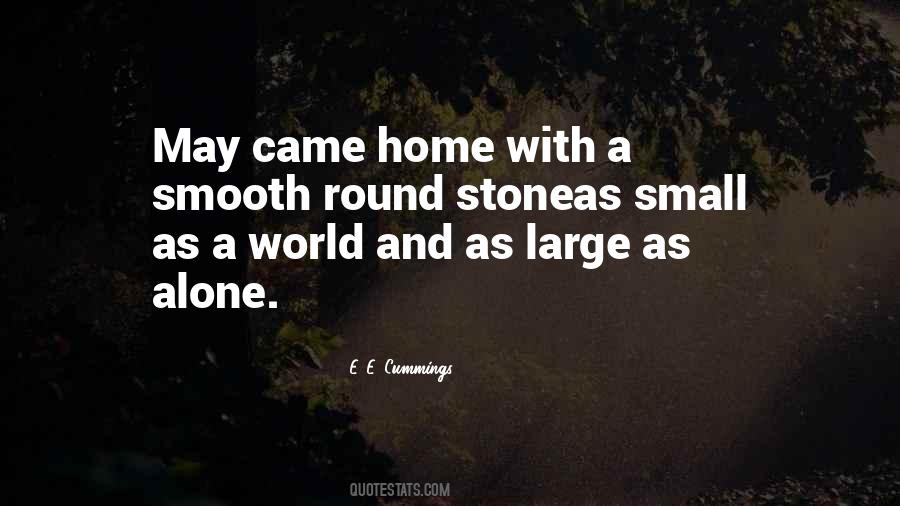 #73. Boxing's given me the chance to travel around the world and open the door and the world is much brighter. - Author: Vitali Klitschko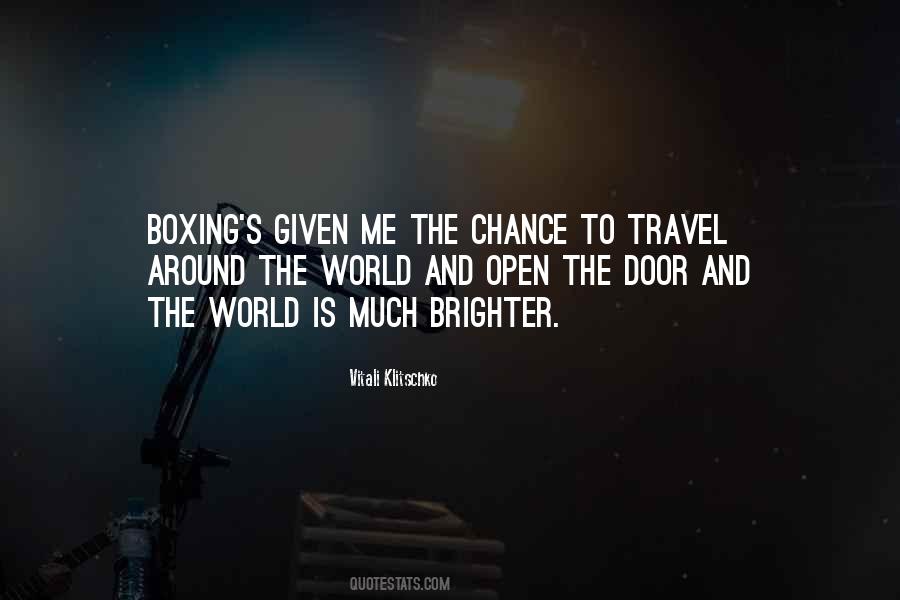 #74. The spark lies within us, somewhere deep within! Once you find it, that will illuminate the whole path you travel, all lives upon your way and the very purpose of your life. O beloved, know this world is illuminated by people so! - Author: Preeth Nambiar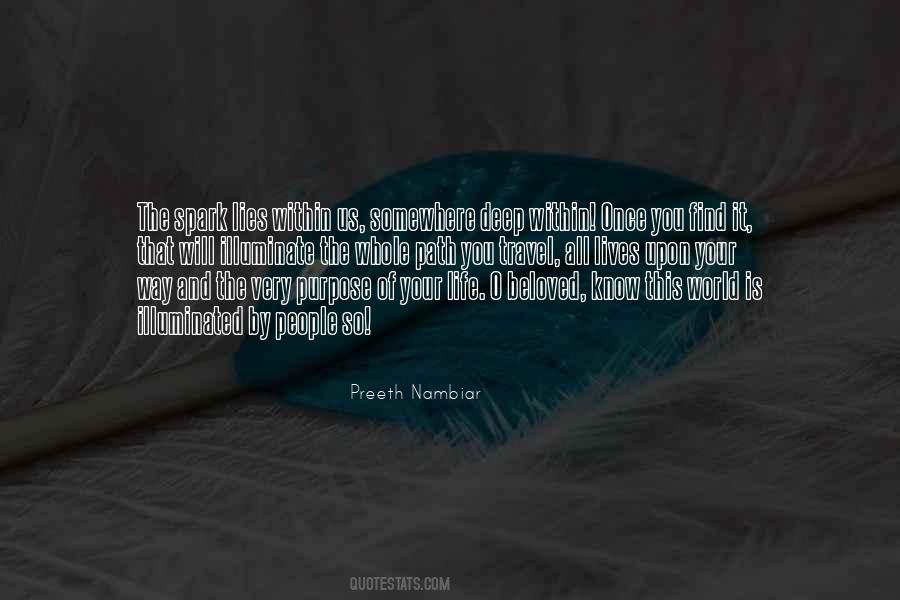 #75. When I thought I was retired, I wanted to travel around the world and watch soccer games. - Author: Drew Carey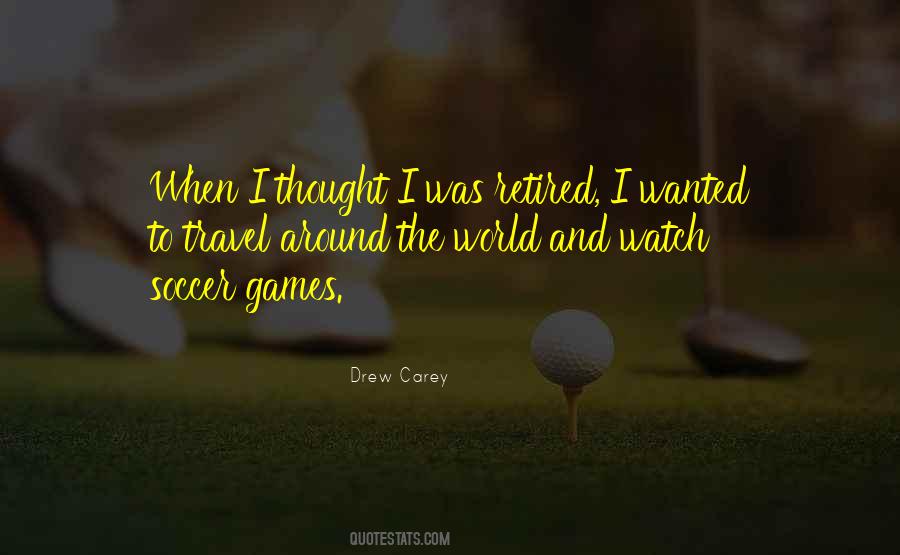 #76. In recent years, I've been writing because I'm fortunate enough to work in the world of food television, to travel and taste and learn about cooking from the best chefs in the business. - Author: Ted Allen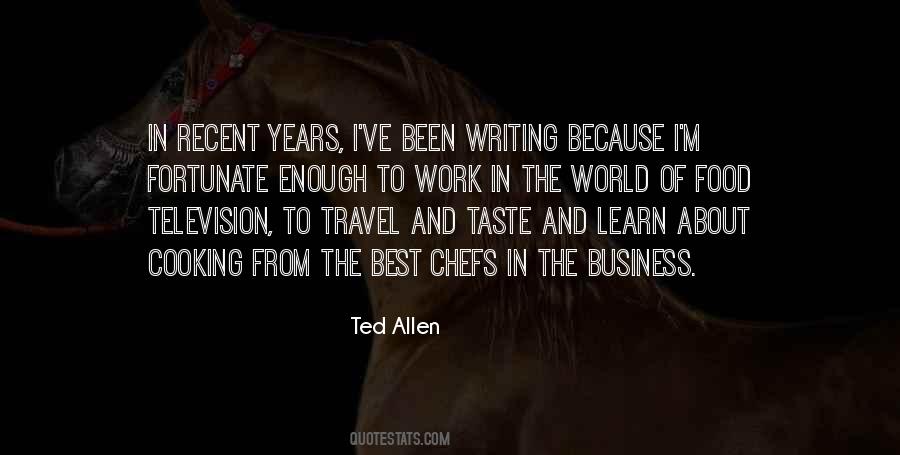 #77. The world is full of places I haven't been. - Author: Judy Blundell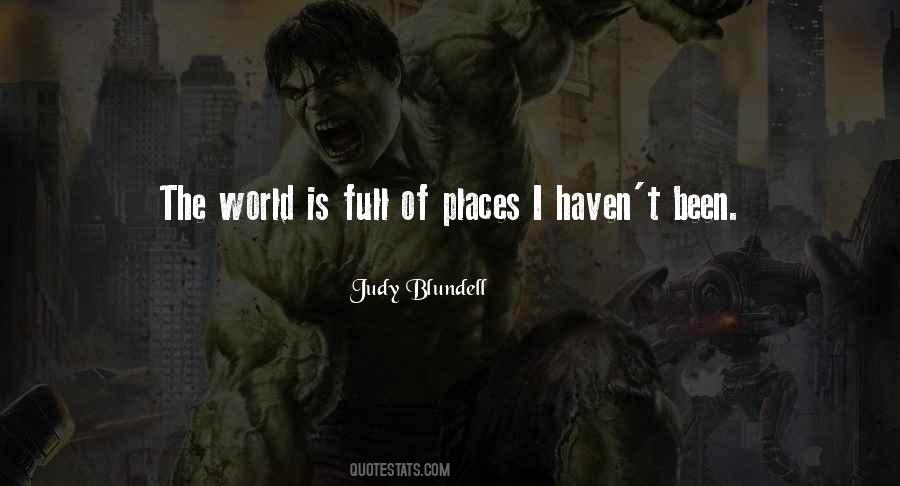 #78. It's great for me to hear those different reactions because when I travel with a movie like this [World of Tommorow], it's very similar. You'll hear a line in one city get a big laugh, and then in another city, the same line kind of gets a gasp, and that's wonderful. - Author: Don Hertzfeldt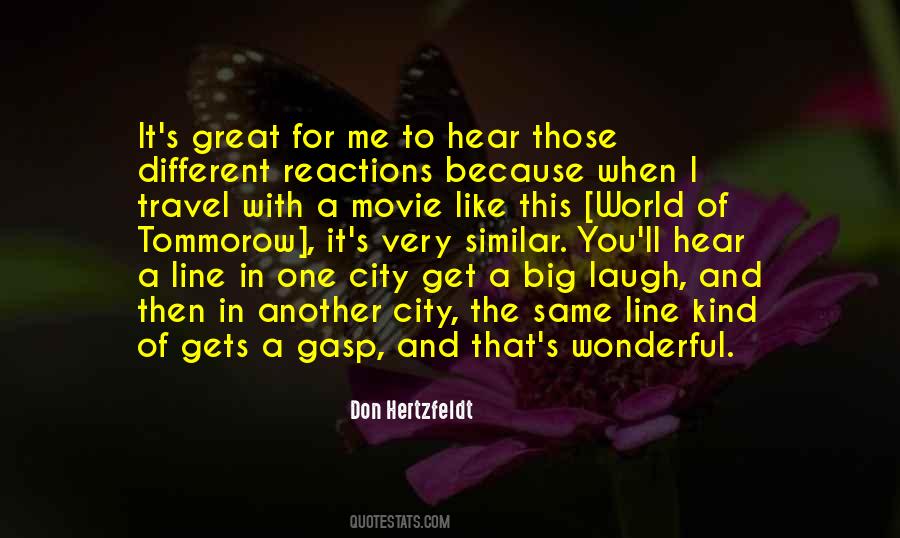 #79. There were signs everywhere but none that I could read or even hope to decipher. These multi-lined symbols unhinged my familiar world. - Author: Gerry Abbey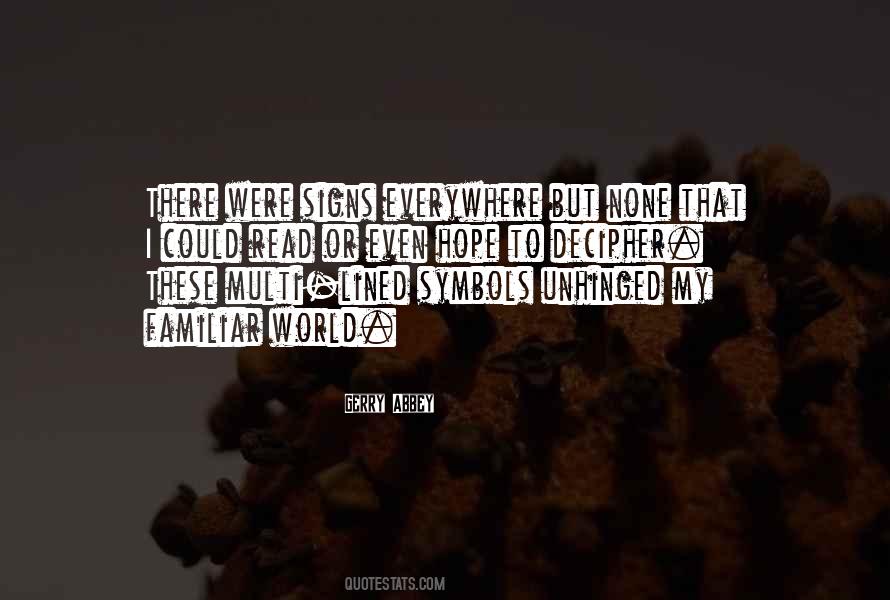 #80. The world has become more complex as technology and easy travel mixes cultures without homogenizing them. - Author: Norman Spinrad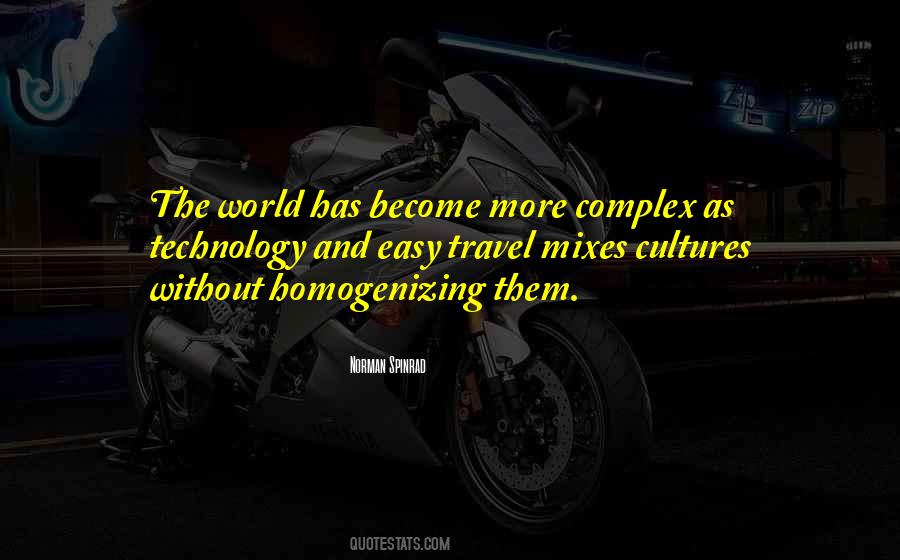 #81. Capricorns like to stay in one place. I have to go to work in places like New York, but basically, I don't want to go anywhere. One time, I got a trip around the world for doing something on television, and the travel agent was so excited, I gave her the tickets. - Author: Charles Nelson Reilly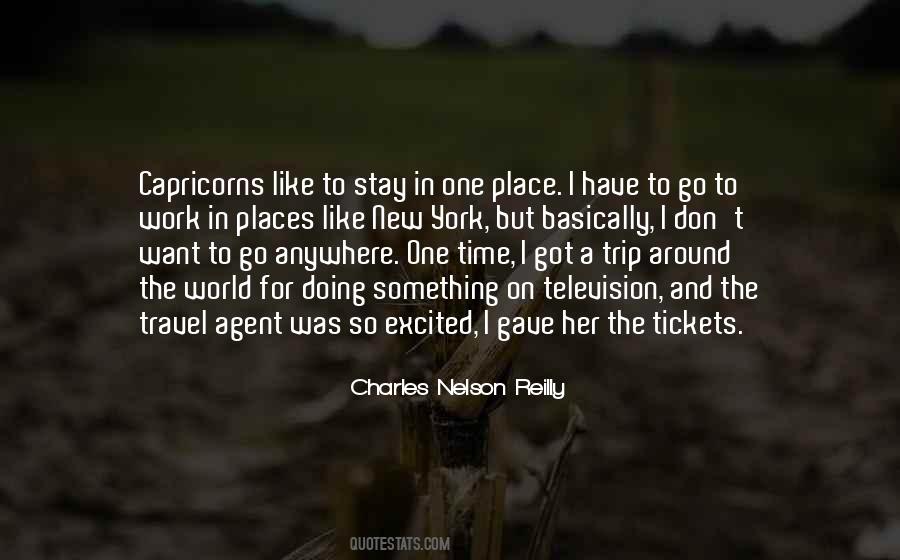 #82. I am in a very peculiar business: I travel all over the world telling people what they should already know. - Author: James Randi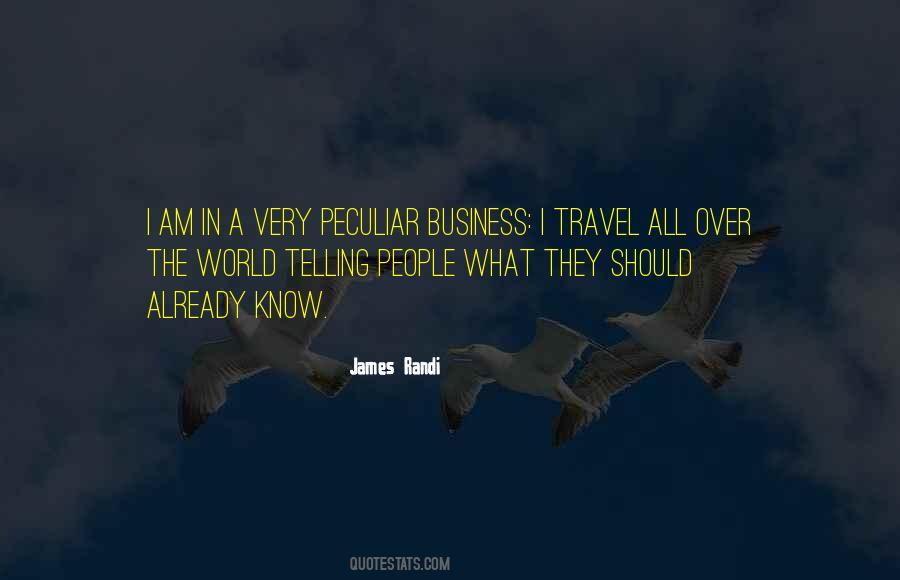 #83. Traveling further ingrained my desire to connect to a place other than an island that is slightly older, in a New World way, than the United States, especially after I found characteristics of my face in the faces of the people in my global community. - Author: Raquel Cepeda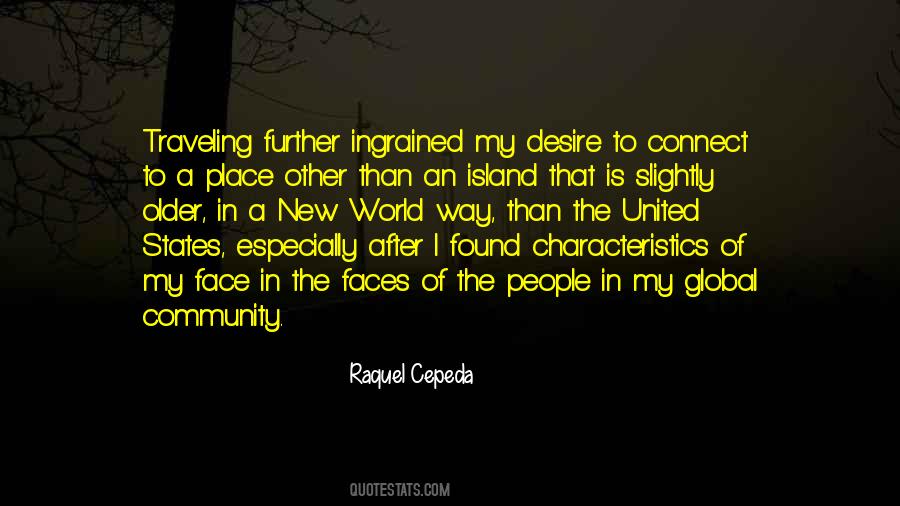 #84. In the modern world, if you want to travel off the beaten path, stay off the beaten media path. - Author: Khang Kijarro Nguyen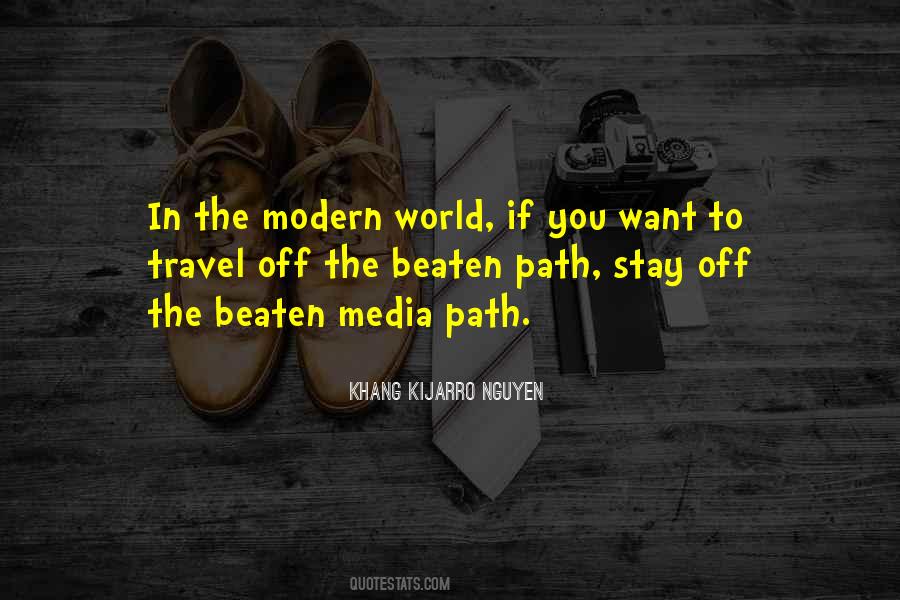 #85. Being immortal must have a lot of attractions. You can travel all over the world, see everything, do everything. But what happens if you are immortal and your friends and family are not? You are then destined to watch them age and die. - Author: Michael Scott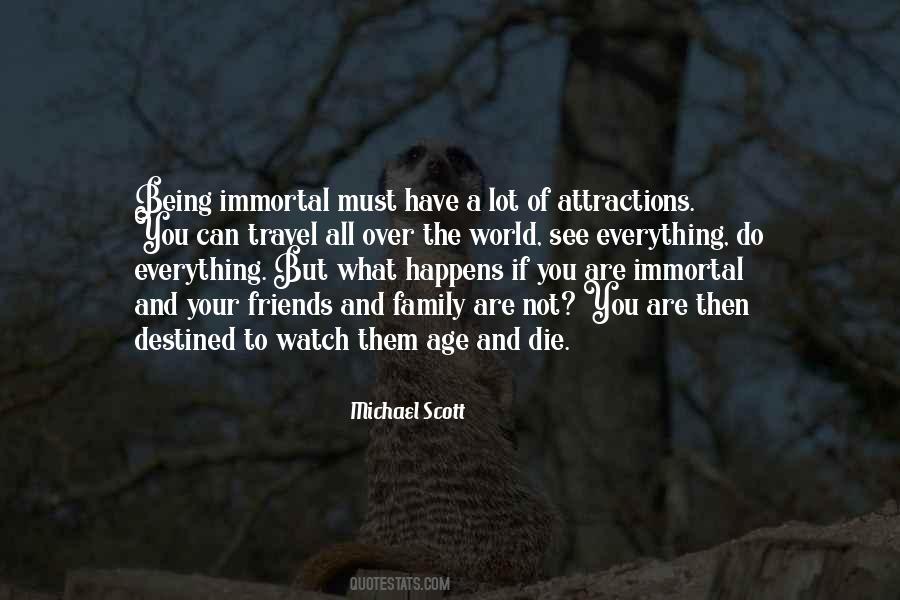 #86. I have nothing but respect for people who travel the world to make art and put exotic Indians in front of linen backdrops, but it's always been my philosophy to try to make art out of the everyday and ordinary. - Author: Sally Mann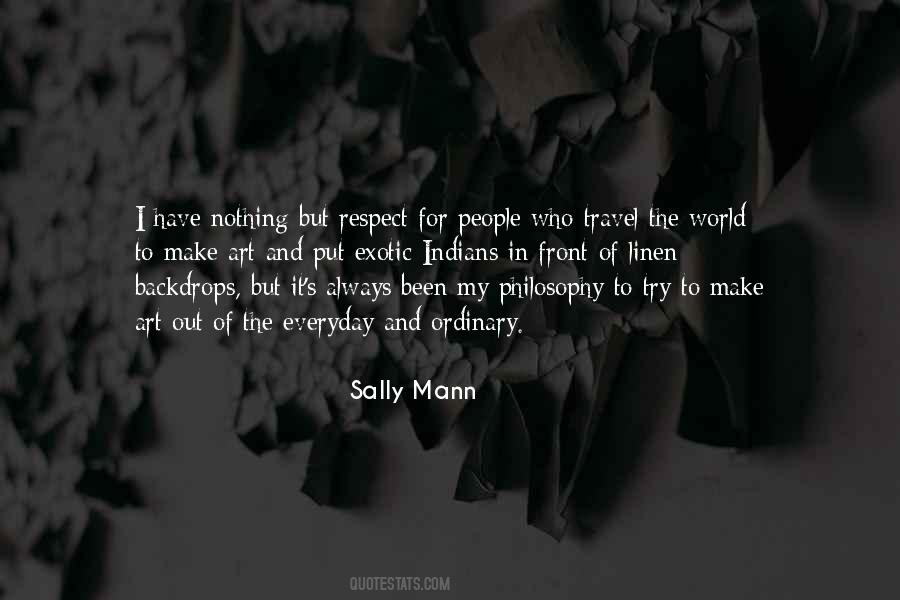 #87. I collect dice and I collect coins. I travel the world so I love dice, I always have dice on me. I collect magnets as well. - Author: Kellan Lutz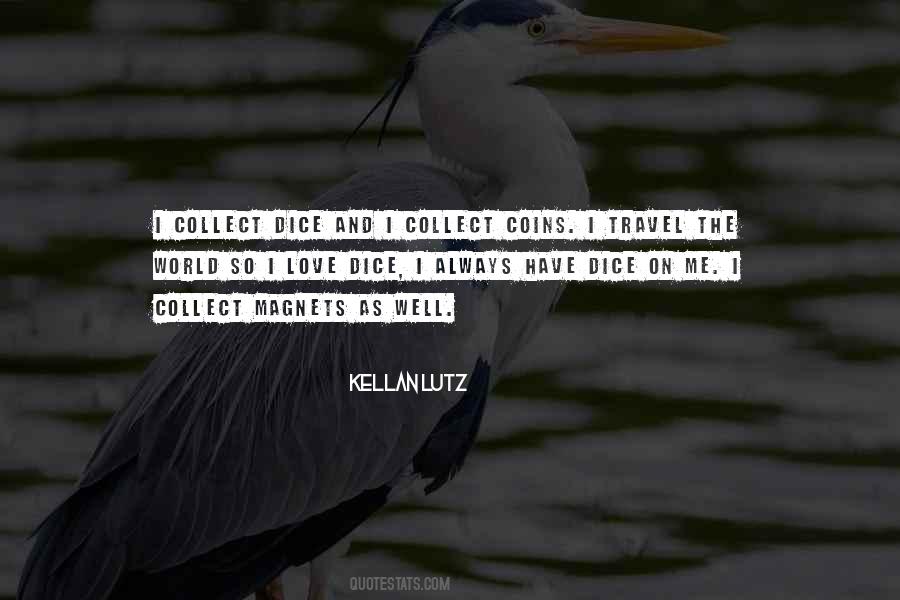 #88. Musicians can travel all over the world and have an audience, because there's no language barrier. - Author: Tommy Chong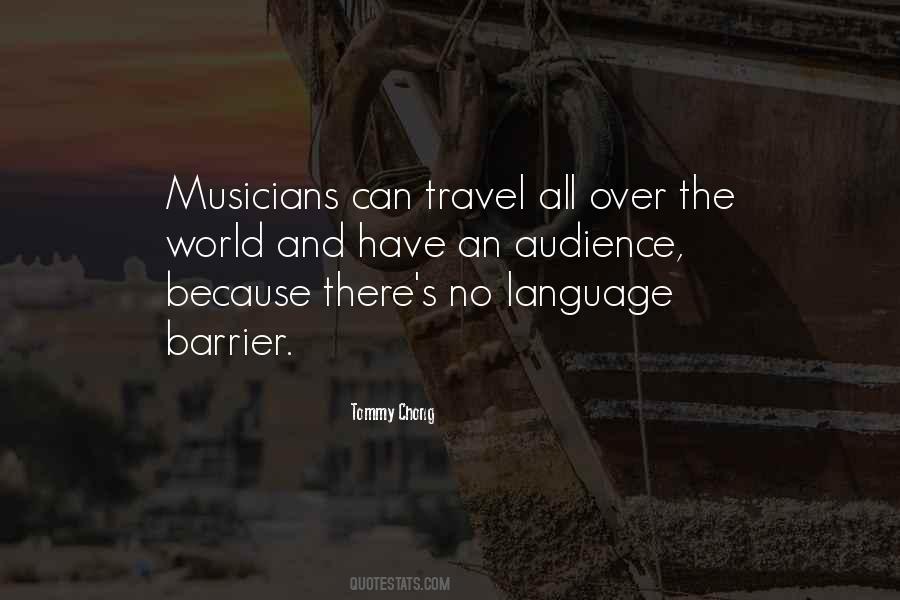 #89. Legs: the symbol of my solitude, my individual path, my uniqueness. Arms: the symbol of togetherness, my connection to others, my belonging to the human race. My legs make me who I am; they create my solitary path. My arms make me who I belong to; they connect me to the world. - Author: Nicos Hadjicostis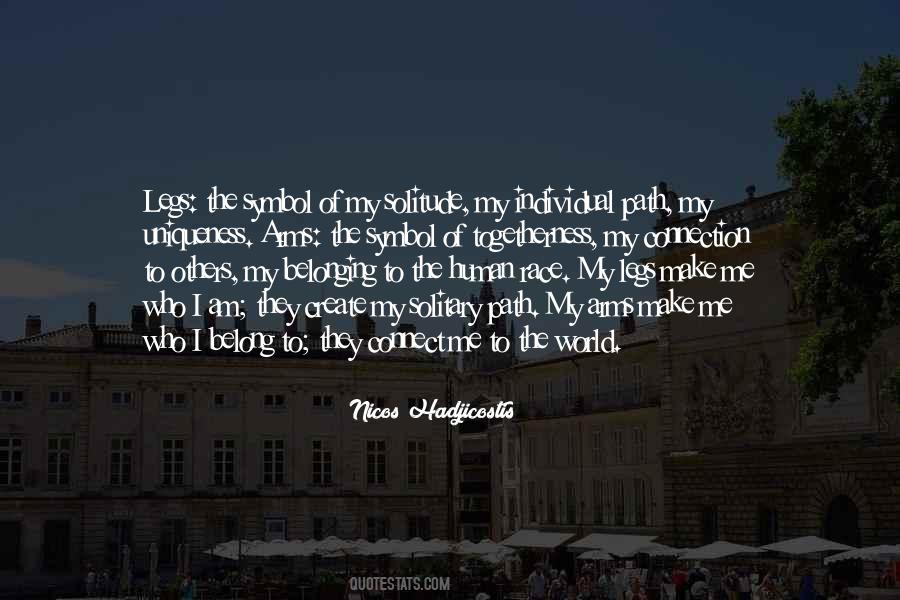 #90. I like the opportunity to travel the world and work in close company with other people. - Author: Marc Garneau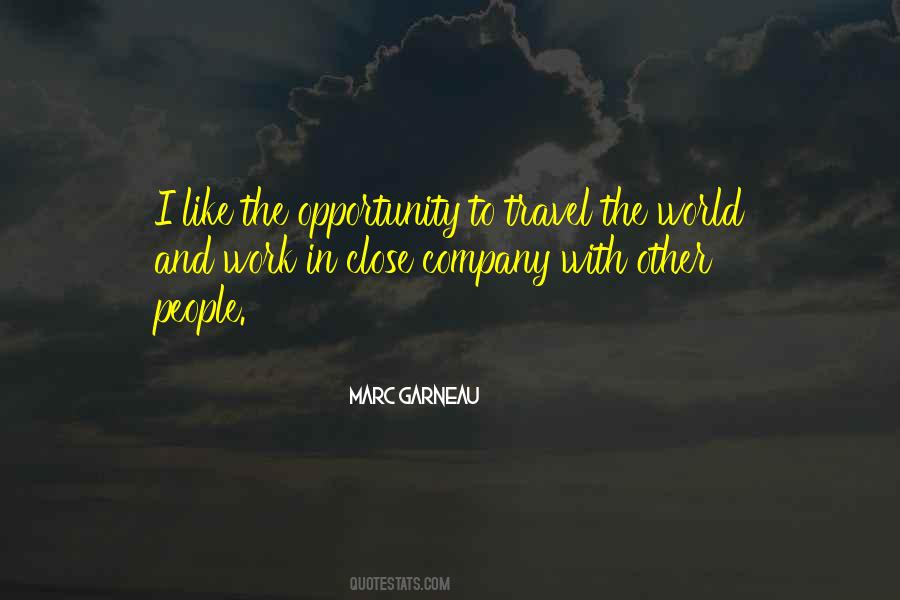 #91. Many years ago, large packs of wolves roamed the countryside in Ukraine, making travel in that part of the world very dangerous. These wolf packs were fearless. They were not intimidated by people nor by any of the weapons available at that time. The only thing that seemed to frighten them was fire. - Author: Joseph B. Wirthlin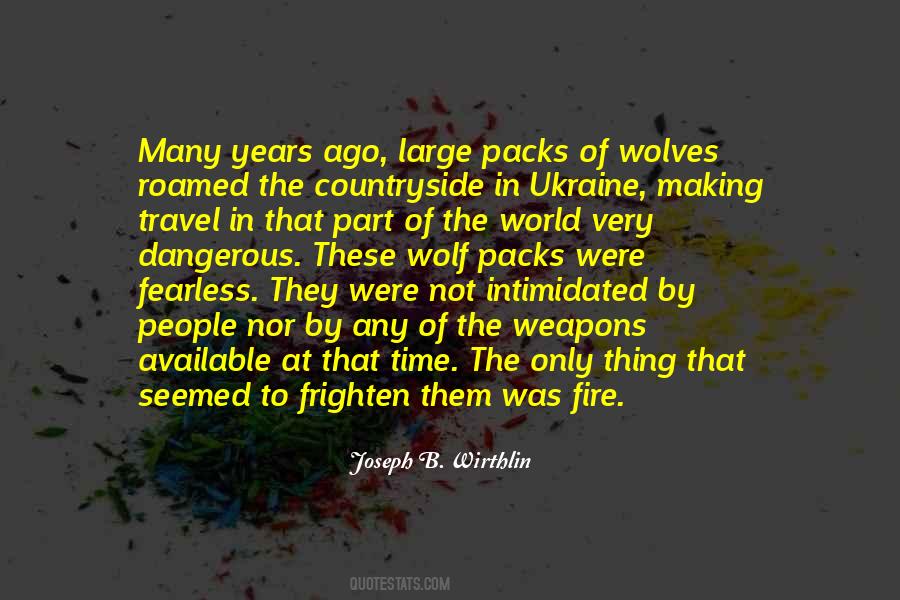 #92. We will never remember anything by sitting in one place waiting for the memories to come back to us of their own accord! Memories are scattered all over the world. We must travel if we want to find them and flush them from their hiding places! - Author: Milan Kundera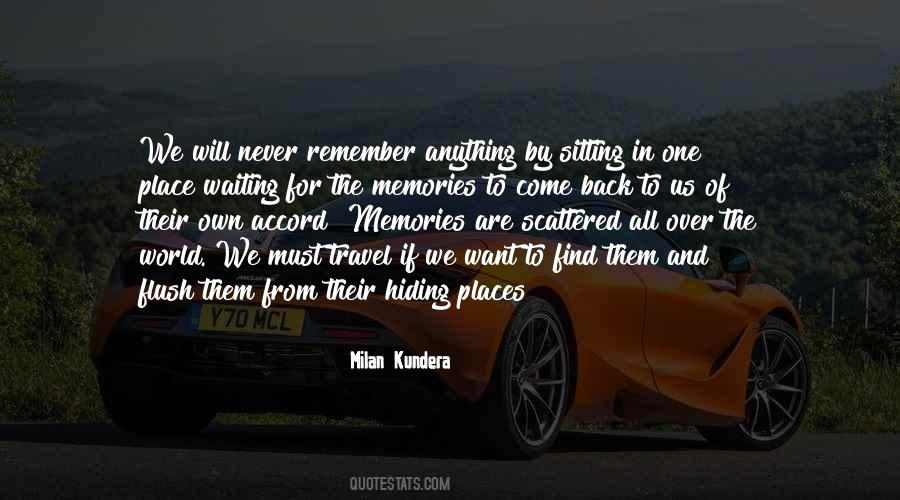 #93. Americans ought to be the best-traveled, most cosmopolitan people on earth, not only because experience of the world is desirable in its own right, but because as a people acquires a great concentration of power, worldliness becomes a moral imperative. - Author: Shana Alexander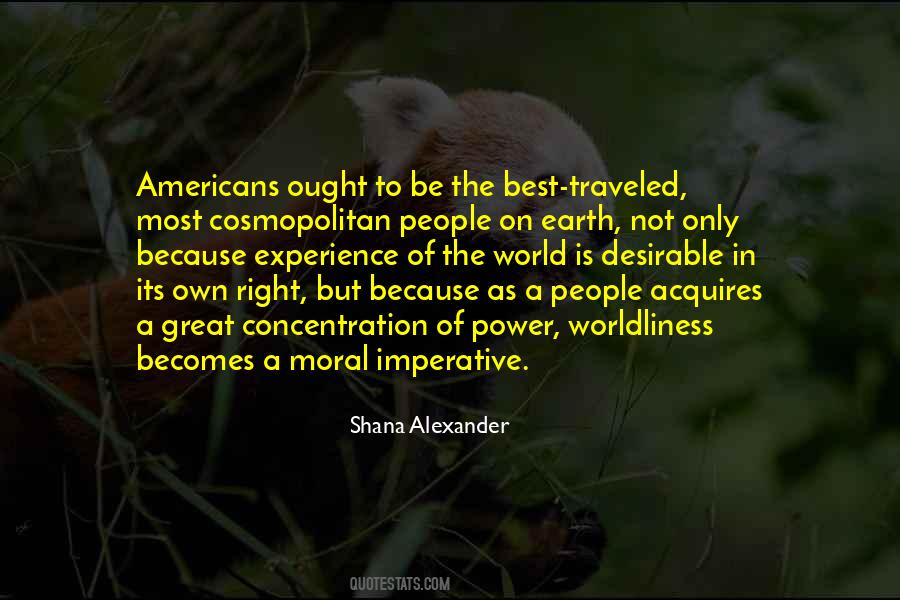 #94. To be able to travel the world, especially to places I never thought I'd be ... it's really, you know, still fascinating for me. - Author: Beyonce Knowles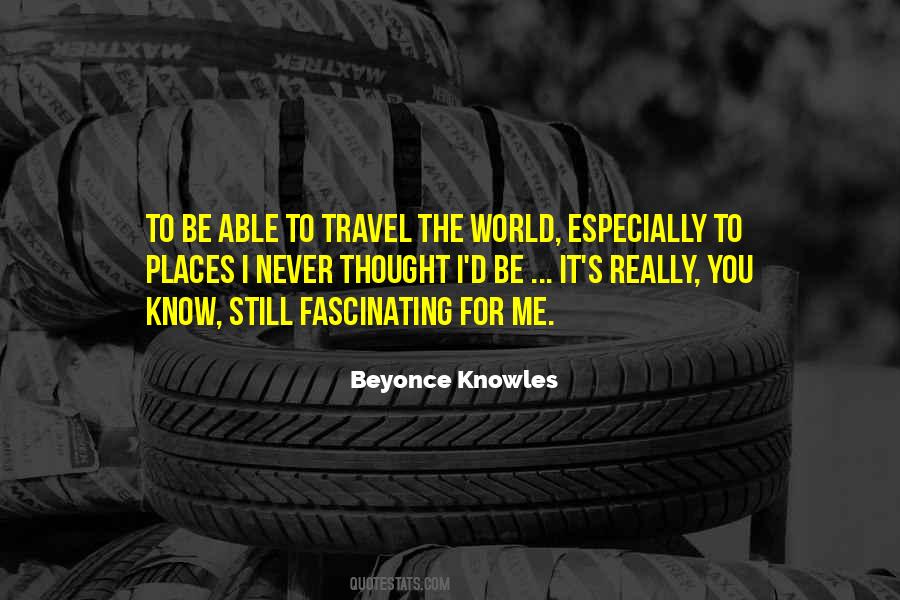 #95. Travel had taught me that the world was something to engage with, not take shelter from. - Author: Josh Lanyon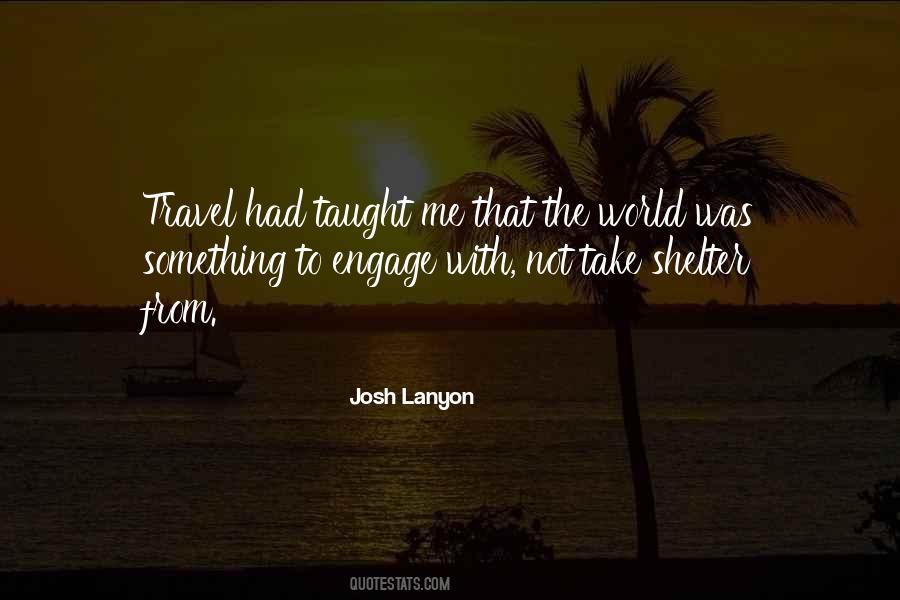 #96. The world is a book, and those who don't travel only read one page. - Author: Augustine Of Hippo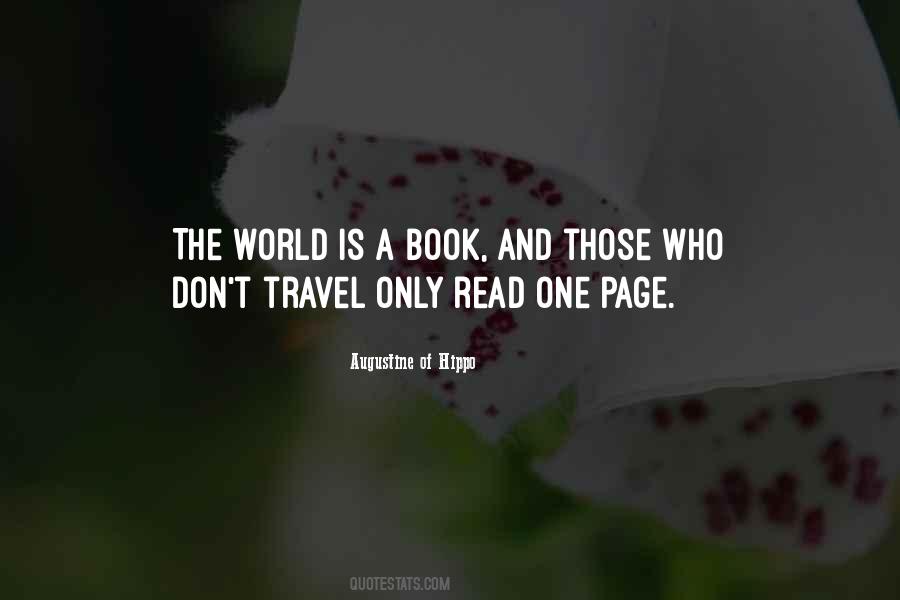 #97. The more you get set into your own world, the smaller your world becomes. - Author: J.R. Rim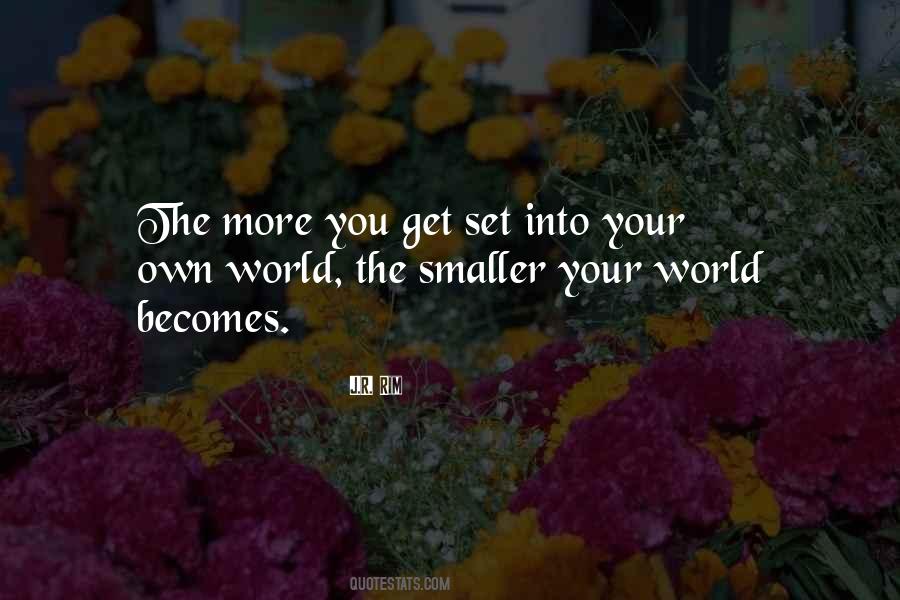 #98. I can travel anywhere in the world and I can pretty much fit in. - Author: Kristin Kreuk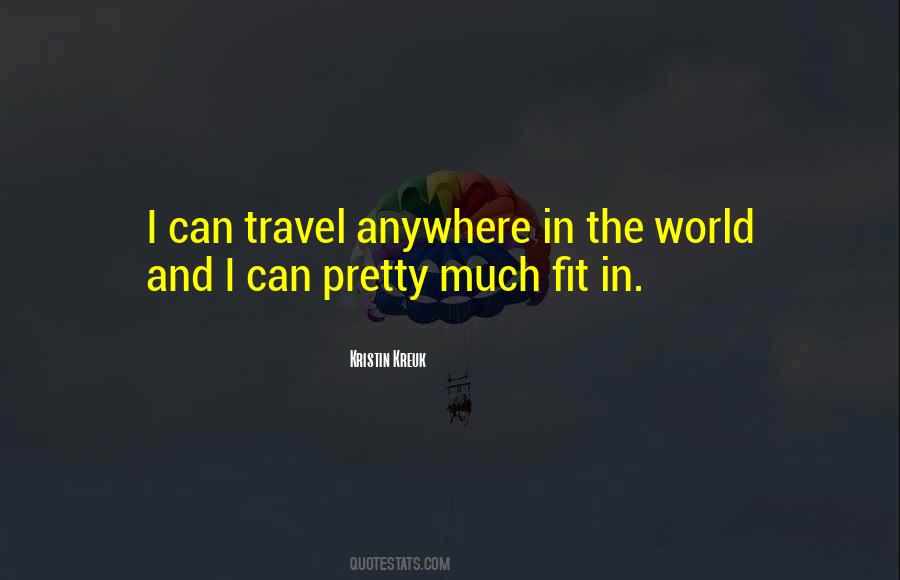 #99. What I enjoy the most about all this is the traveling. I love that my job allows me to travel all over the world. - Author: Jason Mraz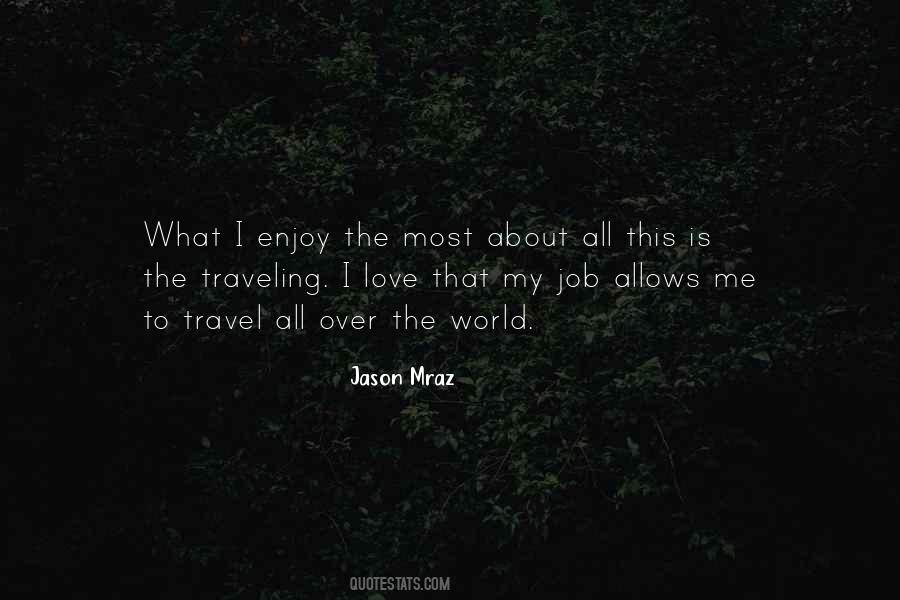 #100. To the lover of wilderness, Alaska is one of the most wonderful countries in the world. - Author: John Muir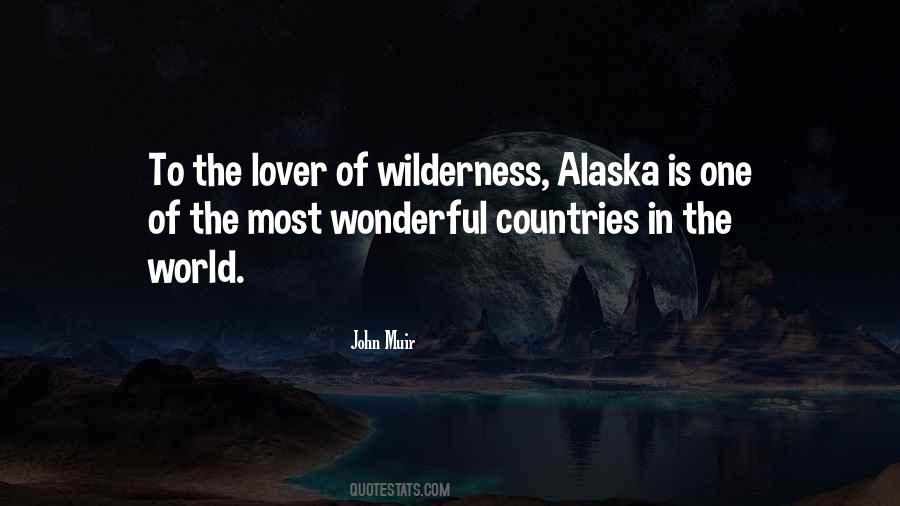 Famous Authors
Popular Topics