Verse In Bible Famous Quotes & Sayings
List of top 54 famous quotes and sayings about verse in bible to read and share with friends on your Facebook, Twitter, blogs.
Top 54 Quotes About Verse In Bible
#1. Now, go, wirte it before them in a table and note it in a book, that it may be fore the time to come for ever and ever. Isiah 30:8 - Author: Isiah From The Bible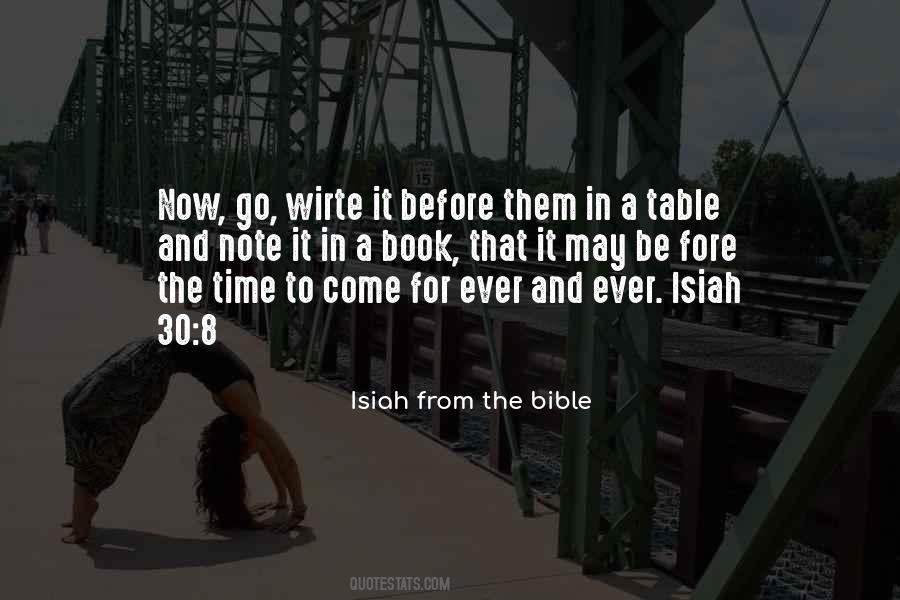 #2. Believe on the Lord Jesus Christ and you will be saved. - Author: Anonymous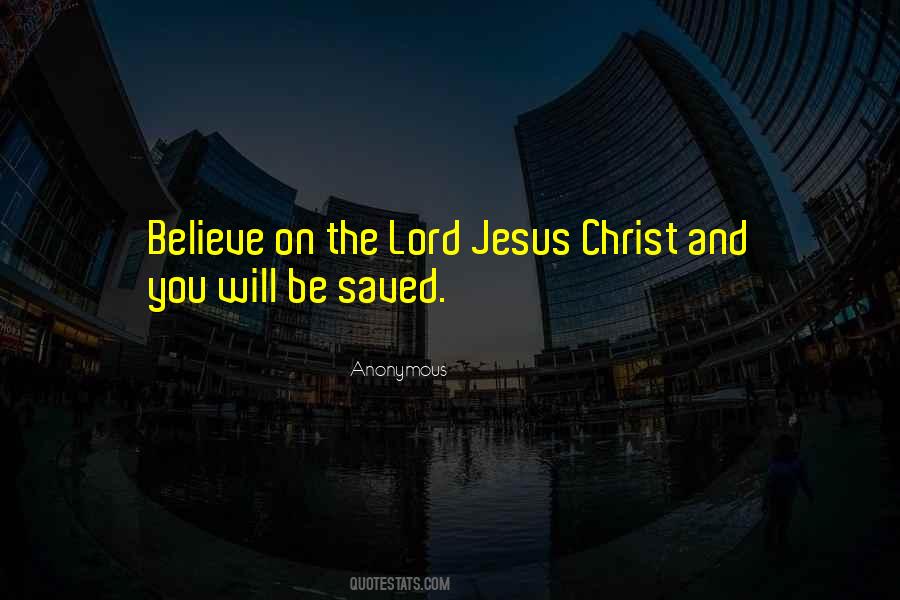 #3. Do not judge, or you too will be judged. For in the same way you judge others, you will be judged, and with the measure you use, it will be measured to you
[Matthew 7:1-2] - Author: Anonymous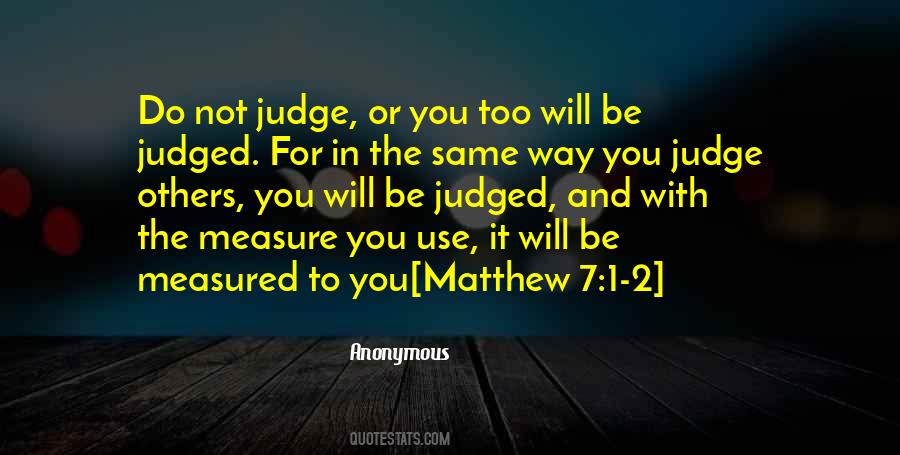 #4. I was very rebellious, but my family was strict Christians - they would ask us, "What's the shortest verse in the Bible?" and I was the one who always said "John 11:35" straightaway. It stayed with me, the Bible has stayed with me. - Author: Benjamin Clementine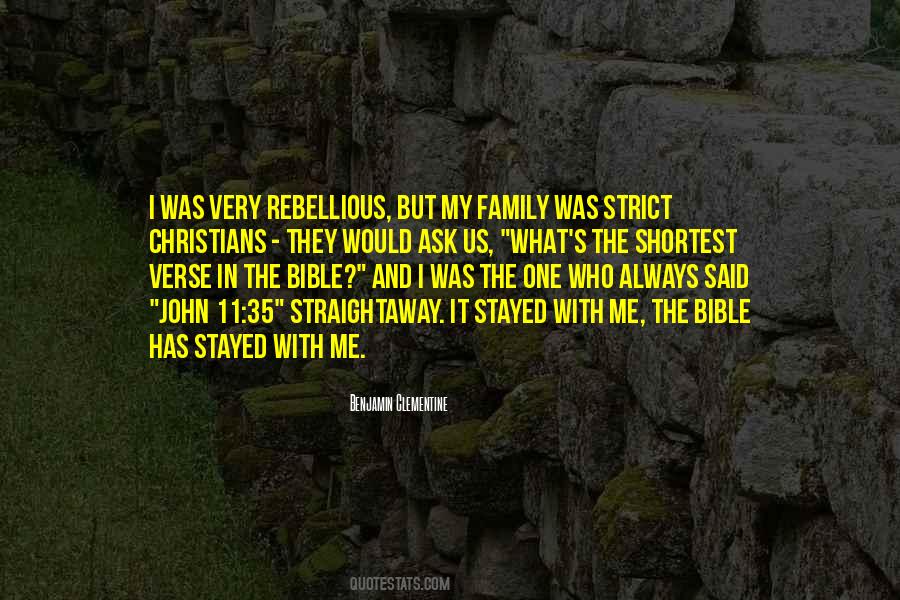 #5. There's a verse in the Bible says, 'In everything give thanks, for this is the will of God in Christ Jesus concerning you.' And what brings me peace is the scripture. - Author: Tammy Faye Bakker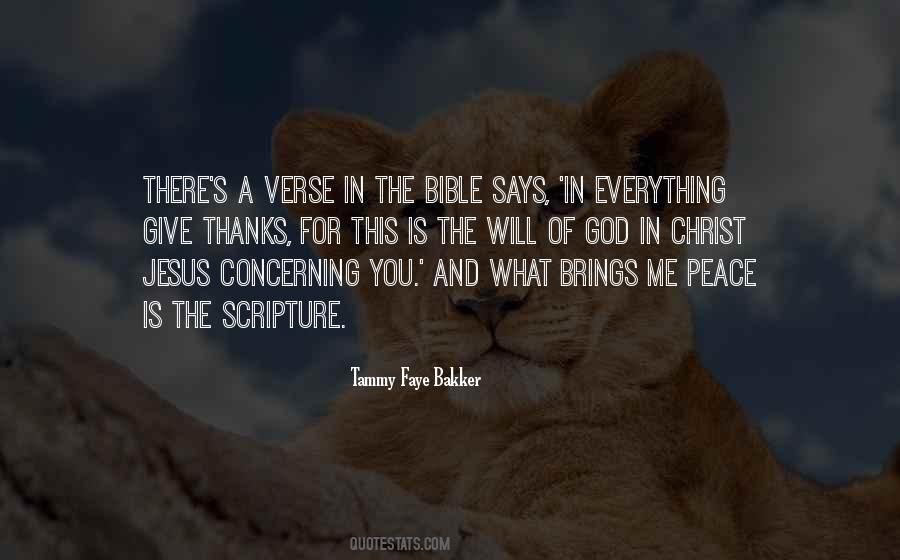 #6. Faith greatly shaped America's role in the world. We are a country that embodies the Bible verse from Luke chapter 12, verse 48 "From everyone who has been given much, much will be demanded." - Author: Marco Rubio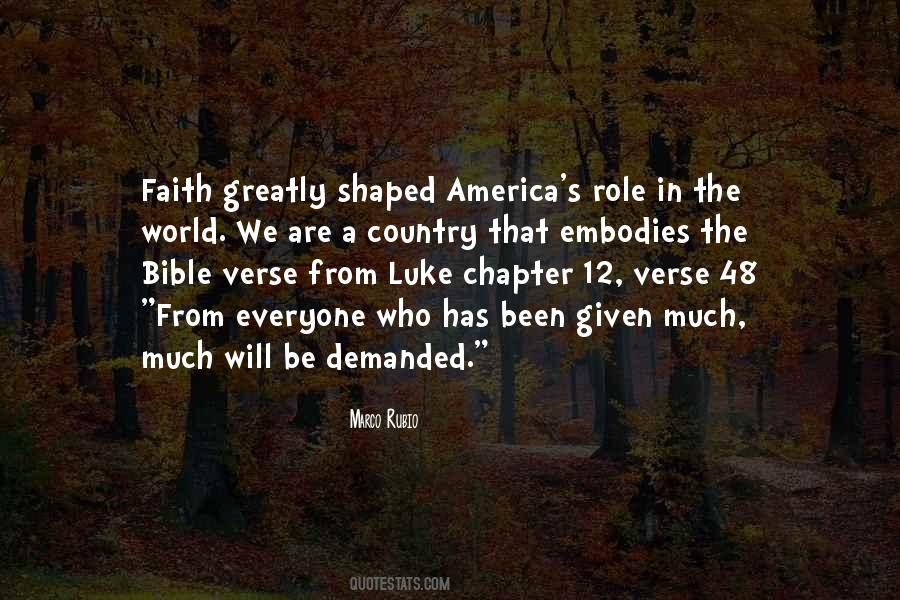 #7. Guys that preach verse-by-verse through books of the Bible - that is just cheating. It's cheating because that would be easy, first of all. That isn't how you grow people. No one in the Scripture modeled that. - Author: Andy Stanley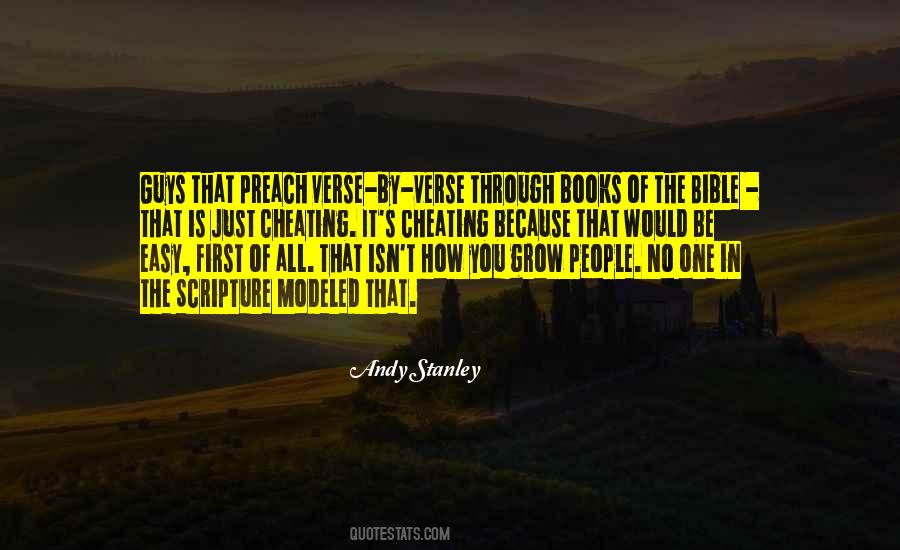 #8. I suffer not a woman to teach, nor to usurp authority over the man, but to be in silence Was there ever a more galling verse in the Bible? - Author: Sue Monk Kidd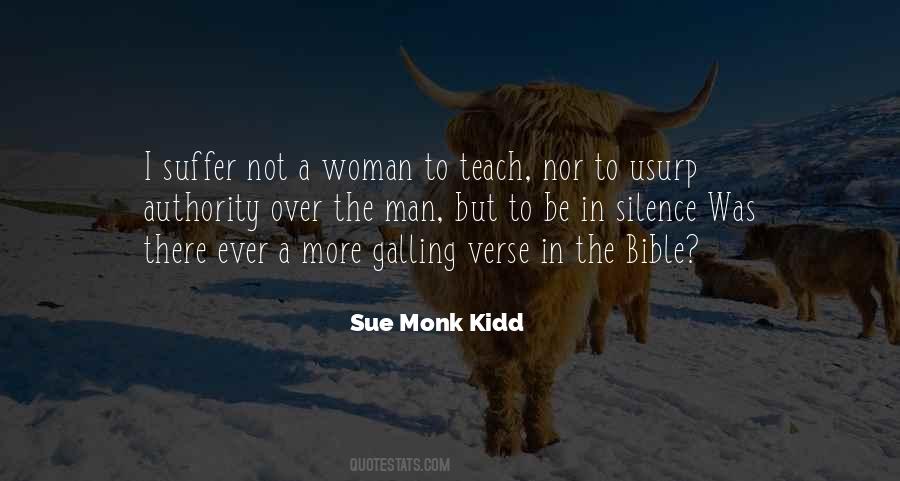 #9. Love knows no limit to its endurance, no end to its trust, no fading of its hope; it can outlast anything. Love never fails.
[1 Cor. 13:7 - 8] - Author: Anonymous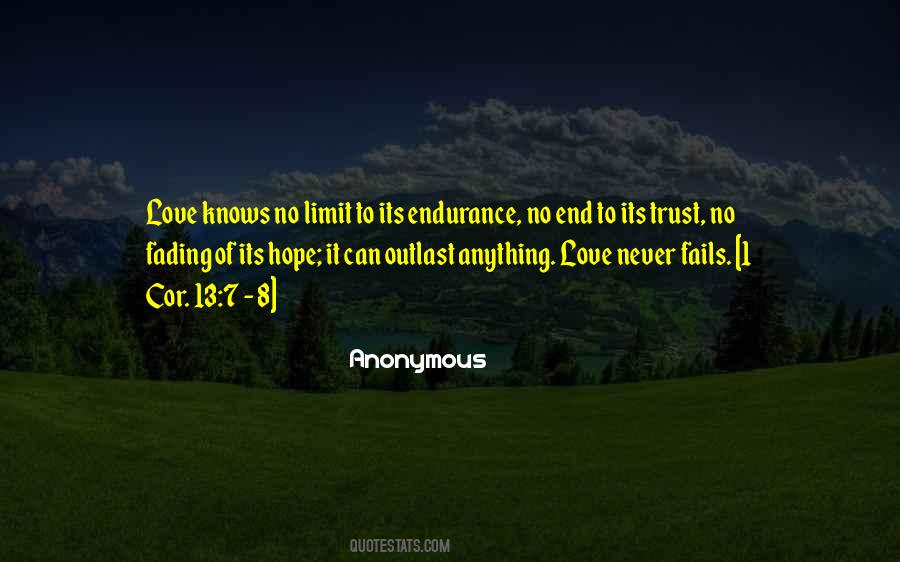 #10. Did you notice the phrase by his power in that last Bible verse? This is what makes The Daniel Plan different from other approaches. It is built on trusting in God's power to help you change, not merely your own willpower. - Author: Rick Warren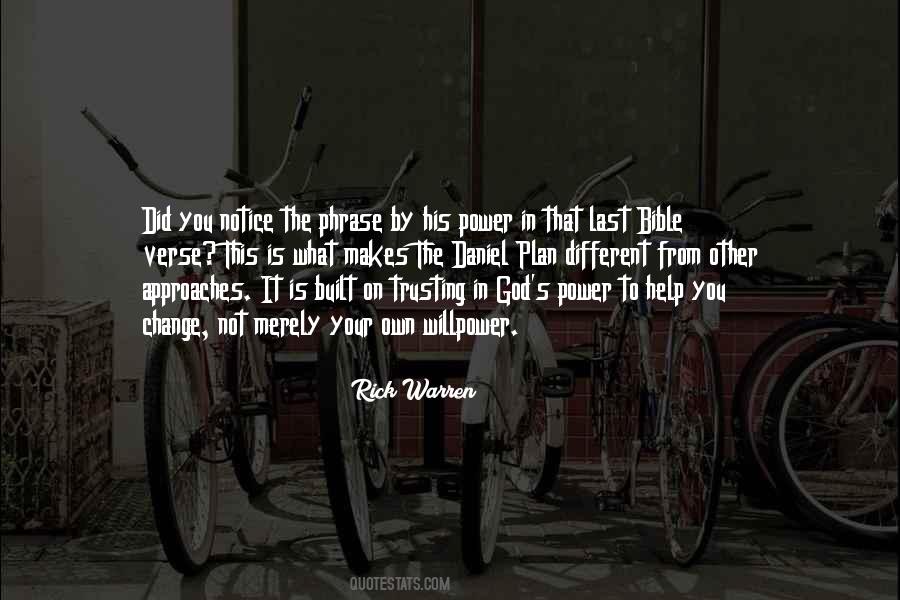 #11. Is there a Bible chapter, I wonder? Futilities, verse four, paragraph two?'
'There will be.'
'And will I write it?'
'I have faith in you, Father!'
'Reverend!' he cried.
'Reverend,' I said. - Author: Ray Bradbury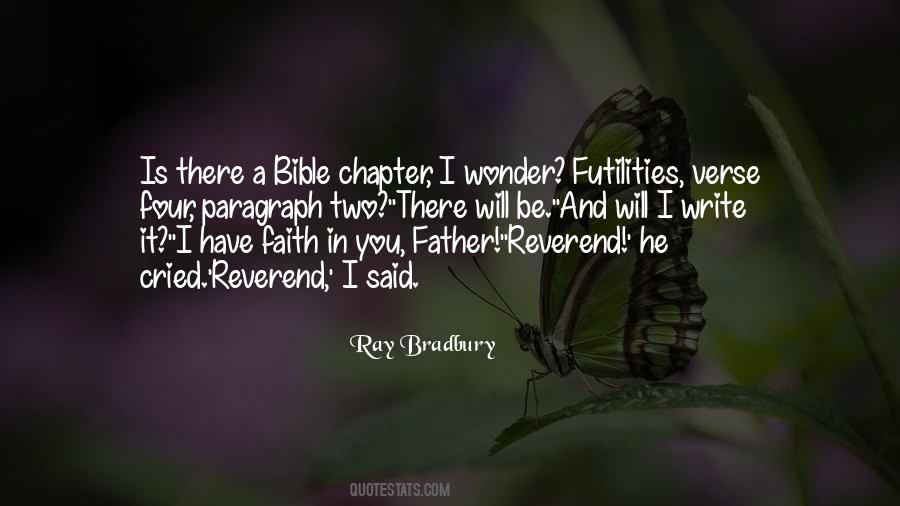 #12. Blessed are those who mourn, for they will be comforted.
[Matt 5:4] - Author: Anonymous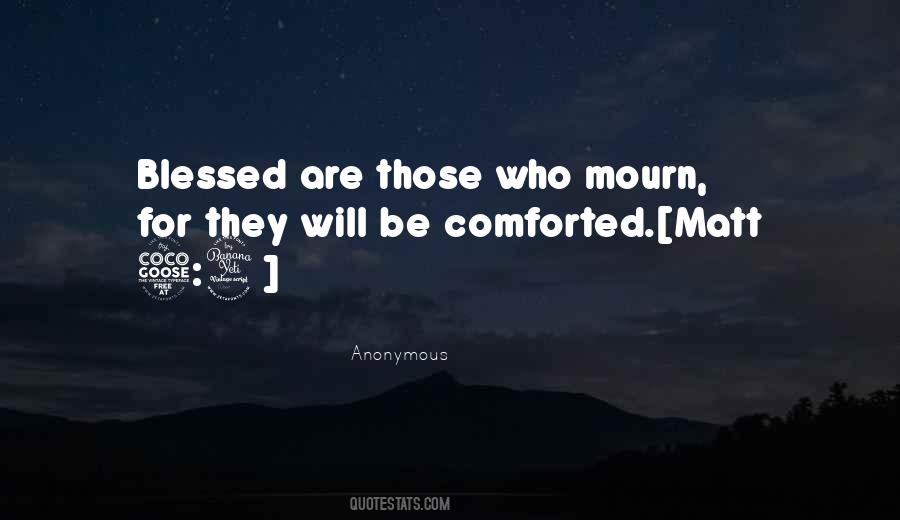 #13. I will now teach my son Increase (and others of my children) the way of raising a lesson out of every verse in his reading of the Bible; and of turning it into a Prayer; and engage him (and them) unto a daily Course in reading the Bible in such a way - Author: Cotton Mather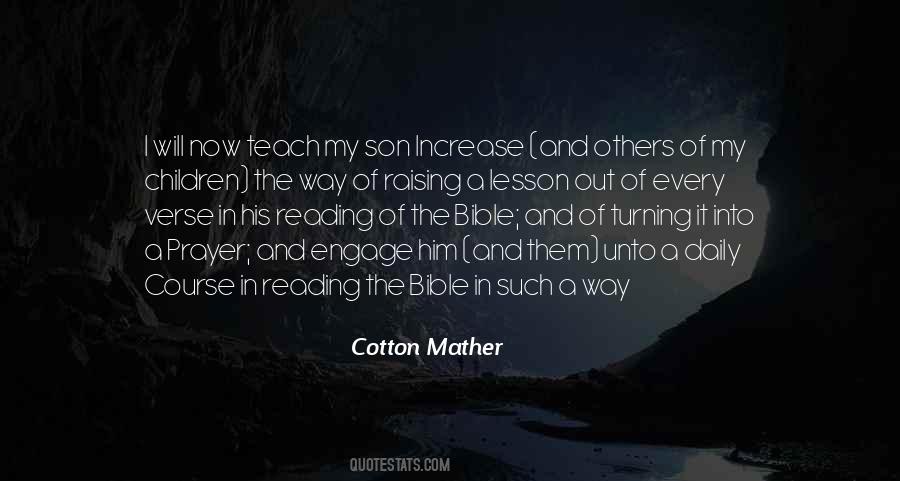 #14. The scripture that God used to save me was Isaiah 7.14, which today is still my favourite verse in the Bible. - Author: Gloria Gaynor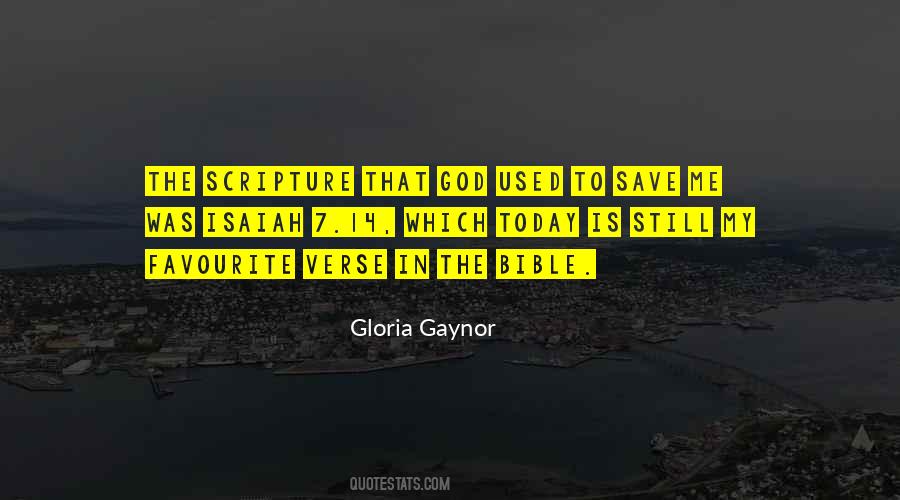 #15. The real Stephen Colbert is a practicing Catholic. He teaches Sunday school. He can recite chapter and verse of chapter and verse - from both the King James Bible and 'The Lord of the Rings.' - Author: Kevin Bleyer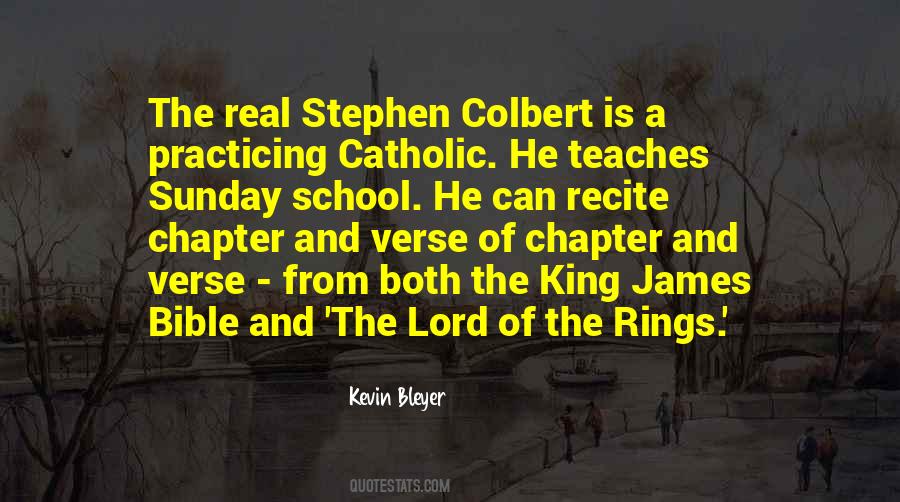 #16. I'm not looking for Bible verses to back up a lifestyle of passiveness. I'm looking for Bible verses and life experiences to teach me to live more radically for Christ. - Author: Mike Bickle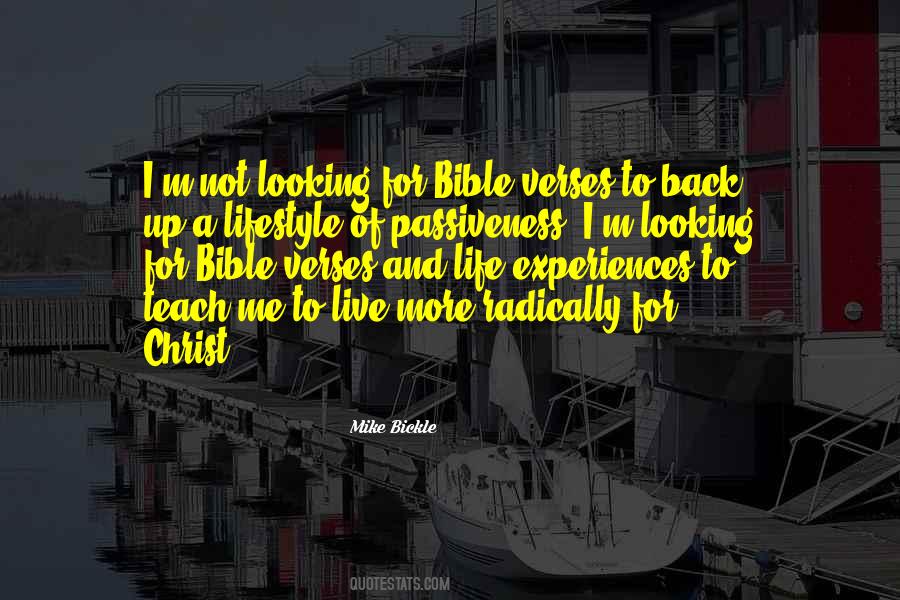 #17. You therefore must endure hardship as a good soldier of Jesus Christ. - Author: Anonymous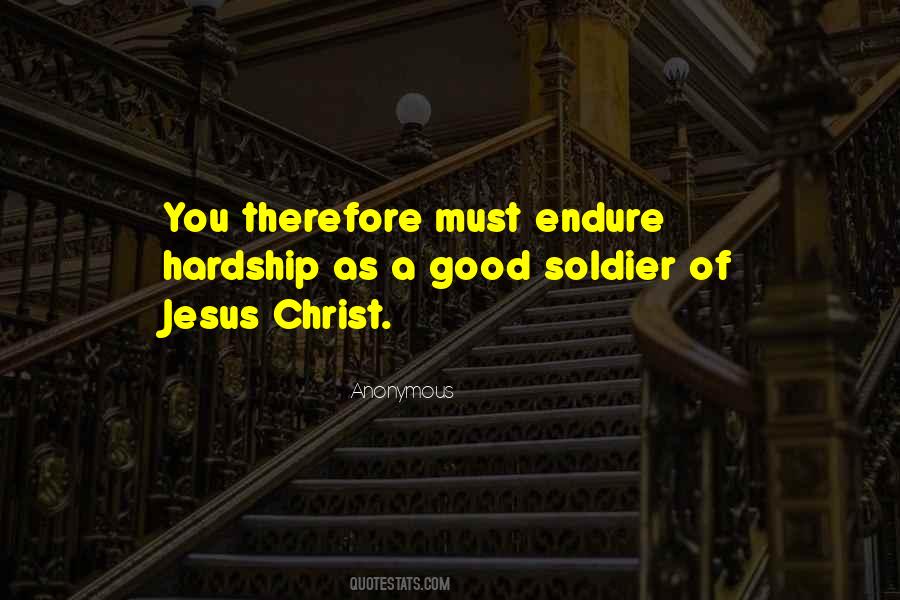 #18. I don't claim to be someone that knows every verse in the Bible. I wish I did. I truly do. It just means I need to spend more time in those pages. - Author: Elisabeth Hasselbeck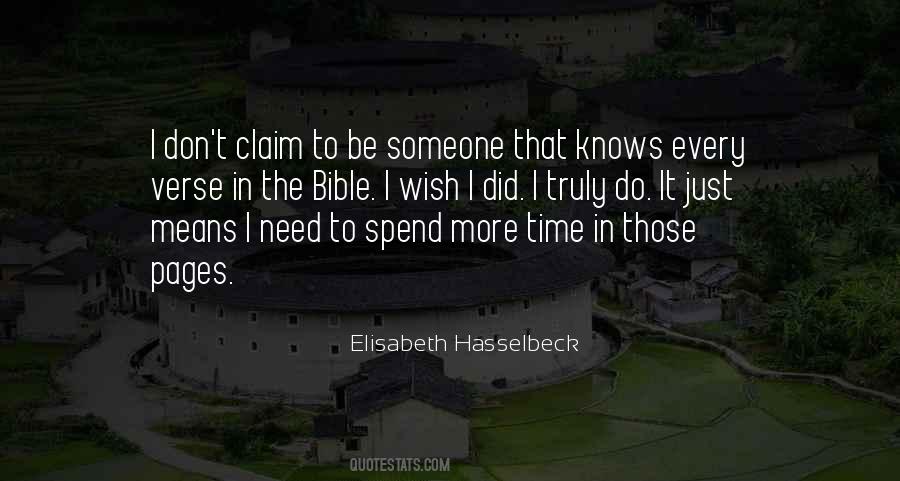 #19. I think it's a sin to take a Bible verse out of context. It's like you're twisting the message. - Author: Tijan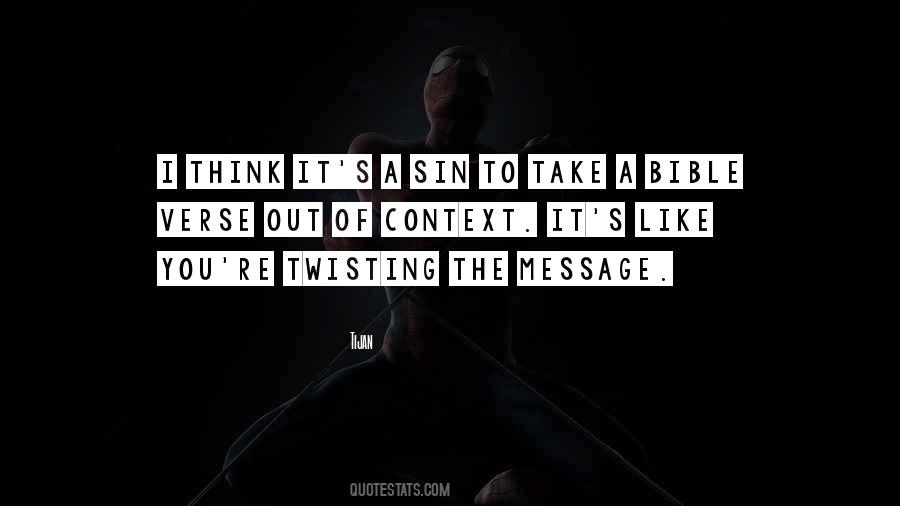 #20. Hold material goods and wealth on a flat palm and not in a clenched fist. - Author: Alistair Begg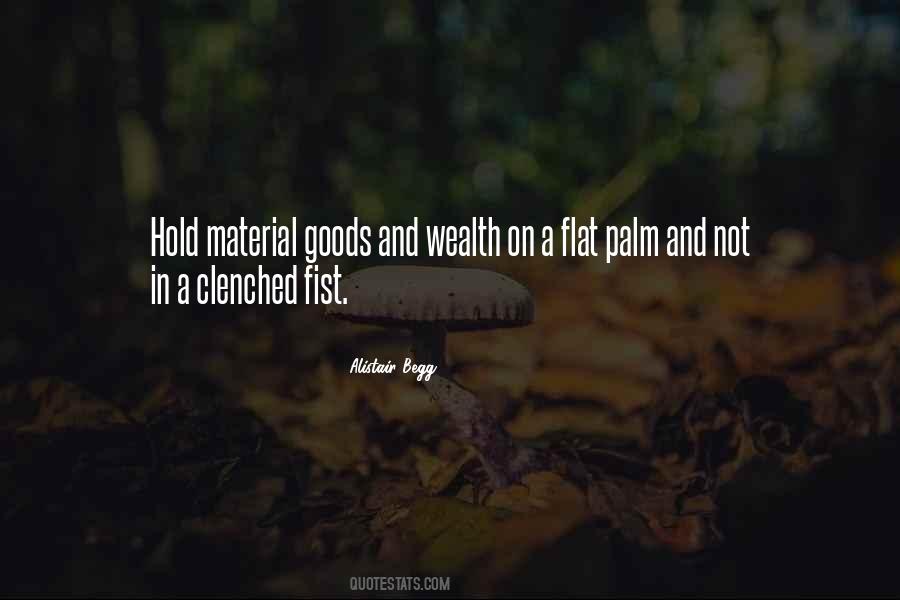 #21. It represents a Bible verse I wear on my shoe. Philippians 4:13. It says 'I can do all things through Christ who strengthens me.' It's also my mantra, how I get up for games and why I play the way I do. - Author: Stephen Curry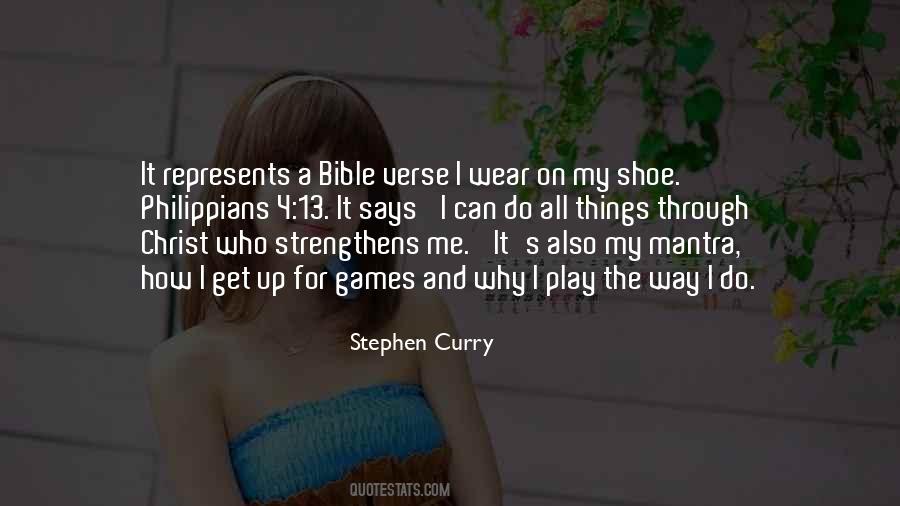 #22. The shark had never begged Jonah in order to get him swallowed; Jonah's own actions took him into the shark's belly! Failure may not chase after you, but when you miss your way, you will rather go chasing failure! - Author: Israelmore Ayivor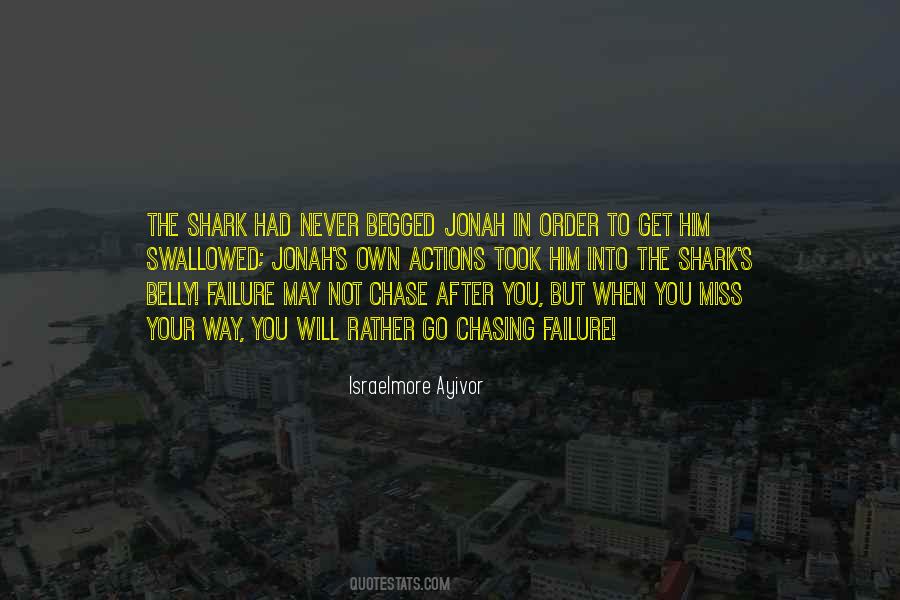 #23. he told me I wasn't crazy and gave me a Bible verse."
I smile at her. "You'll always be my Crazy Girl. What Bible verse?"
"Second Corinthians chapter four, verses sixteen to twenty. Do you know it? - Author: Nancee Cain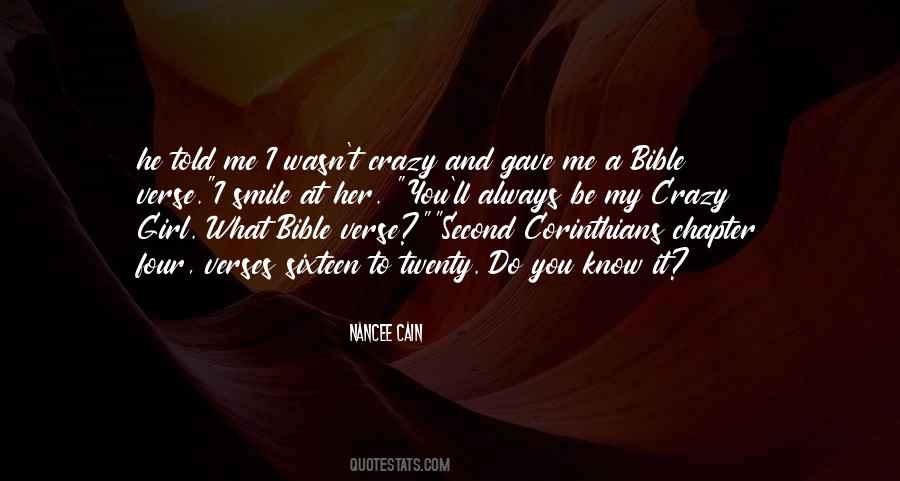 #24. Verse after verse follows, her voice rising to a crescendo and then falling, only to rise again with a new passage, each echoing the same refrain. I never realized how many verses of the Bible boil down to, I tried to tell you idiots, but no - you wouldn't listen. - Author: Rysa Walker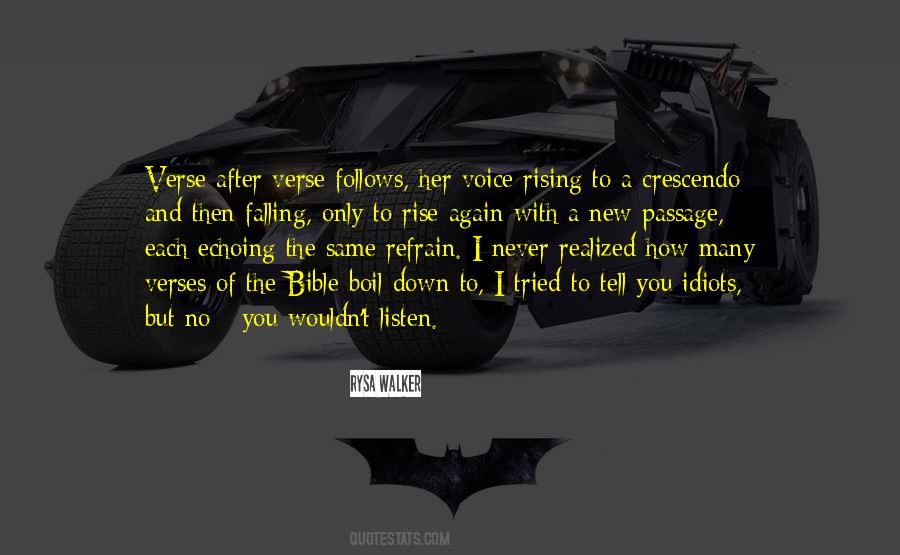 #25. he guessed they all knew what he'd done and counted him foolish for blatantly going against their boss. Well, he reasoned as he dropped his jacket over the high back of his chair, there was a Bible verse about the world's wisdom being foolish in the sight of God. - Author: Kim Vogel Sawyer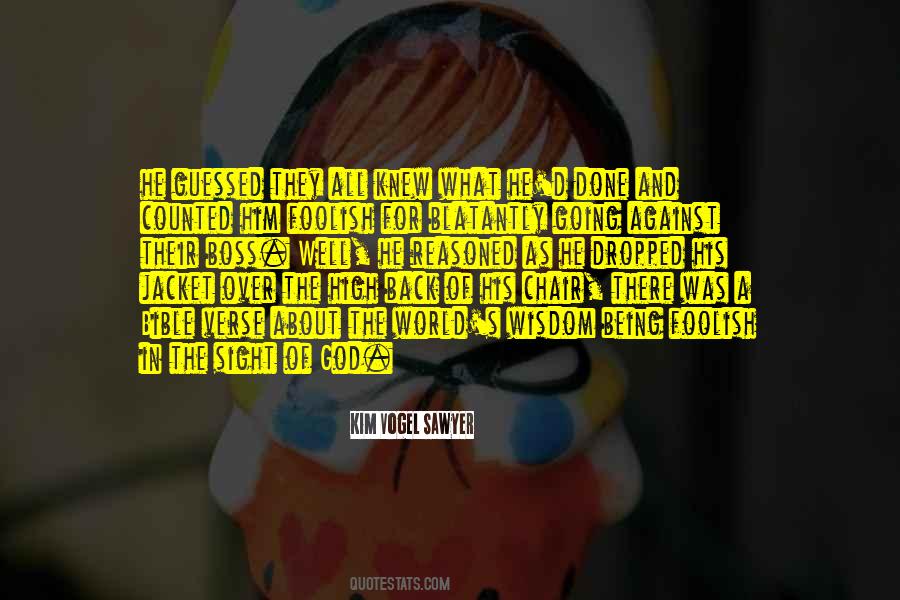 #26. The truth is, it doesn't matter what a verse means to me, to you, or to anyone else. All that matters is what the verse means! - Author: John F. MacArthur Jr.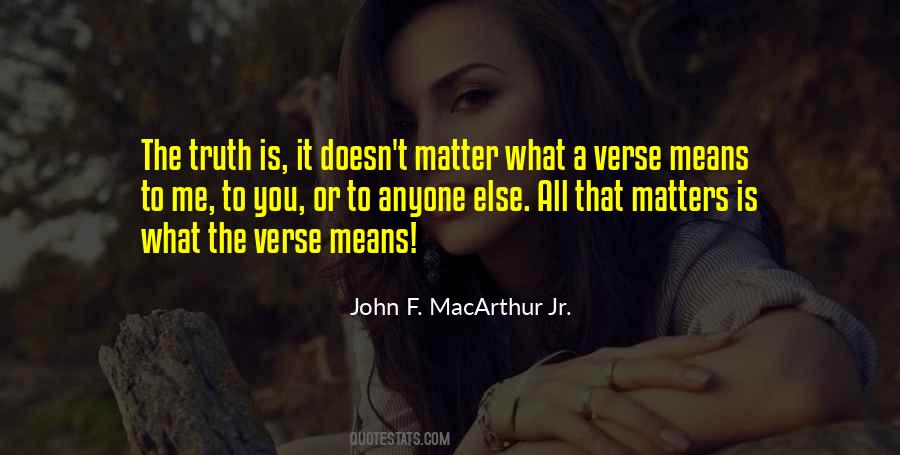 #27. You can throw the whole weight of your anxieties upon him, for you are his personal concern. - Author: J.B. Phillips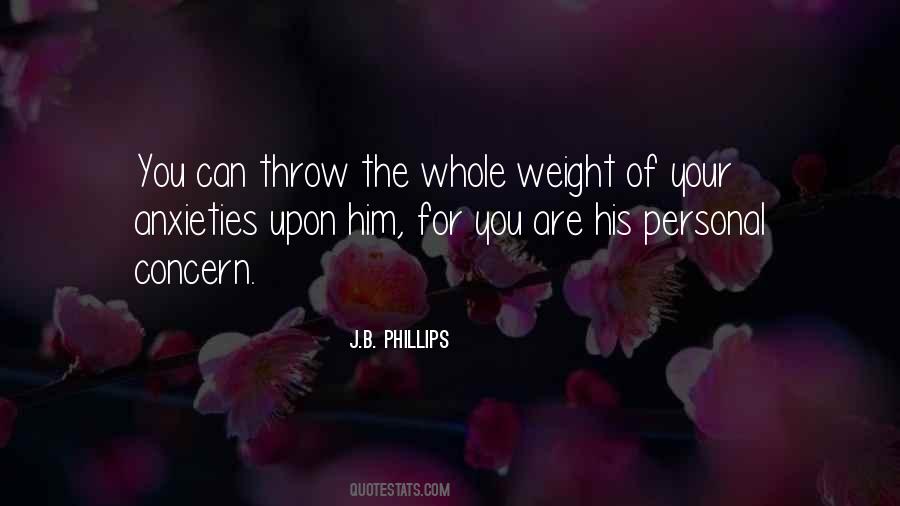 #28. God is gracious to always give a warning before He sends judgment. - Author: Jim George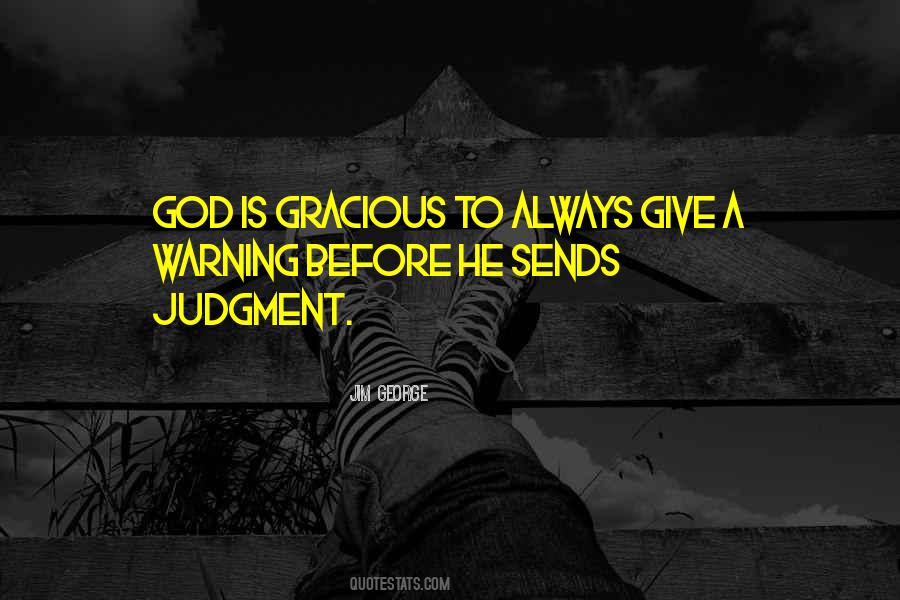 #29. We must be those who build on the rock-solid foundation of mind-engaging process, rather than on the shifting sands of 'what this verse means to me' subjectivity. - Author: Jen Wilkin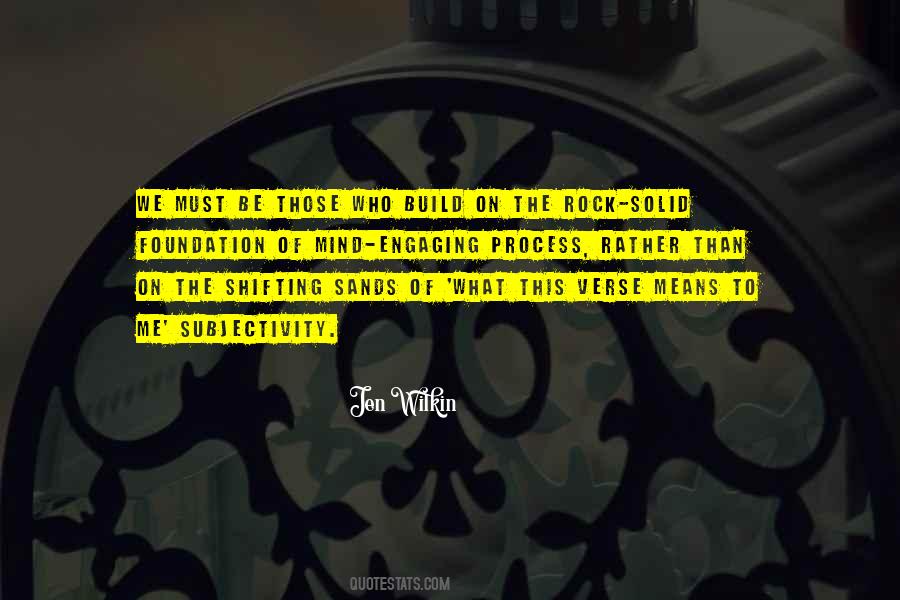 #30. As the last enemy, death is to be brought to nothing. - Author: Watch Tower Bible And Tract Society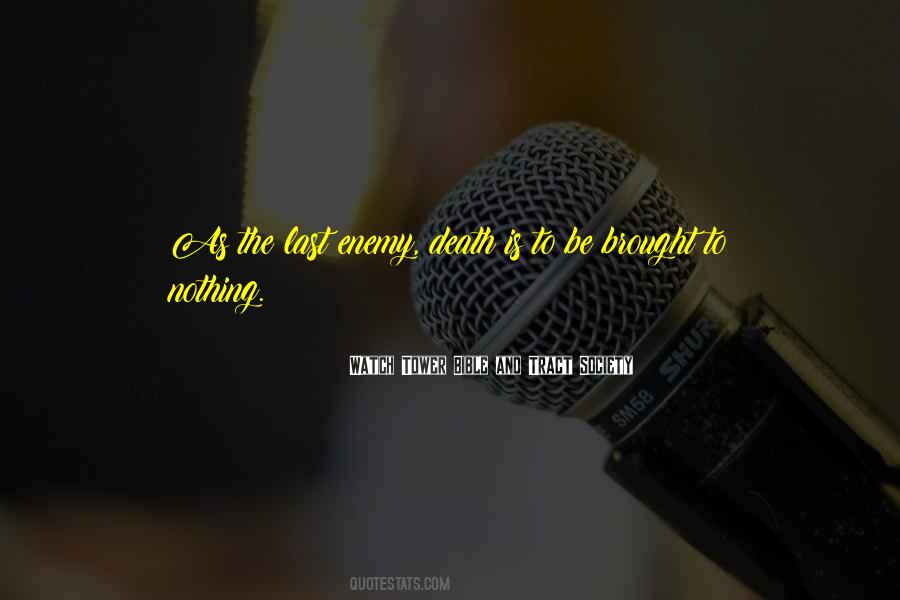 #31. But the truth is, I can't sip from an hour-long church service on Sunday morning or dash off a hasty prayer or gulp down a daily Bible verse and expect them to sustain me any more than I can expect a glass of water to last for a week. - Author: Lynn Austin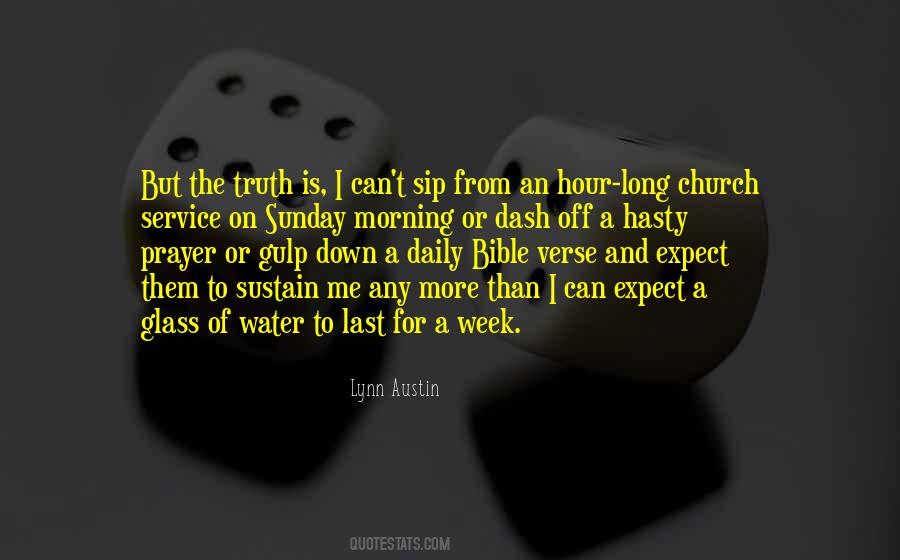 #32. Each heart knows its own bitterness and no one else can share its joy. - Author: Anonymous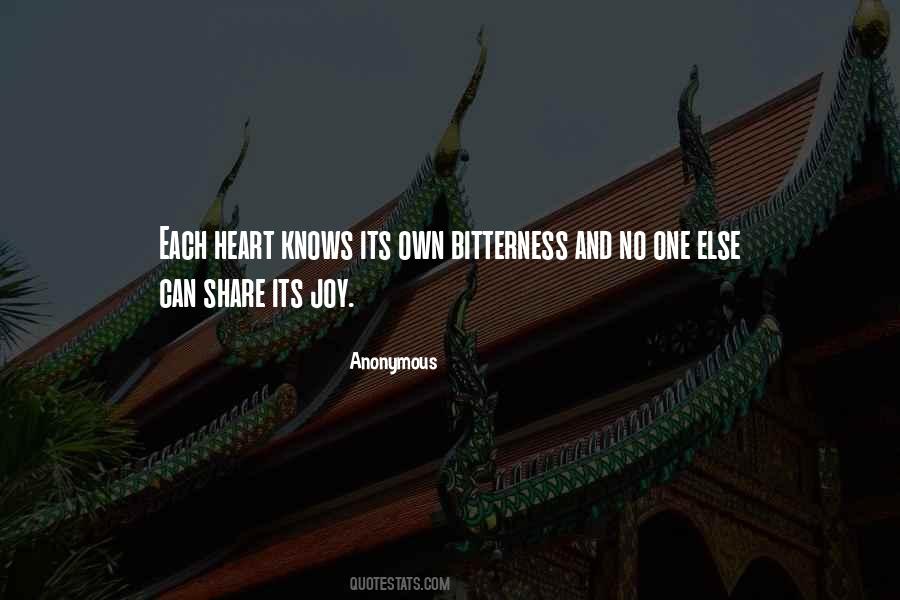 #33. I rejoice at Your word as one who finds great treasure!
[Psalm 119:162] - Author: Anonymous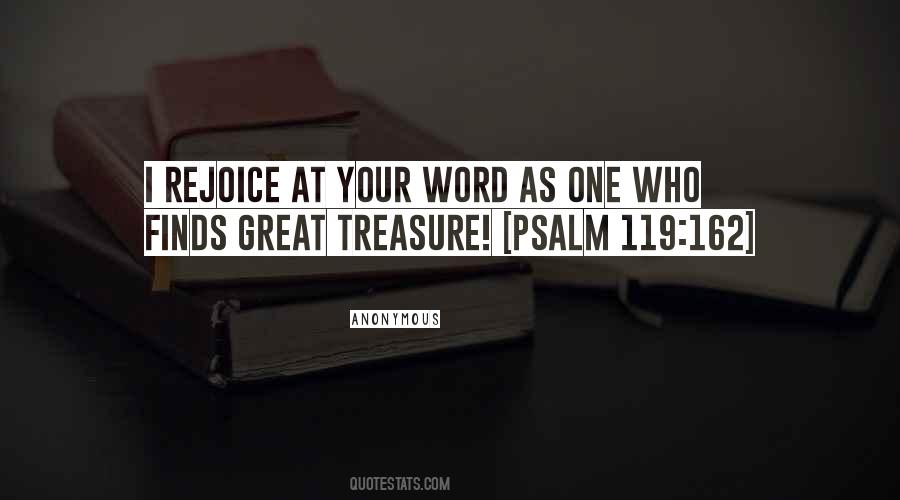 #34. When thou passest through the waters, I will be with thee; and through the rivers, they shall not overflow thee: when thou walkest through the fire, thou shalt not be burned; neither shall the flame kindle upon thee.
[Isaiah 43:2] - Author: Anonymous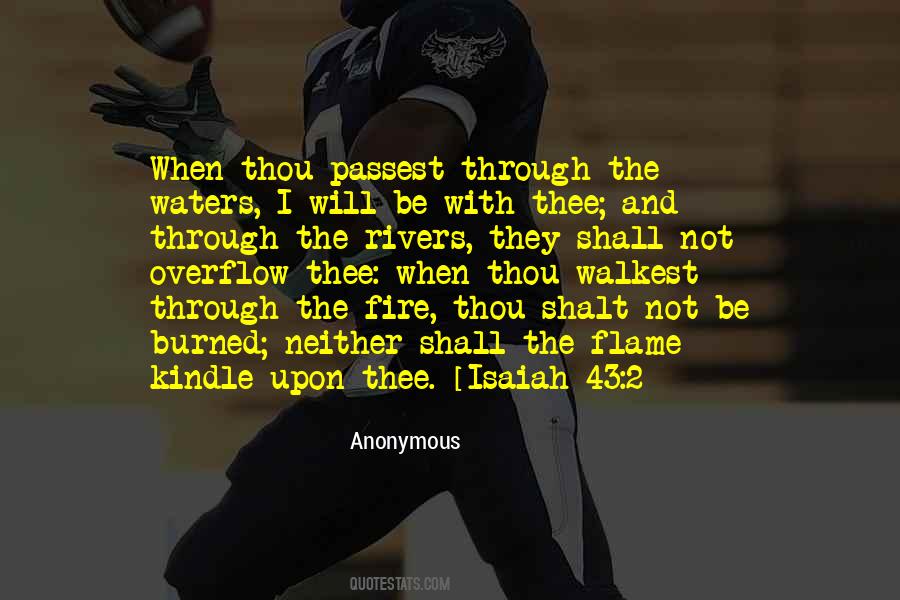 #35. A verse came to mind, one that has comforted Kari before. It was the shortest verse in the Bible: Jesus wept. If he cried over Jerusalem, if he cried over the death of Lazarus, surely he was crying now over the death of her dreams, the death of her marriage. - Author: Karen Kingsbury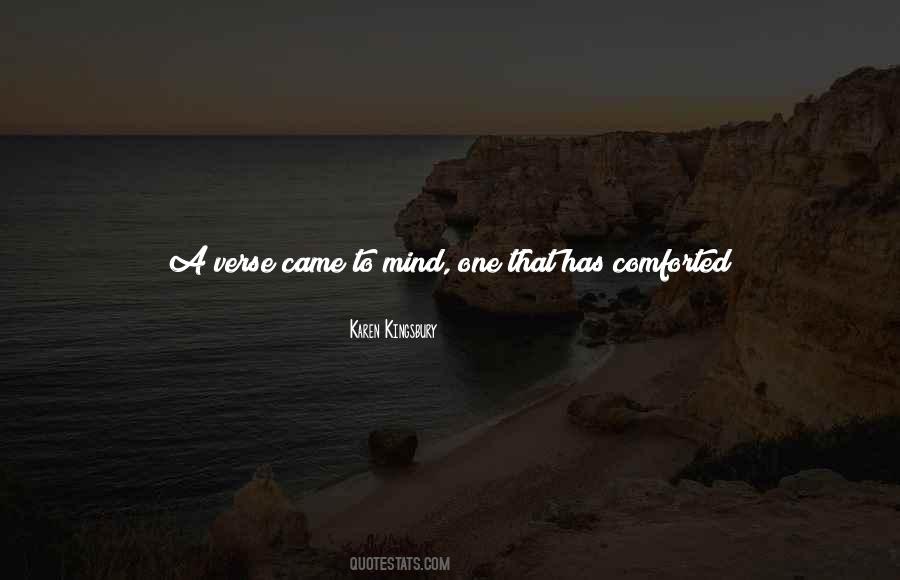 #36. Every good & perfect gift is from above, coming down from the Father of the Heavenly Lights. - Author: Anonymous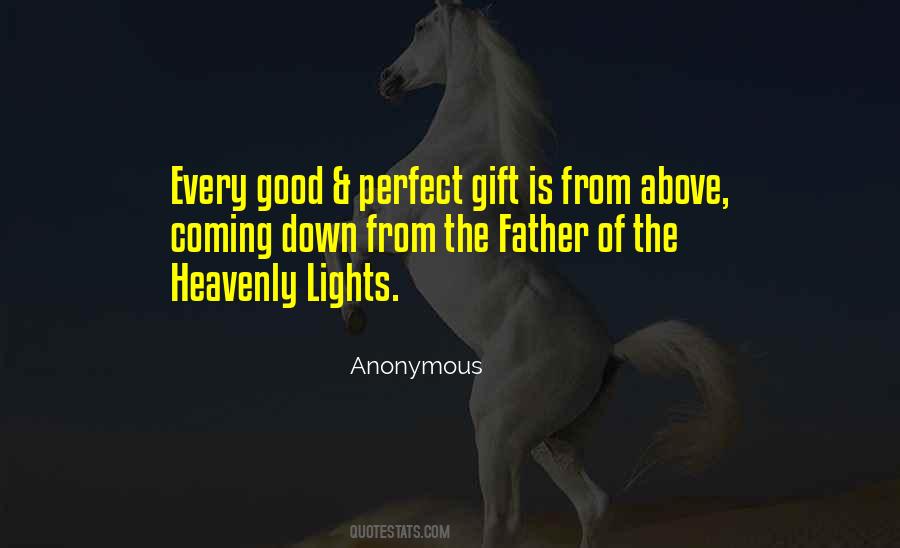 #37. The shortest verse in the Bible is 'Jesus wept.' The only thing wrong with it is the past tense. - Author: R. K. Milholland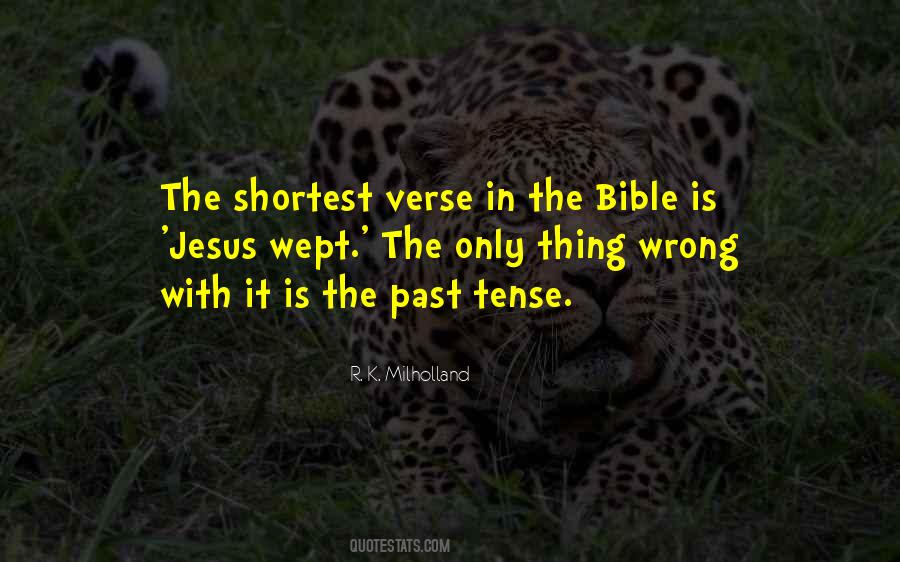 #38. Where in the Bible are we told in one verse not to do a thing and in the next to do it?

'Answer not a fool according to his folly, lest thou also be like unto him.' Prov. xxvi. 4.

'Answer a fool according to his folly, lest he be wise in his own conceit.' Prov. xxvi. 5. - Author: Samuel Grant Oliphant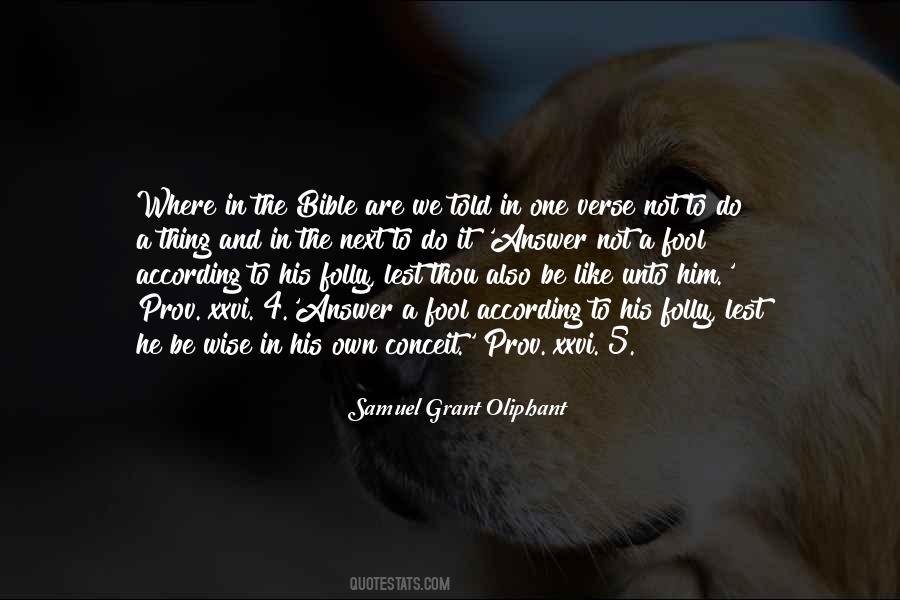 #39. God will bring into judgment
both the righteous and the wicked,
for there will be a time for every activity,
a time to judge every deed.
~Ecclesiastes 3:17 - Author: Jessica Fortunato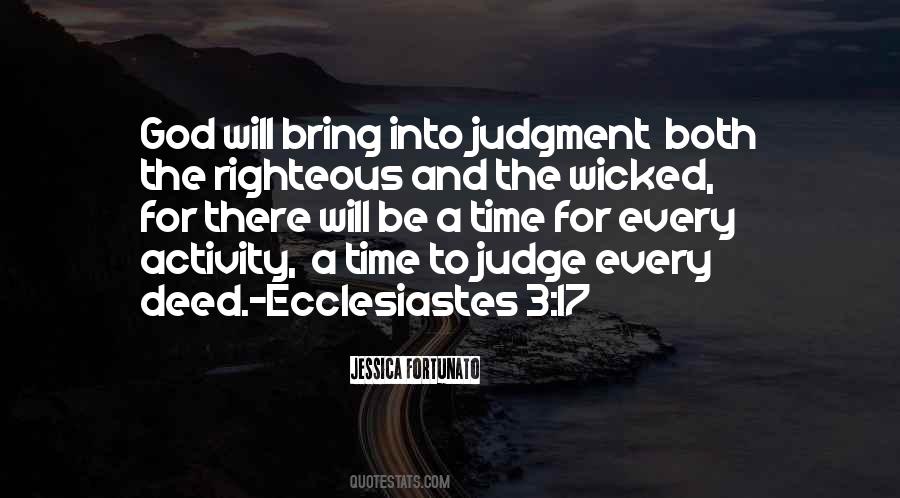 #40. Here's a teacher who's talking about Jesus and, oh no, she quotes a bible verse, horror of horrors. The world's breaking and torched and completely messed up, but God forbid some teacher mentions Jesus. - Author: Travis Thrasher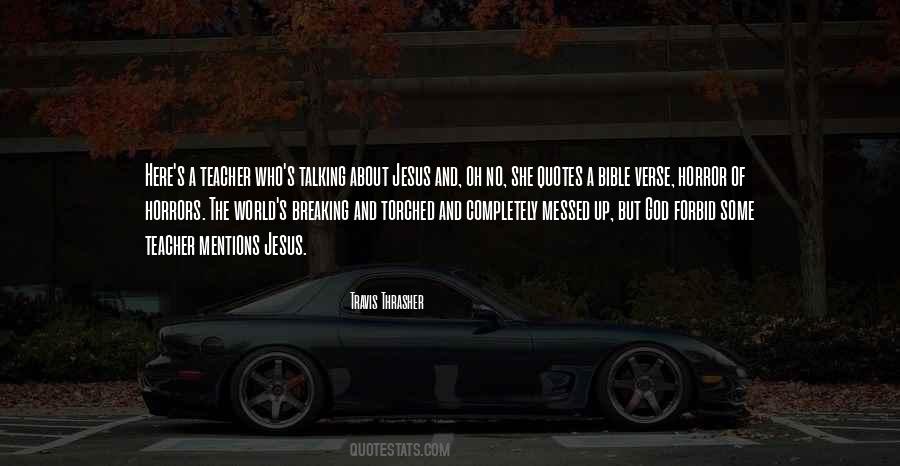 #41. God planted the seeds of all the trees," continued Hetty, after a moment's pause, "and you see to what a height and shade they have grown! So it is with the Bible. You may read a verse this year, and forget it, and it will come back to you a year hence, when you least expect to remember it. - Author: James Fenimore Cooper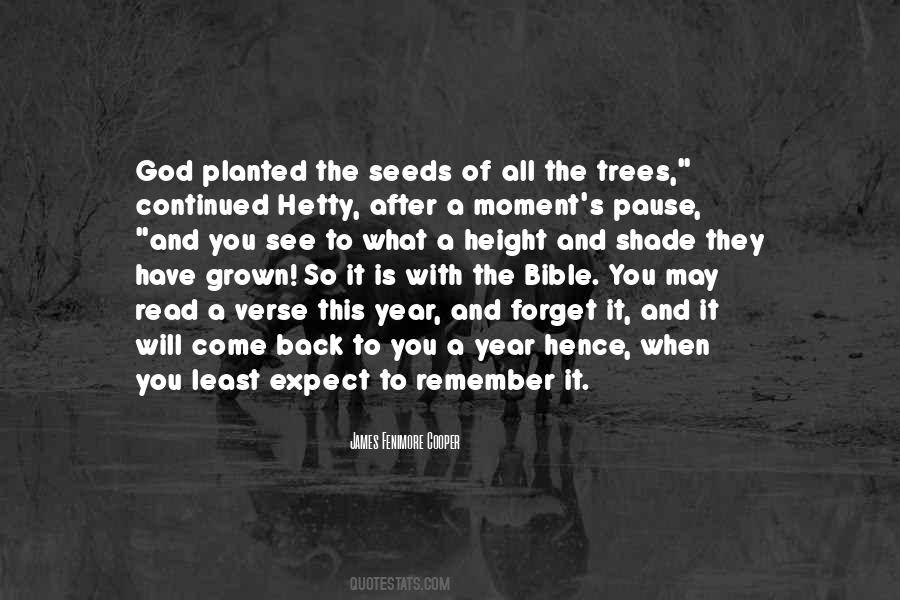 #42. Do not fear, for I am with you - Isaiah 41:10 - Author: Anonymous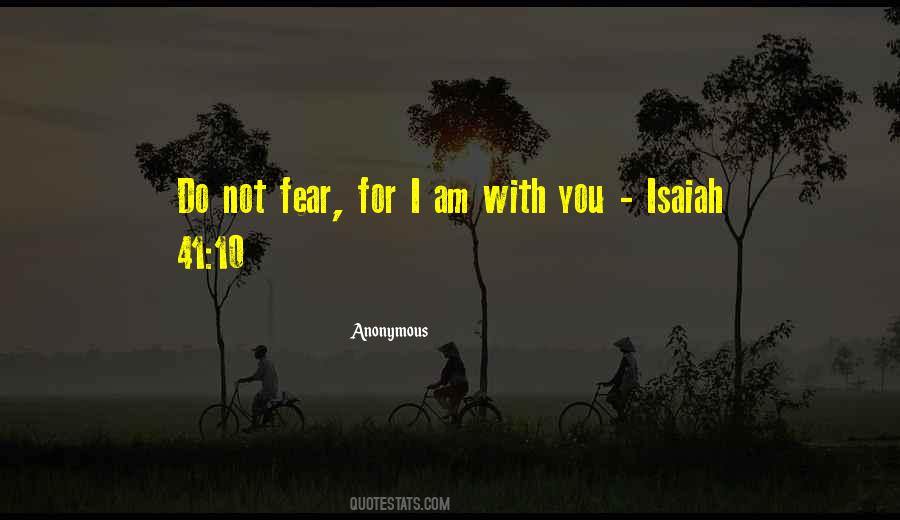 #43. If there is any verse that you would like left out of the Bible, that is the verse that ought to stick to you, like a blister, until you really attend to its teaching. - Author: Charles Spurgeon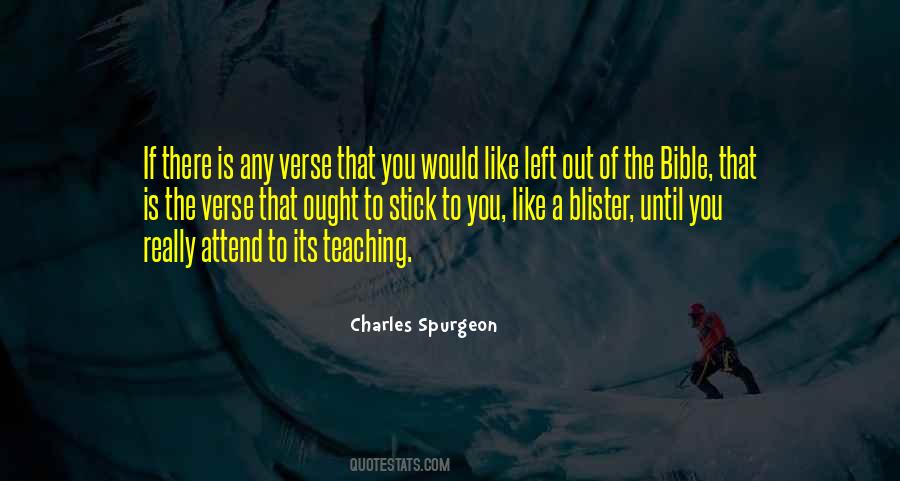 #44. I love to read books. I love to read anything really, even the back of the cereal box.

But there is nothing that will ignite your soul like reading God's Word. - Author: Rachel Wojnarowski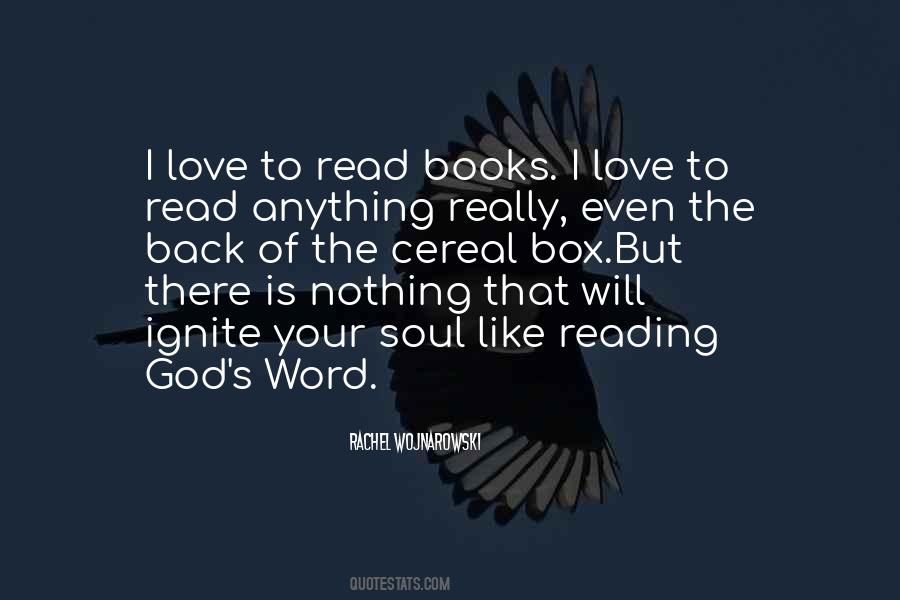 #45. There's a verse in the Bible: 'Those who are barren have more children than those who give birth.' There are young people all over the world who come to me for advice and love. I have all the children I can handle. - Author: Ginger Rogers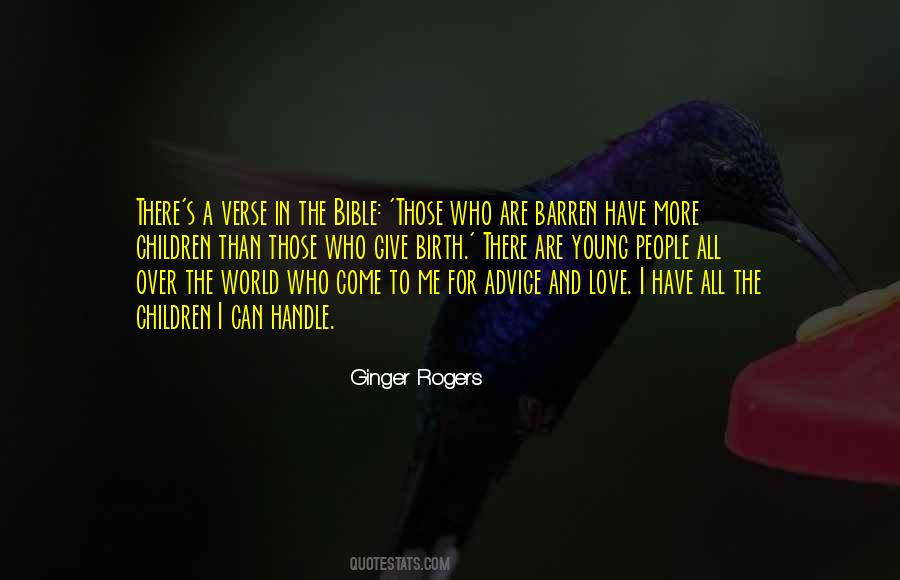 #46. Don't call what isn't prophecy "prophecy." Don't say "the Lord told me" if you're not about to quote a Bible verse. - Author: Dan Phillips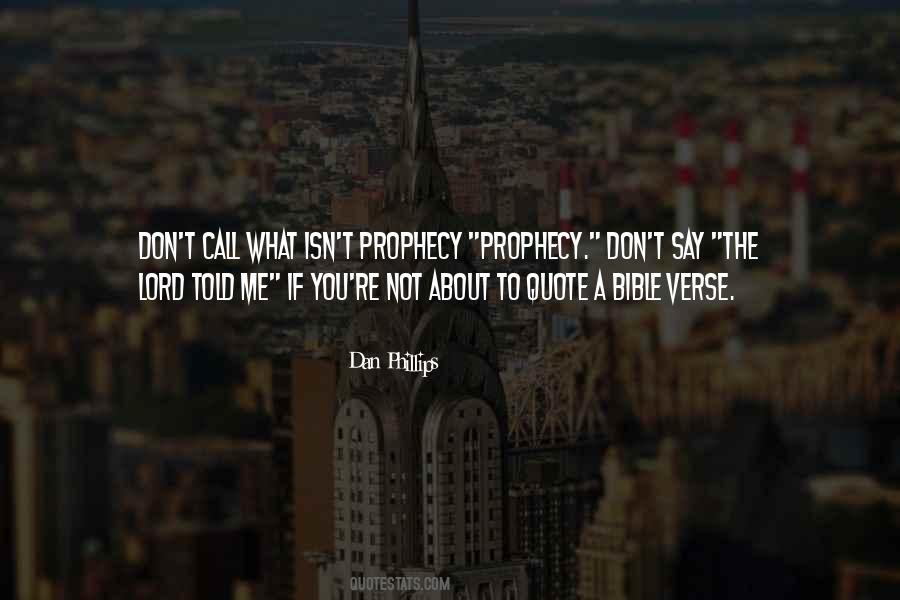 #47. Jesus said to him, 'I am the way, the truth, and the life. No one comes to the Father except through Me. - Author: Anonymous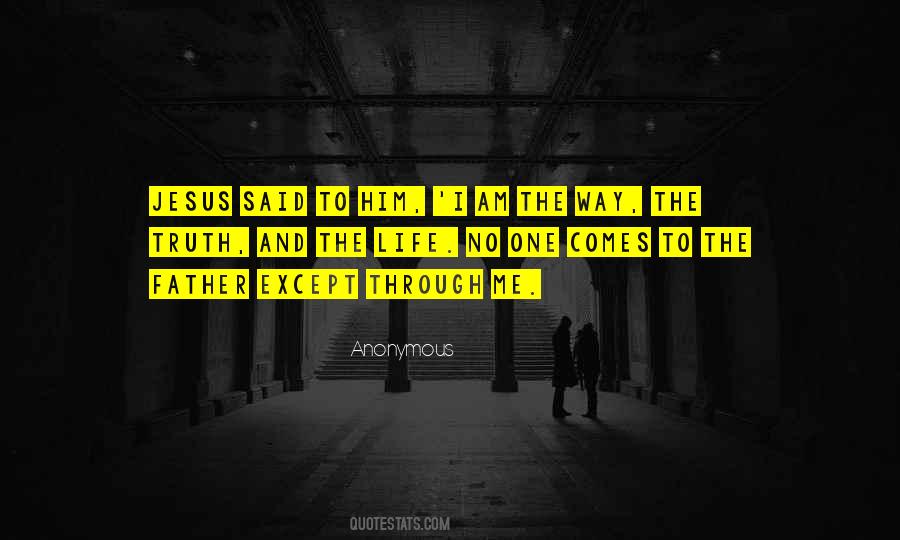 #48. Jesus, remember me when you come into your kingdom,' the good thief said from his cross. (Luke 23:42). There are perhaps no more human words in all of Scripture, no prayer we can pray so well. - Author: Frederick Buechner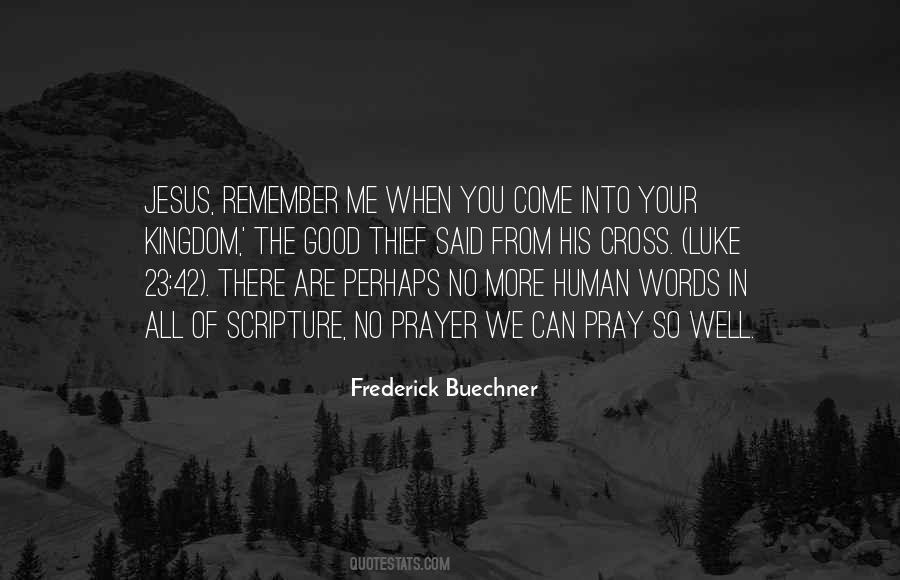 #49. Verse by verse, the Bible becomes more than theory. It becomes my firsthand experience. - Author: Mark Batterson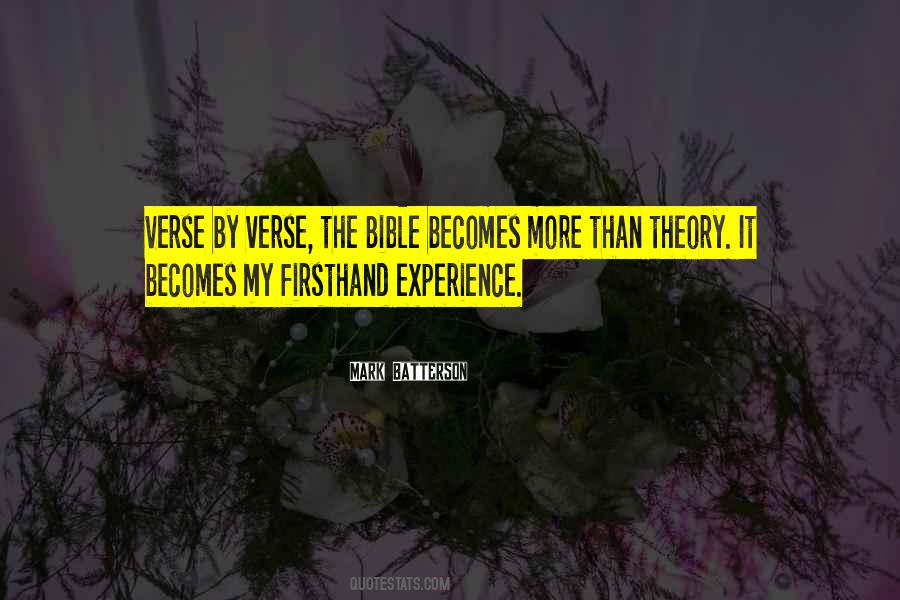 #50. God is love, and he who abides in love abides in God, and God in him. - Author: Anonymous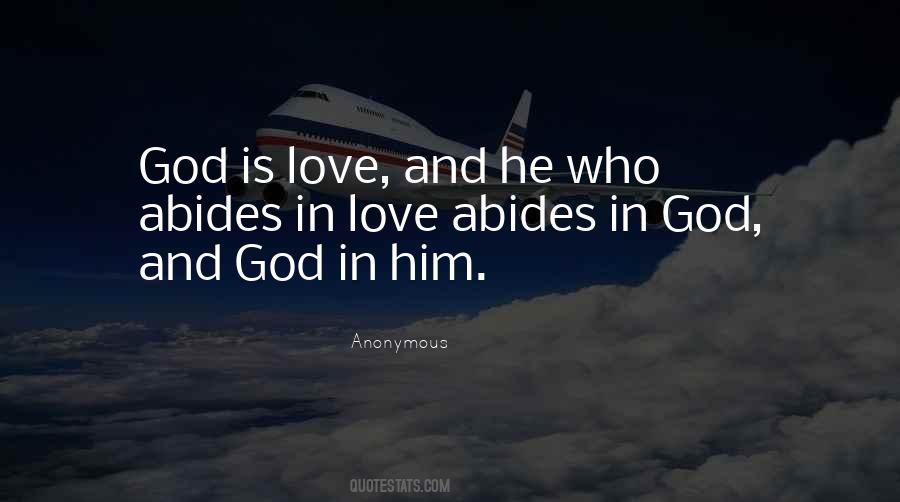 #51. There is an appointed time for everything. And there is a time for every event under heaven. Eccl 3:1 - Author: Bible. New International Version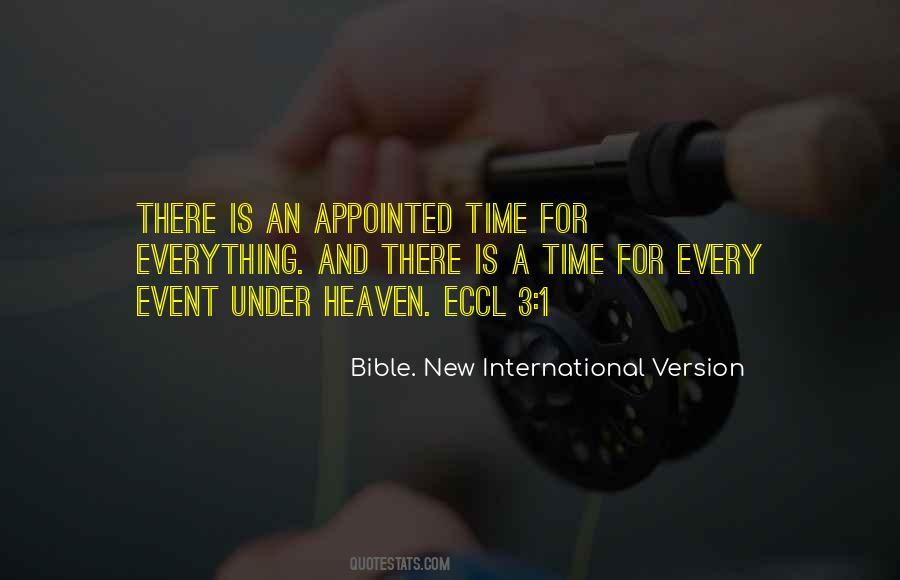 #52. The Bible says, 'If any would not work, neither should he eat.' Saint Paul wrote that, in Second Thessalonians, chapter three, verse ten, - Author: Ken Follett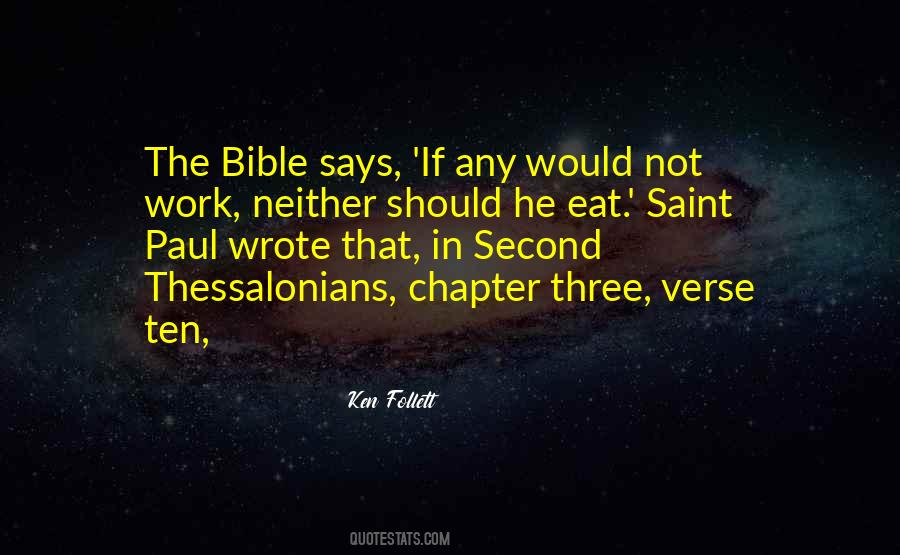 #53. Jeremiah 29:11
"For I know the plans I have for you," declares the LORD, " Plans to prosper you and not to harm you, plans to give you a HOPE and a FUTURE. - Author: Anonymous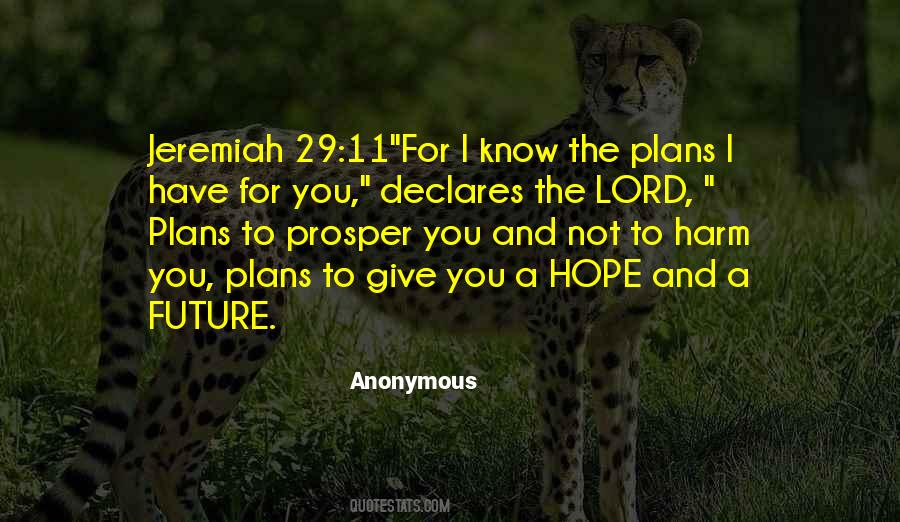 #54. It's hard to say who's a greater threat to the world, an ambitious CEO with a big ad budget or a crafty cleric with an obsolete Bible verse. - Author: Tom Robbins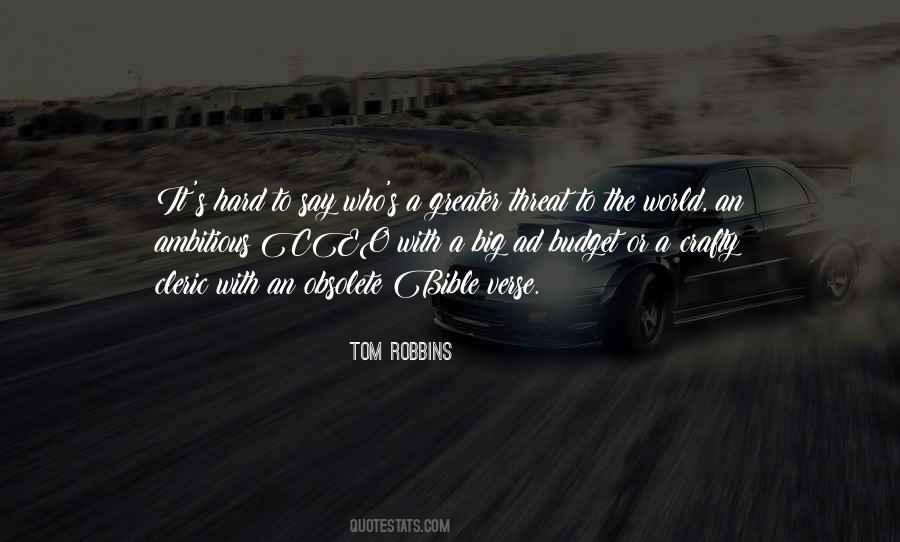 Famous Authors
Popular Topics