Unspoken Words Famous Quotes & Sayings
List of top 67 famous quotes and sayings about unspoken words to read and share with friends on your Facebook, Twitter, blogs.
Top 67 Quotes About Unspoken Words
#1. Something unspoken passed between them, a sensation she couldn't describe in words. - Author: Kelly Moran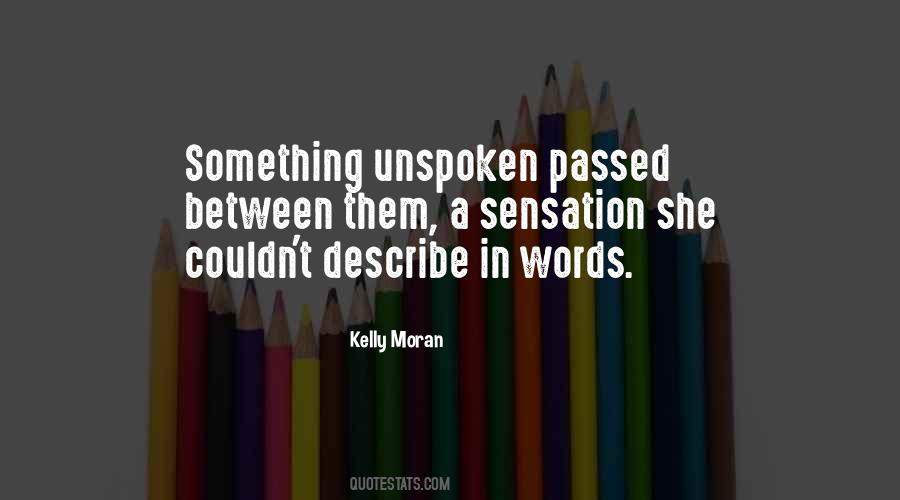 #2. I may be deprived of eloquence, but my mind can never be a dumb. - Author: Michael Bassey Johnson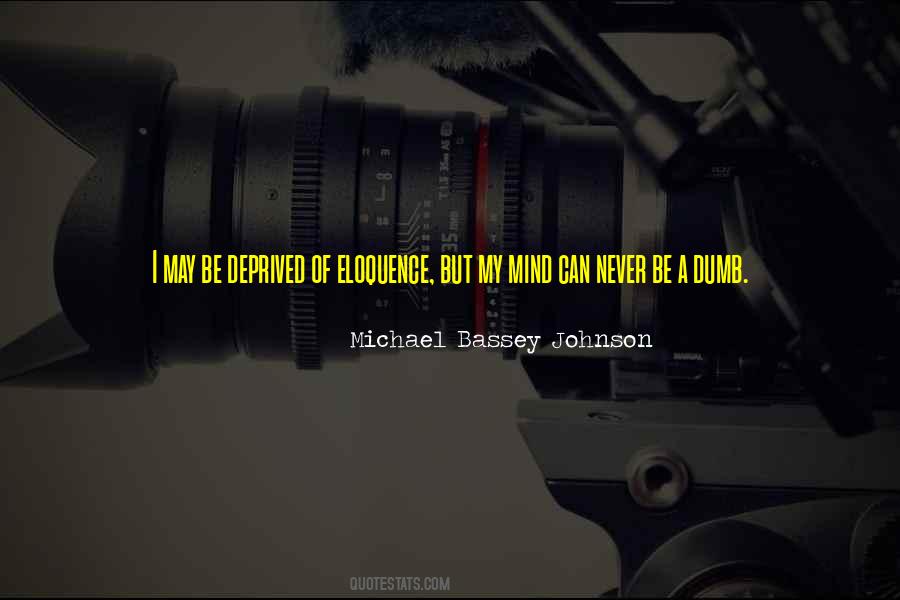 #3. Sometimes the words left unspoken are the most important ones that should have been said much earlier to avoid the consequences of the destiny. - Author: Aditti Gaur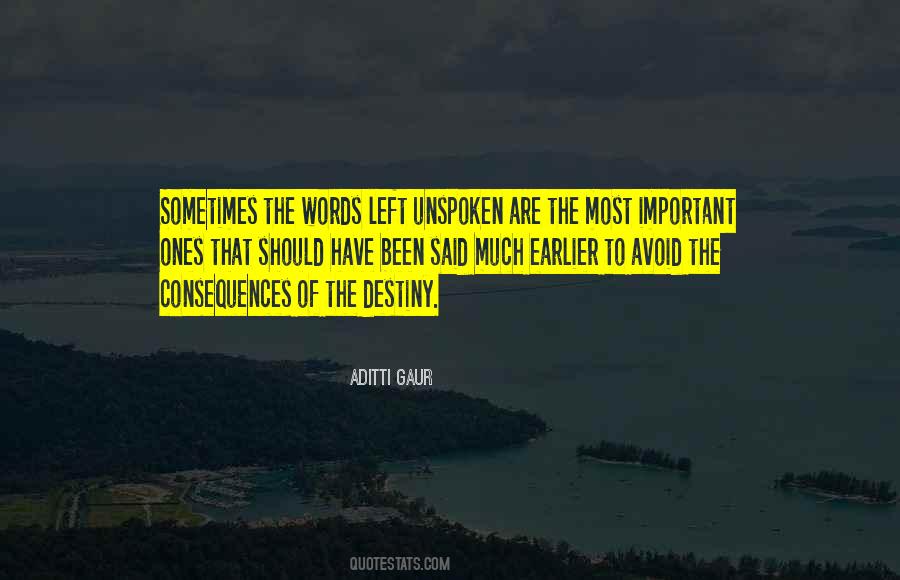 #4. A thousand words blossomed to her lips and died there, because no amount of speaking could communicate the depths of how he'd affected her. Of how he'd changed her. - Author: Katherine McIntyre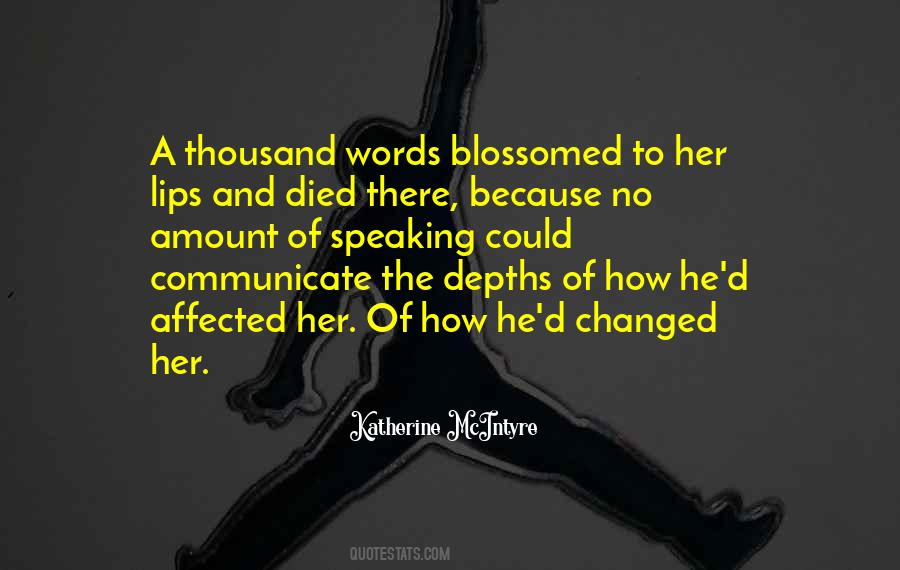 #5. Try not to kill me with your love,
try not to break a glass wall
seeing everything,
but going unheard,
the words feel unspoken.

Crystals gleaming at our feet,
innocently joined by red fists
and a kiss. - Author: Megan Hutchinson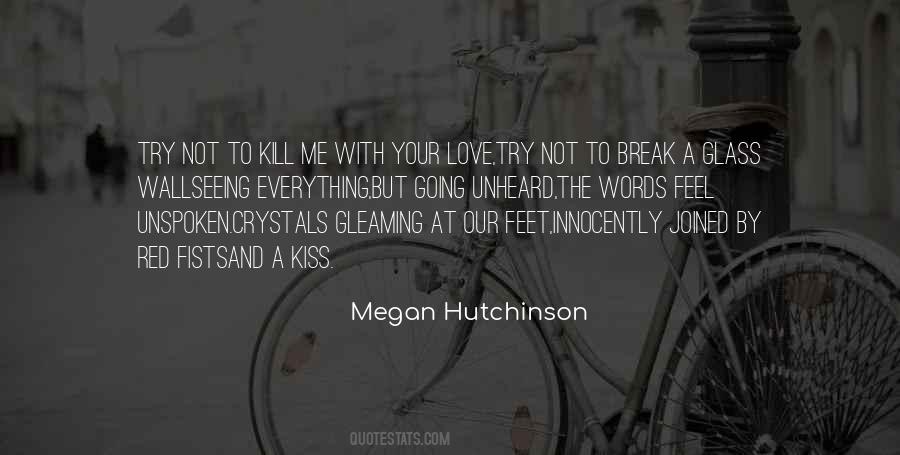 #6. Love's sweetest meanings are unspoken; the full heart knows no rhetoric of words. - Author: Christian Nestell Bovee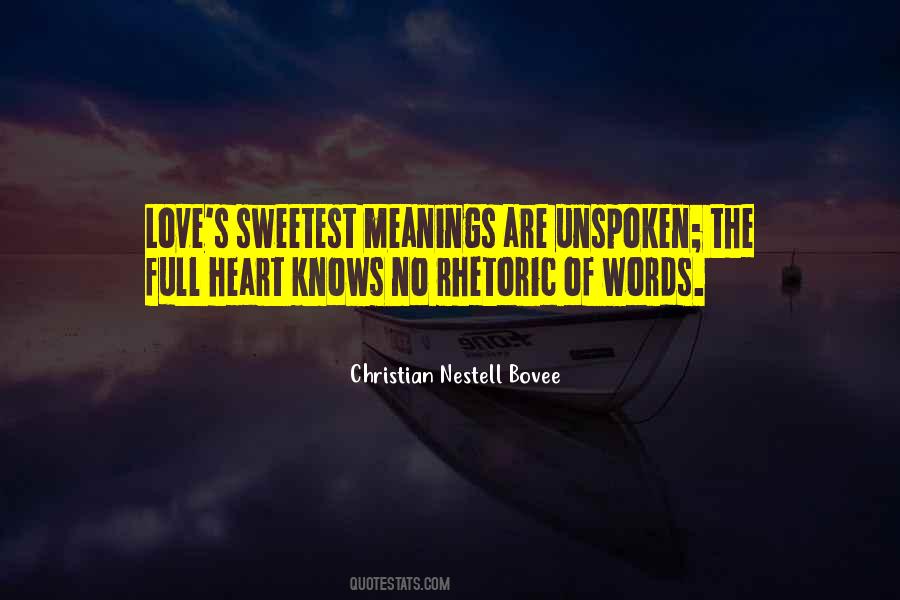 #7. The words I can't say are the holes I punch in the walls of my psyche ... - Author: John Geddes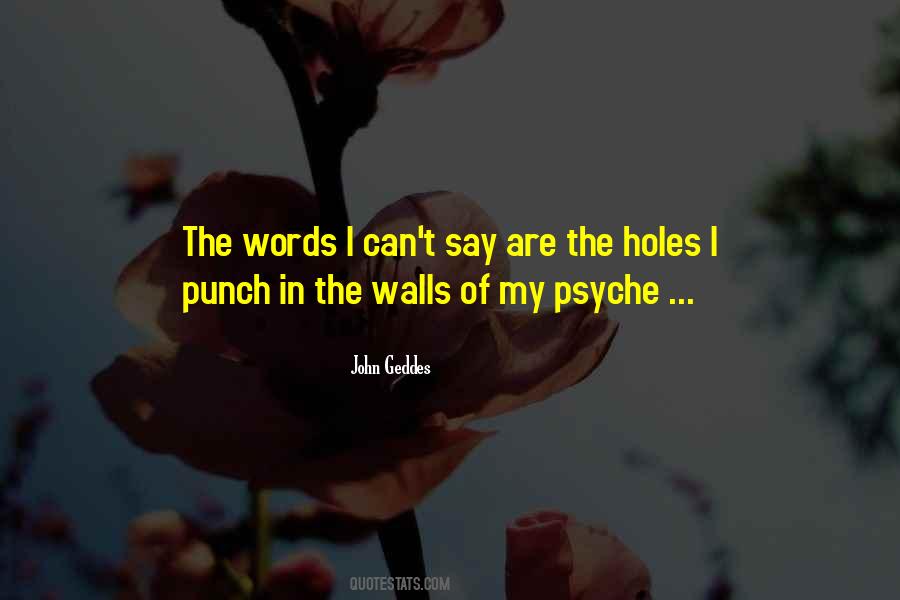 #8. Perhaps we hurt for the lost opportunities, for the conversation that would have released all the unspoken words, for the way it should have been. Where - Author: Mark Lawrence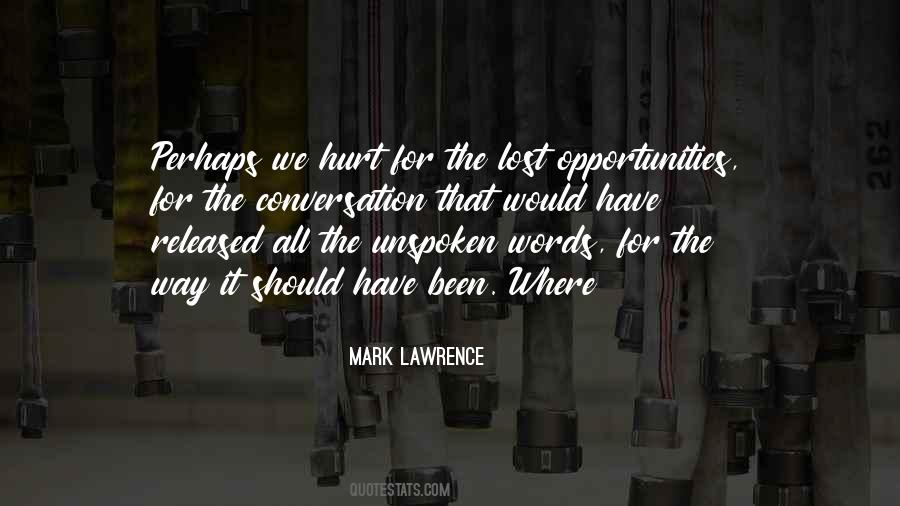 #9. Speaking unspoken words,
music is a good way to say. - Author: Toba Beta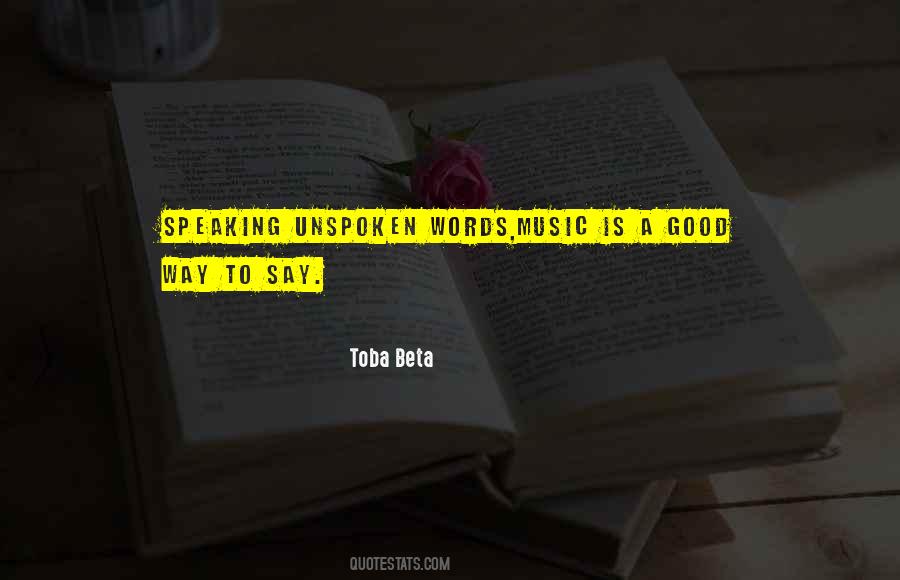 #10. With their unspoken words of love still echoing in her ears and aching in her heart, Kayn knew she had to be brave. He was gone. This was where their roads separated, right at the beginning. - Author: Kim Cormack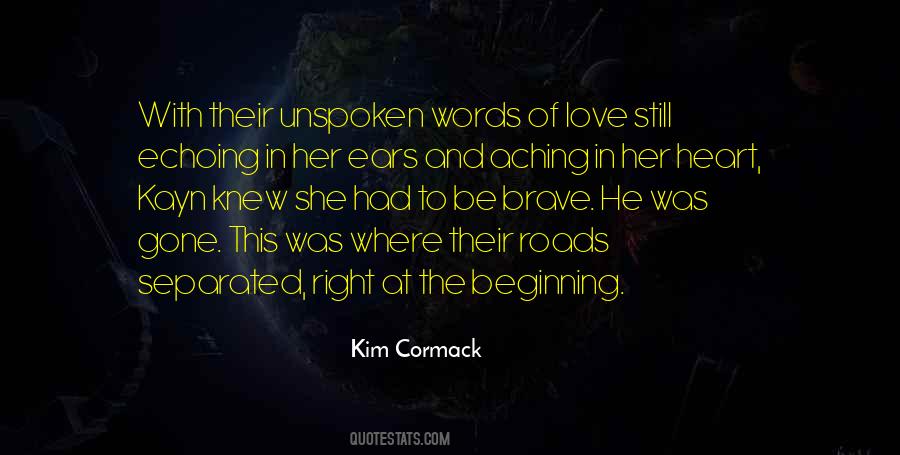 #11. Only cowards leave words unspoken. - Author: A.D. Posey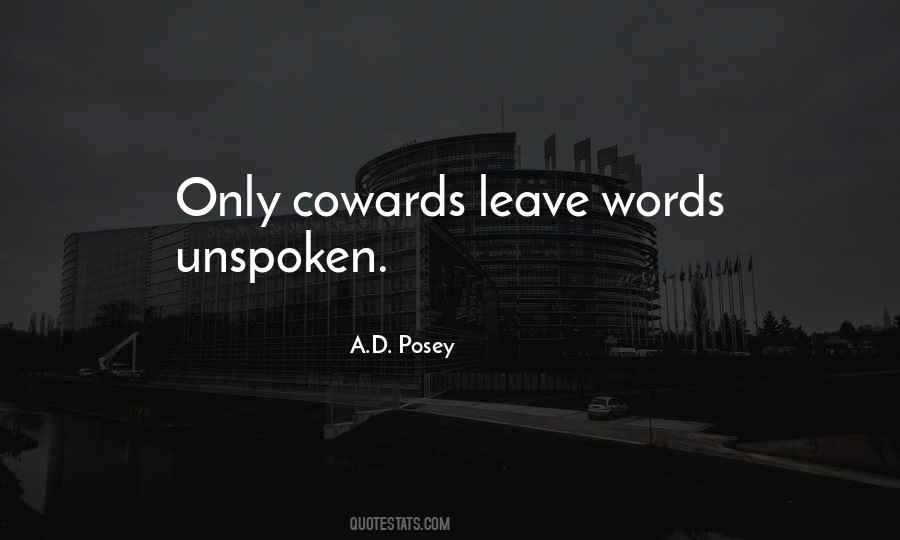 #12. Unspoken words keep struggling; they create negative images in minds of people who want to hear them and who keep suppressing them. - Author: Balroop Singh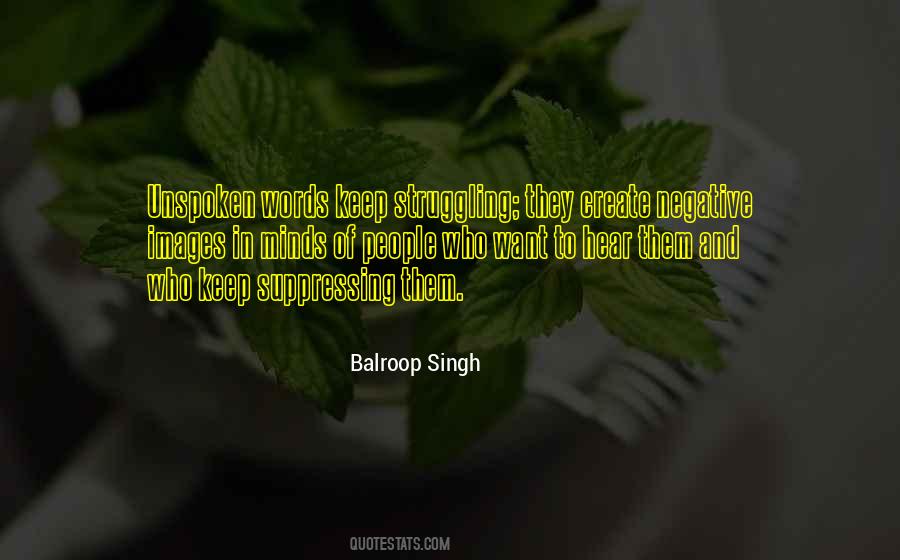 #13. She thought of all the words that went unspoken in the world, throughout time: what happened to them, where did they go? What would happen if they were all spoken? How different would the world be then? - Author: Livi Michael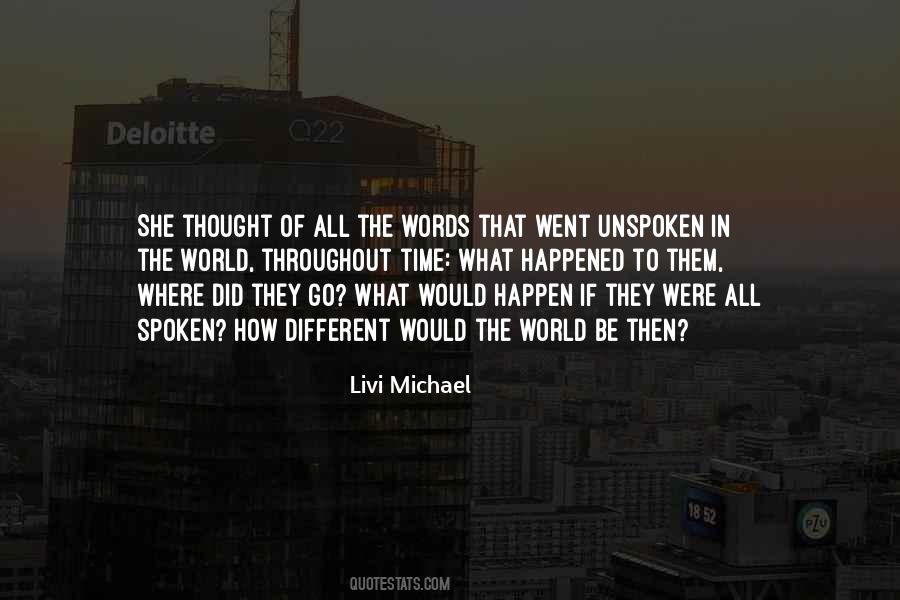 #14. Unplayed sound is like unspoken words. - Author: Aleksandr Voinov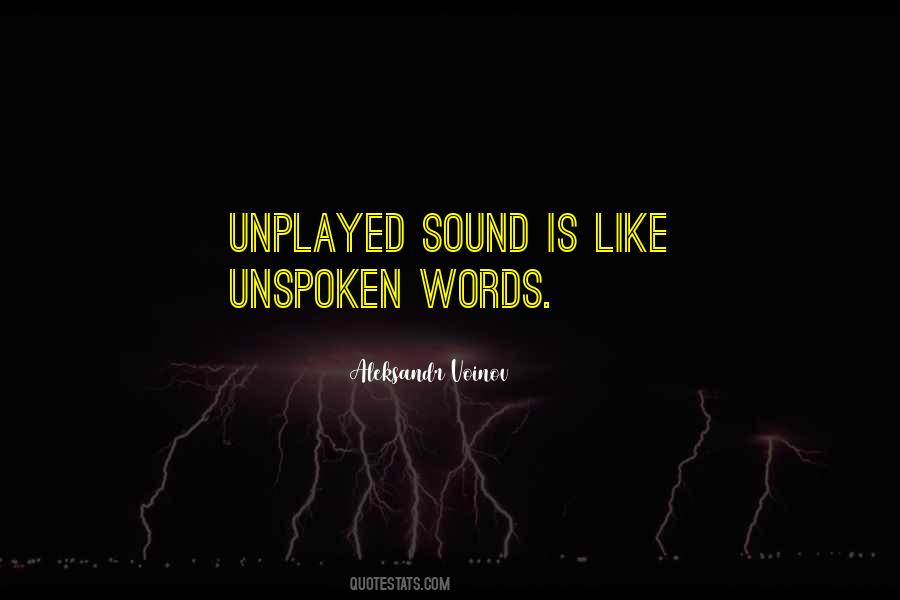 #15. Many times in life I've regretted the things I've said without thinking. But I've never regretted the things I said nearly as much as the words I left unspoken. - Author: Lisa Kleypas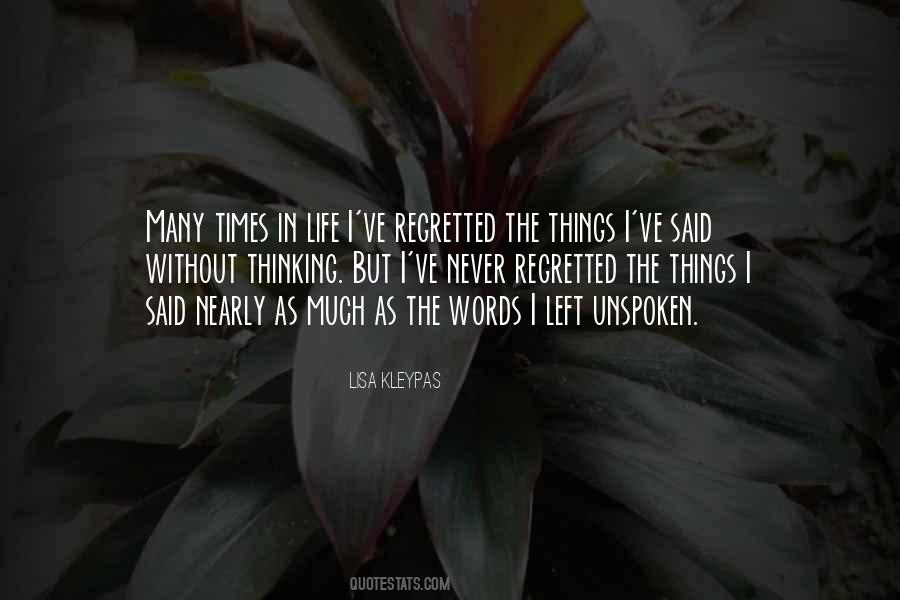 #16. Sorrow binds us - I will always cherish you - my only disillusionment is unspoken words ... - Author: John Geddes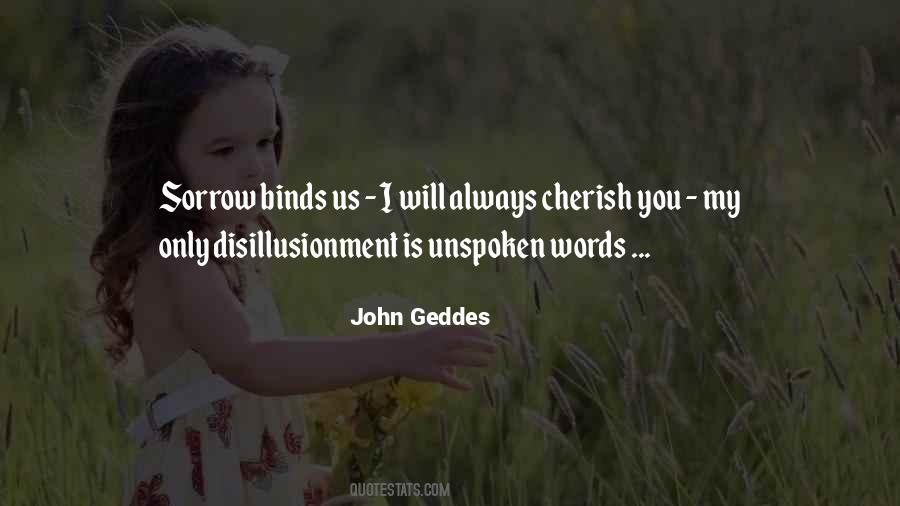 #17. I am master of my spoken words and slave to those which remain unspoken. - Author: Ankita Singhal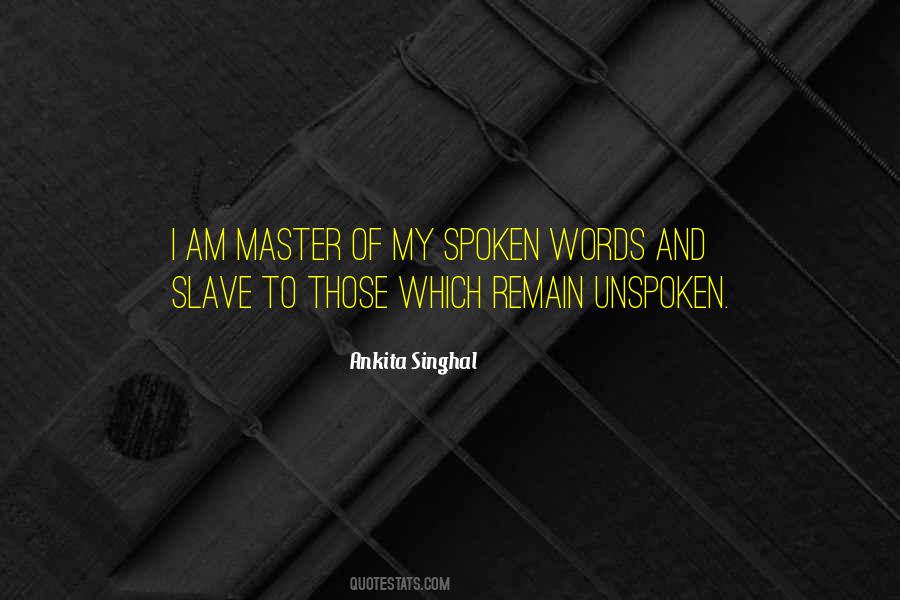 #18. It's almost as if we're afraid of words. They hang in the air, unspoken, and then seeing that they're not going to be used, they shrivel and die. - Author: Crystal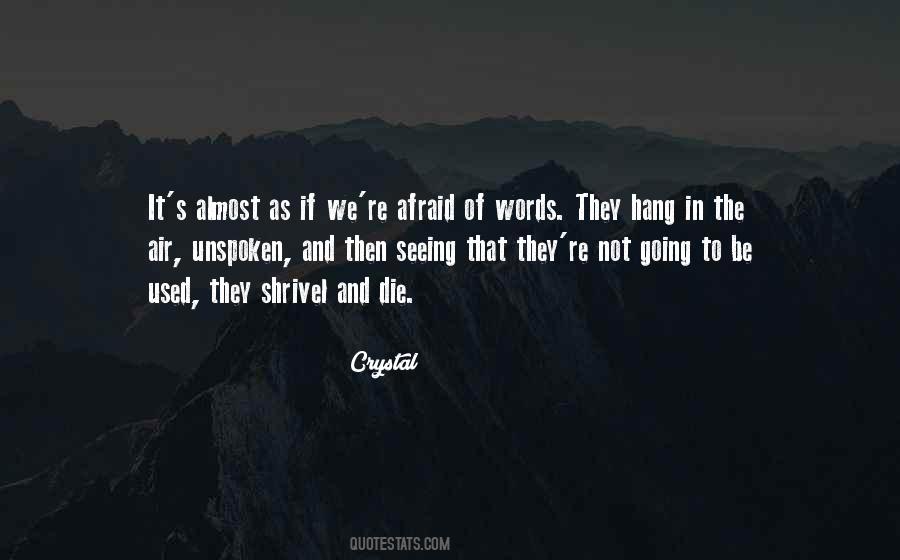 #19. But now its too late,
And I am so broken,
I don't want to carry the weight,
Of the words unspoken ... - Author: Rida Altaf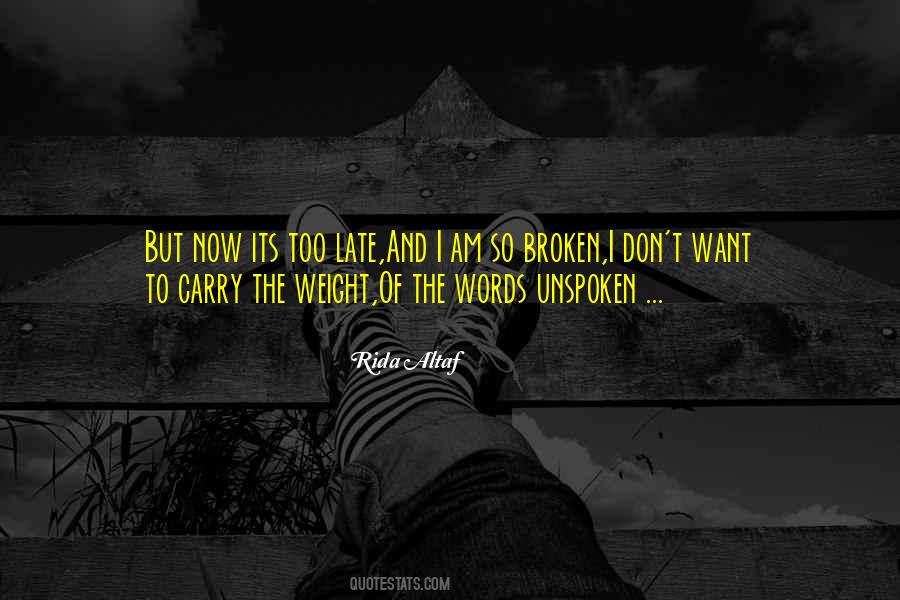 #20. Just as heart is a fountain of unspoken words,
the universe is a womb of wonder weird worlds. - Author: Toba Beta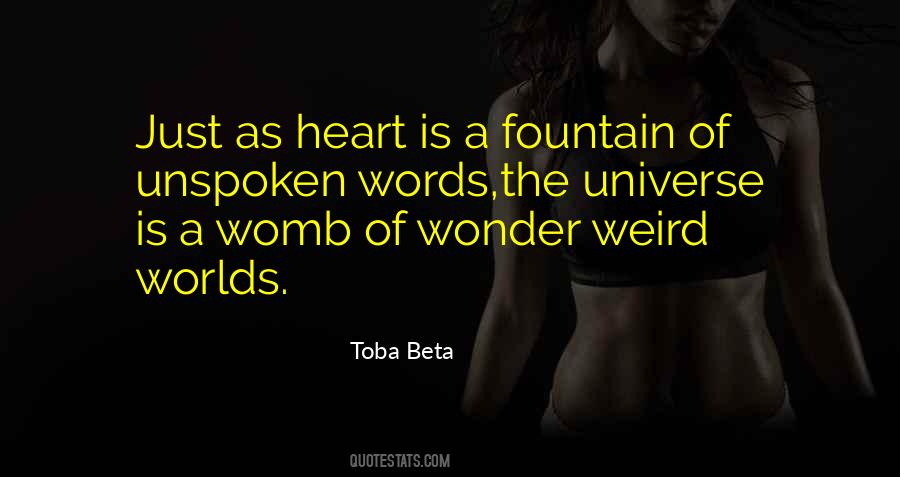 #21. The silence joined the words we always left unspoken. Circling around and around until I was sure, the quiet would slice me open.-Lo Preston-The Wild Hunt - Author: Ashley Jeffery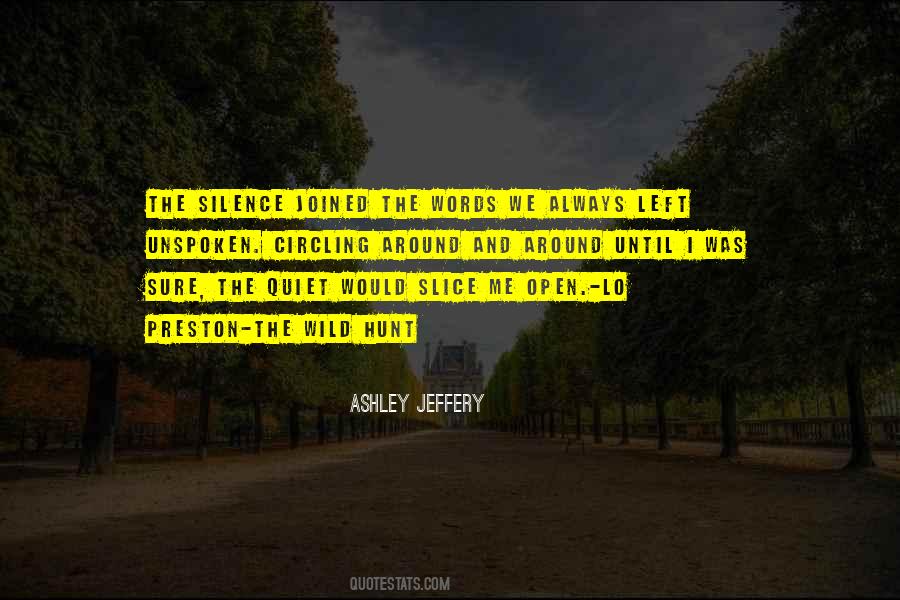 #22. Hard words will break no bones:
But more than bones are broken
By the inescapable stones
Of fond words left unspoken. - Author: Jan Struther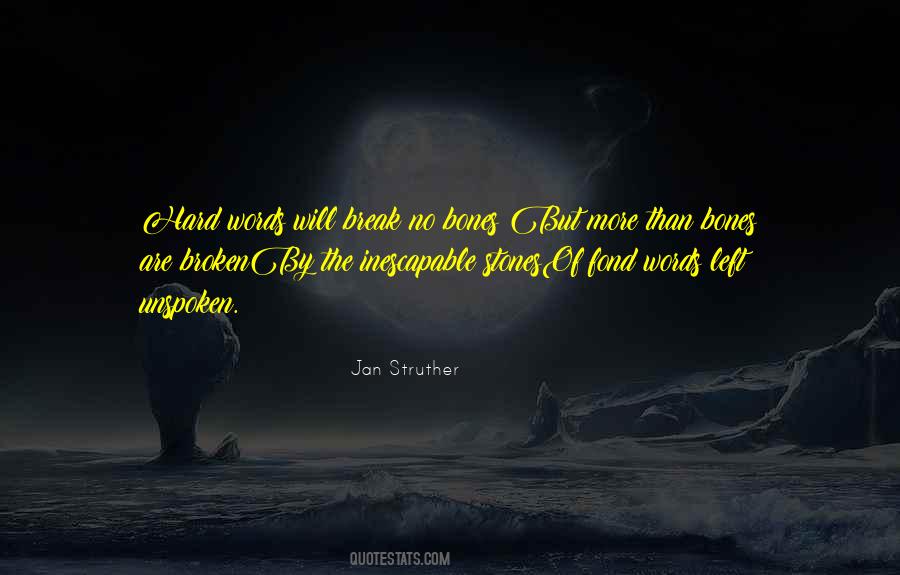 #23. The air stilled, suspended with unspoken words, heavy thoughts, and two people who couldn't look away from one another. - Author: Jenny B. Jones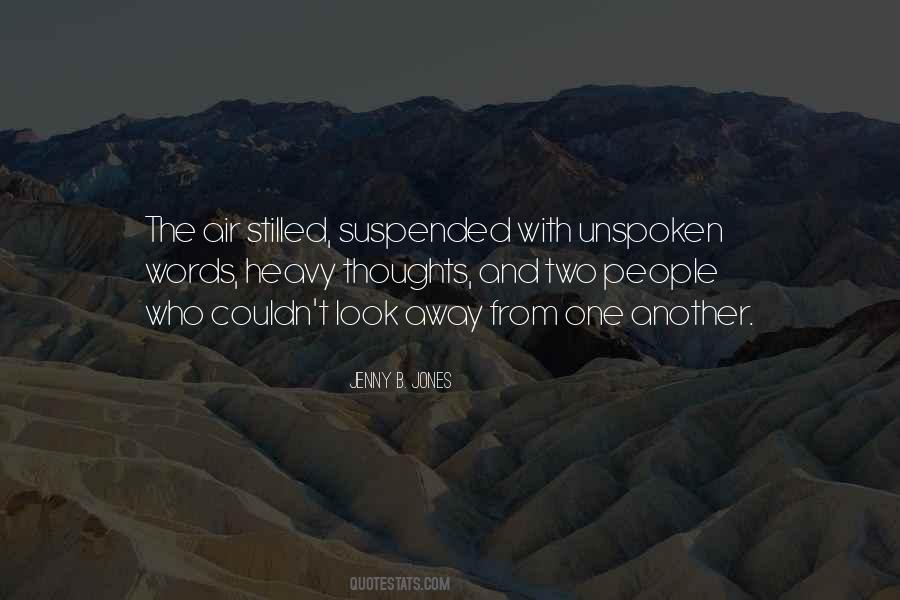 #24. why talk and say the unsaid words in haste when silence can speak the unspoken words? - Author: Ernest Agyemang Yeboah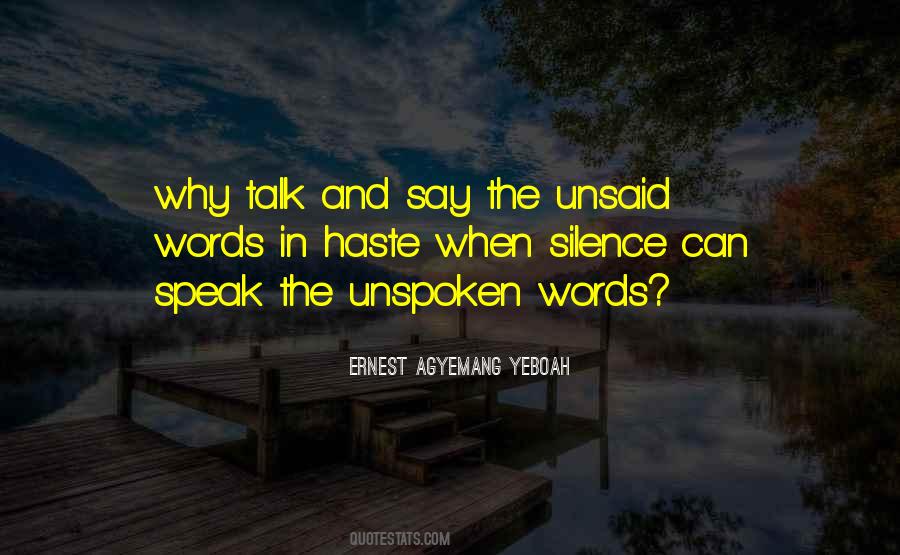 #25. Our true remembrance to President Kennedy is in our actions to honor the unspoken words and finish the unfinished work today and tomorrow and for as long as it takes. - Author: Marian Wright Edelman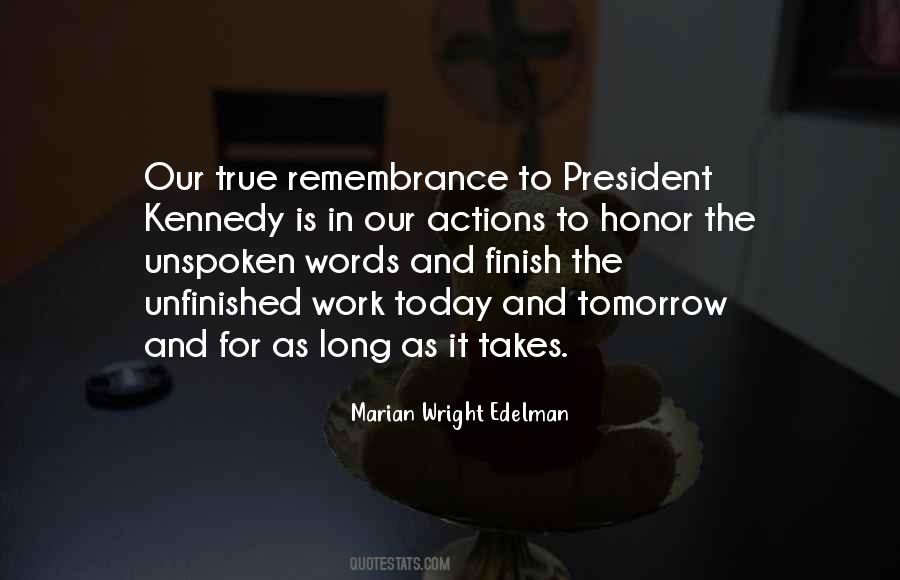 #26. The unspoken word never defeats one. What one does not say does not have to be explained. - Author: William Penn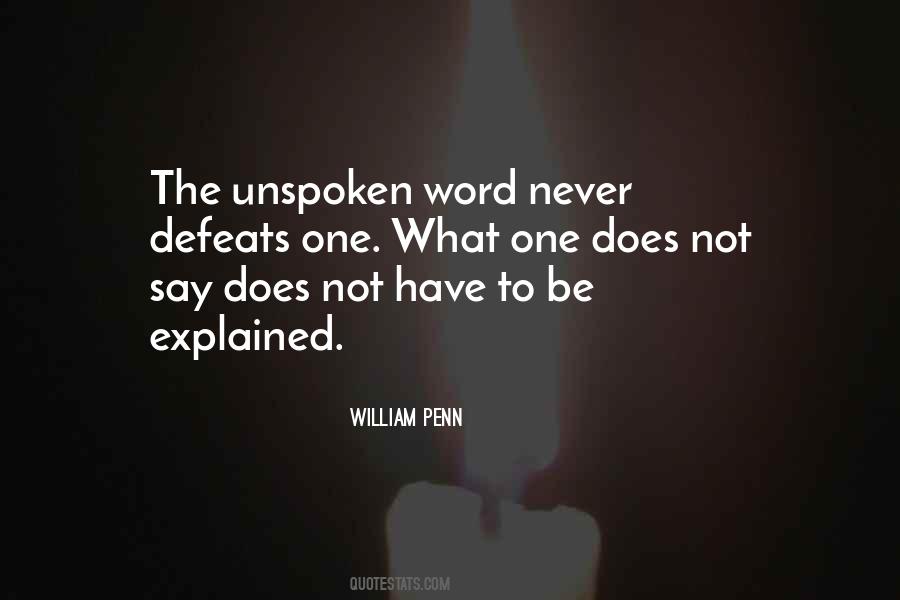 #27. The wine urges me on, the bewitching wine, which sets even a wise man to singing and to laughing gently and rouses him up to dance and brings forth words which were better unspoken. - Author: Homer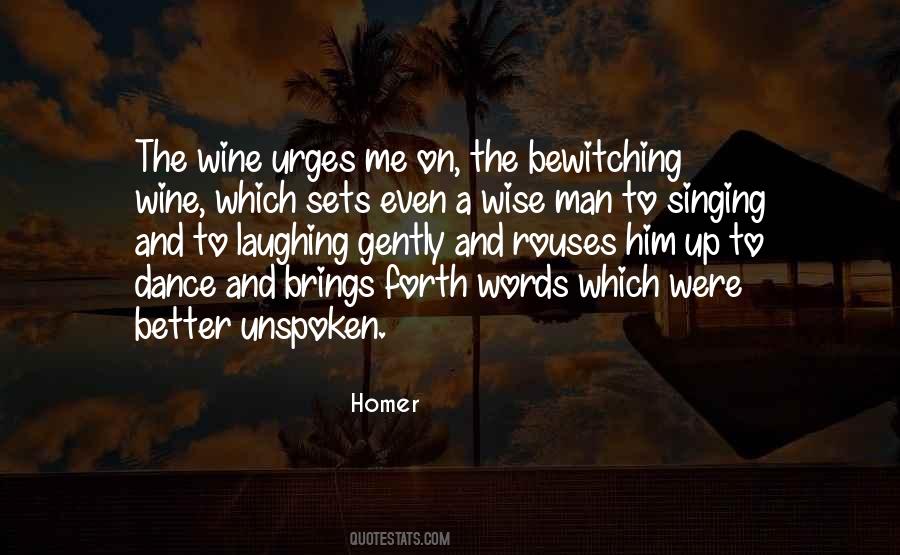 #28. Dreams - Language in a dream is unspoken but understood. Words get in the way. - Author: Fred Alan Wolf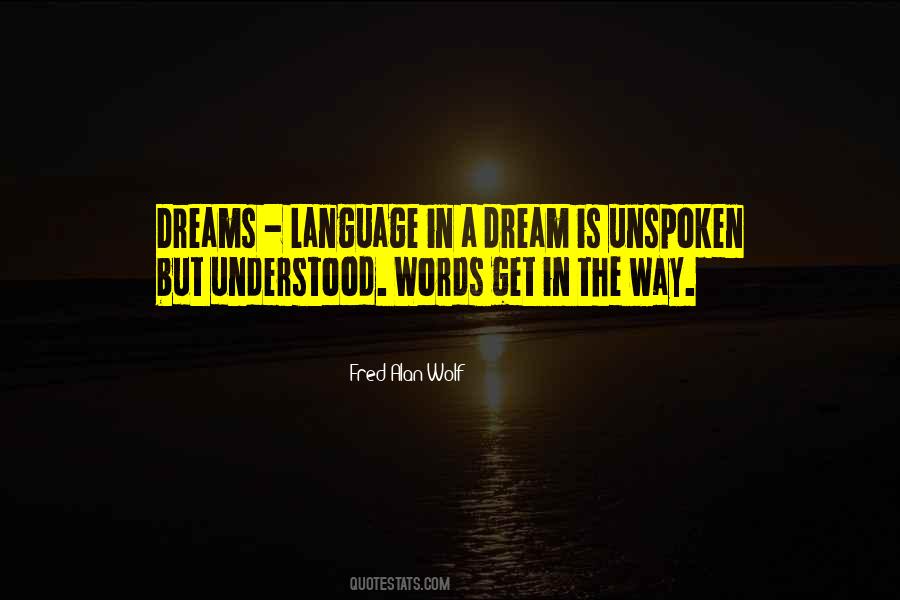 #29. He watched their faces, and he knew each meant desperately what she said because they loved each other, and deep inside surely each knew the words were false, that the true words were those unspoken. - Author: Margaret Craven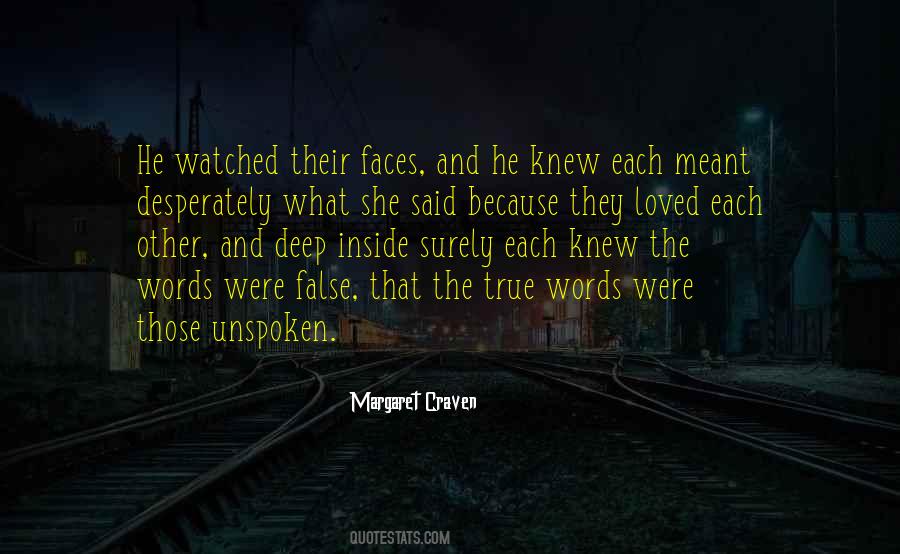 #30. If you love someone, tell them.
Tell them now.
Because two hearts can easily be broken
By 3 small words that are left unspoken. - Author: Jose N. Harris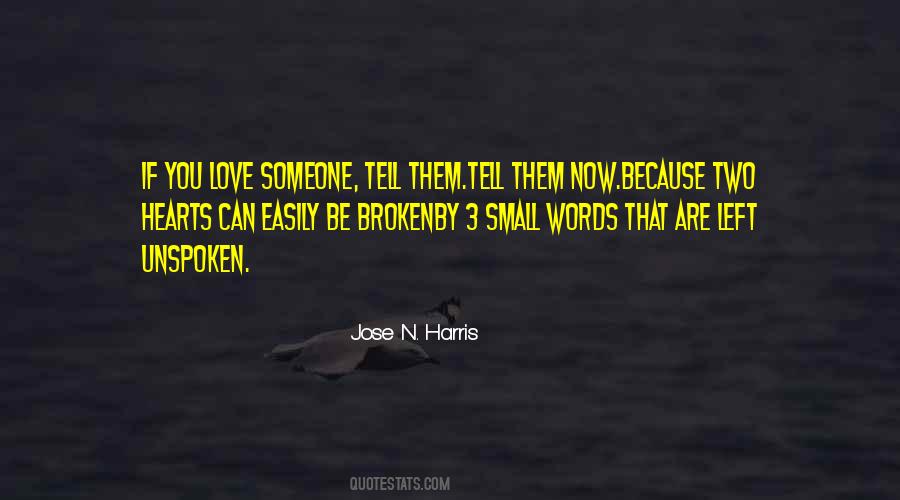 #31. None but those who have loved can be supposed to understand the oratory of the eye, the mute eloquence of a look, or the conversational powers of the face. Love's sweetest meanings are unspoken; the full heart knows no rhetoric of words, and resorts to the pantomime of sighs and glances. - Author: Christian Nestell Bovee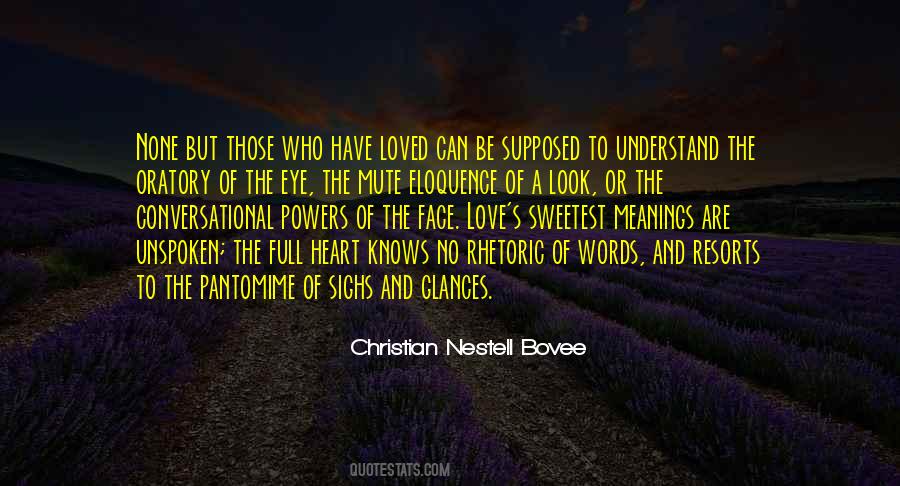 #32. Usually when someone is angry we hear their angry words. Instead, try hearing the unspoken, I am scared, I am frustrated, I am insecure, I am vulnerable, I am threatened. - Author: Charles F. Glassman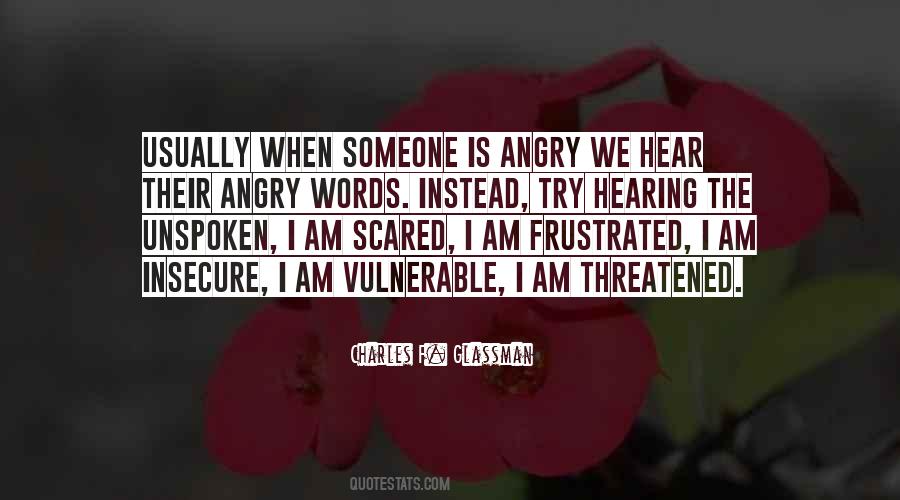 #33. My prose has no individual style as such, but is rather an unspoken and still unexpressed groping toward the personal. There is something there that wants to come out; something of my own that must be said. Yet, perhaps, words are not the way for me. - Author: Neal Cassady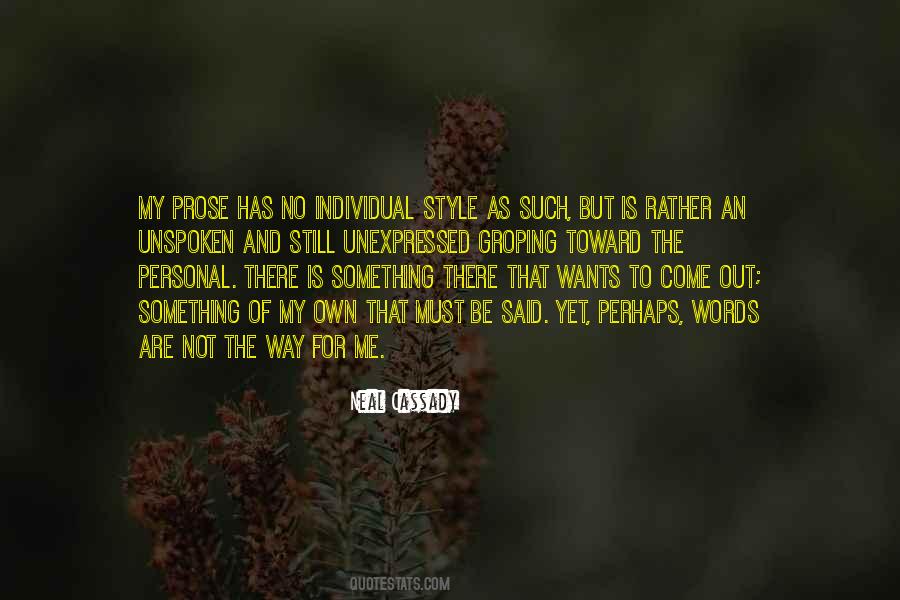 #34. The unspoken word is capital. We can invest it or we can squander it. - Author: Mark Twain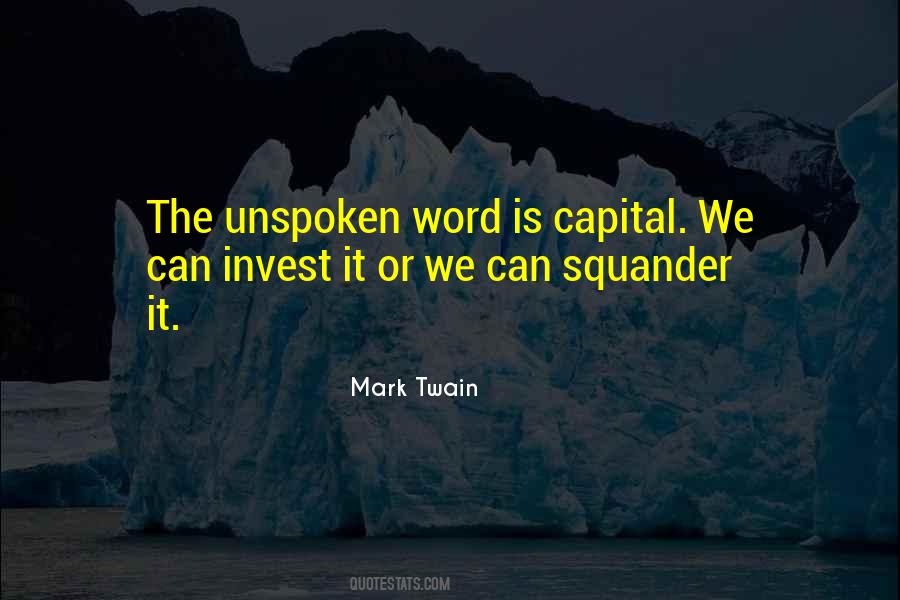 #35. And if God's good word goes unspoken, the music goes all night. - Author: Bradley Nowell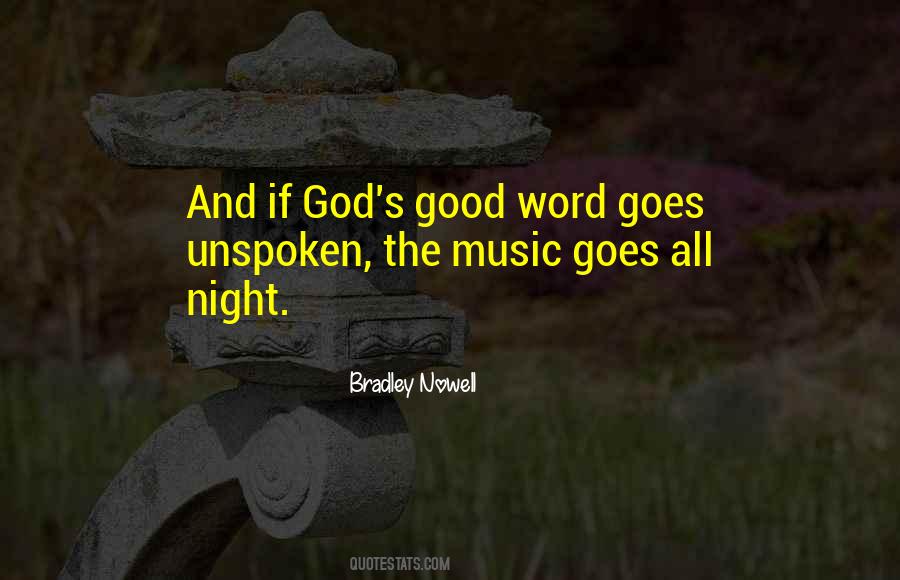 #36. She stared up into the beauty of his green eyes, and for a moment she saw everything there, all the pieces of his heart that she remembered so vividly, all the smiles and unspoken words she had earned since meeting him three months earlier. - Author: Charlie N. Holmberg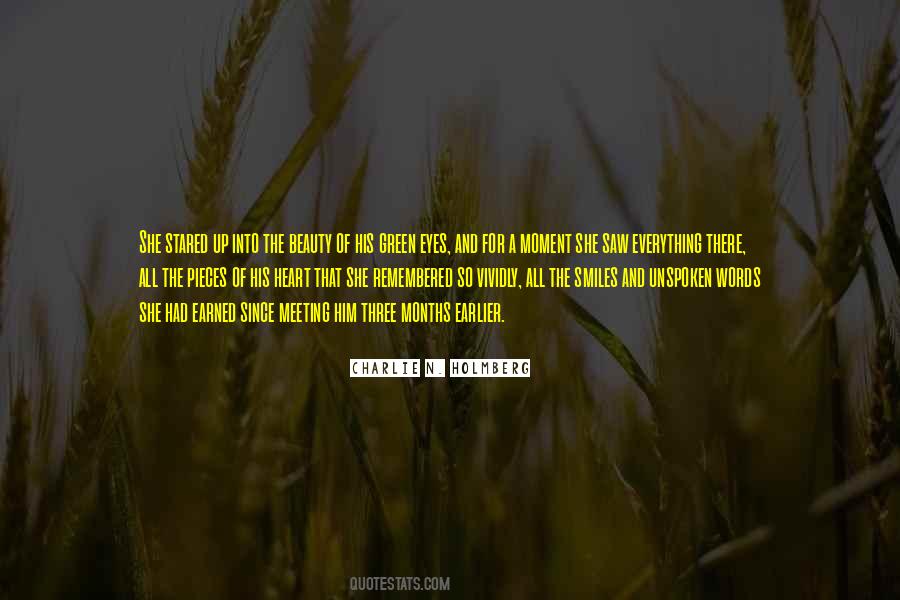 #37. Sometimes the words that are left unspoken are the ones that most needed to be said. - Author: Vi Keeland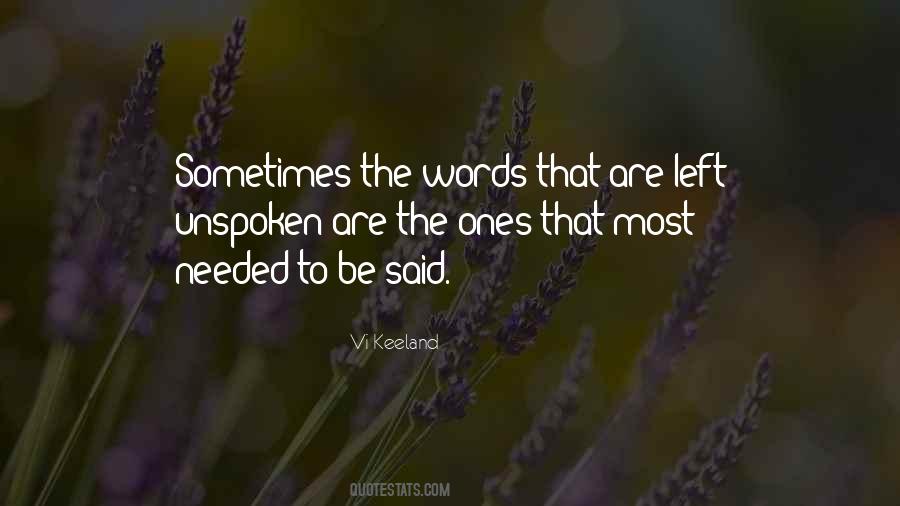 #38. I am not at peace.' Daisy Goodwill's final (unspoken) words. - Author: Carol Shields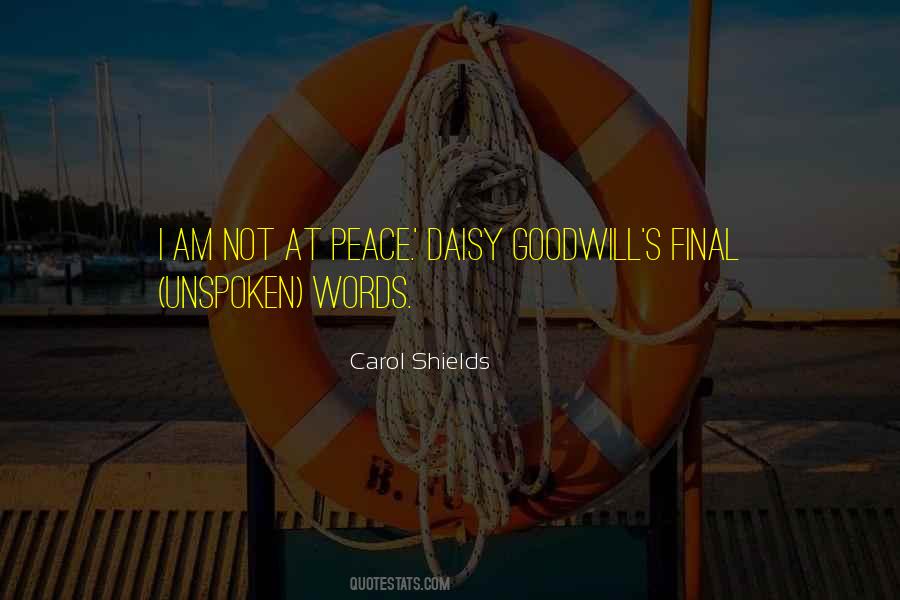 #39. Hawking has violated the unspoken rules of atheism. He isn't supposed to use words like 'create' or even 'made.' They necessitate a Creator and a Maker. Neither are you supposed to let out that the essence of atheism is to believe that nothing created everything, because it's unthinking. - Author: Ray Comfort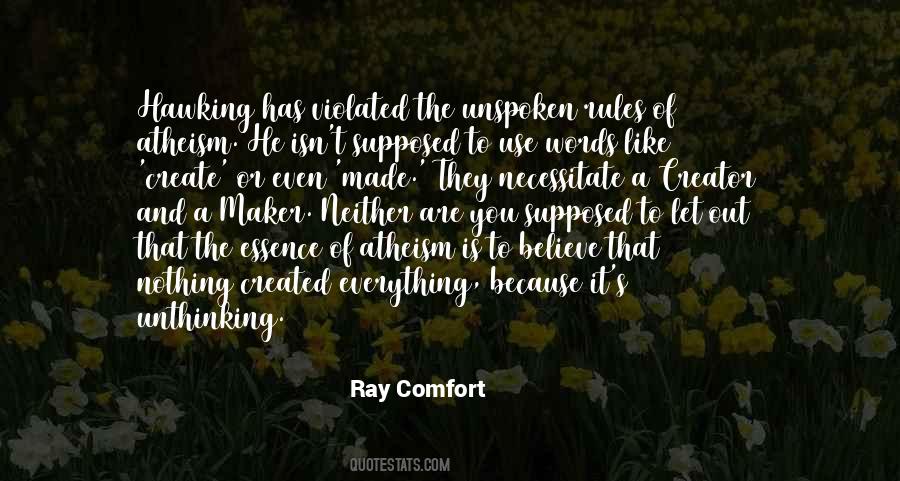 #40. Not all the truths are told, dreams are shattered, words are unspoken, memories are haunting but the imagination is still fighting to settle down. - Author: Magith Noohukhan
#41. I gave you painted air - tears I couldn't weep - truths I couldn't speak - all the words that caught in my throat ... - Author: John Geddes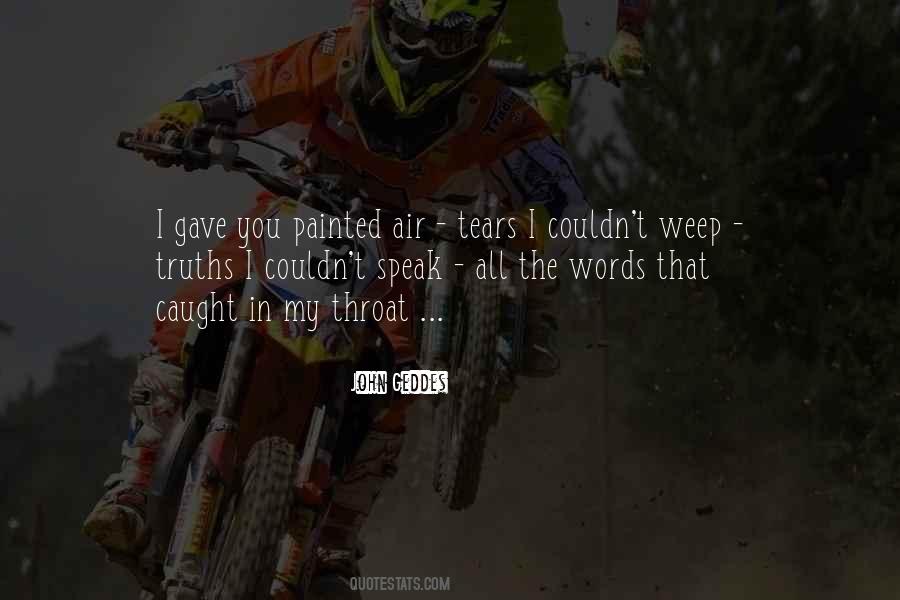 #42. The triumphs of a mysterious non-meeting are desolate ones; unspoken phrases, silent words. - Author: Anna Akhmatova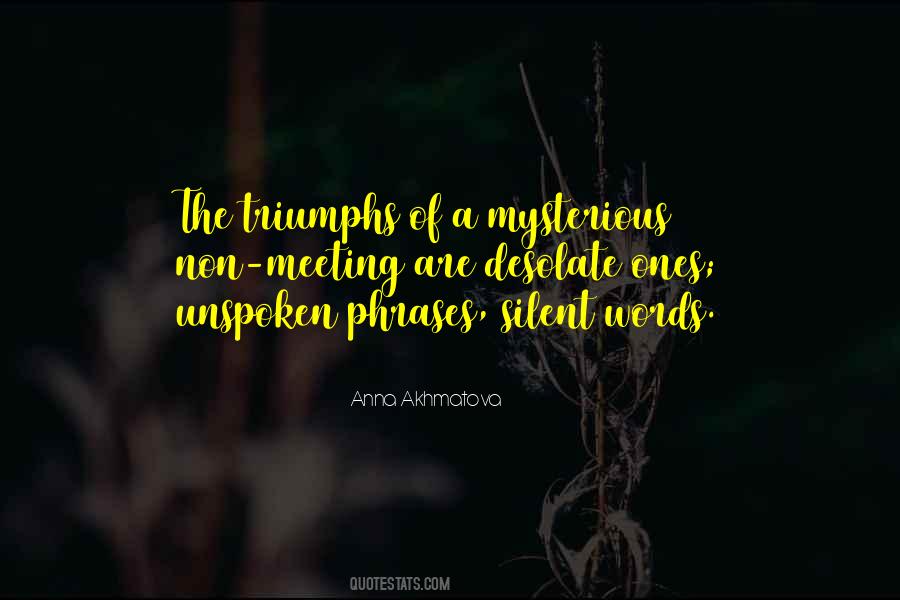 #43. In friendship, words can go unspoken yet you still understand.
That's why I'm sure that even though I don't say it, you know how special you are to me. - Author: John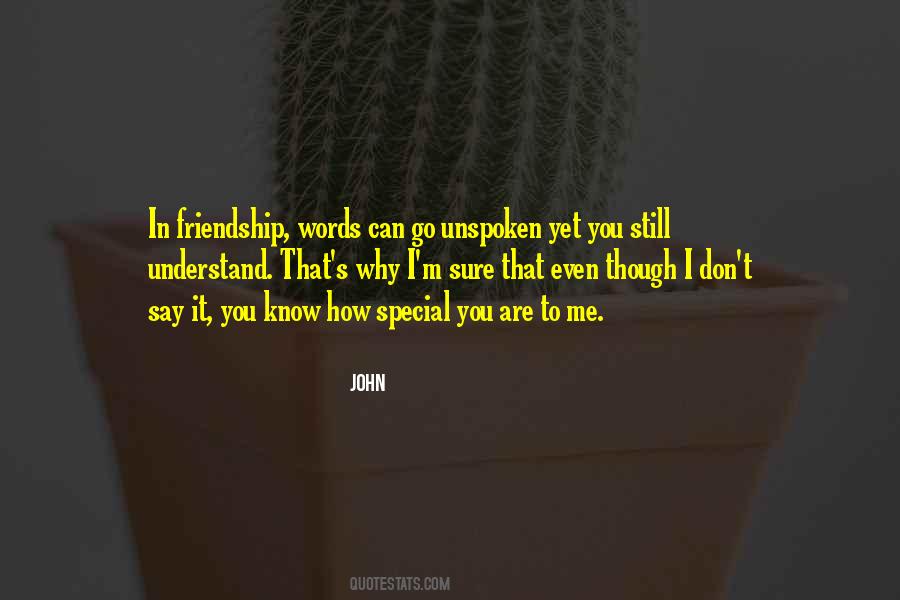 #44. So much of language is unspoken. So much of language is compromised of looks and gestures and sounds that are not words. People are ignorant of the vast complexity of their own communication. - Author: Garth Stein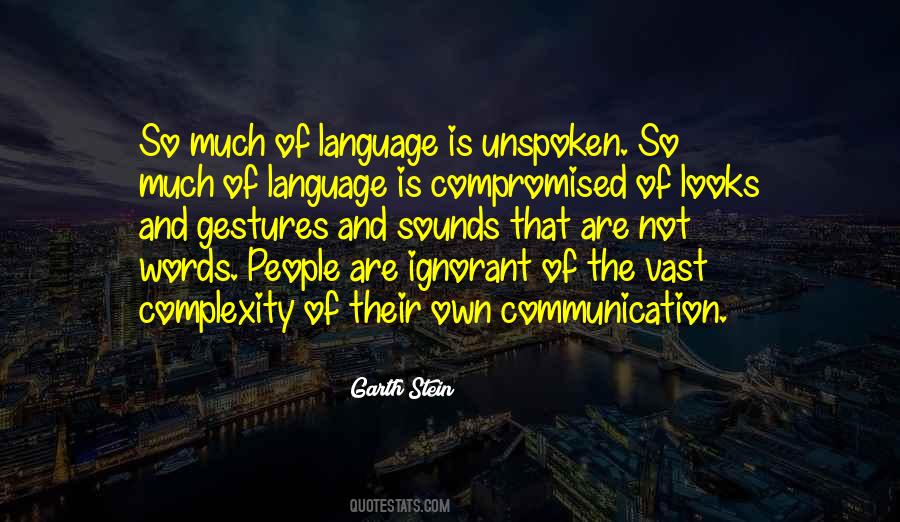 #45. A conversation began to take shape between us. A conversation that happened in unspoken words, in false words, in knowing glances. - Author: Nadia Hashimi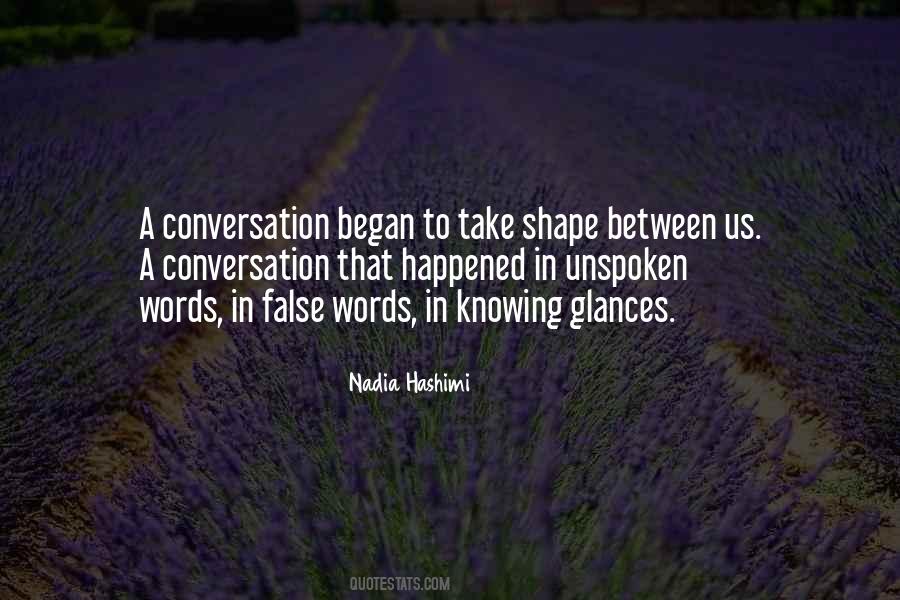 #46. If you don't say what you need to say when you have a chance ... you'll regret it. Even if you're mad, say it. Scream it into the world while you still have a chance to. Because once life passes you by, it's gone. And so are the words left unspoken. - Author: Brittainy C. Cherry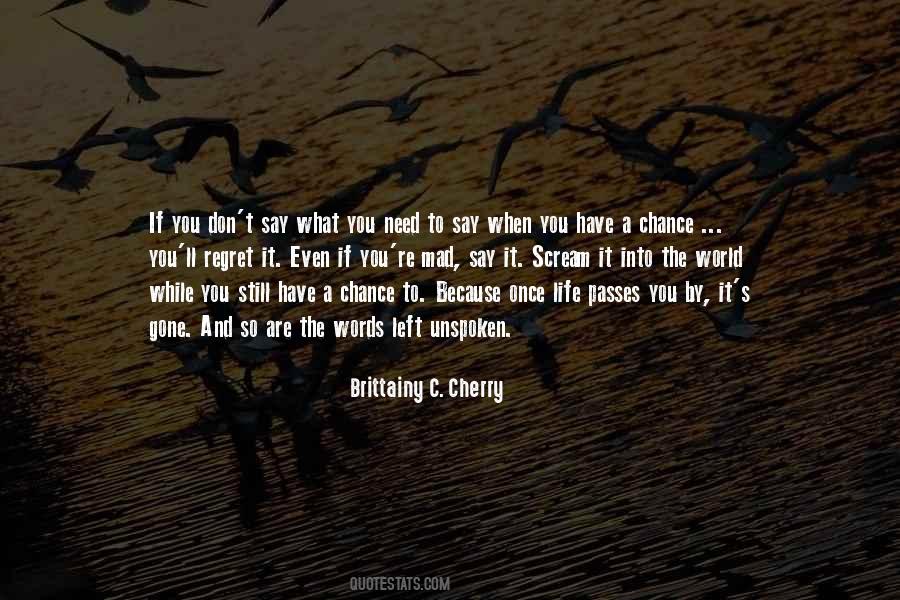 #47. It's impossible to generalize about sexuality - even one's own. The only way to keep it pure is to keep it unspoken. Keep it out of words. Words are not where sexuality lives. Without privacy, there is no ecstasy. - Author: Erica Jong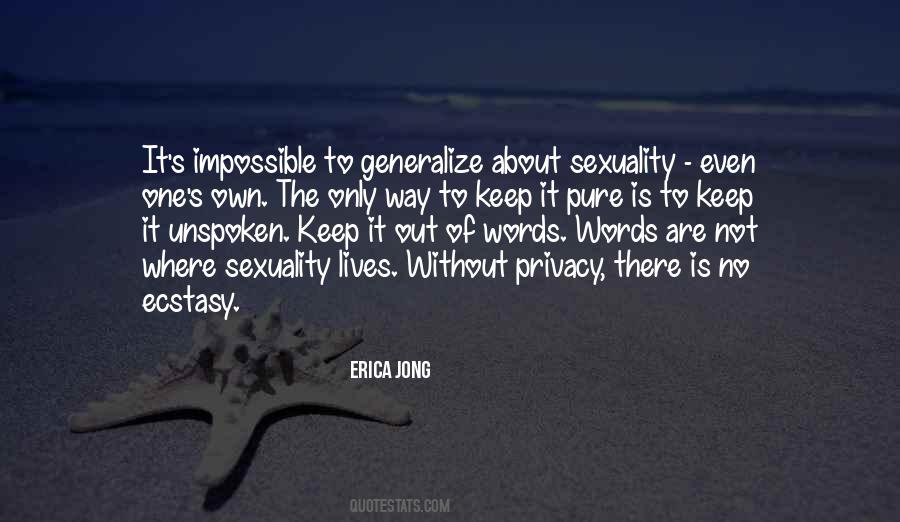 #48. The things left unsaid to people we care about, and the void those unspoken words leave, often have more impact than what is said. - Author: Tyler Knight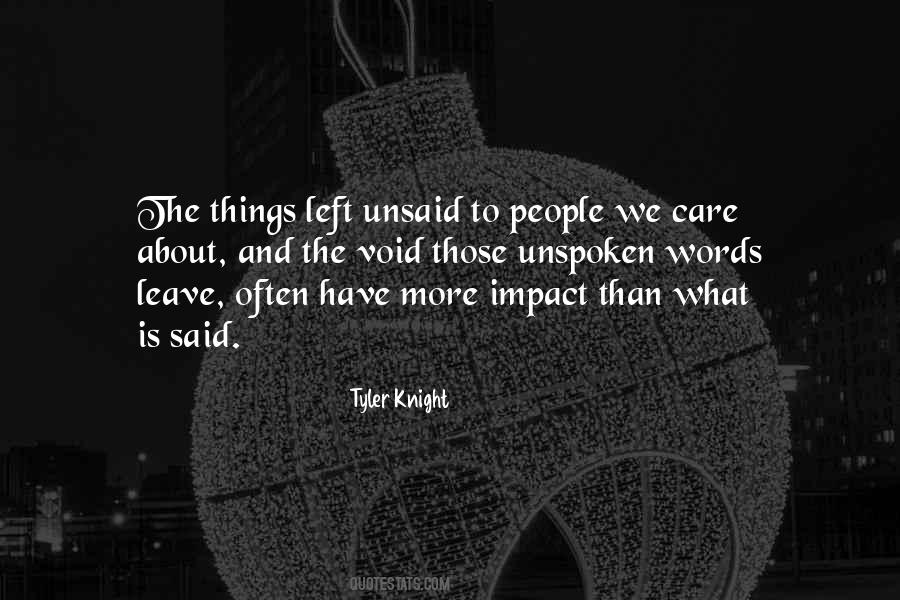 #49. The only one who knows this ounce of words is just a token,
is he who has a tongue to tell that must remain unspoken. - Author: Moondog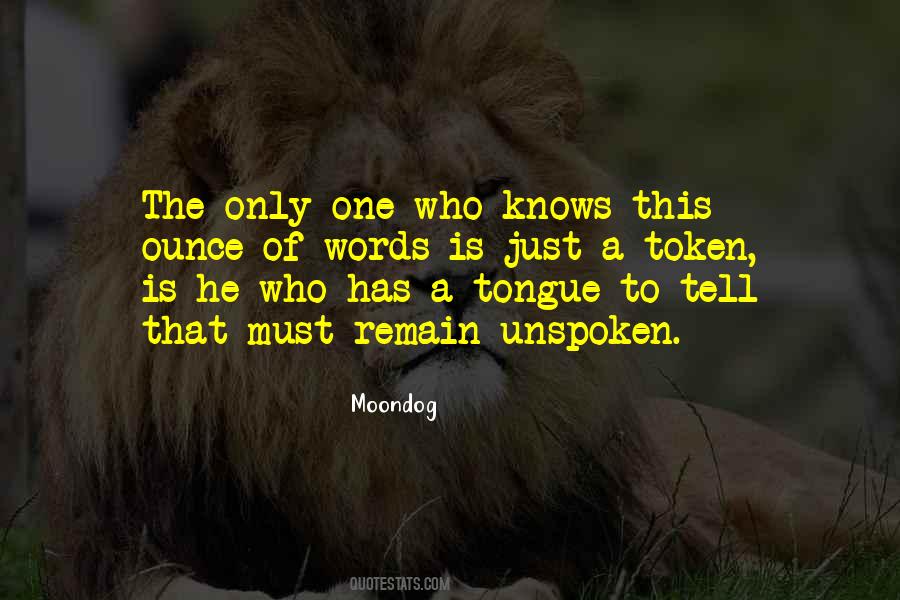 #50. When you reach the point you truly want someone to stop and listen, to hear even your unspoken words, to feel your depth of sorrow, to care unreservedly, and to completely understand - pray. - Author: Richelle E. Goodrich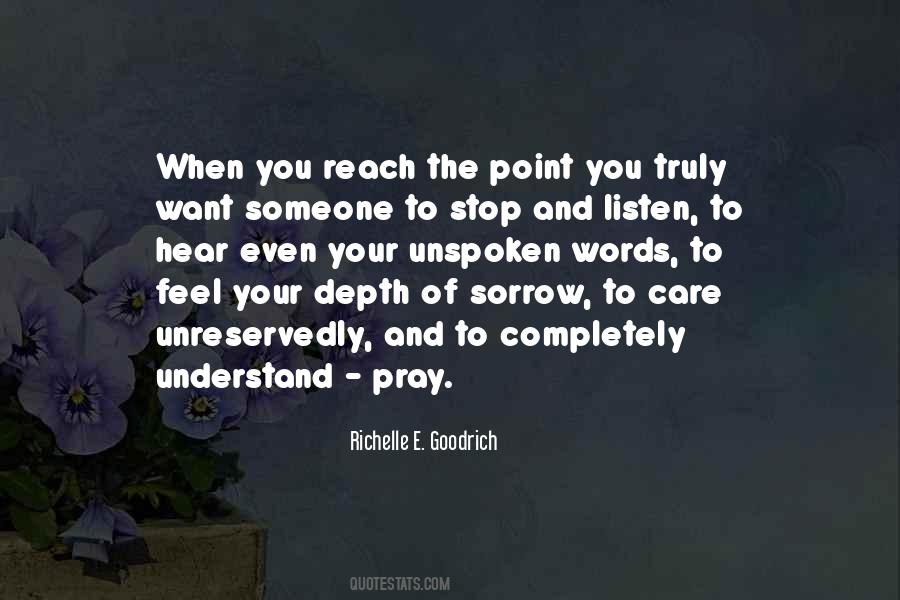 #51. Now let us bandy words no more ... nothing is easier than sharp words, except to wish them unspoken. - Author: R.D. Blackmore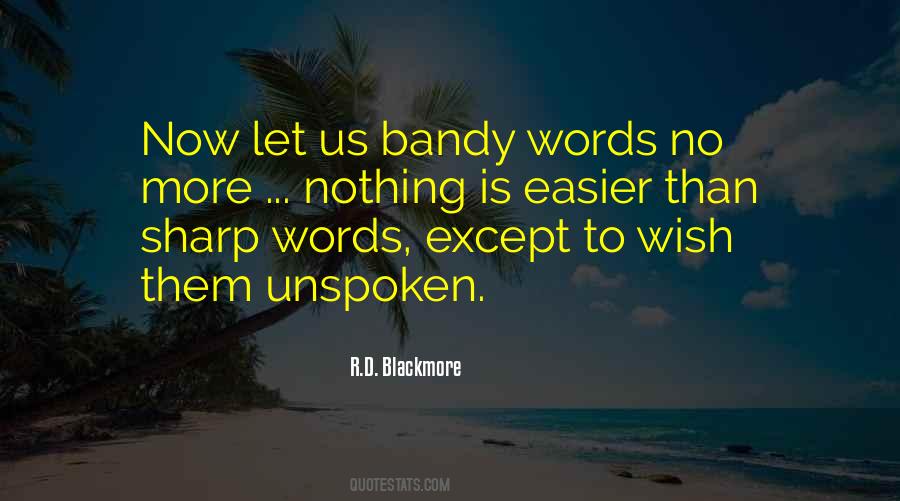 #52. There's an unspoken language when Gus and I play together. It's always been that way. We hear and feel music the same way. Communication flows back and forth through the music, one reacting to and feeding off the other. Words are spoken with eyes and subtle nods. - Author: Kim Holden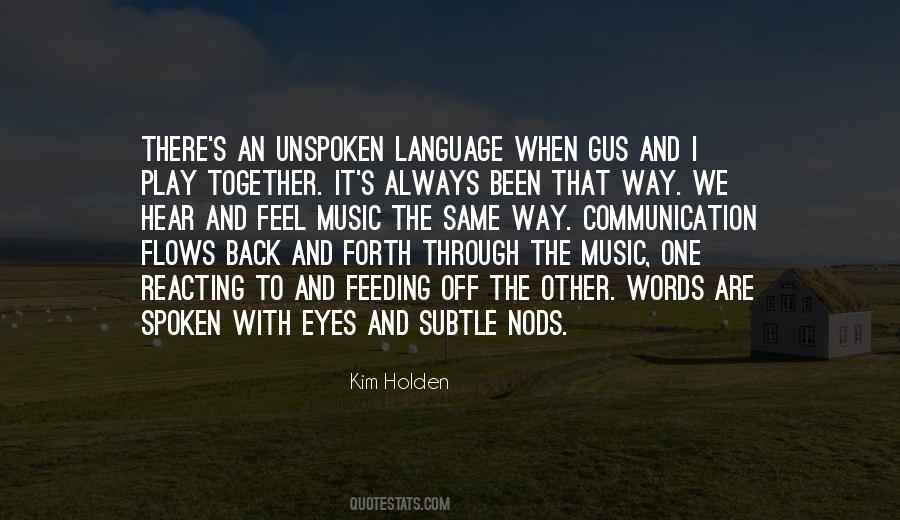 #53. There are words, which should leave unspoken, and the true value of a man lies in the words the he has for not saying. - Author: Alireza Salehi Nejad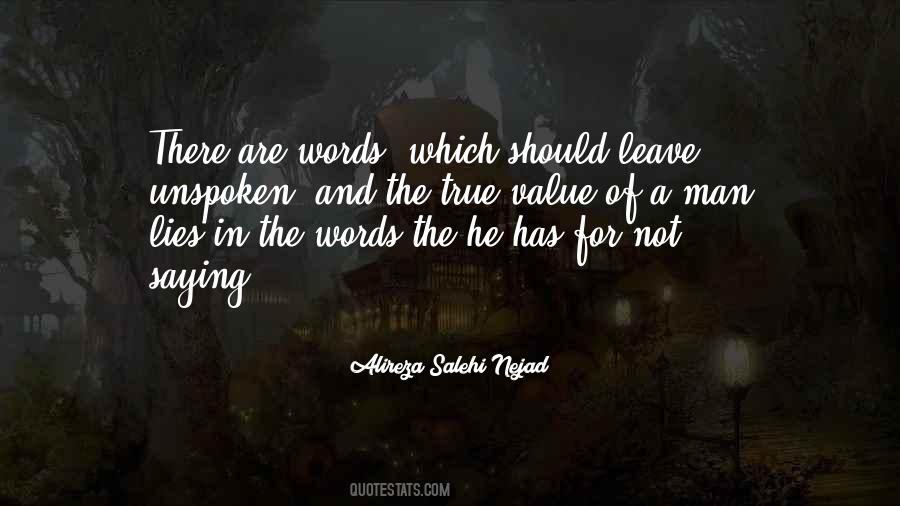 #54. But perhaps, after so much talk and fighting, unspoken words do create a silence in whose gentleness the survivors of good and bad can sleep easy. - Author: Miljenko Jergovic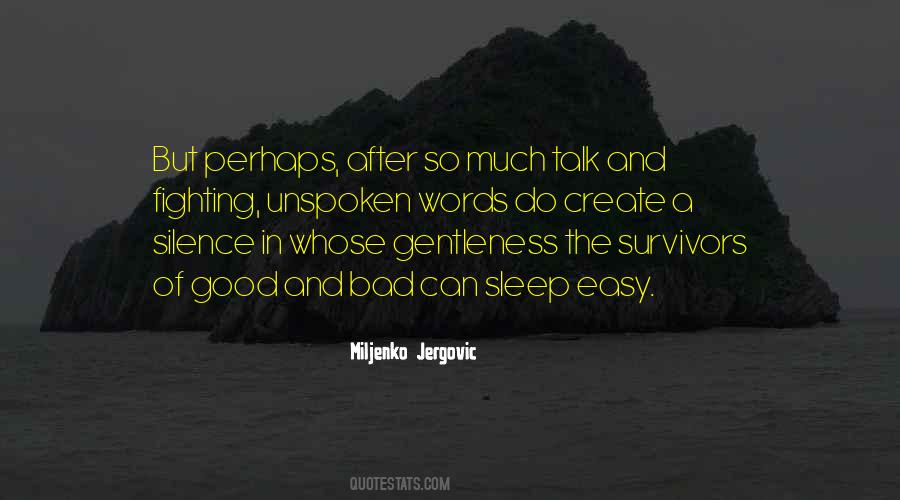 #55. Symphony starts when you walk together, feel the heart beats and understand the unspoken words. - Author: Amit Ray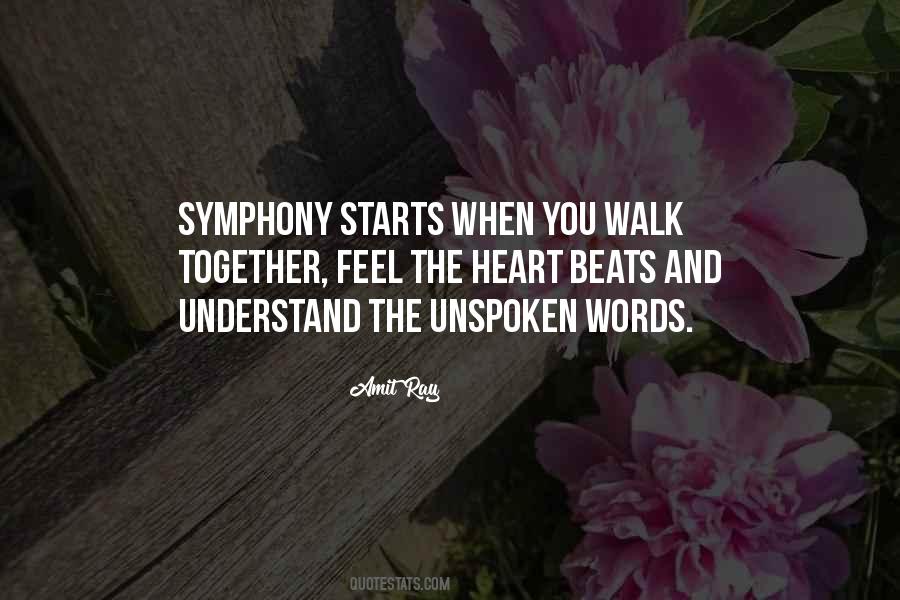 #56. While the words are yet unspoken, you are master of them; when once they are spoken, they are master of you. - Author: Brad Thor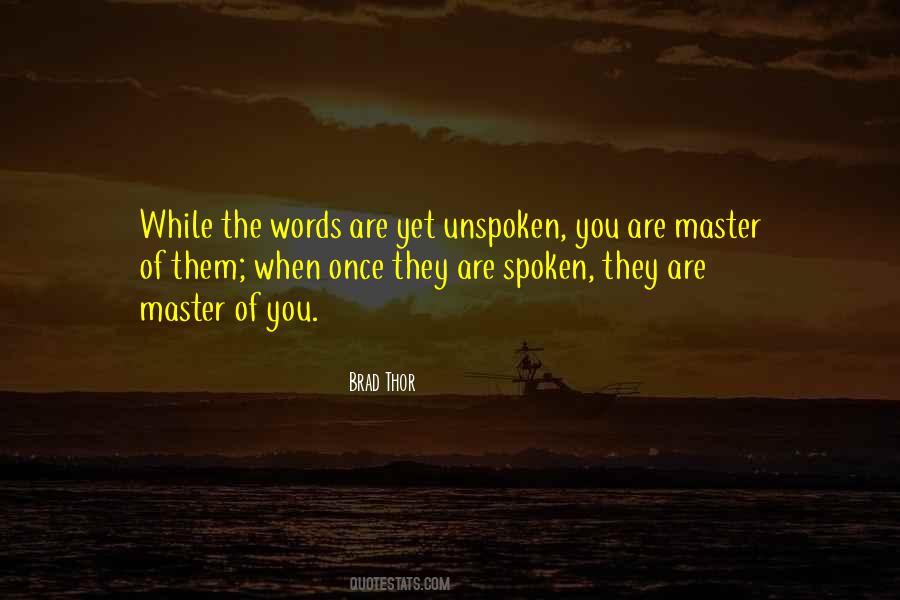 #57. I was touched by the words that have been left,
unspoken.
September 8, 2016 - Author: Petra Hermans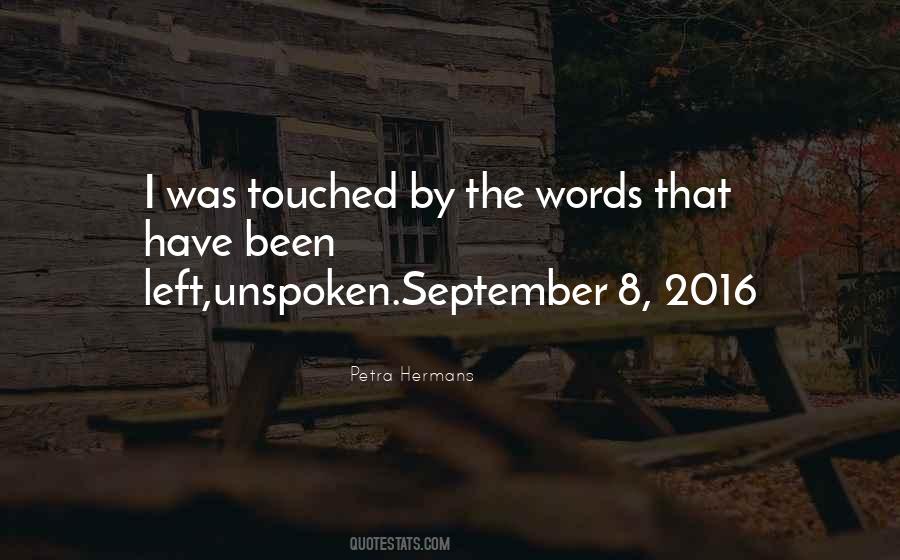 #58. Life is so easy when you are young, she thinks. You can say and do almost anything, safe in the knowledge that an apology will make everything better. The older you get, the more impact those harmful words and deeds have. Once said, those words cannot be unspoken. - Author: Jane Green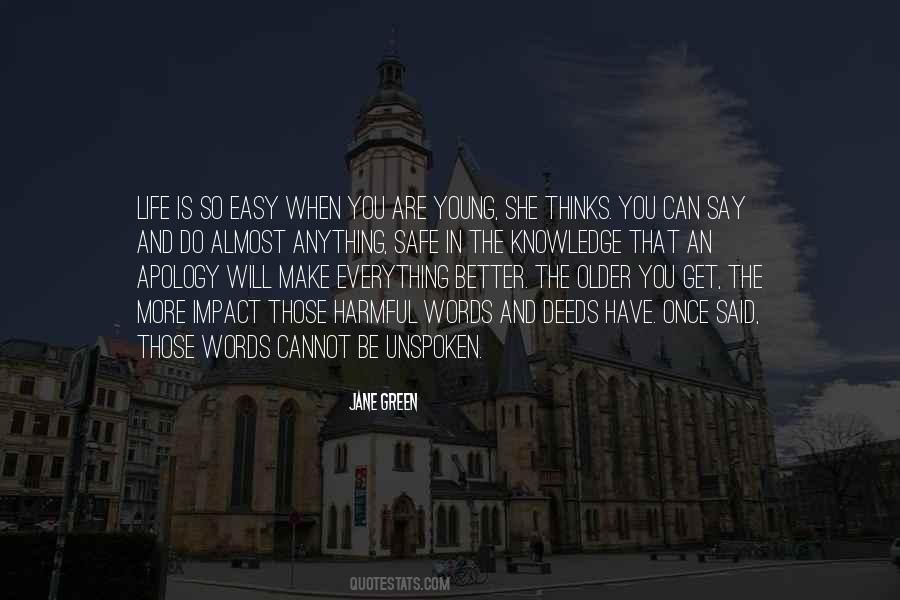 #59. Unspoken words between you and I,
Present in the eyes of knowing,
Lost in the realm of unforeseen beauty,
I am yours. - Author: Truth Devour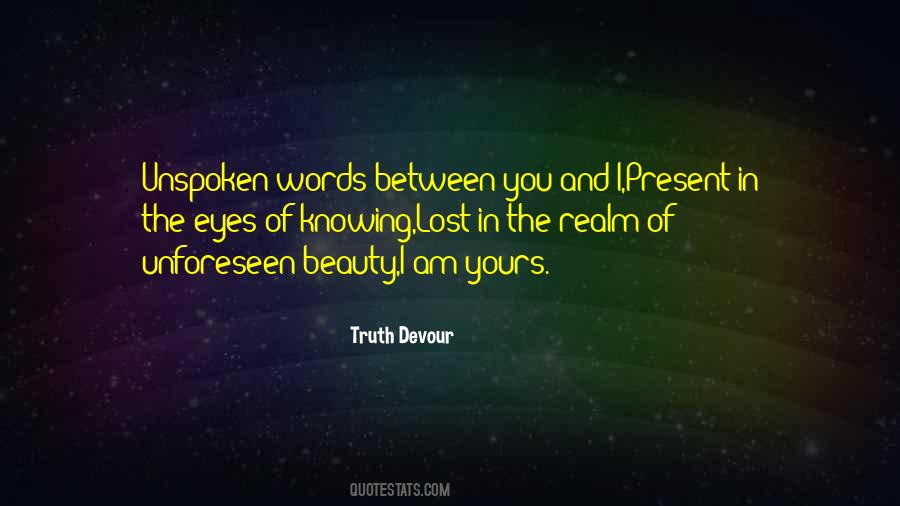 #60. He played of love and loss and years of silence, words unsaid and vows unspoken, and all the spaces between his heart and theirs; and when he was done, and he'd set the violin back in its box, Will's eyes were closed, but Tessa's were full of tears. - Author: Cassandra Clare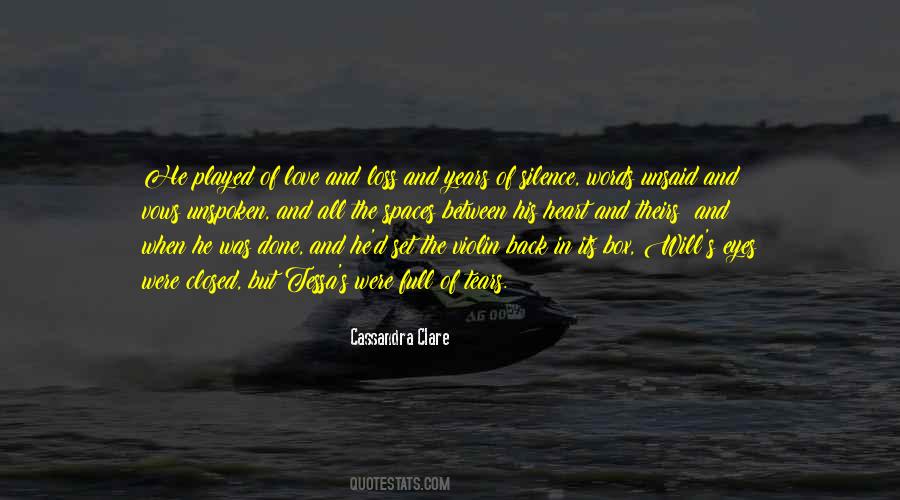 #61. Enter into the life of the trees. Know your relationship and understand their language, unspoken, unwritten talk. Answer back to them with their own dumb magnificence, soul words, earth words, the God in you responding to the God in them. - Author: Emily Carr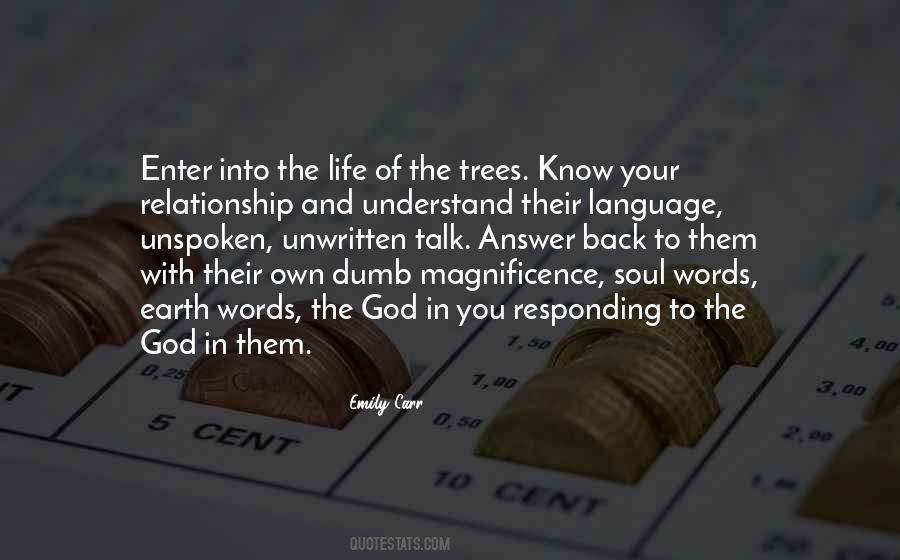 #62. The limitless, lowering sky, the long stretches of motionless empty prairie, the silence, complete right down to the absence of birdsong
who knows what decides a man to leave most of his words unspoken? - Author: Larry Watson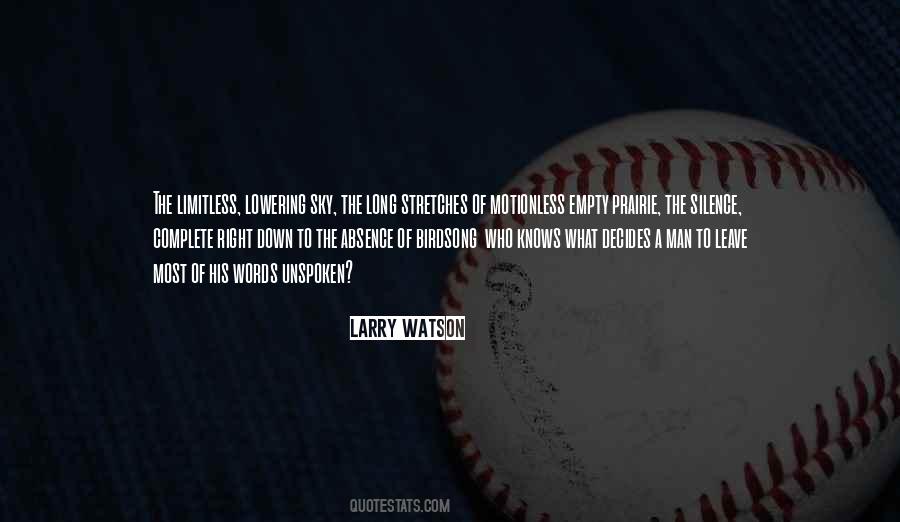 #63. And only when that happens do you realise just how much silence there really is. Silence between lovers, when something really needs to be said; silence from a parent when a child needs some word more than anything else in the world; silences and in betweens and everything which isn't an answer. - Author: Michael Marshall Smith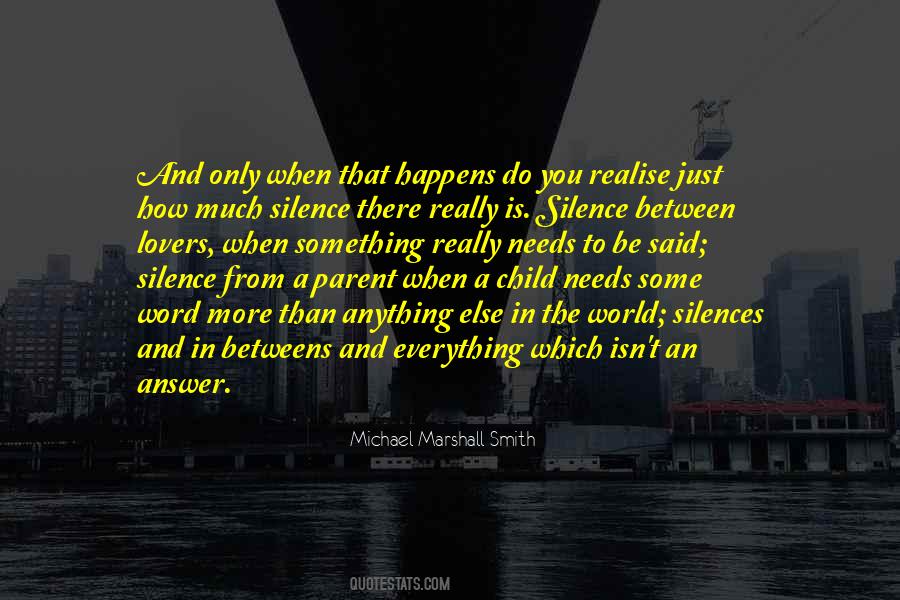 #64. His heritage to his children wasn't words or possessions, but an unspoken treasure, the treasure of his example as a man and a father. - Author: Will Rogers Jr.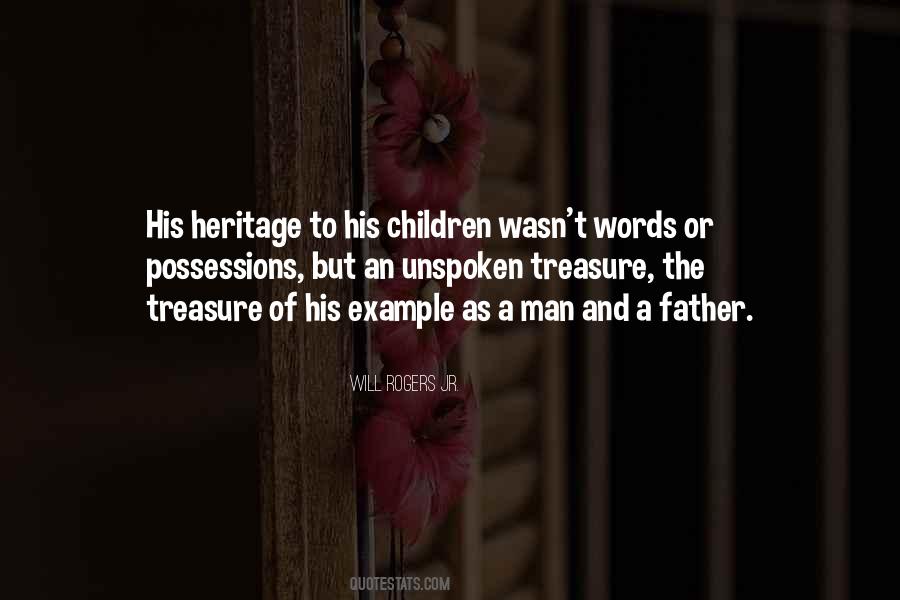 #65. Music is the sound of unspoken thoughts. - Author: Dan Groat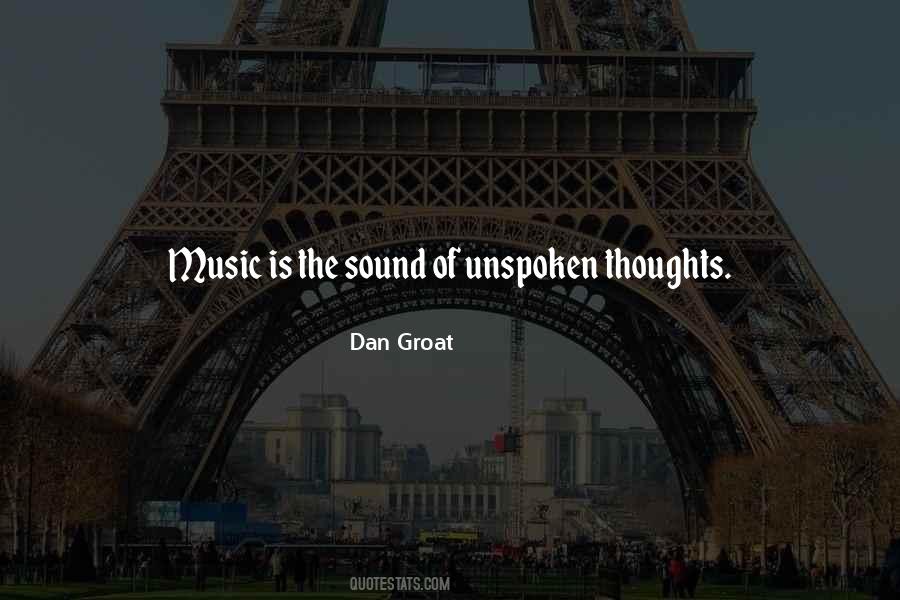 #66. Sometimes you search so hard for words. You look for a way to interpret the language of this heart and the unspoken bond you feel. But in the end you are left with nothing but silence. And deep down you hope it's understood. - Author: Yasmin Mogahed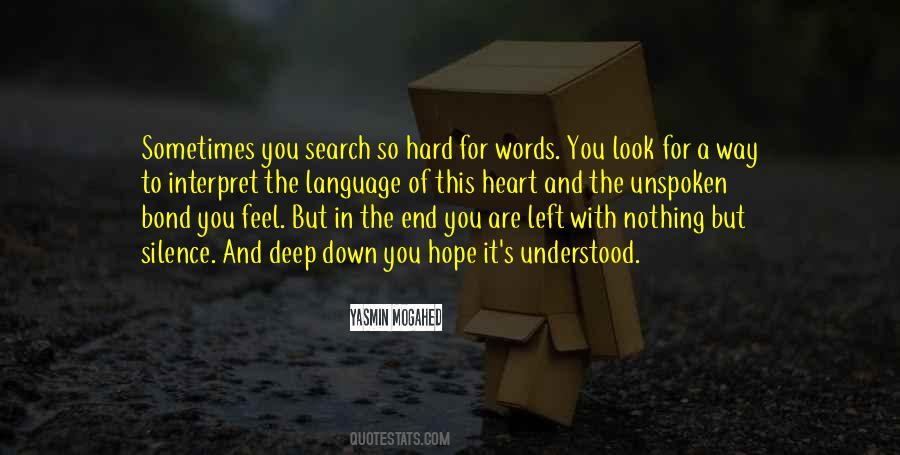 #67. Some unspoken human communication is taking place on a hidden channel. I did not realize they communicated this much without words. I note that we machines are not the only species who share information silently, wreathed in codes. - Author: Daniel H. Wilson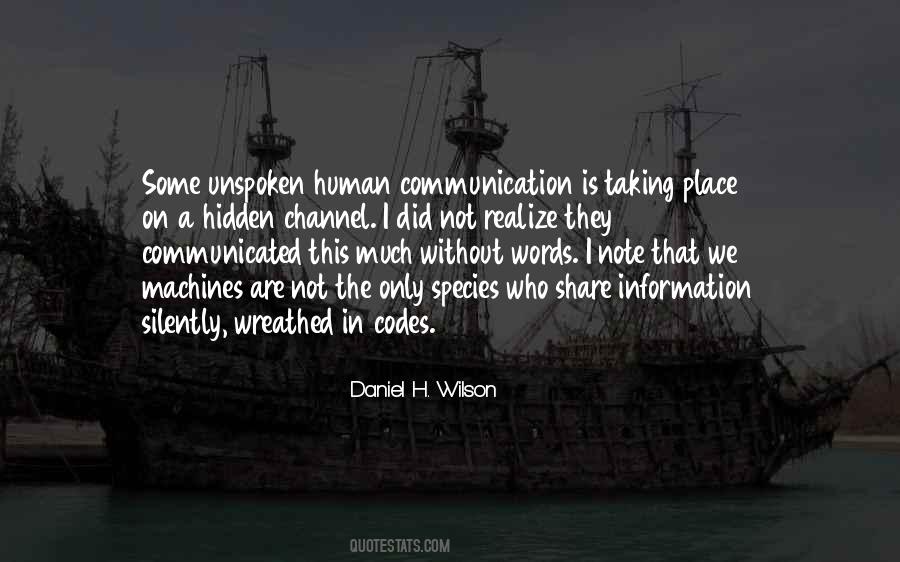 Famous Authors
Popular Topics