Trailers Famous Quotes & Sayings
List of top 52 famous quotes and sayings about trailers to read and share with friends on your Facebook, Twitter, blogs.
Top 52 Quotes About Trailers
#1. Surprises are good. I'm not of the thinking where you tell the audience everything. Sometimes I don't even want to see the trailers. You see the trailer, you've seen the movie. - Author: Spike Lee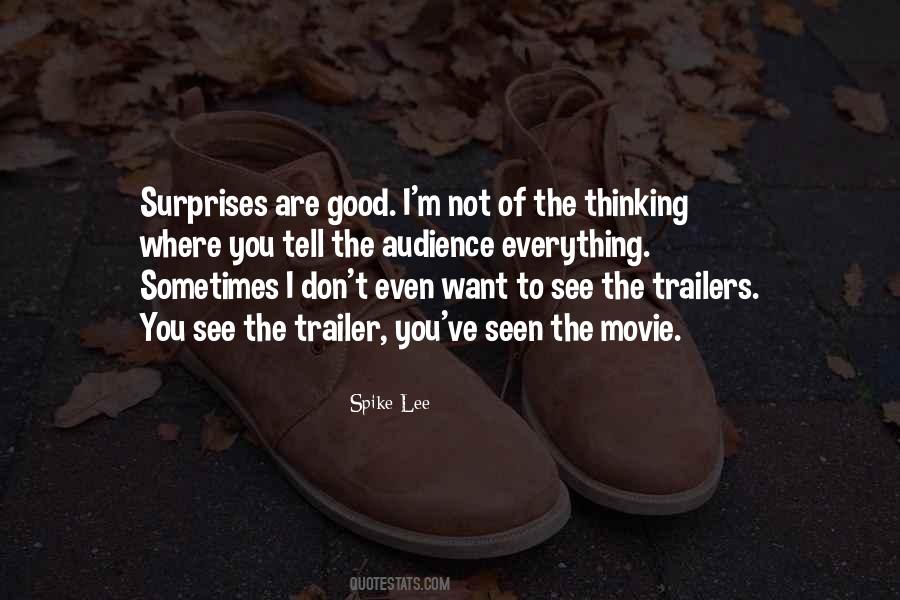 #2. And of course, the answer came to me in the same way Jesus comes to those who drink in trailers: as an epiphany. - Author: Augusten Burroughs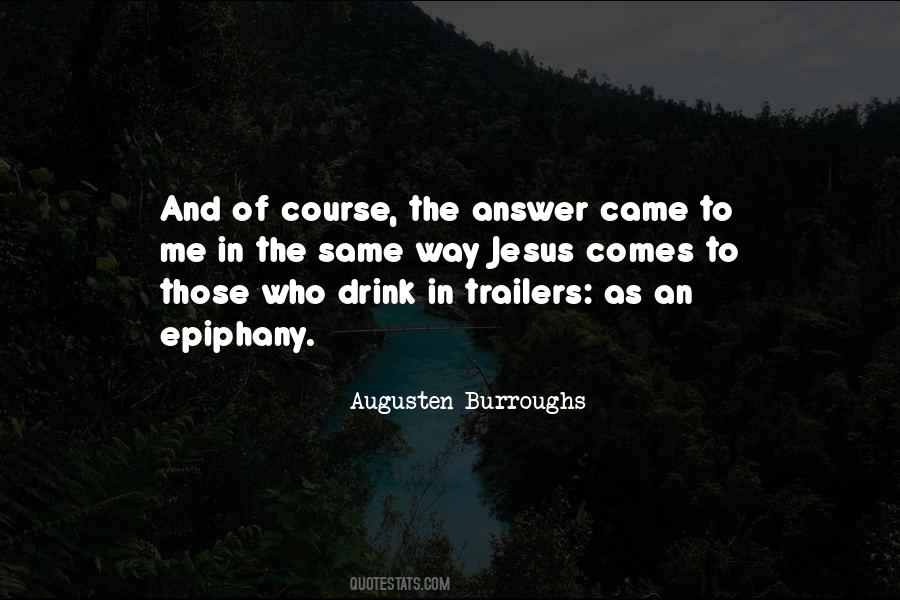 #3. My agency tells me I am rare because I sing, do movie trailers, and do cartoons too. I like that because it gives me variety in jobs. I don't just sit and do movie trailers, and I don't just do cartoons either. I can do both, and I feel very fortunate for that. - Author: Jim Cummings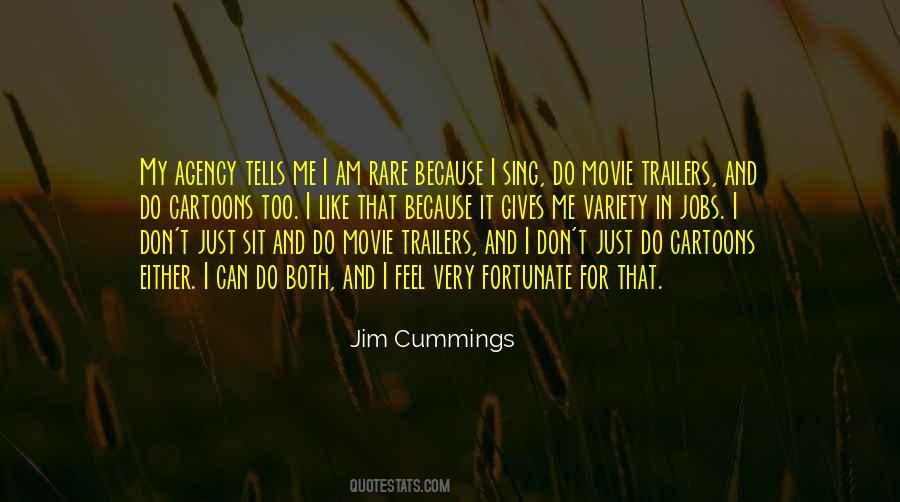 #4. I would like to perform more in English. But there have to be many good things gathered for me to be willing to do a movie. I watch trailers of every new American movie and I'm, like, 'OK, I'm not missing anything!' - Author: Ludivine Sagnier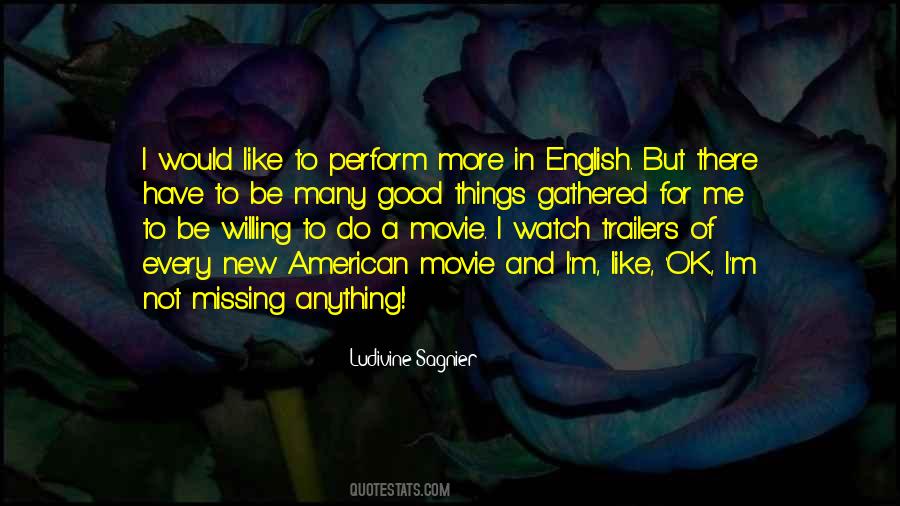 #5. By year three, you get nicer, bigger trailers. - Author: Peter Gallagher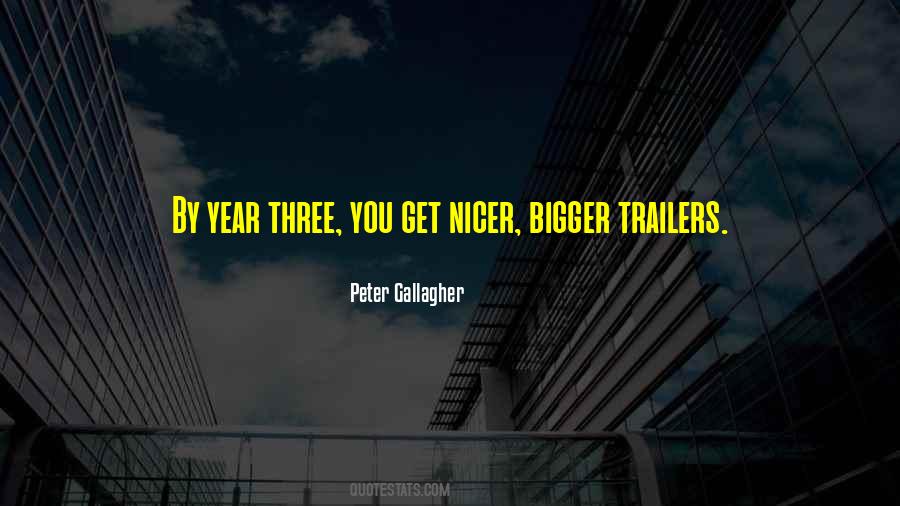 #6. Outside the airport, the caravan waited. Four silver Airstream trailers, three trucks, two parking violations and Aunt Dot. Stepping into the parking lot felt like coming home. - Author: Hailey Edwards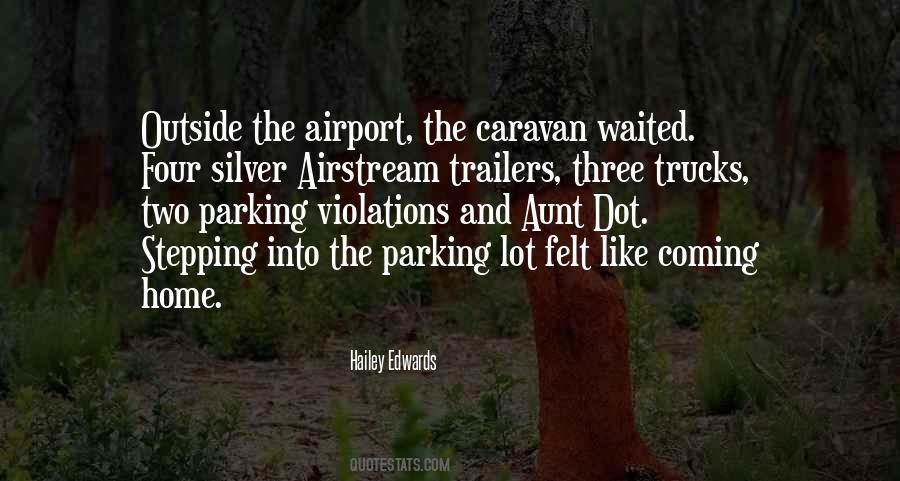 #7. And there's so much extra material. I mean, I've certainly read as you asked about do I read reviews and stuff, like people are like none of the jokes in the trailers are like in the movie. And it's like and we have whole sequences and scenes that weren't in the movie. - Author: Nicholas Stoller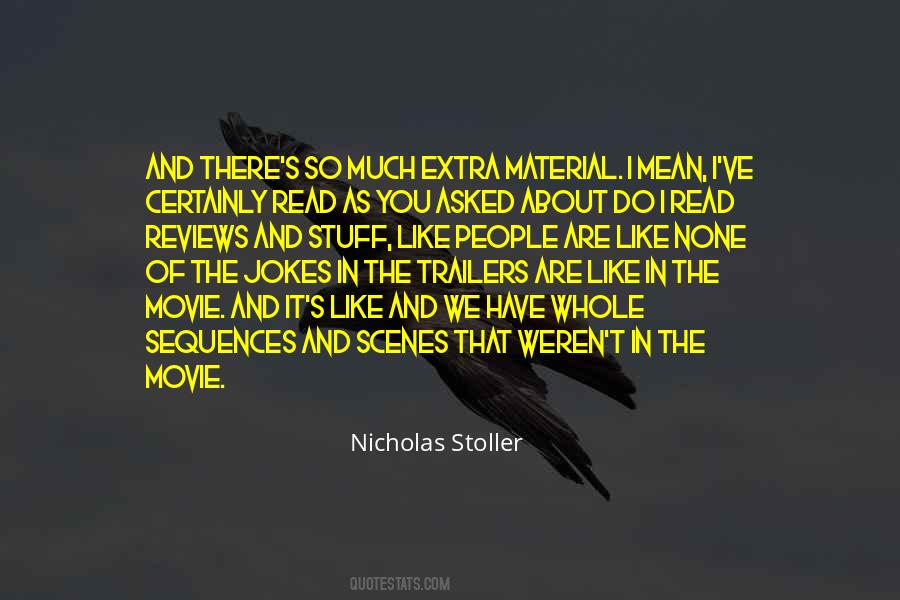 #8. We've all been around love enough to know how lucky we are. I've never seen anybody have a cross word on the set, and I'm there a lot. All the women just got brand-new trailers, so they're happy. - Author: James Denton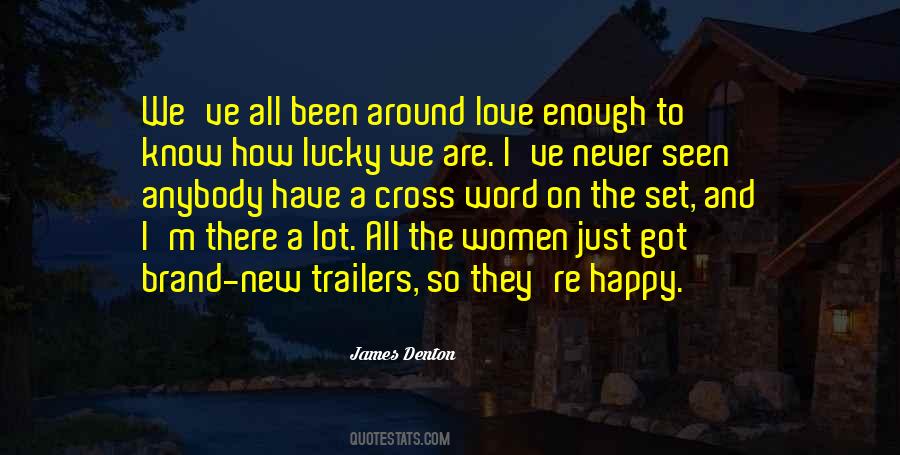 #9. This is the way it was in Yates County. Bald Girls. Wild boys formed from math. Geniuses all around, just waiting to be discovered, or waiting to rot in trailers behind their parents' barns, die penniless, mourned only by the Amish from whom they bought all those eggs. - Author: Lydia Netzer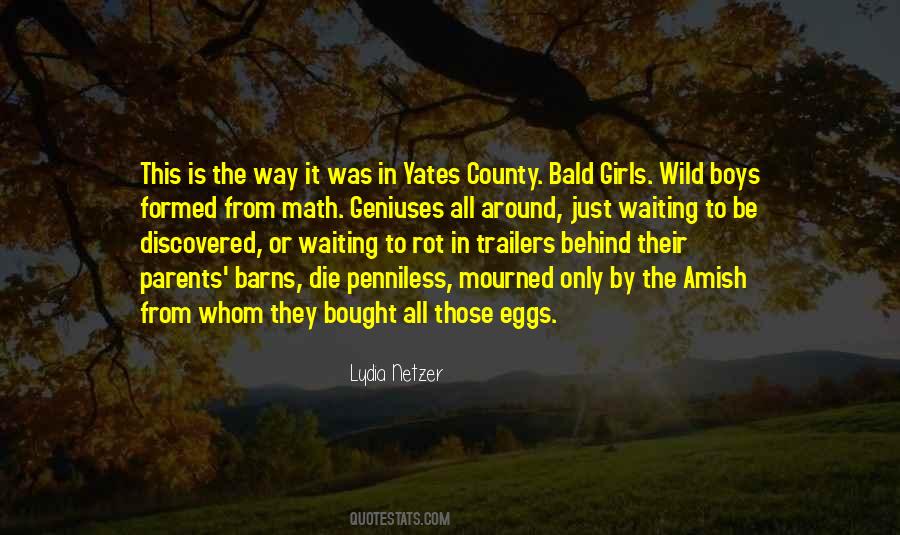 #10. I think I had the most fun making a movie with 'Dedication,' just because you knew that it was a passion project for everyone involved. We had X amount of days to shoot New York in the cold. No trailers. Just sort of kind of doing it guerilla style in a way. - Author: Mandy Moore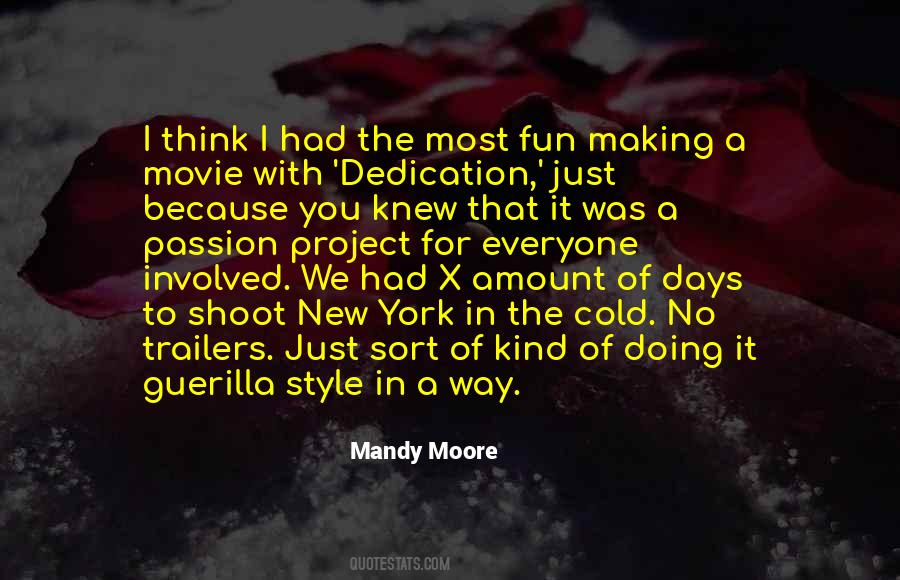 #11. They had some really cool rigged cars and things that were different that they would tow behind the camera car that were actually on these trailers that manipulated side to side and stuff like they were getting hit, and actually put the actor right in the middle of the chase. - Author: David R. Ellis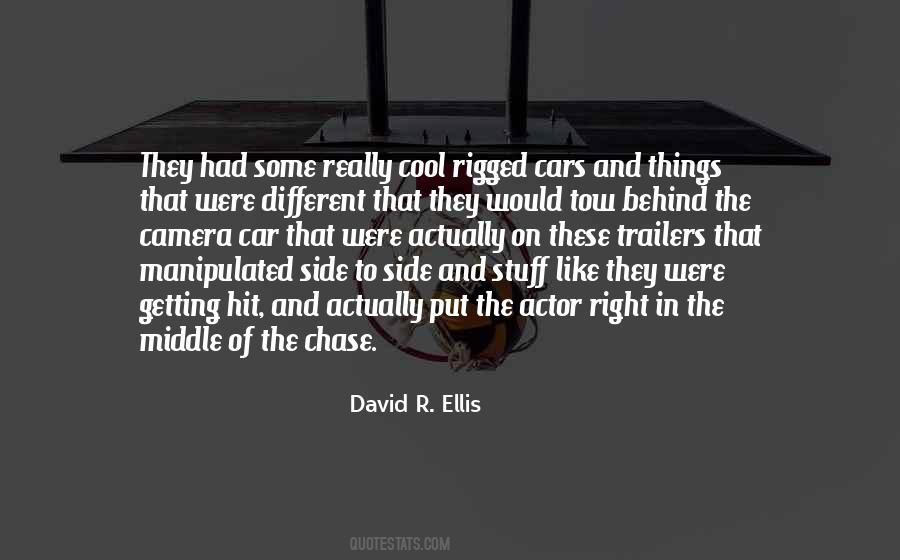 #12. On a big film, there's almost no way you can meet everyone. On an indie, there are 30 people and no trailers to duck into. - Author: Aaron Paul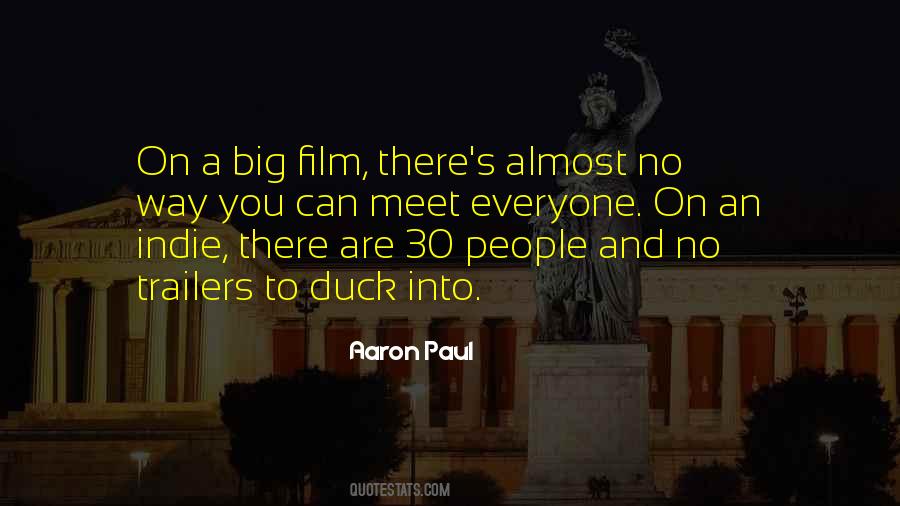 #13. It was an amazing performer. Very temperamental, it spent a lot of time in its trailer. - Author: Tilda Swinton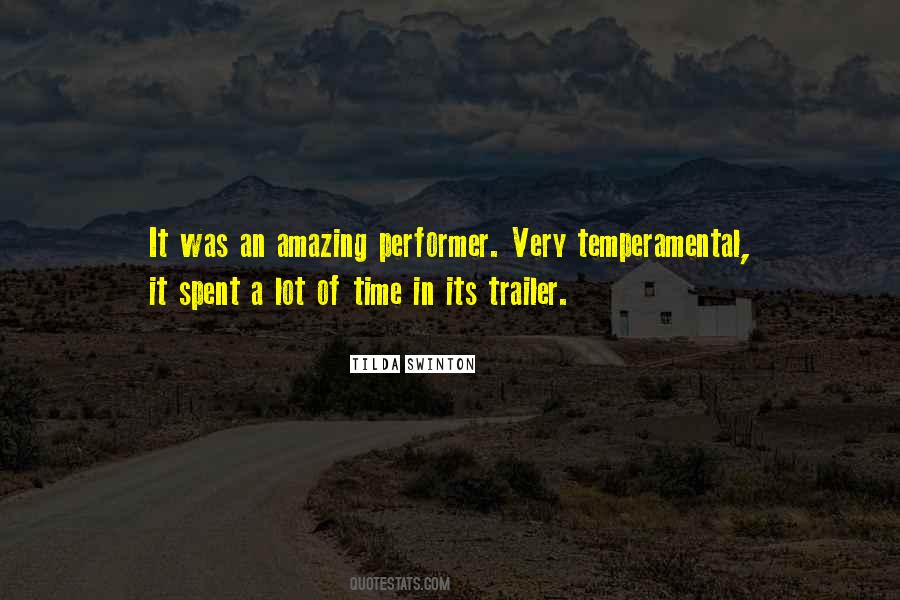 #14. Like every other rich asshole, I have a cook and he's in my trailer making food all the time. - Author: Adam Sandler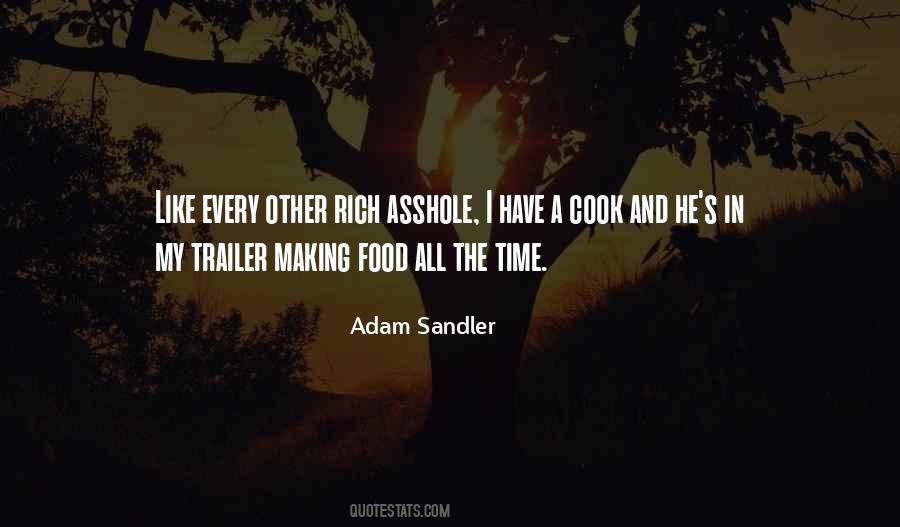 #15. I'm gonna design my own fleet of trailers. No! I'm gonna record an album like Jennifer Lopez. It'll be an acoustic version of K.C. and the Sunshine Band. Then maybe I'll design a line of clothes like Puff Daddy, but all in synthetic fur. - Author: Brad Pitt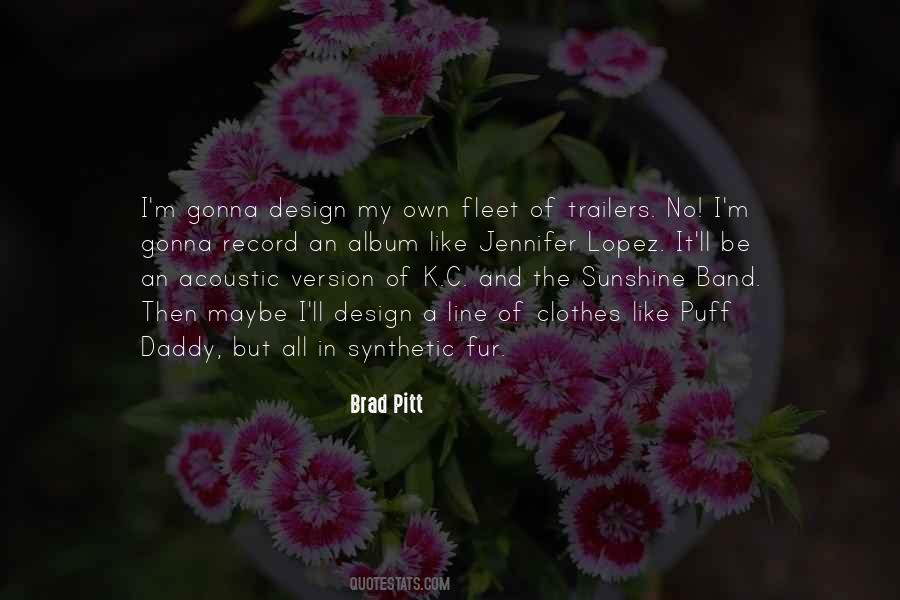 #16. When I did that '3 Days of Normal' one, we had no budget, and we were all staying in a house in New Hampshire. There's no trailers, and it's just a family environment. There's not much of a crew; you just do what you need to do. - Author: Mircea Monroe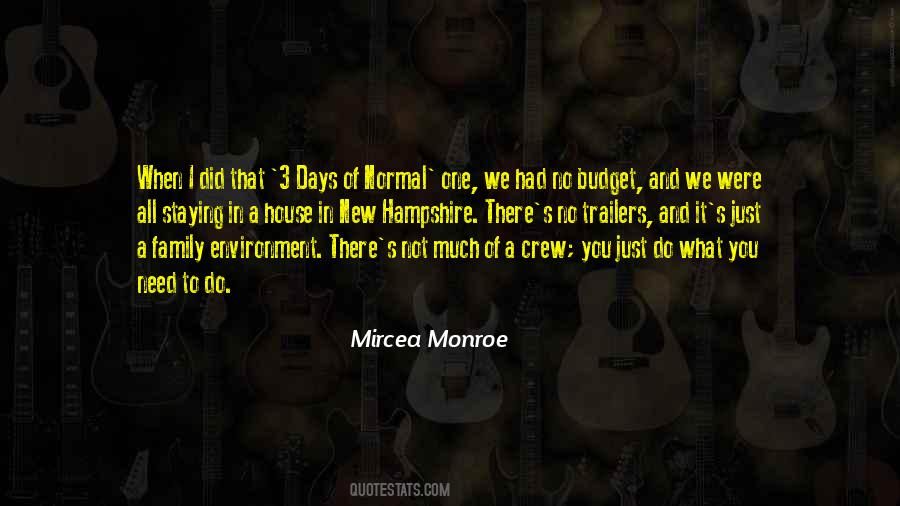 #17. Keeping a little ahead of conditions is one of the secrets of business; the trailer seldom goes far. - Author: Charles M. Schwab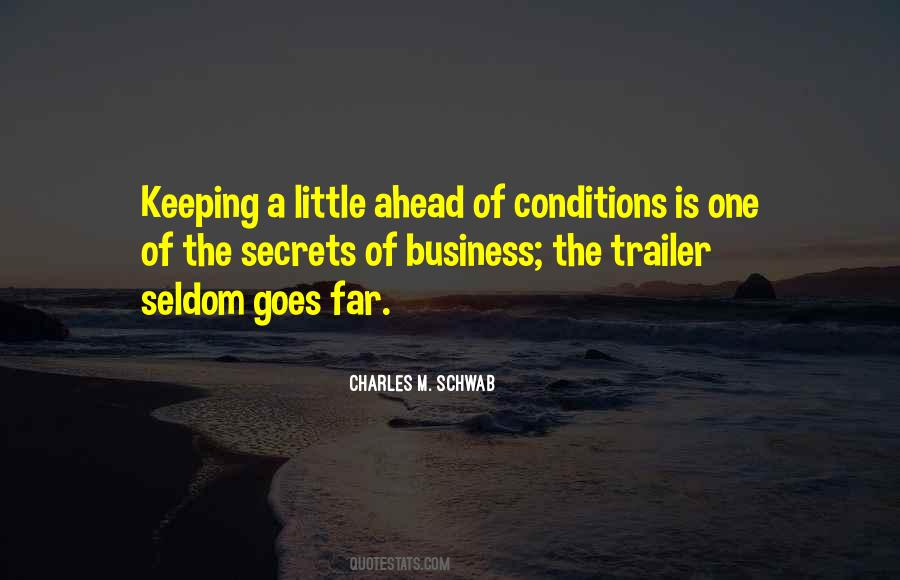 #18. It was a democracy in the truest and most frustrating and most rewarding sense of the word. Anybody could come in and say, "You know, I'm just not cool with that." We'd be like, "Who's that?" "Oh, I was just cleaning the trailers." It was nuts. - Author: Robert Downey Jr.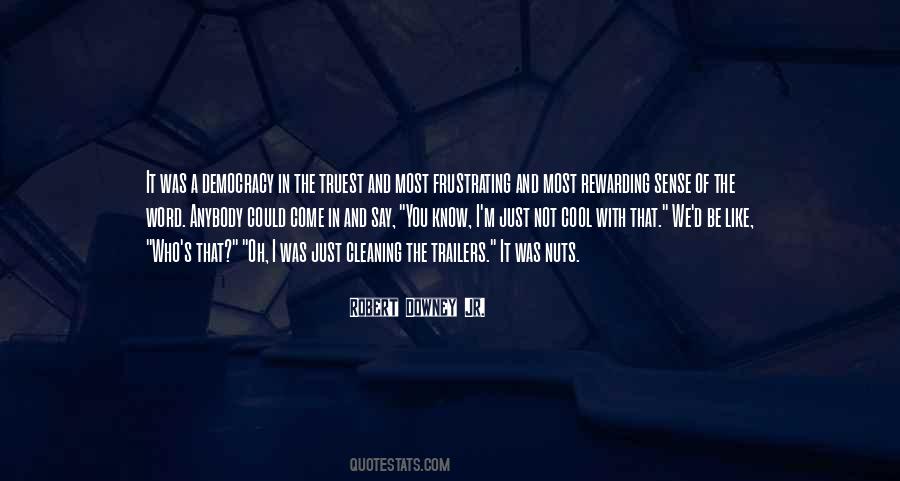 #19. I don't know why I just remembered this, and I haven't told anybody this, but we were shooting in Canyon de Chelly and we were so far up the canyon. Once we were up there, we were up there. There was no going back to your trailers. - Author: James Badge Dale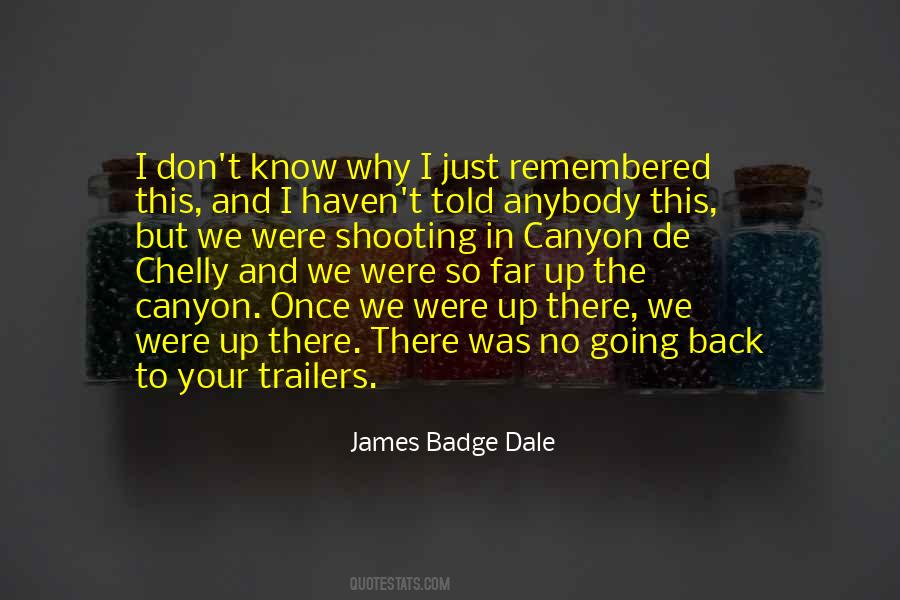 #20. I'm a trailer junkie. I love watching movie trailers as soon as they go up. - Author: Jonathan Keltz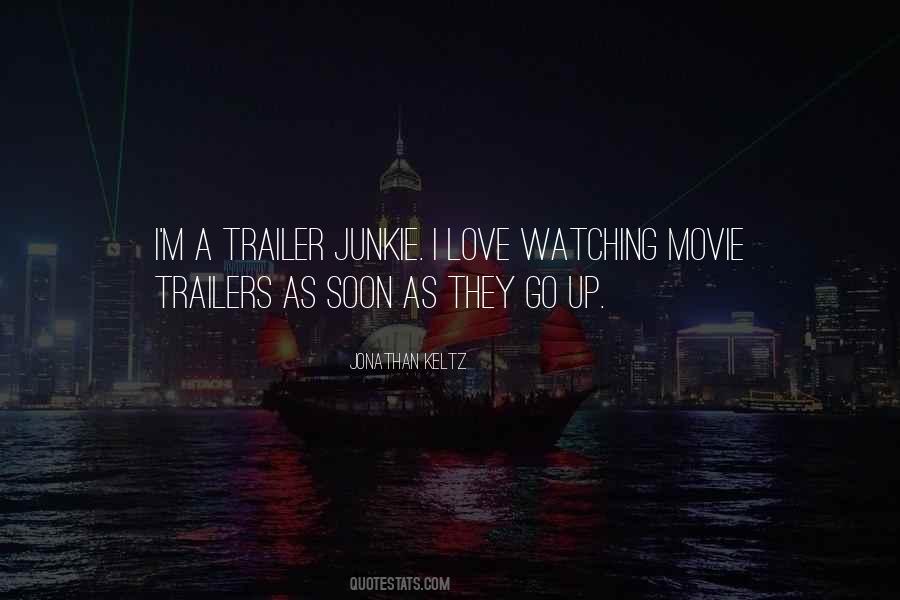 #21. You were up at 5 o'clock in the morning, and then you'd ride in a caravan, because we didn't have big movie trucks or trailers that is the hardware of a movie camp. - Author: Marguerite Moreau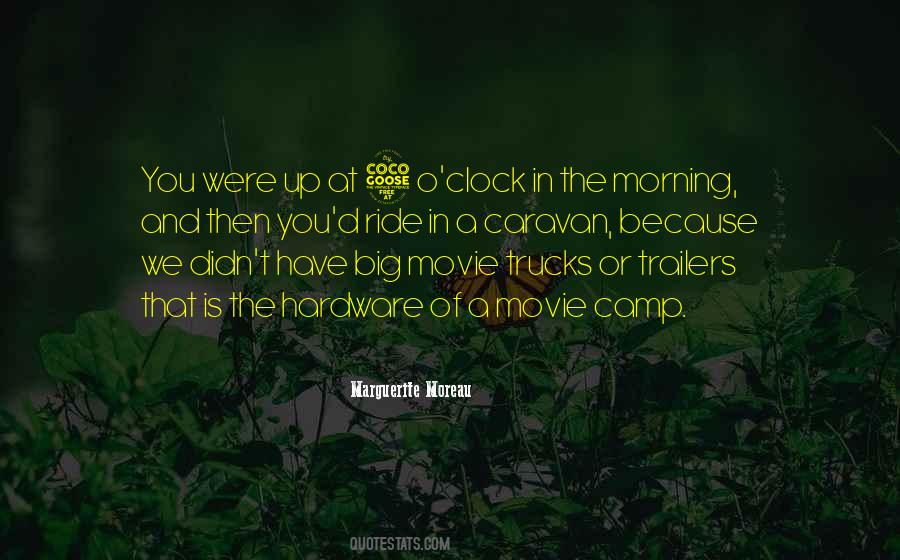 #22. I admire actors for their infinite patience. That's why they need all those trailers and all their crowd of people who pamper them. But it is a drag to get up sometimes at 4:30 in the morning and get into makeup, and wait forever until they call you onto the set. - Author: Roman Polanski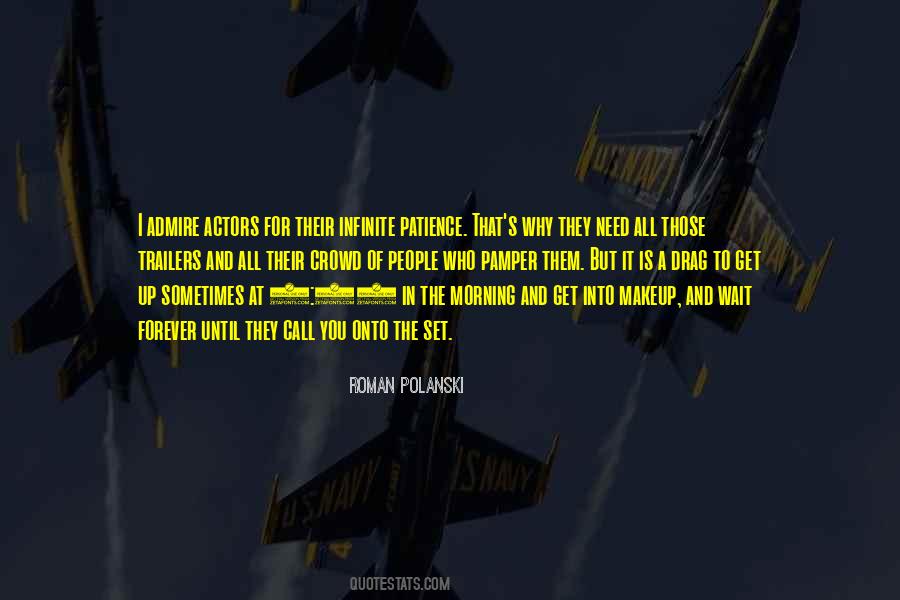 #23. We had a tiny budget for 'The Greatest,' which was the opposite of 'Wall Street.' We just kind of went in and did it. You've got four or five takes and then you've got to move on. We didn't even have trailers to stay in or anything. - Author: Carey Mulligan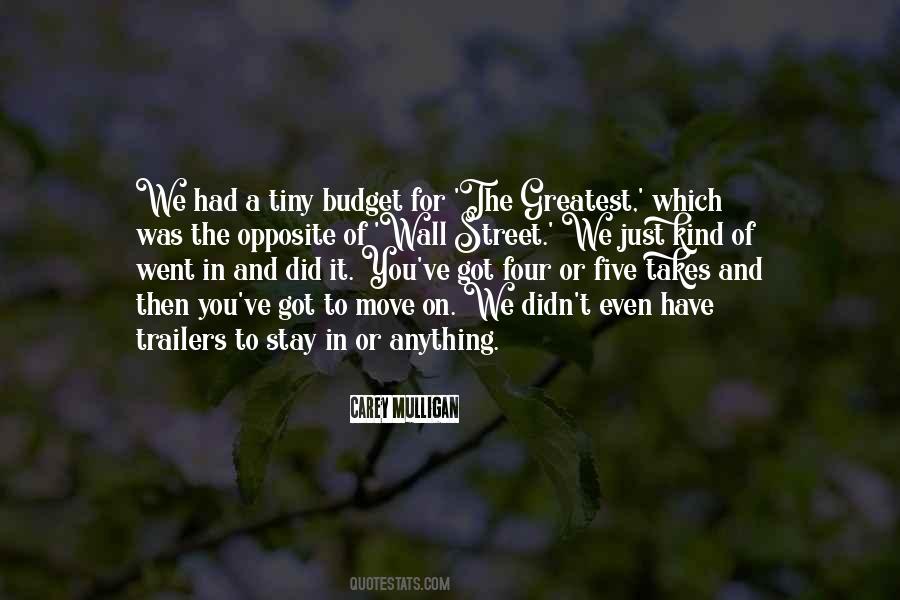 #24. A lot of times the best trailers are for complete dogshit movies. It's a shame that people are beyond quick to judge things these days. Lots of great stuff gets lost that way. - Author: Rob Zombie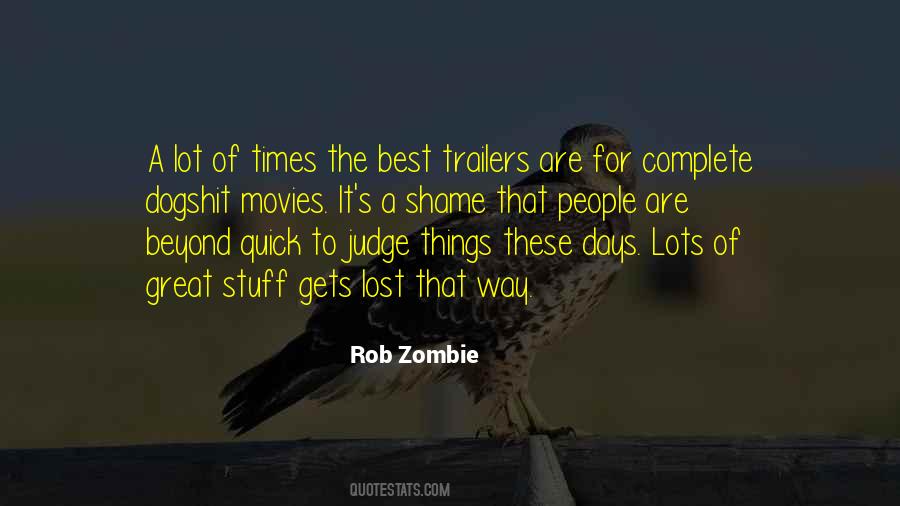 #25. I used to want to be a movie star so I wouldn't have to live in trailers anymore. And now that I make movies, I spend a lot of my life living in trailers. - Author: Roseanne Barr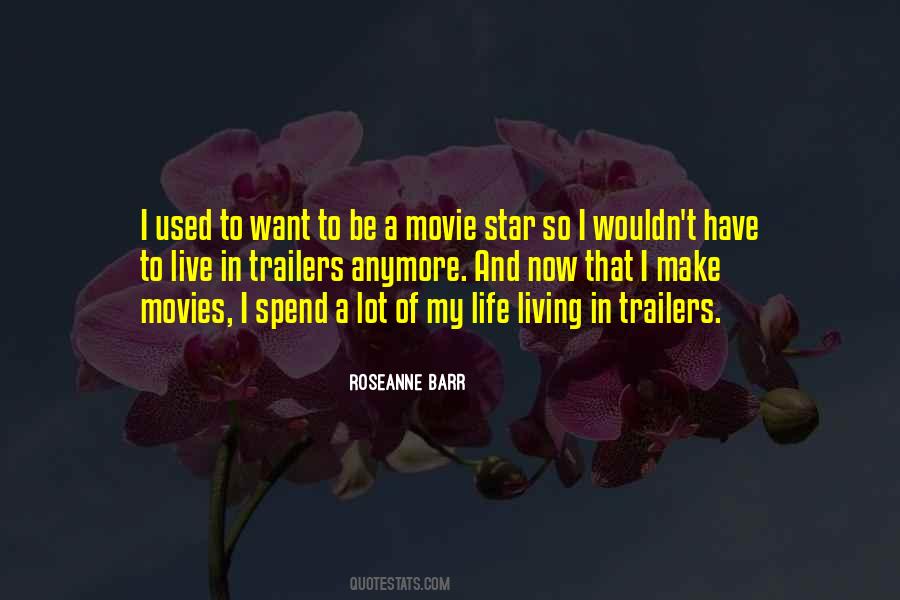 #26. There are certain aspects of acting that I don't like. I'm not a person who loves being on set. I mean, I know people that have their espresso machines in their trailers and they like being in there and they put pictures on walls. But I don't like it. I don't like sitting around. - Author: Joaquin Phoenix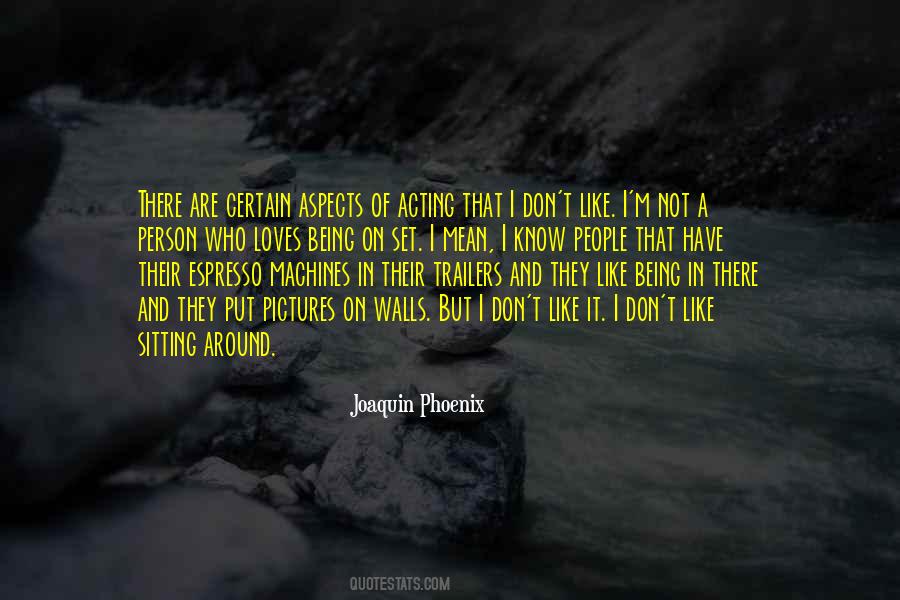 #27. I just thank God I don't live in a trailer. - Author: Jimmy Buffett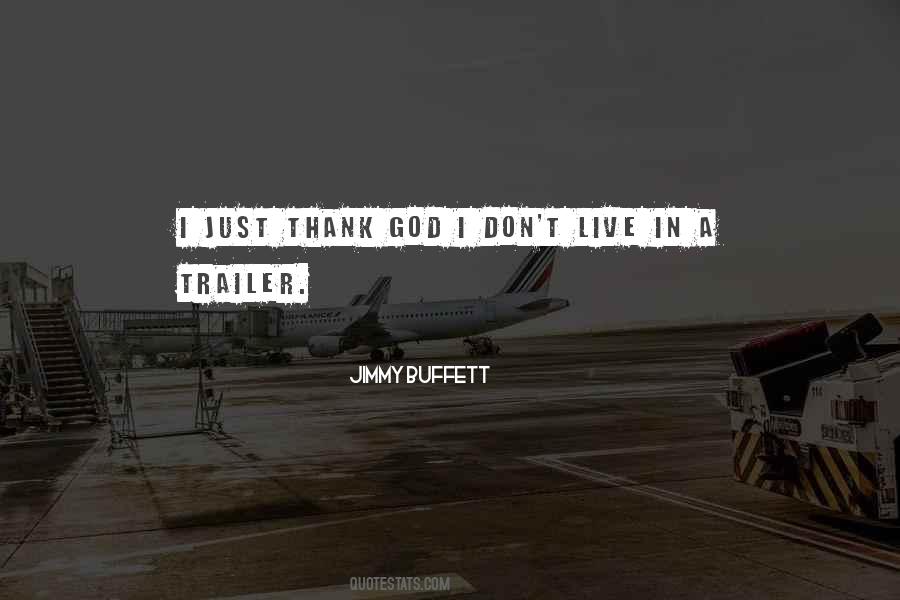 #28. A lot of movies will deliver on the promotion but when you go see them, everything you laughed at was in the trailer. - Author: Ice Cube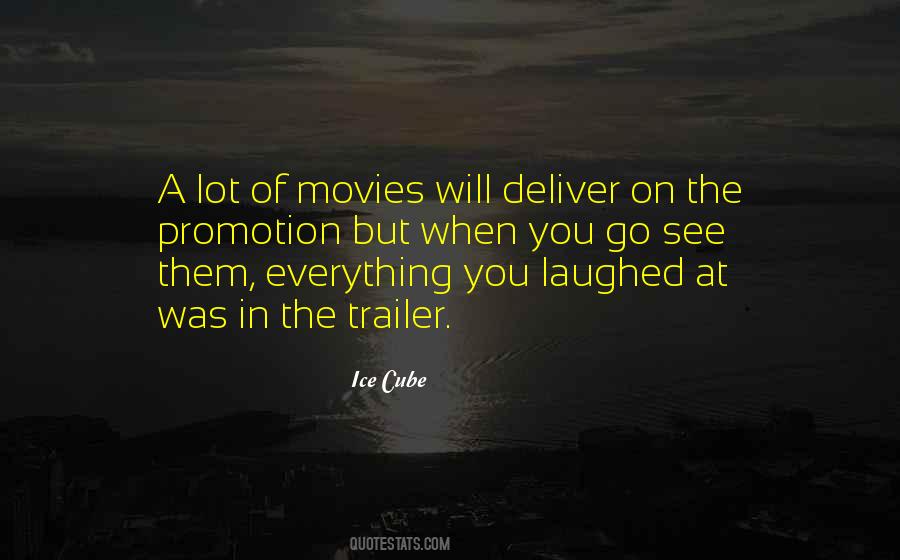 #29. Don't spend more than 10% of your marketing/PR budget on a trailer. Trailers have to be marketed, too. So, far too many authors wind up marketing their trailers instead of their books. - Author: M.J. Rose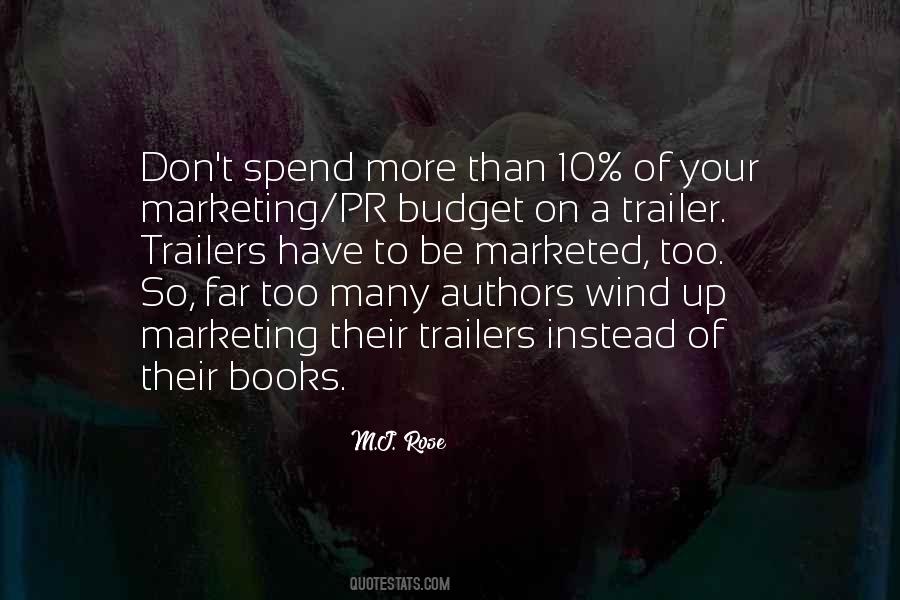 #30. People in trailers were canned and labeled much like the apple juice down at the plant, stamped with ingredients for all the world to see: chicken fried steak, overcooked vegetables, no working knowledge of any major Italian movie directors
the list went on and on. - Author: David Sedaris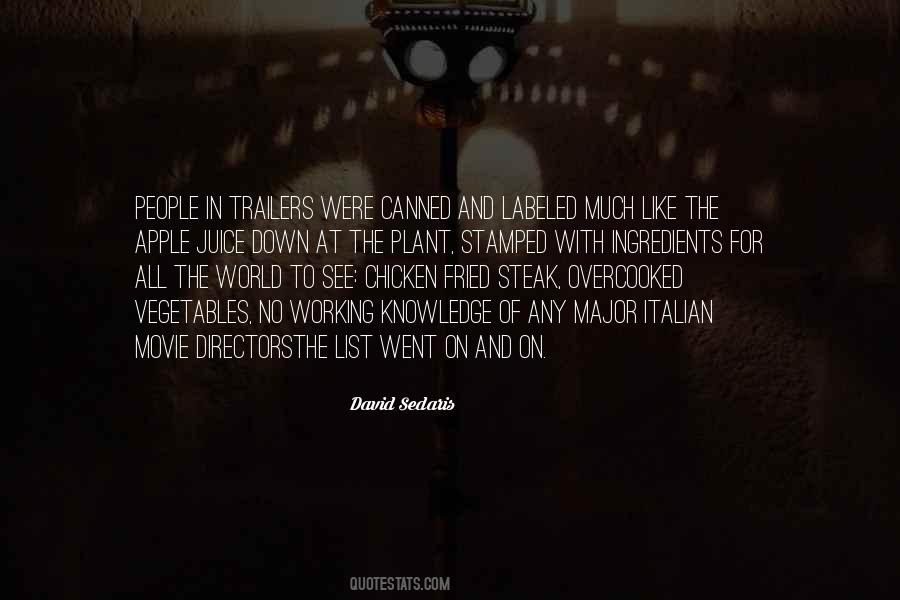 #31. High-level actors can be all about their close-ups and the size of their trailers. I'd heard these horror stories of how a really powerful actor can come in and change your script. - Author: Neill Blomkamp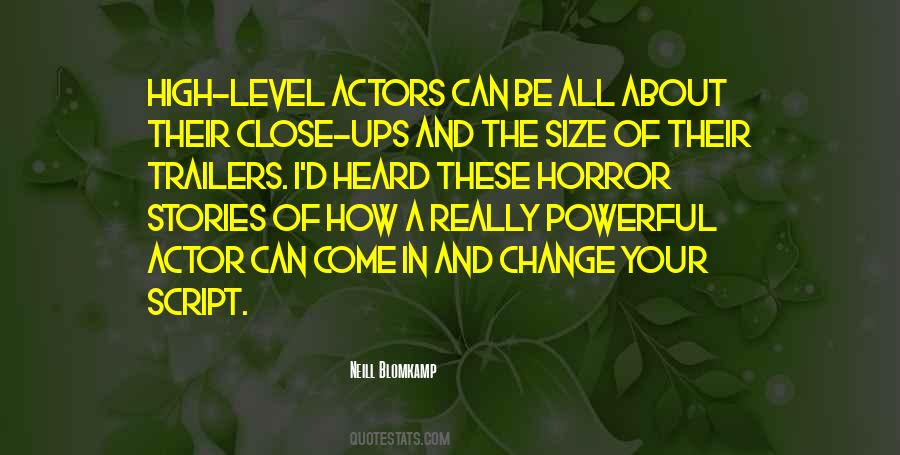 #32. I am trying to be as impartial as possible. As you can tell from the trailers for Mad Men, I am a person who believes that you should know nothing. - Author: Matthew Weiner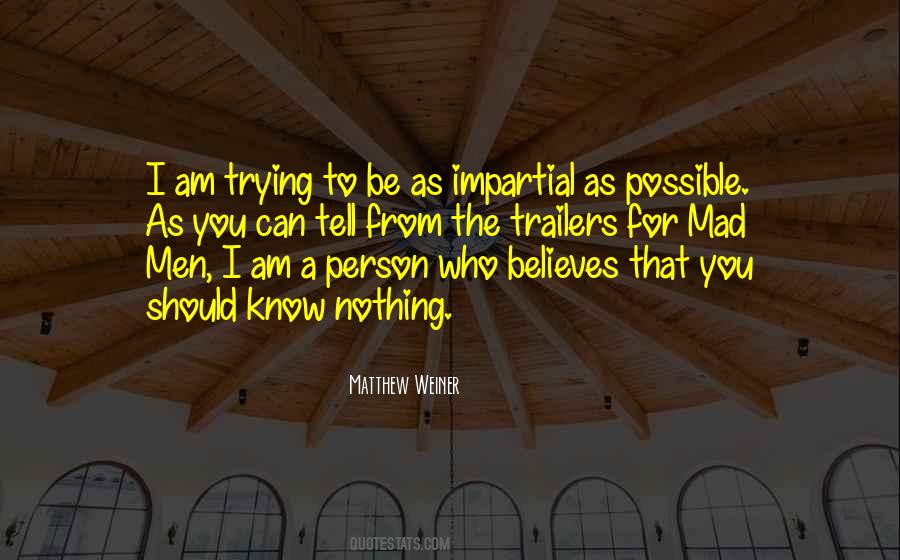 #33. I always get everyone prepared so there aren't so many arguments on set. I have a policy that the first thing I do in the morning is go over to the trailers and discuss exactly what we're shooting that day. It's time-consuming, but it reduces the chances of 'misunderstandings' on set. - Author: Tony Scott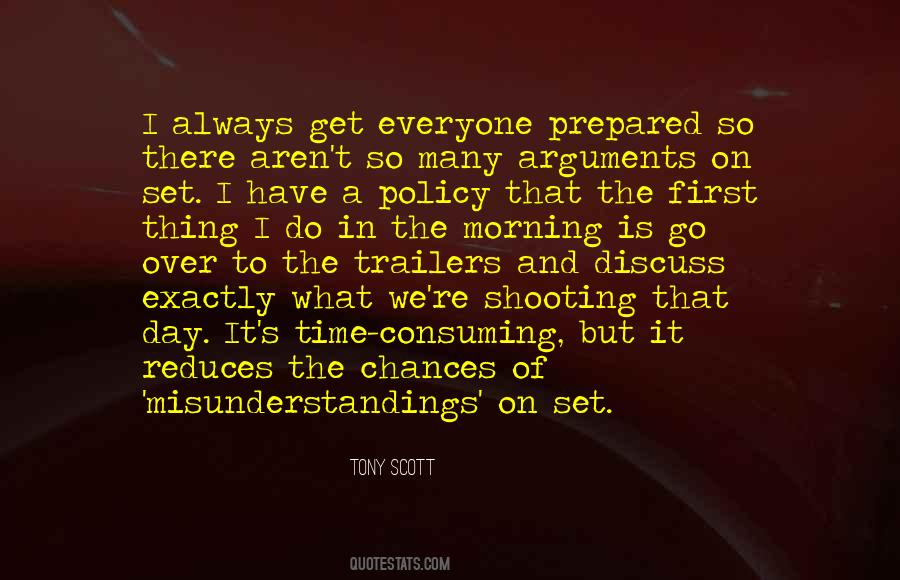 #34. I am a bit of a gourmet chef. I love cooking mostly Thai food. And a lot of times on movies, you have these trailers that have these little ovens and kitchenettes. A lot of actors never use them, but I would cook lunch just about every day. - Author: Will Ferrell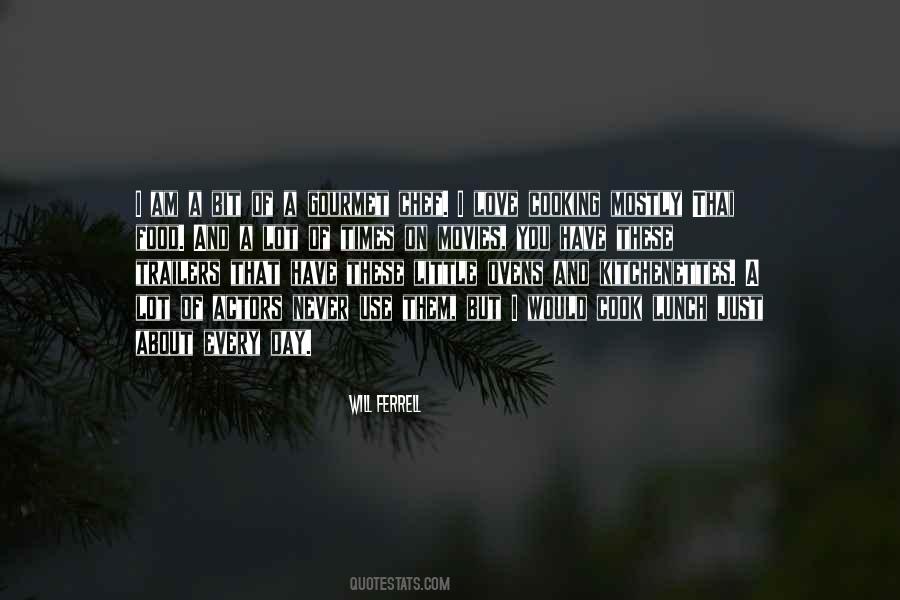 #35. The first day, in particular, is always one of those weird days because you get ... , you're thrown into this new trailer - here's your wardrobe. - Author: Mekhi Phifer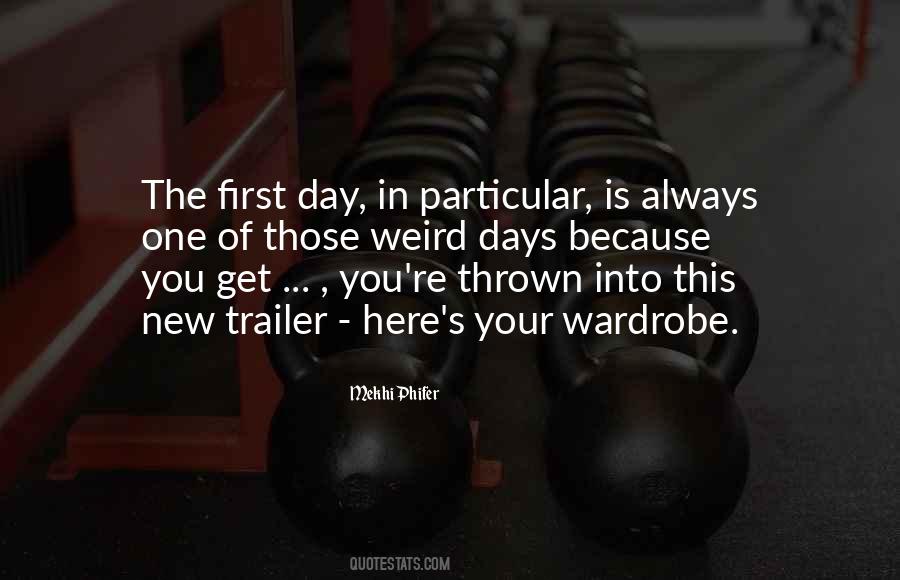 #36. It was not all that different from the circus, and it came to town in much the same way. Only instead of elephants and giraffes, there were cameras and microphones. Instead of clowns and cages and tightropes, there were production assistants and trailers and yards upon yards of thick cables. - Author: Jennifer E. Smith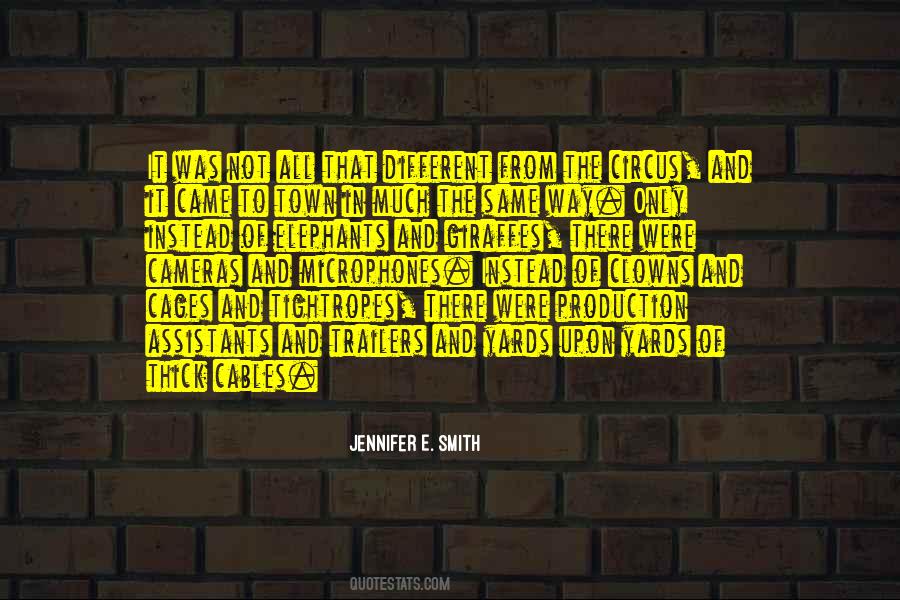 #37. I don't watch movie trailers. I just go to the movie, and I don't know anything about it, because that's the only way I appreciate the movie fully. - Author: Skylar Grey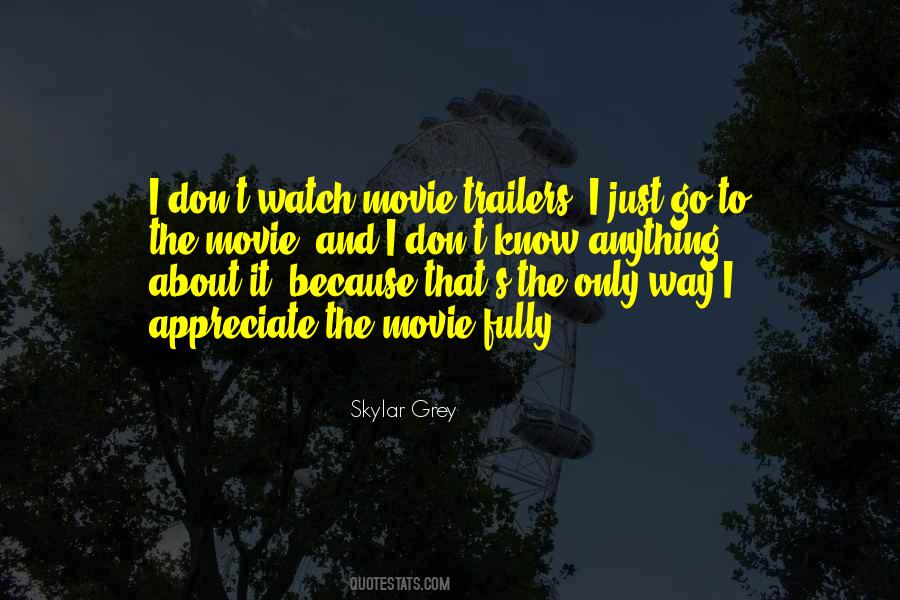 #38. I always like teaser trailers because they don't give too much away, you know? They give just a flavor of what the thing is. - Author: Oscar Isaac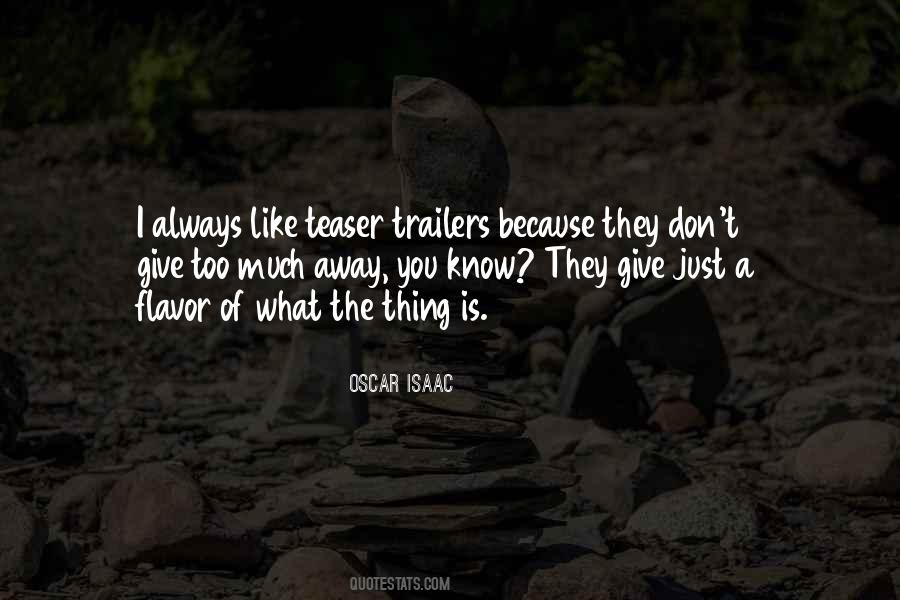 #39. The old Piggly Wiggly parking lot rented for the trailers. - Author: Alessandra Torre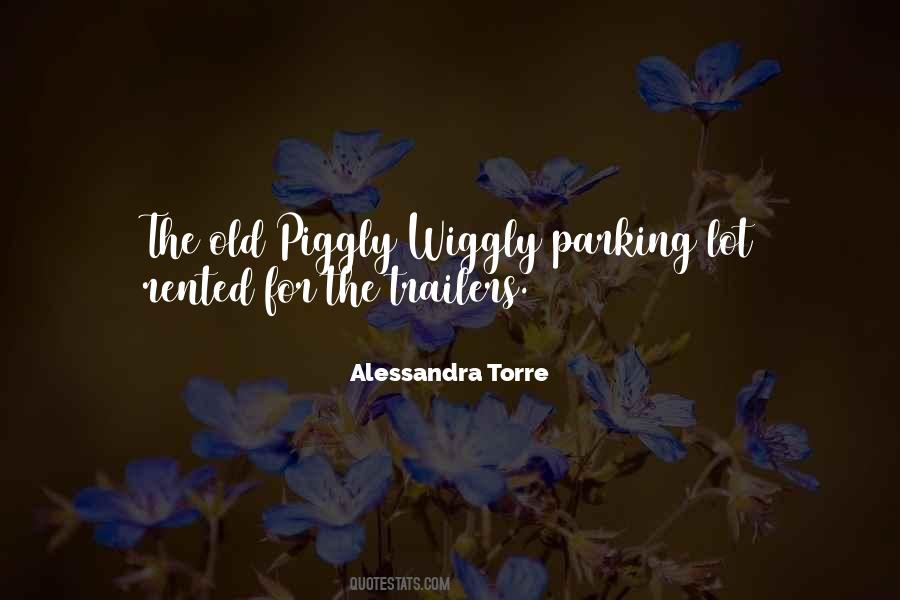 #40. Think about trailers you see in theaters. If you're seeing a Warner Bros film, the studio might have three of the five trailers. So having a hit helps you create the next hit. - Author: Anita Elberse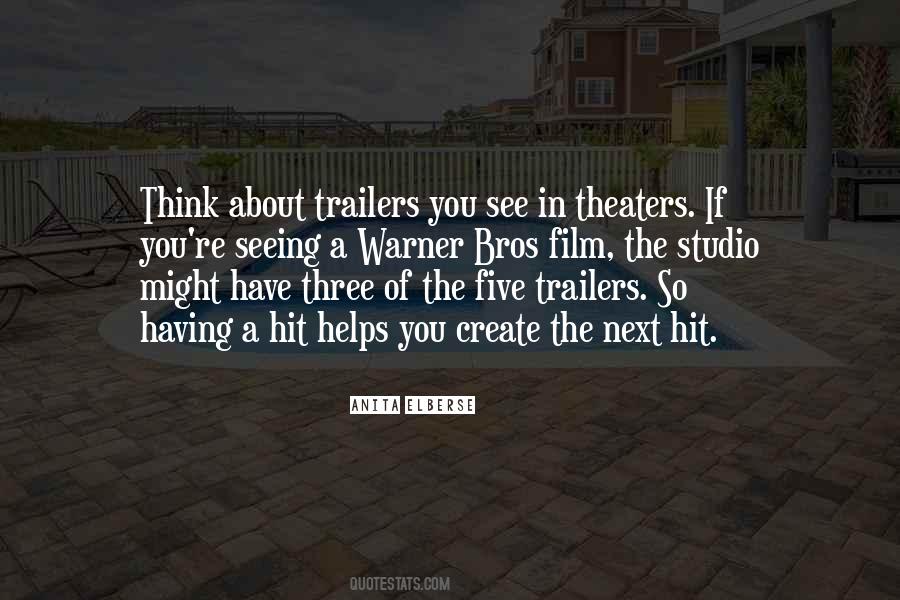 #41. I'm used to very low-budget situations. In 'The Exploding Girl,' we were literally changing in Starbucks because we didn't have trailers. - Author: Zoe Kazan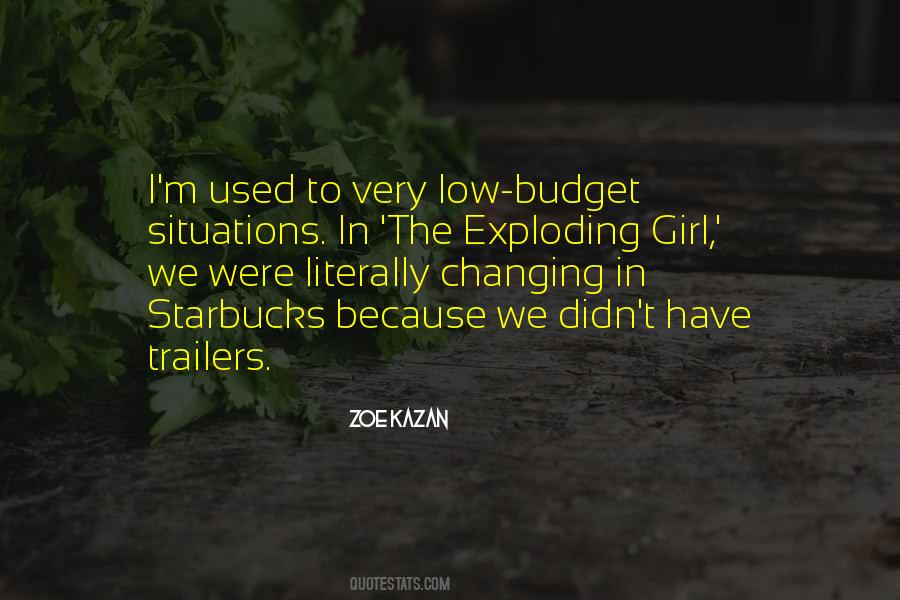 #42. It's always strange being a kid on the set, because you're treated like an equal when you're working. But then when you break, the other actors go back to their trailers to take naps and drink beer, and I have to, like, go do school. - Author: Natalie Portman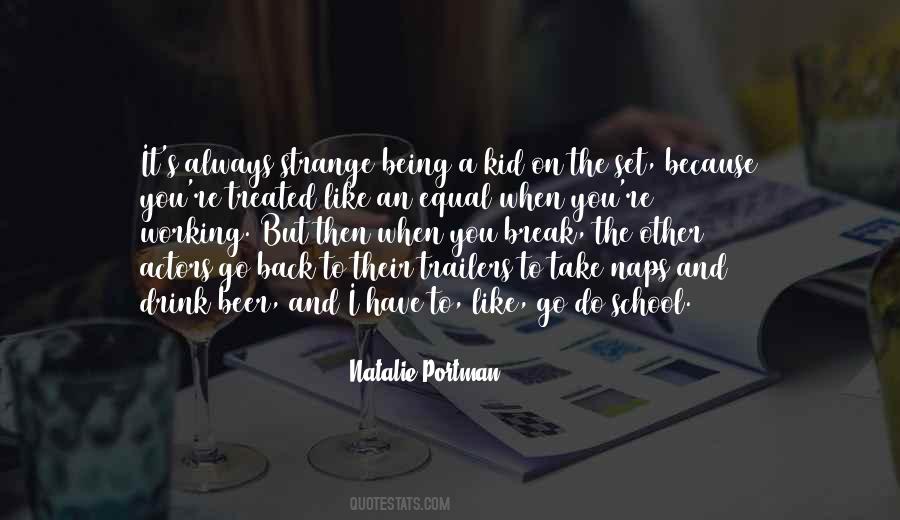 #43. I find making trailers really frustrating, because sometimes the worst trailers are for the best movies. - Author: Rob Zombie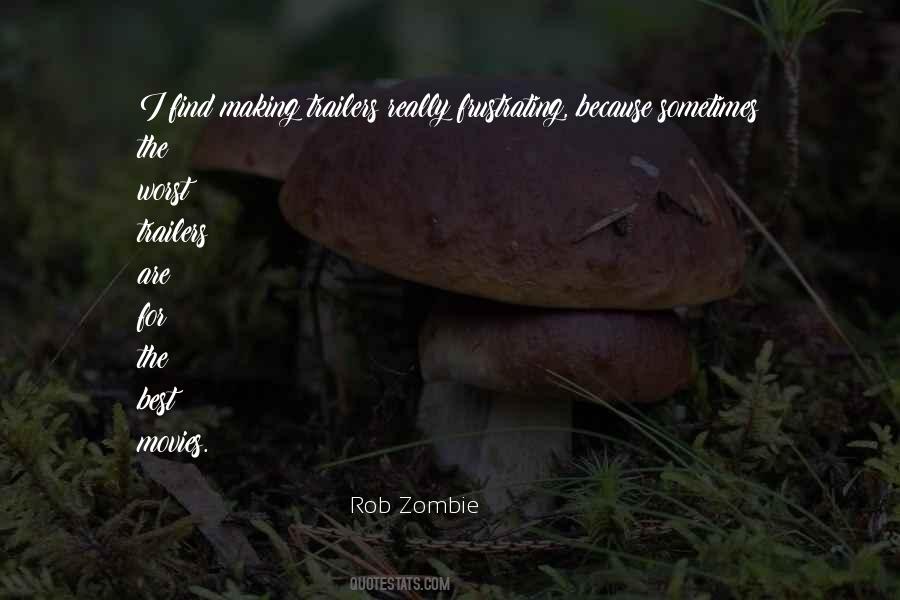 #44. If people are worried about the size of their trailers, I kind of say their priorities are off. - Author: Taylor Hackford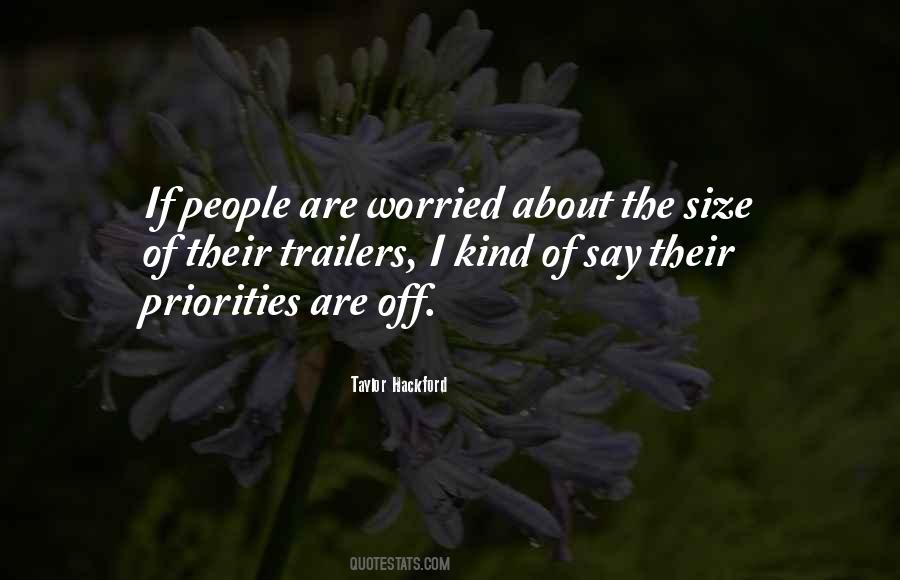 #45. I don't watch trailers, I like to go into every movie fresh. - Author: Benh Zeitlin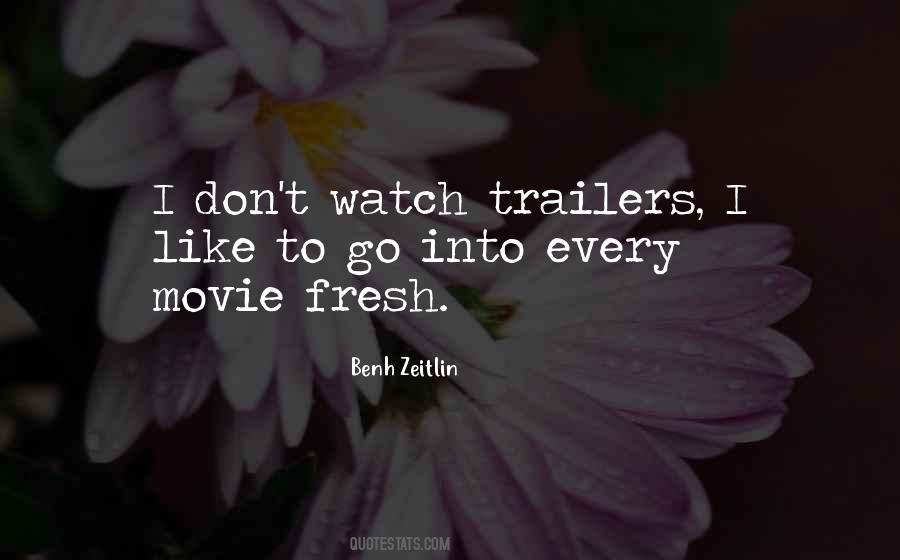 #46. I couldn't care less about actors' trailers and food on sets and stuff like that - I just want to act. - Author: Chow Yun-Fat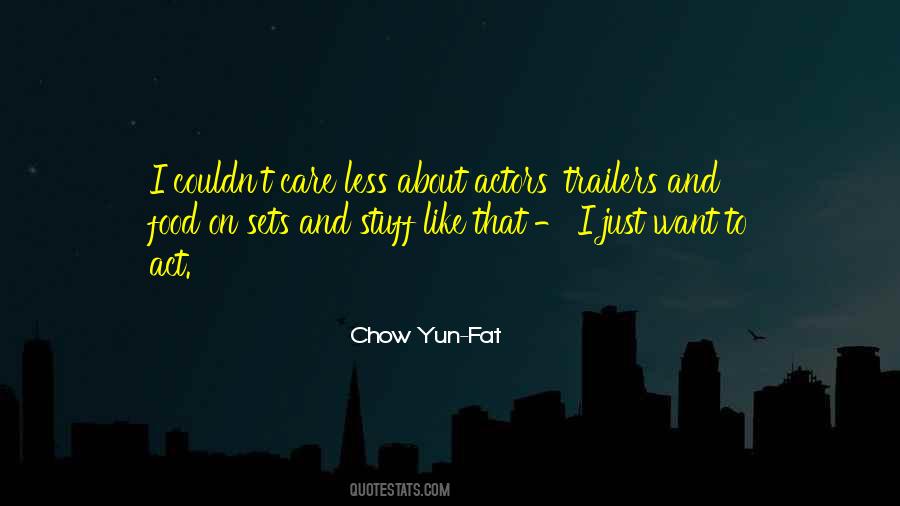 #47. For my 'Perfect Chemistry' series, I did movie-style book trailers, and my fans went crazy for them. - Author: Simone Elkeles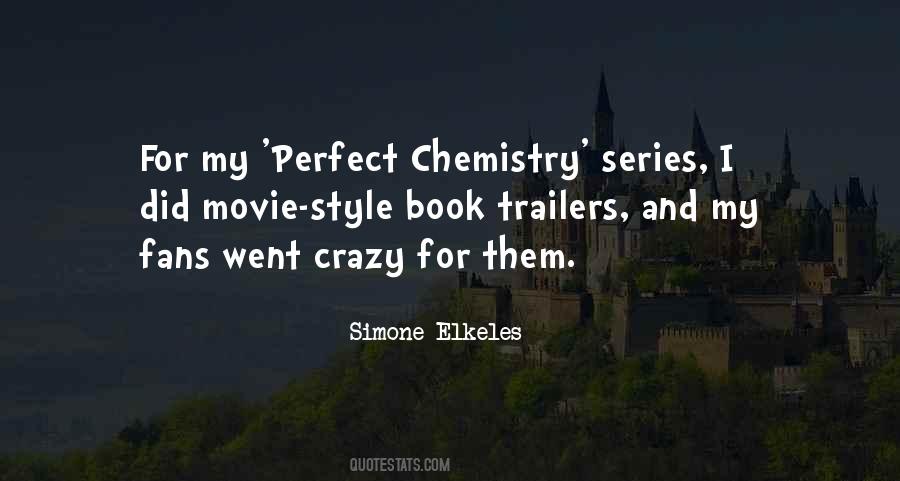 #48. As the director, you cannot control what people do after hours or in their trailers or on break. Why would you want to? But you can't. - Author: Catherine Hardwicke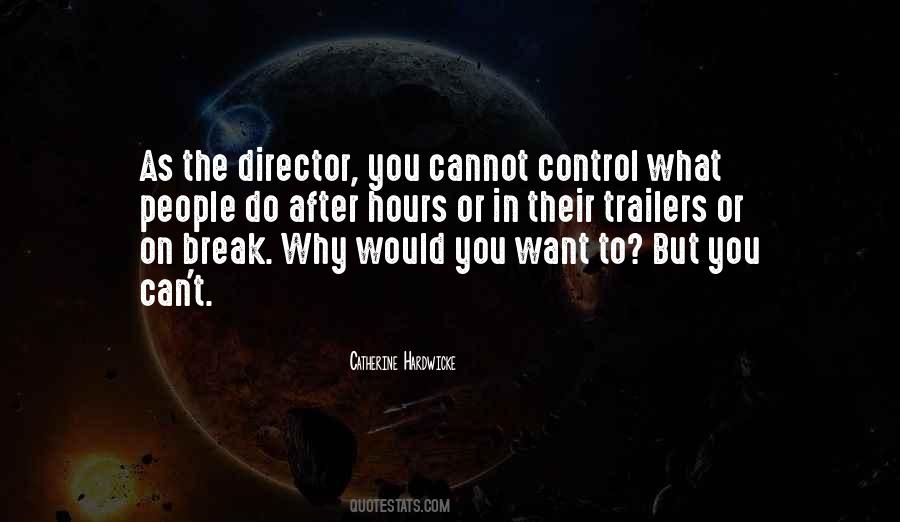 #49. Starkville is an Indian word for trailer park. - Author: Skip Bertman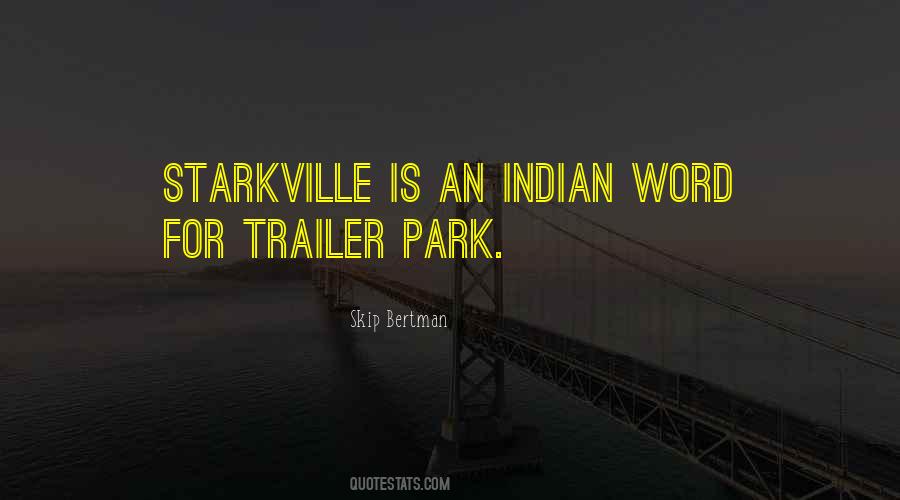 #50. I never understood the concept of showing everything in the trailer. Why go to a movie if there's no surprise? I can't do it like that. - Author: Spike Lee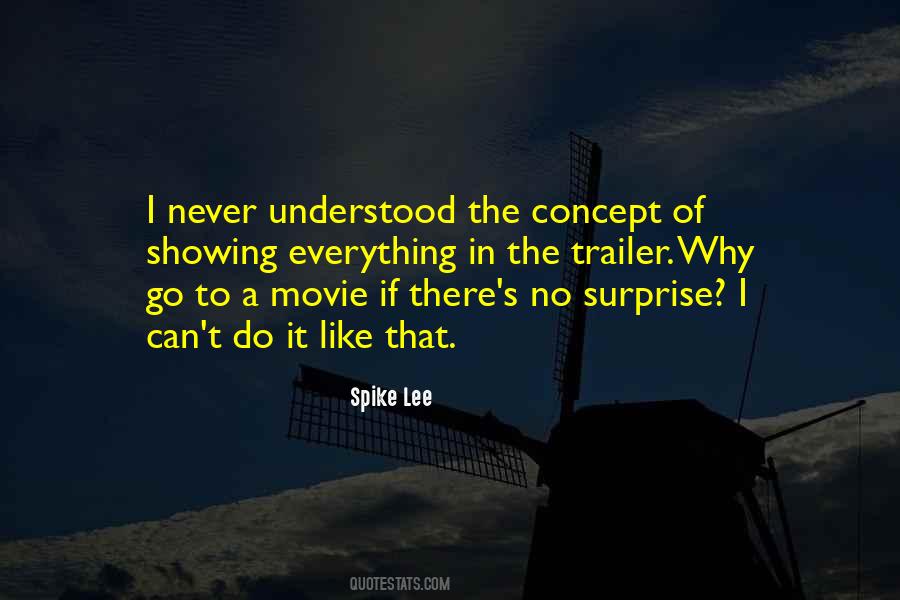 #51. You Never Have a Second Chance for a First Good Impression - Author: Doris-Maria Heilmann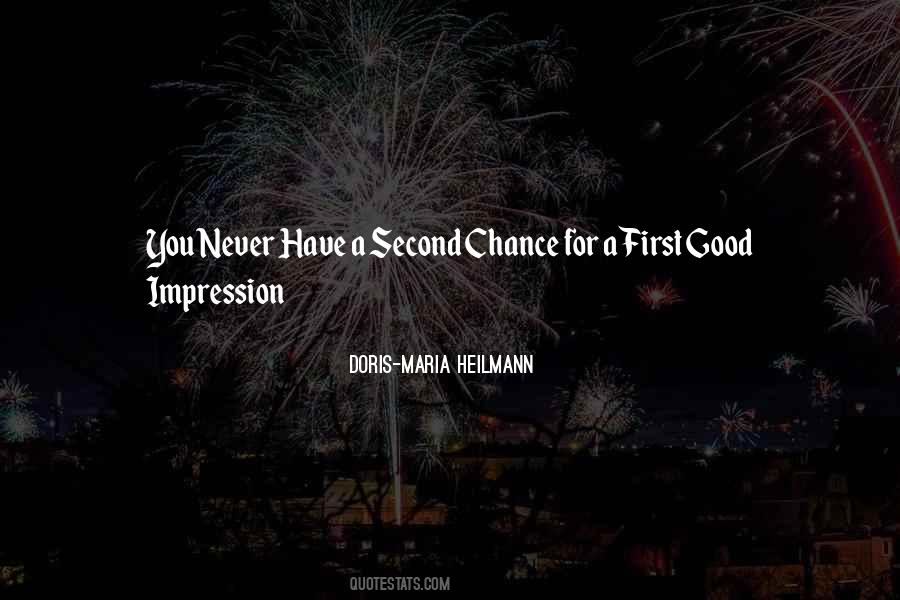 #52. When you're actor, you have no idea how much work goes into pre-production. We're just sitting in our trailers waiting for someone to knock on our door to go to the set. - Author: Jason Bateman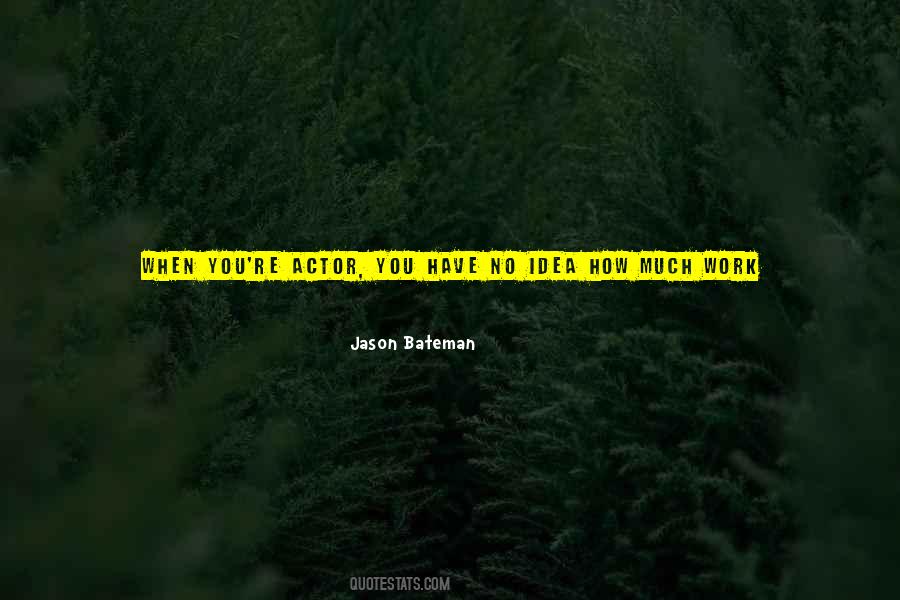 Famous Authors
Popular Topics