The Way You Look At Things Famous Quotes & Sayings
List of top 70 famous quotes and sayings about the way you look at things to read and share with friends on your Facebook, Twitter, blogs.
Top 70 Quotes About The Way You Look At Things
#1. That's the way I look at things - if you focus on the worst case scenario and it happens, you've lived it twice. It sounds like Pollyanna-ish tripe but I'm telling you - it works for me. - Author: Michael J. Fox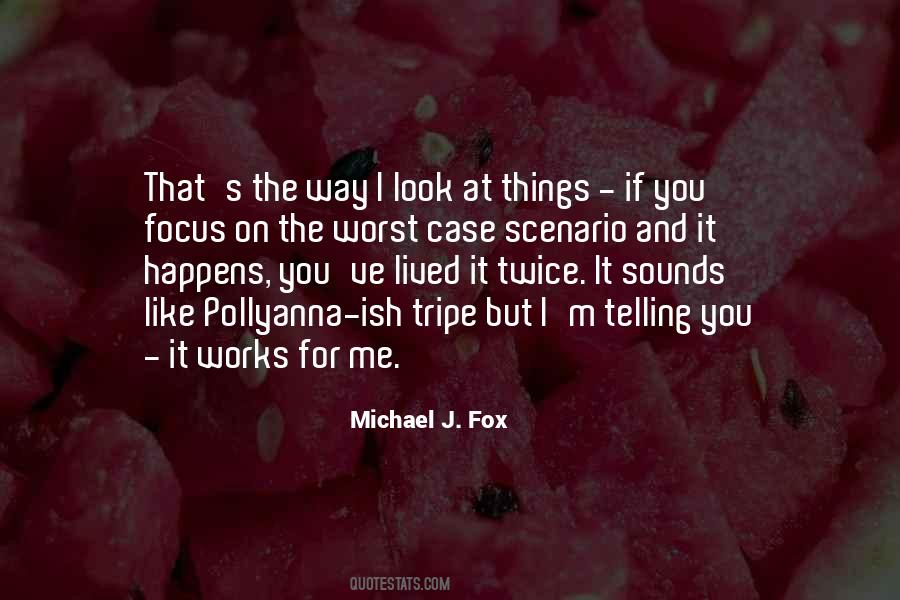 #2. The way you get through tragedy is to look at the good things in life. - Author: Rudy Giuliani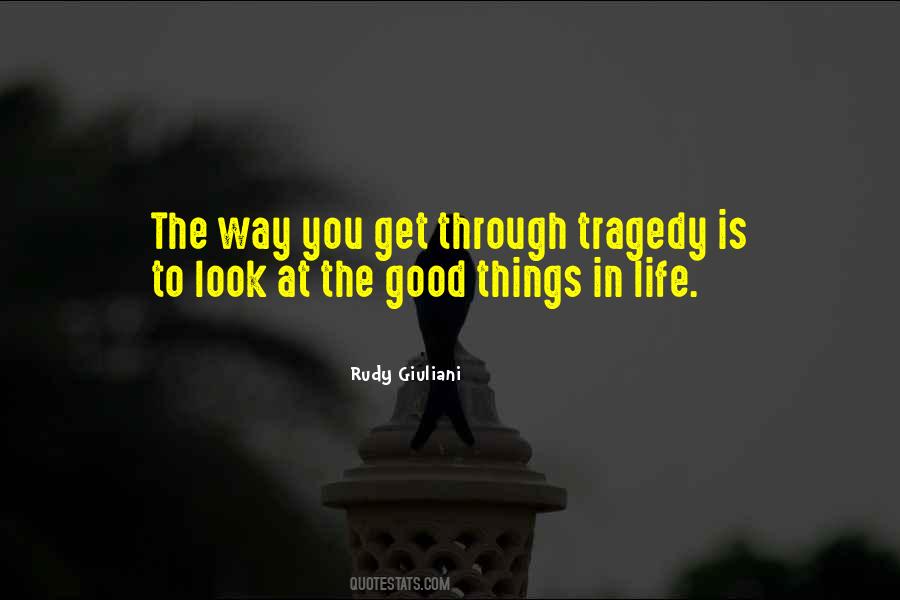 #3. We never have that thought! The whole object is to bite off more than you can chew. John [Du Prez] always says, Eric thinks of something completely insane and insists we go in that direction. It's the correct way to look at things and the correct place to start, I think. - Author: Eric Idle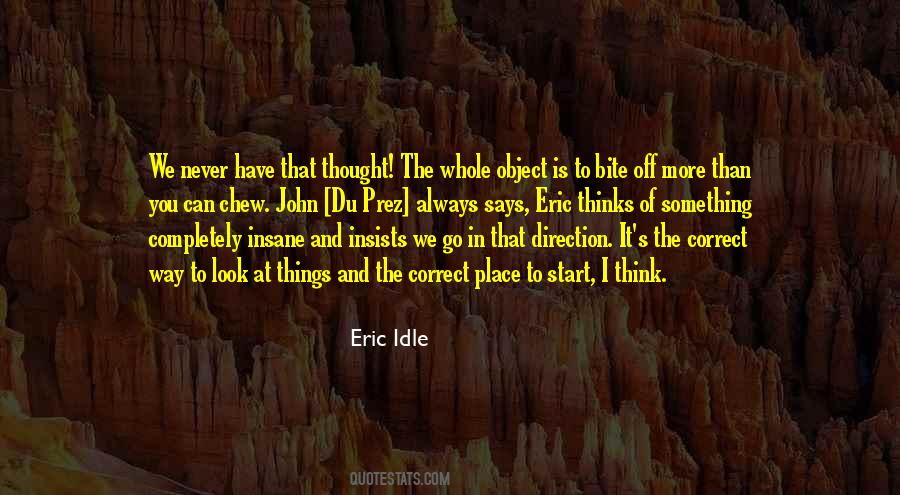 #4. I've no doubt that those photographs i took will make people look at everything in a more interesting way - the little tear on one piece of paper, the shadow on another. But good painting has always done that - made you see things. And the most ordinary can be the most extraordinary. - Author: David Hockney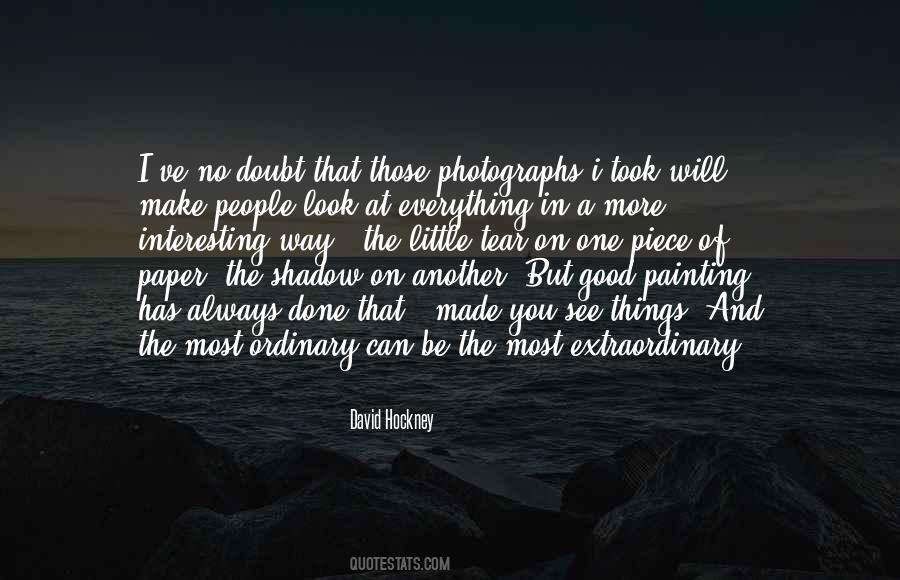 #5. When you change the way you look at things, the things you look at change. - Author: Max Planck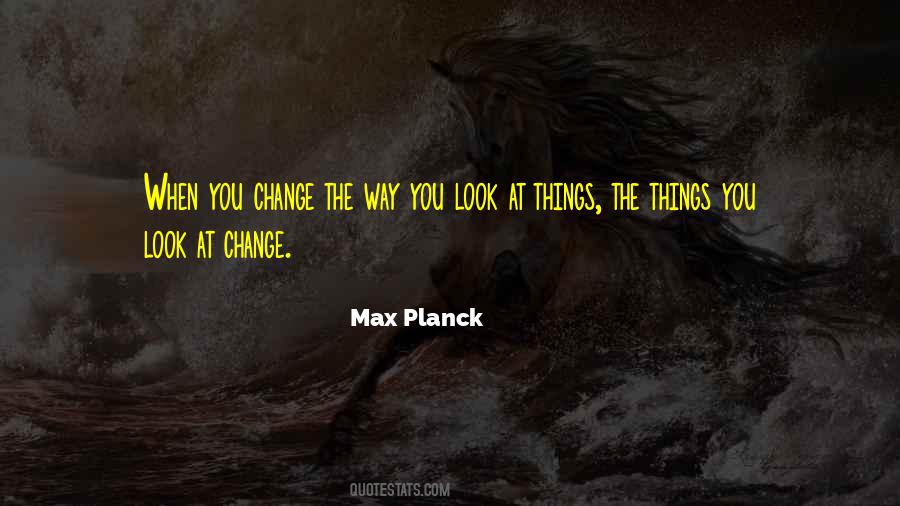 #6. Sometimes I was resentful. Must she care about everyone in this world? Look at me! Praise me! I want to be the most important! Why do you care so much about so many things? But now, so many years later, I say: Thank you, Mother, for being what you were, for trying to develop me in every way. Kisv - Author: Isabella Leitner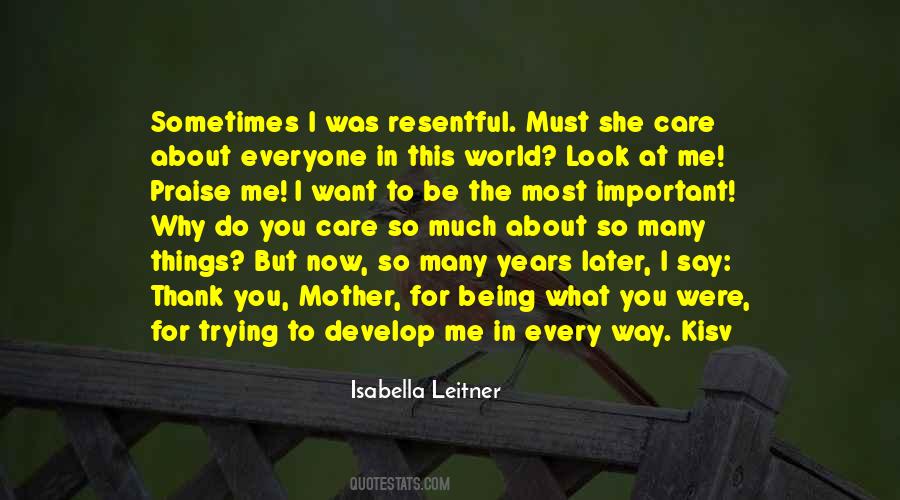 #7. And sometimes what you see is so deep in your head you're not even sure of what you're seeing. But when it's down there on paper, and you look at it, really look, you'll see the way things are. - Author: Patricia Reilly Giff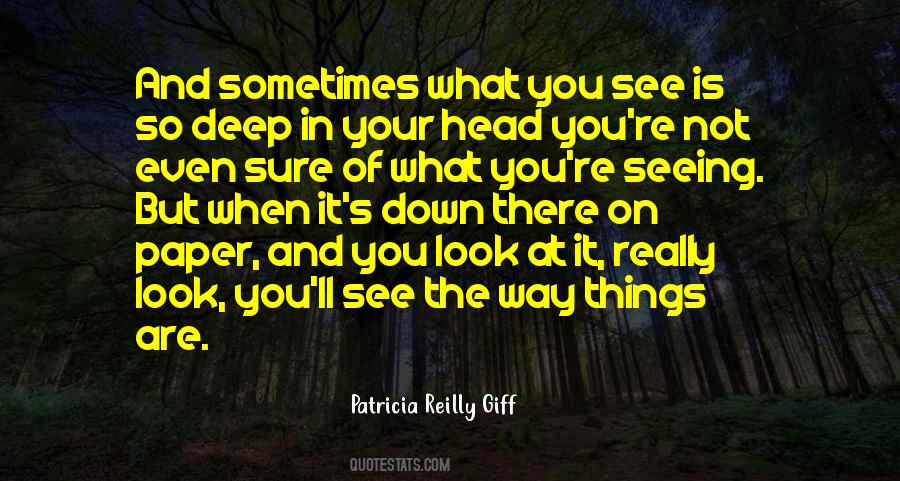 #8. Men are very sensitive, Mma Makutsi. You would not always think it to look at them, but they are. They do not like you to point out that they are wrong, even when they are. That is the way things are, Mma
it just is. - Author: Alexander McCall Smith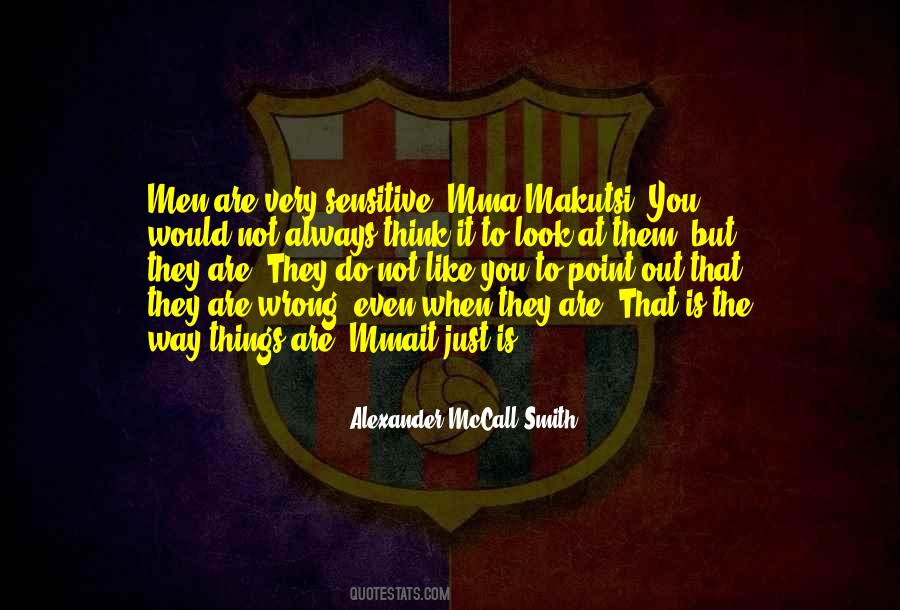 #9. If you are going to do TPS you must do it all the way. You also need to change the way you think. You need to change how you look at things. - Author: Taiichi Ohno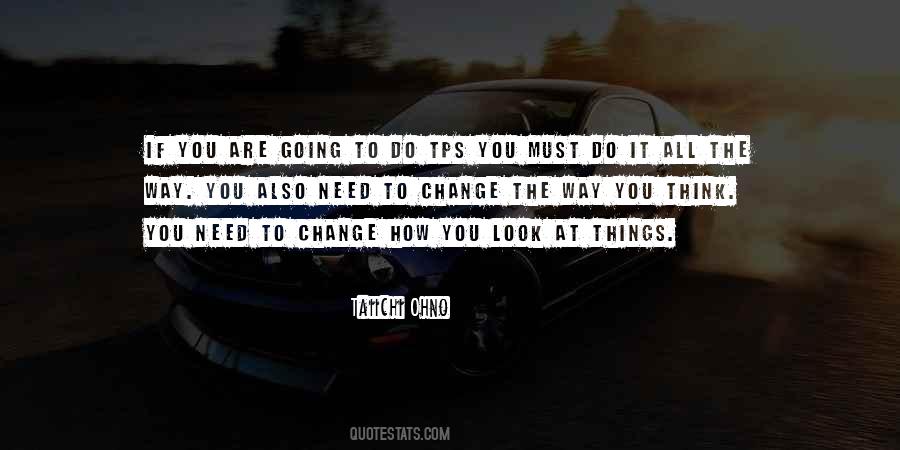 #10. It's just the way things are. And you can't dwell on what might have been. You have to look at what is. - Author: Sophie Kinsella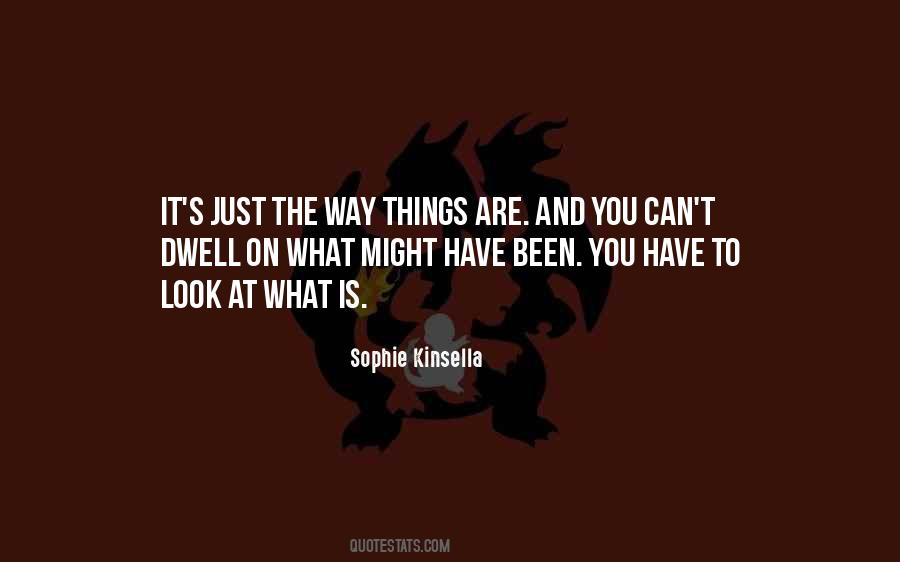 #11. If you look at pictures of David O. Selznick , he wasn't even attractive. There's no way to portray him in a way that is glamorous, but that's one of the things that's fascinating to me about him. - Author: Karina Longworth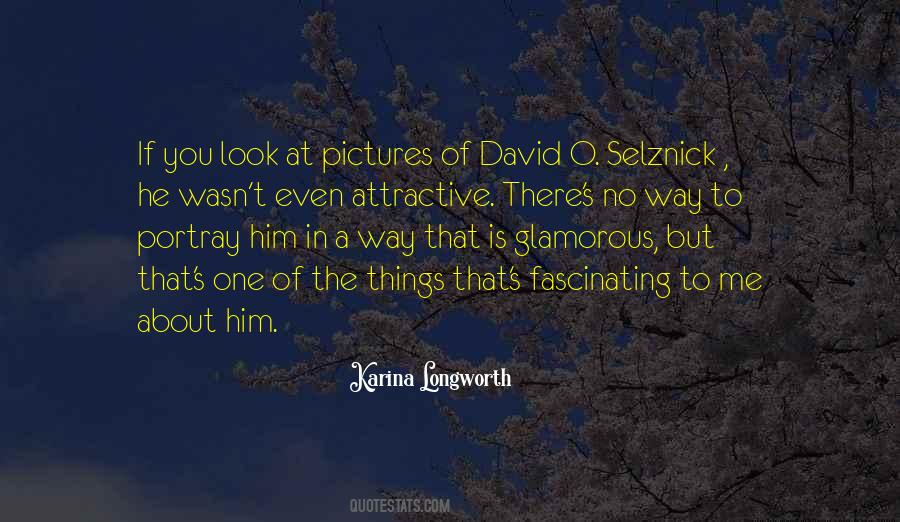 #12. Things you'd never even seen with Finn could remind you of him, because he was the one person you'd want to show. "Look at that," you'd want to say, because you knew he would find a way to think it was wonderful. To make you feel like the most observant person in the world for spotting it. - Author: Carol Rifka Brunt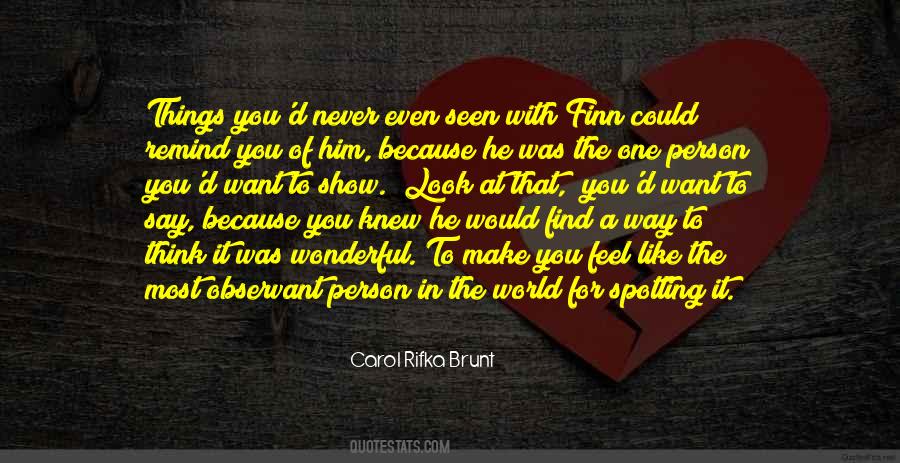 #13. To be a great artist, you need to know yourself as best as you possibly can. I live my life and delve into my own psyche. It's more about exploring how I feel rather than making pale imitations of something that came before. We are unique beings, and the way we look at things is our own. - Author: Bat For Lashes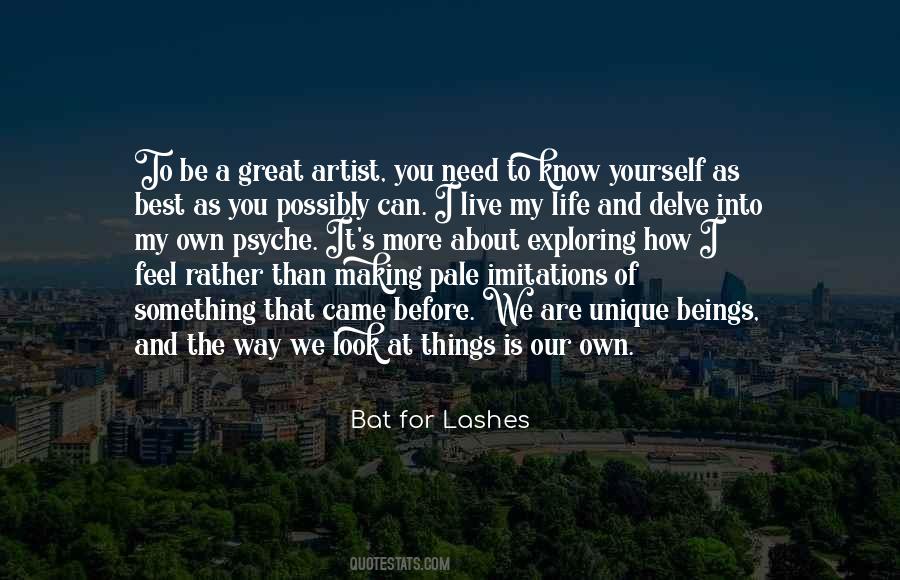 #14. If you're looking at things with the right set of eyes, people are endlessly fascinating. And then, of course, if you look at it the wrong way, then the whole world is horrible and tedious and boring. That's the battle, really
to keep looking at the world in the right way. - Author: John Cusack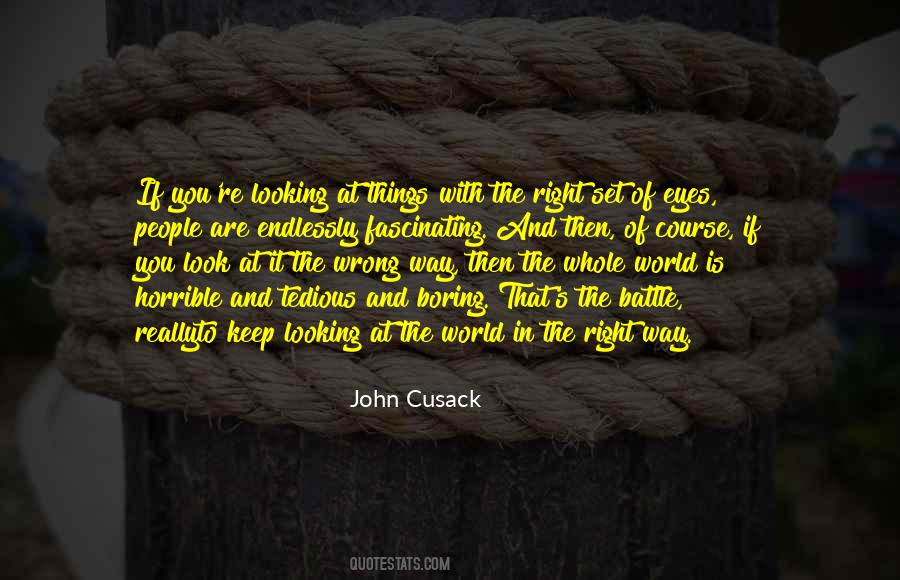 #15. The only way to be happy is to realise how much depends on how you look at things - Author: Alain De Botton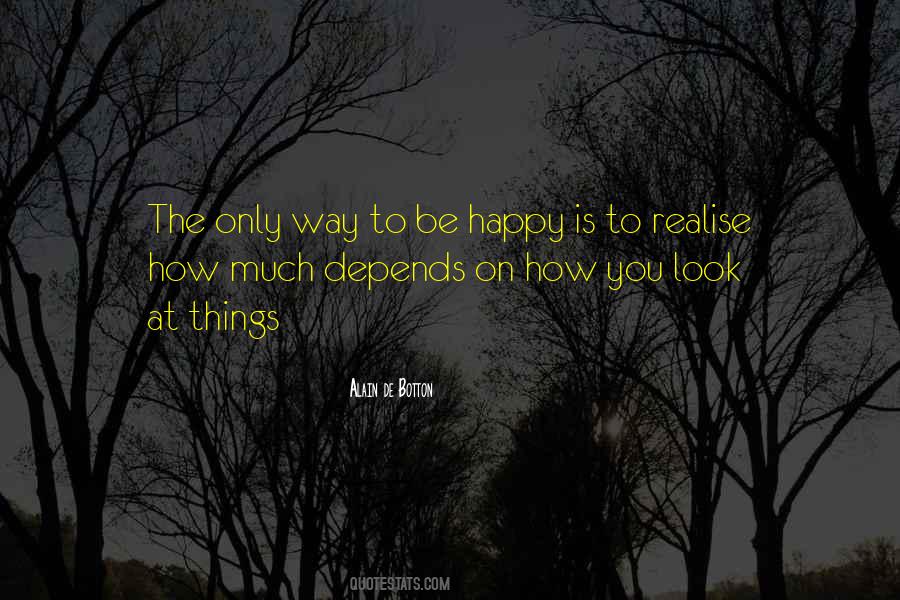 #16. People look at the same passage, and one person will say this is the best thing he's ever read, and another person will say it's absolutely idiotic. I mean, there's no way to reconcile those two things. You just have to forget the whole business of what people are saying. - Author: Paul Auster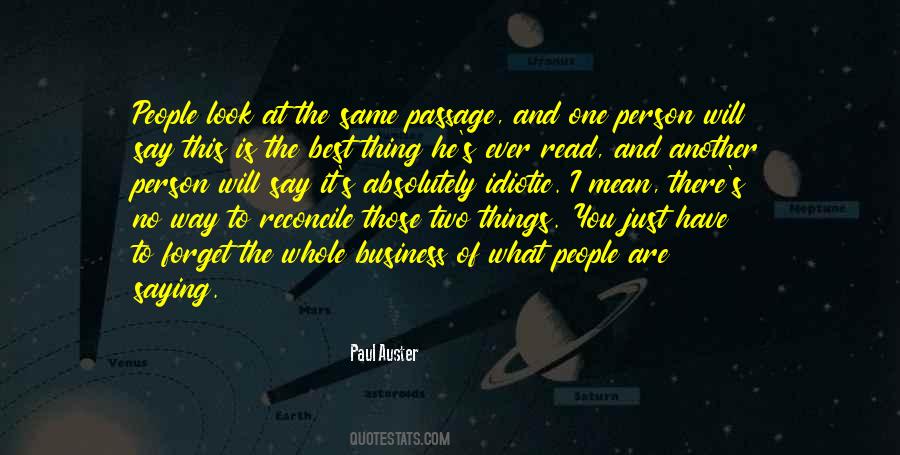 #17. I know that sounds selfish, but you have to look at what it's doing to you personally - are you frustrated because of the way people perceive you, or are you happy enough about the things you've realized about yourself that you can tolerate the way people perceive you? - Author: Shannon Hoon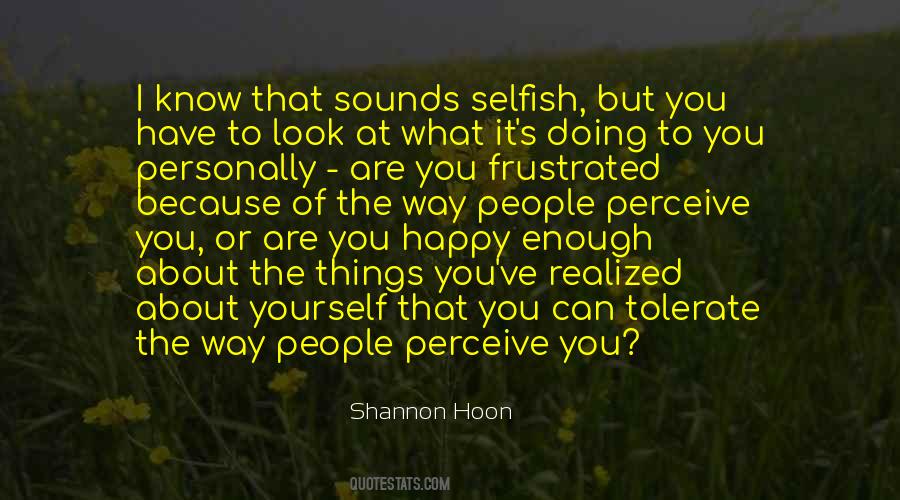 #18. Part of our brand is that we're pretty understated in what we do. If you look at other technology companies, they might preannounce things, and it will be a couple years before they really happen, and they don't happen in the way they said they would. - Author: Larry Page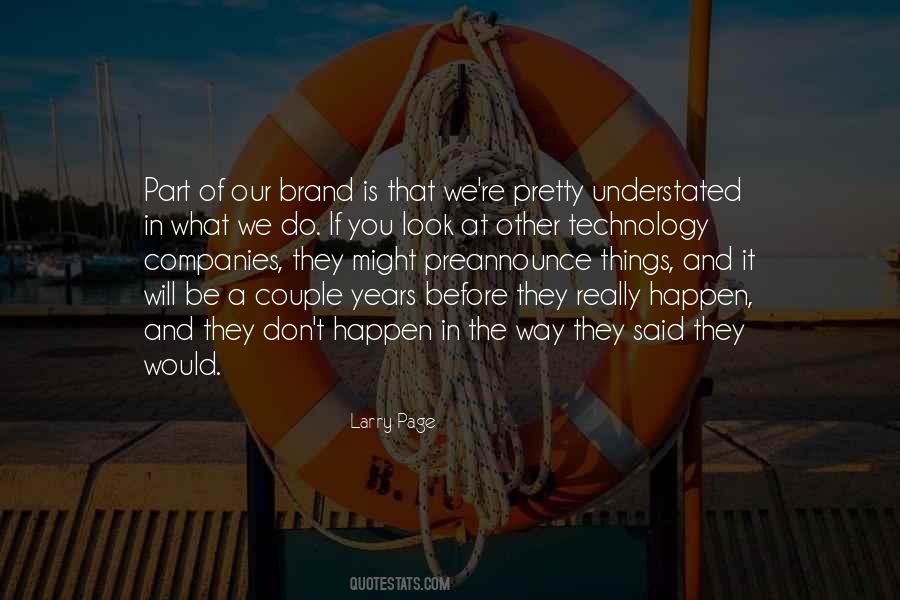 #19. As you look back at your life, there are just a million different things that have happened, just in the right way, to allow you to make your dreams come true. And you know, someone has all that under control. - Author: Michael P. Anderson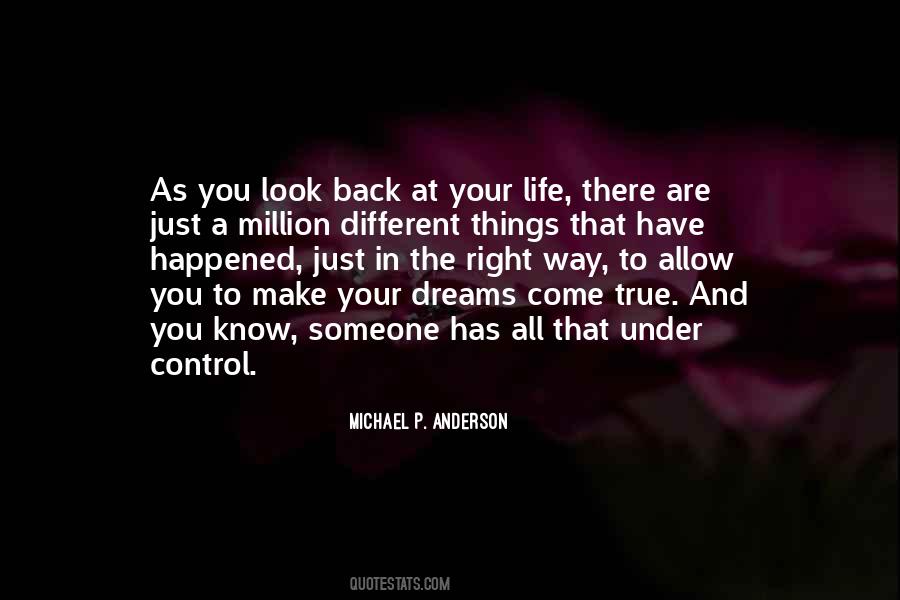 #20. You can learn more from the lows than the highs. The highs are great but the lows make you really look at things in a different way and want to improve. Every player will have both in their careers and I have, but what you get is that experience which is so important to perform at your best. - Author: Wayne Rooney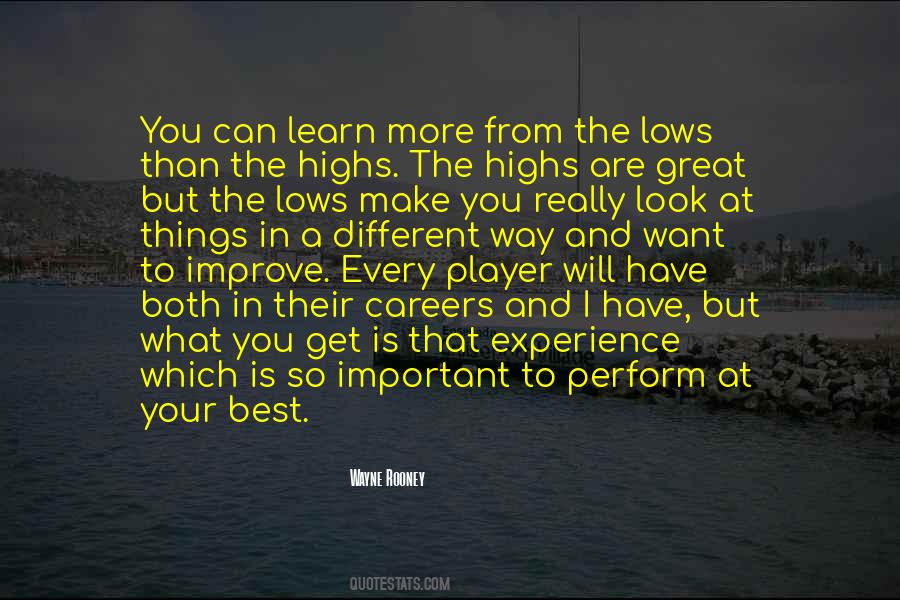 #21. Remember this maxim: When you change the way you look at things, the things you look at change. The way you perceive things is an extremely powerful tool that will allow you to fully bring the power of intention into your life. - Author: Wayne Dyer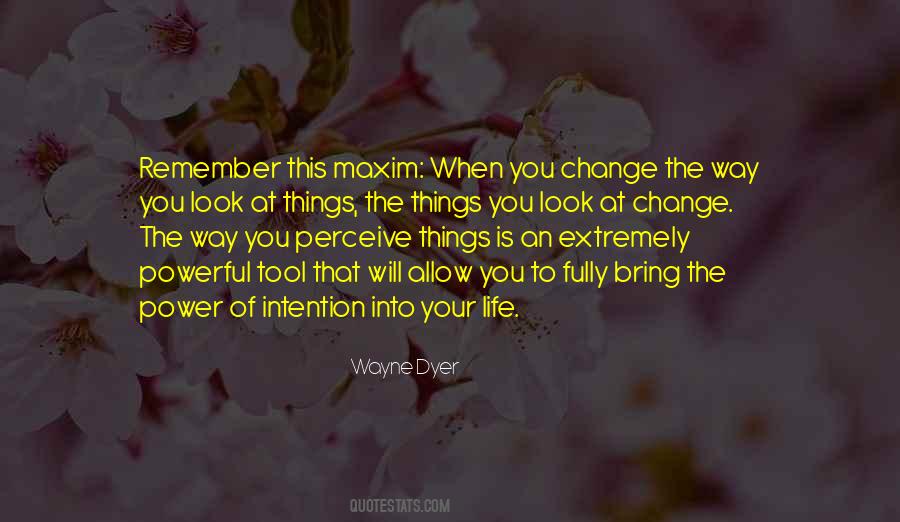 #22. They say that there are moments that open up your life like a walnut cracked, that change your point of view so that you never look at things the same way again. - Author: Jodi Picoult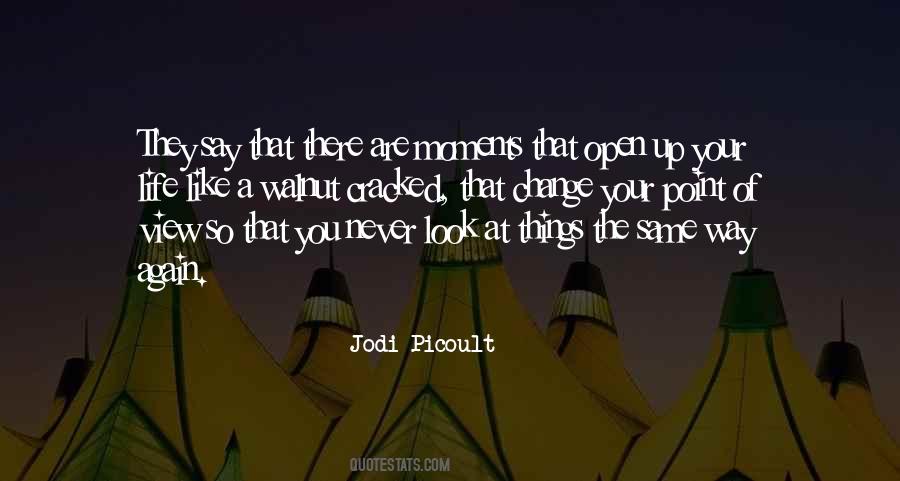 #23. As the director, you're meant to be critical and you are, so there are loads of things. But the thing is, the way I look at it is, to try to get some measure of success, it's dangerous to look at financial or critical success, or positive response as a measure. - Author: David Slade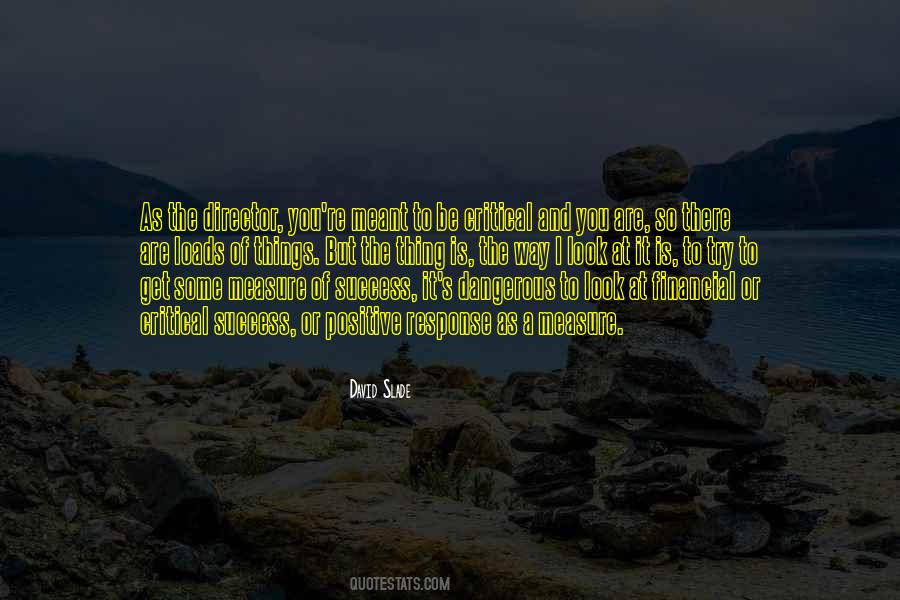 #24. You cannot define good or bad in art. It's all about the way you look at things around you", I replied. - Author: Deepak Ranjan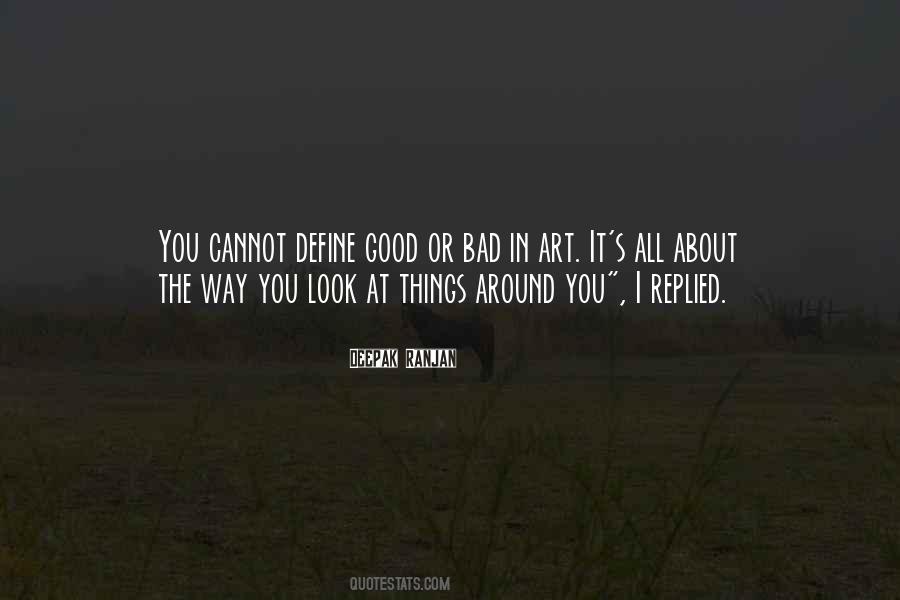 #25. As a child, l was fascinated by gemstones in the way that small children are fascinated by dinosaurs or trains. Stones seem very physical and look like sweets. You can look at them microscopically and imagine things about them. - Author: Tobias Hill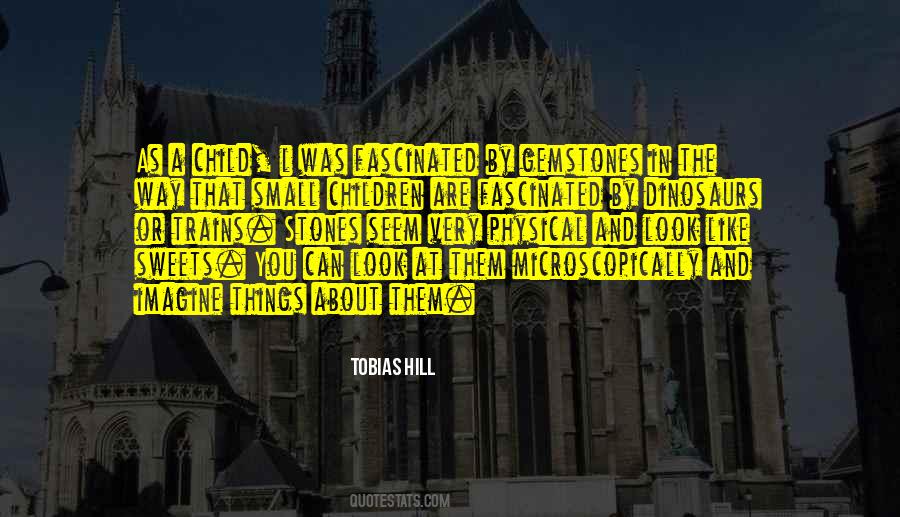 #26. I don't like to think of myself as an insincere person but if I say I love you and I don't mean it then what else am I? Will I cherish you, adore you, make way for you, make myself better for you, look at you and always see you, tell you the truth? And if love is not those things then what things? - Author: Jeanette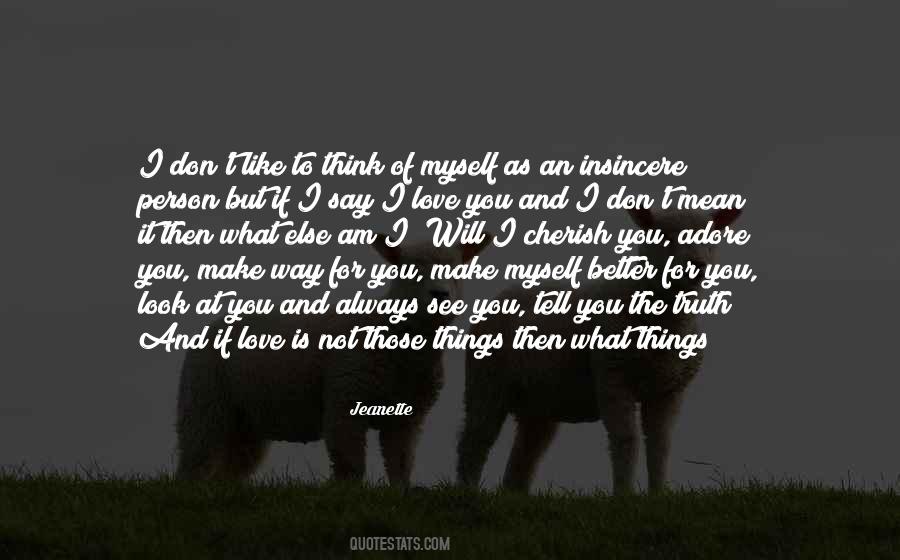 #27. I hope to shine through my transparency and just let people know that we are all the same. I want children to look at things different like "You're shining too! You just shine in a different way." - Author: Avery Sunshine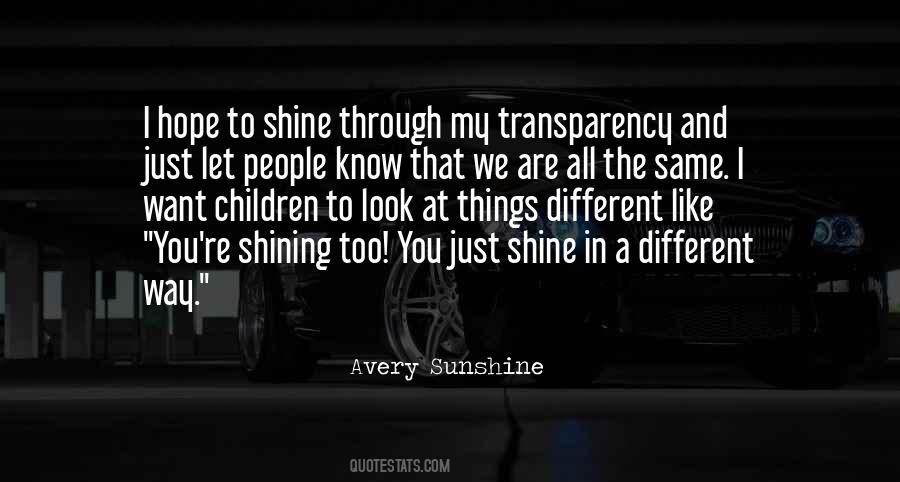 #28. Everyone has their own life to lead, in their own way. You know, when you really look at things as they appear, the whole trip is simply unbelievable. Actually, it's totally ridiculous most of the time. - Author: Art Hochberg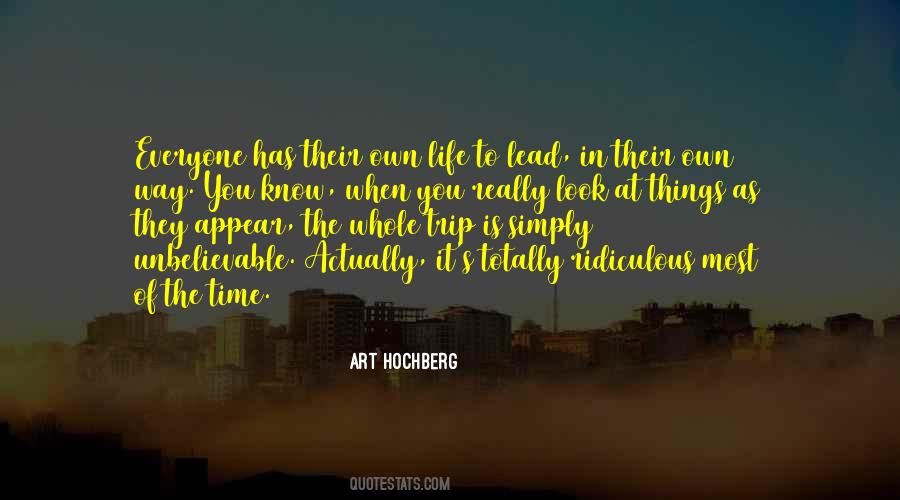 #29. Things happen; people have different experiences that change the way they look at the world. Sometimes you just have to accept that there's nothing you can do. Sometimes friendships just naturally come to an end.' Radu - Author: Lisa Hall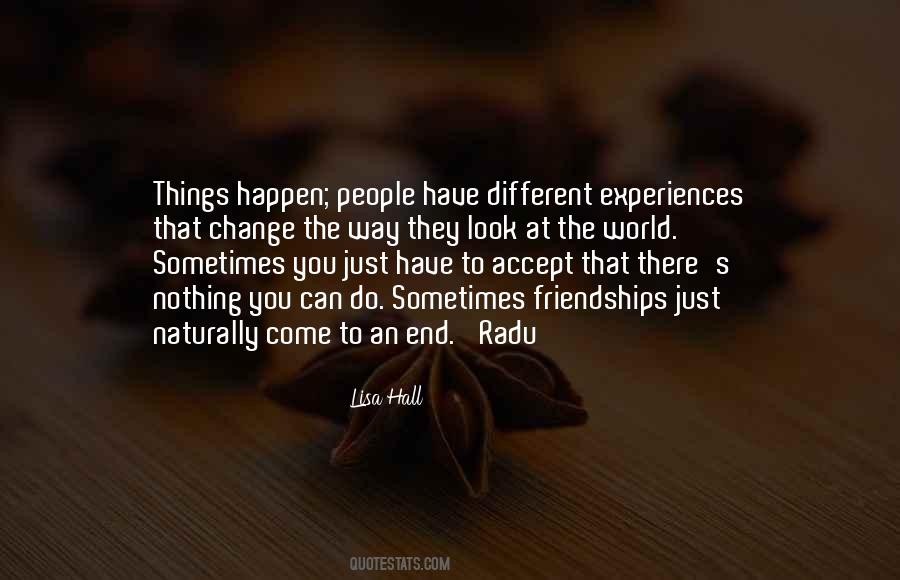 #30. What seems impossible is always possible. It's just the way you look at things that will make the difference! - Author: Timothy Pina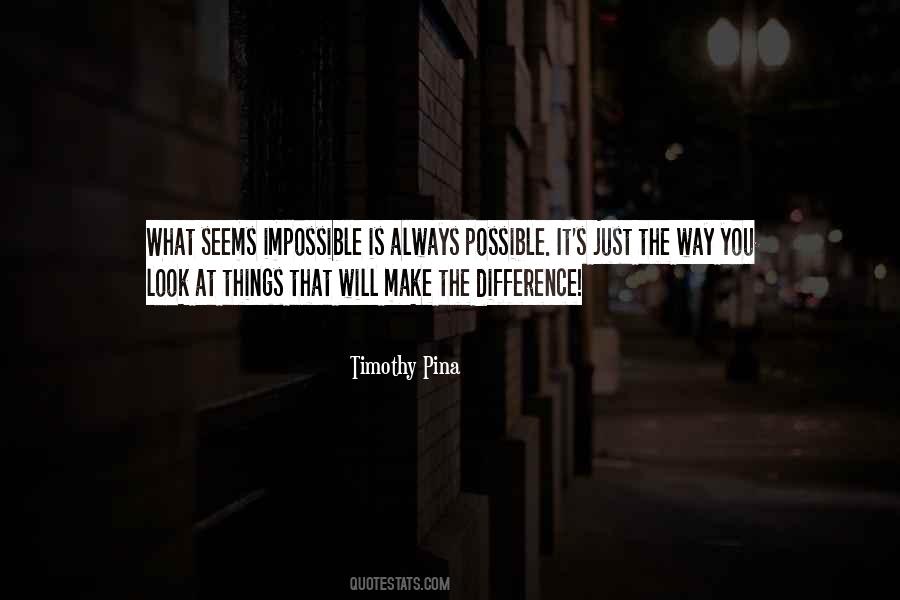 #31. If you look at it that way, then you start thinking about the basic things, which are jobs not jails, and education not incarceration. - Author: Oren Moverman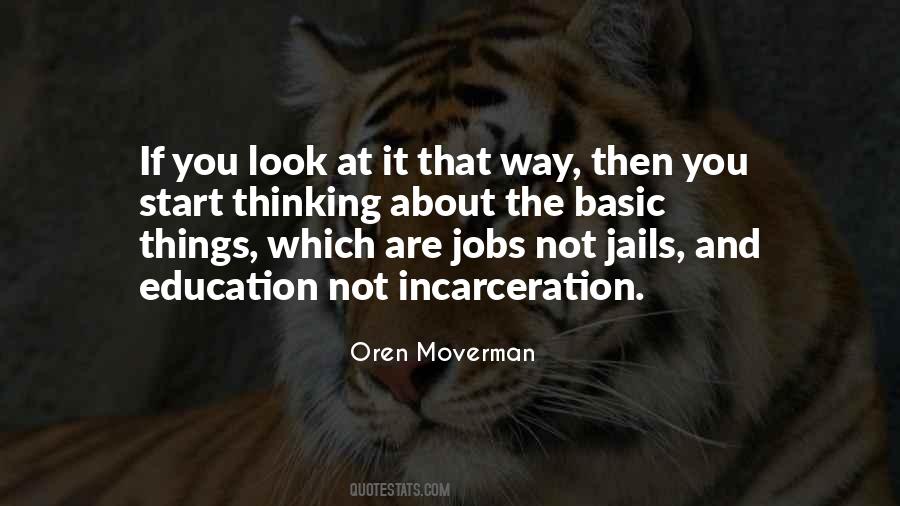 #32. What I do, basically, is look at things from different angles. That is what I do on stage comedically, and that is what I do in art. I was always fascinated by the structure of things, why things work this way and not that way. So I like to see how things behave if you change the point of view. - Author: Ursus Wehrli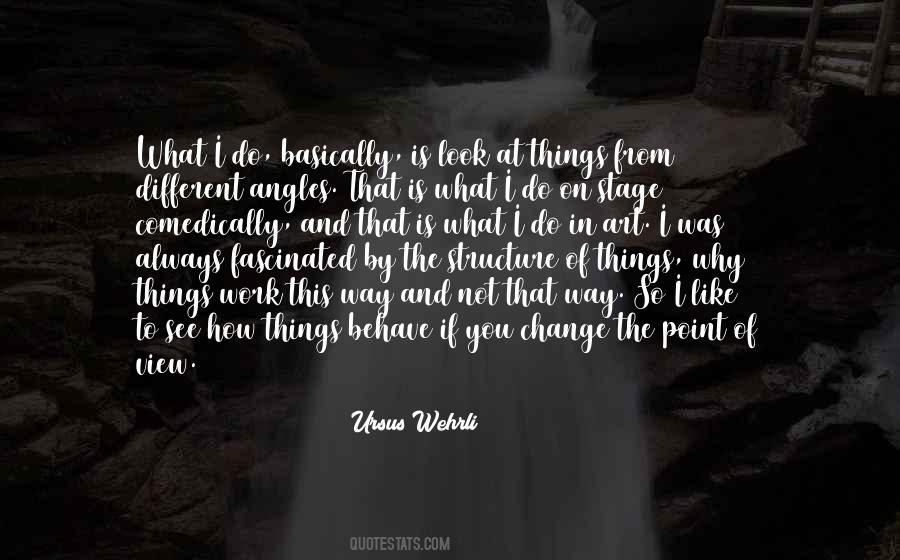 #33. When you look at this mirror I hope you'll remember that there's always another way of seeing things: that's the beginning of wisdom. - Author: John Barth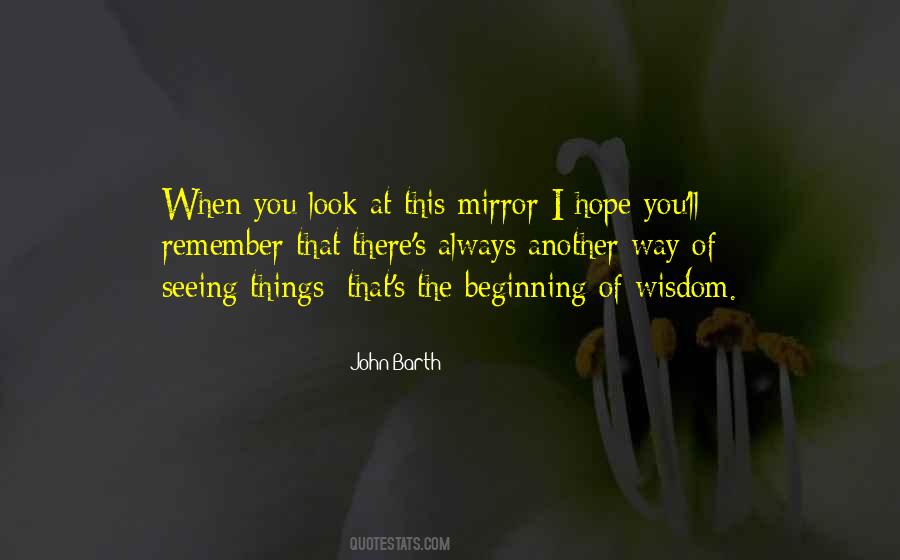 #34. Look at Scottish guys wearing kilts - you could look at them and laugh, but the way they carry themselves, how can you? You can wear some of the weirdest things and be cool. If you believe in it, that's what makes it cool. - Author: Andre Benjamin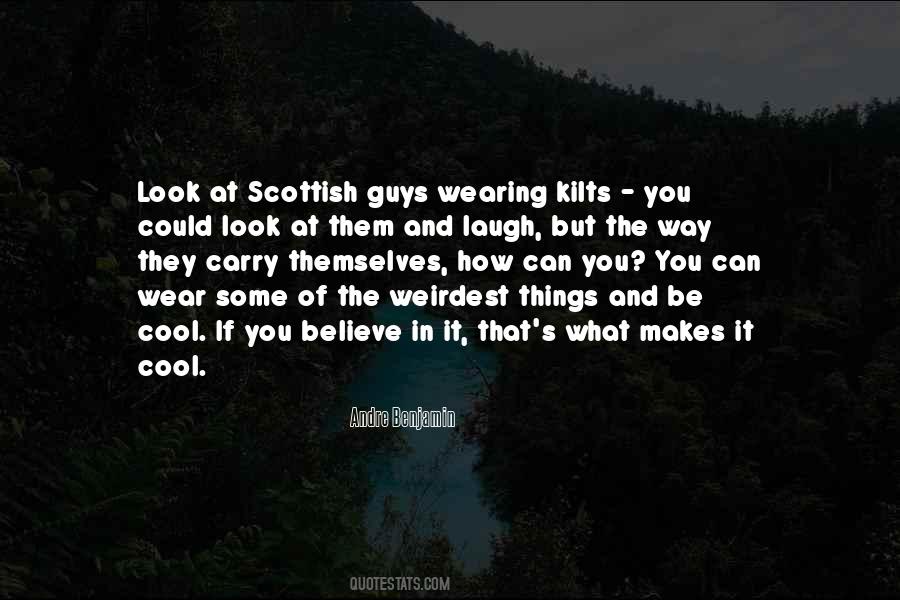 #35. I mean if you look at the Charger and you compare it to other cars, the way the lines work, the tires, in 3-D it's gorgeous. One thing that we found was that the reflective surface was weird. It does funny things in 3-D. So you have to deal with that. - Author: Todd Farmer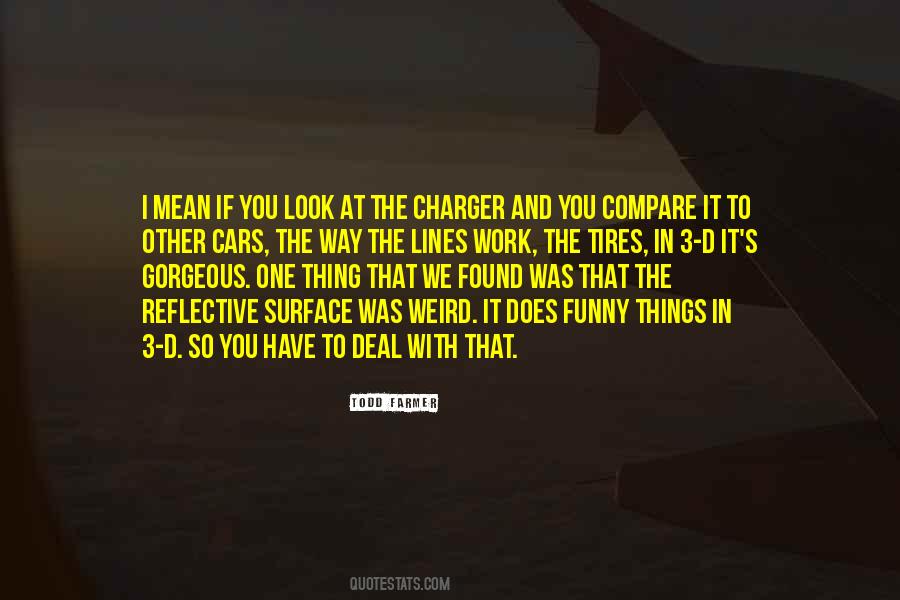 #36. Things take us hard, no question.
How do you make it, all the way
from here to morning? I touch
you, made of such nerve
and flare and pride and swallowed tears.
Go home. Come to bed. The skies
look in at us, stern.
And this is an old story. - Author: Adrienne Rich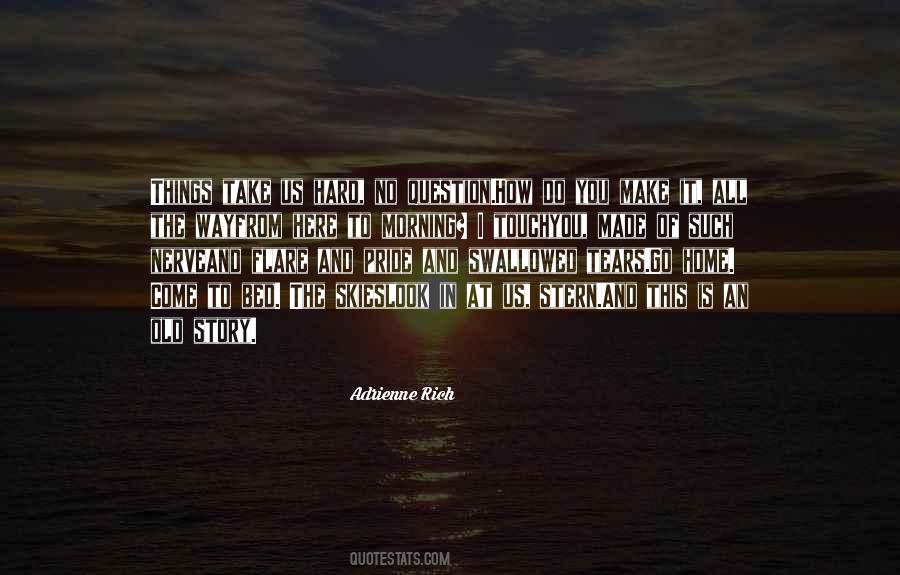 #37. Capitalism is the way of the devil and exploitation. If you really want to look at things through the eyes of Jesus Christ
who I think was the first socialist
only socialism can really create a genuine society. - Author: Hugo Chavez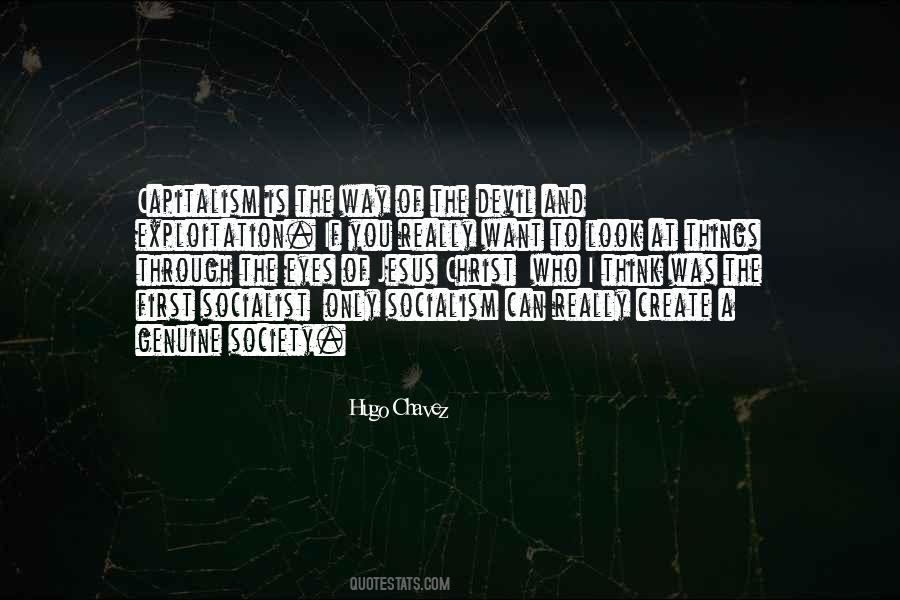 #38. Until you change the way that you look at things,Those things will never change. - Author: Pat Riley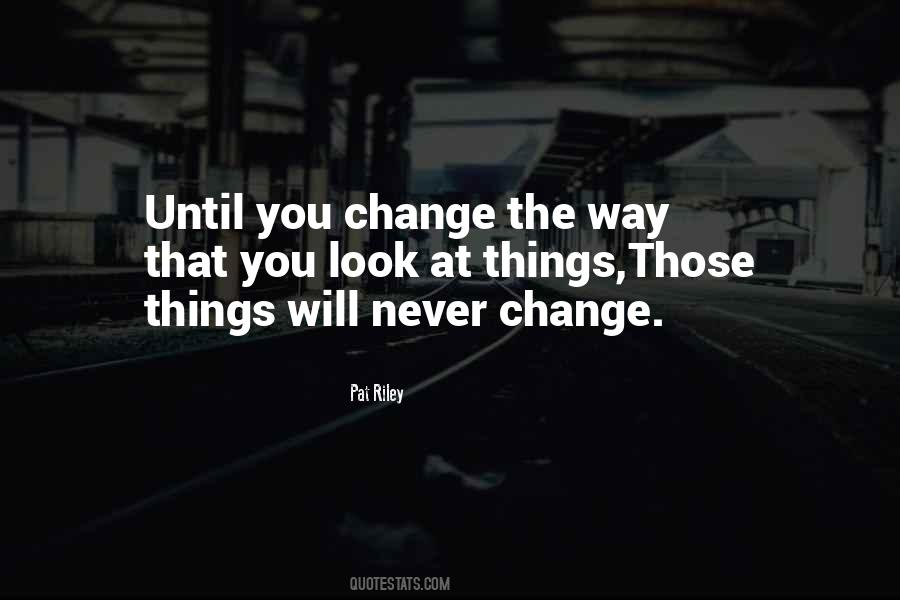 #39. 236 - "Change the way you look at things and the things you look at change." - Wayne W. Dyer - Author: Tudor Wild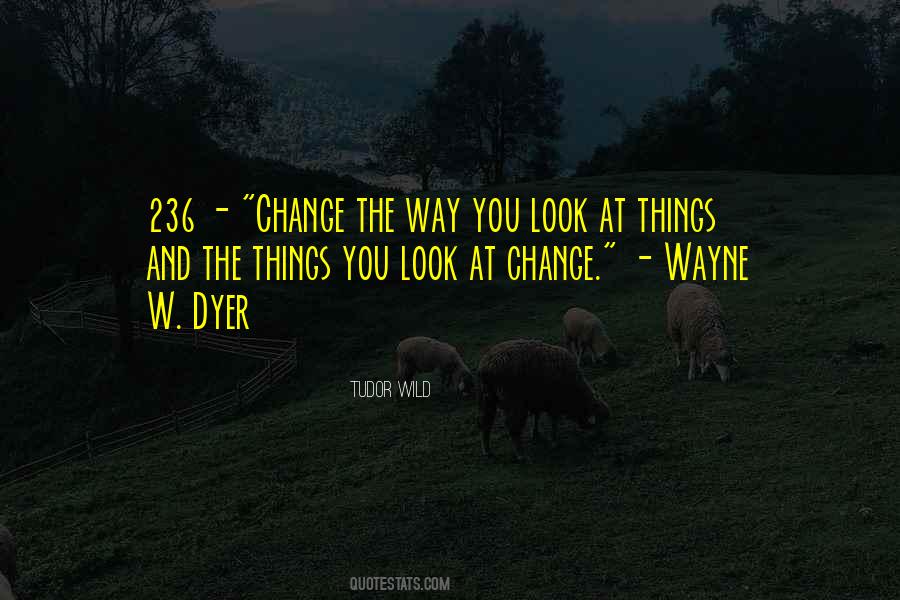 #40. He rose to his feet in one fluid move, the better to look down at me. You don't know me, princess.
Some people have reasons for doing things, and don't just go wherever they're told or drift whichever
way they're pushed. - Author: Rosemary Clement-Moore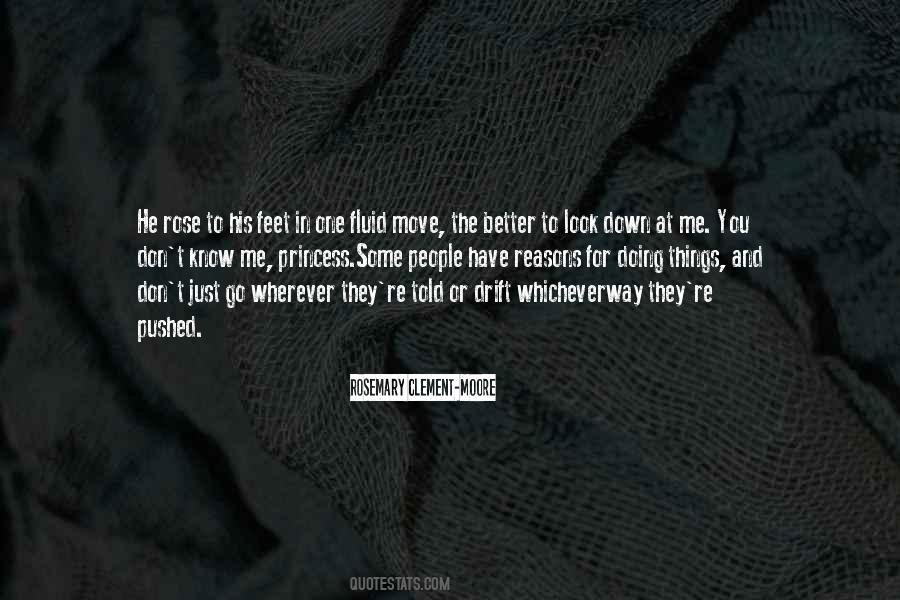 #41. The way you look at things is the most powerful force in shaping your life. - Author: John O'Donohue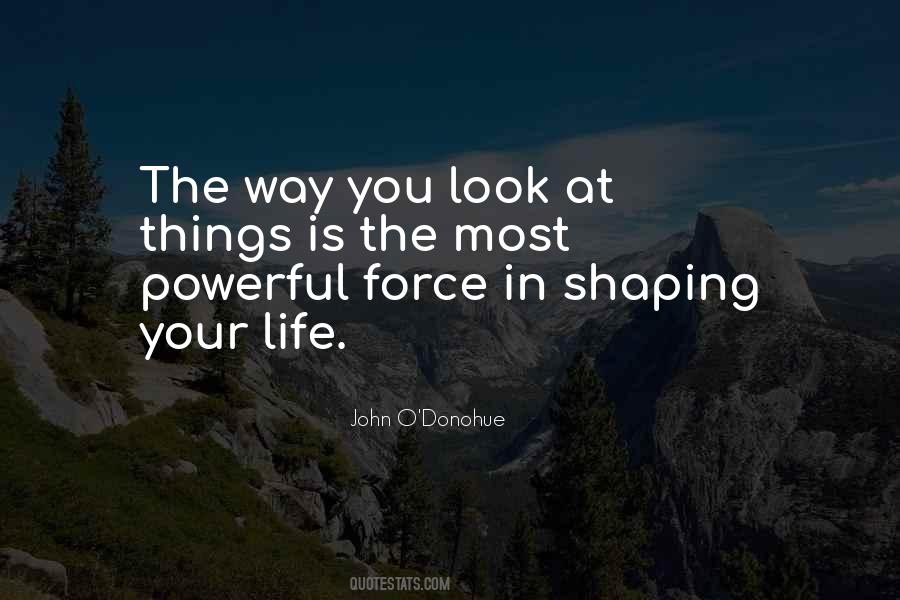 #42. My art is not limited to the songs I create but also to the reaction it creates. I like to sit back and look at the whole thing as if it's a tornado that I'm controlling. It's creating chaos. When you create chaos, ideas are turned upside down, and everybody looks at things in a different way. - Author: Marilyn Manson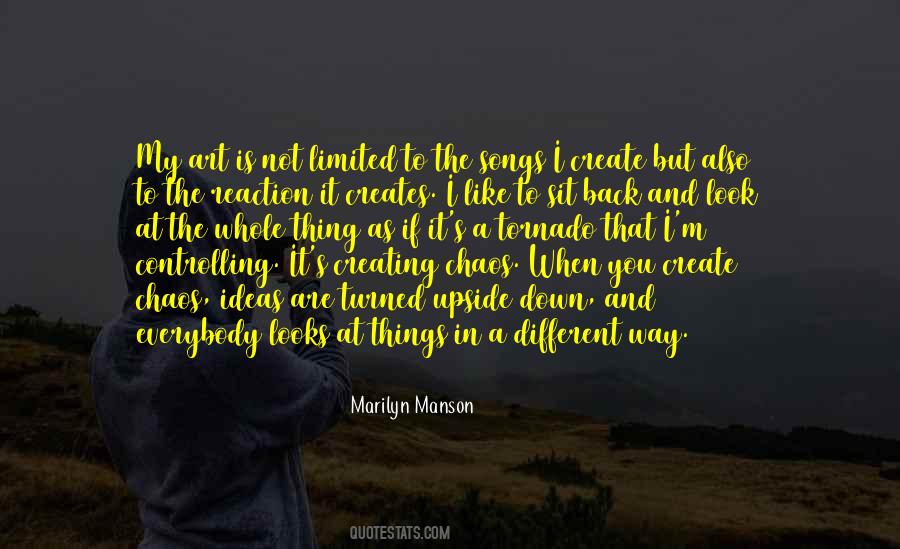 #43. It's interesting when you're old enough to take a new, objective approach looking at your parents, frame them in a way where you are actually taking yourself out of the equation and just look at the things that are true about their life. - Author: Robert Downey Jr.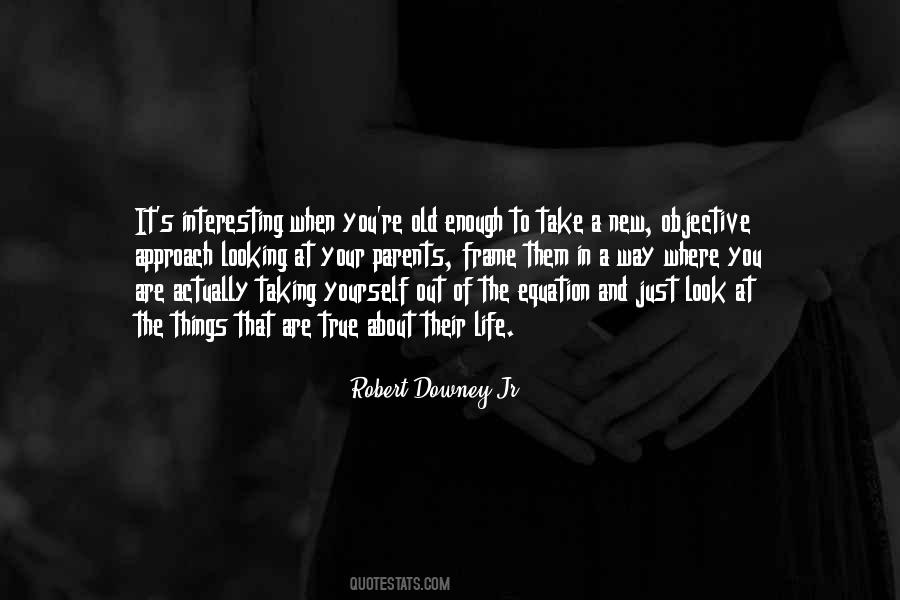 #44. People hate me for whatever reasons they come up with, or they hate me because their friends said they should. What can I do about it? What can I do about people who look at things the wrong way? At the end of the day it's like, 'You're wrong, I'm just a skateboarder. How can I help you?' - Author: Ryan Sheckler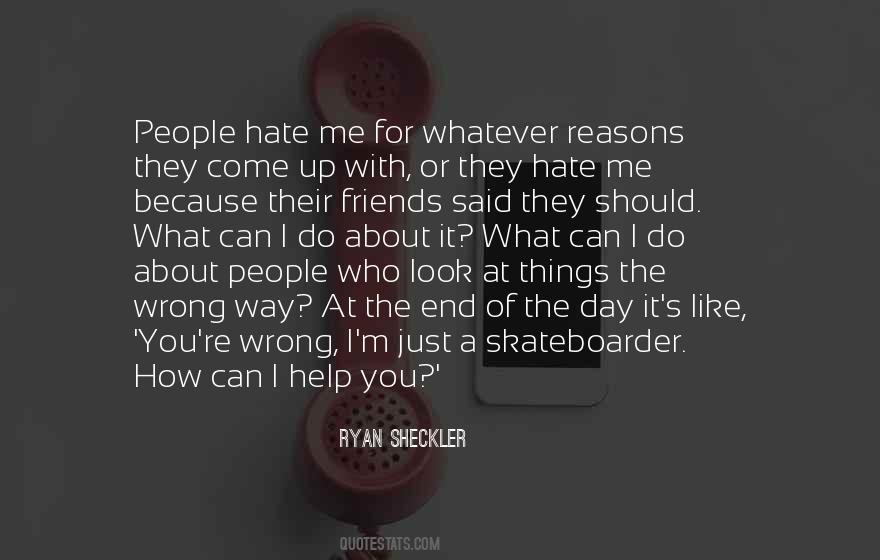 #45. I grew up during the Revolution of Iran and the war between Iran and Iraq. The things that I saw. The impact. How it changes you. How it changes the way you look at the world. - Author: Navid Negahban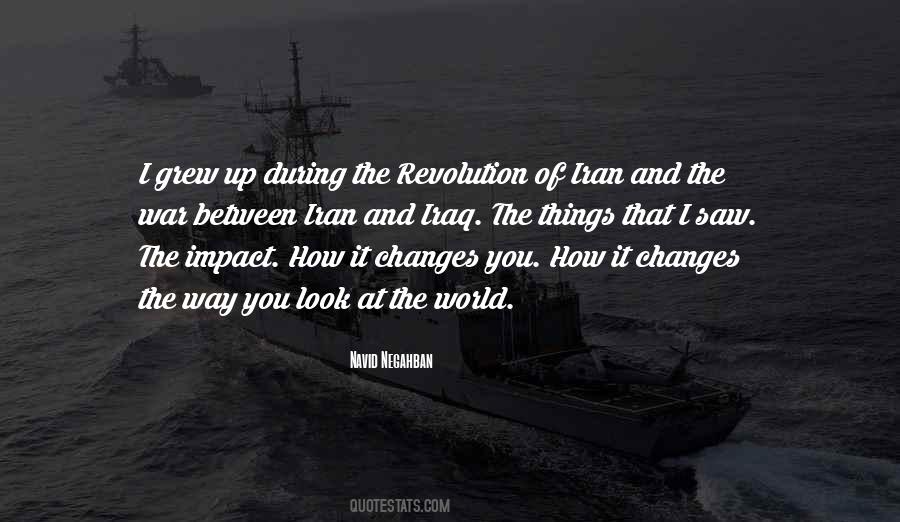 #46. I'm living to the edges of my fingernails, using everything I have. It's impossible for me to look at things politically or in any way as a project, to further my career. You're injected directly into the blood of the places in which you're living and what's going on there. - Author: Arundhati Roy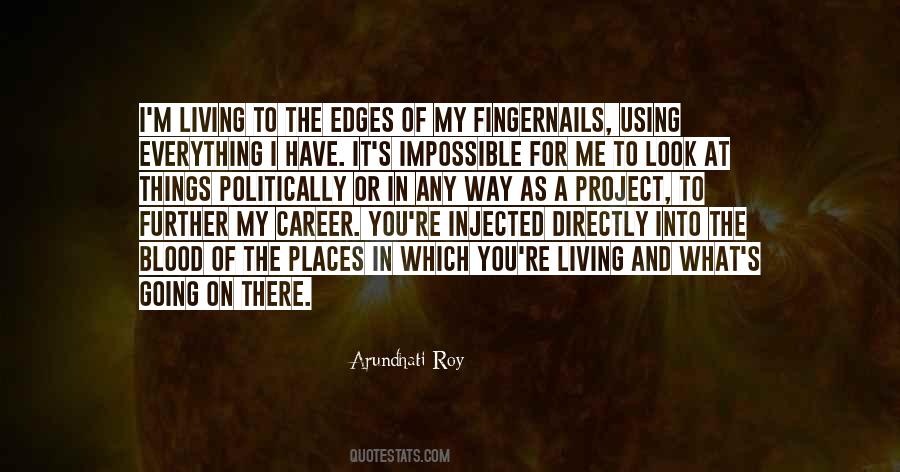 #47. One of the things I've always liked about science fiction is the way it makes you think about things, and look at things from angles you'd never have thought about before. - Author: Jo Walton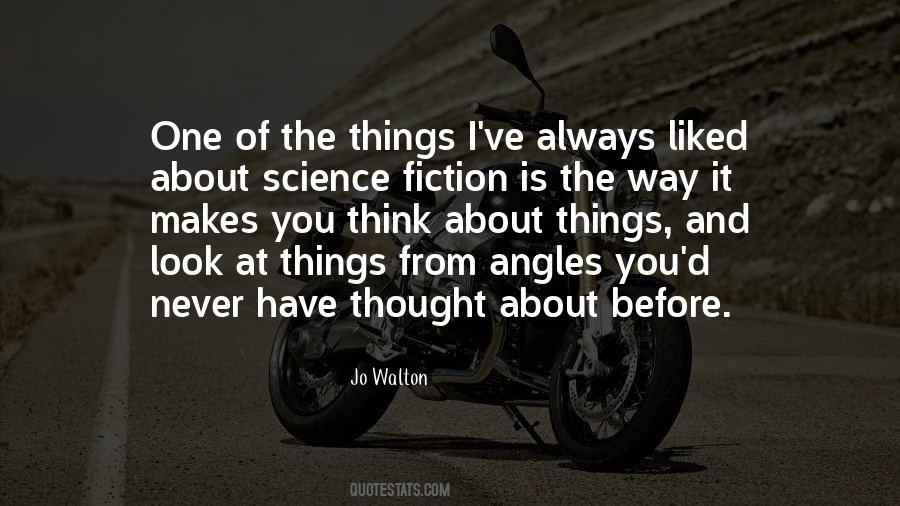 #48. Obviously you can look at things however you choose to and I'm not proud of some people in sports, but I don't really look at it as my calling to be out there setting an example. I just try to treat people the way the I want to be treated - with respect and some dignity. - Author: Mark Martin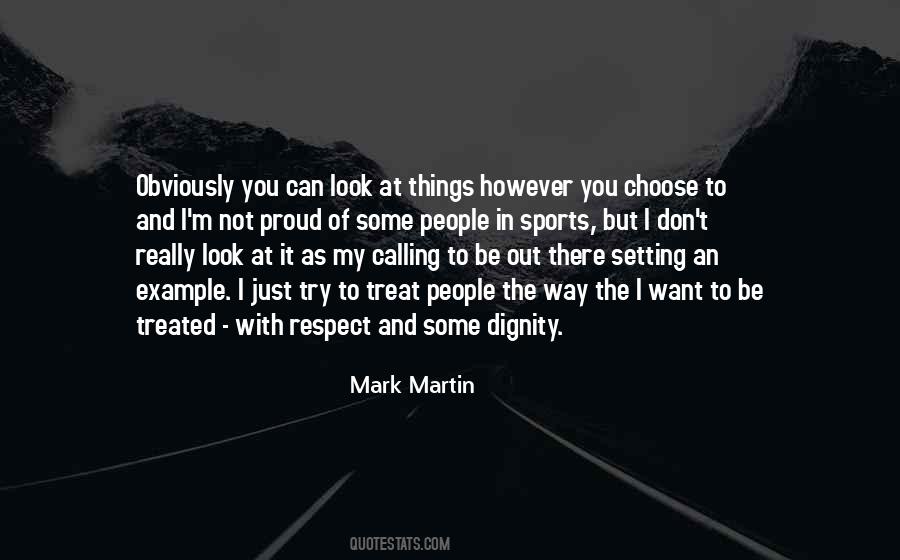 #49. When you're six years old, you don't look at things the way an adult looks at things. - Author: Dwight Henry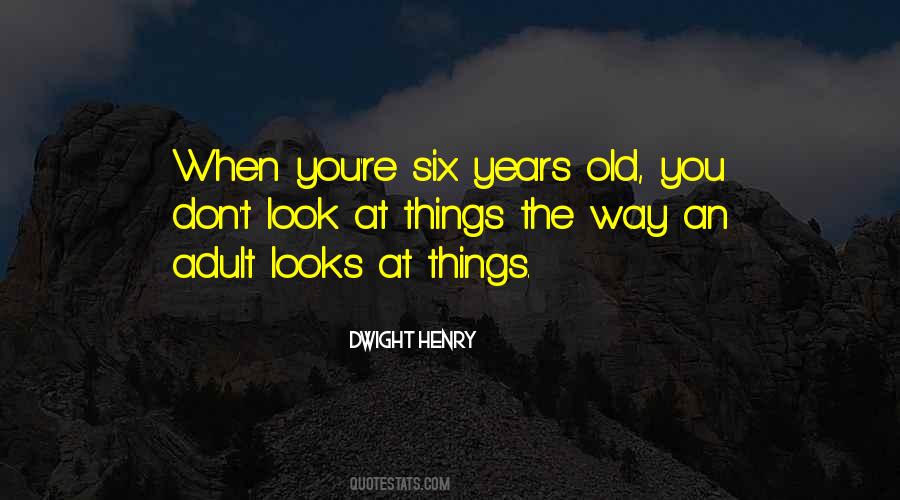 #50. Love means to learn to look at yourself the way one looks at distant things for you are only one thing among many. - Author: Czeslaw Milosz
#51. But you could also look at it the other way. Like you're saying no matter how bad things are for you, I can still relate. - Author: Sarah Dessen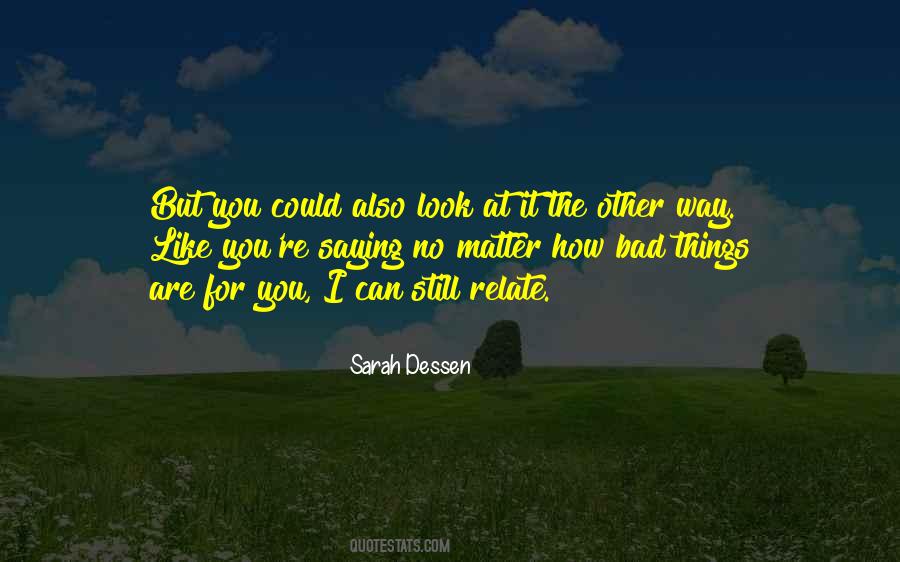 #52. You don't see the world the way other people do. And when you let your guard down, the way you think, the way you say things ... you make people look at things differently. You make people feel things. - Author: Priscilla Glenn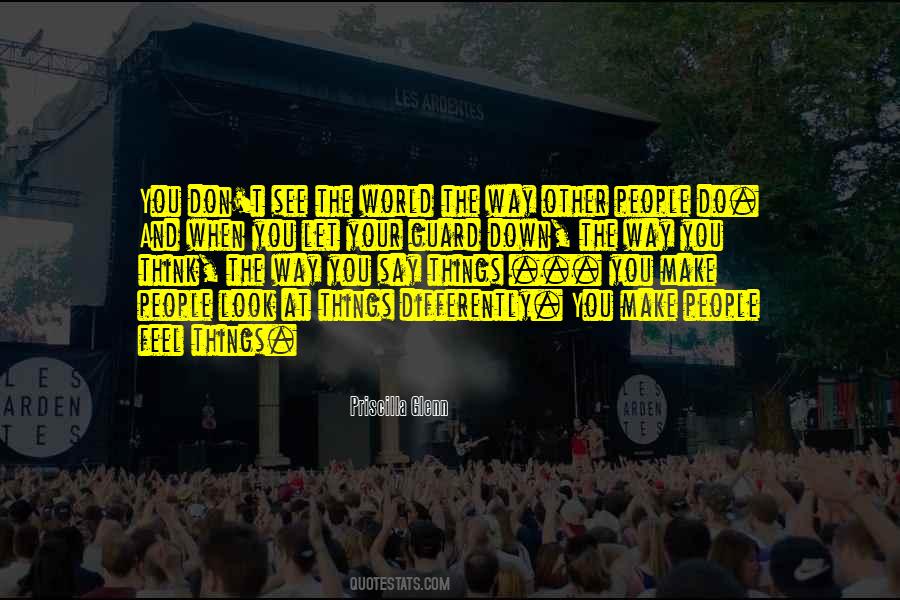 #53. Things happen along the way in our path. Instead of looking at it as a wall that's being put up in front of us, look at it as as opportunity to scale new heights and to climb that wall - to see and do things you didn't think you were capable of. - Author: Robin Roberts
#54. It was terrible if you looked at things the way they could have been, but if you concentrated on what there was, it didn't look too bad. - Author: Elizabeth Cadell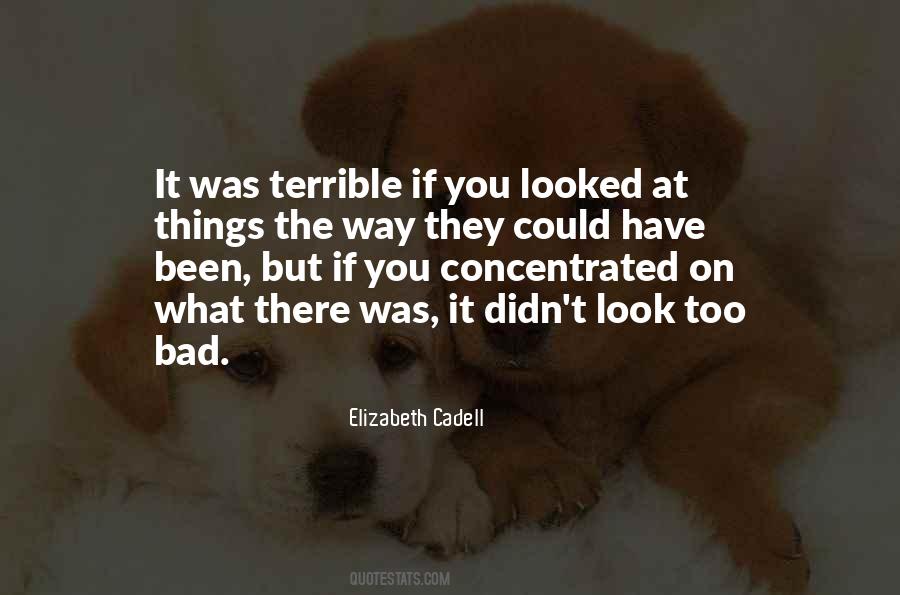 #55. Things don't change, only the way you look at them. - Author: Carlos Castaneda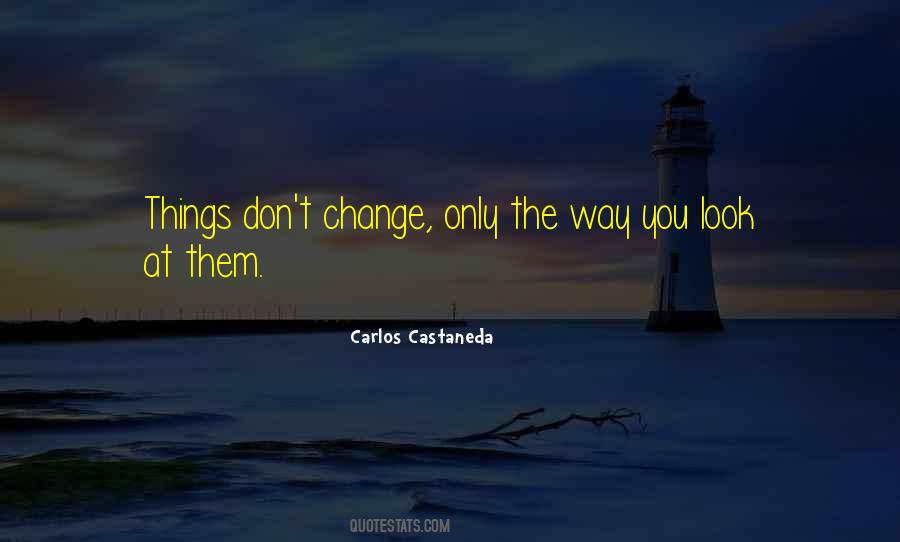 #56. Happiness is a state of mind. It's just according to the way you look at things. - Author: Walt Disney Company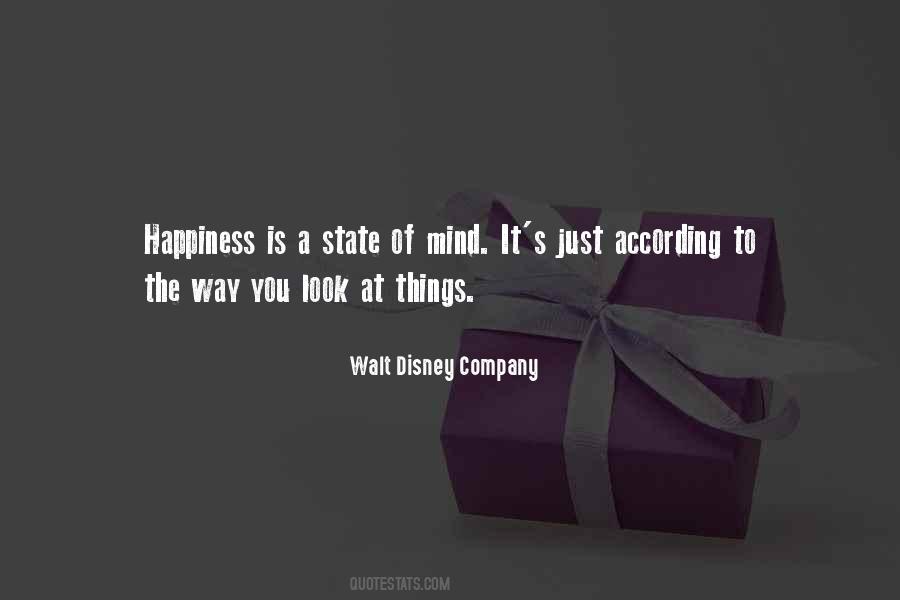 #57. When I look back at what I've written and try to explain it, it doesn't help, but it helps to be in a process of writing. It's the same thing with reading - you lose yourself when you read as well. When I was younger I used literature that way, it was just escapism, a tool to run away from things. - Author: Karl Ove Knausgard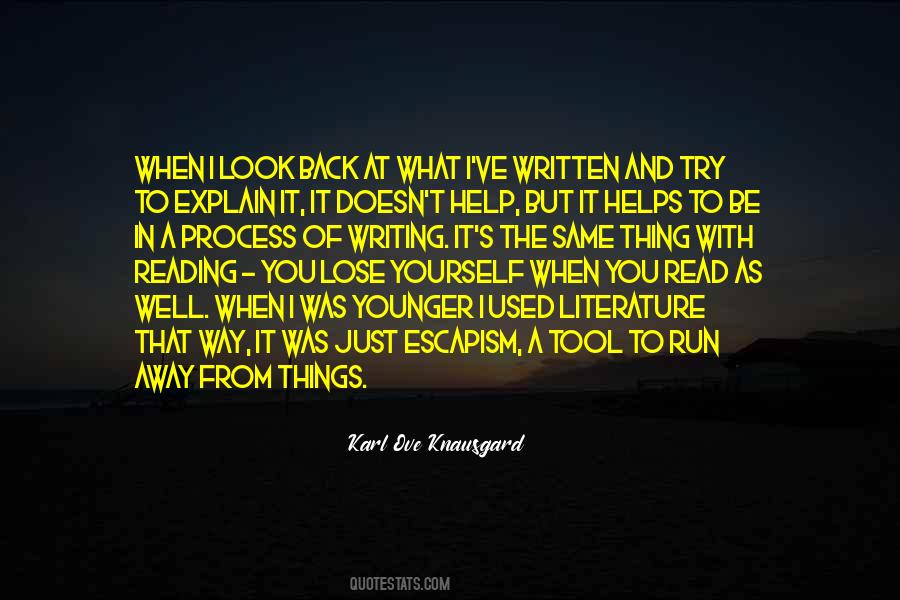 #58. There are two ways to look at how life works and how people find their paths. One way is you take your time and try different things out. The other is you settle in early. I was into cooking very early. - Author: Michael Mina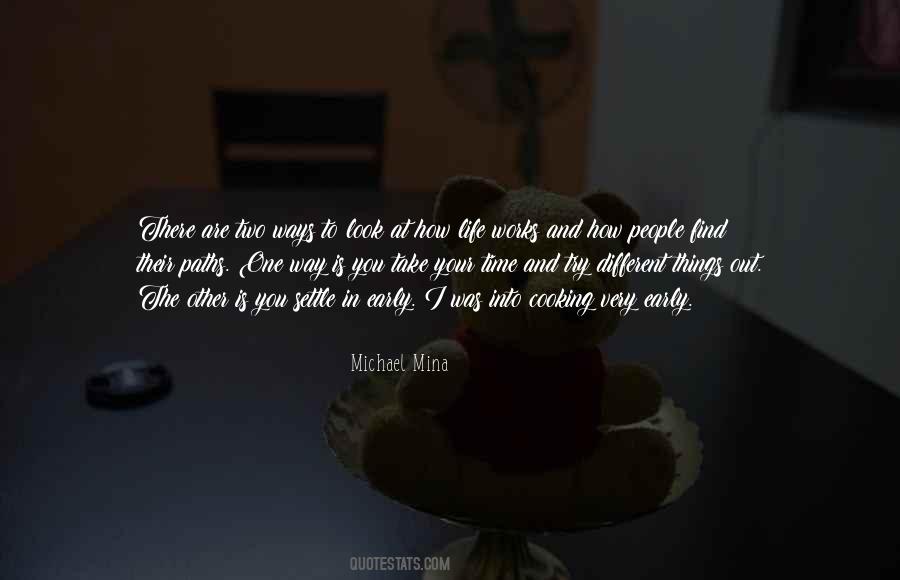 #59. Very often, I'm part of the deception because the way I play things is that I want you to be able to look back and go, "Oh, my god, I didn't see that at the time, but now it all makes sense," and you want to watch it a second time with the benefit of hindsight. - Author: Lucy Lawless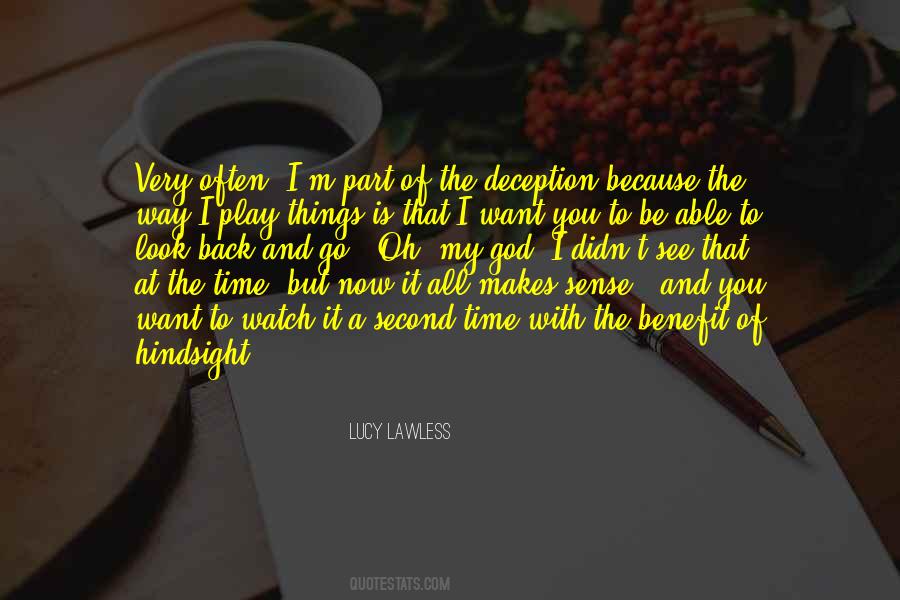 #60. Please, always look at me this way. Stare into my eyes and see me for who I am and know that there is nothing more than this. When the world calls things into question, you need not question me because I will always be here for you. - Author: Renea Mason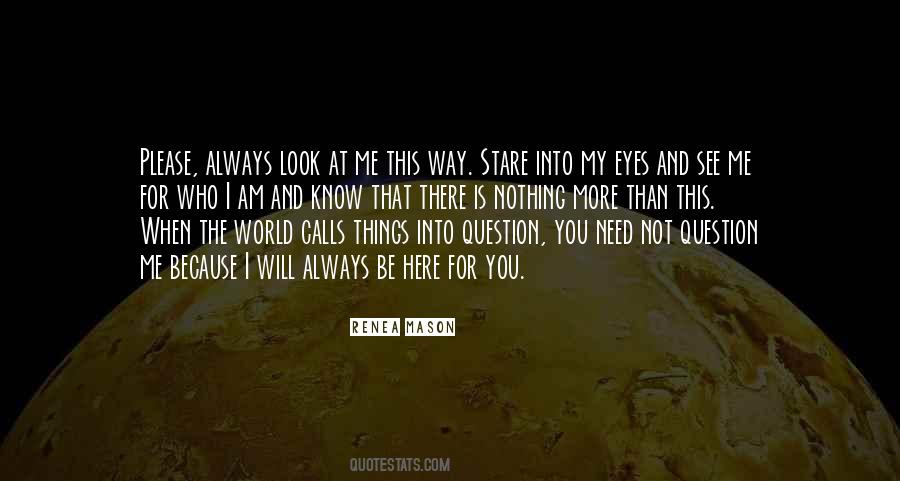 #61. Change the way you look at things and the things you look at change. - Author: Michael Michalko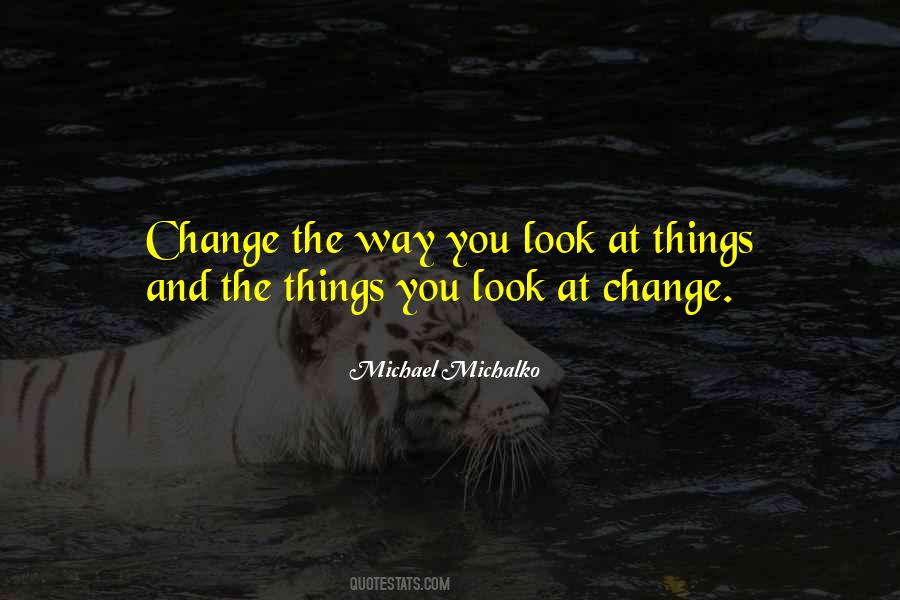 #62. If you change the way you look at things, the things you look at change. -Wayne Dyer - Author: Brian Mills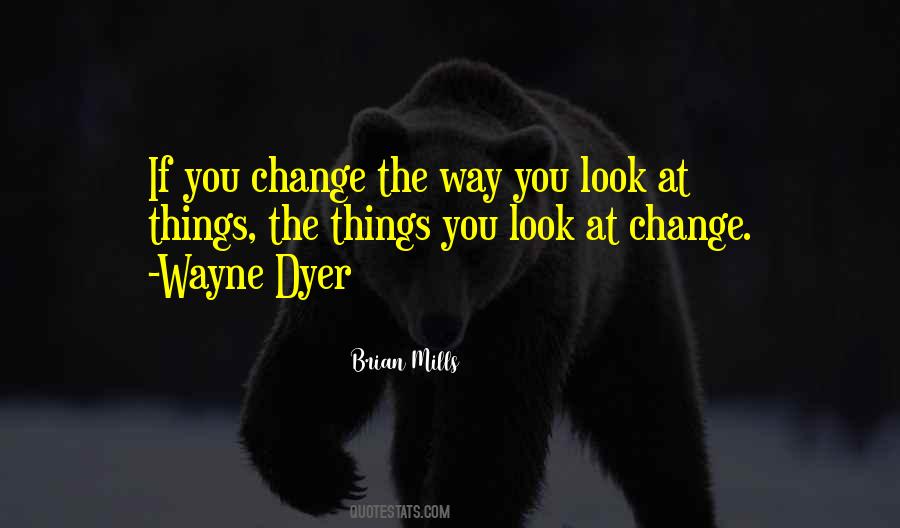 #63. When you look at - when you talk to people in Africa and across the Middle East, they're not satisfied with the way things are going. Sure, this idea of democracy was injected into the region, but it has brought mostly chaos. - Author: Richard Engel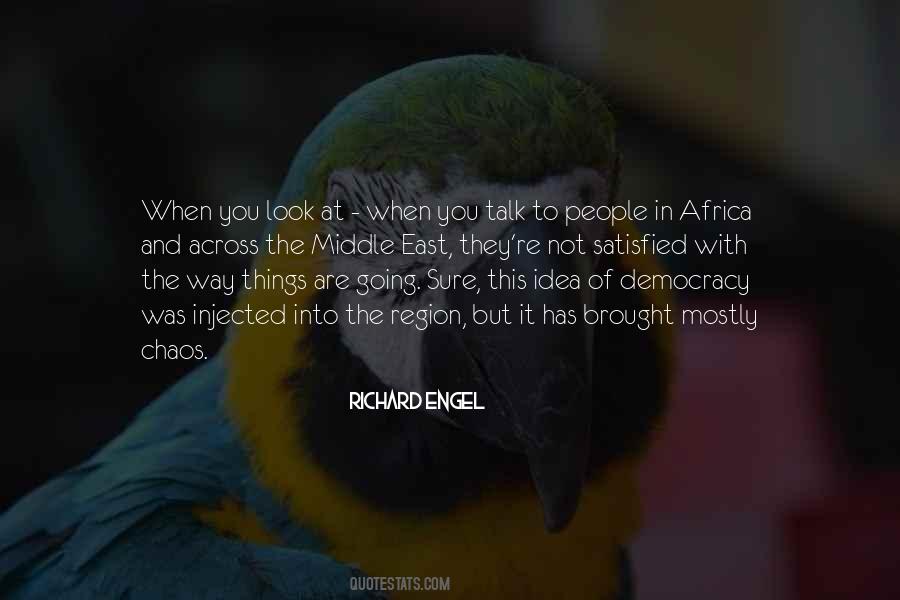 #64. But you have to look at your work with an honest critical eye. Work on the things that you need work on. Scare yourself. Surprise yourself. If you don't like the way it's going, you have complete control over changing the course. That's one of the best things about doing this. - Author: Brian Michael Bendis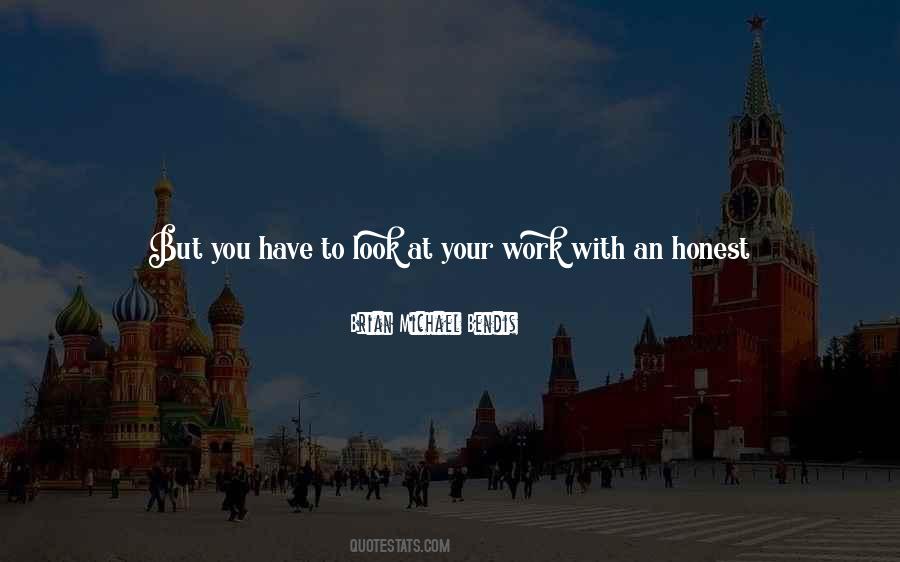 #65. If you are the leader, you don't have the right to say things like "Ugh, didn't eat this week I was so busy." "Haven't slept." I look sideways at those signs of bravado, which are intended to make one feel that the person is working so hard. I don't think that way. - Author: Scott Raab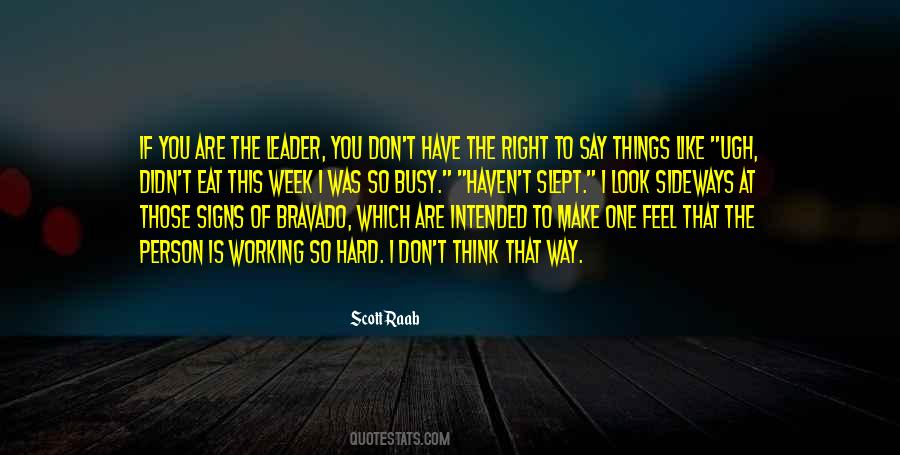 #66. They are dazzled by all the money that they are being offered. That is what money does, Mma Ramotswe - you must have seen that. Sometime we need to look the other way when people put money in front of our noses. We have to look at the other things we can see so the money doesn't hide them. - Author: Alexander McCall Smith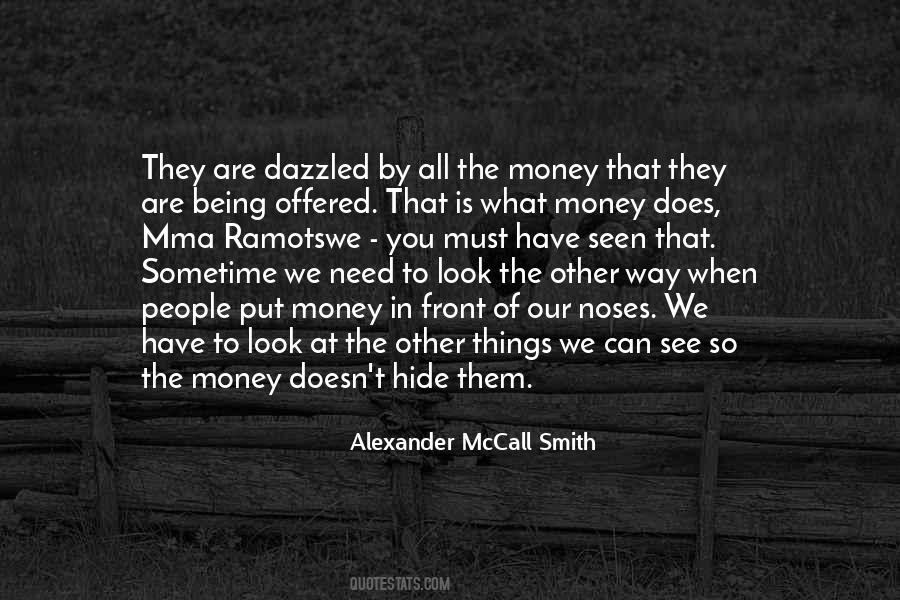 #67. One of the beautiful things about having kids is I had no idea how much it will make you look into yourself and who you are and what you believe in and what your past was like and all that kind of stuff. I think it's made me really look at life in a much more intense way. - Author: Jamie Cullum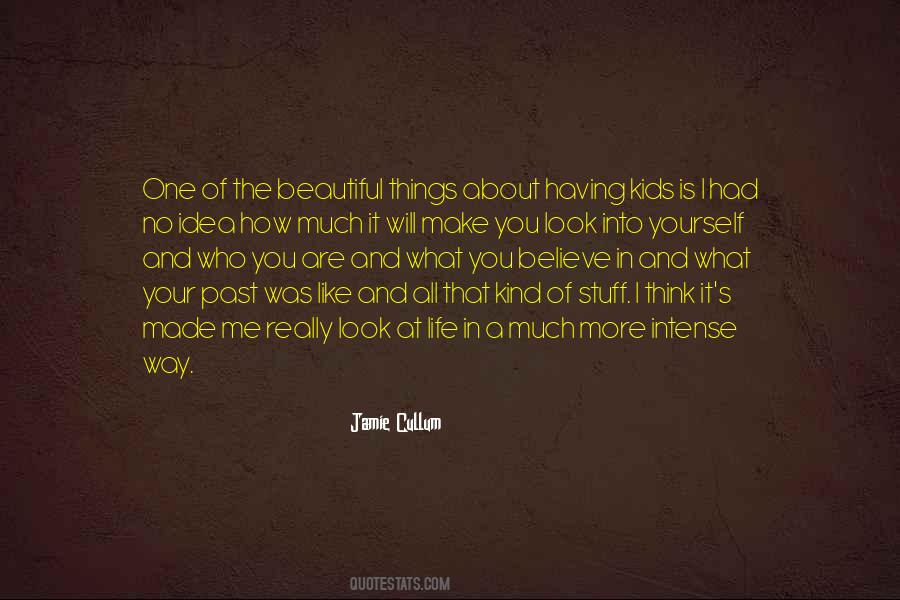 #68. Christopher McCandless:I will miss you too, but you are wrong if you think that the joy of life comes principally from the joy of human relationships. God's place is all around us, it is in everything and in anything we can experience. People just need to change the way they look at things. - Author: Shunryu Suzuki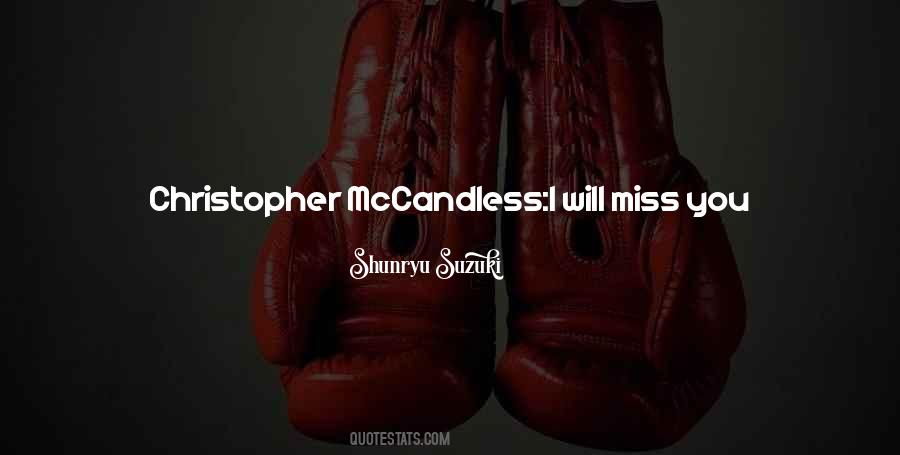 #69. Use a different approach to meet women than offering them a drink, stop insisting on dates that cost money, and show that you care for your woman by the way that you treat her, how you look at her, what you say to her, how you hold her, etc., instead of by buying her things. - Author: W. Anton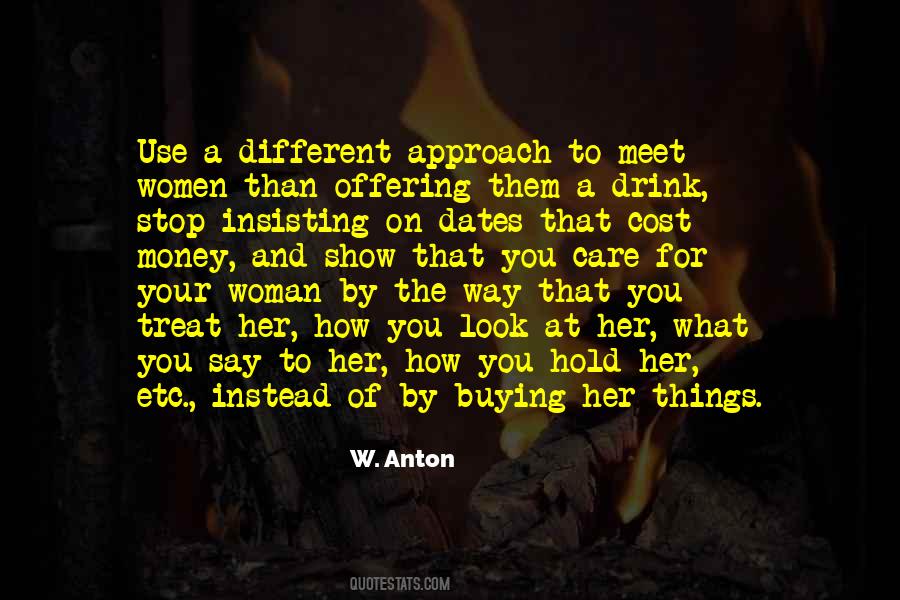 #70. You wake up oneday and it's different, not so much in a physical way but in the way you look at things. I think when you reach that primary moment in your life, you finally have the courage to let go of the human attachments and start to live in a way that compliments your heart and soul. - Author: Nikki Rowe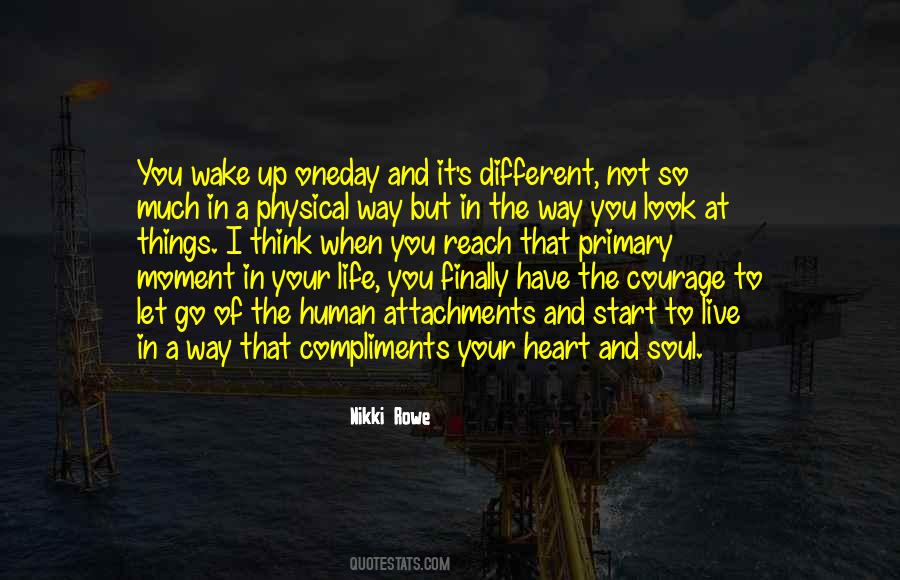 Famous Authors
Popular Topics