The Power Of Hate Famous Quotes & Sayings
List of top 67 famous quotes and sayings about the power of hate to read and share with friends on your Facebook, Twitter, blogs.
Top 67 Quotes About The Power Of Hate
#1. Writers would hate me saying this, and I love words, but I have to say that cinema exists, on one level, for the power of the big image and what that image does. - Author: Miranda Otto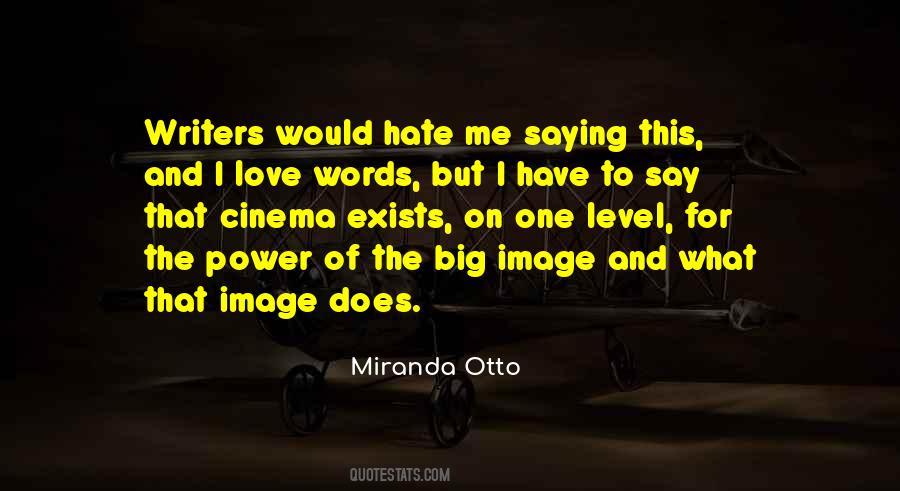 #2. The hate in heart can consume you not outside events. - Author: Lailah Gifty Akita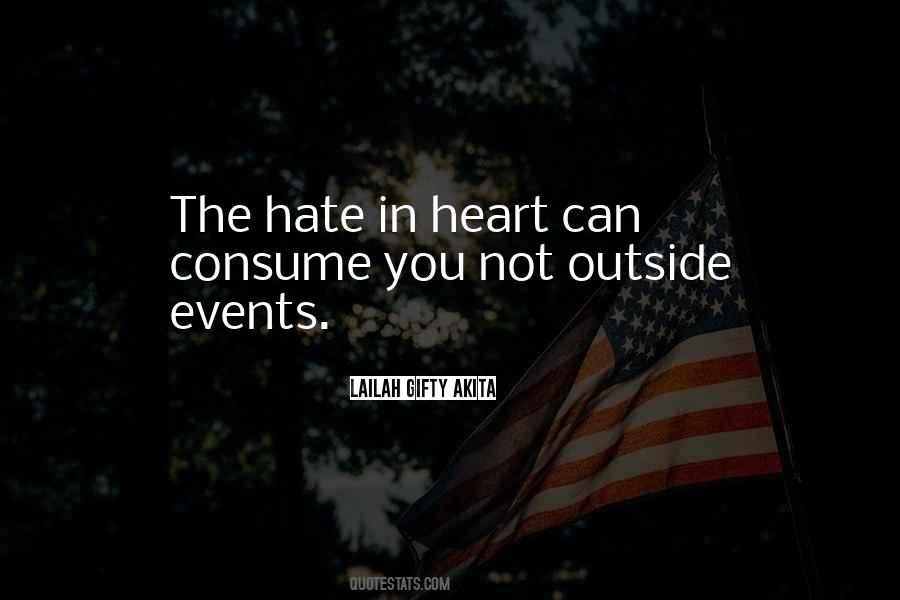 #3. I hate what you represent."
...
"Power without conviction." Isana replied, her tone lifeless, matter of fact.
"Ambition without conscience. Decent folk suffer at the hands of those like you. - Author: Jim Butcher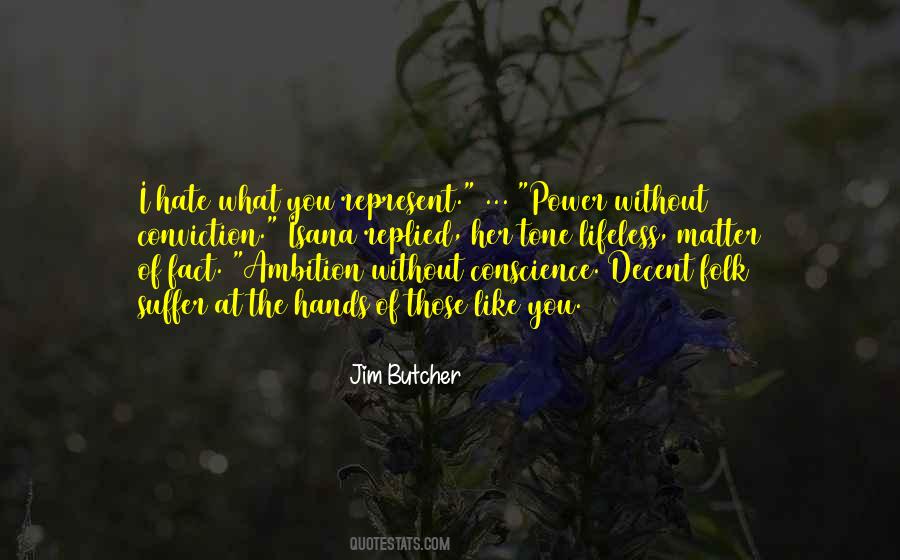 #4. And so will the world end, I think, a victim of love rather than hate. For love's ever been the more destructive weapon, sure. - Author: Stephen King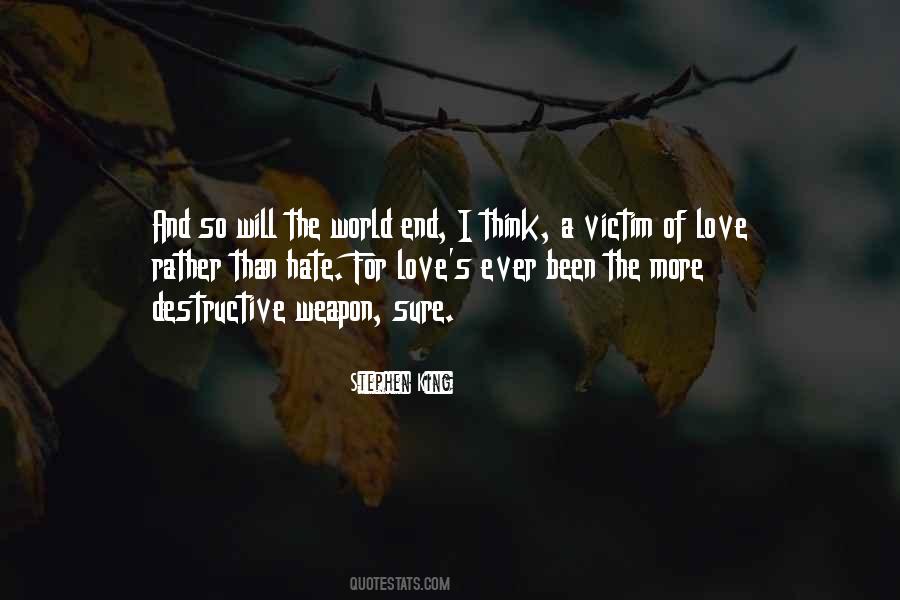 #5. Two Immeasurable Things: The healing power of love and the destructive power of hate. - Author: Steve Maraboli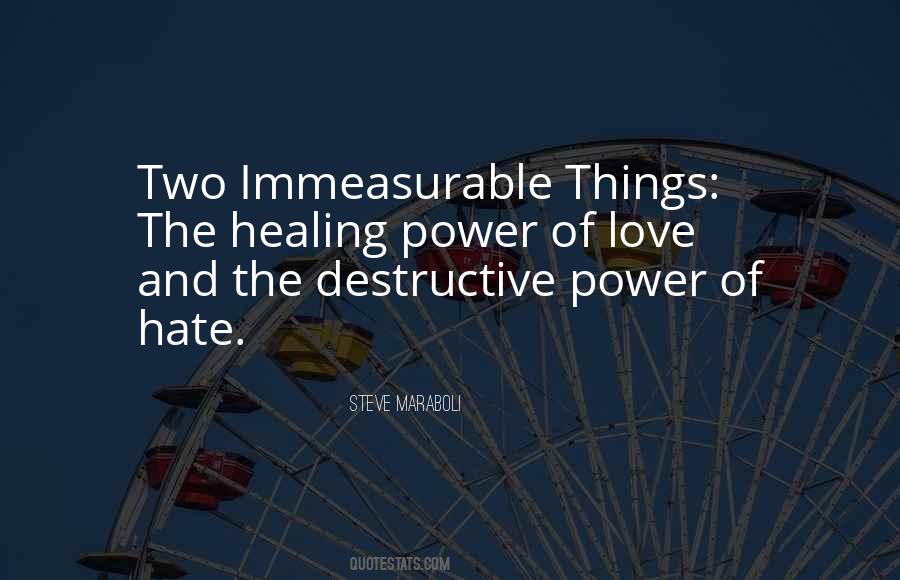 #6. The individual artist is a medium for making representational and deeply meaningful symbols of the community's collective consciousness, whether they are symbols of the community's religion, love, hurt, power, hate, hope, dream, fables, foibles or on and on and on. - Author: Inga Muscio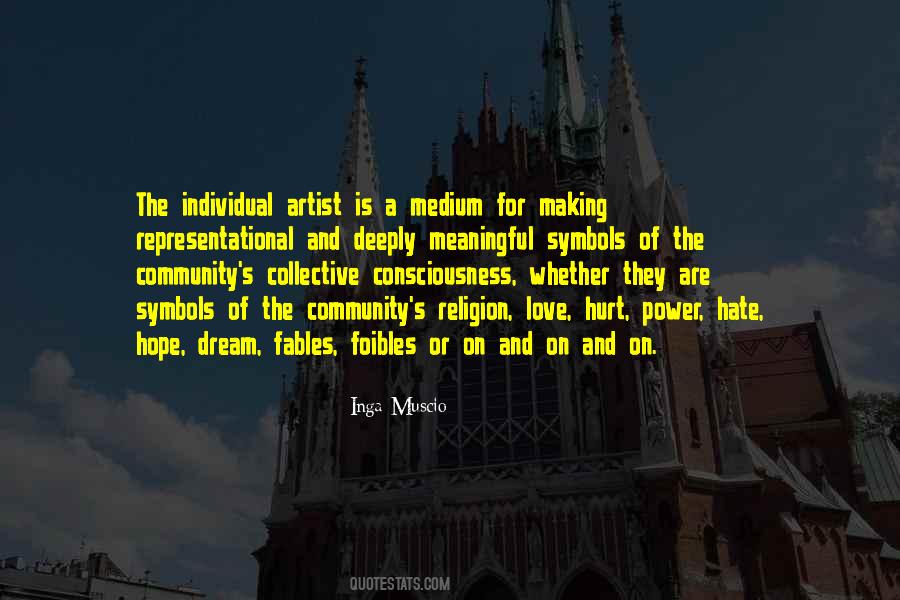 #7. One cannot overestimate the power of a good rancorous hatred on the part of the stupid. The stupid have so much more industry and energy to expend on hating. They build it up like coral insects. - Author: Sylvia Townsend Warner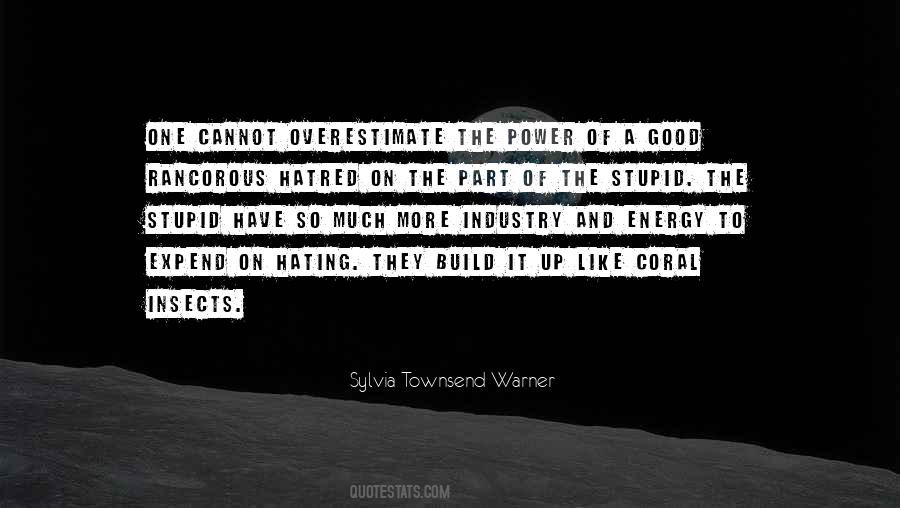 #8. I could not see the unholy creature, but I could feel the bone-aching chill of its presence, and I heard the howl of its mindless hate. I quailed to think of the power that had called it into being and loosed it on the world. - Author: Stephen R. Lawhead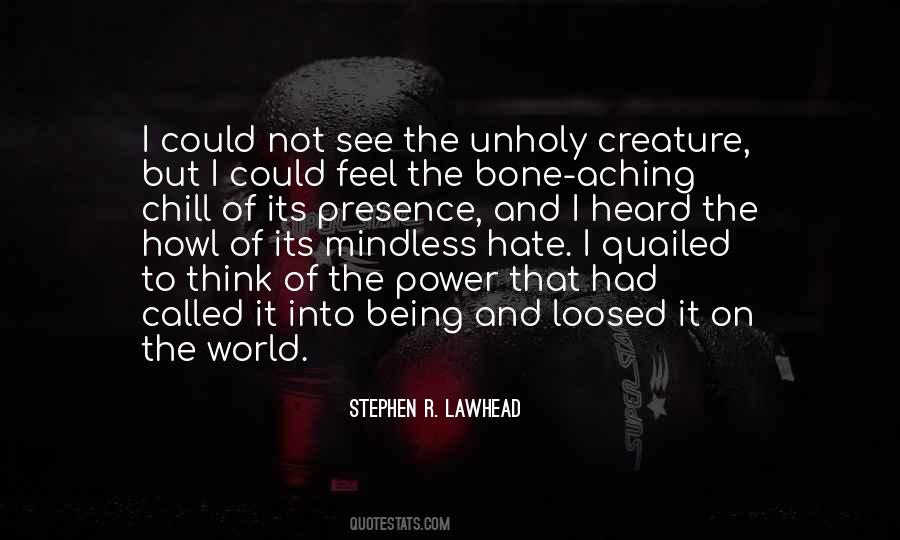 #9. In each of us, there lies a divine connection to a power more powerful than hate or violence. Today is the day to attune to that power and use it on behalf of peace on earth. - Author: Marianne Williamson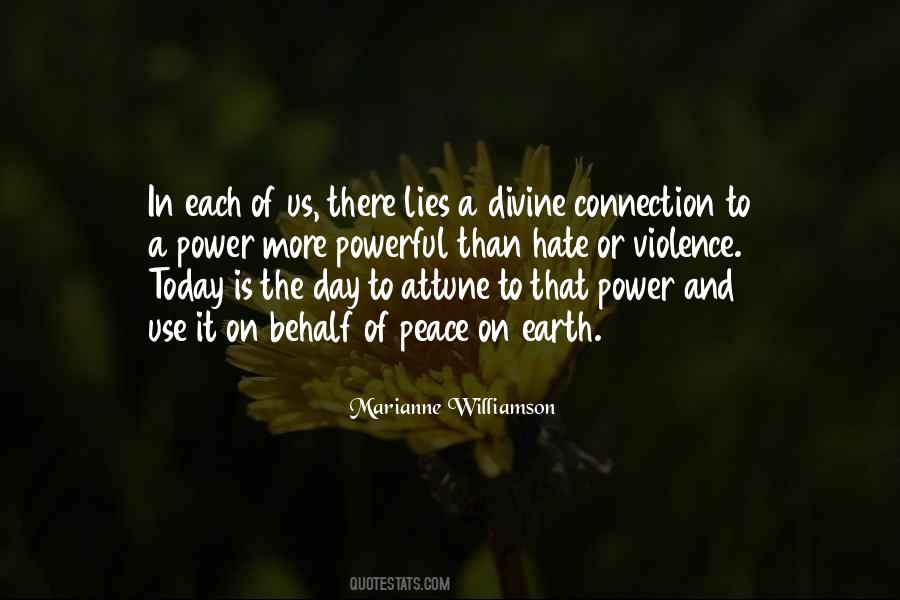 #10. And yet is not mankind itself, pushing on its blind way, driven by a dream of its greatness and its power upon the dark paths of excessive cruelty and of excessive devotion. And what is the pursuit of truth, after all? - Author: Joseph Conrad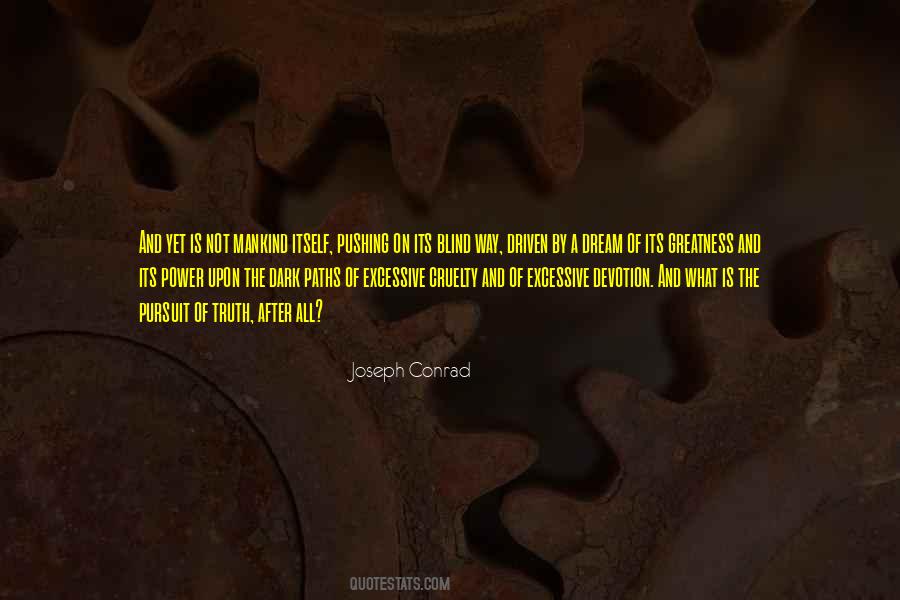 #11. All over the world, particularly in the newer nations, young men are coming to power
men who are not bound by the traditions of the past
men who are not blinded by the old fears and hates and rivalries
young men who can cast off the old slogans and delusions and suspicions. - Author: John F. Kennedy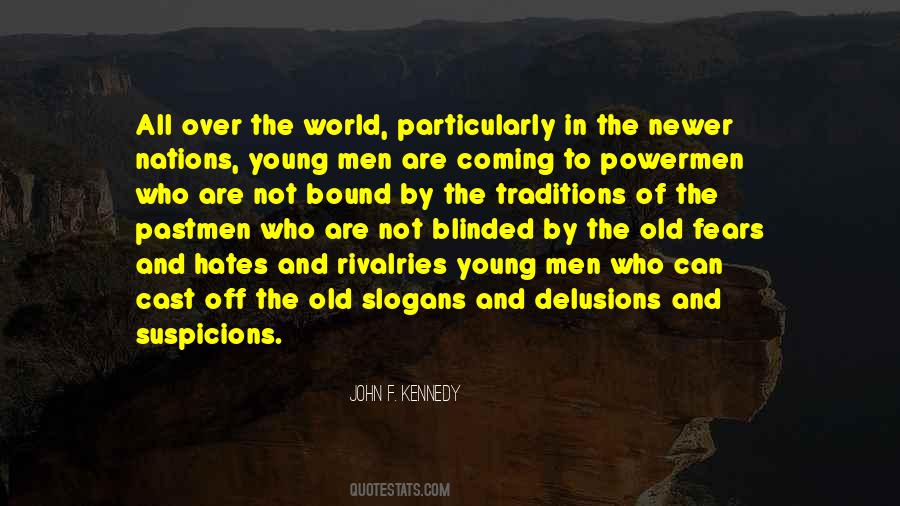 #12. Men bow before the power of genius; they hate it, and try to slander it, because genius does not divide the spoil; but if genius persists, they bow before it. - Author: Honore De Balzac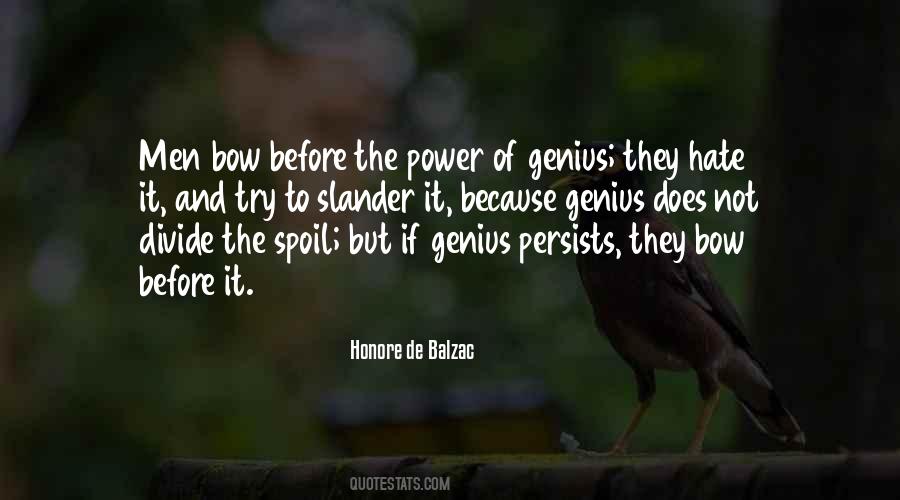 #13. The hate of men will pass, and dictators die, and the power they took from the people will return to the people. And so long as men die, liberty will never perish. - Author: Charlie Chaplin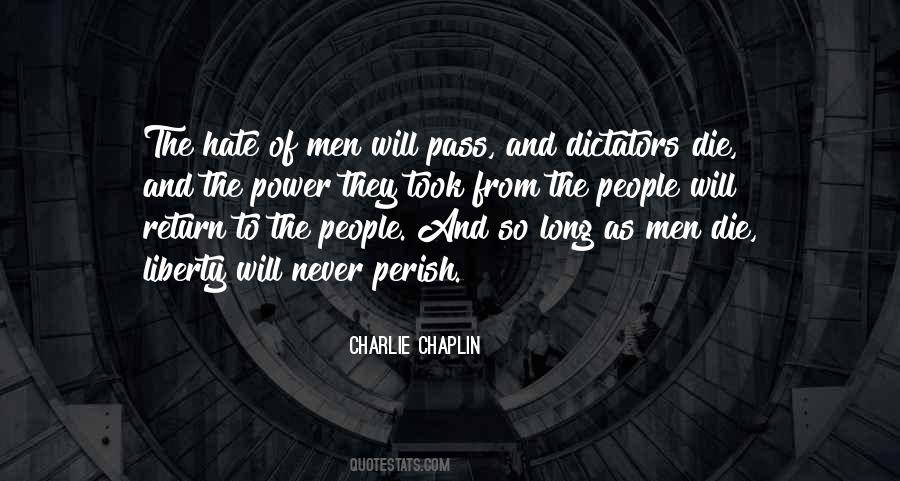 #14. Life is all about love. Everything - hate, lust, money, power, death, birth - it all stems from love. If life were put in a giant pot and boiled like a piece of chicken, all the fat would melt away, and what you'd be left with is love. - Author: J. Matthew Nespoli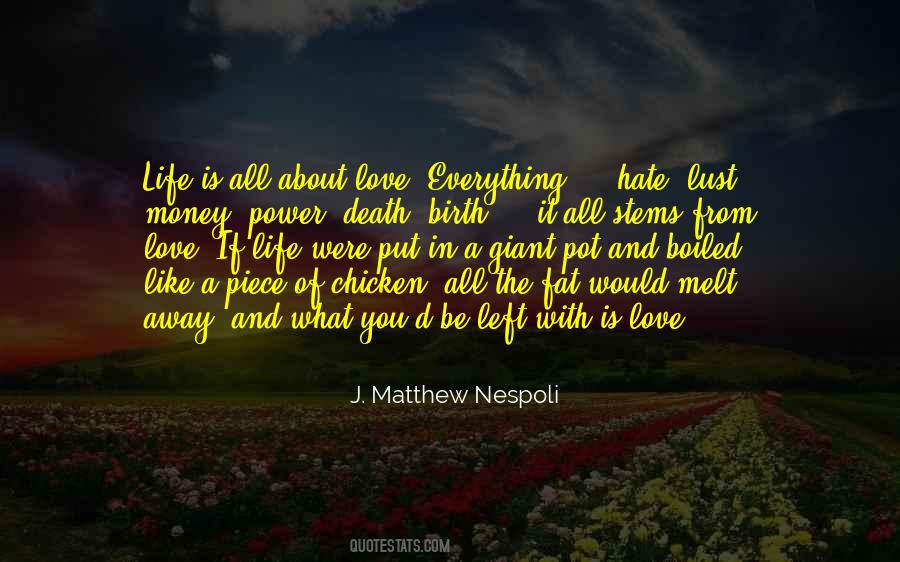 #15. Willy Lazeer is an acquaintance. His teeth and his feet hurt. He hates the climate, the Power Squadron, the government and his wife. The vast load of hate has left him numbed rather than bitter. In appearance, it is as though somebody bleached Sinatra, skinned him, and made Willy wear him. - Author: John D. MacDonald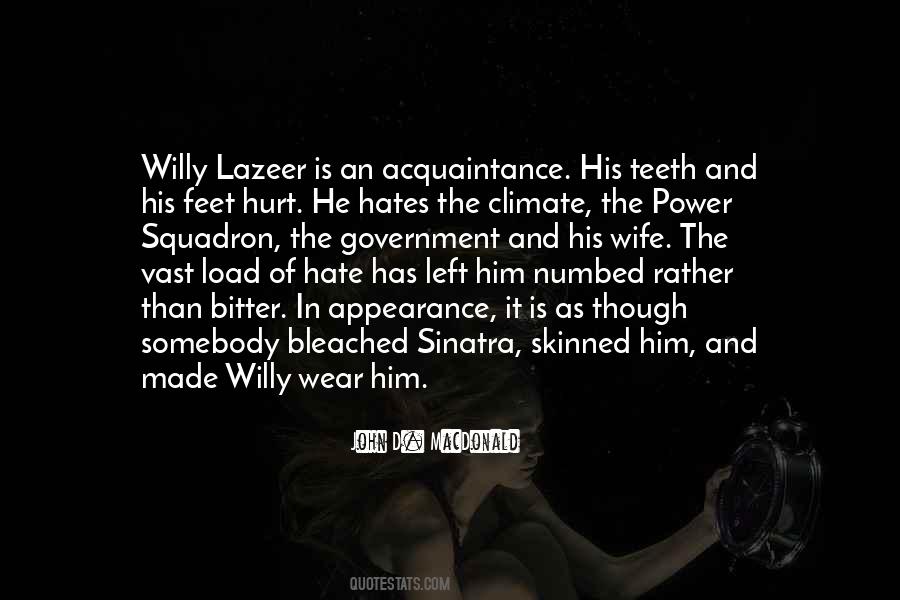 #16. Pornography is the essential sexuality of male power: of hate, of ownership, of hierarchy; of sadism, of dominance. - Author: Andrea Dworkin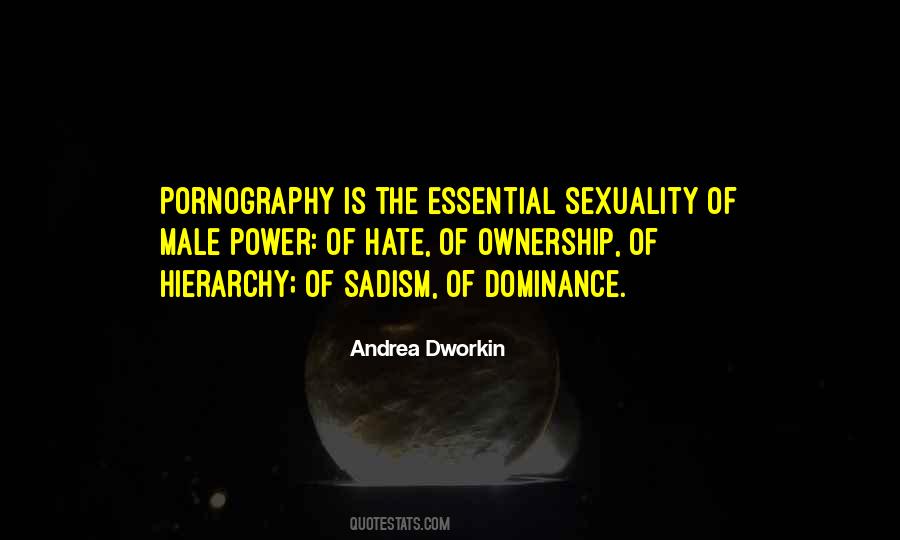 #17. We must develop and maintain the capacity to forgive. He who is devoid of the power to forgive is devoid of the power to love. There is some good in the worst of us and some evil in the best of us. When we discover this, we are less prone to hate our enemies. - Author: Martin Luther King Jr.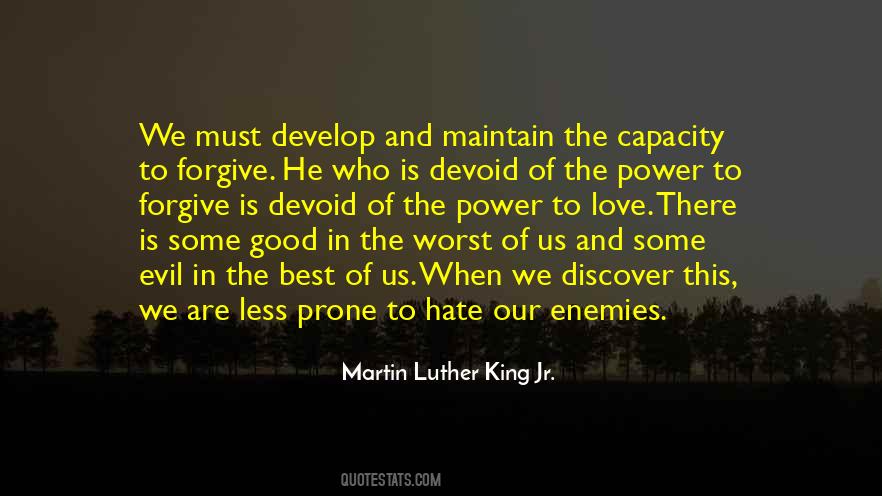 #18. That's a good attitude. You should hate me more, curse me more, and detest me! Then you should take the power of that hatred and use it to survive this rotten world. - Author: Hideaki Sorachi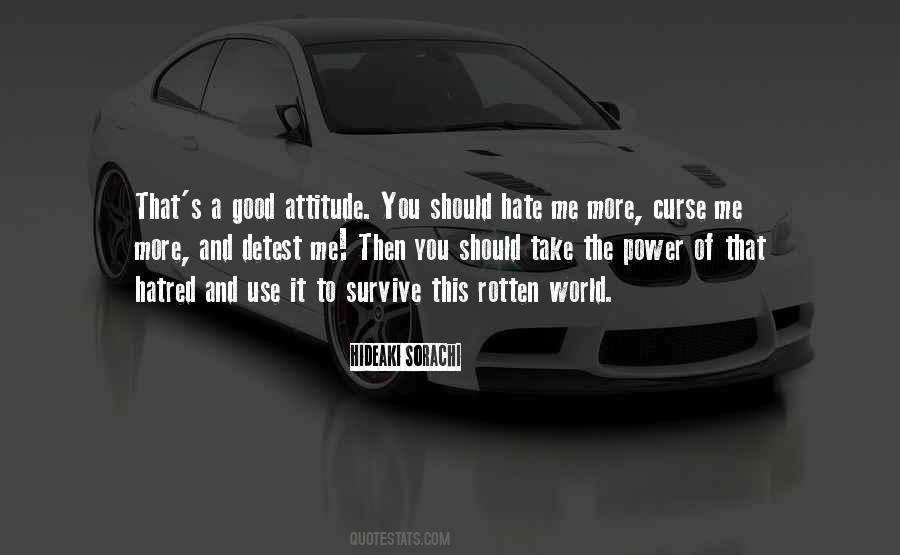 #19. We have become a Nazi monster in the eyes of the whole world - bullies and bastards who would rather kill than live peacefully. We are not just Whores for power and oil, but killer whores with hate and fear in our hearts. - Author: Hunter S. Thompson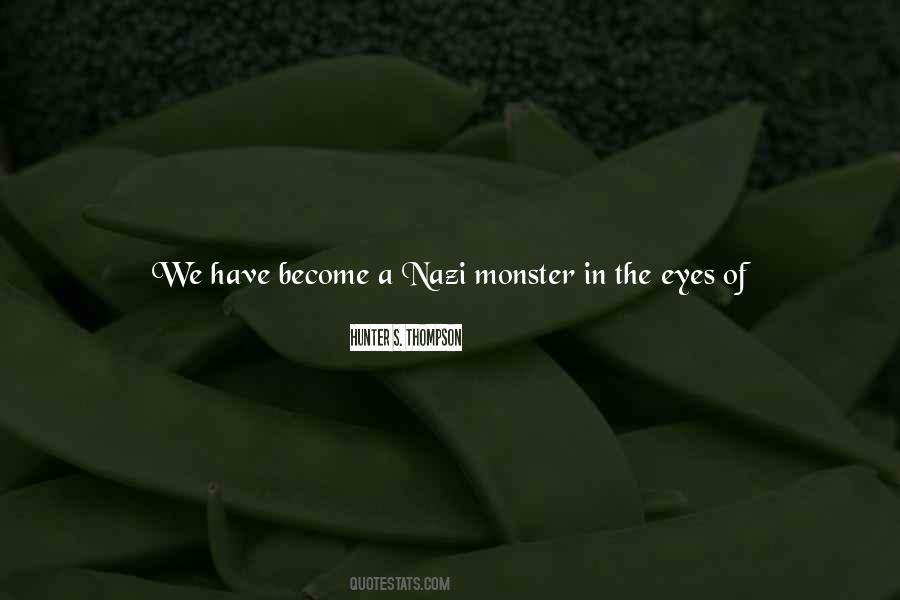 #20. It is because of the hasty and superficial conversation with God that the sense of sin is so weak and that no motives have power to help you to hate and flee from sin as you should. - Author: Aiden Wilson Tozer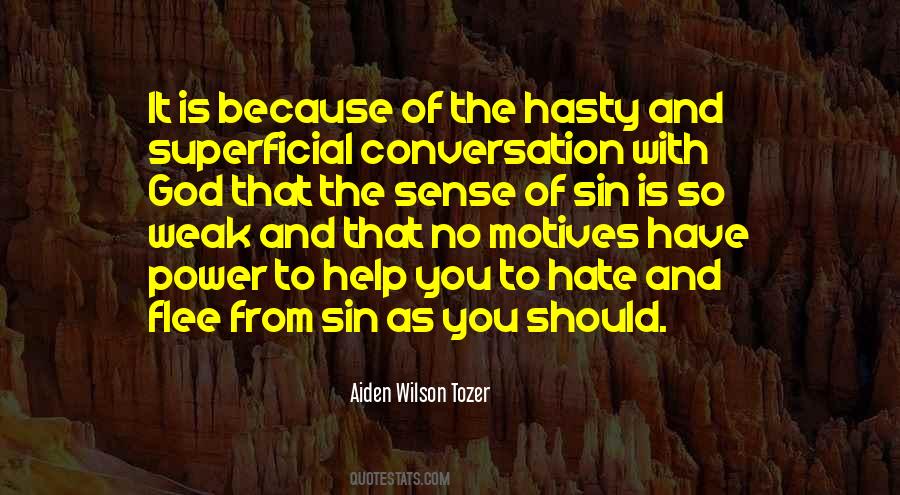 #21. Madonna is that forbidden thing, the Nietzschean creative woman. Her preoccupation with a high level of work doesn't allow her to follow the usual script that powerful women are expected to follow - 'don't hate me for my success, don't hate me for my power.' - Author: Naomi Wolf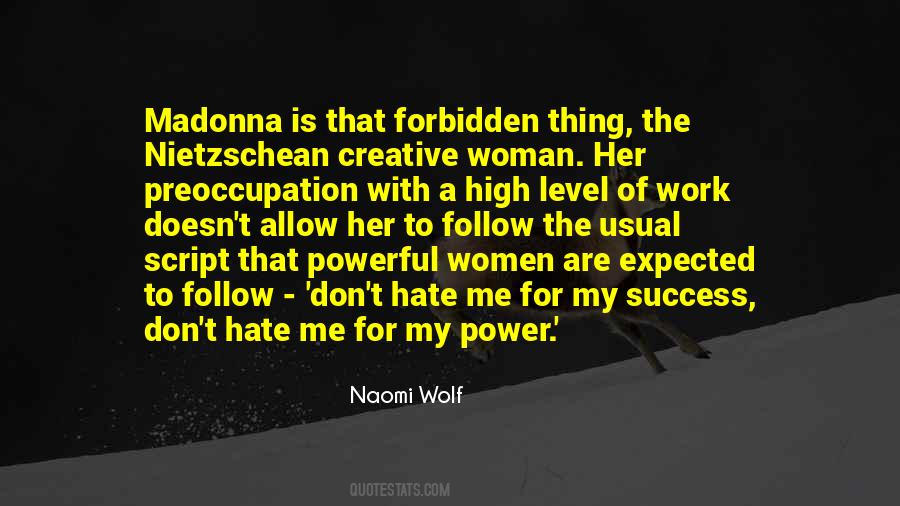 #22. I'd hate it to become style over substance, I'd hate people to start putting me in a magazine article about my style. I don't like dressing up in something I'm not necessarily comfortable in just to make it more of a show. I want the power to come from what I sing about and how I sing. - Author: Ellie Goulding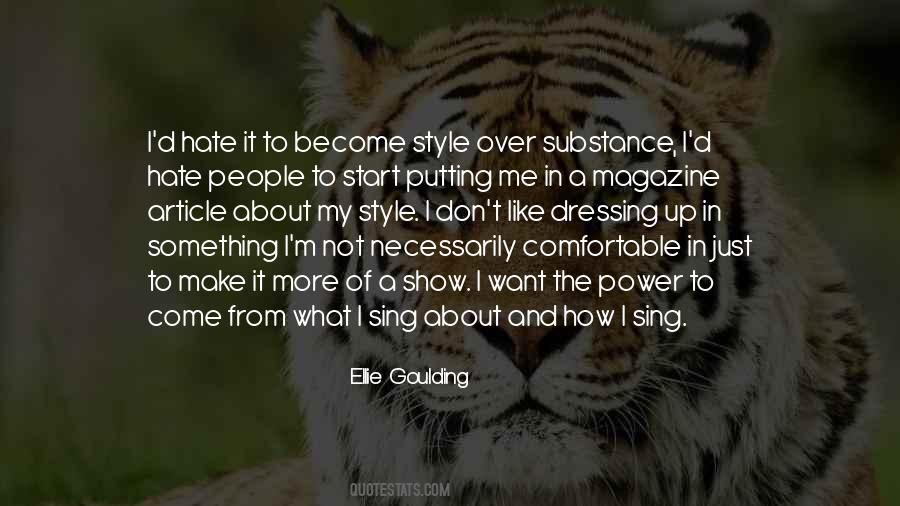 #23. As humans, all our power elements lies in our ability to switch the power of hate inside us onto an energy of love. - Author: Sameh Elsayed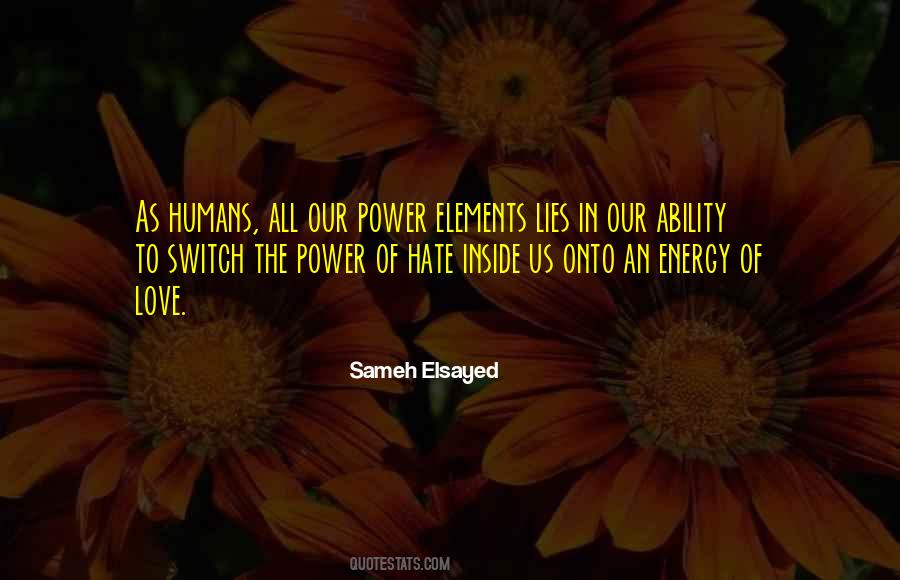 #24. I fell in love with you in a blink of an eye, Ava. You represented everything I could ever want and the one thing I was most terrified to ask for. The power of what I was feeling scared me to my very core and made me love you and hate myself for being the wrong man for you - Author: Diana T. Scott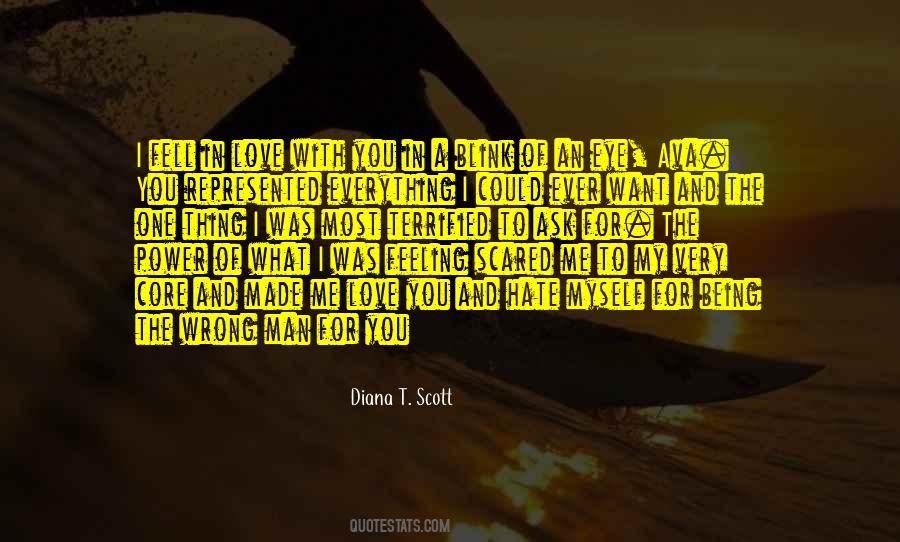 #25. As long as you're still walking with the demons of hell! You'll never have the time to slow down to see the angels of heaven behind you. - Author: Jerome D. Williams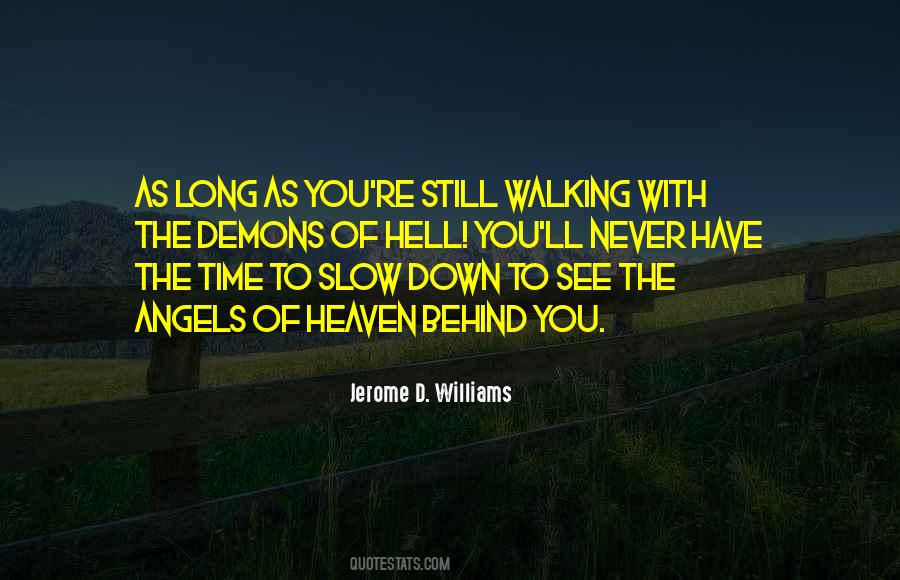 #26. The AIDS epidemic has rolled back a big rotting log and revealed all the squirming life underneath it, since it involves, all at once, the main themes of our existence: sex, death, power, money, love, hate, disease and panic. No American phenomenon has been so compelling since the Vietnam War. - Author: Edmund White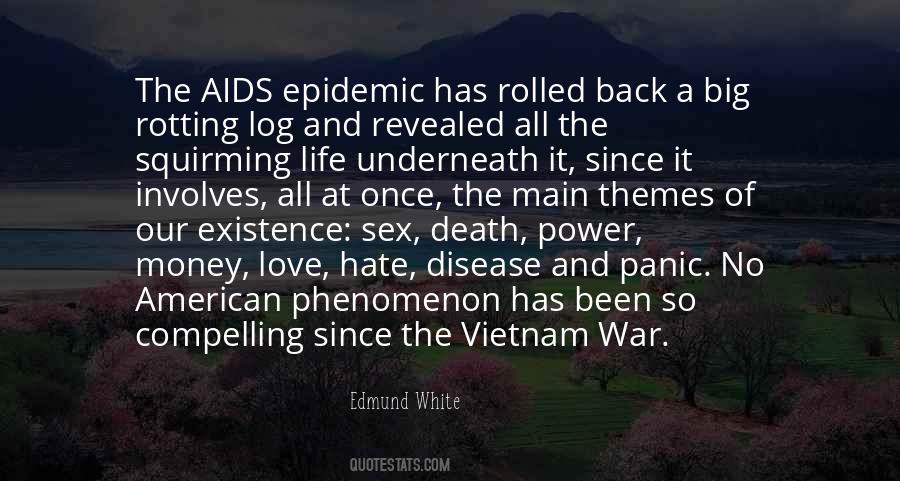 #27. I do like to hit people-I like the explosion of power and energy, and the feeling that I am untouchable because I can hurt people. But I hate that part of myself, because it is the part of me that is the most broken - Author: Veronica Roth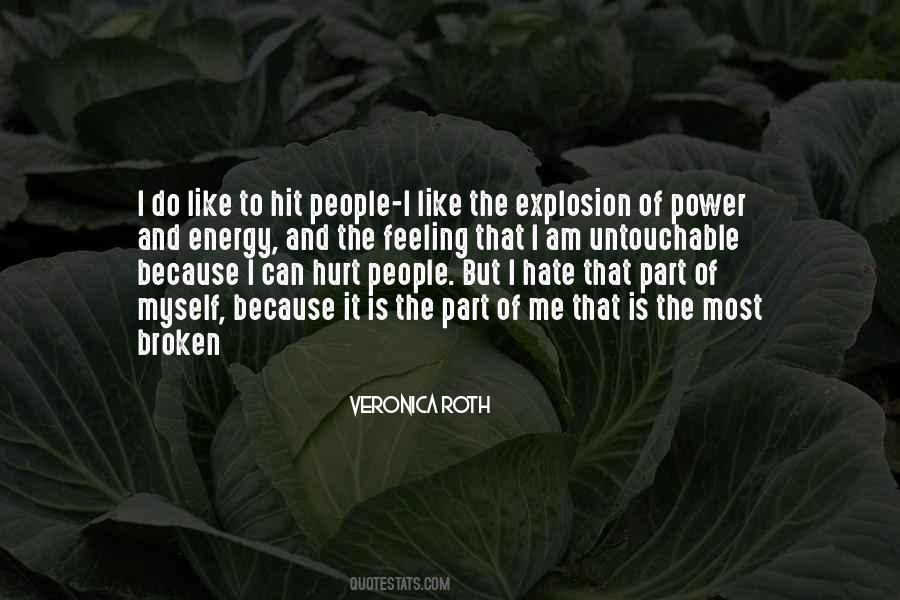 #28. I want to tell the world of cycling to please join me in telling Pat McQuaid to resign. I have never seen such an abuse of power in cycling's history - resign, Pat, if you love cycling. Resign even if you hate the sport. - Author: Greg LeMond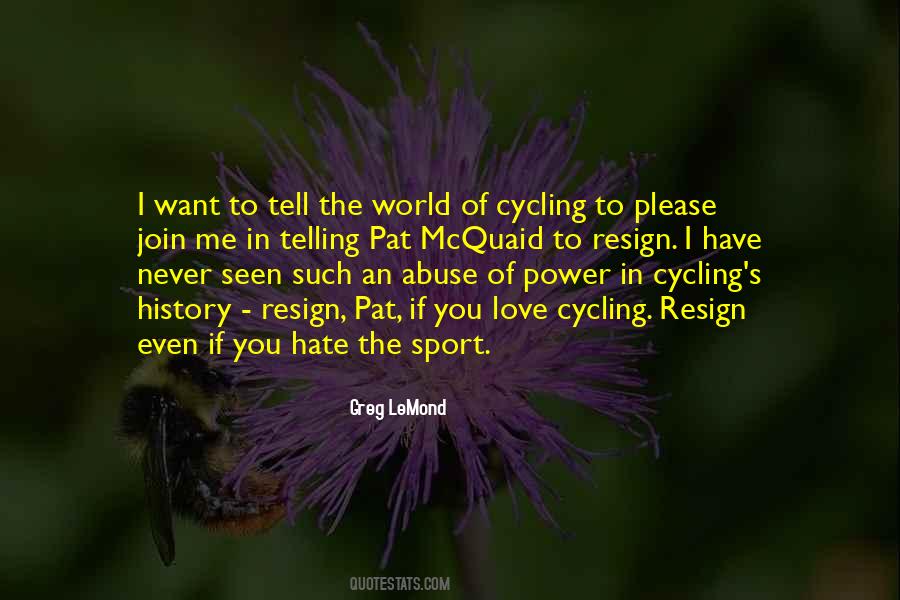 #29. I hate this version of myself because although I think I have all the power, I have none. I am not rational here. - Author: Lily Paradis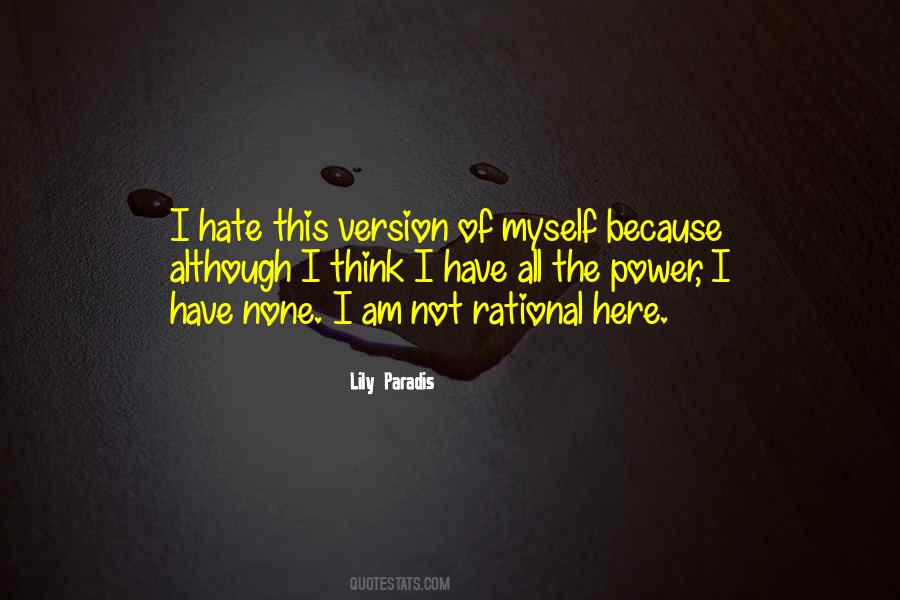 #30. Along the way of life, someone must have sense enough and morality enough to cut off the chain of hate and evil. The greatest way to do that is through love. I believe firmly that love is a transforming power than can lift a whole community to new horizons of fair play, goodwill, and justice. - Author: Martin Luther King Jr.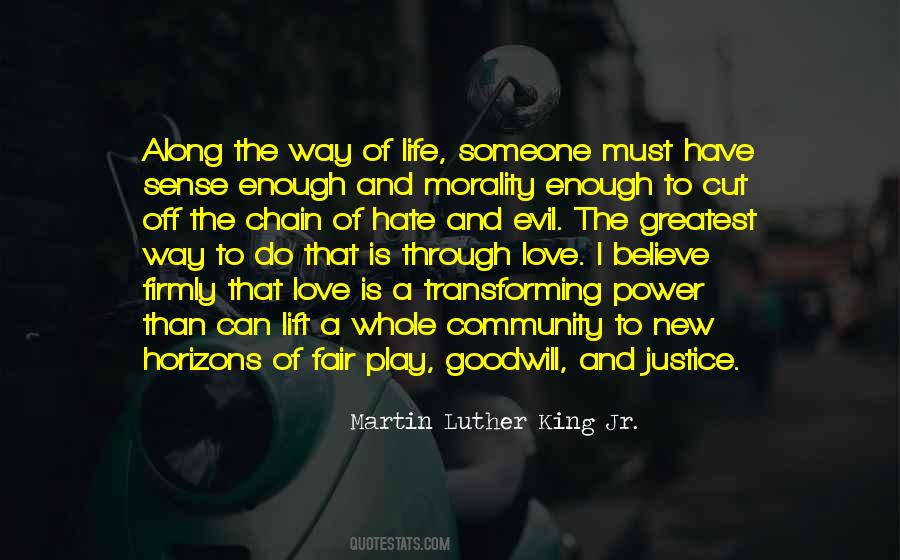 #31. Sometimes love is so intense that it turns into this gray area that borders on hate. That's what happens when the people you love have that type of power over you. - Author: Julie Murphy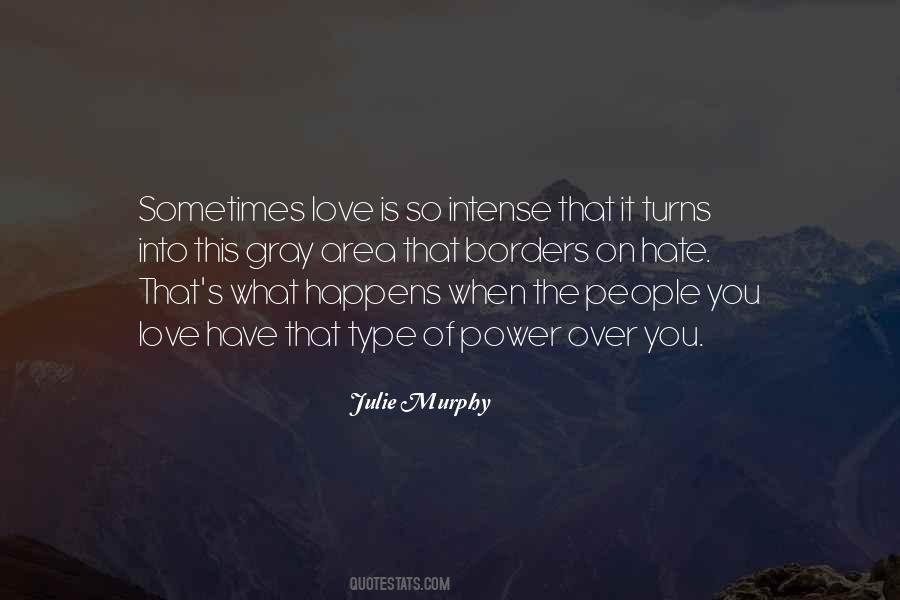 #32. Money comes and goes. I'm thankful I have money. I'm trying to save up more. I would like more money. But it's not happiness. If you're a millionaire and hate your family, hate your friends and your life, then what is the point? You're just a person with a lot of money and power who is not happy. - Author: Dat Phan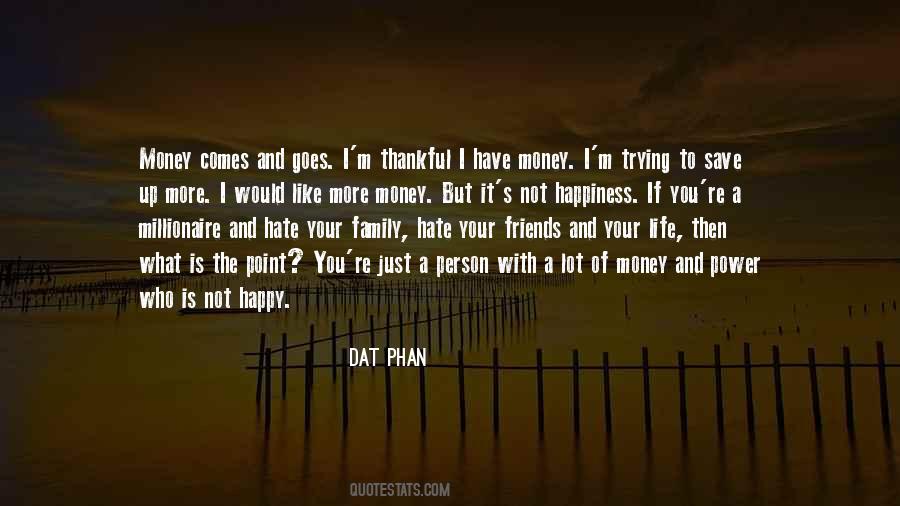 #33. That's why I hate the concept of falling in love. It makes you weak. It takes away your strength. Your power. Your rational sense. EVERYTHING. - Author: Baka_usagi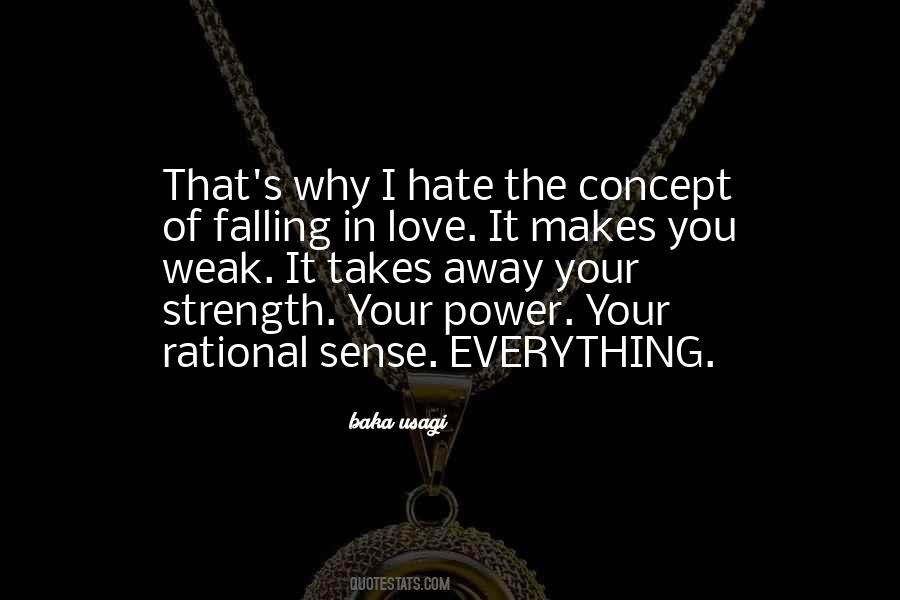 #34. The fixed is the world without fire- dead flint, dead tinder, and nowhere a spark. It is motion without direction, force without power, the aimless procession of caterpillars round the rim of a vase, and I hate it because at any moment I myself might step to that charmed and glistening thread. - Author: Annie Dillard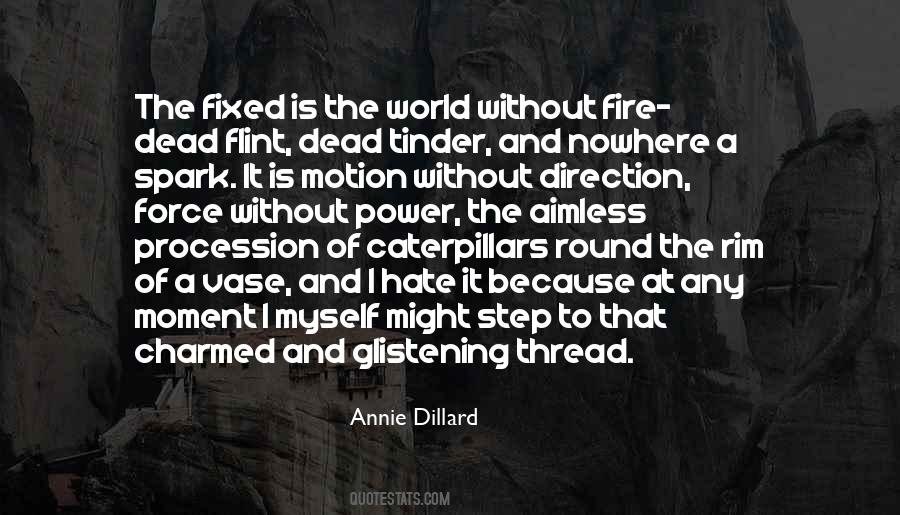 #35. One of the reasons people hate politics is that truth is rarely a politician's objective. Election and power are. - Author: Cal Thomas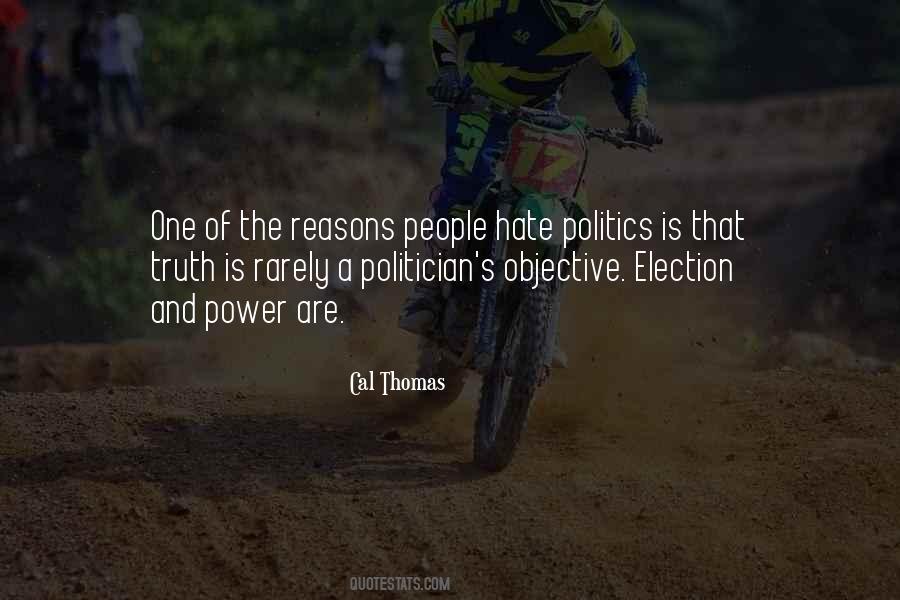 #36. There is no man who hates the power of the crown more, or who has a worse opinion of the Person to whom it belongs than I. - Author: Charles James Fox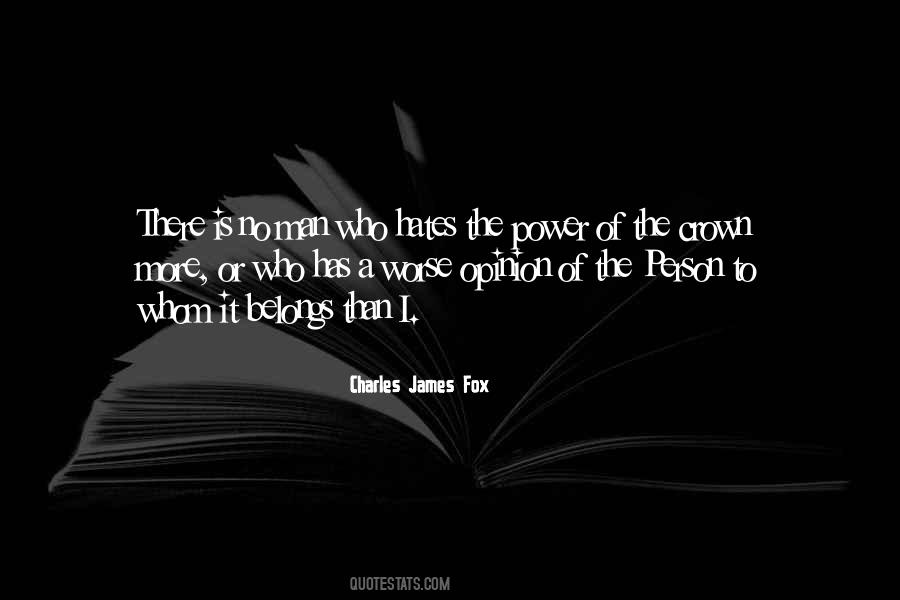 #37. Cruelty in the name of kindliness is terrible; it would bind our feet and hands; it would kill us with hypocrisy. Cruelty based on power is better - that we can at least hate. - Author: Mesa Selimovic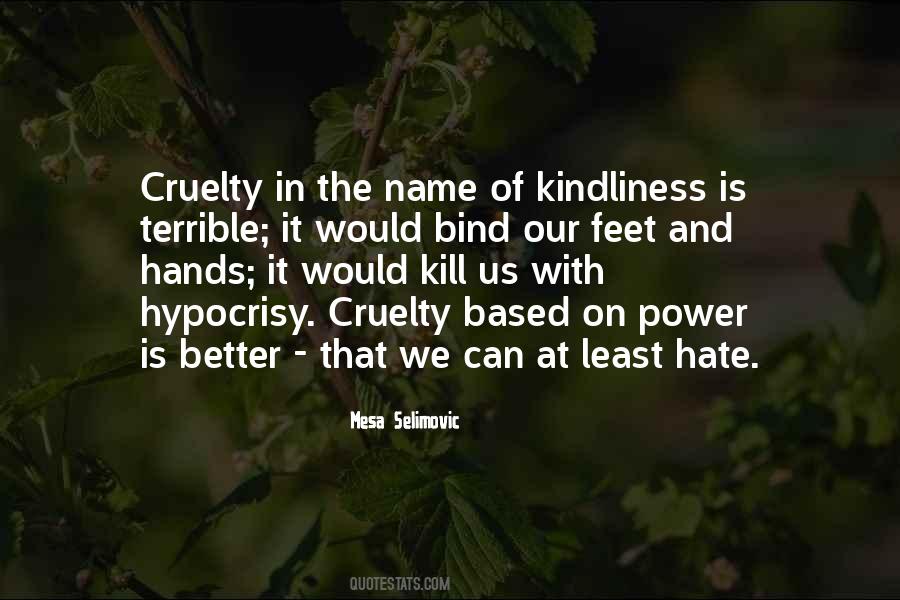 #38. Anyone can battle for pride, power, vanity, greed, or hate, but war should always be approached with an equal measure of wisdom and strength. It's not just enough to know when to fight, but to know when to lay down the sword and negotiate. Not everything in the world is worth fighting for. - Author: Sherrilyn Kenyon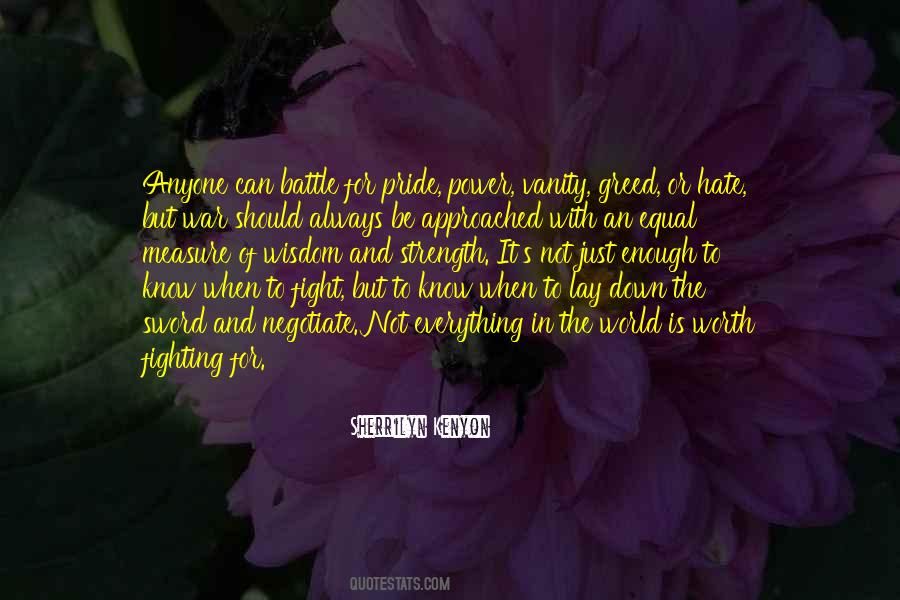 #39. This happens to be that the power of laughter and love would beat out the power of fear every time. You know, I hate to sound corny about it but it's true, and I think that's what this movie is about. - Author: John Goodman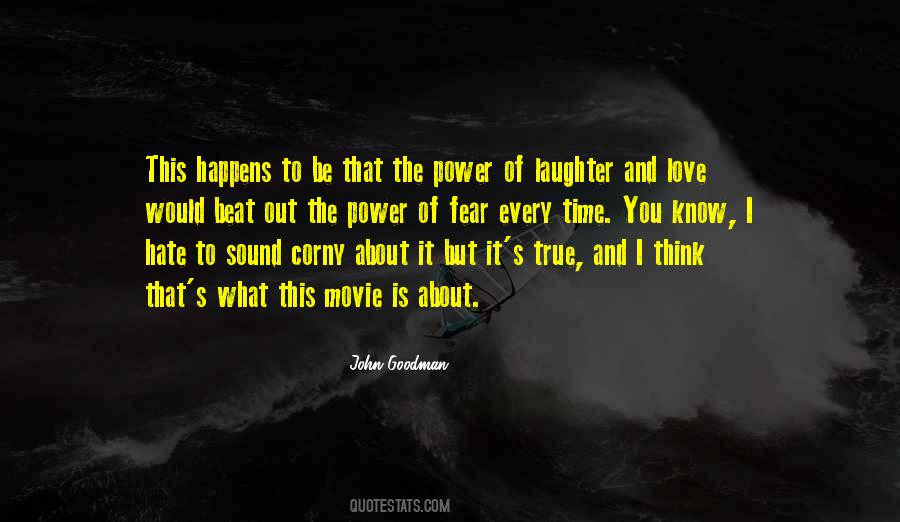 #40. What you fail to understand is the power of hate. It can fill the heart as surely as love can. - Author: Earl Felton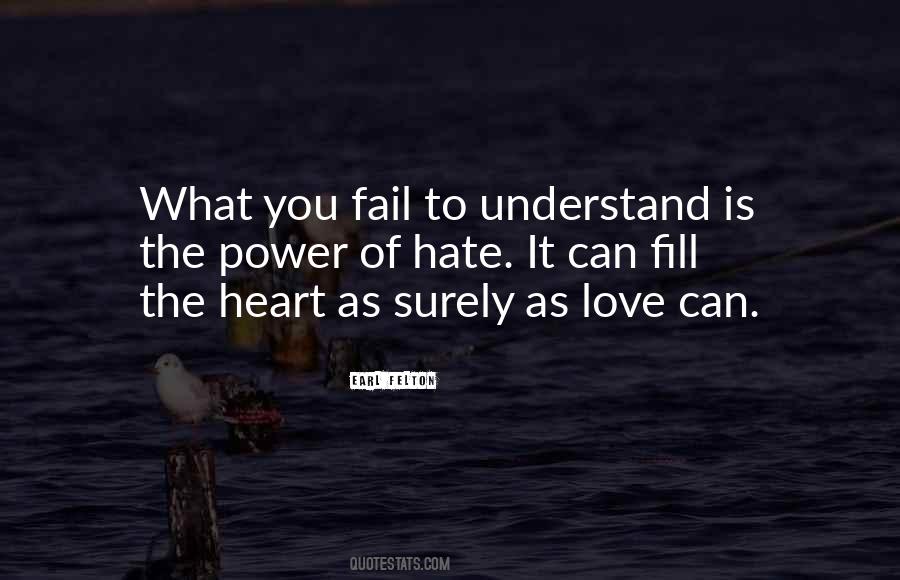 #41. Democrats hate America being a world power because world power gives power to the nation instead of to Democrats. - Author: P. J. O'Rourke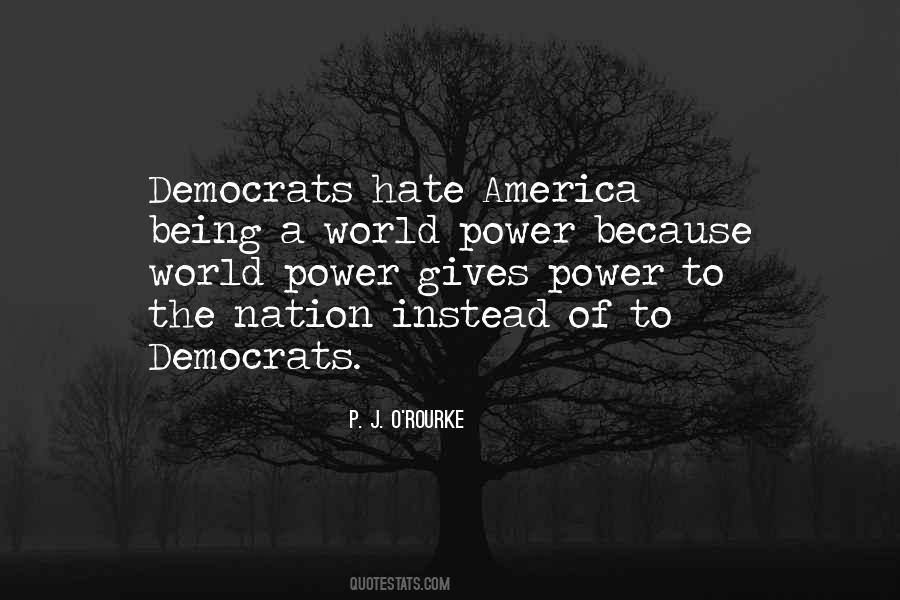 #42. The words we choose can build communities, reunite loved ones, and inspire others. They can be a catalyst for change. However, our words also have the power to destroy and divide: they can start a war, reduce a lifelong relationship to a collection of memories, or end a life. - Author: Simon S. Tam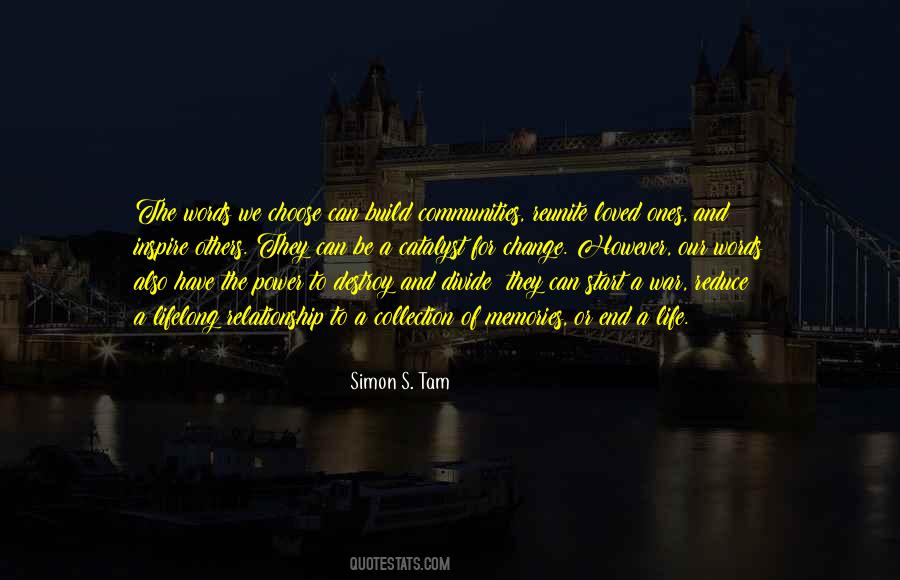 #43. Compassion is a beautiful grace that releases hate and fearful emotions. Through the power of compassion, when put in delicate circumstances with dysfunctional human beings, rather than loathing their behaviour, you can be compassionate to their internal suffering and love them unconditionally. - Author: Christopher Dines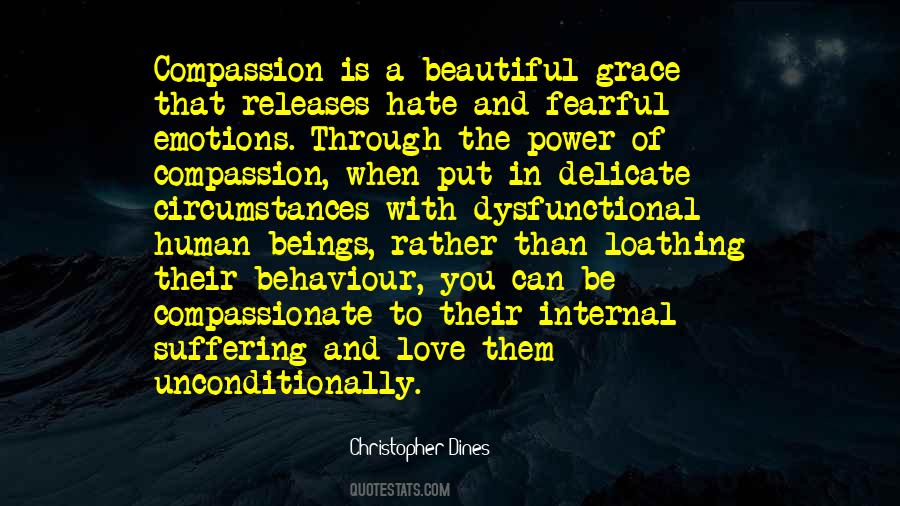 #44. I hate government. I hate power. I think that man's existence, insofar as he achieves anything, is to resist power, to minimize power, to devise systems of society in which power is the least exerted. - Author: Malcolm Muggeridge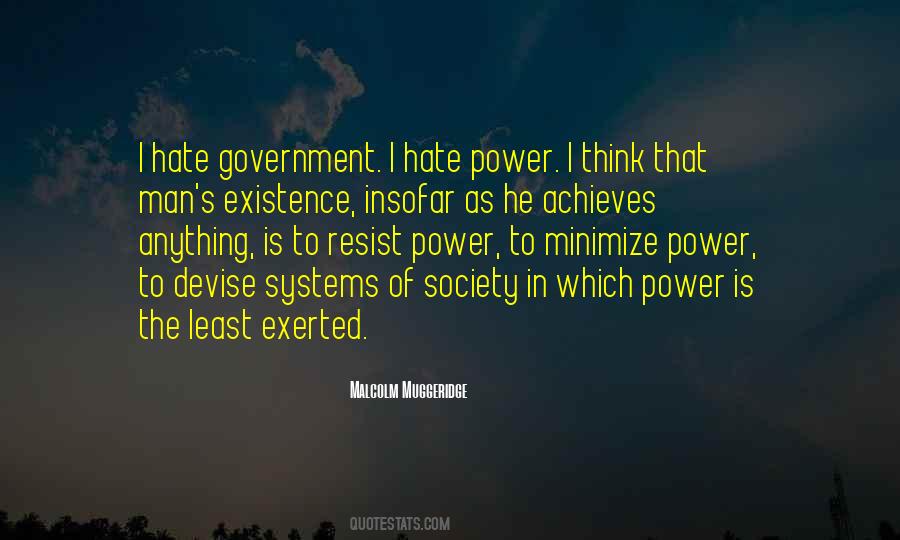 #45. I really hate the people in power. I hate them with every fiber of my being. That is what drives me in almost everything I do. - Author: Alexei Navalny
#46. However you look at it, in these books "power" tends to be an expression of the essential nature of the person or being whose power it is. On those occasions when we've seen Lord Foul act directly, he seems to exert the withering force of pure scorn. IMHO, that's pretty intense. - Author: Stephen R. Donaldson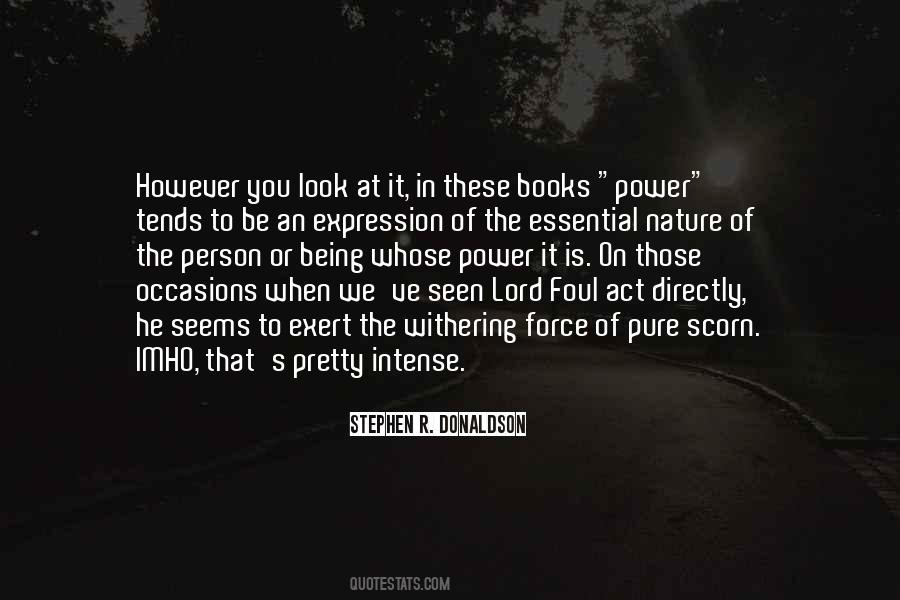 #47. I have much power. In the days to come I will grow stronger, and I would hate for you to find yourself on the wrong side of that which cannot be avoided." "Hyperbole and mystic aggrandizement, you mean? - Author: Katie MacAlister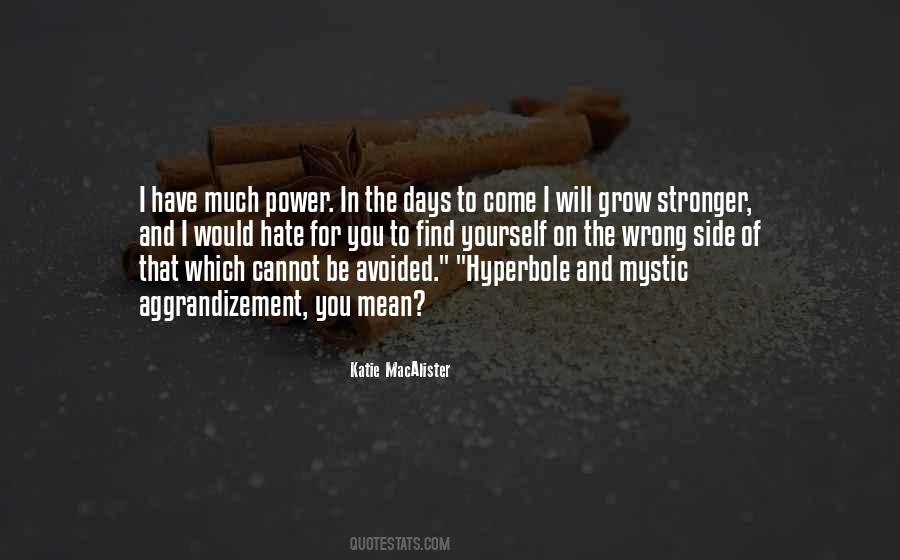 #48. Hitler and Mussolini were only the primary spokesmen for the attitude of domination and craving for power that are in the heart of almost everyone. Until the source is cleared, there will always be confusion and hate, wars and class antagonisms. - Author: Anonymous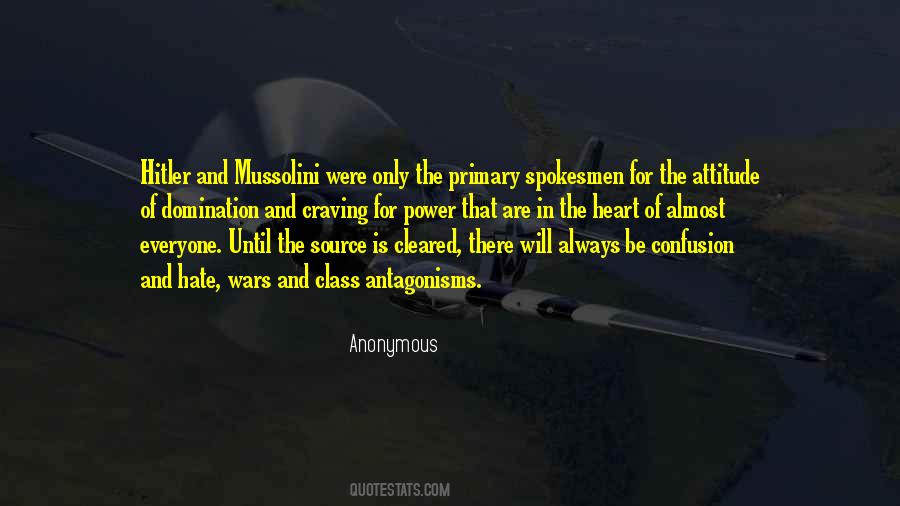 #49. Deregulation is a transfer of power from the trodden to the treading. It is unsurprising that all conservative parties claim to hate big government. - Author: George Monbiot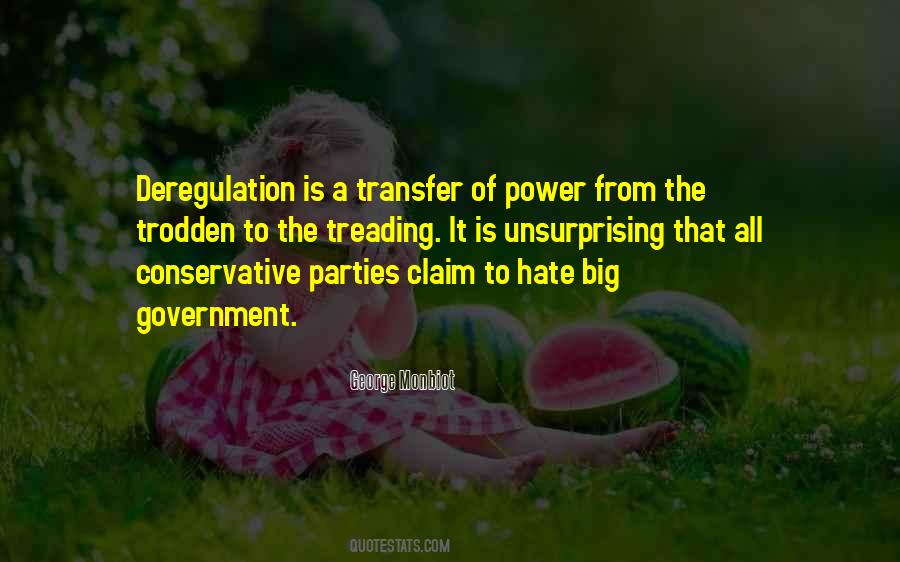 #50. Ancient boundaries are meaningless, except for political purposes; old divisions of clan and tribe are sentimental remnants of the pre-atomic age; neither creed nor color nor place of origin is relevant to the realities of modern power to utterly seek and destroy. - Author: Sydney J. Harris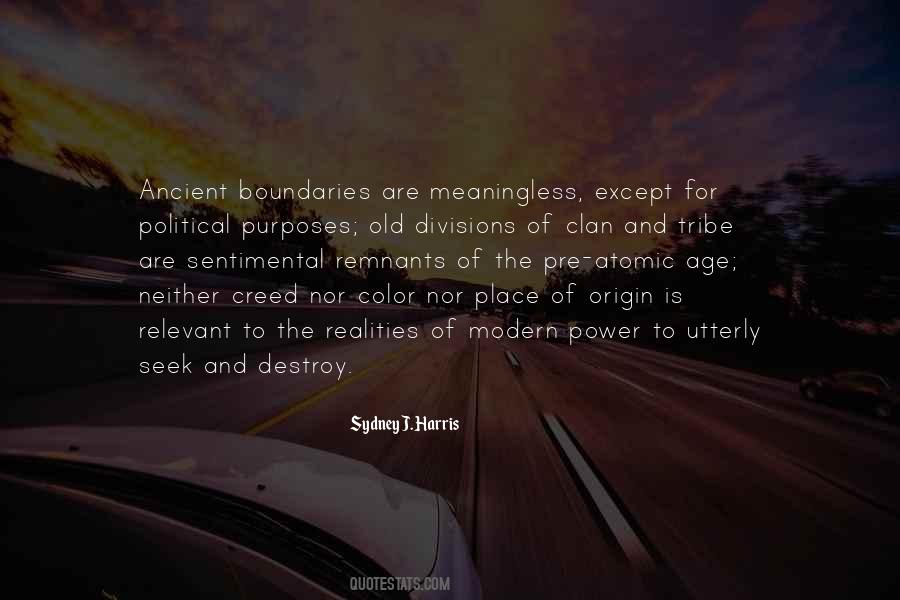 #51. War has all the characteristics of socialism most conservatives hate: Centralized power, state planning, false rationalism, restricted liberties, foolish optimism about intended results, and blindness to unintended secondary results. - Author: Joseph Sobran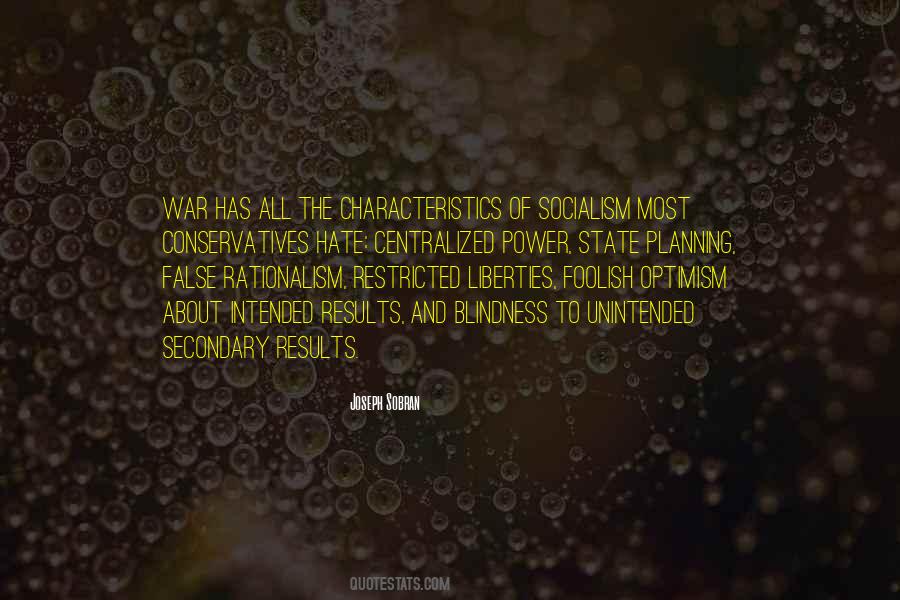 #52. The central feature of pride is enmity - enmity toward God and enmity toward our fellowmen. Enmity means "hatred toward, hostility to, or a state of opposition." It is the power by which Satan wishes to reign over us. - Author: Ezra Taft Benson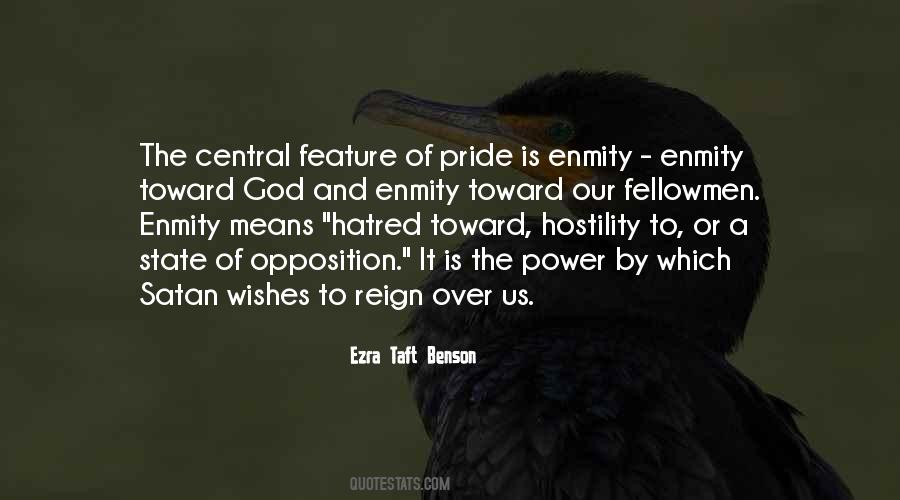 #53. I don't hate things, but I'm turned off by arrogance. I also don't like power for the sake of power. - Author: Jordan Wolfson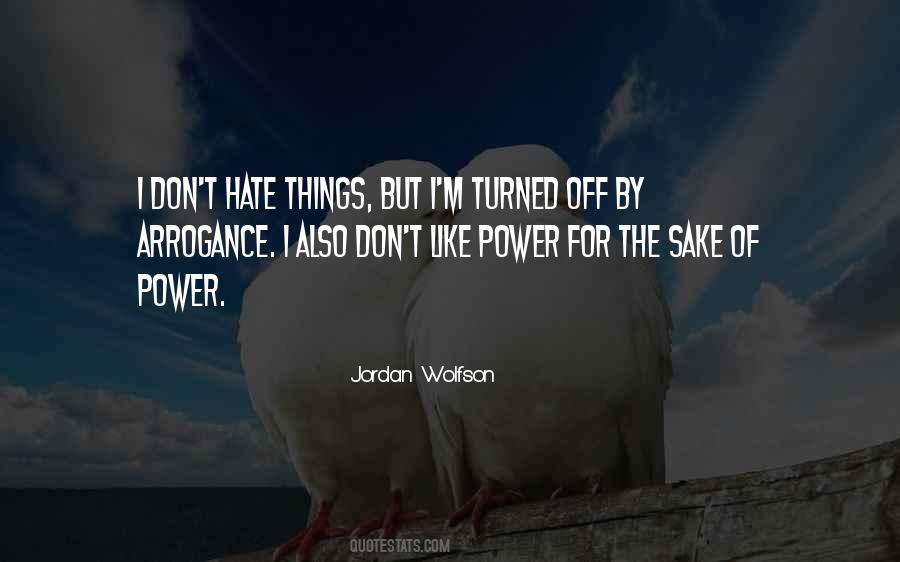 #54. Everybody knows the power of deadlines - and we all hate them. But their effectiveness is undeniable. - Author: David Eagleman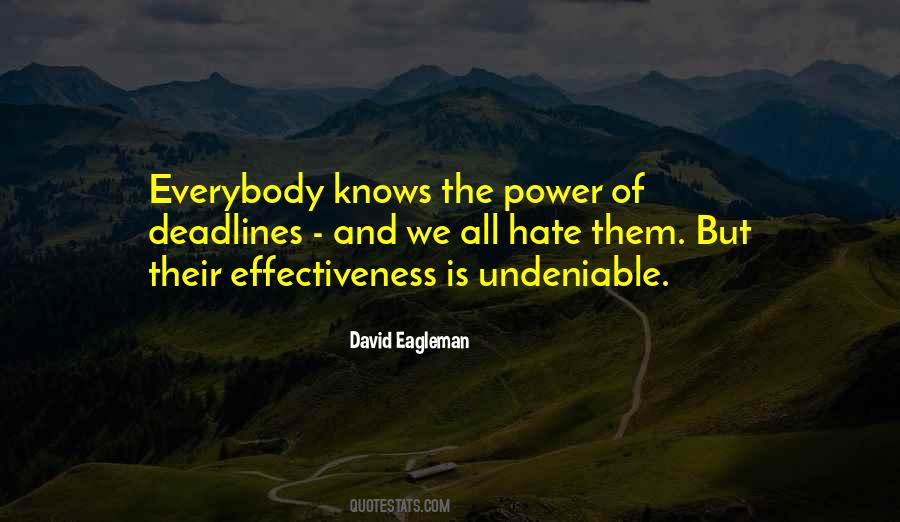 #55. But only people you care about can hurt you. That doesn't mean I love her. Hate is not the opposite of love; not caring is. And as long as I hate her, I still care about her, and she has the power to hurt me. To make me hate myself. - Author: Mik Everett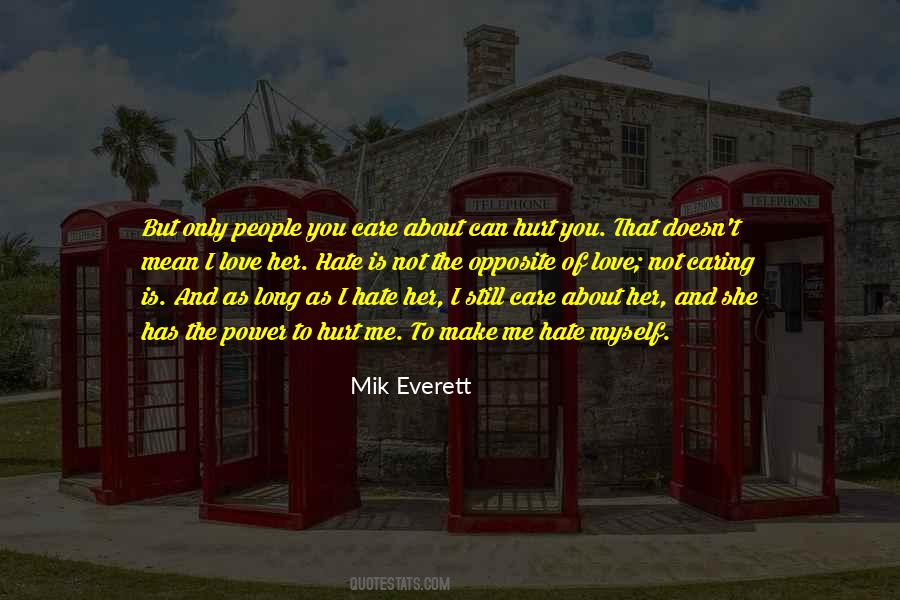 #56. The foremost art of Kings is the power to endure hatred. - Author: Seneca The Younger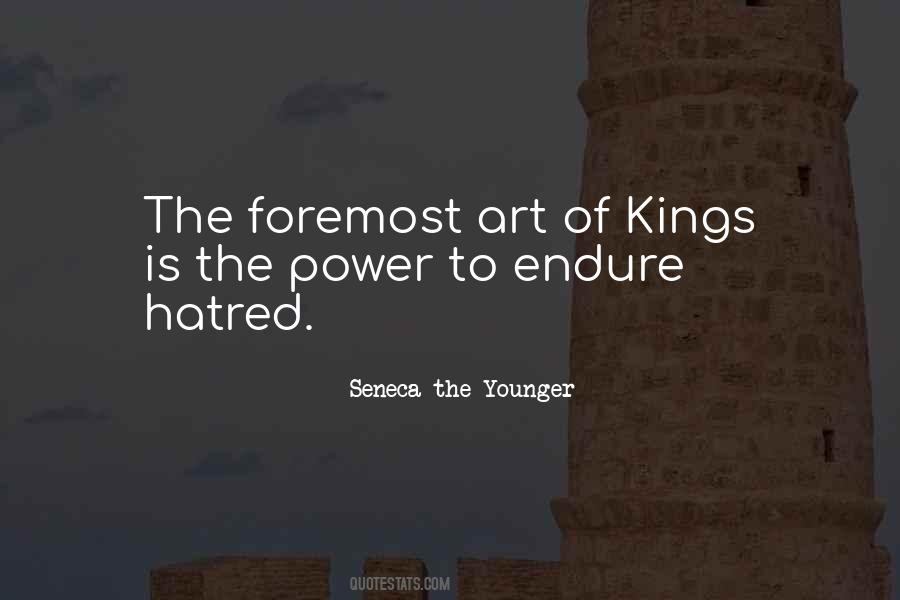 #57. No man wants to give a woman the power to crush his ego, and baby, I hate to tell you this, because I like that you don't realize how beautiful you are, but you are the kind of woman that could make a man feel like he has it all or make him feel like he has absolutely nothing. - Author: Aurora Rose Reynolds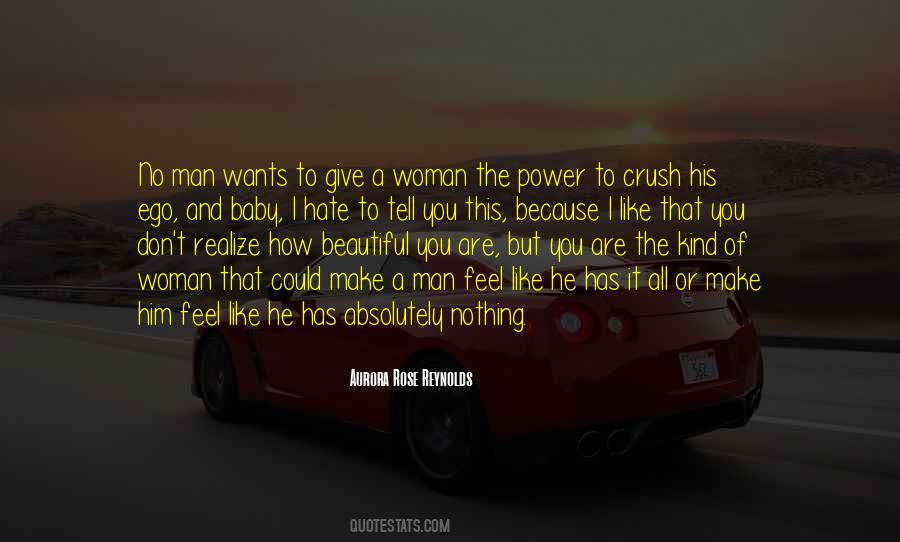 #58. But any man who walks in the way of power and property is bound to meet hate. - Author: Zora Neale Hurston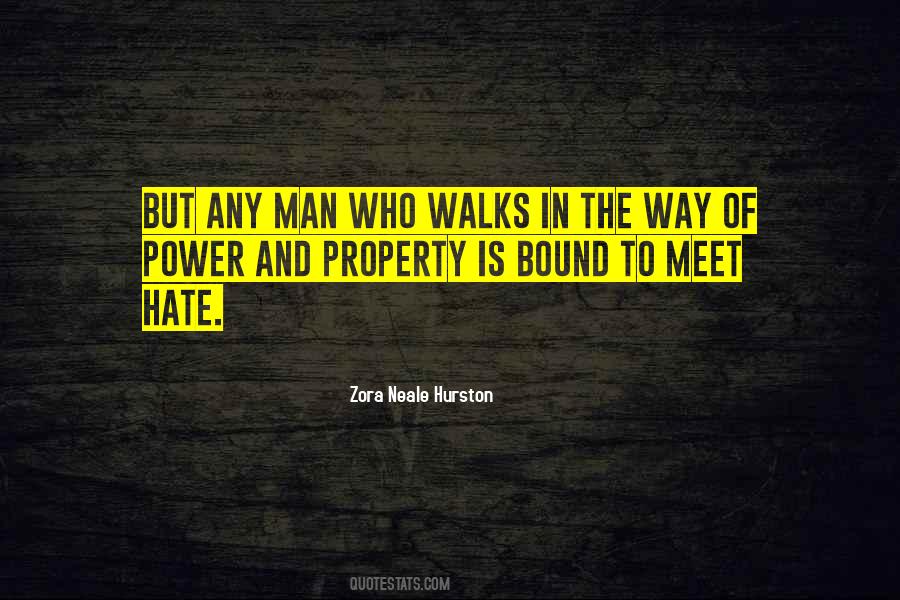 #59. Hate begets hate; violence begets violence; toughness begets a greater toughness. We must meet the forces of hate with the power of love. - Author: Martin Luther King Jr.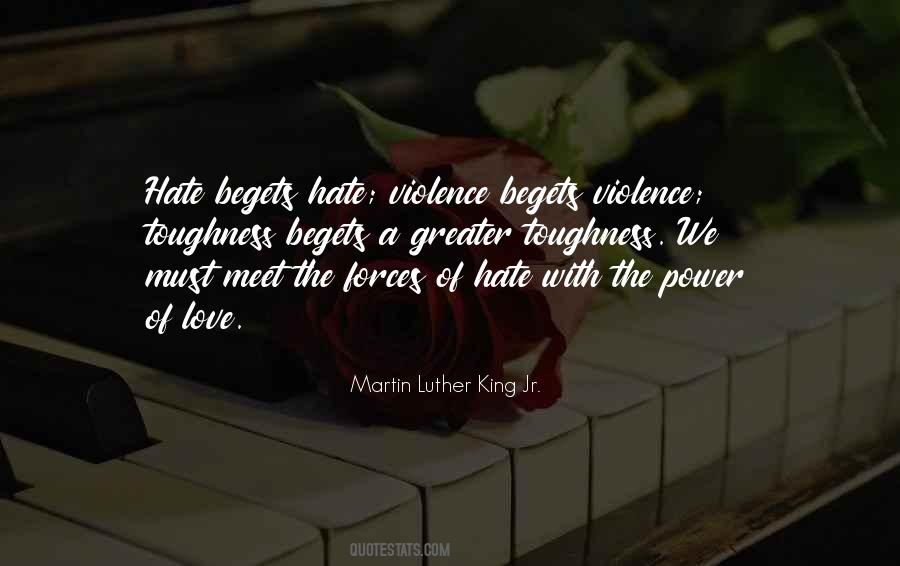 #60. Envy is more irreconcilable than hate. It is the most corroding of all political vices and also a great power in our land. The friends of freedom are content to be envied, but envy not. - Author: Hans F. Sennholz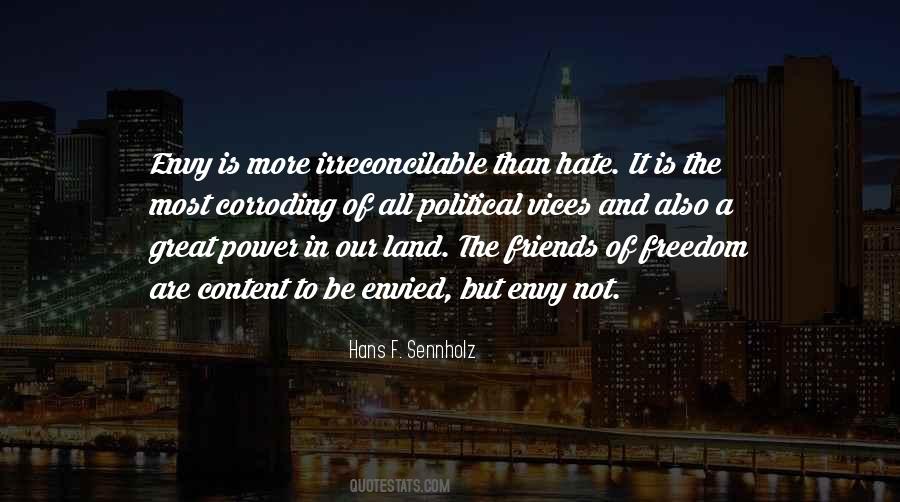 #61. Unconsciously, perhaps, we treasure the power we have over people by their regard for our opinion of them, and we hate those upon whom we have no such influence. - Author: W. Somerset Maugham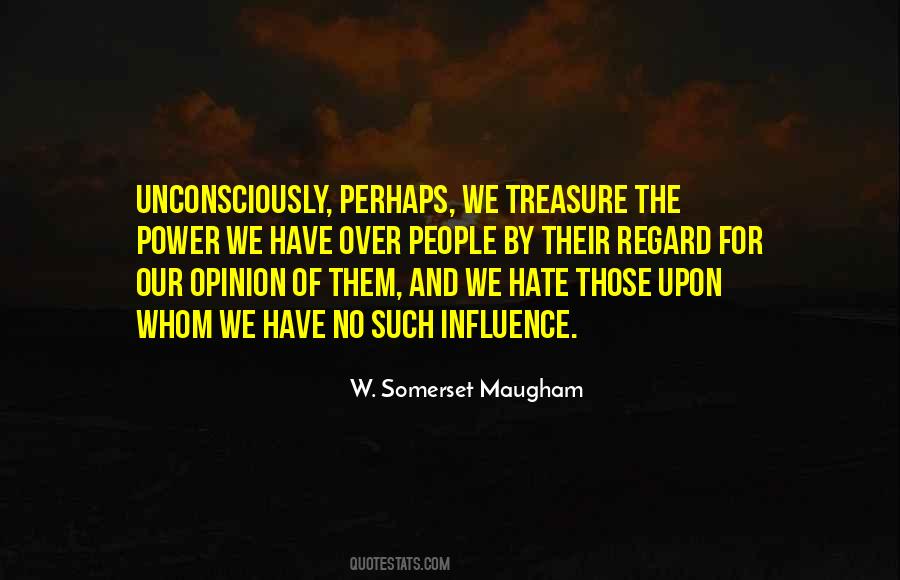 #62. The Opposite of Love is not hate, but power - Author: C.S. Lewis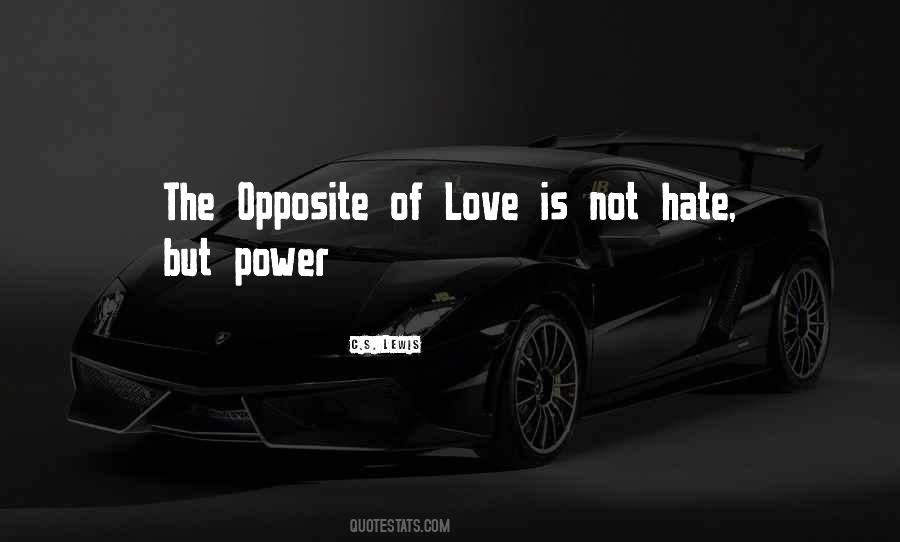 #63. And if you look at the experience of Turkey, for example, where the modern Islamists are in power and are doing fine - this is very good. Because democracy is not possible in the Muslim world without bringing in the Islamists or part of the Islamists who hate us now into these governments. - Author: Yaroslav Trofimov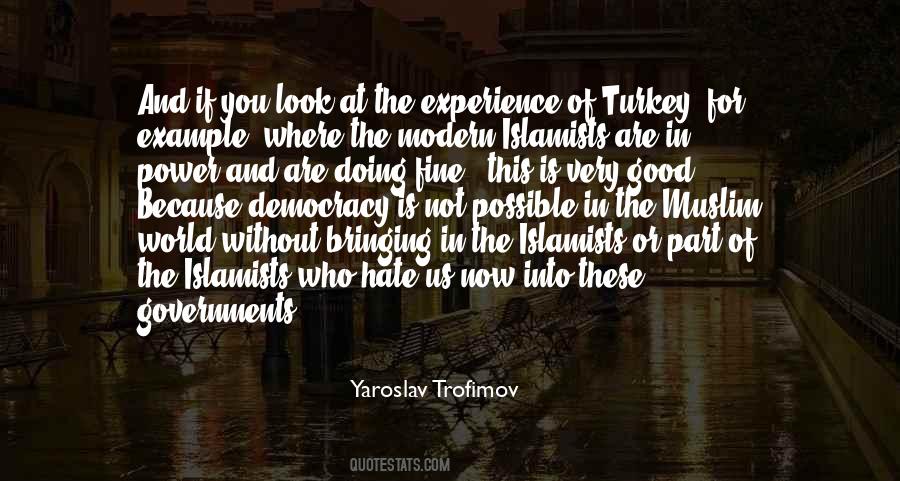 #64. It will make a weak man mighty. it will make a mighty man fall. It will fill your heart and hands or leave you with nothing at all. It's the eyes for the blind and legs for the lame. It is the love for hate and pride for shame. That's the power of the gospel. - Author: Ben Harper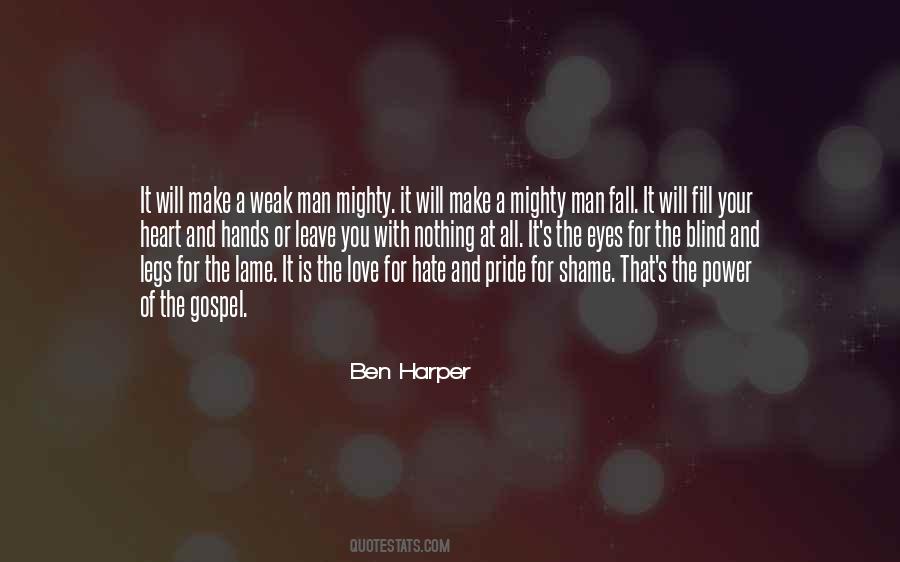 #65. Love and hate have a magical transforming power. They are the great soul changers. We grow through their exercise into the likeness of what we contemplate. - Author: George William Russell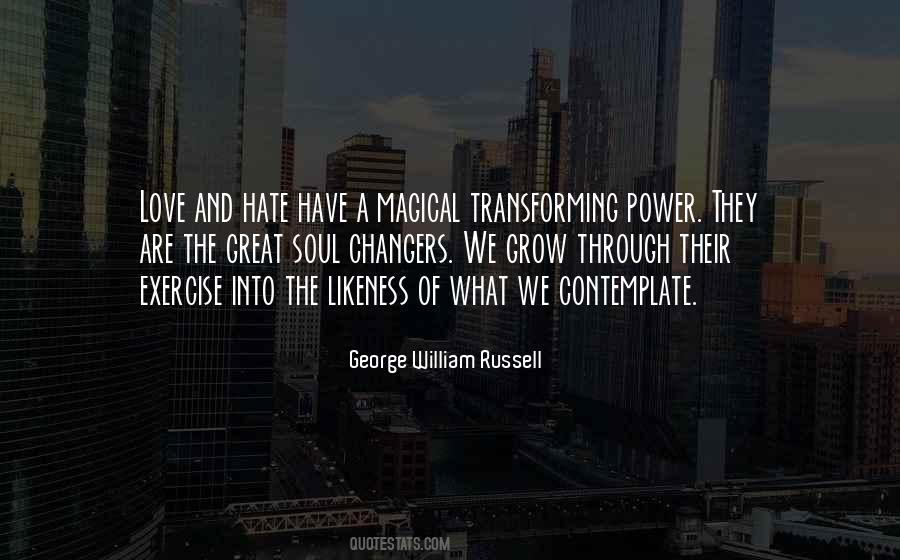 #66. God, I hate Sleeping Beauties." Why that story, out of all the possible stories, should have the sort of staying power it does is beyond me. Centuries of helpless girls, half of them rotting away years before their Prince could come. It makes me sick. - Author: Seanan McGuire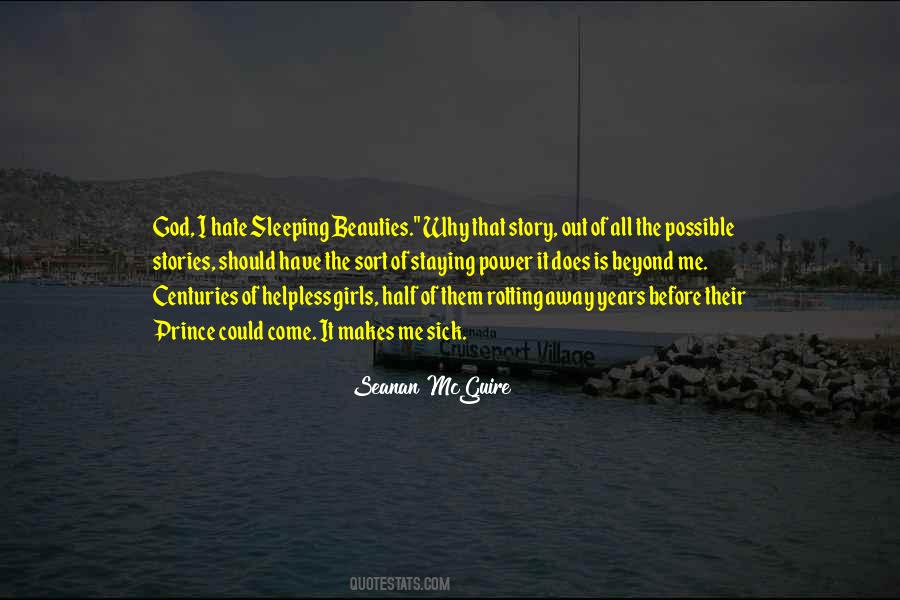 #67. The opposite of love is not hate, but indifference. Indifference creates evil. Hatred is evil itself. Indifference is what allows evil to be strong, what gives it power. - Author: Elie Wiesel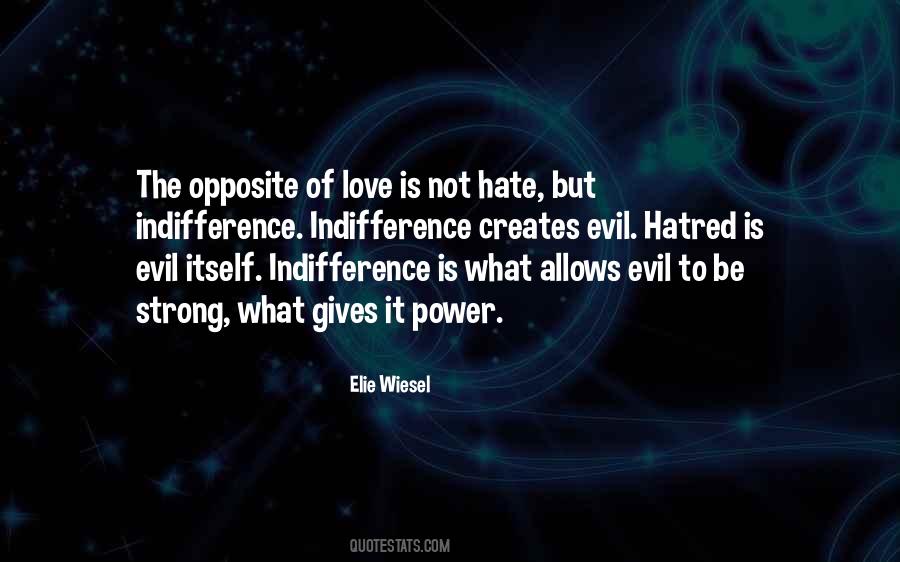 Famous Authors
Popular Topics