The Person You Want To Be Famous Quotes & Sayings
List of top 100 famous quotes and sayings about the person you want to be to read and share with friends on your Facebook, Twitter, blogs.
Top 100 Quotes About The Person You Want To Be
#1. You don't want to be the smartest person in the room; you want to be the dumbest in the room. You want to be surrounded by other thinking people who are going to say something that makes you think, "Oh, my God, that's an amazing idea. Why didn't I think of that." - Author: Madonna Ciccone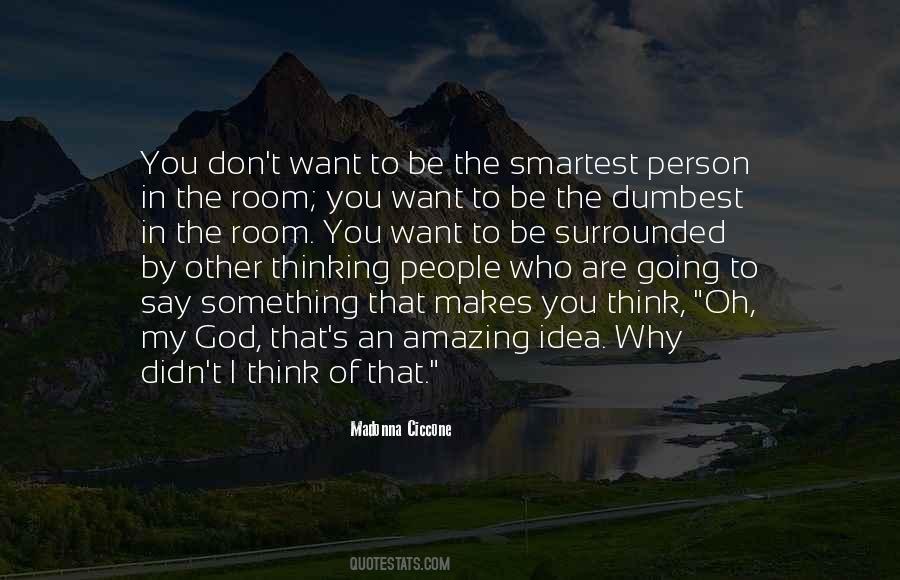 #2. I have a responsibility to not look crazy in public. I don't want to be the person where later in life when I have kids, to say, 'Don't do this' and my kids go, 'But Mom, you did it.' - Author: Raven-Symone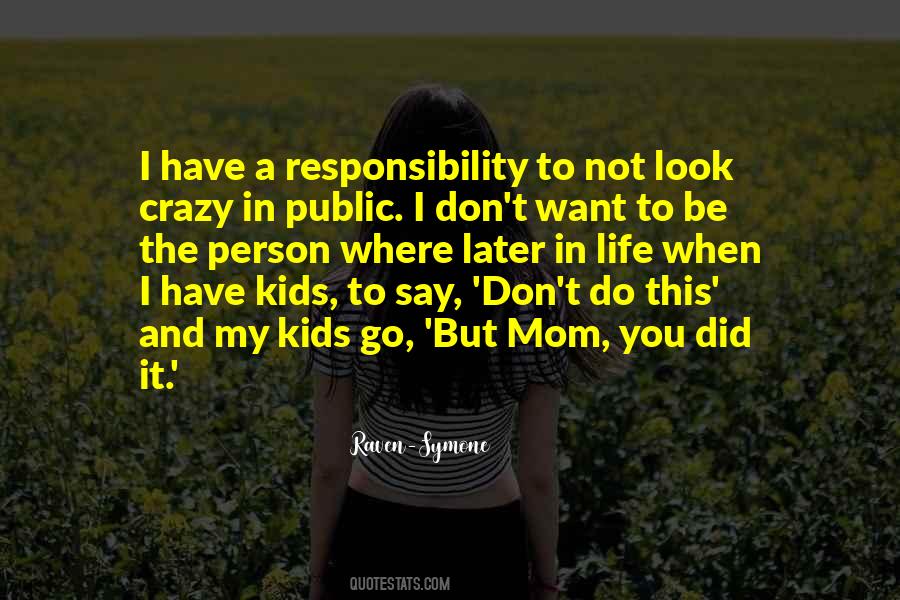 #3. To be in love with the person who want to "Be the one that you can't live without" and is willing to prove it with their love for you, is one of the greatest joys in life. - Author: Ellen J. Barrier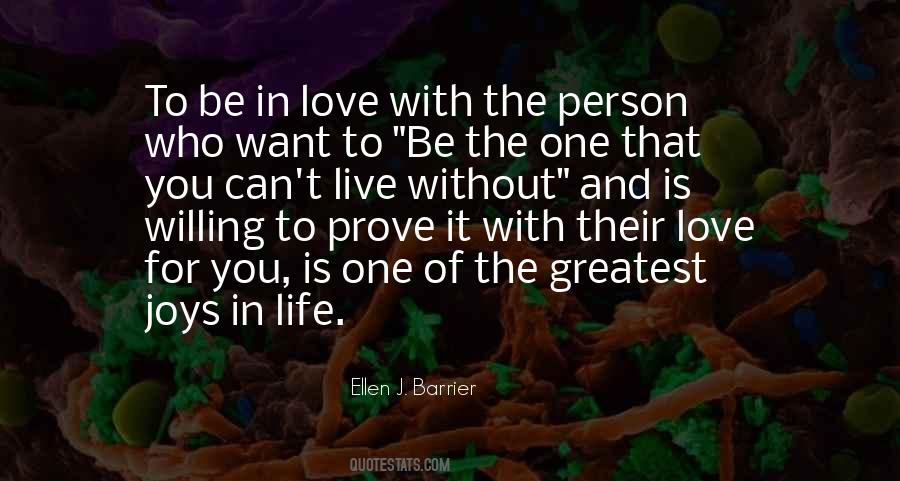 #4. Just as you would when making a new work of art, don't ask for help or seek the judgment of others. You don't want to be subjected to another person's limitations or expectations. - Author: Jackie Battenfield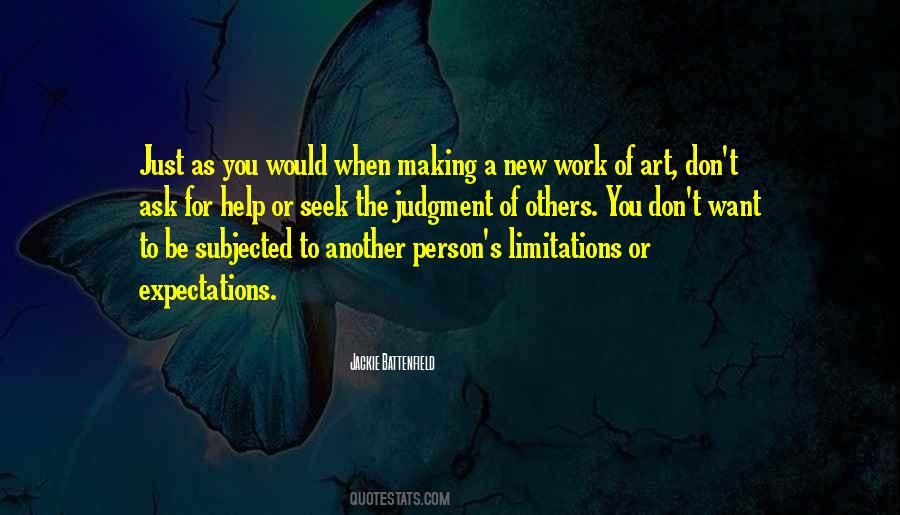 #5. I want to be with you, Demetria. Go on dates, have sex and pointless arguments, figure out why you like to eat rabbit food, be the person you call first when you've had a bad day, come over and hold your hair when you're sick. How much clearer can I make this? - Author: Genevieve Dewey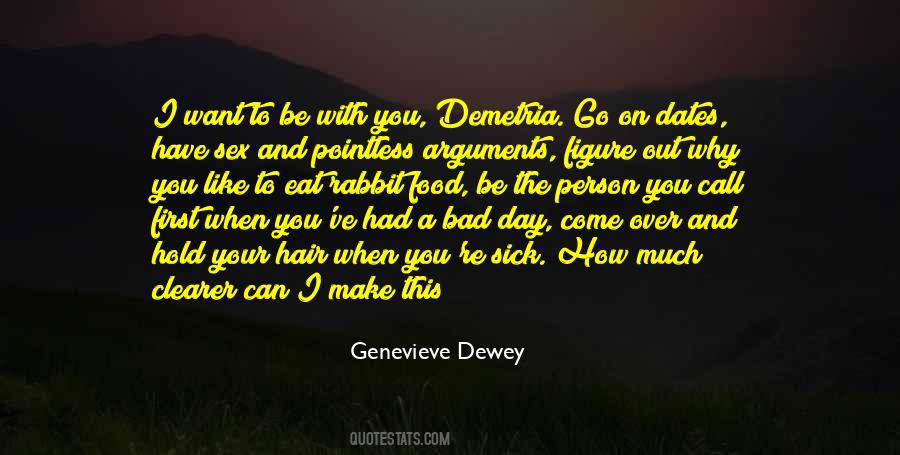 #6. You want to pass for a normal person? Don't tiptoe into people's bedrooms at night! Ever!'
'I can be creepy in front of you.'
'No, you can't! You need to go now.'
'I'll go watch the parentals. - Author: Justine Larbalestier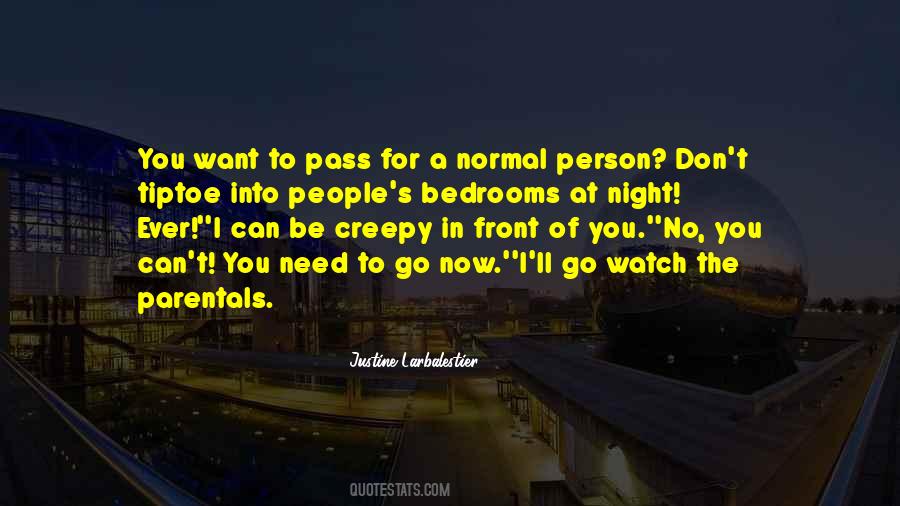 #7. If you want to be the best salesperson, first you must be the best person. - Author: Jeffrey Gitomer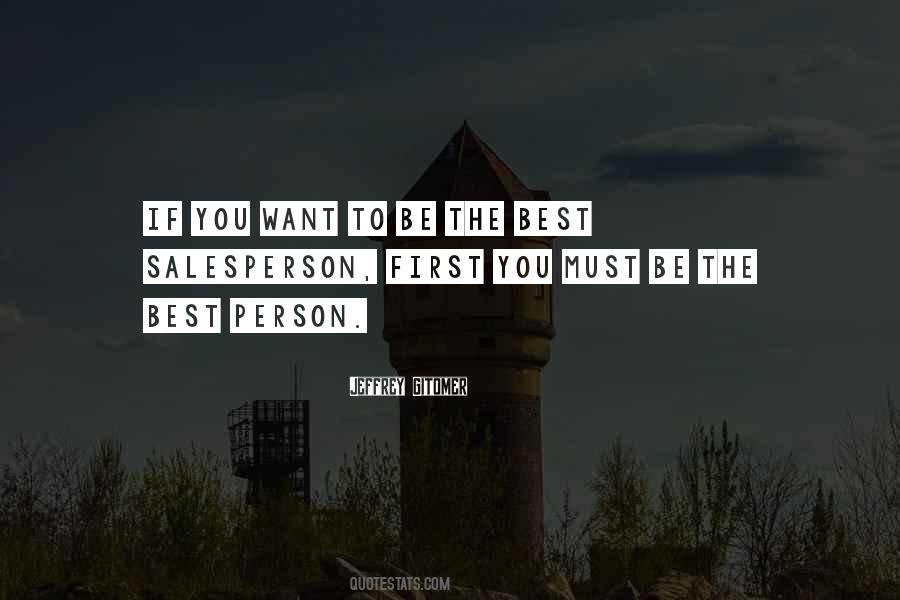 #8. Be the kind of person others admire, can count on, trust, and enjoy spending time with. After you have developed that reputation, people will start to ask you what you do and you will be amazed at how many people will want to work with you. You will attract others based on your character. - Author: Larry Winget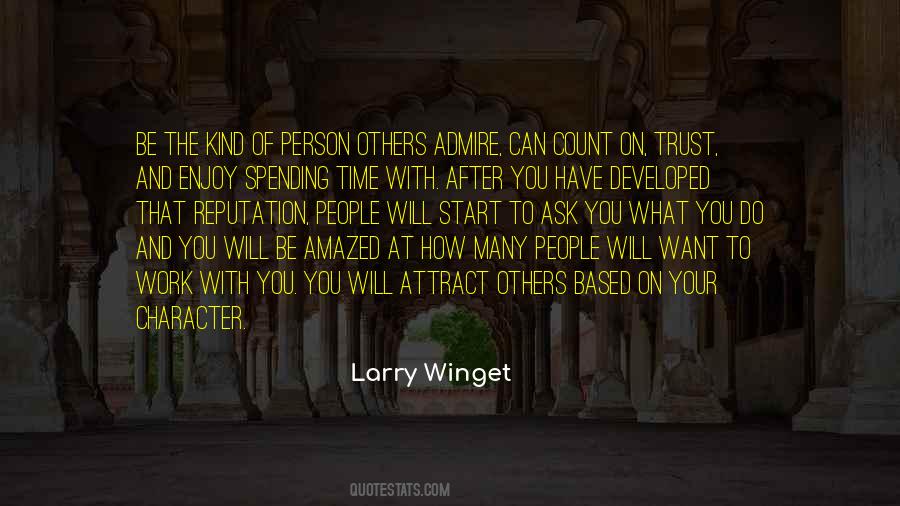 #9. What other people do shouldn't affect you - we do things because of the kind of person we each want to be - Author: George C. Marshall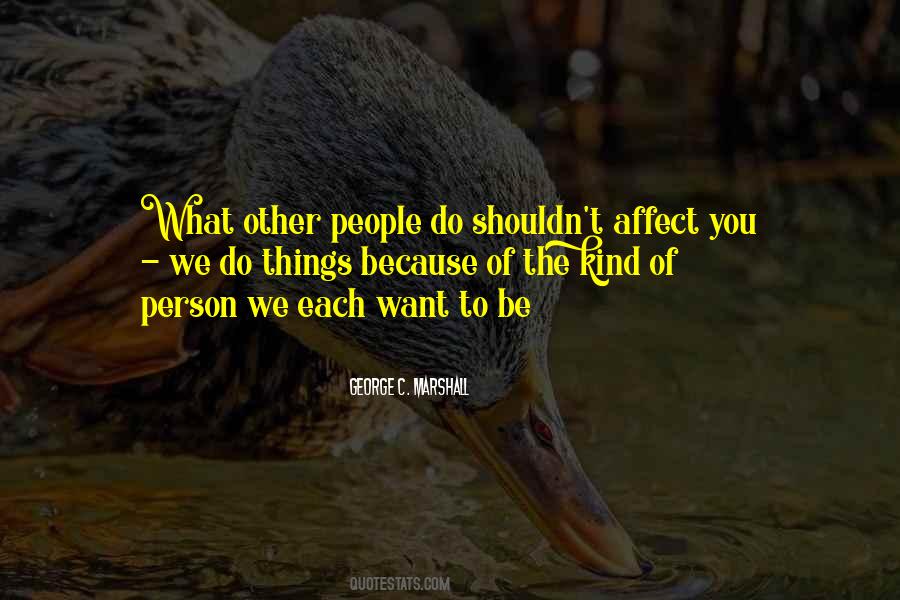 #10. I think that maybe people comment on the internet because they never know if they're going to be able to meet that one person and they want to have a say so, or what have-you. - Author: Katy Perry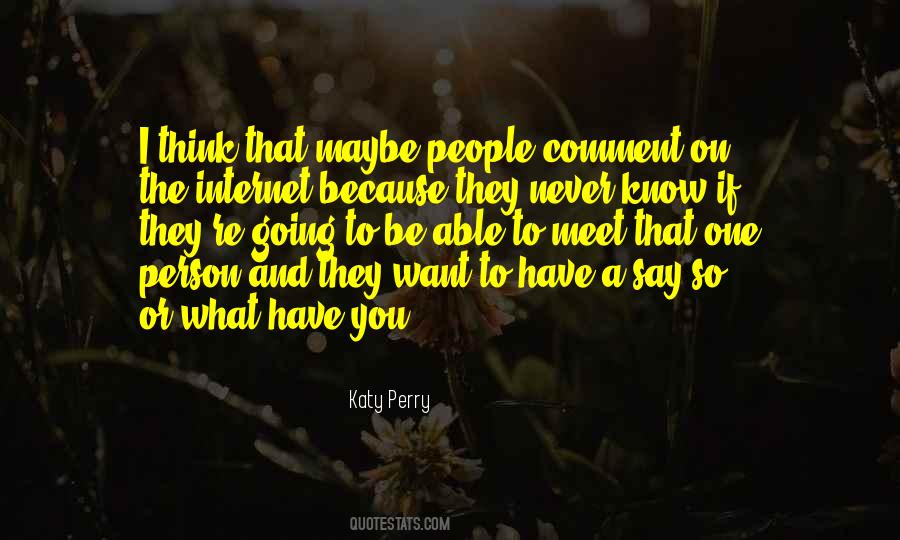 #11. All of us are different. That's what makes us interesting and special. I don't want to be anything like another person. I want to be totally myself and go against the grain, forge my own path. I've learned that being different is what makes you stand out. It makes everything so much more intriguing. - Author: Alicia Keys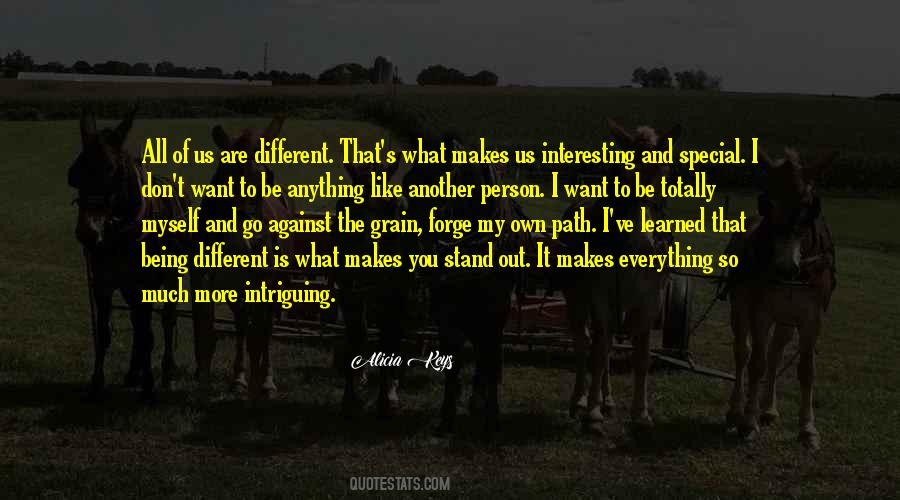 #12. What good does it do you to go overseas, to move from city to city? If you really want to escape the things that harass you, what you're needing is not to be in a different place but to be a different person. Suppose - Author: Seneca.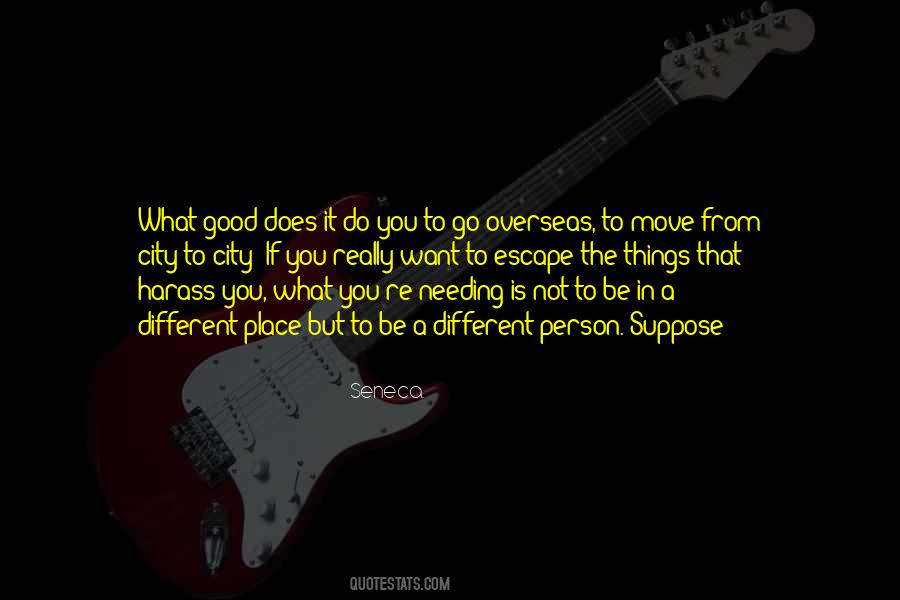 #13. If you want to be a singer, you've got to concentrate on it twenty-four hours a day. You can't be a well driller, too. You've got to concentrate on the business of entertaining and writing songs. Always think different from the next person. Don't ever do a song as you heard somebody else do it. - Author: Otis Redding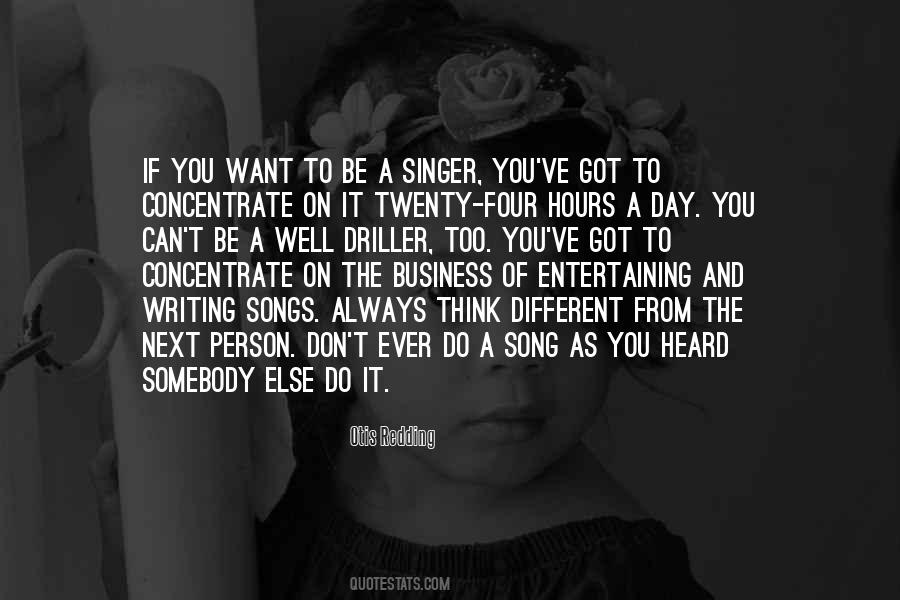 #14. As much as you don't want to say you are a vengeful person, when someone drags your name through the mud and plays press games and puts things out there like that, you are kind of like, alright. US Weekly will be gone next week, the songs I am writing won't. - Author: Kid Rock
#15. The meaning of life is basically to be the kind of person you would want to be around. - Author: Alexei Maxim Russell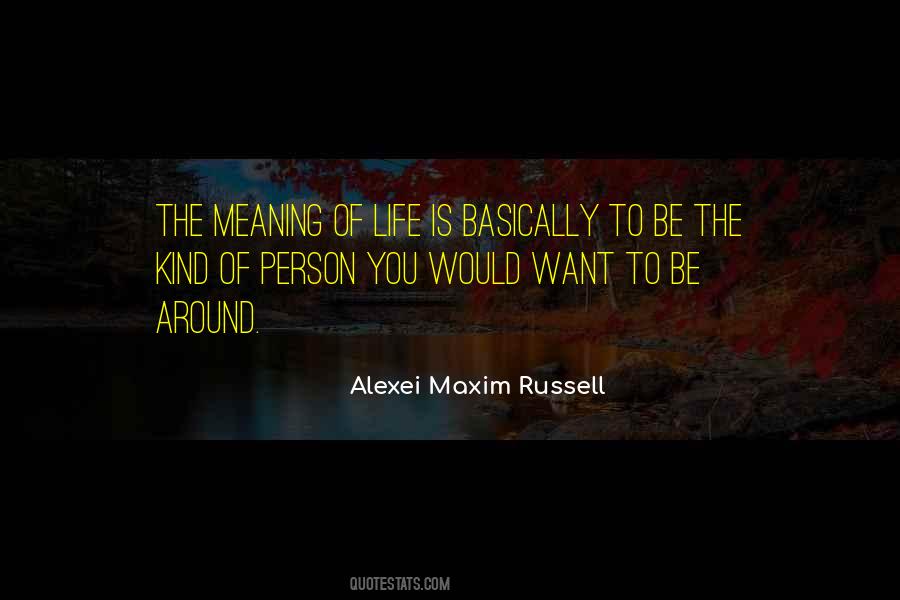 #16. I paraphrase Aristotle: If you want to be comical, write about people to whom the audience can feel superior; if you want to be tragical, write about at least one person to whom the audience is bound to feel inferior, and no fair having human problems solved by dumb luck or heavenly intervention. - Author: Kurt Vonnegut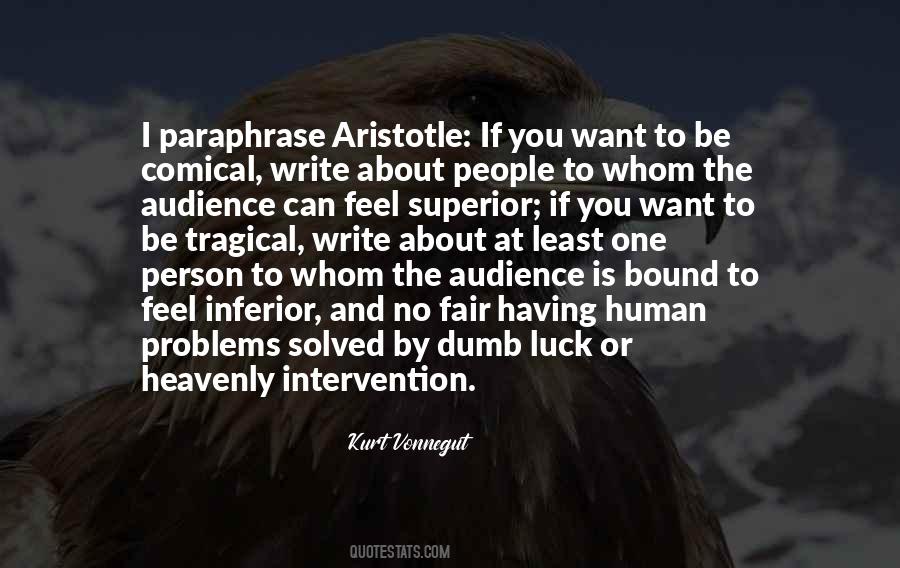 #17. All I want to do is a rom-com, but you know, people see me as an action person because the first movie that was seen by a lot of the public would be 'Hitman.' - Author: Olga Kurylenko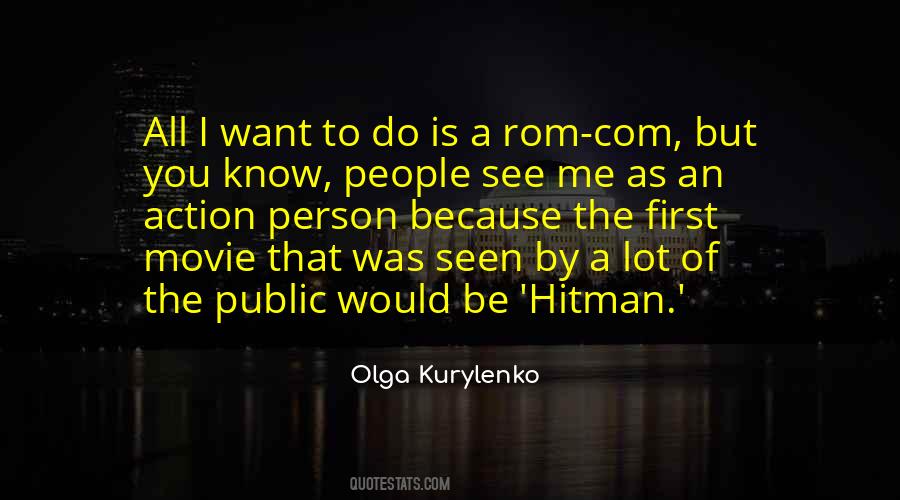 #18. A lazy person will try to always find some way to do something; they'll always be looking for ways of doing something faster, more efficiently, and if you really want to control the world, that's a really sort of hubristic notion - excessive pride, the thing that Zeus zaps you for having. - Author: Larry Wall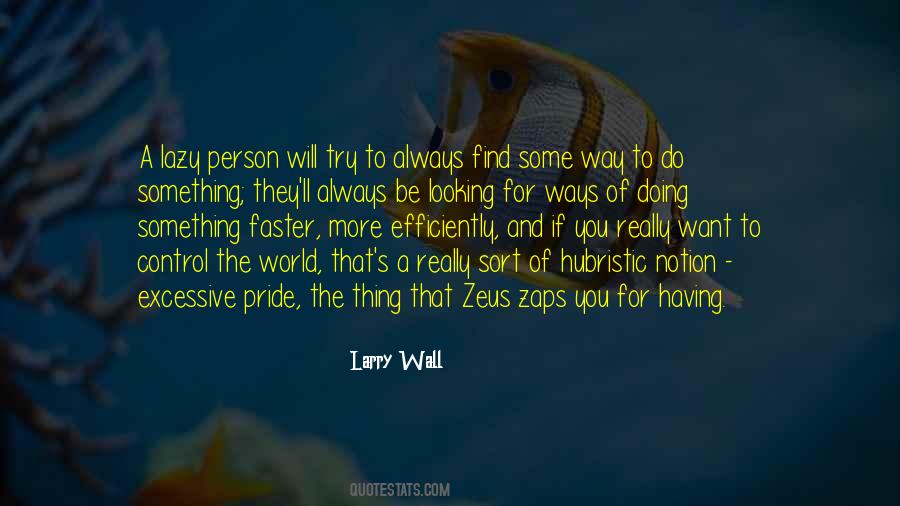 #19. I'm as heterosexual as any person need be. I'm open about my relationships - or lack thereof - in my own life, because I want to make the case that gay isn't contagious. It's not something that you can catch or learn or choose. - Author: Hal Sparks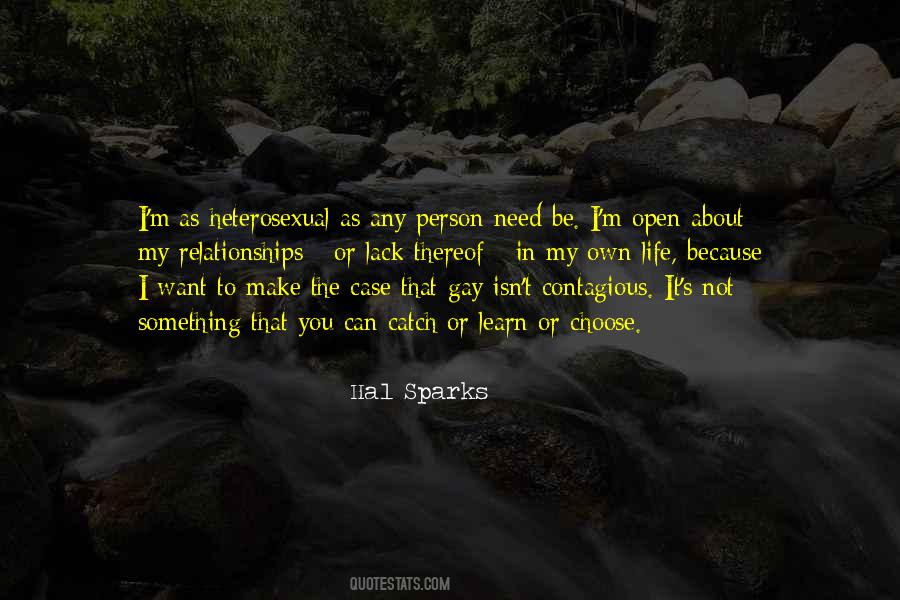 #20. For twenty years, my research has shown that the view you adopt for yourself profoundly affects the way you lead your life. It can determine whether you become the person you want to be and whether you accomplish the things you value. - Author: Carol S. Dweck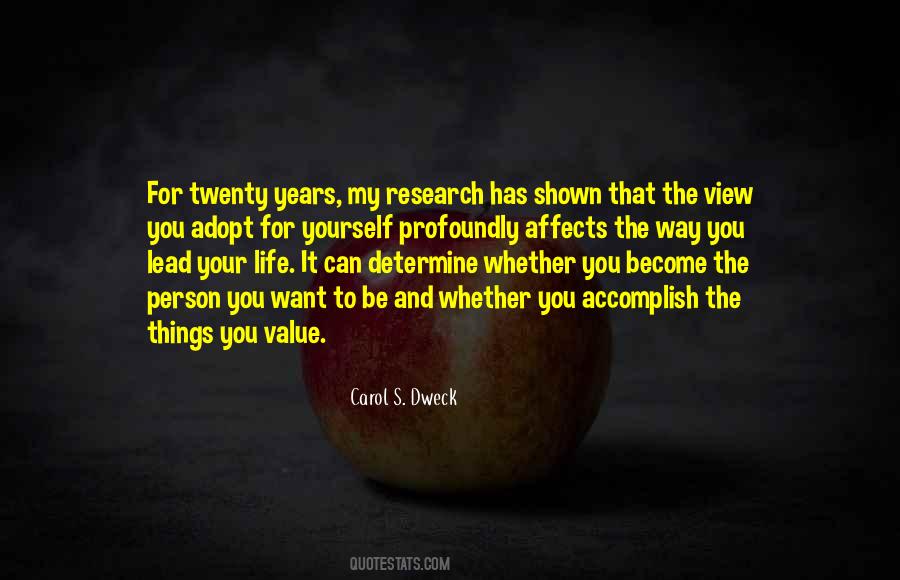 #21. That's the hardest thing about being a mom. You want to be cool, and you want them to like you all the time, but you can't always have that. You're gonna have times where you have to say no, and you won't be the most popular person in the house. - Author: Martina Mcbride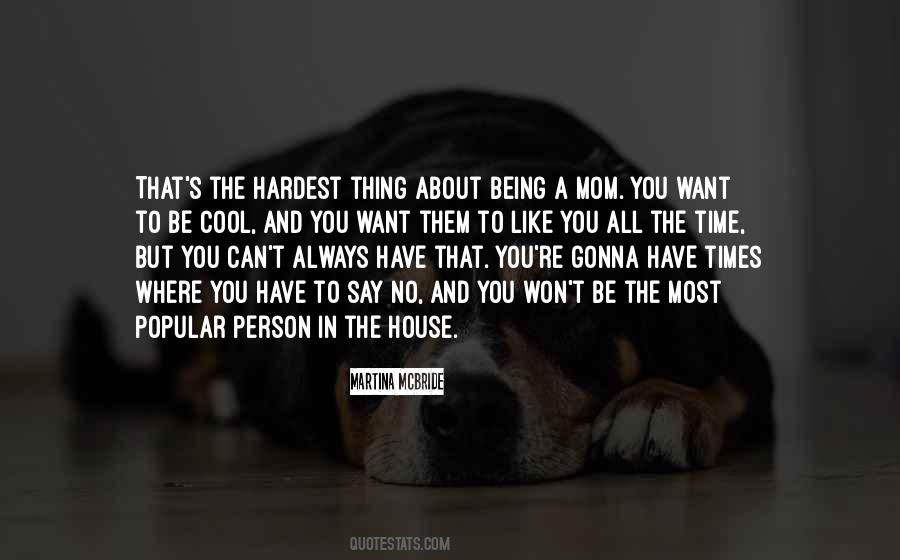 #22. You say you want to get rid of the noise, but you and the noise go together. You have to be you without 'you' and all noise will stop. The real You is the formless witness within. The person, the noisy one, is only imagined. To recognize this is Freedom. - Author: Mooji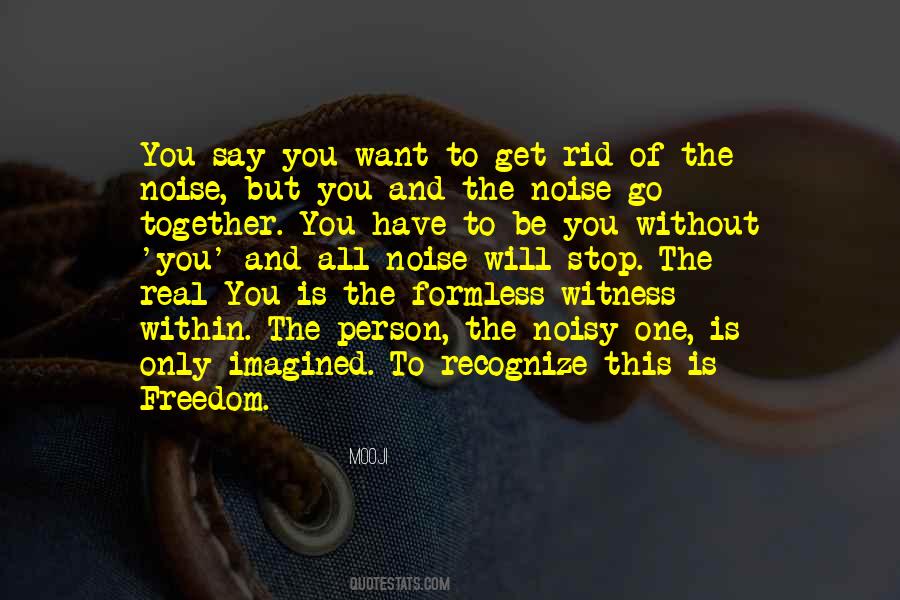 #23. My mother's not a political person. She just doesn't want me to be mean ... sometimes I have to be mean. It's like a parent or a teacher. Sometimes for the good of everybody you have to be a little bit strong, a little bit confrontational. - Author: Bill O'Reilly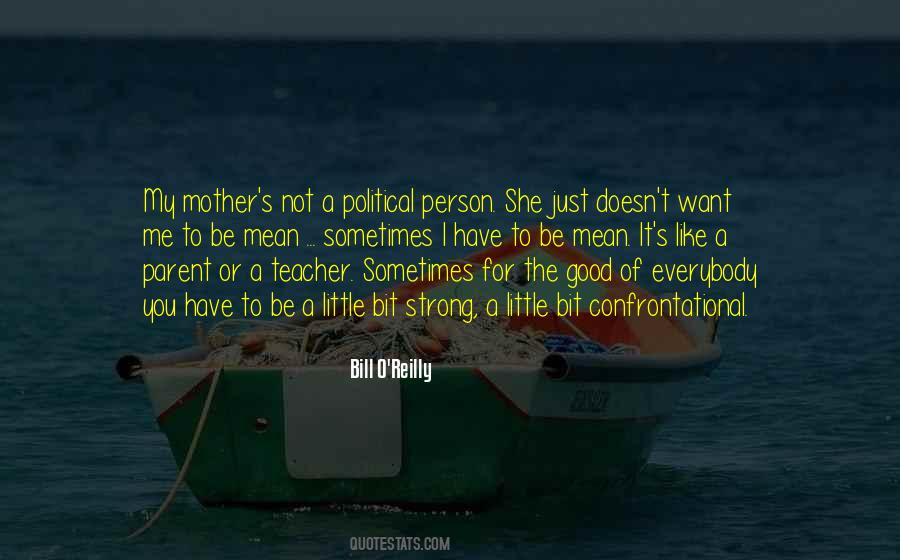 #24. You want to be a better person? Go listen to someone you disagree with. don't argue with them just listen. It's remarkable what interesting things people will say if you take the time to not be a jerk. - Author: Brandon Sanderson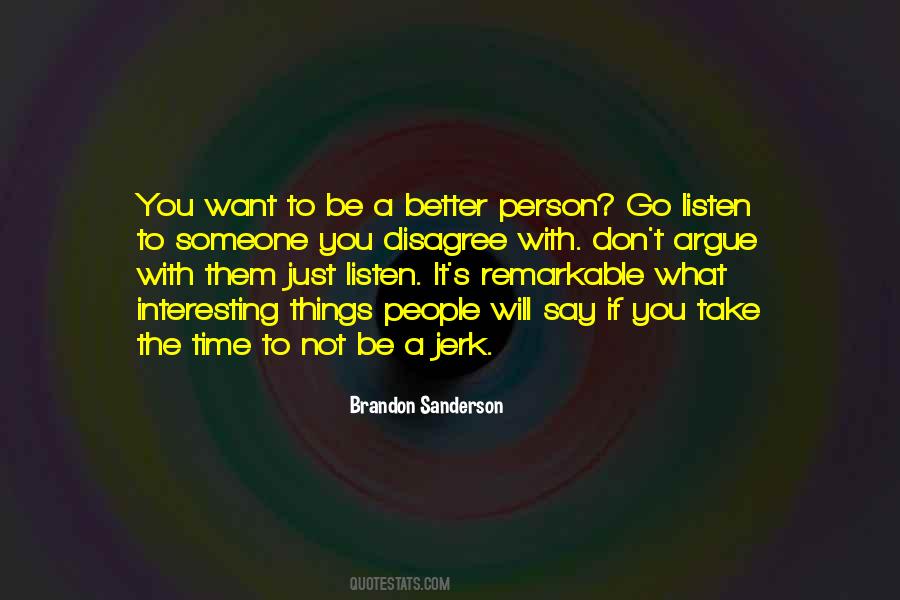 #25. Once a profound truth has been seen, it cannot be 'unseen'. There's no 'going back' to the person you were. Even if such a possibility did exist ... why would you want to? - Author: Dave Sim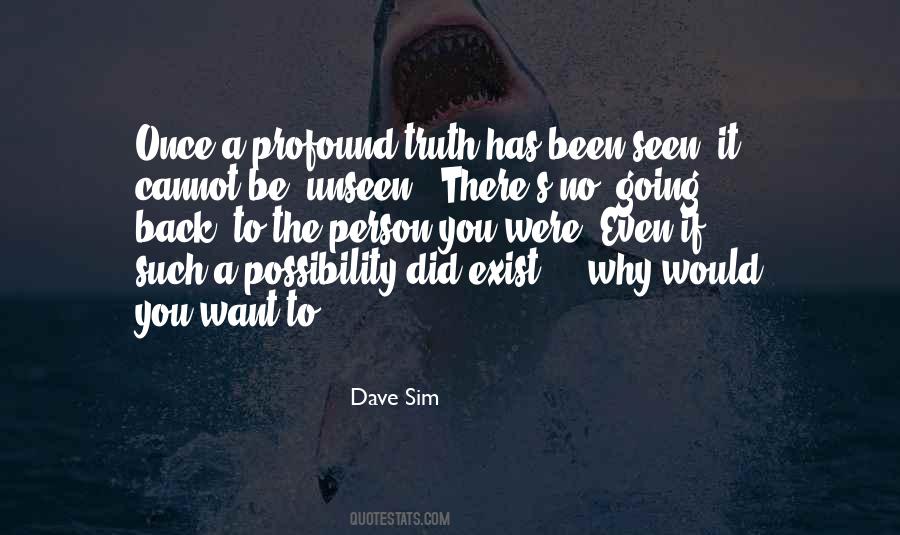 #26. If you can become the leader you ought to be on the inside, you will be able to become the person you want on the outside. People will want to follow you. And when that happens, you'll be able to tackle anything in this world. - Author: John C. Maxwell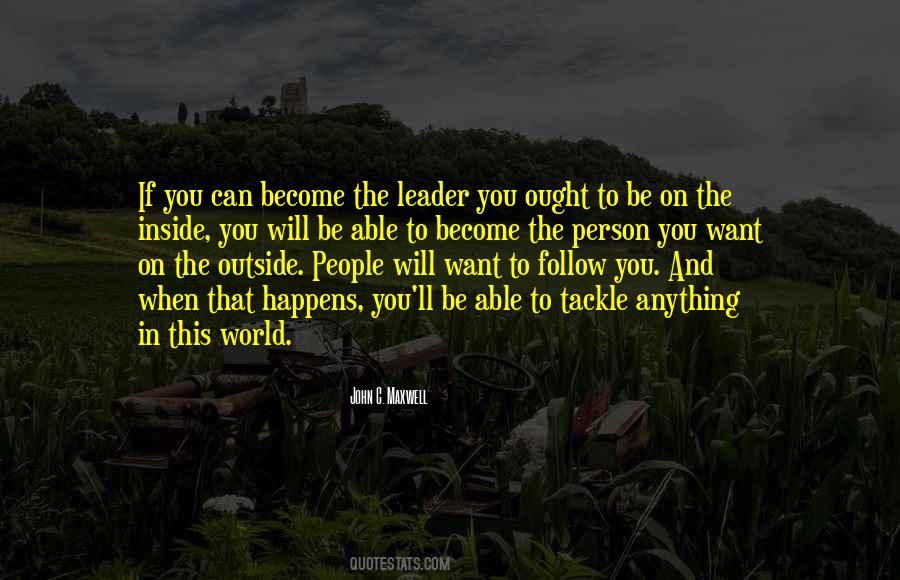 #27. It's not that I am "above" feeling hatred. It's that I make the choice whether to yield to it or not. Hatred keeps a person with you, and the last thing I want with me in my thoughts is someone who doesn't deserve to be there. - Author: Donna Lynn Hope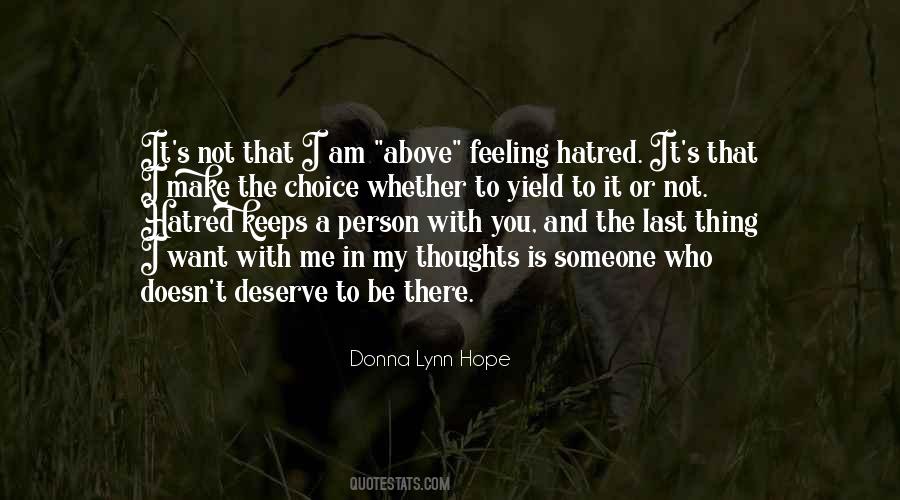 #28. I stand here struggling for the rights of my people to be full citizens in this country. They are not-in Mississippi. They are not-in Montgomery. That is why I am here today ... You want to shut up every colored person who wants to fight for the rights of his people!. - Author: Paul Robeson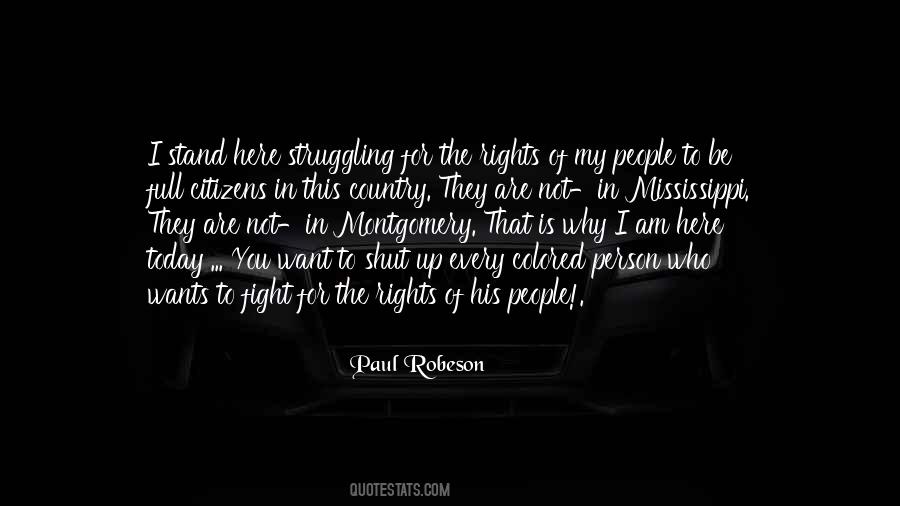 #29. I don't have to really be in the 60s. Every time I hail a cab in New York, and they pass me by and pick up the white person, then I get a dose of it. Or when they don't want to take you to Harlem. I grew up with that. - Author: Queen Latifah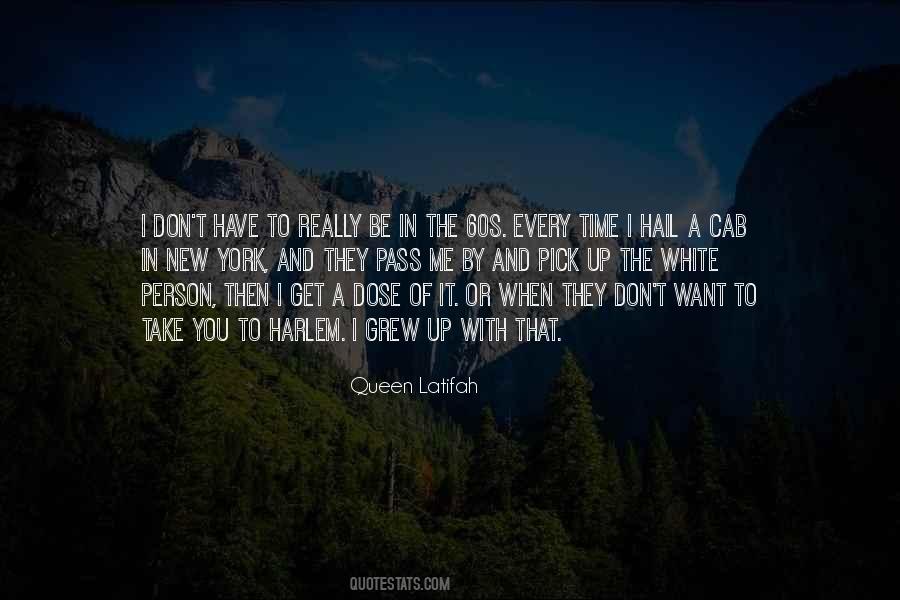 #30. People have mentioned, 'Maybe you should try to be more sexy. Look at how this butt stuff propelled this person to the top of the chart; it's amazing!' And I'm like, 'What if I really want to sing something to people?' I speak my mind. I want to be that person people feel they can listen to. - Author: Kiesza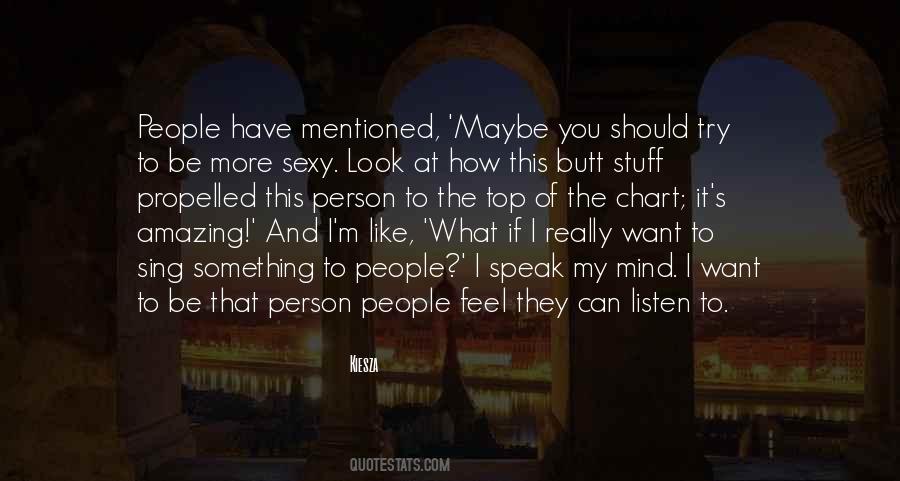 #31. I am a sensitive person, so it is actually saddening to learn that these poverty-stricken families are most of the time mistreated or looked down upon. Help the poor, like how you would want to be helped if you were in their position. - Author: Hillary Clinton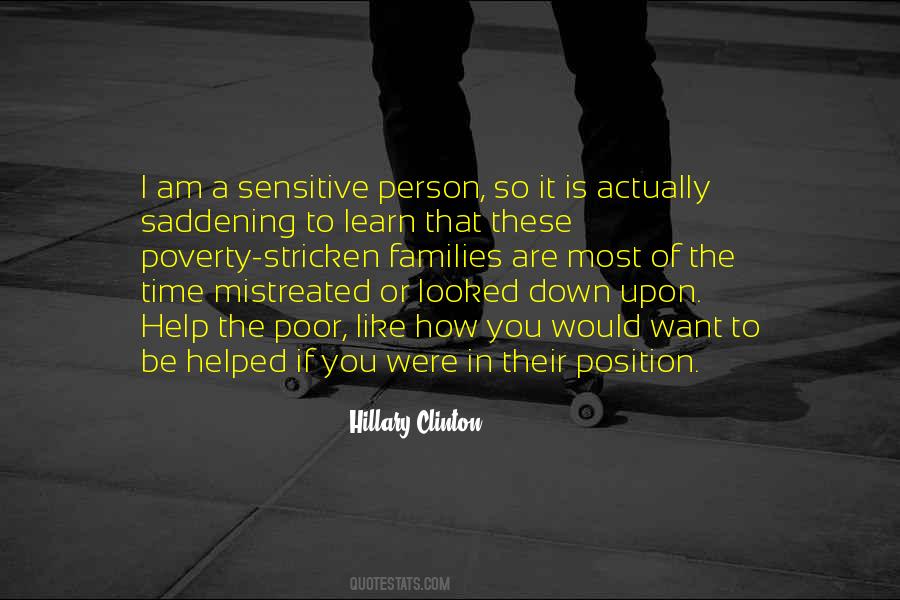 #32. A poem is the perfect place to celebrate imperfection and exult in the ways you fall short of being the person you want to be. - Author: Taylor Mali
#33. Close your eyes and visualize the person you really want to be, who fits your own concepts of self-respect. If you can see the person clearly in the mirror of you mind, you surely will become that person. - Author: Denis Waitley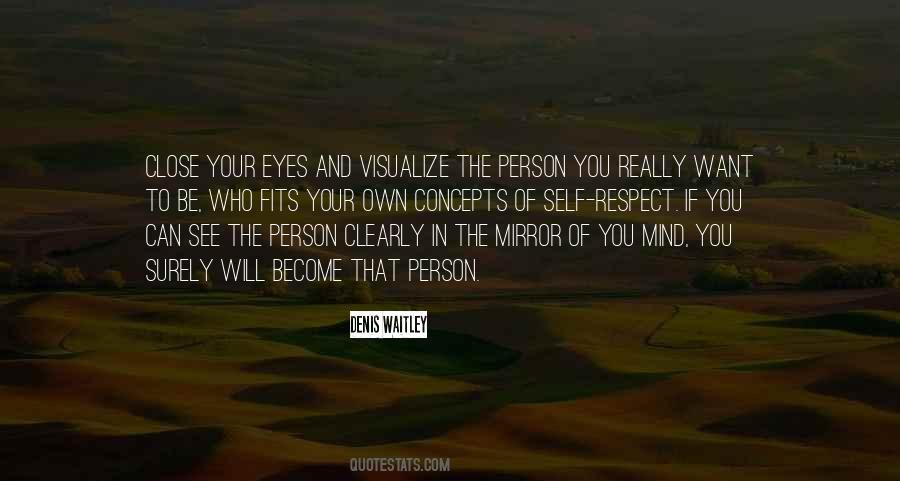 #34. People don't want you to be yourself, they just want you to be the person that they've decided you should be. - Author: Sarra Manning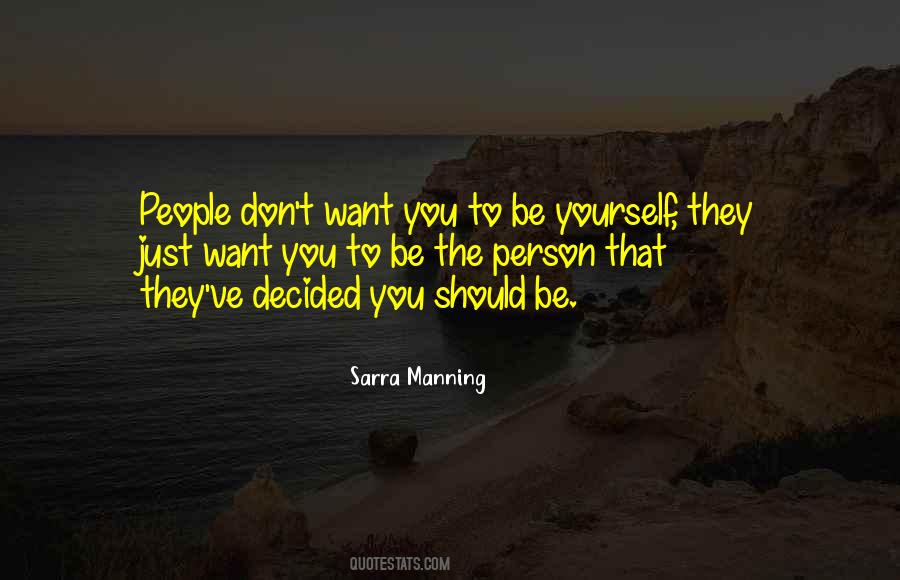 #35. Every person who comes into this world must make the decision as to what type of person they want to be. Establishing yourself once is not enough. It's an ongoing, constant effort to separate yourself from who you feel that you are, and from who you want to become. - Author: Ali Warren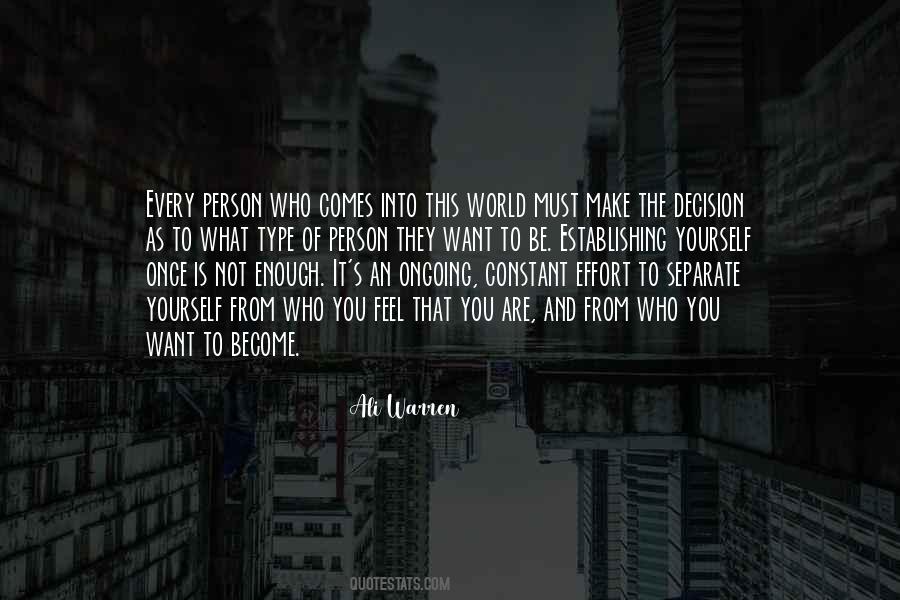 #36. Be the kind of person you want to be attracted to. You will find that you are less and less drawn to people with difficult character issues and more desirous to find people who are full of grace, safety, acceptance, and a hunger to grow. - Author: John Townsend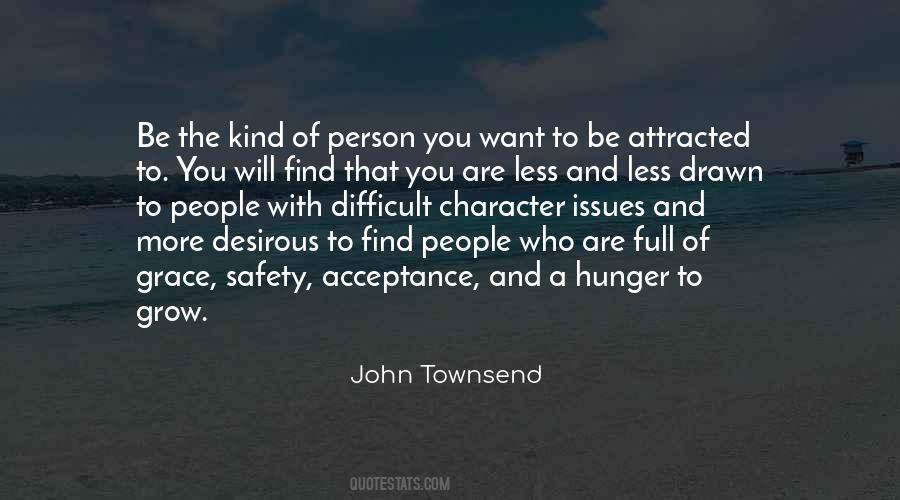 #37. You don't want to say somebody did a great job of acting. You want to say, "Where did he find that person? How did he get that factory worker to come out of the factory and be on camera?" You want to believe that person is real. - Author: Ronee Blakley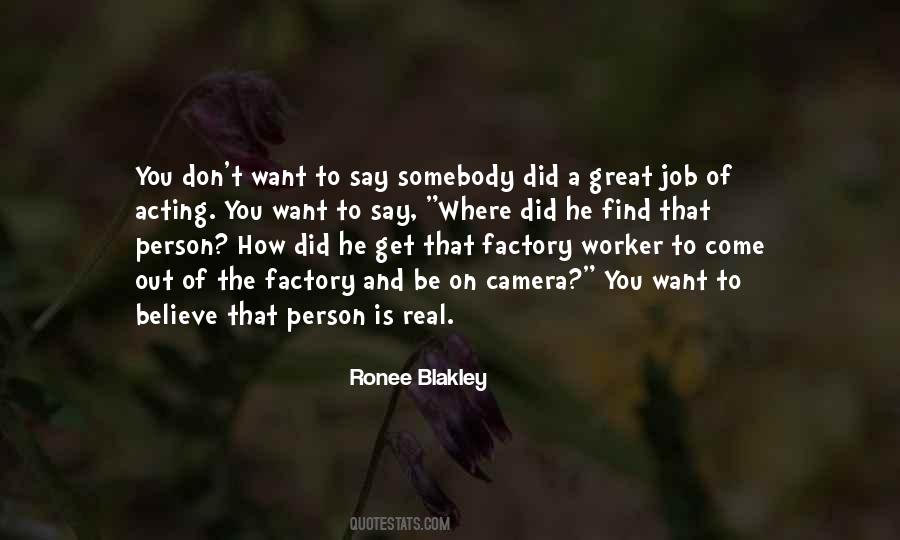 #38. When you're an actor or actress in this business, usually the natural progression is to direct, but a lot of times, we don't get a chance to get to it. Myself, I really want to get into it. I want to be the person who eventually doesn't have to be in front of the camera. - Author: Jamie Foxx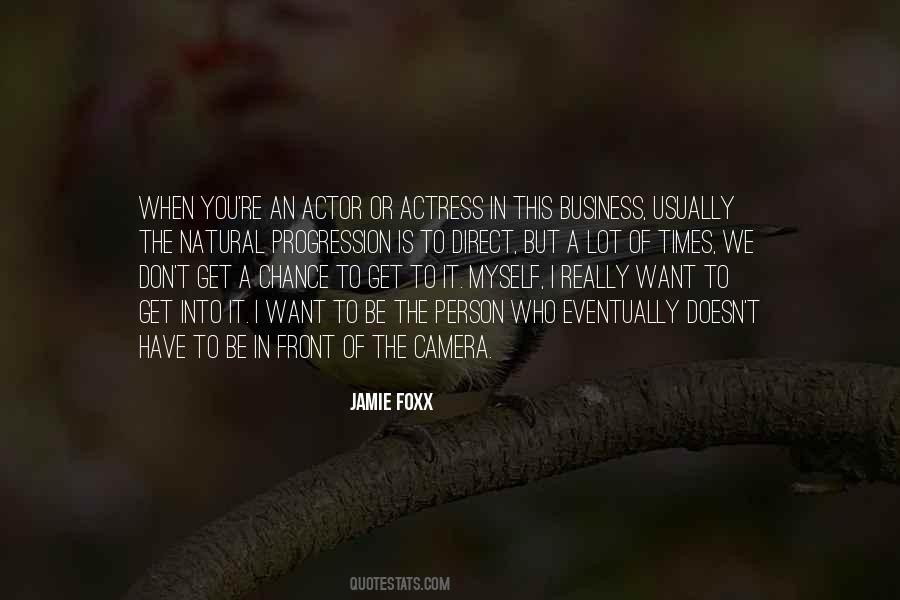 #39. I think getting married gave me a focus. It gave me a focus and direction I want to have in my life. And I think having another person that you make such a purposeful bond with has given me the opportunity to see how that can be with all the other aspects of my life. - Author: Selma Blair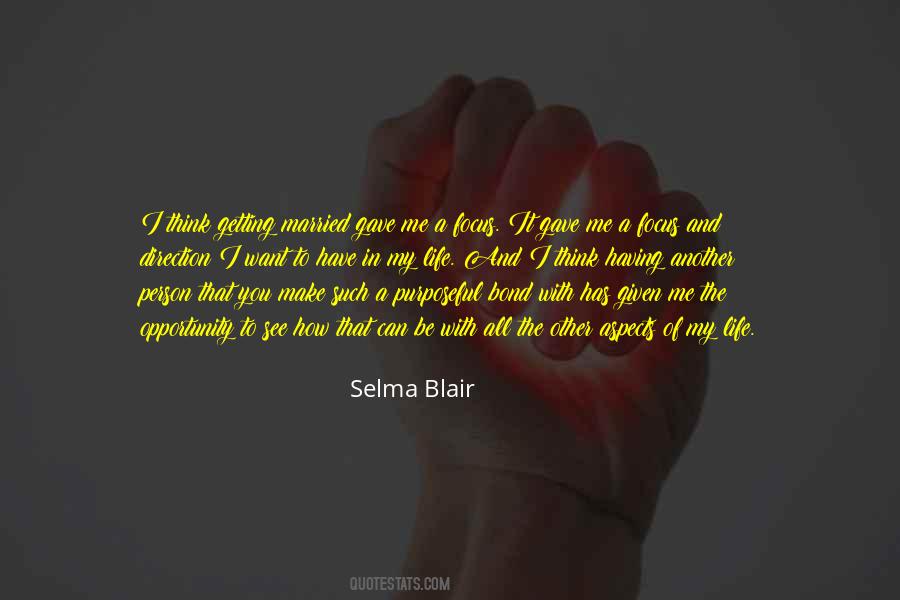 #40. For the life of me, I'll never understand how you can be an artist but not want people to understand who you are as a person. - Author: Blake Shelton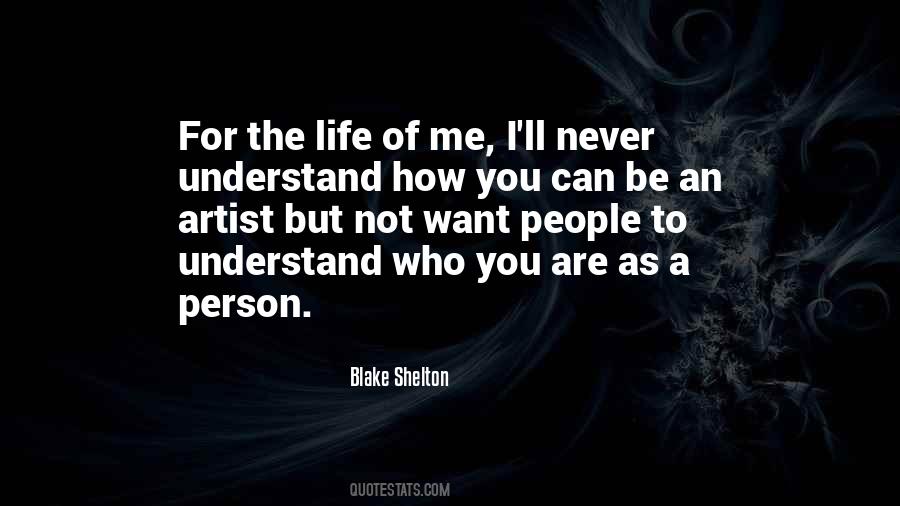 #41. I want to build a life with someone that's based on their dreams as well as my dreams. I think that the idea of finding another person to share with is the most fascinating, beautiful quest you could ever be on in life. - Author: Taylor Swift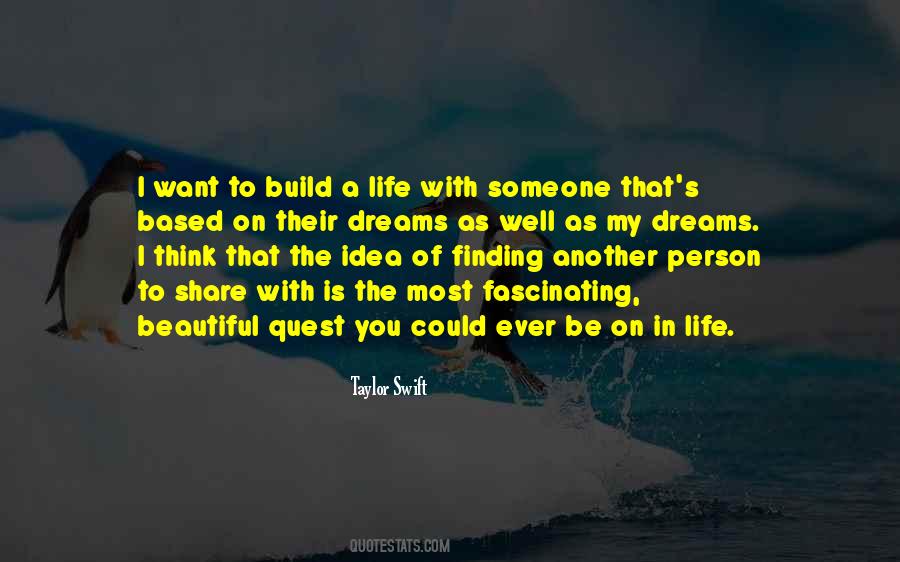 #42. You must begin to think of yourself as becoming the person you want to be. - Author: David Viscott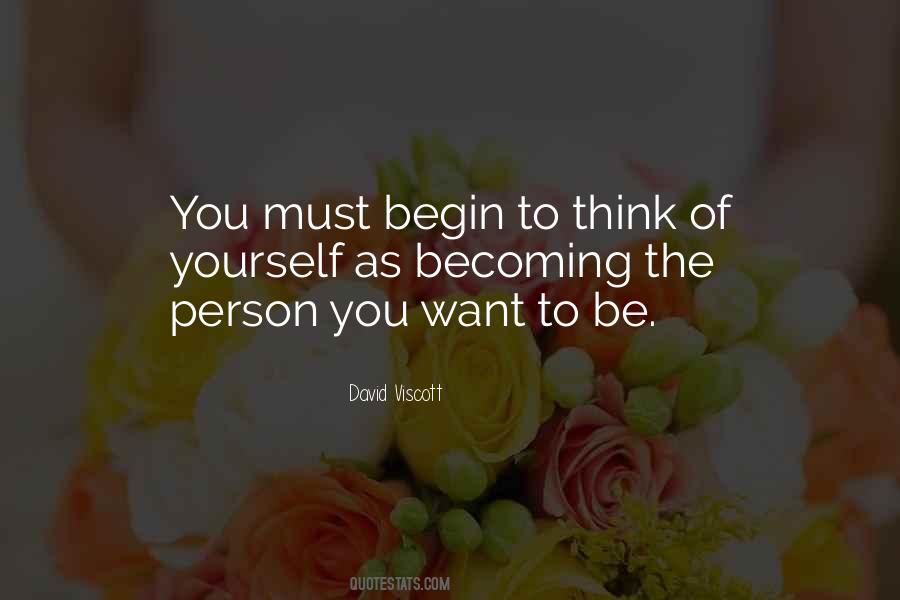 #43. Be the Person that You want to see in Others.
Jan Jansen - Author: Jan Jansen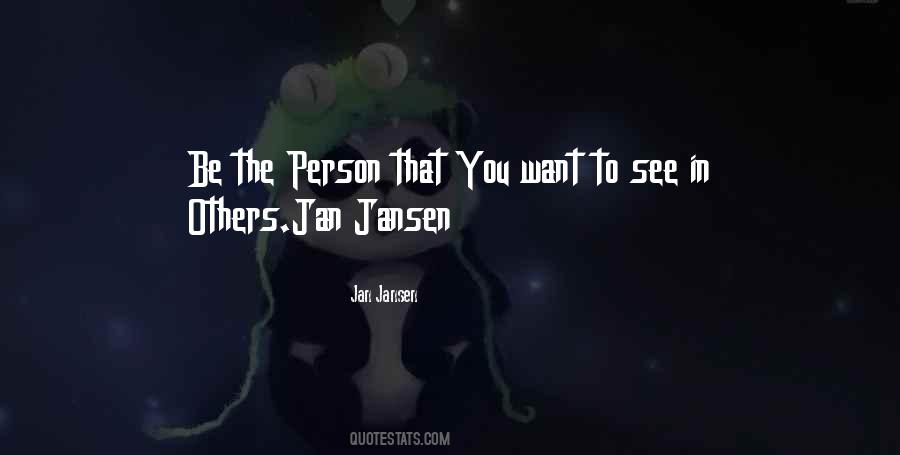 #44. I want you to see that the person I glimpsed running beside the camel, running to save my life, is the person you can choose to be. - Author: Lucy Christopher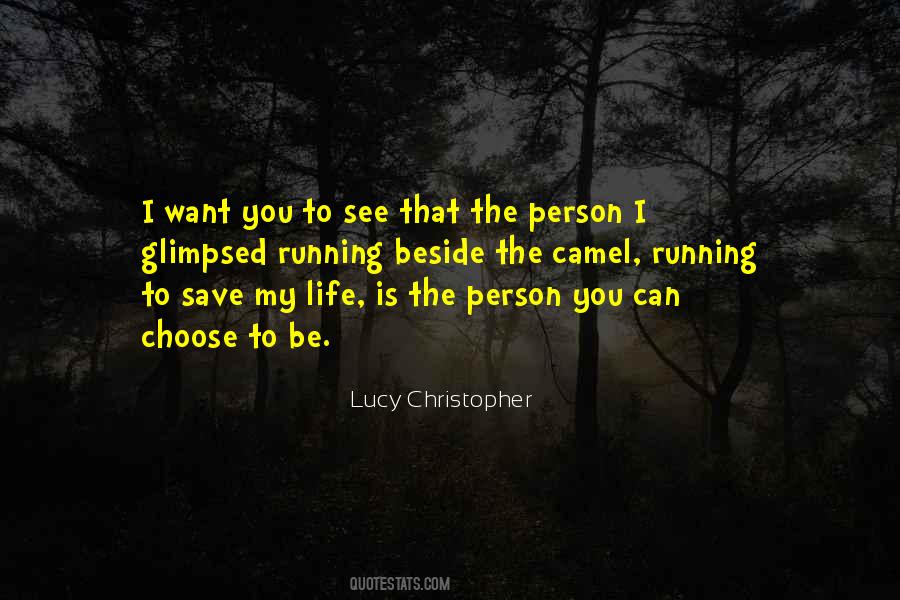 #45. Loving someone is taking a constant risk with your emotions. When you find the right person,the one you know you want to be with, that person becomes worth the risk. - Author: Monica Murphy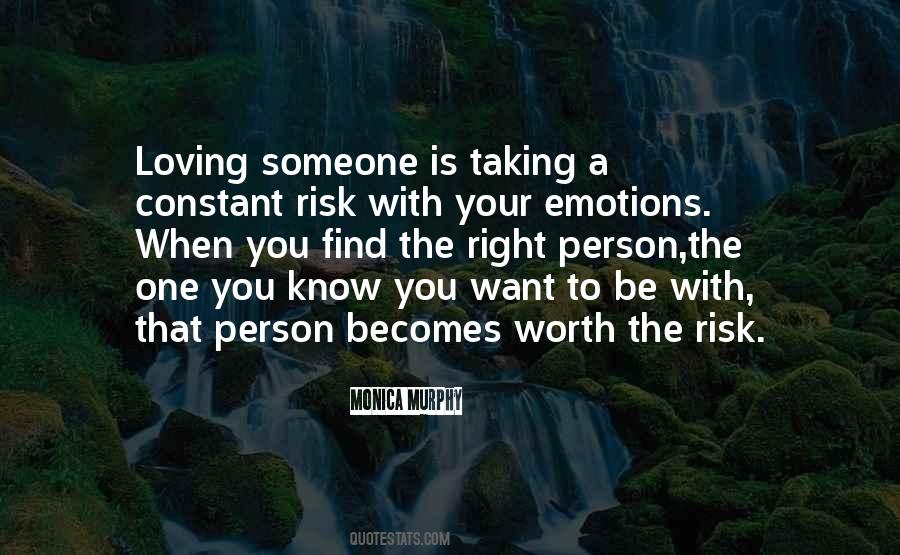 #46. Nobody really likes to be lectured a lot. And, therefore, if you want to be an effective person, what you don't do is scold the person publicly all the time. - Author: George W. Bush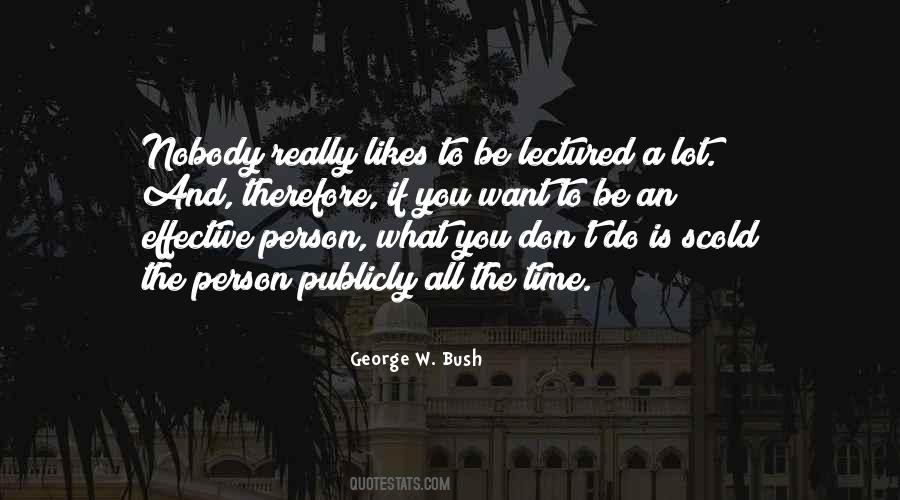 #47. You can't rush the progression of a person. It has to be done in their own time. You can push a person to change, but the only time the change will stick is when it's something they want to achieve on their own. - Author: Belle Aurora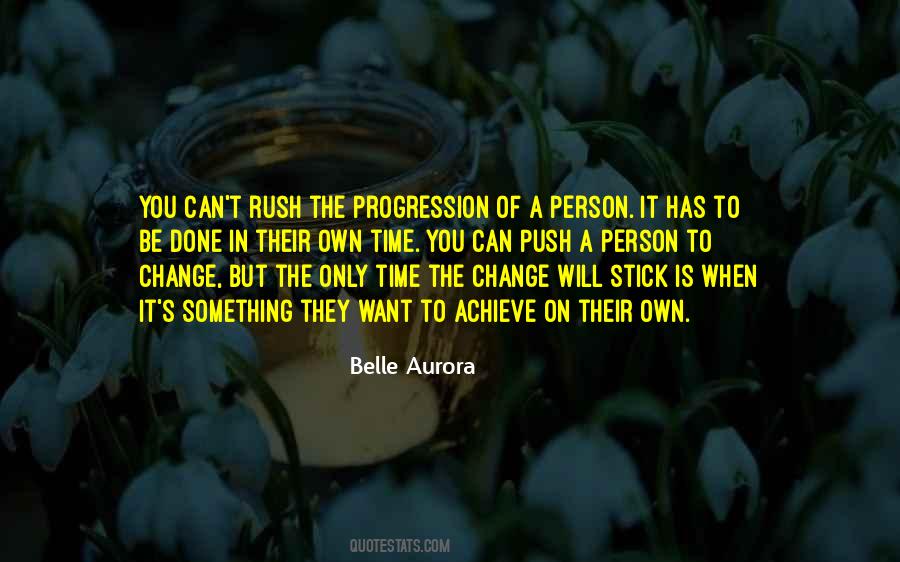 #48. But what is the use of being an independent old maid if you can't be silly when you want to, and when it doesn't hurt anybody? A person must have some compensations. - Author: L.M. Montgomery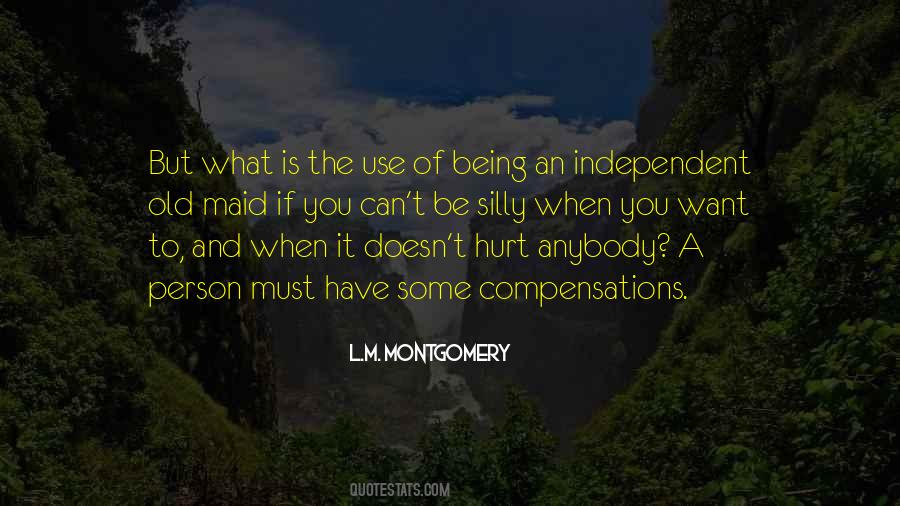 #49. He makes you the person you want to be,
instead of the person you are, and that, the idea of life without him is,
not only unbearable, it's unimaginable. - Author: E.L. James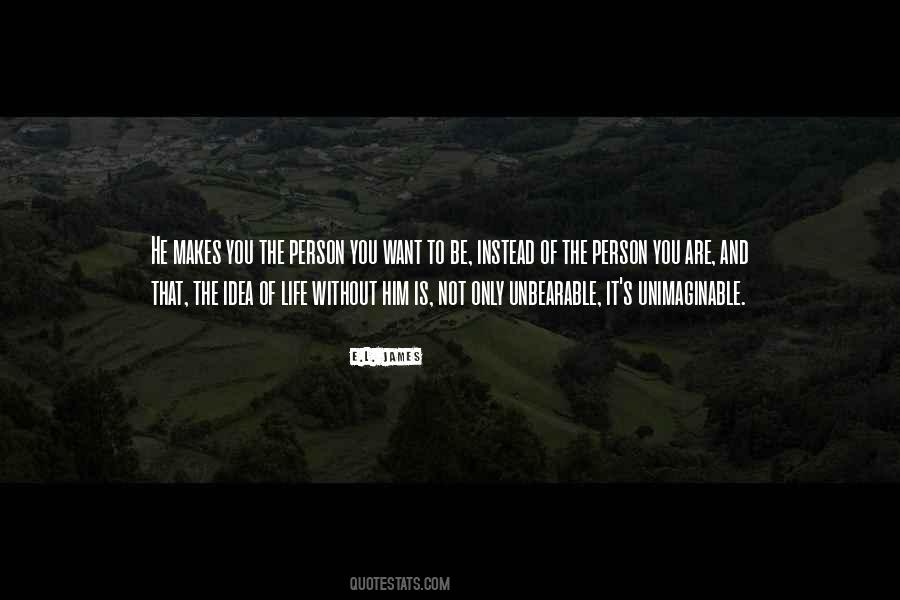 #50. Life offers no guarantees, so I can't offer them to you either. But when you meet someone you want to share your life with, the guarantees won't matter to you. You'll look at that person and know that being with them is worth the risk, and only then will you be willing to take it. - Author: Cassie Cross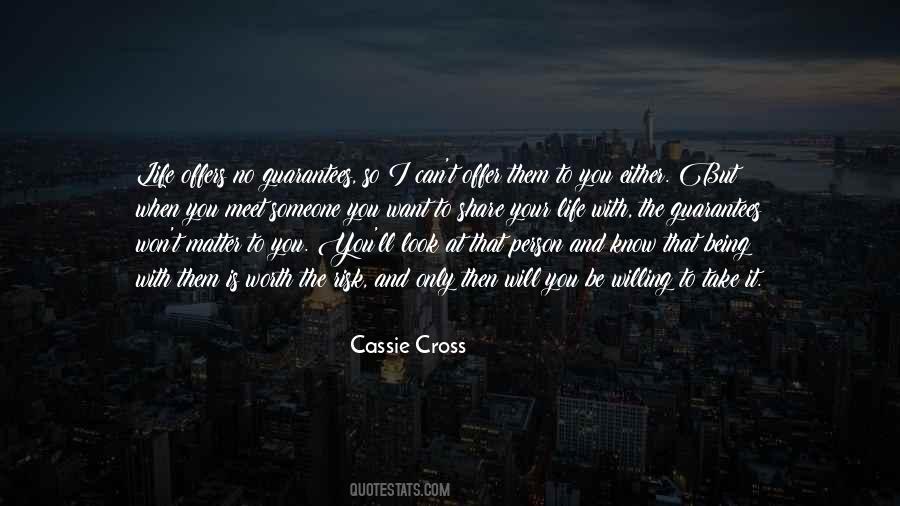 #51. To me, the most important thing was to treat people the way you want to be treated. Some people say that I'm a mean person. Well, you know what? The person that's saying that is probably a dipshit and I put them in their place! I have a knack for doing that. - Author: Dave Mustaine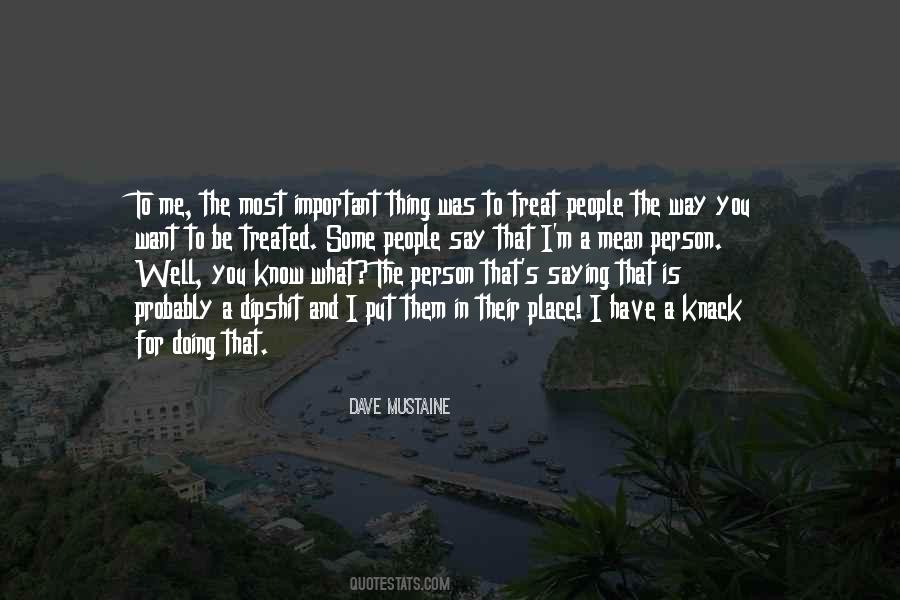 #52. Trust your instincts, Dad always says. If something feels dodgy to you, if someone feels dodgy, you go with dodgy. Don't give the benefit of the doubt because you want to be a nice person, don't wait and see in case you look stupid. Safe comes first. Second could be too late. - Author: Tana French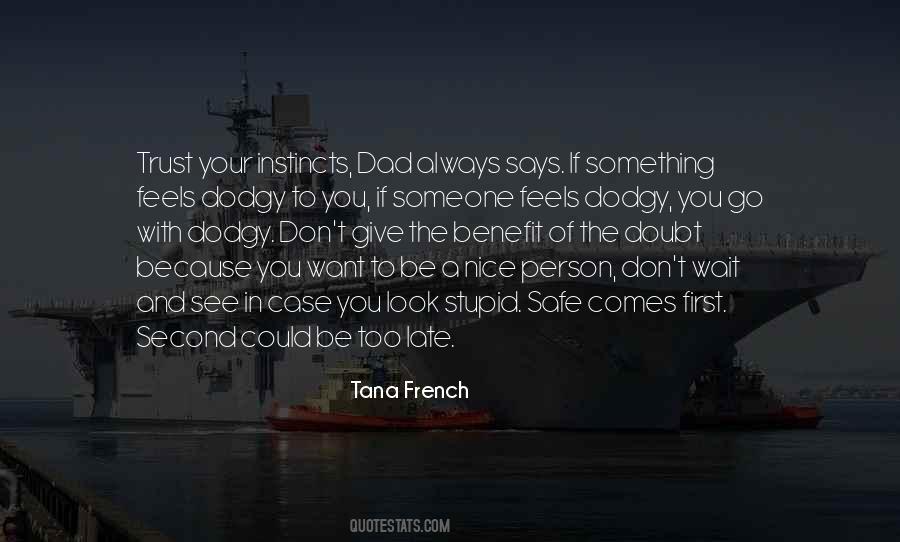 #53. If you're smart you're just gonna be all about the work. But as a young person, you want to going out to clubs and doing all the stuff. I'm just glad I survived it. - Author: Christian Bale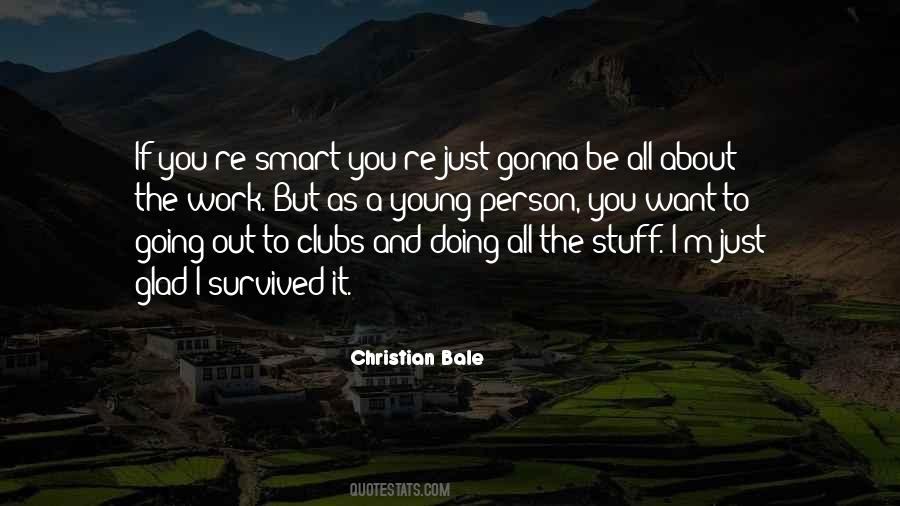 #54. "Be the change you want to see in the world" ... and, if you can't be that change, then either get out of the way of the person who wants to be that change or support the individual with your financial resources. - Author: Mahatma Gandhi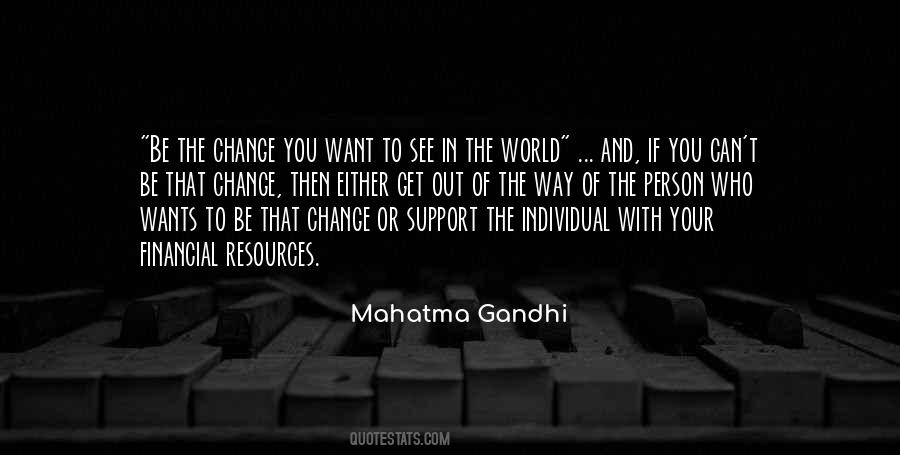 #55. I'm obviously really opinionated, but as a producer, you don't necessarily want the person you're working with to try to impress you - you want them to just be themselves. Then you can edit or mess around with what they've come up with. But you have to allow the artist that space. - Author: Danger Mouse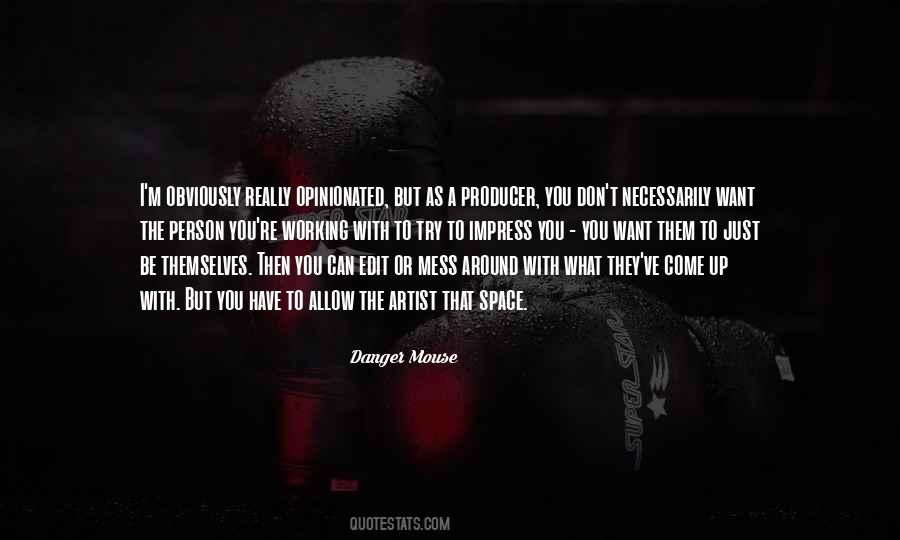 #56. I performed it all the way through for people. People would say, "We love you, we want to sign you," and then there'd always be one person who'd say, "He's just a producer." - Author: Kanye West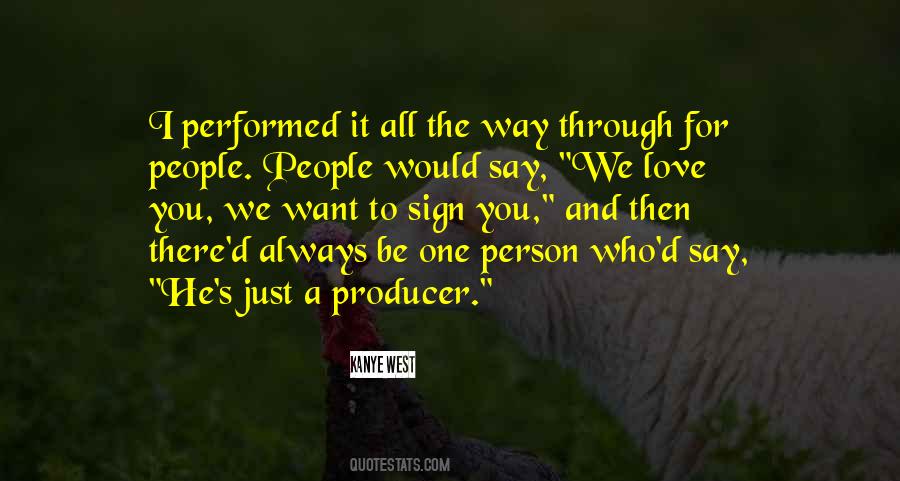 #57. You don't wake up at 18 and necessarily become the person you want to be as an adult - you have to work hard to become them. - Author: Ruby Rose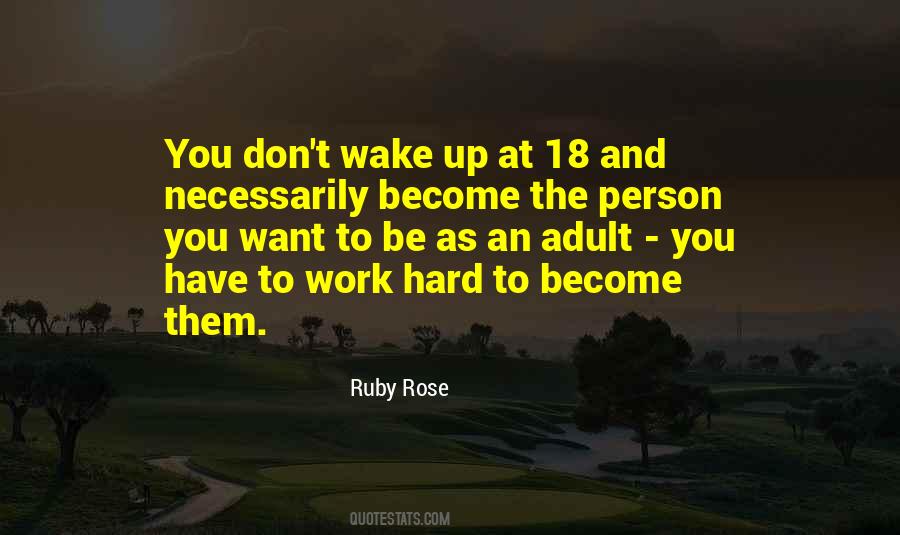 #58. I realized in the early days I just didn't edit at all. But I think you become a little more cagey with your lyrics when you know more people are going to hear them and make assumptions about you as a person. Realizing that, you want to be a little more opaque. - Author: Eddie Vedder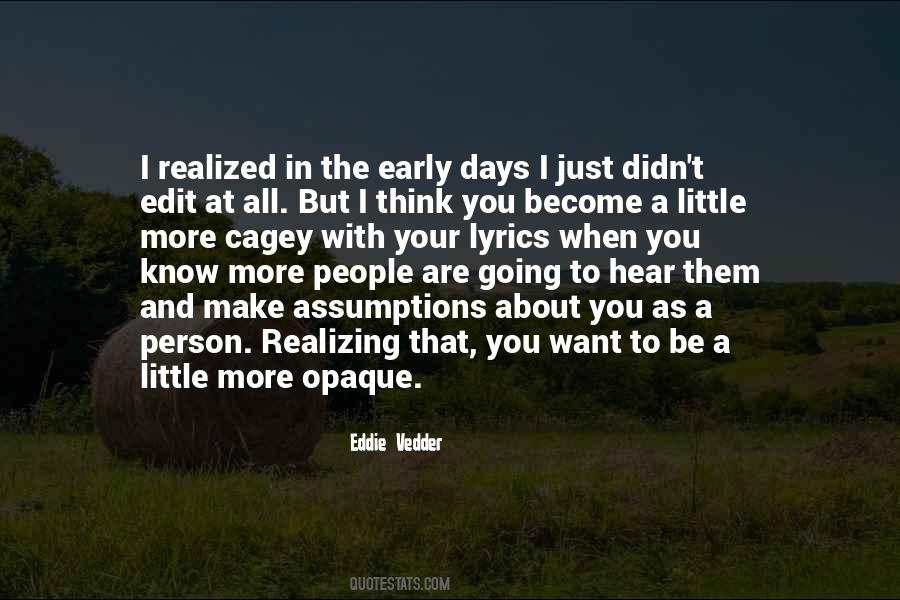 #59. I don't want to be like some of those celebrities walking around, just so full of themselves. I always want to be down-to-earth, want to be a person like when you meet them, they're the same person that you think of them in the article or something. - Author: Serena Williams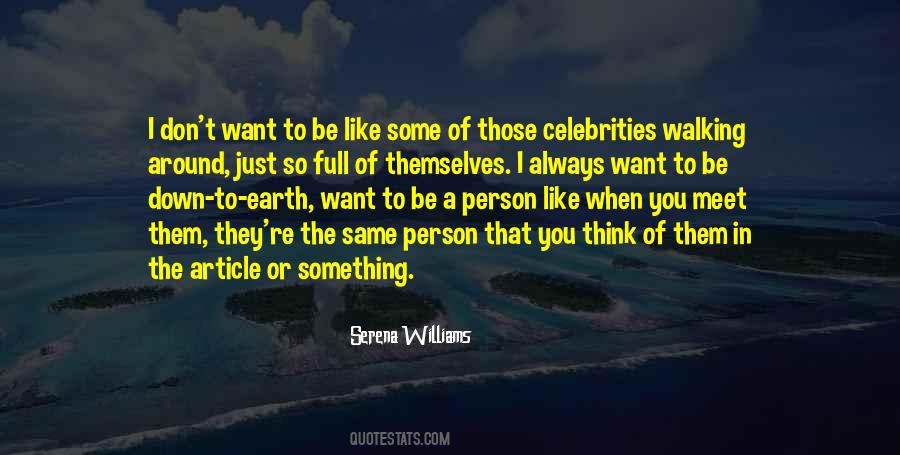 #60. Second by second you lose the opportunity to become the person you want to be. Take charge of your life. - Author: Greg Plitt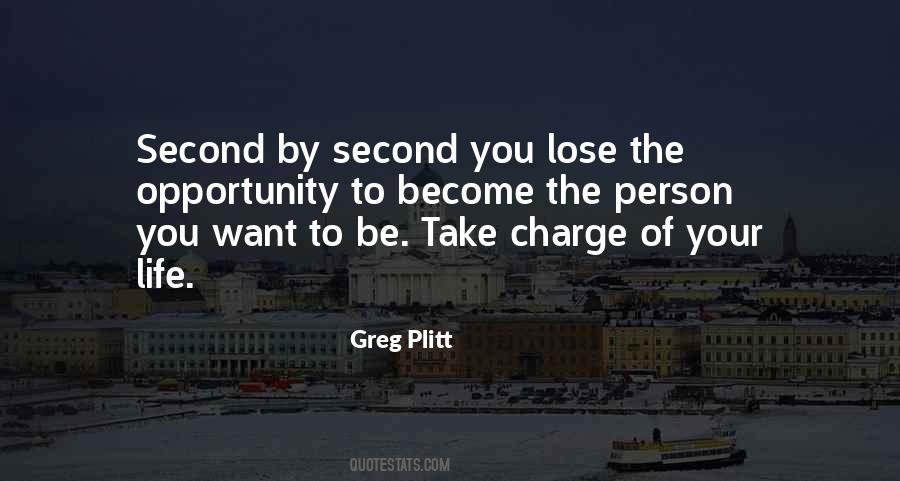 #61. I don't know if there is a 'lack' of good black men. But when you haven't taken the time to get to know yourself, be OK with you, and articulate what it is you want in a relationship, then you can't possibly find that person for you because you don't even know what you're looking for. - Author: Keshia Knight Pulliam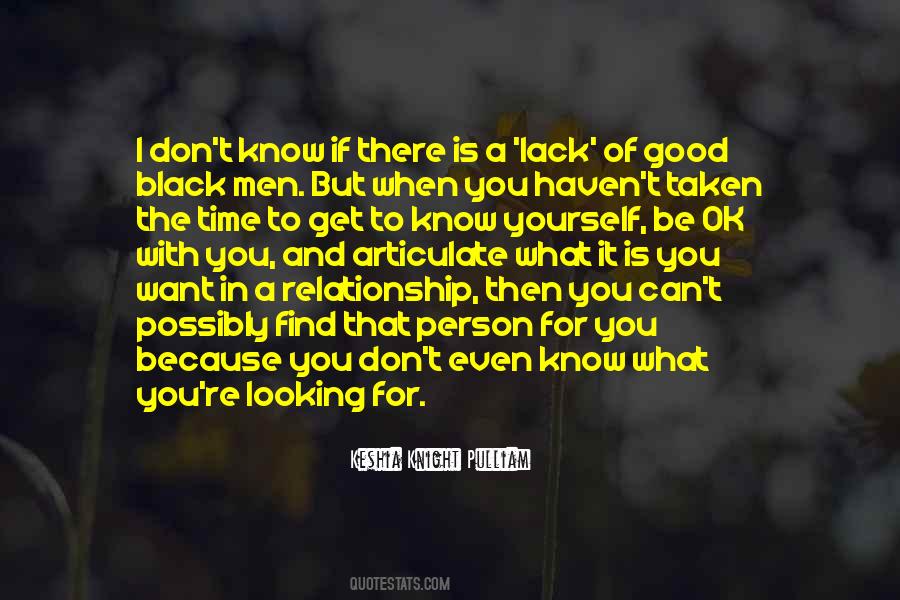 #62. One cost, for the lonely: If you want to be interesting, the one thing you shouldn't do is really focus on the fact that 'I want this person to like me.' That's going to make you very uninteresting. But the lonely, they just can't help but focus on that. - Author: Sendhil Mullainathan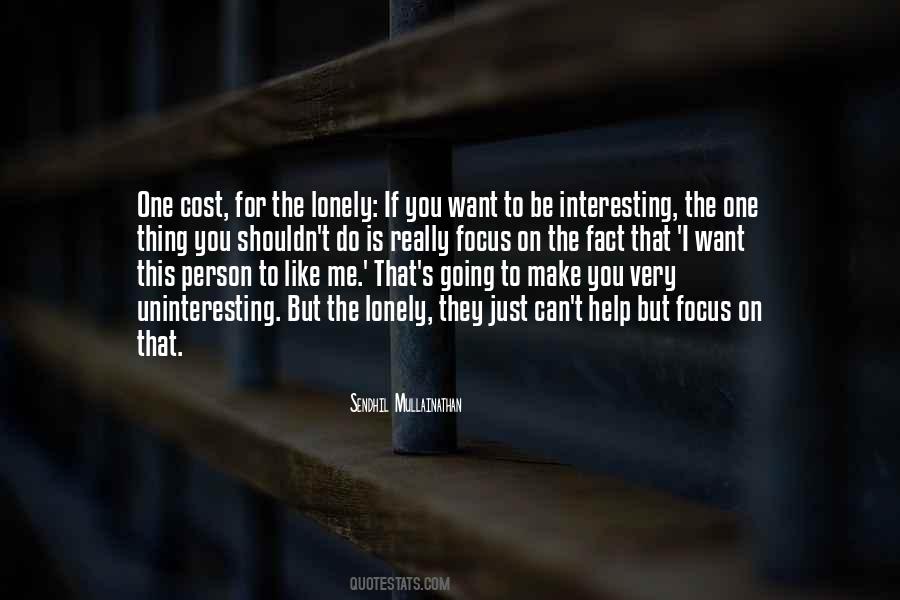 #63. The endless, agonizing recycling of what might have been, soon followed by a litany of rationalizations and self-deceptions as you struggle to reconcile the void between the person you want to be and the person you fear you are.. - Author: Jon Krakauer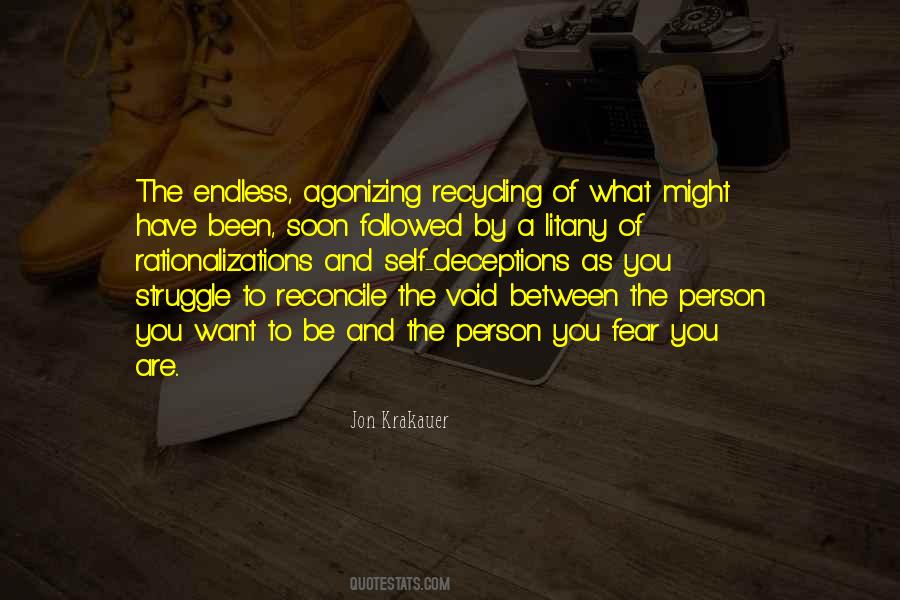 #64. I just want to be who I am. I think all women go through the belief that they need to be superwoman - that to be successful in any way, and I don't necessarily mean in business or anything, but just to be a successful person, you have to be superwoman. - Author: Cindy McCain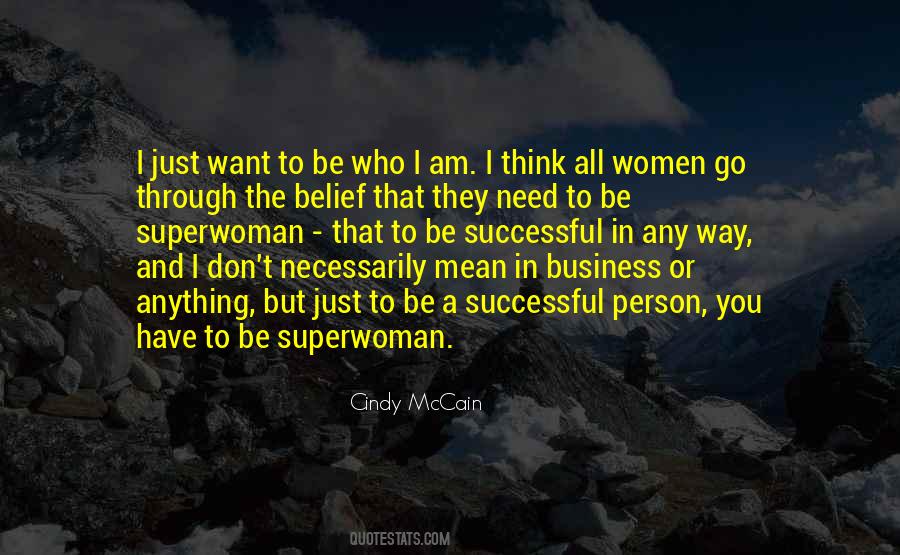 #65. There is great power in focusing on what you want ... The person who tries to do everything accomplishes nothing. Most people try to be all things to everyone. And so they end up being nothing to anyone. Confucius nailed the point: "Person who chases two rabbits catches neither." - Author: Robin Sharma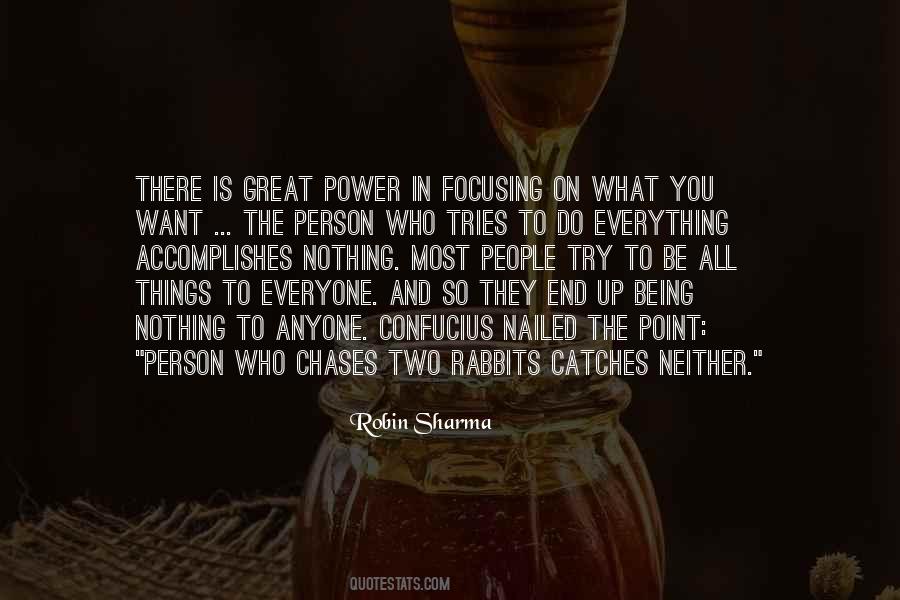 #66. Living with a stammer is difficult. It's a daily uphill struggle with emotional baggage weighing you down. You can't be the person you want to be. - Author: Gareth Gates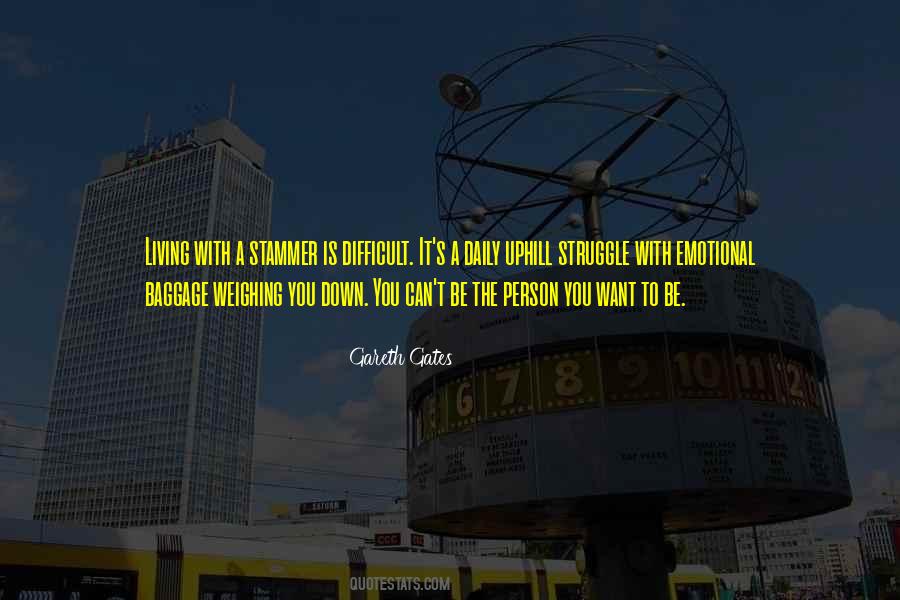 #67. Do you know what people really want? Everyone, I mean. Everybody in the world is thinking: I wish there was just one other person I could really talk to, who could really understand me, who'd be kind to me. That's what people really want, if they're telling the truth. - Author: Doris Lessing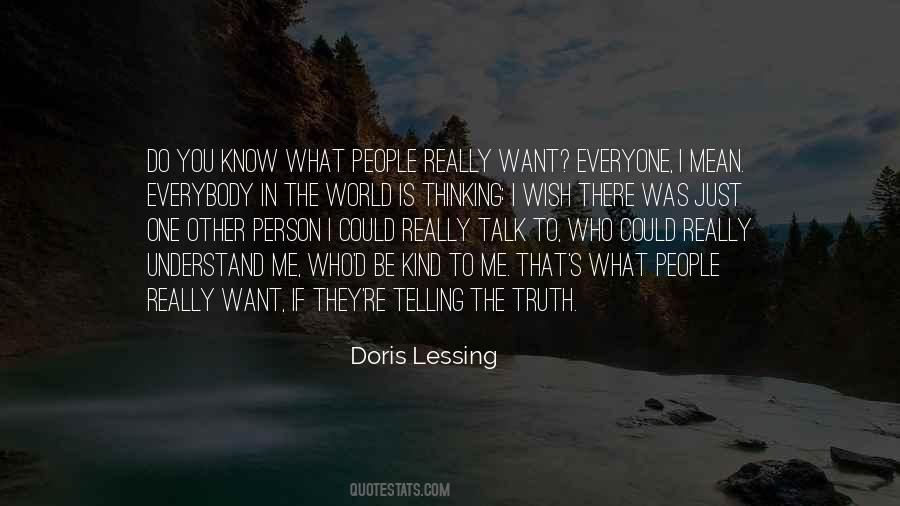 #68. I don't want to sound like some old person pining for how things used to be, because I'm not. But walking down the street, for example, used to be a public activity; you'd see the other people. - Author: Douglas Rushkoff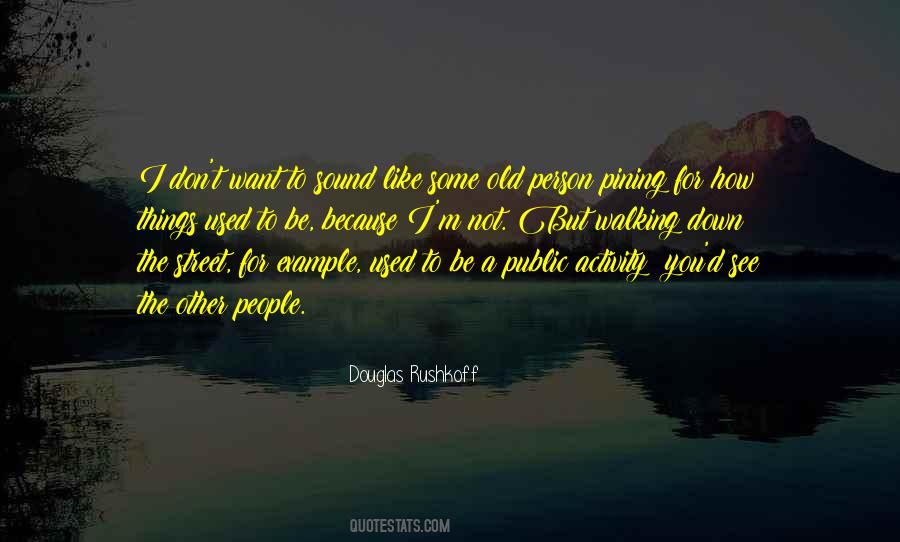 #69. Black people don't hijack planes, alright? Now I'll be the first to admit, we steal a lot of stuff, but we do not hijack planes. In fact, in the history of aviation, a black person has never even attempted to hijack a plane. Do you want to know why? Because you can't sell an airplane. - Author: Alonzo Bodden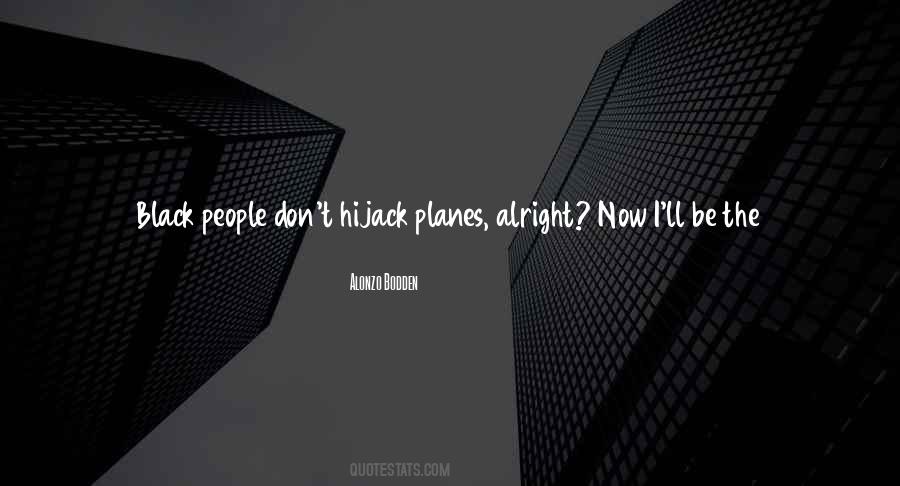 #70. When you read a script, you don't want to be the same guy all the time, you want to change, you're a different person. That's why acting is a wonderful career. You're not the same guy all the time. - Author: Robert Loggia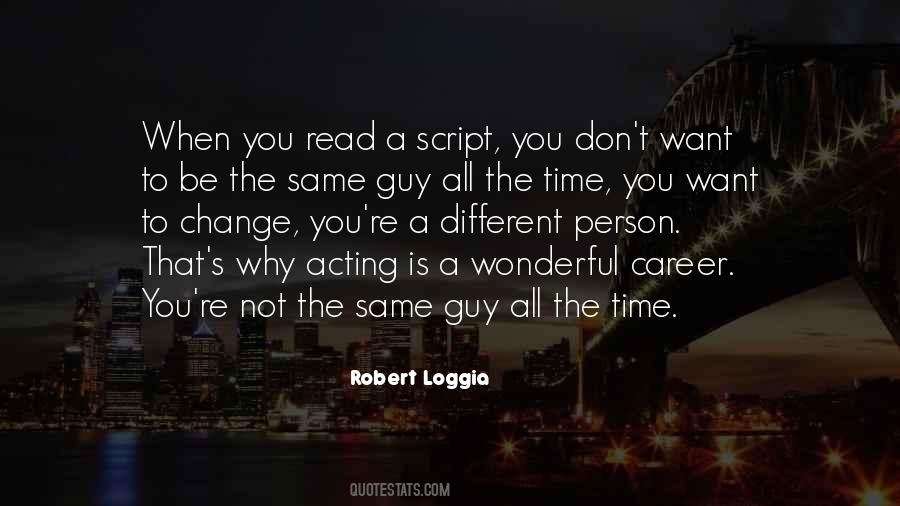 #71. If you really want to escape the things that harass you, what you're needing is not to be in a different place but to be a different person. - Author: Seneca.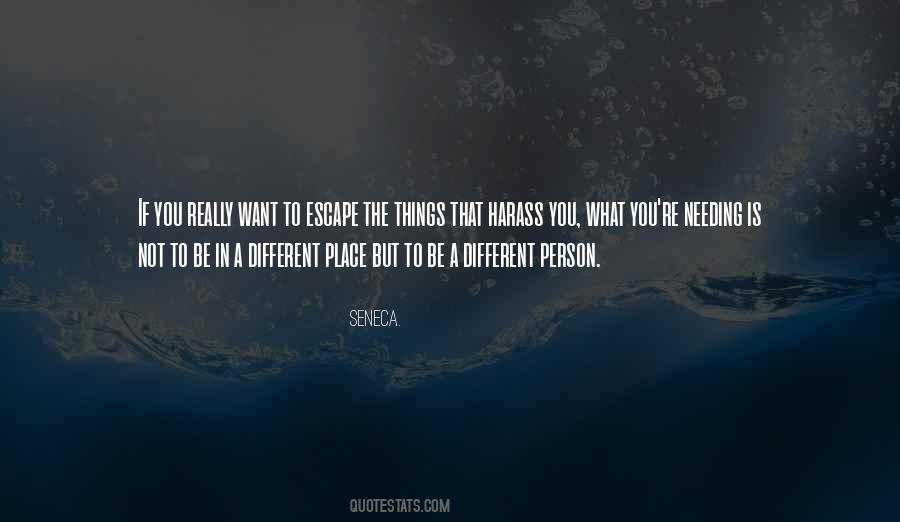 #72. If you want to really know something you have to observe or experience it in person; if you claim to know something on the basis of hearsay, or on happening to see it in a book, you'll be a laughingstock to those who really know. - Author: Jonathan D. Spence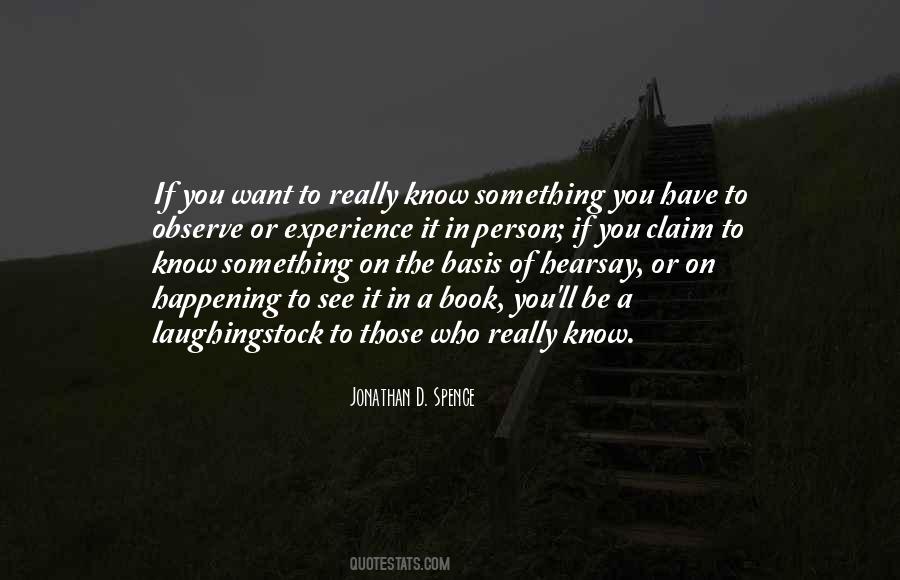 #73. Becoming the type of person you want to become - someone who lives by a stronger standard, someone who believes in themselves, someone who can be counted on by the people that matter to them - is about the daily process you follow and not the ultimate product you achieve. - Author: James Clear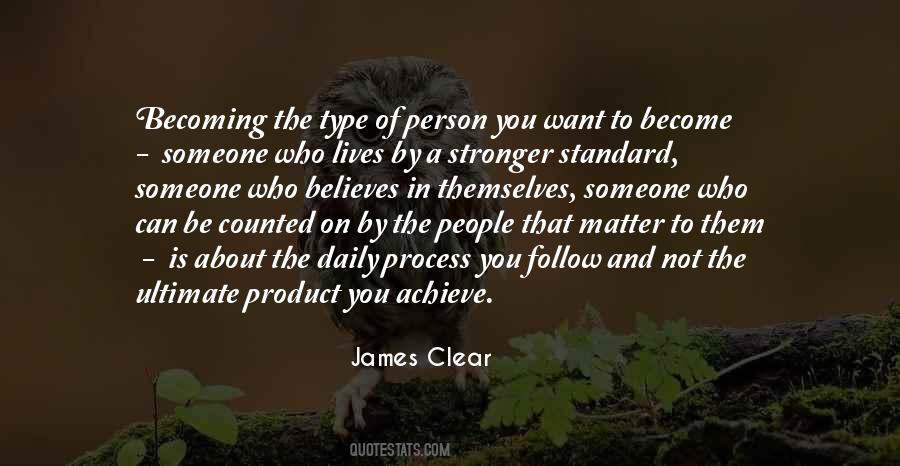 #74. So much of what comes out of the faith community seems so dour and somber, and we want to say, 'Hey, we're real people. You can be a person of faith and really enjoy life and laugh.' - Author: Erwin McManus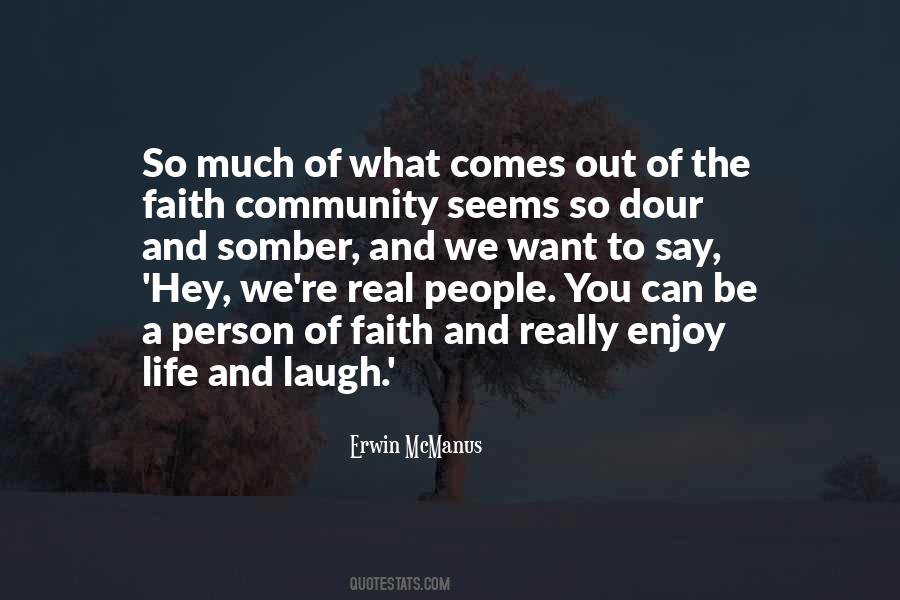 #75. You cannot be the person they know and the great, glorious person you want to become. Not at the same time. - Author: Chuck Palahniuk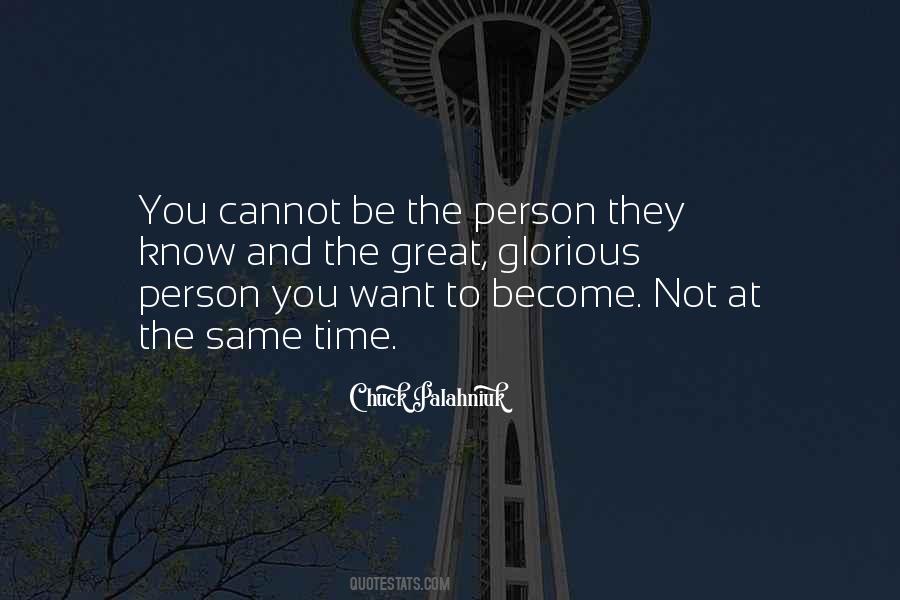 #76. I love performing on stage the most. It's getting that instant reaction from a live audience. There are no boundaries, you can take your character as far as you want to, you can be the craziest person ever. - Author: Jennifer Ellison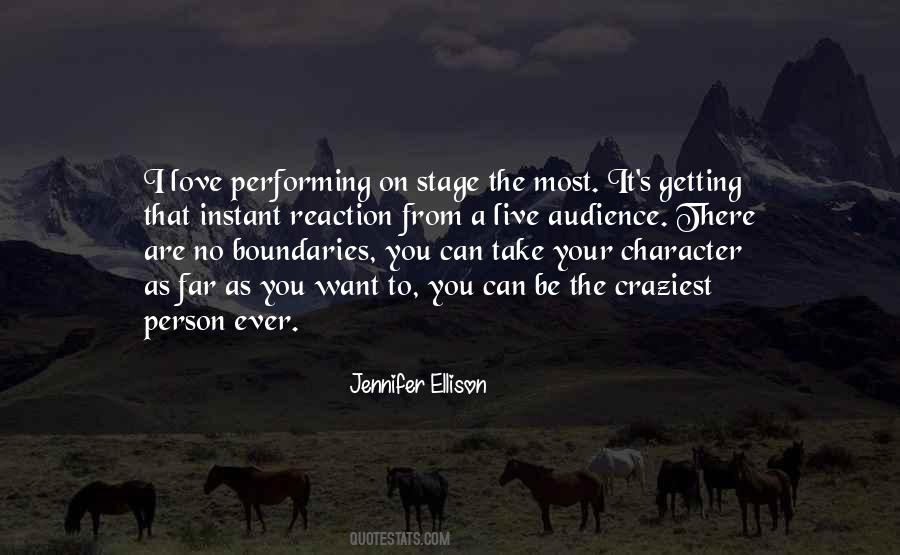 #77. Change is scary. But you're not required to be the same person you were ten years ago, ten weeks ago, ten days ago. Hell, you don't even have to be the person you were ten minutes ago. You're free to be whoever the hell you want. - Author: Julie Johnson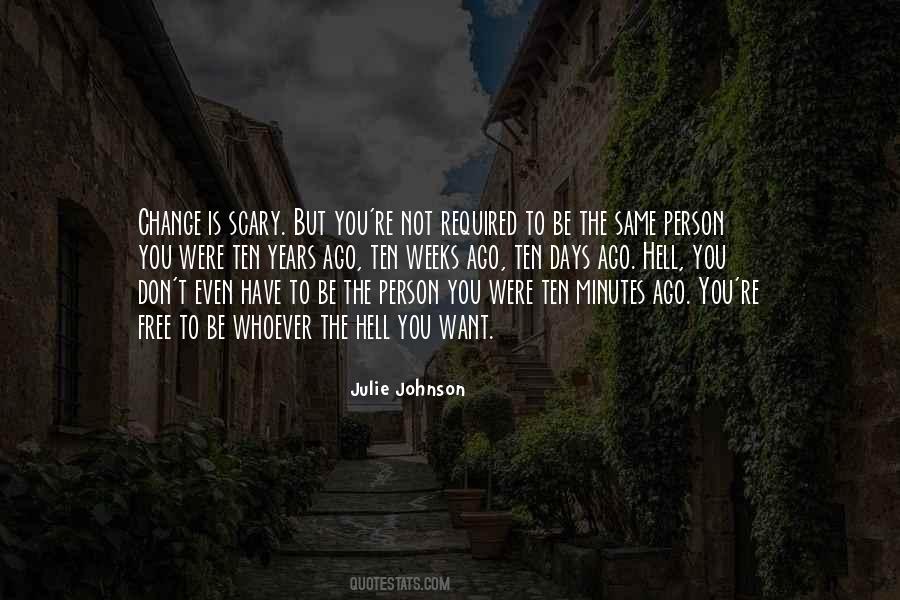 #78. Our Father and our God, thank You for using people like me to spread Your Word to the world. I am the least likely person, I know, to be used for such a glorious work. Show me what You want me to do, Lord, and I'll do it. I know I can do it through the strength of Christ Jesus, my Lord. Amen. - Author: Billy Graham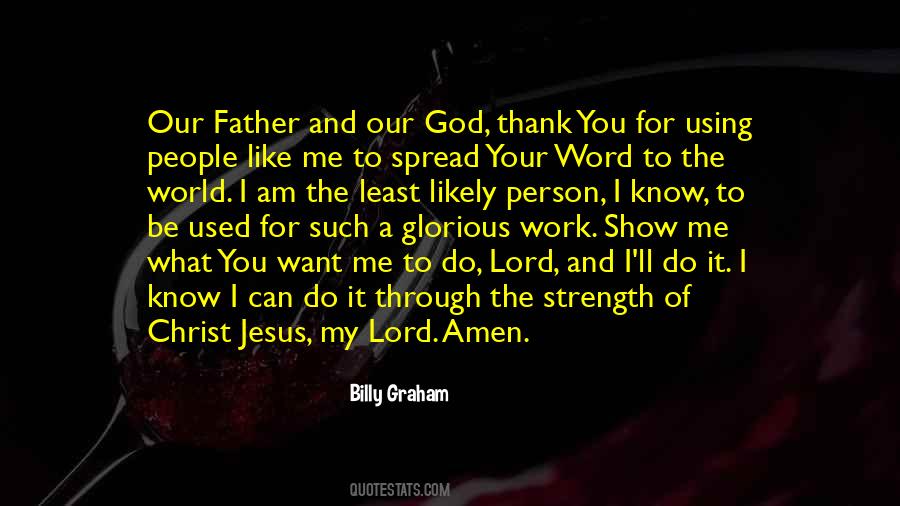 #79. Don't conform for the sake of pleasing others. Mold yourself into the person that you want to be. - Author: Dr. Seuss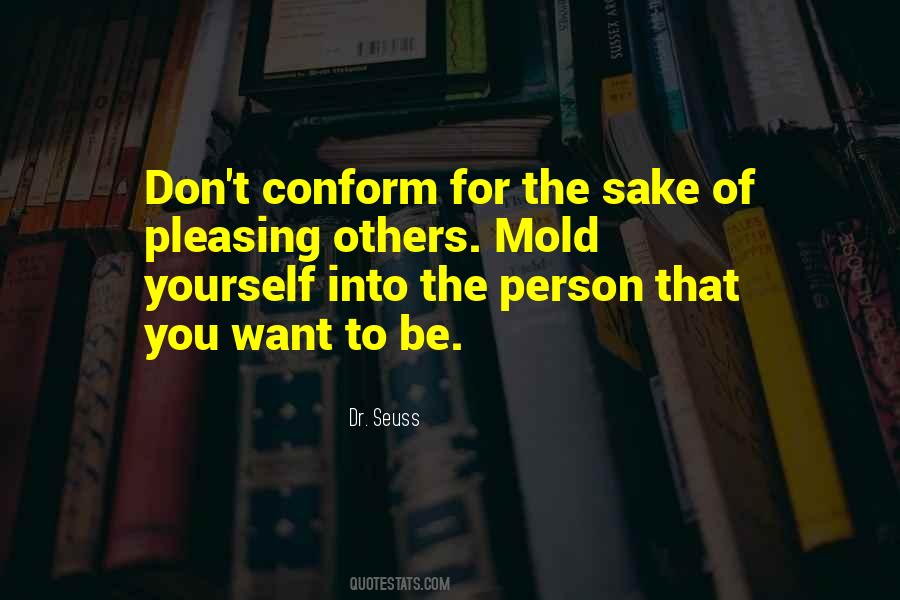 #80. As a parent, your perspective of childhood is through the eyes of this person that you care so much about and you just want the world to be great for them. You want their life to be easy and happy. - Author: Spike Jonze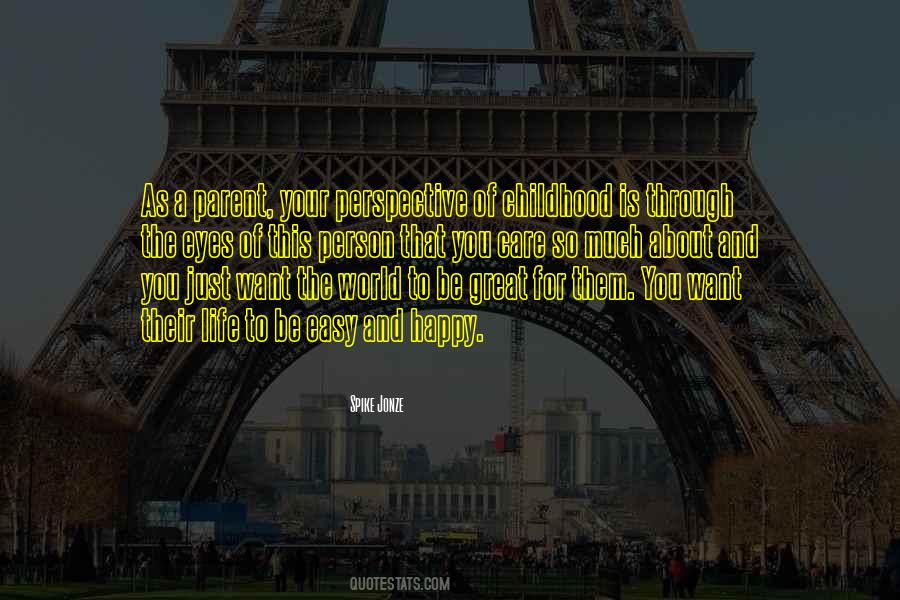 #81. A player who conjugates a verb in the first person singular cannot be part of the squad, he has to conjugate the verb in the first person plural. We. We want to conquer. We are going to conquer. Using the word I when you're in a group makes things complicated. - Author: Vanderlei Luxemburgo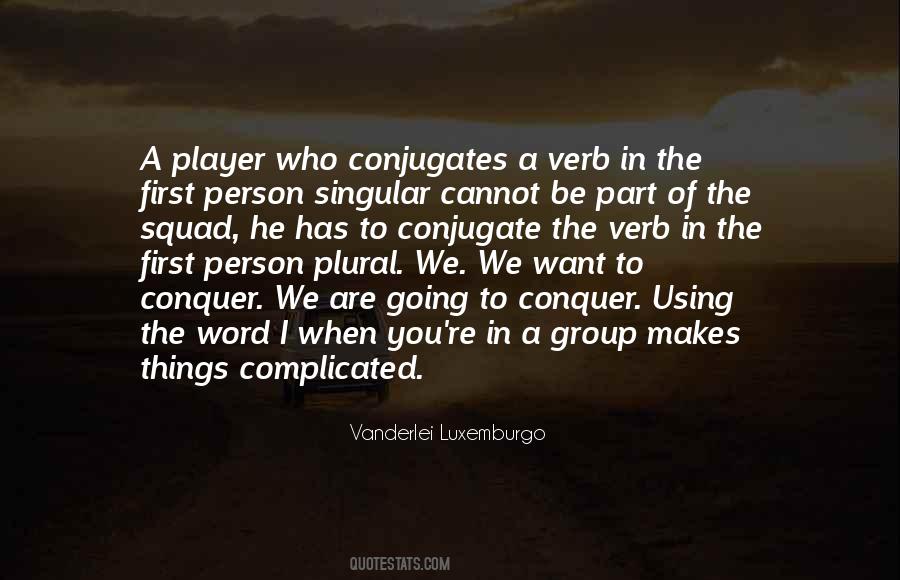 #82. You are the last person I want to kiss. The last woman I want in my bed. I want you to be the last girl that touches any and all parts of me, Salem, and that means so much more than a first. - Author: Jay Crownover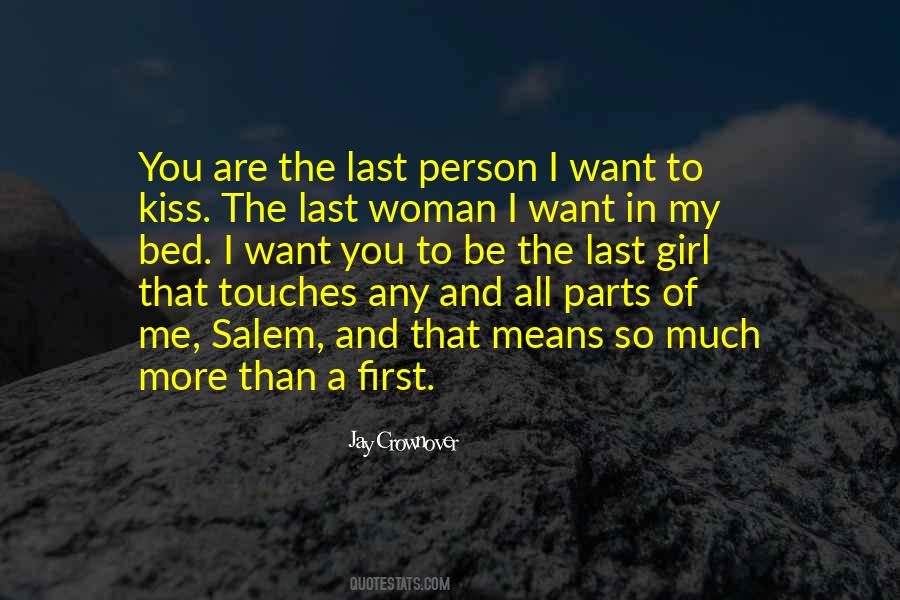 #83. You have to be able to give the people what you want in your way. And that's how you, to me, become a person that they love and not just a fly-by night actor. - Author: Ice Cube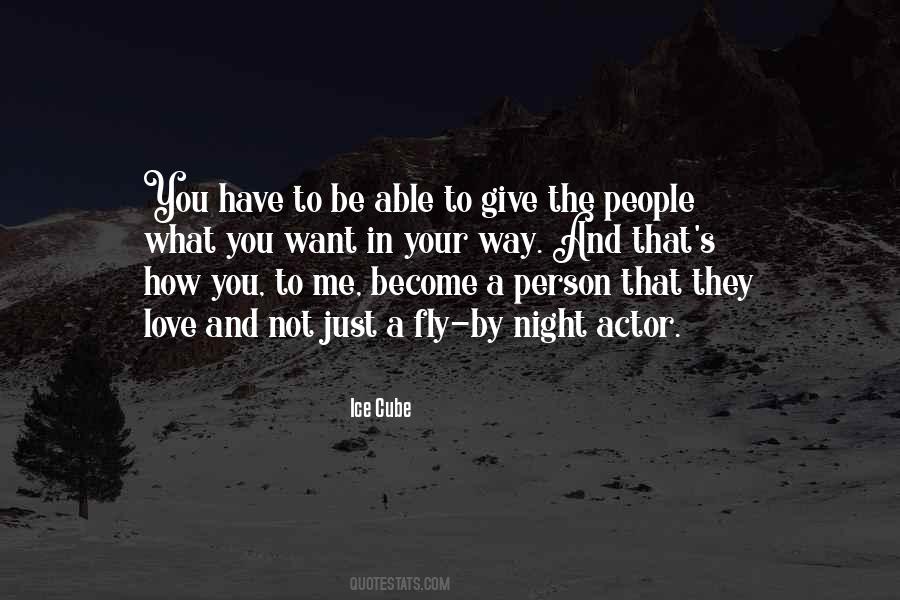 #84. It can't be wrong to want to see someone because you like the person you are when you're around them. That's probably one of the best reasons you could have. - Author: Courtney Summers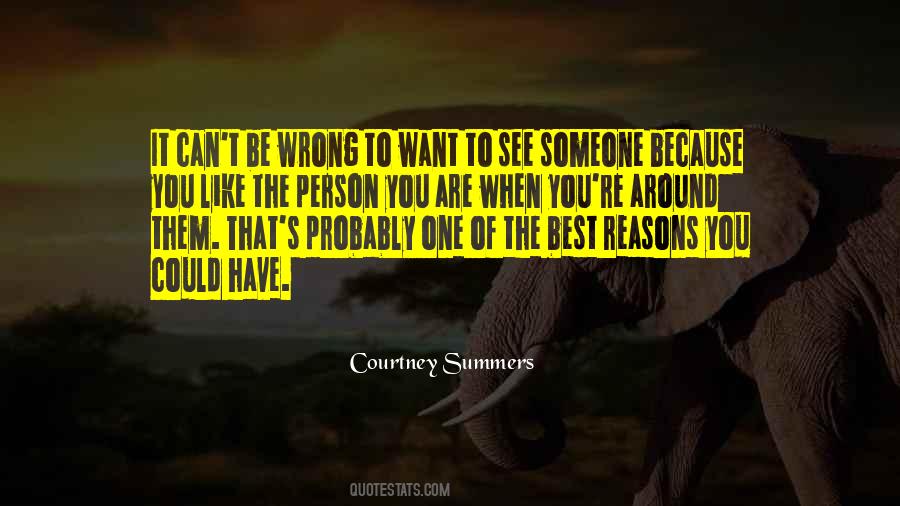 #85. If you want to be the person you ought to be, you've got to welcome competition. - Author: Bob Richards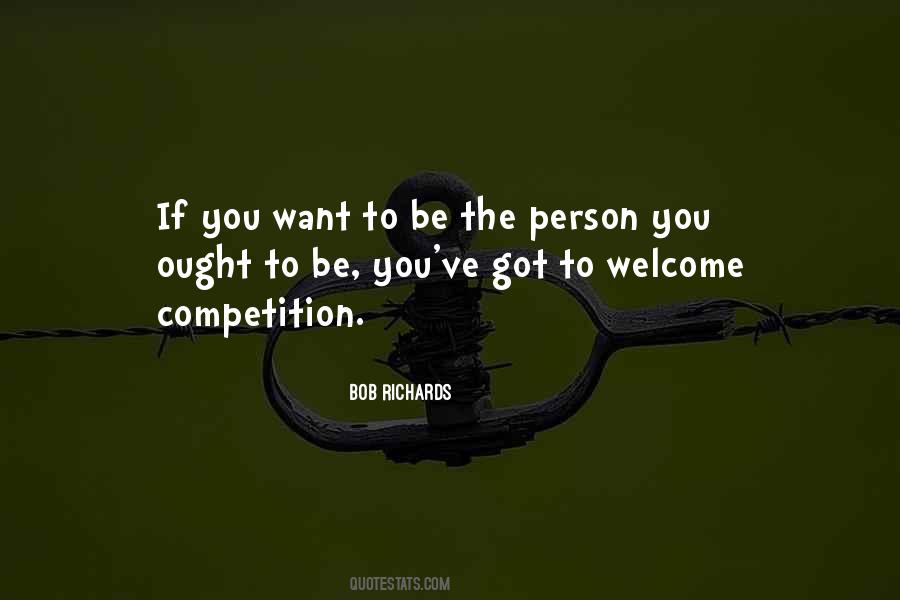 #86. You visualize yourself as the person you want to be. You strive to make the ideal in your mind become a reality on the canvas of Time. - Author: Wilferd Peterson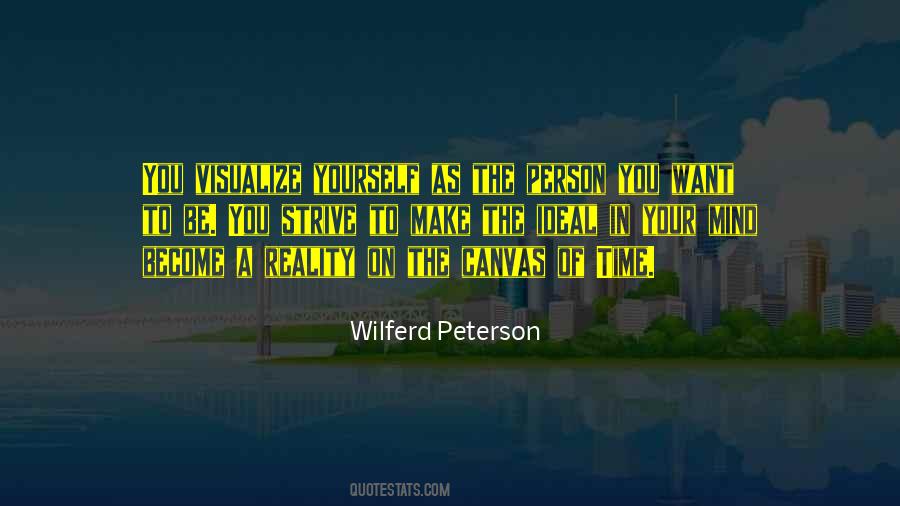 #87. I'm the youngest of five girls, and I don't know about you, but it's really hard to be heard when you have five women. I've always been this loud and over the top as a person because I just want to be heard. - Author: Tamar Braxton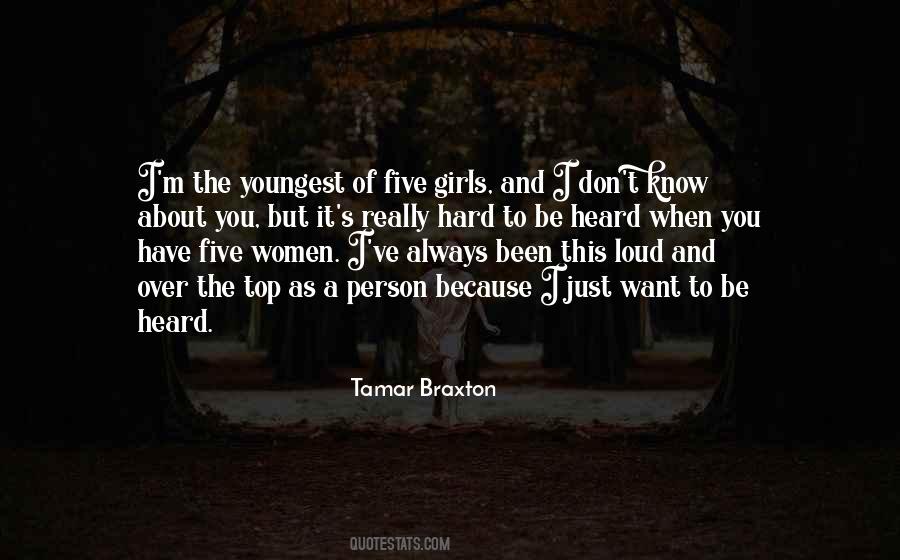 #88. I can't say that I've ever tried to hurt someone or humiliate them intentionally. My parents raised me to always be the bigger person or to treat others the way you want to be treated. - Author: Nicole Anderson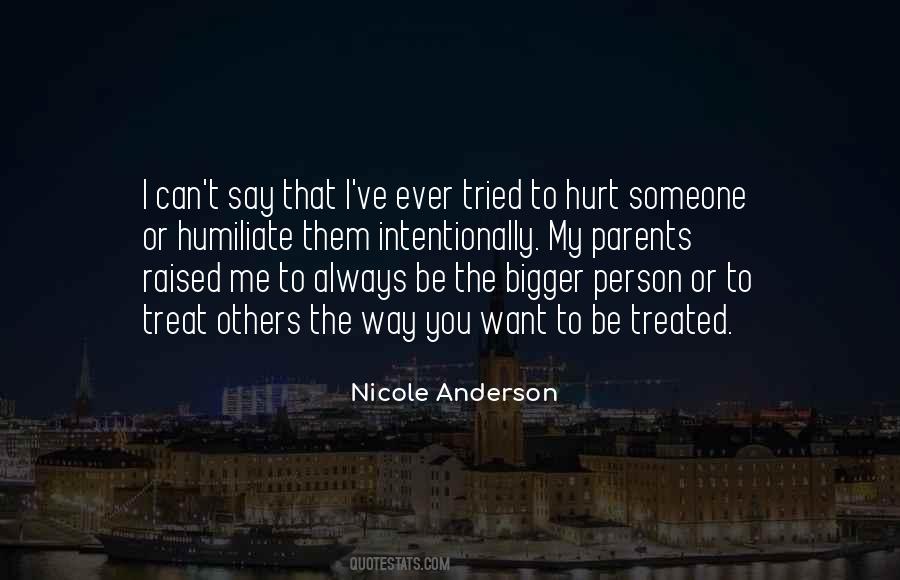 #89. When you leave college, there are thousands of people out there with the same degree you have; when you get a job, there will be thousands of people doing what you want to do for a living. But you are the only person alive who has sole custody of your life. - Author: Anna Quindlen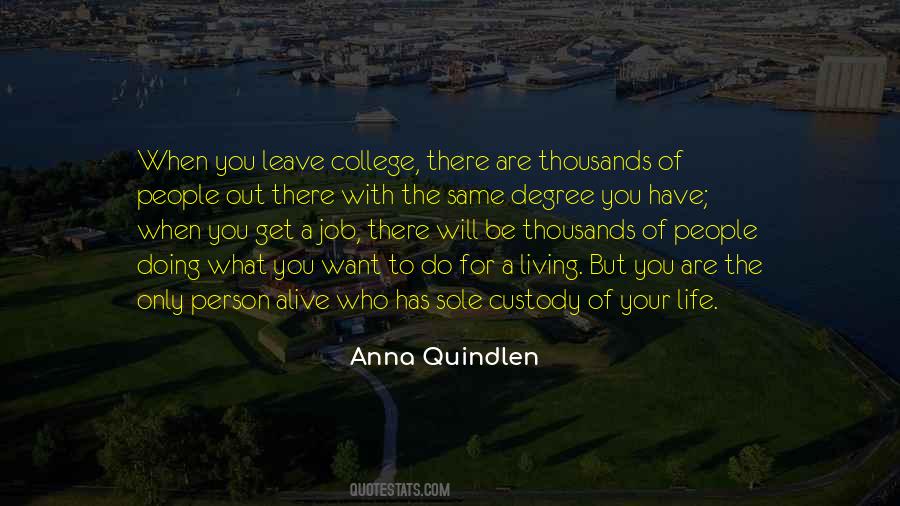 #90. I think when you are young, you are hoping that this person will be the right one. The one you are going to be in love with forever, but sometimes you want that so much, you create something that isn't really there. - Author: Johnny Depp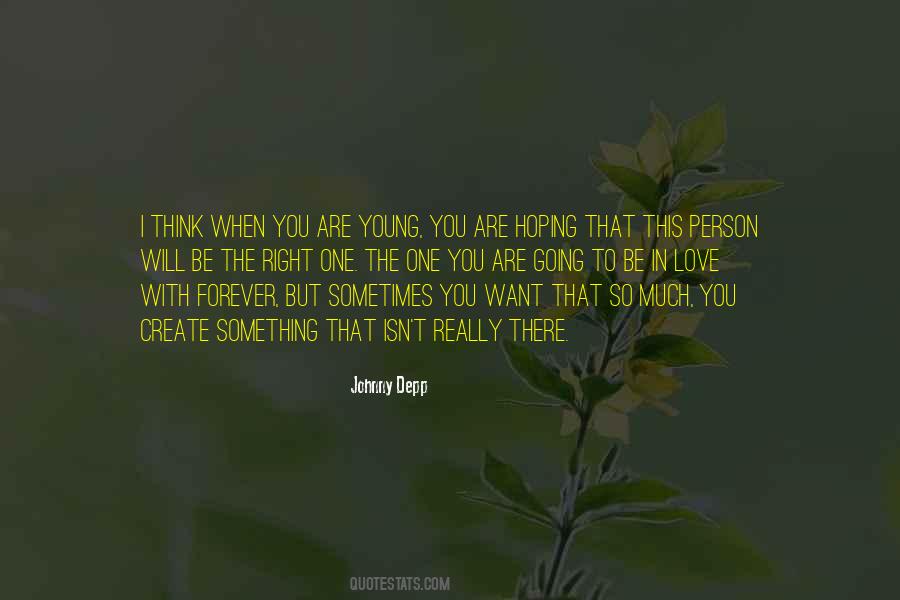 #91. Cassel, she said, you want to know how to be the most charming guy anyone's ever met? Remind them of their favorite person. Everyone's favorite person is their own damn self. - Author: Holly Black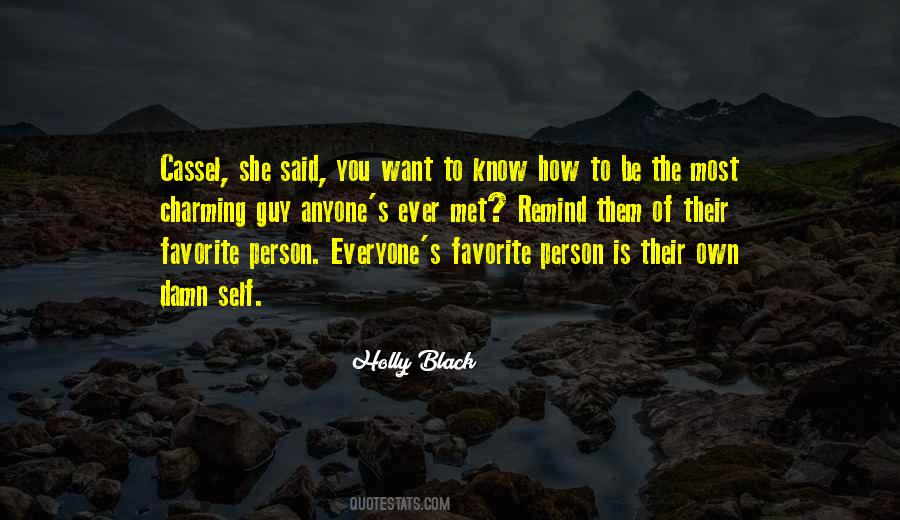 #92. I don't think you can really, truly be the partner you want to be until you know on an absolute level that you are a complete person on your own. - Author: Sophia Bush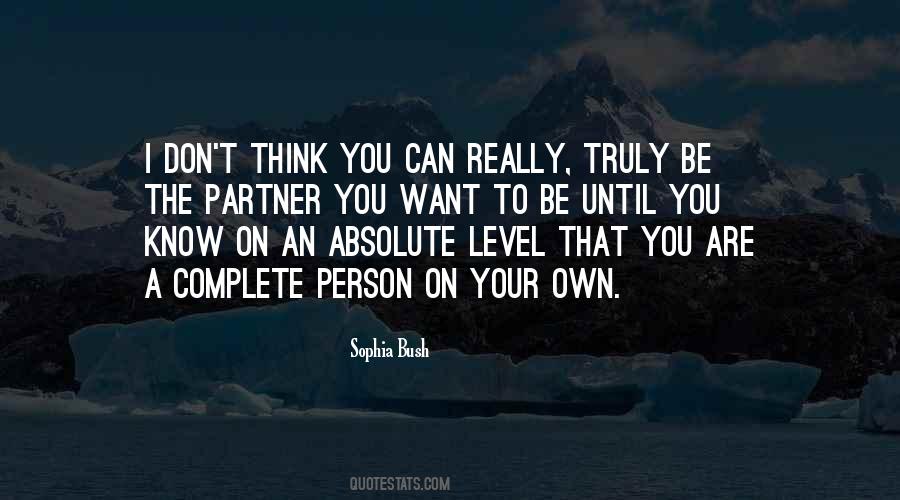 #93. If you want to be a leader, the first person you have to lead is yourself. - Author: Mike Scioscia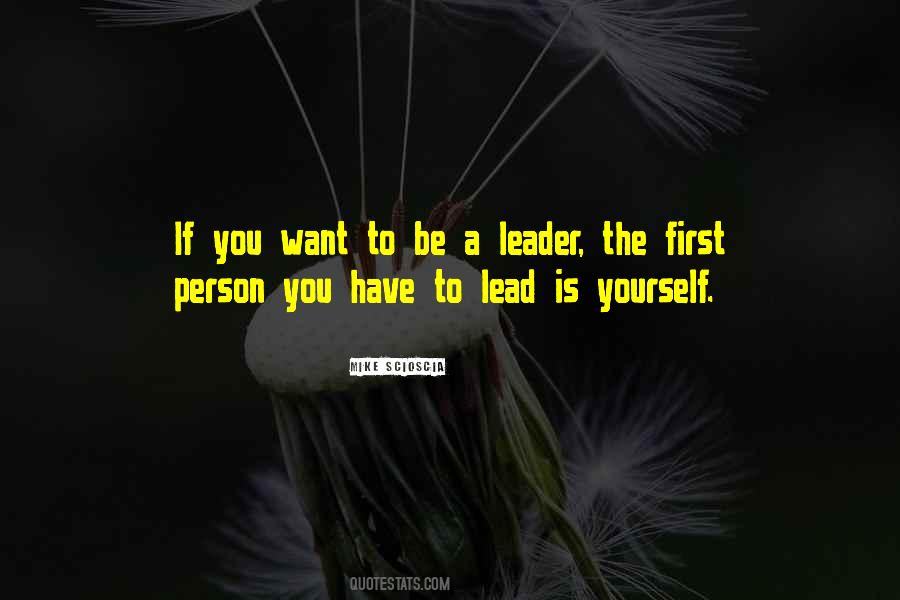 #94. Life is all about transforming yourself from the person you're into the person you want to be". - Author: Abdulazeez Henry Musa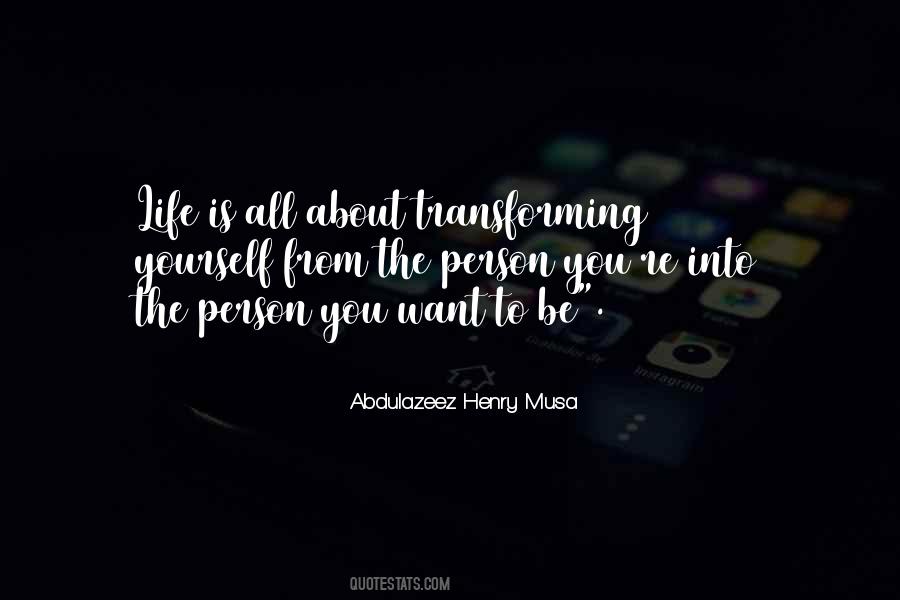 #95. Treat people like you want to be treated; live and let live; and also give the other person a break now and then. - Author: Craig Newmark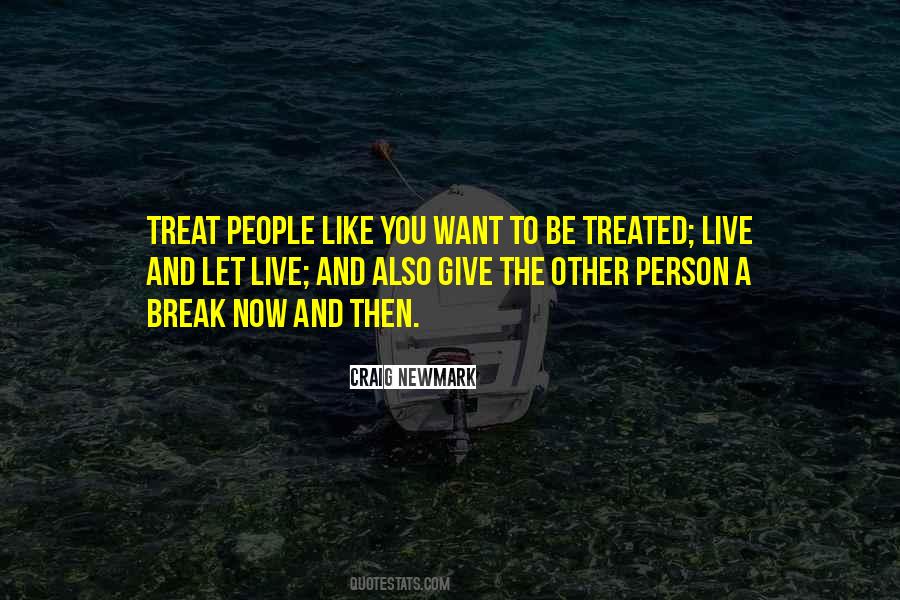 #96. You always draw from yourselves even if you're playing the most crazy type of person. What you really want is to be three-dimensional. - Author: Cote De Pablo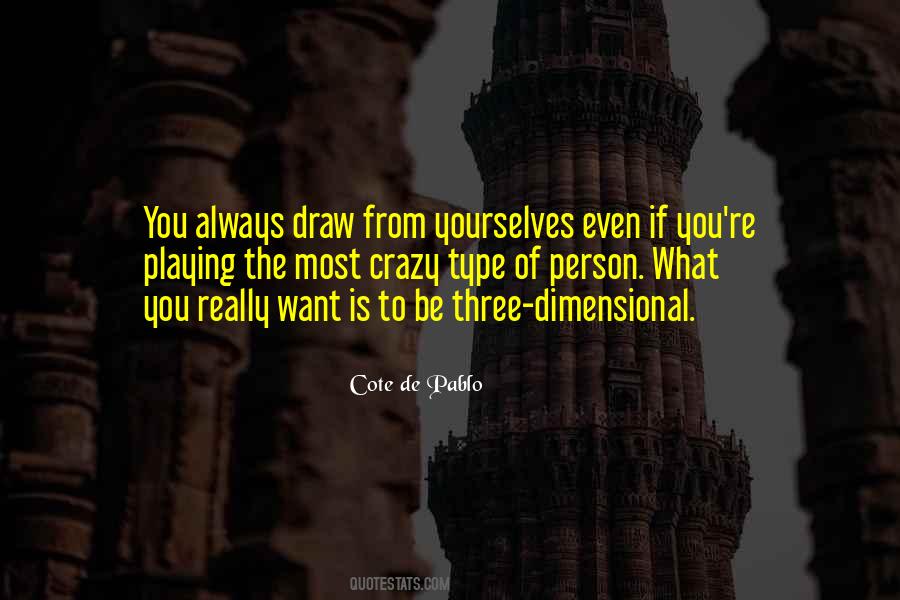 #97. Everyone wants to fix me. My
parents want to fix me. My brother wants
to fix me. My therapists want to fix me.
You're supposed to be the person who
doesn't want to fix me. - Author: Katja Millay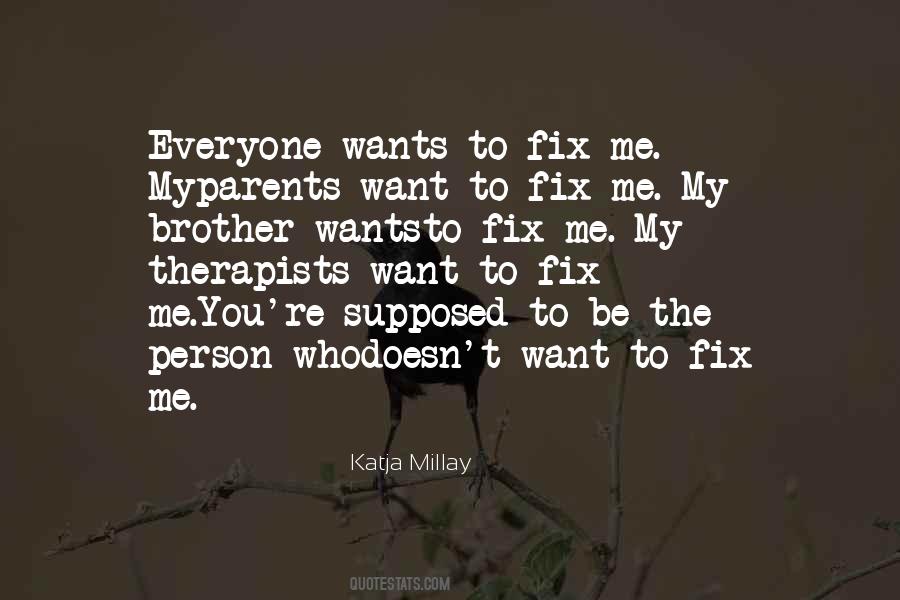 #98. They say there's no second act in American lives. There's something there worth exploring. Giving up an idea of yourself, examining your failure, and seeing if that failure was the system's or yours. What does it mean to not turn out to be the person you want to be? - Author: Scott Rudin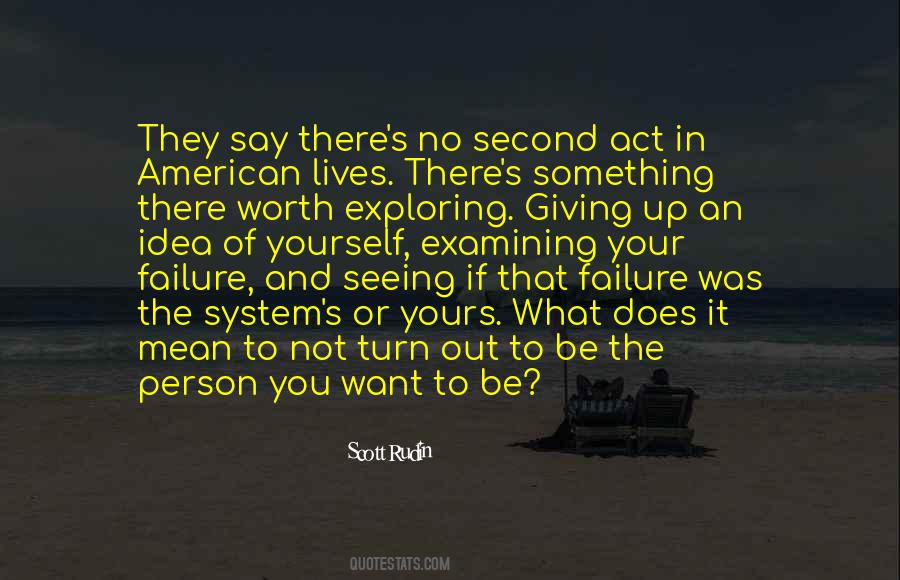 #99. I'm already more famous than I want to be. And yet at the same time, fame feeds your potential as a creative person. You're in a vacuum if you don't have a certain amount of fame. - Author: B. D. Wong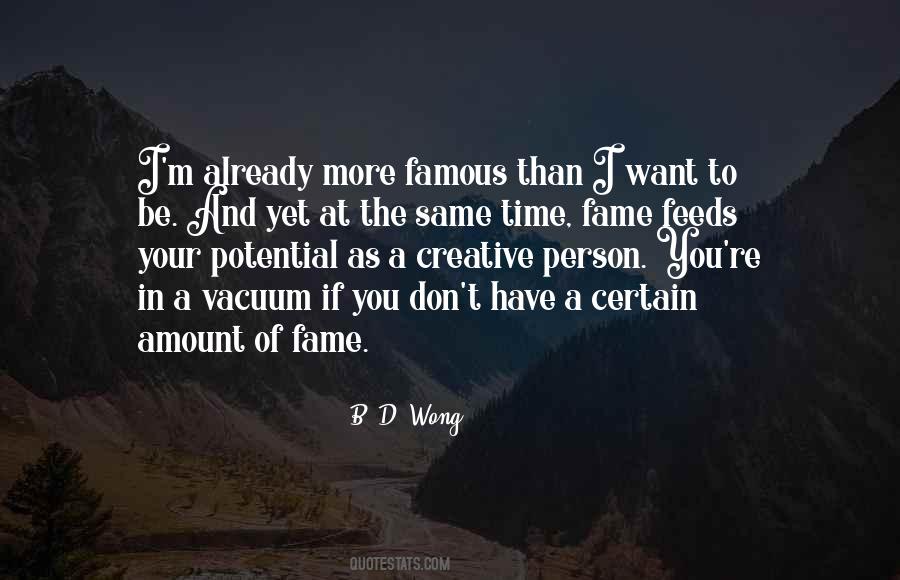 #100. If you want to pay me back one day, that's up to you. I'm not asking for it, and I never will. The best way you can pay me back is by becoming the person you want to be. - Author: C.R. Strahan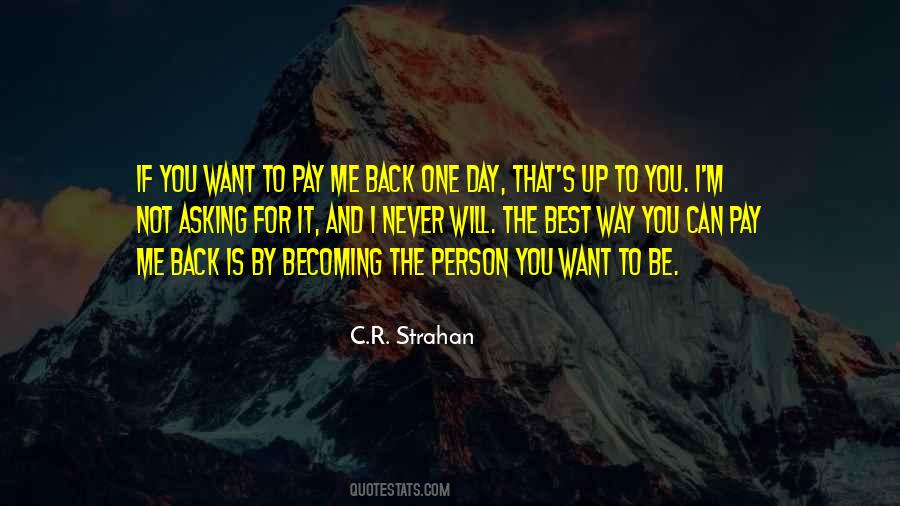 Famous Authors
Popular Topics