The Military Service Famous Quotes & Sayings
List of top 81 famous quotes and sayings about the military service to read and share with friends on your Facebook, Twitter, blogs.
Top 81 Quotes About The Military Service
#1. Because of my own family's service (in the U.S. Army, Navy, and Massachusetts and New York National Guard), I am a strong supporter of the military and do believe that there are just wars. - Author: Camille Paglia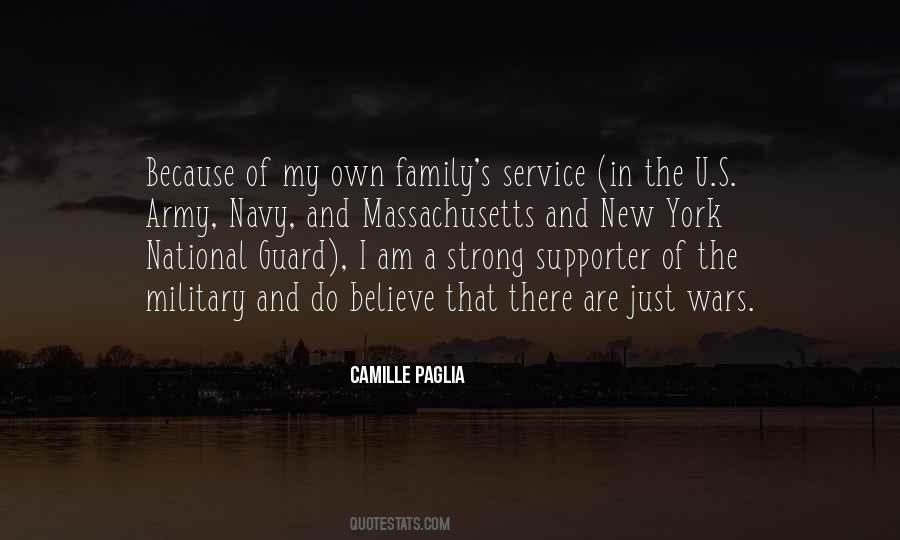 #2. Whoring is like military service ... okay in the upper brackets, not so good lower down. - Author: Robert A. Heinlein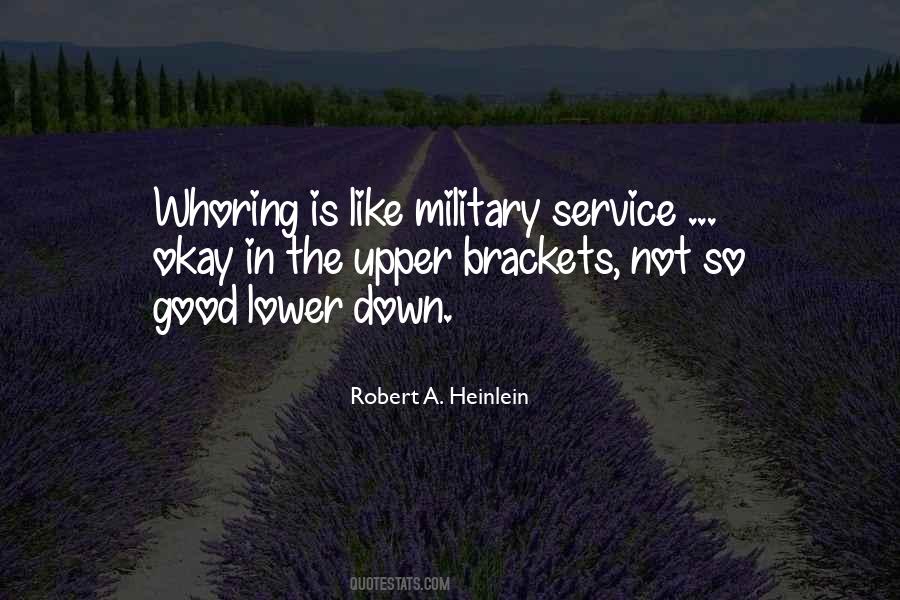 #3. Landowners and influential men of all kinds, especially members of political councils, ought to set an example to the people. The young members of rich families should offer themselves for military service. If not one of two sons, at least one of three sons should be ready to do so. - Author: Chiang Kai-shek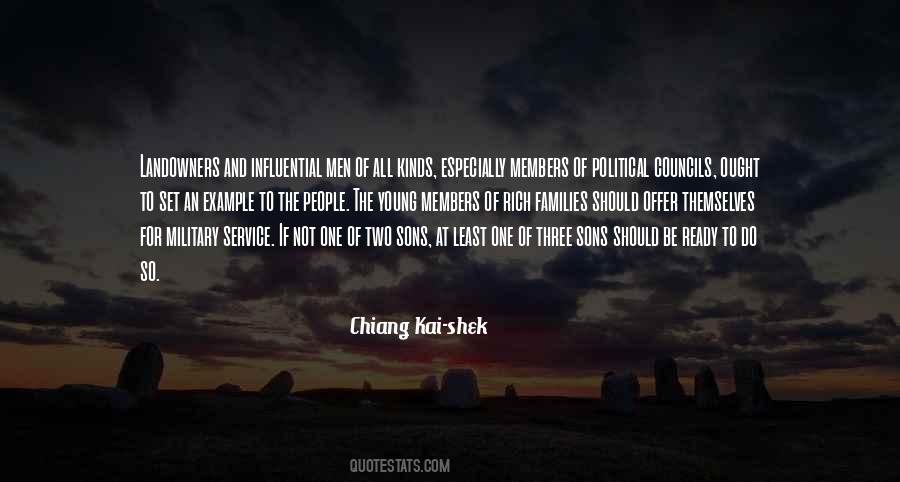 #4. Anyone graduating from medical school in 1966 had first to fulfill military service before launching a career. Fiercely opposed to the Vietnam War, I sought to avoid it through an assignment to the Public Health Service. - Author: Harold E. Varmus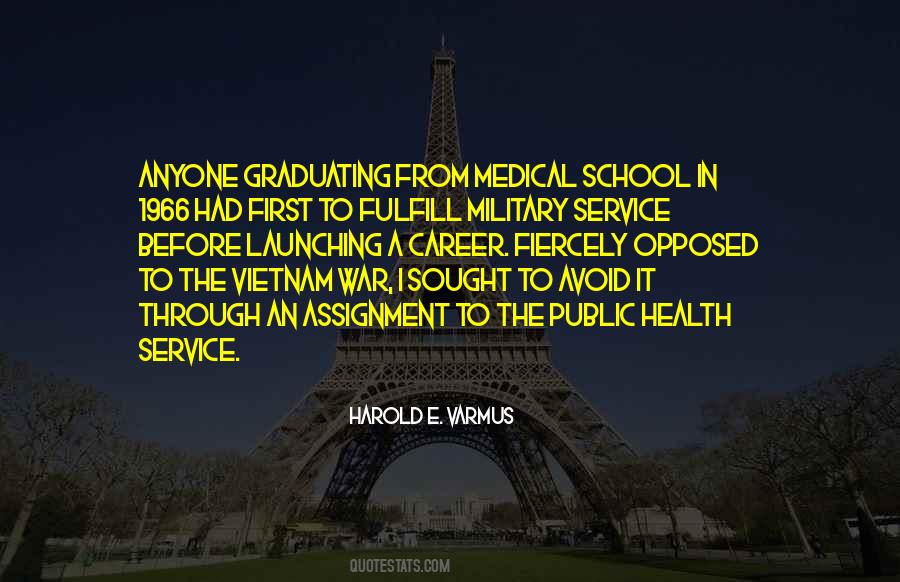 #5. I spent thirty-three years and four months in active military service as a member of this country's most agile military force, the Marine Corps. I served in all commissioned ranks from Second Lieutenant to Major-General. - Author: Smedley Butler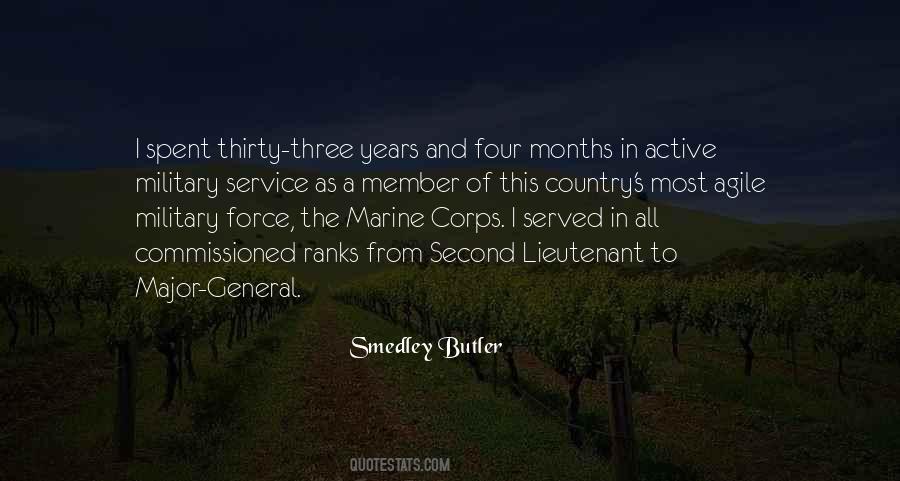 #6. The chief attraction of military service has consisted and will consist in this compulsory and irreproachable idleness. - Author: Leo Tolstoy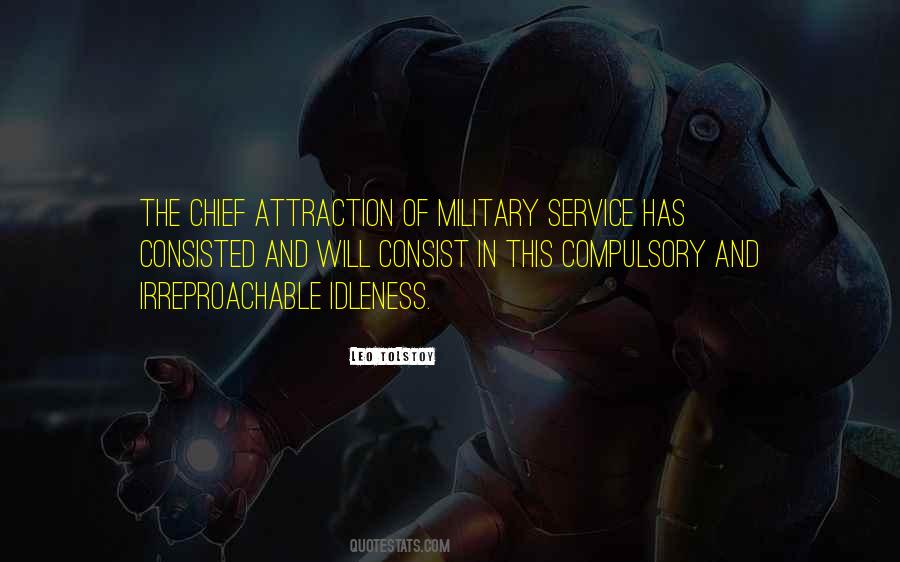 #7. Integrity is the fundamental premise for military service in a free society. Without integrity, the moral pillars of our military strength, public trust, and self-respect are lost. - Author: Charles A. Gabriel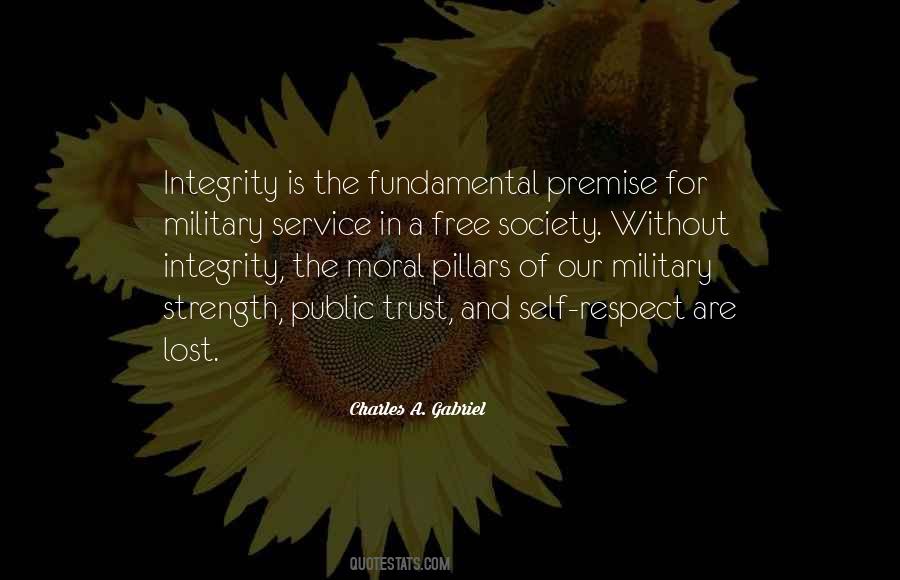 #8. People think of the military as being about guns and fighting wars, but it's really about service to country and community. - Author: Austin Stowell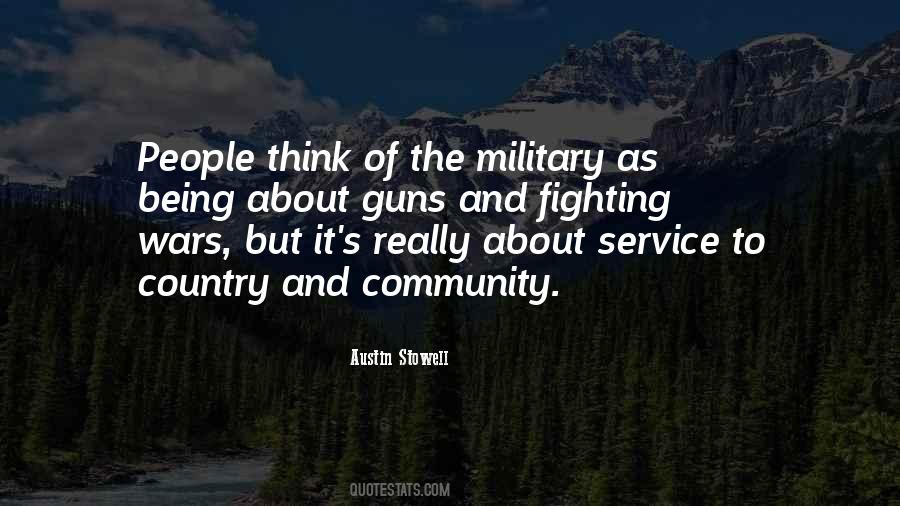 #9. In relation to the immense sacrifices that the state demands of the individual through the blood tax, it seems rather incidental whether it compensates the soldier more or less abundantly for the loss of time that he suffers from his military-service obligation. - Author: Ludwig Von Mises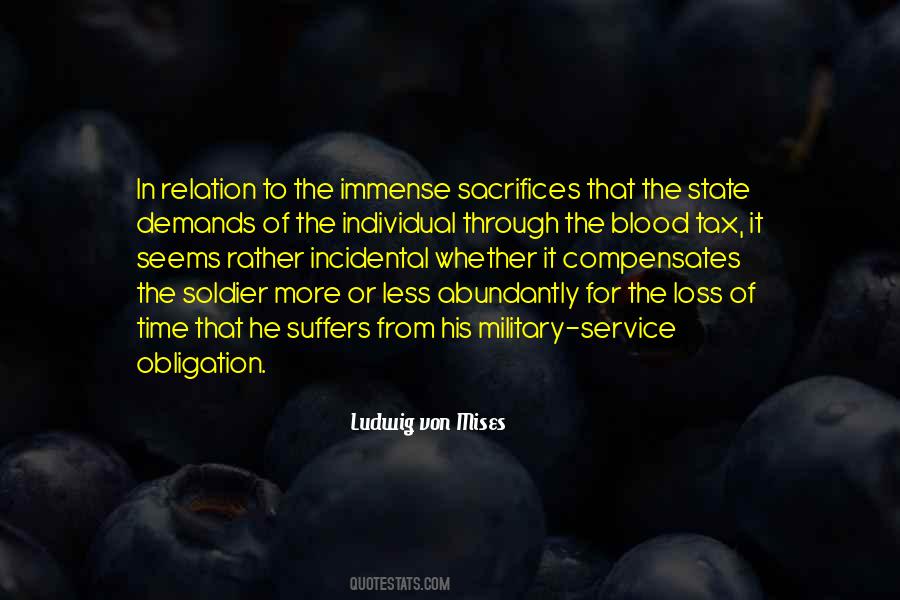 #10. Well, in the first place, military service, they don't call it service for nothing. You are actually serving your country. And it is a worthy and valid vocation. - Author: Rick Warren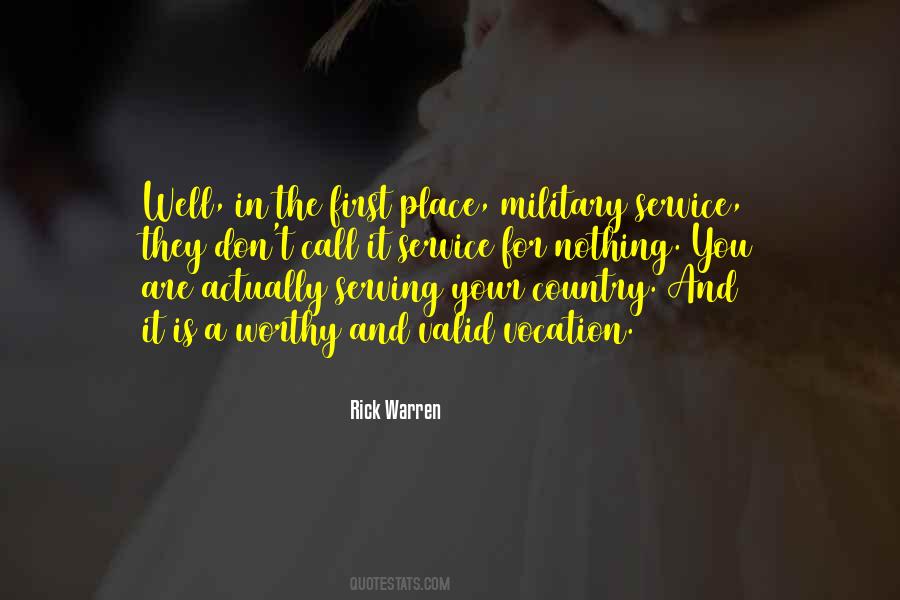 #11. Post-military service can be a period of anxiety and uncertainty. So many men and women return and ask themselves: what now? The Labor Department is here to help answer that question with an array of programs designed to clear pathways into the middle class. - Author: Thomas Perez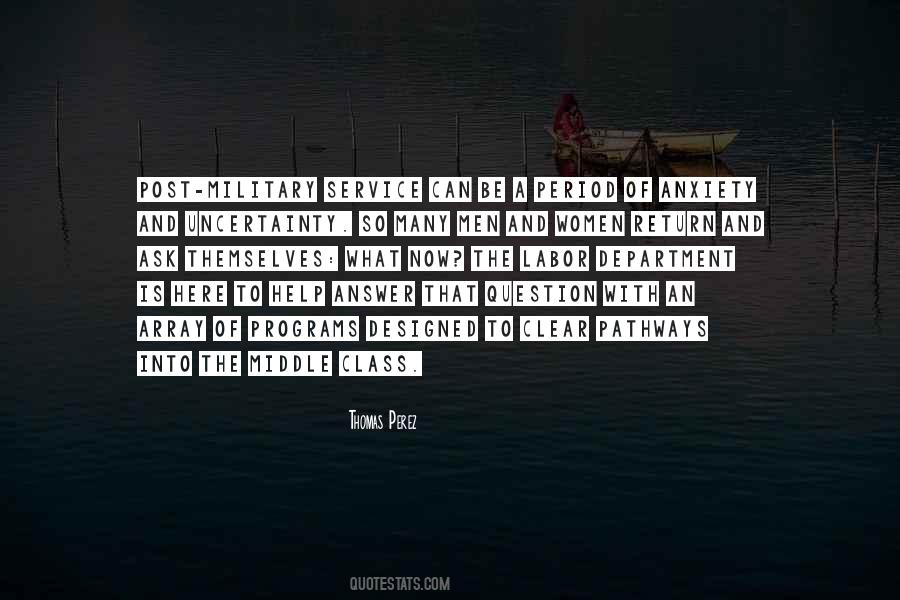 #12. By requiring all 30 million Americans age 18 to 25 to perform two years of national service, in the military or civilian life, we will be asking for a shared sacrifice from all American citizens. - Author: Charles B. Rangel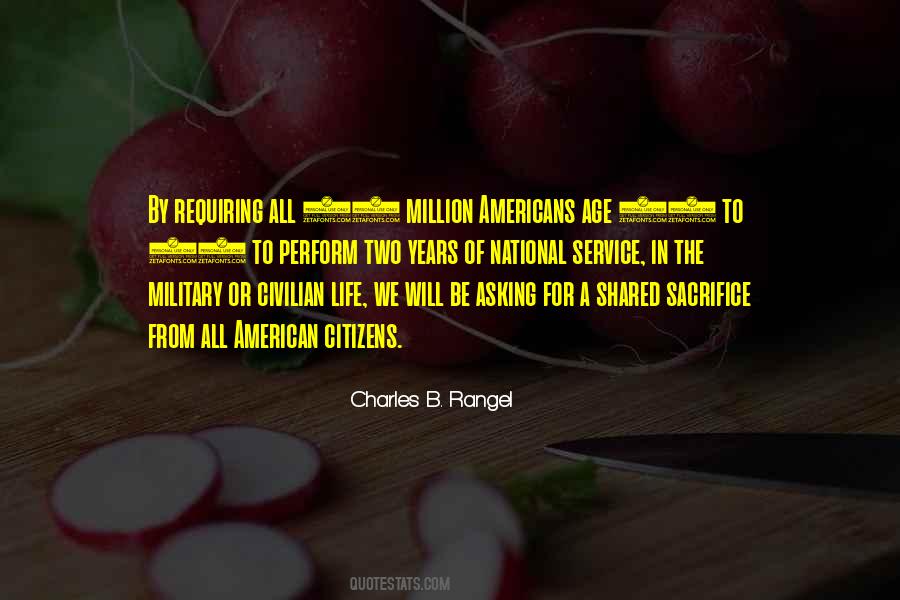 #13. Enforced Christianity was the surest breeding ground for unbelief. Many men either became unbelievers or met unbelievers during their military service. - Author: Bill Cooke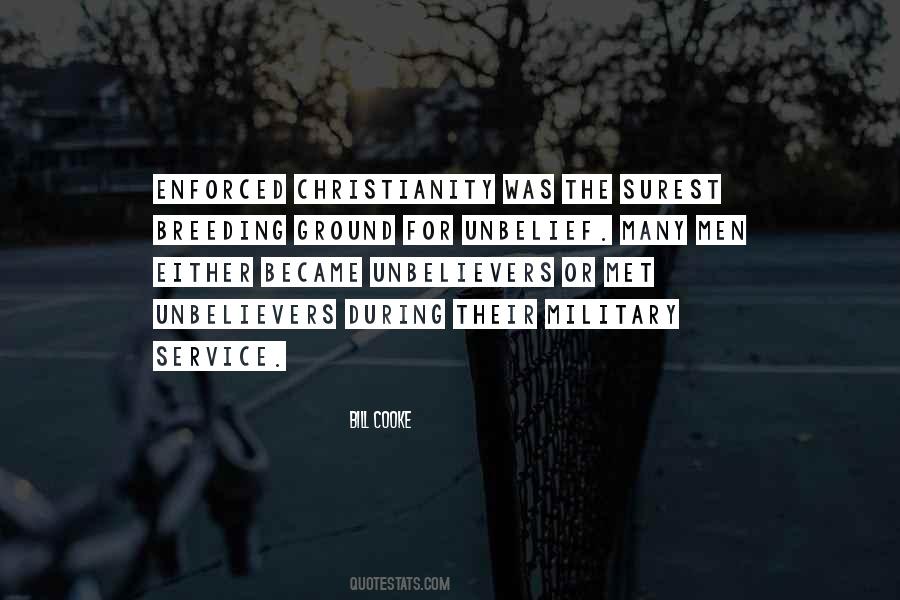 #14. One-year enlistment had proven problematic since the troops were scheduled to rotate out of the army just when they had begun to internalize the discipline of military service and became reliable soldiers. - Author: Joseph J. Ellis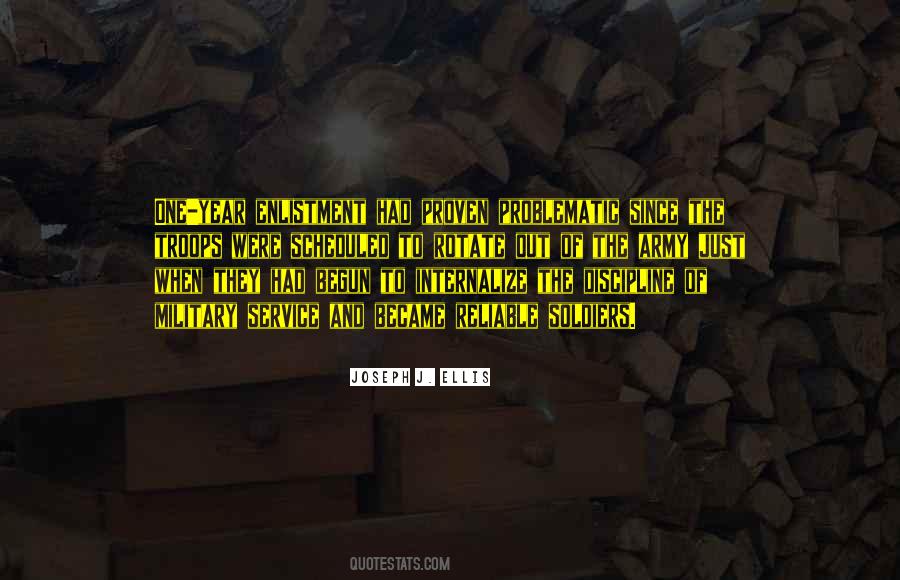 #15. Public schools are not simply being corporatized, they are also subjected increasingly to a militarizing logic that disciplines the bodies of young people, especially low income and poor minorities, and shapes their desires and identities in the service of military values and social relations. - Author: Henry Giroux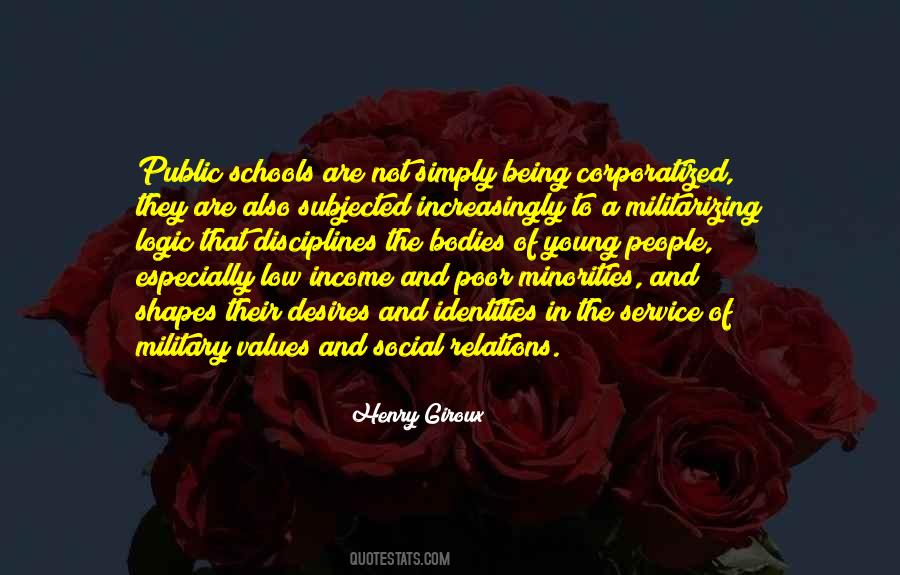 #16. The mail service has been excellent out here, and in my opinion this is all that the Air Force has accomplished during the war. - Author: Chesty Puller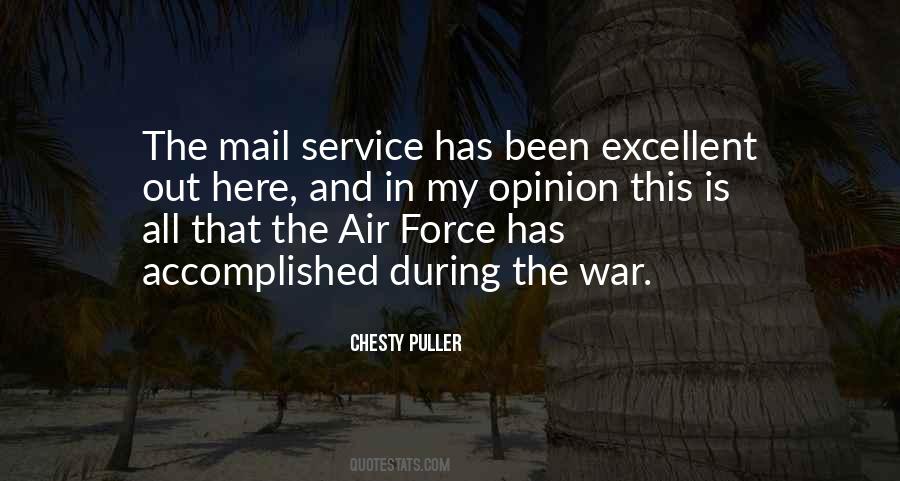 #17. The Secret Service is a strange group. They don't really have a leader. It's not set up like a military. Each one is supposed to be able to act like a leader when something comes up. - Author: Val Kilmer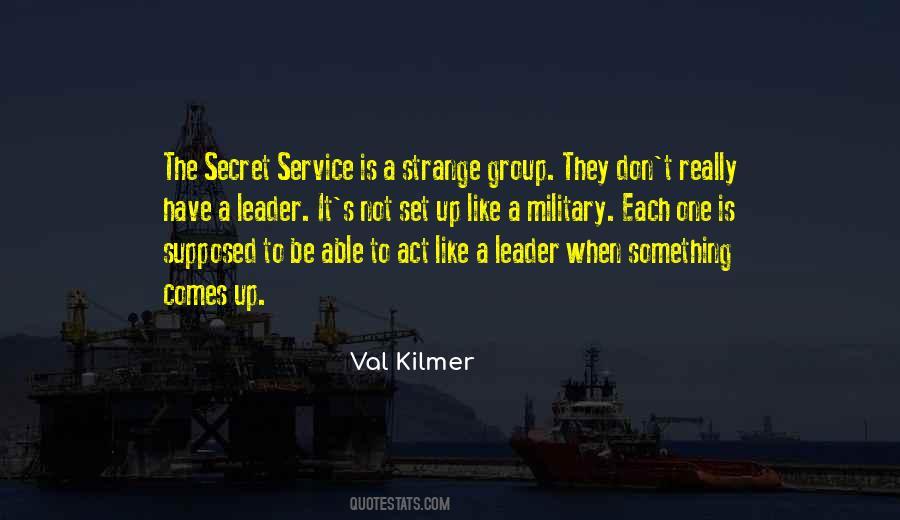 #18. The kids of those that came here illegally, those kids, I think, should have a pathway to become a permanent resident of the United States and military service, for instance, is one way they would have that kind of pathway to become a permanent resident. - Author: Mitt Romney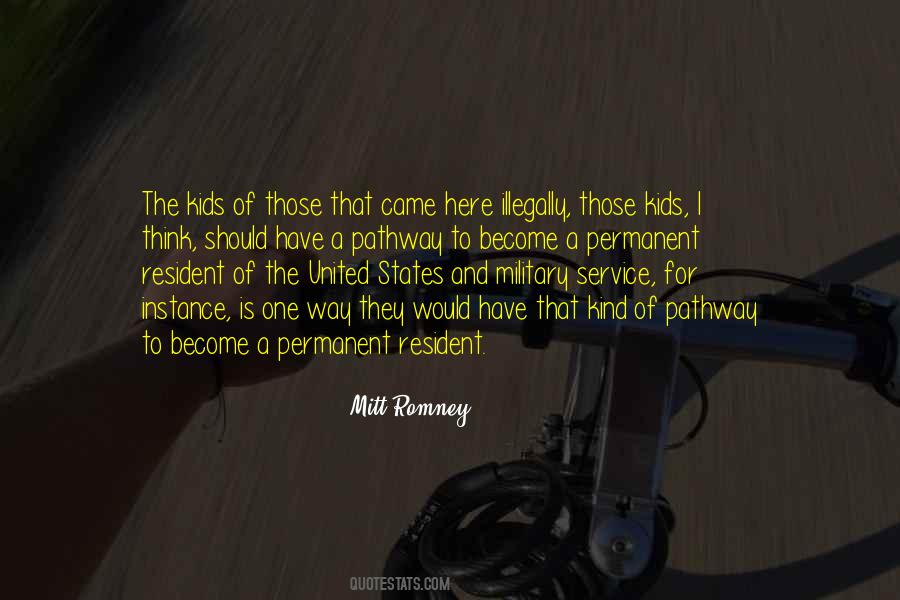 #19. My brother Joseph, who is 14 years older than me, was already on his national military compulsory service when I was 4 years old, the age from which I remember myself. - Author: Aaron Ciechanover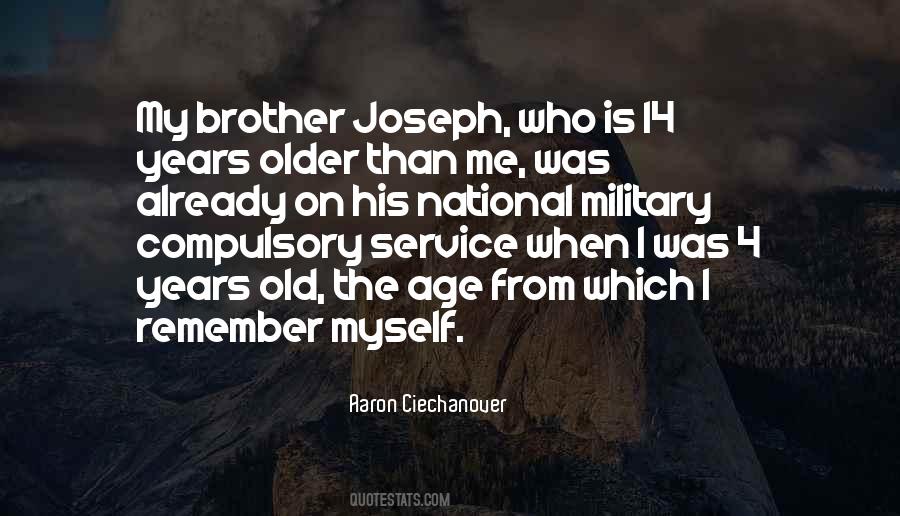 #20. Also in the new constitution, we want to lower the voting age from 20 years to 18 years and also gradually implement a voluntary military service in replacement of the current compulsory military service. - Author: Chen Shui-bian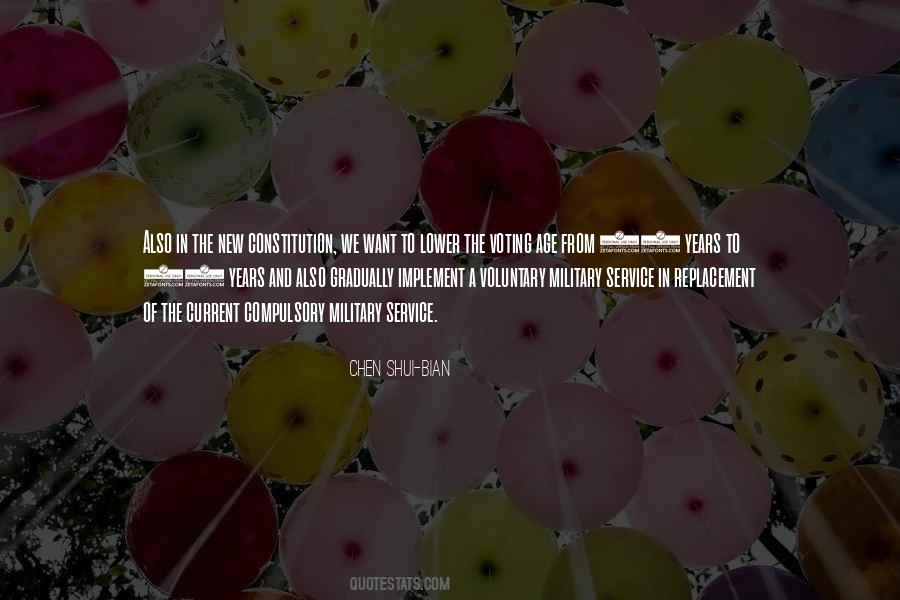 #21. Our military service members put their lives on the line to protect the rights and freedoms of all Americans - yet many still face substantial roadblocks as they attempt to cast their ballots ... This legislation begins to right this national disgrace. - Author: John Cornyn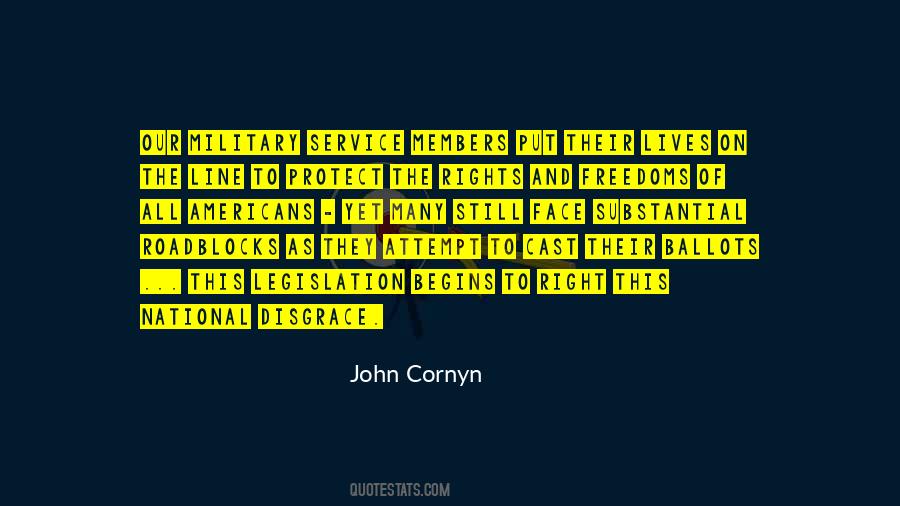 #22. I'm fascinated by how much has changed from one generation to another. There are young people growing up now for whom apartheid is just a distant memory and the idea of military service is an abstract notion. - Author: Damon Galgut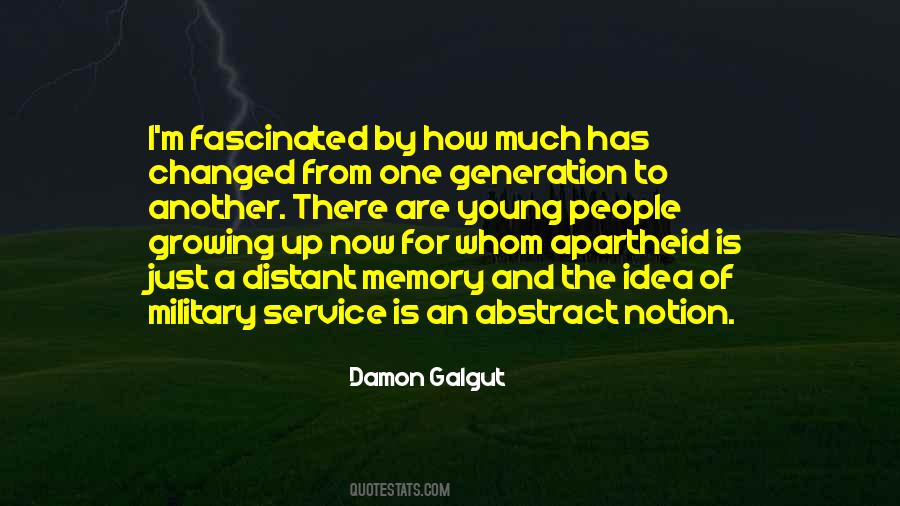 #23. As nearly two dozen Secret Service agents and members of the military were punished or fired following a 2012 prostitution scandal in Colombia, Obama administration officials repeatedly denied that anyone from the White House was involved. - Author: Carol D. Leonnig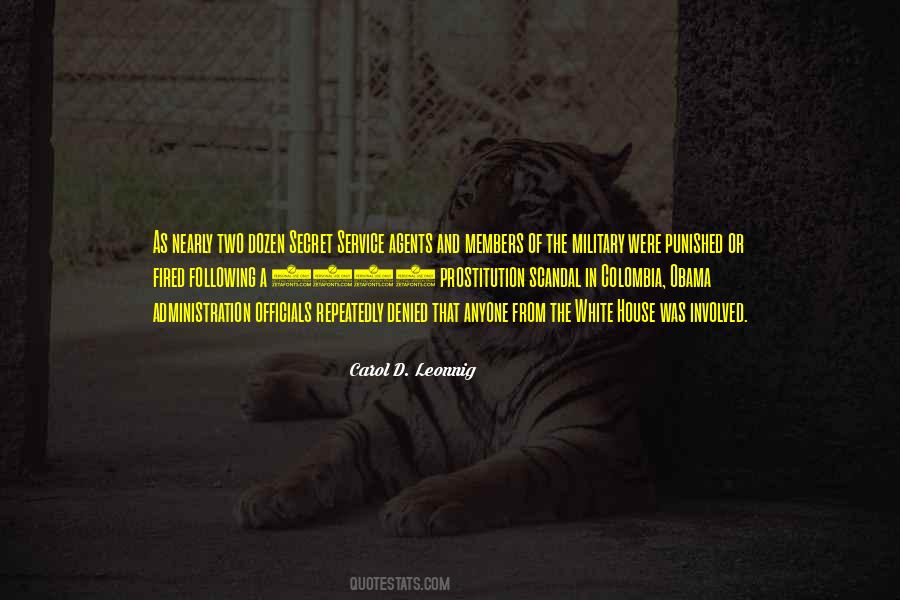 #24. Although I considered putting my eight years of Boy Scout experience and love for our nation to the test by joining the military, I did not want to put myself in a position where I might be commanded to take the life of another, and quickly ended my flirtation with military service. - Author: Ashton Kutcher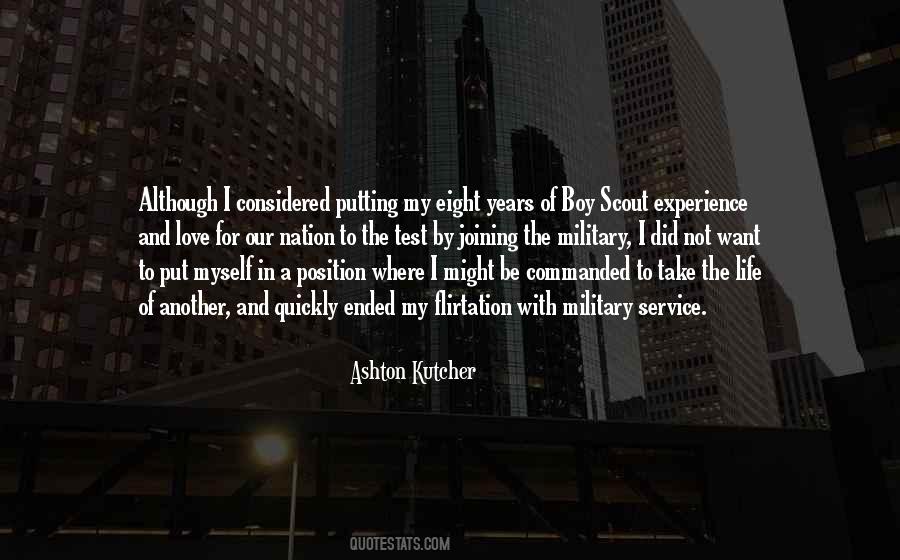 #25. The only use for military service is that it reveals the number of morons in the population," he would remark. "And that can be discovered in the first two weeks; there's no need for two years. Army, Marriage, the Church and Banking: the Four Horsemen of the Apocalypse. Yes, go on, laugh. - Author: Carlos Ruiz Zafon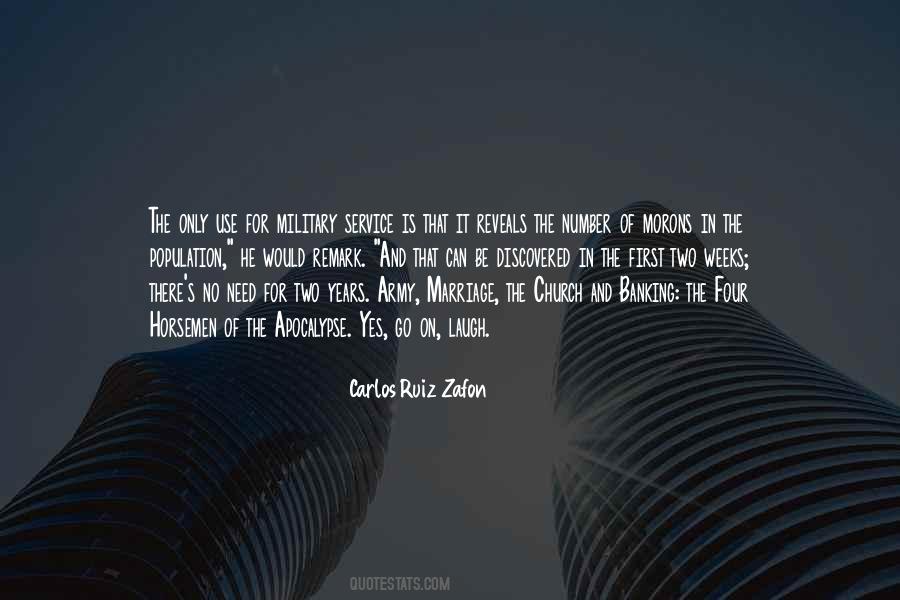 #26. In the classic outline of a failed coup, the plotters had sought to oust the president without first securing the support of the military and the civil service, and without seizing the headquarters of the state broadcaster. - Author: Tim Shipman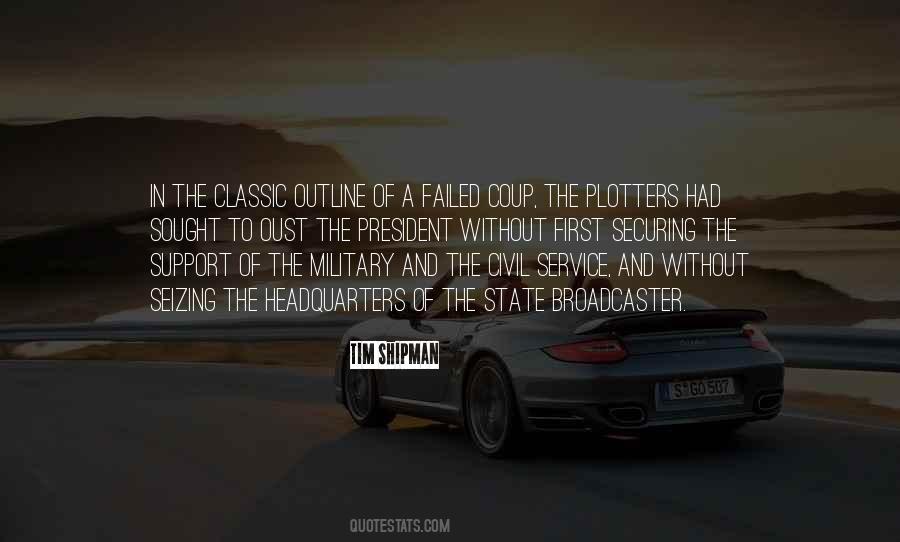 #27. Just draw on your grit; it's so easy to quit -
It's the keeping your chin up that's hard. - Author: Robert W. Service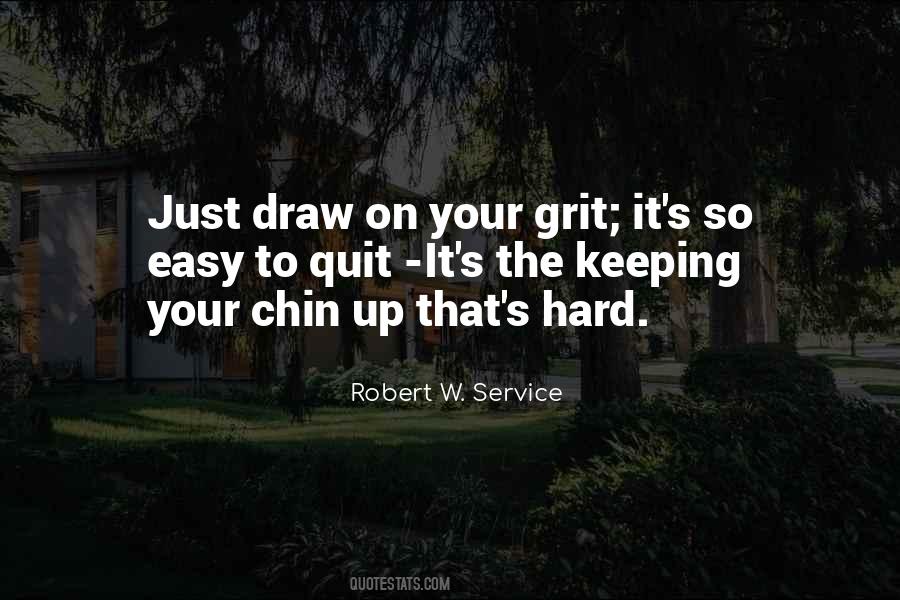 #28. As I approached my 18th birthday and prepared to enter military service in World War II, I was recommended to receive the Melchizedek Priesthood. - Author: Thomas S. Monson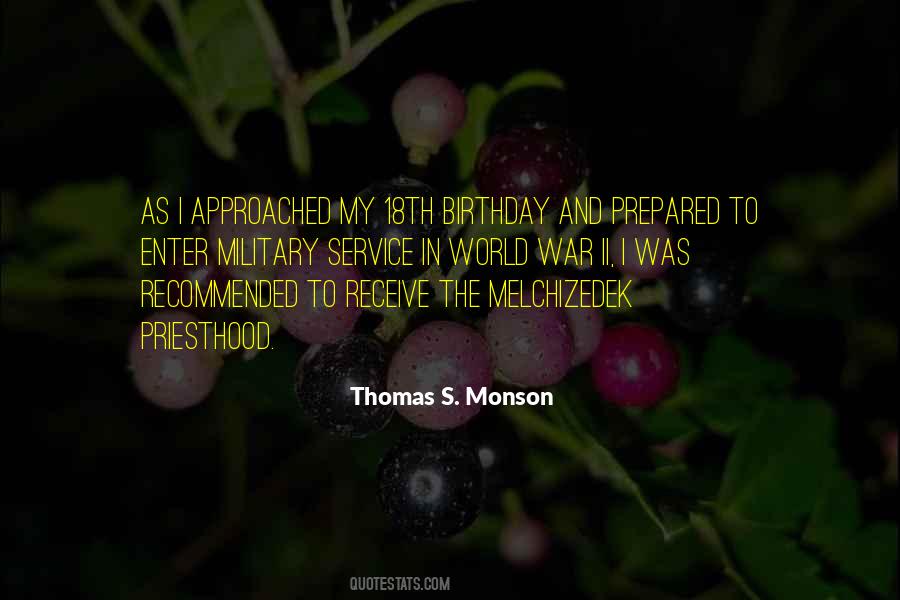 #29. The artist and writer Mervyn Peake, invalided out of military service, joined the Design, Poster and Visualising Group of the Ministry of Information in 1942. - Author: Laura Brandon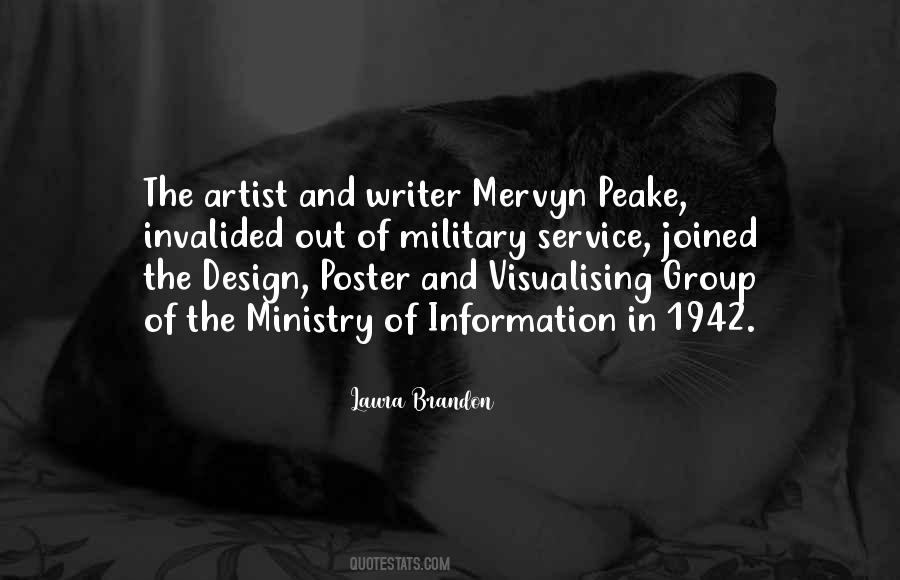 #30. The one thing I never want to see again is a military parade. When I resigned from the army and went to a farm I was happy. When the rebellion came, I returned to the service because it was a duty. I had no thought of rank; all I did was try and make. - Author: Ulysses S. Grant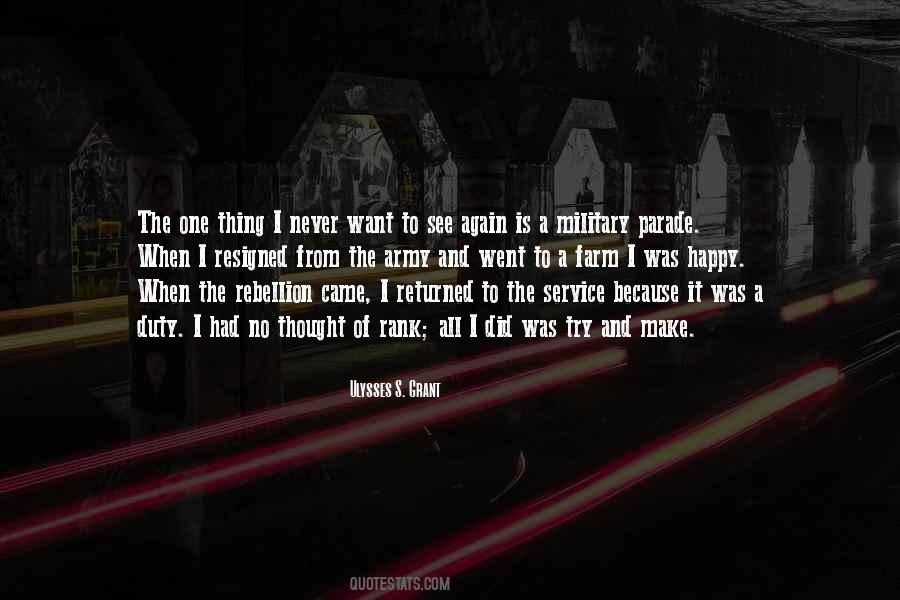 #31. I miss it: the smell of sand, sweat, and gunpowder, rings of salt from dried sweat on my pants' legs, and around my waist just under where my armor sits. - Author: Adam Fenner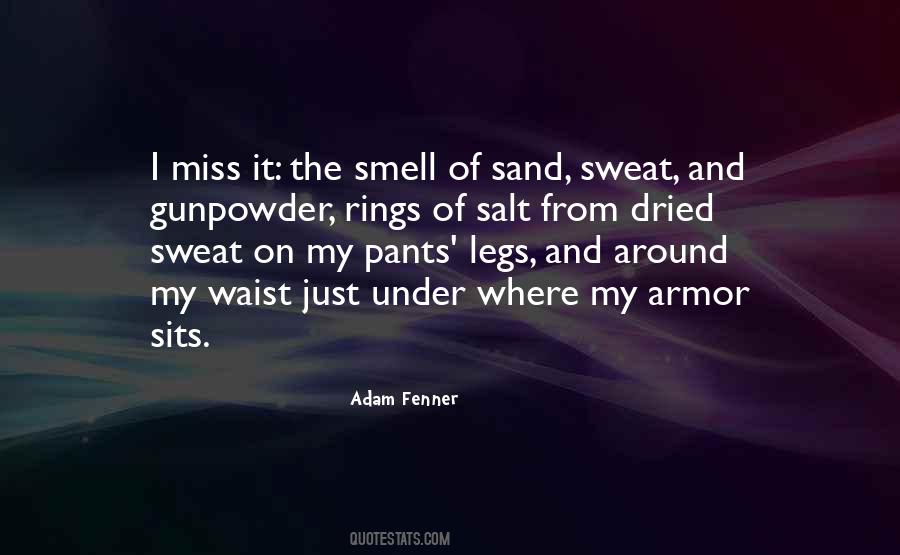 #32. To expect ... the same service from raw and undisciplined recruits, as from veteran soldiers, is to expect what never did and perhaps never will happen. Men, who are familiarized to danger, meet it without shrinking; whereas troops unused to service often apprehend danger where no danger is. - Author: George Washington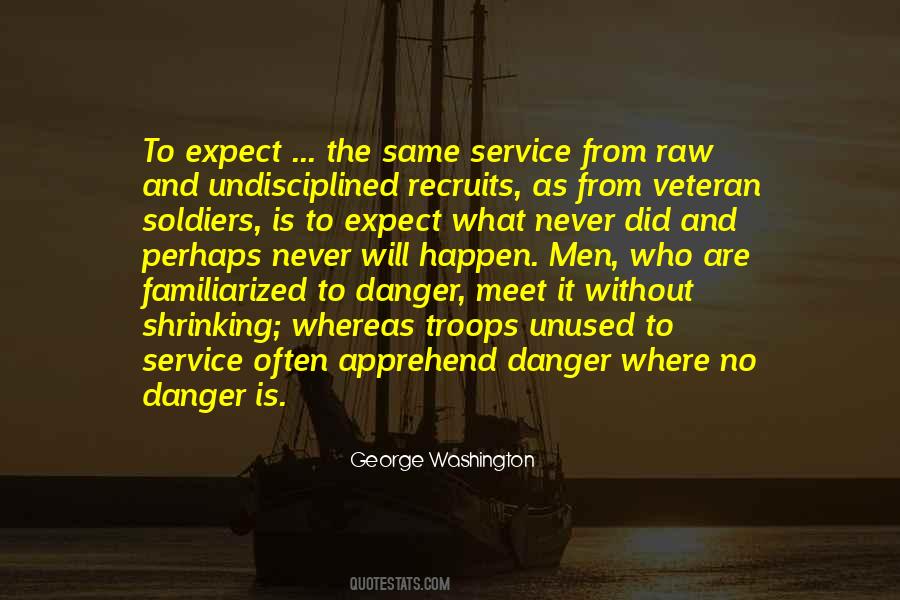 #33. In 1916 I was discharged from military service, or rather, given a sort of leave of absence on the understanding that I might be recalled within a few months. And so I was a free man, at least for a while. - Author: George Grosz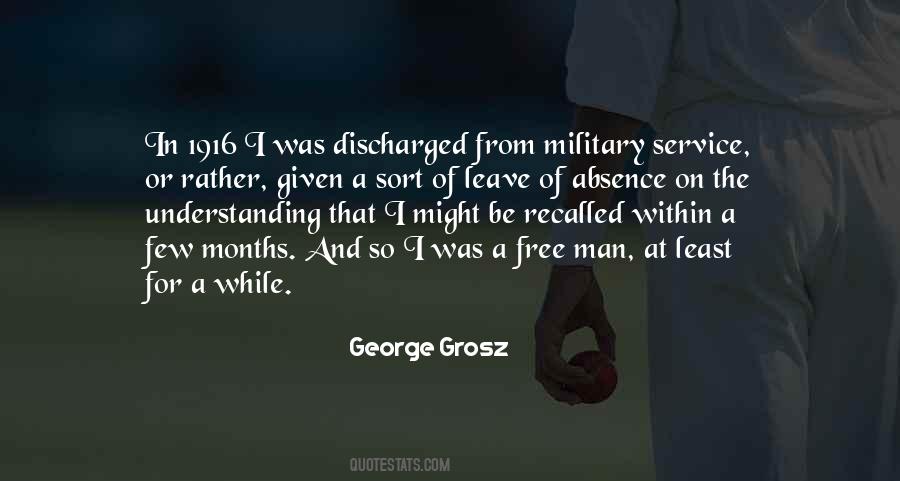 #34. The pioneers of a warless world are the youth that refuse military service. - Author: Albert Einstein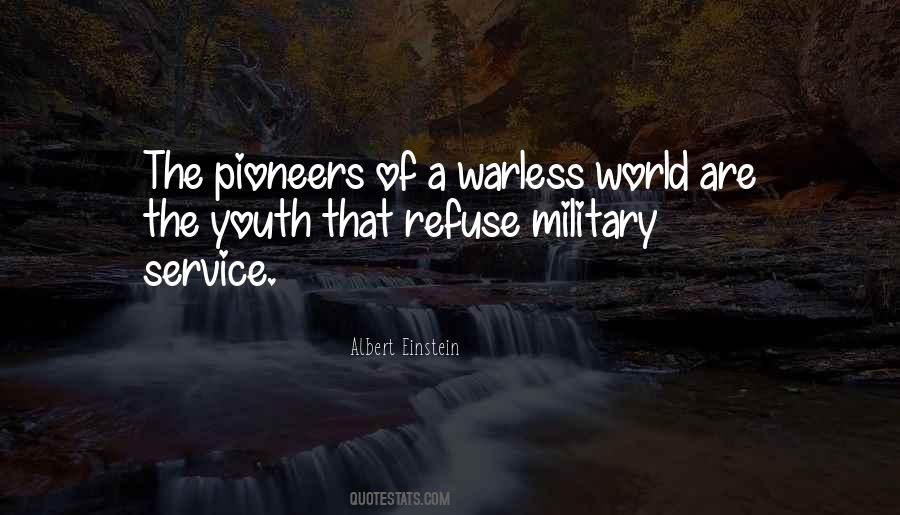 #35. I got my service dog when I was medically retired out of the military, and it was the best thing that ever happened to me. I wish every medically retired serviceman could have a service dog. He's amazing. He's my best bud. I go everywhere and anywhere with him. - Author: Marcus Luttrell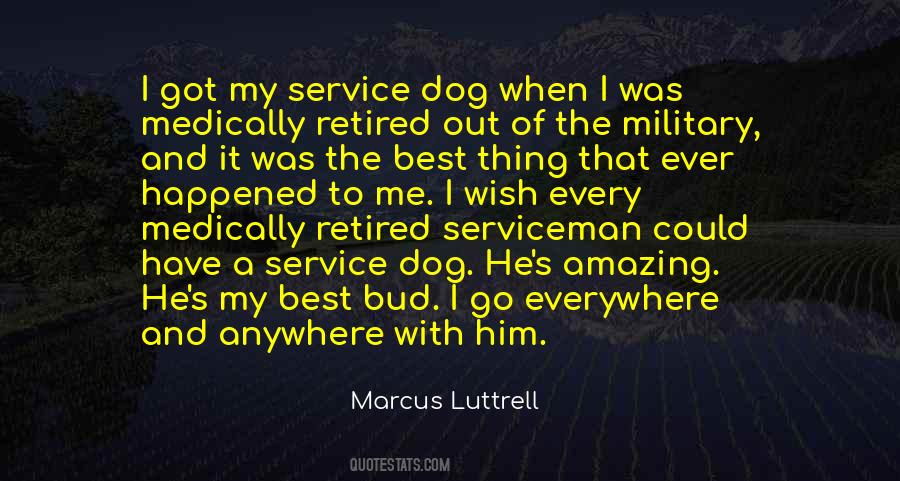 #36. As for the military or service professionals, I have nothing but respect for them, but come on, when it comes to romance novels, we all know it's really about the uniforms and how the guys look in them! - Author: Jill Shalvis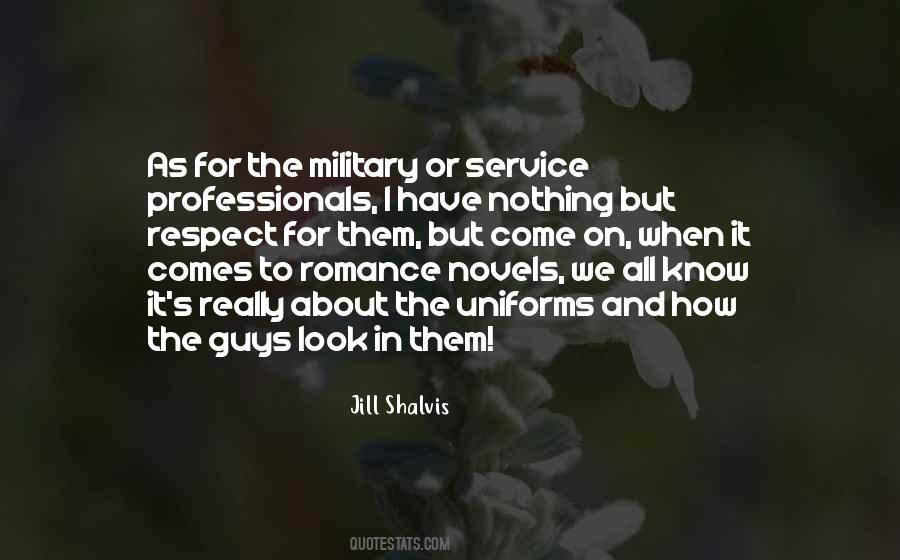 #37. Many well-intentioned Americans cannot even find a thread of conversation when discussing military service with a veteran other than asking about PTSD or sexual harassment in the case of female vets. - Author: Jim Mattis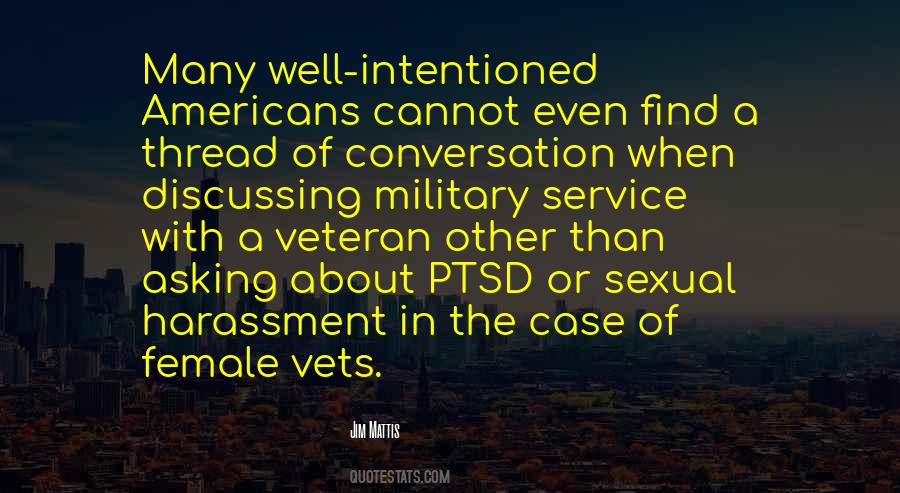 #38. The more furious he became at the perverse machinery of the military, the more his belt buckle gleamed, as if to prove that it wasn't he who was unfit for the service but the service that was unfit for him. When - Author: Ayelet Waldman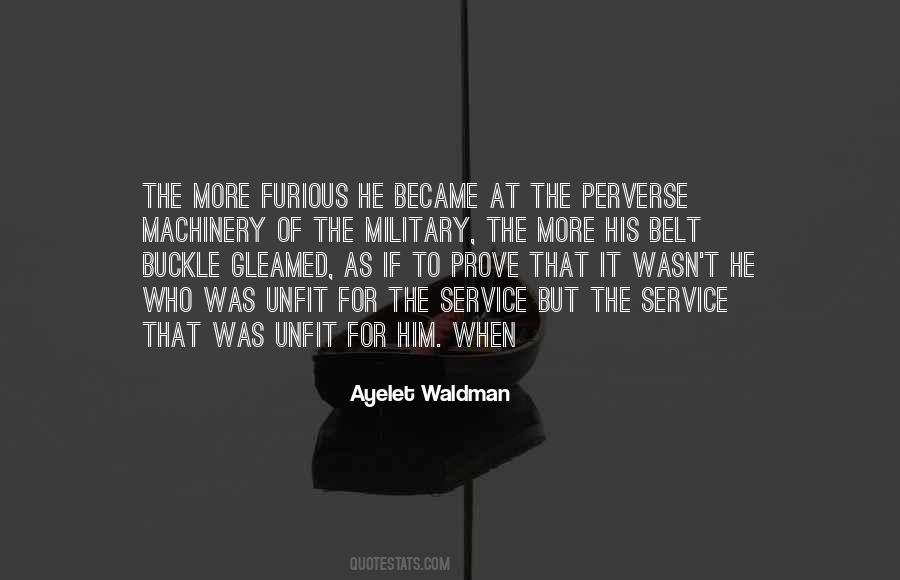 #39. Then when I went to Iraq and saw the strength and character the men and women in our military service exhibit every day and their belief in what they're doing, I knew I wanted to get that on film and share it with everyone. They are my inspiration. - Author: Joe Nichols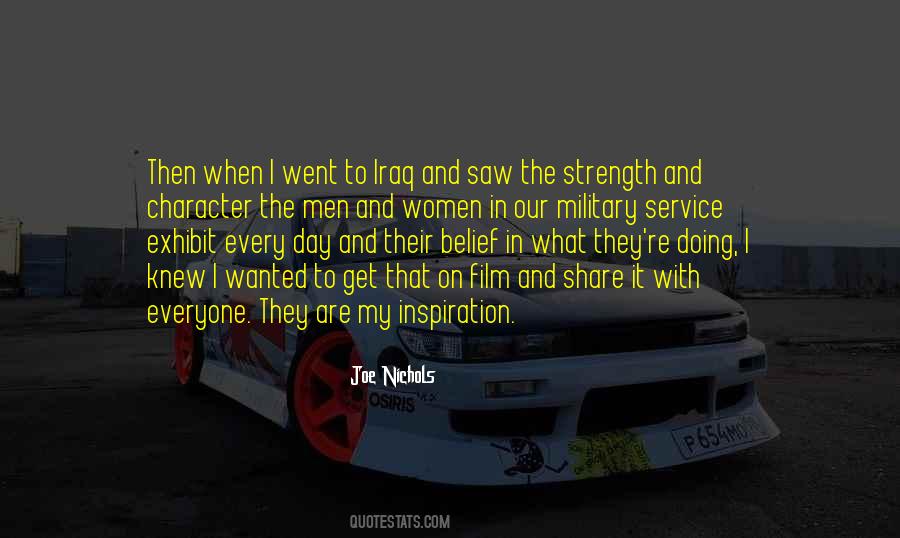 #40. The U.S. military is the best-trained, most effective fighting force the world has ever known. And the conduct of the vast majority of our service members makes Americans rightfully proud. - Author: Claire McCaskill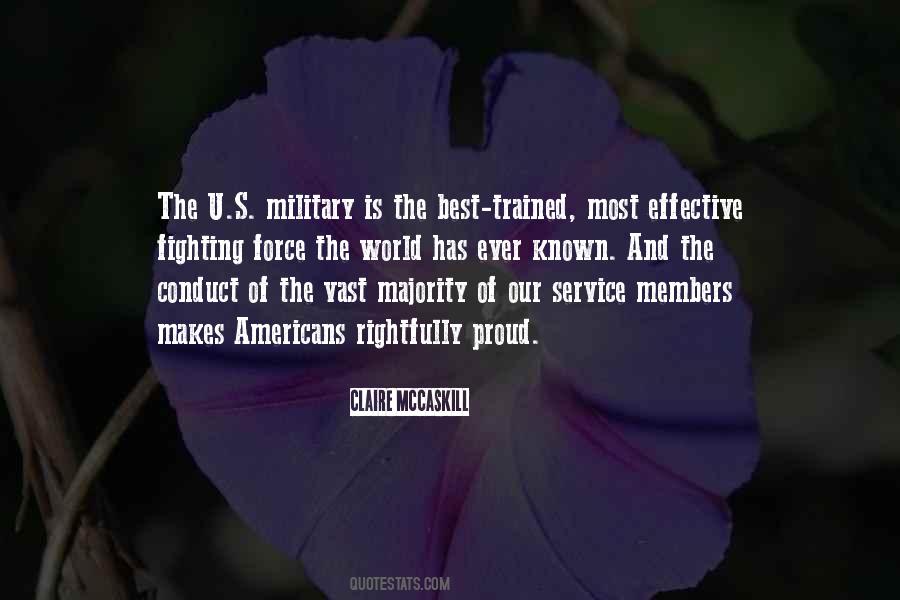 #41. European countries unresistingly submitted to the introduction of general military service
i.e., to a state of slavery involving a degree of humiliation and submission incomparably worse than any slavery of the ancient world. - Author: Leo Tolstoy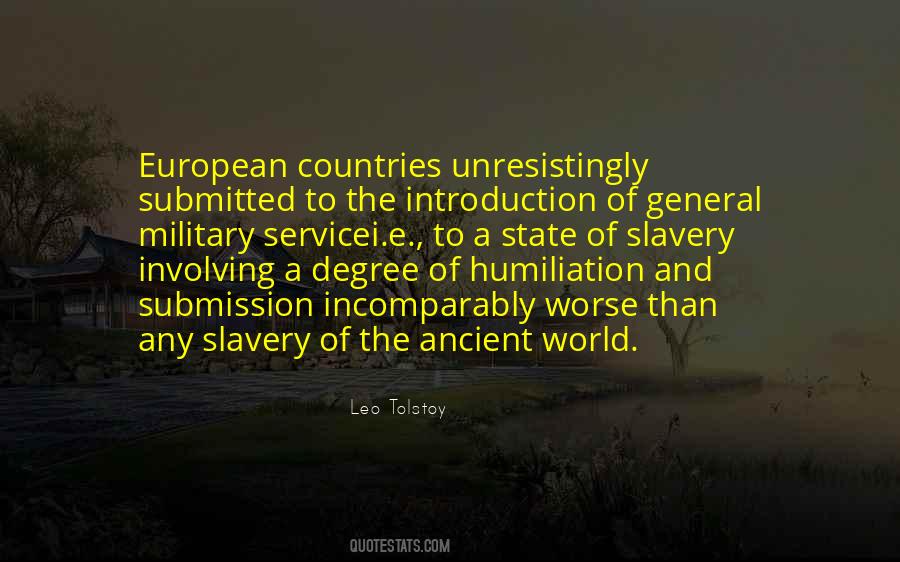 #42. The soldier is the Army. No army is better than its soldiers. The Soldier is also a citizen. In fact, the highest obligation and privilege of citizenship is that of bearing arms for one's country - Author: George S. Patton Jr.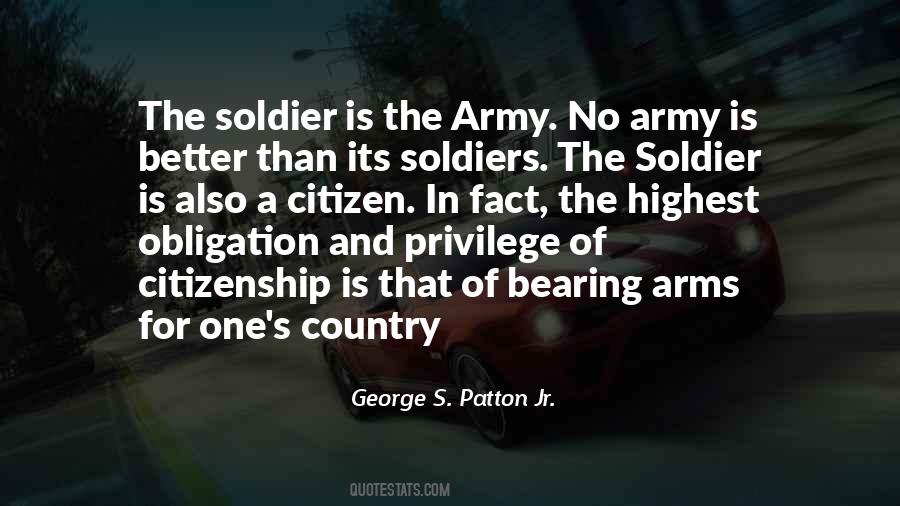 #43. You cannot demand military service of Christians any more than you can of priests. We do not go forth as soldiers with the Emperor even if he demands this. - Author: Origen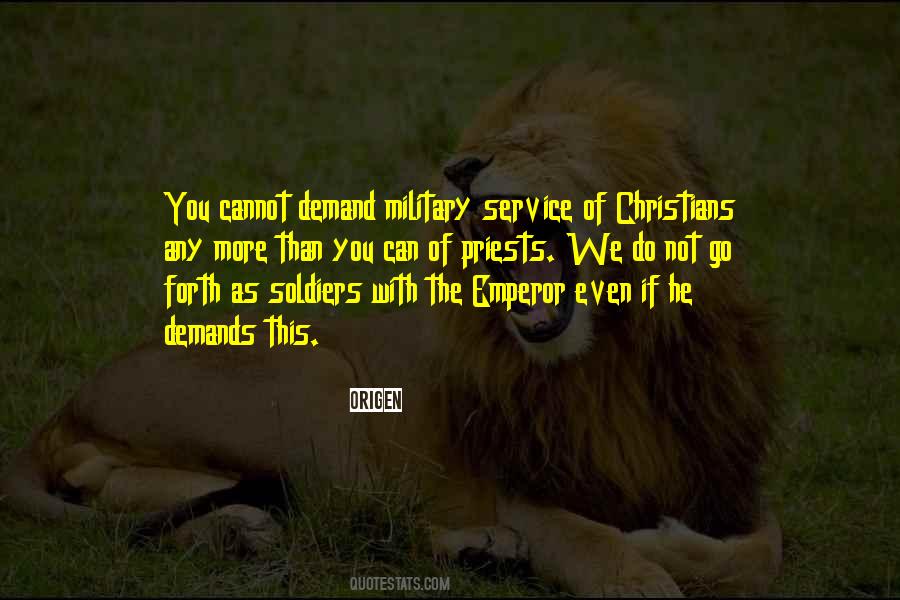 #44. I spent two years in the military service, then I trudged around in repertory for quite a while. I somehow wound up at the National Theatre, though, and then I was definitely on my way. - Author: Anthony Hopkins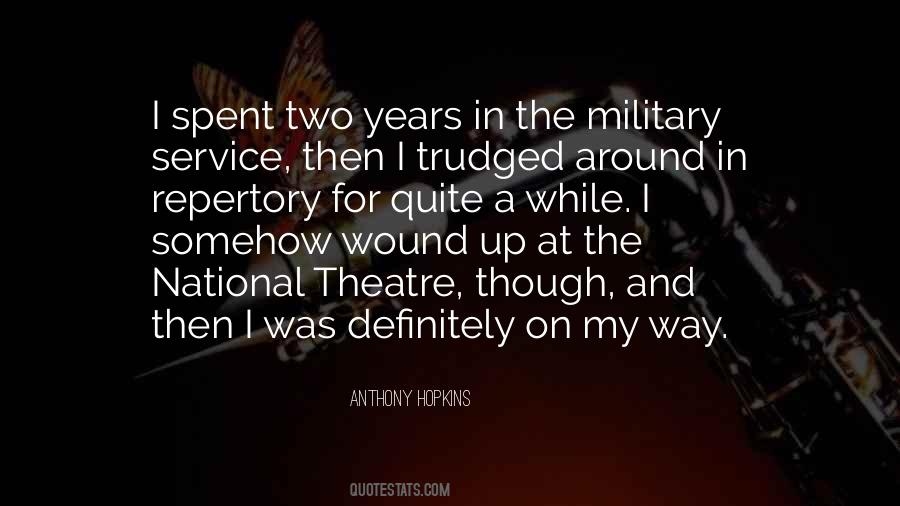 #45. I believe serious progress (in the abolition of war) can be achieved only when men become organized on an international scale and refuse, as a body, to enter military or war service. - Author: Albert Einstein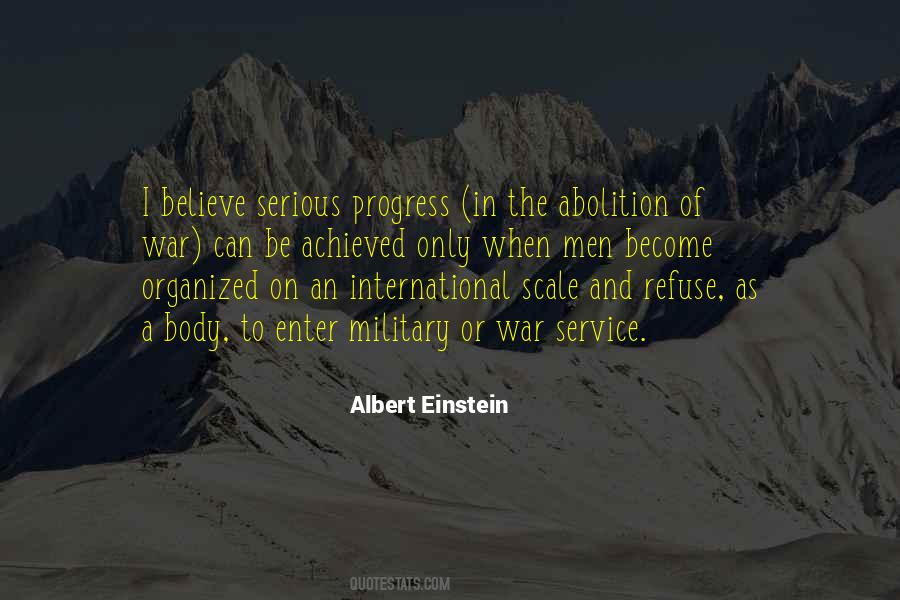 #46. I have always that there ought to be some kind of mandatory national service, not necessarily in the military but to show everybody that freedom isn't free, that everybody has an obligation to the nation as a community. - Author: Robert M. Gates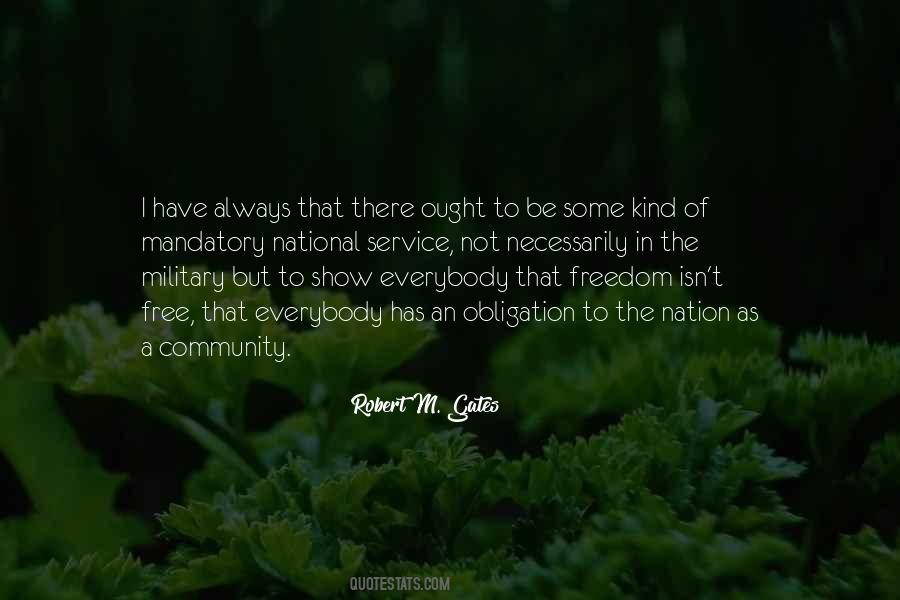 #47. In the 2000 election, George W. Bush, who had shirked military service, succeeded in presenting himself as more reliable on national security than Al Gore. - Author: Samantha Power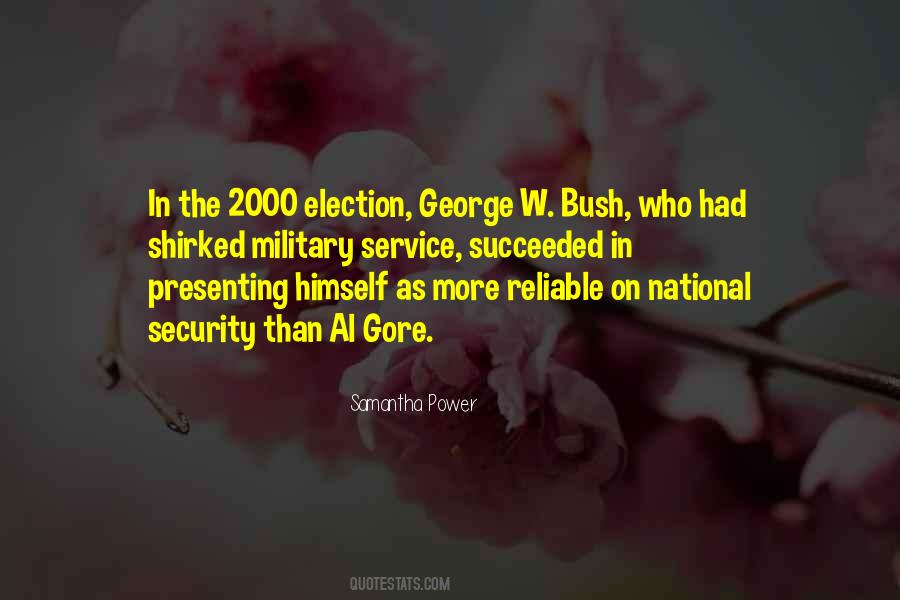 #48. On completion of my military service, I went back to the factory and to the trade union. - Author: Leon Jouhaux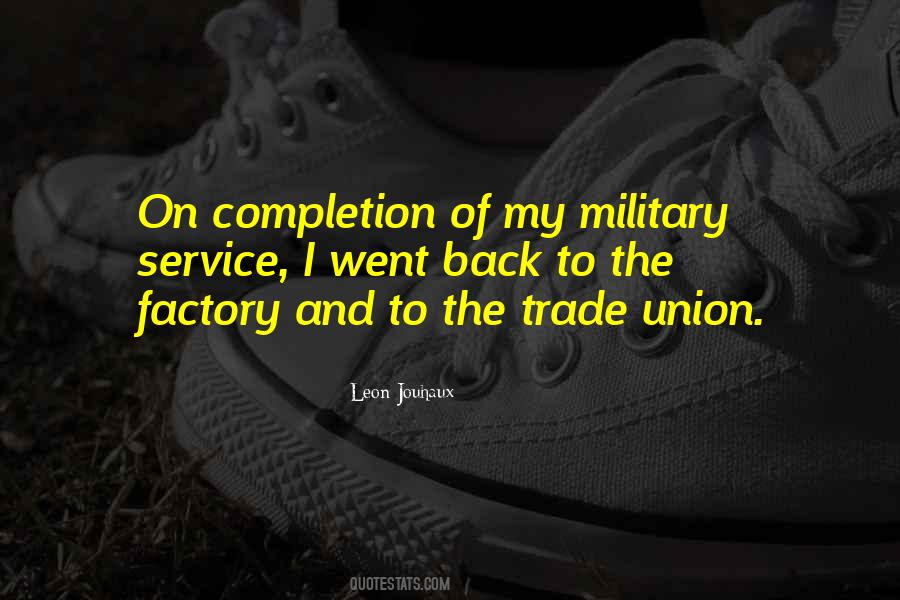 #49. Israel is in the midst of a difficult military and diplomatic campaign against terrorists. An organisation that works to prove allegations that Israel is committing war crimes should be so good as to do so with its own resources and not with civilian national service volunteers and state funds. - Author: Uri Orbach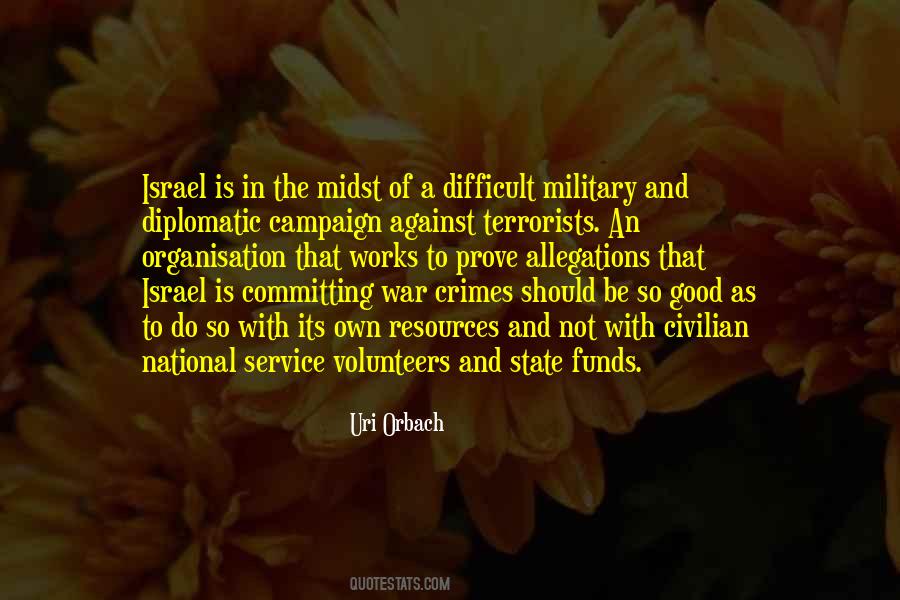 #50. The pupil's imagination is 'schooled' to accept service in place of value. Medical treatment is mistaken for health care, social work for the improvement of community life, police protection for safety, military poise for national security, the rat race for productive work. - Author: Ivan Illich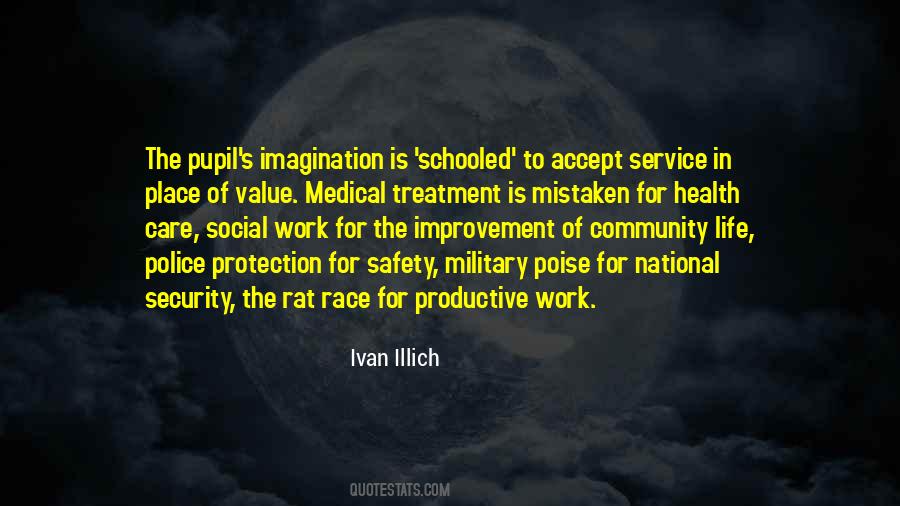 #51. It is hard as an American to support the failure of American military operations in Iraq. Such failure will bring with it the death and wounding of many American service members, and many more Iraqis. - Author: Scott Ritter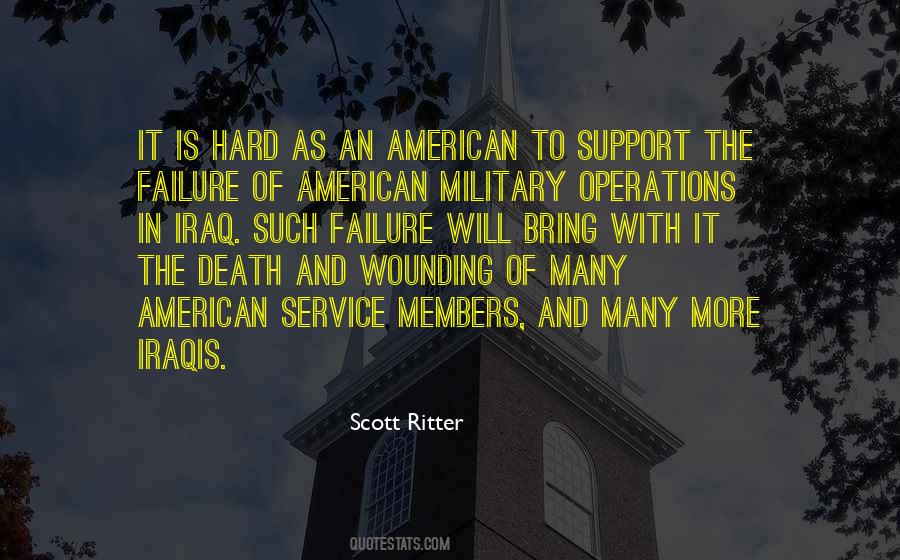 #52. Service disruptions have to be avoided or at least resolved as quickly as possible. When the Internet goes down, consumers don't notice the difference between a technical malfunction, an act of sabotage by hackers or a military attack. - Author: Thomas De Maiziere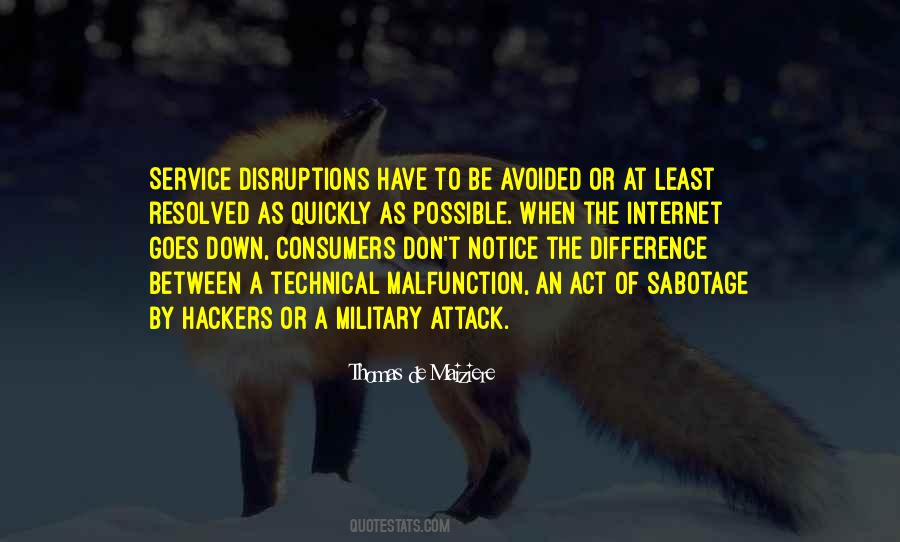 #53. Various circumstances, mainly to do with my military service, prevented me from doing a Ph.D., and I have often regretted it, though you do need to choose the 'right' supervisor in the 'right' discipline - no easy task when you are totally inexperienced. - Author: Yves Chauvin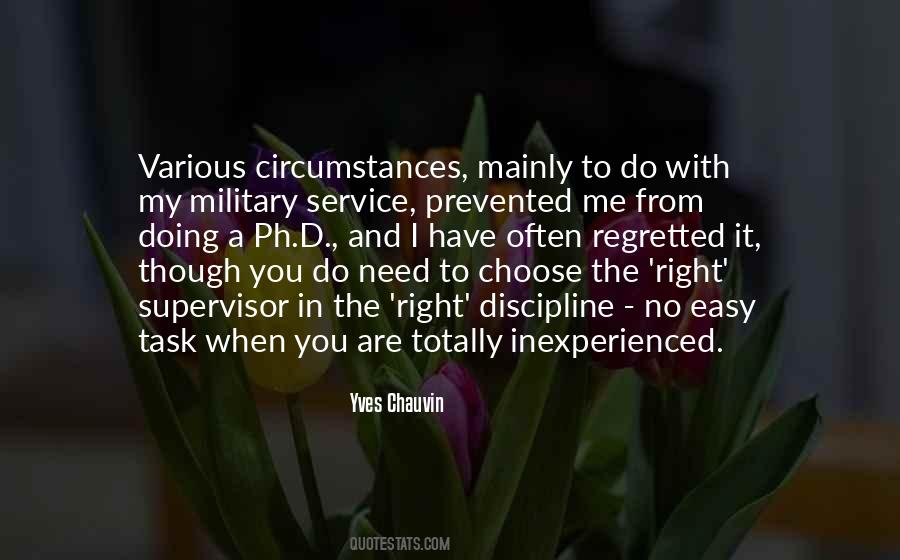 #54. During Vietnam, I was in college, enjoying my student deferment. The government wisely felt that, in my case, military service was less important than completing my studies to prepare me for my chosen career: comedian. - Author: Al Franken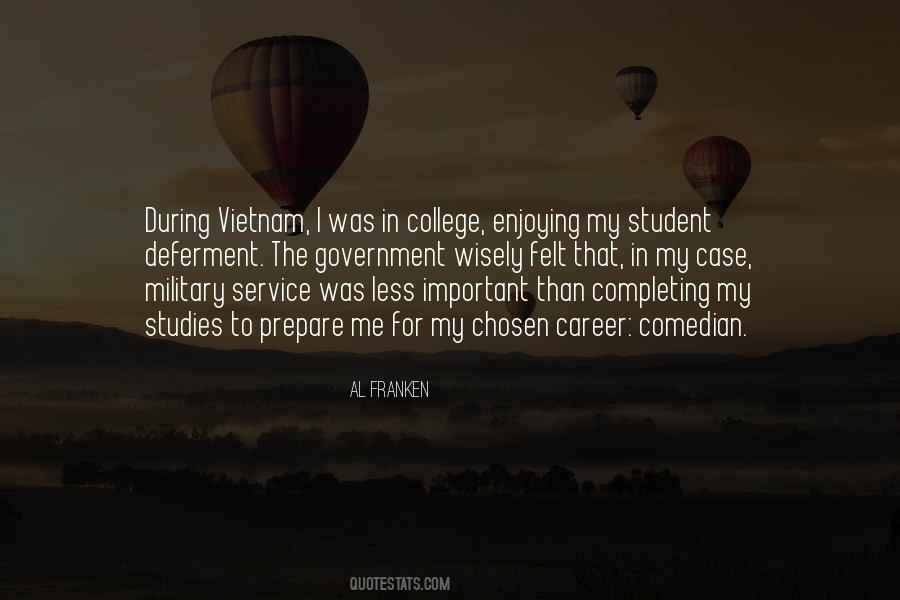 #55. When we are covering our service member by the shield of prayer, we are engaging God's defense system of protection. - Author: Lisa Nixon Phillips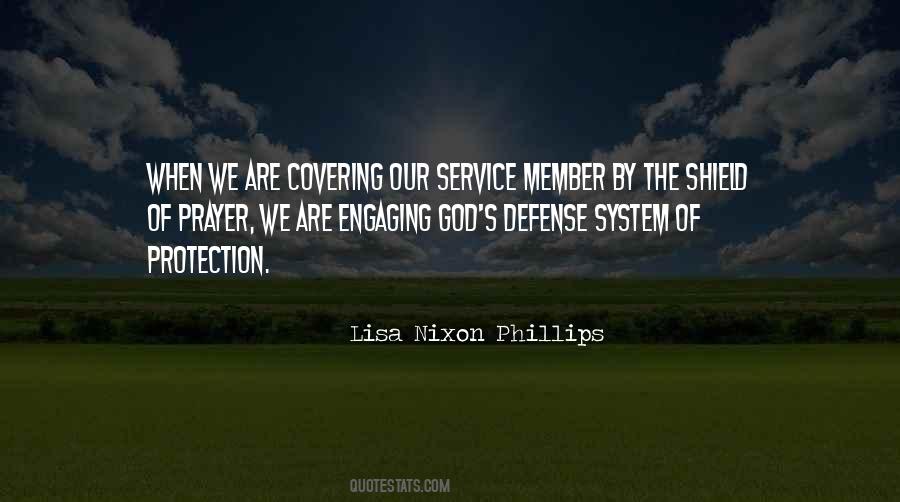 #56. The information that the Secret Service shared with the White House included hotel records and firsthand accounts - the same types of evidence the agency and military relied on to determine who in their ranks was involved. - Author: Carol D. Leonnig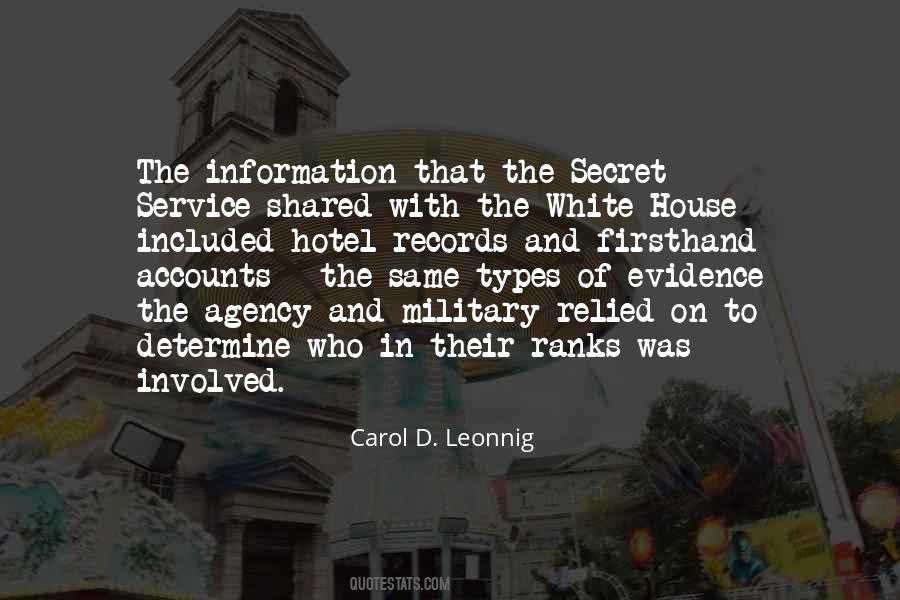 #57. There's a tradition of public service in my family. I'm one of three boys that joined the military. My father was in the Peace Corps. - Author: Phil Klay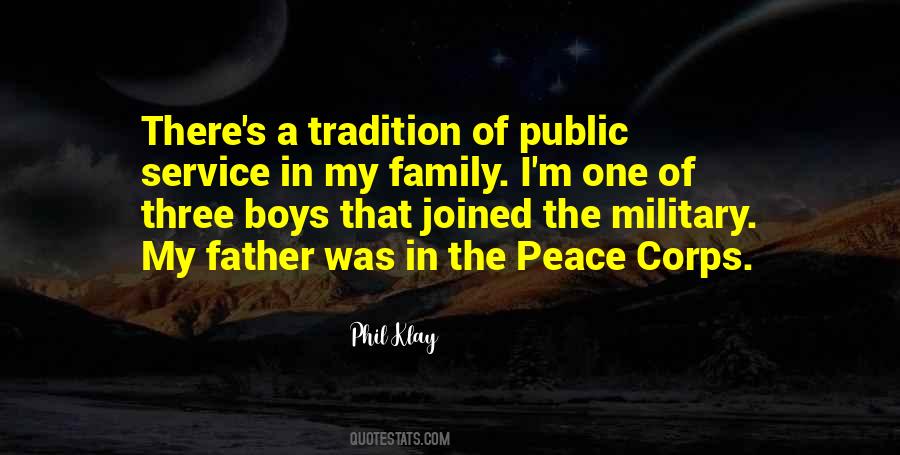 #58. Officers in command of colored troops are in constant habit of pressing all able-bodied slaves into the military service of the U.S. - Author: Lovell Rousseau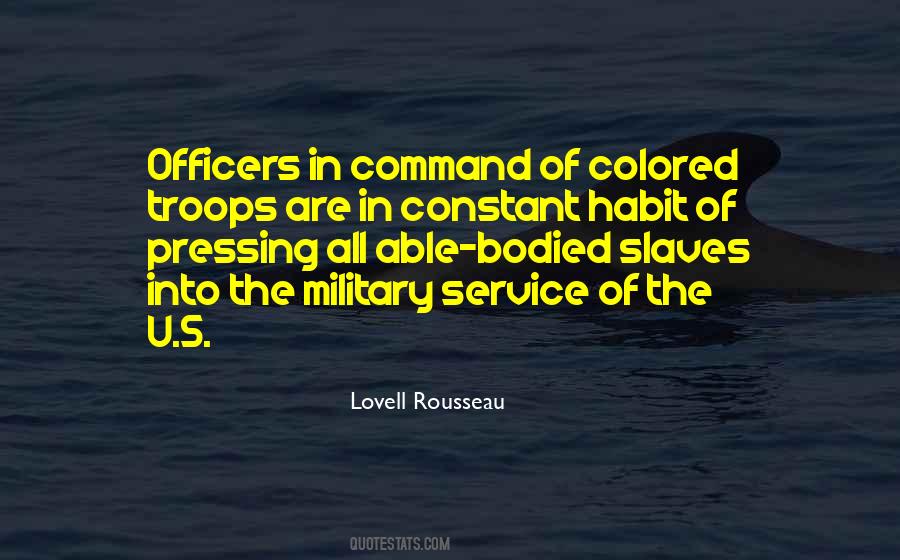 #59. I saw courage both in the Vietnam War and in the struggle to stop it. I learned that patriotism includes protest, not just military service. - Author: John F. Kerry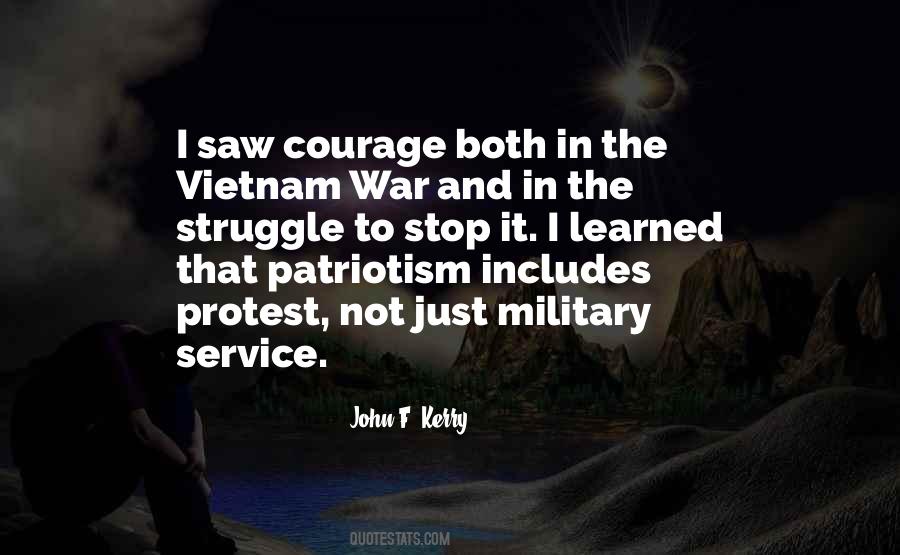 #60. Ironically, the possibility that the president dodged his military service has increased his approval ratings with Democrats by 80 percent. - Author: Craig Kilborn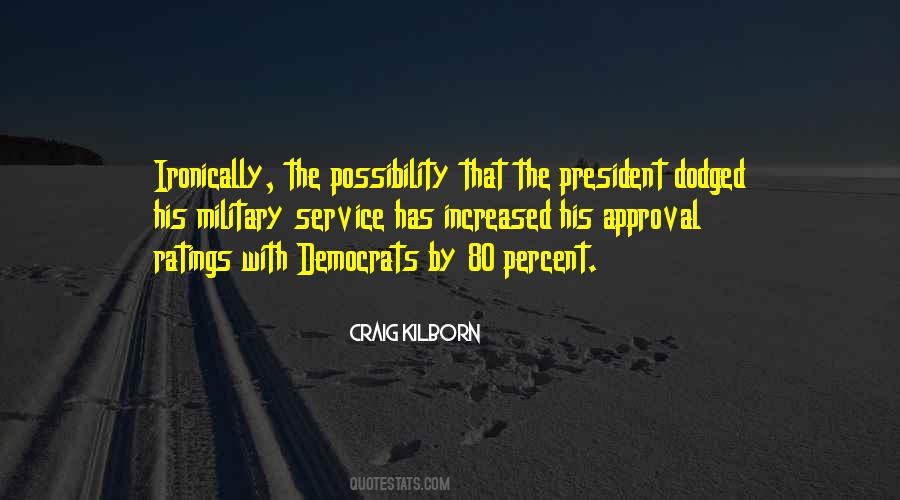 #61. Such, then, was my position: to care for almost nothing but the gods and heroes, the garden of the Hesperides, Launcelot and the Grail, and to believe in nothing but atoms and evolution and military service. - Author: C.S. Lewis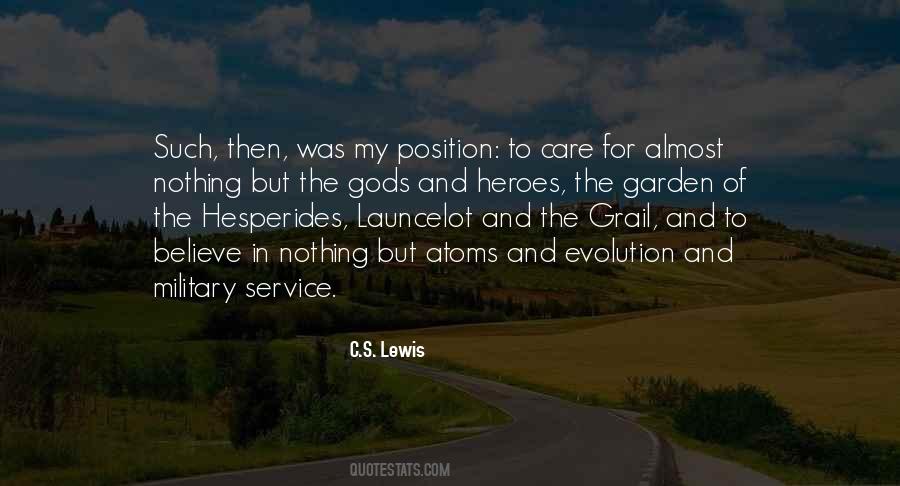 #62. Honor Lost

Ambulant sunshine pierced
the soot covered glass ~
the feeble man wandered by
in this ritual morning pass ... - Author: Muse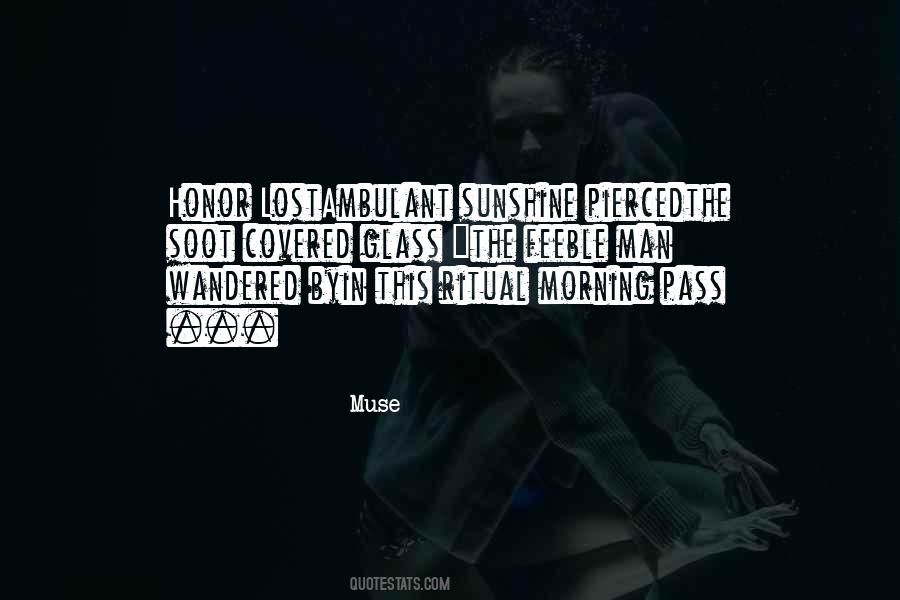 #63. He made my mom call and tell Maureen I wouldn't be in to see her anymore. He said therapy is a waste of money. He also told her to upgrade the cable service and to order him a subscription to Military History magazine. The he went and bought a new fishing pole for Matt, who is dead. - Author: Tracy Bilen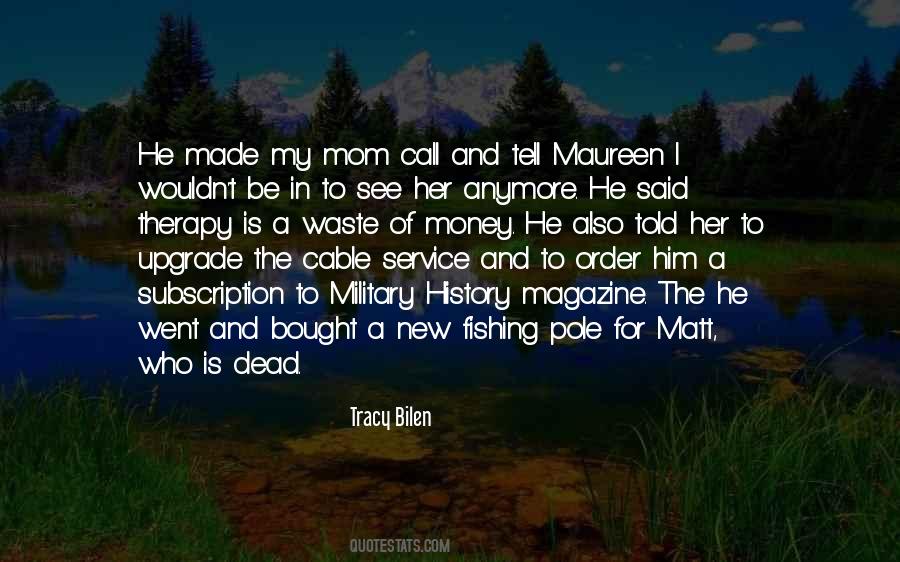 #64. Who supports the troops? The troops support the troops. - Author: Clint Van Winkle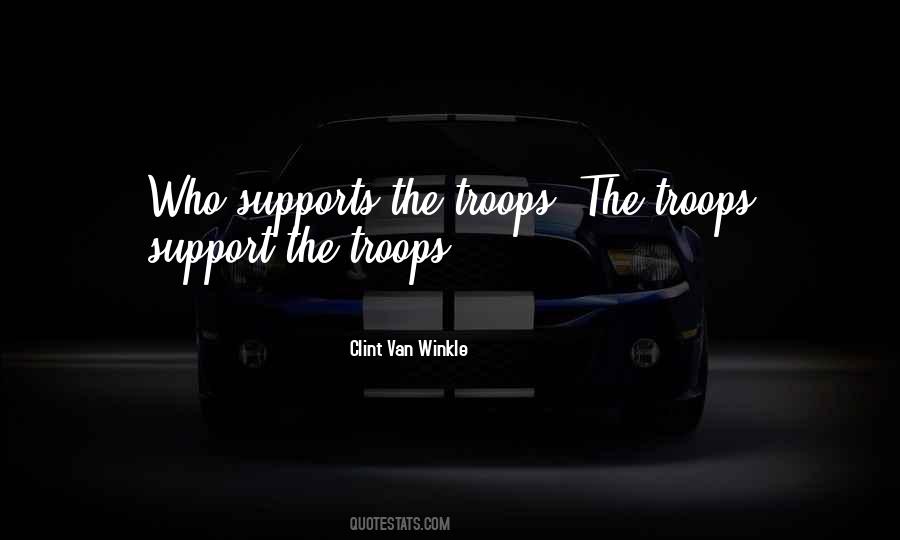 #65. One only has to look at the performance of the economy to understand how it shapes the perspective of America's youth about military service. - Author: John M. McHugh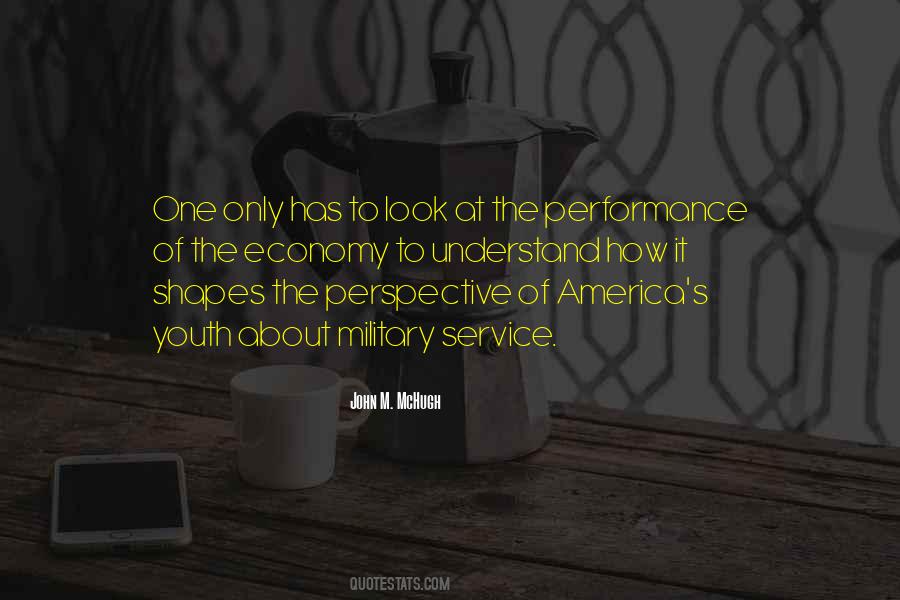 #66. It's been over a year since they've graduated, but neither of the Bush twins have found any work. Why don't they sign up (for military service in Iraq)? Do they hate America, or just freedom in general? - Author: Bill Maher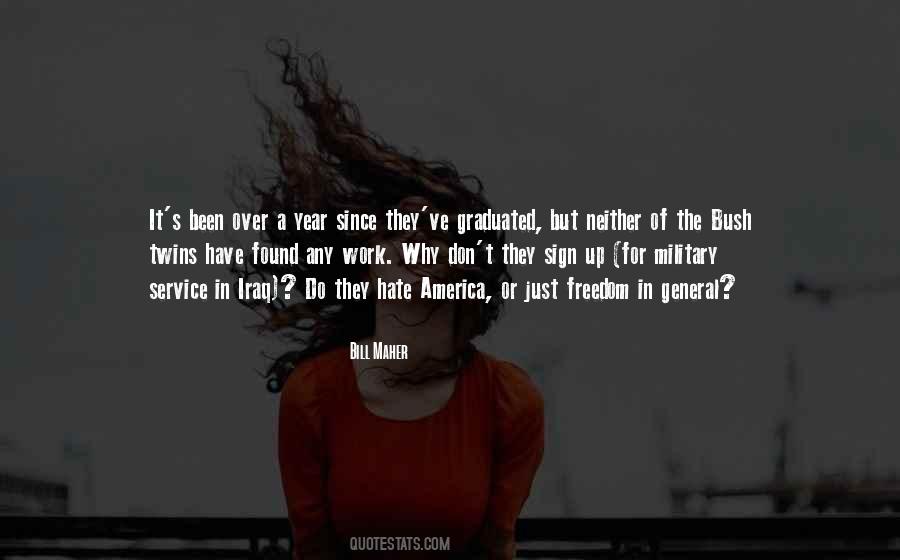 #67. There's full consensus in the military that women shouldn't be in person-to-person combat. I don't know if we have enough experience to know whether this is the right approach. But women can be elsewhere. We have mandatory military service in Chile. I pushed for women in all areas. - Author: Michelle Bachelet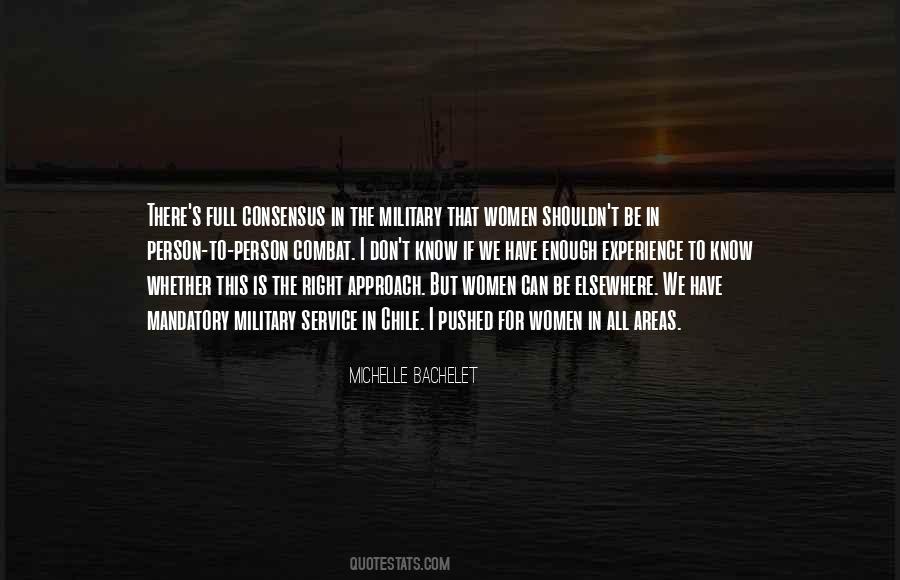 #68. I had other priorities in the sixties than military service. - Author: Dick Cheney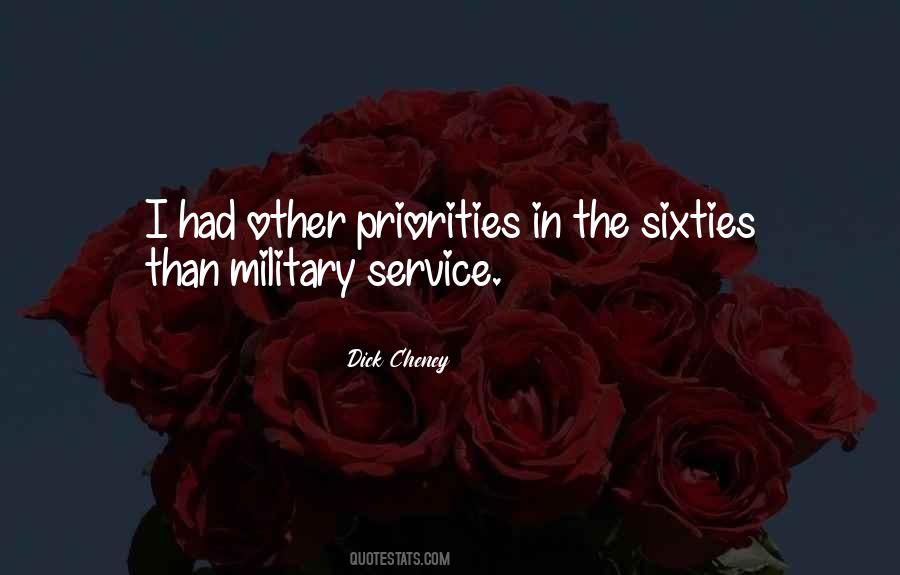 #69. I have made no secret, either privately or publicly, of any sense of outrage over officially enforced military and war service. I regard it as a duty of conscience to fight against such barbarous enslavement of the individual with every means available. - Author: Albert Einstein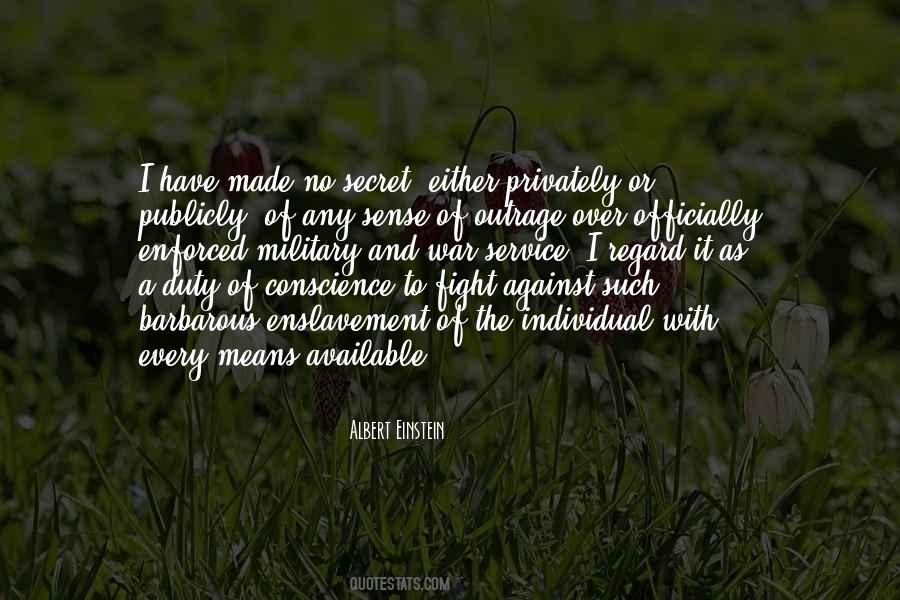 #70. Our priority is to go after ISIL. And so what we have said is that we are not engaging in a military action against the Syrian regime. We are going after ISIL facilities and personnel who are using Syria as a safe haven, in service of our strategy in Iraq. - Author: Barack Obama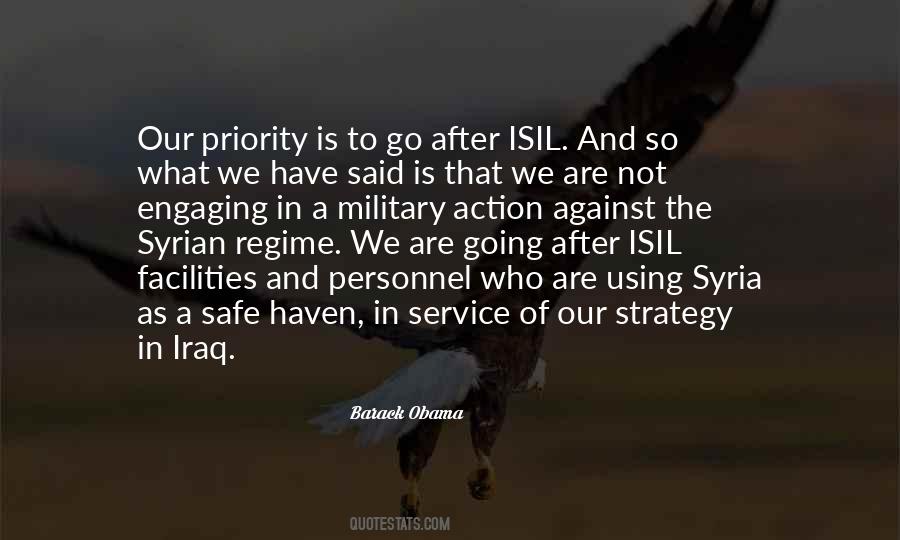 #71. The military offered the opportunity to see the world, and meet other people and learn new customs. Plus, the Army taught soldiers discipline. The life I experienced in the service was an education I could never have obtained as a cowboy. - Author: Tom Johnson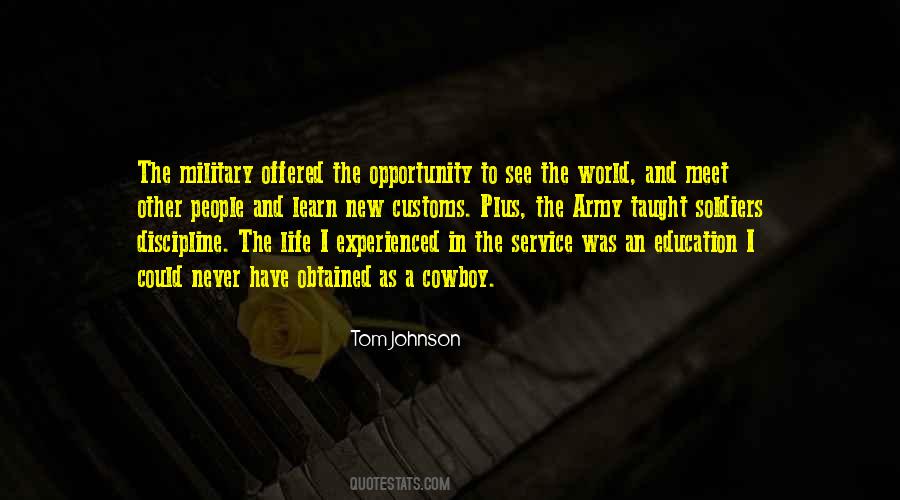 #72. I don't miss the bureaucracy of being in the Army. But I still love the relationships you can build. And it doesn't have to be in military service - it can be anything you're doing with someone that matters. You develop a bond. - Author: Stanley A. McChrystal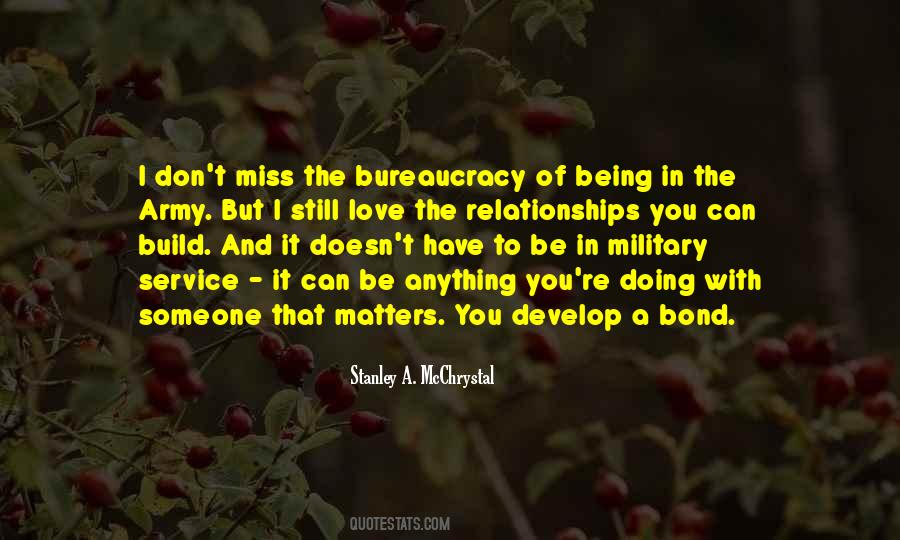 #73. Slowly but surely, the U.S. military is being converted into a global oil-protection service. - Author: Michael Klare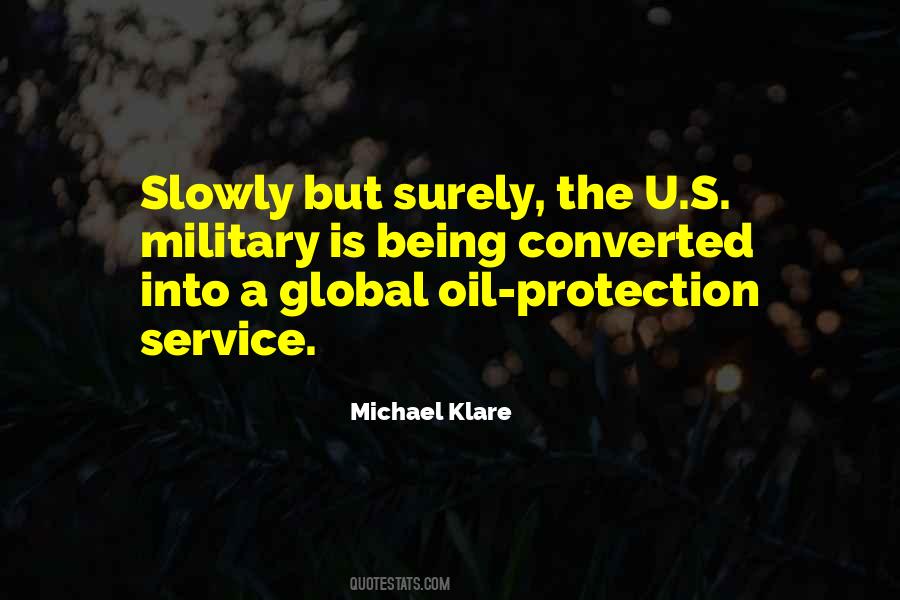 #74. I had a very strong feeling about the Vietnam War, and I had a strong feeling about participating in it. The military draft was in place, I was summoned for a physical exam, and I was either going to be classified as fit for military service or make my objection to it. So I made my objection to it. - Author: Harrison Ford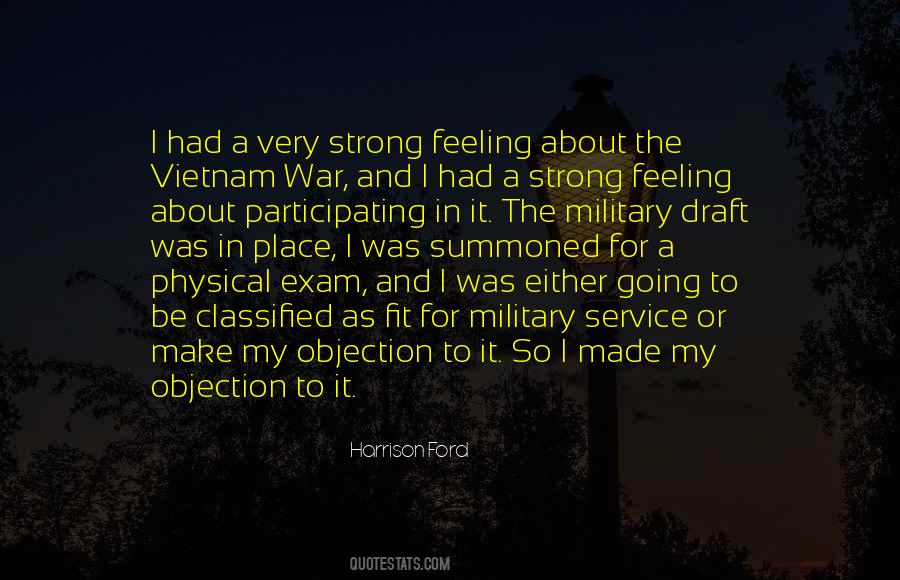 #75. Our military deserves leadership that matches their service and patriotism. Getting our troops the pay raise they deserve is the very least we can do to show how much we value everything they do for us. - Author: John F. Kerry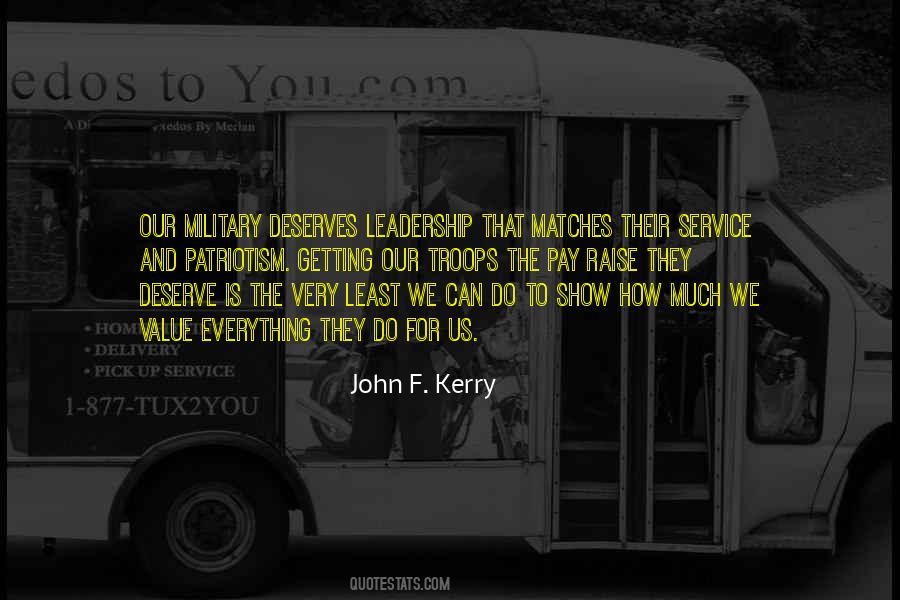 #76. Universal military service may be compared to the efforts of a man to prop up his falling house who so surrounds it and fills it with props and buttresses and planks and scaffolding that he manages to keep the house standing only by making it impossible to live in it. - Author: Leo Tolstoy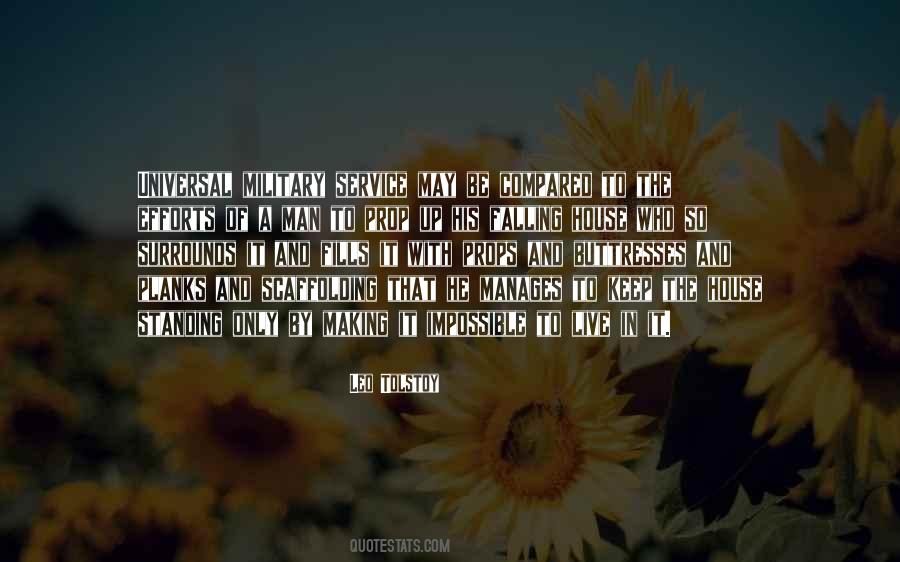 #77. Cahir, wrinkling his brow imperiously, shouted back something menacing about imperial service, backing up his words with the classically military and ever effective 'for fuck's sake'. - Author: Andrzej Sapkowski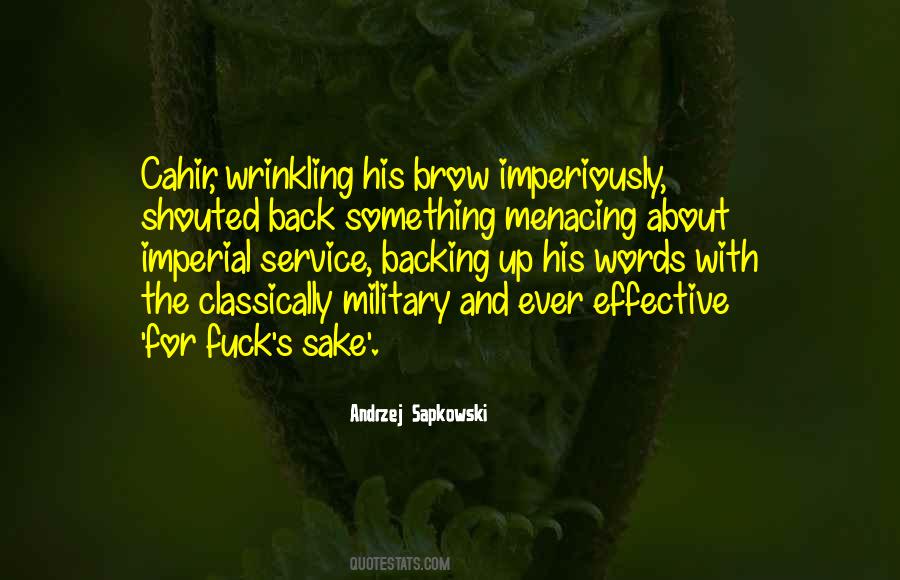 #78. The holiday season can be an especially trying time for our service men, women, and families. Military service and deployment create empty seats at holiday tables, religious services, and celebrations. - Author: Geoff Stults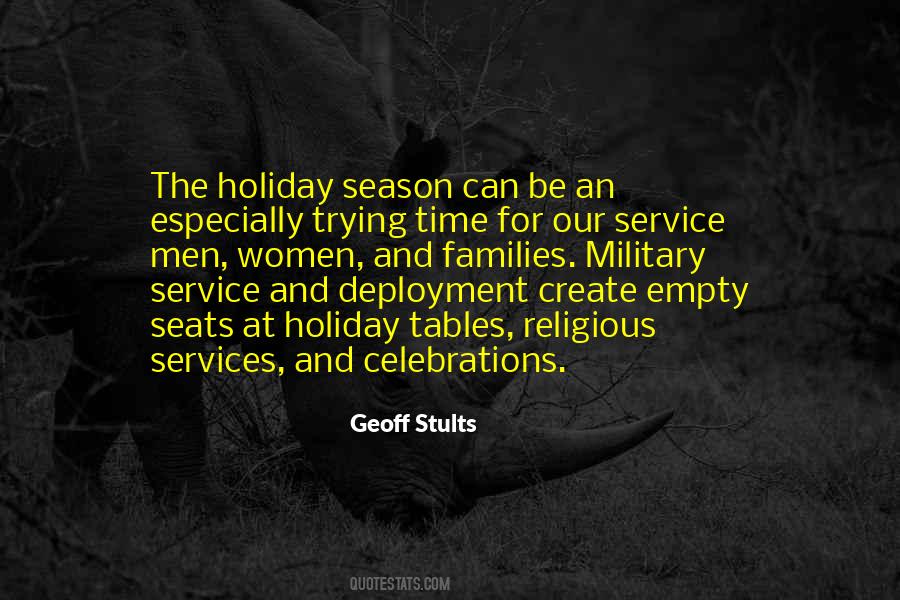 #79. The service members who defend our way of life ask very little in return, but they deserve teachers who will be as relentless in teaching their children as the military is in protecting our interests at home and abroad. - Author: Tucker Elliot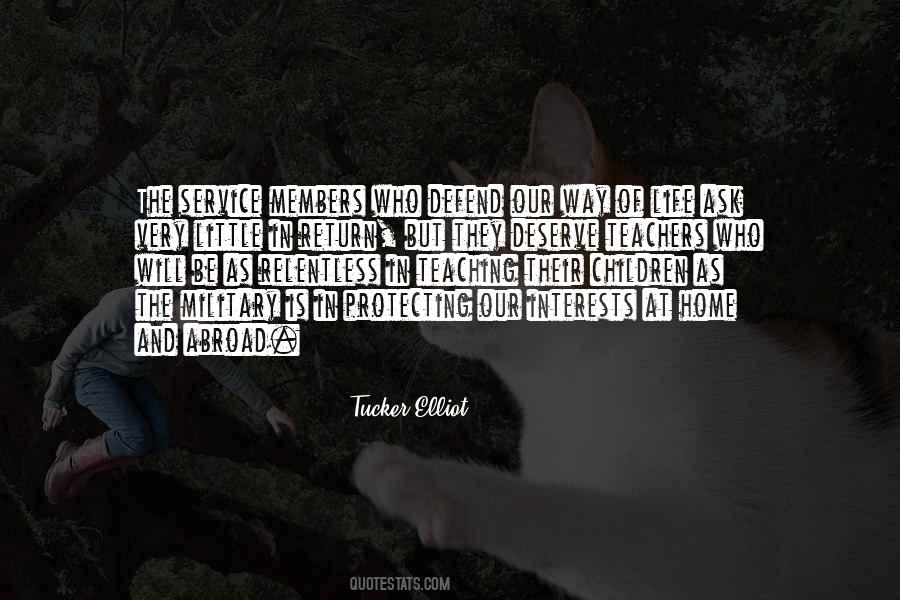 #80. West Virginia is among the nation's leaders in military service, in killed in action, in medals for valor. - Author: Rick Bragg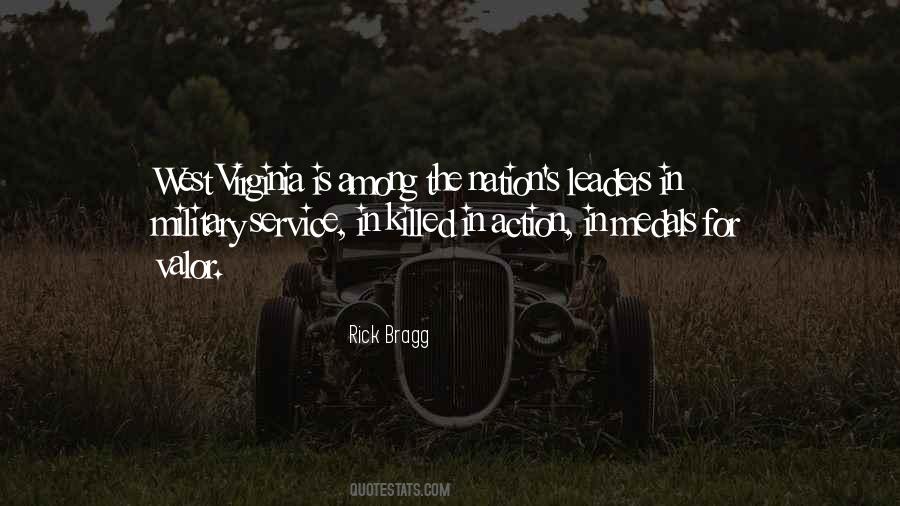 #81. Most people today couldn't tell a bombardier from a brigadier - said during a lecture in aid of the Army Benevolent Fund in 2009 - Author: Richard Holmes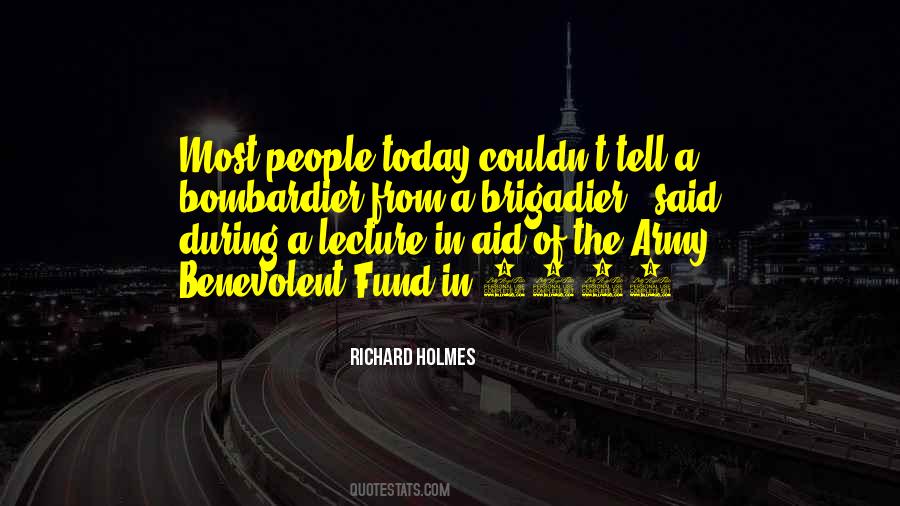 Famous Authors
Popular Topics