The Human Rights Famous Quotes & Sayings
List of top 100 famous quotes and sayings about the human rights to read and share with friends on your Facebook, Twitter, blogs.
Top 100 Quotes About The Human Rights
#1. This book is the account of his redemptive journey - through innocence, bigotry, hard-line radicalism, and beyond - to a passionate advocacy of human rights and all that this can mean. - Author: Maajid Nawaz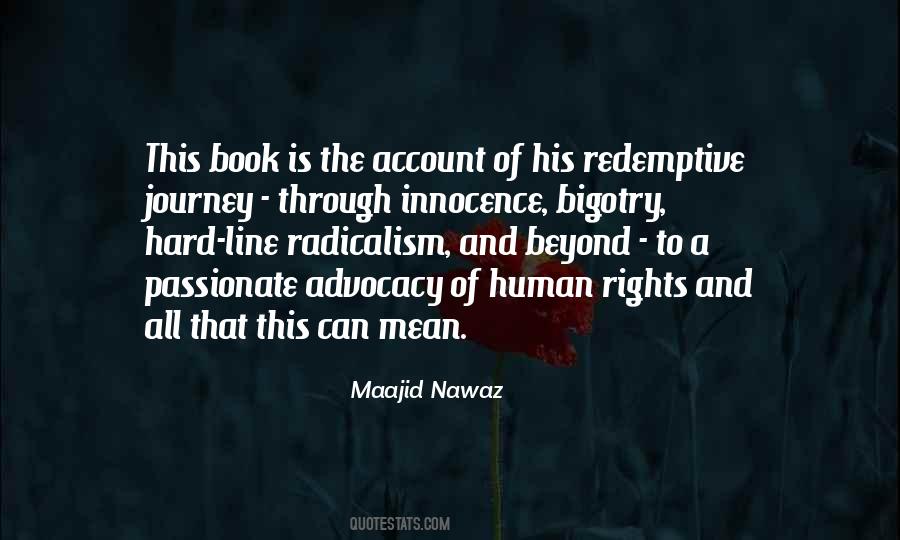 #2. It has long been recognized that an essential element in protecting human rights was a widespread knowledge among the population of what their rights are and how they can be defended. - Author: Boutros Boutros-Ghali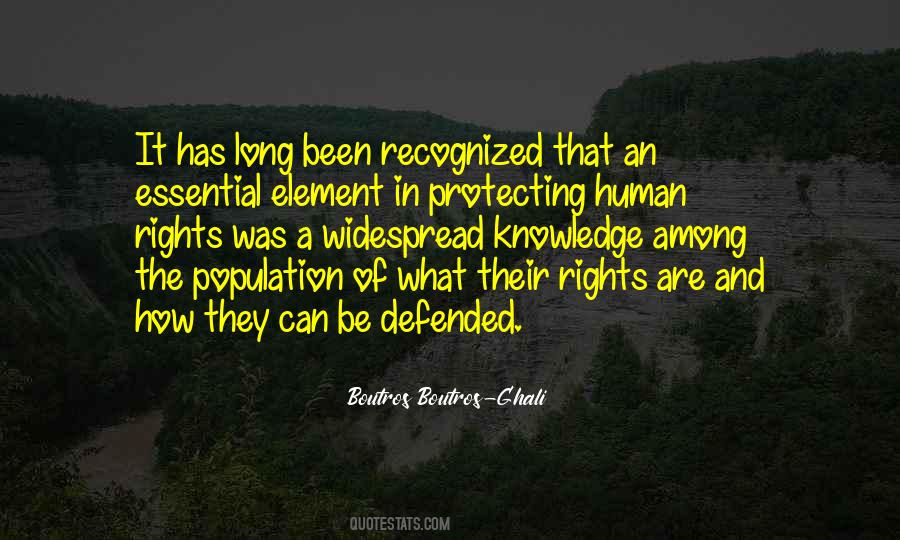 #3. A play that forces us to question our moral responsibility to the victims of human rights abuse. - Author: Lynn Nottage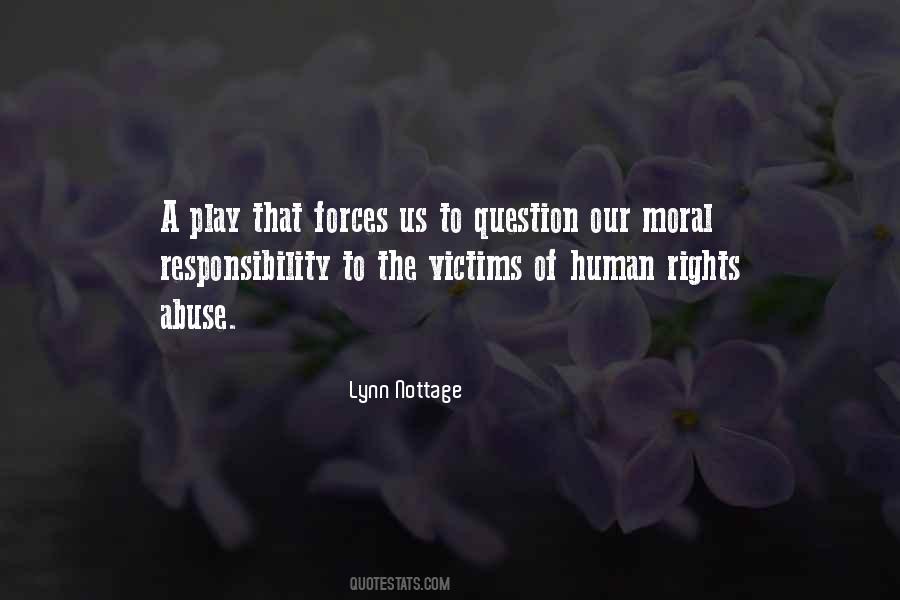 #4. As a candidate, Clinton had - as all candidates do - torn into his predecessor for coddling China and promised that he would get tough on China's human rights abuses. As president, Clinton had - as all presidents do - come to see that the reality was a bit more complicated. - Author: Michael Tomasky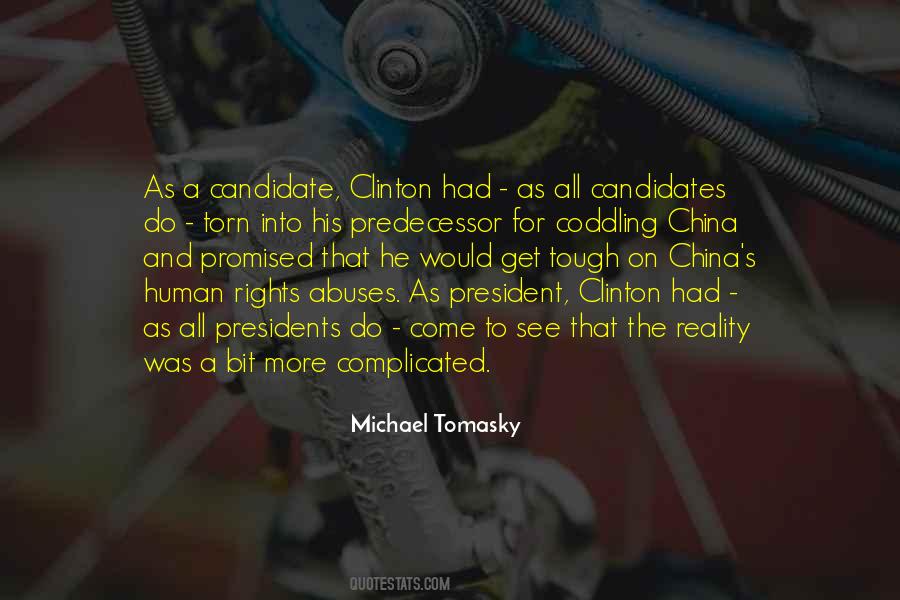 #5. The product supply chain, from source material to store, is an organizing map for delivering human rights. - Author: Julia Ormond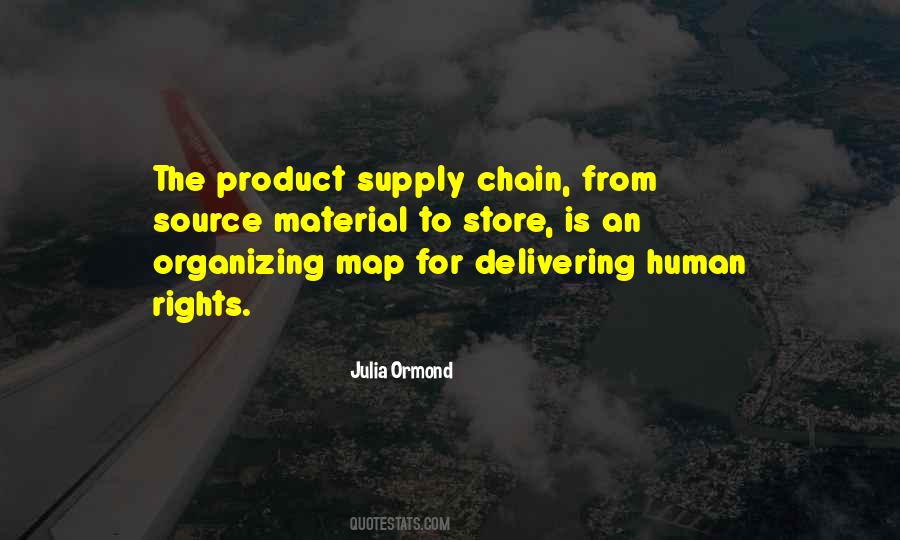 #6. I have friends and supporters in the Human Rights Fund and Planned Parenthood. Hillary Clinton has been around there for a very, very long time. Some of these groups are, in fact, part of the establishment. - Author: Bernie Sanders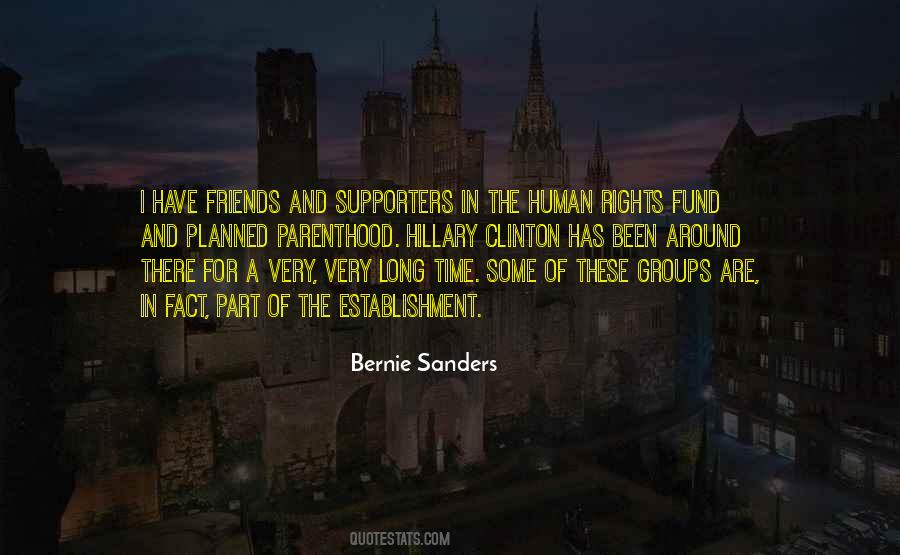 #7. Well, this is an unfortunate part of the UN institution. It's the - the theater of the absurd. It doesn't only cast Israel as the villain; it often casts real villains in leading roles: Gadhafi's Libya chaired the UN Commission on Human Rights; Saddam's Iraq headed the UN Committee on Disarmament. - Author: Benjamin Netanyahu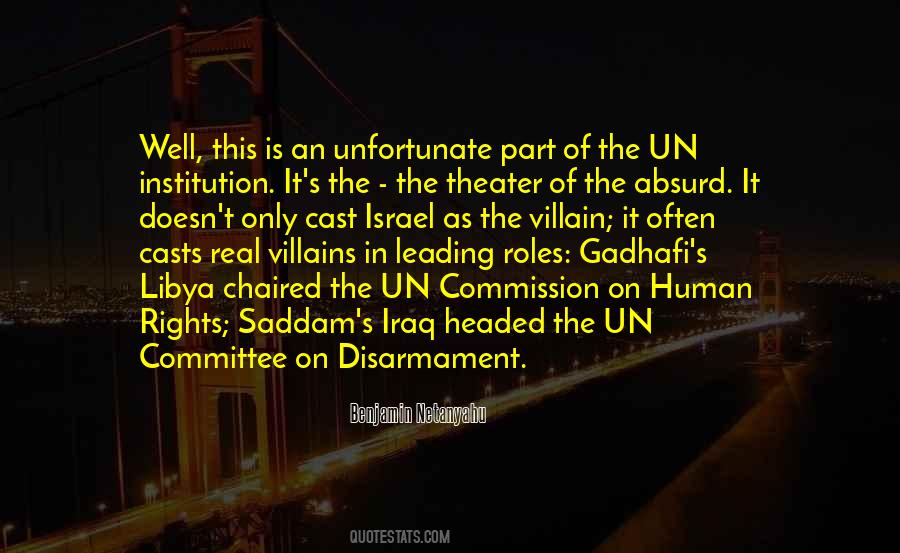 #8. The E.U. is more than just a trade organization or a common market; it is a guarantee of democracy, freedom, justice, and human rights. Nations cannot stay in the E.U. if they do not respect these guarantees. - Author: John Bruton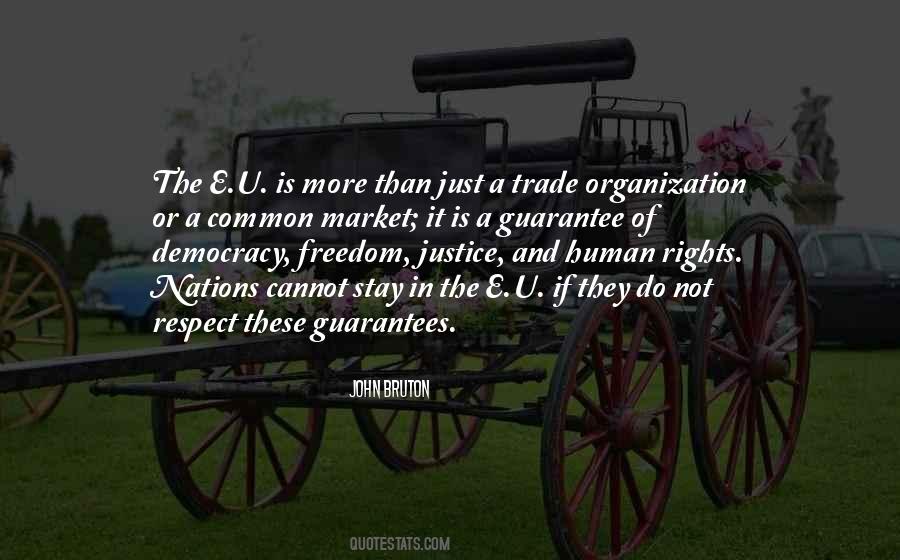 #9. Together, the property rights and public choice schools show only that, if you start by assuming a purely individualistic model of human behavior and treat politics as if it were a pale imitation of the market, democracy will, indeed, make no sense. - Author: Paul Starr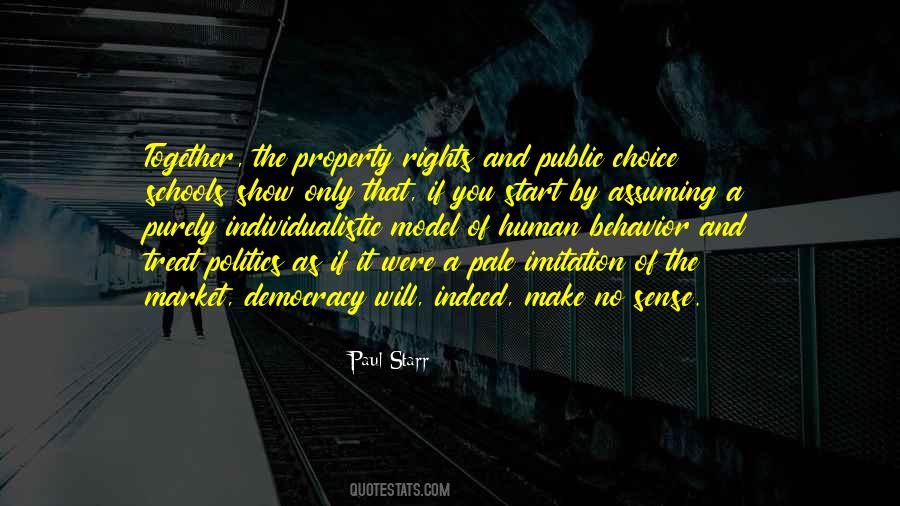 #10. Terrorists and their allies believe the Universal Declaration of Human Rights and the American Bill of Rights and every charter of liberty ever written are lies to be burned and destroyed and forgotten. - Author: George W. Bush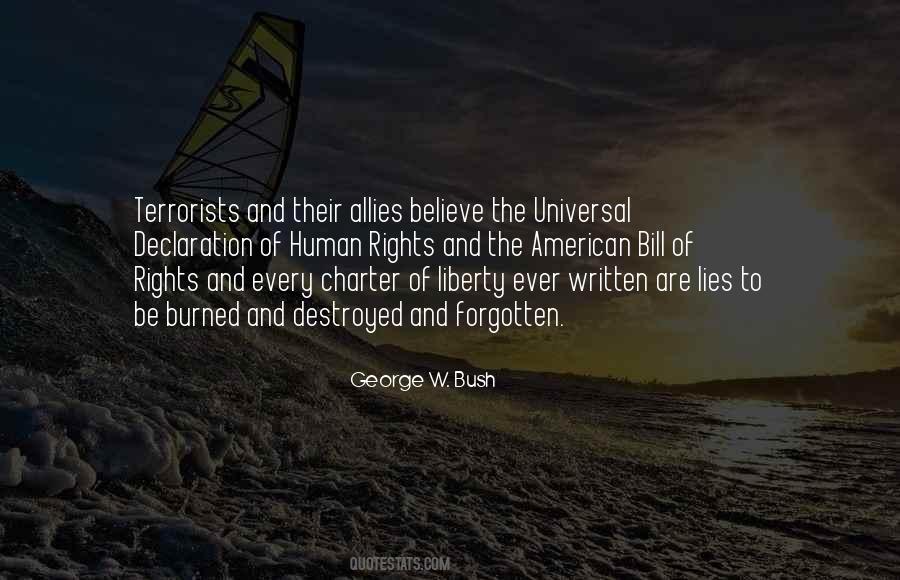 #11. We've painted ourselves into a corner where the only choice is real nightmare - triage, epidemic disease, famine, fascism, the collapse of human rights - or a leap to an entirely different level. We've taken business-as-usual off the menu. Now only the extreme possibilities loom. - Author: Terence McKenna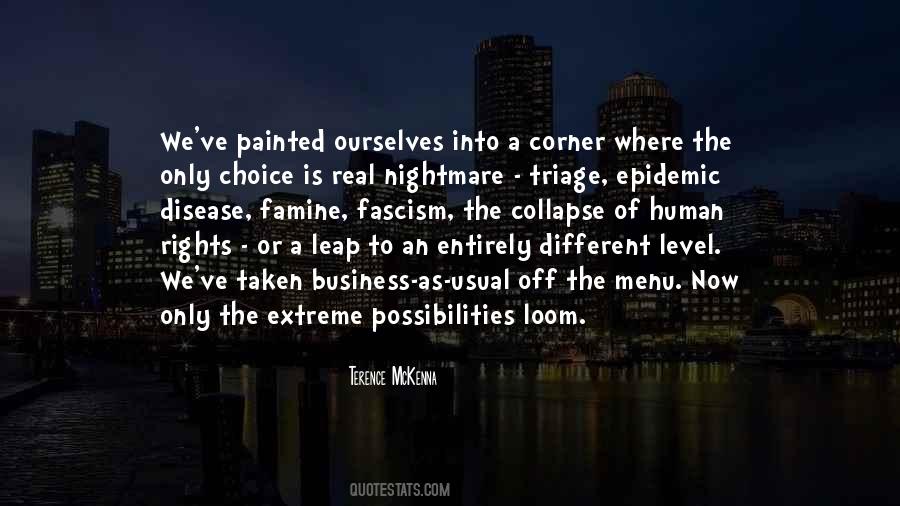 #12. So what we're talking about here is human rights. The right to live like a human. The right to live, period. And what we're facing in Africa is an unprecedented threat to human dignity and equality. - Author: Bono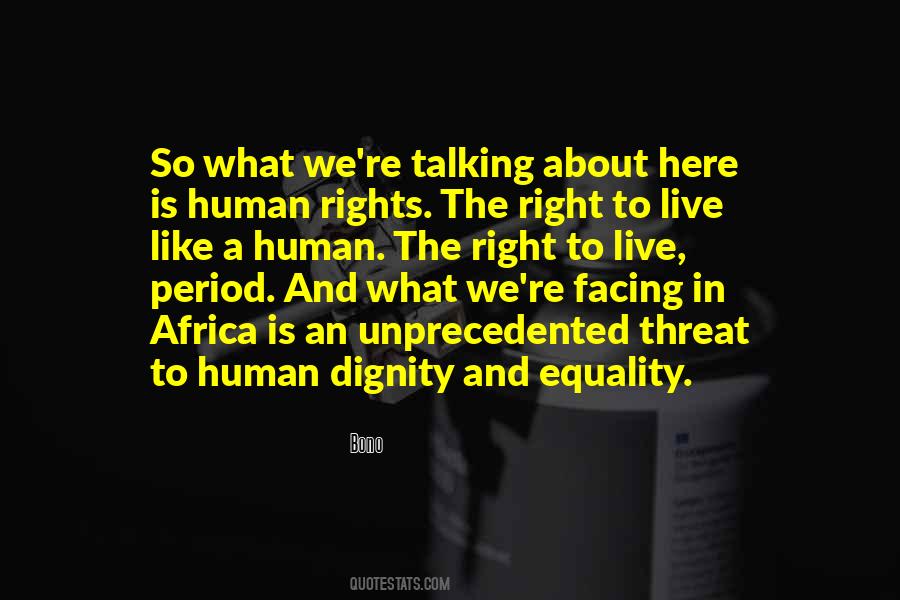 #13. Our treatment of animals and our attitude toward them are crucial not only to any pretensions we have to ethical behavior but the humankind's intellectual and moral evolution. Which is how the human animal is meant to evolve, isn't it? - Author: Joy Williams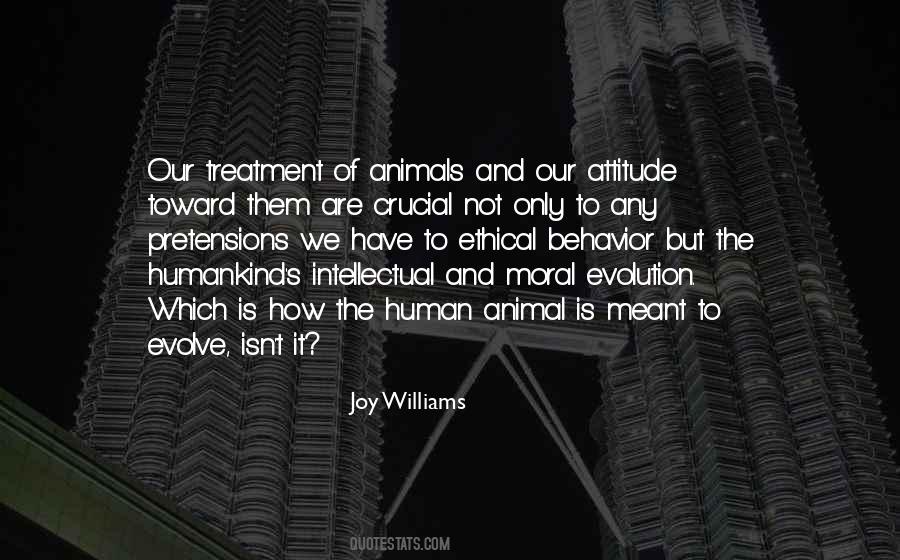 #14. The connection between women's human rights, gender equality, socioeconomic development and peace is increasingly apparent. - Author: Mahnaz Afkhami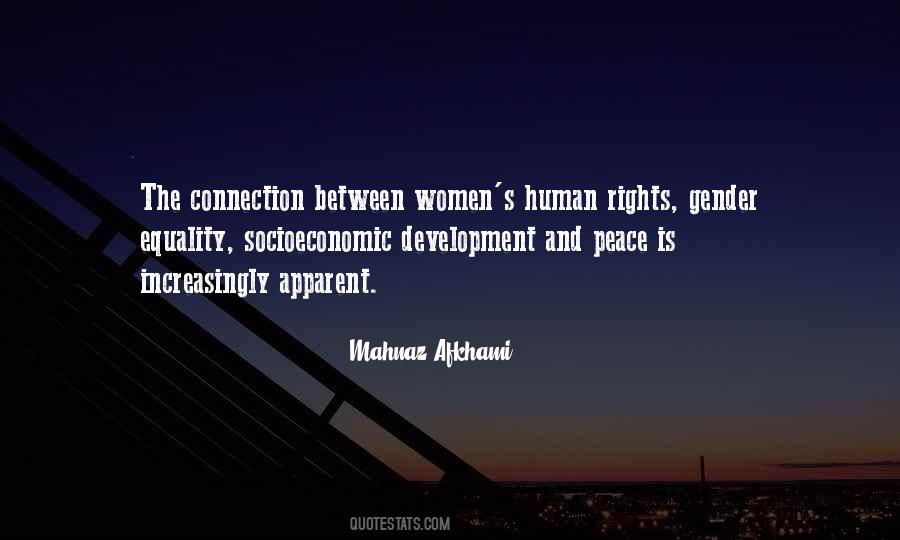 #15. I heard an Israeli speaking on Palestinian human rights issues, an interesting guy, and he said 'There's no military solution to terrorism. If there were, Israel would be the safest place in the world. But there's no military solution.' - Author: Bradley Whitford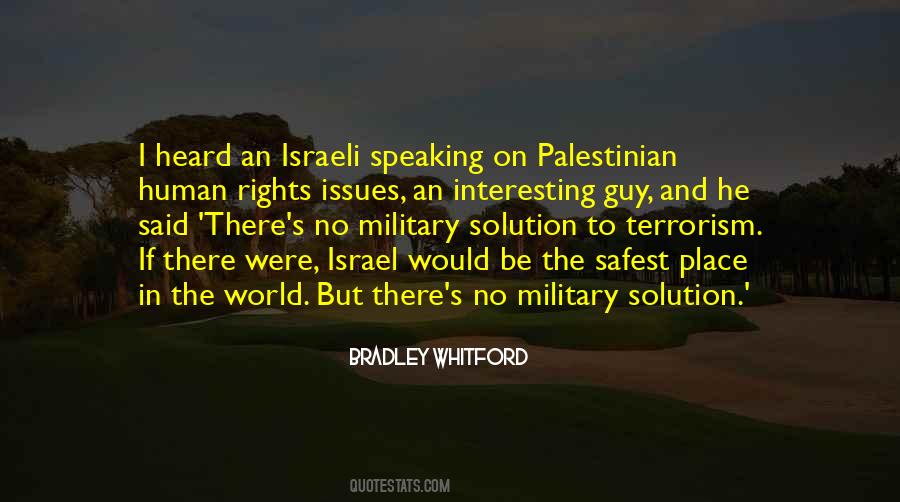 #16. The U.N. is worse than disaster. The U.N. creates conflicts. Look at the disgraceful U.N. Human Rights Council: It transmits norms which are harmful, anti-liberty and anti-Semitic, among other things. The world would be better off in its absence. - Author: Charles Krauthammer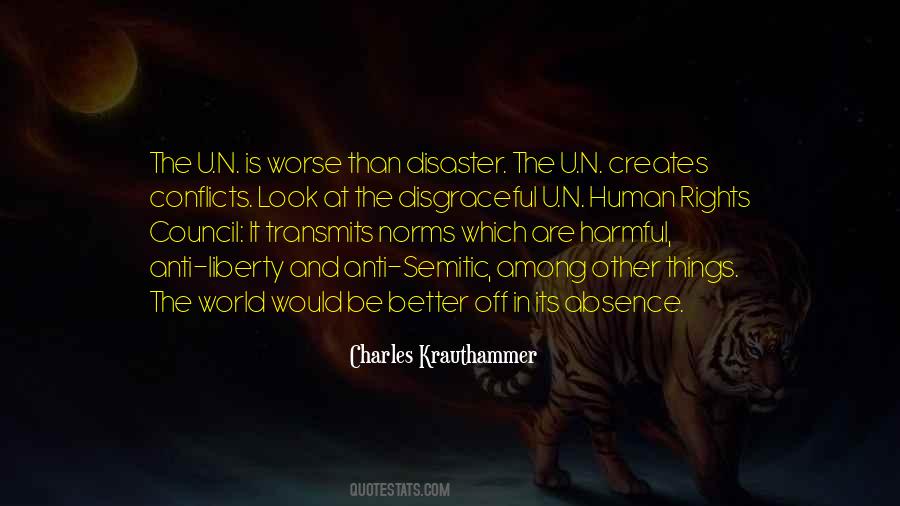 #17. Yet none of these things exists outside the stories that people invent and tell one another. There are no gods in the universe, no nations, no money, no human rights, no laws, and no justice outside the common imagination of human beings. People - Author: Yuval Noah Harari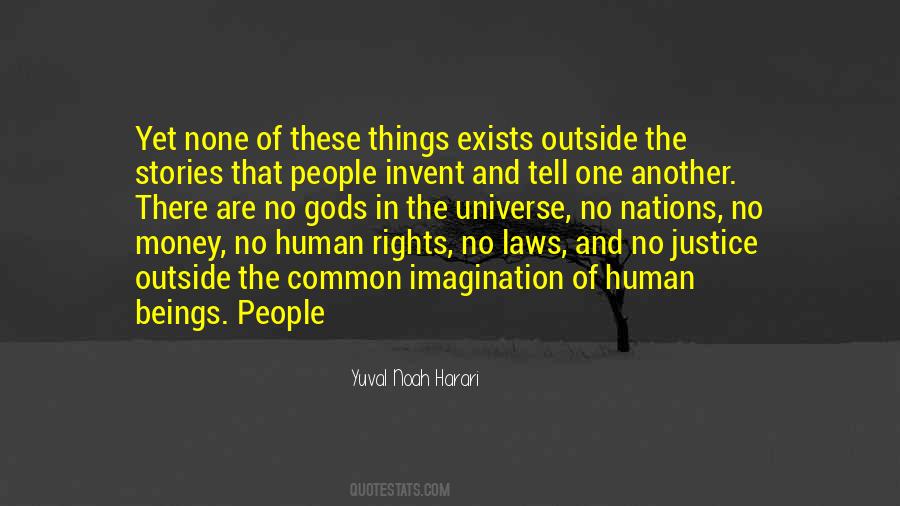 #18. I am not just a celebrity, I'm a human-rights advocate for the last 20 years. - Author: Bianca Jagger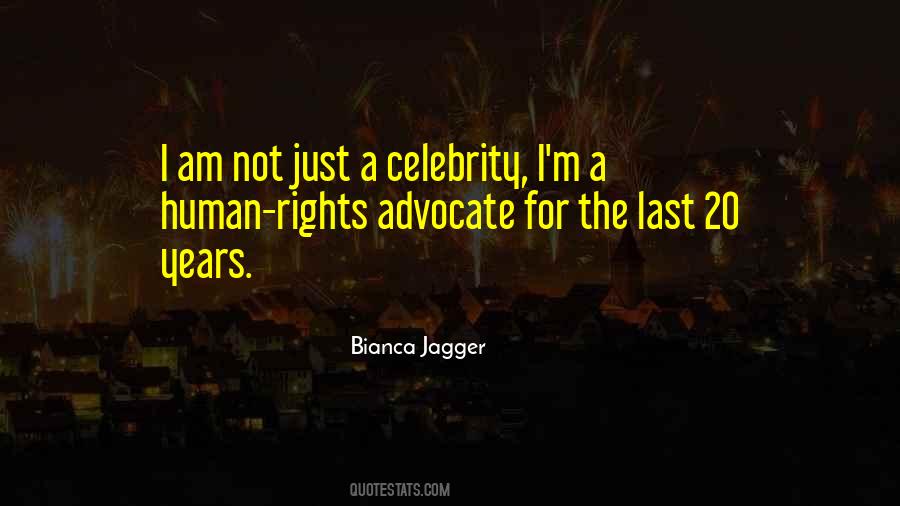 #19. Sometimes you need to swallow hard and recognise your enemy as a fellow human being like who has the same rights as you and accept that you need to live in same space. - Author: Bangambiki Habyarimana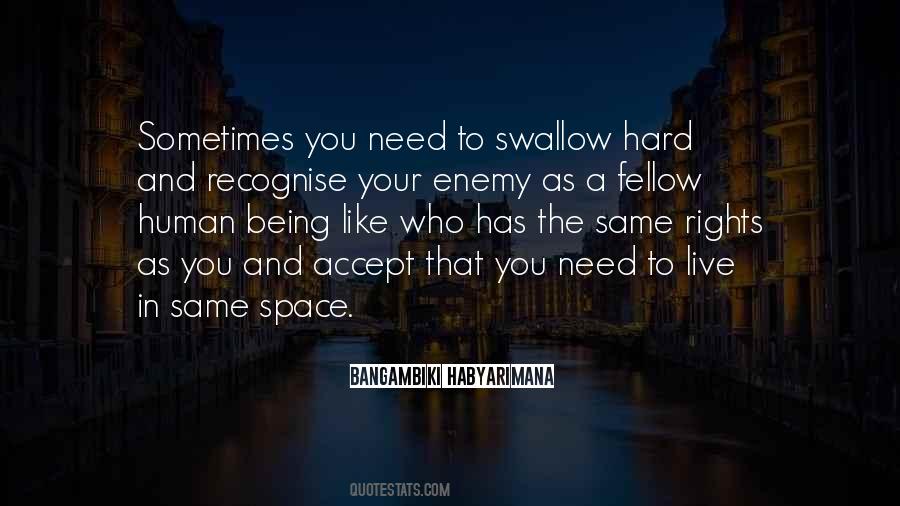 #20. The best way to be more free is to grant more freedom to others. - Author: Carlo Dossi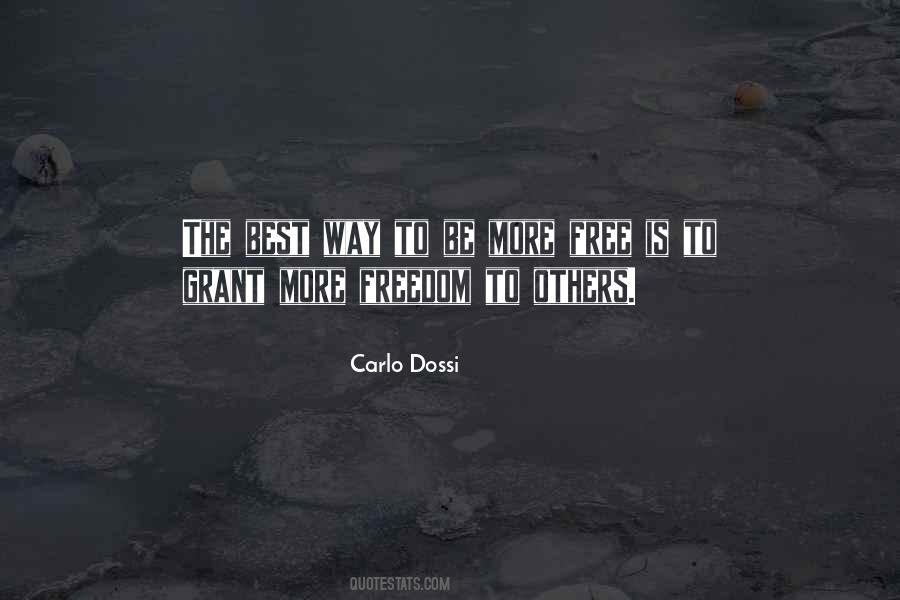 #21. No other country in the world disenfranchises people who are released from prison in a manner even remotely resembling the United States. In fact, the United Nations Human Rights Committee has charged that U.S. disenfranchisement policies are discriminatory and violate international law. - Author: Michelle Alexander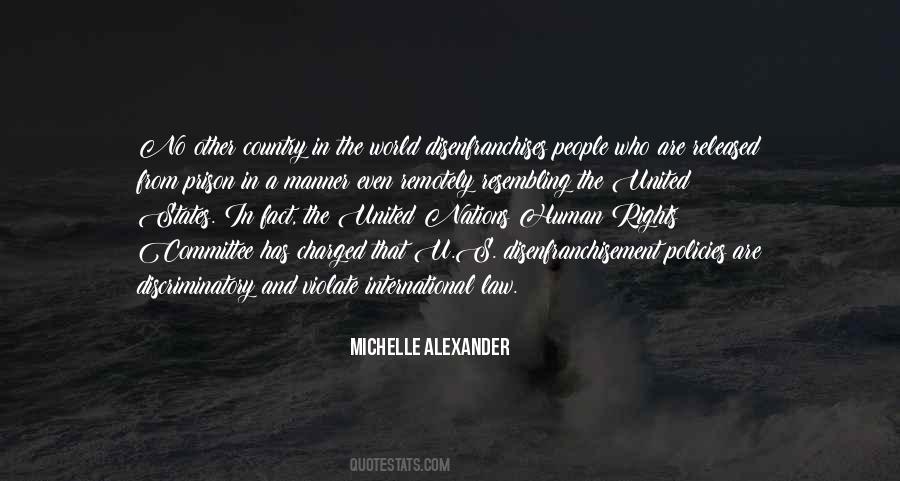 #22. And also a lot of Muslims are no more religious then the average Swede. For them it's natural that human rights come first. - Author: Bjorn Ulvaeus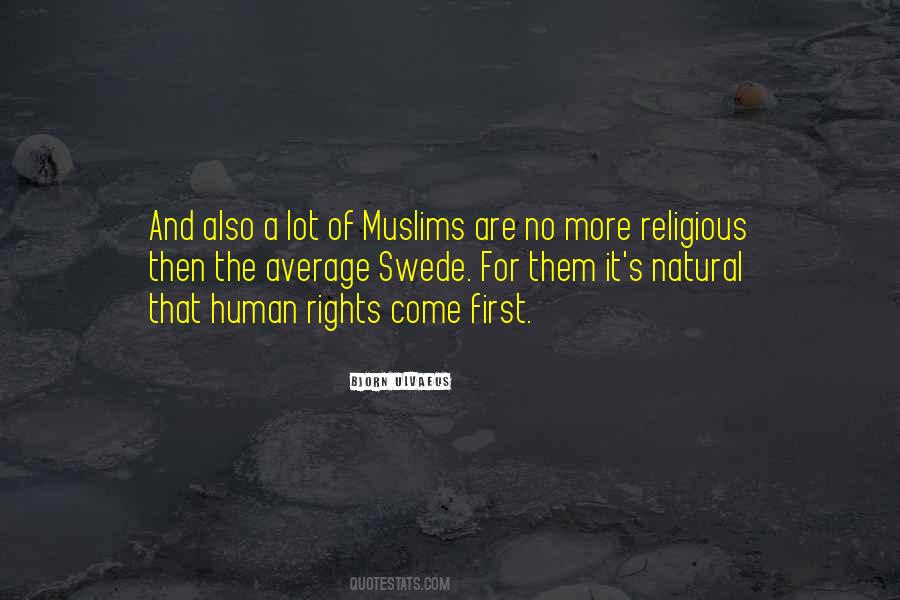 #23. The investigation of the rights of the slave has led me to a better understanding of my own. I have found the anti-slavery cause to be ... the school in which human rights are more fully investigated and better understood and taught than in any other. - Author: Angelina Grimke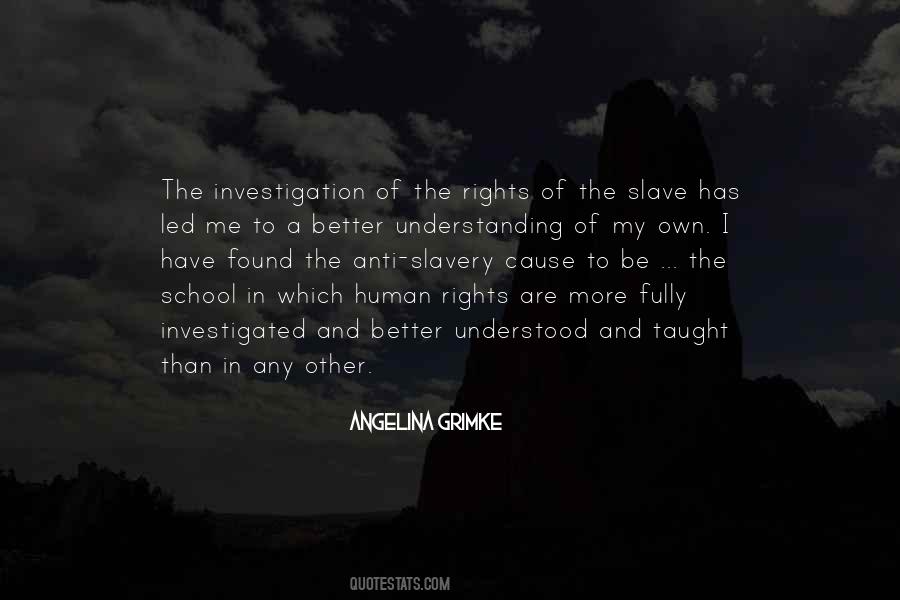 #24. In the areas which have been disturbed people are living cordially with the Security Forces. In areas like Gulu people are living peacefully. There is scrupulous respect of human rights. - Author: Yoweri Museveni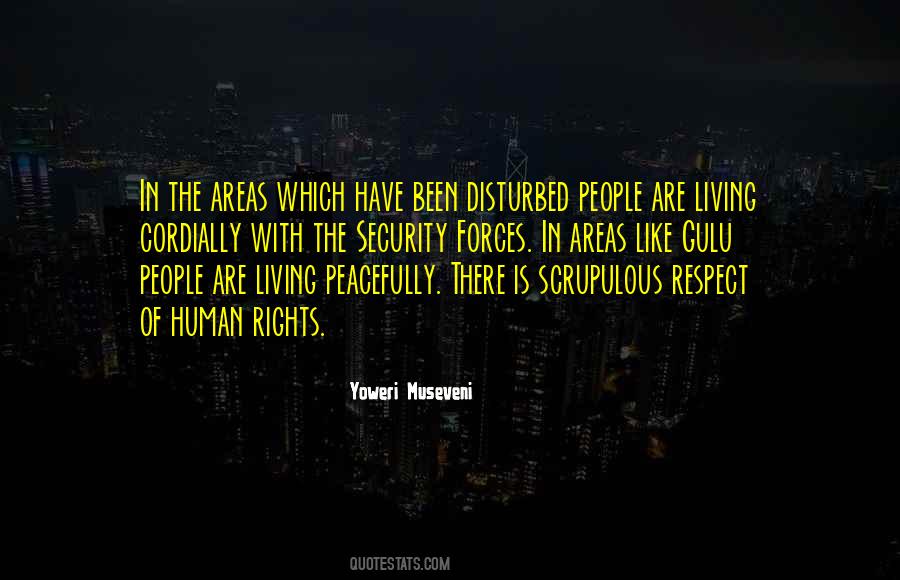 #25. Gospel music is nothing but singing of good tidings -- spreading the good news. It will last as long as any music because it is sung straight from the human heart. - Author: Mahalia Jackson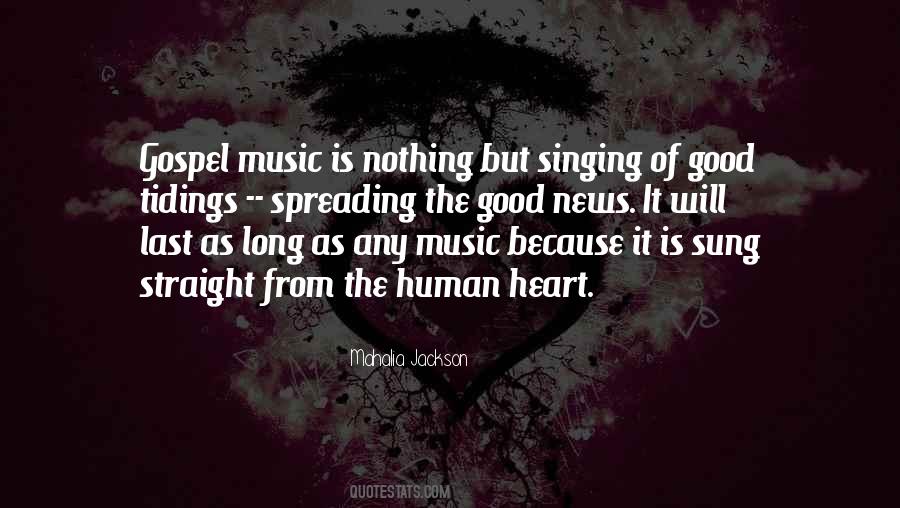 #26. Very sad to hear about the passing of Nelson Mandela. He was a true inspiration for human rights and equality for South Africa and the reason apartheid no longer exists there. The world will never forget his capacity for forgiveness and magnanimity. RIP - Author: Bryan Adams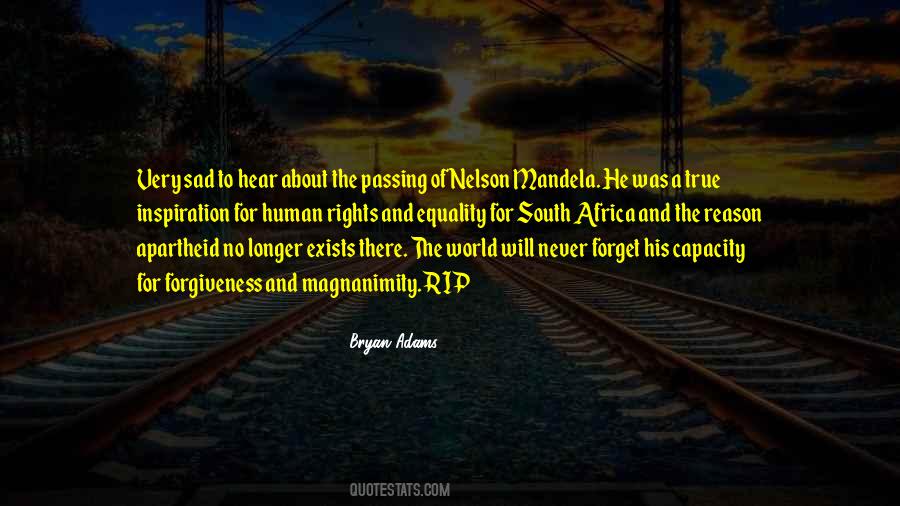 #27. It is the purpose of government to see that not only the legitimate interests of the few are protected but that the welfare and rights of the many are conserved. - Author: Franklin D. Roosevelt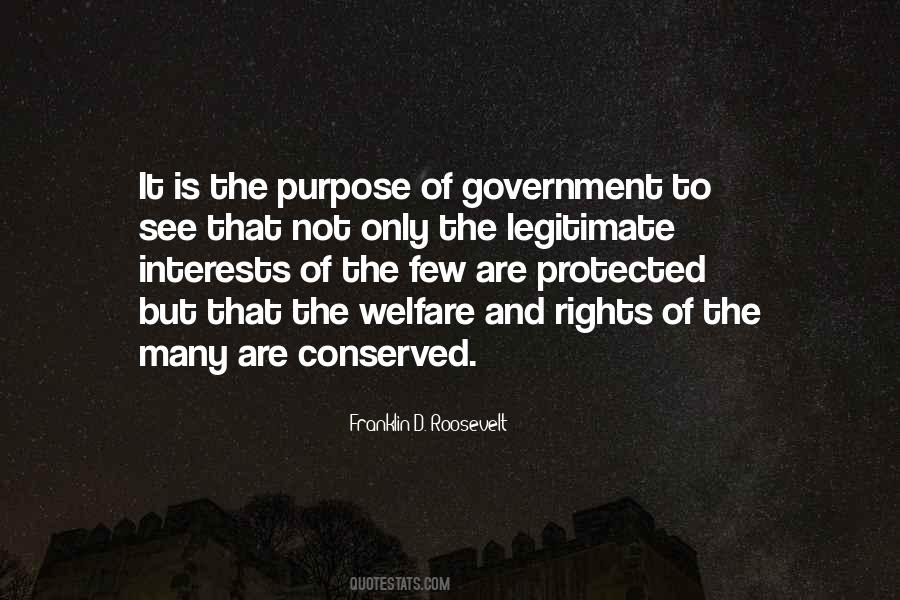 #28. An advanced human rights friendly Constitution is fine and well - but what good is it if it is not put into practice? The government says it cherishes the principles in the SA Constitution, and yet acts in a manner which cannot be reconciled with that very Constitution. - Author: Christina Engela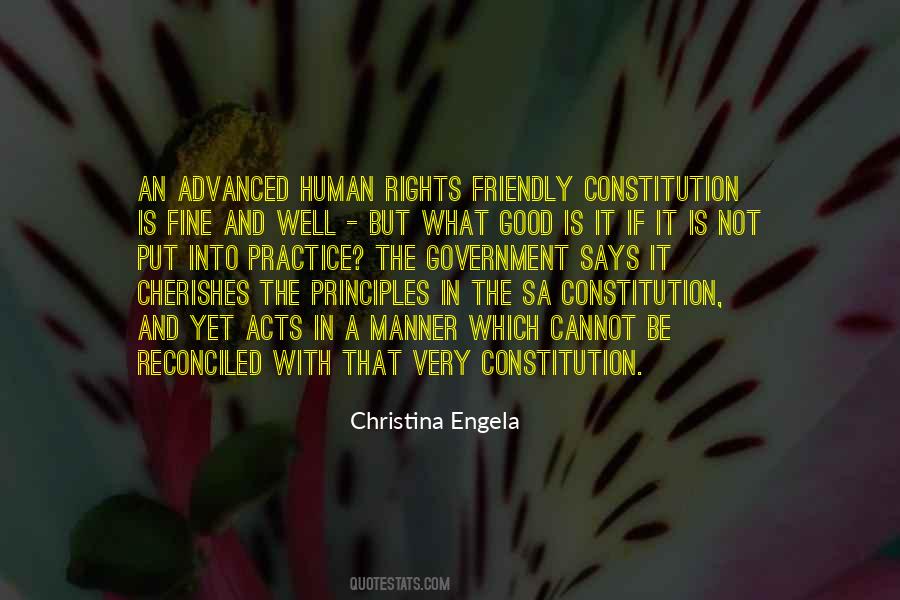 #29. May you have the courage to choose love over hate. - Author: Leta B.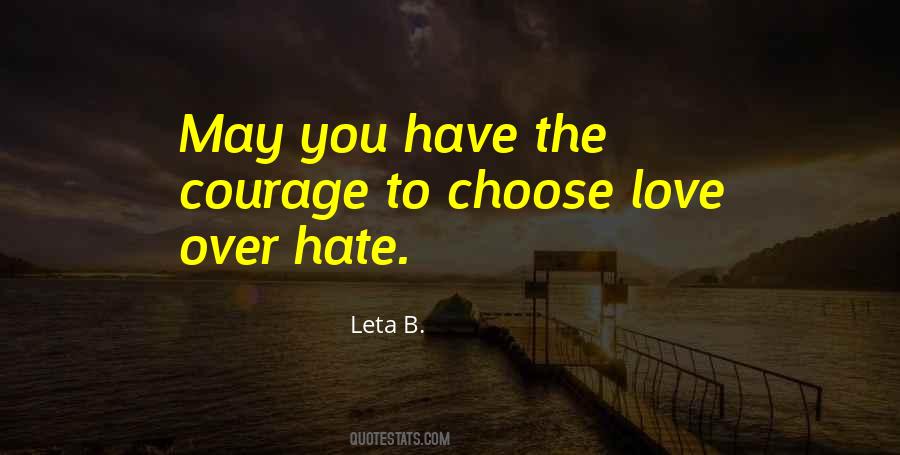 #30. At the Carter Center we work with victims of oppression, and we give support to human rights heroes. - Author: Jimmy Carter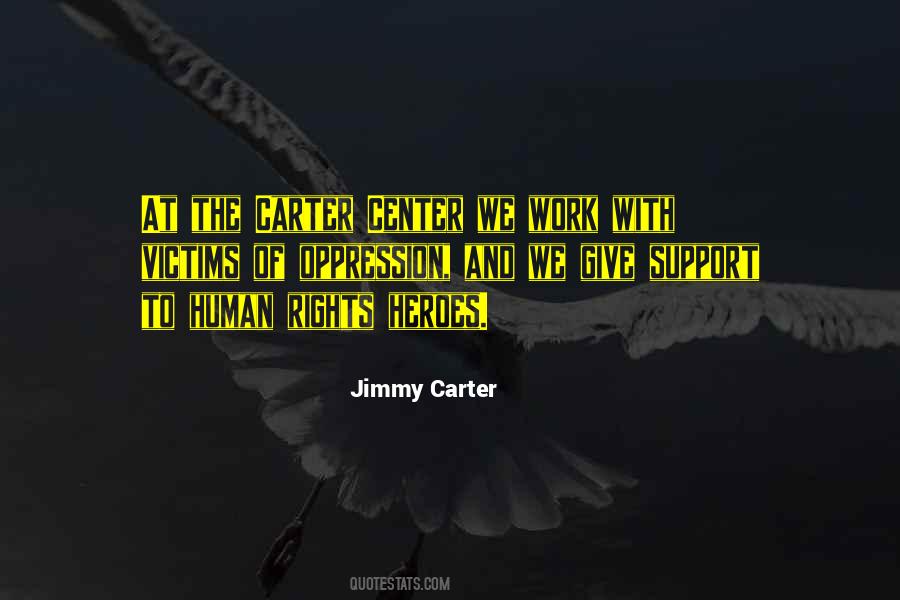 #31. The spread of democracy, the new foundation of the rule of law, and the creation of fledgling representative governments that honor and respect human rights-together these actions spell out the increasing marginalization of the terrorists, as they have fewer and fewer places to run and hide. - Author: John Cornyn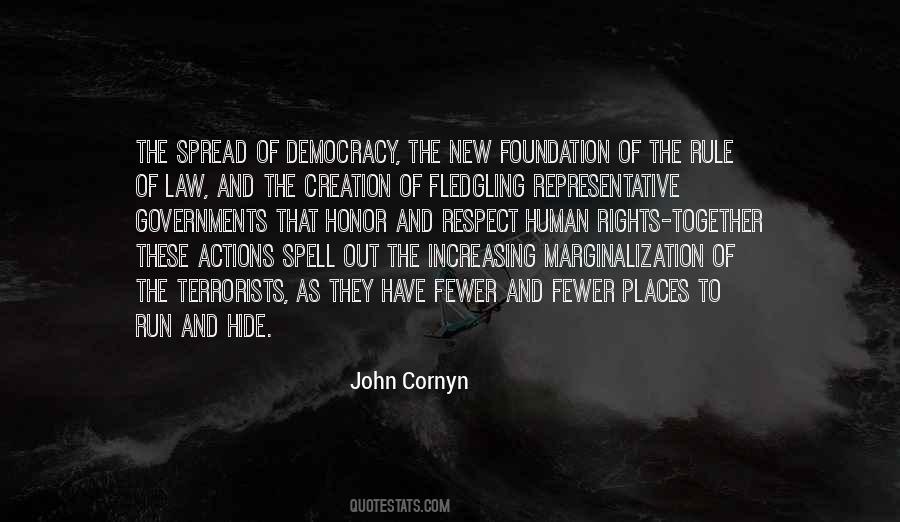 #32. Rights are either God-given as part of the divine plan, or they are granted by government as part of the political plan. If we accept the premise that human rights are granted by government, then we must be willing to accept the corollary that they can be denied by government. - Author: Ezra Taft Benson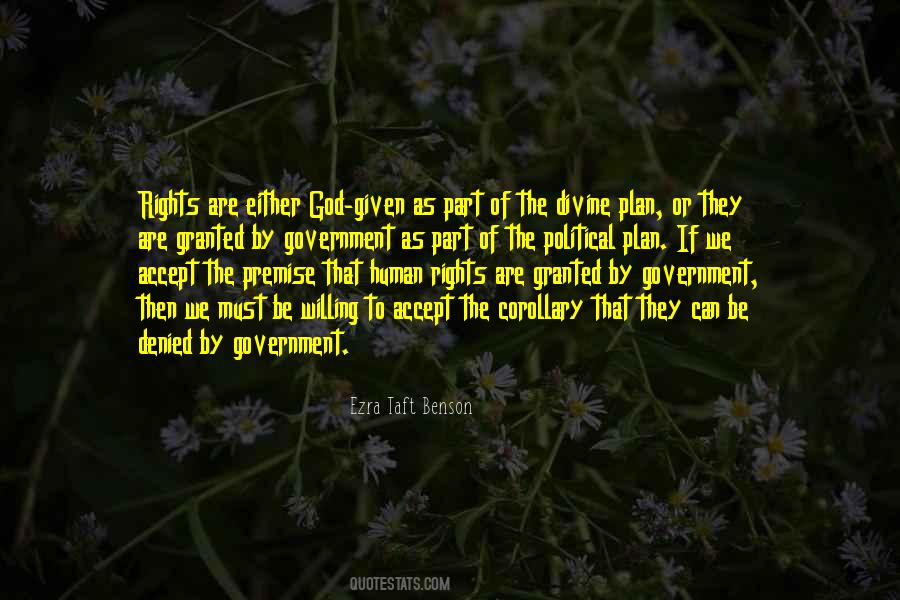 #33. The critical question is how a religious tradition is interpreted. Is it interpreted in ways that are pro-human rights or in ways that are a throwback to the Dark Ages? - Author: Khaled Abou El Fadl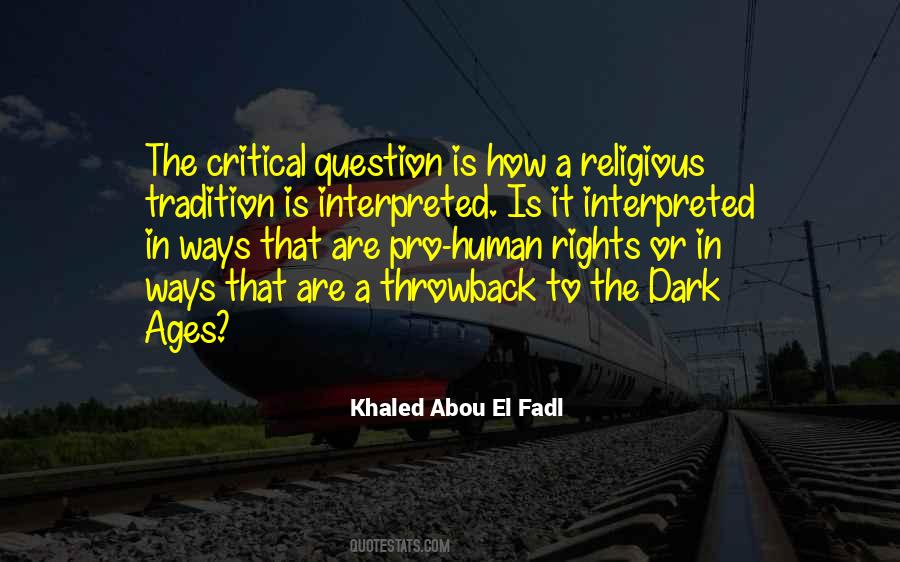 #34. Understanding how your business affects human rights and using that knowledge to shape appropriate policies and practices is crucial to achieving what should be the goal of all corporations - sustainable growth. - Author: Cherie Blair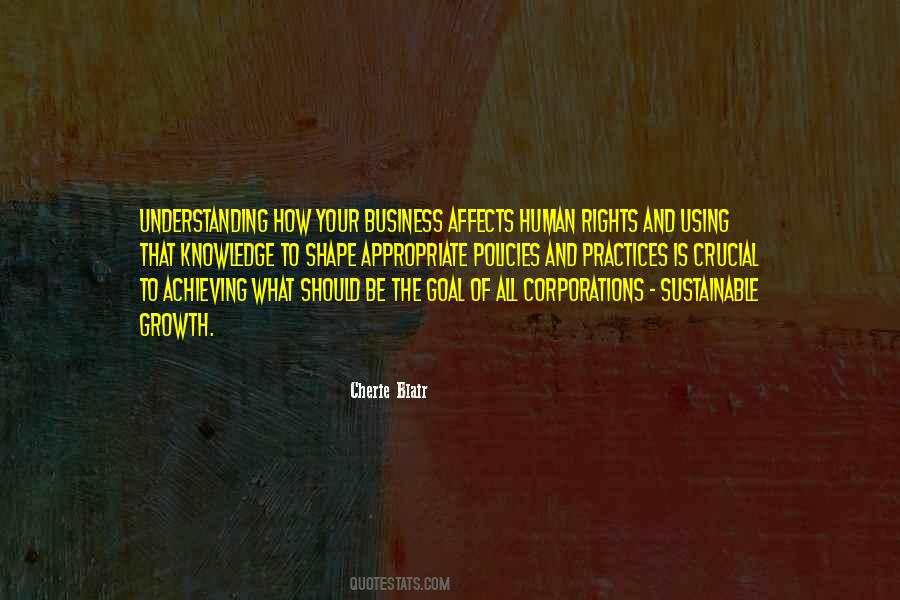 #35. I am strongly pro-life, and have fought to protect the rights of the unborn my entire career. I will continue to fight for this cause because I value the sanctity of all human life. - Author: Rob Bishop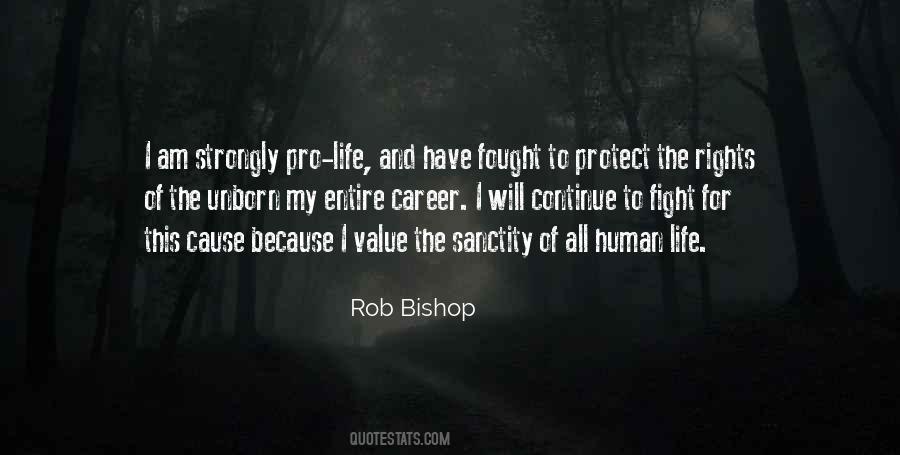 #36. We can't build a safer world with honorable intentions and good will alone. Achieving the fundamental goals our nation seeks in world affairs - peace, human rights, economics progress national independence and international stability - means supporting our friends and defending our interests. - Author: Ronald Reagan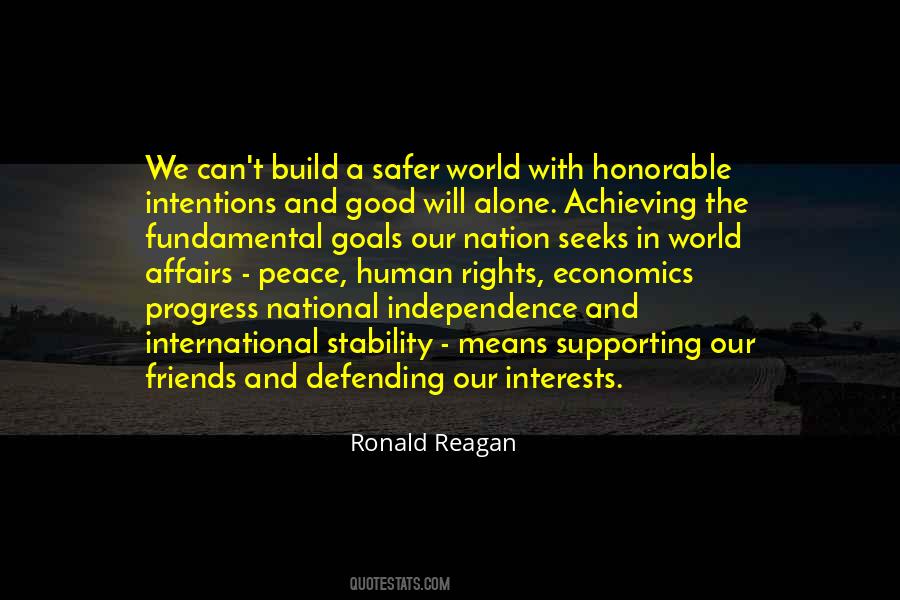 #37. The indifference, callousness, and contempt that so many people exhibit toward animals is evil first because it results in great suffering towards animals, and second because it results in an incalculably great impoverishment of human spirit. - Author: Ashley Montagu
#38. It is the press, above all, which wages a positively fanatical and slanderous struggle, tearing down everything which can be regarded as a support of national independence, cultural elevation, and the economic independence of the nation. - Author: Adolf Hitler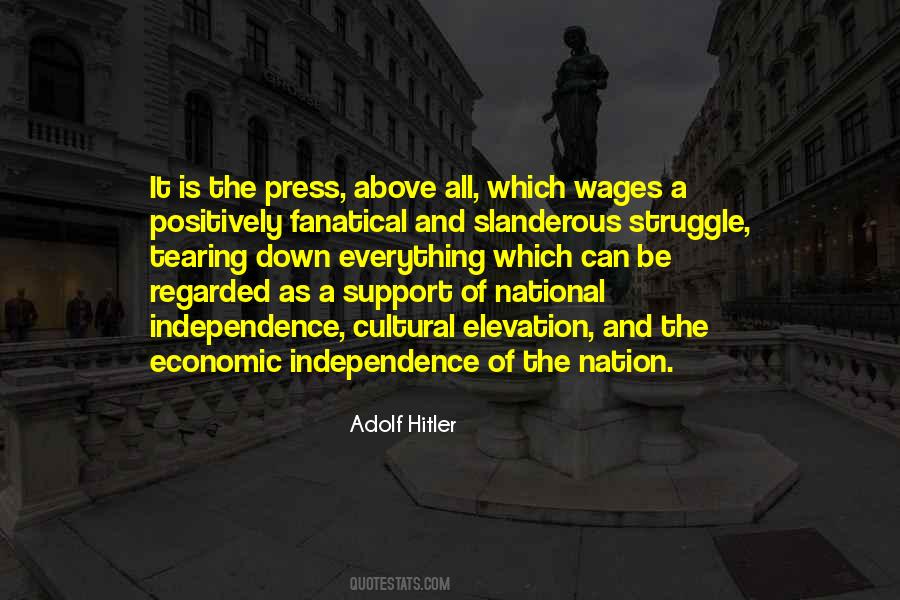 #39. The Olympics brought a lot of development to Beijing, but I don't see that there have been any changes to human rights as a result of the Olympics. - Author: Rebecca MacKinnon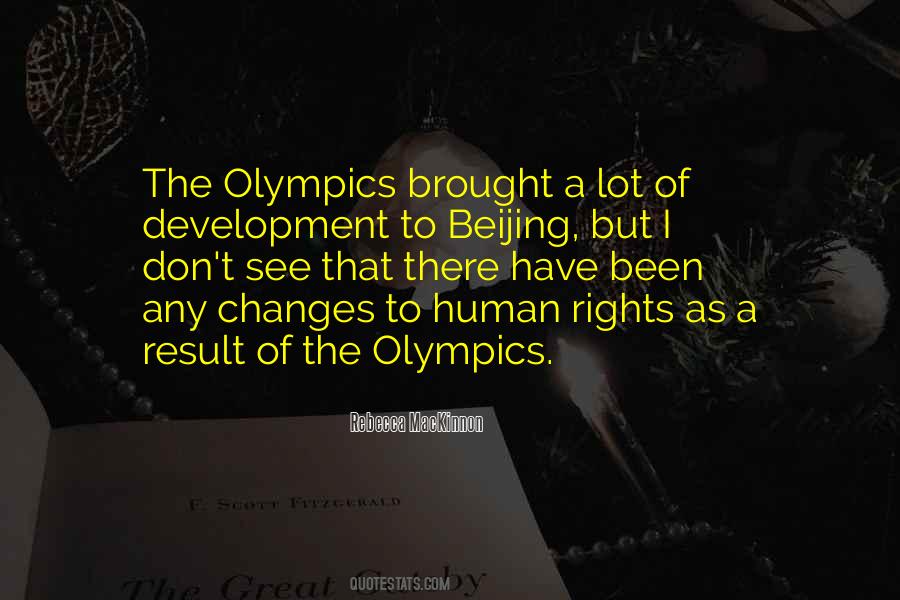 #40. Civilization is human rights, it is the path of setting man free from men, phobia, to survive it, we must cultivate the science of human relationships. - Author: Audrey Hepburn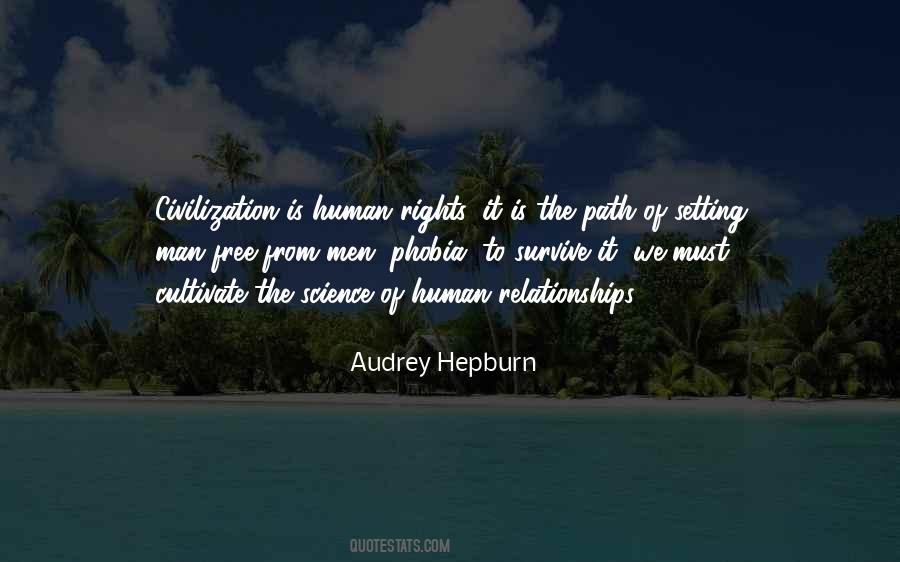 #41. I have spent all my life advocating on behalf of the poor, oppressed and marginalized. As a social justice and human rights activist, and now as President of the Republic of Malawi, I have a deep appreciation for the challenges of those on the margins of society. - Author: Joyce Banda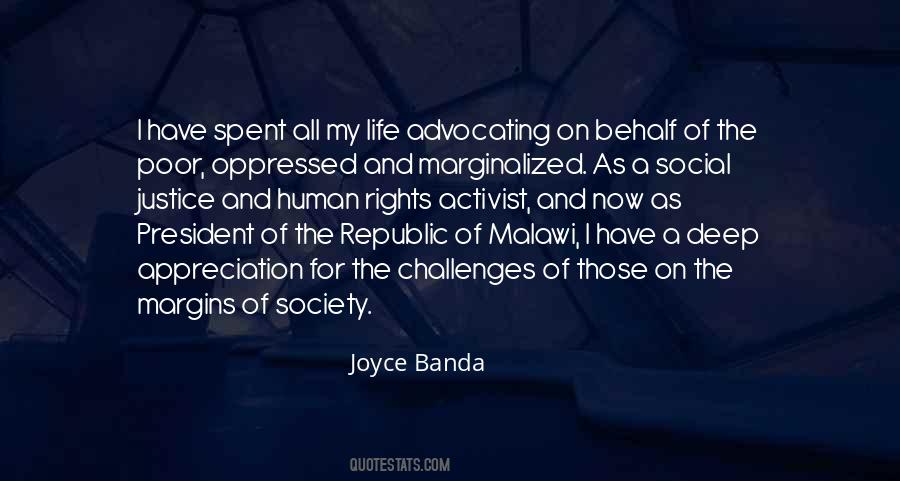 #42. Human rights commissions, as they are evolving, are an attack on our fundamental freedoms and the basic existence of a democratic society ... It is in fact totalitarianism. I find this is very scary stuff. - Author: Stephen Harper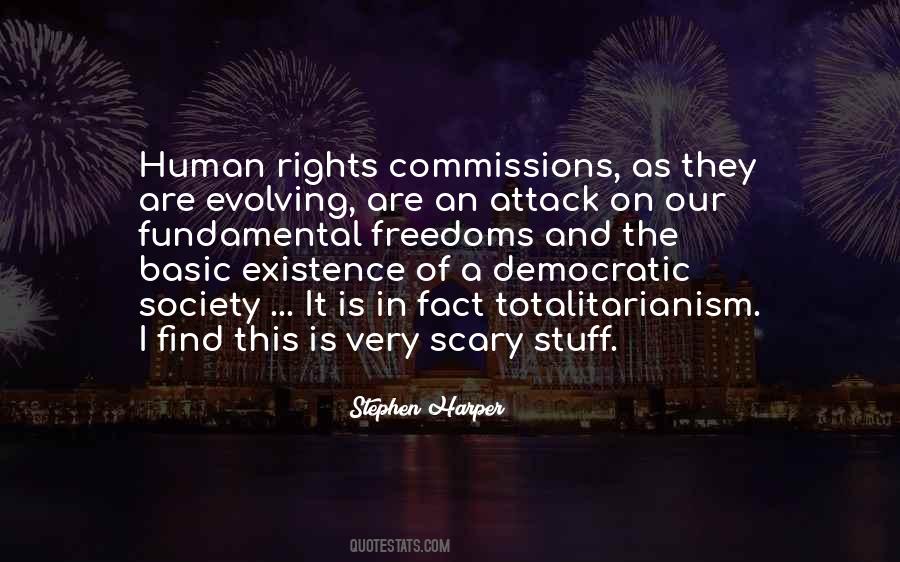 #43. The disgraceful and shameful construction of walls, the increasing enforcement of security systems and increasing violation of human rights and labor rights will not protect the economy of the United States. - Author: Tucker Carlson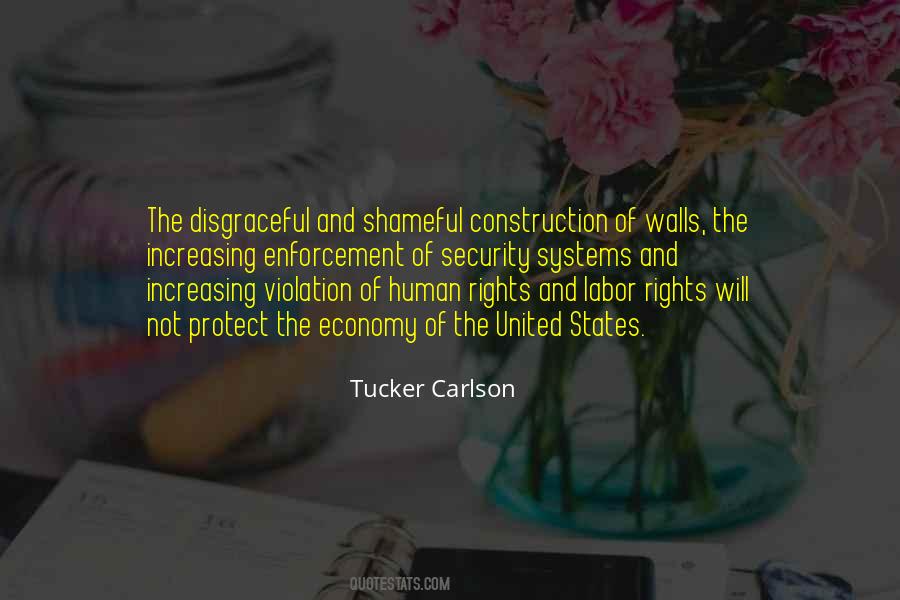 #44. Prejudice is poison in the veins of the world. - Author: Leta B.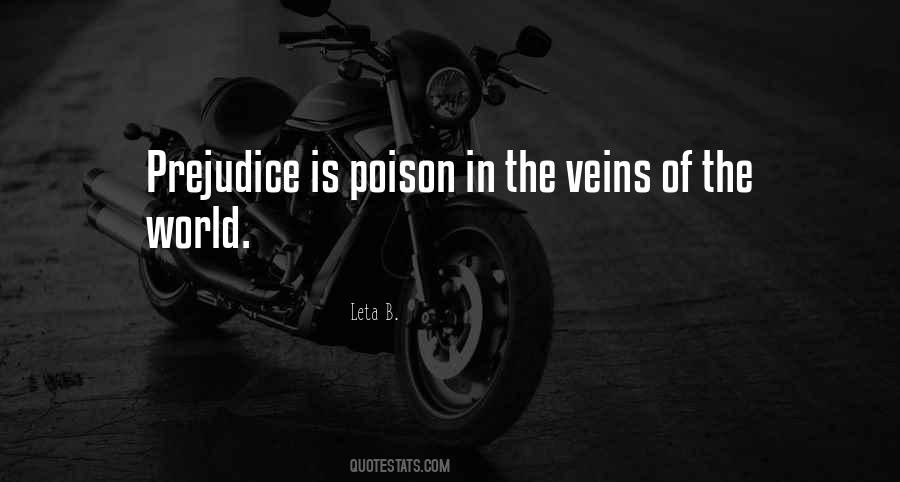 #45. John's old Caddie had a huge engine that would qualify as a human rights violation if built today. It roared down the road, chugging gas and farting a blue cloud of dinosaur souls. - Author: David Wong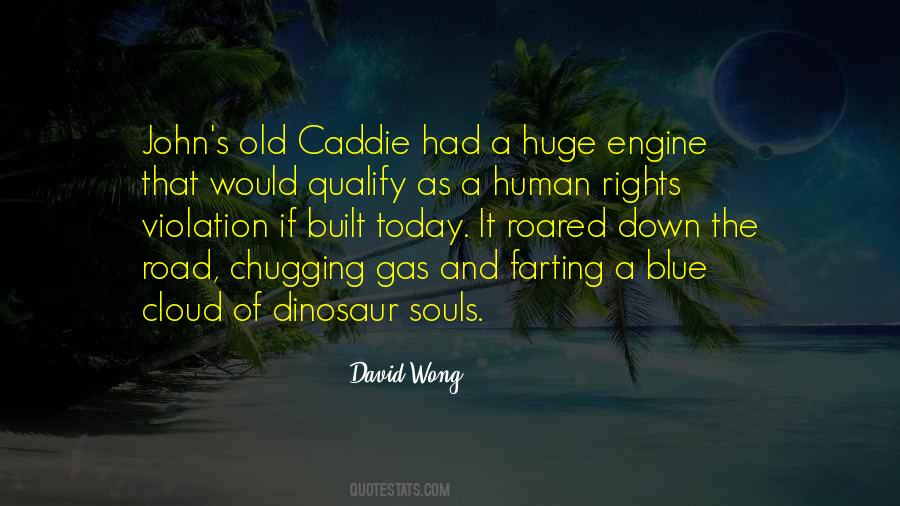 #46. Economic dynamism can be combined with environmental and social responsibility. High financial returns can go hand in hand with respect for human rights, and the preservation of the planet's natural resources - Author: David Miliband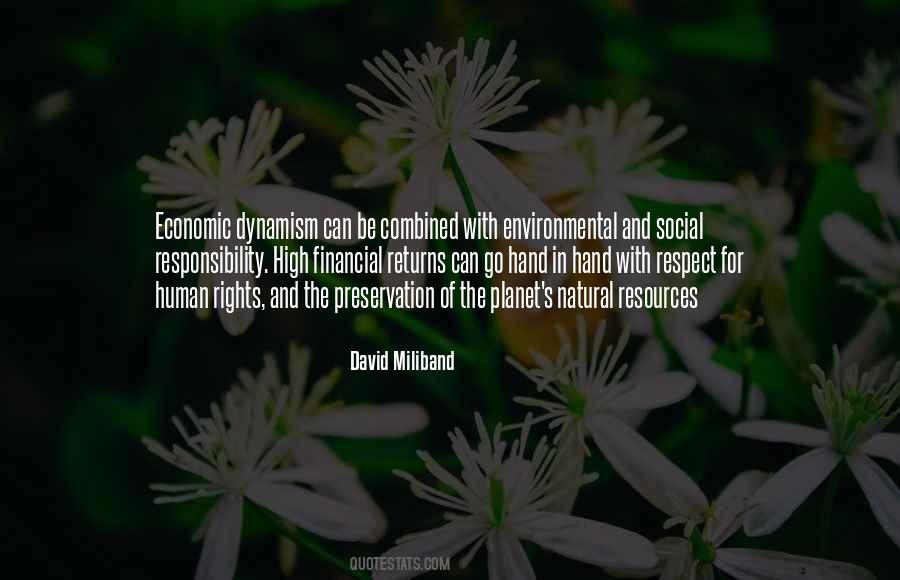 #47. Movies like 'The Interview' and 'Team America: World Police' don't often show the realities of life in North Korea and the human rights violations perpetrated by the government there. - Author: Jennifer Armintrout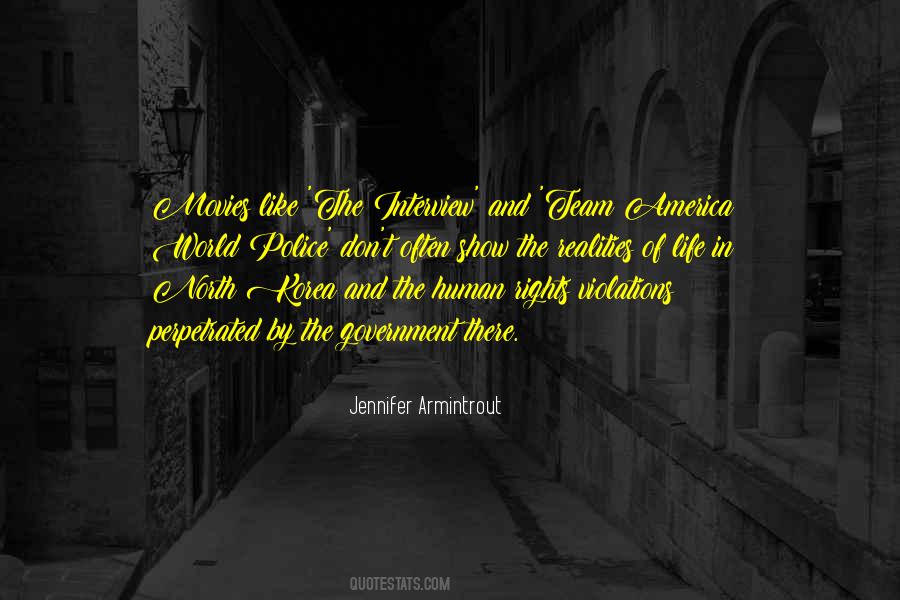 #48. I'm 21 years old, and it's kind of uncomfortable for me to talk about, but I'm in the 1 percent as far as my income and tax bracket. But now that I'm here, there's no amount of money you can wave in front of my face that will make me understand depriving people of human rights. - Author: Halsey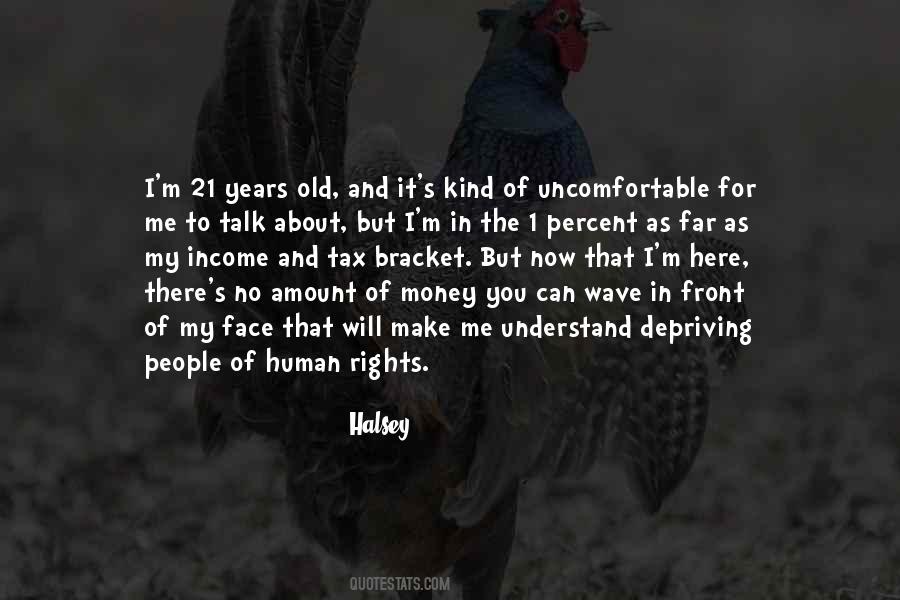 #49. All women and girls have the fundamental right to live free of violence. This right is enshrined in international human rights and humanitarian law. And it lies at the heart of my UNiTE to End Violence against Women campaign. - Author: Ban Ki-moon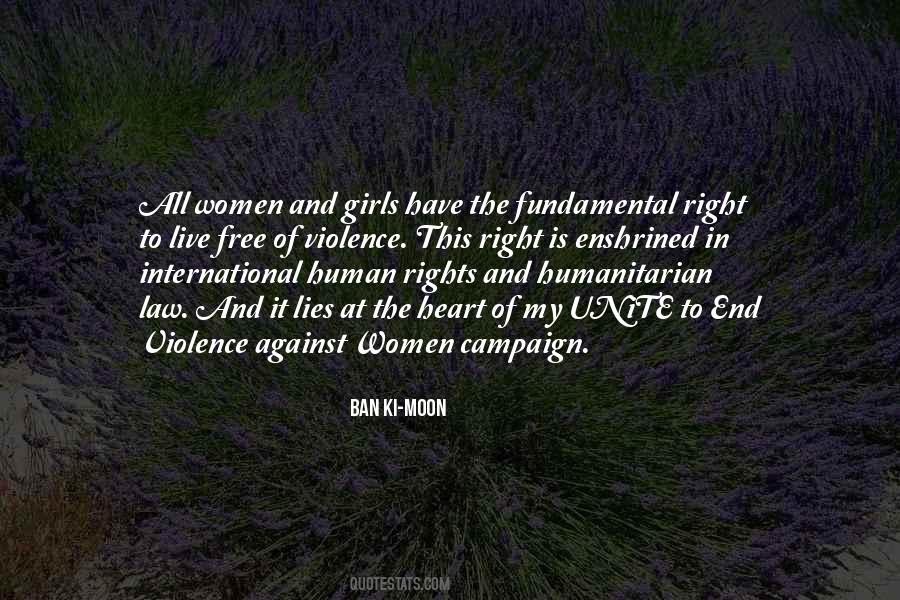 #50. Slavery, racism, sexism, and other forms of bigotry, subordination, and human rights abuse transform and adapt with the times. - Author: John Prendergast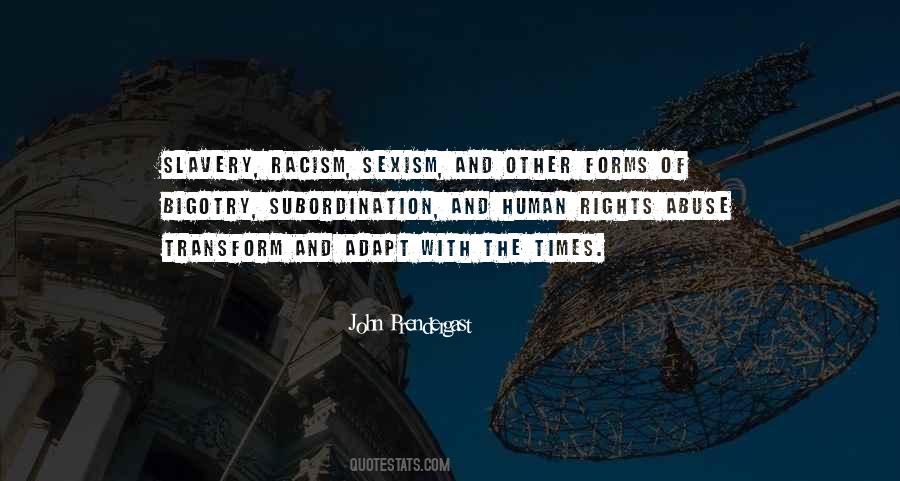 #51. Our goals can only be achieved with a society that respects and equally protects the rights of every human being, old and young, rich and poor, regardless of gender, color, race, or creed. We must reject the initiation of violence by individuals or government as morally repugnant. - Author: Ron Paul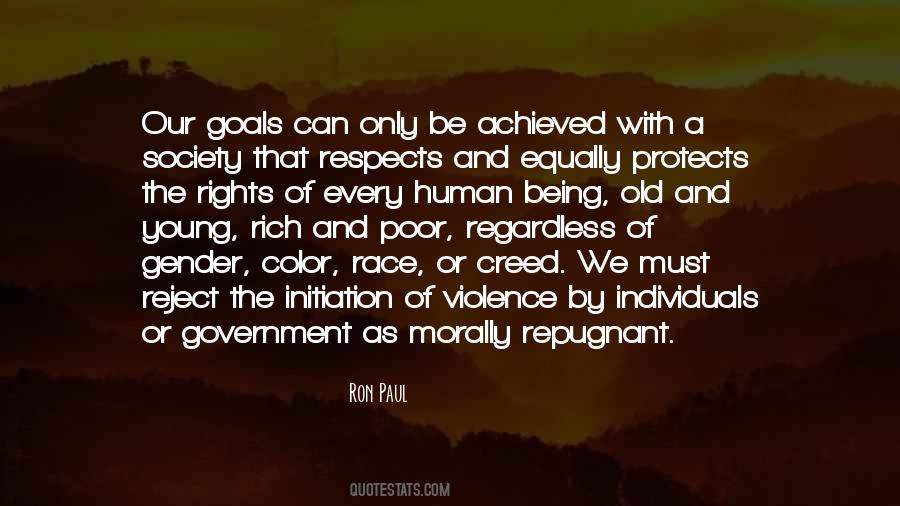 #52. If the prisoner is beaten, it is an arrogant expression of fear. - Author: Ghassan Kanafani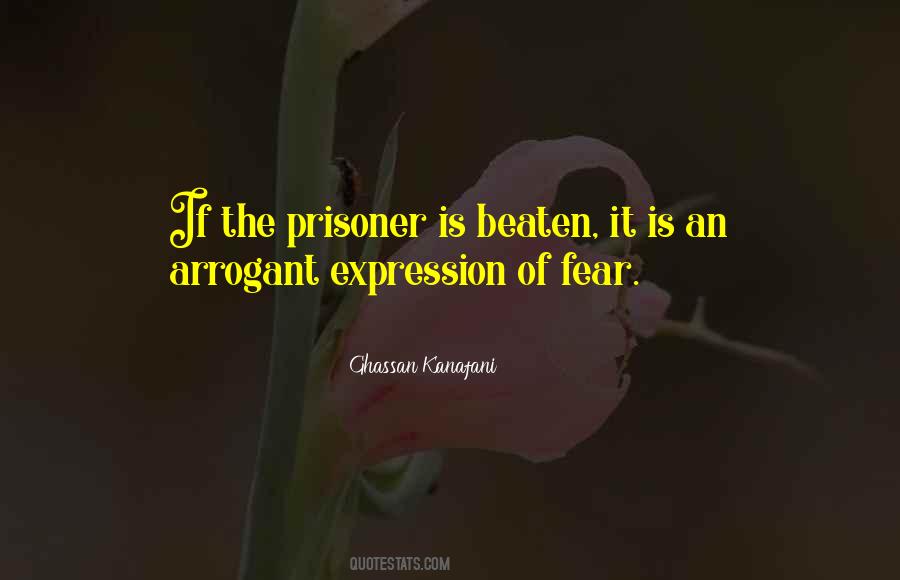 #53. Human rights; they are in the hands of mankind and nowhere else. - Author: Kristian Goldmund Aumann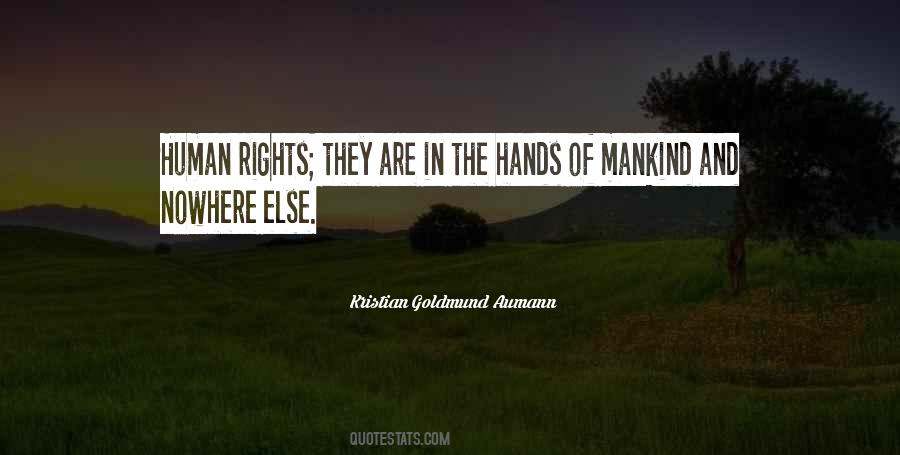 #54. The world must know that America holds to the highest standards of military conduct and human rights protections. Anything less is unacceptable. - Author: Barbara Mikulski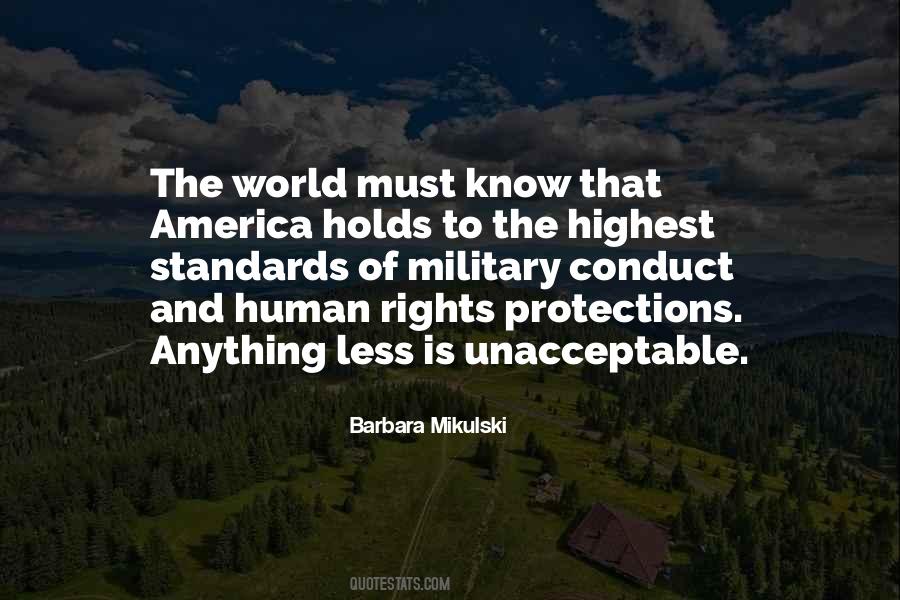 #55. It's long been common practice among many to draw a distinction between "human rights" and "property rights," suggesting that the two are separate and unequal - with "property rights" second to "human rights." - Author: Richard M. Nixon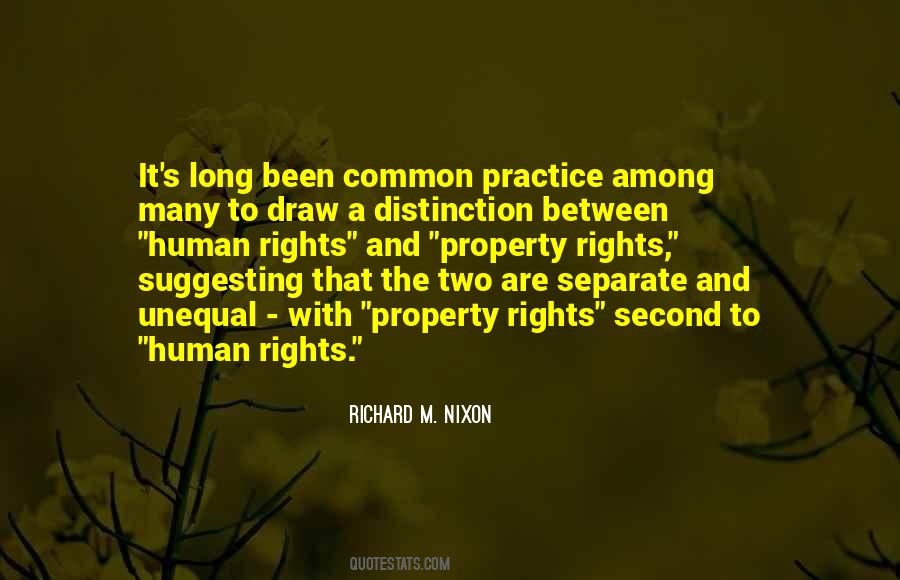 #56. it is hard to argue that housing is not a fundamental human need. Decent, affordable housing should be a basic right for everybody in this country. The reason is simple: without stable shelter, everything else falls apart. - Author: Matthew Desmond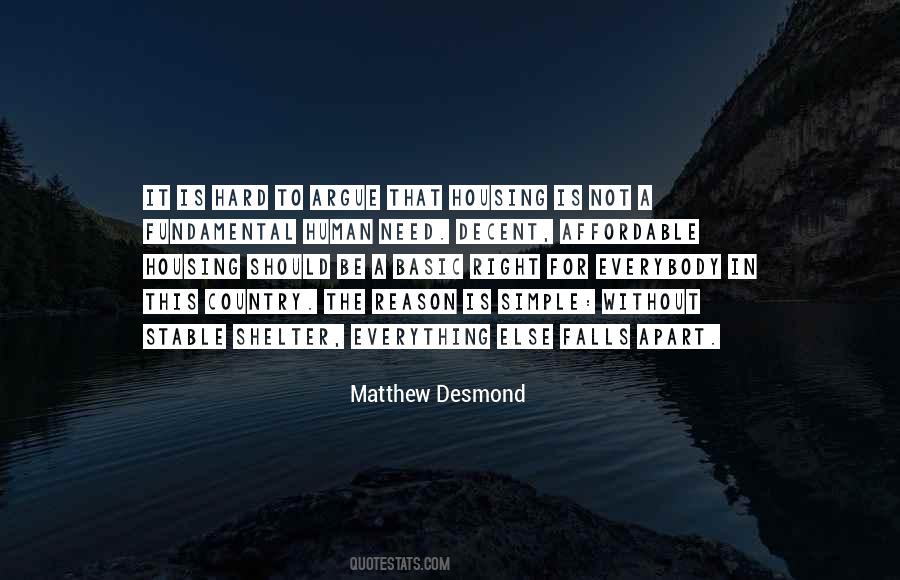 #57. We believe in equality for all, and privileges for none. This is a belief that each American regardless of background has equal standing in the public forum, all of us. Because we believe this idea so firmly, we are an inclusive, rather than an exclusive party. Let everybody come. - Author: Barbara Jordan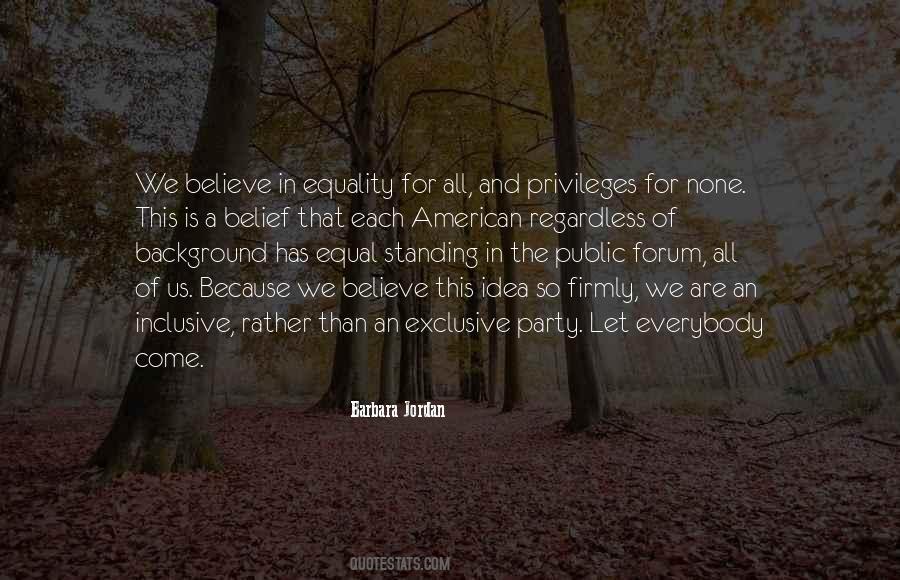 #58. The only solution to the issue of human rights is oblivion. - Author: Augusto Pinochet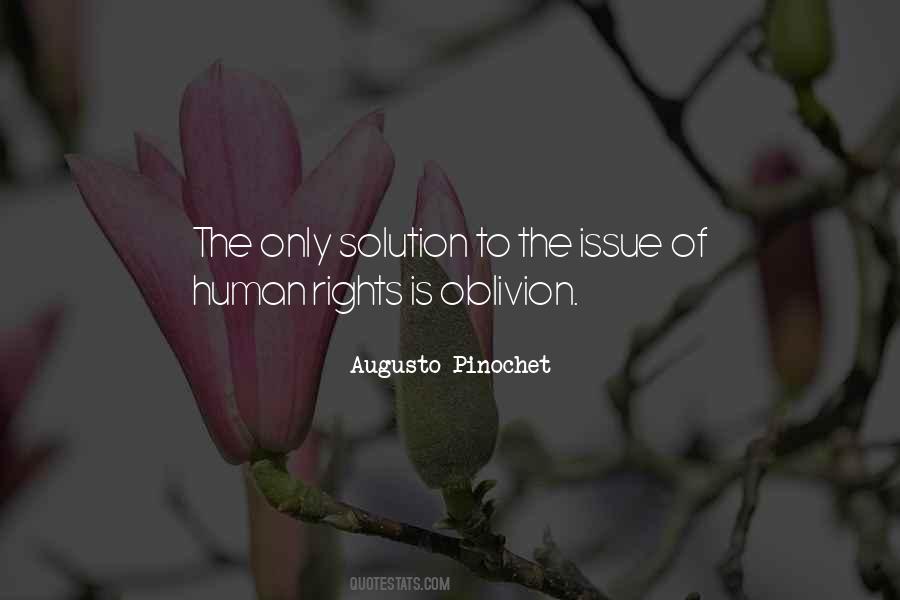 #59. My interest is not data, it's the world. And part of world development you can see in numbers. Others, like human rights, empowerment of women, it's very difficult to measure in numbers. - Author: Hans Rosling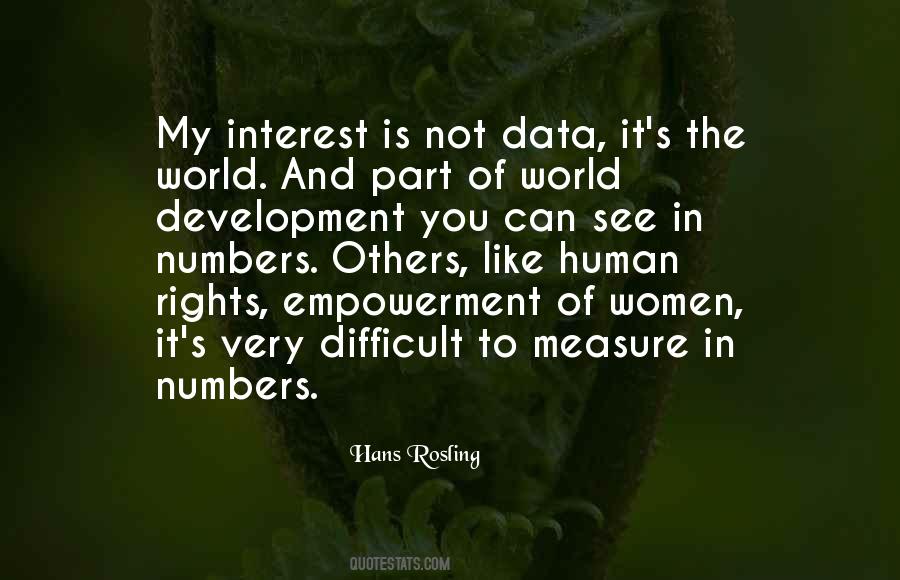 #60. The choices that women make have huge impact on families, on communities and on nations. Being able to provide an enabling environment for them to exercise their rights and make choices in their lives is crucial. It is at the heart of human development! - Author: Babatunde Osotimehin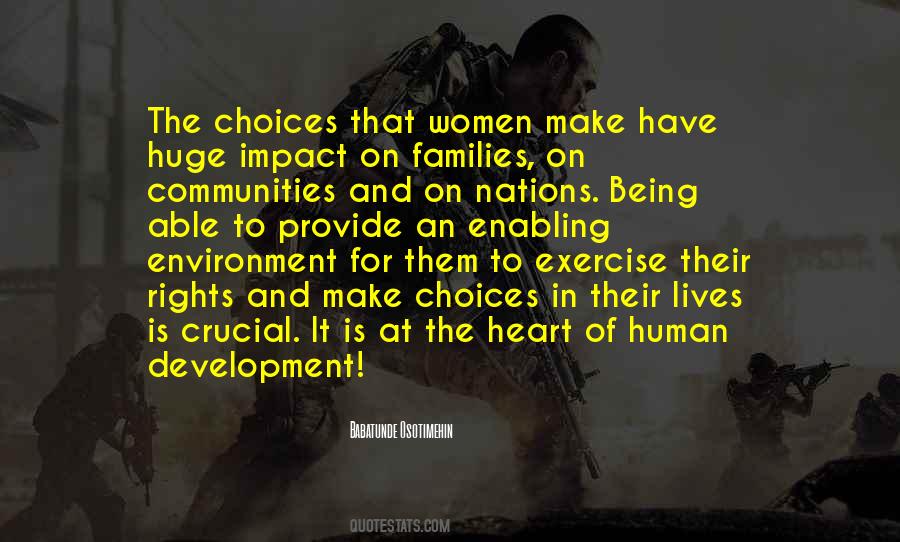 #61. If Islam's sole interest is the welfare of mankind, then Islam is the strongest advocate of human rights anywhere on Earth. - Author: Mos Def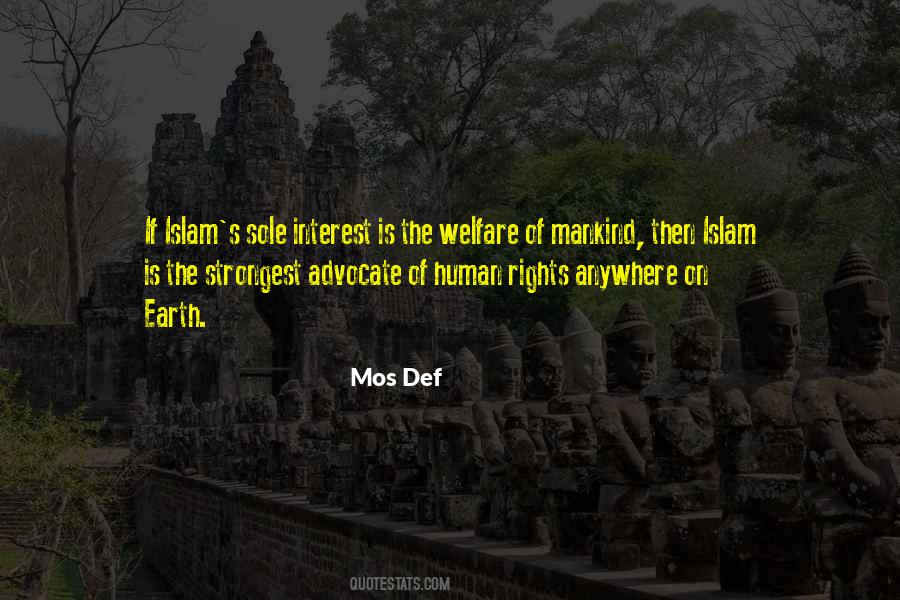 #62. I love revolutionaries who have the courage to stand up against the status quo. They're always misunderstood, but they're the ones who are standing up for human rights. - Author: Richard Hatch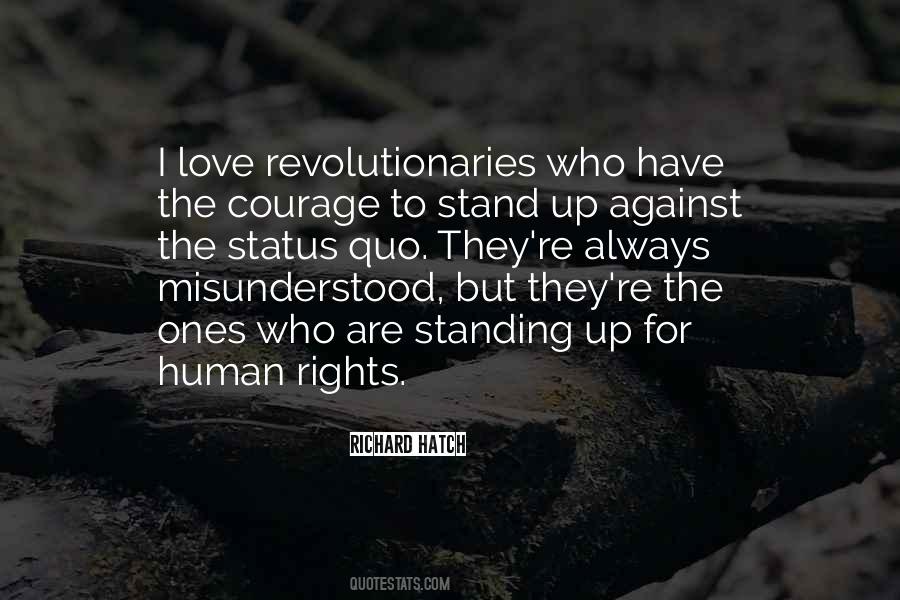 #63. If a country doesn't recognize minority rights and human rights, including women's rights, you will not have the kind of stability and prosperity that is possible. - Author: Hillary Clinton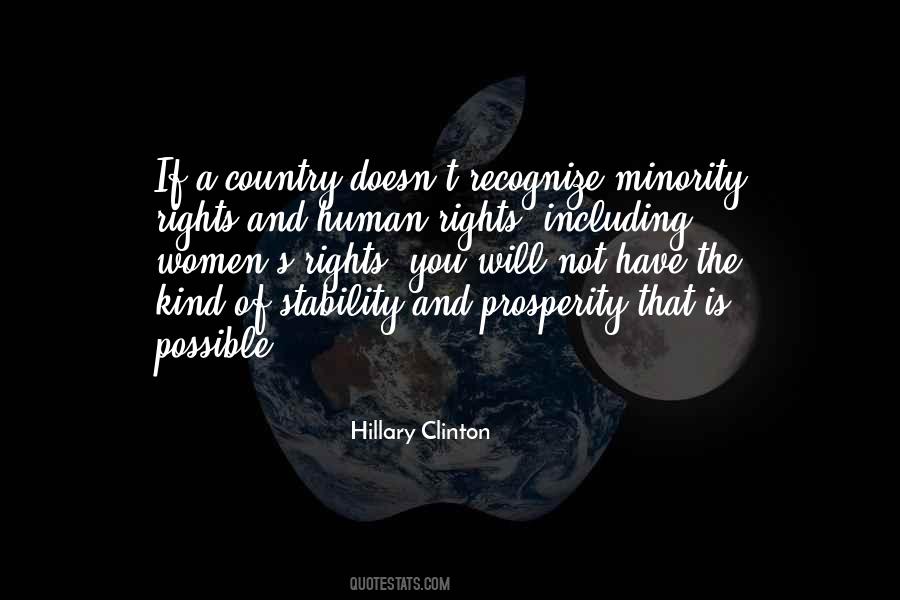 #64. I think that we've made great moral progress in the second half of the 20th century in many respects, and particularly in relation to human rights but I think that we are losing sight of some of the values of concern for others, and self-respect and respect for others. - Author: Alexander McCall Smith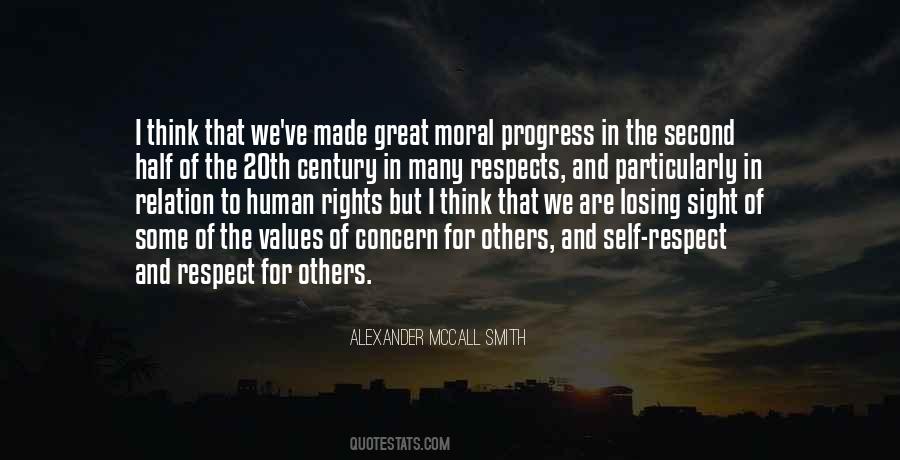 #65. Instead, in the absence of respect for human rights, science and its offspring technology have been used in this century as brutal instruments for oppression. - Author: John Charles Polanyi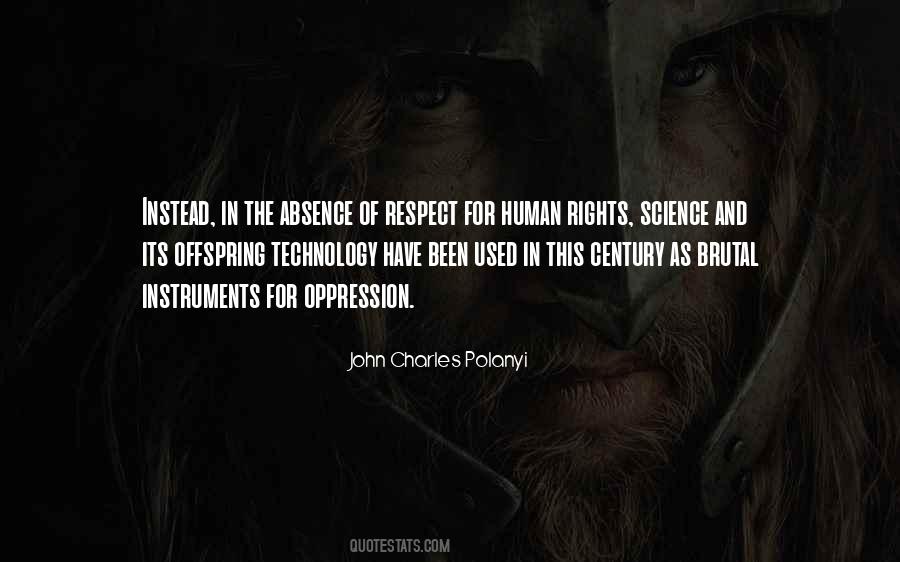 #66. Life is a perspective and for me, if a human being has access to school, clean water, food, proper health care, that is the basis of human rights. - Author: Gelila Bekele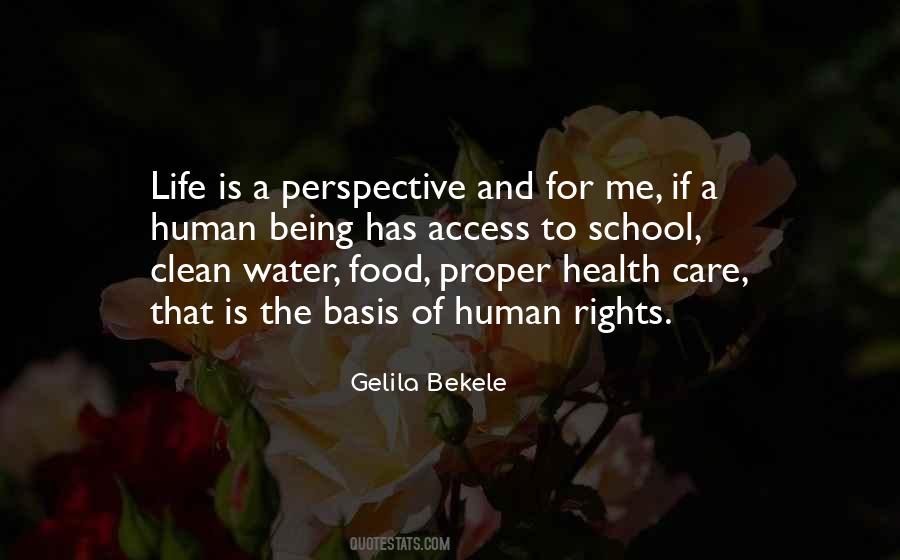 #67. It must be instilled in man that 'peace' is the best legacy we would leave behind for the generations to come, as we practice and follow the edicts of human rights. - Author: Henrietta Newton Martin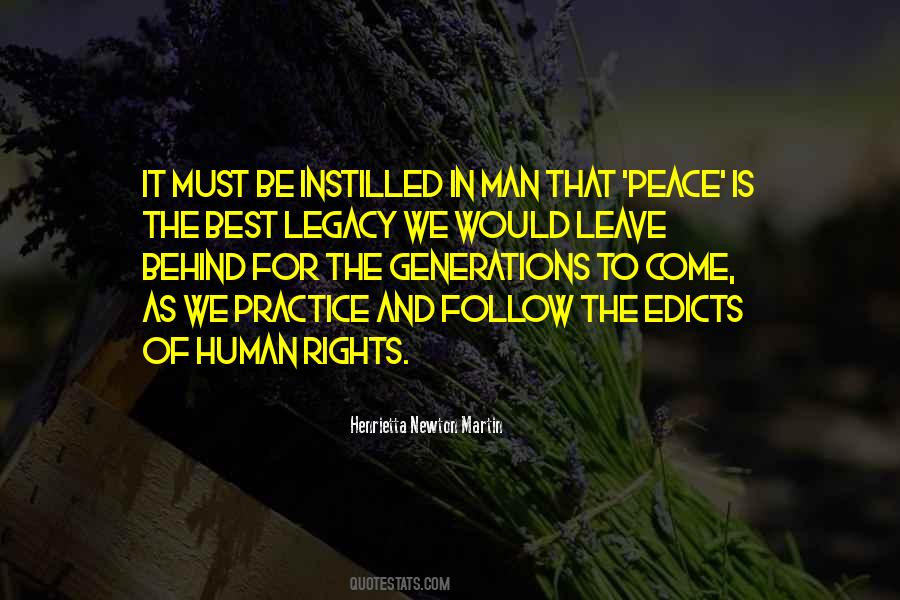 #68. I am in favor of animal rights as well as human rights. That is the way of a whole human being. - Author: Abraham Lincoln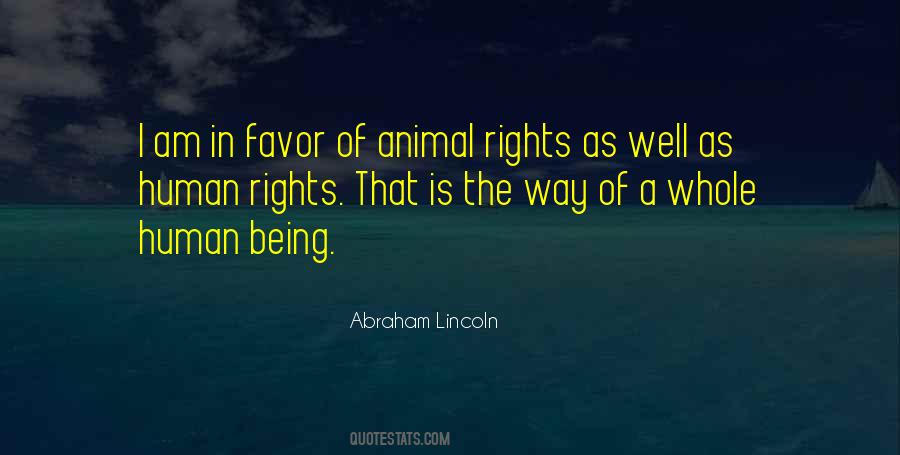 #69. There is nobody that I know who believes that Bank of America is a human being who should be entitled for the same constitutional rights that the people of our country are. - Author: Bernie Sanders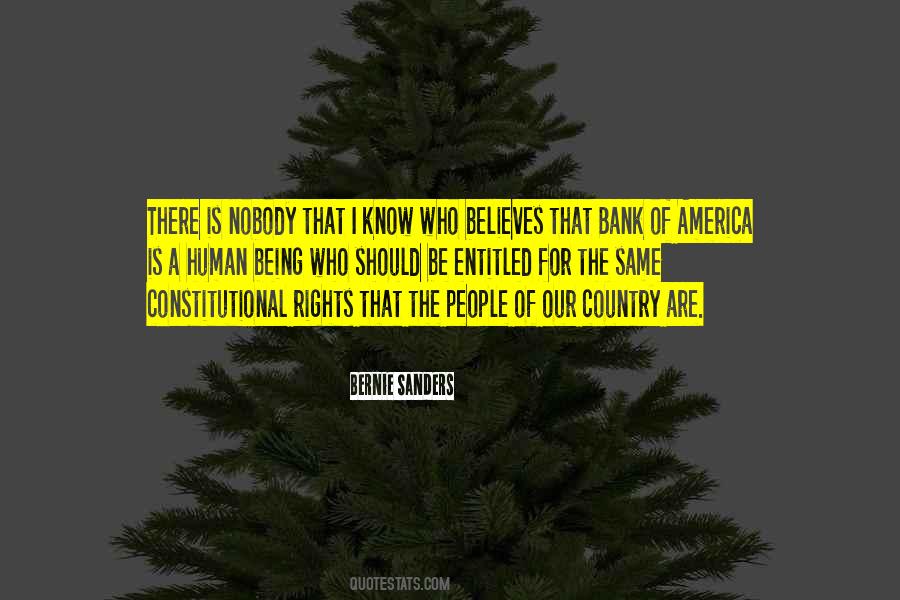 #70. It is because the human experience is universal that human rights are universal. - Author: Hillary Clinton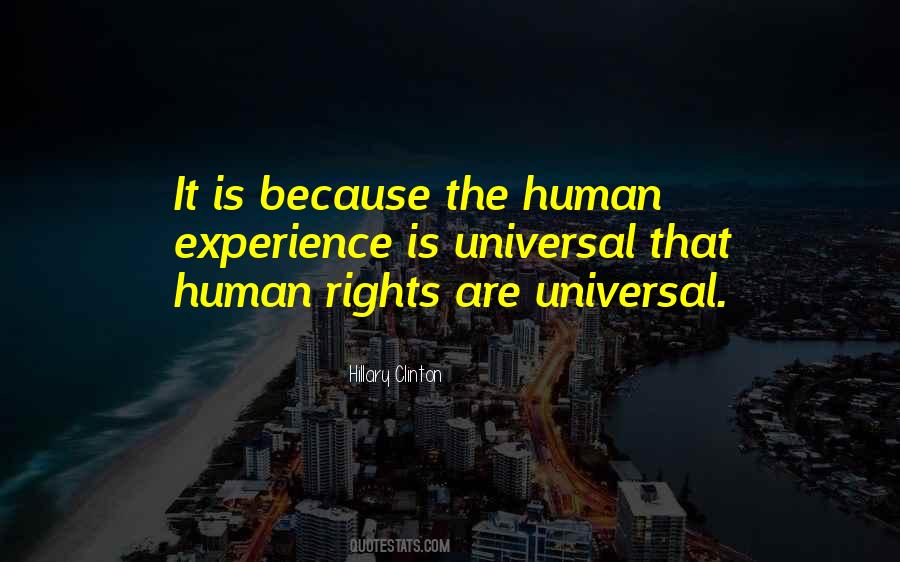 #71. The UN Commission on Human Rights, whose membership in recent years has included countries - such as Libya and Sudan - which have deplorable human rights records, and the recent Oil-for-Food scandal, are just a few examples of why reform is so imperative. - Author: John Linder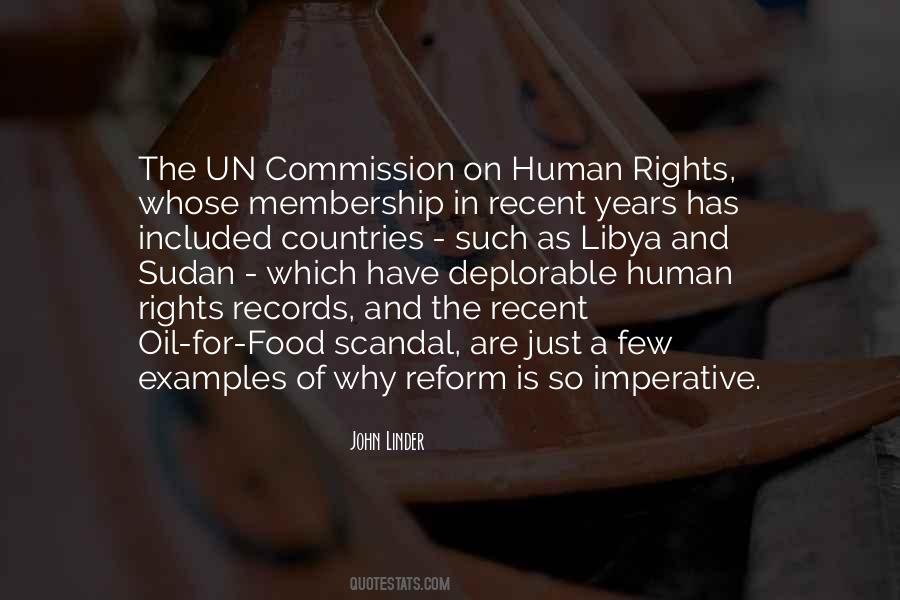 #72. It is not necessary to dwell on the political and social principles of Islam, to underline how close they also are in spirit to the concepts of human rights which govern the political and social systems of the West. - Author: Aly Khan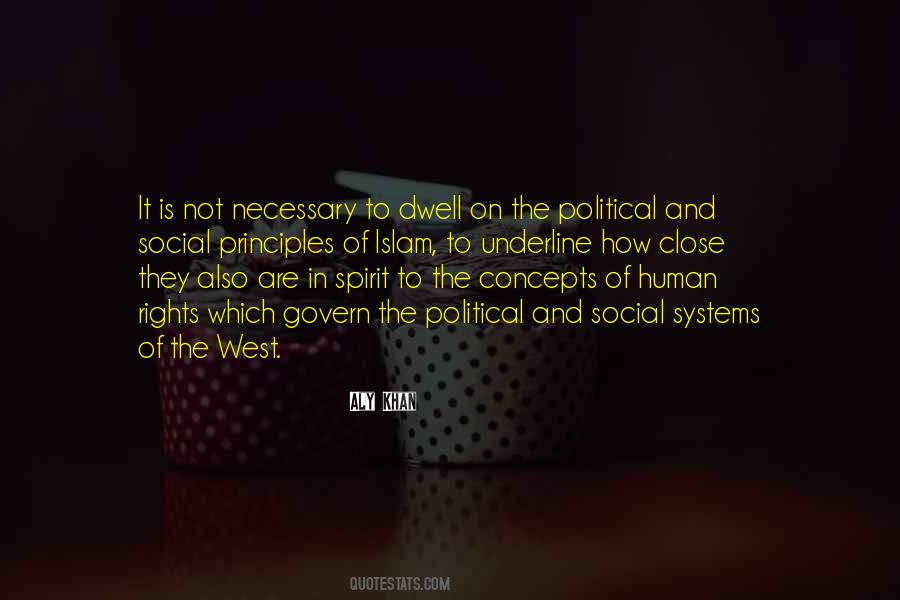 #73. While new rights are attributed to or indeed almost presumed by the individual, life is not always protected as the primary value and the primordial right of every human being. The ultimate aim of medicine remains the defence and promotion of life. - Author: Pope Francis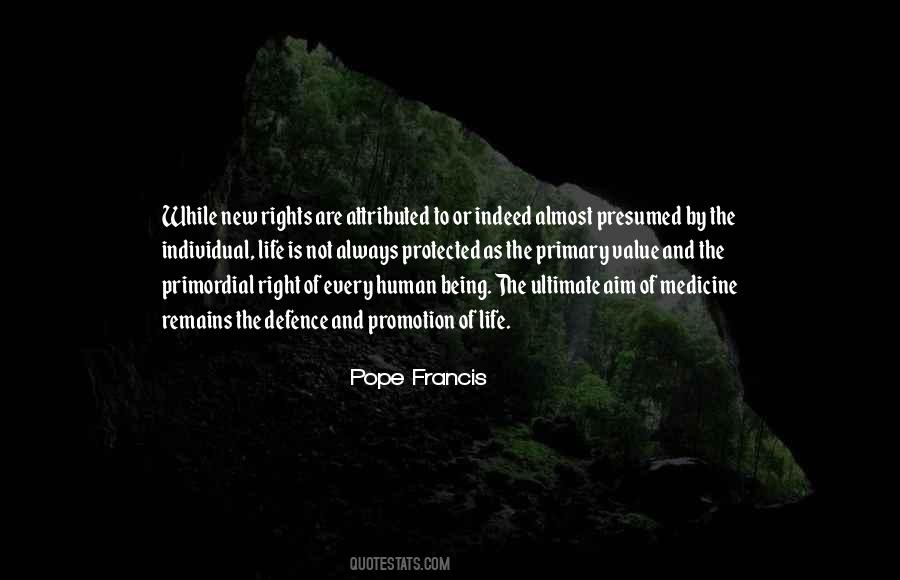 #74. I swear I will do everything in my power to change the situation in Tibet where human rights are being suppressed. Tibet seeks freedom and democracy and we agree on those values. - Author: Shinzo Abe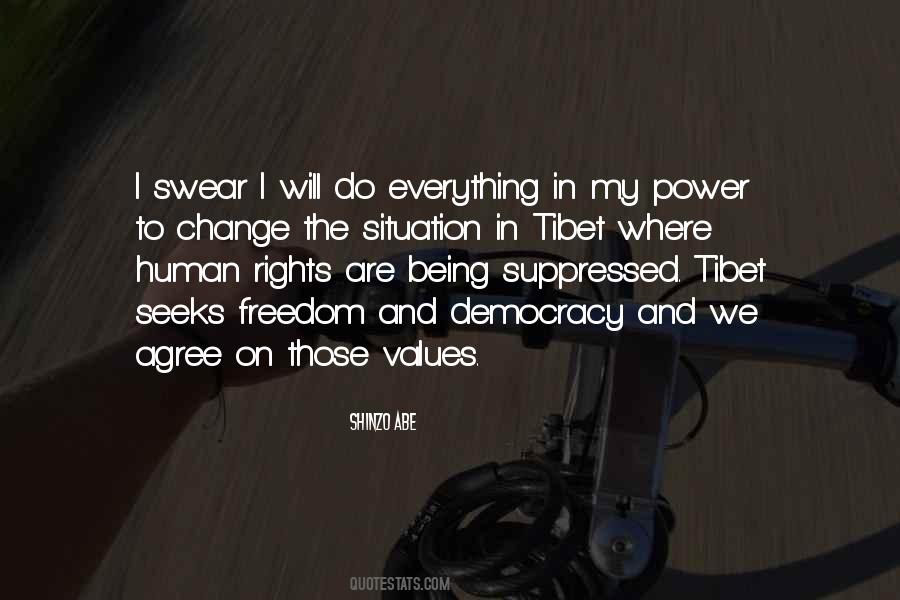 #75. The West has given us the liberal miracle of individual rights, individual responsibility, merit, and human satisfaction. - Author: Ibn Warraq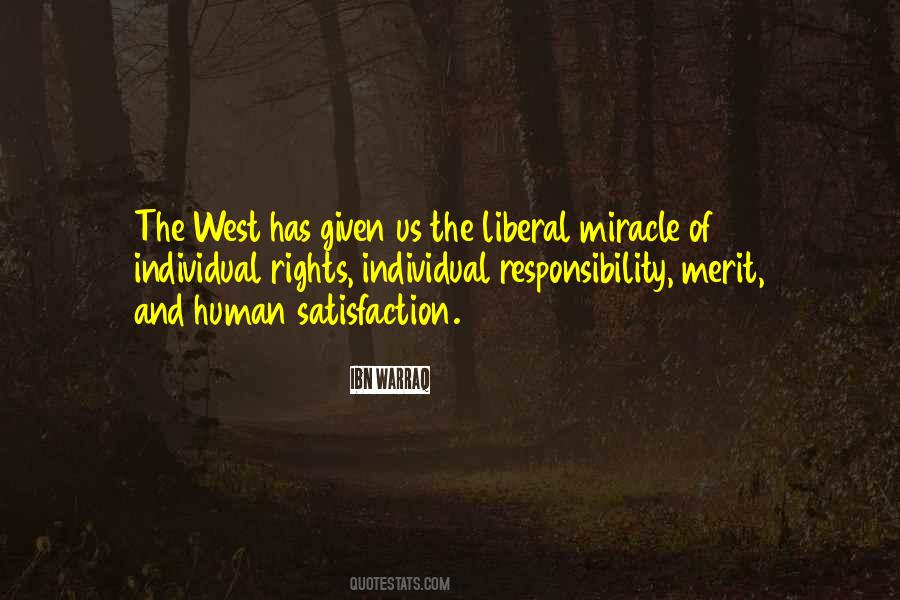 #76. The Arab representatives and their followers were not interested in the persecuted millions throughout the world; they were fixed on a political agenda that distracted the world from their own serious shortcomings in the human-rights department. - Author: Jack Schwartz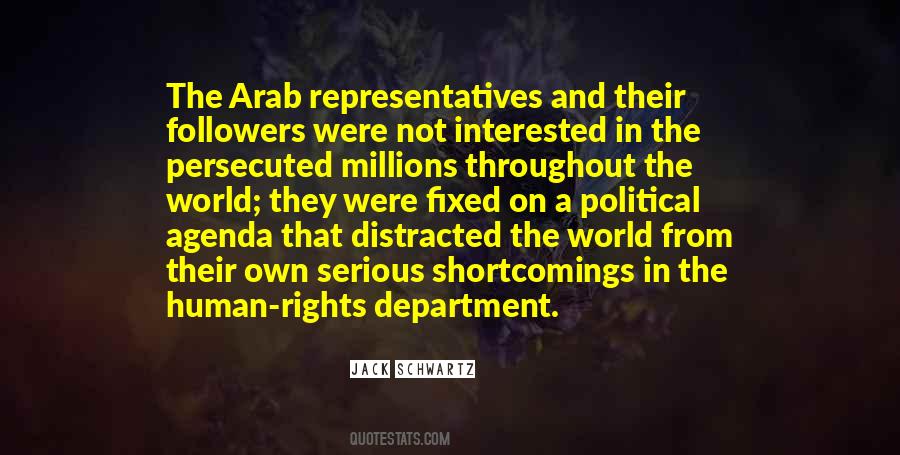 #77. We're at a point in history that whether the Internet is going to evolve in a way that's compatible with democracy and human rights is really kind of up in the air. - Author: Rebecca MacKinnon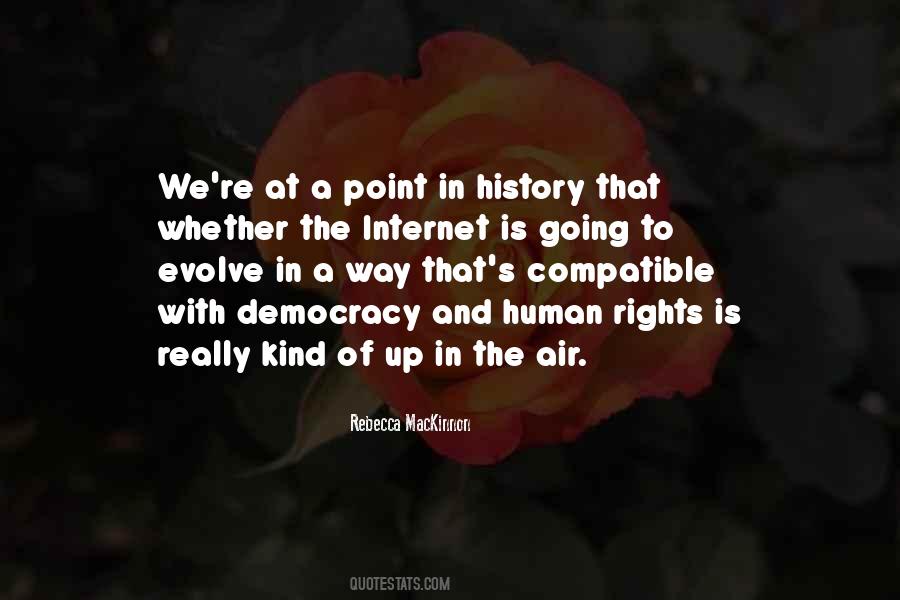 #78. To me, celebrity doesn't mean a whole lot unless you're willing to use it. So I wanted to use it in a different way, with my AIDS work, the human rights stuff for the gay and lesbian community and the speaking I do. - Author: Judith Light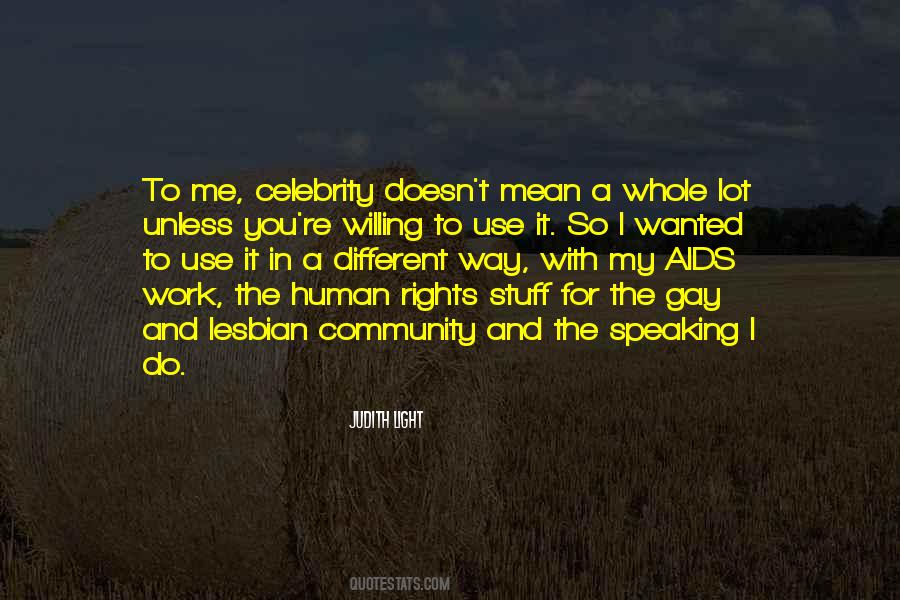 #79. Cooperation and respect for each other will advance the cause of human rights worldwide. Confrontation, vilification, and double standards will not. - Author: Robert Mugabe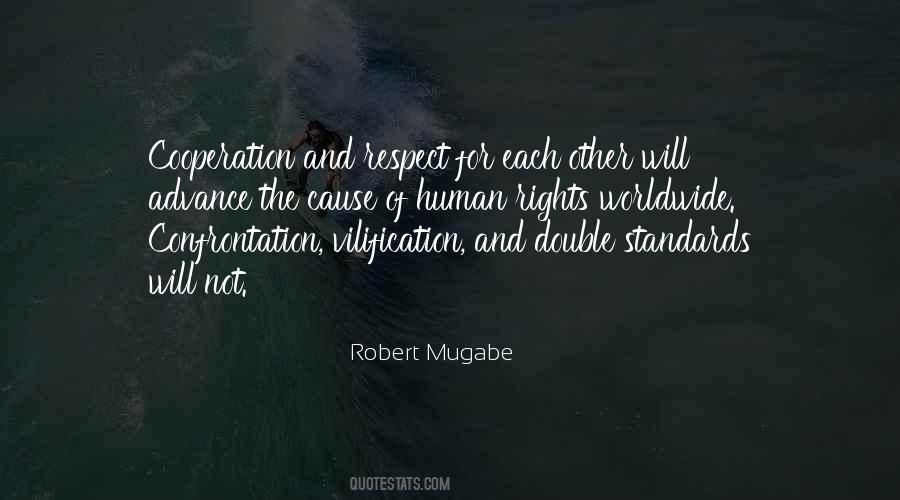 #80. People are annoyed with the Chinese for not respecting more human rights. But with a population that size it's very difficult to have the same attitude to human rights. - Author: Peter Ustinov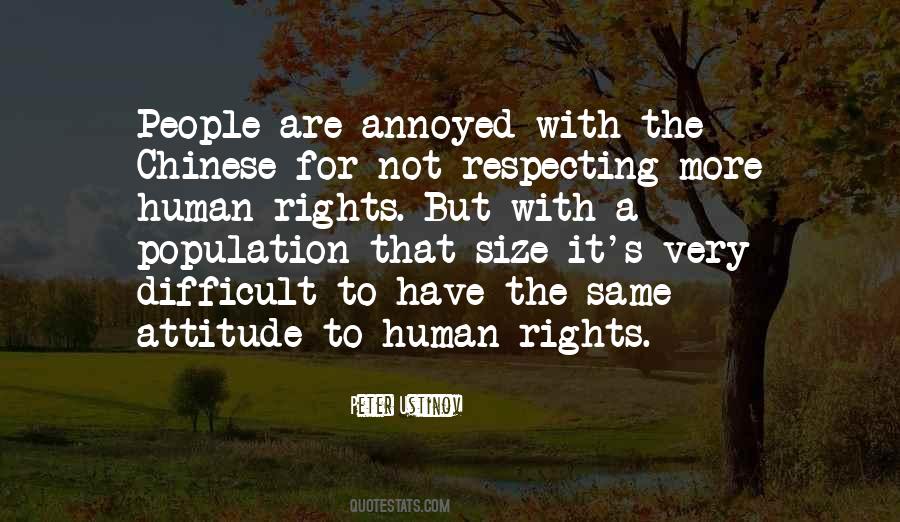 #81. The bed sheet brigade is bad enough, but the real threat to Americans and human rights today is the plain clothes Klux in the halls of government and certain black-robed Klux on court benches. - Author: Stetson Kennedy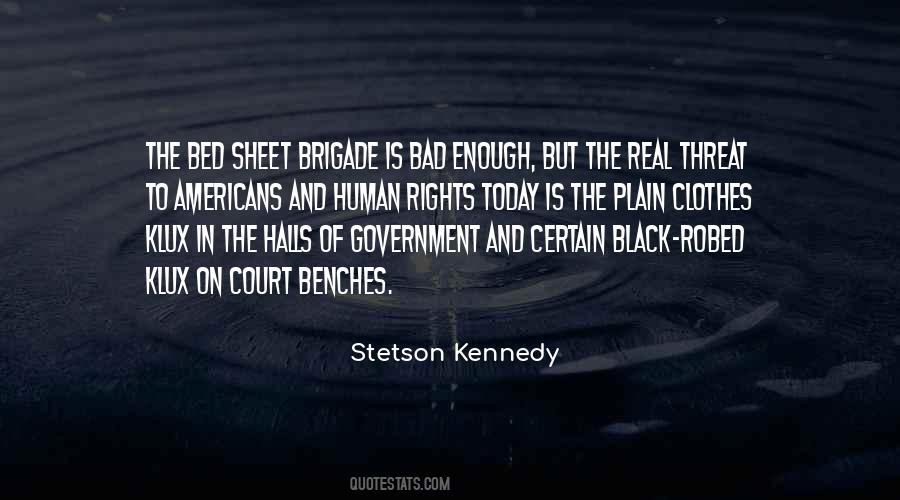 #82. The basis of peace and stability, in any society, has to be the fullest respect for the human rights of all its people. - Author: John Hume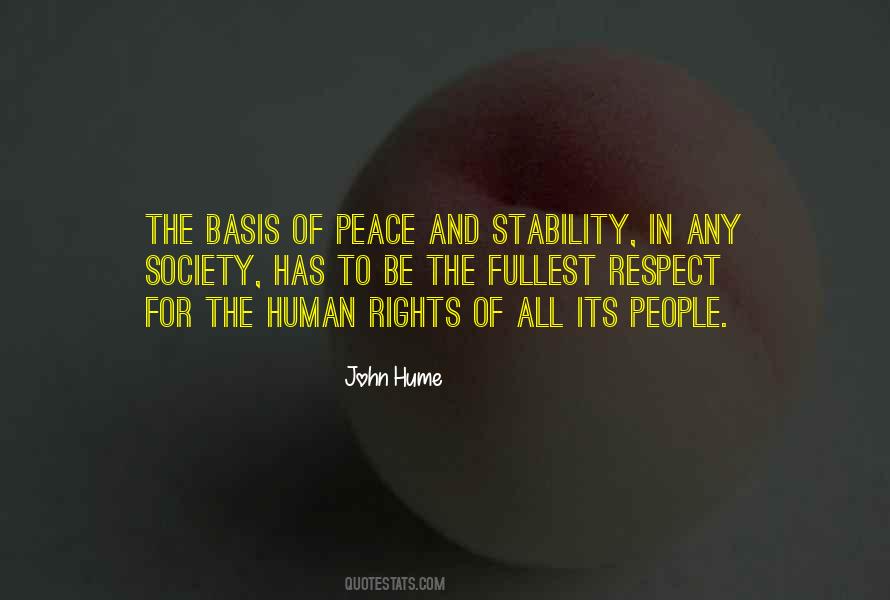 #83. I support this proposal and agree with this great and important initiative to abolish militarism and war. I will continue to speak out for an end to the institution of militarism and war and for institutions built on international law and human rights and nonviolent conflict resolution. - Author: Mairead Corrigan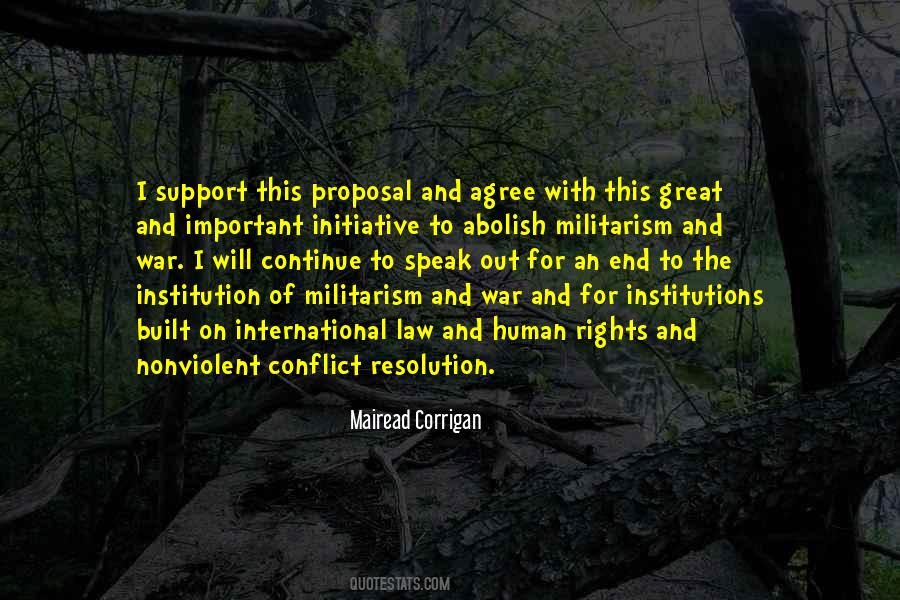 #84. We feel that animals have the same rights as retarded human nchild because they are equal mentally in terms of dependence on others. - Author: Alex Pacheco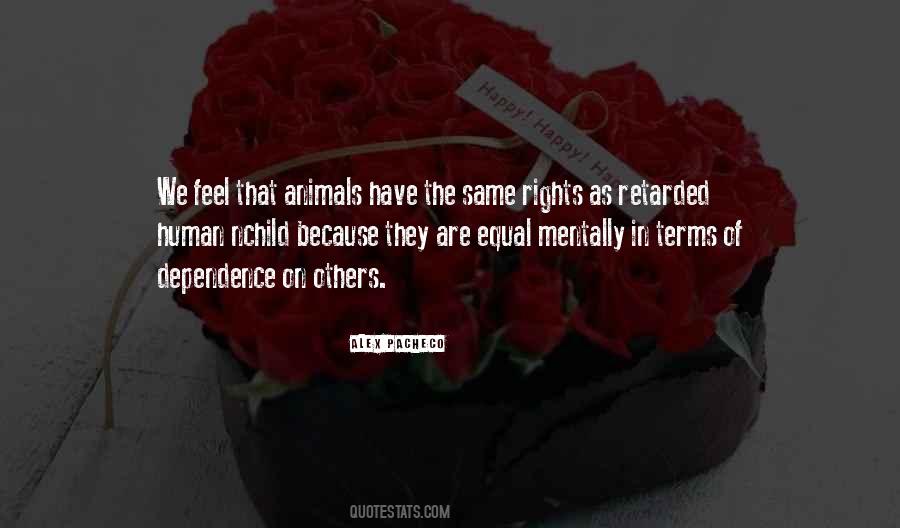 #85. When human rights are abused on a grand scale, the broth of purity boils and feeds the rebellion of a new order. - Author: James A. Baldwin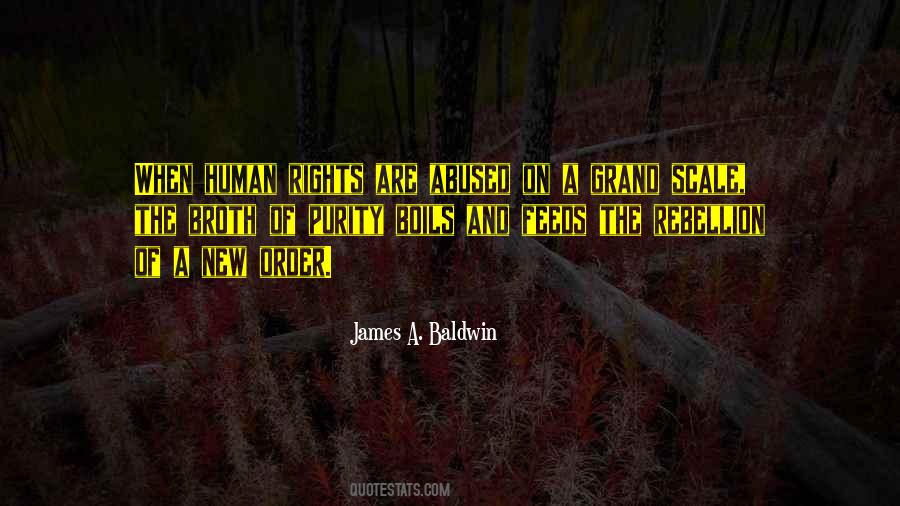 #86. Jesus changed how the world thinks about science, medicine, human rights, education & more. - Author: John Ortberg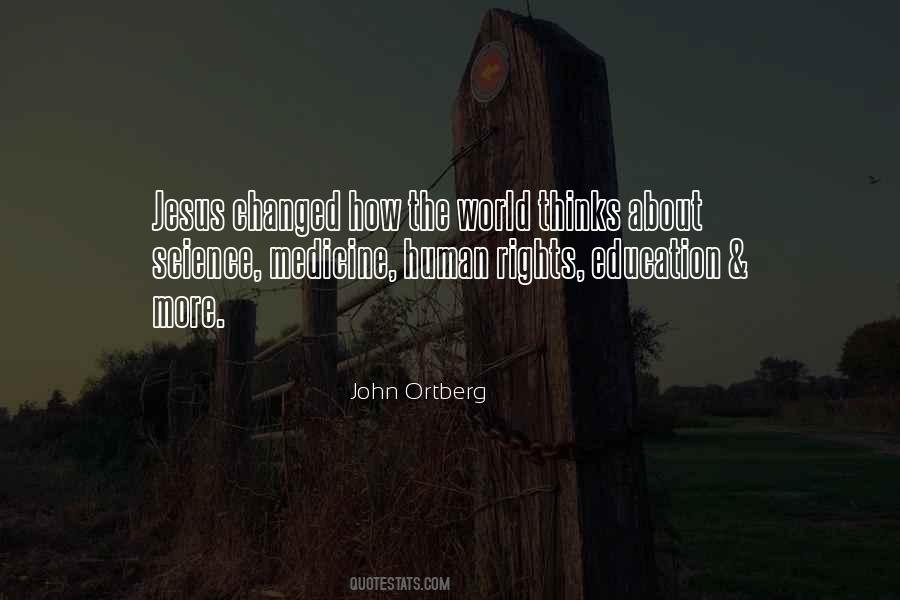 #87. Even if you look at Iran, those campaigners for human rights there, they don't want to have anything to do with America, because they are afraid that having American support will be the kiss of death for their movement. And that's really tragic. - Author: Yaroslav Trofimov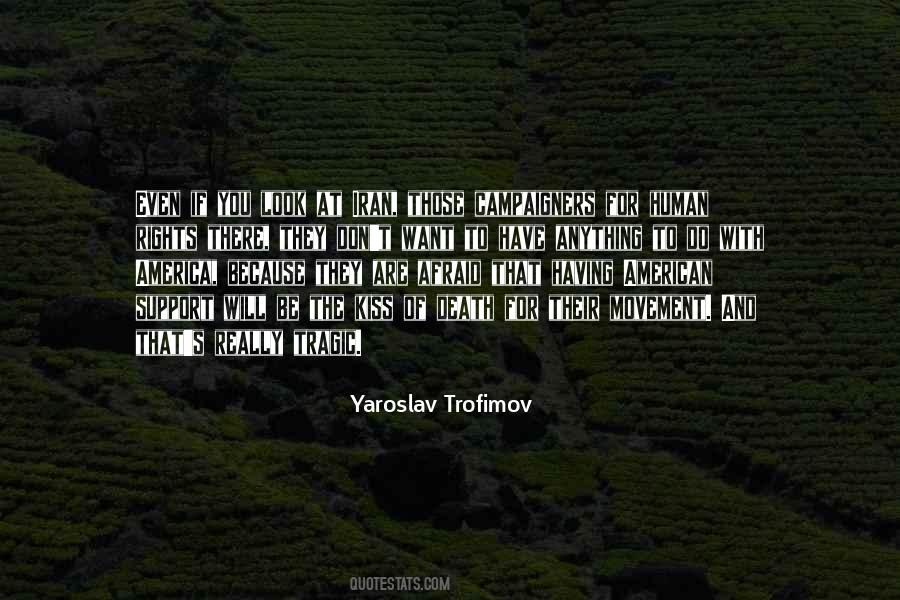 #88. Our recent history should have made one thing clear. Women's rights are human rights. Any foreign policy that fails to recognize this effectively dehumanizes half the human race. - Author: Jack Holland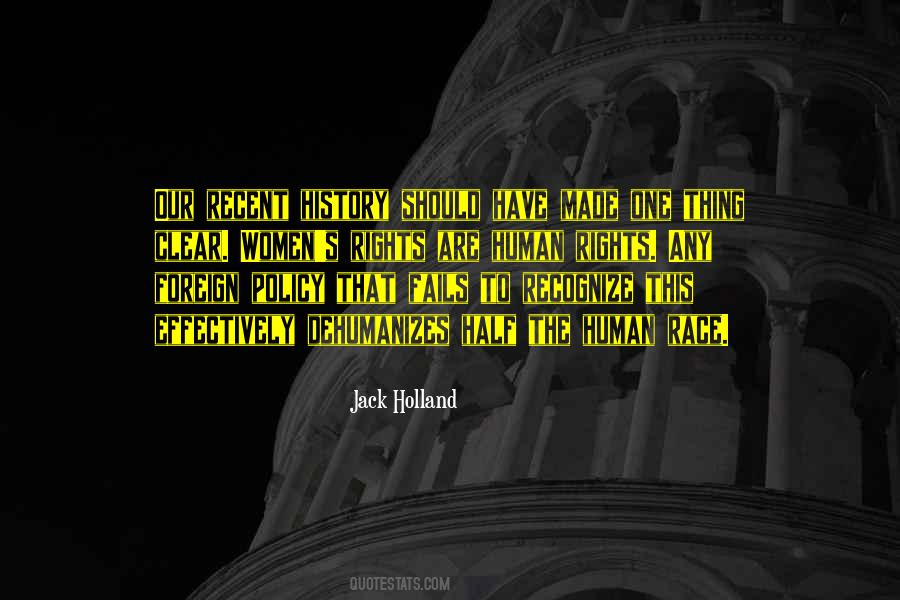 #89. To me, a feminist belongs in the same category as a humanist or an advocate for human rights. I don't see why someone who's a feminist should be thought of differently. - Author: Suzanne Vega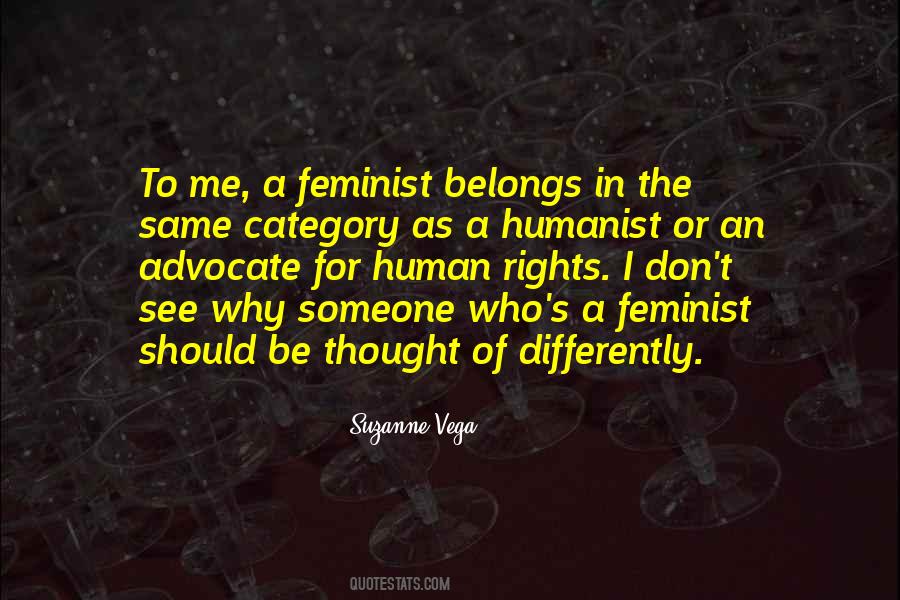 #90. Tanzania is standing by the people of Zimbabwe including President Mugabe ... Mugabe is there, he is president, he has been elected. If Tanzania had simply said, stupid, you're hopeless, a murderer, a violator of basic human rights; does that remove Mugabe from office? It doesn't. - Author: Jakaya Kikwete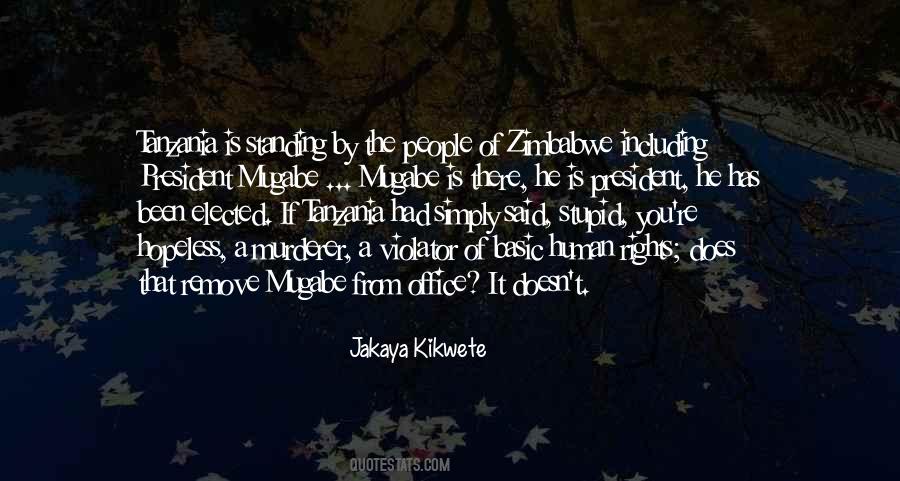 #91. This is the next and the more profound stage of the battle for civil rights. We seek not just freedom but opportunity. We seek not just legal equity but human ability, not just equality as a right and a theory but equality as a fact and equality as a result. - Author: Lyndon B. Johnson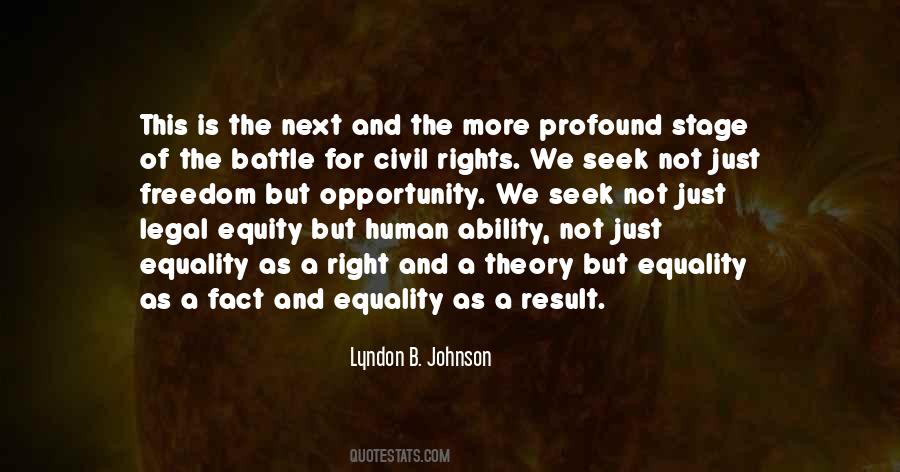 #92. Gloucestershire police must be the envy of the human rights-abusing cop world. From Turkey to Indonesia they will say, 'Kidnapping peace protestors! How did they get away with that one?' - Author: Mark Thomas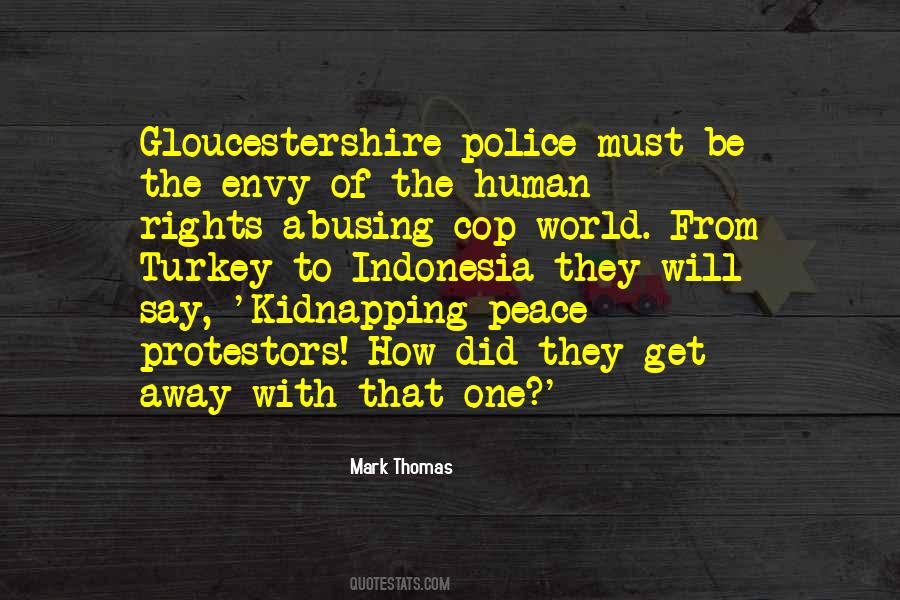 #93. Joe Arpaio needs no help from me getting attention. For years he has been a beacon of bigotry and intolerance for all the world to see. The list of human and civil-rights abuses he's committed in Maricopa County is long and well documented. - Author: Conor Oberst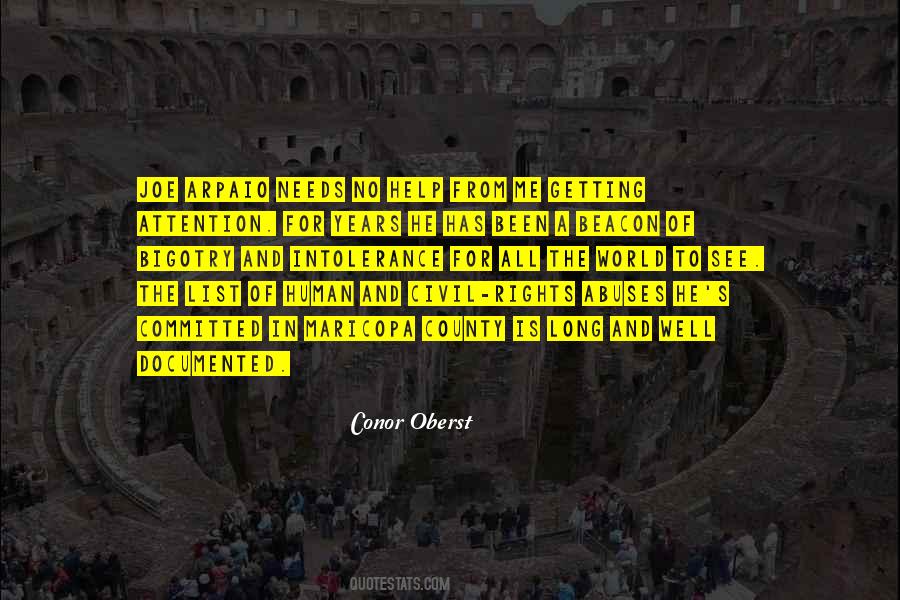 #94. In Actual
Human Rights are
"caring" for Humans left on the planet - Author: Haider Ali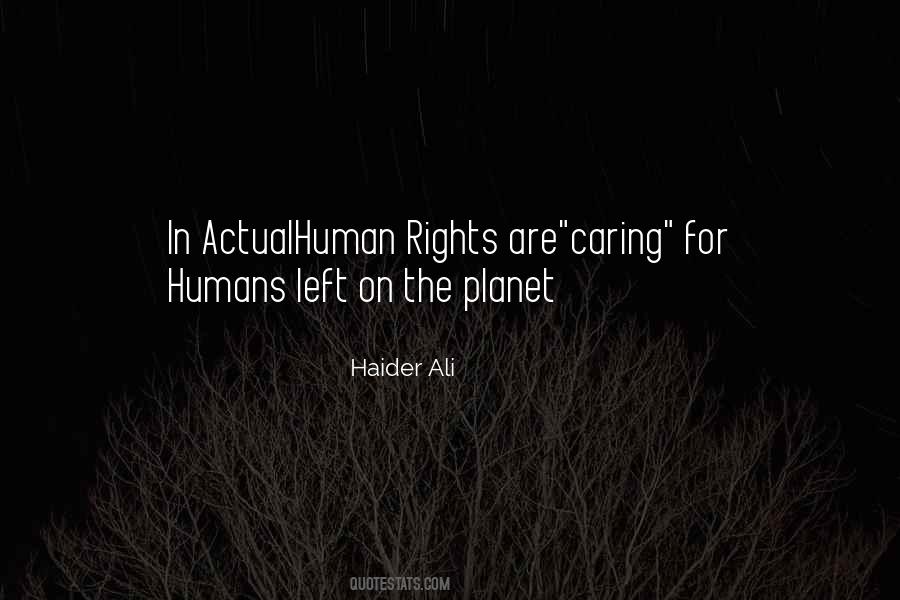 #95. A reduction of meat consumption by only 10% would result in about 12 million more tons of grain for human consumption. This additional grain could feed all of the humans across the world who starve to death each year- about 60 million people! - Author: Marc Bekoff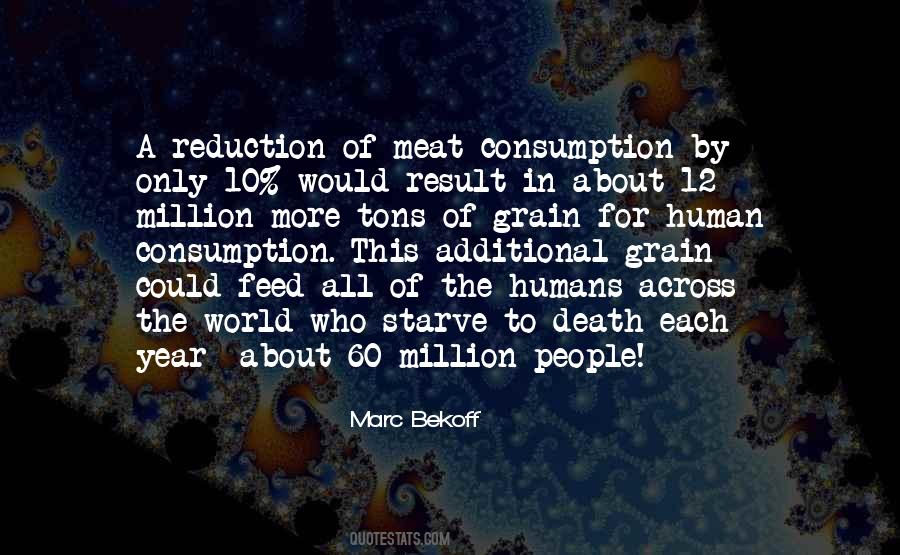 #96. I thought that you had stood up for the free will & rights of humans in this town."
"Depends on the human," Claire said. "As far as I know, Hitler had a heartbeat, and I wouldn't vote him to be in charge. - Author: Rachel Caine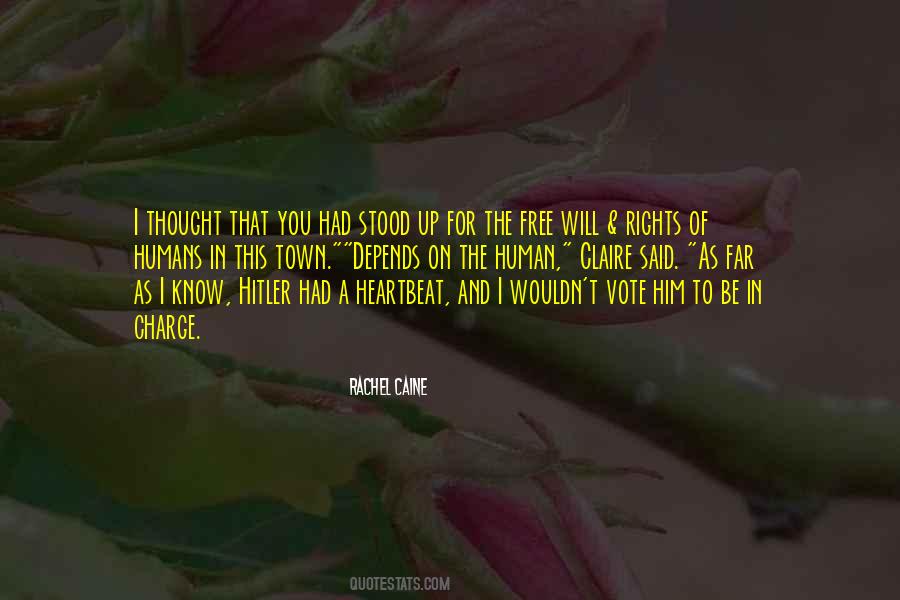 #97. Eritrean people are strong and caring. And despite all that we had been through we were brimming with optimism. Our country was on the verge of huge change. - Author: Abeba Habtu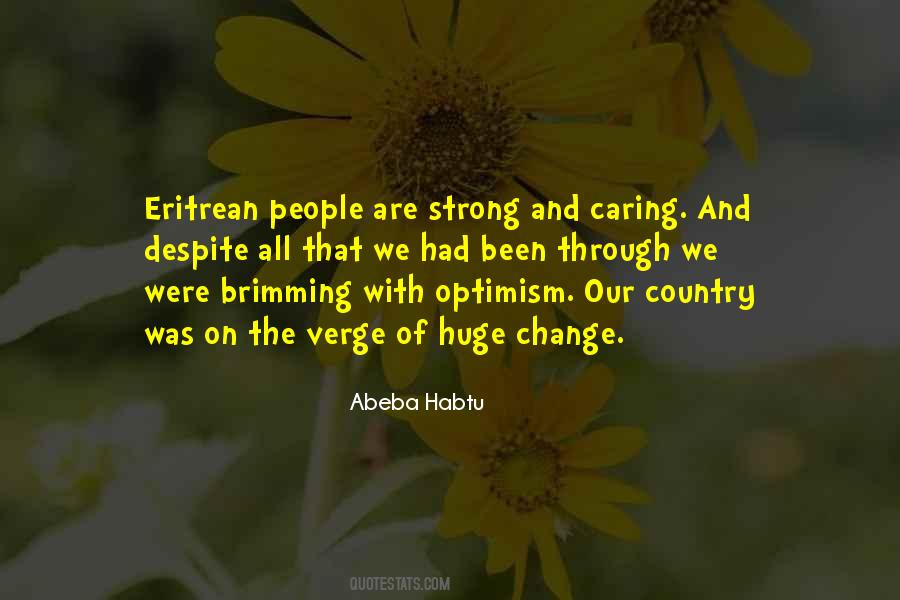 #98. When shallow critics denounce the profit motive inherent in our system of private enterprise, they ignore the fact that it is an economic support of every human right we possess and without it, all rights would disappear. - Author: Dwight D. Eisenhower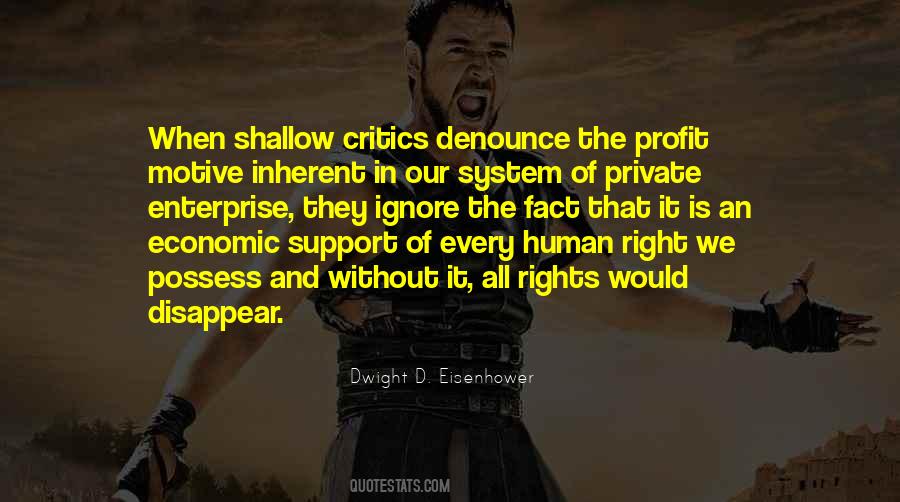 #99. The trade agreement itself does have labor and environmental protections, but we have to stand for human rights and we have to make sure that violence isn't being perpetrated against workers who are just trying to organize for their rights. - Author: Barack Obama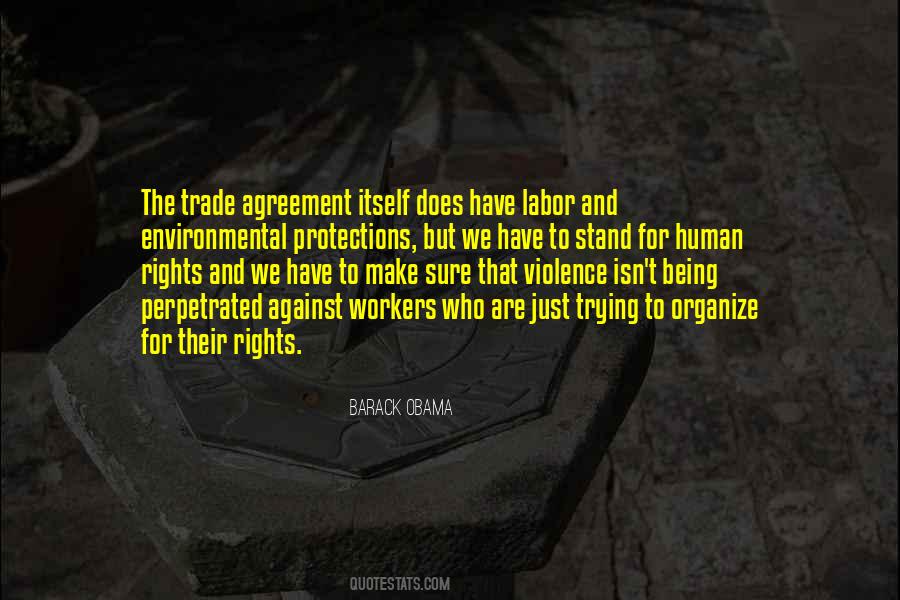 #100. Few governments in the world, for example, praise human rights more ardently than does the government of France, and few have a worse record of supporting tyrants and killers. - Author: Richard Perle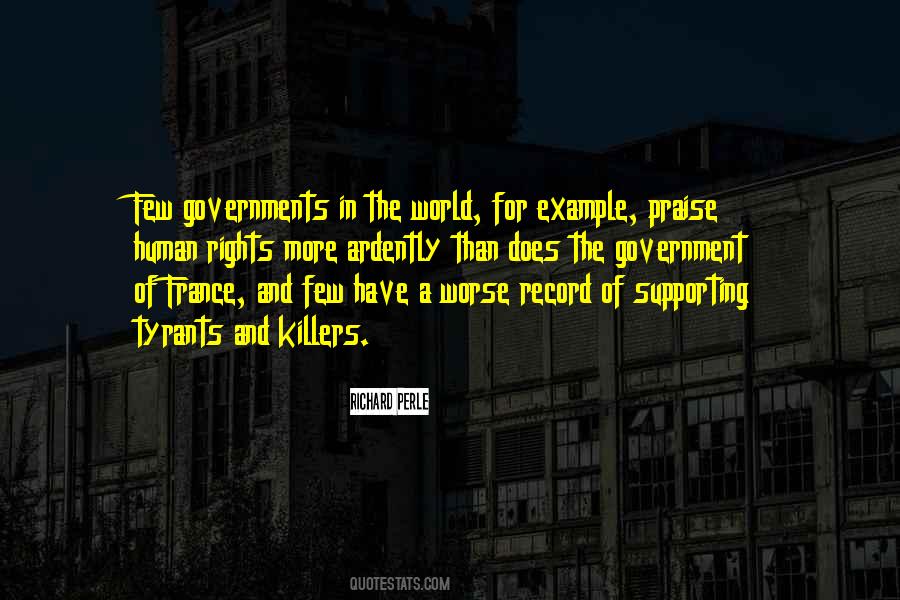 Famous Authors
Popular Topics