The Face Of Adversity Famous Quotes & Sayings
List of top 84 famous quotes and sayings about the face of adversity to read and share with friends on your Facebook, Twitter, blogs.
Top 84 Quotes About The Face Of Adversity
#1. In my experience, men who respond to good fortune with modesty and kindness are harder to find than those who face adversity with courage. For in the very nature of things, success tends to create pride and blindness in the hearts of men, while suffering teaches them to be patient and strong. - Author: Xenophon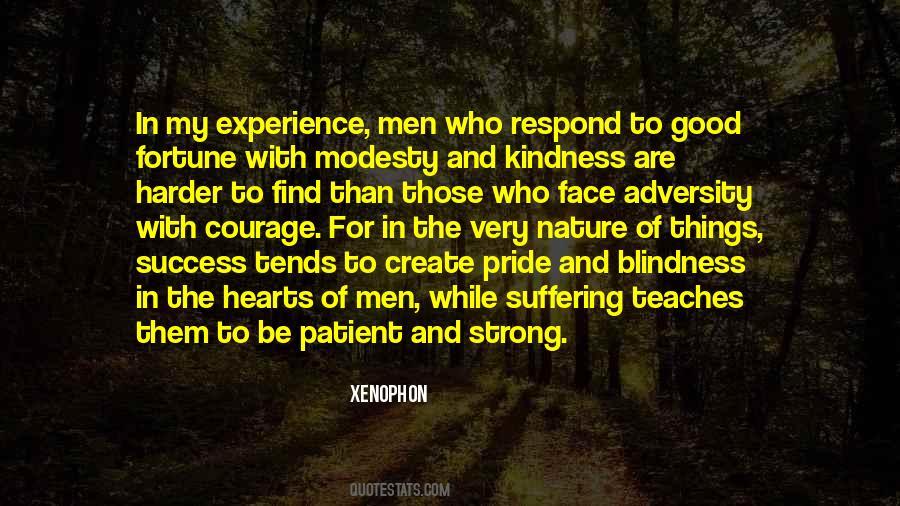 #2. A true champion is not judged by how much he or she is admired, but by how well they can stand at the face of adversity. - Author: John Cena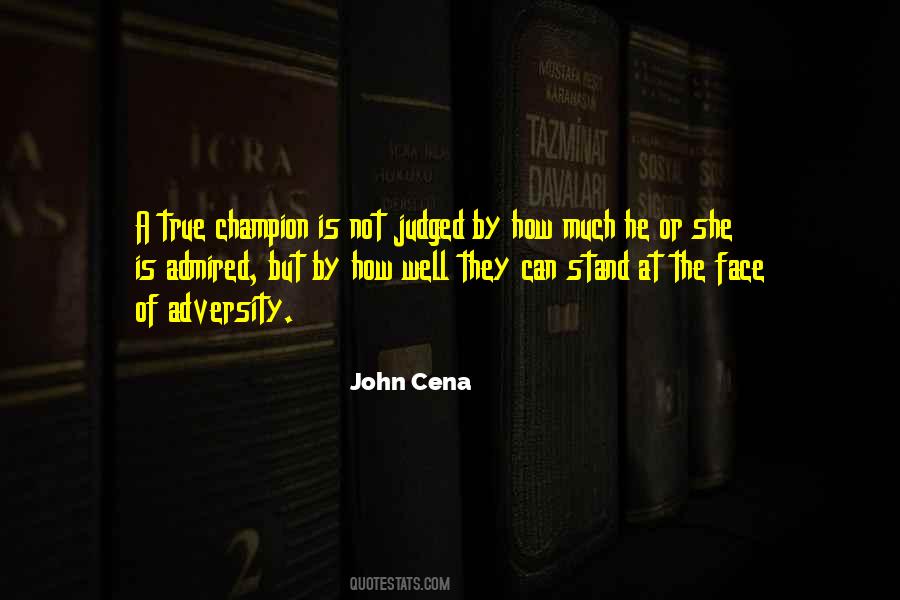 #3. Remain true to yourself and your philosophy. Changing in the face of adversity will in fact diminish your credibility with your customers. - Author: Giorgio Armani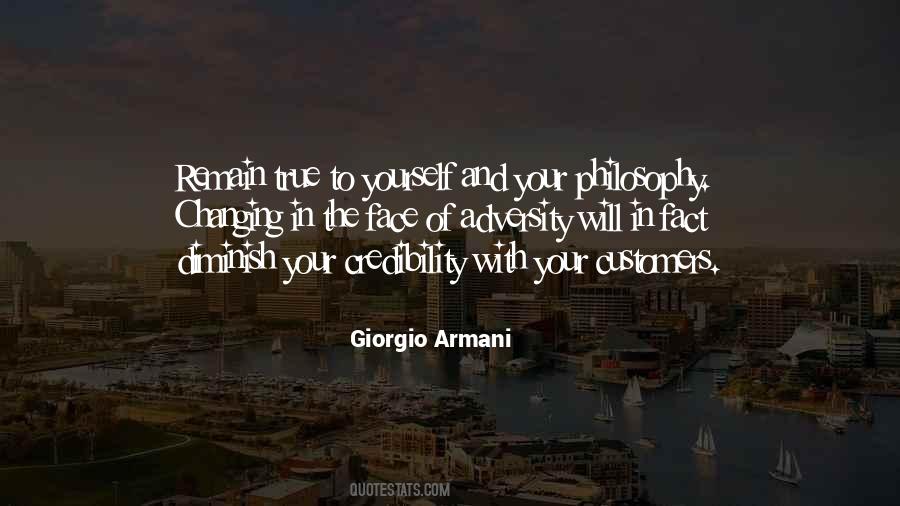 #4. Rose spoke up softly beside me. 'It's how you handle the unfairness of life -that's what matters, I think.'...In this city of imprisonment, I had seen faith and optimism, strength and fortitude in the face of adversity. - Author: Ann Howard Creel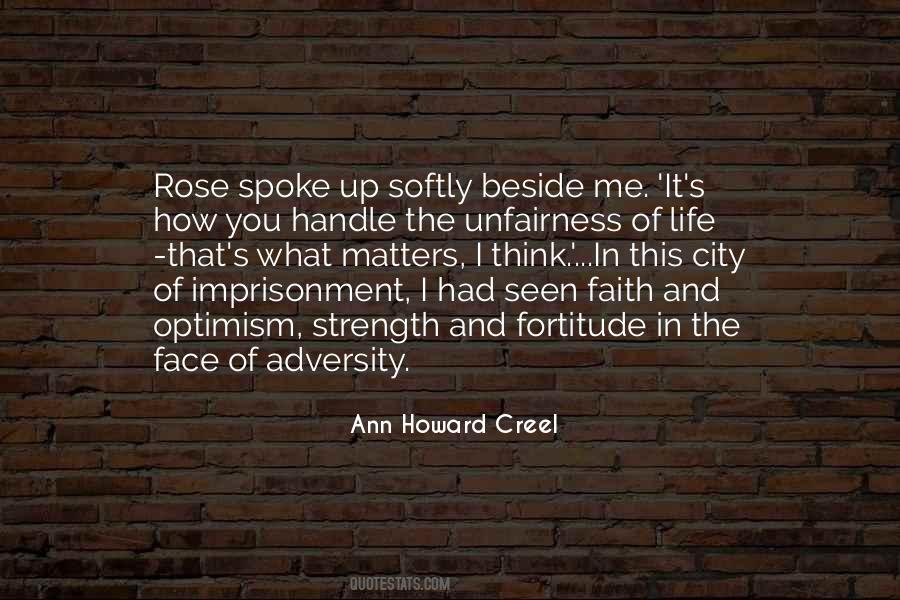 #5. Out of defeat can come the best in human nature. As Christians face storms of adversity, they may rise with more beauty. They are like trees that grow on mountain ridges
battered by winds, yet trees in which we find the strongest wood. - Author: Billy Graham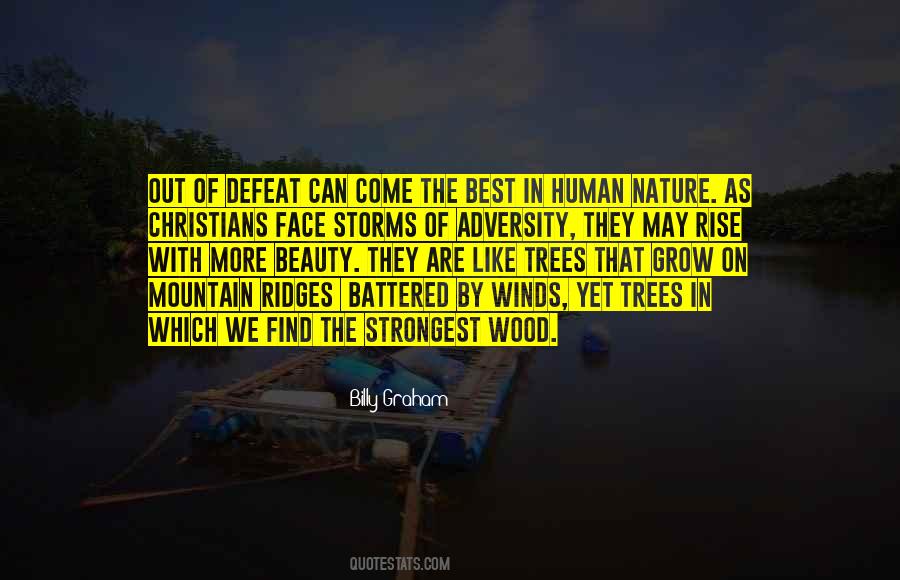 #6. In the face of adversity you have three choices ... You can let it DEFINE you, let it DESTROY you or let it STRENGTHEN YOU! - Author: Tanya Masse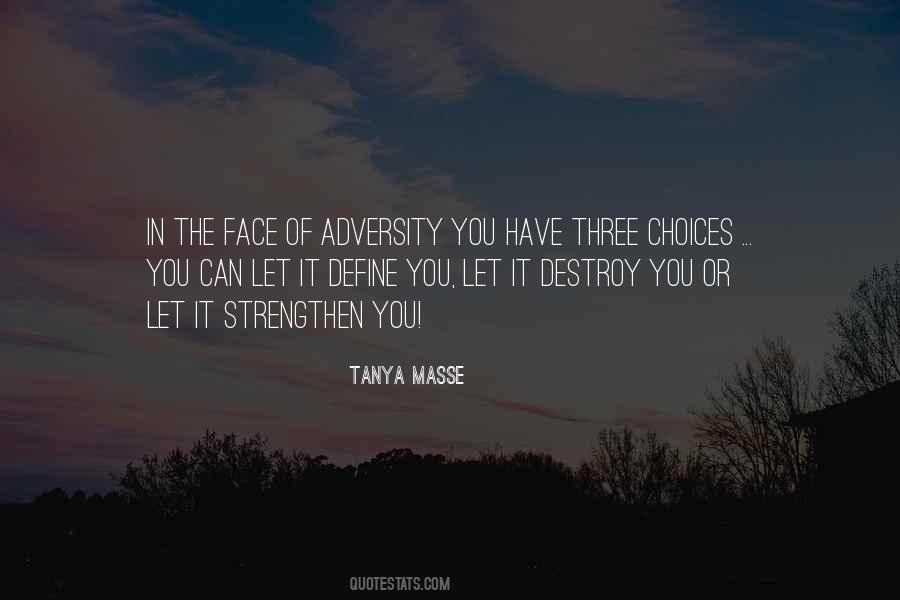 #7. If you voluntarily quit in the face of adversity, you'll wonder about it for the rest of your life. - Author: William J. Clinton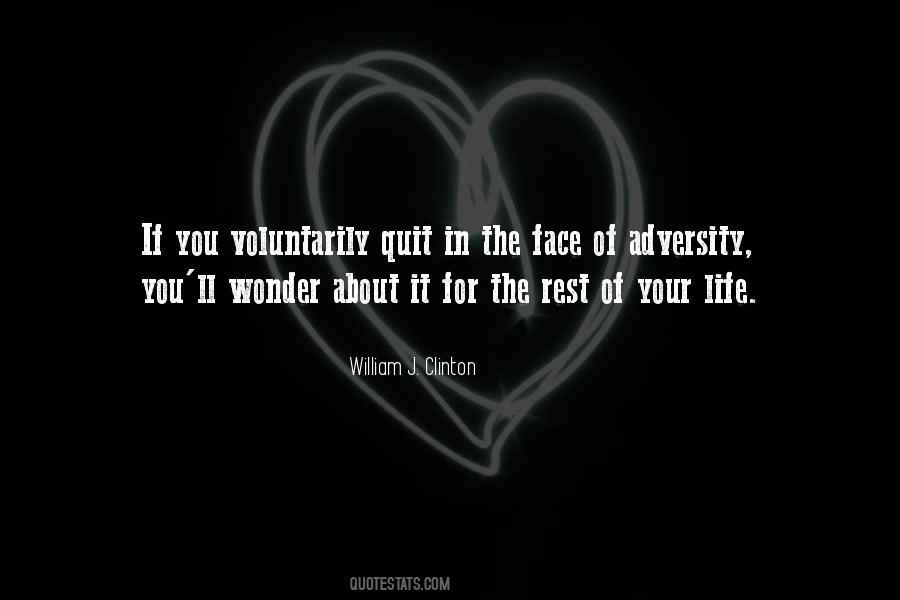 #8. In the face of adversity, hope often comes in the form of a friend who reaches out to us. - Author: Christopher Reeve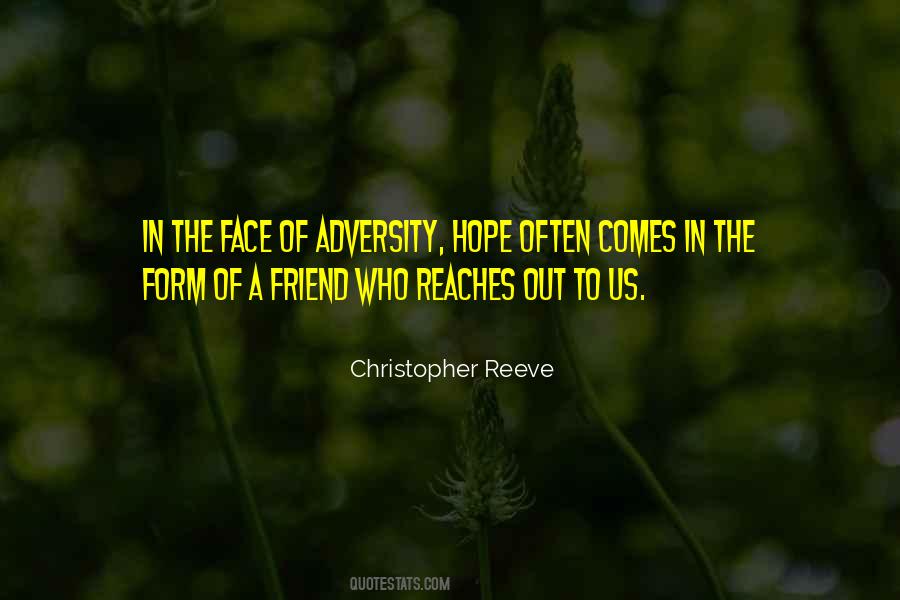 #9. What we decide to do in the face of adversity is perhaps the truest measure of character. - Author: Ian Usher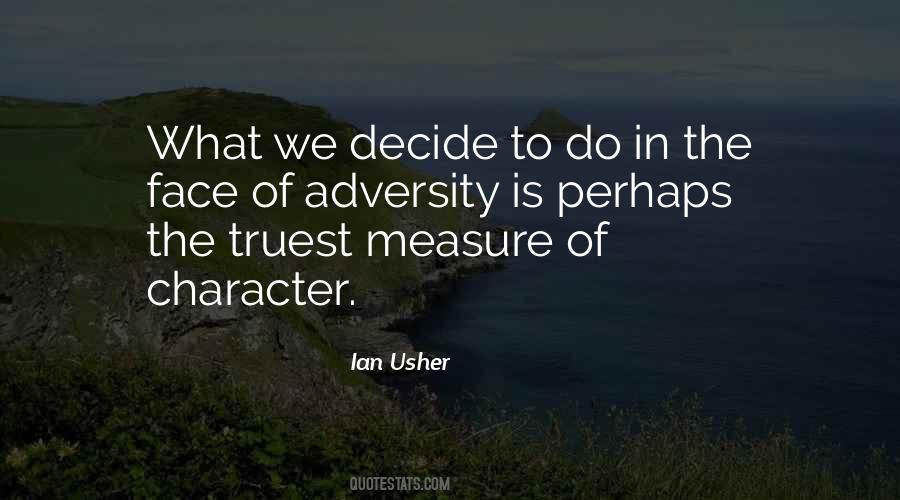 #10. Though we tremble before uncertain futures
may we meet illness, death and adversity with strength
may we dance in the face of our fears.
- Author: Gloria E. Anzaldua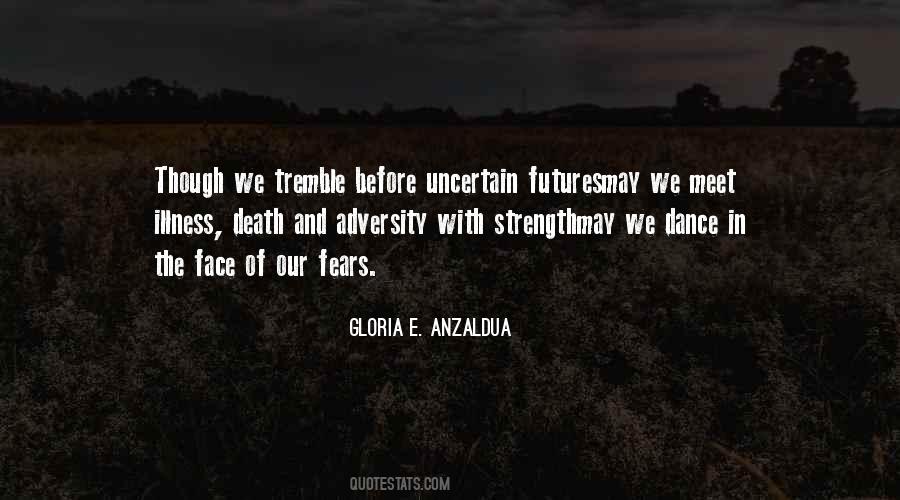 #11. I'm able to make decisions even in the face of adversity. - Author: Nikki Sixx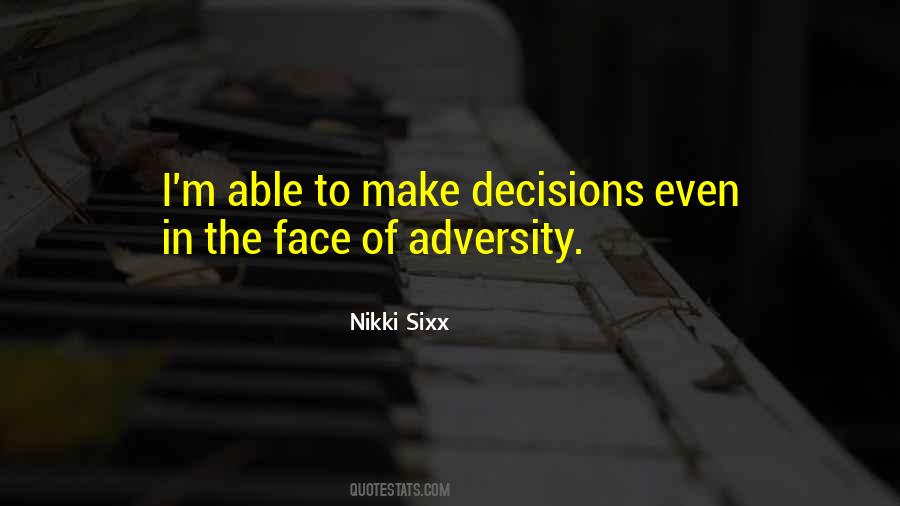 #12. Rewards are not simply given, they are earned. Each of your trials and tribulations increases your reward. You are destined for success and greatness beyond measure. So smile to increase your endurance and laugh in the face of adversity. - Author: Carlos Wallace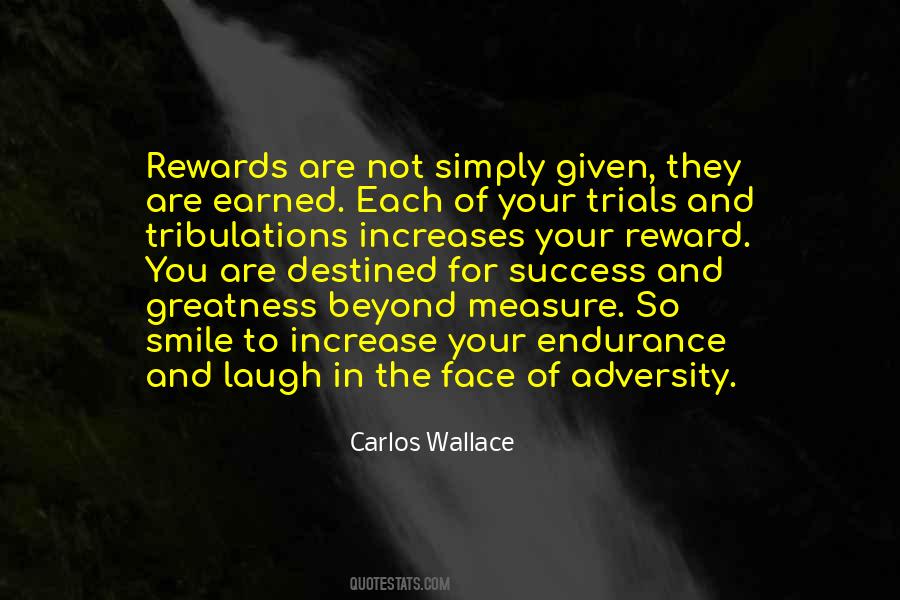 #13. It is easy to climb the ladder of success if one is working on issues and aeas which are not frequented by the masses, provided one is ready to face challenges. - Author: Vishwas Chavan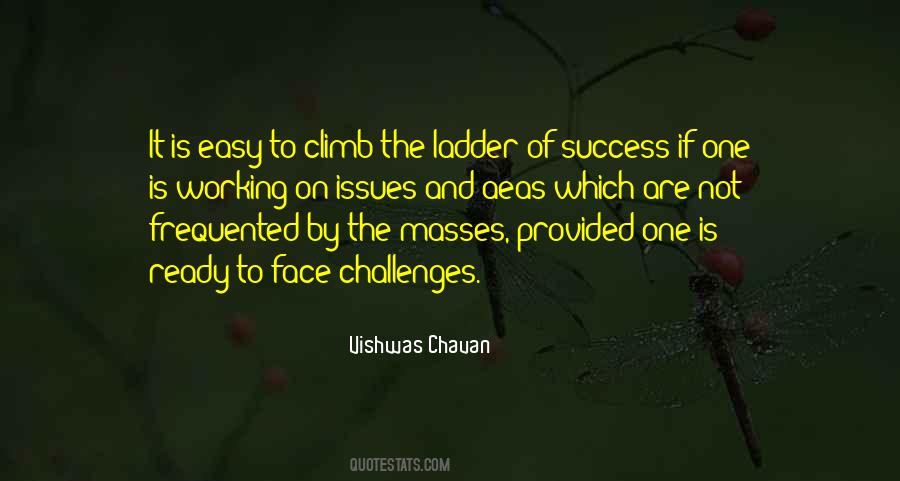 #14. A spiritually optimistic point of view holds that the universe is woven out of a fabric of love. Everything that is happening is ultimately for the good if we're willing to face it head-on and use our adversities for soul growth. - Author: Joan Z. Borysenko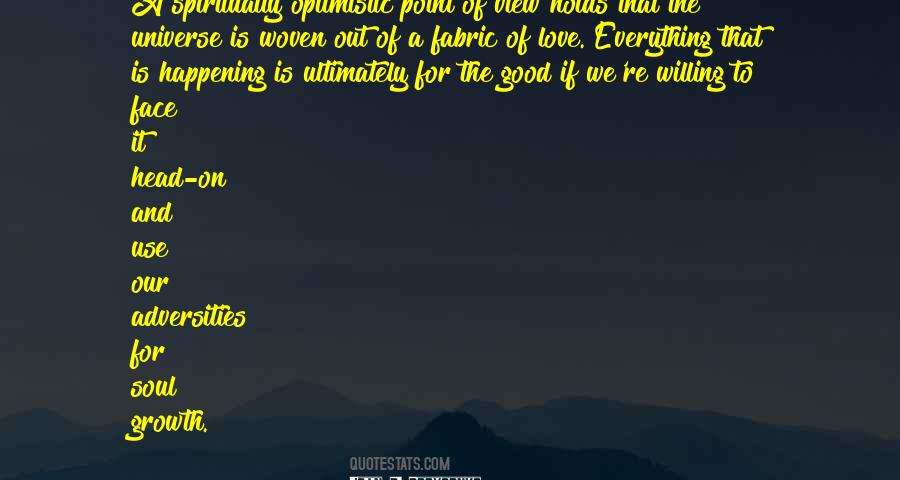 #15. Something called 'the Oklahoma Standard' became known throughout the world. It means resilience in the face of adversity. It means a strength and compassion that will not be defeated. - Author: Brad Henry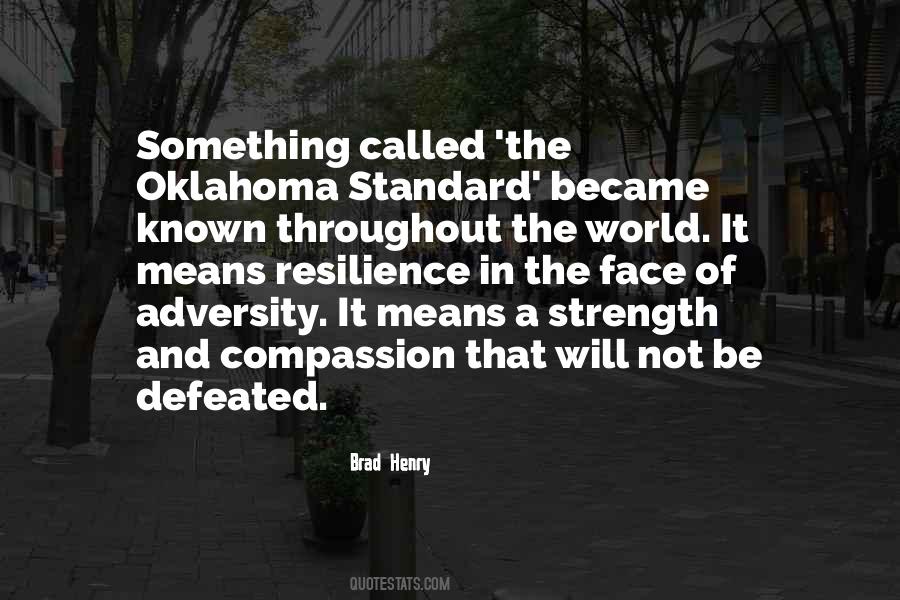 #16. Adversity challenges the masks we hide behind, revealing sides of ourselves we have not yet comfortably with the world outside. It is why we dislike adversity, because we have to face what we don't yet understand about ourselves. - Author: Michael Arndt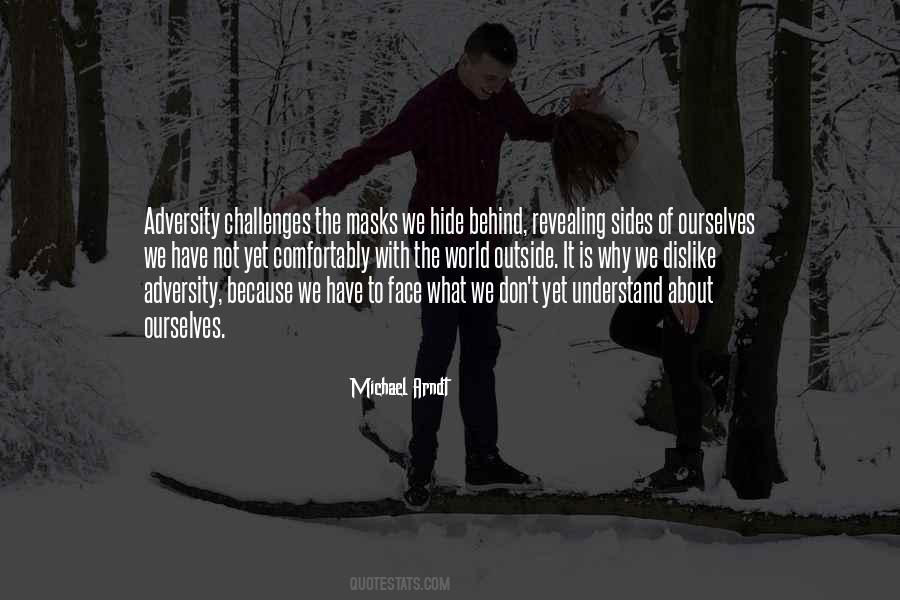 #17. Resilience is the maintenance of high levels of positive affect and well-being in the face of adversity. It is not that resilient individuals never experience negative affect, but rather that the negative affect does not persist. - Author: Richard Davidson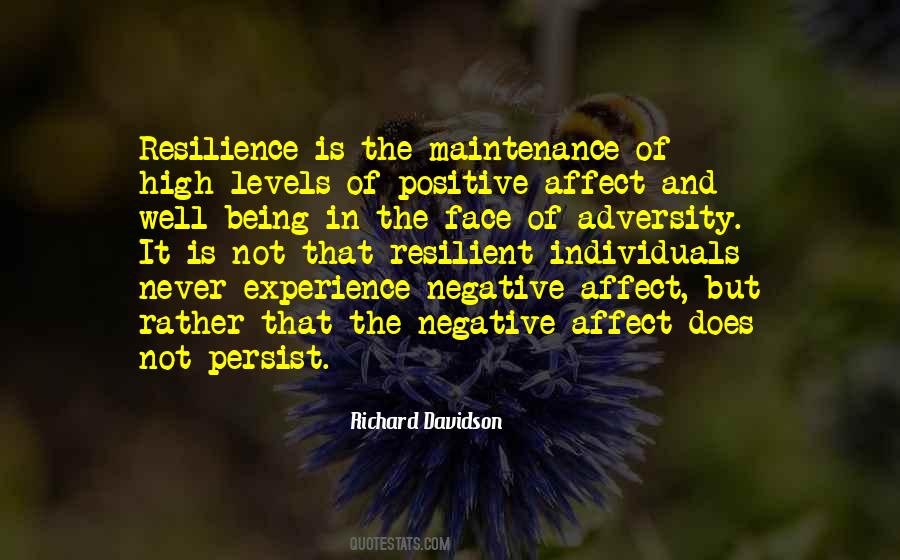 #18. Be "that person" with grit. Remain dedicated, determined and strong in the face of adversity! - Author: Jerry Gladstone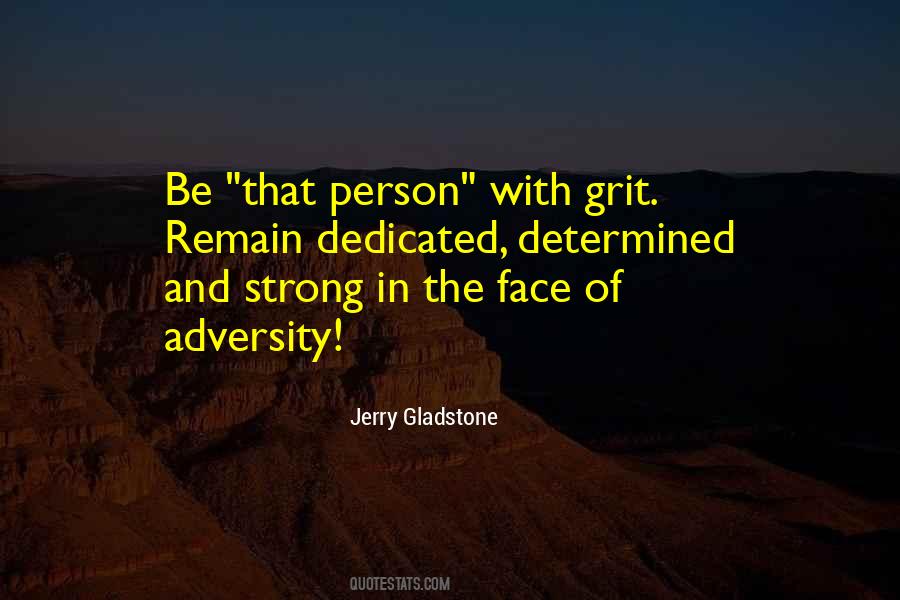 #19. Consider what really makes up your self-worth - like your caring heart or your ability to stand tall in the face of adversity - Author: Susan Bernstein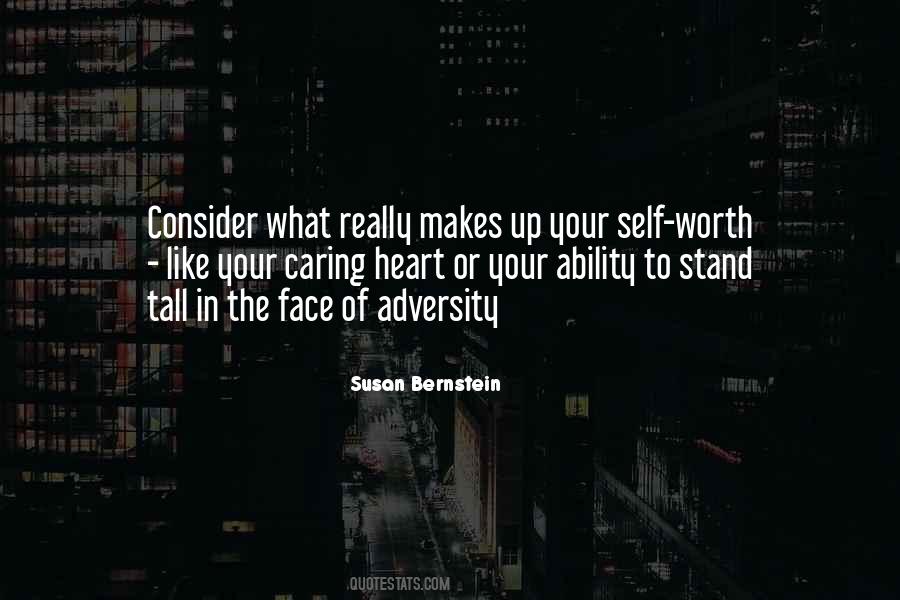 #20. Our greatest battle is to become ourselves, in the face of adversity. - Author: Steven Pressfield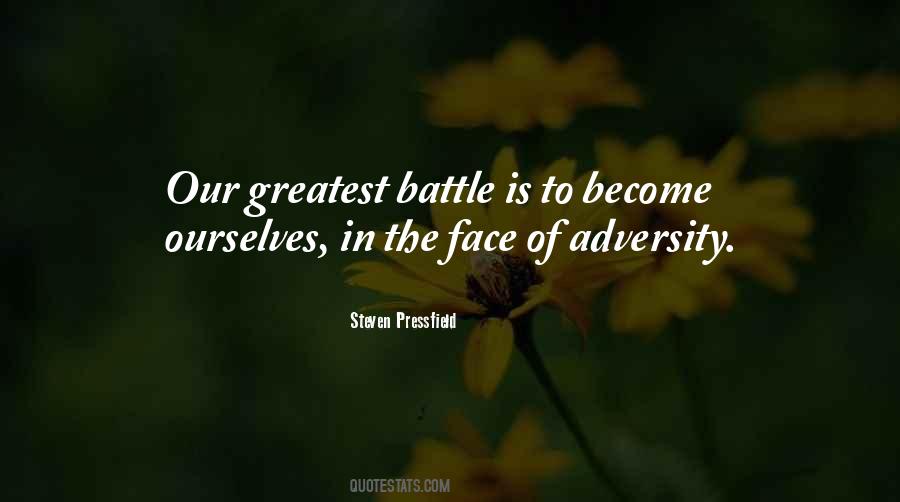 #21. The moment we believe that success is determined by an ingrained level of ability as opposed to resilience and hard work, we will be brittle in the face of adversity. - Author: Joshua Waitzkin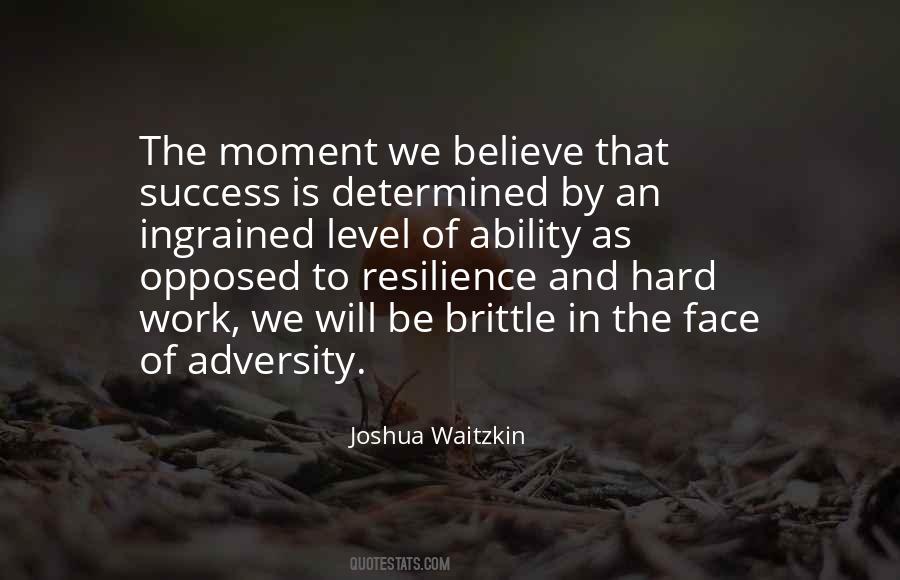 #22. A crisis allows us the opportunity to dig deep into the reservoirs of our very being, to rise to levels of confidence, strength, and resolve that otherwise we didn't think we possessed. Through adversity, we come face to face with who we really are and what really counts. - Author: Jon Huntsman Jr.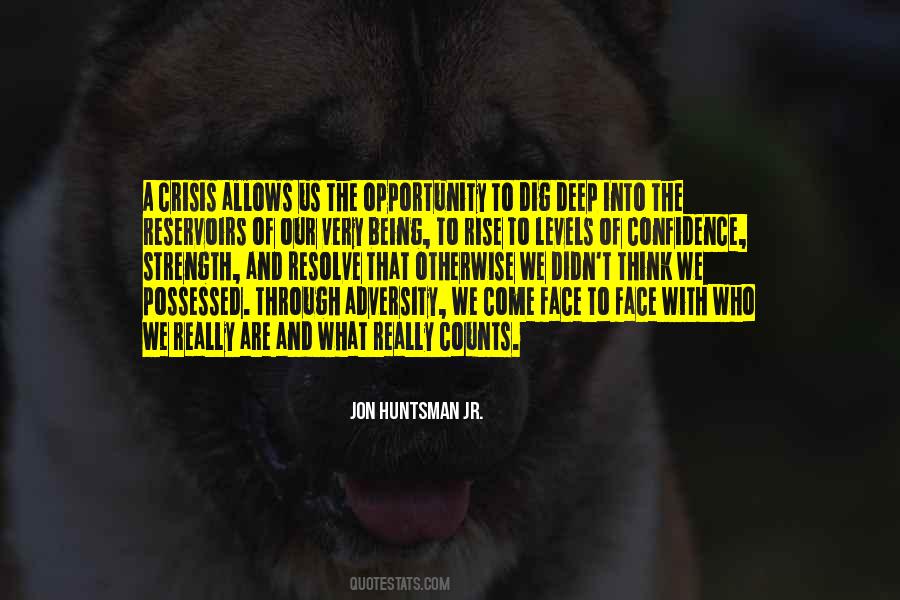 #23. The wisest among us - the genuine leaders - smile in the face of adversity. - Author: Robin Sharma
#24. I had to learn how to be cheerful in the face of adversity - Author: Robyn Davidson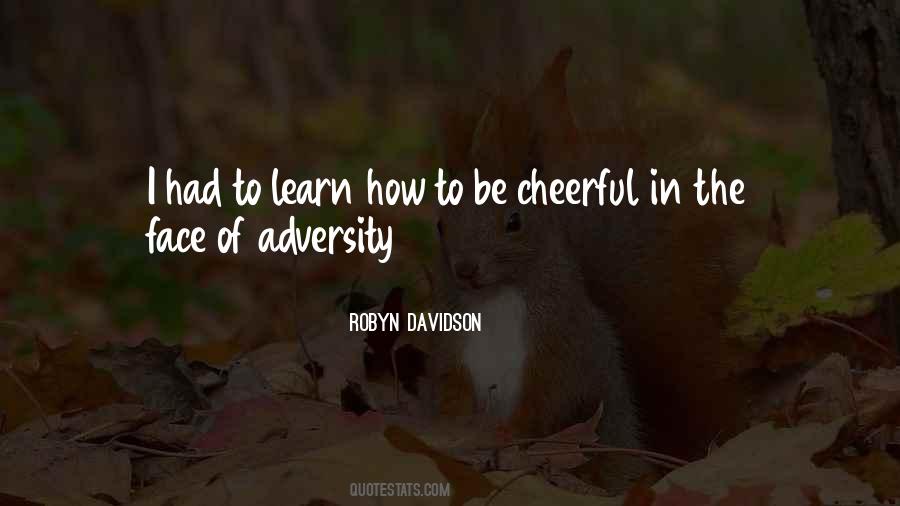 #25. We must face the fact that the United States is neither omnipotent nor omniscient, that we cannot impose our will upon the other 94 percent of mankind, that we cannot right every wrong or reverse every adversity, and that therefore there cannot be an American solution to every world problem. - Author: John F. Kennedy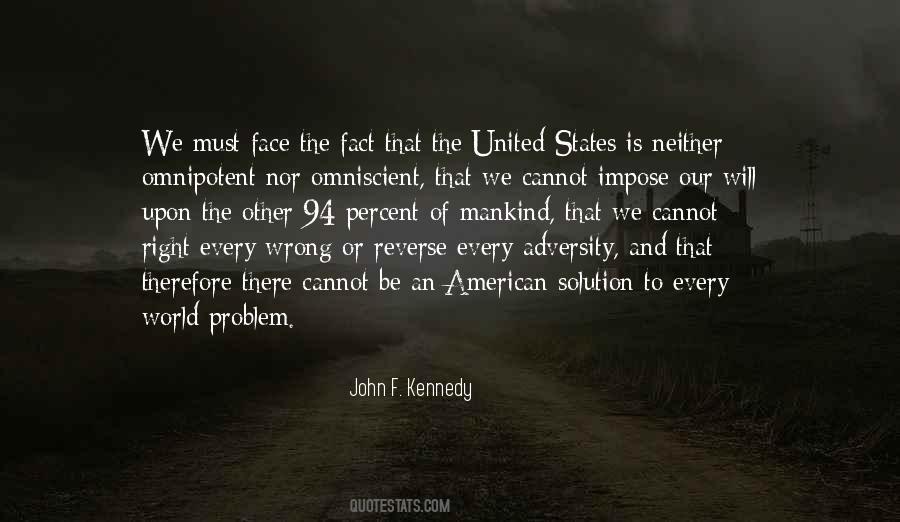 #26. You will face many troubles. But the Lord will deliver you each time. - Author: Lailah Gifty Akita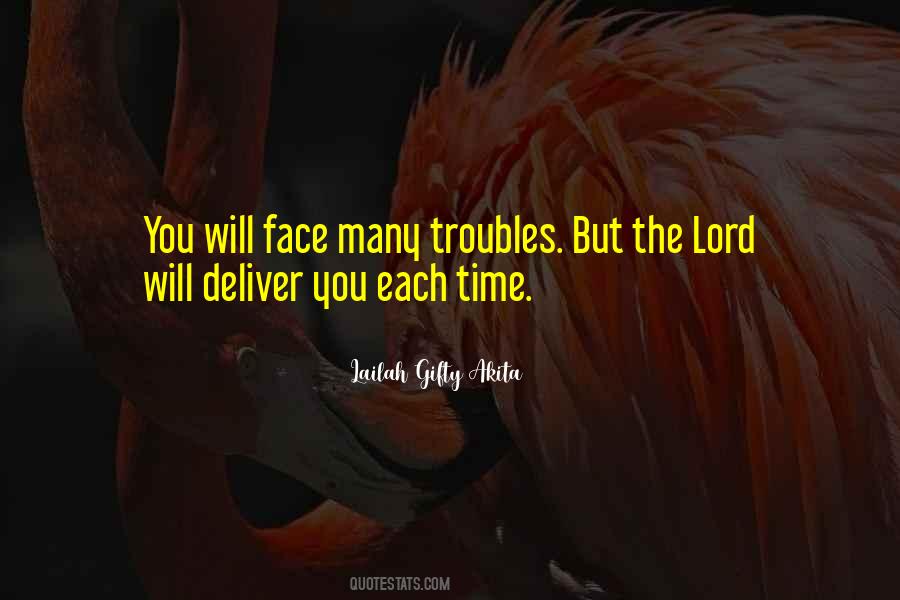 #27. Harry Potter is about confronting fears, finding inner strength and doing what is right in the face of adversity. Twilight is about how important it is to have a boyfriend. - Author: Stephen King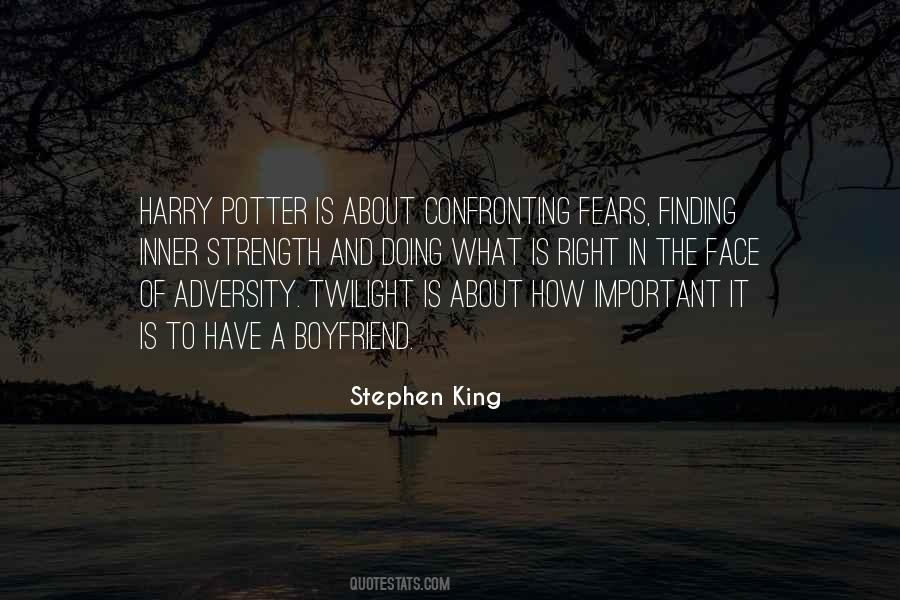 #28. In order to live a life truly worth living you had to have strength in the face of adversity, patience when confronted by challenge, and bravery in the face of fear. As Sandy Portman I had used arrogance in the face of fear, disdain in the face of challenge, and selfishness in the face of adversity. - Author: Linda Francis Lee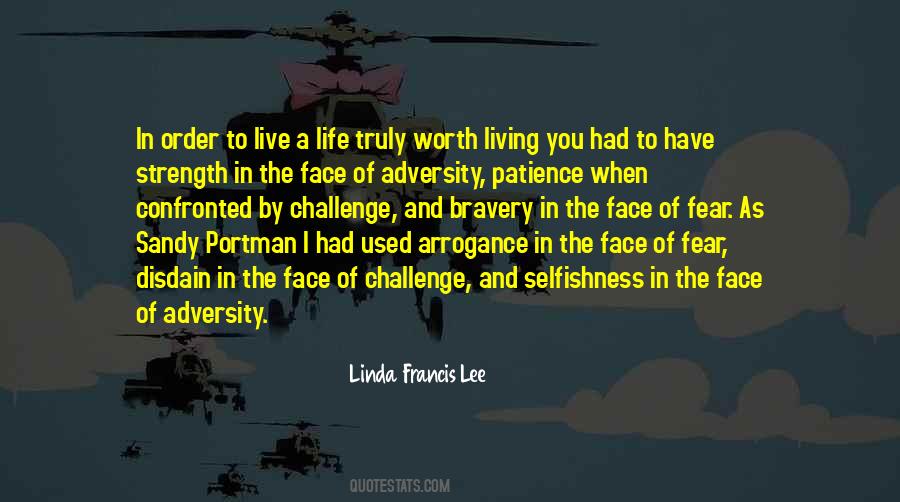 #29. Ji-li's deeply moving story should be on the shelf of every person's library. Her courage in the face of adversity and her steadfast loyalty and love for her family are truly inspirational for young and old alike. - Author: Nien Cheng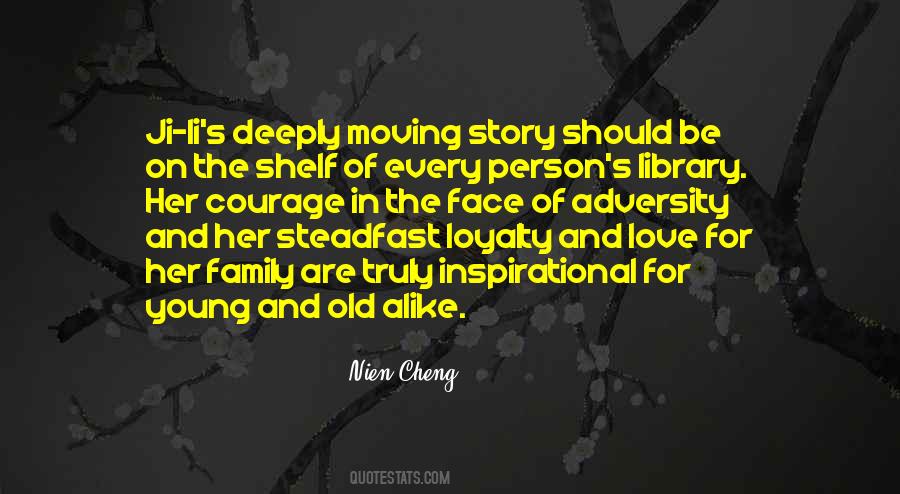 #30. In the darkest time, we are left alone to face the fate of life. - Author: Lailah Gifty Akita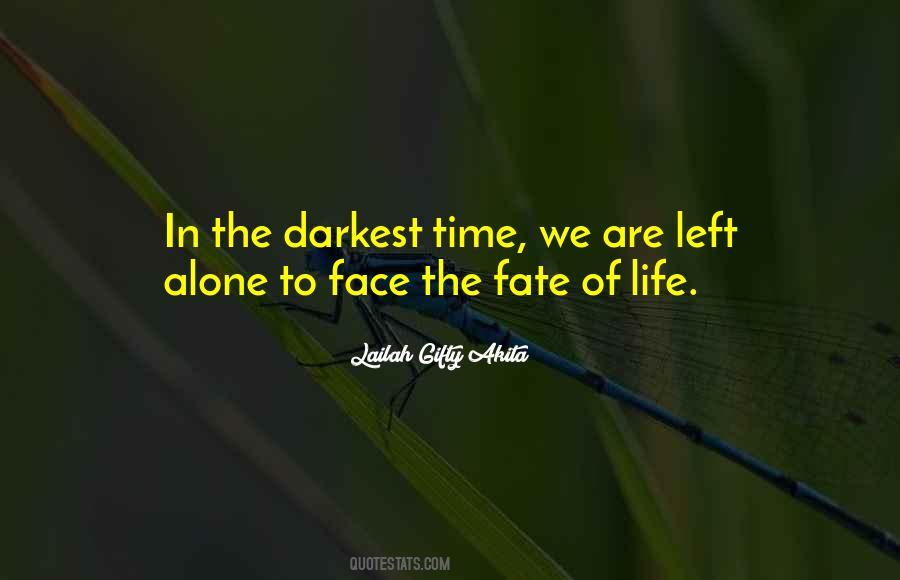 #31. The best opportunities to be nice to others come in the face of adversity. Kindness wins. Reciprocity rules. - Author: David Chiles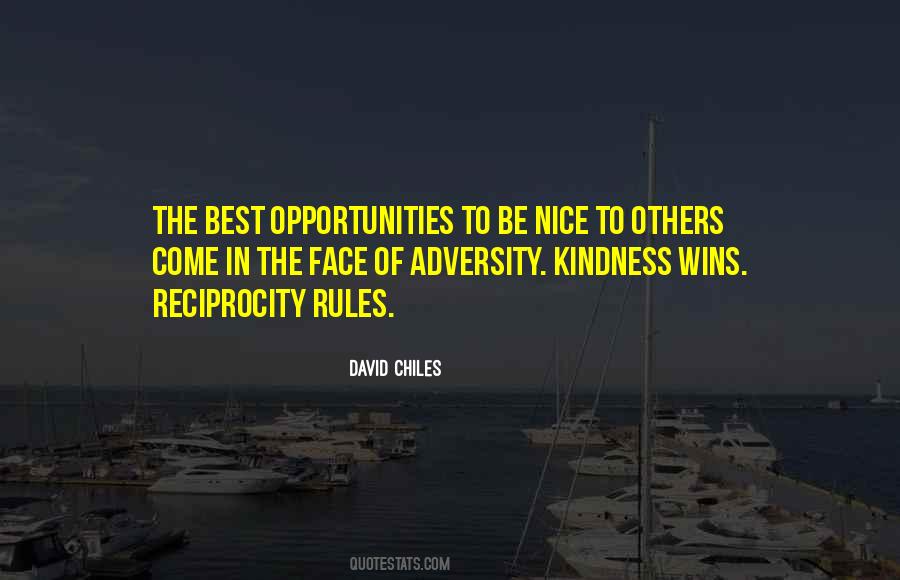 #32. Many of the things most cherished in our lives are those realized only through great difficulty or in the face of adversity, and among those are, so often, friendshio, live, faith, and hope. - Author: Loren R. Graham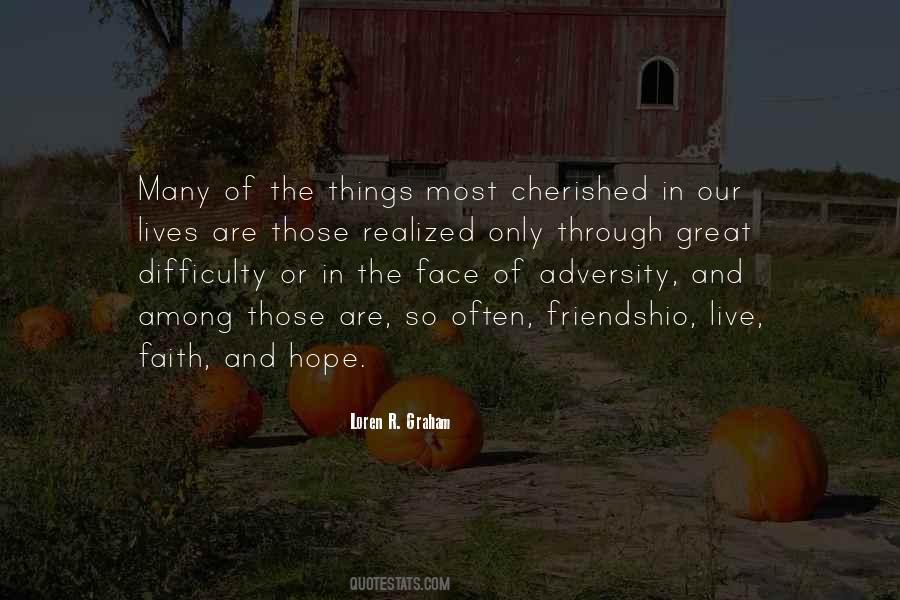 #33. Doing what is right in the face of adversity is not always easy or popular. Critics may assail you, but the critics don't always realize what they don't know or don't understand, because they don't have access to all the information. - Author: John Ashcroft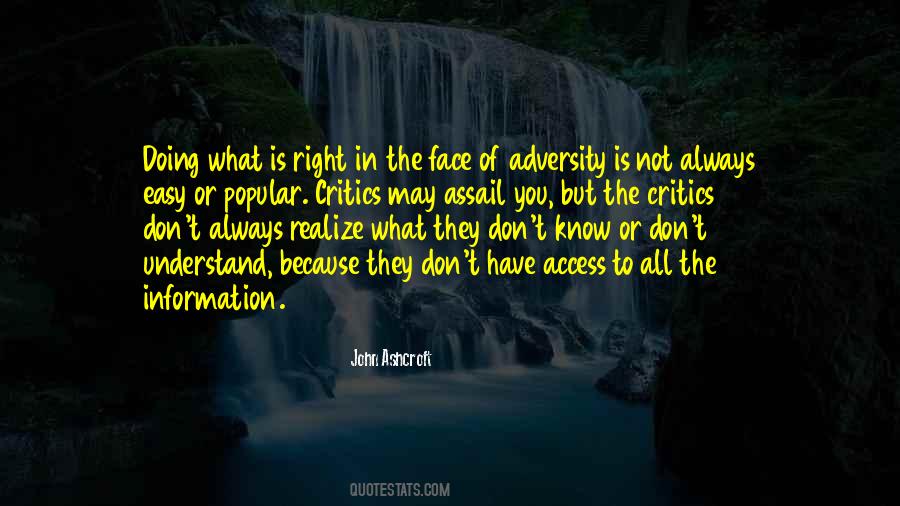 #34. I think persistence in the face of adversity is an essential part of a writer's job description. If you don't care enough about it to avoid being easily disheartened that way, you really should be doing something else. - Author: Lawrence Block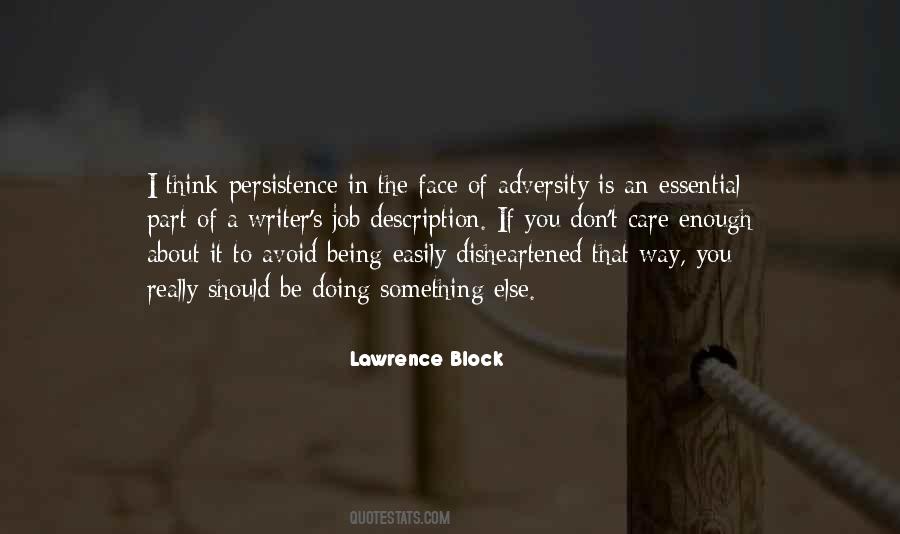 #35. We only truly discover who we really are in the face of tragedy and adversity, that being broken does not simply changes us, but reveals us! - Author: David Trumble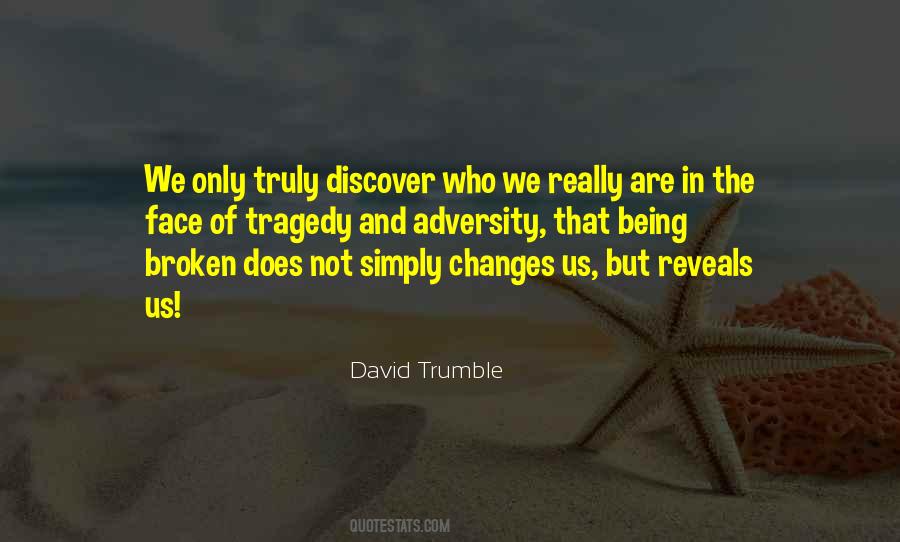 #36. [ ... ] That is why we are here today, because we have had the strength within us to survive, a flame inside of us that have not gone out. We are still human, not dust, like millions of others, and we will continue to be, no matter what adversity we face. - Author: Liv-Christine Hoem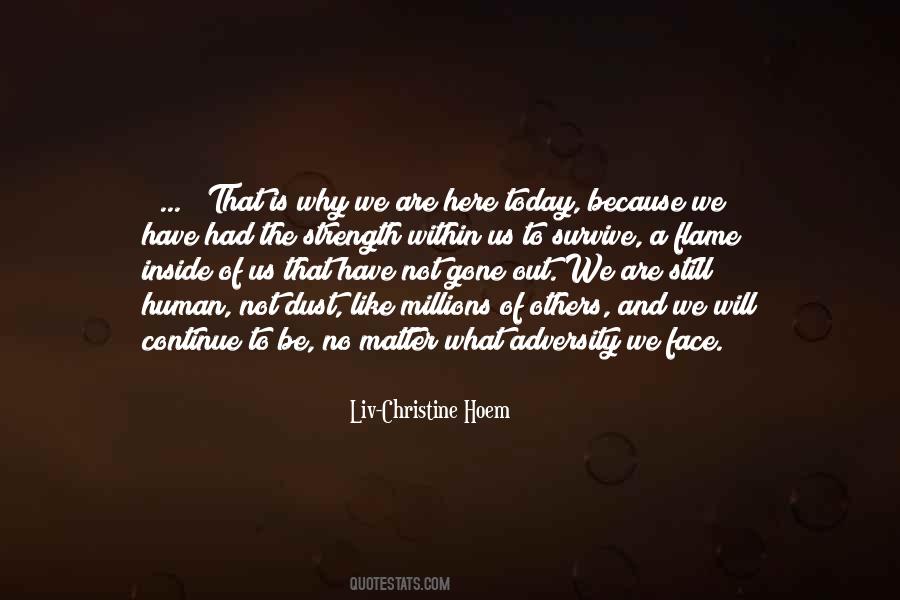 #37. People never fail to amaze me. They face the unimaginable with a shot of grace and a rush of adrenaline; they steel their nerves; they summon their cool or anger or faith or whatever it takes to pull them through, and they go on to live another day. - Author: Oprah Winfrey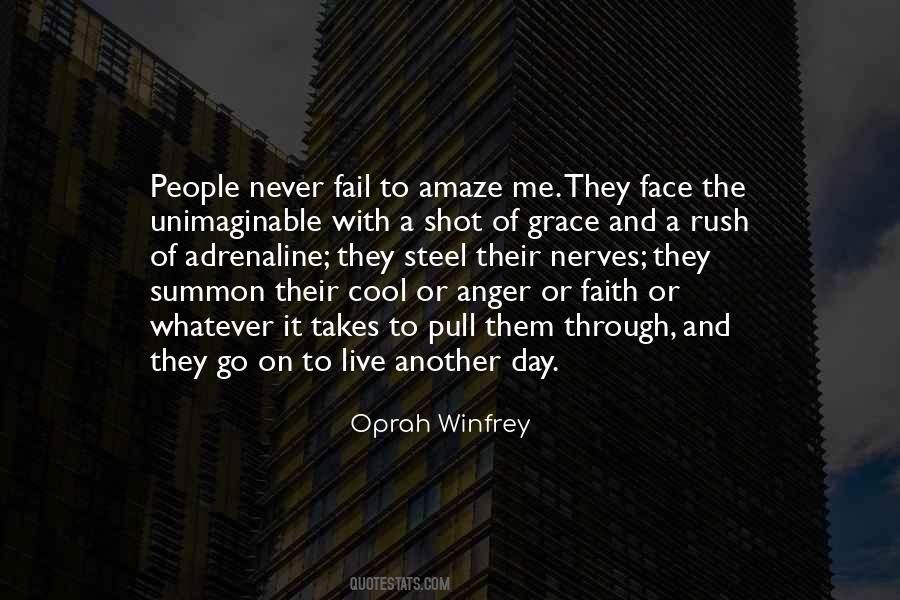 #38. You were laughing at where I work."
"So? You do!"
"Yes, because I work there. I'm laughing in the face of adversity, you're just laughing in my face! - Author: David Nicholls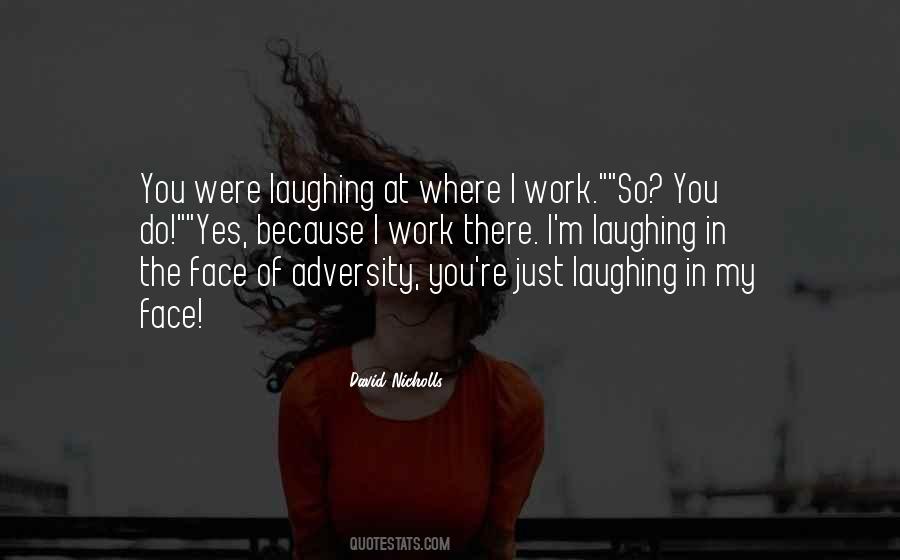 #39. The highest courage is to dare to be yourself in the face of adversity. Choosing right over wrong, ethic over convenience, and truth over popularity ... these are choices that measure your life. Travel the path of integrity without looking back, for there is never a wrong time to do the right thing. - Author: Michael Moore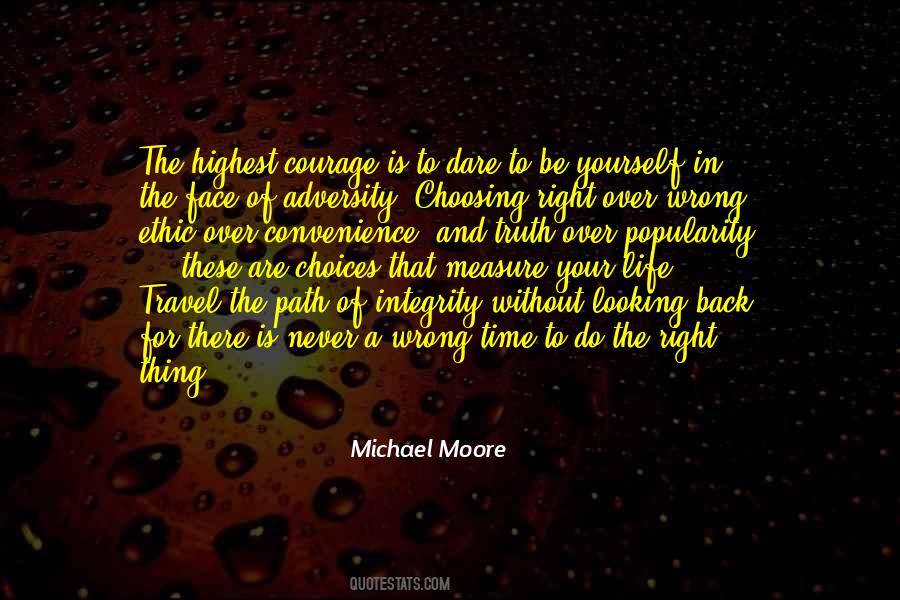 #40. Pursue your goals even in the face of difficulties, and convert adversities into opportunities. - Author: Dhirubhai Ambani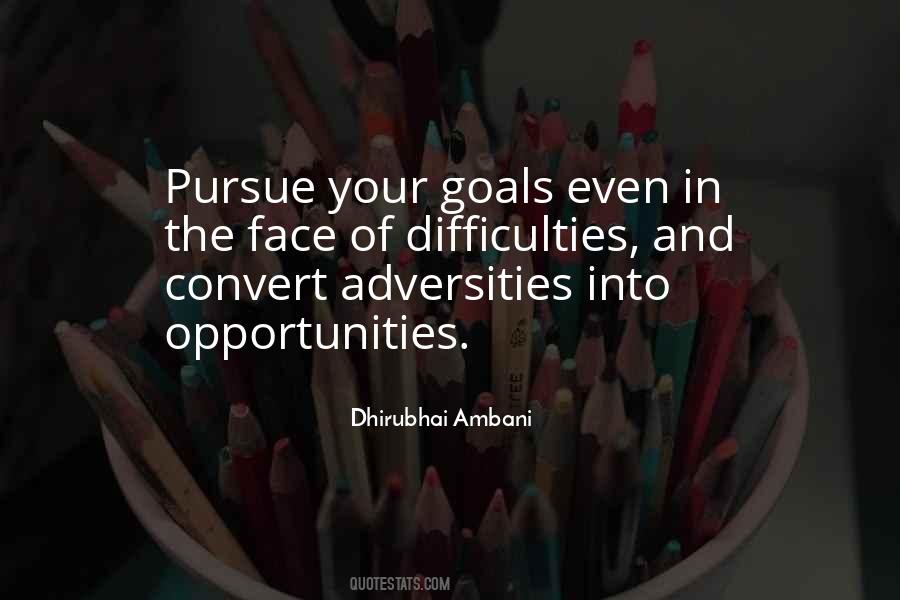 #41. Many of the lessons we are to learn in mortality can only be received through the things we experience and sometimes suffer. And God expects and trusts us to face temporary mortal adversity with His help so we can learn what we need to learn and ultimately become what we are to become in eternity. - Author: David A. Bednar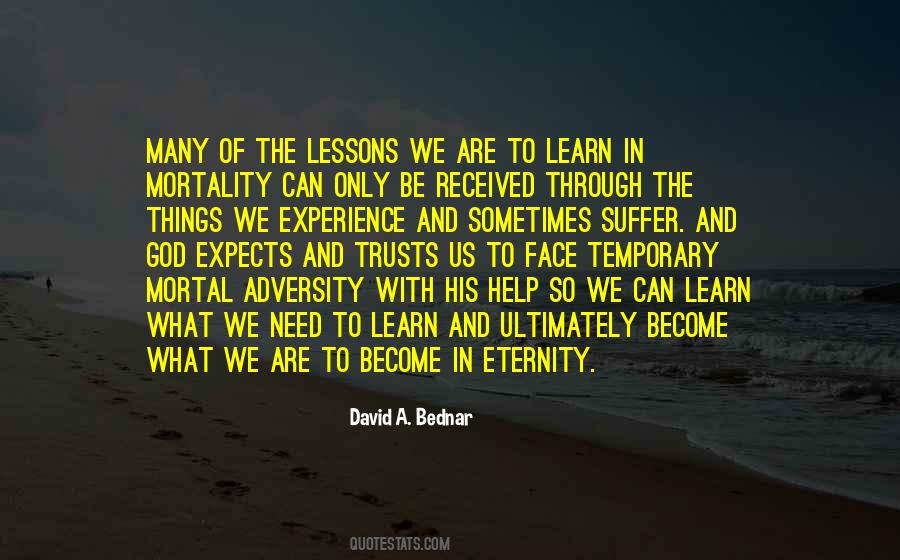 #42. Faith is tested in the face of adversity - Author: Dune Elliot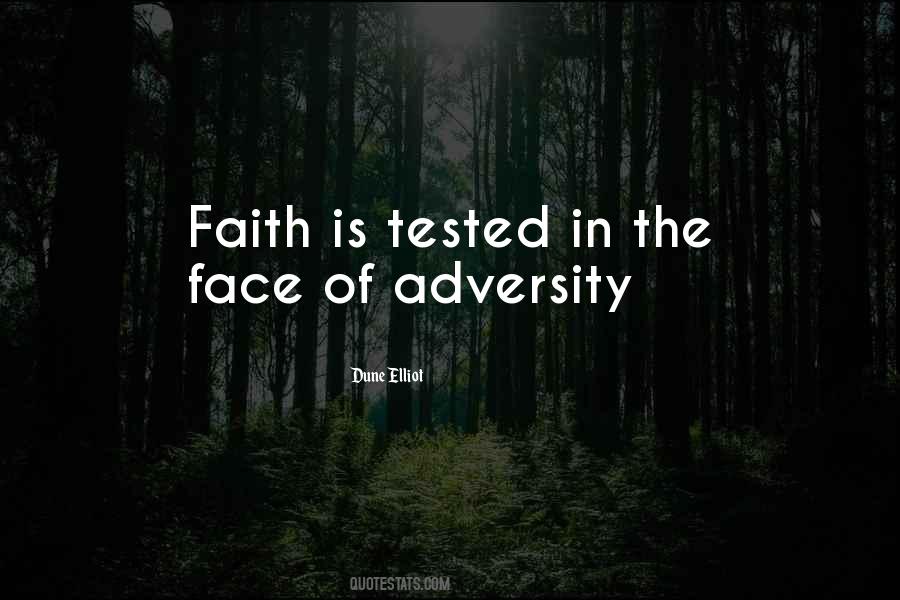 #43. Disability is not a 'brave struggle' or 'courage in the face of adversity' ... Disability is an art. it's an ingenious way to live. - Author: Neil Marcus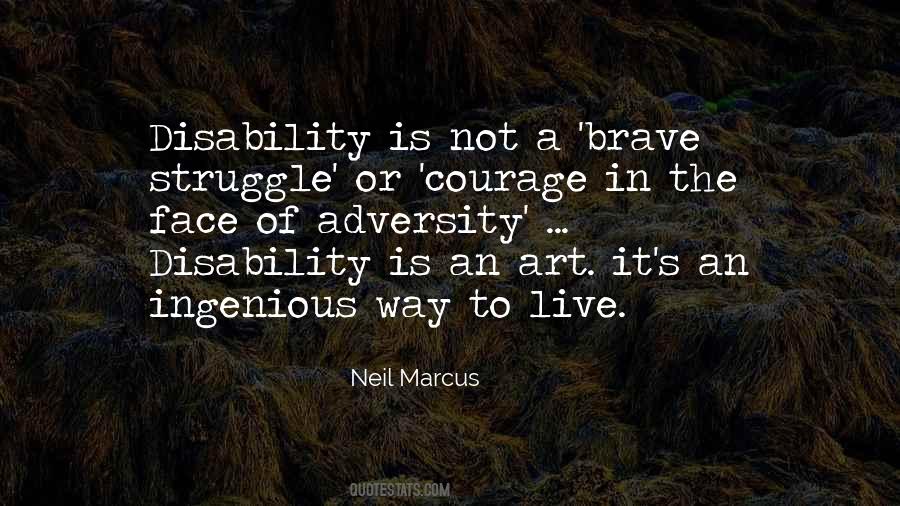 #44. In the face of adversity, beautiful things emerge - Author: Epiphana Lewis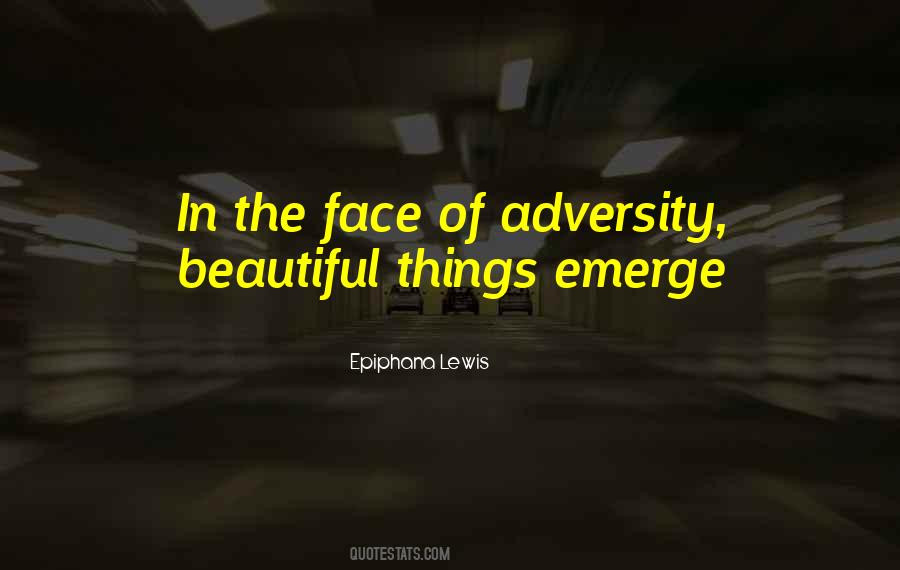 #45. Courage is the belief in self, and the possible ability to prevail in the face of adversity. - Author: Tony Dovale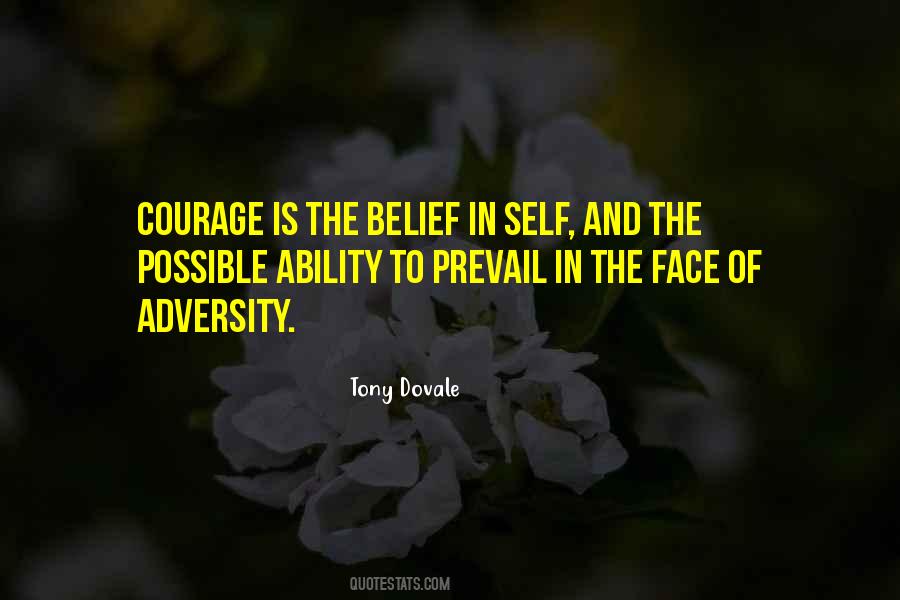 #46. Having grown up in a segregated environment in the south I know what it's like to be stepped on, I know what it's like also to see some black hero do well in the face of adversity. - Author: Arthur Ashe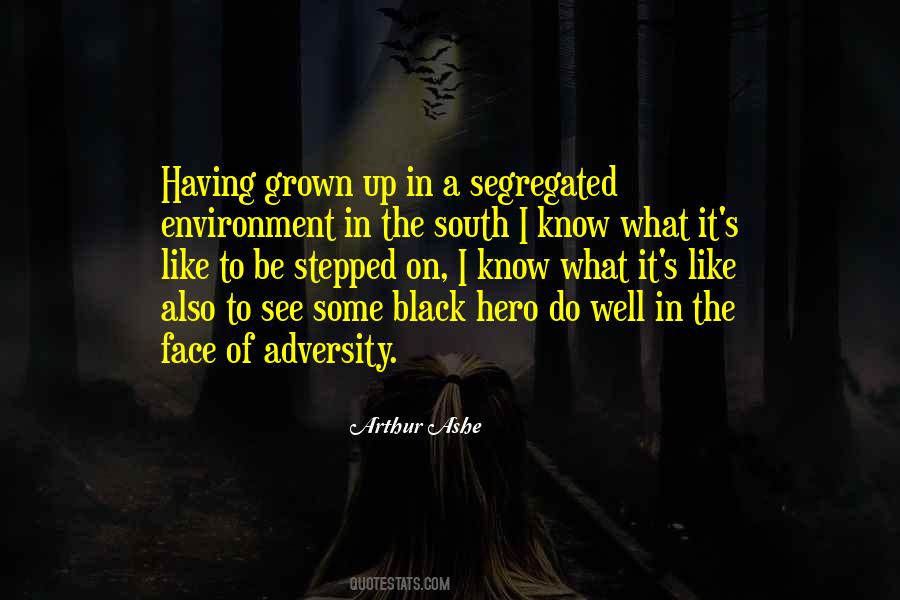 #47. The man of courage is not the man who did not face adversity. The man of courage is the man who faced adversity and spoke to it. The man of courage tells adversity, "You're trespassing and I give you no authority to steal my joy, my faith or my hope. - Author: Kiese Laymon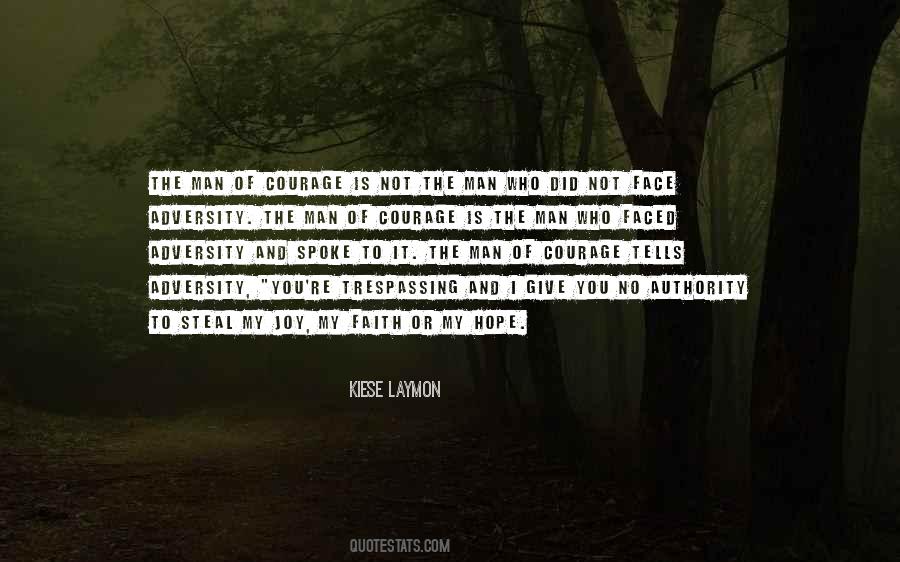 #48. No man can smile in the face of adversity and mean it. - Author: E.W. Howe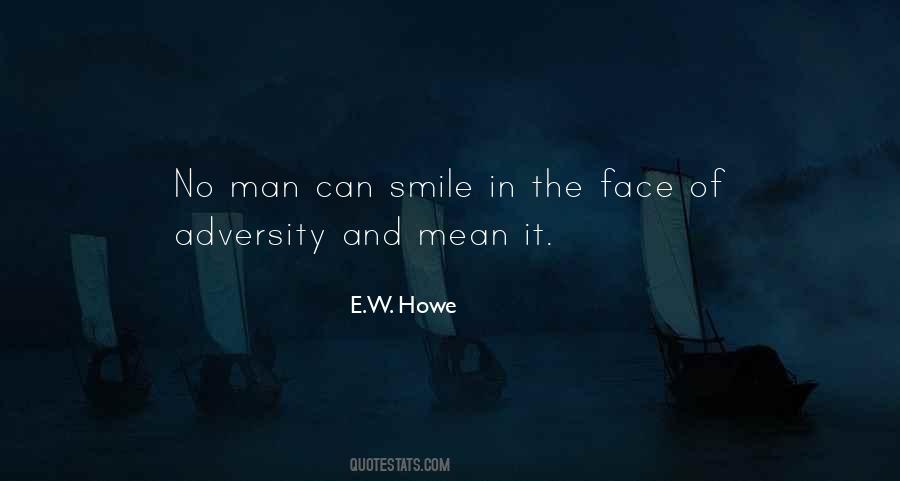 #49. We always have the necessary resources to face the storms that life throws at us, but most of the time,those resources are locked up in the depths of our heart and we waste an enormous amount of time trying to find them.By the time we've found them,we already been defeated by adversity. - Author: Paulo Coelho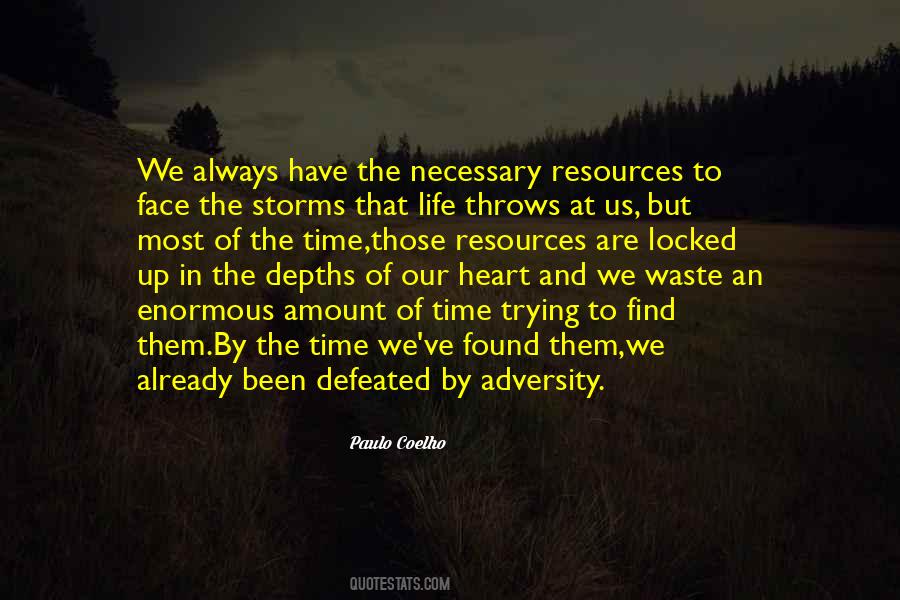 #50. The legacies that parents and church and teachers left to my generation of Black children were priceless but not material: a living faith reflected in daily service, the discipline of hard work and stick-to-itiveness, and a capacity to struggle in the face of adversity. - Author: Marian Wright Edelman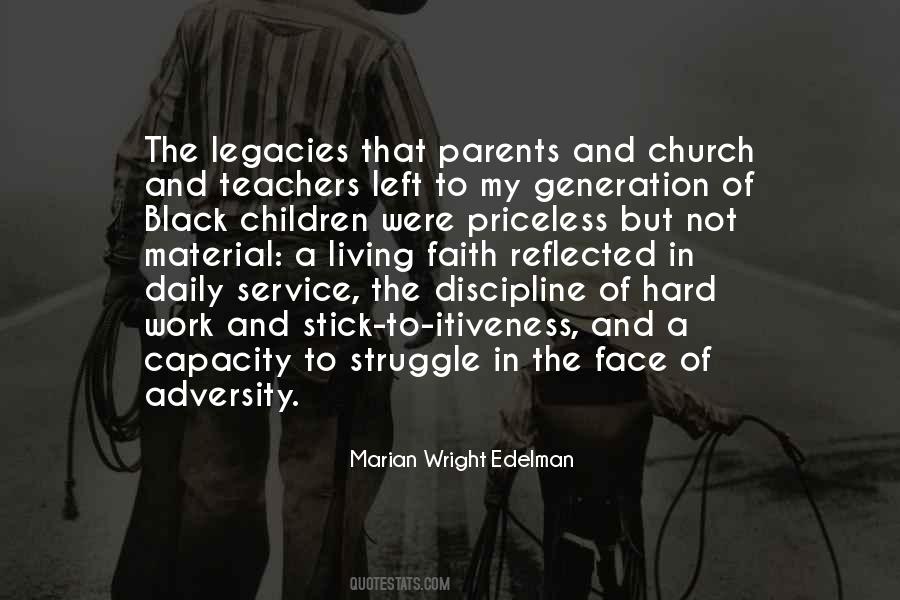 #51. The Duke and Swing represent affirmation in the face of adversity. - Author: Wynton Marsalis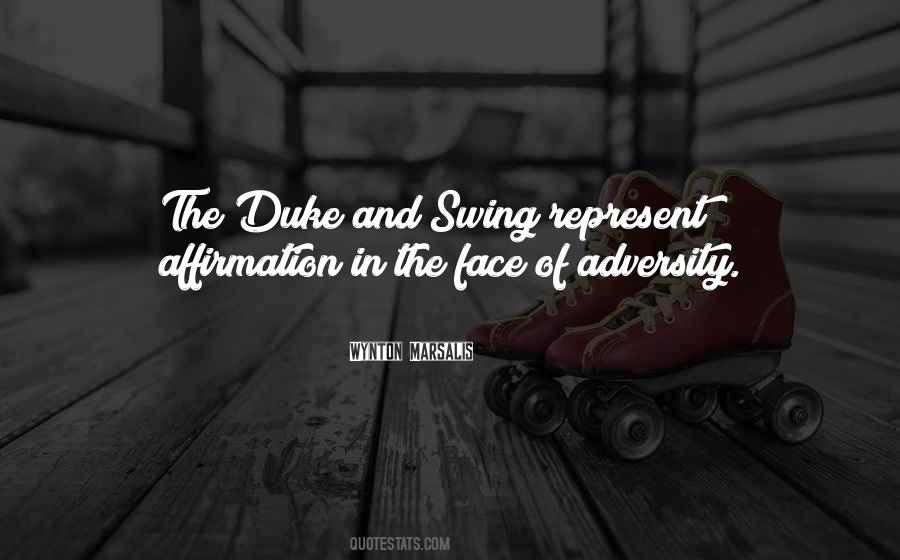 #52. Even in the face of certain adversity, a true lady always makes a graceful exit. - Author: Jessica Jefferson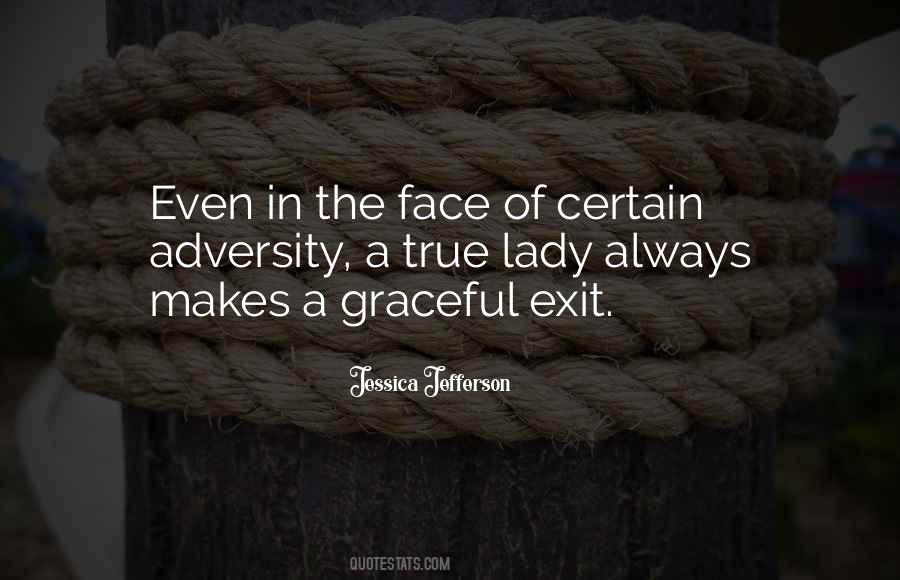 #53. Greatness is what remains when that talent and vision meet adversity - and persist in the face of it. - Author: Lewis Howes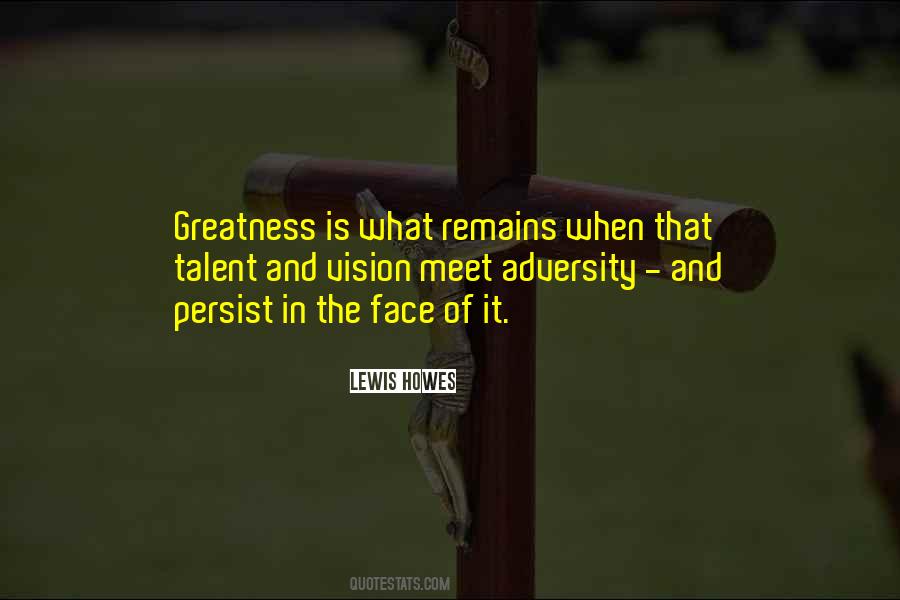 #54. No matter what sort of adversity or challenge you might face, you can always believe that, with hope, it can be conquered and, in the end, you will be stronger for it. - Author: Brooke Ellison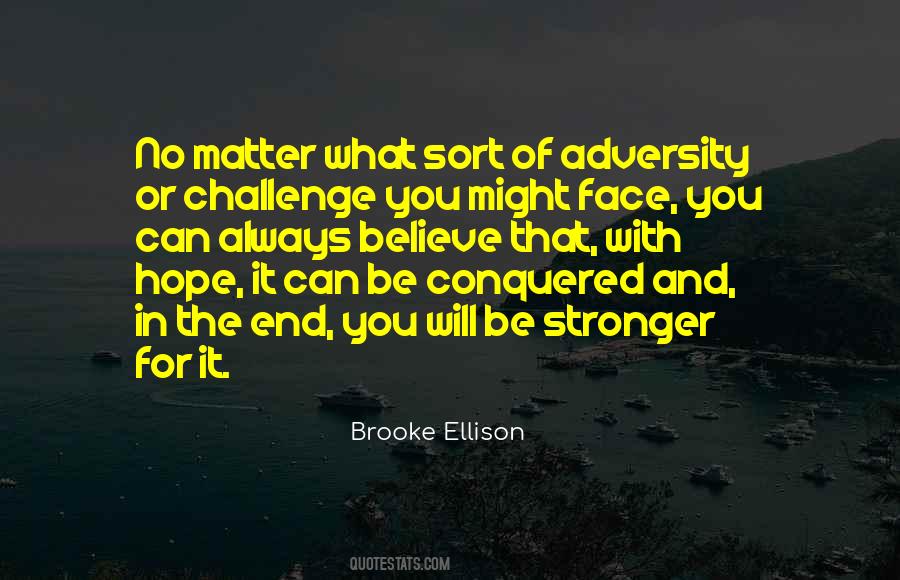 #55. In the face of adversity I shall not weaver because the LORD our GOD is always by my side. - Author: Abdulazeez Henry Musa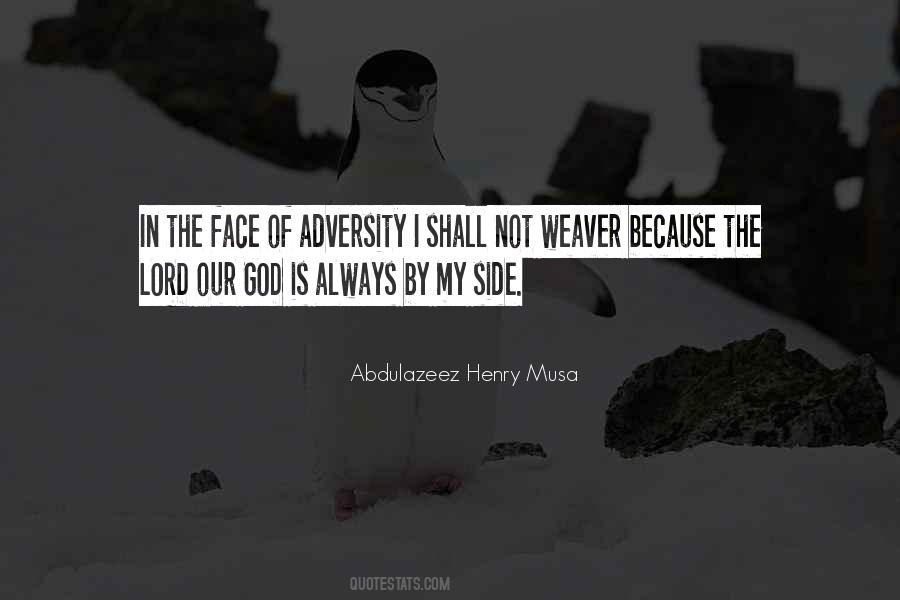 #56. I studied in Britain and spent great moments of my life there as a student living in Belsize Park. I admire the British trait of the stiff upper lip in the face of adversity. My wife studied in Britain, too, and both of us have many friends there. - Author: Asif Ali Zardari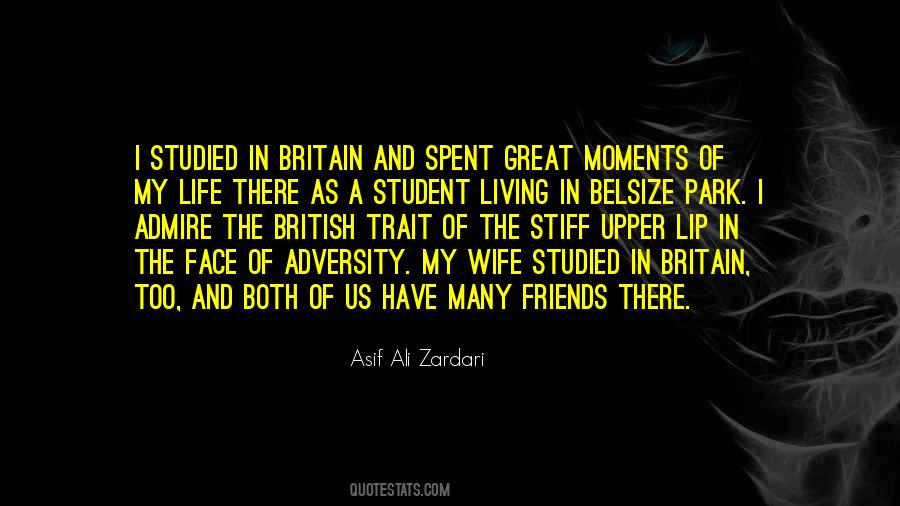 #57. The world tempts us either by attaching us to it in prosperity, or by filling us with fear of adversity. But faith overcomes this in that we believe in a life to come better than this one, and hence we despise the riches of this world and we are not terrified in the face of adversity. - Author: Thomas Aquinas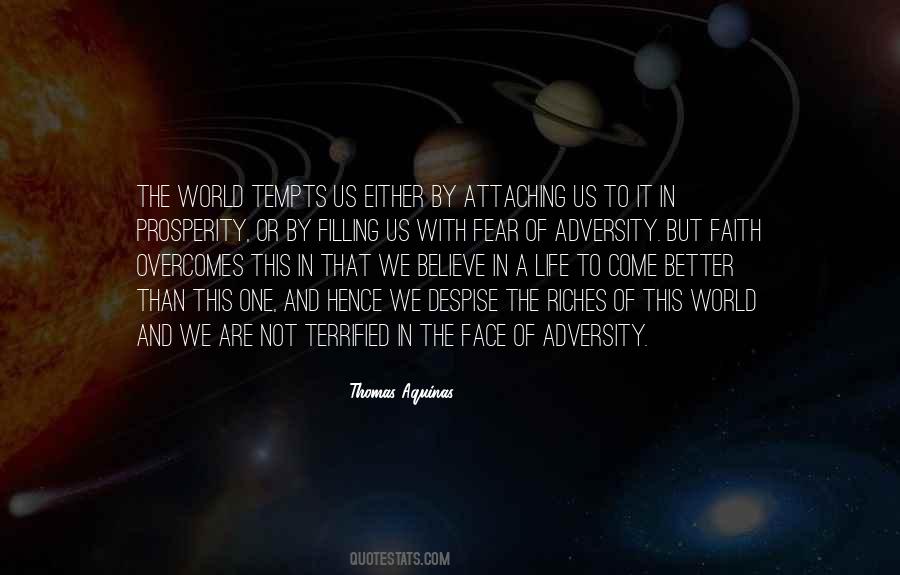 #58. As a lifelong practitioner of martial arts, I'm trained to remain calm in the face of adversity and danger. - Author: Steven Seagal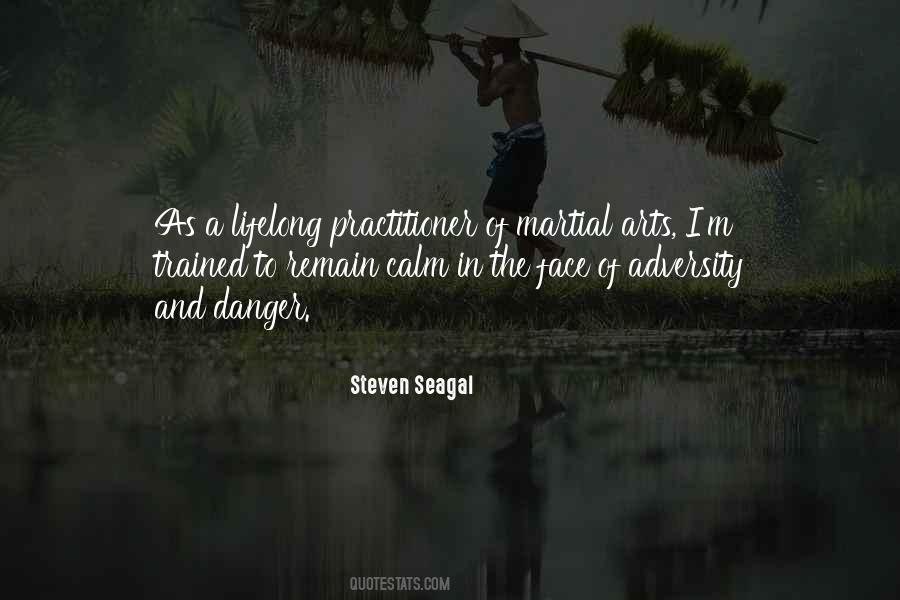 #59. To all the defiant stoics, laughing and fighting lonesome battles in the face of adversity. - Author: Kin F. Kam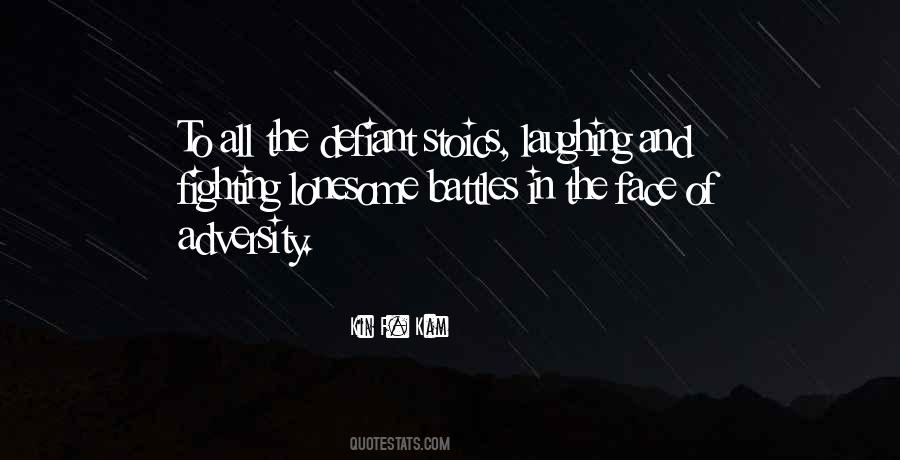 #60. His strategy of flying boldly into the face of adversity was studied and taught, and during the Clone Wars would come to be known as the Tarkin Rush, - Author: James Luceno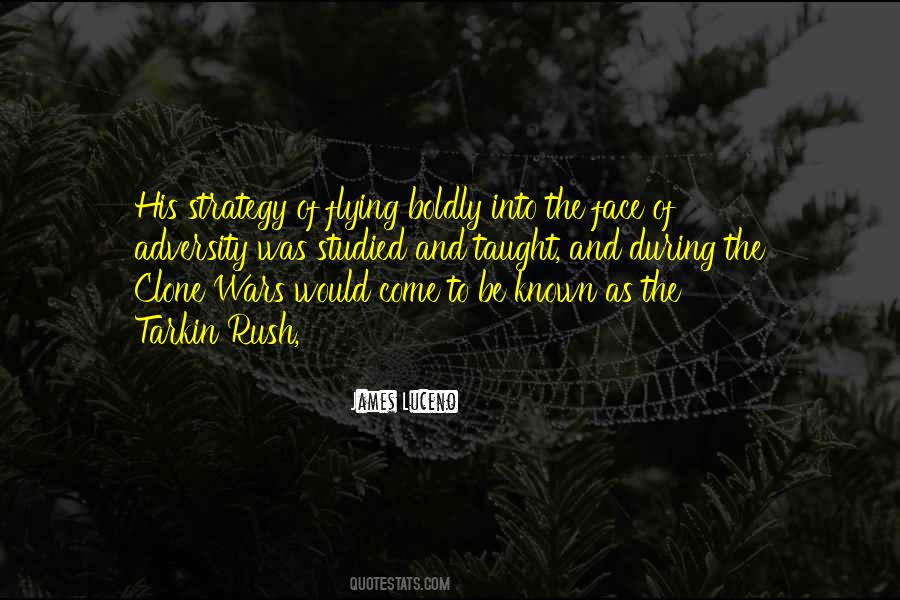 #61. My secret to survival has been embracing life's challenges and not letting them dictate my frame of mind or determine my fate ... Learning to stand strong in the face of challenge and adversity is the only way to get through the tough times. - Author: Sandra Lee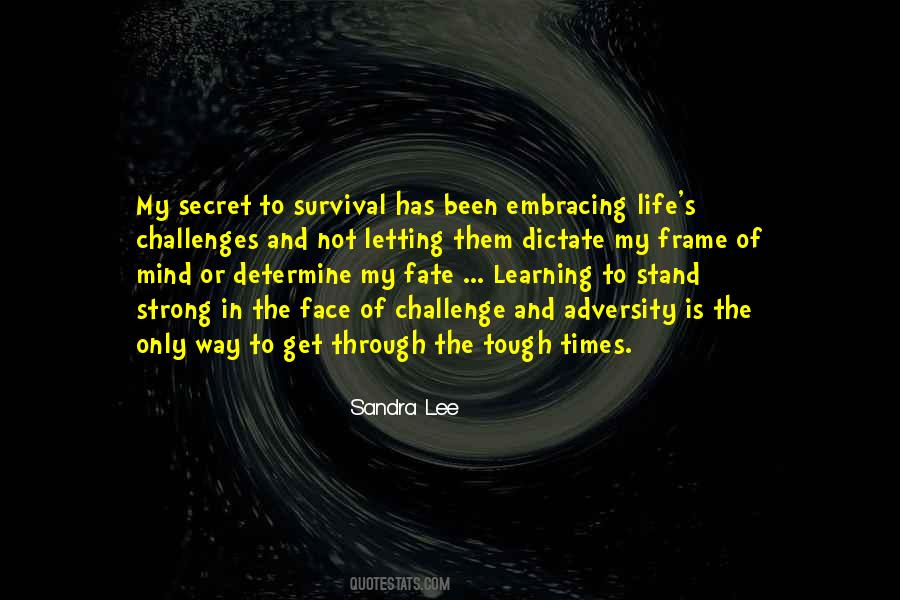 #62. Loyalty is not loyalty unless one clings to it in the face of adversity. No? - Author: Lisa Tawn Bergren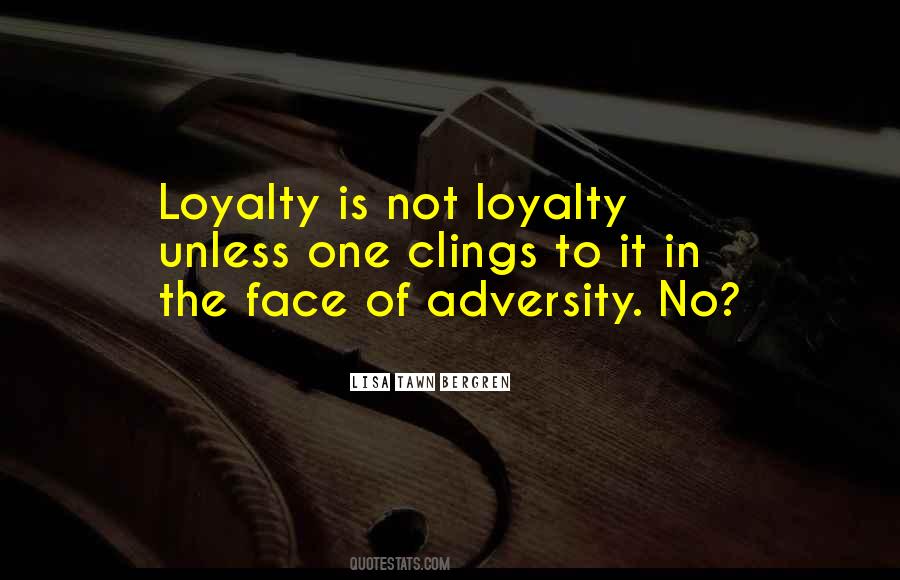 #63. On a busy day twenty-two thousand people come to visit Santa, and I was told that it is an elf's lot to remain merry in the face of torment and adversity. I promised to keep that in mind. - Author: David Sedaris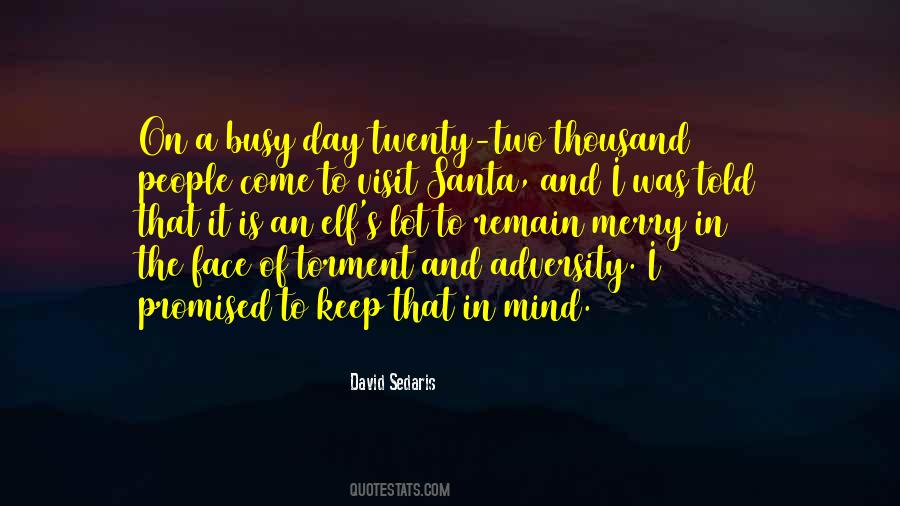 #64. It is easy to recollect the good things of life, the times when one's heart rejoices and expands, when everything is enfolded in kindness and love; it is easy to recollect the fineness of life-how noble one was, how generous one felt, what courage one showed in the face of adversity. - Author: Oliver Sacks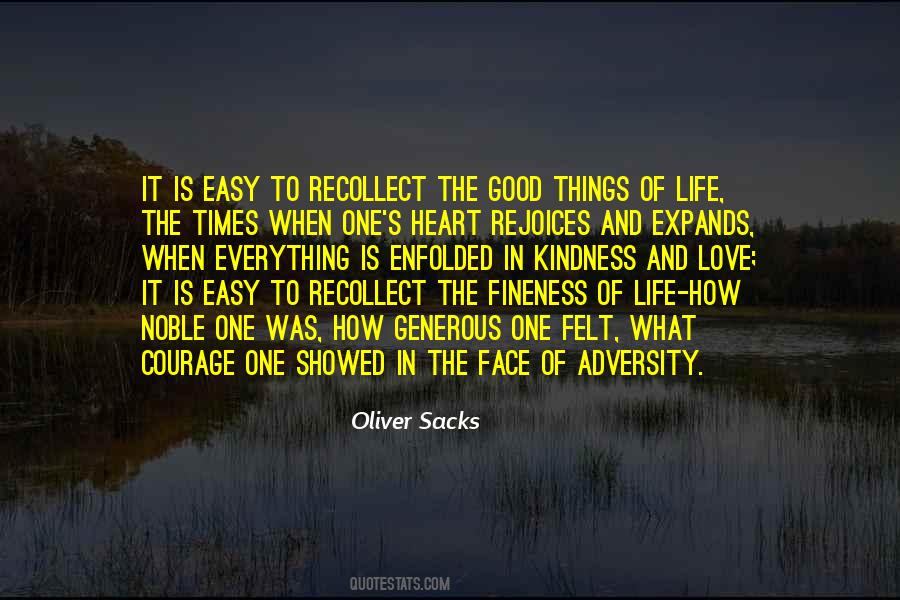 #65. Let us be brave in the face of adversity. - Author: Seneca The Elder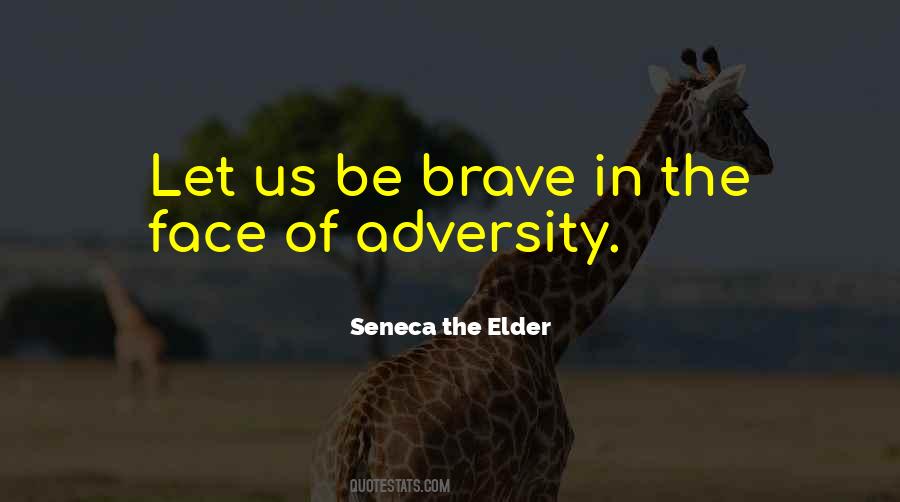 #66. A person who smiles in the face of adversity ... probably has a scapegoat. - Author: Stephen Hawking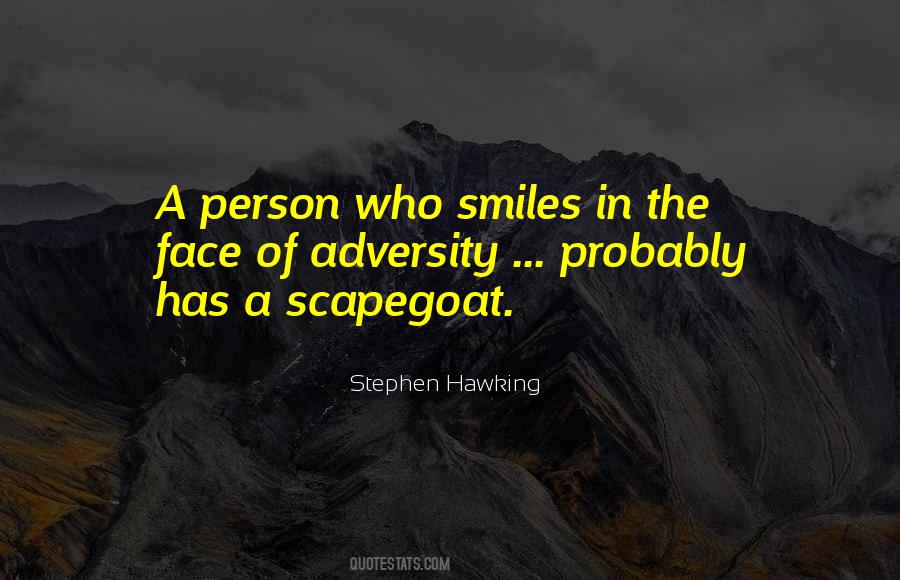 #67. Exemplary persons are steadfast in the face of adversity, while petty persons are engulfed by it. - Author: Confucius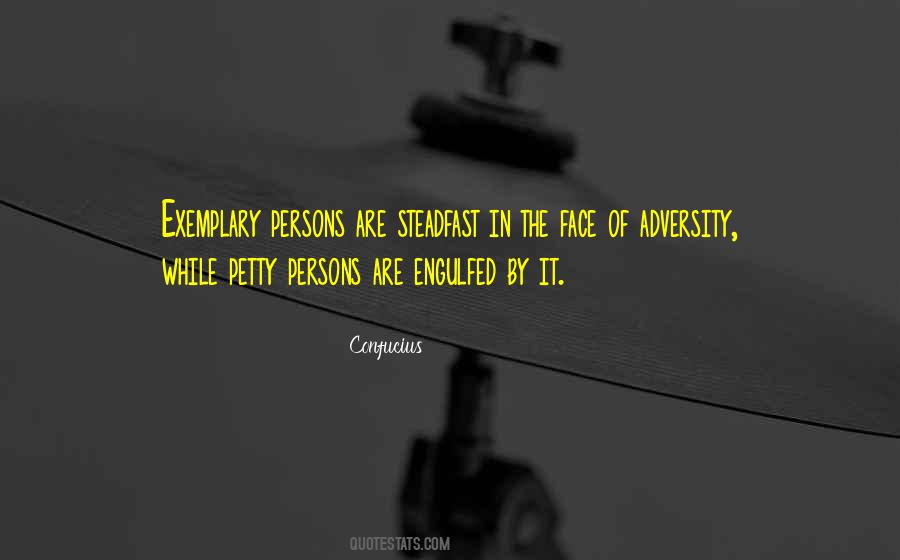 #68. Those who kept their sanity and humanity intact in the face of awful adversity. Heroes named and unnamed, some known only to God. - Author: Silvia Cartwright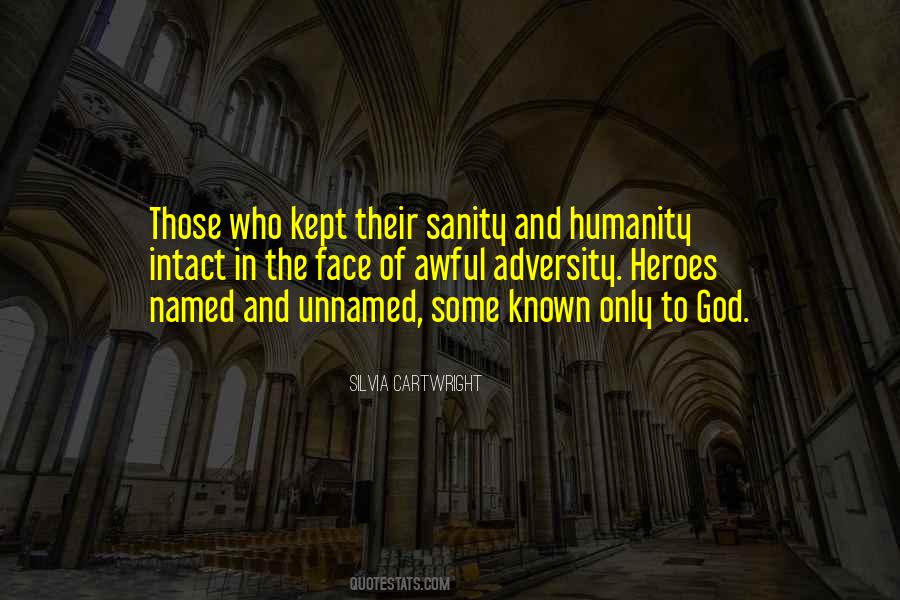 #69. She has suffered so much, and that sorrows me. But she has been strong in the face of unthinkable adversity, and that inspires me. - Author: Dean Koontz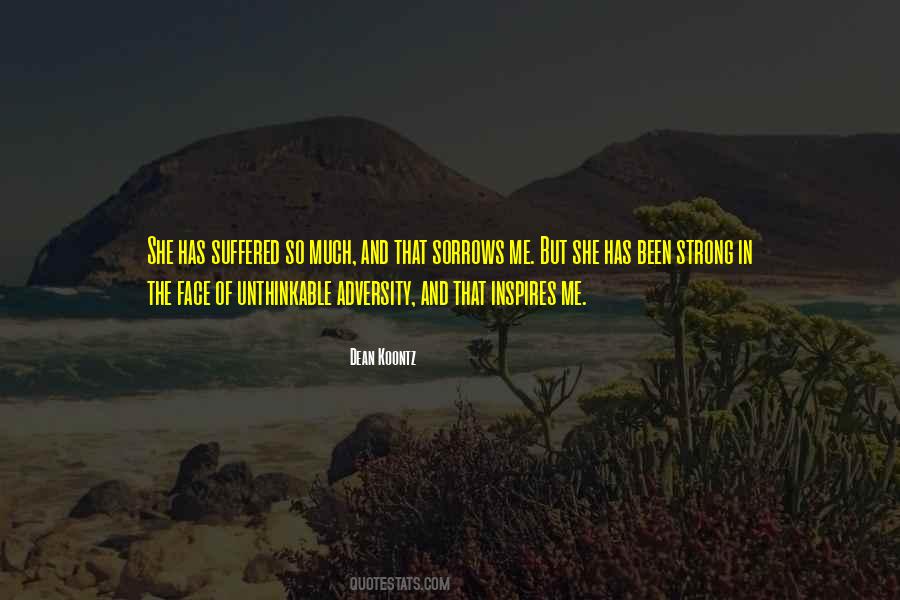 #70. For a West Point graduate to abandon his appointed task in the face of adversity or personal discomfort was all but inconceivable. - Author: David McCullough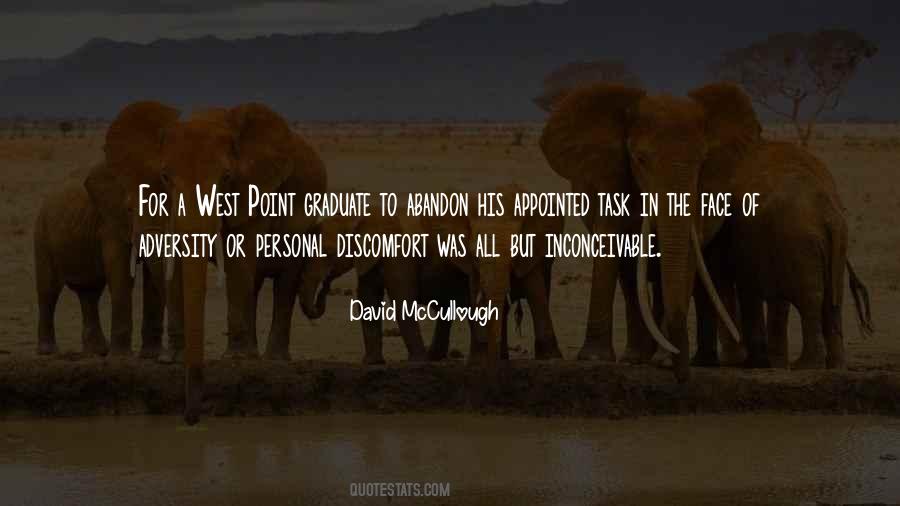 #71. I find it most true that the greatest temptation outside of hell is to live without temptations; if water stands, it rots; faith is the better for the sharp winter storm in its face and grace withers without adversity. The devil is but God's master fencer to teach us to handle our weapons. - Author: Samuel Rutherford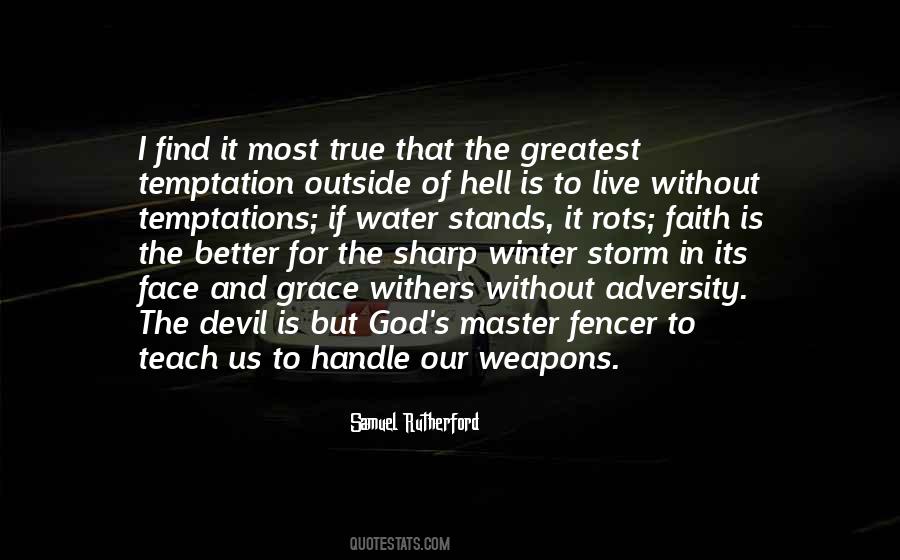 #72. You're going through college, and you're going to be faced with a lot of things. You're going to face adversity, the main thing is don't quit. For many people it's easy to quit, but don't. That's what separates the winners from the losers, what separates the all-stars from the also-rans. - Author: Mr. T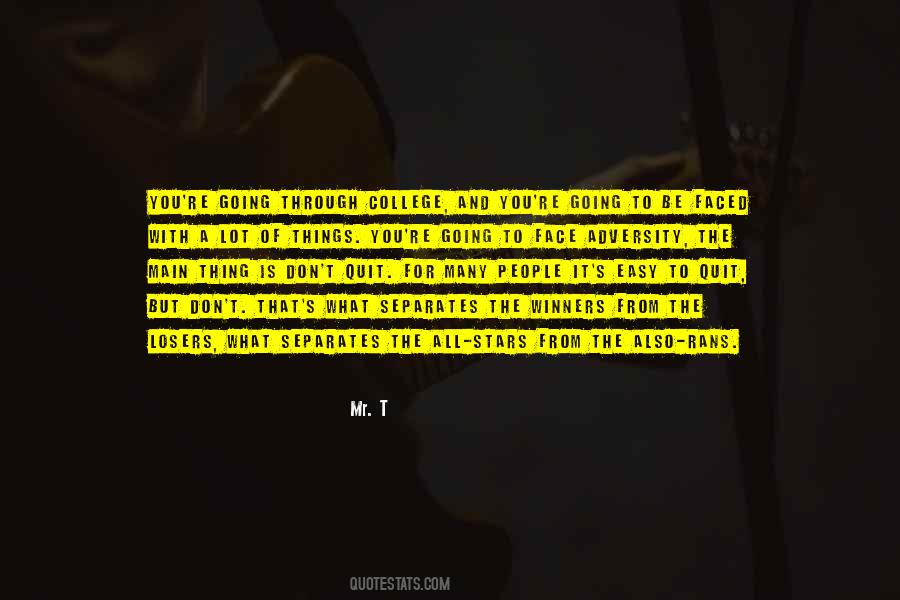 #73. Smile in the face of adversity, be contemptuous of danger, undaunted in defeat and magnanimous in victory. - Author: Sumitro Djojohadikusumo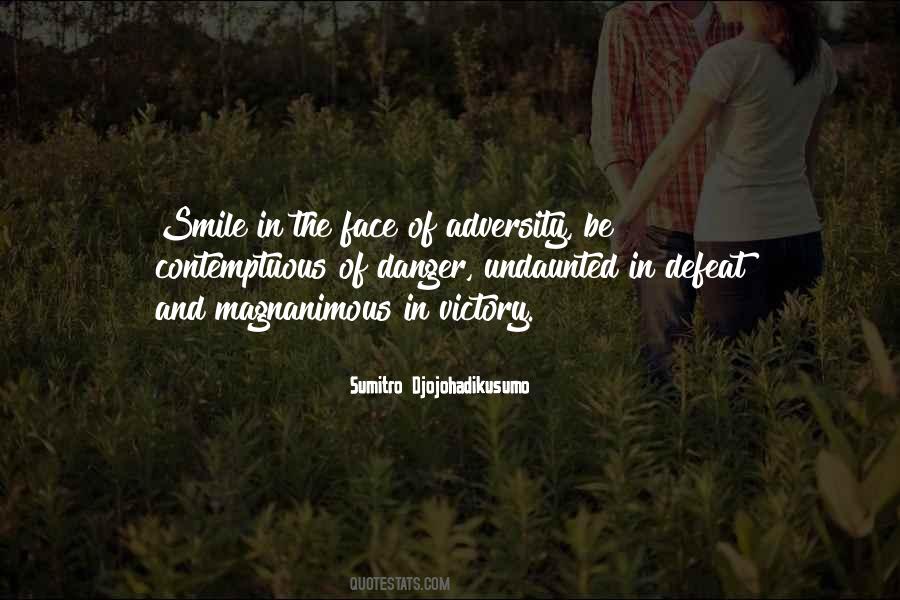 #74. The only difference between someone who folds in the face of adversity and someone who doesn't, is if the person interprets the challenges they face as either threats, or opportunities. Help - Author: The Mindset Warrior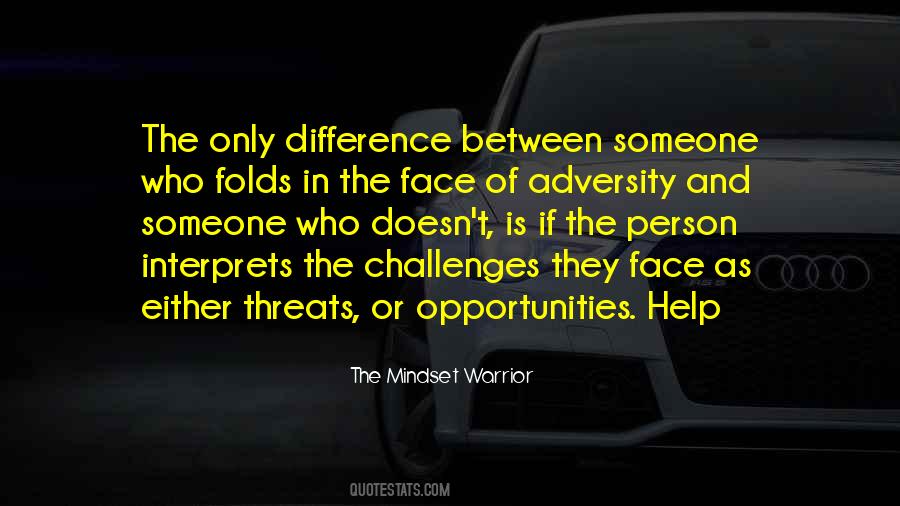 #75. In life, you may face hard times. But in the face of adversity, always seek to remain positive. What we think, will eventually become our life. And if you think positive, you will have a positive life. - Author: Sarah Wilson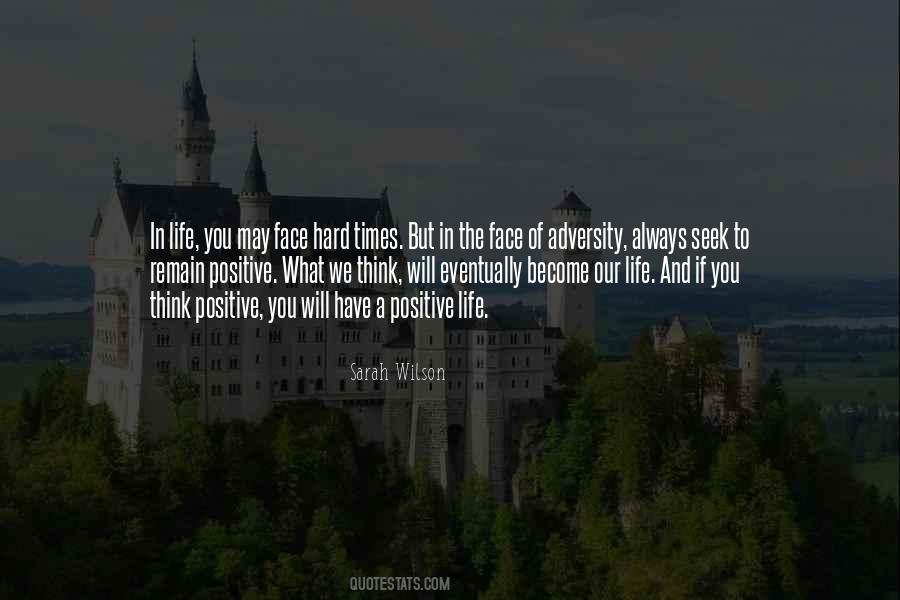 #76. You must laugh in the face of adversity. In the end, humor is the greatest weapon against the pain. The - Author: K. Hollan Van Zandt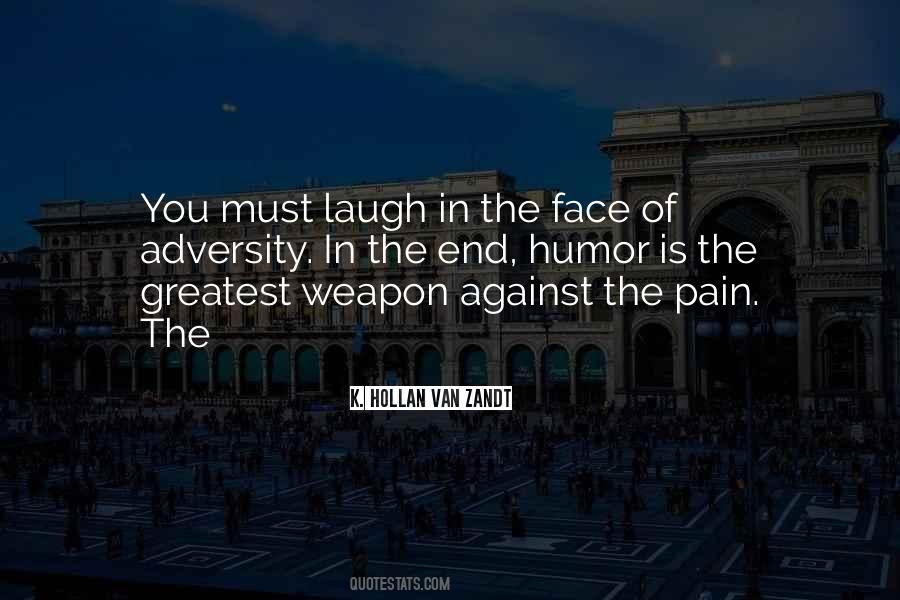 #77. I respect you far too much to think that empty pride is the only motivator you could call on. I think what you call pride is something much more than that. Belief in yourselves, perhaps, or perseverance in the face of adversity. Those are things to be proud of. That's not the same as being proud. - Author: Jack Campbell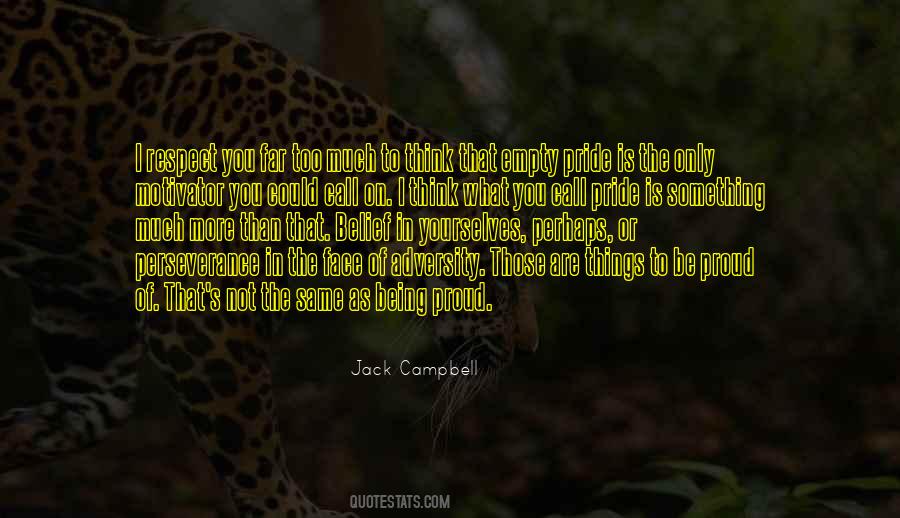 #78. You fight dandelions all weekend, and late Monday afternoon there they are, pert as all get out, in full and gorgeous bloom, pretty as can be, thriving as only dandelions can in the face of adversity. - Author: Hal Borland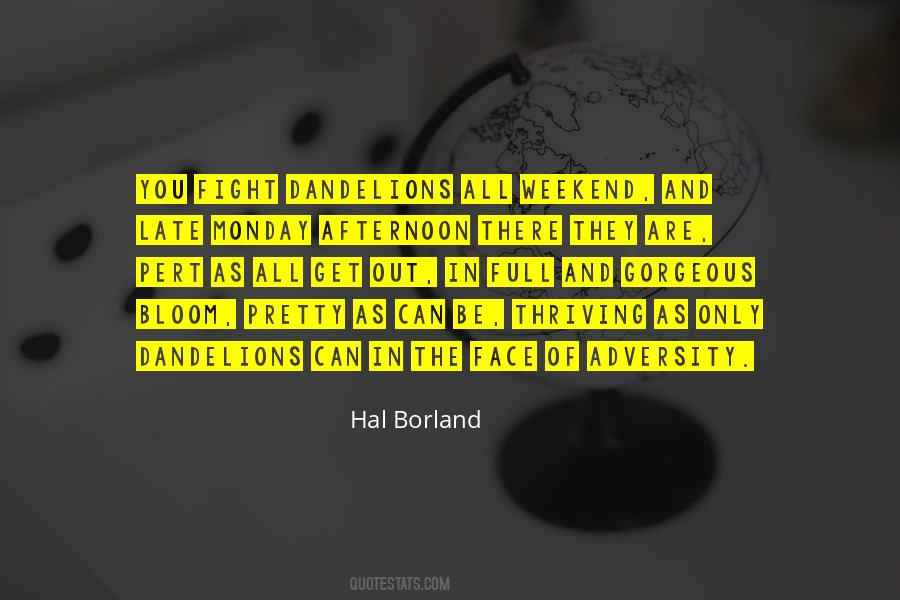 #79. Christians don't face adversity by stoically decreasing our love for the people and things of this world so much as by increasing our love and joy in God. - Author: Timothy J. Keller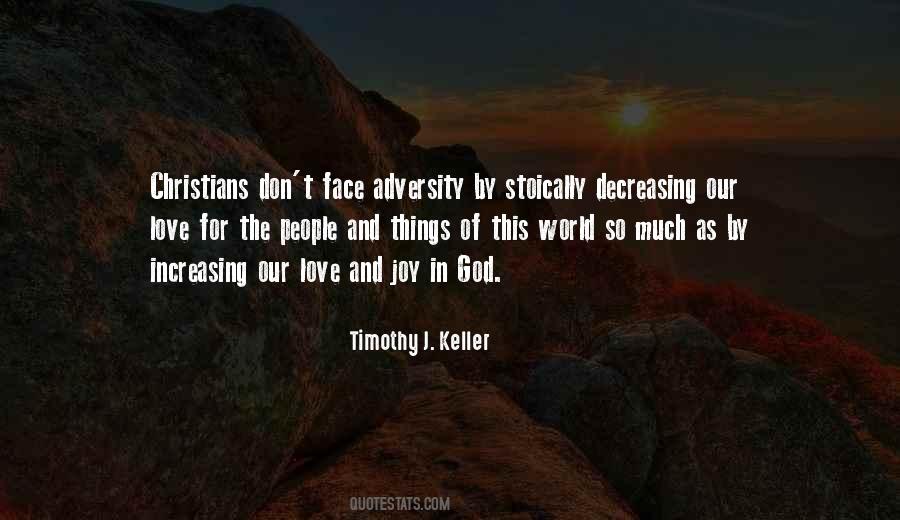 #80. The human race has had long experience and a fine tradition in surviving adversity. But we now face a task for which we have little experience, the task of surviving prosperity. - Author: Alan Gregg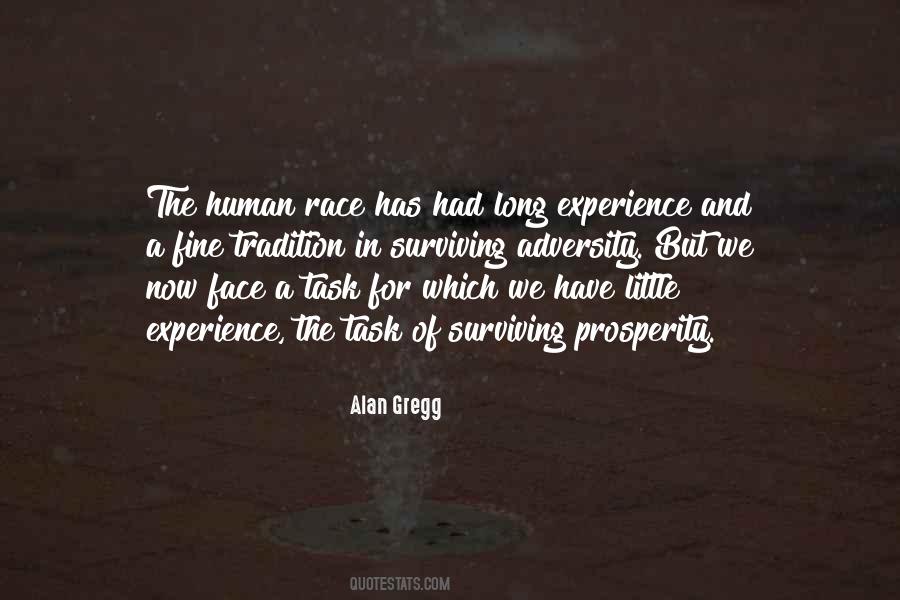 #81. Love finds you when you least expect it. Under seemingly impossible circumstances, but it was there. Young and blooming still. Unwavering and constant. Love truly did conquer all. Love required trust, unconditional faith in the face of adversity. - Author: Maya Banks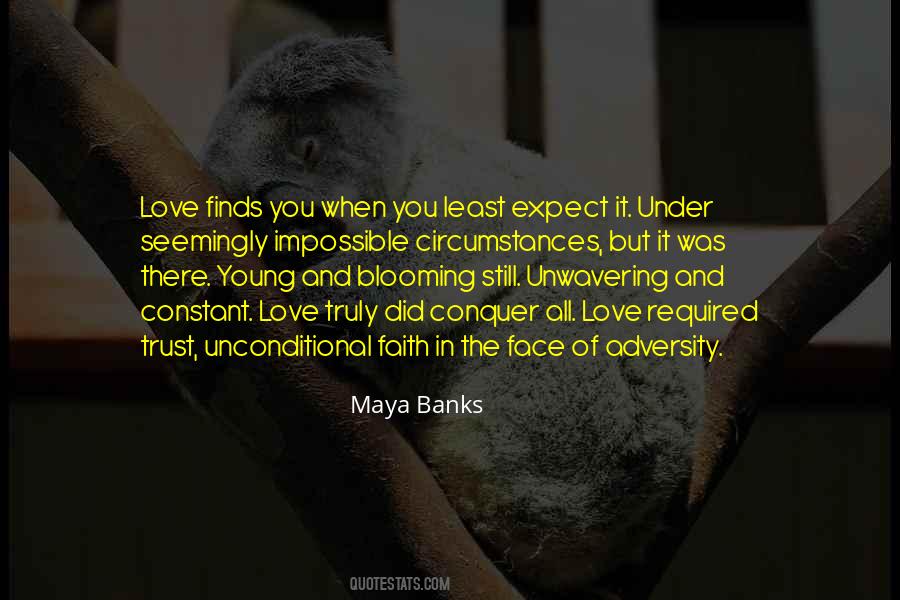 #82. Dare to be different. Be a pioneer. Be a leader. Be the kind of woman who in the face of adversity will continue to embrace life and walk fearlessly toward the challenge. - Author: Oprah Winfrey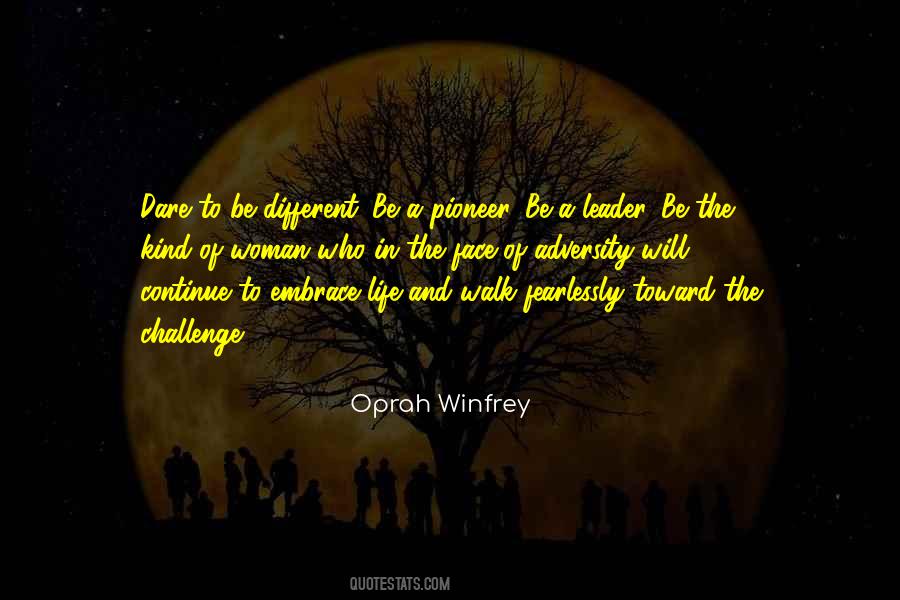 #83. I do not walk away in the face of adversity and never have. - Author: Stevie Nicks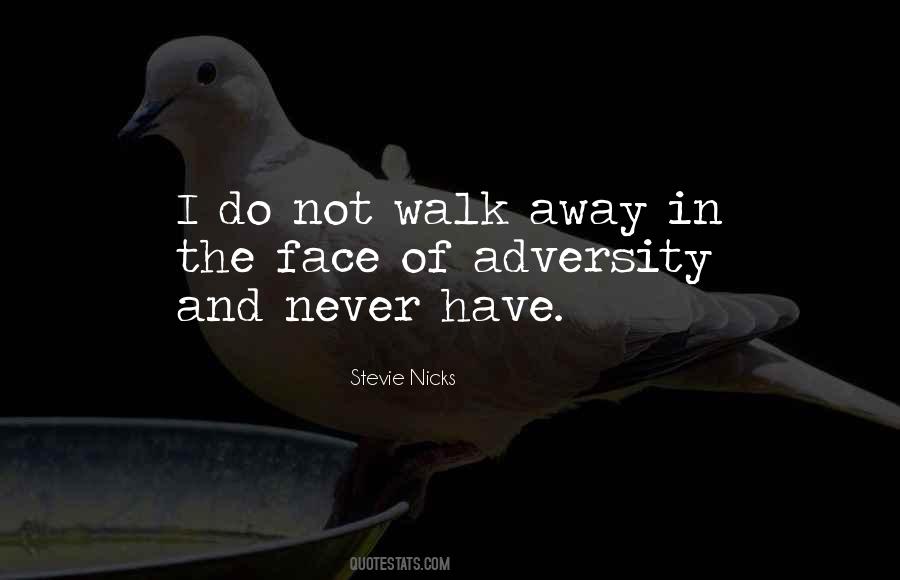 #84. Grit your teeth and smile. In the face of adversity, go. They don't deserve you. - Author: Christine Lagarde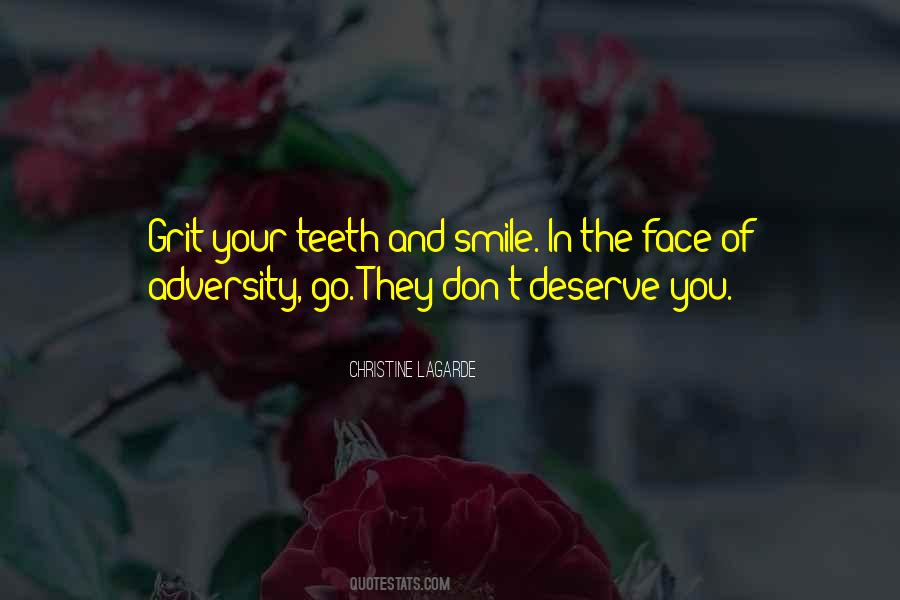 Famous Authors
Popular Topics