The Choice Between Good And Evil Famous Quotes & Sayings
List of top 57 famous quotes and sayings about the choice between good and evil to read and share with friends on your Facebook, Twitter, blogs.
Top 57 Quotes About The Choice Between Good And Evil
#1. Good & Evil struggled between us. It was all a matter of control. And choice. Nothing more ang nothing less. - Author: Paulo Coelho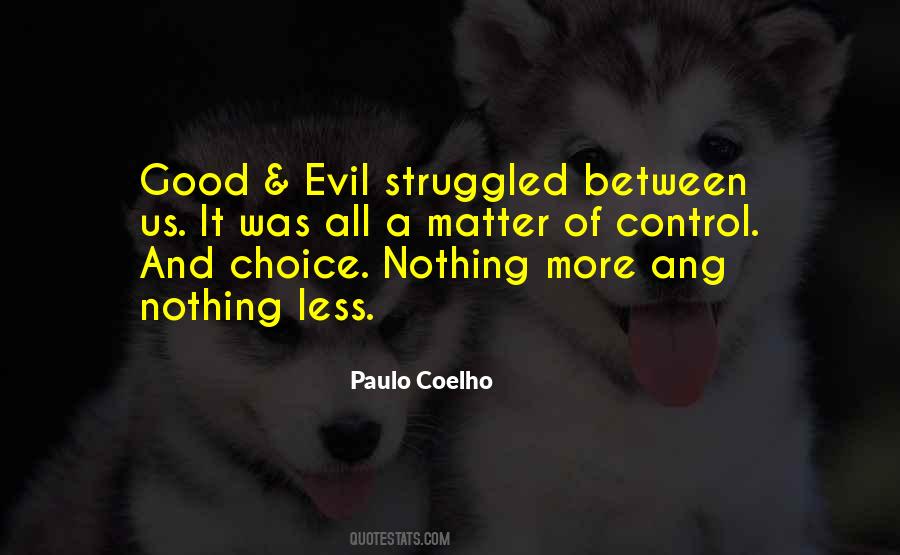 #2. Truth always prevails. Both divine and devil are two sides of the same coin. Rather, devil is in the divine and divine is in the devil. It is for us to make a conscious choice, whether we want to be devil or divine. Let us choose good over evil. - Author: Vishwas Chavan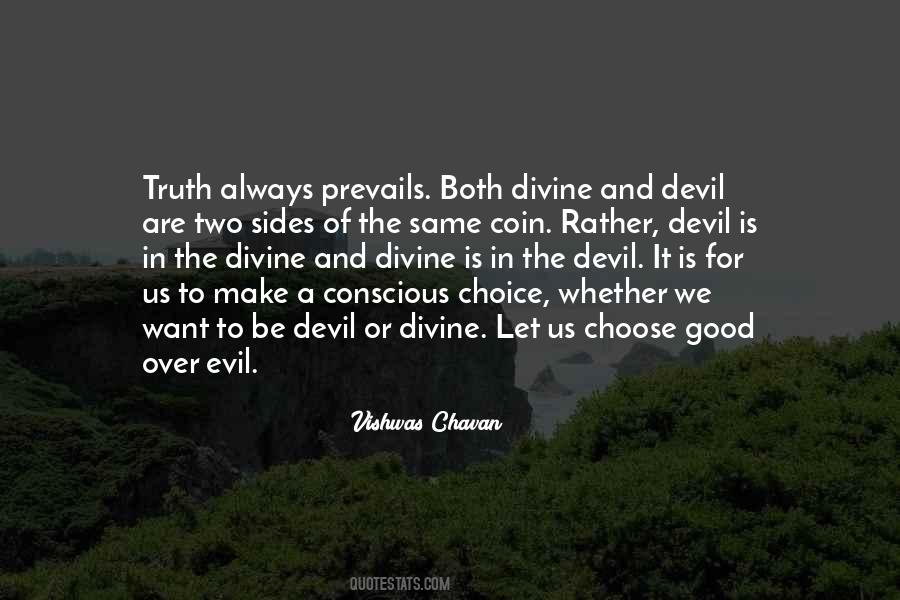 #3. The important thing is moral choice. Evil has to exist along with good, in order that moral choice may operate. Life is sustained by the grinding opposition of moral entities. - Author: Anthony Burgess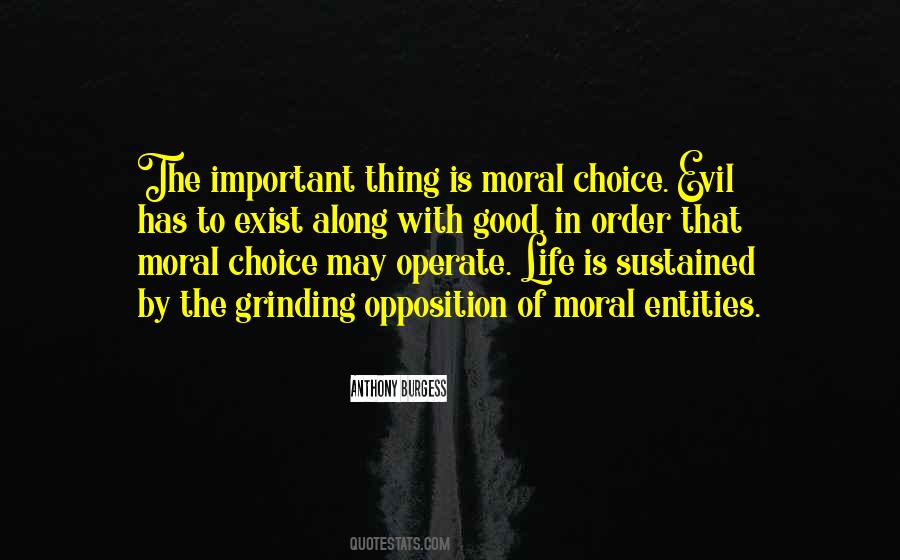 #4. The choice of life is not between fame and fortune, nor wealth and poverty, but between good and evil. - Author: Boyd K. Packer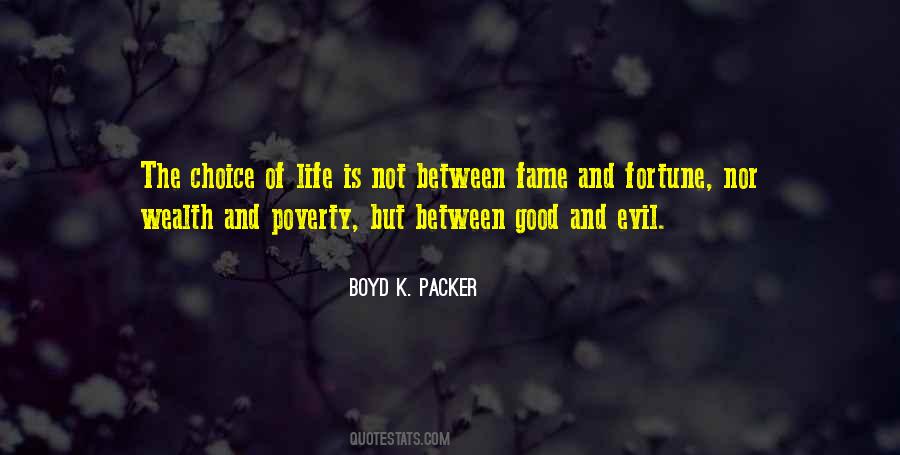 #5. This, in every hour and every issue, is your basic moral choice: thinking or non-thinking, existence or non-existence, A or non-A, entity or zero. - Author: Ayn Rand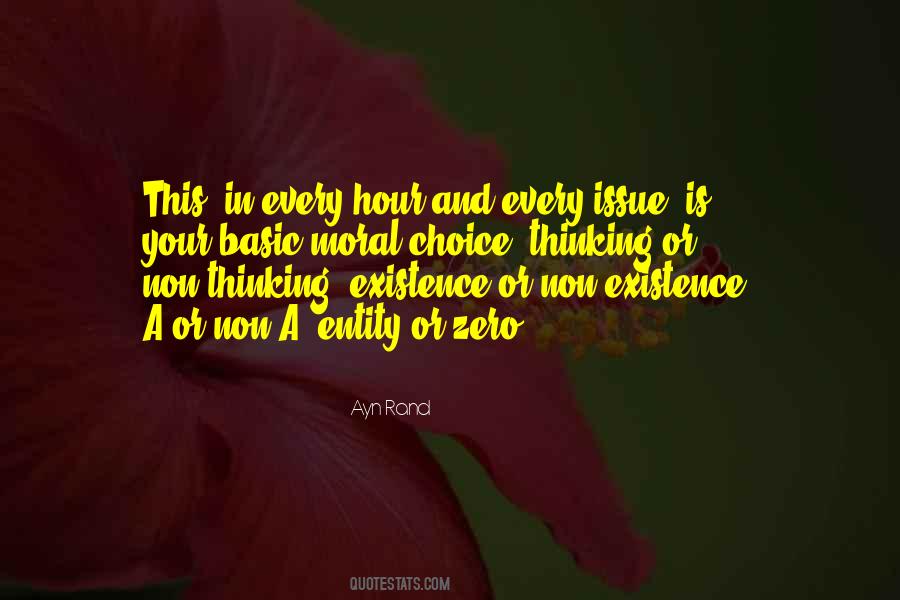 #6. You act like they're especially unholy or something.Are you trying to tell me that in the final showdown between evil and good, the weapons of choice will be guns and..cats? - Author: Lia Habel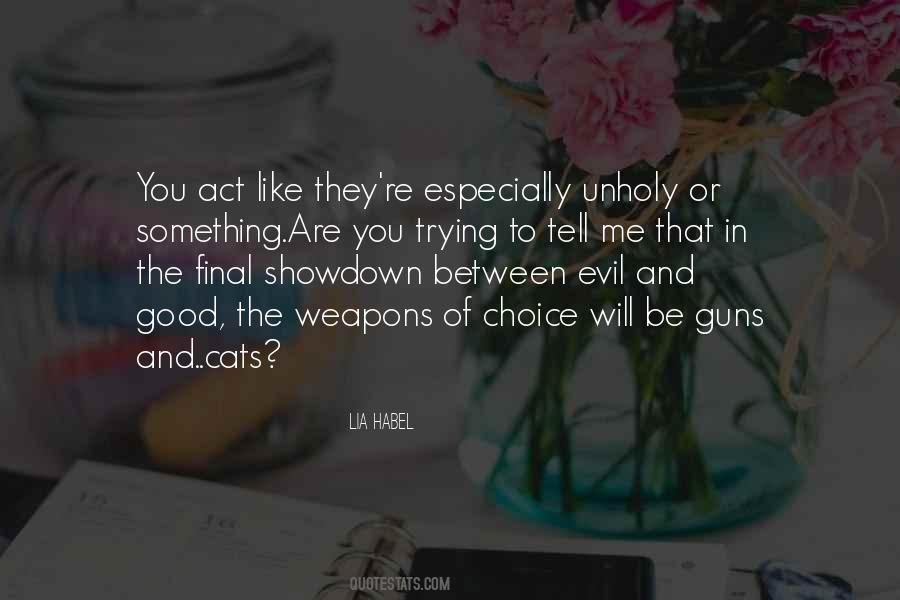 #7. And when we have power- when you have power, Jae, you'll need to decide what to do with it. What kind of person you want to be. If you want to be like them. - Author: Becky Allen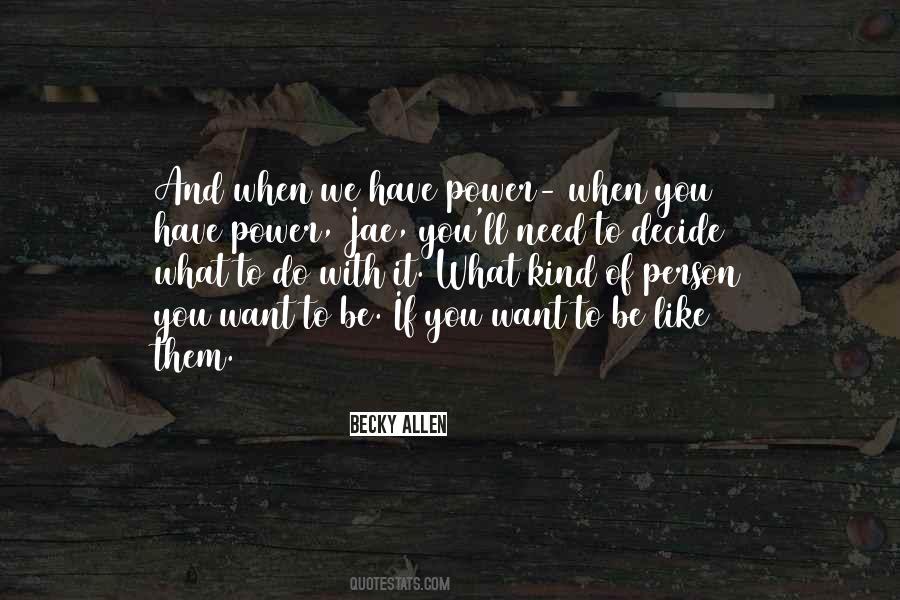 #8. Every person has the choice between Good and Evil. Choose Good, and stand against those who would choose Evil. - Author: Friedrich Kellner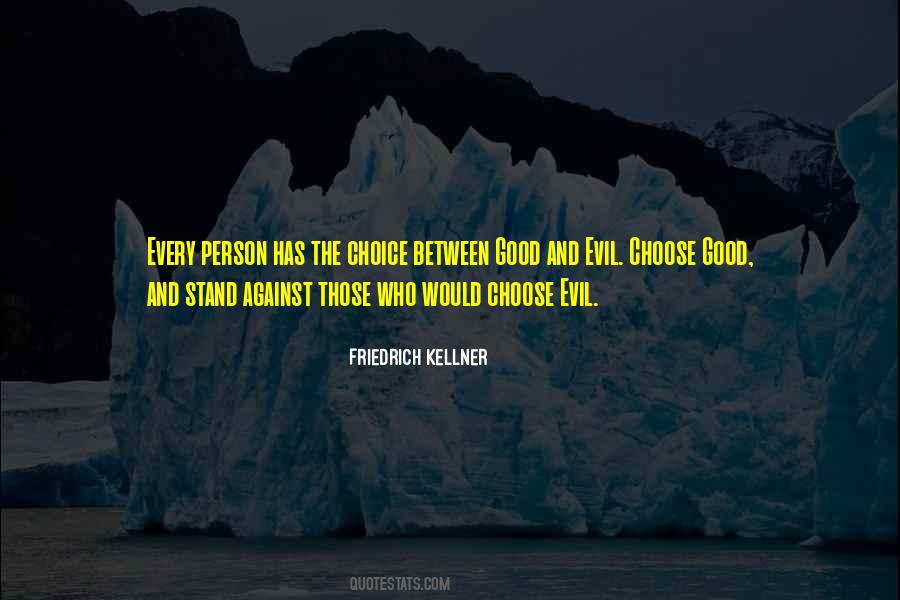 #9. Evil has to exist along with good, in order that moral choice may operate. - Author: Anthony Burgess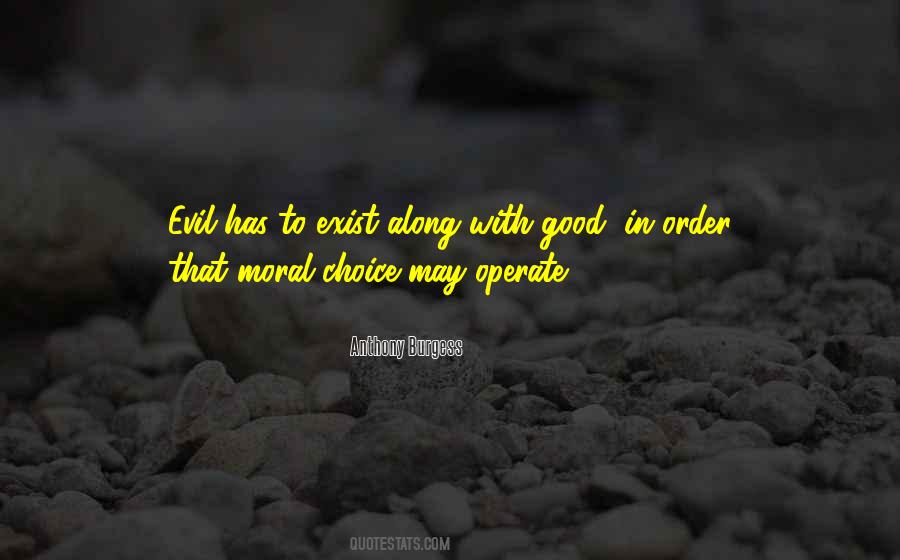 #10. The fact that you are possessed by a demon does not mean you must become evil. Being evil is a choice, just as being good is a choice. If you let the demon take over, it's because you choose to. - Author: James Swain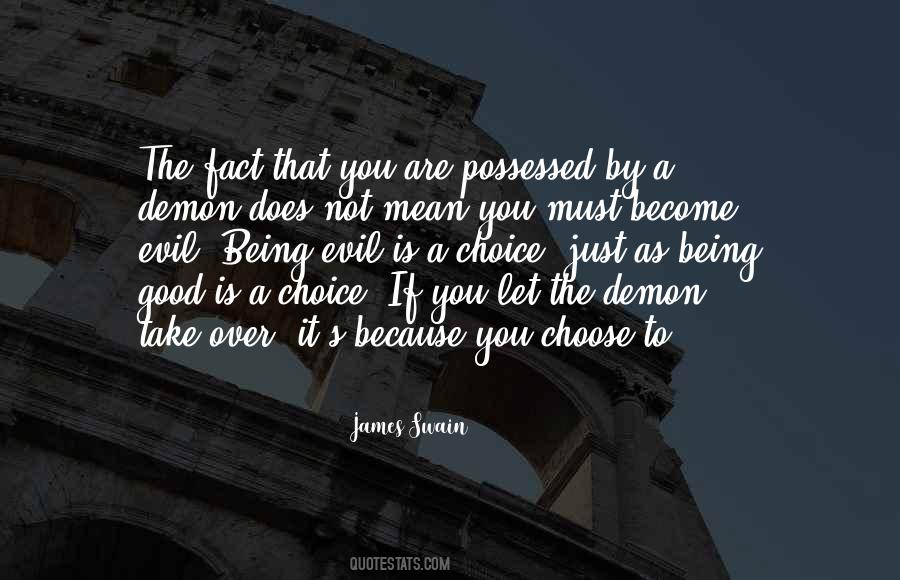 #11. And I must believe that man has the power to know the right, to choose between good and evil and know that his choice has made a difference ... - Author: Marion Zimmer Bradley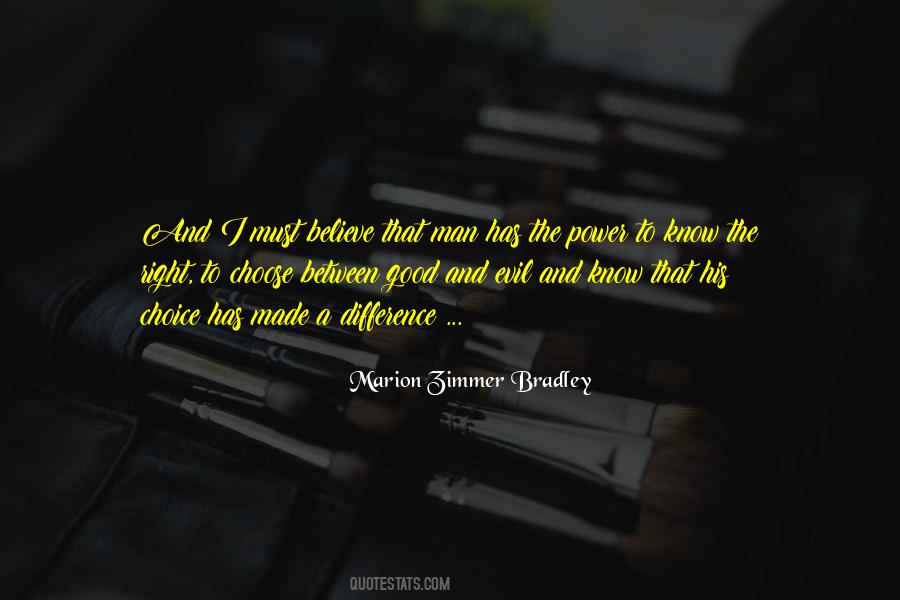 #12. On the choice of friends, Our good or evil name depends. - Author: John Gay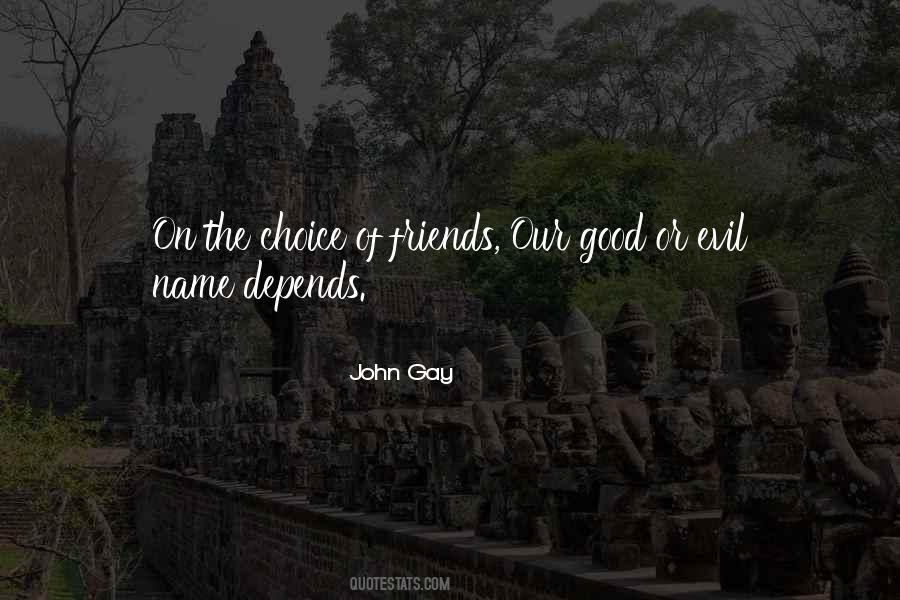 #13. He has a spirit-a soul- and therfore a choice. I will belive that Aurox will chose Light, even if Darkness resides within him. None of us is entirely good. Or evil. - Author: P.C. Cast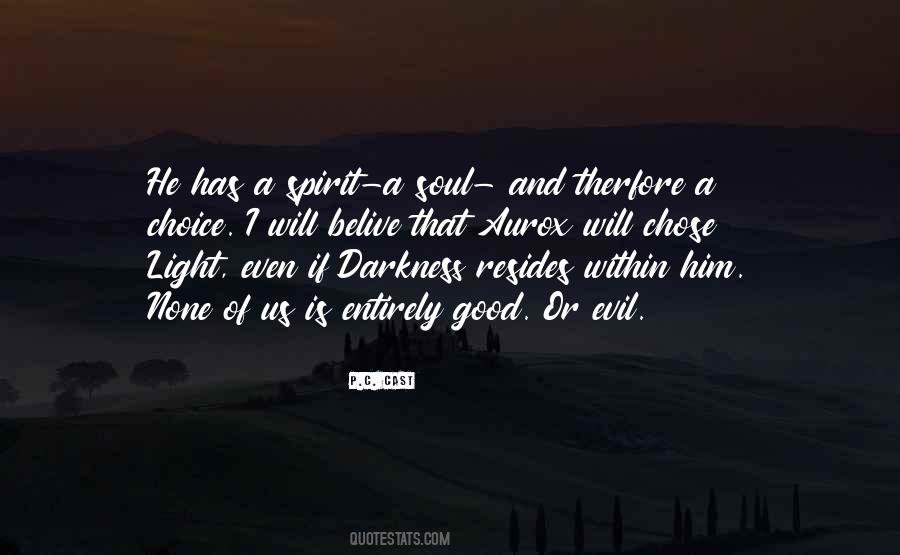 #14. We all make choices, Cossack. Who we are in this world, what we do in it. Generous or selfish. Happy or sad. Good or evil. It's all down to choice. - Author: Anthony Horowitz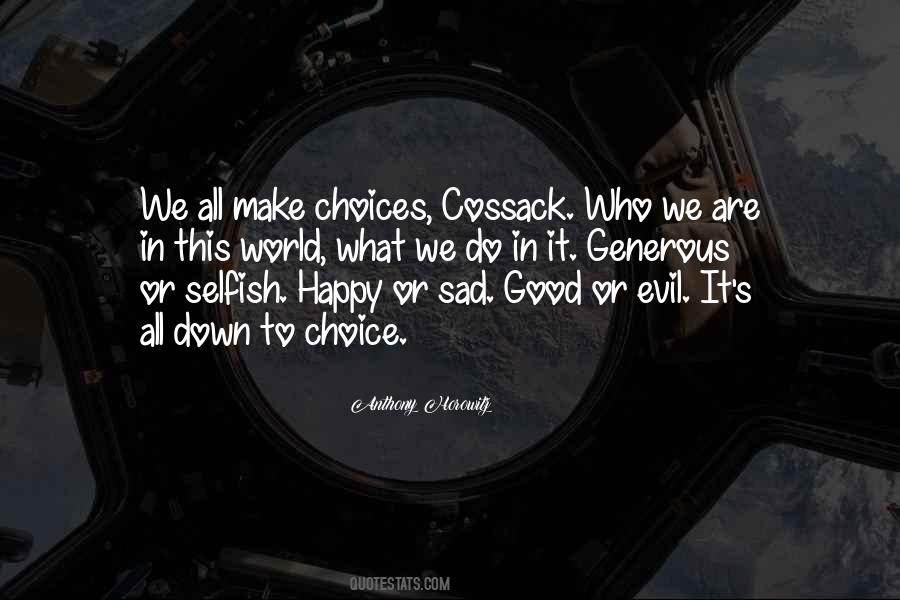 #15. Choice of evils debates always produce extremism - people choose what they hope is the lesser evil, then call it good and demonize the other choice. It will be a challenge for your generation to synthesize - to move beyond Us versus Them, to We. - Author: Margaret Atwood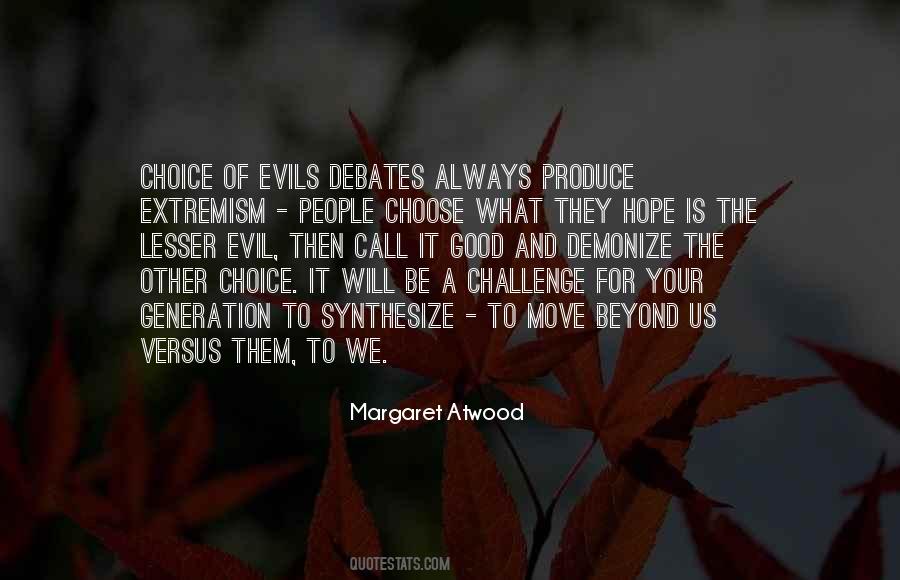 #16. It is virtue which should determine us in the choice of our friends, without inquiring into their good or evil fortune. - Author: Jean De La Bruyere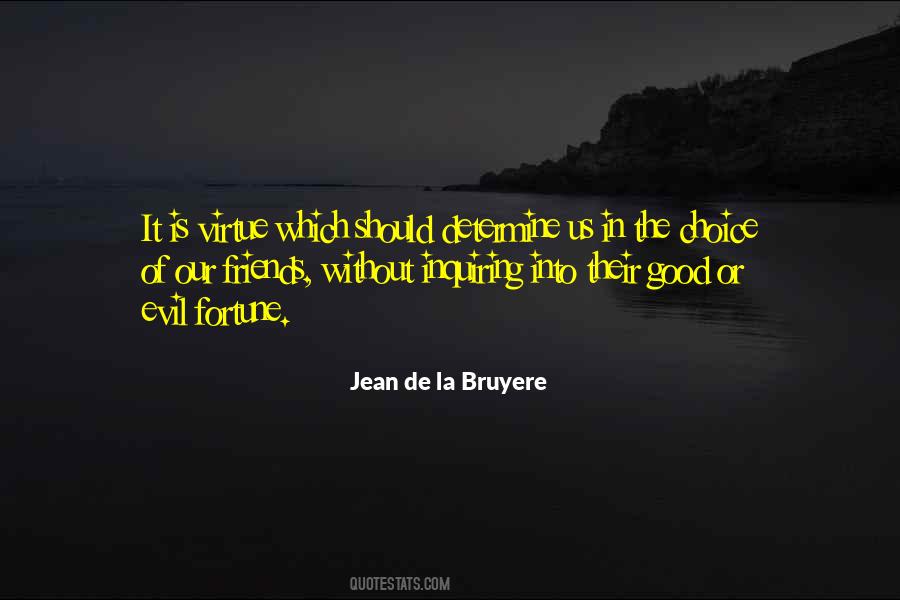 #17. He's evil," I said. "You're good. You must make your own choice. - Author: Rick Riordan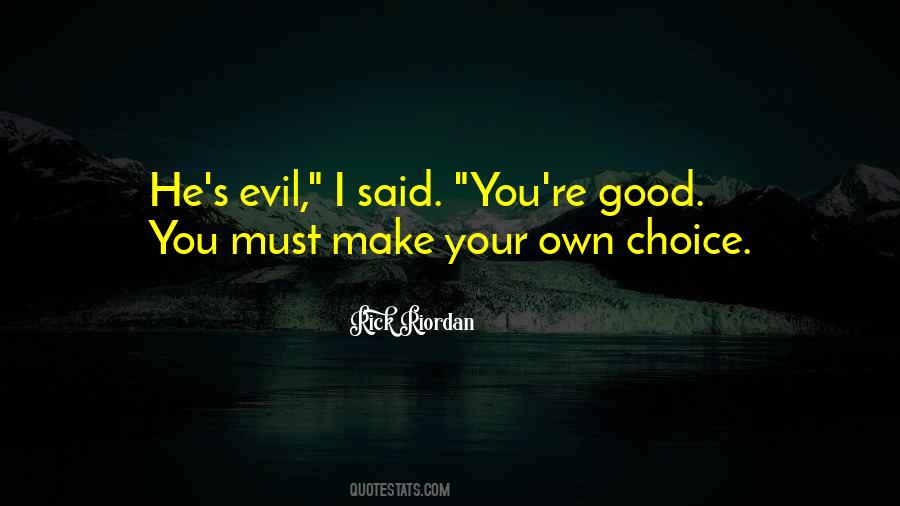 #18. People today ... it seems they are good, or sometimes evil, mostly by inertia, not by choice. - Author: Brandon Sanderson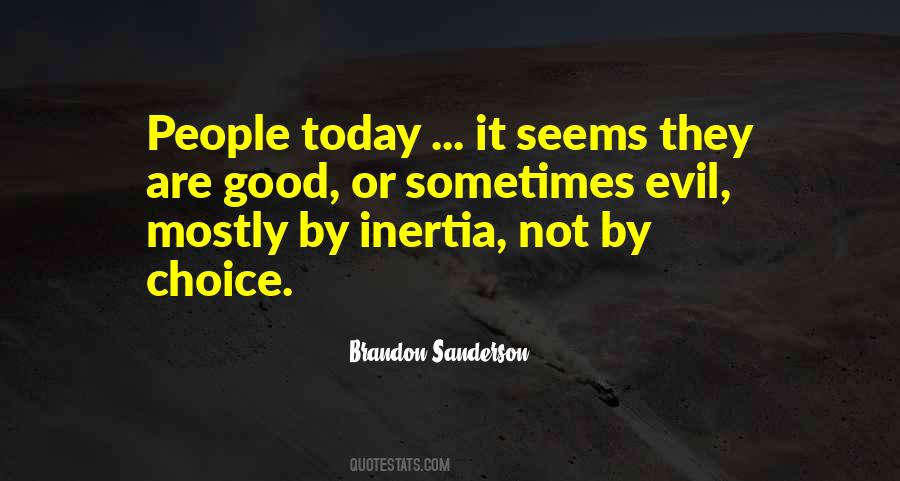 #19. Zoroastrianism is about the opposition of good and evil. For the triumph of good, we have to make a choice. We can enlist on the side of good by prospering, making money and using our wealth to help others. - Author: Rohinton Mistry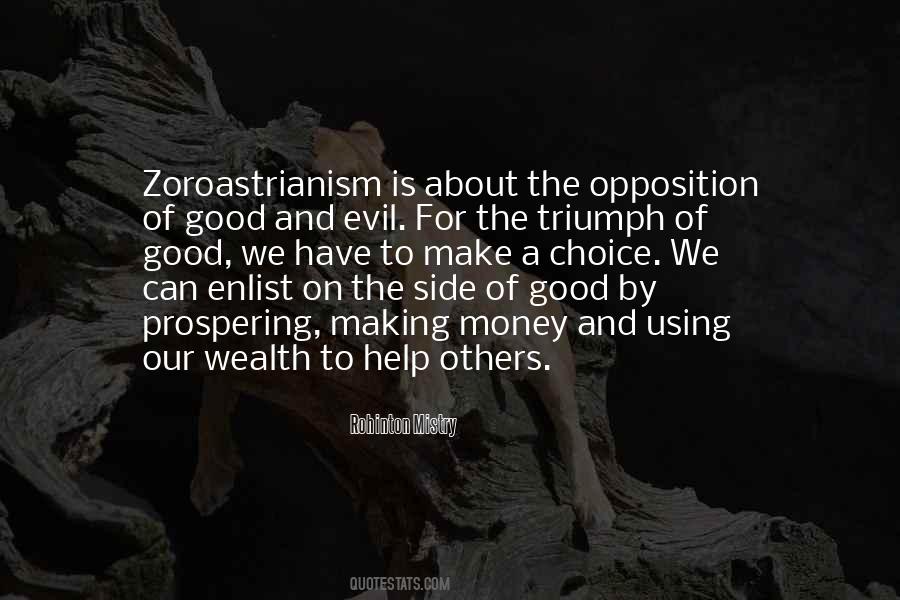 #20. You have no choice about your capacity to feel that something is good for you or evil, but what you will consider good or evil, what will give you joy or pain, what you will love or hate, desire or fear, depends on your standard of value. - Author: Ayn Rand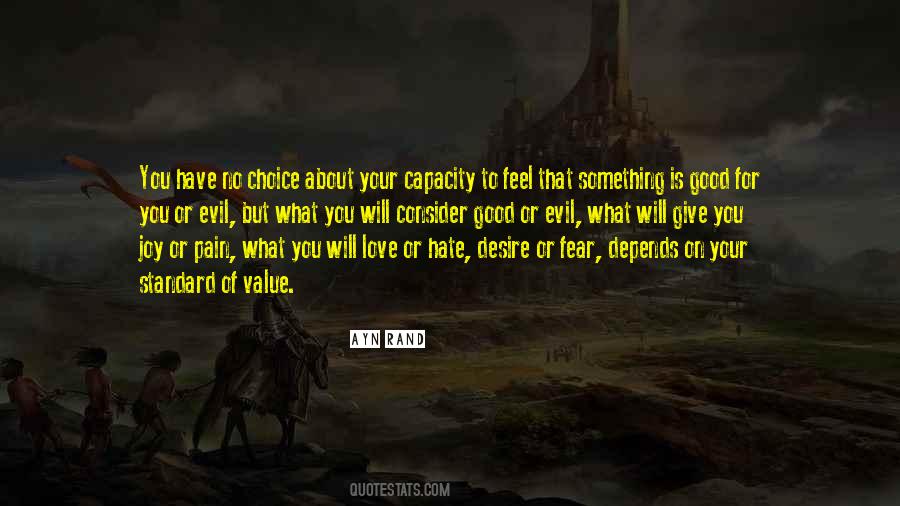 #21. Lesser, greater, middling, it's all the same. Proportions are negotiated, boundaries blurred. I'm not a pious hermit, I haven't done only good in my life. But if I'm to choose between one evil and another, then I prefer not to choose at all. - Author: Andrzej Sapkowski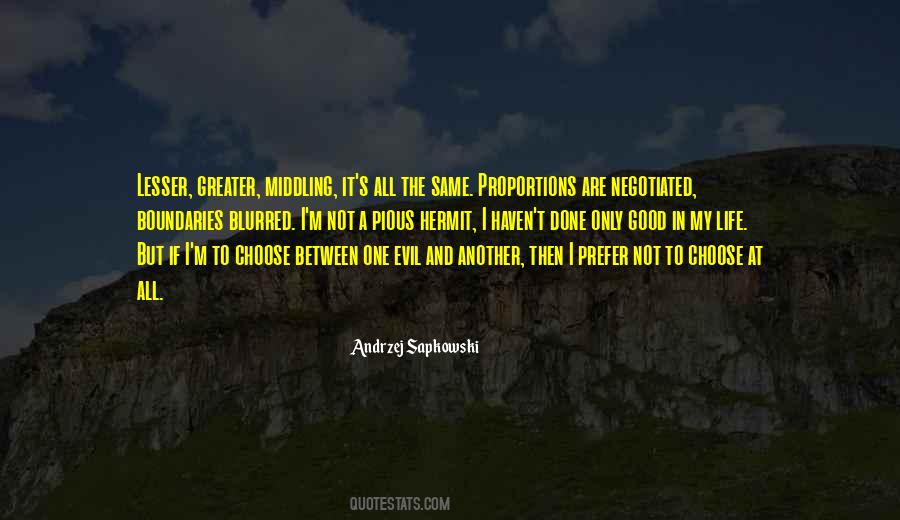 #22. Healing cannot occur by refusing to listen to the truth, unsettling as it may be. - Author: Slade Combs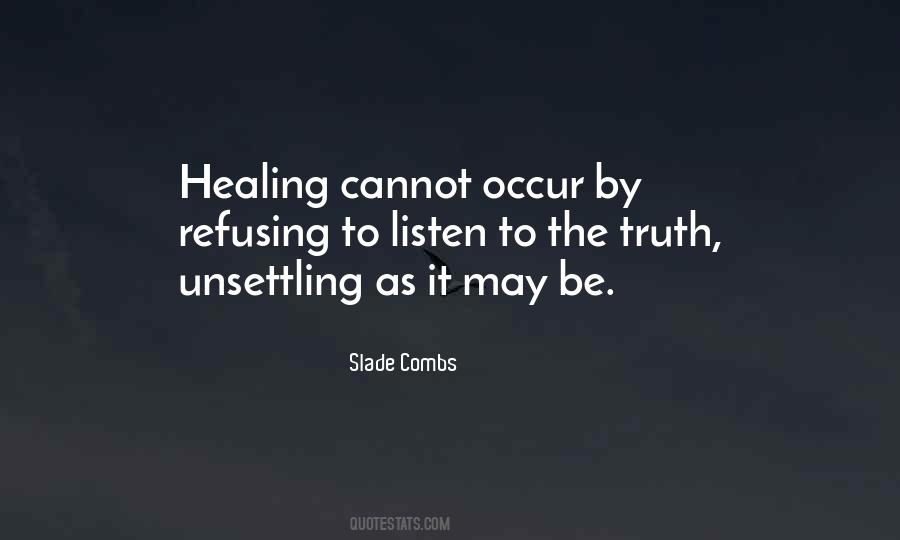 #23. One never knows how the witch became wicked, or whether that was the right choice for her - is it ever the right choice? Does the devil ever struggle to be good again, or if so is he not a devil? It is the very least question of definitions. - Author: Gregory Maguire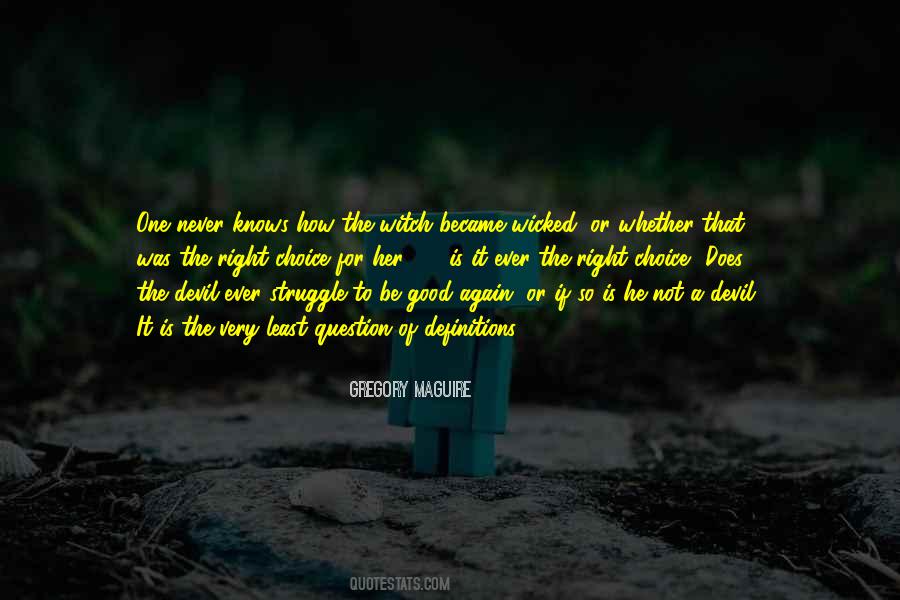 #24. In philosophy seminars, the choice is usually between good and evil. In the real world, however, the choice is often between a bad guy and a worse guy. - Author: Dinesh D'Souza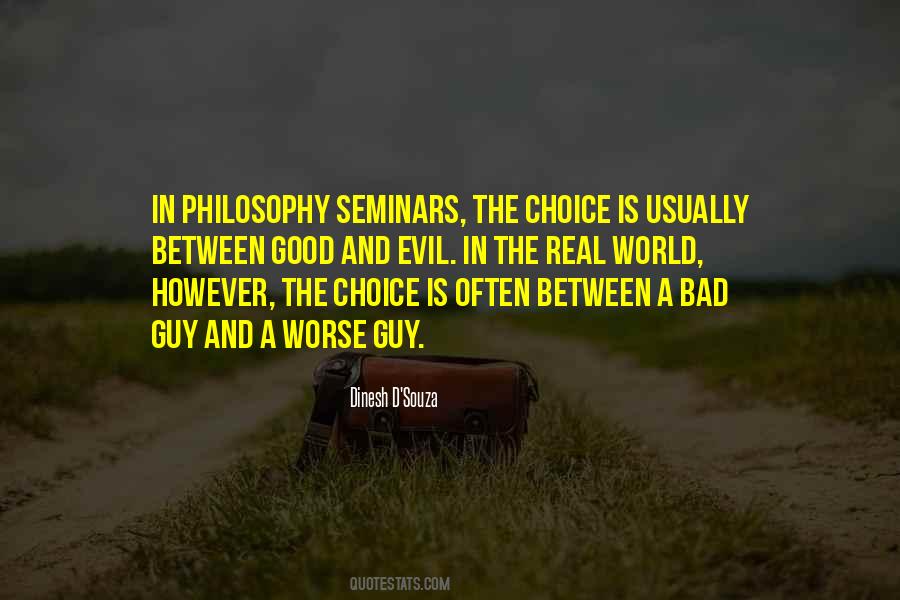 #25. We have freedom to do good or evil; yet to make choice of evil, is not to use, but to abuse our freedom. - Author: Saint Francis De Sales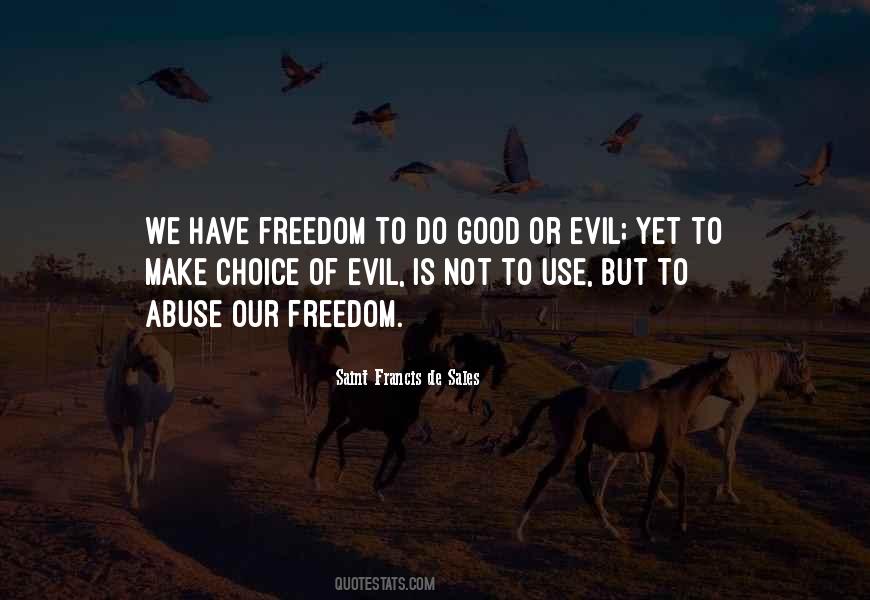 #26. Forces of good and evil are massed and armed and opposed as rarely before in history. Freedom is pitted against slavery; lightness against the dark ... In the final choice, a soldier's pack is not so heavy a burden as a prisoner's chains. - Author: Dwight D. Eisenhower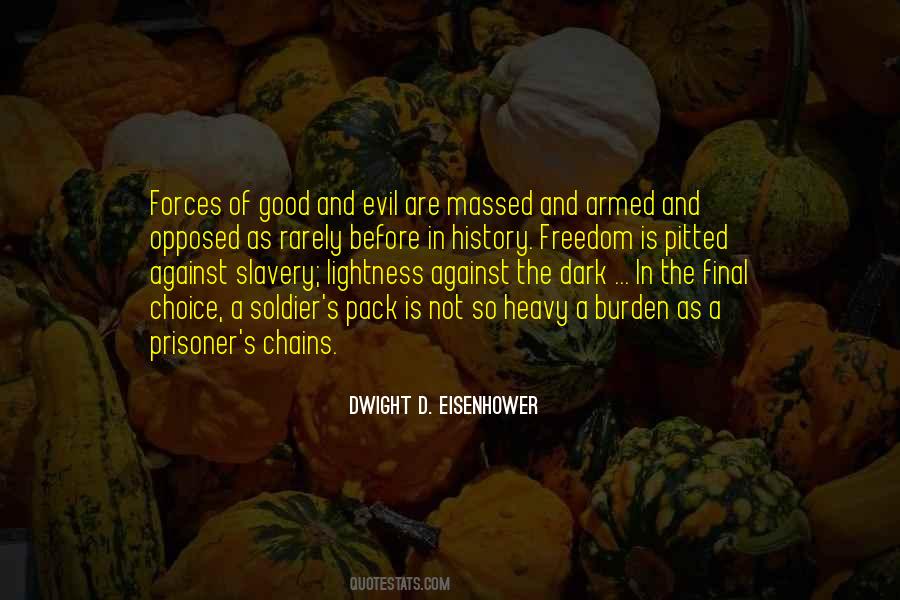 #27. Evil, as evil, can never be chosen; and though evil is often the effect of our own choice, yet we never desire it but under the appearance of an imaginary good. - Author: Benjamin Franklin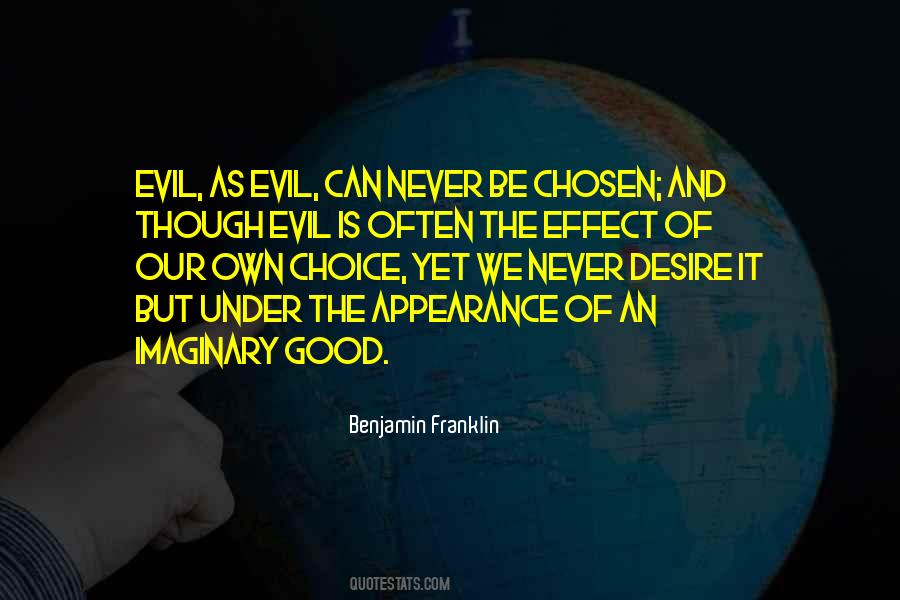 #28. The boys went off to fight with swords while girls had to learn dog barks and owl hoots. No wonder princesses were so impotent in fairy tales, she thought. If all they could do was smile, stand straight, and speak to squirrels, then what choice did they have but to wait for a boy to rescue them? - Author: Soman Chainani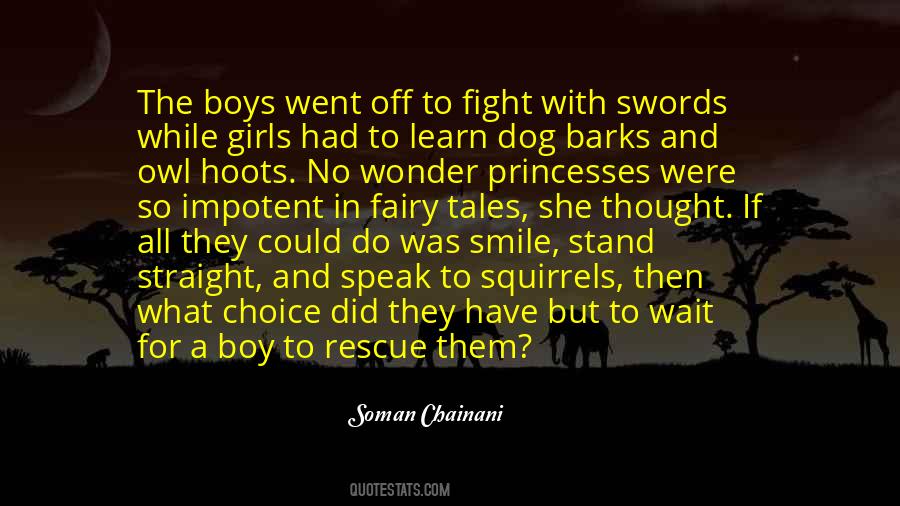 #29. If you choose not to fight against Asroth, then you have already chosen him. Doing nothing does not absolve you of choice. Doing nothing puts you firmly on Asroth's side and makes you a coward, as well, for not having the stones to admit it. - Author: John Gwynne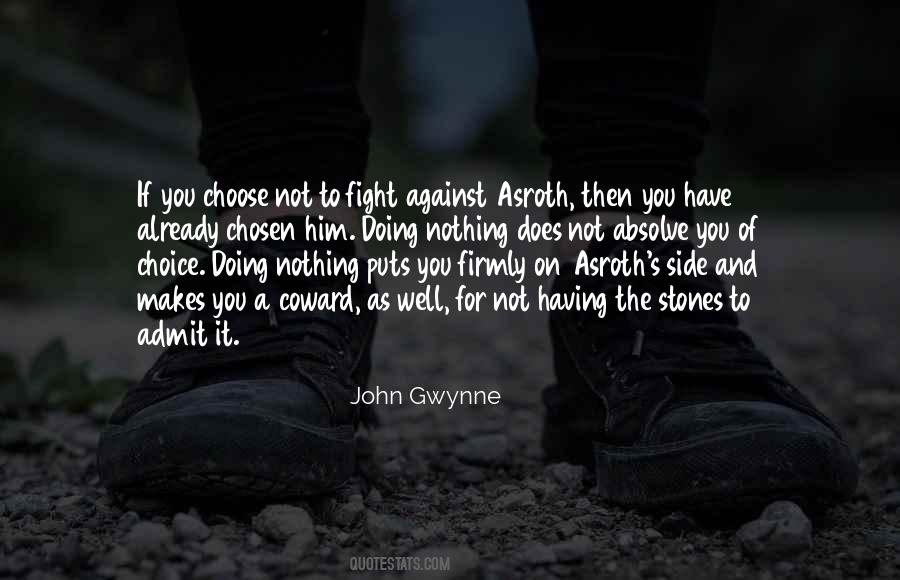 #30. The forces of good and evil are working within and around me, I must choose, and in a free will universe I do have a choice. - Author: Martin Luther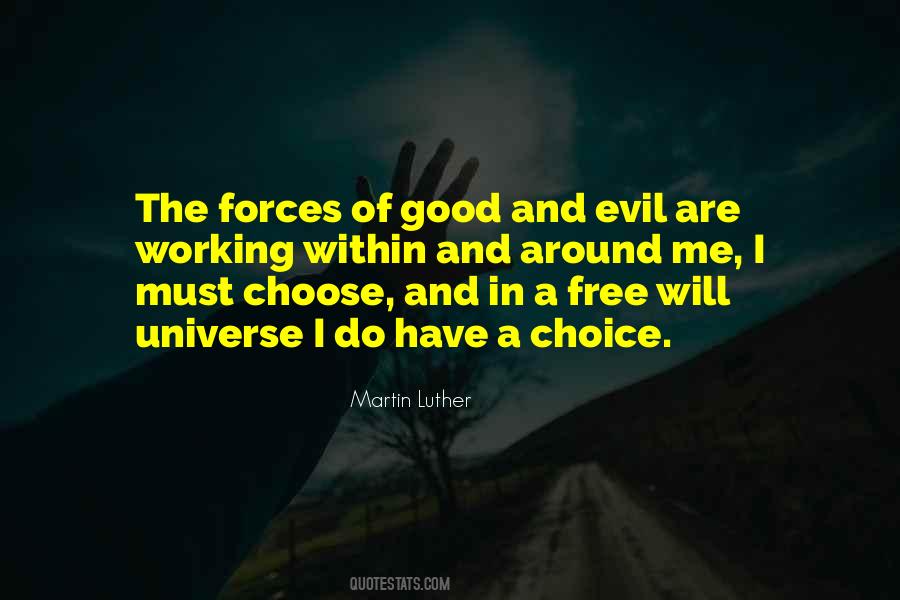 #31. There is no place so dark that light cannot lead the way. - Author: Slade Combs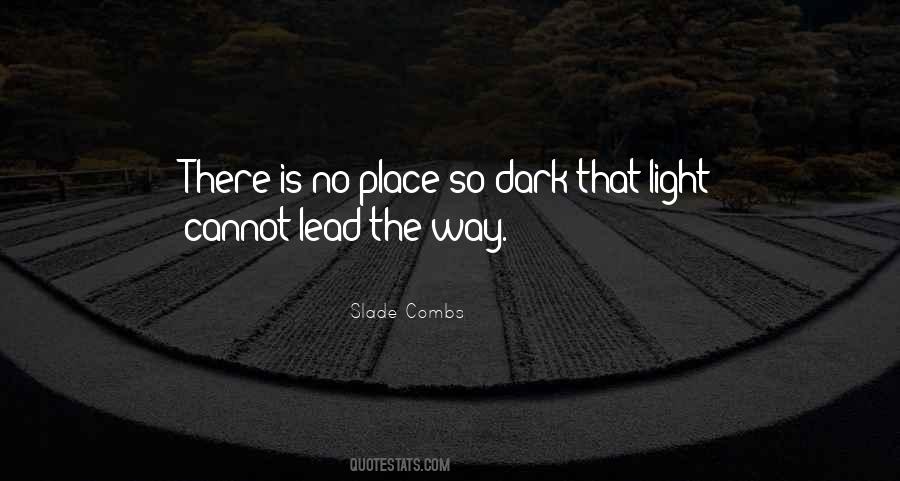 #32. This path is very rarely the result of any choice, or even of personal predilection. The victims, in the vast majority of cases, were not tortured or killed because they were good any more than their executioners tormented them because they were evil. It - Author: Jonathan Littell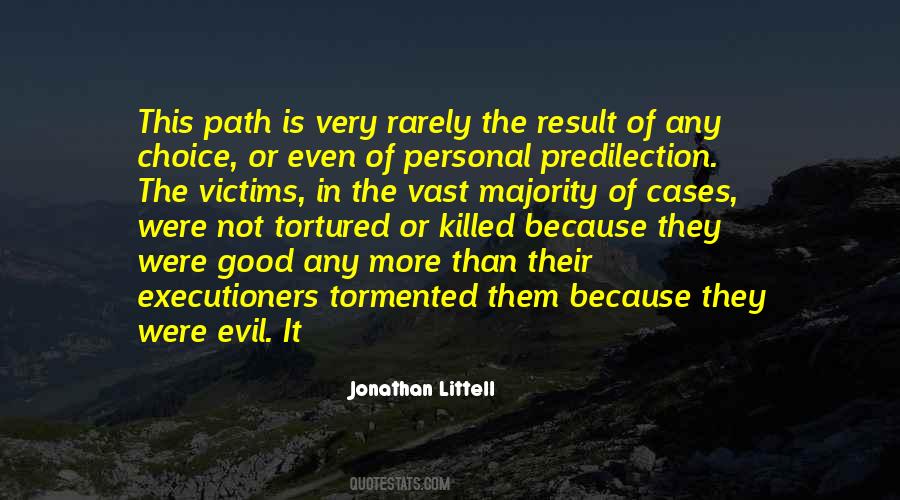 #33. Believe that you are someone worth saving. - Author: Slade Combs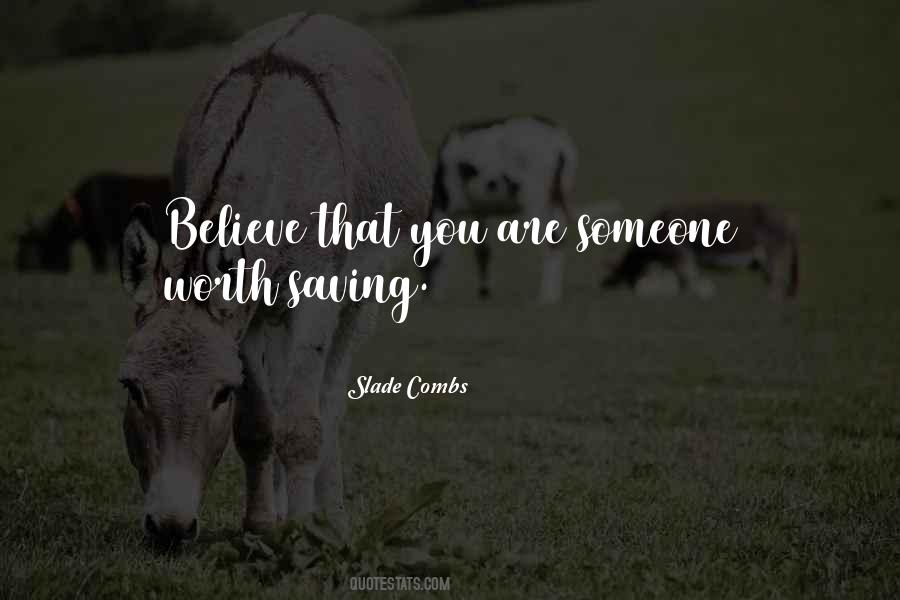 #34. There are always choices. But sometimes there are no good ones. - Author: Robin Hobb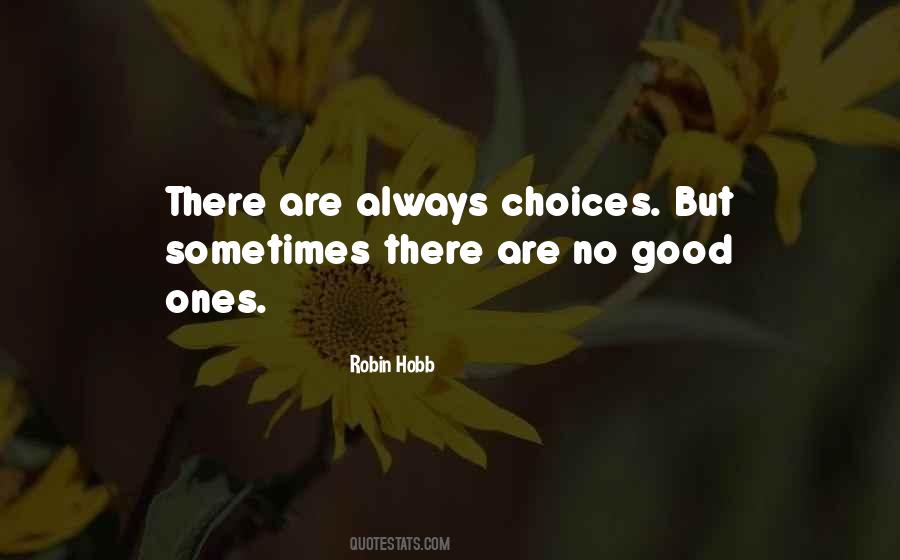 #35. As an atheist you have to rationalize things ... Then you have to try and make some sort of sense out of your problems. And if you try and find you can't, you have no choice but to be good and scared
but that's okay! - Author: Billy Joel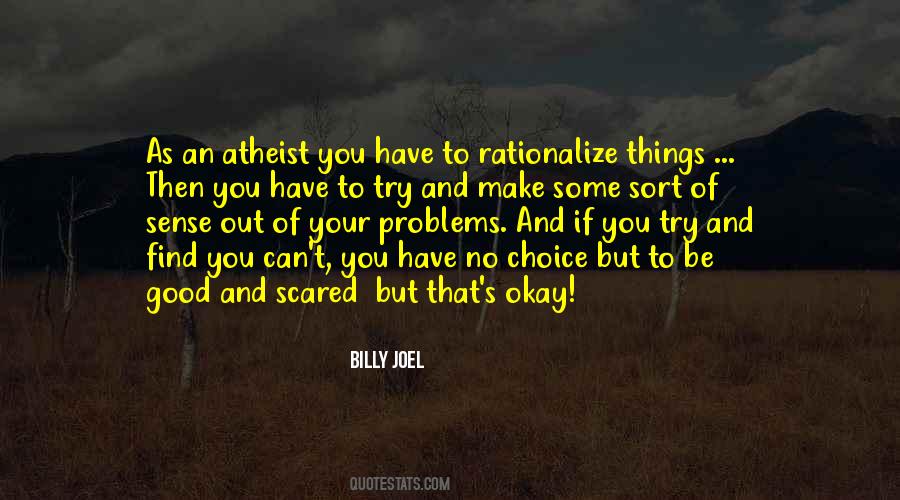 #36. Choices makes us, choices made at mire proves a person to be righteous or evil. It depends on us to be vanquished or to stand indomitable to a predicament. - Author: Prakash Guru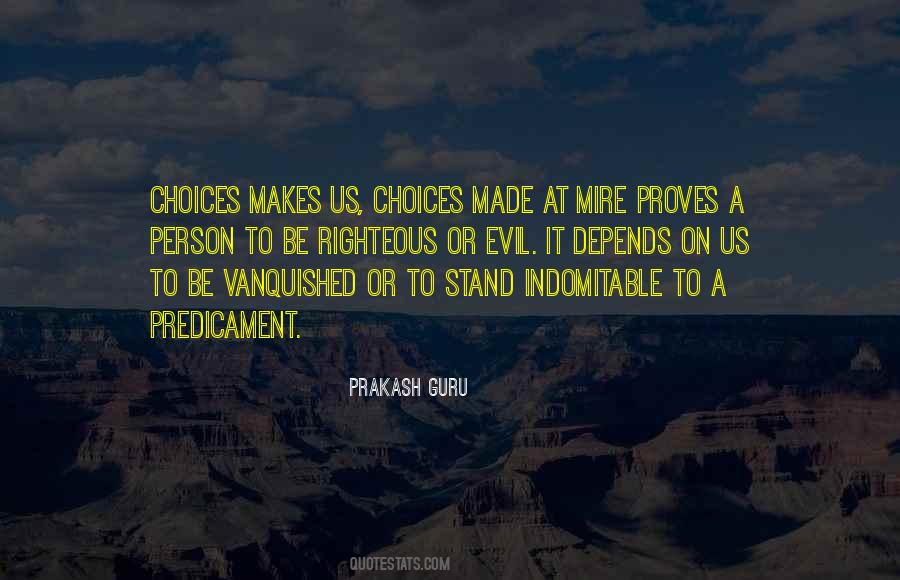 #37. The shadow of the highest evil intermingled with the light of the highest good. Maybe all lives are filled with this. Maybe it is always a choice between embracing the darkness of one or the saving grace of the other. - Author: Lisa Wingate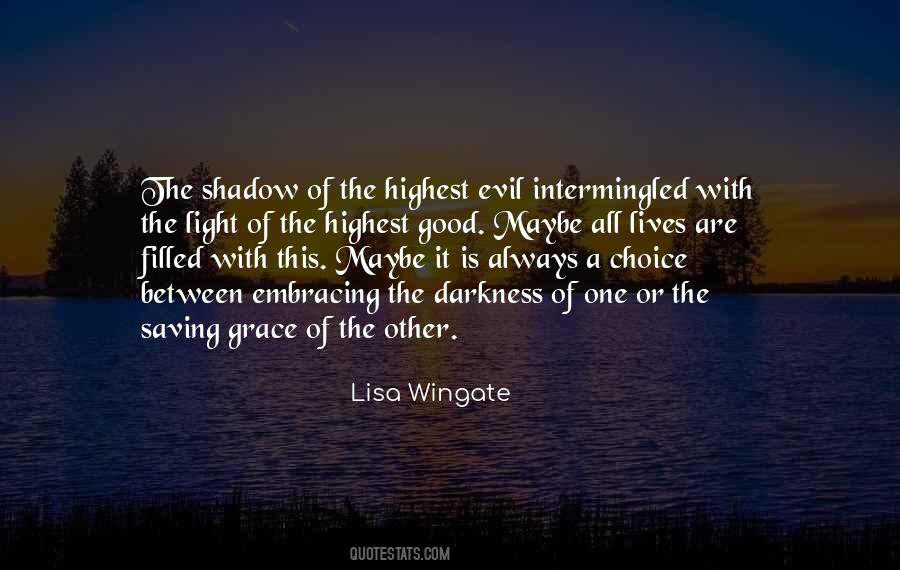 #38. When faced with pain and evil, we have to make a choice.
We can choose to be taken by the evil.
Or we can try to embrace the good. - Author: Elizabeth Smart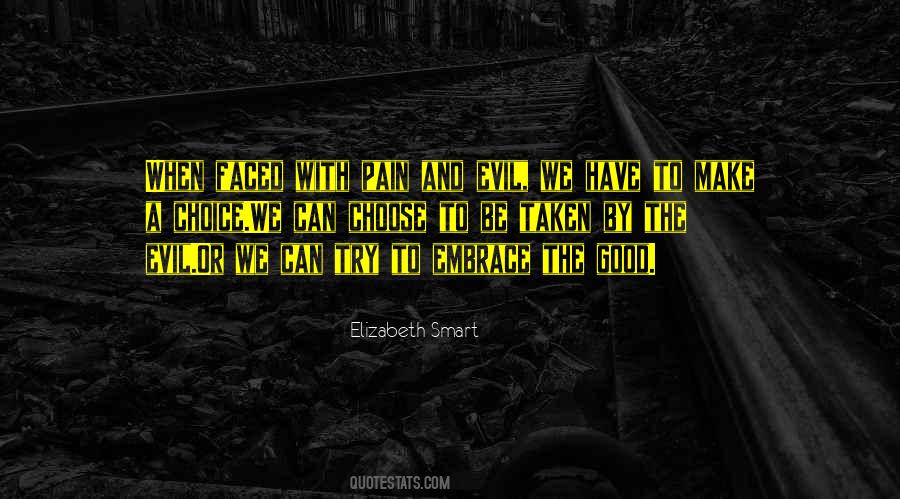 #39. It's easy to explain away evil. We have a free choice, and our greatest blessing is also our greatest curse, because I don't always make good choices. Other people make bad choices. I make bad choices. And sometimes we hurt other people. Sometimes intentionally, sometimes unintentionally. - Author: Rick Warren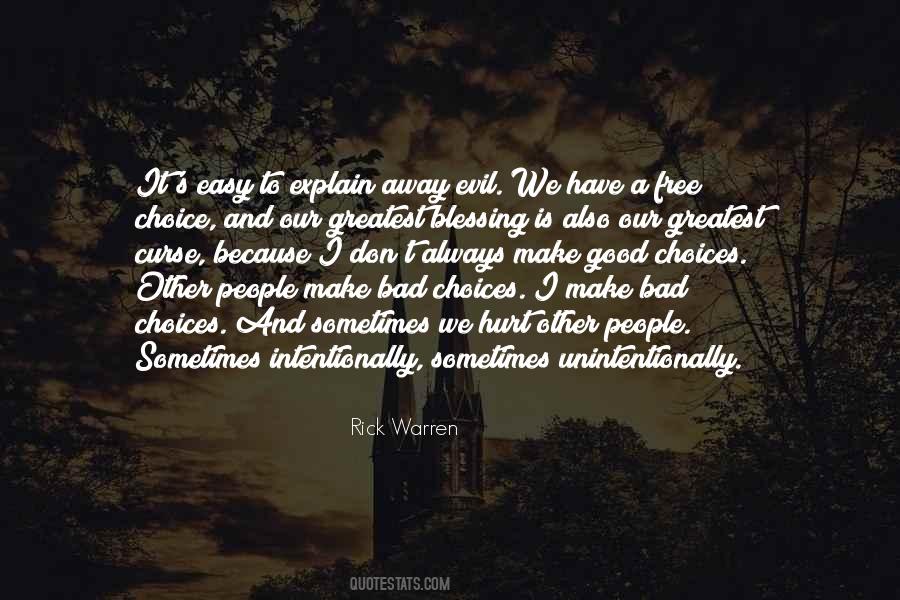 #40. It is our choice of good or evil that determines our character, not our opinion about good or evil. - Author: Aristotle.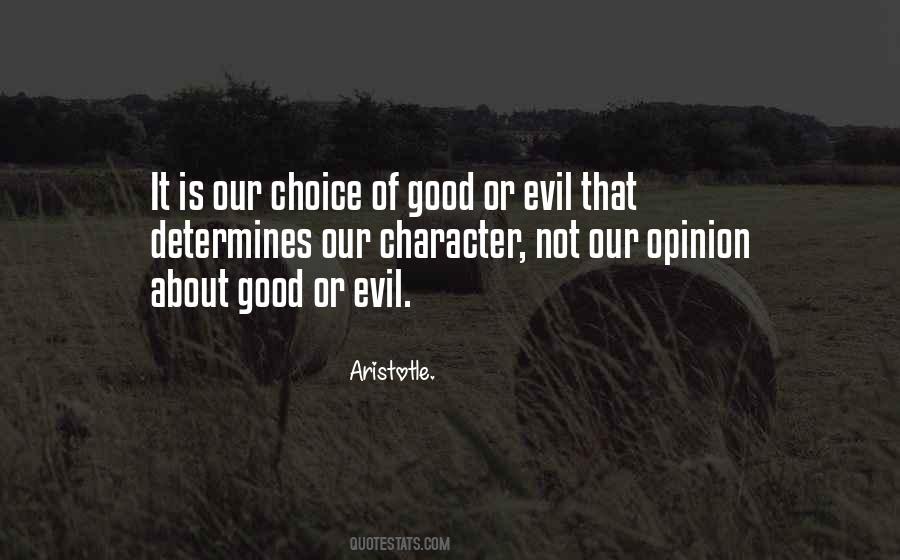 #41. The heart seeks good but temptation resists evil & God's laws are broken to the extent of the darkness w/in an individual & those who are wicked will be brought to justice pedophiles ect. We have a choice-if we love ourselves we seek good -hate ourselves we seek evil - Author: Terry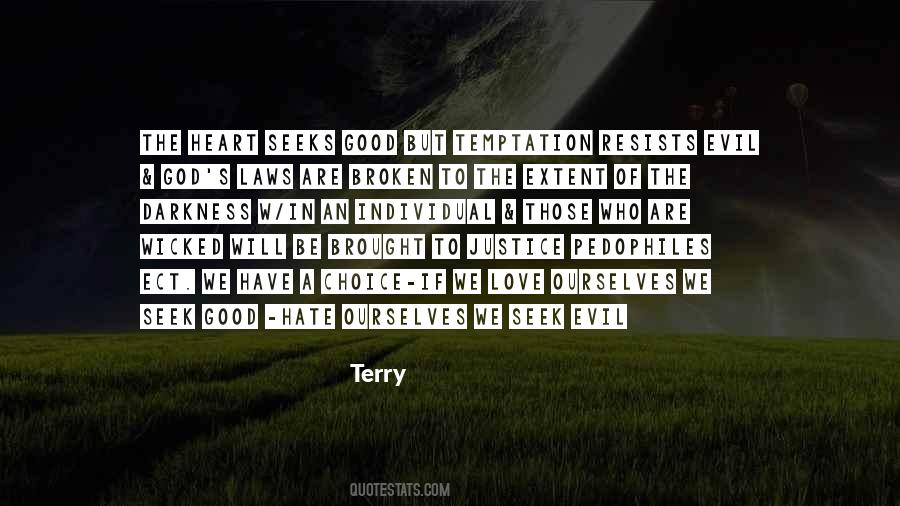 #42. The difference in our potential as angels or demons is the effect of time on the decisions we make. - Author: Slade Combs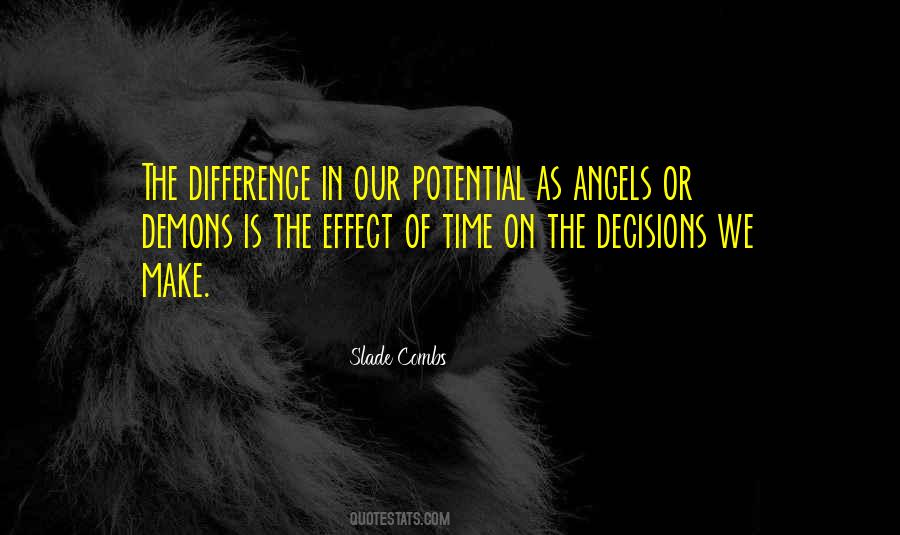 #43. This was an evil choice. Which way should he choose? And if both led to terror and death, what good lay in choice? - Author: J.R.R. Tolkien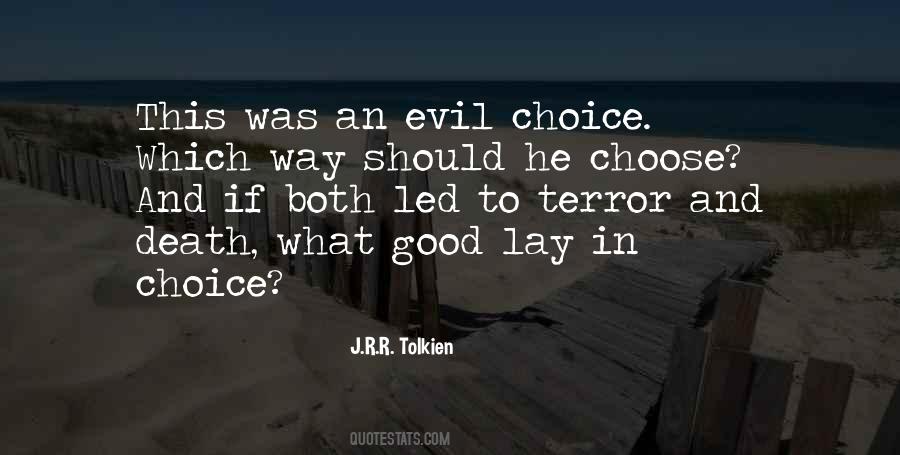 #44. We are all the same instincts
Good and Evil struggled between us. It was all a matter of control. And choice. Nothing more and nothing less. - Author: Paulo Coelho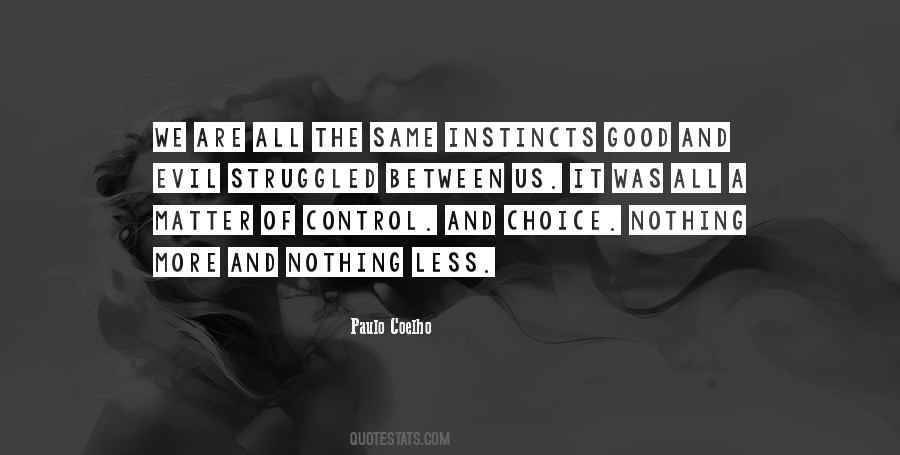 #45. Choice is the essence of ethics: if there were no choice there would be no ethics, no good, no evil; good and evil have meaning only insofar as man is free to choose. - Author: Margaret Thatcher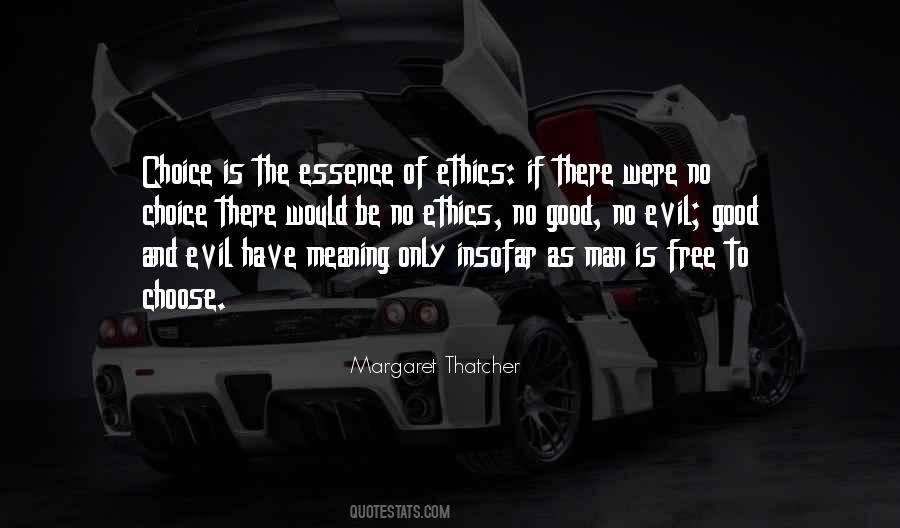 #46. When you have established that one alternative is good and the other is evil, there is no justification for the choice of a mixture. There is no justification ever for choosing any part of what you know to be evil. - Author: Ayn Rand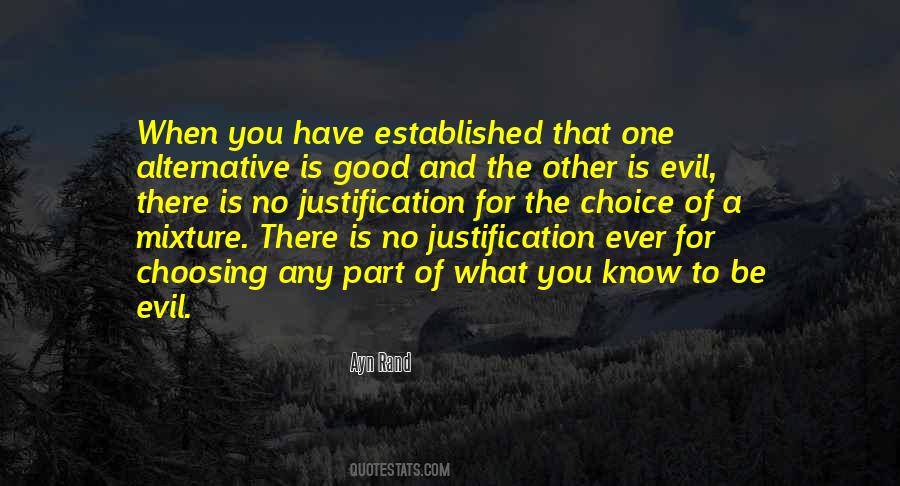 #47. Dangerous thing, giving humanity the knowledge of good and evil. And the capacity to make the wrong choice more often than not. - Author: Lawrence Block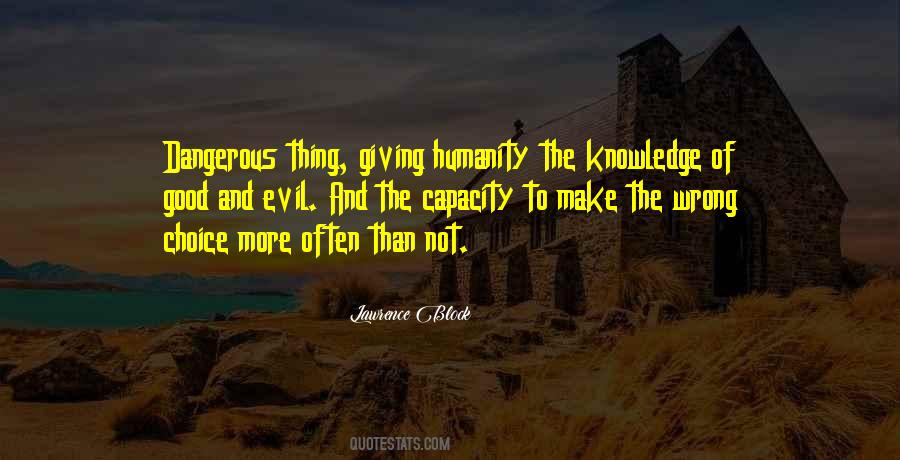 #48. Once to every man and nation comes the moment to decide,
In the strife of truth and falsehood, for the good or evil side;
Some great cause, some new decision, offering each bloom or blight,
And the choice goes by forever twixt that darkness and that light. - Author: James Russell Lowell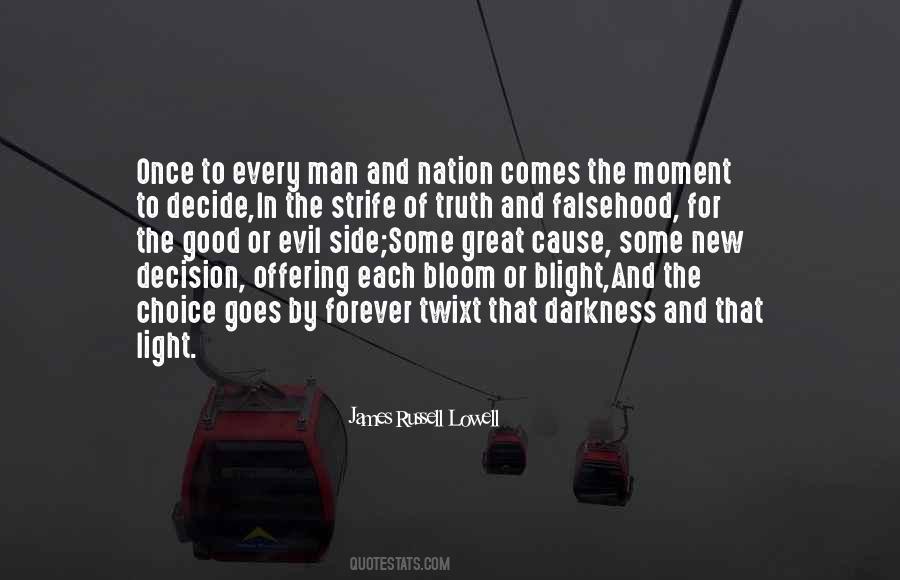 #49. And yet knowing all these mistakes were yours, beautifully yours, and you came out the better for it... the boy I left behind well on his way to becoming an extraordinary man and an extraordinary king." Merlin smiled. "If only from your choice of princess alone. - Author: Soman Chainani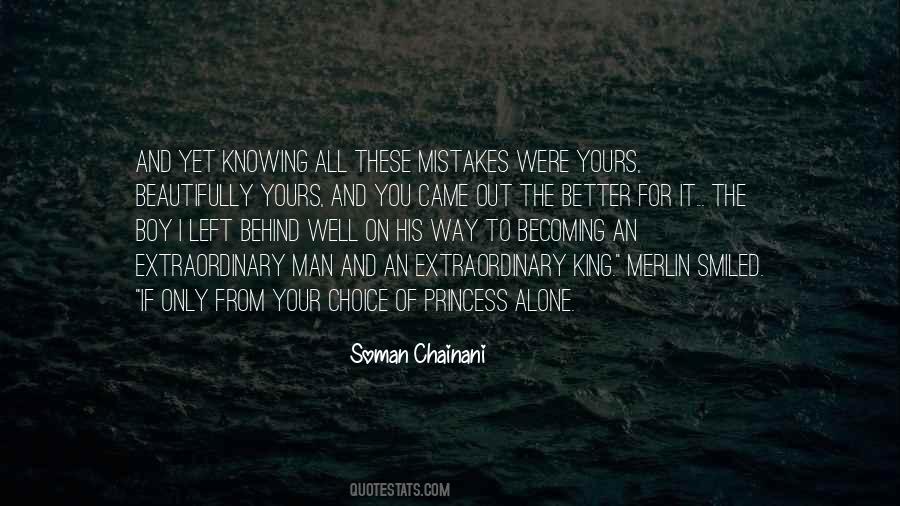 #50. Good begets good; evil begets evil; and even if the good you give is met by evil, you have no choice but to go on giving better than you get. Otherwise-and these were Willy's exact words-why bother to go on living? - Author: Paul Auster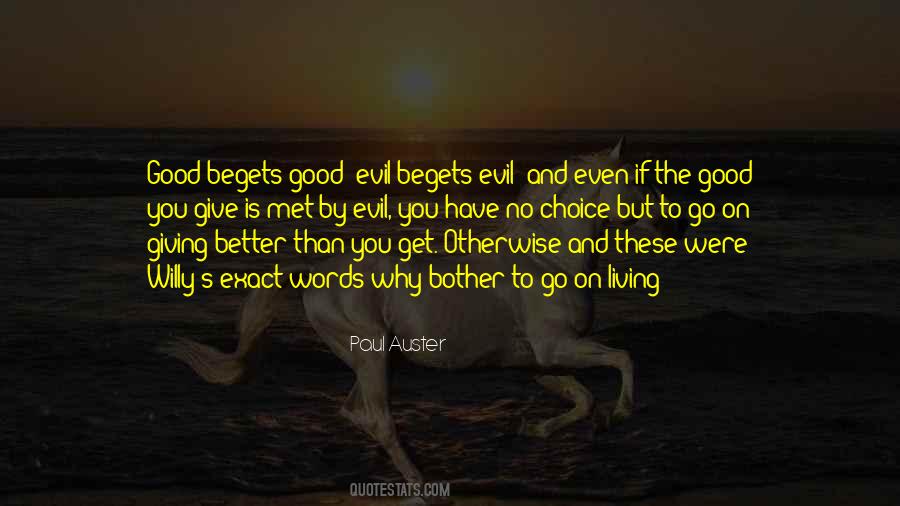 #51. A choice is an act of god, malevolent or loving is your will, free until conflicting with others who share this power, a true collision of good and evil. - Author: K.R. Royal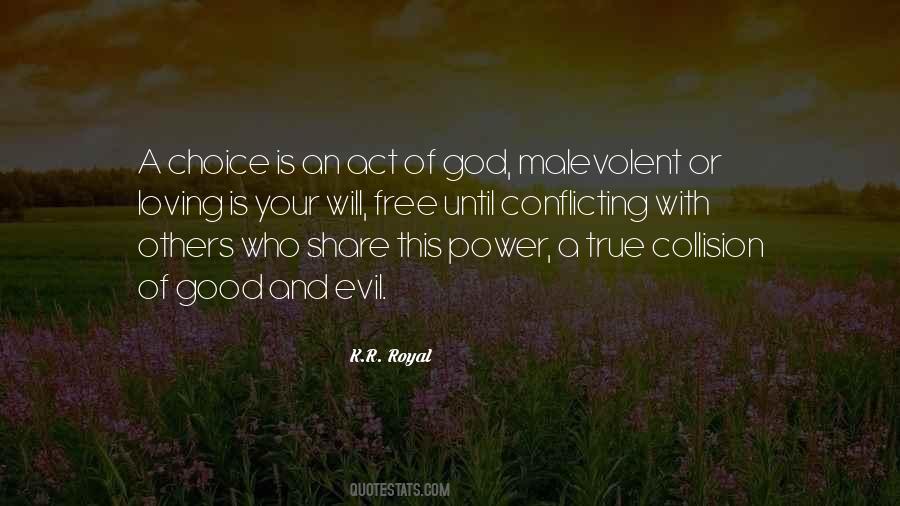 #52. In order to be good, you must recognize the difference between right and wrong and strive to choose the right. To be truly evil you must do the contrary. Being good or evil is a choice. - Author: Brandon Mull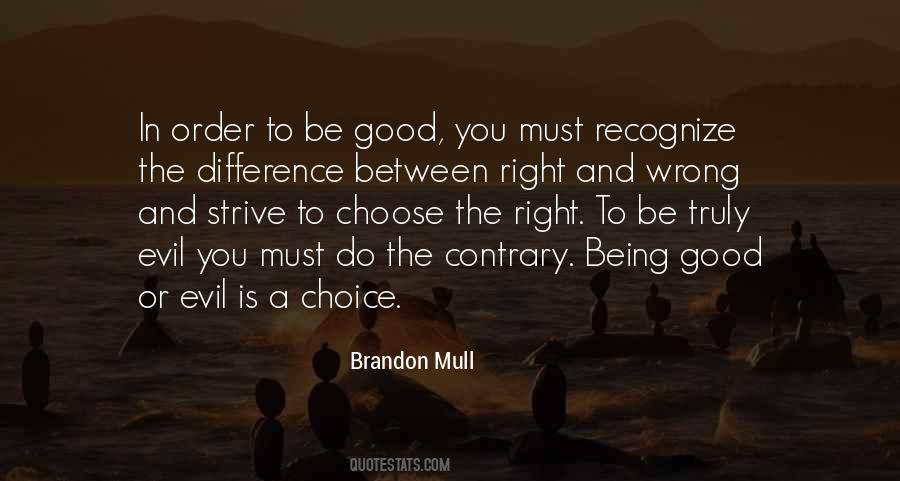 #53. Open your hearts to the Lord. The Lord is waiting for you and the Church will welcome you if your willingness to serve good is as clear and public as your choice to serve evil was. - Author: Pope Francis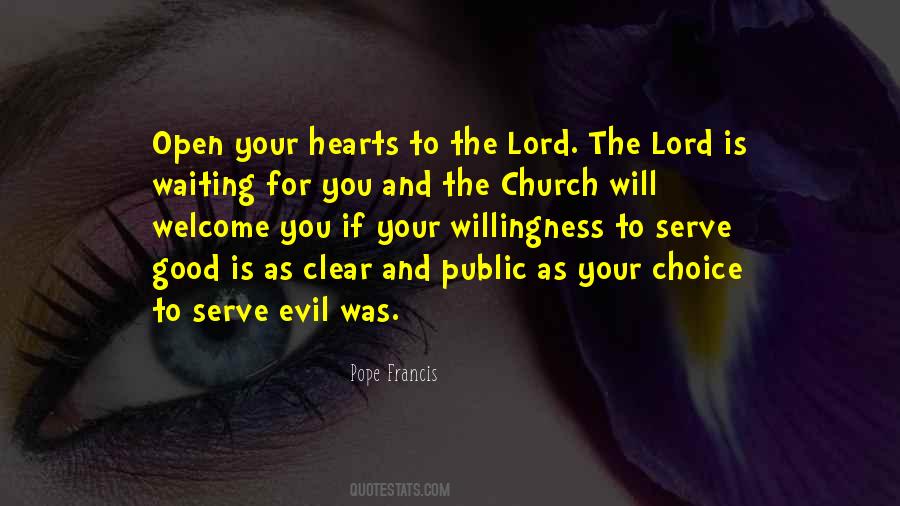 #54. The choice between the ethical and the aesthetic is not the choice between good and evil, it is the choice whether or not to choose in terms of good and evil. - Author: Alasdair MacIntyre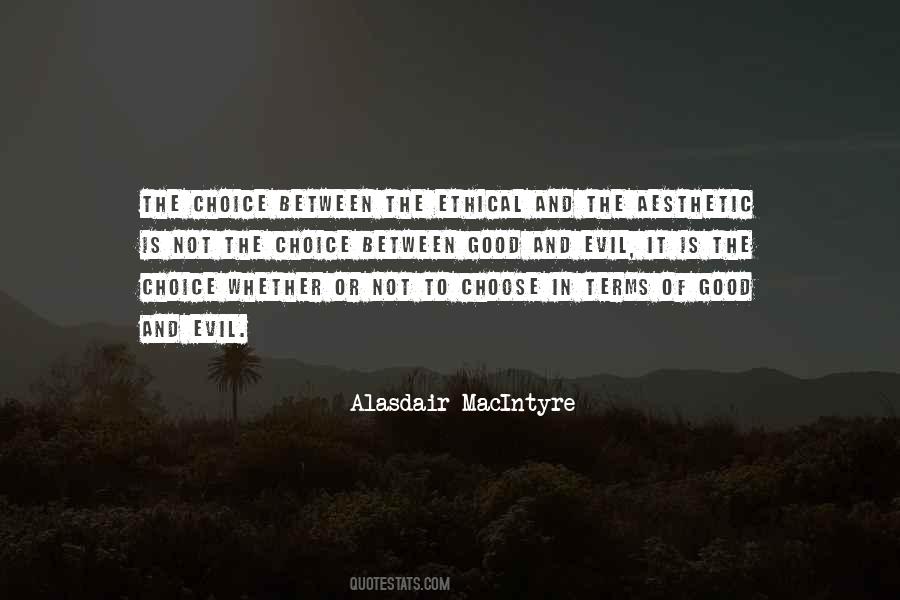 #55. Bread sets free; but does not necessarily set free for good ends
that dear illusion of so many generous hearts. It sets a man free to choose: it often sets free for the bad, but man has a right to that choice and to that evil, without which he is no longer a man. - Author: Francoise Mallet-Joris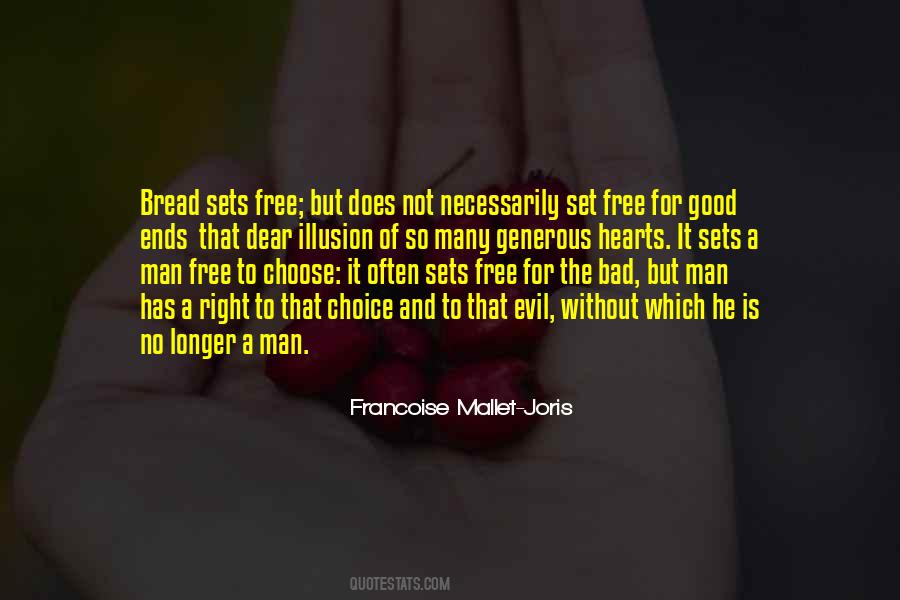 #56. Everythings a choice. Nobody's born good. Nobody's born evil. It's always a choice. - Author: Tom Hiddleston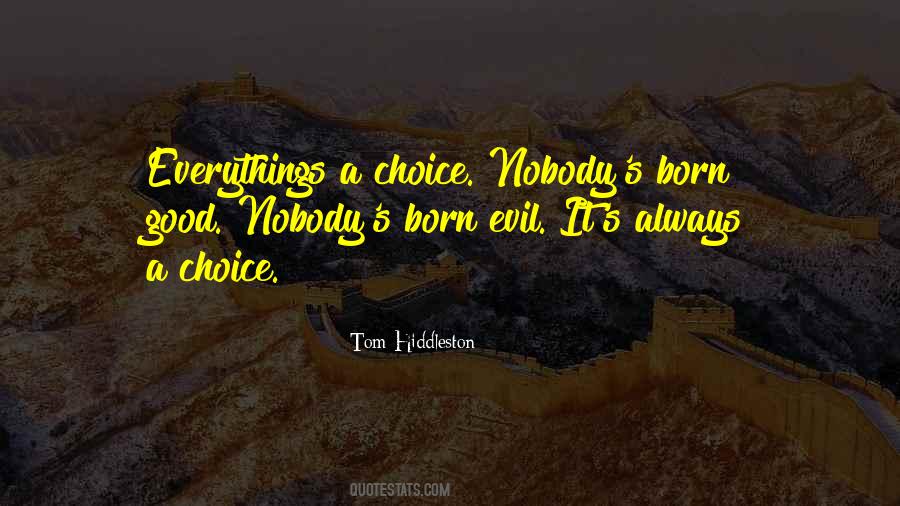 #57. Who hath a prospect of the different state of perfect happiness or misery that attends all men after this life, depending on their behavior, the measures of good and evil that govern his choice are mightily changed. - Author: John Locke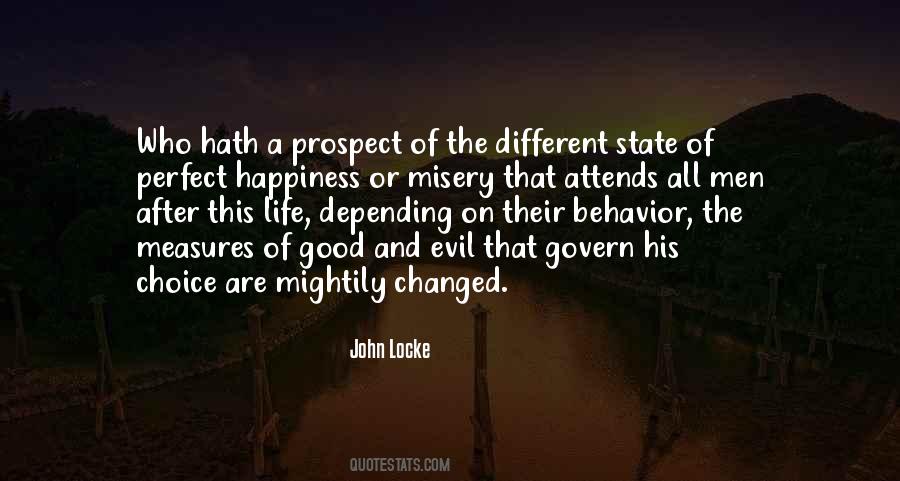 Famous Authors
Popular Topics