Survival In Life Famous Quotes & Sayings
List of top 100 famous quotes and sayings about survival in life to read and share with friends on your Facebook, Twitter, blogs.
Top 100 Quotes About Survival In Life
#1. The last element in drama is high stakes. War, of course, is life and death - survival, not only for the story's characters, but often for the society itself. That's why I'm drawn to stories that are built around wars, even if they're not technically "war stories." - Author: Steven Pressfield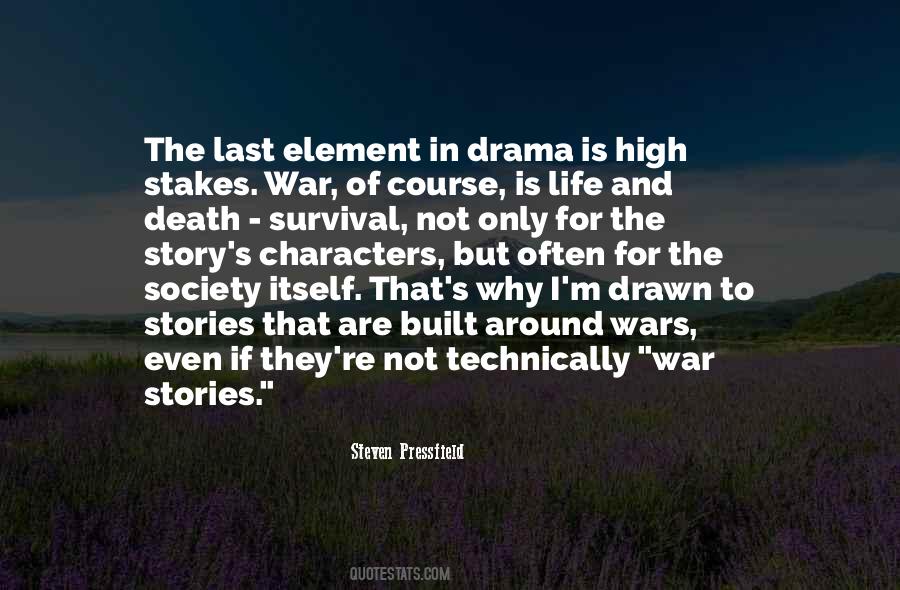 #2. We do not live to think, but, on the contrary, we think in order that we may succeed in surviving. - Author: Jose Ortega Y Gasset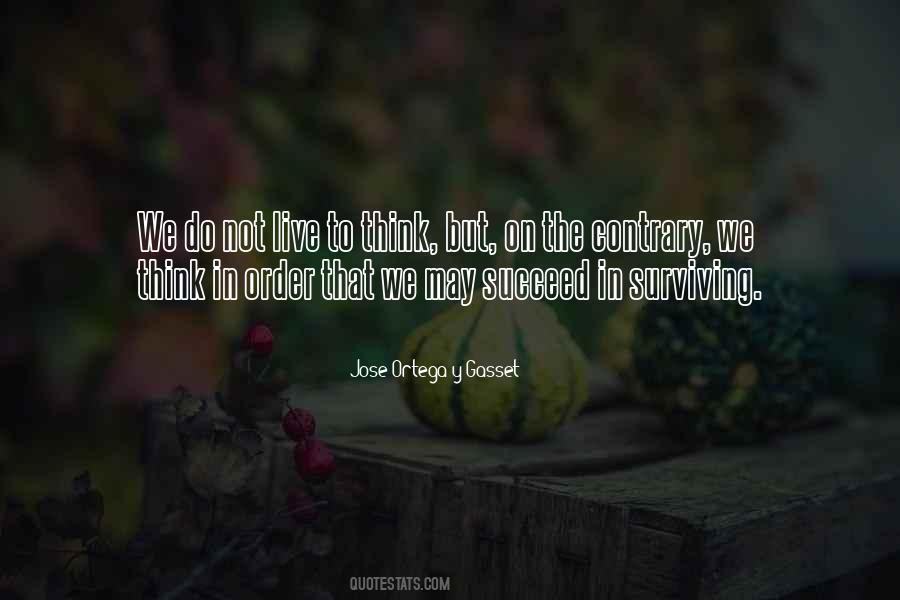 #3. You don't ask people with knives in their stomachs what would make them happy; happiness is no longer the point. It's all about survival; it's all about whether you pull the knife out and bleed to death or keep it in ... - Author: Nick Hornby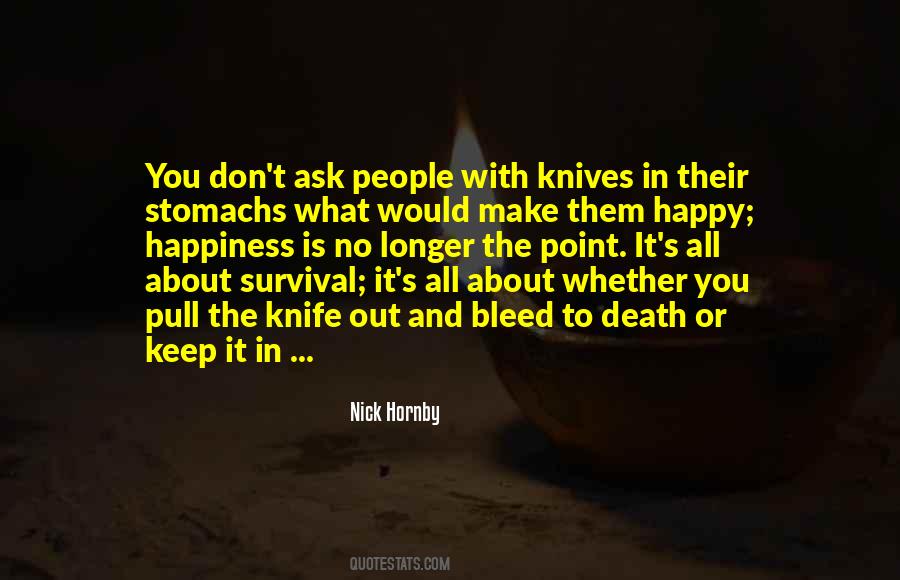 #4. Loving behavior contributes to the group at the expense of the individual. Competition contributes to the survival of the individual at the expense of the group. In the garden of life, some people are more like flowers, and other people are more like weeds. - Author: Marilyn Vos Savant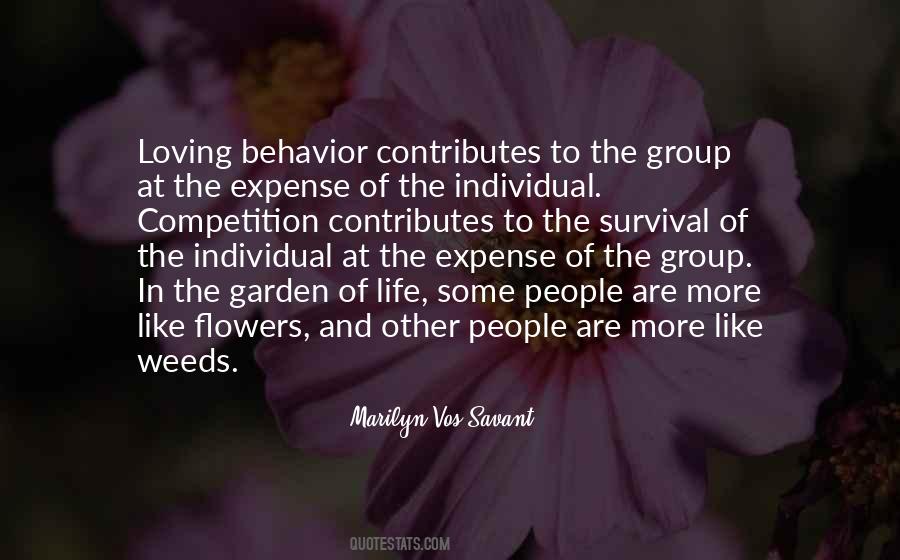 #5. Money, of course, is still needed to survive, but time is what you need to live. So, save what little money you possess to meet basic survival requirements, but spend your time lavishly in order to create the life values that make the fire worth the candle. Dig? - Author: Rolf Potts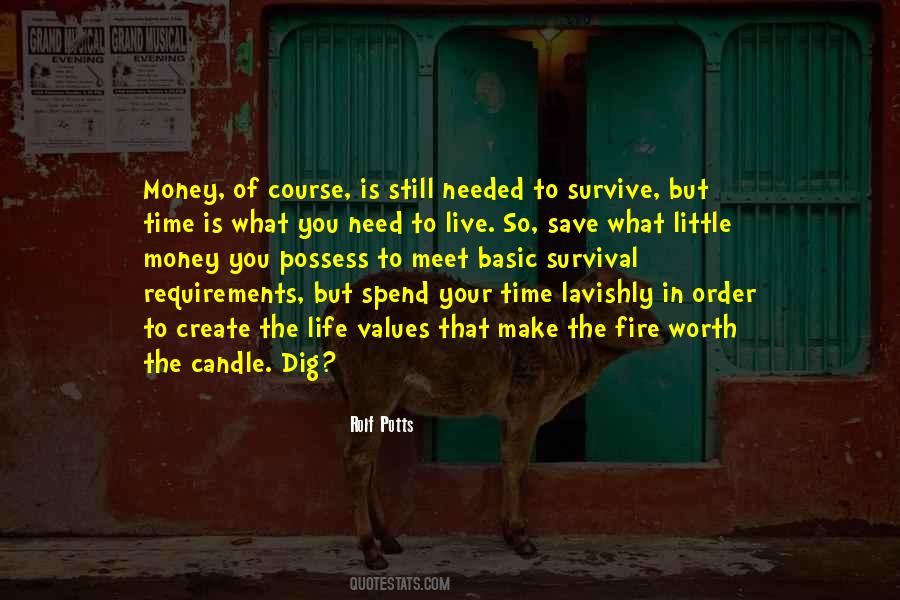 #6. In the game of life, less diversity means fewer options for change. Wild or domesticated, panda or pea, adaptation is the requirement for survival. - Author: Cary Fowler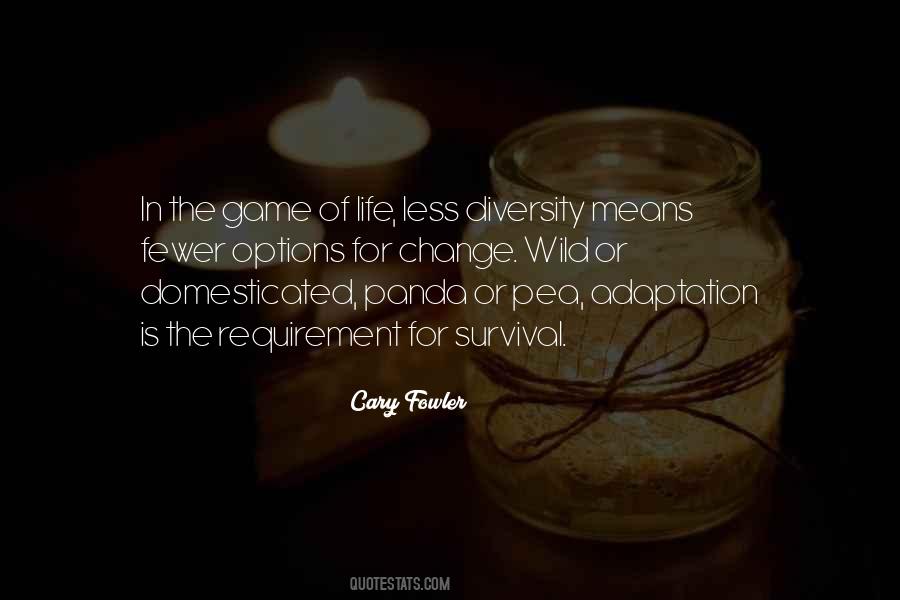 #7. I'd rather be on the ground than under
To feel the heavy rain and the thunder. - Author: Ana Claudia Antunes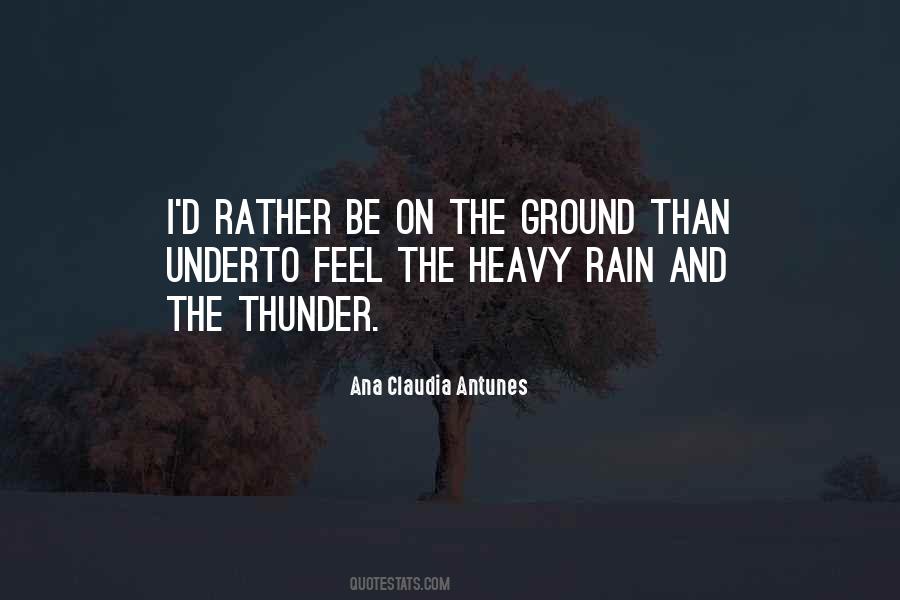 #8. Clearly we could devastate the world ... as far as we know, the Earth is the only place in the universe where there is life. Its continued survival now rests in our hands - Author: David Attenborough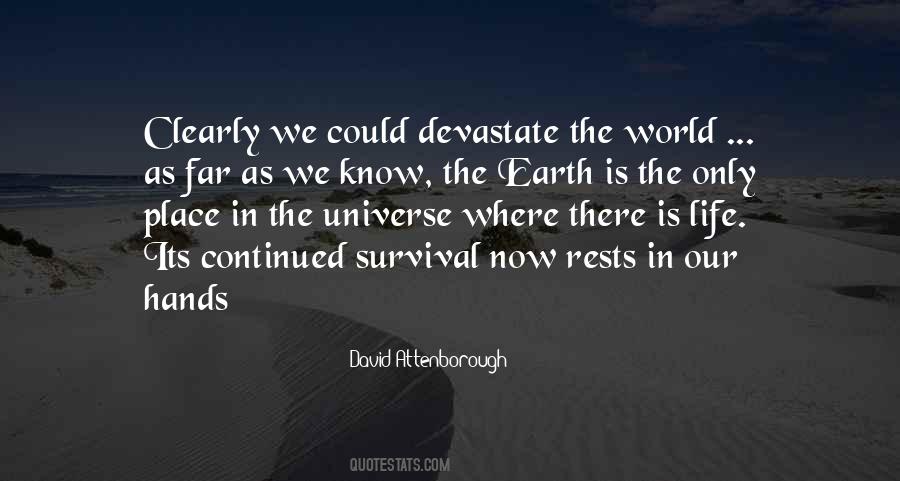 #9. In the year 2025, the best men don't run for president, they run for their lives ... - Author: Stephen King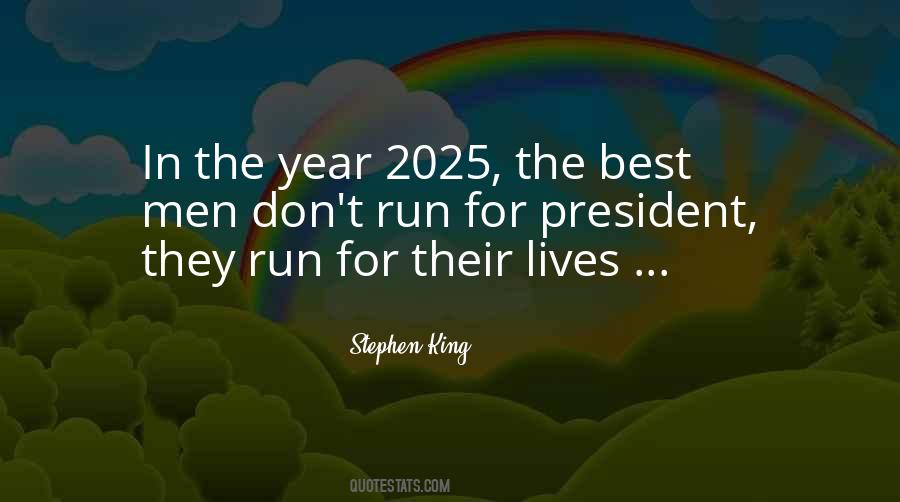 #10. He held his head, and he cried for them, and he did not melt into the sea but sat, aching, in the glowing moonlight-for in the end our bodies know only how to carry on surviving.
That is our strength, and our tragedy. - Author: Nick Lake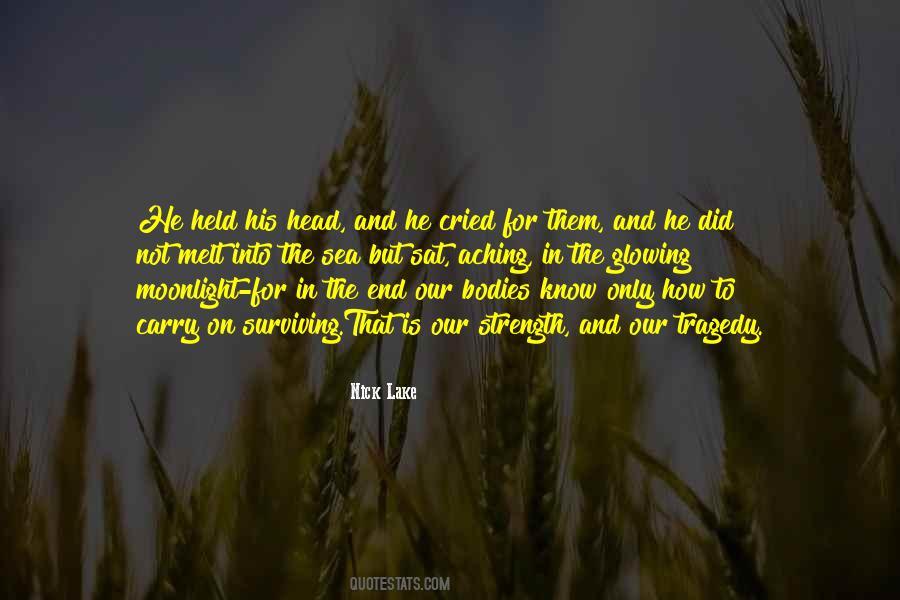 #11. Art has the ability to redeem life by finding beauty even in the worst aspect of things. - Author: Roger Scruton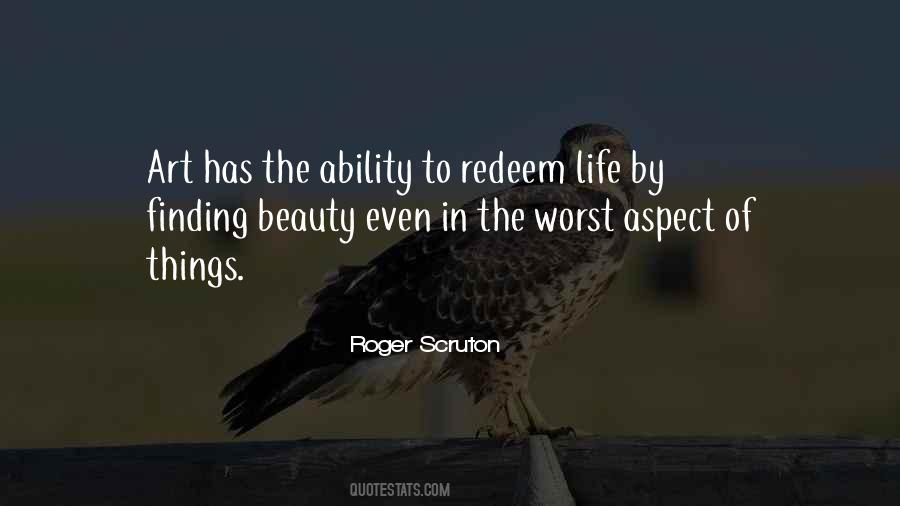 #12. There's no seduction any more, diary. No subtlety. No tidy-yourself-up in this world. No need for personal pride. There's just the things you're prepared to do - for survival, for fulfillment, for whatever-the-hell-it-is you really need - and the things you're not. - Author: Simon Spurrier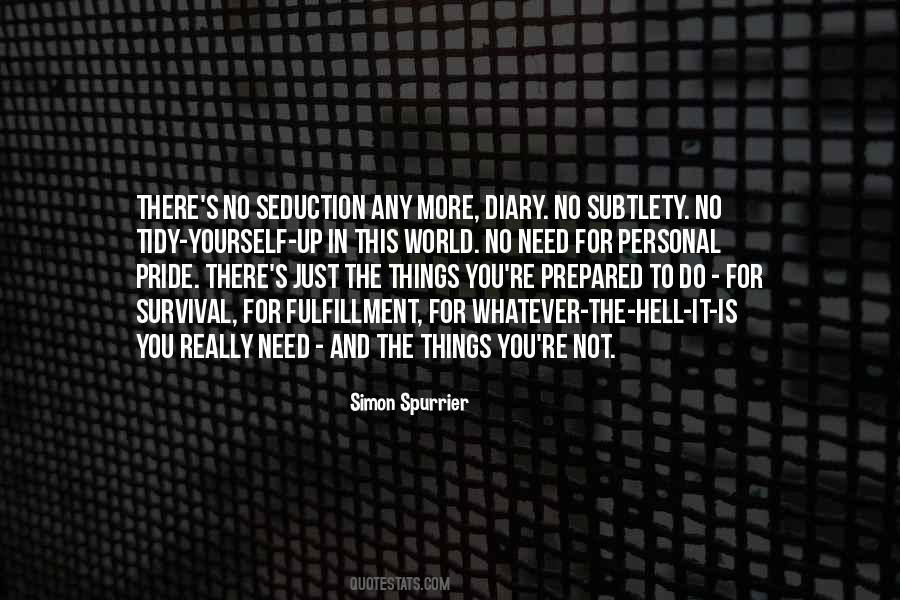 #13. The mutilation of the savage has its tragic survival in the self-denial that mars our lives. - Author: Oscar Wilde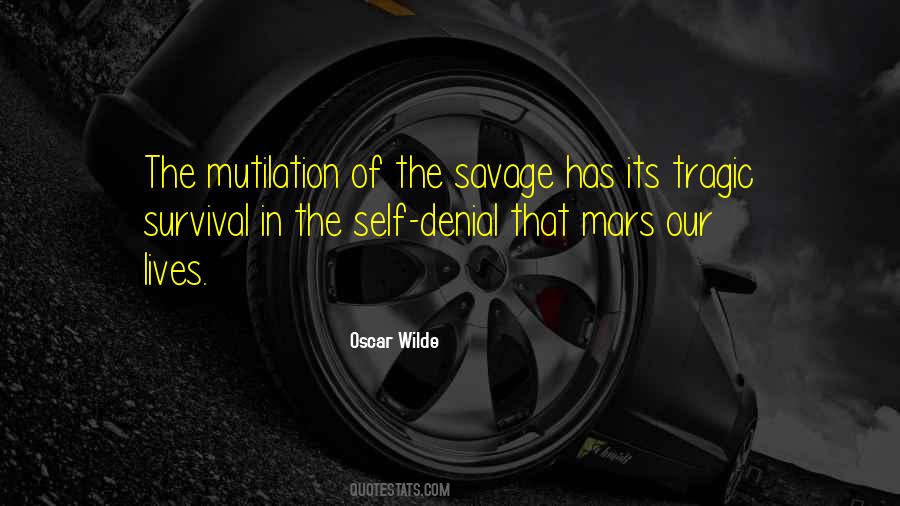 #14. Once one determines that he or she has a mission in life, that's it's not going to be accomplished without a great deal of pain, and that the rewards in the end may not outweigh the pain -if you recognize historically that always happens, then when it comes, you survive it. - Author: Richard M. Nixon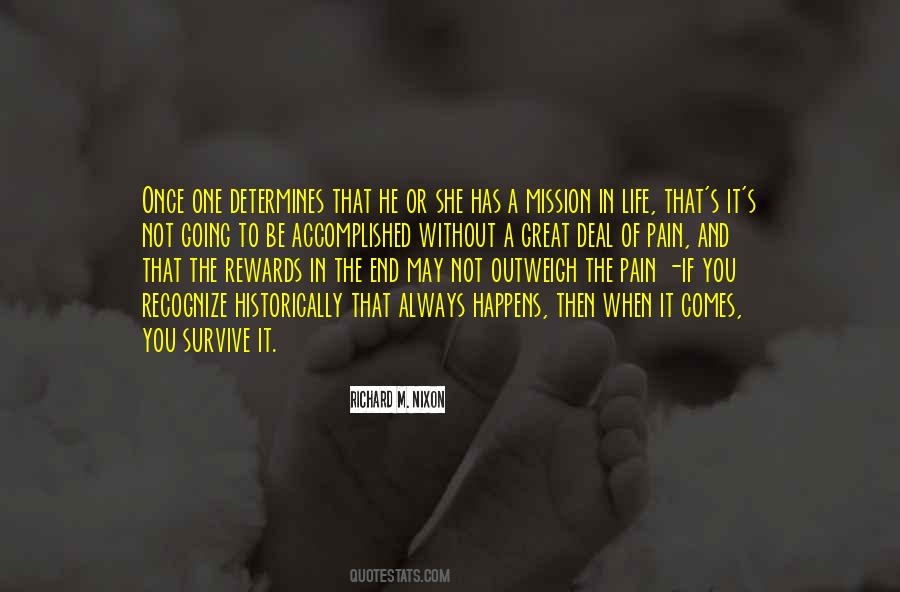 #15. Creativity to me is the life force that is in us. It's an animalistic instinct for survival. - Author: Elie Tahari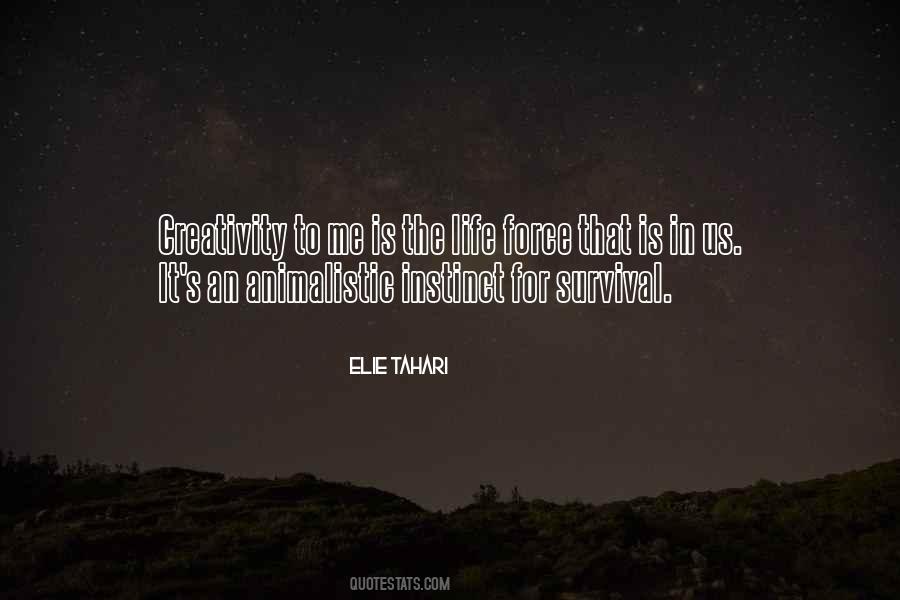 #16. The mother's battle for her child with sickness, with poverty, with war, with all the forces of exploitation and callousness that cheapen human life needs to become a common human battle, waged in love and in the passion for survival. - Author: Adrienne Rich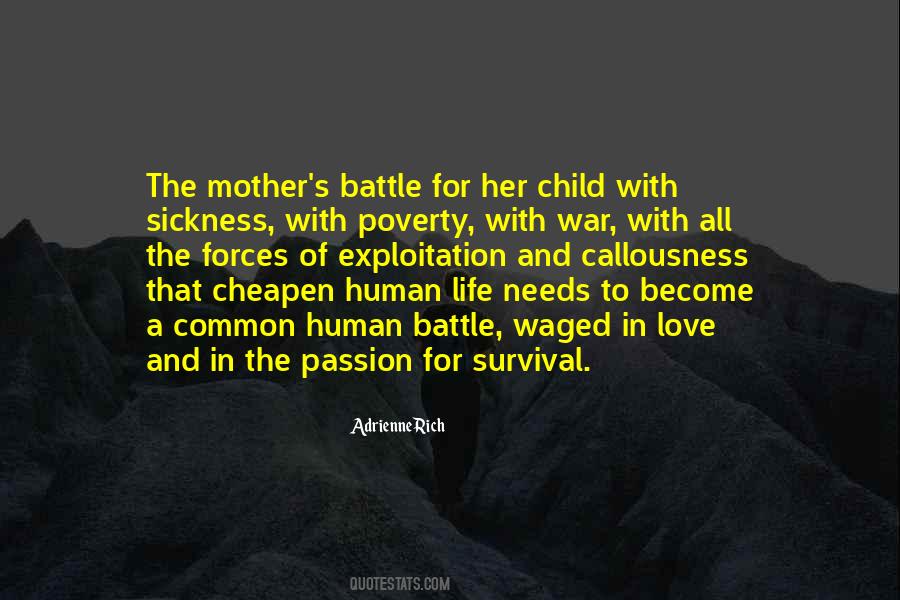 #17. When I was sixteen, there was no one to count on but myself. Everyone in my family was taking care of themselves, surviving, but everyone forgot I was sixteen years old. I had never felt so lost and so alone in my life. - Author: Grace Lozada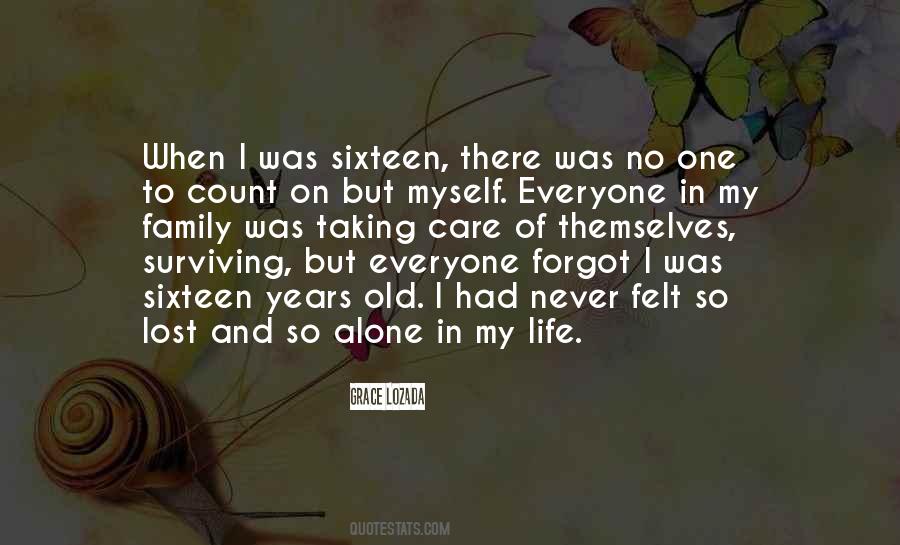 #18. So afterward, while I was getting eviscerated by chemo, for some reason I decided to feel really hopeful. Not about survival but I felt like Anna does in the book, that feeling of excitement and gratitude about just being able to marvel at it all. - Author: John Green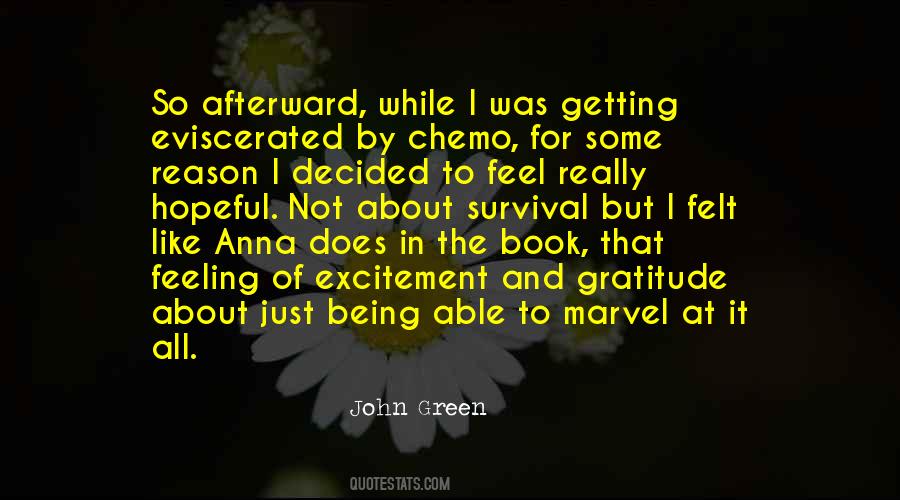 #19. The spirituality of your soul will lead to your survival in life. - Author: Lailah Gifty Akita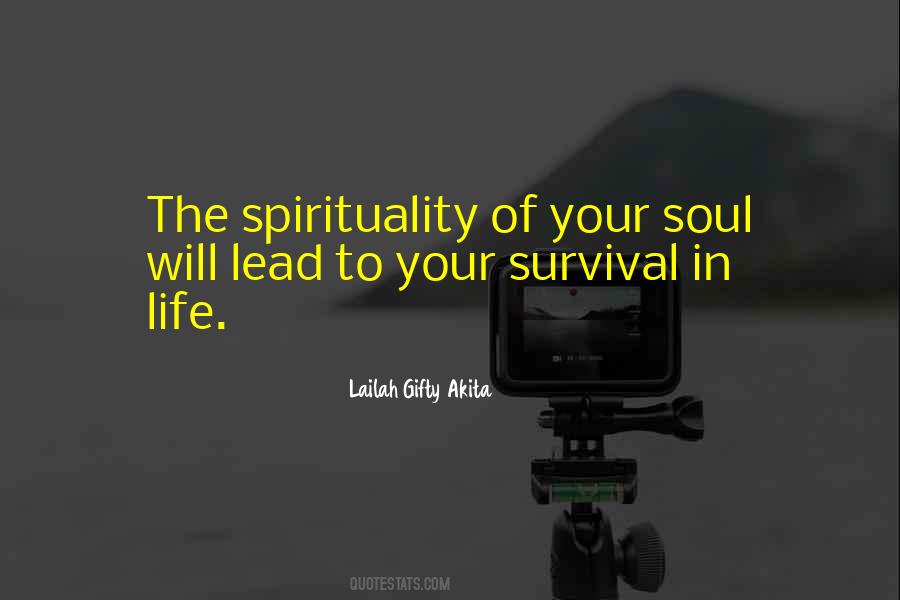 #20. The passage of time eliminates some of the more intimate details of one's existence. The routine trivia like passing water and shitting and the amount of food and alcohol consumed in the course of daily survival. Sure, there were girls. Lots of'em. It's inevitable. - Author: Ray Davies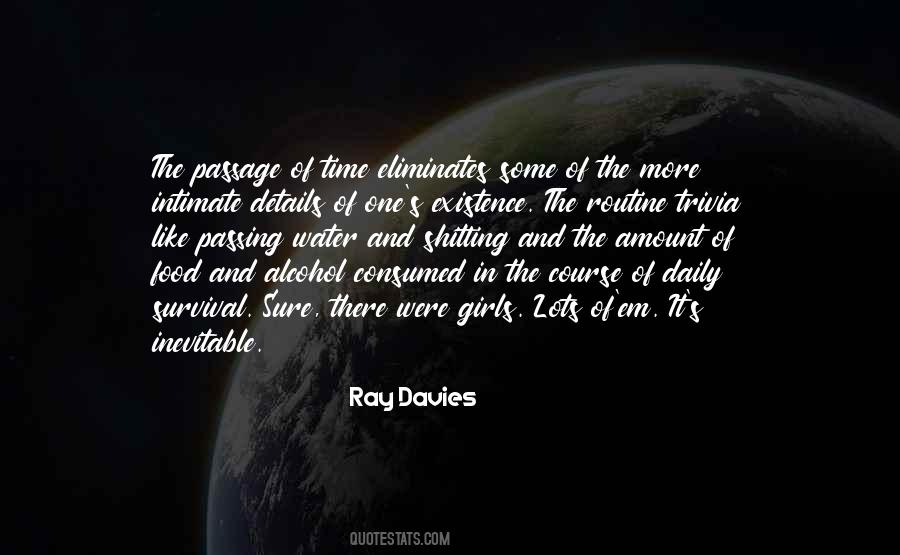 #21. We will not die cornered and cowering in the ruins of a dead city. - Author: Rachel L. Schade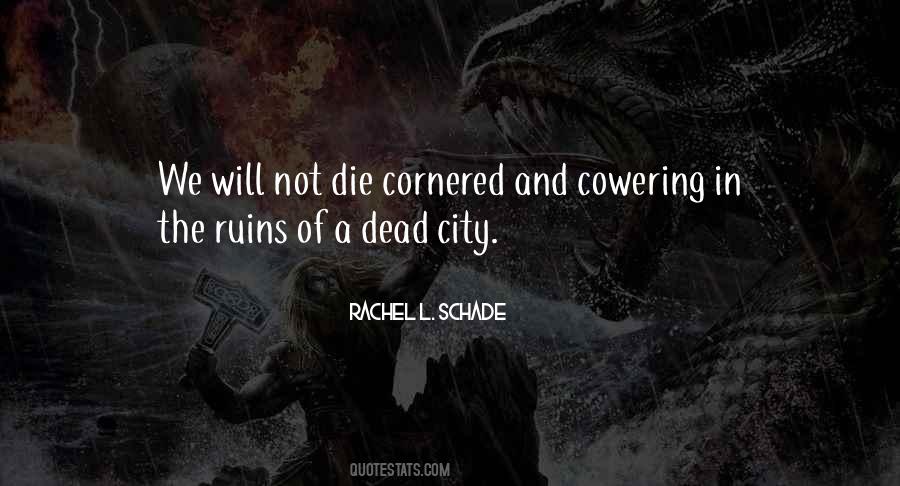 #22. Survival is an ancient dream
Life is nothing but an everlasting illusion
Nothing is Real
Don't believe in illusion,
Remember me,
I am here ... - Author: Rixa White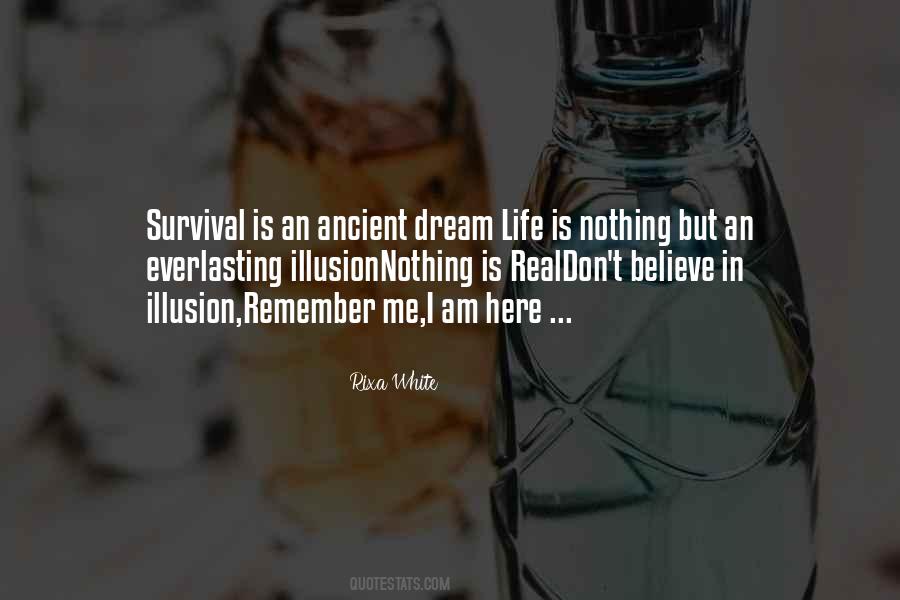 #23. For an individual as well as a society, there is a gulf between merely living and living worthily. To fight in a battle and live in glory is one mode. To beat a retreat, to surrender and to live the life of a captive is also a mode of survival. - Author: B.R. Ambedkar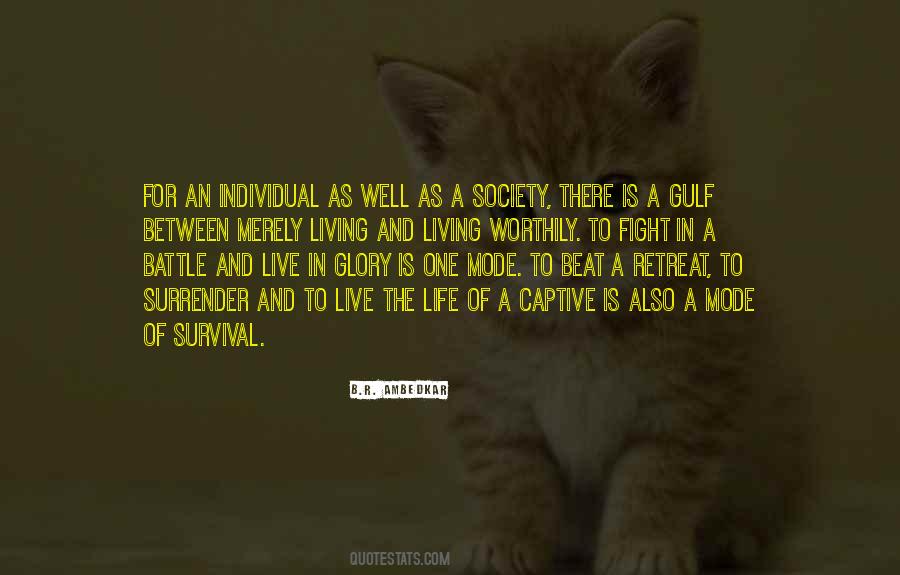 #24. If there is danger in the human trajectory, it is not so much in the survival of our own species as in the fulfillment of the ultimate irony of organic evolution: that in the instant of achieving self-understanding through the mind of man, life has doomed its most beautiful creations. - Author: Edward O. Wilson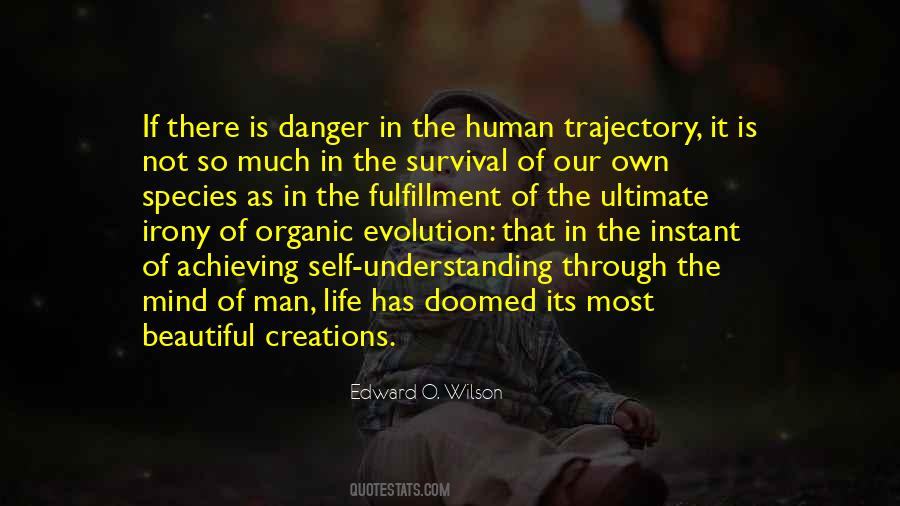 #25. It may be that we're not seeing the wonder in life because all we're doing is wondering how we're going to survive life. - Author: Craig D. Lounsbrough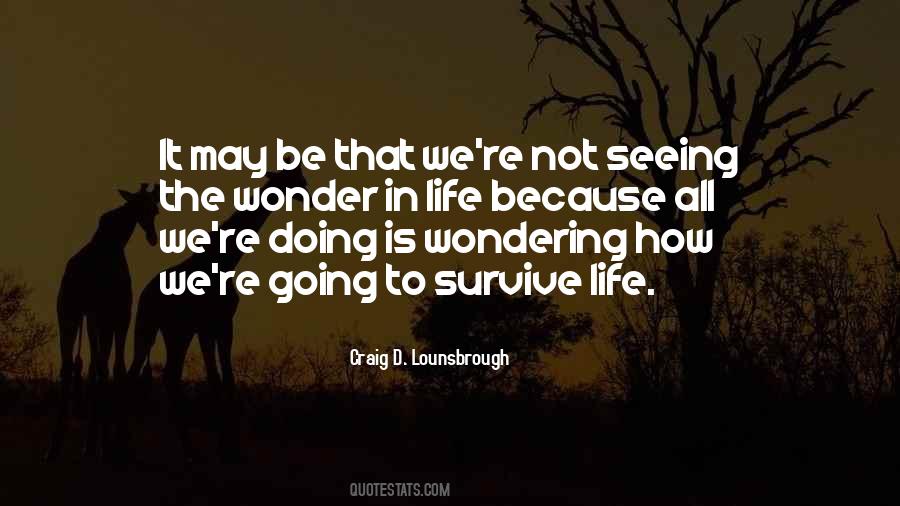 #26. In each age there is a series of pressing questions which must be asked and answered. On the correctness of the questions depends the survival of those who ask; on the quality of the answers depends the quality of the life those survivors will lead. - Author: Margaret Mead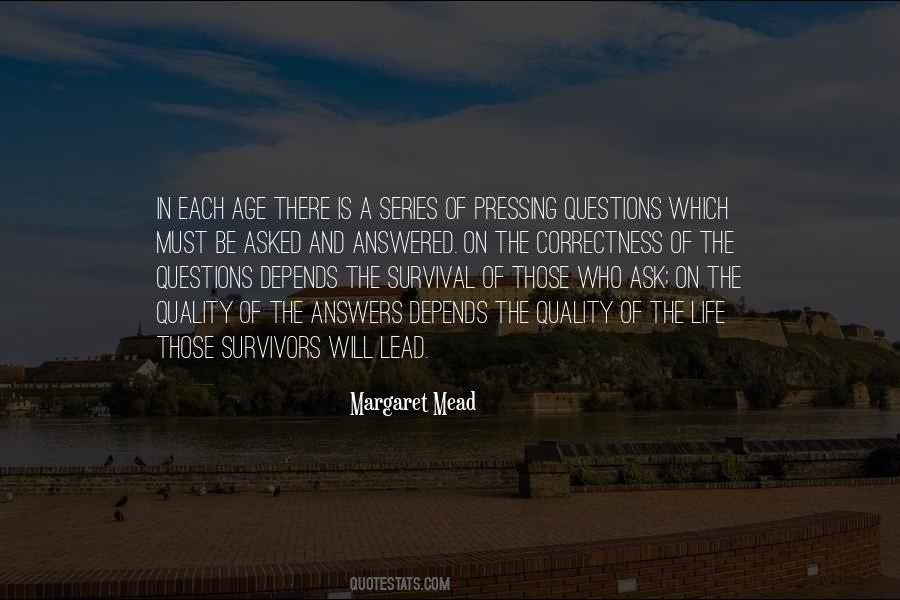 #27. People need stories. Stories of love, hope, survival, wisdom and sometimes pain. Maybe you don't tell them the full truth; maybe you tell them lies. But what is this world? A lie in itself. - Author: Savi Sharma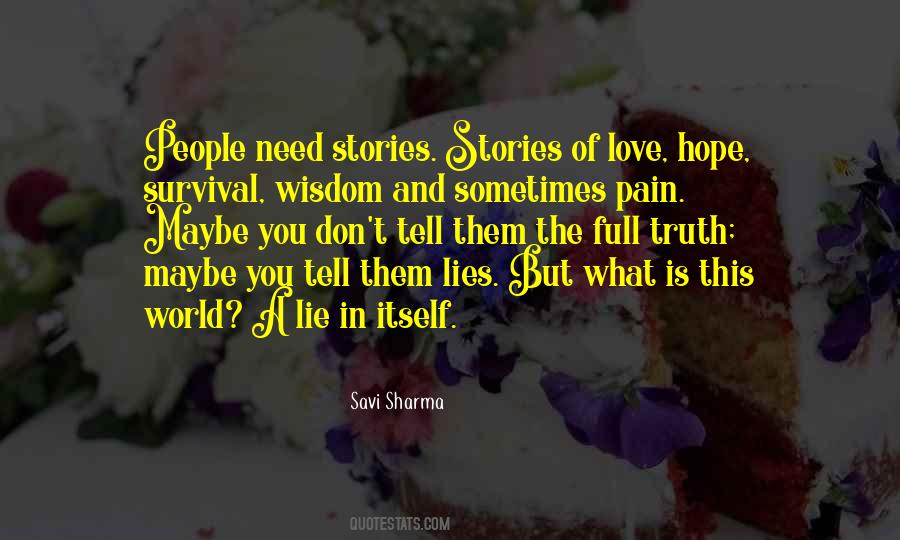 #28. The rhythm of life is intricate but orderly, tenacious but fragile. To keep that in mind is to build the key to survival. - Author: Shirley Hufstedler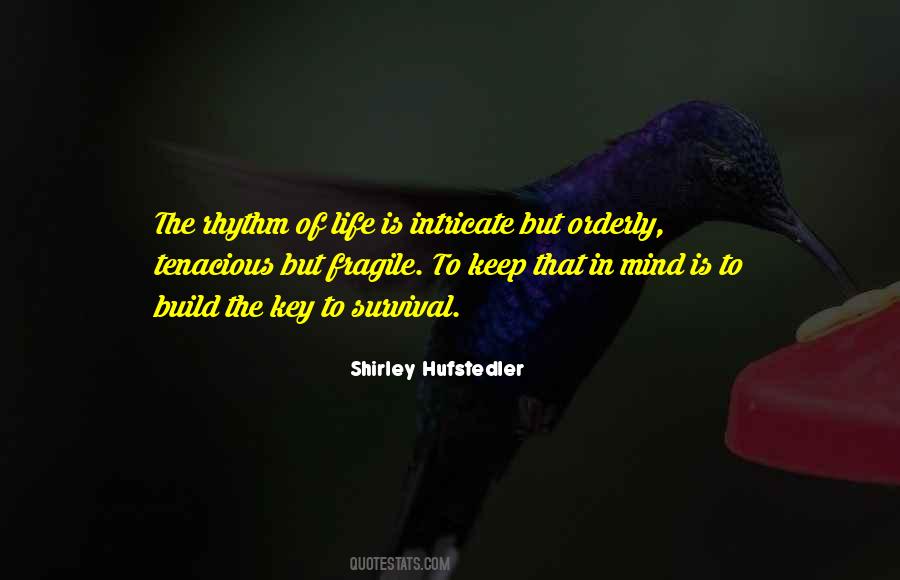 #29. The greatest Jewish tradition is to laugh. The cornerstone of Jewish survival has always been to find humor in life and in ourselves. - Author: Jerry Seinfeld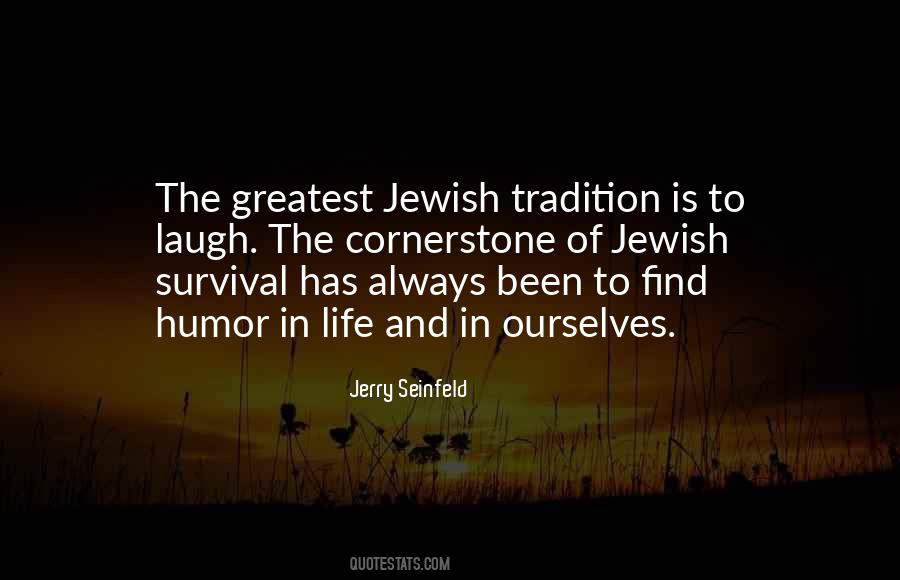 #30. My characters never die screaming in rage. They attempt to pull themselves back together and go on. And that's basically a conservative view of life. - Author: Jane Smiley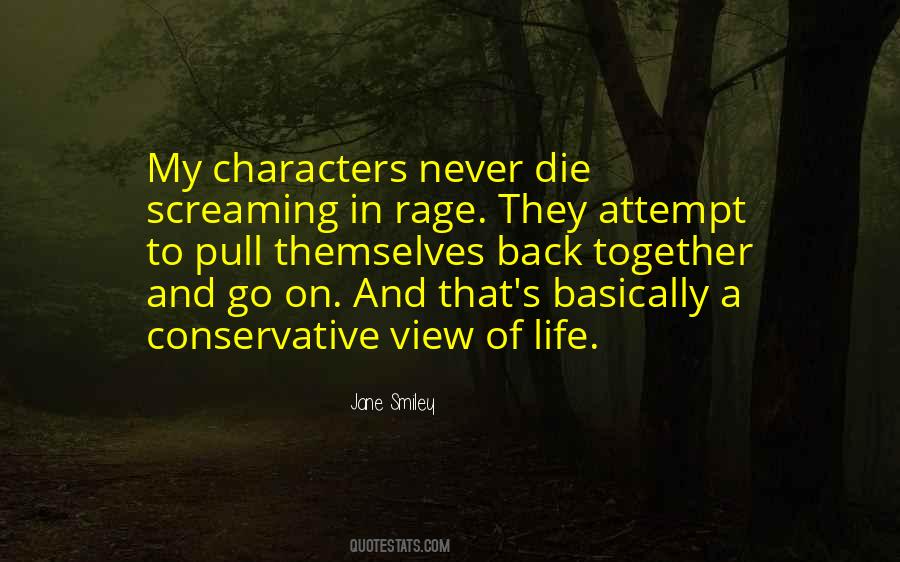 #31. I've demonstrated an impressive resilience in the face of valuable life lessons, and the main thing I seem to have learned from this one is that I am capable of learning nothing from almost any experience, no matter how profound. - Author: Tim Kreider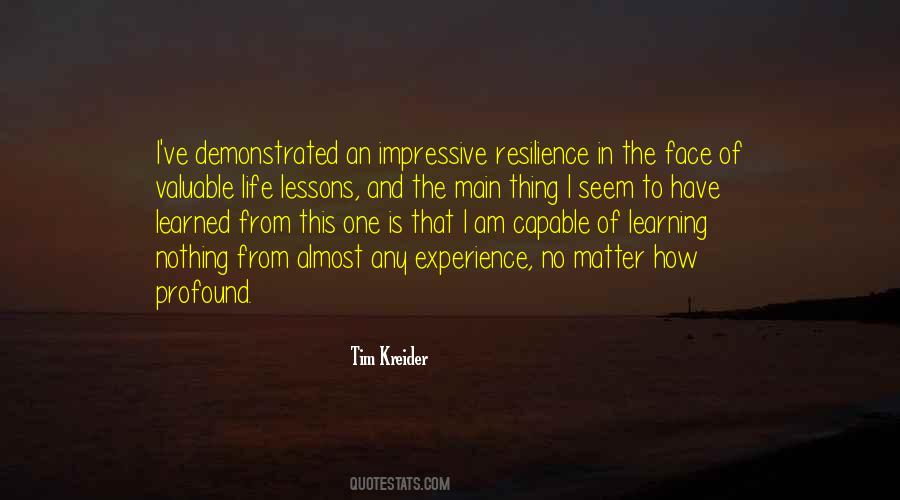 #32. Life tries to crush her, but only succeeded in making a diamond. - Author: John Green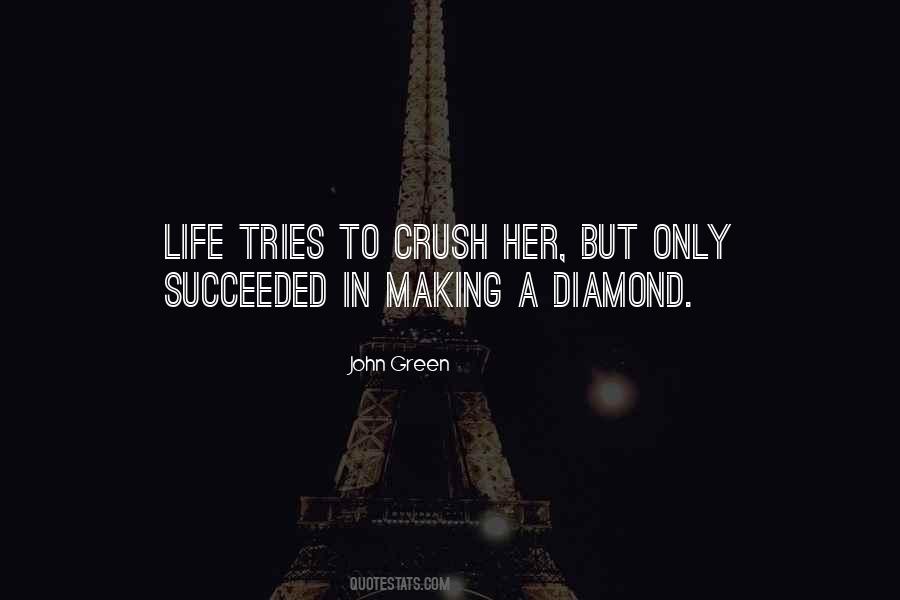 #33. For a moment, frustration clouded his features. He inhaled deeply, and the clouds went away. I miss people, you know? I miss actually living. I want to have a purpose in my life, but I don't. I'm just existing, and I don't know how long I can continue it. - Author: Rose Wynters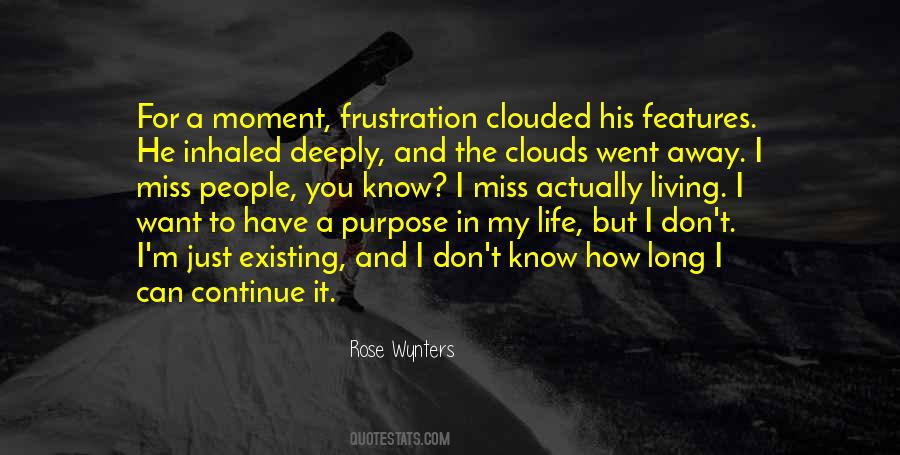 #34. Survival is the celebration of choosing life over death. We know we're going to die. We all die. But survival is saying: perhaps not today. In that sense, survivors don't defeat death, they come to terms with it. - Author: Laurence Gonzales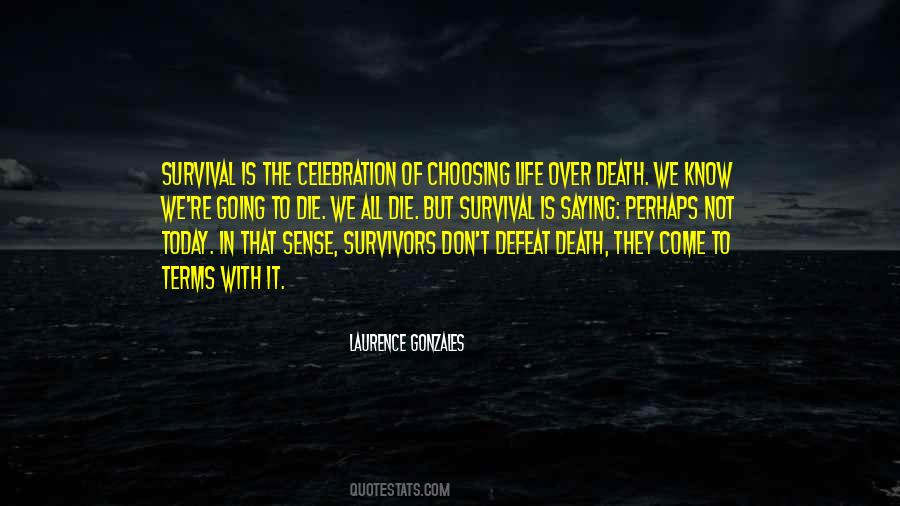 #35. Our inability to think beyond our own species, or to be able to co-habit with other life forms in what is patently a massive collaborative quest for survival, is surely a malady that pervades the human soul. - Author: Lawrence Anthony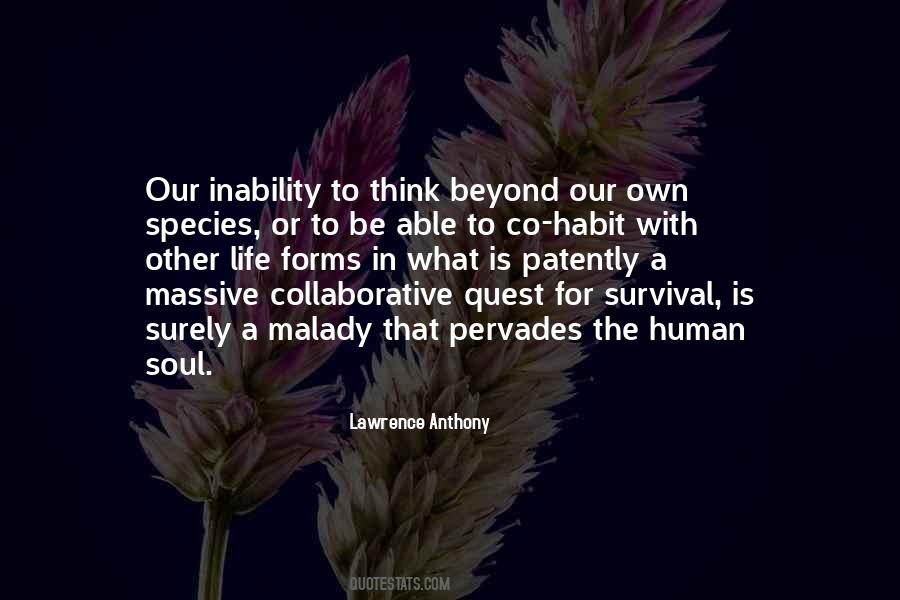 #36. You can pray and fight at the same time, Corporal. Especially if you learn how before things get rough. It's important to have a philosophy of life ... and of death. - Author: Henry V. O'Neil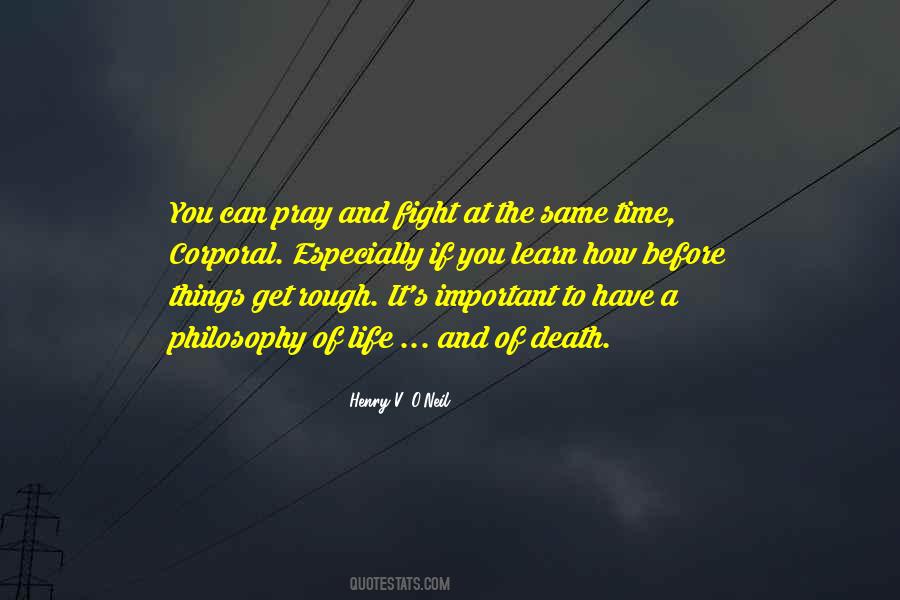 #37. The first of 'Goose's Two Laws of Survival.' It runs thus, 'The weak are meat the strong do eat.' " ... Henry grinned in the dark & cleared his throat. "The second law of survival states that there is no second law. Eat or be eaten. That's it. - Author: David Mitchell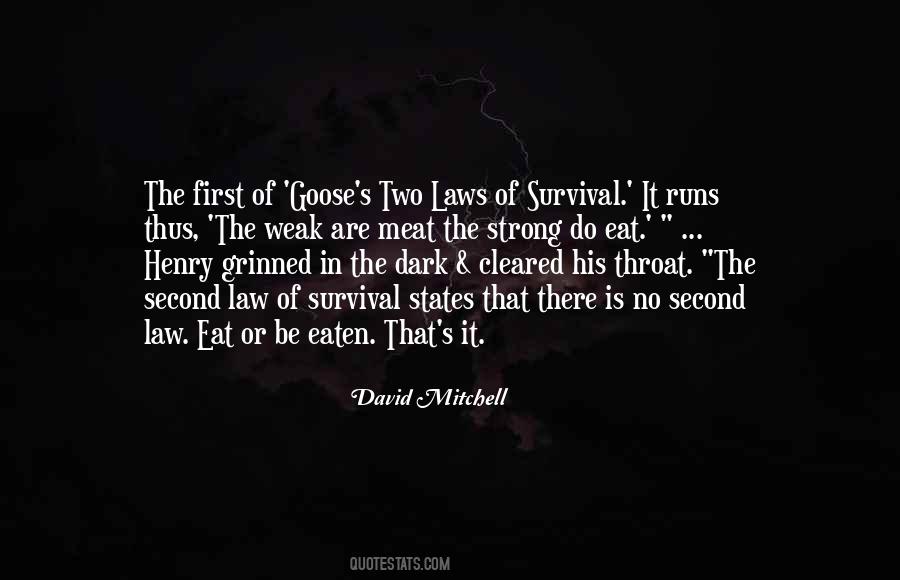 #38. This is life ... Not a peace treaty, not an idealistic dream, but a grim dance of death and survival. The strong live on while the weak
the ones too small or too foolish to fight back
die in agony and blood. - Author: Dan Wells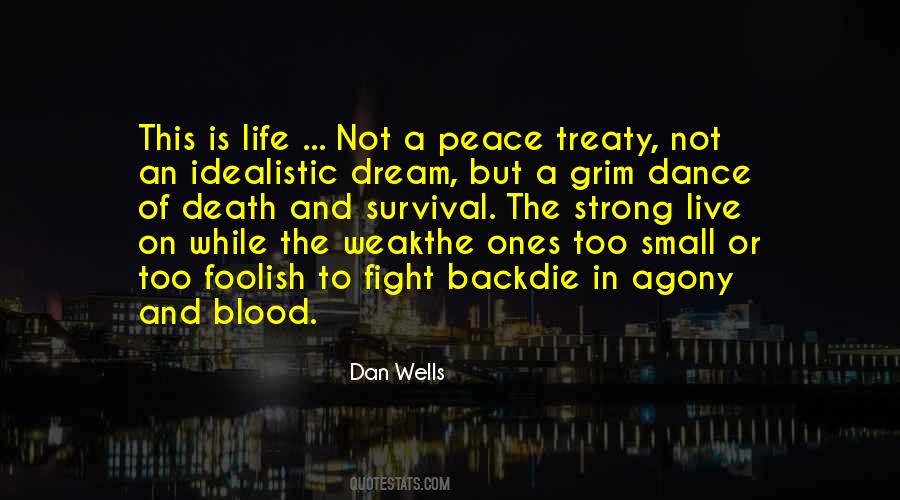 #39. Surviving is one thing," he said quietly, his voice suddenly calmer, "but you've got to have a reason to do it. There's no point in living if you don't have anything worth living for. - Author: David Moody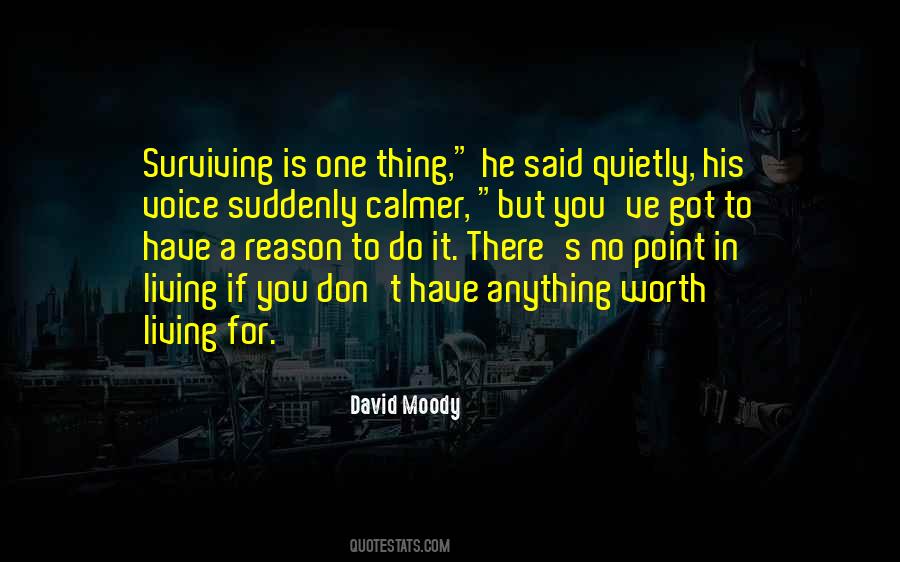 #40. My life has been saved over and over again by picking up a book in which someone captured the whole experience of being despised and not dying. - Author: Dorothy Allison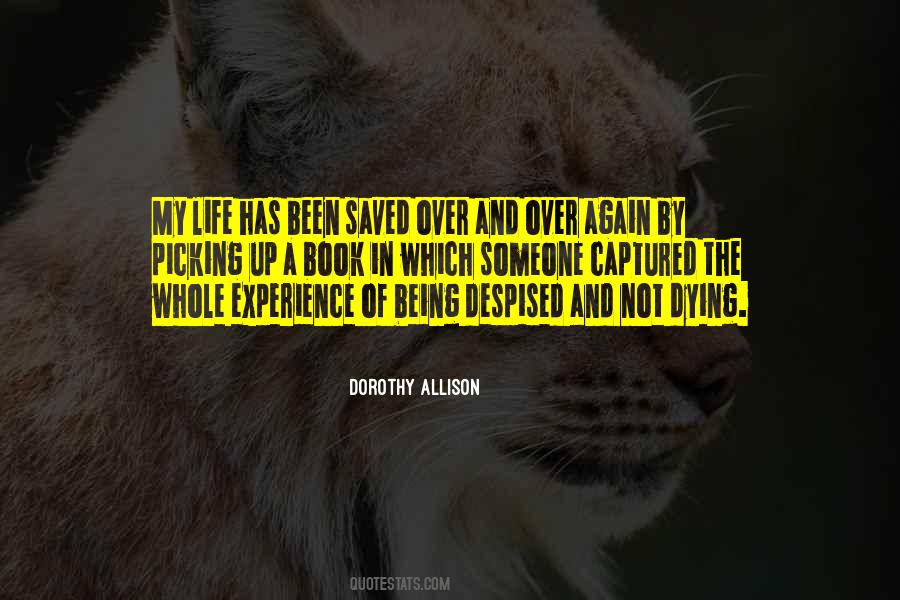 #41. We wake up one day and find we have lost our dreams in order to protect our days. - Author: Kent Nerburn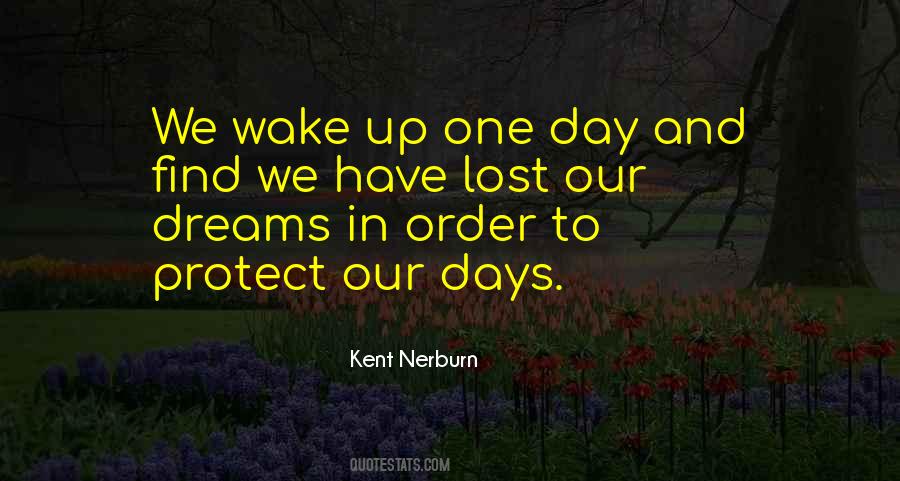 #42. These children had never looked death in the face and then chosen to live anyway. - Author: Orson Scott Card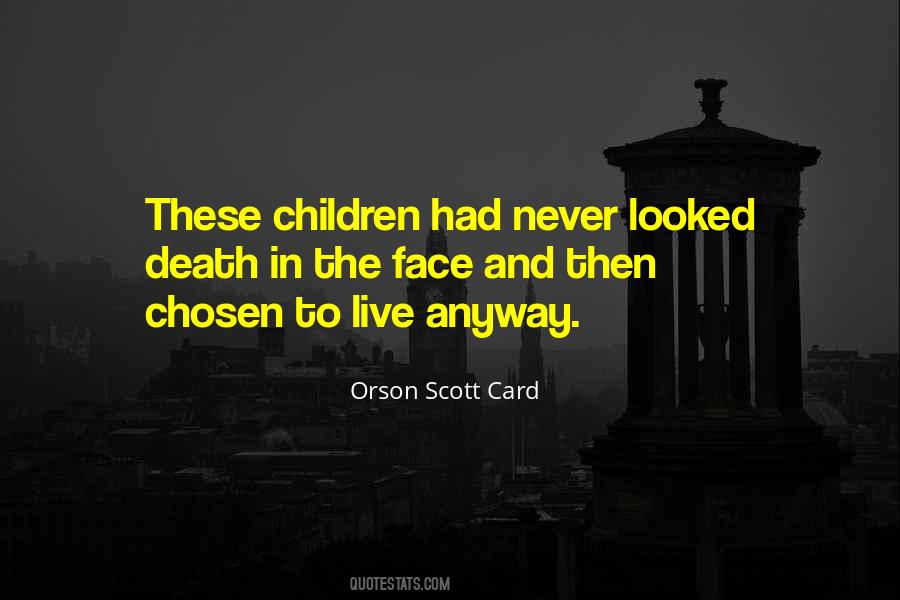 #43. For a kid in crisis, there is no "make it happen," only "survive today." Who am I to have the cojones to think my "critical questions" are the most important thing in this kid's life? I think of the times I was in crisis and failed to pay attention to the manila folders on my desk as an adult. - Author: Dawn Casey-Rowe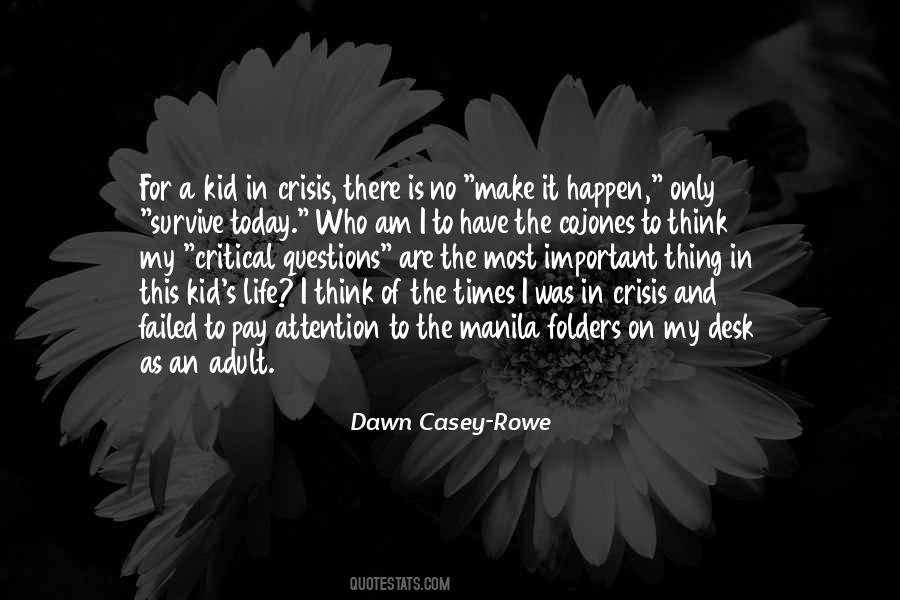 #44. The feel of her skin as she struggled beneath, the life inside, the death without. The breaching of life and death, of survival uncaged inside him: a dark beast with violence and sex in its soul.
In his soul. - Author: Mav Skye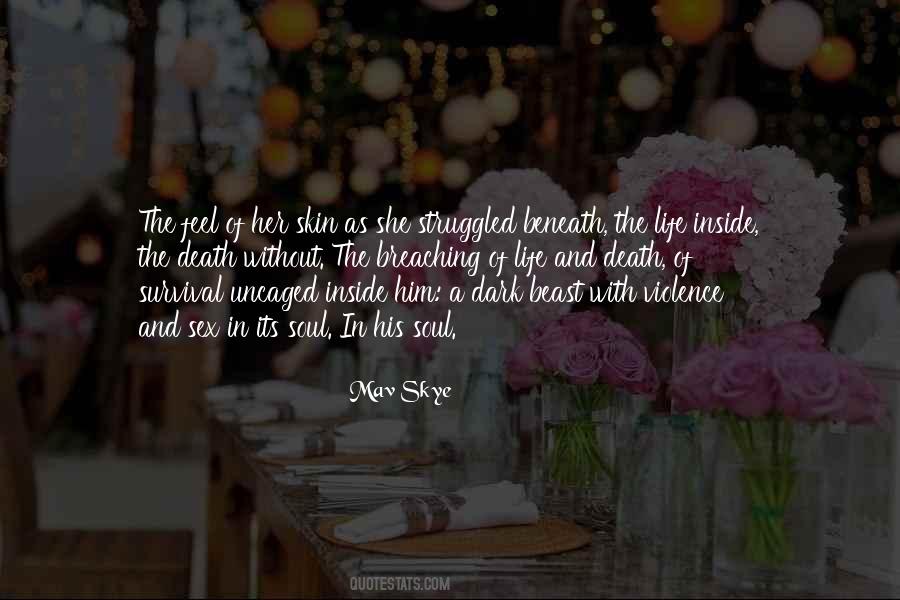 #45. Can anyone survive without faith, however its labeled? No matter how you live, it seems, you need faith to get by, to get ahead. - Author: Deborah Feldman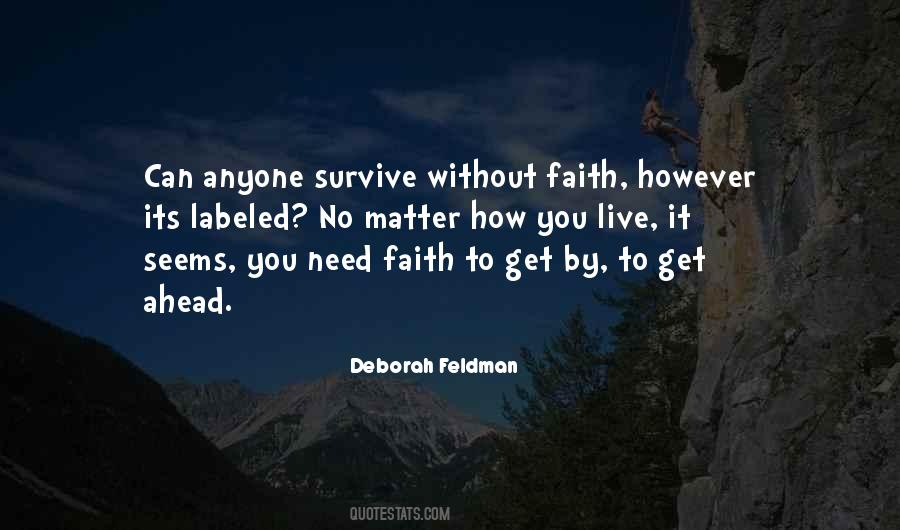 #46. Eight months in the woods have hardened me, or at least firmed up my beliefs that if a man's going to fend for himself, then he needs to leave his credit card at home. - Author: Fennel Hudson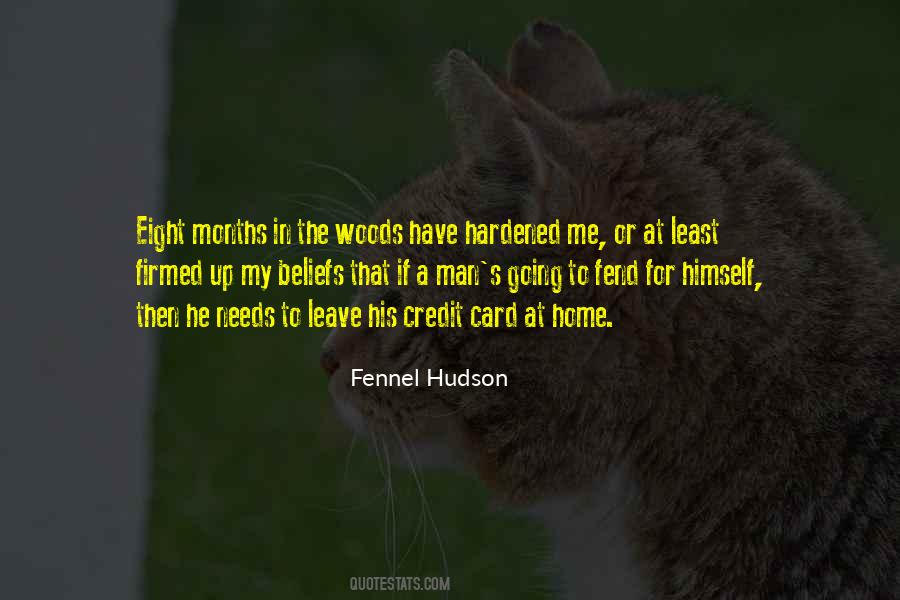 #47. It's really hard to be a servant leader because we come into this world as a baby in a self-survival mode. Life is a journey toward service. - Author: Ken Blanchard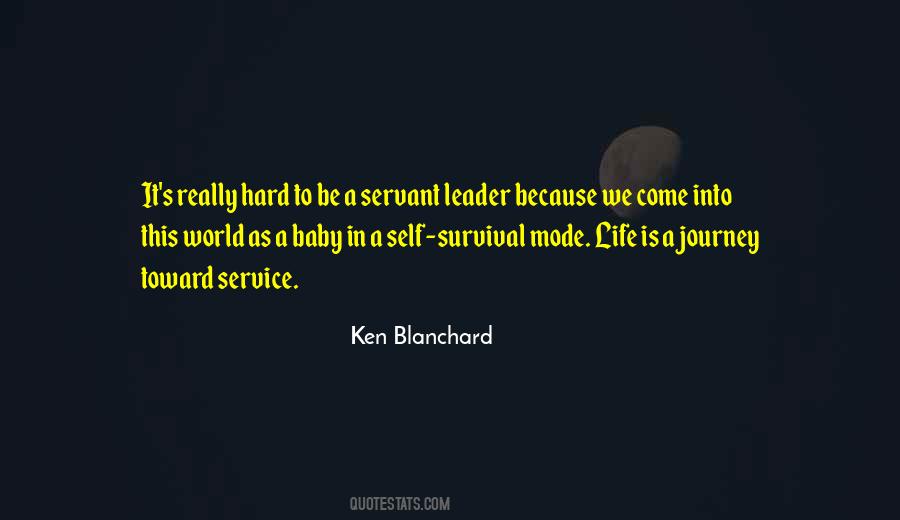 #48. And in reality, I don't think it's a real documentary. It's more a story of her life. It's a story of survival. It's a story of the time in which she lived. The story of success and failure. - Author: Maximilian Schell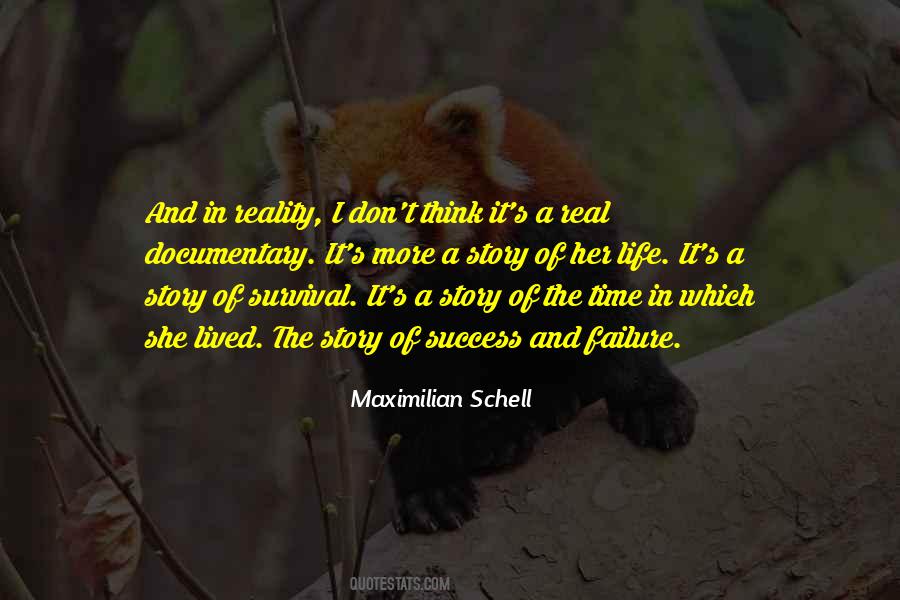 #49. Life in the wild, as I'm observing, is about survival as much as pleasure. - Author: Fennel Hudson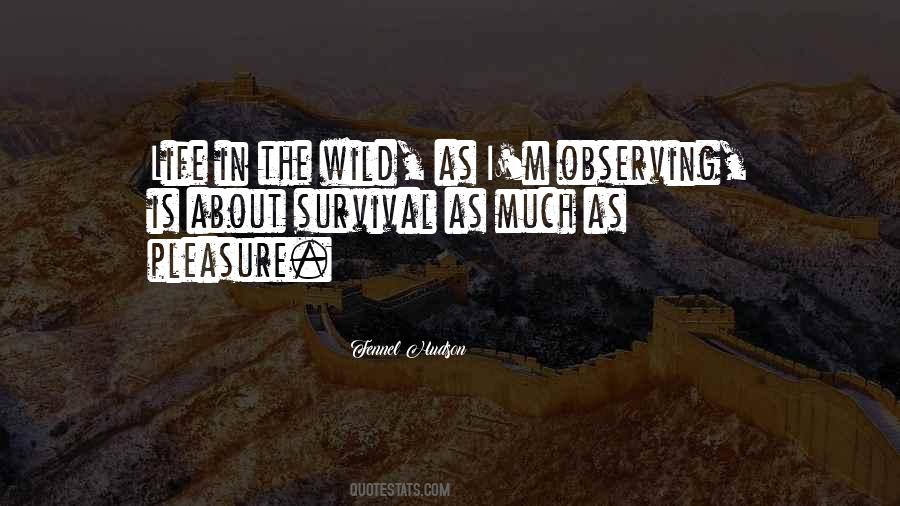 #50. Rhys told himself that everything came with a price. He'd made a difficult choice years ago to regain all he had, and some days he could convince himself that life was like war: bitter, desperate choices were often made in the name of survival, and some inevitably survived at the expense of others. - Author: Julie Anne Long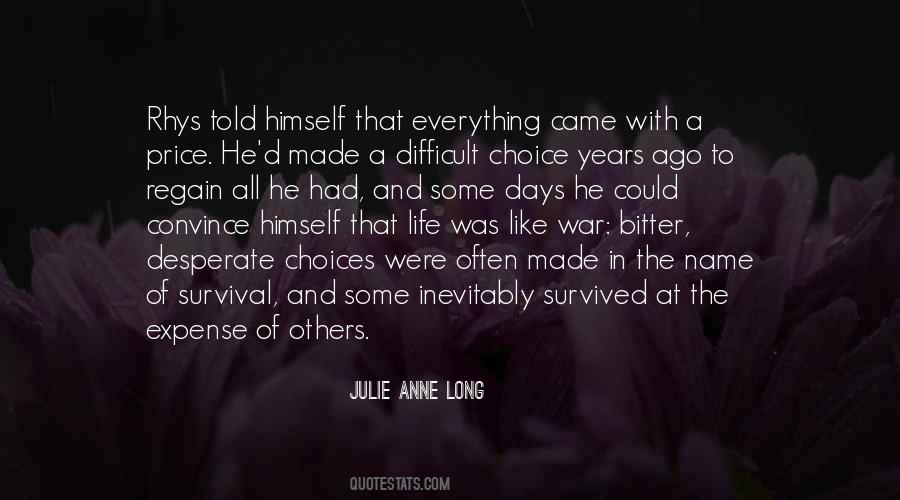 #51. Our survival depends on not just what we can get in life but also what we can give - Author: Han Nolan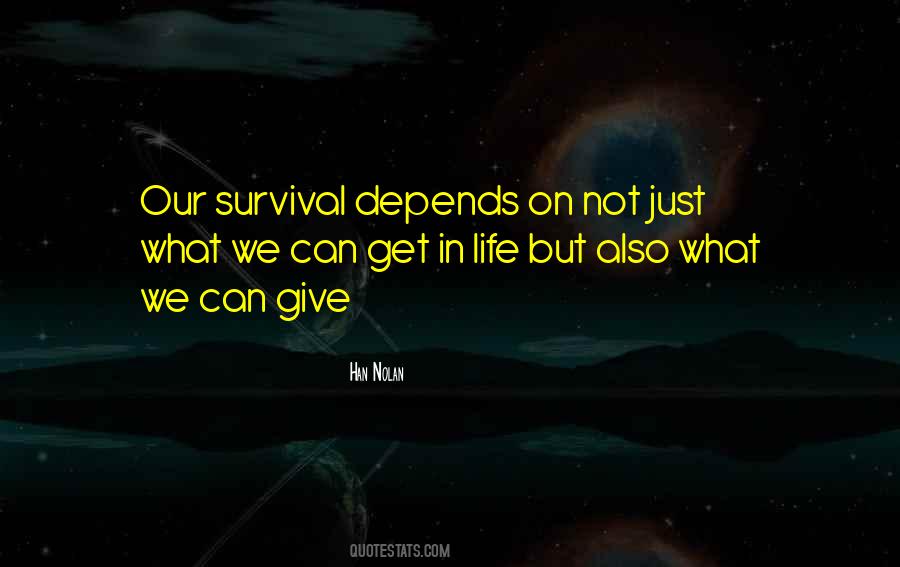 #52. We could do it, you know."
"What?"
"Leave the district. Run off. Live in the woods. You and I, we could make it. - Author: Suzanne Collins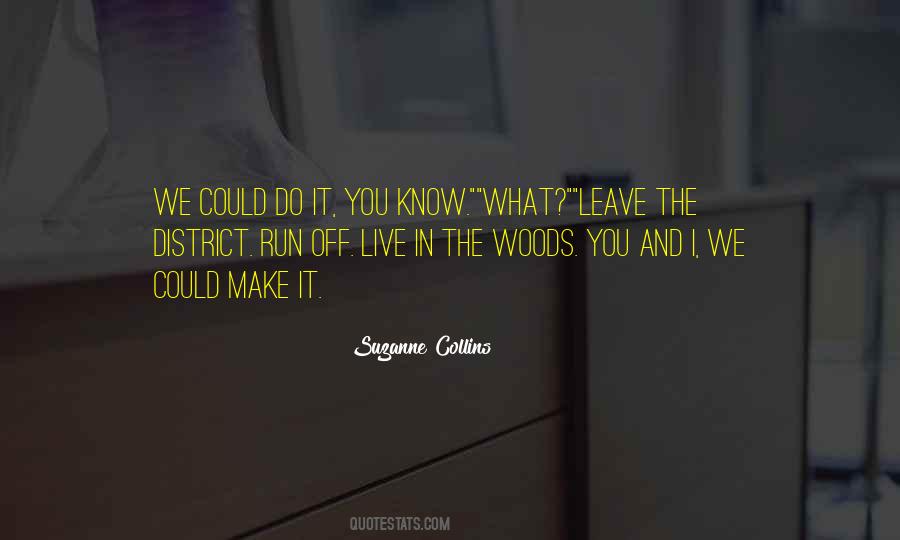 #53. That's the way we see life: your community is your survival. And if you live in a small community like this, even the people you hate you have as friends. - Author: Carolyn Chute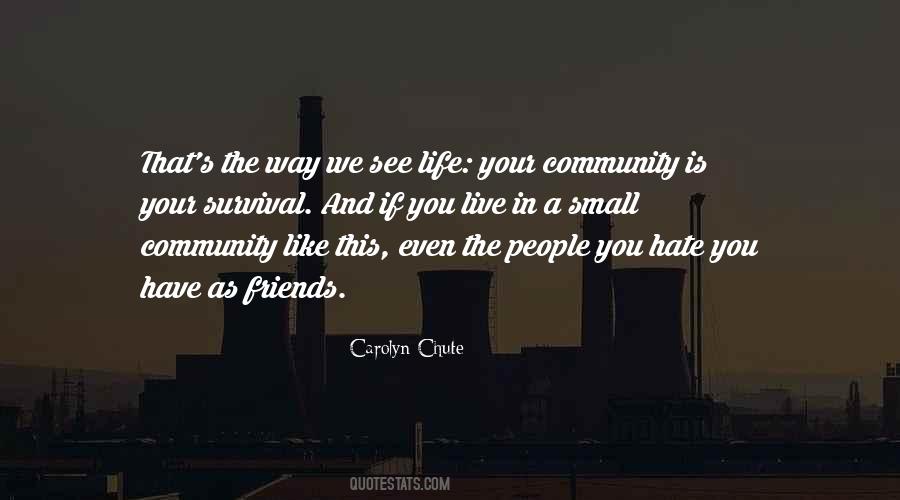 #54. There are lies in life we accept. Whether it's for the sake of ignorance, bliss, or, in my case, survival, we all make our choices. - Author: Katie McGarry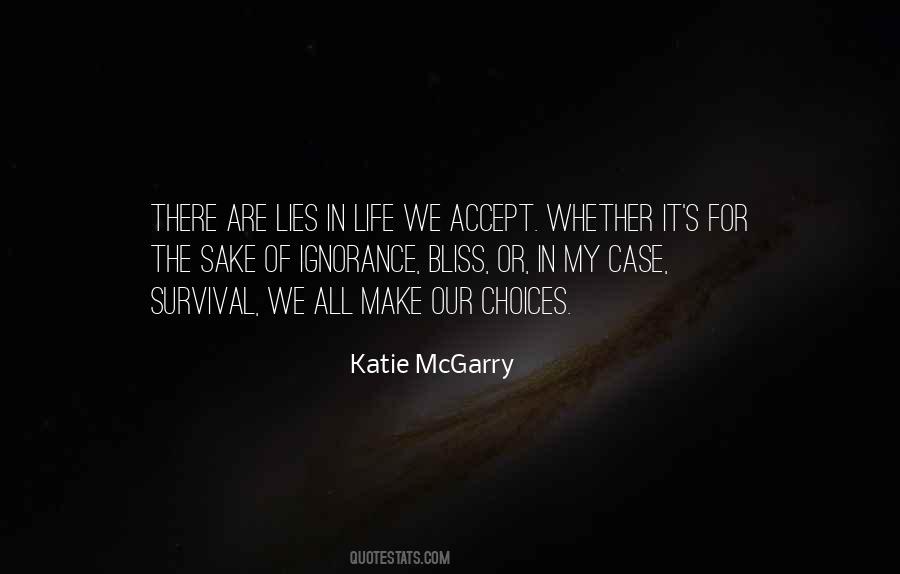 #55. Endeavour to appreciate life while you experience it, for some will never experience life again, because they are six feet inside the grave. - Author: Auliq Ice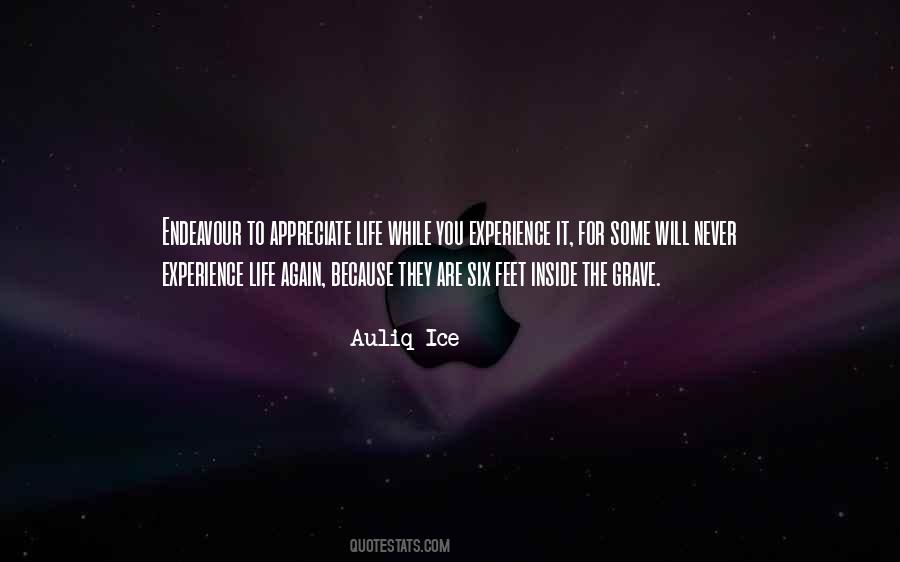 #56. Use your strength, but always remember that any strength
may become a weakness. - Author: Kateryna Kei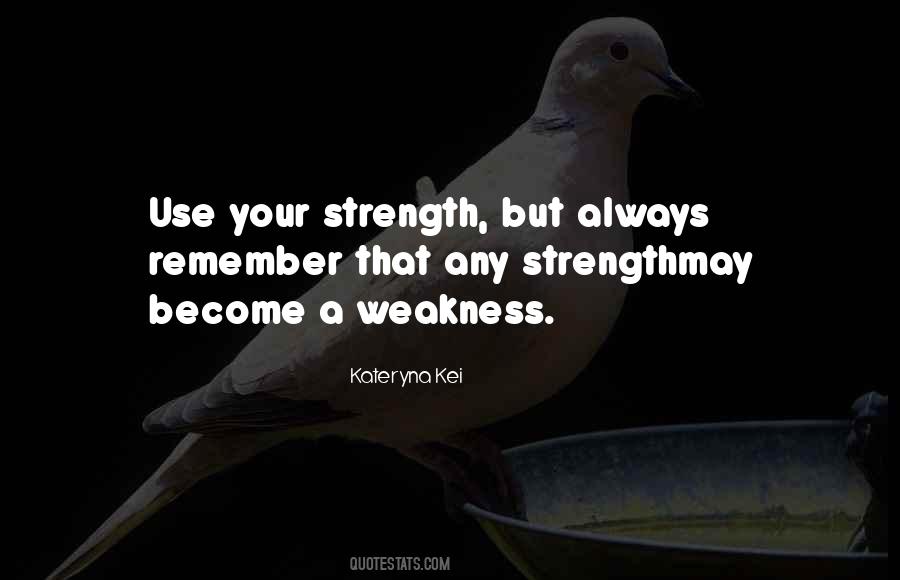 #57. Each life involves an essential errand; not simply the task of survival, but a life-mission embedded in the soul from the beginning. - Author: Michael Meade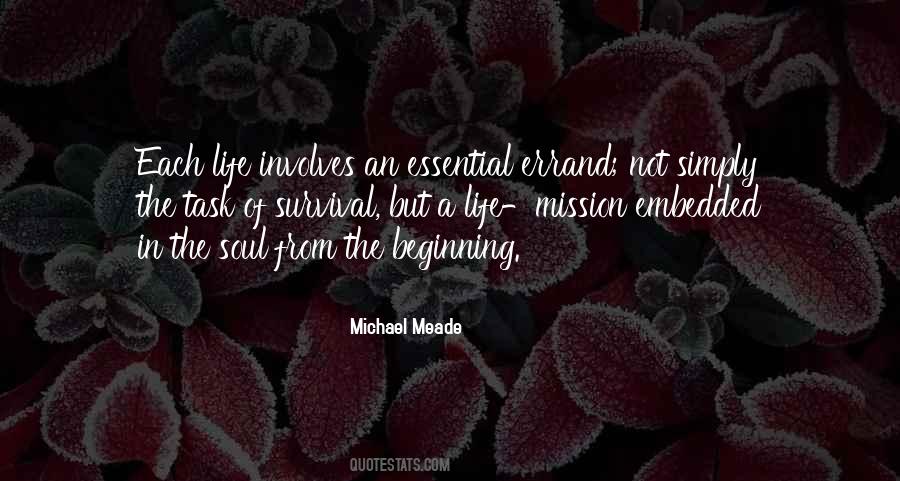 #58. The main element crucial for the survival of life is also a demon in disguise; it will snatch your life away as quickly as you were given it. - Author: Scott A. Butler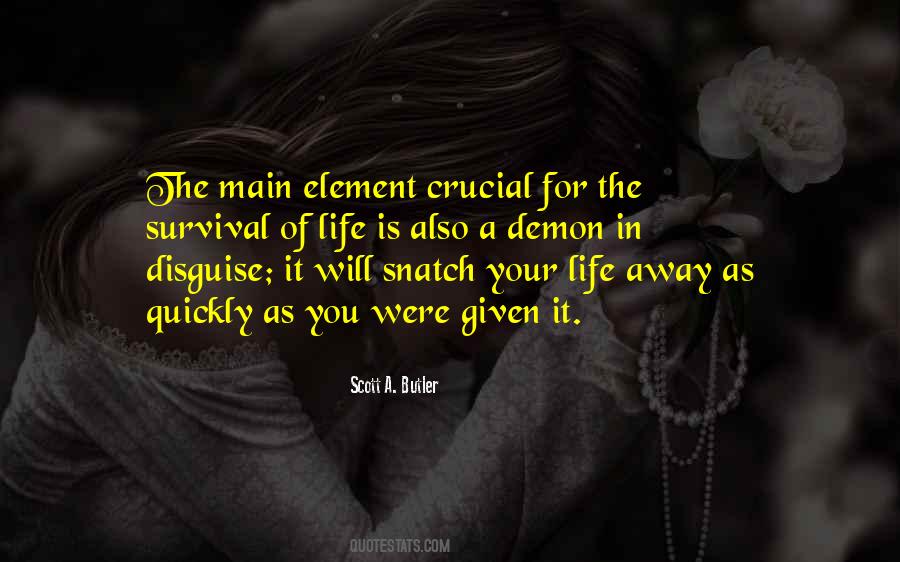 #59. Love is a luxury. It's something that people are allowed to indulge in when they're not simply trying to survive and keep other people alive. - Author: Julianna Baggott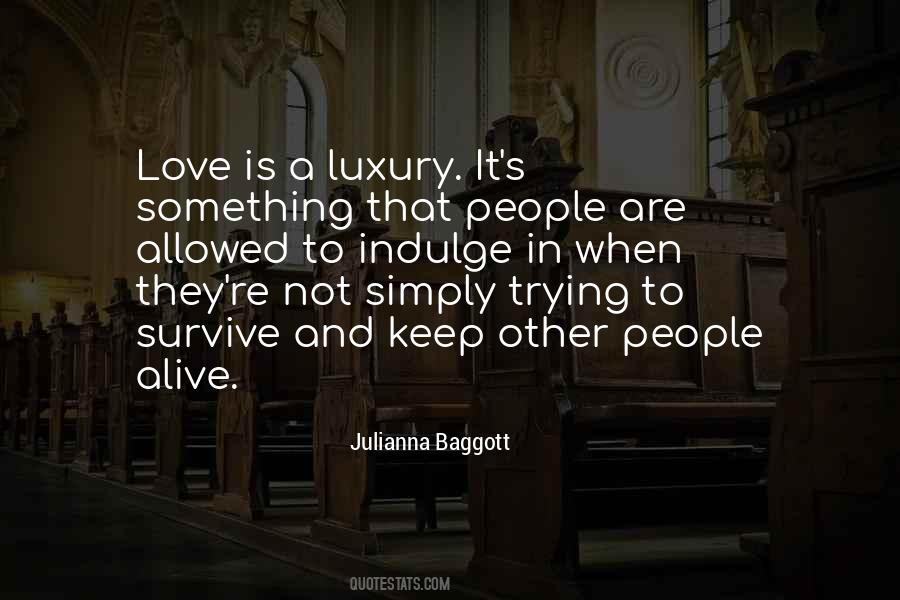 #60. We never surrendered. We always kept in our hearts the most noble, beautiful feeling that sets human beings apart: hope. - Author: Manel Loureiro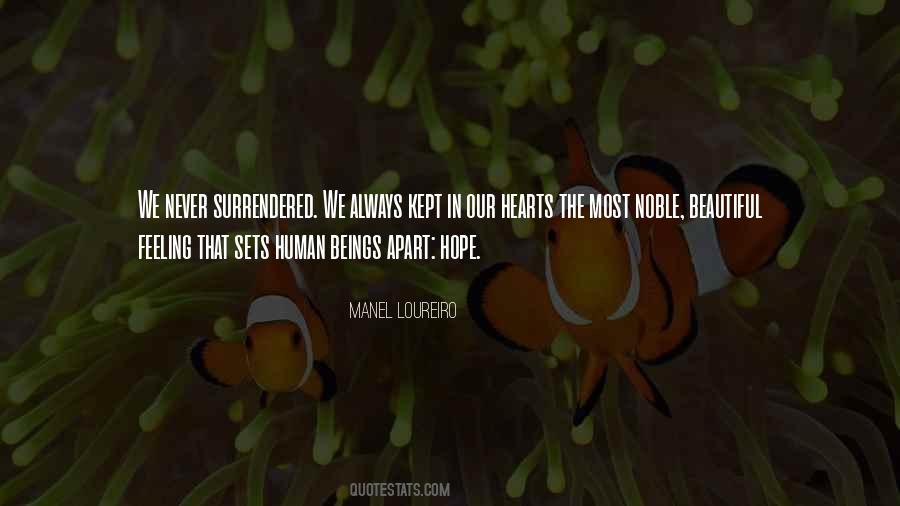 #61. Society is the form in which the fact of mutual dependence for the sake of life and nothing else assumes public significance and where the activities connected with sheer survival are permitted to appear in public. - Author: Hannah Arendt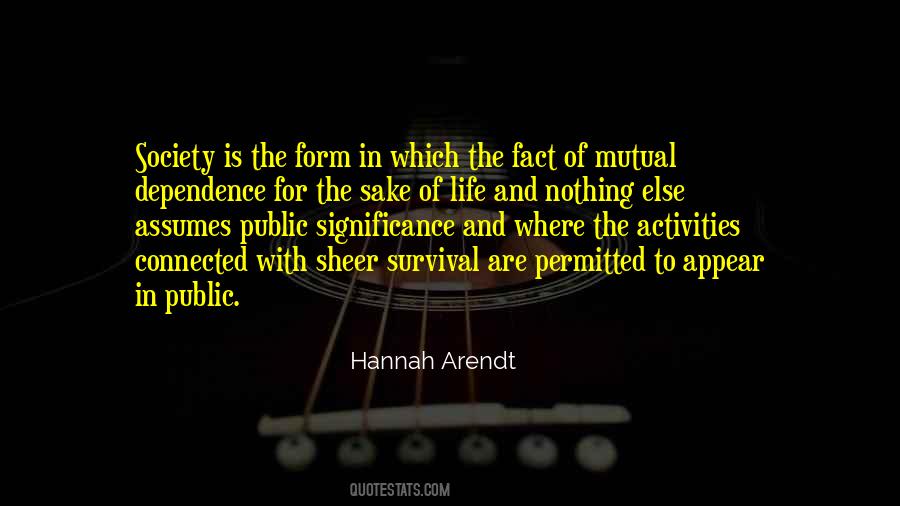 #62. Everything that I do in my life is geared towards my kids and their survival and giving them the best education that I can possibly give them and the best home that I can possibly give them. - Author: Dwight Henry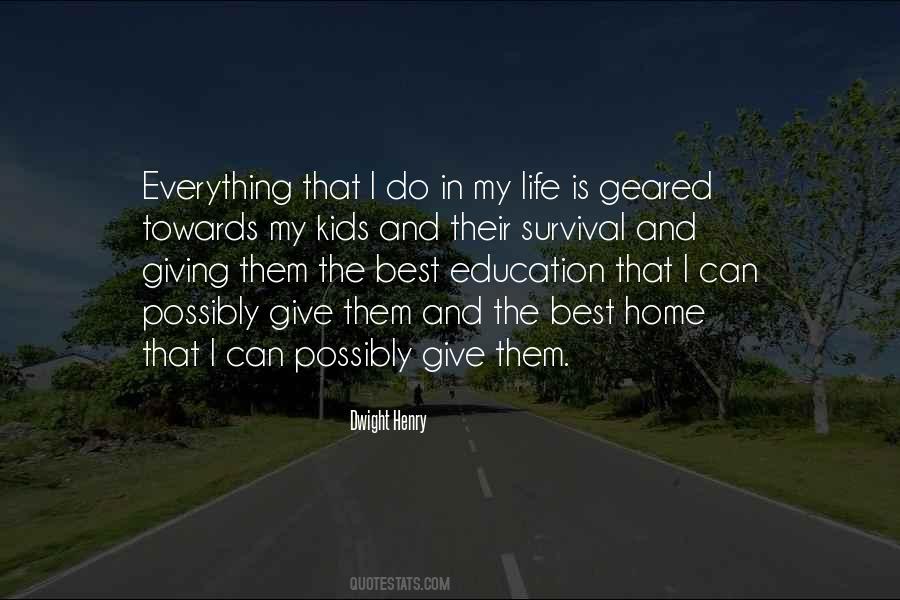 #63. It's hard enough being alive, trying to survive in the world and find your place in it, to do the things you need to do to get by, without wondering if the thing you just did, whatever it was, was worth someone having. - Author: Neil Gaiman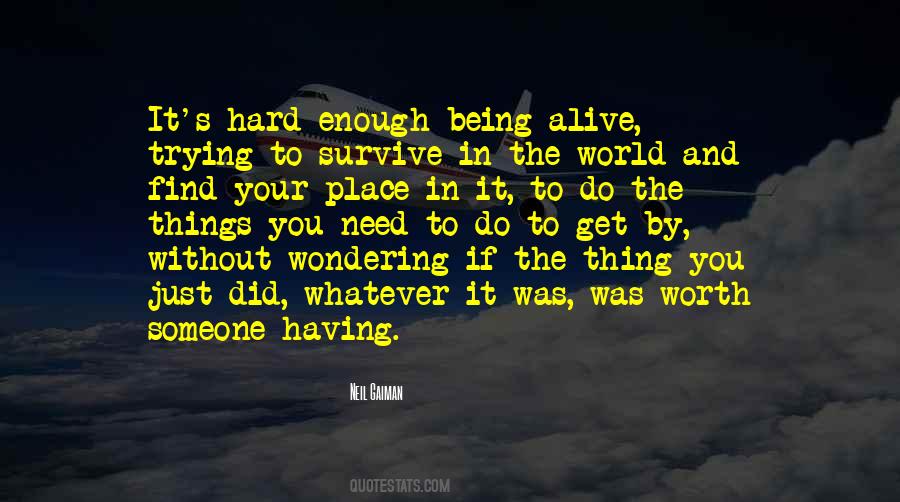 #64. Our quality of life, and perhaps even our survival, depends on how we choose to manage ourselves in relation to the technologies we create. - Author: Ilchi Lee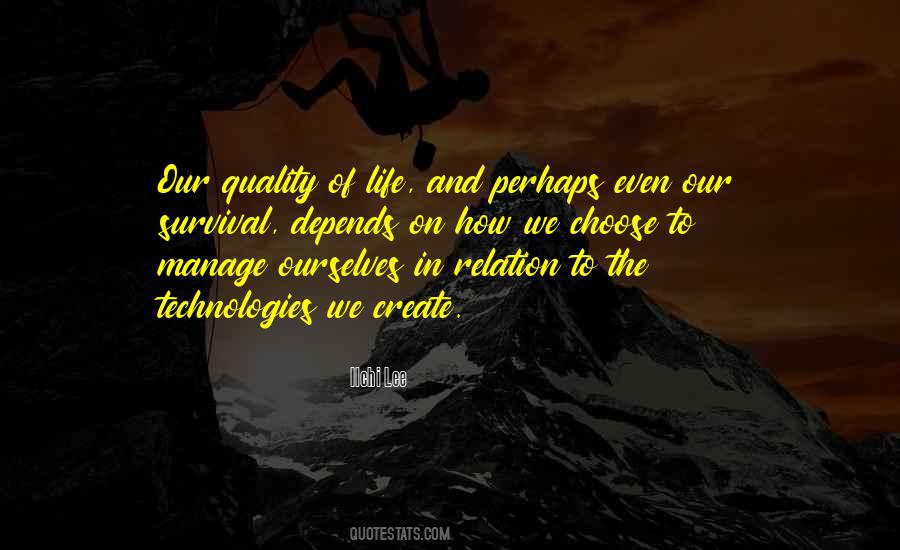 #65. I'm sure we all have dreams of leaving at some time in our lives, but when we reach the bottom, most of us go running home. - Author: Deborah Curtis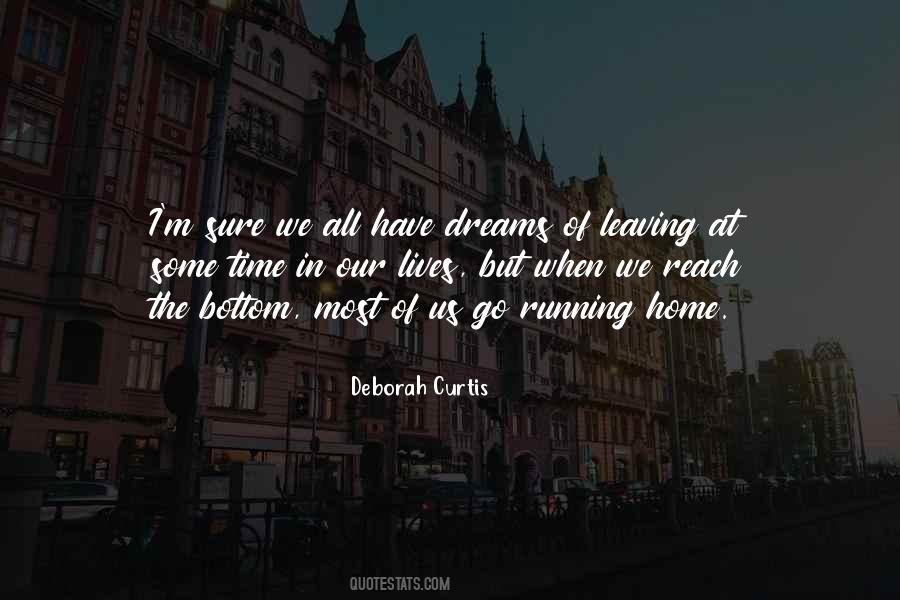 #66. Most of my interests in terms of writing are dark, so it's discordant how much I try to lock into the vibe of wherever I'm at. Inhabiting the life of the imagination is the nature of survival strategy - you build yourself little worlds to enjoy. - Author: John Darnielle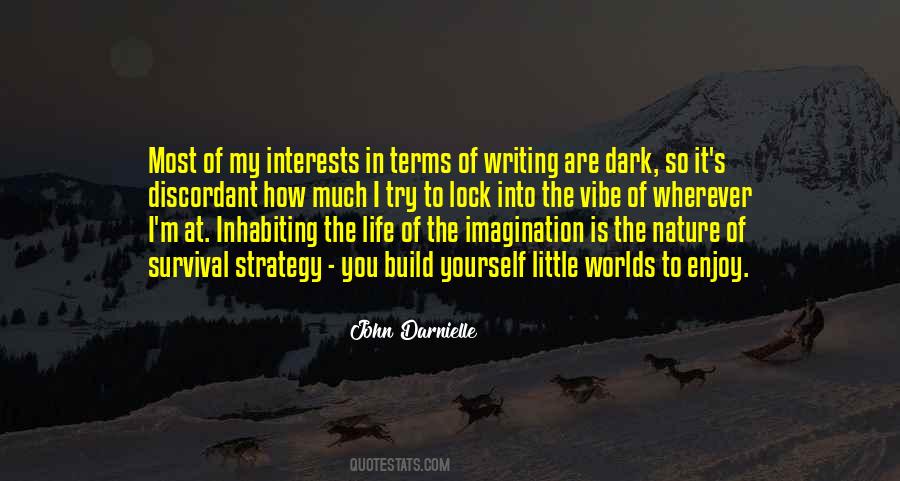 #67. Behold those times re-created by
the brutal power of sunlit images,
the light of life's tragedy.
The walls of the trial, the field
of the firing squad; and the distant
ghost of Rome's suburbs in a ring,
gleaming white in naked light.
Gunshots: our death, our survival. - Author: Pier Paolo Pasolini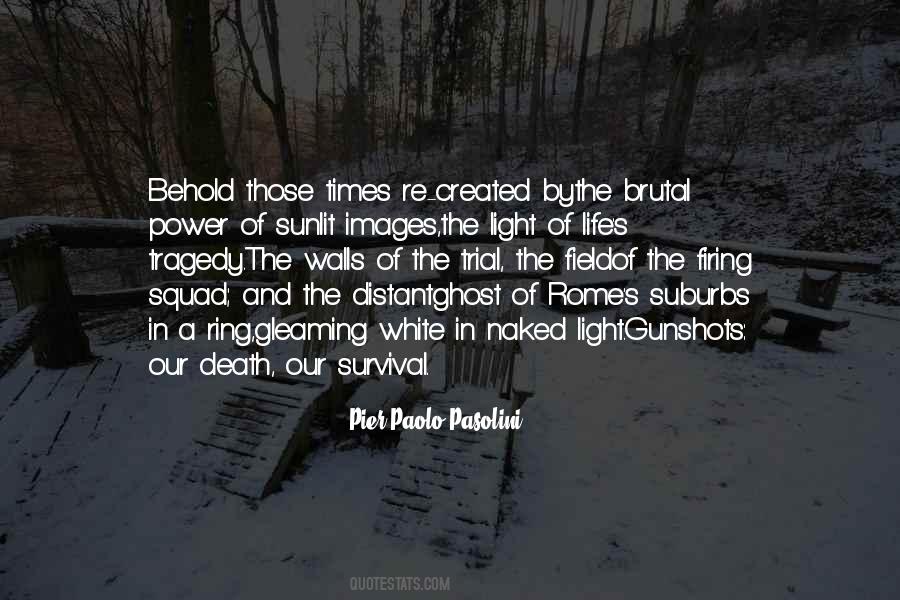 #68. Was humanity, or even life itself, that significant in the grand scheme of things? Wasn't humanity's survival directly related to nature's decline? - Author: M.R. Mathias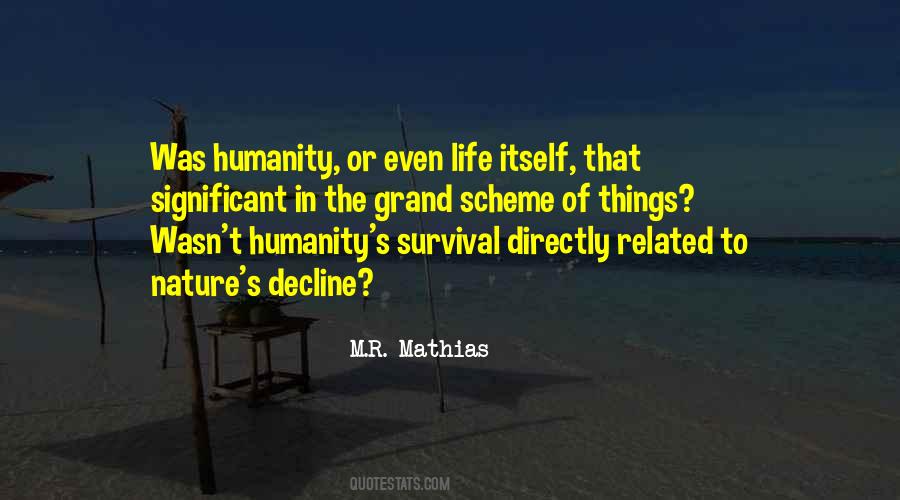 #69. At such moments, you realize that you and the other are, in fact, one. It's a big realization. Survival is the second law of life. The first is that we are all one. - Author: Joseph Campbell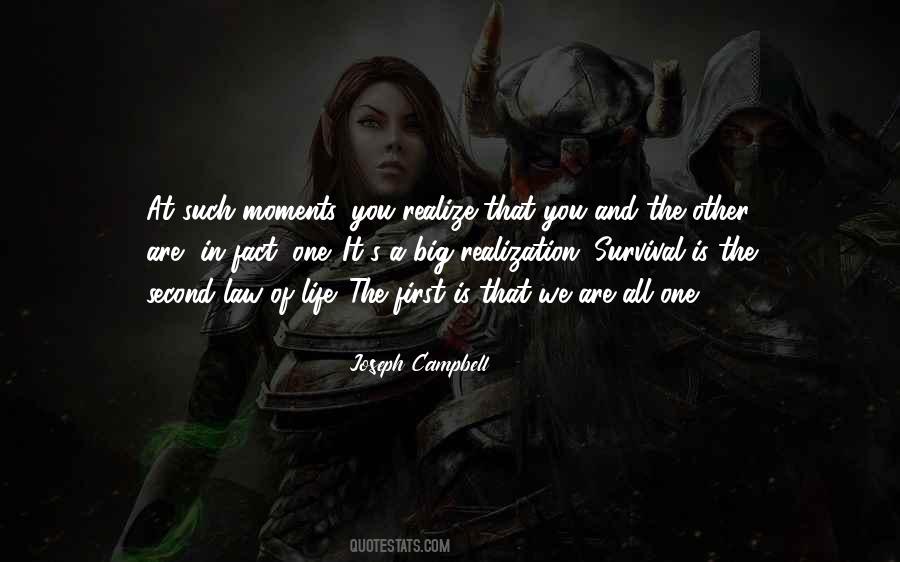 #70. In this life you will have some trials and tribulations. You cannot allow what happens to you to dictate who and what you become. Make a decision to do better and be better. - Author: Bobby F. Kimbrough Jr.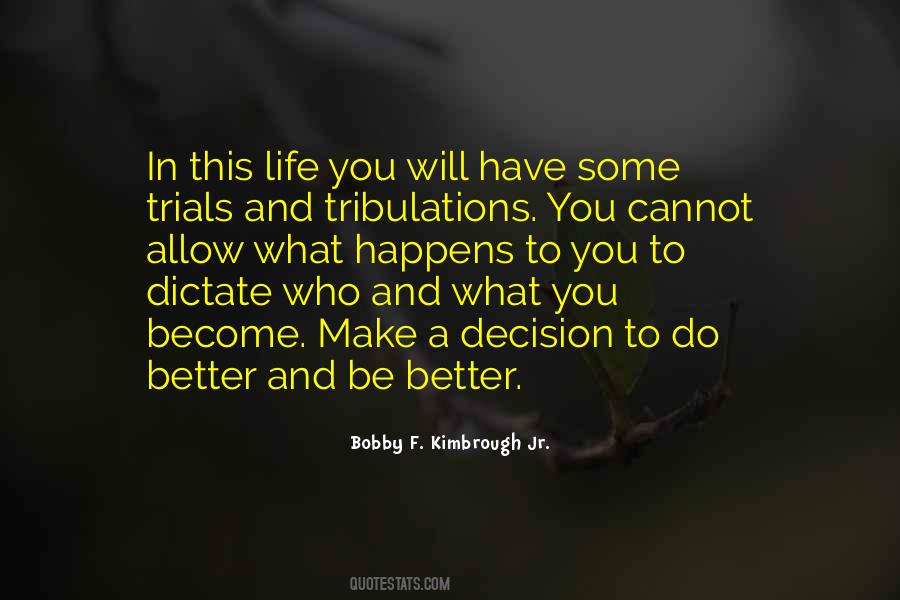 #71. My secret to survival has been embracing life's challenges and not letting them dictate my frame of mind or determine my fate ... Learning to stand strong in the face of challenge and adversity is the only way to get through the tough times. - Author: Sandra Lee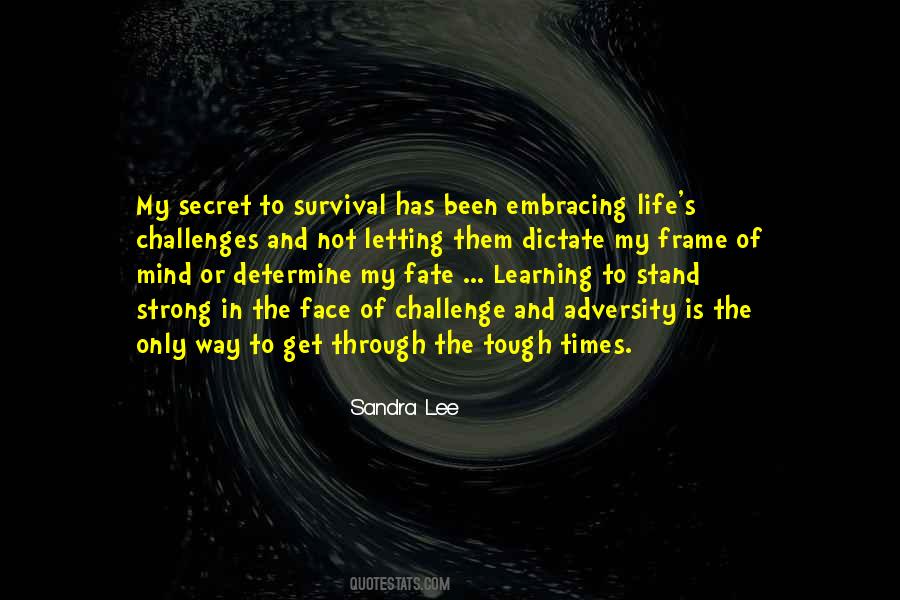 #72. What we have in life that we can count on is who we are and where we come from, she thought absently. For better or worse, that is what we have to sustain us in our endevors, to buttress us in our darker moments, and to remind us of our identity. Without those things, we are adrift. - Author: Terry Brooks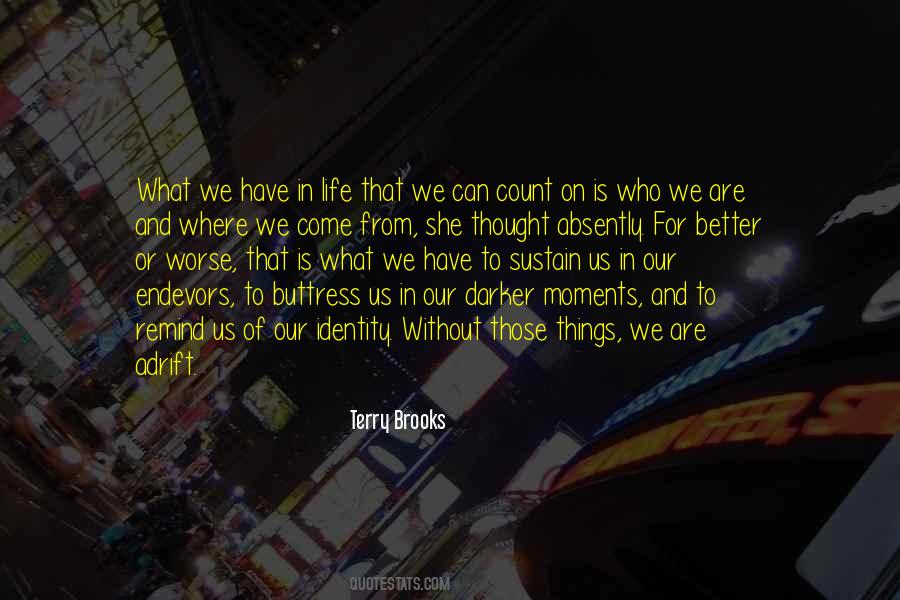 #73. It is not triumph which defines a man, but tragedy. Triumph always brings out the best in men, but tragedy shows us what we are made of. - Author: Jocelyn Murray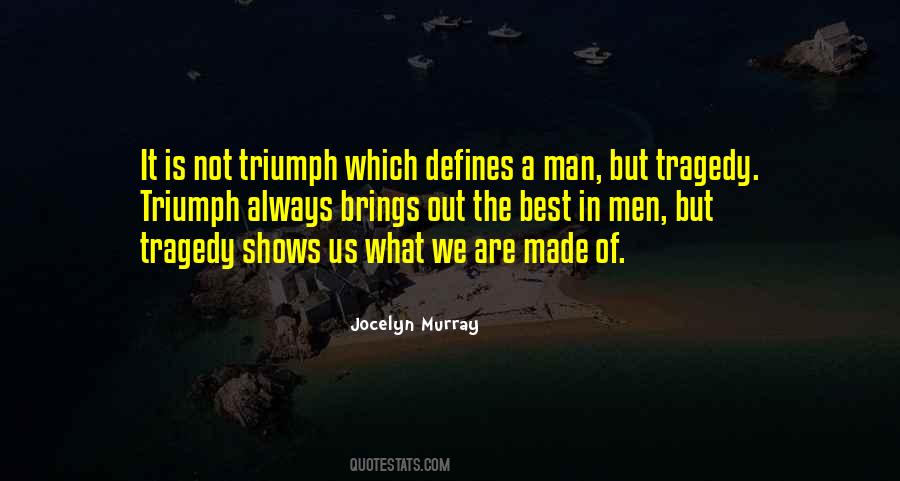 #74. We survive, in the confusion
of a life reborn beyond reason. - Author: Pier Paolo Pasolini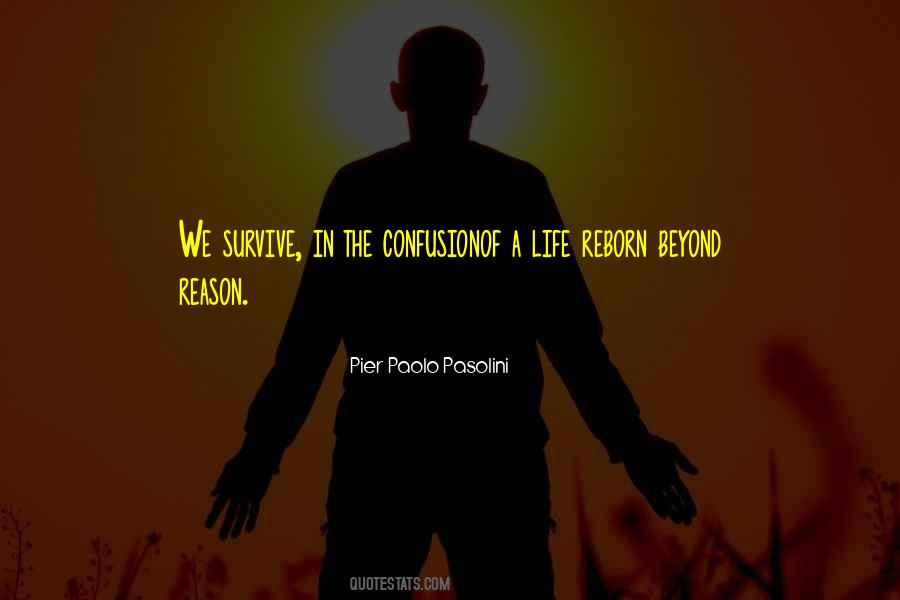 #75. Survival in Egypt begins with a yes to God's call on your life. - Author: Max Lucado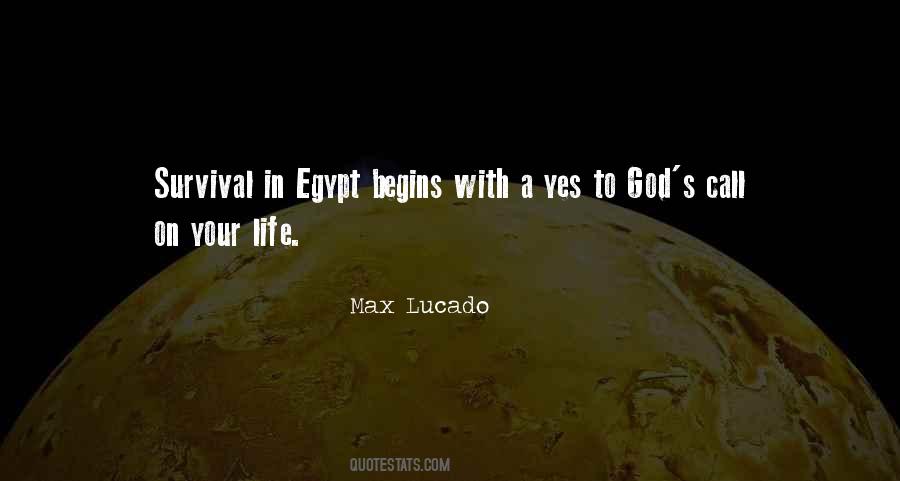 #76. You think your children are better than mine? Ha! When yours were out playing with gold, mine were out fighting for survival. You taught your children to roll in money when I taught mine what it means to be strong. - Author: S.R. Crawford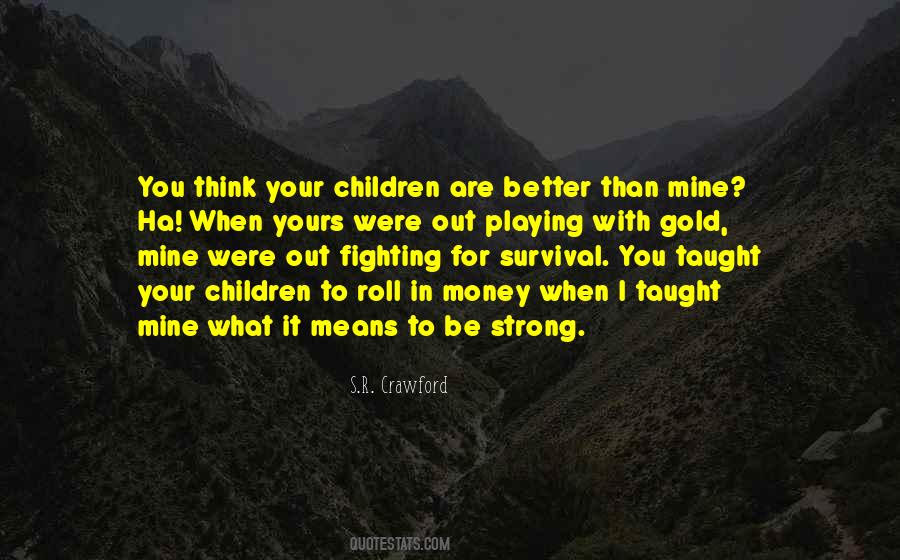 #77. A moral choice in its basic terms appears to be a choice that favors survival: a choice made in favor of life. - Author: Ursula K. Le Guin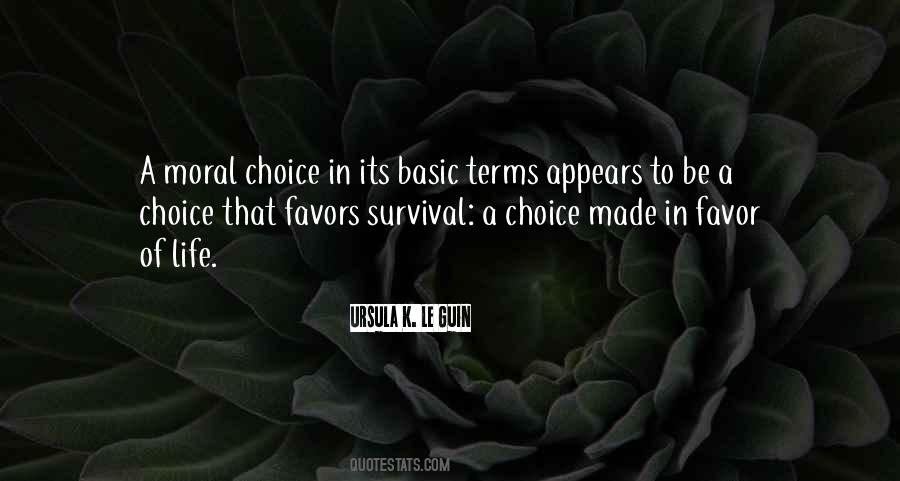 #78. The masculine energy was about survival. The male was the hunter who risked his life and had to be in the fight-flight mode. - Author: Deepak Chopra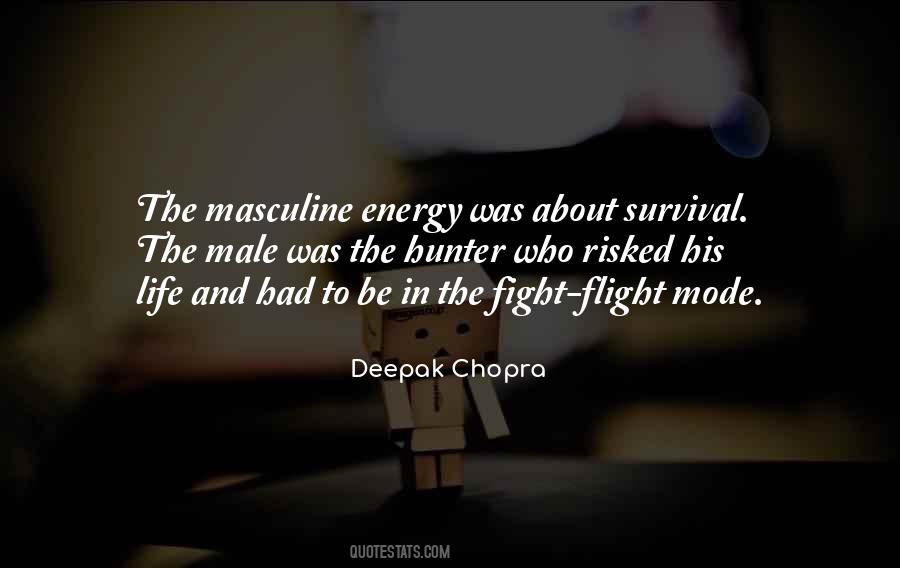 #79. Life on earth is hard. Competition for the necessities of life is fierce. How ridiculous to believe that the law of harsh survival would not be true elsewhere, or that it would be negated by the progress of technology in an advanced civilization ... - Author: Greg Bear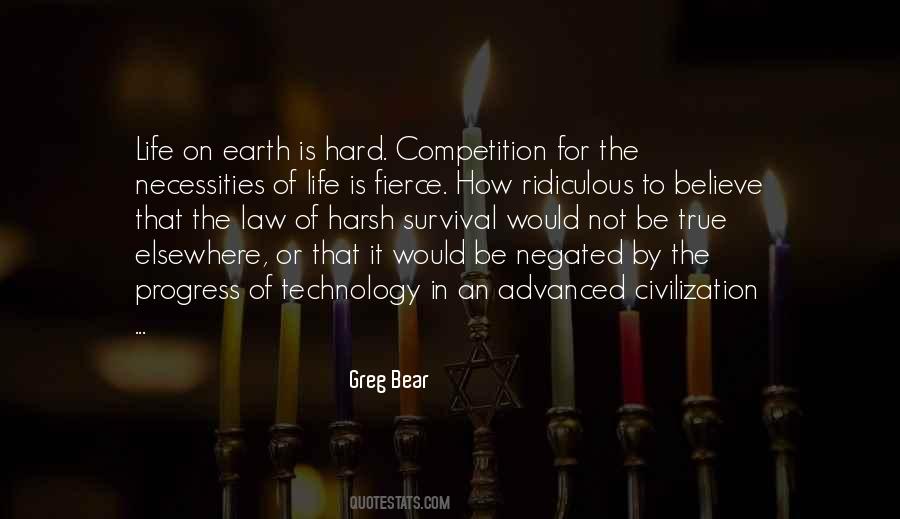 #80. She had never really listened to anyone in her life; which, some said, was why she had survived. - Author: G.K. Chesterton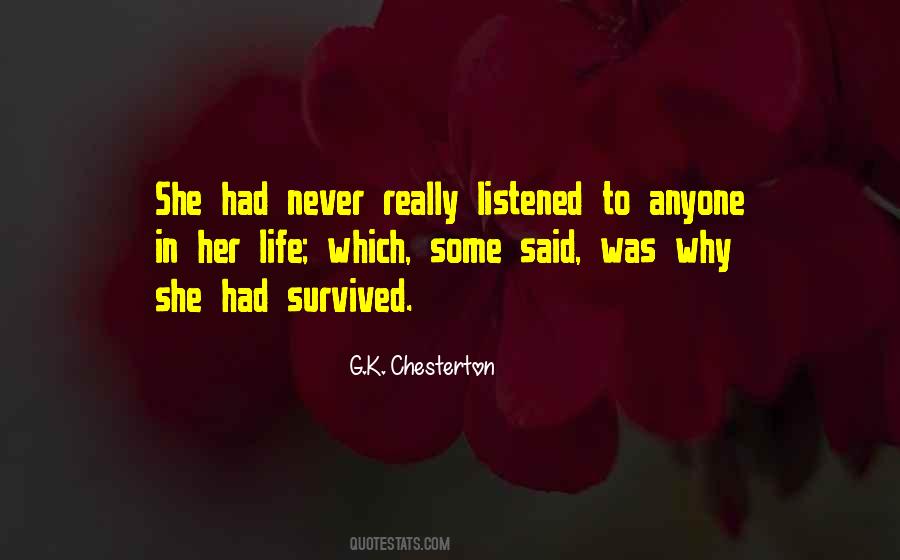 #81. There's a theory that says that life is based on a competition and the struggle and the fight for survival, and it's interesting because when you look at the fractal character of evolution, it's totally different. It's based on cooperation among the elements in the geometry and not competition. - Author: Bruce Lipton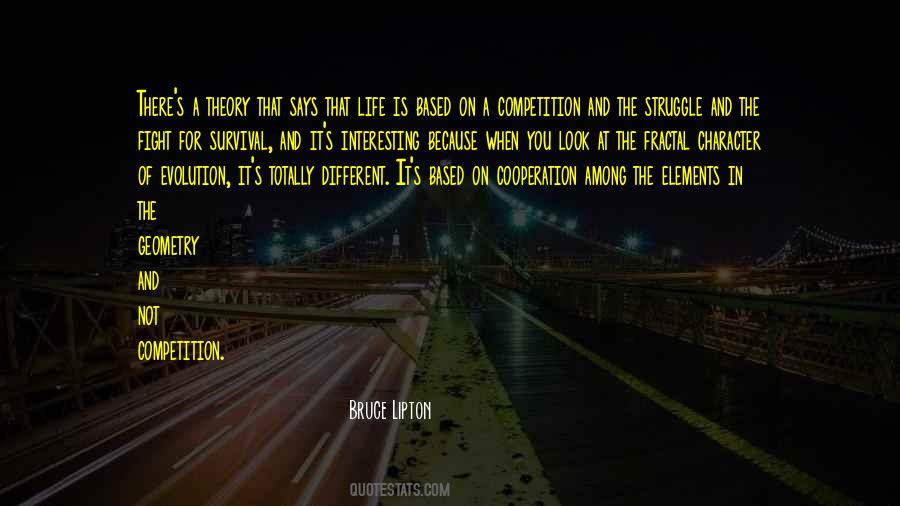 #82. There were two choices in life. Survive or succumb. And most people weren't even conscious of the path they chose. Because they chose for all the wrong reasons. Love, principles, dreams, desire. The world hadn't changed. It had always been survival of the fittest. - Author: Claire Merle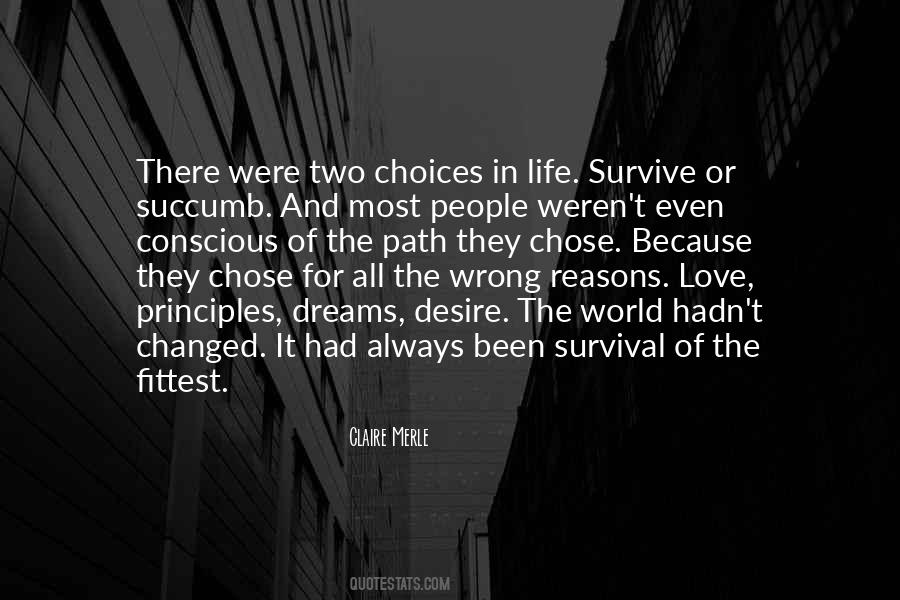 #83. For all that sentients have achieved with weapons and machines, life remains an ongoing battle for survival, with the strong or the smart at the top of the heap, and the rest kept in check by firepower and laws. - Author: James Luceno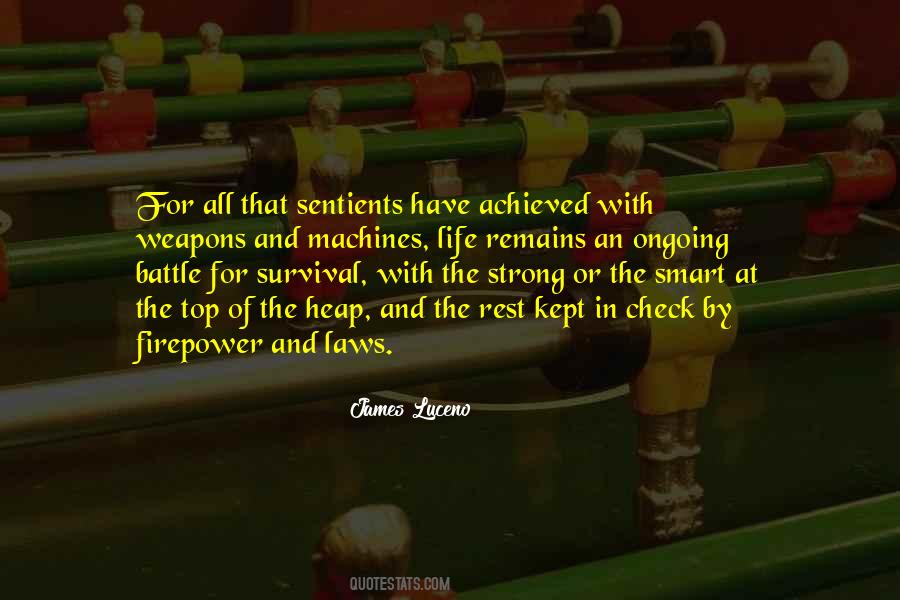 #84. Never have I experienced in a people and in myself so powerful a surge of life as at that period when our very existence and survival were at stake. - Author: Stefan Zweig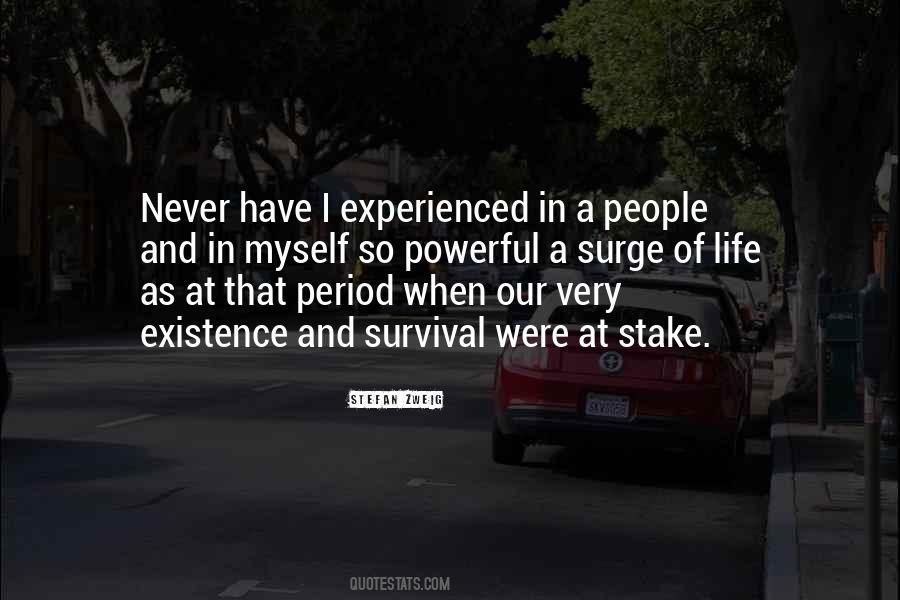 #85. You are totally at the mercy of nature in this country, mate. It's just a fact of life. - Author: Bill Bryson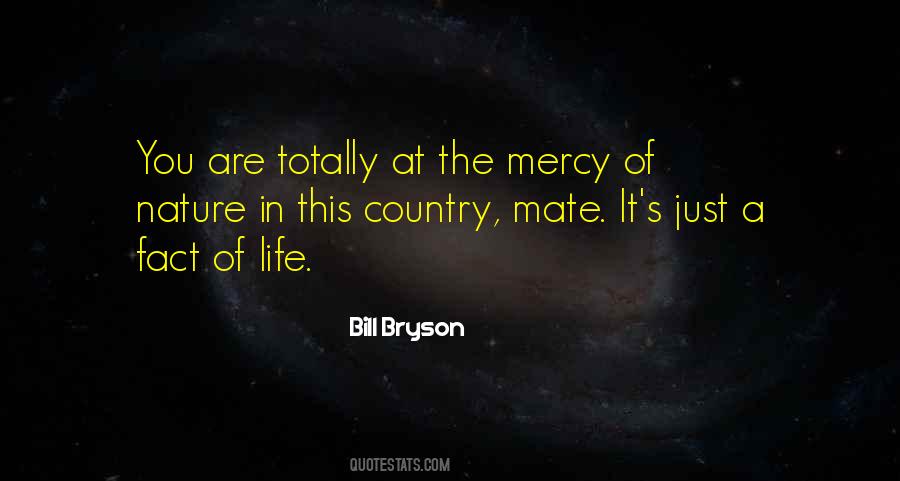 #86. In business, politics and in life in general competition means the survival of the fittest - Author: Bangambiki Habyarimana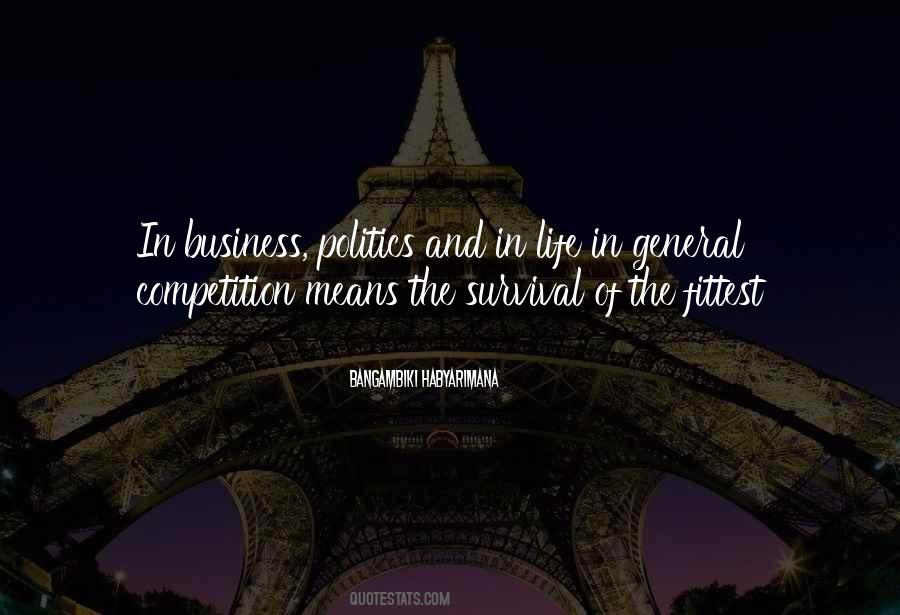 #87. When you receive a cancer diagnosis, you're more vulnerable than at any other time in your life. I've personally had the experience twice. My only hope for survival was alternatives. But that was my decision, what I thought was best for me. - Author: Suzanne Somers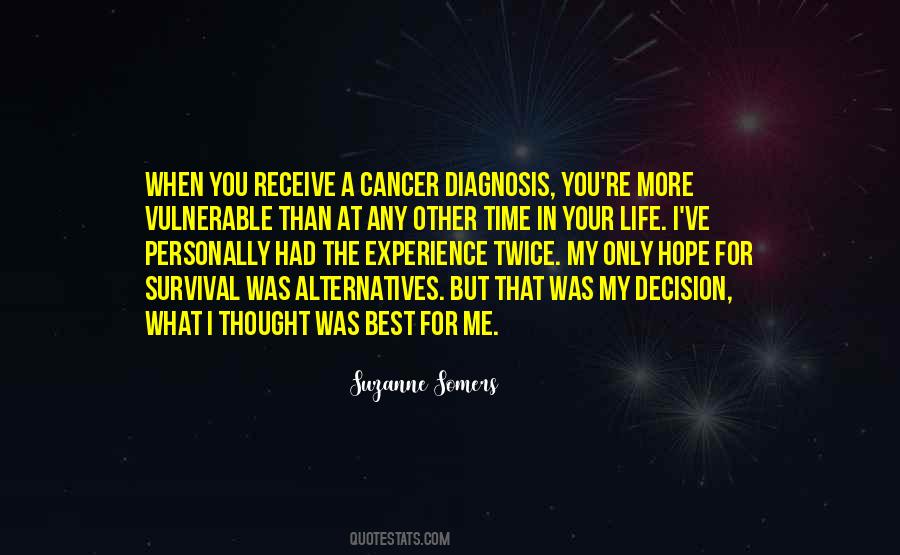 #88. Survival in more primitive ages required constant alertness, but survival in today's mechanized world almost demands that we turn off our senses. In urban life especially, there is too much to see, hear and smell. - Author: Carole Katchen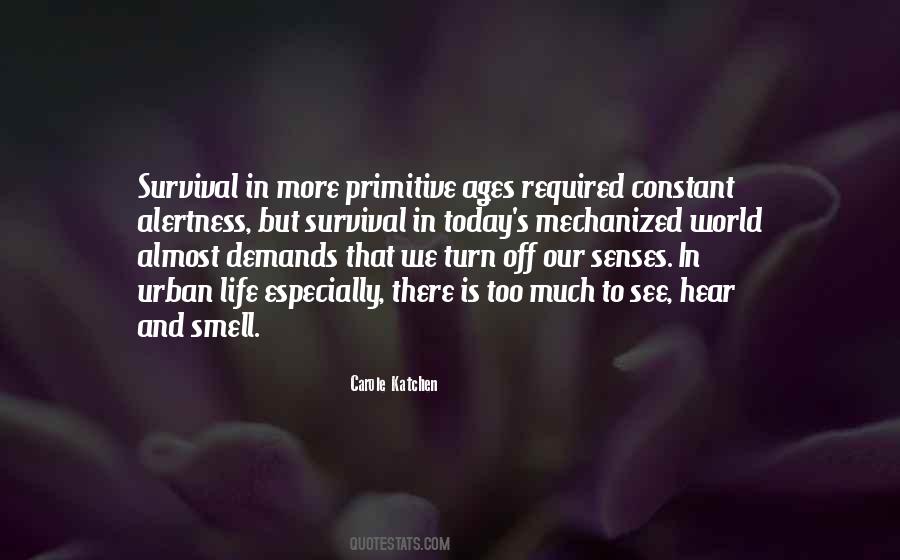 #89. In the traditional urban novel, there is only survival or not. The suburban idea, the conformist idea, that agony can be seen to and cured by doctors or psychoanalysis or self-knowledge is nowhere to be found in the city. Talking is a way of life, but it is not a cure. Same with religion. - Author: Jane Smiley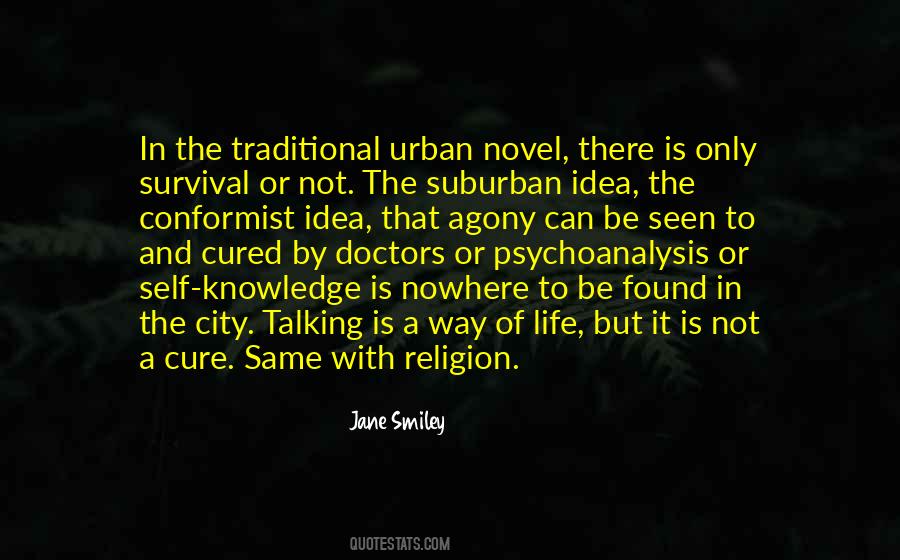 #90. There are some certain things in life we know it for sure but we need to hear it from others .. ! - Author: Anonymous Young Girl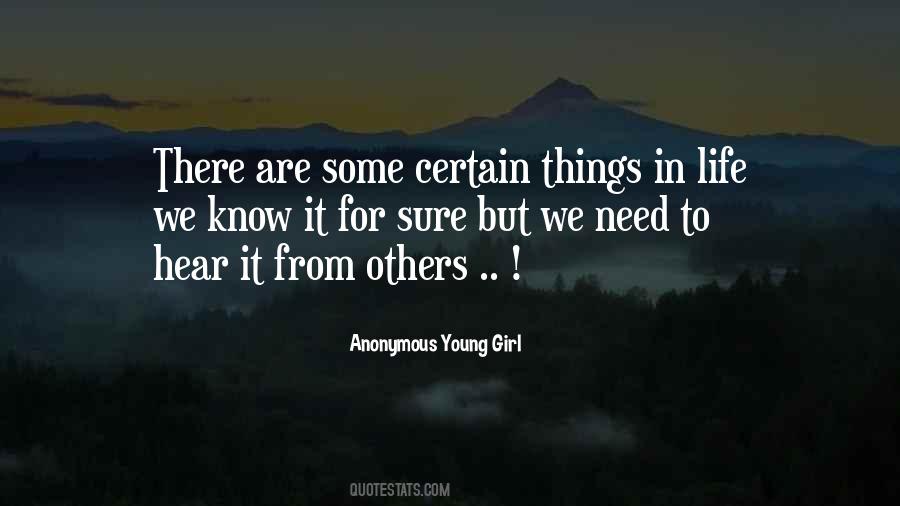 #91. This is a story about survival.
Letting go and learning to let in.
Getting along and moving on.
The truth about life.
The things left unsaid ... - Author: Nadege Richards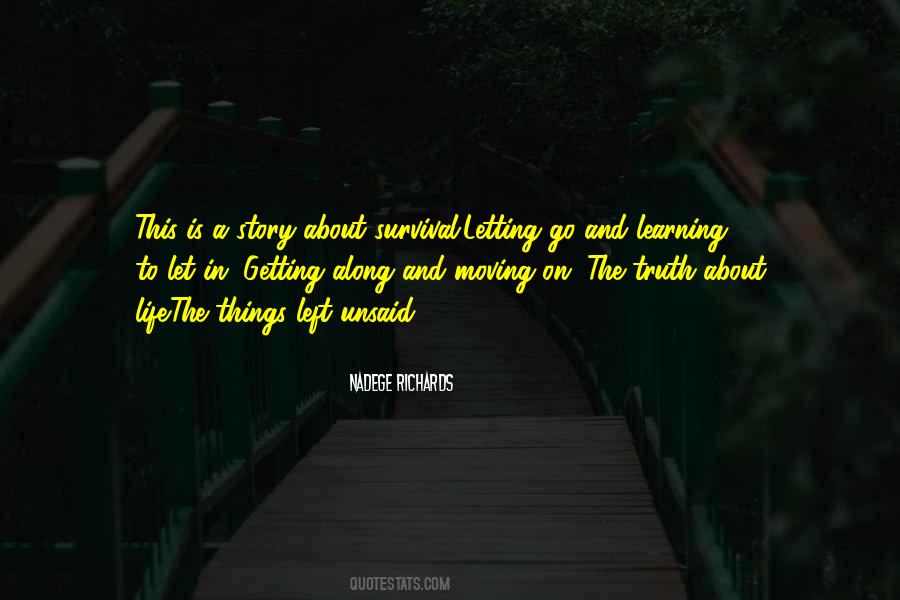 #92. To survive in the race of life, you must have the strength and agility to stand the test of time". - Author: Abdulazeez Henry Musa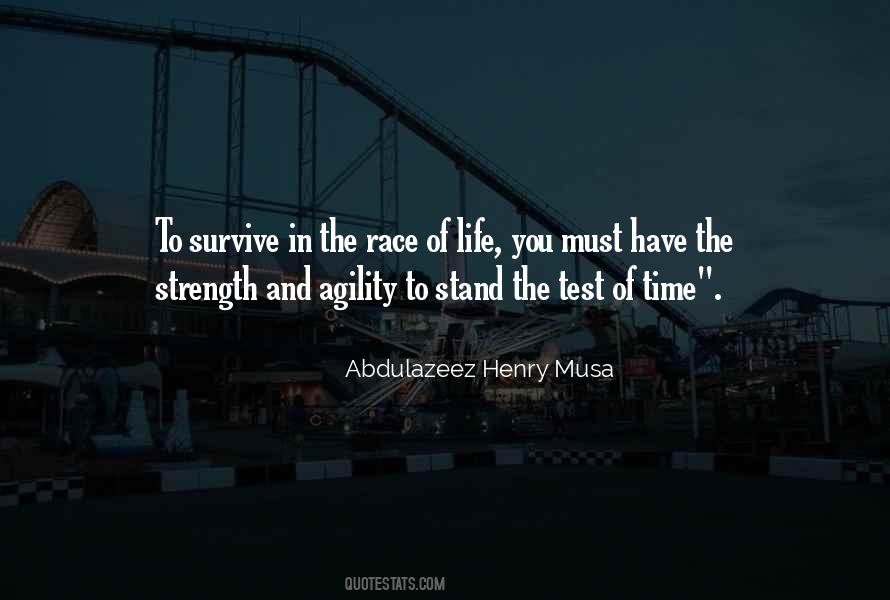 #93. My heart thrashes in time with my feet pounding across the cold, hard ground. I can't run any faster, longer, and yet I must. My life and my family's survival depends on it. - Author: Elle A. Rose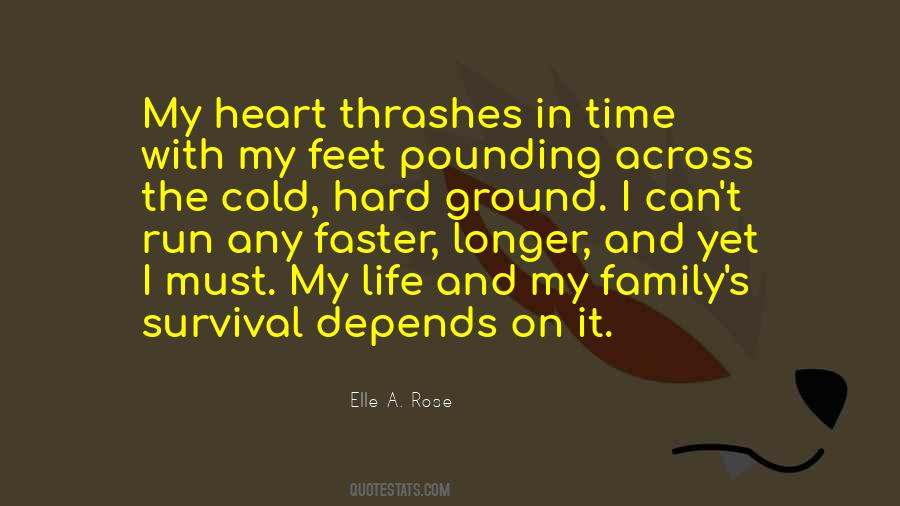 #94. The idea that in prehistoric times a man would spend his life hunting only for the benefit of his own wife and children, who were dependent solely upon his hunting prowess for survival, is simply a projection of 1950s marital norms onto the past. - Author: Stephanie Coontz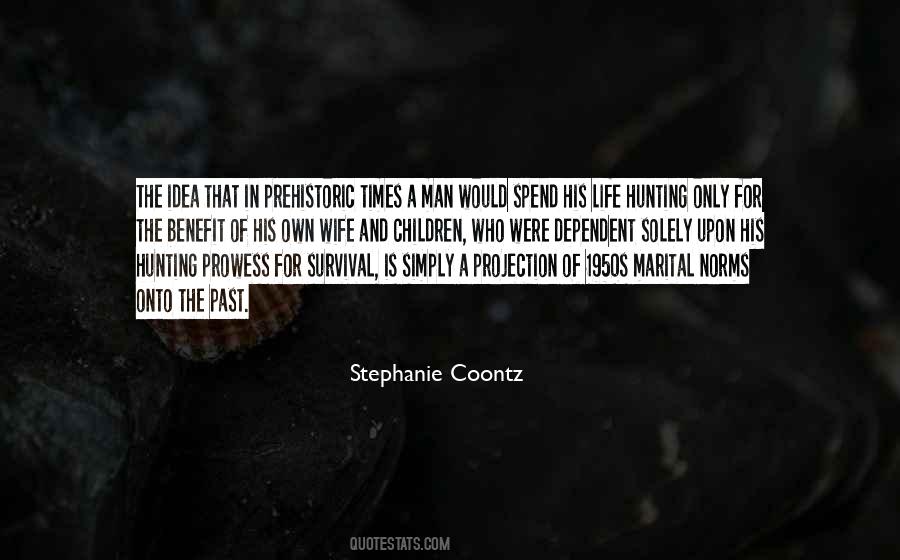 #95. Dignity is as essential to human life as water, food, and oxygen. The stubborn retention of it, even in the face of extreme physical hardship, can hold a man's soul in his body long past the point at which the body should have surrendered it. - Author: Laura Hillenbrand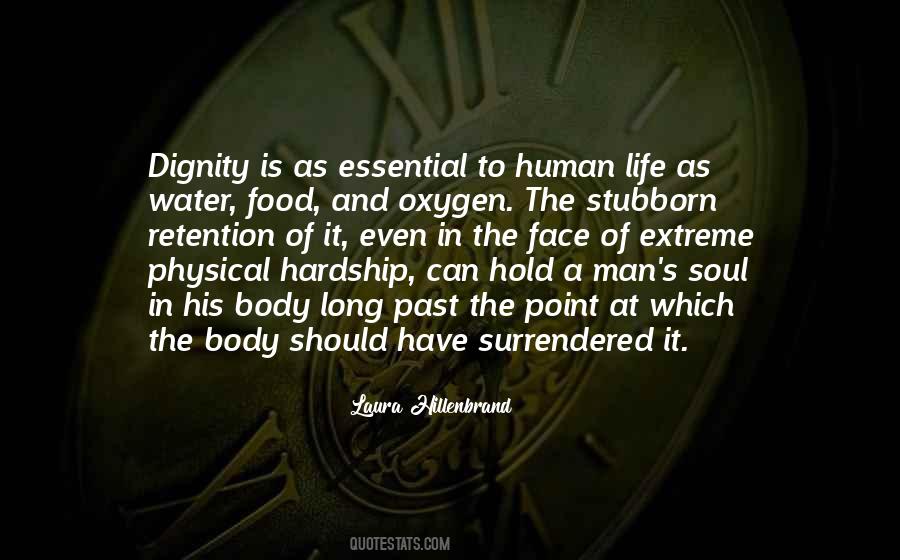 #96. It's one thing to affirm that God is free to do as God wills in this
world. The real crunch comes in allowing God the freedom and
trust to act in one's own life. John Indermark - Author: Lynelle Clark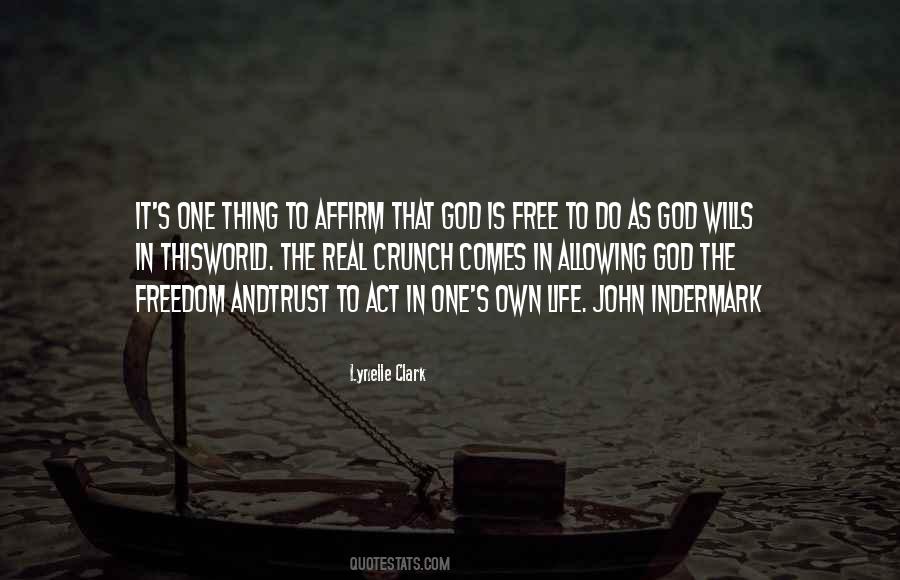 #97. In the end, the aggressors always destroy themselves, making way for others who know how to cooperate and get along. Life is much less a competitive struggle for survival than a triumph of cooperation and creativity. - Author: Fritjof Capra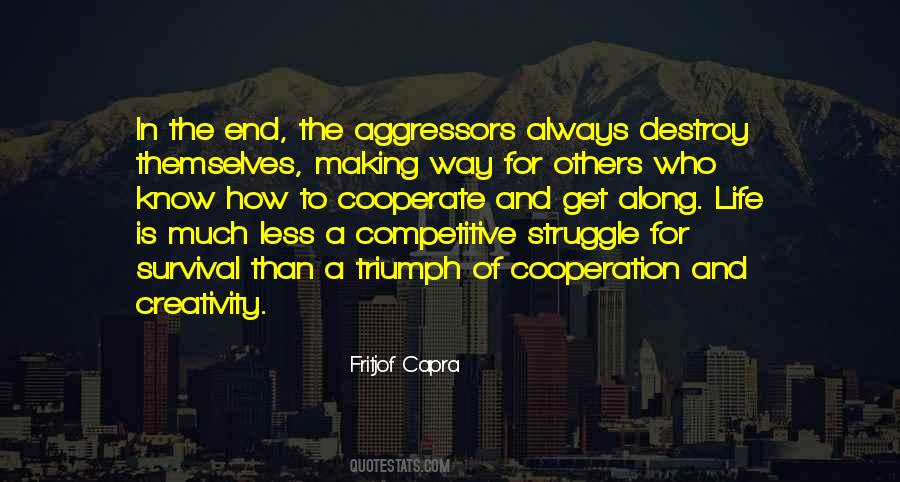 #98. Sometimes we miss our blessings in life because they do not arrive the way we think they should. Because our minds are so shallow, so limited, we think our blessings have to come a certain way and sometimes we miss them walking up and down the street. Open your mind: get your blessing. - Author: Bobby F. Kimbrough Jr.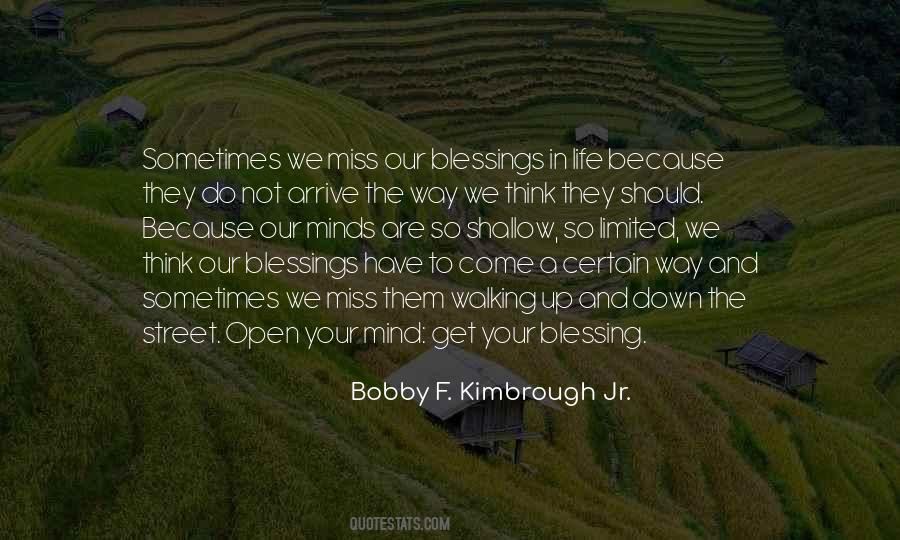 #99. Niaqornat particularly seemed to offer a heightened version of a story being played out across the world about traditional communities' struggle for survival and their attempts to renegotiate their identity in the face of modern life. - Author: Sarah Gavron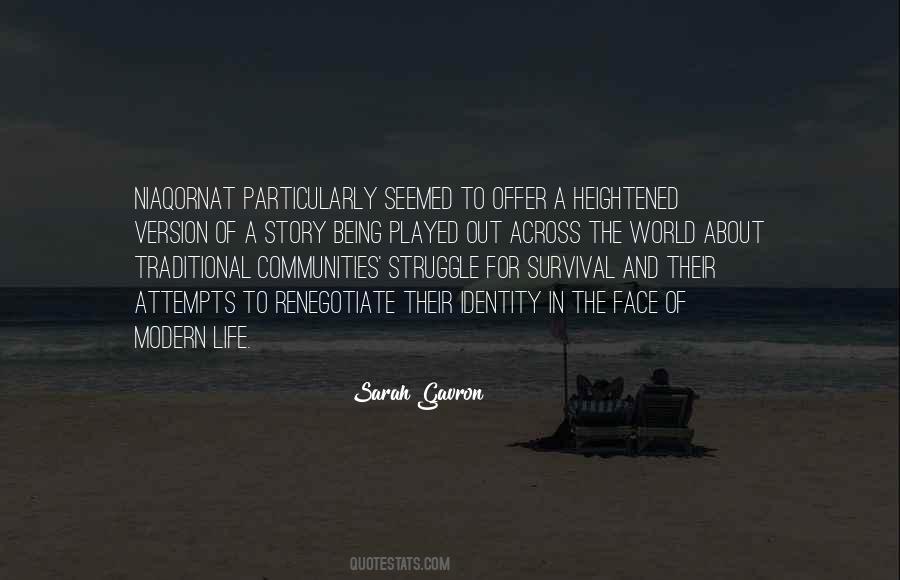 #100. Life is an error-making and an error-correctin g process, and nature in marking man's papers will grade him for wisdom as measured both by survival and by the quality of life of those who survive. - Author: Jonas Salk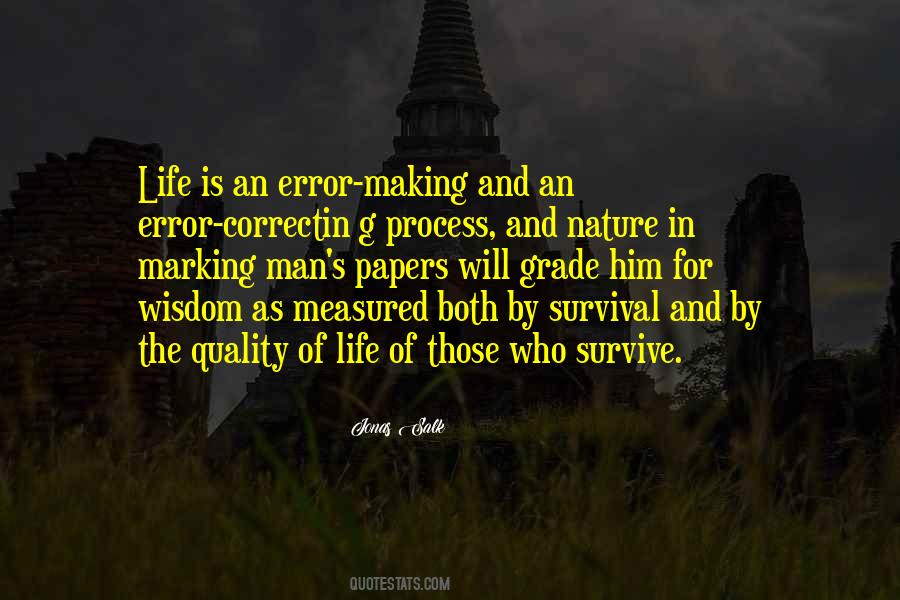 Famous Authors
Popular Topics