Surrender To God Famous Quotes & Sayings
List of top 100 famous quotes and sayings about surrender to god to read and share with friends on your Facebook, Twitter, blogs.
Top 100 Quotes About Surrender To God
#1. When we surrender every area of our lives- including our finances-to God, then we are free to trust Him to meet our needs. But if we would rather hold tightly to those things that we possess, then we find ourselves in bondage to those very things. - Author: Larry Burkett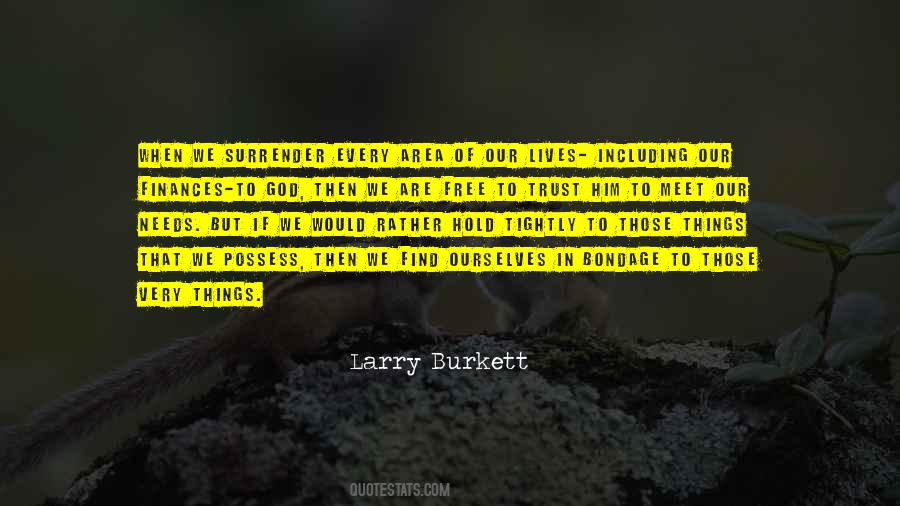 #2. The first thing a man must do if he desires to be used in the Lord's work, is to make an unconditional surrender of himself to God. - Author: Dwight L. Moody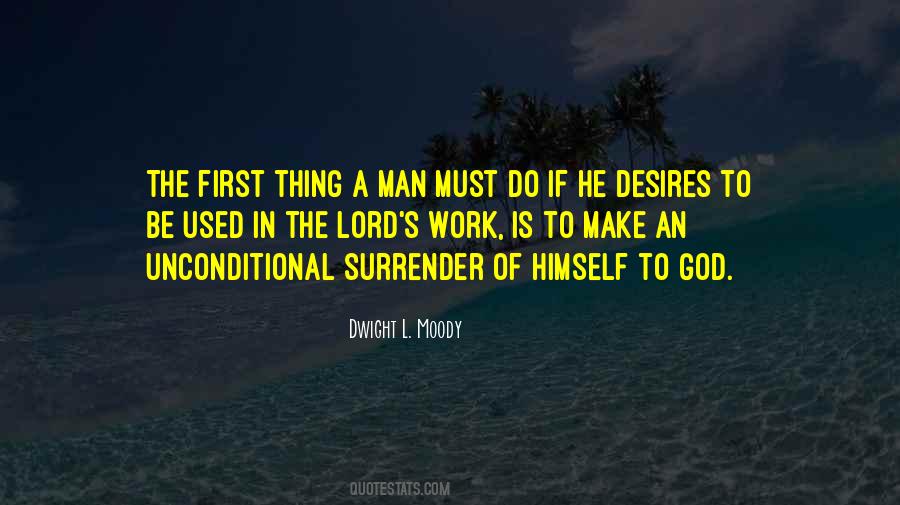 #3. There is no way for a human being to come to God that does not involve surrender. - Author: John Ortberg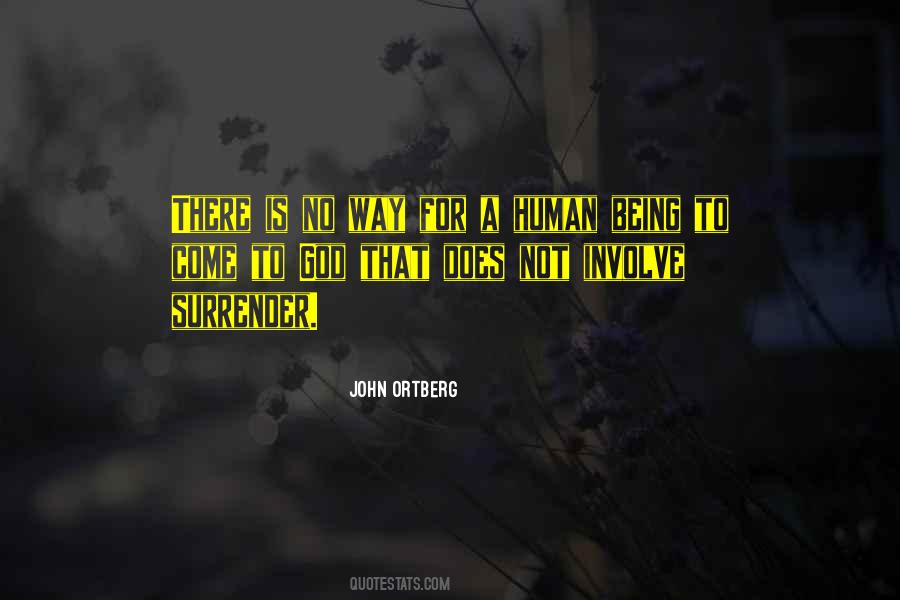 #4. If you want more of Jesus, give Him more of yourself - Author: Gangai Victor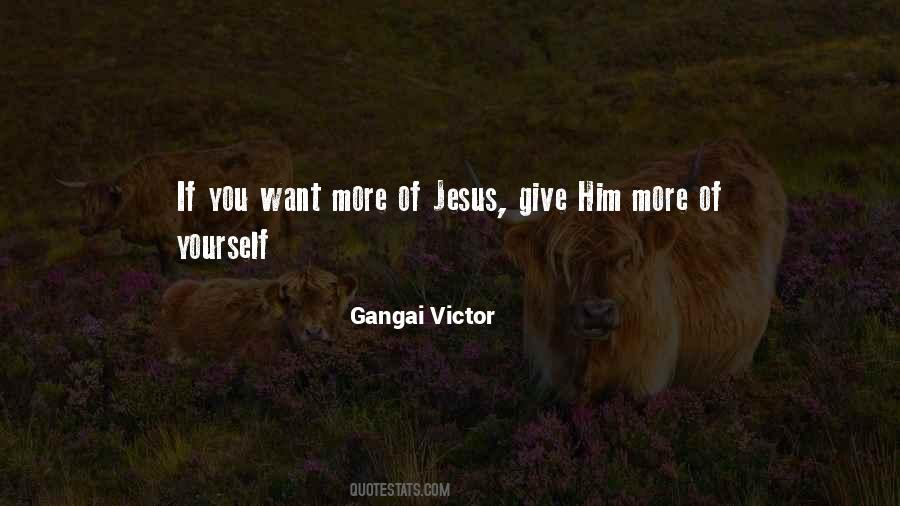 #5. Surrender to God... When you surrender, God steps in for you and takes charge...By surrendering, automatically, the onus of your happiness and well being shifts on God. - Author: Sanchita Pandey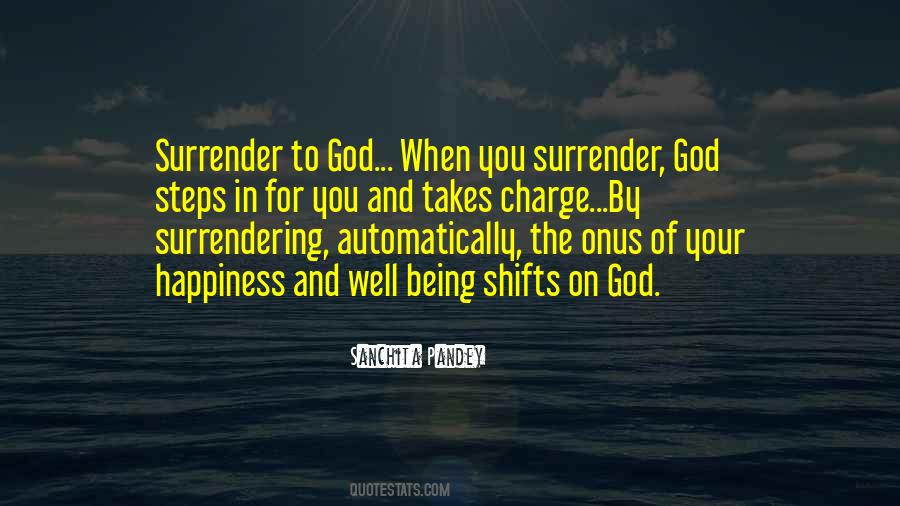 #6. When you surrender to a greater power, miracles happen. - Author: Hina Hashmi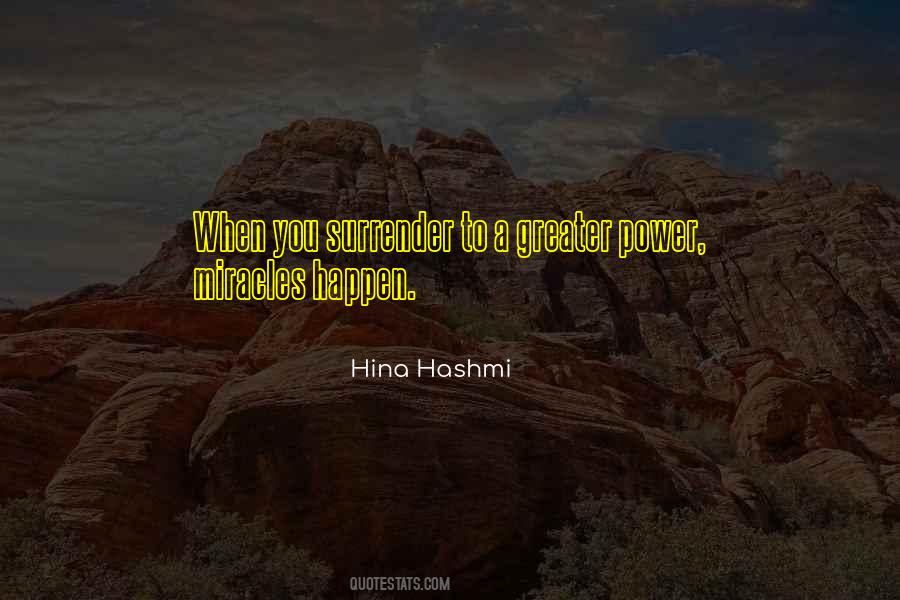 #7. What the Father gives is the capacity to be a self, freedom, and thus autonomy, but an autonomy which can be understood only as a surrender of self to the other. - Author: Hans Urs Von Balthasar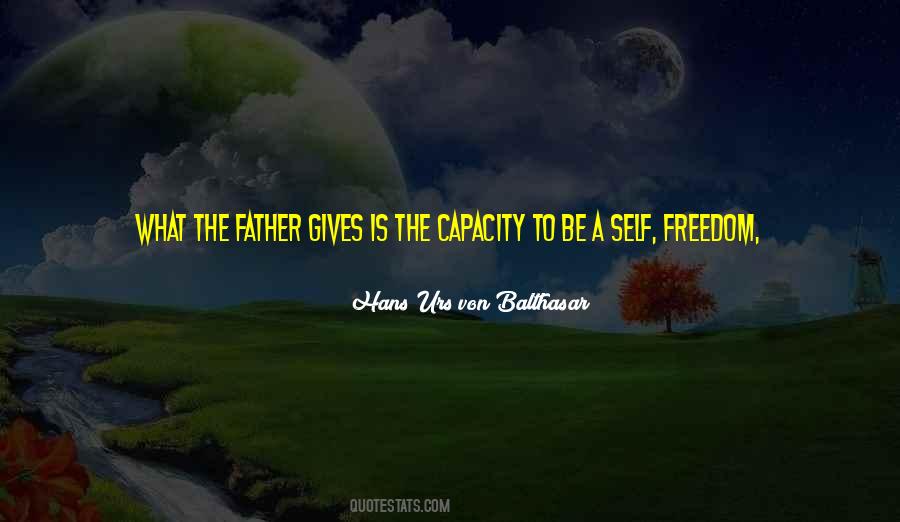 #8. This is the paradox: victory comes through surrender. Surrender doesn't weaken you; it strengthens you. Surrendered to God, you don't have to fear or surrender to anything else. - Author: Rick Warren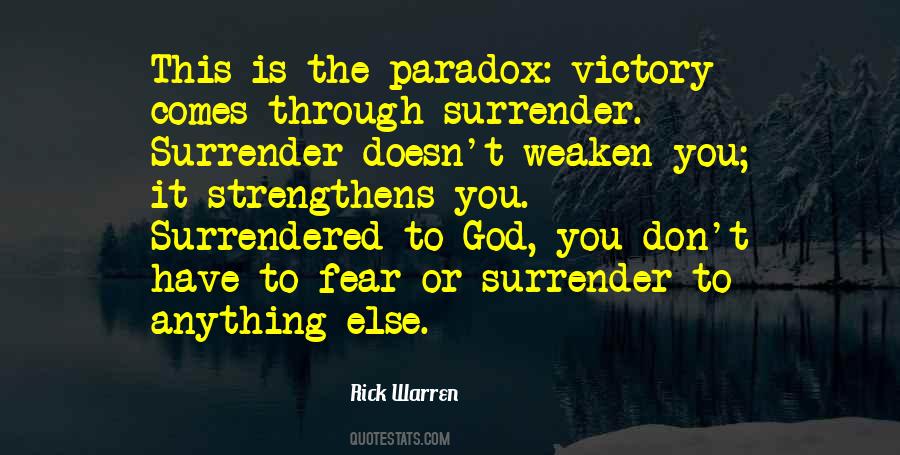 #9. Spiritual Work is not easy. It means the willingness to surrender feelings that seem, while we're in them, like our defense against a greater pain. It means that we surrender to God our perceptions of all things. - Author: Marianne Williamson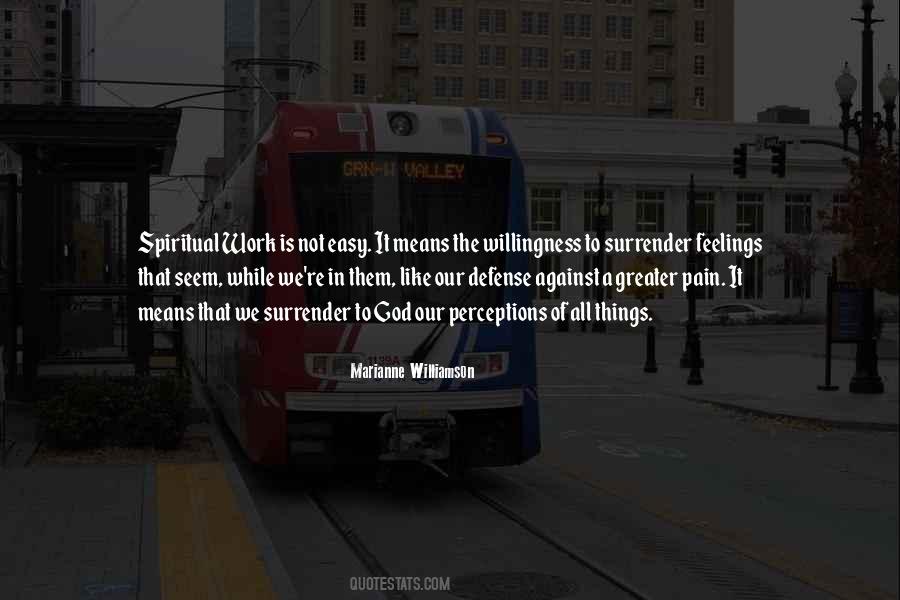 #10. Climbing in the Spirit is accompanied by kneeling, and not by running; by surrender, and not by determination. Despair of self leads to utter desperation; but beyond these mists lies the sunshine of God's presence. - Author: V. Raymond Edman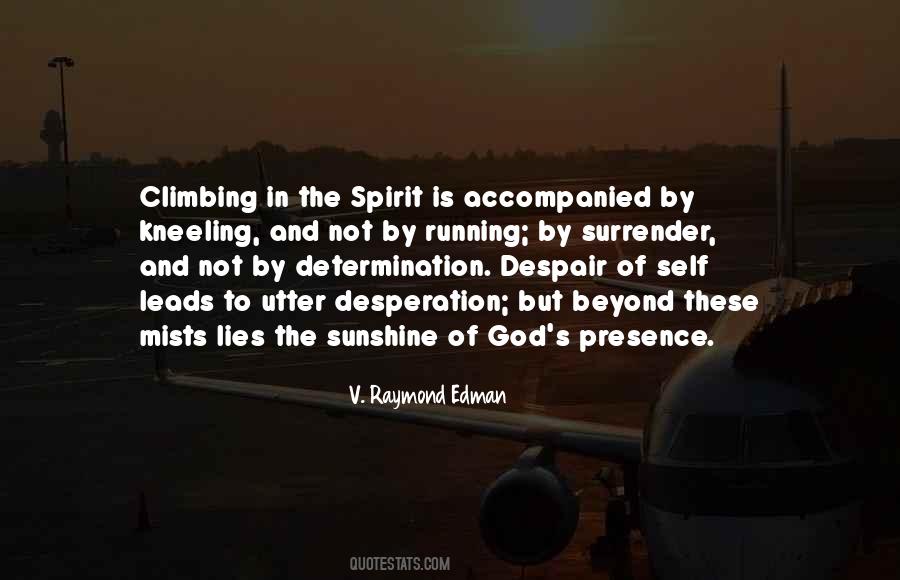 #11. From Mary we learn to surrender to God's Will in all things. From Mary we learn to trust even when all hope seems gone. From Mary we learn to love Christ her Son and the Son of God! - Author: Pope John Paul II
#12. A PRAYER FOR TODAY Lord God, my aim is to be a good and faithful servant of Yours. I surrender all of my life to You and to Your ends ... . Amen. - Author: Kurt Bjorklund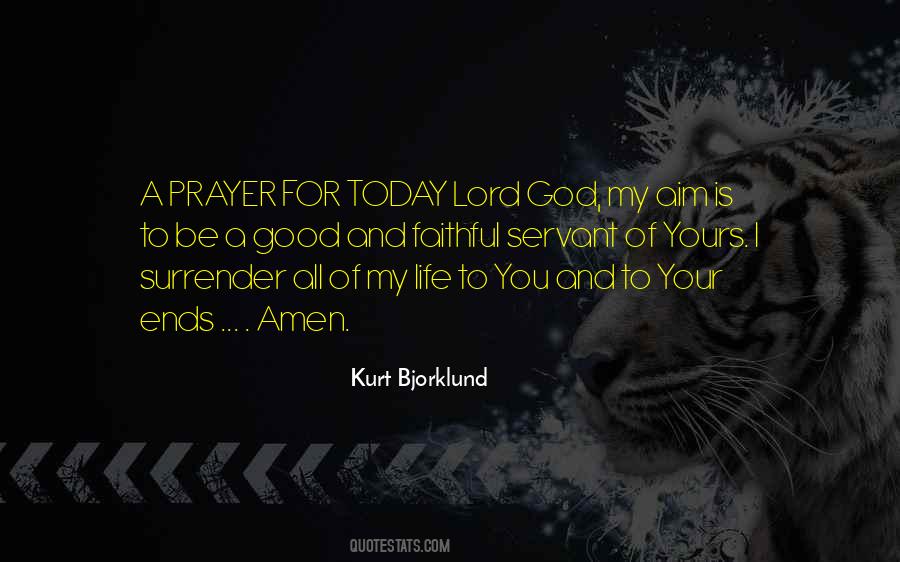 #13. No enthusiasm will ever stand the strain that Jesus Christ will put upon His worker, only one thing will, and that is a personal relationship to Himself which has gone through the mill of His spring-cleaning until there is only one purpose left
I am here for God to send me where He will. - Author: Oswald Chambers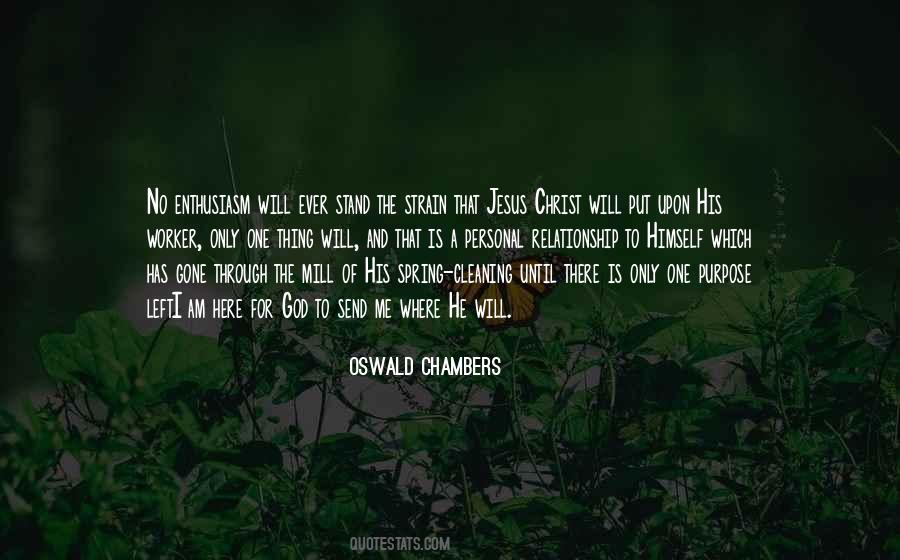 #14. We must surrender ourselves so utterly that we can never own ourselves again. We must hand over self and all its rights in an eternal covenant, and give God the absolute right to own us, control us and possess us forever. - Author: A.B. Simpson
#15. The first step is always one of surrender. Not my will but your will be done. I believe the fastest way to get God's attention and become fruitful in the Kingdom is to surrender yourself to him. - Author: Steve Uppal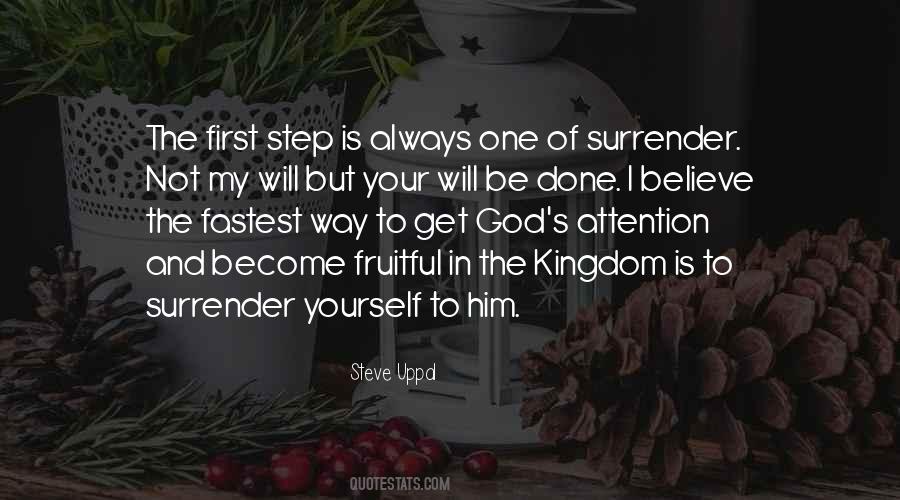 #16. Inhale, and God approaches you. Hold the inhalation, and God remains with you. Exhale, and you approach God. Hold the exhalation, and surrender to God. - Author: Tirumalai Krishnamacharya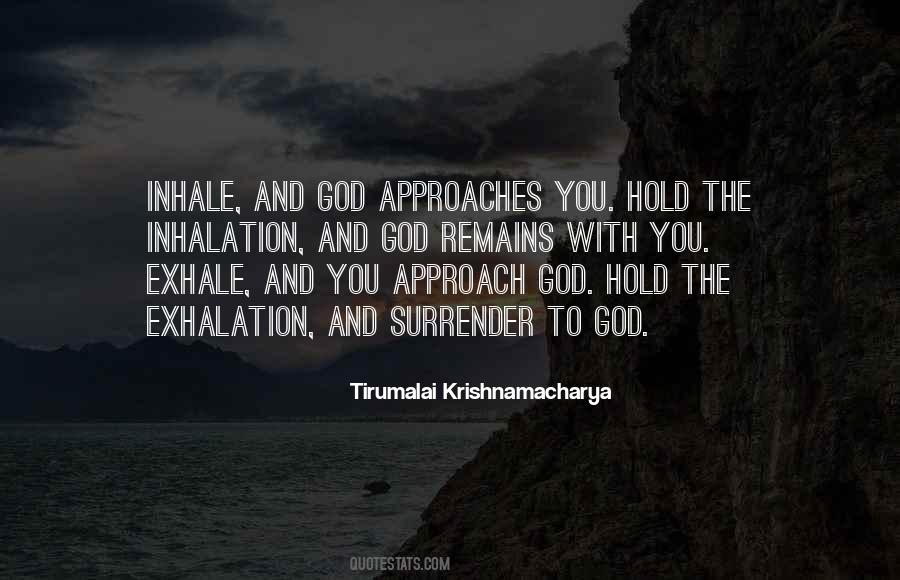 #17. The more you go with the flow of life and surrender the outcome to God, and the less you seek constant clarity, the more you will find that fabulous things start to show up in your life. - Author: Mandy Hale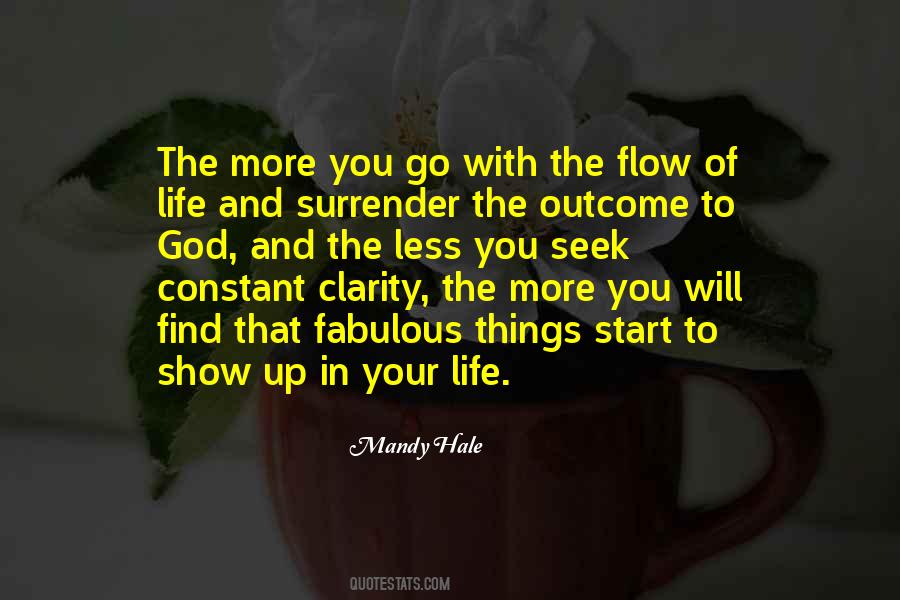 #18. That we ought, once for all, heartily to put our whole trust in GOD, and make a total surrender of ourselves to Him, secure that He would not deceive us. - Author: Brother Lawrence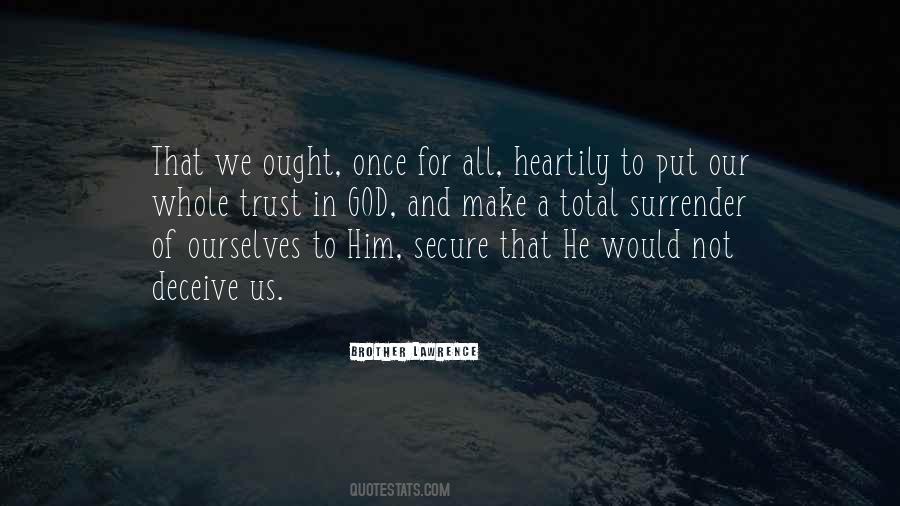 #19. First there was the word. A Course in Miracles says that prayer is the "medium of miracles." It's the realm of thought where we are aligned with the thought of God and therefore in a co- creative mode. It's where we surrender our minds to His mind and become empowered. - Author: Marianne Williamson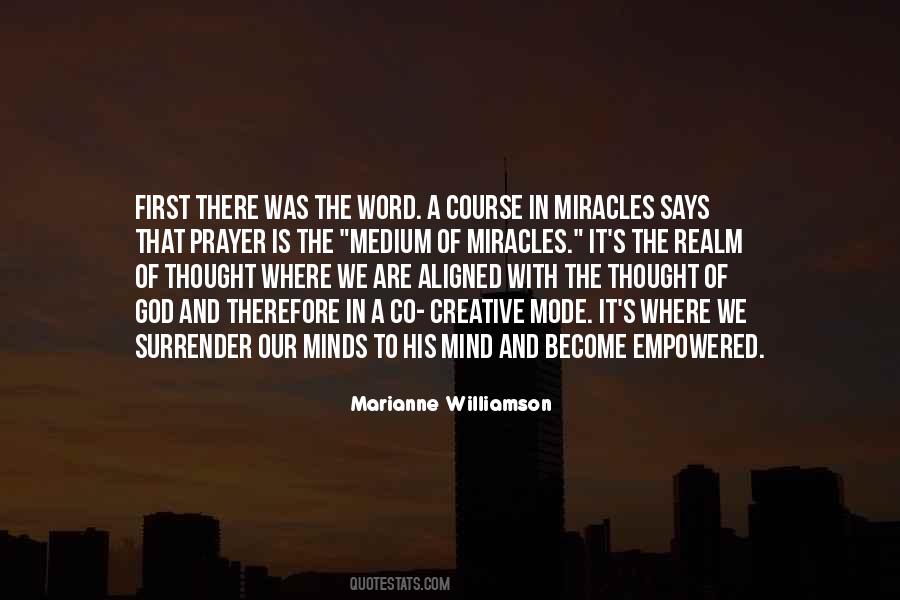 #20. You cannot have two foundations. Either you stand and act from your heart and soul, or your life will flow from the animal soul, the nafs, your lust and greed and forgetfulness, which are characteristics of what dies and does not surrender to receive the compassion of God. - Author: Bahauddin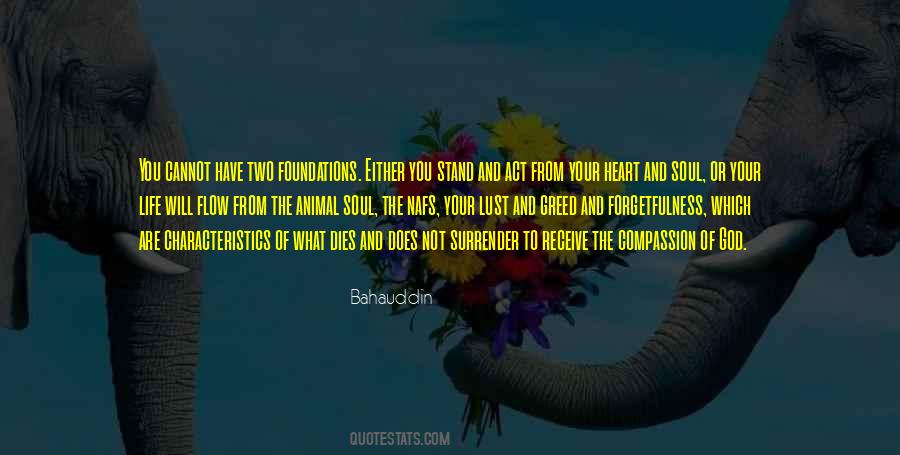 #21. My responsibility is to obey, to surrender my heart and to yield myself to the will of God. It is in the process of obedience that we gain understanding. You can't get the peace that passes understanding until you give up your right to understand. - Author: Bill Johnson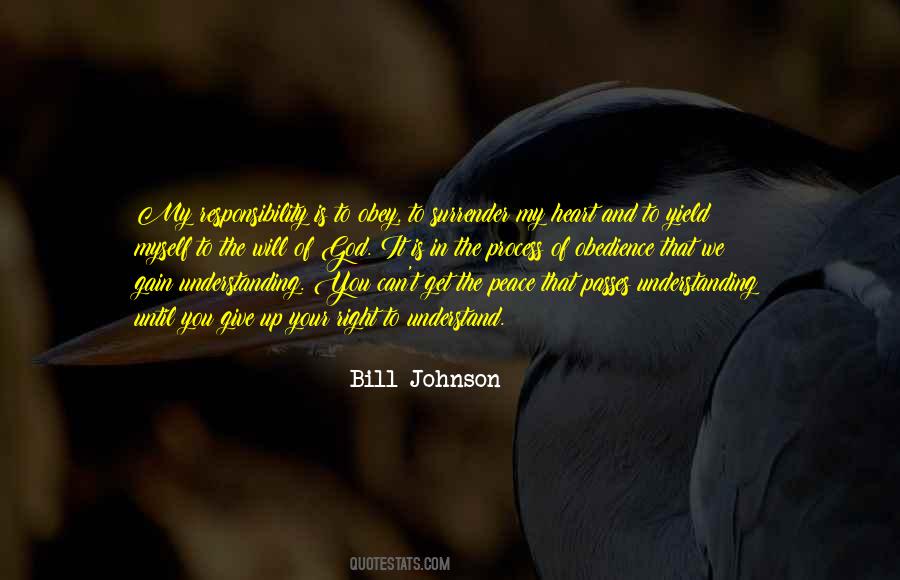 #22. But in everything we should surrender our desires to God in prayer. Then we must wait for His response, that we can walk by faith and not by sight. - Author: Adam Houge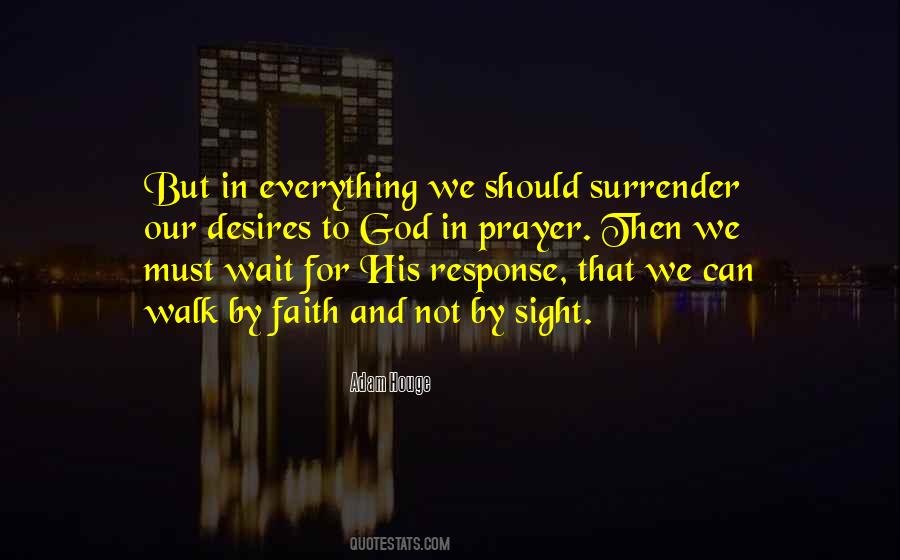 #23. Only God is capable of telling us what our rights and needs are. You have to surrender that right to Him. - Author: Joni Eareckson Tada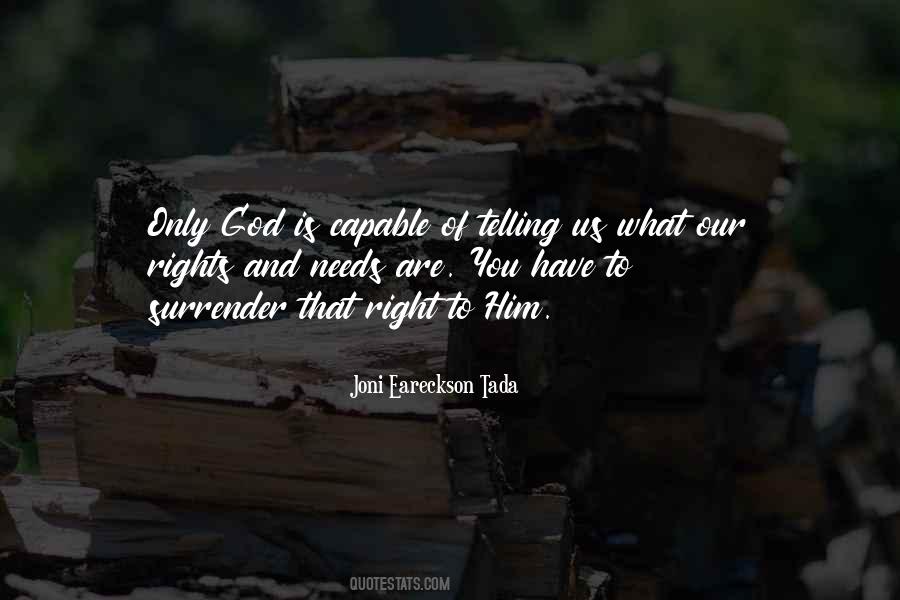 #24. No, I am not powerful nor do I wish to be, for it is God using my weakness that makes me potent and I would never wish to surrender that. - Author: Craig D. Lounsbrough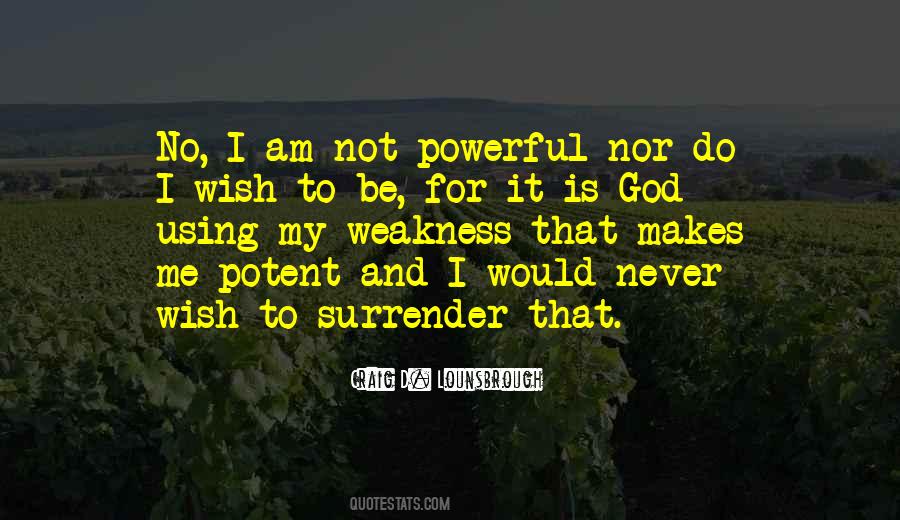 #25. There are three barriers that block our total surrender to God: fear, pride, and confusion. We don't realize how much God loves us, we want to control our own lives, and we misunderstand the meaning of surrender. - Author: Rick Warren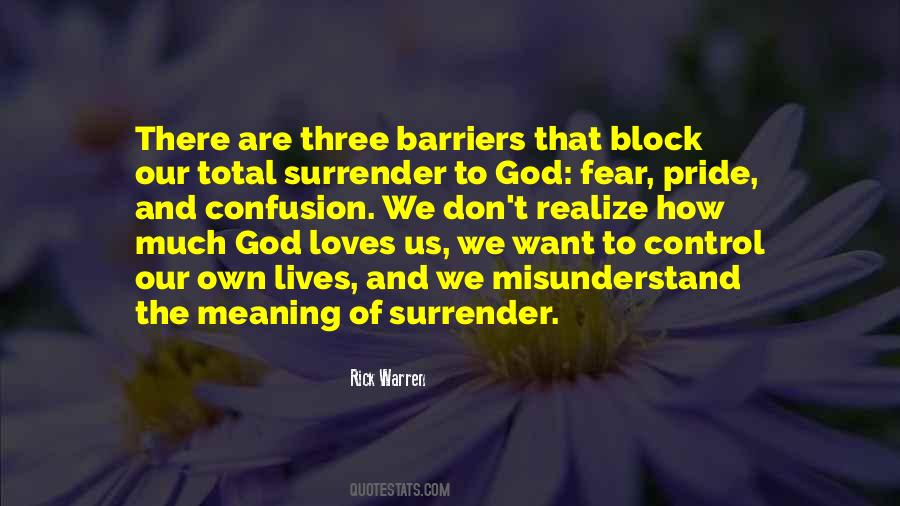 #26. Every genuine expression of love grows out of a consistent and total surrender to God. - Author: Martin Luther King Jr.
#27. Pain we surrender to God is not wasted but like labor pains it bears fruit and brings new life. - Author: Barbara Hosbach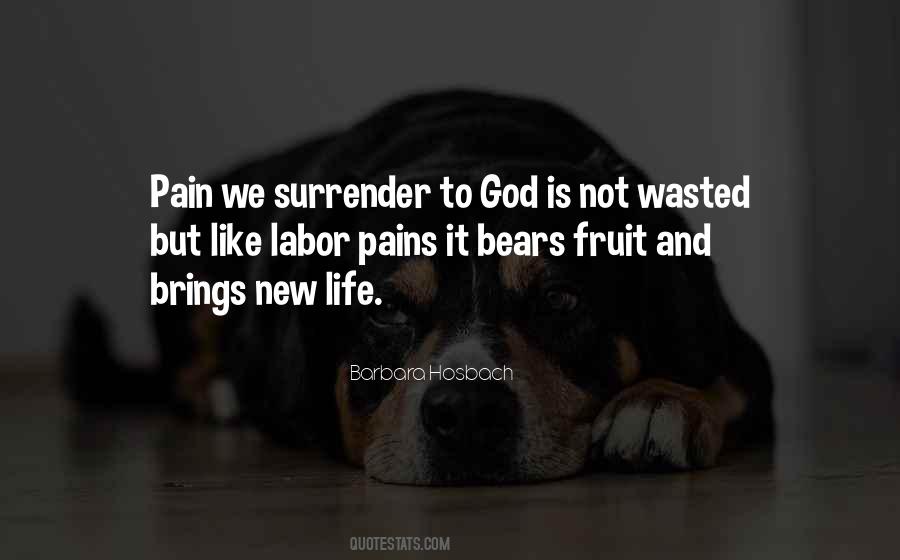 #28. when you are surrendering your all to God and if God is taking you somewhere, focus less where He is taking you to, For He will definitely take you somewhere. Only surrender - Author: Ernest Agyemang Yeboah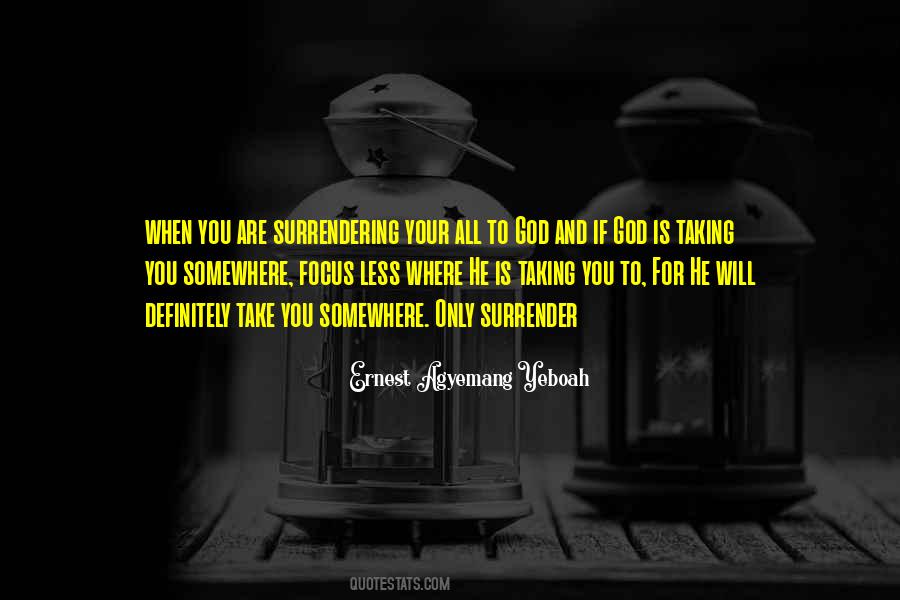 #29. I can only begin the process of saving myself when I surrender to the reality that I can't. And what greater place to surrender that reality than to an infant who surrendered Himself to me so that I might surrender myself to Him. - Author: Craig D. Lounsbrough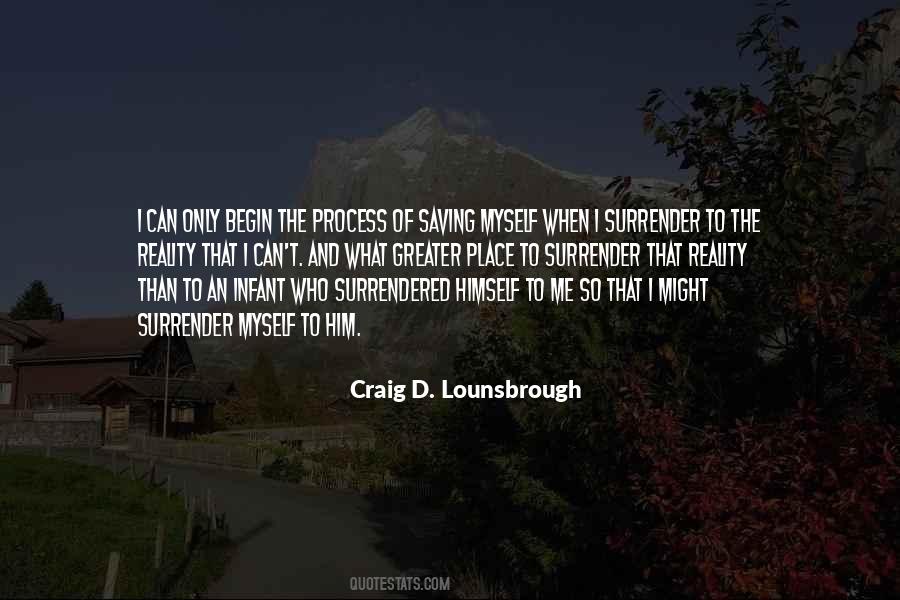 #30. First of all, Scripture draws our attention to this, that if we want ease and tranquility in our lives, we should resign ourselves and all that we have to the will of God, and at the same time we should surrender our affections to him as our Conqueror and Overlord. - Author: John Calvin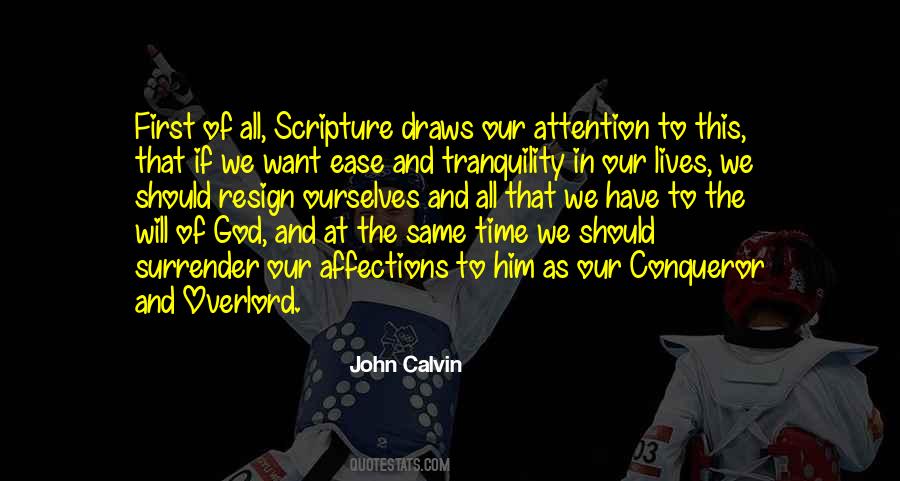 #31. I have never been religious. I talk to God every day, but He's never said a word to me about religion! I think the most powerful prayer is surrender. - Author: Raymond Moody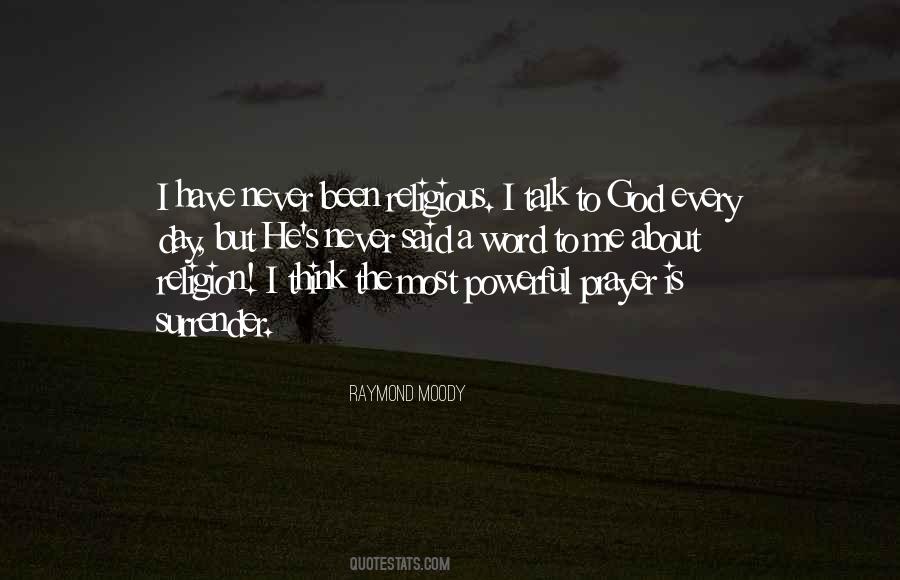 #32. Celibacy is a great help, inasmuch as it enables one to lead a life of full surrender to God. - Author: Mahatma Gandhi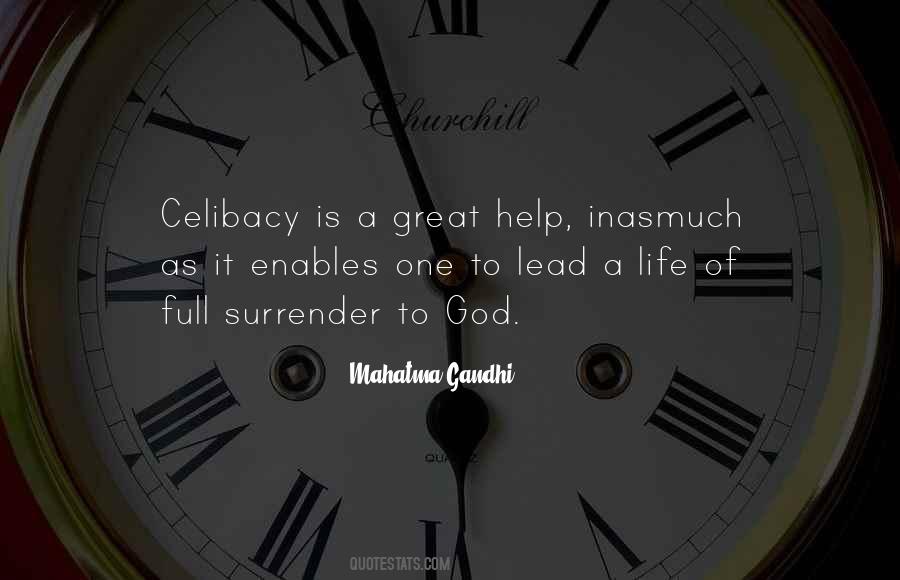 #33. The reason why many are still troubled, still seeking, still making little forward progress is because they haven't yet come to the end of themselves. We're still trying to give orders, and interfering with God's work within us. - Author: A.W. Tozer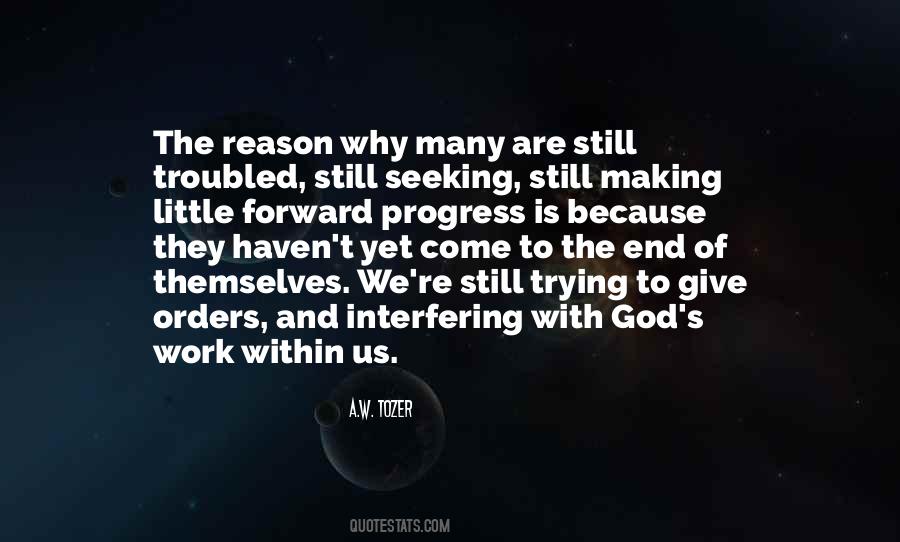 #34. As you courageously trust God's heart, ask Him to reveal Himself to you and then let Him reveal Himself through you. Hold your dreams and plans up to Jesus in surrender, and watch your life become a display of His splendor. - Author: Renee Swope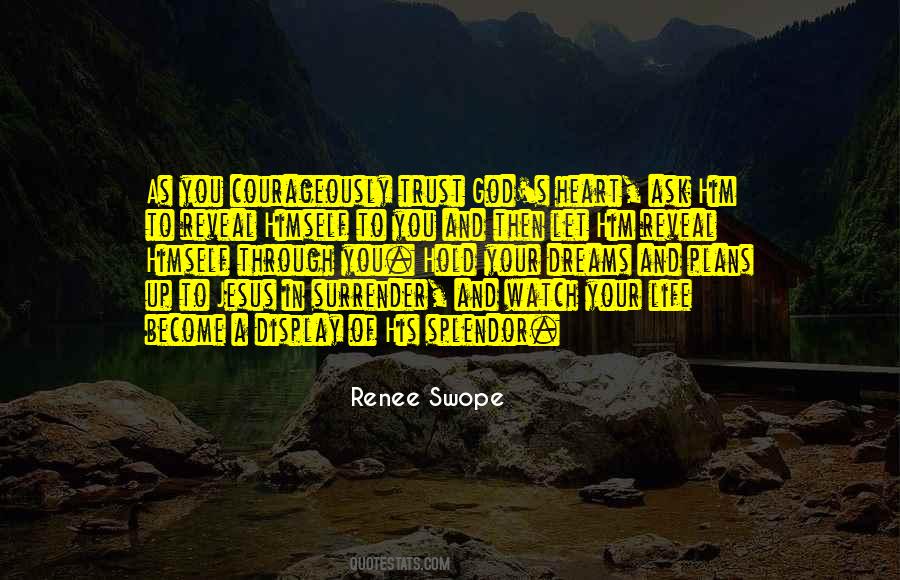 #35. God cannot deliver me while my interest is merely in my own character. Paul was not conscious of himself. He was recklessly abandoned, totally surrendered, and separated by God for one purpose--to proclaim the gospel of God. - Author: Oswald Chambers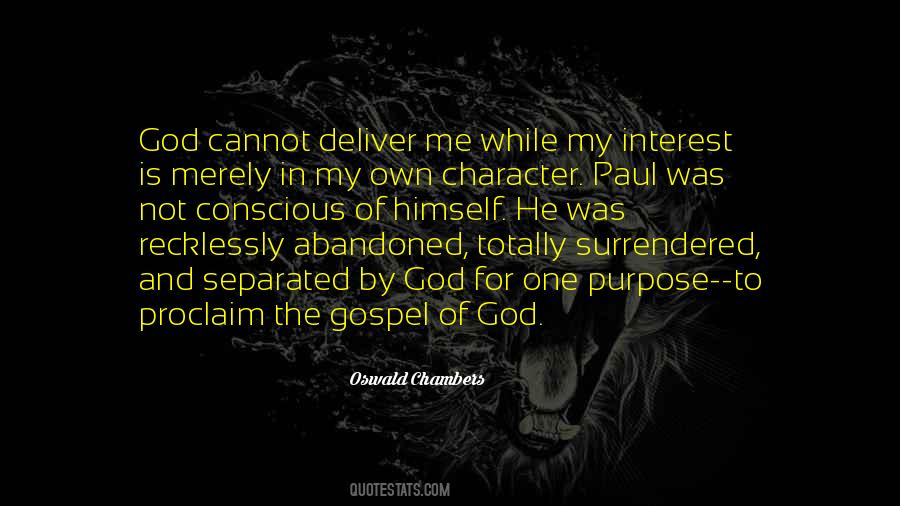 #36. A True Wise Man Surrenders Every Thing Freely To God While Alive.
A Foolish Man Surrenders Every Thing Forcefully At The Time Of Death. - Author: Baba Tunde Ojo-Olubiyo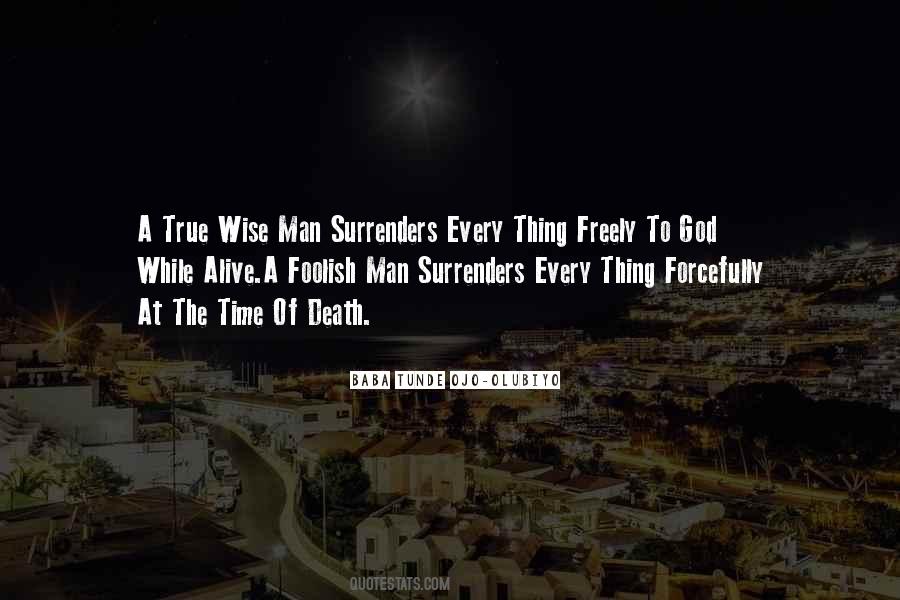 #37. Every time you and I bow our heads in surrender to the will of God, we embrace the cross and we manifest to the world the heart of Christ who bowed His head to the will of His Father. - Author: Nancy Leigh DeMoss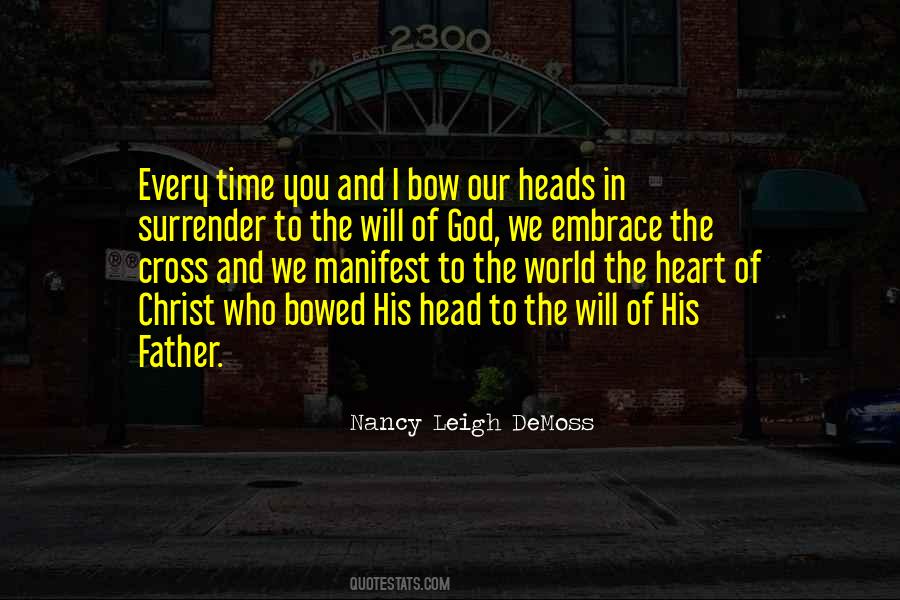 #38. When you are going through something like compaign run nothing happens without Allah's permission. So a lot of the times you just have to surrender to his will and learning how to surrender was a major thing for me, getting me out of the way, surrendering to the will of God. - Author: Kwame Kilpatrick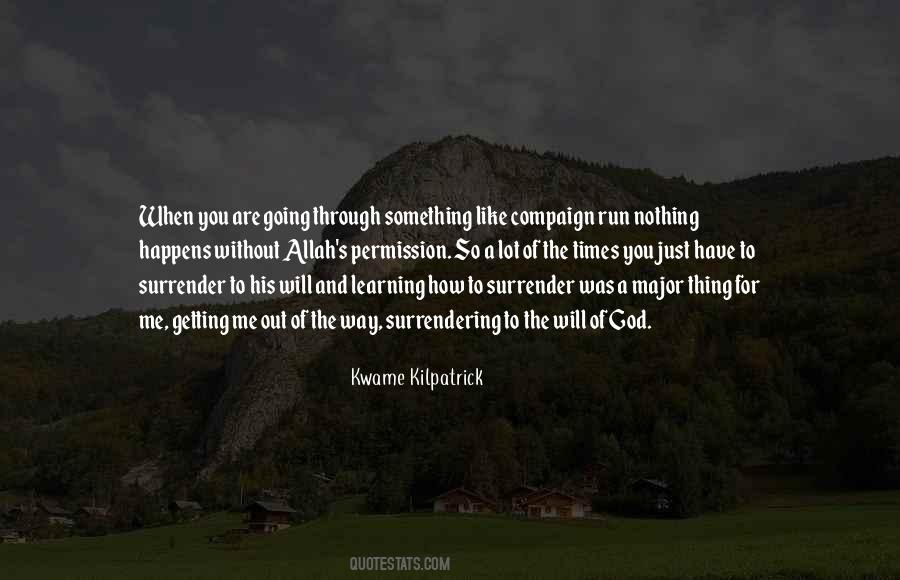 #39. Surrender everything to God. - Author: Lailah Gifty Akita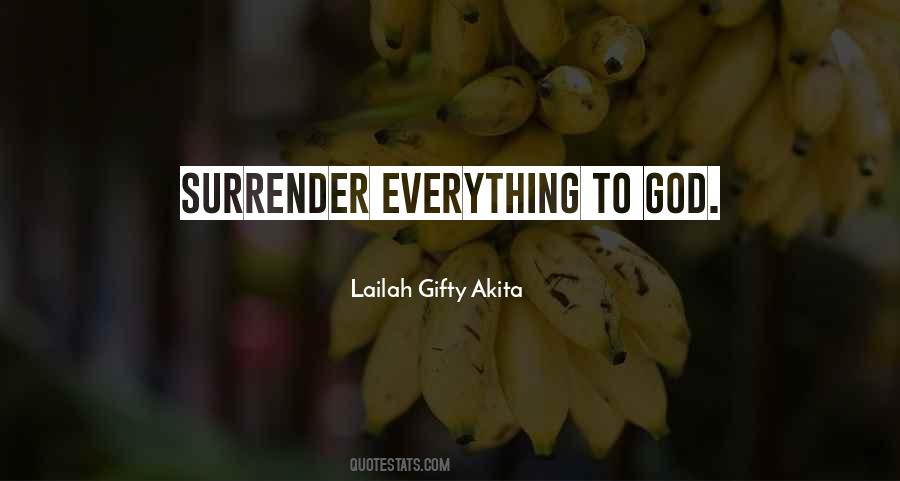 #40. The only way to get what we truly need is to surrender our needs to God. - Author: Gregory L. Jantz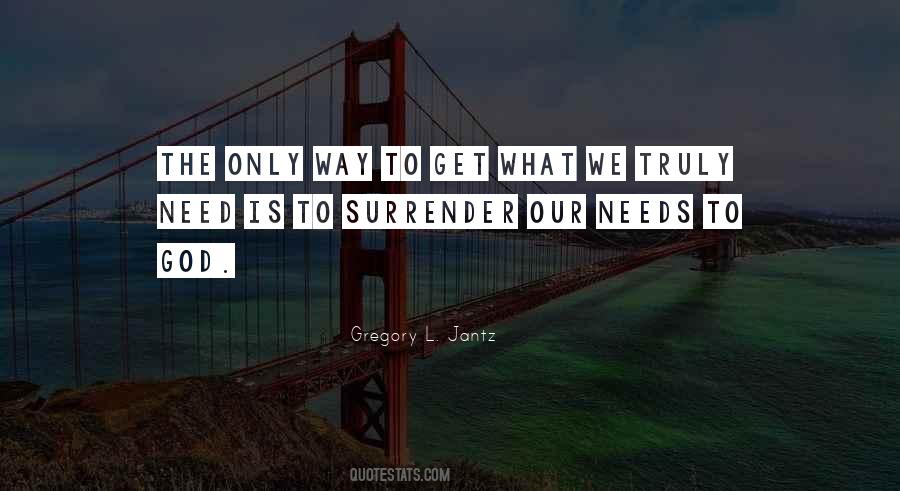 #41. Nothing happens without God's will, and life doesn't always go according to plan. Man proposes, God disposes. And it is God's will that we need to surrender to. In retrospect it usually all makes sense. - Author: Kristiane Backer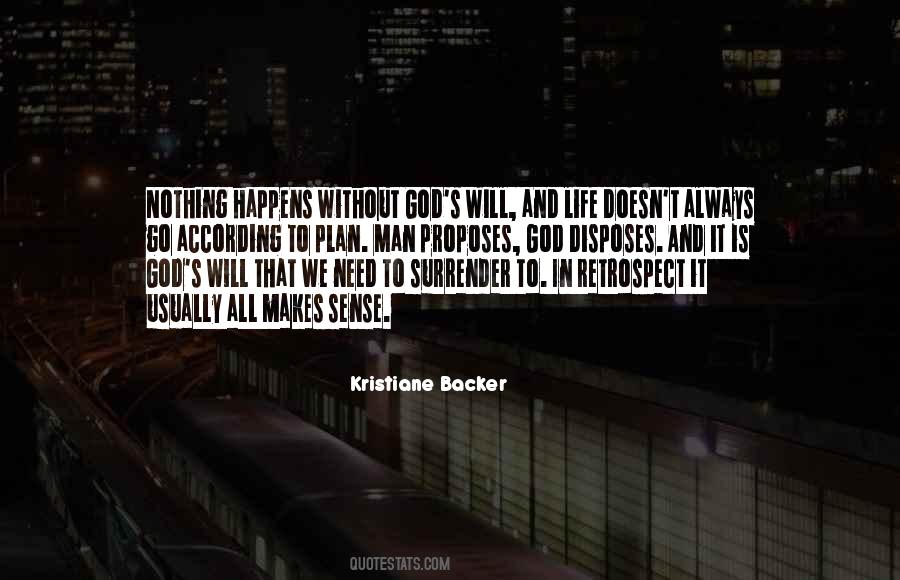 #42. The essence of surrender is getting out of God's way so that He can do in us what He also wants to do through us. - Author: Aiden Wilson Tozer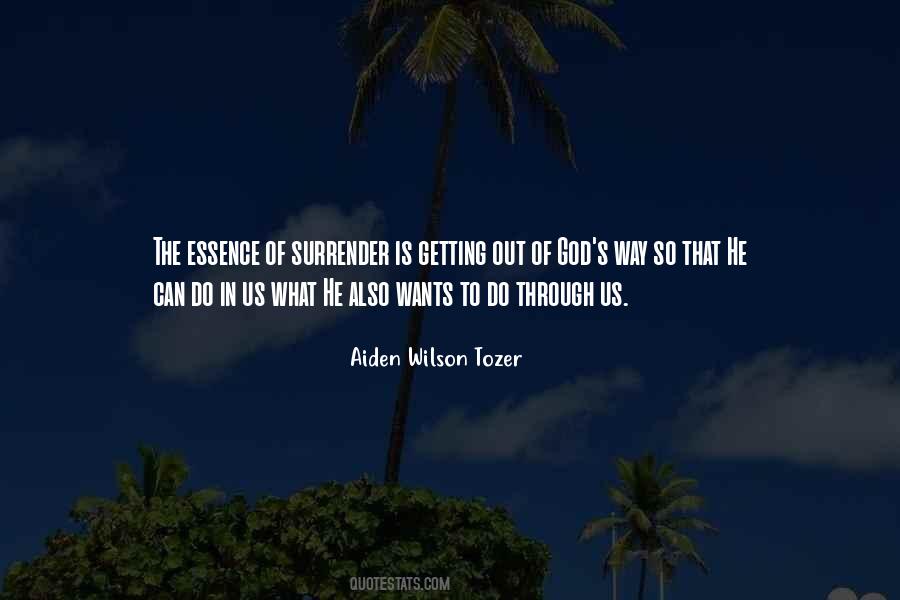 #43. All of us need a vision for our lives, and even as we work to achieve that vision, we must surrender to the power that is greater than we know. It's one of the defining principles of my life that I love to share: God can dream a bigger dream for you than you could ever dream for yourself. - Author: Oprah Winfrey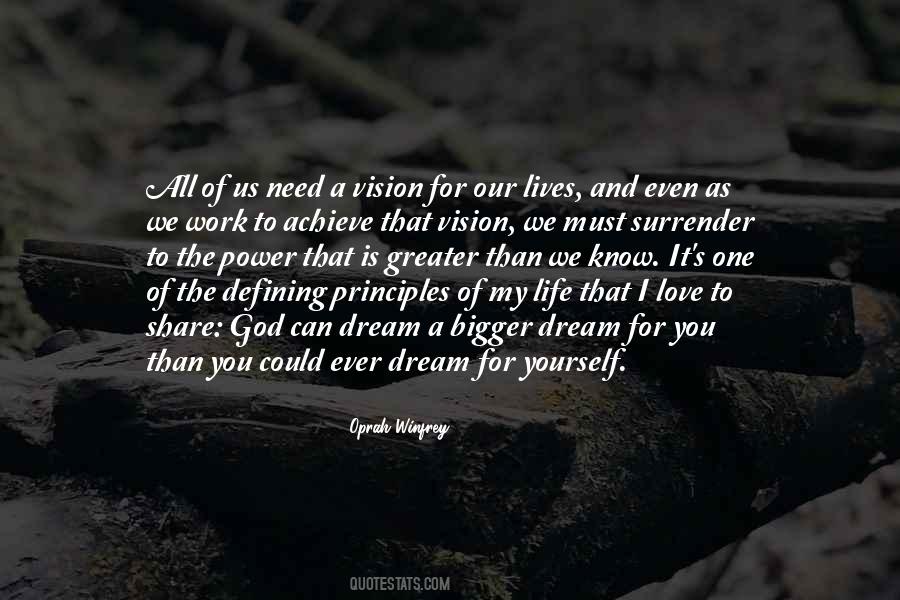 #44. be to the glory of God, in full surrender to His will, in full assurance of faith, in the name of Jesus, and with a perseverance that, if need be, refuses to be denied. - Author: Andrew Murray
#45. Surrender means, by definition, giving up attachment to results. When we surrender to God, we let go of our attachment to how things happen on the outside and we become more concerned with what happens on the inside. - Author: Marianne Williamson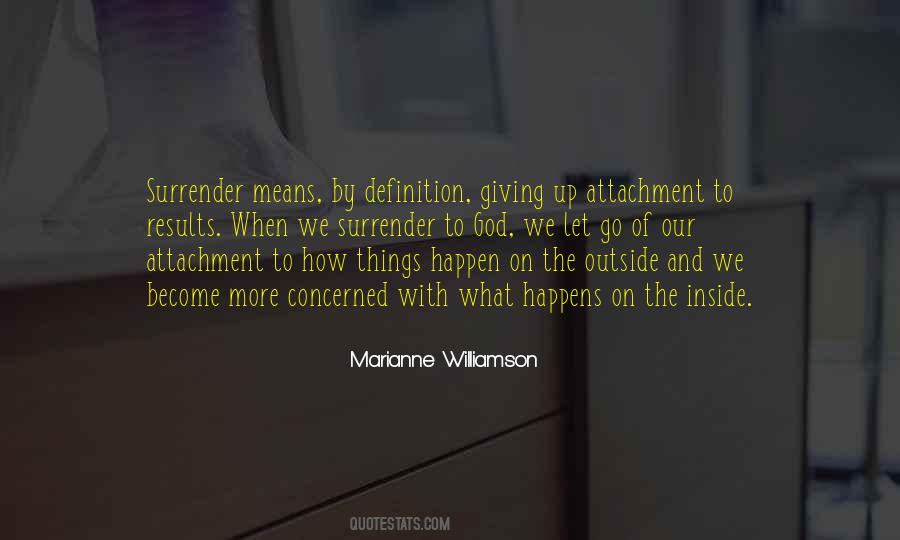 #46. Beloved, surrender wholeheartedly to Jesus Christ, who loves you. As you drink from the deep well of Scripture, the Lord will refresh you and cleanse you, mold you and re-create you through His Living Word. For the Bible is the very breath of God, giving life eternal to those who seek Him. - Author: Francine Rivers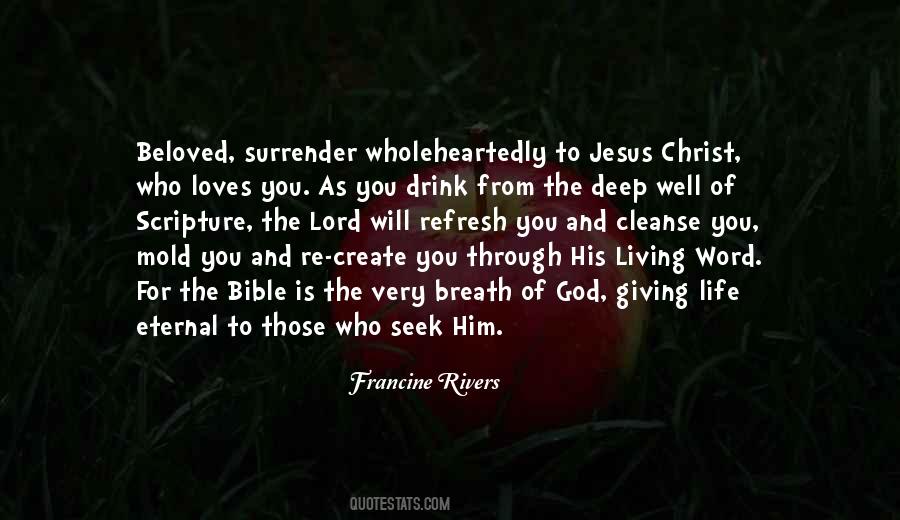 #47. Cast yourself upon, abandon yourself to this Christ who lived that life of utter surrender to God that He might prepare a new nature which He could impart to you and in which He might make you like Himself. - Author: Andrew Murray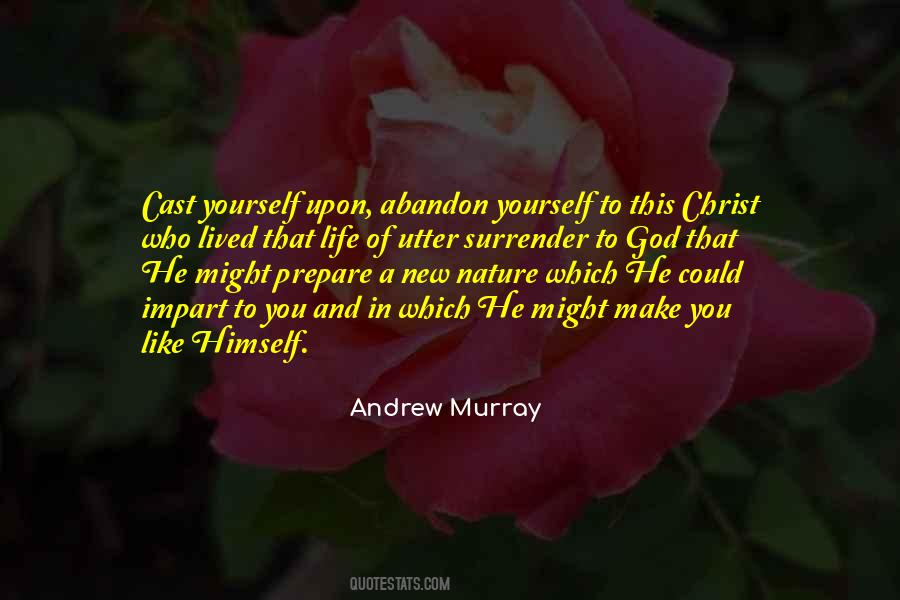 #48. The key is you have to trust that God only has the best in store for you. If God says no to something, He says yes to something even greater. It is when you fully surrender all of your desires to His will that His perfect will is done. - Author: Nick Vujicic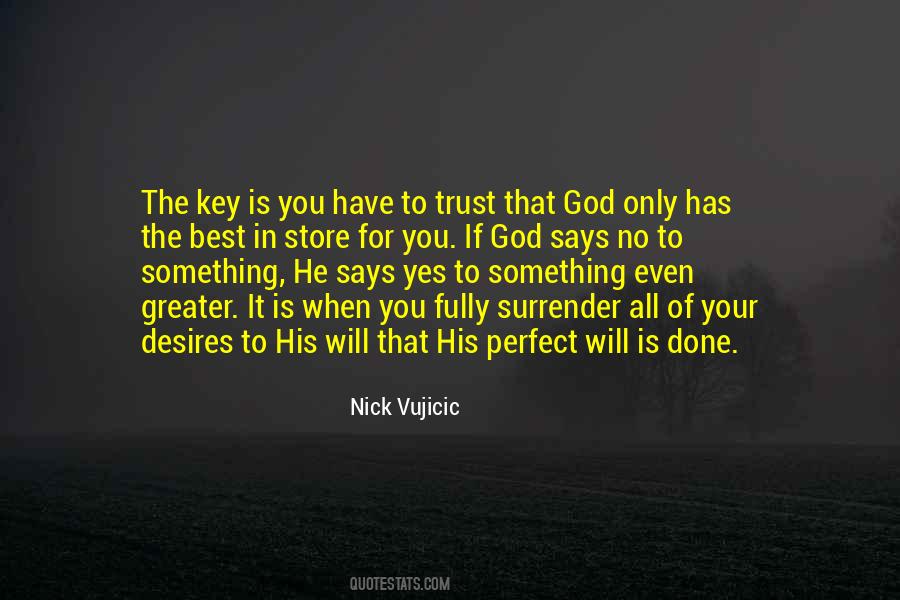 #49. Without unreservedly surrendering myself to God, whatever place I might raise myself to remains nothing more than a step or possibly two off the hard basement floor of life, for of myself I can be utterly assured that I will never step out of the basement. - Author: Craig D. Lounsbrough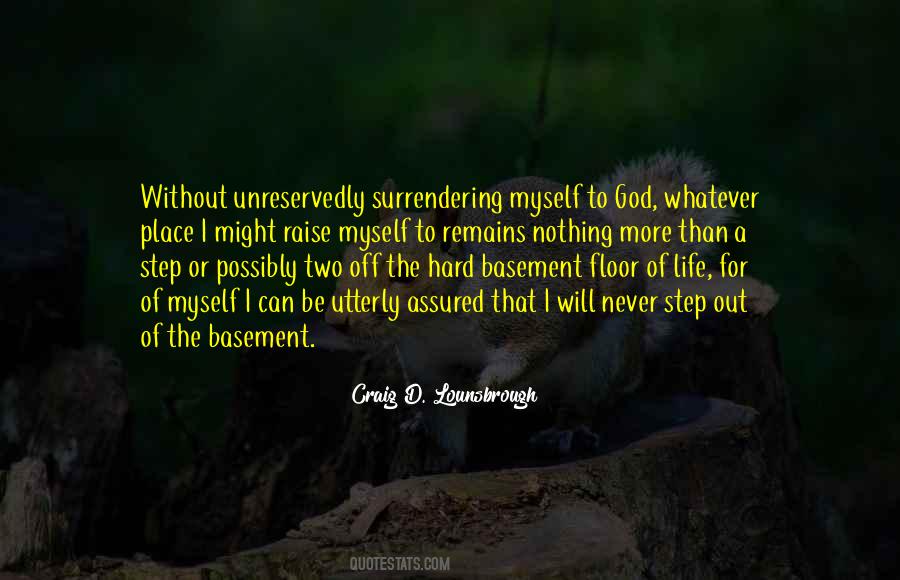 #50. Don't seek God in temples. He is close to you. He is within you. Only you should surrender to Him and you will rise above happiness and unhappiness. - Author: Leo Tolstoy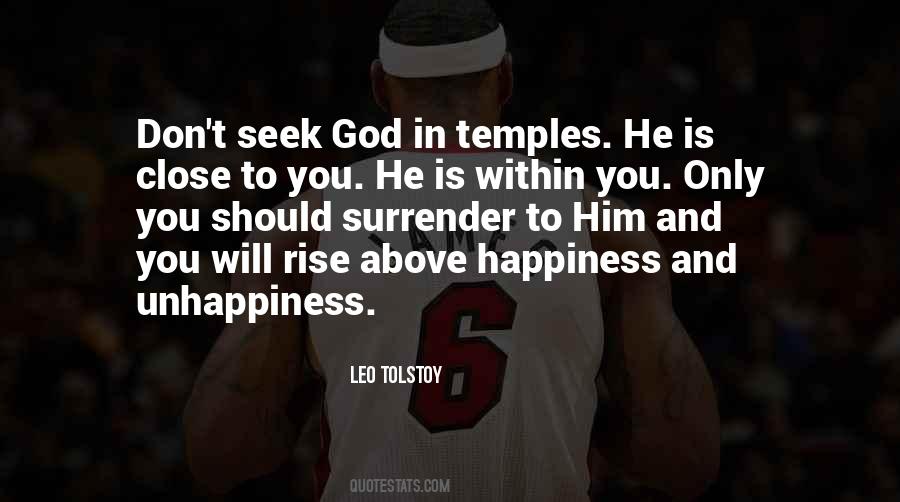 #51. If we want a miracle, we've got to surrender all our faith. - Author: Toni Sorenson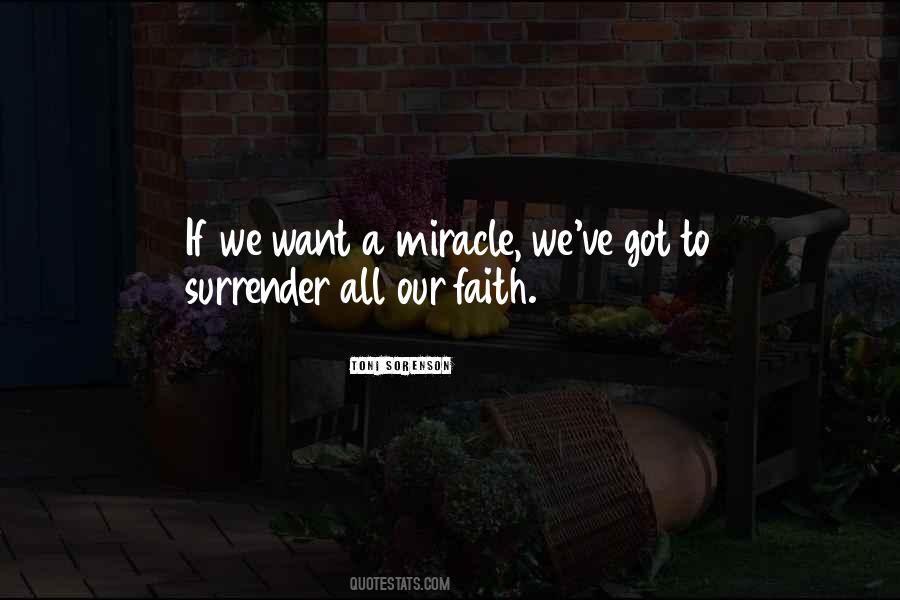 #52. As I accepted my death and dissolution into God's love, the insectoids began feeding on my heart, devouring the feelings of love and surrender. They were interested in emotion. As I was holding on to my last thought - that God is love - they asked, Even here? Even here? - Author: Rick Strassman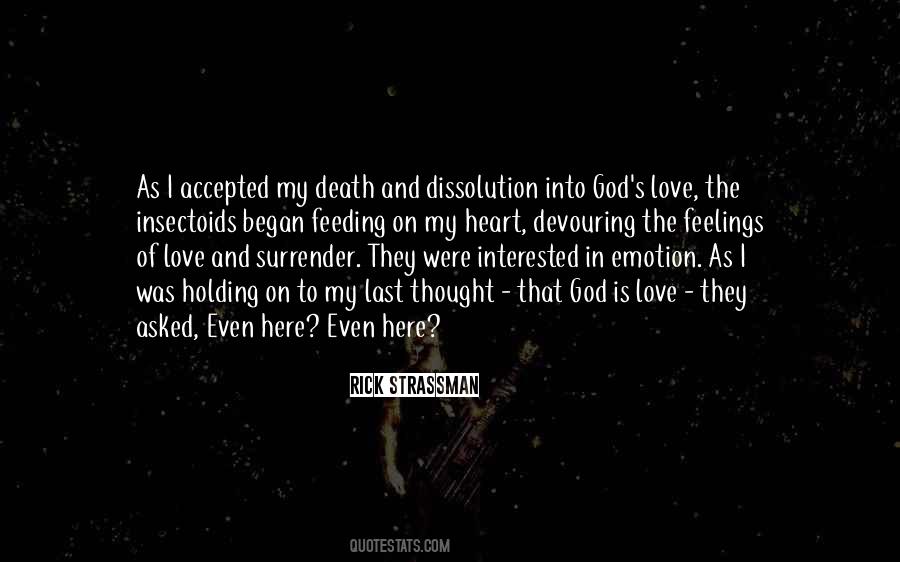 #53. When you surrender completely to God, as the only truth worth having, you find yourself in service of all that exists. It becomes your joy and recreation. You never tire of serving others. - Author: Mahatma Gandhi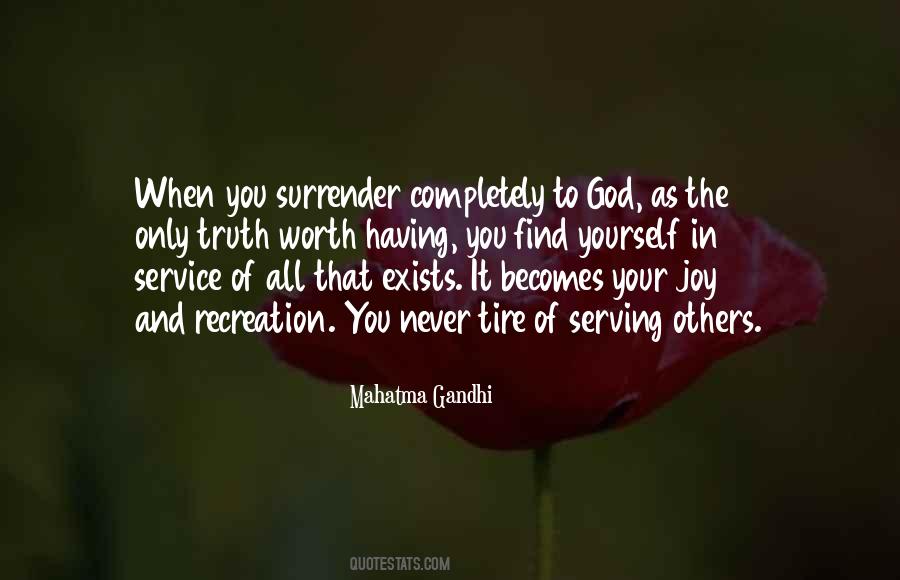 #54. I believe that God felt sorry for actors so he created Hollywood to give them a place in the sun and a swimming pool. The price they had to pay was to surrender their talent. - Author: Cedric Hardwicke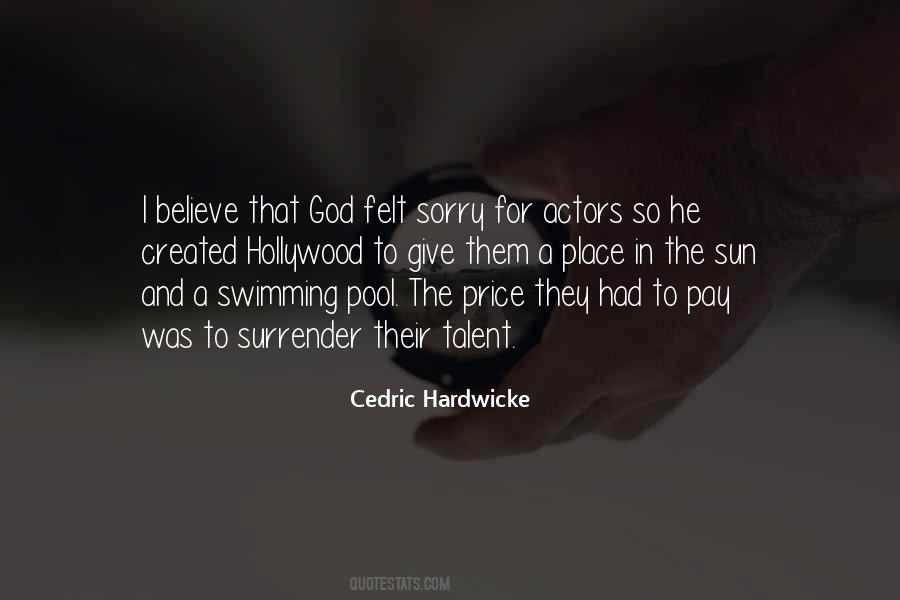 #55. We all have a tendency to use prayer to dictate to God. - Author: Jen Pollock Michel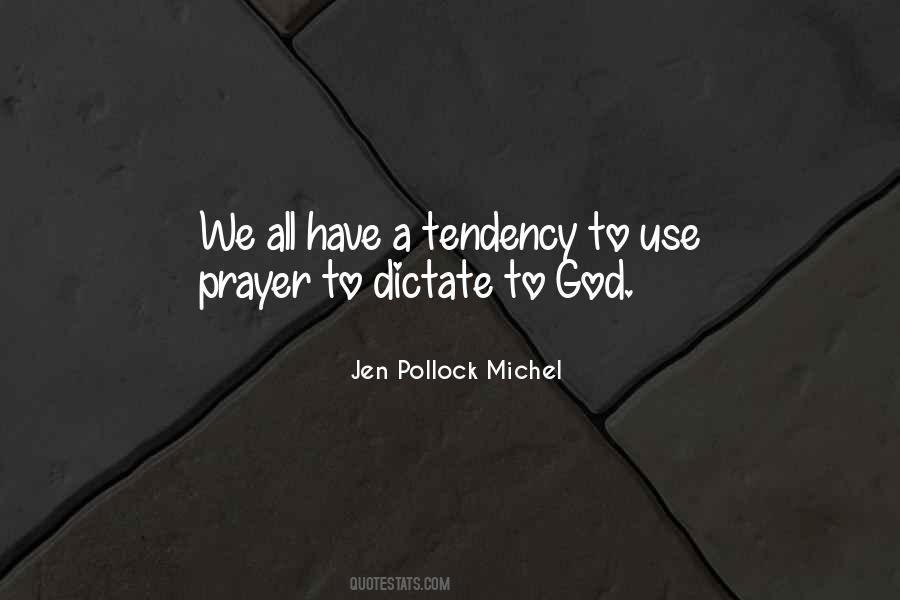 #56. Anyone who might feel reluctant to surrender his will to the will of another should remember Jesus' words, "Whosoever committeth sin is the servant of sin." We must of necessity be servant to someone, either to God or to sin. - Author: A.W. Tozer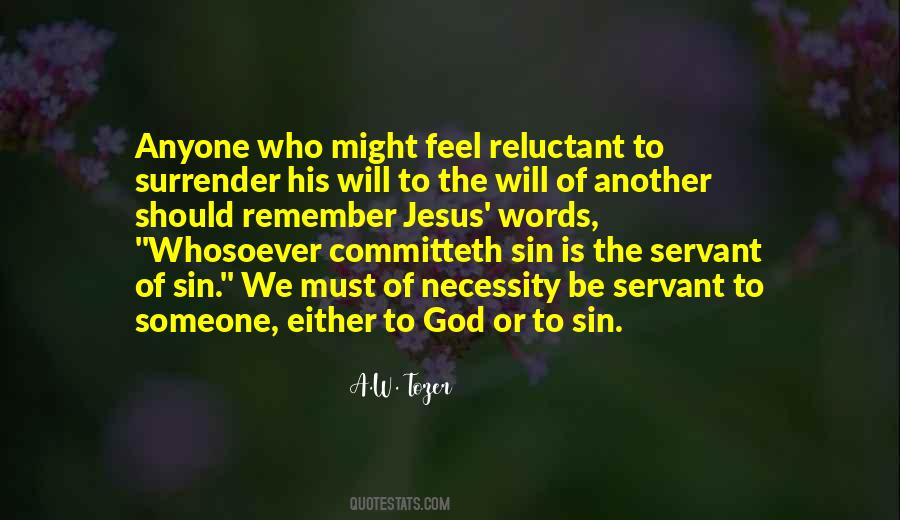 #57. God never loses any part of our past for his future when we surrender ourselves to him. Every mistake, sin, and detour we take in the journey of life is taken by God and becomes his gift for a future of blessing. - Author: Peter Scazzero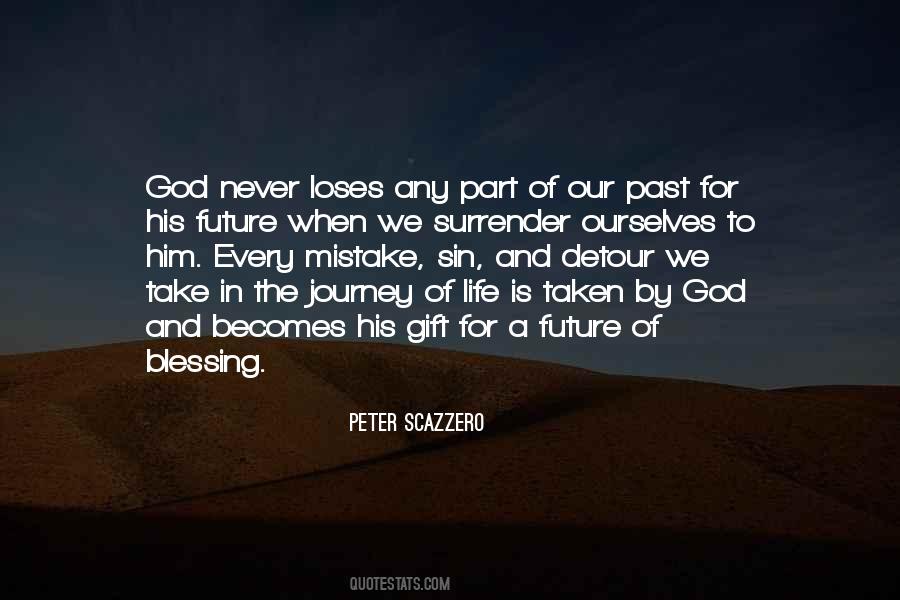 #58. Rationale still remains the greatest impediment to encountering God's mysteries. - Author: Christian Hunt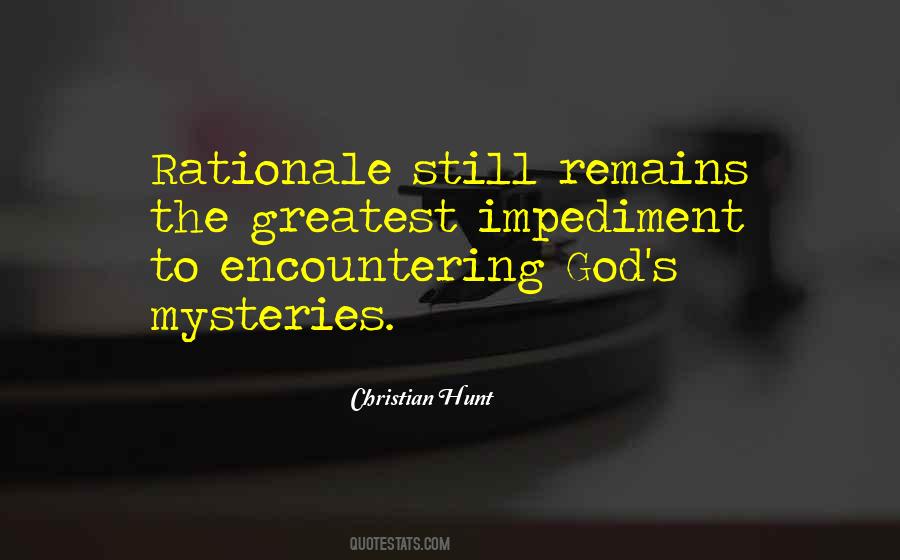 #59. Like and dislike, good or bad, God and devil, this and that,
Creates dualities and confuses mind to discriminate and make choices.
In Oneness, they all merge into surrender and acceptance. - Author: Gian Kumar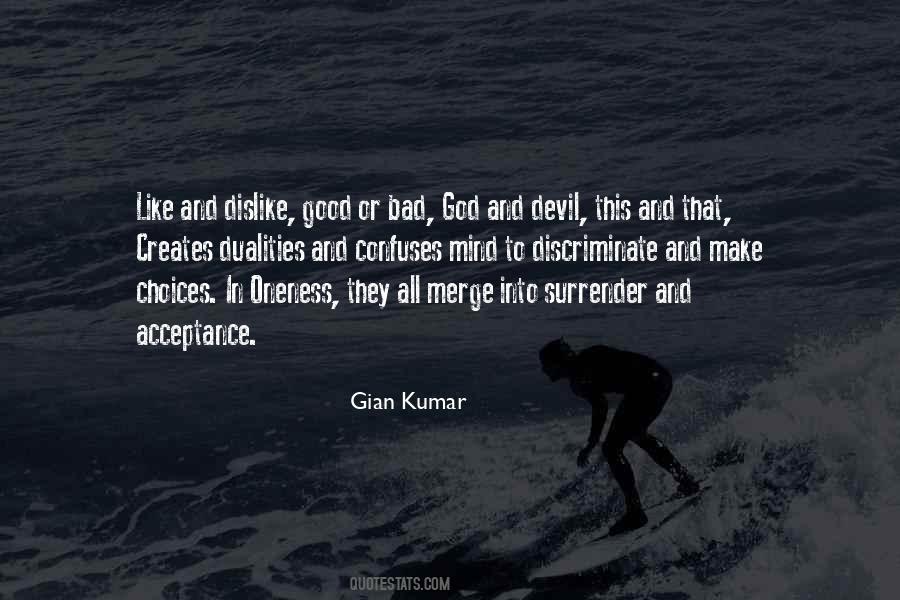 #60. Death surrenders us totally to God: it makes us enter into him; we must, in return, surrender ourselves to death with absolute love and self-abandonment since, when death comes, all we can do is to surrender ourselves completely to the domination and guidance of God. - Author: Pierre Teilhard De Chardin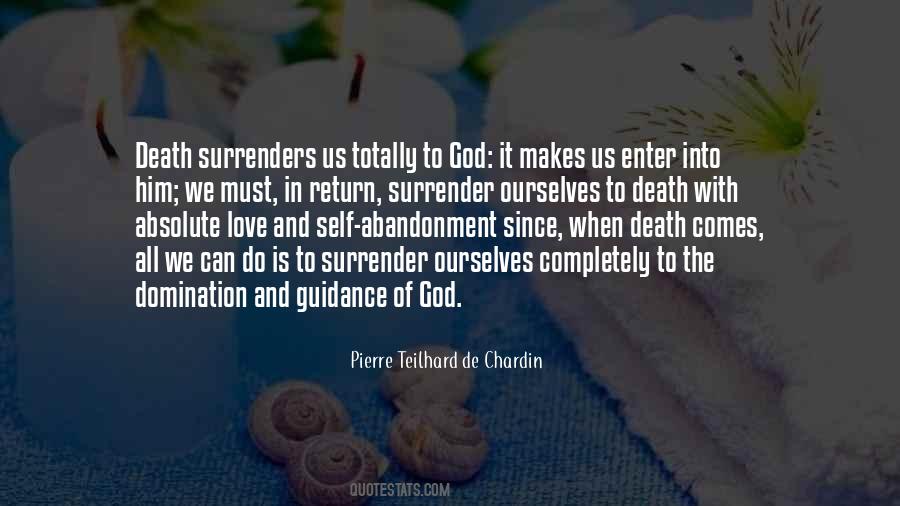 #61. In our spiritual pilgrimage we see sins which mar our relationship with God, but beneath it is a commitment which seeks to move beyond to a higher life, based on wholehearted surrender to God. - Author: Billy Graham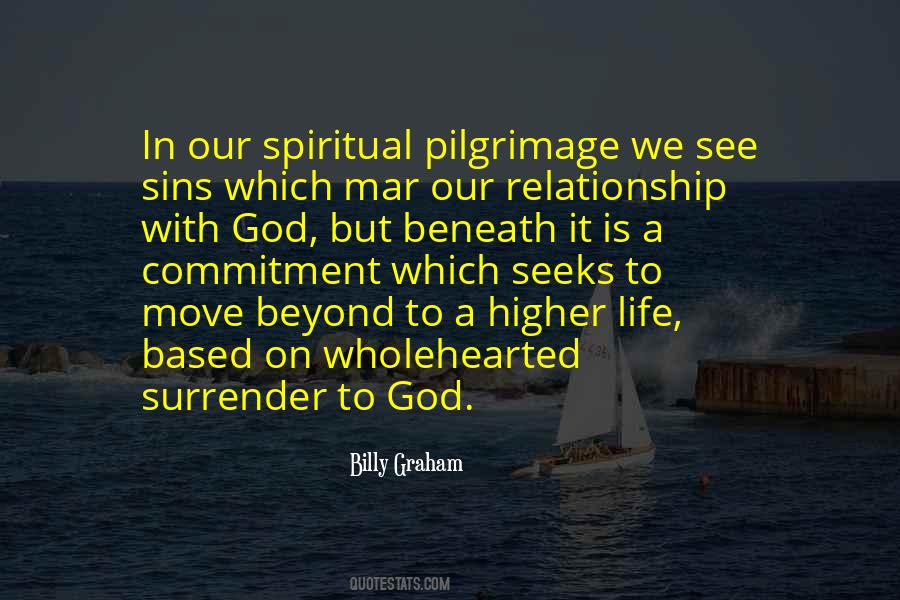 #62. The greatest gift of surrender was that it helped me to realize that it is arrogant of me not to forgive myself when God forgives me. - Author: Iyanla Vanzant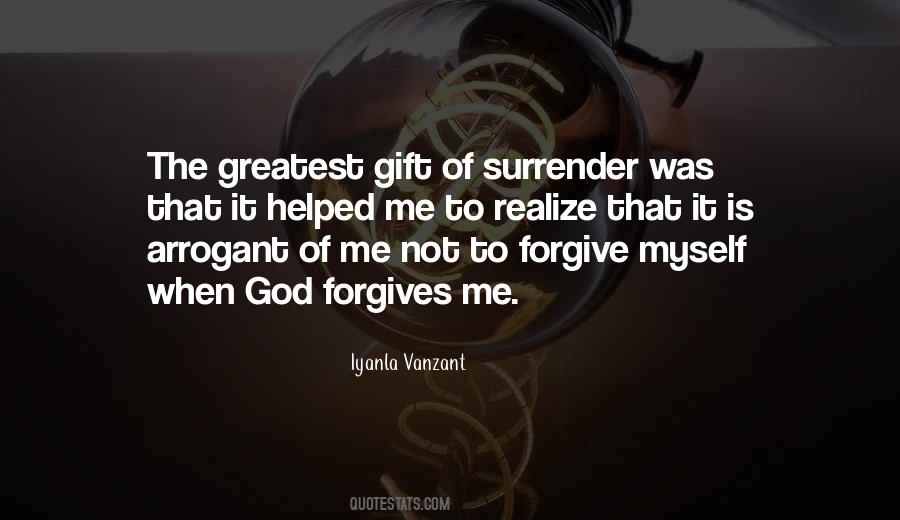 #63. These lecture provide material for the consideration of common factors, in theory and in development, from the viewpoint of the idea of surrender to the Divine Will, reviewing some aspects of the interplay between Christians and Moslems, and introducing material from and about Sufis. - Author: Idries Shah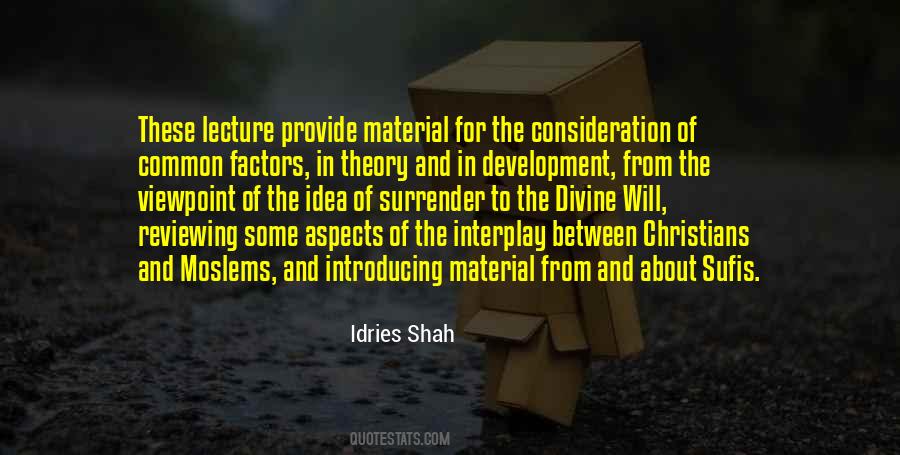 #64. If you are faced with the question of whether or not to surrender, make a determination to go on through the crisis, surrendering all that you have and all that you are to Him. And God will then equip you to do all that He requires of you. - Author: Oswald Chambers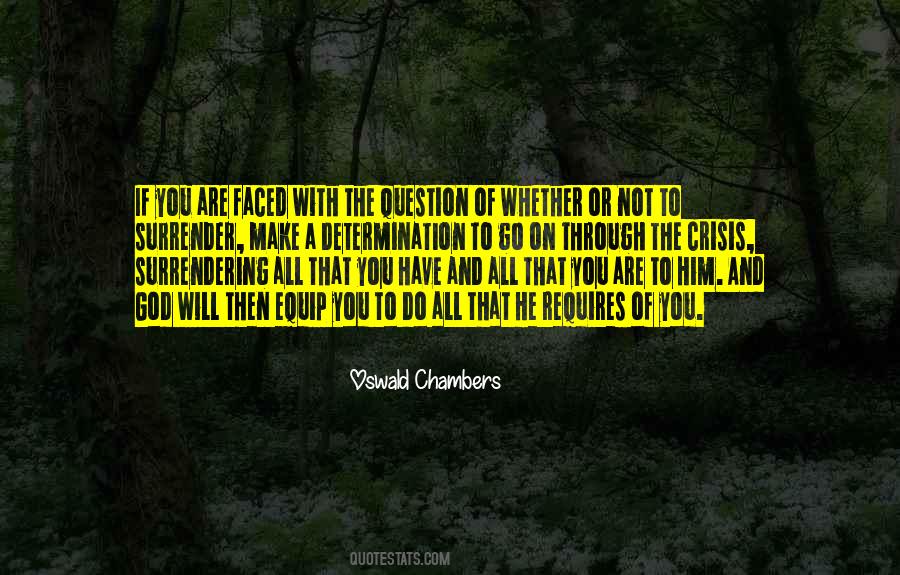 #65. How long will you carry this burden - the fame you earned by frivolous alms? Give it to him who owns the whole, the Lord of earth and the skies above. - Author: Preeth Nambiar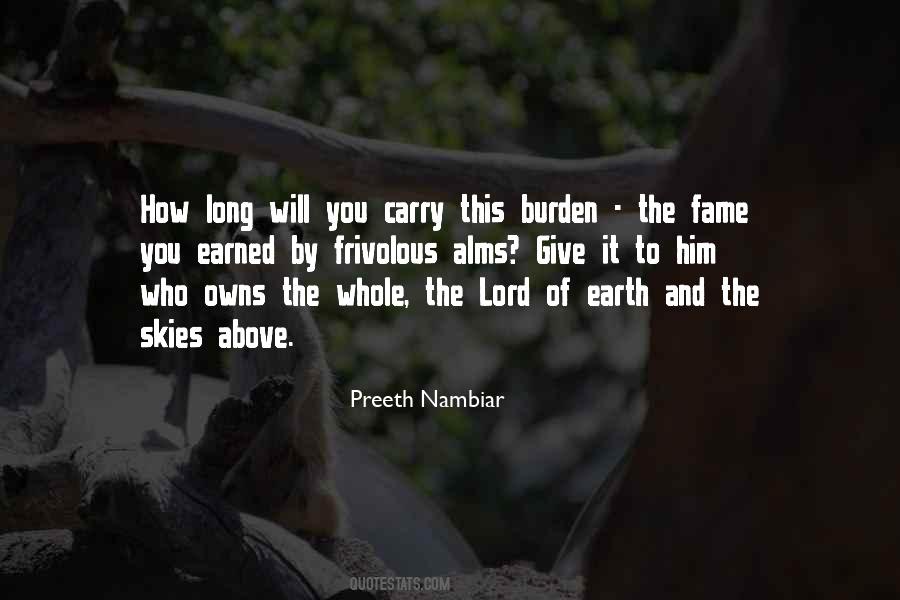 #66. Dear God, I surrender this relationship to you," means, "Dear God, let me see this person through your eyes." In accepting the Atonement, we are asking to see as God sees, think as God thinks, love as God loves. We are asking for help in seeing someone's innocence. - Author: Marianne Williamson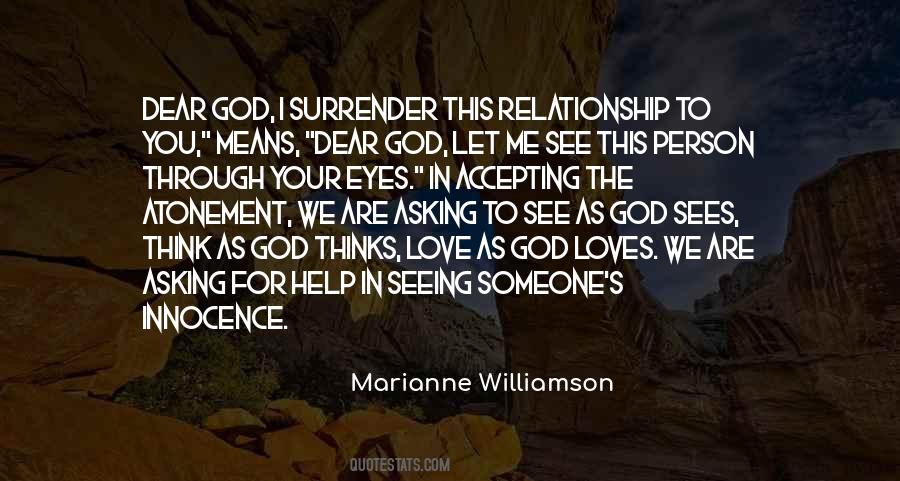 #67. In our abandonment we give ourselves over to God just as God gave Himself for us, without any calculations. The consequences of abandonment never enter into our outlook because our life is taken up in Him. - Author: Oswald Chambers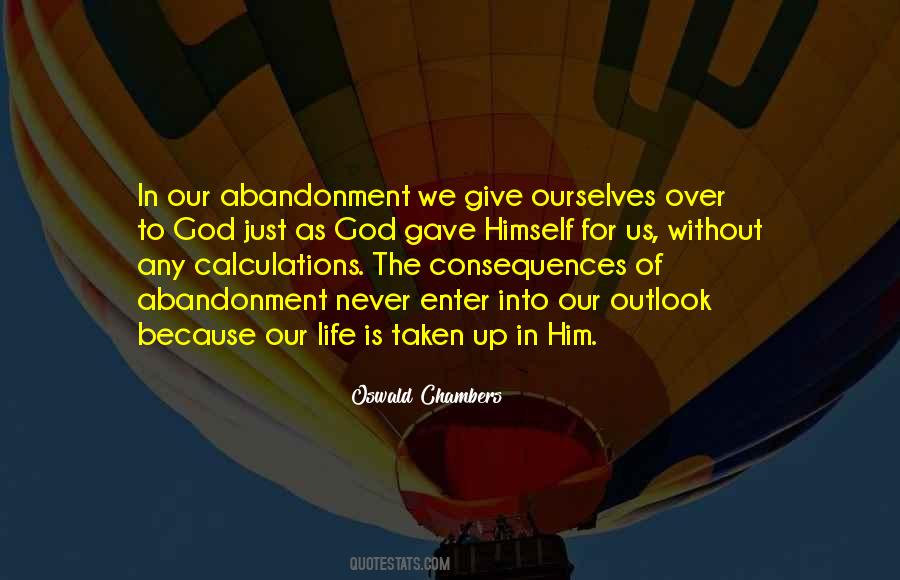 #68. The length of time it takes to catch on to this relationship depends on us - not God. The more willing we are to confess our inadequacy, the easier it is for us to fully surrender to His will for our lives. - Author: Charles F. Stanley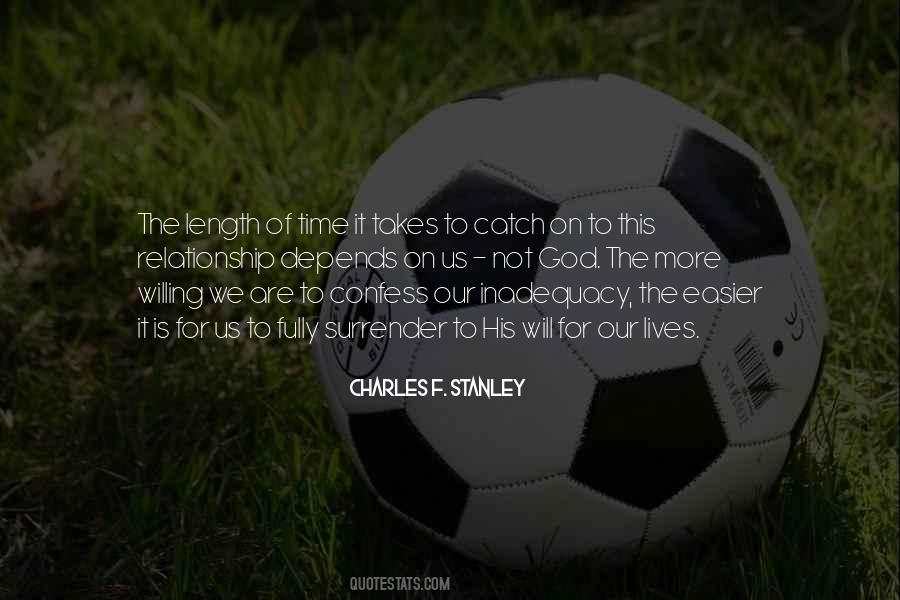 #69. Whose meditation is real and effective? Who can really surrender to the will of God? Only the person whose mind has been purified by selfless work. - Author: Swami Vivekananda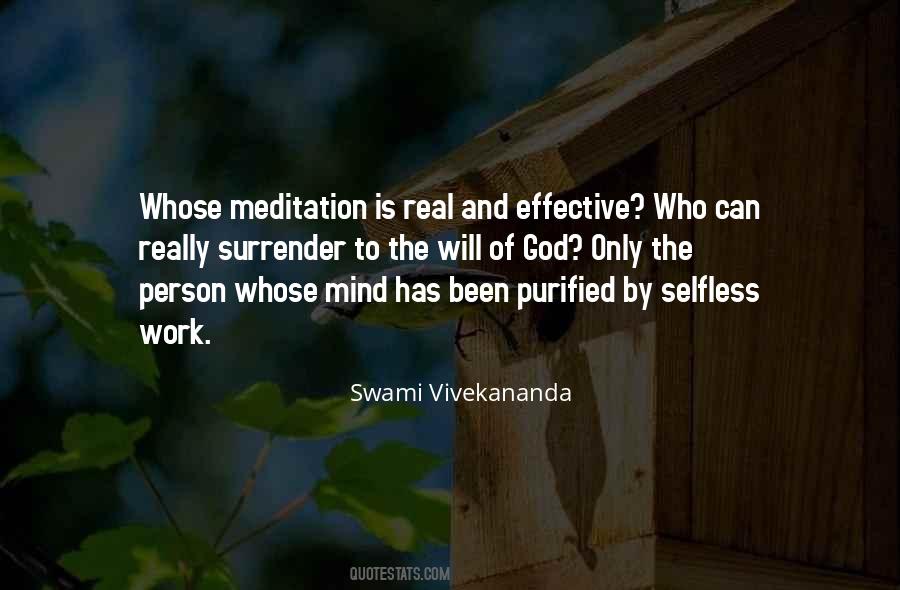 #70. Problems never just go away or take care of themselves, especially when God allows them in order to shape our character. God will patiently wait and allow the circumstances to compel us to do what we should have done at the beginning: surrender all control to God. - Author: Wayne Stiles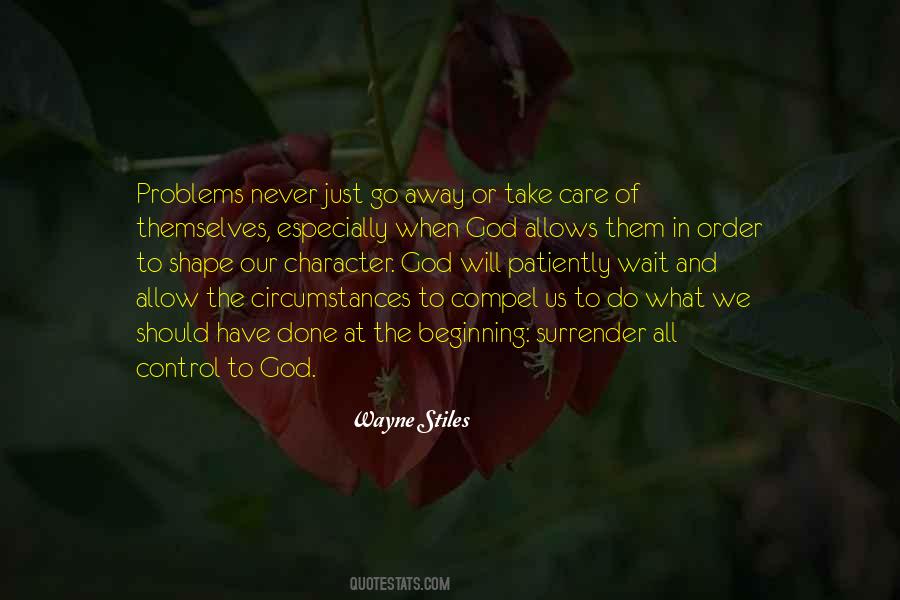 #71. Well, God does not mean for us to be passive. He means for us to fight the fight of faith - the fight for joy. And the central strategy is to preach the gospel to yourself. This is war. Satan is preaching for sure. If we remain passive, we surrender the field to him. - Author: John Piper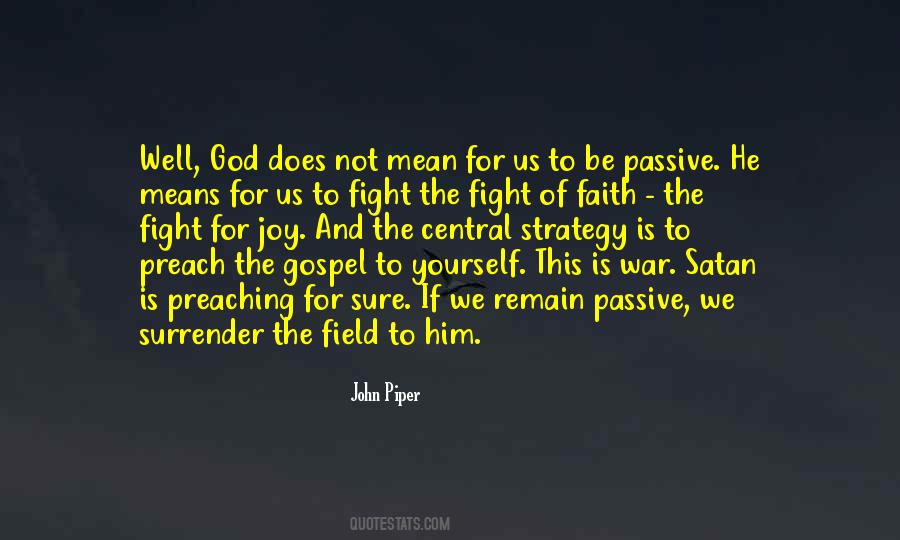 #72. To abandon all is to take our hearts, place them before the One who created them, and dare to believe He can live life powerfully through our surrendered lives. - Author: Mary E. DeMuth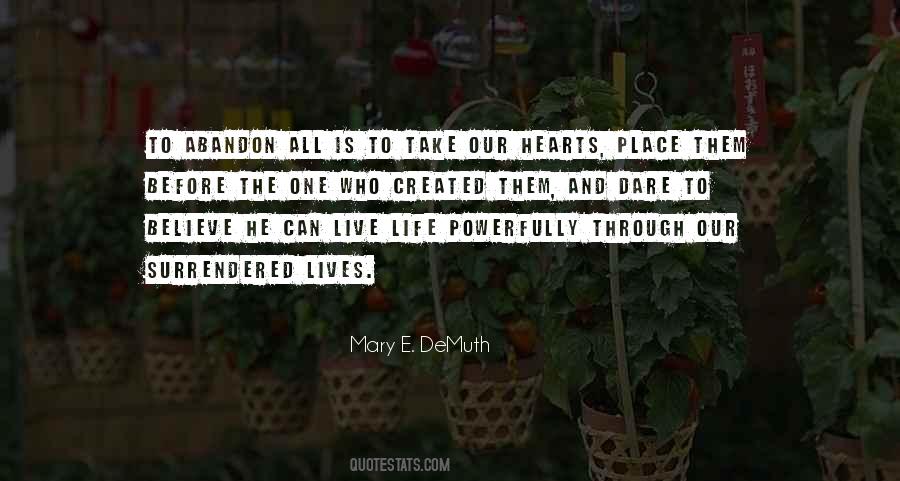 #73. Sometimes when our faith is too weak to trust God, He puts us in a place where our weakness forces us to surrender. Not to trust, but to surrender. Surrender then lays the groundwork for trust, because God always shows Himself faithful. - Author: Wayne Stiles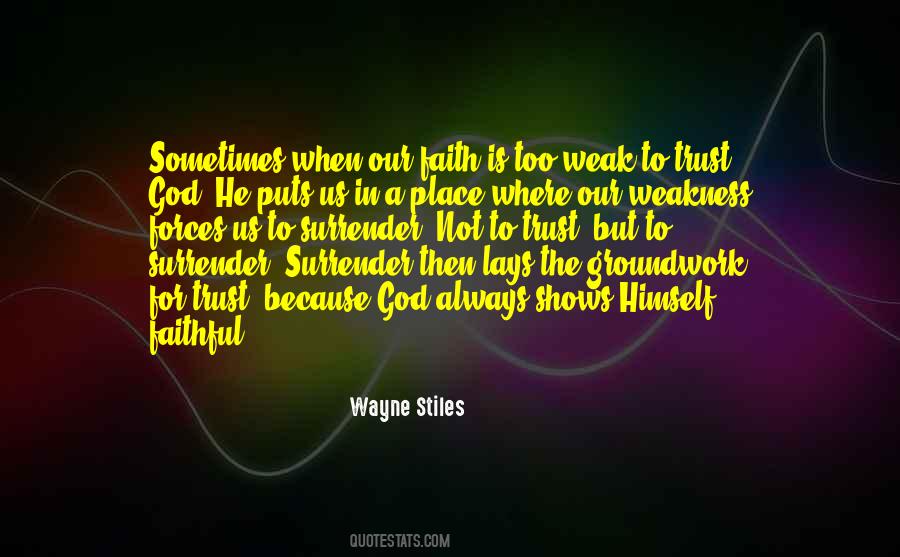 #74. [I]t's impossible to please God in any other way that wholehearted surrender... - Author: Francis Chan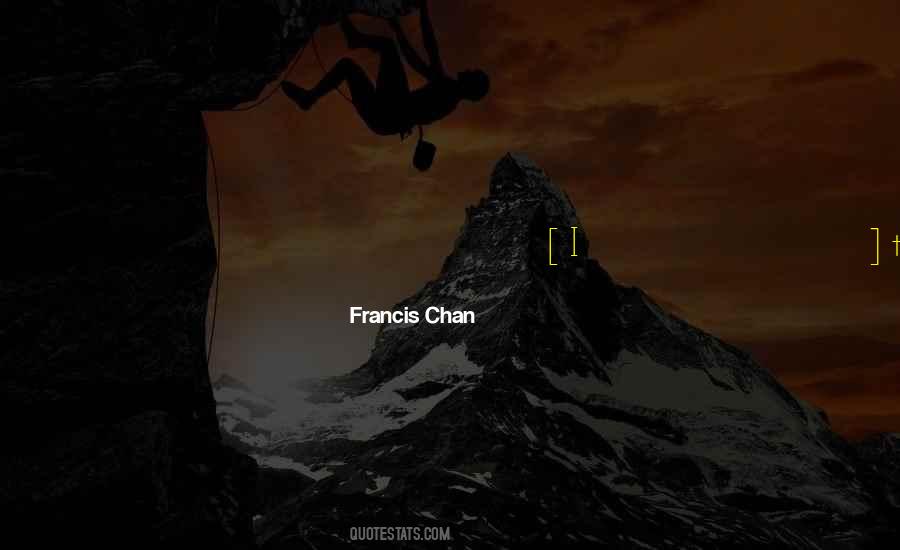 #75. DAY 10 Thinking about My Purpose POINT TO PONDER: The heart of worship is surrender. VERSE TO REMEMBER: "Surrender your whole being to him to be used for righteous purposes." ROMANS 6:13B (TEV) QUESTION TO CONSIDER: What area of my life am I holding back from God? - Author: Rick Warren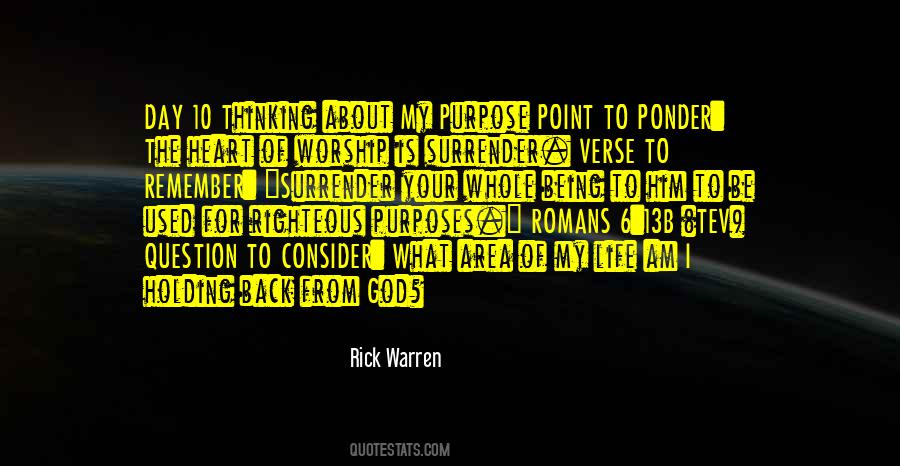 #76. If you don't surrender to God, don't think you don't surrender. Everybody surrenders
to something. - Author: E. Stanley Jones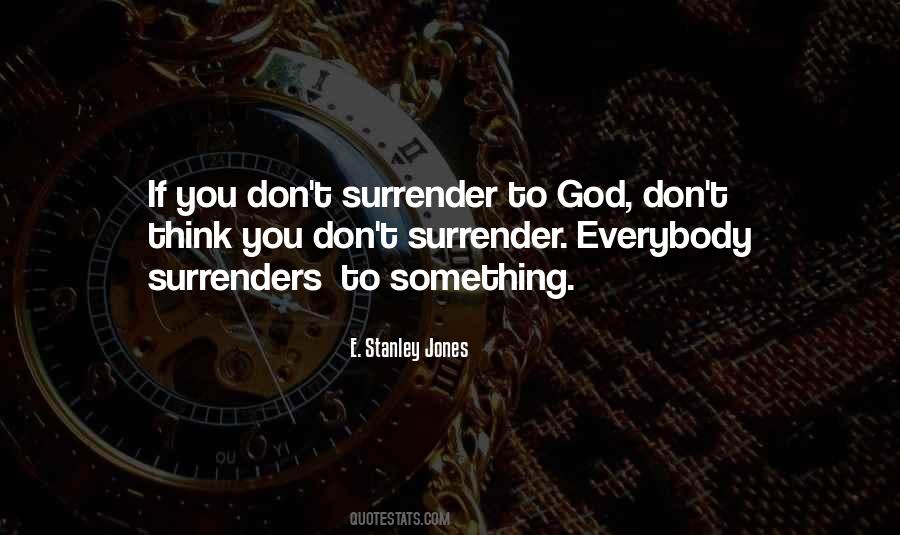 #77. Every time I surrender to stress, aren't I advertising the unreliability of God? - Author: Ann Voskamp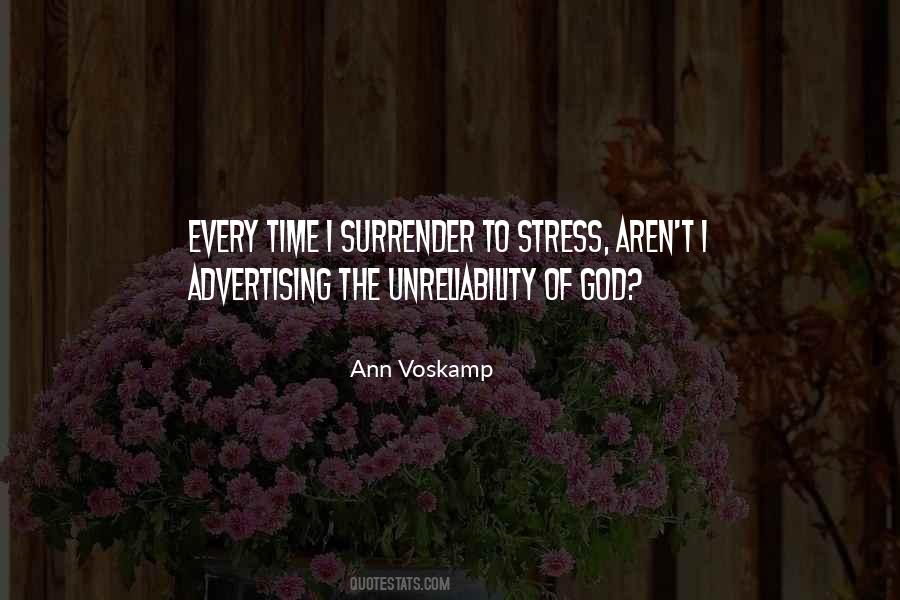 #78. Do you understand that it's impossible to please God in any way other than wholehearted surrender? - Author: Francis Chan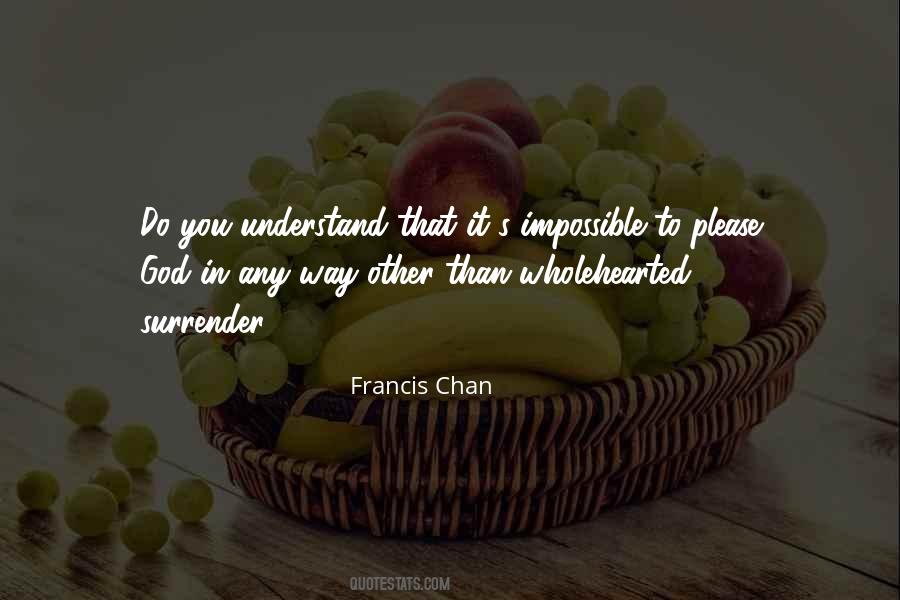 #79. Surrendering to God is not passive resignation, fatalism, or an excuse for laziness. - Author: Rick Warren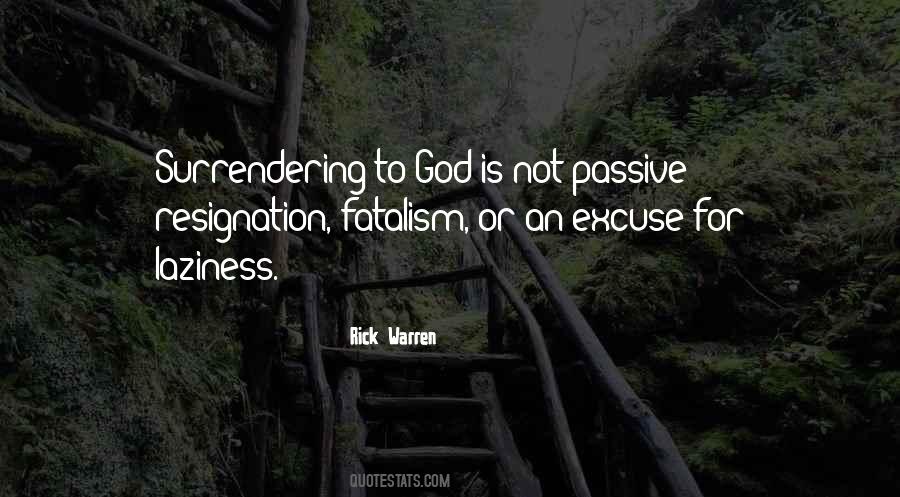 #80. Surrender. Because life may not always go the way we expect it to, but there's hope. With God, there's always hope. - Author: April Geremia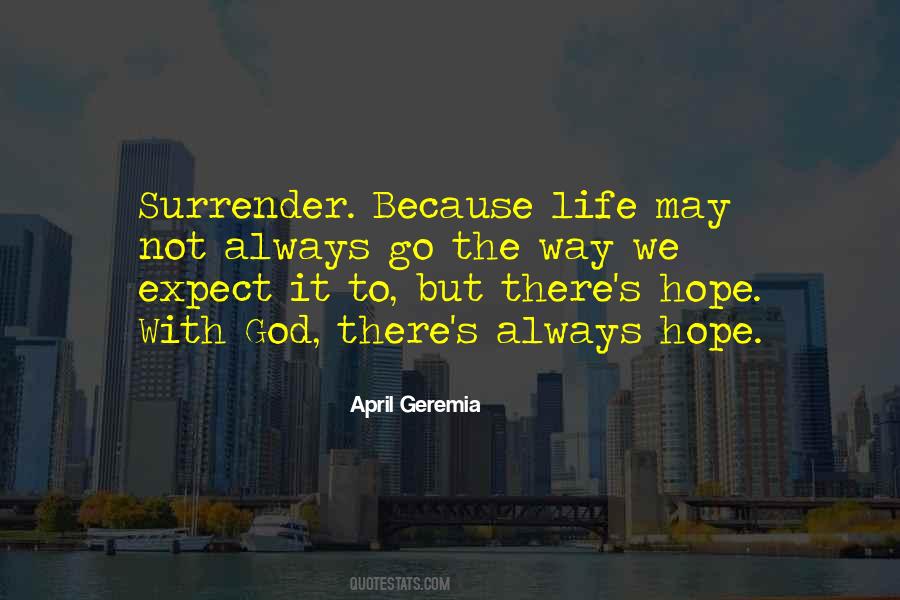 #81. In a real sense faith is total surrender to God . - Author: Martin Luther King Jr.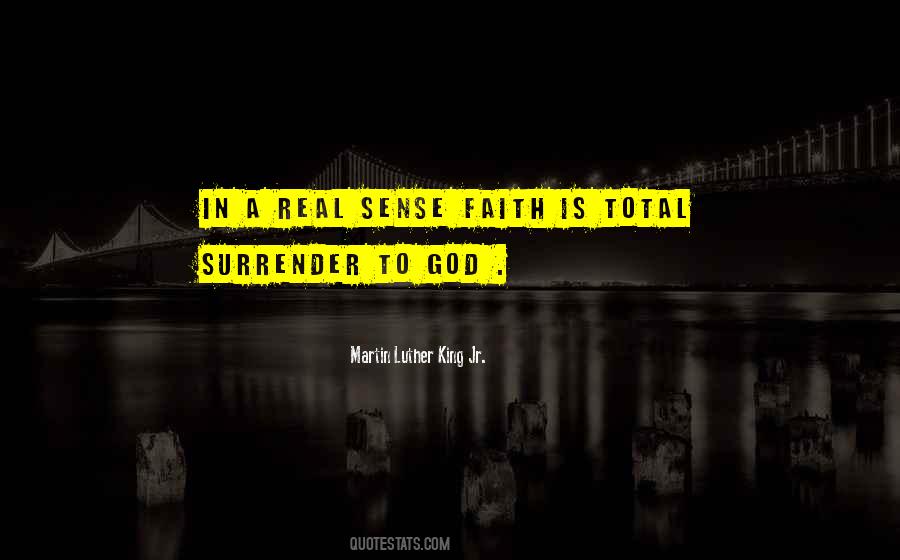 #82. You become stronger only when you become weaker. When you surrender your will to God, you discover the resources to do what God requires. - Author: Erwin W. Lutzer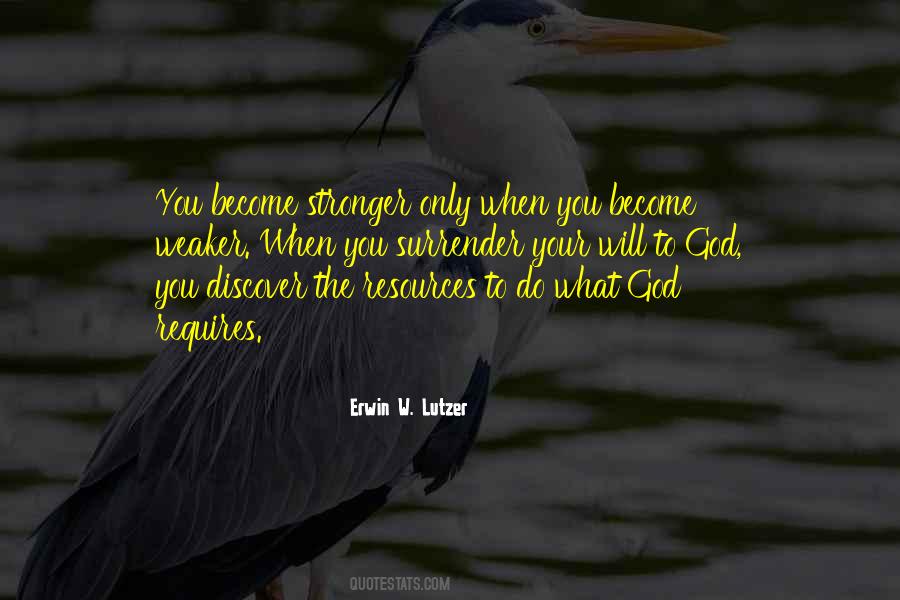 #83. The reason some of us are such poor specimens of Christianity is because we have no Almighty Christ. We have Christian attributes and experiences, but there is no abandonment to Jesus Christ. - Author: Oswald Chambers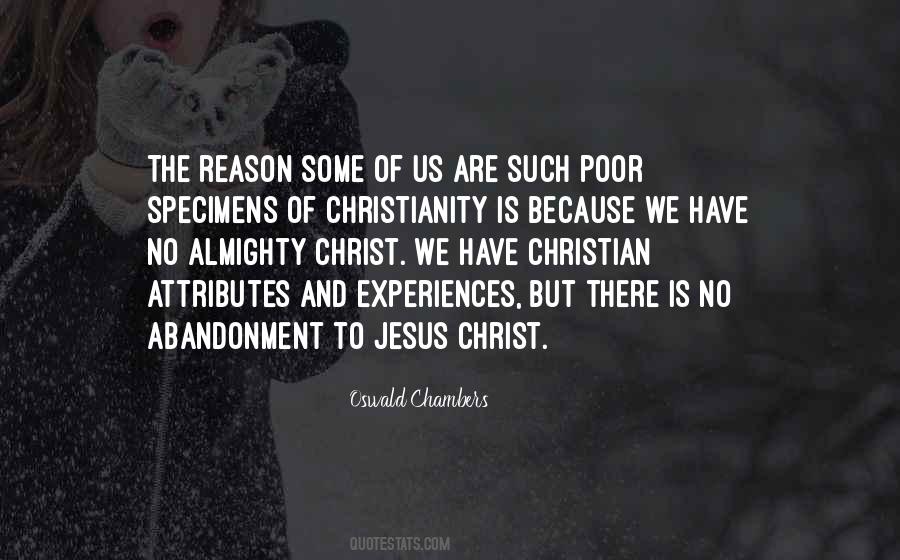 #84. Of God in my life. I surrender my mind, my heart, my need for safety, and my need for rational explanations and orderly instructions to God's will for me. I trust that all that is in my life is as it should be. I release - Author: Caroline Myss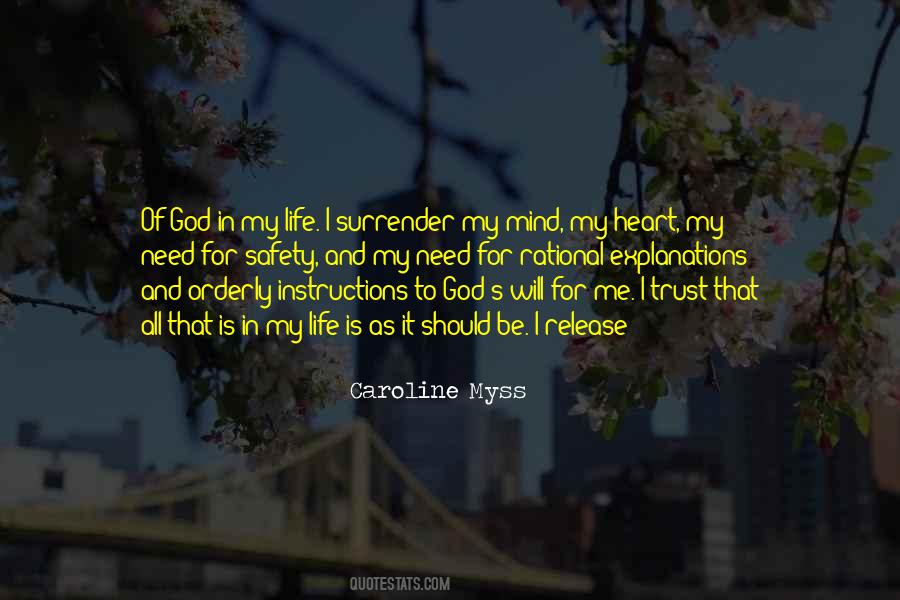 #85. Your wisest moments will be those when you say yes to God. - Author: Rick Warren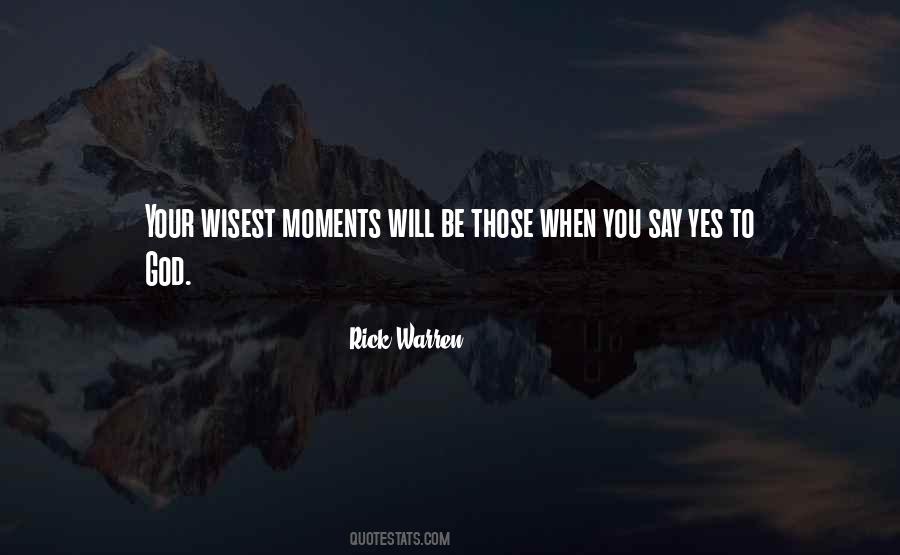 #86. The full acting out of the self's surrender to God therefore demands pain: this action, to be perfect, must be done from the pure will to obey, in the absence, or in the teeth, of inclination - Author: C.S. Lewis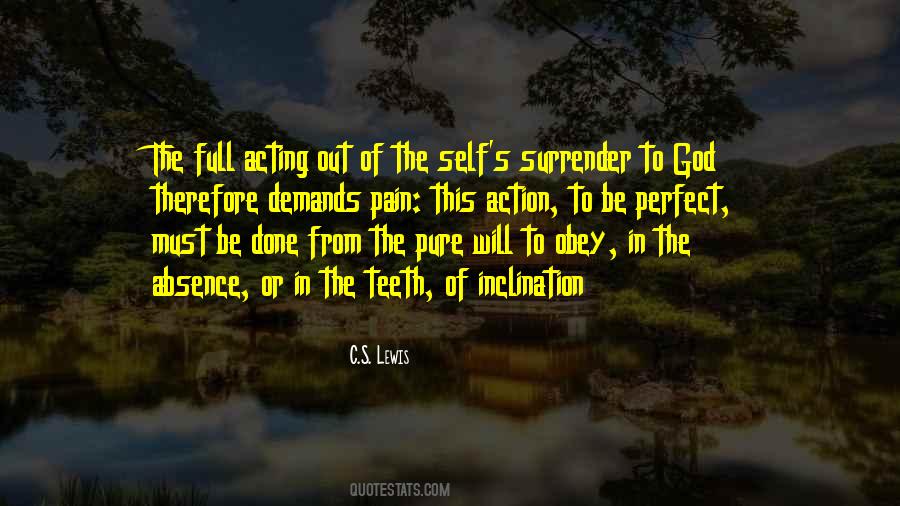 #87. Even though many of us are working very hard at it, we rarely, if ever, experience the joy and peace that are promised in the Bible. So what's the problem? Perhaps we are still holding the reins of our lives too tightly, afraid to surrender ourselves to God's Spirit. - Author: Ann Spangler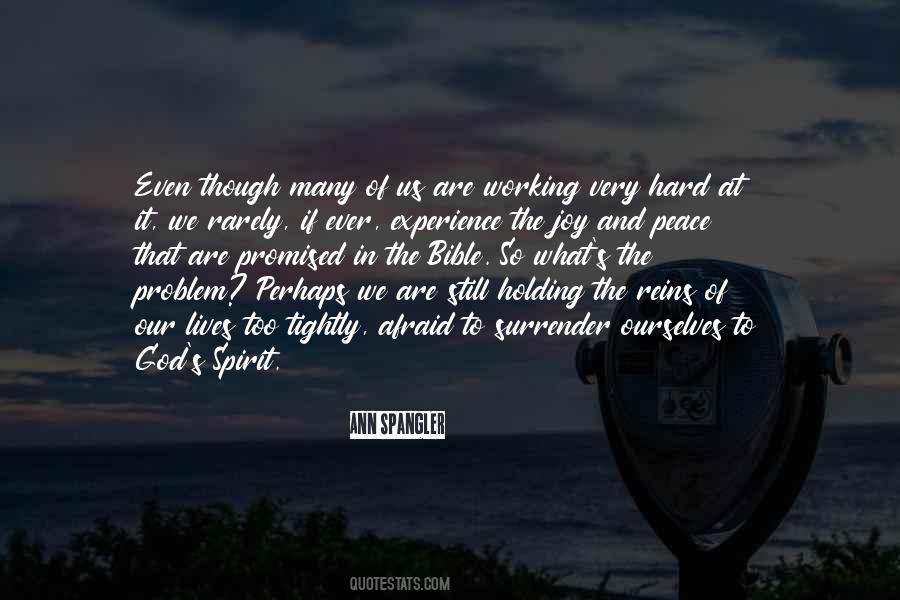 #88. Every inch of ground we refuse to take with God, we surrender to the enemy. - Author: Beth Moore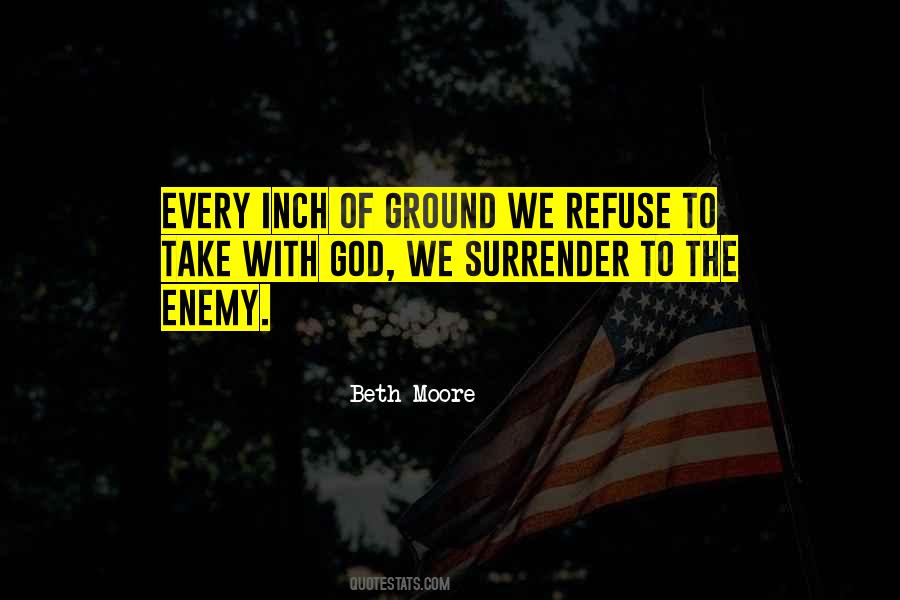 #89. A love without satiety an ecstasy without an end, a surrender to the beloved - God - without ever falling back on egotistic loneliness. Marriage and celibacy are not contraries - Author: Fulton J. Sheen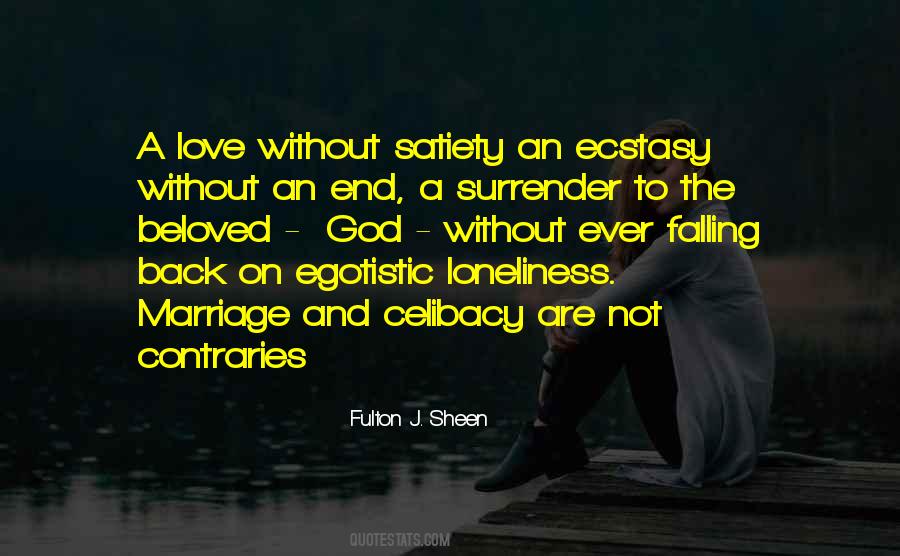 #90. Growth comes from God, to those with surrendered, yielded hearts. - Author: Mary E. DeMuth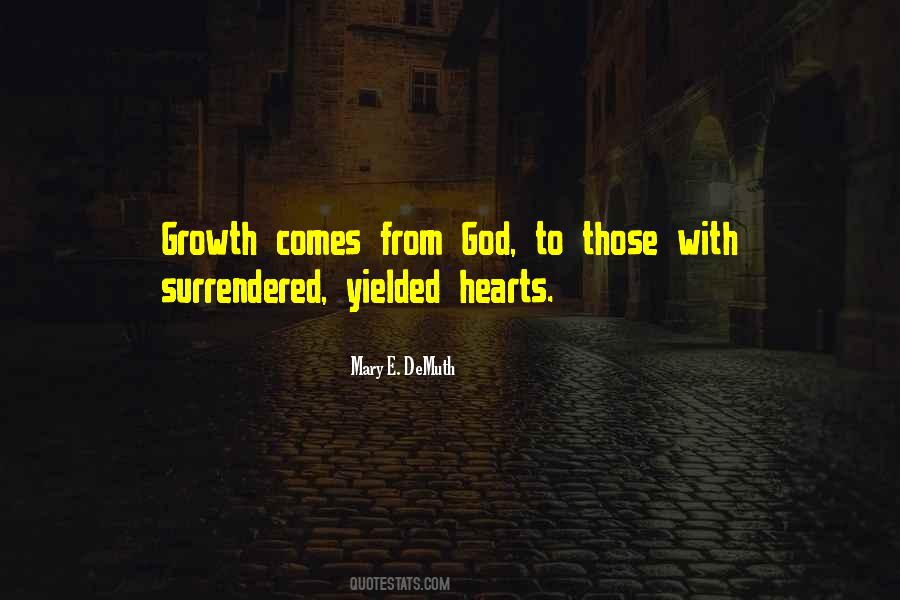 #91. The surrender of oneself to a stronger power, the unification of one's own movements with the movements of the whole is what makes dance religious and lets it become a service of God. - Author: Gerard Van Der Leeuw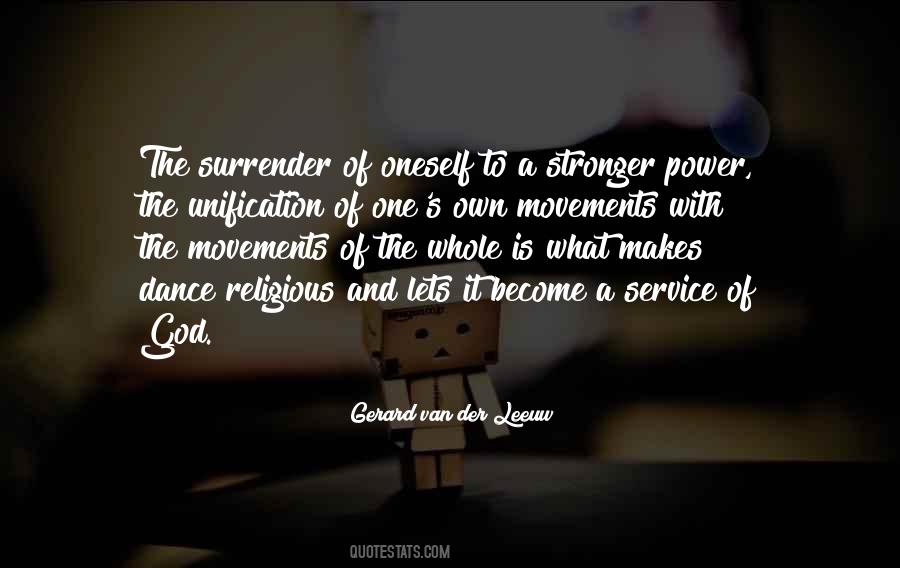 #92. Ask God for the grace to live for Him and continue to live in Him. Right now, surrender it all to Him. - Author: T. B. Joshua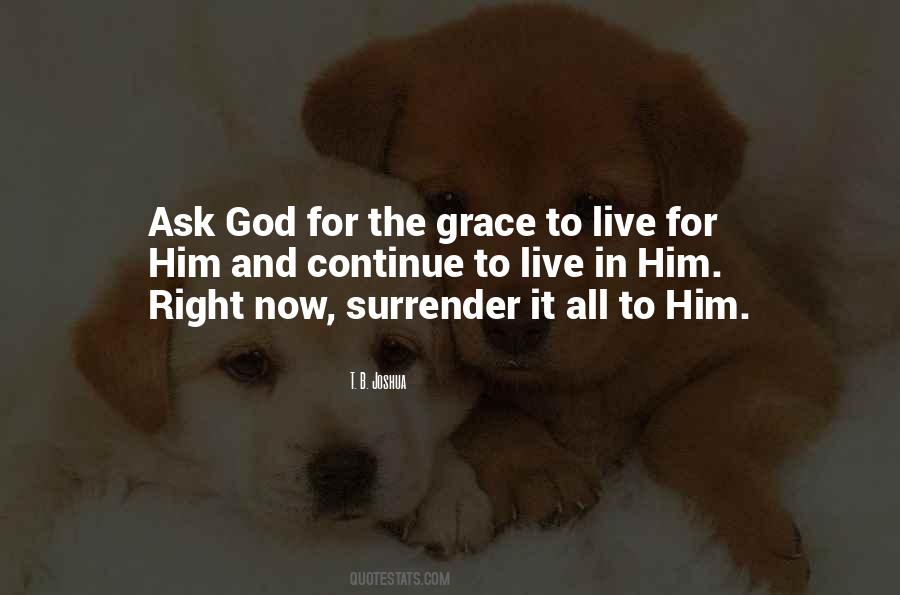 #93. Our problems will melt away if we surrender to God - Author: Sunday Adelaja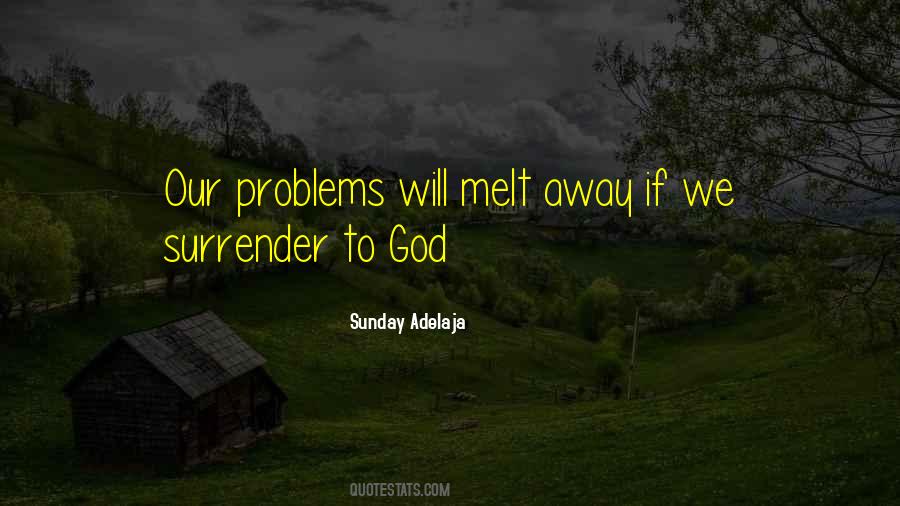 #94. Don't try to build Me into your life anymore. Instead, build your life around Me. - Author: Eric Ludy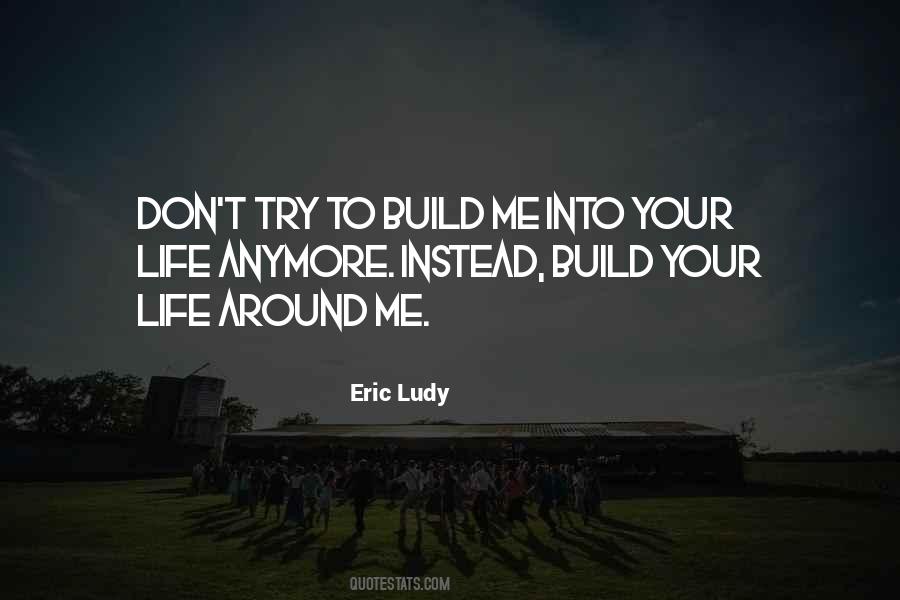 #95. We need to ask ourselves a question: Do we trust God? Is he not the same yesterday, today, and forever? And if he is, then how is compromise a strategy? It's not a strategy, it's wholesale surrender. - Author: Matt Shea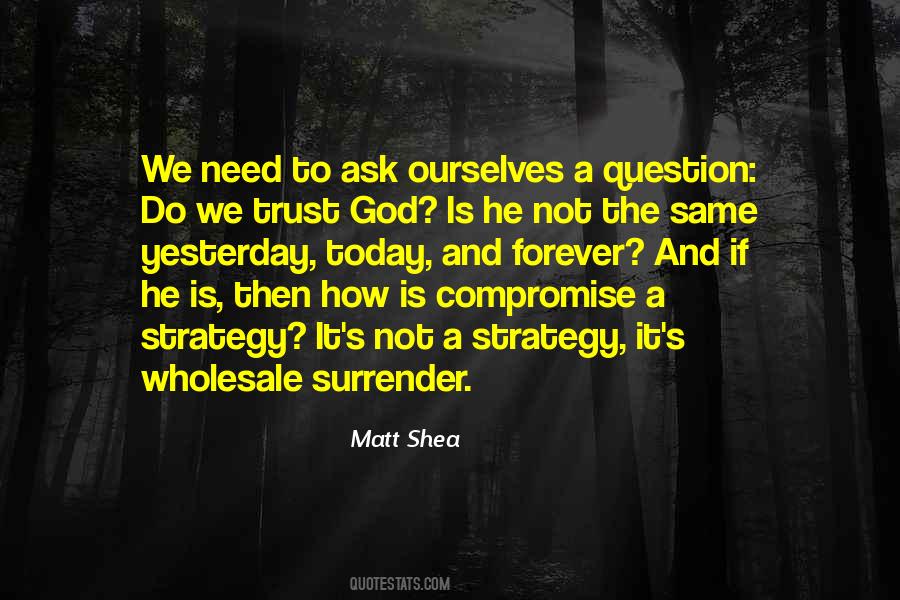 #96. I just want to tell you if that's what You have planned for me, if I am meant to be an obscure flower in the corner of the expansive garden, I will live there and I will love You and I will bloom just for You -- only, always, ever. - Author: Sarah Thebarge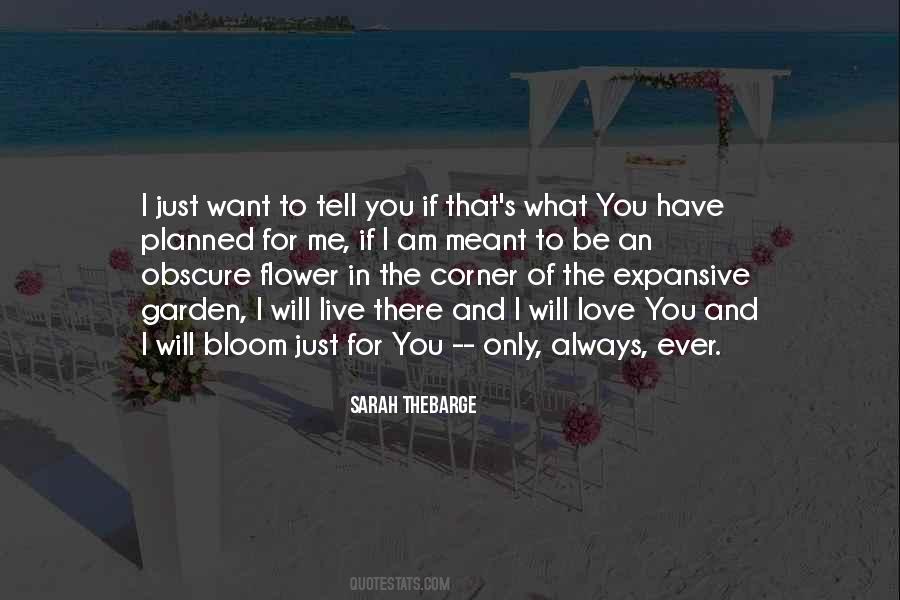 #97. We can only learn to know ourselves and do what we can - namely, surrender our will and fulfill God's will in us. - Author: Saint Teresa Of Avila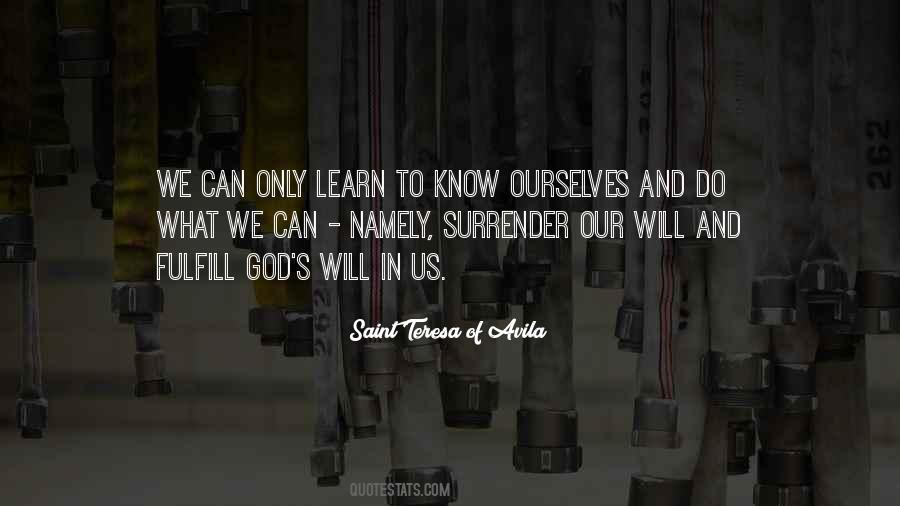 #98. Do not surrender to the one that rules this world, you have the greater One in you - Author: Sunday Adelaja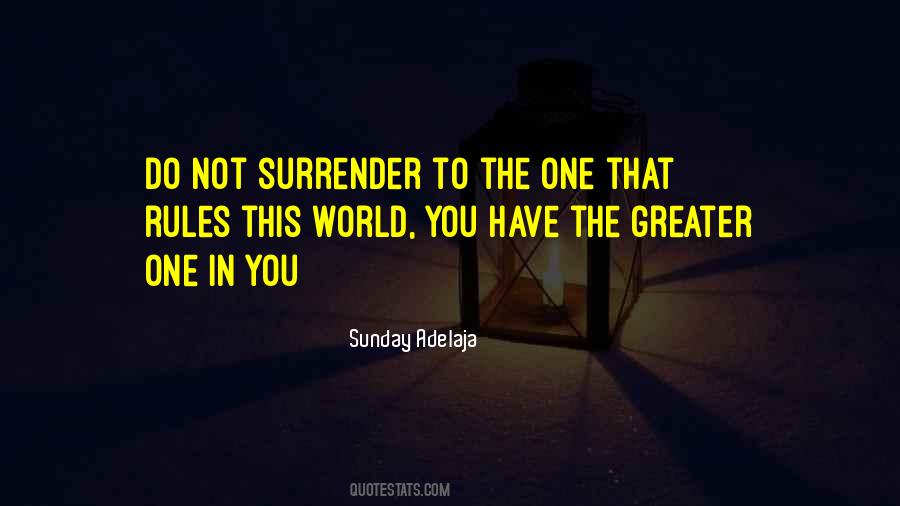 #99. Anyone with the maturity to surrender entirely to God is mature enough for God to use. - Author: Beth Moore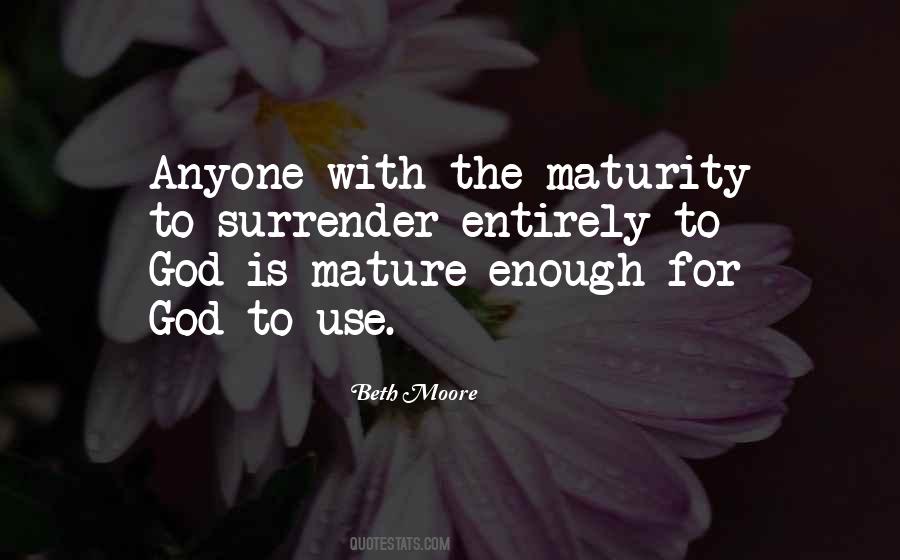 #100. Night is a great gift from God" he said."It is the mother of man and comes quietly and tenderly to cover him.It rests its cool hand on his forehead and effaces the day's cares from his body and soul.Brothers its time to surrender ourselves to night's embrace - Author: Nikos Kazantzakis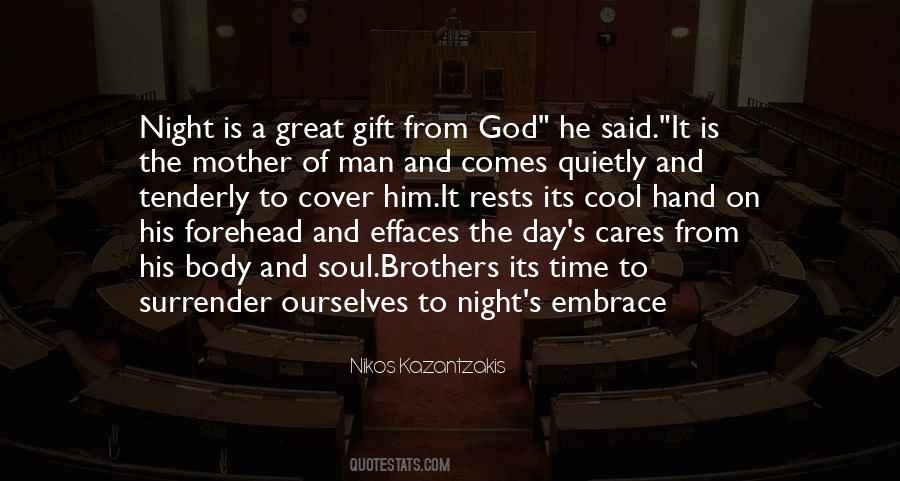 Famous Authors
Popular Topics