Summer Season Famous Quotes & Sayings
List of top 87 famous quotes and sayings about summer season to read and share with friends on your Facebook, Twitter, blogs.
Top 87 Quotes About Summer Season
#1. Here will I live in the rainy season, here in the autumn and in the summer: thus muses the fool. He realizes not the danger (of death). - Author: Gautama Buddha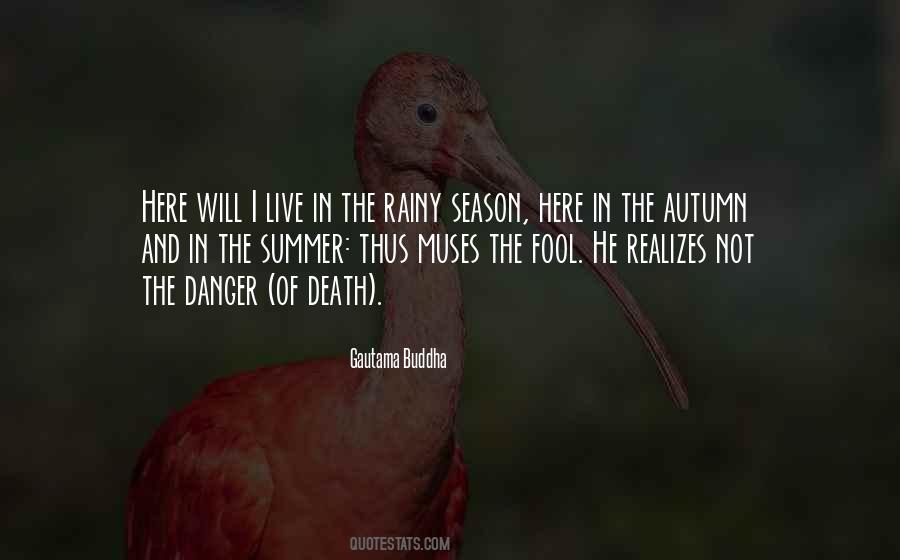 #2. Some people plant in the spring and leave in the summer. If you're signed up for a season, see it through. You don't have to stay forever, but at least stay until you see it through. - Author: Jim Rohn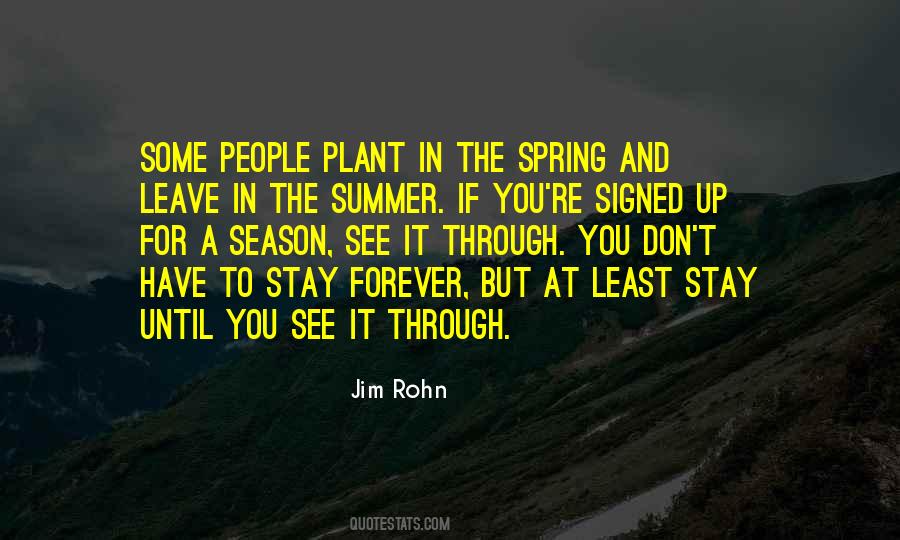 #3. The seasons split at the seams: spring, summer, fall and winter. I've always pictured them as giant sacks filled with air and color and smell. When it's time for one season to be over, the next seasons splits open and pours over the world, drowning its tired and waning predecessor with its strength. - Author: Tarryn Fisher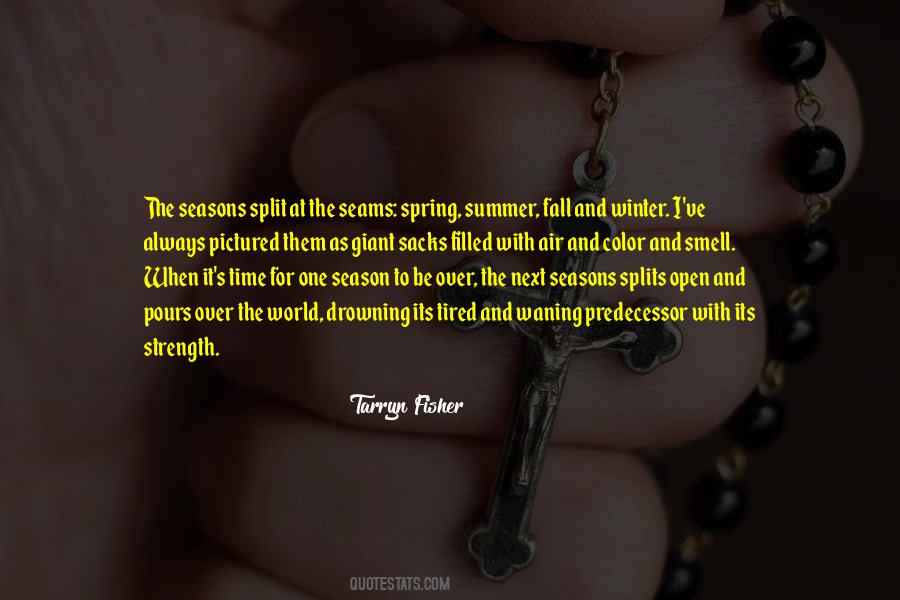 #4. There is no season such delight can bring, as summer, autumn, winter and the spring. - Author: William Browne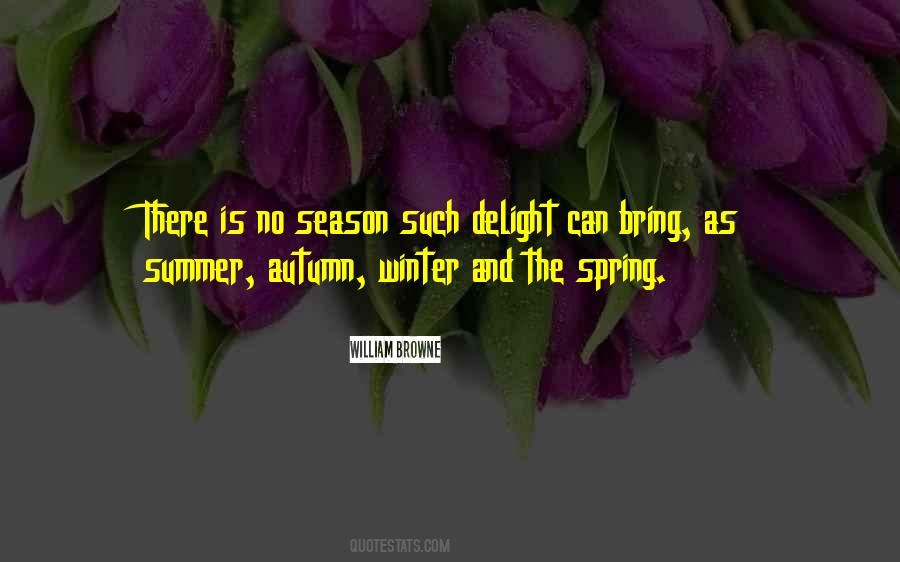 #5. In the summer heat the reapers say, We have seen her dancing with the autumn leaves, and we saw a drift of snow in her hair. - Author: Kahlil Gibran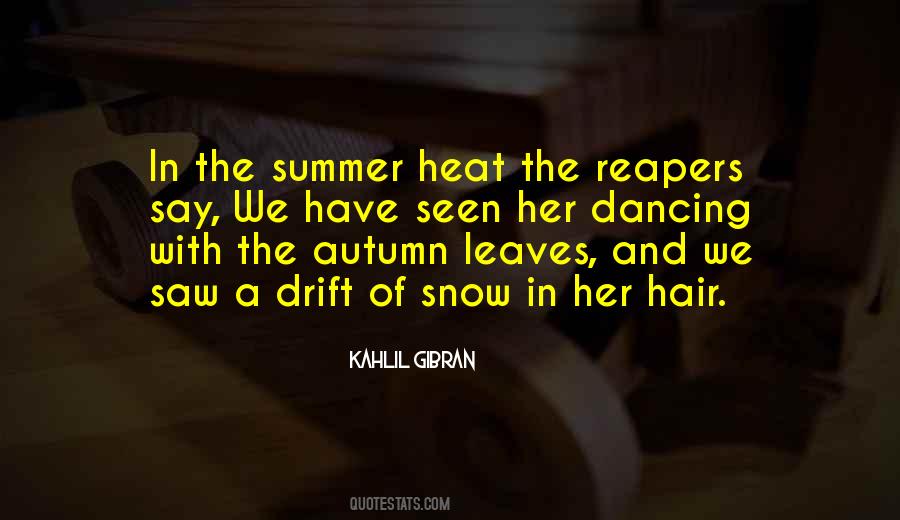 #6. That's one of the great gifts of this, the greatest of all games, baseball: it allows you, still, to lose yourself in a dream, to feel and remember a season of life when summer never seemed to die and the assault of cynicism hadn't begun to batter optimism. - Author: Mike Barnicle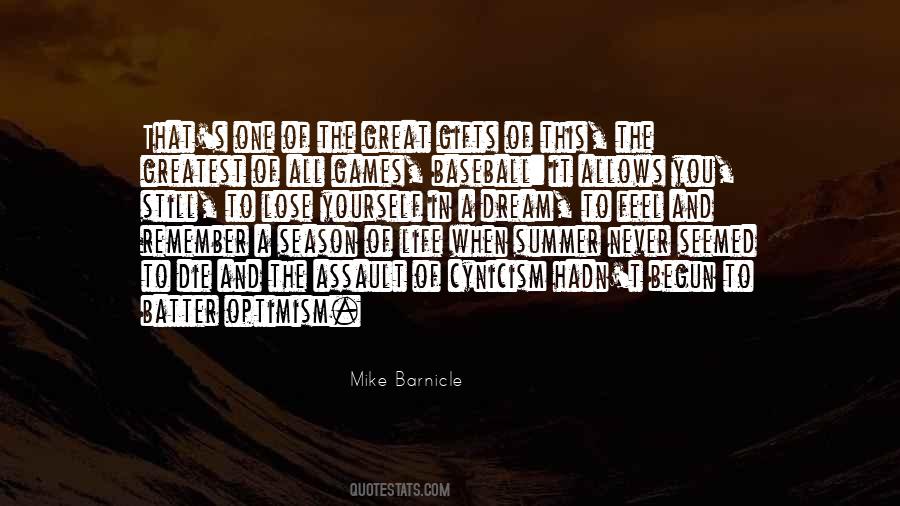 #7. I played Little League baseball, but I also played basketball. Basketball was my primary sport. When you play basketball seriously, a lot of times, through the summer season, you continue playing. So that replaced me playing baseball. - Author: Chadwick Boseman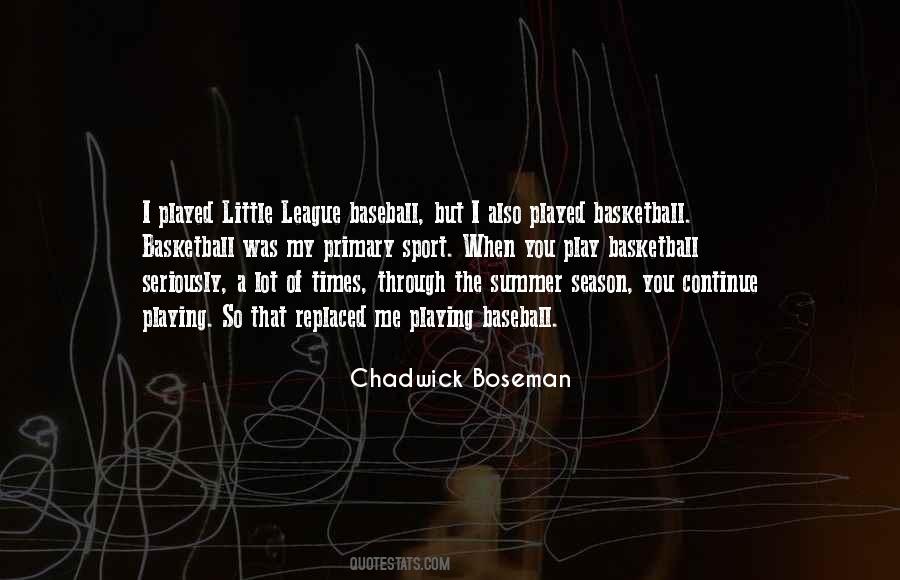 #8. The first time I came to London on my own, I was 15. I was absolutely oblivious to so many things. I had no expectations, no fears. I just came to do a National Youth Theatre season one summer. It was just brilliant. - Author: Gina McKee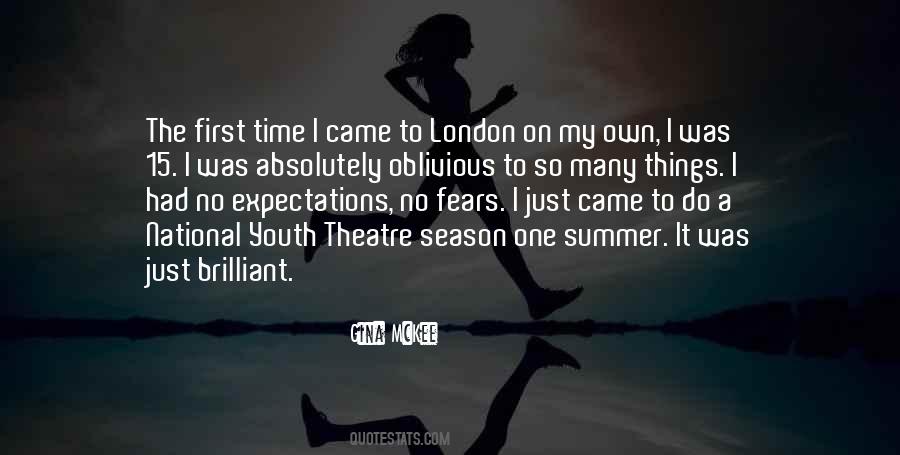 #9. For a long time - and this particular time with greater force than usual - summer has been a season that gives me a sense of emptiness and absence, and takes me back to the past. - Author: Patrick Modiano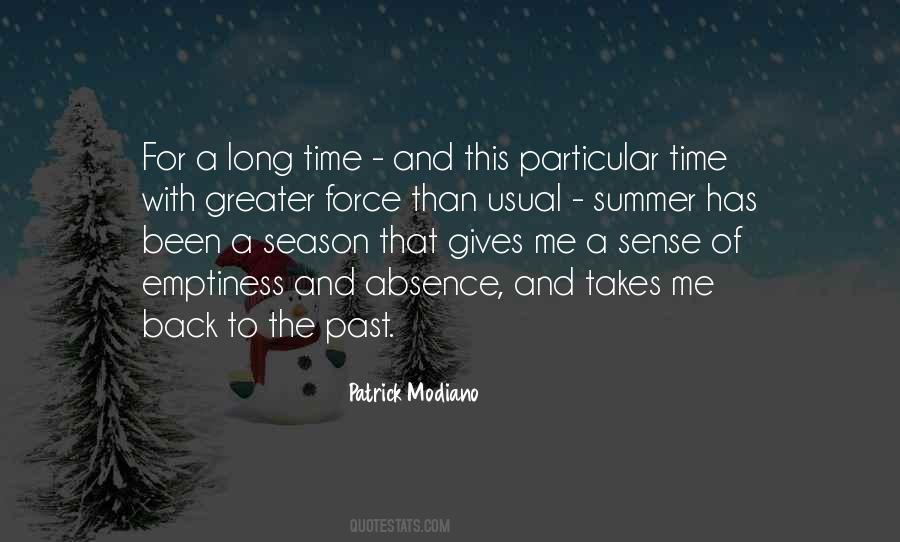 #10. Caught Summer is always an imagined time. Time gave it, yes, but time out of any mind. There must be prime In the heart to beget that season, to reach past rain and find Riding the palest days Its perfect blaze. - Author: Richard Wilbur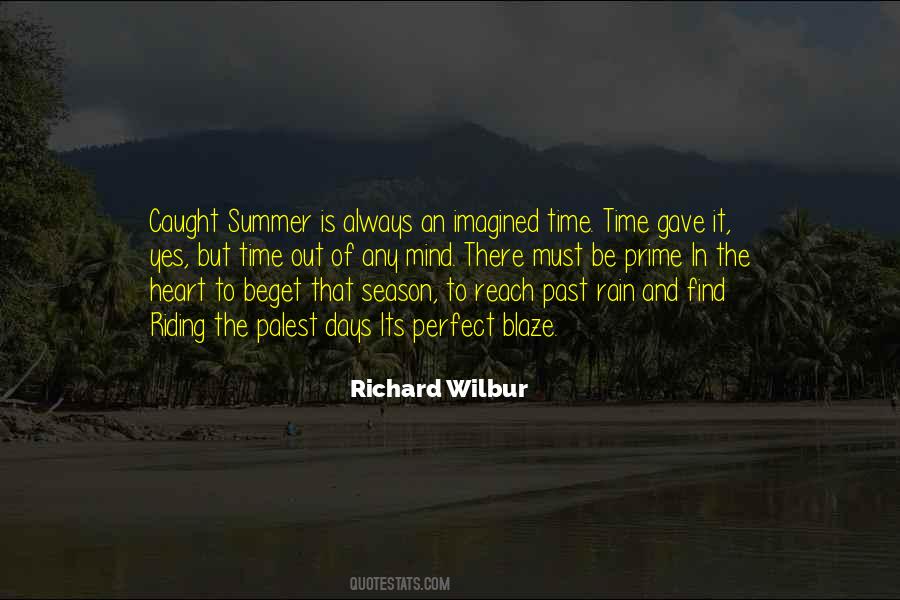 #11. You cannot speak of ocean to a well-frog, the creature of a narrower sphere. You cannot speak of ice to a summer insect, the creature of a season. - Author: Zhuangzi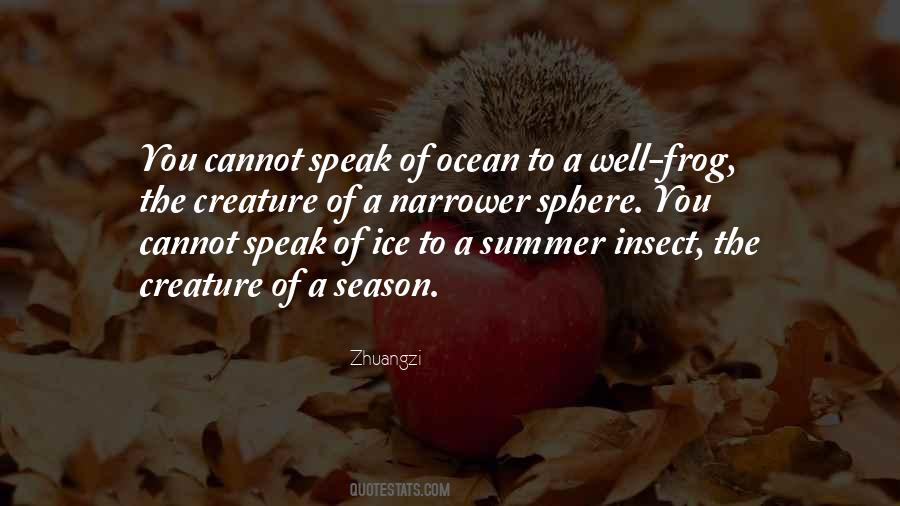 #12. Summer was our best season: it was sleeping on the back screeneed porch in cots, or trying to sleep in the treehouse; summer was everything good to eat;it was a thousand colors in a parched landscape. - Author: Harper Lee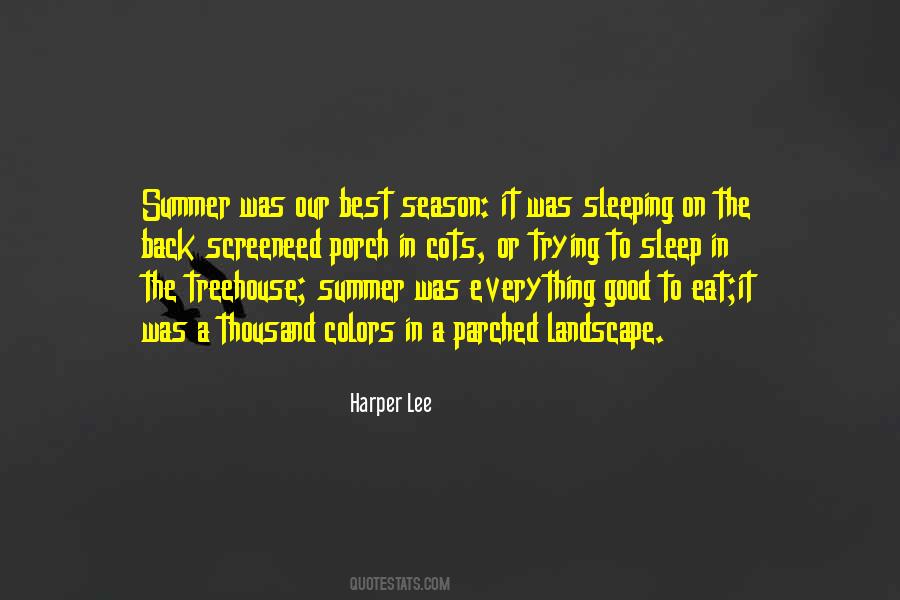 #13. Summer in the deep South is not only a season, a climate, it's a dimension. Floating in it, one must be either proud or submerged. - Author: Eugene Walter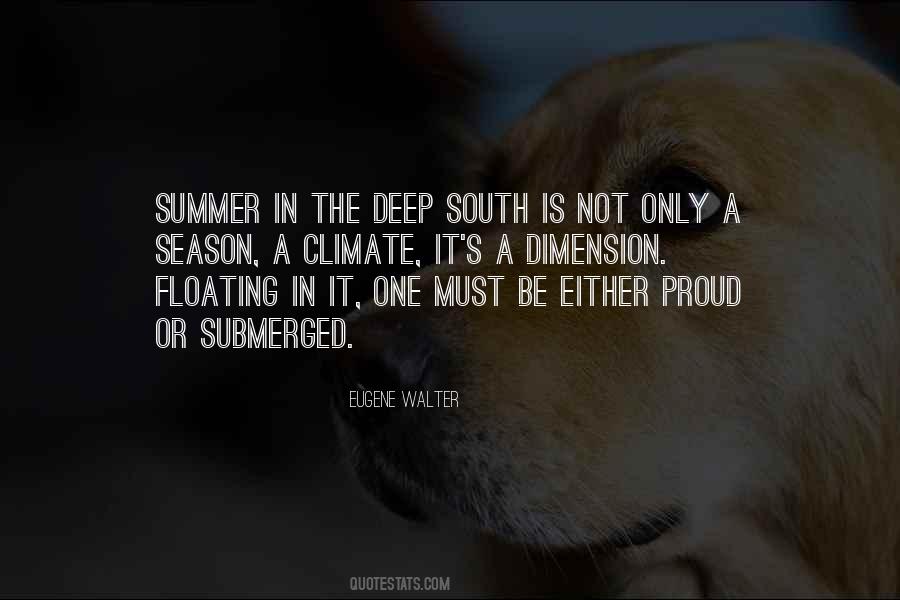 #14. Summer is the season when children slam the doors they left open all winter. - Author: Suzanne Woods Fisher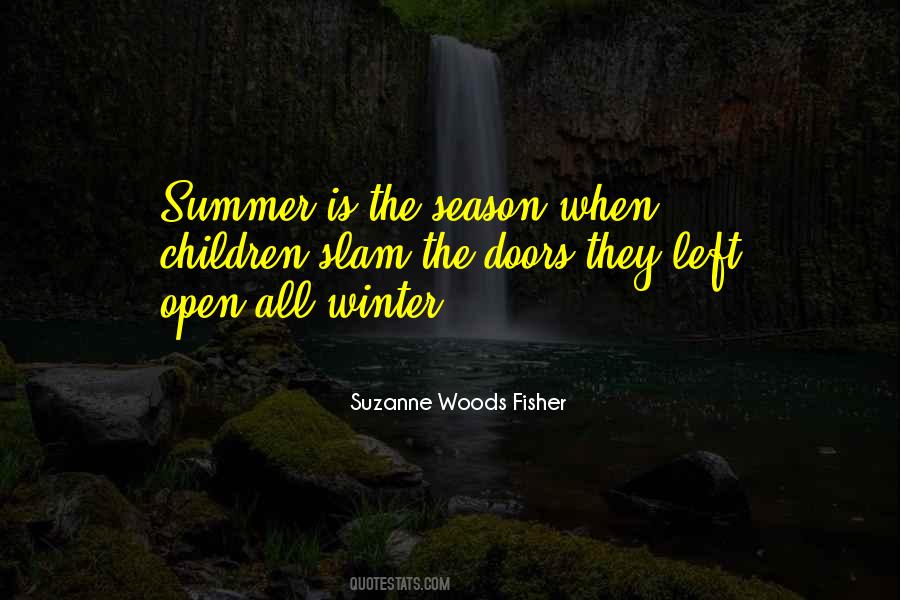 #15. Give winter nothing; hold; and let the flake
Poise or dissolve along your upheld arms.
All flawless hexagons may melt and break;
While you must feel the summer's rage of fire,
Beyond this frigid season's empty storms.
Banished to bloom, and bear the birds' desire. - Author: James Wright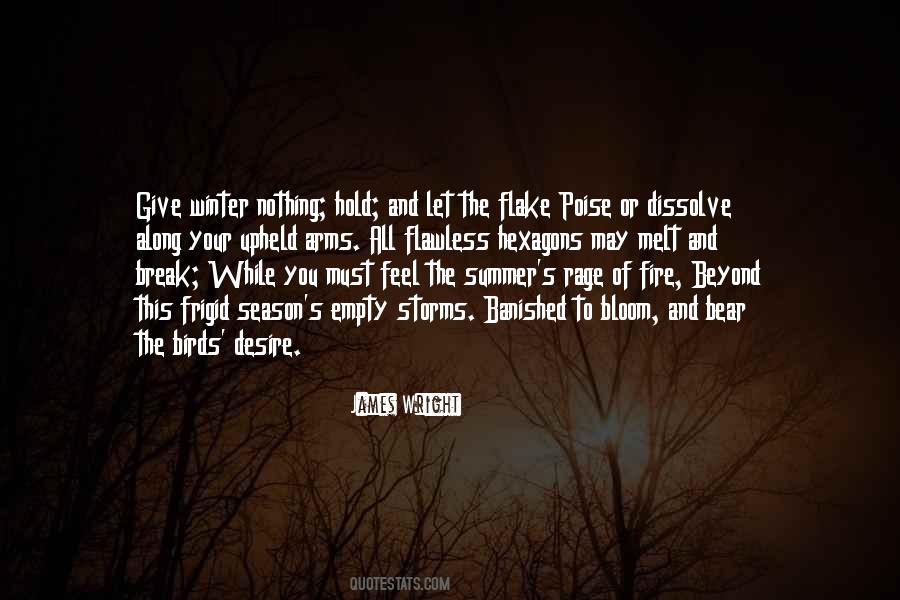 #16. In our passage from the Cape of Good Hope the winds were mostly from the westward with very boisterous weather: but one great advantage that this season of the year has over the summer months is in being free from fogs. - Author: William Bligh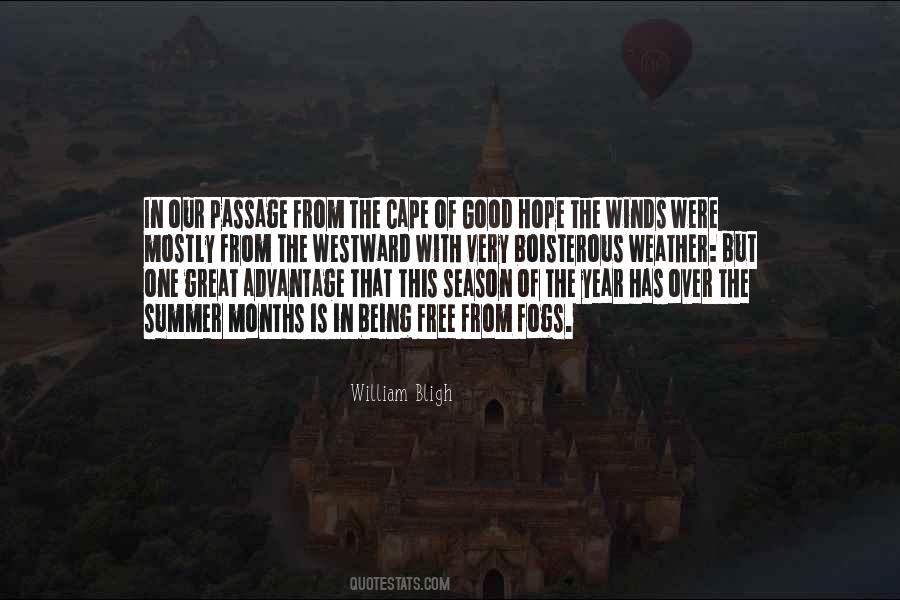 #17. Summer is the season of wild birds. - Author: Marty Rubin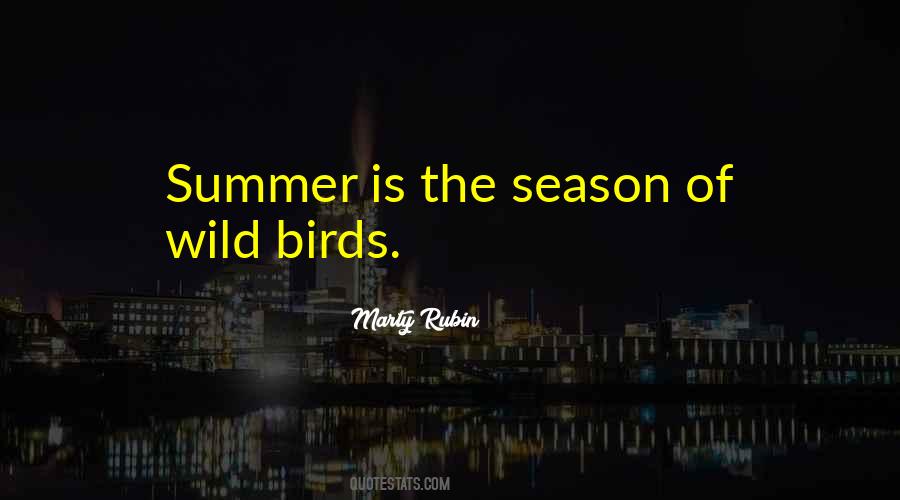 #18. I am a better running back every time I step on the field. I try to get better each game, each summer, each season. - Author: Shaun Alexander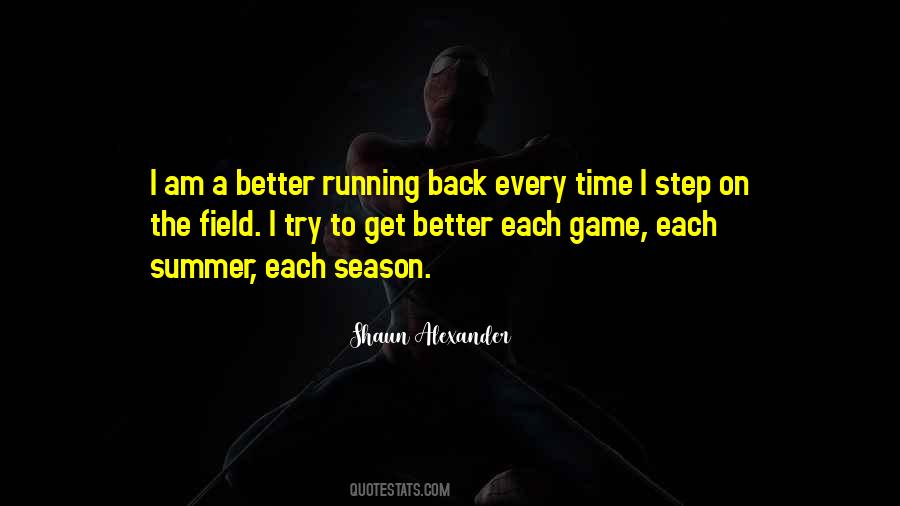 #19. A day out of season, stopping the monotonous count of summer days. Stopping, too, one's own summer routine, so that, looking out on the gray skies, one says not only, 'What time of year is it?' but, 'What time of life am I in? Where am I? What am I doing? - Author: Anne Morrow Lindbergh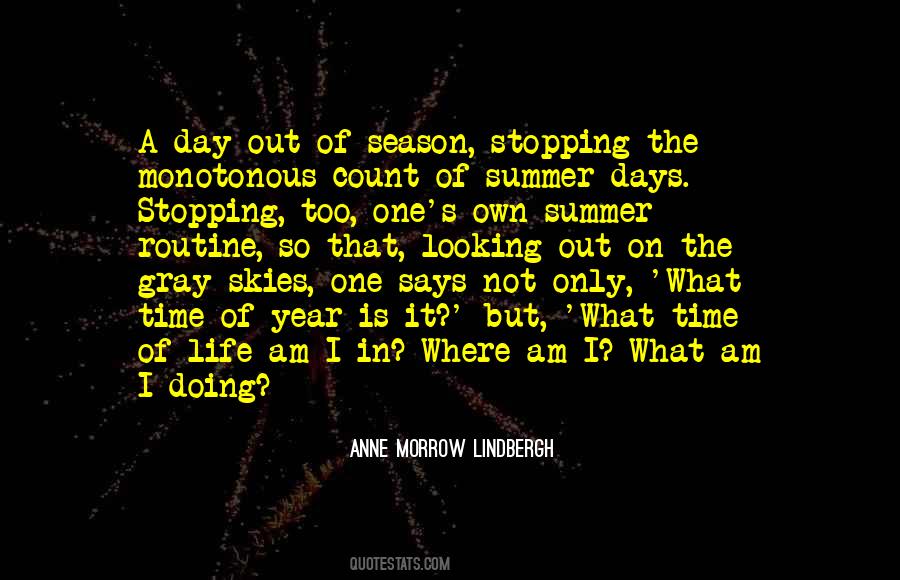 #20. A lot of the time, we're shooting summer campaigns in winter because they have to come out the next season. It's the hardest to feel great in a bikini when it's cold ... so I appreciate a swimsuit shoot that's in warm weather. - Author: Gigi Hadid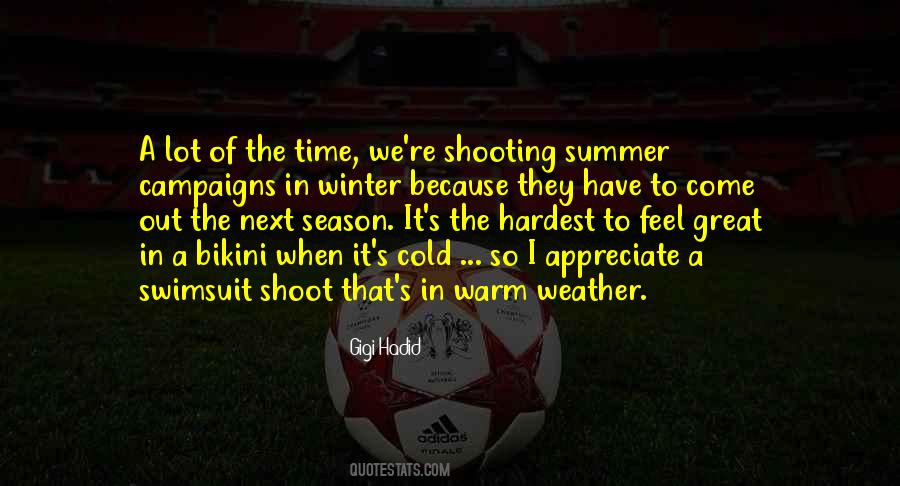 #21. Every man makes his own summer. The season has no character of its own, unless one is a farmer with a professional concern for the weather. - Author: Robertson Davies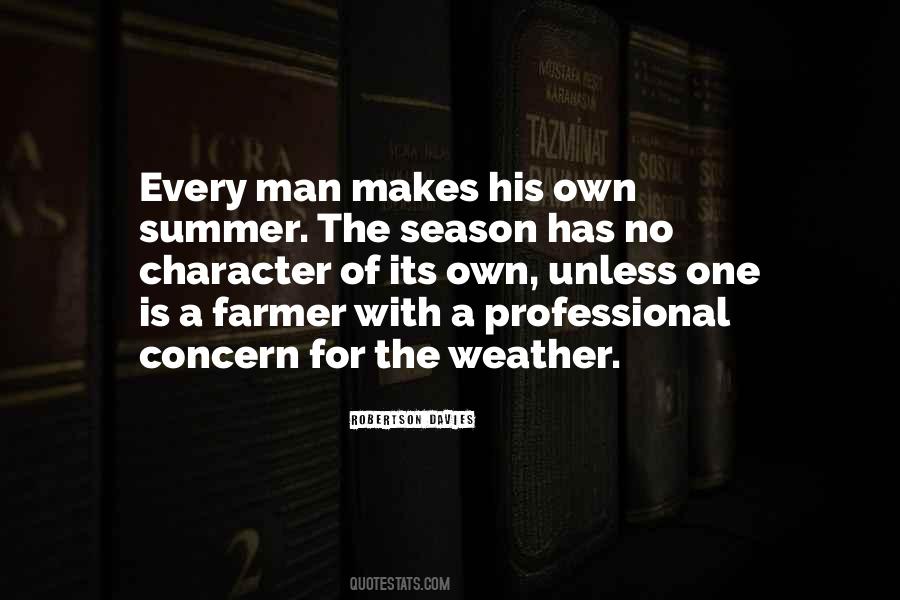 #22. there are those who are cursed to live in times when death seems to come out of season, when the winter of a man's life may leap upon him in the midst of summer greenness. - Author: Erik Christian Haugaard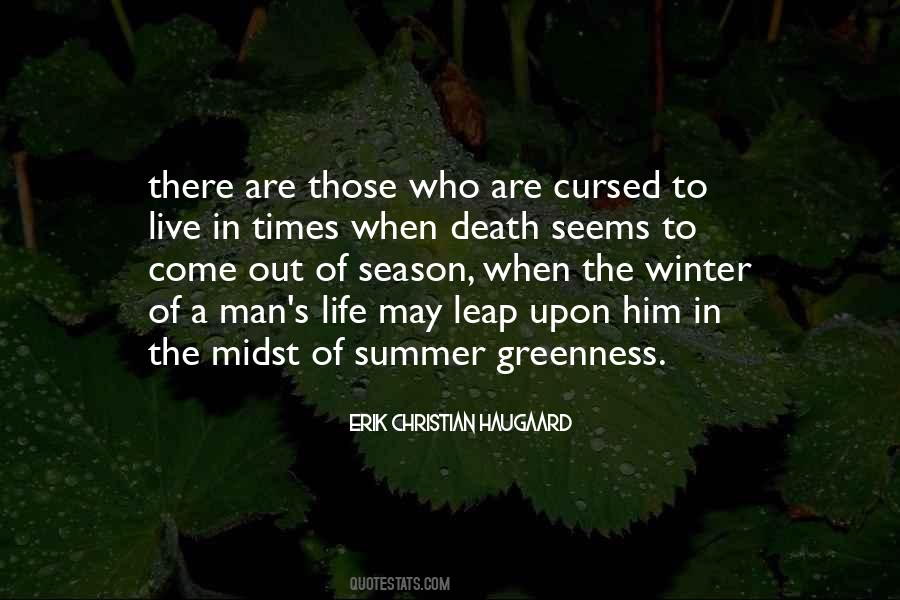 #23. You can't discuss the ocean with a well frog - he's limited by the space he lives in. You can't discuss ice with a summer insect - he's bound to a single season. - Author: Zhuangzi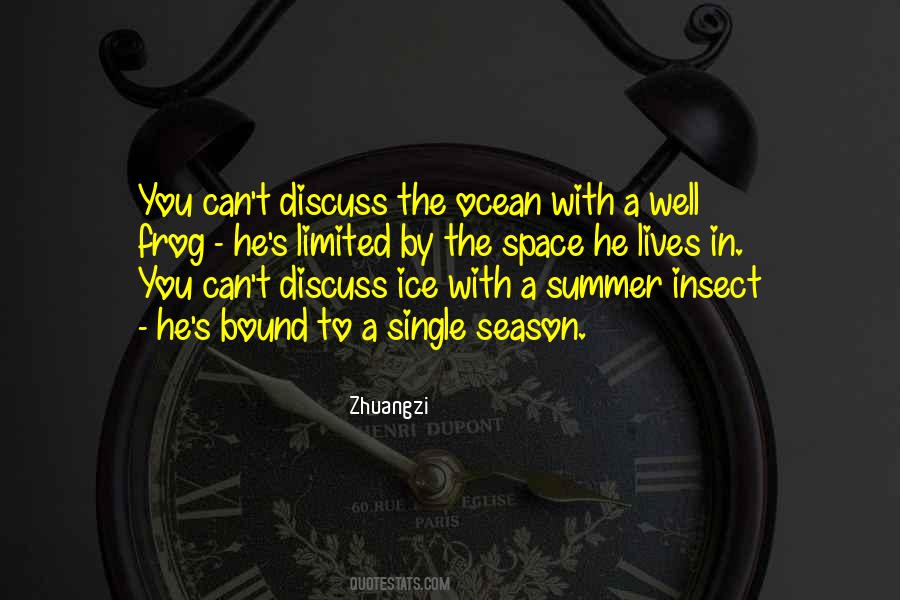 #24. At the bottom of every leaf-stem is a cradle, and in it is an infant germ; the winds will rock it, the birds will sing to it all summer long, but the next season it will unfold and go alone. - Author: Henry Ward Beecher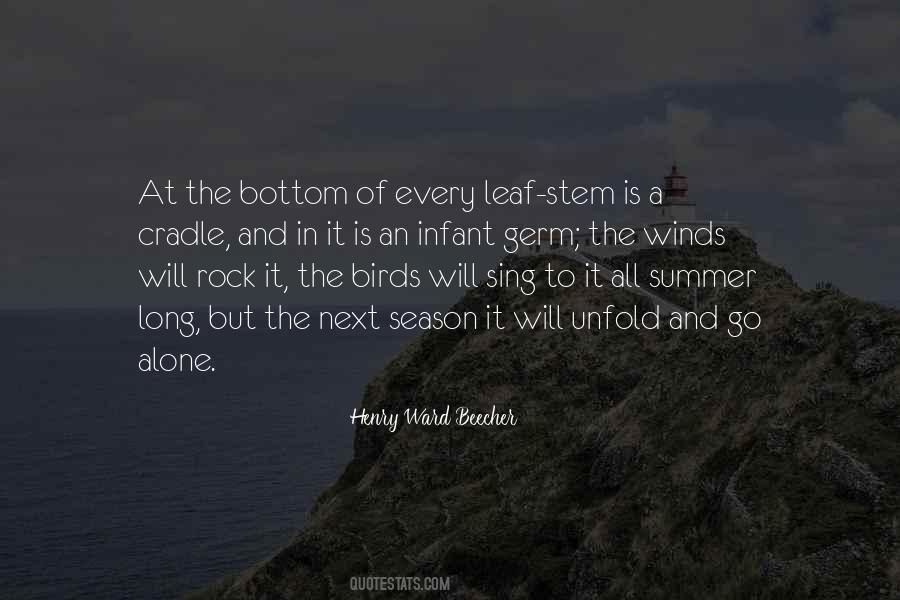 #25. Spring is sweet, the baby season; summer is the teenage season -- too much energy, too much growth and beauty and heat and late nights, none of them what they are cracked up to be. Fall is the older season, a more seasoned season. The weather surrounds you instead of beating down on you. - Author: Anne Lamott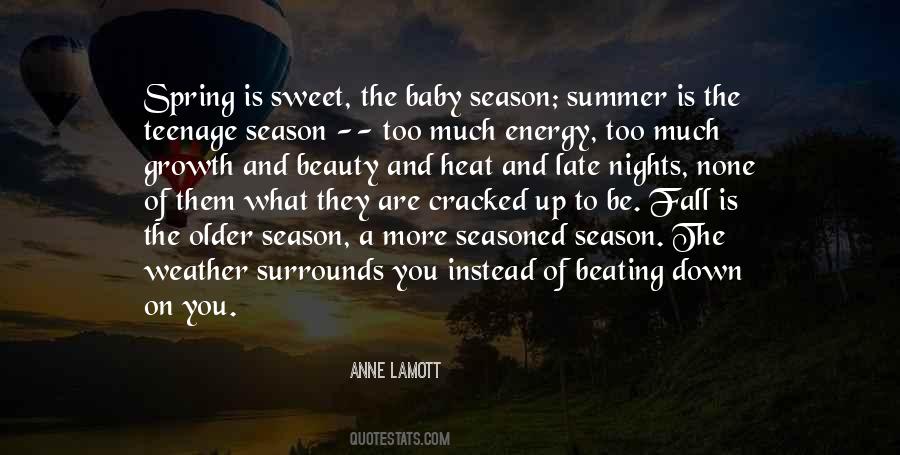 #26. The Indian Summer of life should be a little sunny and a little sad, like the season, and infinite in wealth and depth of tone, but never hustled. - Author: Henry Adams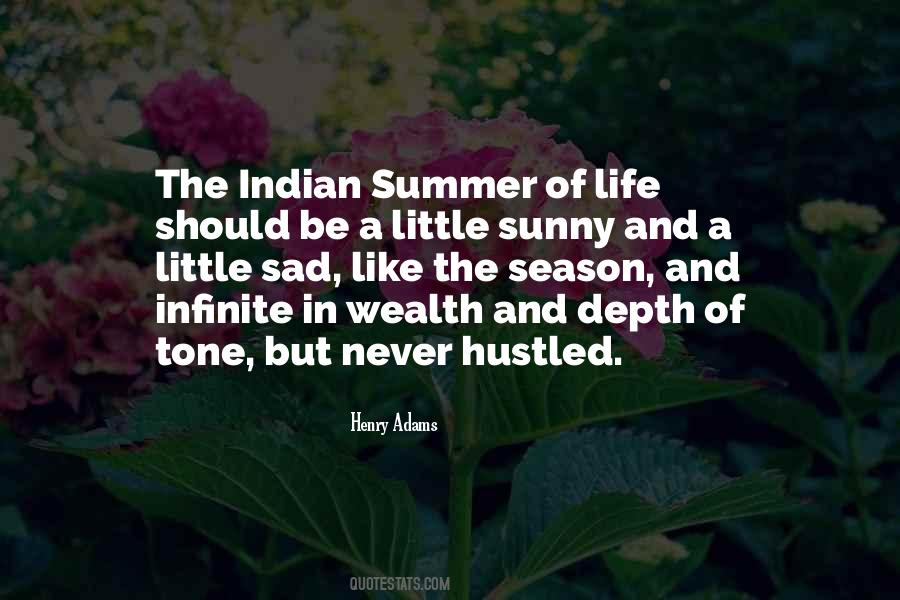 #27. I had gone into my wife Akemi over and over and in so many ways that the thought alone made my heart begin to race and my entire body began to sweat like summer but in the spring season. - Author: Sister Souljah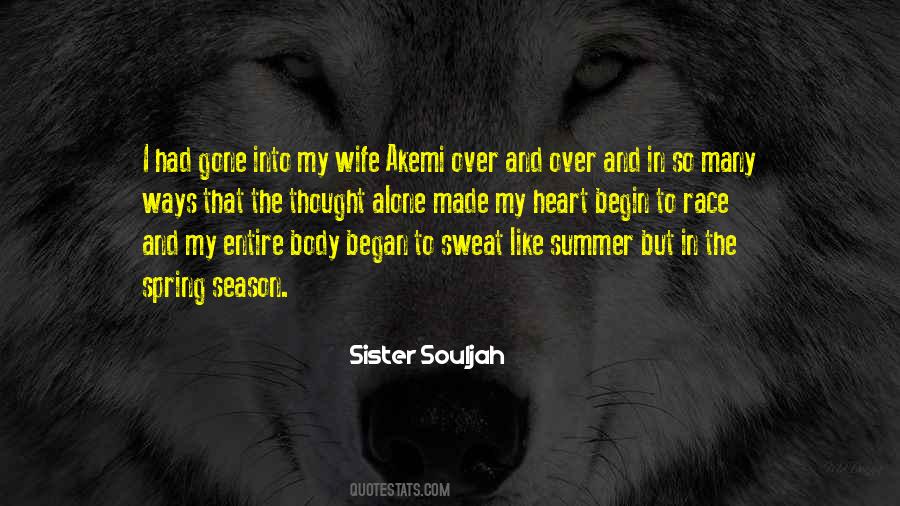 #28. It's a cruel season that makes you get ready for bed while it's light out. - Author: Bill Watterson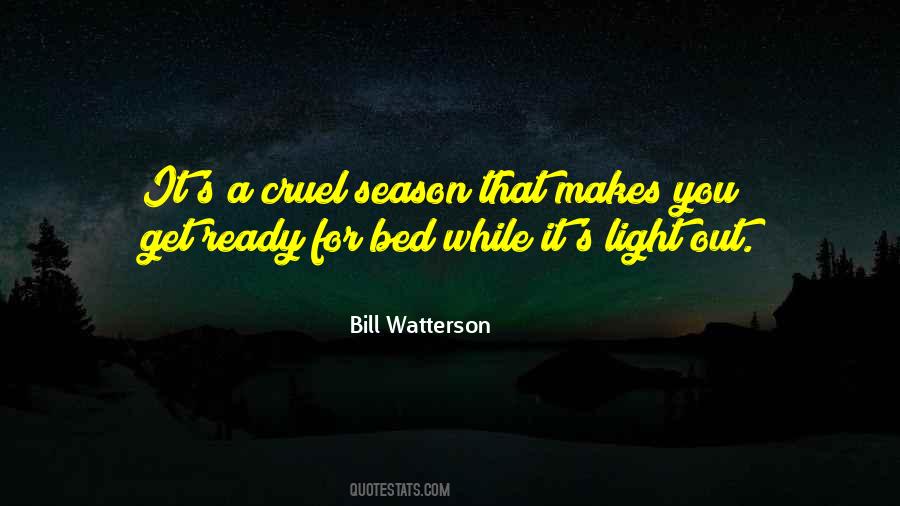 #29. In the winter you may want the summer; in the summer, you may want the autumn; in the autumn, you may want the winter; but only in the spring you dream and want no other season but the spring! - Author: Mehmet Murat Ildan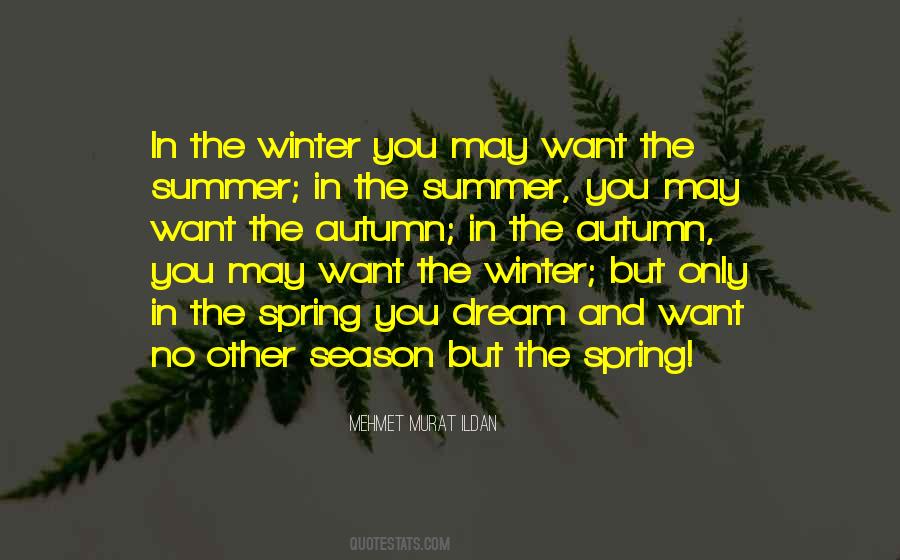 #30. Summer has always been my favorite season. I feel happier. - Author: Zooey Deschanel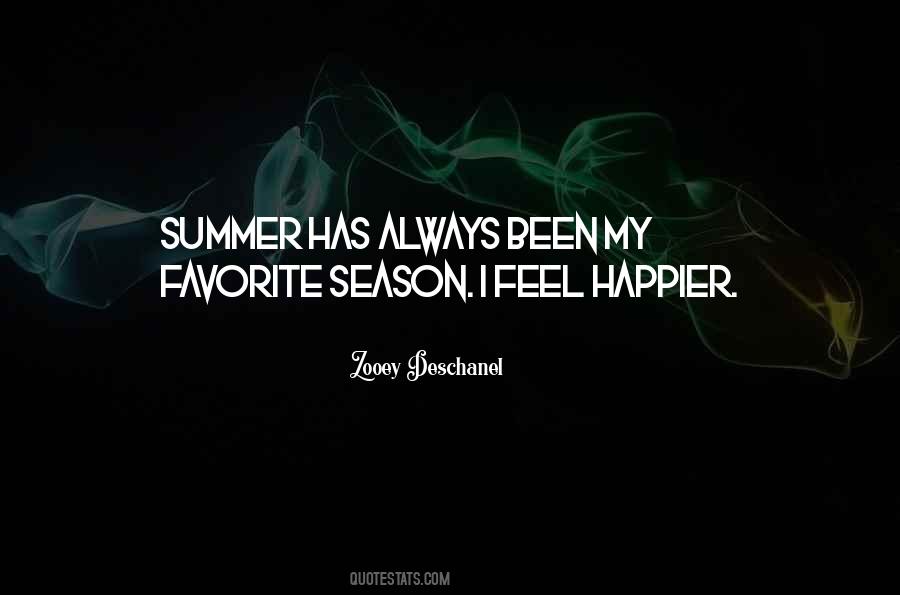 #31. Pro football is a game; not a war. It's for win or lose, not life or death ... but say that in the summer, for winter brings the playoffs, and a season is at stake. - Author: John Facenda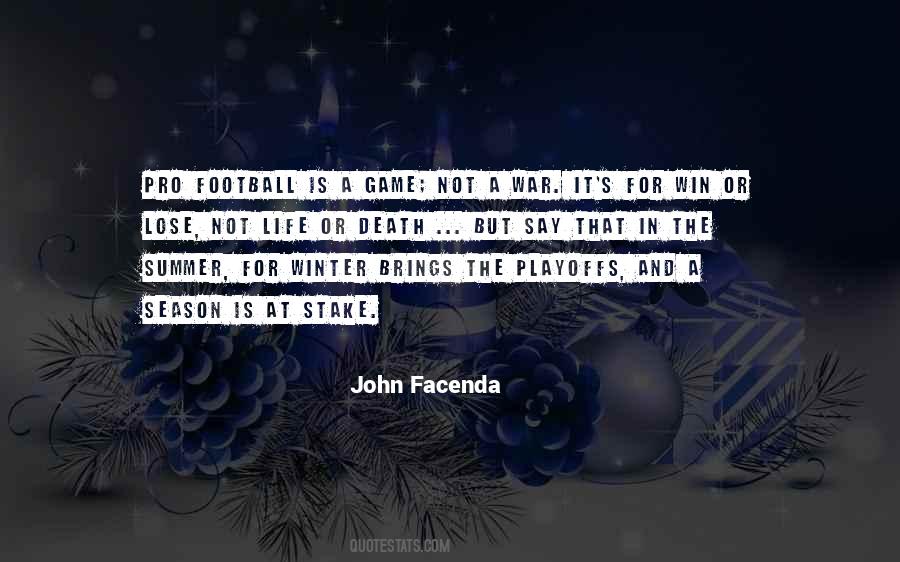 #32. I actually liked the disolation of winter; it was the season when it was okay to be unhappy. If I were to ever kill myself, I thought it would be in the summer. - Author: Curtis Sittenfeld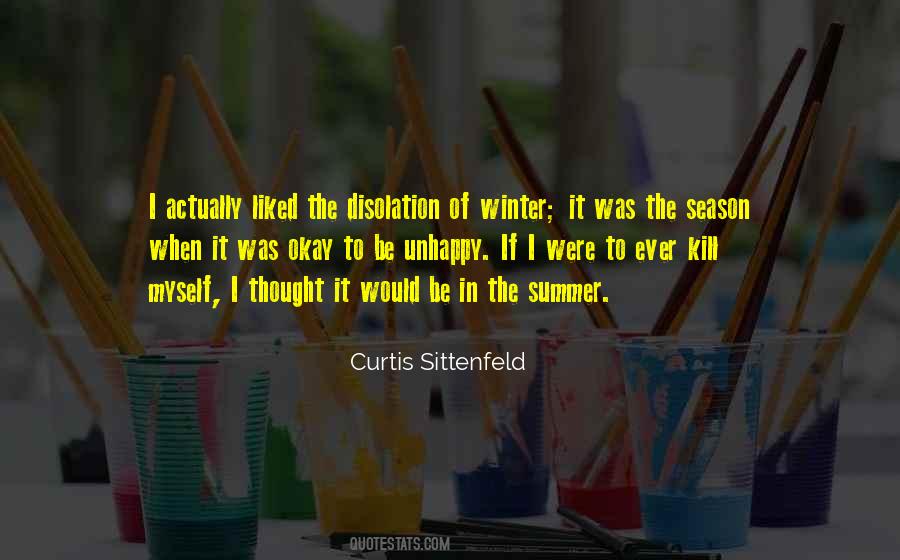 #33. The winter drew on - a season as different from the summer in those northern latitudes, as if it belonged to another solar system. Cold and stormy, it is yet full of delight for all beings that can either romp, sleep, or think it through. - Author: George MacDonald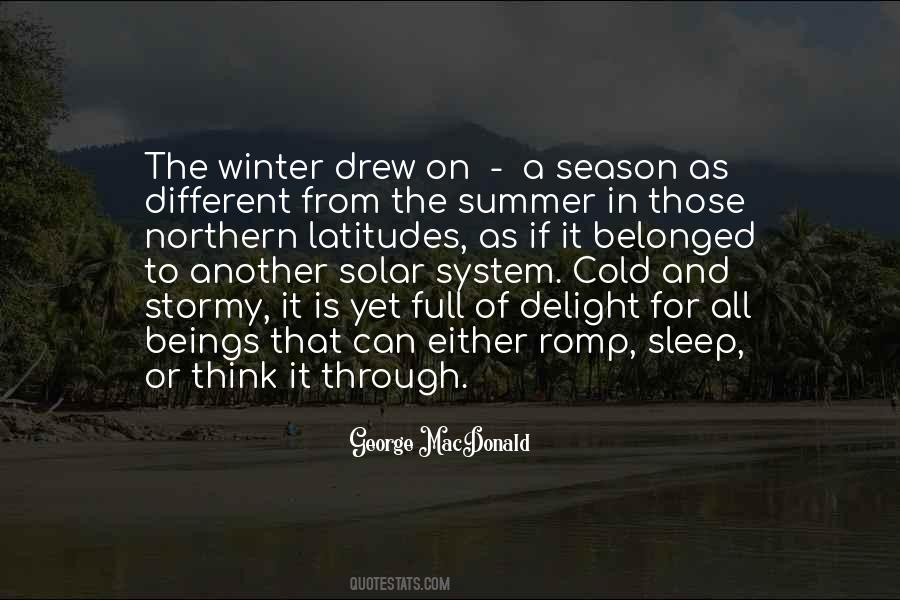 #34. He licked up to her ear and whispered, "You taste like summer. Did I ever mention, summer is my favorite season? - Author: Heather Thurmeier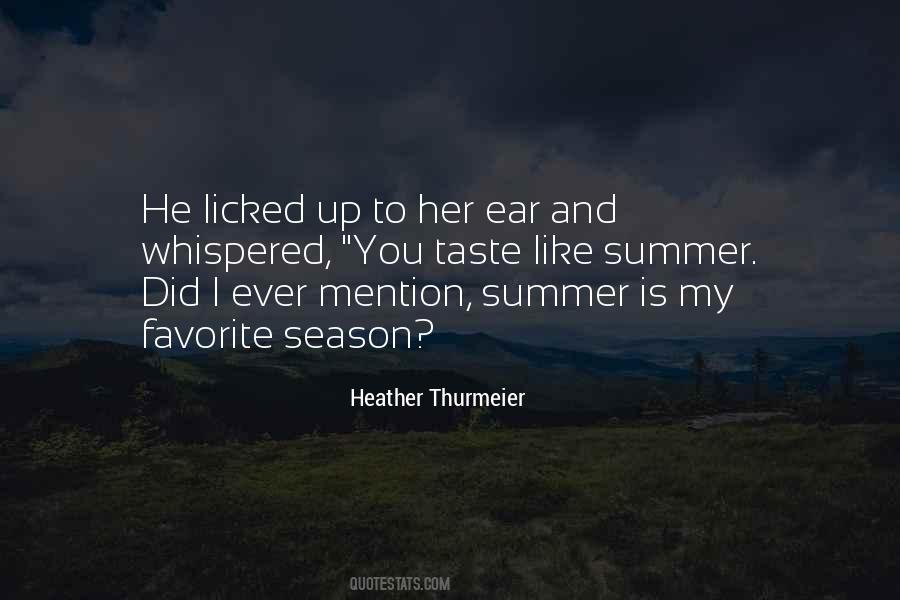 #35. Youth has its romance, and maturity its wisdom, as morning and spring have their freshness, noon and summer their power, night and winter their repose. Each attribute is good in its own season. - Author: Charlotte Bronte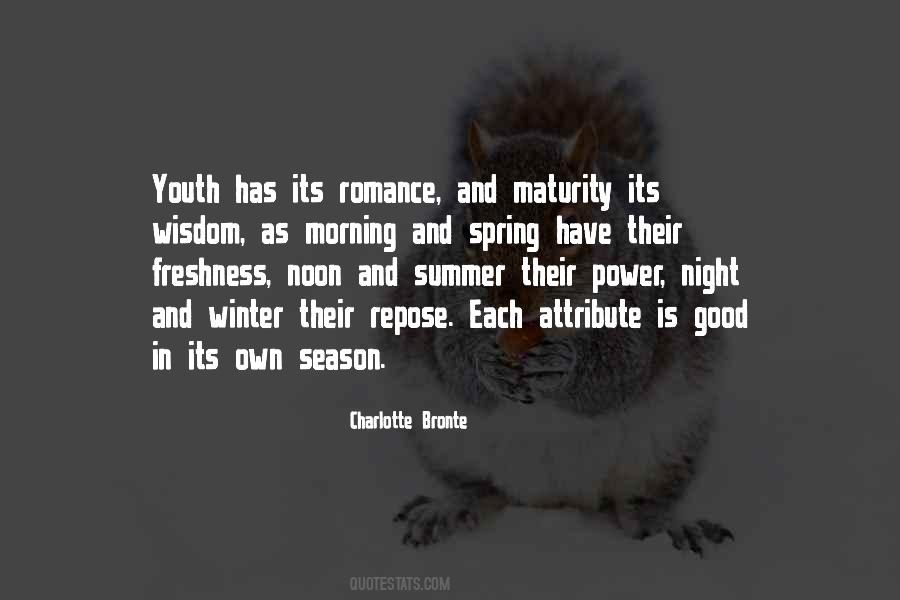 #36. Ten thousand flowers in spring, the moon in autumn, A cool breeze in summer, snow in winter - If your mind is not clouded by unnecessary things, this is the best season of your life. - Author: Sharon Salzberg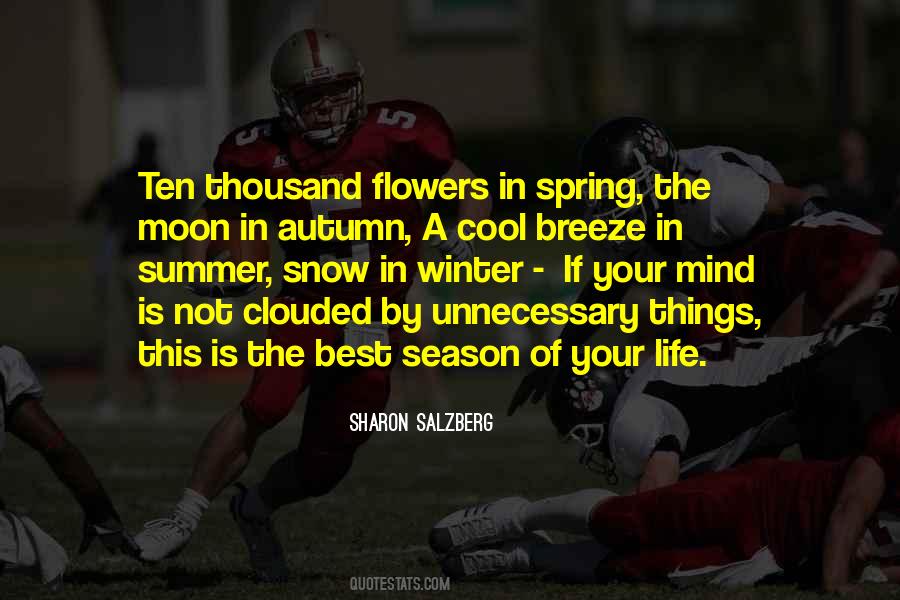 #37. But now I rejoice when, in my winter studio, I can spread out my summer studies and recall through them the beautiful season and places which gave them being. Here the painter feels how small things may suggest the greater - the drop of water, image the firmament. - Author: Christopher Pearse Cranch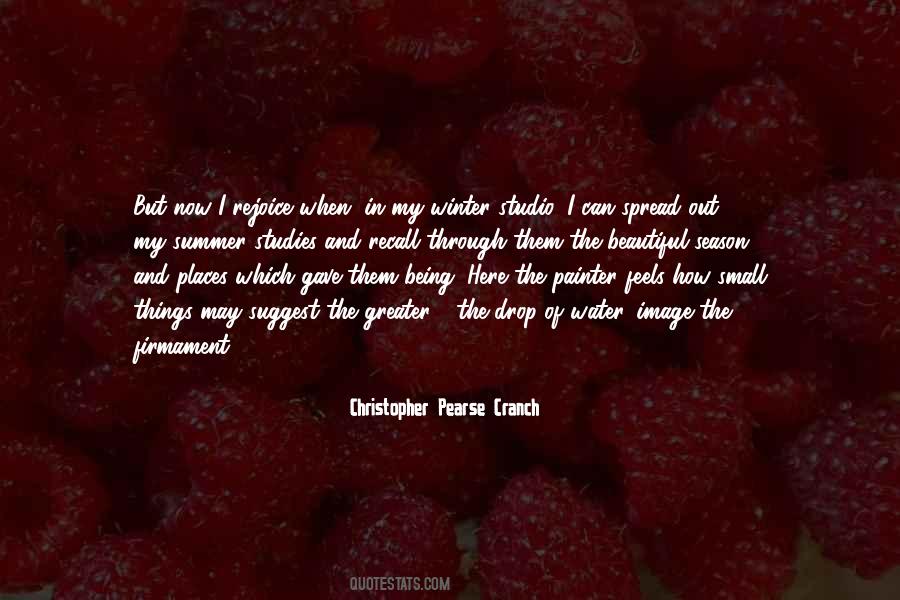 #38. Time dissolves in summer anyway: days are long, weekends longer. Hours get all thin and watery when you are lost in the book you'd never otherwise have time to read. Senses are sharper - something about the moist air and bright light and fruit in season - and so memories stir and startle. - Author: Nancy Gibbs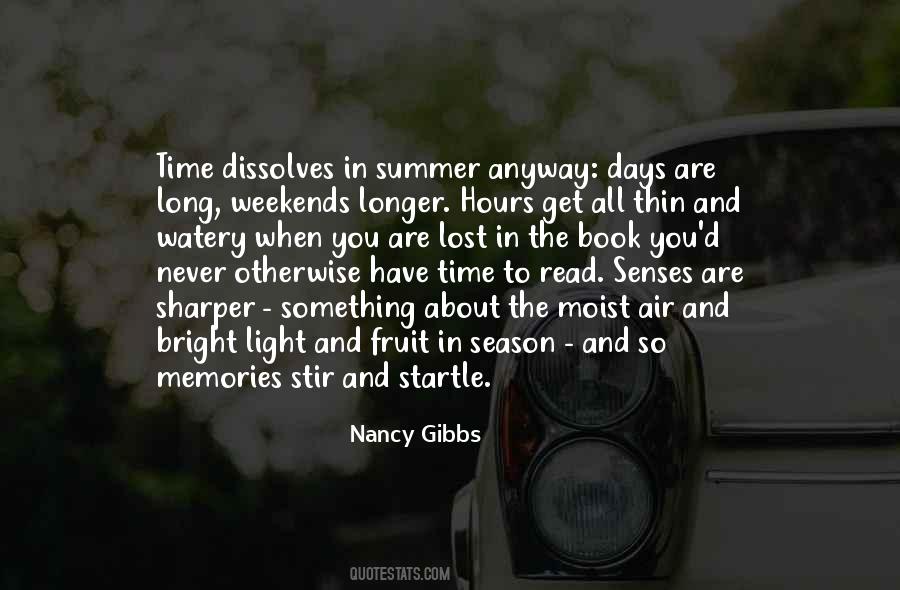 #39. One of the things that I'd like to get back to that I did as a younger actor was to work on, you know, a rep season for a summer where you did two or three Shakespeares, and you'd do a couple of either new plays or classic plays, and you did a different one almost every night. - Author: Thomas Gibson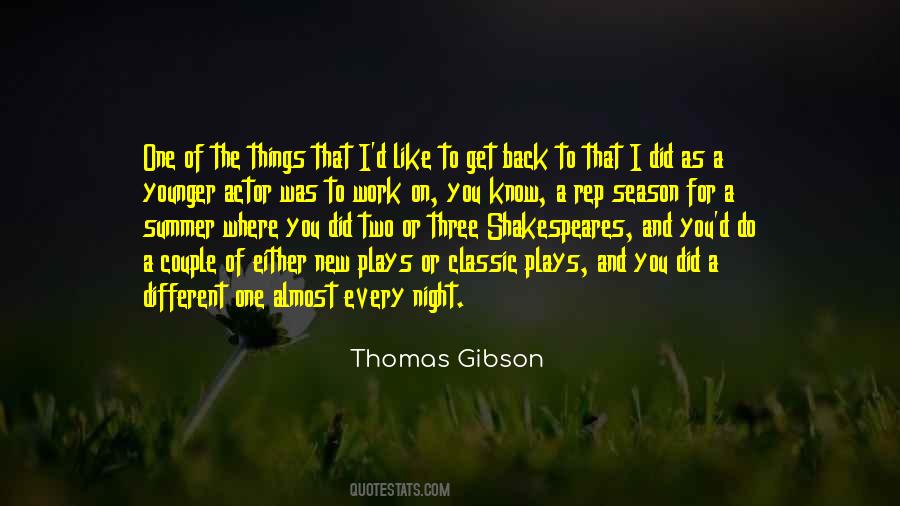 #40. Along with you, I have witnessed the unfortunate rise in gasoline prices that has accompanied the summer driving season and the more recent spike in prices due to Hurricane Katrina. - Author: Bob Ney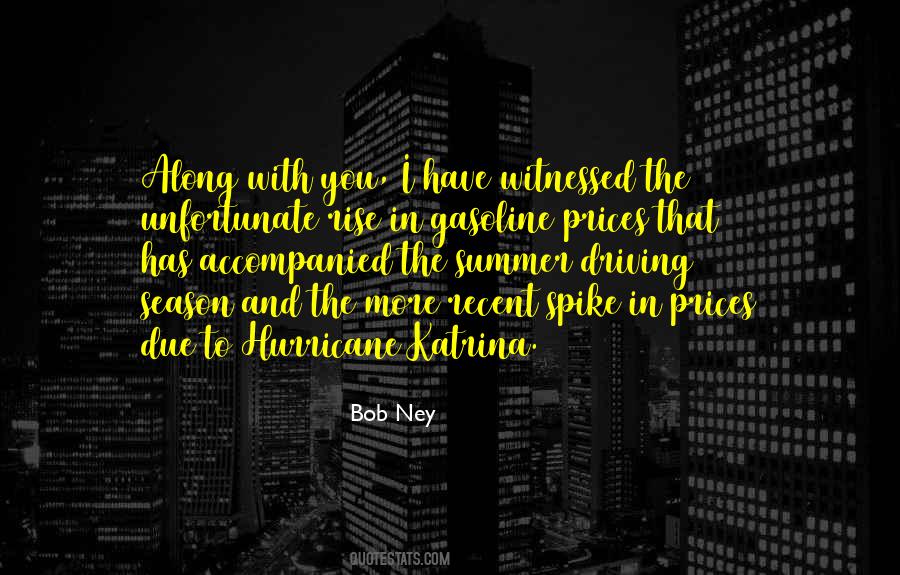 #41. As the season changes, we learn to adapt. - Author: Lailah Gifty Akita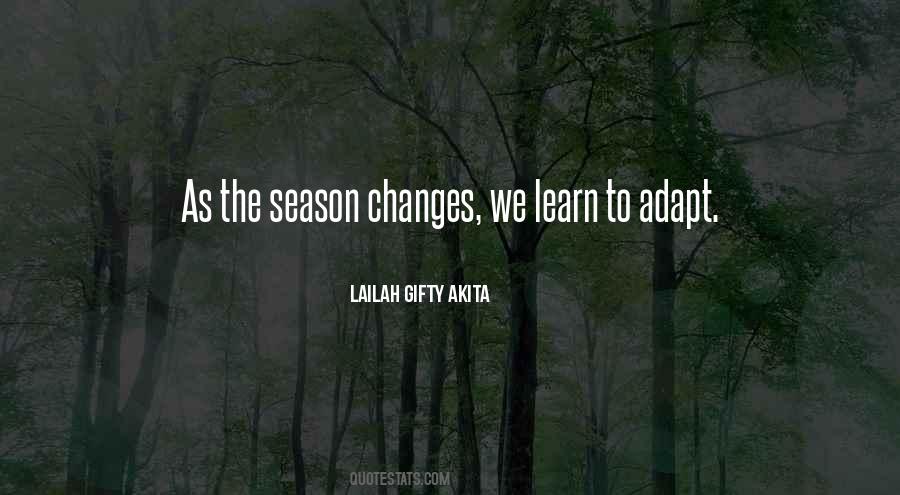 #42. I was down in Washington when 9/11 happened. We were in the middle of putting together the next summer season, and all I could think of was something somehow must make sense to us. Our Town kept coming into my mind. - Author: Joanne Woodward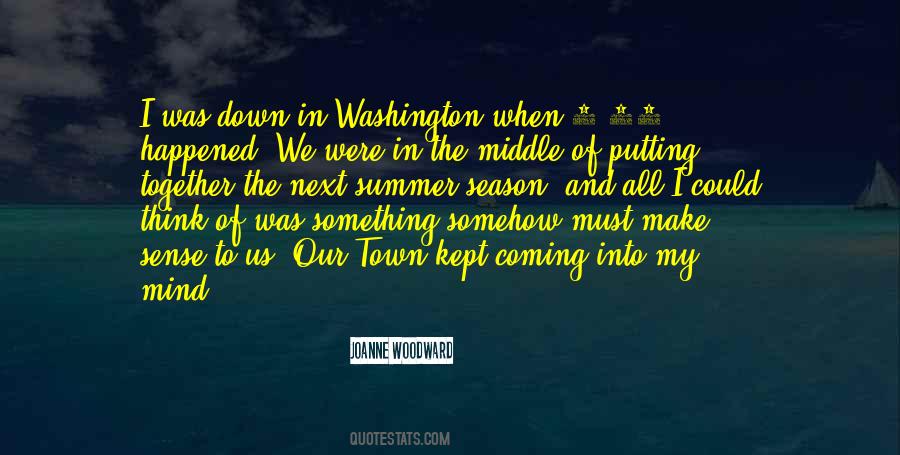 #43. If eternity had a season, it would be midsummer. Autumn, winter, spring are all change and passage, but at the height of summer the year stands poised. It's only a passing moment, but even as it passes the heart knows it cannot change. - Author: Ursula K. Le Guin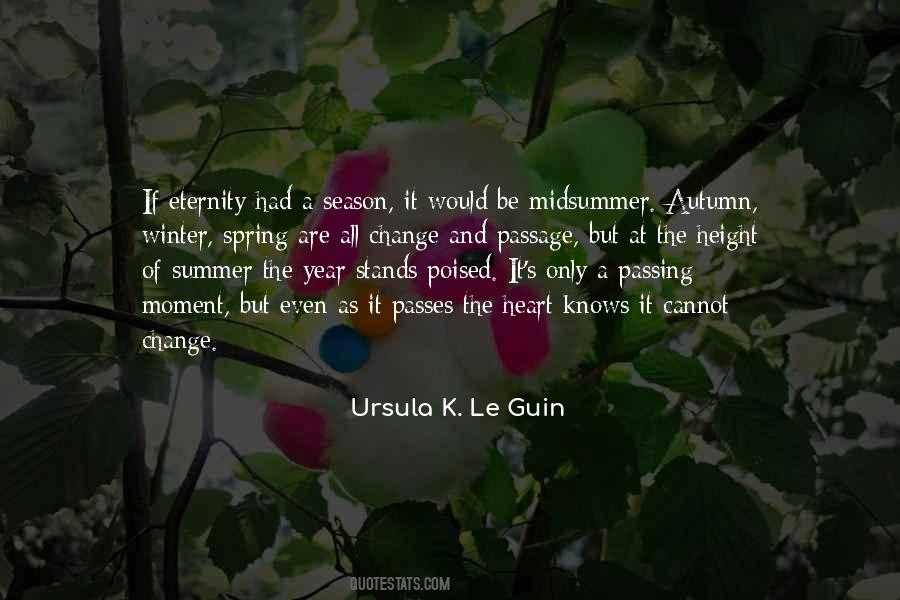 #44. You know you're grown up when summer is just a season. - Author: Michael Greger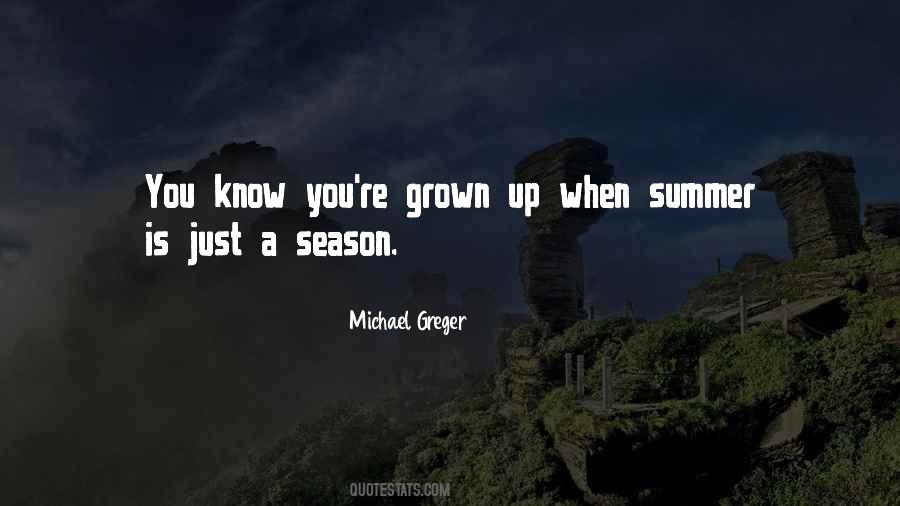 #45. I want to be in the best winning situation. I don't want to be around anybody who's just interested in playing out the season and then going home for the summer. - Author: Jermaine O'Neal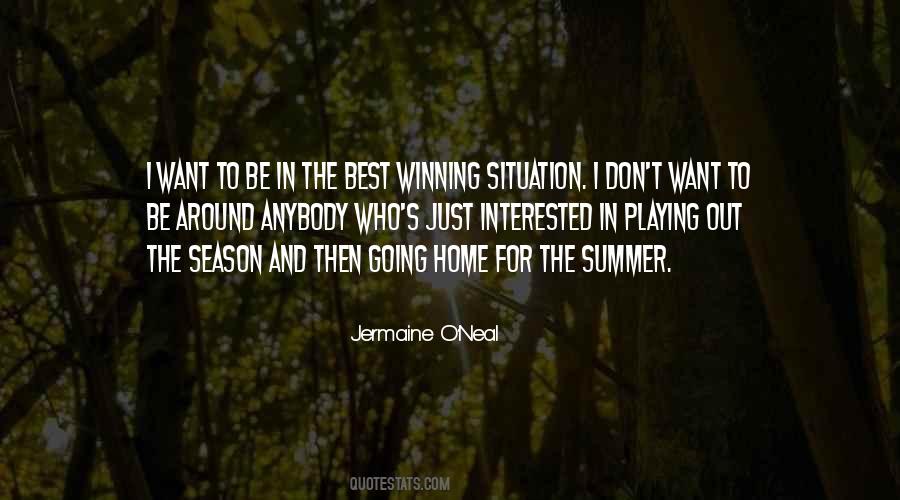 #46. Summer isn't a season, it's a feeling. - Author: Saumya Balsari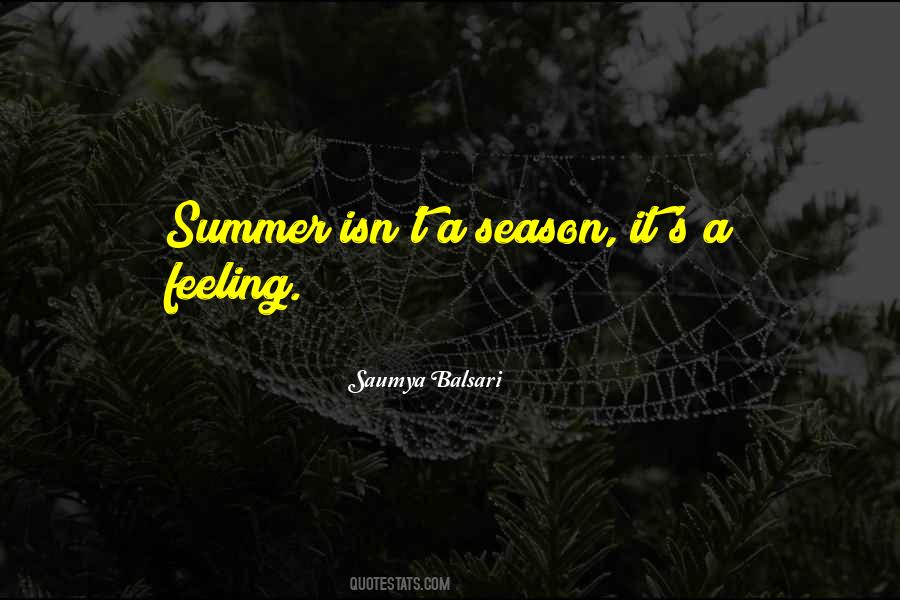 #47. Spring comes with flowers, autumn with the moon, summer with the breeze, winter with snow. When idle concerns don't fill your thoughts, that's your best season. - Author: Wumen Huikai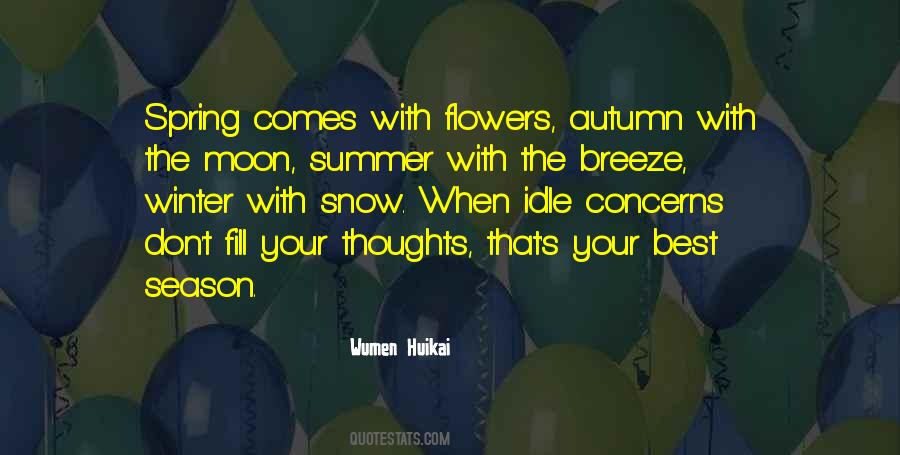 #48. No dish changes quite so much from season to season as soup. Summer's soups come chilled, in pastel colors strewn with herbs. If hot they are sheer insubstantial broths afloat with seafood. In winter they turn steaming and thick to serve with slabs of rustic, crusty bread. - Author: Florence Fabricant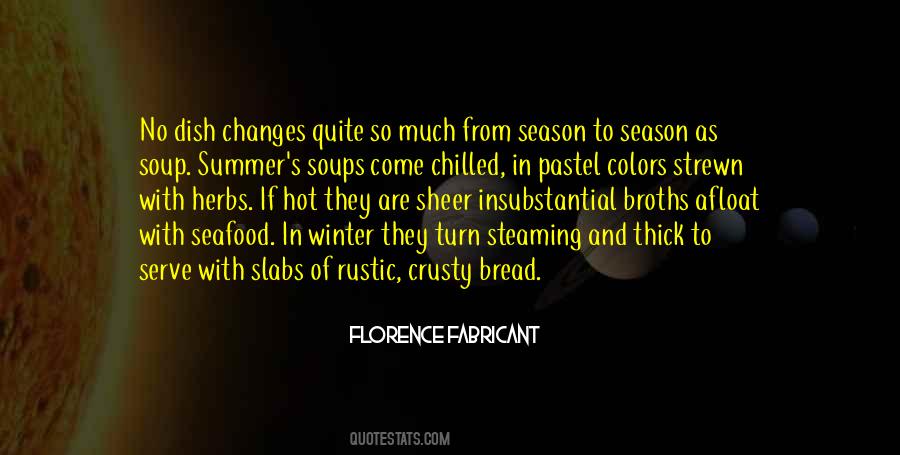 #49. It was a two-gallon Styrofoam cooler - one of the cheap ones that you can pick up at any service station in the summer season and then listen to it squeak to the point of homicidal dementia. - Author: Craig Johnson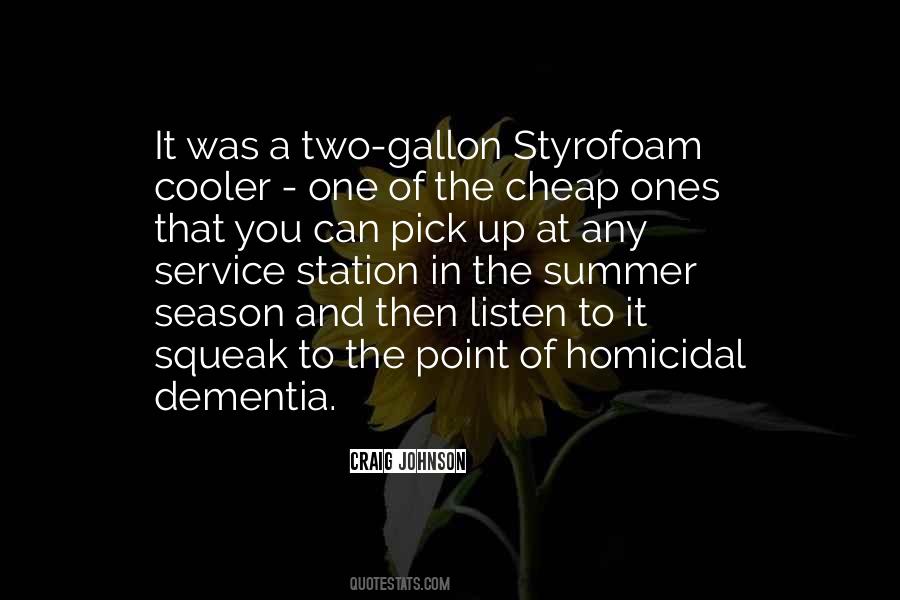 #50. So slip on your goggles and your reading trunks, for the sun is high. Let me leave you with one more thought. In what season of the year do we find ourselves - I'm speaking for a moment in terms of the physical world - wading through things? Surf. Kelp. Books. Summer. - Author: Roy Blount Jr.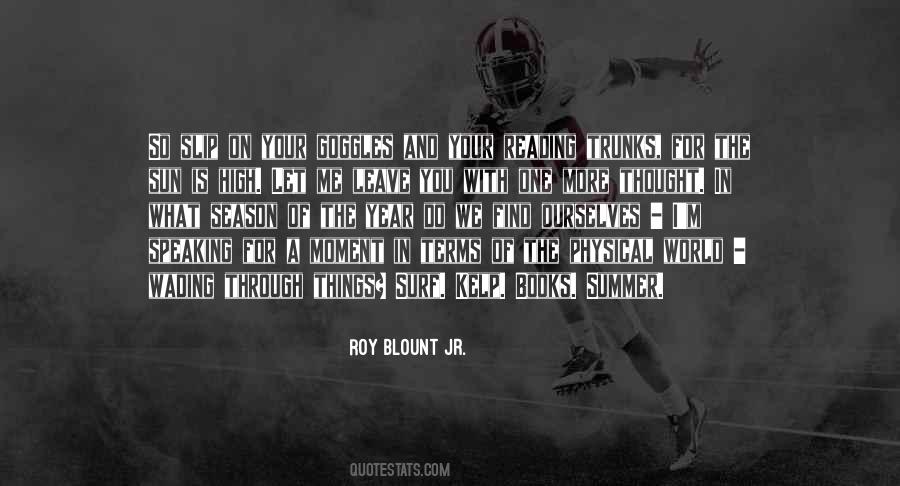 #51. Spring
The season between winter and summer, comprising in the Northern Hemisphere
the months March, April and May.

The ability of something to return to its original shape when it is pressed down, stretched or twisted. - Author: Cecelia Ahern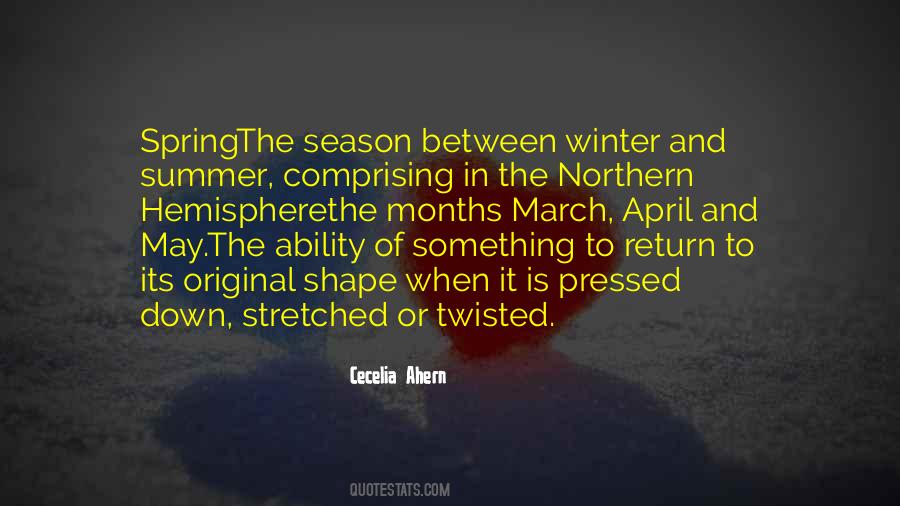 #52. There is a privacy about it which no other season gives you ... In spring, summer and fall people sort of have an open season on each other; only in the winter, in the country, can you have longer, quiet stretches when you can savor belonging to yourself. - Author: Ruth Stout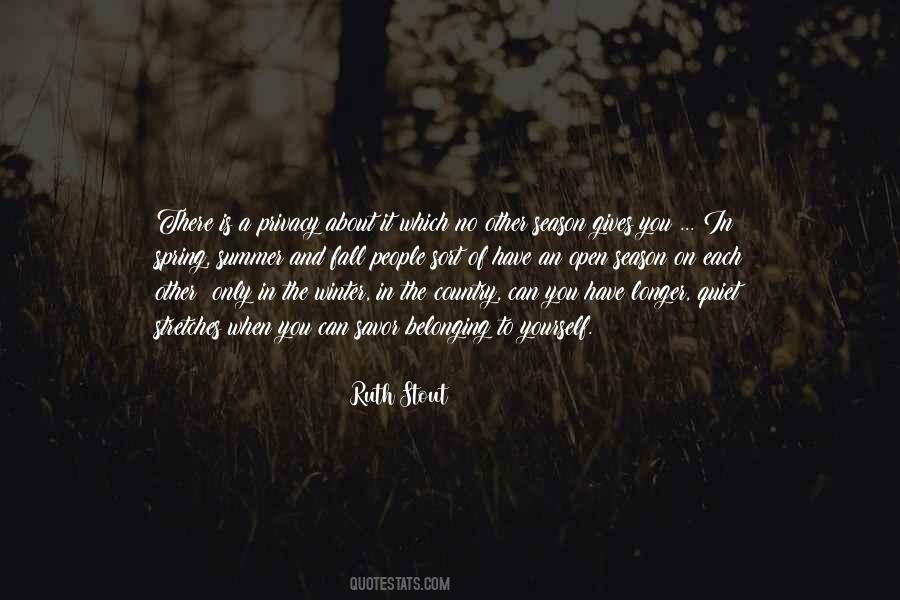 #53. I wanted my spring awakening, even if it was coming a season late.
I wanted summer lovin' that would happen so fast.
I wanted to succeed at the business of love without really trying. - Author: David Levithan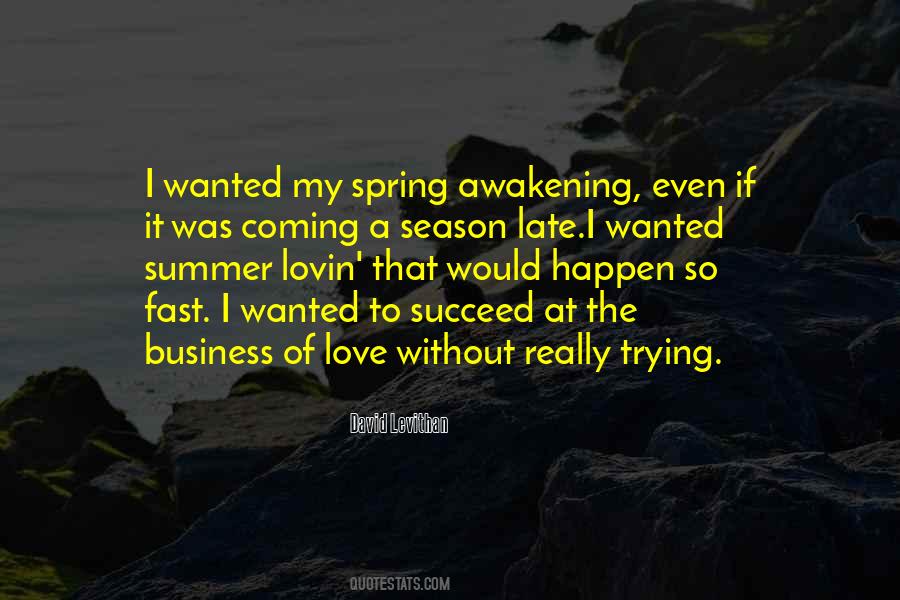 #54. I guess the good news that the summer travel season that we were projecting is becoming a reality. We certainly felt that our numbers were going to be there. Our parking lots and parking garage have been full throughout the month. - Author: Karen Carney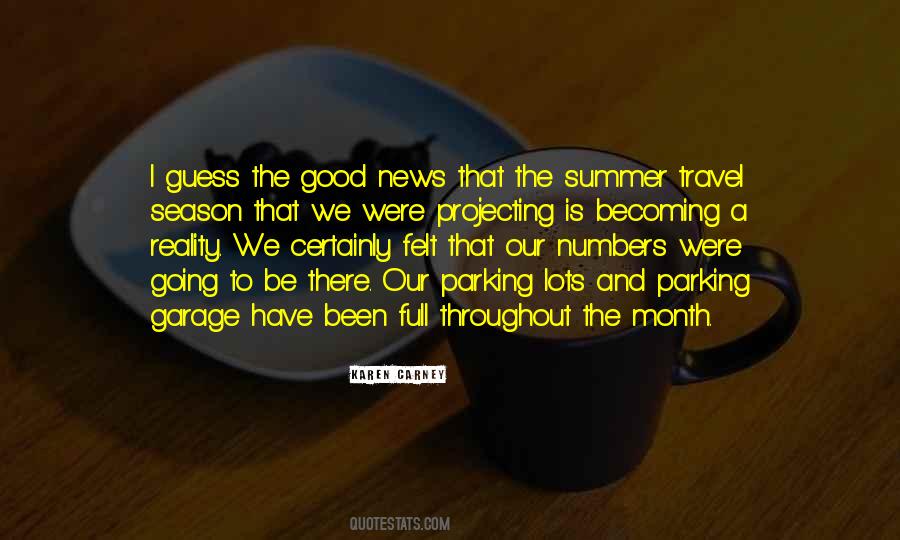 #55. - Growth has its season. There are spring and summer, but there are also fall and winter. And then spring and summer again. As long as the roots are not severed, all is well and all be well. - Author: Jerzy Kosinski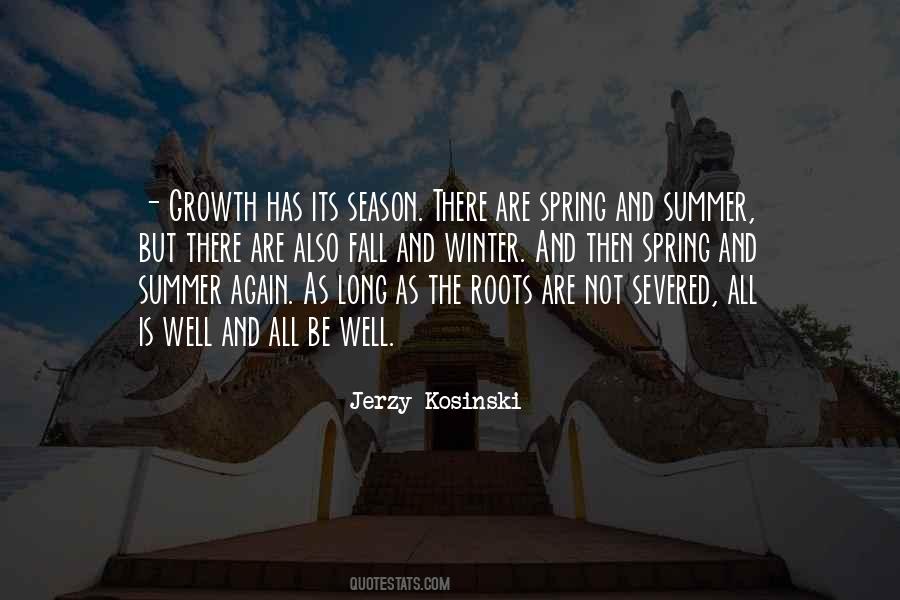 #56. Summer was on the way; Jem and I awaited it with impatience. Summer was our best season: it was sleeping on the back screened porch in cots, or trying to sleep in the tree house; summer was everything good to eat; it was a thousand colors in a parched landscape; but most of all, summer was Dill. - Author: Harper Lee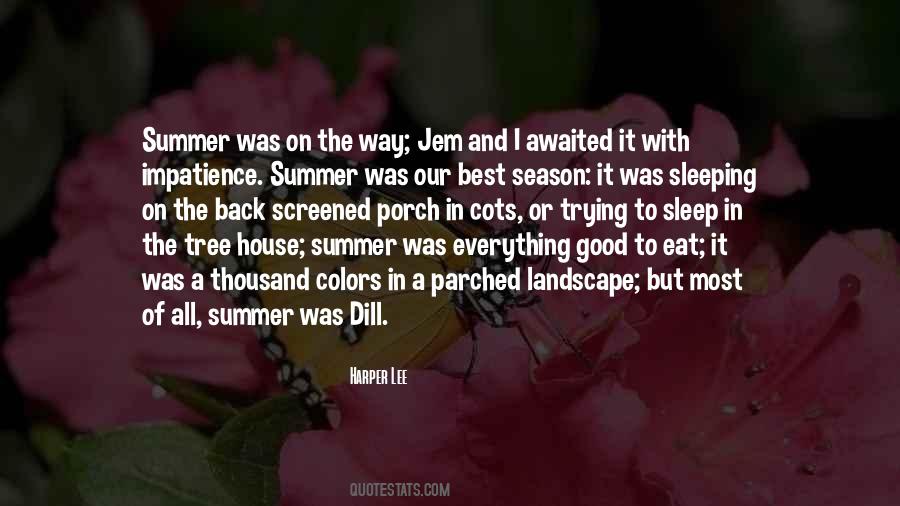 #57. Then followed that beautiful season ... Summer ...
Filled was the air with a dreamy and magical light; and the landscape
Lay as if new created in all the freshness of childhood. - Author: Henry Wadsworth Longfellow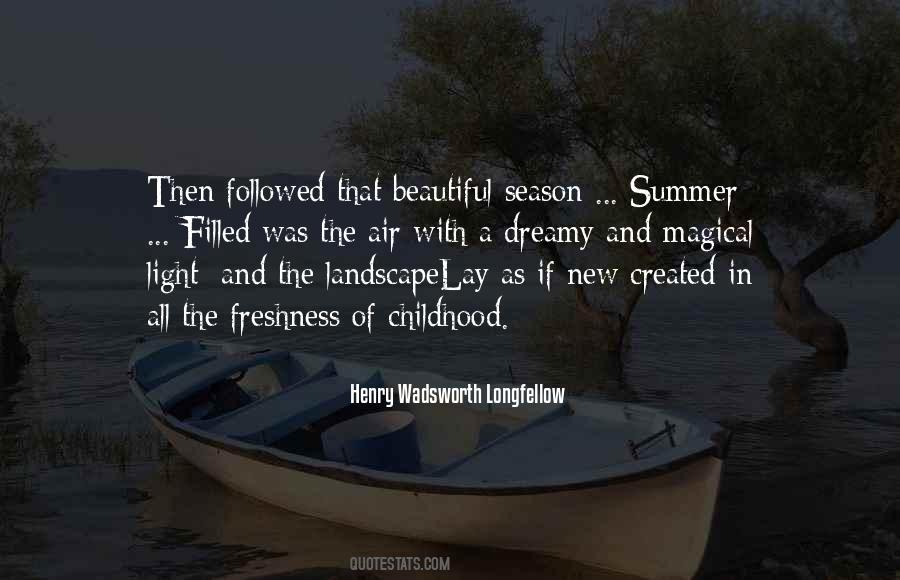 #58. Winter was nothing but a season of snow; spring, allergies; and summer ... It was the worst. That was swimsuit season. - Author: Teresa Lo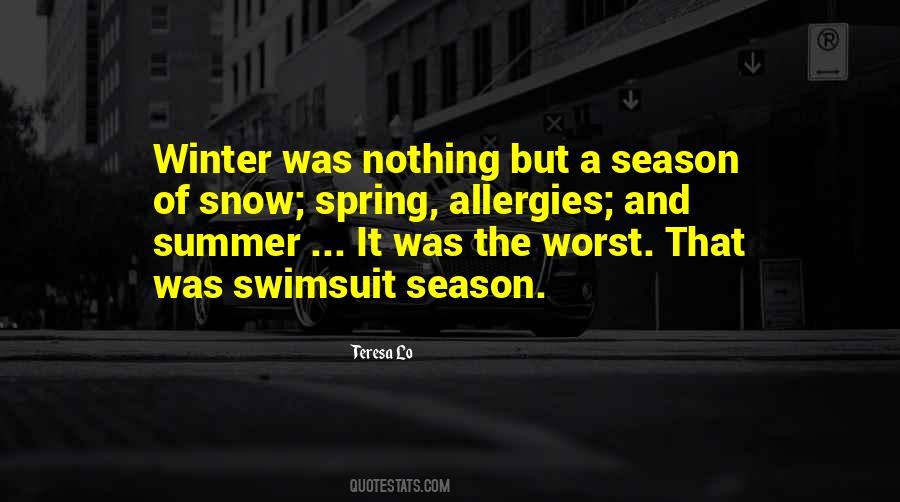 #59. Now I take the summer off, relax, and I know that at the end of July we're gonna start another season. - Author: Jerry Orbach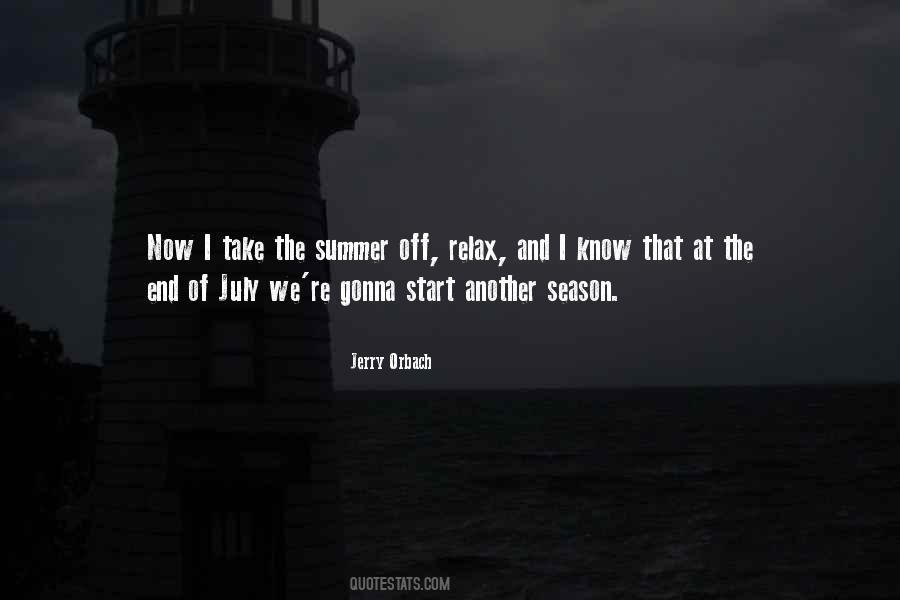 #60. If you are very lucky, you're allowed to be in certain places during just the right season of your life: by the sea for the summer when you're seven or eight and full of the absolute need to swim until dark and exhaustion close their hands together, cupping you in between. - Author: Jonathan Carroll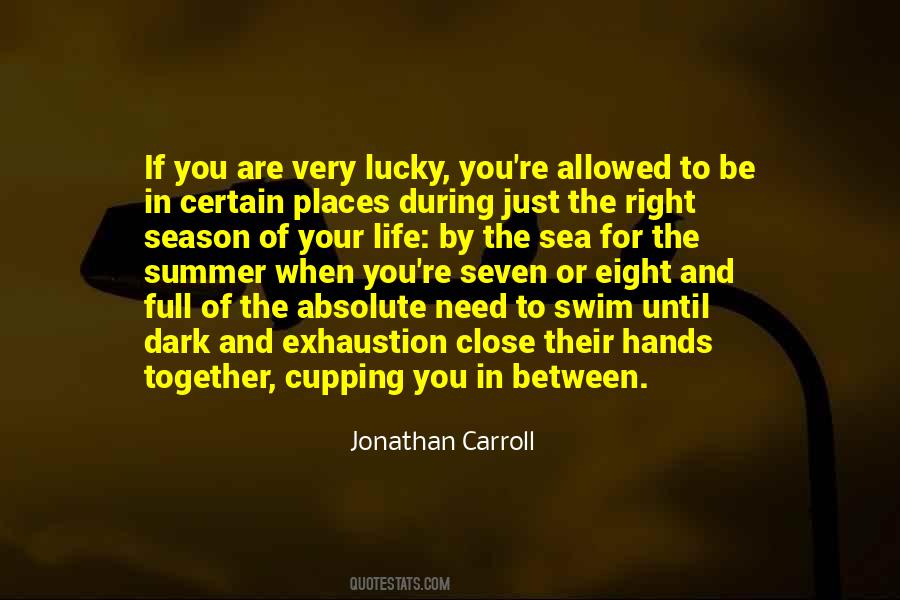 #61. Autumn

The season between summer and winter,
comprising in the Northern Hemisphere
usually the months of September,
October and November.

A period of maturity. - Author: Cecelia Ahern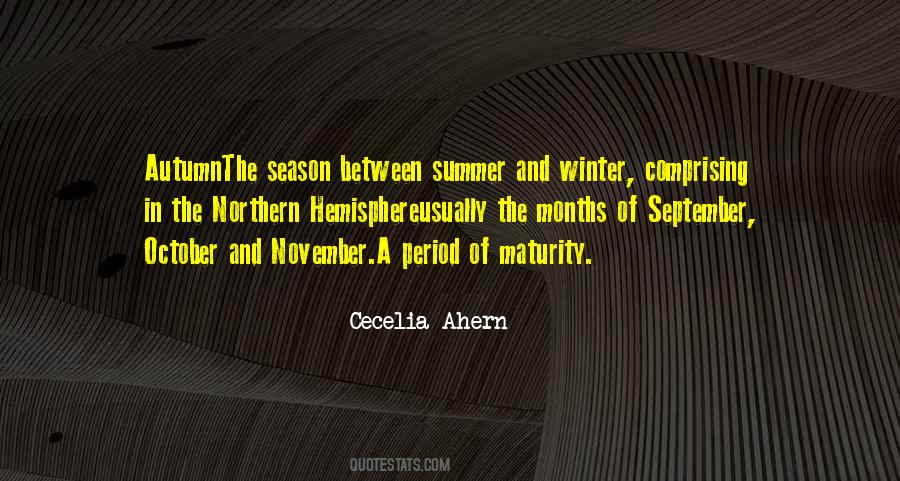 #62. Sir, the year growing ancient,
Not yet on summer's death nor on the birth
Of trembling winter, the fairest flowers o' th' season
Are our carnations and streaked gillyvors,
Which some call nature's bastards. - Author: William Shakespeare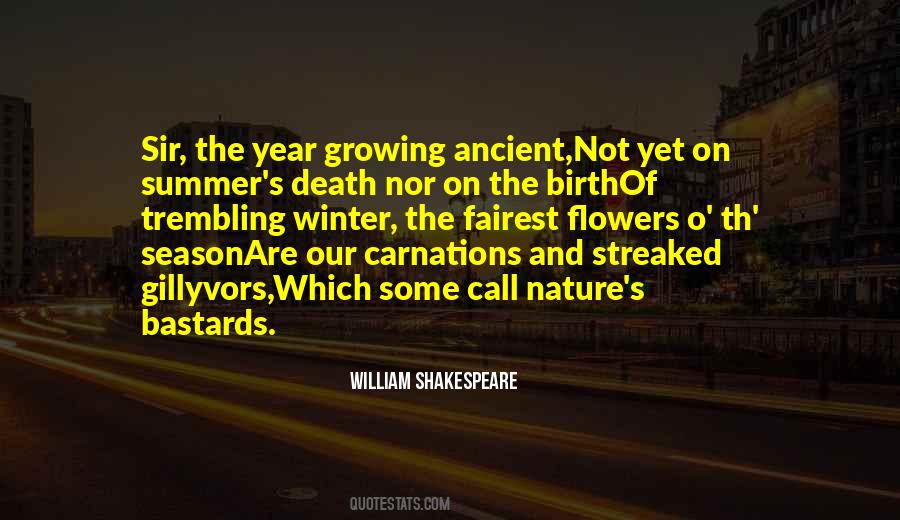 #63. To wish for the happiest days is to wish for a season of sorrow; for it is only after prolonged, wintry darkness that the summer sun appears to shine at its brightest. - Author: Richelle E. Goodrich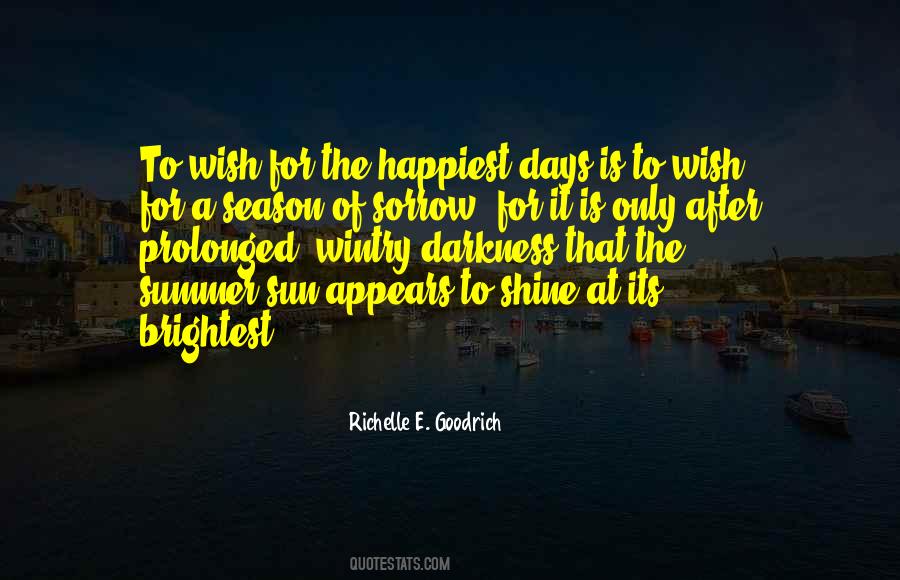 #64. Long stormy spring-time, wet contentious April, winter chilling the lap of very May; but at length the season of summer does come. - Author: Thomas Carlyle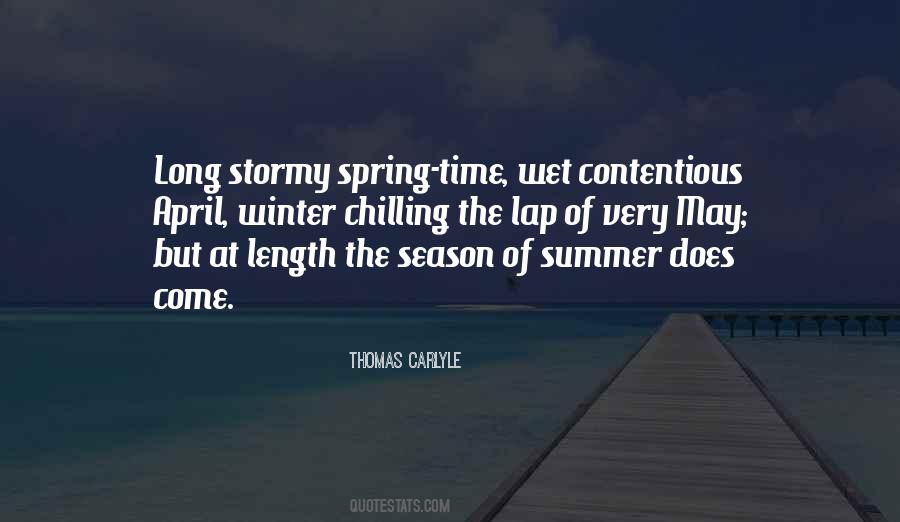 #65. I believe someone made a grievous mistake when summer was created; no novitiate or god in their right mind would make a season akin to hell on purpose. Someone should be fired. - Author: Michelle Franklin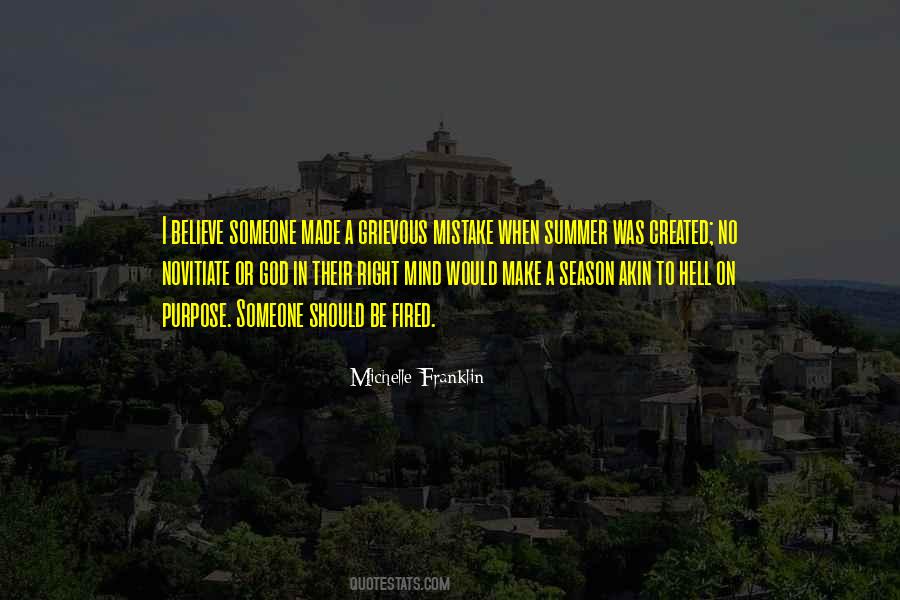 #66. The Steadfast Love of the Lord is not Seasonal; His Mercies do not have winter or summer days ... They are new every now and then. - Author: Israelmore Ayivor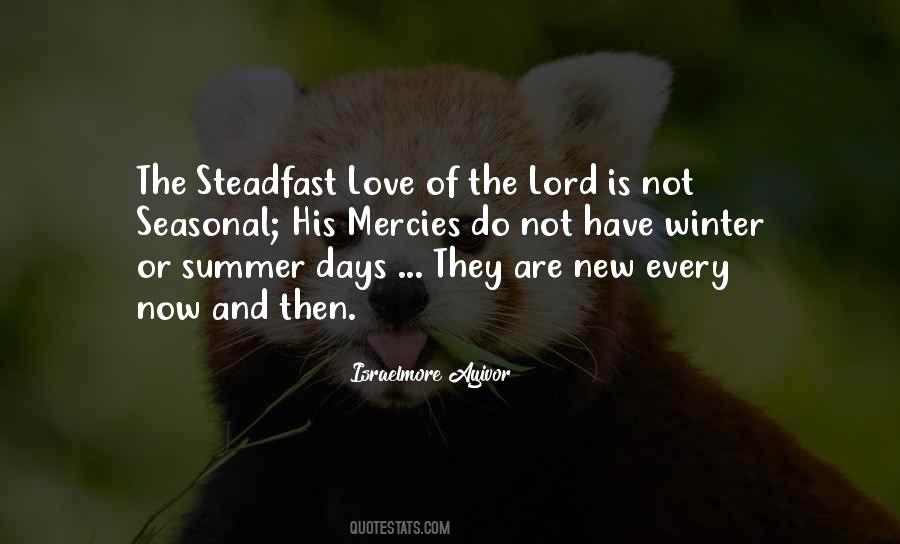 #67. Truly, Autumn is my season," the scarlet beast chorted. "Spring and Summer and Winter all begin with such late letters! But Autumn and Fall, I have loved best, because they are best to love. - Author: Catherynne M Valente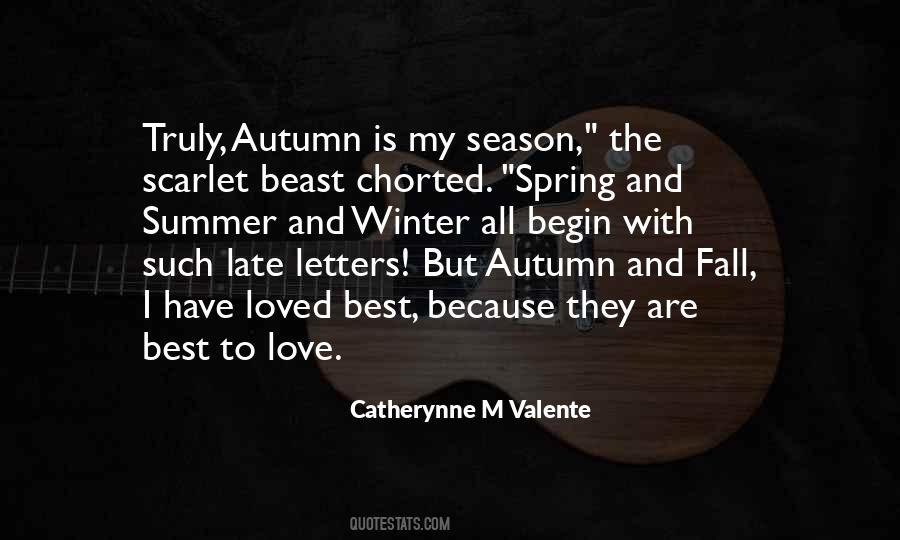 #68. Prodigal summer, the season of extravagant procreation. It could wear out everything in its path with its passionate excesses, but nothing alive with wings or a heart or a seed curled into itself in the ground could resist welcoming it back when it came. - Author: Barbara Kingsolver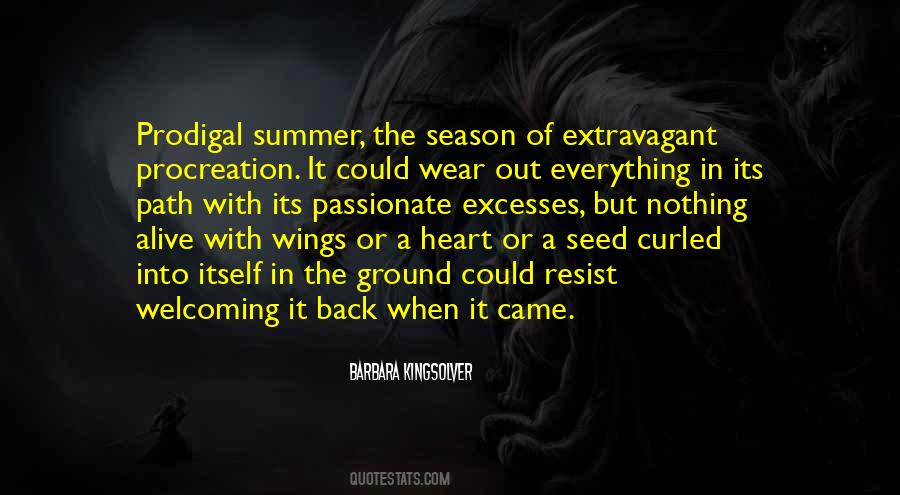 #69. Summer is the sweet spot of the movie-going season
and it's also peak season for Six Flags theme parks. - Author: Mark Shapiro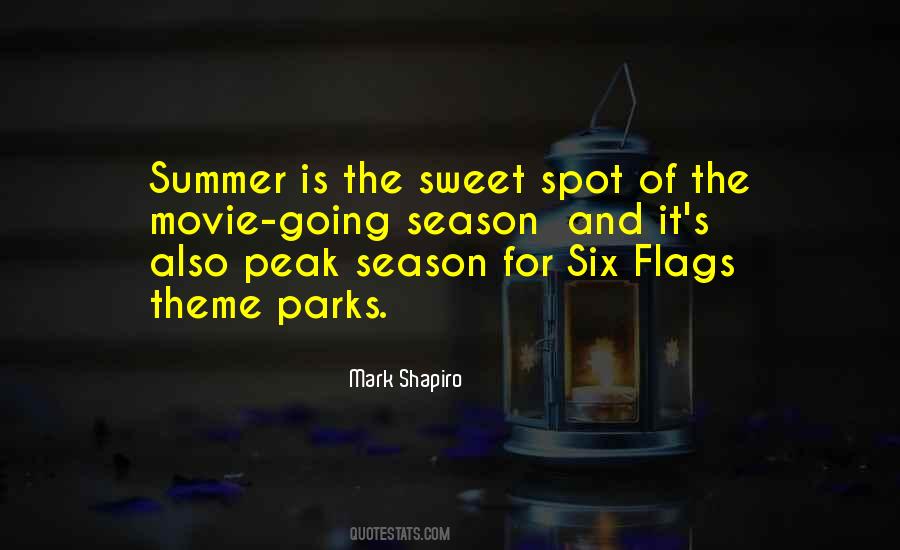 #70. Not the sun or summer alone, but every hour and season yields its tribute of delight. - Author: Ralph Waldo Emerson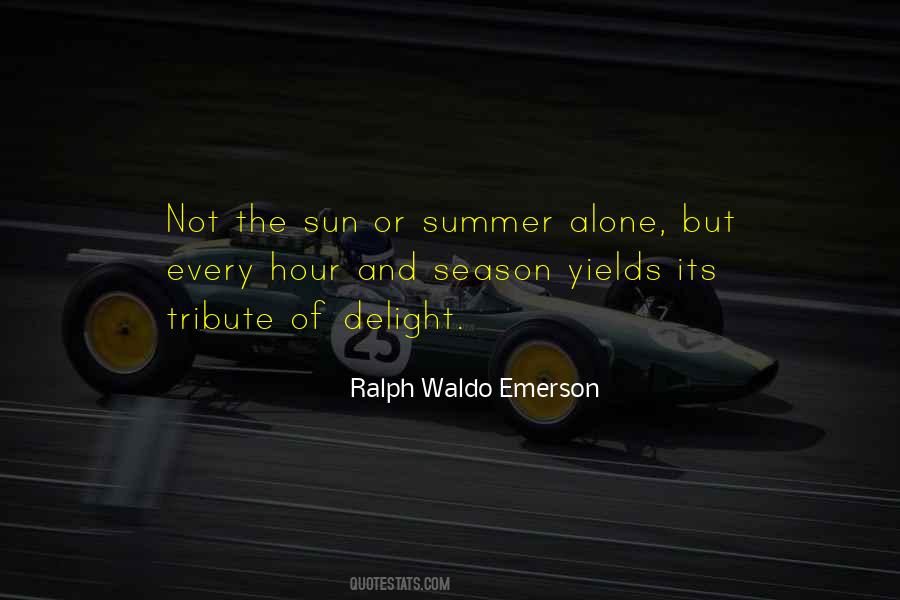 #71. If you get vegetables in season, the difference is remarkable compared to vegetables that might have been imported. You can't beat fresh ingredients and seasonal fresh ingredients. There's nothing quite like the taste of a beautiful summer strawberry. - Author: William Katt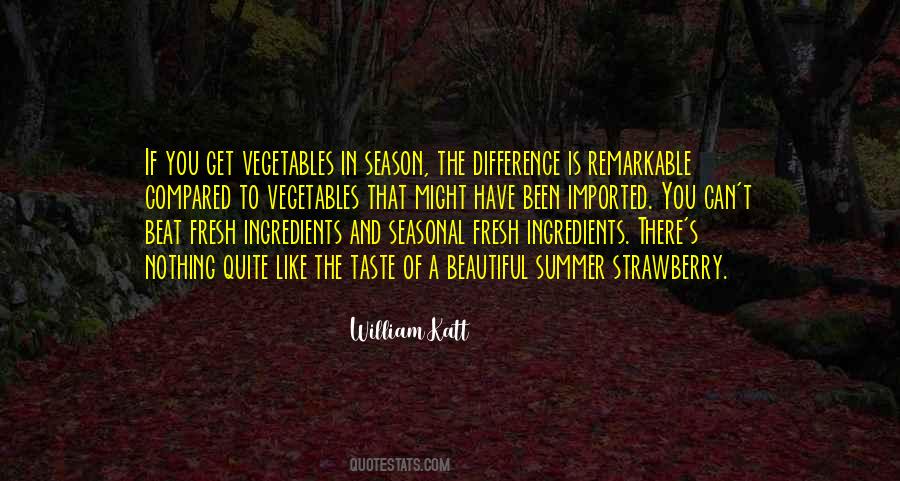 #72. Last summer a second unit production crew went to France and shot scenes for several of this season's episodes. They shot costumed actors in and around real castles and landmarks, we couldn't possibly have duplicated here in Hollywood. - Author: Vic Morrow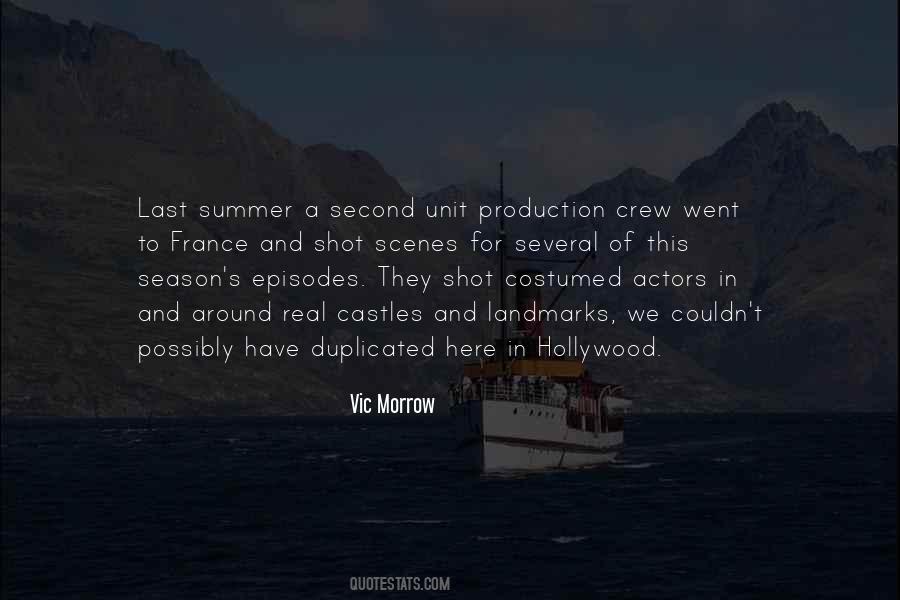 #73. The fire is the main comfort of the camp, whether in summer or winter, and is about as ample at one season as at another. It is as well for cheerfulness as for warmth and dryness. - Author: Henry David Thoreau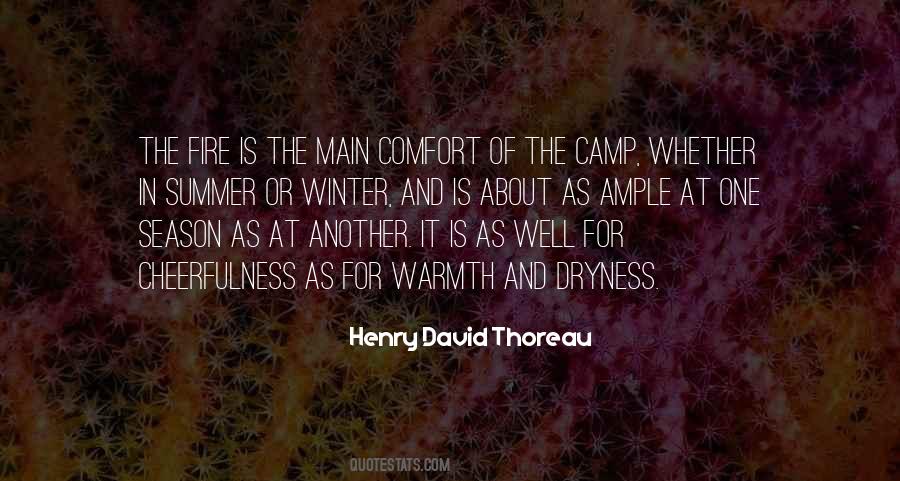 #74. TO MY MIND, PUSHKIN BEST SUMS UP THE SEASON: Lovely summer, how I could cherish you / If heat and dust and gnats and flies were banished. - Author: Paul Russell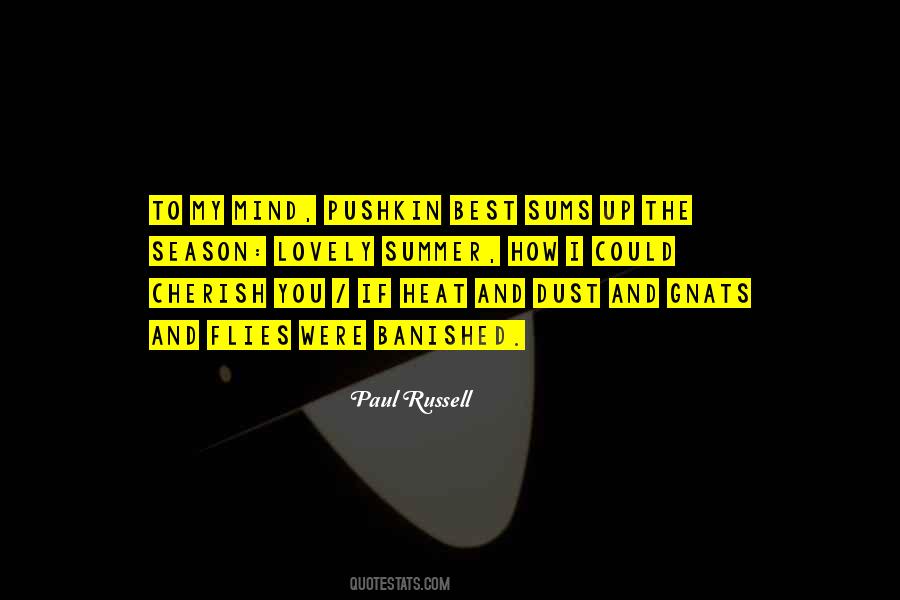 #75. Her skin was flawless and always cool, always pale; her body was long, like her hair, like her fingers, like her laughter; and her eyes, oh, her eyes, had every season of leaf in them: the twin greens of spring and high summer, the golds of autumn, and, in her rages, black midwinter rot. - Author: Clive Barker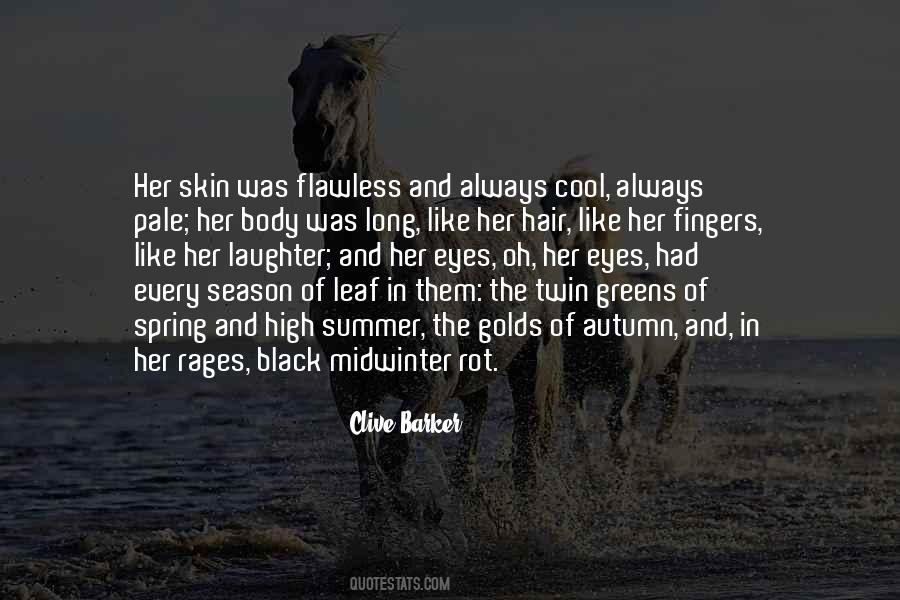 #76. The equatorial monsoons which brought a rainy season to the coasts had small effect here in the highlands, from moon to moon, the rainfall varied little. Winter, summer, autumn, spring were involuted, turning in upon themselves, a slow circling of time. - Author: Peter Matthiessen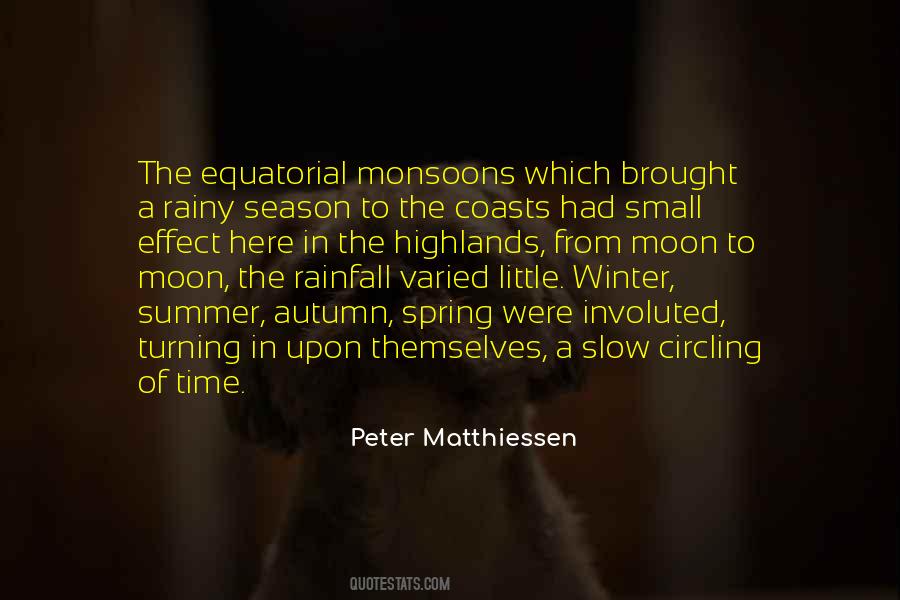 #77. Winter and Summer
While it's summer people say
Winter is the better season.
Such is human reason.
Kamijima Onitsura - Author: Reiko Chiba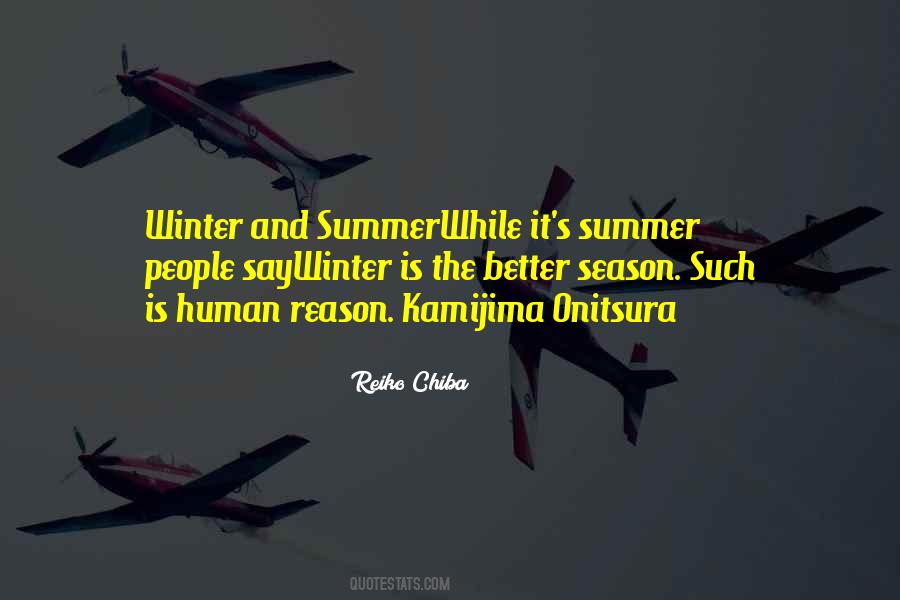 #78. Such a large sweet fruit is a complete marriage, that it needs a very long summer to ripen in and then a long winter to mellow and season it. - Author: Theodore Parker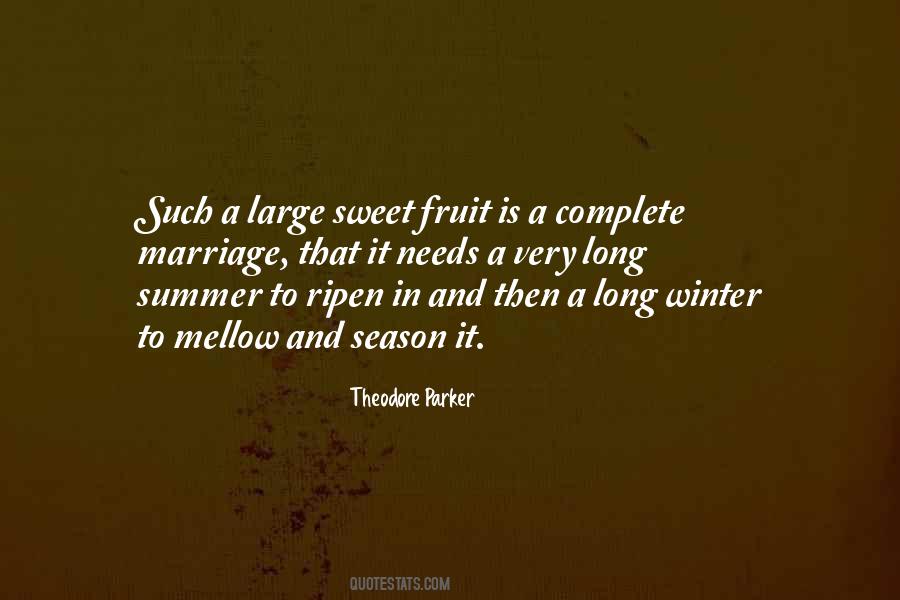 #79. It was summer here and he wondered if there existed a different season for every corner of this world in this moment and the moments to come. Whether if you traveled fast and far enough you could witness a year passing in a single journey. - Author: Paul Yoon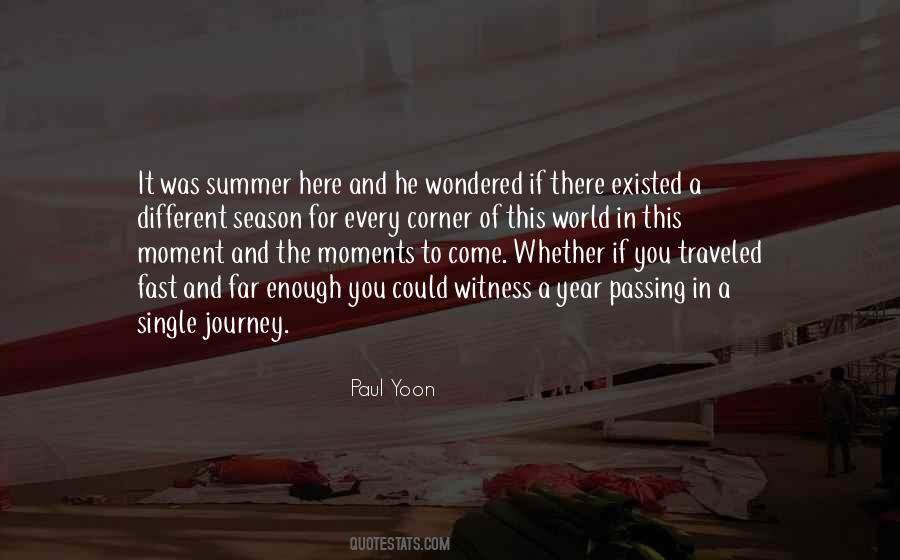 #80. I am happy to experience beauty of each season; spring time, summer, autumn and winter. - Author: Lailah Gifty Akita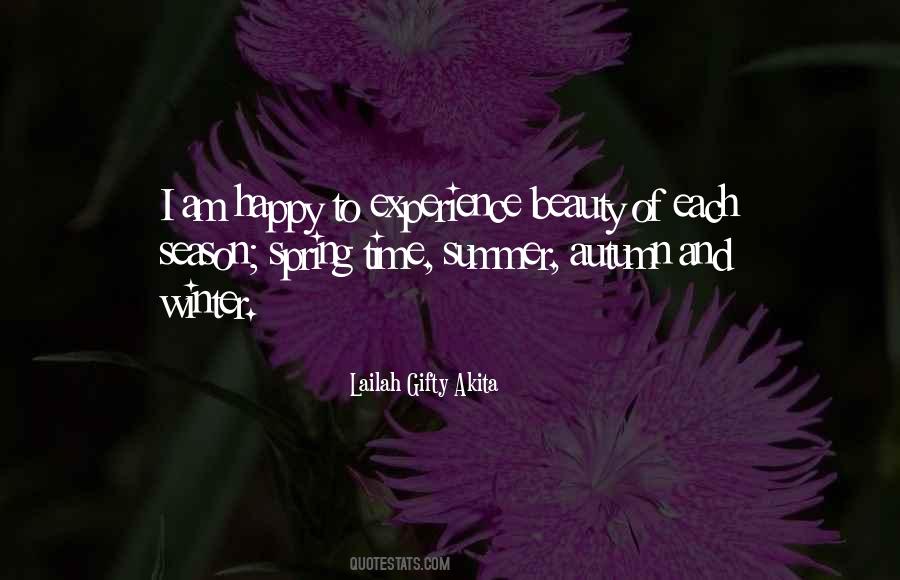 #81. We have a tough schedule this summer, so I have to plan my schedule wisely if I want to be able to last throughout the season. - Author: Kim Clijsters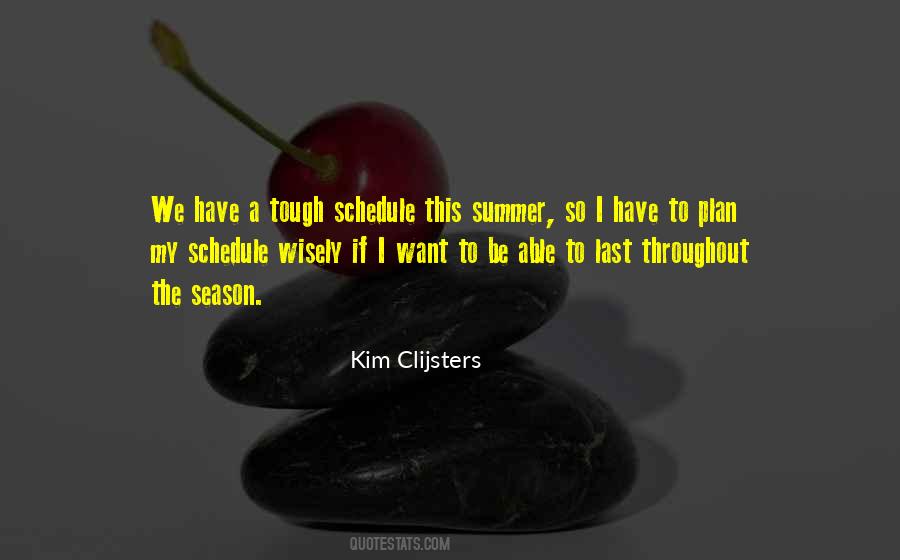 #82. Summertime. It was a song. It was a season. I wondered if that season would ever live inside of me. - Author: Benjamin Alire Saenz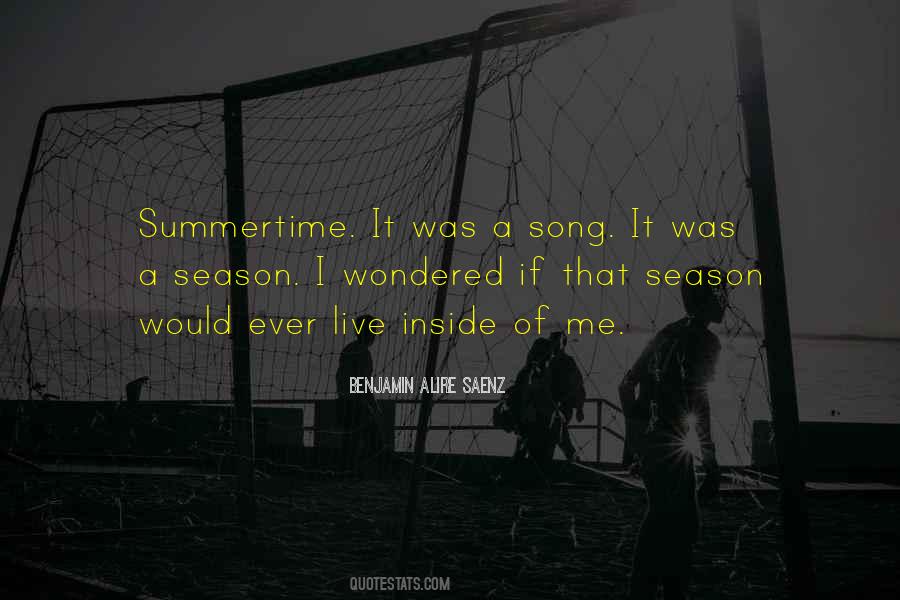 #83. We can't possibly have a summer love. So many people have tried that the name's become proverbial. Summer is only the unfulfilled promise of spring, a charlatan in place of the warm balmy nights I dream of in April. It's a sad season of life without growth ... It has no day. - Author: F Scott Fitzgerald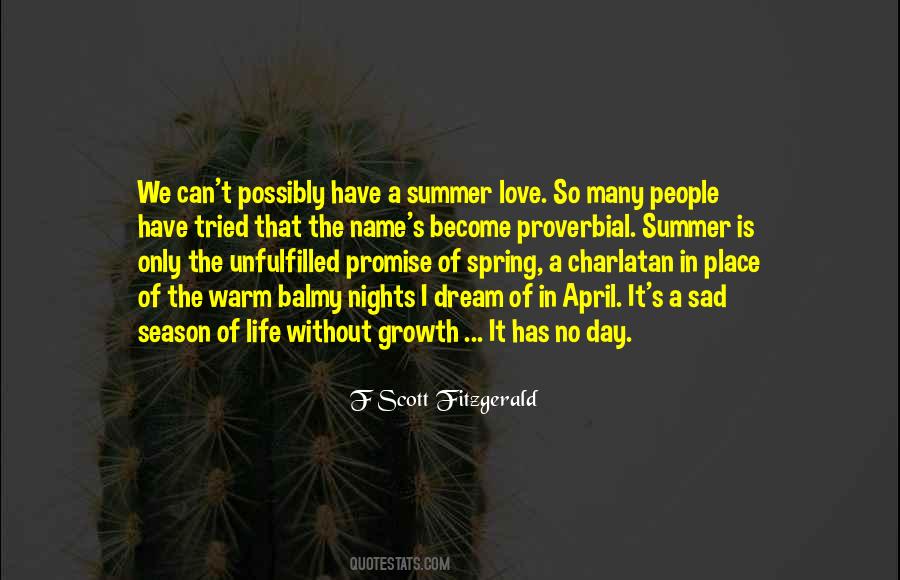 #84. The real preparation for races is done in the off-season. I put in the hard work during the summer and fall, and I'm always working on technique so that when the actual races come around I'm ready to go. - Author: Shani Davis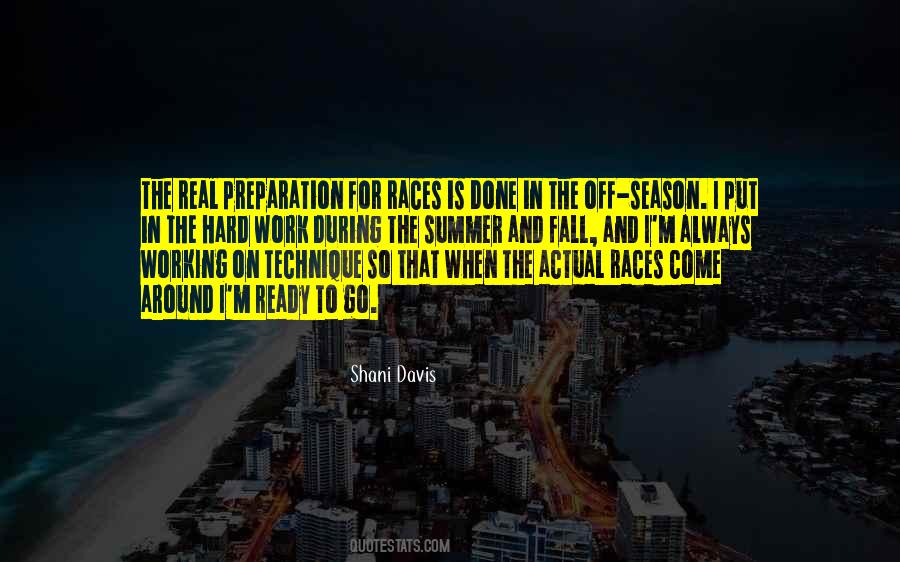 #85. Nature confounds her summer distinctions at this season. The heavens seem to be nearer the earth. The elements are less reserved and distinct. Water turns to ice, rain to snow. The day is but a Scandinavian night. The winter is an arctic summer. - Author: Henry David Thoreau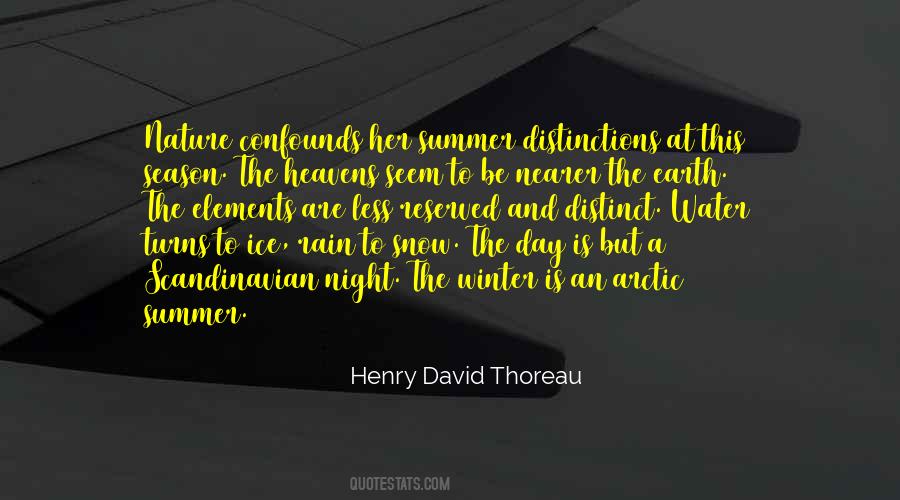 #86. Game by game is how I judge myself. At the end of the season, yeah, I do look back and think about how many games I've been available for, how many goals I've scored, how I've contributed. But that's what the summer's for. For now, you just look to the next one. - Author: Michael Owen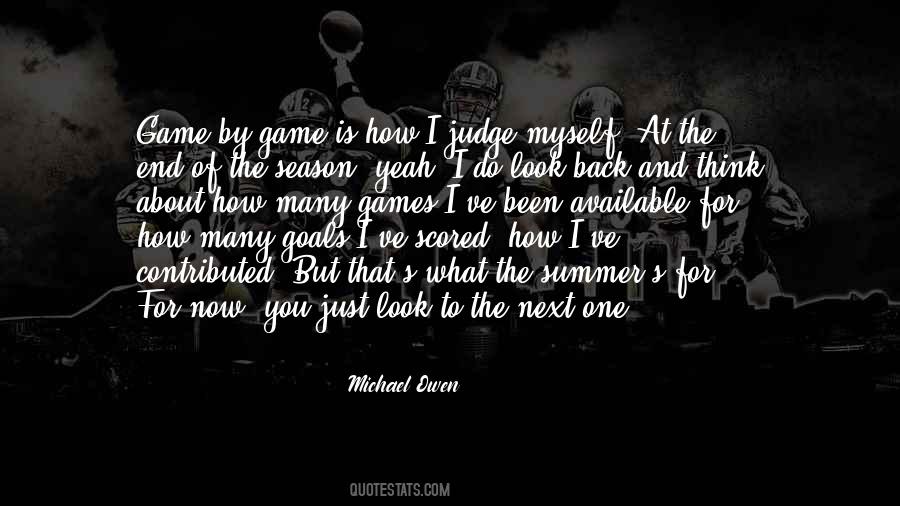 #87. The strange days of summer. There is no here, no there, the days are incredibly still, the light is brightly muted--it's hard to know if that's the passing of the season or poor air quality. - Author: A.M. Homes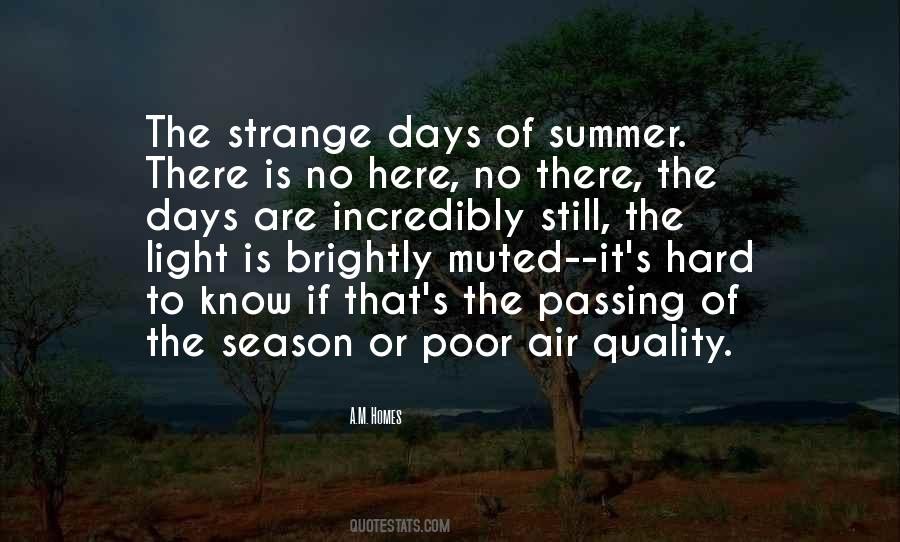 Famous Authors
Popular Topics