Struggle For Freedom Famous Quotes & Sayings
List of top 73 famous quotes and sayings about struggle for freedom to read and share with friends on your Facebook, Twitter, blogs.
Top 73 Quotes About Struggle For Freedom
#1. I am known for a life spent in the struggle for freedom, and freedom includes the freedom of religion. - Author: Oriana Fallaci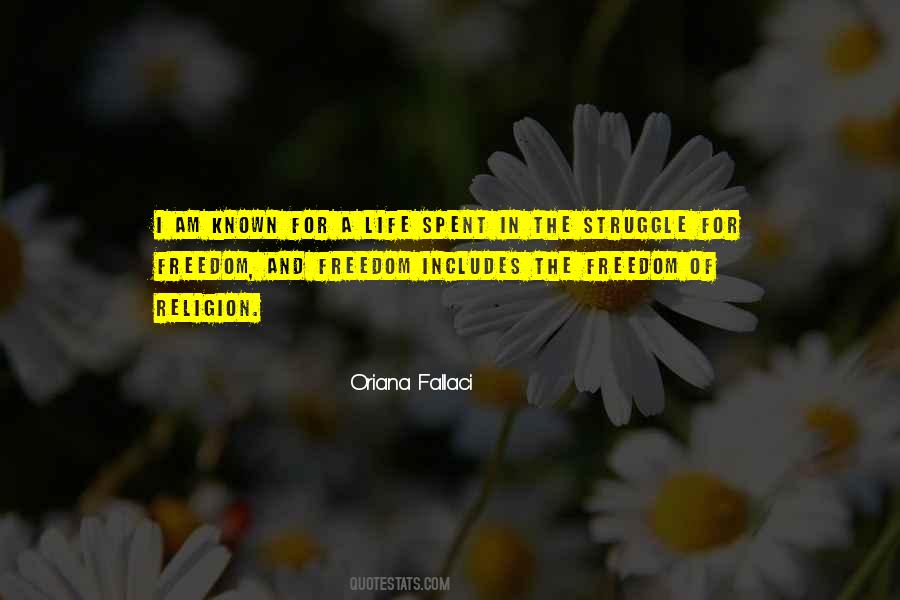 #2. The struggle of our people for freedom has progressed to the form where all of us must take a stand either for or against the freedom of our people You are either with Your People or against them. You are either part of the solution or part of the problem. - Author: Eldridge Cleaver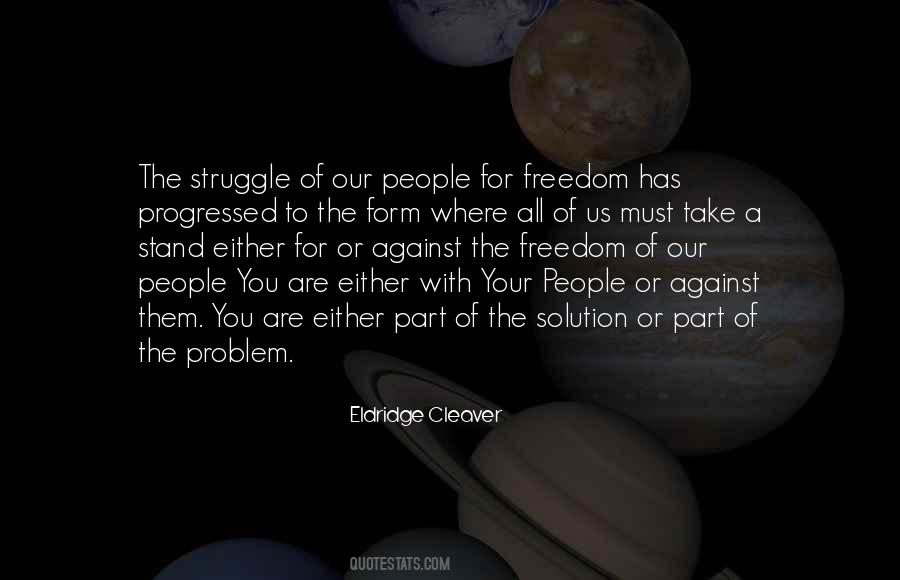 #3. They are our brothers, these freedom fighters ... They are the moral equal of our Founding Fathers and the brave men and women of the French Resistance. We cannot turn away from them, for the struggle here is not right versus left; it is right versus wrong. - Author: Ronald Reagan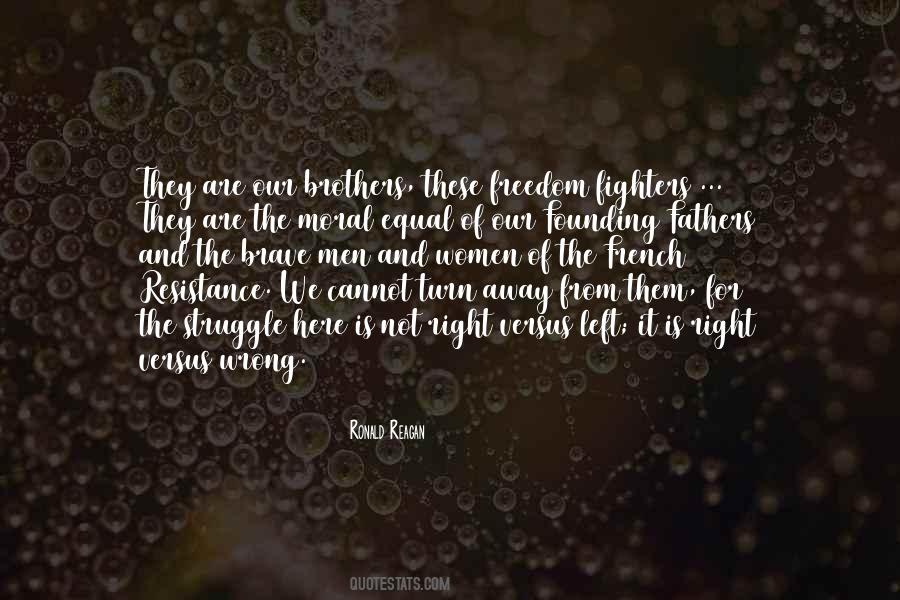 #4. Celtic Tiger portrays the oppression of a people and the tiger symbolises the awakening of their Spirit and their struggle for freedom. Celtic Tiger is my finest work to date. Budapest is one of my favourite cities in the world and I can think of no greater place to preview my new show. - Author: Michael Flatley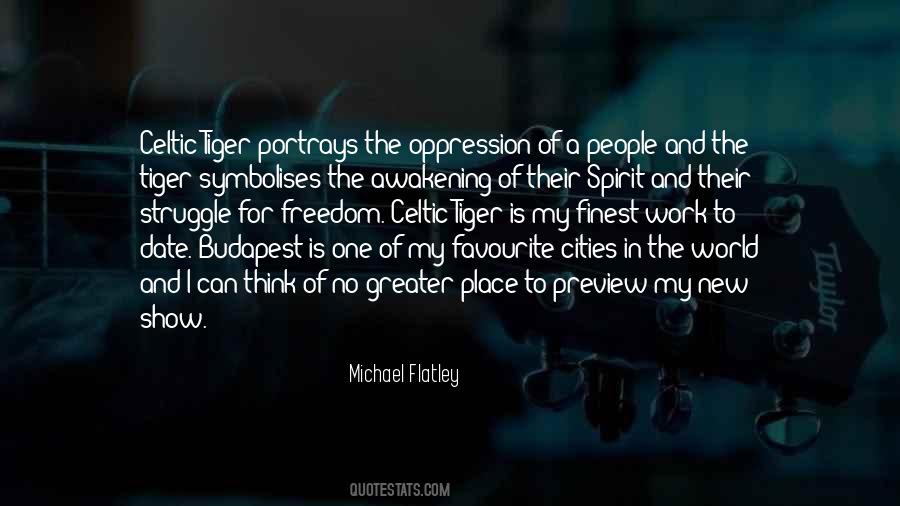 #5. For a man of my generation, our century has been a long intellectual and political struggle in favor of freedom. - Author: Octavio Paz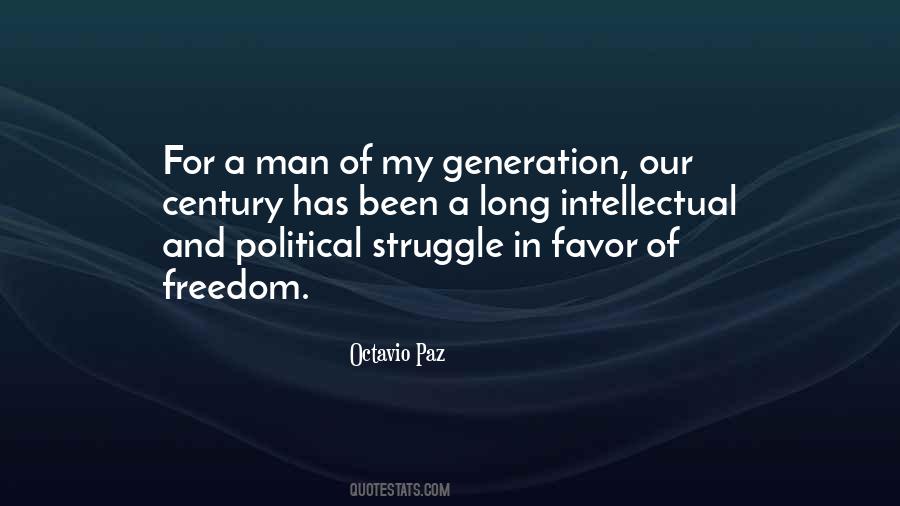 #6. The struggle for Financial Freedom is very unfair. Just look at the rewards. - Author: Manoj Arora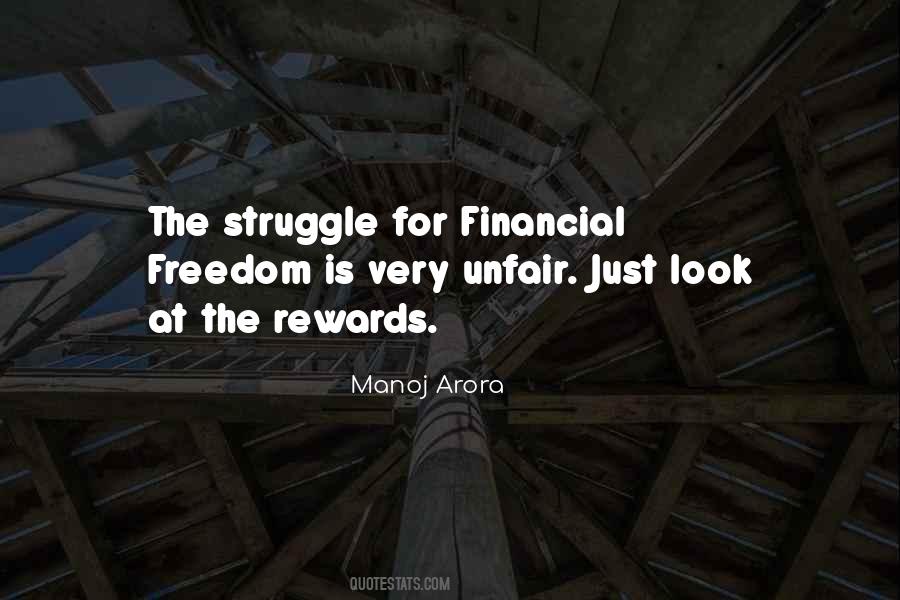 #7. To be obsessed by the idea of freedom, for instance, is itself a form of slavery. Such people are in the chains of the hope of freedom, and are therefore able to do little else than struggle with them. - Author: Idries Shah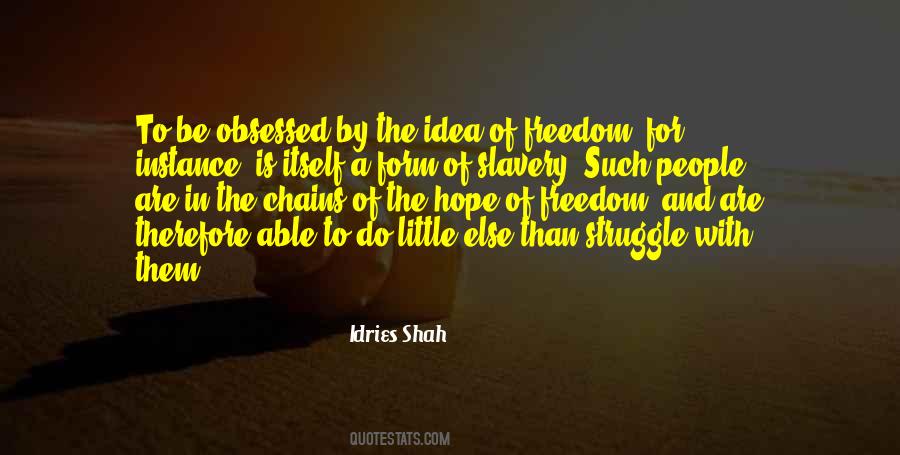 #8. In Latin America in general, and Cuba in particular, poets have been the inspiration behind struggles for independence, struggles for freedom of all sorts. - Author: Margarita Engle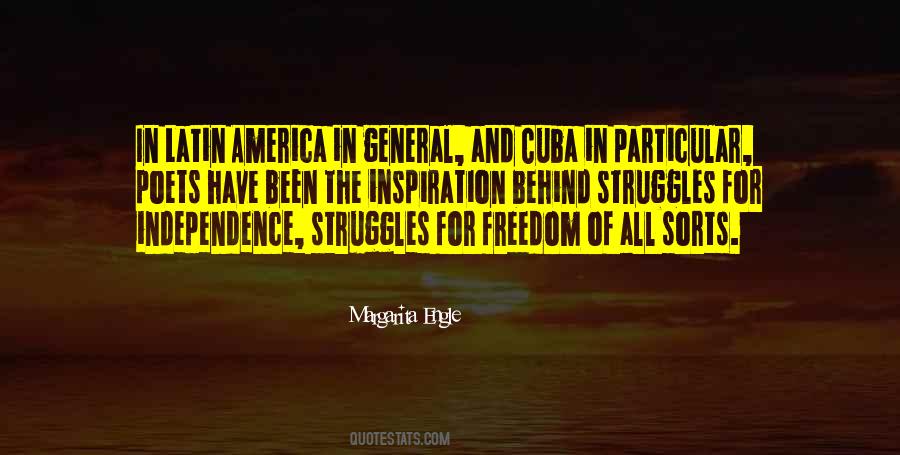 #9. Freedom is not won by a passive acceptance of suffering. Freedom is won by a struggle against suffering. By this measure, Negroes have not yet paid the full price for freedom. And whites have not yet faced the full cost of justice. - Author: Martin Luther King Jr.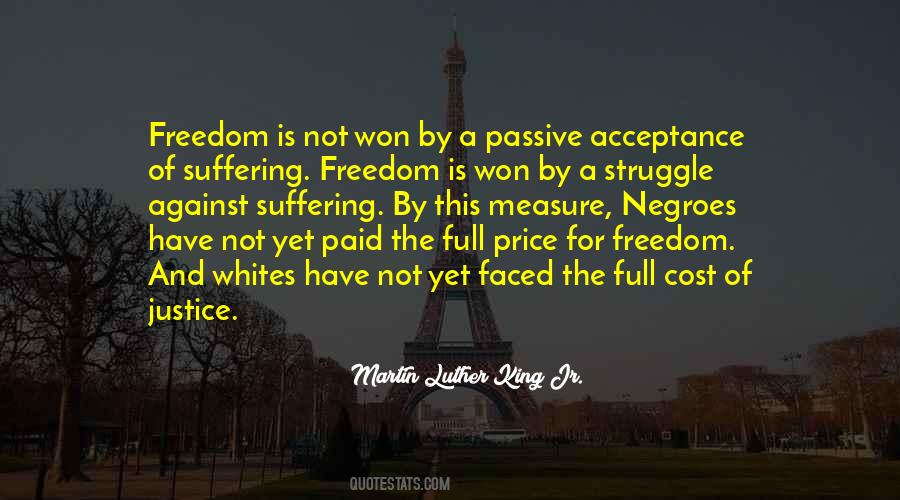 #10. Armed with the knowledge of our past, we can with confidence charter a course for our future. Culture is an indispensable weapon in the freedom struggle. We must take hold of it and forge the future with the past. - Author: Malcolm X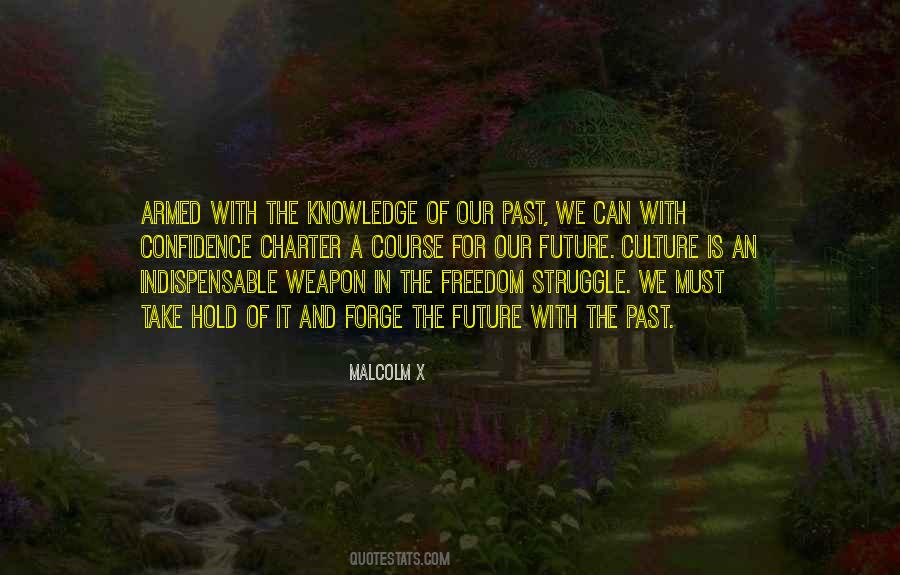 #11. Everywhere that the struggle for national freedom has triumphed, once the authorities agreed, there were military coups d'etat that overthrew their leaders. That is the result time and time again. - Author: Ahmed Ben Bella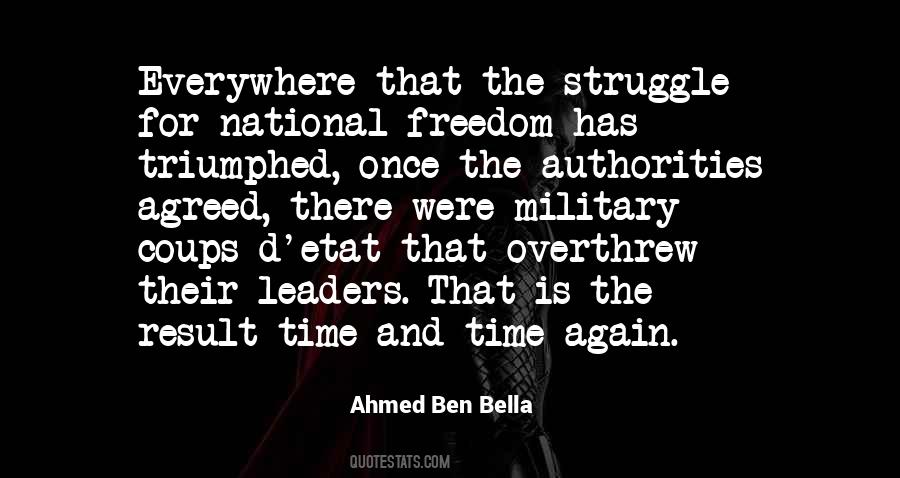 #12. Silence is like a cradle holding our endeavors and our will; a silent spaciousness sustains us in our work and at the same time connects us to larger worlds that, in the busyness of our daily struggle to achieve, we have not yet investigated. Silence is the soul's break for freedom. - Author: David Whyte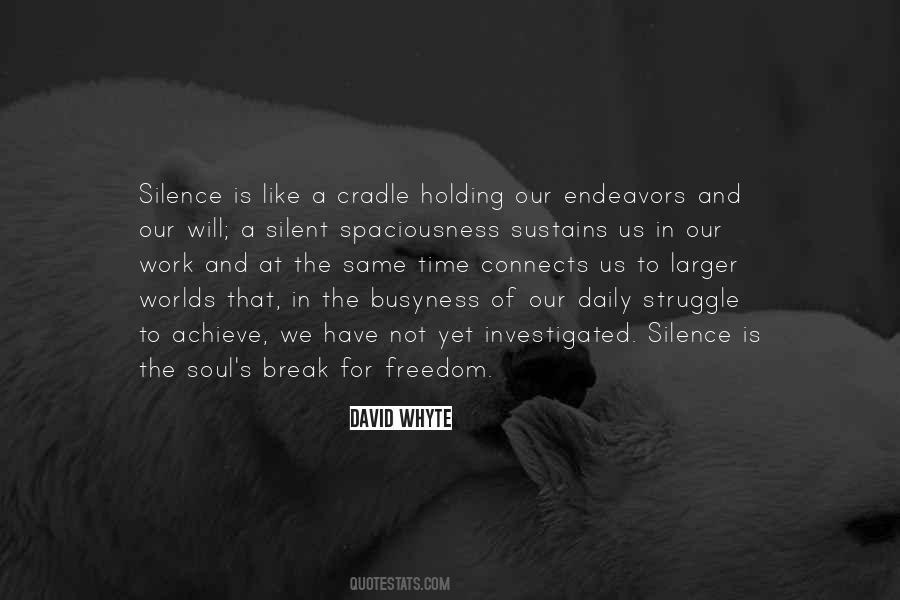 #13. Humankind struggles with collective powers for its freedom, the individual struggles with dehumanization for the possession of his soul. - Author: Saul Bellow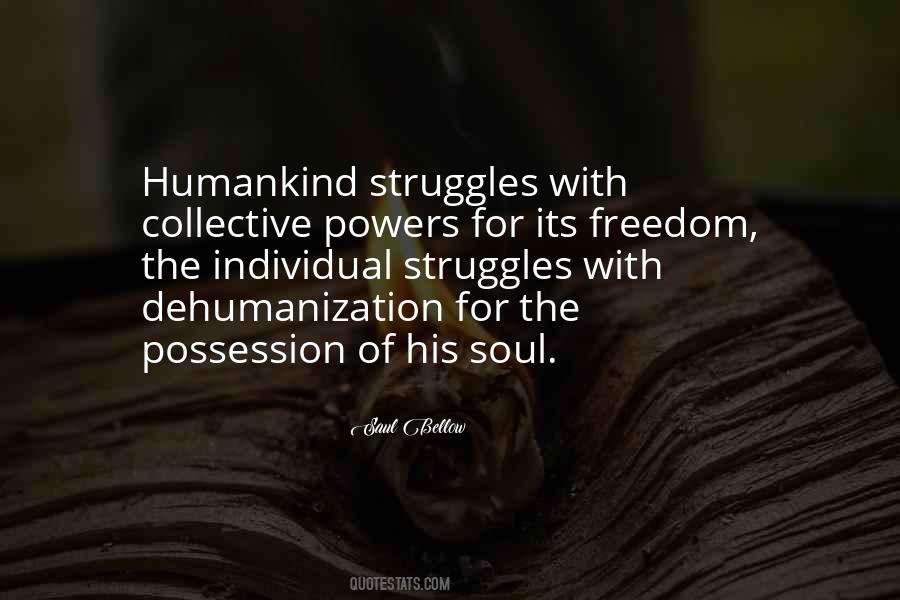 #14. I will not forget this wound to our country or those who inflicted it. I will not yield; I will not rest; I will not relent in waging this struggle for freedom and security for the American people. - Author: George W. Bush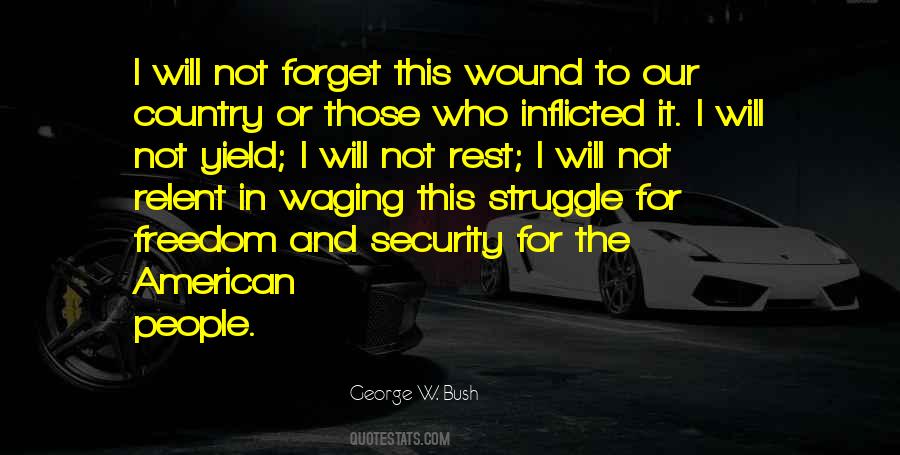 #15. The real struggle for us is for the citizen to cease to be the property of the state. - Author: Adam Michnik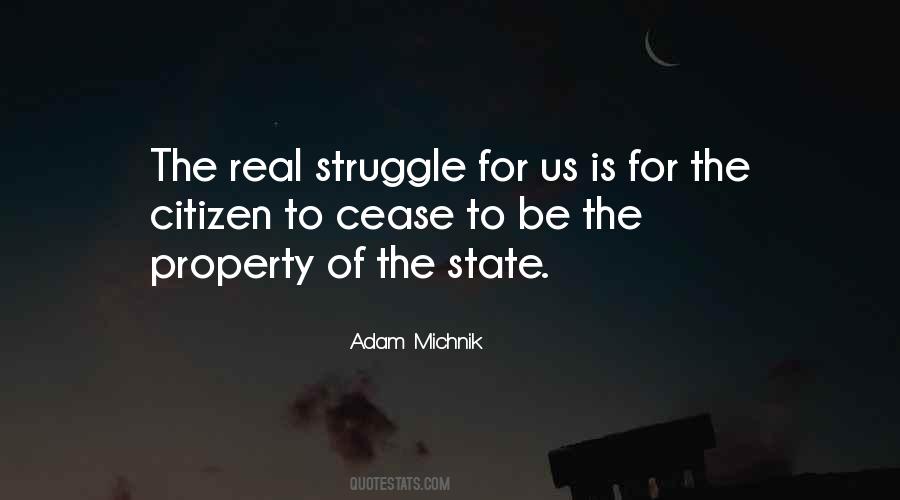 #16. This is not a jungle war, but a struggle for freedom on every front of human activity. - Author: Lyndon B. Johnson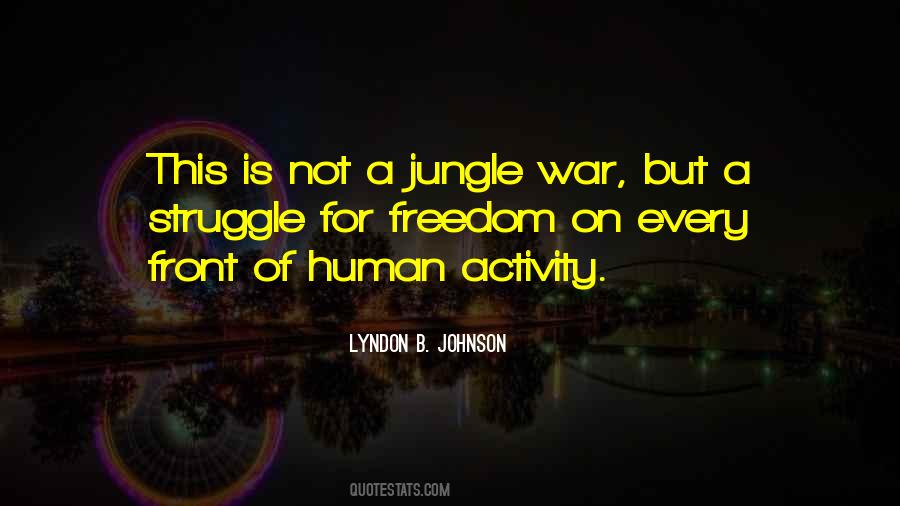 #17. He(Prophet Muhammad) laid the foundation of a universal government. His law was one for all. Equal justice and love for everyone. - Author: B. Margoliouth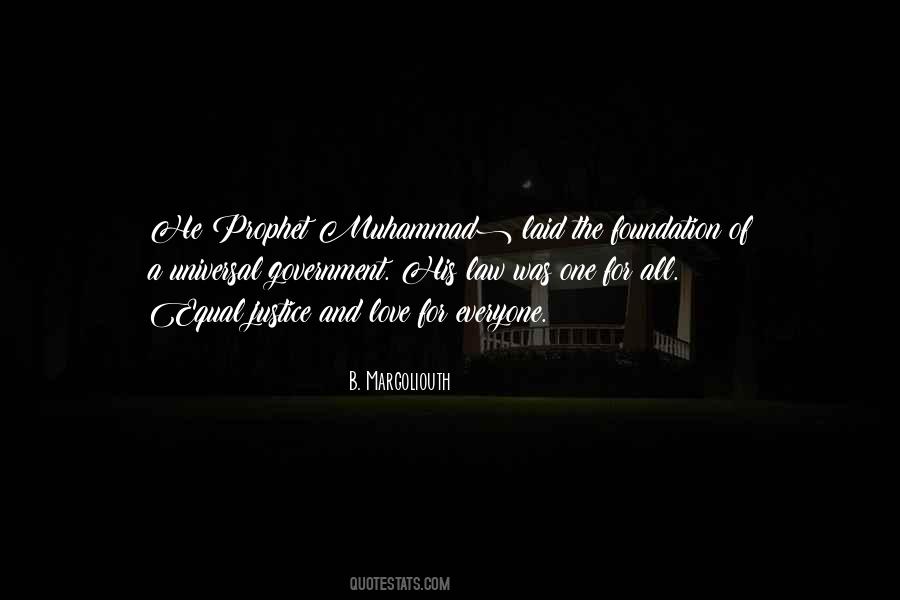 #18. The metaphor of transformation deepens as we consider how a butterfly needs to struggle for its ability to fly. If the chrysalis is broken by someone in an attempt to help free the butterfly, its wings will be shriveled and immobile. - Author: Gabriel Cousens M.D.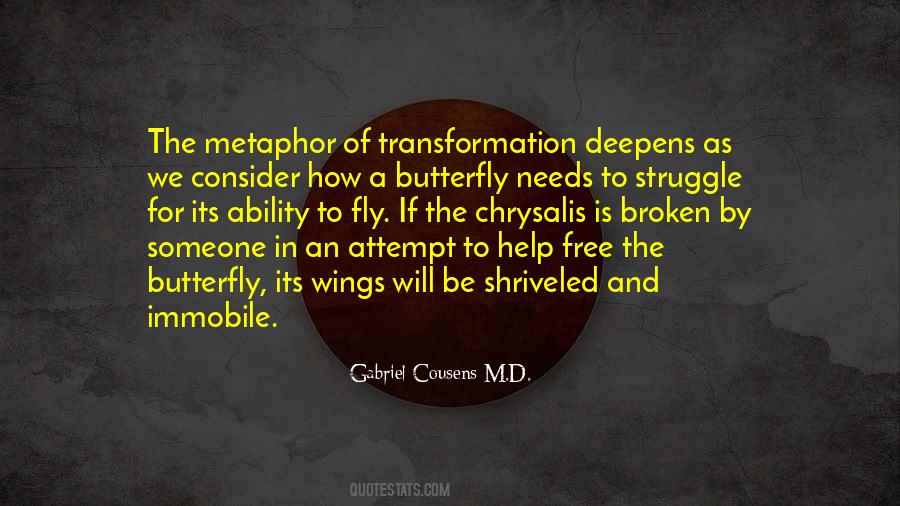 #19. While preaching against every kind of government, and demanding complete freedom, we must support all struggles for partial freedom, because we are convinced that one learns through struggle, - Author: Errico Malatesta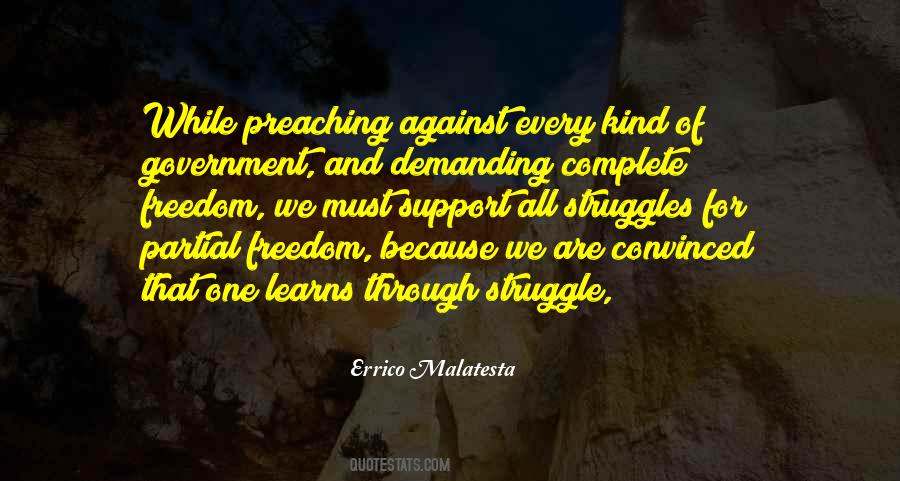 #20. If a piece of burning charcoal be placed on a man's head, see how he struggles to throw it off. Similar will be the struggle for freedom of those who really understand that they are slaves of nature. - Author: Swami Vivekananda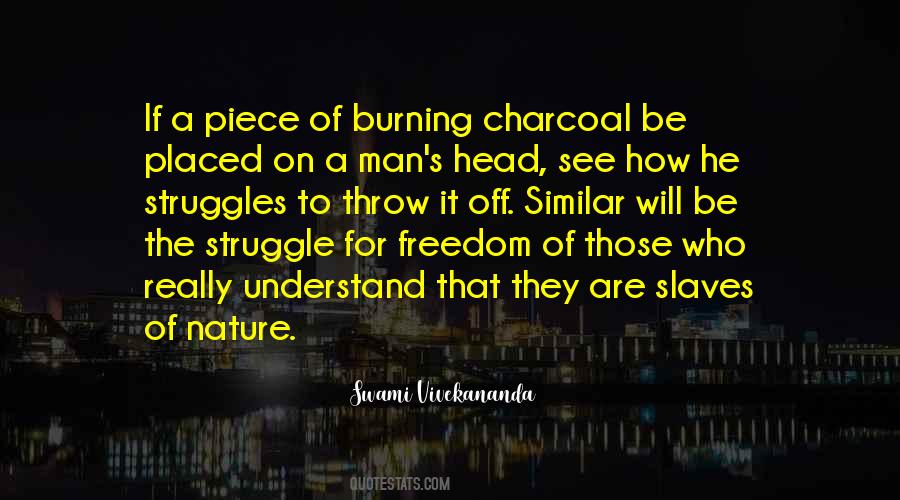 #21. In the process of gaining our rightful place, we must not be guilty of wrongful deeds. Let us not seek to satisfy our thirst for freedom by drinking from the cup of bitterness and hatred. We must forever conduct our struggle on the high plane of dignity and discipline. - Author: Martin Luther King Jr.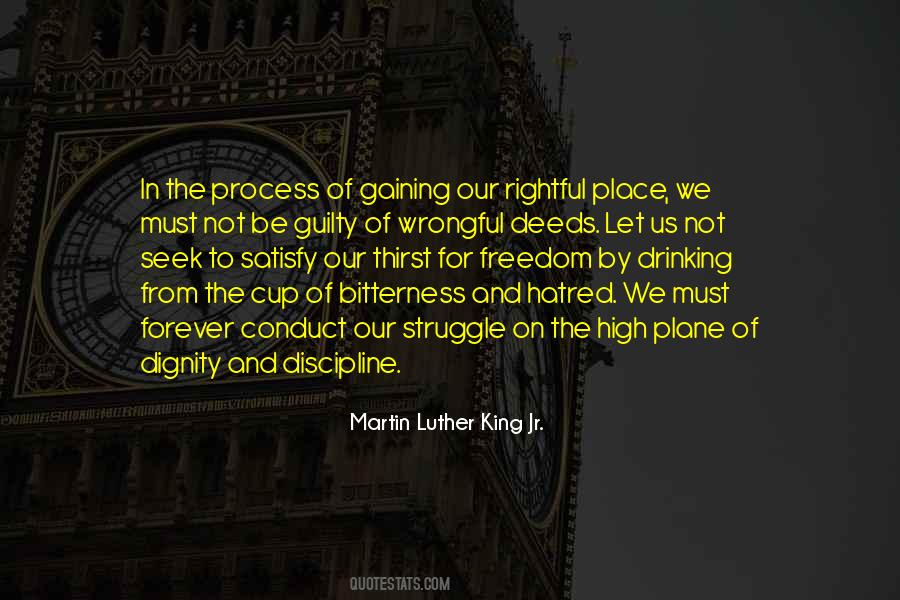 #22. Our object is the economic freedom of the producing classes; this ultimate goal will be attained after a long and bitter struggle; therefore, our primary task is to organize the masses and lead them in the struggle for economic freedom. - Author: M. N. Roy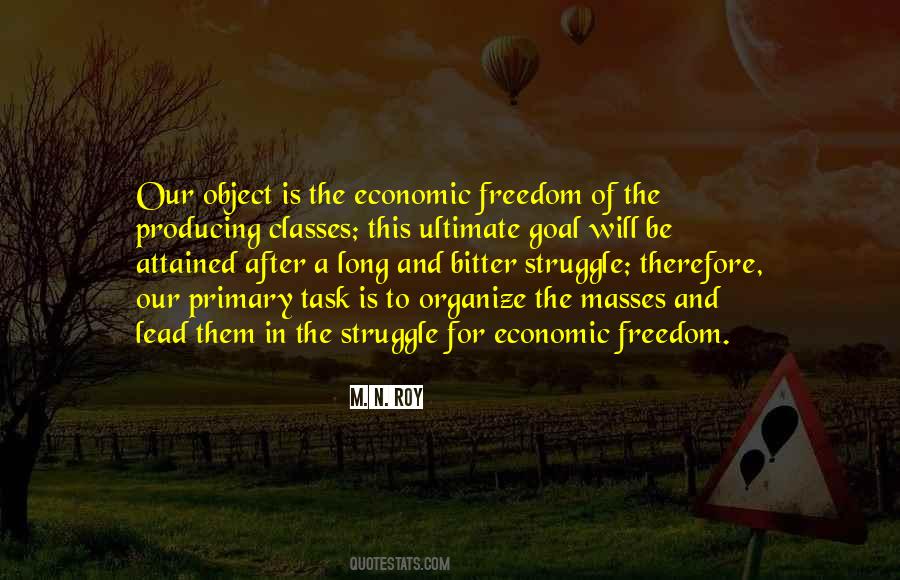 #23. Men who want to support women in our struggle for freedom and justice should understand that it is not terrifically important to us that they learn to cry; it is important to us that they stop the crimes of violence against us. - Author: Andrea Dworkin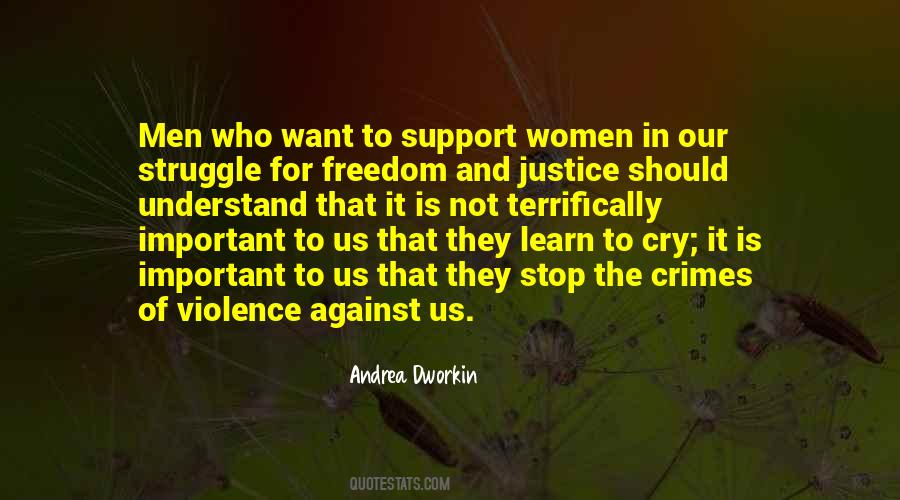 #24. Leaders fight for freedom of action. Managers struggle to understand the rules and staying in their parameters. - Author: Elena D. Calin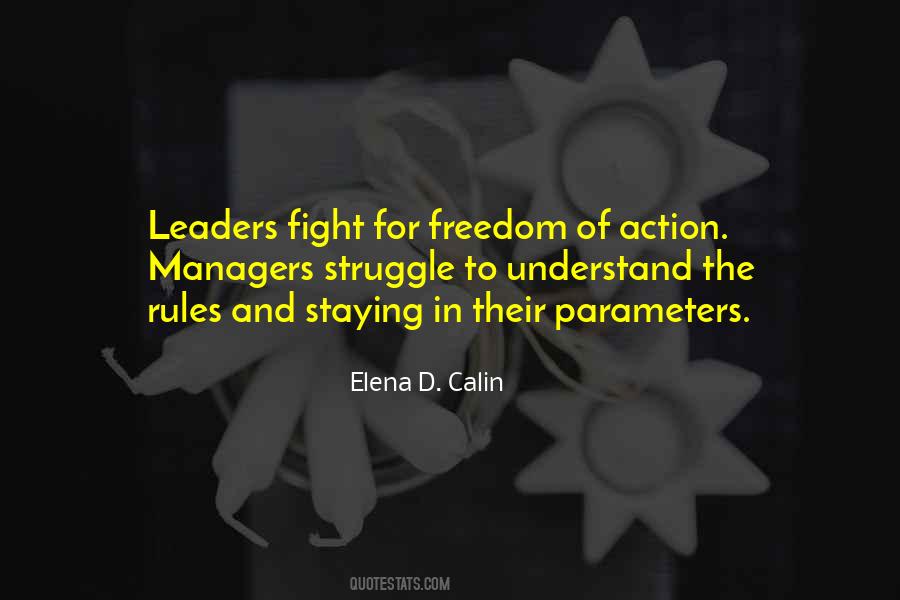 #25. The great challenge for the democratic-minded educator is how to transmit a sense of limit that can be ethically integrated by freedom itself. The more consciously freedom assumes its necessary limits, the more authority it has, ethically speaking, to continue to struggle in its own name. - Author: Paulo Freire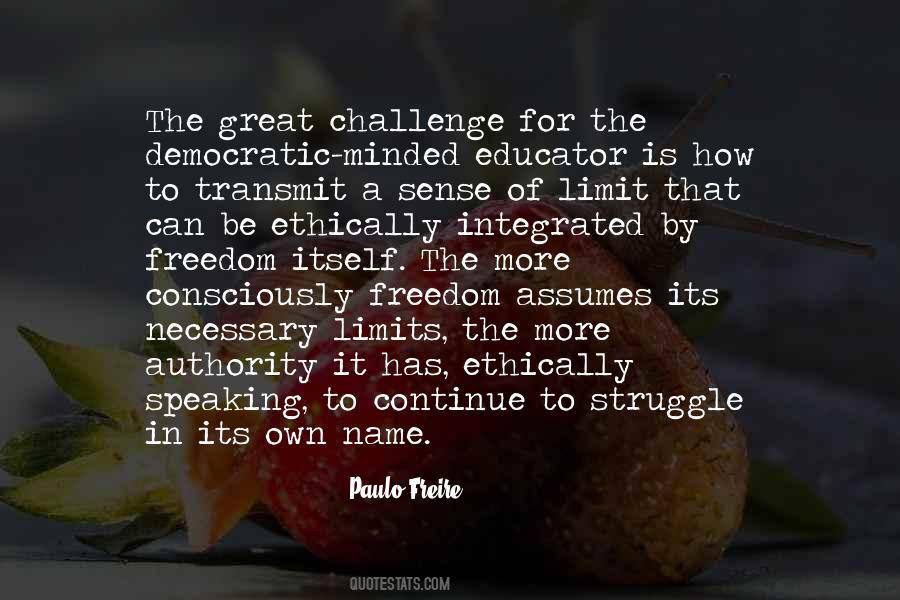 #26. Every revolution, bloody or not, has two phases. The first phase is defined by the struggle for freedom, the second by the struggle for power and revenge on the votaries of the ancien regime. - Author: Adam Michnik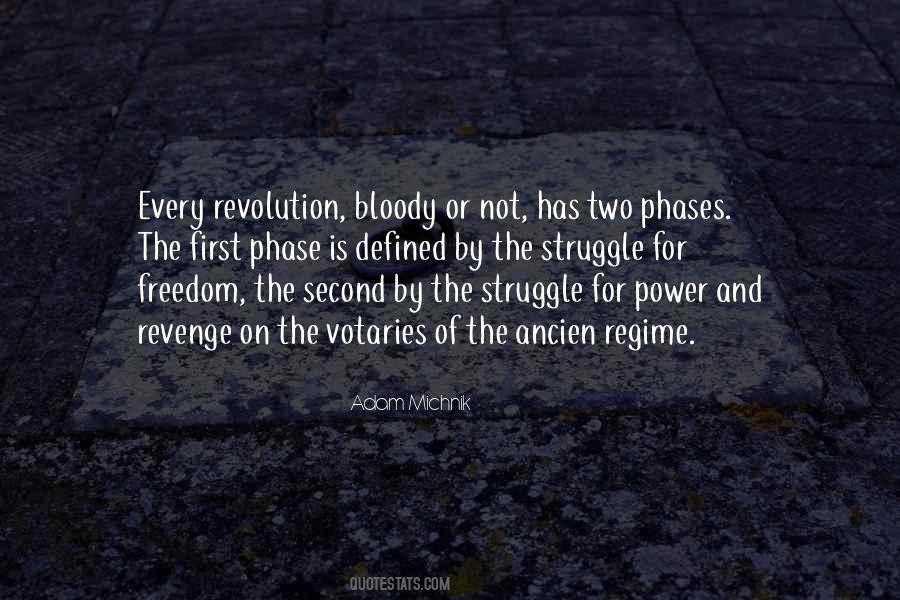 #27. For the Three Percent:
You may sometimes feel
like you were born in the wrong century,
or that the struggle for freedom is already lost,
but you weren't, and it isn't.
Your day is coming.
Now is the time to prepare. - Author: Oliver DeMille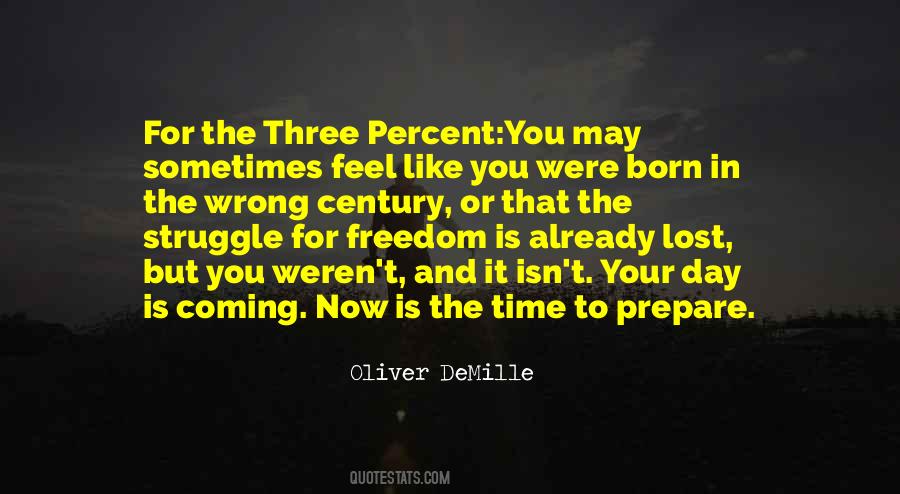 #28. We must work passionately and unrelentingly for the goal of freedom, but we must be sure that our hands are clean in the struggle. We must never struggle with falsehood, hate, or malice. We must never become bitter. - Author: Martin Luther King Jr.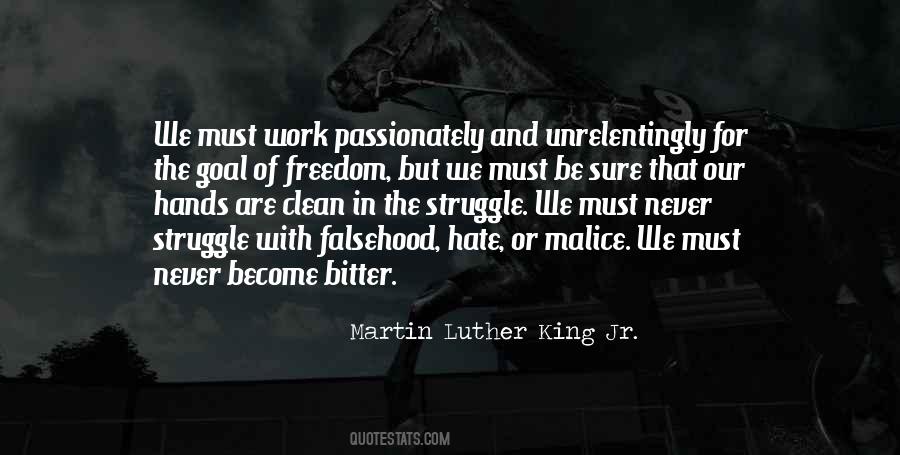 #29. The historic nature of Israel's struggle for self-determination, freedom, and prosperity underscores the gravity of their circumstances and fortifies my commitment to America's responsibility as their ally. - Author: Pete Hegseth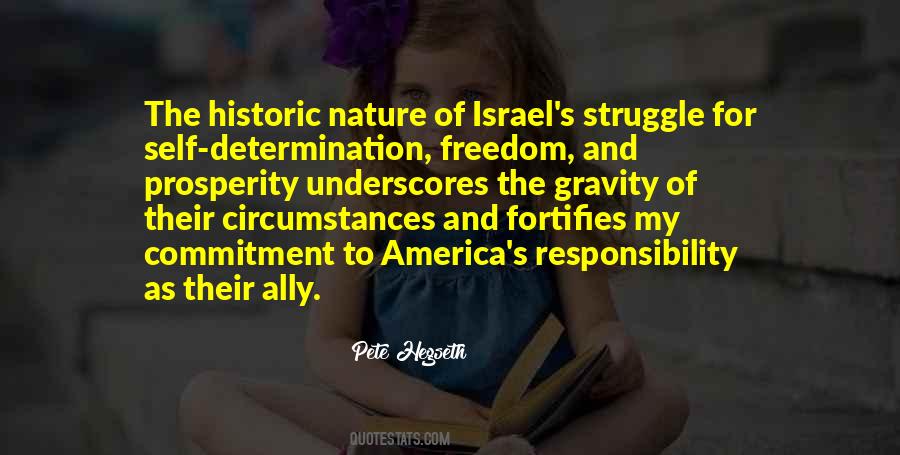 #30. The artist can not serve his struggle for freedom unless he subjectively assimilates the social content, unless he feels in his very nerves its meaning and drama and freely seeks to give his own inner world incarnation in his art. - Author: Leon Trotsky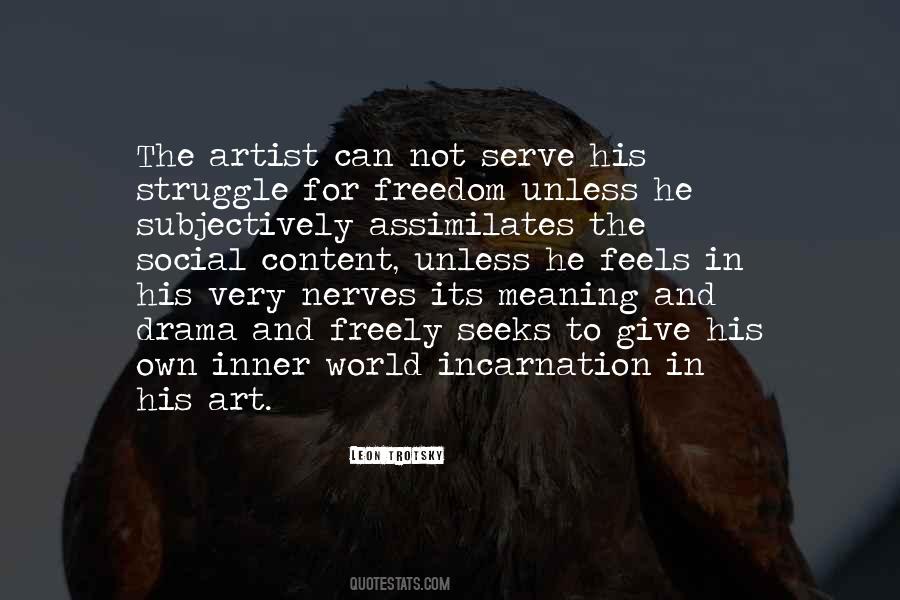 #31. Freedom demands that we struggle for an extension of both equality and free expression, not regard one as inimical to the other. - Author: Kenan Malik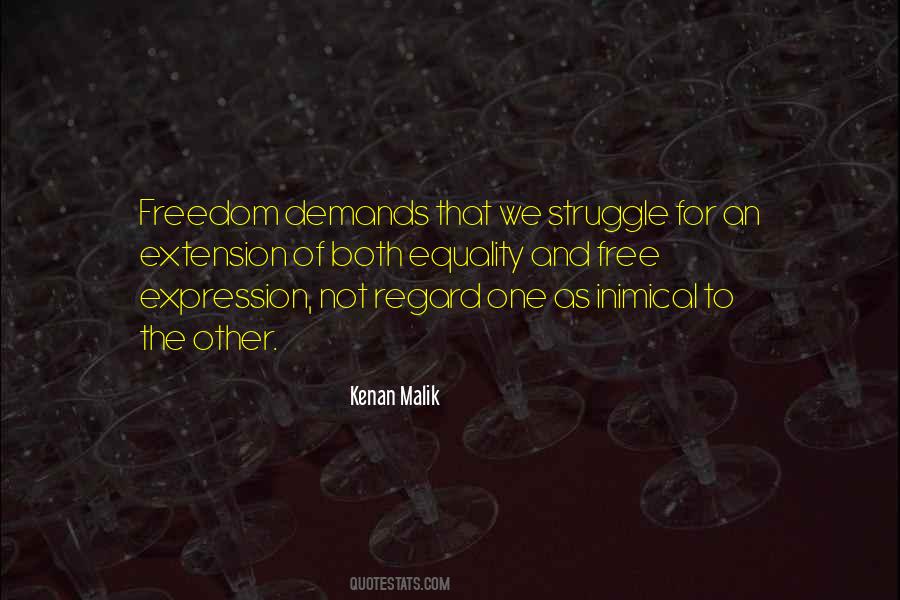 #32. We are trying to persuade all the Iraqi opposition to come breathe freedom in Iraq and use liberated Kurdistan as a base for our common struggle. - Author: Jalal Talabani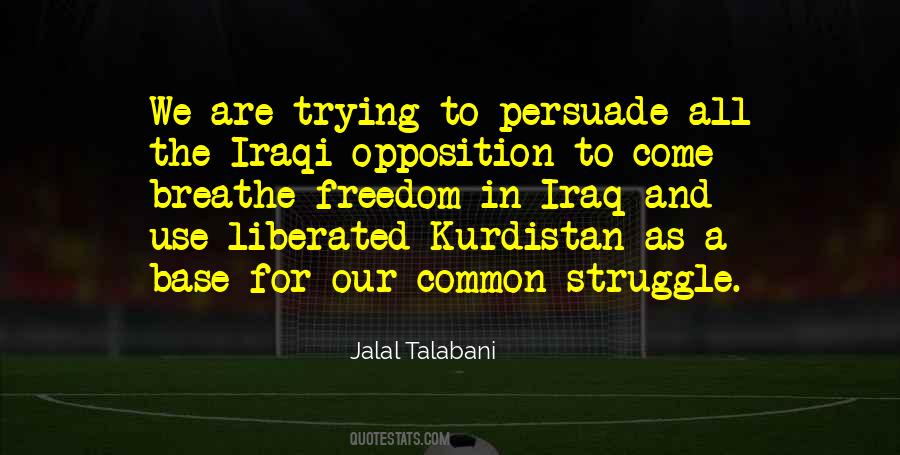 #33. Struggle for freedom. Where people are denied the right of choice, recourse to such struggle is the only means of achieving their liberties. - Author: John F. Kennedy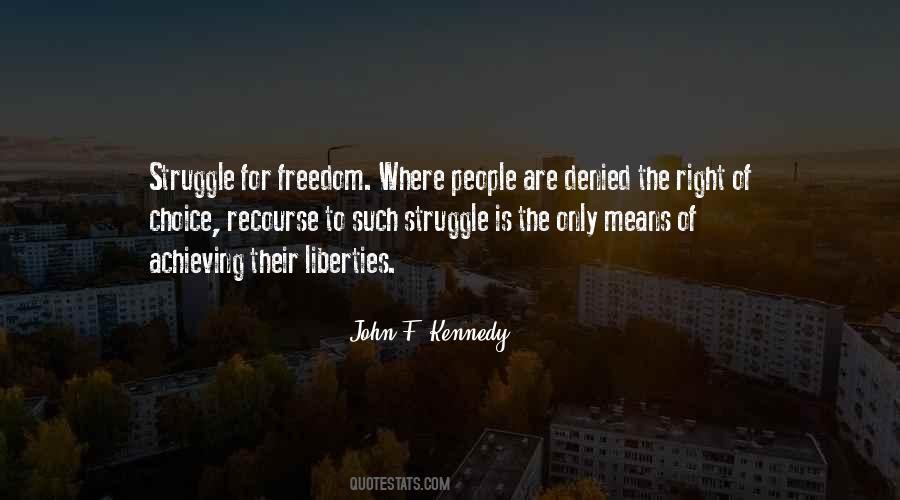 #34. Those men and women are fortunate who are born at a time when a great struggle for human freedom is in progress. It is an added good fortune to have parents who take a personal part in the great movements of their time. I am glad and thankful that this was my case. - Author: Emmeline Pankhurst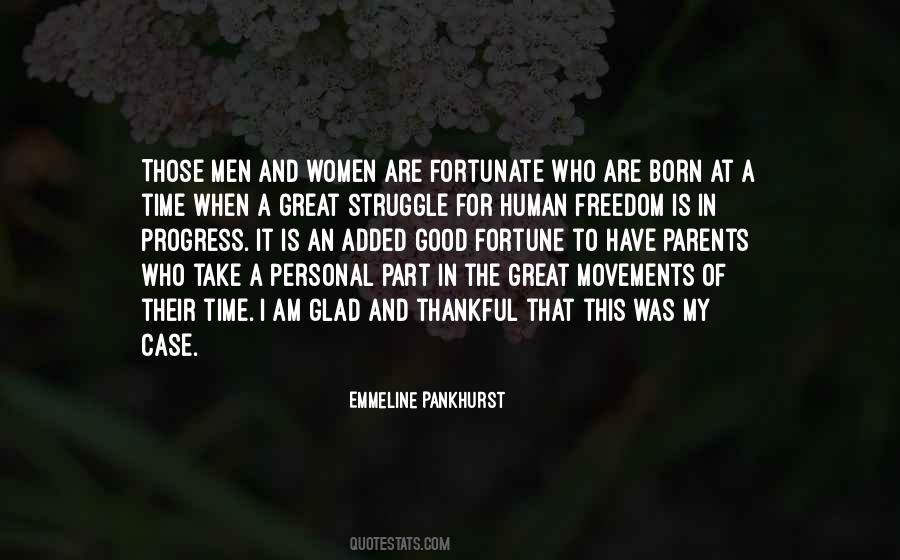 #35. Thus, the struggle for peace includes the struggle for freedom and justice for the masses of all countries. - Author: Arthur Henderson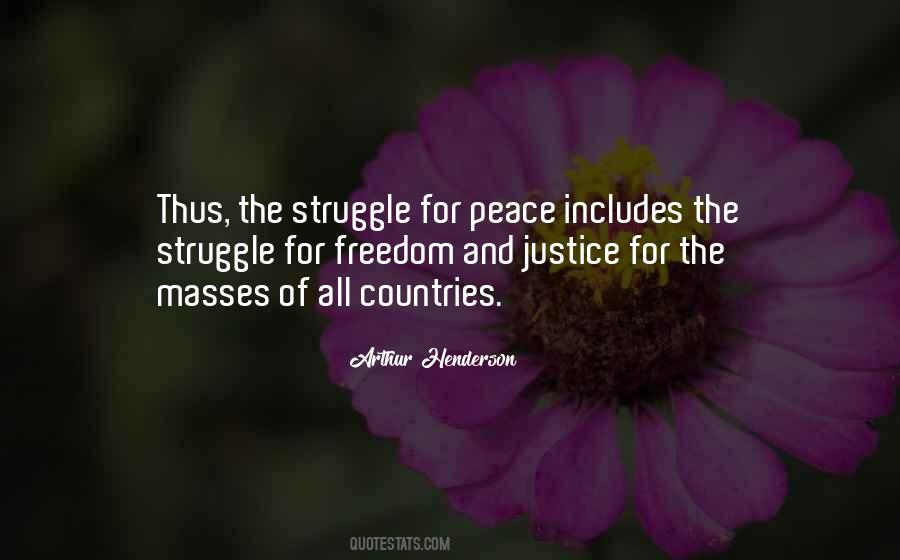 #36. My service solidified my respect for our freedom, and the struggle to preserve it. I know the cost of obtaining freedom, keeping it and the value of it. - Author: Brad Wenstrup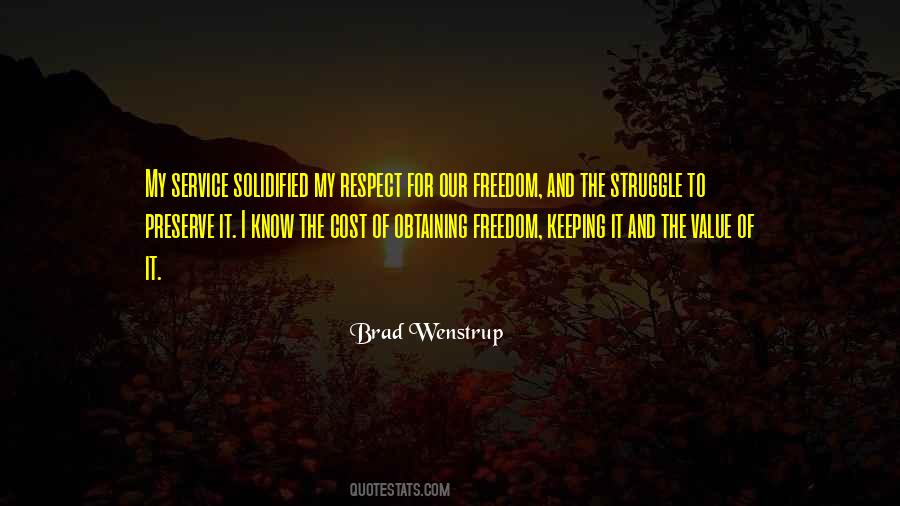 #37. The passions of the titanic struggle will finally enter upon the sleep of oblivion, and only its splendid accomplishments for the cause of human freedom and a united nation, stronger and richer in patriotism because of the great strife, will be remembered. - Author: James Longstreet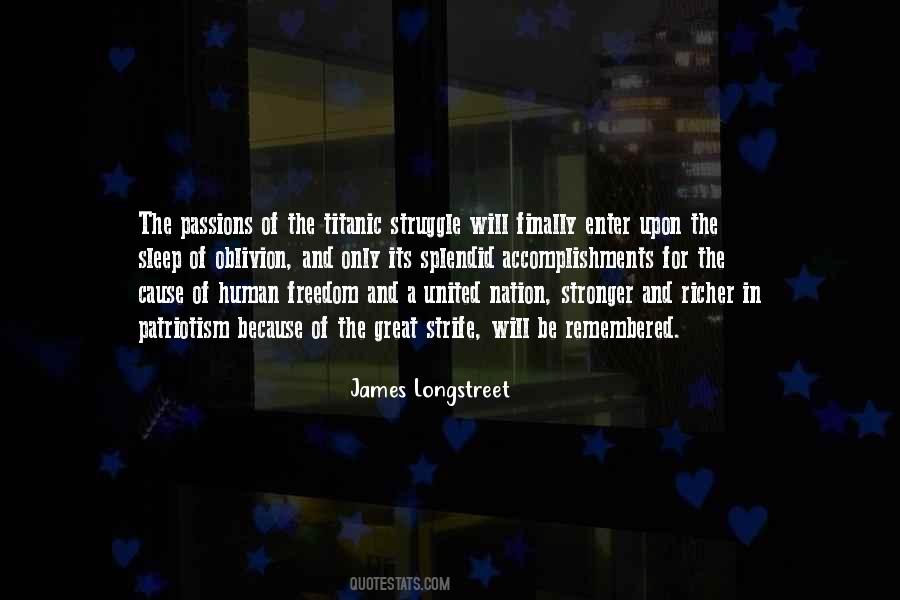 #38. The struggle for freedom and justice is now. - Author: John Legend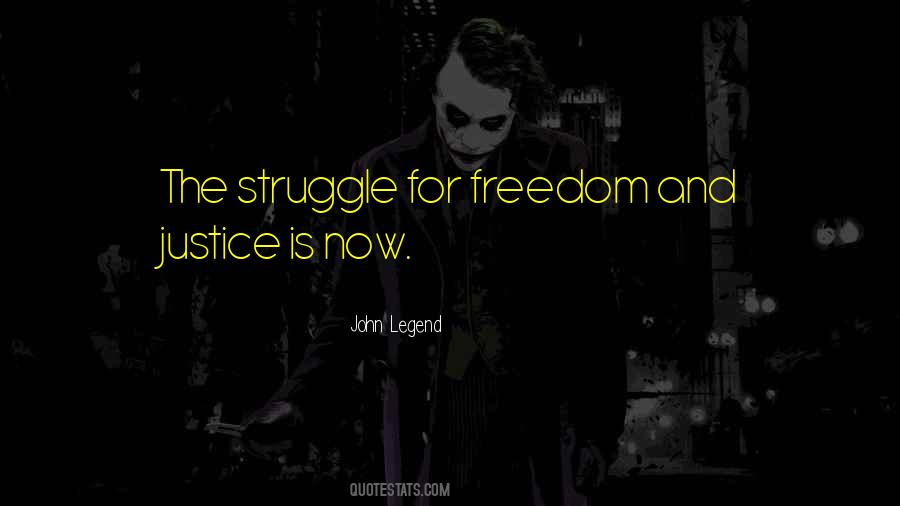 #39. I was willing to take on the struggle to establish myself in a new country because I knew that was the price I would have to pay for the freedom to think, speak, and write whatever I pleased. - Author: Ji-li Jiang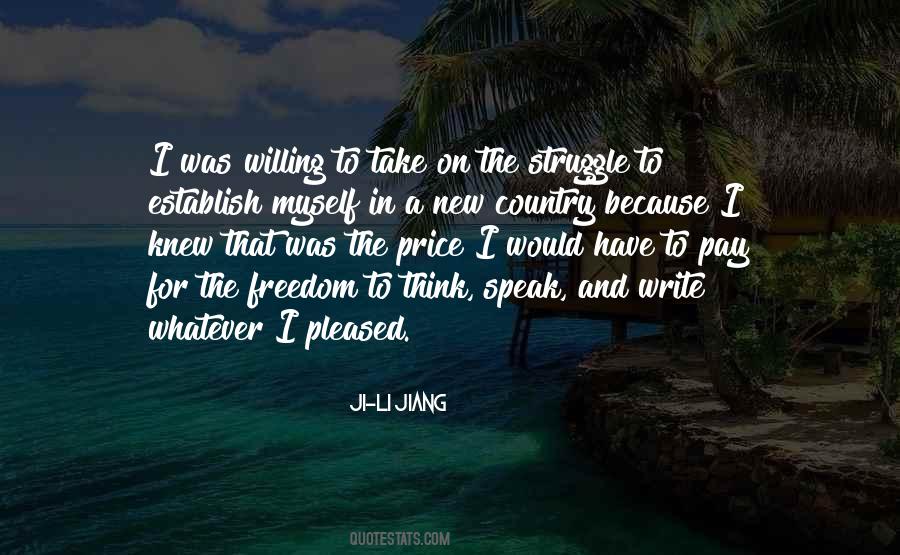 #40. The history of American women is about the fight for freedom, but it's less a war against oppressive men than a struggle to straighten out the perpetually mixed message about women's role that was accepted by almost everybody of both genders. - Author: Gail Collins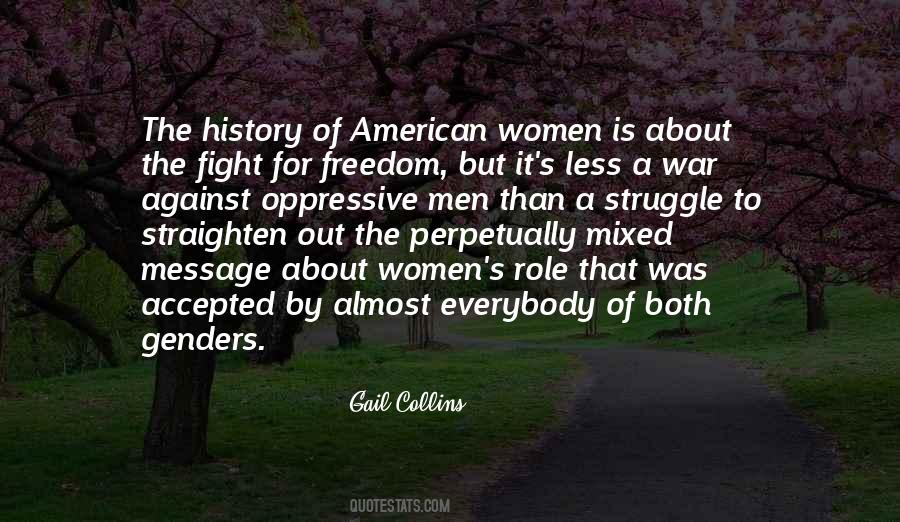 #41. The movement of nonviolent non-co-operation has nothing in common with the historical struggles for freedom in the West. - Author: Mahatma Gandhi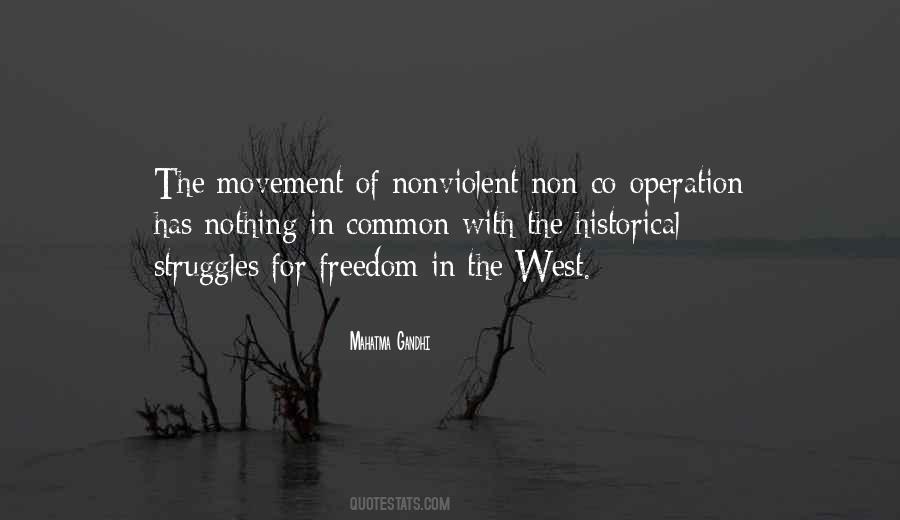 #42. There's a story behind every old ballad or work song or nonsense song that I ever knew. Sometimes it's a fascinating story. A story of people struggling for freedom, struggling to get along in this old world. - Author: Pete Seeger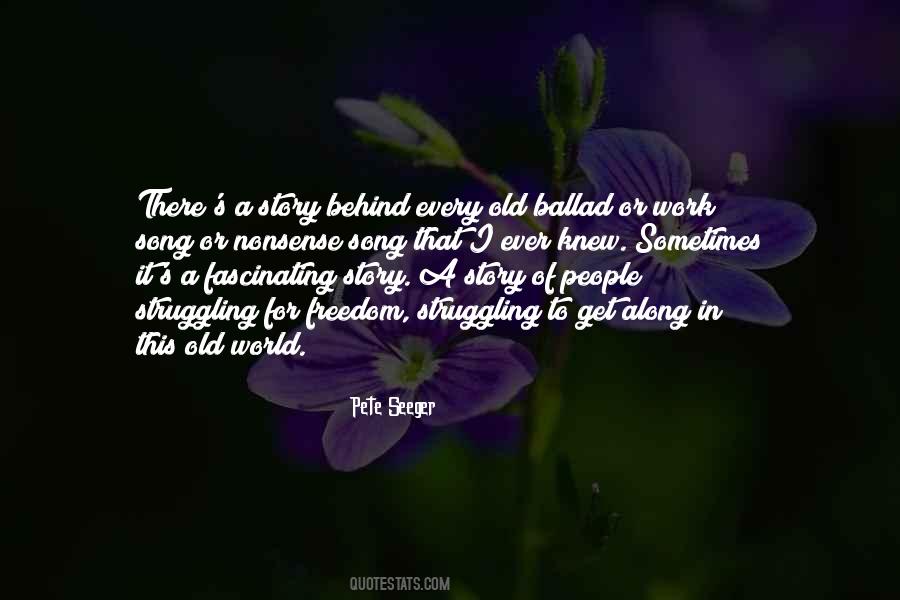 #43. We all have to announce our full solidarity with the struggle of those seeking freedom and justice in Syria, and translate this sympathy into a clear political vision that supports a peaceful transition to a democratic system of rule that reflects the demands of the Syrian people for freedom. - Author: Mohammed Morsi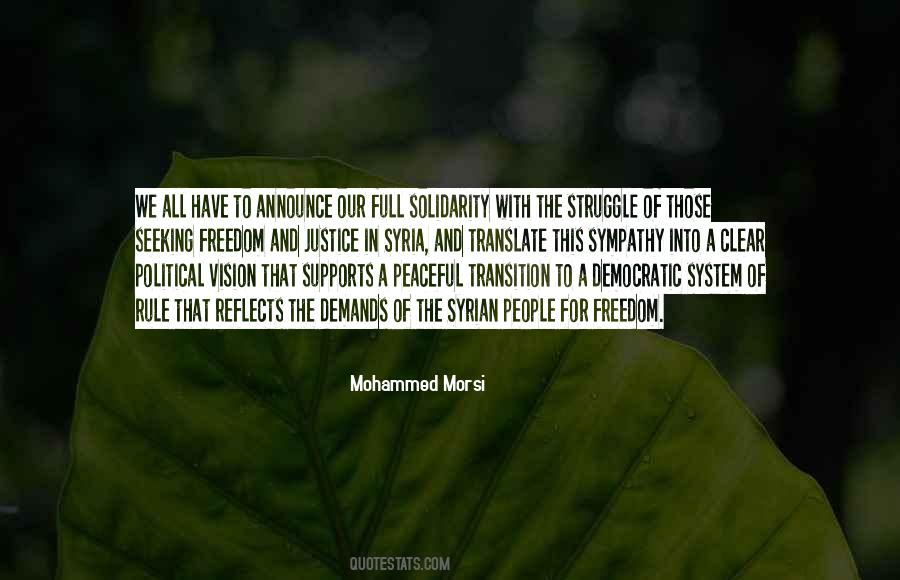 #44. Unfortunate. Unfortunate. Sometimes people struggling for freedom lose their way. - Author: Jesse Jackson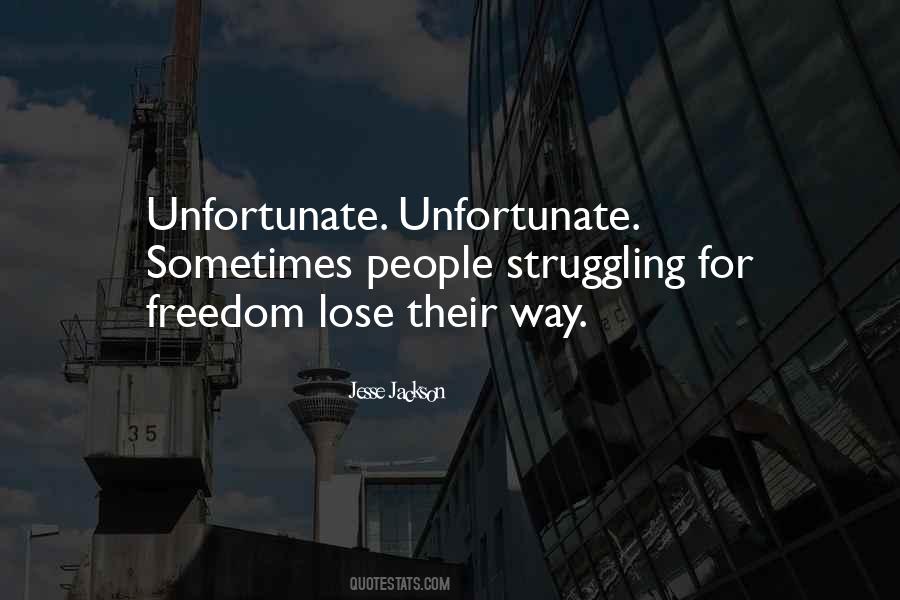 #45. Nonviolent struggle is the most powerful means available to those struggling for freedom. - Author: Gene Sharp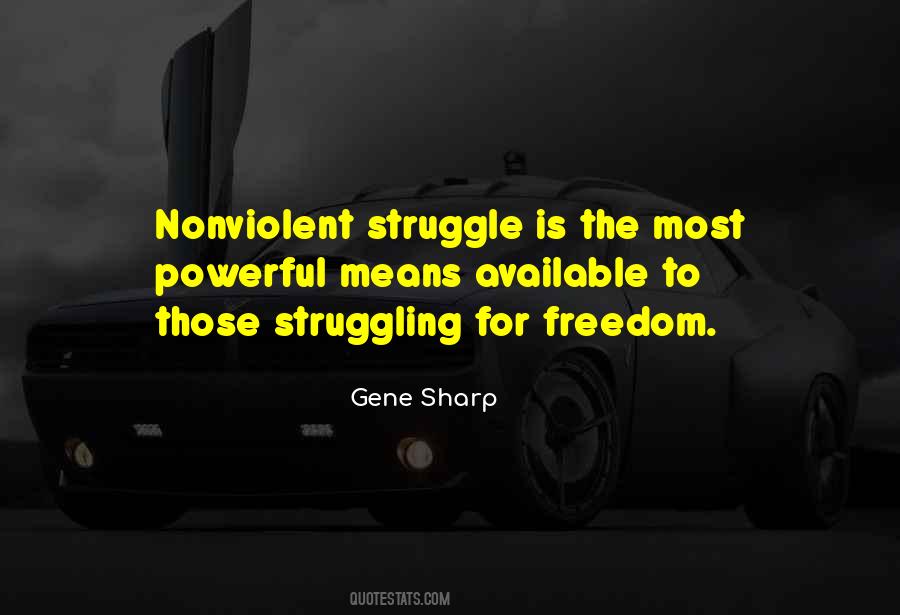 #46. The sword of revolution is sharpened on the whetting stone of ideas-bhagat singh in court during his trial, india's struggle for freedom - Author: Bhagat Singh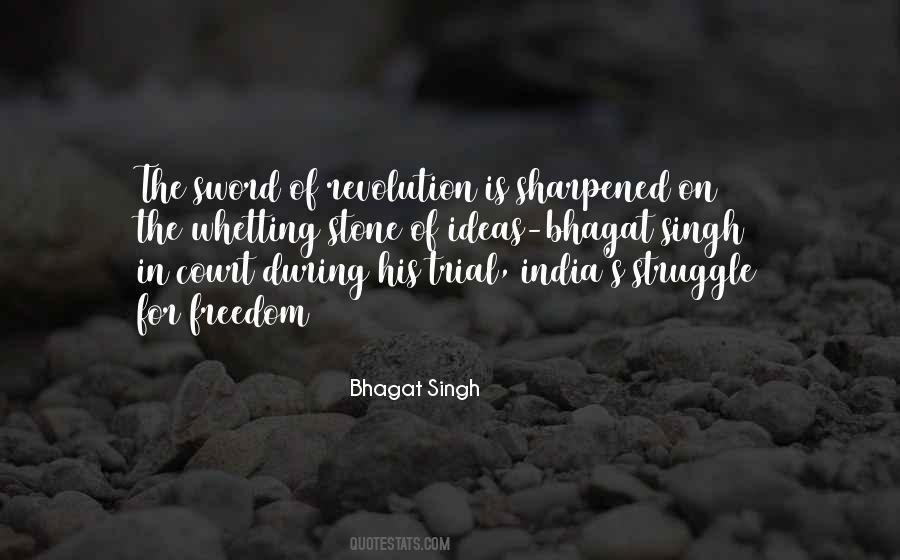 #47. Change does not roll in on the wheels of inevitability, but comes through continuous struggle. And so we must straighten our backs and work for our freedom. A man can't ride you unless your back is bent. - Author: Martin Luther King Jr.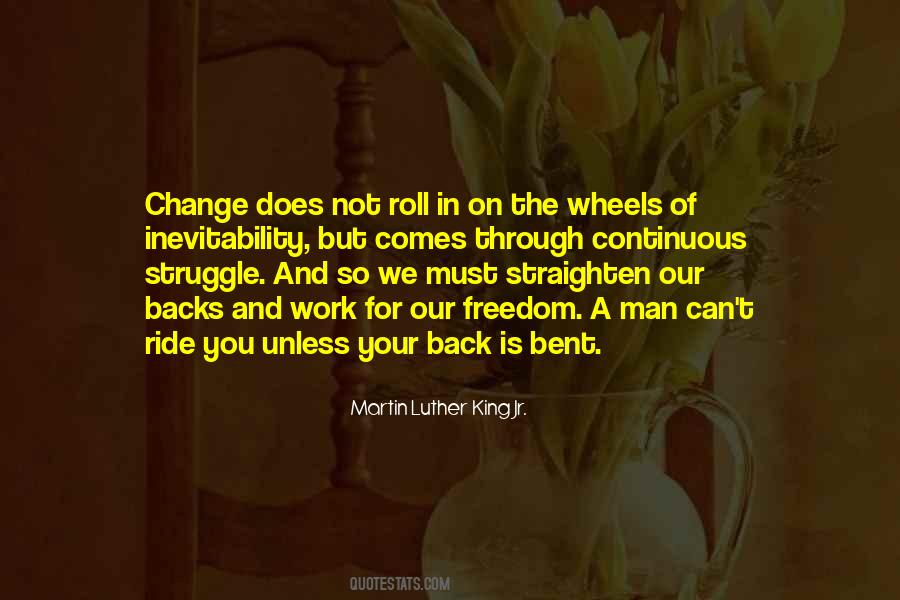 #48. Everything that we perceive around us is struggling towards freedom, from the atom to the man, from the insentient, lifeless particle of matter to the highest existence on earth, the human soul. The whole universe is in fact the result of this struggle for freedom. - Author: Swami Vivekananda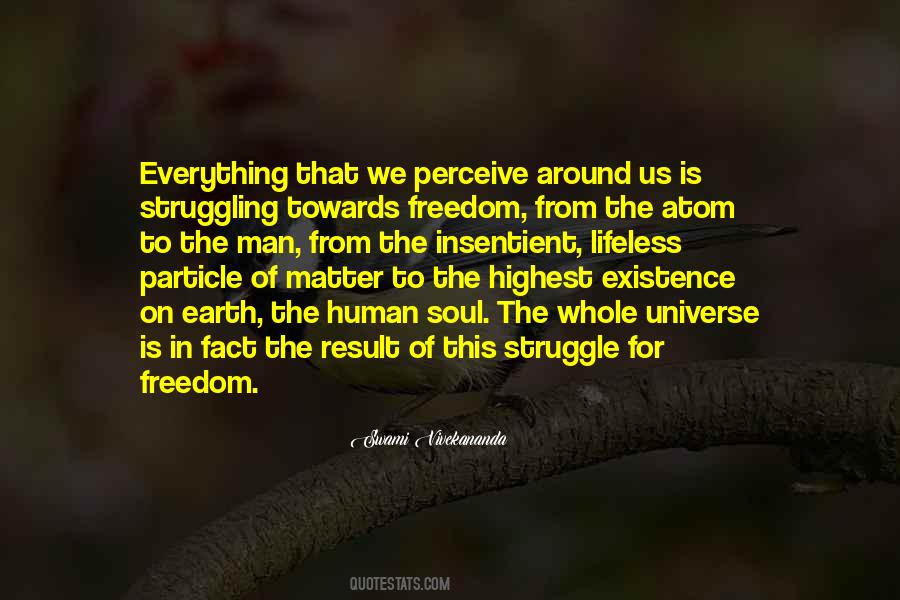 #49. One of the most important functions of jazz has been to encourage a hope for freedom, for people living in situations of intolerance or struggle. - Author: Herbie Hancock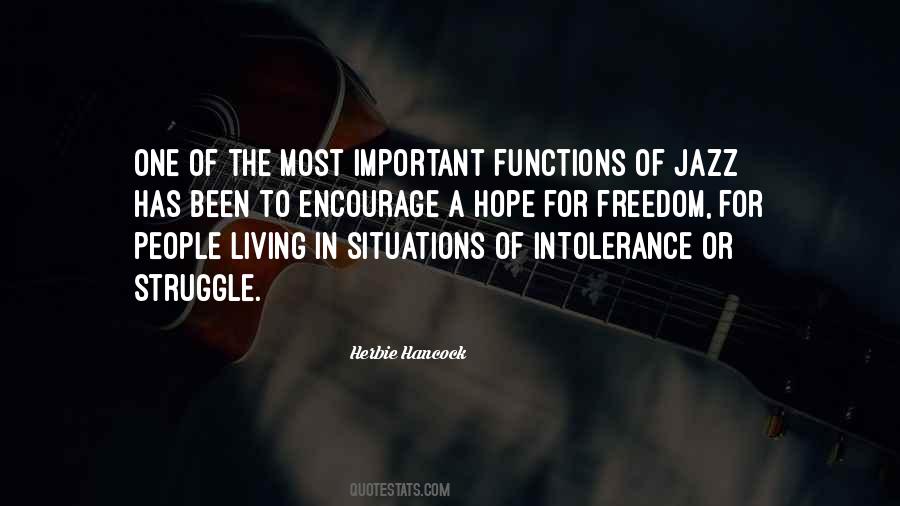 #50. I will not leave South Africa, nor will I surrender. Only through hardship, sacrifice and militant action can freedom be won. The struggle is my life. I will continue fighting for freedom until the end of my days. - Author: Nelson Mandela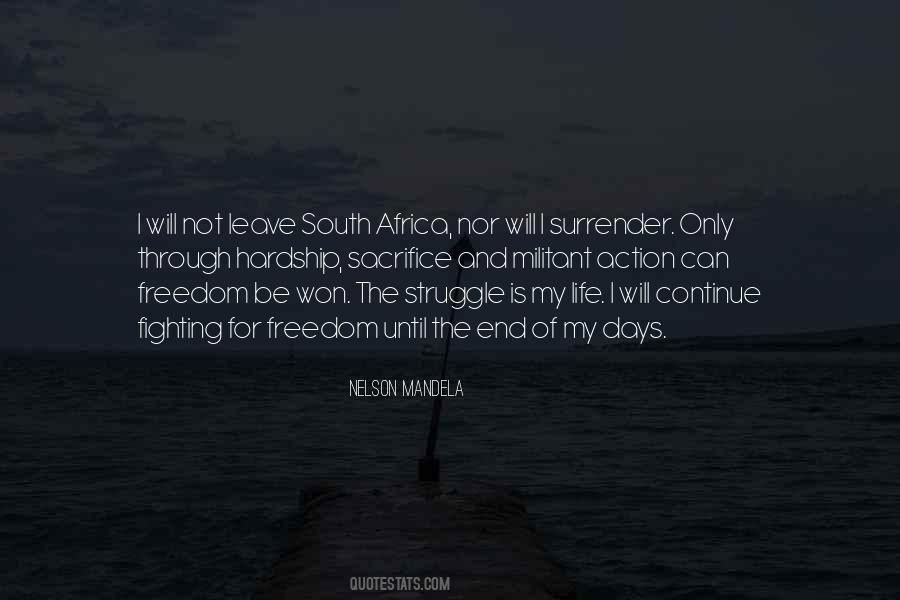 #51. The irony of this is that while believers and non-believers are on opposite sides where religious ideas are concerned they may also find themselves on the same side in the struggle for freedom of belief. - Author: Brian Whitaker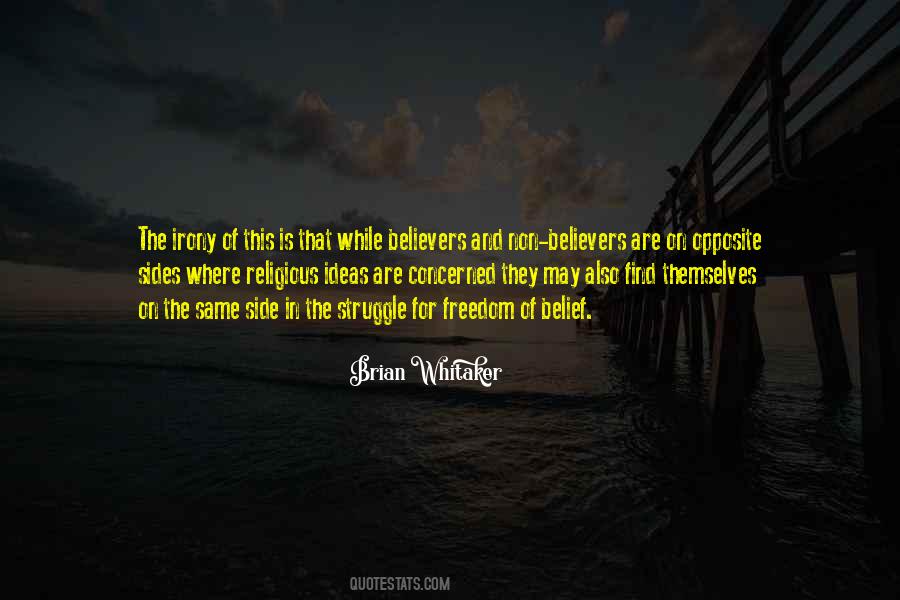 #52. Start announcing freedom from anything that's holding you back. Freedom from addictions, freedom from loneliness, freedom from lack, freedom from struggle. You are prophesying your future. Your words are setting the direction for your life. - Author: Joel Osteen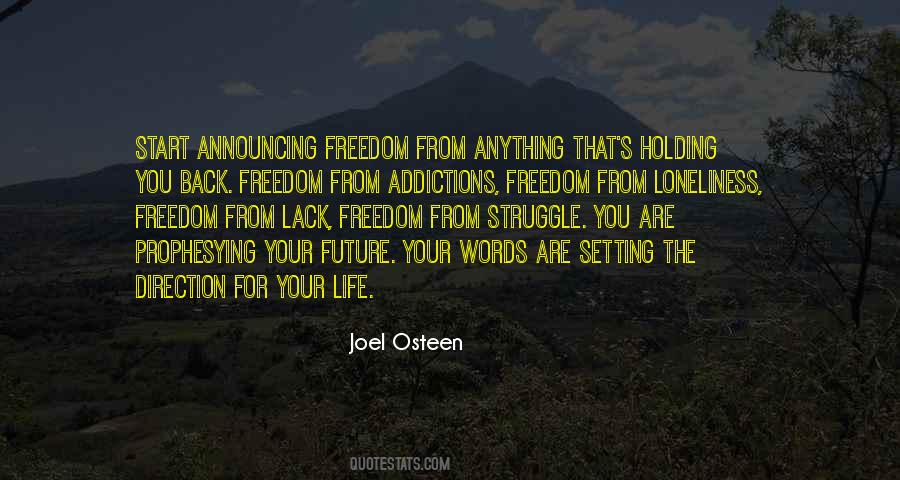 #53. The masculine in each of us struggles for greater freedom
and tries to achieve it through financial, creative, or political challenges. - Author: David Deida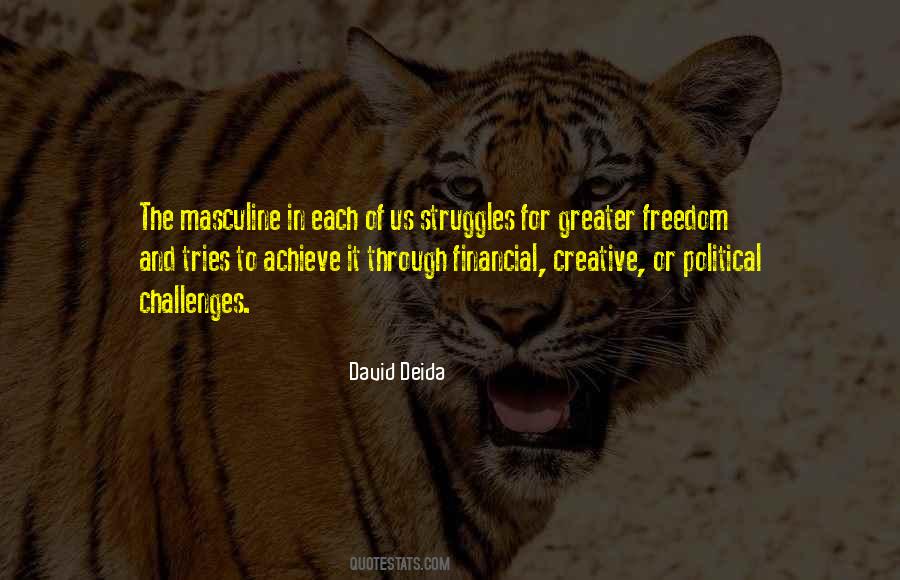 #54. The struggle for freedom is ultimately not resistance to autocrats or oligarchs but resistance to the despotism of public opinion. - Author: Ludwig Von Mises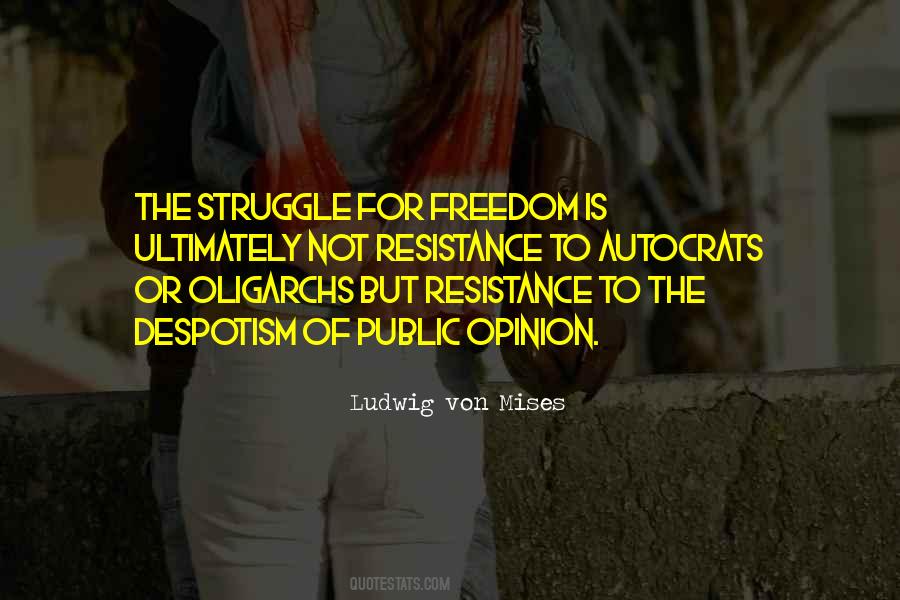 #55. It is necessary to curb the power of government. This is the task of all constitutions, bills of rights and laws. This is the meaning of all struggles which men have fought for liberty. - Author: Ludwig Von Mises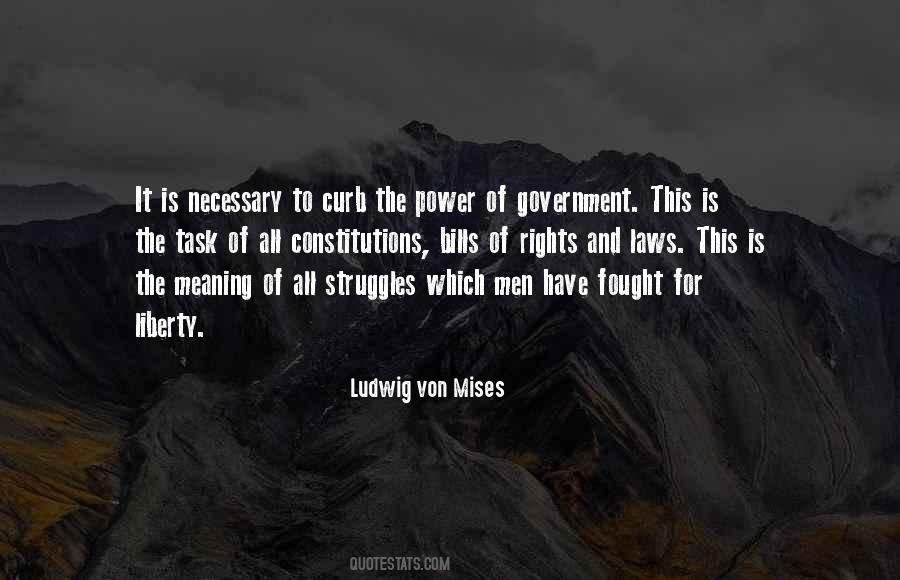 #56. Joy is a right and liberty of non other than me and you who struggled and fought for it and attained it at last. - Author: Auliq Ice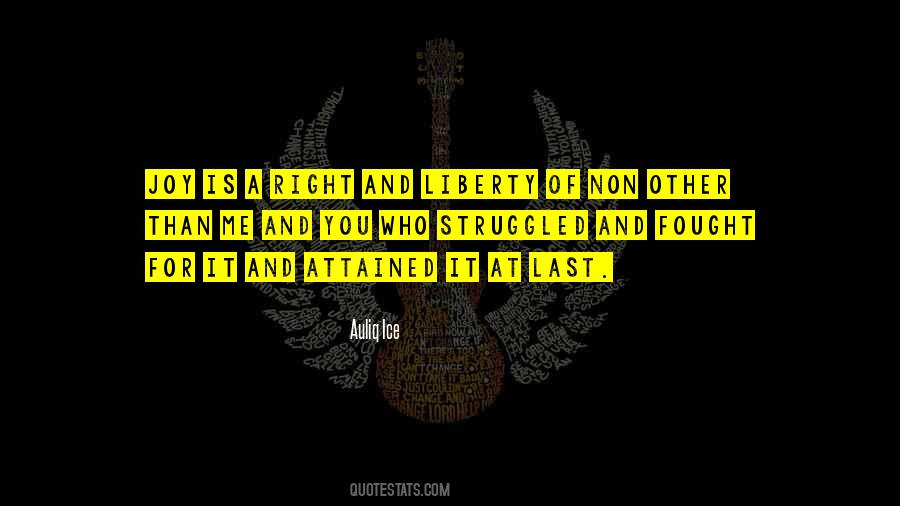 #57. The struggle for freedom is not the struggle of the many against the few, but of minorities, sometimes of a minority of but one man gainst the majority. - Author: Ludwig Von Mises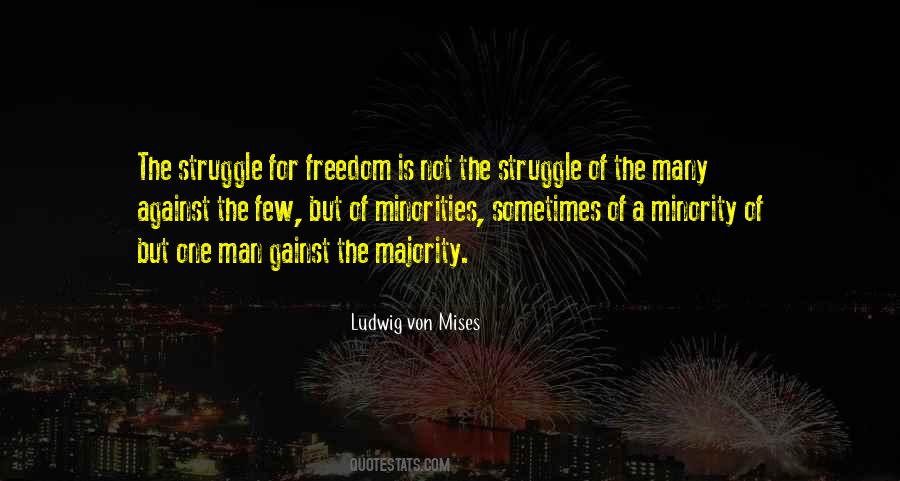 #58. We all have struggle in our lives. We're all searching for personal freedom, whether we're in a bad place or trying to be true to ourselves. - Author: Barbara Becker Holstein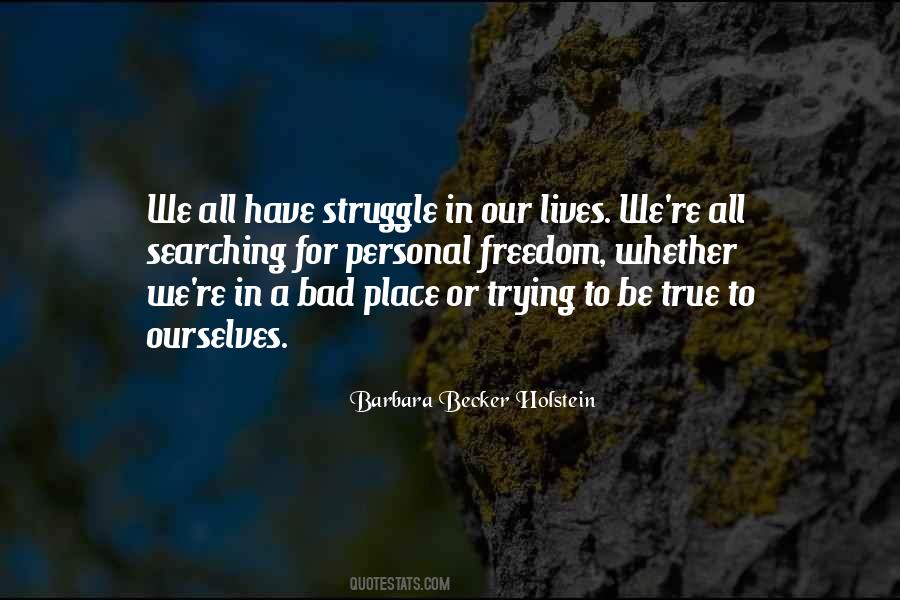 #59. The respect for human rights is one of the most significant advantages of a free and democratic nation in the peaceful struggle for influence, and we should use this good weapon as effectively as possible. - Author: Jimmy Carter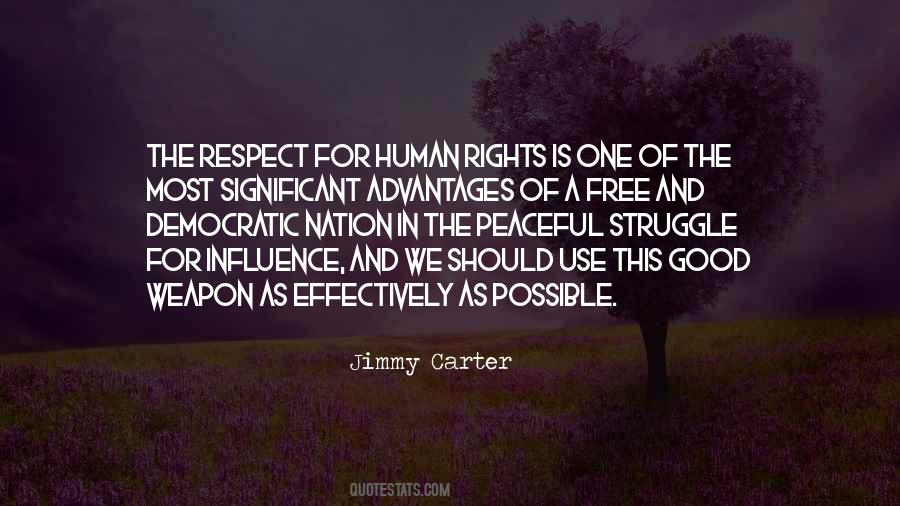 #60. In the long, fierce struggle for freedom of opinion, the press, like the Church, counted its martyrs by thousands. - Author: James A. Garfield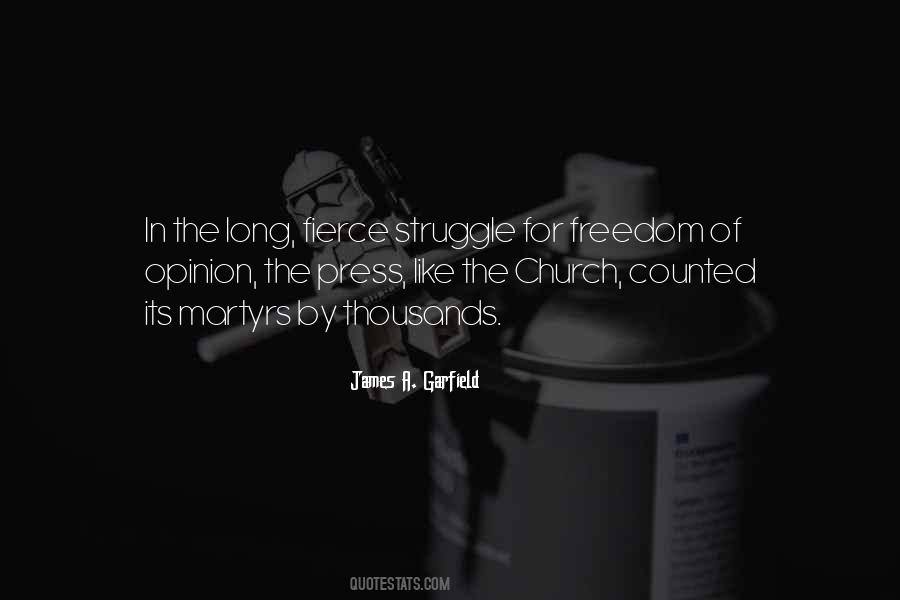 #61. Truth, and the freedom to seek it, are not luxury-products which enervate a people and unfit them for the struggle of life. They belong to life, they are life's daily bread. - Author: Thomas Mann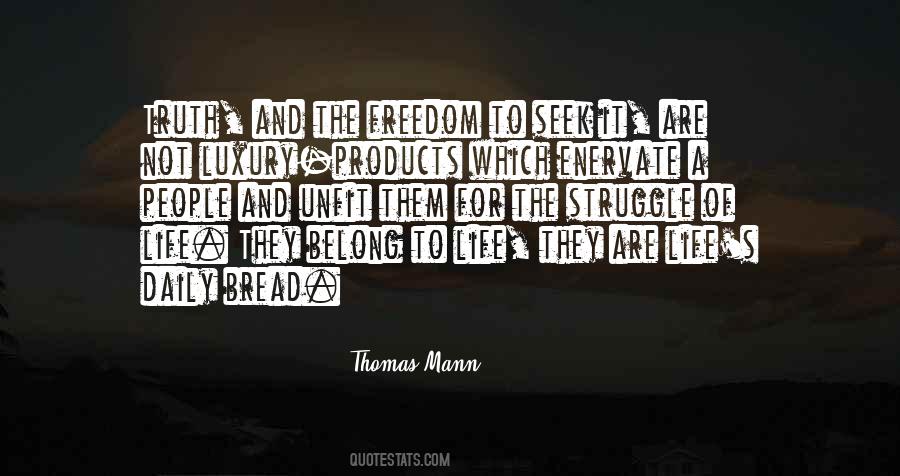 #62. Justice is never given; it is exacted and the struggle must be continuous for freedom is never a final fact, but a continuing evolving process to higher and higher levels of human, social, economic, political and religious relationship. - Author: A. Philip Randolph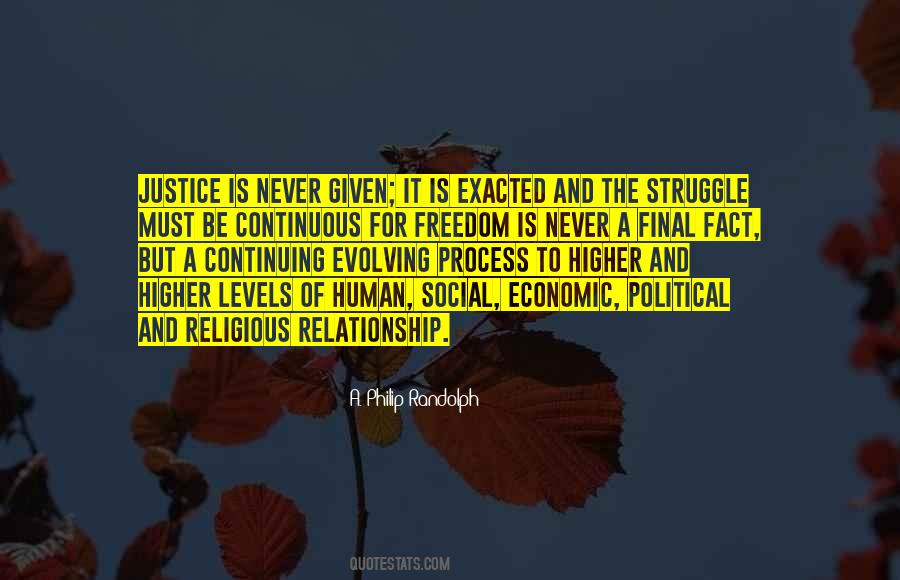 #63. Deep in our history of struggle for freedom, Canada was the North star - Author: Martin Luther King Jr.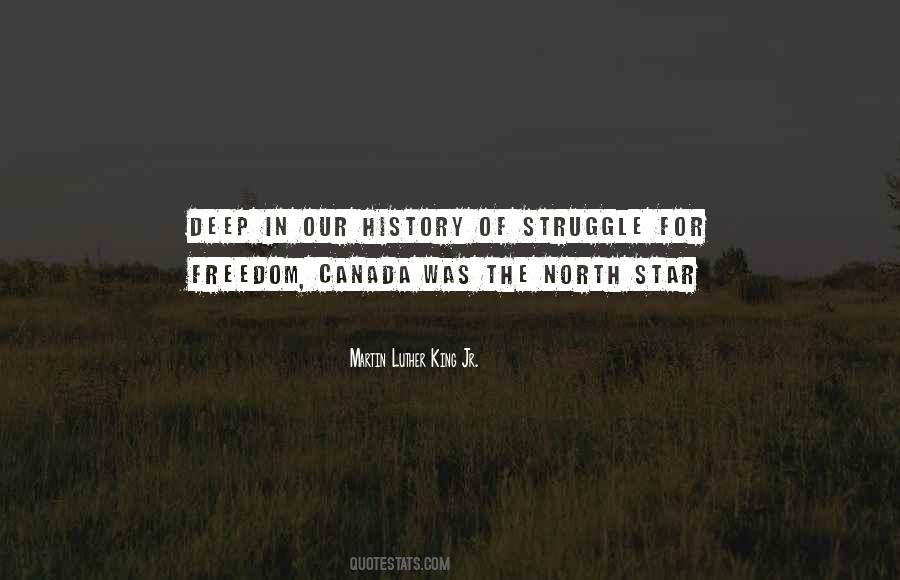 #64. I had not suffered enough to find the rage in my guts I needed to struggle to death for my freedom. - Author: Ingrid Betancourt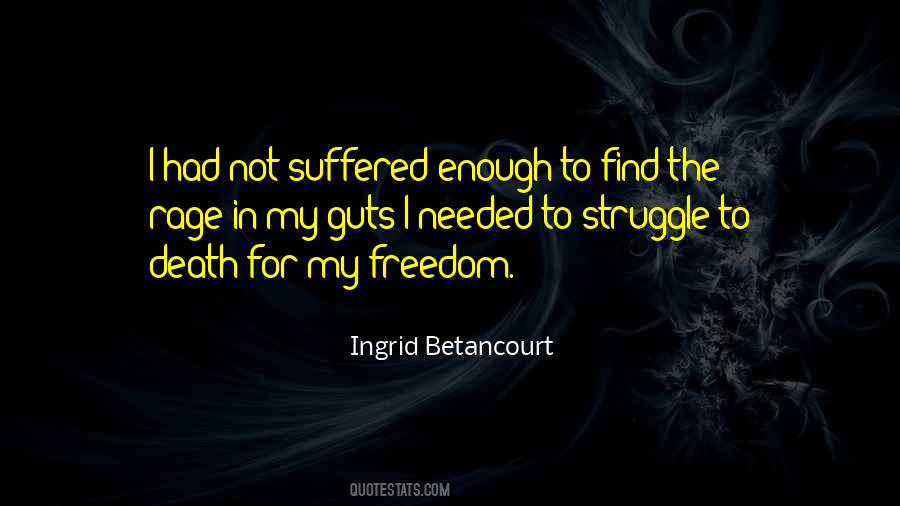 #65. It is my belief that conscious African American students ought to be in a constant state of rage and in a constant search for ways to channel that rage into freedom struggle. - Author: Pearl Cleage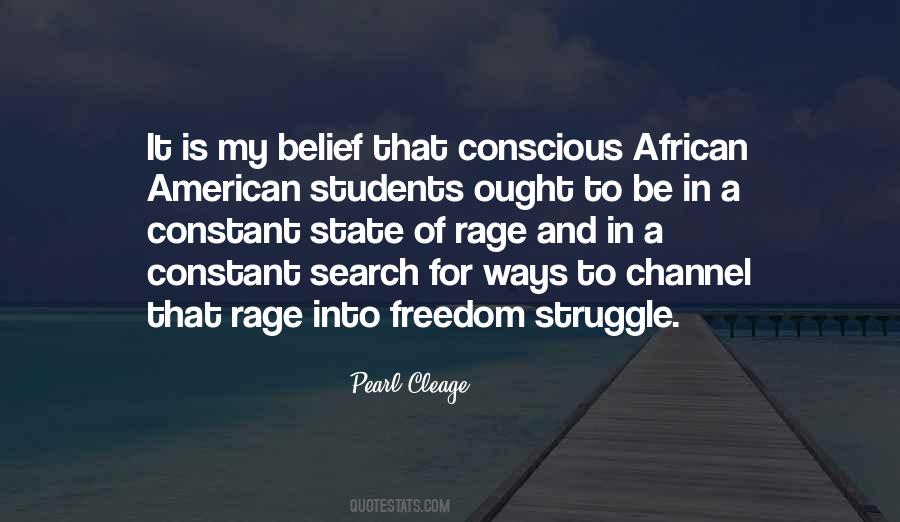 #66. Angela Davis's legacy as a freedom fighter made her an enemy of the state under the increasingly neoliberal regimes of Nixon, Reagan and J. Edgar Hoover because she understood that the struggle for freedom was not only a struggle for political and individual rights but also for economic rights. - Author: Henry Giroux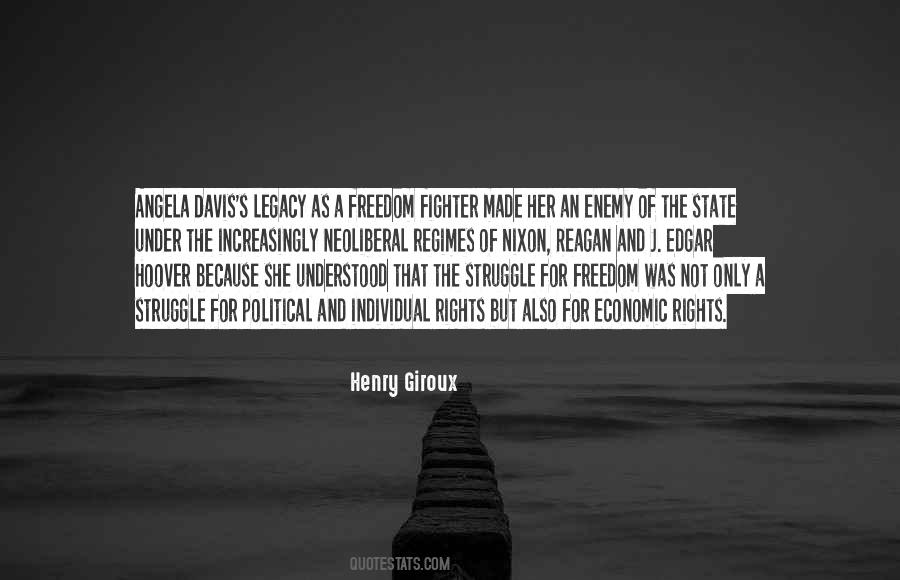 #67. The people of Africa have learned the lessons of patience and endurance in their long struggle for freedom.
In a cynical world we have become an inspiration to many. We signal that good can be achieved amongst human beings who are prepared to trust, prepared to belief in the goodness of people. - Author: Nelson Mandela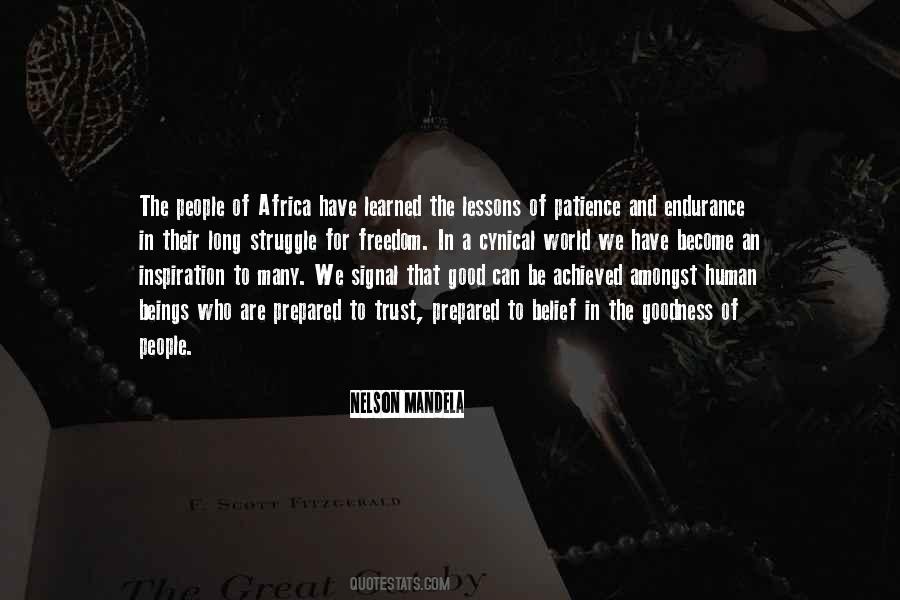 #68. In our early struggles for liberty, religious freedom could not fail to become a primary object. - Author: Thomas Jefferson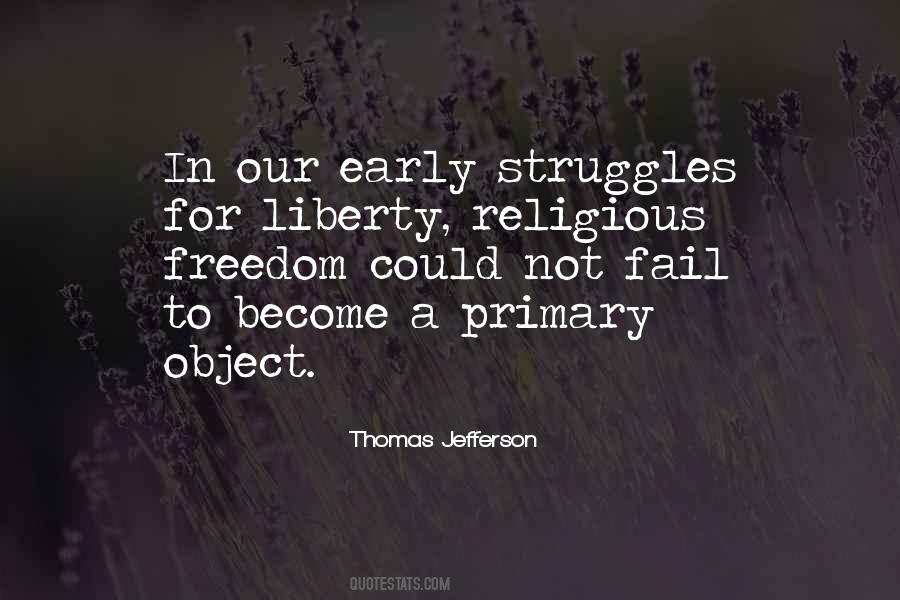 #69. It would have been disastrous for Zambia if we had gone multi-party because these parties would have been used by those opposed to Zambia's participation in the freedom struggle. - Author: Kenneth Kaunda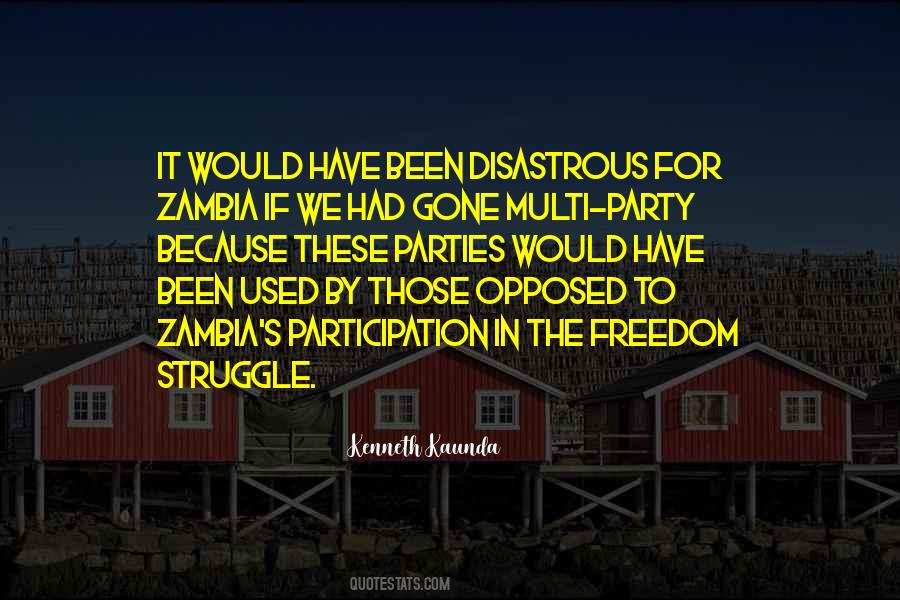 #70. The aim of all struggles for liberty is to keep in bounds the armed defenders of peace, the governors and their constables. The political concept of the individual's freedom means: freedom from arbitrary action on the part of the police power. - Author: Ludwig Von Mises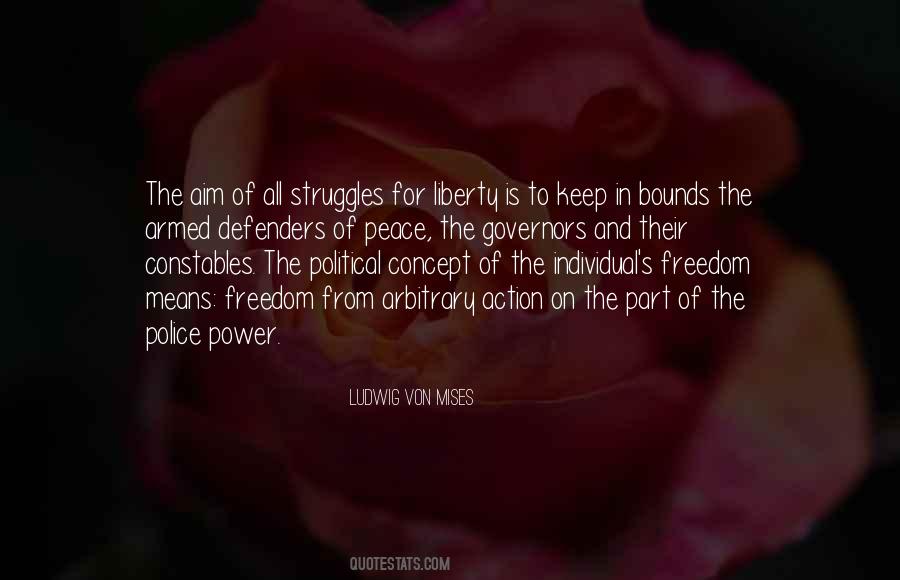 #71. When free men stand, they will always carry on and lift Liberty yet unfree men shall always struggle to fight for freedom and liberty until they attain it. - Author: Auliq Ice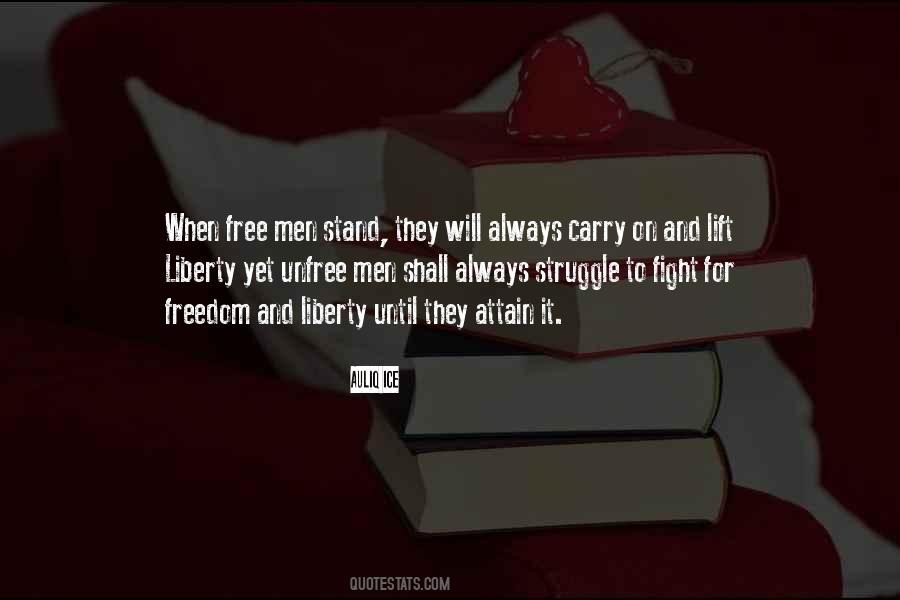 #72. The novel does not seek to establish a privileged language but it insists upon the freedom to portray and analyze the struggle between the different contestants for such privileges. - Author: Salman Rushdie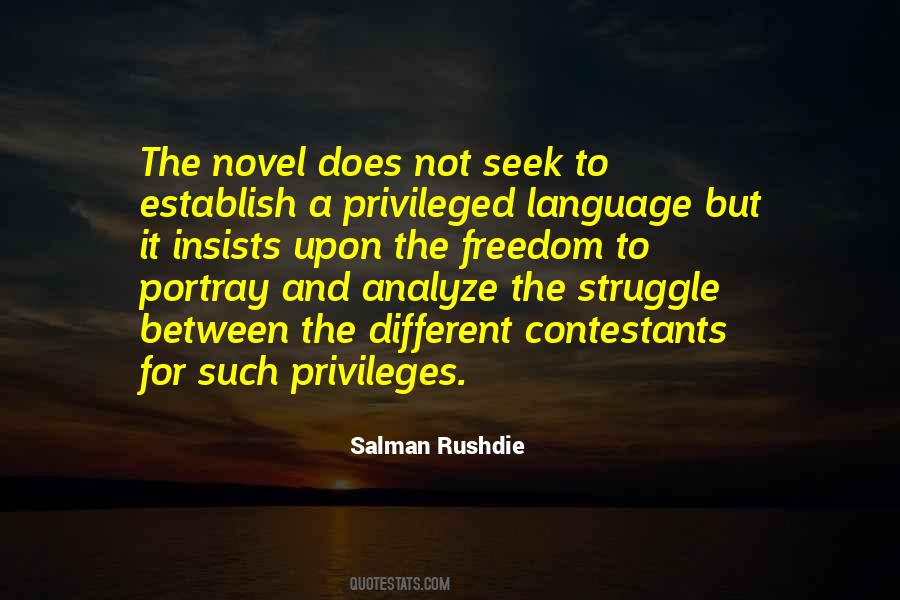 #73. Average intelligence loves blinders, which facilitate an even trot; but a brisker and livelier intelligence desires uncertainty, risk, a play of more deceptive and elusive forces ... where one can preserve flight, pride, joke, confession, rapture, play, struggle. - Author: Witold Gombrowicz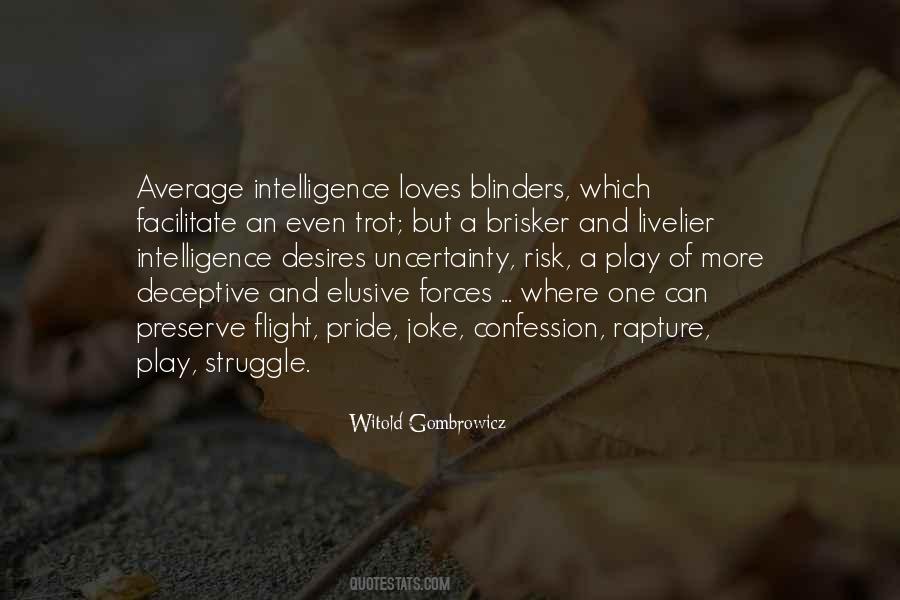 Famous Authors
Popular Topics