Strength And Growth Famous Quotes & Sayings
List of top 73 famous quotes and sayings about strength and growth to read and share with friends on your Facebook, Twitter, blogs.
Top 73 Quotes About Strength And Growth
#1. I claim that nothing else is so effective in encouraging the growth of chess strength as such independent analysis, both of the games of the great players and your own. - Author: Mikhail Botvinnik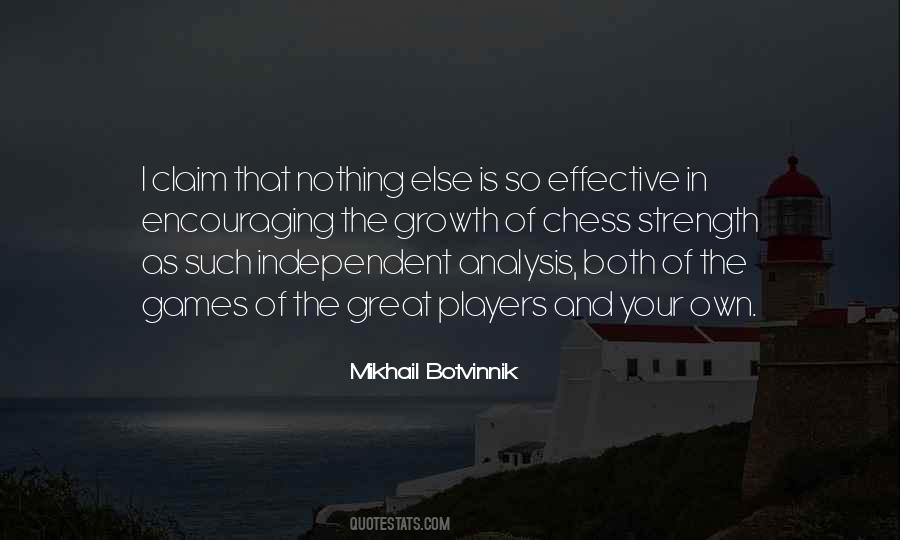 #2. What makes one strong is not the ability to confront adversity and cruelty, but rather the ability to love in spite of it. - Author: Christopher Earle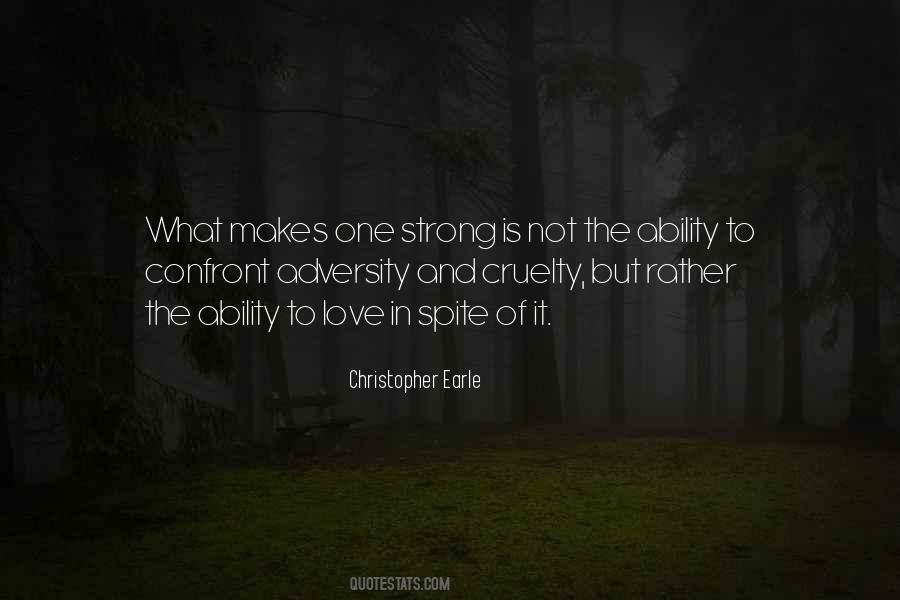 #3. It was as simply as that. And as complex. - Author: Svetlana Meritt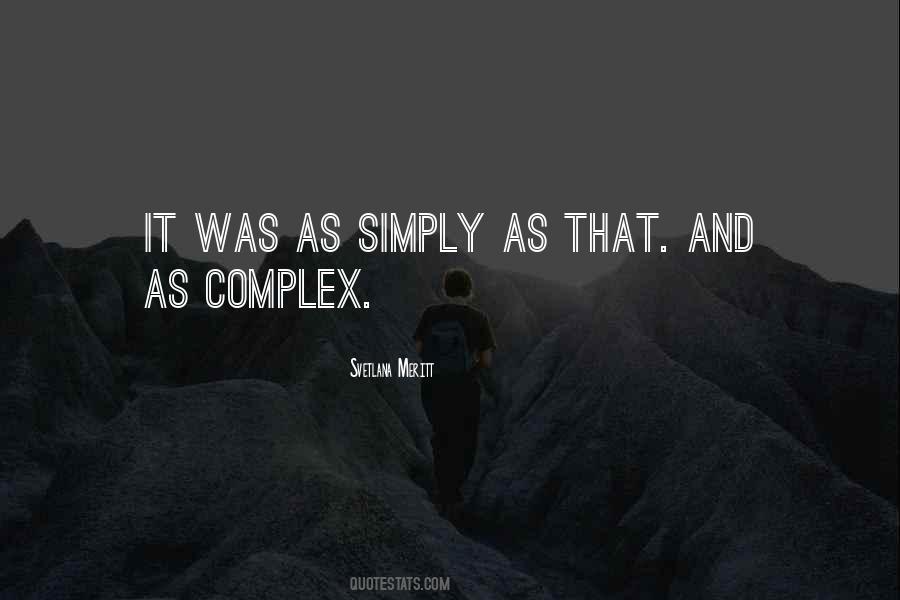 #4. It was easy to mistrust the government, who some saw as the cause of the wars and other ills. But it was the Financials who had the real power, whose promises of economic growth and the regaining of their nation's former strength got them into elected positions, where they turned the economic tides. - Author: C.A. Hartman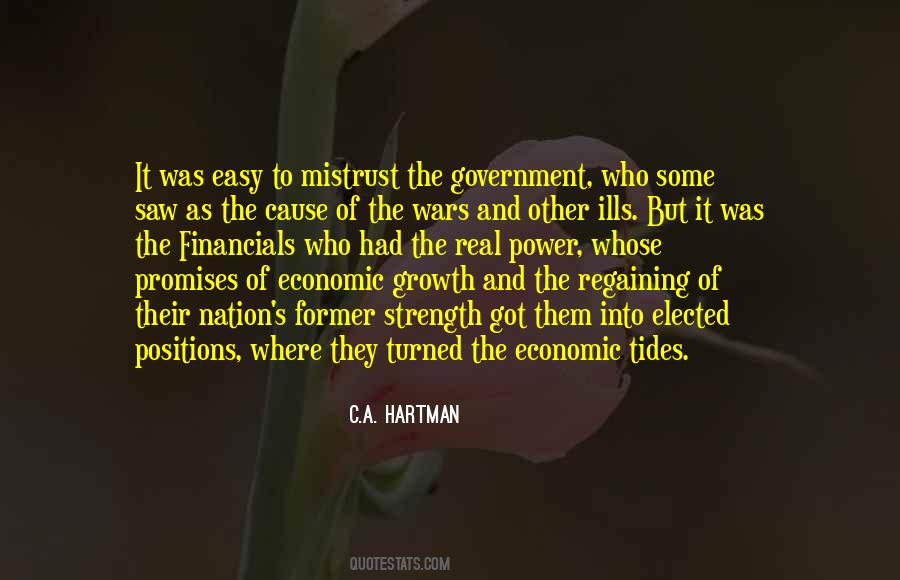 #5. The purest form of faith happens when you reach the bottom of your reasoning and find there is nothing that you can do that will make sense out of what you have been through. - Author: Shannon L. Alder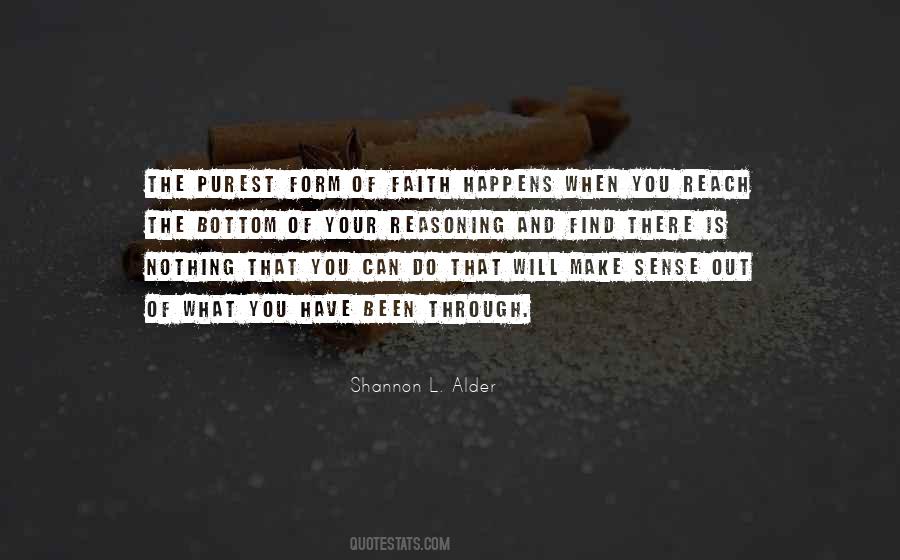 #6. If you just want to do something because it is a customary new year resolution, then soon enough the year will get a bit older, and the strength of your decision will also begin to wear off. - Author: Archibald Marwizi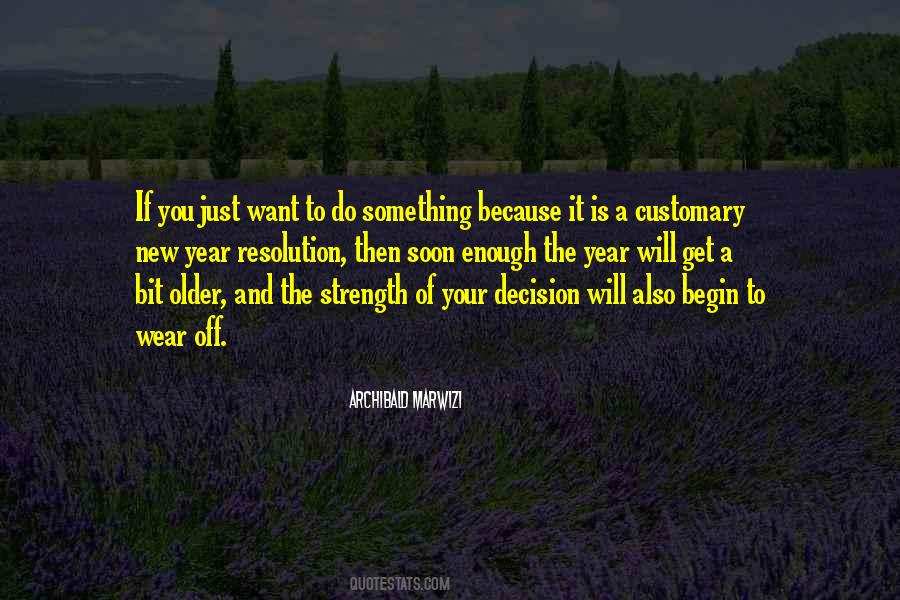 #7. We also very importantly recommend continued growth in the Army and the Marine Corps end strength. - Author: John M. McHugh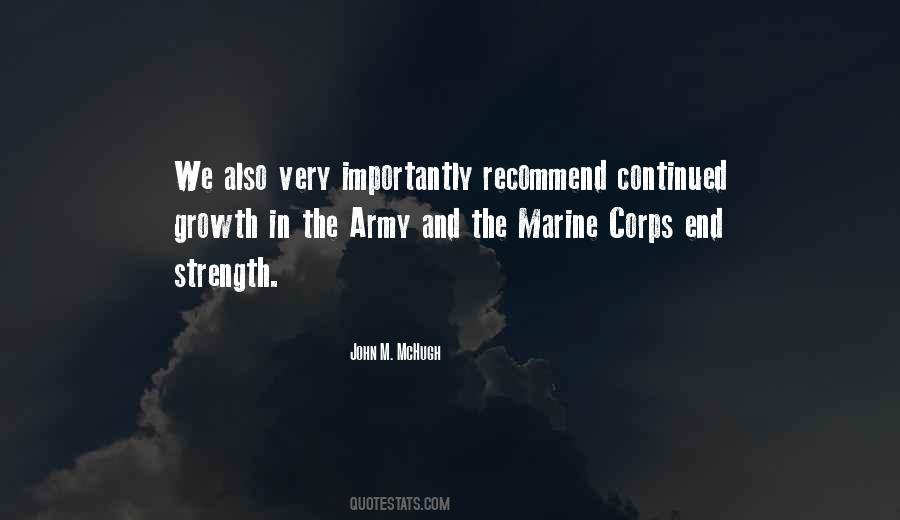 #8. It's easy to point out other people flaws, but it takes TRUE courage and strength take a look in the mirror, admit personal flaws AND strive to do and be better. That's growth! - Author: Yvonne Pierre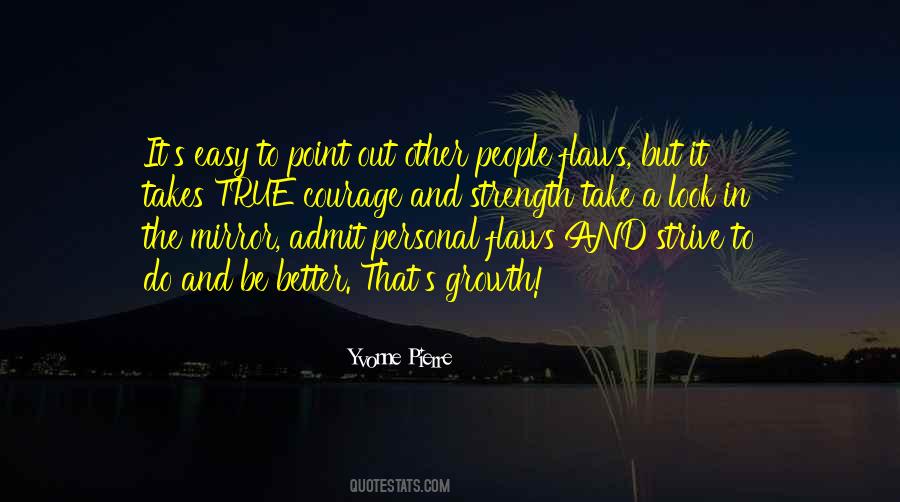 #9. You have the heart of a warrior and you were designed to survive! - Author: Bryant McGill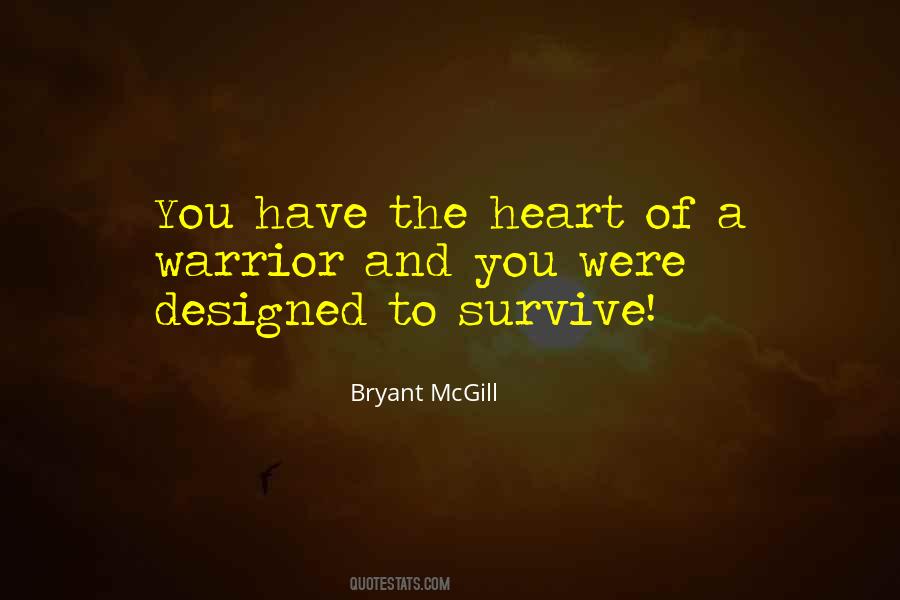 #10. The same way we grow our bodies we must attend to our mind and spirit. - Author: Nikki Rowe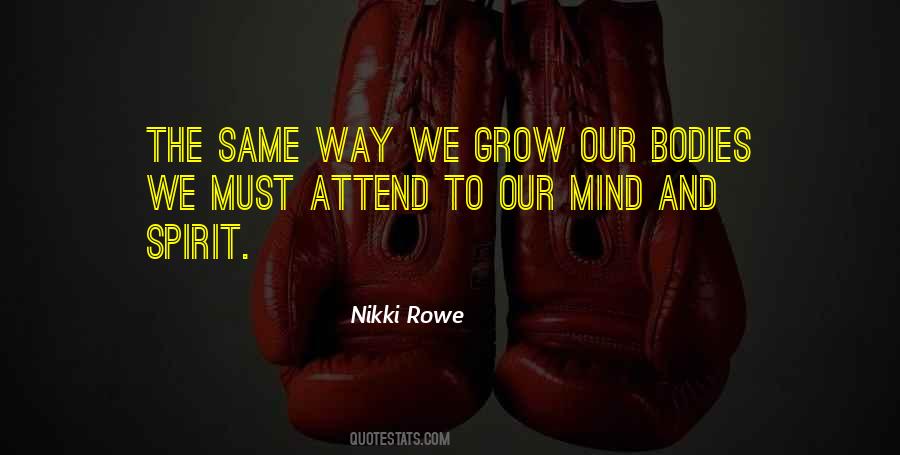 #11. Weak or strong, everyone falls at least a thousand times throughout their life. It is in what they learn from their fall and how steady they become that you recognize the strongest of all." -Grandma (Magdalen) - Author: Lydhia Marie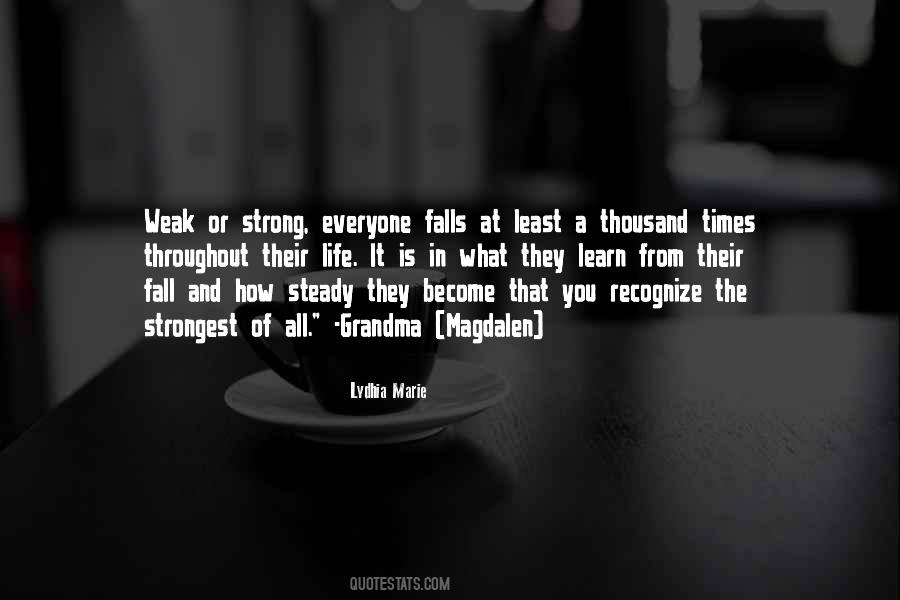 #12. Being proud of your background and unique attributes will ensure continued growth. Recognition provides the opportunity to speak about and showcase our experiences as women exhibiting strength in the business world. - Author: Madeline Ann Lewis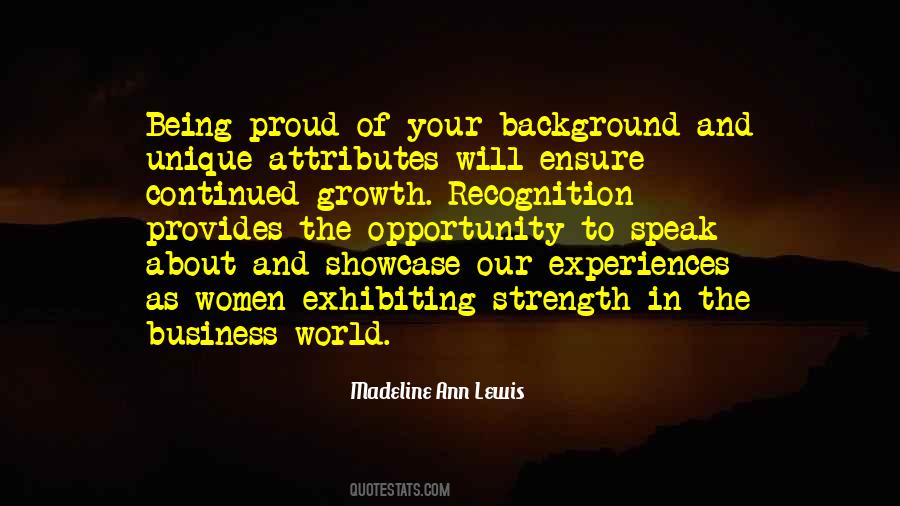 #13. You're growing and that scares people, it frightens the shit out of them because they know if they don't step up within themselves you'll move forward with out them. When this happens, don't you dare settle to suit the mould - have courage to live without one. - Author: Nikki Rowe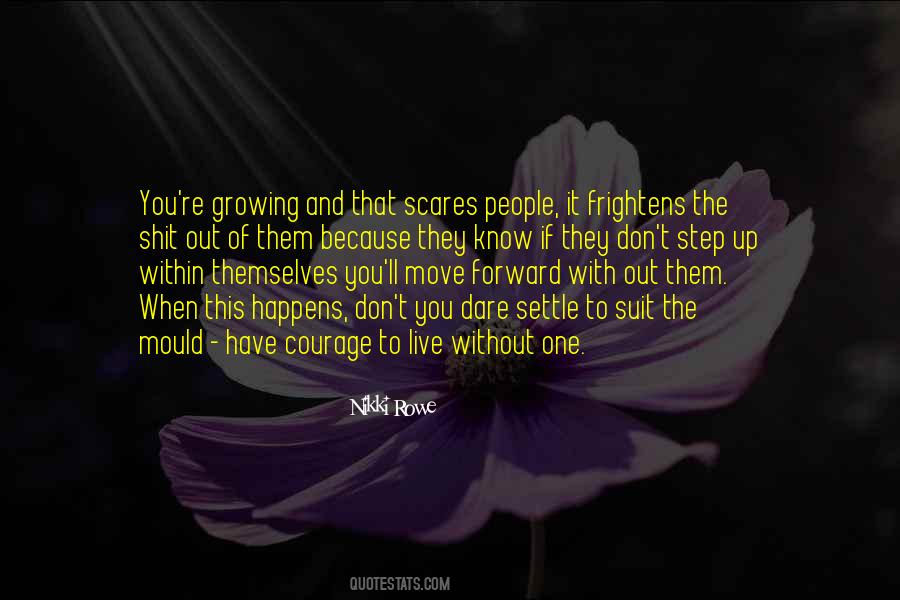 #14. Man and woman are the two wheels of society. If either one becomes defective, the society cannot make progress. - Author: Abhijit Naskar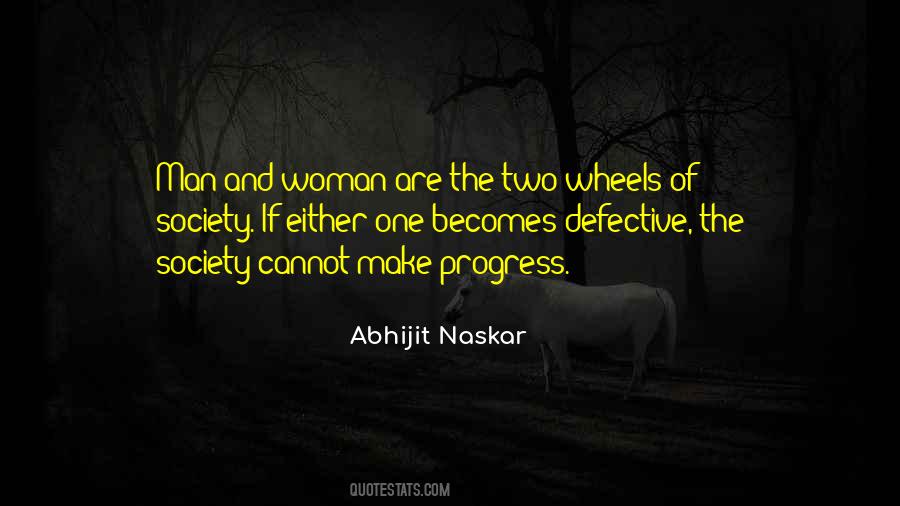 #15. We grow in part by confessing our faults and weaknesses to each other (James 5:16; Eccl. 4:10). If we are always being strong and without needs, we are not growing, and we are setting ourselves up for a very dangerous fall. - Author: Henry Cloud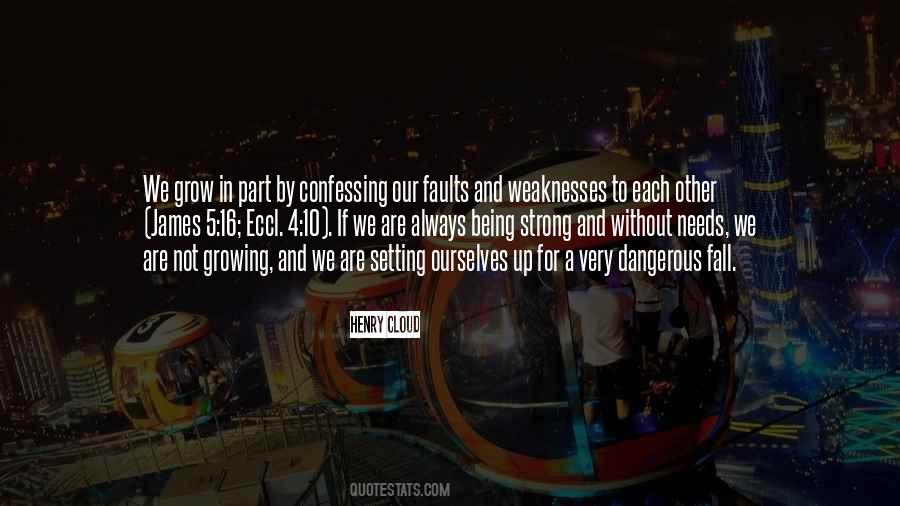 #16. We cannot expect to grow if we are too afraid or unwilling to change and face challenges. When we exit our everyday, mundane lifestyles to do something different we can experience growth, undiscovered strength, and new abilities within ourselves. - Author: Ashley Ormon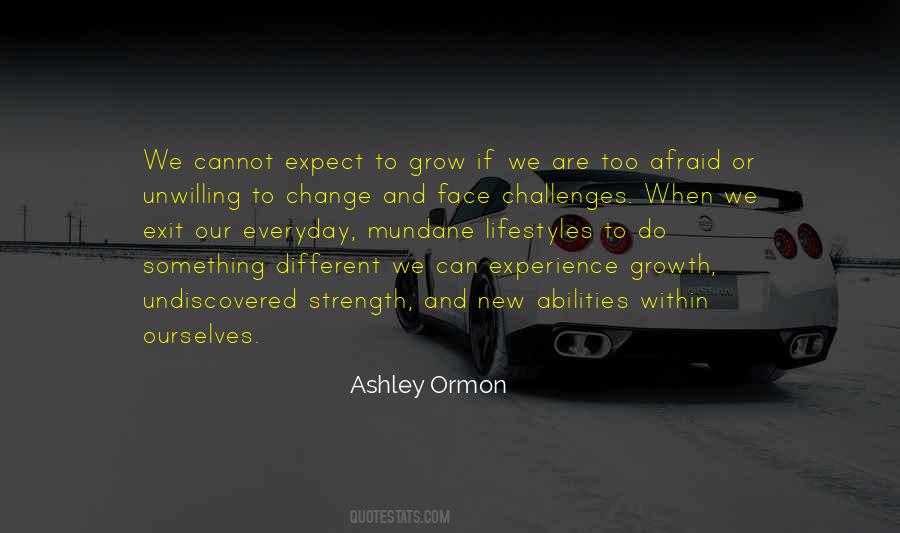 #17. Did he know about the doping?' Children at sports schools were given hormones under the guise of vitamins. In a scandal that has come to light since the Wall fell, the pills accelerated growth and strength, but turned the little girls halfway into boys. - Author: Anna Funder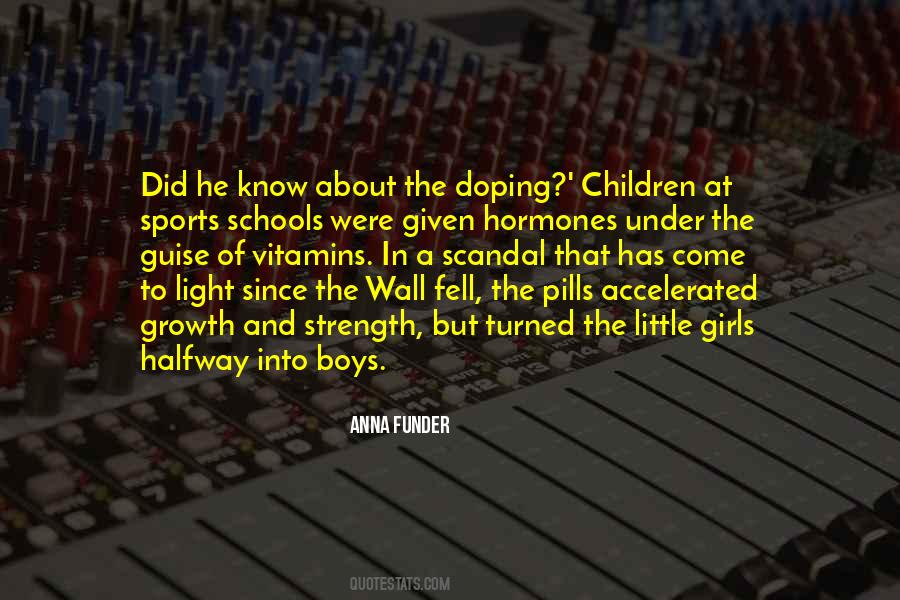 #18. All that grieved me - that I was half one thing and half another and nothing wholly - was the sorrow of my childhood, but the strength and use of my life after I grew up. - Author: Ursula K. Le Guin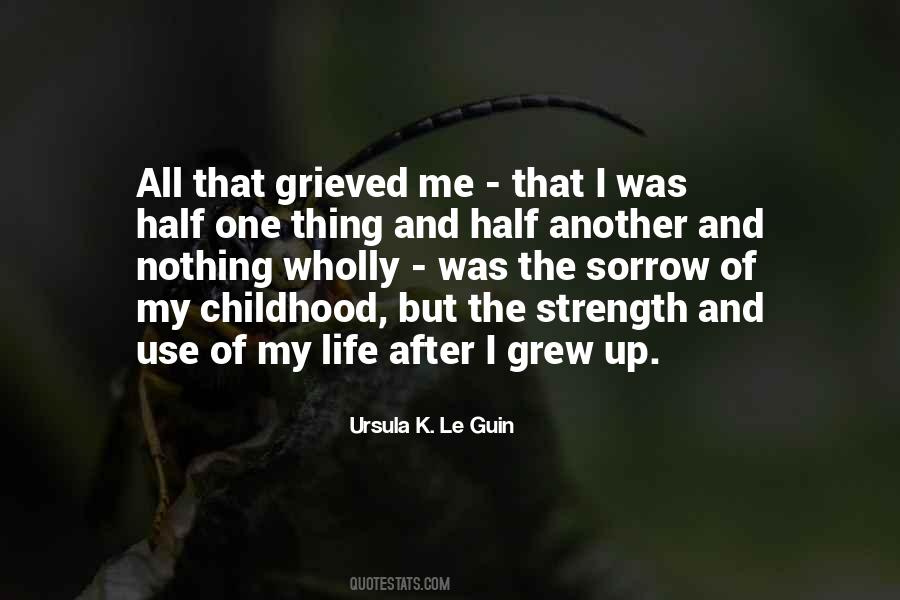 #19. I have a condition called Osteogenesis Imperfecta (OI), which has affected my growth and bone strength. In short, people with the kind of OI I have generally experience hundreds of fractures in their lifetime and use wheelchairs for mobility. - Author: Stella Young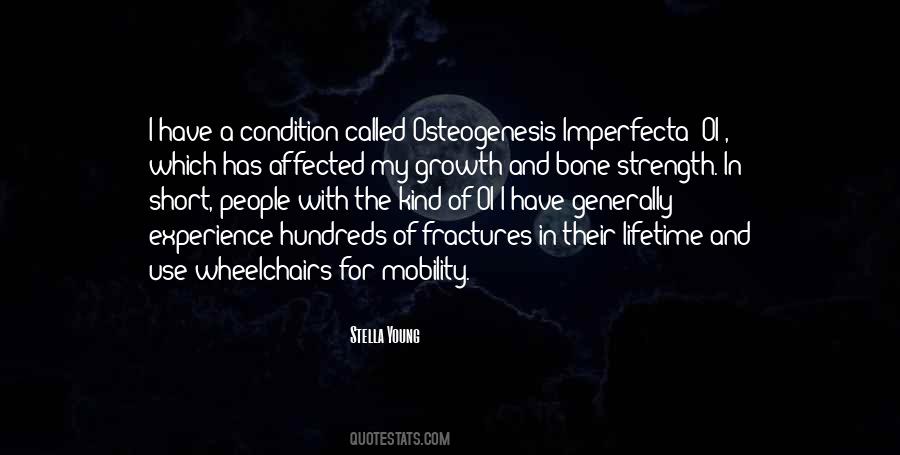 #20. Years ago this was just a place where I was assigned to work. Today looking at this place represents the opportunity that God allowed me to see the beauty of His works. The difference in then and now - I guess our views are a representative of our growth. Thankful. - Author: Bobby F. Kimbrough Jr.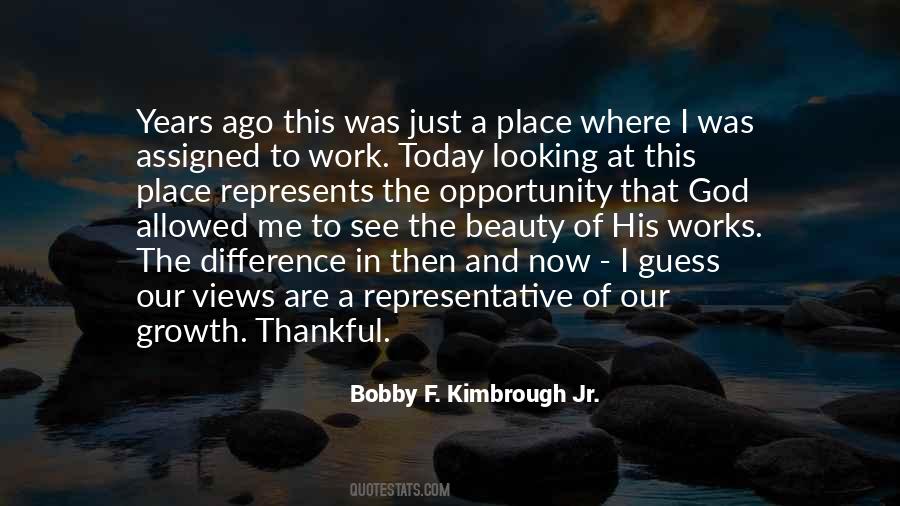 #21. You can't go back and I think that's the point of all to grow and grow until you don't want to anymore. - Author: Nikki Rowe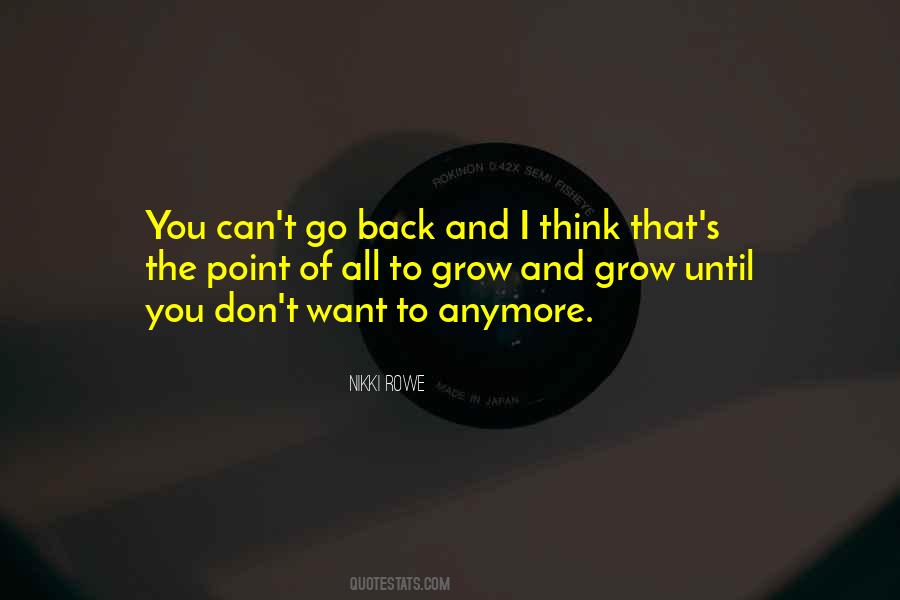 #22. The complaints of many Christians as to lack of joy and strength, as to failure and want of growth, are simply owing to this - the place God gave Holiness in His call they have not given it in their response. God and they have never yet come to an agreement on this. - Author: Andrew Murray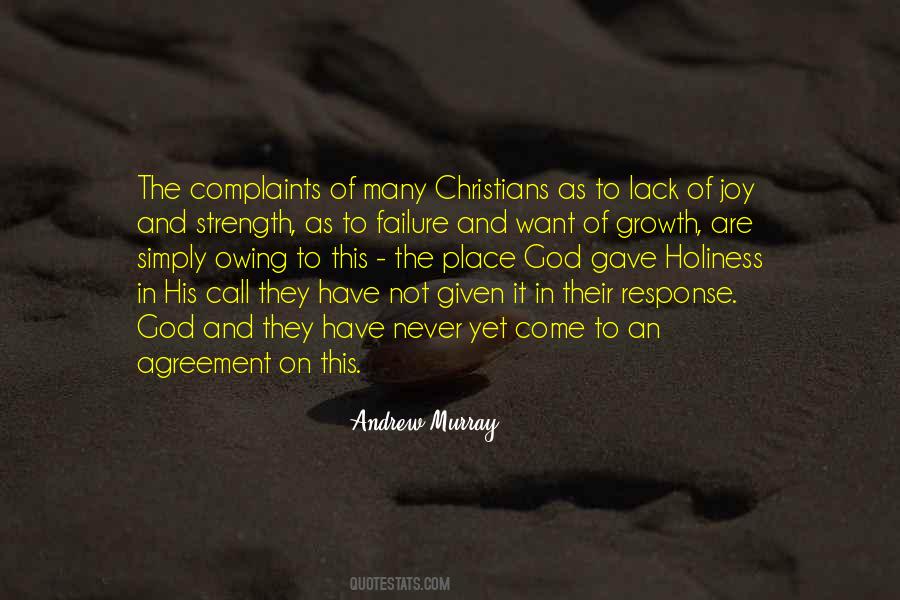 #23. The responsibility of caring and providing for a child can both give you strength or be paralyzing at times. Depending on the attitude you choose. Ultimately I think it is very valuable to anyone's personal growth having to care for someone else than just yourself. - Author: Olof Arnalds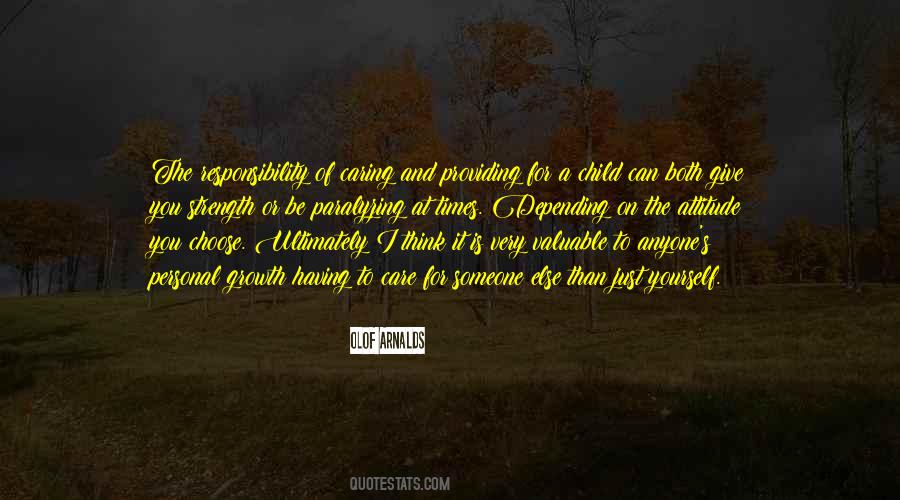 #24. Happy Monday! Live without fear! Face your fears and see them as an OPPORTUNITY for strength and growth. You'll see, once you face them, they disappear! - Author: Tracey Edmonds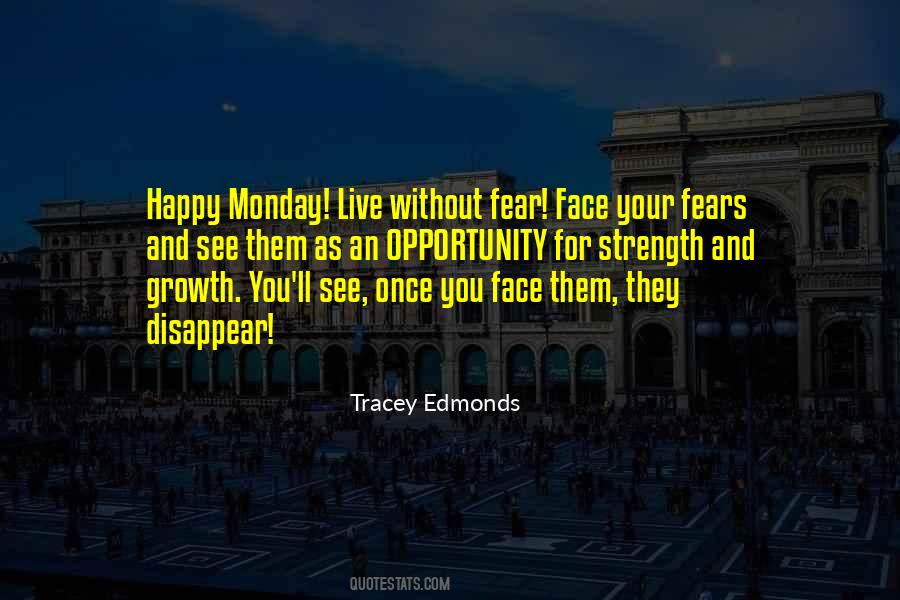 #25. All growth is from within. This is evident in all nature. Every plant, every animal, every human is a living testimony to this great law, and the error of the ages is in looking for strength or power from without. - Author: Charles F. Haanel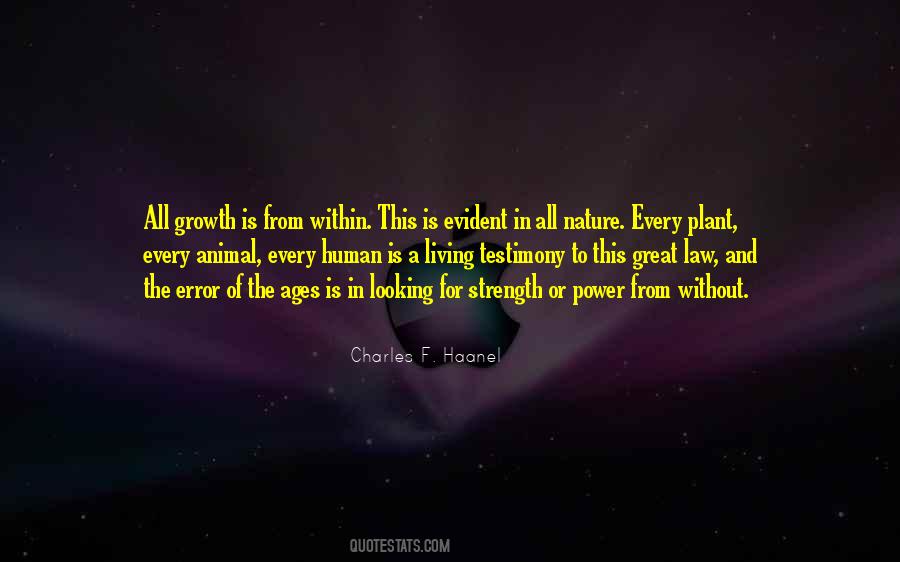 #26. The inner light is the true soul of a man. - Author: Lailah Gifty Akita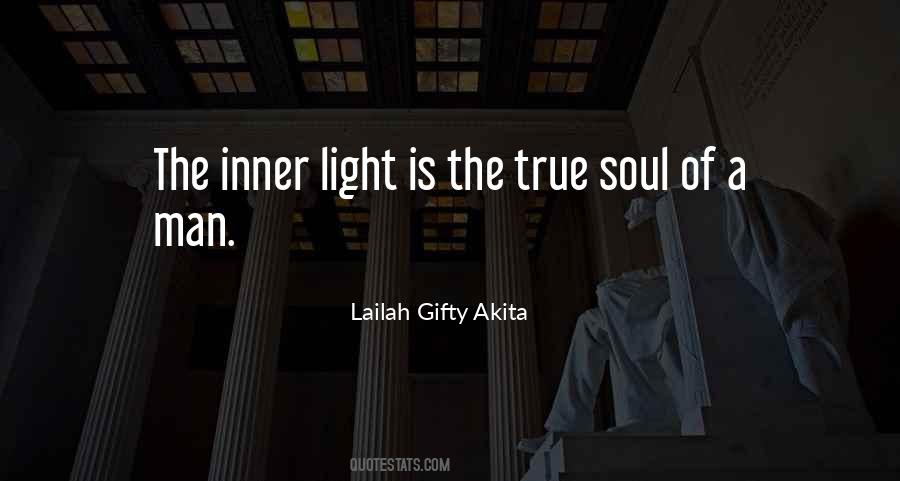 #27. Workings to your strength will not only get you noticed but will also create opportunities for growth and advancement. - Author: Ayushri Verma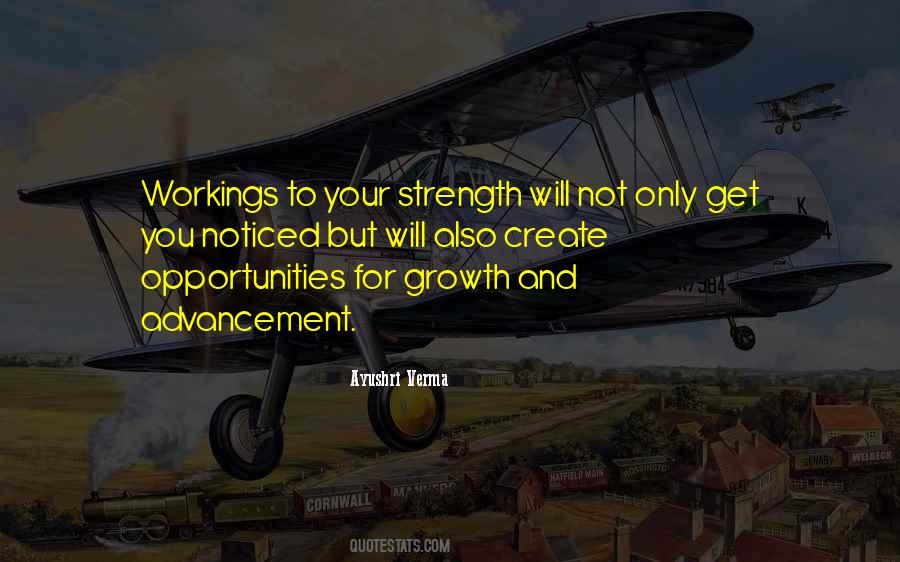 #28. Reprogram your life and mind-set by replacing the bad with the positive, the weakness with the strength. - Author: Archibald Marwizi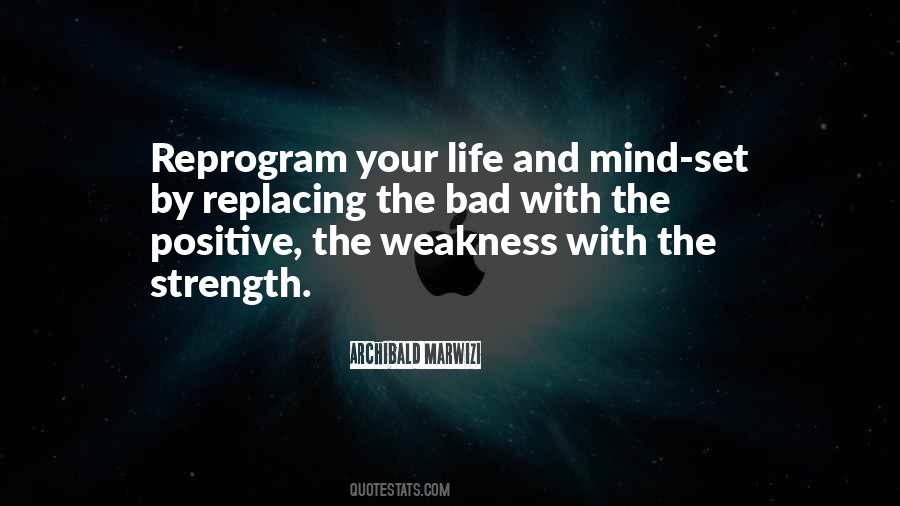 #29. Scar tissue does more than flaunt its strength by chronicling the assaults it has withstood. Scar tissue is new growth. And it is tougher than skin innocent of the blade. - Author: Shelley Jackson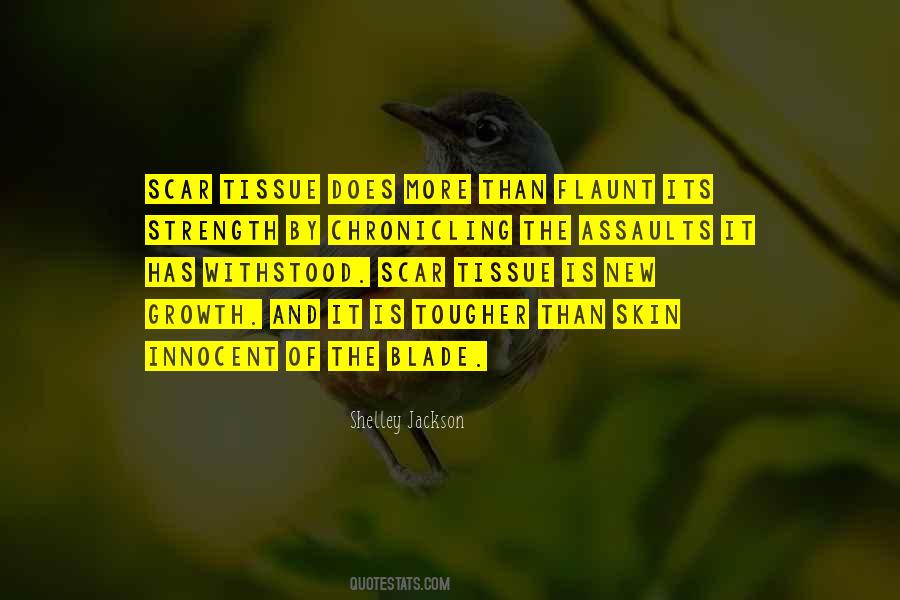 #30. I encourage all of you to discover ever more fully in the Eucharist, the sacrament of Christ's sacrificial love, the inspiration and strength needed to work ever more generously for the spread of God's Kingdom and the growth of the civilization of love - Author: Pope Benedict XVI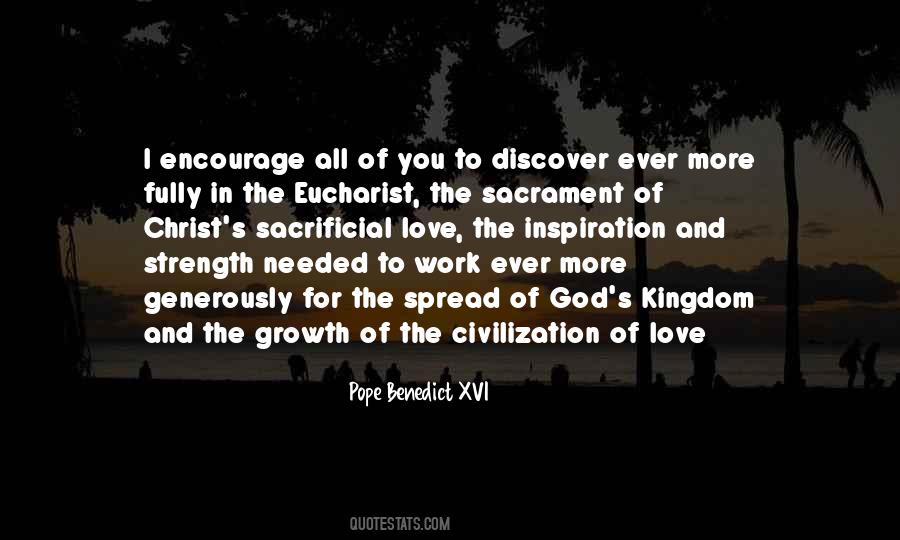 #31. You will not be the same after the storms of life; you will be stronger, wiser and more alive than ever before! - Author: Bryant McGill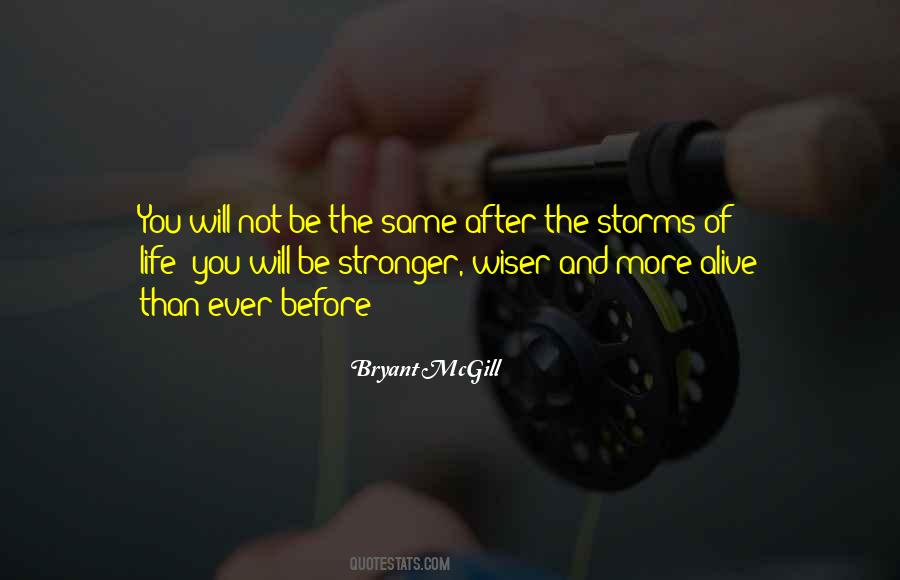 #32. Truth is the basis of all healing. - Author: Barbara Schmidt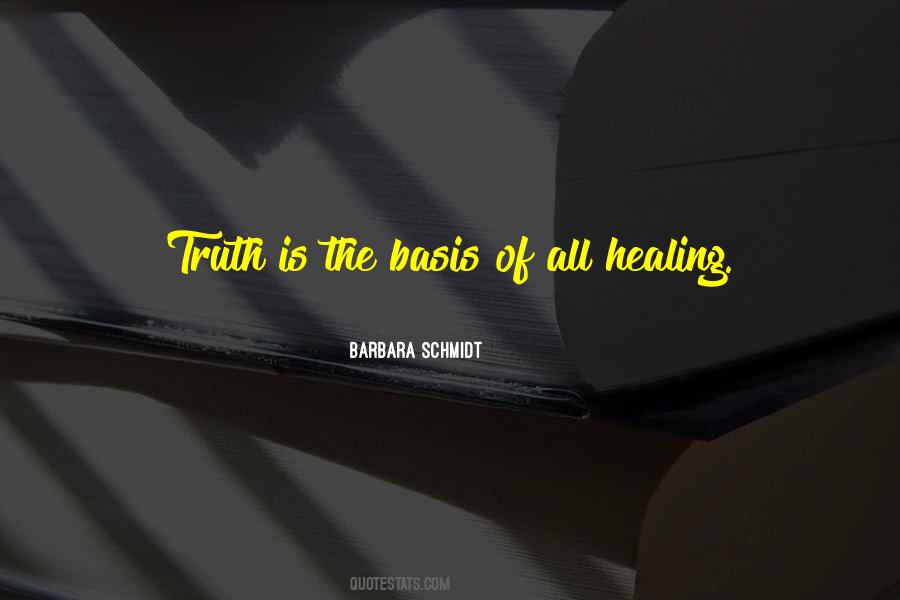 #33. Kindness is not a fixed trait that we either have or lack, but more like a muscle that can be developed and strengthened. - Author: Sharon Salzberg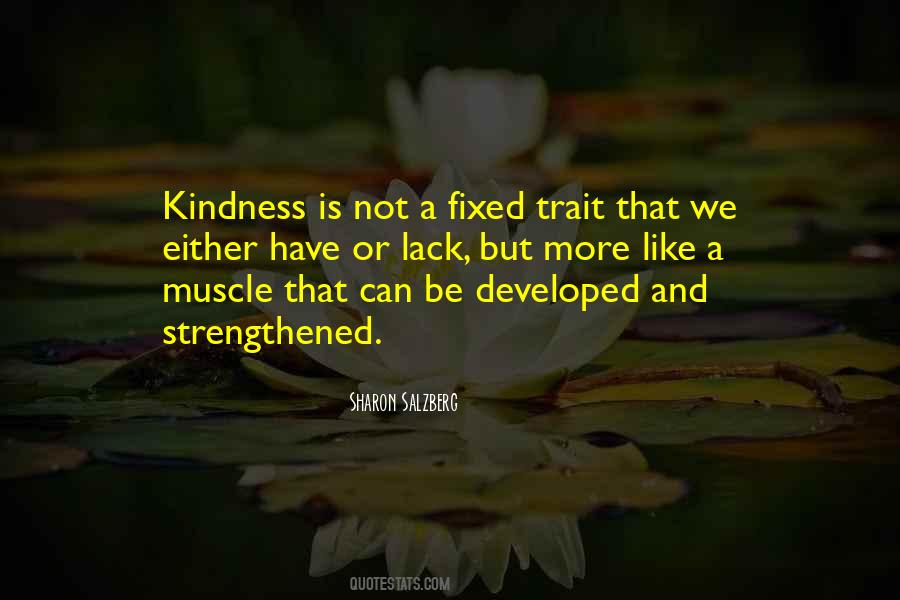 #34. Most revolutions start small and simmer under the surface gathering strength, adding to an ideology, gaining favourable opinion- first as a
credible alternative and then as the majority view - Author: Gyan Nagpal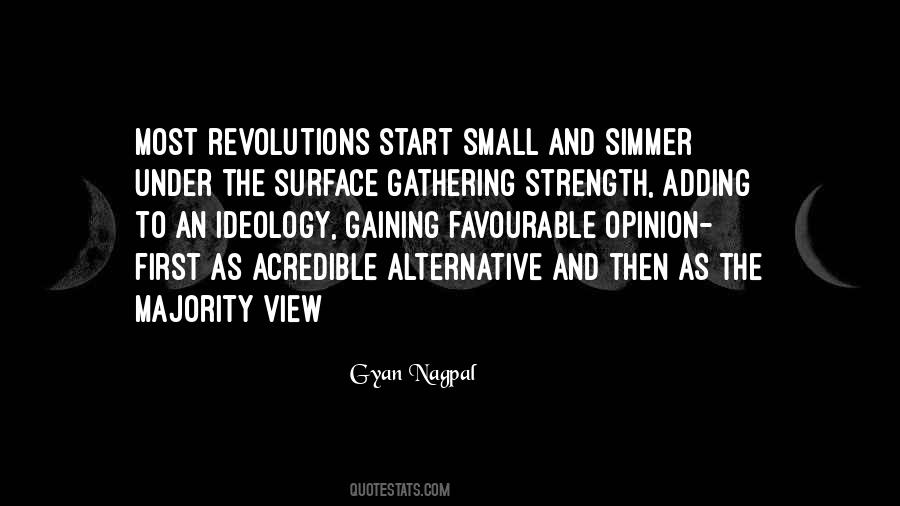 #35. The tax on capital gains directly affects investment decisions, the mobility and flow of risk capital ... the ease or difficulty experienced by new ventures in obtaining capital, and thereby the strength and potential for growth in the economy. - Author: John F. Kennedy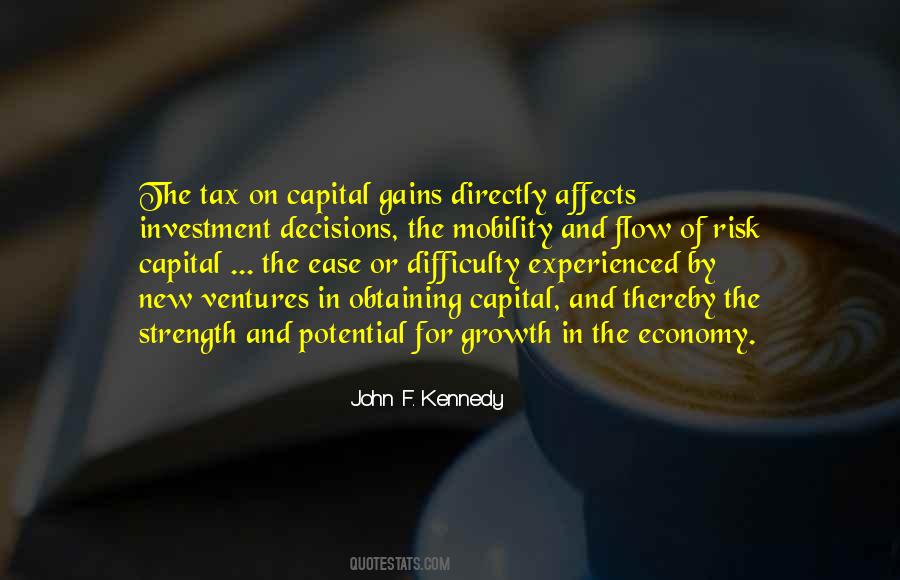 #36. If joy and peace and rewards were instantaneously given the doer of good, there would be no evil-all would do good but not because of the rightness of doing good. There would be no test of strength, no development of character, no growth of powers, no free agency, only satanic controls. - Author: Spencer W. Kimball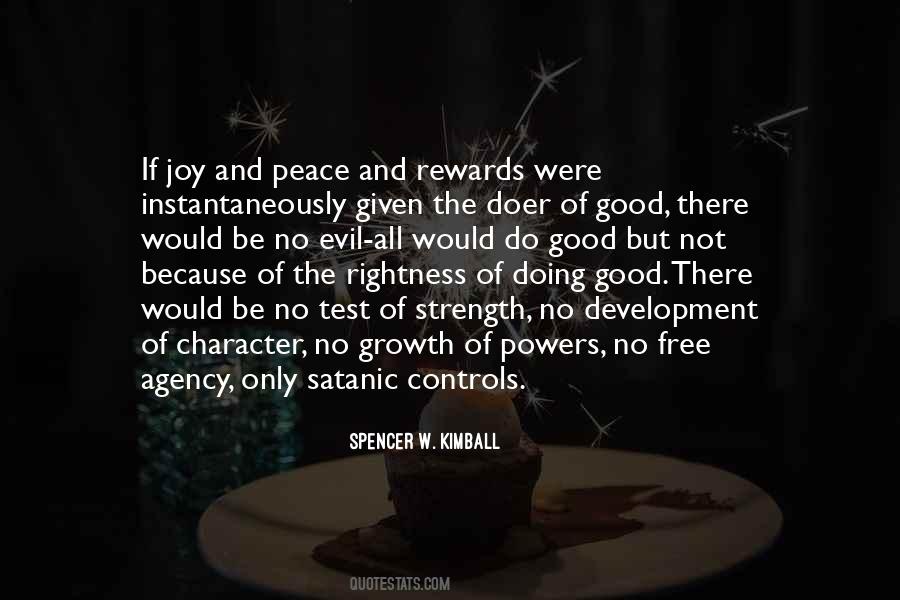 #37. India is a vibrant nation whose strength lies in its commitment to equal rights and to speech, religious and economic freedoms that enrich the lives of all citizens. India is not only the world's largest democracy; it is also a secular, pluralistic society committed to inclusive growth. - Author: Henry Paulson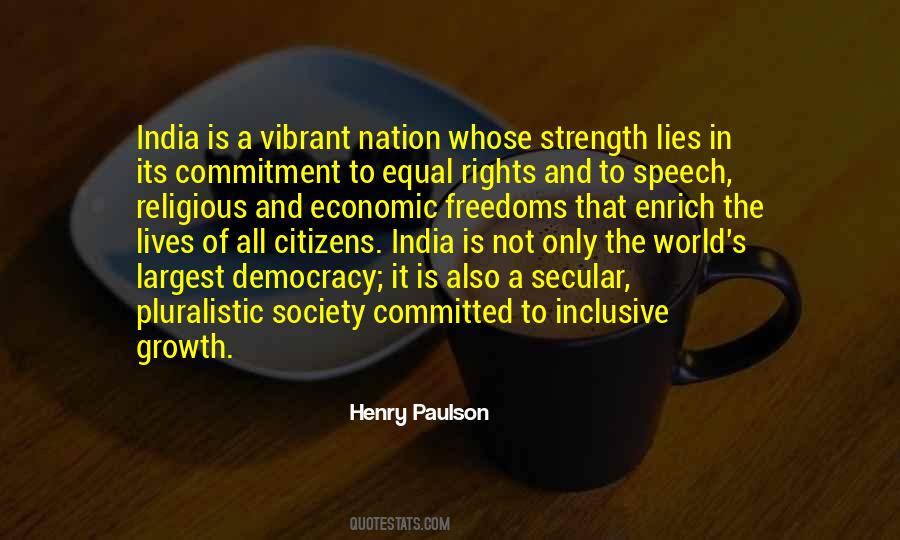 #38. post-traumatic growth could take five different forms: finding personal strength, gaining appreciation, forming deeper relationships, discovering more meaning in life, and seeing new possibilities. - Author: Sheryl Sandberg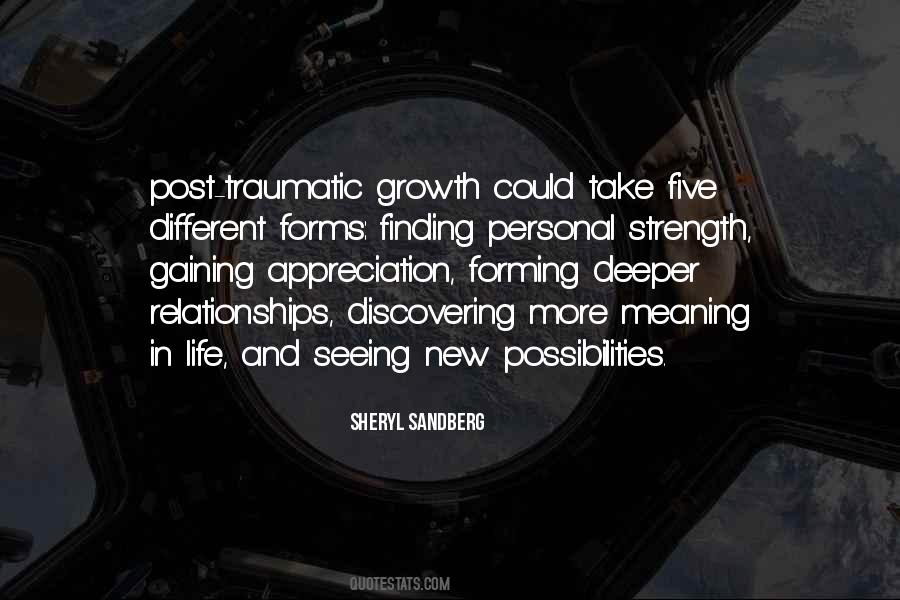 #39. The harder the conflict, the more glorious the triumph. What we obtain too cheap, we esteem too lightly; it is dearness only that gives everything its value. I love the man that can smile in trouble, that can gather strength from distress and grow. - Author: Thomas Paine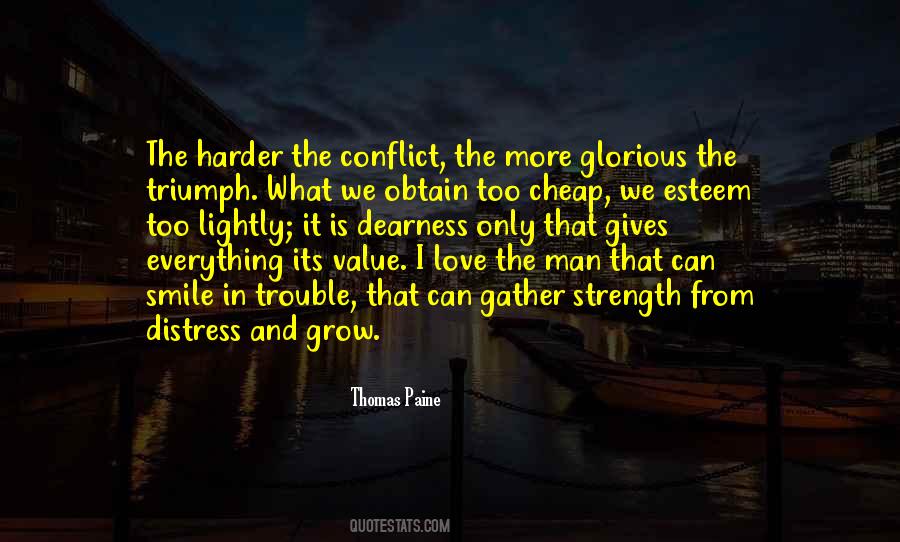 #40. out of hardship and pain comes growth and strength. - Author: Tyler May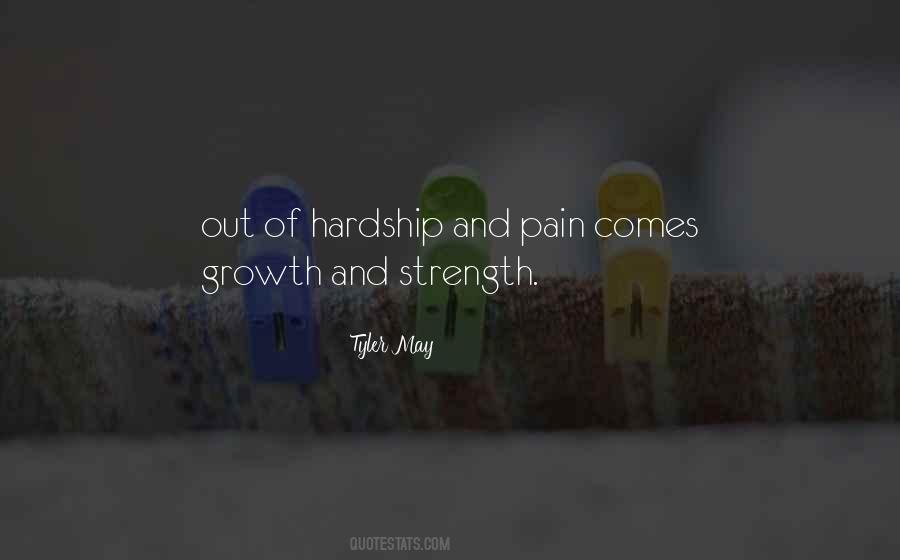 #41. No matter how old you are or how long
or short!
you've been married, the day you accelerate your growth in the Lord is the day your marriage is positively impacted, improved, and strengthened! - Author: Jim George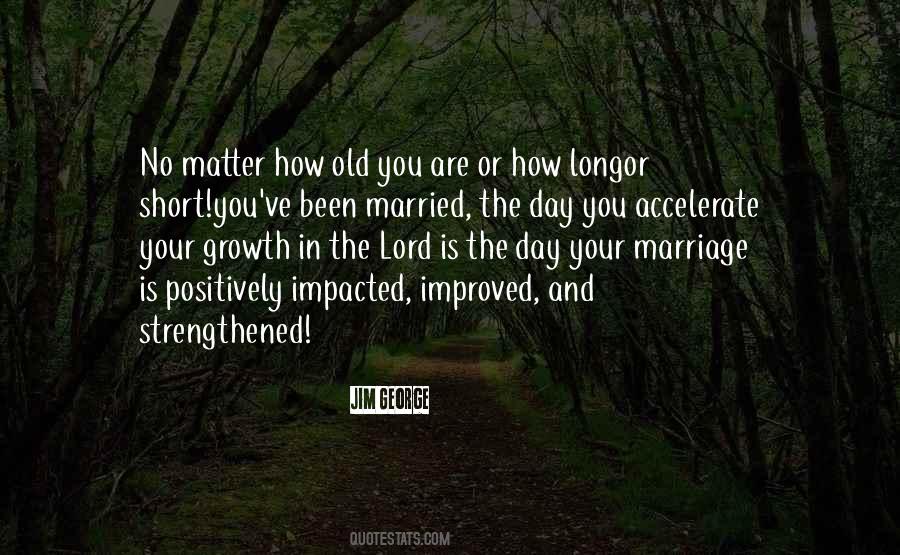 #42. A commitment to growth is a commitment to risk, courage, faith, strength, hope, and a willingness to make mistakes, get back up and try again. - Author: Christine Caine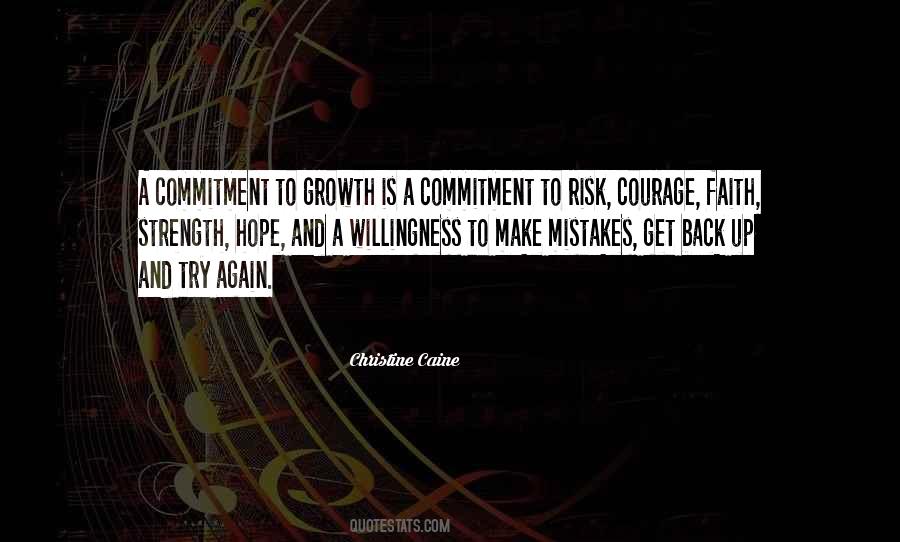 #43. The young disease, that must subdue at length, Grows with his growth, and strengthens with his strength. - Author: Alexander Pope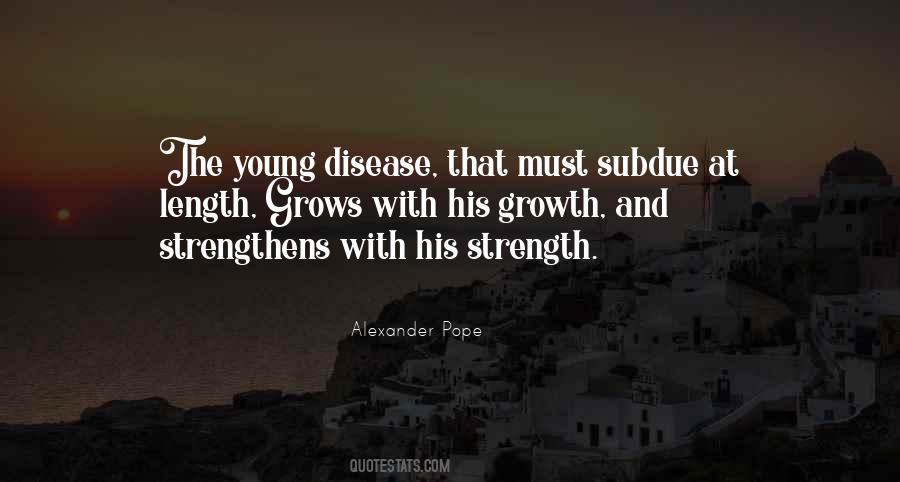 #44. Nothing great could ever be achieved, without personal force, determined spirit and self-confidence. - Author: Lailah Gifty Akita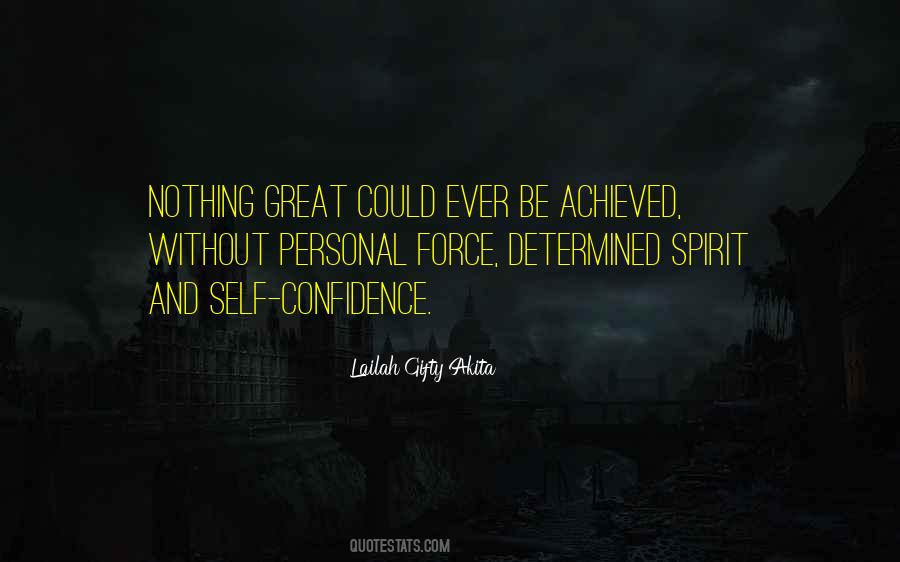 #45. Stop looking for that person you were in the past. She has changed. Look for the person she has grown into. She is wiser and stronger than than ever before. Don't go back to who you were. Cherish who you are." --Without a Voice by Chris Pepple - Author: Chris Pepple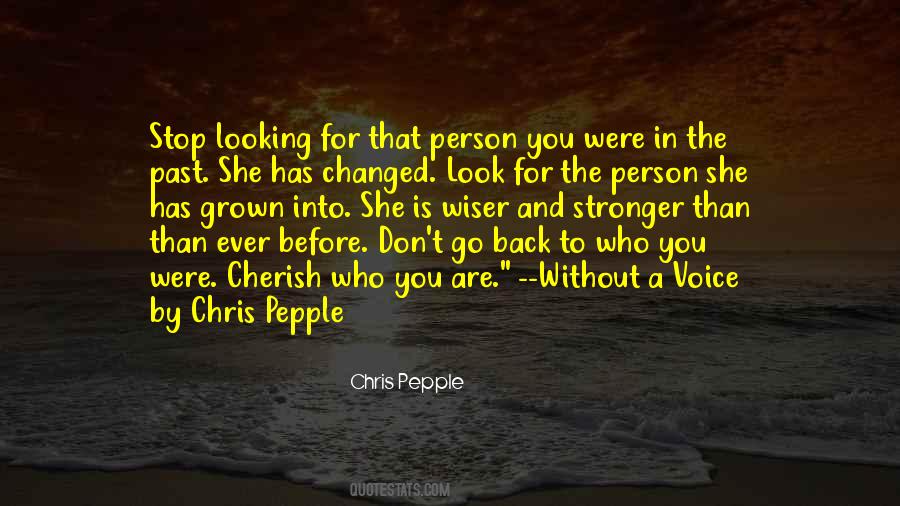 #46. The growth of the soul may be compared to the growth of a plant. In both cases, no new properties are imparted by the operation of external causes, but only the inward tendencies are called into action and clothed with strength. - Author: George Ripley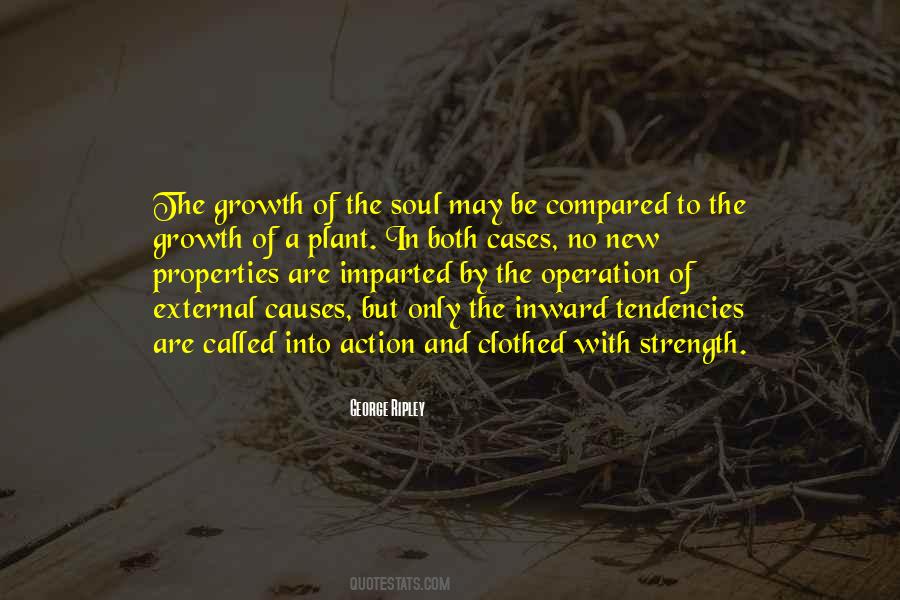 #47. Physical strength (hard work), mental strength (perseverance) and spiritual strength (love & acceptance) are the keys to continuous growth. - Author: Rickson Gracie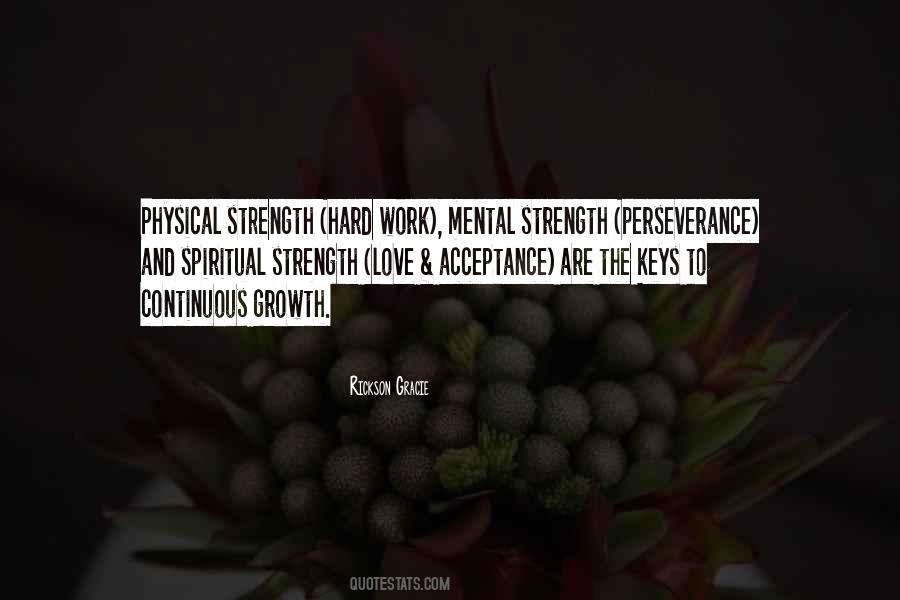 #48. We can help a person to be himself by our own willingness to steep ourselves temporarily in his world, in his private feelings and experiences. By our affirmation of the person as he is, we give him support and strength to take the next step in his own growth. - Author: Clark Moustakas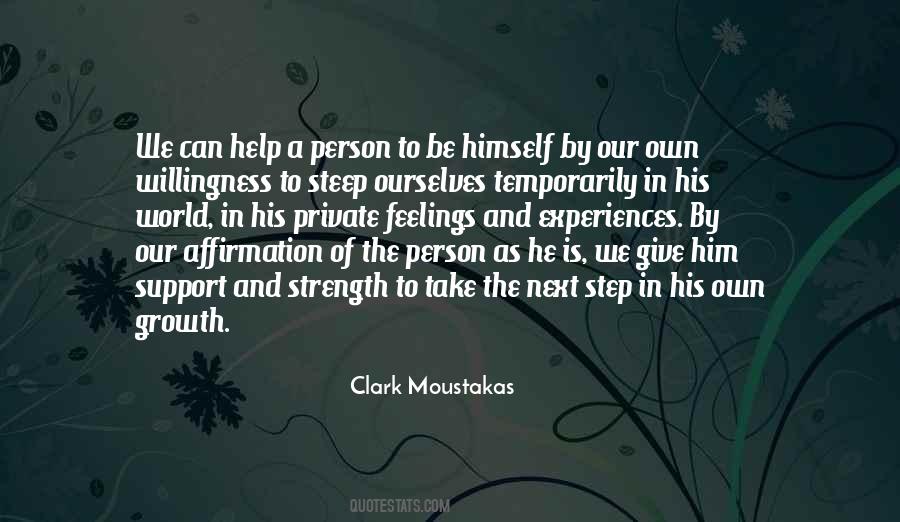 #49. We must have faith in ourselves and our decisions, as well as trusting that we have the strength and ability to handle whatever consequences our decision may bring. Trust that whatever result your leap of faith may bring, you will gain much from it in terms of growth and learning. - Author: Amanda Harvey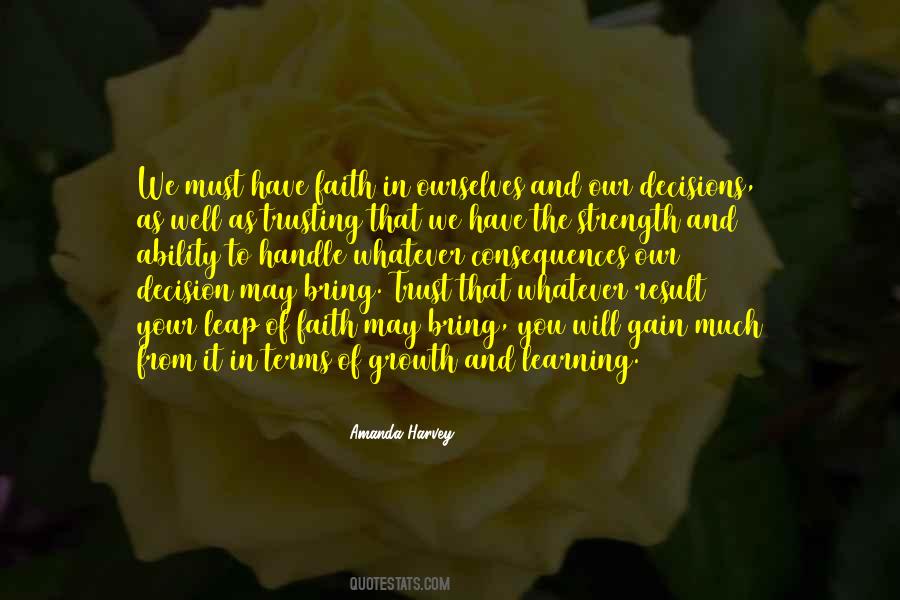 #50. When flash of hope scans through your dreams. When news of goodness skims the surface of your expectations and bravery abates, break not, keep pressing less the dreams of your fingers suffer extinction. - Author: Darmie Orem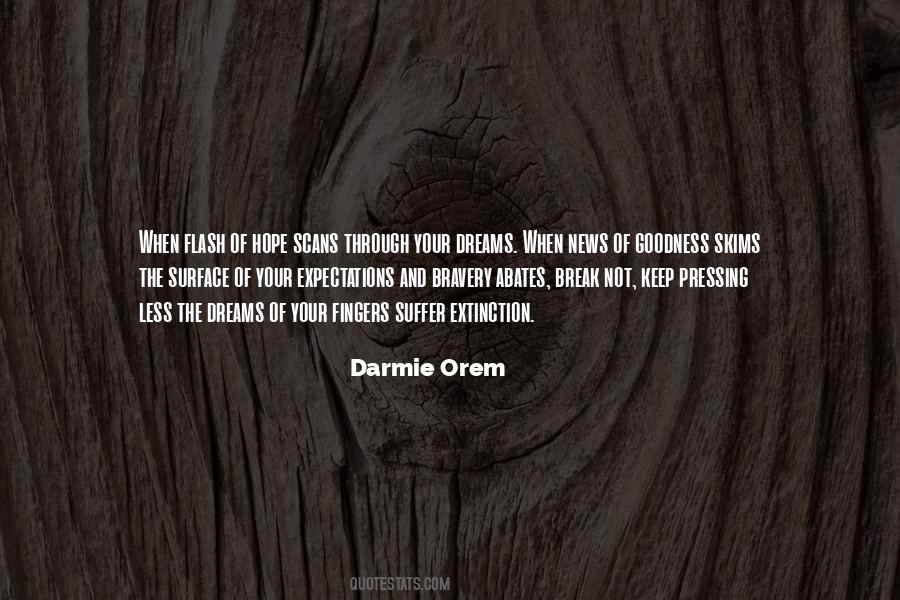 #51. We have faith in the potentialities of others, of ourselves, and of mankind because, and only to the degree to which, we have experienced the growth of our own potentialities, the reality of growth in ourselves, the strength of our own power of reason and love. - Author: Erich Fromm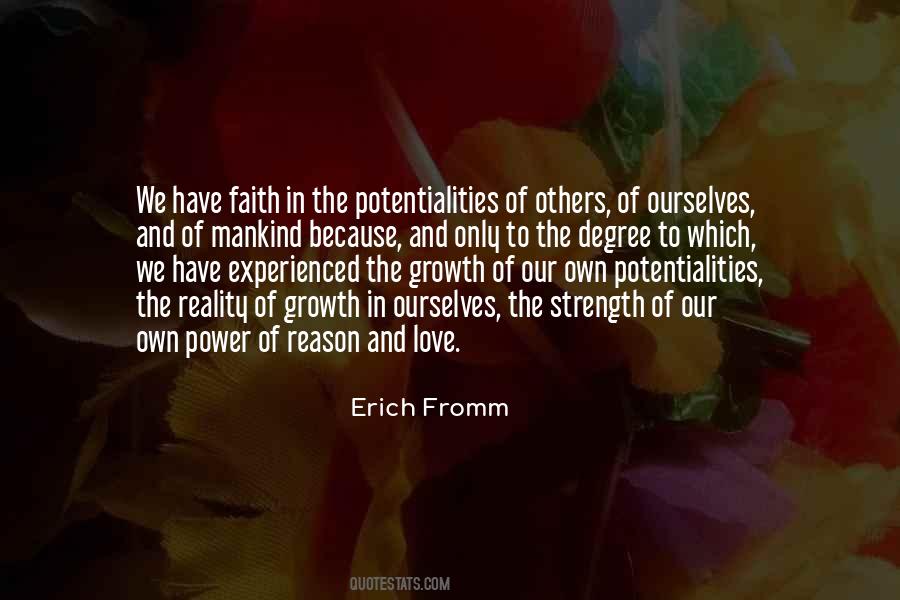 #52. We need to simplify life. Do you think grass thinks about who trod on it yesterday? No... It just continues to grow. And so should you. You cannot control who treads on you, but you do control your own growth. Don't ever let others inhibit you! - Author: Tony Curl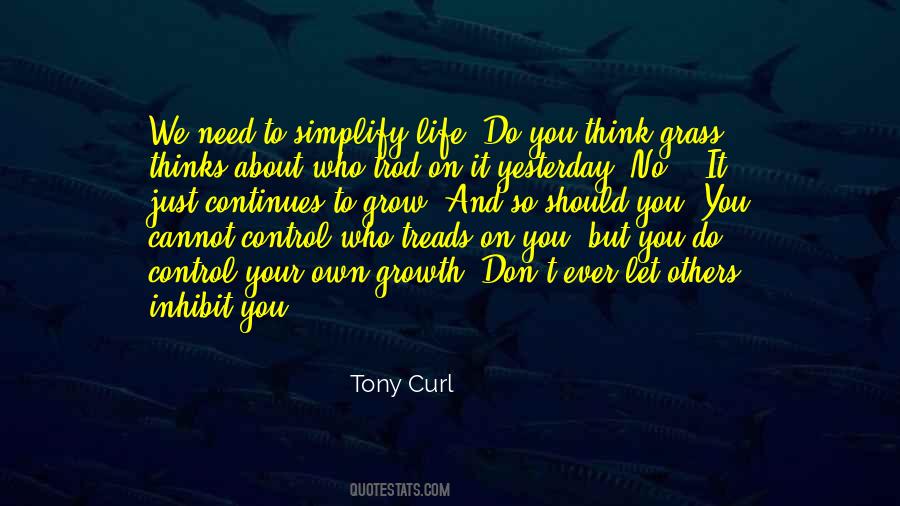 #53. Strength and growth come only through continuous effort and struggle. - Author: Napoleon Hill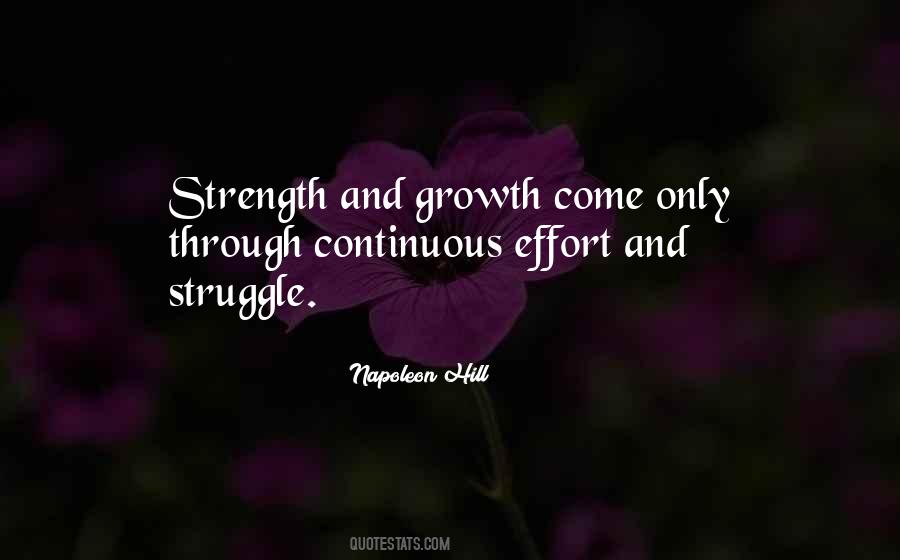 #54. The dark times are there for you to grow and to create a dependency on God. This is all part of your sanctification process. - Author: Michael Barbarulo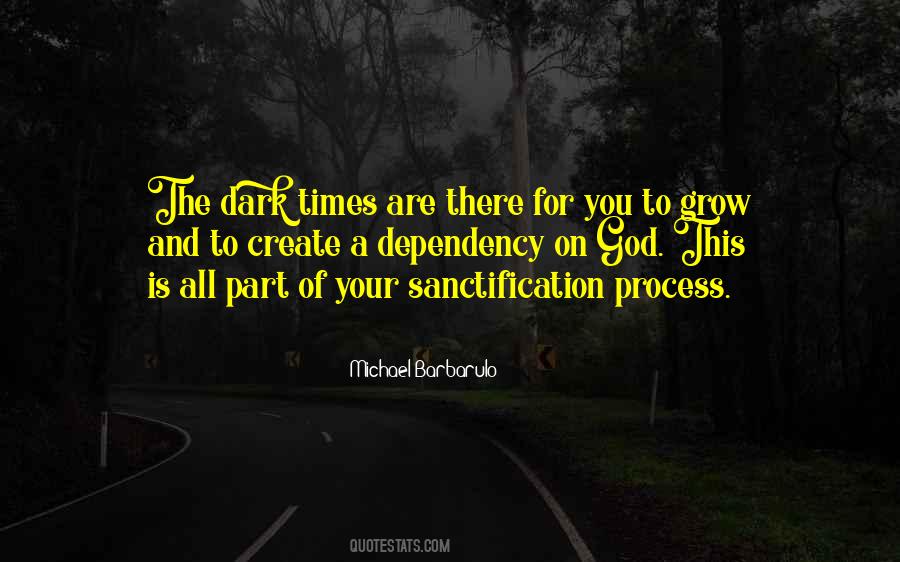 #55. Isn't it time that, in love, we freed ourselves
from the loved one and, trembling, endured:
as the arrow endures the string, collecting itself
to be more than itself as it shoots? - Author: Rainer Maria Rilke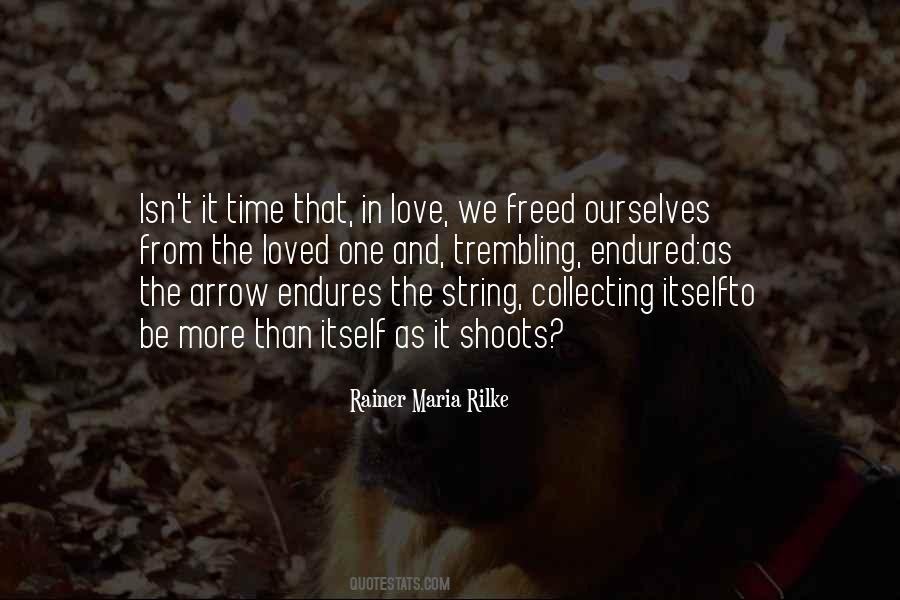 #56. Isn't it time that, loving, we freed ourselves
from the beloved, and, trembling, endured:
as the arrow endures the bow, so as to be,
in its flight, something more than itself? - Author: Rainer Maria Rilke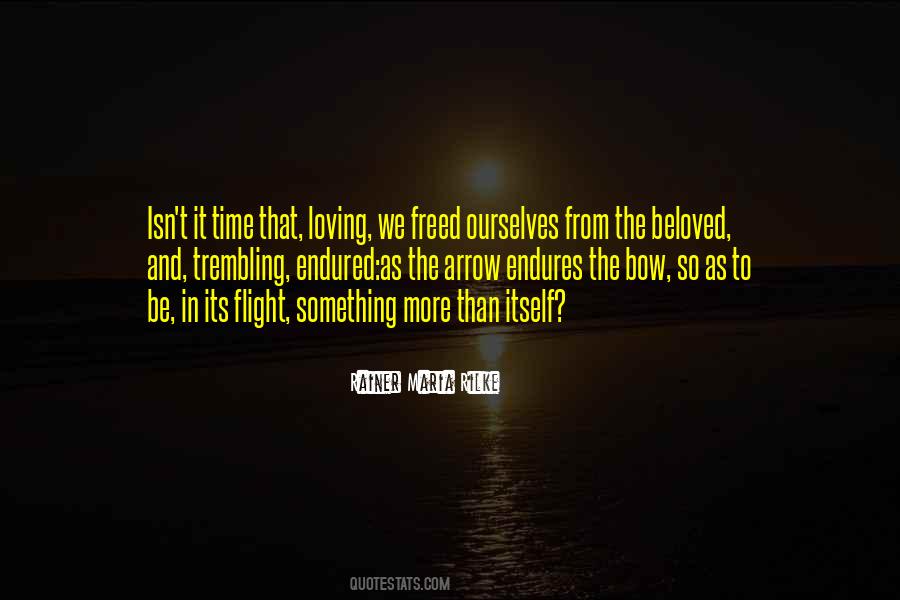 #57. Adversity and challenges are life's way of creating strength. Adversity creates challenge, and challenge creates change, and change is absolutely necessary for growth. If there is no change and challenge, there can be no growth and development. - Author: Willie Jolley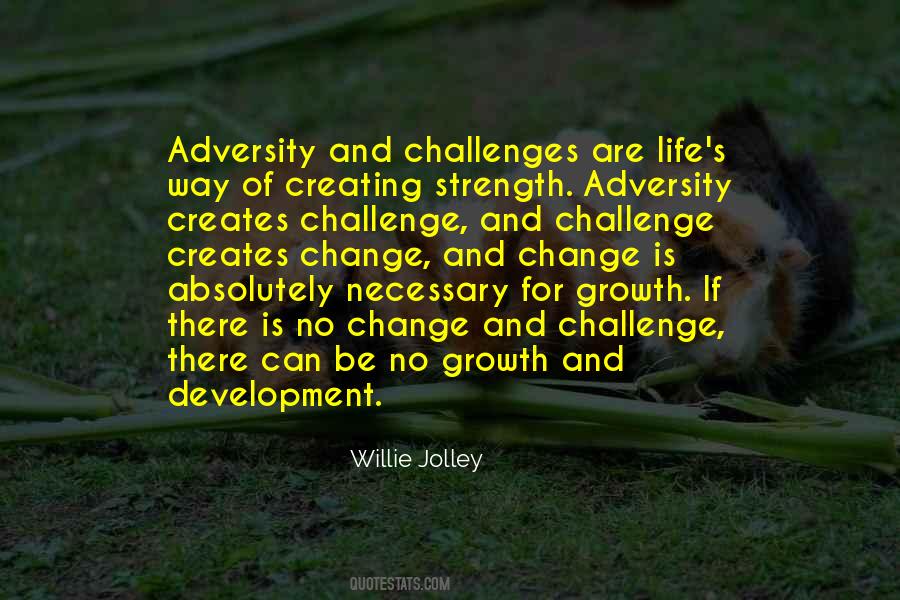 #58. Don't let your tragedies fool you, they were never meant to alter your path; just re-pave your direction. Spend time nurturing the things that once tore you apart and you will find within you, your most empowering strength. - Author: Nikki Rowe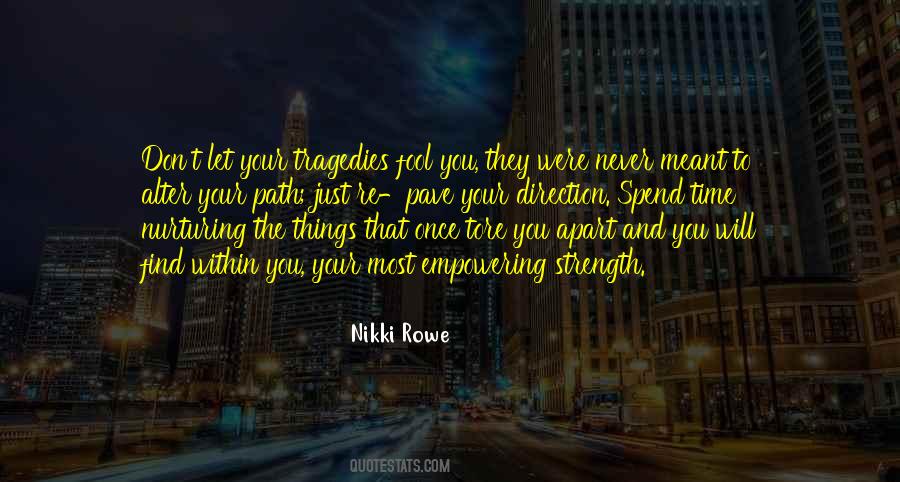 #59. Although housing sales and starts have cooled to more typical levels, the housing market remains strong and sound. Without the expansion of homeownership and the strength of our housing market, our nation would not have the economic growth we are experiencing today. - Author: Randy Neugebauer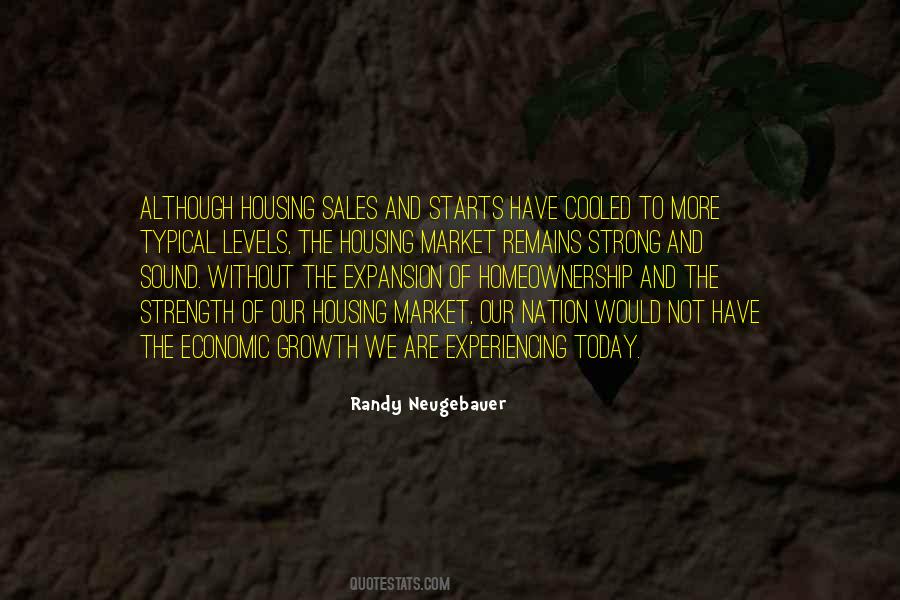 #60. Running away, avoiding life's battles or giving up robs you of the opportunity to grow and be stronger. - Author: Innocent Mwatsikesimbe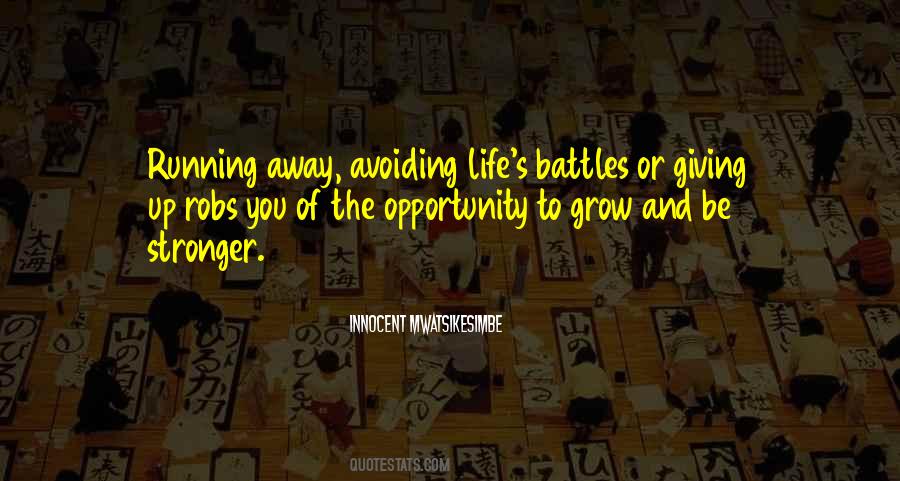 #61. To recognize the hand of the Lord in your life and to accept His will without complaint is a beginning. That decision does not immediately eliminate the struggles that will come for your growth. But I witness that it is the best way there is for you to find strength and understanding. - Author: Richard G. Scott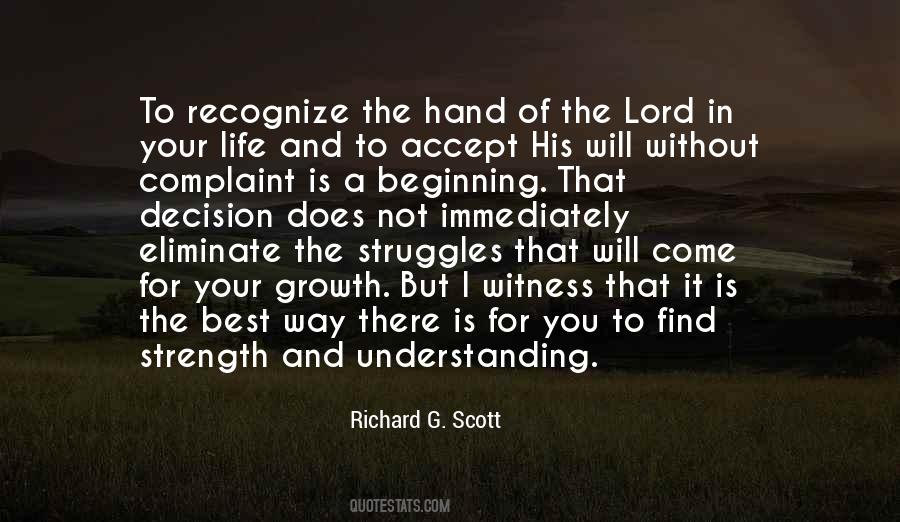 #62. Self discovery is the most empowering time of your life, you remember who you are and you become the best version of yourself but what they forget to tell you is, to get to a point of pleasure you must face the pain. - Author: Nikki Rowe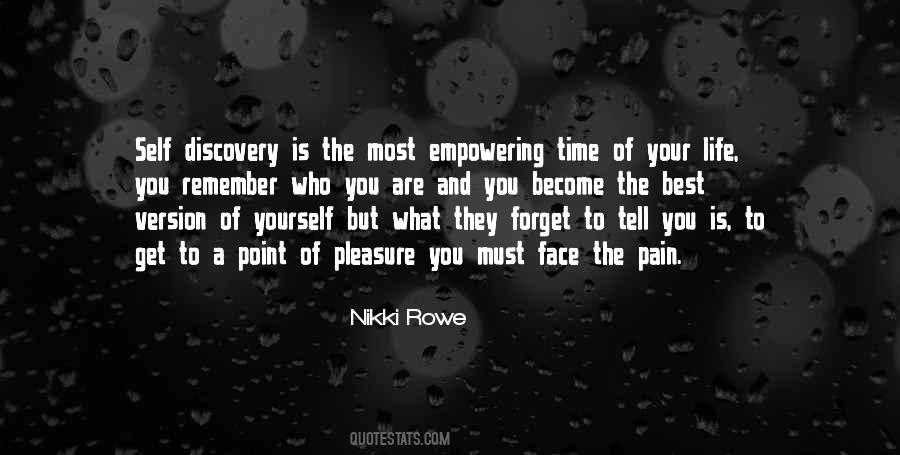 #63. There are three requisites for growth without bound, and only three: the will to remake oneself, the genius to survive, and the strength to suffer. - Author: David Zindell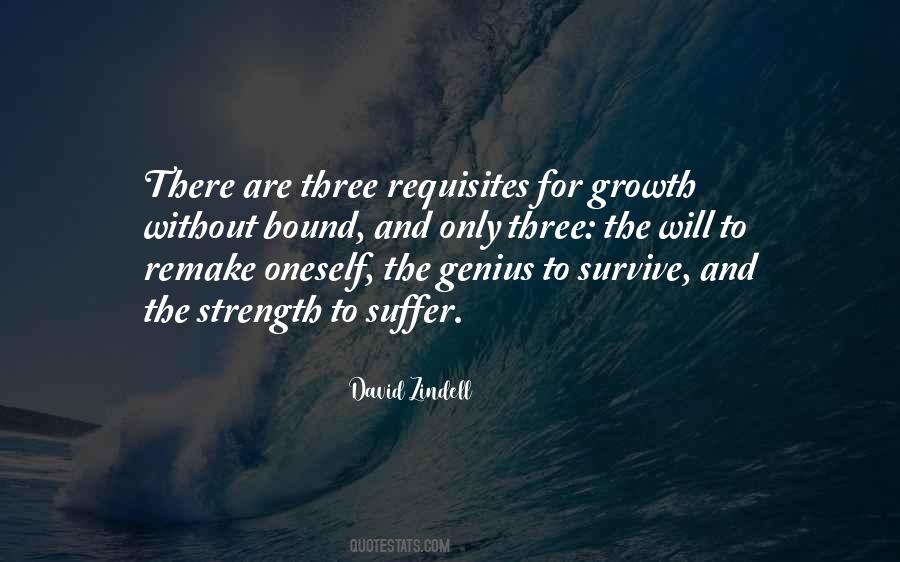 #64. I like roles of people who can overcome things because there's strength in that and an arc - and roles where they start in one place, and toward the end of the script they end up in a completely different place, so you've seen this growth and some humanity in the role. - Author: Olivia D'Abo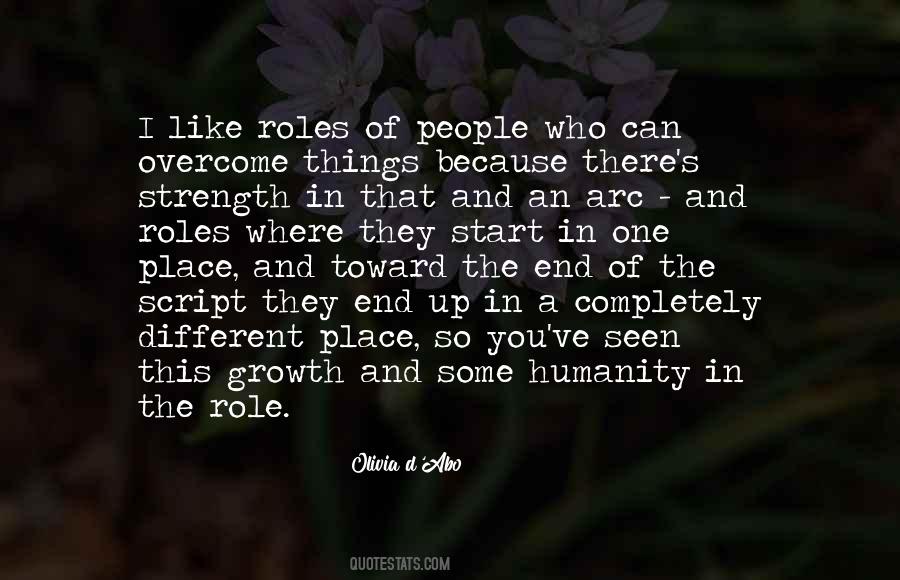 #65. We are living in a time of uncertainty, anxiety, fear, and despair. It is essential that you become aware of the light, power, and strength within each of you, and that you learn to use those inner resources in service of your own and others' growth. - Author: Elisabeth Kubler-Ross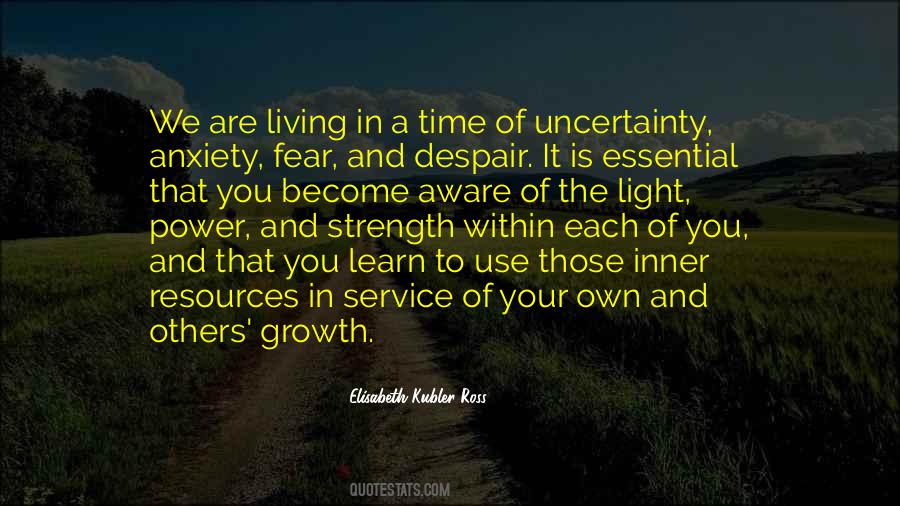 #66. Life is a race, and what matters most isn't when a person crosses the finish line, but how strong they've grown along the way. - Author: Jen Stephens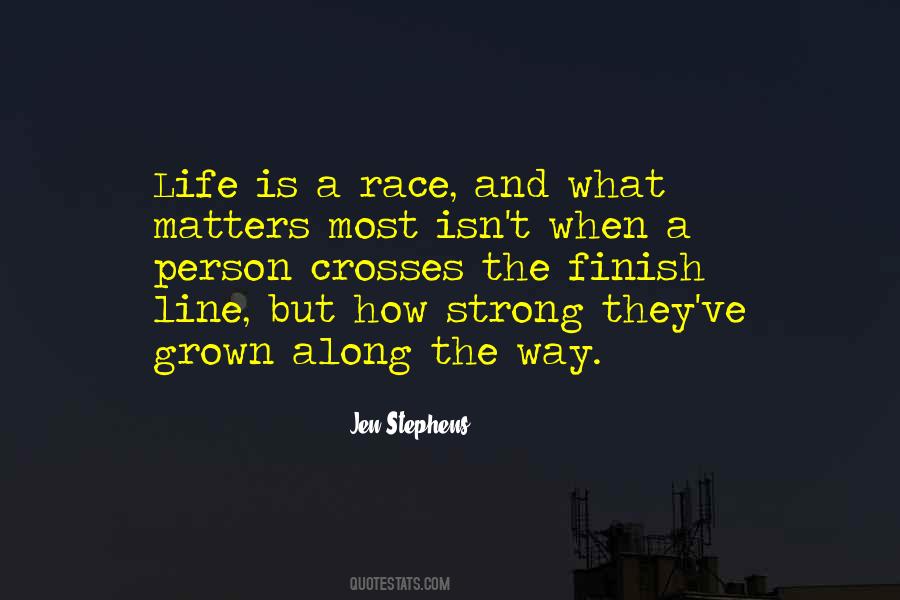 #67. Equip yourself for your own needs. - Author: Patti Digh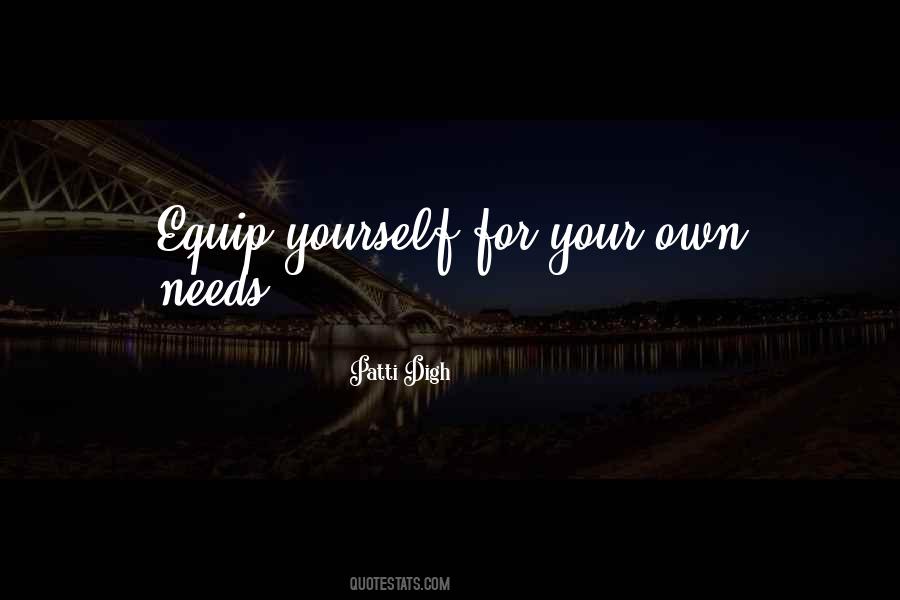 #68. Prayer is a pasturage, a field, wherein all the virtues find their nourishment, growth, and strength. - ST. CATHERINE OF SIENA. - Author: Various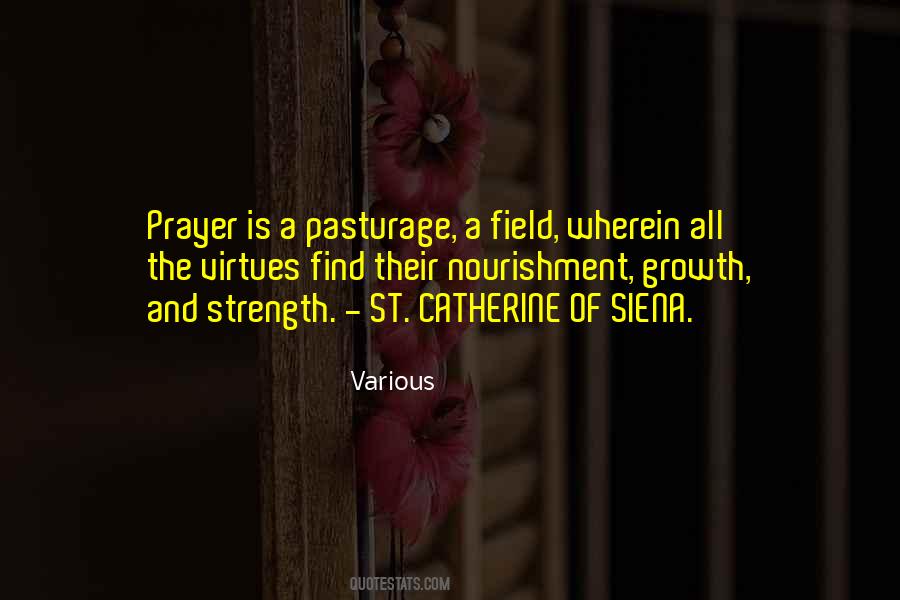 #69. You have to learn where your weaknesses end and your strengths starts or you will spend your life focusing on all that falls apart. - Author: Nikki Rowe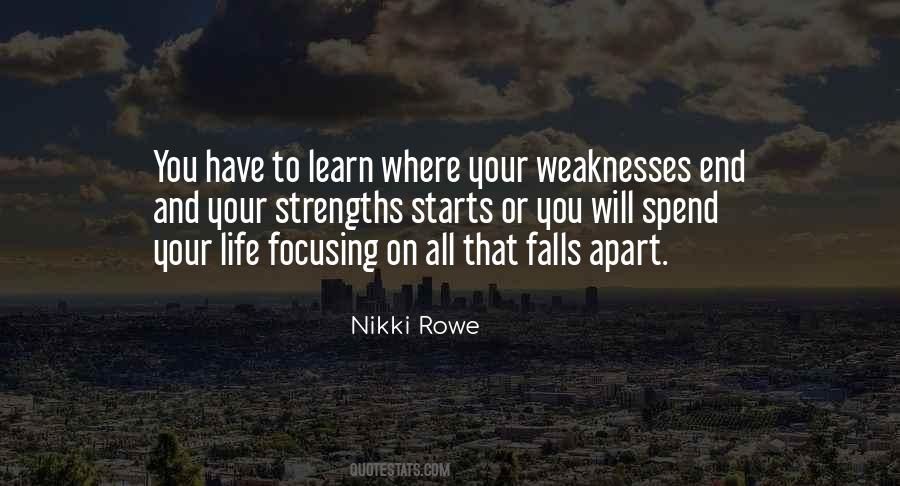 #70. Sometimes all it takes is a little watering everyday and a sunny day to follow, that's how weeds become flowers and new dawns rise - why would it be any less then for a human life? - Author: Nikki Rowe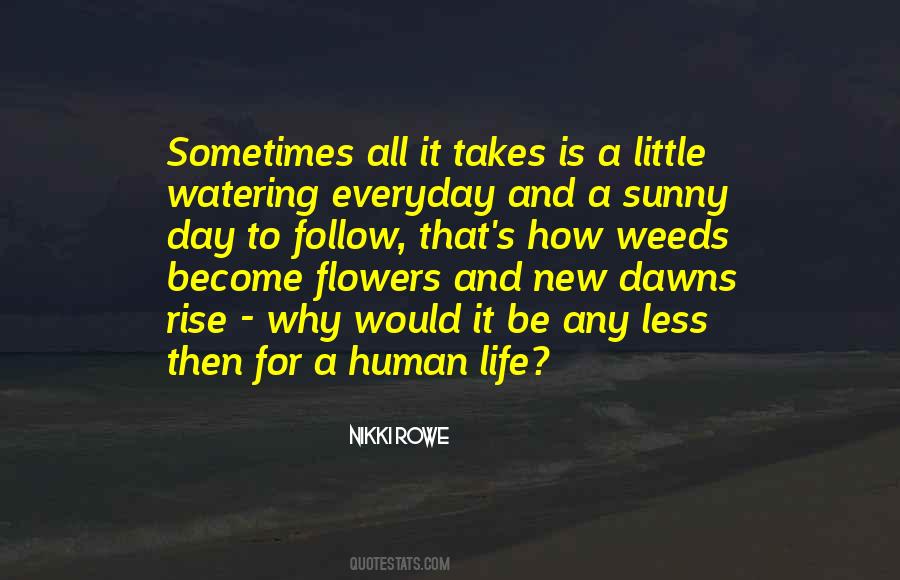 #71. The happiest life is that which constantly exercises and educates what is best in us. - Author: Philip Gilbert Hamerton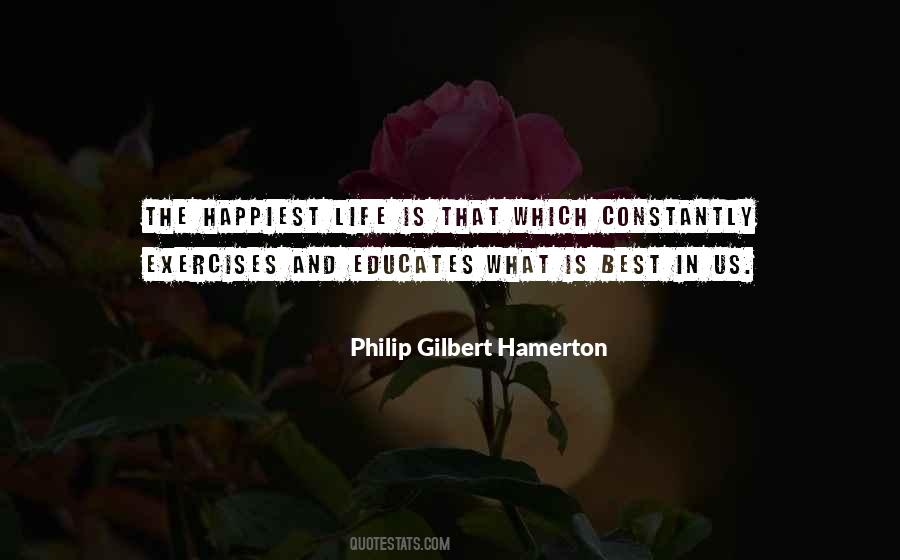 #72. Persistence is a unique mental strength; a strength that is essential to combat the fierce power of the repeated rejections and numerous other obstacles that sit in waiting and are all part of winning in a fast-moving, ever-changing world. - Author: Bob Proctor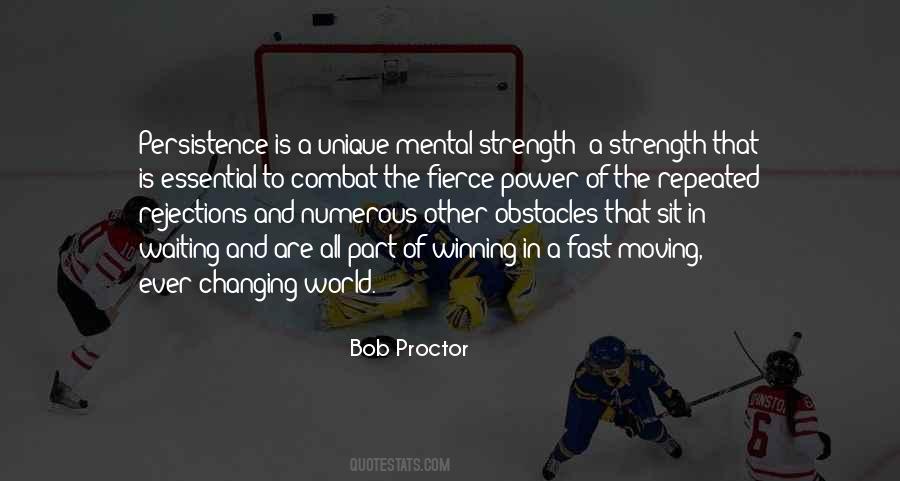 #73. Growth requires courage, strength and the willingness to go beyond fear. - Author: Catherine Louise Birmingham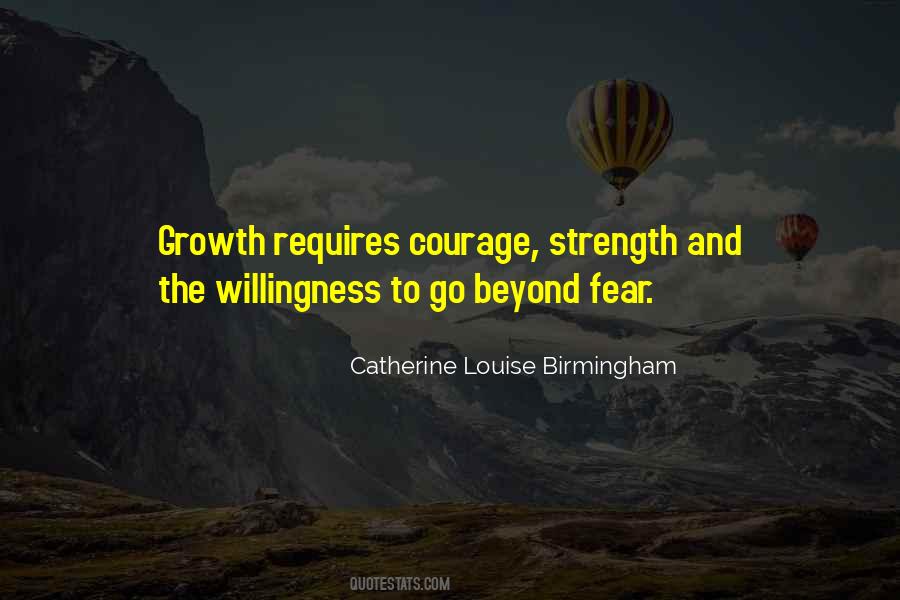 Famous Authors
Popular Topics