Storms And God Famous Quotes & Sayings
List of top 47 famous quotes and sayings about storms and god to read and share with friends on your Facebook, Twitter, blogs.
Top 47 Quotes About Storms And God
#1. If you come to worship for any reason other that the joy and pleasure and satisfaction that are to be found in God, you dishonor Him ... God's greatest delight is your delight in Him. - Author: Sam Storms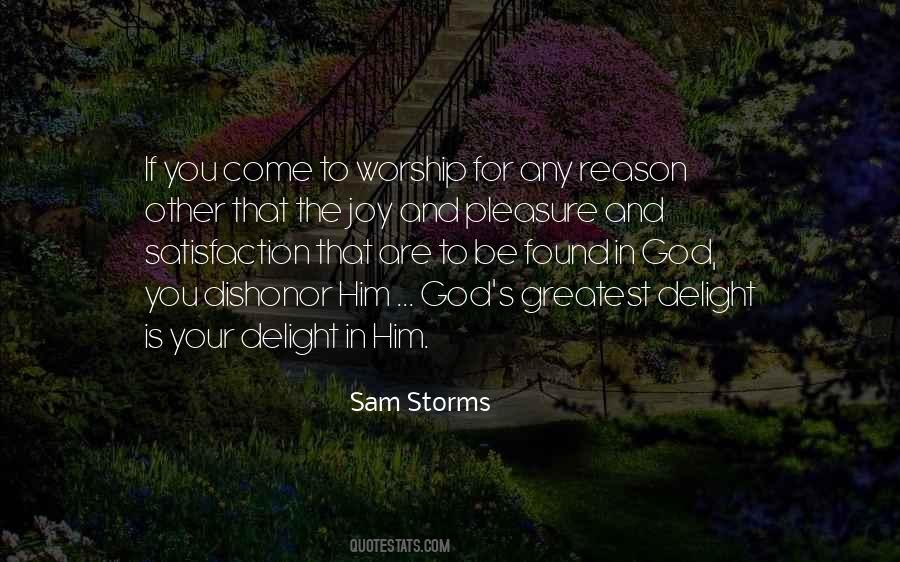 #2. Many Christians do not believe God sends tornadoes. But they do believe that God walks with His children through the storms, that He sends His people to help after the storms, and that with and through God, there is always hope. - Author: Adam Hamilton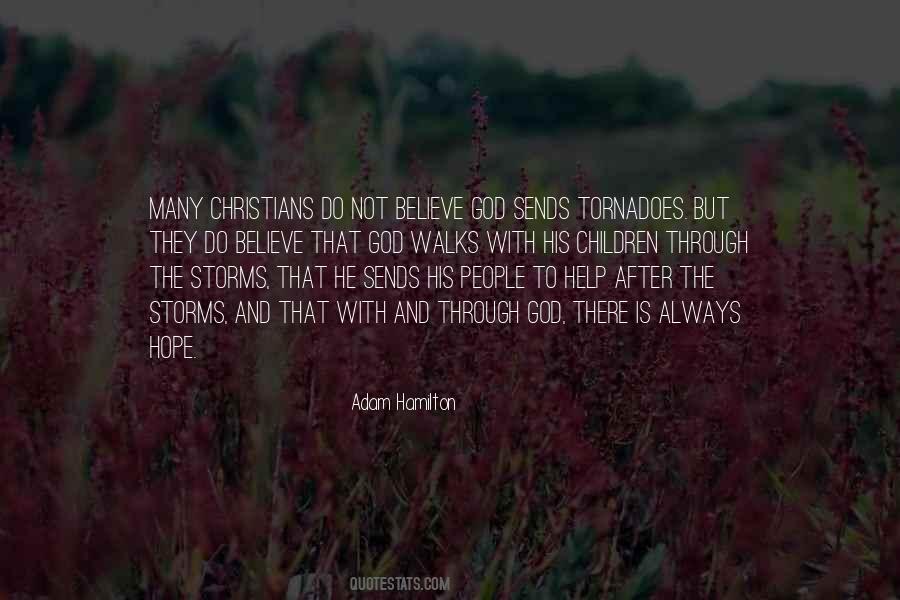 #3. Would to God these blessed calms would last. But the mingled, mingling threads of life are woven by warp and woof: calms crossed by storms, a storm for every calm. - Author: Herman Melville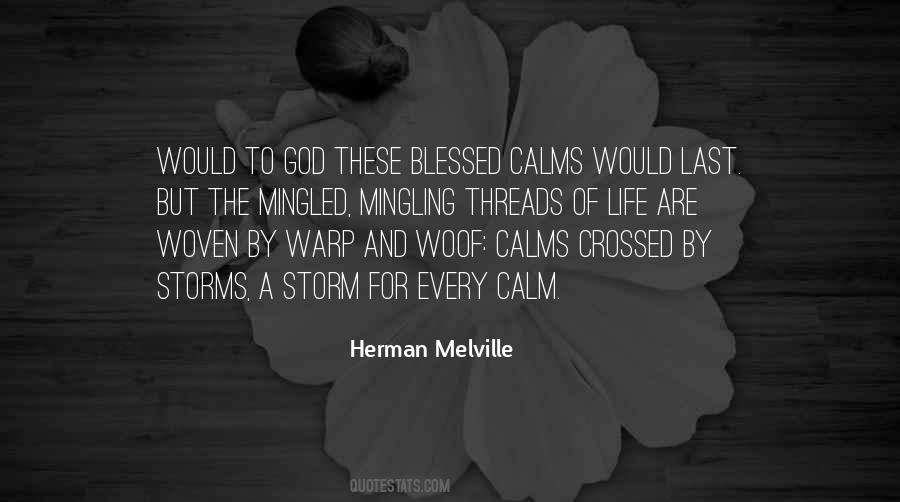 #4. Even in the wildest storms the sky is not all dark; and so in the darkest dealings of God with His children, there are always some bright tokens for good. - Author: Robert Murray M'Cheyne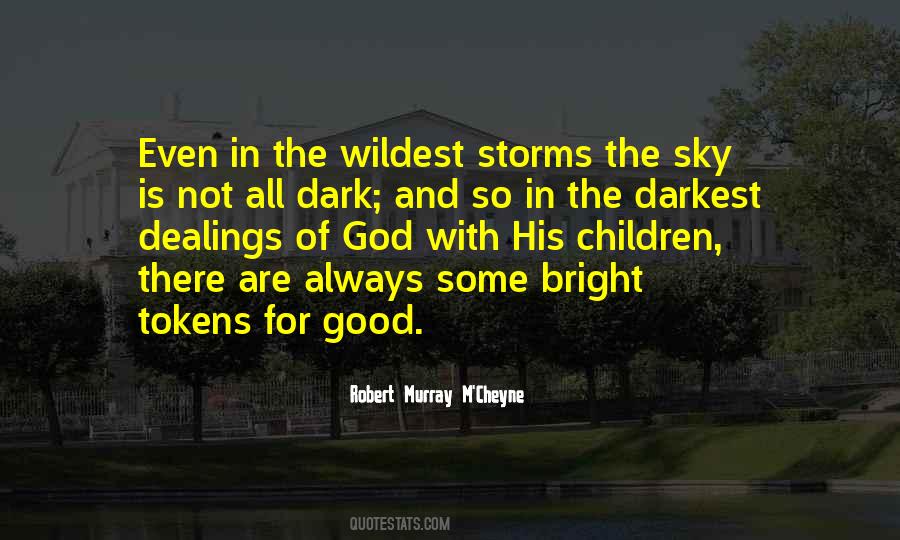 #5. I meditate and pray all the time. The faith and respect that I have in the power of God in my life is what I've used to keep myself grounded, and it has allowed me to move away from the storms that were in my life. - Author: Halle Berry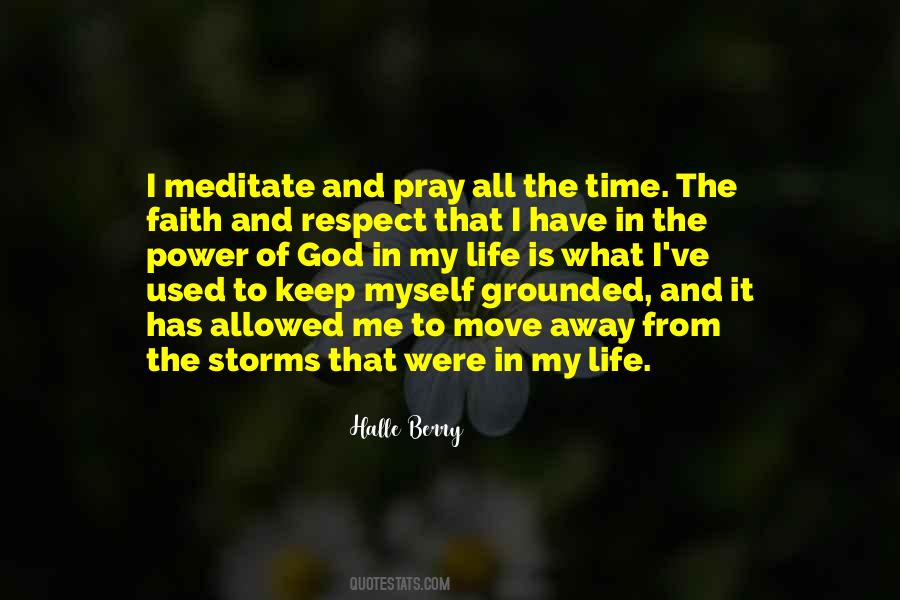 #6. I simply define glory as the beauty of God unveiled. Glory is the resplendent radiance of His power and His personality. Glory is all of God that makes God God, and shows Him to be worthy of our praise and our boasting and our trust and our hope and our confidence and our joy. - Author: Sam Storms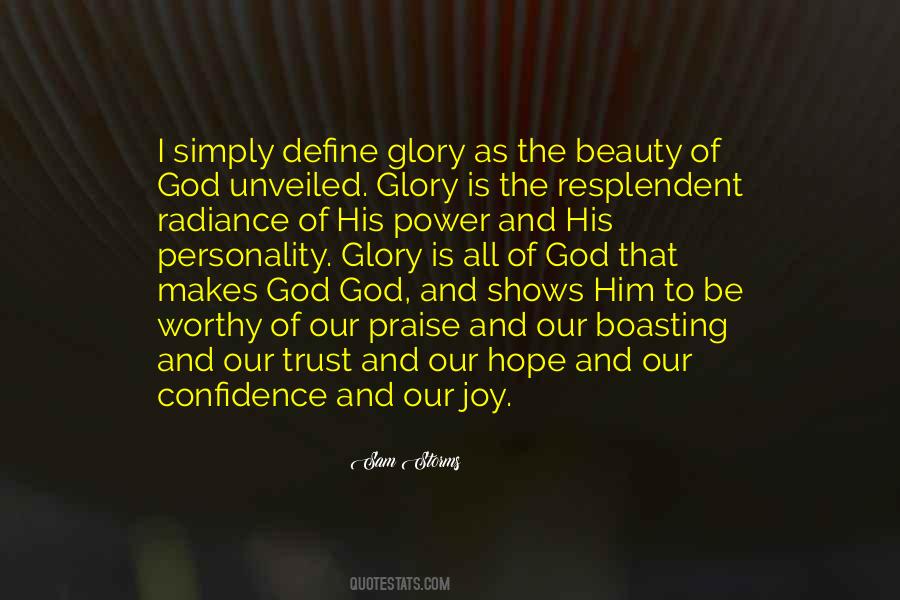 #7. Through life's storms,
we learn about ourselves,
and more importantly,
if we are wise, about God. - Author: Matshona Dhliwayo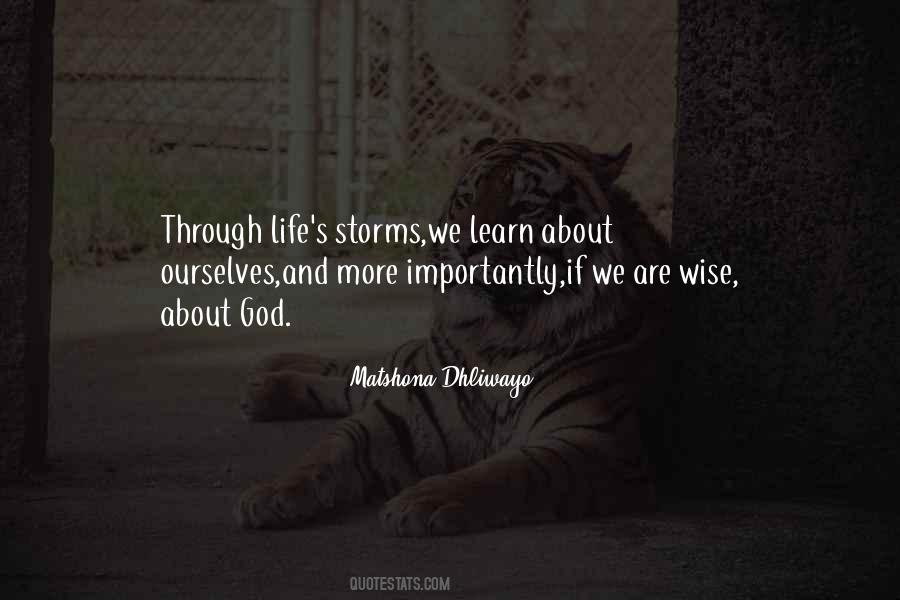 #8. Worship is not about my enjoyment. It is about my enjoyment of God. It is not about my pleasure or my delight or my satisfaction. It is about my pleasure, delight, and satisfaction in God. Worship is not simply about glorifying God. It is about glorifying God by enjoying Him forever. - Author: Sam Storms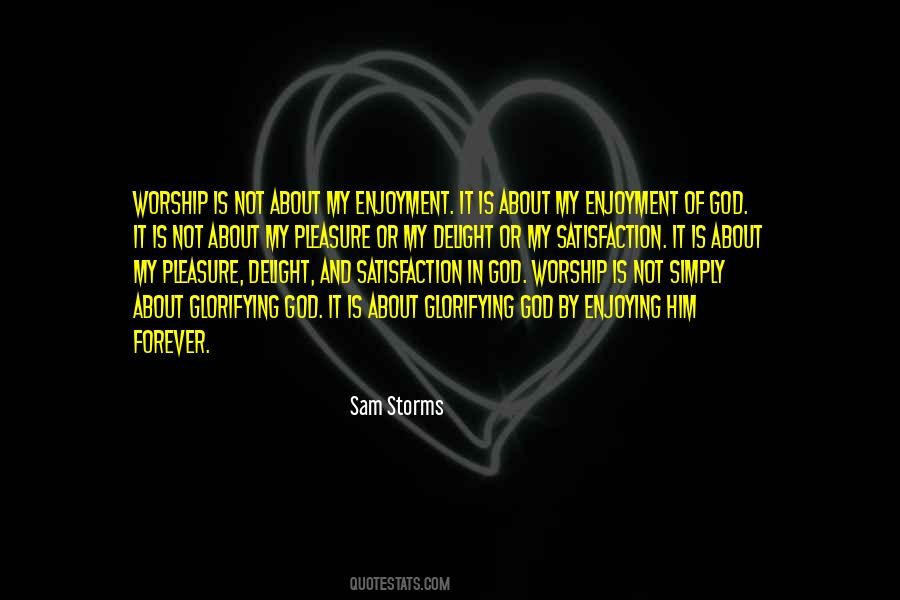 #9. I have both the violent turbulence of the storm and the quiet promises of God in the storm. And what I must work to remember is that something is not necessarily stronger simply because it's louder. - Author: Craig D. Lounsbrough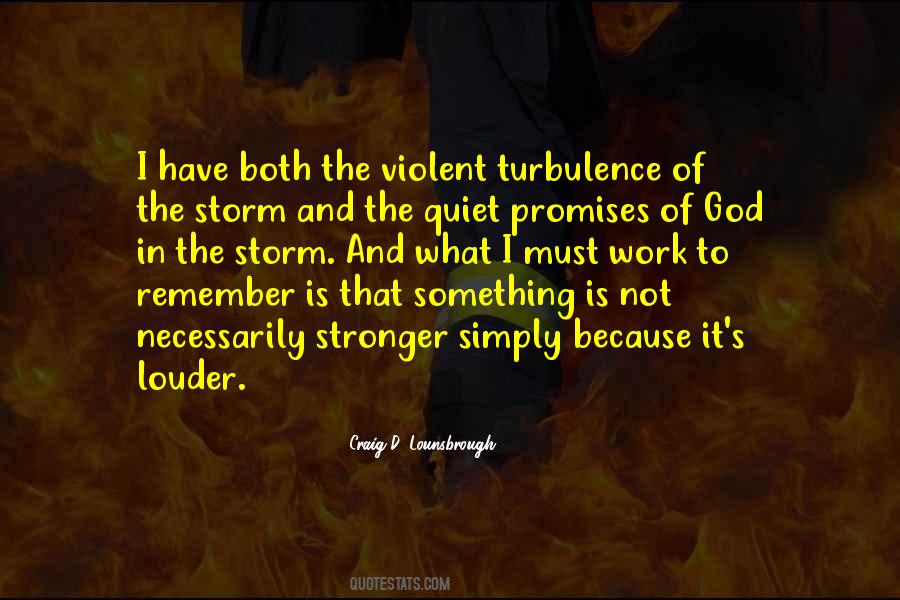 #10. I'd heard theories. Destruction of forests had altered pressure zones. Global warming made for stronger storms. Chemtrails indicated government manipulation of the weather. God punished the family and neighbors of idolaters. - Author: Carl-John X. Veraja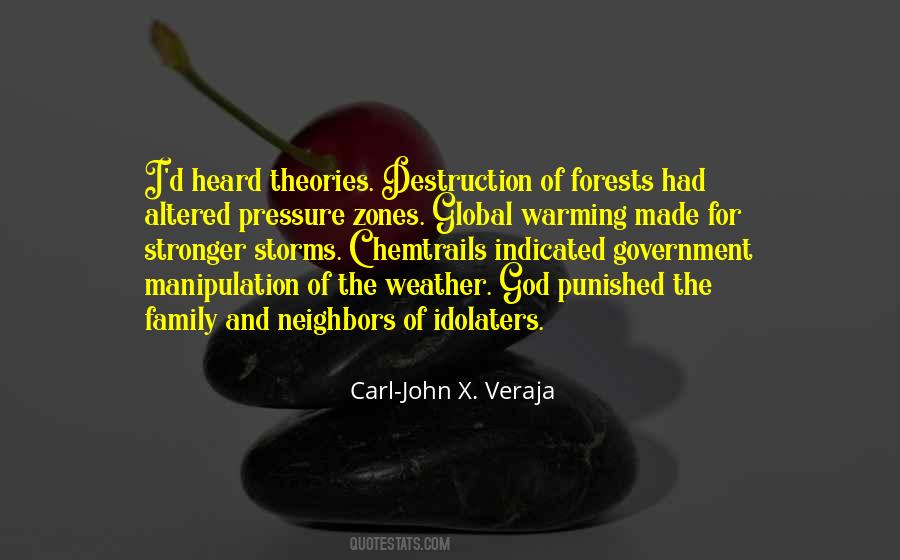 #11. Sometimes, God drives us to Prayer and Scripture not for answers to the struggles, but for anchors in the storms. - Author: Todd Stocker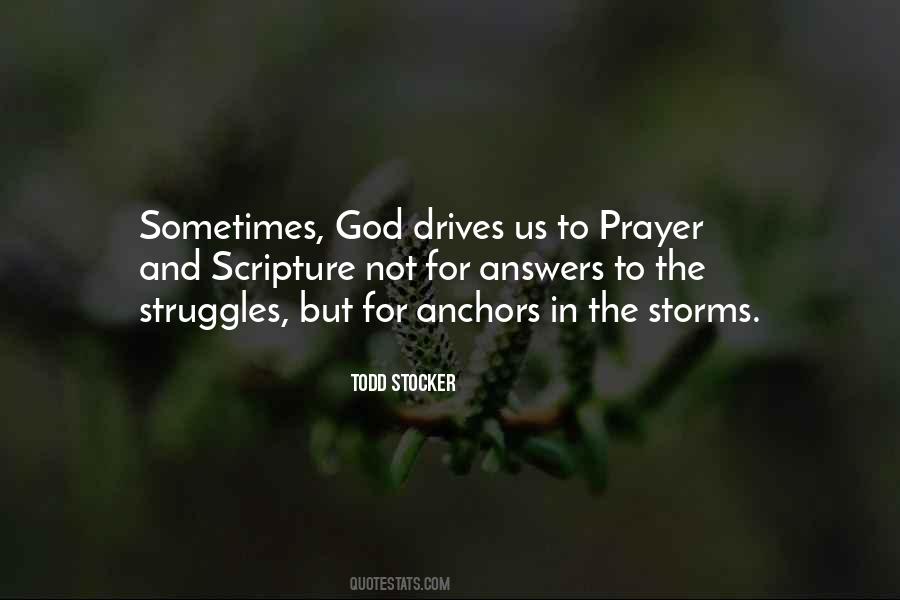 #12. Are you feeling exposed to the storms of life? Read Psalm 91, a wonderful promise from God. When we love him and tell others about that love, he moves to protect us. "I will be with them in trouble. I will rescue and honor them" (v. 15 NLT). - Author: Max Lucado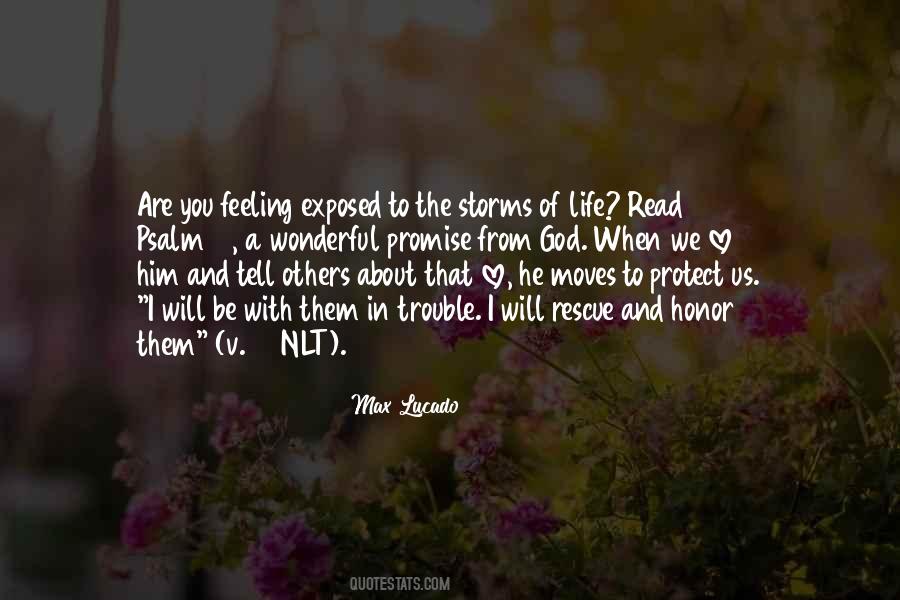 #13. Evil's just destructive? Then storms are evil, if it's that simple. And we have fire, and there there's hail. Underwriters lump it all under 'Acts of God. - Author: Thomas Harris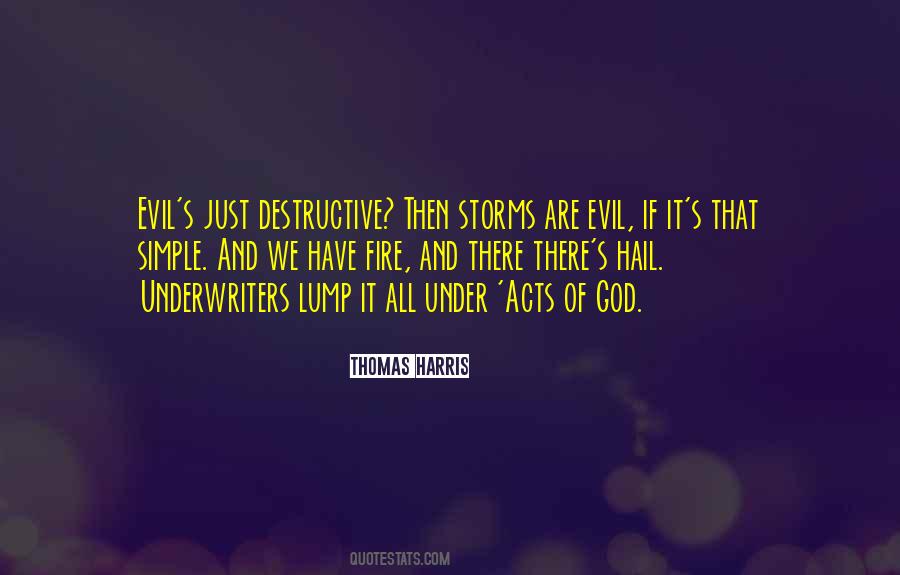 #14. You are a God of winds and tides. Of journeys and storms and navigation by stars and faith. - Author: Lisa Wingate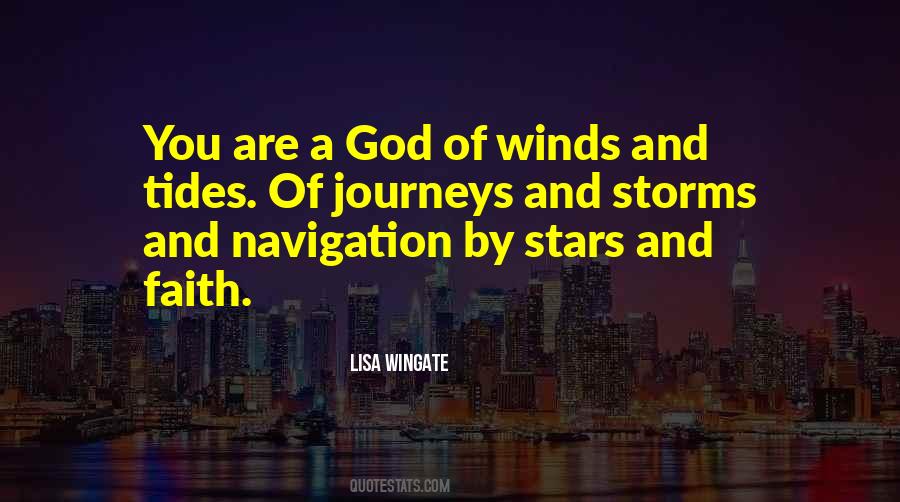 #15. The storms of life can be used for good in our lives if we let them drive our spirits higher and closer to God. - Author: Roy Lessin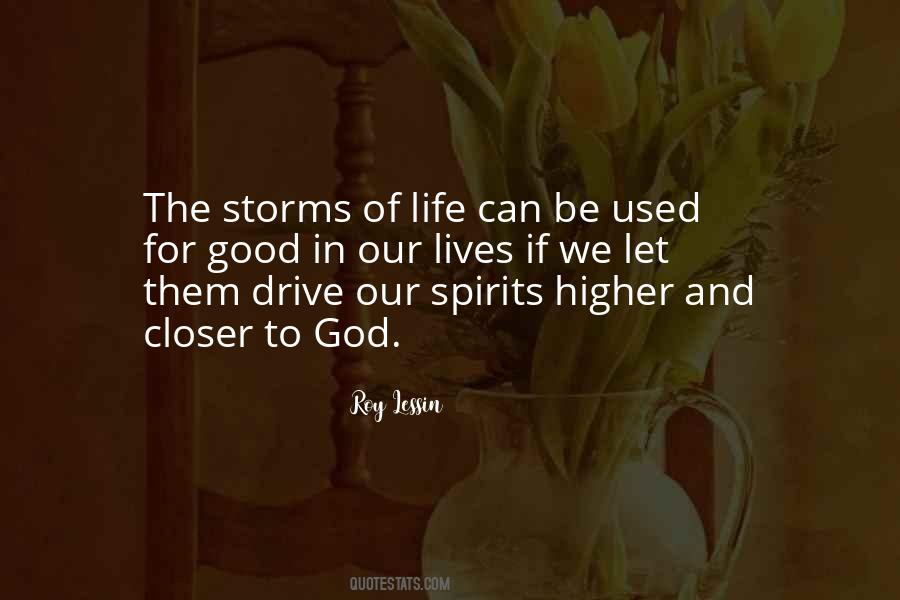 #16. Christ's own 'God-forsaken-ness' on the cross showed me where God is present where God had been present in those nights of deaths in the fire storms in Hamburg and where God would be present in my future whatever may come. - Author: Jurgen Moltmann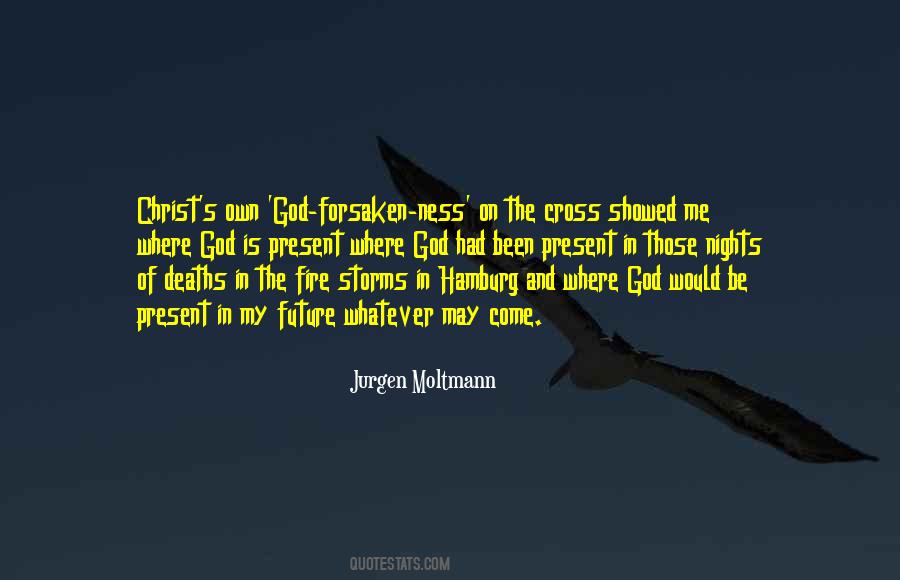 #17. God created you for the first and greatest commandment, to be a lover of God. - Author: Sam Storms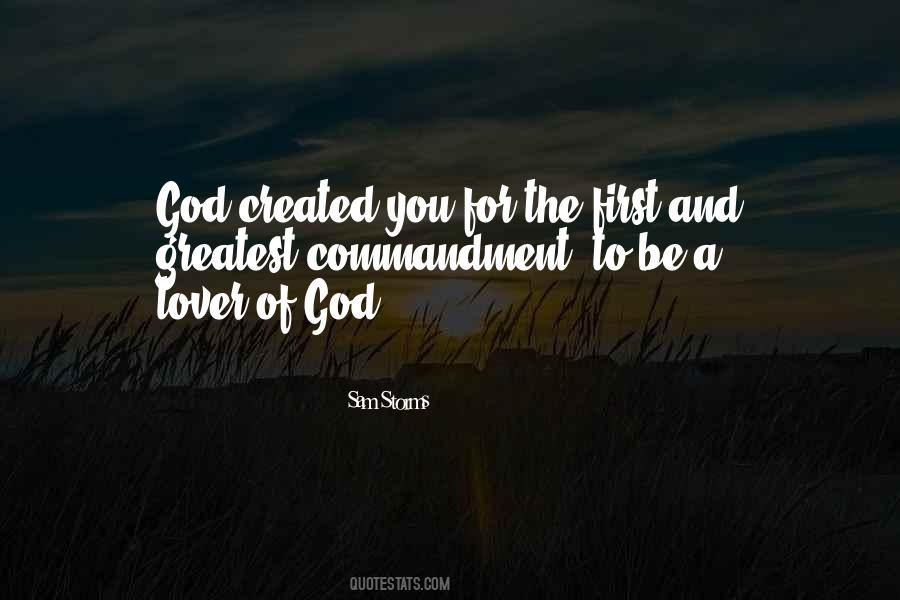 #18. When God wants to make a mushroom, he does it overnight, but when He wants to make a giant oak, He takes a hundred years. Great souls are grown through struggles and storms and seasons of suffering. Be patient with the process. - Author: Rick Warren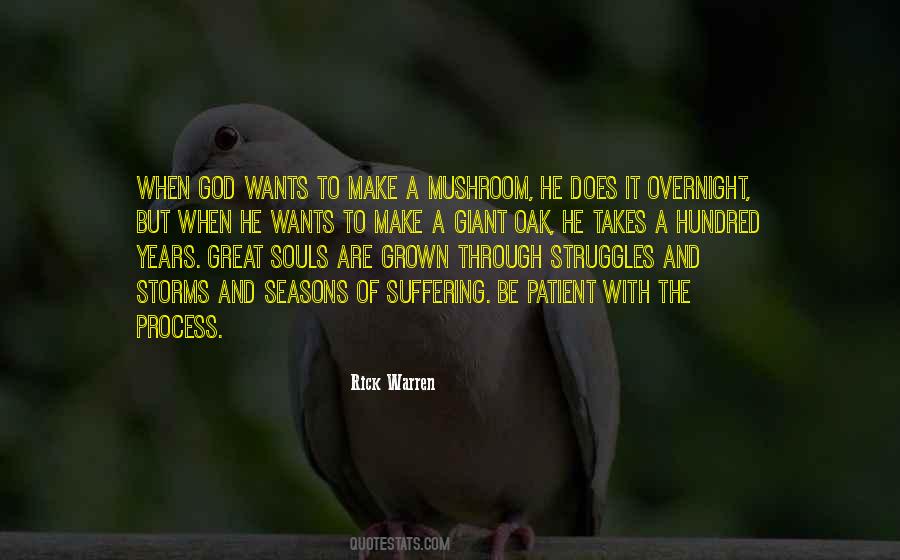 #19. I go through the same problems all young people go through. Being in this business, I accept that there are positives and negatives but having a strong family base and a belief in God enables me to weather the storms. - Author: Aaliyah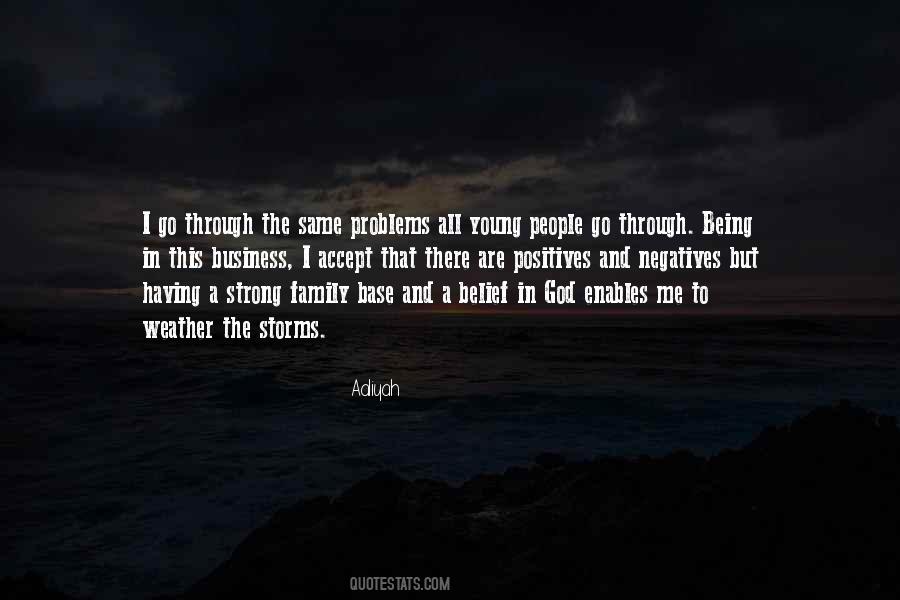 #20. Worship is first and foremost a feasting on all that God is for us in Jesus ... [One] in which God is the host, the cook, the waiter, and the meal itself. - Author: Sam Storms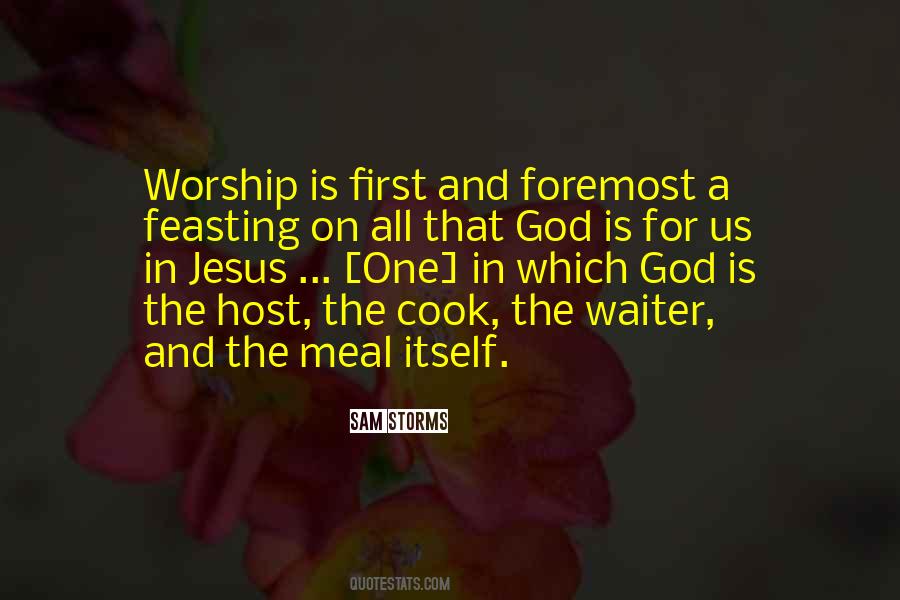 #21. Longing for God's love help us to earn peace, joy and strength that educates us how to pull through vicious storms of life. - Author: Euginia Herlihy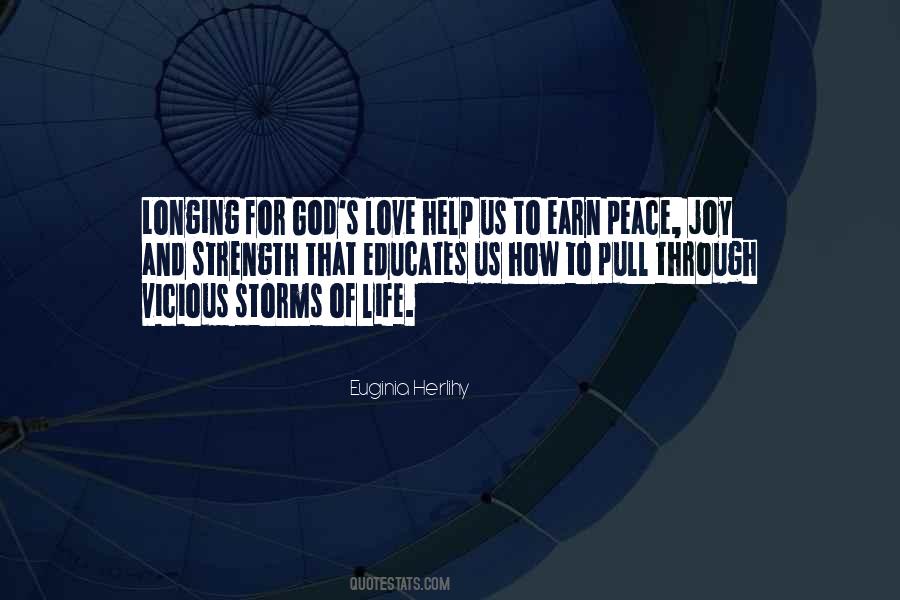 #22. The cloud which appeared to the prophet Ezekiel carried with it winds and storms, but it was environed with a golden circle, to teach us that the storms of afflictions, which happen to God's children, are encompassed with brightness and smiling felicity. - Author: Nicolas Caussin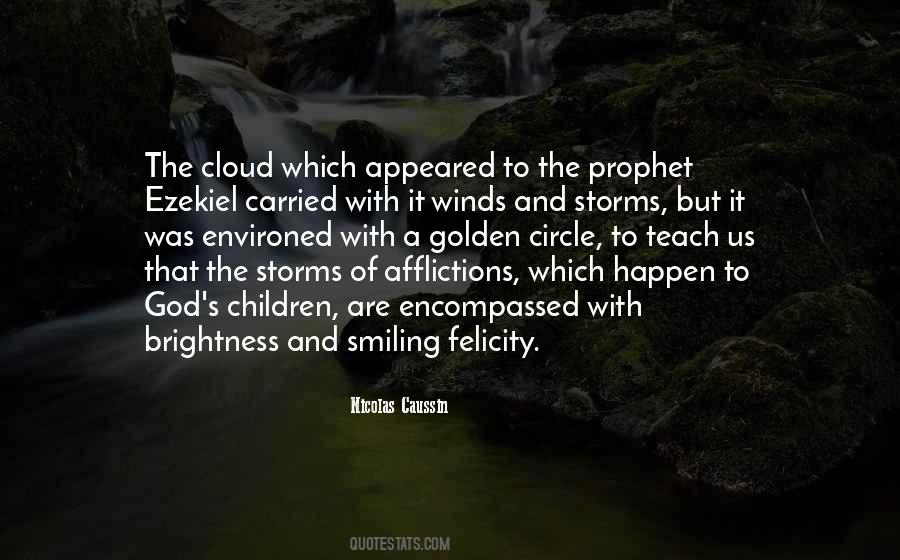 #23. Whatever and whenever God blesses, Satan curses. What God creates, Satan counterfeits. - Author: Sam Storms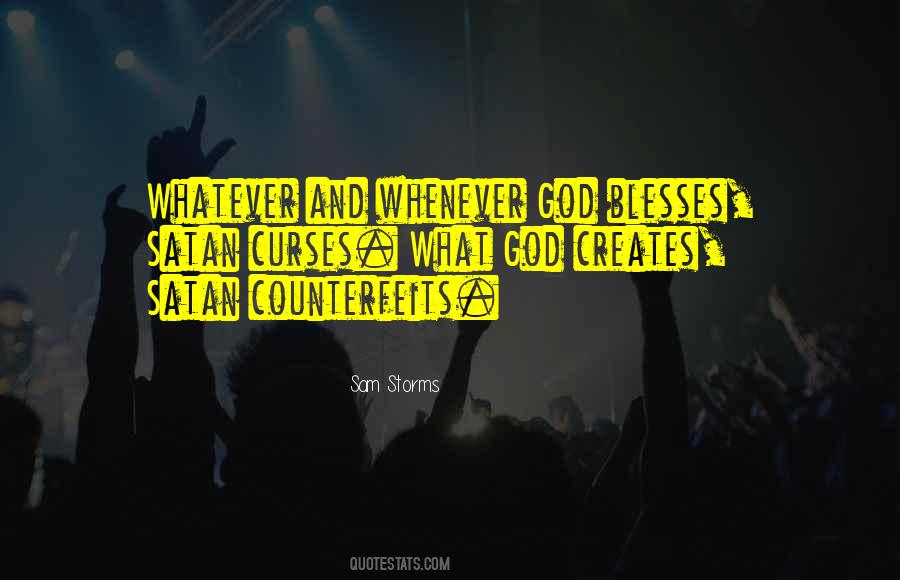 #24. God created us so that the joy He has in Himself might be ours. God doesn't simply think about Himself or talk to Himself. He enjoys Himself! He celebrates with infinite and eternal intensity the beauty of who He is as Father, Son, and Holy Spirit. And we've been created to join the party! - Author: Sam Storms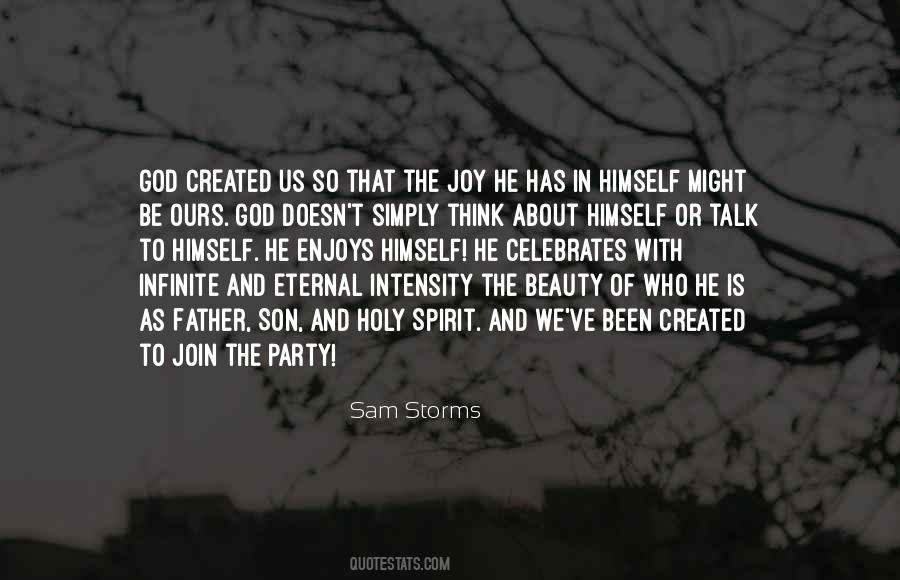 #25. Getting to know God and being able to call on Him is the most important step in storing up for the storms. - Author: Billy Graham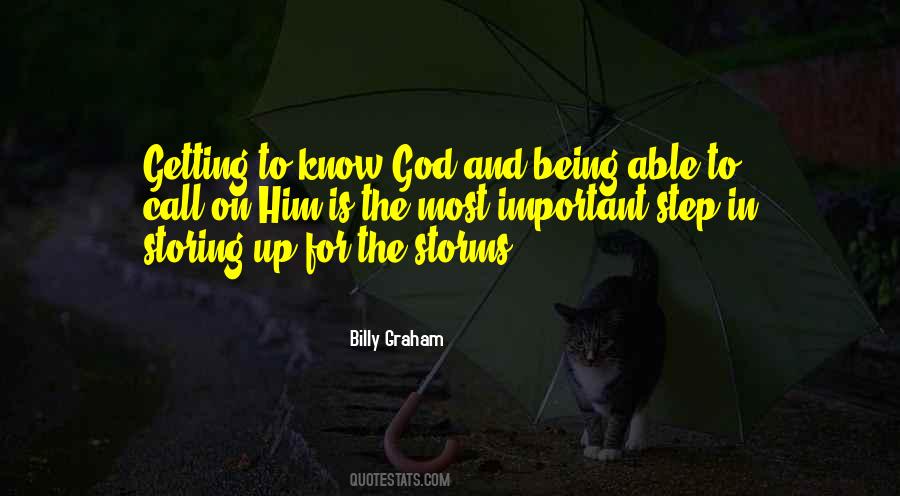 #26. God's great love and purposes for us are all worked out in messes in our kitchens and backyards, in storms and sins, blue skies, the daily work and dreams of our common lives. God works with us as we are and not as we should be or think we should be. - Author: Eugene H. Peterson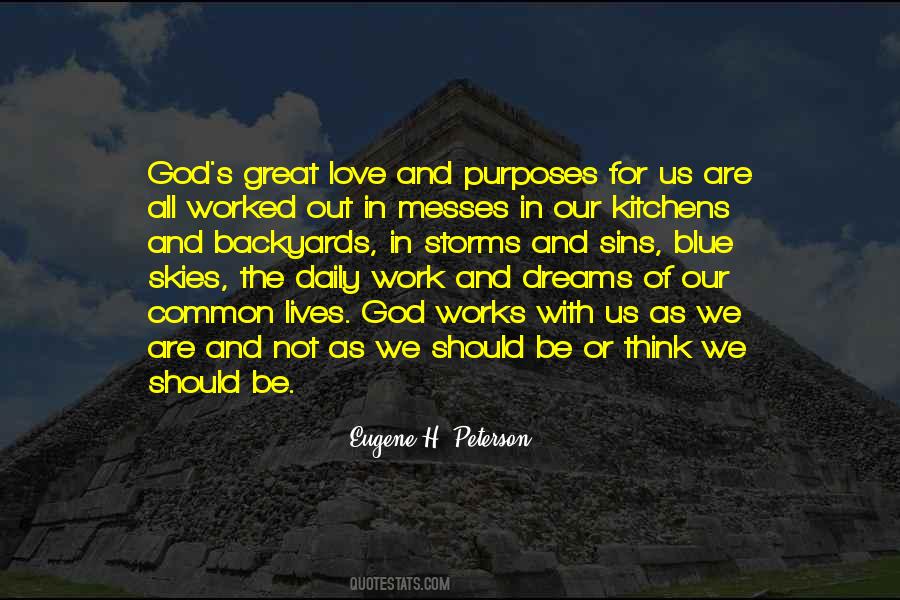 #27. If you learn to trust God when the sun is shining, it is easier to trust Him on the day when there are dark and lowering clouds in the sky and you are in one of life's storms. - Author: J. Vernon McGee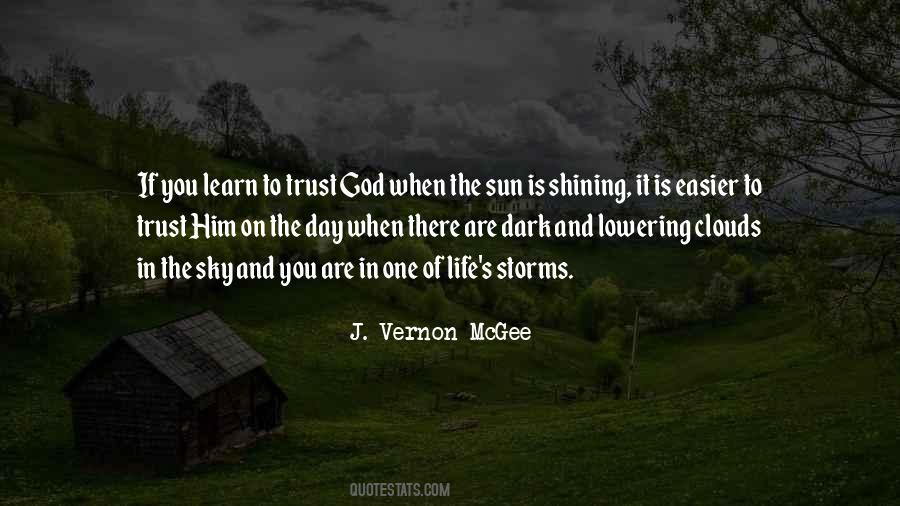 #28. To say that worship is either about glorifying God or finding personal satisfaction is to put asunder what God has joined together. His glory and your gladness are not separate tracks moving in opposite directions. Rather His glory is in your gladness in Him. - Author: Sam Storms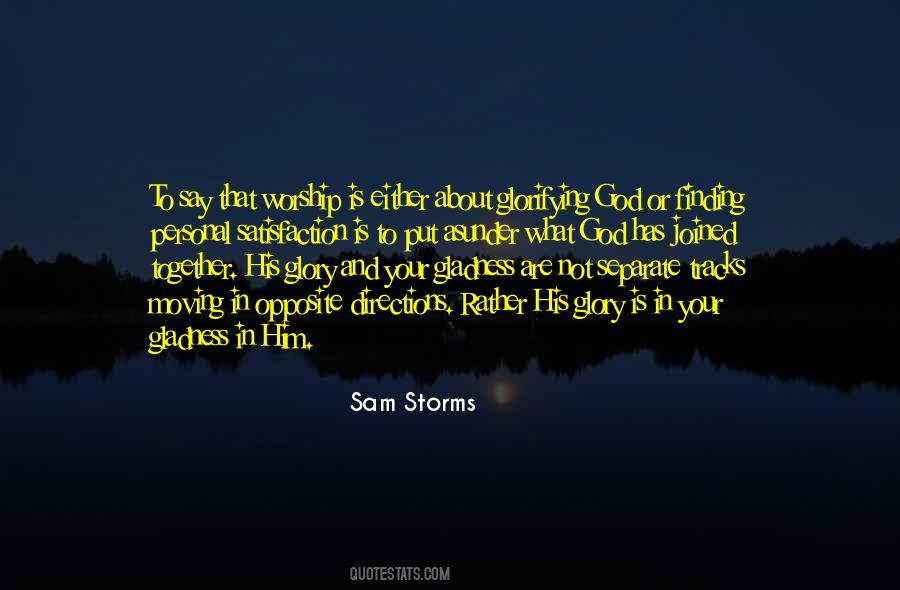 #29. Storms of every sort, torrents, earthquakes, cataclysms, 'convulsions of nature,' etc., however mysterious and lawless at first sight they may seem, are only harmonious notes in the song of creation, varied expressions of God's love. - Author: John Muir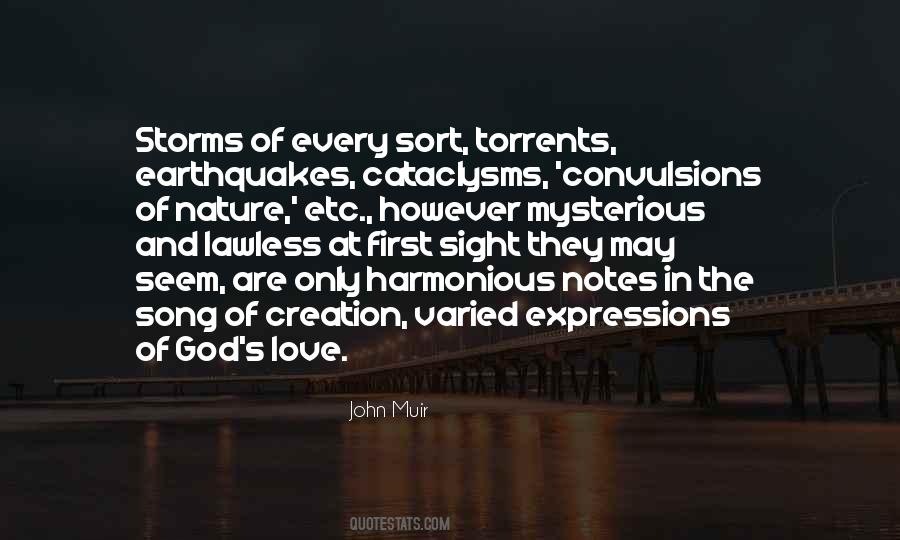 #30. Rejoice and thank God in the midst of your storms. For those people who have been through hell and back but continue to have smiles on their faces, they are the examples of God's grace and mercy - Author: Latorria Freeman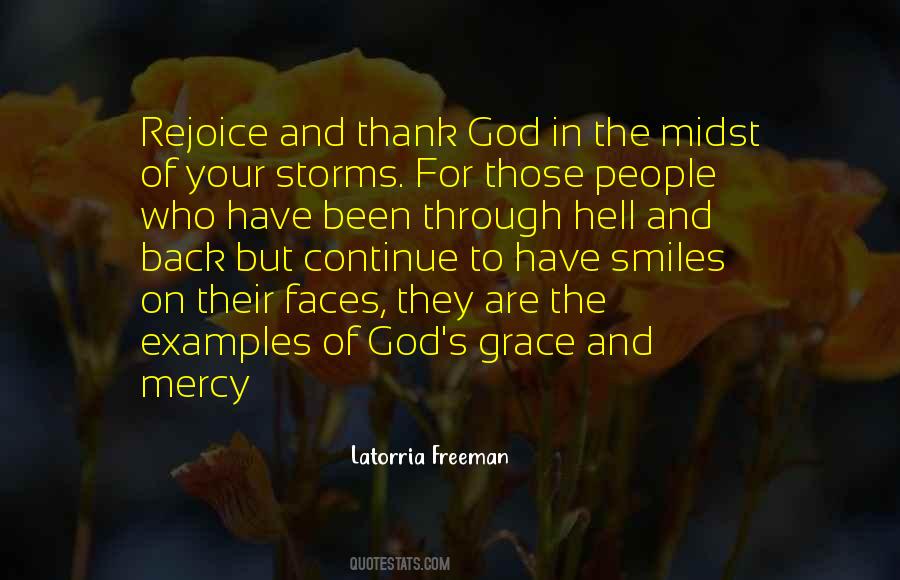 #31. Admitting the weighty problems and staggering disappointments, Christianity affirms that God is able to give us the power to meet them. He is able to give us inner equilibrium to stand tall amid the trials and burdens of life. He is able to provide inner peace amid our outer storms. - Author: Martin Luther King Jr.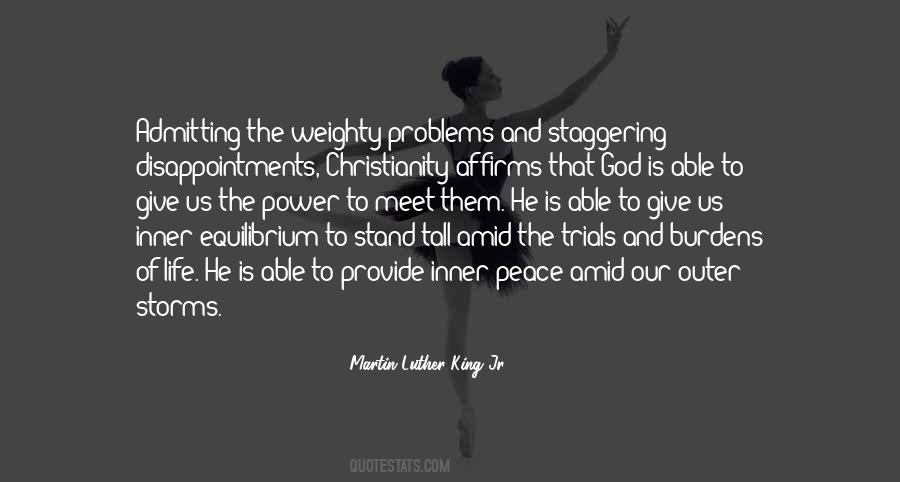 #32. Worshippers aren't made when they see the enemy on the run, put to flight. The truth is, worshippers of God are made during dark, stormy nights. And how we respond to our storms determines just what kind of worshippers we are. - Author: David Wilkerson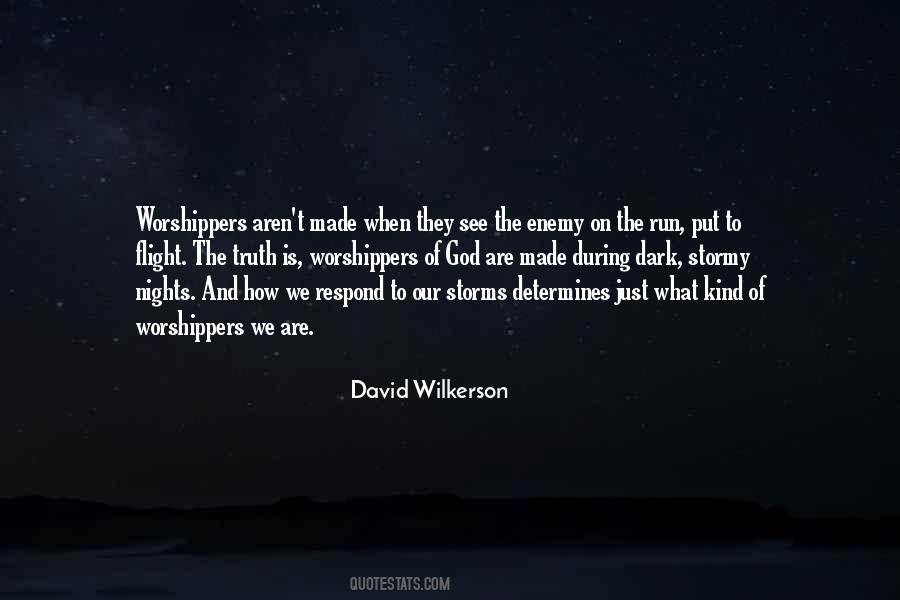 #33. She persisted when I resisted. And thank God for that. Because the number of storms I needed to go through before appreciating the way the wind whipped through her hair was one to many. Now, I'd move mountains to make her mine. Rain or shine. - Author: J. Raymond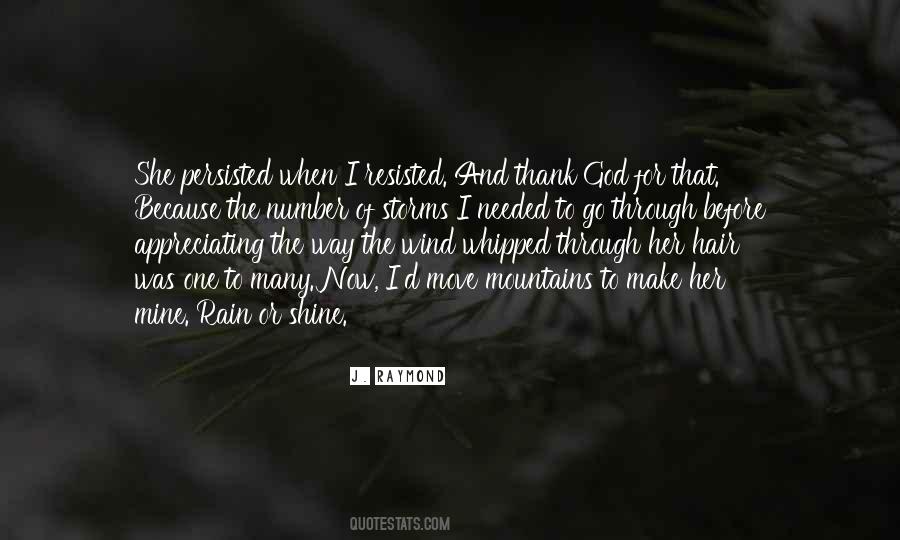 #34. There are some things we learn on stormy seas that we never learn on calm smooth waters. The "God of the Storm" has something to teach us, and His love always drives His actions. - Author: Danny L. Deaube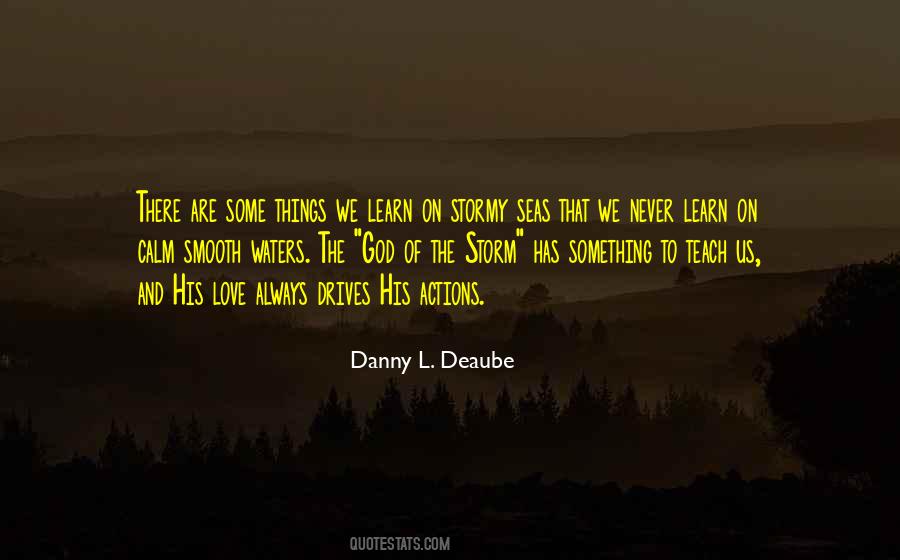 #35. I meant peace. That's what it feels like. God's peace showering down on us. And it's not because we haven't seen storms. I think it's because he gave us the strength to weather them - no matter what. - Author: Kristy Cambron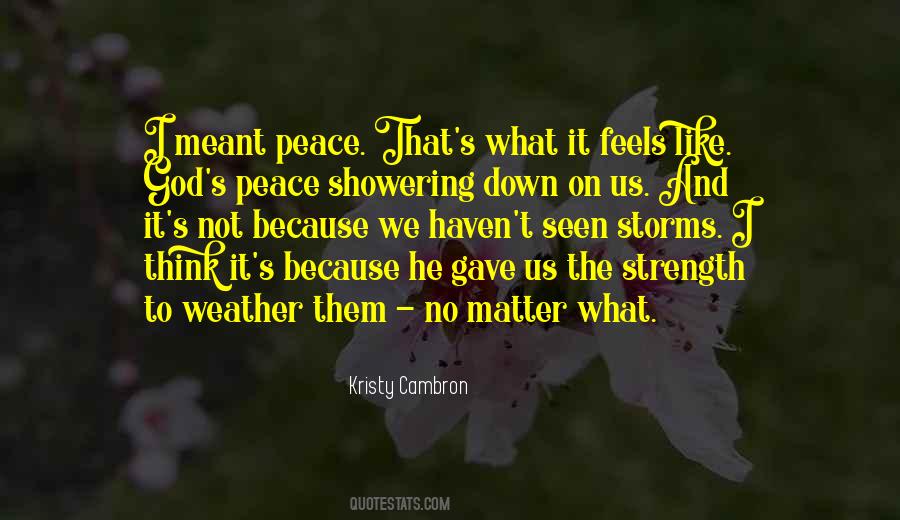 #36. God limits the happiness and pleasure we have now precisely so we might not become attached to this world or dependent upon it or fearful of leaving it (dying), as well as to stir in our hearts a longing and yearning and holy anticipation for what is yet to come. - Author: Sam Storms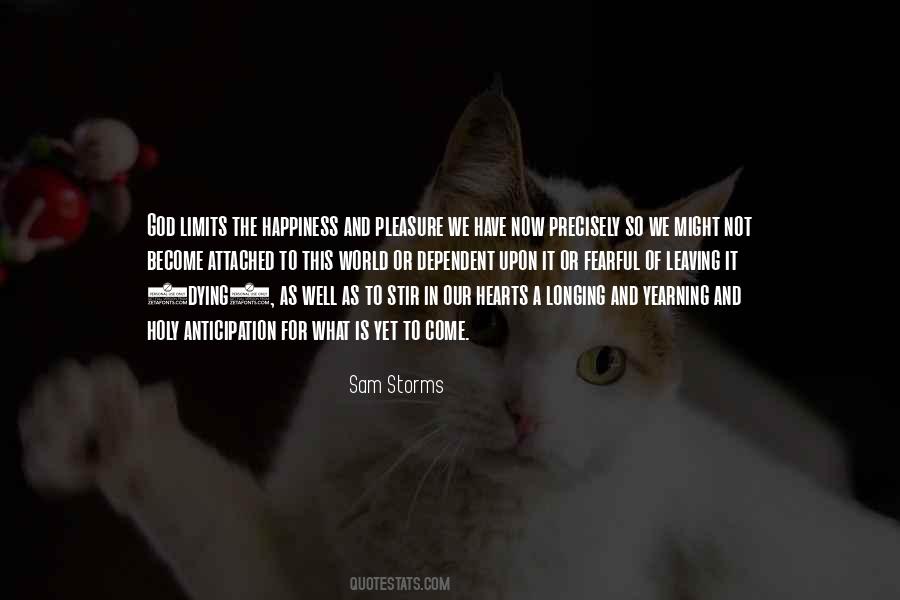 #37. God is most glorified in us when our knowledge and experience of Him ignite a forest fire of joy that consumes all competing pleasures and He alone becomes the treasure that we prize. - Author: Sam Storms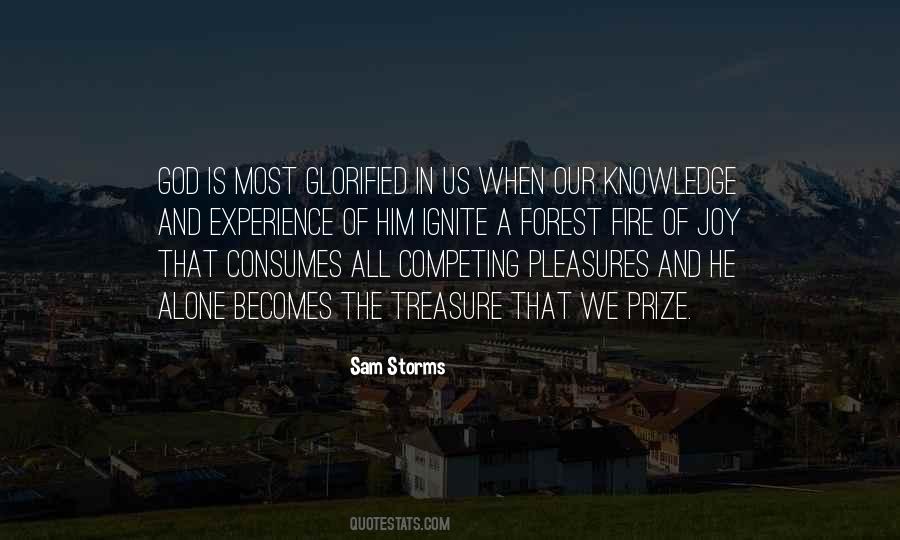 #38. God thank you for everything you've given us. For the time we have together. And for the miracle of Christmas. Thank you for the Atonement, the chance to start all over again. Help us to always remember who we are and to trust that we are worthy to make it through our storms. Amen> - Author: Glenn Beck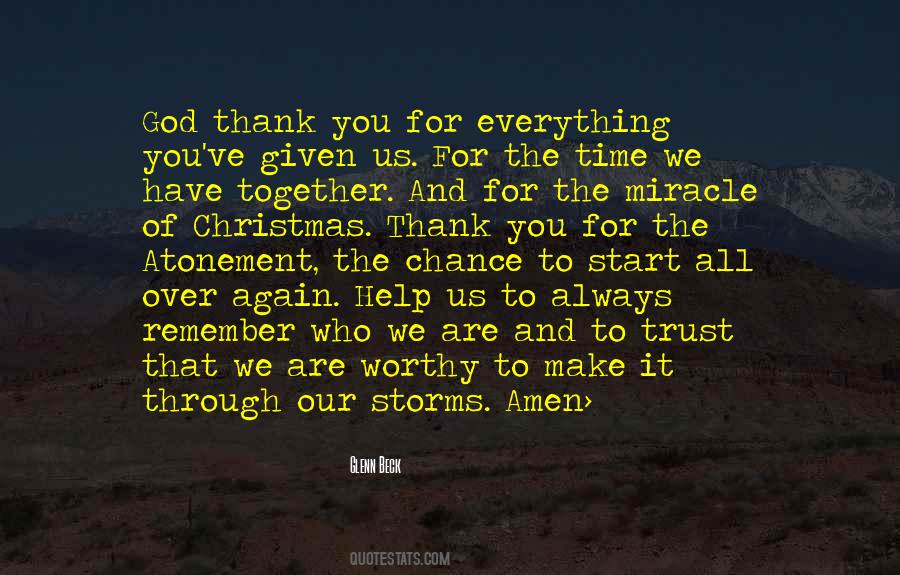 #39. At times it may feel as if we are helpless to what happens to us, and that things happen without rhyme or reason. Rest assured that no matter how choppy the sea gets or how the wind blows, Jesus is on the boat. - Author: Tiffany L. Jackson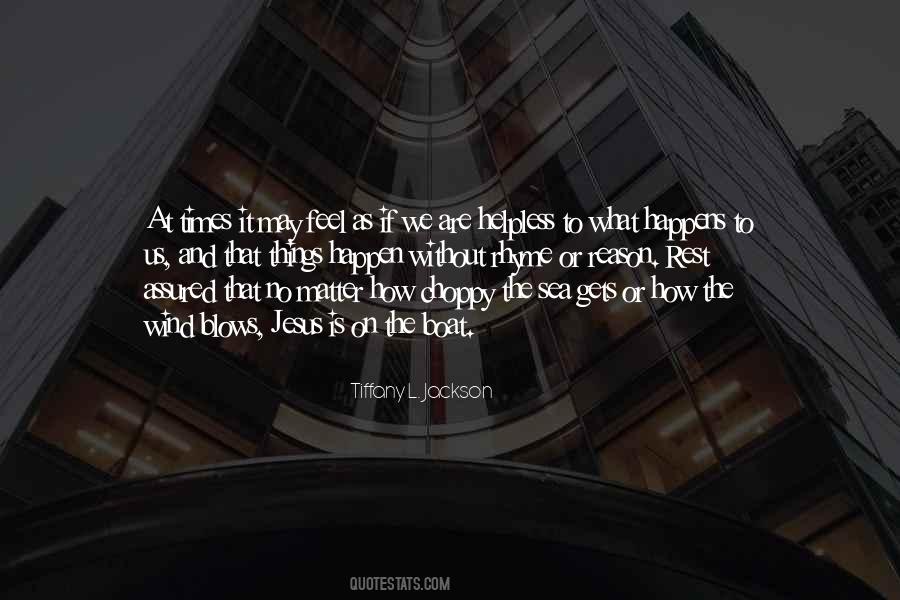 #40. We live in a world that is beyond our control, and life is in a constant flux of change. So we have a decision to make: keep trying to control a storm that is not going to go away or start learning how to live within the rain. - Author: Glenn Pemberton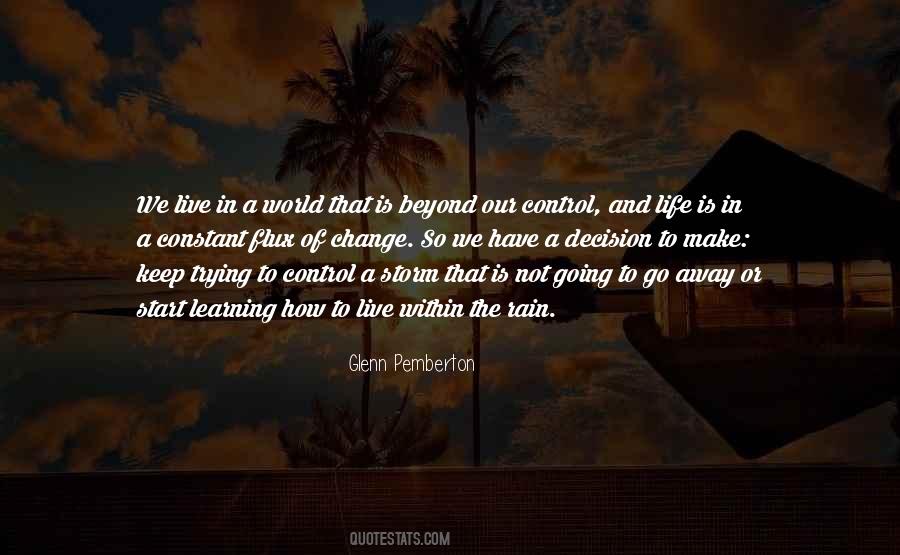 #41. Did you never run for shelter in a storm, and find fruit which you expected not? Did you never go to God for safeguard, driven by outward storms, and there find unexpected fruit? - Author: John Owen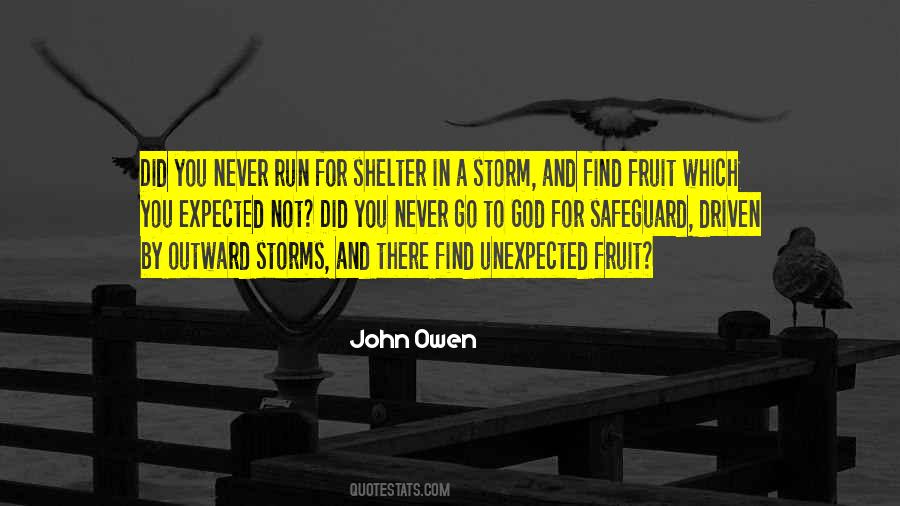 #42. Only internal bliss is perpetual, nothing else is created to last. That's why God lives within us and all storms pass - Author: Carl Henegan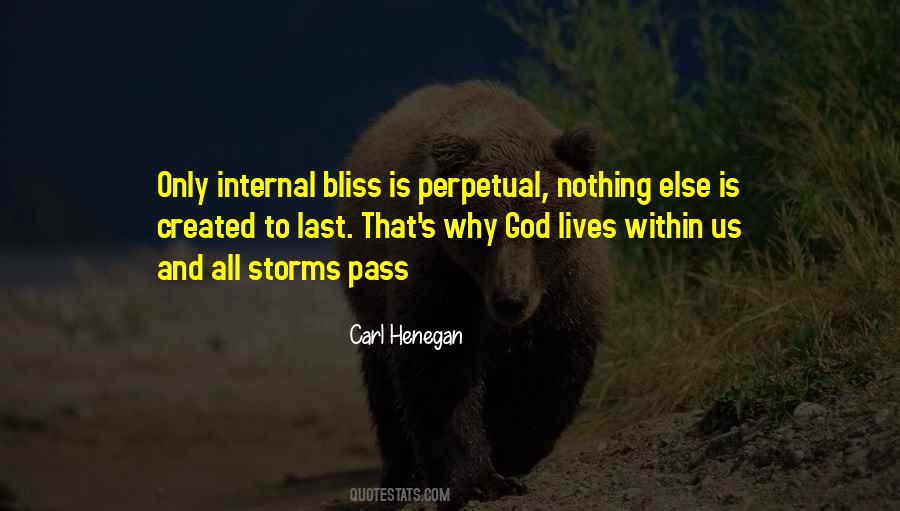 #43. Ah, believer, it is only Heaven that is above all winds, storms, and tempests; God did not cast man out of Paradise that he might find another paradise in this world. - Author: Thomas Brooks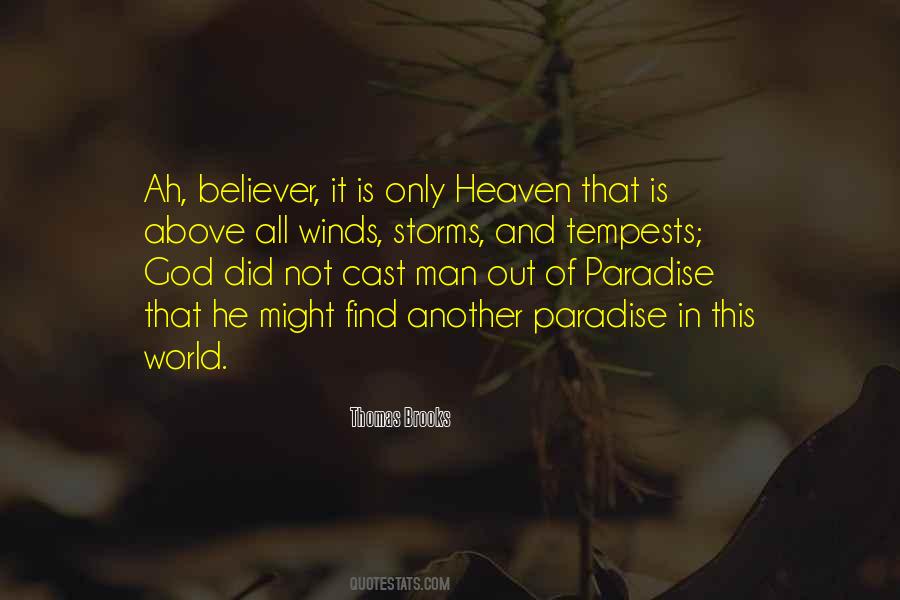 #44. The grace and blessing of God is sufficient to carry us through the storms of life. With persistence and determination, victory awaits us at end of the journey. - Author: Lailah Gifty Akita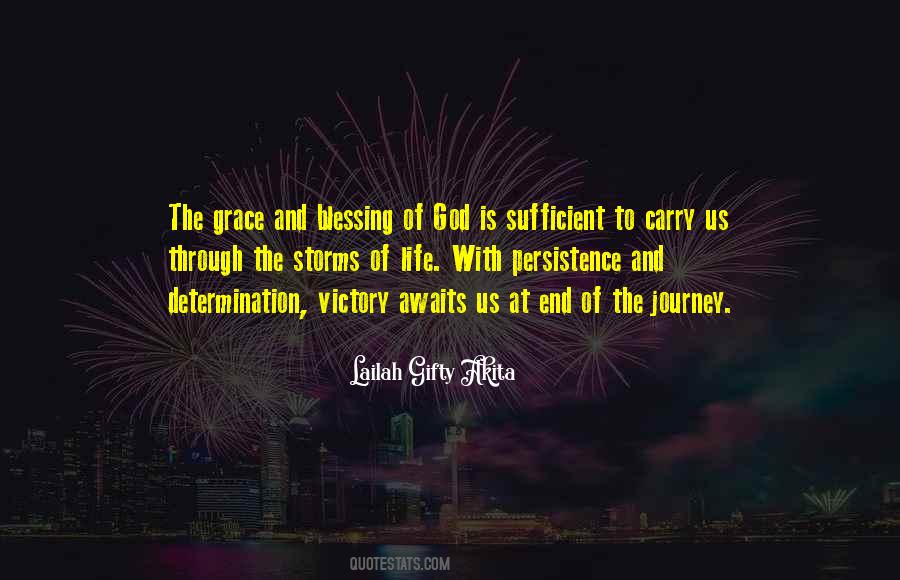 #45. God looked down on this country because this country was founded on the rock and that rock was our Lord and Savior Jesus Christ. And when the storms came and the rains came, the rock, it did not move. But over the last 15 or 20 years, something began to erode. - Author: Bob Riley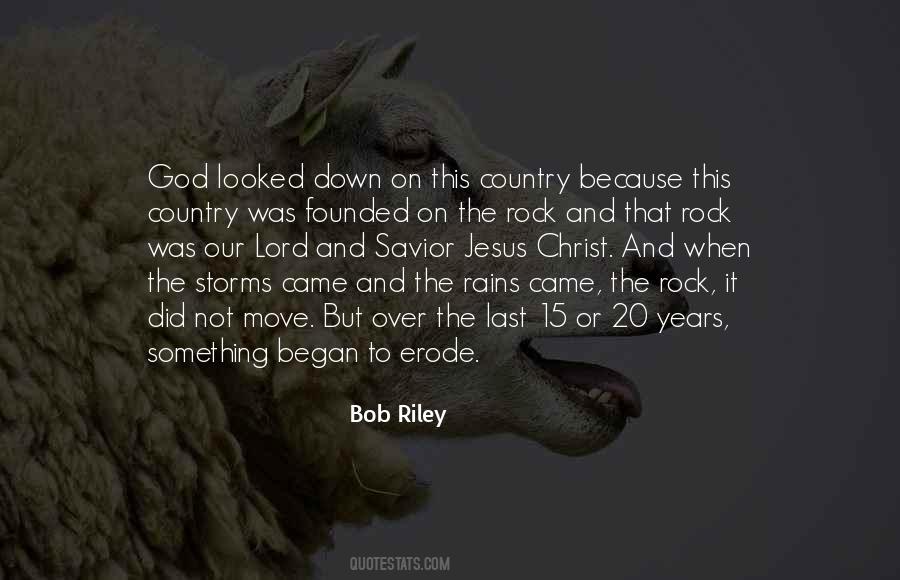 #46. God will shout during your storms, whisper during your sunshine and sing during the rarest rainbows you will encounter. - Author: Shannon L. Alder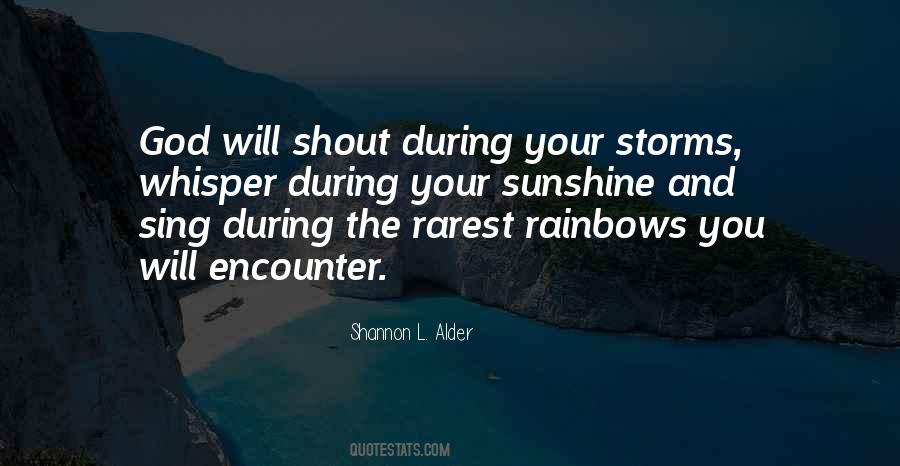 #47. How often do we look upon God as our last and feeblest resource! We
go to Him because we have nowhere else to go. And when we learn that
the storms of life have not driven us upon the rocks but into the
desired heaven. - Author: George MacDonald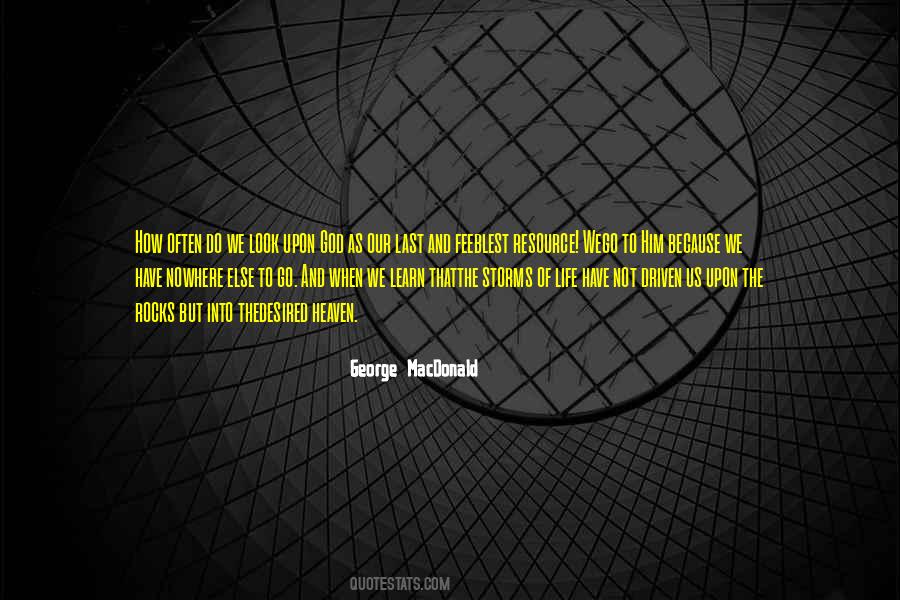 Famous Authors
Popular Topics