Spring And Summer Famous Quotes & Sayings
List of top 100 famous quotes and sayings about spring and summer to read and share with friends on your Facebook, Twitter, blogs.
Top 100 Quotes About Spring And Summer
#1. Withstanding the cold develops vigor for the relaxing days of spring and summer. Besides, in this matter as in many others, it is evident that nature abhors a quitter. - Author: Arthur C. Crandall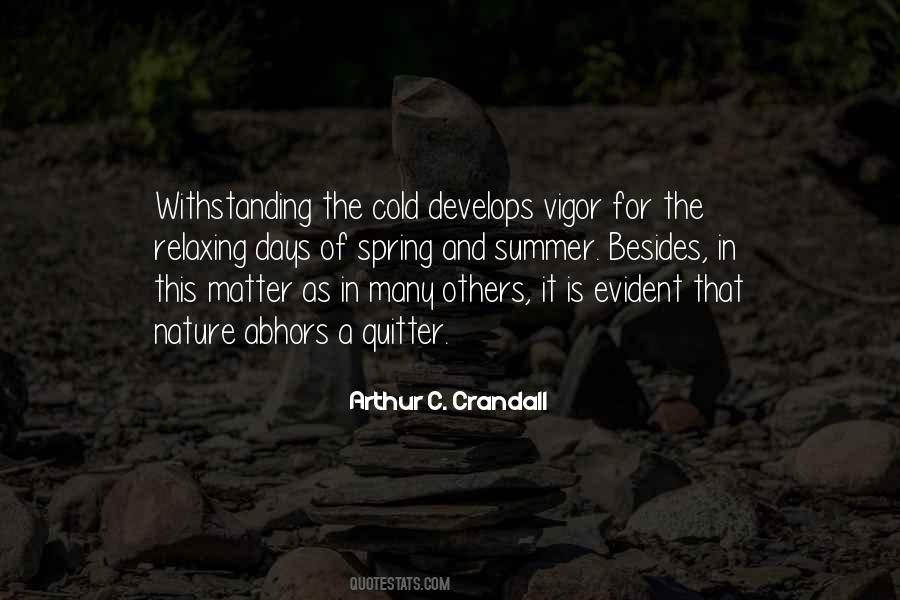 #2. It's fall coming, I kept thinking, fall coming; just like that was the strangest thing ever happened. Fall. Right outside here it was spring a while back, then it was summer, and now it's fall-that's sure a curious idea. - Author: Ken Kesey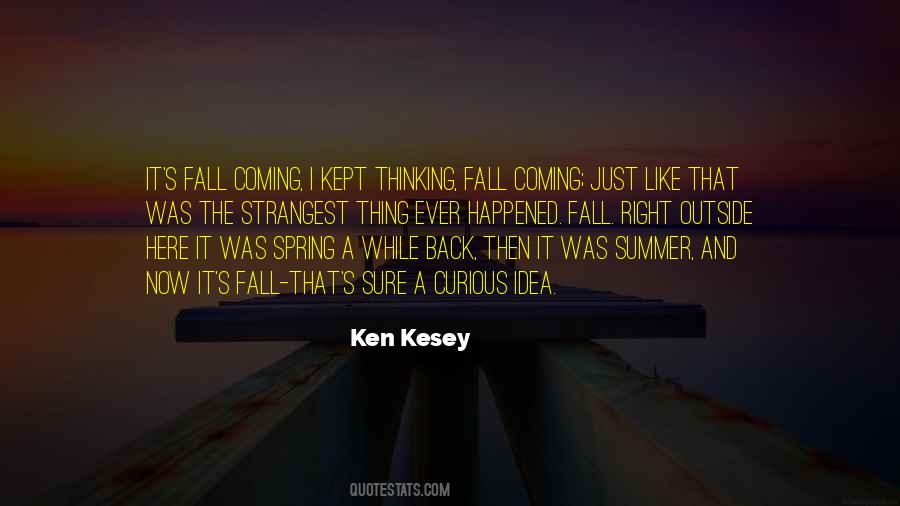 #3. Solitary converse with nature; for thence are ejaculated sweet and dreadful words never uttered in libraries. Ah! the spring days, the summer dawns, and October woods! - Author: Ralph Waldo Emerson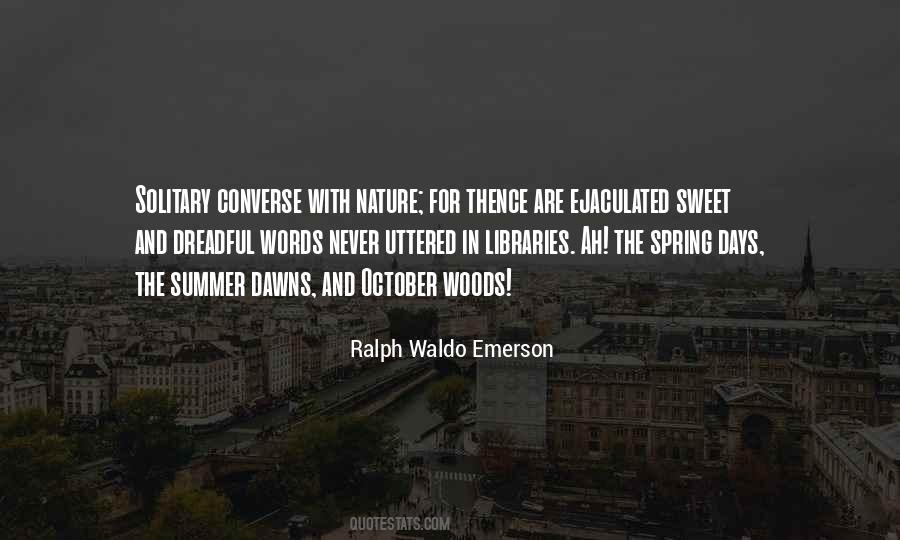 #4. Some people plant in the spring and leave in the summer. If you're signed up for a season, see it through. You don't have to stay forever, but at least stay until you see it through. - Author: Jim Rohn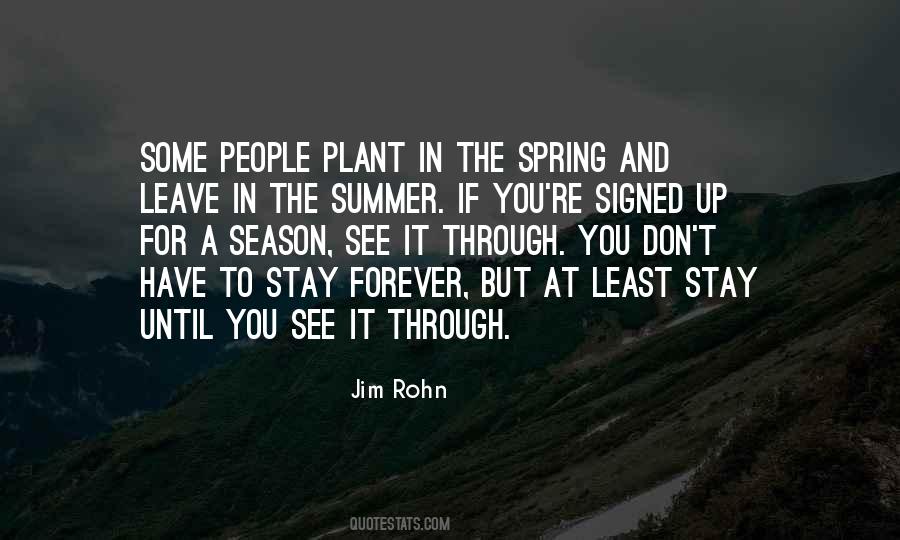 #5. My closet is pretty organized, I'm proud to say. It's set up by type of clothes and then by color. And then, of course, there's the rotating from spring/summer to fall/winter. - Author: Behati Prinsloo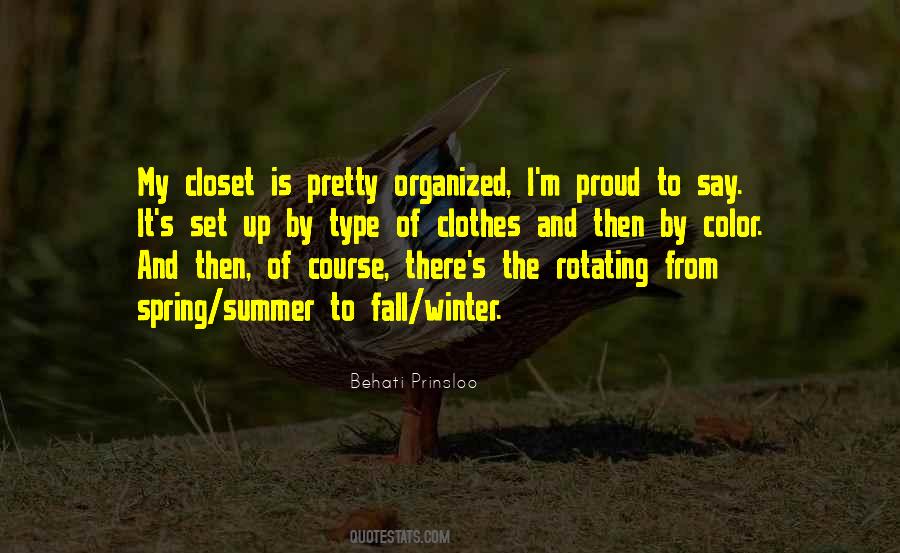 #6. The day is an epitome of the year. The night is the winter, the morning and evening are the spring and fall, and the noon is the summer. - Author: Henry David Thoreau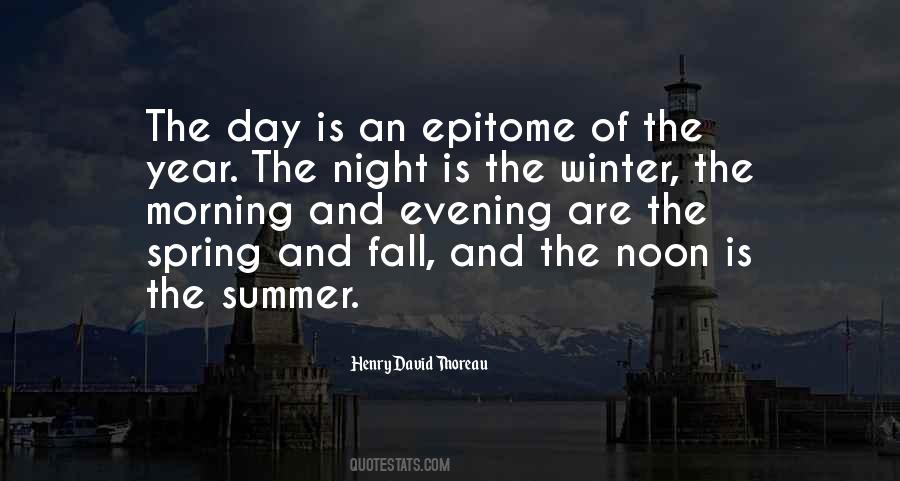 #7. Green is the soul of Spring. Summer may be dappled with yellow, Autumn with orange and Winter with white but Spring is drenched with the colour green. - Author: Paul F. Kortepeter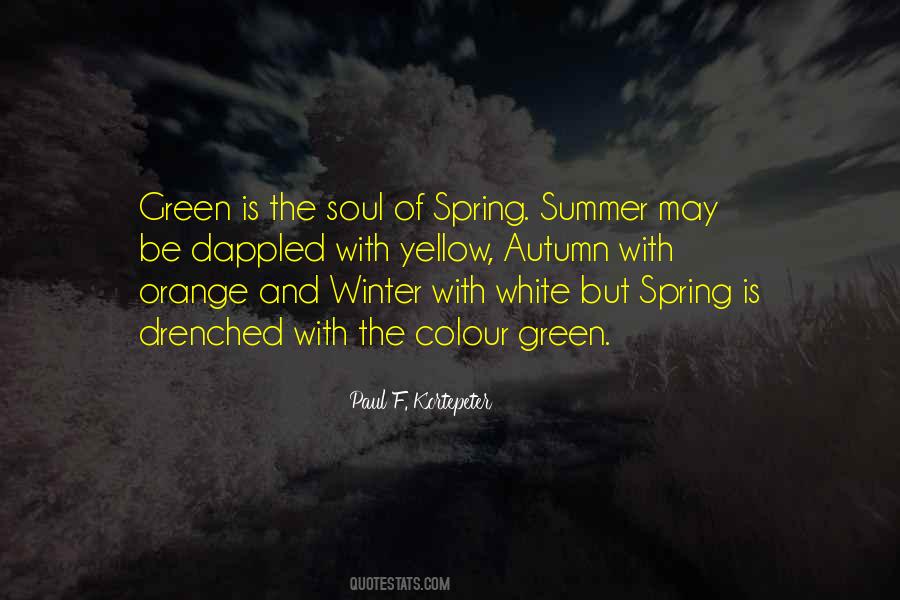 #8. The seasons split at the seams: spring, summer, fall and winter. I've always pictured them as giant sacks filled with air and color and smell. When it's time for one season to be over, the next seasons splits open and pours over the world, drowning its tired and waning predecessor with its strength. - Author: Tarryn Fisher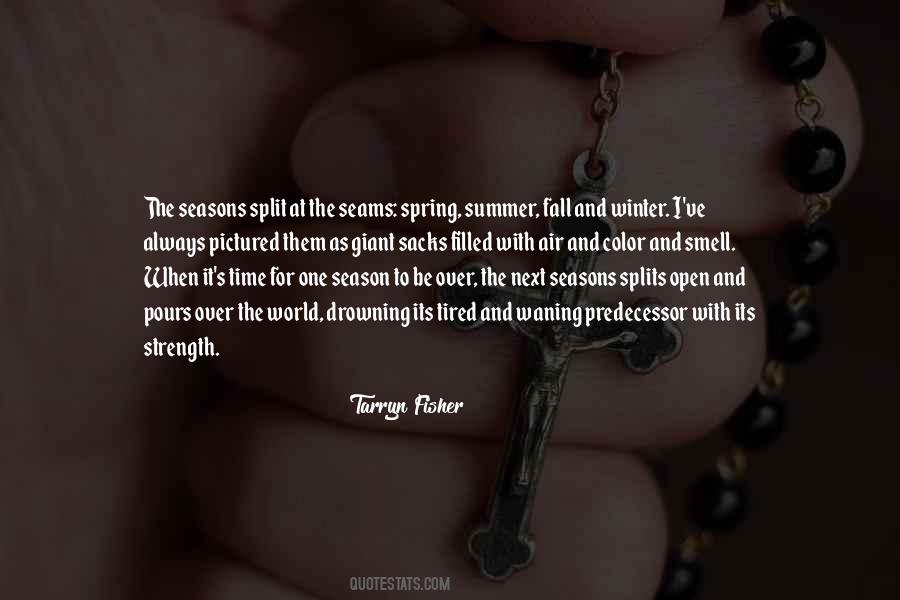 #9. Most volleyball players are made in the winter, spring and summer, for come fall, everyone practices equal time. - Author: John Kessel
#10. I loved you when love was Spring, and May, Loved you when summer deepened into June, and now when autumn yellows all the leaves ... - Author: Vita Sackville-West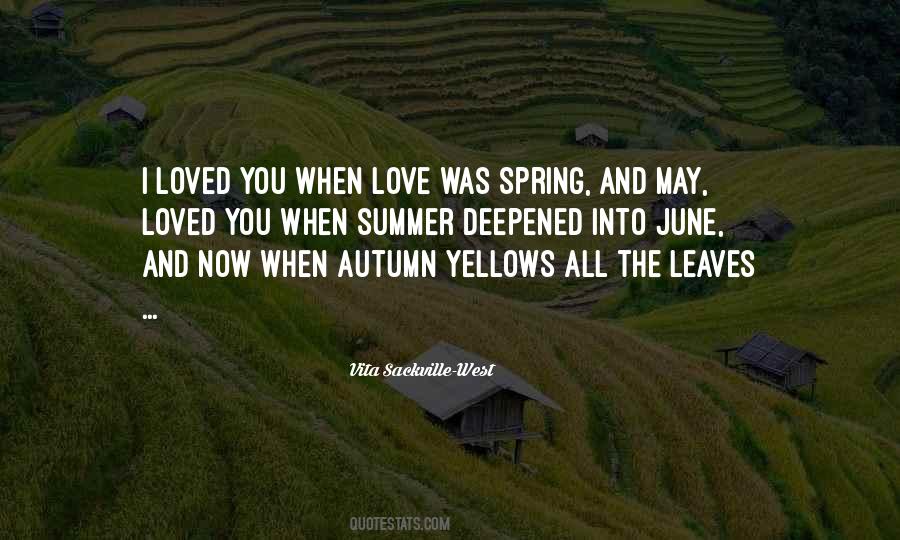 #11. In this part of California, there is no fall or spring. Summer drops right into winter, into summer, back and forth. Our idea of autumn is October, where the leaves rapidly go from green to gold to on-the-ground, and it's suddenly freezing. - Author: Kelley York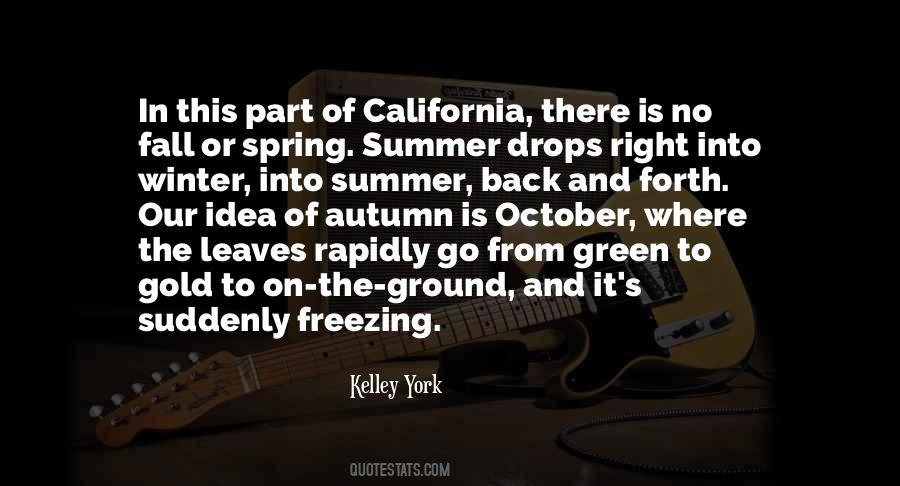 #12. Well I've been locking myself up in my house for some time now Reading and writing and reading and thinking and searching for reasons and missing the seasons The Autumn, the Spring, the Summer, the snow - Author: Colleen Hoover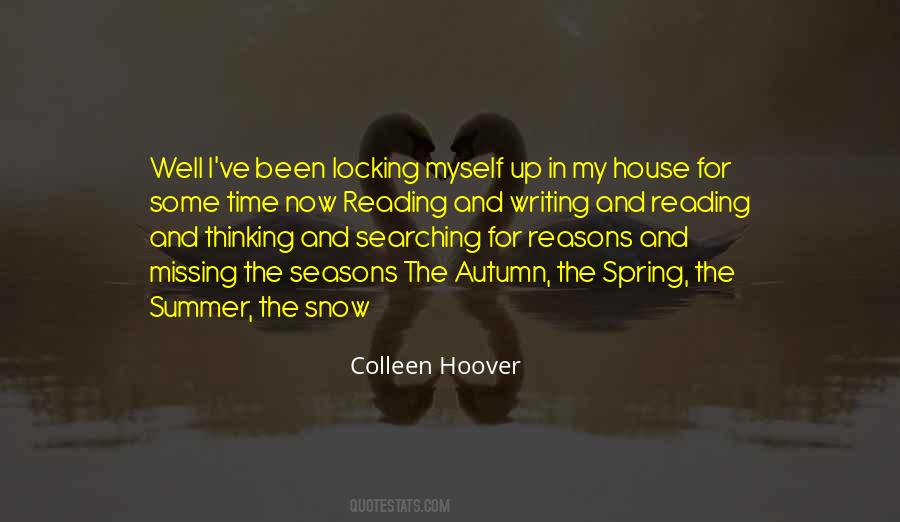 #13. In lang, lang days o' simmer,
When the clear and cloudless sky
Refuses ae weep drap o' rain
To Nature parched and dry,
The genial night, wi' balmy breath,
Gars verdue, spring anew,
An' ilka blade o' grass
Keps its ain drap o' dew. - Author: James Ballantine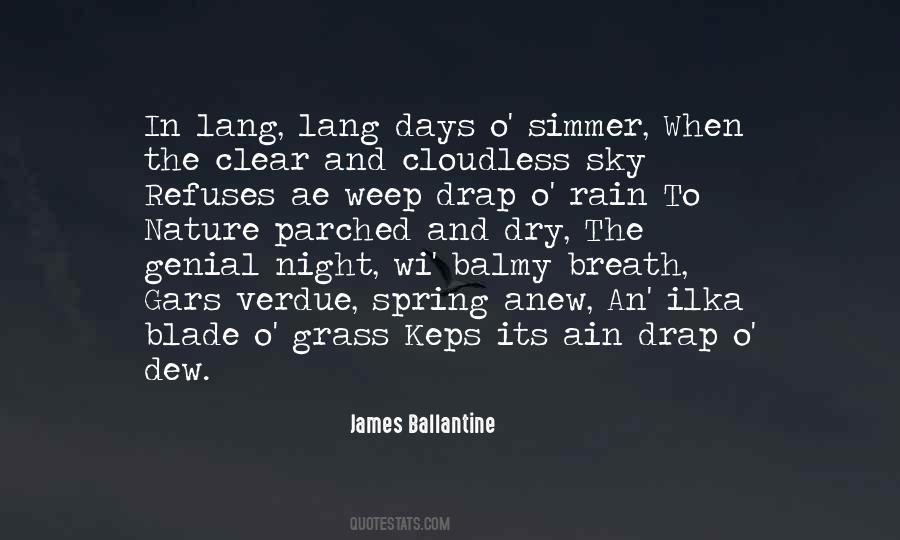 #14. There is no season such delight can bring, as summer, autumn, winter and the spring. - Author: William Browne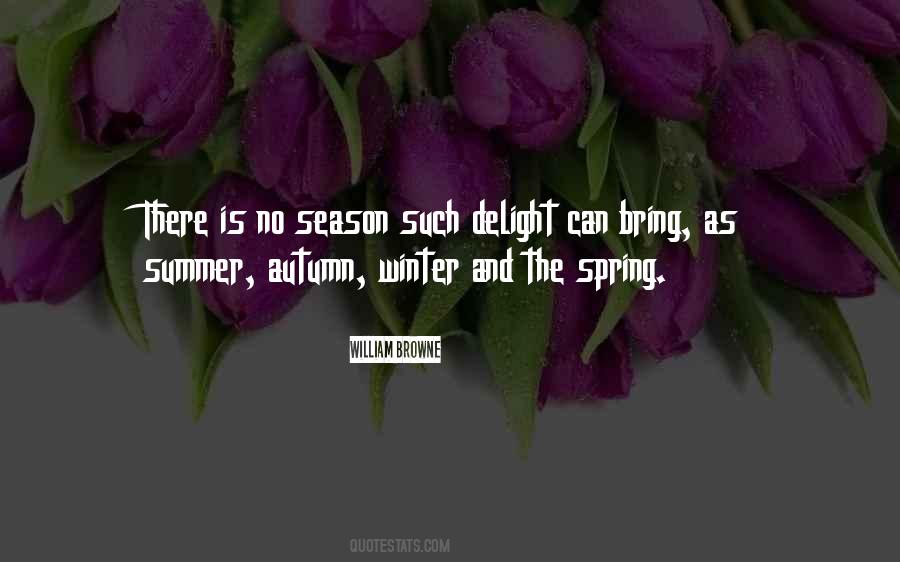 #15. Winter, spring, summer, or fall, all you gotta do is call, and I'll be there, 'cause you've got a friend. - Author: James Taylor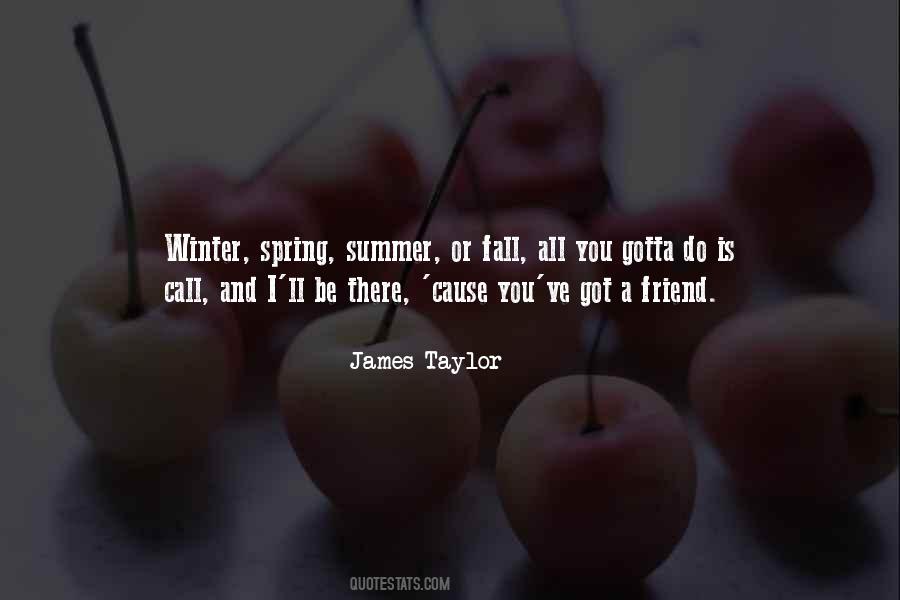 #16. All that comes to pass is as familiar and well known as the rose in spring, and the grape in summer. Of like fashion are sickness, death, calumny, intrigue, and all that gladdens or saddens the foolish. - Author: Marcus Aurelius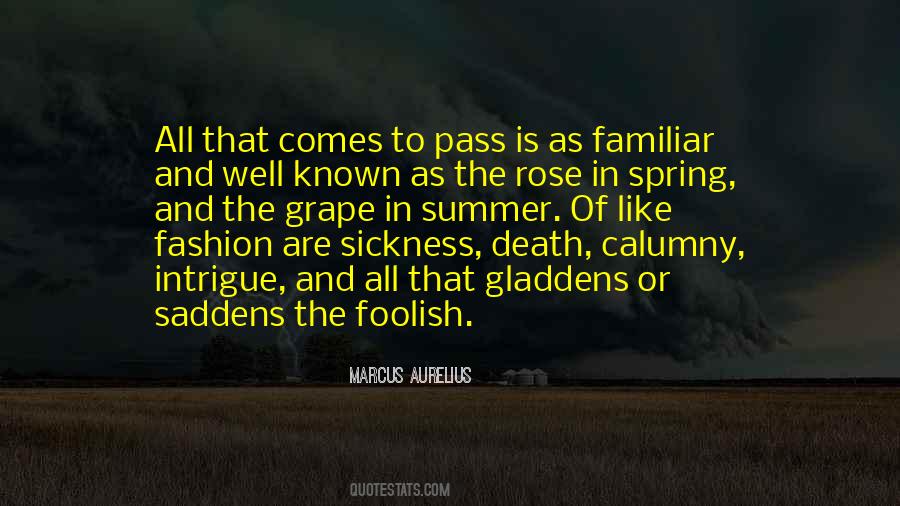 #17. There ain't no time to be wasted, the world is going under ...
Nowadays, can't tell Fall from Spring, and Winter from Summer. - Author: Big K.R.I.T.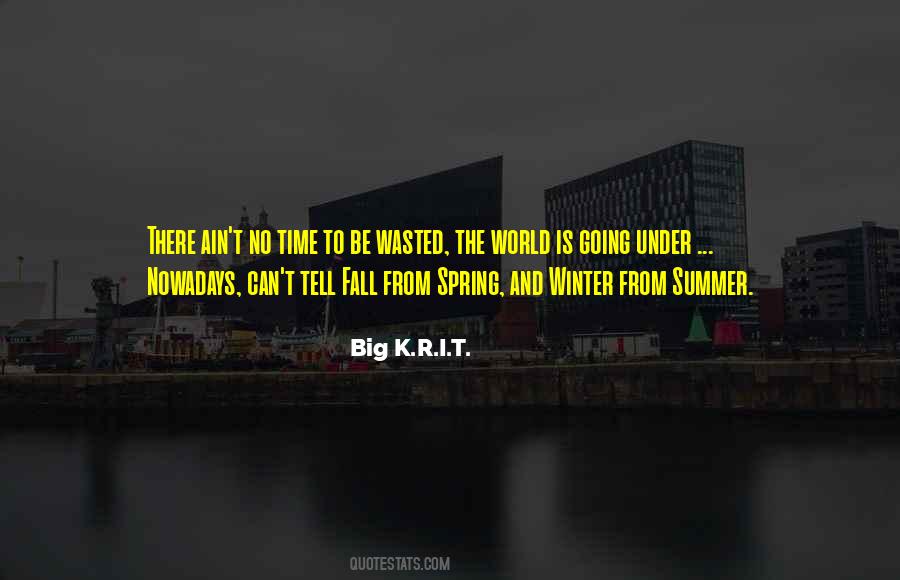 #18. In the summer, it's short greens and tall greens and sometimes a smudge of other colors. In winter, it's squinty white,and sometimes deep when it looks flat. In early spring and late fall, the town gets brown and black, like an old photograph. - Author: Blue Balliett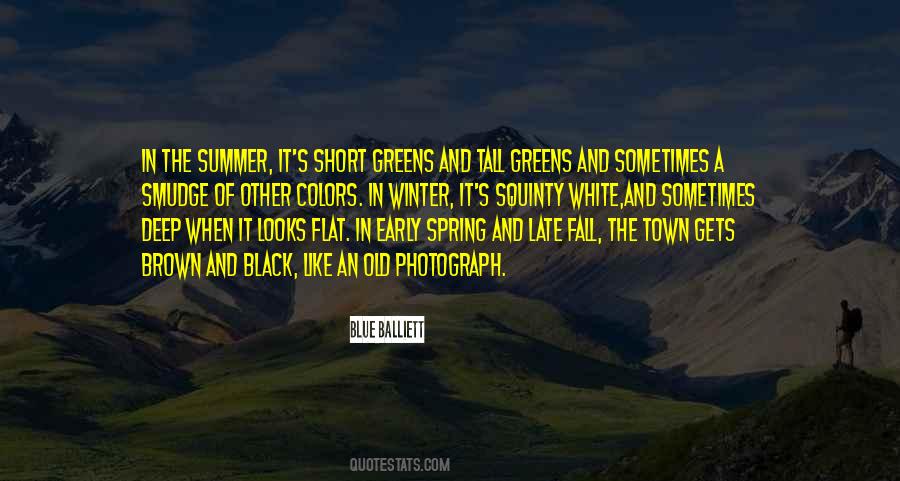 #19. Summer
The seasons between spring and autumn, comprising in the Northern Hemisphere
the warmest months of the year: June, July and August.

The period of finest development, perfection, or beauty previous to any decline; the summer of life. - Author: Cecelia Ahern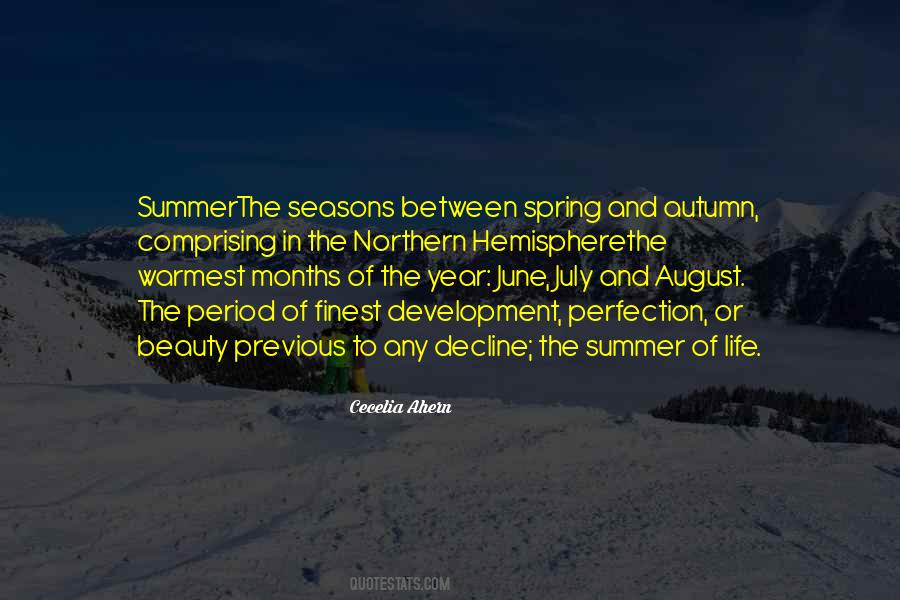 #20. He'd fill every moment with the seasons he'd found in his heart: hopes like birds on a spring branch; happiness like a warm summer sun; magic like the rising mists of autumn. And best of all, love; love enough for a thousand Christmases. - Author: Clive Barker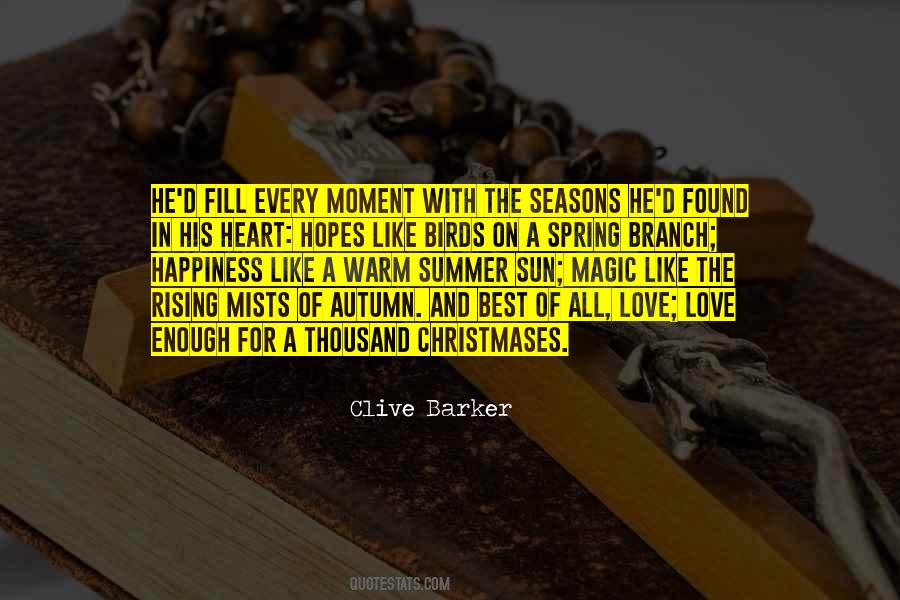 #21. In spring they lie flat at the first warmth, they ruin my summer and in autumn they smell of women. - Author: Hugo Claus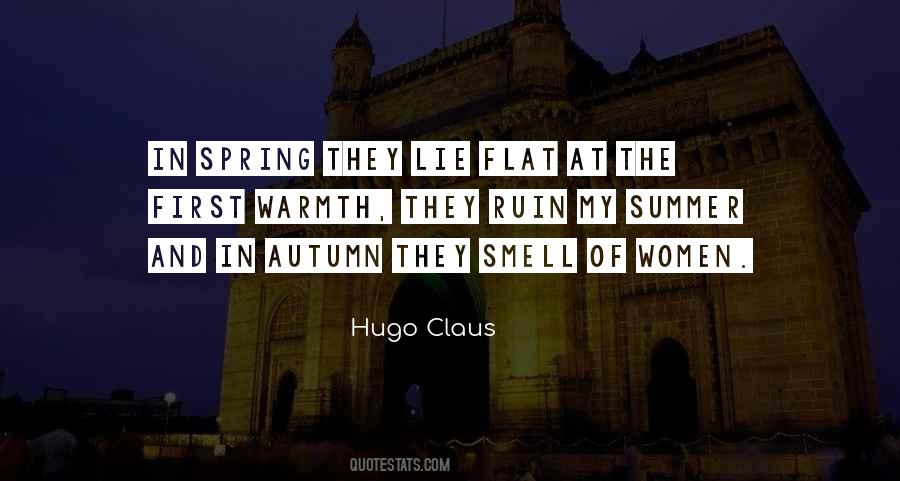 #22. Now I realize that the trees blossom in Spring and bear fruit in Summer without seeking praise; and they drop their leaves in Autumn and become naked in Winter without fearing blame. - Author: Khalil Gibran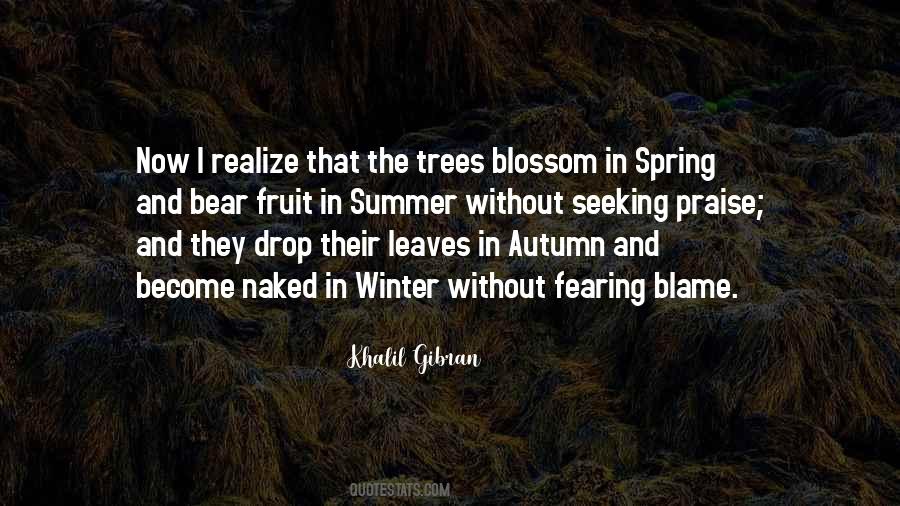 #23. Like a tree which does not hurry the flow of its sap and stands at ease in the spring gales without fearing that no summer may follow. - Author: Rainer Maria Rilke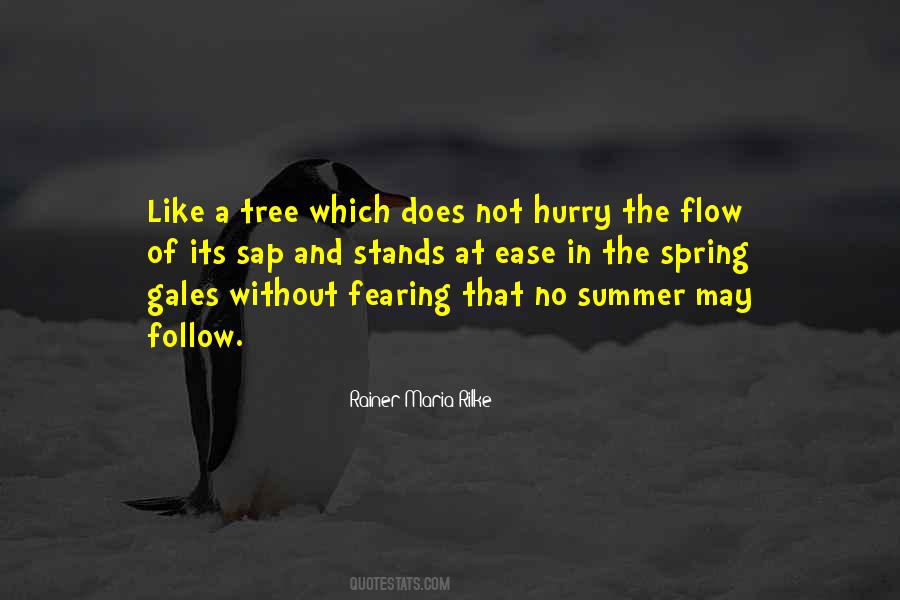 #24. O, Winter! Put away thy snowy pride;
O, Spring! Neglect the cowslip and the bell;
O, Summer! Throw thy pears and plums aside;
O, Autumn! Bid the grape with poison swell. - Author: Thomas Chatterton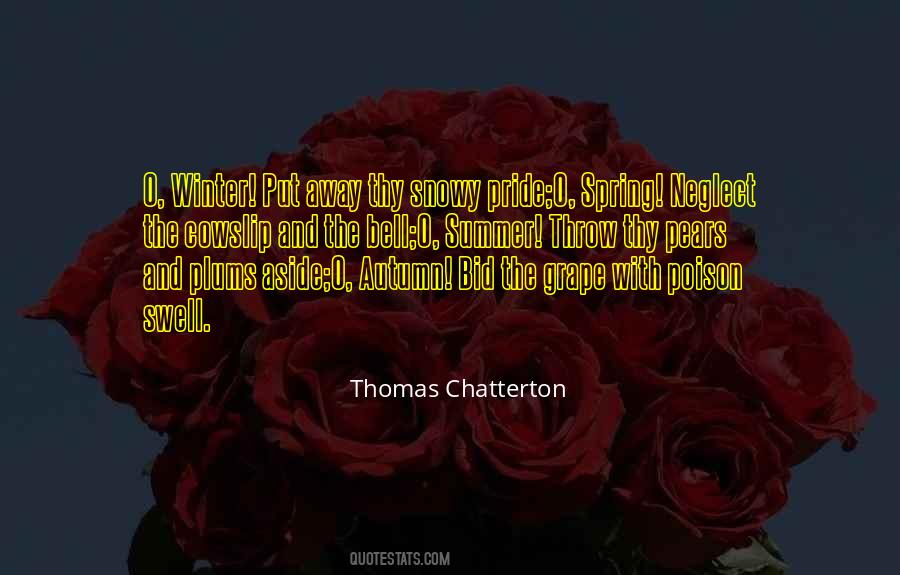 #25. Winter is an etching, spring a watercolor, summer an oil painting and autumn a mosaic of them all. - Author: Stanley H. Horowitz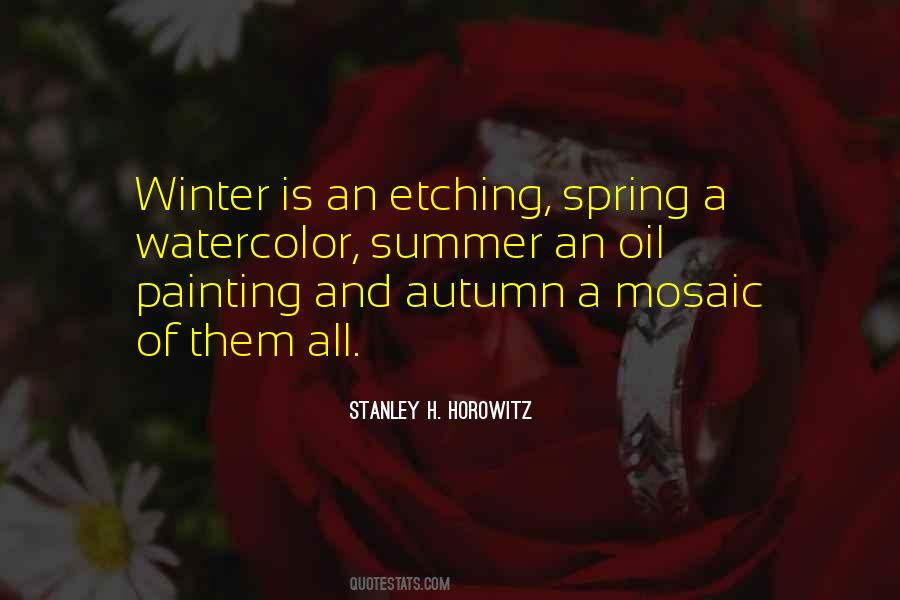 #26. Spring had let go of Winter's hand and was reaching out to Summer - Author: Michael J. Sullivan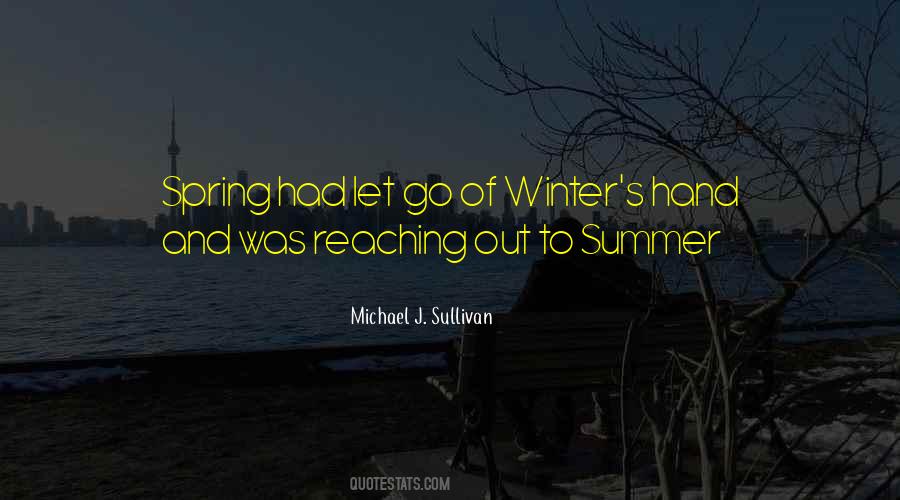 #27. Autumn to winter, winter into spring, Spring into summer, summer into fall,
So rolls the changing year, and so we change; Motion so swift, we know not that we move. - Author: Dinah Maria Murlock Craik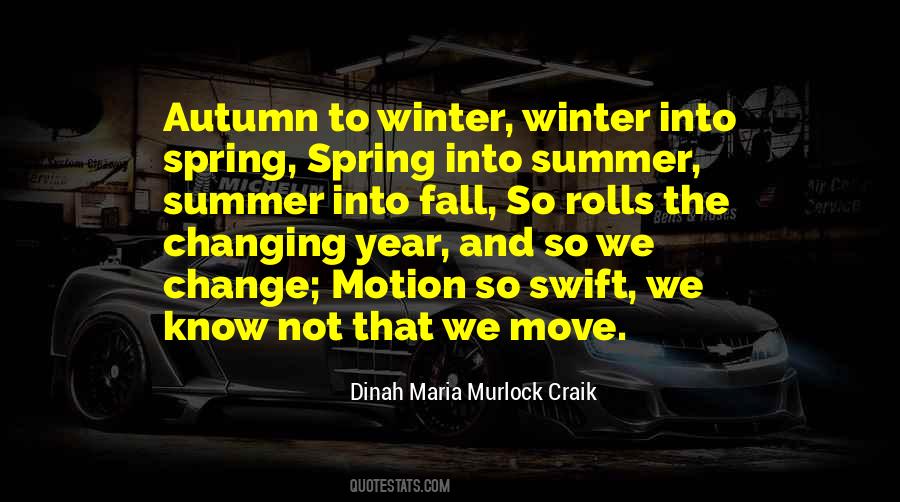 #28. The flowers of Spring may wither, the hope of Summer fade, The Autumn droop in Winter, the birds forsake the shade; The winds be lull'd - the Sun and Moon forget their old decree, But we in Nature's latest hour, O Lord! will cling to Thee. - Author: Reginald Heber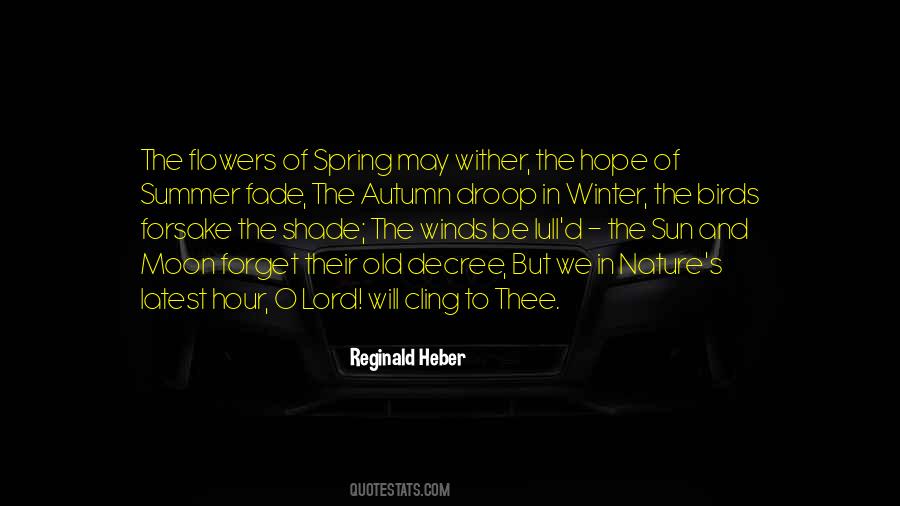 #29. T'was Spring, t'was Summer, all was gay Now Autumn bears a cloud brow The flowers of Spring are swept way And Summer fruits desert the bough - Author: Thomas Gray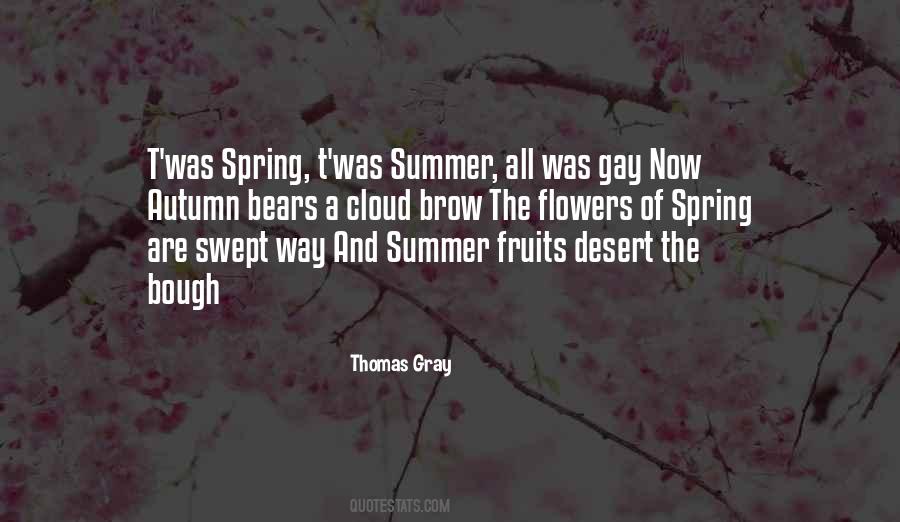 #30. I pray that the life of this spring and summer may ever lie fair in my memory. - Author: Henry David Thoreau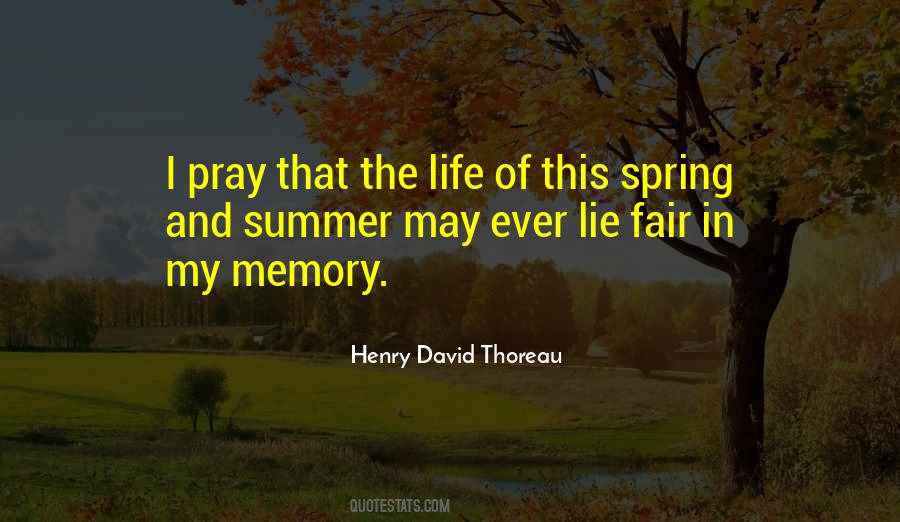 #31. Spring is the time of year when it is summer in the sun and winter in the shade. - Author: Charles Dickens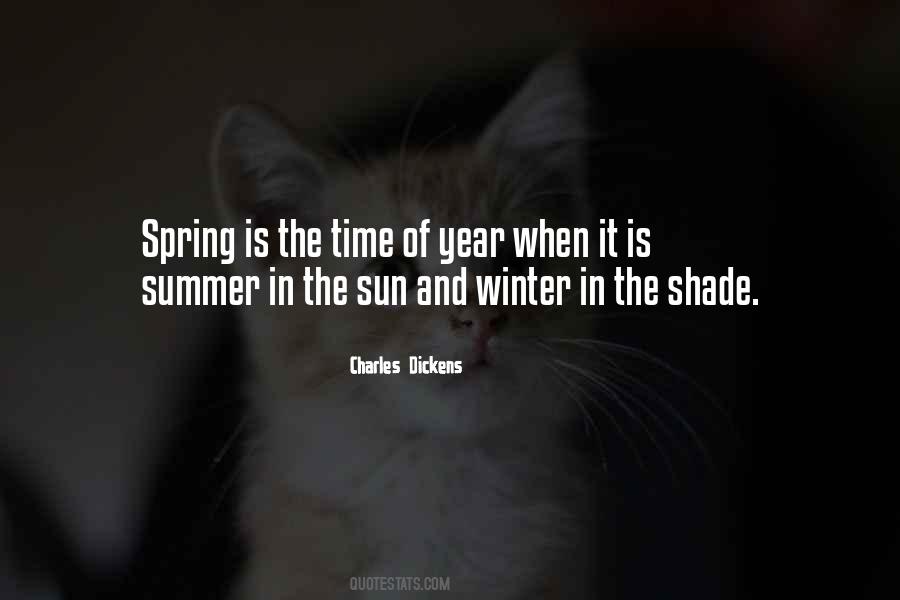 #32. Los Angeles has no seasons, so it's kind of hard to keep track of time here. The lines between spring, summer, fall, and winter all blur like my vision. I get stuck on repeat for different measures of eternity. - Author: Kris Kidd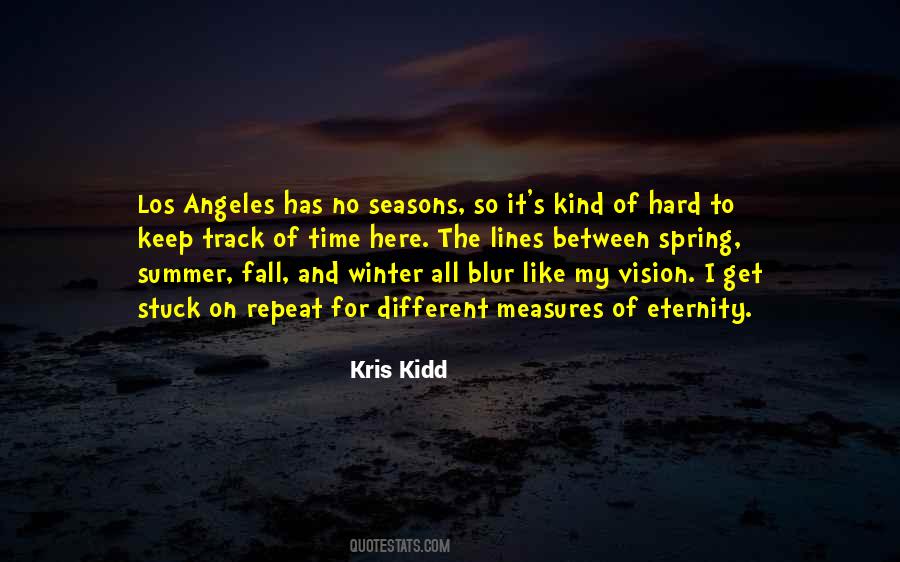 #33. Every spring he vowed to quit teaching school, and every summer he missed his pupils and searched for them on the streets. - Author: Annie Dillard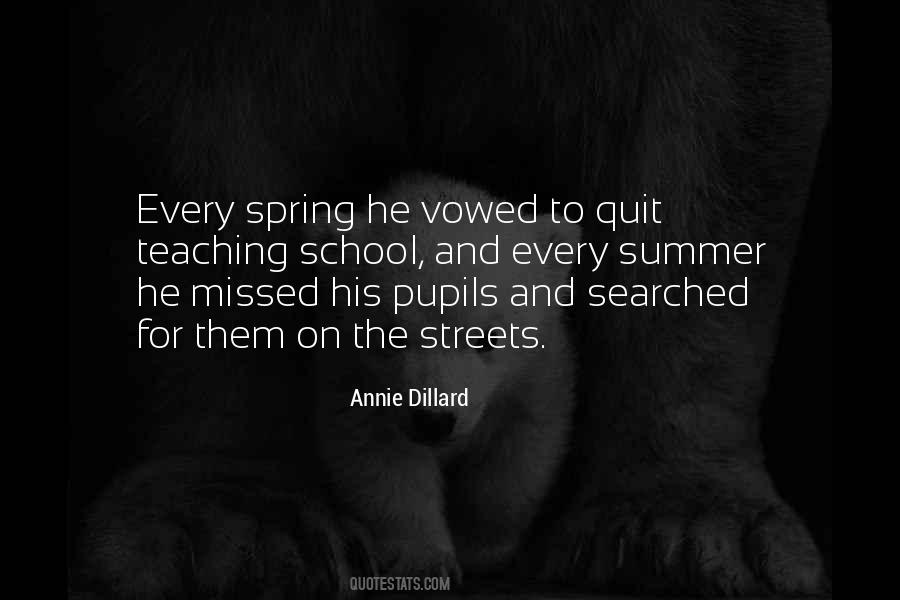 #34. It is ever so with the things that Men begin: there is a frost in Spring, or a blight in Summer, and they fail of their promise. - Author: J.R.R. Tolkien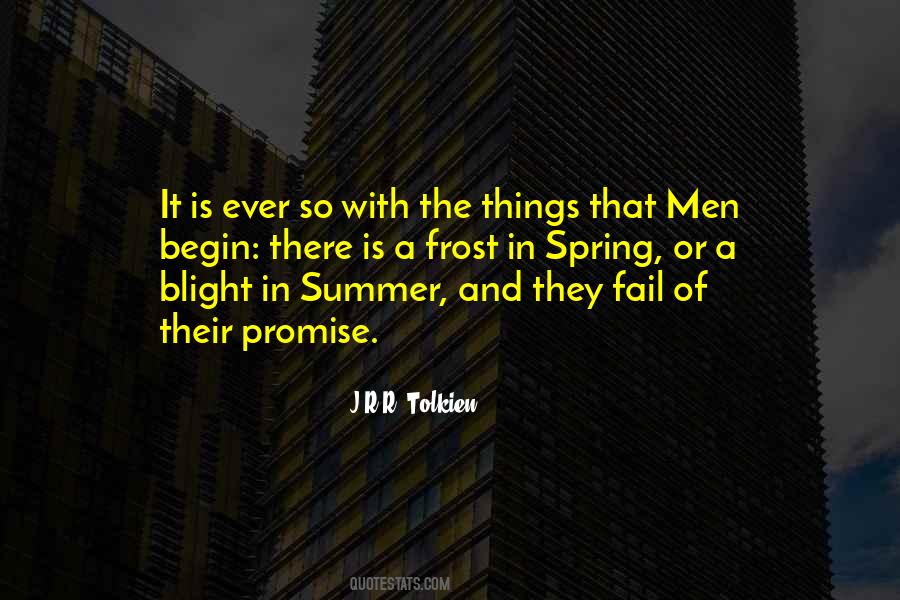 #35. Consider that children grow more quickly in spring and summer than in fall and winter, and that this is apparently due to sunlight signals that enter through the eyeballs, since the growth of totally blind children consists of similar fluctuations but are not synchronized with the seasons. - Author: David Epstein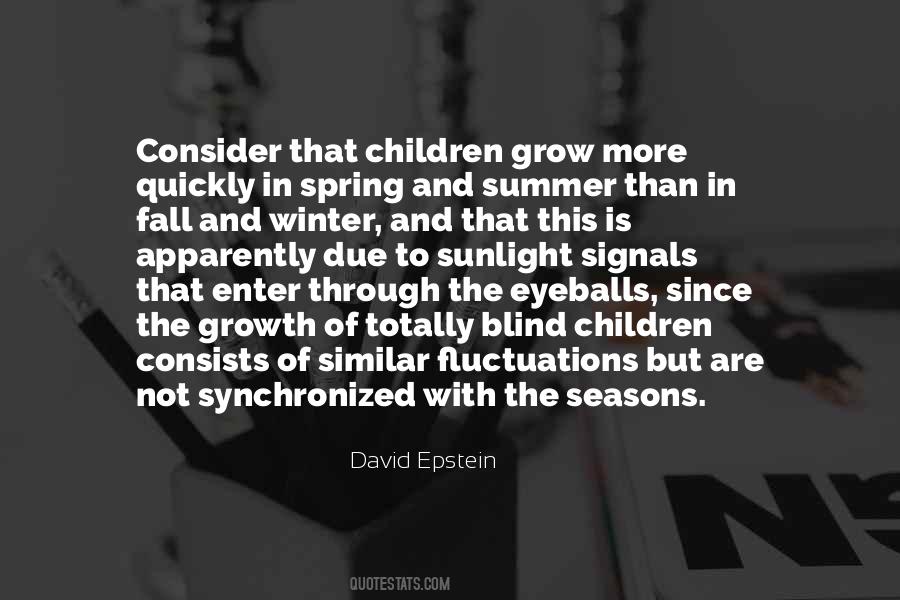 #36. Spring passes and one remembers one's innocence.
Summer passes and one remembers one's exuberance.
Autumn passes and one remembers one's reverence.
Winter passes and one remembers one's perseverance. - Author: Yoko Ono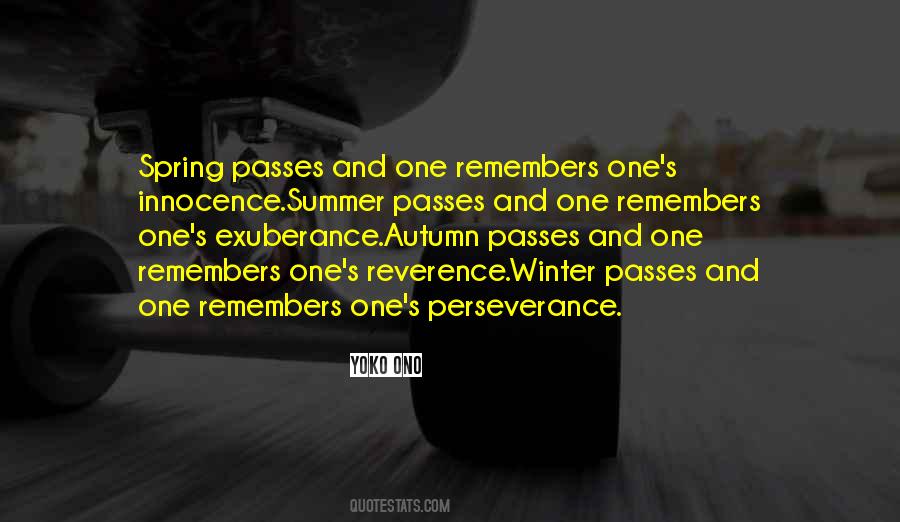 #37. Mars is much closer to the characteristics of Earth. It has a fall, winter, summer and spring. North Pole, South Pole, mountains and lots of ice. No one is going to live on Venus; no one is going to live on Jupiter. - Author: Buzz Aldrin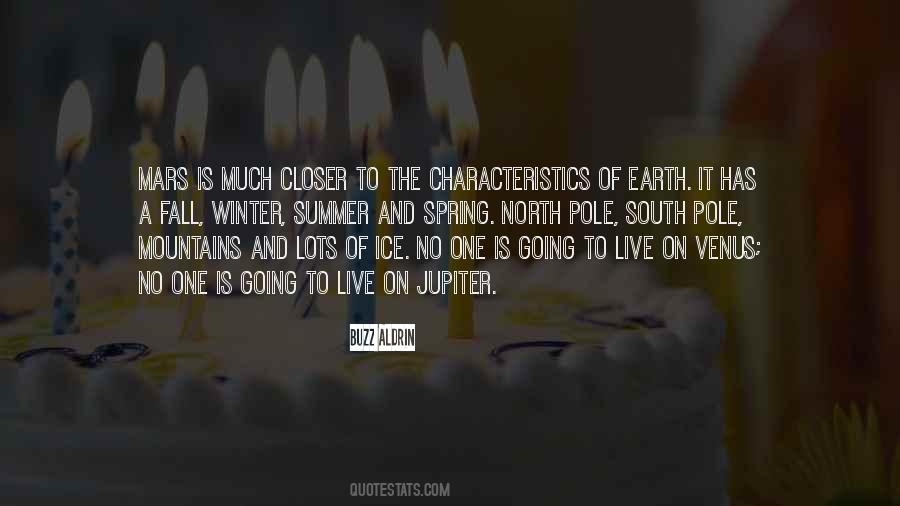 #38. Spring is childhood, summer is youth, autumn is maturity, and winter is weariness and waiting. But with spring youth returns, no matter how old we are. - Author: Toni Sorenson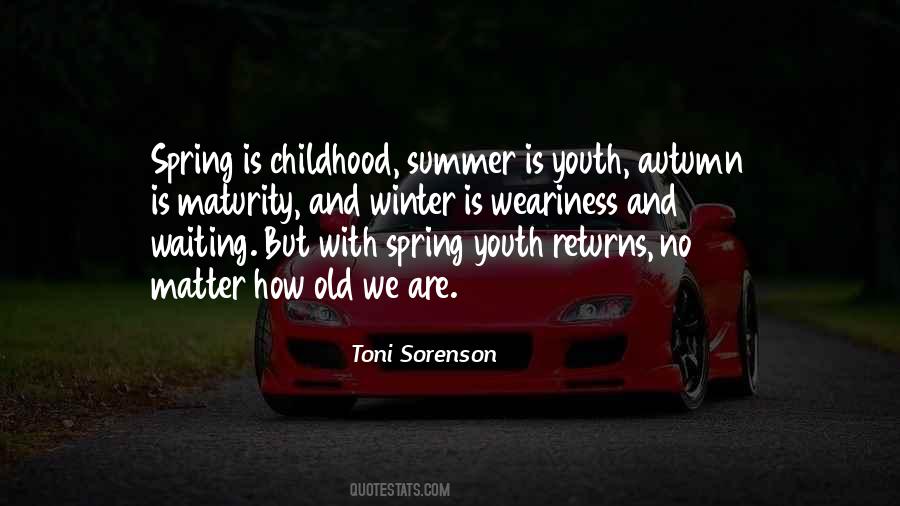 #39. Spring and summer in Pittsburgh mean outdoor festivals. - Author: Bill Dedman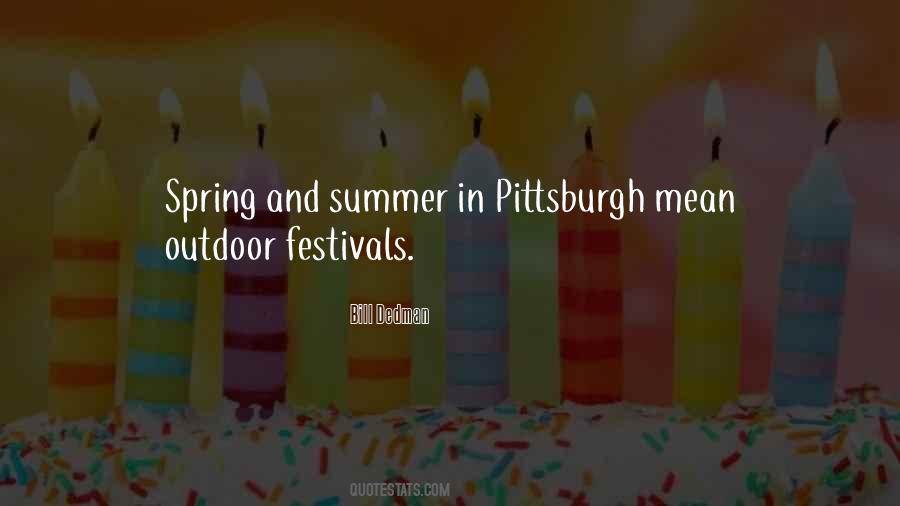 #40. In the journey of the year, the autumn is Venice, spring is Naples, certainly, and the majestic maturity of summer is Rome. - Author: George William Curtis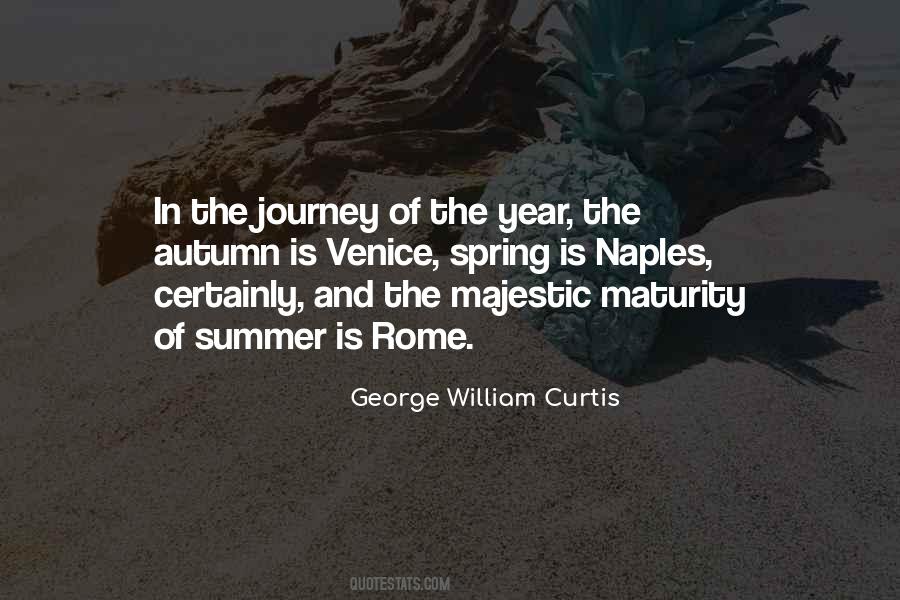 #41. A little child paddles a little boat, Drifting about, and picking white lotuses. He does not know how to hide his tracks, And duckweed's opened up along his path. - Author: Bai Juyi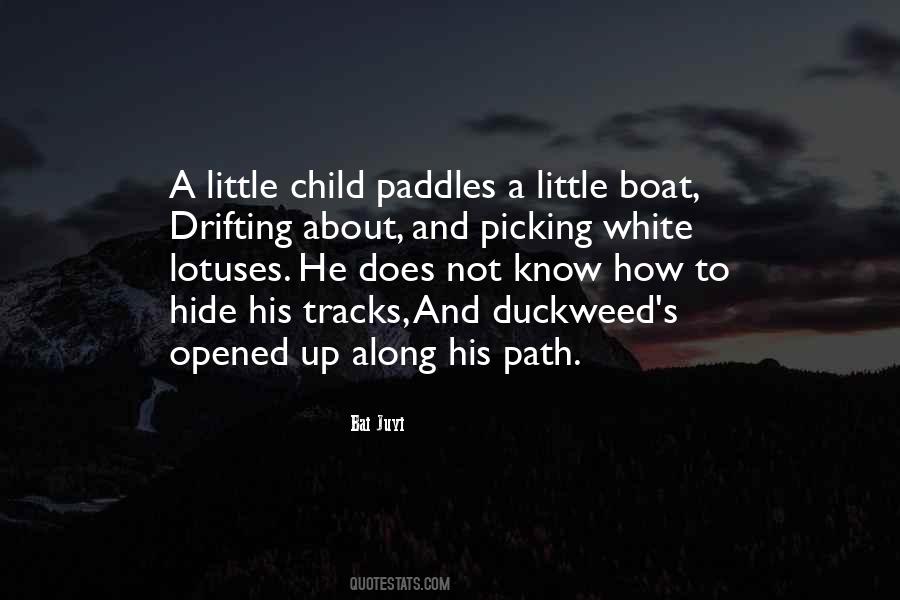 #42. But the huge bowl of the sky remains untracked: no zeppelins, no bombers, no superhuman paratroopers, just the last songbirds returning from their winter homes, and the quicksilver winds of spring transmuting into the heavier, greener breezes of summer. - Author: Anthony Doerr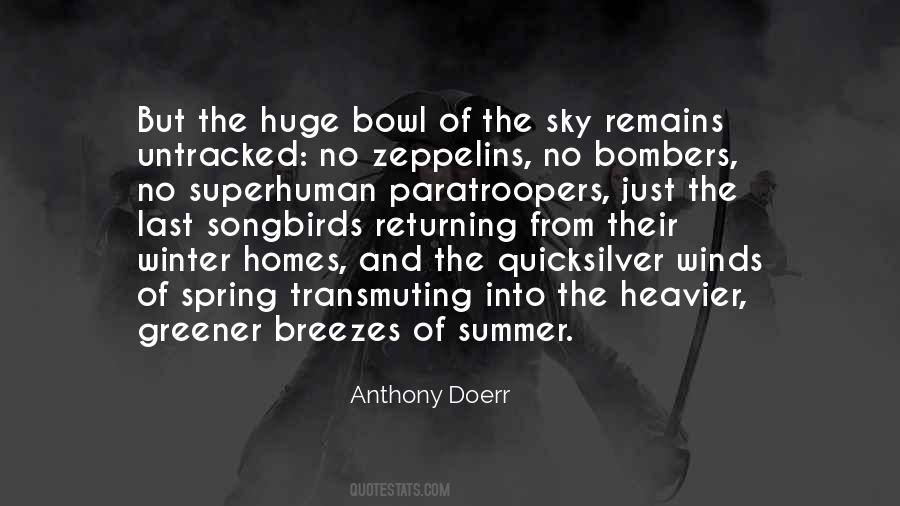 #43. BLAM! BLOOEY!
Twin thunderstorms struck Chesapeake Bay at about the same hour two weeks apart in the last spring and summer of the eighth decade of the twentieth century of the Christian era and bracketed our story like artillery zeroing in. - Author: John Barth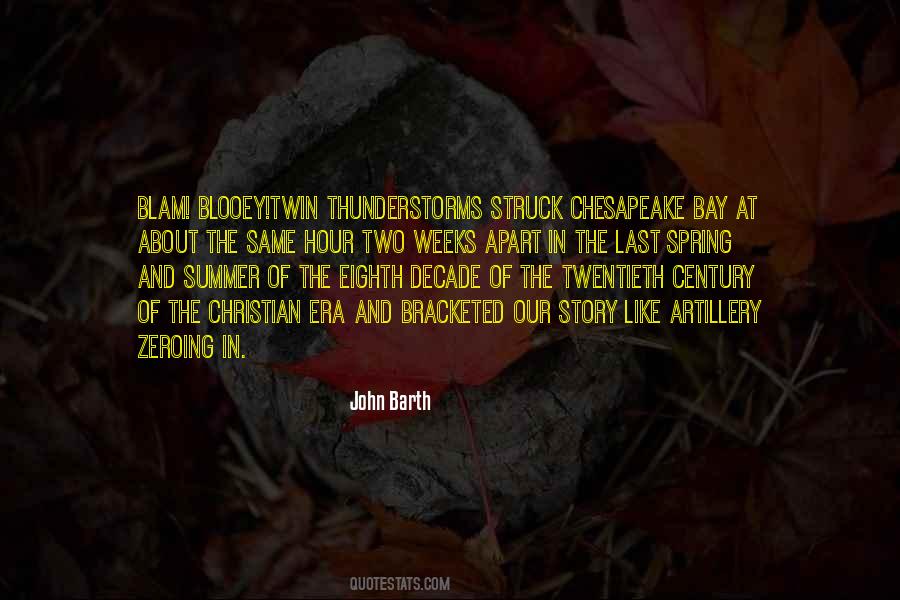 #44. For Ann, aged two in 1903, a year was half a lifetime. She did not expect the second winter, and then, when it came, vaguely assumed it was eternal, until spring came, and summer came, and she understood that they had come "again" and began to learn to expect. - Author: A.S. Byatt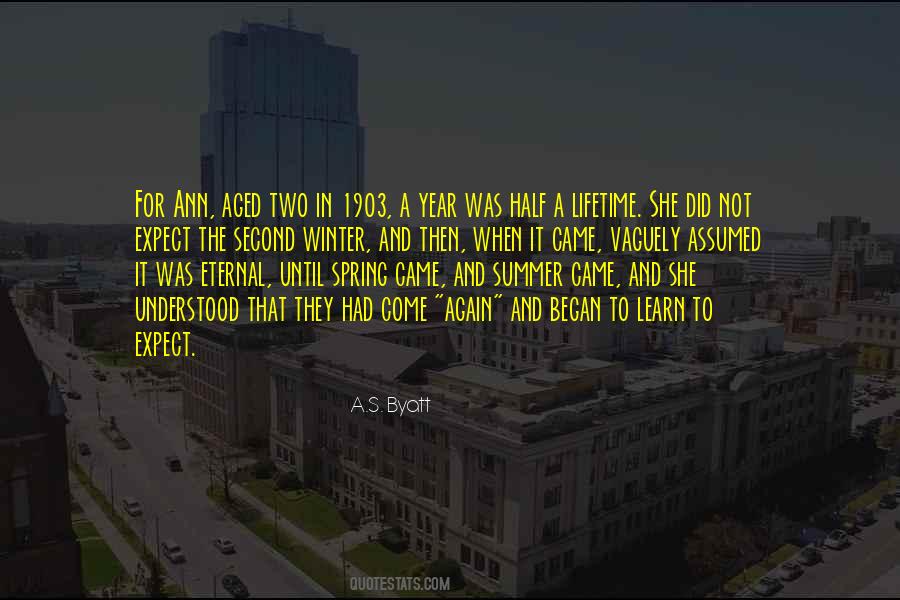 #45. Life has puffed and blown itself into a summer day, and clouds and spring billow over the heavens as if calendars were a listing of mathematical errors. - Author: Zelda Fitzgerald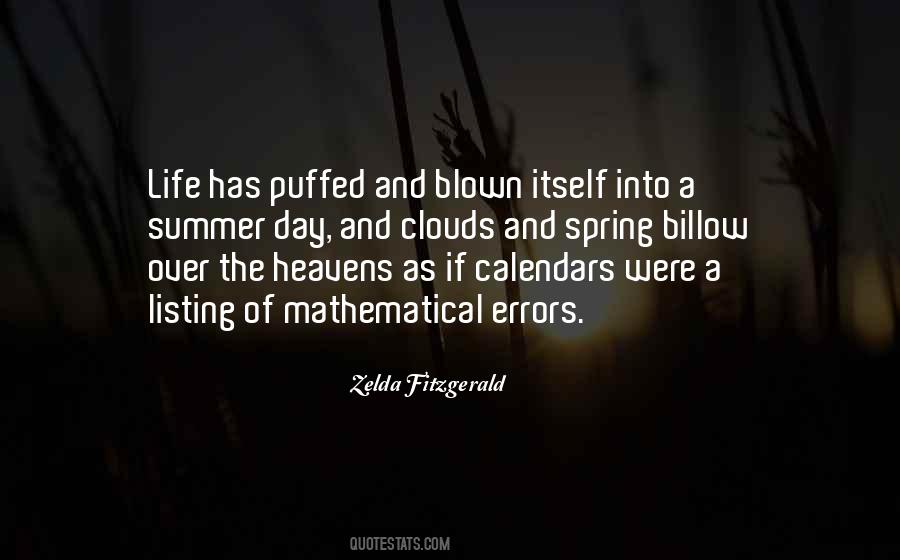 #46. I raised frogs every spring in our house from tadpoles and by end of summer our house was overrun with frogs. - Author: William Joyce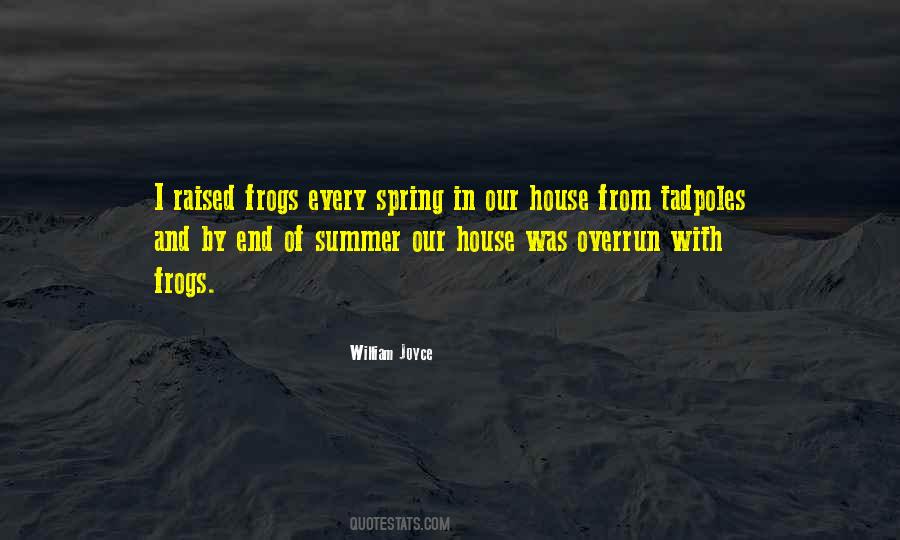 #47. The soft mellow warble of the bluebird, heard at its best throughout spring and early summer, is one of the sweetest, most confiding and loving sounds in nature. - Author: Thomas Roberts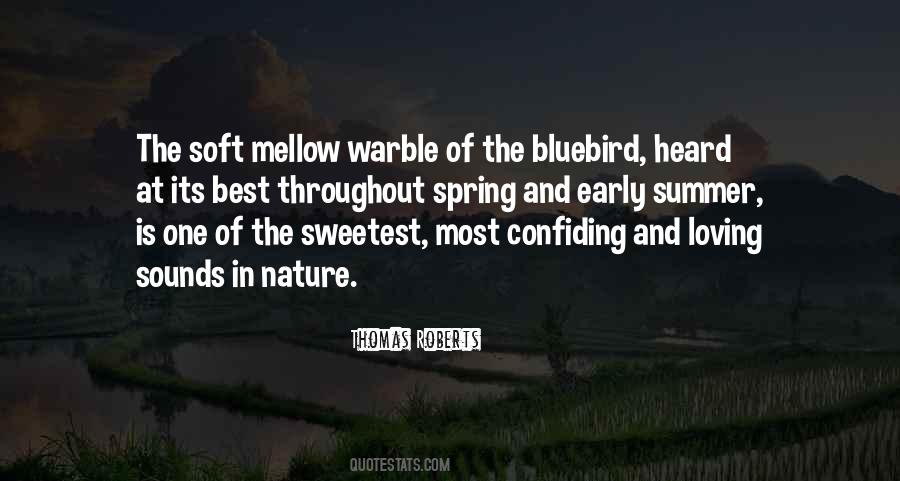 #48. The abundance of weapons, the absence of a working Libyan government, and lingering anti-Western sentiments among certain militias led to increasingly brazen incidents during the spring and summer of 2012. - Author: Mitchell Zuckoff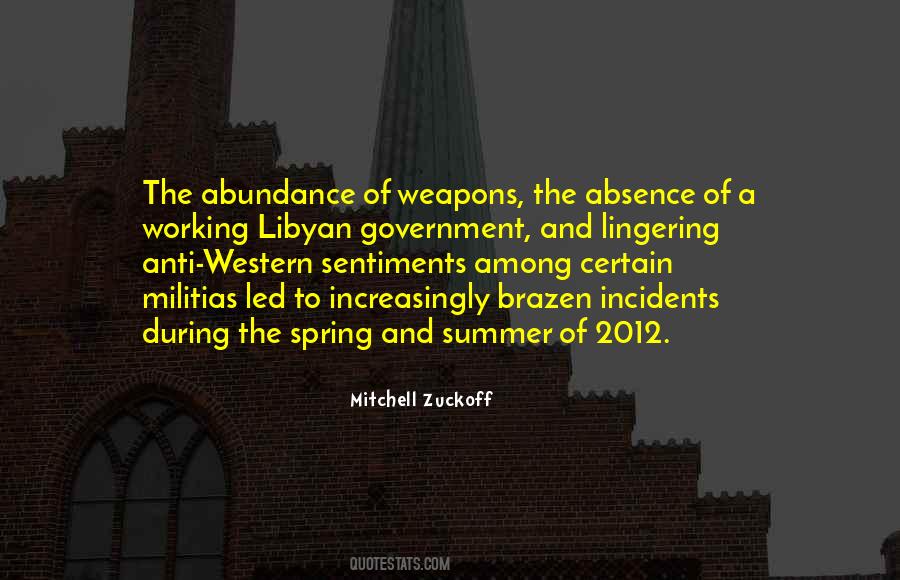 #49. Winter, spring and summer did not accommodate themselves to one's mood as autumn did. They lacked its gentleness. - Author: Elizabeth Goudge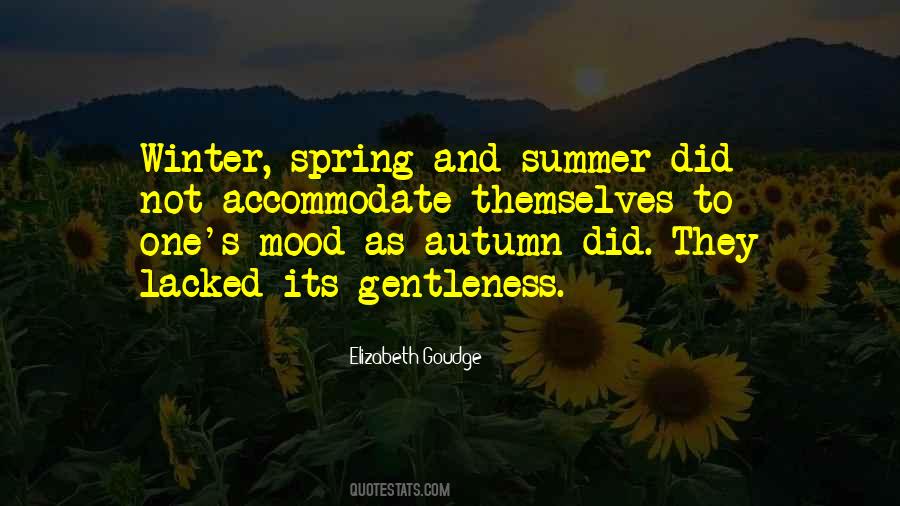 #50. Spring is sweet, the baby season; summer is the teenage season -- too much energy, too much growth and beauty and heat and late nights, none of them what they are cracked up to be. Fall is the older season, a more seasoned season. The weather surrounds you instead of beating down on you. - Author: Anne Lamott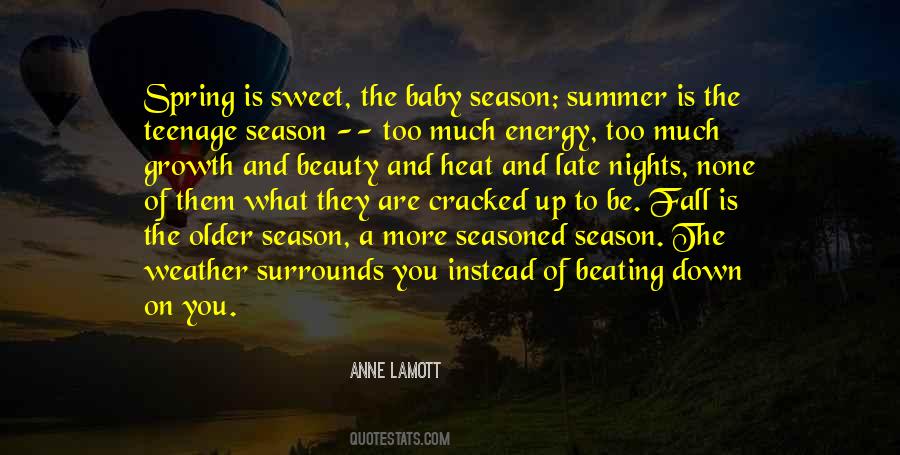 #51. Flowers bloomed without glimpsing your smile in spring, leaves have fallen in autumn chiming in with the gloom, the chill of winter has gone and now is the first light of summer without you near but in our hearts will forever hold you dear ... Elizabeth's Shorter Poems - Author: Elizabeth E. Castillo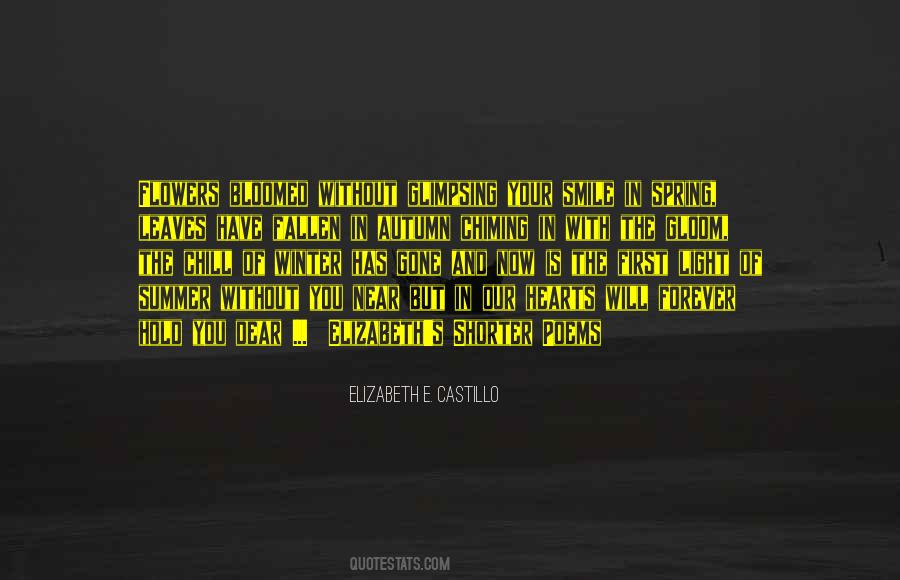 #52. I have a Bird in spring
Which for myself doth sing -
The spring decoys.
And as the summer nears -
And as the Rose appears,
Robin is gone.
Yet do I not repine
Knowing that Bird of mine
Though flown -
Learneth beyond the sea
Melody new for me
And will return. - Author: Emily Dickinson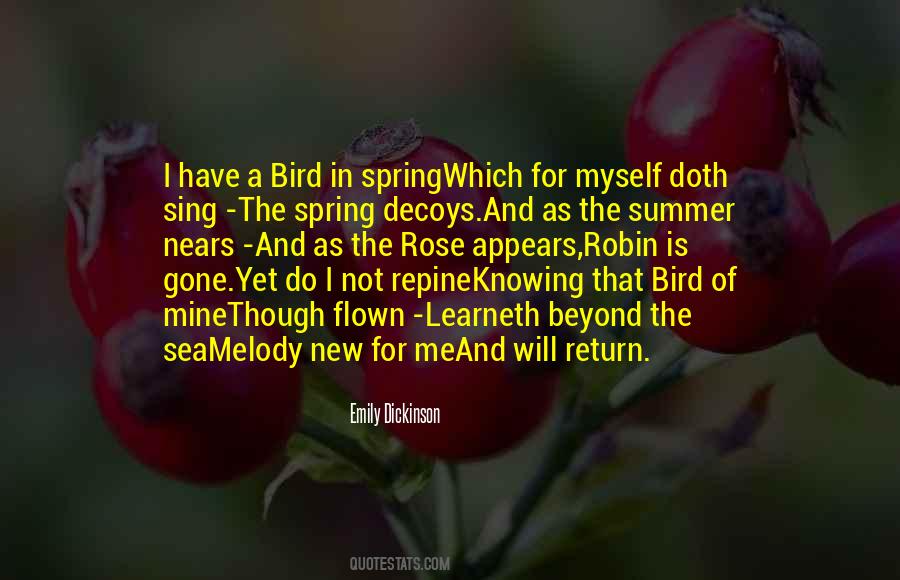 #53. Summer Kingdom farthest west, Autumn next, then Winter, and finally the Spring Kingdom on the Destas Sea. - Author: Sara Raasch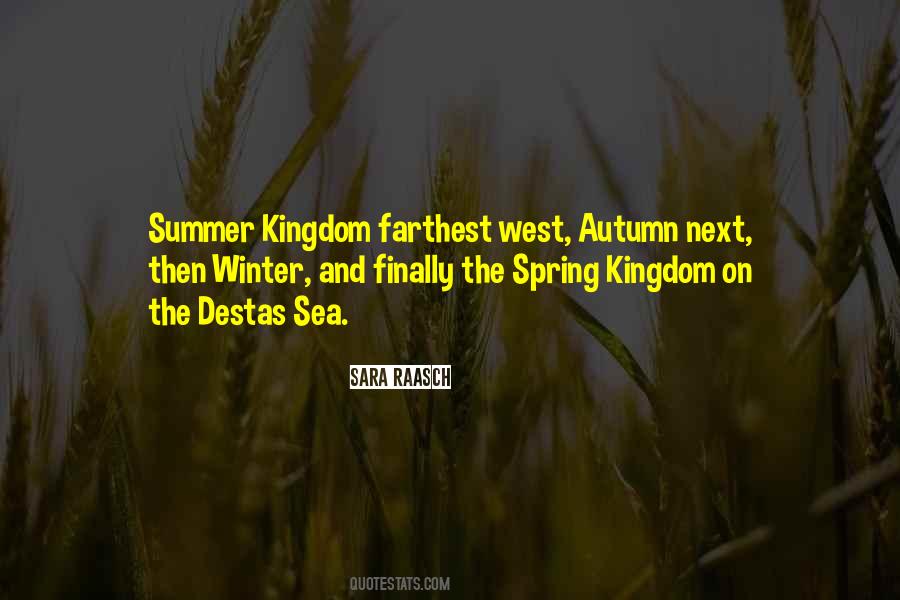 #54. Winter is dead; spring is crazy; summer is cheerful and autumn is wise! - Author: Mehmet Murat Ildan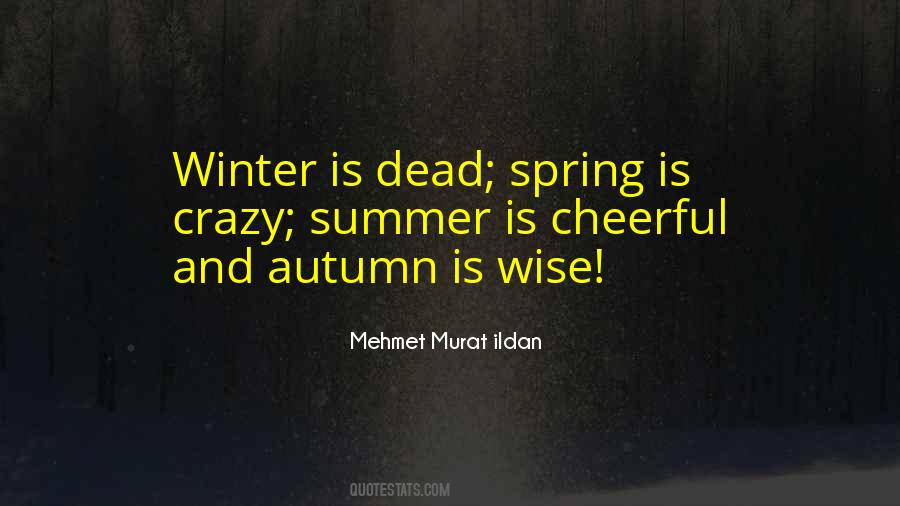 #55. All that spring and summer, there were times when she felt as if she had no joints or muscles, no physical means with which to move about the world. - Author: Julia Glass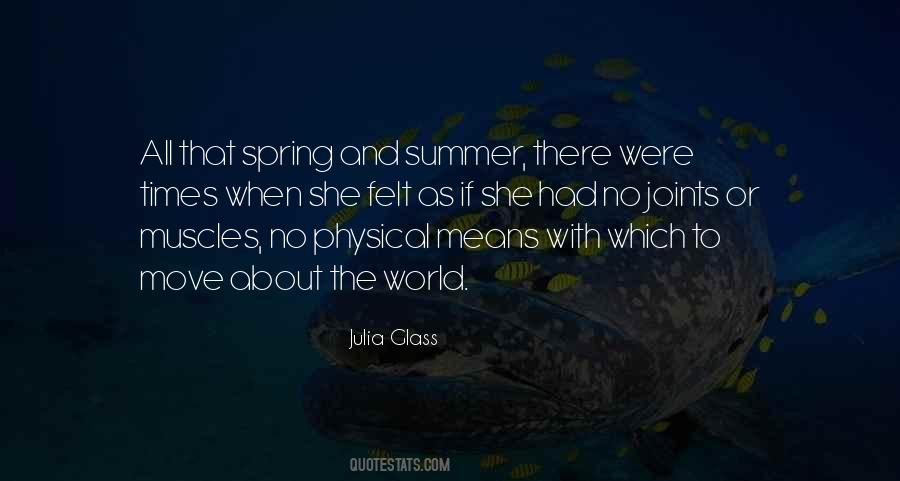 #56. All human life has its seasons and cycles, and no one's personal chaos can be permanent. Winter, after all, gives way to spring and summer, though sometimes when branches stay dark and the earth cracks with ice, one thinks they will never come, that spring, and that summer, but they do, and always. - Author: Truman Capote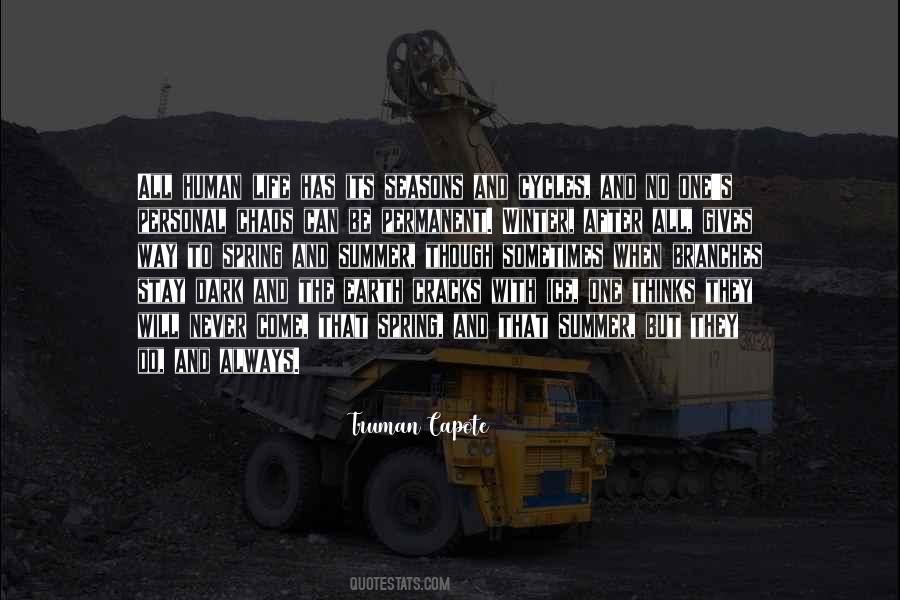 #57. Spring and summer 1942 was probably the worst period of internal terror in Slovakia. It was also the time of mass deportation of Slovak Jews to the extermination camps in Poland. - Author: Alexander Dubcek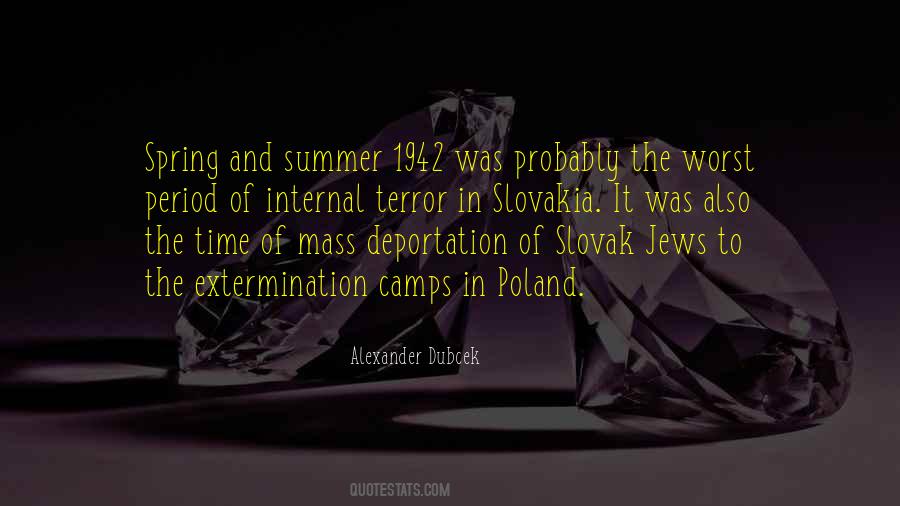 #58. We lived in Indian summer and mistook it for spring. - Author: Bruce Catton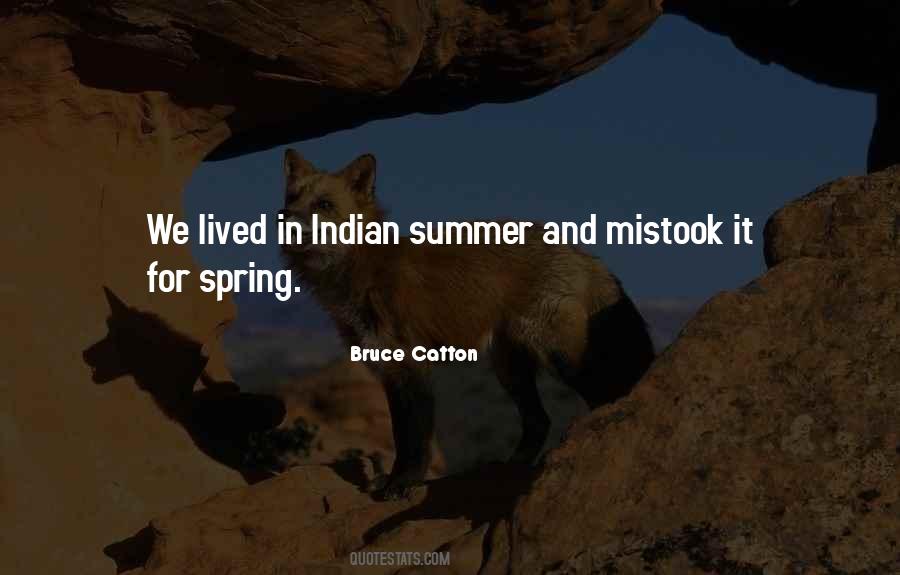 #59. THERE CAME AGAIN, during that following spring and summer, the feeling that Angelene had almost forgotten, of being alone in the orchard, of being utterly herself. - Author: Amanda Coplin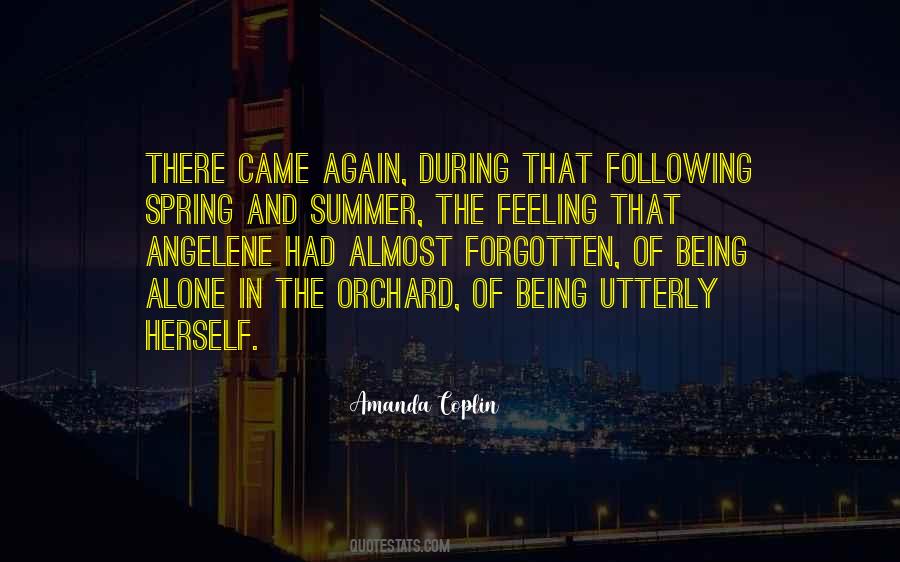 #60. I had gone into my wife Akemi over and over and in so many ways that the thought alone made my heart begin to race and my entire body began to sweat like summer but in the spring season. - Author: Sister Souljah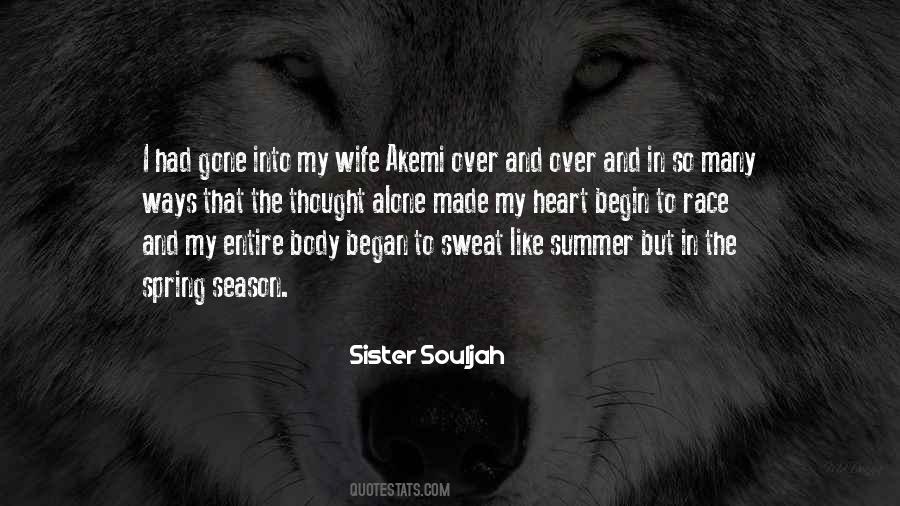 #61. The soy-bean, in particular, has proved sufficiently resistant to cold in spring and to adverse weather during summer to warrant heavy planting, especially throughout the South. - Author: David F. Houston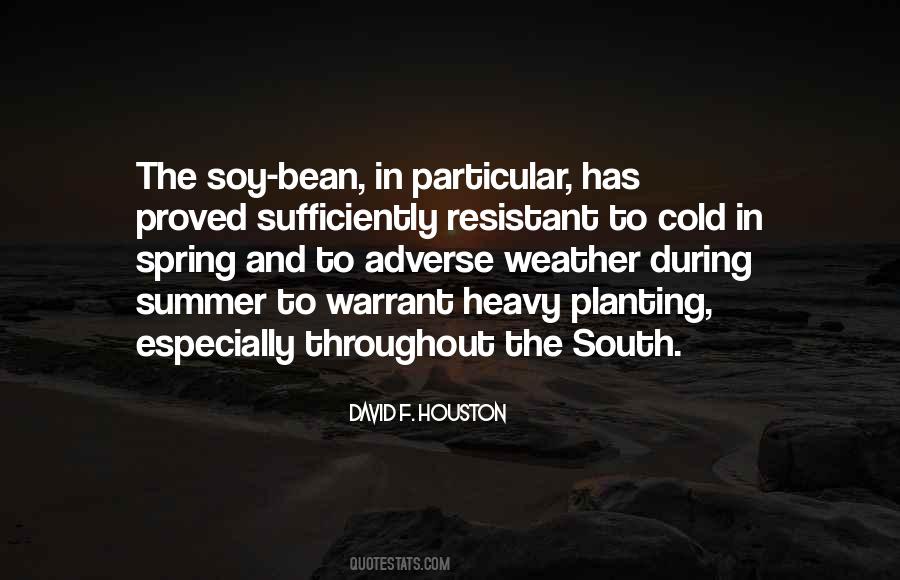 #62. I think if we all gardened more, they and all of the other birds that fly in the air above and light in my garden below would be better off. I know that God values them no less than I do. So when I plant in spring I also hope to taste of God in fruit of summer sun and sight of feathered friends. - Author: Vigen Guroian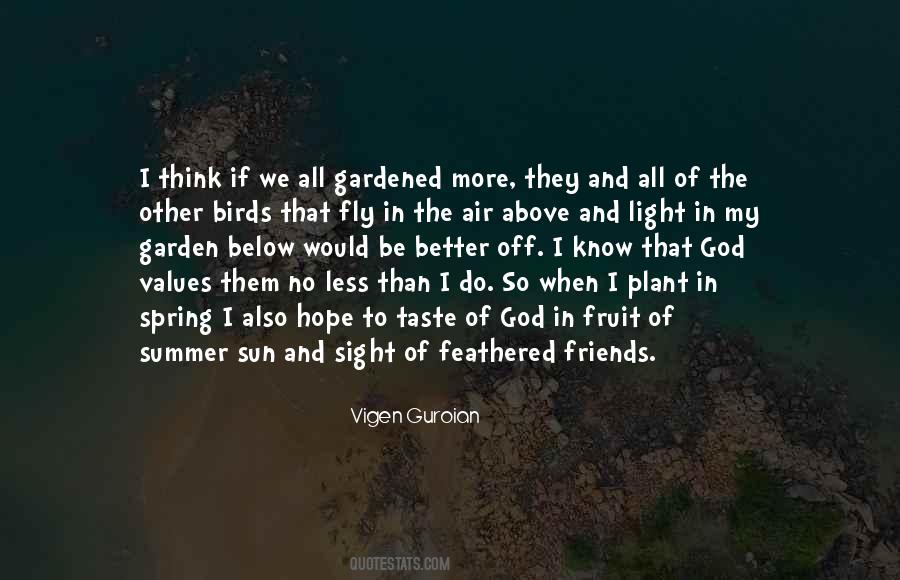 #63. The great secret of social alchemy is to profit best from each stage in our lives, to gather all its leaves in spring, all its flowers in summer, and all its fruits in autumn. - Author: Honore De Balzac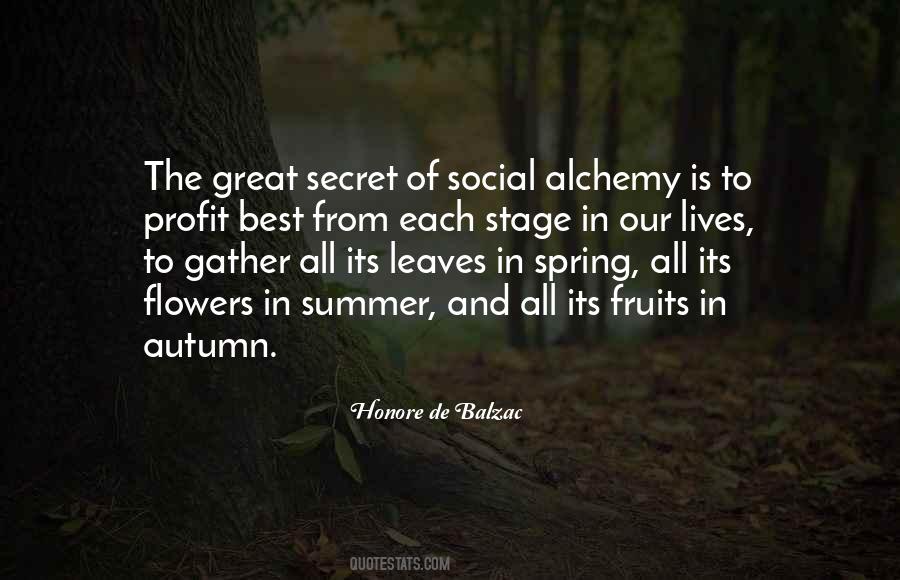 #64. I started out in pre-law. I was going to go to law school. And I saw a production of 'Tally's Folly' that spring term. I took a theater class that term and auditioned for 'Harvey' at the end of the summer, and I was in a play every semester after that. - Author: Kevin Rahm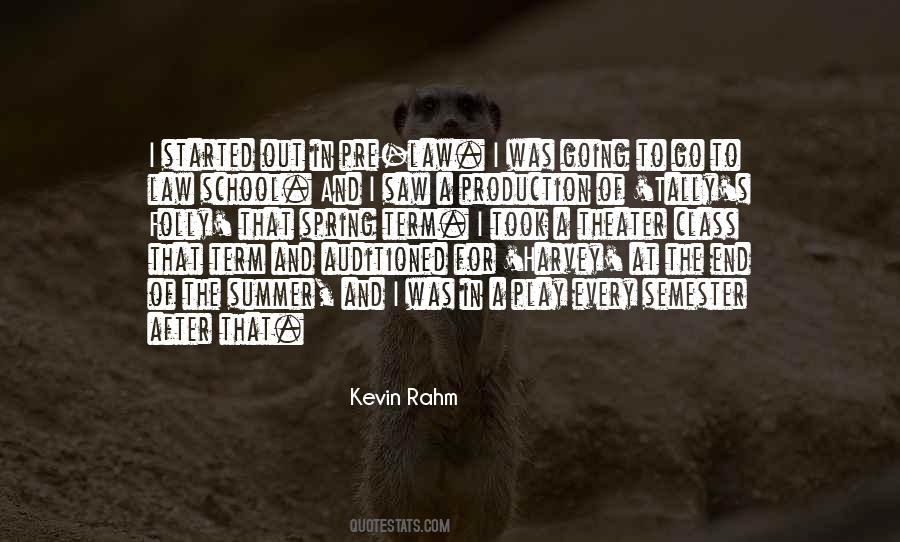 #65. Fire can destroy, fire can kill, but it can also create. Forest burned in the summer will be green by spring, better and stronger than before. Cal's flame will build and bring roots from the ashes of war. - Author: Victoria Aveyard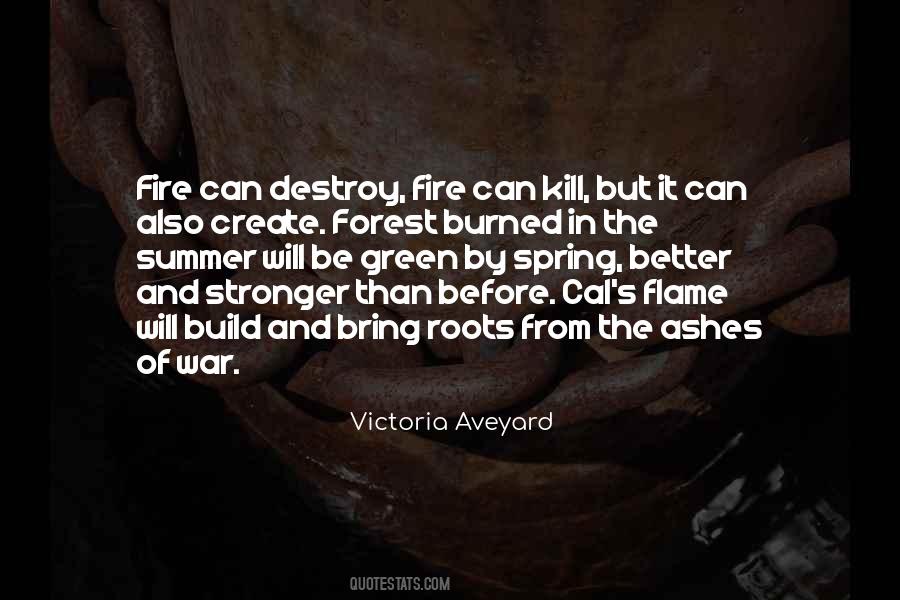 #66. In the winter you may want the summer; in the summer, you may want the autumn; in the autumn, you may want the winter; but only in the spring you dream and want no other season but the spring! - Author: Mehmet Murat Ildan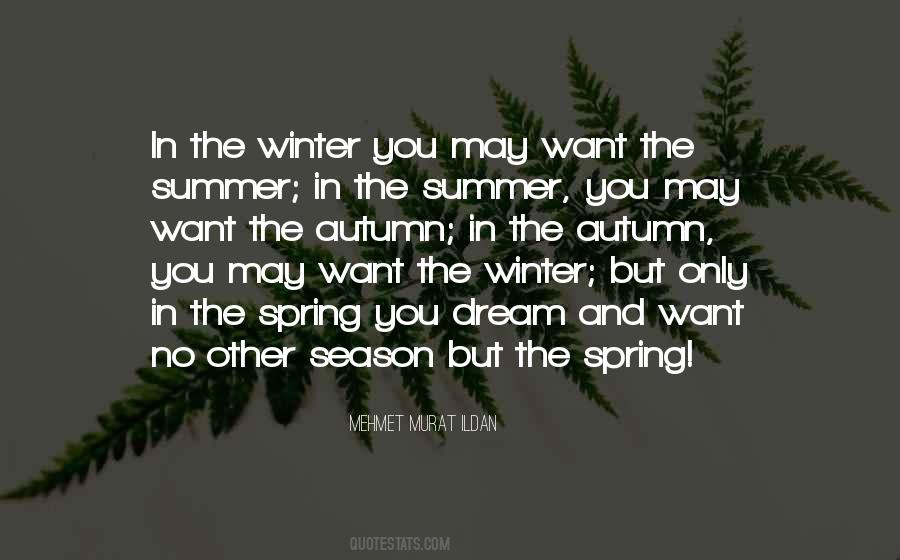 #67. Mrs. Jo did not mean the measles, but that more serious malady called love, which is apt to ravage communities, spring and autumn, when winter gayety and summer idleness produce whole bouquets of engagements, and set young people to pairing off like the birds. - Author: Louisa May Alcott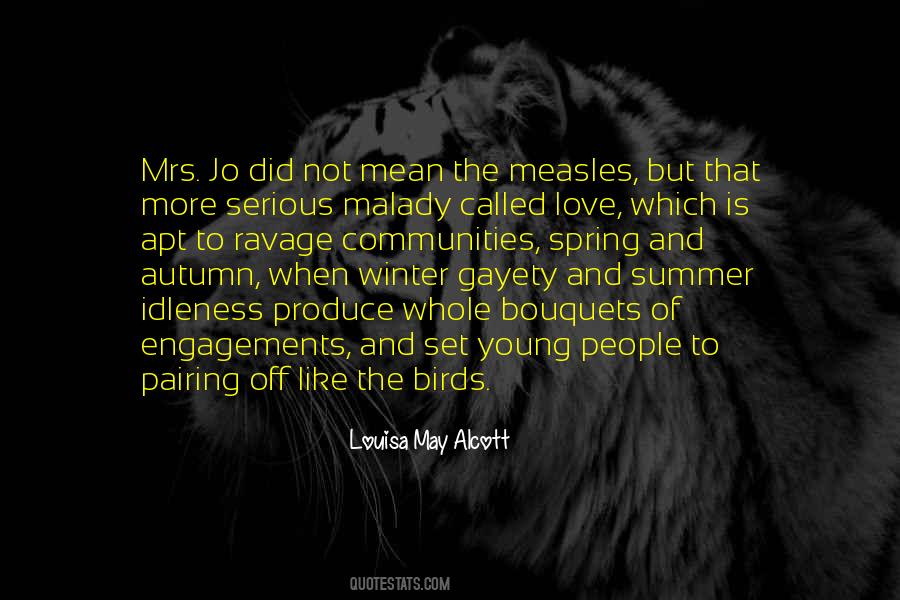 #68. Youth has its romance, and maturity its wisdom, as morning and spring have their freshness, noon and summer their power, night and winter their repose. Each attribute is good in its own season. - Author: Charlotte Bronte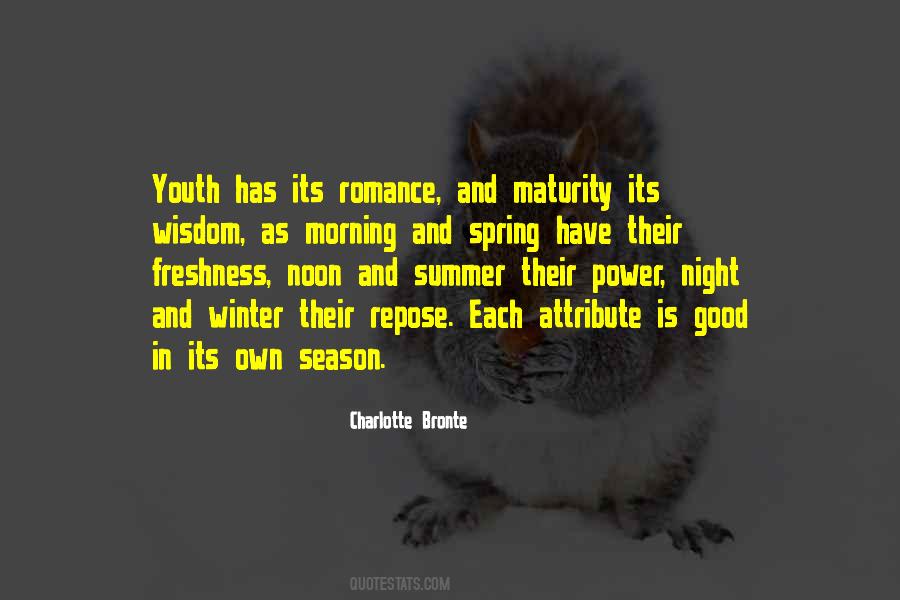 #69. When a country is defeated, there remain only mountains and rivers, and on a ruined castle in spring only grasses thrive. I sat down on my hat and wept bitterly till I almost forgot time.
A thicket of summer grass
Is all that remains
Of the dreams and ambitions
Of ancient warriors. - Author: Matsuo Basho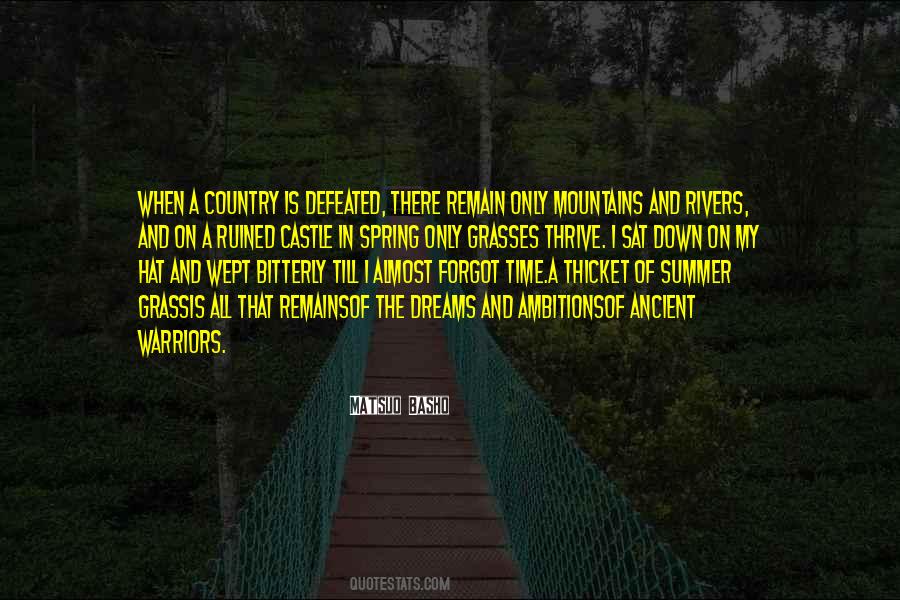 #70. One may prefer spring and summer to autumn and winter, but preference is hardly to the point. The earth turns, and we live in the grain of nature, turning with it. - Author: Robert Hass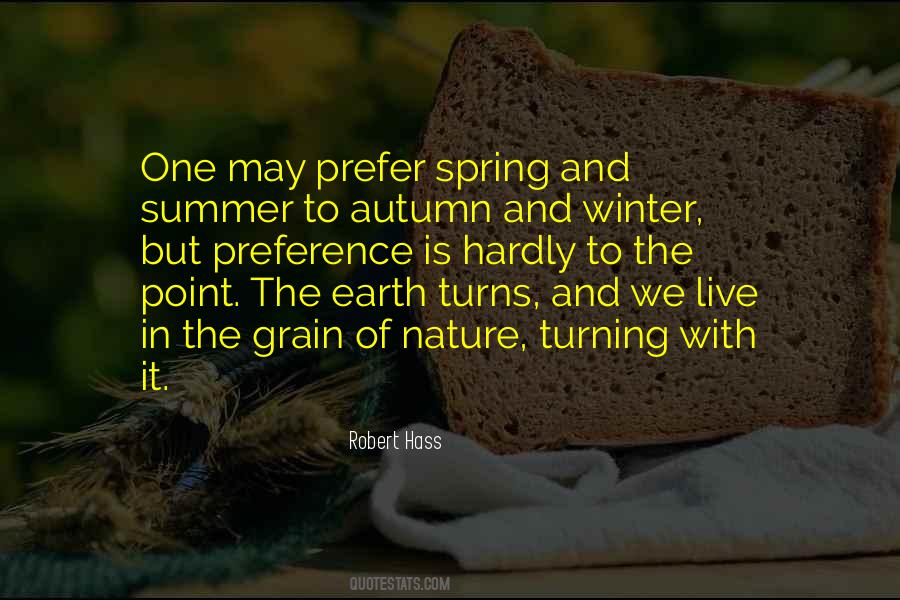 #71. It was a beautiful summer afternoon, at that delicious period of the year when summer has just burst forth from the growth of spring; when the summer is yet but three days old, and all the various shades of green which nature can put forth are still in their unsoiled purity of freshness. - Author: Anthony Trollope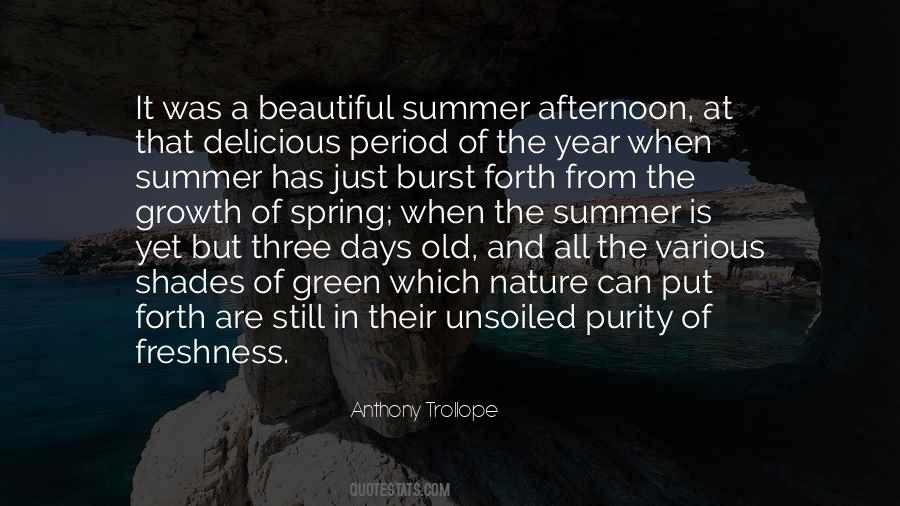 #72. I wish, and I wish that the spring would go faster,
Nor long summer bide so late;
And I could grow on like the foxglove and aster,
For some things are ill to wait. - Author: Jean Ingelow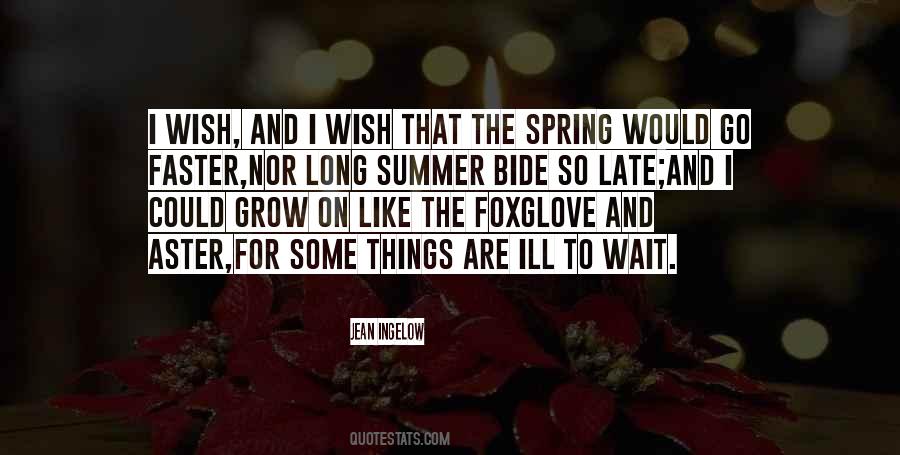 #73. The Summer had died peacefully in its sleep, and Autumn, as soft-spoken executrix, was locking life up safely until Spring came to claim it. - Author: Kurt Vonnegut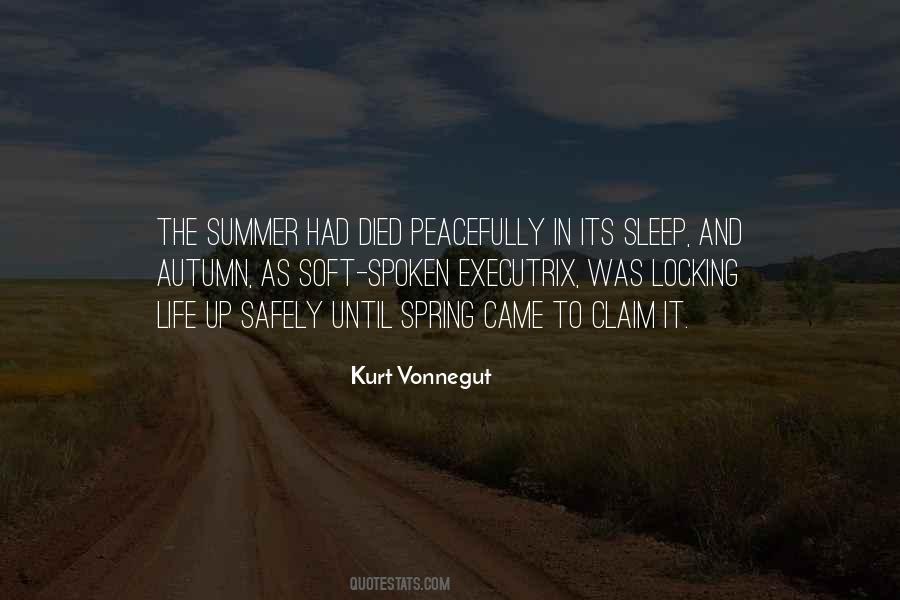 #74. I love going to London for a couple of days but I need to be in the country. I like the silence, the smell and the seasonal changes, especially in spring and summer. I really feel that I belong there. - Author: Philippa Gregory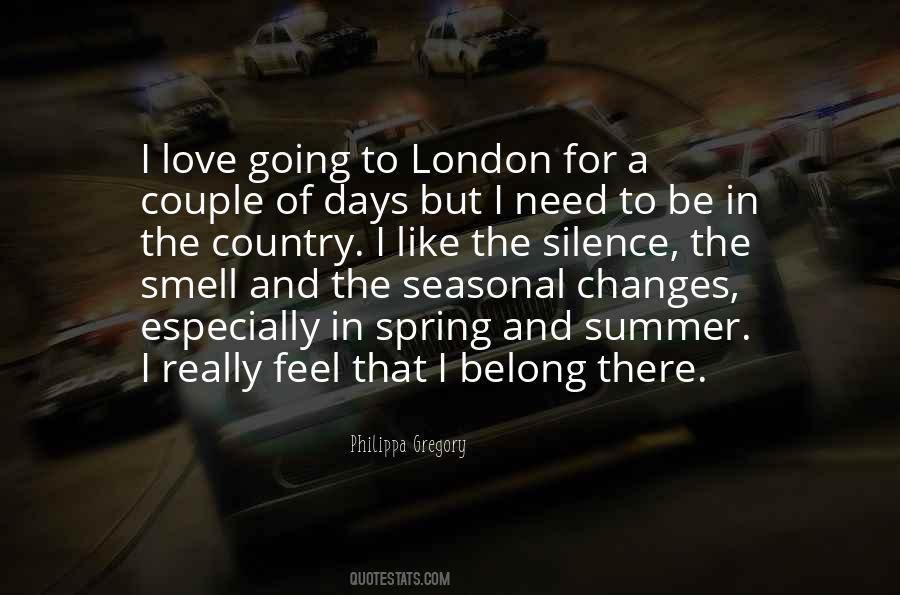 #75. Spring, Summer, Autumn, Winter, Dawn, Day, and Night," it mused, as if I hadn't even answered. "The seven Courts of Prythian, each ruled by a High Lord, all of them deadly in their own way. - Author: Sarah J. Maas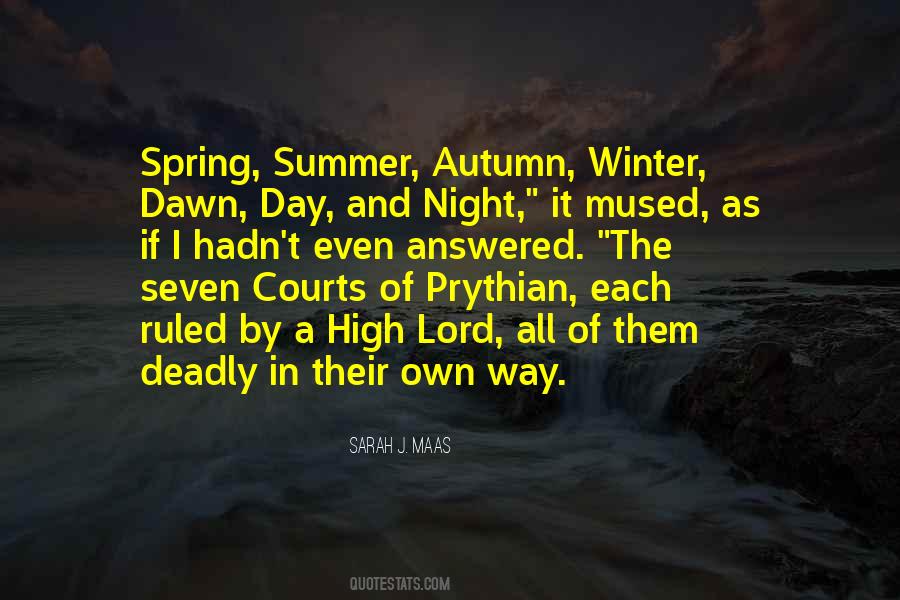 #76. There are four seasons in a year: Winter, Spring, Summer and Colour! - Author: Mehmet Murat Ildan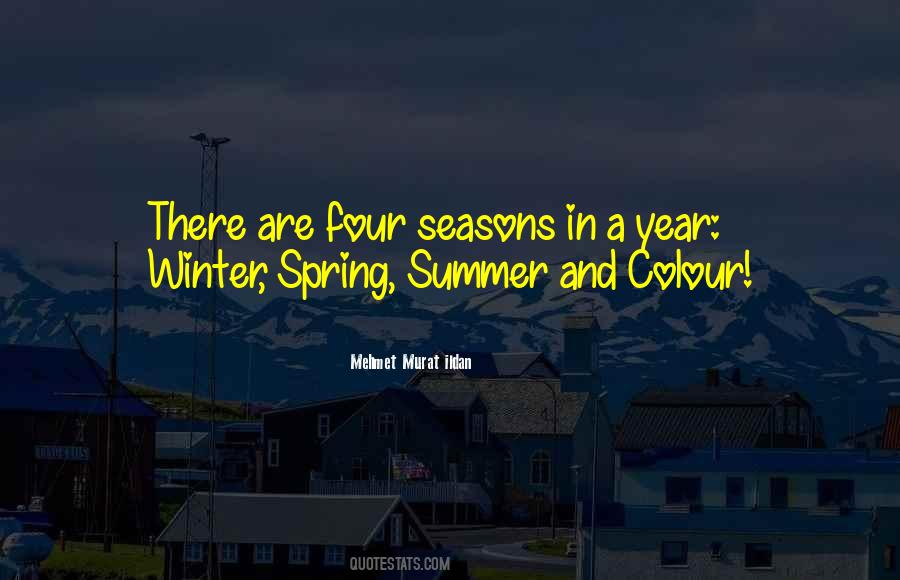 #77. Spring is the fresh green of young corn and the pink blush of blossoms. Autumn contrasts the yellowed foilage with violet hues. Winter is the white of snow against its black forms ... Summer is the contrast of blues and the golden bronze of the corn. - Author: Vincent Van Gogh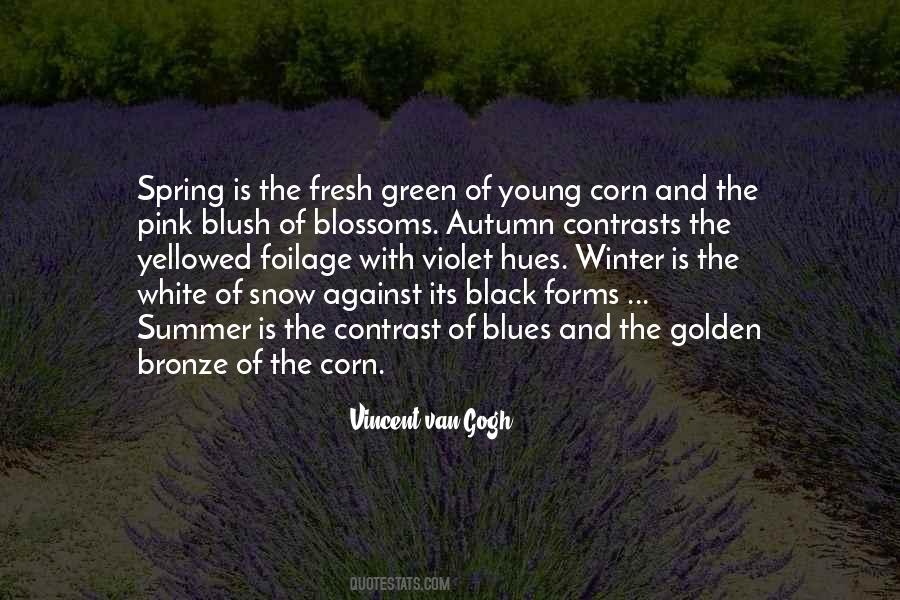 #78. Just as I wonder
whether it's going to die,
the orchid blossoms
and I can't explain why it
moves my heart, why such pleasure
comes from one small bud
on a long spindly stem, one
blood red gold flower
opening at mid-summer,
tiny, perfect in its hour. - Author: Sam Hamill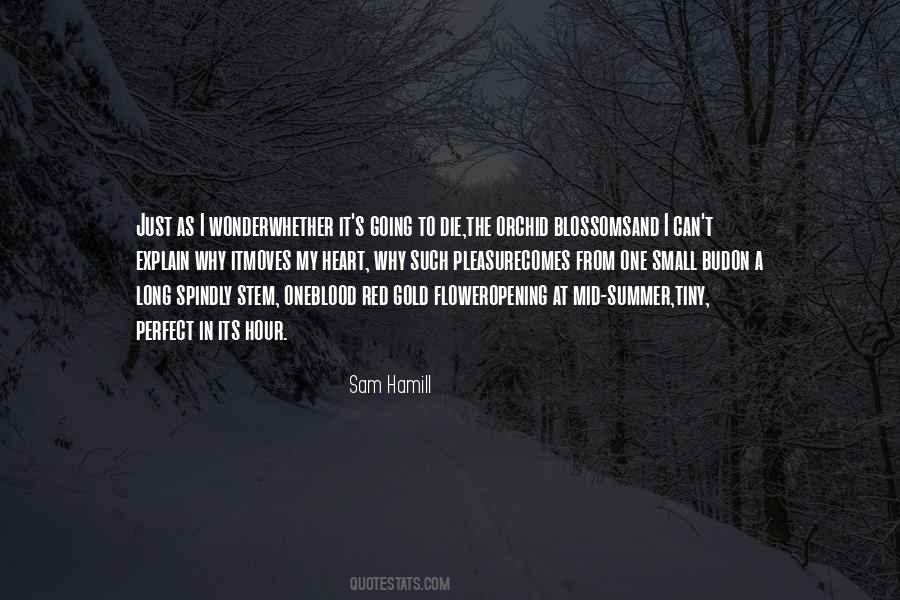 #79. Summer rushes in on the heels of spring, eager to take her turn; and then she dances with wild abandon. But the time soon comes when she gratefully falls, exhausted and sated, into the auburn arms of autumn. - Author: Cristen Rodgers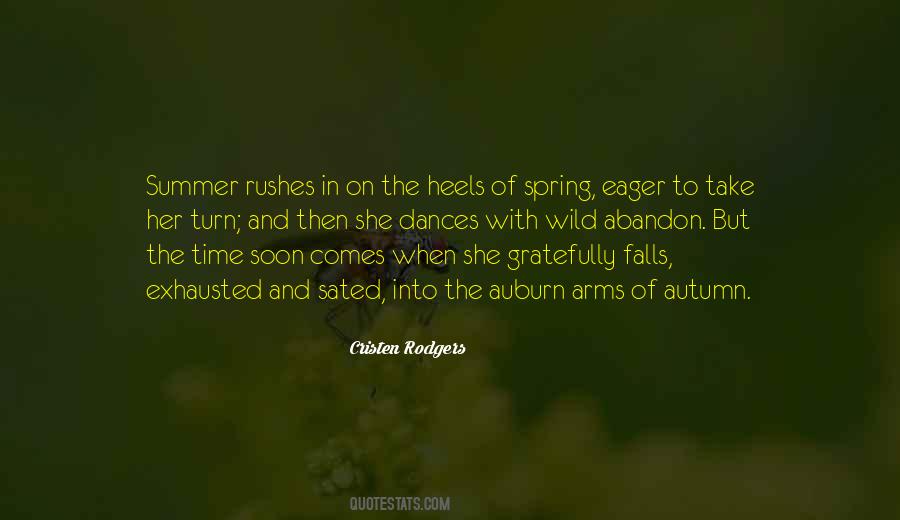 #80. These are the forgeries of jealousy; And never, since the middle summer's spring, Met we on hill, in dale, forest, or mead, By paved fountain or by rushy brook, Or in the beached margent of the sea, To dance our ringlets to the whistling wind, But with thy brawls thou hast disturbed our sport. - Author: William Shakespeare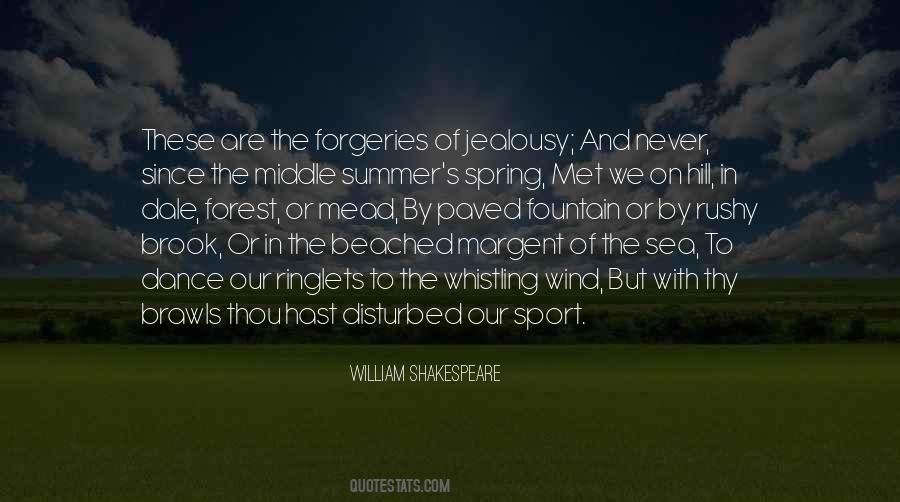 #81. If eternity had a season, it would be midsummer. Autumn, winter, spring are all change and passage, but at the height of summer the year stands poised. It's only a passing moment, but even as it passes the heart knows it cannot change. - Author: Ursula K. Le Guin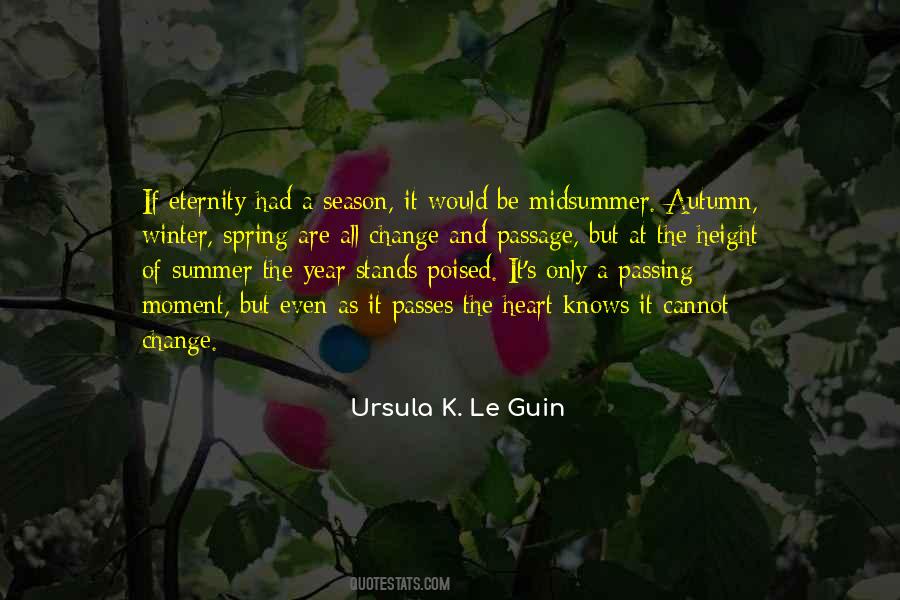 #82. Here Spring just grows and greens and warms, spreading life, wrapping us in her arms, until suddenly we realize that she's not a girl anymore. She's a woman. A woman named Summer. - Author: N.D. Wilson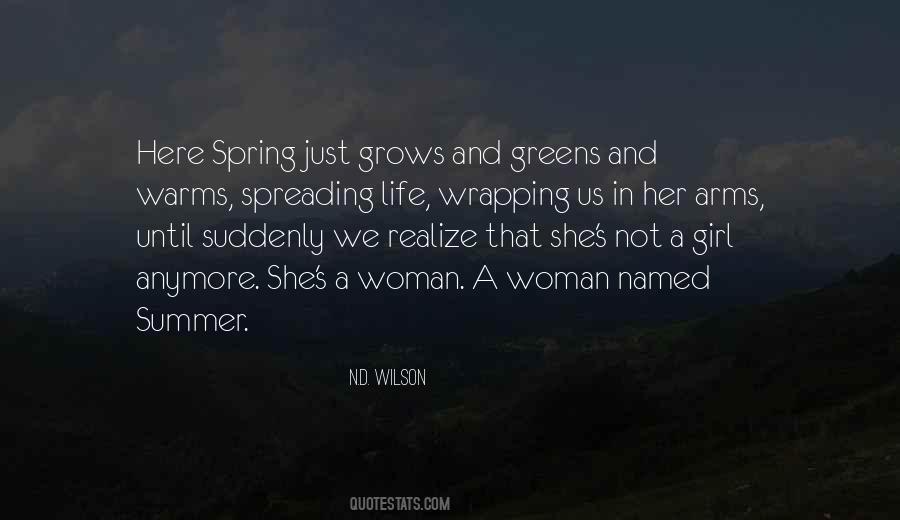 #83. Change should be gradual. Without spring and fall, summer and winter would be too harsh; without dawn and dusk, day and night would be too abrupt. - Author: Vinita Kinra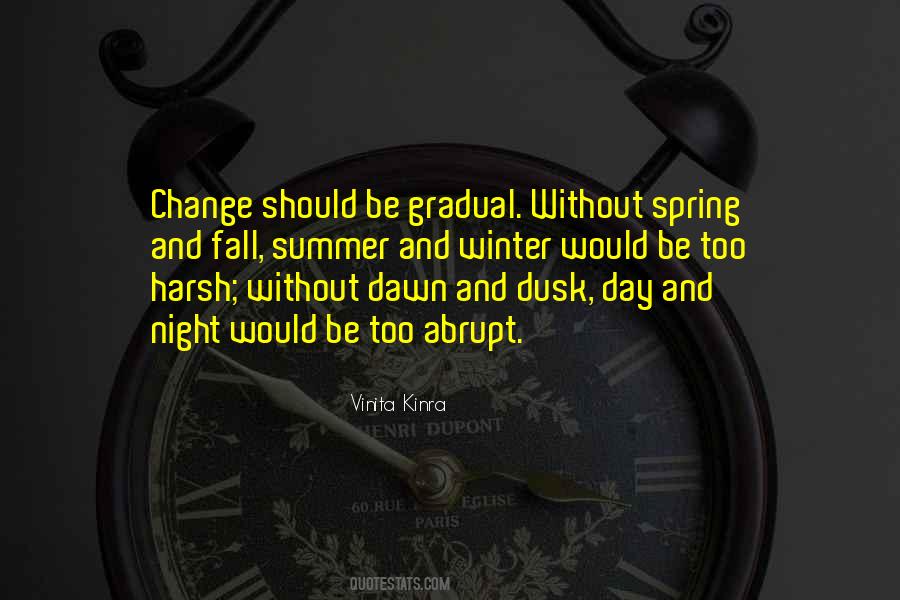 #84. Spring, summer, and fall fill us with hope; winter alone reminds us of the human condition. - Author: Mignon McLaughlin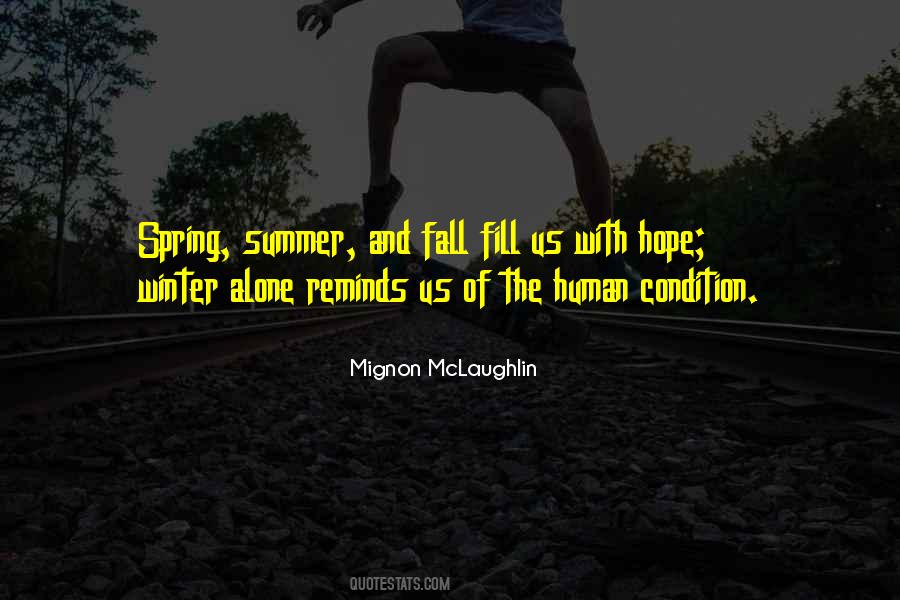 #85. Frey was the god of spring and summer! read the caption. He was the god of wealth, abundance, and fertility. His twin sister, Freya, the goddess of love, was very pretty! She had cats! - Author: Rick Riordan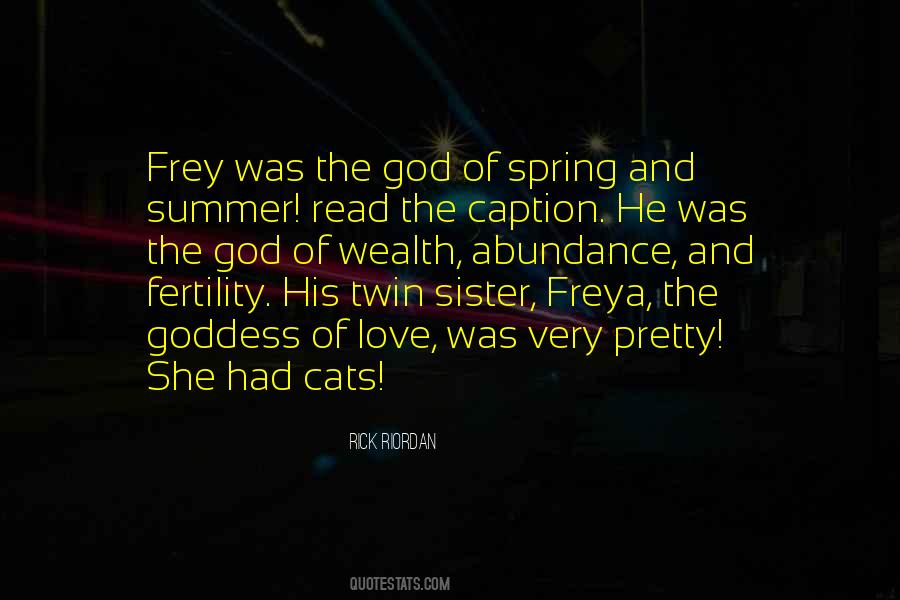 #86. Other flowers came at the end of the summer, but by then the winter sadness had already dissipated, and the effect of the blooms was not the same. - Author: Jessica Stern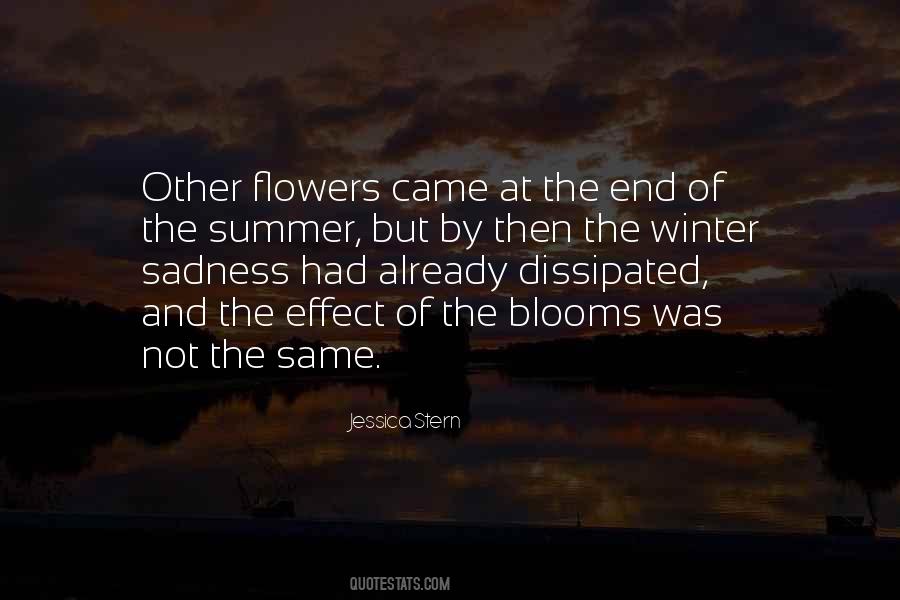 #87. I live between Barcelona and Berlin. Staying in Spain over the winter and Berlin for spring and summer is an ideal combination. - Author: Daniel Bruhl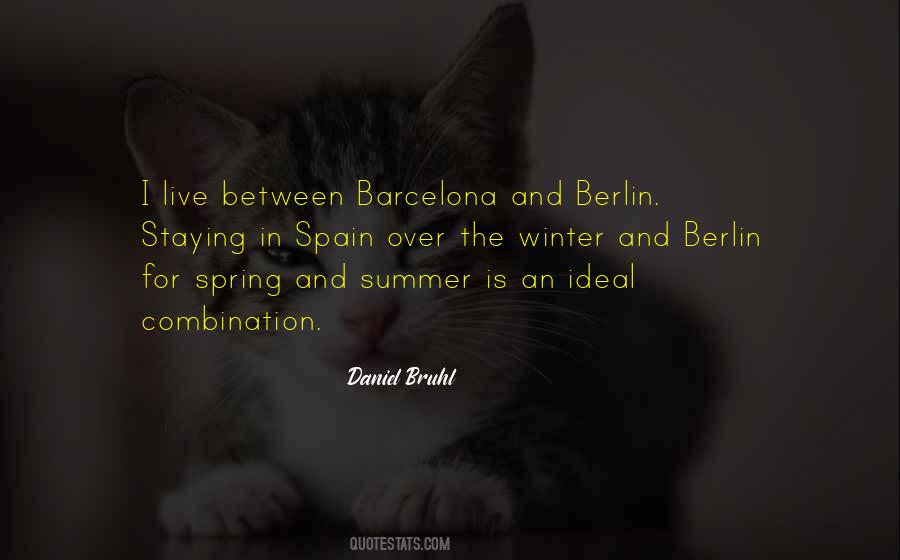 #88. Life is filled with rhythms-day and night, hot and cold, summer and winter, spring and fall, cloudy and clear. Likewise in a relationship, men and women have their own rhythms and cycles. - Author: John Gray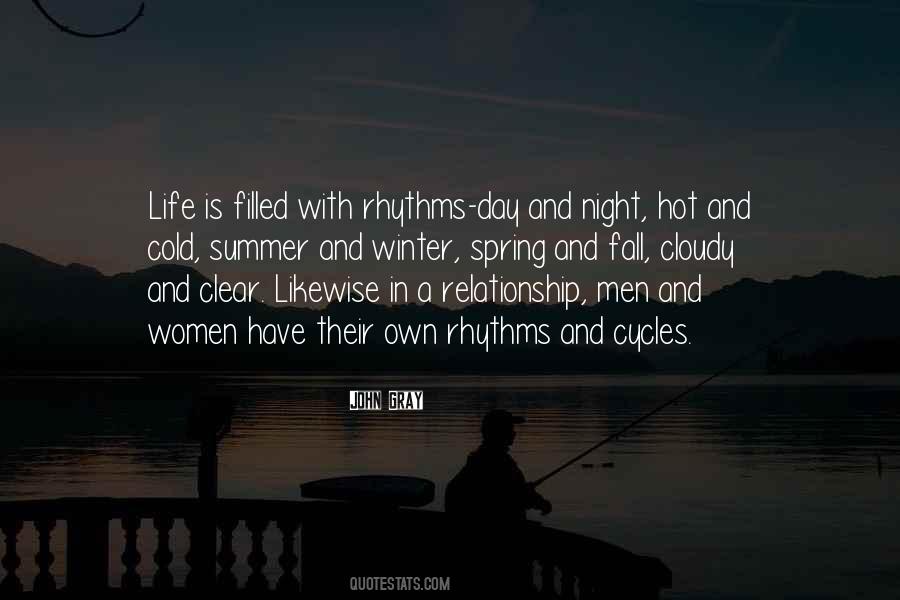 #89. Only in Heaven will everything be as beautiful as spring, as pleasant as autumn, and as full of love as summer. - Author: Pio Of Pietrelcina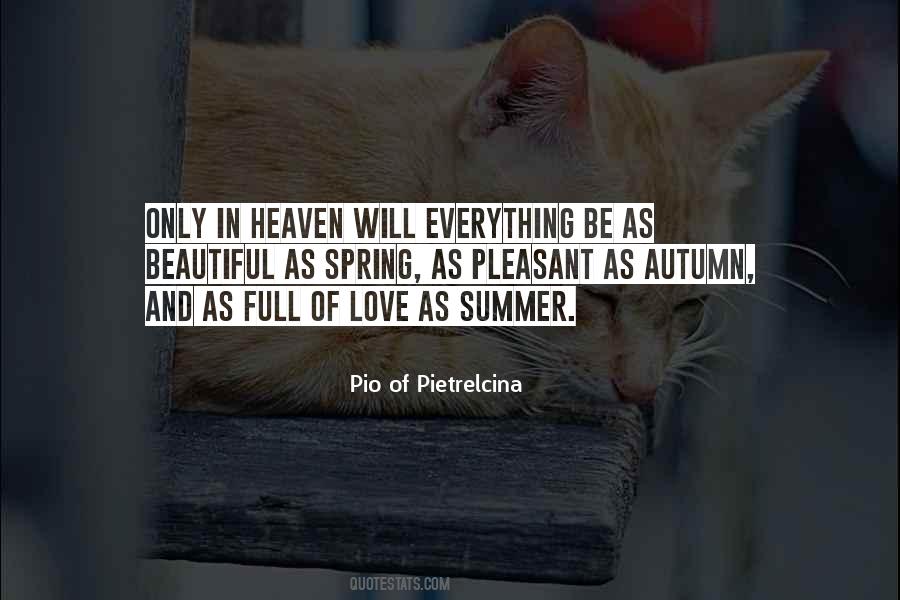 #90. After the navy, I transferred to Harvard and finished there. I was there the spring term of 1951 and I stayed through the summer term and a whole other year, so I was able to do two years in a little less than a year and a half. - Author: Harry Mathews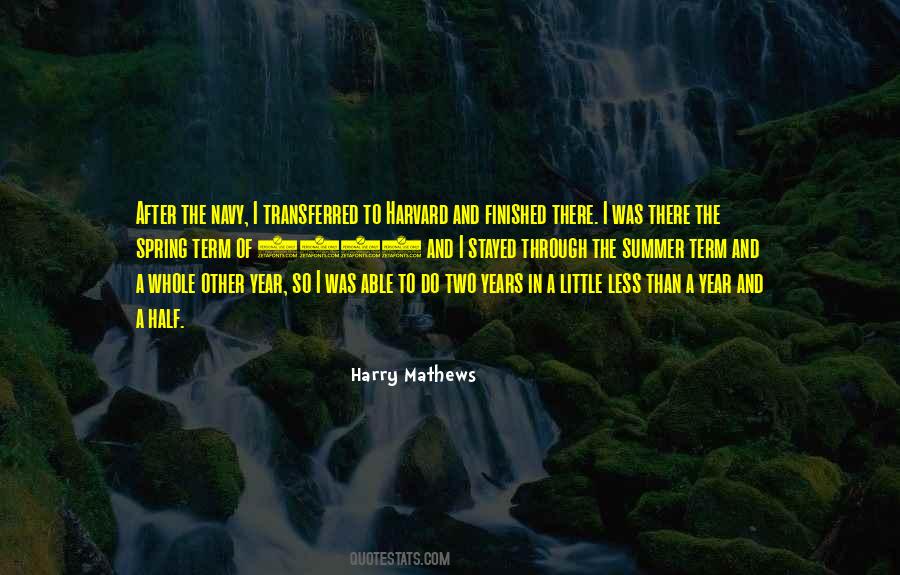 #91. Time passes, like clouds in the sky. Weeks and months go by as if they were a single day. Summer fades to fall, winter yields to spring, different minutes of the same hour. - Author: Martel, Yann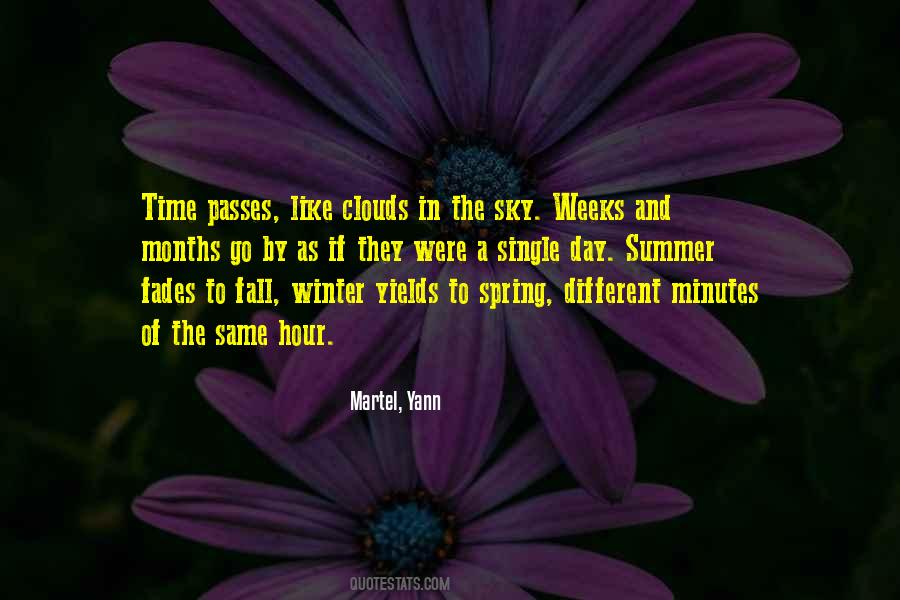 #92. Go to bed when summers ends, what a good idea; wake up bright and early when birds announce its spring. - Author: Francis Norris, 1st Earl Of Berkshire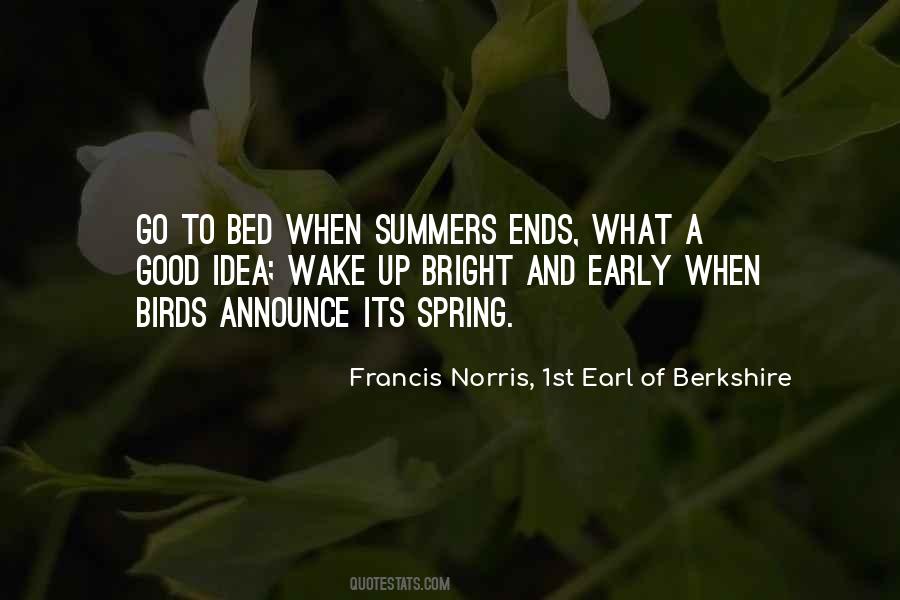 #93. Spring has many American faces. There are cities where it will come and go in a day and counties where it hangs around and never quite gets there. Summer is drawn blinds in Louisiana, long winds in Wyoming, shade of elms and maples in New England. - Author: Archibald MacLeish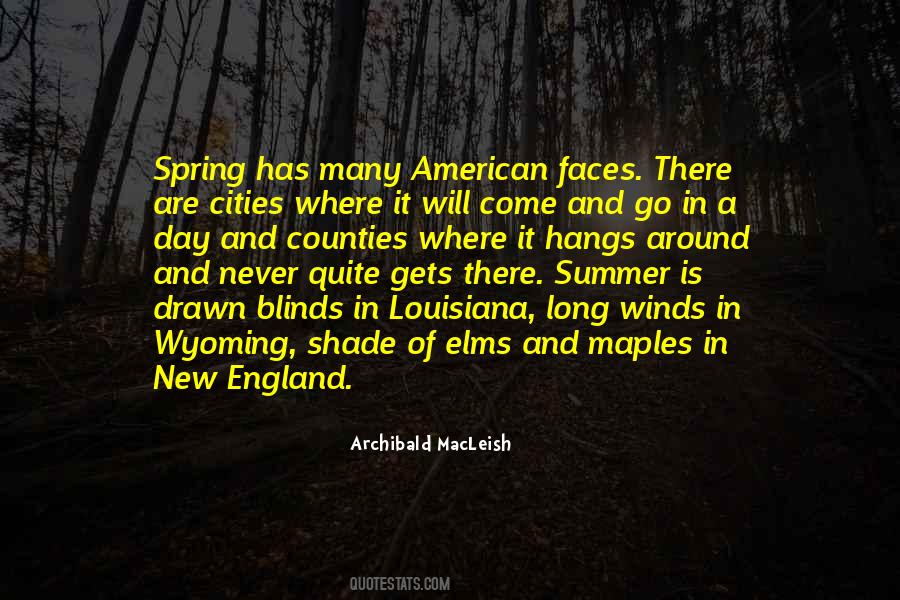 #94. I watch the springs, the summers, the autumns; And when comes the winter snow monotonous, I shut all the doors and shutters To build in the night my fairy palace. - Author: Charles Baudelaire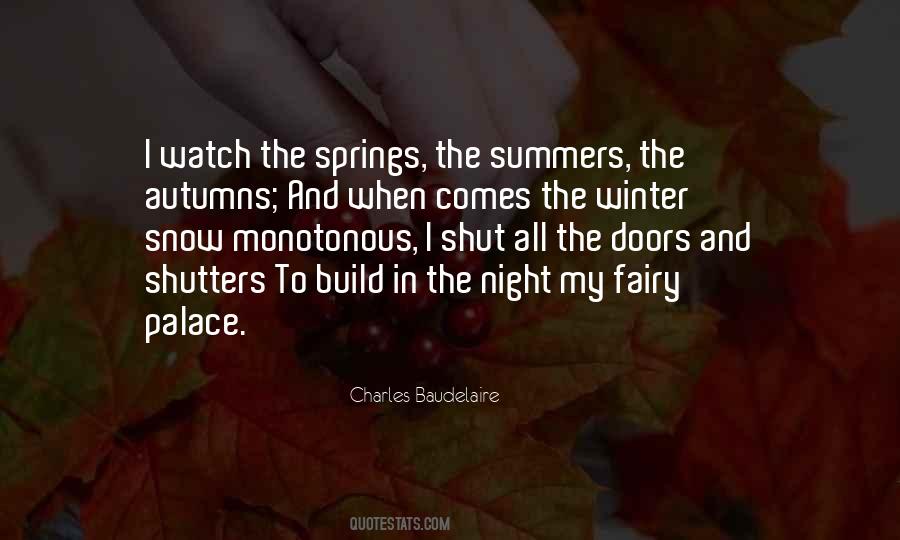 #95. Spring
The season between winter and summer, comprising in the Northern Hemisphere
the months March, April and May.

The ability of something to return to its original shape when it is pressed down, stretched or twisted. - Author: Cecelia Ahern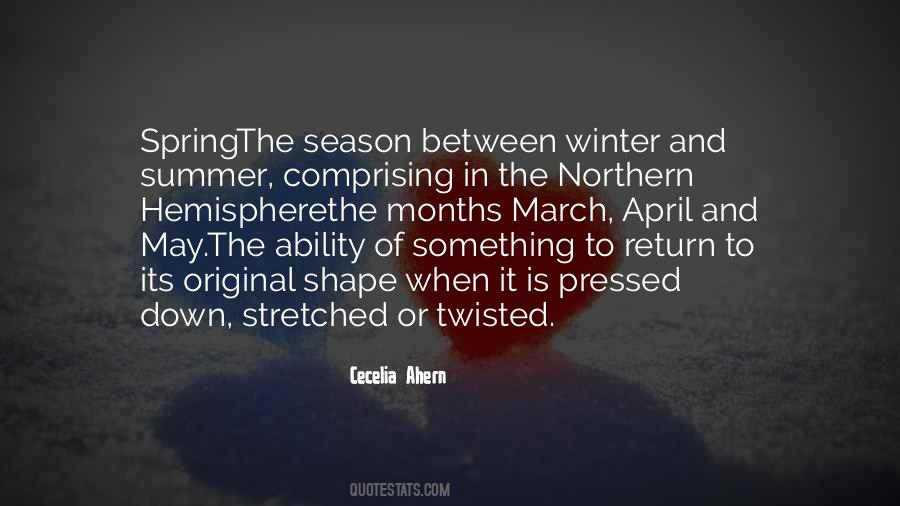 #96. Don't you know that day dawns after night, showers displace drought, and spring and summer follow winter? Then, have hope! Hope forever, for God will not fail you! - Author: Charles Spurgeon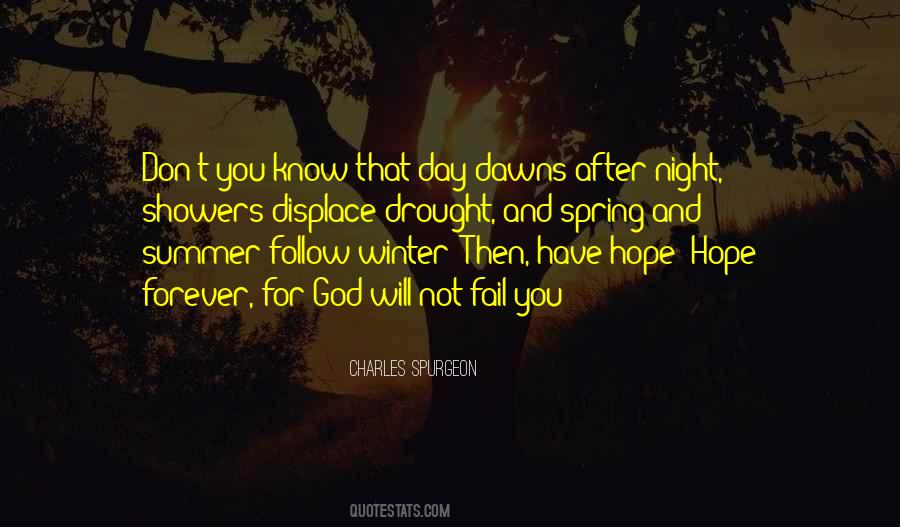 #97. There is a privacy about it which no other season gives you ... In spring, summer and fall people sort of have an open season on each other; only in the winter, in the country, can you have longer, quiet stretches when you can savor belonging to yourself. - Author: Ruth Stout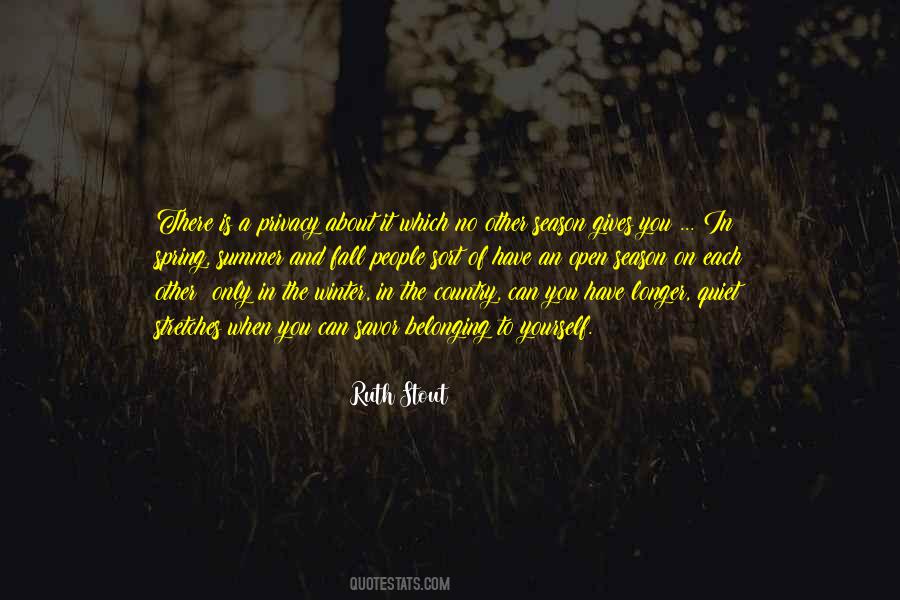 #98. Spring came late, but when it came it was hand-in-hand with summer, and almost at once everything was baking and warm, and in the villages the people danced every night on concrete dancing floors under the plane trees ... - Author: Nancy Mitford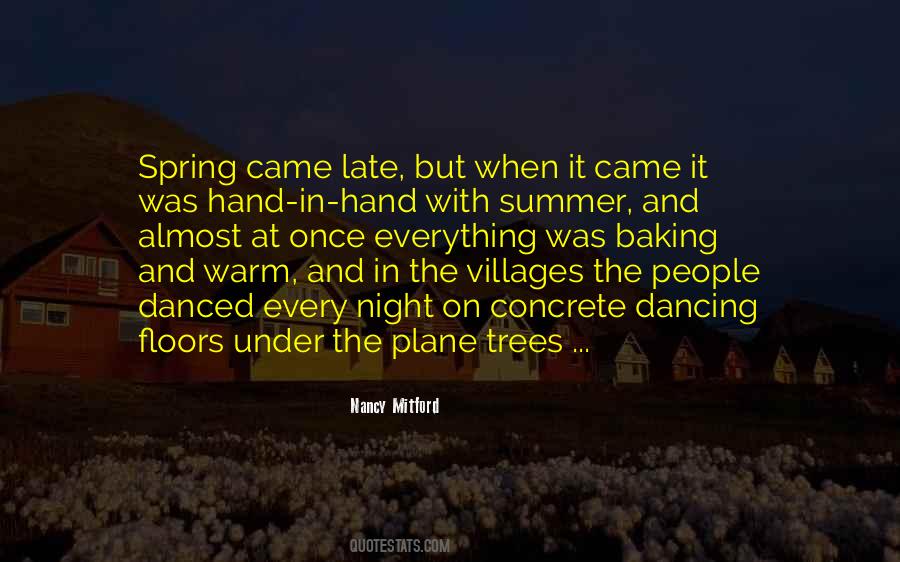 #99. - Growth has its season. There are spring and summer, but there are also fall and winter. And then spring and summer again. As long as the roots are not severed, all is well and all be well. - Author: Jerzy Kosinski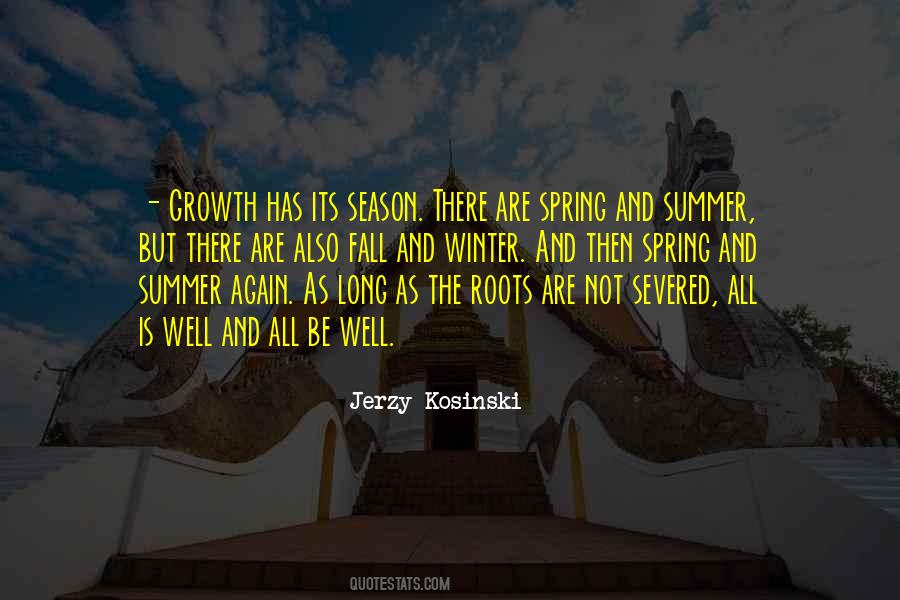 #100. Winter was nothing but a season of snow; spring, allergies; and summer ... It was the worst. That was swimsuit season. - Author: Teresa Lo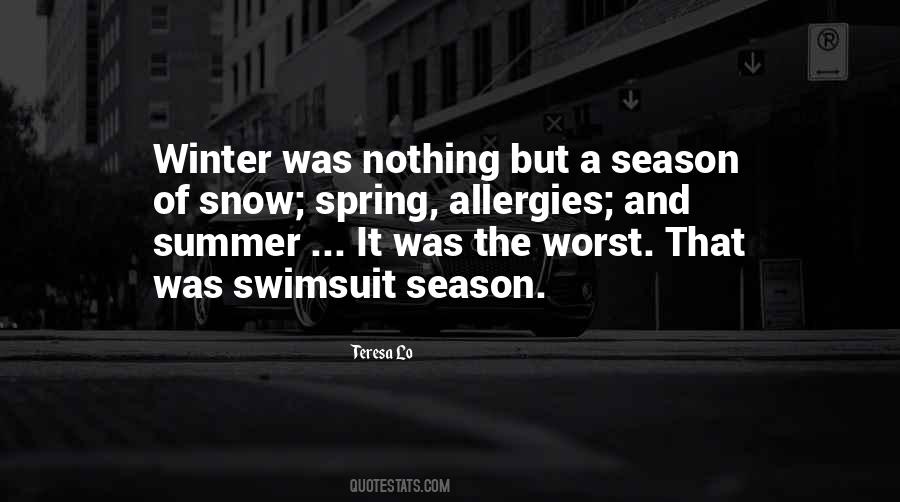 Famous Authors
Popular Topics