List of top 30 famous quotes and sayings about slumps to read and share with friends on your Facebook, Twitter, blogs.
Top 30 Quotes About Slumps
#1. You know you've had too much to eat for Christmas dinner when you slump down onto a beanbag and realize ... there is no beanbag.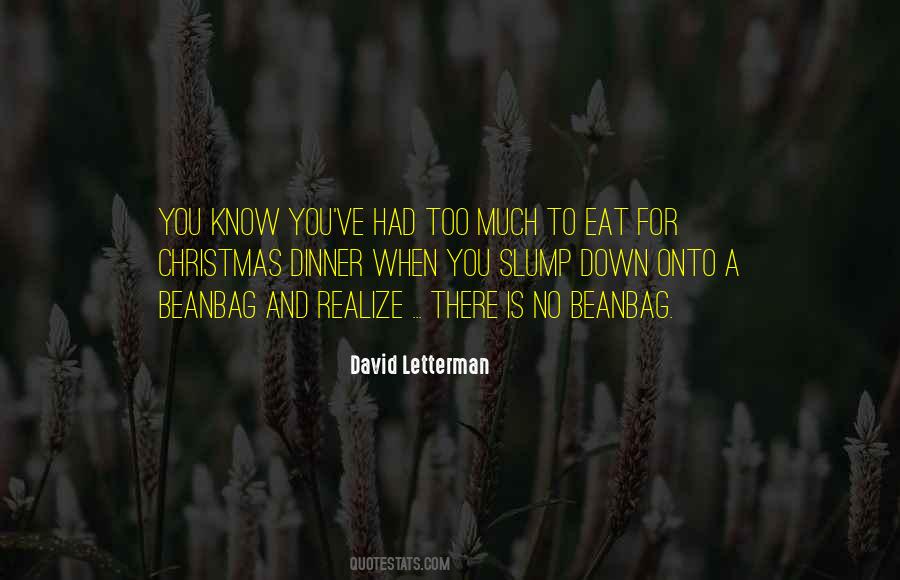 #2. I learned that I have to work hard every day, that I can't get down if I get in a slump.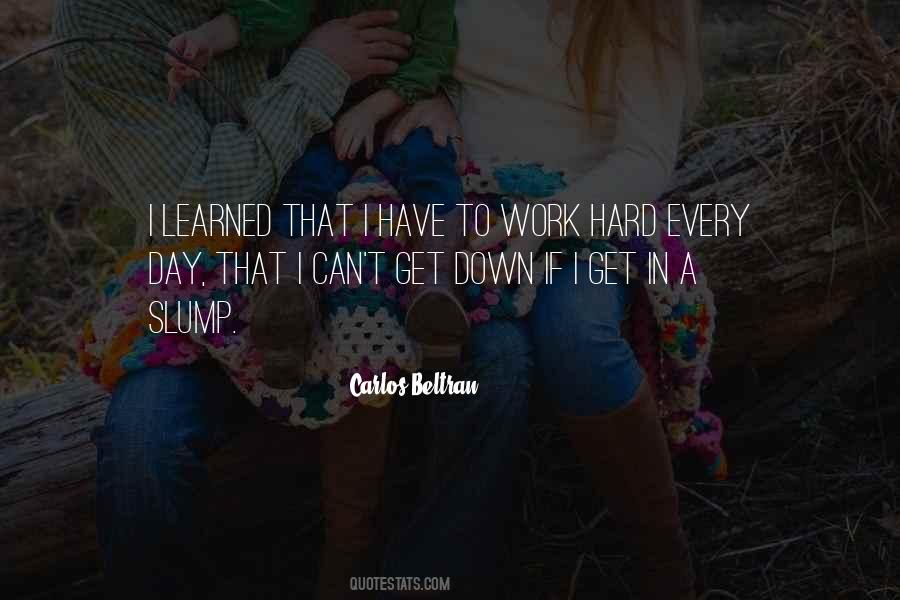 #3. High jump is such a mental thing. It's you against the bar. It's something that a lot of people struggle with, and people experience slumps and plateaus because of it.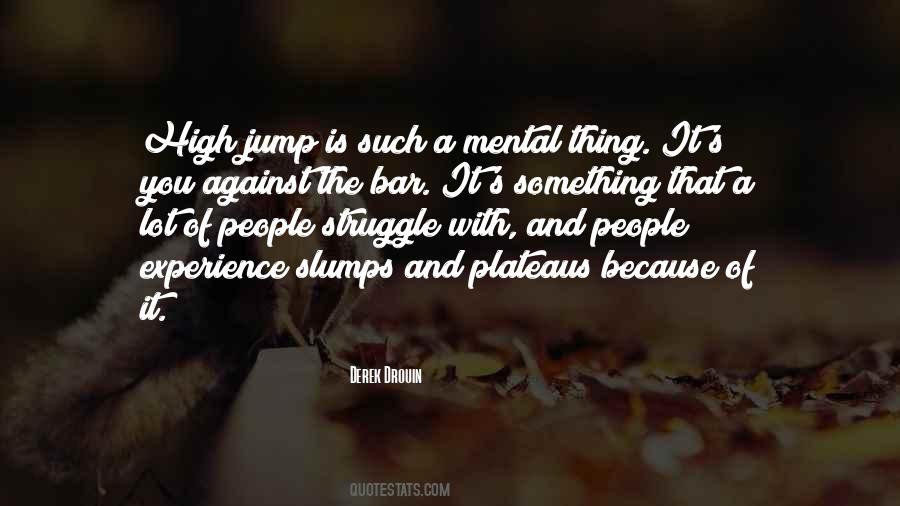 #4. On the practice green, I hit a lot of four-footers with my right hand only. But whatever grip I'm using, you can bet I'm feeling good about it. Otherwise, I'd change. That's how I avoid slumps.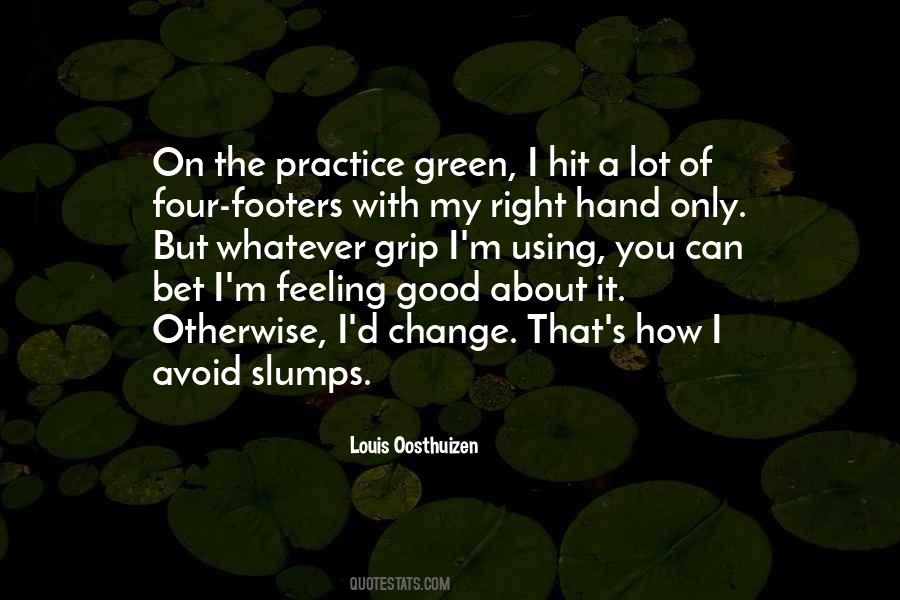 #5. Will nods. He slumps in his chair, trying to make himself small; make himself stronger by taking up less room.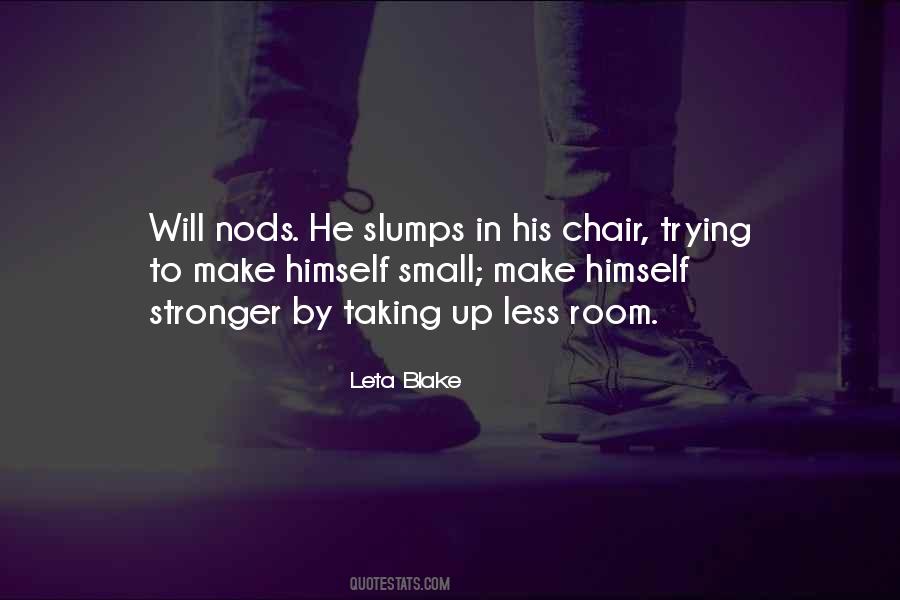 #6. Baseball is slovenly and excessive in midsummer, with its onrolling daily cascade of line scores and box scores, shifting statistics, highlights and lowlights, dingers and shutouts, streaks and slumps.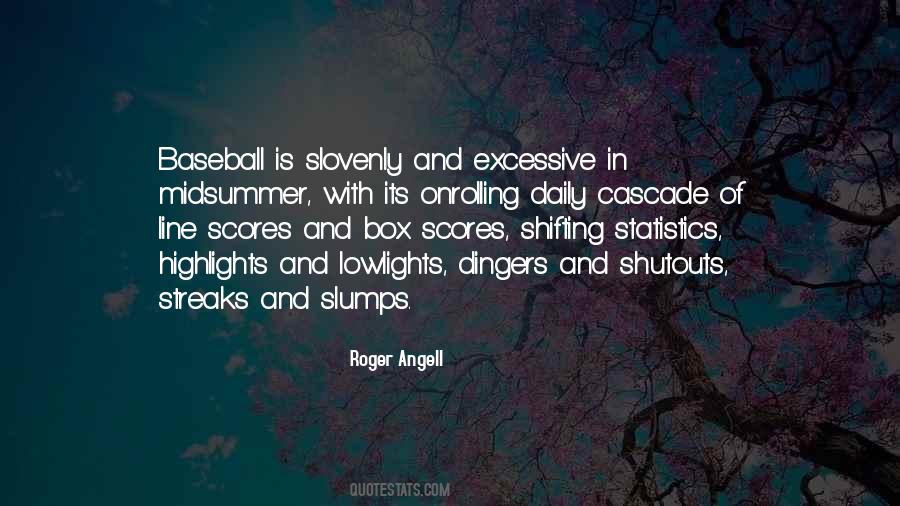 #7. We are in the midst of a protracted wage slump, ... a troubling trend that is largely going unnoticed by policymakers.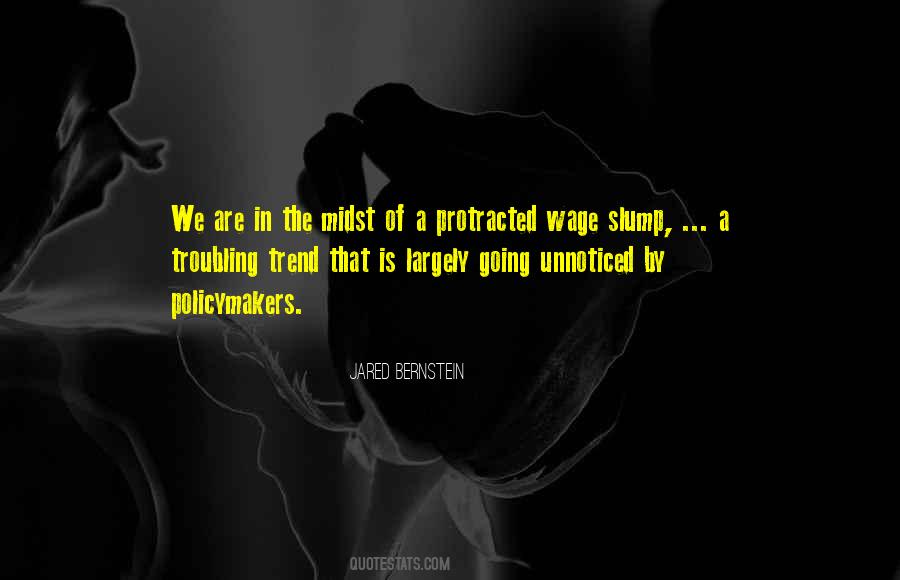 #8. Economic theory has demonstrated in an irrefutable way that a prosperity created by an expansionist monetary and credit policy is illusory and must end in a slump, an economic crisis.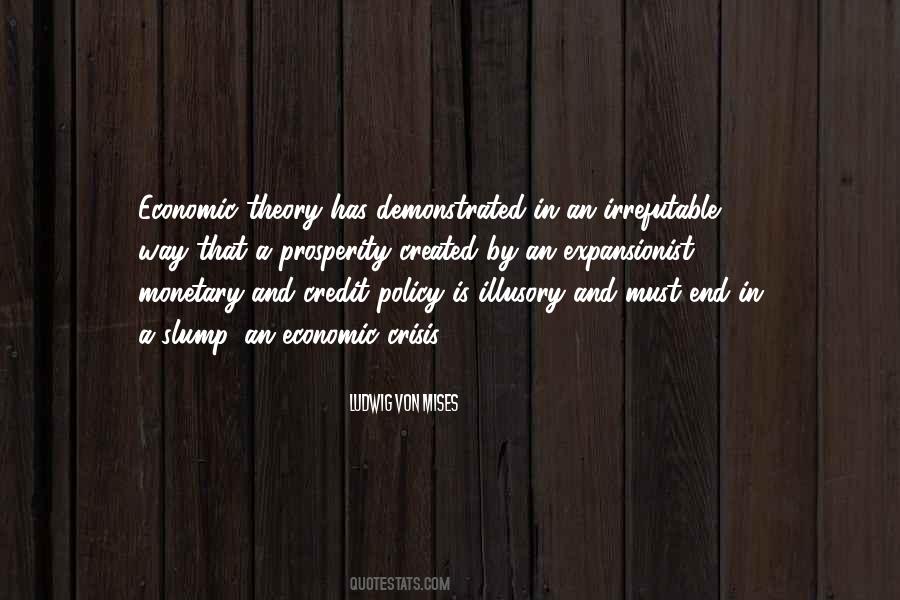 #9. A slumpbuster is when you have to take one for the team. It's finding the biggest, nastiest, fattest broad, and you put the wood to her to come out of your slump. Also known as 'jumping on a grenade for the team'.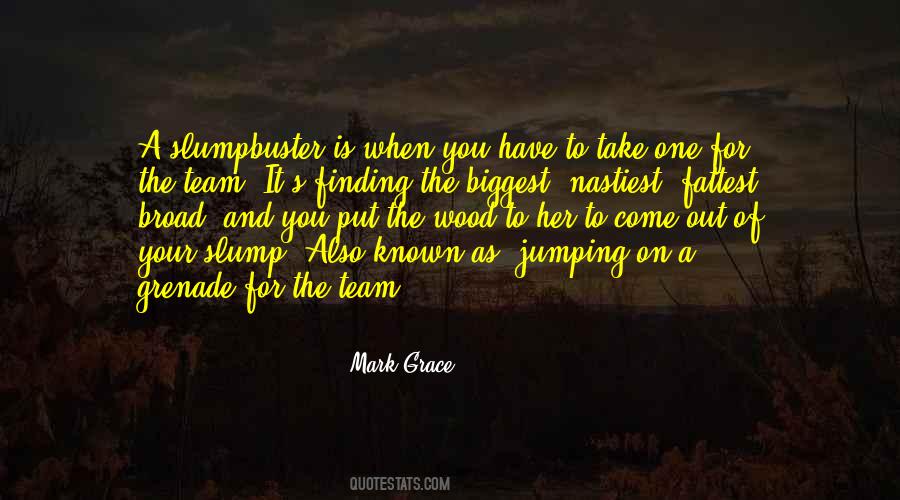 #10. The boom, not the slump, is the right time for austerity at the Treasury.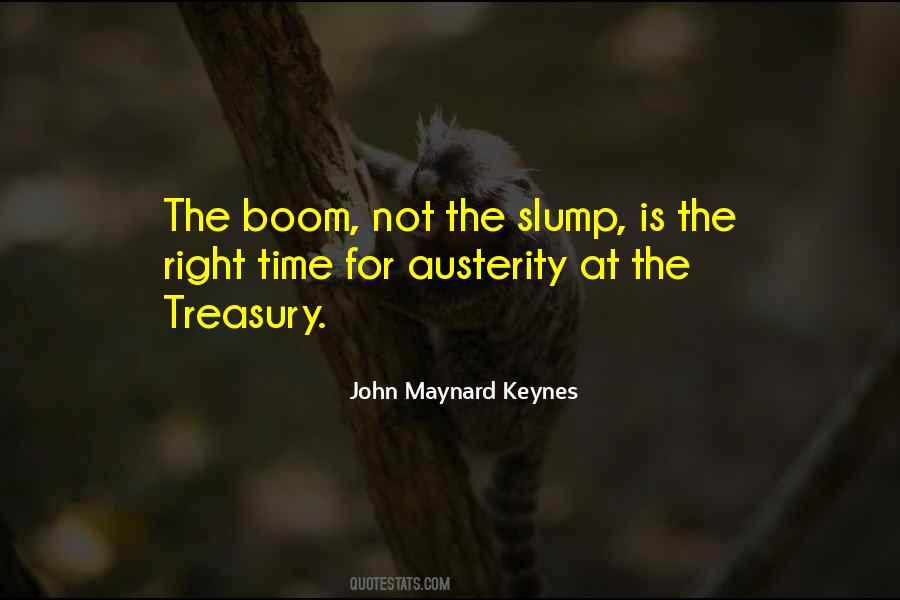 #11. One thing anyone can go through is a slump. Unless you're Greg Maddux, it's going to happen to everybody.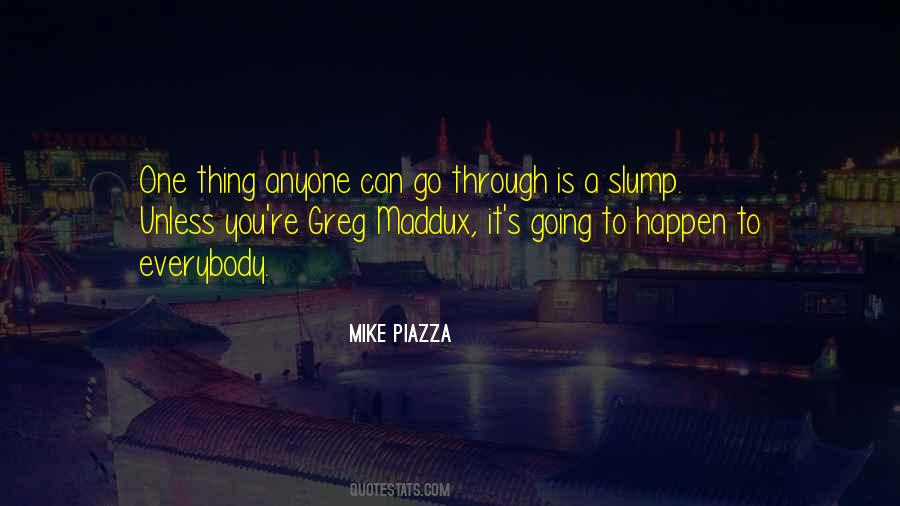 #12. [bookcover:Lessons Learned|13578440] Another shot, and for some reason, I'm the only one who can't move. Who can't scream. Who can't do anything but watch as the young man's body slumps over his tray. Finally, I find my voice and scream his name.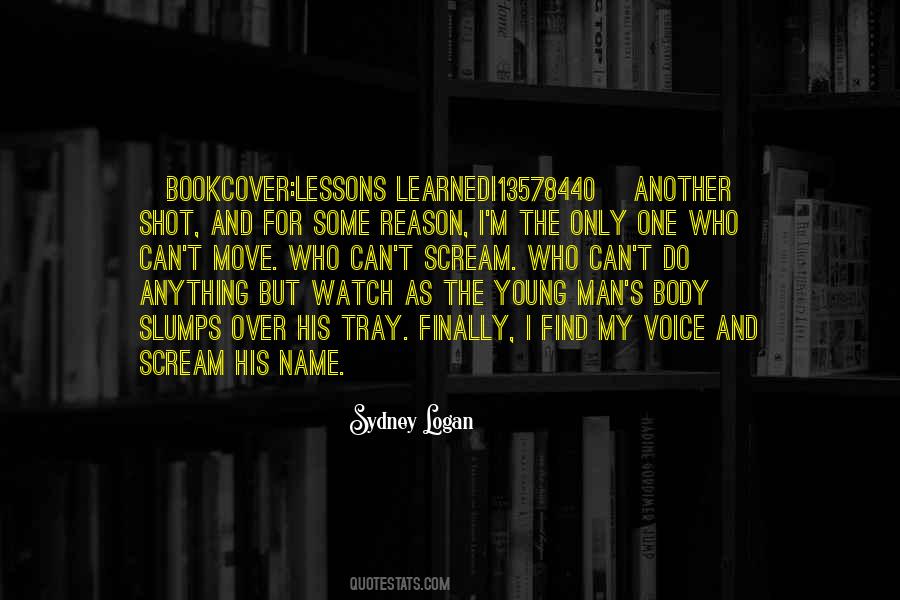 #13. Slumps don't bother me.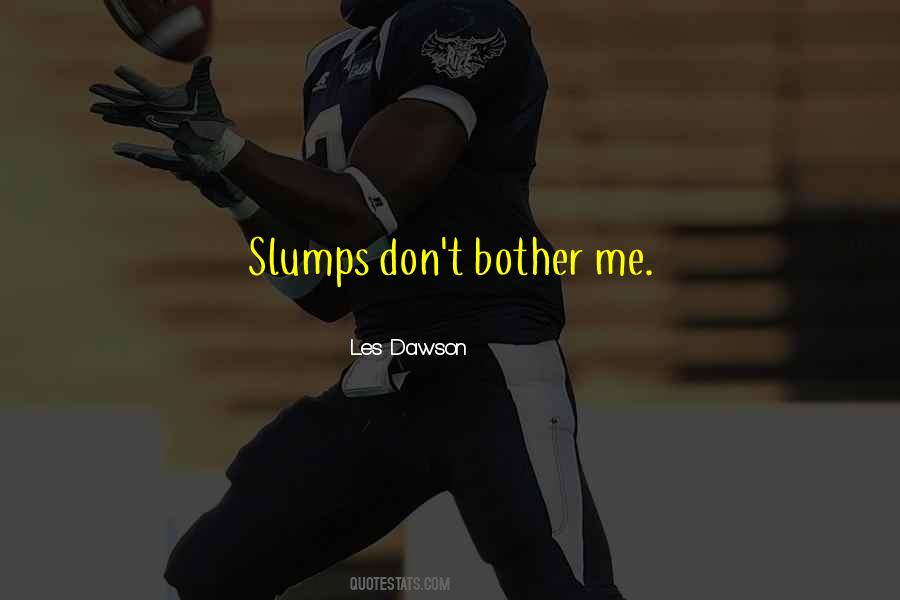 #14. Speed Never Slumps.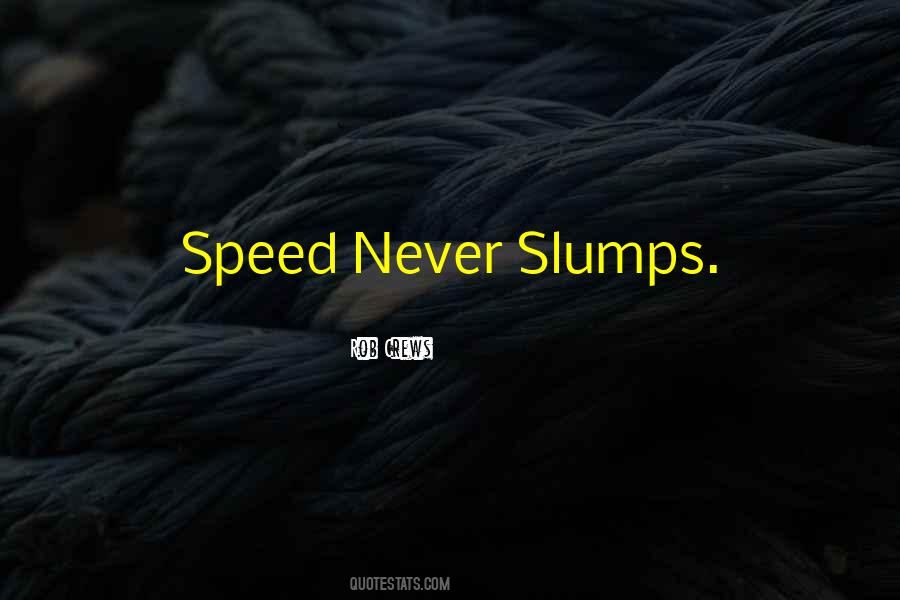 #15. Slumps are like a soft bed. They're easy to get into and hard to get out of.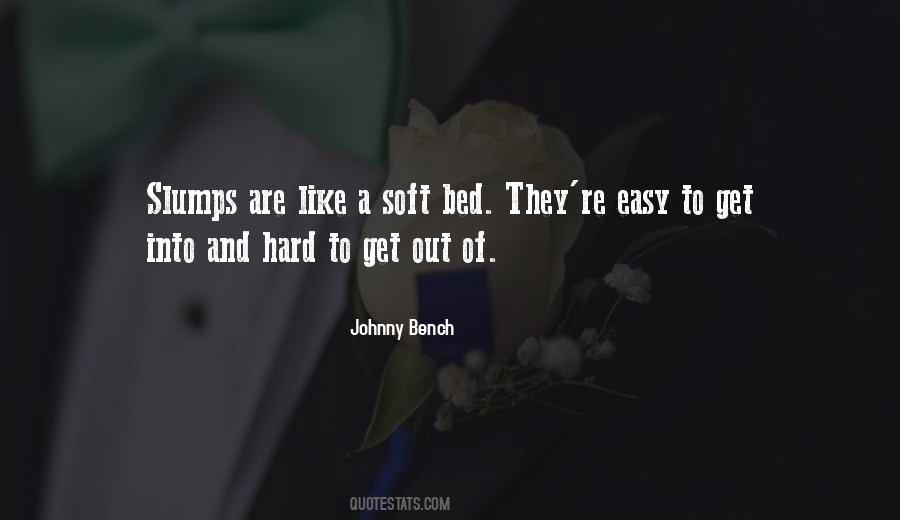 #16. it's over before it began. He slumps against me, his breathing still coming hard and fast and moans, "Fuck that was good." Rewind - what?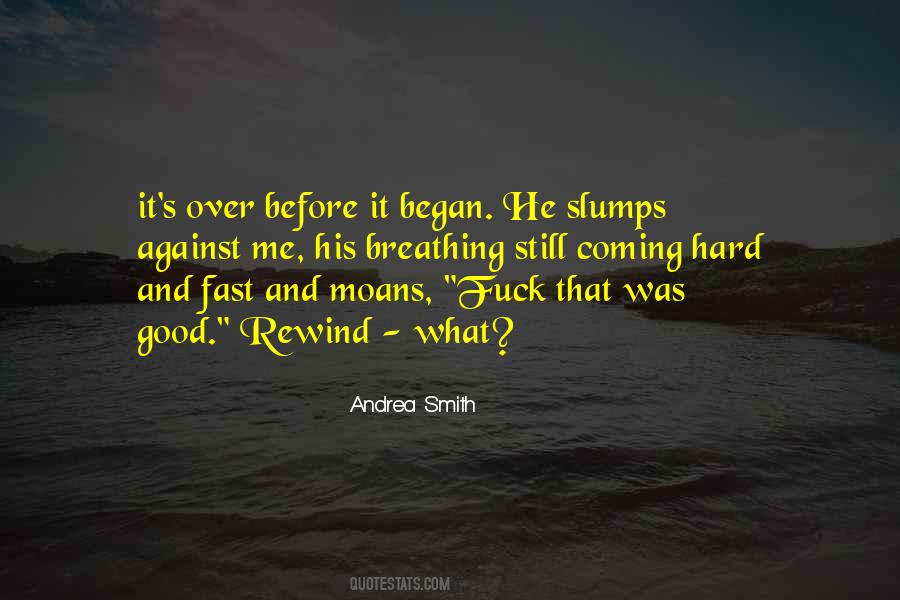 #17. When you play long enough, everybody goes through spells and streaks and slumps of some nature. I think it's just one of the those things where you have to play yourself out of it.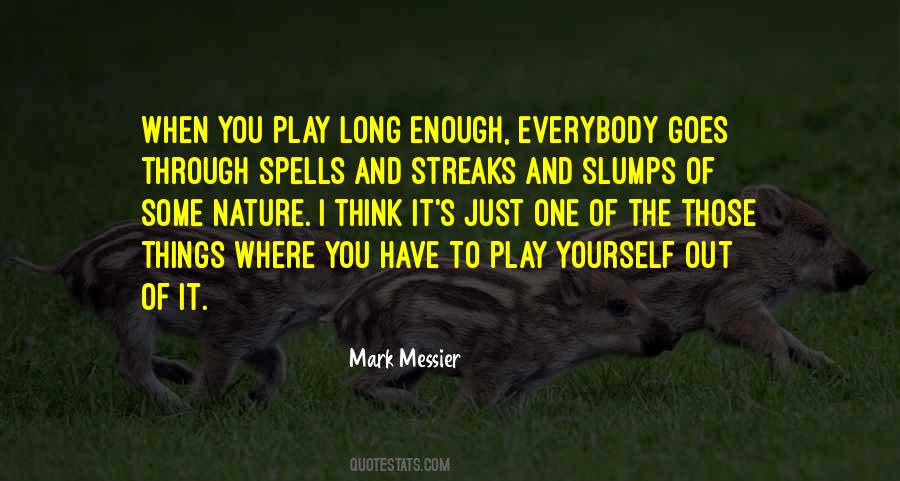 #18. When you're in a Slump, you're not in for much fun. Un-slumping yourself is not easily done.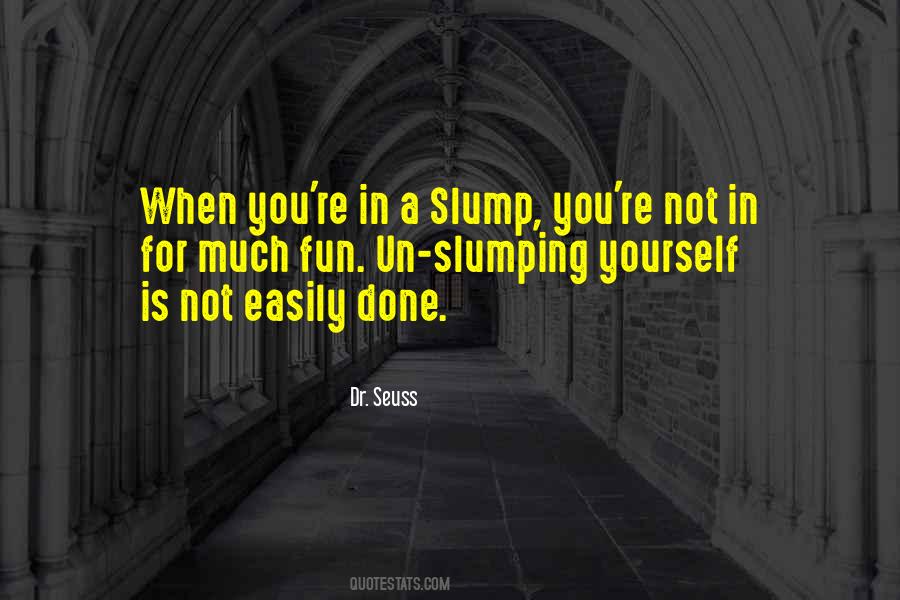 #19. Don't want to slump over the oars.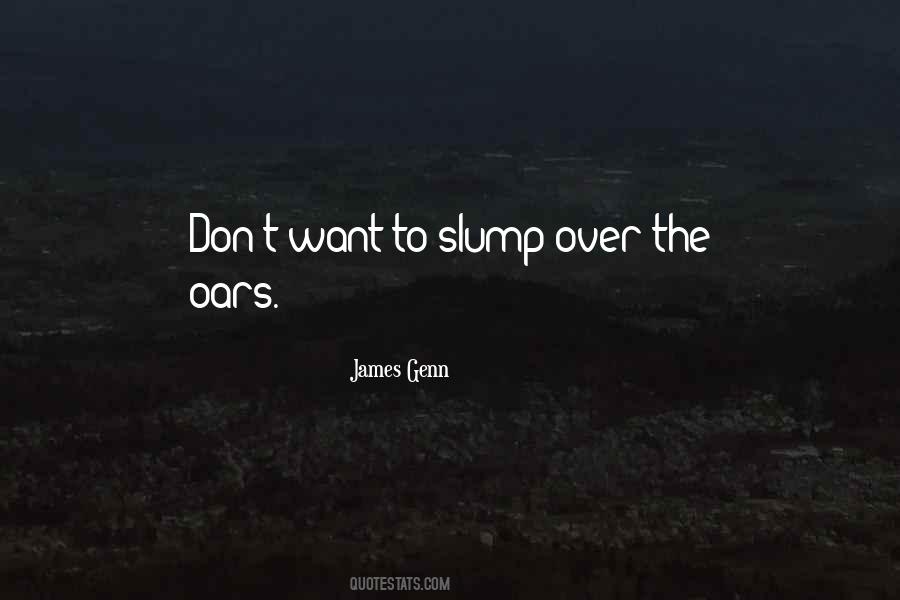 #20. I had slumps that lasted into the winter.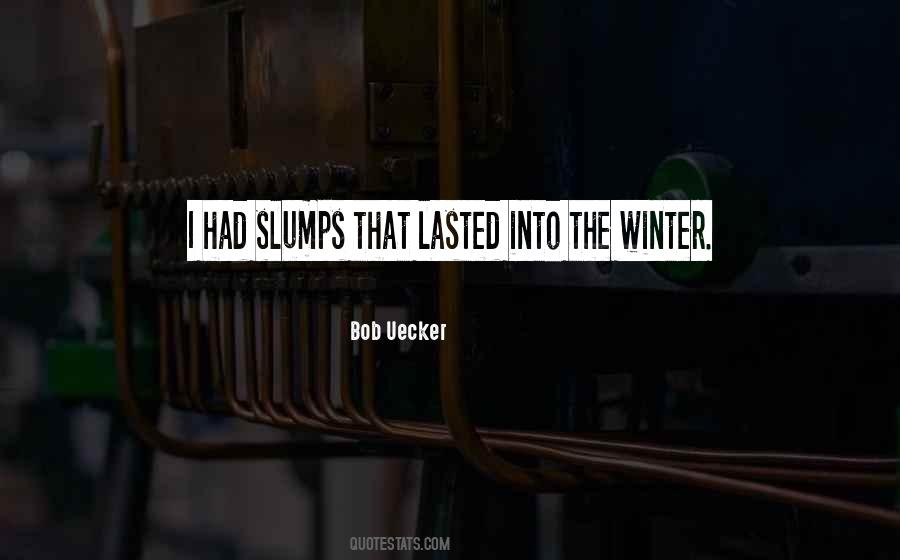 #21. Slump, and the world slumps with you. Push and you push alone.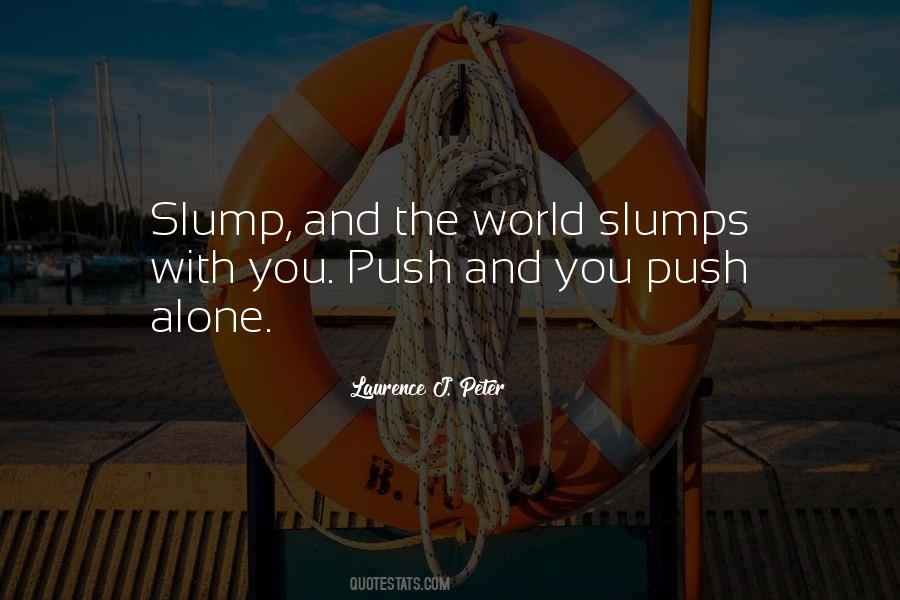 #22. There were times when i felt in a slump or lonely but i never thought of giving up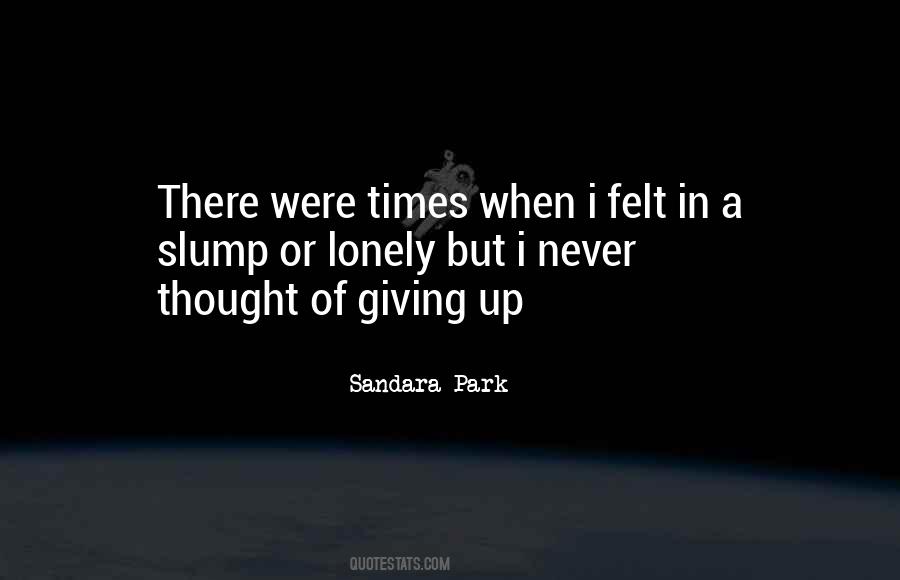 #23. You go through slumps in this game, and you just have to work through them. You're going to miss putts out on an LPGA tour and have bad rounds. You just have to think to yourself that you always have tomorrow, and you're lucky enough to be out here just playing golf for a living.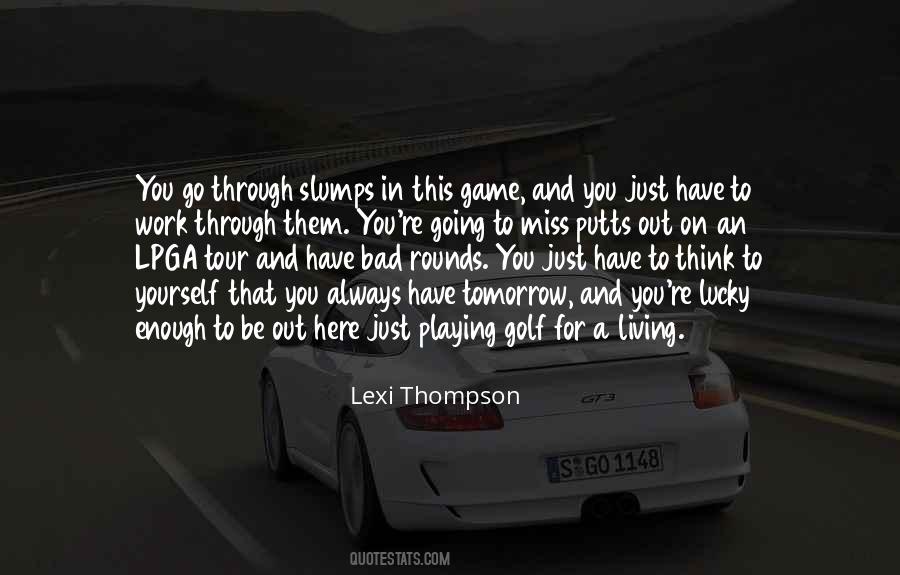 #24. What helped me most were my failures and slumps - when I couldn't get work, people weren't interested in me or had written me off.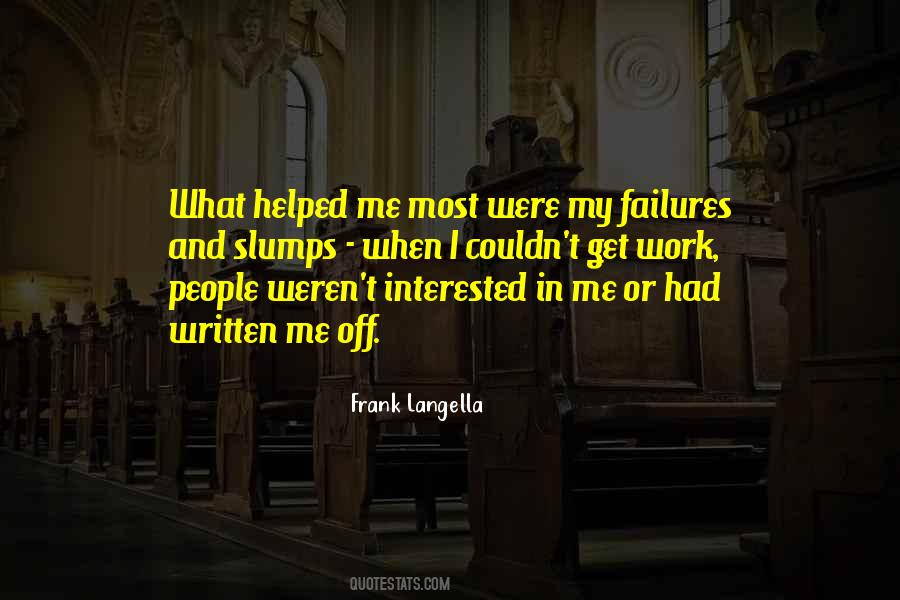 #25. Sawtooth slumps into his deck chair and stares up at the sky. It's a drunken sky, the stars hiccupping light. Great gusty clouds go spinning past the moon. The bright planets feel like pinpricks to Sawtooth's old eyes.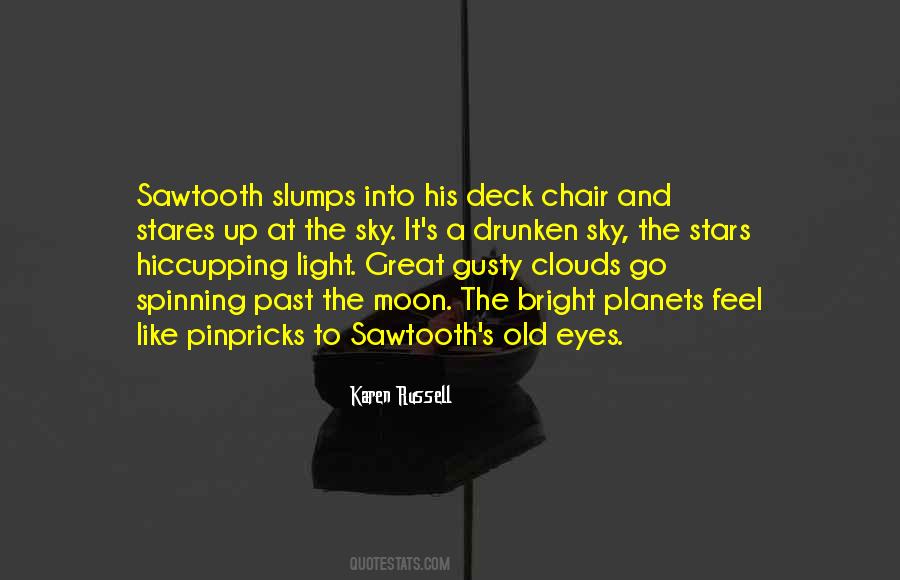 #26. We're in such a slump that even the ones that are drinkin' aren't hittin'.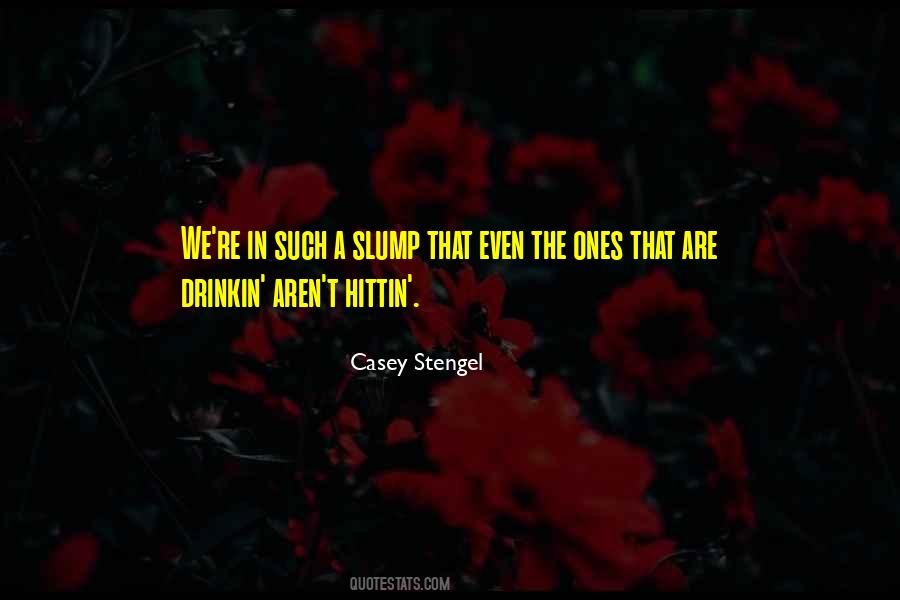 #27. The right remedy for the trade cycle is not to be found in abolishing booms and thus keeping us permanently in a semi-slump; but in abolishing slumps and thus keeping us permanently in a quasi-boom.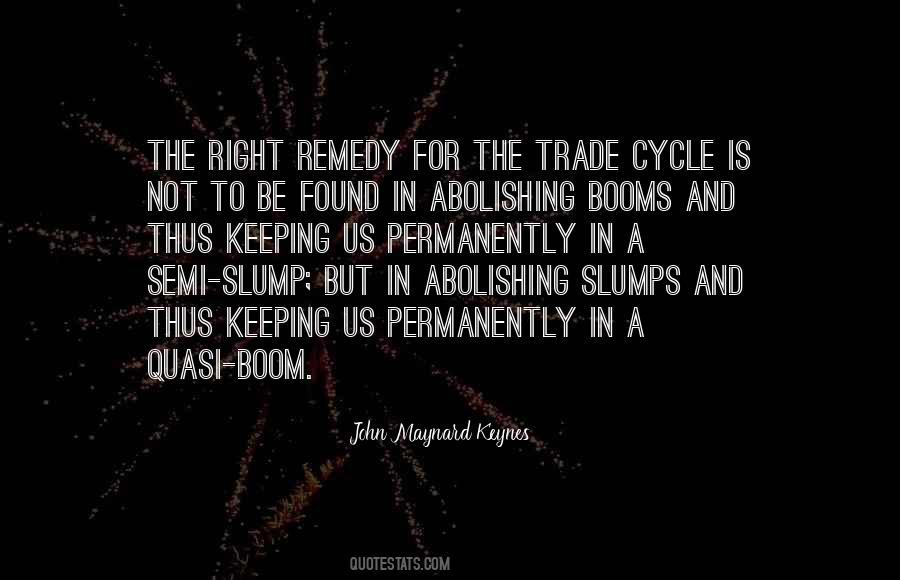 #28. You say, Do you / love me, do you love me / I answer you: / I stretch your arms out / one to either side, / your head slumps forward.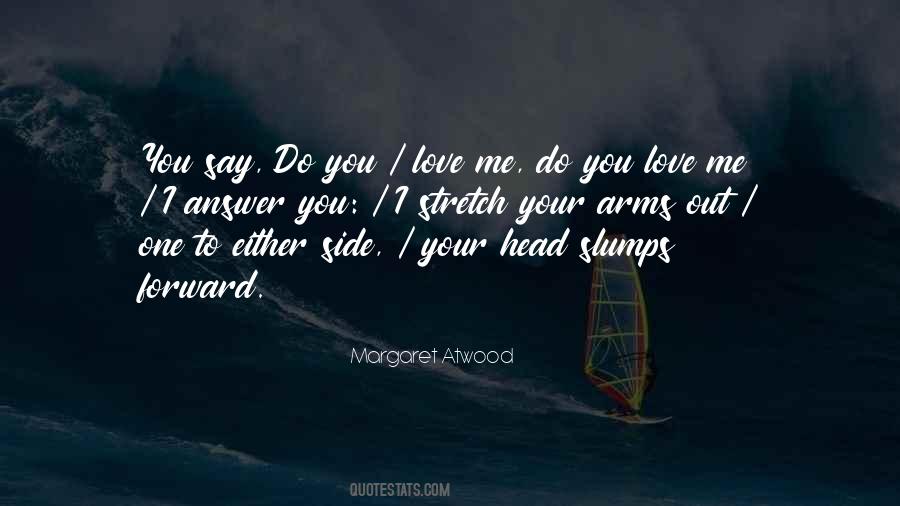 #29. We're not even thinking about (the postseason) right now. We've been in a slump, so we're taking things day by day. We aren't looking to the future because we haven't addressed the present.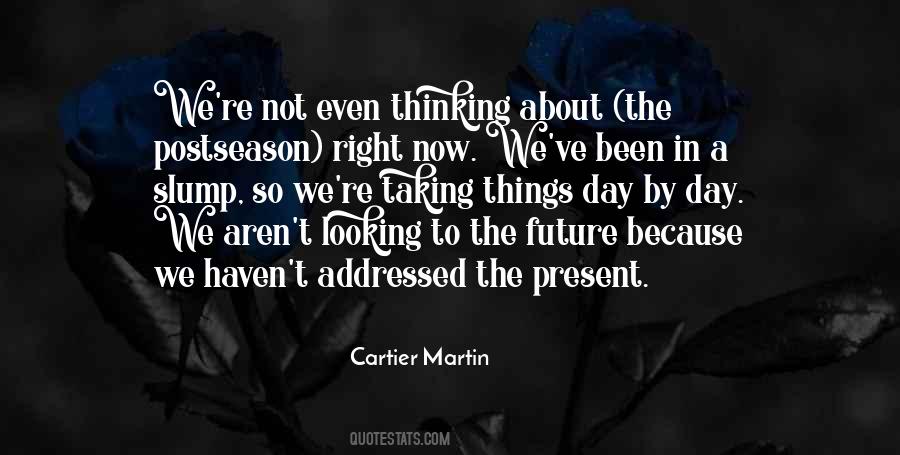 #30. Prayer pushes us through life's slumps, propels us over the humps and pulls us out of the dumps. Prayer is the oomph we need to get the answers we seek.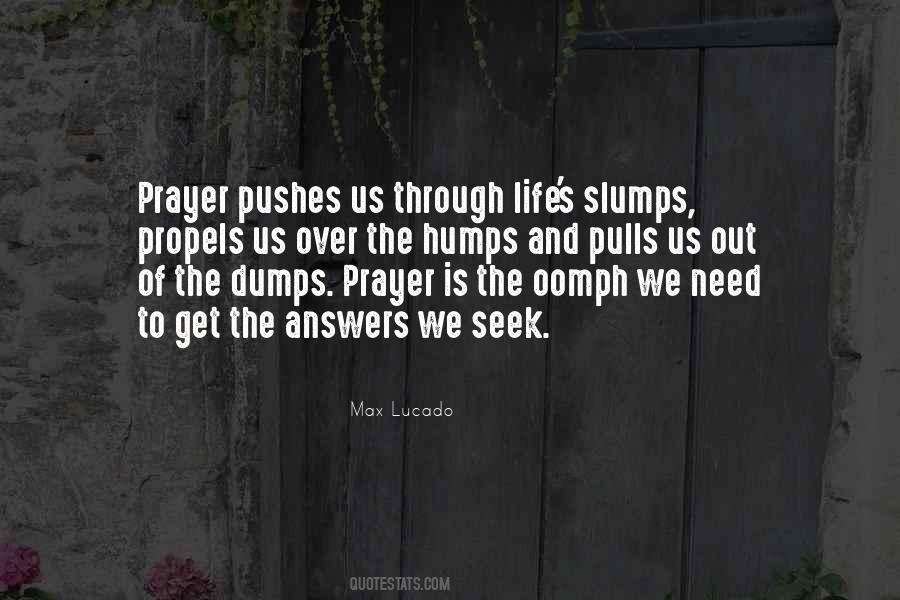 Famous Authors
Popular Topics